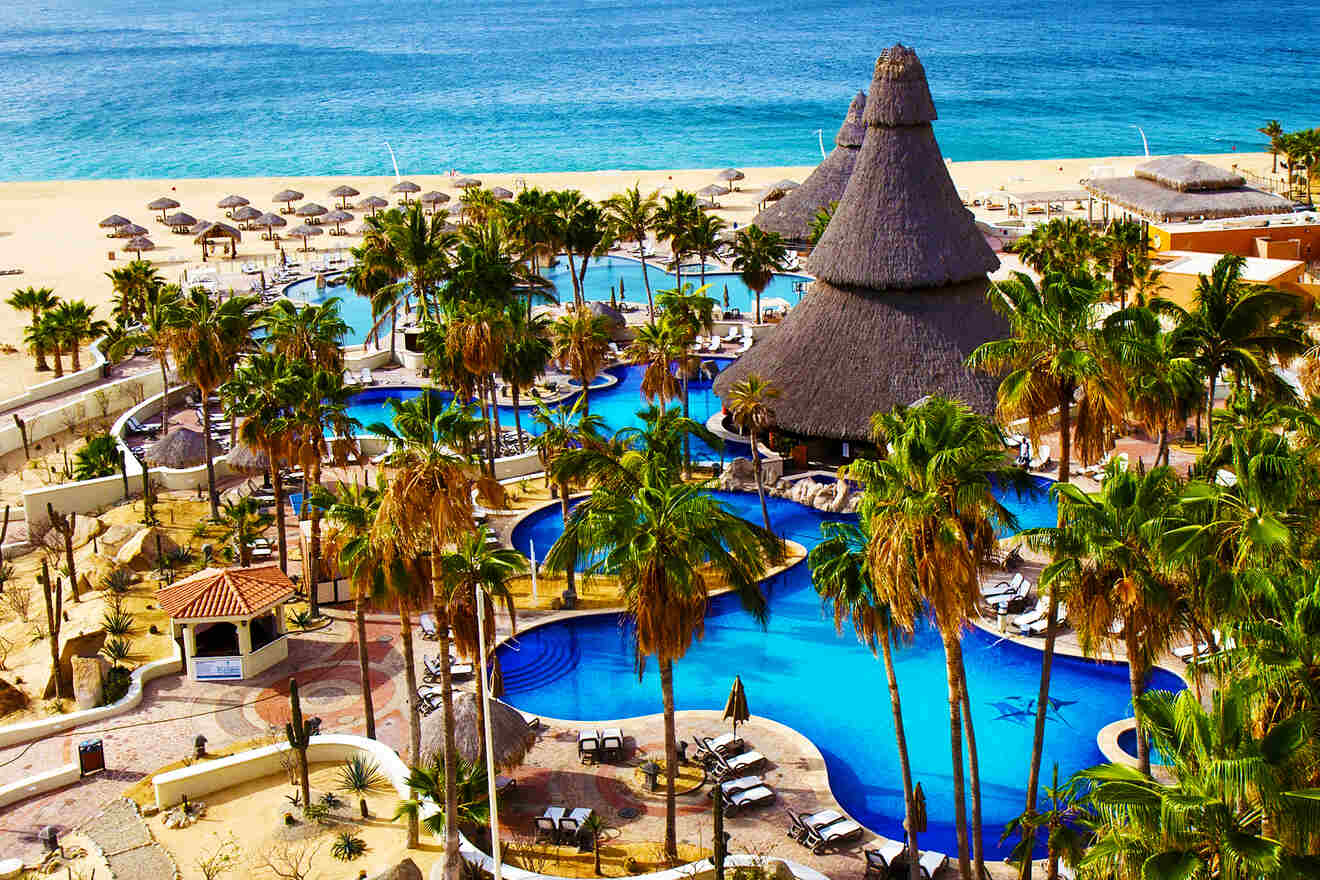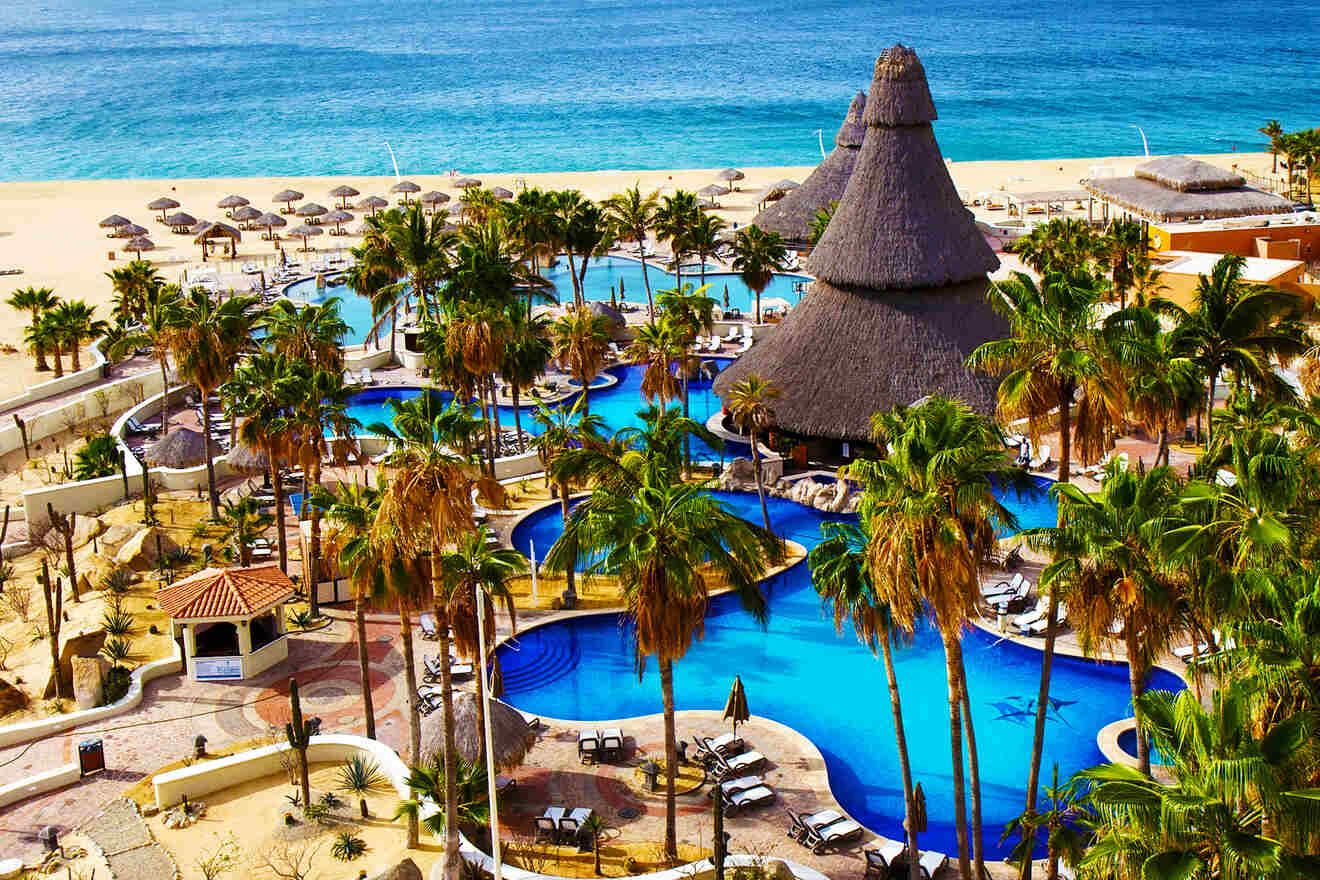 If you don't want to worry about anything during your Mexican holiday while having a great time far from the noise of small kids, Los Cabos, located on the southern tip of Mexico's Baja California peninsula, might be the perfect place for you.
In fact, Los Cabos is famous for its incredible all-inclusive resorts, many of which are also adults-only! And good news for you, I already collected the best ones on this post, so you have them all in one place!
All the best all-inclusive resorts you'll find here are either close to stunning beaches or located in the main towns of San Jose del Cabo and Cabo San Lucas, but they are all exclusively for adults and offer amazing service.
If that's exactly what you were looking for, then start reading the post right now! But remember, if you like one of the options I am recommending you make sure you book it immediately, or at least some months in advance, otherwise you'll probably lose the spot as this place is unmissable!
Ready? Let's go!
If you are in a hurry
If you just want to book your accommodation quickly, check out this list with the best adults-only, all-inclusive resorts in Los Cabos:
Here's a map that will help you visualize all the all-inclusive resorts that I will be talking about in this post:
1. Le Blanc Spa Resort Los Cabos – the ultimate luxury holiday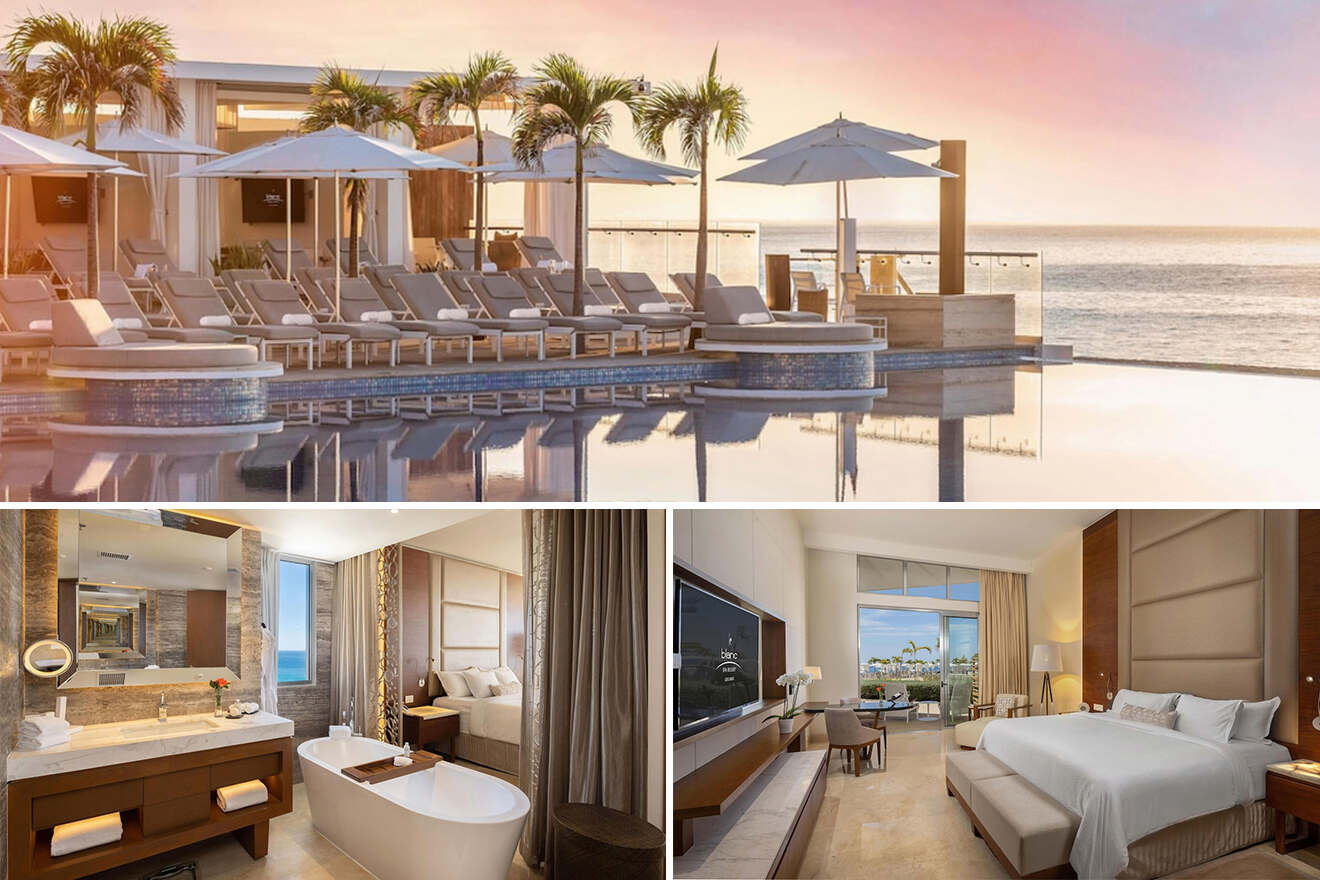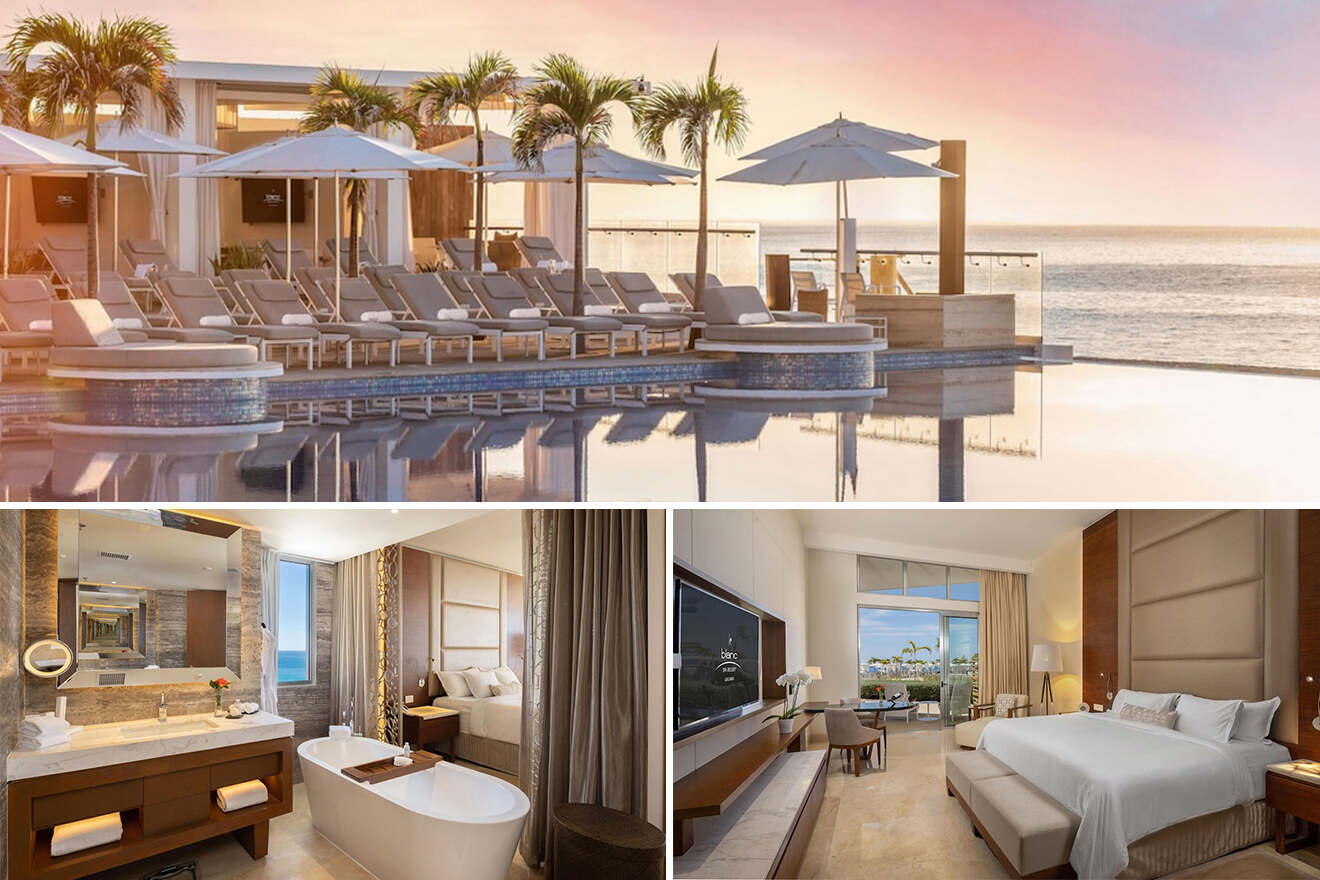 If you want to splurge on pure luxury, this all-inclusive resort will spoil you with an adults-only royal service and all the comforts you can think of during your holiday!
In fact, Le Blanc Spa Resort Los Cabos also offers amenities of another level: access to a private beach, a beautiful infinity pool with luxury sun loungers and 2 swim-up bars, and a world-class spa offering hydrotherapy treatments (included in the room rates!). And make sure you take advantage of the free roundtrip airport shuttle, plus try all 7(!) delicious onsite restaurants serving Italian, Asian, international cuisine, and more!
2. Hyatt Ziva Los Cabos – the best beachfront resort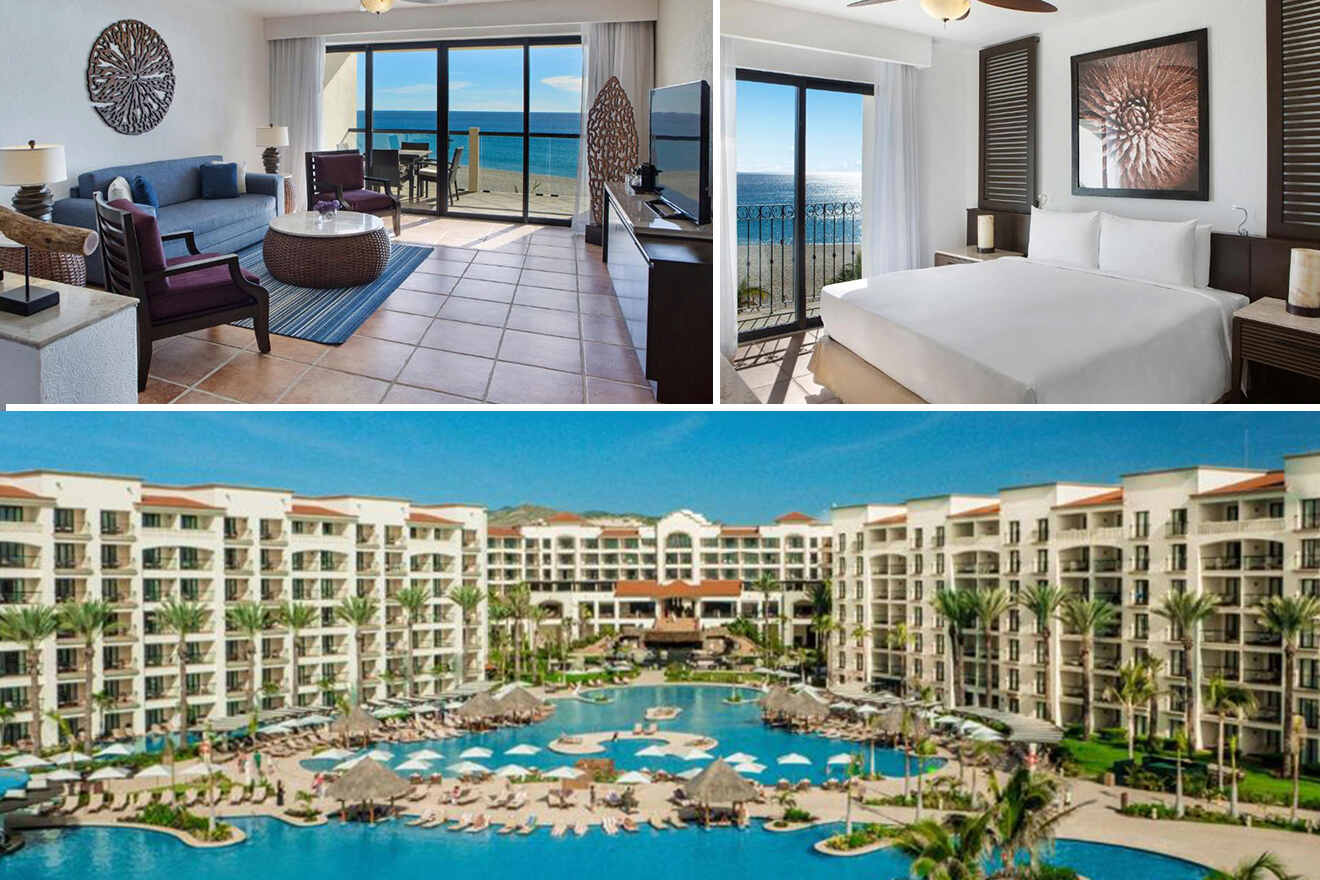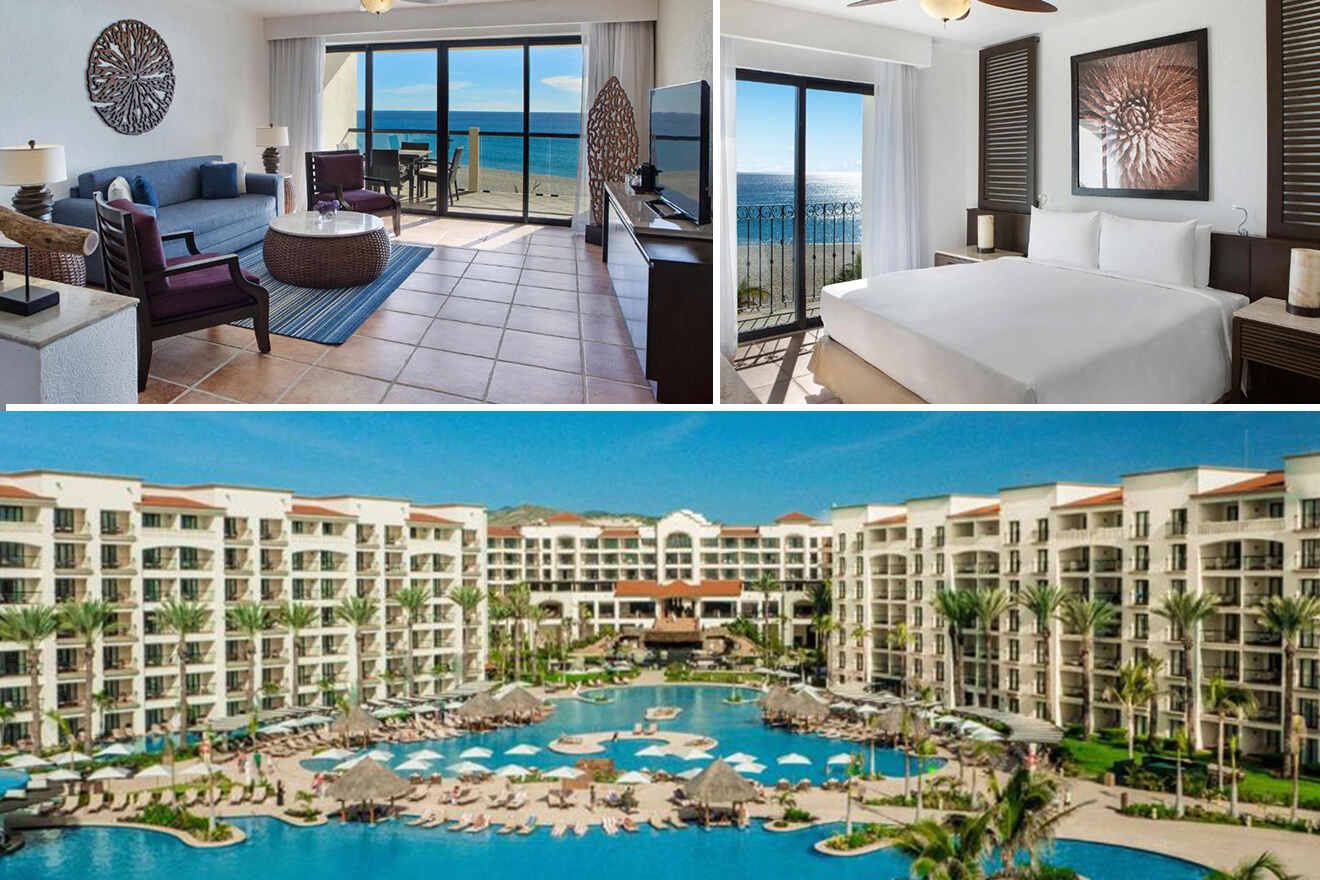 If you want to enjoy all the facilities of an all-inclusive resort and at the same time have the possibility to spend your days just relaxing on the beach, this Los Cabos resort is for you. It's located on the swimmable San José del Cabo Beach, just a few minutes from San Jose' del Cabo.
Apart from a stunning private beach, this luxurious all-inclusive resort will give you access to elegant and spacious suites offering private balconies with ocean views, spa-like bathrooms, and state-of-the-art electronics. And when you feel like leaving your room, you can eat at any of its 7 unique restaurants, relax at the infinity pool and hot tub, or stay in shape at the fitness center!
3. Paradisus Los Cabos all-inclusive – most intimate resort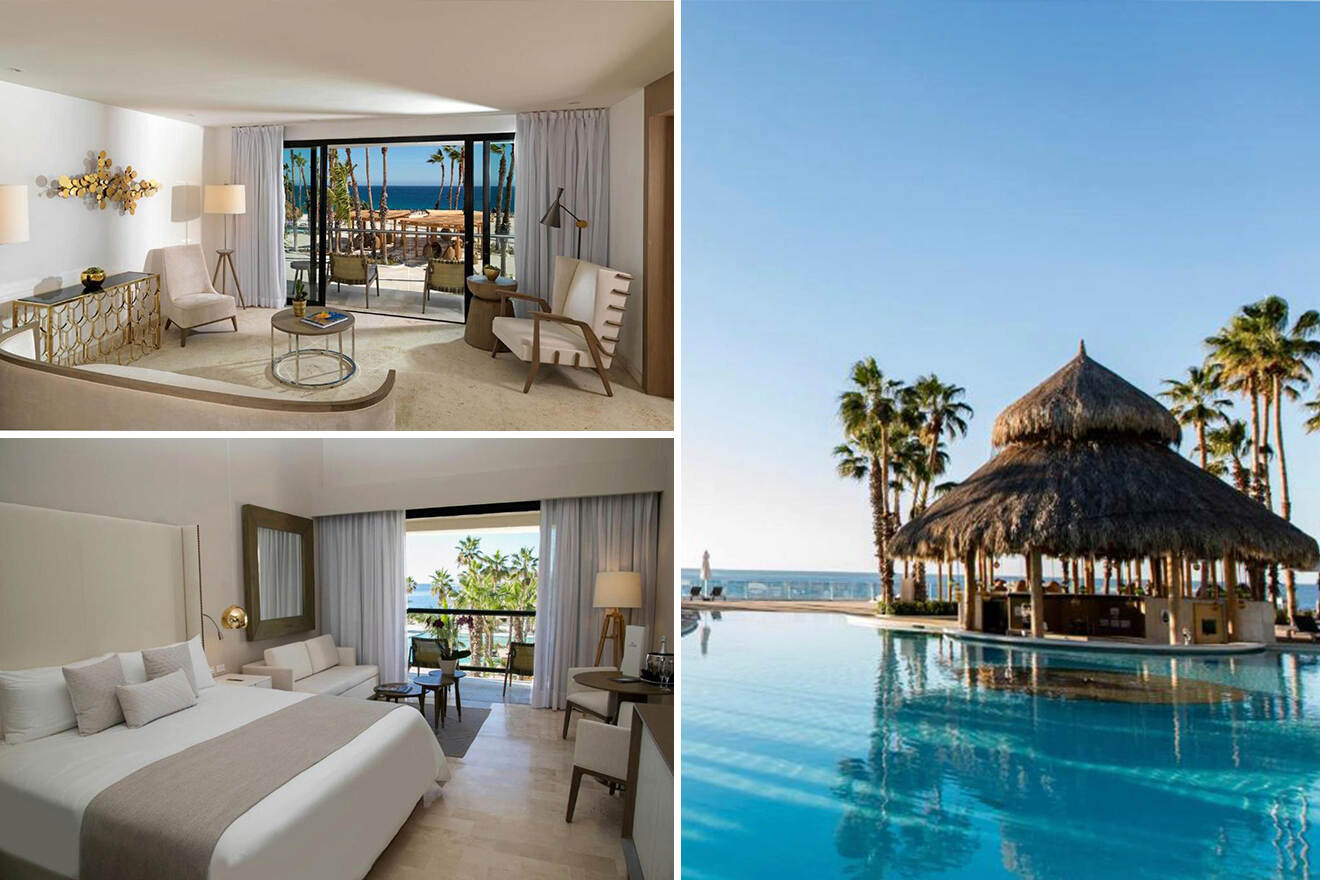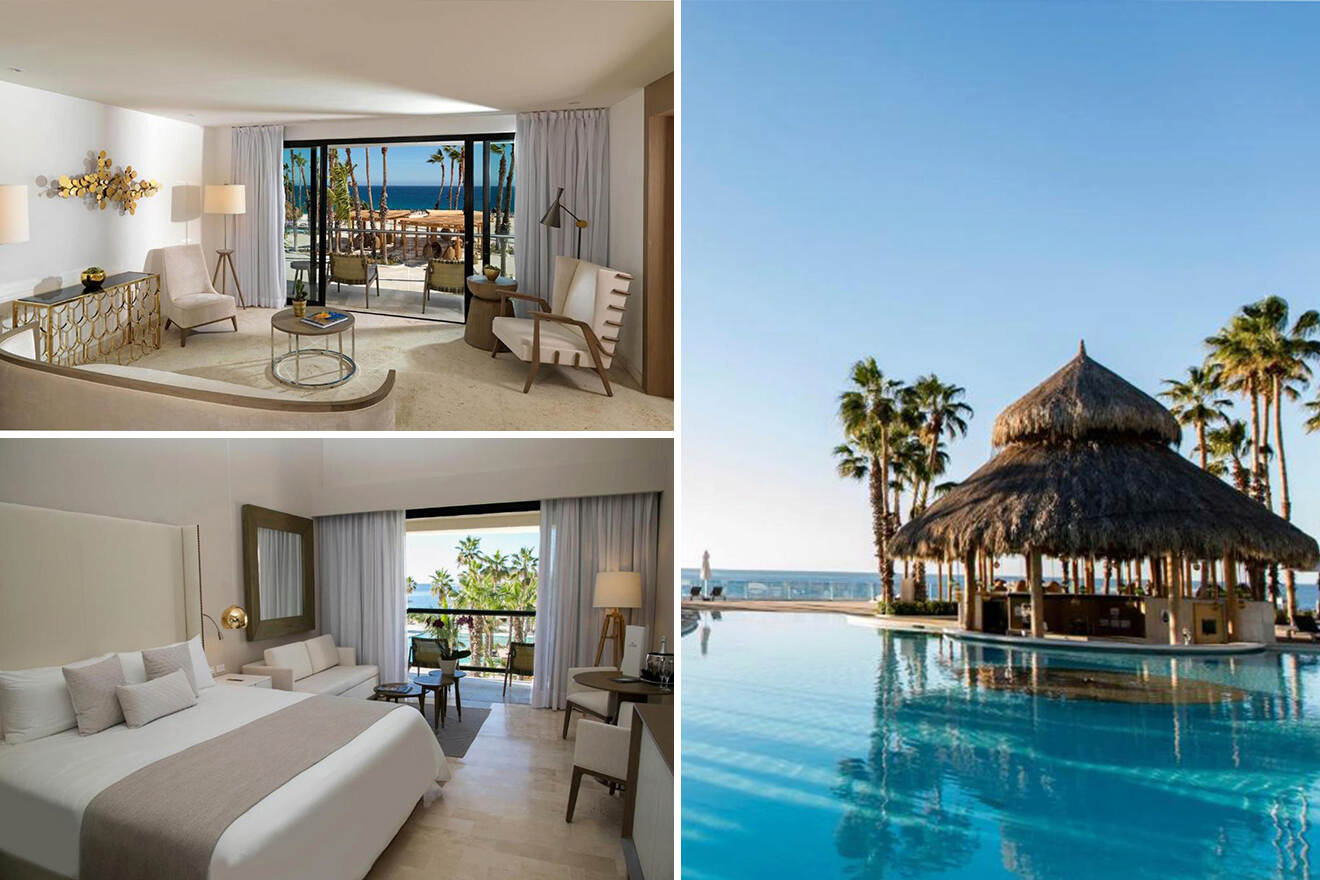 Paradisus Los Cabos is located on a pristine (and private) white-sand beach between Cabo San Lucas and San Jose del Cabo, and unlike many other resorts in the area, it has a very intimate and low-key vibe, with just 300 rooms.
Here you will feel so comfortable that you will never want to leave it… You will have access to a small YHI Spa with a hydrotherapy therapy area to personalized butler service, Michelin-starred restaurants, and a world market international buffet where you can have unlimited food and access to 7 bars, including the signature swim-up bar! What else could you ask for?
4. Breathless Cabo San Lucas – for the TOP parties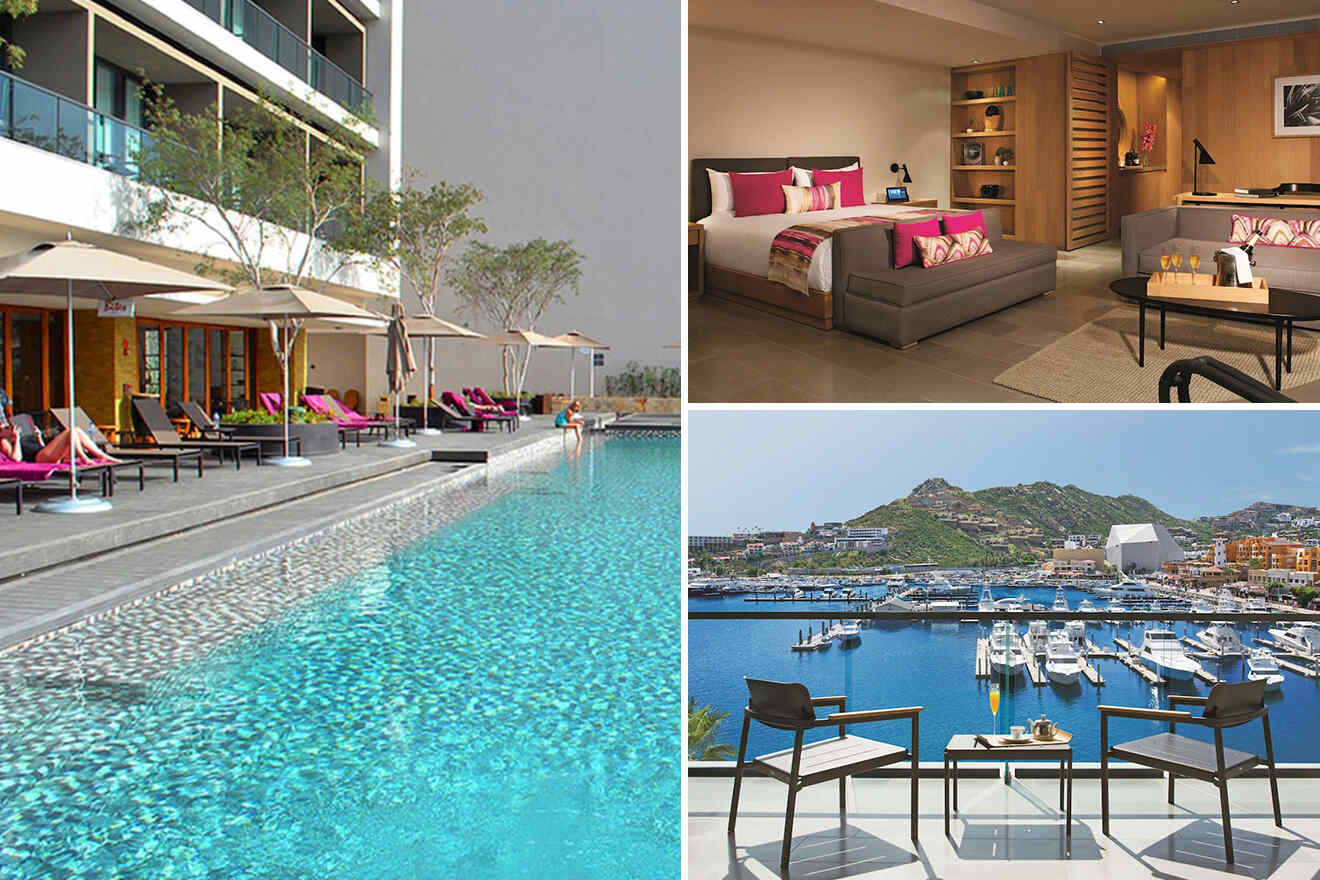 The luxury resort Breathless Cabo San Lucas is the perfect place if you want to have the right balance between relaxation and party! Here you can spend your days having rejuvenating treatments at the spa, joining yoga sessions, or chilling at the pool, and enjoy the night with DJ pool parties, live music, and fashion shows.
And if one day you want to experience the local nightlife of downtown Cabo San Lucas, you'll be only a short walk from the resort city! Another big plus of the resort is that it offers a stunning view from almost any spot: restaurants, bars, infinity pools, rooftop private lounges, etc.
By the way, if you're really into partying, I suggest you check out this post with all the top party resorts in Cancun!
5. Marquis Los Cabos – for a romantic getaway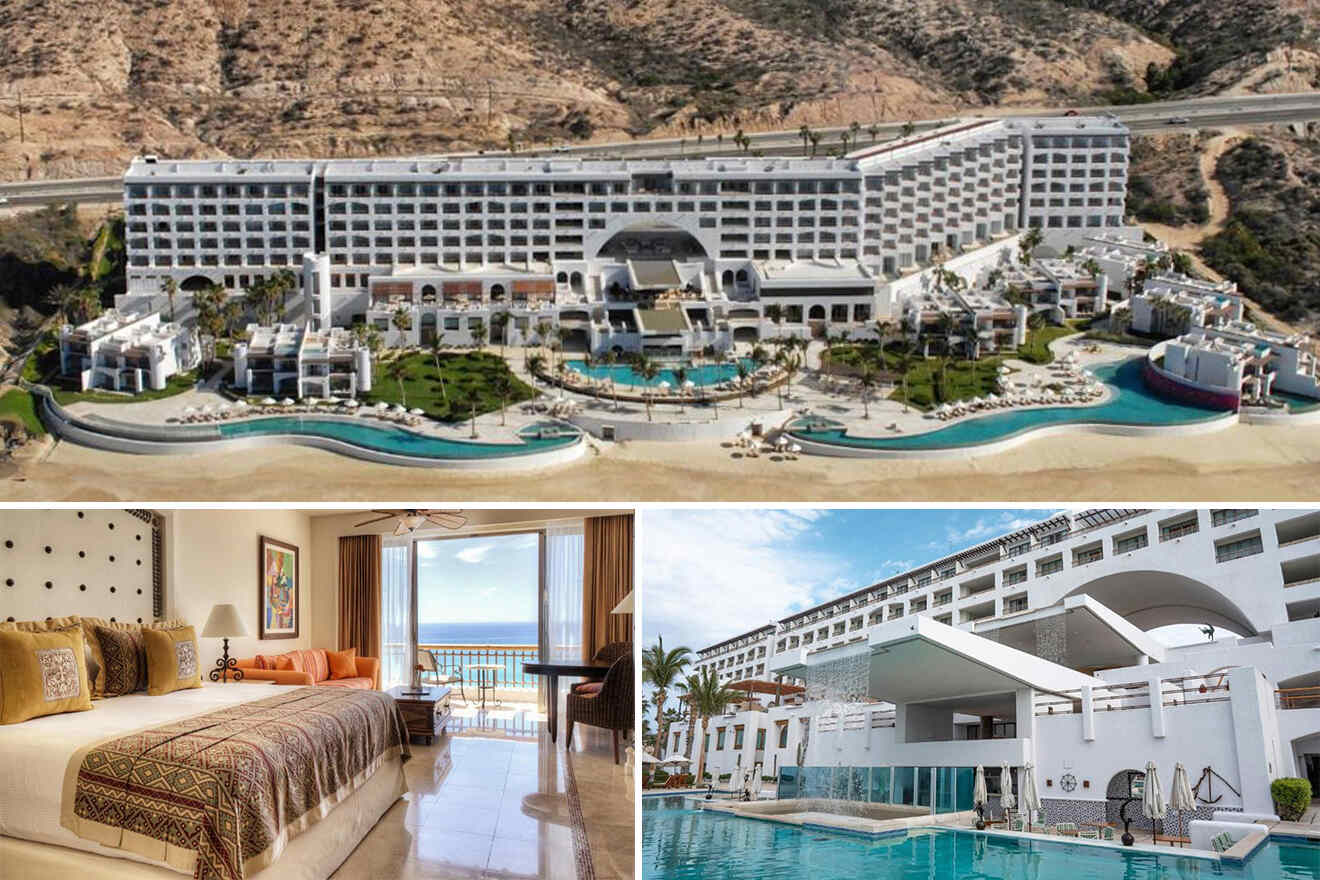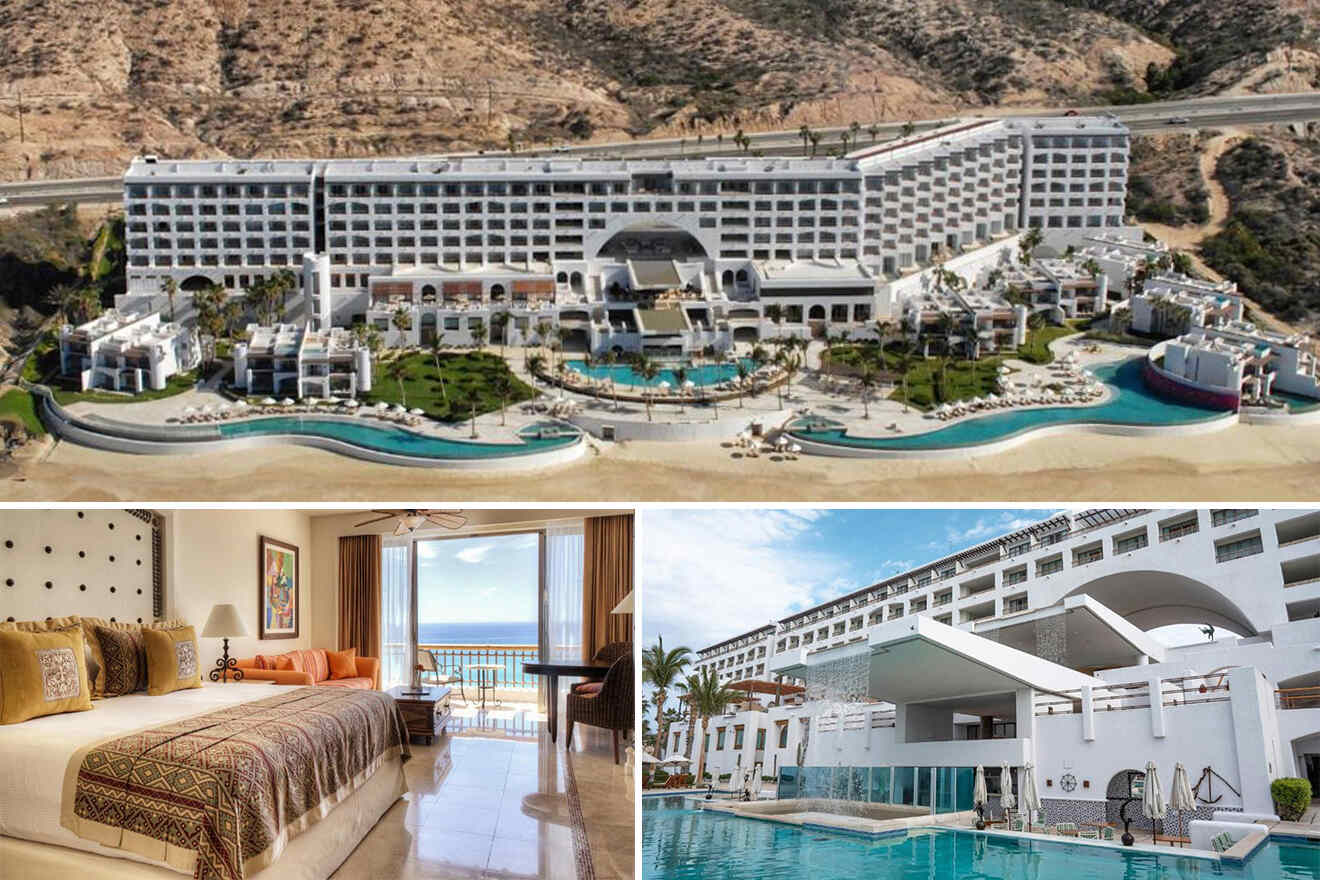 Looking for THE spot to spend a romantic getaway with your special one? You just found it! Marquis Los Cabos is an adults-only, all-inclusive resort offering a quiet and tranquil atmosphere… the ultimate escape for honeymooners!
Here couples can enjoy their privacy in the luxury suites with private plunge pools and have romantic dinners at one of the 5 on-site restaurants serving any kind of delicious food from sushi to Mexican cuisine. And during the day, you can have relaxing spa sessions at their holistic spa, or join countless activities like tennis lessons, salsa dancing, shooting, and cooking classes!
6. Secrets Puerto Los Cabos Golf & Spa – for foodies!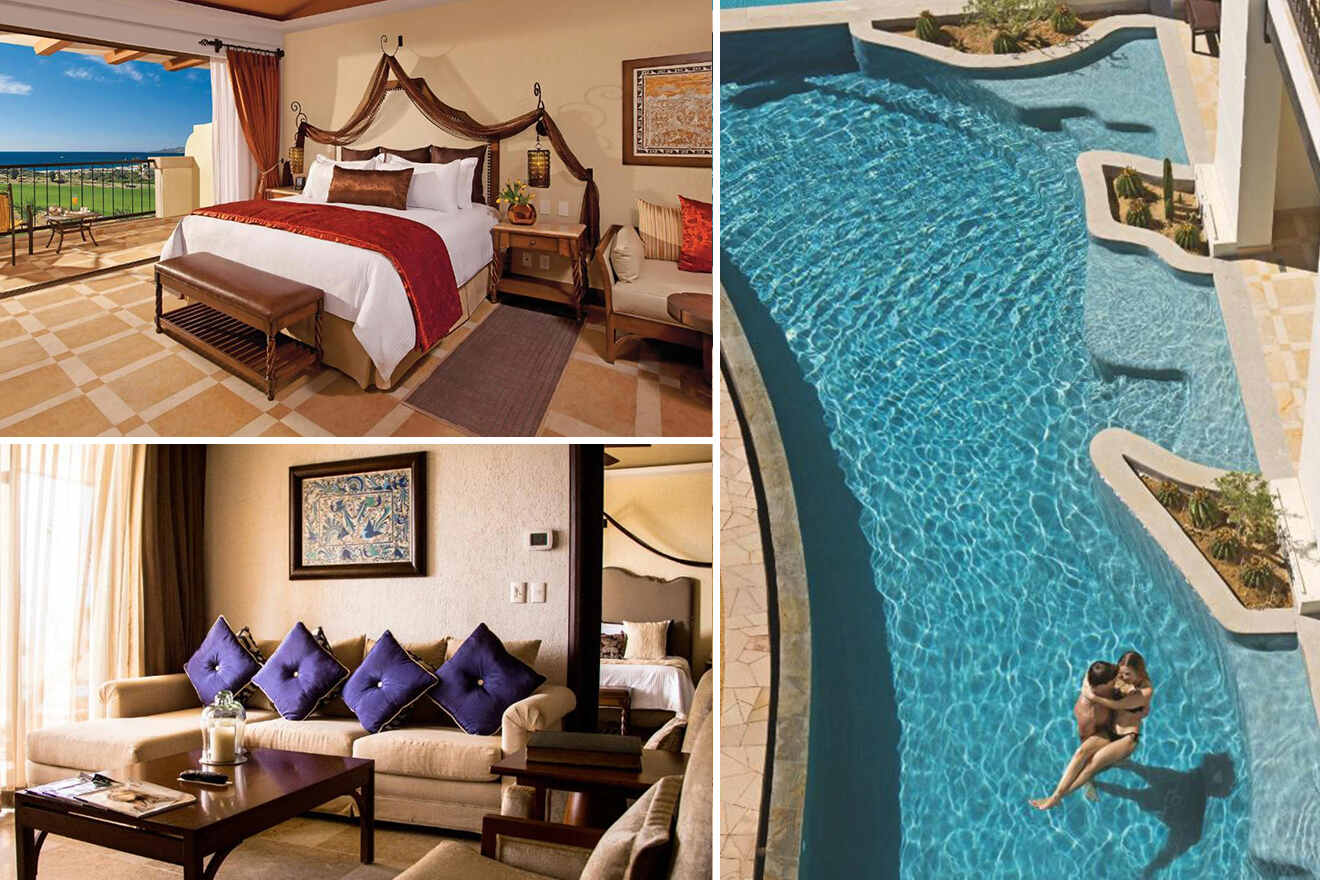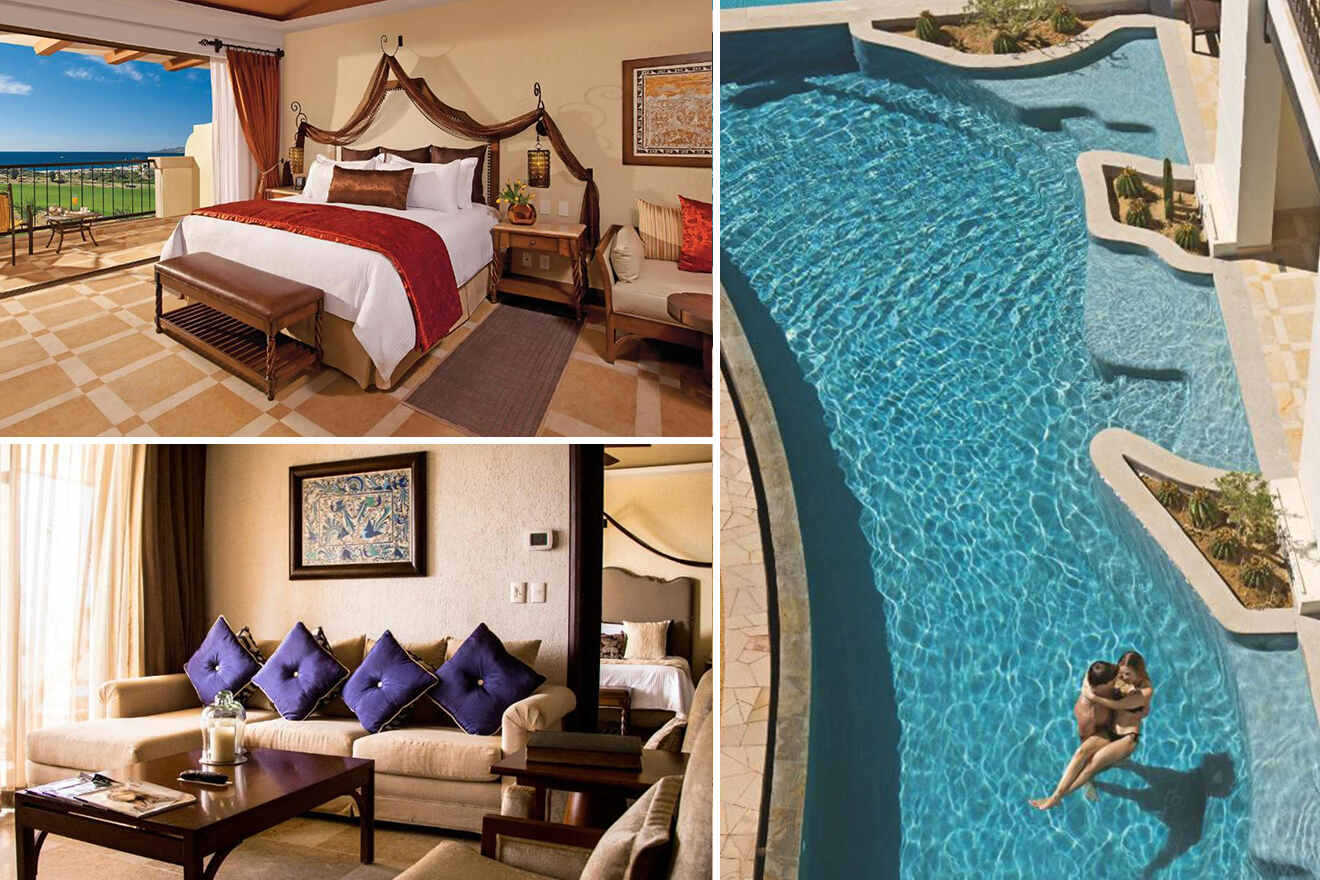 If one of the main things you dream about before going on holiday is all the delicious food you'll try (welcome to my club!), then you will love staying at Secrets Puerto Los Cabos Golf & Spa Resort, located on a pristine beach in San Jose del Cabo.
This Secrets resort offers the top food at its 8 gourmet restaurants, including Asian, Mexican, and Italian cuisine as well as a buffet venue, prime drinks at the 6 bars… and all meals and drinks are included! When you're not eating, you can enjoy many free on-site activities, from cooking classes to yoga, pilates and football, and karaoke at night!
7. Pueblo Bonito Pacifica Golf & Spa Resort – the best activities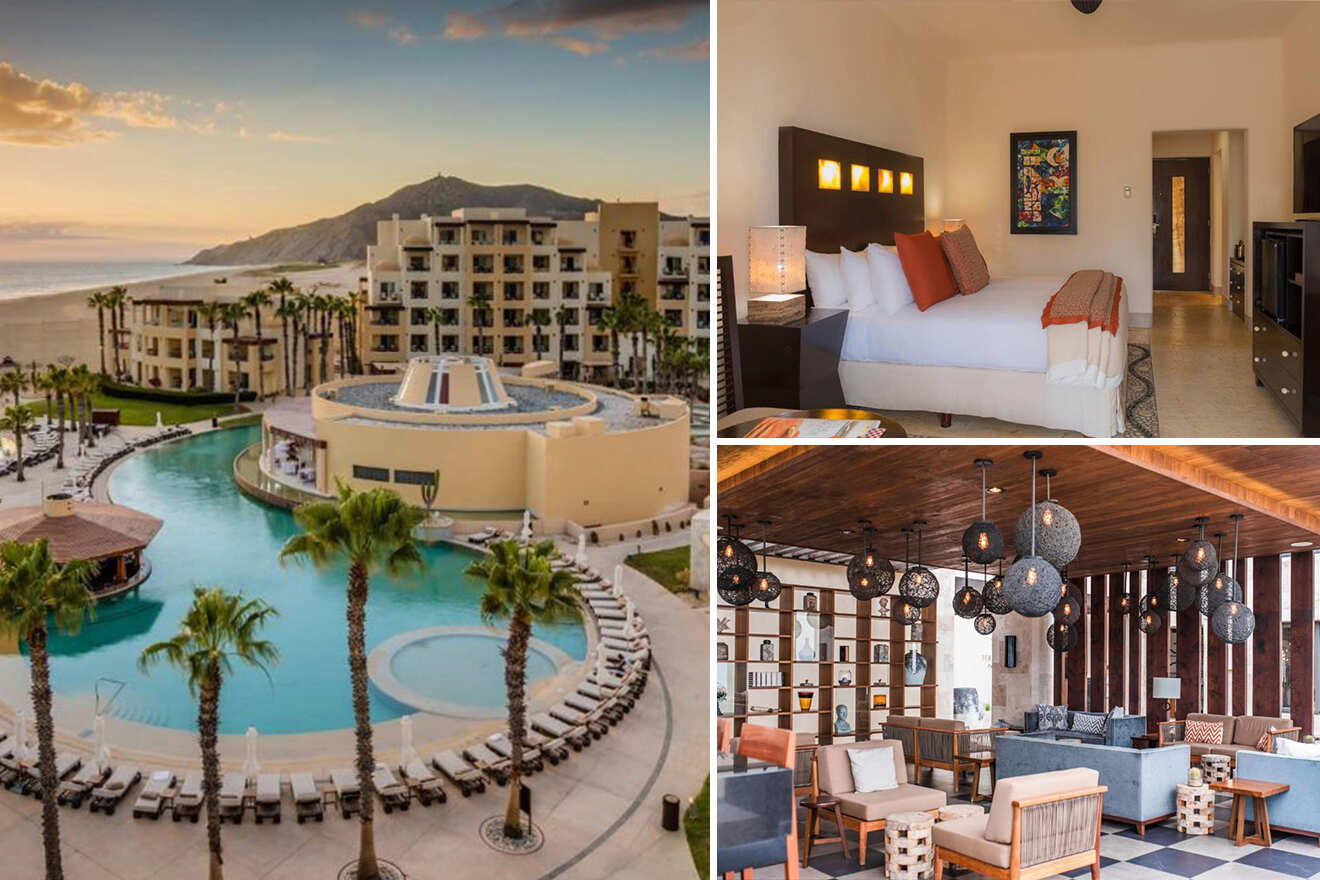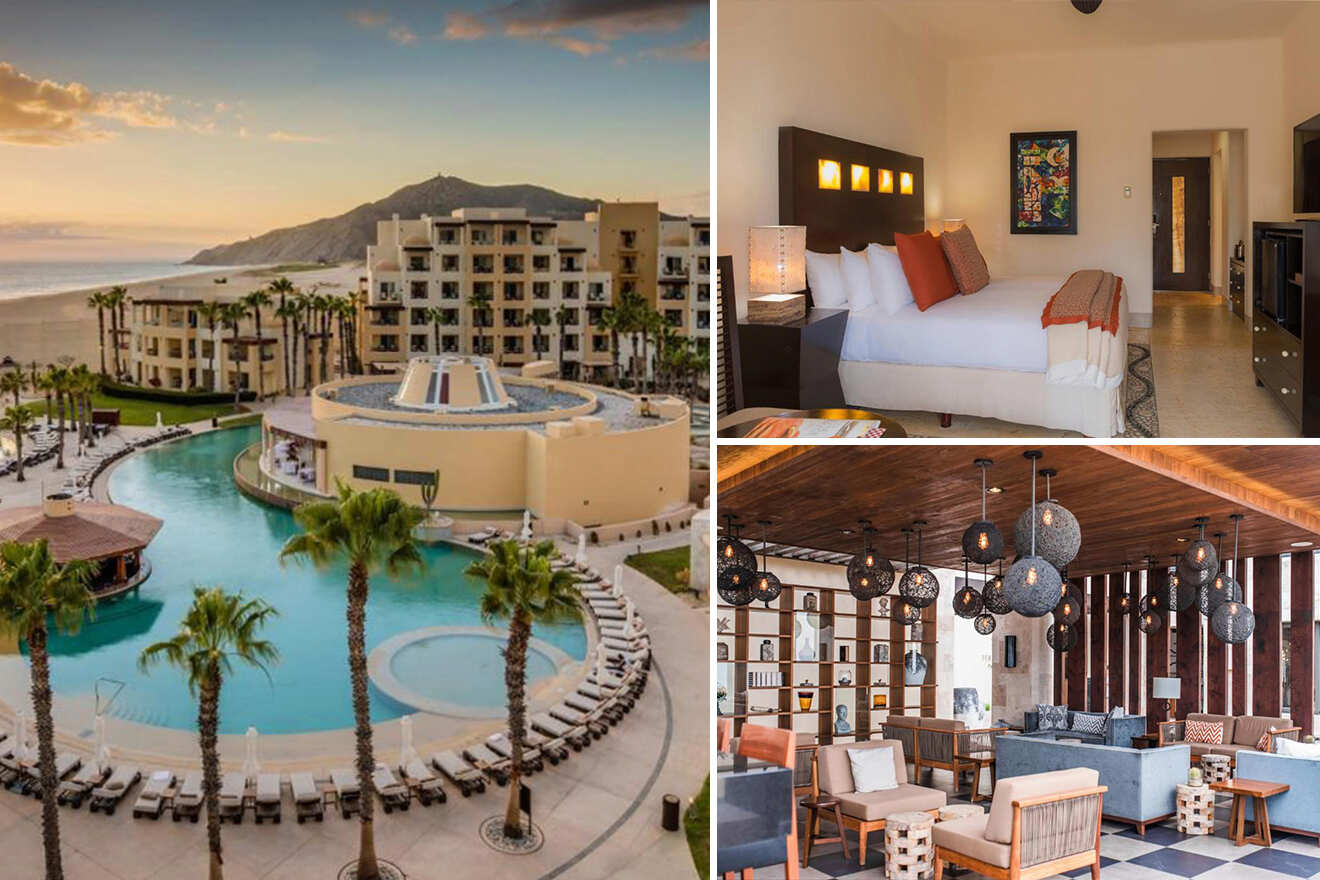 Nestled on a secluded beach, only 5 minute's drive from downtown Cabo San Lucas, you'll find Pueblo Bonito Pacifica Golf & Spa resort, with an adults-only and all-inclusive rate, offering stunning suites with avant-garde design, enhanced amenities, and engaging activities!
In fact, in this golf resort, you can either relax at the award-winning spa, have access to the Jack Nicklaus Signature Course at the Quivira Golf Club, enjoy wine tastings at the VIP lounge, do some sport at the fitness center, or have gourmet meals in the multiple restaurants on site. The hotels even arrange whale-watching trips… make sure you don't miss this opportunity!
8. The Ridge at Playa Grande – the best panoramic views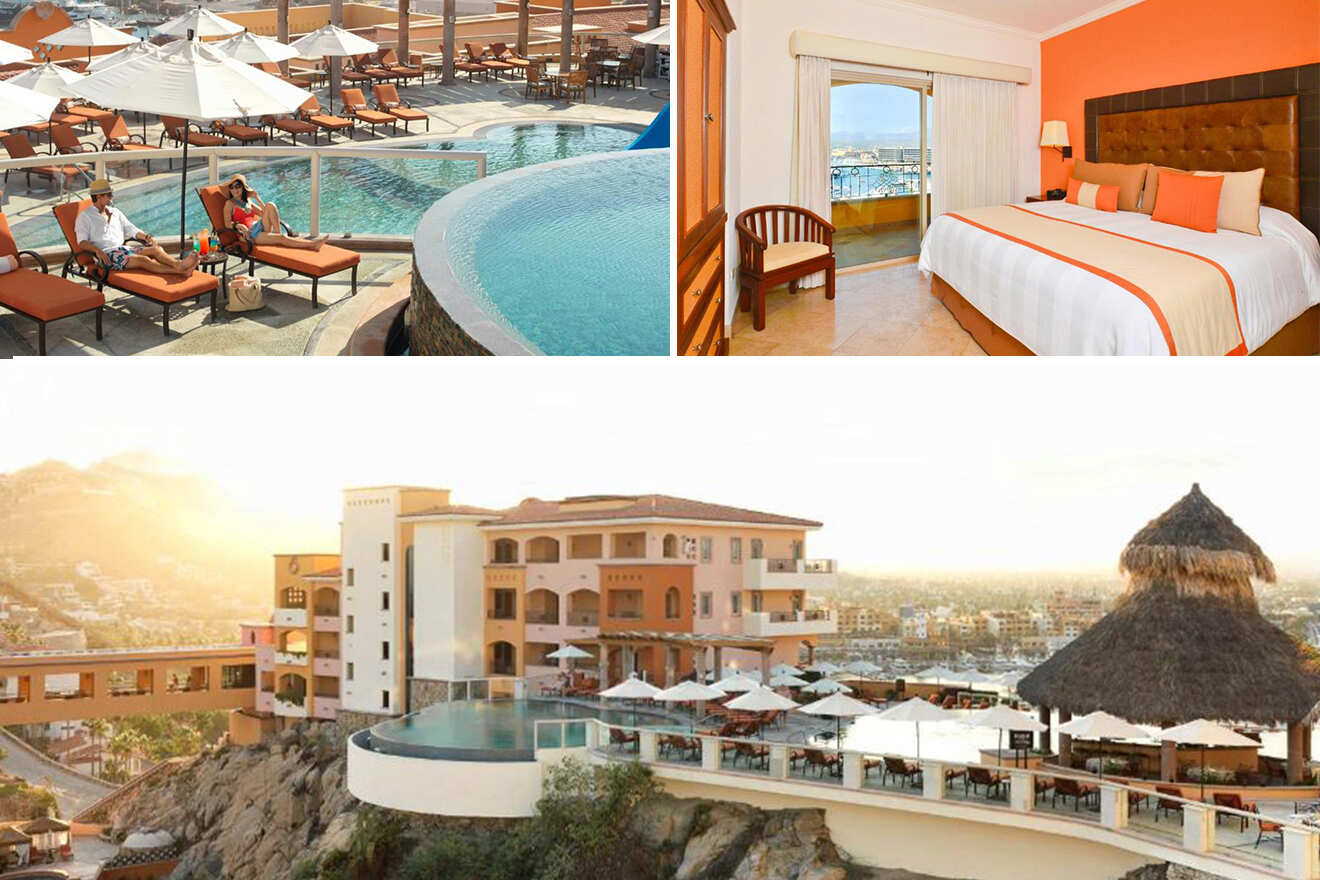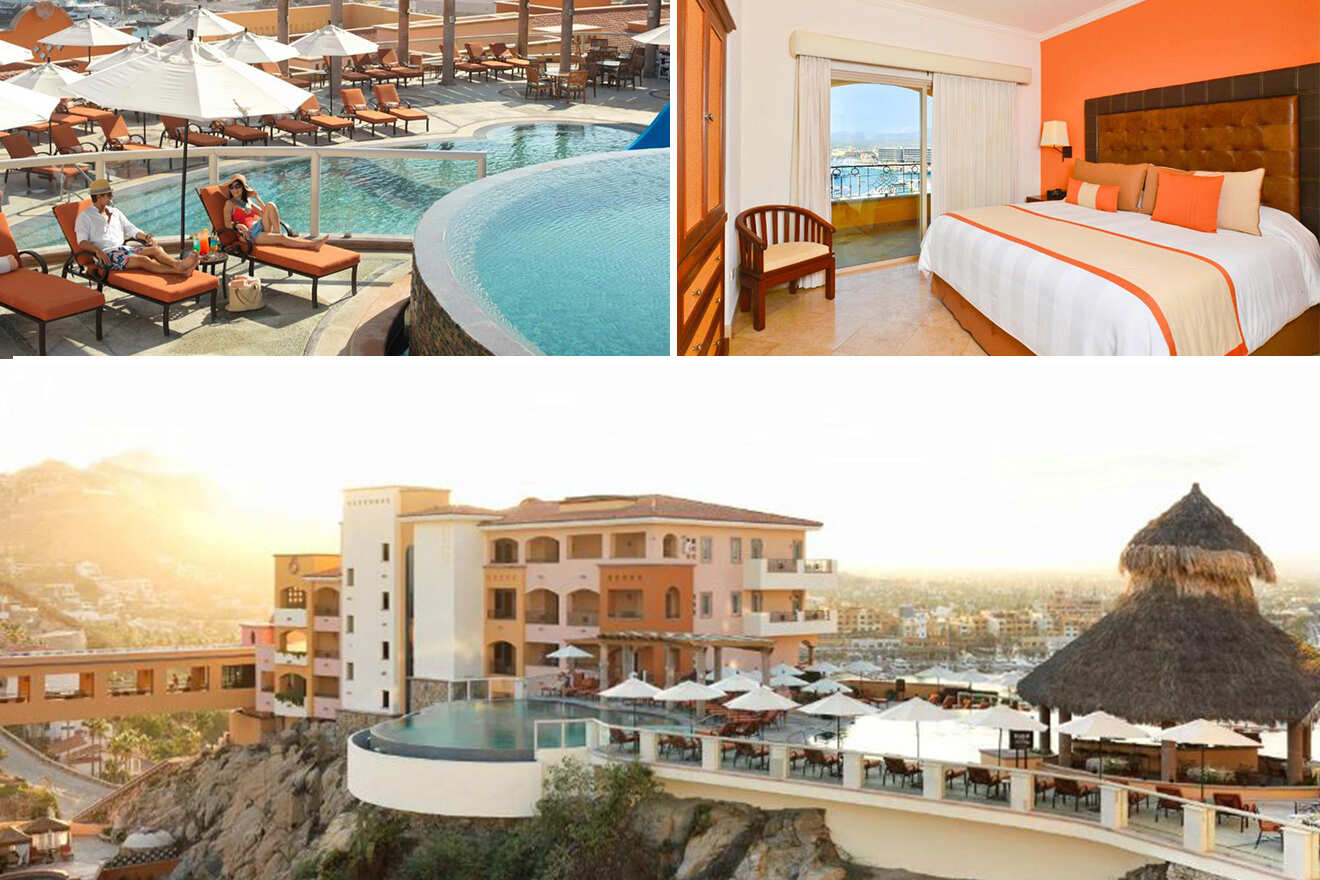 This Los Cabos resort sits between impressive rock formations and offers breathtaking views of the Sea of Cortez that you can enjoy from literally everywhere in the property: your room, the 3 infinity pools, or the rooftop restaurant!
But this luxury resort offers much more than this… from the private Solmar Beach, where you can spend your day swimming and soaking up some sun, to a spa with wellness and beauty packages, a fitness center, tennis courts, butler services, and even car rental. And the suites are just amazing, featuring private balconies and room service. Check out the pictures!
9. Riu Palace Baja California – a state-of-the-art spa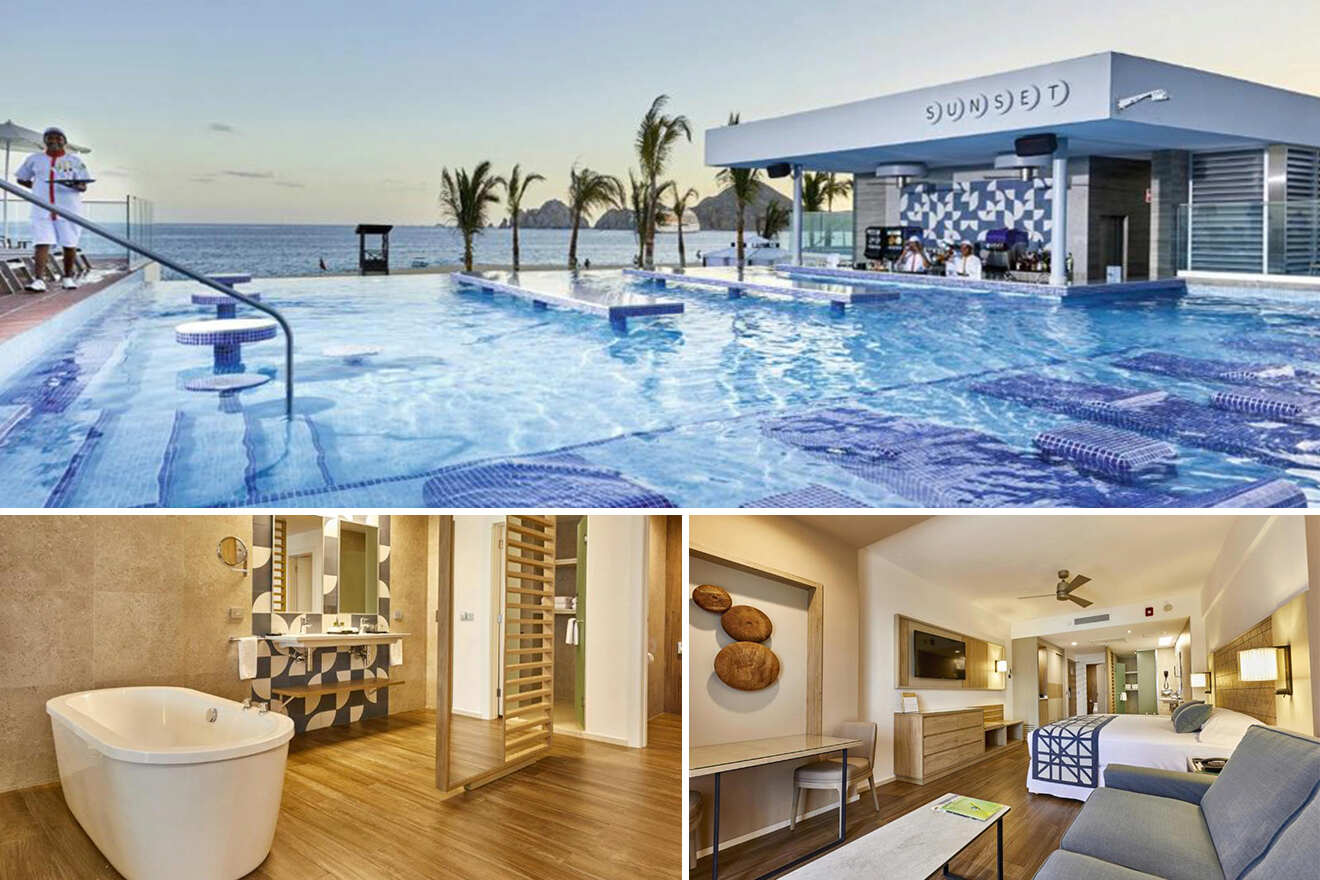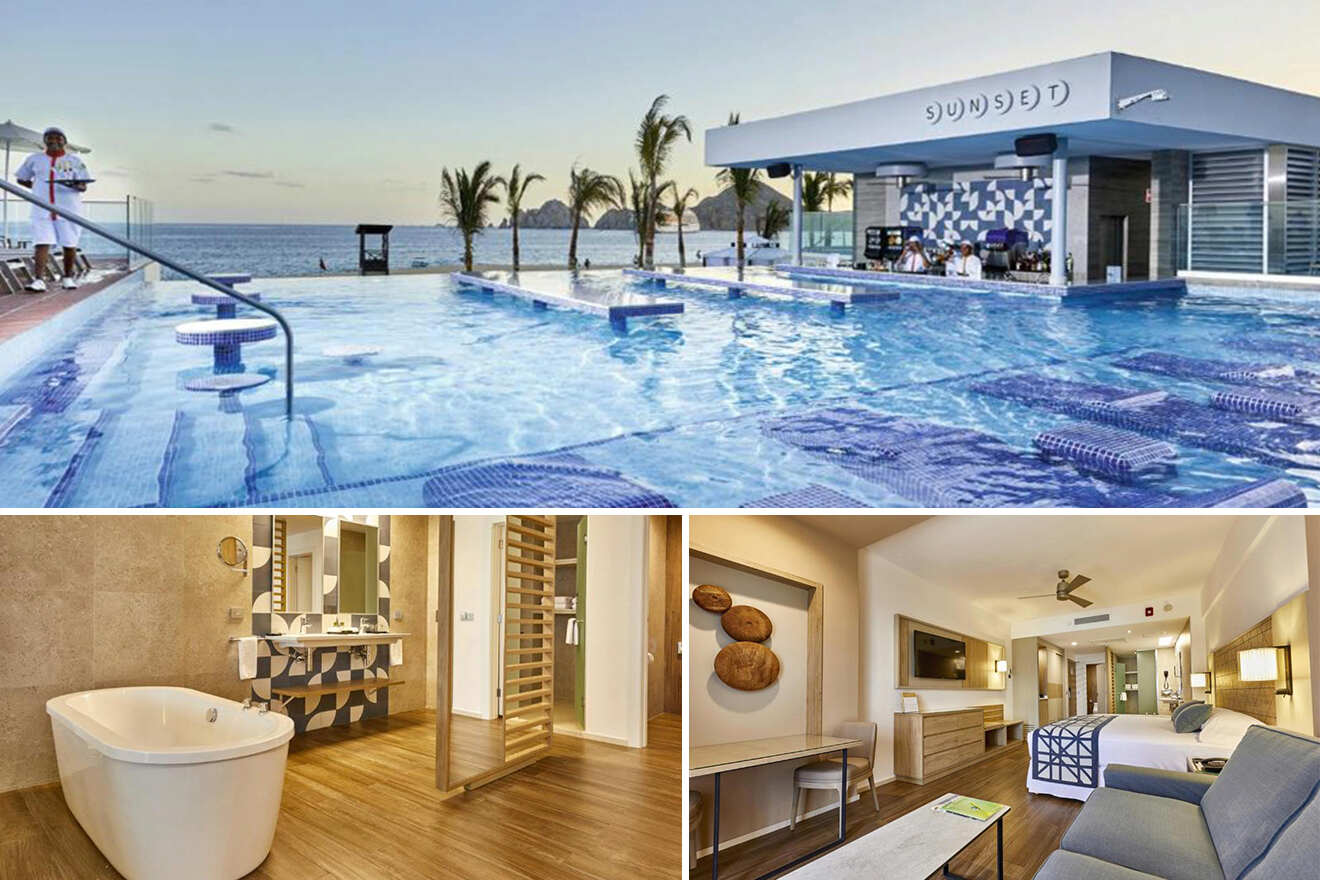 If your main priority during your stay in Los Cabos is full relaxation, check out this adults-only resort, offering a world-class spa with everything you need to rejuvenate and revitalize: wellness packages, a spa lounge, and a relaxation area, a steam room, and beauty services… you'll end your holiday being another person!
And after a day dedicated to treating yourself, you will sleep in luxury rooms, each one featuring sea or garden views, a furnished balcony, very comfy beds, and a coffee machine to start your day in the best way! If instead, you are going to Mexico on a vacation with the family, you might want to check out more options on this post about the best family-friendly resorts in the Riviera Maya or Cabo!
FAQs about all-inclusive, adults-only Cabo resorts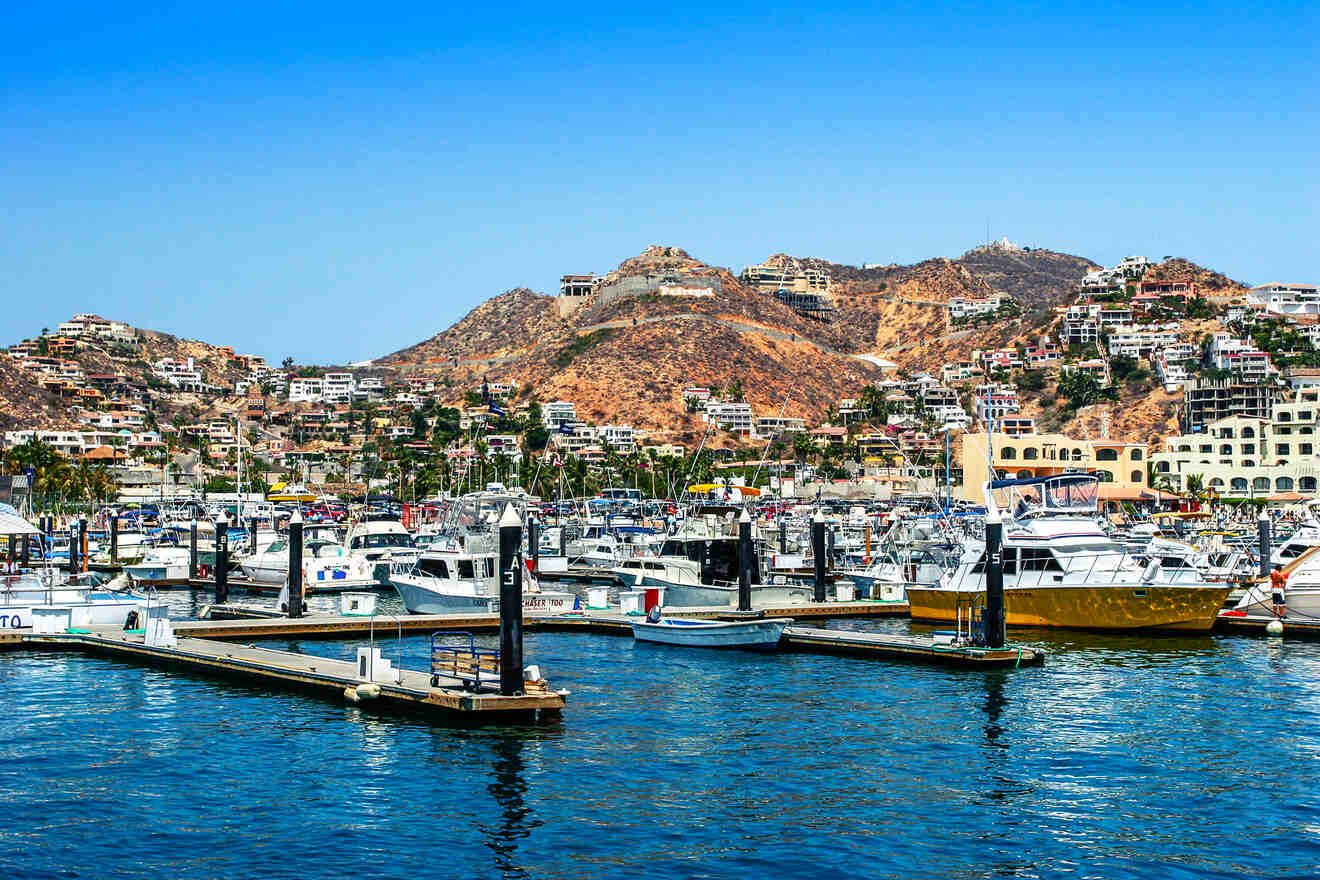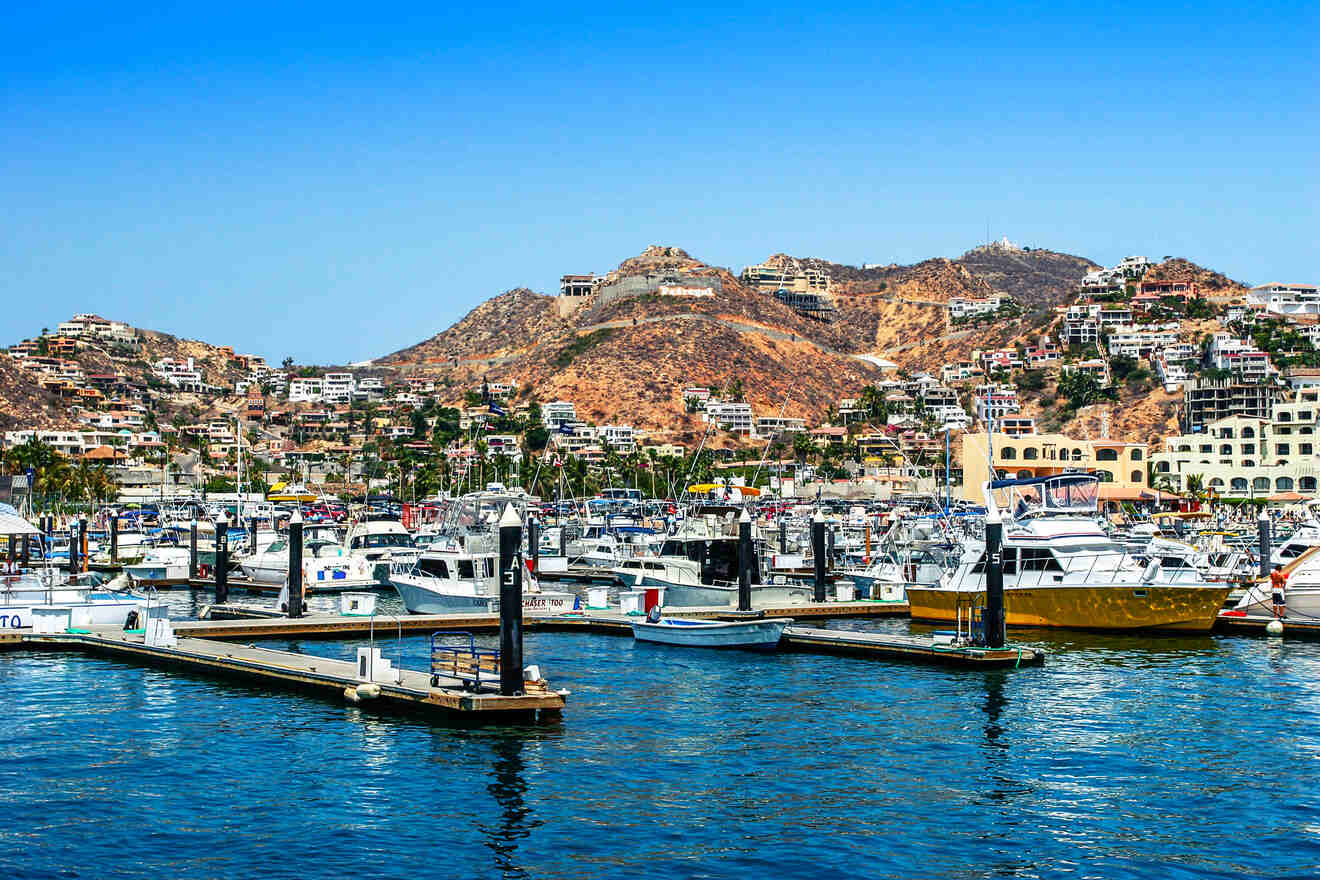 🤩 Which are the best adults-only, all-inclusive resorts in Los Cabos?
👩‍❤‍👨 Which are the best adults-only, all-inclusive resorts in Los Cabos for couples?
The best adults-only, all-inclusive resorts in Los Cabos for couples are Paradisus Los Cabos, with a very intimate and low-key vibe, or Marquis Los Cabos, offering luxury suites with private plunge pools.
⚖️ Is Cancun or Los Cabos better?
They both have beautiful beaches but Cancun offers a vibrant nightlife so is better if you want to party, while Los Cabos has a more laid-back atmosphere, perfect for relaxing or going on a romantic getaway!
💃 Is Los Cabos a party destination?
Even if overall it has a more laid-back vibe, yes, Los Cabos offers some great clubs and bars to enjoy the night, especially in Cabo San Lucas resort city. Otherwise, you can stay in a resort with parties and night entertainment, like Breathless Cabo San Lucas.
❓Is Los Cabos or Cancun safer?
Being 2 popular tourist destinations, both Cancun and Los Cabos are pretty safe, but Los Cabos wins in terms of lower crime rate: it has been declared one of the safest places by the World Travel and Tourism Council in 2020.
Conclusion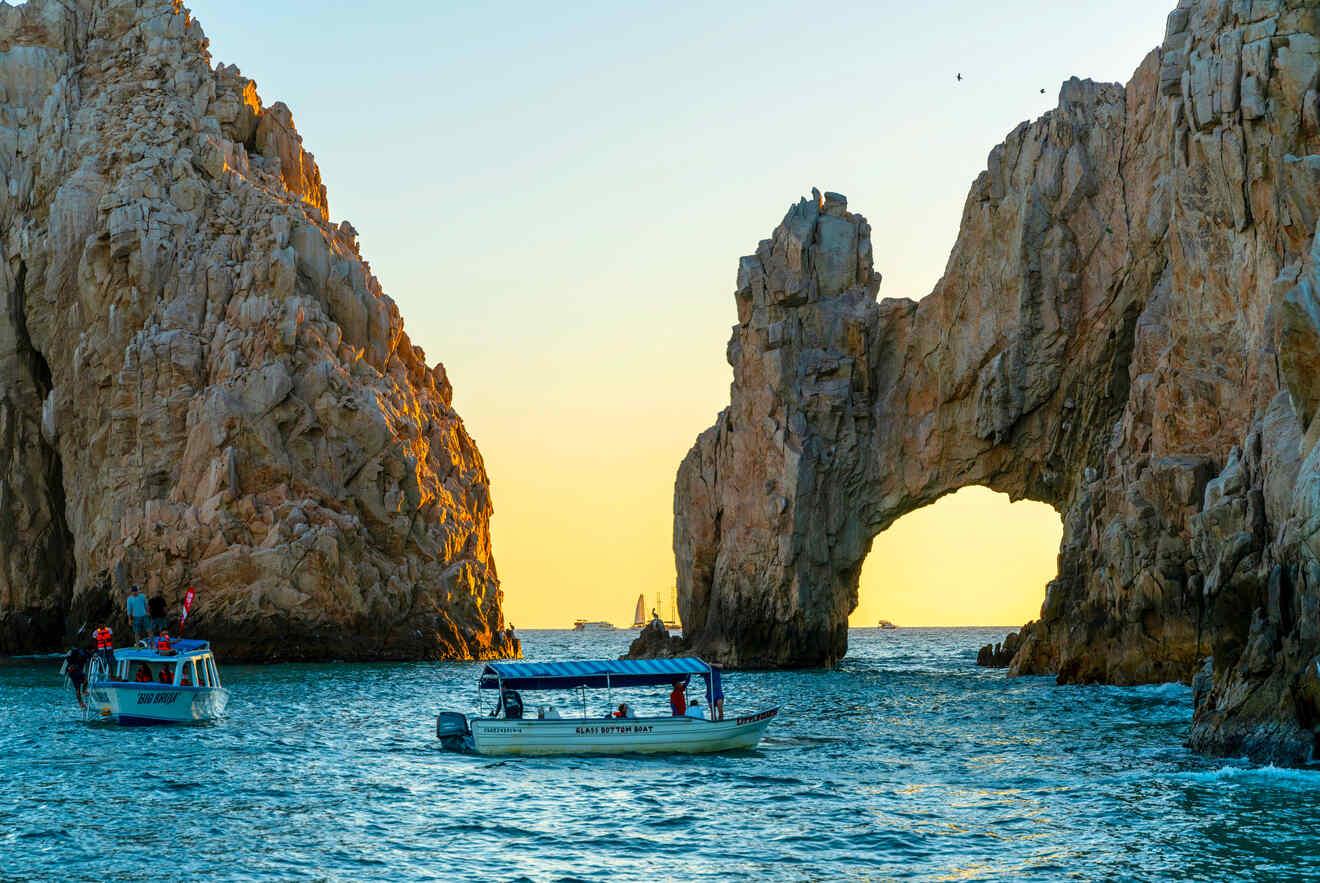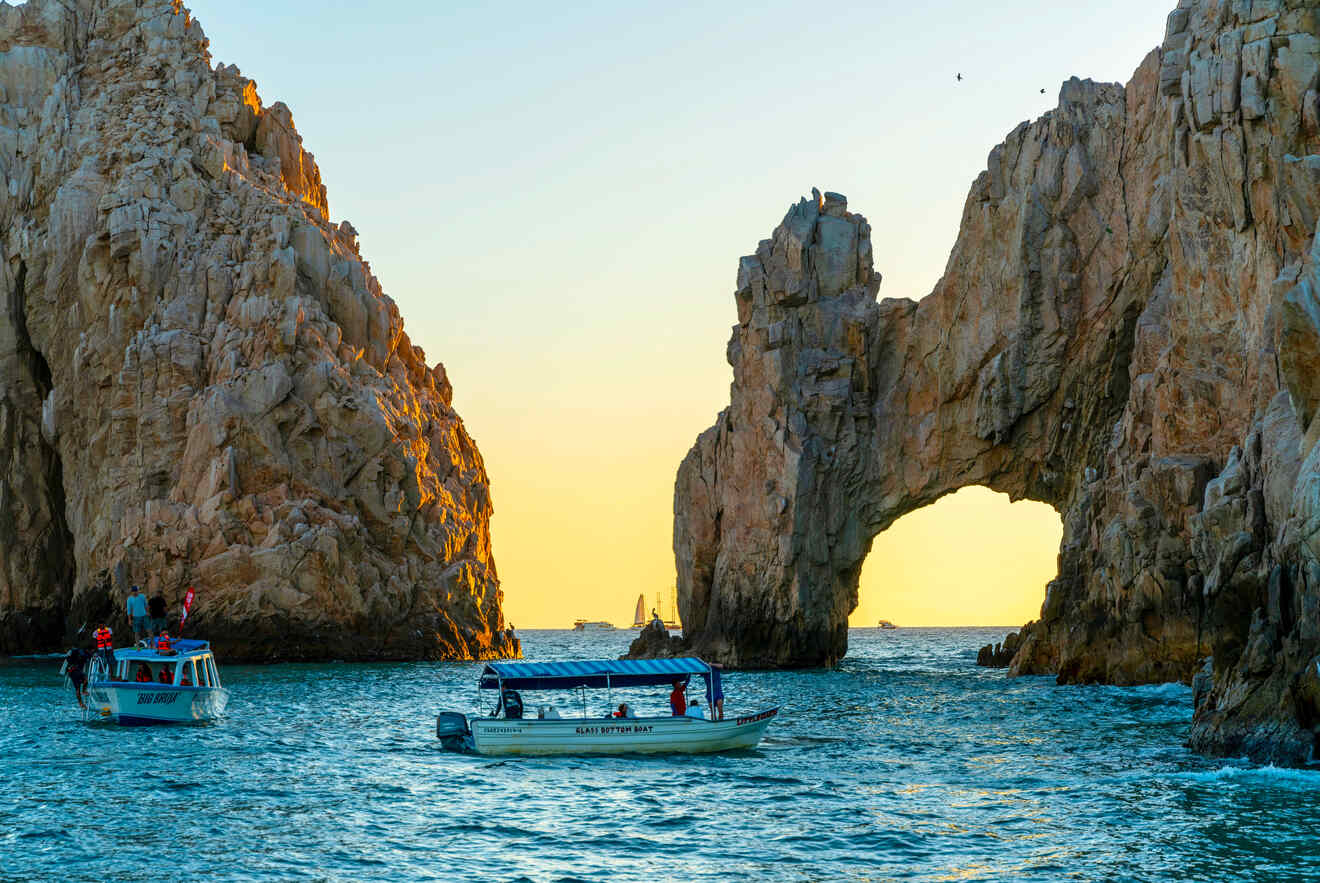 So, have you decided on which of the TOP Cabo all-inclusive, adults-only resorts, you will stay? We saw resorts for honeymooners, for a relaxing holiday, for parties, and much more… Los Cabos offers something for literally anyone!
If you're still undecided about which is the best option for you, let me help you a little more and give you my 2 absolute favorite resorts:
Le Blanc Spa Resort Cancún – this stunning resort offers adults-only royal service and the most luxury Los Cabos suites!
Marquis Los Cabos – this all-inclusive resort in Los Cabos is perfect for honeymooners, offering elegant suites with private plunge pools
Whether you like these 2 options or any one of the resorts mentioned in the blog, make sure you book them immediately or you could lose the spot as you know, Los Cabos is a super popular destination in Mexico!
I hope you found my guide useful, but if you have any doubts or questions for me, please share them in the comments below, I am looking forward to reading them all and answering you!
Have an amazing holiday!
Elena
---
Pin it for later!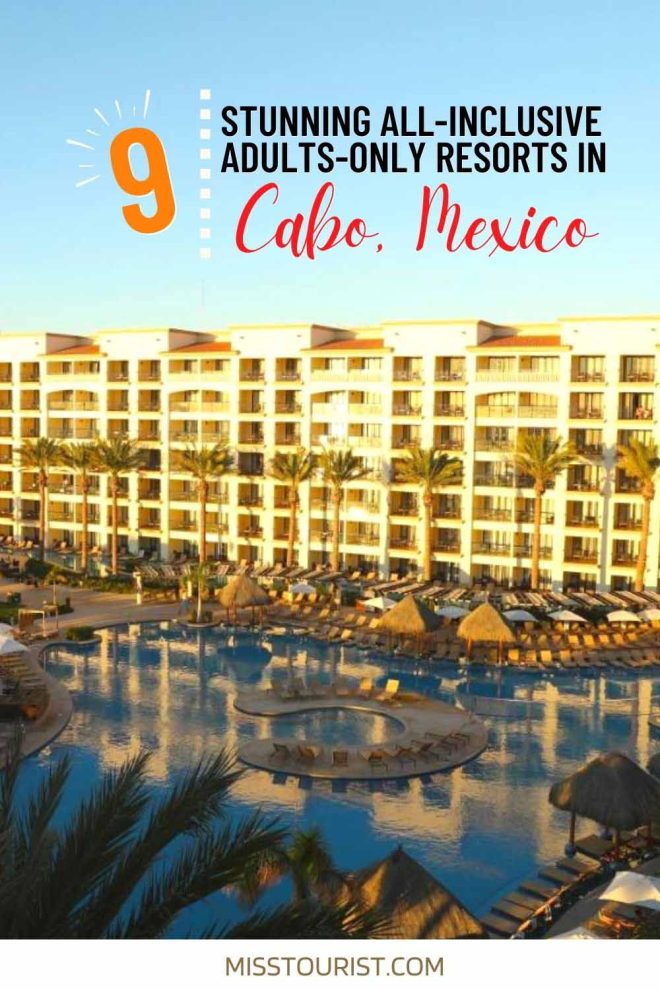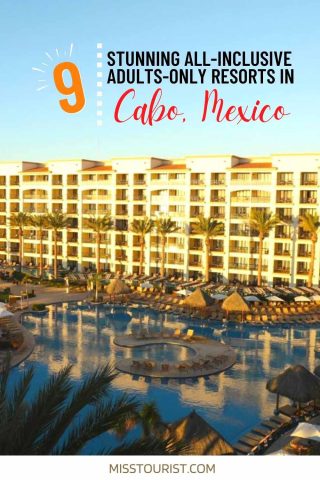 Pin it for later!