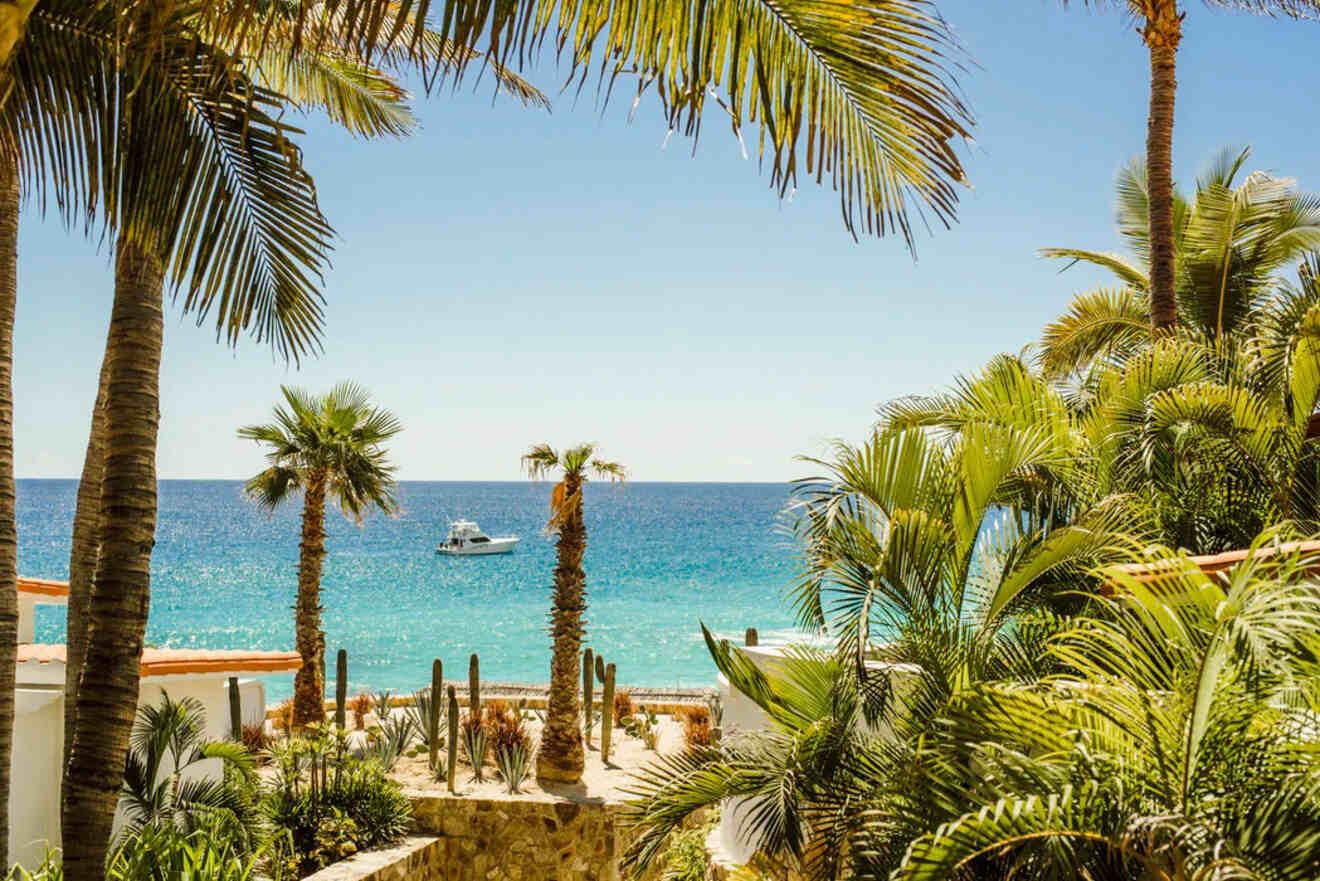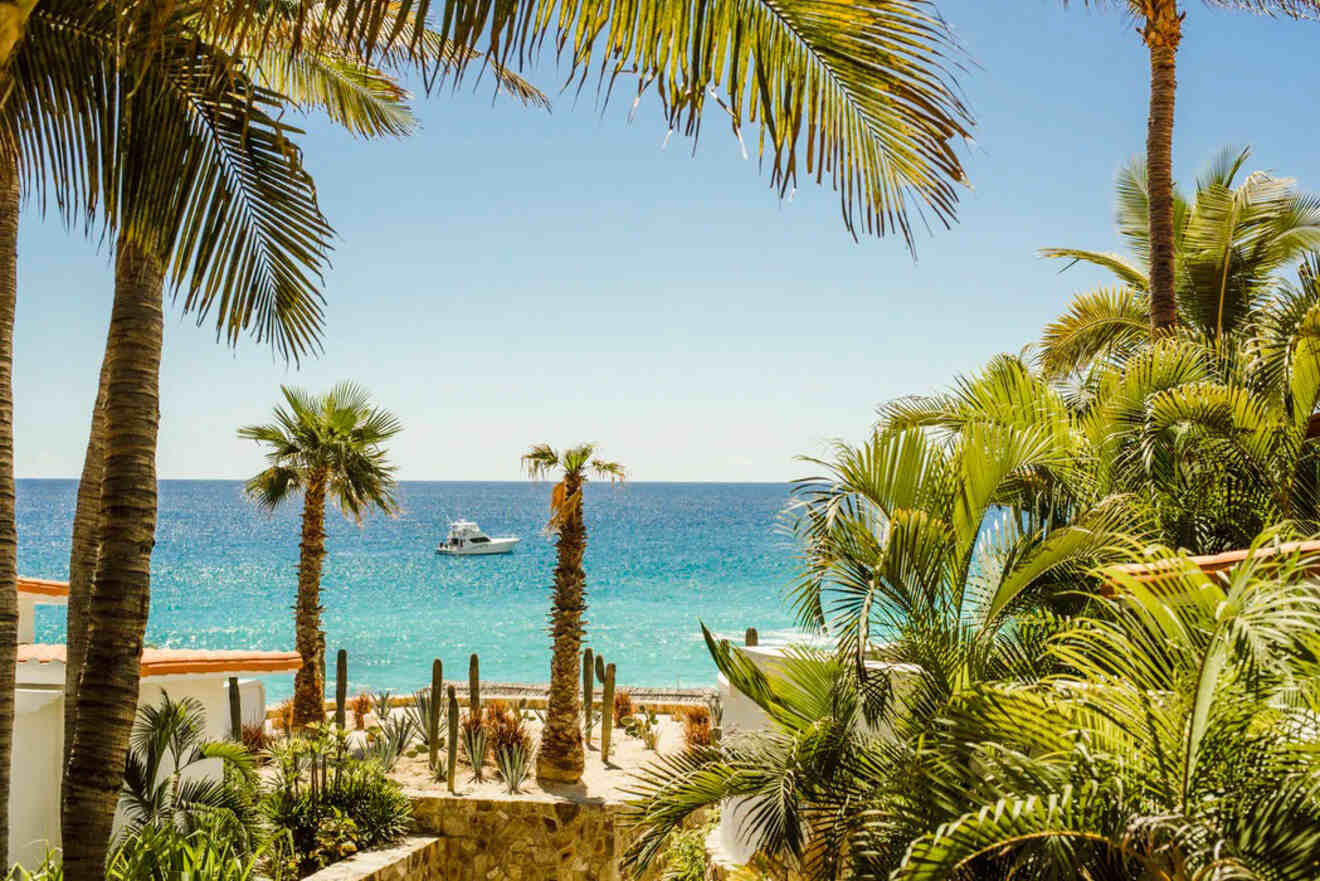 Get ready for a Mexican vacation! The Los Cabos Corridor sits on Mexico's California Baja coast and is also interchangeably referred to as Cabo San Lucas.
Los Cabos is on the very southern tip of the California peninsula and is known for a number of natural landmarks. The Arch of Cabo San Lucas and Lovers Beach being prime examples. It is recognized as one of the sunniest places in the world, experiencing 320 days of sun per year on average – no wonder the beaches are popular here.
Holidaymakers split their time between visiting some of these natural attractions, tasting the high-end cuisine, whale watching while in season, and partying in the vibrant club scene.
I've found some stunning Airbnbs in Los Cabos for you to check out. Renting a place on this list for your next vacation will not only enhance your stay but will also help you create a holiday to remember. Read on for a list of the finest Airbnb rentals available in Los Cabos.
If You Are in a Hurry: Best Airbnbs in Los Cabos
Of the Airbnbs in Los Cabos I found, I would consider these four the top of my list in terms of rating and centrality. I've included these top Airbnb options (organized by price) as they suit a range of travelers.
Top 14 Airbnb Rentals in Los Cabos
Here they are, a collection of truly wonderful Airbnbs in the Los Cabos area, which includes San José del Cabo and Cabo San Lucas. I've sorted them high to low in terms of cost. I've also factored in cleaning fees and additional costs where applicable. So you know exactly what your real costs are for each place.
1. Villa del Toro Rojo – Perfect for a Huge Family Getaway
Location: Pedregal
Price: from US$1560 per night
Bedrooms: 6
Guests: 12
There's a certain part of the evening, just as the sun has gone down, that the pool area of this villa emits an impossible blue hue! It's this calming blue mood that permeates the rest of this clean house – a veritable mansion with a view – set high up in the Mexican hills.
The outdoor bar, great ocean views, voluminous outdoor deck space, jacuzzi, and huge living area just seem perfectly positioned in this place. Even the master bedroom has a completely open wall leading onto the private jacuzzi. Just leave your shoes at home. You want to keep this place nice and clean!

Added bonuses include a delightful kitchen area, wi-fi, and free calls to anywhere in the US, so you can brag to those left at home, plus, daily maid service for the villa is included!
2. Casa Blanca – Luxury Home for a Big Group
Location: Costa Azul
Price: from US$1080 per night
Bedrooms: 3
Guests: 8
Let the sunshine in through the great wall of windows, with a view overlooking the pool and the azure ocean. The huge living space, kitchen, and high ceilings of this villa are outrageously luxurious. As is every (very clean and comfortable) bedroom – each with its own view-friendly deck upon which to sit and sip a wonderful cool cocktail.
You're in a gated community near San José del Cabo, with 24-hour security providing privacy and quiet. And golfers will love the access to the Jack Nicklaus golf course and the tennis facility within the complex. Not many vacation rentals can boast that, but if you want to look at all the possible places in Los Cabos as well as Airbnbs, you can read this article.
3. Amazing Instagram Condominium – Luxury Apartment for Couples
Location: Zona Hotelera
Price: from US$840 per night
Bedrooms: 1
Guests: 2
Super sophisticated, clean, and ultra-stylish, you will feel like you're living in a futuristic movie's luxury Mexican hotel when you're in this place. Domes, walls, and waterways invite you to walk between pools and beachfront apartments.
Your ultra-minimal private casa is both utilitarian and impossibly clean and opulent. Your jet tub sits near the front end, with the great glass wall – yes, an entire wall – as your portal to the most beautiful San José del Cabo resort view you've ever seen. Throw in the free wi-fi and why would you ever leave this great place, or even your room, for that matter?
4. Huge OceanViews with Free Minivan – Villa Great for Families
Location: Punta Arena
Price: from US$780 per night
Bedrooms: 3
Guests: 8
Another truly great villa property with arguably the most amazing views in all of Cabo San Lucas. From this place, you can view the Sea of Cortez, Cabo San Lucas town, and even Land's End quite well! You can see the lights of San Lucas at night, or whales breaching in the ocean during whale season. That alone is worth the price of admission to this incredible villa stay.
A great bonus provided by the host is the use of his Honda Odyssey minivan. It puts the local attractions within a few minutes' reach of the villa – including Medano Beach and the marina. You're also less than ten minutes from Cabo center, should you want to shop or enjoy some nightlife.
Otherwise, plug into an in-house karaoke machine, laze in the hammock (or your bedroom) and enjoy the view. If you're feeling lively, challenge someone to a game of admittedly picturesque cornhole, or take a walk down to the white sand beach – you can see the beautiful beach and Airbnb in this awesome video.
5. Three Bedroom Villa – Walking Distance to the Beach
Location: Santa Carmela
Price: from US$480 per night
Bedrooms: 3
Guests: 8
This clean, private, gated community is just a few miles from downtown Cabo San Lucas and the marina beyond. The beautiful villa embraces its great Spanish legacy, named "Hacienda Hermosa" for effect (see a video tour here). The decor is dark wood, minimal and pretty, and the pool edge curves to embrace the outdoor lounge area, inviting you in.
The 5-minute walk to the beach is another bonus, especially if you love just lazing the day away in one of the hammocks on the beach. Dine outdoors by the heated pool and jacuzzi, under the beautiful beamed awning, then, when you retire for the evening, I recommend the second bedroom – it's absolutely gorgeous!
6. Your Home Away From Home – Luxury Escape for Families
Location: Zona Hotelera
Price: from US$330 per night
Bedrooms: 3
Guests: 6
The first thing you'll notice about this traditional-looking villa is the great wooden doors that welcome you. They immediately create the impression that you're entering a private world of older Mexican nobility.
By contrast, the clean and neat villa interior is almost reserved in its air and decor. There's an understated sense of style here that provokes quiet and calm while being cozy and warm.
The outdoor area is a favorite hangout, especially as the pool, grill, and sunbeds are so wonderfully maintained. As for location, you couldn't ask for a more central San Jose del Cabo neighborhood. Definitely one of the nicest villa choices in Cabo.
7. Surf Condo on the Beach at Las Olas
Location: Palmilla
Price: from US$300 per night
Bedrooms: 3
Guests: 6
If you want the option to simply walk to the San Jose Del Cabo bars, restaurants and marina, while almost living on the Mexican beach, look no further. The clean complex overlooks a swimmable ocean, and the private condo shares a gorgeous pool with three communal hot tubs to enjoy.
On lazy days you can cook up a meal in your kitchen and enjoy it on your wraparound balcony. Alternatively, the energetic will enjoy the rooftop tennis courts at your disposal.
The white sandy beach is definitely the highlight and you can even catch a break off the point if you're a surfer. After your fun-filled day, simply pad the few yards down to the popular and friendly Zippers bar and grill for a great margarita.
8. Authentic Mexican Design with Beach Views
Location: Cabo Bello
Price: from US$240 per night
Bedrooms: 2
Guests: 6
There's something about pictures of food on the wall – whether paintings or photos – that create a feeling of belonging. The piece in question here sits above a comfortable sofa in the living room, right next to the kitchen.
It displays the most delicious Mexican foods like papaya and chili. And it's the perfect iconic representation of this condo and your Los Cabos stay as a whole – colorful, exciting and vibrant. And it puts you in the mood for eating!
The lanais offers an ideal covered spot to enjoy the air and view of the beach (again, you'll want to get down there from time to time, especially Medano Beach). And you also have a tennis court, swimming pool, and a nice palm tree-laden outdoor area to enjoy with your neighbors.
9. Piece of Heaven Overlooking The Sea of Cortes
Location: La Playa
Price: from US$230 per night
Bedrooms: 2
Guests: 4
What constitutes heaven, according to this host? Touches of turquoise and blue throughout the home create a calming atmosphere. Inside, the condo has an irregular shape, which allows for a large, openable, sliding door along most of a wall. It's the very notion of open and airy, pushing light and cool air into the kitchen and living space.
The Sea of Cortes provides a soft chorus of ocean sounds just a few yards away. Catch a wavy performance from the terrace in the extensive outdoor space. Take a walk in the beach air, catch views of the boats traversing the Marina Puerto Los Cabos, or take a 5-minute ride into downtown San Jose del Cabo or the marina. Not a bad argument for heaven.
10. Luxuriously Laid-back Beach Condo
Location: Costa Azul
Price: from US$200 per night
The centerpiece of this lovely condo is the overly large, private outdoor terrace that has a great ocean view. It's located in the Lomas de Jolla, an exclusive gated community on the ocean's edge near San Jose Del Cabo. The complex host claims that you can experience one of the finest sunrises on Earth in this place. Well, why not see for yourself?
As with most fine condos, air conditioning and a kitchen are standard. But there's also a fun addition – a couple of floor-standing stage lamps add an unusual element to some of the rooms, especially the bedroom.
Venture outdoors to enjoy a delightful infinity pool in the complex, and it's heated, so you can swim at night if you like. Of course, the beach is within walking distance – just a few yards further on, if you prefer.
11. La Jolla Beachfront Studio – Perfect for Couples
Location: Jesus Castro Agundez
Price: from US$200 per night
Bedrooms: 1
Guests: 2
Why settle for access to a pool, when you can have access to two? This studio apartment is sunny and colorful, and yes, the complex has two pools to choose from. But it's also not very far from the oceanfront – you can see it from your balcony. And if you want, you can push onto the marina and its wonderful activities and shops.
Palm trees sway in the breeze outside your window, while landscaped grass and walkways link you to the beach. Perfect for a couple looking for a comfortable, budget-friendly stay, without sacrificing the incomparable mood of a great Cabo San Lucas hotel vacation.
P. S. Please do not confuse this La Jolla to another charming town located in California, we actually have an airbnb post on that La Jolla too! 🙂
12. Casa Carlos – Great Studio with a View
Location: Pedregal
Price: from US$160 per night
Bedrooms: 1
Guests: 4
Here lies a beautiful private loft house set in the hills. That hammock on the balcony looks irresistible – you could pass more than a few superbly wasted hours in this place.
Double points for the quiet character of the neighborhood, according to the host. You can see a nice sliver of the ocean just beyond the sandy hill. It's very tempting to walk over that hill to get there.
The space is designed in a sort of all-in-one, studio wraparound style. The bedroom area is positioned around a corner from the kitchen and main living space, so it feels like there are multiple rooms.
13. Beachfront Stationary RV Mantarraya
Location: Los Barriles
Price: from US$80
Bedrooms: 1
Guests: 2
Go "full" holiday with a camper van. The vintage RV was a top choice for many a grande American holiday, and this well-restored camper is a wonderful callback to a bygone era. Except you're in Mexico, and there is no better setting than on the white sands of Los Cabos.
Air conditioning, clean living and sleeping place, even a TV and a kitchen corner check everything on your list of needs. You're part of a private beach area here, where the hosts own several rental properties.
The little community shares a pool, kayaks for sea jaunts, a grill, and lots of outdoor chairs provided by the host. It's not a condo or a villa, nor does it have its own pool. But it's the perfect casa for the right couple. Clean, comfortable, well-appointed, and on the beach. Take note that you can't actually drive it around, but why would you need to with all these activities right on your doorstep?
14. Cabo Center, Private Oceanview Room – Great for Solo Travellers
Location: Cabo San Lucas
Price: from US$60 per night
Bedrooms: 1
Guests: 2
A "palapa" is a traditional Mexican home or room with an open-side and thatched roof built from dried palm leaves.
This private bedroom is separated from the main building and is more like a small external studio place. It includes a kitchen area, living space, and bedroom section. The host even promises to share the location of a very secret beach once you arrive.
This Airbnb also has a brilliant panoramic view of Cabo San Lucas. This is especially fantastic in the early morning as the sun rises, or in the evening when you look over beautiful city lights.
Best of all, the room is right where it says – in the center, making a trip to local downtown hotspots like Puerto Paraiso Mall, Cabo Wabo, the marina, and beautiful Cannery Beach a doddle.
BONUS: Airbnb or a Hotel – Which is Best?
When on holiday, which is better? A hotel or an Airbnb with a personal host? Much of it comes down to personal preference.
Hotels offer the more traditional conveniences of a standard bedroom, room service, concierges, and regular amenities like gyms, swimming pools, and in-house bars and restaurants. For those of you who prefer not to cook, a hotel with room service is a real treat. However, those who prefer cooking up a storm will be limited with space and amenities.
Opting for an Airbnb gives you privacy and can cater to your specific needs like wi-fi, air conditioning, walking distance to great parts of town, and an attentive host. You can also shop for a rental size that suits you – room, villa, condo, mansion – as opposed to renting a number of rooms. A downside would be that you won't have a daily cleaning service to tidy your room, nor will you have the option of using hotel facilities like spas and bars.
There are lots of options for places to stay in Los Cabos, so be sure to check out my post. Any one of the many Airbnb or hotel stays – whether a nice private room, condo, or villa – is guaranteed to make a stay on the Mexico Baja coast worth every penny.
Top 4 Airbnb Experiences
While you're in town, you'll want to get out of the villa bedroom to check out a couple of Airbnb experiences hosted by locals. They offer a wonderful insight into life here.
Explore nature with a rescued dog – A walking tour with a refugee puppy can do the heart and soul a world of good.
Sandboard in Cabo – Spend an entire day in the beachfront dunes at East Cape, learning to sandboard. In between, take a dip in the sea, and end off by watching the famous sunset over the water.
Walk the old native Pericu Road – Explore the traditions of the Baja and the Pericu tribe on this walk. You'll even sample the traditional coffee process and have a dip in the local springs.
Conclusion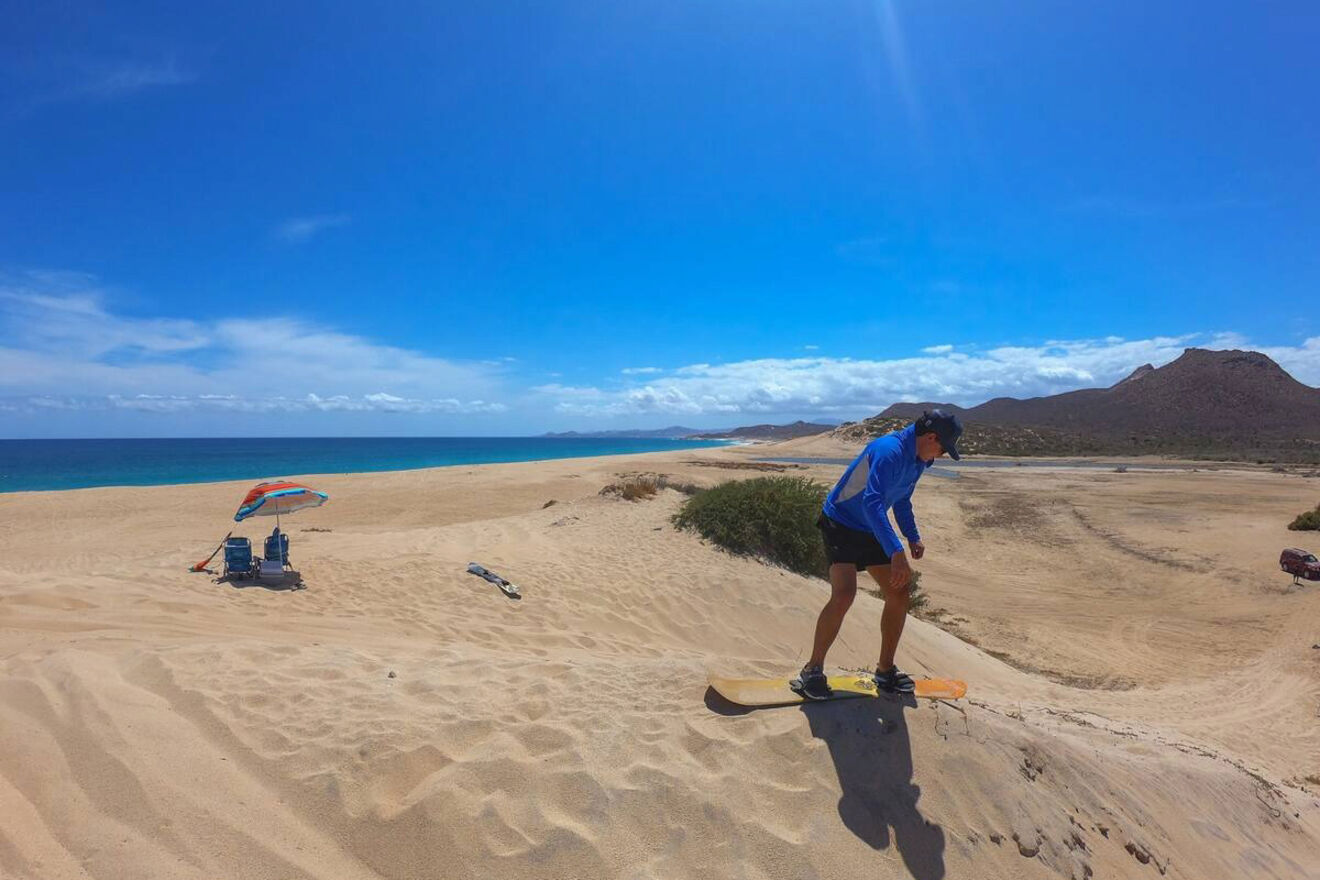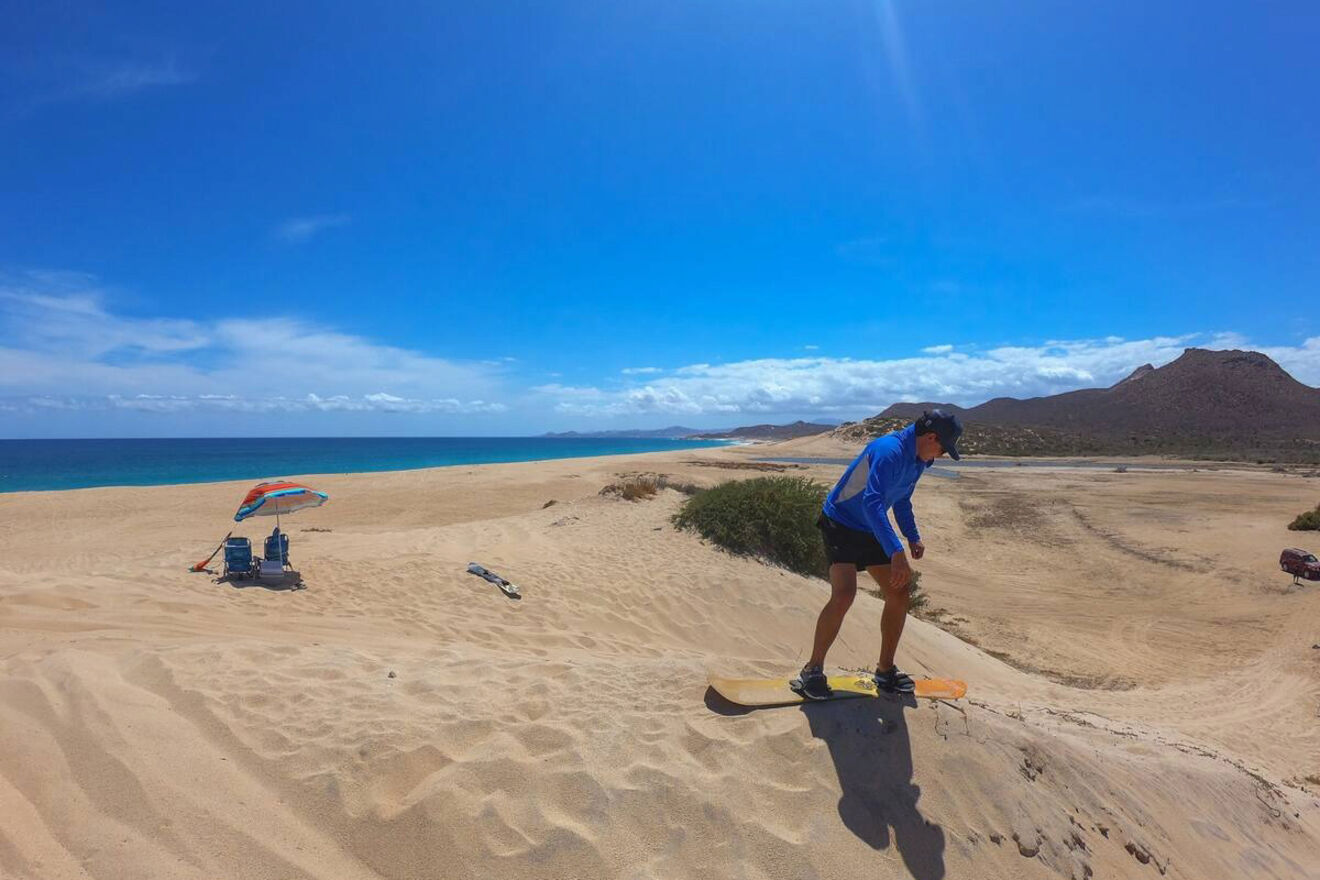 The beaches and resort towns of Mexico and the Baja are world famously friendly to visitors. Los Cabos ranks among those as one of the most well-liked and highly rated places in the country. If you're planning a full trip to Mexico, make sure to check this article on the best places to stay in Mexico City.
My list included 14 of the best Airbnbs available in Los Cabos. You might choose a nice beachside condo, an RV, or a villa up in the hills, with views overlooking the town.
If you haven't made up your mind yet, my 2 favorite places would be these ones:
If you've been to Cabo San Lucas or San Jose Del Cabo and have any stylish hacienda, condo, or villa recommendations you feel I need to know about, please comment in the section below.
Lastly, if you're planning a trip to Mexico, here's hoping you travel well and have a great Airbnb stay!