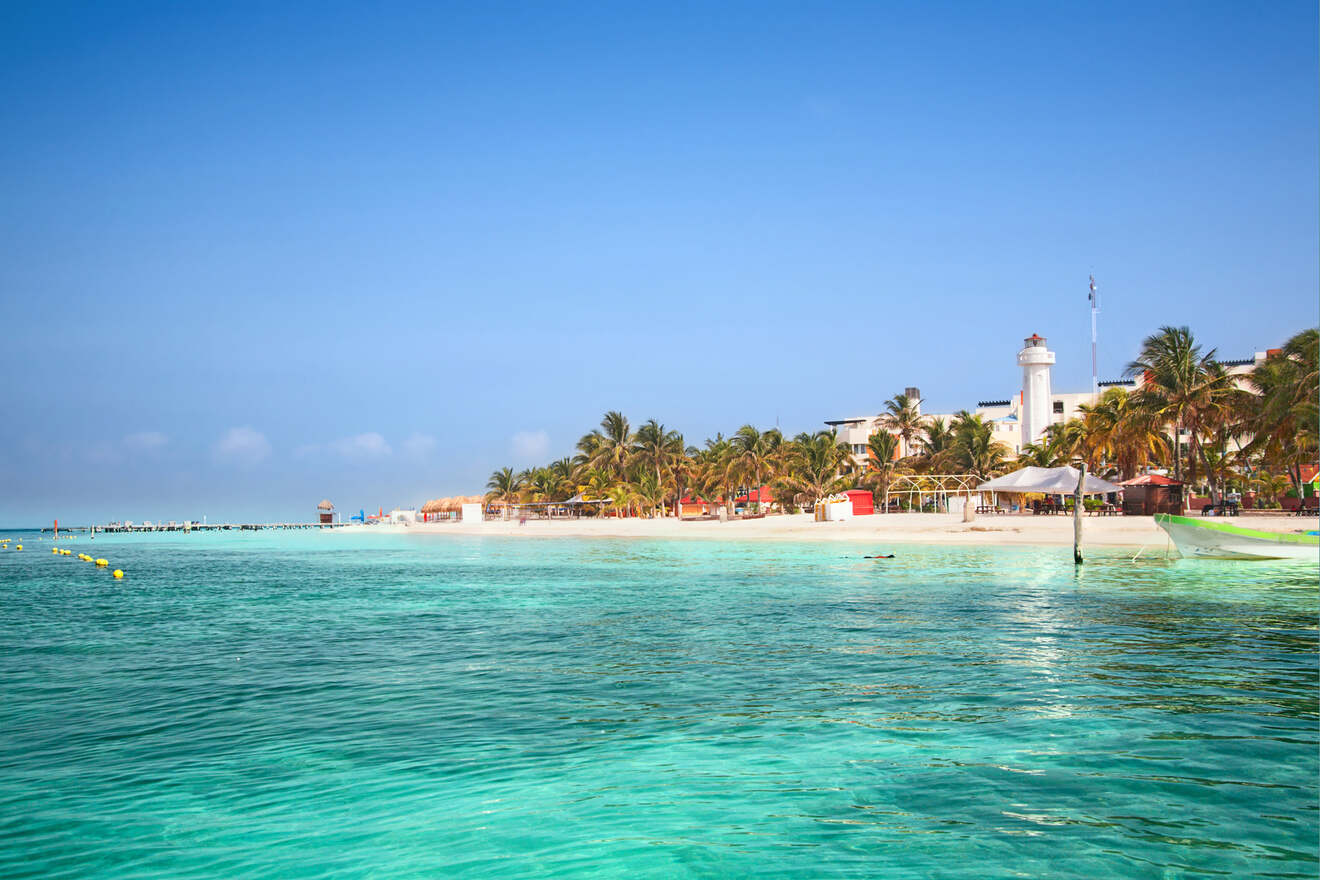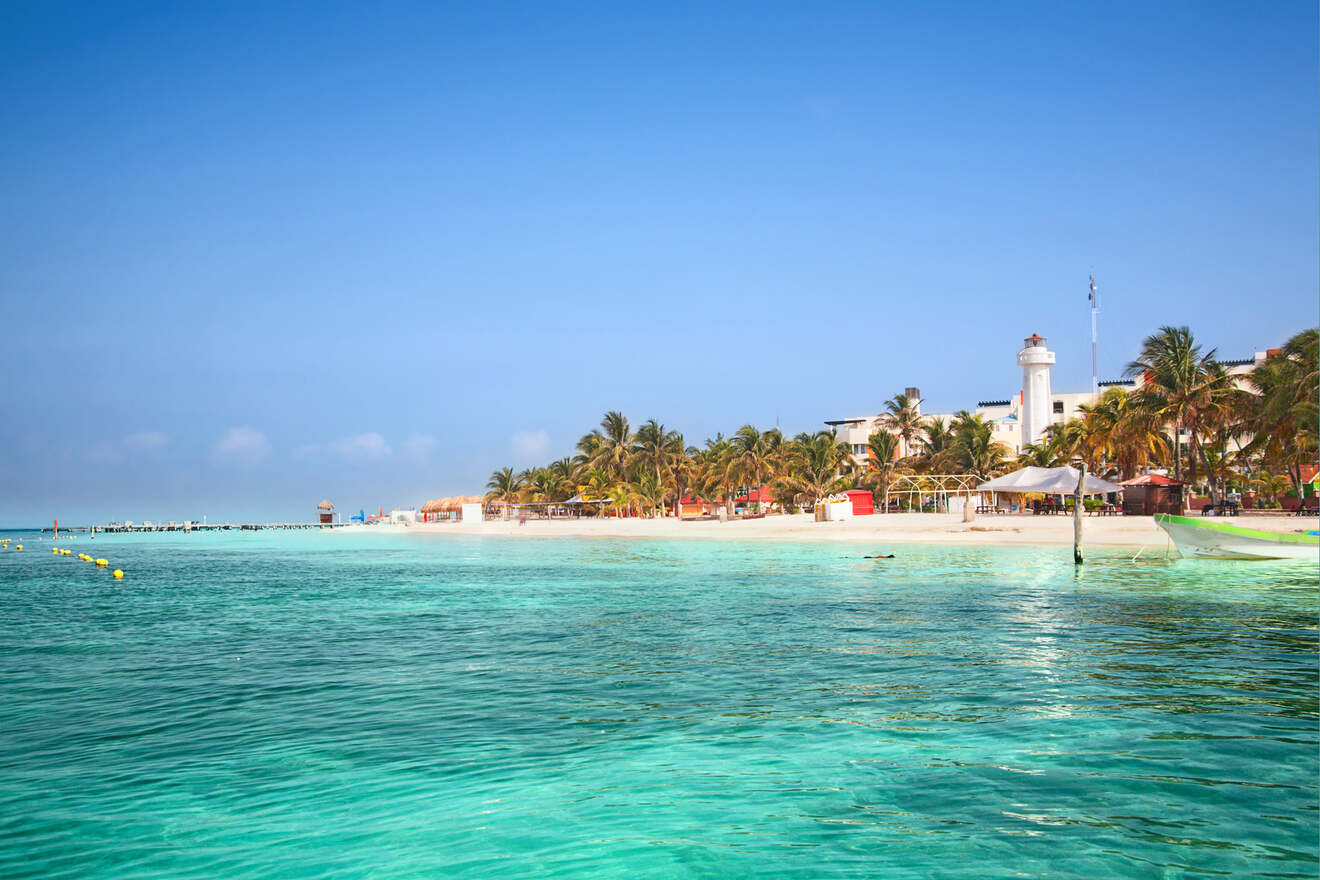 Chasing the next perfect sunset on the beach? Then come along because I'm about to embark on a virtual journey in one of my favorite places in Mexico! Isla Mujeres is a small island 10 miles (20 km) away from Cancun, but don't let its size throw you off! Trust me when I say that you'll love it so much you won't want to leave this place!
Isla Mujeres has stunning pristine beaches that you see in postcards and turquoise waters, but I think it's the legends and the culture that makes this place stand out. Even the name has a story!
In Pre-Columbian times, this island was considered sacred to the Mayan goddess Ixchel, and it is believed that the island's only inhabitants were Ixchel and her court of women. Later, when the Spanish expeditions began in the 16th century, they found many statues of the Goddess, and so they named the island "Isla Mujeres" (Island of Women).
As you can see, this is indeed one of those unique places that you can't miss out on! Now that I've made all curious let's see the best places to stay Isla Mujeres, Mexico. I've made a list of the top areas and luxury hotels on the island, which I suggest booking in advance, as this place is super popular.
Vamonos, we've got many places to visit!
If you are in a hurry
Here's a list of the best Isla Mujeres hotels, all located in Playa Norte for those of you who don't have the time to read the whole post:
This map will help you visualize better all the areas where to stay in Isla Mujeres that I will be talking about in the post:
1. Playa Norte – where to stay in Isla Mujeres for the first time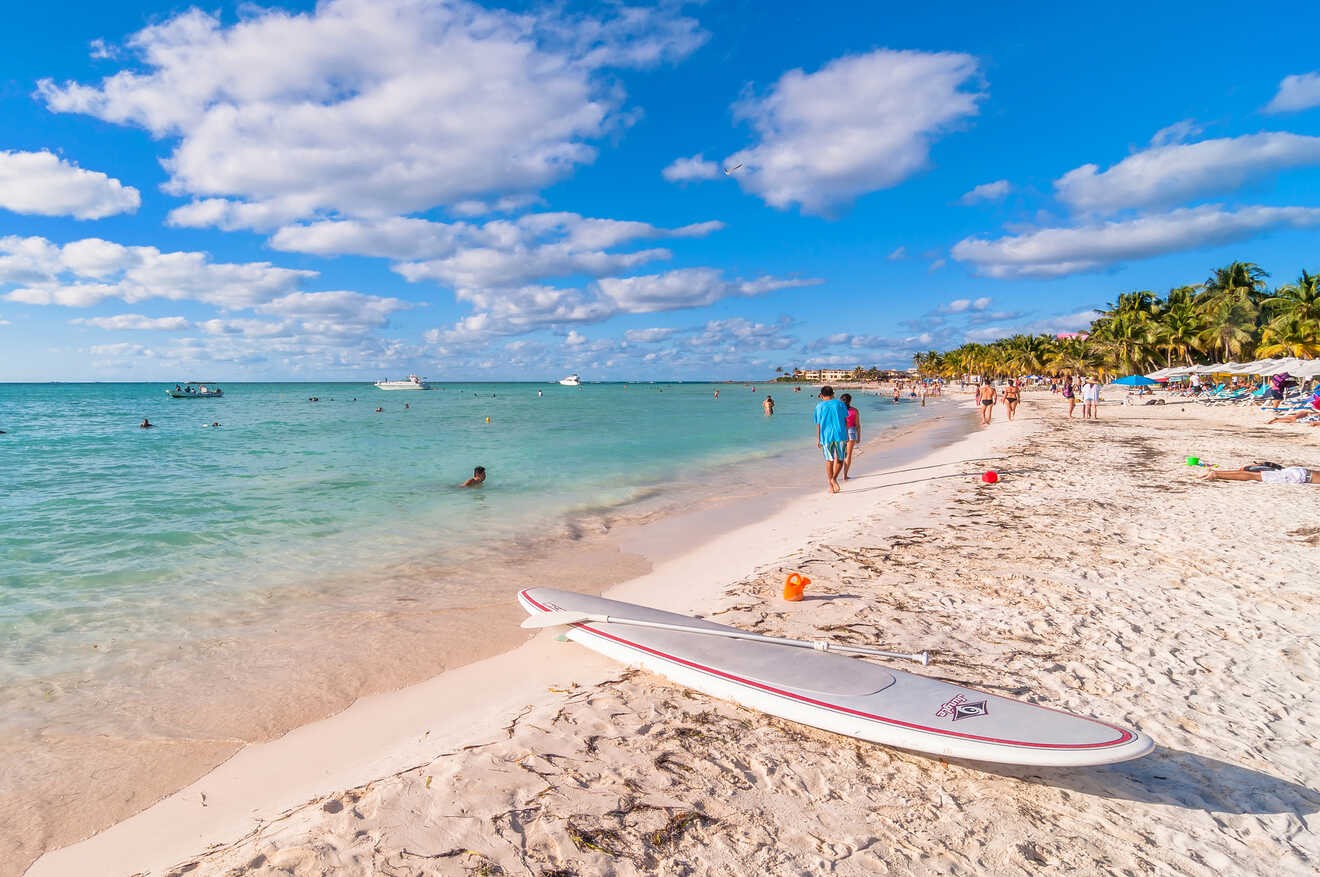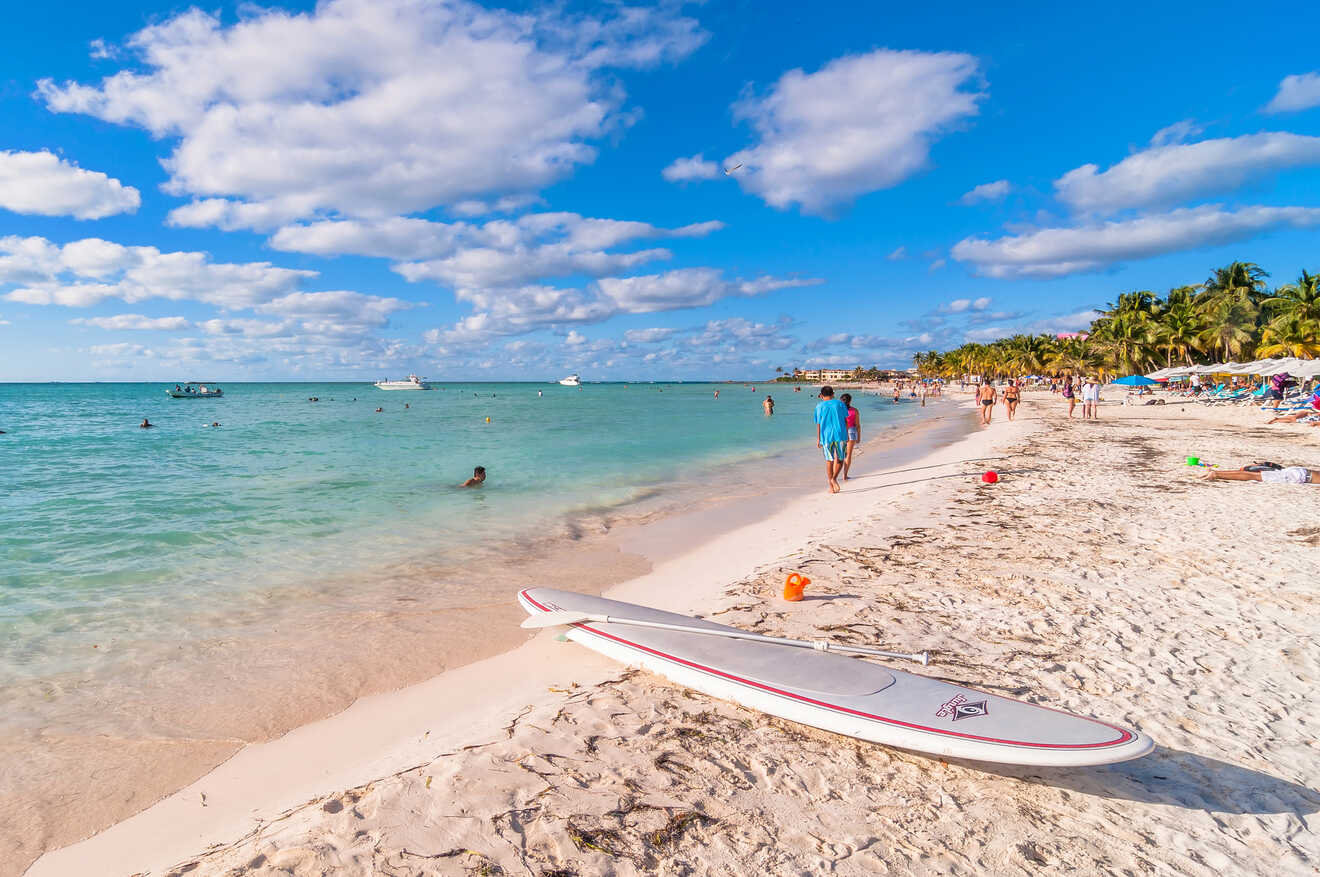 With a fascinating history and culture, Isla Mujeres is one of my favorite locations in Mexico! If you're traveling here for the first time, I highly recommend finding places to stay in Playa Norte (North Beach), located on the northern tip of the island.
Playa Norte is super popular among tourists as it hosts some of the best restaurants, bars, and hotels in Isla Mujeres. And let's not forget about the white sand beaches with turquoise waters that will make you feel as if you're in paradise!
No wonder Playa Norte was named one of the best beaches in the world by TripAdvisor! It's a pretty magical place, especially when you think about the island's past and history!
Stories say that Isla de la Mujeres dates back over 1500 years when it was part of the Mayan province, Ekab. It served as the sanctuary for the goddess Ixchel, the Maya goddess of the moon, fertility, medicine, and happiness.
The island is not so big, and Playa Norte offers easy access to other parts of Isla Mujeres plus, it's located near the ferry terminal, so you can go to Cancun anytime you want, it's only 10 miles (20 km) away!
Indulge in Mexican street food, drink yummy cocktails and relax on the beach all day long! You'll love it here! As I mentioned before, Playa Norte is the tourist hub of Isla Mujeres, Mexico. All the best hotels will sell out super fast, so I recommend booking your accommodation months in advance to secure a good one!
Other accommodation options in Playa Norte
Things to do in Playa Norte
Rent a golf cart and explore Isla Mujeres
Eat at North Garden, one of the best restaurants around
Try snorkeling in the turquoise water at Hermosa Caleta
Visit the Isla Mujeres Historical Photography Museum
Have a coffee at Café Mogagua
Go on a street art tour of Isla Mujeres, Mexico
Sunbathe on the white sand at Playa Norte
2. Mid Island (incl. La Gloria) – best place for a local experience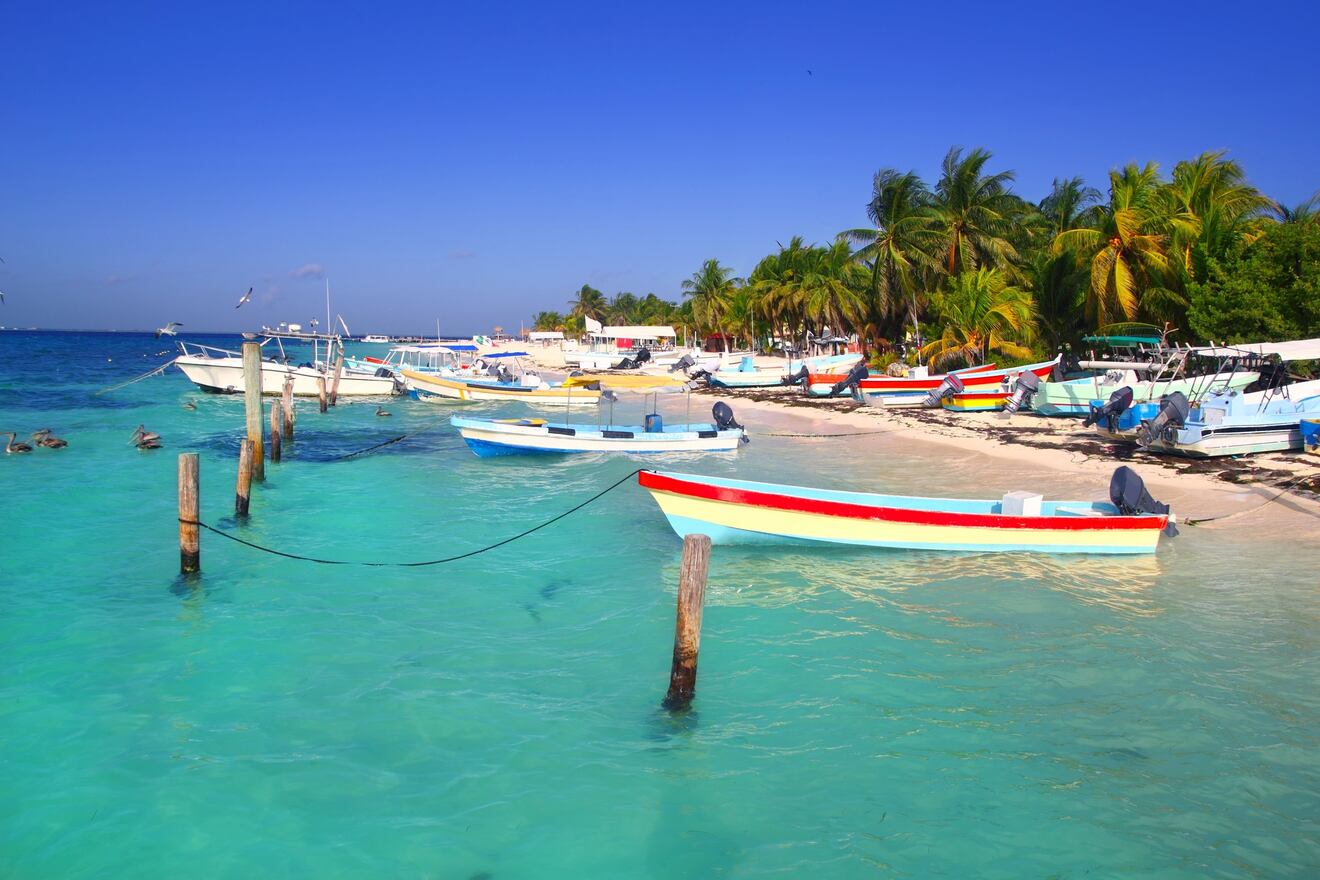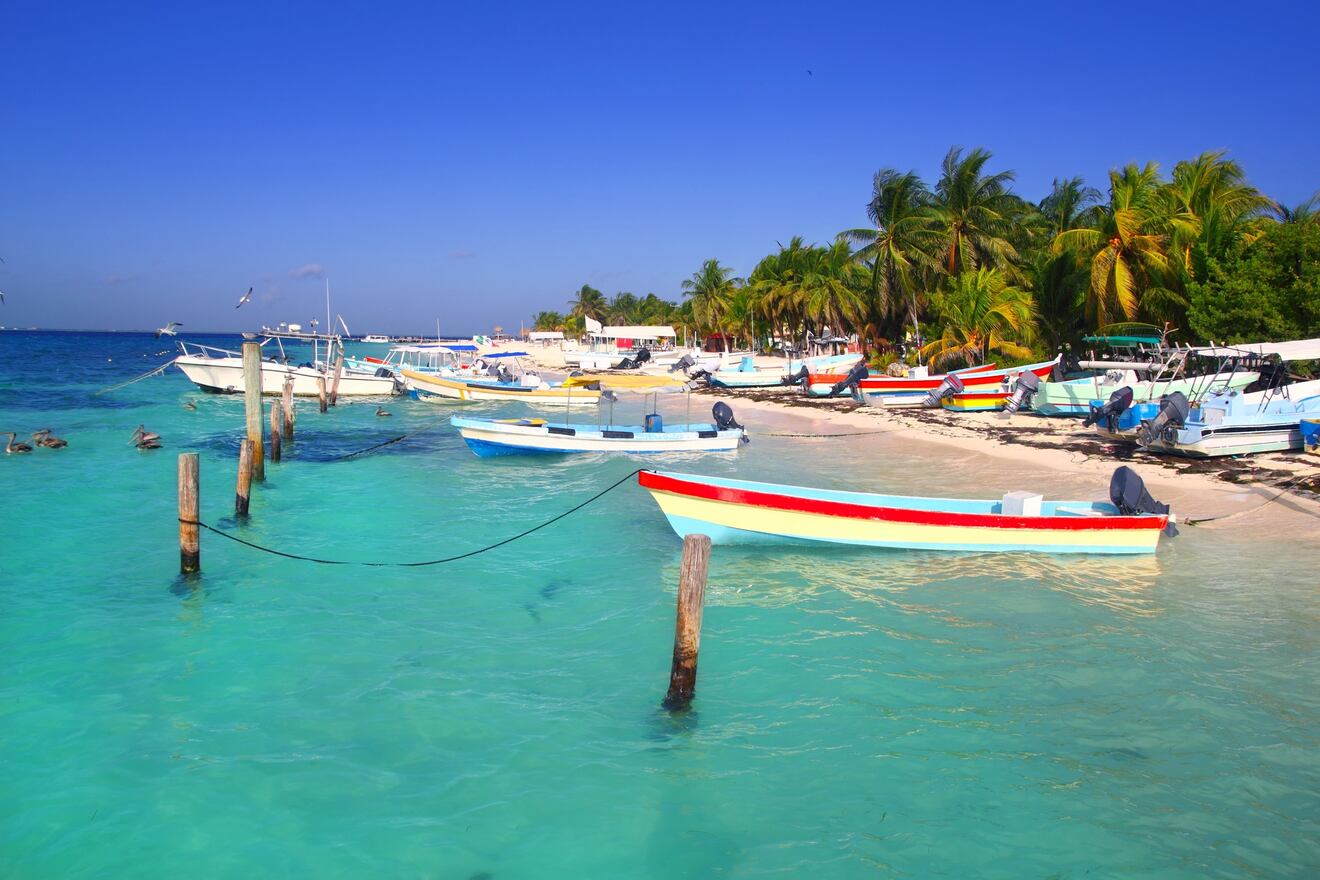 The culture and history of Isla Mujeres are so fascinating. If you're interested in learning more about the local people and diving deep into their way of living, I suggest finding an Isla Mujeres hotel in the Mid Island area.
It's not as touristy as Playa Norte (North Beach), but it's worth it! I'm all for these types of areas. Don't get me wrong, I also love the touristic side, but in some destinations like Isla Mujeres, Mexico, mingling with the locals and exploring these residential parts of the island sounds amazing!
You'll still be surrounded by the best beaches, restaurants, and Isla Mujeres hotels, though! Besides exploring the area, there are some cool attractions that I think you'll like. Guadalupe Chapel is one of them. It has great architecture and is super colorful, just like Crayola House, another place you should check out.
As the center of the island isn't as popular among the tourists, the accommodation prices are lower, so if you're looking for some budget Isla Mujeres hotels, you can find them around these parts. That goes for the restaurants and bars as well. Most of them are locally owned, so you won't pay too much for meals!
Other options in Mid Island (incl. La Gloria)
Things to do in Mid Island (incl. La Gloria)
Take a picture of the colorful Crayola House
Explore the area and learn more about the local culture
Visit the Guadalupe Chapel
Check out the Isla Mujeres Sea Glass Gallery
Rent a golf cart and visit the Mayan ruins at Punta Sur
Grab a book and head to the beach to relax
Have dinner at Fuego de Mar restaurant
Go on a snorkeling tour in Isla Mujeres, Mexico
3. South Island – where to stay in Isla Mujeres for families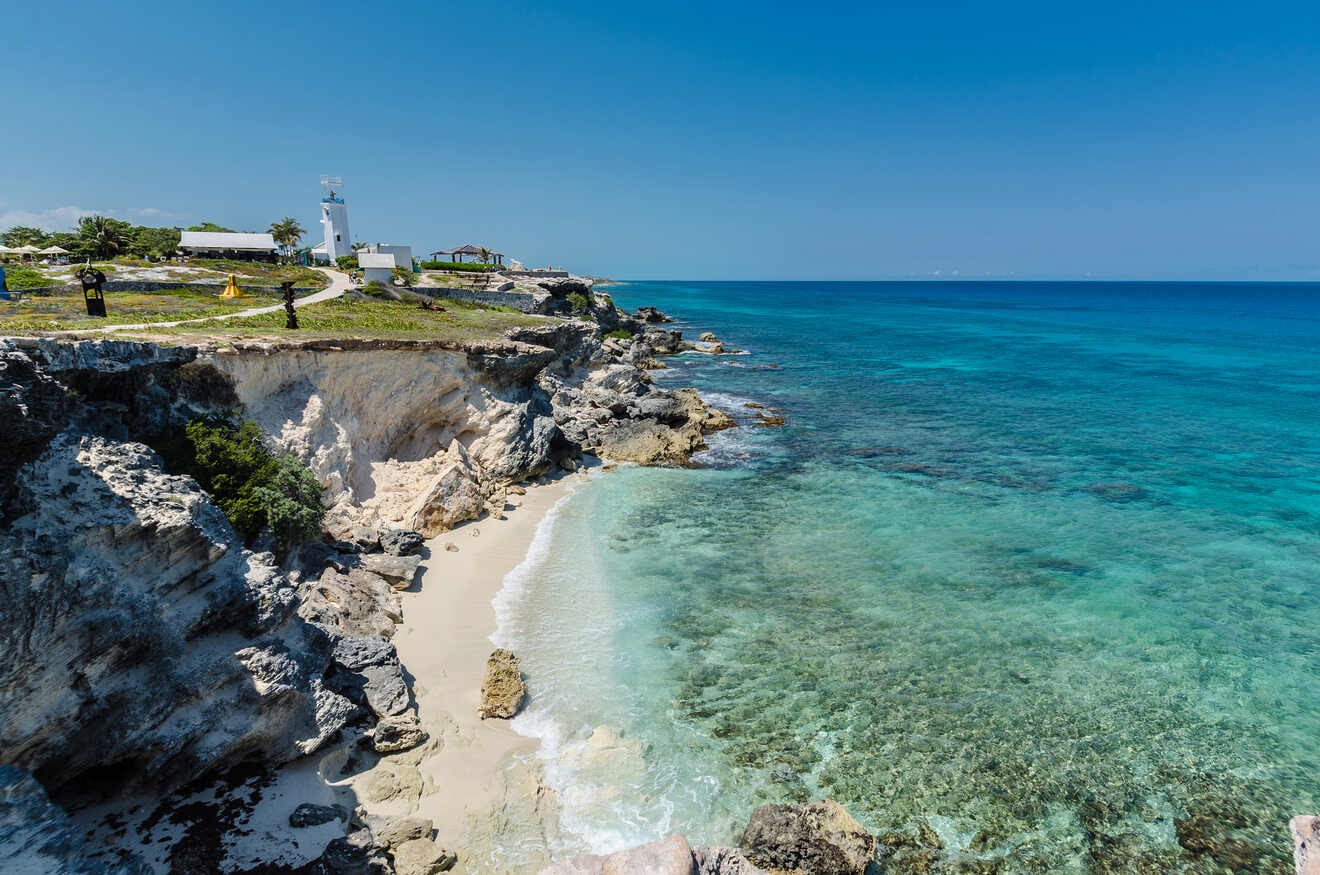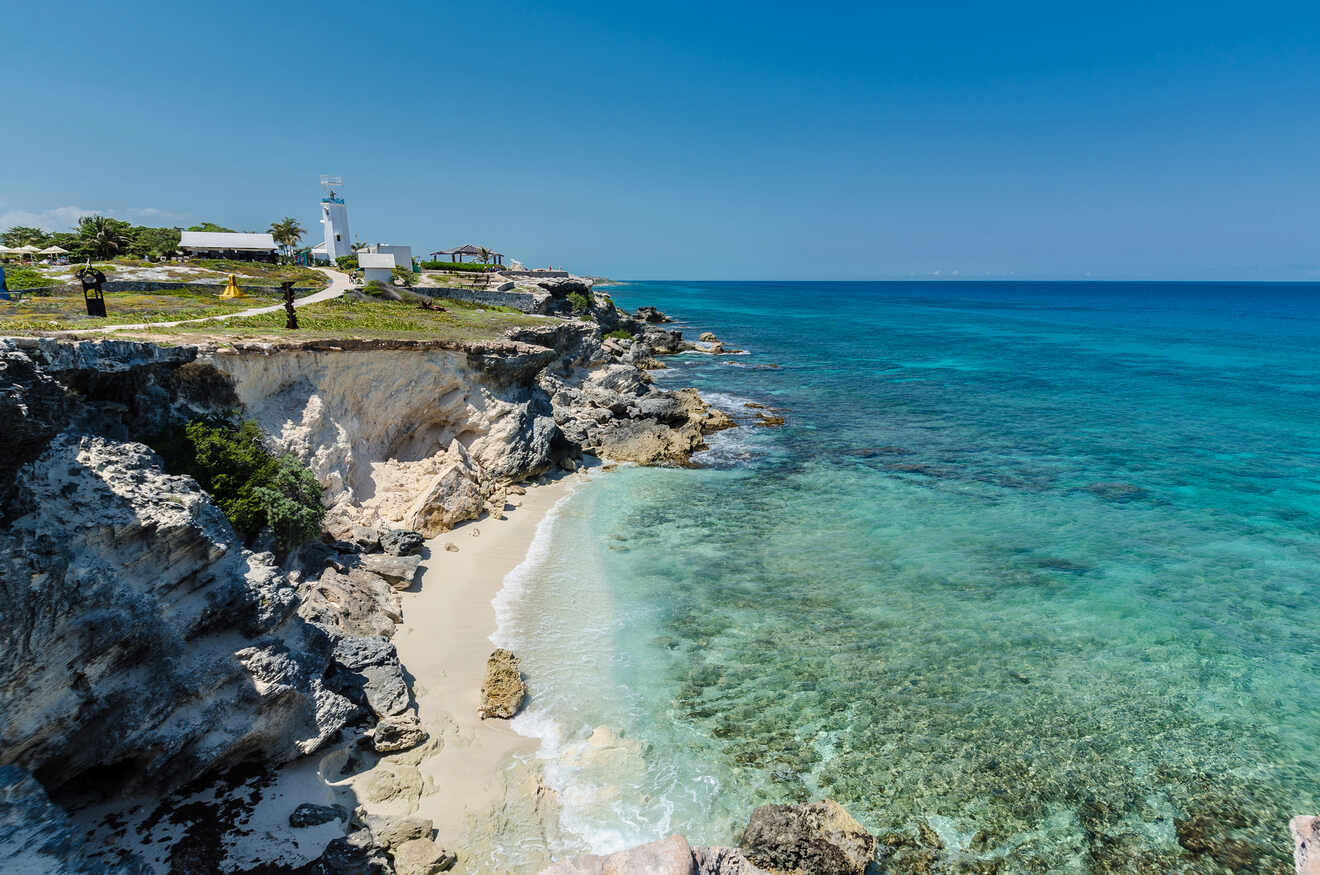 Located 3 miles (5 km) away from Playa Norte, this area of Isla Mujeres is probably the most tranquil part. Which is great for families or people who aren't big fans of the crowds.
The atmosphere is super laid-back here, and the beaches a lot quieter, just the way I like it! You'll be able to relax, enjoy the silence and listen to the sound of the waves with no one disturbing you.
As I mentioned before, Isla Mujeres has a rich history, and right at the end of the island, at Punta Sur, you'll find the Mayan ruins of the Temple Ixchel! This is also the island's highest point, and the sea views are incredible. You'll feel as if you're on top of the world!
Now that we've found some activities for the adults, let's look for some kid-friendly activities as well. The Aquatic Funday Park and Parque de Los Sueños will probably become their favorite places, apart from the beach, of course. Make sure you also take some time to pass by the Tortugranja aquarium, it's small, but they have many species of sea turtles!
This area also offers a good mix of restaurants, bars, and boutique hotels with wonderful designs! And if you're planning on extending your trip, I highly recommend you check out the places in Riviera Maya, on the Yucatan peninsula.
Other accommodation options in South Island
Things to do in South Island
Visit the Hacienda Mundaca
Spend a fun day at Parque de Los Sueños
Explore the southern tip of the island and the Mayan ruins
Take the kids to the Aquatic Funday Park
See the cute turtles at Tortugranja, the turtle farm
Have a family dinner at DeNuccio's
Check out the Garrafon Reef Park & Beach Club
Buy souvenirs from Hippie Market Isla Mujeres, Mexico
BONUS 1: The best hotels on the beach in Isla Mujeres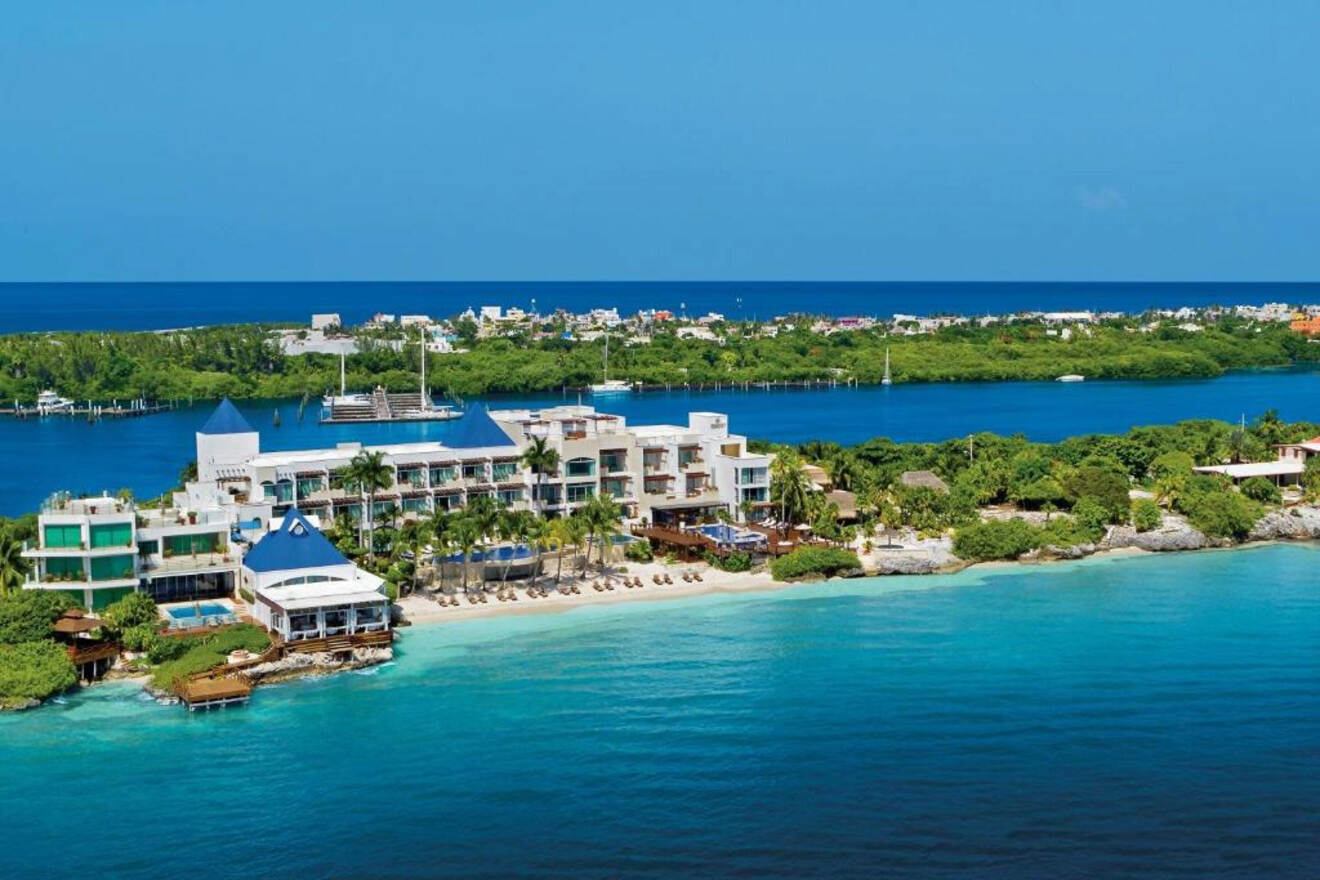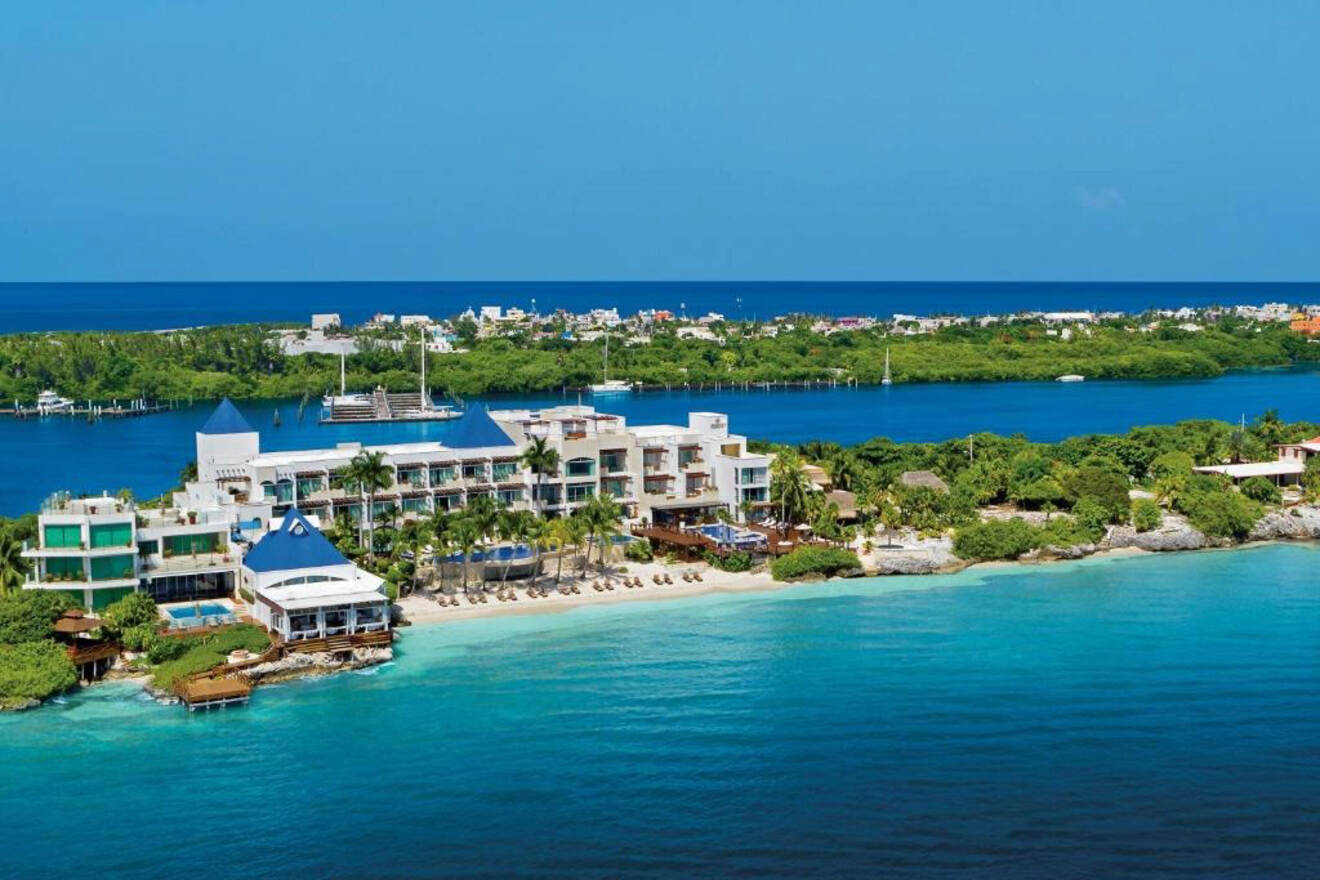 Waking up to the sound of the waves crashing the shore, catching the sun rising over the sea, and feeling the ocean breeze from your balcony, and the fact that the beach is only a 2-minute walk away! These are just some of the perks of booking a beach hotel!
I know many of you will want to book these types of accommodations, so I thought I would list the best beach hotels in Isla Mujeres, Mexico!
Luxury (US$350 and up)
Zoetry Villa Rolandi Isla Mujeres – That infinity pool overlooking the sea looks so dreamy! I love the whole design of this boutique hotel that offers a private beach area and a garden. The rooms at Villa Rolandi Isla Mujeres have a spa bath, and there are 2 restaurants on-site that provide great food. Sign up for one of the yoga classes, and go in the hot tub and relax for a few hours! Enjoy the little things during your stay in Isla Mujeres!
Lotus Beach Hotel – Surrounded by palm trees, this luxurious boutique hotel in Isla Mujeres has all the facilities you need including a plunge pool! Enjoy the laid-back atmosphere that governs the island, and head to the sun terrace for some light reading and sunbathing! If it's too hot, move the chill party to the pool, but not before you get a cocktail from the bar. Celebrate that you're on holiday!
Mid Range (US$90 – US$200)
Ixchel Beach Hotel – Located within walking distance from the beaches, this Isla Mujeres hotel offers a wide range of activities off-site like snorkeling and diving. During the day, you can chill by the beach, swim, have a quick snack, and then head to try one of the activities that Ixchel Beach Hotel offers, or get a massage at the spa if you're too tired after exploring around the northern tip of the island.
Hotel La Joya – I would sit in that hammock for a couple of hours! Probably take a nap as well! This great Isla Mujeres hotel has rooms private balconies,you can rent kayaks from the hotel or participate in other types of activities like snorkeling. The boutique hotel also offers spa services and breakfast in the room!
BONUS 2: The best all-inclusive hotels in Isla Mujeres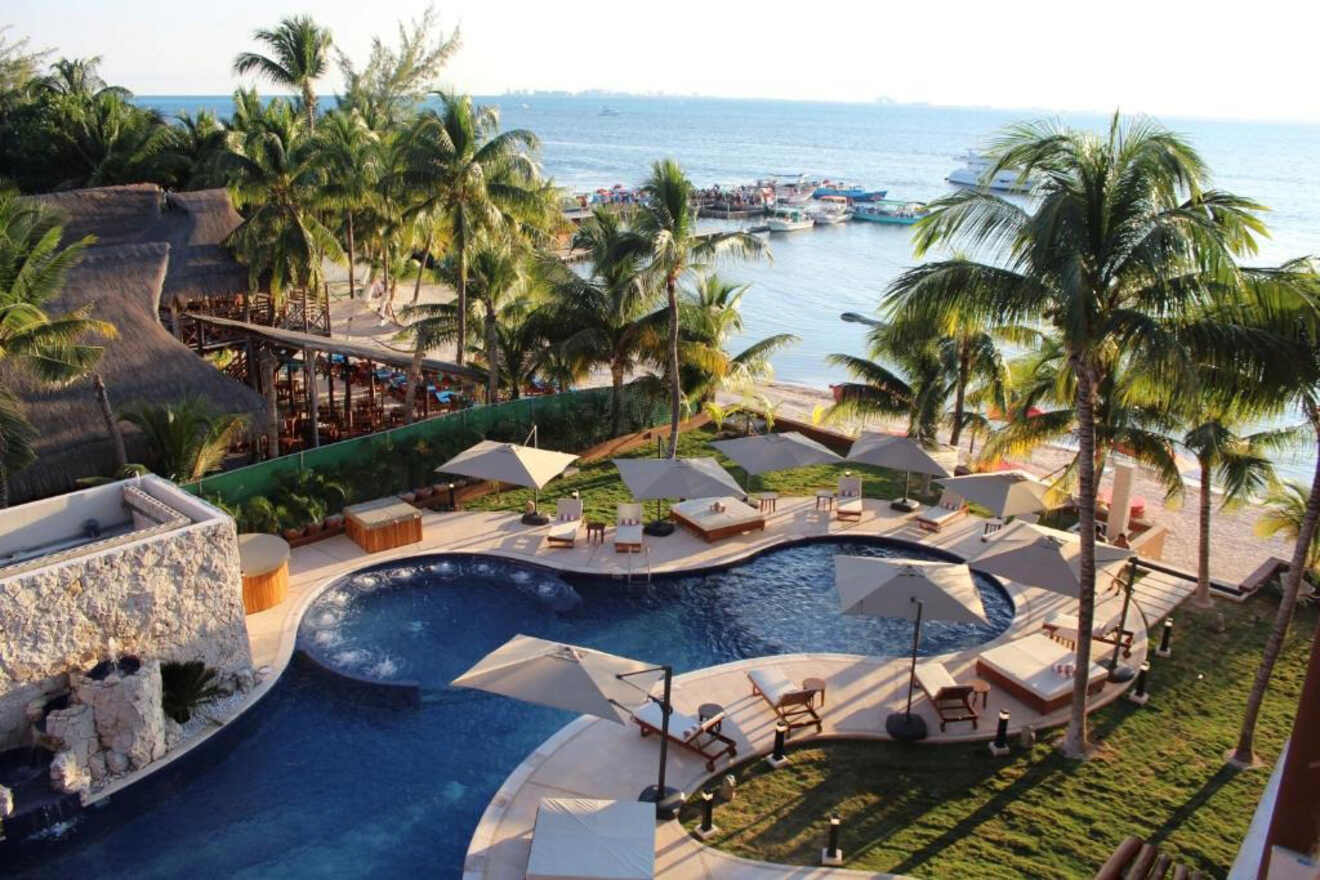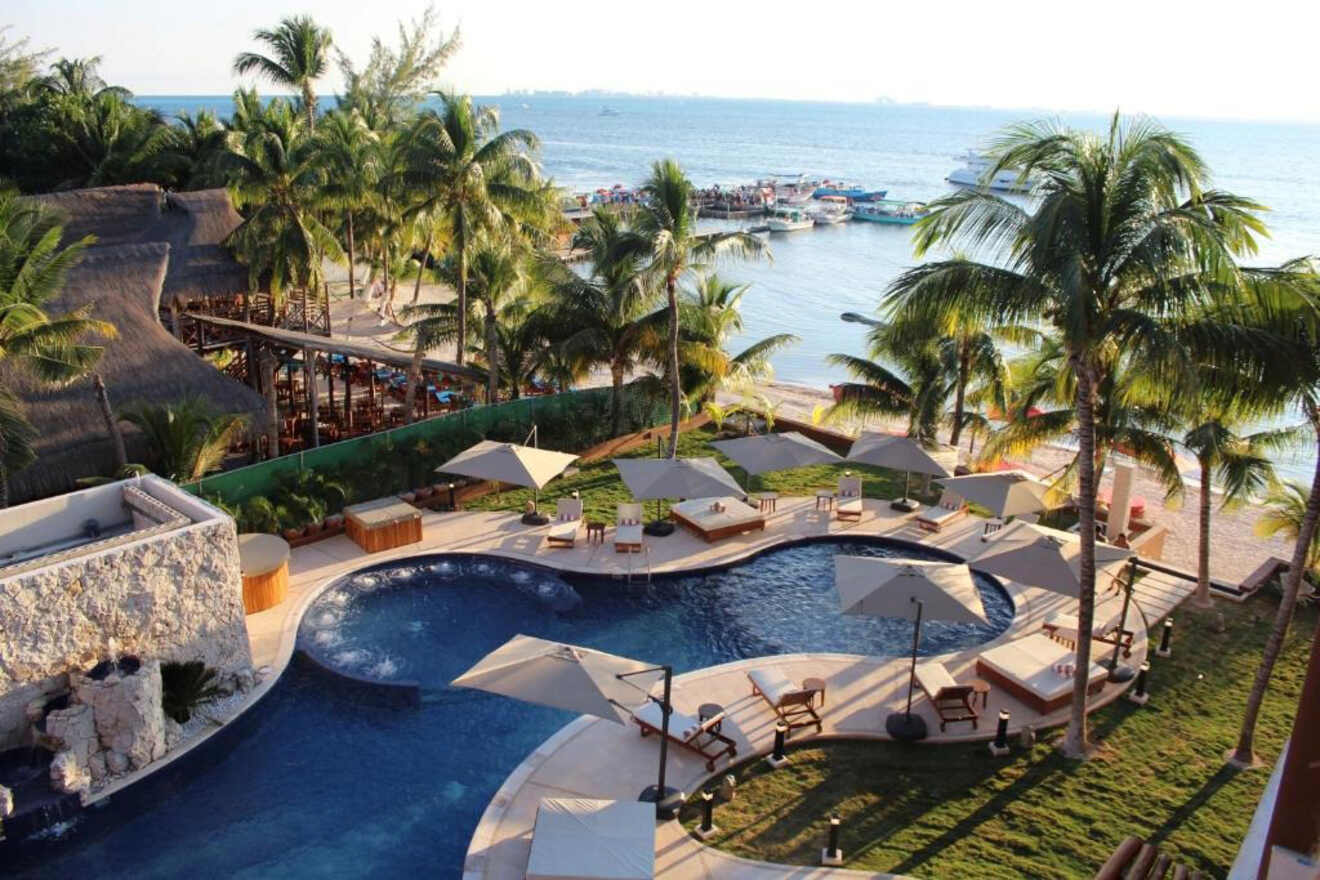 Here are my suggestions if you're the kind of person who hunts for all-inclusive resorts and hotels, because, let's face it, sometimes we just need all the comfort we can get out of a holiday (Especially in a place like Isla Mujeres, Mexico)!
So if you don't want to worry about any of the details once you get to the island, have a look through the list I've made and choose your favorite place:
Luxury (US$350 and up)
Hotel Isla Mujeres Palace – Perfect for couples, this all-inclusive resort has a private beach area and rooms with double hot tubs. As guests, you will have access to different kinds of activities, from live nightly entertainment to theme parties and full-service spa treatments. And in case you need help in planning your trip around the island, the staff at Hotel Isla Mujeres Palace can help you out!
Hotel Isla Mujeres Beló – I really like the design of this hotel in Isla Mujeres that's located within walking distance of the beaches. The accommodation features a fitness center, an outdoor pool, and a restaurant. Just before the sunset, get yourself a drink and head to the open-air rooftop pool to get the best views!
Mid Range (US$90 – US$200)
Mia Reef Isla Mujeres – This boutique hotel is located within walking distance from the beach and only a 15-minute ferry ride from Cancun Bay! Offering rooms with balconies and a delicious breakfast, Mia Reef Isla Mujeres can be the perfect place to stay on the island during your holiday.
Frequently asked questions about Isla Mujeres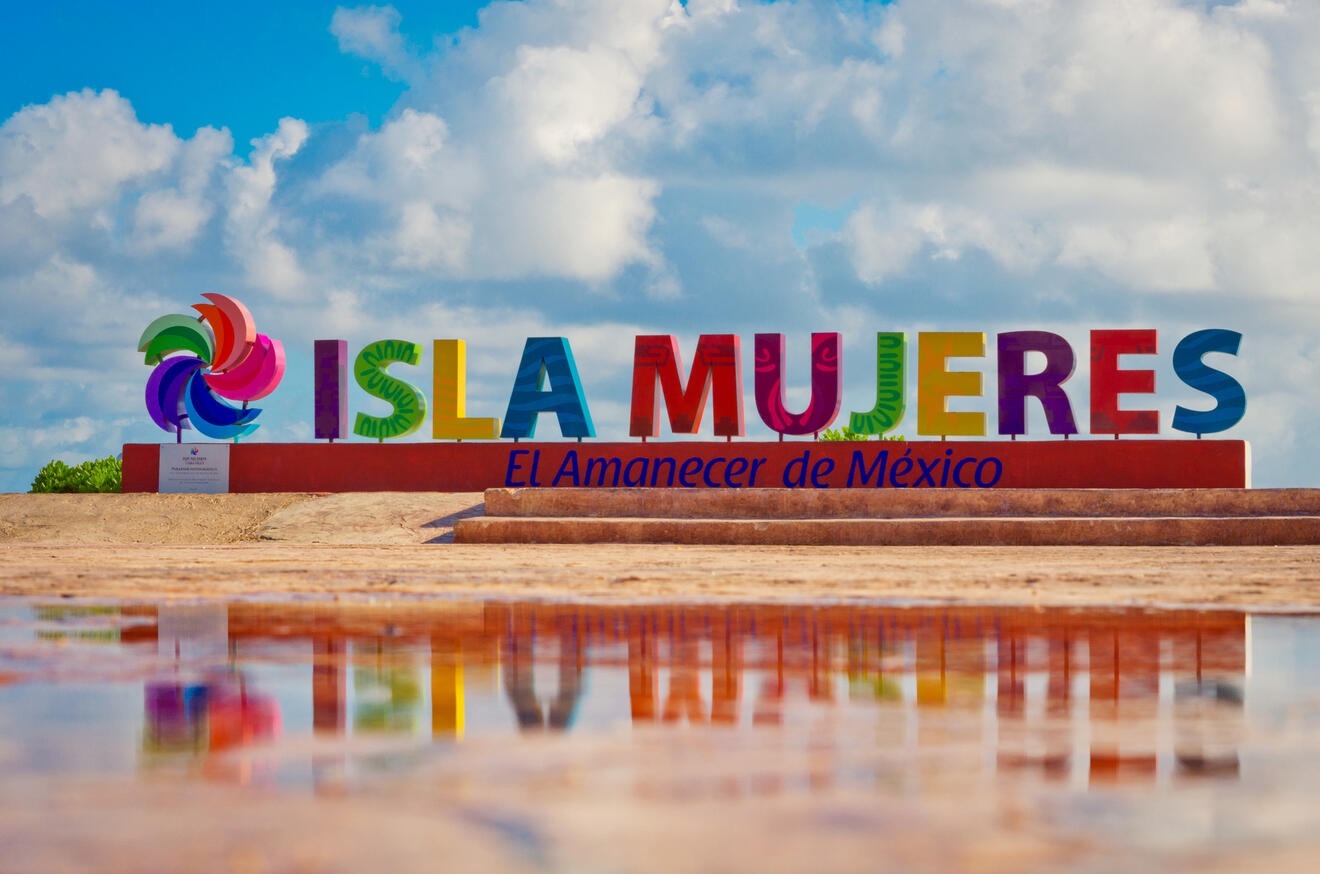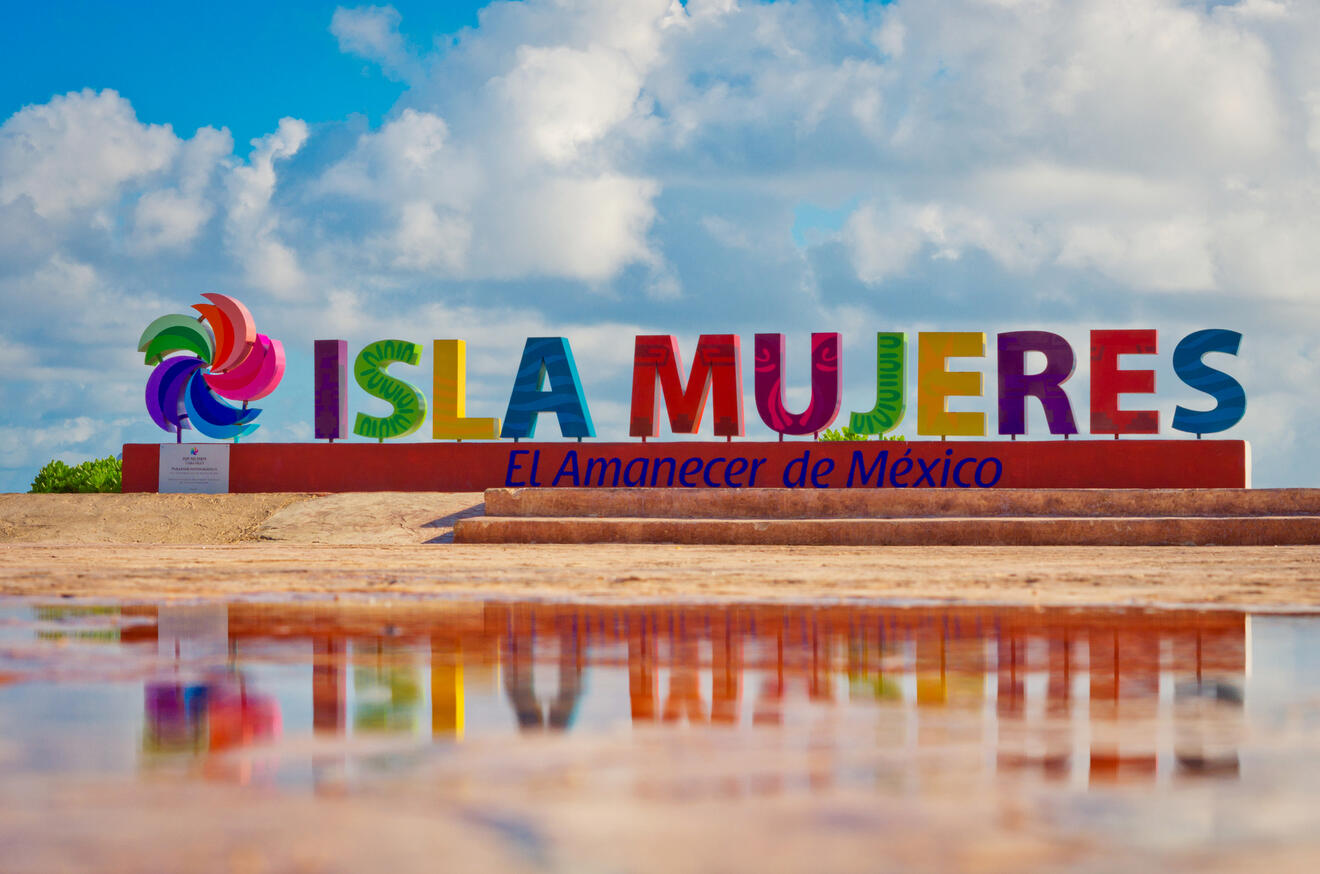 Conclusion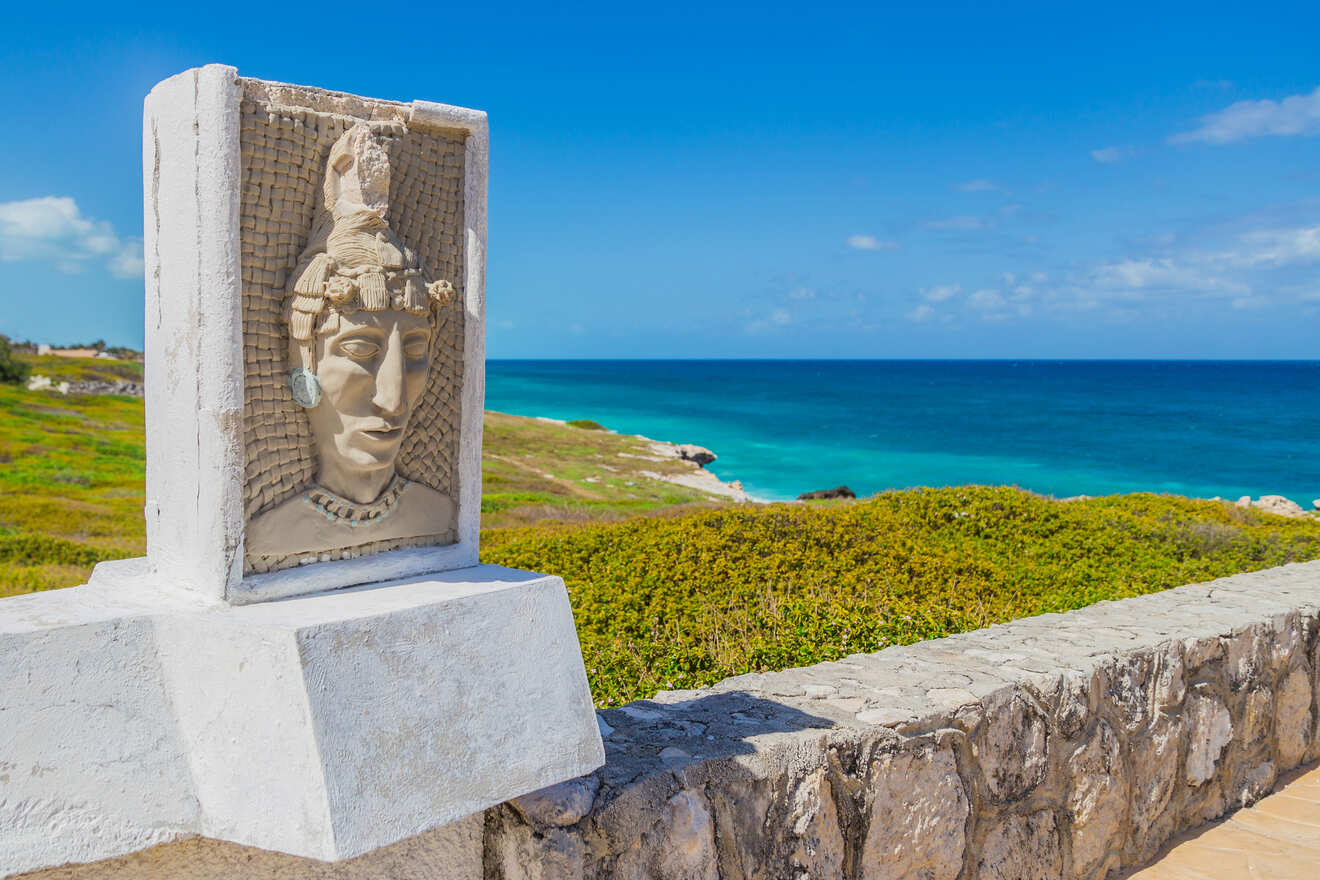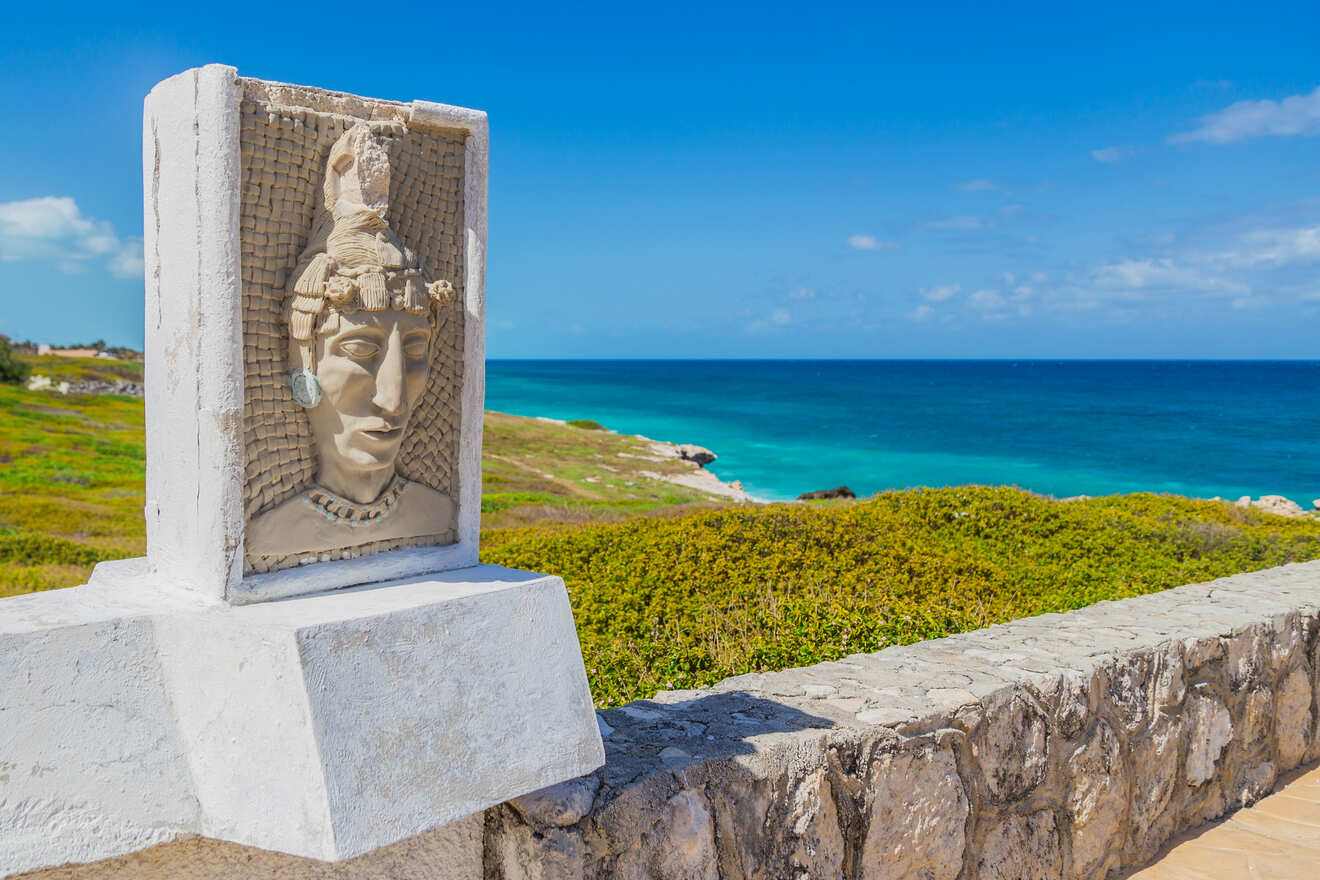 Such a stunning location! I hope this post helped you decide which are the best places to stay in Isla Mujeres, Mexico, and which hotels to book. I've tried my best to give you a wide range of options from luxury hotels to cheaper accommodations so you can make the best decision.
However, I know that there are so many options, and it's hard to make a decision when all of them look so good so here are my top 2 favorite hotels, both located in Playa Norte:
Don't forget that these are the best hotels in Isla Mujeres, and they will sell out super fast, so I highly recommend booking your hotel in advance to get the best deals and prices!
I will end our virtual trip here, but now you can start planning your actual holiday in Isla Mujeres! Have fun in this unique destination, get yourself a golf cart start exploring the island, learn all about the Mayan culture at Punta Sur and relax on the beach all day long! You've earned it!
If you have any questions about the Isla Mujeres or any suggestions for our fellow readers, leave me a comment below, and I'll make sure I answer it ASAP!
Safe travels,
Victoria