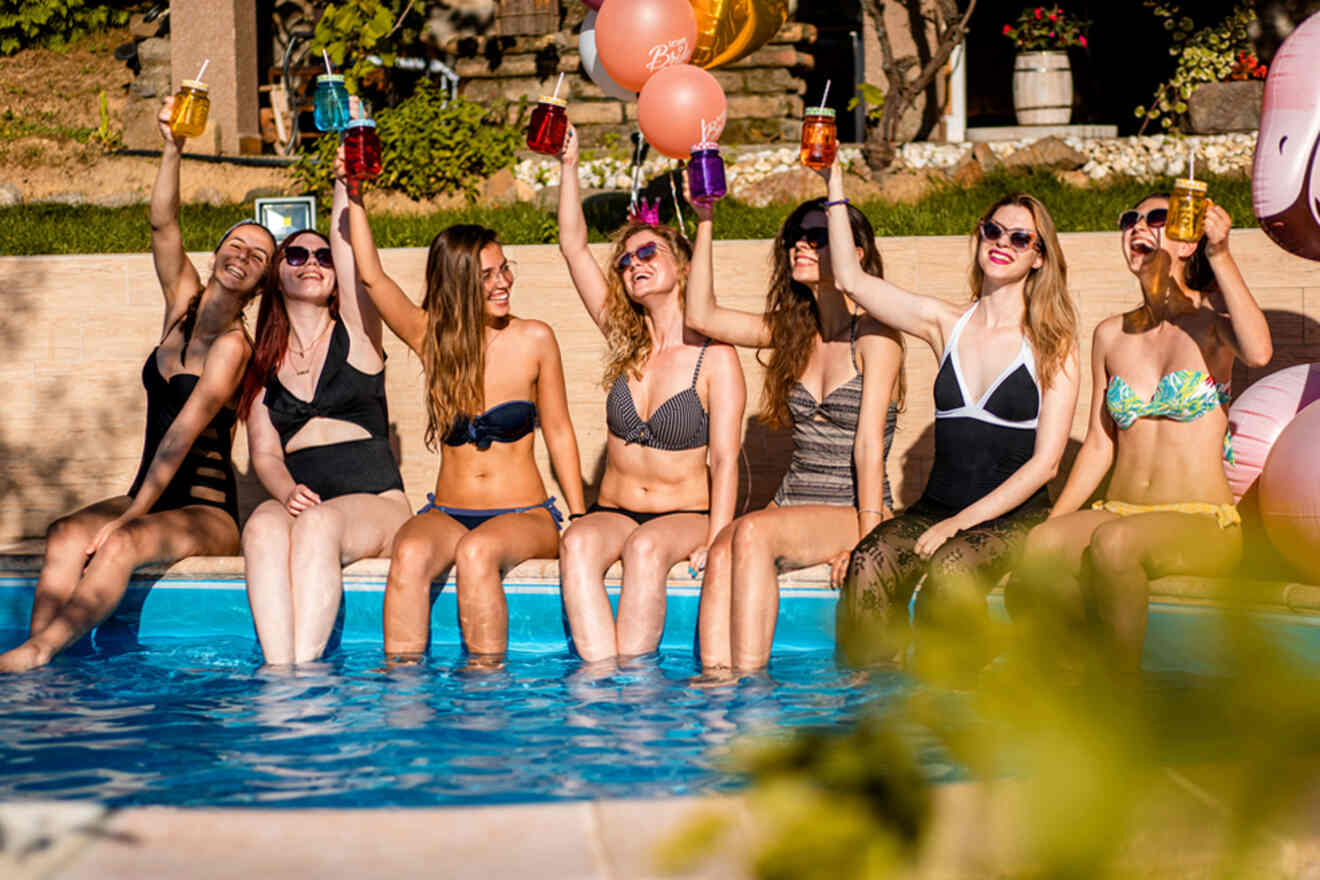 Are you looking for the best hotels in Tulum for bachelorette parties? Awesome! Because I am here to make your life SO easy, I have been looking for the best hotels for a bachelorette in Tulum for the last few hours, and I found 20 stunning options that will turn your bachelorette trip into a party!
This article is arranged to start with the most luxurious hotels and resorts first, but to be honest, all the hotels are top tier since they all are 4 and 5 stars!
NOTE: These accommodations book fast, and for bachelorette trips, you will need to book more than one room; that is why you need to book your rooms in advance to avoid missing out on the best places!!
If you are in a hurry
If you need to book your hotels in Tulum for bachelorette parties fast and don't have a lot of time to read the whole article, here are the top 3 options in the area:
1. La Zebra a Colibri Boutique Hotel – for beachfront luxury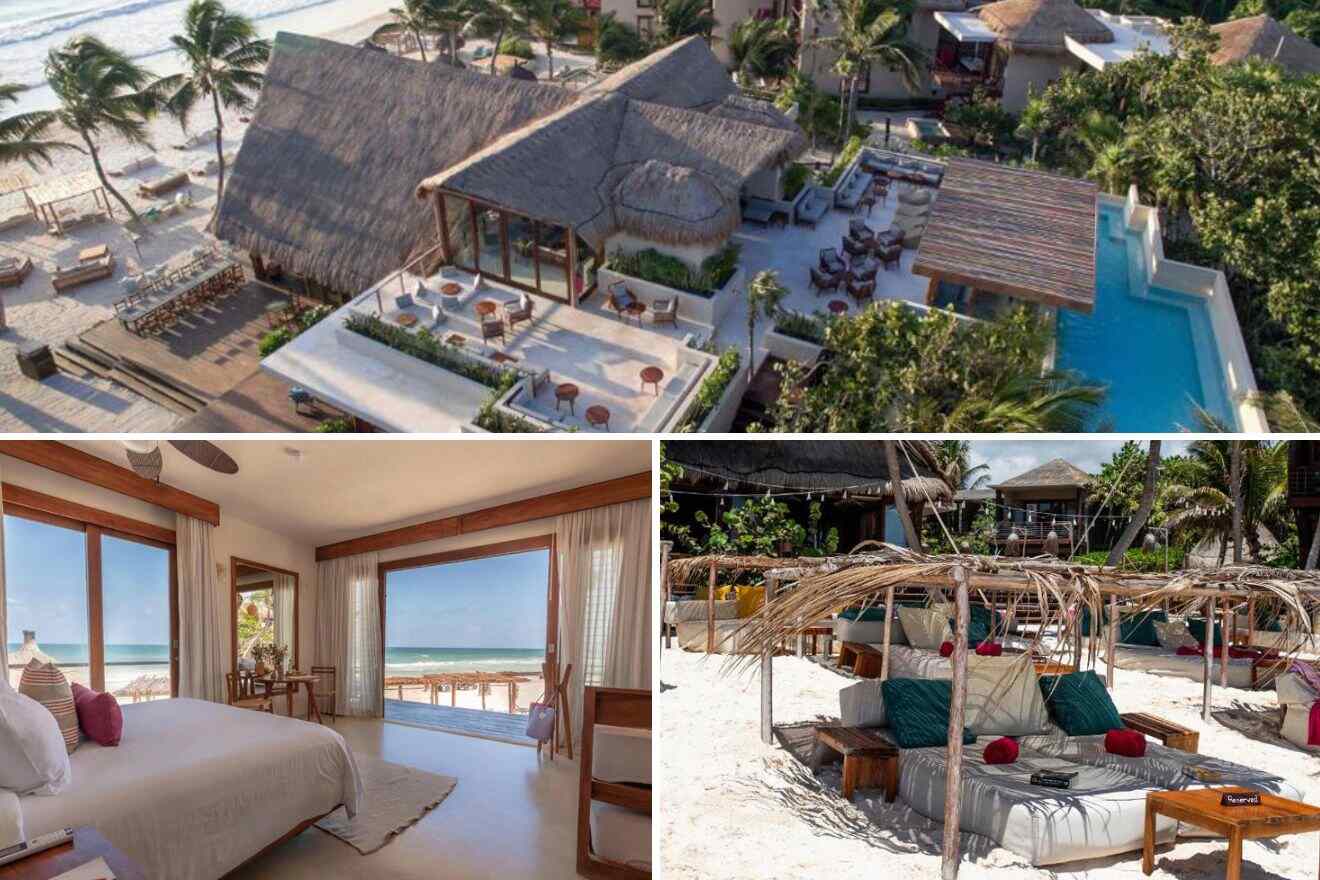 Experience this chic accommodation with on-site bars and vibrant nightlife! What's better for a Tulum bachelorette party than a hotel that offers modern luxury, privacy, and a beachfront location with a beach bar in Guadalupana? Savor gourmet dining with a sea breeze with your girlfriends, and enjoy a relaxing stay at a resort with a luxurious wellness spa!
The hotel offers an outdoor pool and free parking. All the rooms can host a maximum of 3 guests, and some of them come with a terrace and a private plunge pool, which I highly recommend. There is air conditioning and free Wi-Fi on the whole property to keep you connected with everyone! Perfect for a beach-chic stay!
2. Mezzanine Hotel – stay close to vibrant nightlife spots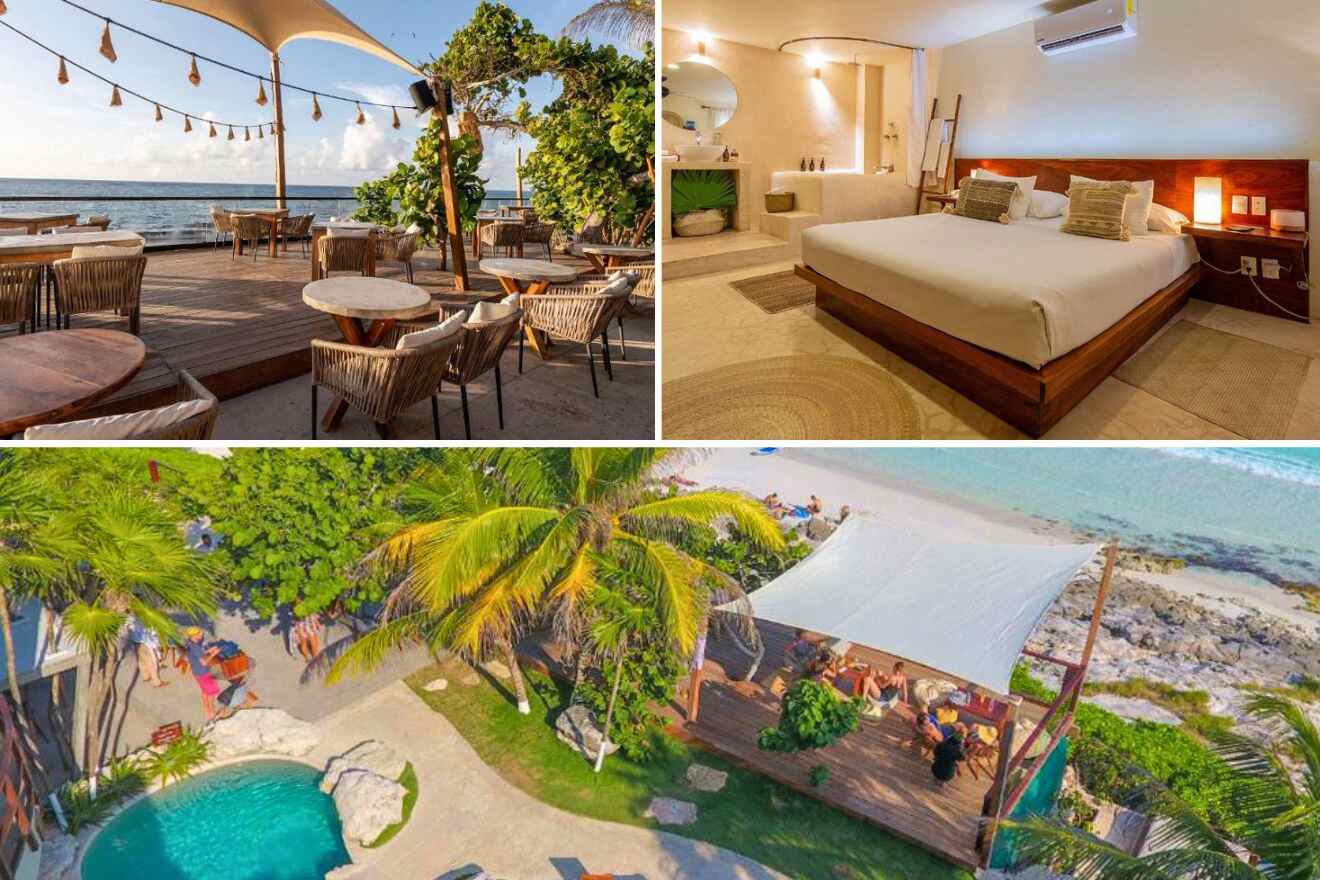 Here, you can unwind in a spa with holistic treatments and delight in Mezzanine's terrace bar with sunset views! This hotel looks perfect for bridal parties. It is located by the beachfront, 15 minutes away from Tulum beach town, Quintana Roo, and just 30 minutes away from the stunning Tulum ruins.
In this adults-only hotel, you can enjoy the bicycle rental service and happy hour treat! The hotel comes with a circular pool and a wellness center. You can experience the allure of your own private plunge pool and terrace in all hotel rooms with sea views and master suites.
3. The Beach Tulum – for live music in nature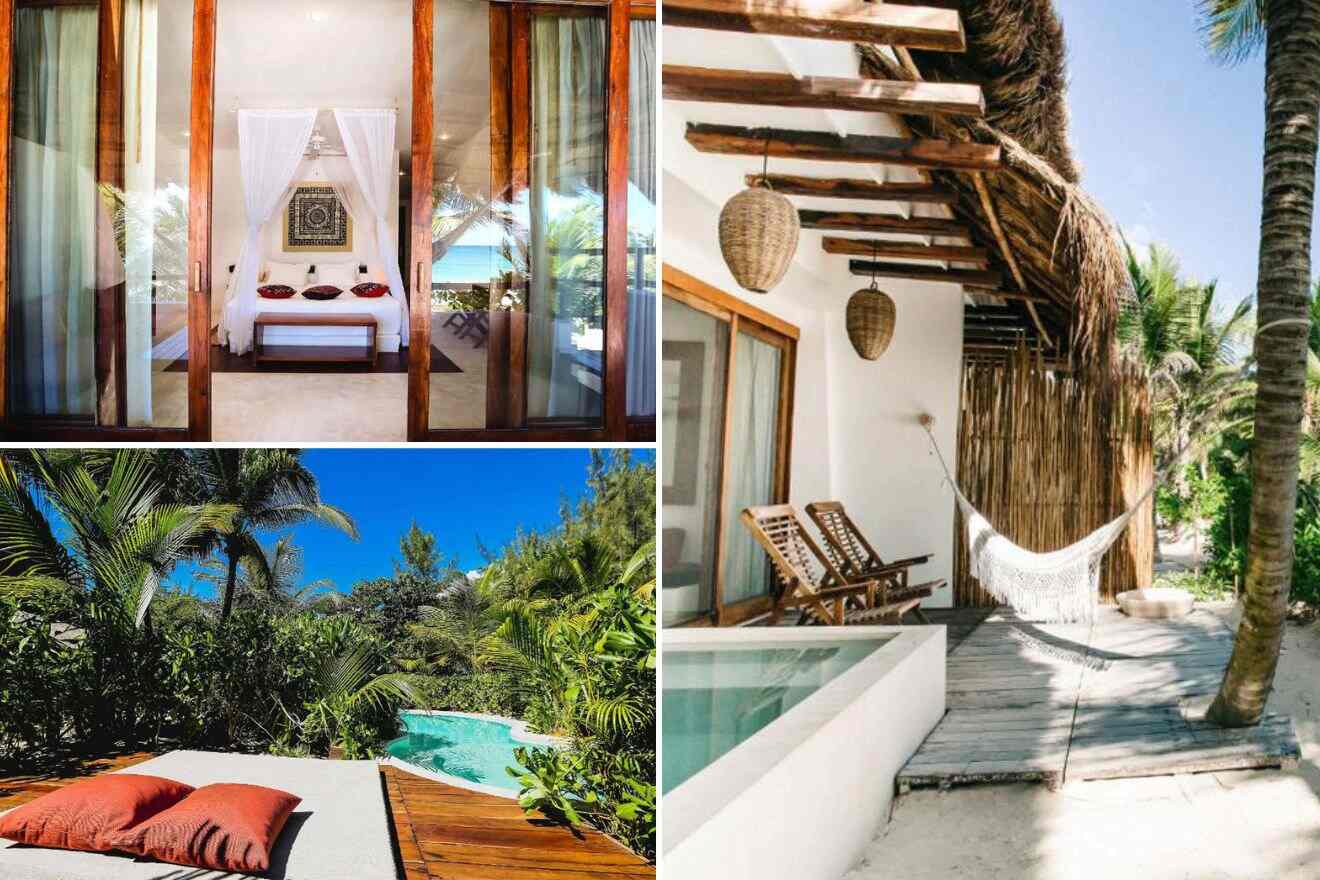 Host the perfect party at a hotel with rooftop terraces and stunning sea views! This beautiful hotel is located in the vicinity of Tulum city center, where popular restaurants and the party scene are at. If you'd rather spend time in nature than in Tulum town, the Mayan Ruins, and Tulum National Park are only a 30-minute drive away.
The beachfront location and the private white sand beach are perfect to indulge in an exclusive beach club for a fun bridal party! The property offers an airport shuttle for a fee, and a rooftop pool, and free breakfast, every night, there is live music on site! Opt for suites with panoramic ocean views and experience eco-luxury in jungle surroundings! All rooms can host 2 guests – I recommend the rooftop room!
4. Mi Amor Hotel – adults-only tranquility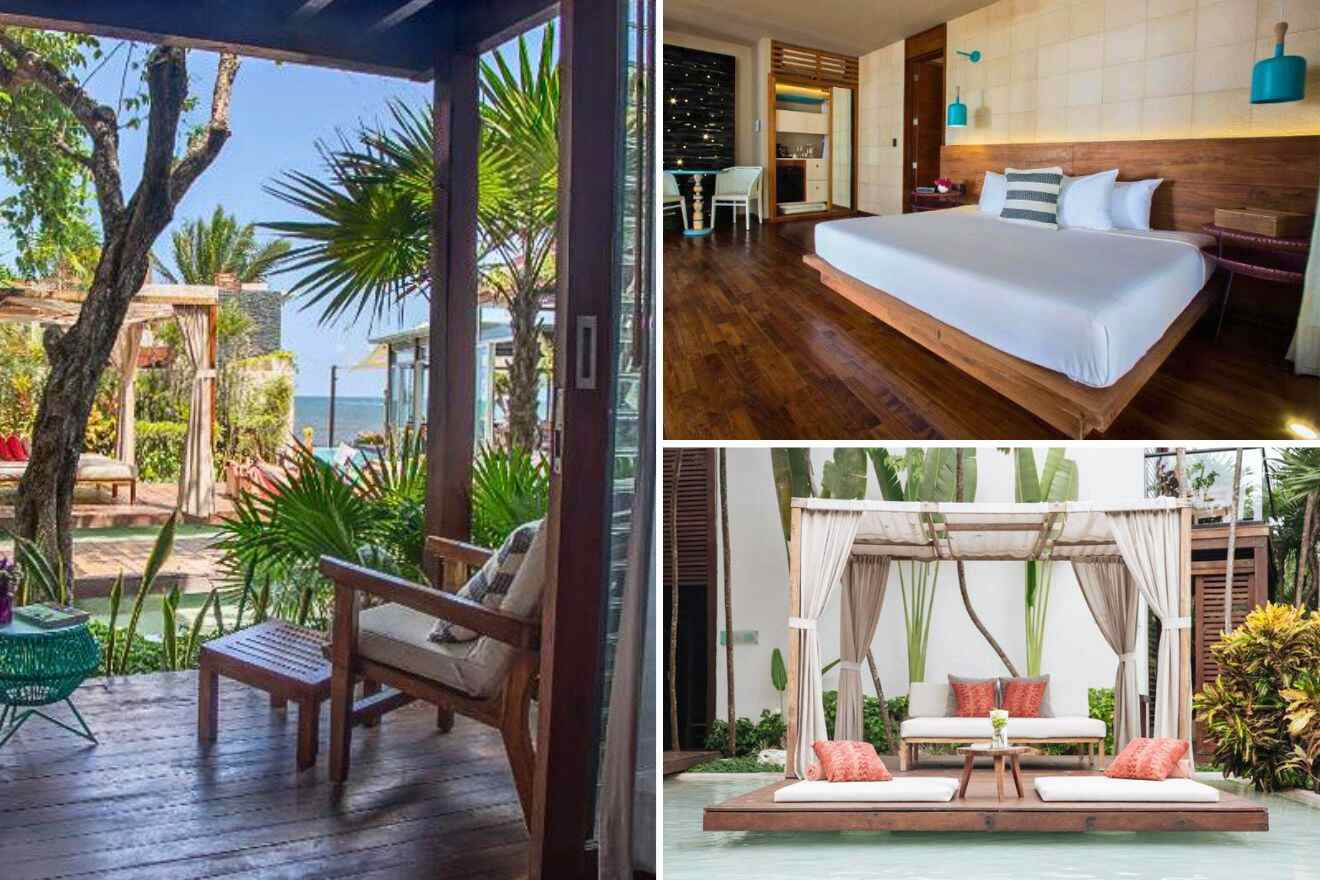 This Tulum resort is the perfect place to experience boho-chic designs while staying near Downtown Tulum. Spend your days before your wedding day relaxing with your friends in a world-class spa and wellness center in a luxurious place! The hotel comes with a beautiful pool, and the beachfront location makes it perfect for spotting sea turtles!
The hotel comes with an onsite restaurant, but if you wish, you can indulge in gourmet in-room dining! The biggest room is the 2-bedroom apartment which comes with 2 large beds, perfect for your bachelorette!
If you want to learn more about all the neighborhoods in Tulum before your stay, check out our where to stay in Tulum guide.
5. Palmaïa – dive into crystal-clear cenotes on-site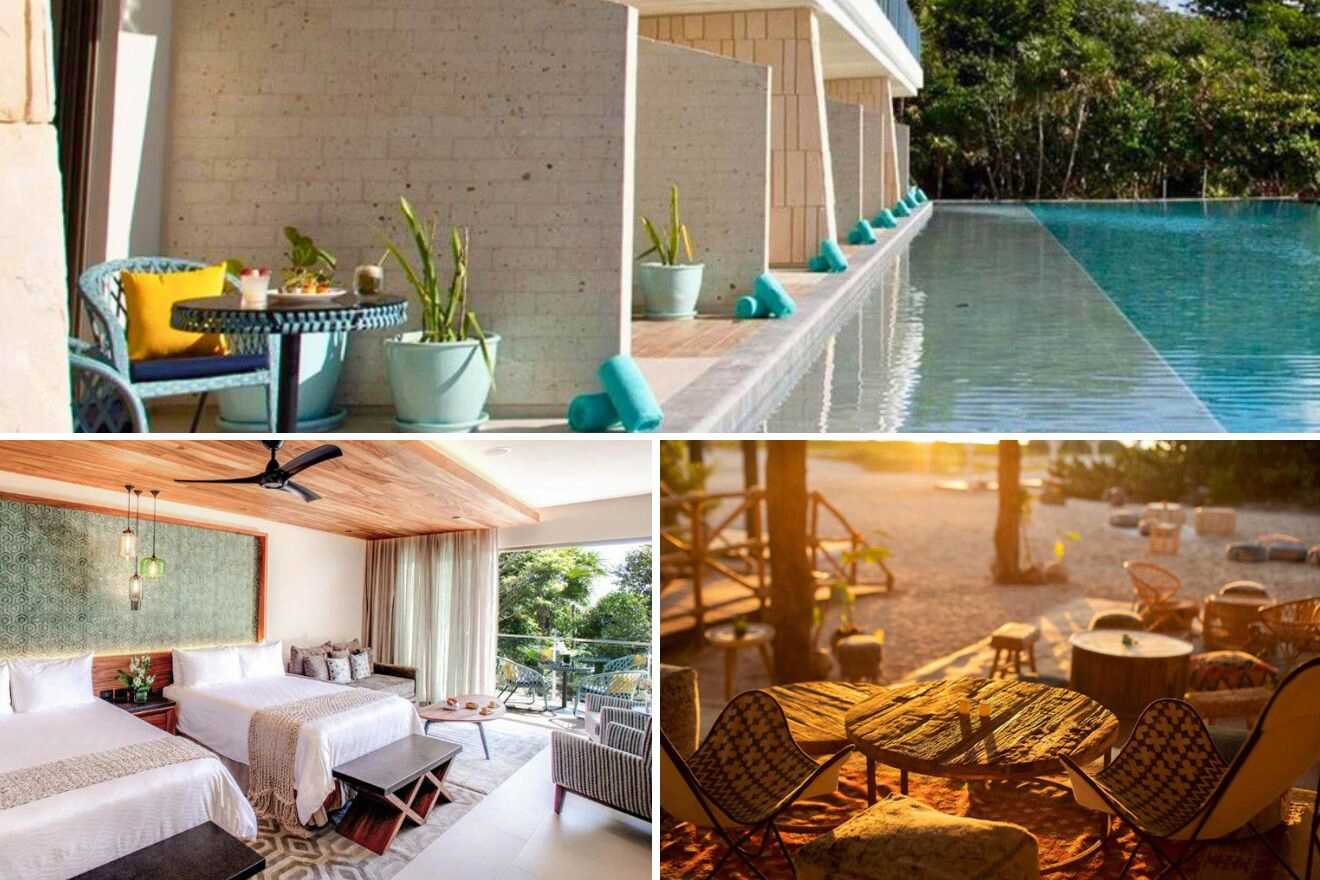 Discover spots with beachfront cabanas in this all-inclusive resort! You can also enjoy in-house DJ sets and dance nights and the opportunity to go snorkeling on-site thanks to the beachfront location and stunning private beach overlooking the Mayan Riviera. Playa del Carmen is only a 15-minute drive away from the property, which is perfect for a fun bachelorette party in Tulum!
Like most all-inclusive hotels, this one serves a complimentary breakfast with wholesome ingredients to all guests. The Ocean Front Family King Suite is ideal for big groups, as it can host up to 3 guests!
6. Dune Boutique Hotel – in Tulum's party zone!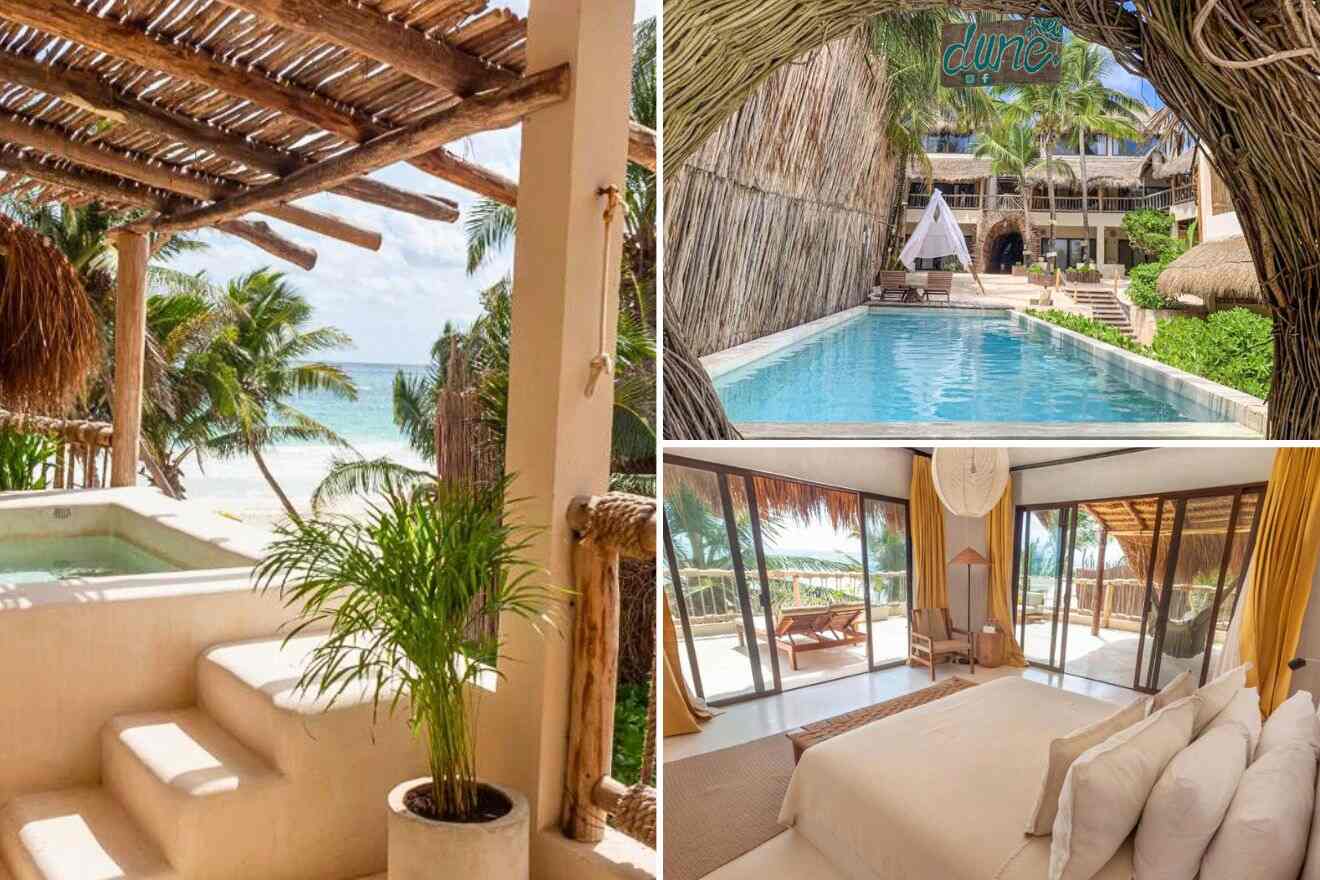 Looking for a gorgeous boutique hotel that isn't too far from the clubs? Dune is for you! This hotel looks incredible and comes with a private beach area within walking distance. If you like boutique hotels, you will be blown away by the style and charm this one has. It is the perfect blend between relaxation and wildness, the perfect place for a fun bachelorette!
There is a lovely swimming pool in the hotel's outdoor area, and a complimentary breakfast will be served each morning to all guests. All the rooms can host up to 2 guests; rooms like the sunrise master suite are spacious and come with a big rooftop terrace and a private plunge pool.
7. Hotel Ma'xanab Tulum – next to South Beach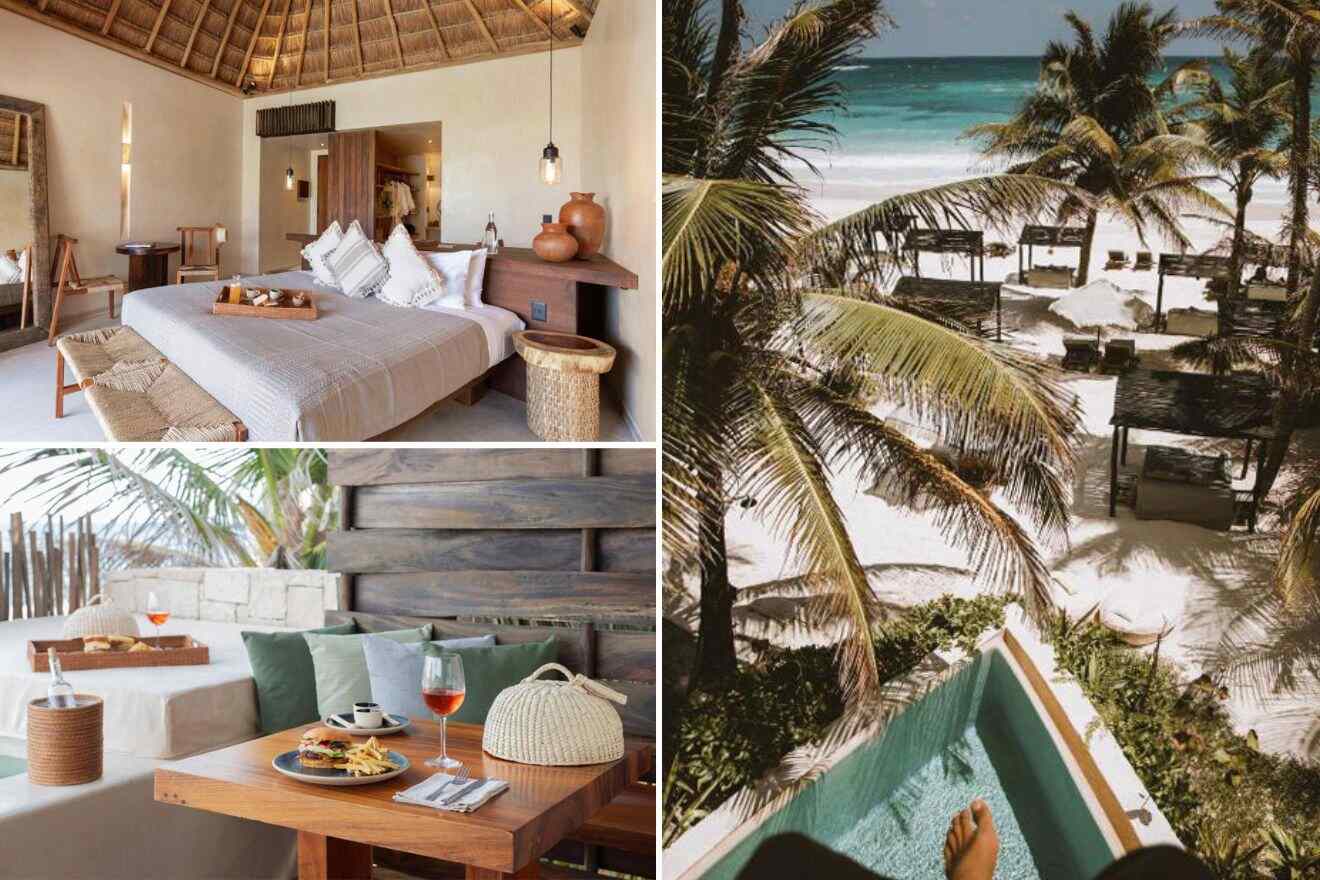 This beautiful hotel is located only steps away from South Beach and the "Ven a la Luz" sculpture and offers a private beach area to all the guests. Imagine waking up, having a delicious gourmet breakfast, and going for a morning beach walk with your friends! That is the way you want to start your day!
The hotel vibe is unique and feels like a tranquil oasis in the middle of paradise. There is a fitness center onsite and a spa center offering nice body treatments and massages. All the rooms on the property look stunning and can host up to 2 guests.
8. La Valise Tulum Hotels – offers many water sports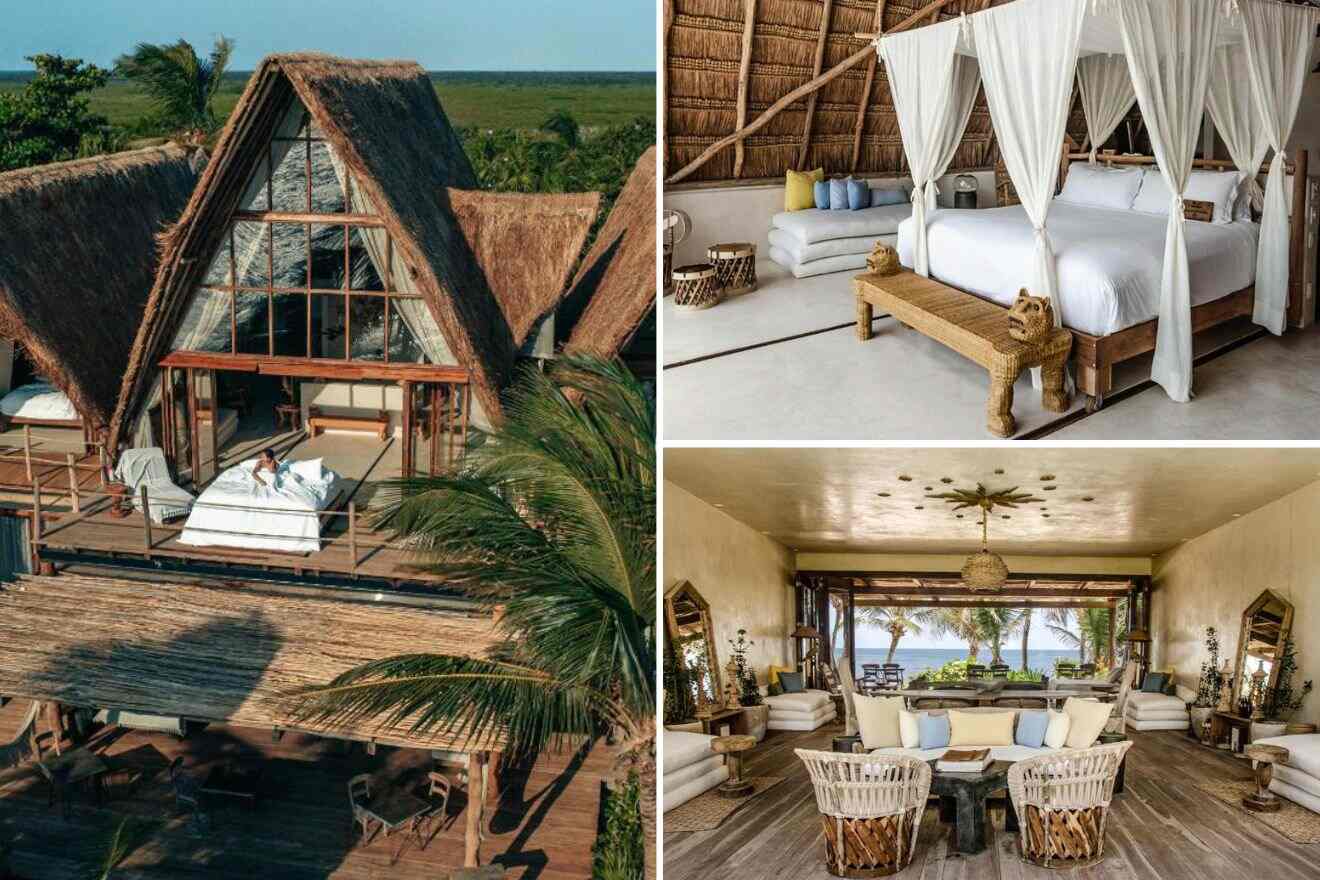 Located in La Guadalupana and close to the Sian Ka'an Biosphere Reserve, this hotel is by the beachfront. It comes with a dream-like private beach, so you can relax under the sun, play beach volleyball, go for a dip in pristine waters, or even practice many water sports on site, from snorkeling to diving and windsurfing. You'll never be bored during your bachelorette!
There is a spa and wellness center where you can indulge in treatments and massages to feel relaxed and renewed on your wedding day! All the rooms host 2 guests, I recommend the ones that come with a living room and separate bedroom, plus stunning jungle or ocean views!
9. Cabanas Tulum – for a beach club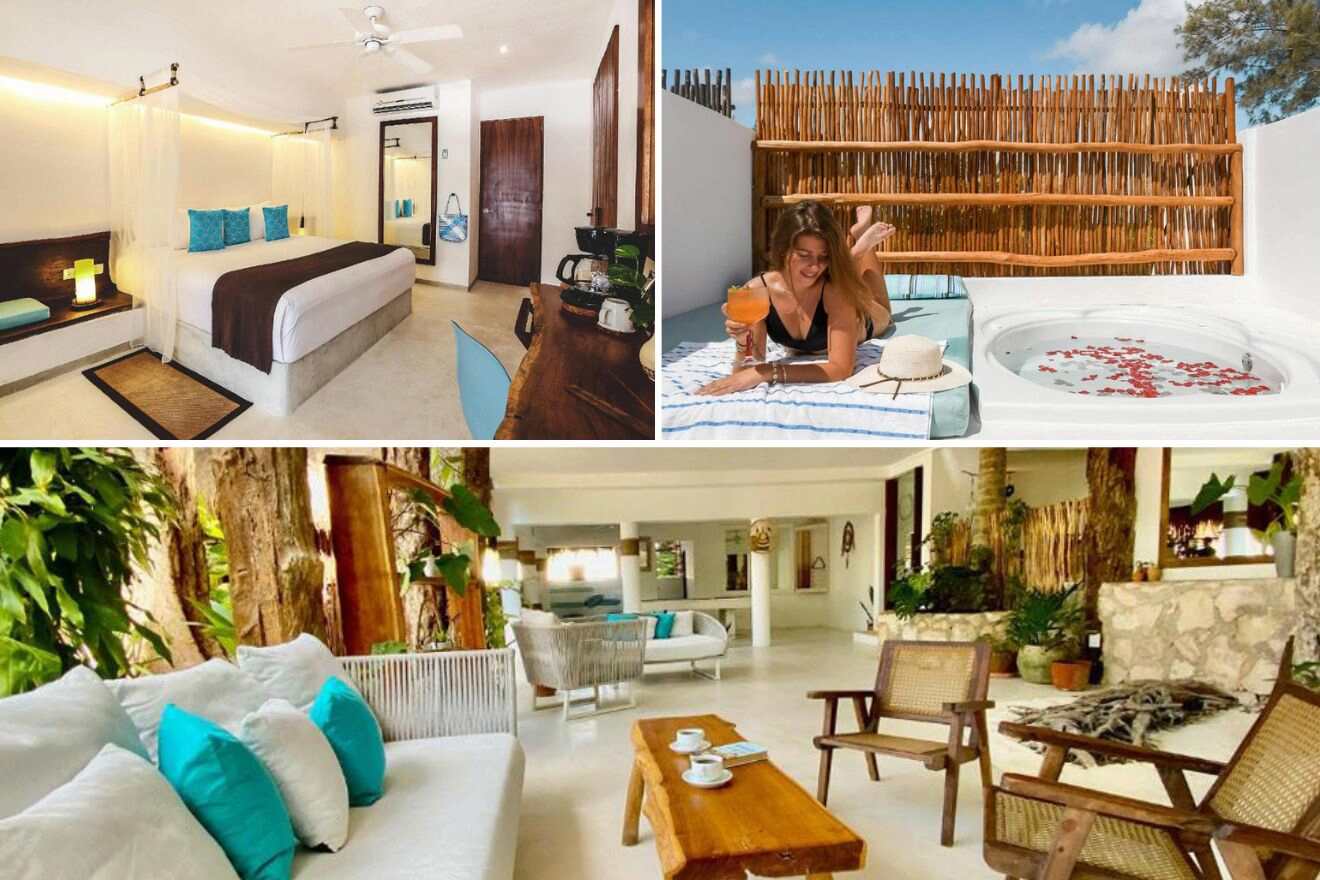 Go directly to paradise for your bachelorette! This hotel is simply fantastic; the ambiance is young and fresh, and the amenities are modern and luxurious. On top of that, the property is located in La Guadalupana by the beachfront and with a private beach area, so you can relax and let go of your worries in movie-like settings!
Enjoy the outdoor swimming pool with your friends, and use the jacuzzi while enjoying fruity drinks. If you feel like partying, enjoy the live music and use the paid happy hour service. The vanilla loft is ideal for big groups; it can host 6 guests and comes with a kitchenette, spa bath, and balcony with a view.
10. Encantada Tulum Hotel – for complimentary bikes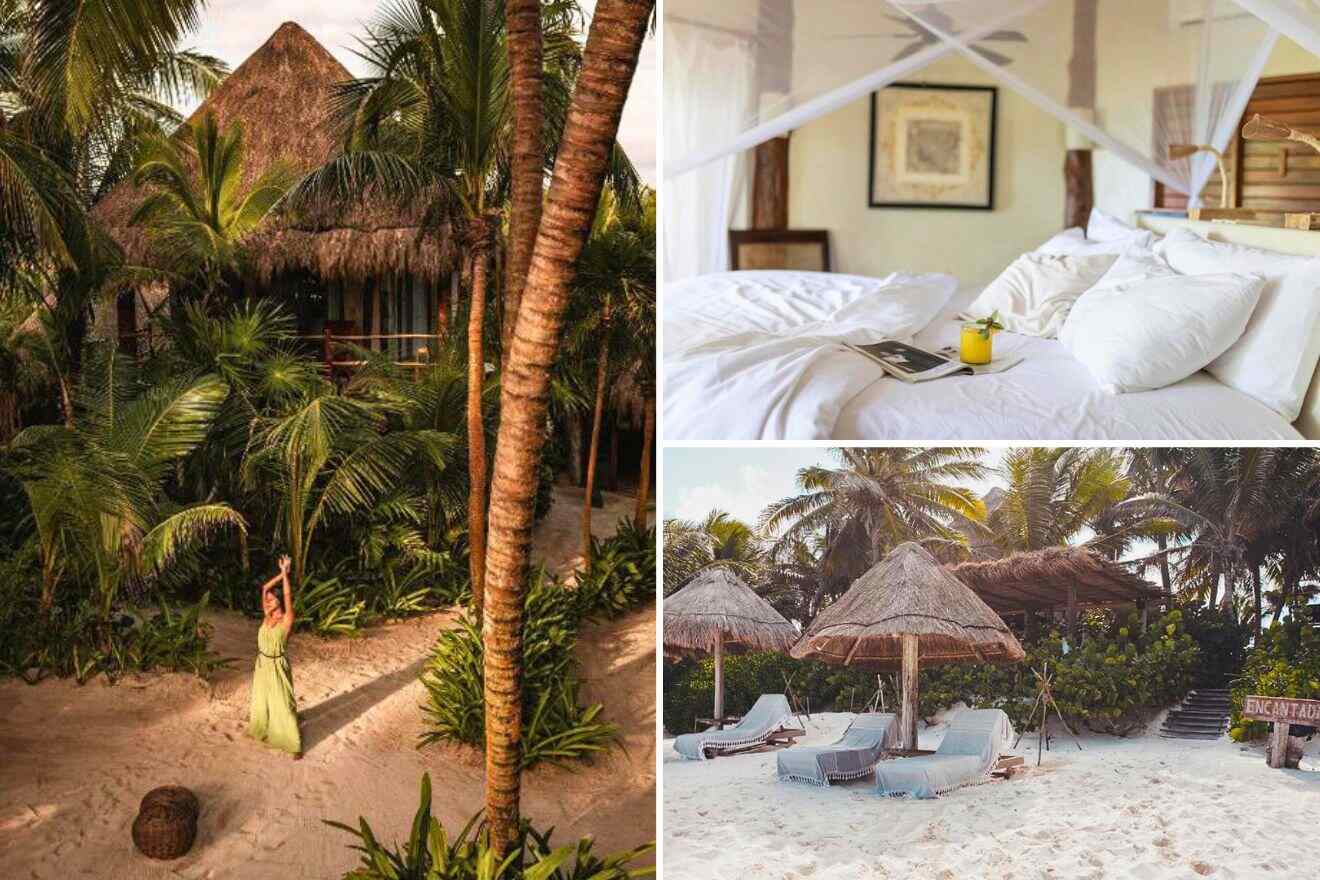 At Encantada, you can go on expeditions with your friends using the complimentary bike service, and go on day trips to visit archaeological sites and Mayan Ruins! The hotel is in La Guadalupana, so it won't be a long ride to them! After a day out, enjoy the hotel's ideal location in front of the beach and with a private beach area, so you can relax in the beach loungers!
The rooms have a traditional vibe with their wicker ceilings and a modern twist full of luxury! Wake up with floor-to-ceiling windows overlooking the beach, and relax on your private terrace while you read in a hammock!
11. Secrets Akumal Riviera Maya – with a nightclub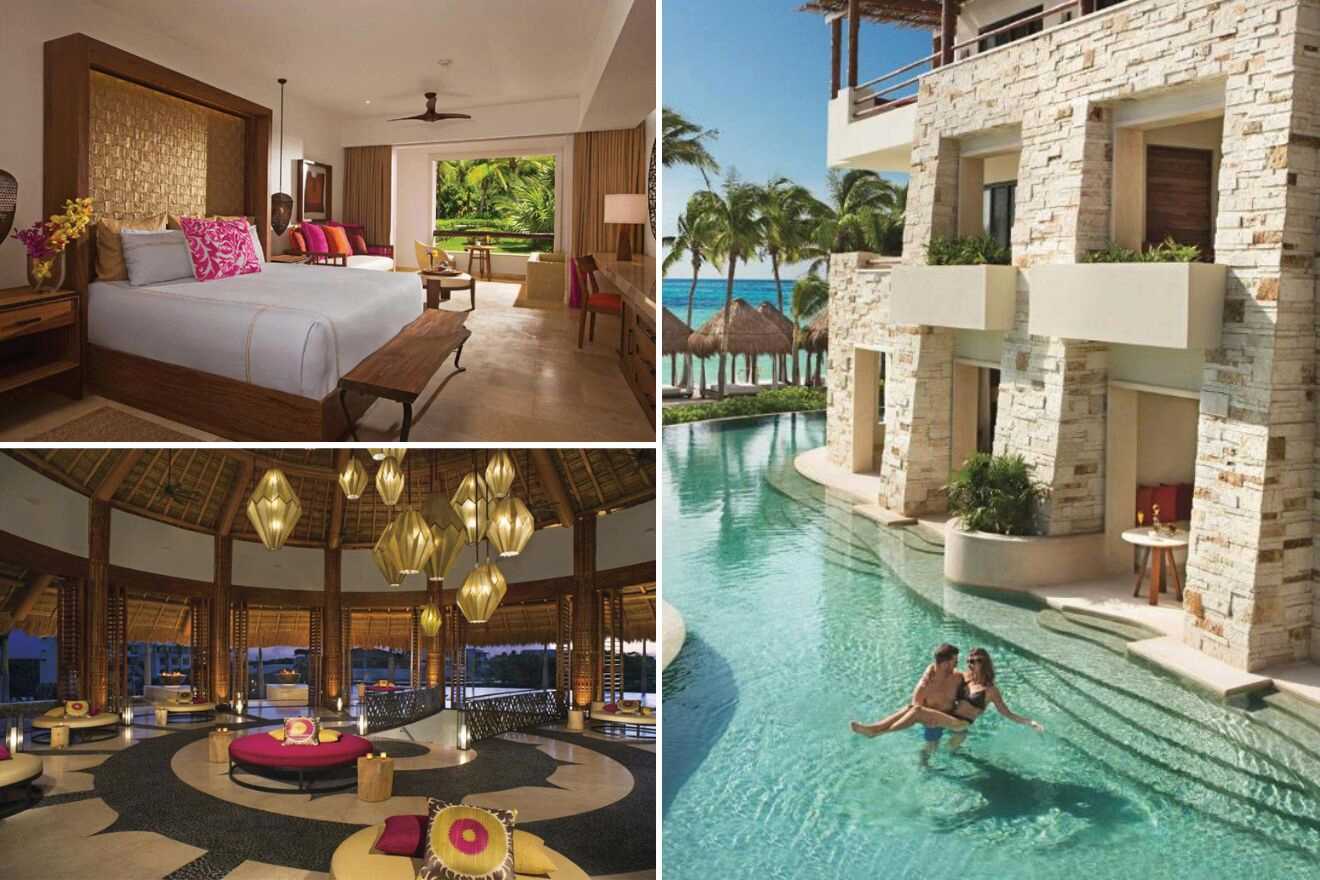 Located in Akumal, this adults-only resort features an out-of-this-world infinity pool on the beach that overlooks the ocean, the perfect place to relax with some drinks while you spill some tea with your friends! Afterward, I recommend you go to Playa Free Tortugas, where you can see sea turtles in their natural environment! If you wish you can play golf at the nearby golf course!
The hotel comes with a tennis court and offers free tennis equipment. During the evenings, you can enjoy the onsite nightclub with DJs. Nothing better than partying knowing your bed is steps away from the club!
12. Unico Hotel Riviera Maya – for yoga bunnies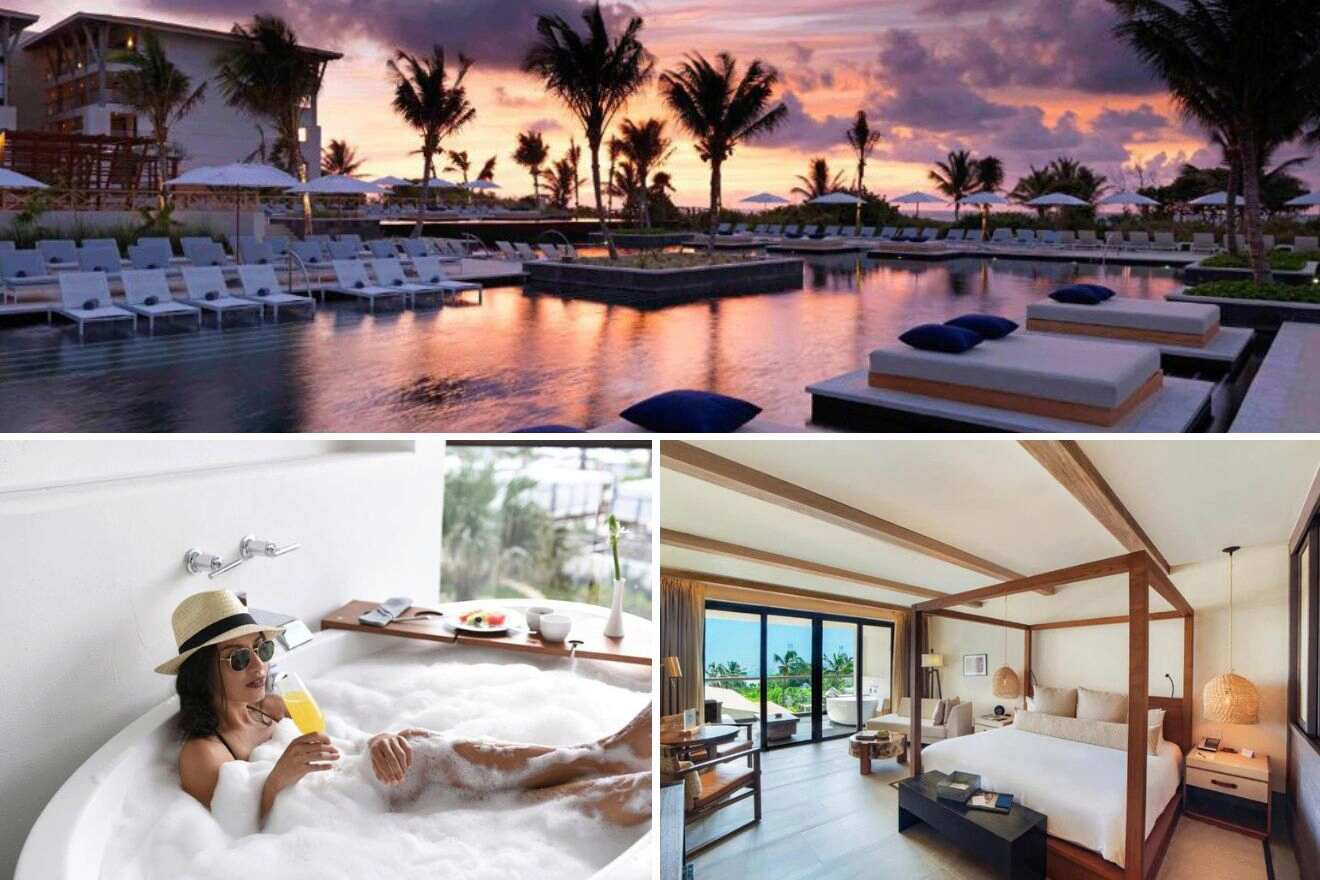 With an incredible location in El Dorado, by the beachfront, and with a private beach area, this hotel is located only a 30-minute drive away from Playa del Carmen, making it perfect for a day trip with your friends and family! The hotel offers yoga sessions by the pool as well as beauty and body treatments. So you can go to your wedding day worry-free!
There are 5 onsite restaurants offering traditional food, as well as vegetarian and vegan dishes! The rooms at this property look like a dream; some of them come with a private pool, and some of them are swim-up rooms!
13. Azulik Tulum – with rustic charm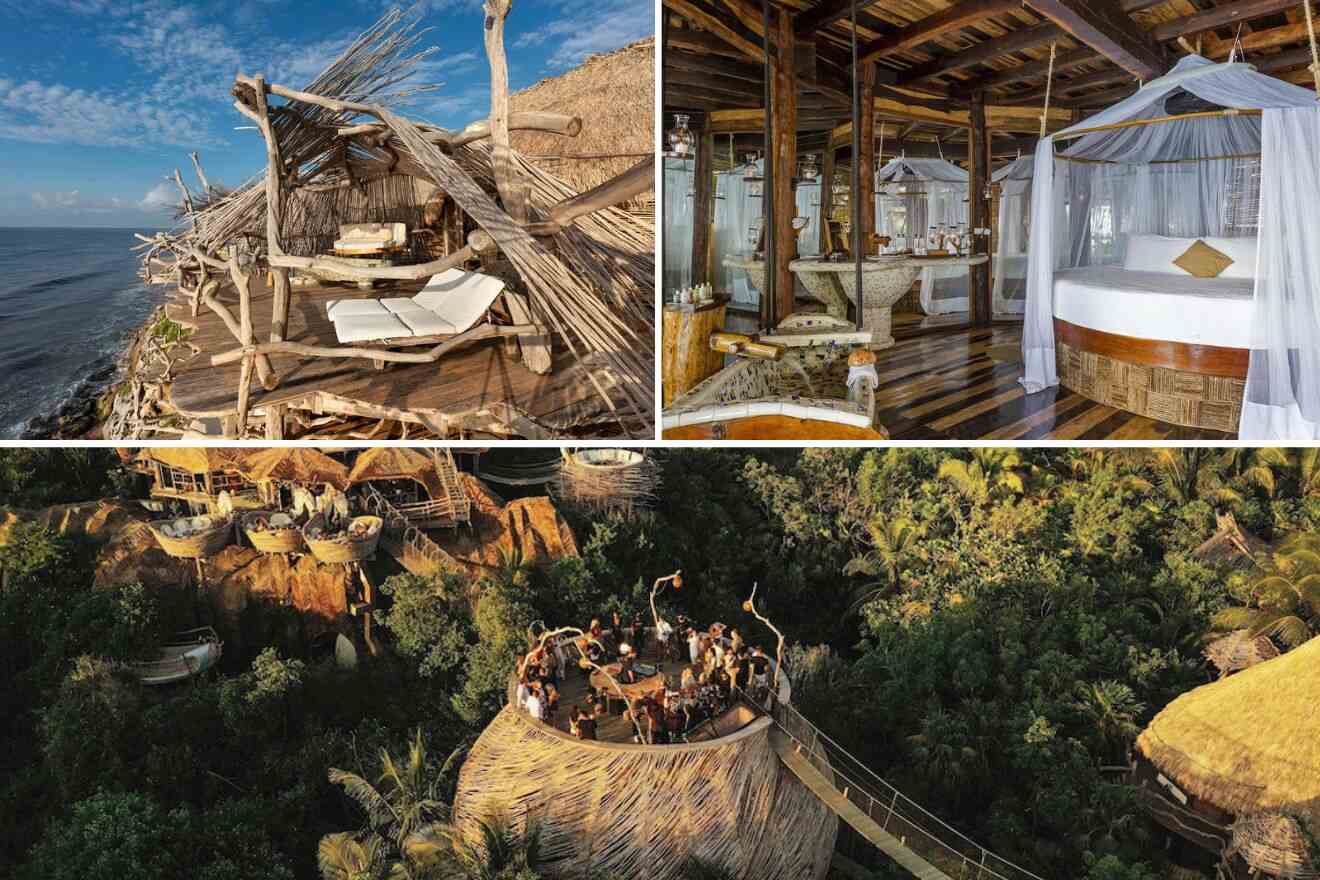 This hotel looks like a movie set! Located in Zona Hotelera Tulum, this property comes with a wholesome rustic style. everything will connect you with nature, and the beachfront location, with a private beach area, will help a lot! The property comes with a full-service spa center and amazing onsite restaurants, so you can indulge in family while you get ready for celebrations!
The rooms look like a perfect oasis. Everything looks fresh and earthly, and you will wish you could stay there forever! All the rooms are super spacious and come with a soaking bath and private balconies with furniture!
14. Hotel Bardo – discover Tulum city center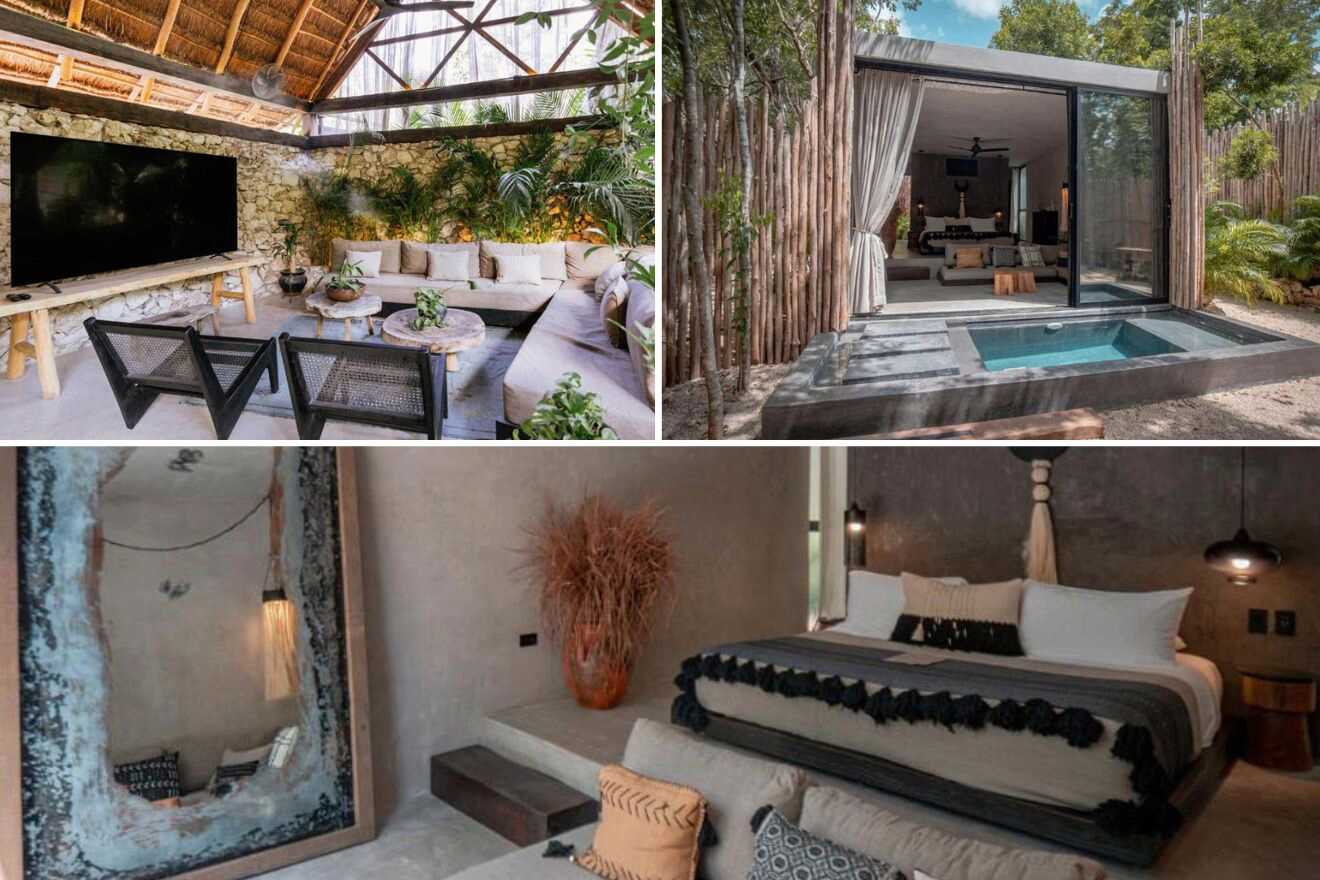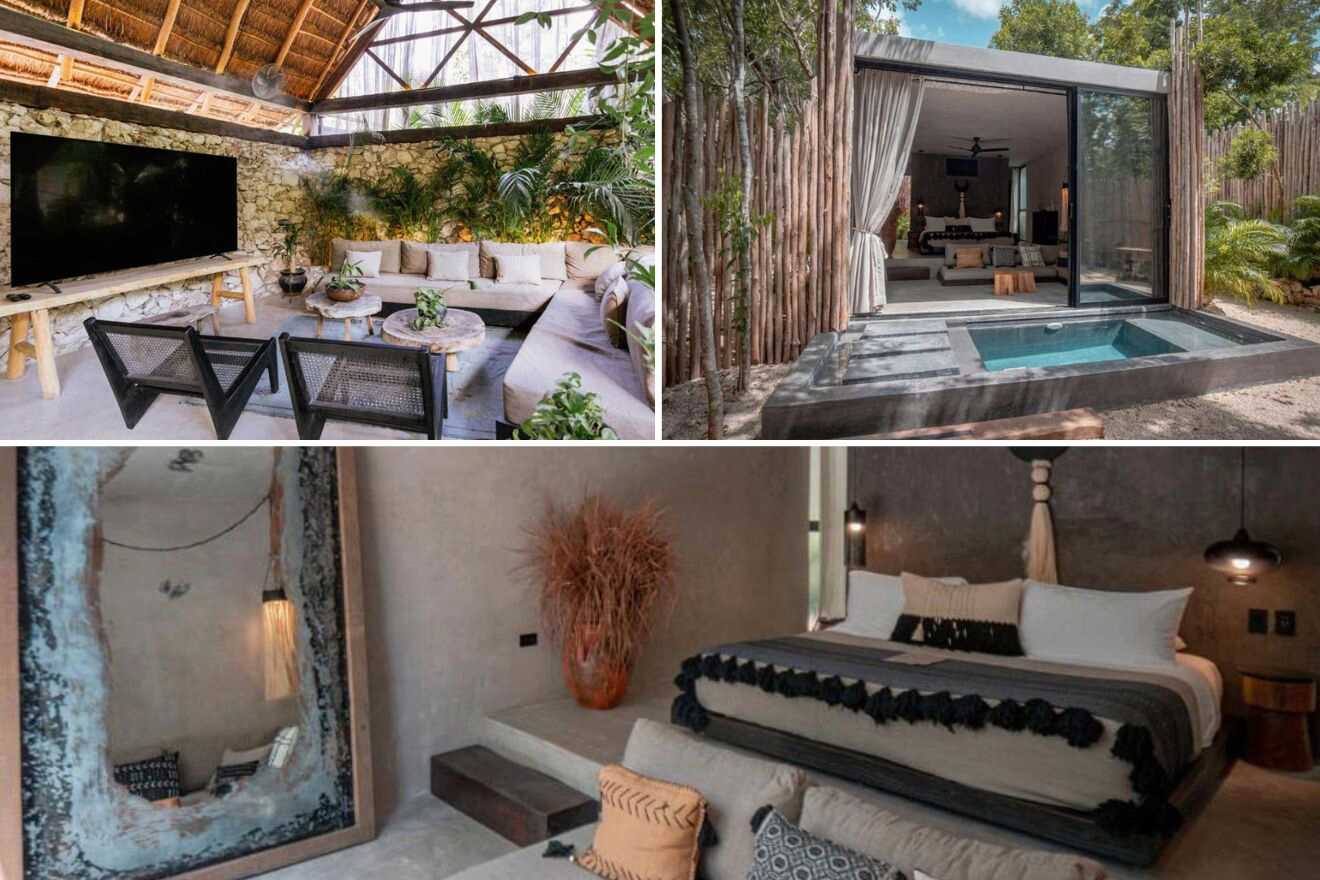 Wow, this hotel feels so mystic! The decoration and architecture are modern, elegant, and have an industrial vibe, as well as a lot of natural elements. This adults-only hotel is located only a few minutes away from Tulum city center, which is great in case you want to explore the area and try out different restaurants.
The property comes with an outdoor swimming pool, an onsite restaurant offering vegan and vegetarian meals, and a spa center with many body treatments and massage services. The rooms look beautiful and stylish, with a private swimming pool.
15. Papaya Playa Project – for a jungle adventure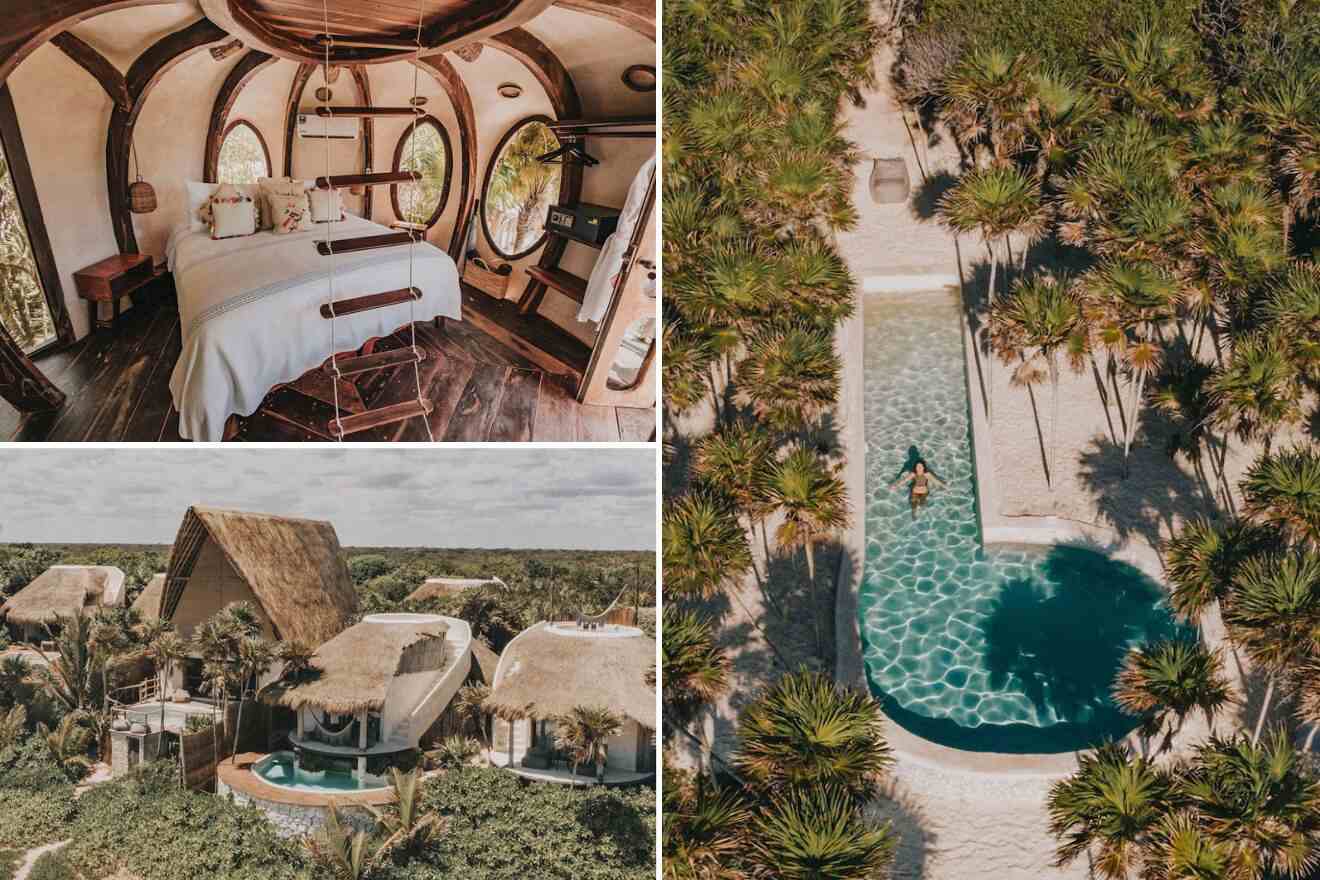 This hotel looks out of this world! Honestly, the style is impeccable. It is earthly, modern, luxurious, and unique! The property is by the beachfront and in the middle of a lush tropical jungle, so you can get the best of both worlds while you relax with your friends! The property comes with 2 outdoor pools and an onsite nightclub, so you can dance the night away!
The rooms can be in the middle of the jungle, either in a cabin style or in a rooftop pool house style. Both are amazing, but for a bachelorette, I would recommend the rooftop one, casa Palapa, which can host 10 guests and has a private pool.
16. Bahia Principe Grand Tulum – all-inclusive amenities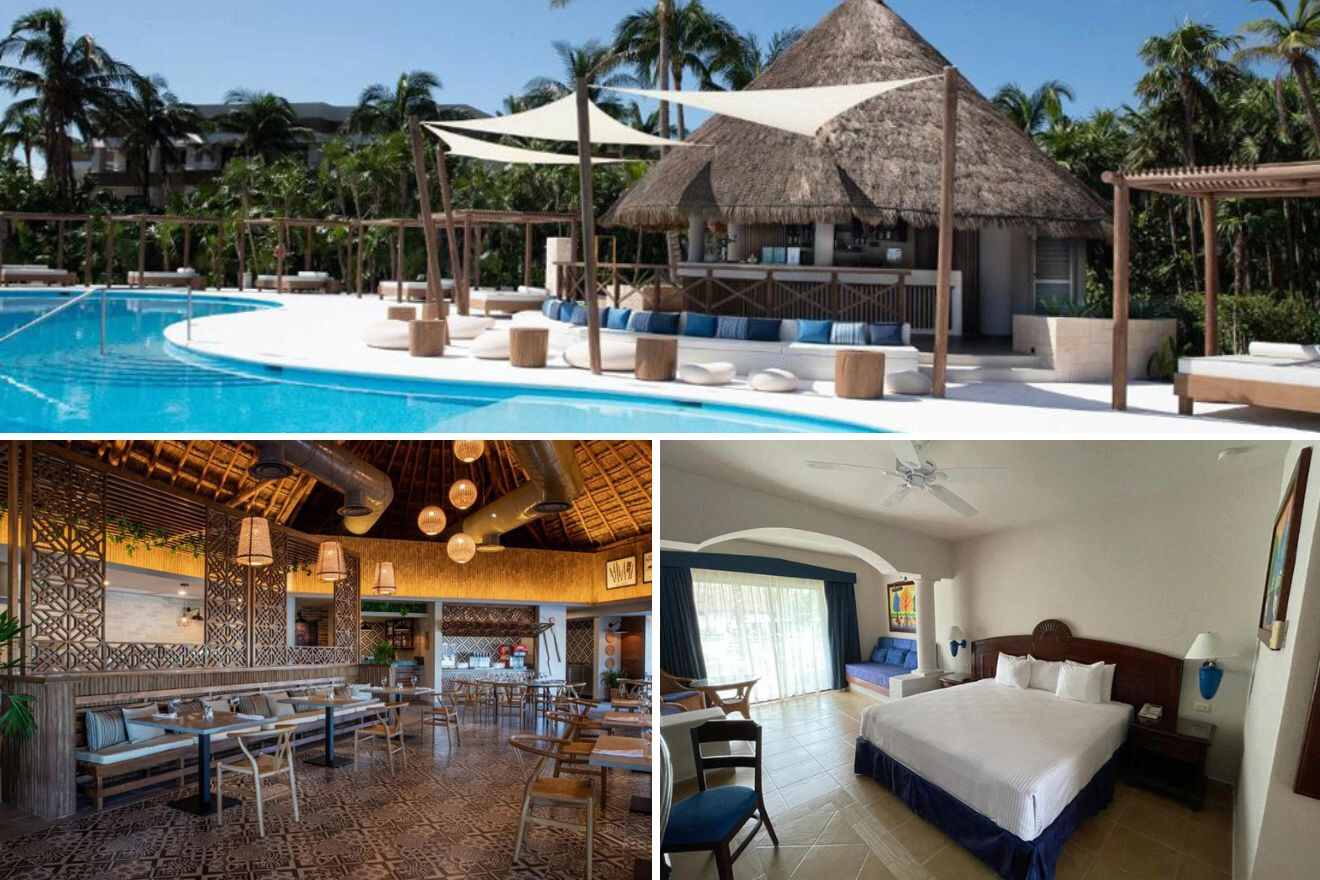 This property is located in Bahía Gran Principe, right by the beachfront. In fact, the massive outdoor pool is on the beach, overlooking the deep blue ocean! Nothing better than relaxing with your girlfriends with a drink and a view!
If you are into sports, you can play tennis matches at the onsite tennis court or enjoy a mini golf session with your friends. If, after relaxing the entire day, you feel like partying, you can join the onsite nightclub! For big bachelorette parties, the 2 bedroom suites are ideal since these host 4 guests.
17. Alea Tulum – for epic watersports!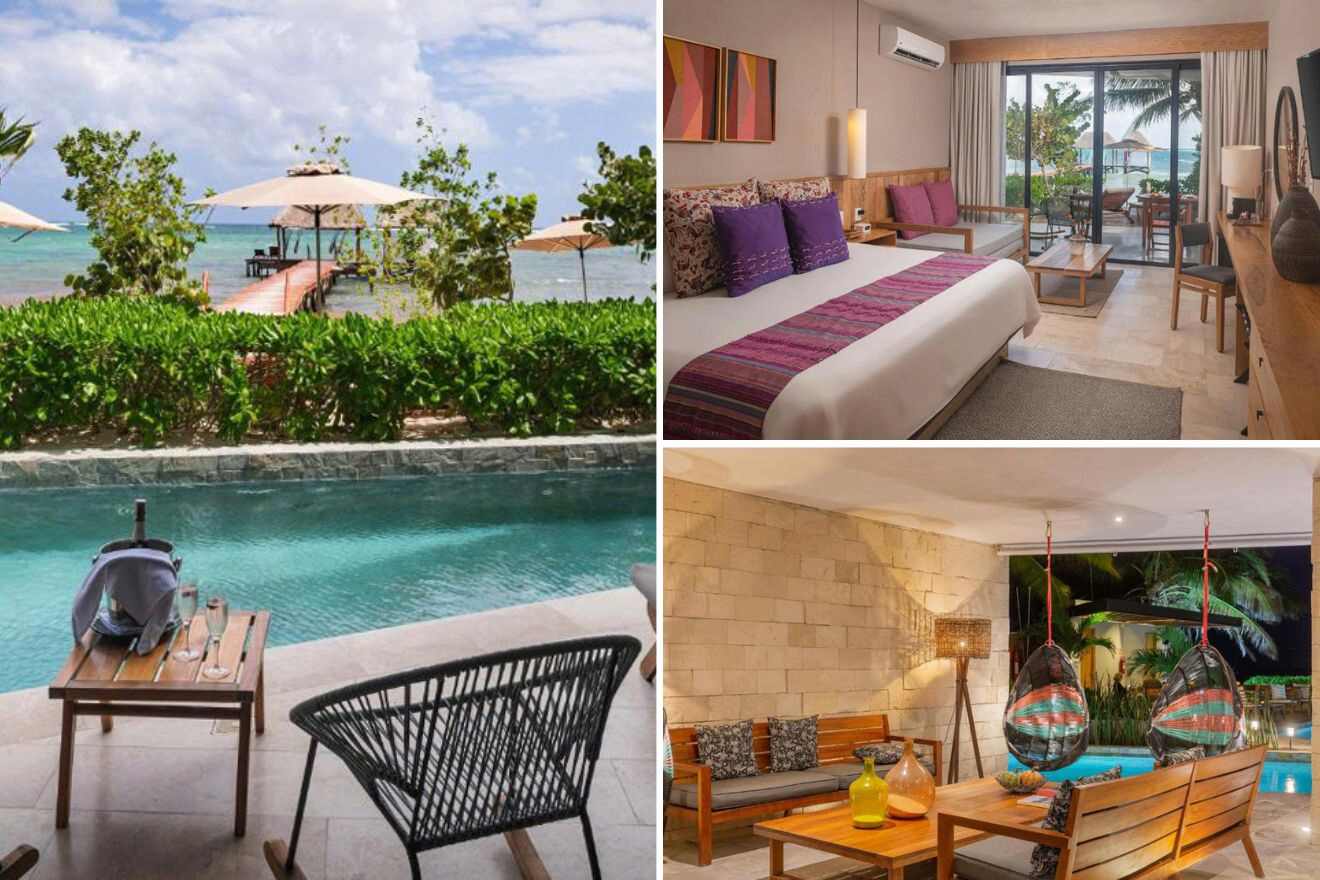 Here, you can enjoy themed nights and entertainment, and they even offer yoga and wellness retreats! This hotel looks like the perfect place to relax with friends on a bachelorette trip! The hotel offers a wide range of activities, including water sports such as canoeing and scuba diving, as well as renting any of the complimentary bikes to explore the area!
The outdoor swimming pool is open all year round, and the private beach area comes with loungers to relax on! All the rooms at this property look incredible; some of them come with private balconies and plunge pools! This is ideal if you want to order room service and relax in the water with friends.
18. Mereva Tulum – for onsite yoga classes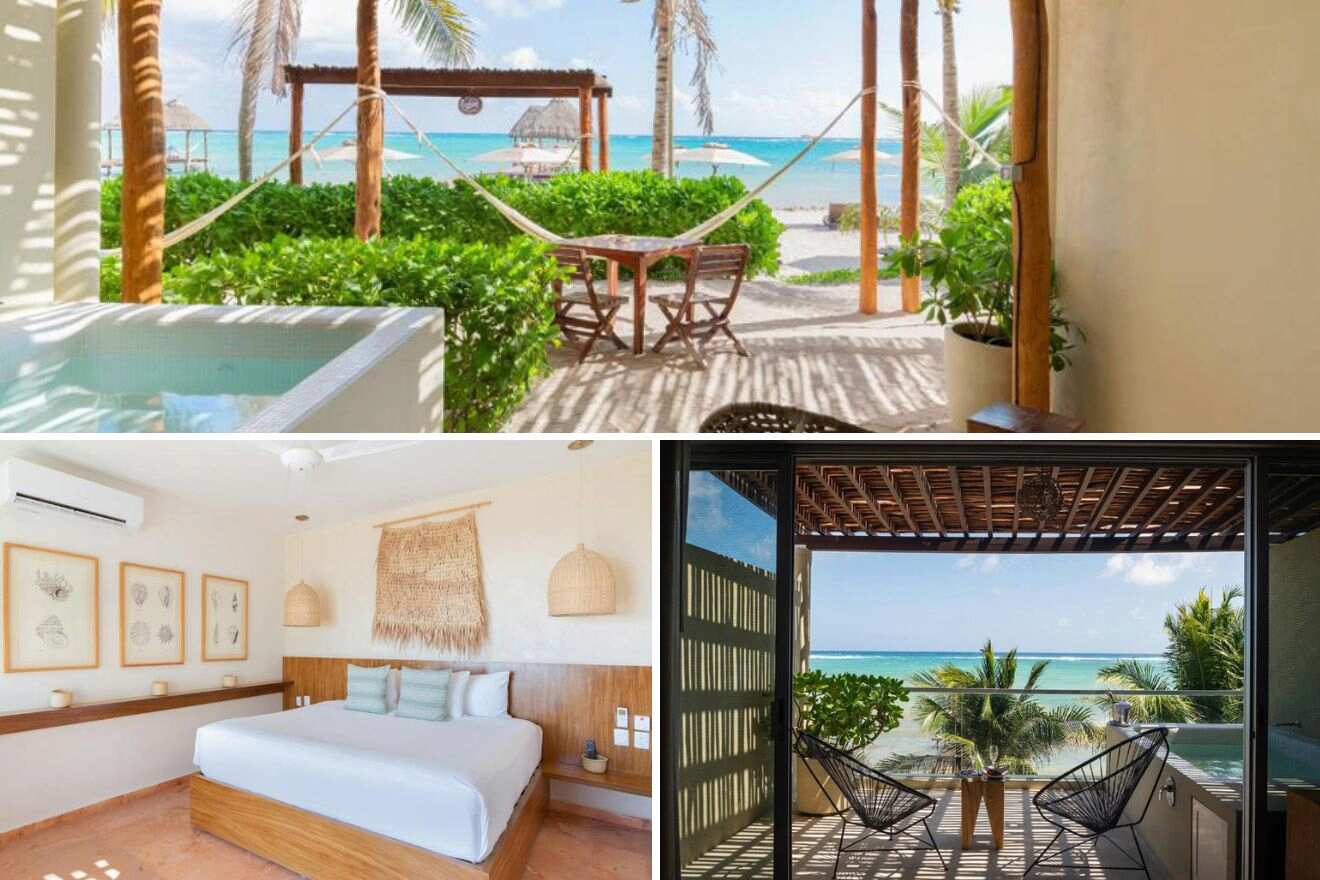 Located a 15-minute car drive away from Tulum National Park, this hotel comes with everything you need and more for a fun and stylish bachelorette stay! You can savor your sunrise breakfasts on private balconies. The hotel has an open space style and architecture that will make you feel closer to the beach and the blue ocean.
Relax with a yoga class, and keep fit in the fitness center. If you prefer being outdoors, the hotel's private beach and surrounding nature will make you feel at home! Indulge in gourmet in-room dining with the room service, and admire the views from the room!
19. Hotel Panacea Tulum – for day trips and excursions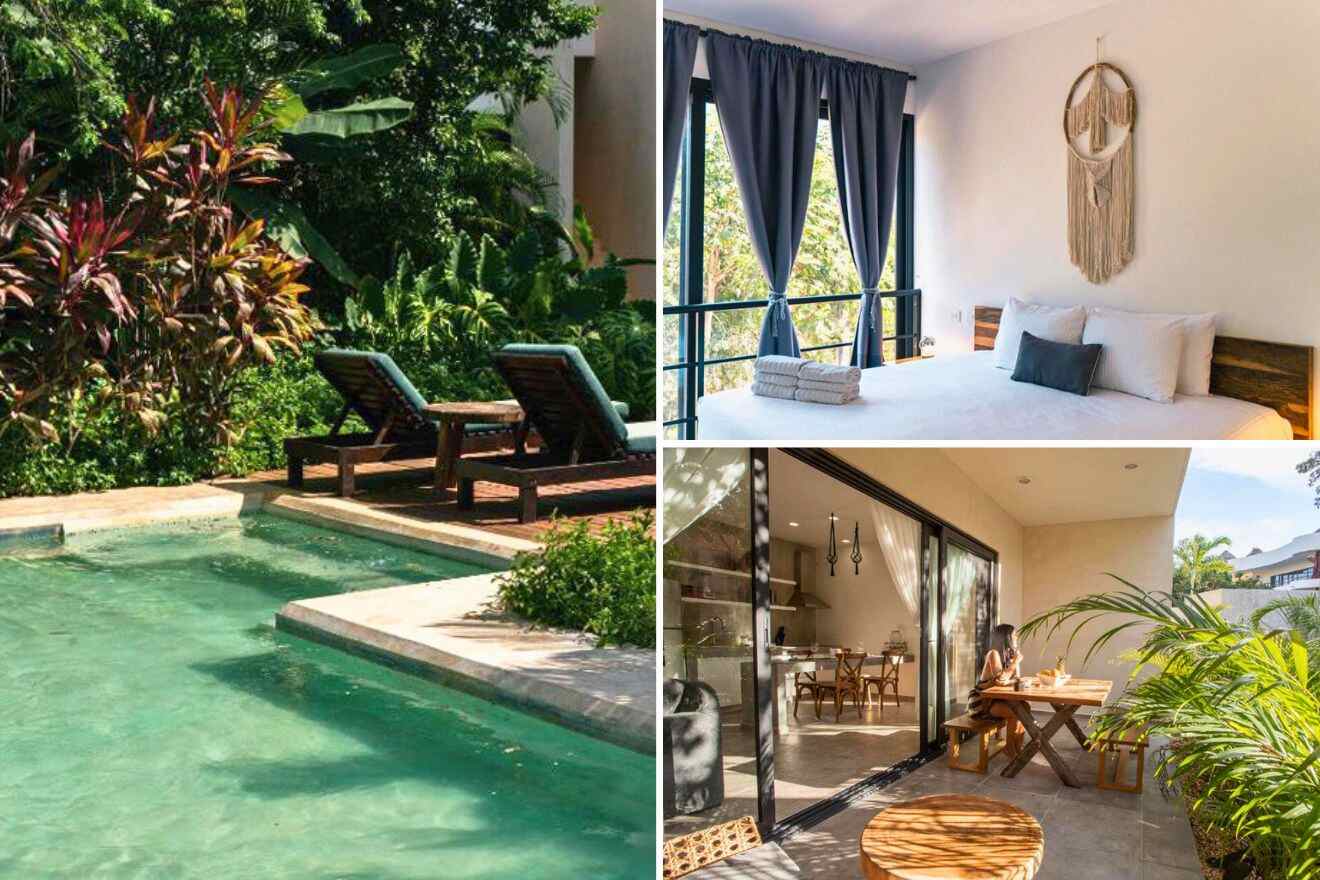 This cute hotel has a nice modern style and a cozy vibe! It will make you feel right at home. It is located in La Veleta, just a few minutes walk away from Tulum city center. There is an onsite restaurant that is open for breakfast service and offers fresh baked goods, fruit, and more! For lunch and dinner, you can walk to the center and as many restaurants as you wish!
The property comes with a tour desk where you can arrange a day trip or excursions, which is great for bachelorette parties! The deluxe suite is the biggest room, can host up to 4 guests, and has a big kitchen and balcony.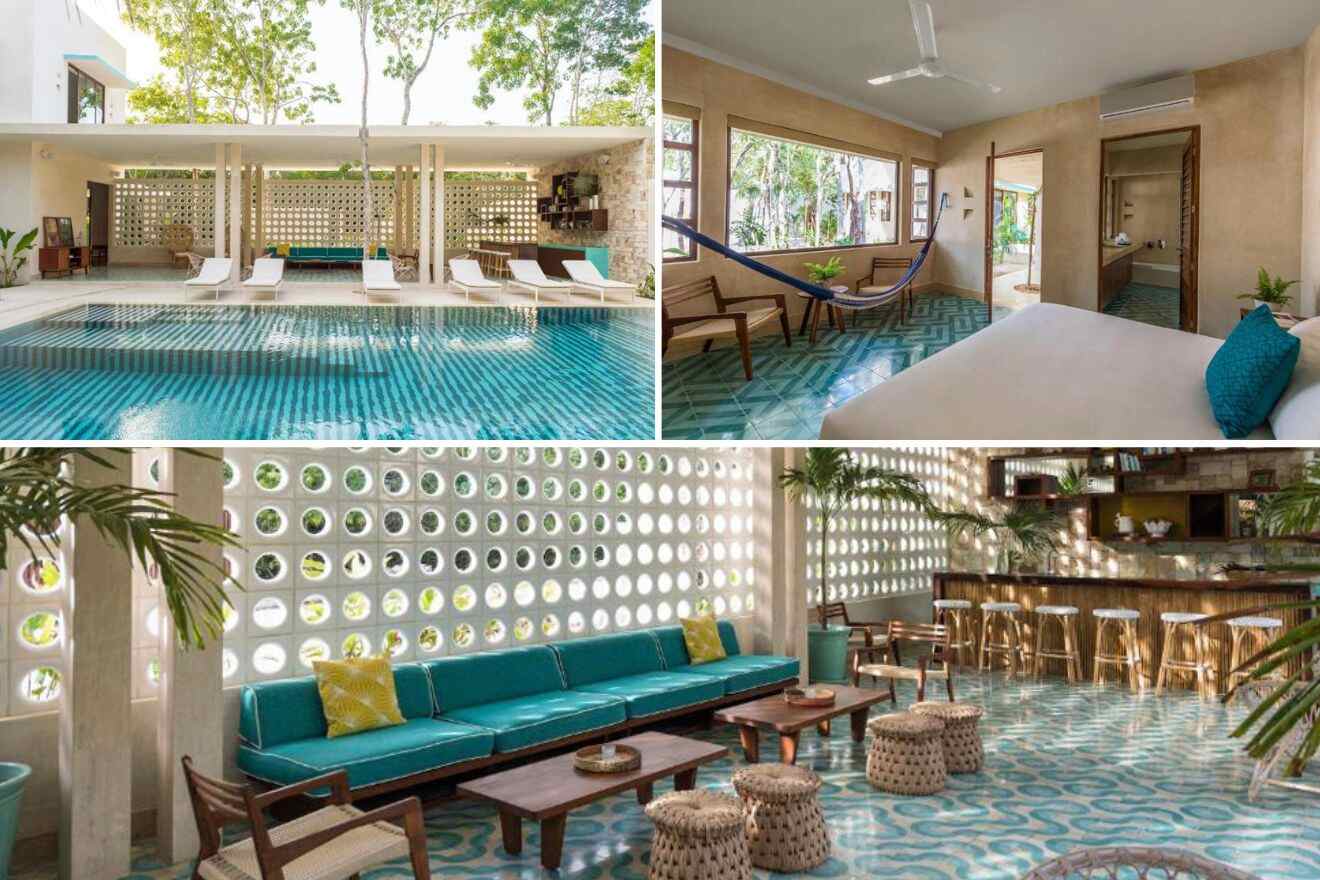 Oh my God! I Love this hotel's style. It looks so pretty, with the blue color patterns, and modern facilities! It is located in La Veleta, and you can access the city center of Tulum with the complimentary bikes the hotel offers and the beach is only a 15-minute drive away!
The hotel offers yoga classes and a spa center with massage services to all the guests at the hotel. If you are traveling with big groups, the double suite and the royal suite are ideal for you; these come with amazing views and room for up to 4 guests.
FAQs about the best hotels in Tulum for bachelorette parties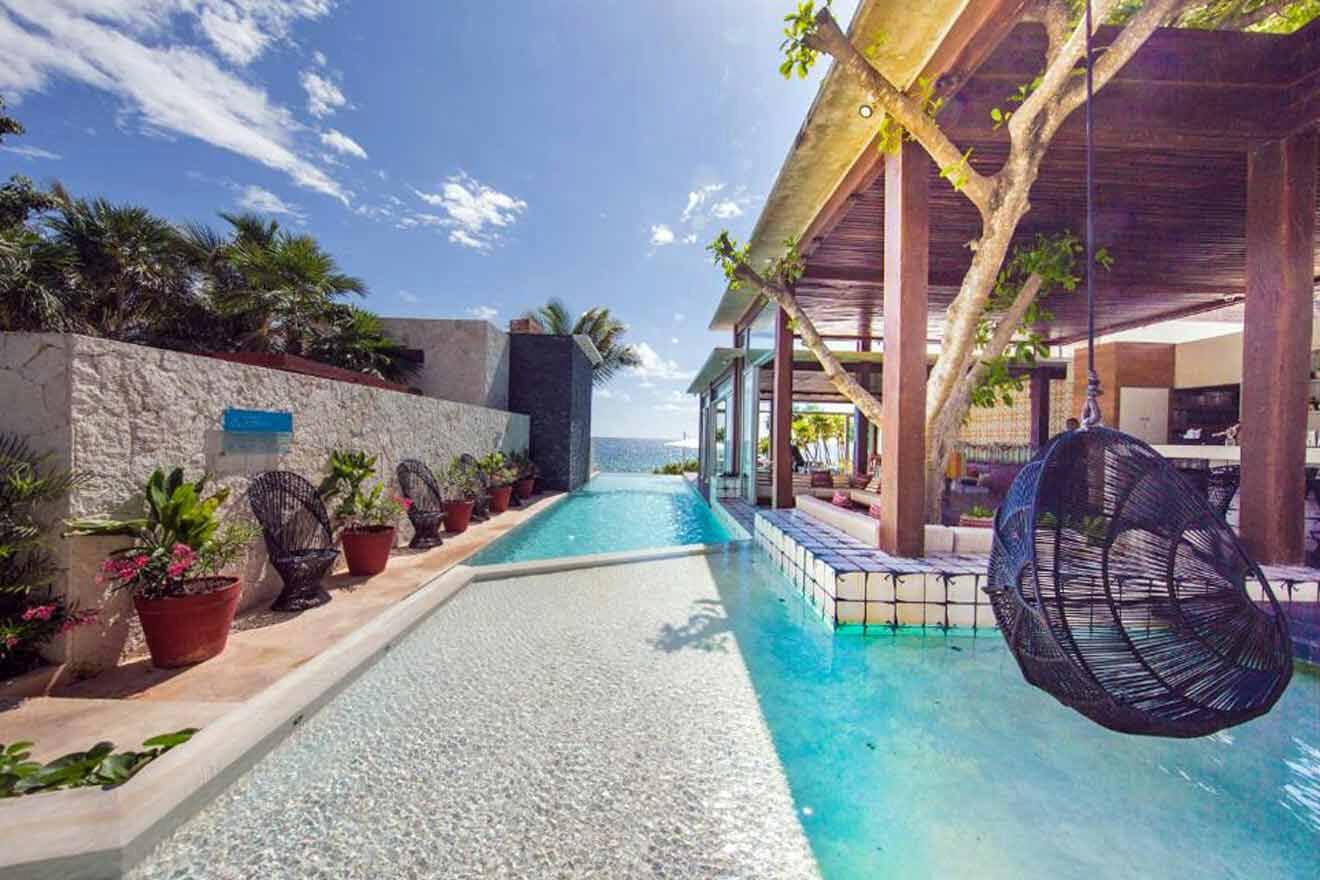 🌊 Is Tulum a good destination for a bachelorette?
Yes, absolutely! Tulum has everything you need for an exciting bachelorette: fantastic natural landscapes and attractions, amazing food, and archeological wonders!
📅 How many days do you need for a bachelorette trip?
For a bachelorette trip, 2 or 3 days is the ideal amount of days you want to spend on a bachelorette trip!
🏖️ How do you plan a bachelorette party in a Tulum hotel?
First, check if the hotel has the essential amenities for you, then contact the hotel for special arrangements and restaurant and activities reservations. I recommend planning well in advance for the ultimate trip!
🏨 Which Tulum hotel offers big rooms for bachelorettes?
Conclusion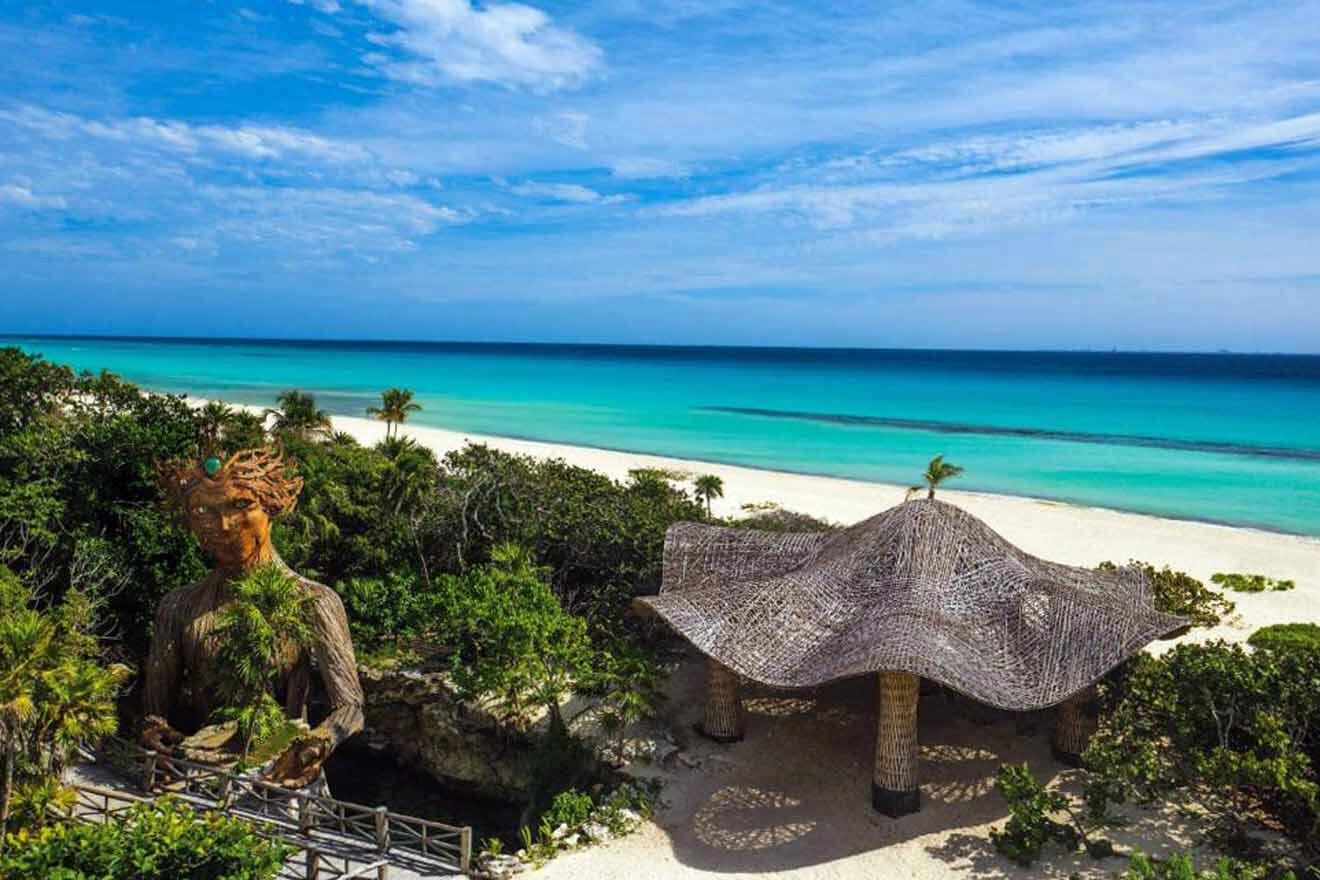 That is all for today, my lovely bachelorette and friends! Those were the best hotels in Tulum for bachelorette parties! I gave you 20 stunning options, so I am sure that by now, you know which hotel you want to stay in!
All the hotels and resorts in this article are 10 points, but if I had to choose my top 2, I would go with:
Mezzanine – I love that this hotel is near archaeological sites and has Chichen Itza, 2 hours away! Apart from that, it has amazing amenities and views.
Palmaīa – this, in my opinion, is one of the nicest all-inclusive resorts. I love the wellness focus and the general vibe.
Which of these hotels and resorts was your favorite? Let me know in the comments if you need any other advice and book the hotel of your dreams. These get booked fast, and you will need to book more than 1 room, so don't sleep on it!
Happy bachelorette!
Daniela
---
Pin it for later!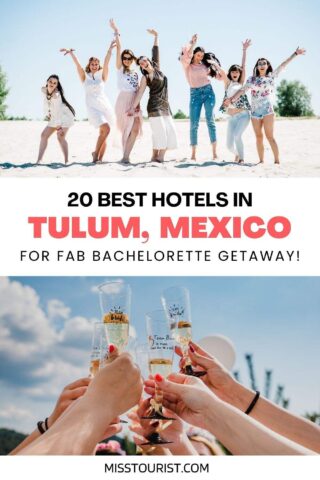 Pin it for later!