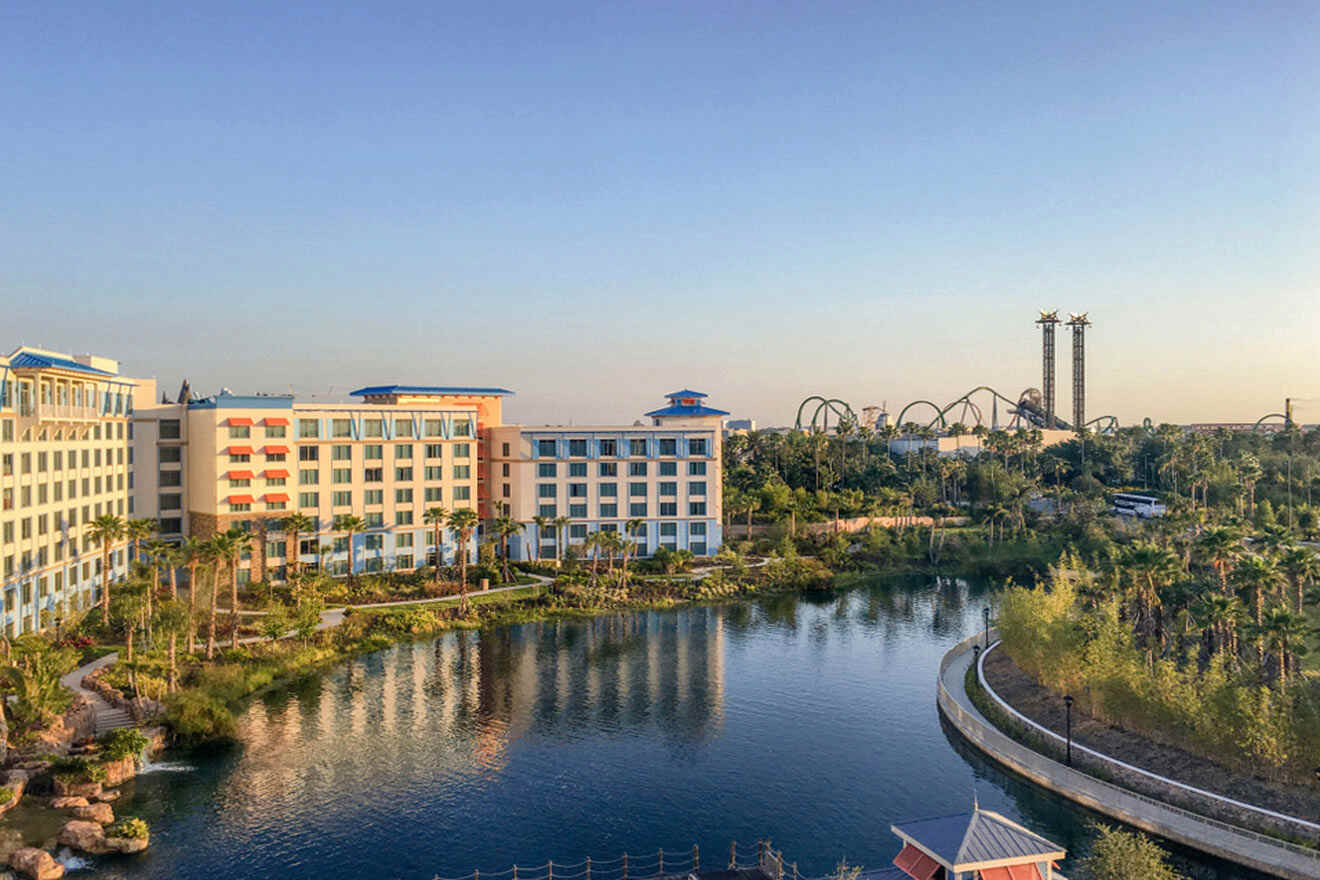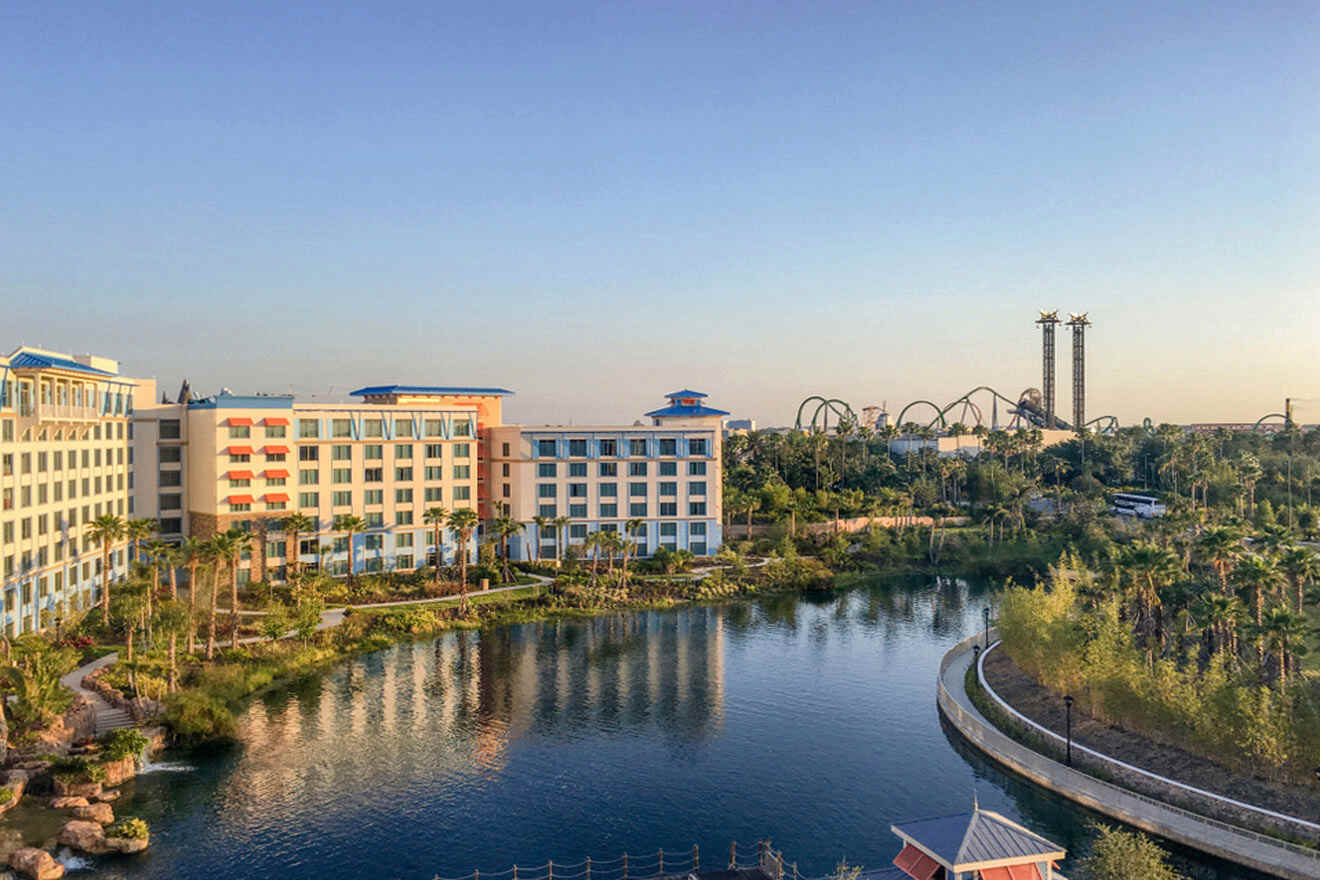 We all love Orlando for many different reasons, especially for its world-famous theme parks, museums, and classy hotels! This brings me to today's topic, picking the perfect place to stay in town!
It's pretty confusing to pick the perfect hotel here but luckily I've done my homework and come up with a fabulous list of the coolest Orlando hotels! I ordered them from most to least expensive so you can easily pick your favorite.
Since this Florida city has numerous accommodation options I also came up with 2 bonus sections! The first has some fun hotels for families in Orlando and the second one has the top boutique accommodations in town!
I know it's a lot to choose from, but I wanted everyone to be prepared for this unforgettable trip!
And talking about preparing, I recommend booking your hotel or hotels in advance. These are some of the best places to stay in Orlando and trust me, they will sell out fast!
Oh my, look at the time! We gotta start!
Vamonos!
If you are in a hurry
Eager to book your favorite spots right now? Then check out this short list of the coolest Orlando hotels:
Luxury (US$300 and up)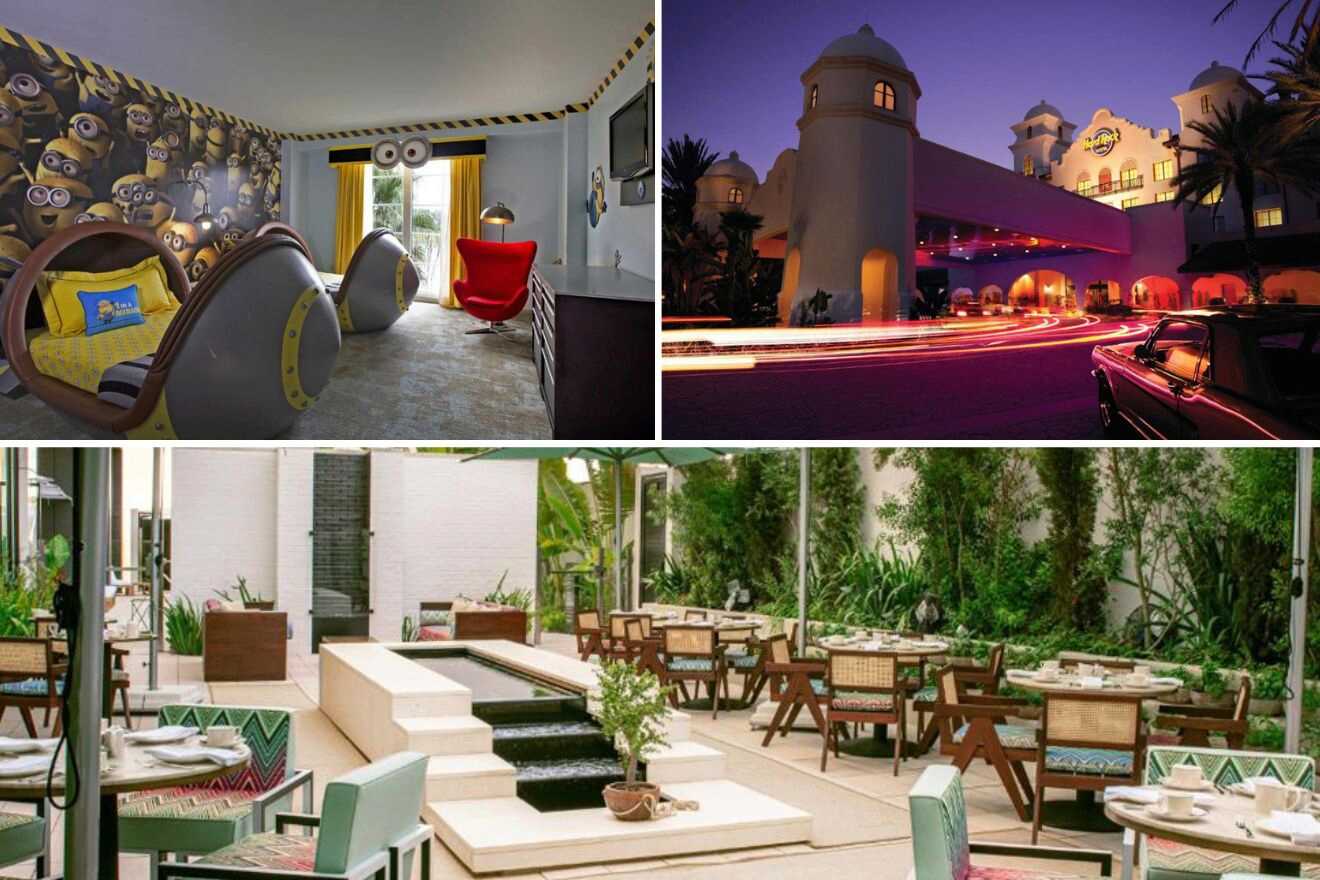 Universal's Loews Portofino Bay Hotel – The lucky guests who stay at this hotel will get tickets with unlimited ride access at the Universal Theme Parks! Woohoo! This boutique hotel looks amazing and it offers individually decorated rooms with modern amenities, 8 dining options, a fitness center, and 3 swimming pools! During your trip, you can relax at the full-service spa and chill by the outdoor pool.
Ette Luxury Hotel & Spa – Fancy staying at a luxury resort that's set just a 10 min drive away from Disney World? I'm sure you do! This awesome hotel offers the top services including an outdoor swimming pool, a fitness center, and a spa. Start your morning with some room service and relax on the sun terrace before you head out to explore Central Florida or visit the Universal Orlando Theme Parks or Disney Parks!
Universal's Hard Rock Hotel – Perfect for those who want to spend a lot of time in the Universal World Theme Park, this hotel is set within walking distance of all the rides and offers early park admission and unlimited ride access! As for the grounds, they're pretty amazing and come with an outdoor pool, 4 dining options, a fitness center, and a spa! I recommend booking your Orlando hotels fast, these won't be on the market for too long!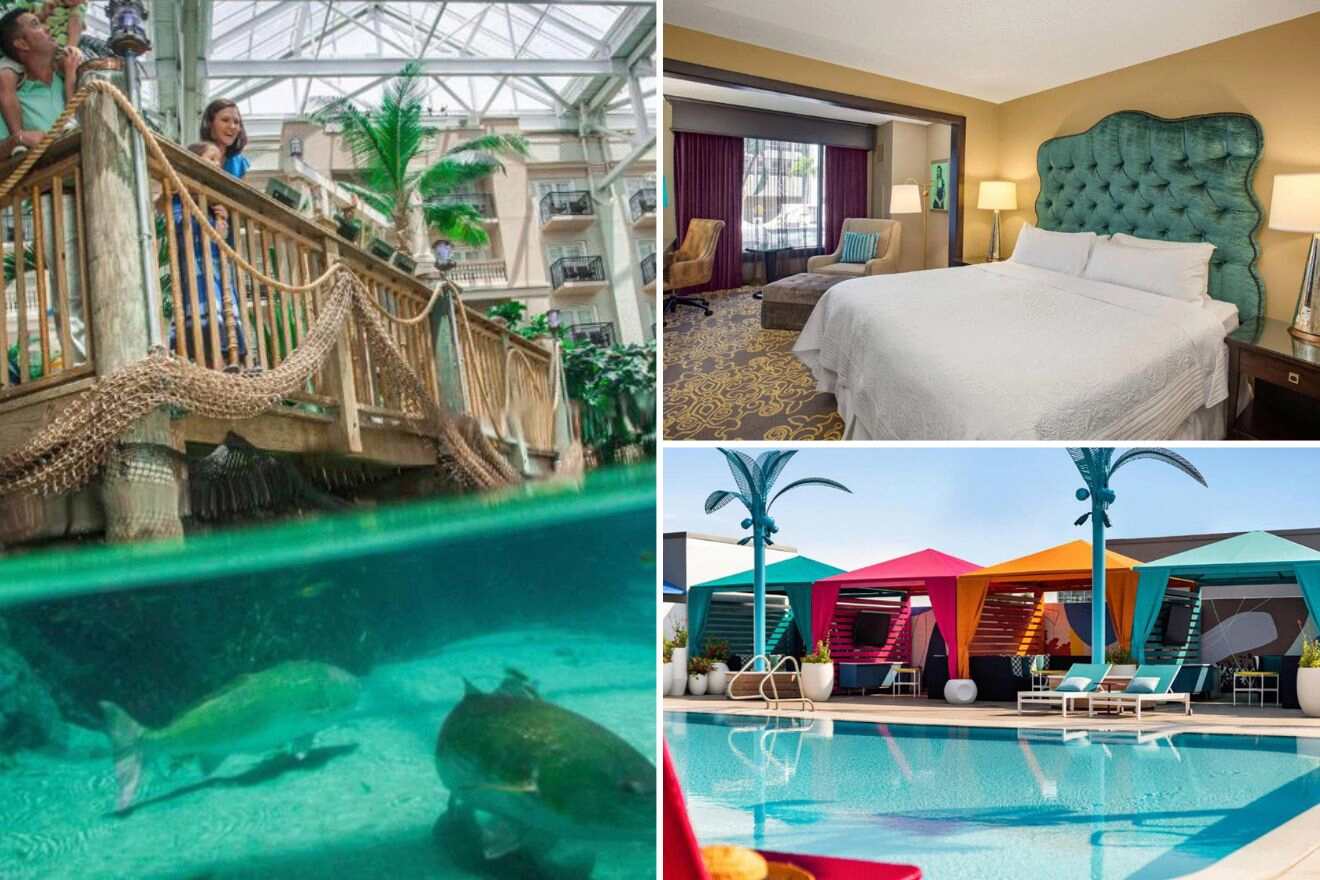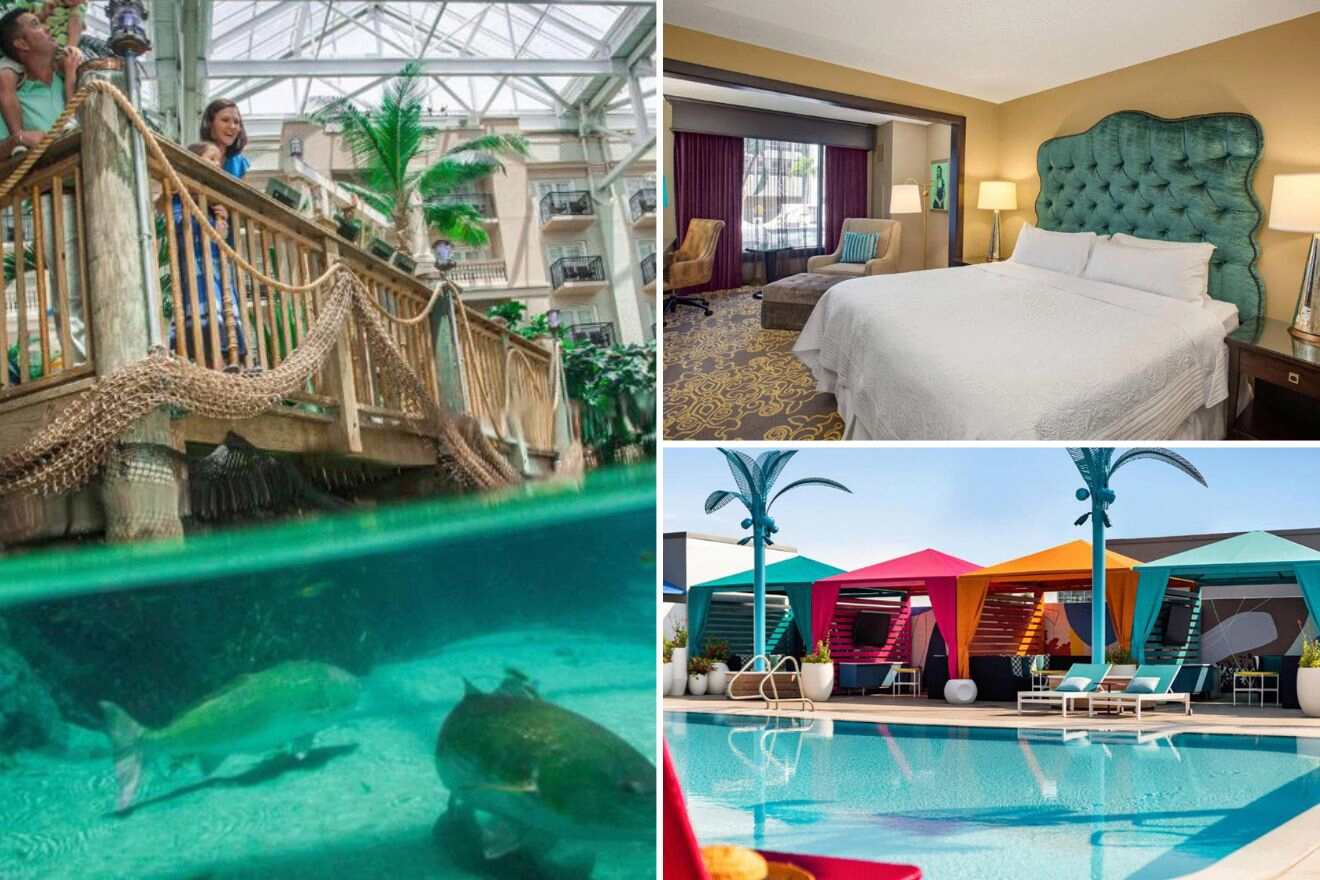 Grand Bohemian Hotel Orlando – This hotel is as fabulous as the name suggests! Set in Orlando's Arts District, the accommodation offers 2 fine dining restaurants, room service, and many more incredible resort amenities! When you're not out visiting the Disney Theme Parks you can enjoy a relaxing afternoon by the rooftop swimming pool or at the spa center.
Gaylord Palms Resort & Convention Center – Orlando offers so many fun things to do for families! As well as plenty of great hotels just like this one which offers guests a free shuttle bus to Walt Disney World. The guest rooms are spacious and comfy and you'll also find 9 dining options, 3 outdoor pools with waterslides, and a full-service spa!
Lake Nona Wave Hotel – This place is for those of you who can't say no to a stylish boutique hotel! Featuring guest rooms with vibrant decor and floor-to-ceiling windows, the accommodation is a 25 min car drive from the Walt Disney World Theme Park. It also comes with room service, a nightclub, an outdoor pool, and a fitness center.
Mid Range (from US$200 to US$300)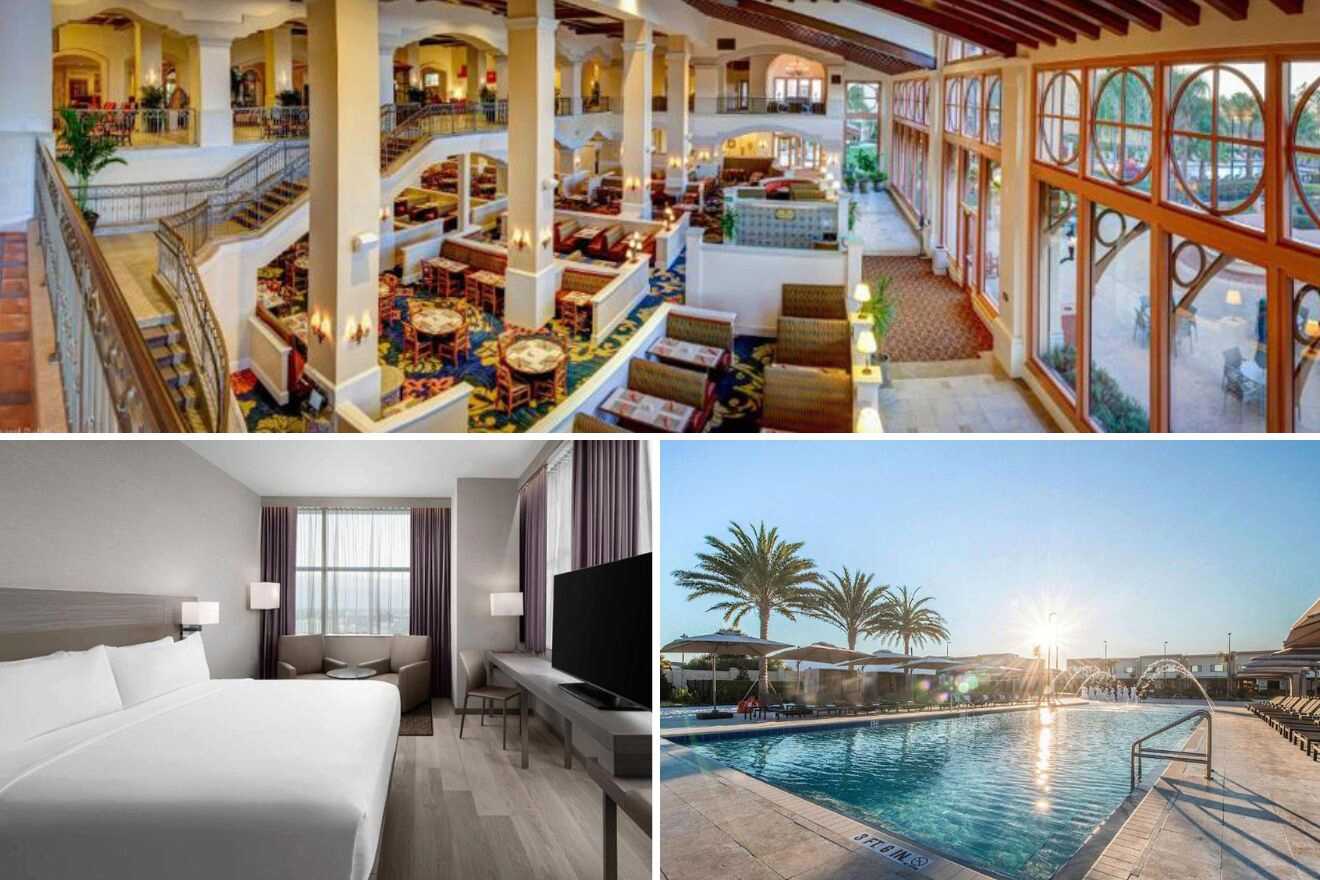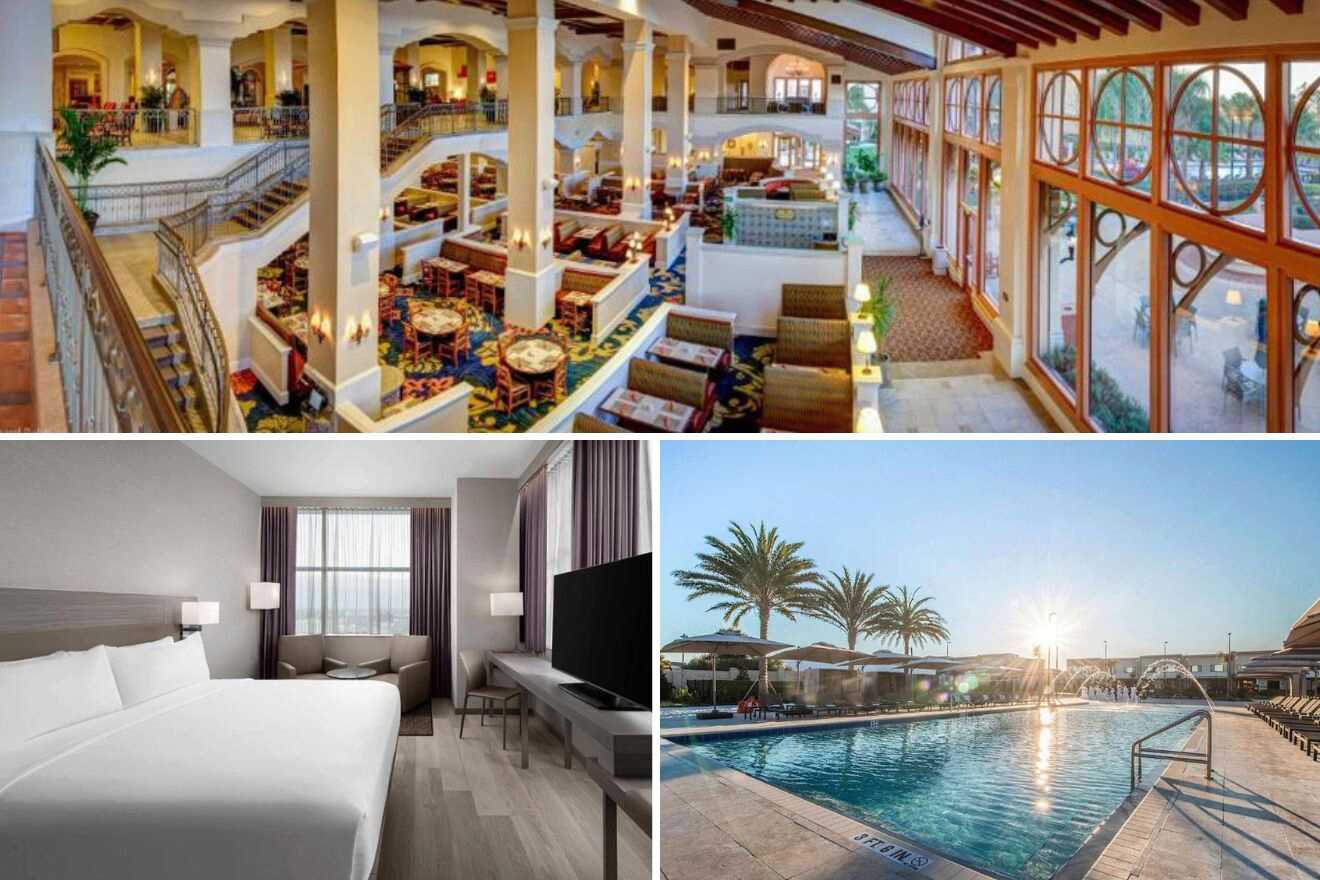 Rosen Shingle Creek Universal Blvd – Do we have any golf enthusiasts among us? This hotel is set on 230 acres of golf ground and it looks amazing! You'll never forget your Orlando vacation while staying here! Start your days with some room service, then go for a swim in the outdoor pool before hitting the golf course. The hotel has around 12 restaurants on-site and it's just a 10 min drive away from Walt Disney World!
AC Hotel by Marriott Orlando Downtown – If you love the downtown buzz then this Florida hotel is surely for you! Featuring a modern and minimalistic decor with lots of cool facilities, the accommodations come with spacious rooms, a fitness center, and a terrace. Drop in for a dinner at the Sky Bar, their restaurant which offers breathtaking city views.
Magic Village Views – Located a 10 min drive away from the Walt Disney World Theme Park, this simple yet super chic hotel is so cozy and lovely that you'll never want to leave! I think it's because of the beige aesthetics used and the stylish furniture. But the outdoor pool, the bar, and the restaurant also look pretty promising, and let's not forget about the hot tub and tennis court.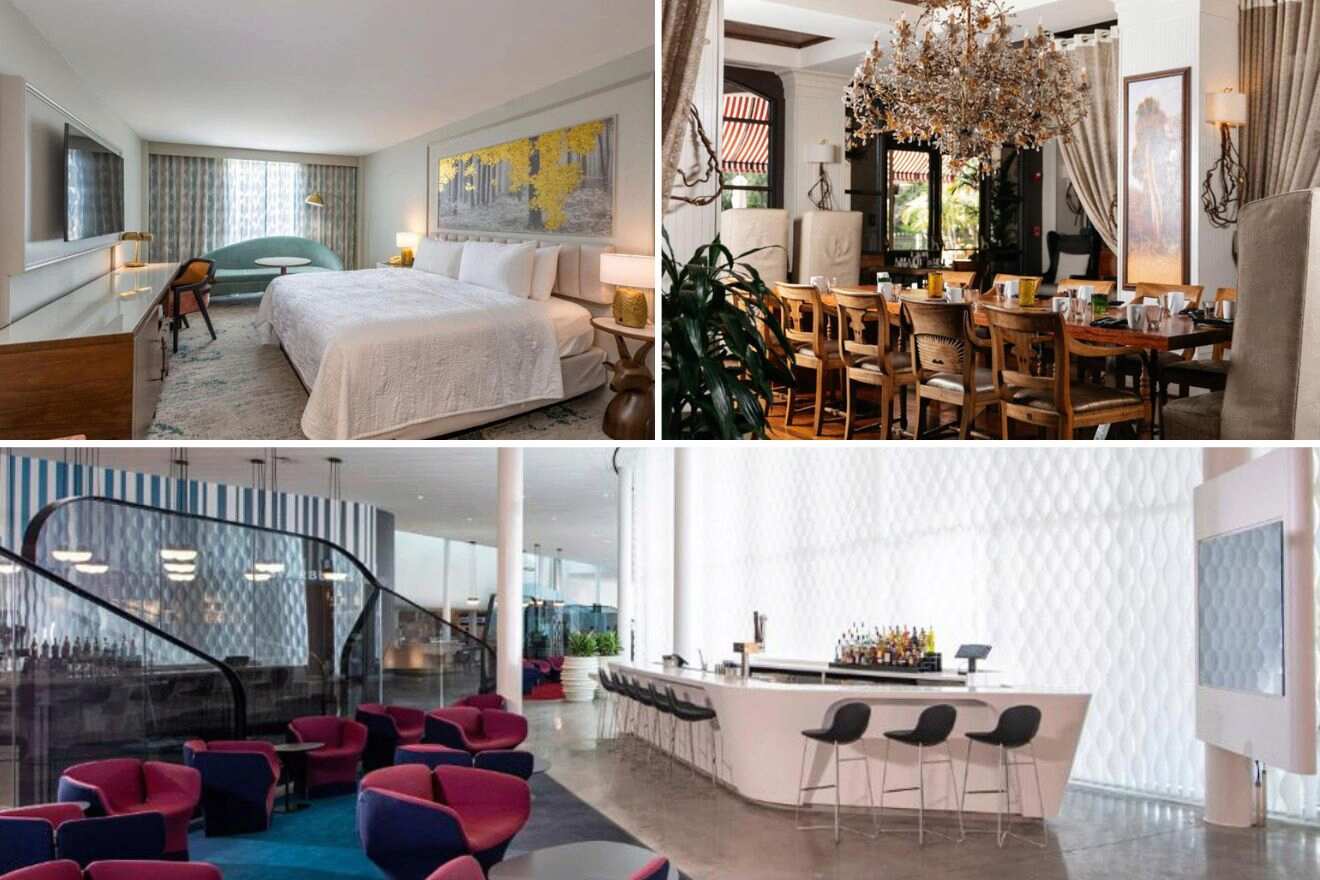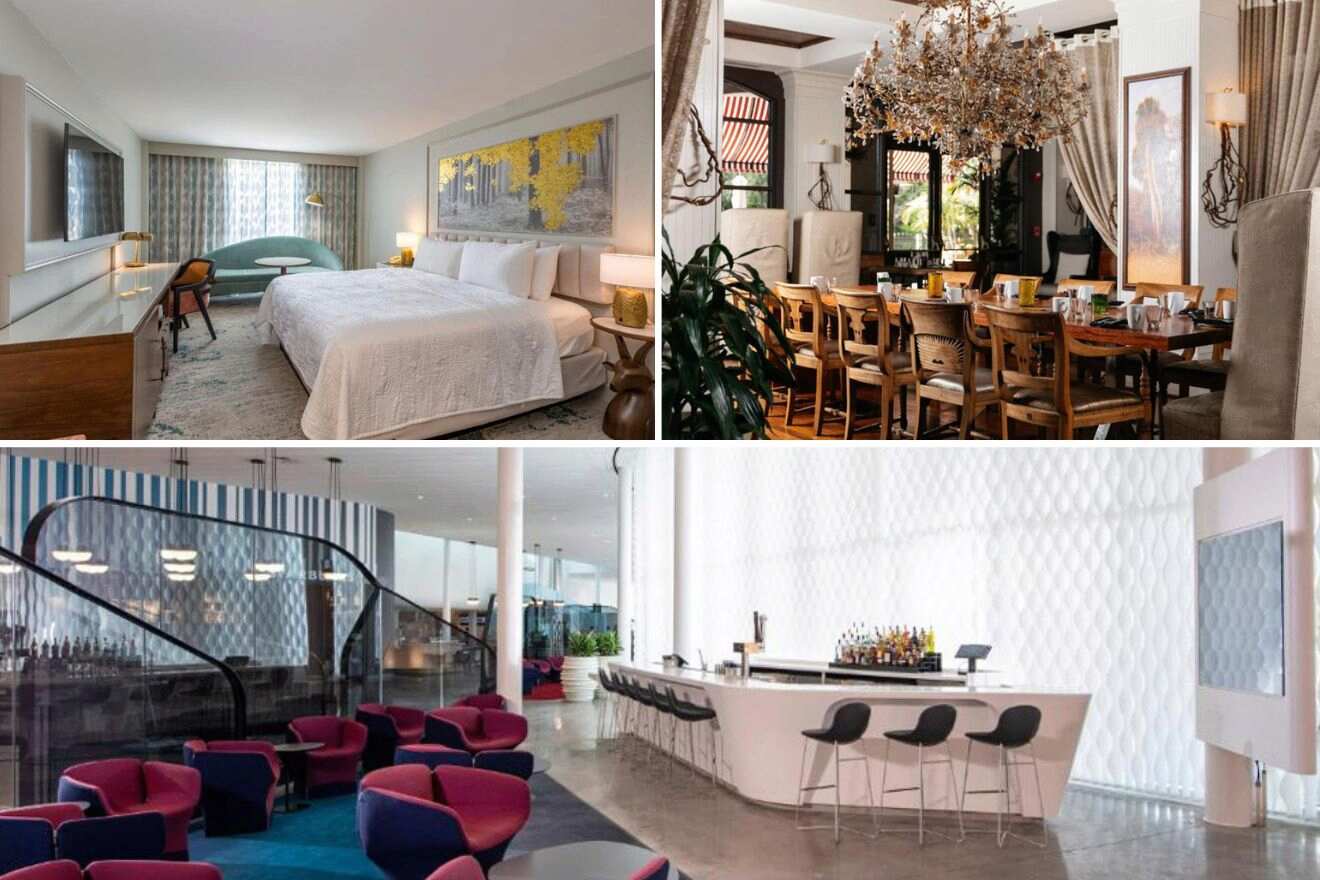 Celebration Hotel – I would wake up early here just to catch a sunrise by that serene lake! Want a place where you can relax? Then check out this hotel that has a gorgeous design and comfortable rooms with a private balcony. Set a 10 min drive away from the Walt Disney World Theme Park, the accommodation also offers a heated outdoor pool and a complimentary shuttle service to the nearby golf courses.
Castle Hotel – Feel like a princess or prince for a few days while staying at this fabulous castle-like hotel in Orlando! Set a 20 min drive away from the Orlando International Airport, the hotel is super elegant and it comes with a fitness center, an outdoor pool, and family rooms that have a flat-screen TV and a marble-tiled bathroom.
Universal's Aventura Hotel – This is the hotel you book if you want the best views in Orlando! Or if you really need the early park admission to The Wizarding World of Harry Potter, they also give that! A super modern hotel that features chic decors, spacious rooms with city views, a resort-style outdoor pool with a hot tub, and a kids' splash area! Sounds like the dream place to me!
Budget (US$160 to US$180)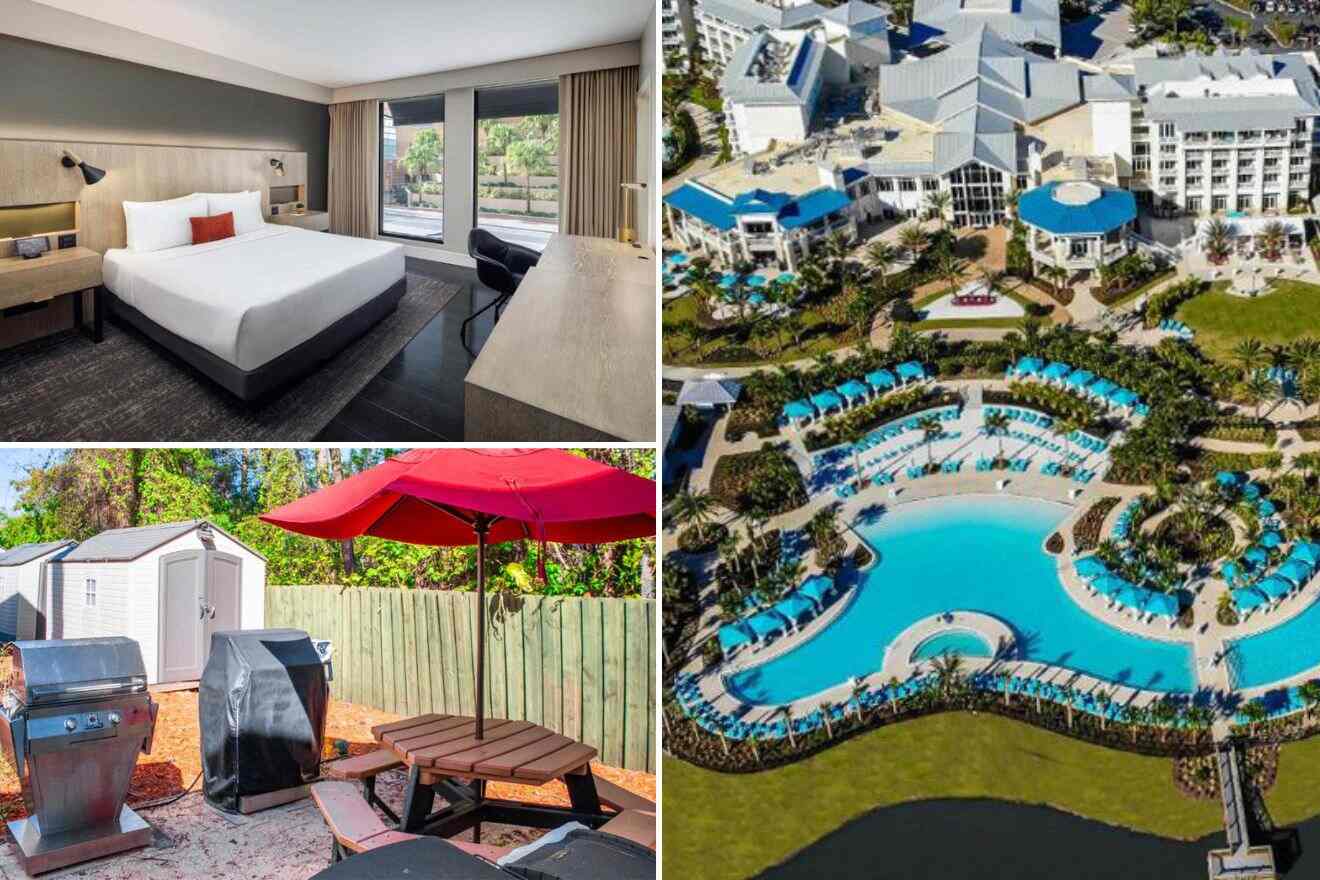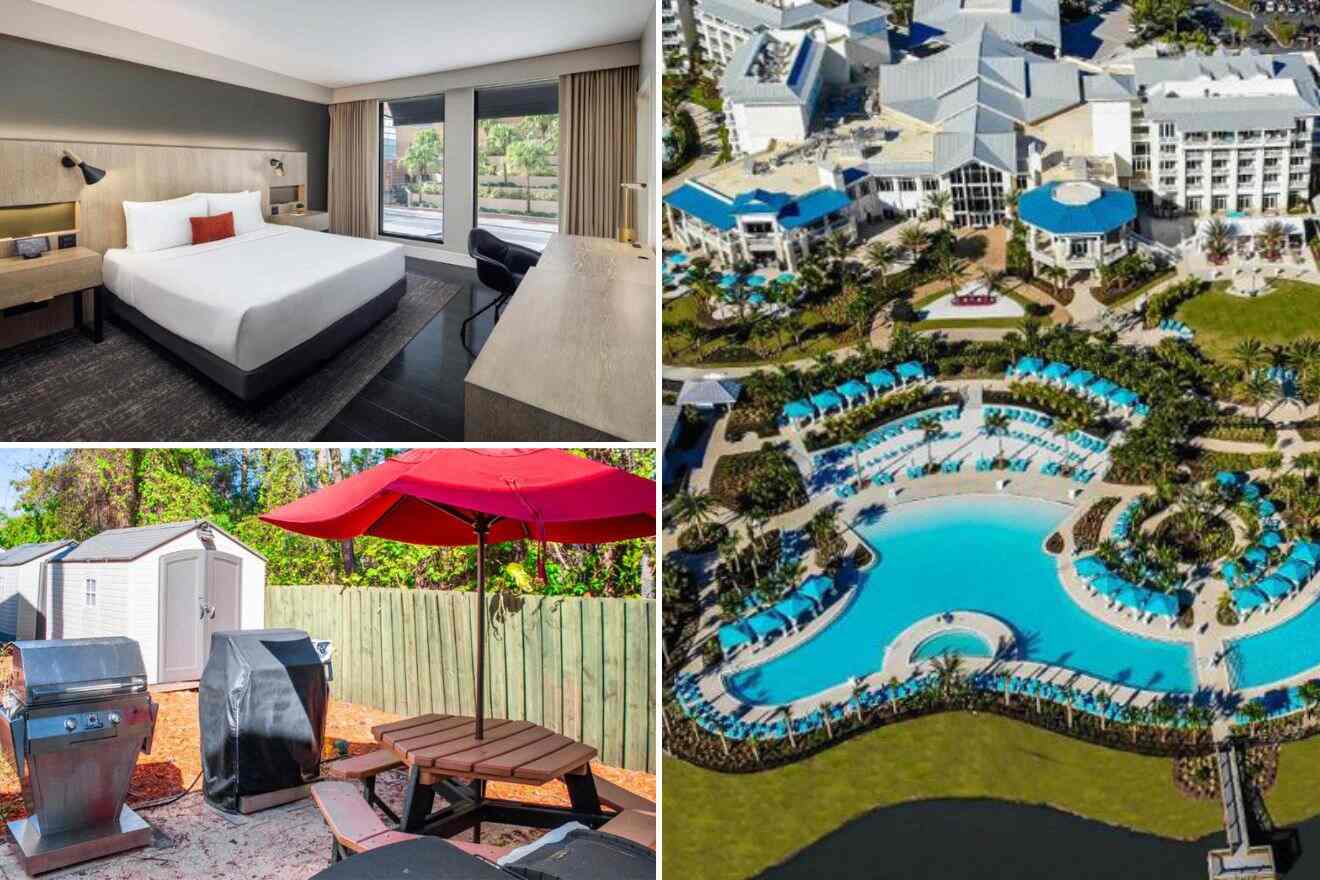 Bryan's Spanish Cove – Sunbathing by the lake, reading a good book while drinking a yummy wine! What can be better? This super dreamy hotel that's set just a 10 min drive away from the Walt Disney World Theme Park has everything you need for your trip including an outdoor pool with lake views, a fitness center, and barbecue facilities! Guests will also get free parking while staying here.
Margaritaville Resort Orlando – Set in Celebration, this perfect Orlando resort is a dream come true for guests who want to enjoy a few days of doing nothing! Equipped with a perfect holiday atmosphere, 3 swimming pools, bike rentals, a game room, and a water park this accommodation is ready to offer you an unforgettable time! Bring your swimsuit and comfy clothes and don't forget to check out their spa center!
The Delaney Hotel – At first sight, this hotel may look pretty simple, but I bet you didn't notice all the walls adorned with paintings and pictures of famous celebrities like DiCaprio and Lenny Kravitz! Set a 15 min drive away from Universal Orlando Resort, this fancy hotel has a bar and a terrace with a fire pit where you can relax after a day of visiting the theme parks and exploring the city!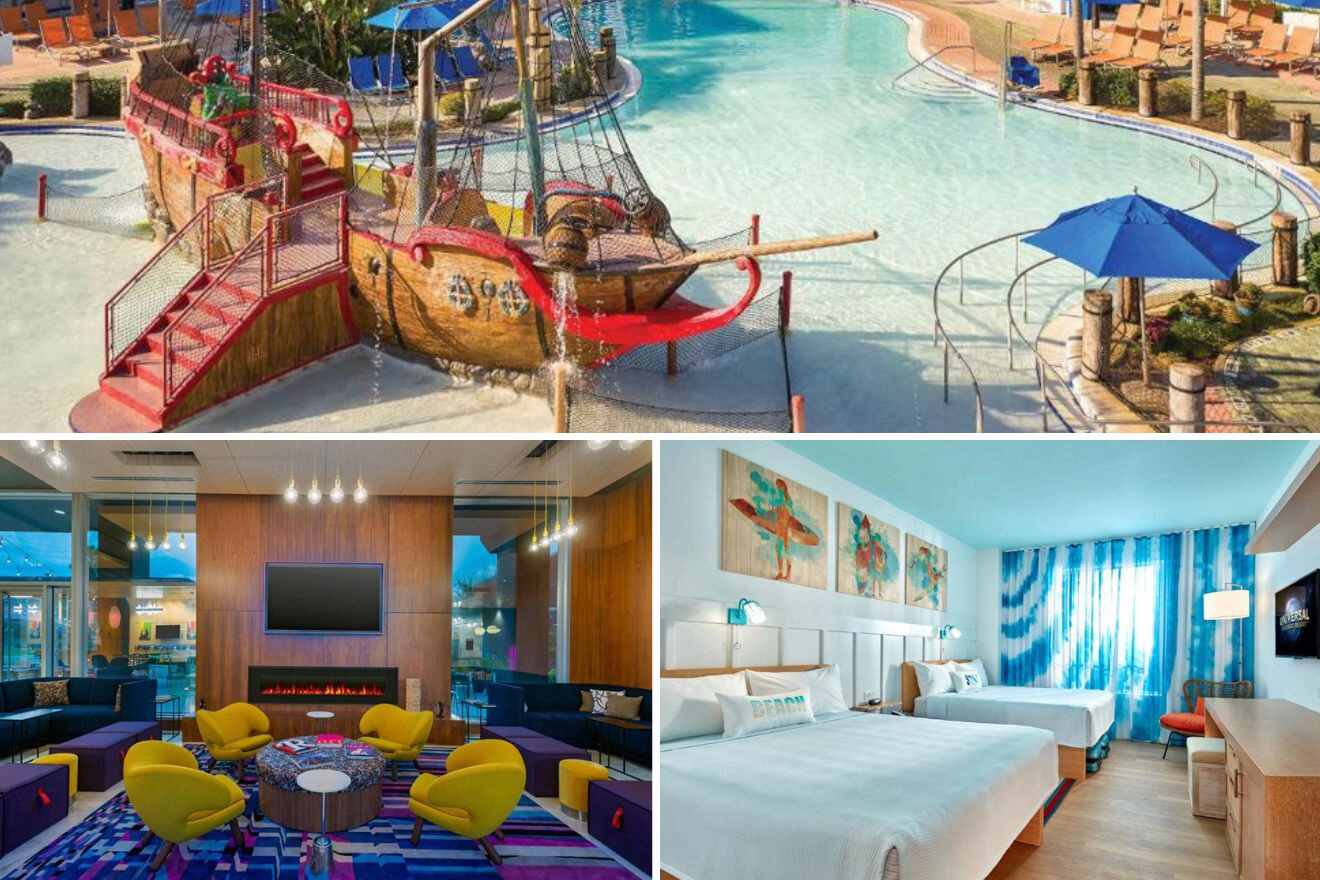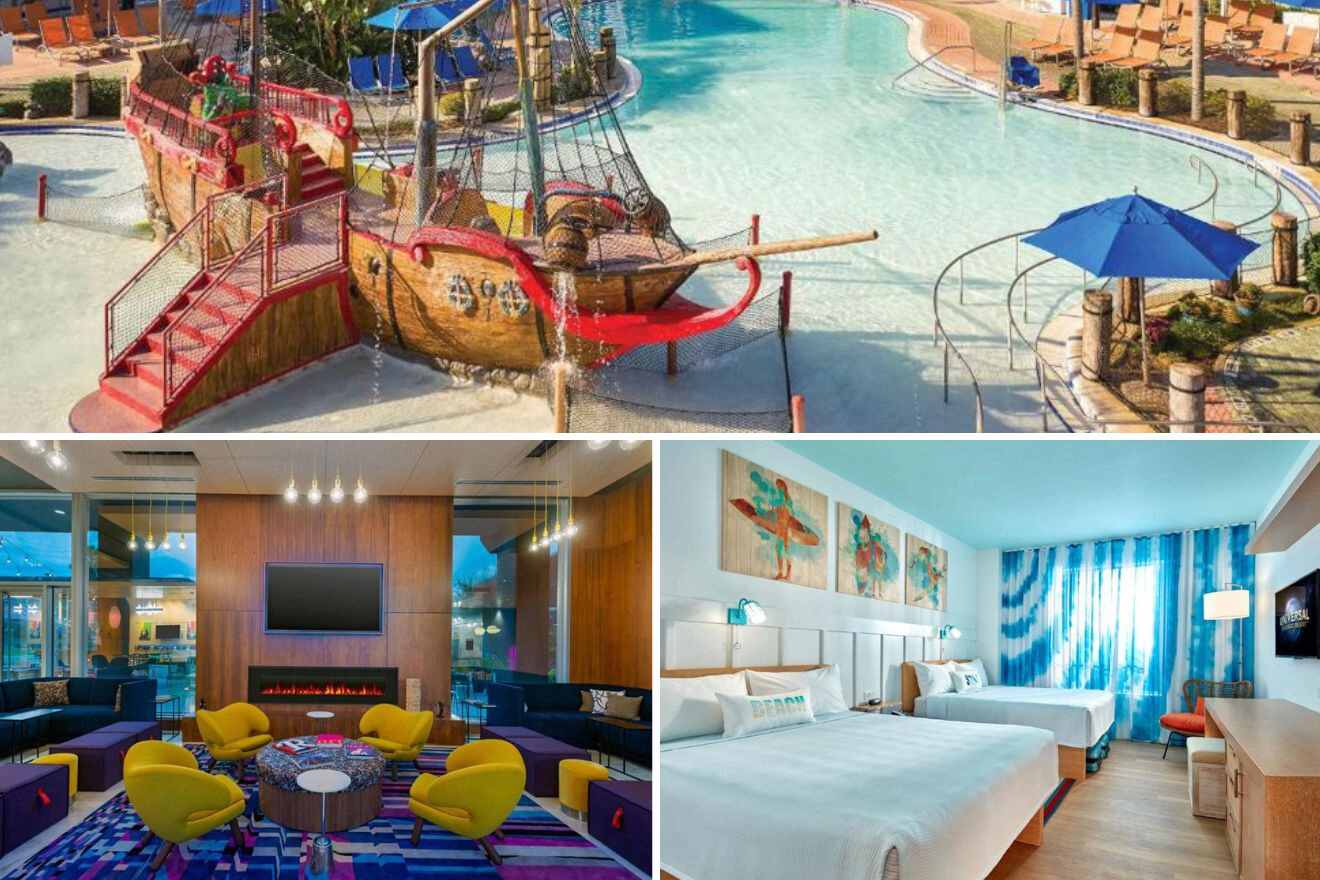 Marriott's Harbour Lake – Looking for something a bit more affordable but just as cool for your family trip in Orlando? Then have a look at this place that has such a fun pool with an incredible pirate ship! Set a 20 min drive away from Universal Studios Orlando, the accommodation comes with a mini-golf course, a basketball course, and a bike rental which sounds like the best way to explore the area!
Aloft Orlando Downtown – Need a place that's close to all the central attractions in Orlando like the Camping World Stadium? I feel like this one may be the right fit! That's because it has a great location plus numerous amenities that you'll all enjoy like an outdoor pool, a large terrace where you can chill when you're not visiting the theme parks, a billiards room, and super cozy rooms that have a private bathroom.
Universal's Endless Summer Resort – With a cool themed decor that's all about surfing, this accommodation is located at Universal Orlando Resort and it offers spacious family rooms, early park admission, a game room, and a food court! Oh, and I forgot to mention that you'll have access to an outdoor pool where you can cool off during those super hot days!
Check the Rates for Your Dates
BONUS 1: Fun hotels in Orlando for families
As I mentioned earlier, Orlando is a dream come true holiday destination for most children! Packed with theme parks like the Walt Disney World and Universal Orlando, it's no wonder this city was dubbed as the Disney capital of the world!
Exactly for that reason, I decided to make this bonus section with some fun hotels in Orlando, Florida for families, which I listed from most to least expensive. The prices start from US$550 to US$200: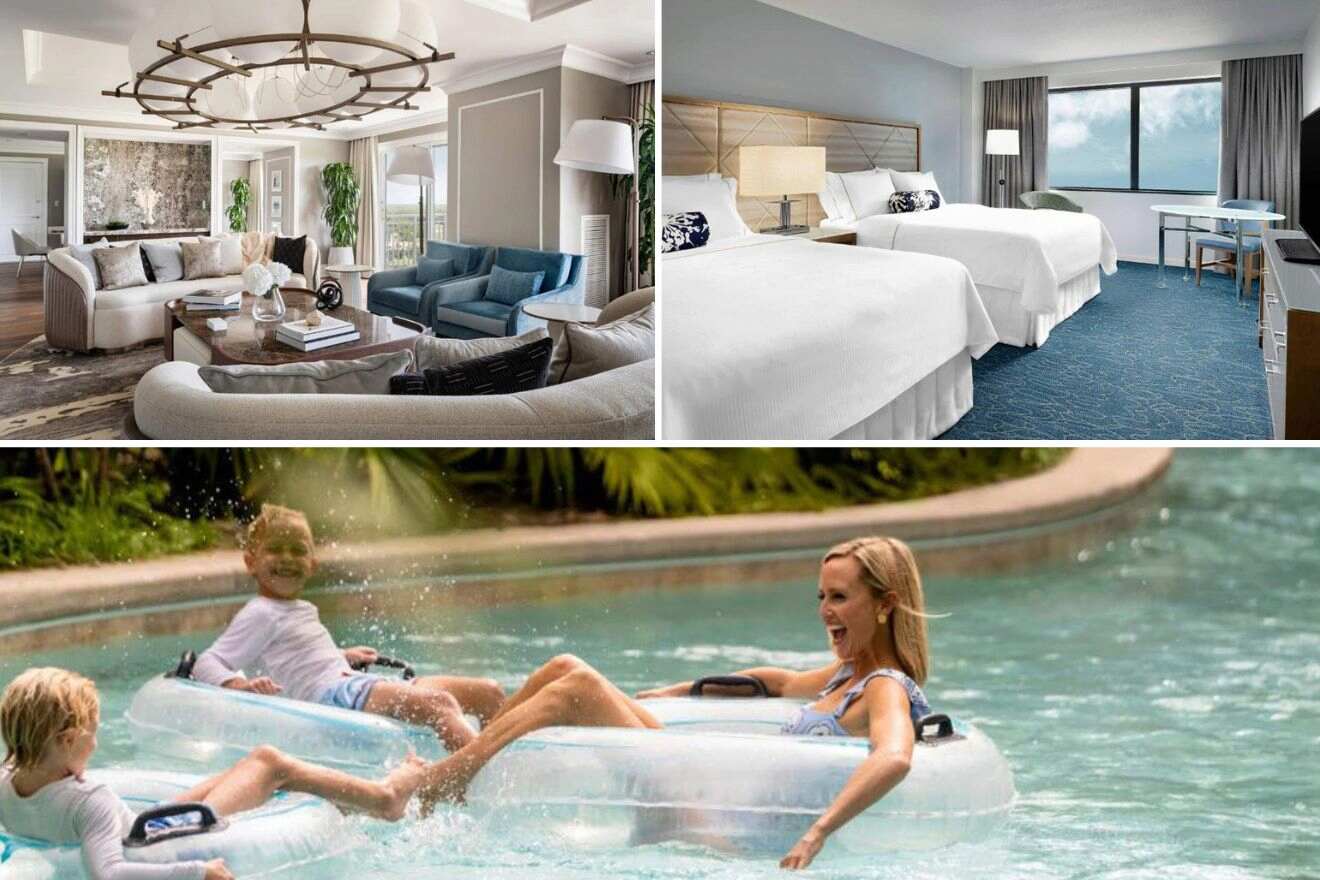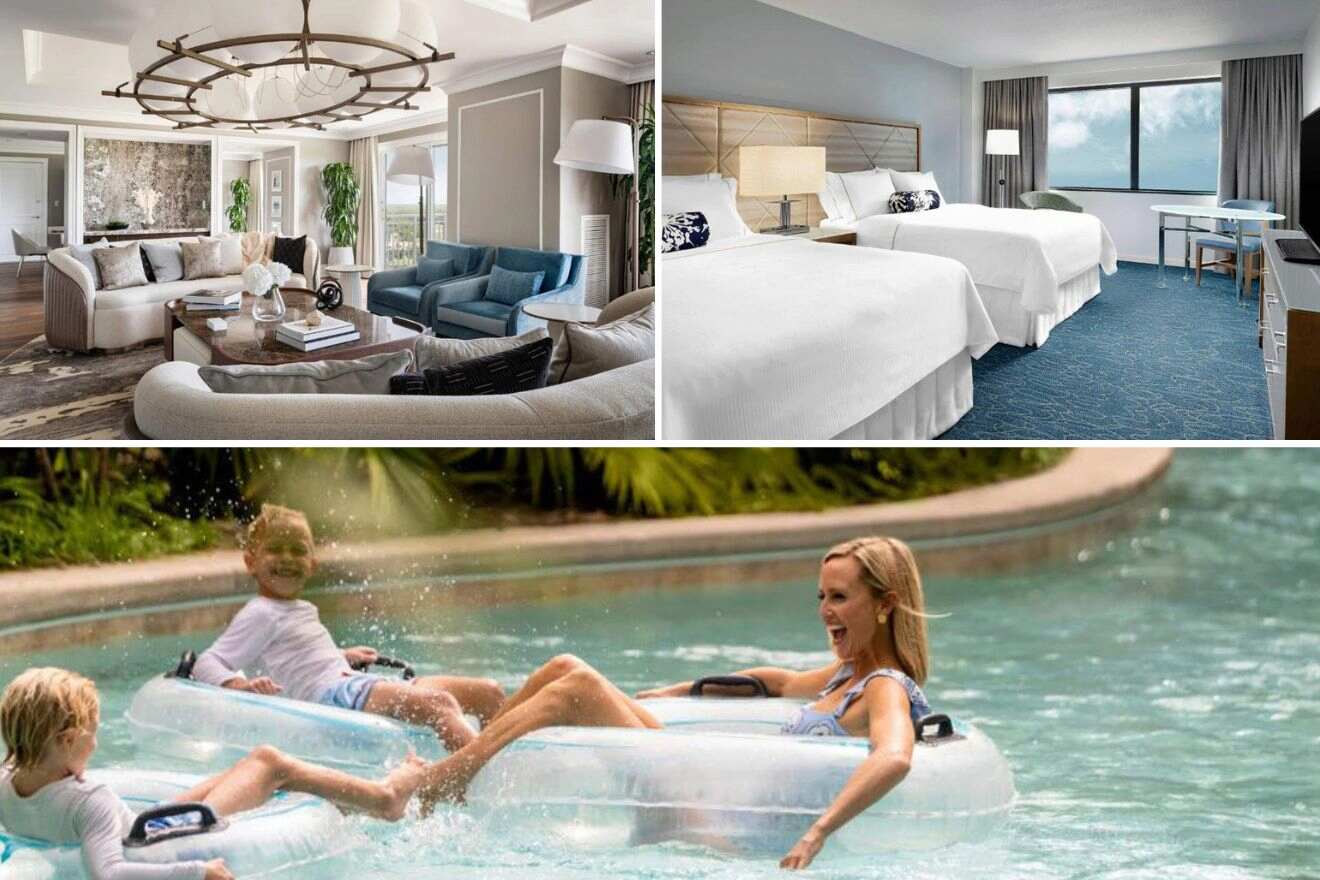 Four Seasons Resort Orlando at Walt Disney World Resort – Check out one of the best Disney resorts and luxury resorts! This Walt Disney World resort offers a water park with a lazy river and cool water slides, an adult-only pool, and a bar, and let's not forget that the Disney property has a great location between Epcot and the Magic Kingdom.
The Ritz-Carlton Orlando, Grande Lakes – An Italian-inspired resort? Oh yes! This cool place has included in its resort fee a free shuttle bus to the theme parks (including Walt Disney World). The accommodation, which is set a 20 min drive away from Disney Springs, also has a golf course, a spa center, outdoor pools with water slides, and tennis courts. Plenty to go around!
Walt Disney World Swan – This official Walt Disney World Resort will become your kid's favorite place! It offers no more and no less than 17 restaurants, 5 outdoor pools, a beach, and 4 hot tubs. During your stay, you can rent out watercraft, rent out bikes, play in the game room, and of course, don't miss their famous movie nights!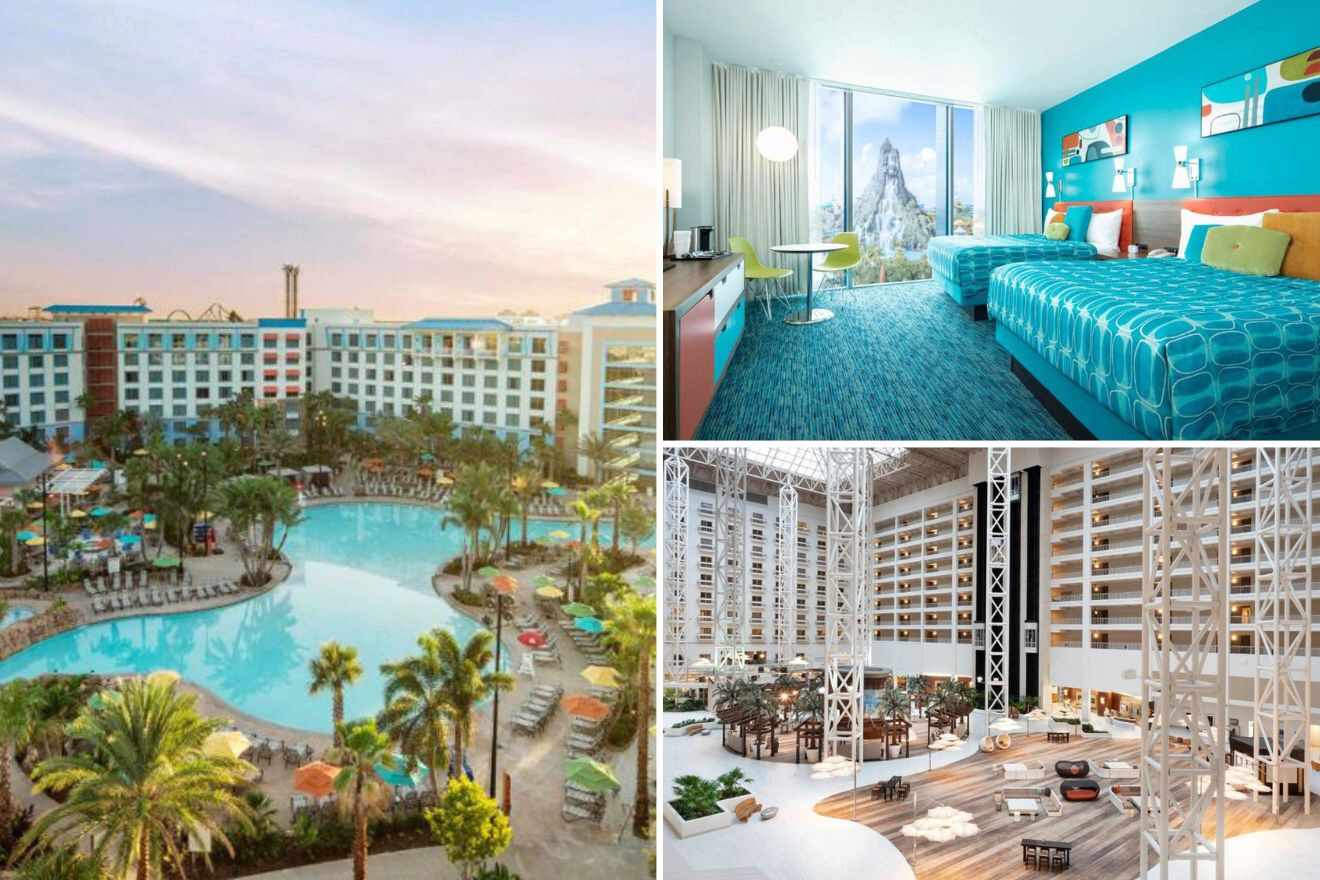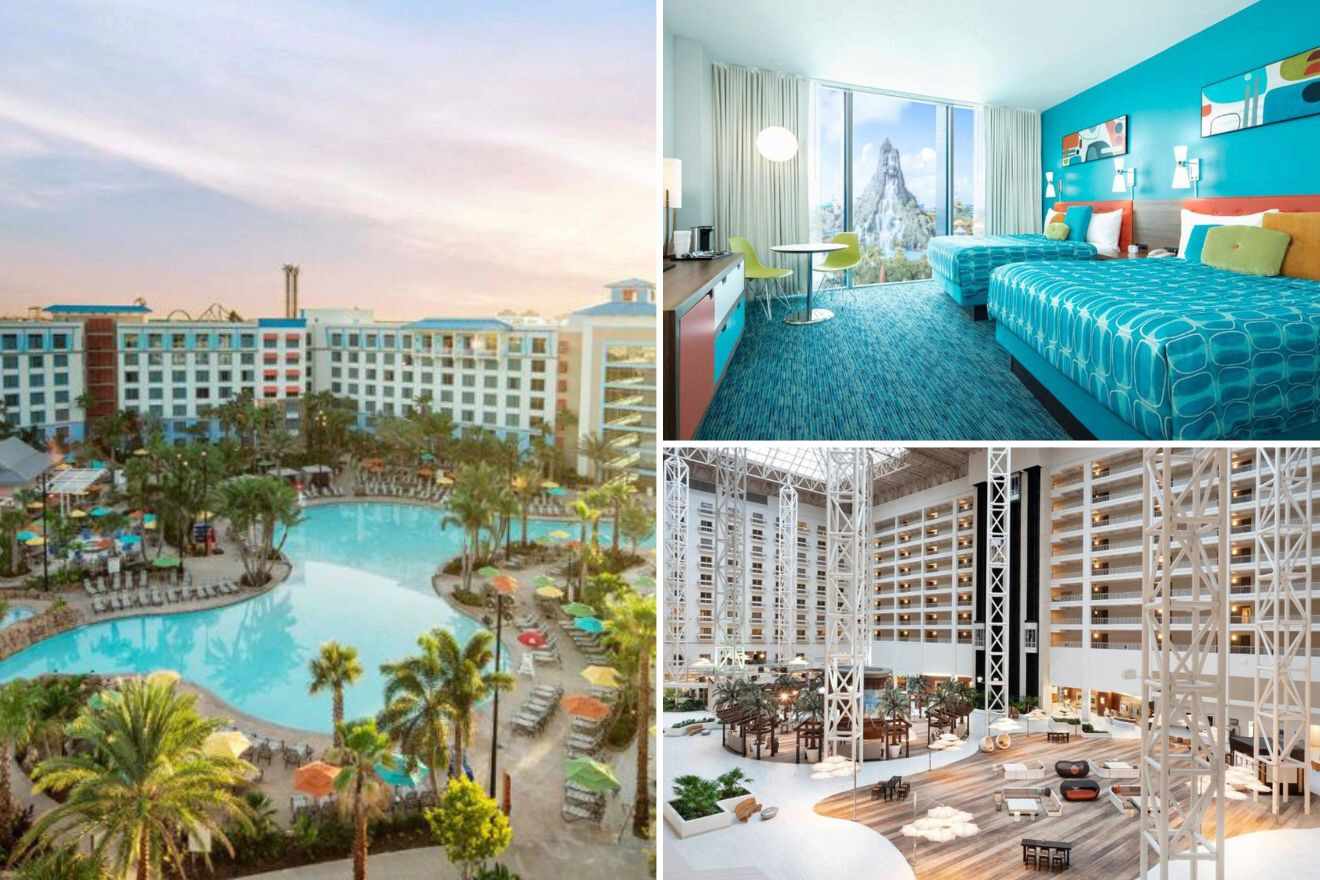 Universal's Loews Sapphire Falls Resort – Featuring a free transfer service between Universal Studios and Universal's Islands of Adventure, this place is surely a keeper! Not only does it have a swimming pool with water slides, a game room, and movie nights but it also comes with 4 fabulous restaurants.
Universal's Cabana Bay Beach Resort – One of the best Orlando resorts that will be perfect for your family getaway! The resort offers early access to some Universal Orlando Resorts and a free transfer there. You'll also get 2 swimming pools, a game room and movie nights!
Renaissance Orlando at SeaWorld® – Set right near Sea World Orlando, this accommodation is super elegant and has modern amenities. When you're not out having fun at Universal Orlando or shopping in the Florida Mall, you can go for a swim in the outdoor pool, go horse riding, or rent out bikes and explore around.
BONUS 2: Top boutique hotels in Orlando
Now that we've seen so many cool and unique hotels in Orlando for families, I thought I'd wrap up the post with a list of the top boutique accommodations in the city! I've looked at all the lists and found some great places.
I've ordered these unique hotels from most to least expensive and the prices start from US$900 to US$160: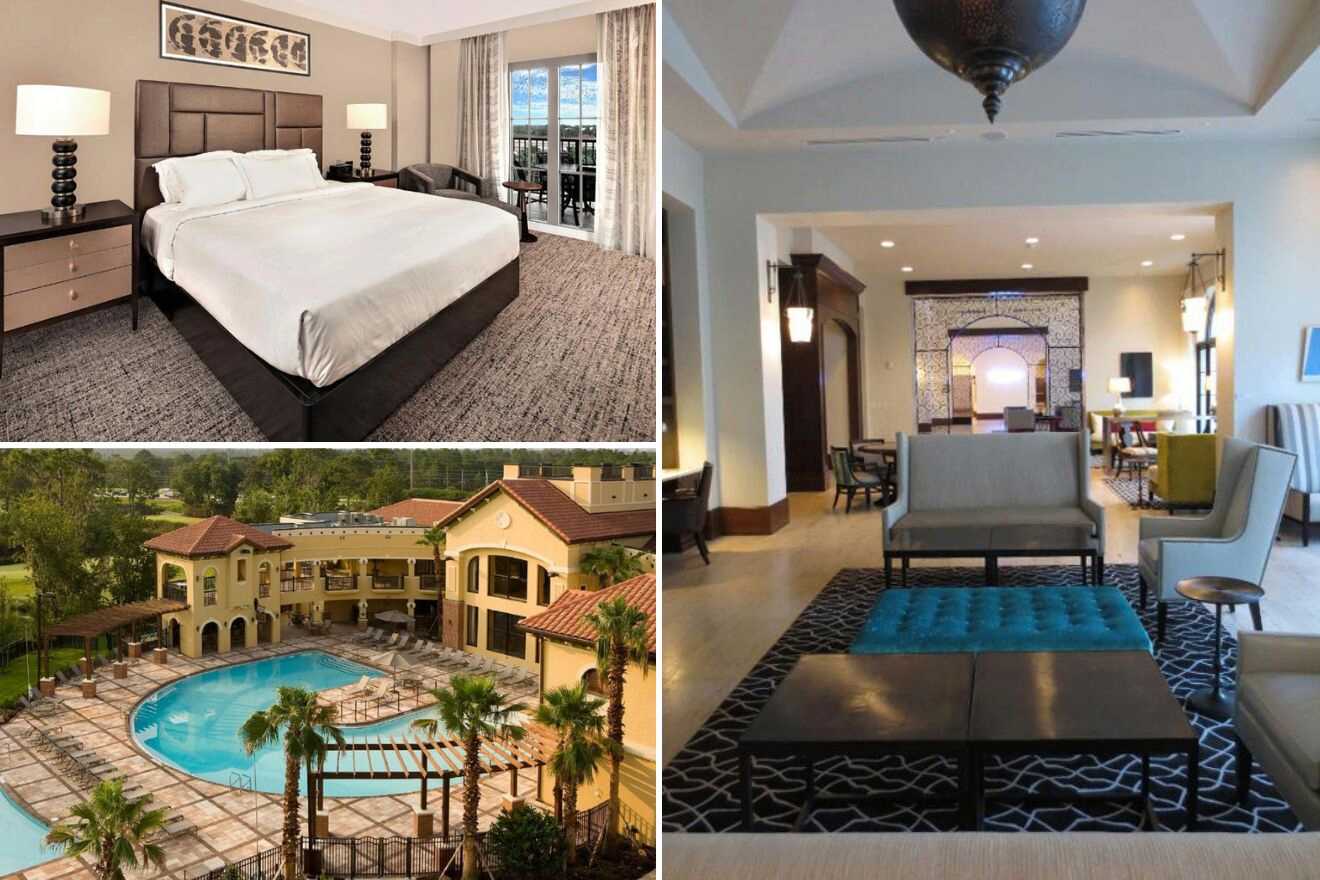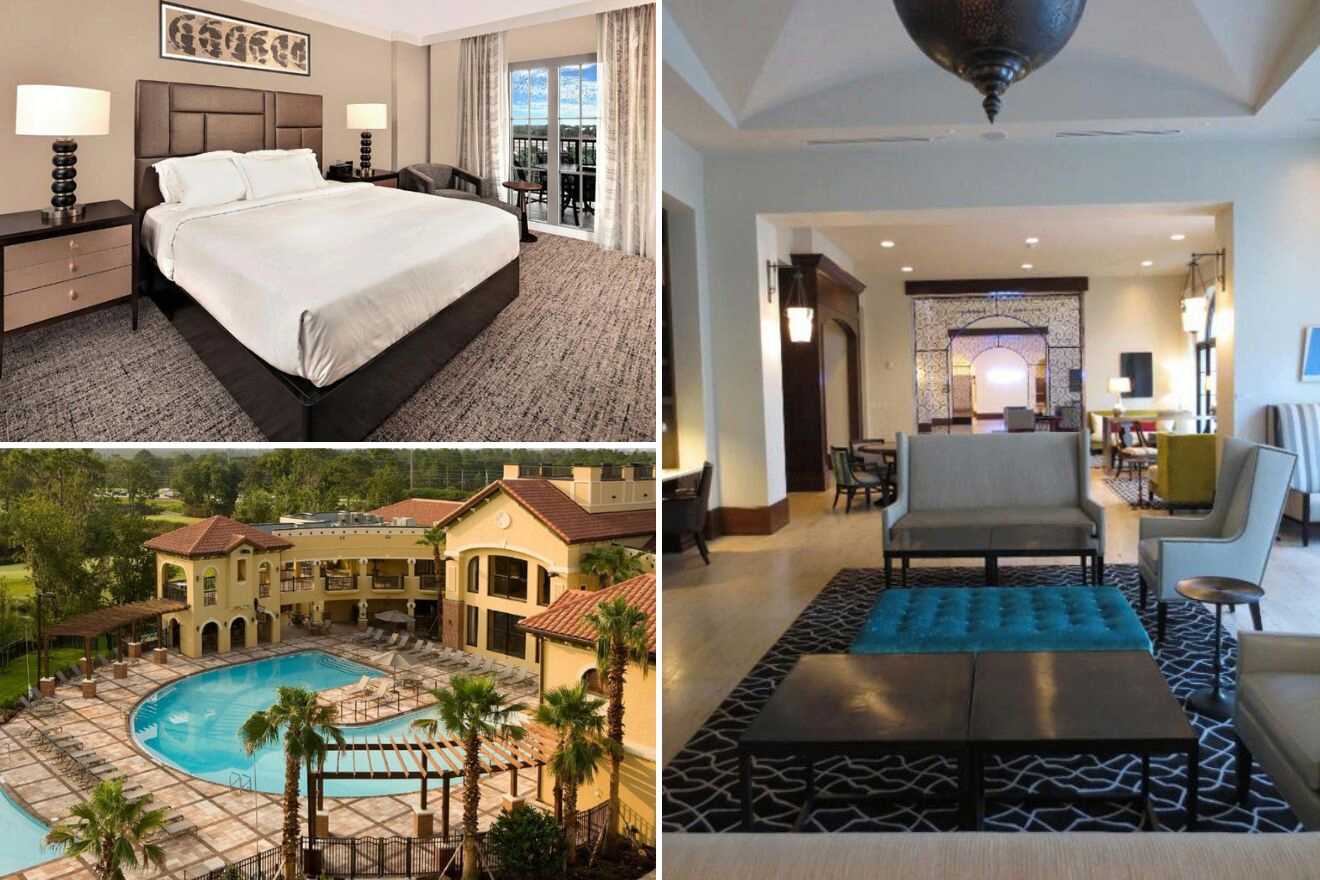 FAQs about the coolest Orlando hotels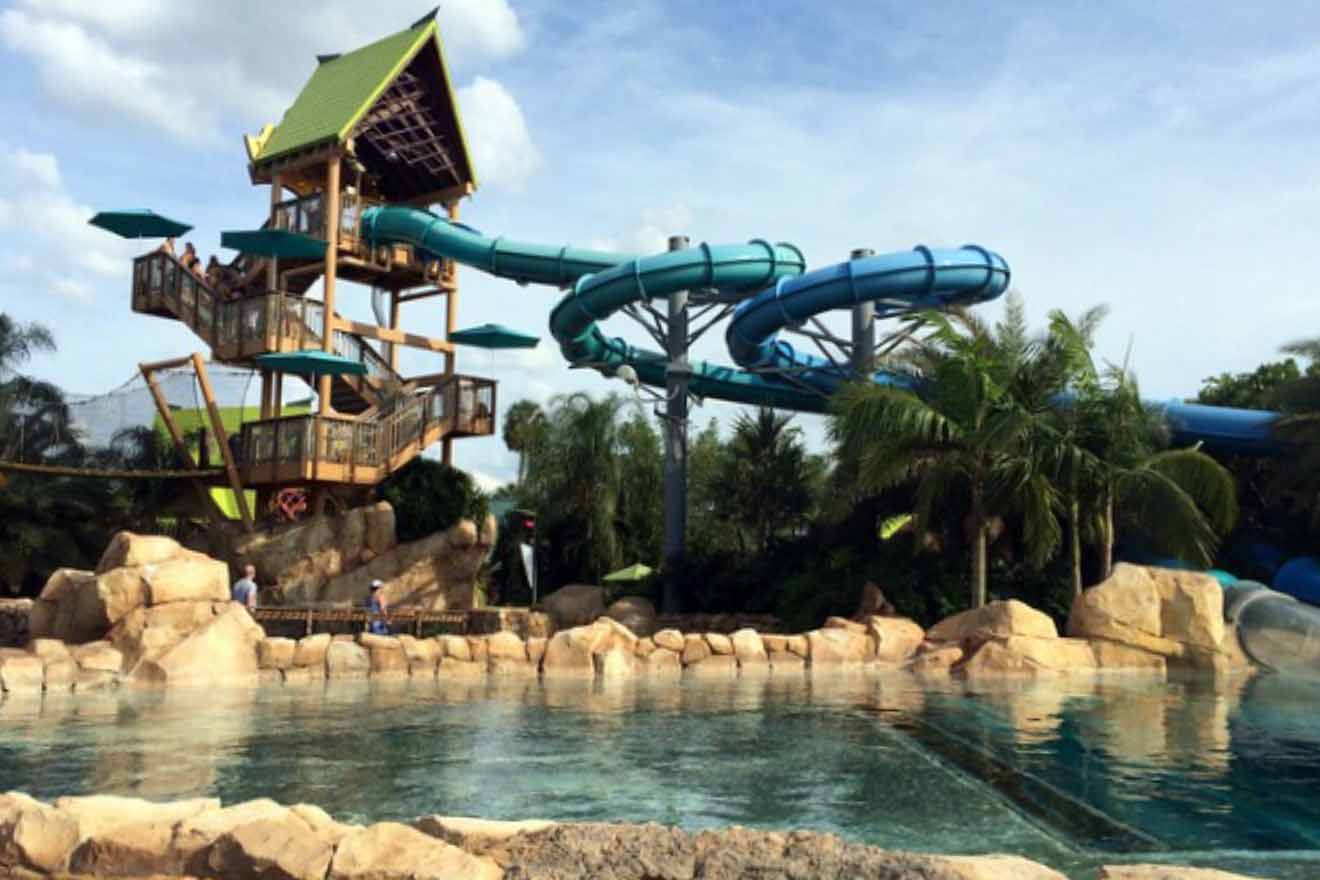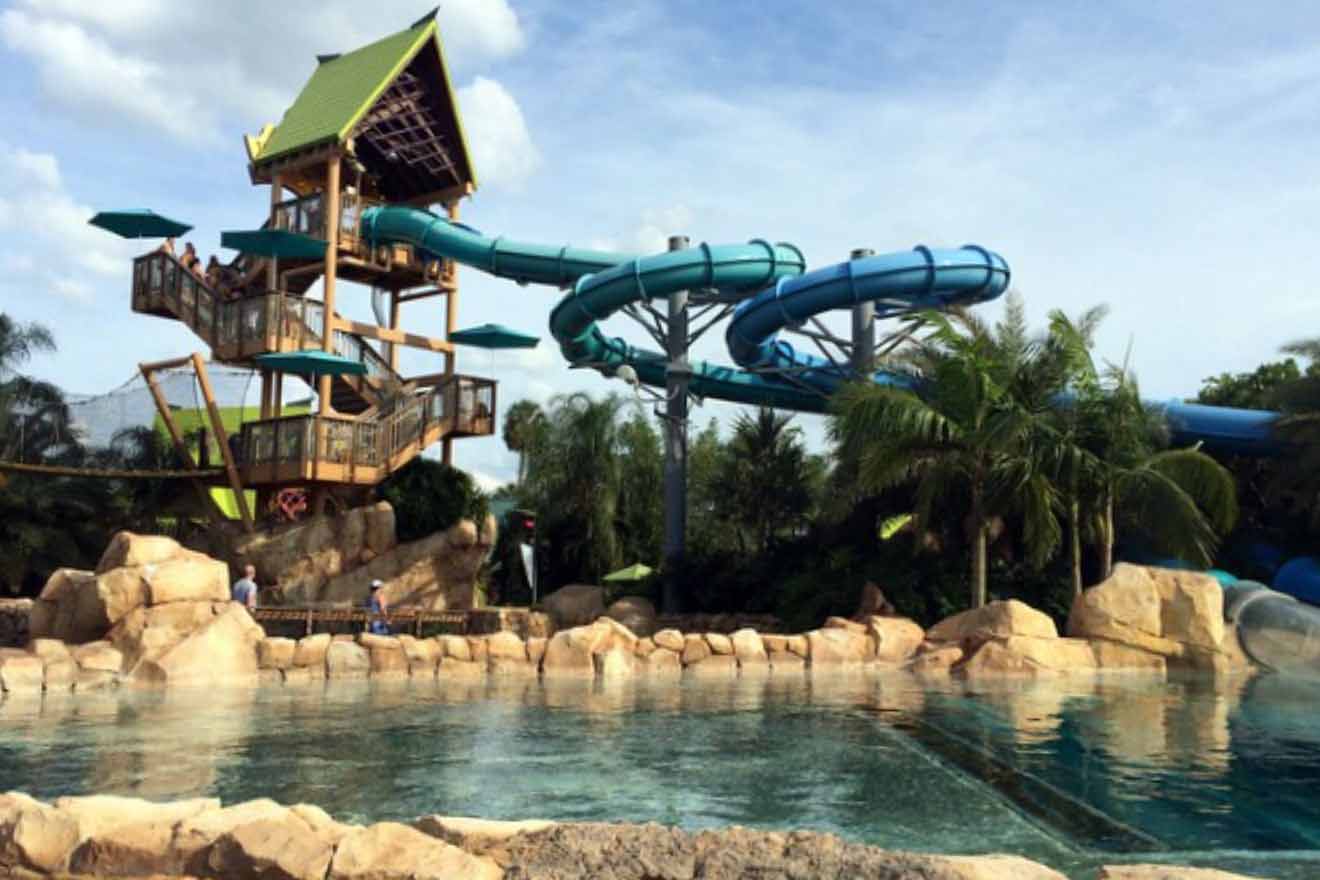 Conclusion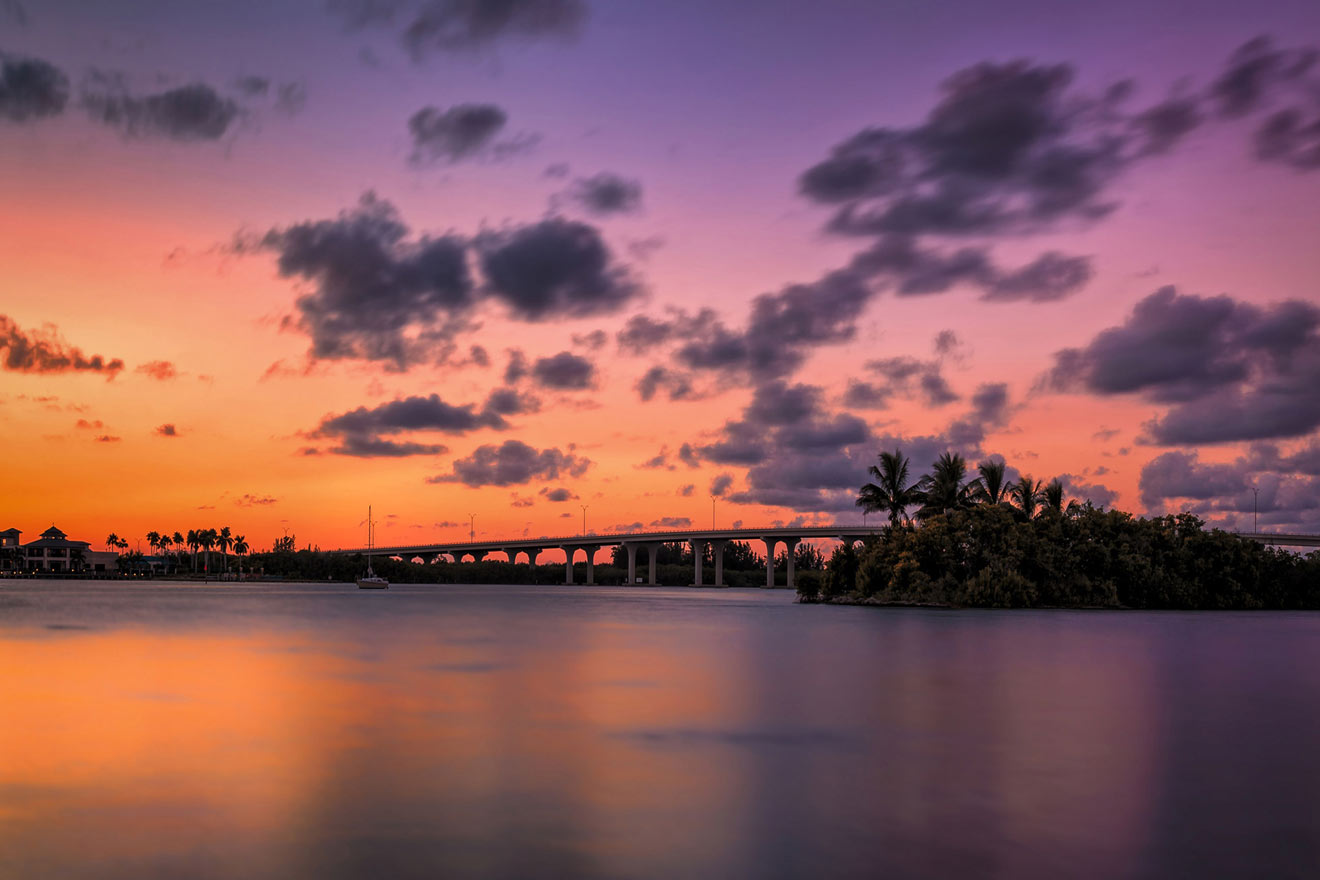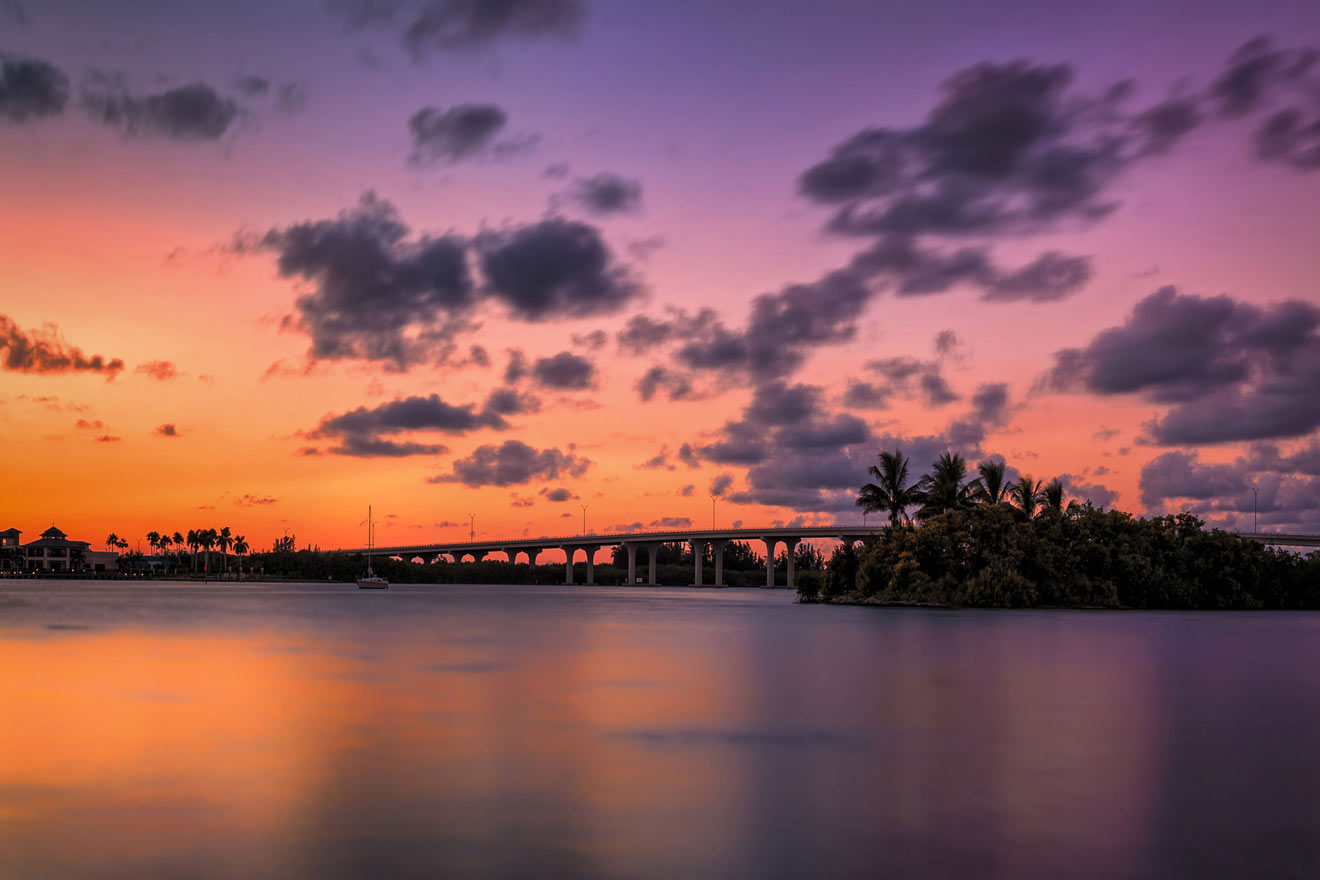 Can you ever get tired of Orlando? With its fabulous restaurants and fun attractions?
I think not! This city is the best and now that we've gone through this list of the coolest Orlando hotels and also saw 2 bonus sections with the top fun hotels in town and some amazing boutique hotels, we're ready to wrap it up for now!
But not before I leave you with my 2 favorite Orlando resorts! Maybe this will help those of you who need a bit of guidance when picking out your final spot:
Just remember that these are some of the best places in town. Which means that they will sell out super fast. So book your favorite early, to avoid any inconveniences!
Well, everyone, it's been a pleasure!
Enjoy your trip to Orlando, and have fun visiting all the cool attractions like Hollywood Studios and Disney World!
Safe travels,
Victoria
---
Pin it for later!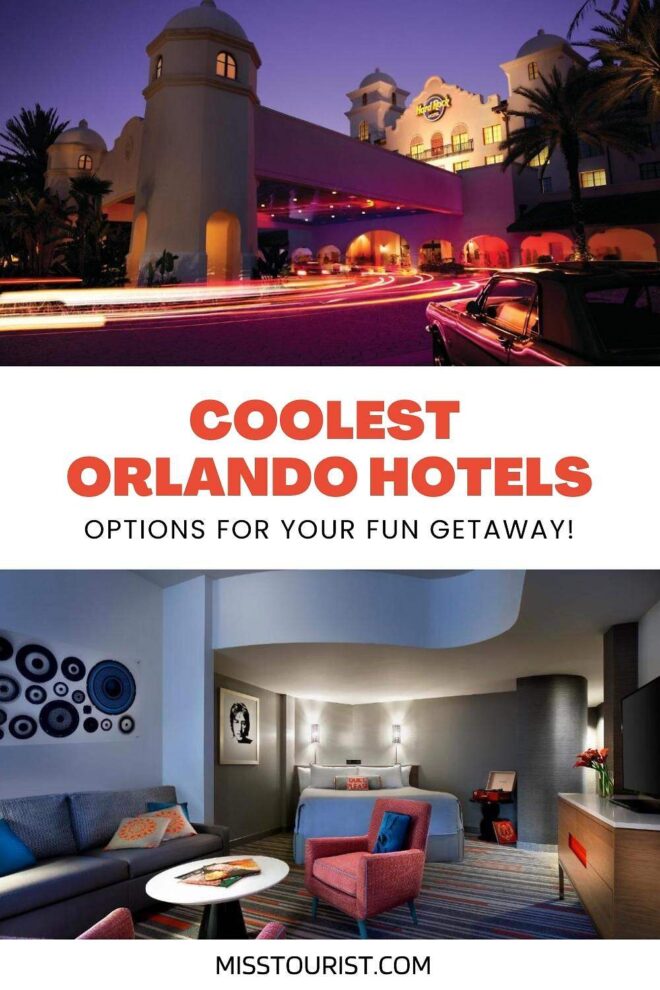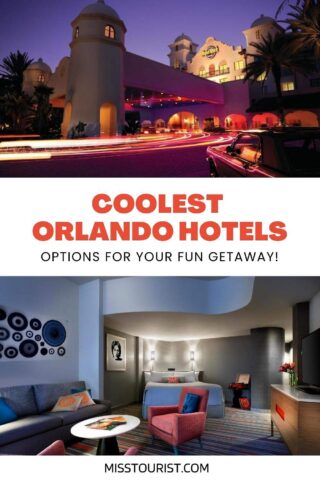 Pin it for later!