The Bali island is Indonesian and has became a mainstream touristic attraction in the past years. They say around 200 000 more people visit Bali annually
.
AREAS TO STAY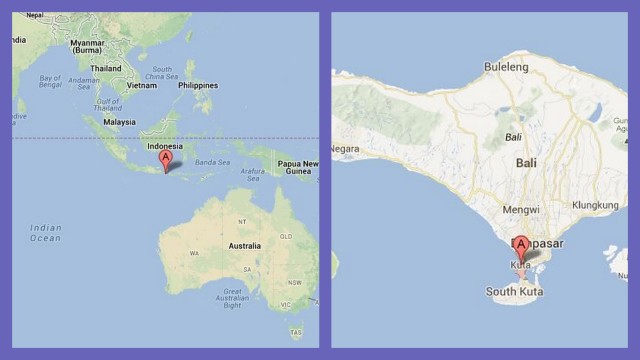 The most typical tourist destination is Kuta, located not far from the airport, which is called Denpasar. Kuta is a popular surfers' destination from all over the world. If you are searching for the beautiful sceneries from Bali postcards with green all around, I have to tell you, you are in the WRONG place!
Kuta is all about surfing and clubbing. But lately, I am not a big party animal anymore and there are good waves also on the South of Bali and on the whole west cost in general. So, unless you are not big party lover, I recommend you to stay somewhere not that crowded. There is Semyniak very close for example, Canggu, Bukit, Nusa Dua. Everything that is around Kuta basically. By the way, the prices will get lower at least for the accommodation. The ideal place in my opinion would be Ubud. The place has its indescribable charm, you can feel the atmosphere of Indonesia unlike in the noisy Kuta. Btw, if you have seen the Eat.Pray.Love movie – the beautiful scenes of Bali were captured exactly there. Bali is being built and developed very fast now, but somehow, in my opinion, if you come here paying the normal price of a vacation and live in a beautiful hotel, you will soon find yourself on a street which looks like shit. There are many Australians, Russians etc. tourists.
SURFING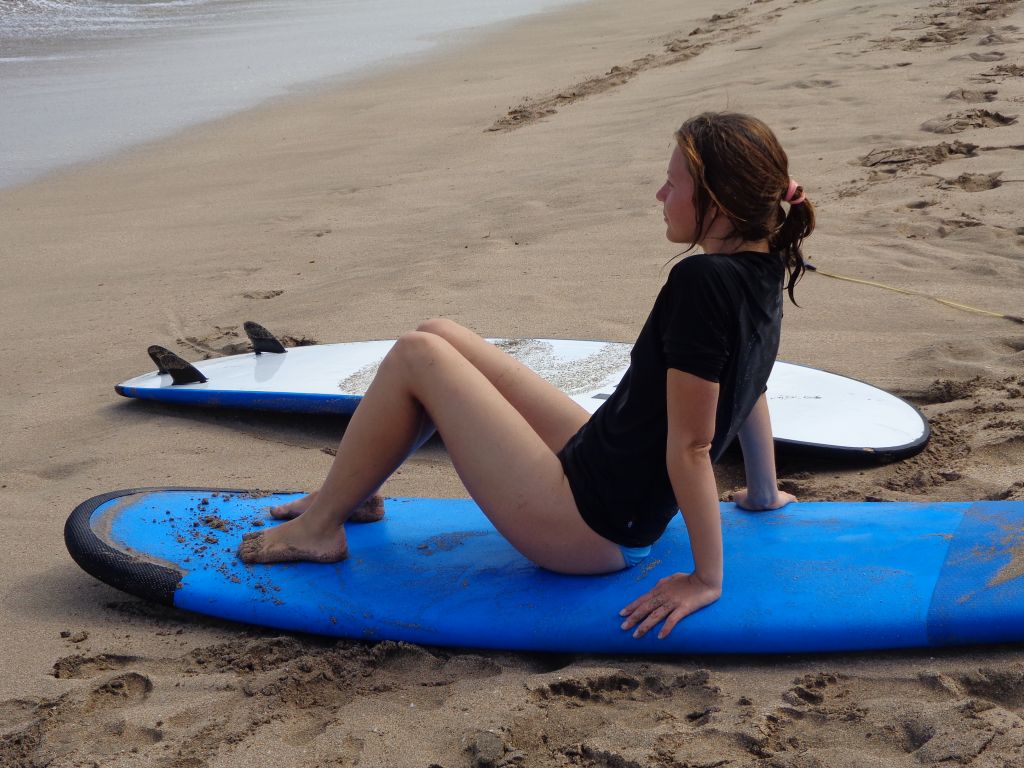 I am really a beginner in surfing, but as I love it so much, when I came to Bali surfing or not surfing was not even a question. There are surfing schools that cost around 50$ per 1,5 hour, for a group of 3. And there are private instructors that will take around 20$ for 2 hours and you'll be most probably alone. We took the second option. I also took a surfing lesson before, in Brazil, so I had something to compare it with. The private instructor that I had in Bali did not do 2 of the most crucial things – explain how to surf and correct my mistakes. He helped me and pushed me when needed but never said what did I do wrong and how do I prevent it the next time. It of course really depends from the instructor, maybe you'll be lucky, but in general they don't even speak much English.
So, I would say, if you are on a budget – go for the private ones, but ask them all the time and make them explain to you and show you how to do it. If you are not on a budget – go to a surfing school. Though, sometimes in schools they restrain the progress, they don't give you a smaller board when you are able to ride it, unless they are absolutely sure that you are ready, in order not to demotivate you and make you stay longer. The private ones don't do that, they just give you the board when you seem to be able to use it.
ACCOMMODATION
The price, of course, varies, but if you need a hot water and an AC in your room, the price starts from 10-12$ per person in a decent hotel and goes to infinity and beyond.
Check the rates for your dates here!
If you are staying for a long period, it will be cheaper (and better) to rent a nice villa which, depending on the location, will cost you starting from 1000$ per month (cheaper in Ubud and other remote areas).
UPD 2017: I have come back to Bali 4 years later to stay for a couple of month (obviously I really liked it!) and we are renting an amazing villa for about $700 with a private pool! <3
TRANSPORTATION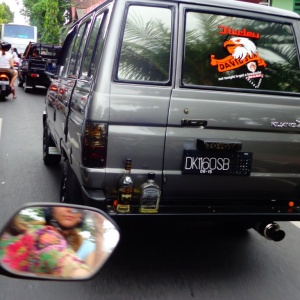 In general, all taxies are cheap, in average, a 20 min ride will cost you 5$. But in order not to get ripped off, it is better to always use the Blue bird taxi because they always switch on the taximeter. If you want to have more freedom and get whenever you want (GPS needed), you can rent a scooter for just 5 $ per day (they will just take a copy of your passport, no bureaucracy) and the gasoline will cost 1$ for a full tank (sold in vodka bottles usually, haha). A private driver who took us everywhere we wanted on the Island cost us 45$ for one day. (better to choose the one who can be also be a guide, not just a driver, because ours did not know anything).
SHOPPING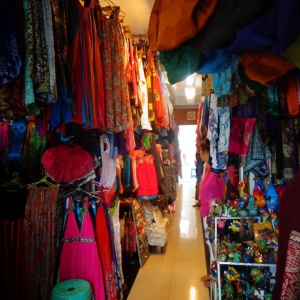 You HAVE TO bargain, even if you don't like to. Unless you are willing to pay an initial price, which is at least 4 times higher. I am obviously not talking about expensive boutiques in Seminyak for example (some of the most expensive areas on Bali), but about other stores and local markets where it is normal, and the seller also assumes you will bargain.
Things to see/to do on Bali:
I will just give you a brief list, you can check the names and decide if you like it.
Tahanlot, Uluwatu – typical tourist destination
Turtle's island – I would not recommend it, nothing special and a bit annoying
Rafting – something absolutely amazing to do exactly there on Bali!
Batur, volcano – the most beautiful sunrise I've ever seen, but you have to wake up really early and it requires quite a lot of physical activities to get to the top. But so worth it!
Dreamland beach, Padang padang beach – beautiful beaches
Jimbaran – see the sunset and eat fresh fish
Kecak dance – some very weird but very typical dance
Clubs – Potatohead, KU DE TA, Sky garden
And some bonus pictures! 🙂
Meeting the sunrise on volcano Batur:
If you are into adventurous stuff, Indonesia has so many volcanoes to hike! Read this post about Volcano Trekking In The Indonesian Ring Of Fire.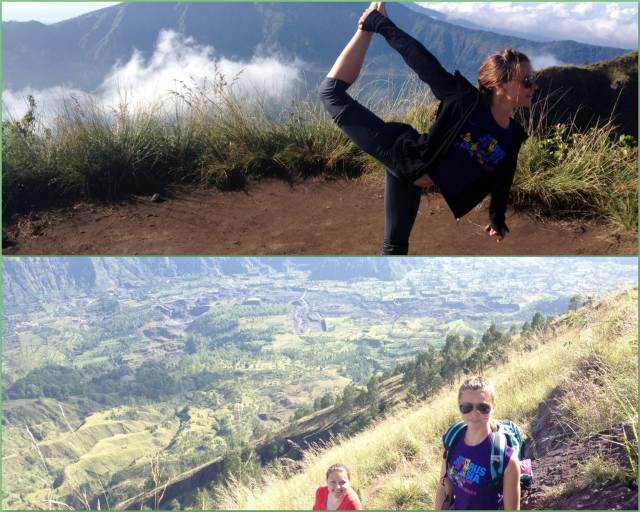 Monkey business in the Monkey forest: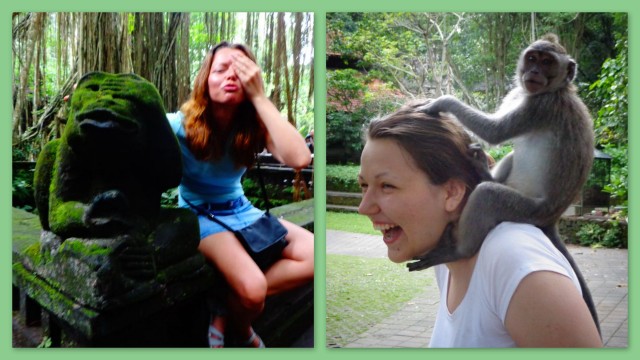 Some of the temples: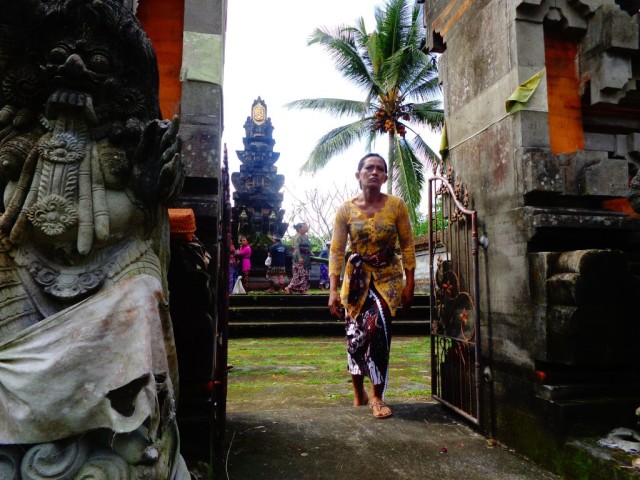 Green village, THE view: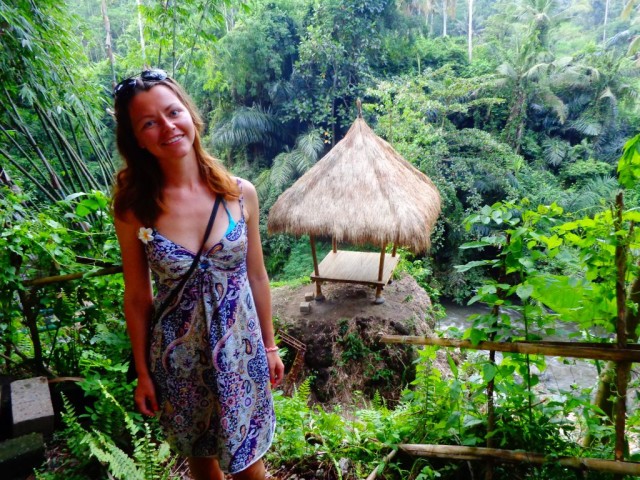 During the rafting, the views were amazing!
The way they sell gasoline! 🙂 2 bottles of Absolute, please!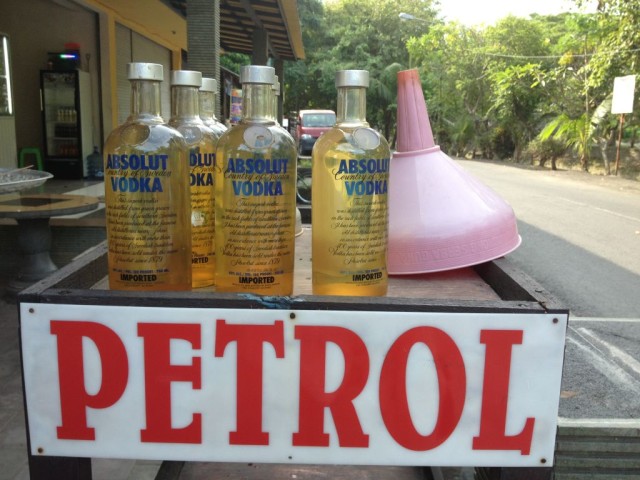 Offerings to gods, they are everywhere!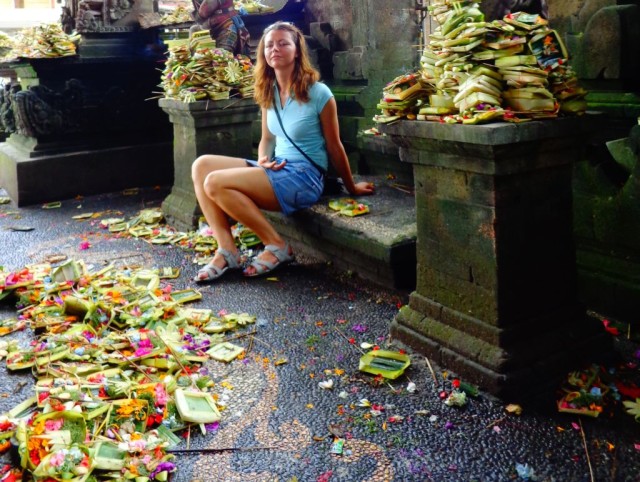 Rice fields!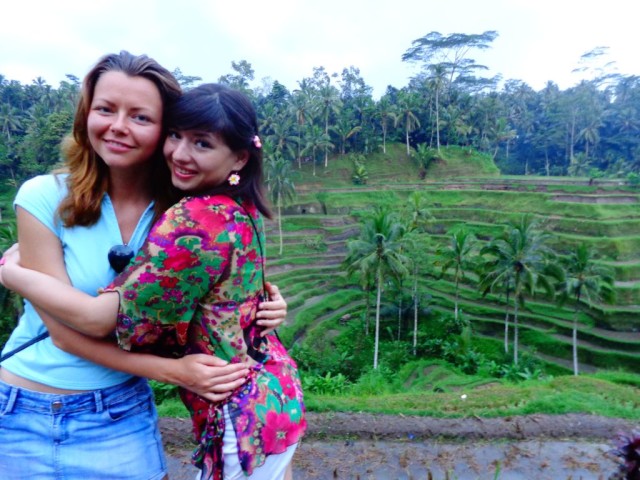 Local Balinese are usually very nice and hospitable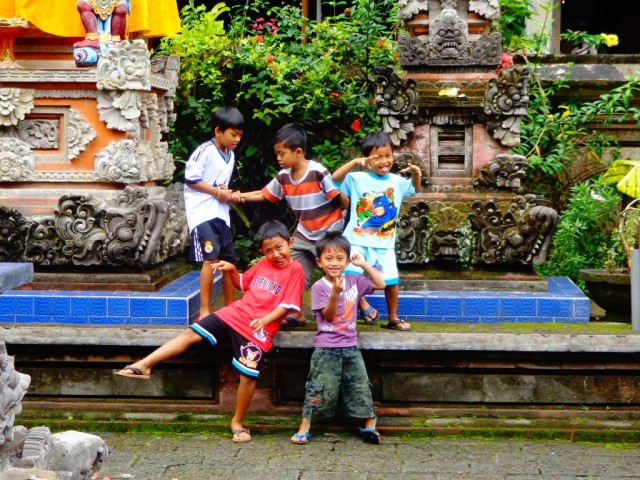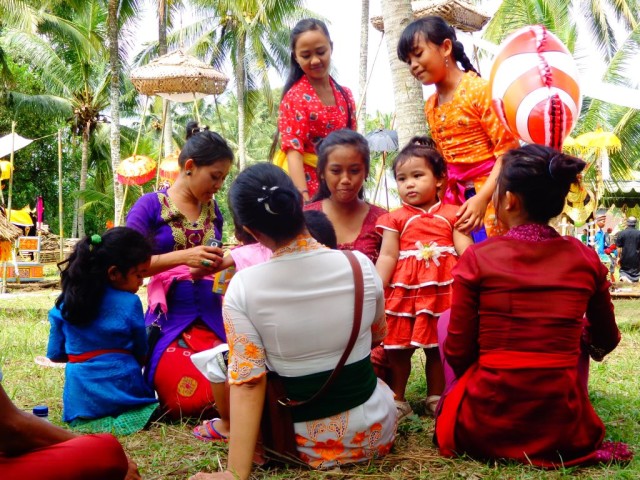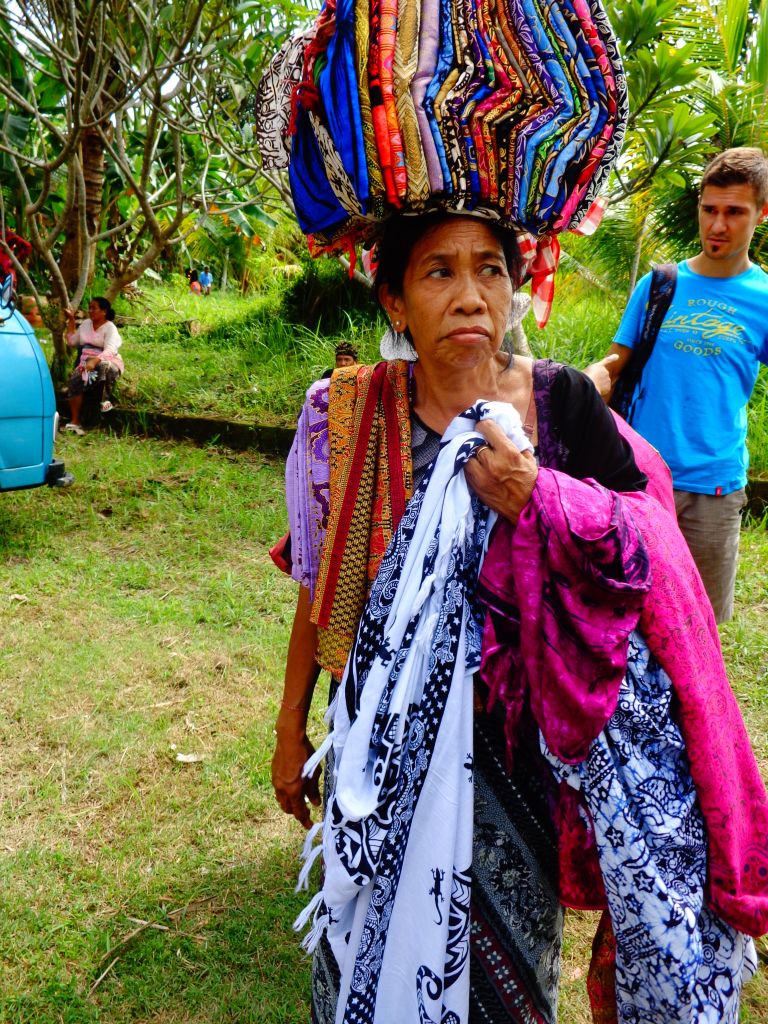 I do understand people who move there for good now. There are so many things to do on the island, you can never get bored and find something that interests you! So, I hope you liked my brief description of the beautiful island, please ask me if you want more info about something!
Yulia
---
RELATED ARTICLES:
---
Pin it for later!