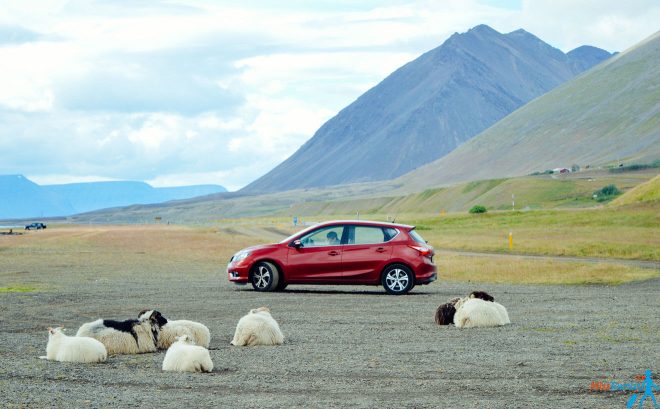 UPDATE: August 2018
Going to Iceland? Great choice! I have some advice about driving around the island, and what challenges await you. Especially if you are taking my 14 days road trip around Iceland, the hints here will be very useful!
The country has no trains. Buses are almost non-existent. Hitchhiking (although possible) can be frustrating, as there are not that many empty cars passing by. There is no better way to explore this over 100 000 square km (40 000 square miles) island than by car!
I loved traveling this way in Iceland in particular because it gives you the freedom to choose your own route and the flexibility of doing things at the pace that is convenient to you. Not to mention that Icelandic roads take you to some out-of-this-world landscapes!
I have put together a guide on how to rent a car, which type of car you should choose depending on your trip and activates.
I recommend checking out these 2 aggregators –  AutoEurope and RentalCars – just go for the best available price on one of them! At the moment they are the best deal finders for rental car companies in Iceland. This is why I can vouch for both of them:
It compares rates for car rental companies in Iceland – both International chains and reputable local companies.
They also offer low rate guarantee!
No need to use your credit card to book
They have 24/7 support and great reviews
Everybody told me before the trip: "Driving in Iceland has nothing to do with driving wherever you are from" and I can only repeat it to you now.
But don't worry, there is nothing to be scared of, it's just a bit different. Keep reading and you will be fine!
First of all…
1. Think ahead when renting a car in Iceland!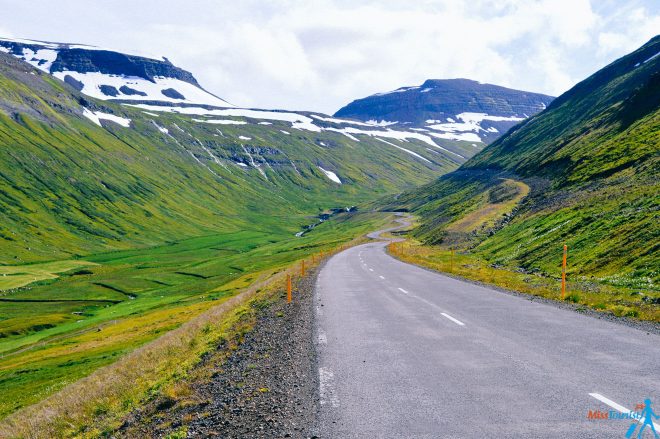 Each year more and more tourists come to the country of ice. Even though there are many car rental companies in Iceland (mostly in Reykjavik), the most efficient cost/performance options will be sold out quickly.
You want to be among the ones who got the best deal, right?
If you know for sure you are going, booking even a year in advance is great, especially if it is high season!
Remember, if you rent with AutoEurope or RentalCars you can always cancel with no charges, but booking last minute will not get you a good deal.
The longer in advance, the cheaper your car hire will be, there is no such thing as a last minute deal in Iceland. Does not matter how far in advance you are planning, you can already check the rates for your dates now.
Then do your homework and choose the convenient type of car for you (see my Bonus 2 below) and the car hire company, and please do it in advance. This way you will have many options to choose from.
PRO TIP #1: Do you want to further reduce the costs? Invite your friends with you in the trip! You will benefit twice by sharing this amazing journey with people you love, and reduce the cost per person of transportation!
PRO TIP #2: You'll need some items for this trip and it's a lot better if you can buy them from home. Iceland is very expensive compared to any country I've been to, so I think getting some items at home might save you a lot of money you can later use for your fuel!
Don't leave home without these essentials for your Iceland holiday:
PRO TIP #3: Most car rental companies are located directly in Keflavik Airport (which is the name of the Reykjavik International Airport). Please check if your preferred car hire company offers a free airport pickup. This makes sense because getting from Keflavik airport to Reykjavik costs 10-11 EUR per person. So you will actually save a lot by getting the car as soon as you land!
2. Get that extra insurance!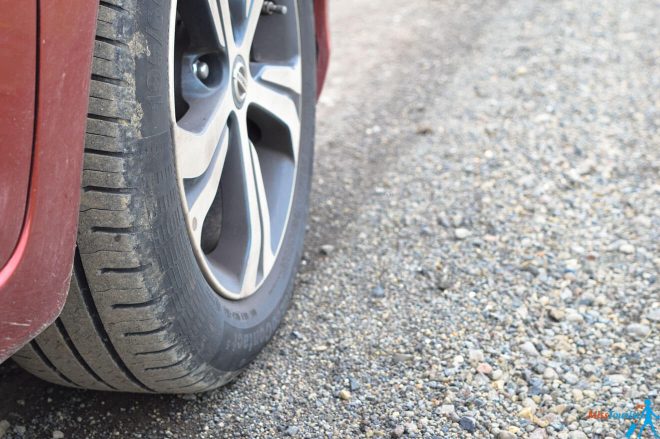 So, you chose your best car rental and you are going to go exploring?
Great! Now, don't argue and get the gravel road insurance (consider ash and ice insurance if you are going in the winter or in an areas with much volcanic ash).
Gravel roads are roads good enough to drive on, and usually lead to a spectacular natural wonder, but they are full of little rocks. It only takes one little rock thrown on the body of your car, or worse, on your windshield to open a crack that will make you good to pay for a new windshield /paint job. Same goes for the ash and ice in high winds. Those act exactly like rocks on impact with your car.
Most car rental companies give you the option to take insurances in their online form.
Follow these simple tips for safe driving on gravel roads:
 just keep your speed low enough not to throw rocks into the sides of your own car;
when driving in a column, keep a distance from the car in front large enough so that the rocks throw with their rear tires don't reach your hood or windshield.
You can also opt for theft insurance, but to be honest, Iceland is a very safe country, and most of the cars have GPS trackers. Not to mention we are talking about an island. Thefts are rare, if any. It's up to you if you want to get the theft insurance, I just laid out the facts for you.
3. Watch out for sheep, horses and birds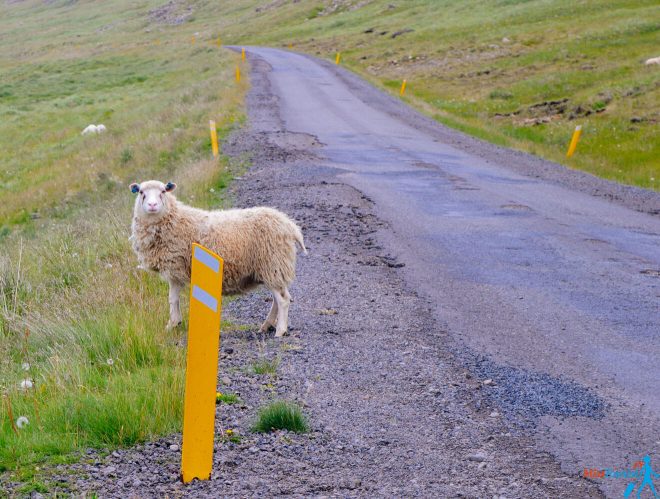 Did you think it was that easy?! Like in a Super Mario game, you will encounter all kind of fauna that wants to delay you!
Iceland has many sheep roaming free in the warm season. In fact, once you get out of the Golden Circle, you will probably meet more sheep than people! They are free to graze wherever they please, and that means they will cross the roads sometimes (many times!).
Whenever you see sheep nearby, I strongly suggest to slow down and pay extra attention. An angry ram can damage your car, or, as stories goes, people have flipped cars with their wheels up trying to avoid sheep.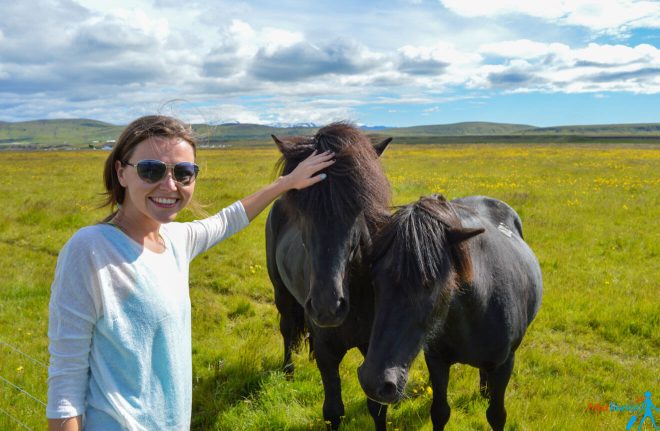 Same goes for horses, who are sometimes moved around pastures on the roads, and even birds which fly low.
Watch out in the evening, we were once surprised by 2 owls that flew over the road at low altitude at sundown. Luckily we had enough time to slow down and let them pass. They got to go back to their nest and we got to give the car back without a scratch. 🙂
4. Avoid speed traps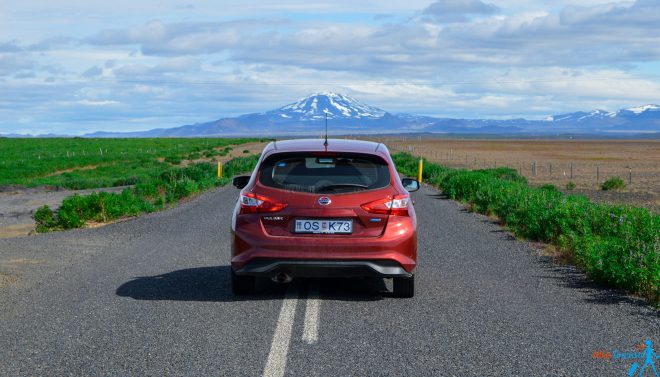 Iceland has a number of fixed speed traps and police cars which patrol the ring-road are equipped with mobile detectors.
And now I will share with you the ultimate way of avoiding fixed and mobile cameras. Are you ready?
The best ways to avoid getting a speed fine is staying within the speed limit (which is 90 km/h outside localities). Hah, bet you did not see that one coming!
Even if you will get a fine, you will not know right away, but your rental company will charge your credit card with an unpleasant surprise a few weeks after your trip. We do not want that to happen, right?
The fines are large, so you should really consider this point.
The fixed cameras are always signaled a few hundreds of meters before you will encounter them. There is a specific sign letting you know there will be a detector well in advance, so keep your eyes open!
5. Think ahead about fueling up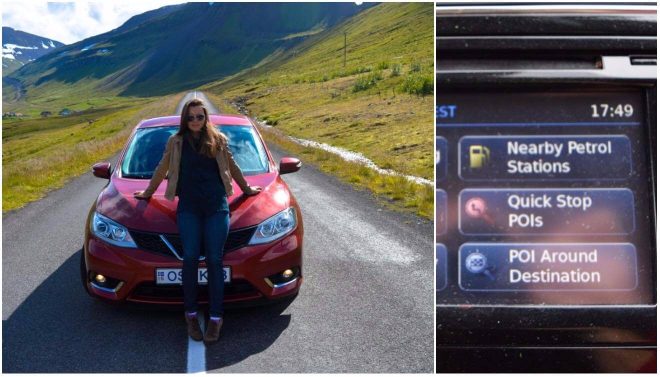 Depending which road you are taking, especially if going through the mountains, check ahead where the next gas station is. Don't leave it to chance. I remember quite well a 250 km portion, even on the Ring Road, where we encountered no gas stations.
My car's GPS had an option to show me where the closest gas station is, it was really convenient! Keep an eye on the fuel meter, even if it will be a funny story for your friends, it won't be funny if you can't move your car in the middle of nowhere on a deserted road.
6. Check if you have mileage limits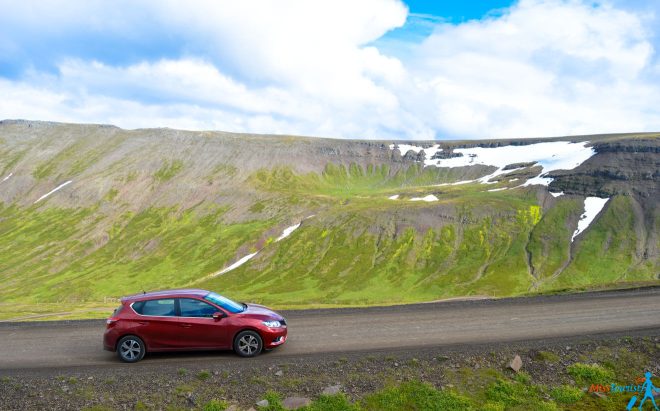 Verrry important!
Remember that some car rentals impose mileage limits. This might be really inconvenient if you cover a lot of ground each day, and it can bring your rental cost up. Remember to ask and check ahead if you have chosen such a company to rent.
Pro Tip: Many car rentals offer two type of rentals: limited milage or unlimited milage. Usually the difference in rate between the two is small and it represents the difference you would pay if you would make an extra 10km. I would say go for unlimited, unless the limit is somewhere at 250 – 300km per day or if you know exactly how many km (miles) you are going to drive.
7. Don't stop in the middle of the road to take pictures
The island-country is full of beautiful spots who just beg you to stop and take a picture. And we are all tempted by this, I also wanted to stop and take a picture literally every 100 meters.
When you do, please stop in a place where you do not bother traffic. There are plenty of side roads or parking lots. I have seen many tourists stopping more or less in the middle of the road and casually opening their doors to take pictures. It is quite dangerous, especially as sometimes the roads are narrow.
8. Be prepared for rapid weather changes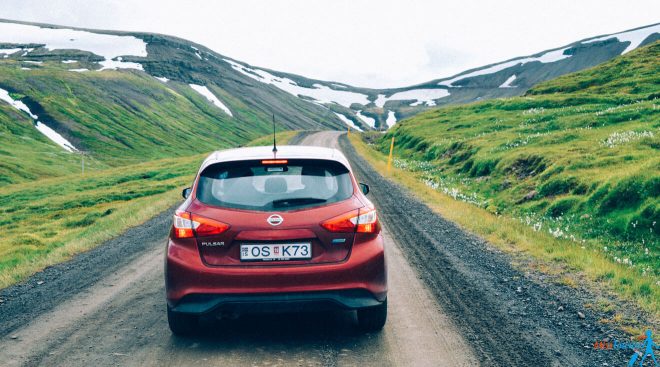 Let's face it – Iceland has its specific weather. It can be sunny one minute, and heavily raining the next, making everything slippery. Not to mention that you can drive in clear weather and just wake up in a thick layer of fog after a few curves!
Keep in mind that the safest ways to tackle the weather conditions in Iceland is to match your speed to the current weather. Sometimes, maybe you will even have to stop for a few minutes, until the visibility comes back or the wind powers down.
---
So, when is it better to go to Iceland?
I went in August and I found it to be the best time to visit – you can enjoy a never ending day, the weather is mild and all the roads (and the attractions are open).
True, it is the most touristic season too, but it is touristy for a reason (plus, Iceland is not Paris, you can drive for hours and not meet another car).
If you want to avoid higher prices and accommodation, I would suggest going right after the season is over, say, mid-late September, it should be still fine.
BONUS 1 – Choosing the car in Iceland
What is the best, what is the most budget option? Which type of car to choose? There are so many!
The first question you should ask yourself is "Which type of activities am I likely to do in Iceland?"
If you only plan one thing about your Iceland trip, then plan the car!
As I experienced, there are 3 types of journeys and 3 types of cars suited for them.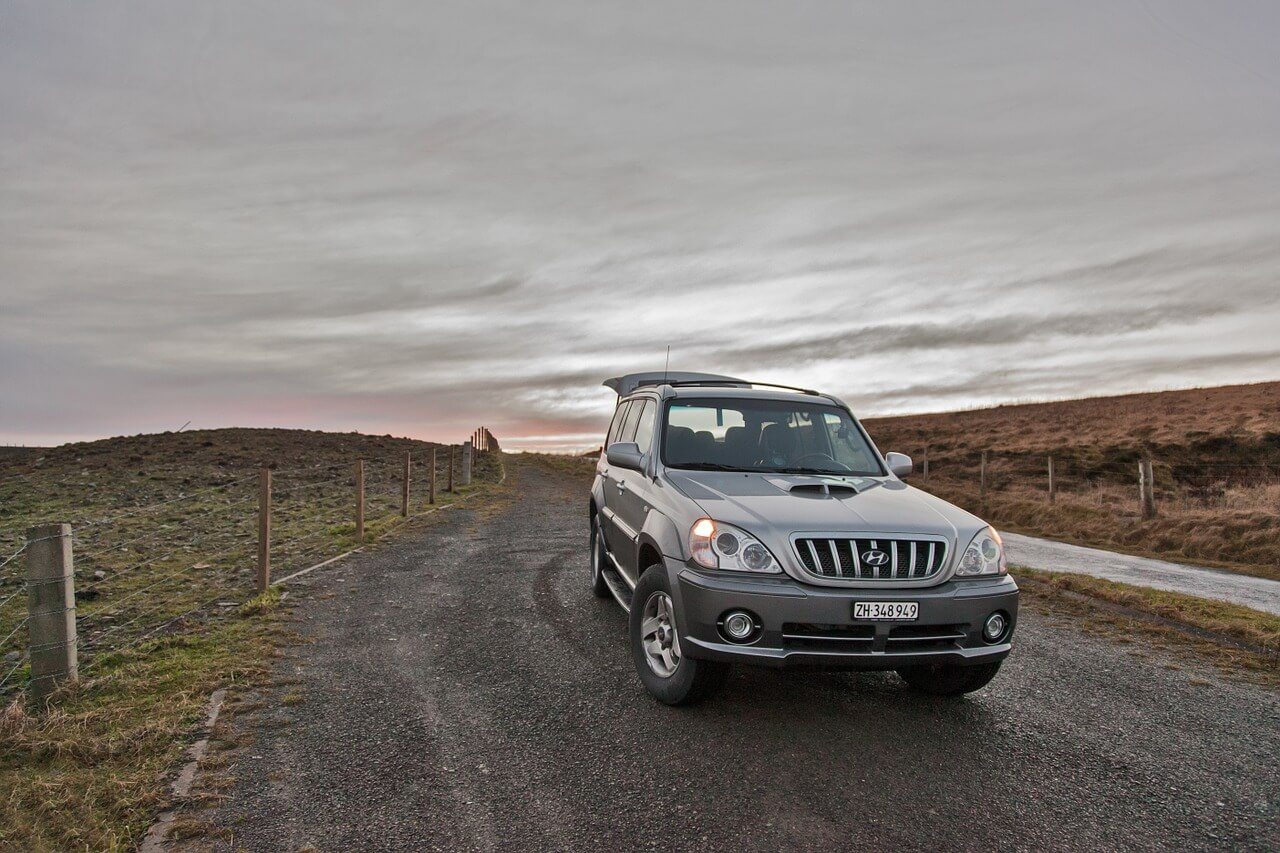 1. You are an off-road warrior. An adventurer

TYPE OF ACTIVITY: Do you like going on hard roads and climbing steep mountain slopes, hike and use your tent to sleep overnight?
Do you want to have the ultimate Iceland experience by going through the the middle of the country, and set camp in the mountains instead of sleeping in hotels?
RECOMMENDED CAR: you have a choice and one choice only: you need a car that can reach the Icelandic F-roads (a type of road I will describe later).
Your choice should be a 4×4 (an all-wheel drive). It is not allowed to bring any other type of car on these F-roads, and for good reason. Of course, the bigger the car, the more interesting and fun it will be, but it depends also on your budget.
PRICE PER DAY: 65 -130 euros per day for the cheaper models, or up to 150 -250 per day for the high end options, depending on the season.
As I mentioned above, there are 2 sites where you can compare all the deals and choose the best prices according to your needs and dates
The closer you get to the peak season (July – August), the more expensive cars can get!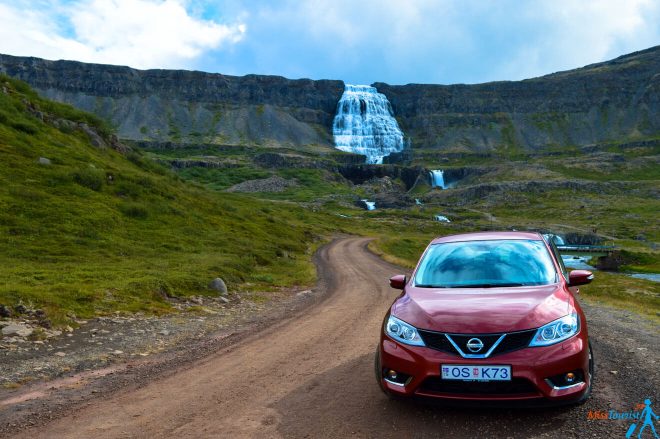 2. You looking for a comfortable trip, along Iceland's Ring Road

TYPE OF ACTIVITY: Are you going to take alternatives routes, or gravel roads to see fjords, waterfalls or other natural wonders only occasionally?
RECOMMENDED CAR: a 2WD would suffice. You can choose any of them depending on your budget and the comfort level you are looking for. That was the one that I took.
PRICE PER DAY: 50 to 100 euros, again, depending on the model and the season.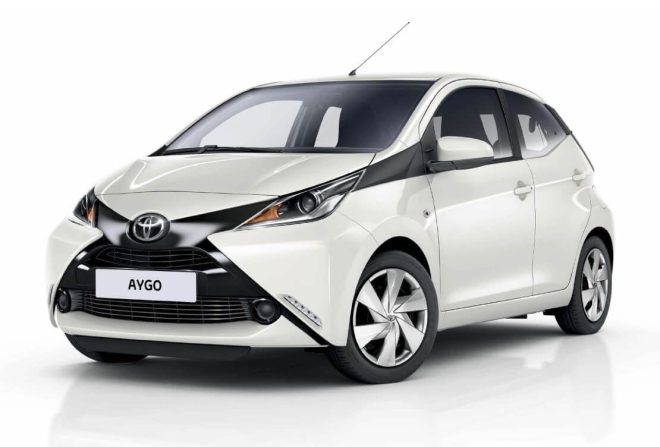 3. You are in a quick trip just around Reykjavik

TYPE OF ACTIVITY: You don't have much time and will not wander more than the Golden Circle? Are you searching for the cheapest car rental in Iceland?
RECOMMENDED CAR: You are almost sure going to be fine with the cheapest tiniest car. Unless of course you need more comfort (and maybe more room for your luggage)
PRICE PER DAY: expect to pay anywhere between 35 to 75 euros depending on the model and the season.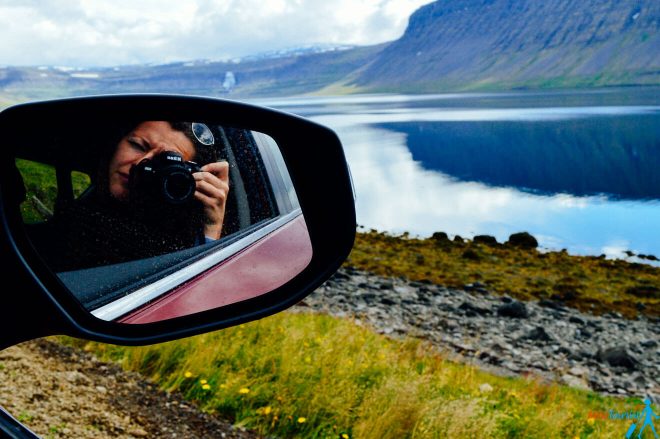 BONUS 2 – Iceland Car Rental in winter time
Ok, even if I did not personally visited Iceland in the cold season (yet!), I have asked around about the best practices of driving in Iceland in the winter. The scenarios will be very different than in the summer, and it's very likely you will see Aurora Borealis.
You just need to be smart and careful, here is what you need to know:
Go for a 4×4 car. Remember that the weather can change and you are far up north, so the possibility of heavy snow fall is big.
Always check the road.is website. It provides the best report on the road conditions of your route.
If you are presented with the option, get studded tires. That will help a lot on the icy roads.
Speaking of icy roads, don't go fast. You are in a new country, you don't know the roads and where ice could be, keep it safe.
Fuel up all the time. Better safe than sorry!
Daylight is limited. Make the most of it by driving in the hours with light.
Watch out for animals in the dark
Make a stash of snacks, water and even blankets. Iceland is a very developed country, but even there, in case you are stuck, it can take some time until someone reach you.
Please don't sacrifice your safety for financial reasons. There are some great rates for 4×4 cars that you can easily compare for all car rental companies in Iceland in one click here.
By following the safety guidelines you are in for a great experience, it will feel like the time stopped, along with the frozen waterfalls! I can't wait to get back myself in the cold season, so I can see the Aurora Borealis!!
Essential packing list for visiting Iceland in the winter time!
If you are going to travel in the winter, there are a few items that you need to take with you. And since in Iceland these will be quite expensive (an Icelandic wool sweater will rarely go under 200$), I suggest to get them from home. Remember that it's going to be very (very!) cold and windy, so you'll need to dress in layers and be able to attain heat comfort at all times. Here you go, your packing list for winter time in Iceland:
Remember to pack these items before your trip:
UPDATE: I have written a detailed blog post about all the items you will need for your Iceland trip, the list is sorted by seasons and your gender, click here to read it!
Conclusion
Iceland is an amazingly beautiful country which is best visited by car. Other options exist, such as hitchhiking, but having your own car will give you the freedom to enjoy the country at your own pace and by your own itinerary!
As a bonus, you should know that most gas stations have free self car wash. It's quite well organised and it pays off to clean your car every few days. The roads and the weather in Iceland take their toll on the cars' exteriors.
Last, but not least, even if it might sound expensive, renting a car will always be more efficient than taking day tours. The tours are more expensive and they are far less flexible!
Disclosure: Please note that some of the links above are affiliate links, which means I will earn a small commission at no additional cost for you. I only recommend products that I use and love myself, so I know you'll be in good hands.
To see my full Iceland travel guide follow the links:
---
Thank you for reading my article, I am sure it will be useful in planning your Iceland trip if you read in careful enough!
Iceland is my favorite country, go explore and have fun, it is really worth it, believe me! 🙂
Ask me questions, I am always happy to hear feedback from my readers!
Yulia
---
Pin it for later: