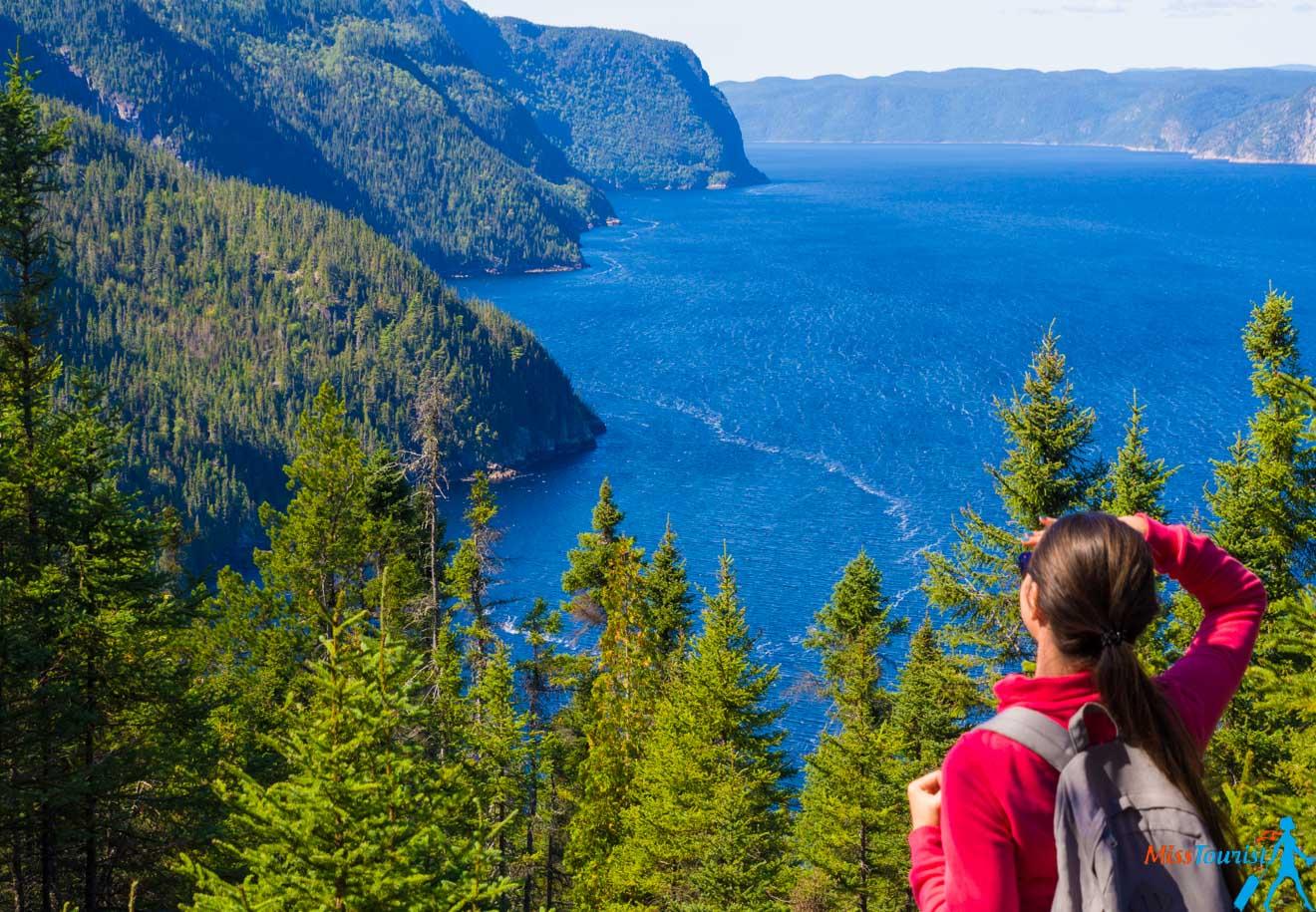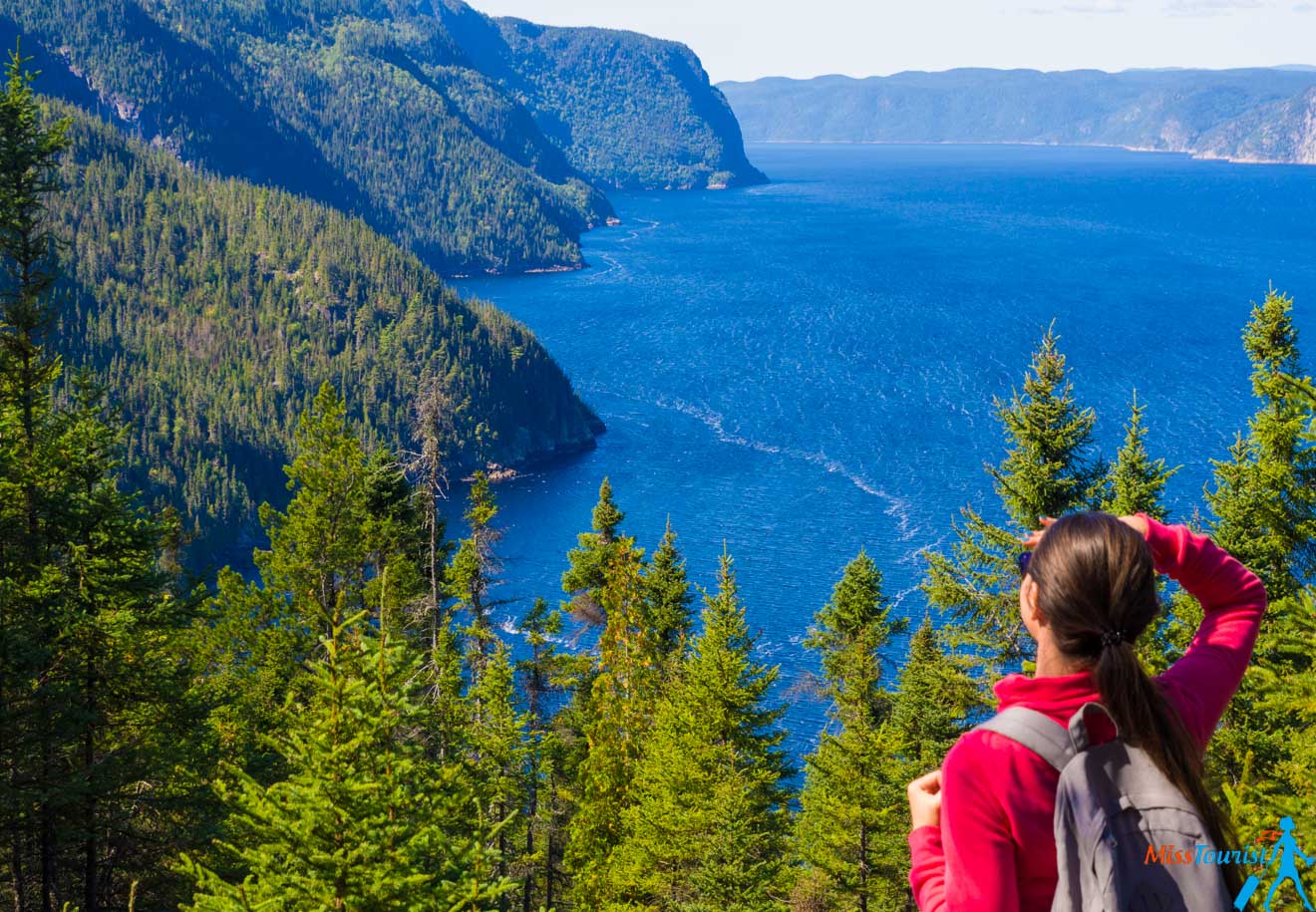 If you are planning a trip to Canada and you have about two weeks to see the best that this country has to offer, I invite you to discover 2 regions – Ontario and Quebec!
I chose to do this Canada tour itinerary myself because it has the perfect mix of urban and nature, culture and activities. Using this itinerary, you will be able to experience two completely different cultures inside one country (it is extremely interesting, I haven't seen this anywhere else in the world!) and try completely different cuisines. Moreover, the route will take you to both big metropolitan cities such as Toronto and Montreal, but you will also relax in breathtaking less-visited national parks where you will hike and spot whales! And, of course, Niagara Falls will be included in our visit to Canada.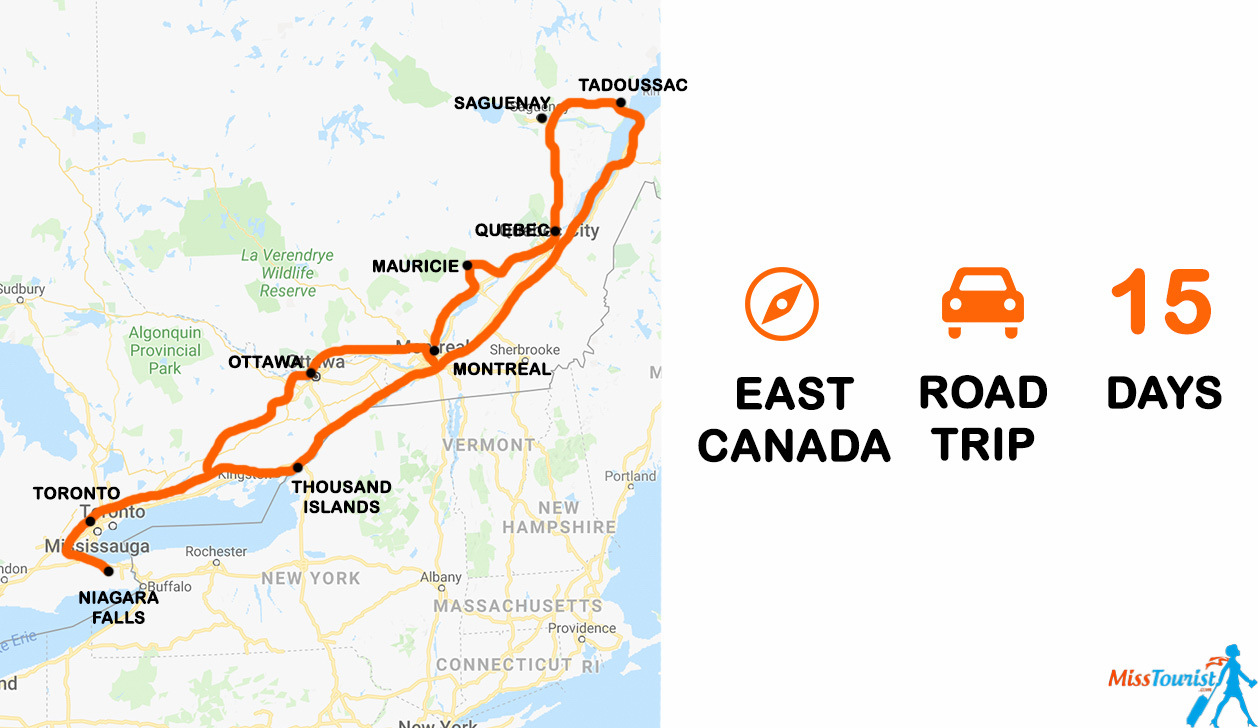 If this sounds like your kind of trip, continue reading – I have the complete itinerary planned for you! It is organized by dates, prices, things to visit and even hours on the road (I have slightly modified some things from my own itinerary and now it is perfect, in my humble opinion).
And oh, yes, this is a road trip itinerary in Canada, so we are going to be driving to all the destinations on our list. Please read why I think this is the best way to visit Canada and tips on choosing the best rental car here.
If you are looking for great hotels for your trip, I recommend checking my article about the Best Hotels in Quebec and Ontario.
Here is the proposed Canada itinerary for 2 weeks:
Day 1-3: Montreal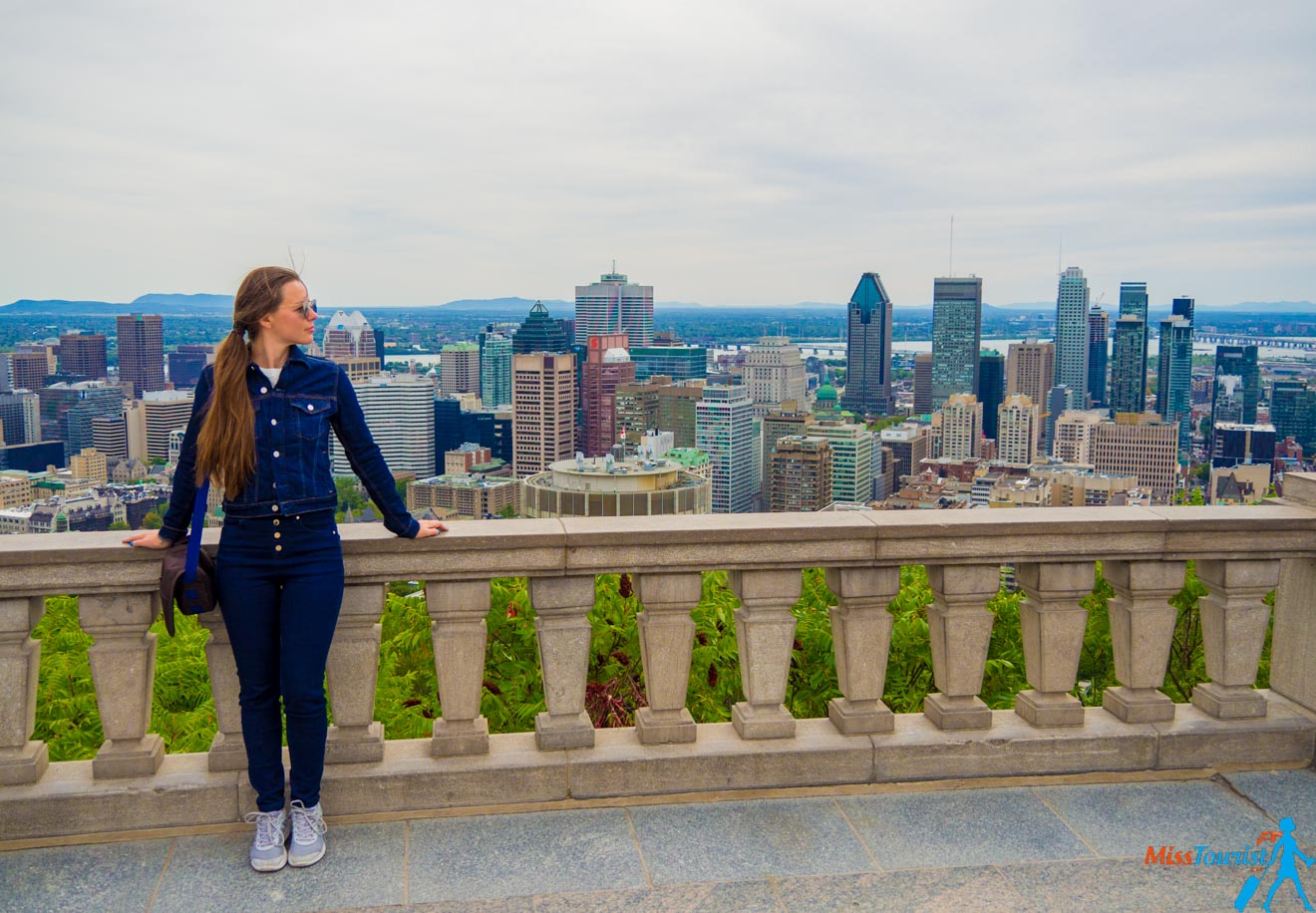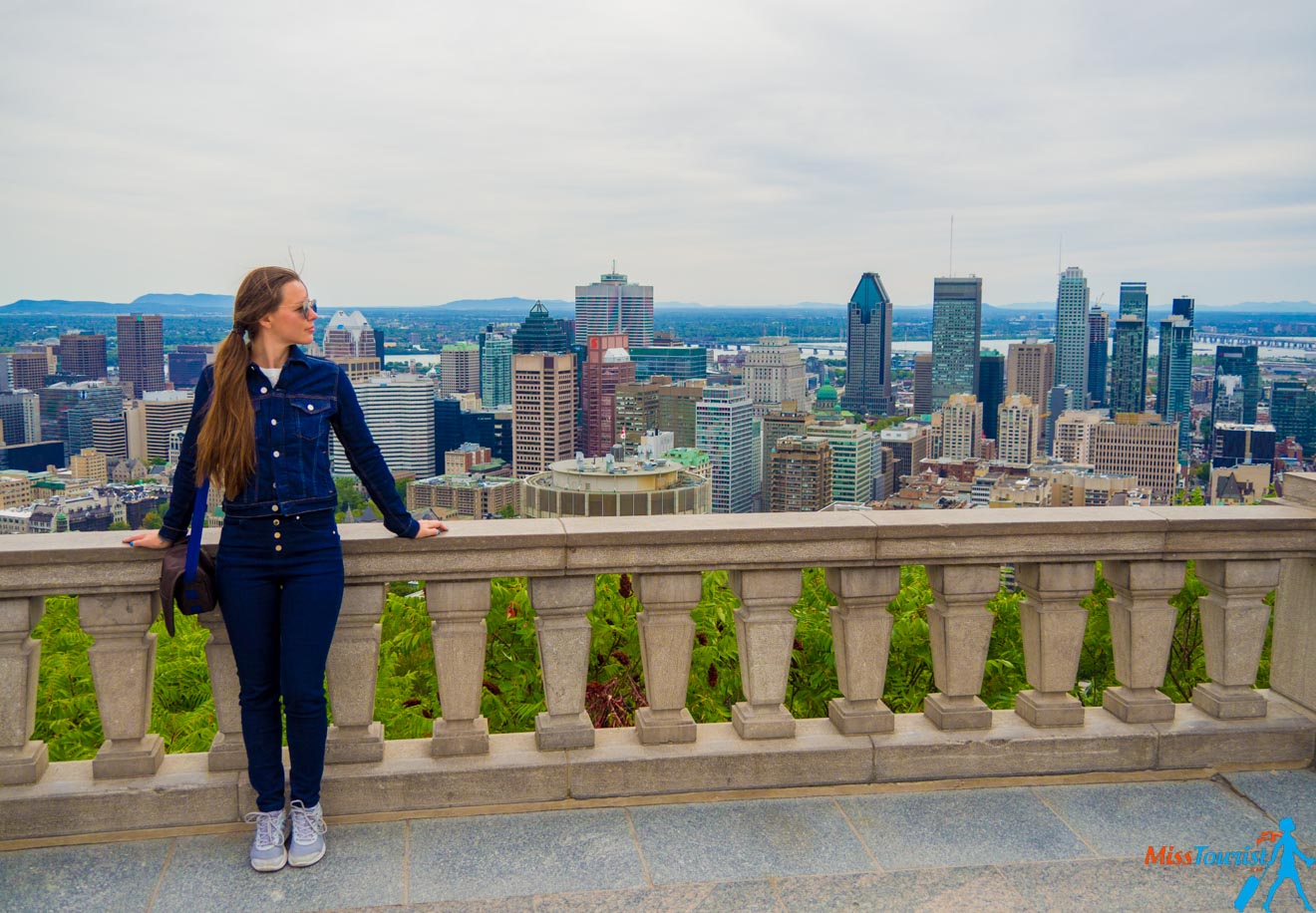 Your eastern Canada road trip begins in the most charming European-looking city of North America! Are you ready?
NOTE: If you want to start your Canada road trip from Toronto, that is totally fine, too, as this trip is a loop – it ends where it begins, so you could start at any point on the itinerary without any problem!
As you noticed, I planned 3 days for Montreal which may seem like a lot to you. I did it this way first, because the city has a lot to offer and second, because you will need to relax after your flight and not feel jetlagged right when you start exploring this unique country.
There are indeed so many things to do – you can do a lot of Montreal activities, stop by some local breweries, and try the famous poutine…
By the way, I have an extremely detailed list of 15 things not to be missed in Montreal, so be sure to go through it before your visit!
Things to do in Montreal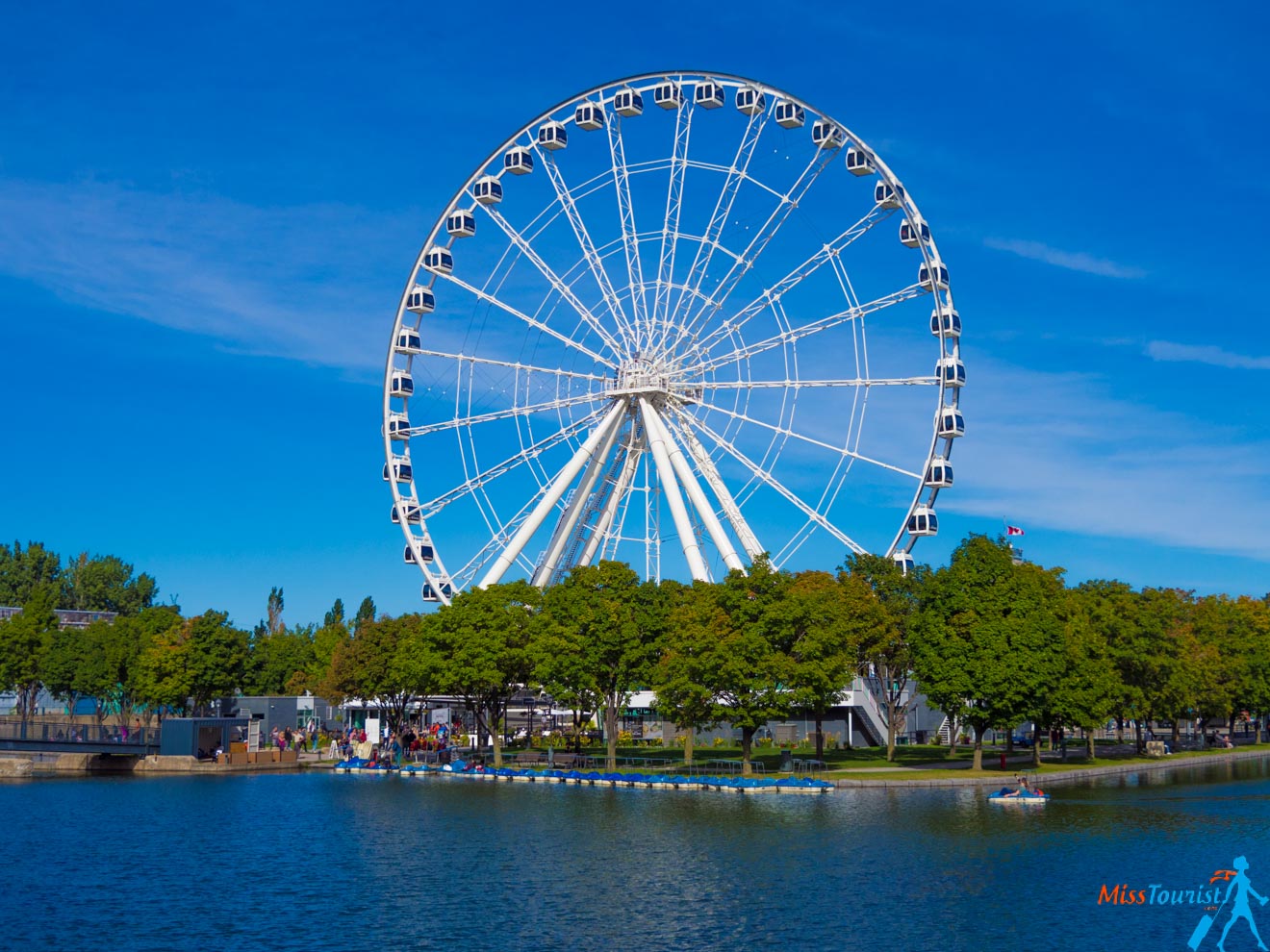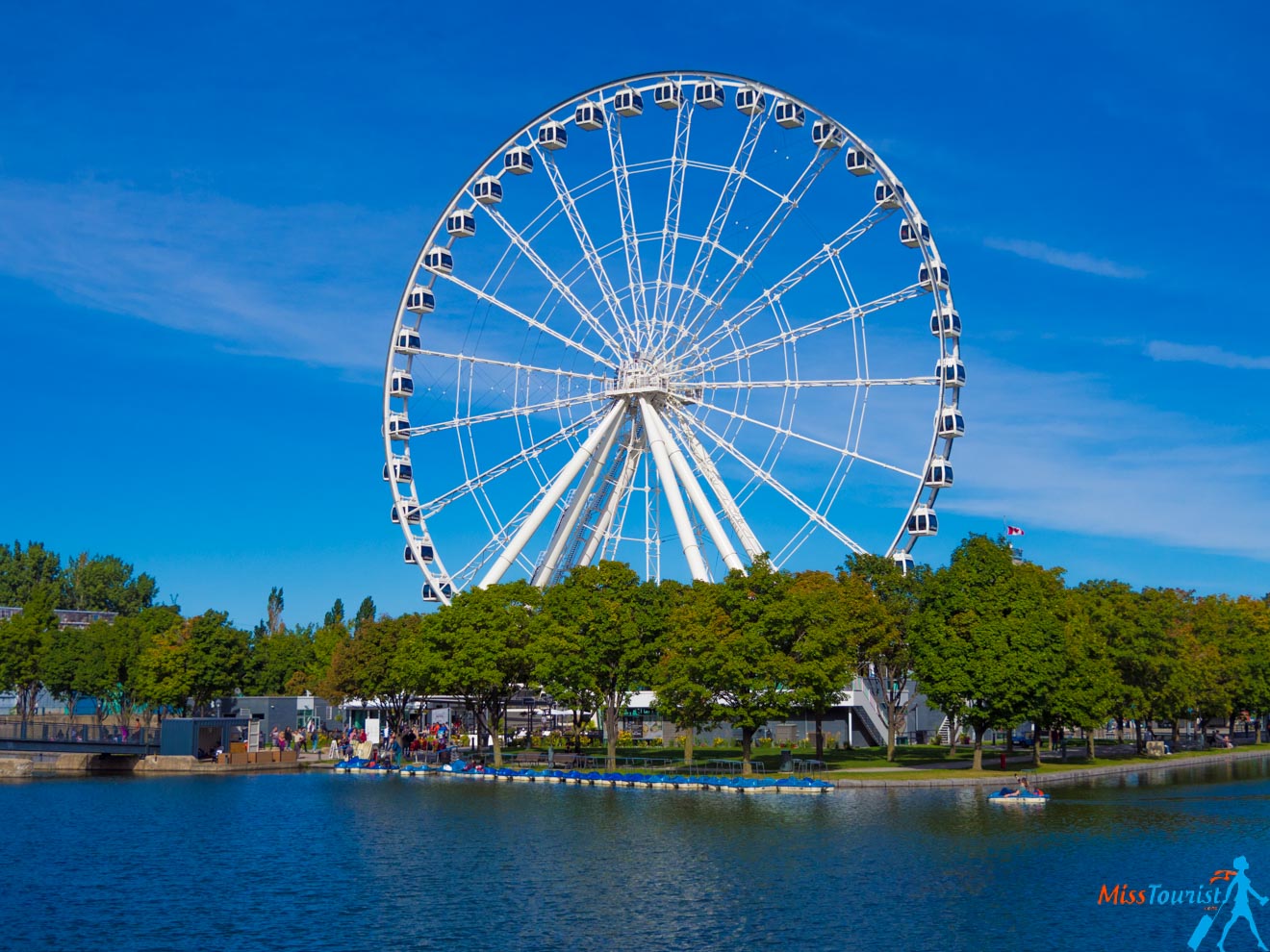 I will not go into all the details about each of the activities here, as I have already described them in detail in my post about Montreal, but here are a few of the main activities to do in the city. You will find all the details such as prices, practical tips and more things to visit in my dedicated blog post (link above).
Visit Old Town Montreal
Hike Mont Royal for the city view
Try traditional poutine
Try Montreal's local craft beer
Wander around the Old Port of Montreal
Visit the Montreal Museum of Fine Arts
Rent a bike!
Relax in the Montreal Botanical Garden
Cruise around Montreal on a boat tour
Visit the Biodome Montreal
As for good Montreal tours, I would recommend this one if you are looking to take a small organized group tour around the city.
Accommodation in Montreal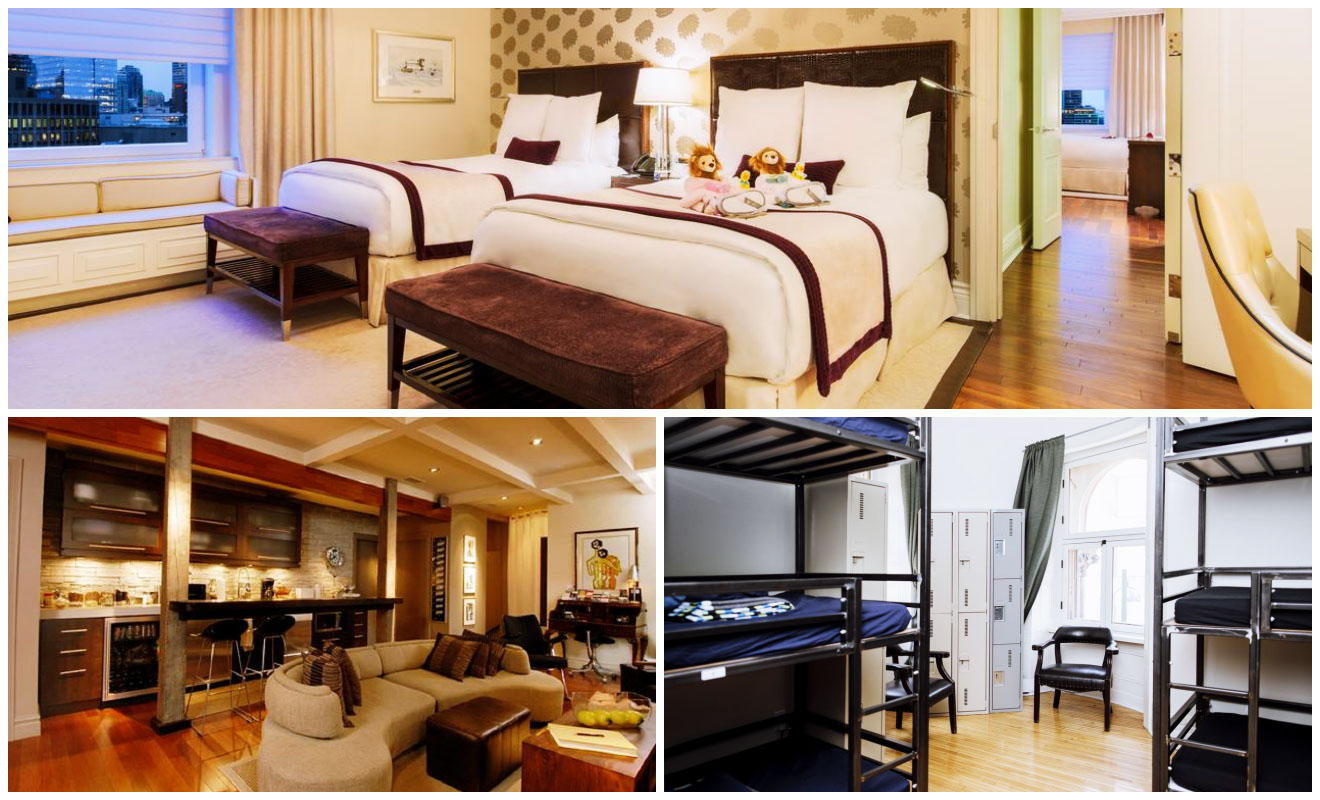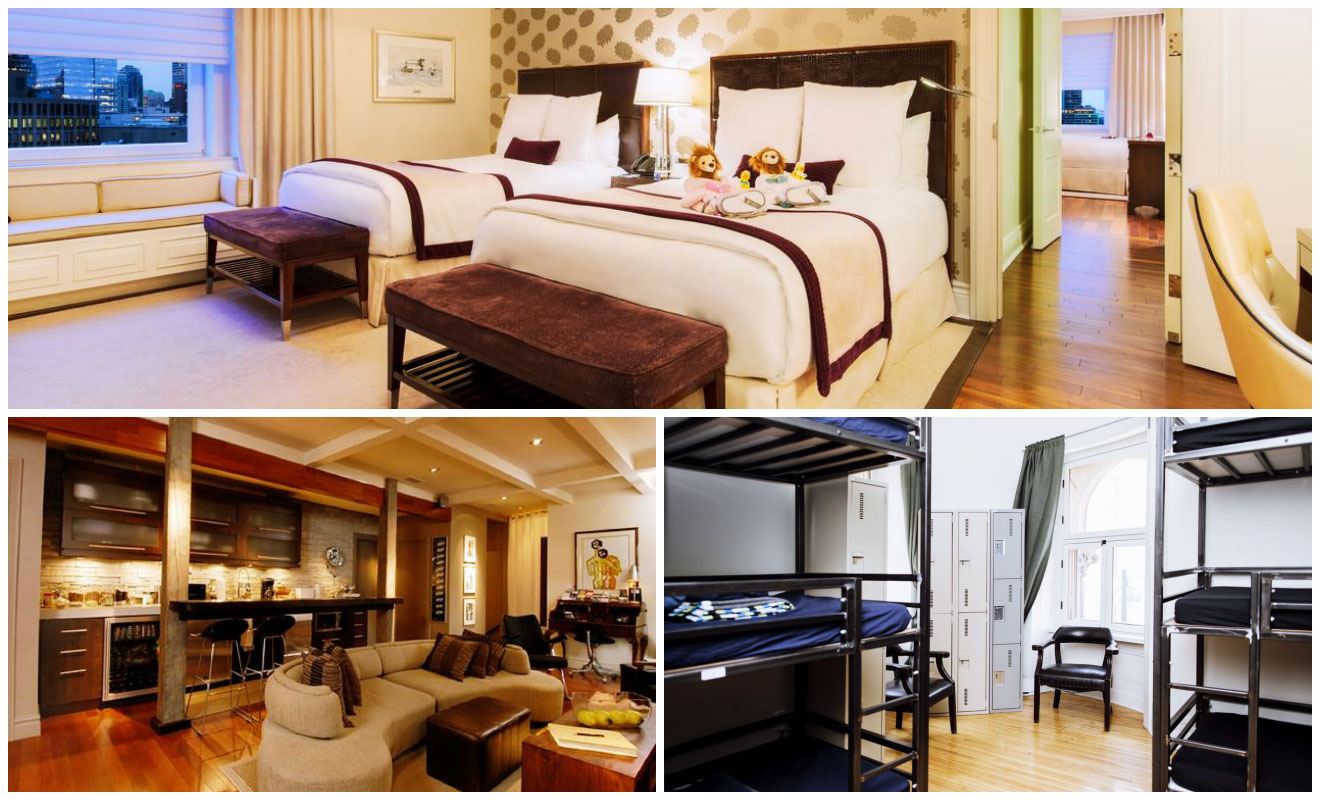 UPDATE: In case you want to book all the accommodations you need for this roadtrip, I recommend checking out my article about Canada Hotels here.
Besides making a list of Montreal sightseeing spots, you should make sure to book your accommodation as far in advance as possible, as the good ones always sell out fast! Below you can find my recommendations.
Besides making a list of Montreal sightseeing spots, you should make sure to book your accommodation as far in advance as possible, as the good ones always sell out fast! Below you can find my recommendations.
Luxury ($200 CAD and up): The Ritz-Carlton Montreal is a 5-star hotel and one of the top choices for your Montreal stay! This hotel will offer impeccable, high-quality services and amenities – plus the staff is extremely friendly! Le Square Phillips Hôtel & Suites is one of the best places to stay in Montreal as well because of its gym, sun deck, and all the other cool facilities! This is an aparthotel in Montreal, so you will feel right at home!
Middle-priced (from $100 to $200 CAD): My first recommendation for middle-priced travelers is Sir Montcalm Gite B&B, which is a great Montreal bed and breakfast! It has excellent reviews and great service, including a fully equipped kitchenette that you can use during your stay! Gîte Ocoin is another great bed and breakfast located super close to the subway. You will surely appreciate the delicate décor!
Budget (up to $100 CAD): If you are traveling to Canada on a tight budget, here are two super good accommodation recommendations for Montreal! Chambre privée au village is a great homestay with tasteful decorations, free Wi-Fi and a cozy terrace! On the other hand, Auberge Bishop is a great 3-star hostel with shared bathrooms and 3, 9 or 15-bed dormitories. And the price is really good!
Day 4-5: Quebec City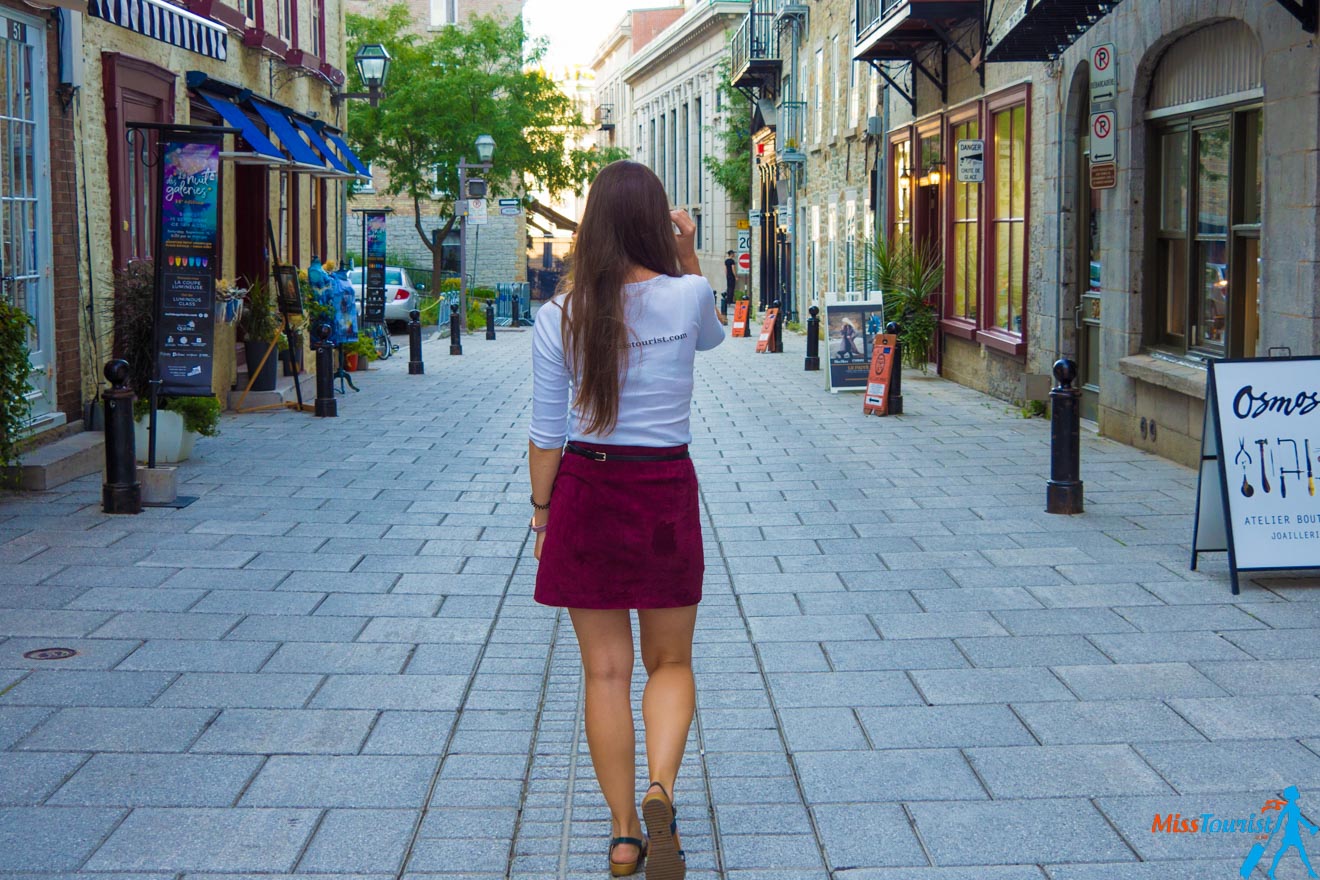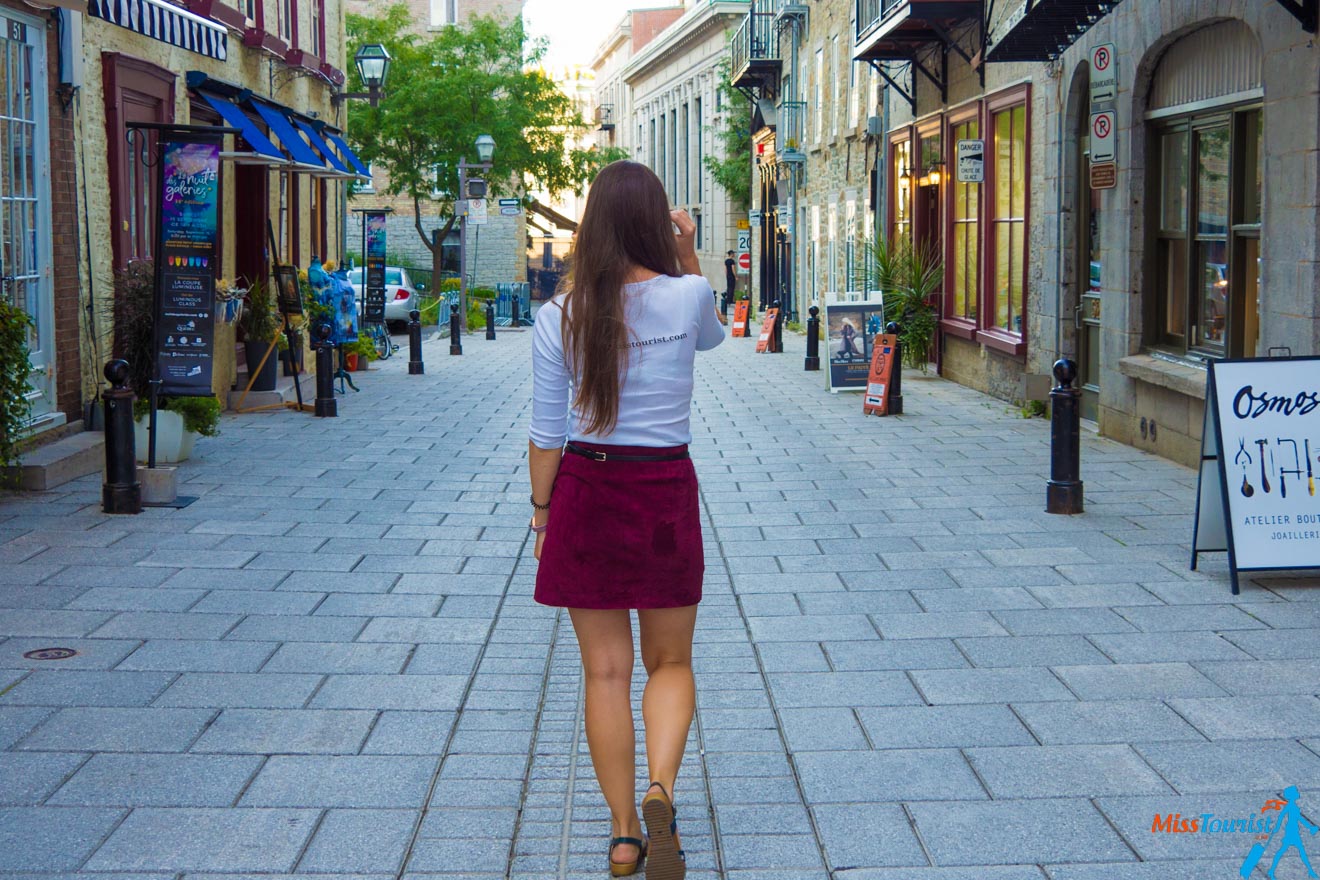 Driving time and distance from Montreal to Quebec City: 255 km (158 mi), 2h 40 min
The next stop on our route is Quebec City, which is the capital of Quebec Province in Canada.
I suggest you leave Montreal early in the morning to reach Quebec by mid-day. The city is definitely worth visiting thanks to its charming Old Town!
Things to do in Quebec City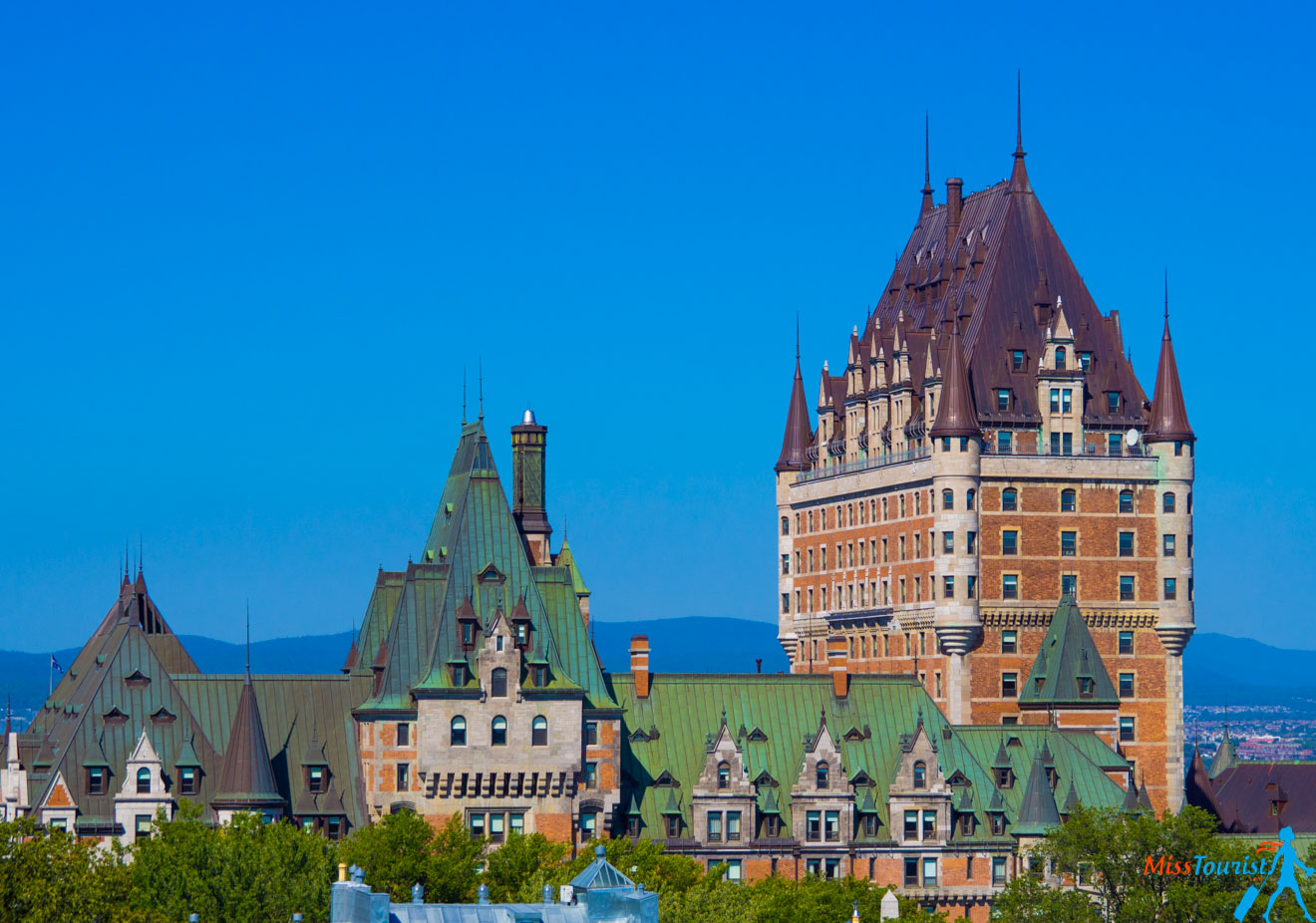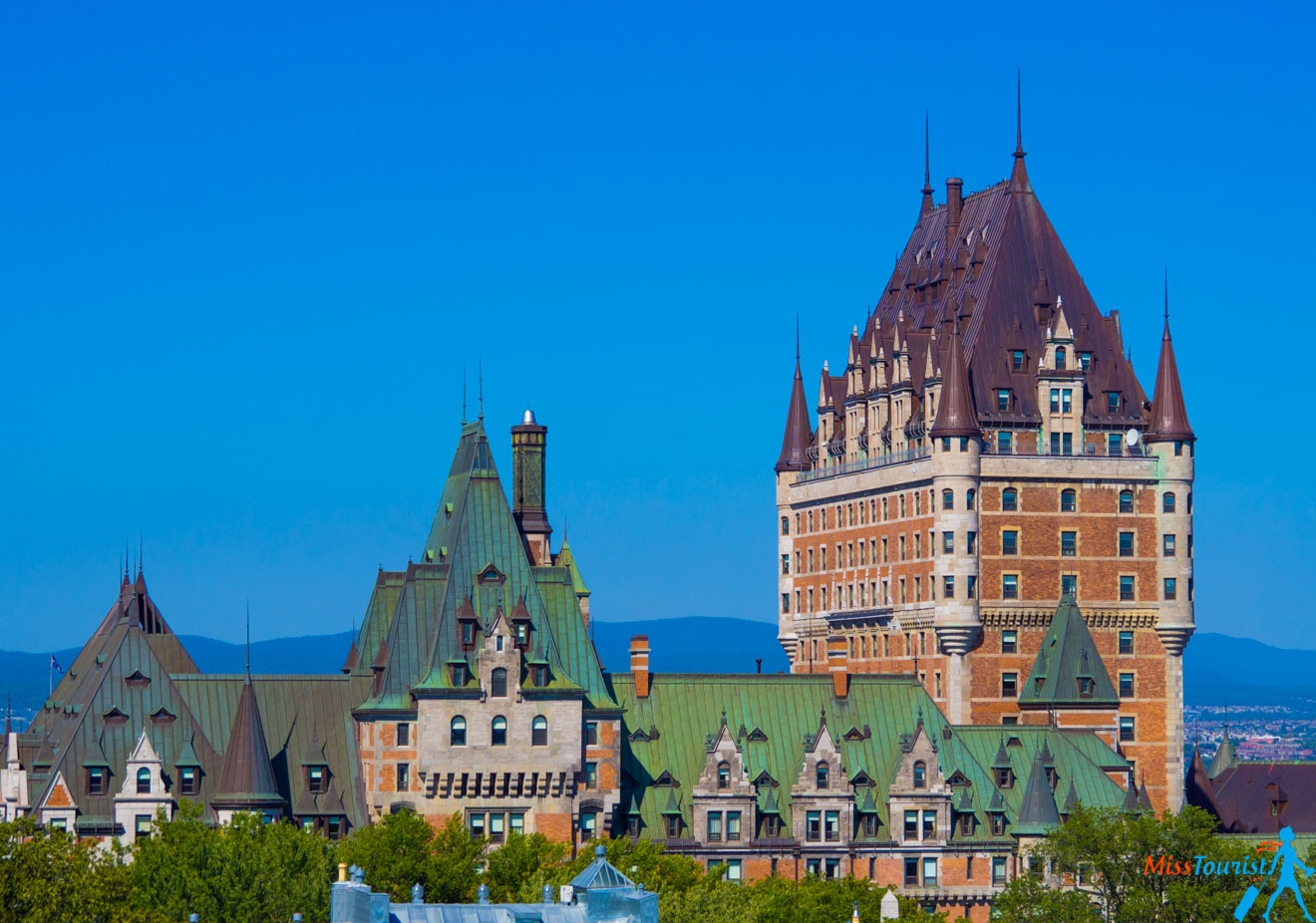 Here are the main things to do in Quebec City. We managed to do everything without rushing in 1.5 days:
Wander around the cobbled streets of Old Quebec (this is a UNESCO World Heritage site)
Walk around the Lower Town (Basse Ville) – This place is so lively, full of shops, restaurants and galleries!
Have a drink in the beautiful Chateau Frontenac – there is a beautiful upscale bar called 1608 there, or you could book a table for dinner at Champlain (this is also a great idea for things to do in Quebec City in the winter!)
If you are looking for free things to do in Quebec City, you should go on a Free walking tour (try to book this one in advance – we were too late with scheduling it so we could not join). An alternative tour is this 2-hour grand guided walking tour for $26 CAD.
Take an Old Quebec funicular to the Upper Town (or you could also hike up the 200 stairs if you want to burn those calories, it is not that far. We took the funicular just for the fun of it!)
Visit La Citadelle of Quebec
If you would like to take an organized city tour that would also take you to Montmorency Falls, I suggest taking this tour.
Where to eat in Quebec City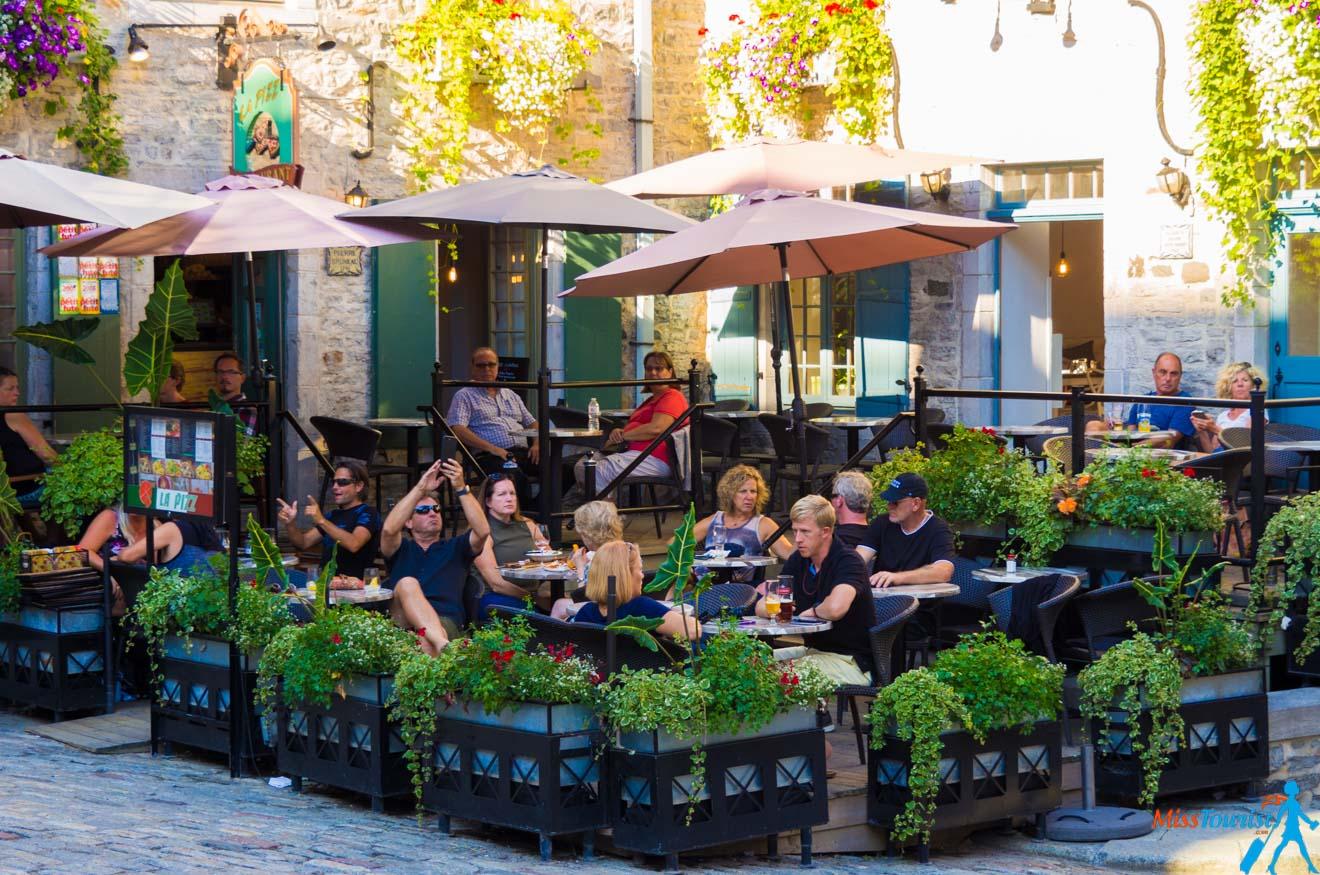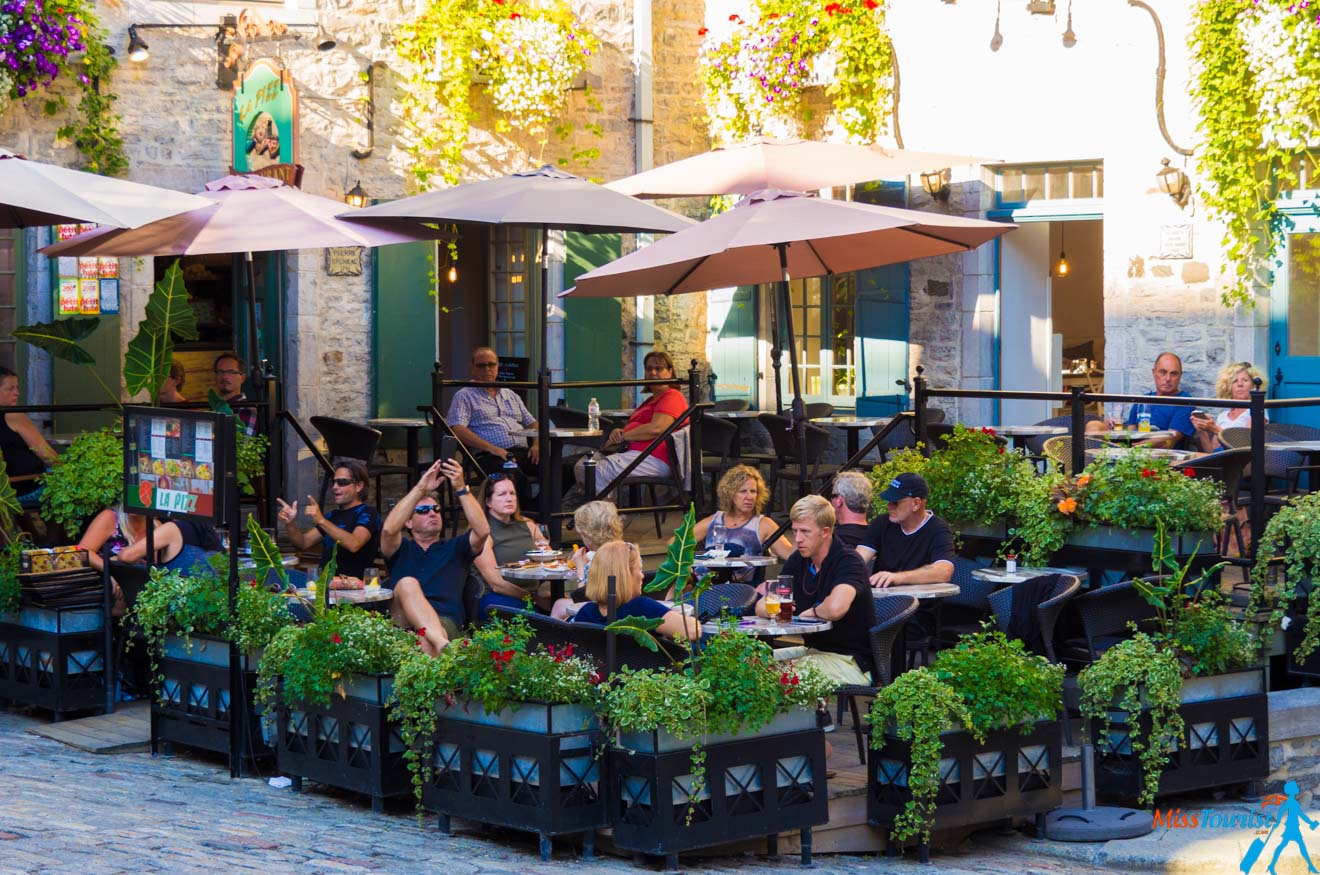 Here are some nice places to eat in Quebec City:
Chez Jules (formerly Le Pain Beni) – for an authentic experience of a French brasserie with traditional dishes
Il Teatro – for fine Italian cuisine and a stunning view over Old Quebec
Laurie Raphaël – for a fancy, elegant dinner with French-Quebec dishes.
If you would like to truly understand why Quebec is a great foodie destination, I suggest you take a small group food tour with tastings of traditional and modern dishes!
Where to stay in Quebec City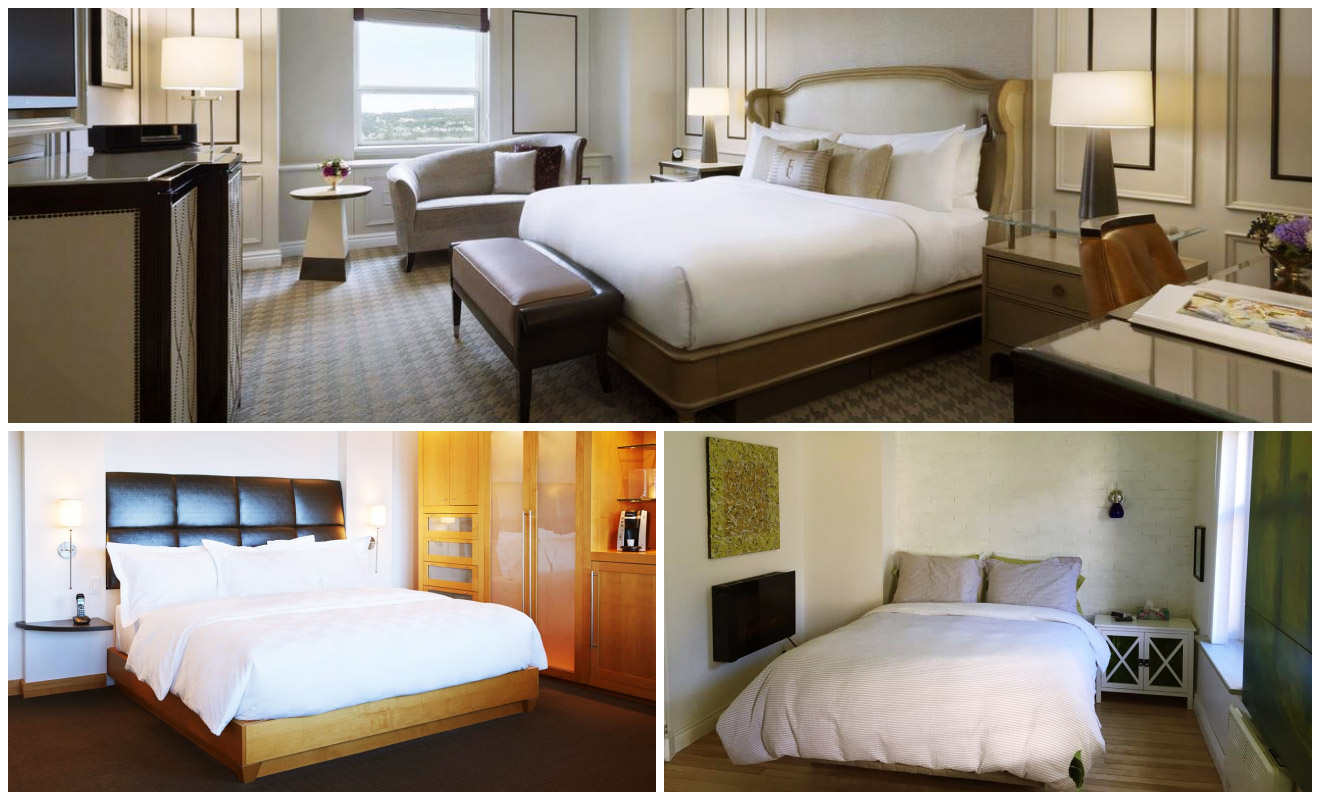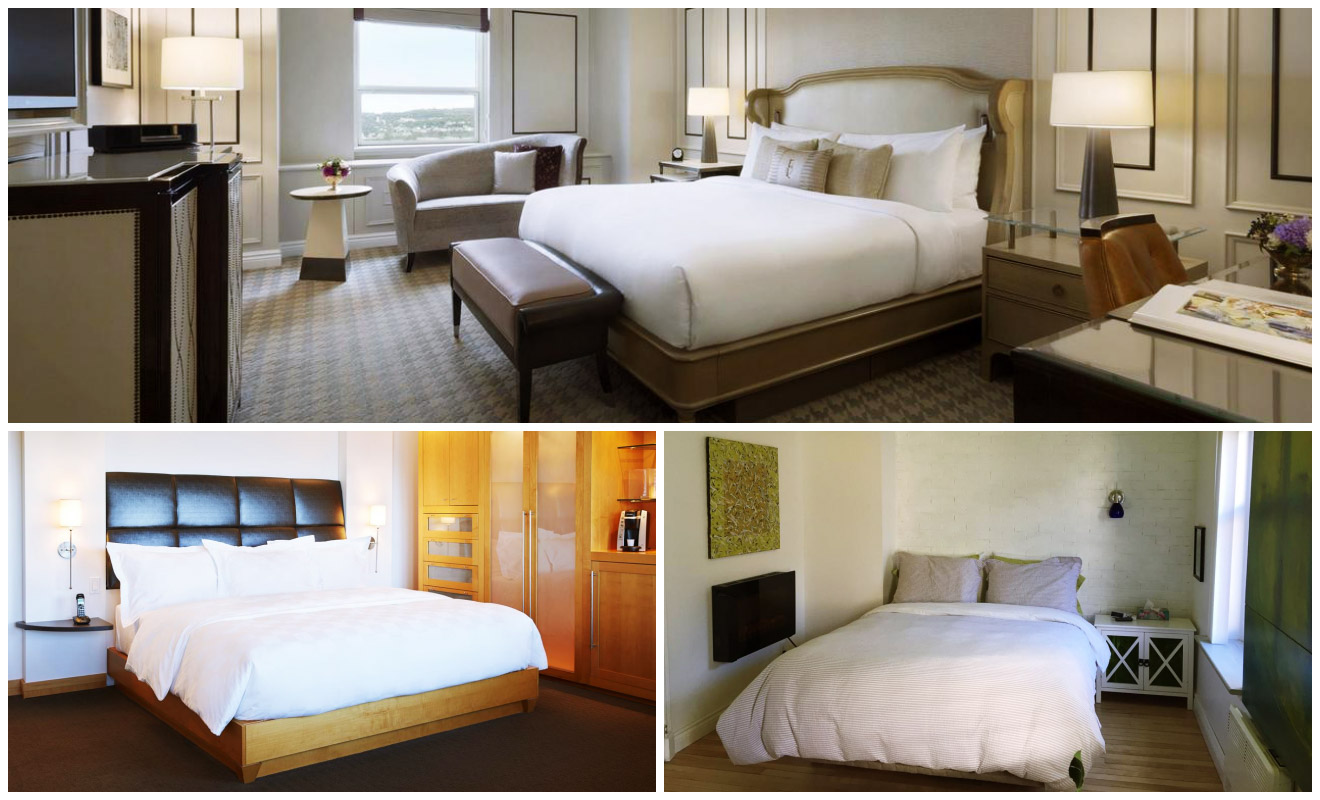 Luxury ($220 CAD and up): Fairmont Le Chateau Frontenac is indeed one of the iconic 5-star Old Quebec city hotels that features some stunning views over the St. Lawrence River. Plus, it boasts delicious on-site restaurants, stylish rooms and even an indoor pool! Hotel Le Priori is a very good luxury 4-star hotel in Quebec with unique décor and Art Deco furniture! This hotel, dating from 1734, has even been designated a World Heritage Site – how cool is that?
Middle-priced (from $140 to $220 CAD): Hôtel Alt Québec is located only 15 minutes away from the airport and it will charm you with flat-screen TVs, coffee facilities and great service! Le Gite Du Hu-Art is a great middle-priced bed and breakfast in Quebec City with cozy rooms decorated in a cottage-style! There is also an outdoor fire pit available, as well as an on-site boat that you can use for free!
Budget (up to $140 CAD): Le 253 is a great budget bed and breakfast in Quebec City. The accommodation offers a super nice patio with garden views and a terrace where you can relax! Another amazing option is La Boheme, another cozy bed and breakfast which offers free Wi-Fi, free private parking and a nice location!
Day 6: Tadoussac National Park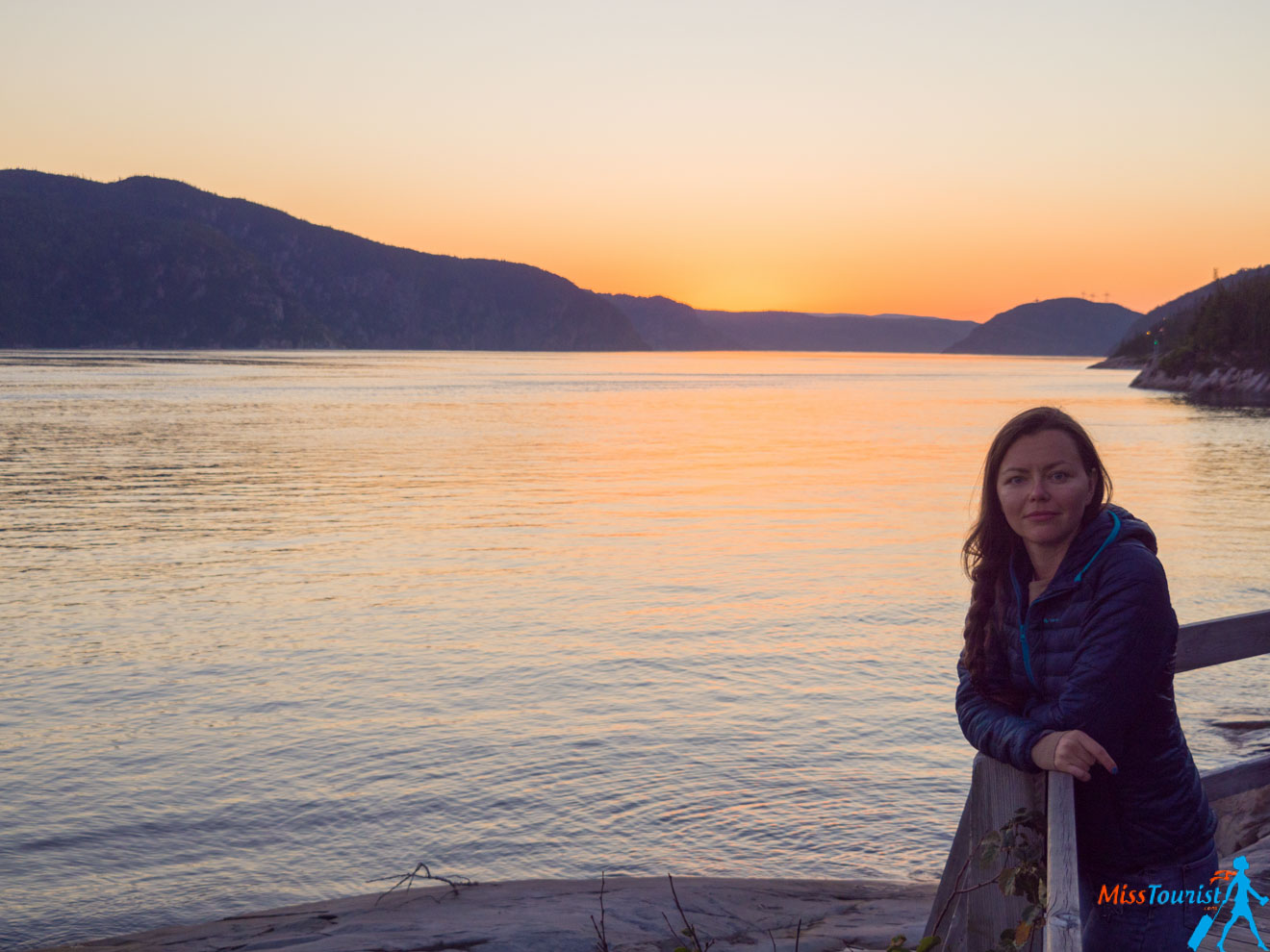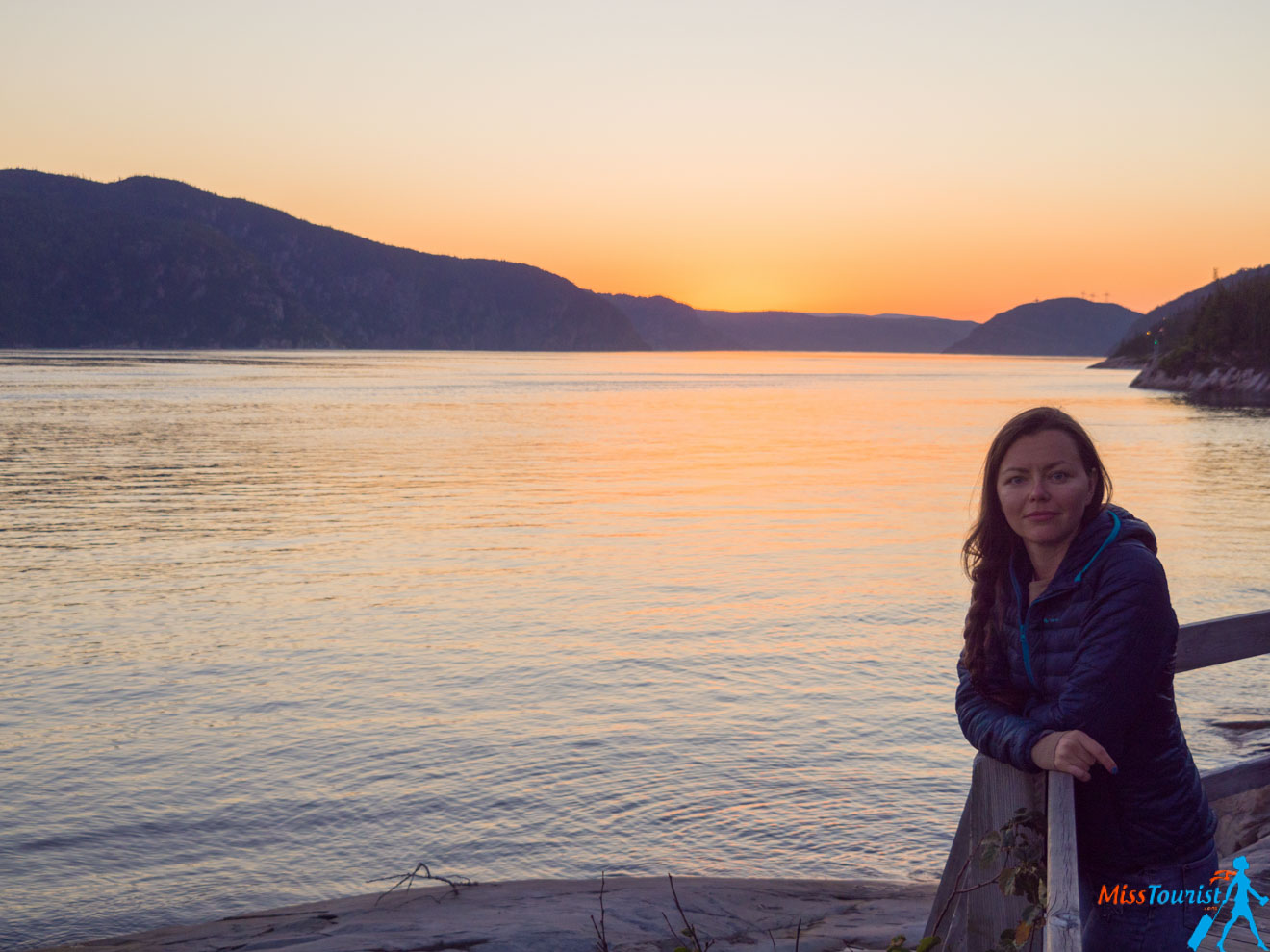 Driving time and distance from Quebec City to Tadoussac National Park: 217 km (134 mi), 3h
Again, I advise you to try to leave Quebec City in the morning because the drive is quite long and you will have activities planned on that day. Make sure to take a snack with you, as there are some picturesque spots with tables along the road where you will be able to stop and enjoy the view!
There are so many places around the world where you can witness gentle giants (whales) in their natural habitat – before Canada I had personally seen whales in Sri Lanka and Iceland. Tadoussac, Quebec is Canada's most popular whale watching spot and it is very cool as the marine life is so varied!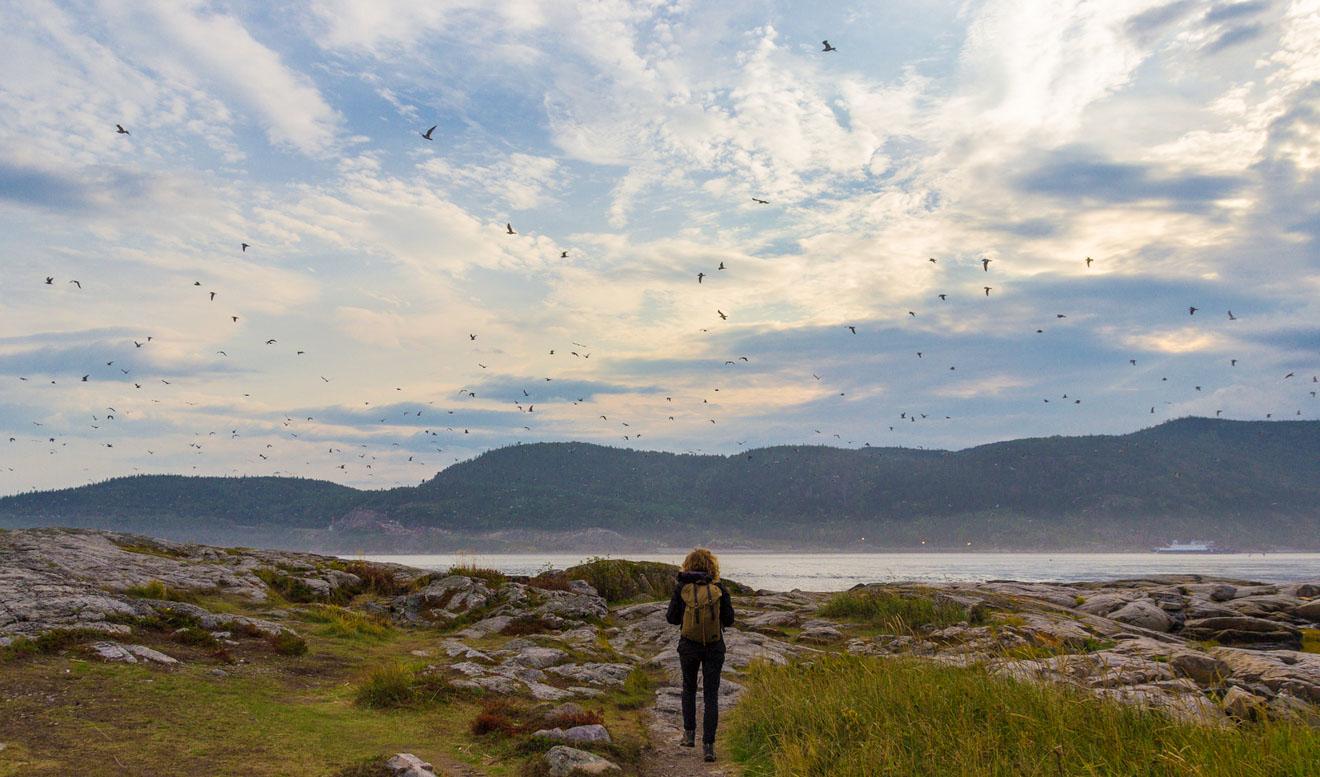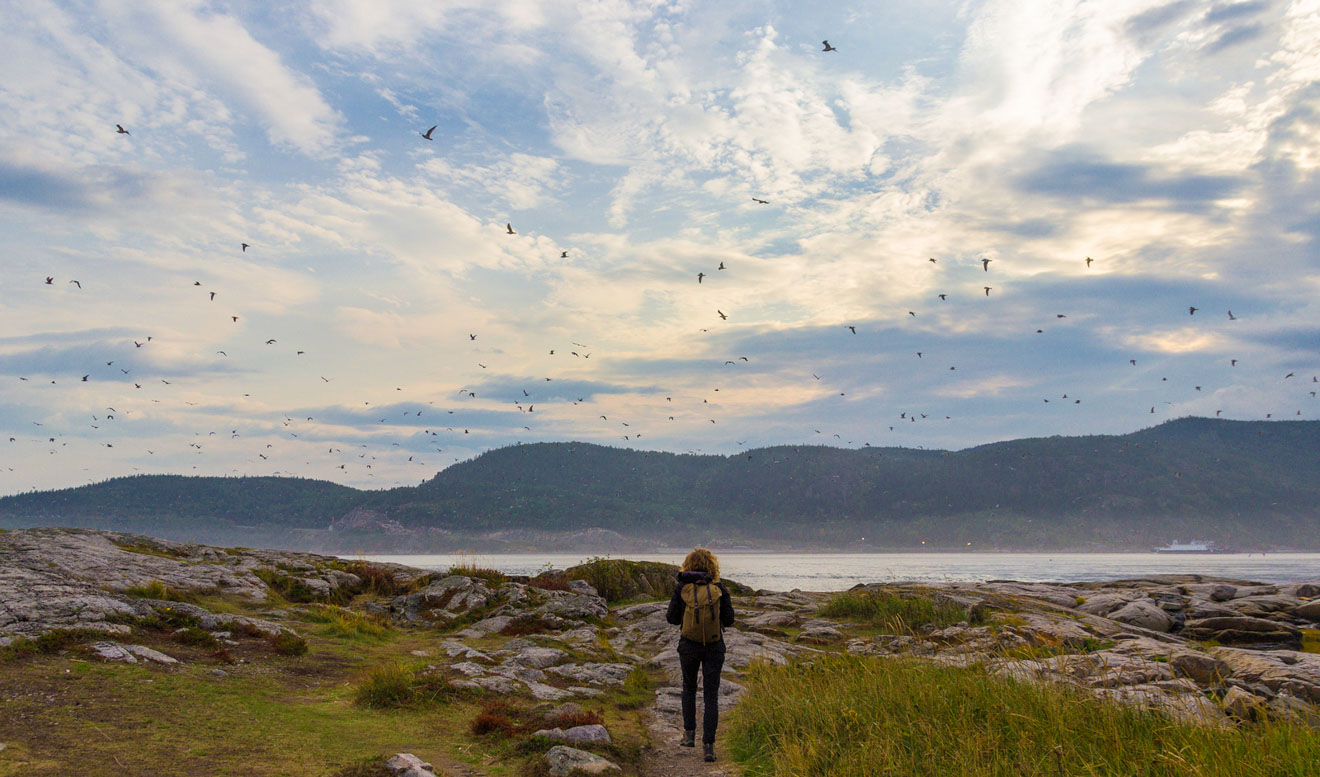 The ferry across the St. Lawrence River to Tadoussac takes approximately 10 minutes, operates 24 hours a day and is free of charge!
Things to do in Tadoussac National Park
There are not so many things to do in this small town, but the reason everyone goes there is, of course, to go whale watching!
The whale watching high season is usually from June to the end of October, but whales can be seen all year round there. I visited in mid-September and we saw quite a lot of whales!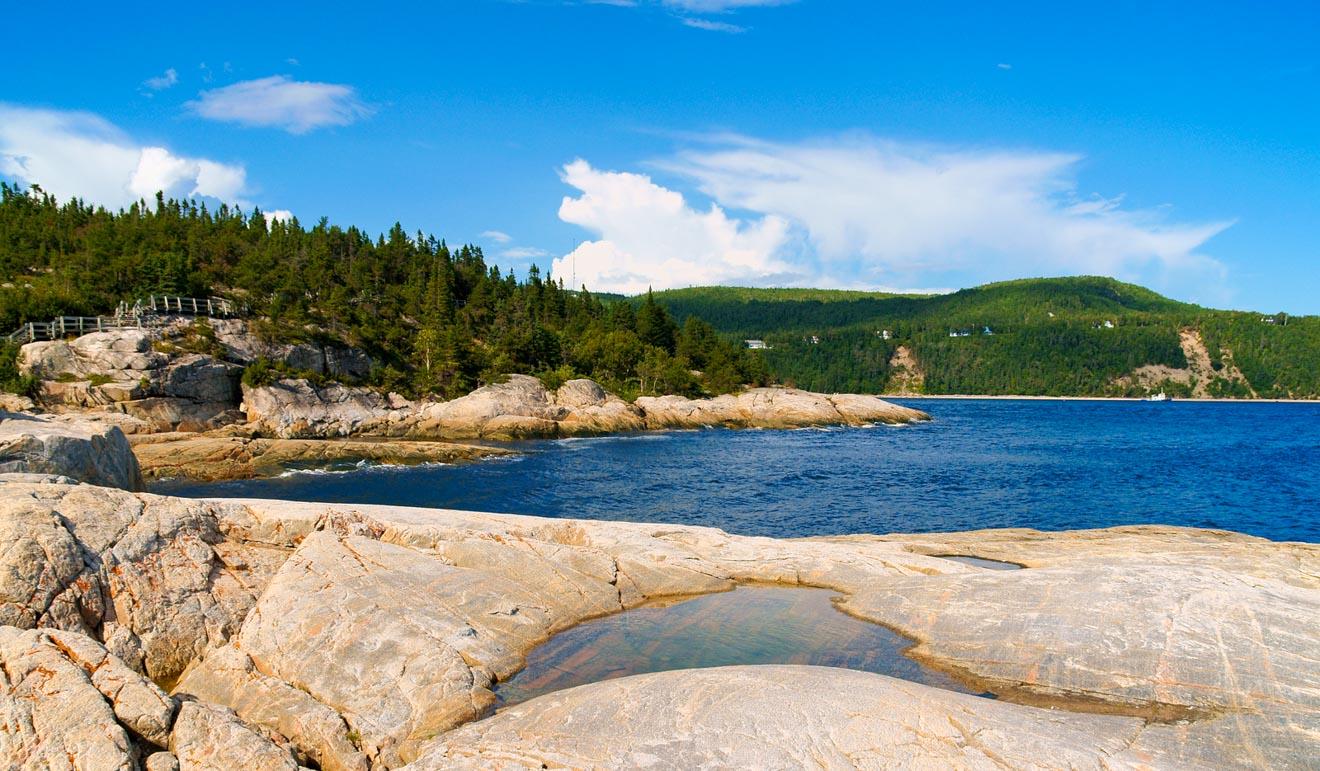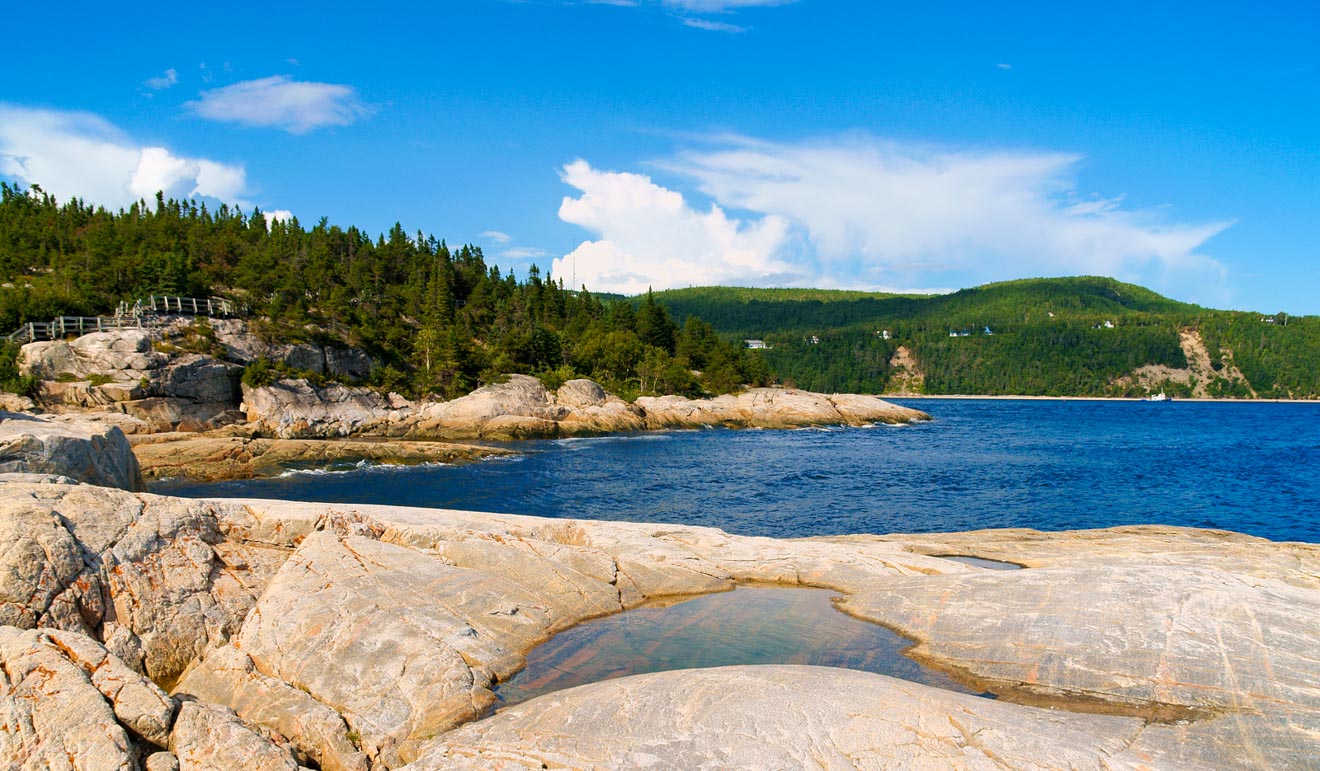 Here are some other things to do in Tadoussac National Park:
Take a Tadoussac whale watching tour by boat (read more details about the times and prices below)
Try a kayaking experience and (hopefully) meet some whales! (also below)
Visit the Marine Mammal Interpretation Centre to learn everything about whales
Do the Sentier de la Pointe-de-l'Islet Trail (it is a picturesque short walk, especially beautiful at sunrise. The track starts on the left of the Marine Centre and you might be able to spot some whales from there too!)
Pay a visit to Petite Chapelle de Tadoussac
You can also spot some whales from the shore of the Baie-Sainte-Catherine side – you will see a parking lot right before the ferry and then a path that leads to a beautiful viewpoint. Even when we were at a distance, we saw many whales from there!
1. Whale watching boat tours in Tadoussac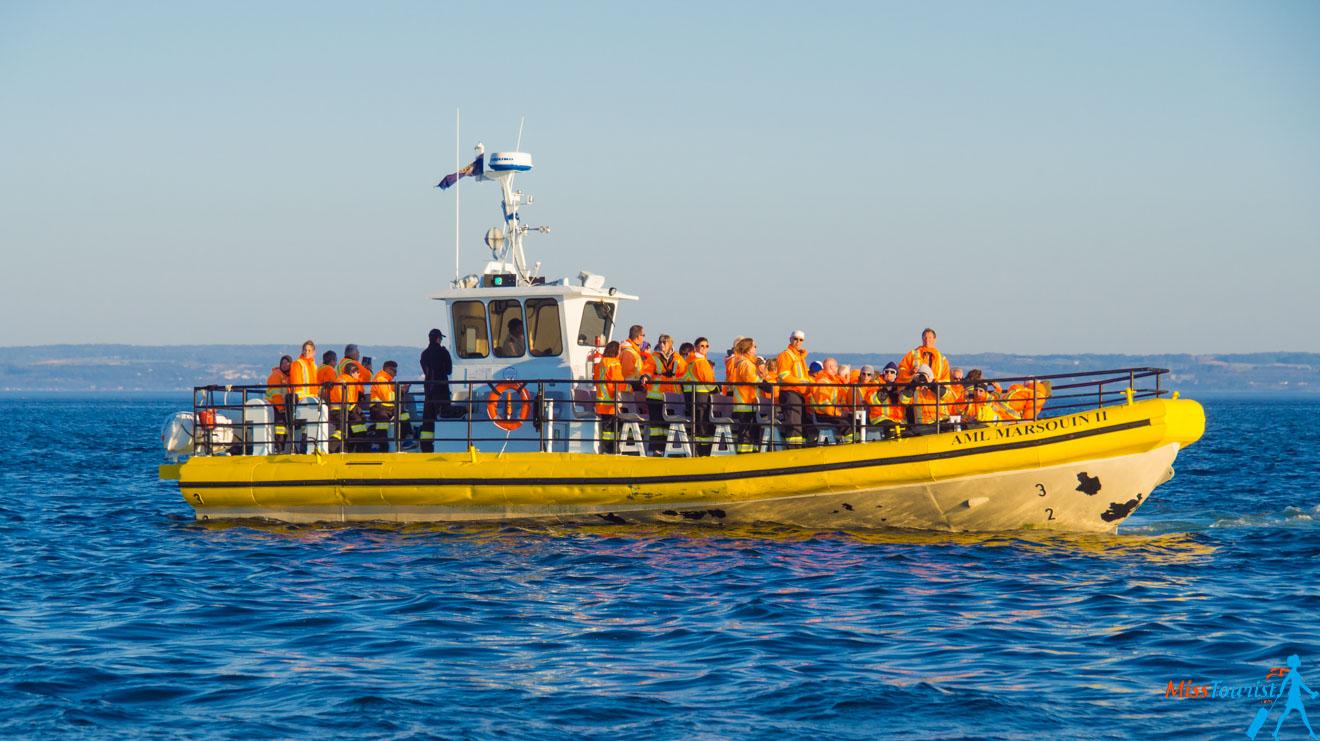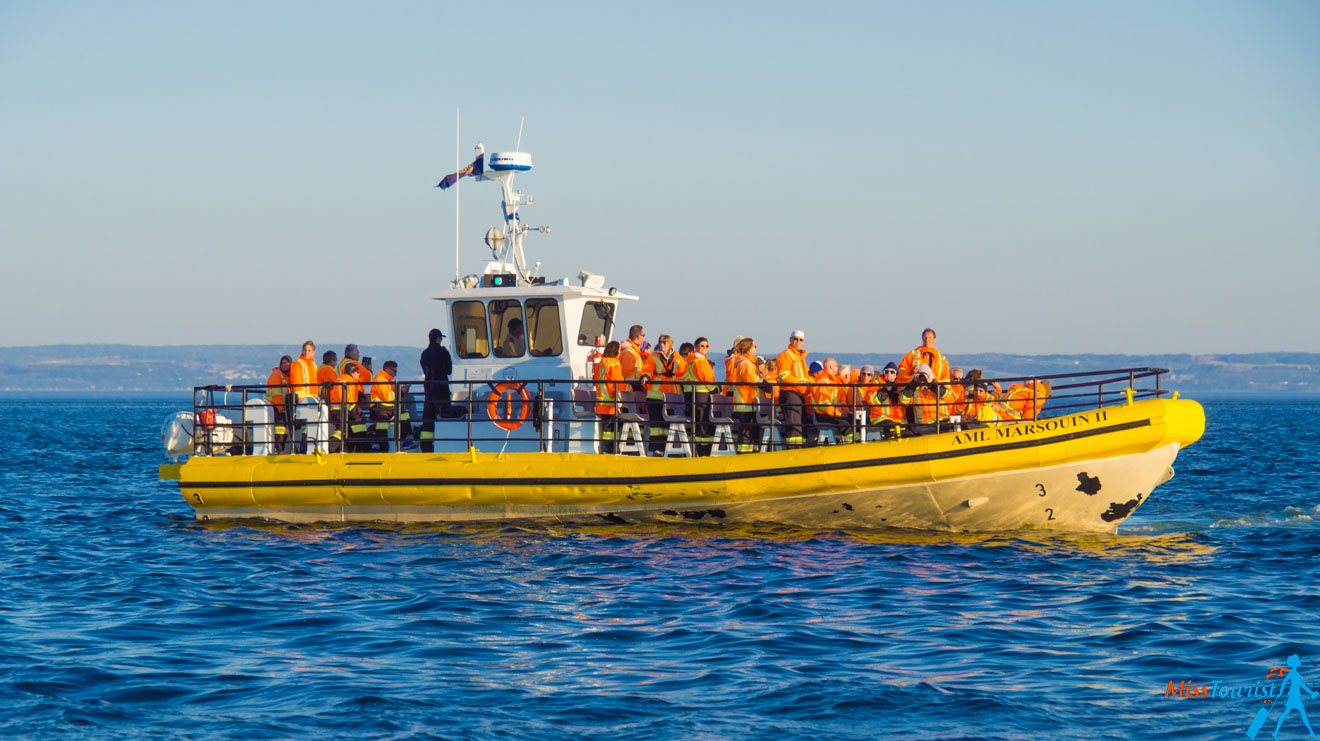 Taking a boat tour is the best option for your whale watching adventure in the Quebec region because the boats are fast and the people managing them are masters of navigation. They KNOW where the whales currently are!
Below are 2 options for taking the boat tour. I chose the first one, but you might be more interested in the second one if you have less time or fewer days in your itinerary.
Option 1. Whale watching tour from Tadoussac.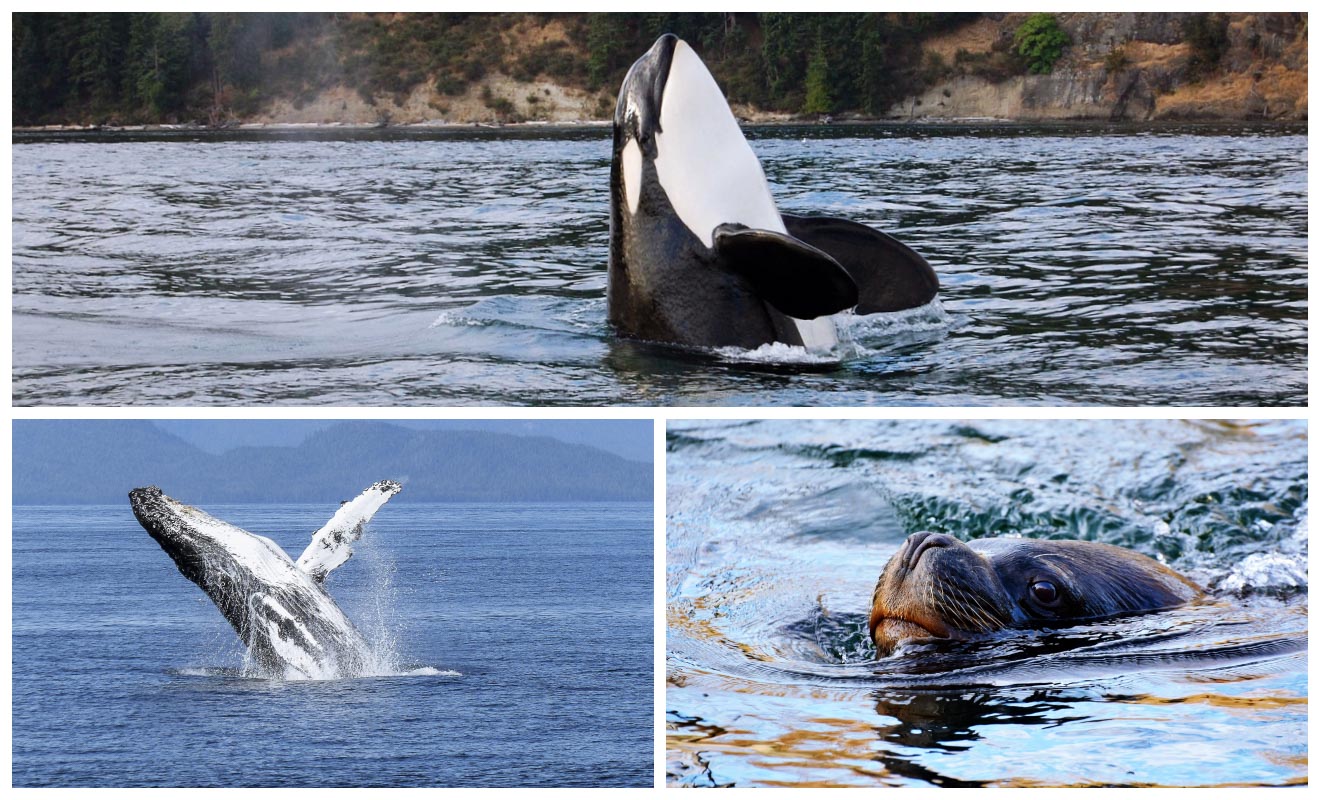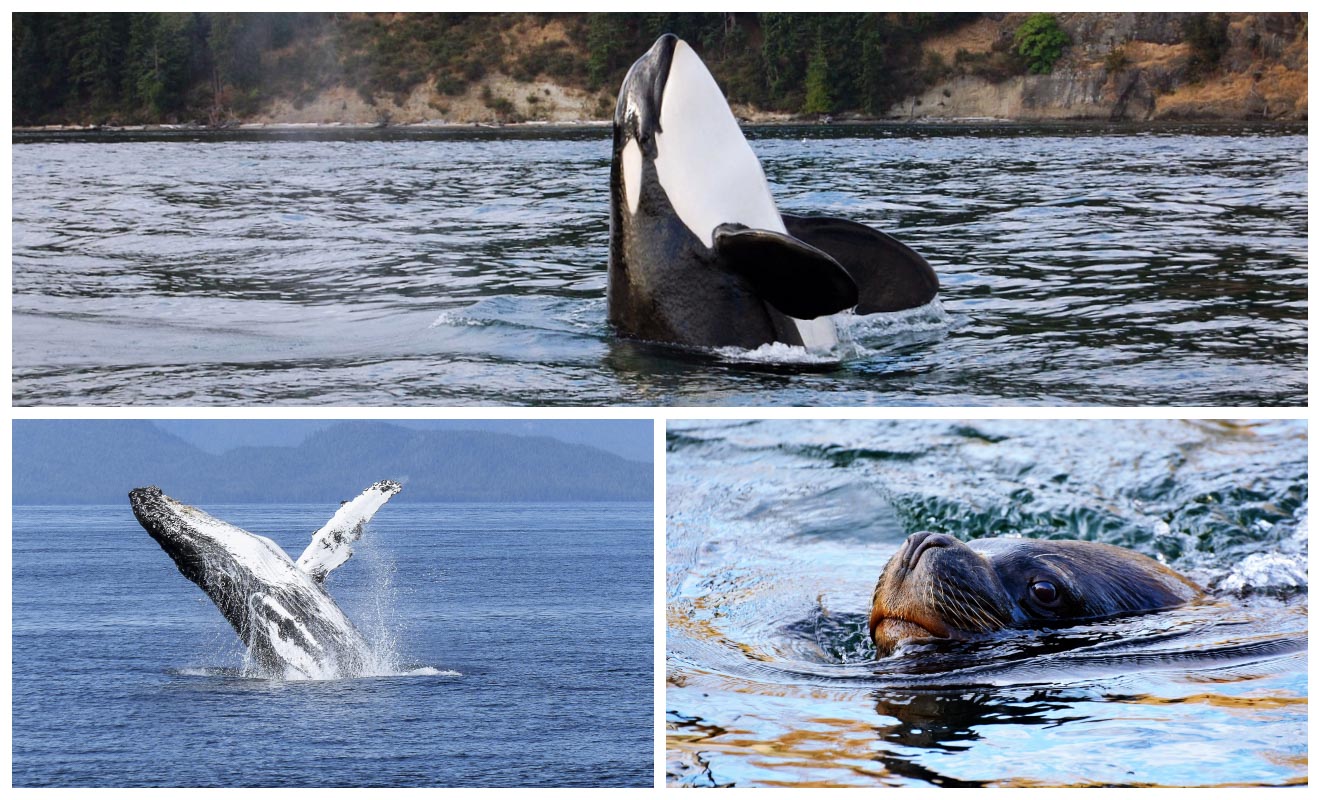 NOTE: Before I say anything about the boat tours, I would like to remind you to get dressed really, REALLY warm when going for a Tadoussac whale watching trip! Even if you are going to be given overalls, trust me – some extra layers won't hurt! Even if it is hot and sunny on the bank, it is extremely windy and cold when you are on the boat. Take a hat and gloves as well if you are sensitive to cold temperatures like me.
There are a couple of boat tours companies that offer a tour and you can see all the tours offered here.
We chose Zodiac because it was the most convenient regarding the time and the price was $80 CAD with taxes for a 2.5-hour tour. Did we see whales? Yes and quite a few! And we also saw some curious seals. 🙂
Option 2. Whale watching tour from Baie-Sainte-Catherine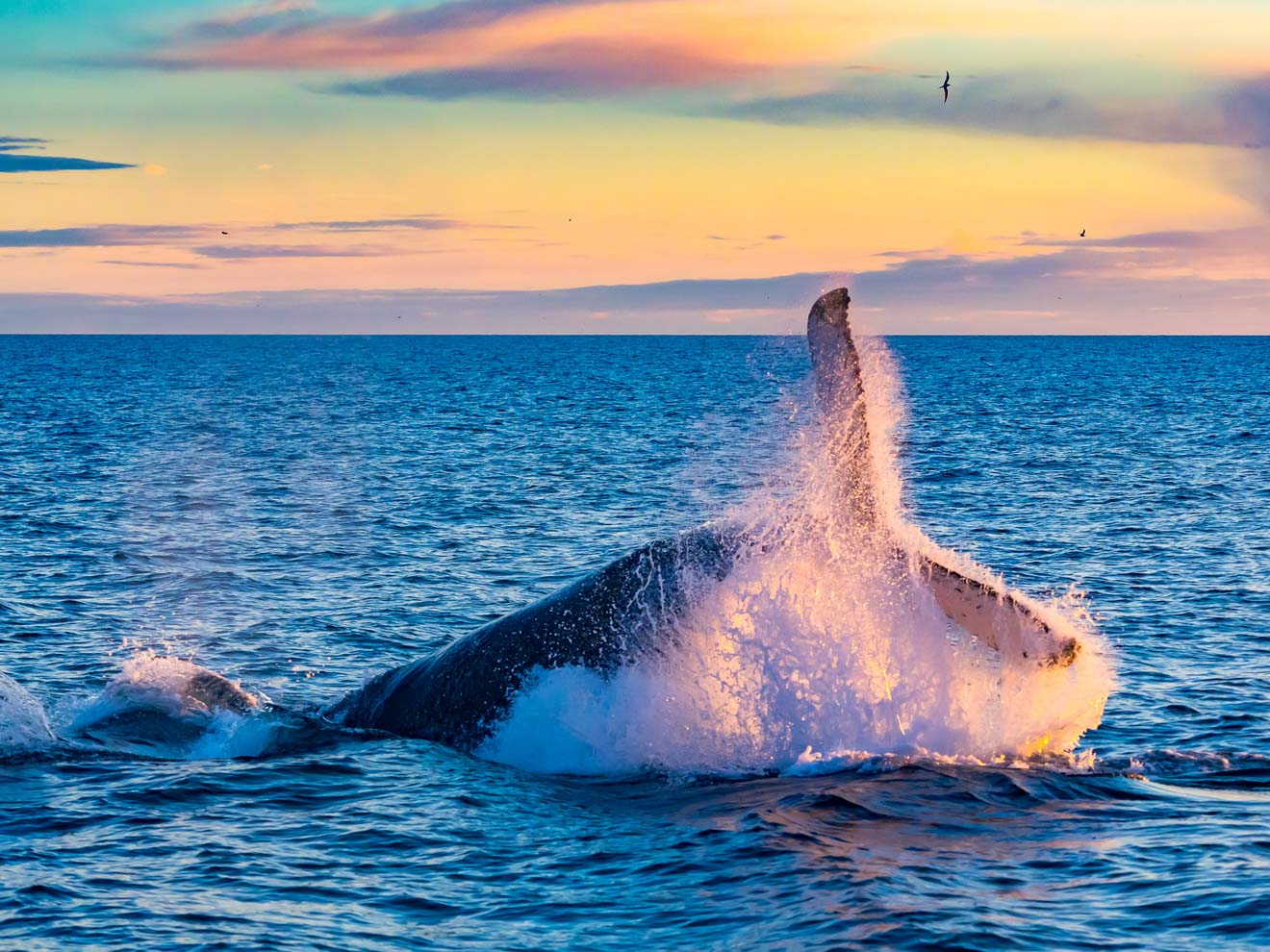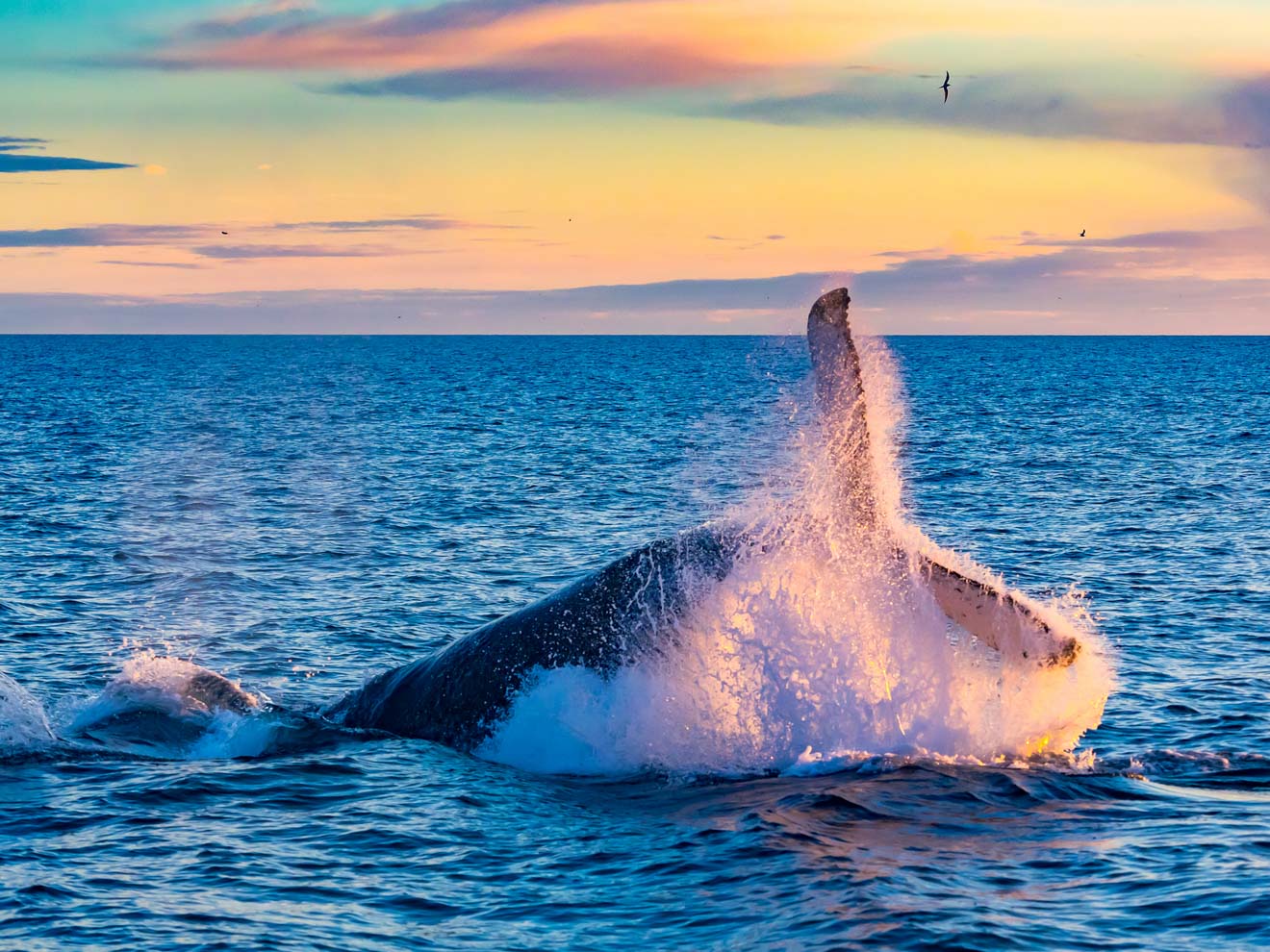 You can take THE SAME tour without crossing the Saguenay River to save some time. The tour will pick you up directly from there and drop you off at the same place.
So, the only difference between the two tours is that you will save some time by not taking the ferry and going directly from the other side of the river. Once the tour is finished, they will drop you off at the same spot so that you can continue your trip to the next destination right away. As our next destination (Saguenay Fjords) is only a 30-minute drive away, it might make sense to continue in that direction and stay there overnight if you are in a rush.
2. Kayaking with whales in Tadoussac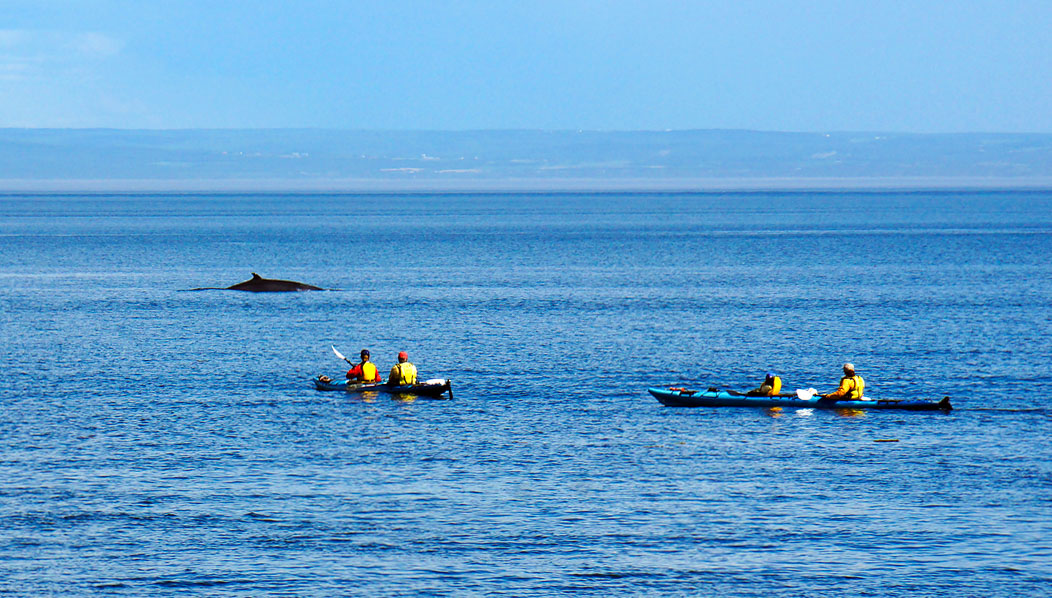 Kayaking in the St. Laurens or Saguenay Rivers is not only spectacular, but it can also give you an OPPORTUNITY to see the whales in a much more intimate atmosphere. Paddling around the gentle giants is truly a once in a lifetime experience!
Keep in mind that you won't be able to reach as far as with the boat and you will only stay around the shore. Because of that, your chances of seeing whales are much lower, though still possible. Some of my friends did it and they were lucky enough to see the whales while kayaking. They said it was magical!
I was keen on trying the kayaks, too, but because the friend I was traveling with had never seen whales before, I wanted to make sure she saw them on this trip, so we decided to go for the boat tour, where the possibility of seeing the beasts of the seas is almost 100%!
So, if you would like to go kayaking for the sake of kayaking and the possibility of encountering whales is just an extra bonus for you, then I would highly recommend this option.
And, if your time and money allows, you could even do both boat and kayak, why not?
Kayaking is available from May to October. The duration can be anywhere from 3 hours to a full day. The prices start at $70 CAD + tax. Please see more information on this site.
Best Tadoussac hotels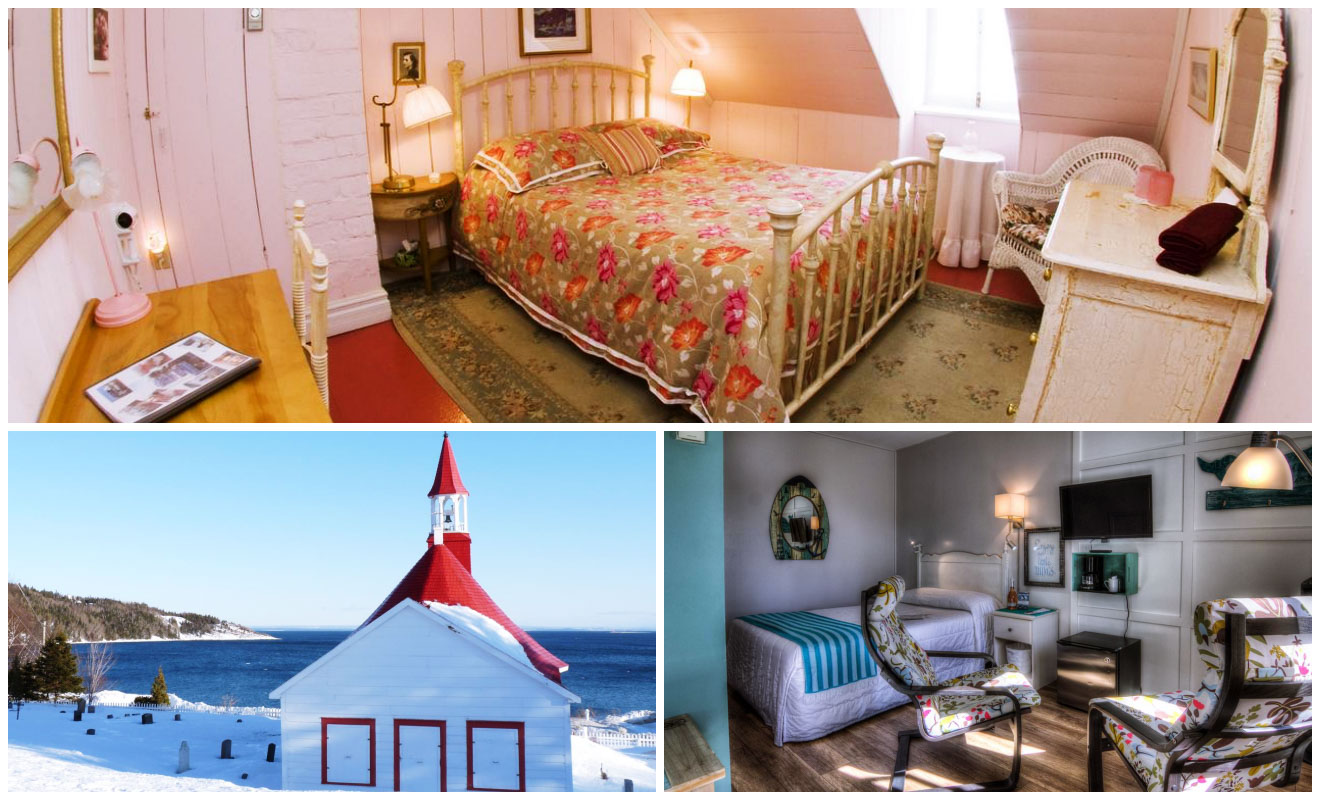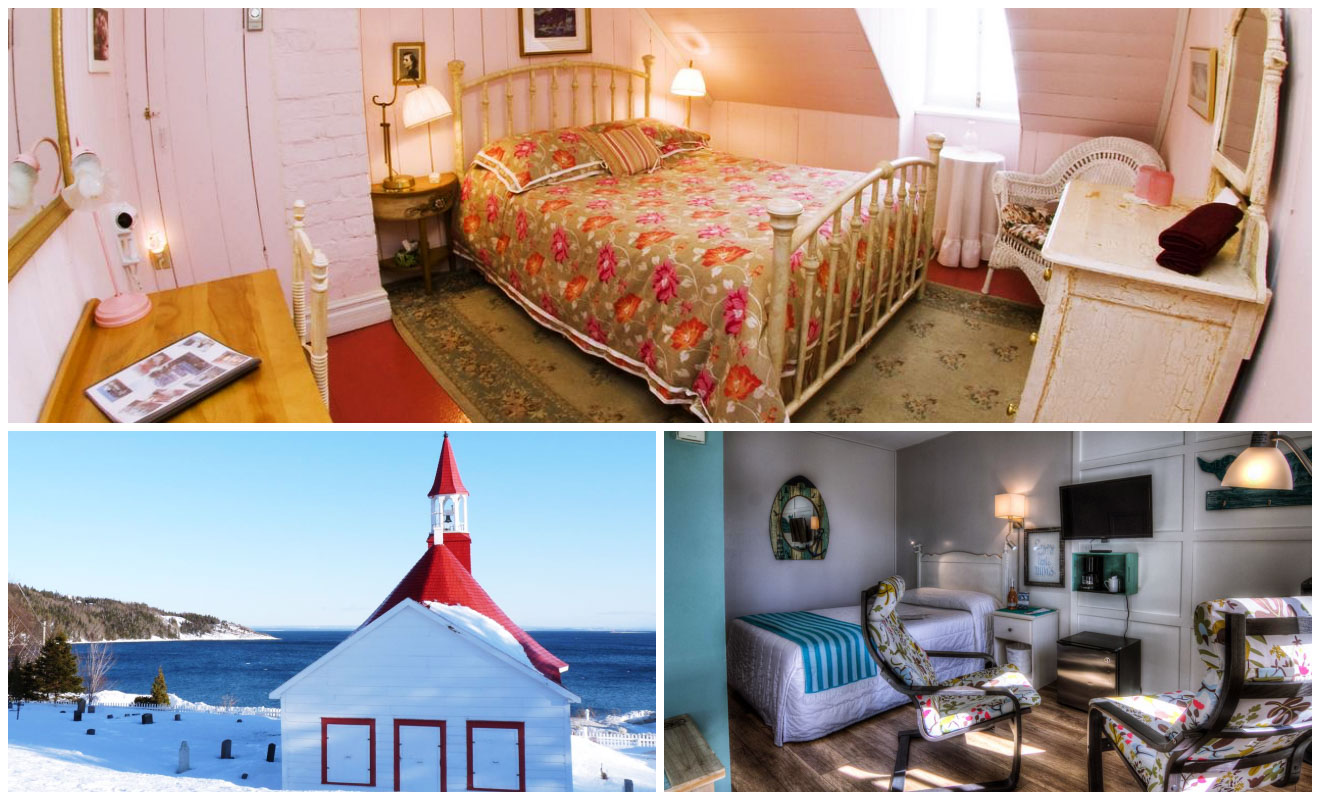 When I did the trip, I decided to tell my readers that they actually do not have to stay here overnight if they are in a rush. As I said above, you could take the tour from the other side of the river without taking a ferry and proceed to Saguenay right away in the evening, which would save you some time. We, on the other hand, weren't in a rush, so we thought that staying in cute Tadoussac overnight would be a good idea. And it was!
Here are the best places to stay in Tadoussac, as usual sorted for all budgets:
Luxury ($220 CAD and up): If you are searching for a cute and cozy inn to spend your night in Tadoussac, Auberge La Merveilleuse is a great option! It is located right on the seafront and it awaits you with a garden, a terrace and even dog-sledding during winter! La Galouine Auberge et Restaurant is another cool inn with rustic-style rooms, an unmissable restaurant that serves fresh seafood and wild fruit desserts and many other facilities!
Middle-priced (from $160 to $220 CAD): Maison Hovington is a cool bed and breakfast in Tadoussac that contains a nice garden, cozy and spacious rooms, and a daily buffet breakfast served on-site! Tadoussac Hotel is an accessible 4-star hotel that offers amazing views over Tadoussac Bay! Plus, they even have on-site spa services and 2 restaurants that serve delicious dishes!
Budget (up to $160 CAD): Motel Le Beluga is a great budget accommodation for people visiting the city on a tight budget. It offers free Wi-Fi, a cozy common area with a hammock and great service! My second suggestion is Le Petit Hotel La Passe Pierre Par La Galouine, which features a good on-site restaurant and a great cocktail bar!
Day 7: Saguenay Fjord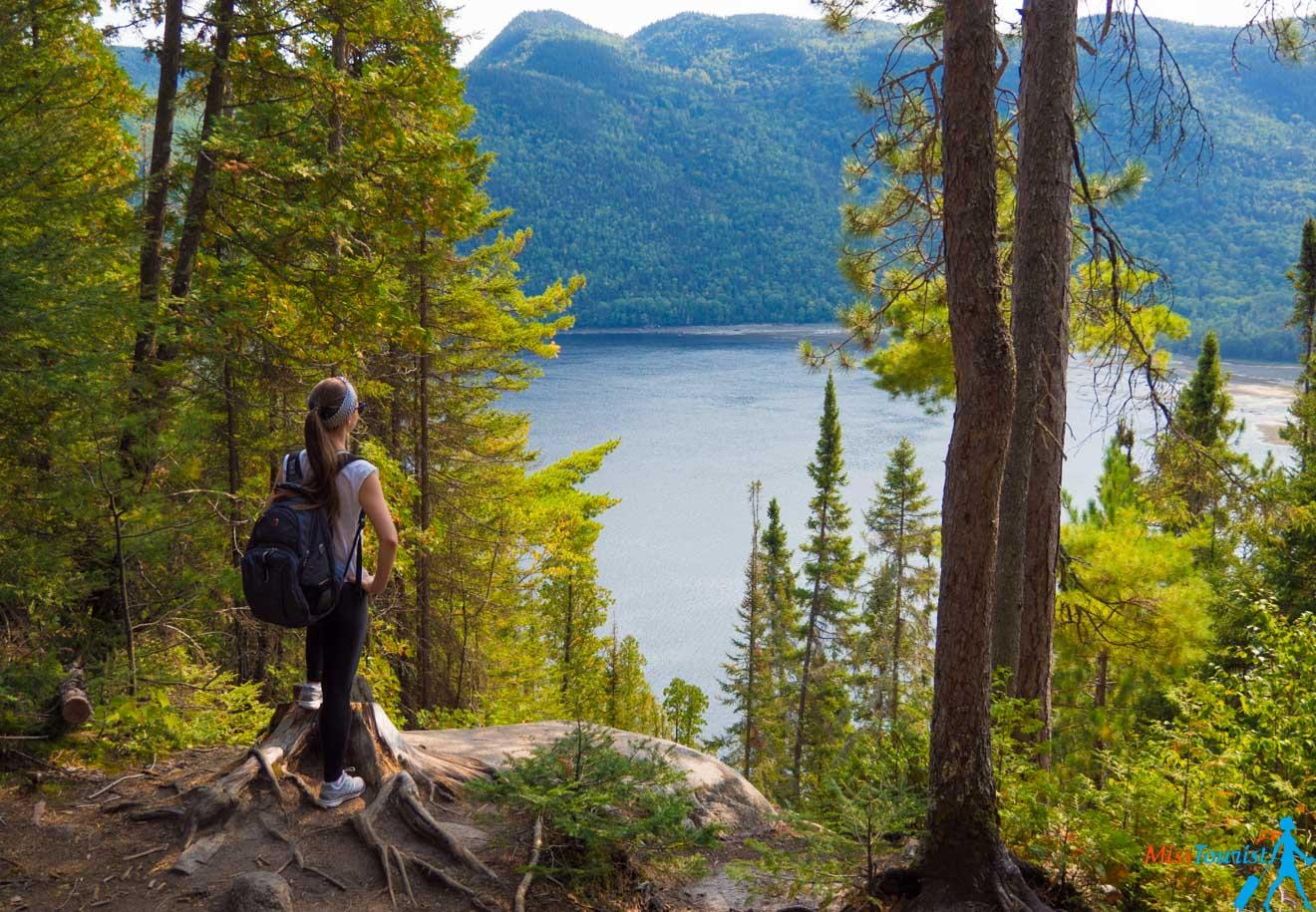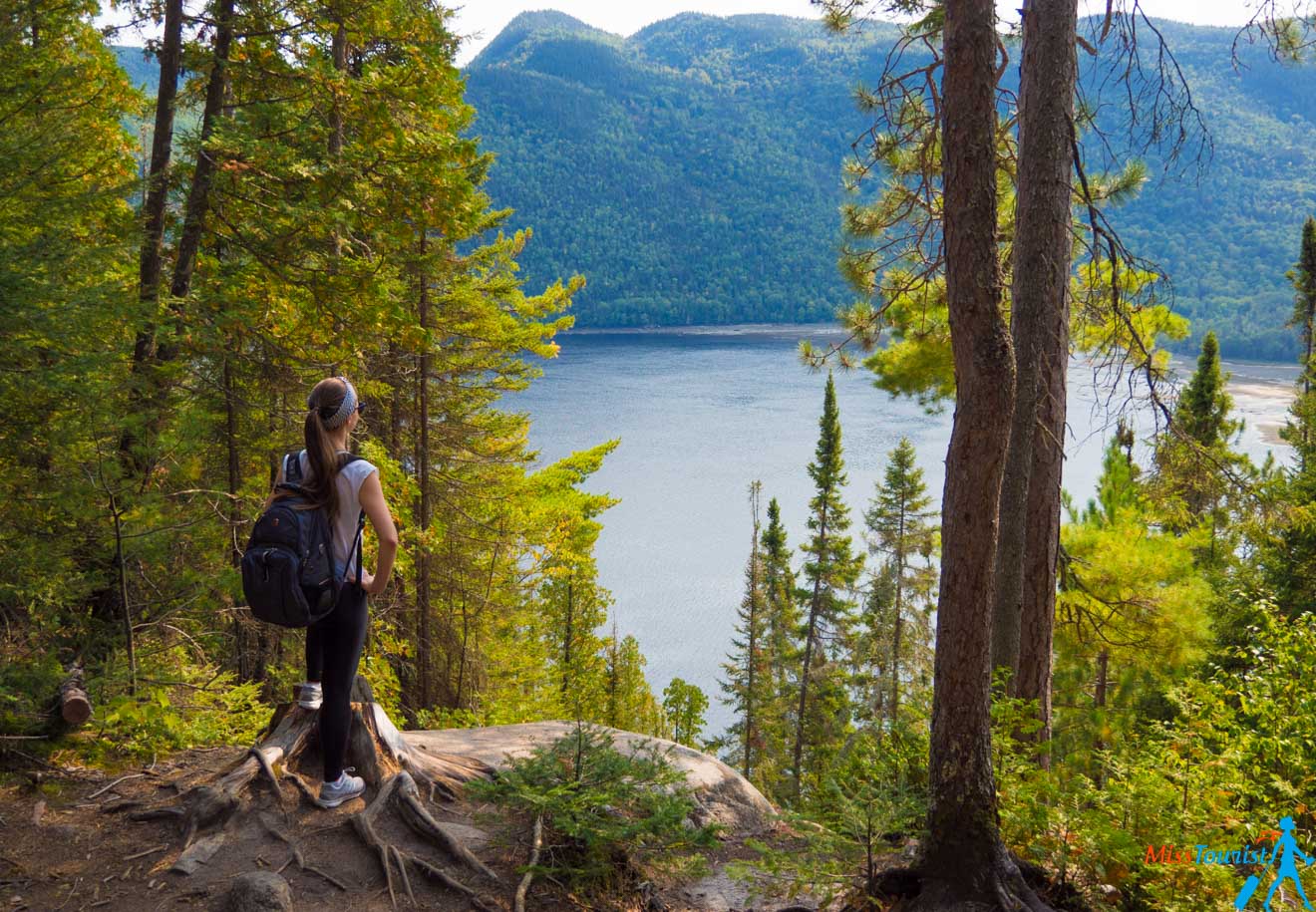 Driving time and distance from Tadoussac National Park to Saguenay Fjords: 32 km (20 mi), 30 min
"Saguenay" comes from the Aboriginal words Saga and Nipi, which means "where the water exists"
At over 100 km in length, Saguenay is the longest fjord in the world at this low latitude! The cool thing about fjords is that they are easily accessible by car (I am comparing it to Milford Sound in New Zealand where you would need 2 days or a helicopter ride to get there!).
Parc National du Fjords du Saguenay stretches for over 320 km2 of protected territory with panoramic vistas. The entrance to the park is $9 CAD per day and it is located about a 50 minute drive from the town.
Things to do in Saguenay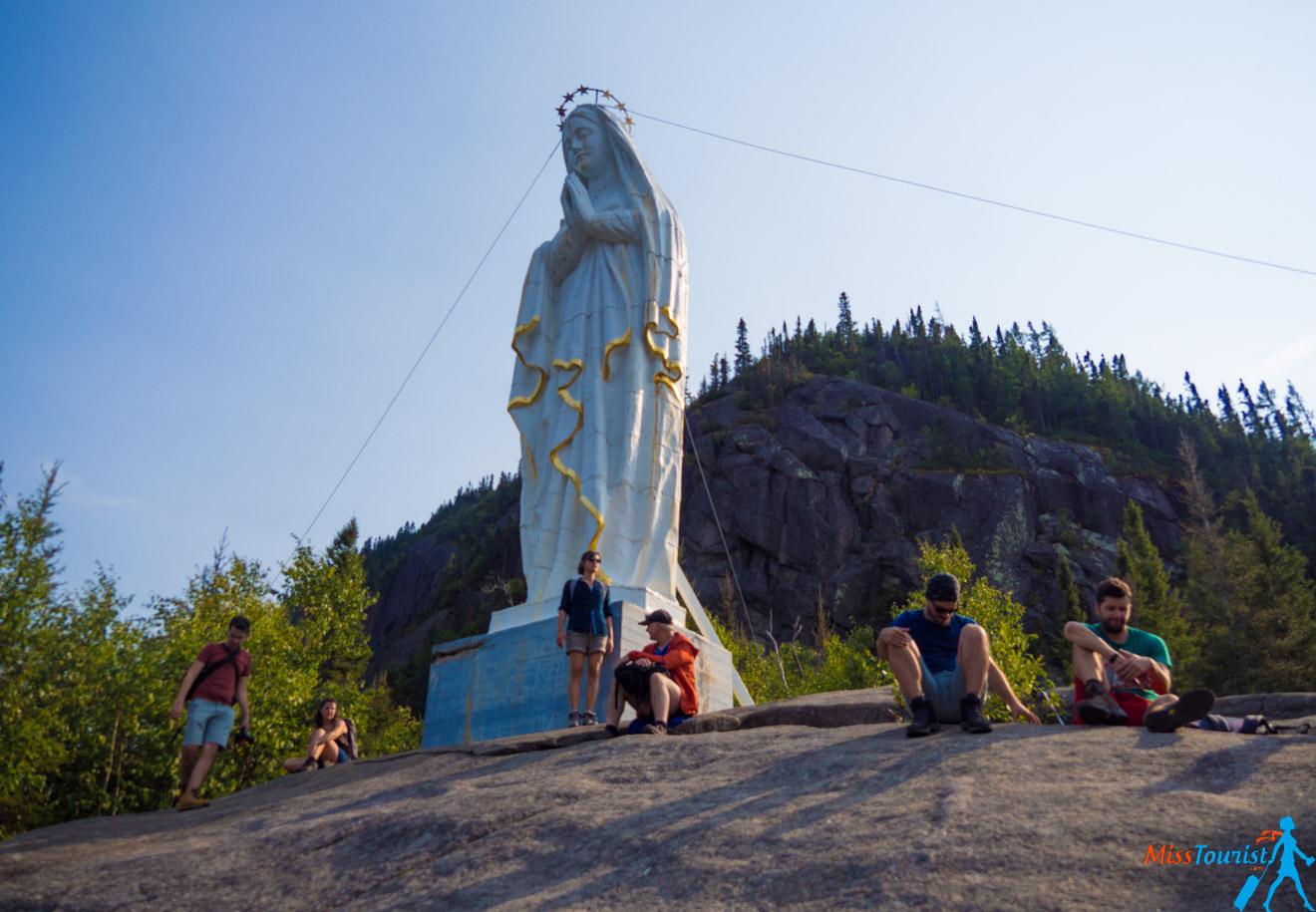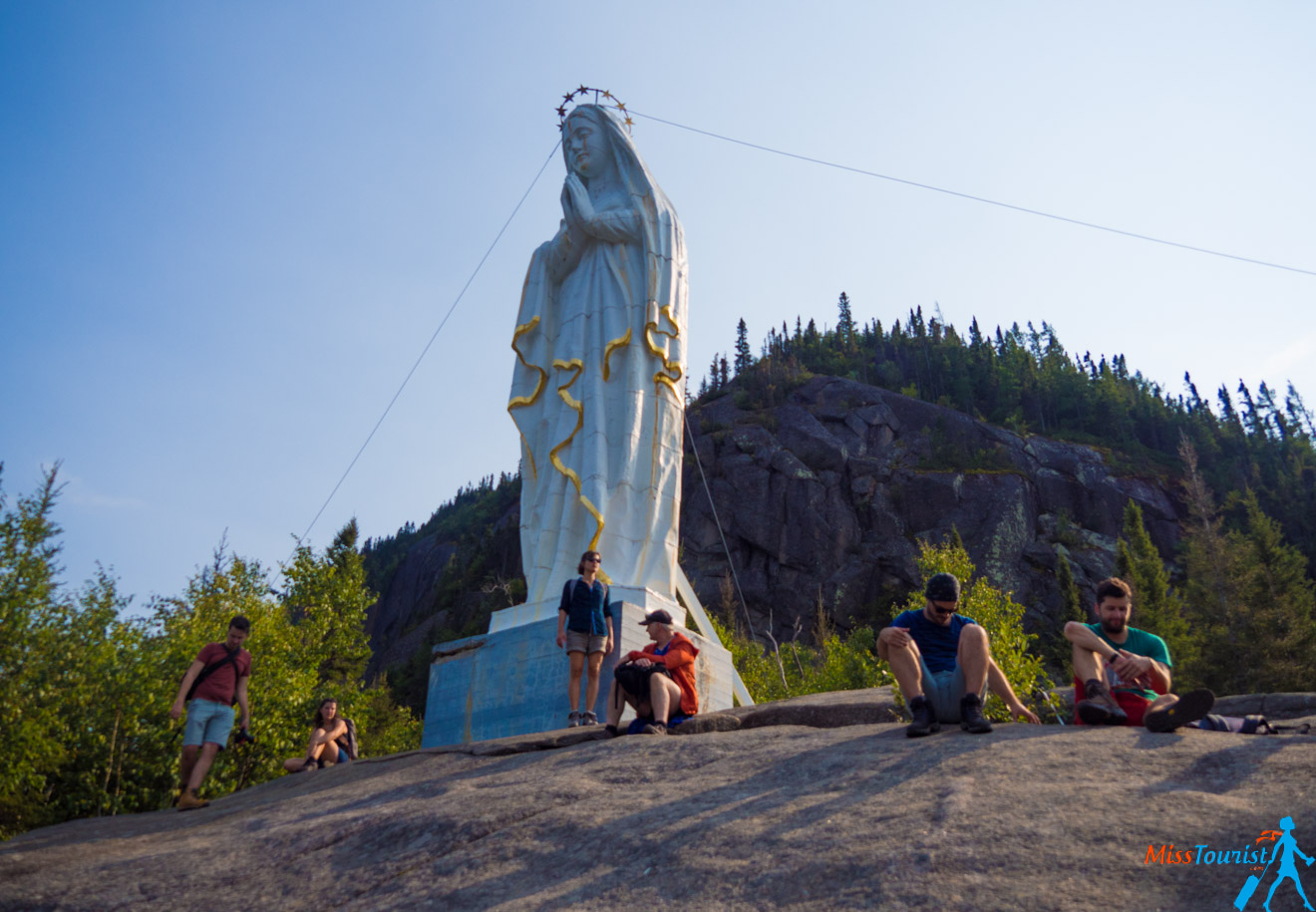 Here are some of the main things to do in the area with a more detailed explanation on what I personally did myself below:
Hike a trail in the Saguenay Fjord National Park
Defy the Via Ferrata in Baie-Eternite sector (I am really sad I didn't do this one! The prices are from $50 to $90 CAD depending on the duration)
Go kayaking inside the Fjord National Park
Visit L'Anse-de-Tabatiere
Skiing, snowboarding, tubing, snowshoeing in the winter and fat biking in the summer at Mont Lac-Vert
Visit Pointe-Taillon National Park in case you haven't had enough of National Parks yet. This one is stunning too, and it has a beach!
Visit Saguenay Lac-St-Jean for some exciting winter activities like dog sledding and snowmobiling
Musee de Petite Maison Blanche – which means Little White House Museum
Cruise around Lac Saint-Jean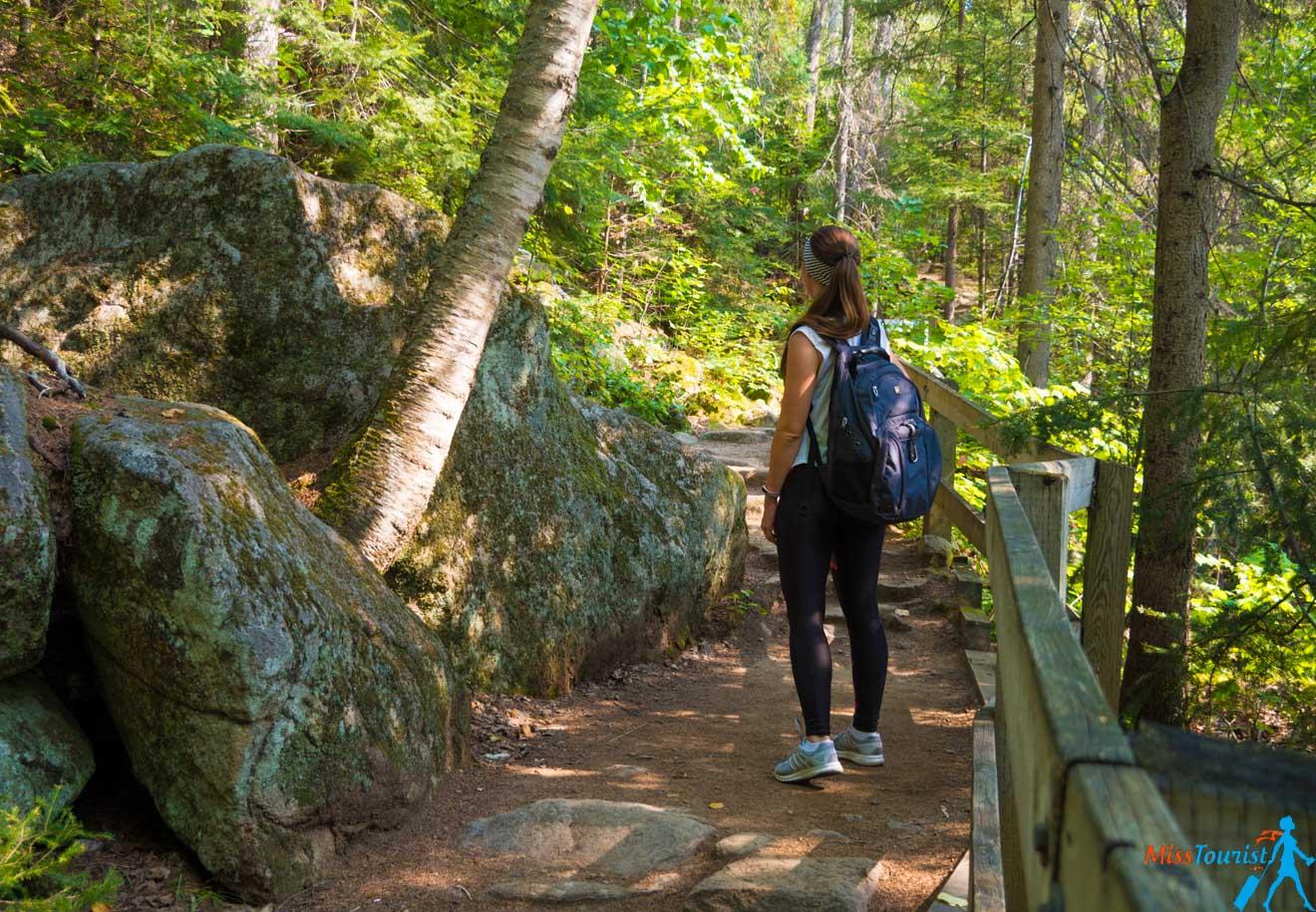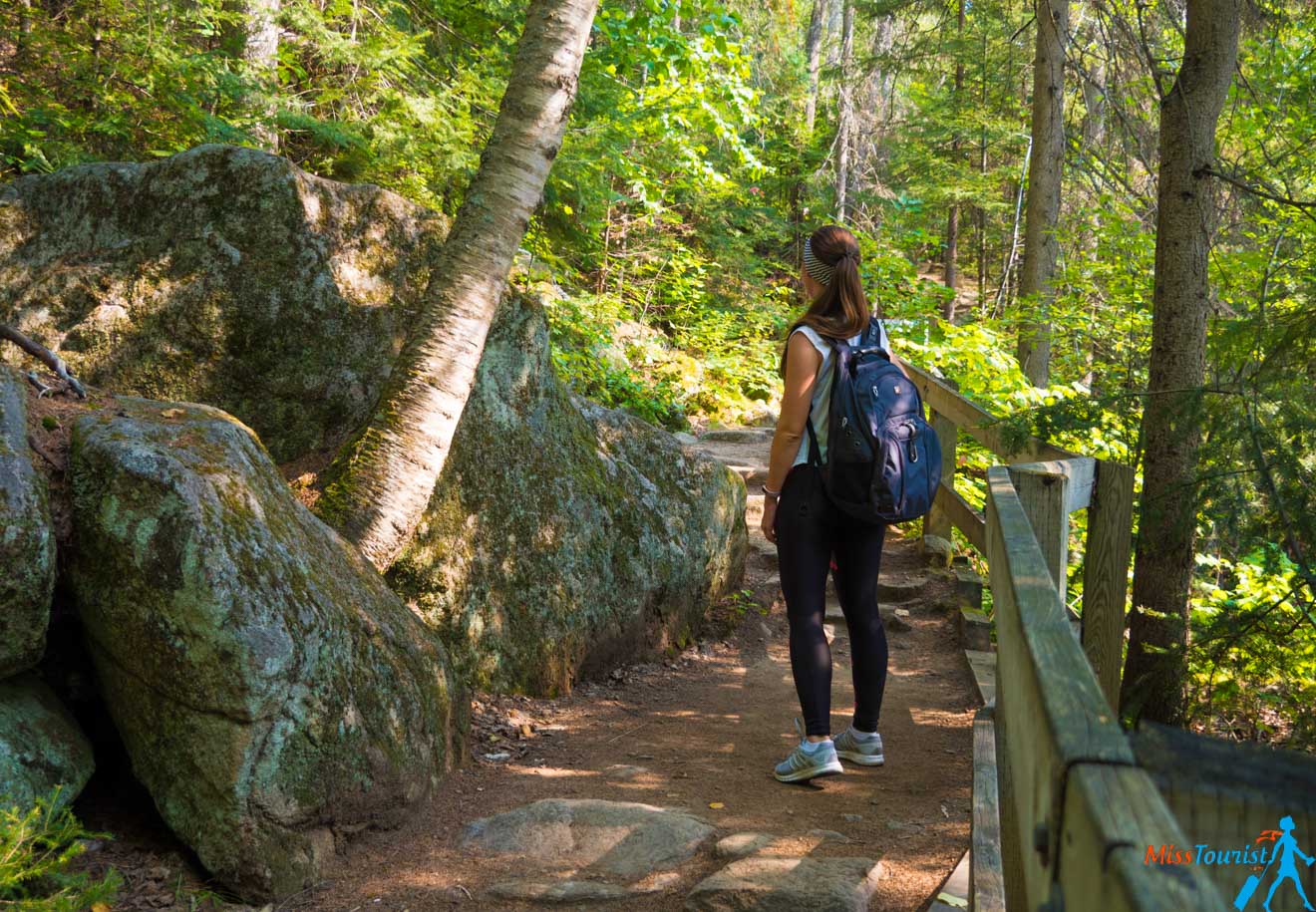 There are numerous trails to try and your choice will depend on how much time you have and what you want to see. We wanted to do L'Anse-de-Tabatiere, but it would have taken us 9 hours and we wouldn't have been able to finish it before dark. So we went for the most popular option – Cap Trinite trail that eventually leads to the summit with the Statue of Our Lady Saguenay viewpoint. The hike to Cap Trinite will take you about 5-hours round trip and you will see some nice views of the fjords along the way!
Hotels and camping in Saguenay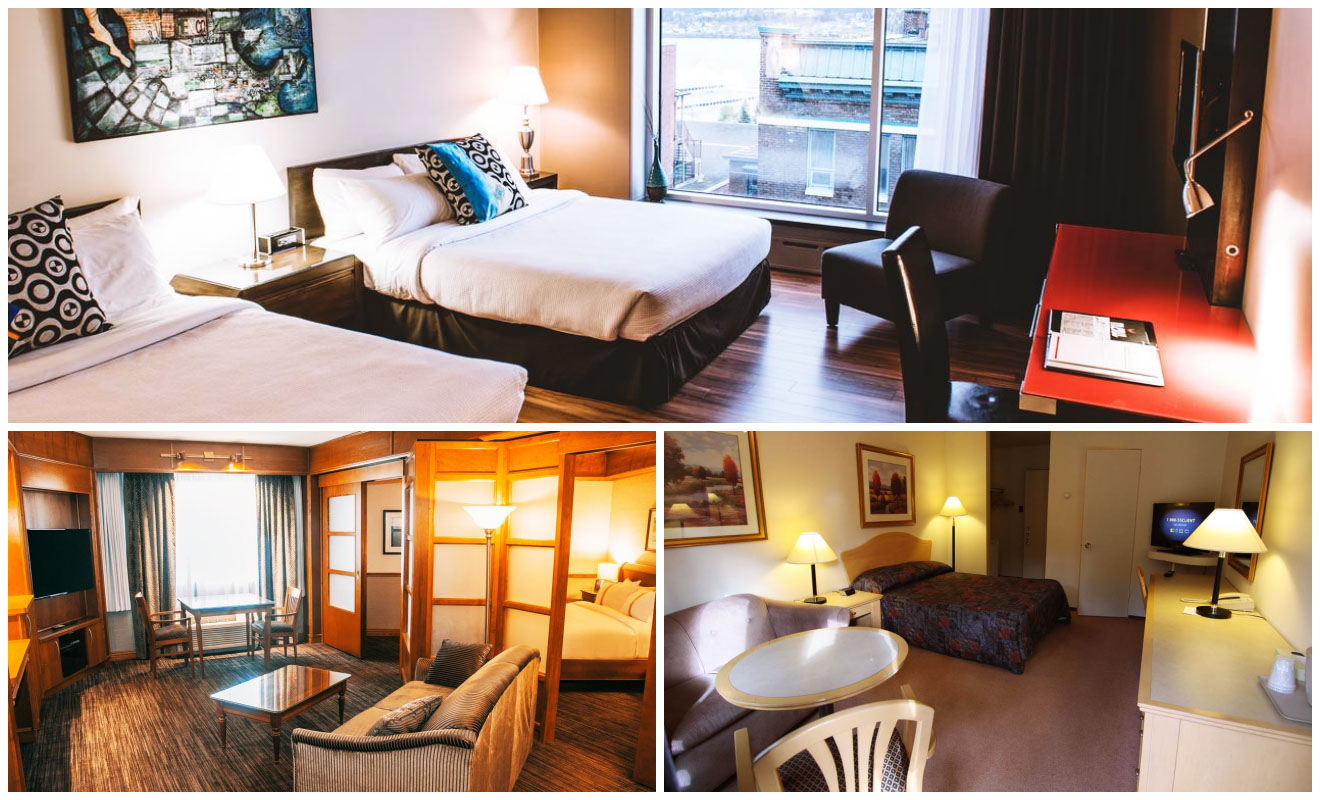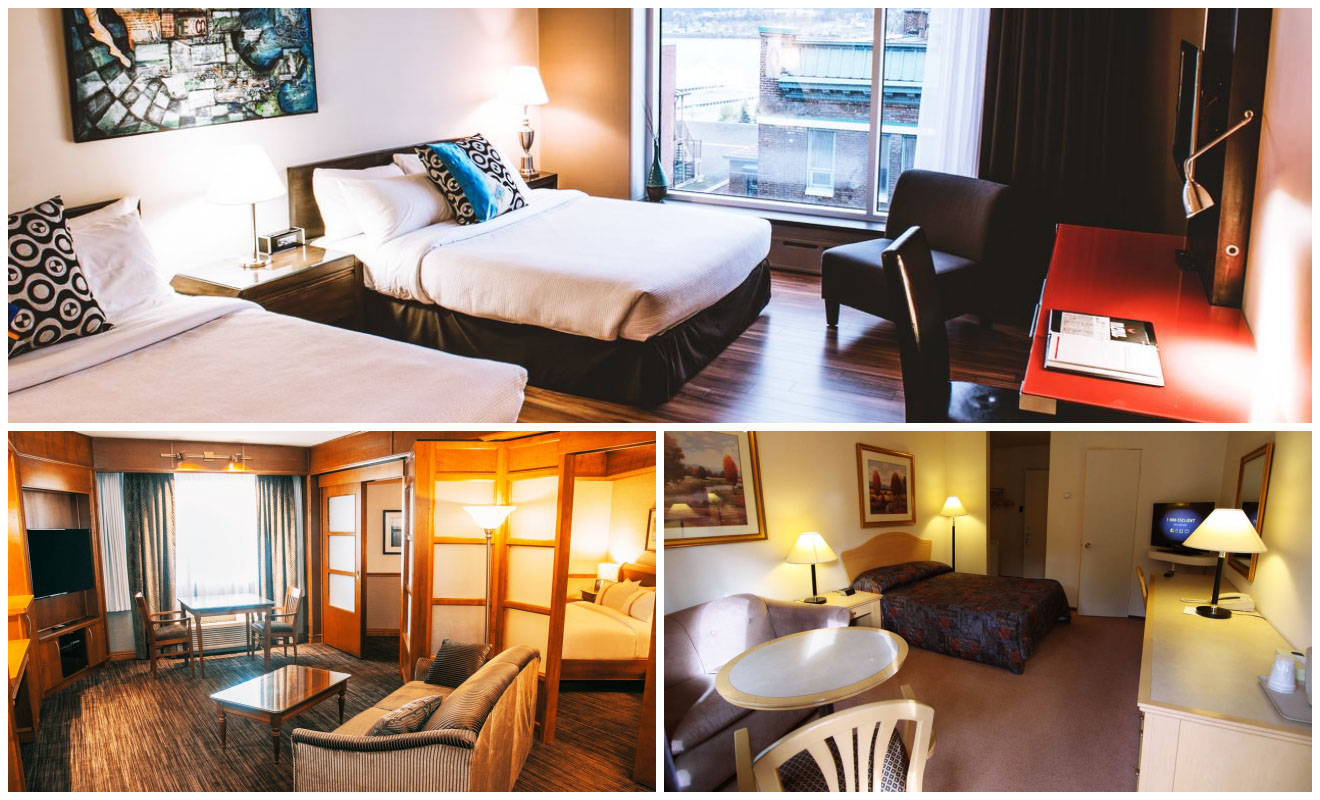 As camping in Saguenay is a very popular activity, I have included some options for camping inside the National Park along with hotel recommendations. If you want to stay in a campsite inside Saguenay National Park, you can access this link and then select the sector you are interested in (Baie-Sainte-Marguerite or Baie-Éternité); you will see the available options. Here are my recommended hotels near Saguenay:
Luxury ($170 CAD and up): Hotel Chicoutimi is a very cute and modern 4-star hotel in Saguenay! Some of the cool advantages of this accommodation are 3 on-site restaurants, stunning views offer the Fjord and even a well-equipped gym! Gite Au P'tit Manoir B&B is another 4-star accommodation that awaits you with a delicious breakfast every morning and country-themed rooms!
Middle-priced (from $120 to $170 CAD): Hotel Montagnais Chicoutimi is a nice and cozy 4-star hotel located in the heart of Chicoutimi. It features a congress center with 17 meeting rooms, an internet café, an indoor water park, a game room and even a fitness center. What more could you wish for? Chateau Murdock Gite & Wellness is a 4-star bed and breakfast that offers an outdoor pool, cozy rooms, and even a personal care clinic! Plus, the prices are super affordable!
Budget (up to $120 CAD): Motel Panoramique is a very good option for budget travelers. It is only 5 minutes away from Chicoutimi and you will surely enjoy the heated outdoor pool and the friendly staff! Gîte La Belle Dame is another good bed and breakfast with amazing prices. If you are traveling to Canada with kids, you should know that this place even has a children's playground!
Day 8: Fjords, road to Mauricie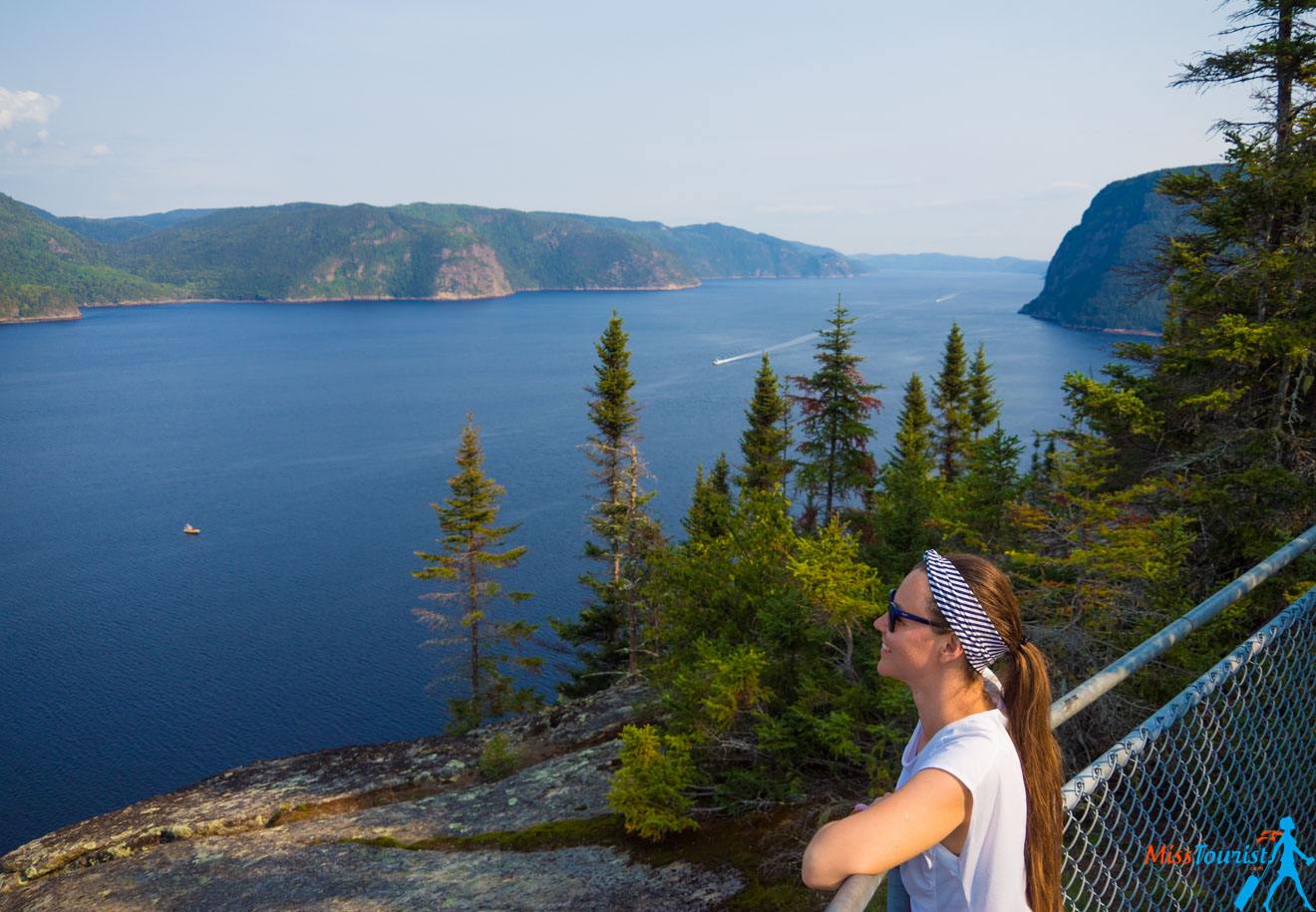 Driving time and distance from Saguenay Fjords to Mauricie: 421 km (262 mi), 4h 30 min
Today is going to be an on-the-road day. If you still have some energy, you can do a small hike in Saguenay. The park has 2 entrances; we checked out the Sainte-Anne one which has really pretty views and fewer people. We did not do a full hike, but we entered the park and walked around for an hour or so and it was really enjoyable!
I recommend taking this day easy. We woke up late, ate a big breakfast, enjoyed the mesmerizing views of Saguenay once again and continued on the road with some stops along the way. We reached the small town of Mauricie a bit before dark just to have dinner and relax before tomorrow's hike.
If you do have some extra time (probably an extra day), you could stop at La Malbaie, which is on the way to Mauricie. The hike is more difficult, but I have heard that the views are pretty amazing!
Below are some pointers for you on where you should stay in Mauricie. The things to do and the description of our hike will be described on Day 9.
Accommodation in Mauricie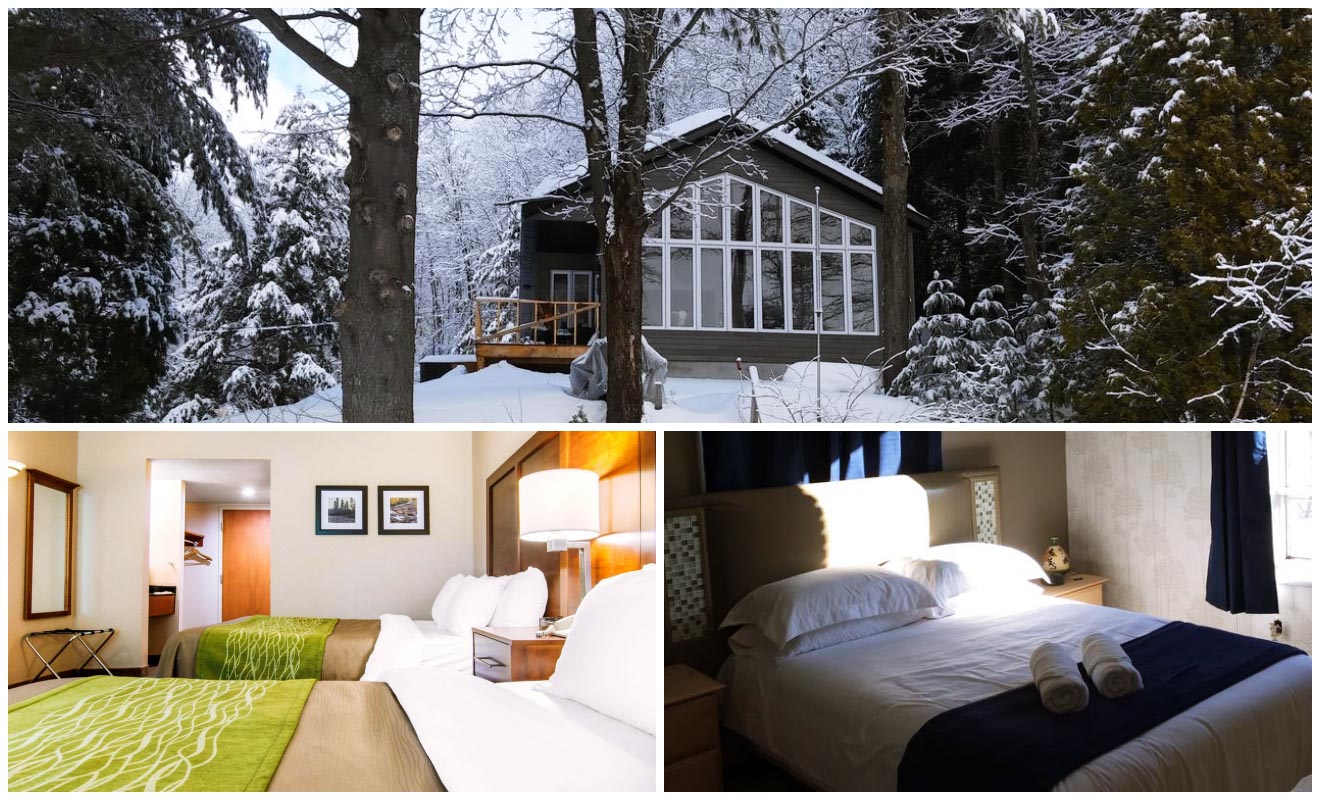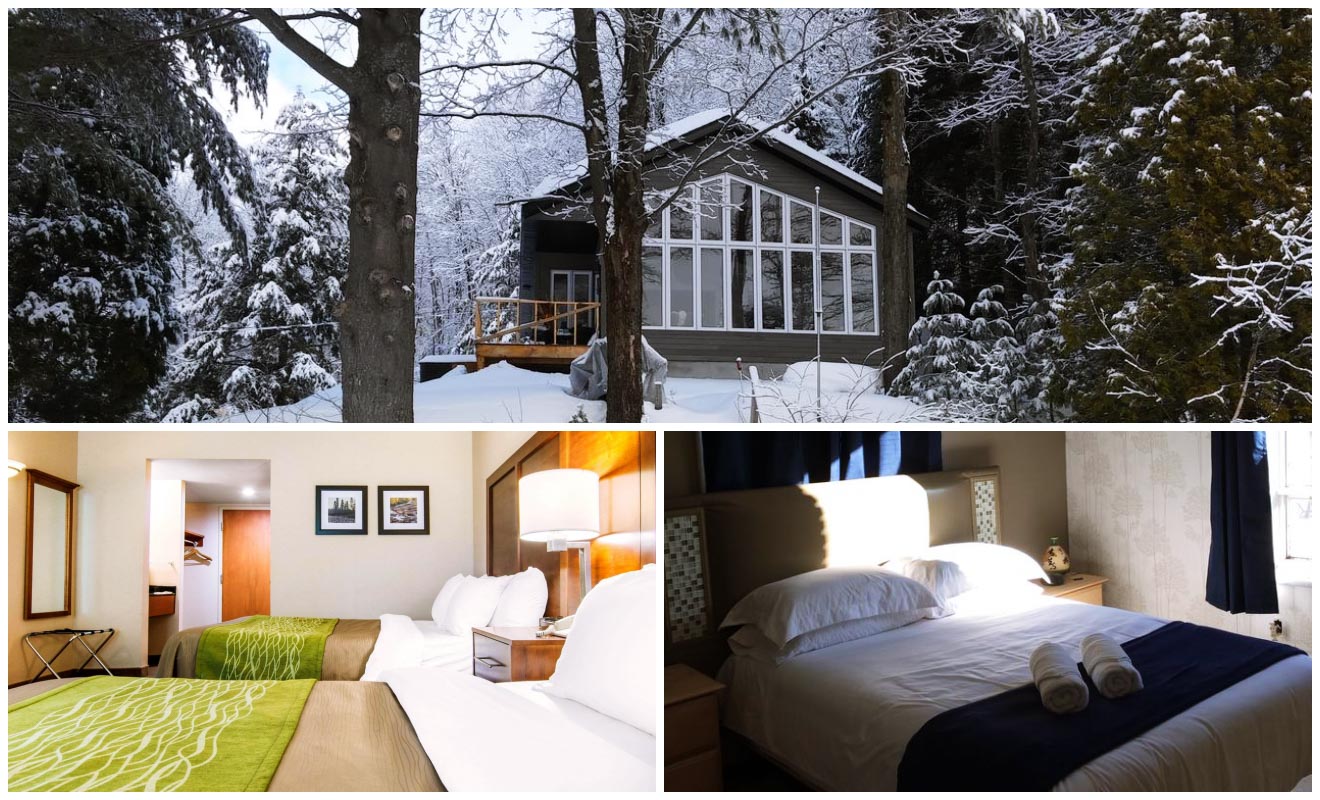 I recommend staying here for 2 nights because you will arrive in the evening on Day 8 and you will definitely be too tired for a 4.5-hour road trip right after you did a challenging 8-hour hike, am I right?
You can stay in a cabin as well – there is a special site for renting one.
You can stay in Shawinigan, which is the closest town to the park:
Luxury ($170 CAD and up): If you are looking for a chalet on the beach, Moniquandre is your perfect answer! I totally recommend this accommodation for a group of up to 4 people, as you will benefit from 2 beautiful bedrooms, a balcony, a living room and, of course, a complete kitchen! Another beautiful luxury chalet is Chalet Le Sainte-Flore, which is great for a group of up to 8 people! Plus, you also get a 25% discount at the skiing place nearby during your stay!
Middle-priced (from $110 to $170 CAD): Comfort Inn & Suites Shawinigan is one of the best choices for middle-priced accommodations. During your stay, you will benefit from free Wi-Fi, gym access and cable TV! Le Manoir du Rocher is a 4-star bed and breakfast with air-conditioned rooms, free Wi-Fi and a hot tub! This is the ideal place to get some rest and prepare yourself for the next day's adventure!
Budget (up to $110 CAD): Auberge du Missionnaire is a great budget inn with accessible prices! You will surely enjoy spending some relaxation time on the terrace or in the shared lounge and the rooms are perfect for a good night's sleep! Auberge Motel Drakkar is another cool inn that offers high-quality service for good prices! Plus, you will benefit from free on-site parking during your entire stay!
Day 9: Mauricie National Park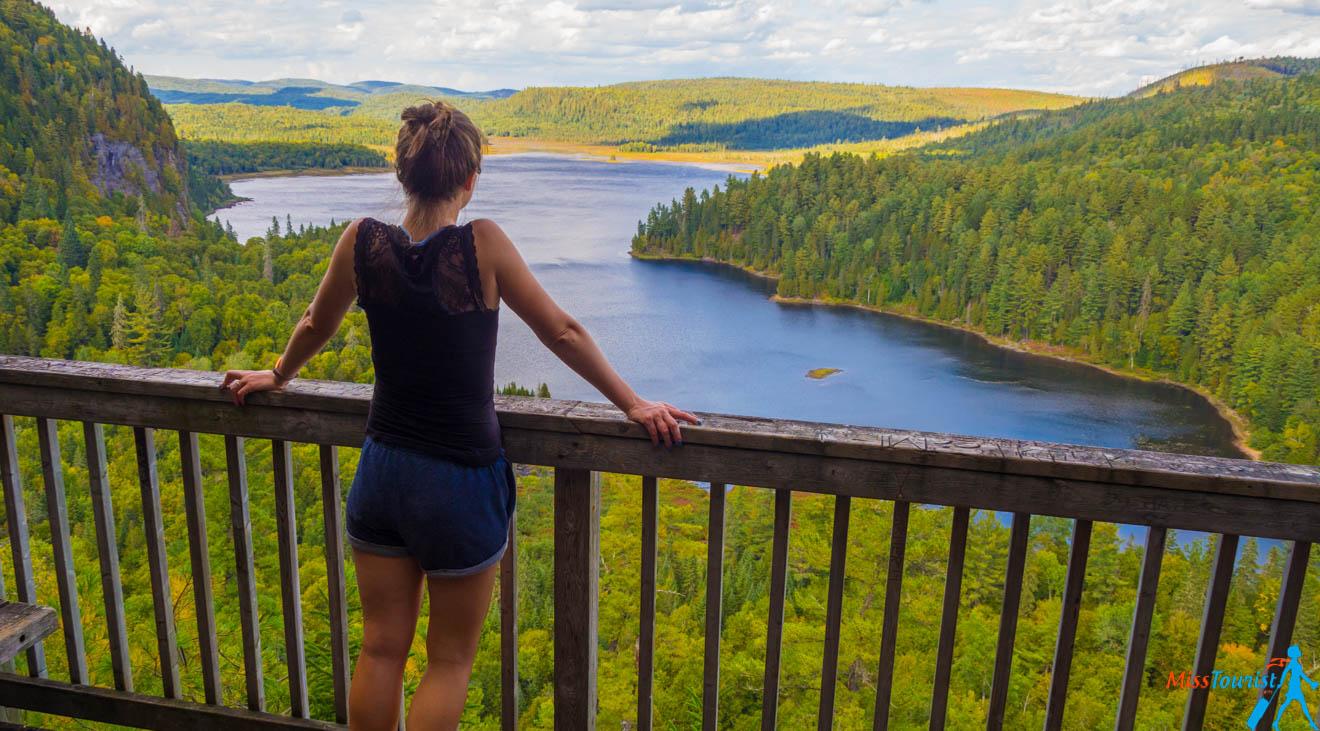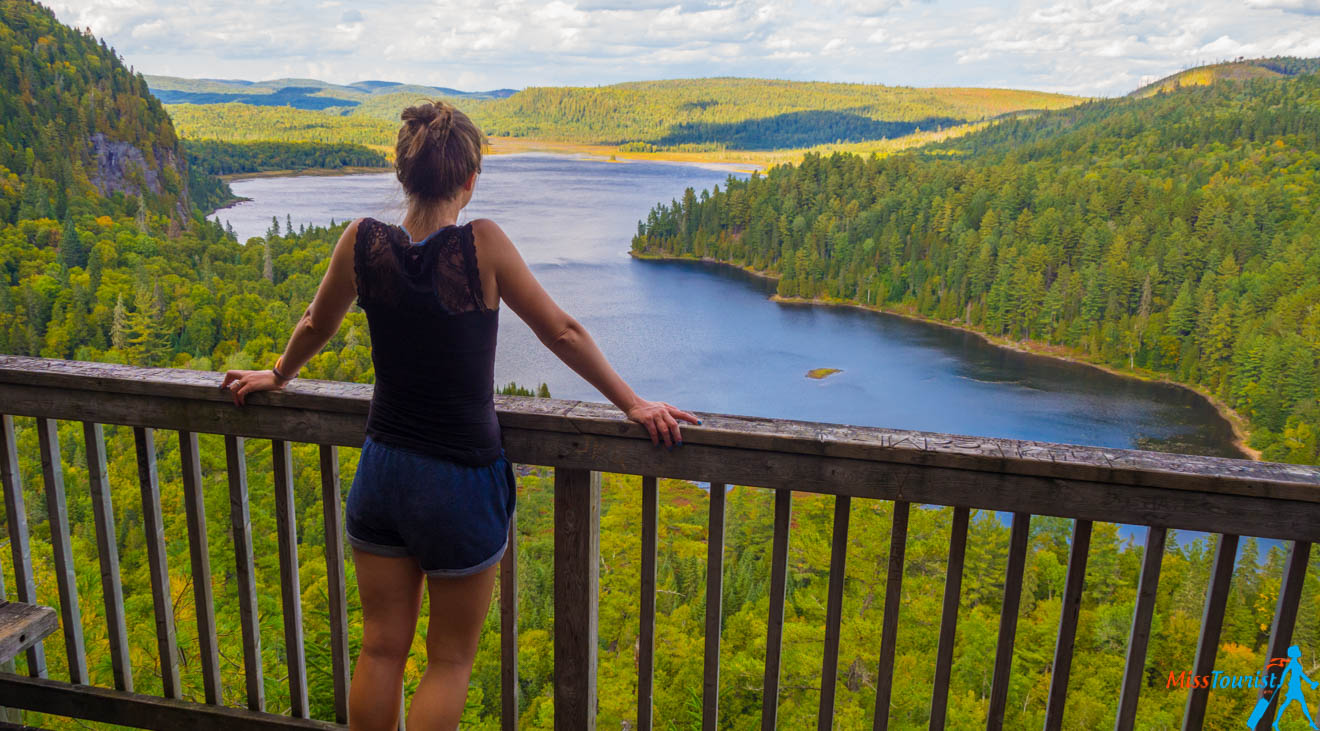 We have reached Parc Mauricie (pronounced [Morisi] in French), the last national park on our itinerary! While you are here, you can enjoy its countless crystal clear lakes, mountains, rivers, and evergreen forests!
As we spent the night there yesterday, you can start Day 9 fresh and early-ish in the morning!
Things to do in Mauricie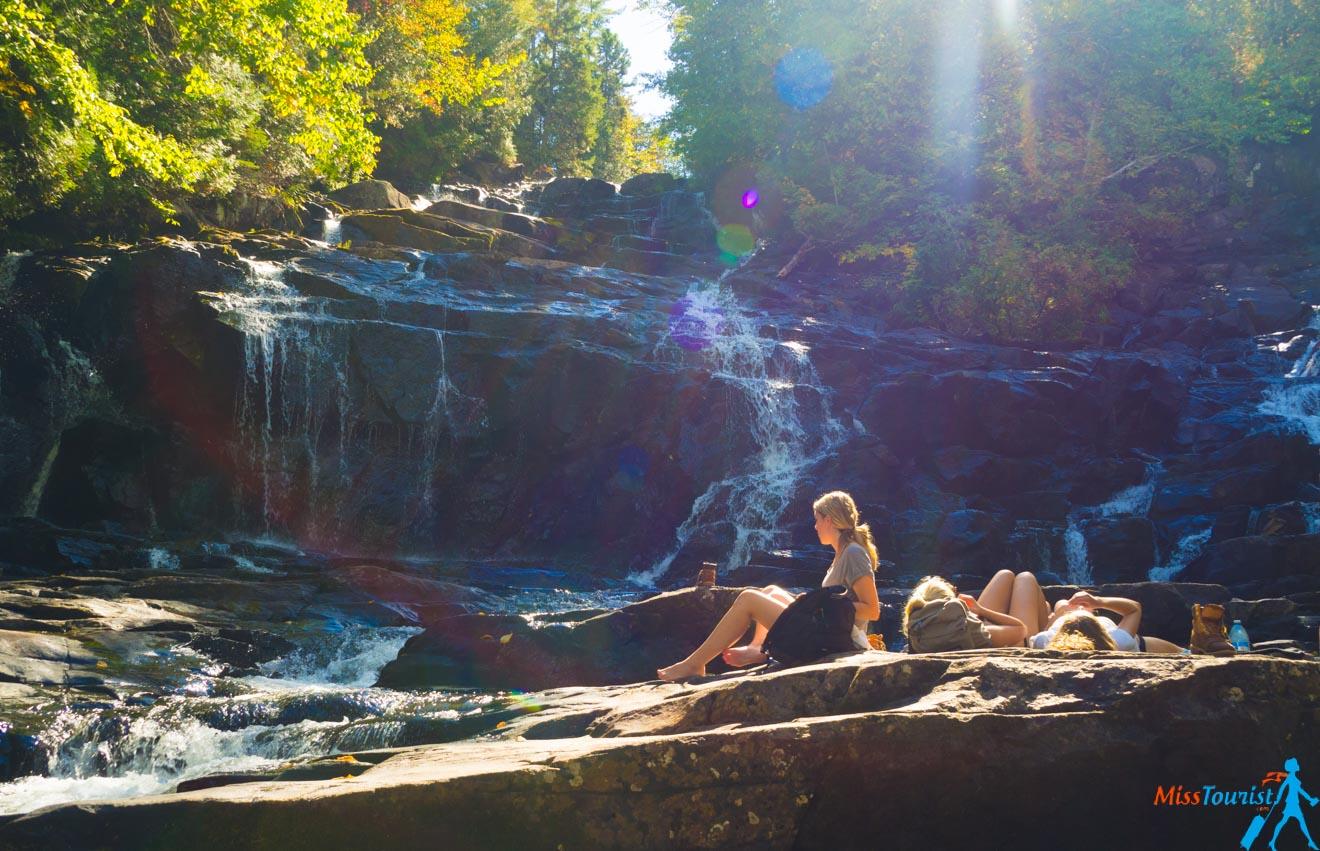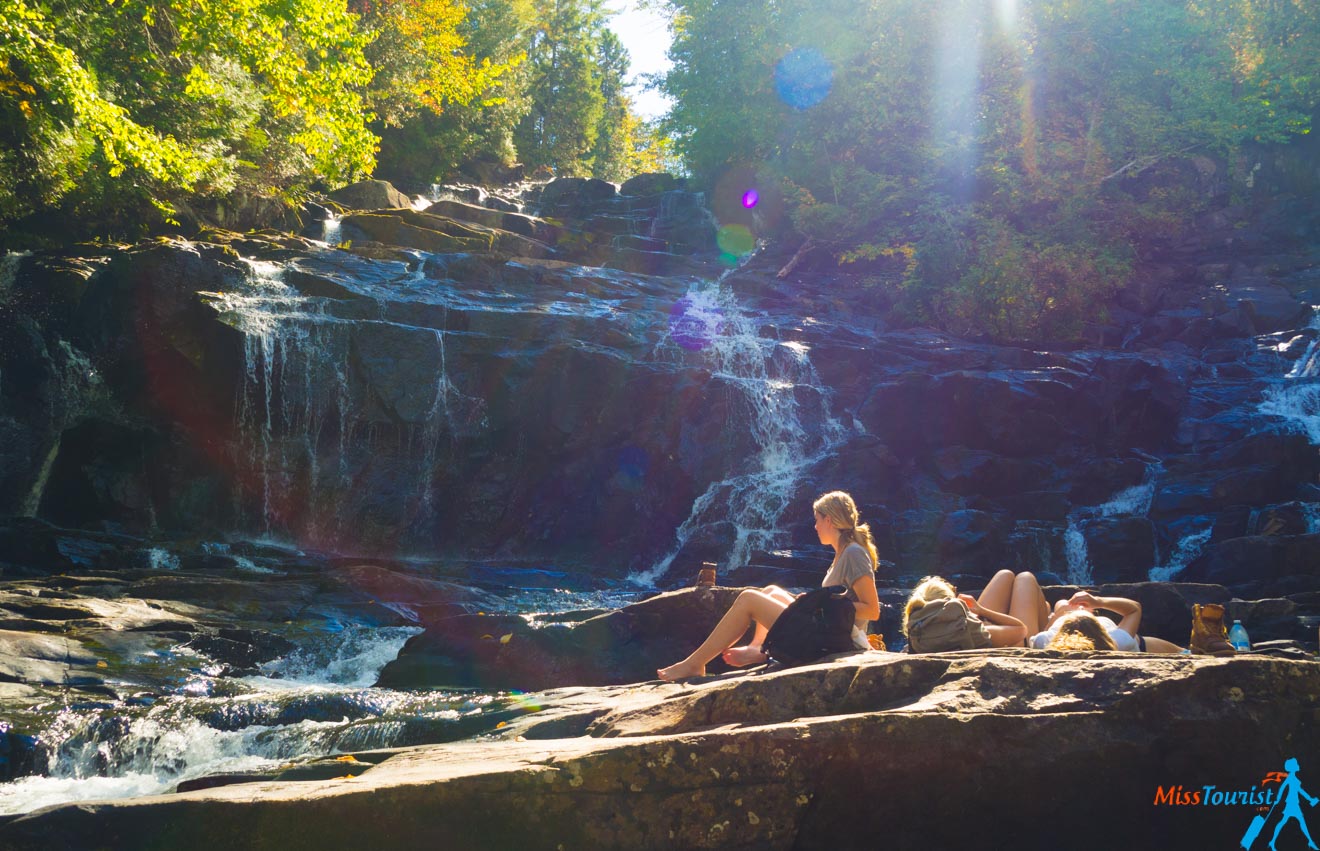 Below are the hikes and trails that you can do in La Mauricie National Park. I did the Waber Hike and I am going to tell you more about it below.
Spend an afternoon on Edouard Lake
La Gabet Trail
Here is a full list of things to do in Mauricie by the Ministry of Tourism.
Waber Fall Hike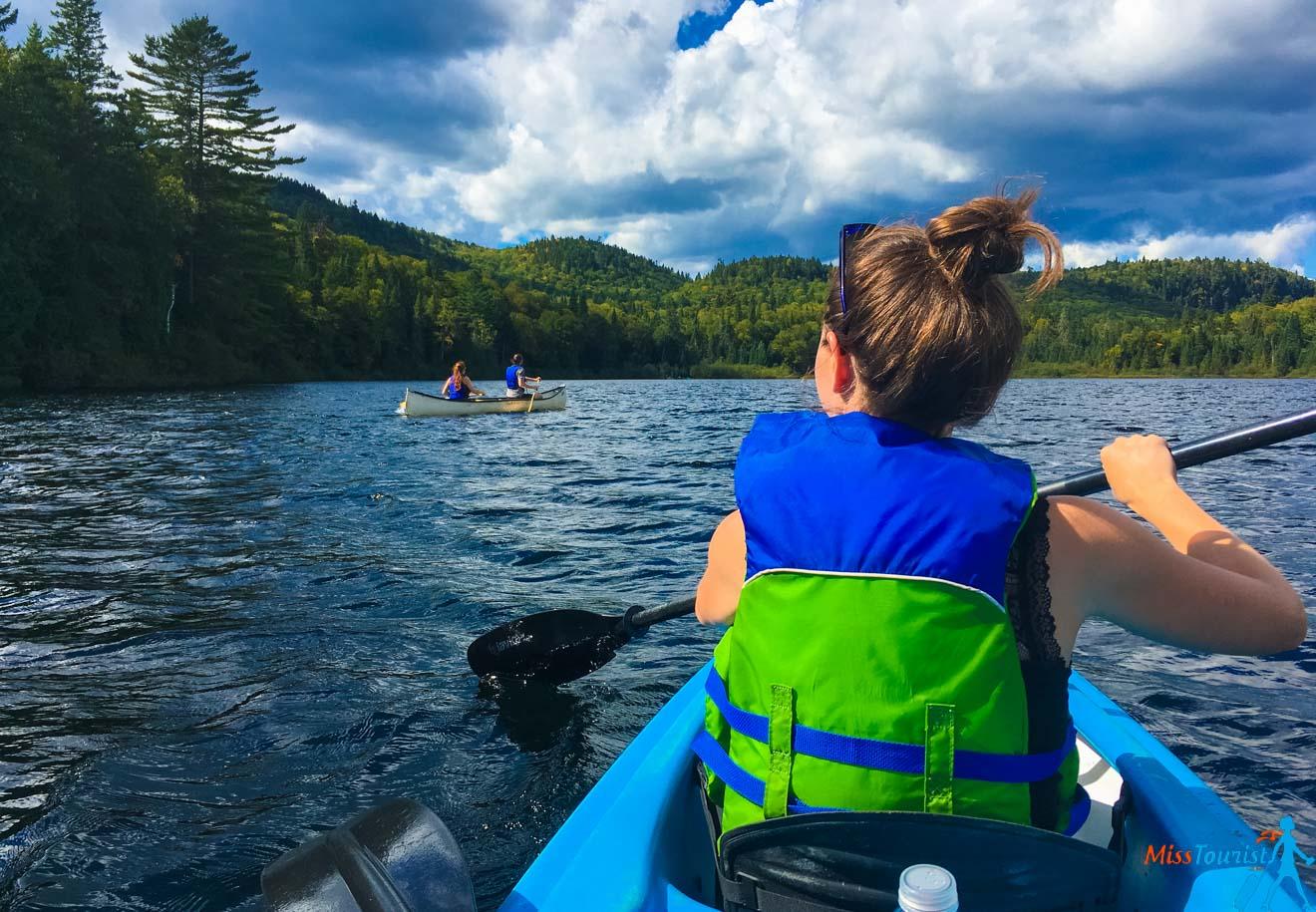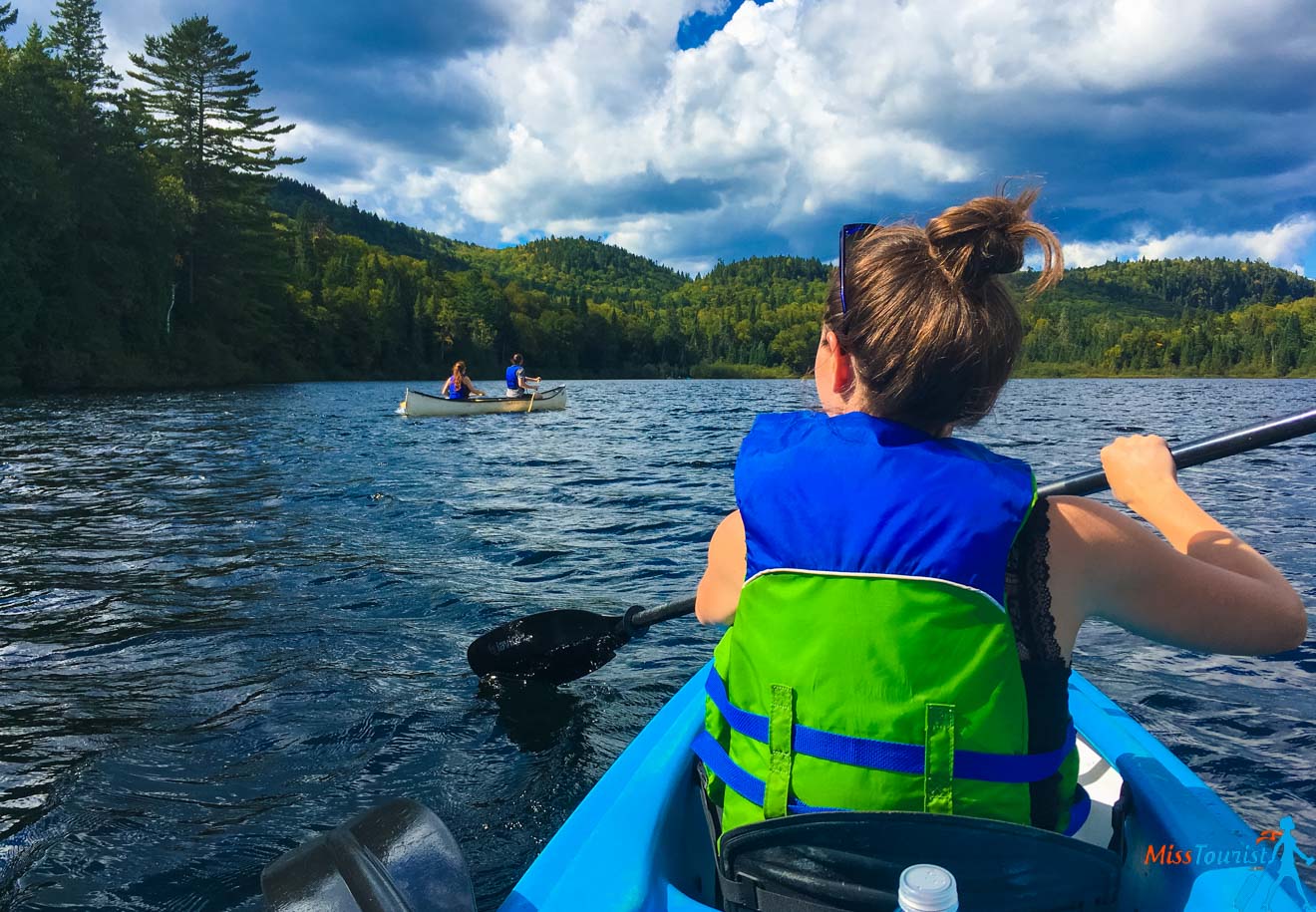 There are numerous hikes in the park and I chose the Waber hike as it is not only spectacular but also diverse. You get to paddle a kayak and then hike, so it is super fun!
When you enter Parc National de Mauricie, make sure to stop by the information office and ask them for some suggestions, then take a map. The info point is located near the entrance to the park and the kayak rentals are about a 30-minute drive from there inside the territory of the park.
I remember the people who were running the kayak rental were not very helpful, so I recommend asking about timing and any other information you need at the info point instead.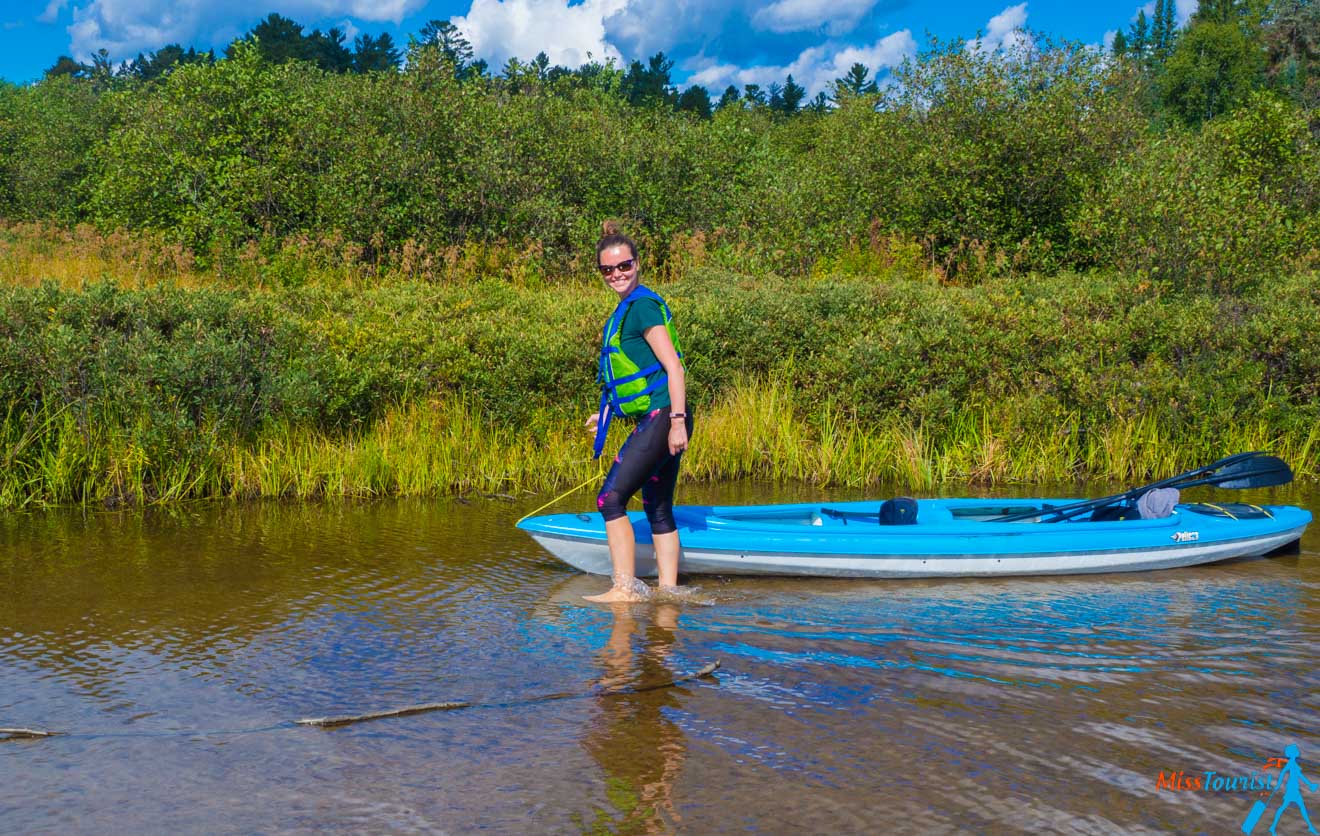 The hike will take you an entire day (around 8 hours) so plan your time accordingly. You will go by kayak (and at some point you will need to drag your kayak a bit because of the beavers blocking the river, haha!). Make sure to take your swimsuit, lunch and some water as there is obviously no place where you can buy these during your hike!
NOTE: If you are visiting on the weekend or during high season, make sure to book your kayak in advance here. They might run out of them and reaching that far, finding out there are no kayaks available, is definitely the last thing you want to hear, right?
PRO TIP: Make sure to stop by a viewpoint that is located about 1 km away from the waterfall (the hike is a loop). I think it was the most beautiful lookout of the trail and there were absolutely no people there!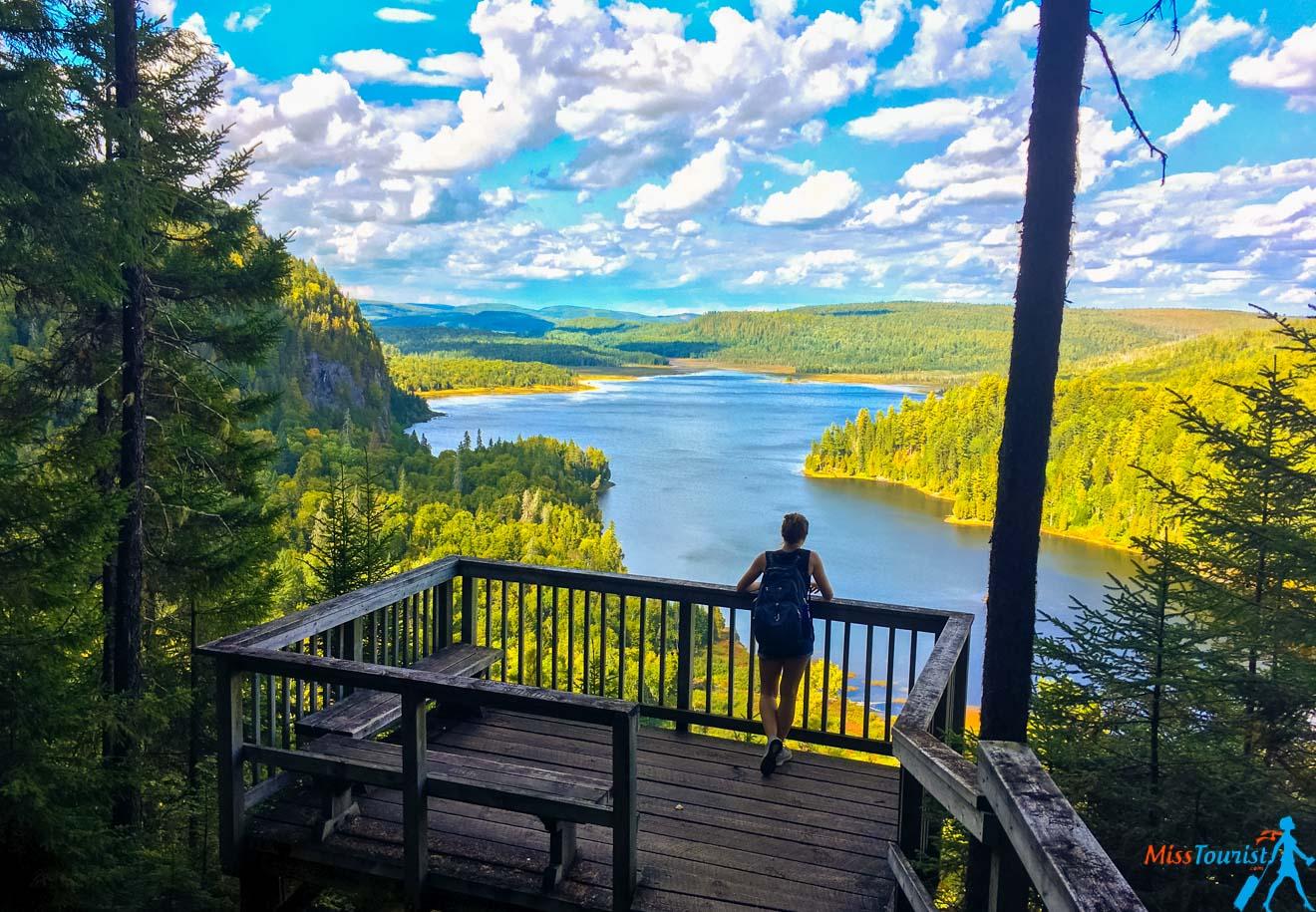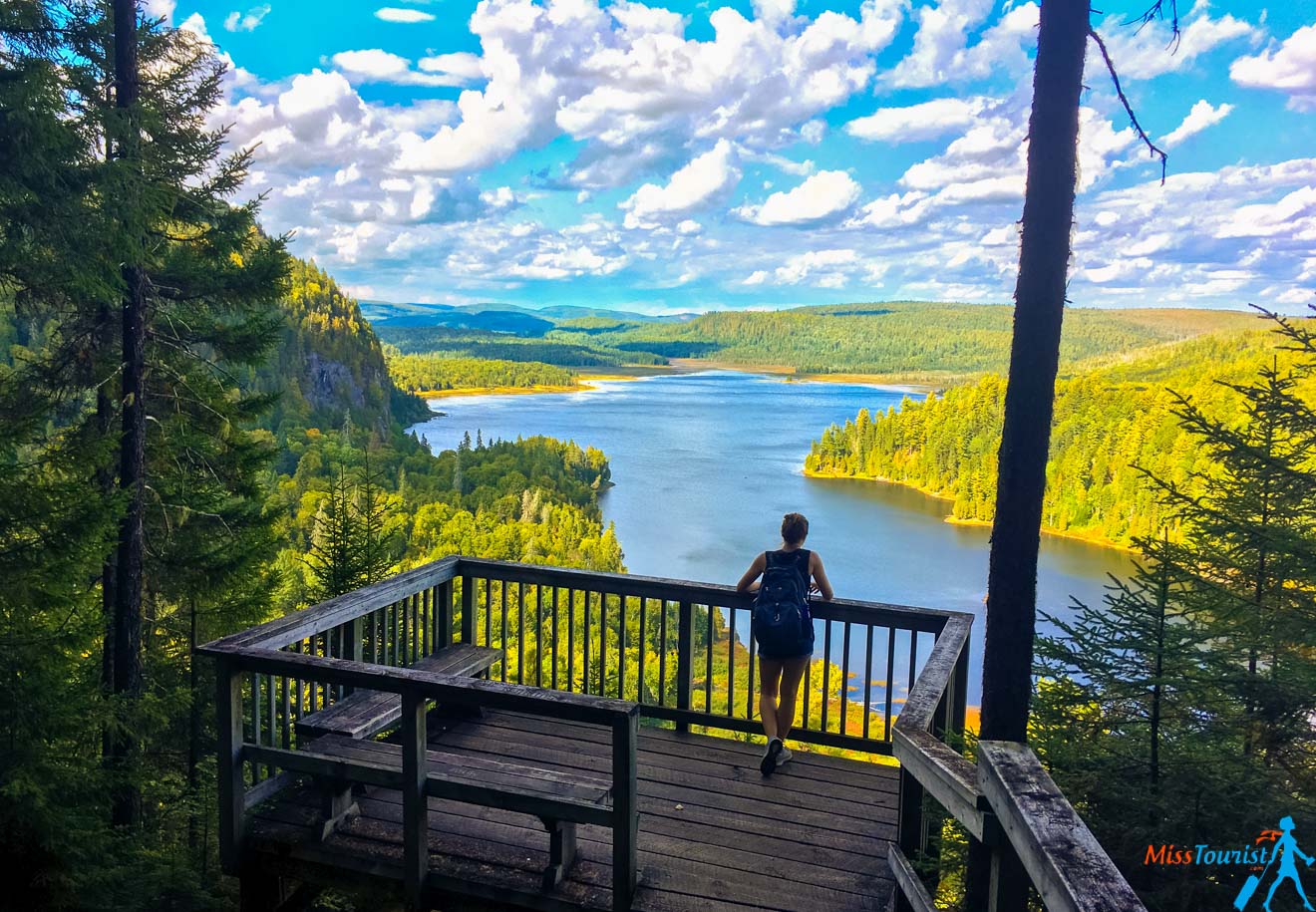 Day 10: Ottawa
Driving time and distance from Saguenay Fjords to Mauricie: 421 km (262 mi), 4h 30 min
We could not miss the capital of Canada, could we?
It is especially important to start your day as early as possible today because the drive to Ottawa will take almost 4 hours and you will only have 1 day to see the whole city (do not worry, it is not that big, even if it is a capital). You could also stay for half a day during the following day, too, but then you will only have 2 days for Toronto (and not 3 as I suggest) – the choice is yours!
Unique things to do in Ottawa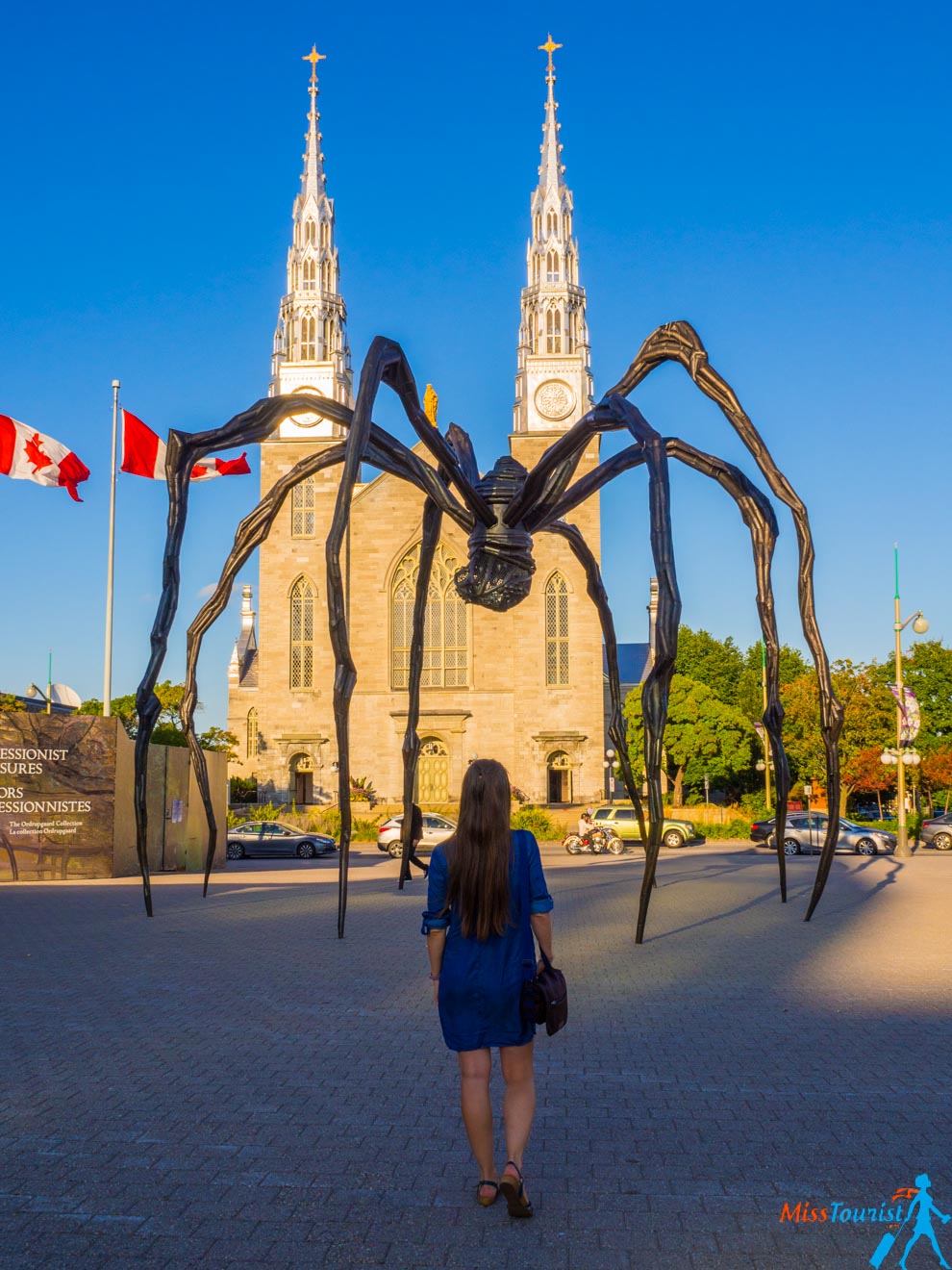 Go up to Parliament Hill
Visit the ByWard Market with tons of restaurants and bars
Try a Beaver Tail pastry
Walk along the Rideau Canal (here is a cool tip for things to do in Ottawa in winter: you can ice skate on Rideau Canal during the winter and it is even the world's largest outdoor skating rink!)
Visit Parliament (in case you are searching for free things to do in Ottawa, you should note that there are free daily 45-minute tours if you want to visit the inside, too)
Visit the Canadian Museum of History
Take a Canal Cruise
Visit the National Gallery of Canada – easily recognized by a statue of a huge spider in front of it
Watch the Changing of the Guards (resemblance with England here. There is one at 9:50 AM each day at the Parliament building in the summer. If you miss this one, there is another Changing of the Guard happening daily at the WW1 Memorial, too).
Admire the Mosaiculture floral exhibition during the summer – this one might be added to your list of things to do in Ottawa with kids!
PRO TIP: if you are searching for a cozy yet picturesque location with wonderful ambience to sip a cocktail and enjoy the view over Parliament, I wholeheartedly recommend Tavern on the Hill – it is a great spot that is not well known by tourists yet.
FUN NOTE: if you are a yoga fan, you might want to try a free yoga class by the Parliament building. It happens every Wednesday during the summer.
Accommodation in Ottawa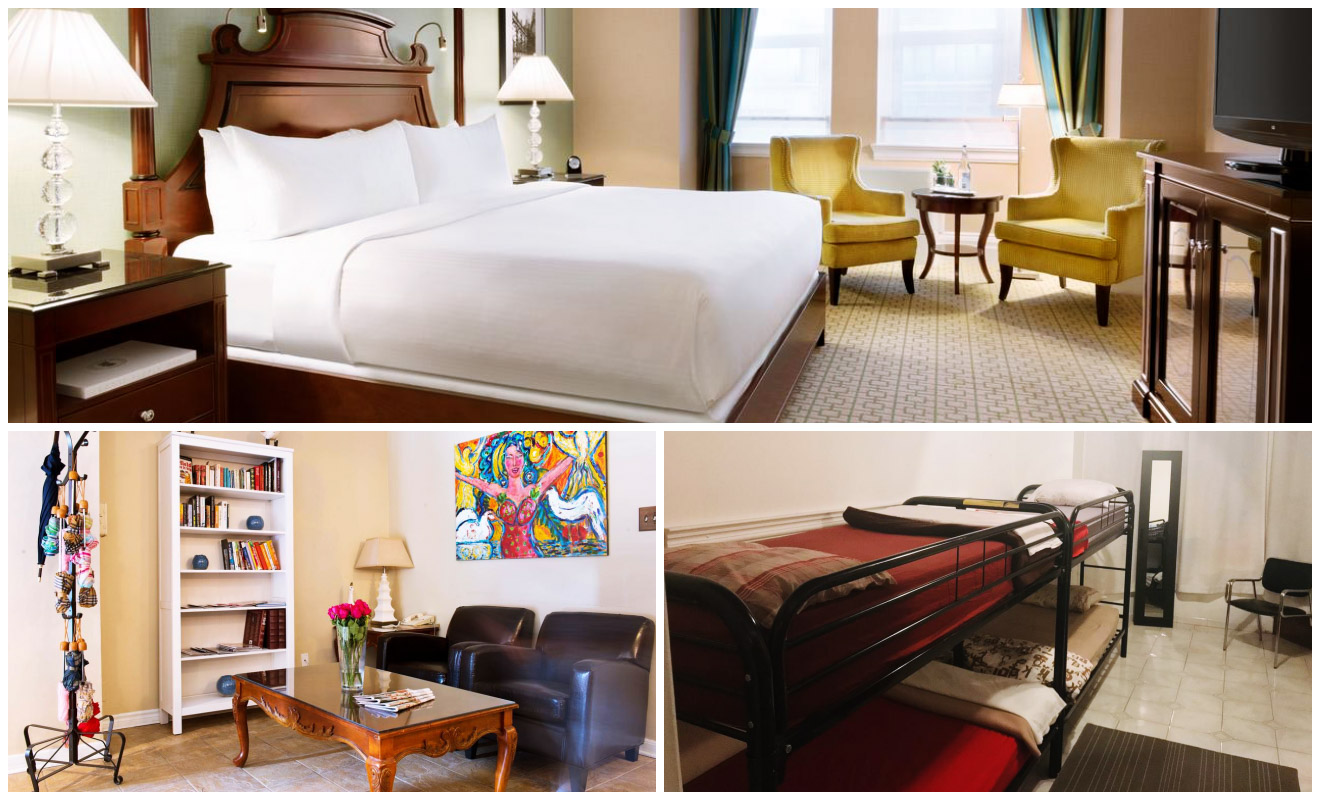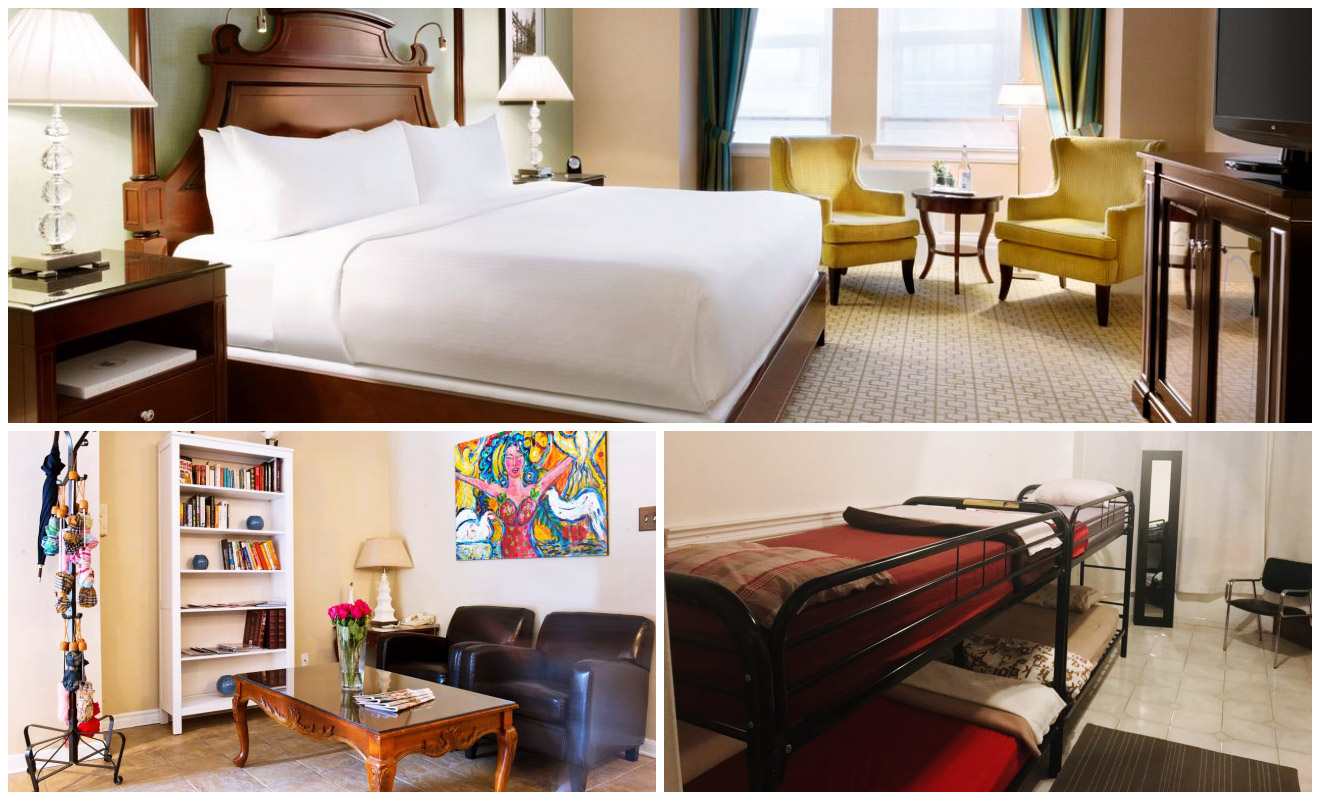 For this particular day, I recommend choosing something in the city center so that you do not waste any time getting to all the attractions you want to see! Here are some recommendations for Ottawa hotels in the downtown part of the city:
Luxury ($220 CAD and up): If you are looking for a stunning, 5-star hotel in the center of Ottawa where you will feel like a king or queen, Fairmont Chateau Laurier is your answer! The rooms are simply gorgeous, you can try the most delicious dishes in their on-site restaurant and the service is impeccable! If you would prefer a 4-star luxury hotel instead, Andaz Ottawa Byward Market-a concept by Hyatt should be your choice! This one is located in the ByWard Market district and it even features a rooftop lounge – a perfect place to relax after a full day of Ottawa sightseeing!
Middle-priced (from $120 to $220 CAD): ByWard Blue Inn is the perfect choice for 2 travelers, as this 3-star, middle-priced accommodation is located right in the ByWard Market area! You will definitely enjoy the delicious breakfast and nice afternoon tea served at the hotel, as well as the friendly staff that will assist you during your stay! Alt Hotel Ottawa is another great 3-star option located close to the Federal Parliament Building. All the rooms are super clean and cozy and the facilities are great!
Budget (up to $120 CAD): My first recommendation for travelers going to Ottawa on a tight budget is Ottawa Sleep Inn. This is a great hostel located in the Centretown of Ottawa and it offers free Wi-Fi and a nice cozy lounge where you can relax and unwind. If you would like a B&B instead, Windsong Manor Bed & Breakfast offers you nice rooms, very good service, affordable prices, and a delicious continental breakfast served each morning!!
Day 11-13: Toronto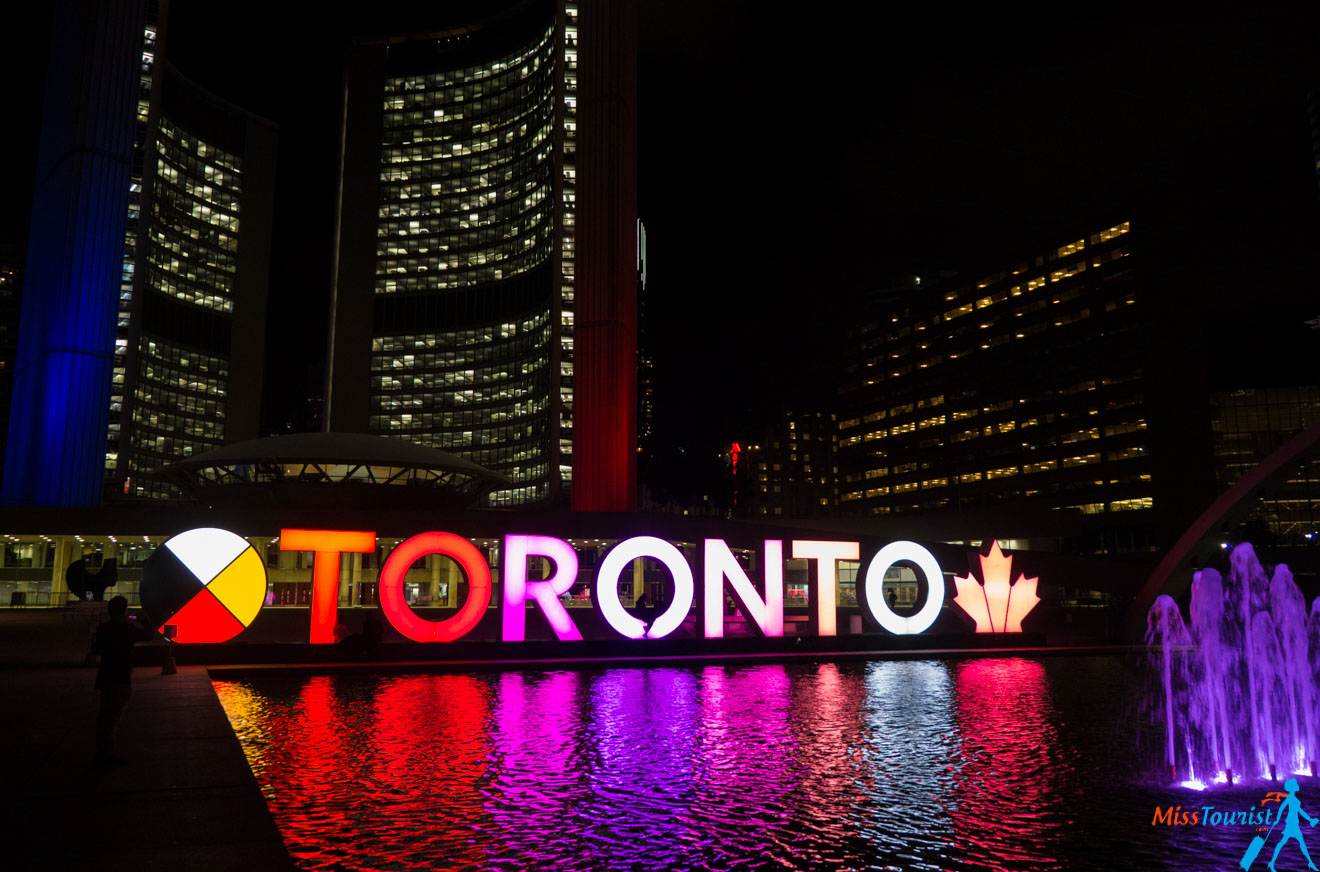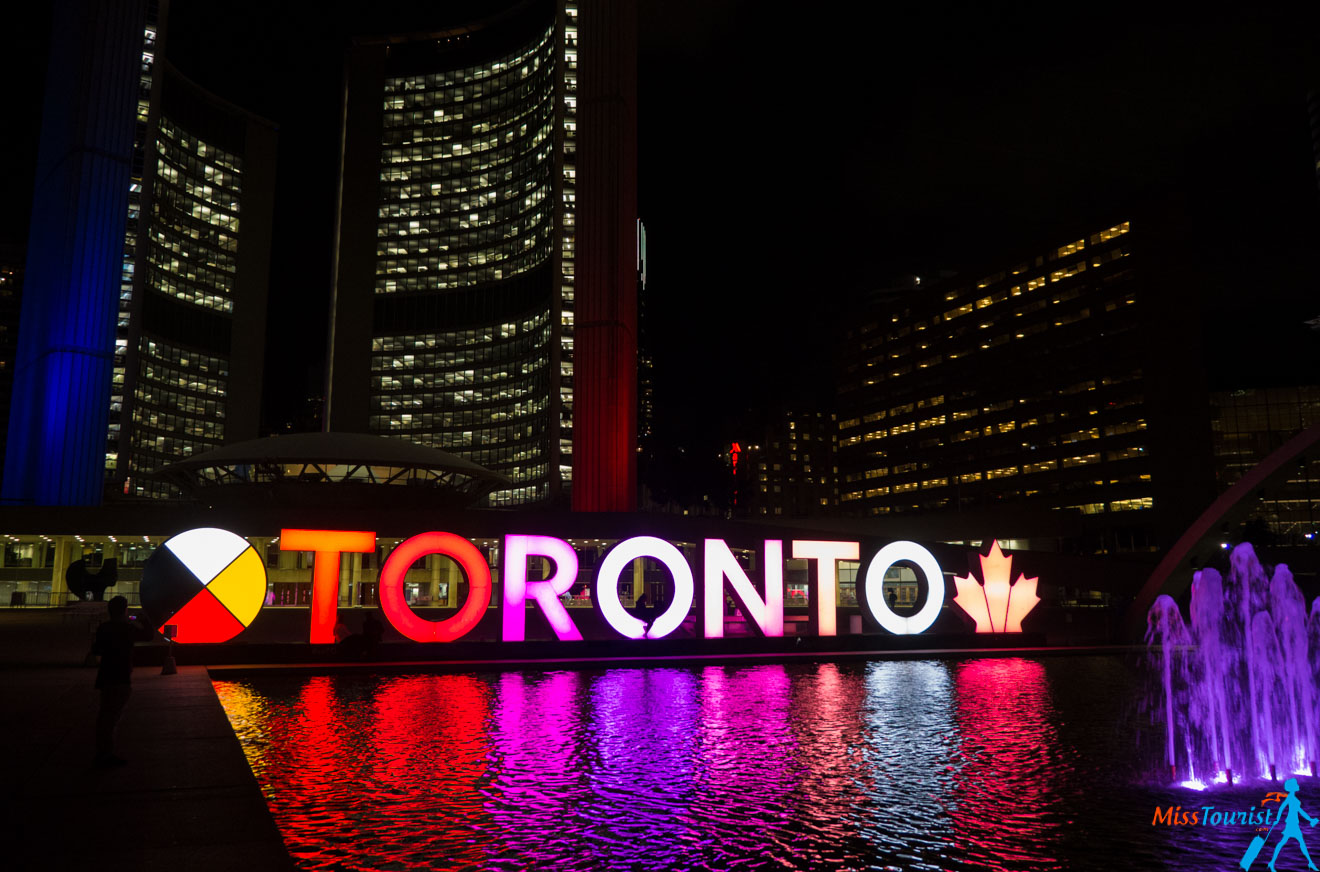 Driving time and distance from Ottawa to Toronto: 450 km (280 mi), 4h 20 min
I know that you must be tired from the constant driving by now, which is why you will now rest in Toronto for 2.5 days. Or should I say that you won't just be driving? Because you are certainly going to discover many things in the city!
Toronto is Canada's biggest city and its financial capital. I was very excited to visit it and the city did not disappoint!
Things to do in Toronto
Again, just like in Montreal, there are so many cool things to do in Toronto, I have written a whole different post about it. In this post, you can read more details about prices, tips and tricks, which attractions are a must, which can be omitted, how to create the best Toronto itinerary and so on.
Even though I did everything on this list except the Islands, it felt a little rushed. So, if you want a more relaxed stay, I recommend choosing the main things you want to see from the list below: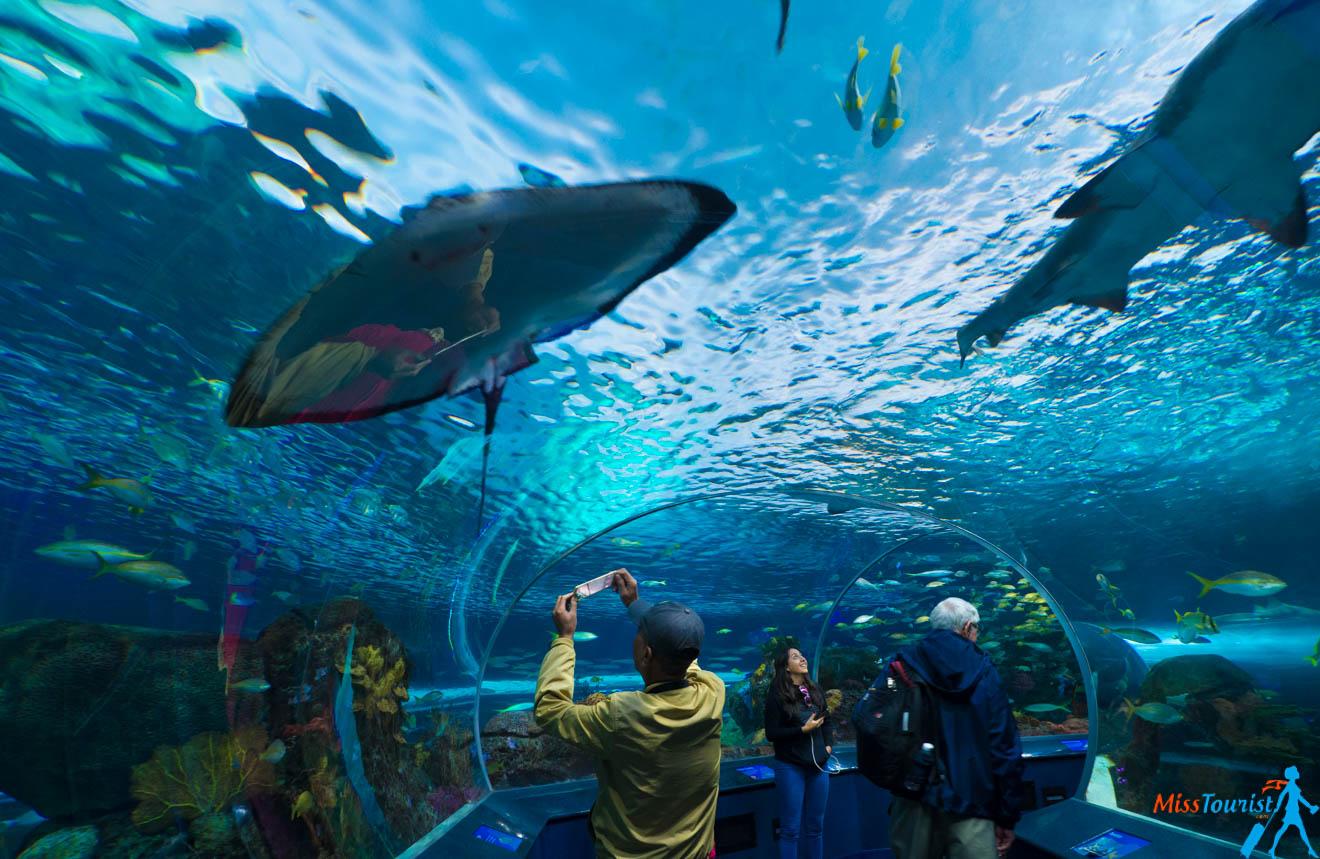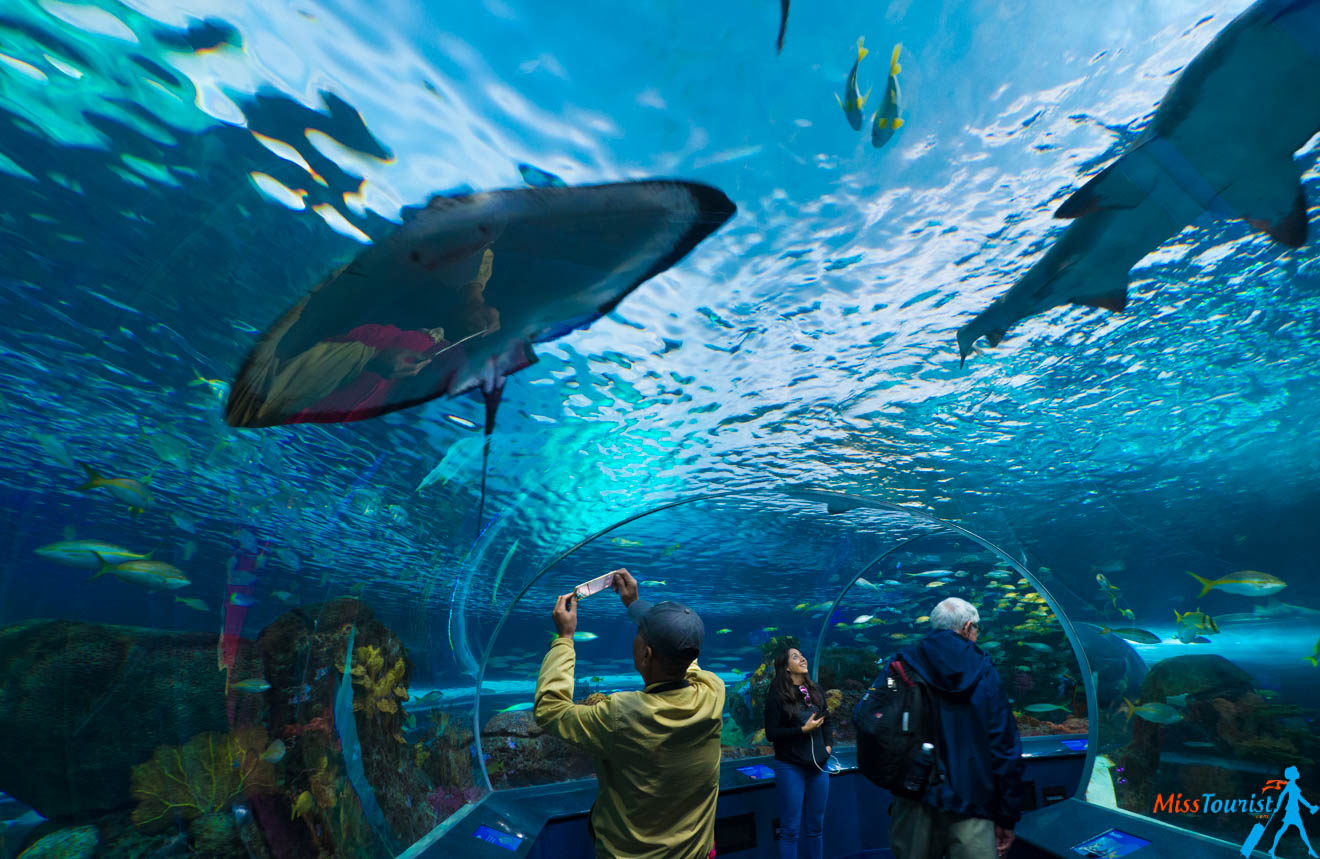 See the view from the CN Tower
Stare at skyscrapers in the Financial District
Be entertained in the Entertainment district
If you would like to do some Toronto sightseeing, you should take a tour of the city (there is also a free walking tour available!)
Visit Ripley's Aquarium if you have kids (or even if you don't!)
Visit St. Lawrence Market – voted the best food market in the world by National Geographic!
Visit the Casa Loma Castle
Check out the Royal Ontario Museum
Take a boat tour around the harbor
Walk around the Distillery District
Visit the Bata Shoes Museum
Check out Graffiti Alley
Visit China Town
Visit the Toronto Islands
As I said, do not forget to check out my dedicated Toronto blog post for more details! Click the link below:
Accommodation in Toronto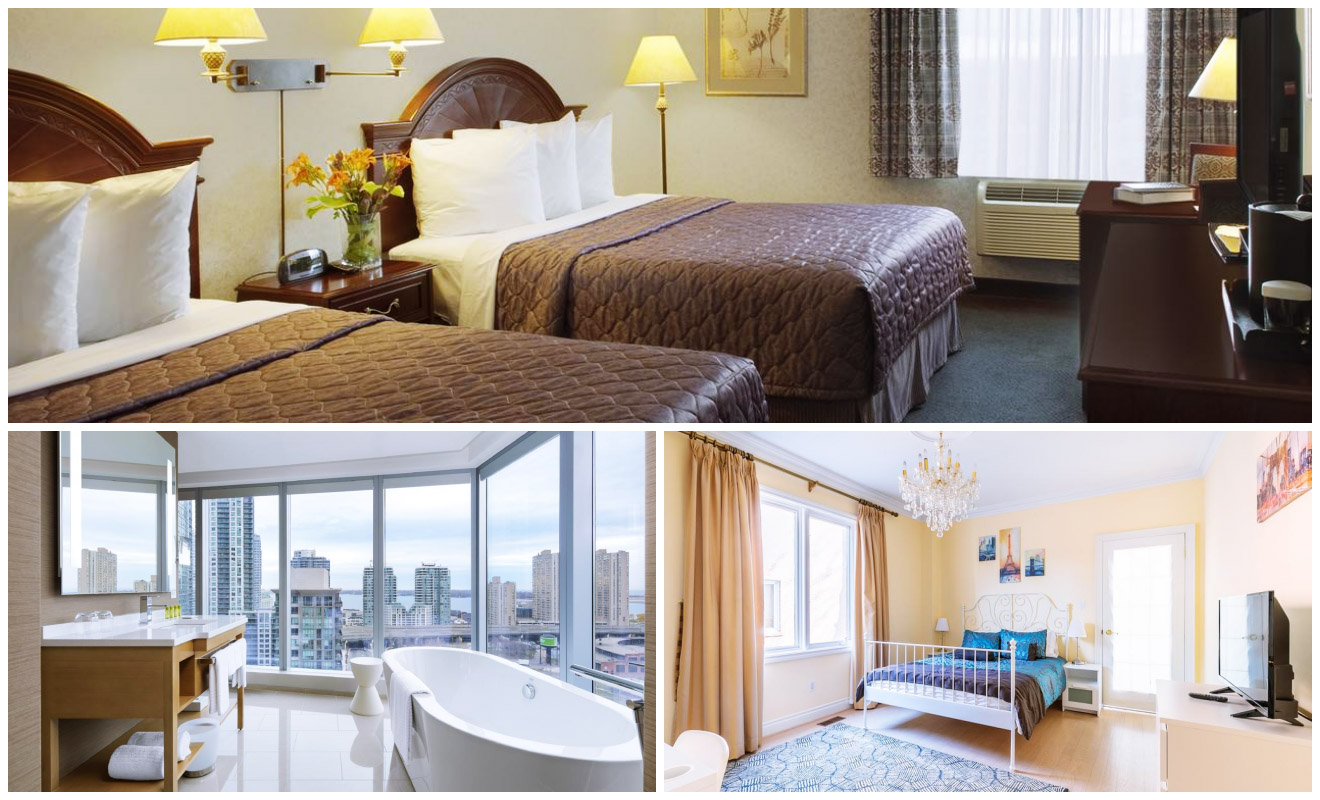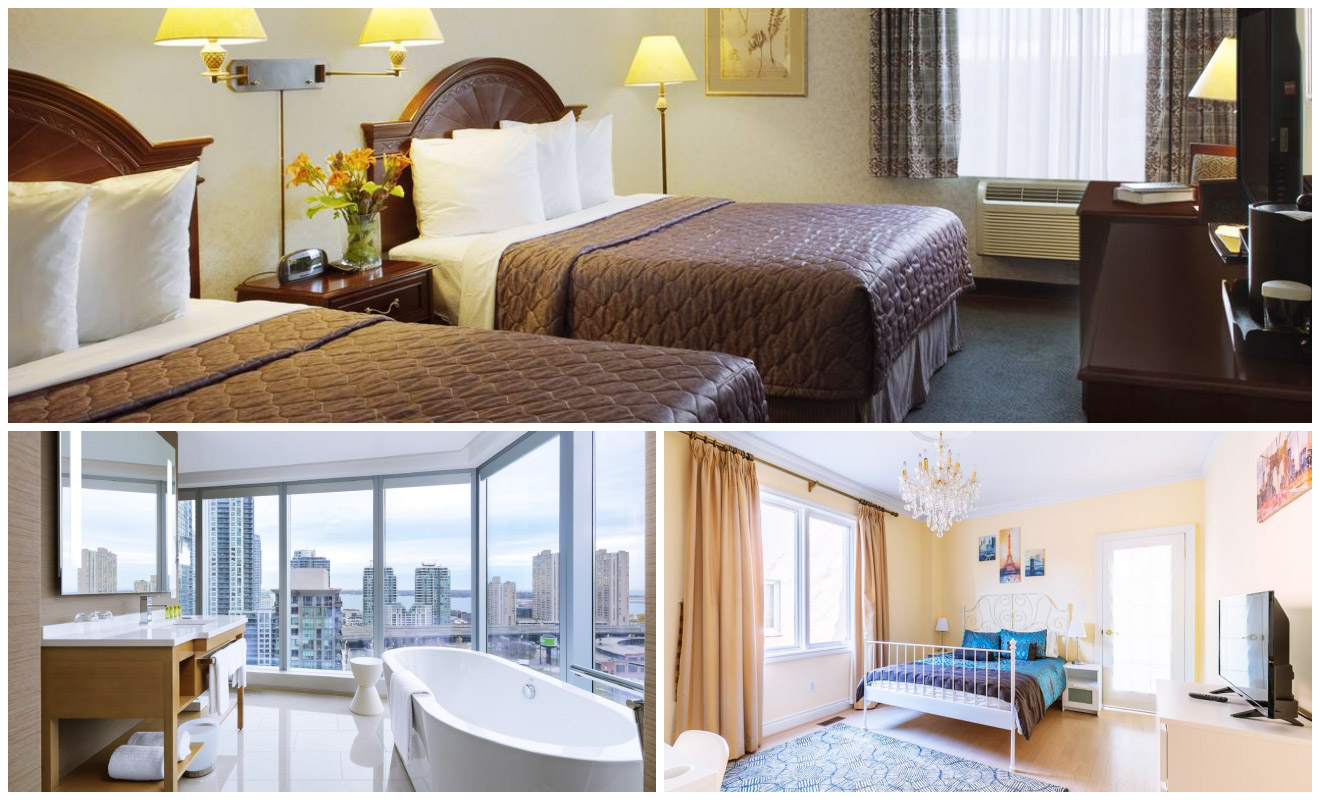 Being the biggest city and the most popular tourist destination in Canada, you might want to book your hotel as far in advance as possible. It is true that you will always find a place to stay in the city, but good places get booked very fast! Here are my hand-picked hotels, all with fabulous reviews. You can check the ones that are in your price range below:
Luxury ($220 CAD and up): If you truly want to be spoiled at a 5-star hotel during your stay in Toronto, this is the place you have to stay: Delta Hotels by Marriott Toronto! This is really one of the top picks for this city that, besides being super close to CN Tower, it has super cool facilities like an indoor pool, yoga studio and more! The Ritz-Carlton, Toronto is another superb choice, located in the downtown center of the city! The rooms are really stunning and the service is impeccable!
Middle-priced (from $160 to $220 CAD): Stay Inn Hotel Toronto is a very pretty hotel that offers free on-site parking, a delicious breakfast served each morning and non-stop coffee and tea service! Ah, and laundry facilities, too! If you would like to stay in a hotel close to the airport, my recommendation is Hampton Inn by Hilton Toronto Airport Corporate Centre! I'm sure you will enjoy the indoor pool, free airport shuttle, and beautiful rooms!
Budget (up to $160 CAD): If you are traveling on a tight budget and you want to make the most of your stay, you should consider a guest house! For example, Sarah & Steve Guest House is clean, cozy and it has very affordable prices, especially if you are traveling as a couple or with a friend! Simply Comfort. North York Guest House is another amazing option that has a cozy garden and terrace and everything else you might need for a pleasant stay.
Day 14: Niagara Falls, Canadian side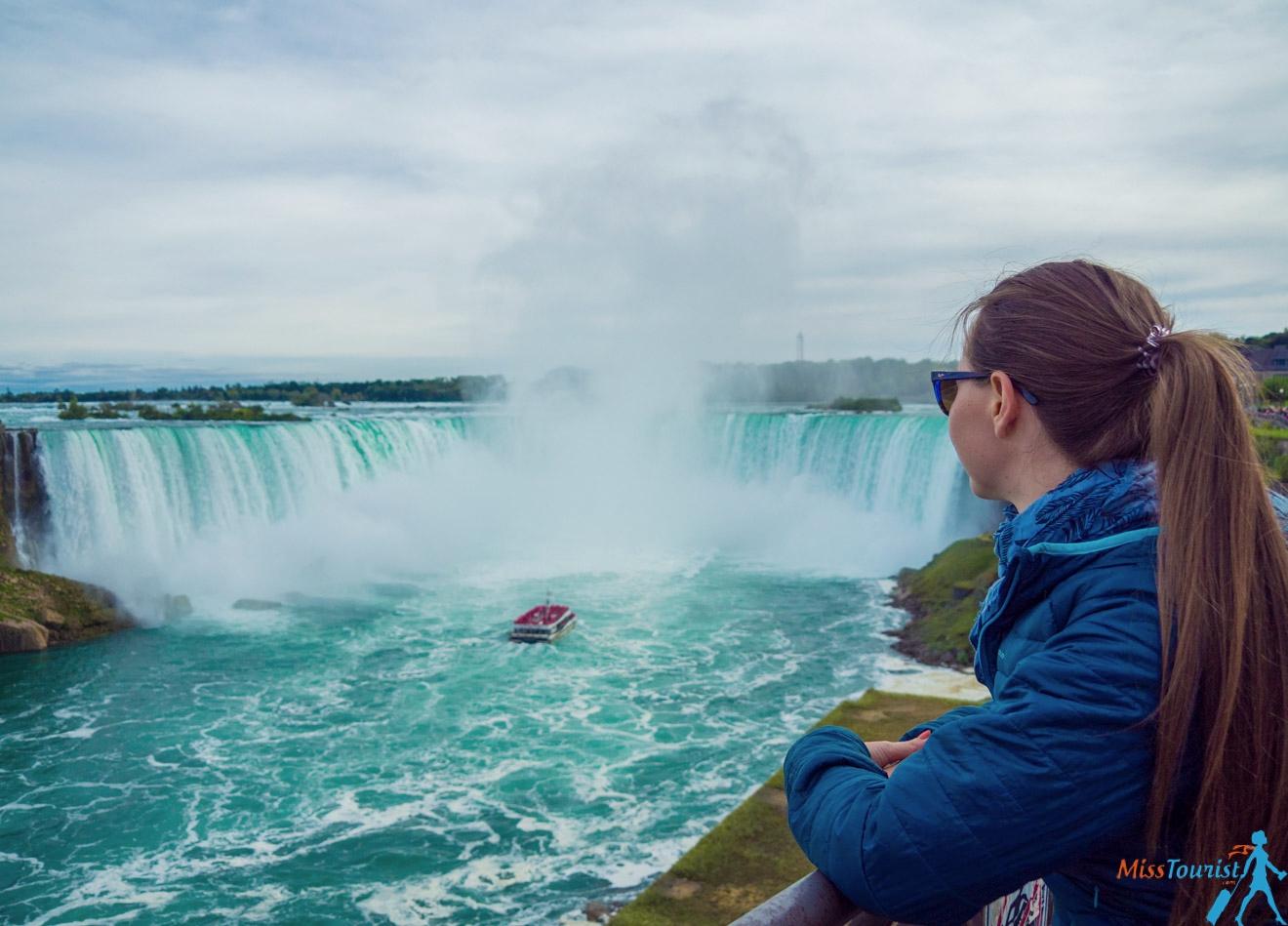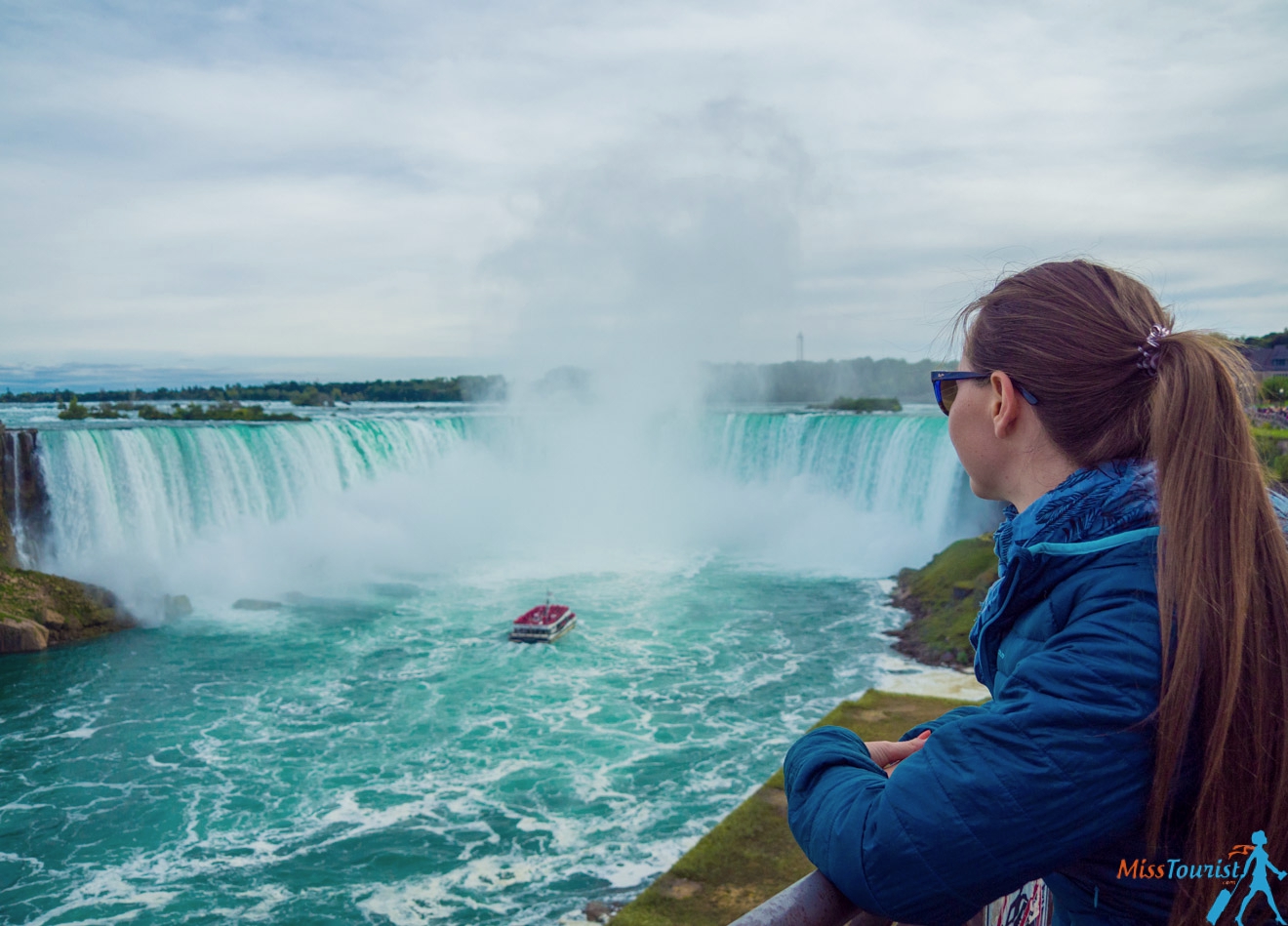 Driving time and distance from Toronto to Niagara Falls: 131 km (81 mi), 1h 20 min
Every Canada road trip itinerary should include a visit to Niagara Falls!
Visiting Niagara Falls always ranked high on my bucket list and it was probably the most anticipated stop during the whole road trip for me! It is also a perfect stop if you are traveling from the USA to Canada. It is free to see the falls, which came as a surprise to me as I am used to paying to see big waterfalls (like Iguazu in Brazil).
You can read more about Niagara Falls attractions, their pricing, how much time to spend there, how to get there, some cool Niagara Falls activities, cheap parking recommendations and many more practical tips in my post about Niagara Falls tours.
Things to do around Niagara Falls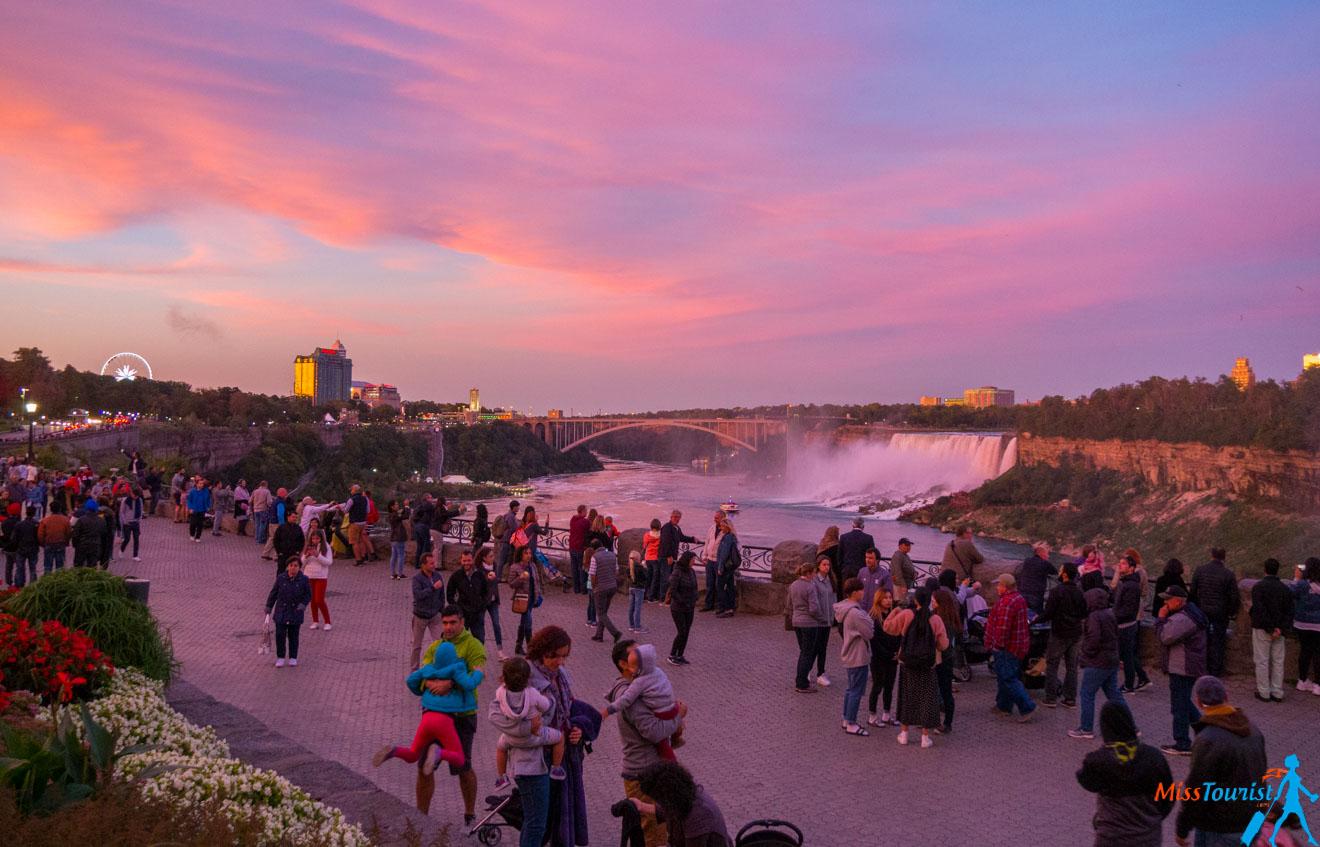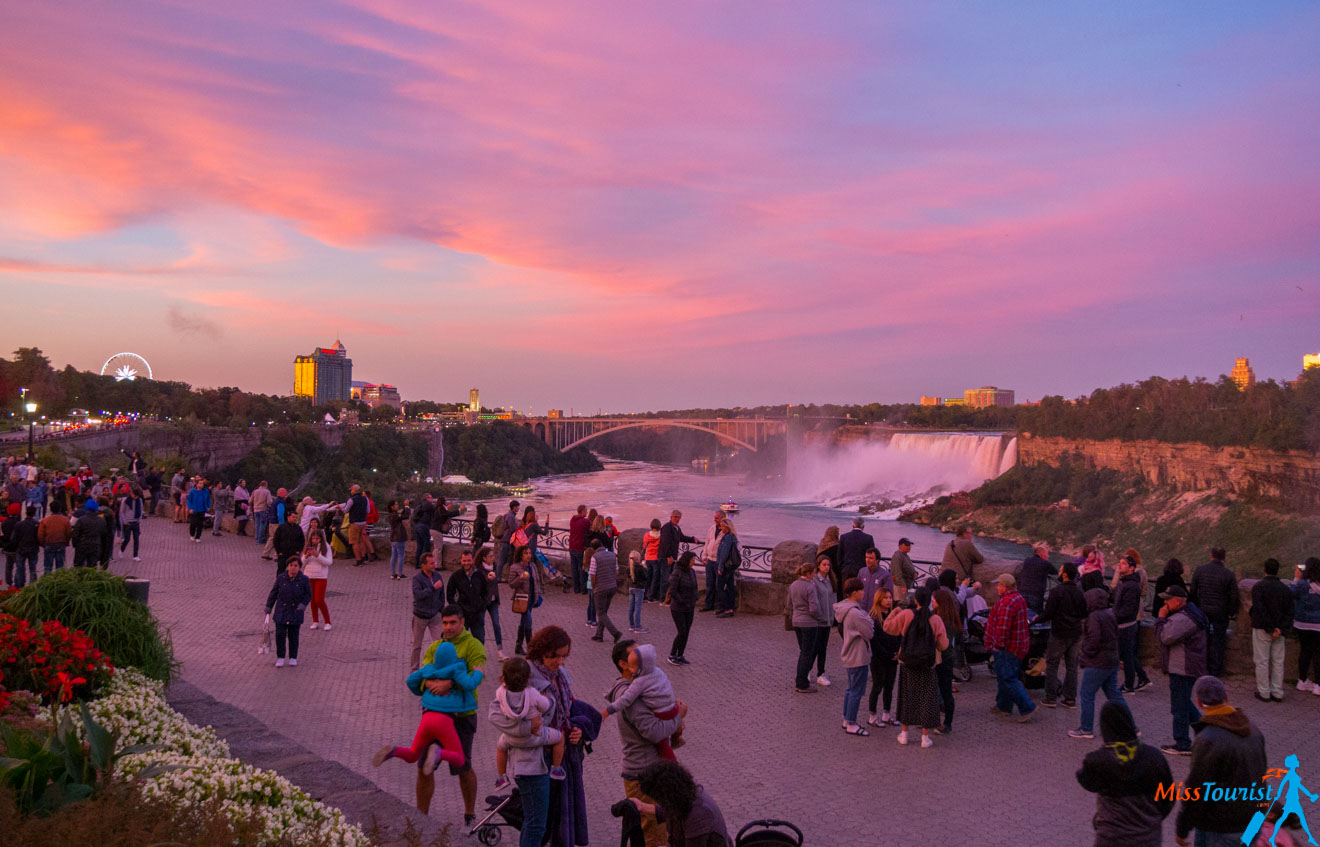 Keep in mind that Niagara Falls has an American and a Canadian side. If you have visas to both countries (or you do not need a visa to enter the USA), you could see it from both sides as they are across from each other. In my opinion, the Canadian side offers a much better view because you can only see part of the scenery from the USA side.
Here are some things to do in Niagara Falls, Canada:
Admire the waterfalls (because, duh!)
Do the Journey Behind The Falls (the cost is $22.50 CAD per person and it closes at 8 PM. Please note that you can't go behind the entire waterfall, just a part of it, but it is awesome nevertheless!)
Take a boat tour to the Horseshoe Falls (The boat company that does it is Hornblower. PRO TIP – make sure to be the first one to get on the boat – this way you will get the best view of the falls and the best pictures! You should definitely buy your tickets online beforehand, as the lines are usually long)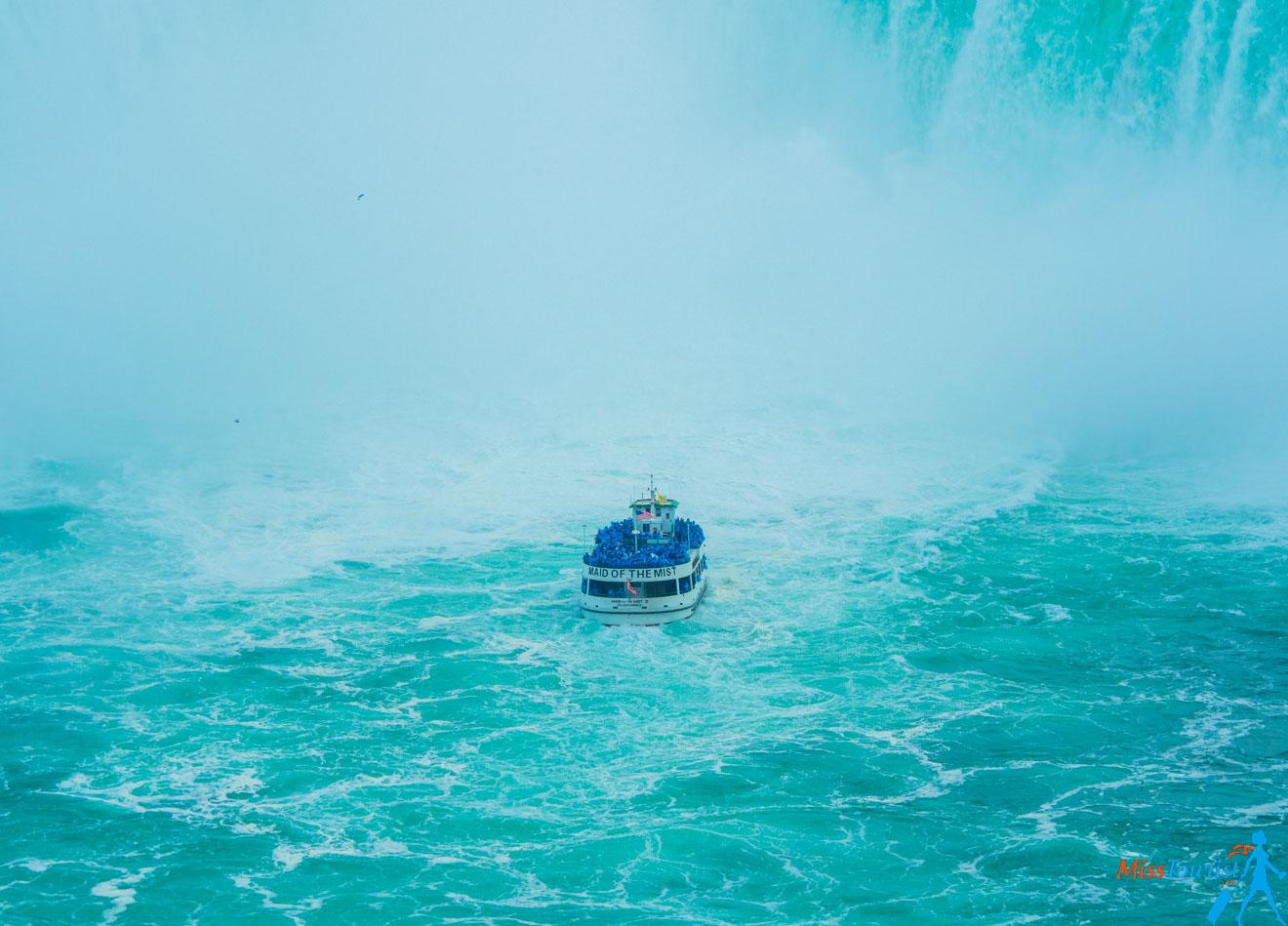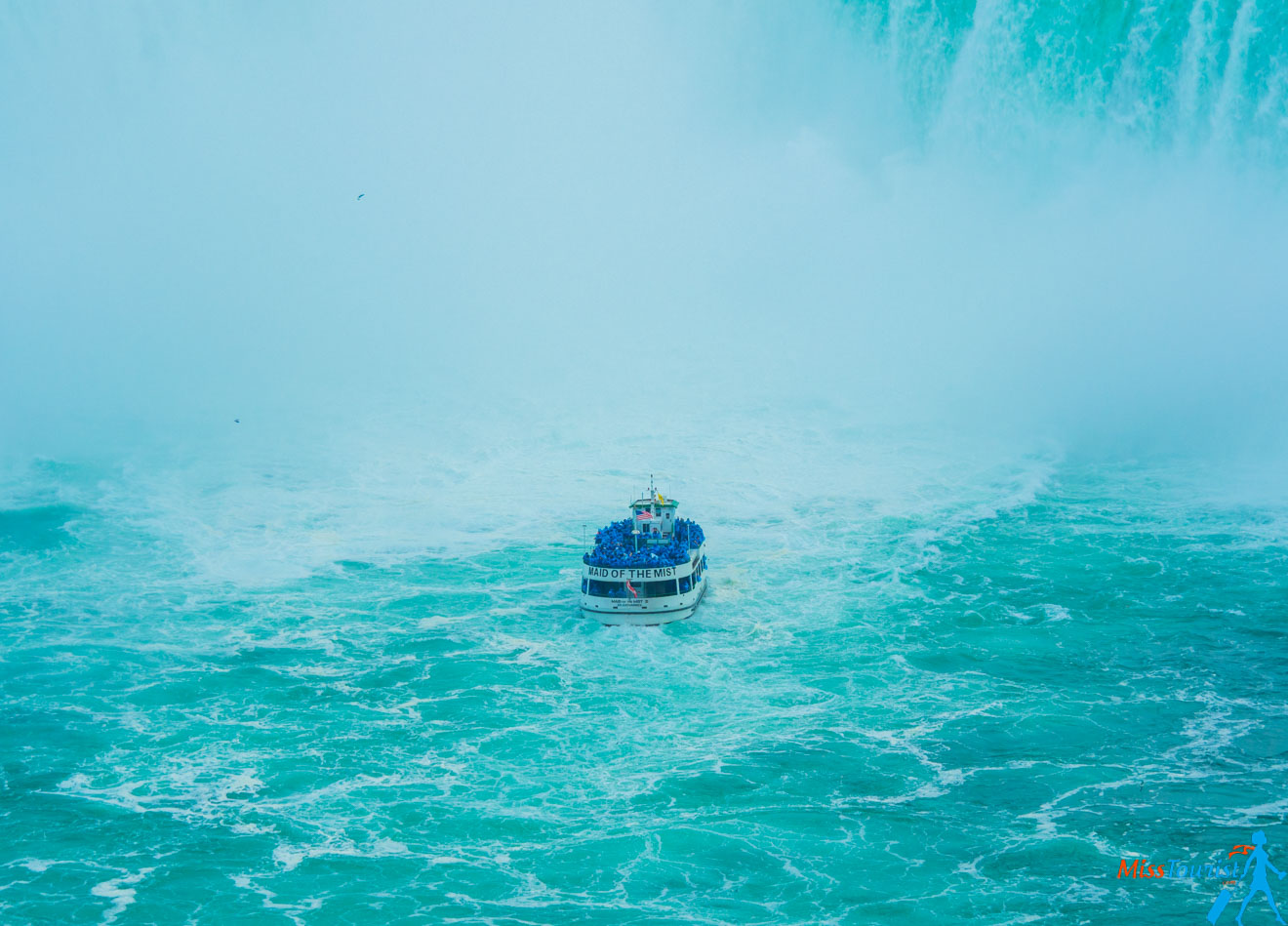 If you are looking for things to do in Niagara Falls for adults, you should know that there are wineries around so it could be a good idea to take a wine tour.
Are you interested in some unique things to do in Niagara Falls, Canada? Then you should take the White Water Walk (you will walk along the Niagara Falls! Too bad I only learned about it later, I would have gone for it!)
Enjoy the illumination show of the waterfalls (which takes place around sunset time – one of the best things to do in Niagara Falls for couples!)
Stop by Niagara-on-the-Lake on your way from Toronto, a cute little town just 20 minutes away from Niagara Falls
Go up the Skylon Tower restaurant (rotating restaurant with a breathtaking view. Try to come before dawn so you get to see both views)
Try your luck in FallsView Casino (though I have heard the one on the American side is better)
Visit Clifton Hill – it is a famous street for fun by the falls
Go for a drink at the Sheraton Hotel on the Canadian side; it offers one of the best views!
If you are looking for an organized Niagara Falls tour from Toronto, this is a great option – you will also visit a cute town called Niagara-on-the-Lake and you will try the famous ice wine!
As I mentioned earlier – for other activities, prices and other pro tips like cheap parking spots close to the falls, please click here and read this detailed post.
Accommodation in Niagara Falls, Canadian side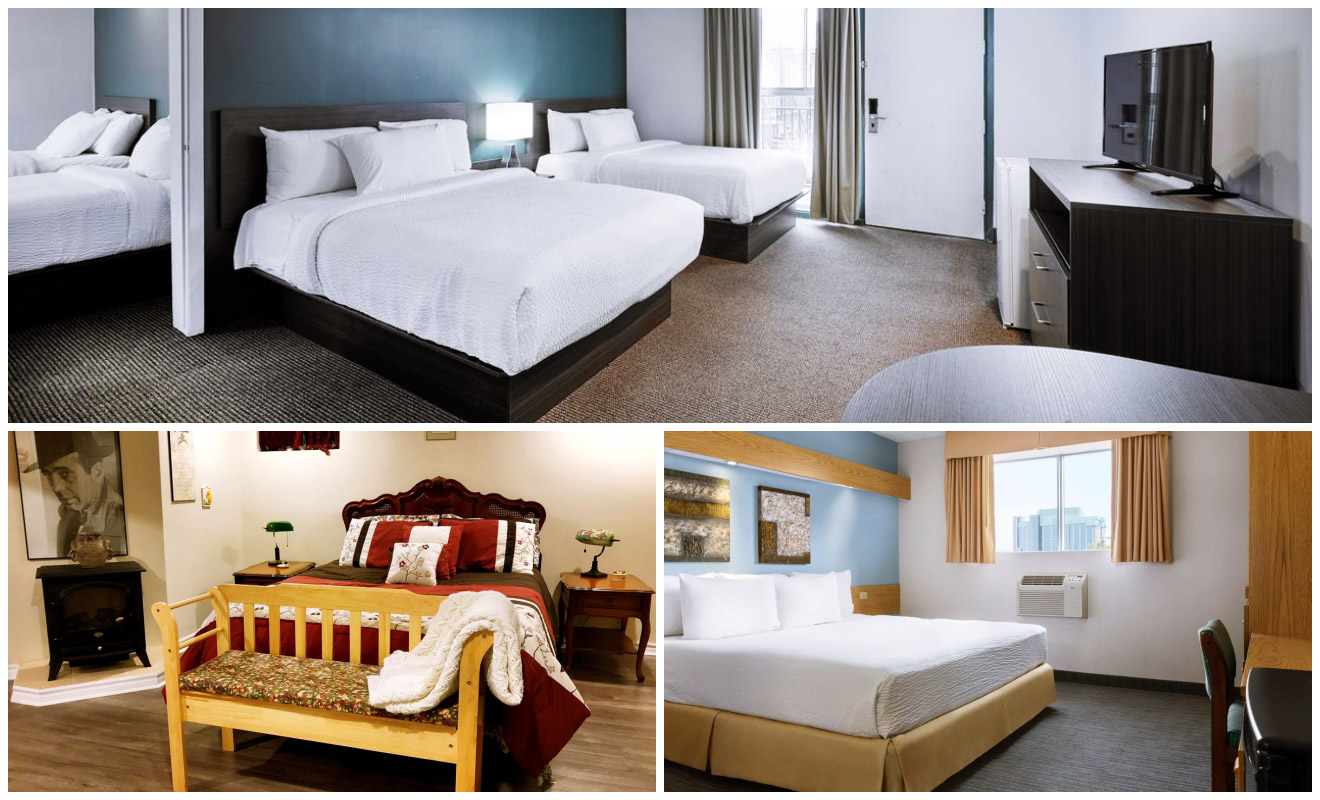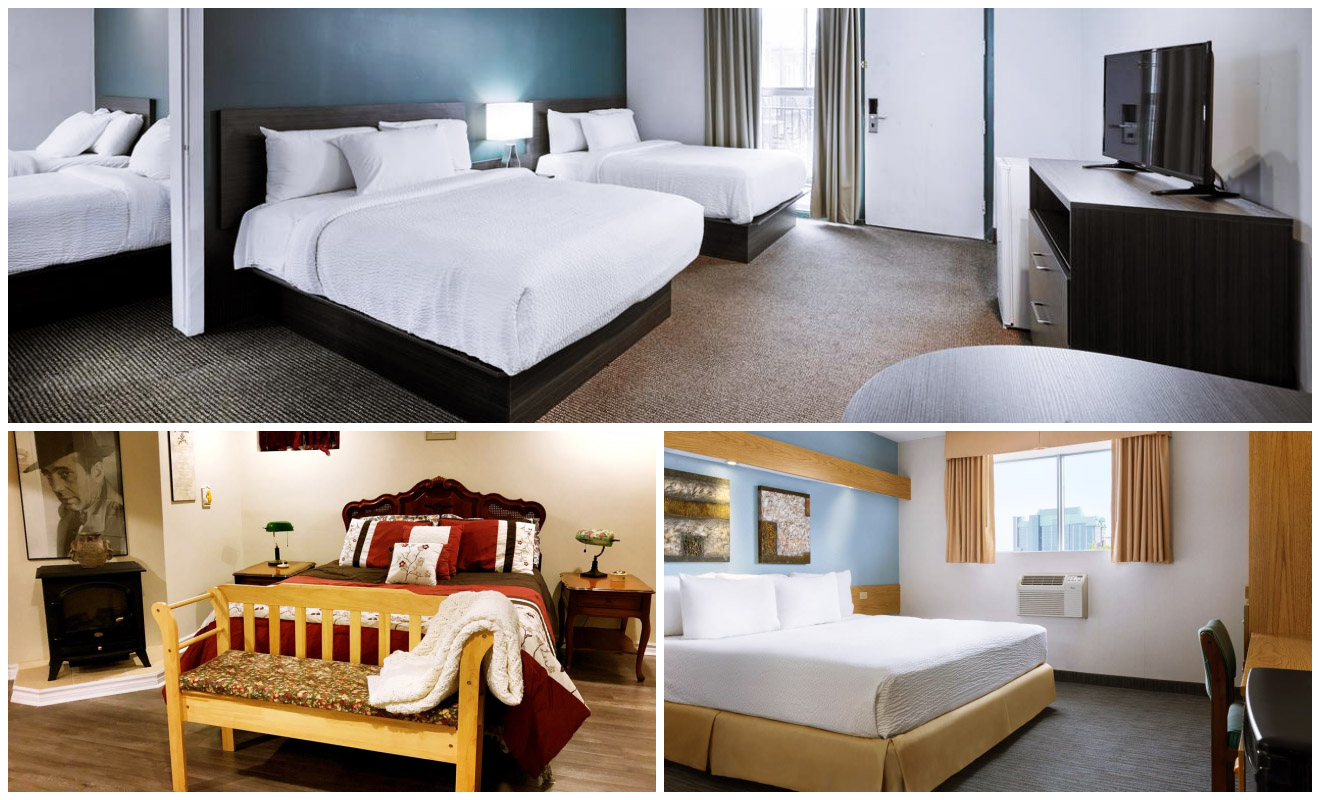 There is a large assortment of hotels in the area. You will find both well-known hotel chains, as well as cute vintage-looking motels.
If you are searching for budget options and you are ok staying on the American side, you can try searching for accommodations near Buffalo as there are many reasonably priced hotels there!
If you plan on staying on the Canadian side, I can recommend the following accommodations. You can also check out our article on the best accommodations for every budget for more options.
Luxury ($250 CAD and up): The Falls Hotel & Inn is my first recommendation for an amazing luxury accommodation! During your stay, you will benefit from free Wi-Fi, a hot tub, 24-hour front desk service and coffee facilities! Sterling Inn & Spa is the perfect 4-star accommodation for your stay near Niagara Falls! You will benefit from free Wi-Fi in each room, full spa services and even an amazing restaurant that serves all kinds of delicious dishes!
Middle-priced (from $160 to $250 CAD): Days by Wyndham Niagara Falls Centre St. By the Falls is a great accommodation that offers perfect service for a reasonable price! This 3-star hotel features cozy, air-conditioned rooms, private bathrooms and even a kitchenette in some rooms! Two Rivers Bed and Breakfast Niagara by Elevate is another superb 4-star bed and breakfast, located only 5 minutes away by car from the views over Niagara Falls! Plus, the linen and silks at the hotel are handmade! How cool is that?
Budget (up to $160 CAD): If you are searching for the perfect bed and breakfast, my suggestion is Blue Gables Bed and Breakfast. The rooms are very pretty and nicely decorated, the breakfast is delicious and the staff is so friendly! If you would prefer a motel instead of an inn, I have a recommendation too: Blue Moon Motel. Although very simple, this accommodation has a great advantage: it is located only a 10-minute drive away from Niagara Falls!
Day 15: Thousand Islands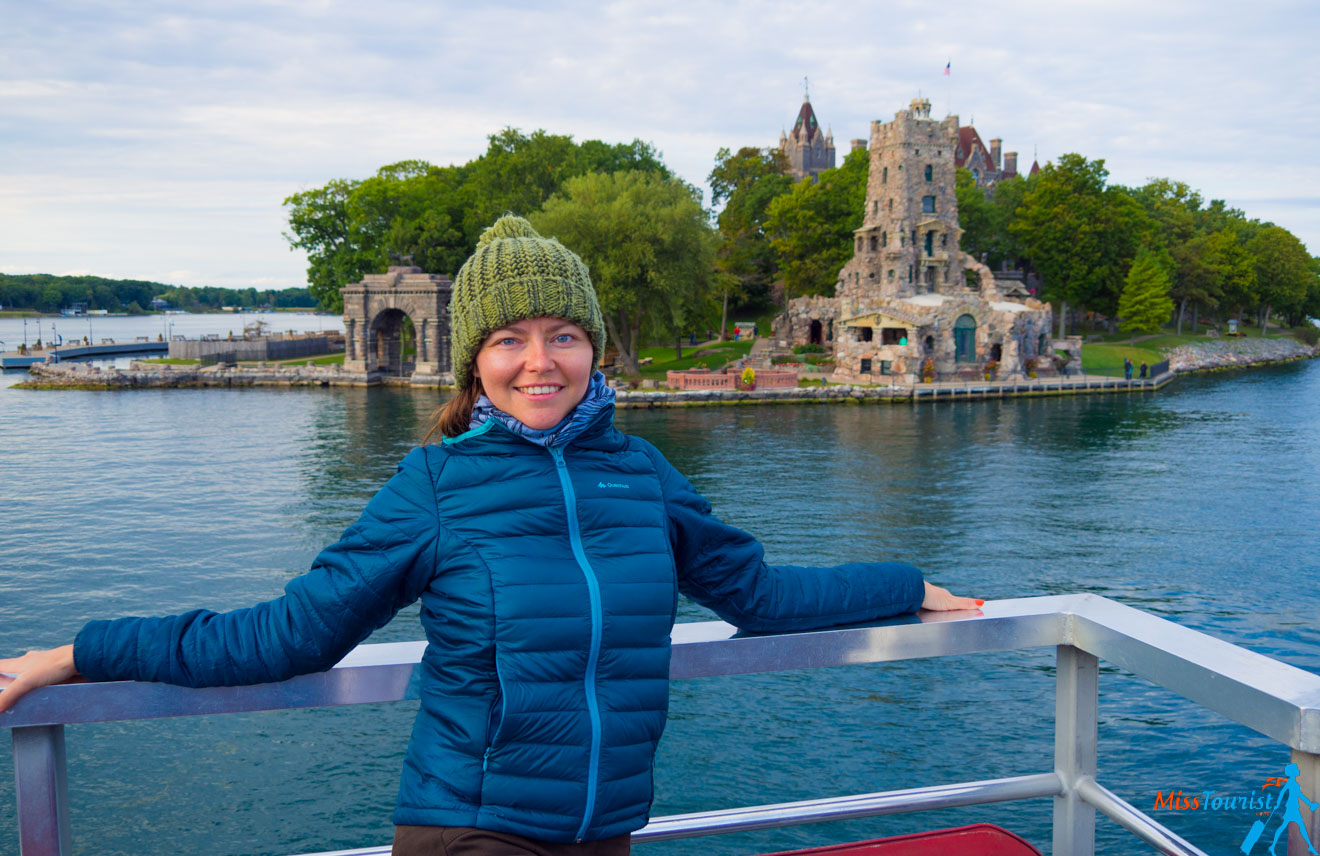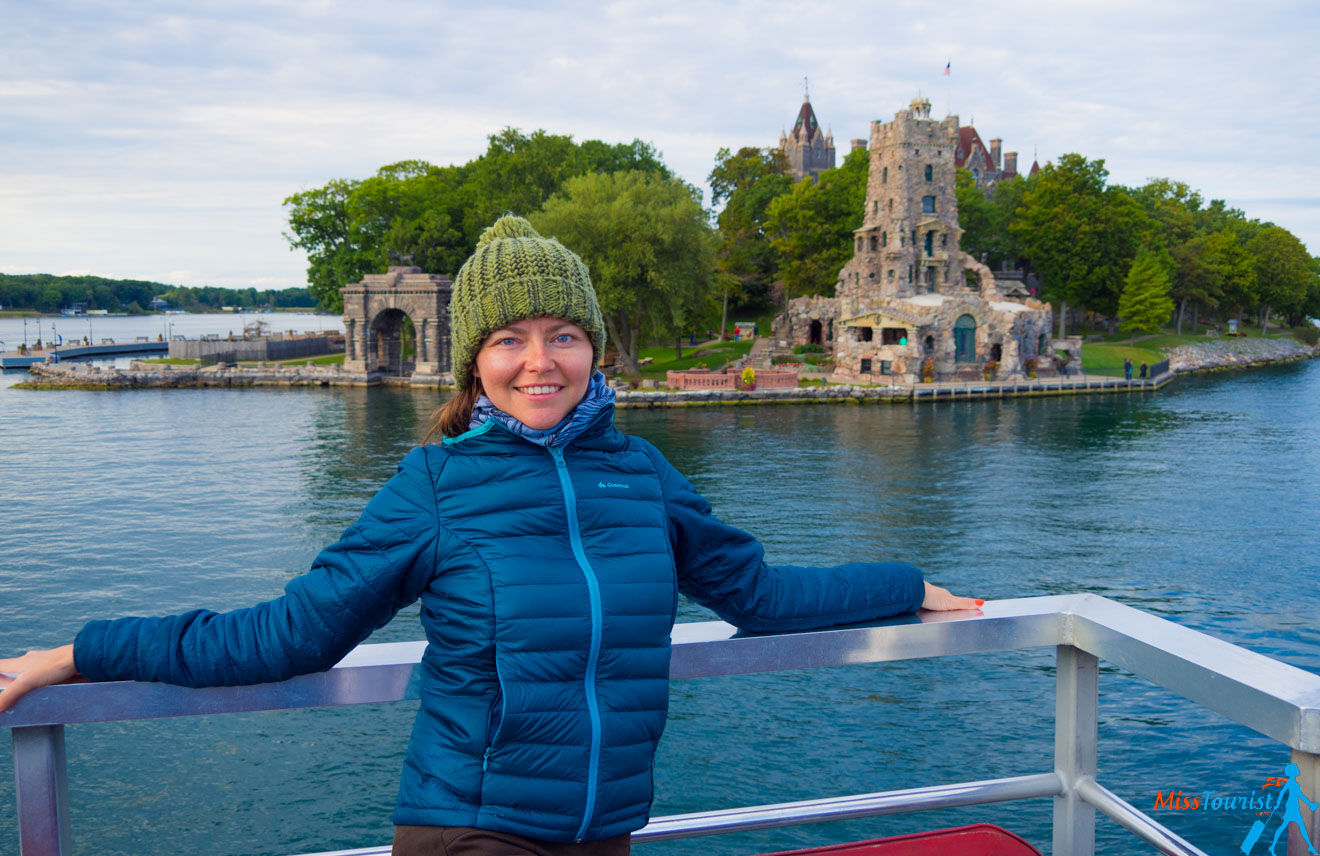 Driving time and distance from Niagara Falls to Thousand Islands: 255 km (158 mi), 2h 40 min
This is your last sightseeing day so try to make the most of it! I advise you to wake up early to reach Thousand Islands in the afternoon (the last boat tour leaves at 4 PM). There is a later cruise too (called the 'dinner cruise'), but I think the one during the day is better (and warmer) if you want to properly see the islands.
Thousand Islands (pronounced as written, without "one" in front of "thousand") is an area of endless shorelines that is shared between the USA and Canada. This place is interesting because, first, it is very pretty, but also because of its rich history and unique culture.
150 years ago bootleggers were patrolling the area, there were pirates, rum and shipwrecks – just like in the movies! Nowadays it is much more peaceful: some islands are owned by celebrities, some by public organizations, but mostly private families live there.
The area of Thousand Islands actually accounts for much more than 1,800 islands! More than 1,400 residences were built on its islands, some tiny, some bigger.
Things to do in Thousand Islands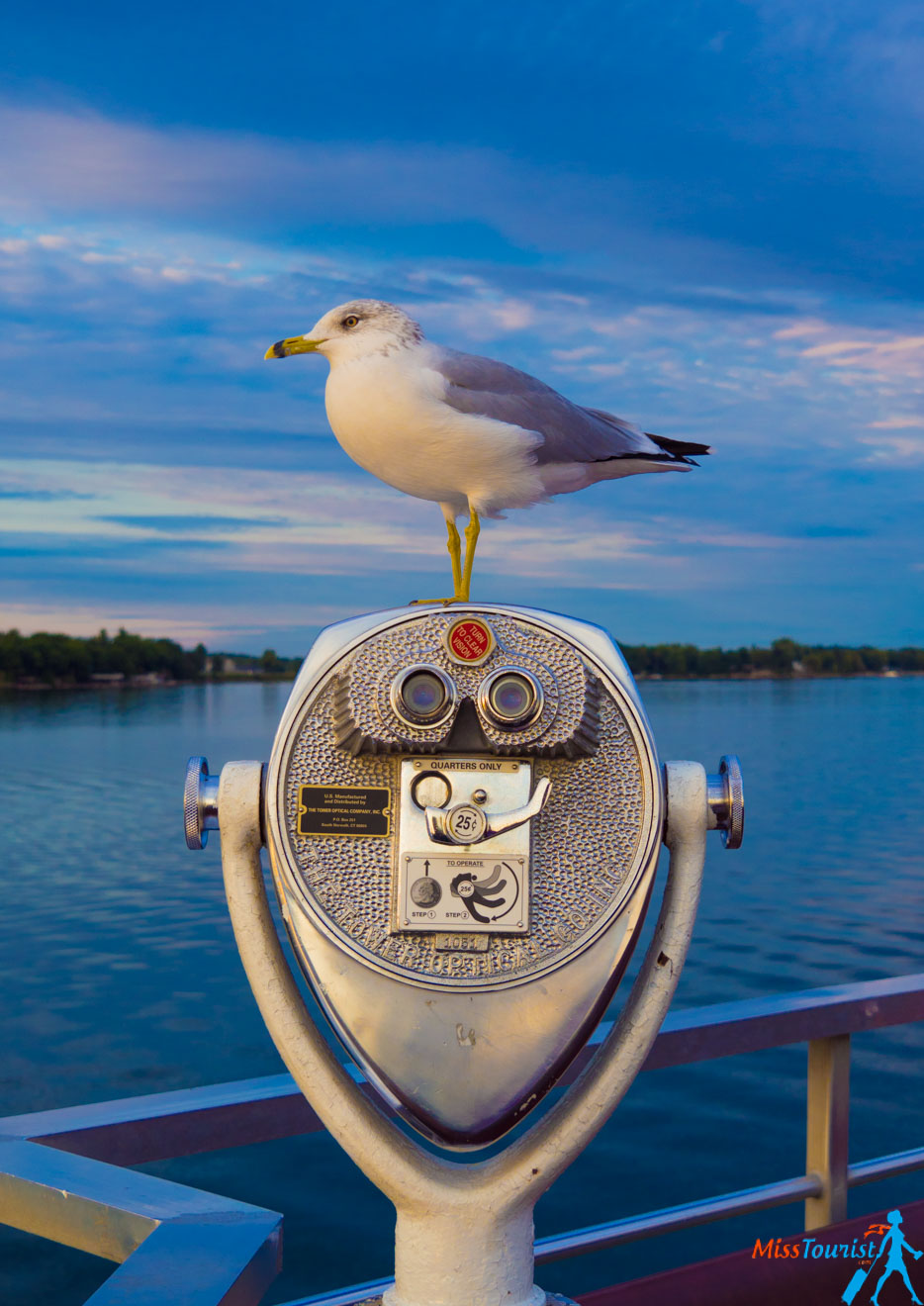 Here are the main things to do in the area:
Take a Thousand Islands cruise (duh! More on this below)
Visit the Boldt Castle (you will need an American visa/passport that allows you to enter to visit the Thousand Islands castle. You can cruise around it by boat if you don't have a visa. That is what we did)
You can go hunting and fishing if you are into these kinds of activities
Of course, you must try the Thousand Island sauce!
Taking a Thousand Island scenic boat tour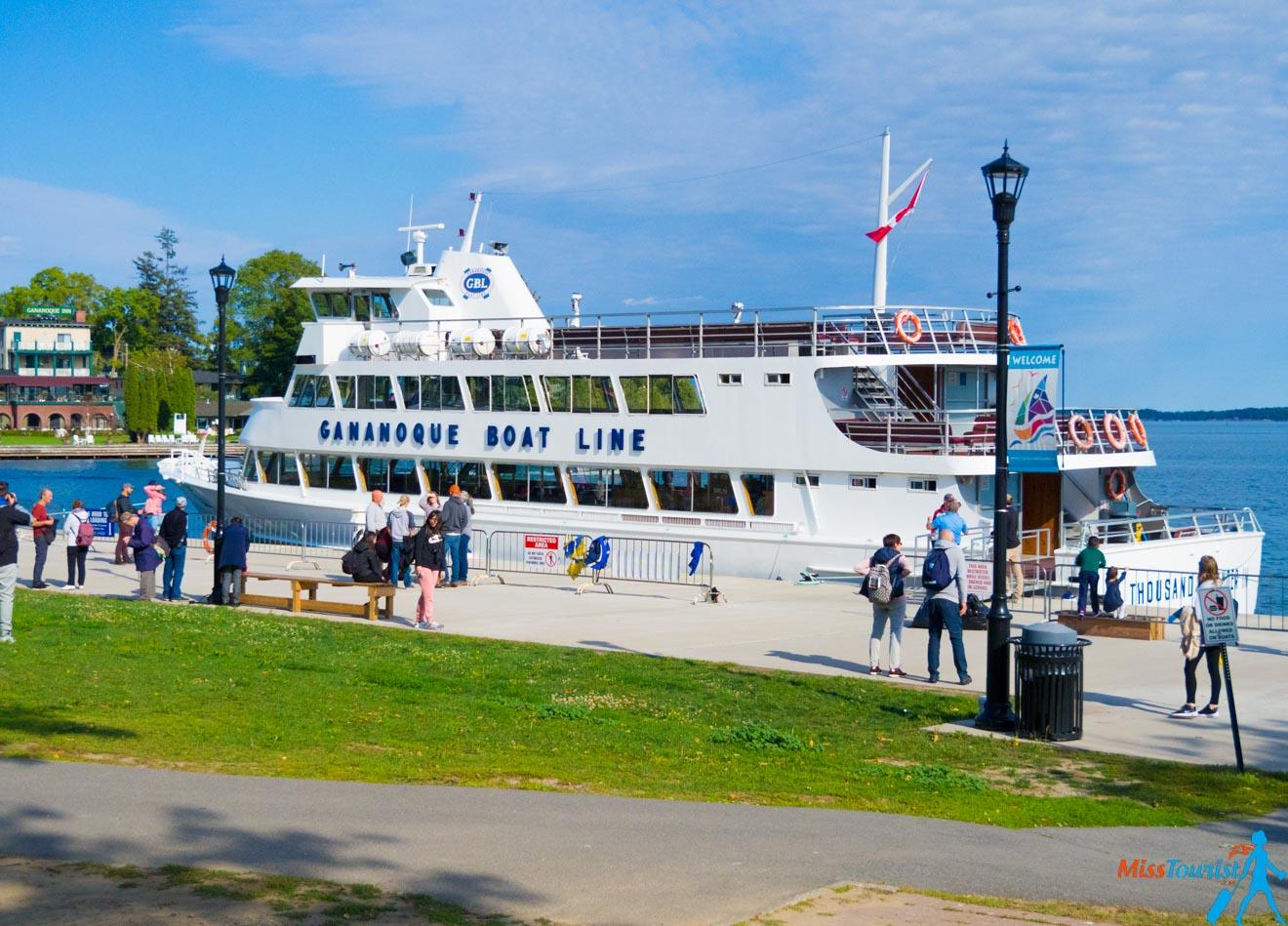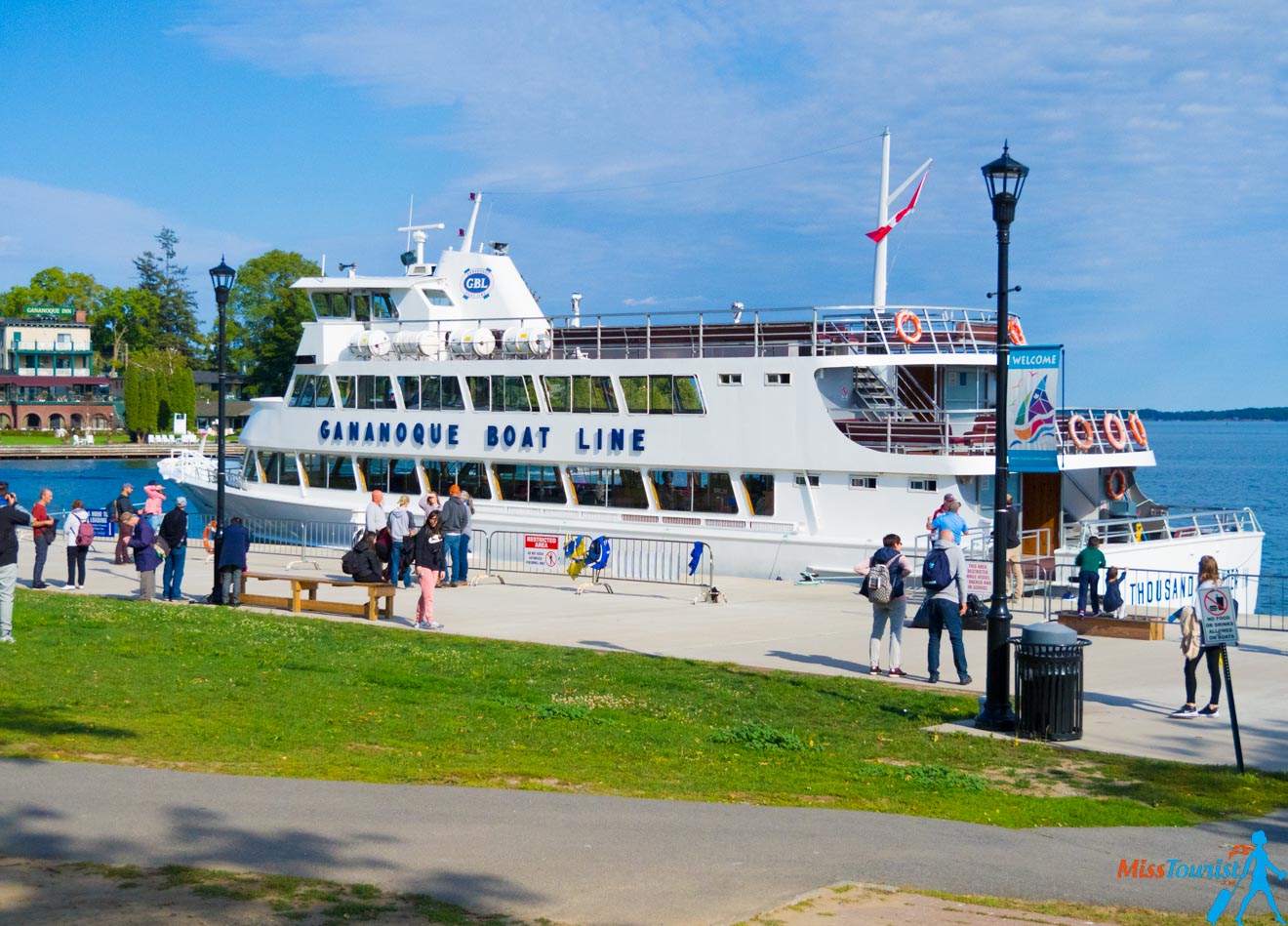 There are a couple of cities/towns where you can take the Thousand Islands boat tours from. We chose to start from Gananoque because the time of that specific boat tour was perfect for us. I am going to mention them all below, both Canadian and American side:
Brockville, Canada
Gananoque, Canada
Kingston, Canada
Rockport, Canada
Smiths Falls, Canada
Alexandria Bay, USA
Cape Vincent, USA
Clayton, USA
Sackets Harbor, USA
Here is a good resource where you can learn about all the organized cruises, sorted by time and place.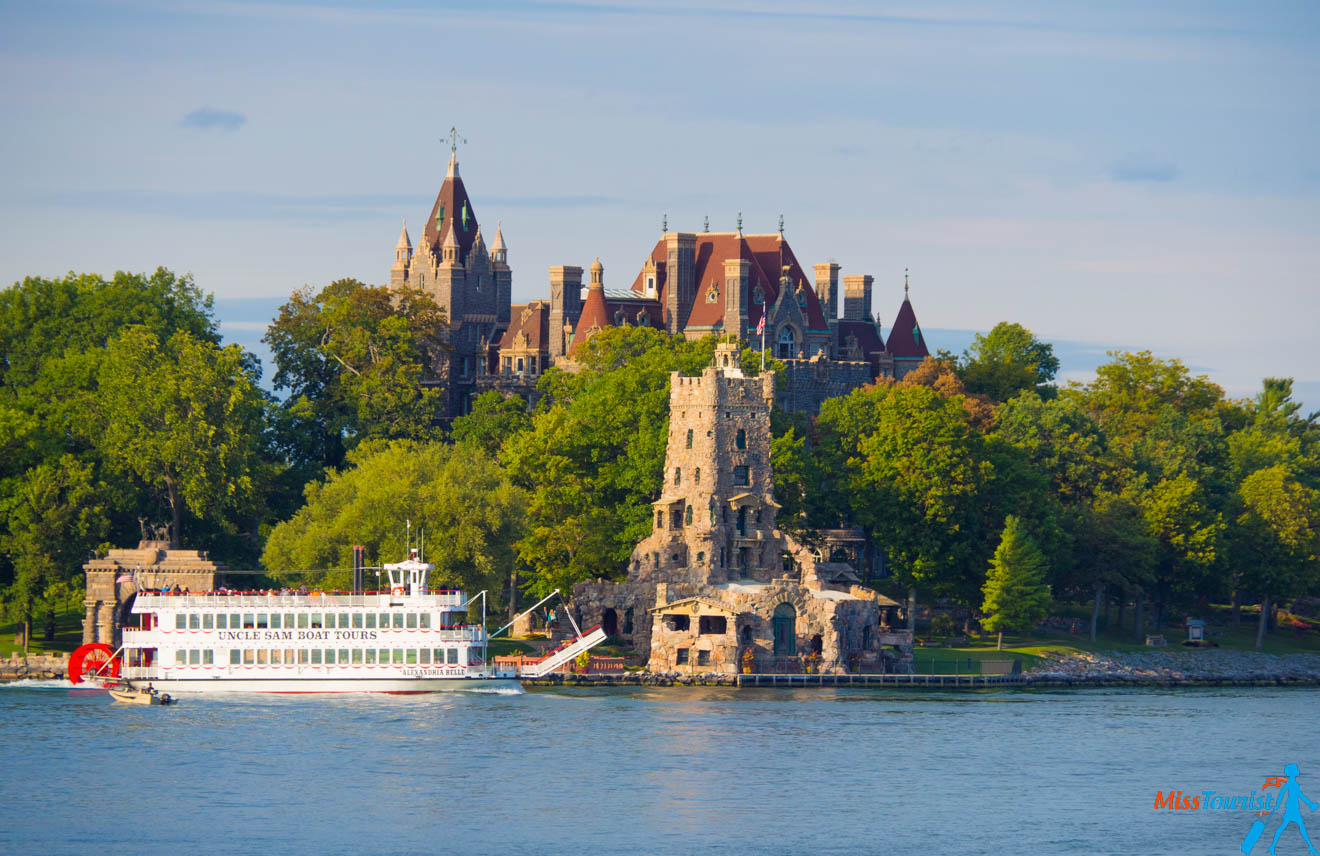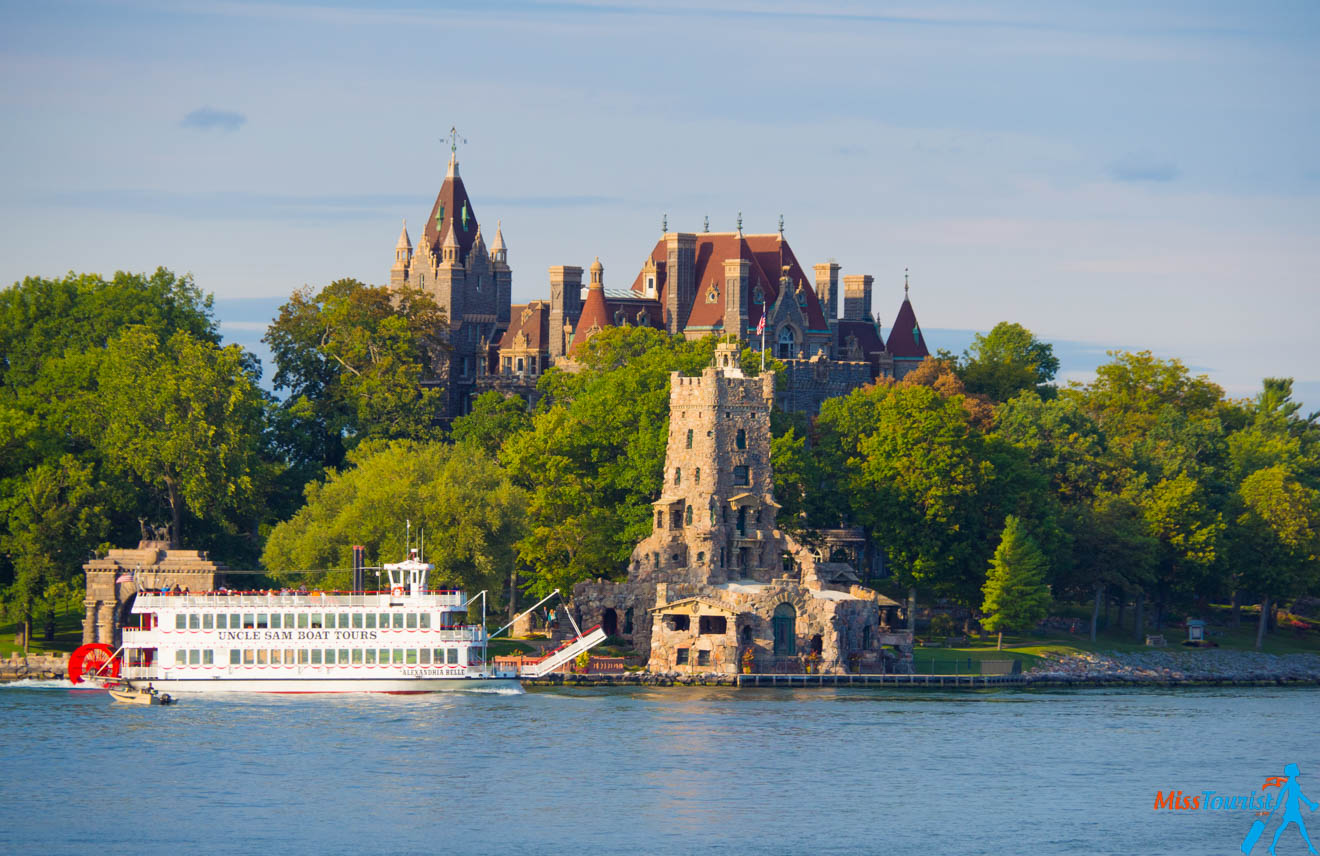 As I said earlier, we took a cruise from Gananoque (20-minutes away from Kingston). We chose a 2.5-hour cruise around the islands that also shows shipwrecks and makes a full circle (this one). Thinking about it now, maybe I wouldn't take the shipwreck tour again because guess what, you actually don't see the shipwrecks underwater at all (maybe on a super clear day you would have a chance?). The information given was interesting, but next time I would choose a castle tour or something more interesting.
The famous creamy dressing was invented here! Did you know that?
FUN FACT: Here is the story about the invention of this famous sauce – Mr. George Boldt, the magnate and the guy who built the beautiful castle for his wife (which I mentioned above) liked the sauce so much he named it in honor of the place it was invented. He ordered the sauce to be served on the menu of the posh Waldorf-Astoria Hotel in New York, which Boldt was managing at the time. The rest is history, as they say. 🙂
Thousand Islands Hotels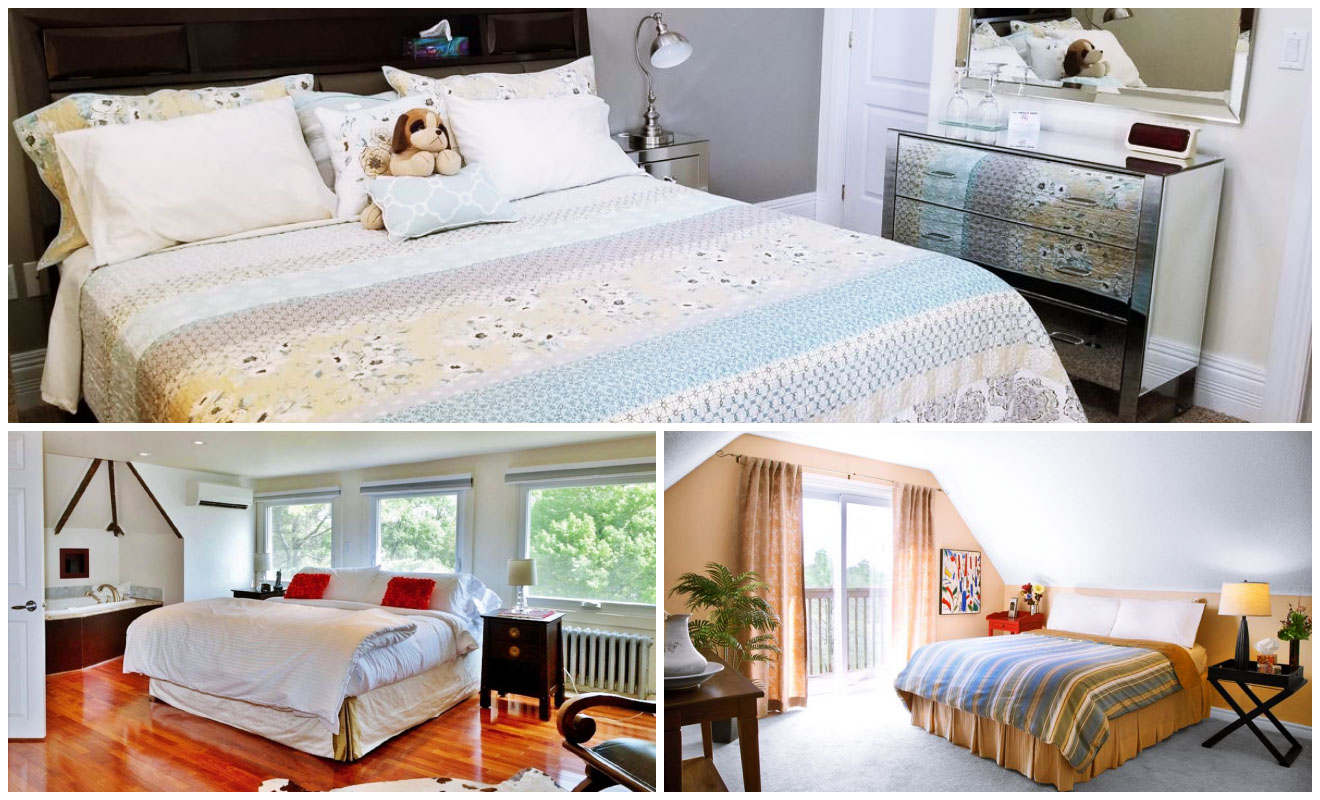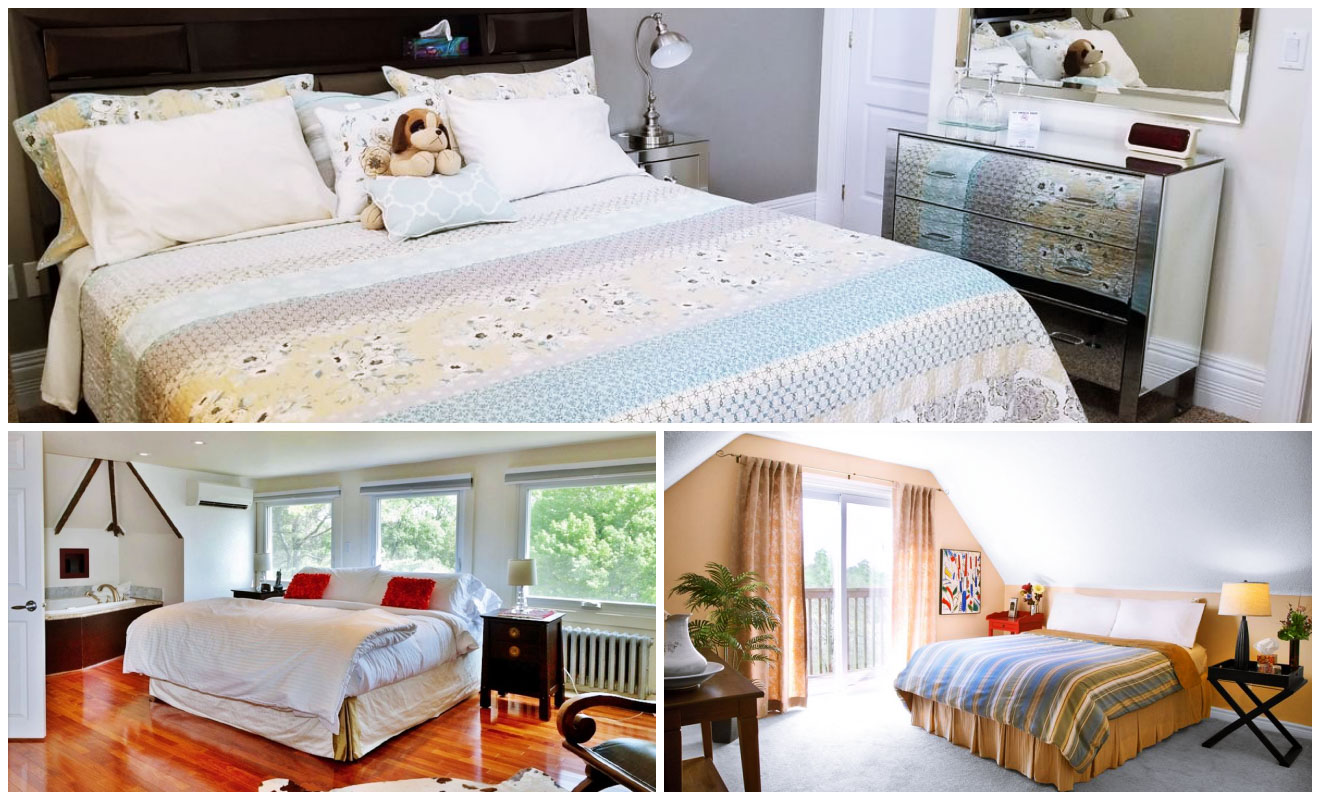 NOTE: If your flight is early in the morning the next day, you might want to rush it and go directly to Montreal without staying overnight in Thousand Islands (it is about a 2 hour drive). If this is your case, please refer to my Airport Hotels recommendations section below.
Me, on the other hand, I had enough time and I really wanted to relax on my last day with my best friend sipping on a glass of red wine. I am very happy we decided to stay overnight!
Here is the hotel I stayed at plus other suggestions for Thousand Islands hotels sorted by price and reviews:
Luxury ($220 CAD and up): All Suites Whitney Manor is a 4-star apartment that simply looks amazing! This one is located in Kingston and it is the perfect place to spend the night and gather back your energy! The Noble Suites is an amazing 4-star inn that has a rustic feel but with modern facilities. It is located in Brockville, not far from Thousand Islands and it is surrounded by local shops and restaurants!
Middle-priced (from $150 to $220 CAD): Riverview B&B is a great middle-priced accommodation in Gananoque, 31km from Thousand Islands Playhouse. This bed and breakfast has a super friendly staff, free Wi-Fi and great service! Another good option for travelers is 1000 Islands B&B. This one has a heated swimming pool, cozy rooms and it is only 30 minutes by car from Gananoque!
Budget (up to $150 CAD): The Colonel's Inn is a very convenient budget accommodation located in Prescott, Ontario – perfect if you are looking for Thousand Islands cottages! If you choose to stay here, you will surely enjoy the outdoor swimming pool and the cozy rooms! Tekdiv B&B is the hotel where I stayed and I can wholeheartedly recommend it. It features a great on-site restaurant and even a scuba diving school! Plus, the rooms are cozy and super nice, perfect for a good night's sleep.
Day 16: Back to Montreal and back home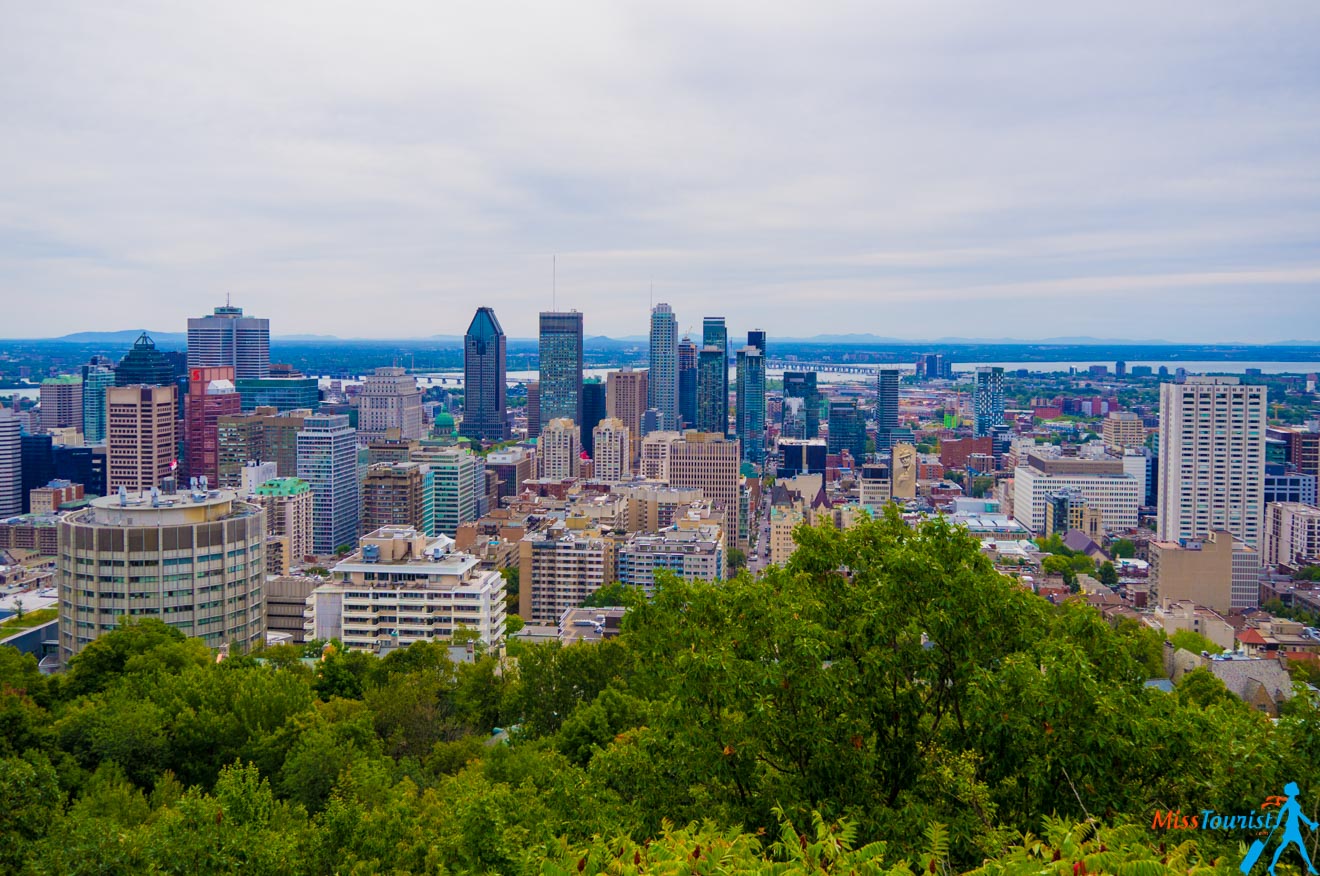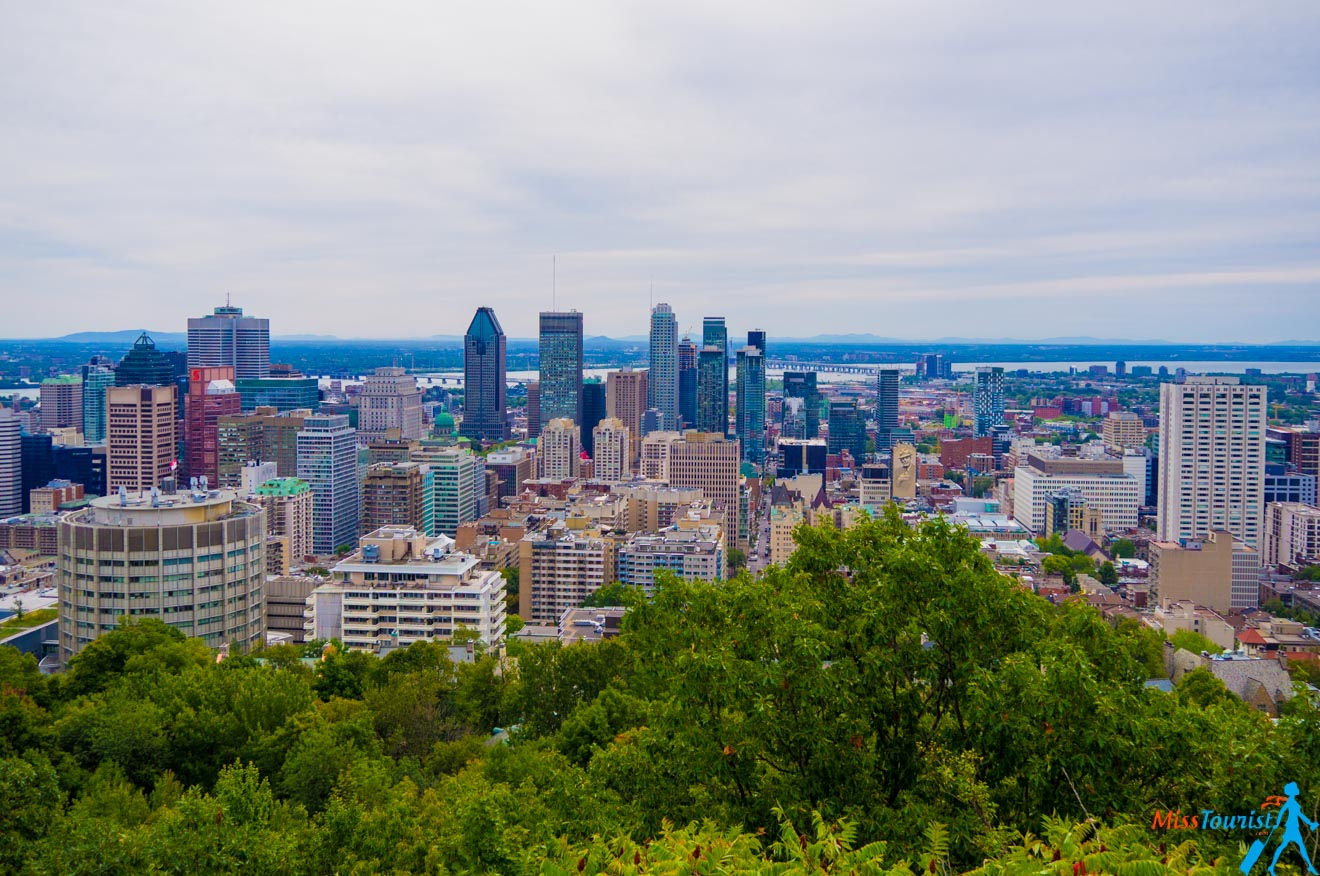 Driving time and distance from Thousand Islands to Montreal: 290 km (180 mi), 2h
You made it adventurer, I hope you liked your road trip. Mine was no less than epic!
The drive back to Montreal is about 2 hours, so try to plan for enough time to return the car and get to the airport.
NOTE: There are almost no gas stations close to the airport, so try to fill your tank beforehand.
Below I am recommending some very good airport hotels in case your flight is early in the morning the next day and you prefer to go directly to the airport and relax before your flight. As I know that many of you will start and finish your trip in Toronto, I am offering you accommodation options for both Montreal and Toronto.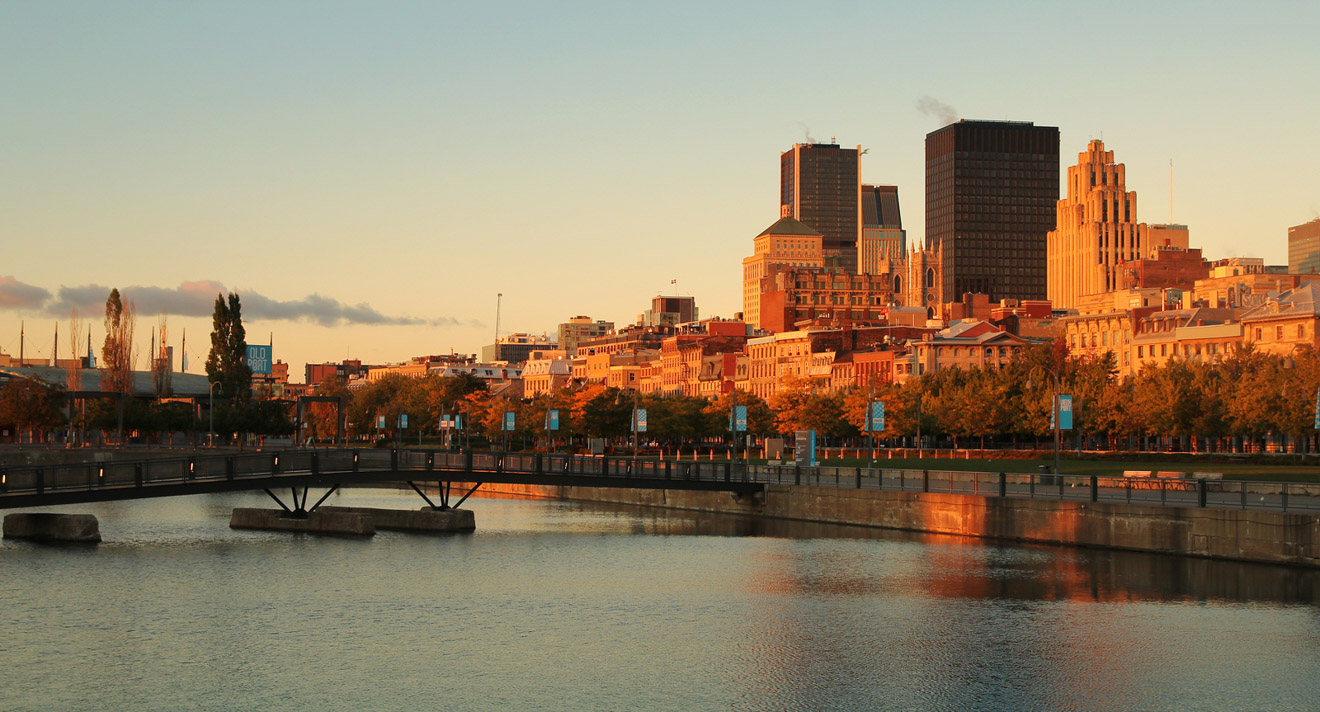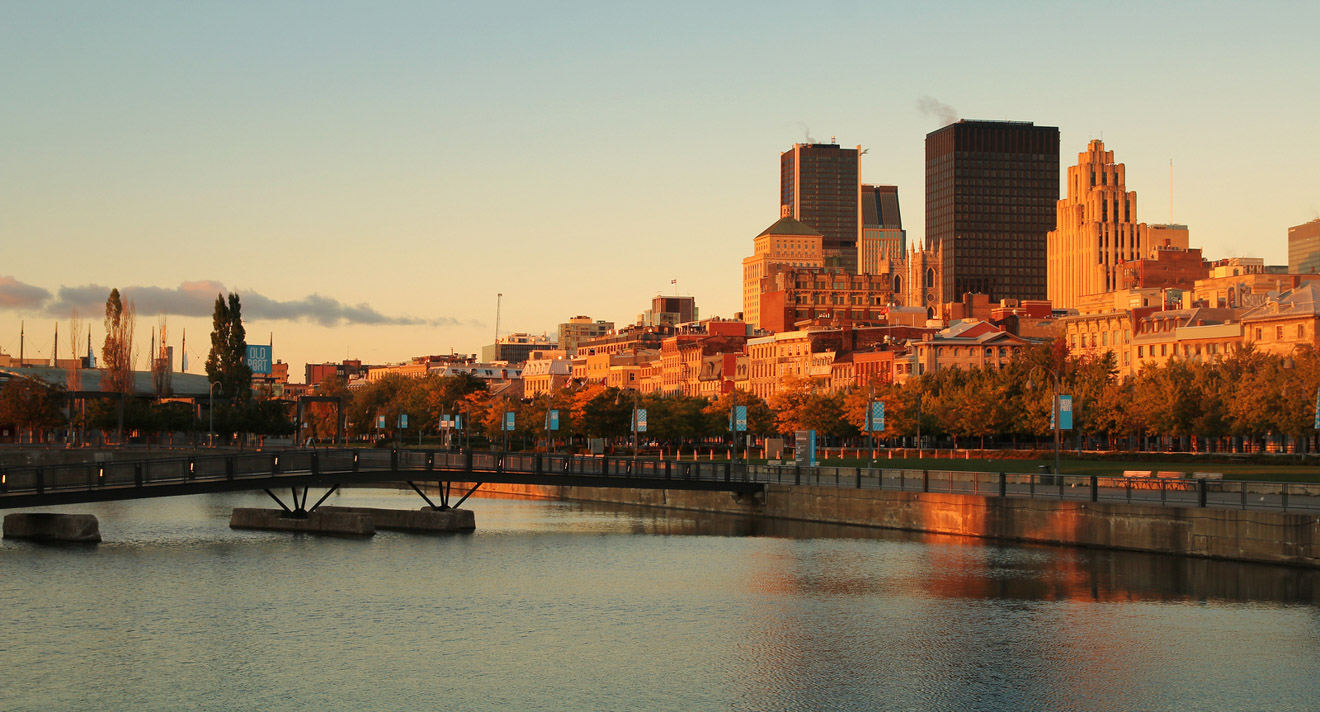 Good airport hotels in Montreal:
Montreal Airport Marriott In-Terminal Hotel is my recommendation for a luxury airport hotel in Montreal. This is a 4-star accommodation connected to the airport that offers a great on-site restaurant, an indoor pool and, of course, free Wi-Fi!
If you would prefer a middle-priced option, you should go to Aloft Montreal Airport. This one has more affordable prices and it is located extremely close to the airport. Plus, you can benefit from the 24-hour airport shuttle service if you decide to stay here!
My recommendation for budget travelers is Comfort Inn Airport Dorval. This great hotel is located less than 3 km away from the airport and you can also use their free airport shuttle for your transfer. Plus, in 20 minutes by car, you can get to the city center!
Good hotels near Toronto Airport
Toronto Airport Mariott Hotel is my recommendation for luxury travelers who want to be spoiled during their last day in Canada. The airport is located only 4.2 km away from this accommodation and you can use their free shuttle service to get there. Plus, you can even watch movies and play video games in your room!
Located only 2 km away from the Toronto airport, Alt Hotel Toronto Airport is a great choice for a middle-priced hotel that offers excellent service. This one offers spacious and modern rooms, a cozy seating area, free Wi-Fi and more!
If you are traveling on a tight budget but you still want to be close to the airport for your departure, Best Western Premier Toronto Airport Carlingview Hotel is an amazing choice! This hotel is located only 4km away from the Toronto airport and it boasts an indoor pool, 24-hour fitness center and, of course, a free airport shuttle that you can use!
| | |
| --- | --- |
| 🤩 Range of activities: | Large |
| 👪 Family-friendly score: | High |
| 🌊 Unique spot : | Niagara Falls |
| 🍲 Top city for foodies: | Quebec City |
| 💰 Dinner for 2: | $45 |
| 🍞 Must-try food: | Bannock |
| ✈️ Cost of traveling: | Medium |
Notes and possible changes to the road trip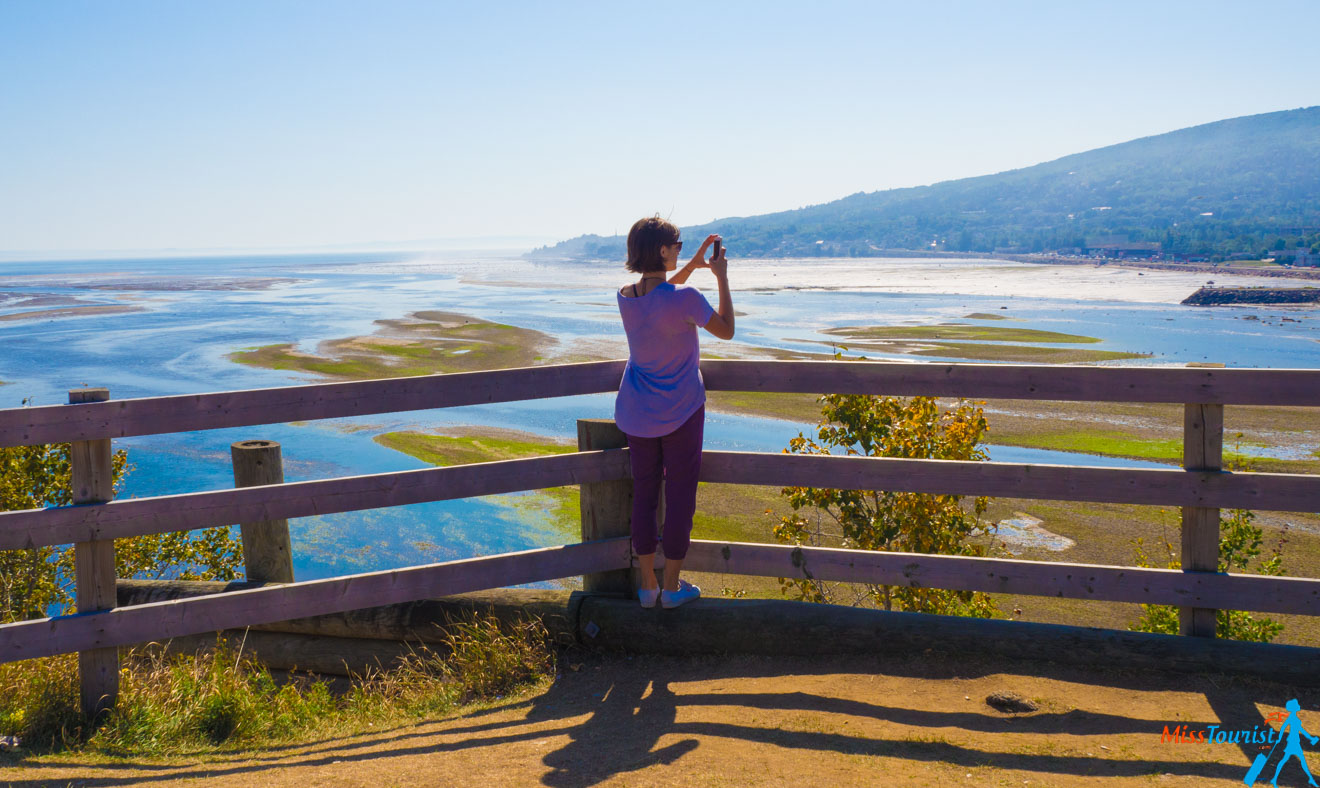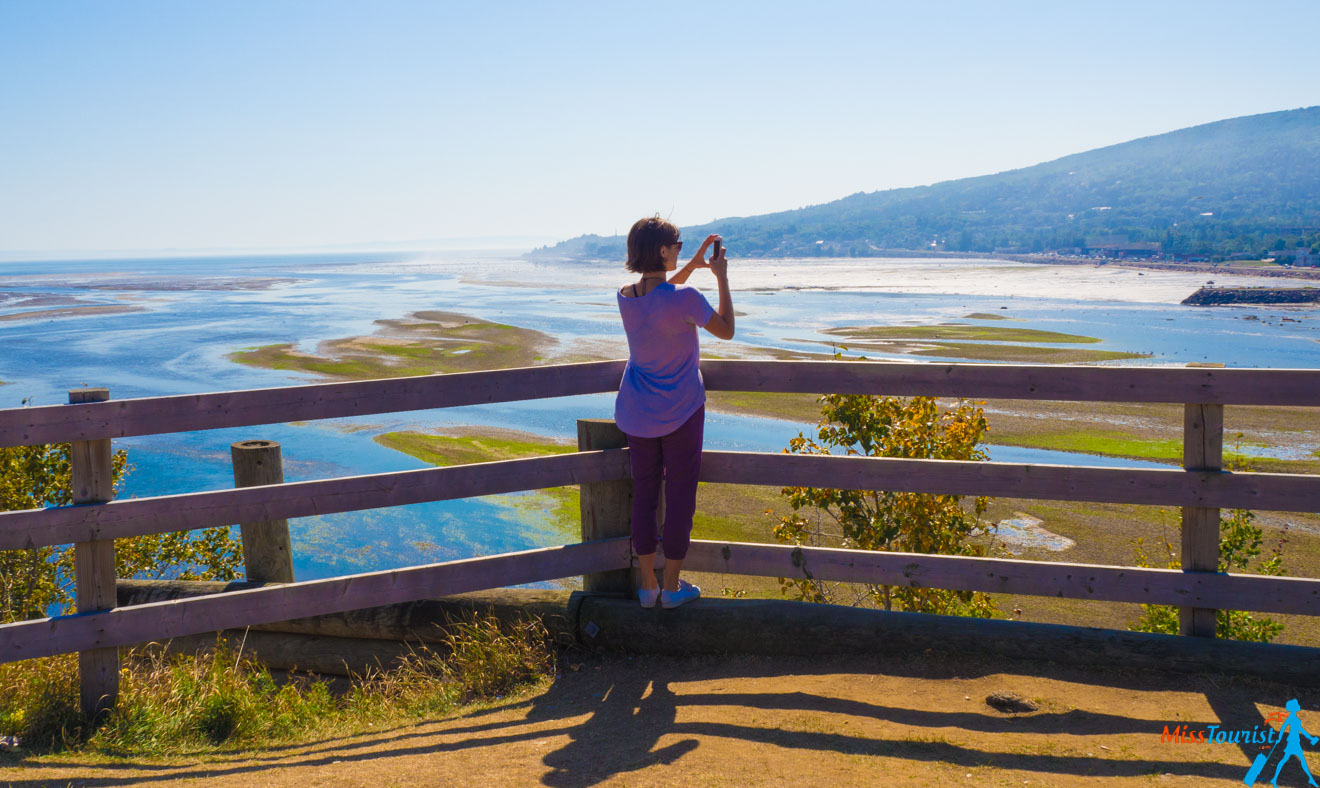 As I said earlier, you might arrive in Toronto and that is no problem, as this itinerary will work great for you just the same – just start and finish in Toronto. In fact, you can start and finish at any point on this route as this itinerary is a loop.
If you have fewer days you could either skip something on the far east (one of the national parks perhaps), or skip the last day – Thousand Islands. You could also speed it up a little if you do not stay overnight in the Thousand Islands area on the last day and instead go directly to Montreal, but that would involve a lot of driving.
If you have more days, I would definitely add Mont Tremblant and Lac-Saint-Jean to this plan! If you have a US visa or you are allowed in without it, you can visit Boston and New York, both of these cities are just 6-7 hours driving away from Niagara Falls.
There are some other great road trips to do in Canada like The Trans-Canada Highway and Sea to Sky Country, but I will leave those for next time!
You could also do a cross-country road trip from Montreal to Vancouver – I think that would be epic! But keep in mind that this is 4,600 kilometers / 2,860 miles, so it would be a loooong journey.
Some practical things to know about your Canada road trip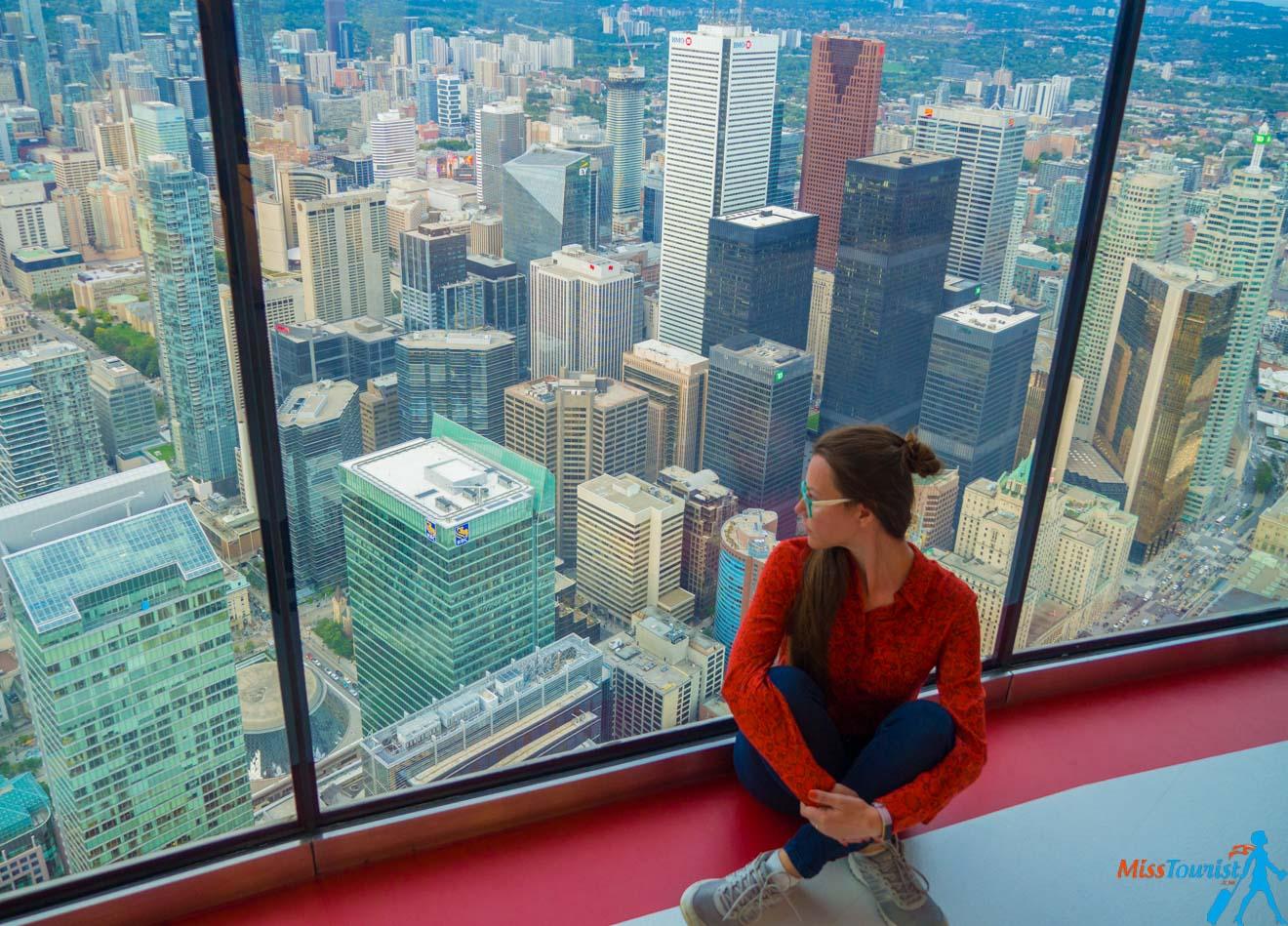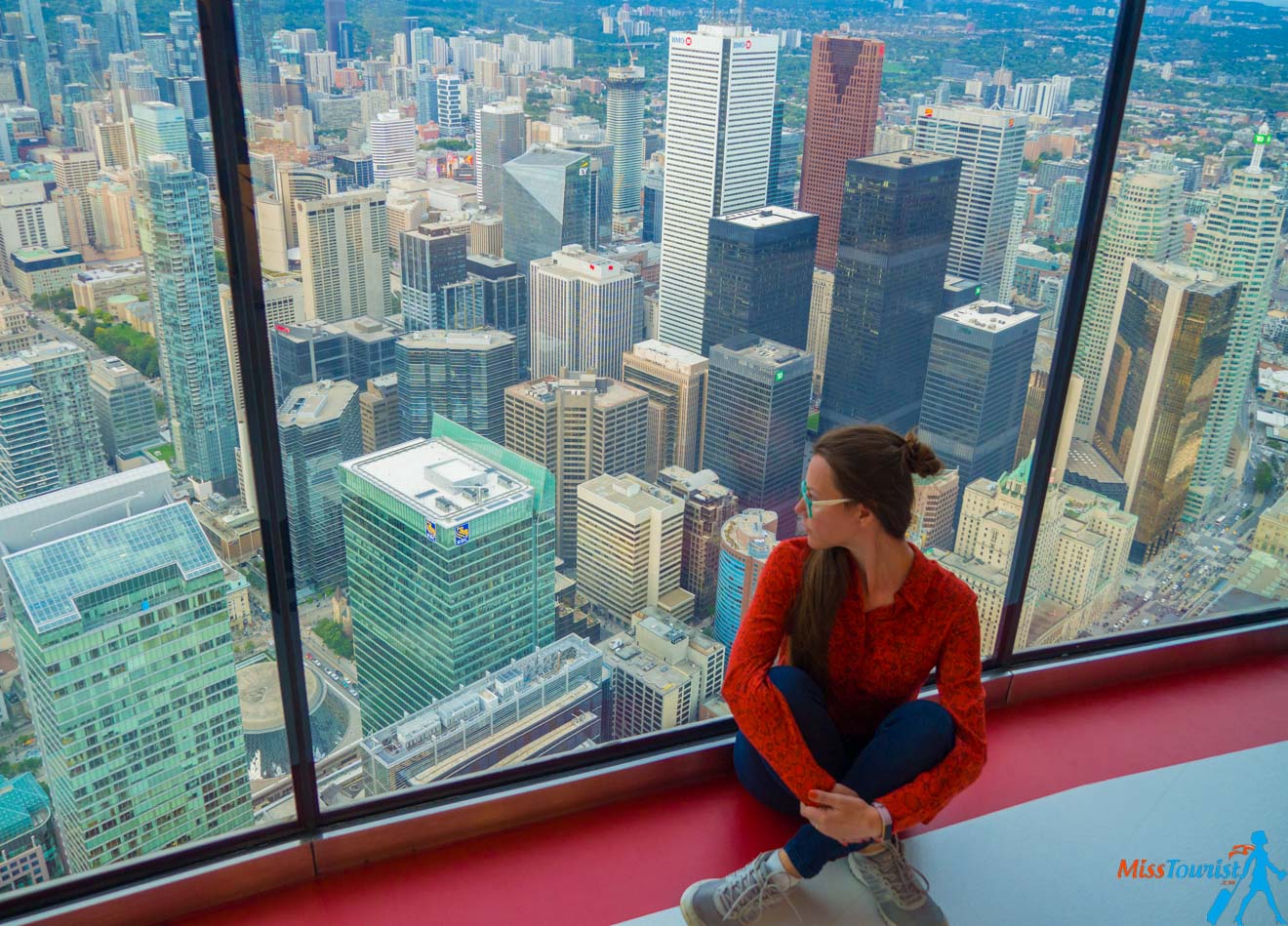 I could not leave without giving you some useful, practical tips that I think are important to know before taking this trip, so here you go:
Do you need to speak French in order to travel in the Canadian French-speaking part?
No, absolutely not! Do not worry, people are bilingual in Quebec, so you will not need French. I only met one couple during my trip who did not speak English, and they were actually French who moved to Canada a while ago.
Money and prices in Canada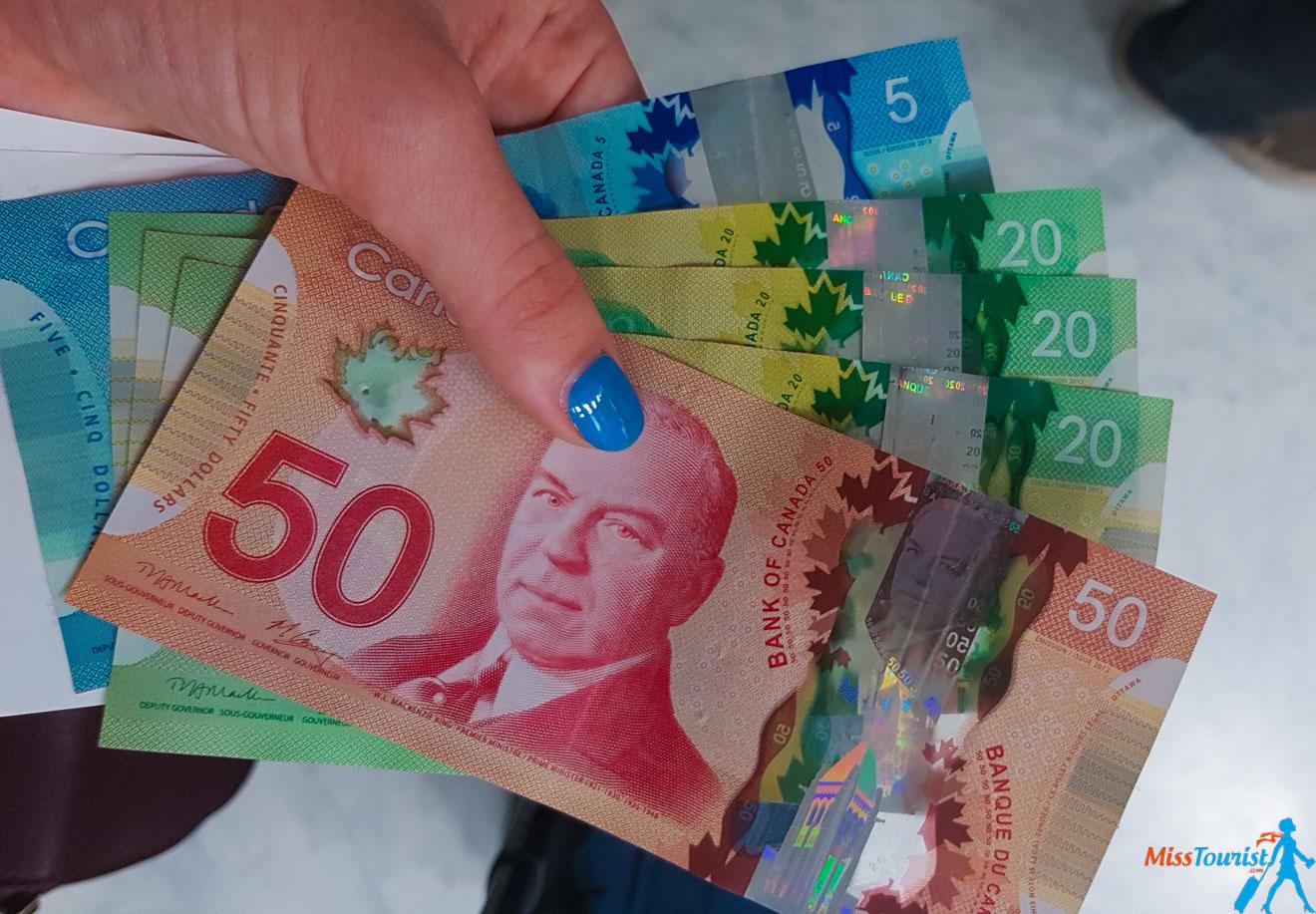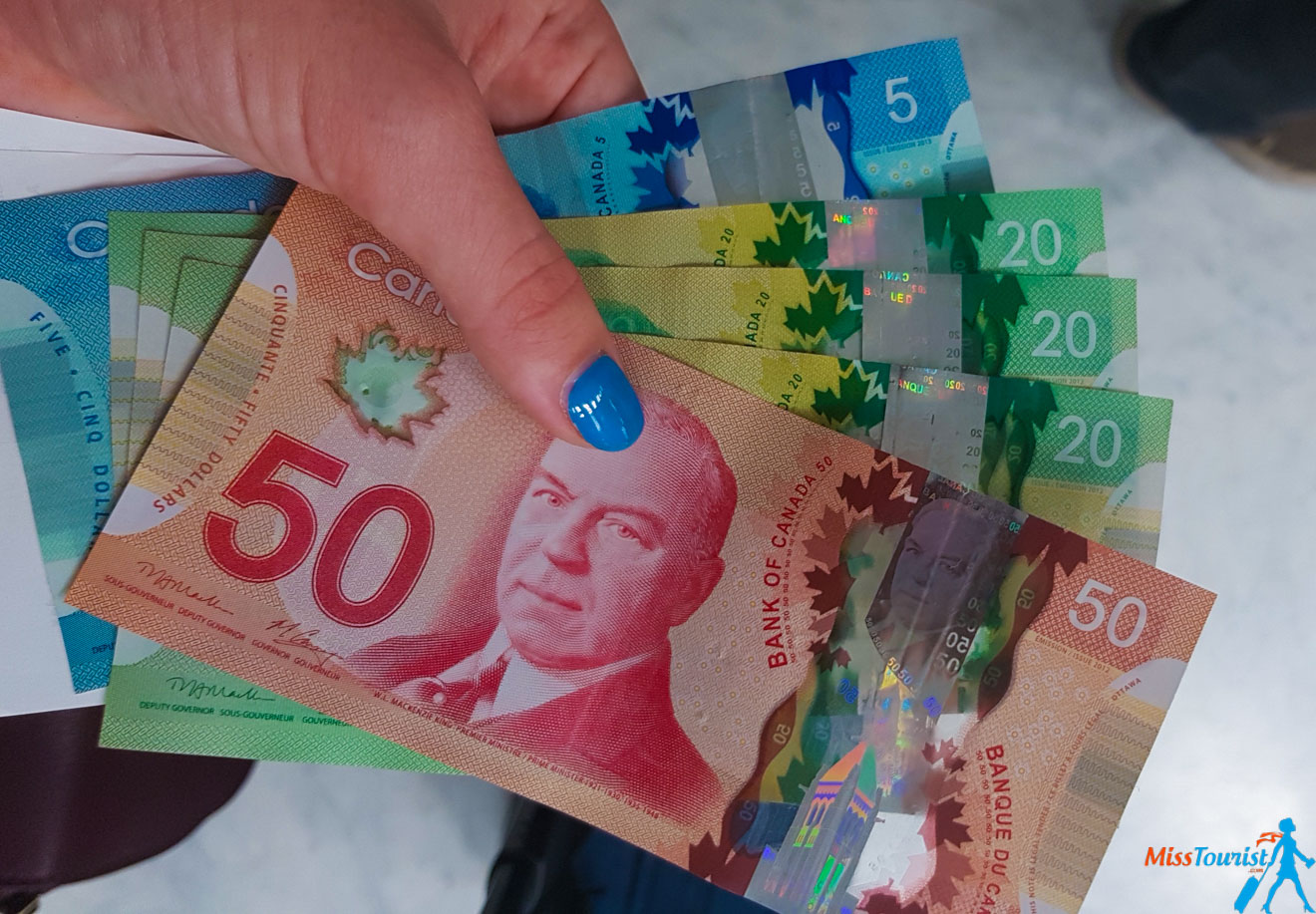 How about the prices?
Canada is definitely not one of the cheapest countries in the world, I am sure you are aware of that. However, if you book your accommodation and a car rental in advance, you will be able to significantly lower the cost.
Before we even start talking about approximate prices, I want you to know one thing – in Canada, just like in the US, the price is displayed WITHOUT the tax. You will need to add about 13-15% to get to the final price. This will not be surprising to Americans, but it can come as a shock for some other people. You can use this calculator to see the tax for each state. It is 13% in Ontario and 15% in Quebec.
Below are the approximate prices (in CAD, after tax, without tips if applicable):
A meal in an inexpensive restaurant for 1 person – $20 CAD
Dinner for 2 in a restaurant – $60 CAD
Night in a hotel (very approximate) – $100 CAD
Taxi – ~$2 CAD per km + $3.50 CAD initial charge
A bottle of water – $1.50 CAD
Domestic beer 0.5L – $6 CAD
Metro ticket – $3.25 CAD
Average price for a museum – $18 CAD
1 l of gas (1/4 gallon) – $1.32 CAD (in total, we spent about $280 CAD on gasoline doing this exact itinerary)
Tipping culture in Canada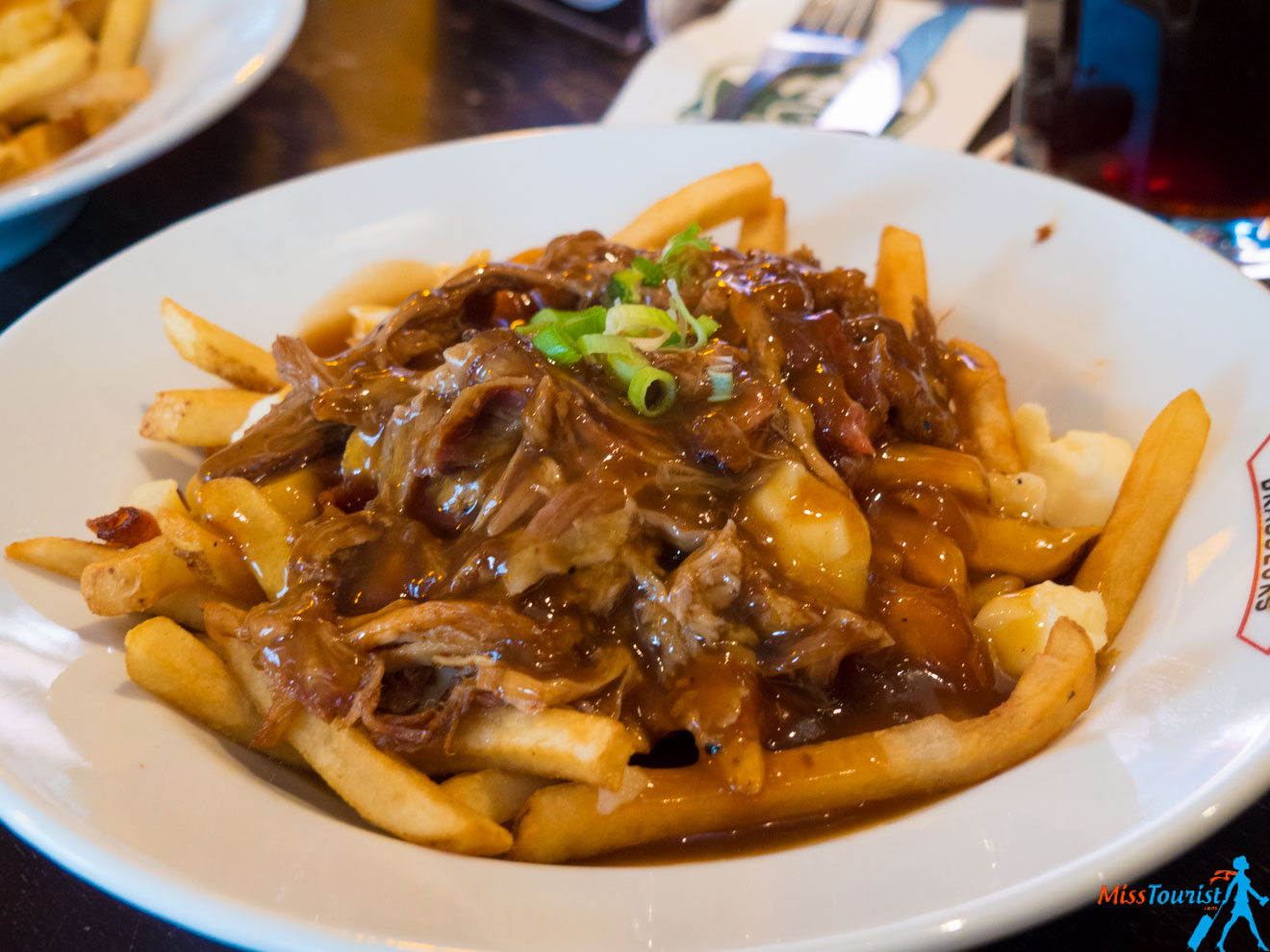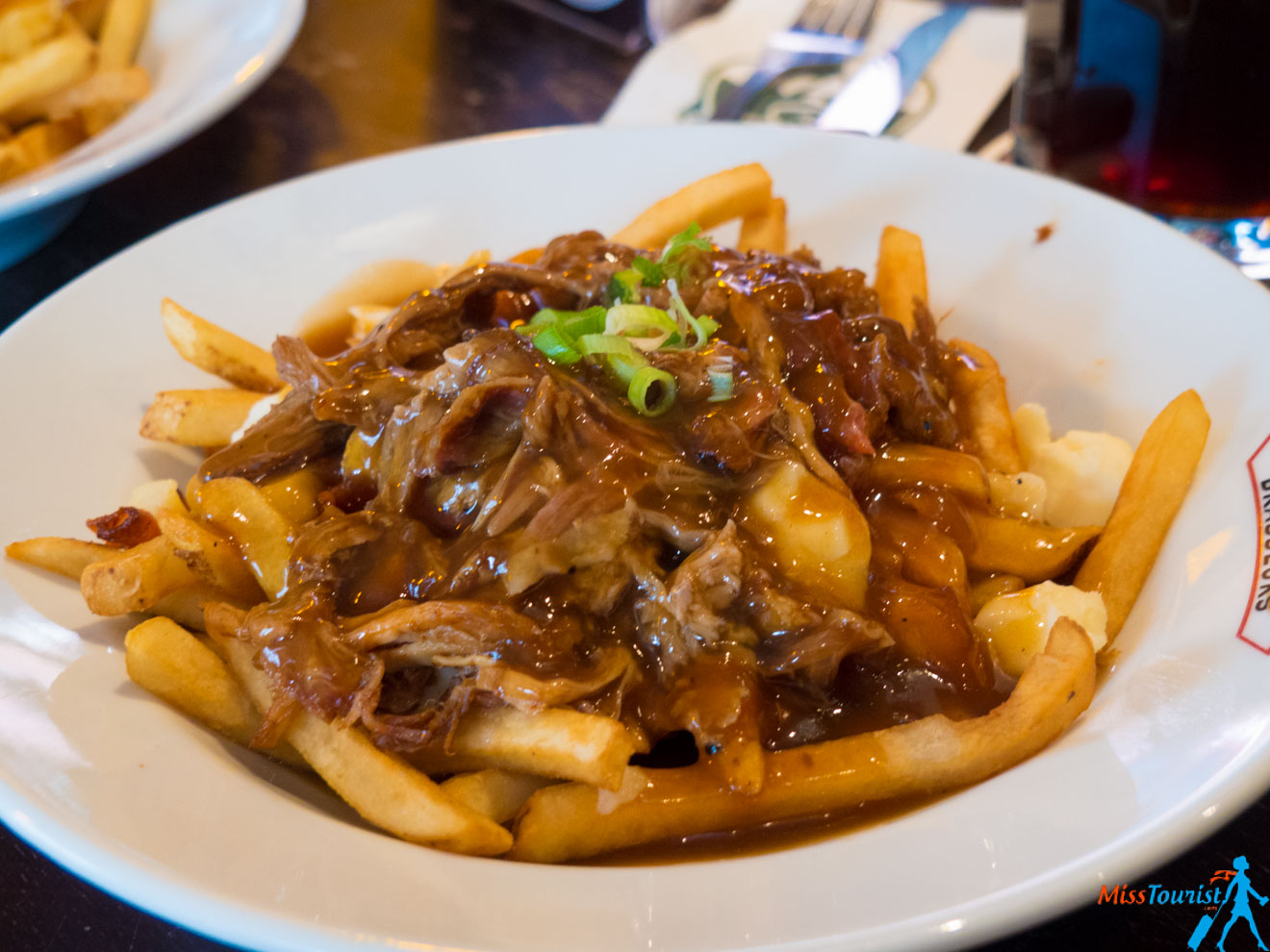 Please do not forget to leave tips in restaurants in Canada, as it is part of the culture and it is extremely rude not to! I have asked around and Canadians tip about 15% in general.
One other thing to note for tourists from Europe and Asia – you do not have to have cash to tip your server, it can be deducted directly from your card! The payment terminal machine will ask you how much you want to leave (usually 15%) and it will calculate the final price for you.
By the way, I hardly used any cash in Canada, almost everything can be paid by card!
Sim cards in Canada (buy a pre-paid sim card)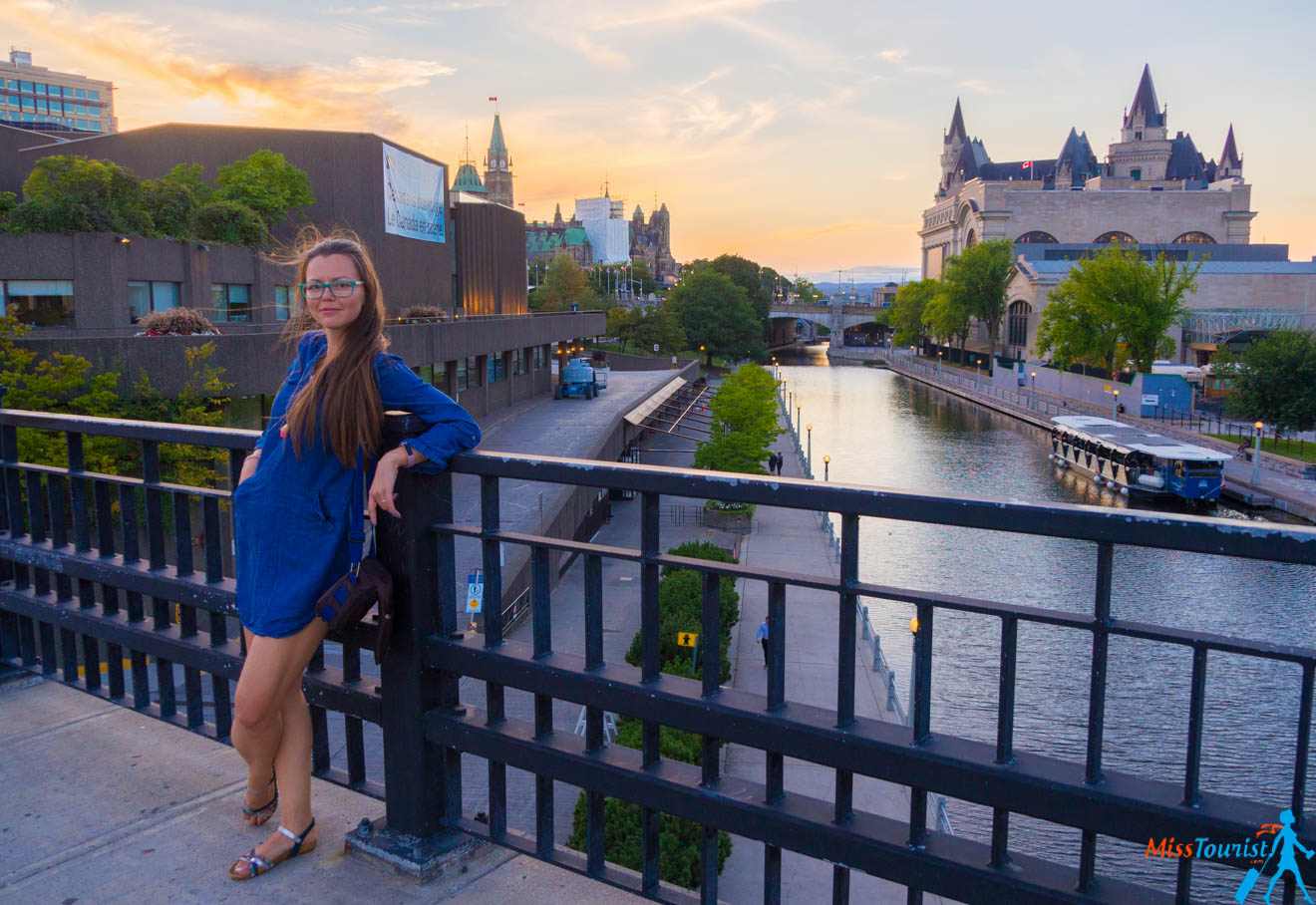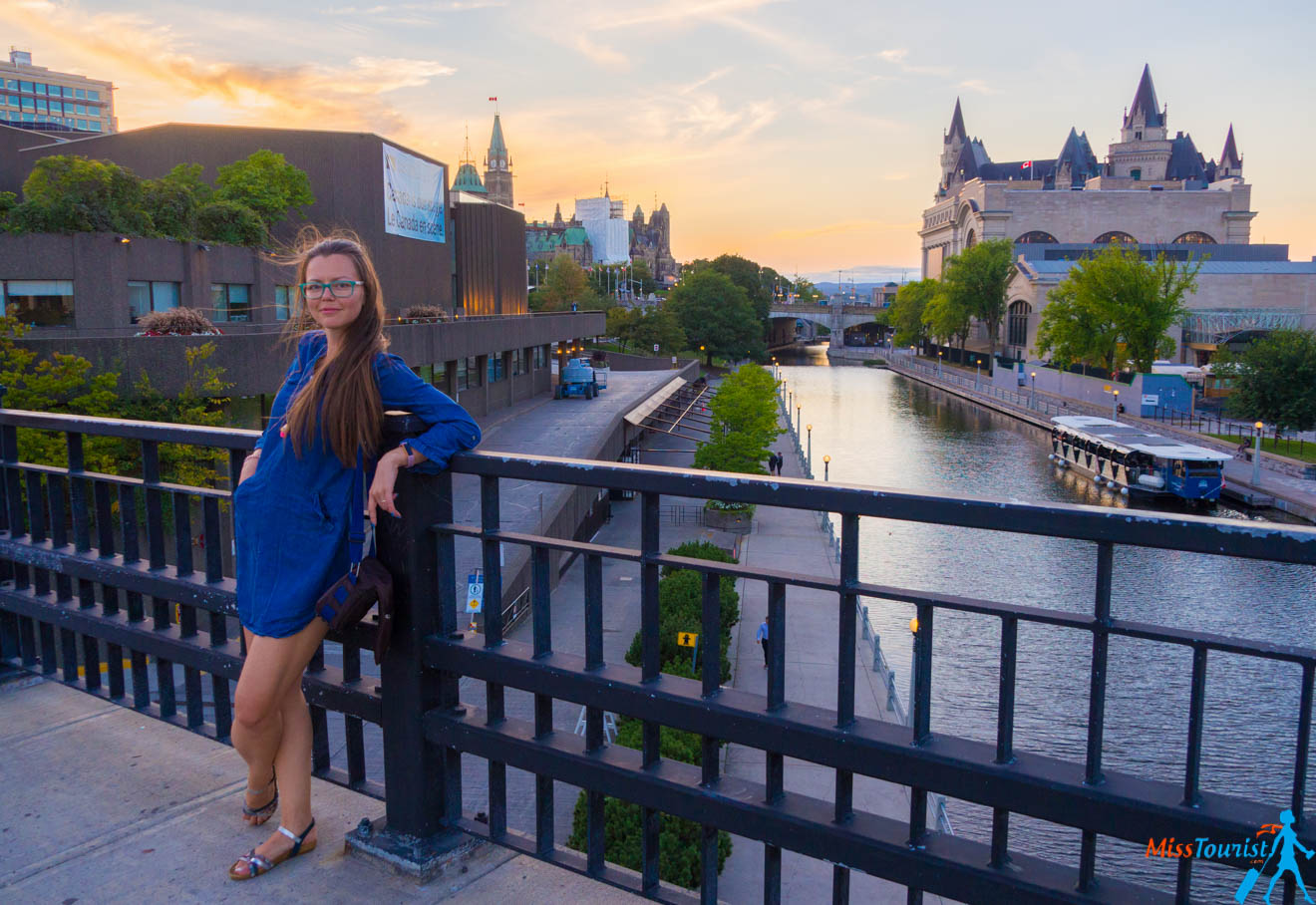 If you want to buy a prepaid sim card with GB and minutes, this can be done with 4 major cell service providers – Rogers (with sub-brands like Fido and Chatr), Telus, Bell and Freedom Mobile.
Rogers seemed to be the cheapest plan when I did my research (I paid $49 CAD with taxes for 4 GB), BUT it turned out it only worked in 17 places in Canada (say whaaaat?). I wasn't informed about it in the beginning, so I had to go without internet connection for a couple of days when we were hiking the national parks of Quebec. This was very frustrating, so make sure to ask if it works all over the country before you buy the sim card.
I also do not recommend Freedom Mobile as I read it does not work in all cities.
You can compare the up-to-date prices and make your decision accordingly here.
I bought my sim card in the city center in one of the offices of Rogers, but you can also do it right at the airport if you arrive during the daytime.
NOTE: do not forget about the 5-15% tax depending on the state you are buying it in.
When to visit Canada?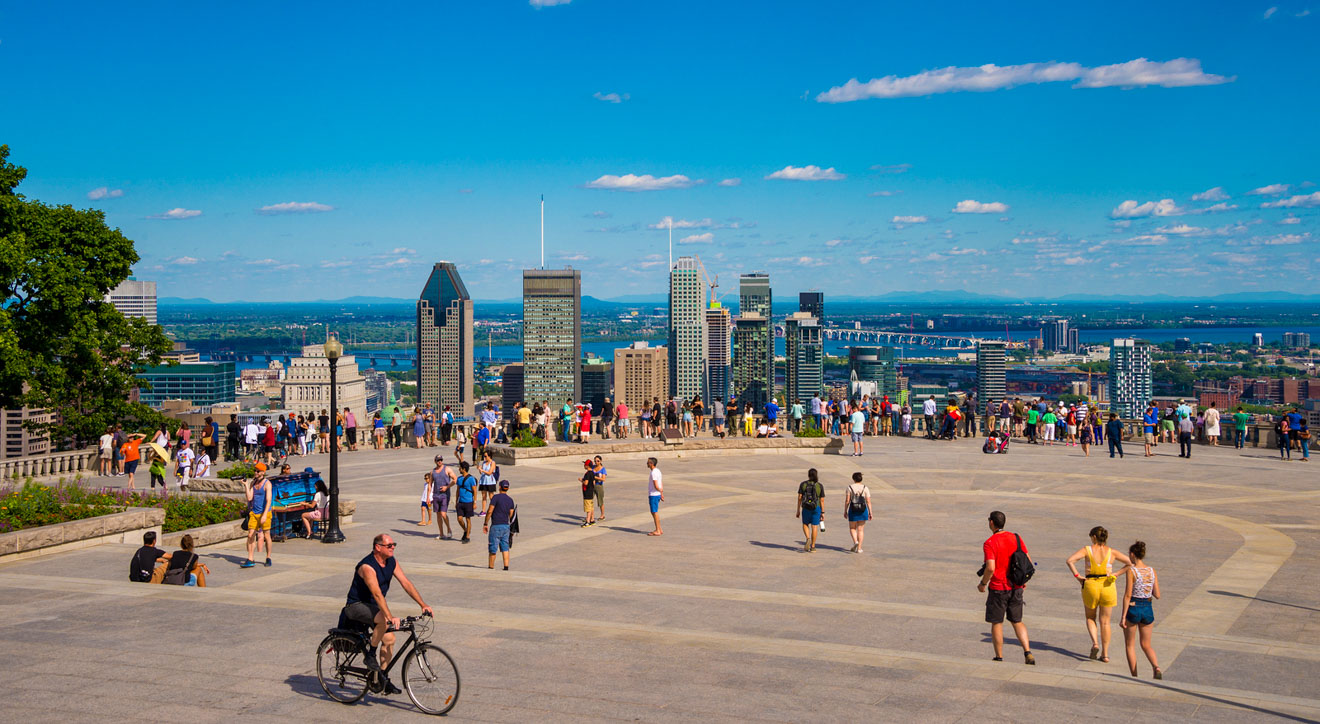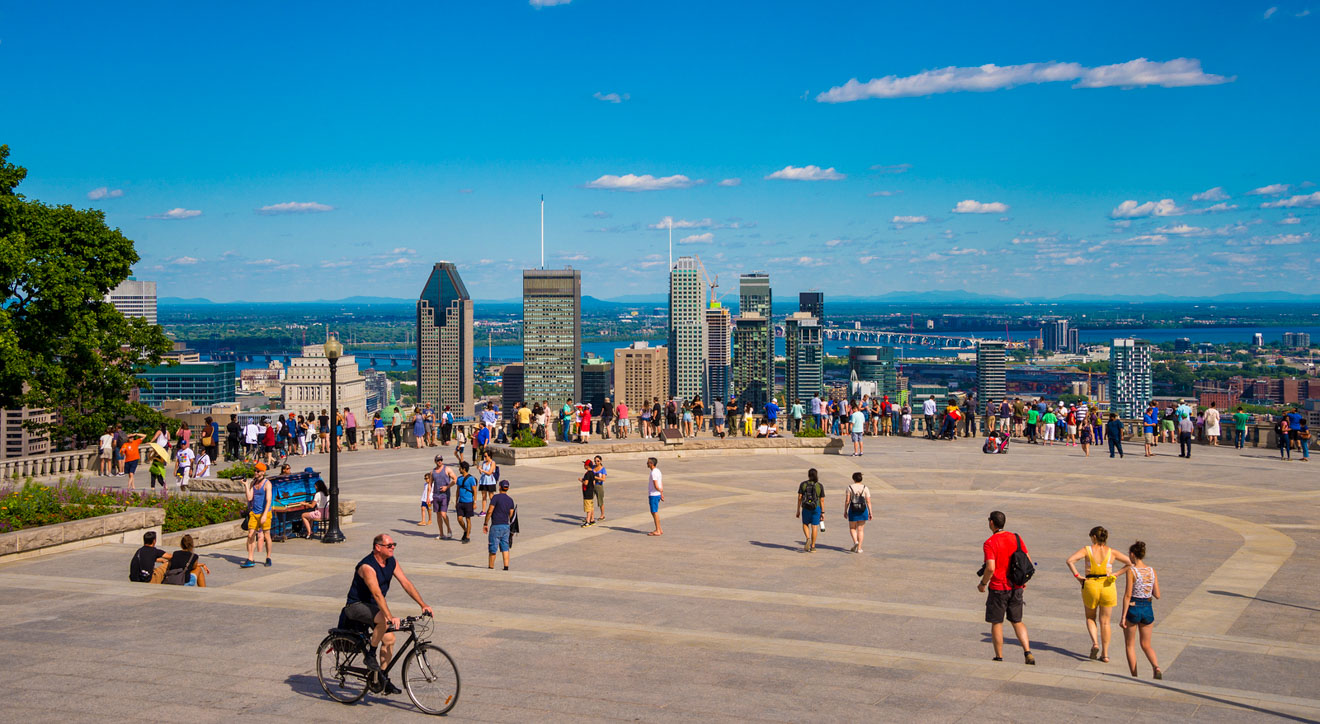 I would generally say that any season has its advantages for visiting Canada – there are great things to do in the cities in the winters, too, but you see… you are going to do a lot of driving, so I would suggest waiting until the snow melts. Even though the government of Canada does an AMAZING job cleaning the snow off the streets and highways, the weather conditions might be severe at times. So, again, I would say anytime between May and October would be perfect for a road trip!
---
Conclusion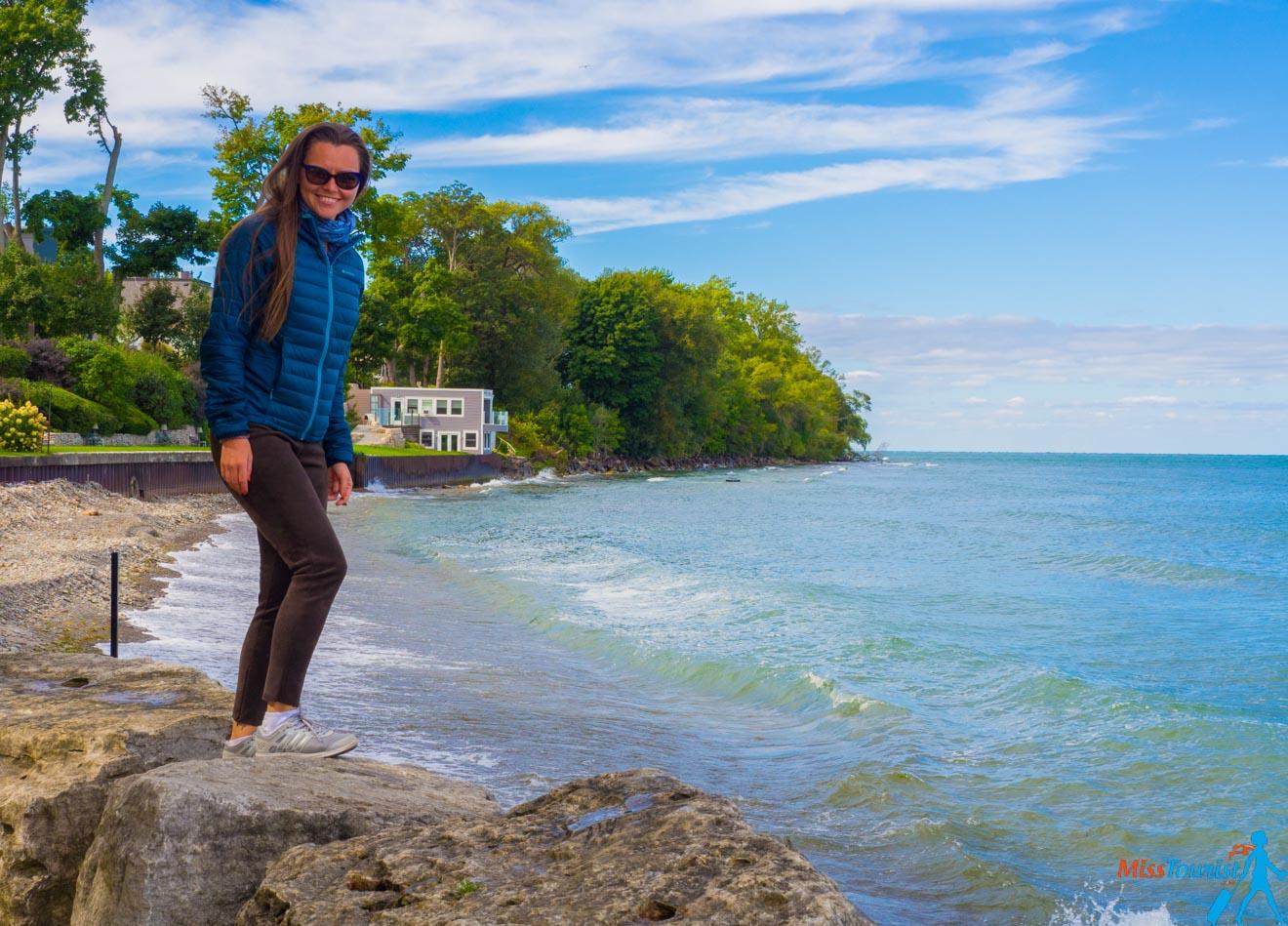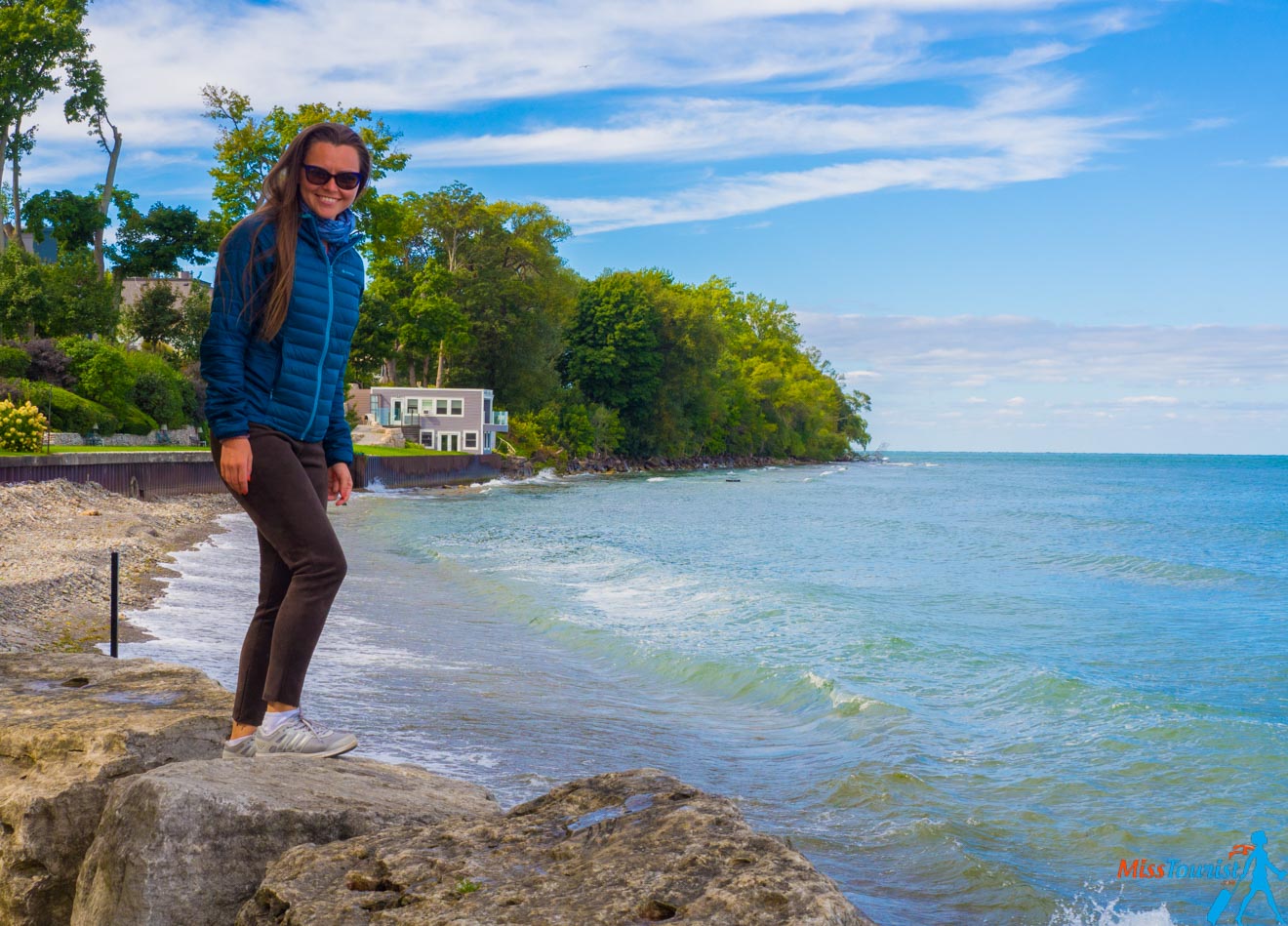 That is it! During this Canada itinerary in 14 days, we covered 2,405 km (1,494 miles) in 24 hours and 40 minutes of driving, with an average of 1.5 hours per day.
I hope you liked my Canada road trip itinerary where we discovered 2 eastern provinces of Canada – French Quebec and bustling Ontario.
I tried to give you a price estimate on activities to do for each part of your trip, accommodation recommendations sorted by price and general tips about this particular road trip – when to wake up, how many kilometers (miles) of driving per day, practical information and much more!
Please let me know in the comments if you are going to do a similar road trip, I would be happy to know if this Canada trip planner was useful to you!
As usual, if you have any additional questions, do not hesitate to let me know!
Yulia
---
Pin it for later!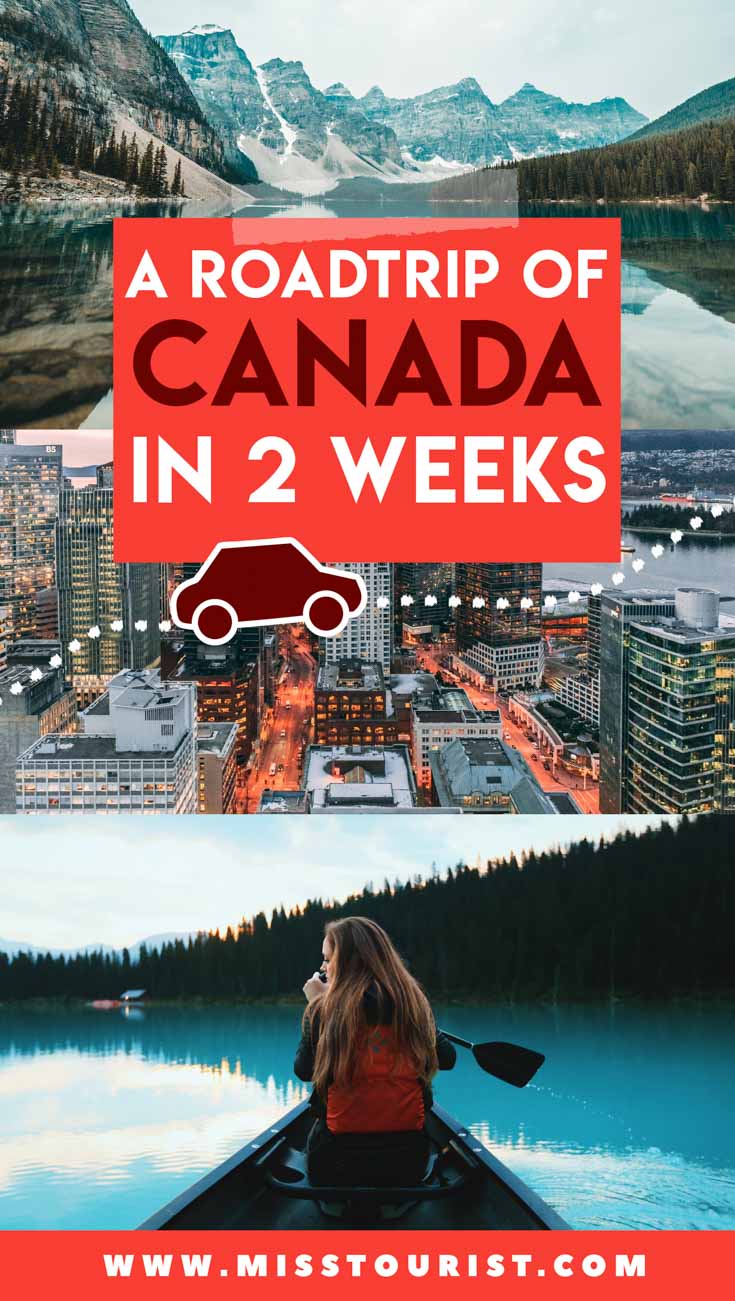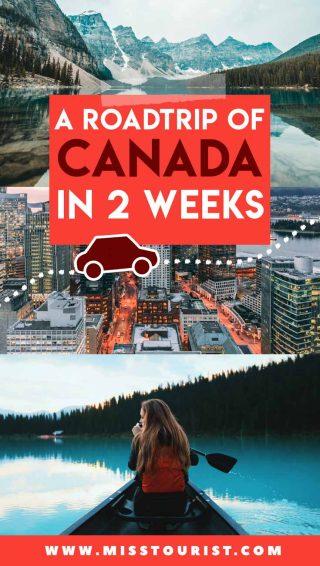 Pin it for later!