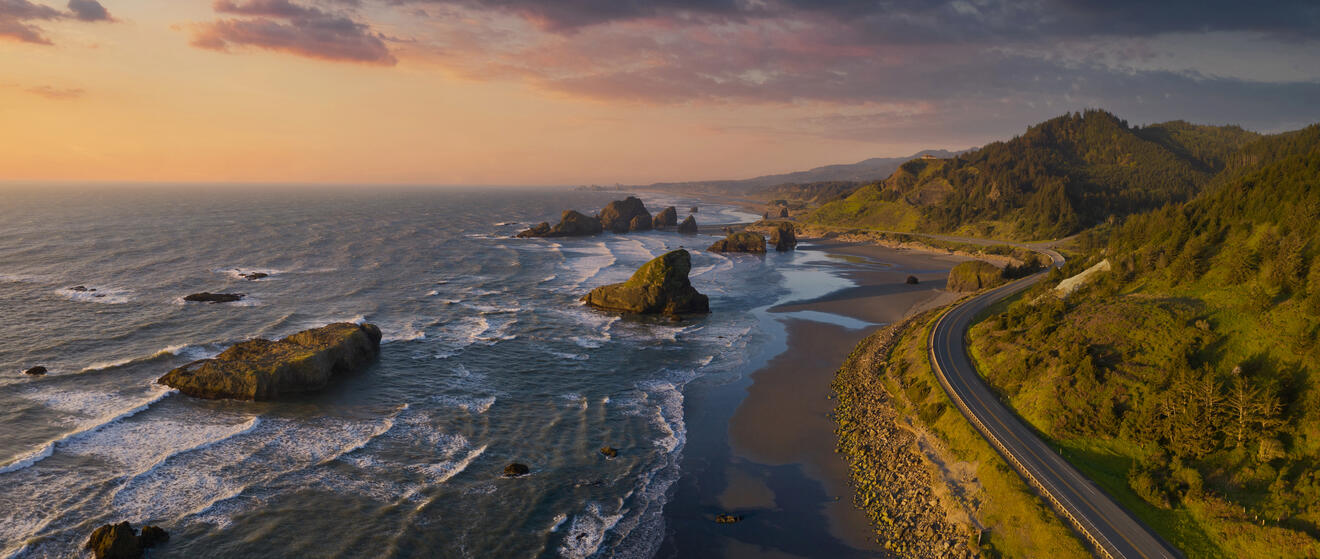 Beauty, nature, and scenic beaches! You can't go wrong with the Oregon Coast, this magical land is so charming that you'll never want to leave it! Known as a great place for surfing and other outdoor activities, this area is a dream destination for all types of travelers!
The best area where to stay on the Oregon Coast is Pacific City! It's filled with mesmerizing beaches, great hotels, and plenty of activities! But of course, there are many other places that cater to different interests like beach lovers, families, outdoor enthusiasts, relaxation, and budget travelers. So in this post, I will give you options in 5 more towns; Cannon Beach, New Port, Gold Beach, Rockaway Beach, and Astoria.
Since this is such a large area with lots of things to see, I've included 2 bonus sections as well. This first one has the top oceanfront lodgings and hotels on the Oregon Coast, and the second one has the best campgrounds and RV parks for those looking for adventure!
Whatever you decide to book, do it super in advance! Oregon's coastal area is super famous with tourists worldwide, plus it's a major surfing destination, so the accommodations here sell out super fast.
I think we've touched on all the major points so let's hit the road!
If you are in a hurry
Ready to book your hotels on the Oregon Coast right now? Then have a look at the list below, it has the top places to stay in Pacific City:
Check out the map below! It will help you visualize all the towns where to stay on the Oregon Coast that I'll talk about in this post:
1. Pacific City – best place to stay for first-timers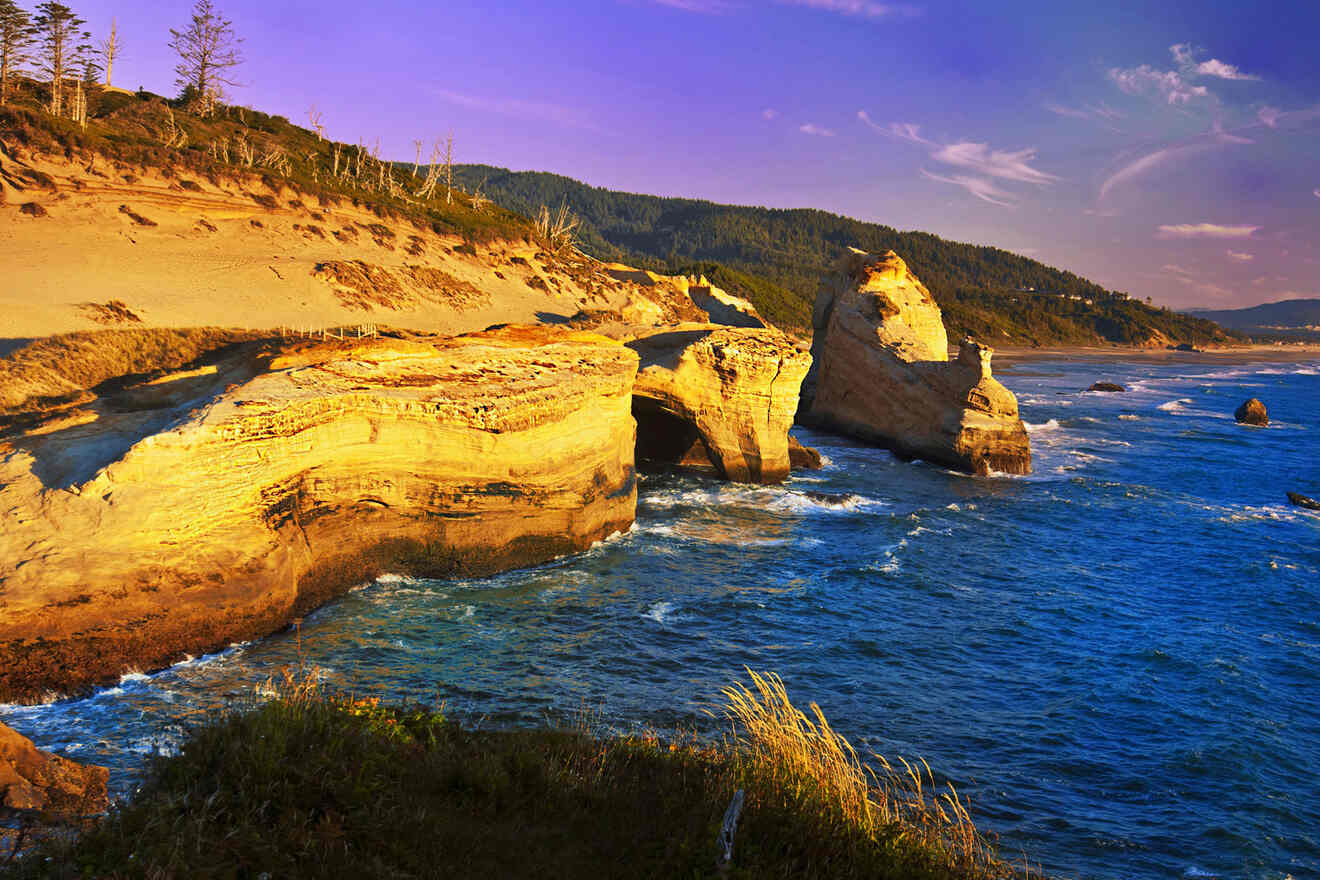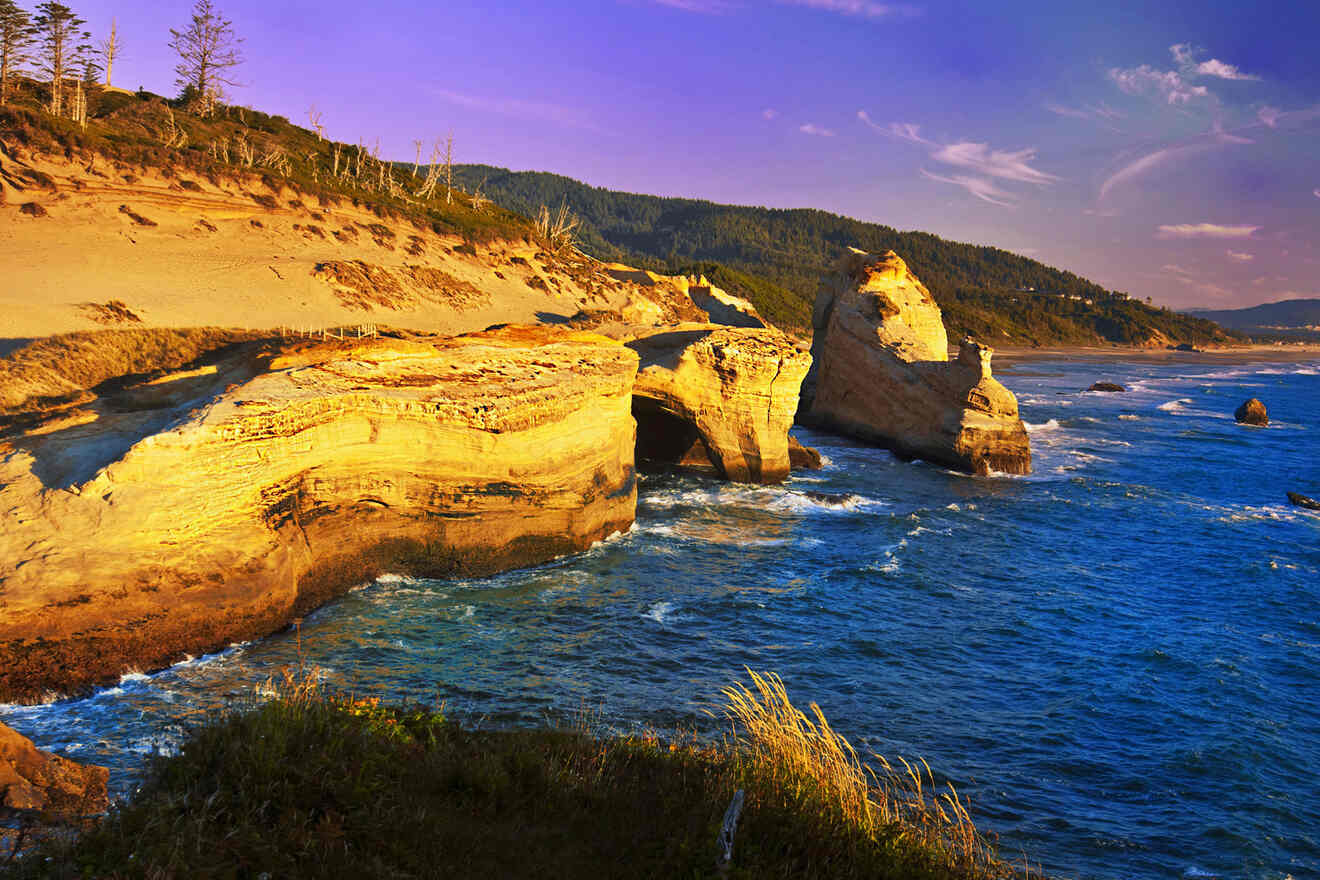 The magic and charm of Oregon's coastal area are like none other! You'll find yourself lost in a world with little towns where beach time is basically mandatory!
Pacific City is one of the best places to stay on the Oregon Coast for tourists as it offers a wide range of things to do, great restaurants, and unique hotels, which by the way, I recommend booking in advance because the best ones will always sell out fast in places like these!
Located at the south end of the Three Capes Scenic Route just a 4h drive away from central Seattle, Pacific City, combines the 2 best things for vacations; an urban atmosphere (but not too intense, this is not one of those big cities) and the seaside!
During your time here you can explore the city area, but I'm sure most of you'll want to simply chill on the sandy beach. This is a great place to try surfing (of course you need to try at least once since the beaches on the Oregon Coast are famous for that), or go hiking!
Other accommodation options in Pacific City
Things to do in Pacific City
Relax on Pacific City Beach
Explore the Cape Kiwanda State Natural Area
Try the wines at Twist Wine Company
Go fishing with Haystack Fishing
Enjoy an oceanfront dinner at Meridian Restaurant & Bar
See the unique Chief Kiawanda Rock
Admire the stunning ocean views in Bob Straub State Park
2. Cannon Beach – where to stay for beaches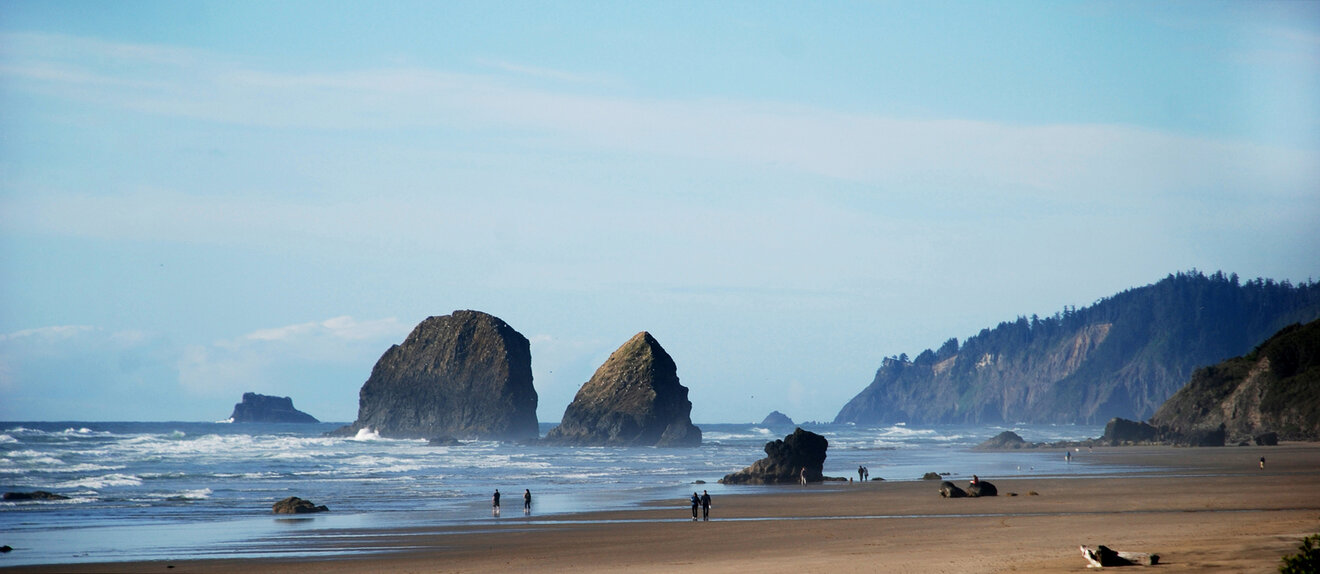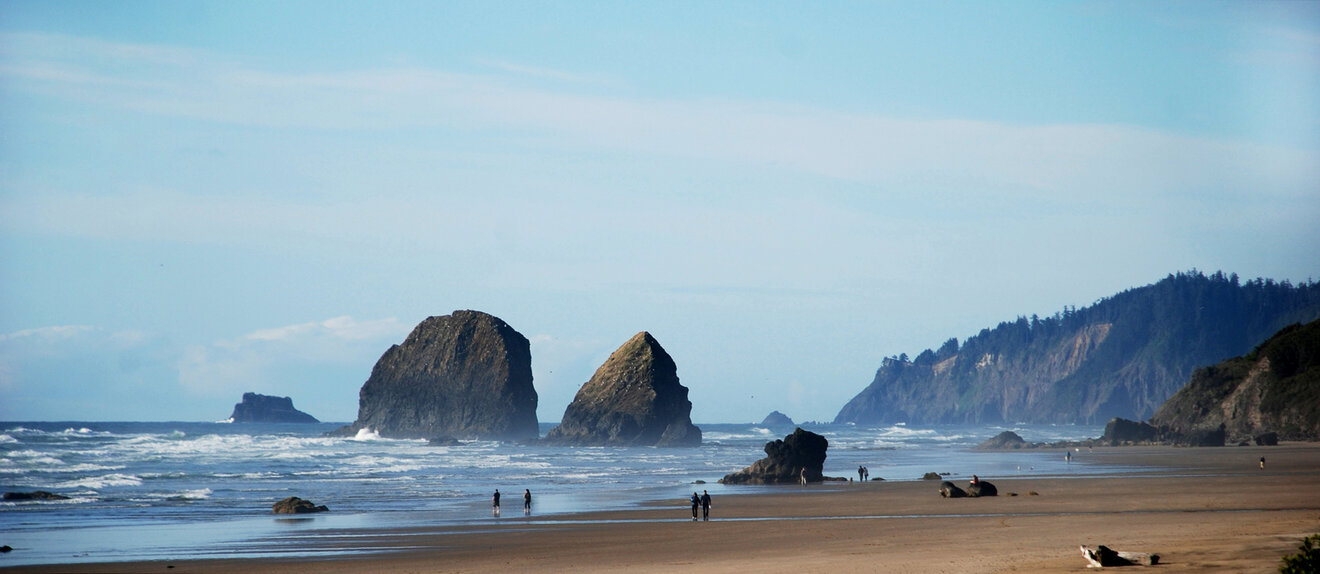 What a place! Cannon Beach may have to be my favorite as it has the most scenic views, mesmerizing beaches, and abundant nature! What more could you wish for?
Yes, Canon Beach is a unique spot, perfect for anyone who wants to forget all about city life and relax on the sandy shores, go hiking and explore its state parks!
One of the most popular attractions in Canon Beach is Haystack Rock. This 72-meter tall rock emerges from the sea as if it was placed there by hand, becoming a symbol for Cannon Beach! Super cool!
Set just a 2-hour drive from central Portland, Canon Beach offers lots of things to do, and yes, most of them are at the beach.
Places like Ecola State Park and Tolovana Beach State Recreation Site are some of my favorites! There are a lot of spots where you can go to admire the breathtaking views of the Pacific Ocean like Chapman Point and Humbug Point.
But if you've had enough of the beach (if that's even possible), head out to the town center, as you'll find some art galleries and museums where you can learn more about Oregon.
Other accommodation options in Cannon Beach
Things to do in Cannon Beach
Admire the beautiful Haystack Rock
Check out the art at White Bird Gallery
Go hiking in the Ecola State Park on Cannon Beach
Relax at the Tolovana Beach State Recreation Site
Visit the Cannon Beach History Center & Museum
Catch a sunset on Cannon Beach
Take a trip to Oswald West State Park
3. Newport – where to stay on the Oregon Coast for families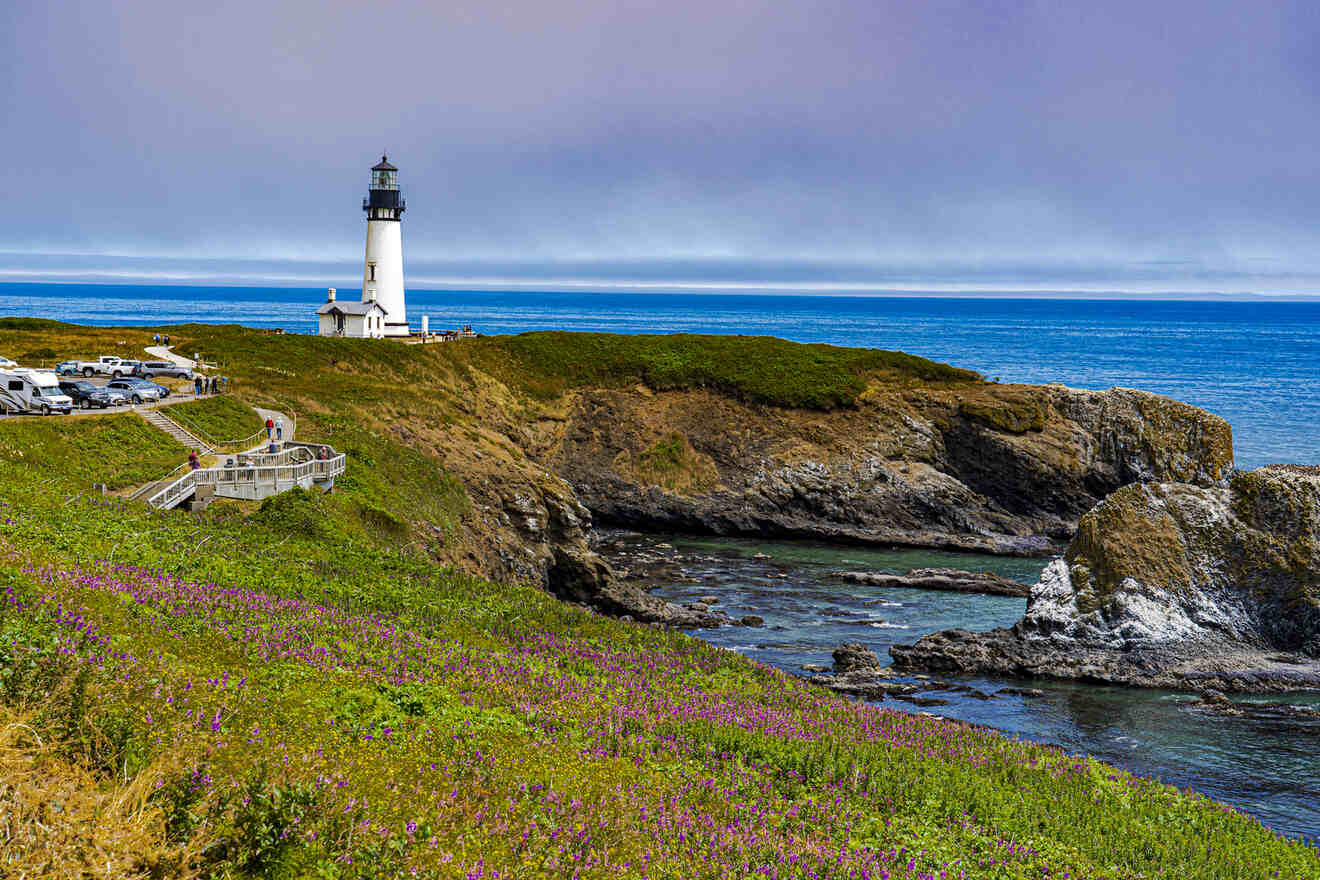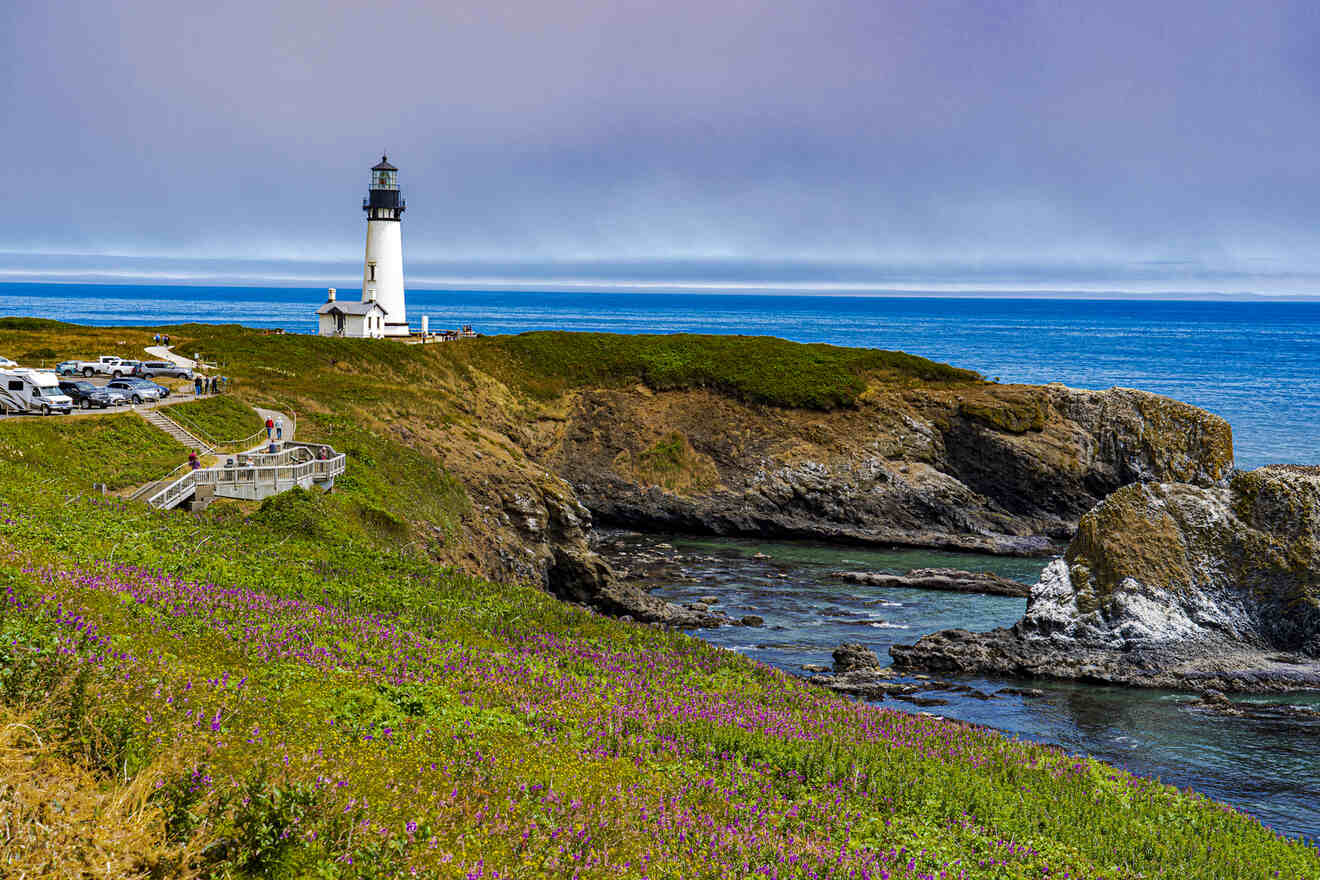 Panning a family trip on the Oregon Coast? I bet the little ones will love the Pacific coastline, as much as you will!
While all the little towns to stay on the Oregon Coast feature lots of activities for families, I think Newport is for sure the most suited one as it's home to the Oregon Coast Aquarium and a few more fun attractions.
Situated in Oregon's Central Coast region, Newport has lots of places that are perfect for outdoor enthusiasts too, like Nye Beach, Yaquina Head Outstanding Natural Area, and Lost Creek State Park.
What's more, there is a wide range of hotels in Newport, from luxurious ones to affordable motels as well. You'll also find plenty of trendy restaurants that serve delicious food! I know variety is super important when it comes to family holidays and Newport certainly has you covered in that respect!
This coastal town is any traveler's dream with lots of unique attractions and plenty of fun things to do! But let's check out the best hotels around:
Other accommodation options in Newport
Newport has so many wonderful places to stay that I decided to add few more hotels for you! I couldn't keep them all to myself, plus they're great second options for anyone who's missed the chance at one of the hotels above:
Luxury:
Inn at Nye Beach – Catch a sunset by the infinity pool of this oceanfront hotel that has family rooms with a fireplace and a flat screen tv. Offering breathtaking sea views, the accommodation has a gift shop on-site and it offers a free breakfast each morning!
Mid Range:
The Landing – Perfect for families and larger groups, this accommodation offers spacious suites with a small kitchen, a private bathroom, and a fireplace. The hotel also has a spa center and provides many activities off-site like hiking, fishing, and cycling.
Little Creek Cove – Tucked away between the trees and set right on the beach, this fabulous accommodation offers the best of both worlds: the sea and the woods! Relax by the fireplace or on the private terrace or head out to the spa!
Things to do in Newport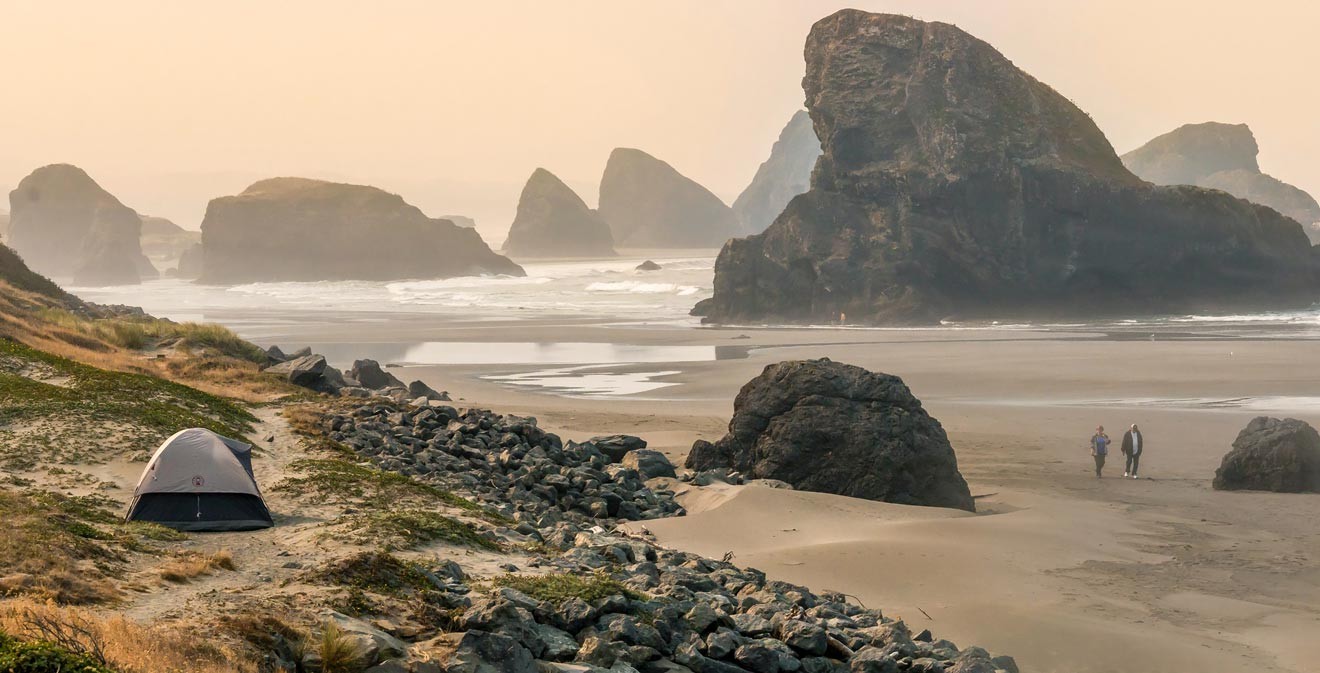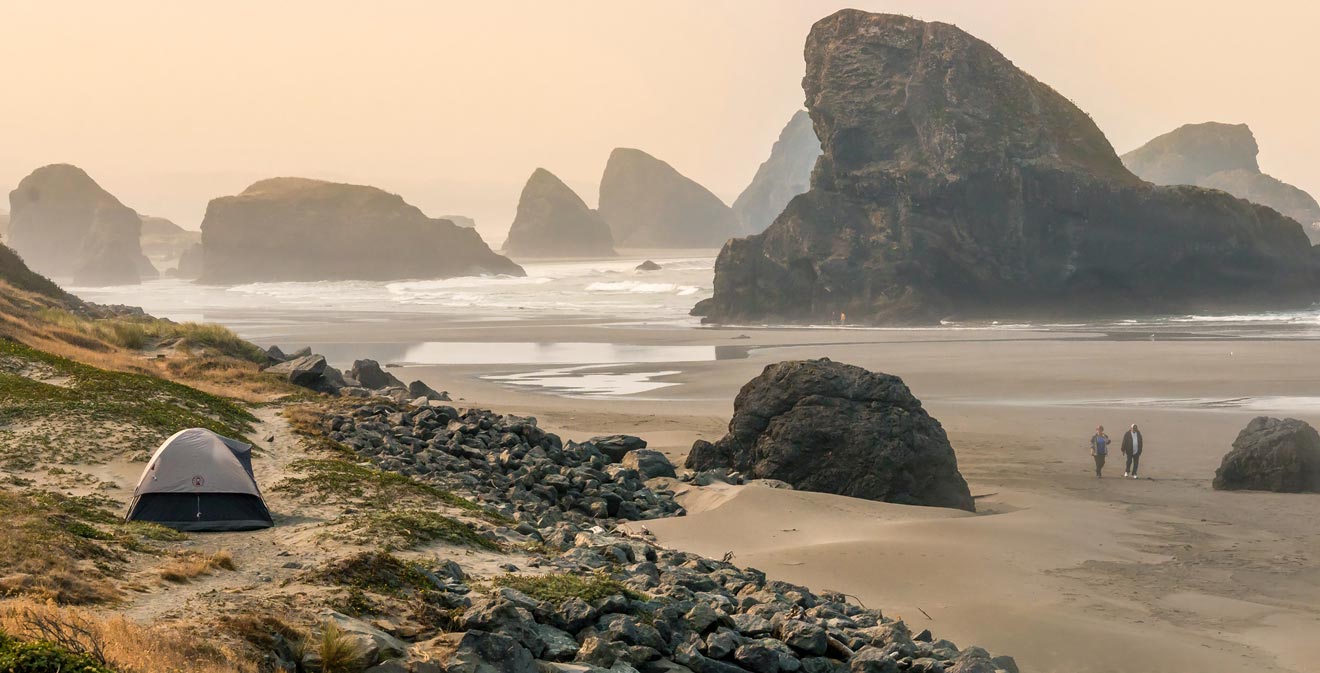 Take the kids to the Oregon Coast Aquarium
Explore the South Beach State Park
Relax on Nye Beach
Snap a pic of the Yaquina Head Lighthouse
Play some golf at Agate Beach Golf Course
Visit the Hatfield Marine Science Center
Go for a walk on Cobble Beach
Catch a sunset at Yaquina Head Outstanding Natural Area
4. Gold Beach – best area on the Oregon Coast for outdoors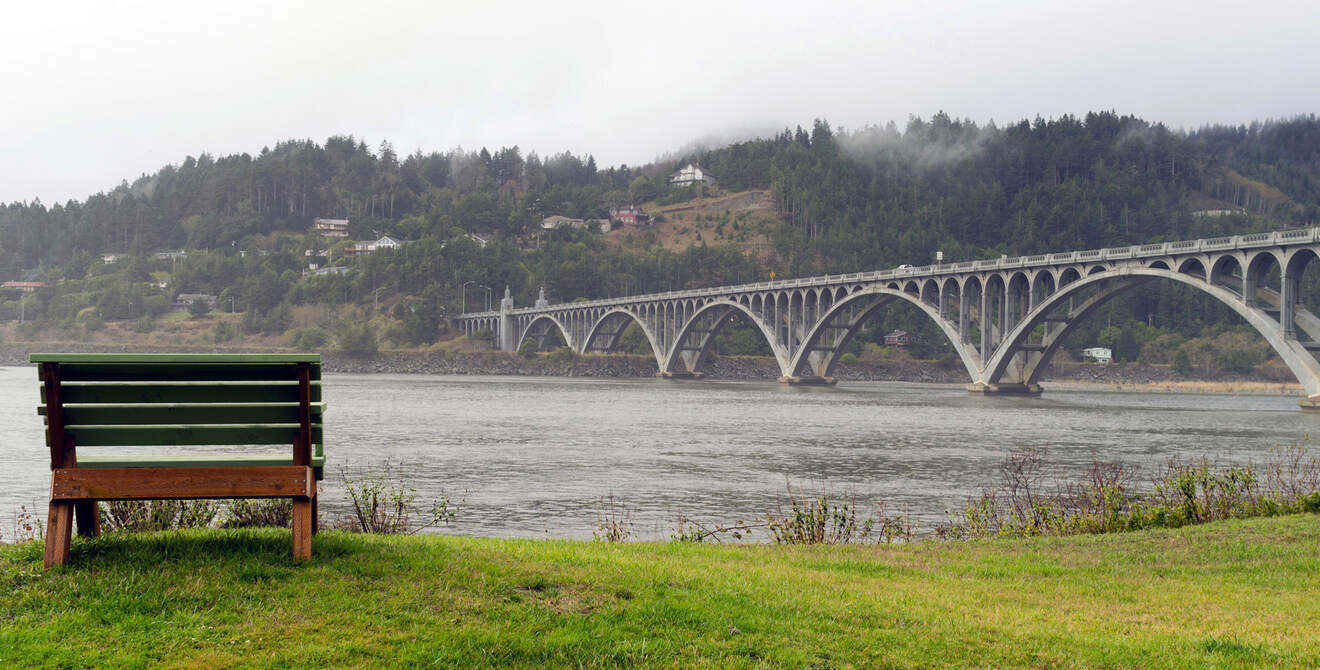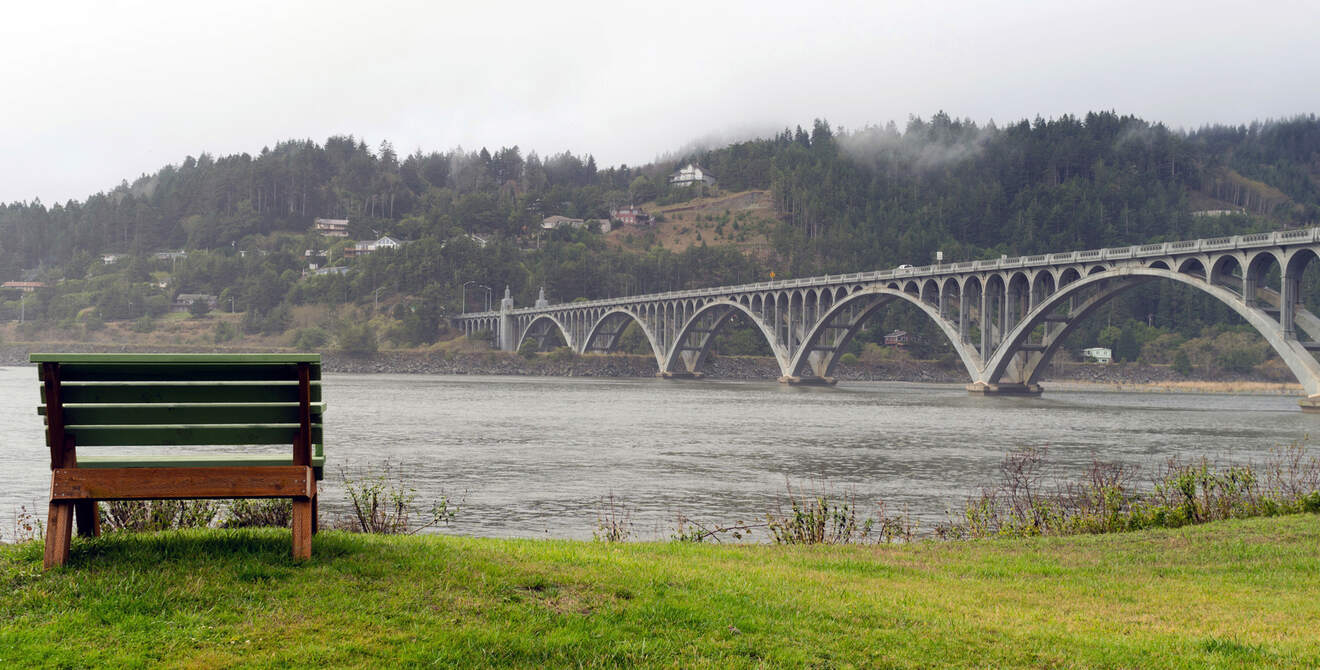 The whole Oregon Coast is like a paradise for people who love the outdoors! From hiking to surfing and fishing, this region never ceases to surprise us!
Gold Beach is an awesome place to stay on the Oregon Coast for tourists who want to be as active as possible during this trip. Known for its long (and not so goldish) beach, this area on the South Coast has lots of things to explore like the Rogue River Trail!
Right near this area, you'll find the Cape Sebastian State Scenic Corridor, a state park that's known for whale watching, so definitely check it out!
One of the most popular attractions on Gold Beach is the Kissing Rock, this famous rock formation brings lots of tourists to admire its peculiar shape and, of course, chill nearby, on the beach.
When it comes to outdoor activities, the entire South Coast (including Gold Beach) is prepared to offer you the best time either by hiking its scenic trails or going on boat rides while admiring the stunning views.
Other accommodation options in Gold Beach
Things to do in Gold Beach
Snap a pic of the famous Kissing Rock
Visit the Curry Historical Museum
Grab a bite at Hunter Creek Bar & Grill
Take a trip to Harris Beach State Park
Relax in the Collier H Buffington Memorial Park
Go on a boat ride with Jerry's Rogue Jets
Have fun hiking the Rogue River Trail on the South Coast
5. Rockaway Beach – best place to relax on the Oregon Coast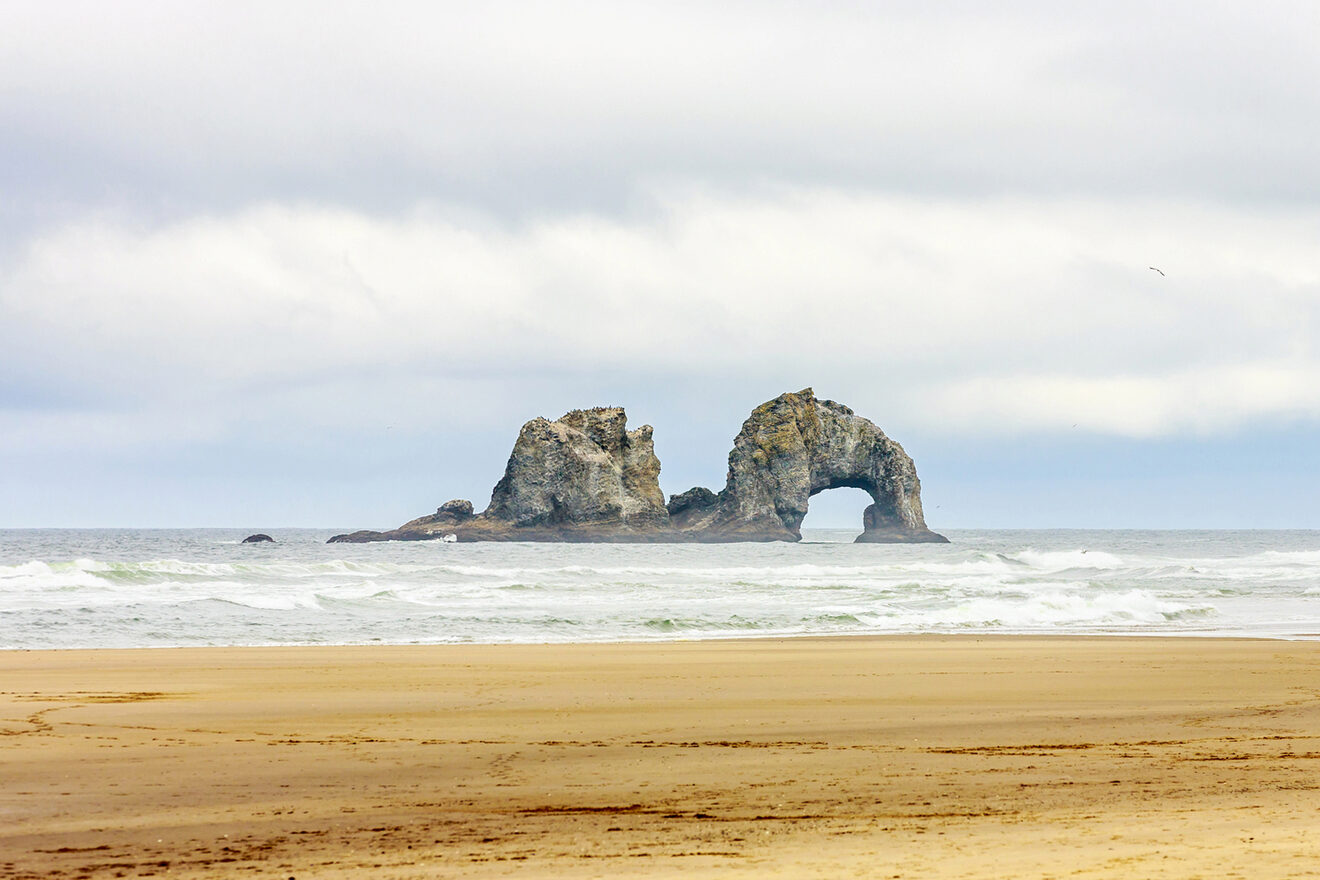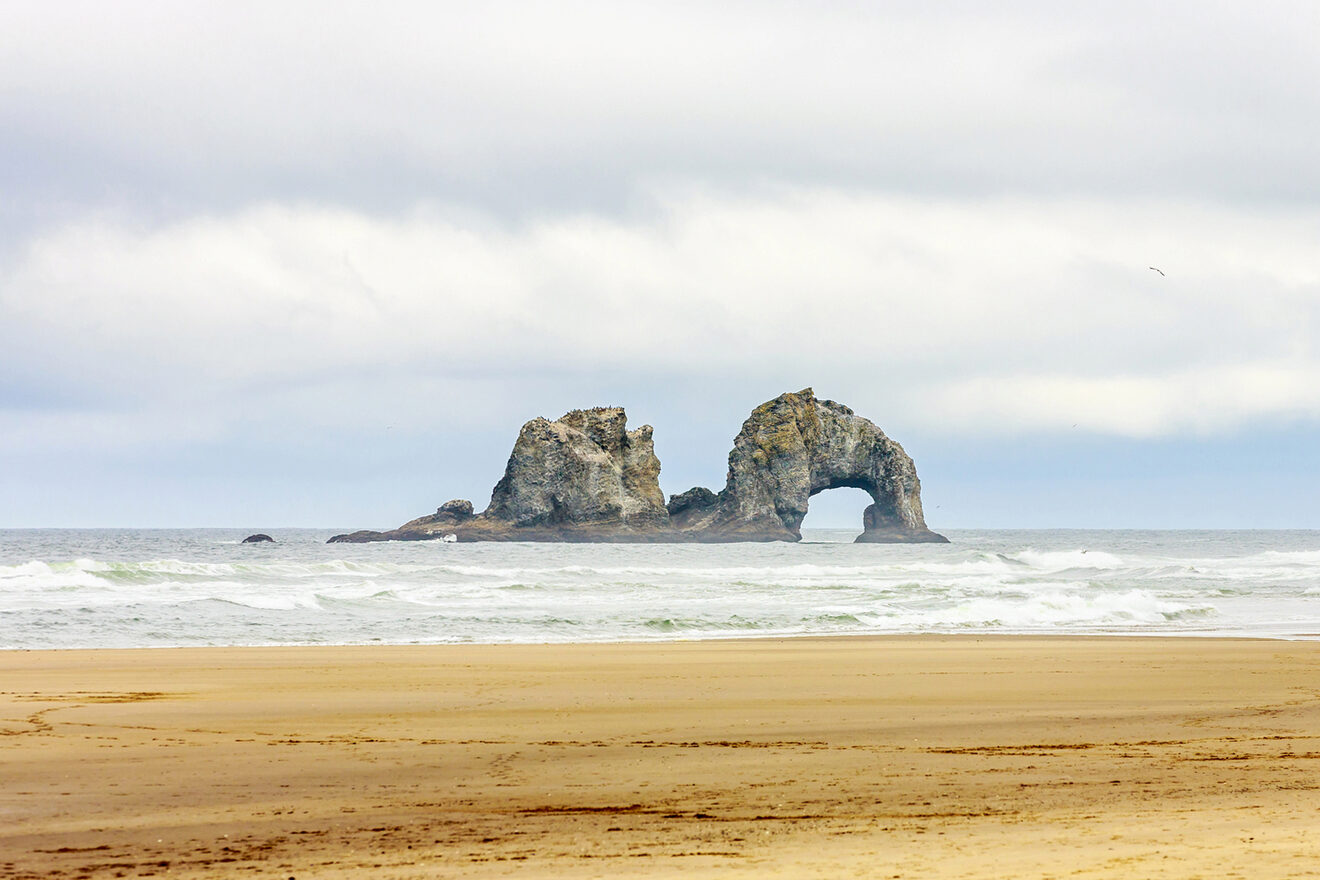 Looking to do nothing but relax during this trip on the Oregon Coast? Then I recommend looking for a place to stay on Rockaway Beach!
Designed as a resort town in 1909, Rockaway Beach has maintained that status, and it is still considered so as it has lots of things to do and see for tourists including nature reserves and parks.
Nowadays, the town has a laid-back atmosphere, and it's the place to go for people who want to escape the crowds and enjoy some moments of peace and quiet.
Just like all the towns on the Oregon Coast, Rockaway Beach is filled with sandy shores and breathtaking views of the Pacific Ocean. A day on the beach will make you feel like a brand new person since there aren't many people around and you can relax as much as you want!
Even though it's a resort town, there are many accommodations in this area, from luxury ones to campgrounds. Let's check out the best options:
Other accommodation options in Rockaway Beach
Things to do in Rockaway Beach
Go fishing on Lake Lytle
Enjoy a walk in Tillamook County Park
Visit the Rockaway Beach Old Growth Nature Preserve
Explore the Manhattan Beach State Recreation Site
Snap a pic of the unique Twin Rocks
Grab dinner at RB Little Store
Check out their city center
6. Astoria – best place for budget travelers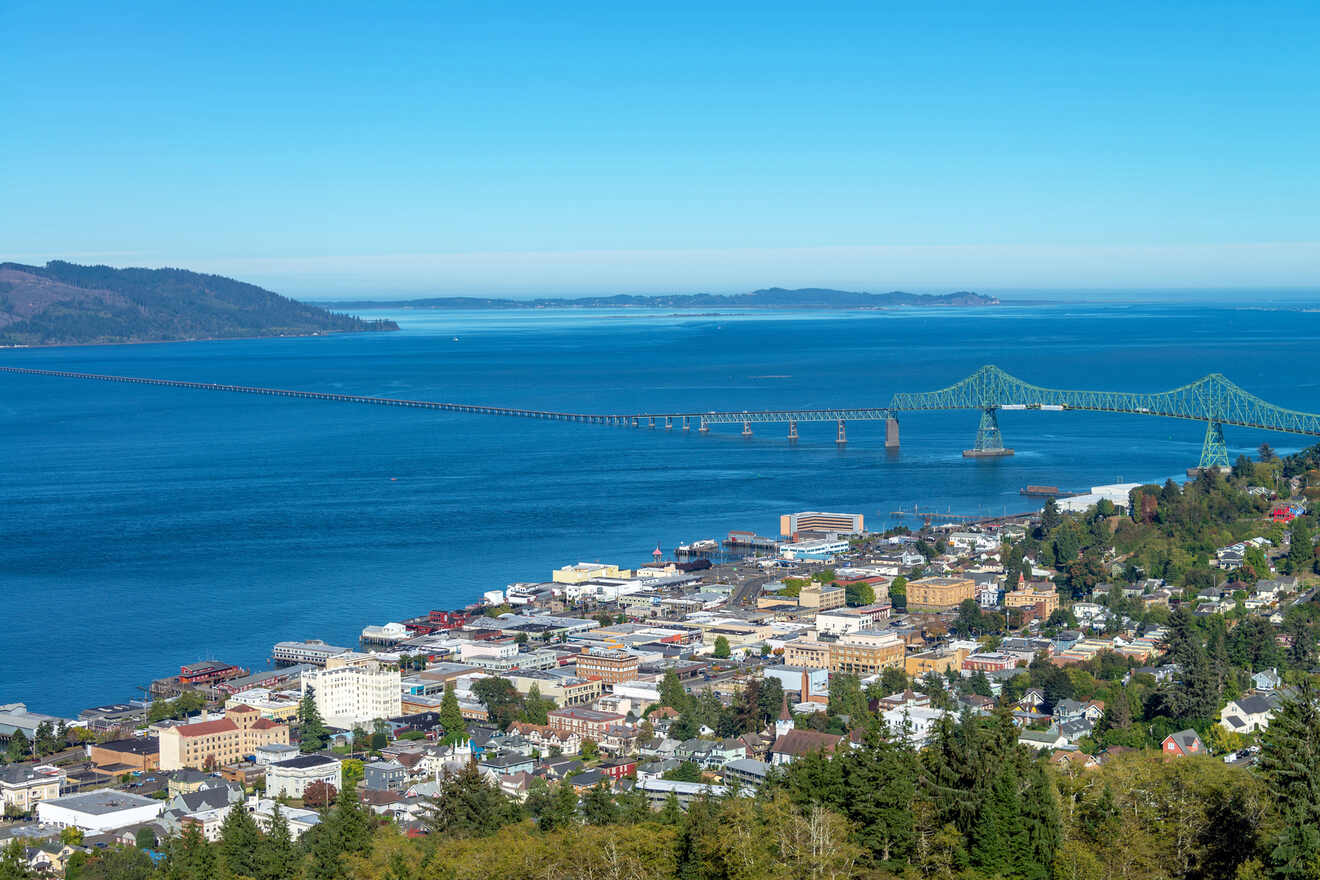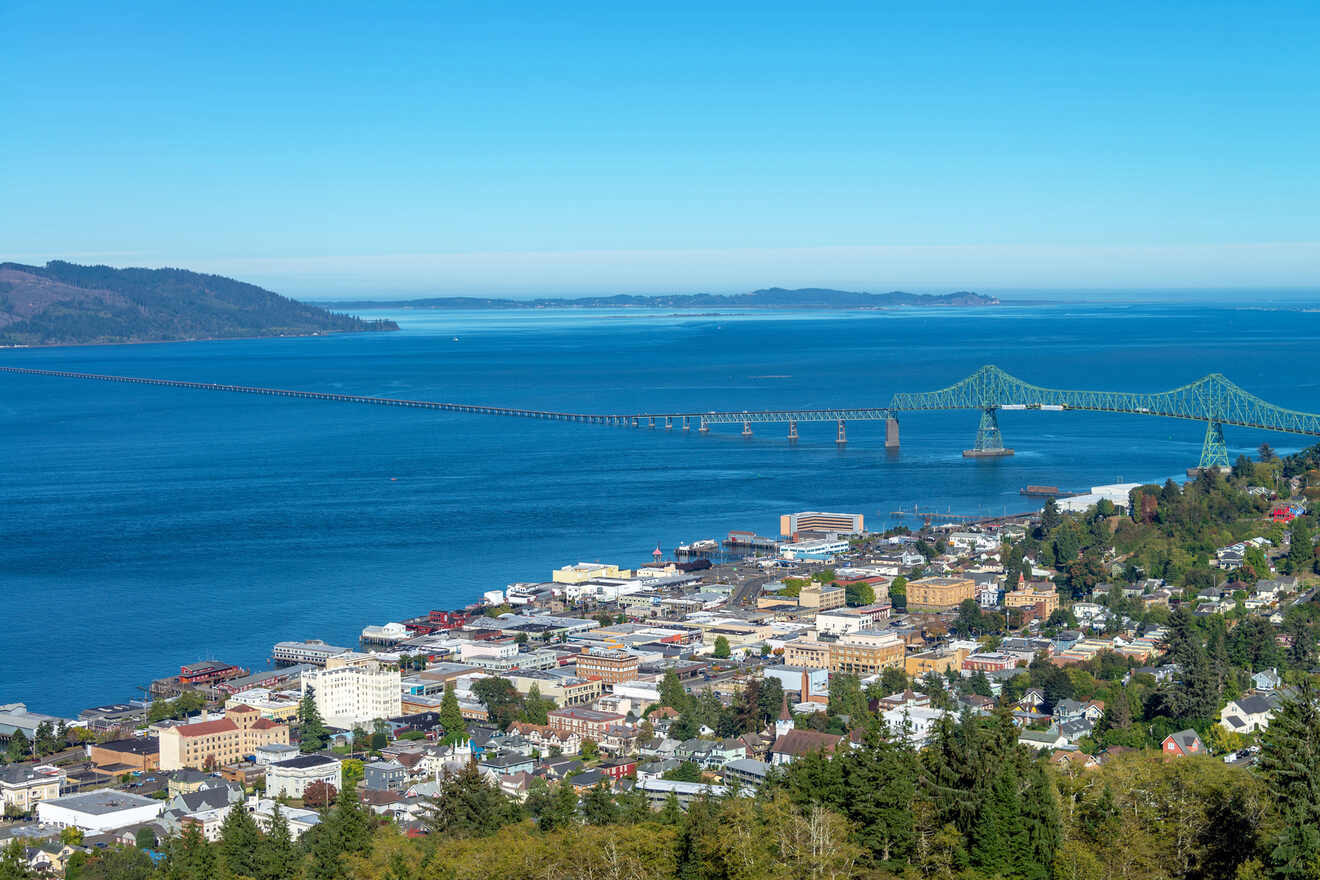 If you're looking for an affordable place on the Oregon Coast, stop scrolling for a minute and check this out!
FUN FACT: Astoria has a rich history and it was founded more than 200 years ago!
So it's not only the affordable prices that make Astoria such a desirable place, this town offers many dining options, attractions, and great hotels for all pockets.
You won't see beaches here, but there is a cool harbor leading into the Columbia River that you should check out. You will also come across a few museums and historical landmarks like the Astoria Column and the Flavel House Museum.
While visiting Astoria, you can spend your days exploring the town area and learning about its history, so if you're interested in the past, you'll enjoy your time here to the fullest! But don't worry if you're missing the beach, you can always visit the seaside, which is only a 30 min drive away!
Other accommodation options in Astoria
Things to do in Astoria
BONUS 1: Best oceanfront lodges on the Oregon Coast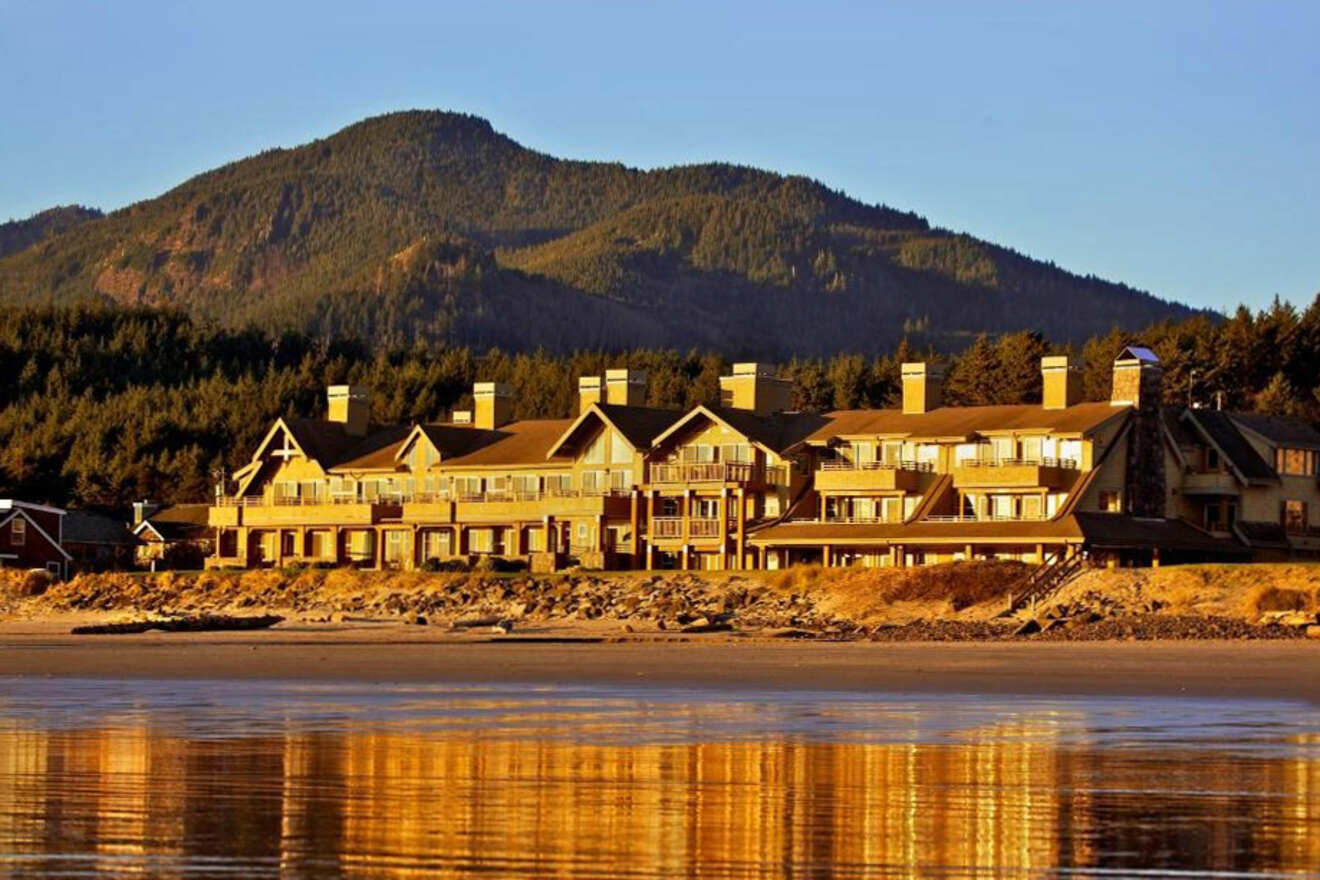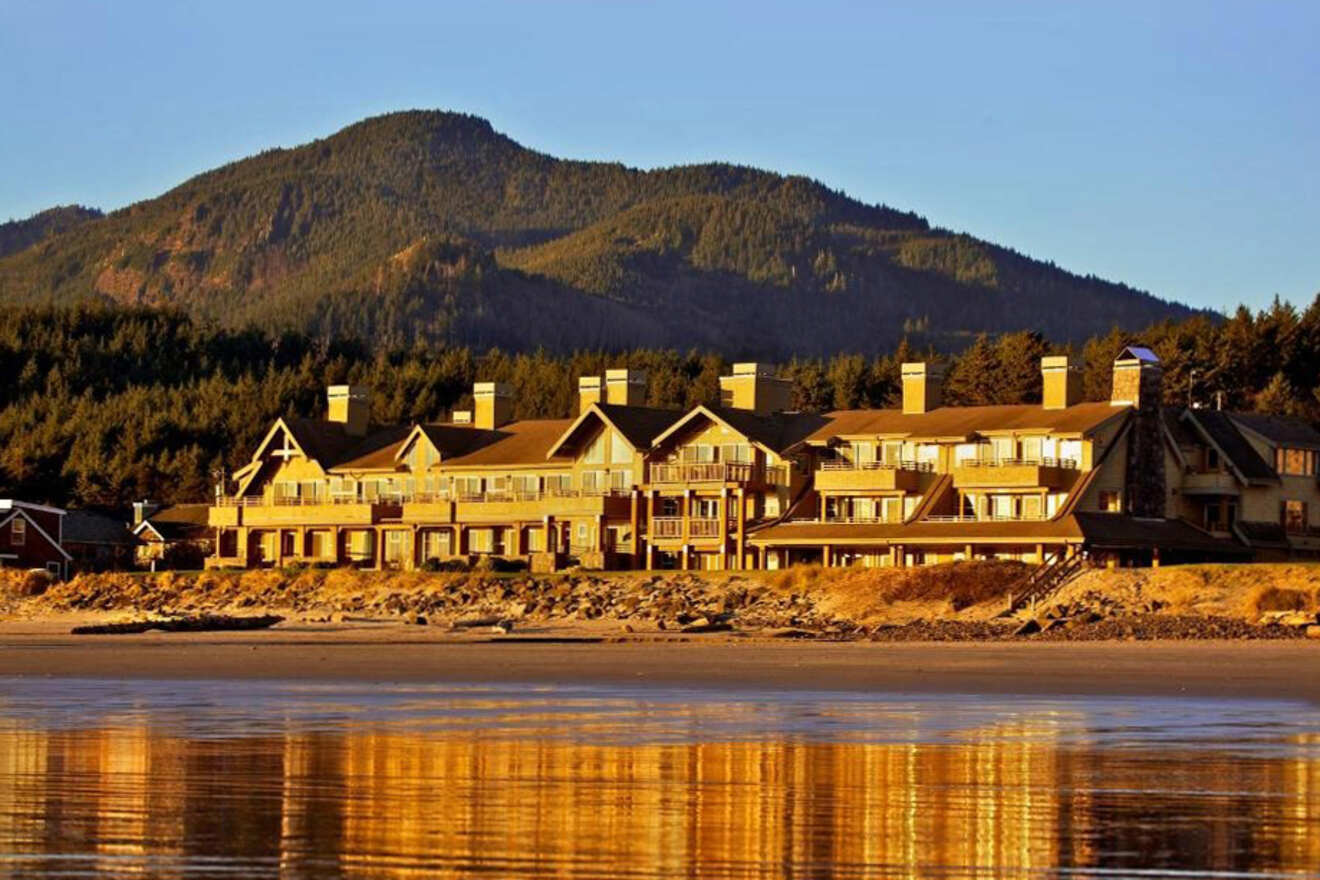 Let's face it, there's nothing like waking up to the amazing coastal landscape in a place like Oregon! Just imagine sipping your coffee while admiring the vast ocean and the blue sky, while feeling the sea breeze kissing your skin. Sounds pretty good, right?
Well, all this can turn into reality! Have a look at the best oceanfront hotels on the Oregon Coast below, and you'll find that all of them offer the most amazing sights!
Luxury (US$350 and up)
The Ocean Lodge – Set right on Cannon Beach near the famous Haystack Rock, this lodge has warmly decorated rooms with a balcony and a fireplace, and some even come with a spa bath! Get ready to wake up to a delicious free breakfast in the morning and then head out to explore Cannon Beach, or if you prefer, stay in and borrow the lodge's board games!
Starfish Manor – Fancy your own private spa bath with a view of the ocean? Check out this hotel in Lincoln City that has one! This modern accommodation has spacious rooms with a small kitchenette, a seating area, and my favorite perk: the spa bath!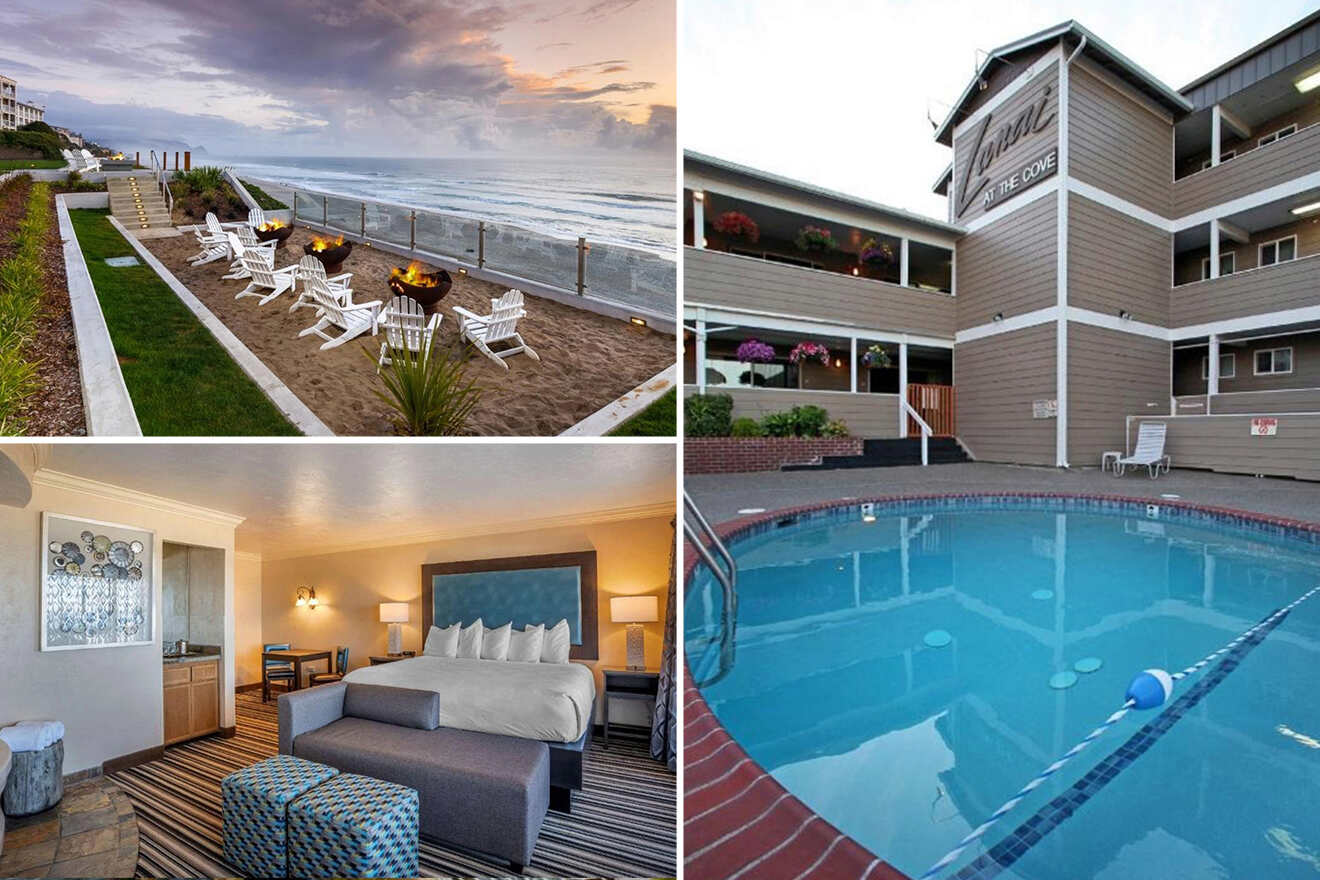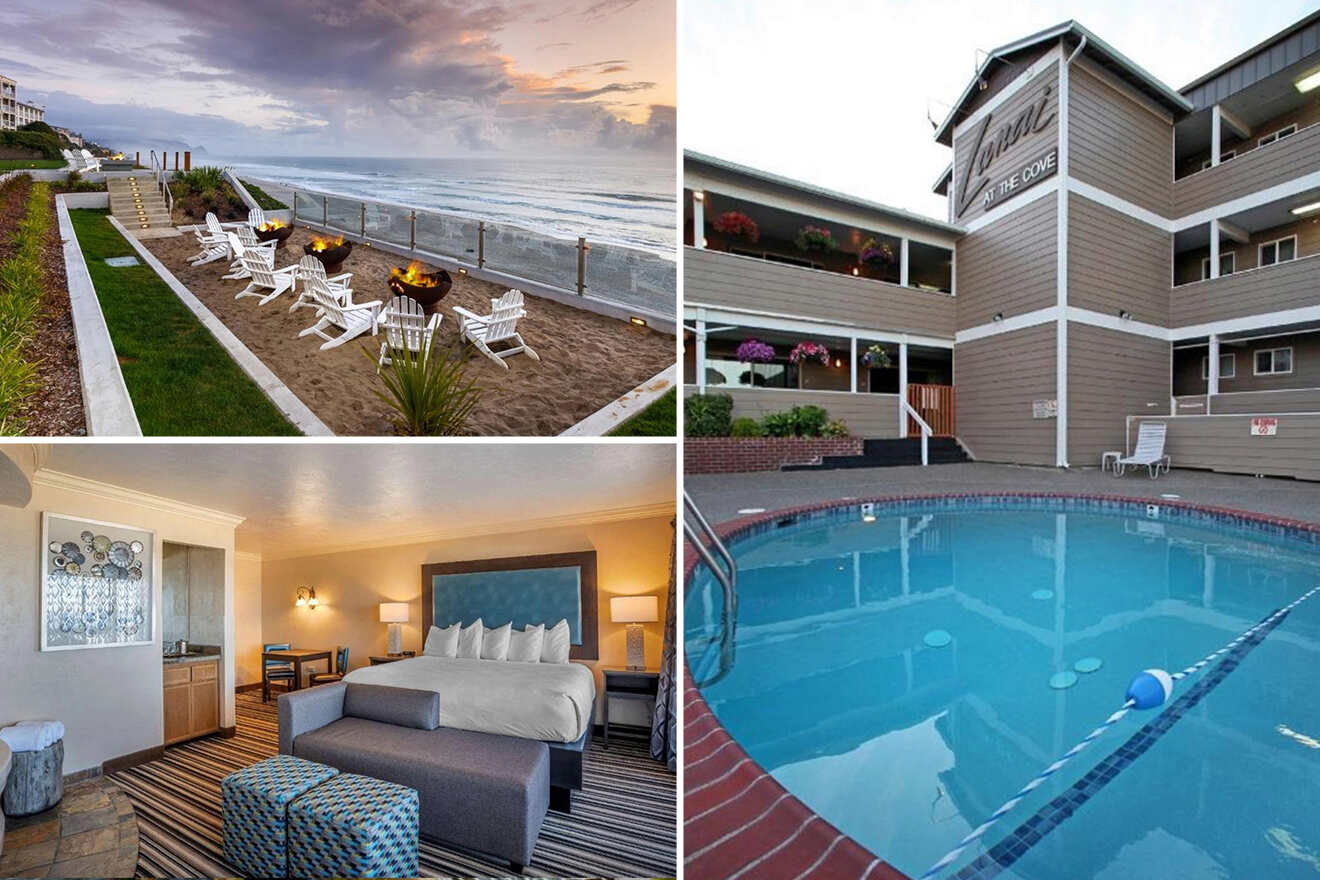 Mid Range (US$150 – US$250)
Budget (up to US$150)
Deane's Oceanfront Lodge – If you're looking for something more affordable near the ocean, then check out this lodge located in Yachats on the Oregon Coast. The accommodation features rooms with a private bathroom and a coffee machine. Guests will have access to a library with DVDs, puzzles, games, and books to borrow.
BONUS 2: Best camping grounds on the Oregon Coast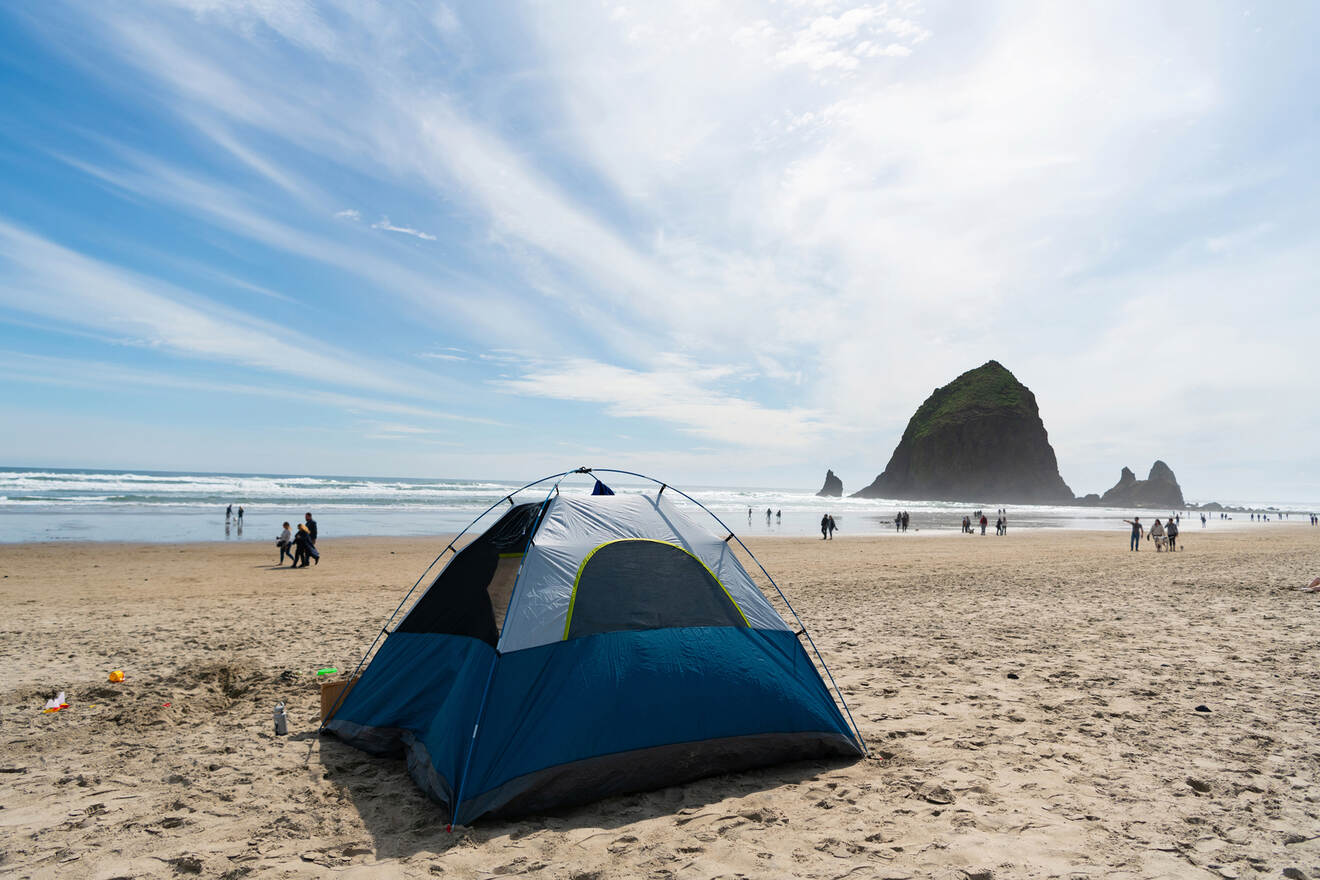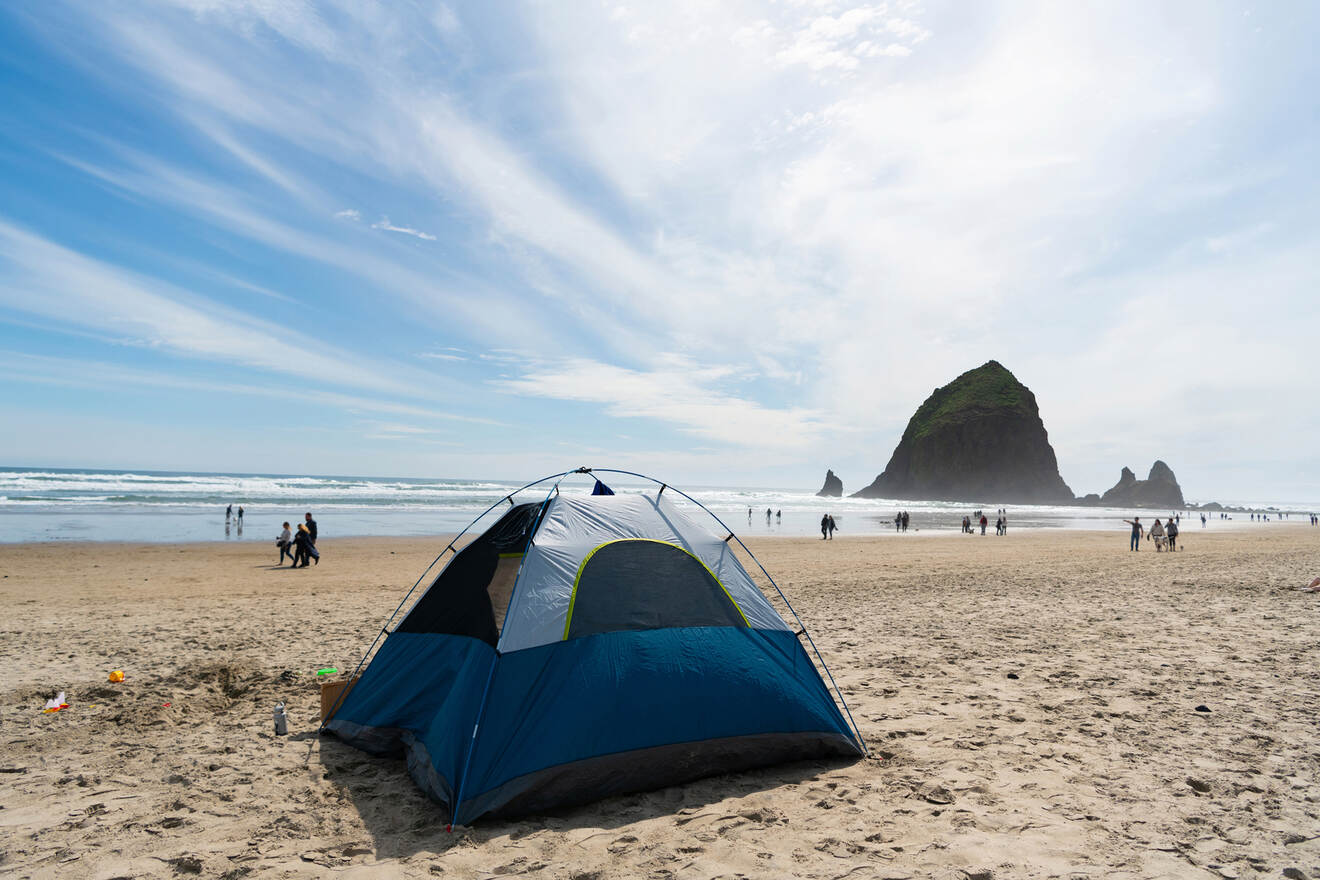 We all love fancy hotels with all sorts of facilities like a spa and a fitness center. But once in a while, I'm sure you'll want to escape all that and embrace the wildlife. Luckily, the Oregon Coast is an amazing place to do that!
There are lots of camping grounds around the Oregon Coast, and to help you out a little, I thought I would list some of the best ones here:
Fort Stevens State Park – Offering campgrounds and cabins near Astoria, this state park is super well-equipped with everything you need from picnic tables to bathrooms and showers. Prices from US$17 for tents to US$100 for cabins. With room for tents and RVs, this campground is for sure a keeper!
Secret Camp RV & Tent Park – Located near Gold Beach, Oregon, this campground has prices from US$25 to US$50 per day for tents and RVs. While staying here, you'll have access to free wifi, private bathrooms, and activities like volleyball and firepits.
Beverly Beach State Park – This Oregon Coast campground is located in a forest between Cape Foulweather and Yaquina Head. Their prices start from US$17 for tents to US$100 for cabins, and you'll have lots of amenities like bathrooms, a dump station, and picnic areas.
FAQs about hotels on the Oregon Coast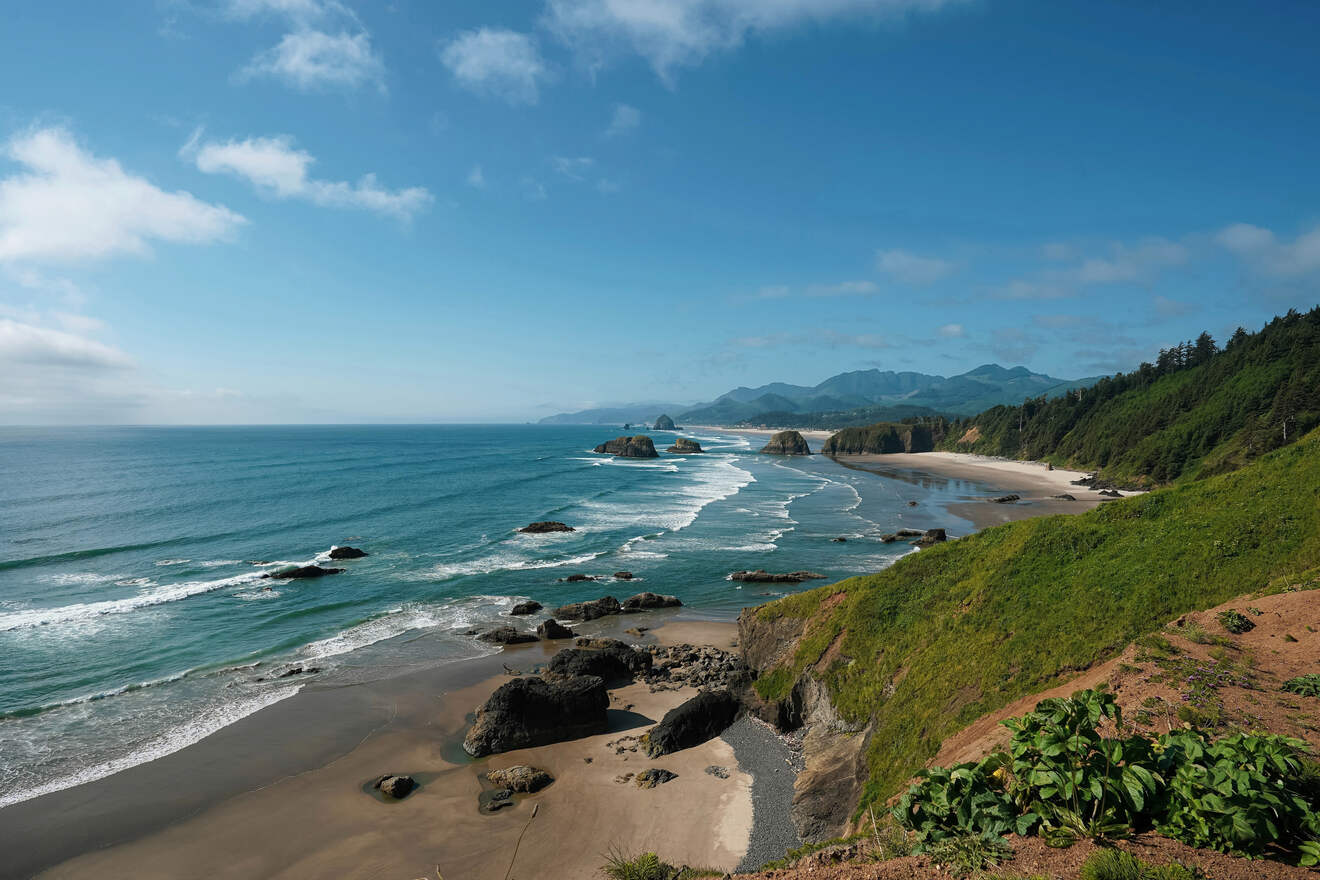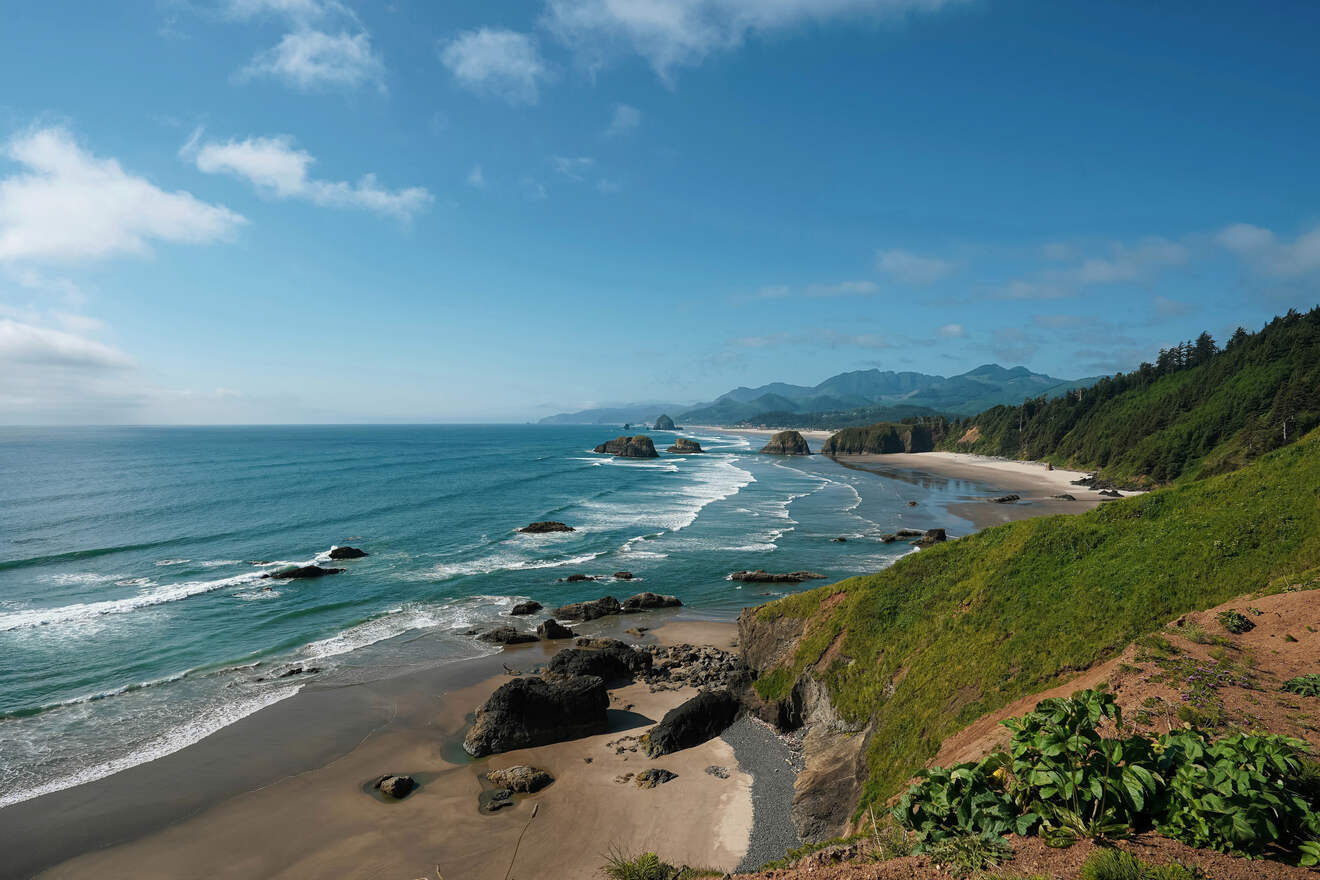 Conclusion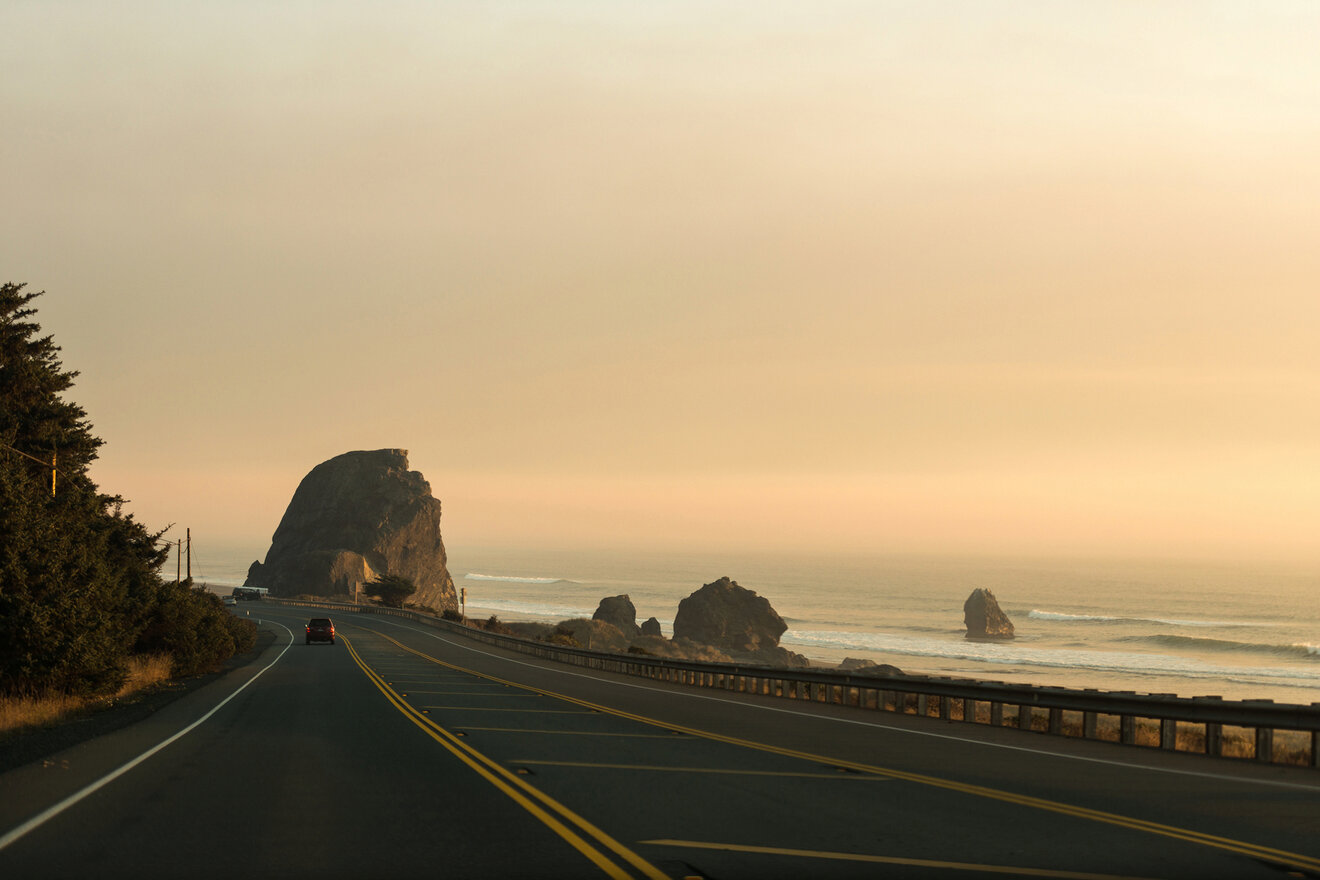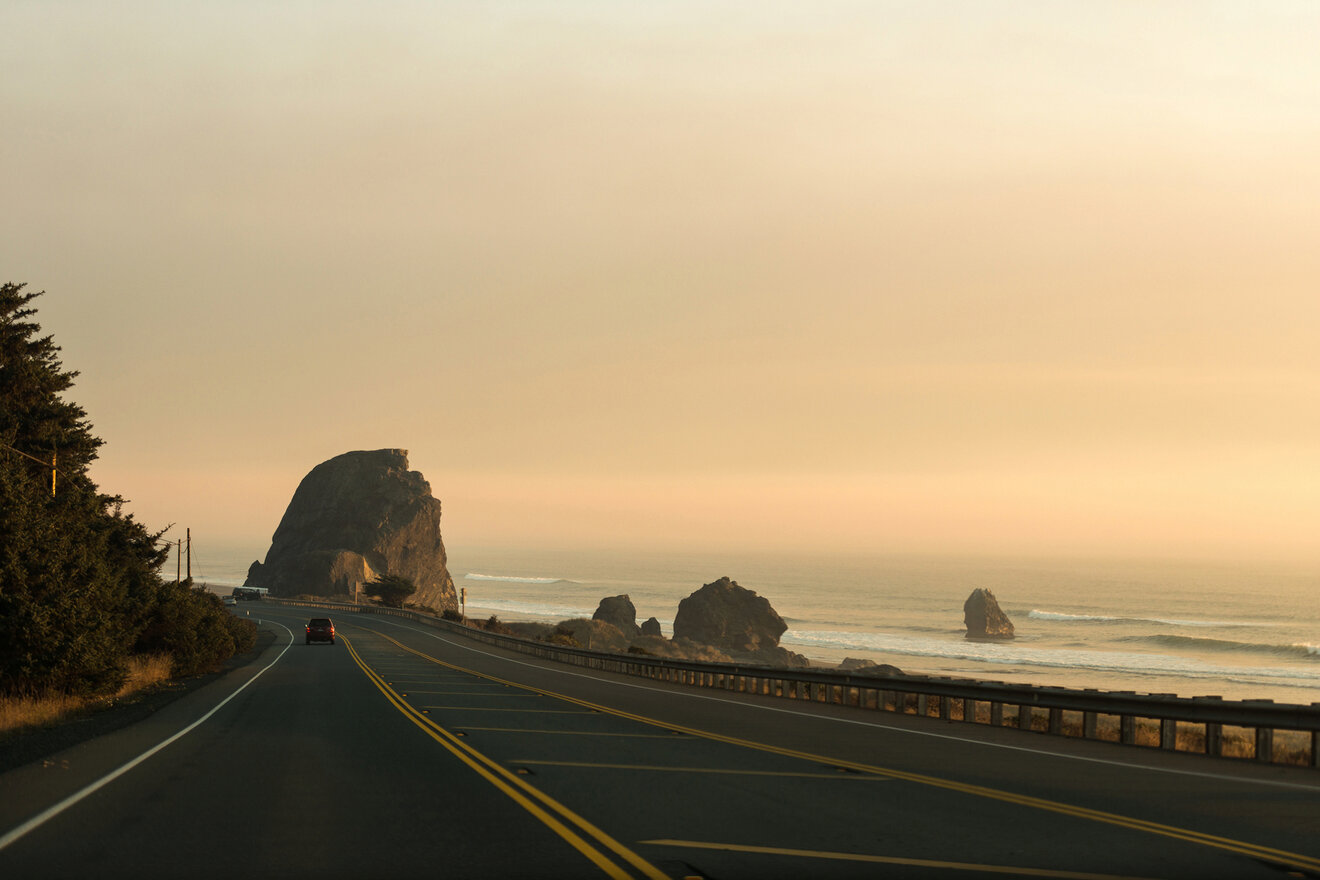 Wow, if heaven was a place on Earth, it would definitely look like the Oregon Coast! I'm sure now you're an expert when it comes to finding places to stay on the Oregon Coast!
We've gone through the best coastal towns in the area plus 2 bonus sections with the top hotels to stay in Oregon Coast and some amazing campgrounds. So all your options are covered!
As always, I like to keep my readers as informed as possible, but I know there's lots of information in this post. If you can't decide which are the best hotels for you, check out my 2 favorite options, both located in Pacific City:
Headlands Coastal Lodge & Spa – With a fabulous location right near the beach, this charming lodge has cozy rooms with a balcony and a spa center
Inn at Cape Kiwanda – A comfortable beach inn on the Oregon Coast that offers ocean views rooms, and many activities like fishing
As I mentioned earlier, I highly recommend booking your hotels in Oregon Coast, super in advance! This location is very popular, and all the good places sell out so fast!
Enjoy your time in this unique location, and don't forget that I'm here to answer any of your questions. Just leave me a comment below, and I'll get back to you as soon as possible!
Safe Travels,
Victoria
---