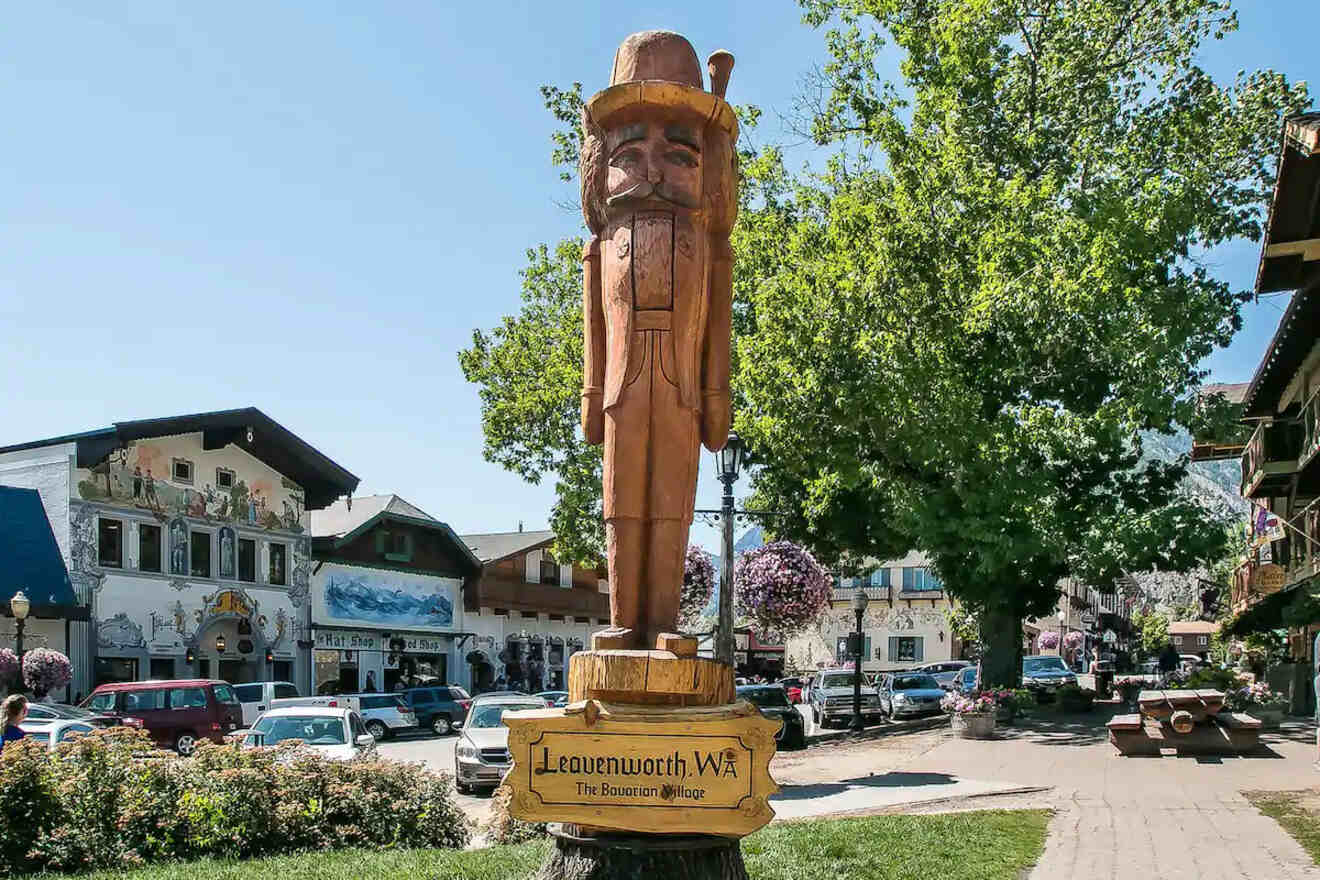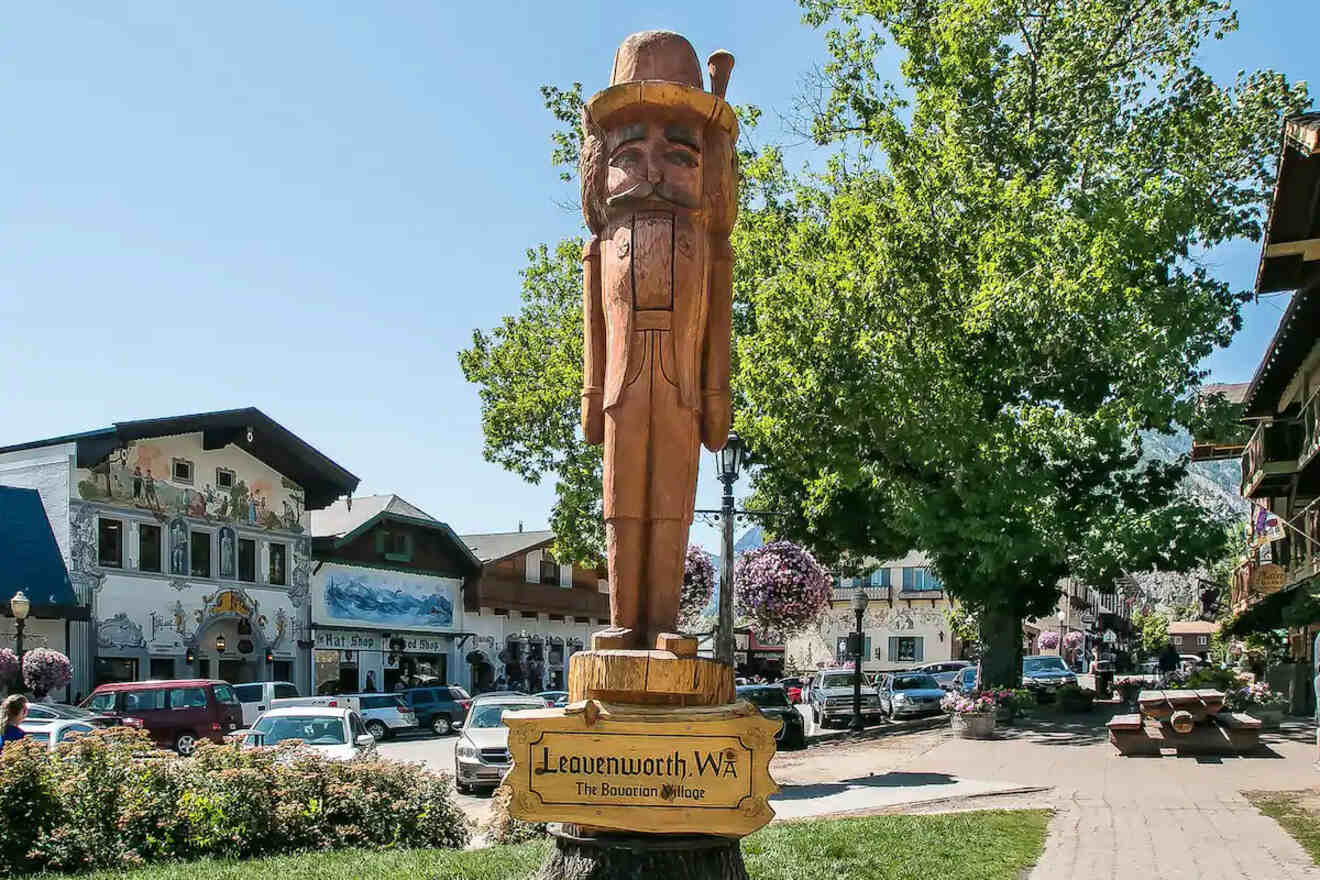 Planning a trip to Leavenworth? Well, you are in luck! I have put together a list of the best Leavenworth Airbnb rentals you can find. This gorgeous mountain town is a must-see for anyone living in the United States, or anywhere in the world for that matter.
Nestled in the Cascade mountains, at the center of Washington State, this charming village town steals the hearts of almost everyone that visits. With never-ending views and glacial lakes and rivers, it's hard not to fall in love with the idyllic setting.
The village town has a large Bavarian influence and as soon as you enter Leavenworth you'll feel as though you have been transported from the United States straight into Germany. The influences can be seen in the Alpine-style architecture and restaurants selling pretzels, bratwurst, and German beer.
With mountain trails that can be used for hiking and biking in summer and skiing in winter, this is the perfect spot to visit any time of the year. It gets particularly busy during German festivals such as Oktoberfest and Maifest, so if you're looking to experience this vibe, then be sure to check in over these dates.
Close to Seattle, this is also a favorite escape for many that live in the area. So why not extend your trip to Seattle and visit the beautiful area of Leavenworth?
If You Are in a Hurry: Top Airbnbs in Leavenworth WA
If you haven't got time to go through the full list of Airbnb rentals in Leavenworth, I've got you covered. I have selected the top Airbnbs in Leavenworth and sorted them by price, starting with the most expensive.
Top 15 Airbnbs in Leavenworth Washington
Let's dive straight into all the amazing accommodation options you have in Leavenworth. Whether you are looking for a guesthouse, guest suite, house, cabin, chalet or apartment, I have all the Airbnb options covered below.
For your convenience, I have calculated the average nightly price including service and cleaning fees. This gives a more realistic representation of what the price per night would be, and this is what you will see below. The properties have been sorted by price, from highest to lowest.
1. The Overlook – Modern, Luxury, Leavenworth Cabin in the Center
Location: Leavenworth
Price: from USD $670 per night
Bedrooms: 3
Guests: 6
This is the ultimate luxury Leavenworth Airbnb. The cabin is complete with sleek modern finishes and dreamy views from every room – even the shower! Nestled within pine trees, when you are in this home you feel as though you are deep in the lush woodland. You won't find a house in Leavenworth with better views than this.
Comfortably sleeping six guests in modern and chic rooms, this is the perfect getaway for friends or family. You will want to spend all of your time on the outside balcony with a fire pit and views of the lake. The kitchen is fully-equipped for you to cook up a storm in the evenings before enjoying a view as a group around the large dining table.
The gorgeous cabin defines a mountain retreat and you will fall in love with this rental as soon as you step foot inside.
2. Camp Howard – Unique Cabin with Great Views
Location: Leavenworth
Price: from USD $560 per night
Bedrooms: 2
Guests: 6
This exquisite Airbnb is a quintessential modern luxury within nature. It is spacious and exceptionally clean, with sweeping views and a unique design. Located on the foothills of the Cashmere mountains, this log cabin retreat is private and quiet. Comfortably sleeping six guests, it's a great spot for families or medium-sized groups.
The gorgeous floor to ceiling windows boasts unobstructed views of the surrounding forest and mountains. Enjoy cozy evenings in with the fire blazing and see if you can spot any stars from the comfort of your living area.
This is an awesome place to relax and unwind and you will come back from this spot feeling refreshed and rejuvenated.
3. Das Tree Haus – Ideal for a Romantic Retreat
Price: US$415
Bedrooms: 1
Guest: 2
This private treehouse is perfect for someone looking for a unique getaway or a romantic retreat. This place is serene, just a perfect escape from city life.
In the evening, you can gaze at the stars around the fire pit to keep your toes warm. A dip in the hot tub for two can help relieve tired muscles and is great to stimulate conversation. The wraparound deck is also a great spot to watch sunrise and sunsets.
If the gorgeous images above don't suffice, I encourage you to check out VRBO, and you can take a virtual tour to get a better sense of the space and its layout. You'll definitely fall in love! By the way, this property is pet-friendly too!
4. Tranquility Awaits You at This Riverfront Cabin – Great Location
Location: Leavenworth
Price: from USD $360 per night
Bedrooms: 2
Guests: 6
This remodeled cabin has high ceilings, creating an inviting and open space for family and friends to enjoy together. It's a wooden cabin home that comfortably sleeps six guests in two bedrooms and a third loft room with a double and single bed.
Fall in love with the airy open plan kitchen, dining room, and living room area. As well as the outdoor deck that's right on the river. The large space has a gas grill, hammock, and hot tub and is the perfect place to spend family afternoons together.
Downtown Leavenworth is sixteen miles from the home and is easily accessible by car if you want to spend a day exploring the Bavarian Town.
5. Tranquil Leavenworth Haven – Perfect for Large Groups
Location: Leavenworth
Price: from USD $350 per night
Bedrooms: 3
Guests: 8
Located in a quiet neighborhood in between the Stevens Pass Mountains and the downtown Leavenworth Bavarian village town, this large wooden cabin house can comfortably sleep eight guests. It is a great option for bigger groups or large families.
Cozy up on the large wraparound deck, reading a book, or dipping in the hot tub bath. Or head out on a day of adventures, biking, and hiking, knowing you have a tranquil space to come home to and rest. There is a bedroom and bathroom on each floor, creating a comfortable space.
Surrounded by mountains and pine trees, this rental is private but close to everything you may need. What more could you ask for when planning a getaway to Leavenworth Washington.
6. Contemporary Guesthouse in Town – Perfect for Couples
Location: Leavenworth
Price: from USD $300 per night
Bedrooms: 1
Guests: 2
This modern log cabin is situated within beautifully manicured gardens. It's a peaceful house in Leavenworth WA, and is private and cozy. With a near-perfect review rating of 4.99 stars, the place speaks for itself.
It's perfectly located, just a 7-minute walk from downtown Leavenworth but still nestled in the wilderness. It's not easy to find a rental within walking distance of downtown, so this is a true gem.
This interesting building was once a shed. You will be amazed at how it has been remodeled into a comfortable space with a fully equipped kitchen, a large bedroom, and an outdoor deck.
7. Aspen Carriage House with Great Location – Sleep Under the Stars!
Location: Leavenworth
Price: from USD $300 per night
Bedrooms: 1
Guests: 4
This apartment-style carriage house is rustic and charming, creating a cozy and authentic mountain experience. The one-bedroom house can sleep up to four guests on a sofa bed in the living room. There is also a unique sleeping option out on the deck; a swing bed. So if you are up for an evening under the stars, you will enjoy this spot.
The house is on 5 acres of forest land with its own trails for you to walk along, as well as breathtaking views. It is also a pet-friendly property and you can bring one small dog with you at no additional charge. Located a close 2 miles from downtown Leavenworth and 5 minutes from the river, this is just the perfect spot.
8. Osprey Acres: Modern Suite, Hot Tub & Trails – Charming Forest Escape
Location: Leavenworth
Price: from USD $260 per night
Bedrooms: 1
Guests: 3
This standalone guest suite is part of a newly renovated forest home. It has beautiful interiors of reclaimed barn wood throughout. If you are looking for a romantic getaway or solo escape from Washington, or any other part of the United States, then this is your place in Leavenworth!
A short walk away from this guest suite you will have access to private hiking and biking trails. And after a long day of adventures, you'll be able to relax in your very own hot tub. The bedroom has a comfortable queen-sized bed and you'll like how the dappled sun streams through the windows in the morning.
9. Aspenview Suite: A Marvelous Leavenworth Stay! – Perfect for Couples
Location: Leavenworth
Price: from USD $230 per night
Bedrooms: 1
Guests: 2
When an Airbnb has an overall review of 4.99 stars, you know it's a one of a kind spot. This charming wooden home with its master suite and unparalleled views is a great couple's retreat in Leavenworth, Washington.
The queen-sized bed and fireplace in the main guest suite are charming and cozy. The bathroom has a bath big enough for two and there is also a hot tub outside which is shared with one other rental on the property.
The kitchen is equipped with everything you will need and the outdoor deck has a fire pit which you will like spending time around in the evenings.
10. Intimate, Quaint and Cozy Cabin – Unique A-Frame Shape
Location: Leavenworth
Price: from USD $230 per night
Bedrooms: 1
Guests: 4
This A-frame cabin house nestled within the pine trees is exactly what I picture when I think of a forest retreat. The secluded home is quiet and private and is the perfect place to relax and unwind from the city.
The house has a loft bedroom that can sleep two guests on a queen-sized bed. The sofa bed can accommodate an extra guest or two, but this getaway in the United States is best suited for a couple or solo traveler.
The open plan dining and living area will be your favorite place to play a board game. Or the spot to enjoy a fresh meal that you have whipped up using the amenities of the fully equipped kitchen.
11. The Alley House: An Inviting Escape – Immaculate & Perfect for Couples
Location: Leavenworth
Price: from USD $220 per night
Bedrooms: 1
Guests: 3
This gorgeous guest house is detached from the main residence ensuring a peaceful and quiet environment with lots of guest privacy. It's also within walking distance of downtown Leavenworth which is only two blocks away.
You'll love how this spot is the perfect retreat whether you are looking for a vacation filled with adventure or a tranquil escape from the hustle and bustle of Washington. The town offers great restaurants and shops so if you don't feel like using your kitchen amenities, you are close to exploring the tastes of Leavenworth town.
This clean and cozy spot is great for couples. And if you would like an extra guest to join you then there is an additional single bed mattress that can be used.
12. Hansel Creek Loft Cabin! Creek Views on 150 Acres – Unique Experience
Location: Hansel Creek (15-minute drive from Leavenworth town)
Price: from USD $195 per night
Bedrooms: 1
Guests: 4
This is a true mountain escape in the woods. The tiny cabin looks like something out of a fantasy movie and this is guaranteed to be a one of a kind stay. This historic gem is situated within the woods of Hansel Creek, which is a 15-minute drive from Leavenworth WA town.
The original 1930s cabin has recently been restored to what you see today. The cabin is rustic but comfortable, with everything you will need for a peaceful weekend getaway. You'll be able to explore the surrounding area right from your doorstep with the Alpine Wilderness Trails within walking distance from the cabin.
The cabin has one loft room that comfortably sleeps two guests in a queen-sized bed. It can accommodate another guest or two on the sleeper sofa in the living room. The heated shower and bathroom are in a separate building so just remember you'll need to step outside for the bathroom.
13. Innsbrucker Inn King Room – Best Budget Room
Location: Leavenworth
Price: from USD $160 per night
Bedrooms: 1
Guests: 4
If you are looking for a more affordable option without compromising on value, then a place at the Innsbrucker Inn is a great option for you. The inn is centrally located in downtown Leavenworth, Washington and it's a close walk to all the shops and restaurants in town from here.
Whether you are looking for a weekend of relaxing or would like to head out on some adventures, this inn can offer both. The room is spacious and comfortable for couples or solo travelers. But there is a sofa bed if you are a young family traveling with two children.
14. BoBo's Guesthouse – Best Budget Airbnb
Location: Leavenworth
Price: from USD $140 per night
Bedrooms: 2
Guests: 4
This is the best budget guest house Airbnb in Leavenworth. With so many additional touches you will feel as though you got this place at a steal. This studio-style home has two double-size beds in the loft room that can be separated with a curtain, sleeping four guests. The kitchen is equipped with basic amenities and the living area is cozy.
The home is in a quiet neighborhood but still situated close to town, giving you a secluded feeling without being too far away from the vibe of Leavenworth town.
The house is comfortable and has everything that you need for a fun getaway in Leavenworth Washington.
BONUS: Unusual Airbnbs in Leavenworth WA
Okay, so are you sold on visiting Leavenworth, Washington and up for trying something different? Leavenworth, WA also has some great unique accommodation options. From caves and glamping in nature to trying out a camper van for the night, I have the best options covered.
The three options below are in Leavenworth, Washington and are also sorted by price. These are great for couples, families, or solo travelers looking for a way to experience Leavenworth with a difference.
1. White Aspen Luxury Camping – The Enchantment Tent – Best Glamping Experience
Location: Leavenworth
Price: from USD $410 per night
Bedrooms: 1
Guests: 4
If you have always wanted to try glamping but never have, then now is the time. Enjoy the camping experience but in the cleanest, comfortable, and luxurious way possible at White Aspen Luxury Camping site. Situated on the highest point of the mountain, the view is incomparable and the experience is like nothing else you have ever done.
The tent conveniently comes with linen, towels, toiletries, and a mattress bed for two. Additional beds can be provided for extra guests. Enjoy a sunset dinner and drinks from the viewing deck and once the sun has gone down, bask in a sky full of stars.
This pet-friendly campsite is situated a close 14 miles from the Leavenworth downtown area, making the glamping escape an unforgettable experience.
2. Vintage Hideaway in the Woods & Walk to Town – Unique Camper Van
Location: Leavenworth
Price: from USD $190 per night
Bedrooms: 1
Guests: 2
Sleeping in this beautifully furnished camper van in the woods is unique and fun. This intimate camper is a great place for couples or solo travelers to stay. Minutes from downtown, you'll be able to walk to shops and restaurants in Leavenworth, Washington.
The full kitchen and simple outdoor shower mean you have all the basic amenities that you need when staying in the camper van. You'll have access to your own private deck with hammocks to chill in and a fire pit to spend your evenings around.
Conclusion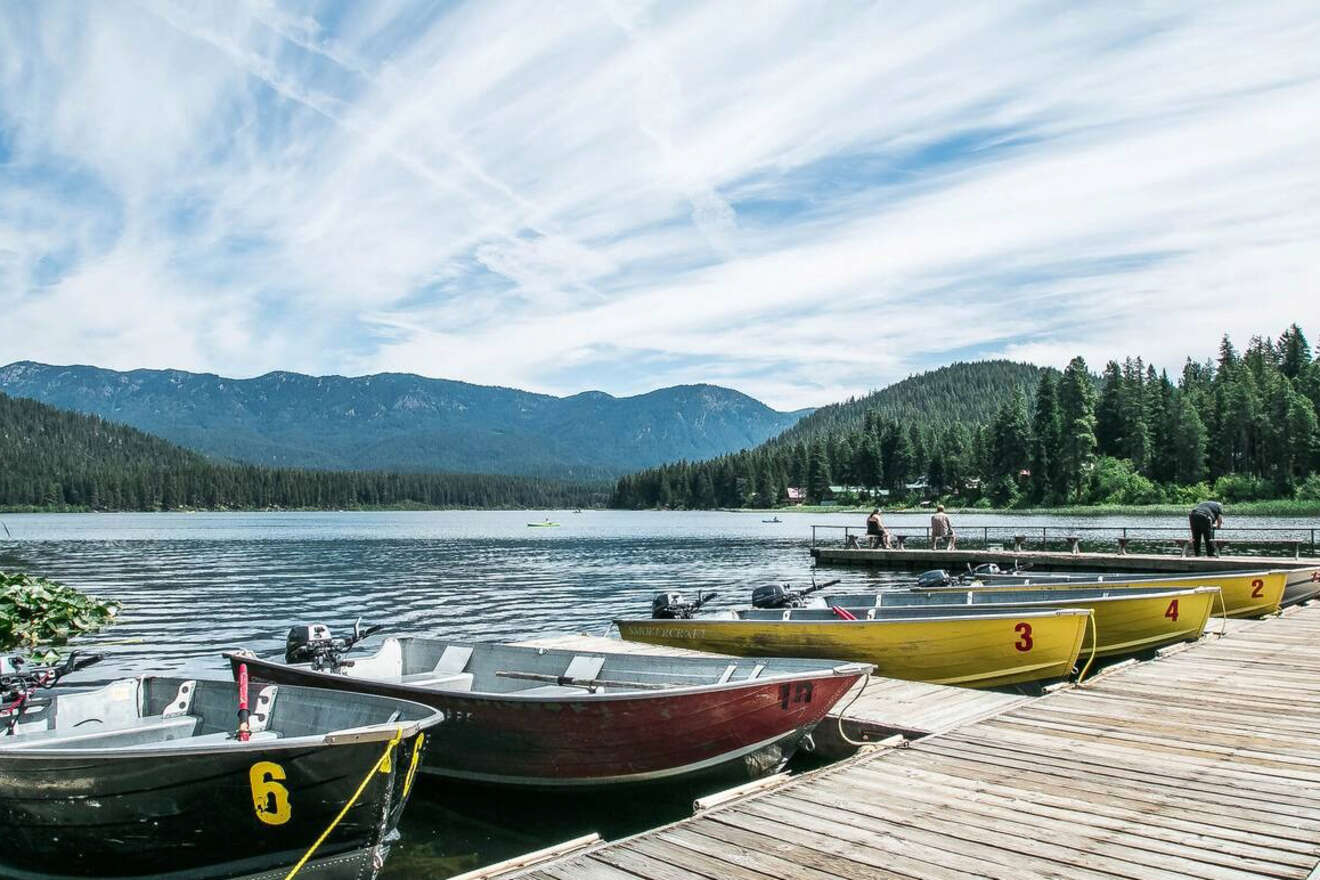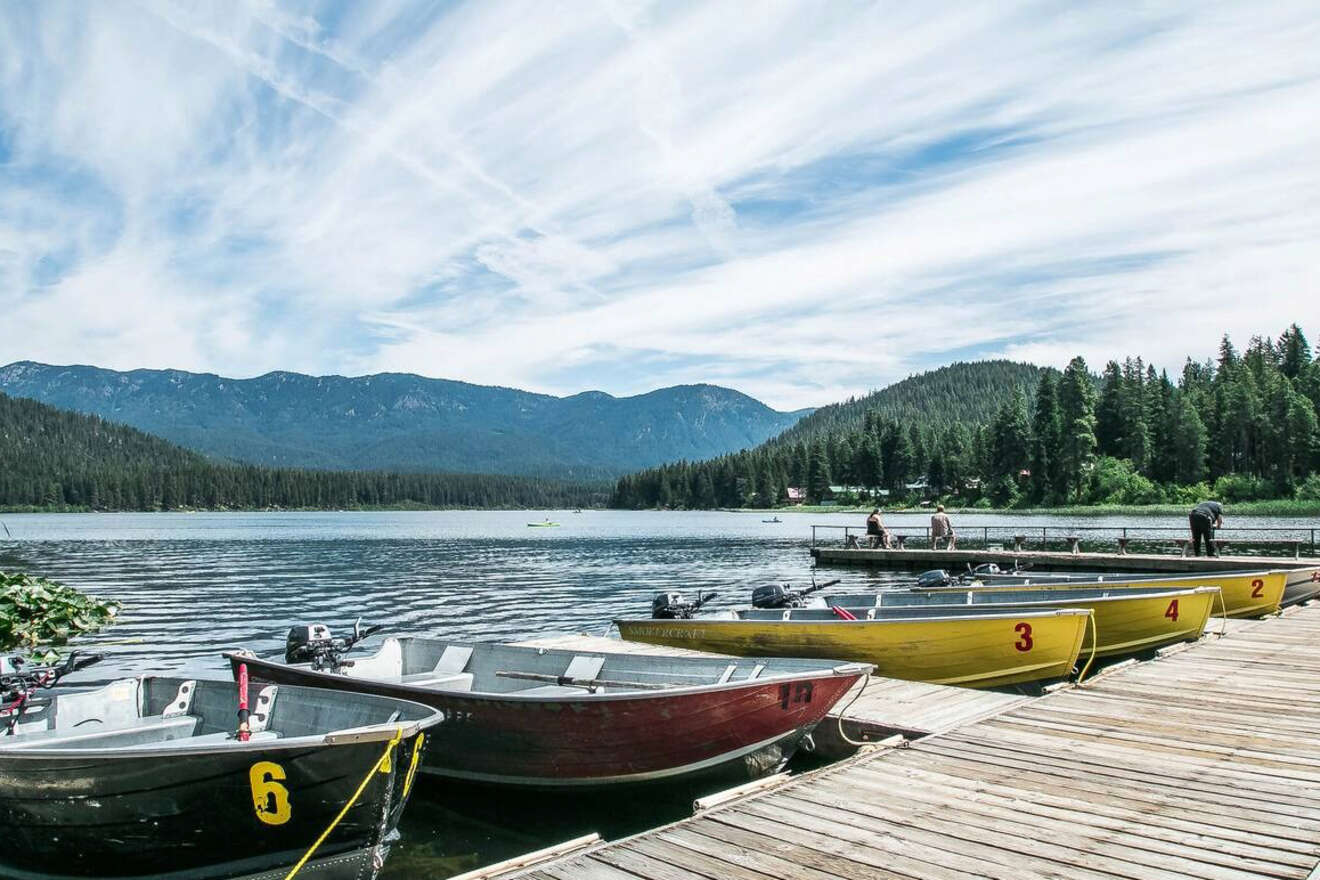 Have you decided where you will be staying on your escape to the nature and vibrant Bavarian influence of Leavenworth, Washington? If you have decided, be sure to book and secure your spot as soon as possible, all the best Airbnbs usually get booked up really quickly.
If you haven't yet decided on where to then why not have a look at The Overlook – Modern Leavenworth Cabin, this is the most luxurious Airbnb cabin experience in Leavenworth is a great place to stay for an escape in the woods. If you are looking for something a bit more budget-friendly for a small family then check out Aspen Carriage House – Sleep Under the Stars again.
I know you are going to have the most amazing time in Leavenworth. If you are heading there in winter to tear up the slopes on your skis, or if you are after a summer adventure of hiking and biking, you will be in awe of how stunning this place is.
If you have stayed in Leavenworth and think your Airbnb should be on this list, please comment and let me know. I would love to check it out and potentially add it.
Wishing you safe travels and an awesome vacation in Leavenworth!
NOTE: If you plan on visiting Seattle during your trip, check out this guide on where to stay.