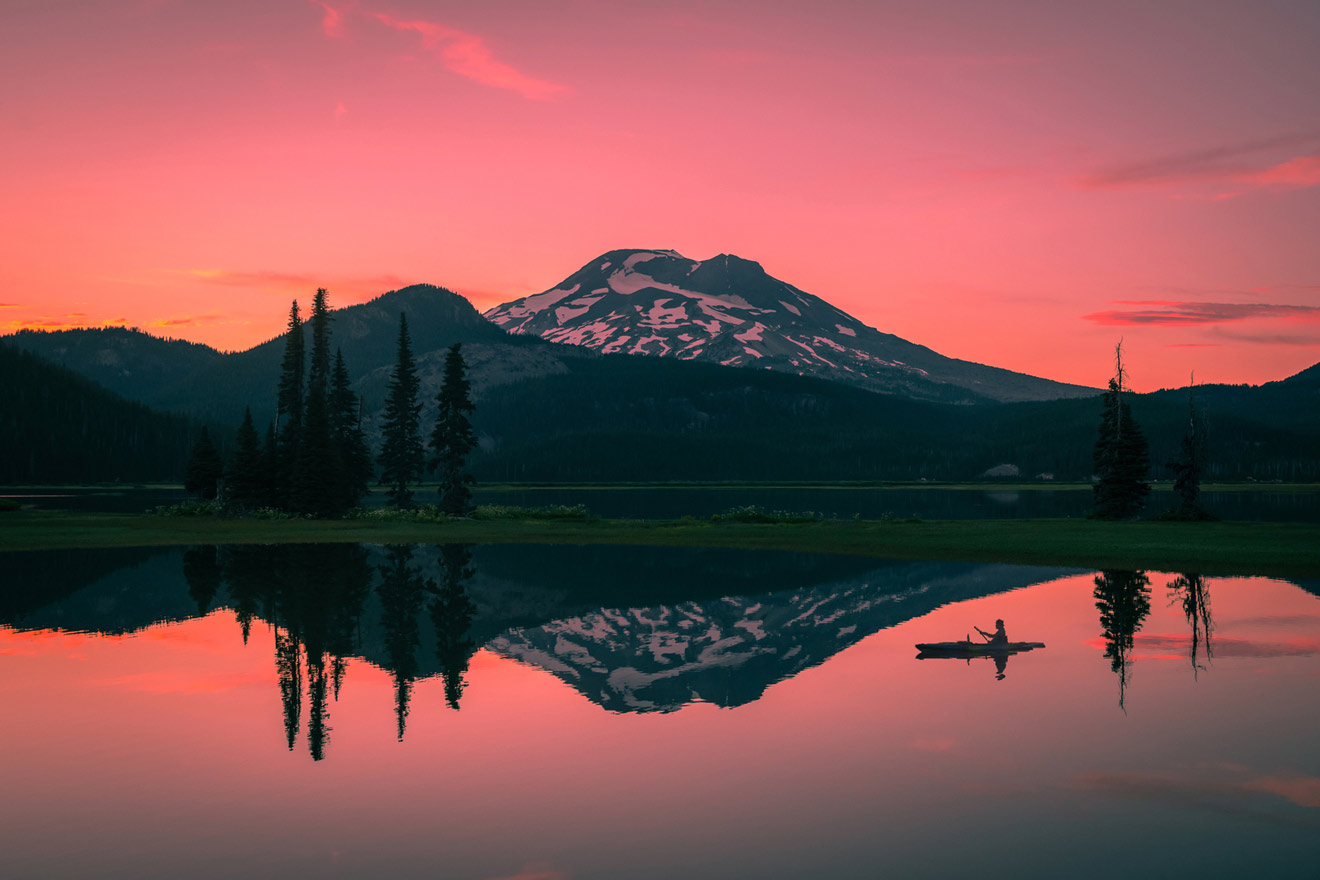 This beautiful town set in central Oregon is the ultimate holiday spot for many tourists who want to see the Cascade Mountains and the Deschutes River, and try as many outdoor activities as possible!
In this post, I'll help you find the best places to stay in Bend, Oregon! This guide has a list of the best hotels in Bend which I've arranged from most to least expensive so you can easily decide which one is your favorite!
Don't scroll down too fast though because you might miss my 2 amazing bonuses offering a couple of fantastic hotels with a spa bath in the room and the top vacation rentals in Bend, Oregon!
Whether your stay in Bend will be short or long, I recommend booking your boutique hotels in advance. This town's popularity is increasing, and if you book last minute you'll miss your chance at the best ones!
Let's hit the road!
If you are in a hurry
Eager to book your accommodation right now? Then have a look at this list of the best hotels in Bend:
Check out this map that will help you visualize all the best places to stay in Bend, Oregon that I'll talk about in this post:
Luxury (US$350 and up)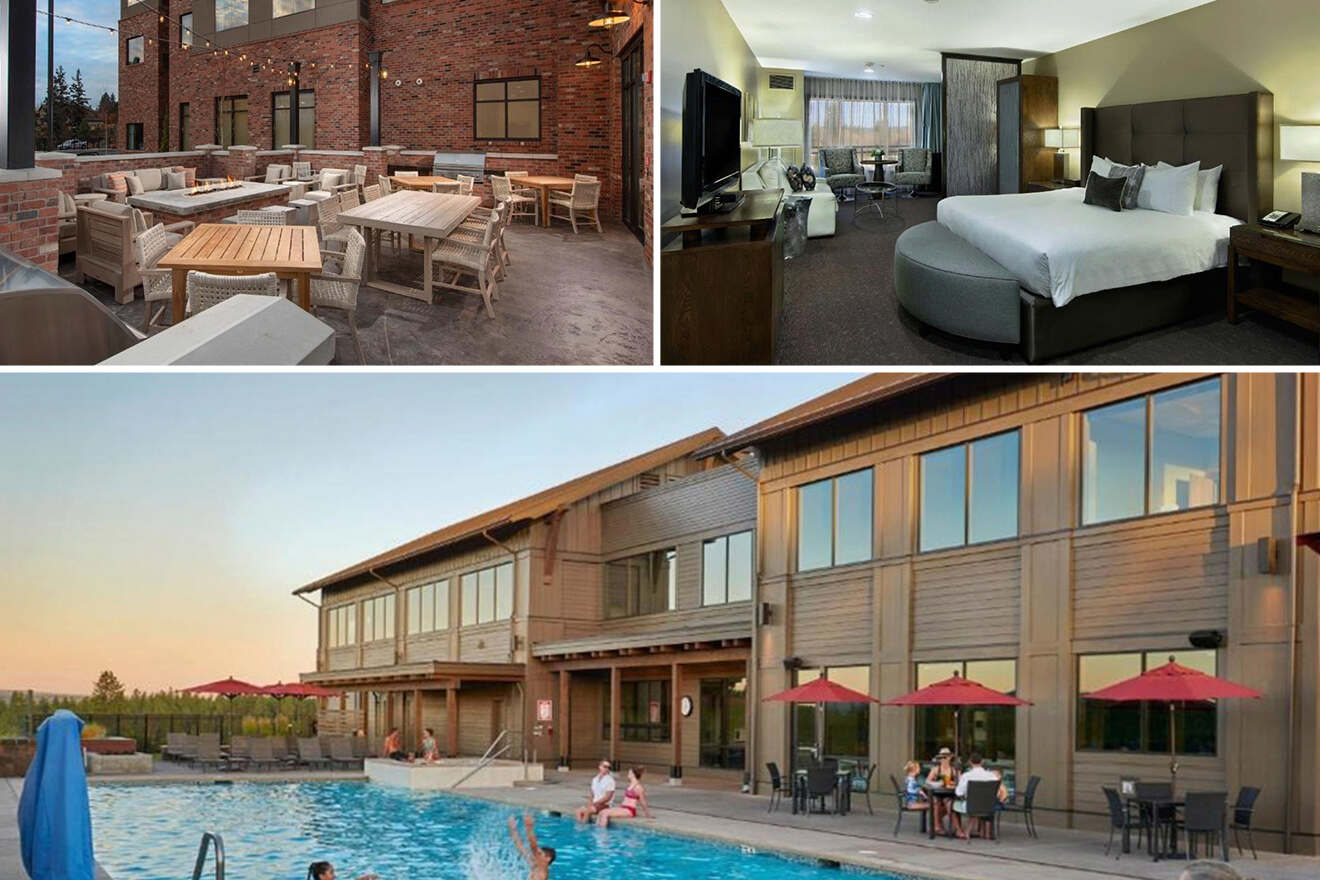 Oxford Hotel – Looking for a Downtown Bend hotel that's set within walking distance of all the attractions? Then you'll love Oxford Hotel Bend! It has comfortable guest rooms and even some with a private balcony offering incredible city views. The pet-friendly hotel also has a restaurant on-site where you can enjoy a delicious breakfast made with locally sourced organic ingredients! Plus, you can also use the complimentary cruiser bikes and explore the city!
Residence Inn By Marriott – Perfect for anyone who loves a modern design with dark, gray aesthetics, this Bend hotel has spacious rooms with a gas fireplace and a kitchen. This is a pet-friendly hotel, and it comes with barbecue facilities, an indoor pool, and a business center. After a day of exploring the Old Mill District, conveniently located within walking distance from the accommodation, enjoy a drink at the bar! But make sure you book these hotels in Bend, Oregon in advance. They sell out super fast!
Tetherow Hotel – If you enjoy outdoor activities then you'll love this resort near Deschutes National Forest! The accommodation features luxurious amenities like an 18-hole semi-private golf course and many spa facilities, including a steam room! With queen rooms featuring incredible views, this is one of the best luxury hotels! During the day you can chill by the pool, hang with the little ones in the playground or take the free shuttle bus to Downtown Bend!
Element Bend – Start your day with a delicious breakfast at this cool hotel in Bend before heading out to hike or visit the attractions. The accommodation offers spacious rooms and some of them even come with a small kitchen with all the utilities. Guests will also have access to free parking and a fitness center, while the hotel's hot tub is the perfect spot to relax after a day out!
SpringHill Suites by Marriott – Explore Downtown Bend all day long and then head back to your hotel to relax in front of the outdoor fireplace! SpringHill Suites by Marriott offers rooms with an elegant design equipped with a coffee maker and a flat-screen tv. When you're not out in the city, you can go for a swim in the indoor pool or hit the fitness center if you don't want to miss gym day!
Pronghorn Resort – Surrounded by trees and mountain views, this resort is perfect for your Bend vacation, especially if all you want to do is relax! Offering lots of luxurious facilities like a golf course and a full-service spa with a hot tub, this accommodation can't be missed! Spend your days swimming in the pool, playing golf, or exploring the garden, and end your day with a delicious dinner at the on-site restaurant!
Mid Range (US$200 – US$270)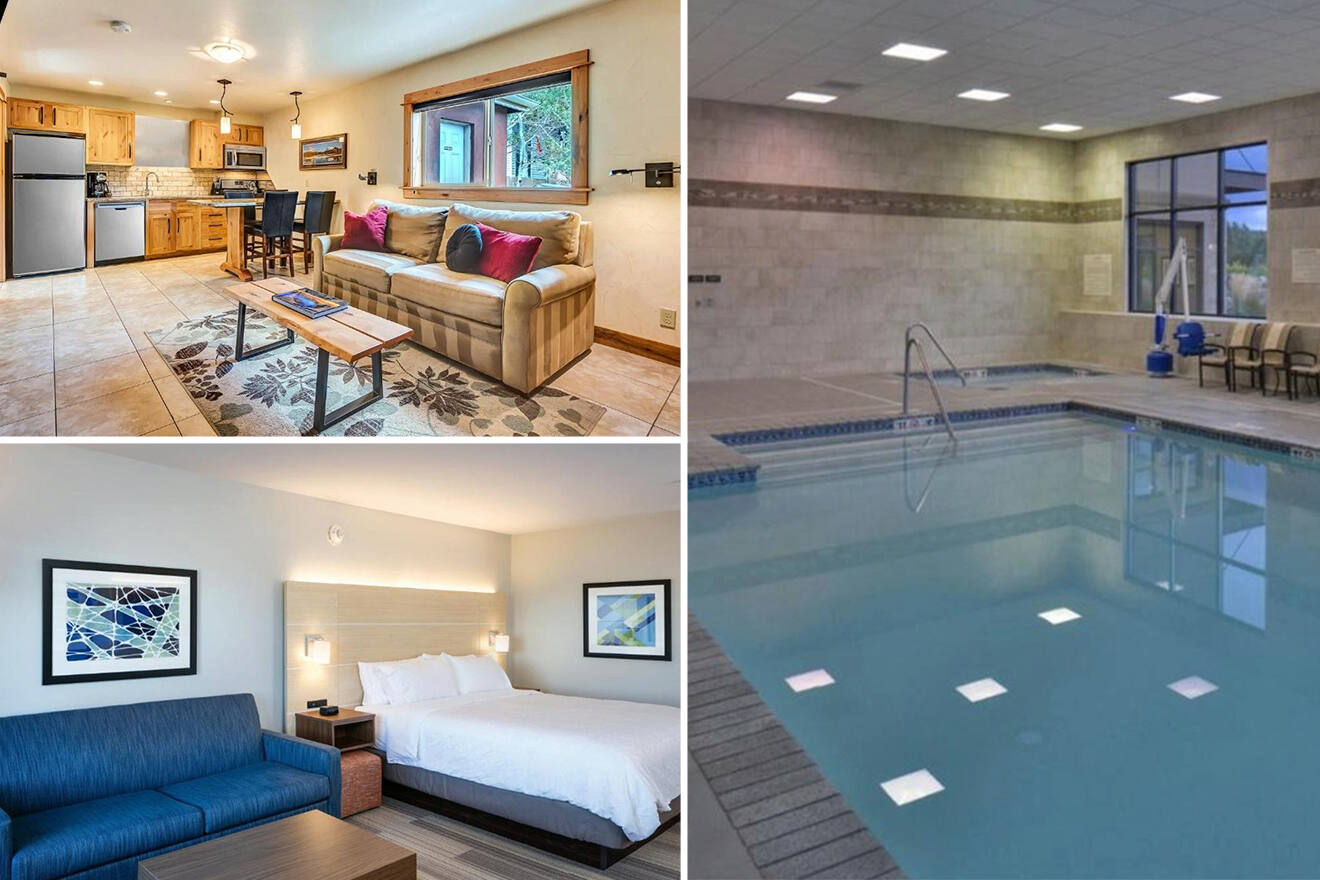 Wall Street Suites – This accommodation is set only a short walk away from the coffee shops and attractions in Downtown Bend. It's a pet-friendly hotel that offers spacious suites equipped with a fully equipped kitchen and a living area. Guests can use the complimentary bike rentals and head to a park in the city or relax in the on-site dog park. At night, gather by the outdoor fireplace at Wall Street Suites Chain Hotel and stargaze with the other guests!
Holiday Inn Express & Suites Bend – Enjoy a tasty free breakfast at the hotel before heading out to visit the Old Mill District! This accommodation has comfortable family rooms with a modern design and a flat-screen tv. What's more, guests can head to the pool anytime and use the fitness center!
Hampton Inn & Suites Bend – This hotel is super close to the Deschutes River and just a 30-minute drive from Smith Rock State Park, so if you're up to exploring the hiking trails, check out the accommodation! Hampton Inn & Suites offers a complimentary hot breakfast, rooms with a private bathroom, and a coffee maker so you can enjoy a fresh cup, first thing in the morning. After a full day of outdoor activities, simply relax in the hot tub or go for a swim in the indoor pool.
Fairfield Inn & Suites – Planning a tranquil and relaxing trip? This hotel provides everything you need for your stay in Bend, Oregon, including free continental breakfast, a business meeting space, and plenty of fun things to do off-site like skiing and golfing. I know I said this is going to be a chill holiday, and don't worry you can sit in the hot tub or in the pool for as long as you want! After that, you can catch a sunset on the terrace before heading out to eat at a fancy restaurant in Downtown Bend!
Hilton Garden Inn Bend – Set just across the Deschutes River from Downtown Bend, this Hilton Hotel comes prepared with all the facilities you'll need for your holiday! What do I mean by that? Well, you'll have access to a swimming pool, a restaurant and free parking. Each suite at Hilton Garden Inn Bend is super spacious, and some of them have a balcony that overlooks the river! I recommend you pick that one to wake up to the most amazing views in the morning!
Budget (up to US$200)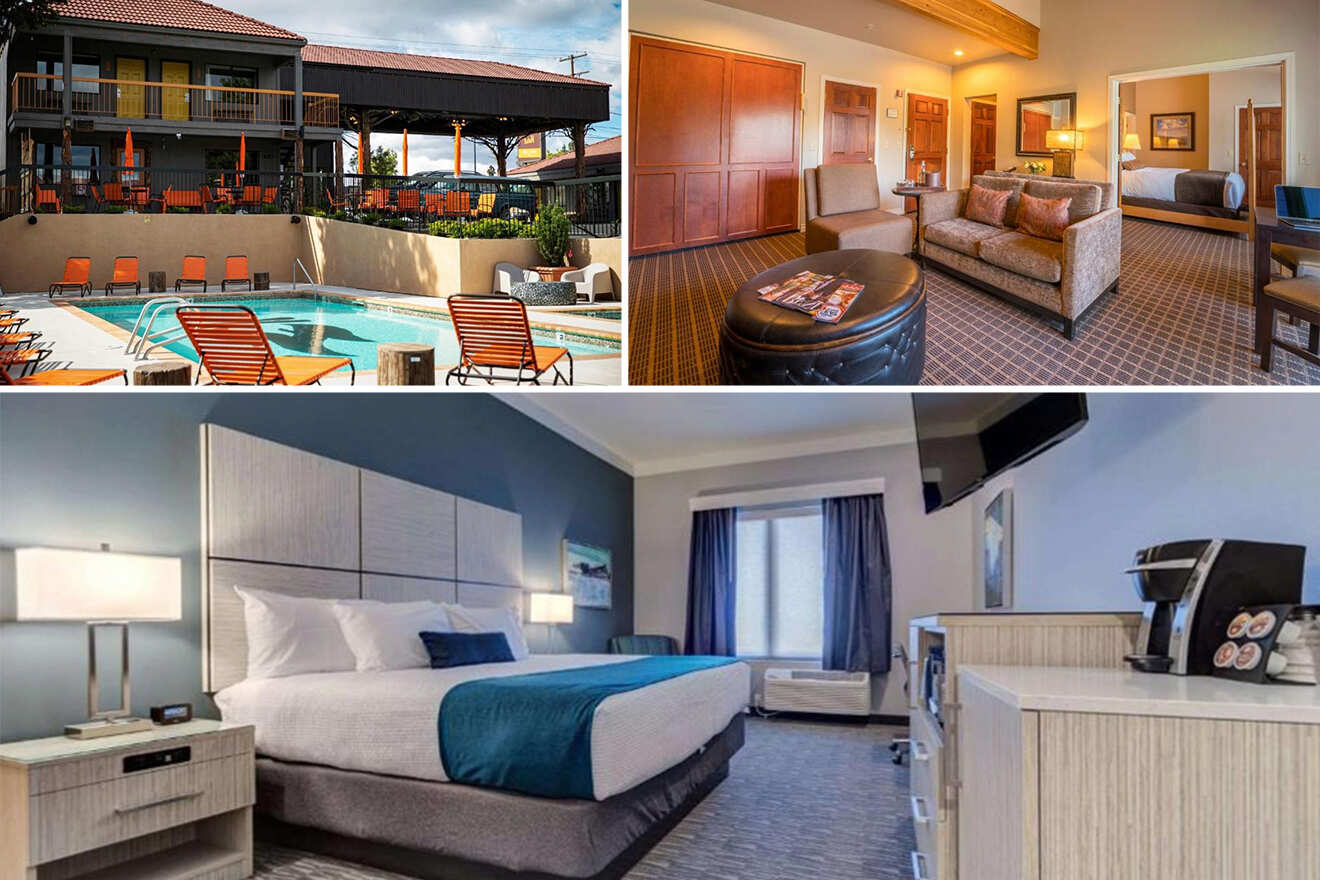 Best Western Premier Peppertree Inn – Ready for a super fun stay in Bend, Oregon? I'm sure you are! This hotel near Deschutes River offers so many fun activities that you won't know which one to do first! Hiking, mountain biking, and skiing are just the main ones, and you'll probably be famished after so much exercise, but fear not, the restaurant on-site serves delicious pizzas and local craft beers that go perfectly! The hotel also has a swimming pool and accessible rooms with balconies making it a great budget choice!
Campfire Hotel – A fabulous pet-friendly boutique hotel located within walking distance of Old Mill District that offers mountain views and free wifi! The accommodation has a cool design, each room is beautifully decorated and comes with a tv. During the day you can swim in the pool and chill under the Oregon sun. At night, get ready to sit with your friends or other guests around the outdoor fireplace and enjoy a drink or 2 from the bar!
Pine Ridge Inn – Set on the banks of Deschutes River and surrounded by Ponderosa trees, this tranquil inn is an awesome spot for your getaway! Each suite offers the perfect setting for your stay in Bend, Oregon, with a comfortable bed and a gas fireplace. Pine Ridge Inn is one of the best cheap hotels, and it's pet-friendly so that you can bring your little friends with you! I recommend you start your day with a delicious breakfast (which is included in the price) and a coffee on the sun terrace.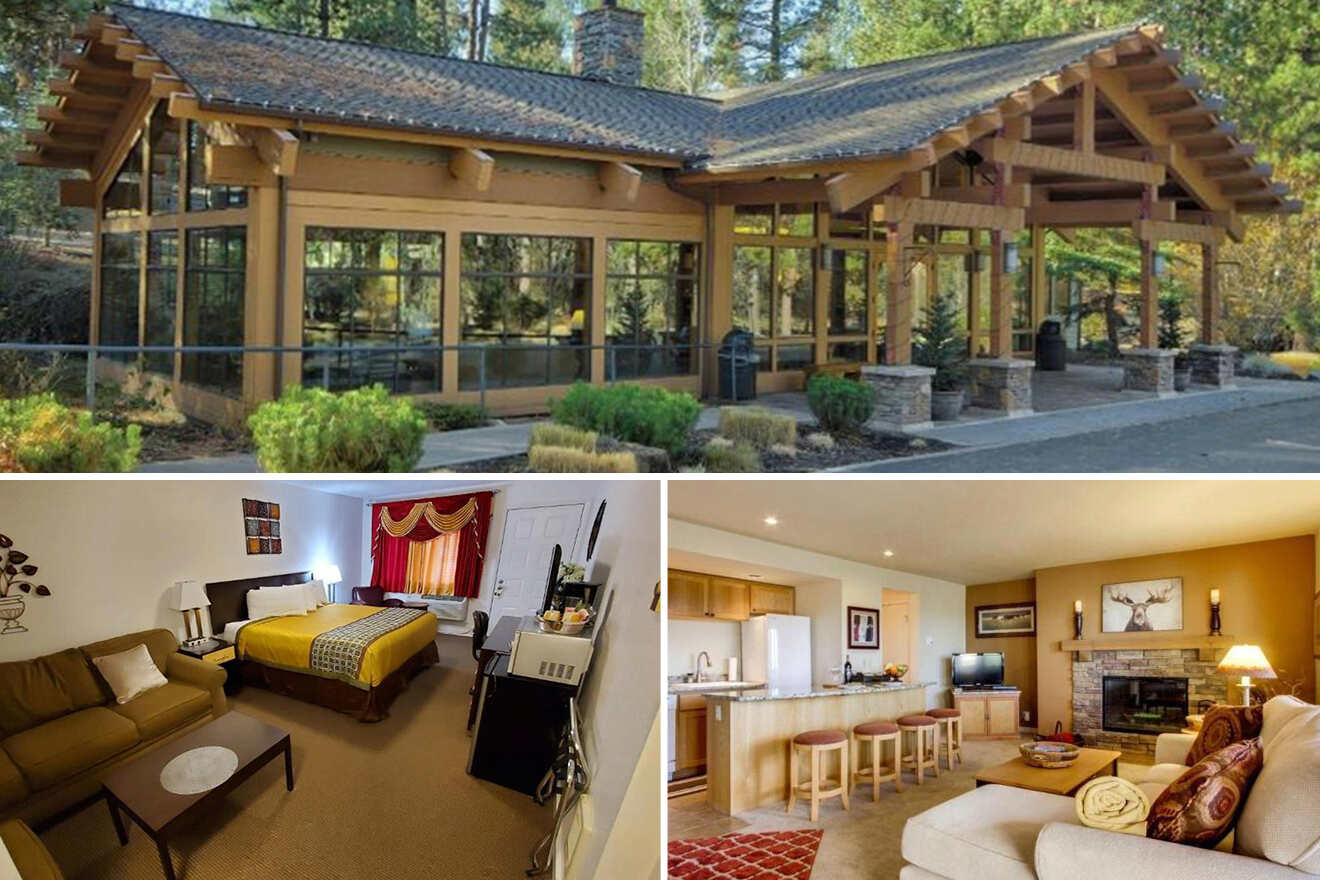 WorldMark Seventh Mountain Resort – Tucked away between the trees, this fabulous Bend hotel has an outdoor swimming pool and many kid-friendly facilities, like a playground and an outdoor basketball court. But don't worry, there are also plenty of things for adults, like a hot tub, a fitness center, and a tennis court! The suites at Seventh Mountain Resort are super spacious, and they come with a small kitchenette and a private bathroom.
Motel West – Affordable and super comfortable! This holiday motel in Bend, Oregon, has cozy family rooms equipped with a flat-screen tv, air conditioning, and a coffee maker! The accommodation offers free parking and a garden where you can chill! After a strong cup of coffee, get ready to explore the Deschutes River trail and spend some time in nature!
BONUS 1: Two great hotels with a spa bath in the room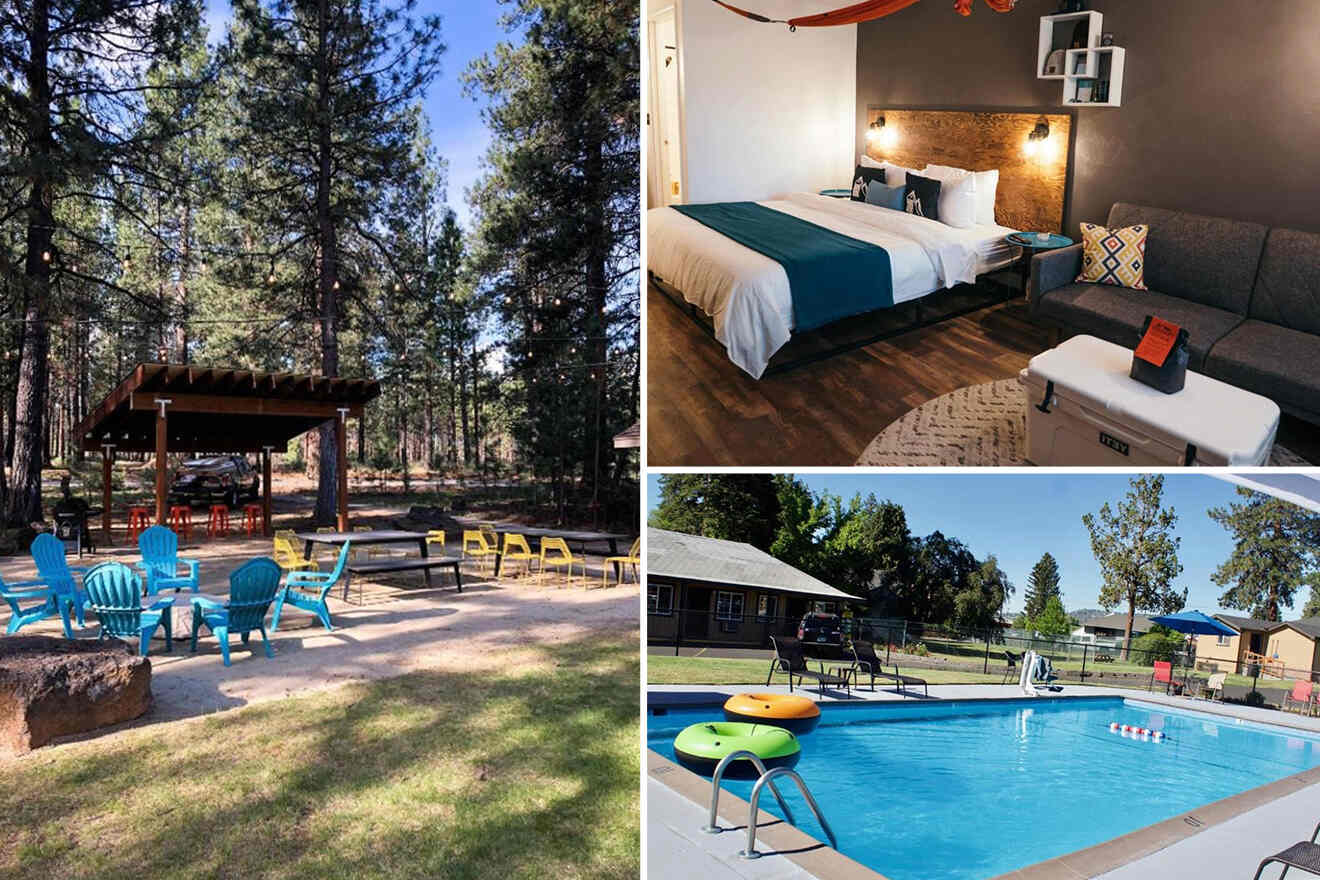 Want to make this stay in Bend, Oregon an epic one and have a way to relax whenever you want? Then book one of the best hotels in town that have a room with a spa bath! No need to wait for other guests or plan your time around opening hours! If you get one of these rooms, you can hop in whenever you feel like it!
Without further ado, here are the best 2 hotels in Bend, Oregon, with a spa bath in the room:
Loge Bend – There's nothing like a relaxing hot bath after hitting the slopes all day! Pick the king suite at this luxury Bend hotel, and you'll have your own private spa bath. You'll have access to a shared kitchen, barbecue facilities, and a hot tub. At night, get ready to have some fun with the other guests as the accommodation offers live entertainment and an outdoor fireplace to warm up during those chilly nights!
Cascade Lodge – A super comfortable place to stay in Bend, Oregon, on a budget, surrounded by trees and beautiful views! Book the queen suite to relax in your private spa bath after a day of exploring the Mill District and other parts of town. If you manage to pull yourself out, grab something to eat from the restaurant on-site and then head to the outdoor pool for a quick swim and a sunbathing sesh on the sun loungers!
BONUS 2: Top vacation rentals in Bend, Oregon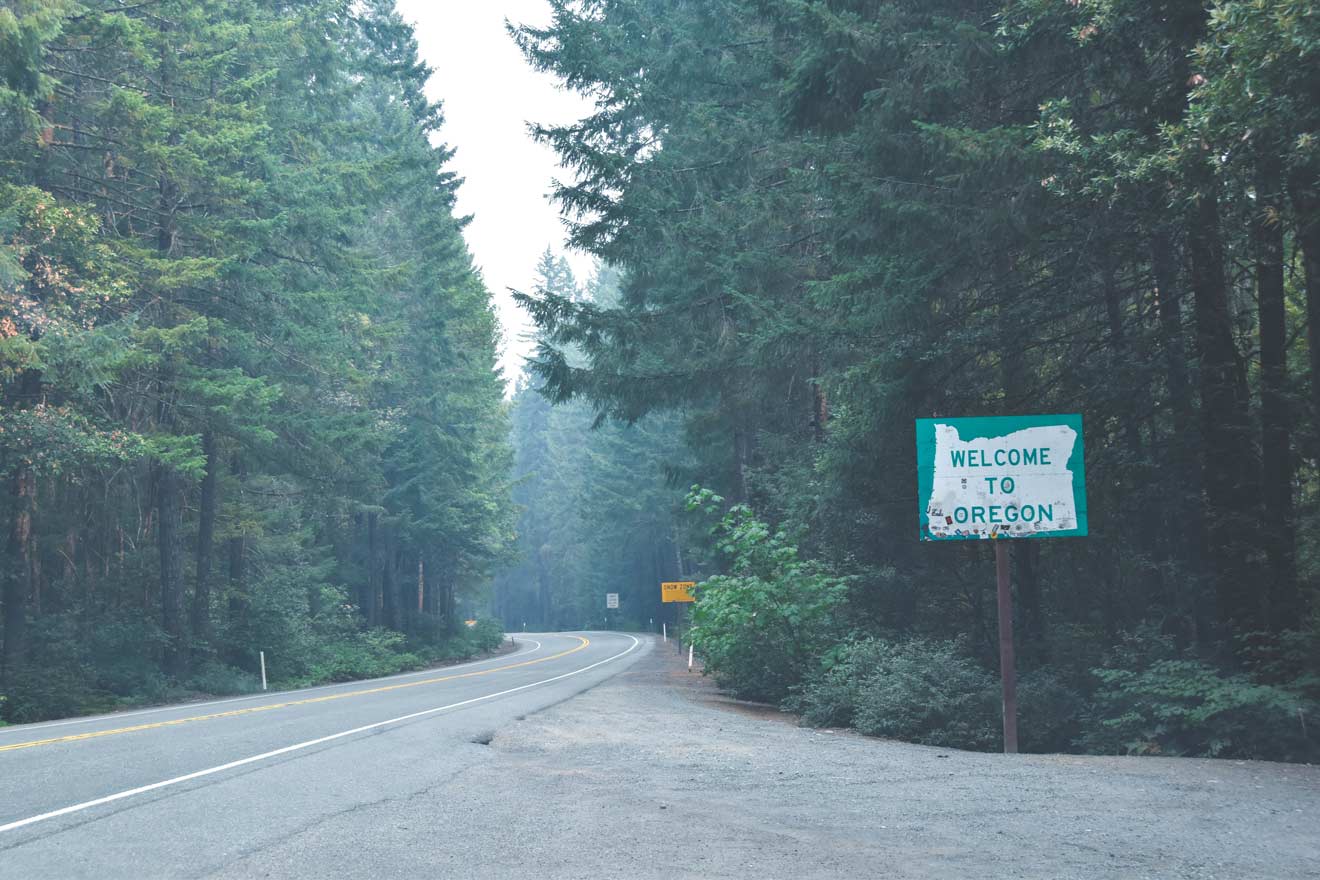 Vacation rentals are a great way to travel with your family or friends to Bend, Oregon, especially if you're looking to spend more than a few days here or maybe even work from your accommodation!
This town is such a beautiful area, and it's filled with forests and green spaces! So if you're looking for some unique places to stay in Bend in nature, vacation rentals are a great place to start.
The accommodations here are listed from most to least expensive with prices from US$730 to US$240 per night.
Riverfront Lodge – A dream accommodation! Tucked away between the trees, this beautiful lodge offers the perfect setting for your holiday! The lodge can fit up to 14 people and it has all the necessary facilities like a kitchen and plenty of bathrooms, including one with a jetted tub. Some rooms come with a gas fireplace, and all the suites have comfortable beds! I recommend you start your day with a coffee on the terrace and then head out to hike and explore the banks of the Deschutes River!
River View Condo – Big fan of panoramic views? Bend offers some of the best sights in the state and this spacious condo features a living area with large windows and a balcony where you can admire the views! The accommodation has room for up to 6 people including a kitchen with many facilities, a private hot tub, and plenty of board games for those lazy days in!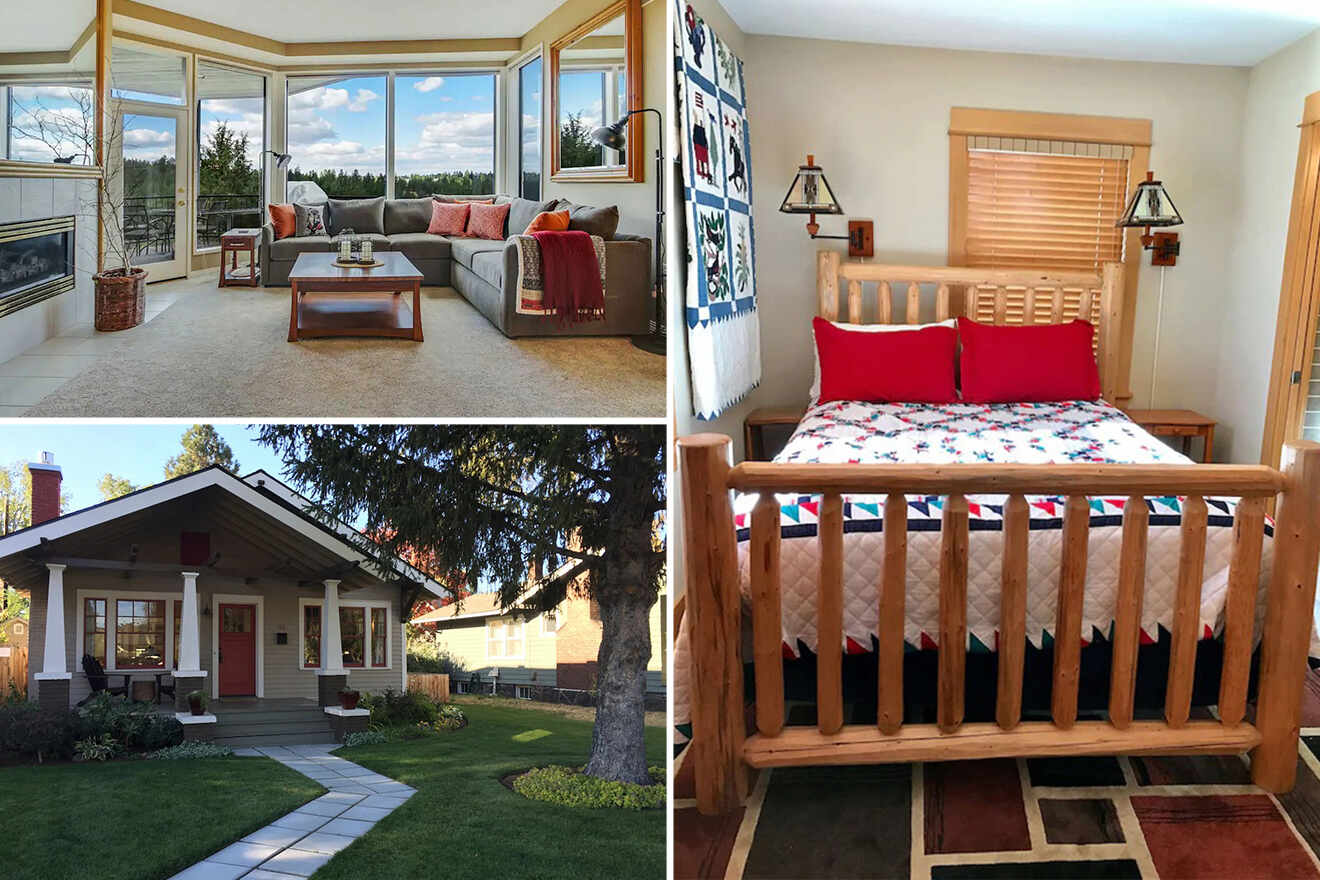 Downtown Cottage – Want to be close to the central area during your stay in Bend, Oregon but still enjoy some peace and tranquility? This secluded cottage is the right fit for you then! Made for 4 people, the accommodation is super chic, and it comes with amenities including a kitchen, air-conditioning, and parking. The outdoor patio is super nice and it has a table with chairs and an umbrella, so you enjoy the weather even on those hot days!
Historic Craftsman Bungalow – Feel at home in this beautiful house from 1919 that can accommodate up to 6 people. If you're into history and appreciate vintage elements, you'll love this place as it still has some old features, but it has been modernized to suit your needs. You'll also have a kitchen, air-conditioning, and a living room, plus the little patio is great for some late afternoon reading!
Belle Millhouse – How cute is this house? It has such a lovely garden, filled with colorful flowers! This is also a pretty old house as it was built in 192, and it still has some of the original elements. The accommodation can fit up to 4 people, and it has a great kitchen so you don't have to eat out every day, and a living room to hang out when you're not out exploring Old Mill District.
Frequently asked questions about hotels in Bend, Oregon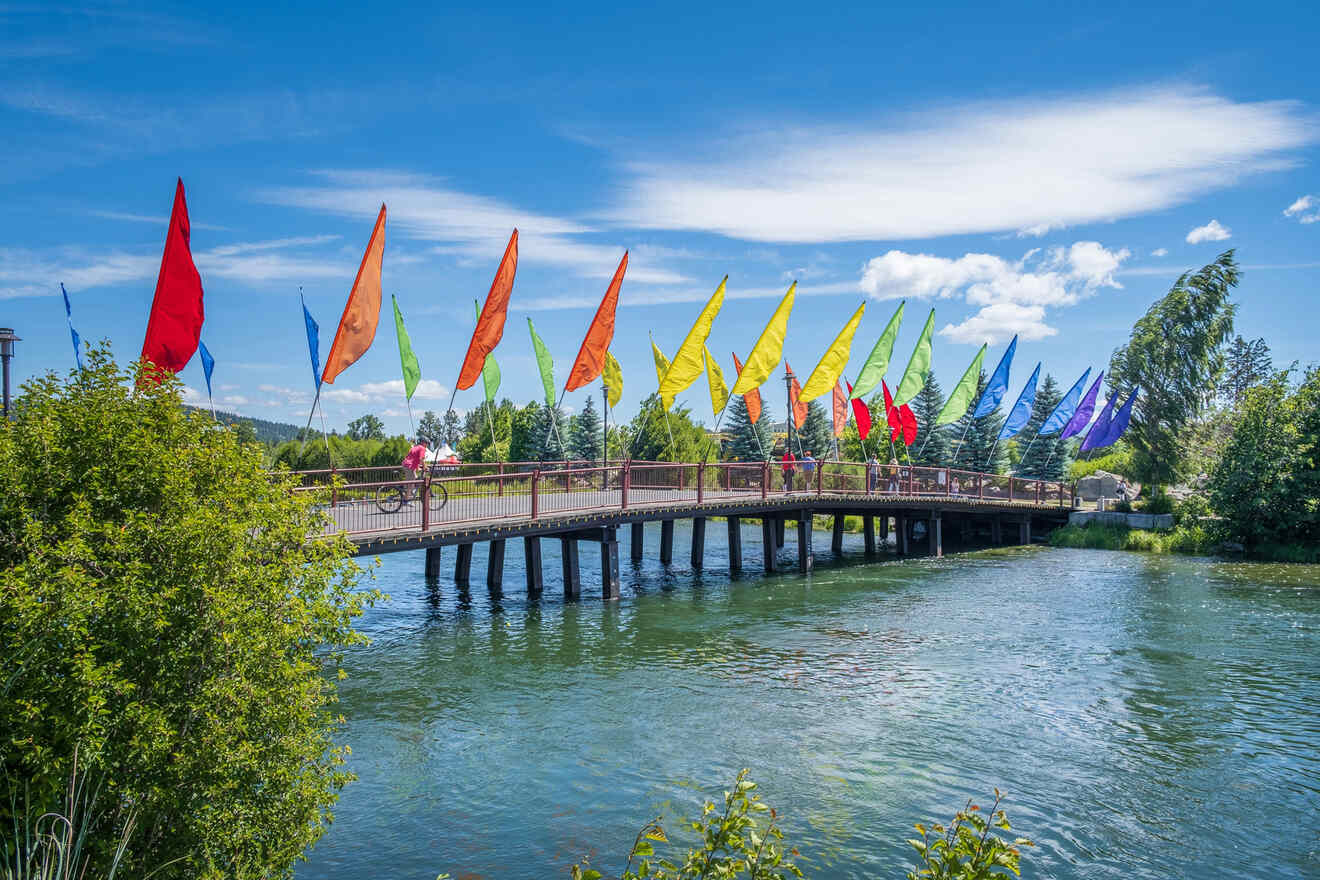 🤔 What is the best part of Bend to stay in?
Downtown is one of the best places to stay in Bend, Oregon. The area has many amazing accommodations like Oxford Hotel, plus some awesome pet-friendly hotels, and many attractions!   
👍 Is it worth visiting Bend, Oregon?
Yes, Bend has that small mountain town charm and amazing boutique hotels. It offers many outdoor activities like hiking, skiing, golfing, and mountain biking! 
🌳 What should tourists see in Bend, Oregon?
Bend offers so many natural spots that you shouldn't miss during your holiday here! Of course, Newberry National Volcanic Monument, the hiking trails around Pilot Butte State Scenic Viewpoint, and the beautiful Deschutes River. 
🤝 Is Bend, OR, friendly?
Yes! Bend is such a friendly town as the locals are super nice! And that doesn't go only for humans, the city is also dog friendly and in this post, you'll find some of the best pet-friendly hotels in Bend, Oregon! 
Conclusion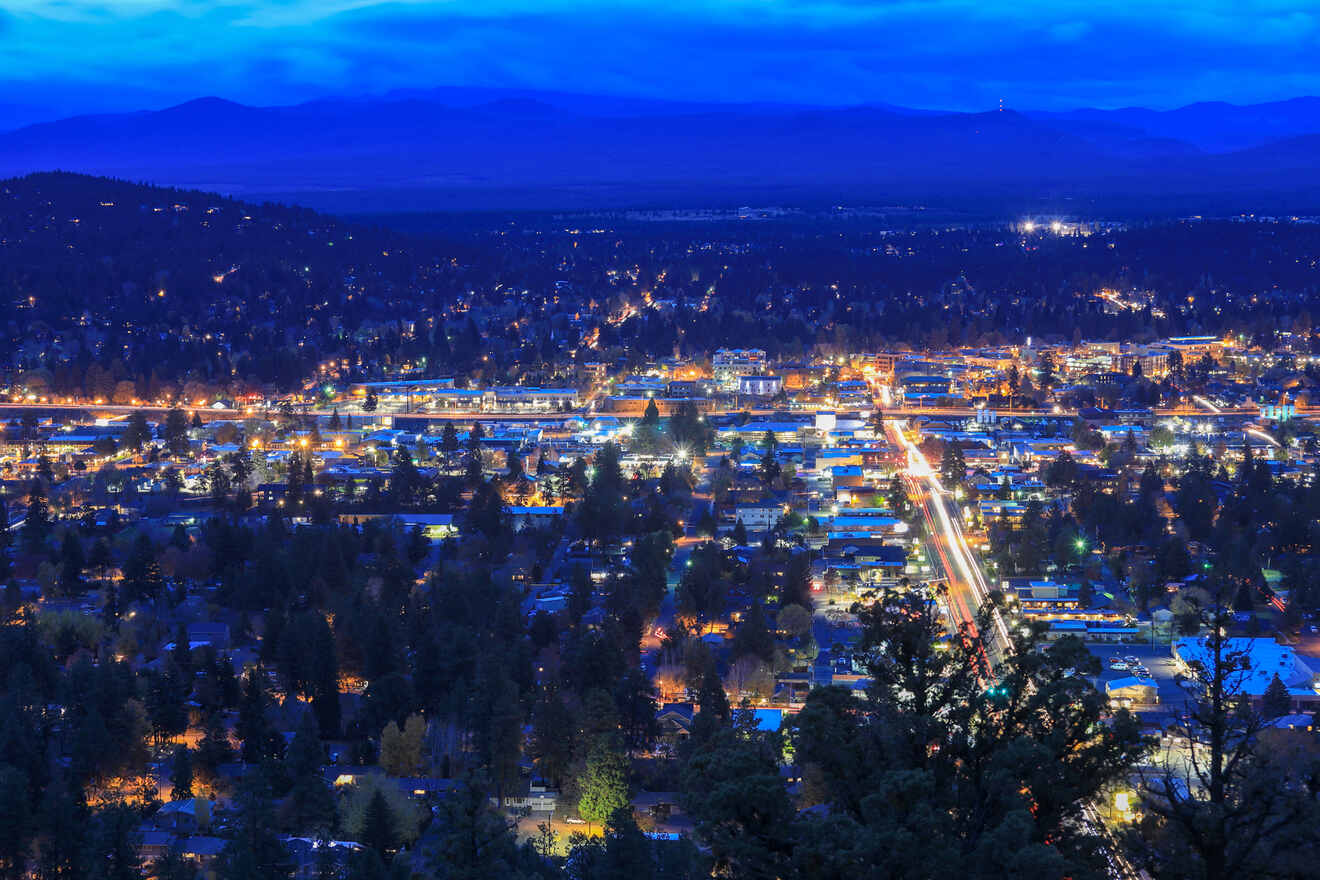 I guess we've reached the end of yet another fun exploration in one of Oregon's most charming cities!
I hope this post helped you decide which are the best places to stay in Bend, Oregon. There are so many details in this post including a great list of the top Bend hotels, listed from most to least expensive, and two great bonuses featuring some unique hotels with a spa bath in the room and the top vacation rentals in town!
If all these options seem a bit too much (it can feel like that sometimes) here are my top 2 favorite Bend hotels, to help you decide quicker:
Oxford Hotel – A unique, boutique hotel in Downtown Bend that offers rooms with a balcony and a great restaurant that uses locally sourced organic food
Wall Street Suites – The perfect mid-range option for your holiday in town that has spacious rooms with a living area and an outdoor fireplace
These are the best luxury and budget hotels in Bend, Oregon, so trust me when I tell you that they sell out super fast! Book in advance, especially if you've got your eyes set on a place. Otherwise, you'll risk losing it!
I'm sure you'll have a super fun trip, and I want to hear your opinions on the local craft beer (the town is known for its breweries), so leave me a comment below, and I'll make sure to answer it ASAP!
Safe travels,
Victoria
---
Pin it for later!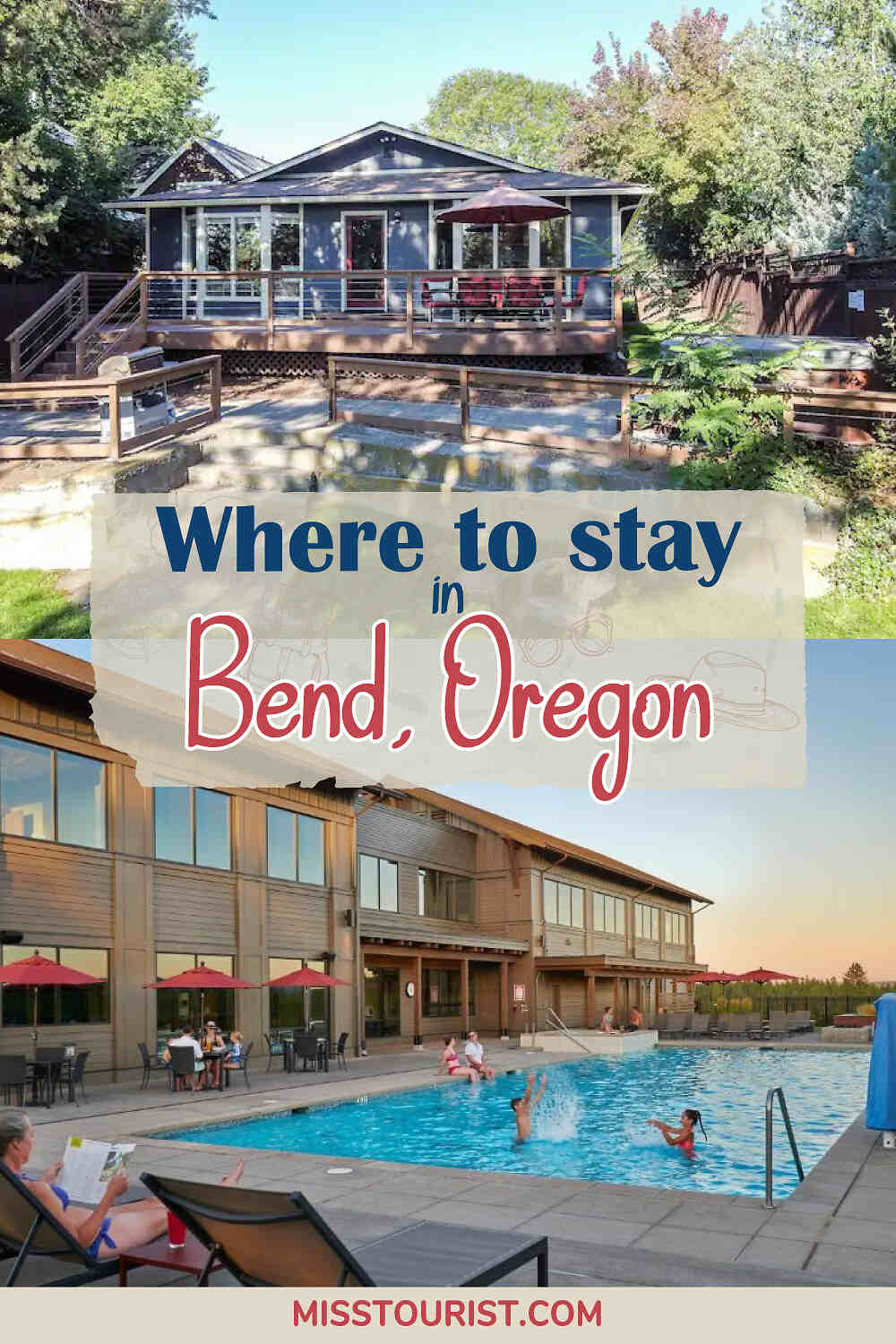 Pin it for later!