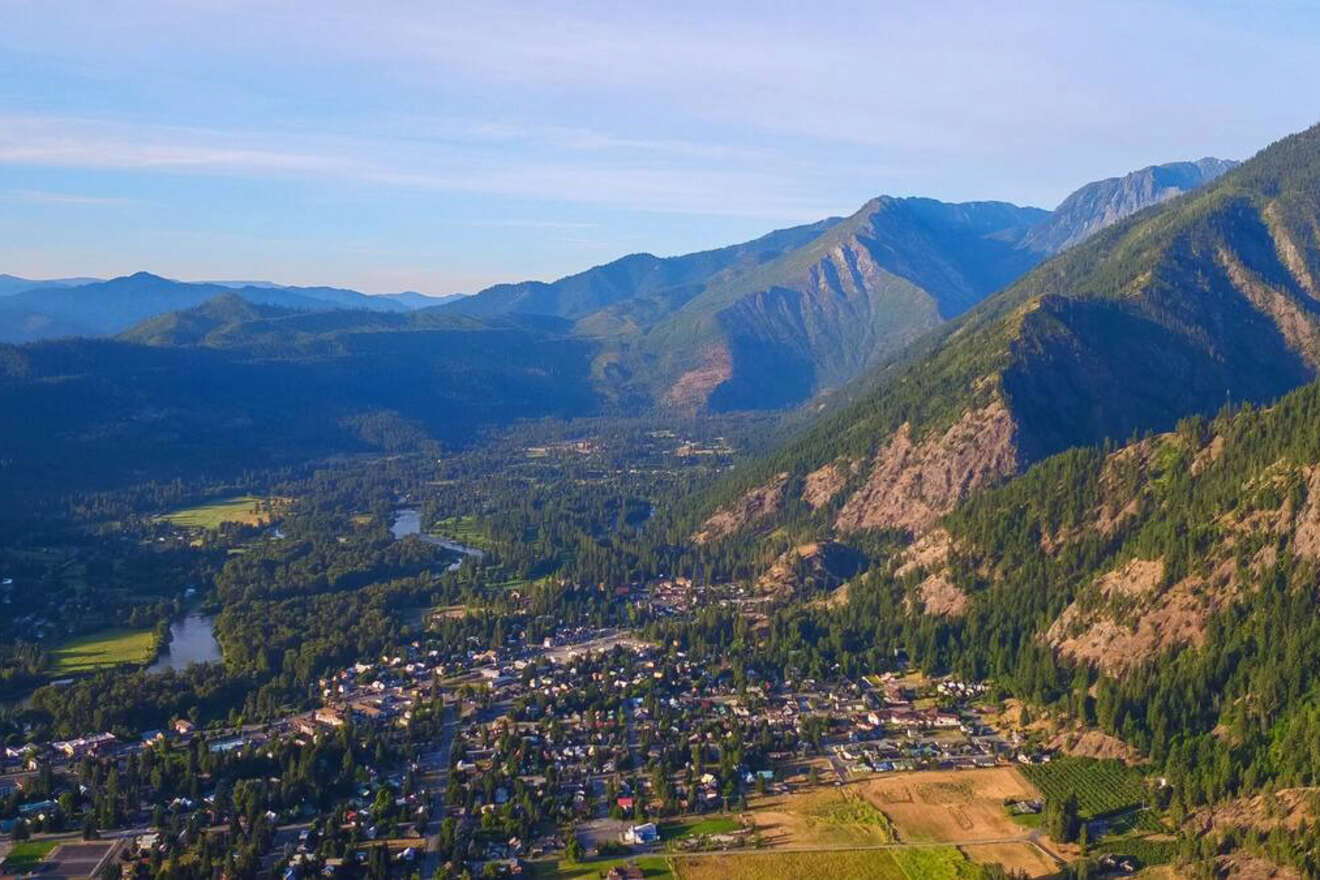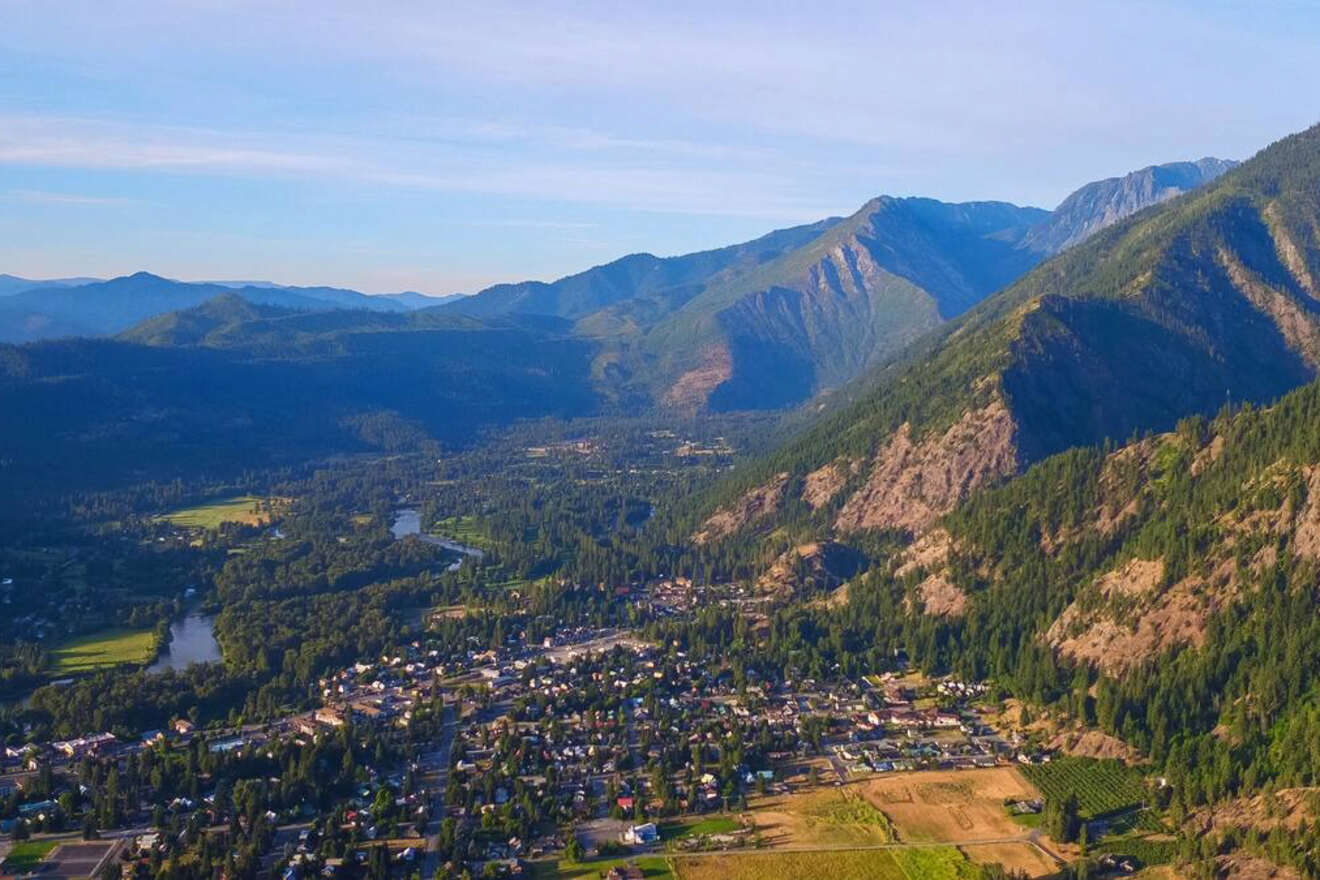 Looking to spoil your partner for an anniversary and take them to a unique, secluded getaway? Staying in a treehouse in Washington State will guarantee privacy and a chance to leave the hustle and bustle of everyday life behind. This post will point out the best treehouses and cabins in the area.
Some of the first Treehouses in Washington were created at Treehouse Point in Fall City. A friendly, iconic collection of treehouses nestled in the woodlands. Soon, many people jumped on the bandwagon and now there are treehouses to rent all over Washington.
Washington State is great for intimate outdoor weddings coupled with a treehouse. I have made a list of some of my top rentals for the finest treehouses for a beautiful retreat and romantic night in.
If You Are in a Hurry: Best Washington Tree Houses
Here are four of my favorite treehouses in Washington State. All getaways are secluded and surrounded by nature as well as sorted by price.
Top 15 Treehouses in Washington State
I've spent day and night, searching for cabins, trolling the internet, and thousands of reviews. I've completed a list of the best treehouse rentals in Washington State. And, of course, a hot tub on the property thrown in here and there.
All rentals are organized by price, from highest to lowest. I've also worked out the price per night, taking in the service and cleaning fee.
1. Pete Nelson's Tree House as Seen on THM – Luxury Treehouse
Location: Redmond
Price: from US$550 per night
Bedrooms: 3
Guests: 4
A long, timber boardwalk takes you into the canopy of the many Union Hill. Once in the treetops, you'll be greeted with an Airbnb built by the well-renowned Pete Nelson on Treehouse Masters.
When visiting in Fall, you'll get to see the ground below covered in leaves of oranges, reds, and yellows. Every point of the treehouse is lit up with fairy lights at night and makes the dark outdoors come to life.
During your getaway, take a refreshing walk through Evan's Creek, wallow in the outdoor jacuzzi, or rinse off under the open-air shower. Bring the kids for a family adventure and memory-making.
2. The Klickitat Tree House – Luxurious, Modern Tree House
Location: White Salmon
Price: from US$500 per night
Bedrooms: 2
Guests: 6
This, need-to-see, 500 square foot treehouse is inspired by Scandinavian architecture. A modern design featuring warm, natural materials add to the one-with-nature feel. No WiFi gives guests a chance to retreat from life's distractions.
At any point of your stay, you can look out the enormous windows at a heaven-like view. Friendly forest trails surrounded by luscious greenery.
3. The Nest – Luxury Tree House
Location: Port Townsend
Price: from US$490 per night
Bedrooms: 2
Guests: 6
Experience living in the treetops on multiple cabin decks perched in the trees. The treehouse is amazing for a pamper weekend getaway and a soak in the hot tub is a need. Otherwise, take a walk to lookouts over Port Townsend Bay and the surrounding island.
Cozy, cedar floors line all log cabins of this treehouse. Guests have access to a wood-burning fire to cuddle by when the temperatures drop at night.
You need to explore the bay while you're here, the Salish Sea surrounds the islands, providing proficient privacy for a retreat. Here, you'll never run out of things to do in, from foosball to barbecues and complimentary games.
4. Eagles Perch Tree House – Perfect for a Couples Getaway
Location: Port Angeles
Price: US$400 per night
Bedrooms: 1
Guests: 3
Enjoy a coffee snuggled up with your partner, looking out into the misty morning woodlands. Spend hours peering over the balcony at the forest life below. Local cedar floors and gigantic windows are present throughout the entire treehouse.
This intimate cabin treehouse is one of my favorites on the list! After exploring the nearby trails, spend the night playing unique and quirky games in front of the fire, or watching the sunset over Vancouver Island.
5. Romantic Tiny Home Tree House
Location: Leavenworth
Price: from US$330 per night
Bedrooms: 1
Guests: 2
Leave real life behind and become a part of nature. Sit back and unwind both your mind and a corkscrew while taking in the rolling ocean of trees that blanket the hillside.
Walkthrough a 550 square foot, log cabin treehouse with natural characteristics and a certain charm that takes away all your worries. This treehouse even got TikTok recognition as the finest treehouse in Washington state. This is a treehouse that is Pete Nelson worthy and deserves its place on my list.
Close by, you can discover the Bavarian Village filled with history, local restaurants, and activities. Grab some golf clubs for a day under the sun or a rod for night fishing on the Wenatchee River. If you've fallen in love with Leavenworth, extend your trip and stay in any one of these beautiful Airbnb rentals.
6. Tree House in the Columbia River Gorge – Access to Amazing Coves
Location: Stevenson
Price: from US$320 per night
Bedrooms: 1
Guests: 2
Nestled amongst the trees of the 30 acres property, lies The Osprey Treehouse. A 20-square-foot deck has been built around a 42' diameter, Grand old Douglas Fir tree. 
Timer boardwalks pave the way between the cozy cabins of this treehouse. While the space is snug and intimate, gigantic windows open up the area allowing tons of natural light to flood.
Head out of the treehouse on an adventure to explore the three coves found along the Columbia River. At night, stay in, recline, and put your feet up to witness a weekend full of relaxation.
7. Tree House at Deer Ridge – Perfect for a Couples Retreat
Location: Snohomish
Price: from US$300 per night
Bedrooms: 1
Guests: 3
Titillate your sense of wonder in the cozy "Sasquatch Treehouse," located amidst untamed timberland. This cabin is featured as one of the top 10 treehouse cabins in the country by many high-profile magazines.
In the morning, guests are woken with soft rays of light escaping over the ragged tops of Mt Pilchuck. The living area of this exquisite treehouse was designed with the intent of a cozy, romantic couples retreat.
Relax in the claw-foot tub while watching complimentary Netflix, immersed in the charm of the cozy treehouse. To get to the point, this Airbnb is a must-see!
8. Treehouse Point – Perfect for Outdoor Weddings
Location: Fall City
Price: from US$300 per night
Bedrooms: 1-2
Guests: 1-4
Treehouse point is an iconic collection of treehouses in Fall City, just 30 minutes out of Seattle. This is where the treehouse craze began.
Treehouse point is made up of 6 rentable treehouses, nestled between the forest of the Pacific Northwest. You can pick The Nest, The Trillium, or The Temple of the Blue Moon, all, nuzzled in the canopies of Washington State. Whichever you choose, you won't be disappointed.
The lodge has a restaurant for guests to dine at, a farmers market, and nearby hiking trails. Treehouse Point also hosts splendid weddings and elopements amongst nature. Book in advantage and allow all of your guests to experience treehouse life as they spend a wholesome weekend together.
As an added touch, there's a complimentary breakfast included; which means you can fuel yourself up for a day's worth of adventuring. You'll feel like you're part of the family as the hosts are wonderfully friendly.
While being a treehouse is unique enough, Treehouse point offers yoga, massages, and tai-chi, proving to be an absolutely magical experience. To get a proper feel of how spectacular this place is, be sure to check out their Instagram page.
9. Hansel Creek Gust Tree House – On 150 Acres
Location: Peshastin
Price: from US$260 per night
Bedrooms: 1
Guests: 3
This little treehouse sits up in the trees above Hansel Creek. The deck has been designed so you can look down and spend hours watching the wildlife go by. When entering the home, tall ceilings gaze above you, reaching up to a rustic loft bedroom with a king-size bed.
Sip away on a glass of wine while watching the sunset behind the evergreen trees. Then come inside at night and get cozy for a romantic home-cooked dinner with your partner.
Bring snow gear if you're planning your stay in winter. The Alpine Lakes Wilderness trails are located nearby and offer many places to explore. 
10. Tree House with Panoramic Views – Great for a Solo Adventure
Location: Olympia
Price: from US$200 per night
Bedrooms: 1
Guests: 2
This treehouse is built around a skyscraping tree over the banks of the evergreen property below. The treehouse comes with an outdoor kitchen and cleaning area, ideal for afternoon barbeques after you've spent the day meandering through the endless trails of indigenous fauna & flora.
Beautiful metal arts on display are designed to complement the cedar timber and rustic finishes. There is a cozy fireplace and complimentary wood to heat the treehouse up to the loft bedroom. Fall provides a magical experience of orange, red, and gold, falling maple leaves of up to 1.5 feet.
11. Pleasant Bay Lookout Tree House – Epic Sea View
Location: Bellingham
Price: from US$190 per night
Bedrooms: 1
Guests: 2
This cabin-esque treehouse, nestled in the forest, offers views that have won awards. The Lookout has been showcased in magazines and won the top pick on Airbnb.
This cozy cottage only has enough space for a sofa bed and an endless view of a breath-taking panoramic of Bellingham Bay. Just a quick, 40-second walk, in the main home, is a separate bathroom, with a shower and hot tub. You will share these amenities with the friendly family on the property.
You need to see the spectacular views from this lookout point. Kick your feet up and take in the warm colors that fill the sky as the sun sets behind the island on the horizon before the nighttime energies.
12. Seattle Urban Tree House – A Getaway Close to the City
Location: Seattle
Price: from US$190 per night
Bedrooms: 1
Guests: 2
Located in Seattle, which is like the capital for cozy and friendly treehouses in the USA. This treehouse cabin offers a full kitchen, bar, shower, and outdoor hot tub. Grab a glass of your favorite drink and soak the weekend away soaking up the views of the Bay.
Walking in off the deck, a log cabin styled, yet luxury cabin welcomes you in. This rental is secluded enough to feel like a getaway but is only 10 minutes away from the city of Seattle.
Spend the day exploring the San Juan Islands, Puget Sound, or the Salish Sea. Then come home for a home-cooked, romantic dinner with the utmost privacy in the Pacific Northwest forest. Be sure to check out this guide on some great insight into the most fantastic neighborhoods of Seattle.
13. Secluded Treehouse in the Mountains – Great for Families
Location: Goldendale
Price: from US$180 per night
Bedrooms: 2
Guests: 3
Enjoy your morning coffee gazing upon the wild forest of Washington in front of you. While you're up 18 feet in the sky, you might see some turkey, elk, and even deer exploring below during your stay.
The bottom deck of the treehouse has a grill and seating for entertainment and outdoor meals. The home is quaint and simple but includes a basic kitchen set-up, bathroom with a shower, and cold-running water.
This hand-crafted treehouse cabin is perfect for an adventurous getaway for couples or friends wanting to get closer to nature.
14. Washougal Riverside Treehouse – Ideal for Those on a Budget
Location: Washougal
Price: from US$120 per night
Bedrooms: 1
Guests: 2
Guests can spend the day and night relaxing in a woven hammock suspended between two trees on the river canal.
This place comes with all the basics you need. A bed, TV, mini-fridge and microwave oven. Not far below, guests have access to a shared bathroom cabin, fire, and a human-made 'hot tub.'
Fall asleep to the sounds of the gushing water and gentle forest below. And wake up feeling like a new person, ready to explore the forest and its trails.
15. The Eagle's Perch Tree House Above a Creek
Location: Rockport
Price: from US$90 per night
Bedrooms: 1
Guests: 6
The Eagle's Perch tree house offers its guests a chance to experience glamping. The Washington treehouse starts with a wrap-around stair that leads to a tented island deck over the creek.
The treehouse is uniquely shaped in an octagon and has a window on every wall. Perfect for gazing through into the world of the local wildlife and surrounding woods.
Bring your sleeping bags and pillows and get a little taste for an off-the-grid retreat with no electricity or running water. Relax and listen to the outdoor sounds of streaming water in the creek below or the wind rustling the cedar trees' sanctuary above.
Top 4 Experiences in Washington State
There are so many magical treehouses on offer. It's a great way to find adventure in a city you're not familiar with. Here are the top Airbnbs and experiences in Washington.
Conclusion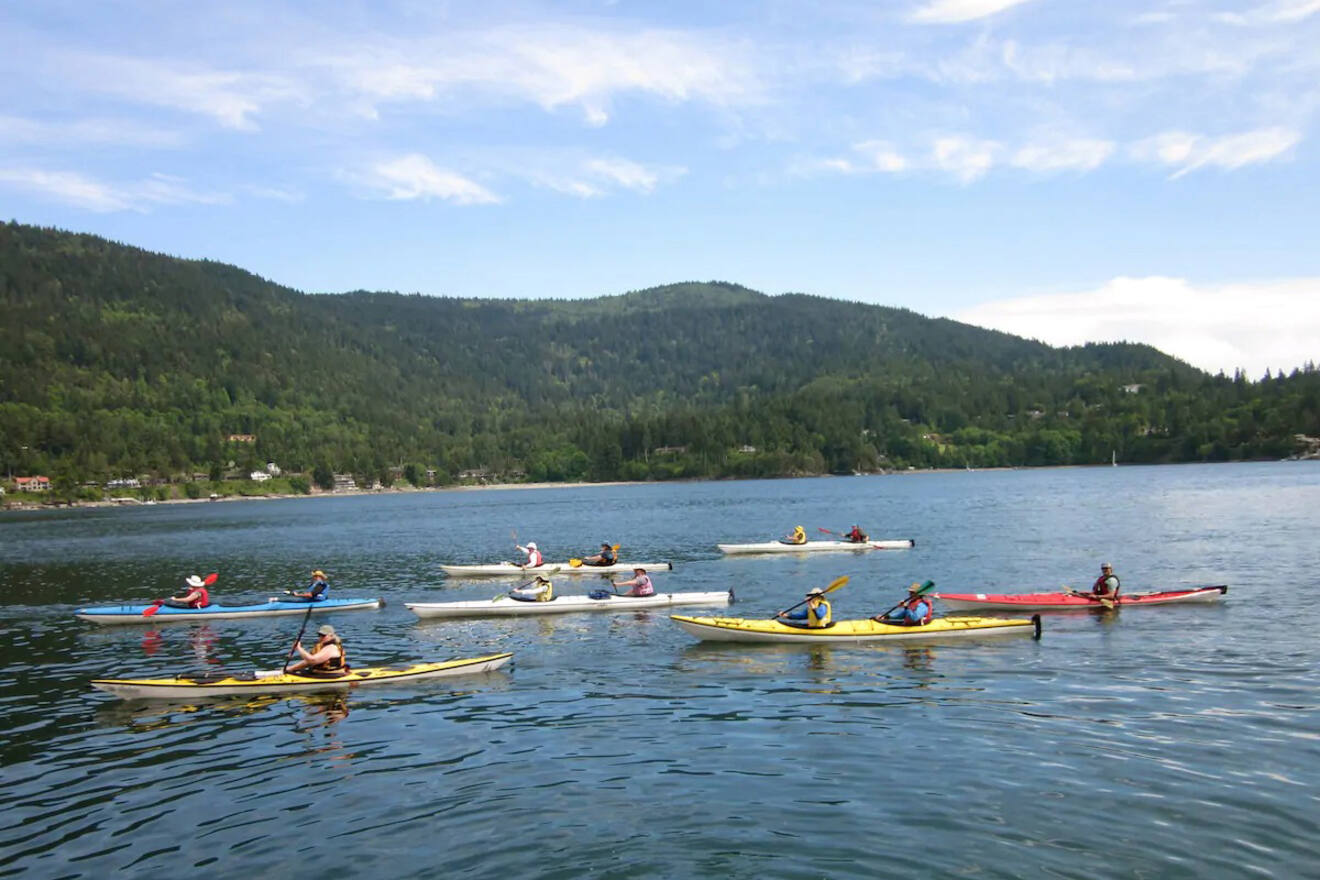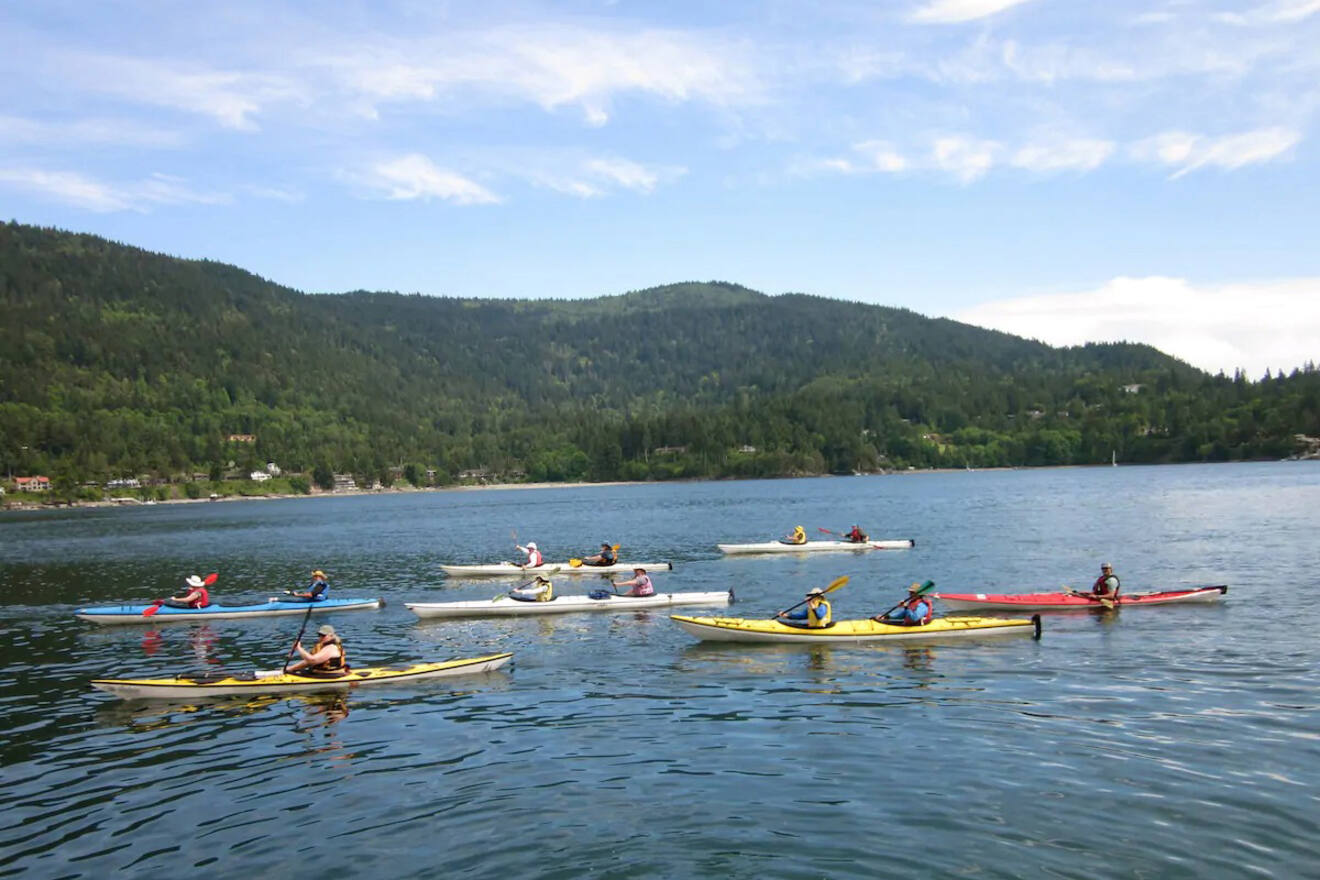 Washington blesses tourists with cabins nestled amongst astonishing views of mountains, lakes, and rivers. There are endless trails, creeks, and sanctuaries of trees to explore.
Staying in treehouse cabins is suitable for any season, but I would recommend Fall. The mornings are chilly and misty but you can keep warm by snuggling in front of the fireplace or bubbling away in the hot tub.
I would suggest that friends and families check out The Nest Treehouse. This log cabin has the most space making it perfect for entertaining and making new memories.
But if you're on your honeymoon, the Romantic Tiny Home. No need to hike to a lookout point with these unmatchable views surrounded by the wild forest.
If you plan on extending your trip to Vancouver, be sure to check out this guide on where to stay while you're visiting. Vancouver is also a short trip away from Portland, so check out some of these dreamy places to stay in the city.
Have you stayed in cabins in the trees? If you have, I want to know all about it. Leave your experiences in the comments section below. I hope you have a chance to relax and reconnect while on your trip.