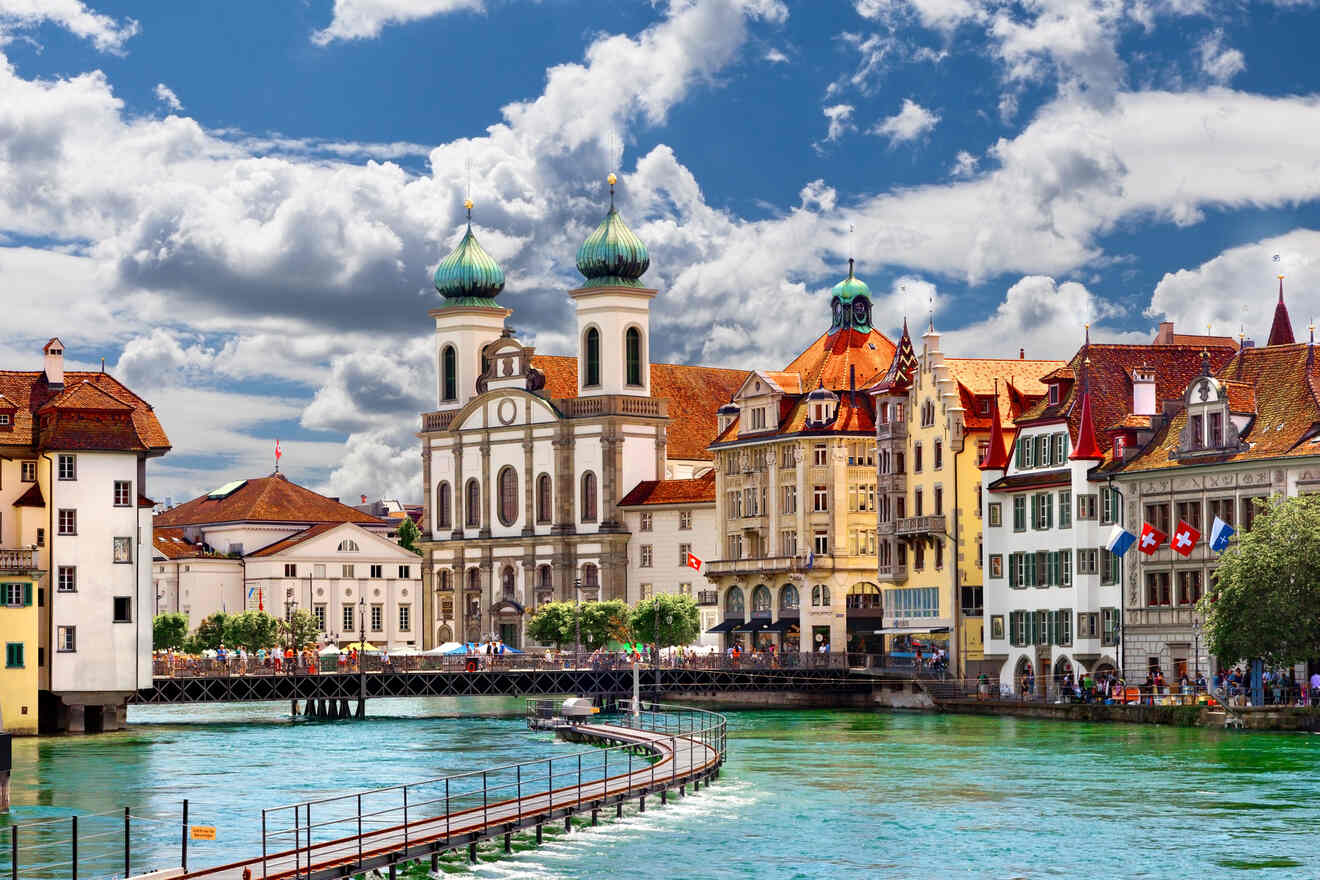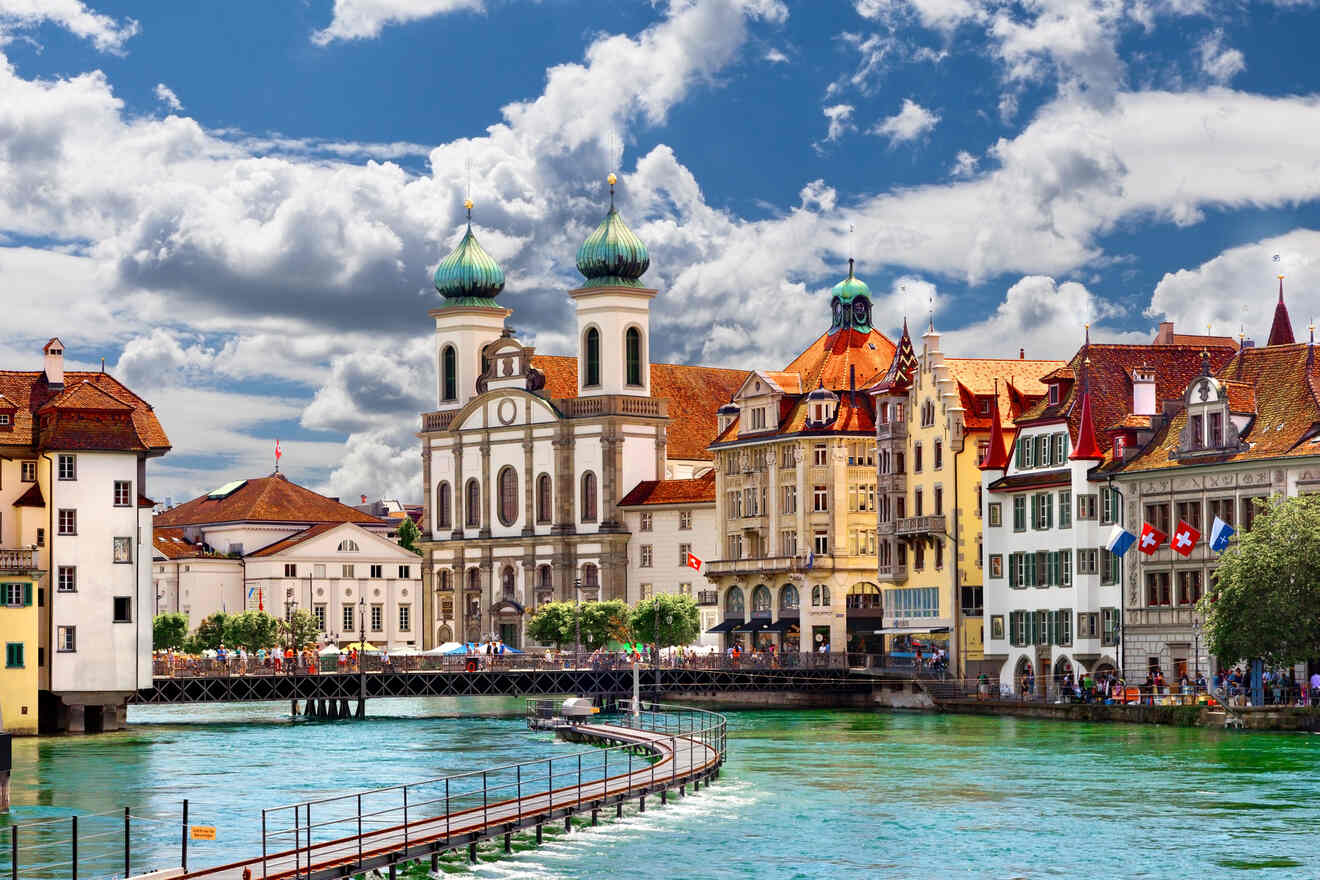 Located in central Switzerland on the shores of Lake Lucerne, and surrounded by the Swiss Alps and Mount Pilatus, this beautiful town combines my two favorite things, a rich history, and amazing natural spots. Can anyone beat that? I mean, one minute you're walking around the Reuss River admiring the mountains and the next one you're admiring Europe's oldest covered bridge in the Old Town!
Although the city may not be the most affordable place in Switzerland, it's worth every penny! Lake Lucerne is called the heart of Switzerland because of its central position but not only that, it's the 4th largest lake in the whole country! But I'm sure now you want to know where to stay in Lucerne, and don't worry I've found some of the best hotels in Lucerne, that range from luxury, to mid-range and of course got some budget options so every pocket will be happy!
Whether you choose hotels near the train station, somewhere near the forest, or a five star hotel, these are all the top options in the city! That's why you have to hurry and book in advance, Lucerne is a popular destination in central Switzerland, and I'm sure you don't want to miss all the good deals!
So let's see what's up with Lake Lucerne that everyone is talking about!
If you are in a hurry
If you want to book now, then wait no more, here's a list of all the best hotels where to stay in Lucerne all located in the Old Town
1. Altstadt (Old Town) – where to stay in Lucerne for the first time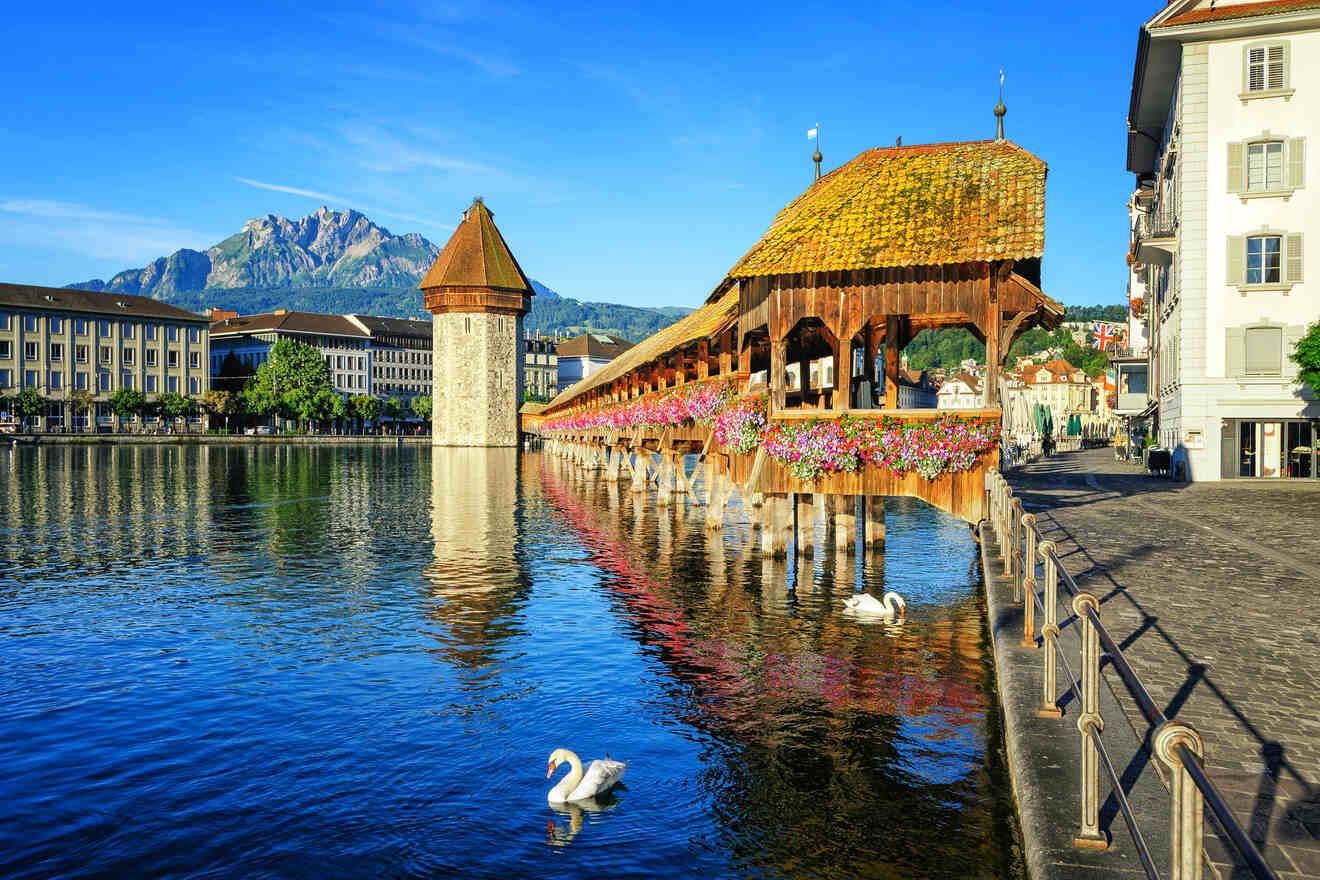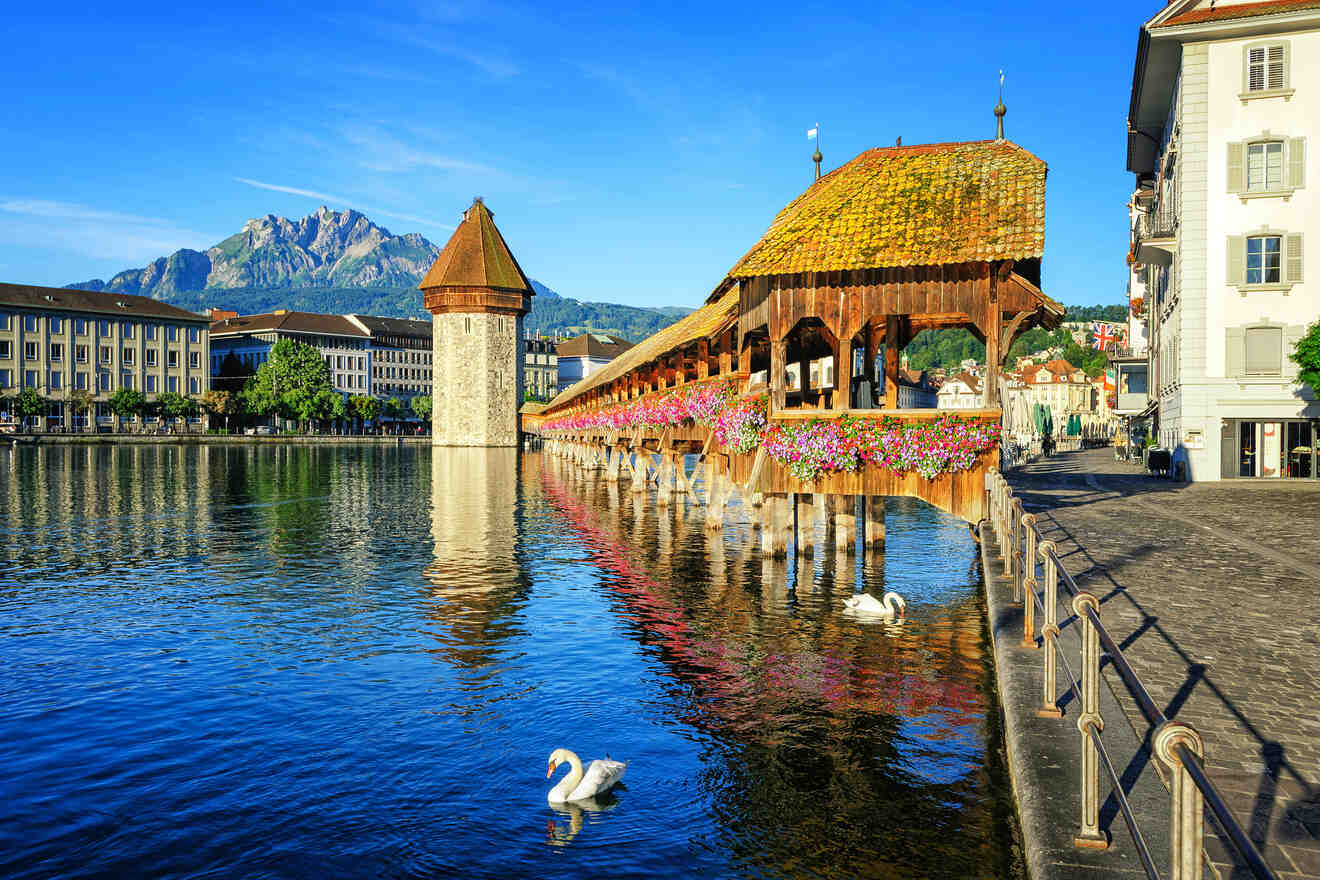 It's one thing to stay in a charming old area of a town, filled with historic buildings and unique architecture, but when that place happens to be surrounded by water and spectacular mountain views… Oh!! It's honestly the perfect spot for me and I'm sure it will be for you too!
Welcome to one of the most romantic areas in Lucerne (or Luzern) where time has stood still for a few centuries, or that's the impression that the Old Town gives you. You won't find a better place where to stay in Lucerne than Altstadt, this is the German translation of the words "Old Town".
Out of all the stunning attractions located in the heart of Lucerne, the main one that you can't miss is the Kapellbrucke, the city's famous covered bridge, which is also known as Chapel Bridge. It also happens to be the oldest covered bridge in Europe, measuring 200 meters long and placed across the incredibly blue Reuss River. In summer it is lined with colorful flowers and will seriously give you the best photo opportunities!
Whether you see it during the day or at night, when all the fairy lights are turned on, it will definitely take your breath away! This bridge is one of the top reasons why people look for where to stay in Lucerne near the river.
As I always say, take your time in the historic Old Town, walk around the center of the city and enjoy the lovely atmosphere. Of course, you'll come across tons of small local shops, restaurants, and other attractions like the Jesuit Church. If you can't get enough of the hotels and history in Lucerne, Geneva is just a train ride away and it also has some of the best places to stay!
Are you ready to check out the most amazing hotels here? Let's see!
Other accommodation options in Altstadt (Old Town)
Things to do in Altstadt (Old Town)
Walk along the stunning Chapel Bridge, the oldest covered bridge in Europe
See some beautiful art at the Sammlung Rosengart Museum
Admire the architecture of the charming Jesuit Church
Have fun trying a new sport with Cap Paragliding Switzerland
Visit all the Lucerne best local sweet shops and souvenir shops
Spot the historic buildings in Altstadt as you walk along the area
Check Lucerne's, Town Hall in the center of the city
2. Oberseeburg – best place to stay in Lucerne for families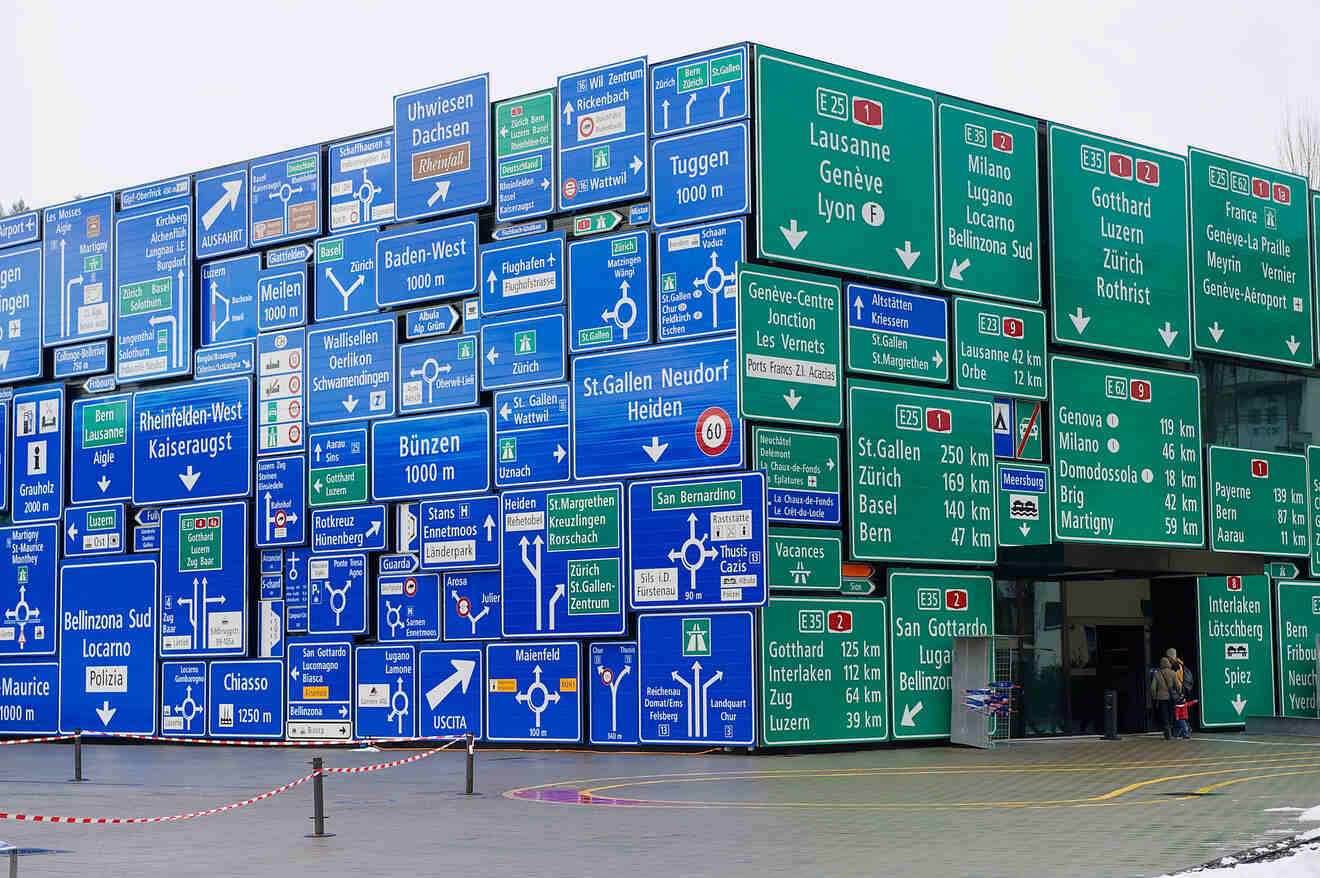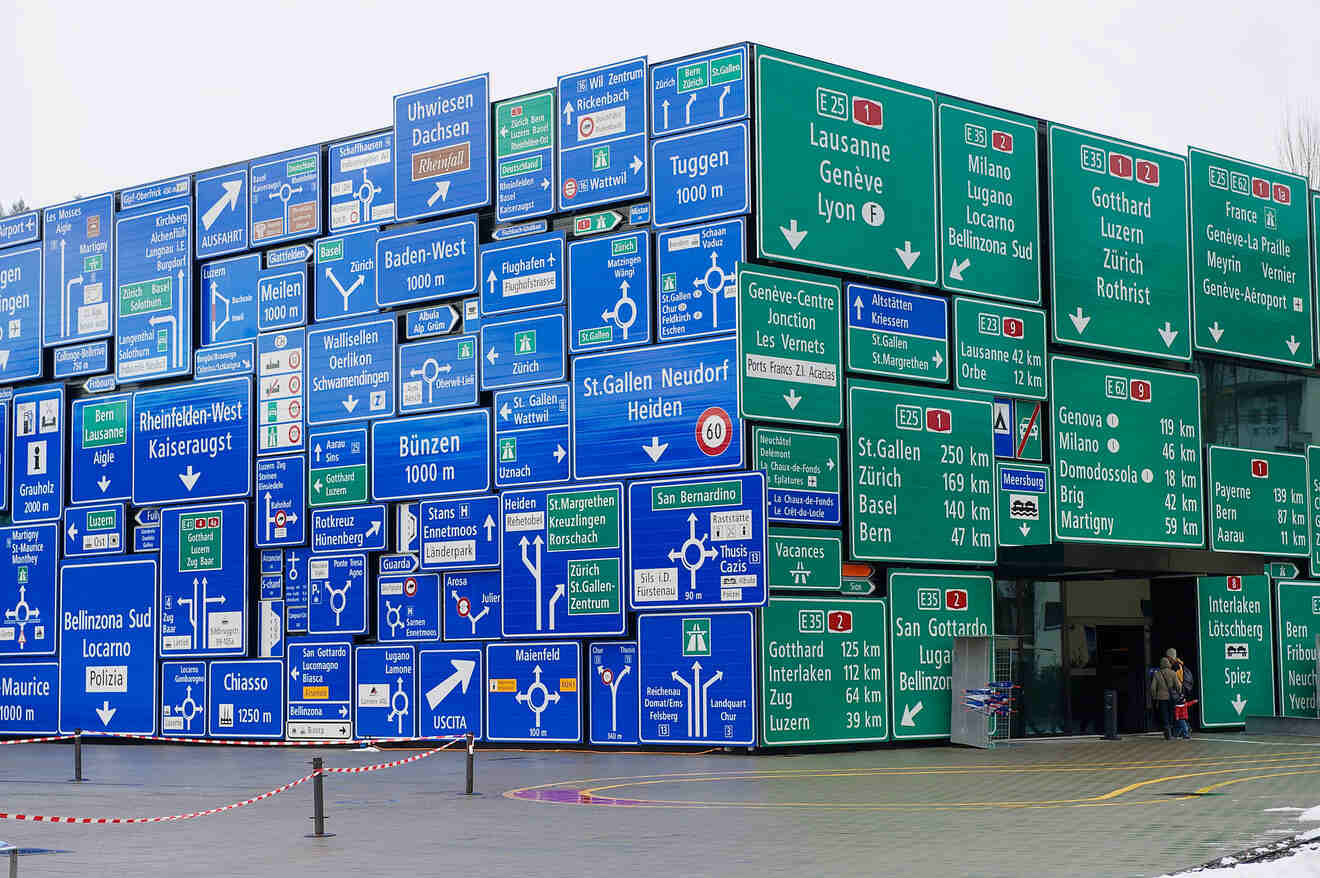 Located east of the Old Town, just a 15 minutes bus ride away, this residential area is also known as the "over the lake neighborhood" and it boasts incredible views of the Lucerne River. It's also the perfect area where to stay in Lucerne with the family thanks to its large palette of hotels, attractions, and activities like the super fun Lido Lucerne, a lakeside park that is perfect for swimming!
You'll want to book the hotels here in advance, the Lido Lucerne Park makes people stay in this area so the accommodations sell out super fast!
With a sandy beach of 300 meters, umbrellas, and a restaurant with a view of the lake, it will be hard to take the kids away from this family-friendly paradise. There's a nice playground perfect for any age, but you can also rent SUP boards if you're feeling a bit more adventurous.
The Lido Lucerne is fairly big so I'm sure families will find plenty of spots, they even have a pool for the little ones. If you're a family who loves the snow and the mountains have got you in the mood, I highly suggest you check out the ski resorts in Switzerland – St. Moritz and Zermatt offer some breathtaking views!
I'm sure you could easily spend the whole day here, but the Swiss Transport Museum is near the lakeside park if you still have some spare time and want to visit it. Also, don't forget to walk along the shores of the famous Lake Lucerne as the sun sets over the city!
Other accommodations in Oberseeburg, Lucerne
Things to do in Oberseeburg, Lucerne
Swim, play, and have fun at the family-friendly Lido Lucerne lakeside park
Learn new things at the Swiss Transport Museum
Visit the Hans Erni Museum in Switzerland
Take a walk near the shores of Lake Lucerne
Enjoy a family lakeside dinner at Seehaus Grill
Take the kids to play in the Hundefreilaufwiese Park
Offer the kids a great experience with the family-friendly Swiss Adventure Chocolate
3. Tribschen – where to stay in Lucerne for budget travelers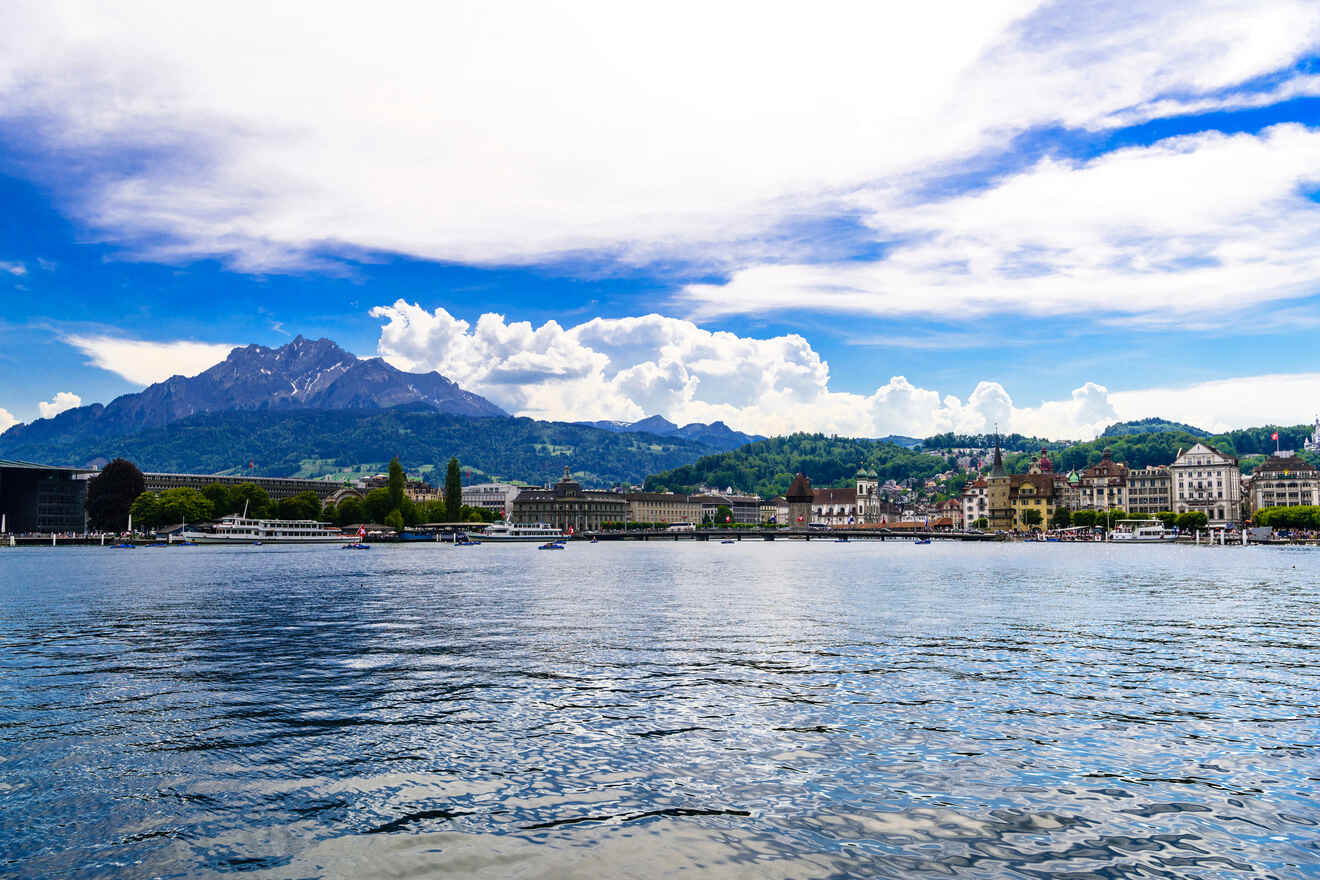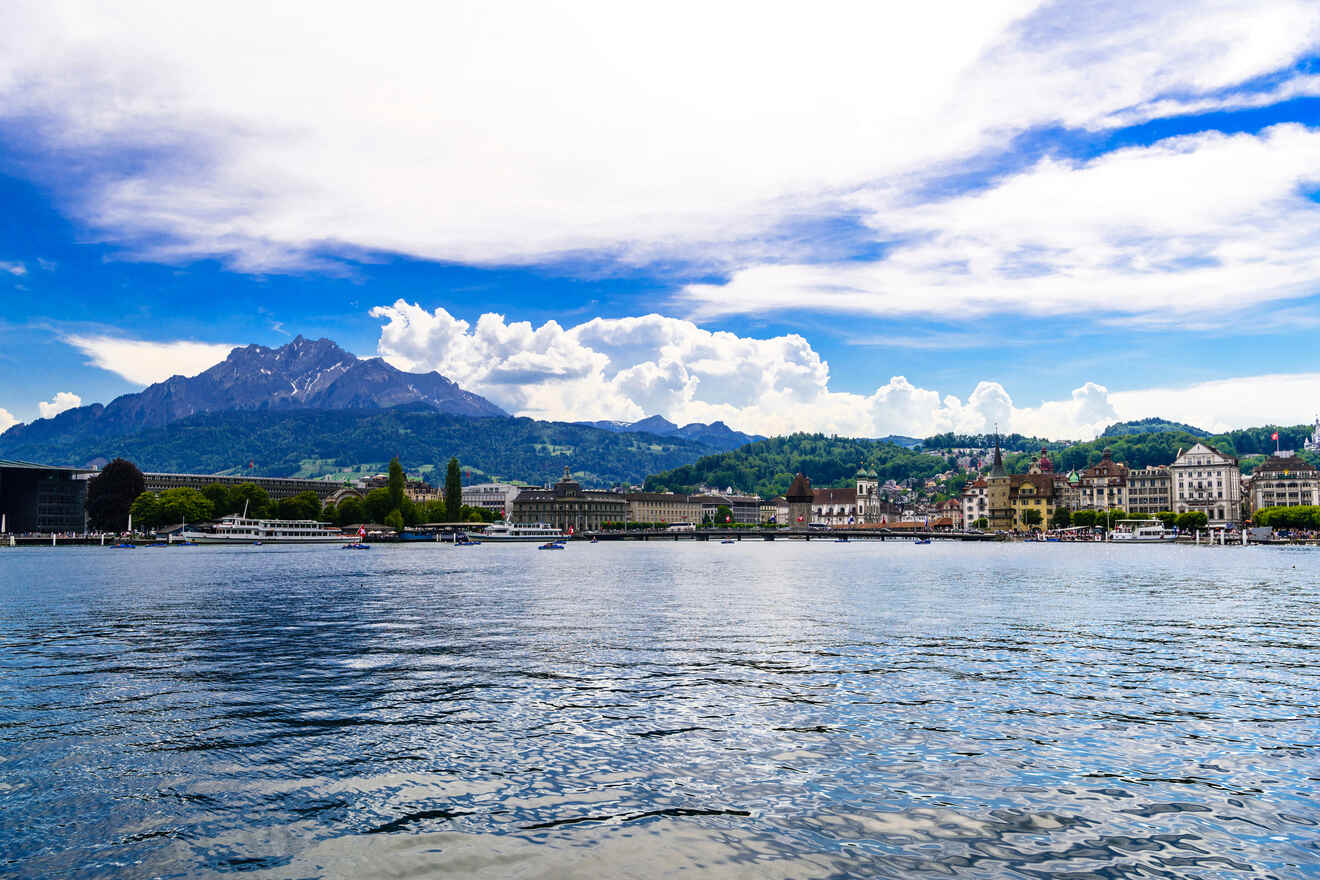 Located south of the city center, just 2 miles (3 km) away from it, this Swiss district used to be Lucerne's Red Light District. However, those days are long gone and now Tribschen has replaced its trashy buildings with cute local shops, apartment buildings, and hotels.
It's one of the best places to stay in Lucerne on a budget as you'll find a wide range of affordable hotels and hostels. The lakeside area is quite peaceful, making it a great location for those who want to be near Old Town but further away from all the hustle and bustle.
Tribschen is known as the birthplace of Richard Wagner, a famous German composer from the 19th century. So if you're looking for where to stay in Lucerne in order to dive into the culture of the town, make sure you visit one of the biggest attractions in Tribschen, the villa where the composer used to live. It has now been turned into a museum located near Lake Lucerne!
Other accommodations options in Tribschen, Lucerne
Things to do in Tribschen, Lucerne
Visit the Richard Wagner Museum and learn new things about Lucerne's culture
Have dinner and listen to some live music at Greenhouse Lucerne restaurant at night
Take the family and go swimming in the lake at Ufschotti Park
Spend a fun day at the Ice Centre Lucerne in Switzerland
Eat a delicious burger at N'Ice Restaurant
Go for a night drink at Peperoncini Tribschen
4. Bruch – trendiest place to stay in Lucerne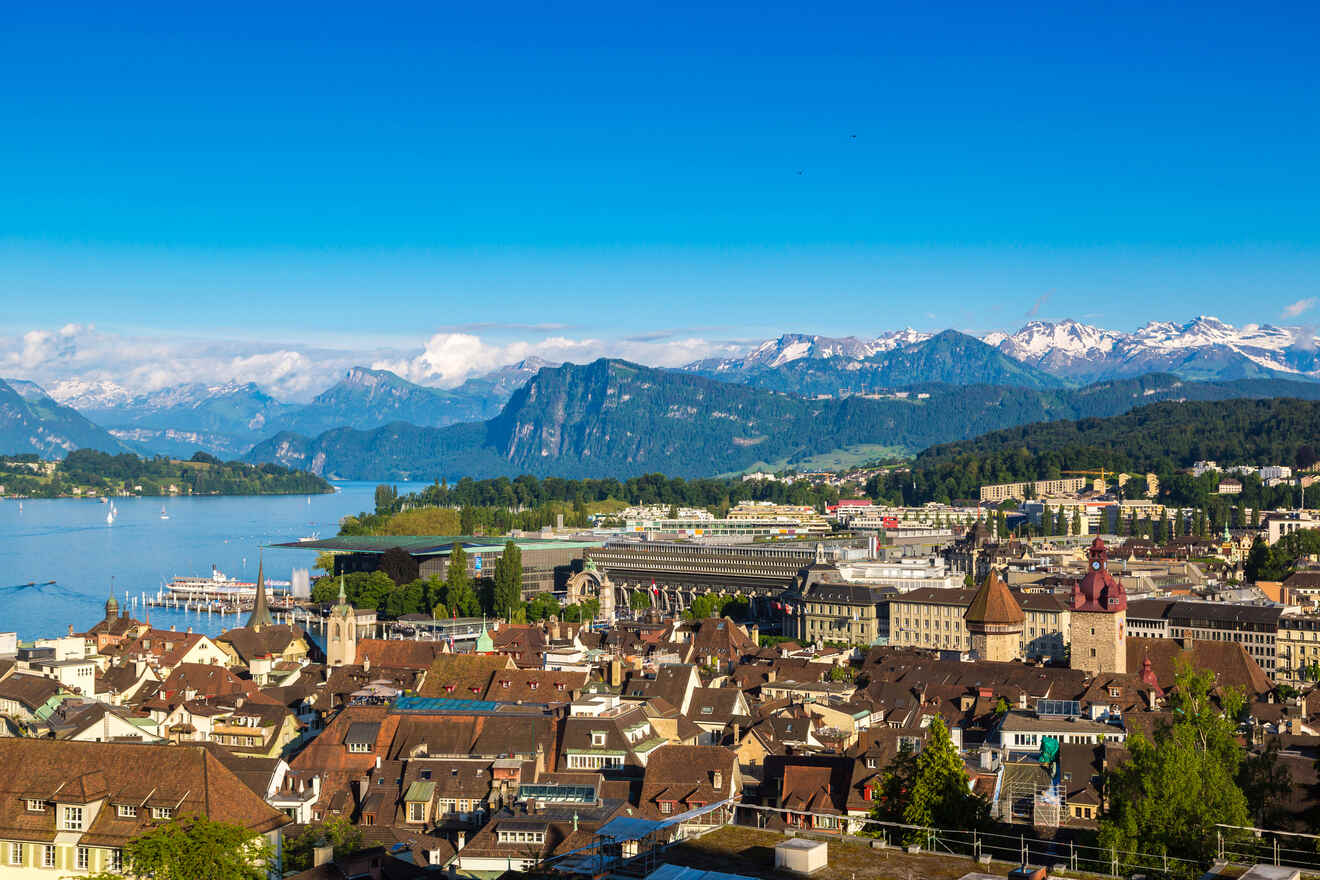 Located northeast of the Old Town, this cool neighborhood is home to the most hip bars, cool hotels, and boutique cafes in Lucerne. I'm not lying when I say that I usually hunt for places like Burch when I'm on holiday.
Spending some time in the specialty coffee shops of a new town and browsing all the clothing stores is definitely a must for me. If you feel like this may be your scene, definitely book a hotel in this location.
If you're looking for where to stay in Lucerne to have some fun after the sun goes down, the Madeleine Bar is the most popular spot in this district and it's the place where you'll see a wide range of local people and tourists looking to spend a good time in the city.
Sometimes they even hold comedy shows and concerts! You can pop in there at any time during the week and expect something new. There are also a few attractions here if you want to learn a few new things about the city's culture, like the Historical Museum Lucerne.
Other accommodation options in Bruch, Lucerne
Things to do in Bruch, Lucerne
Catch a comedy show at the Madeleine Bar
Visit the Historical Museum Lucerne in Switzerland
Spend a fun day shopping at Atelier Treger
Eat some delicious Swiss food at Restaurant & Bar Drei Koenige
Go for cocktails at the Bruch Brothers Bar
5. Pilatusplatz – where to stay in Lucerne for travel connections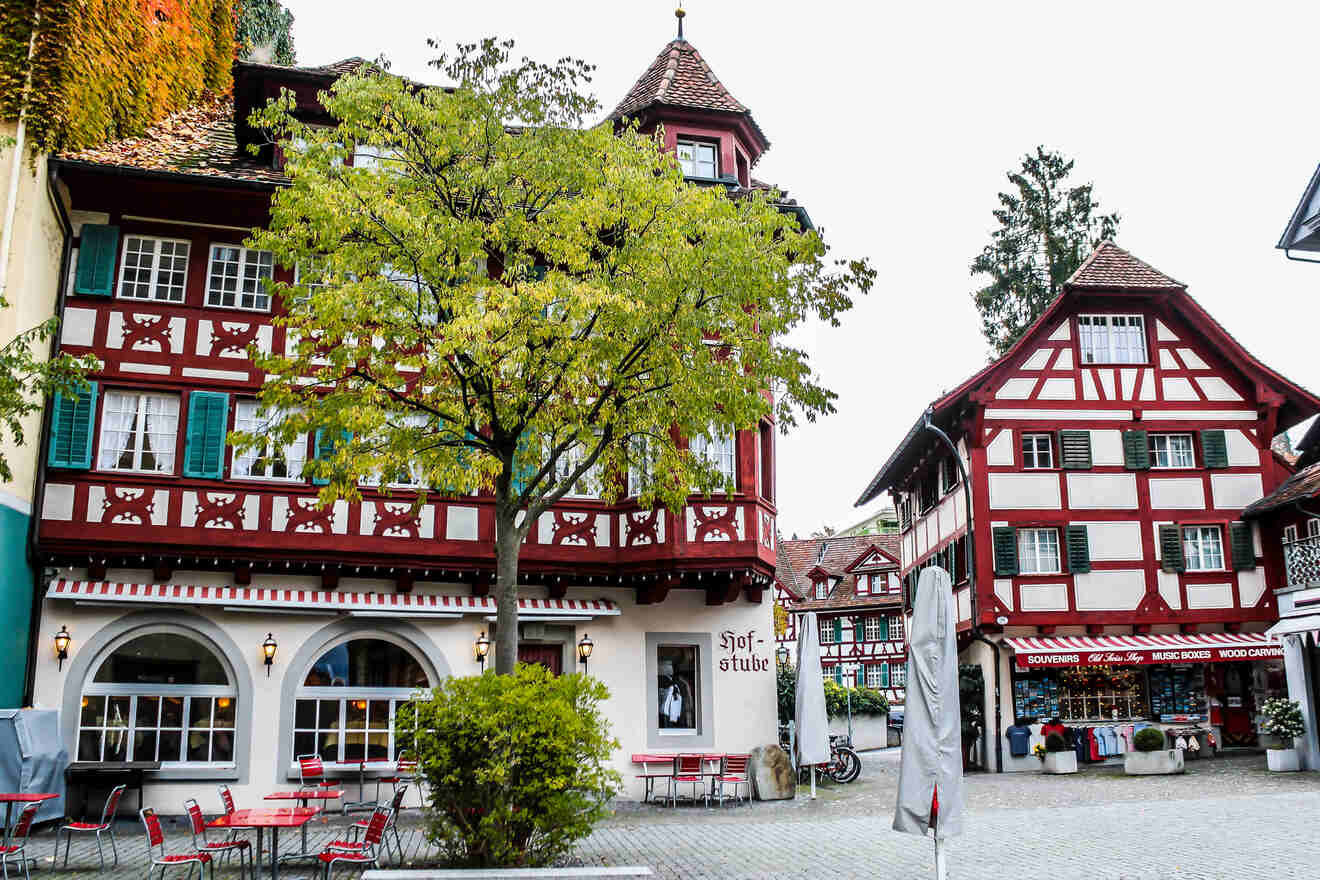 This neighborhood is perfect if you want to explore the whole town and surrounding areas as it is located near the train station and has several bus stops. At the same time, Pilatusplatz is situated within walking distance from the Old Town in case you want to visit it.
Although there aren't many attractions in this area, I always think that it's a good idea to find a place to stay that is more affordable and has all the travel connections you need to see other parts of the city as well, especially if you're traveling on a budget.
Here you'll also find a wide range of budget hotels and hostels. As the traffic here is quite intense, you might have to expect a lot of noise but I'm sure that will pay off when you realize how much money you're saving!
Pilatusplatz is definitely one of the best areas where to stay in Lucerne if you're a practical traveler who likes to see a lot of attractions, not only inside the town but also in the areas near it! In this case, you could even see Mount Pilatus!
Other accommodation in Pilatusplatz, Lucerne
Things to do in Pilatusplatz, Lucerne
Have a drink at Penthouse Bar in Switzerland
Go for a walk in the Lucerne Forest
Take advantage of the good travel connections and explore the region
Eat a delicious Mexican dinner at Pacifico restaurant
Take the kids out to play in the Vögeligärtli Park
6. Littau – best place to stay in Lucerne for nature lovers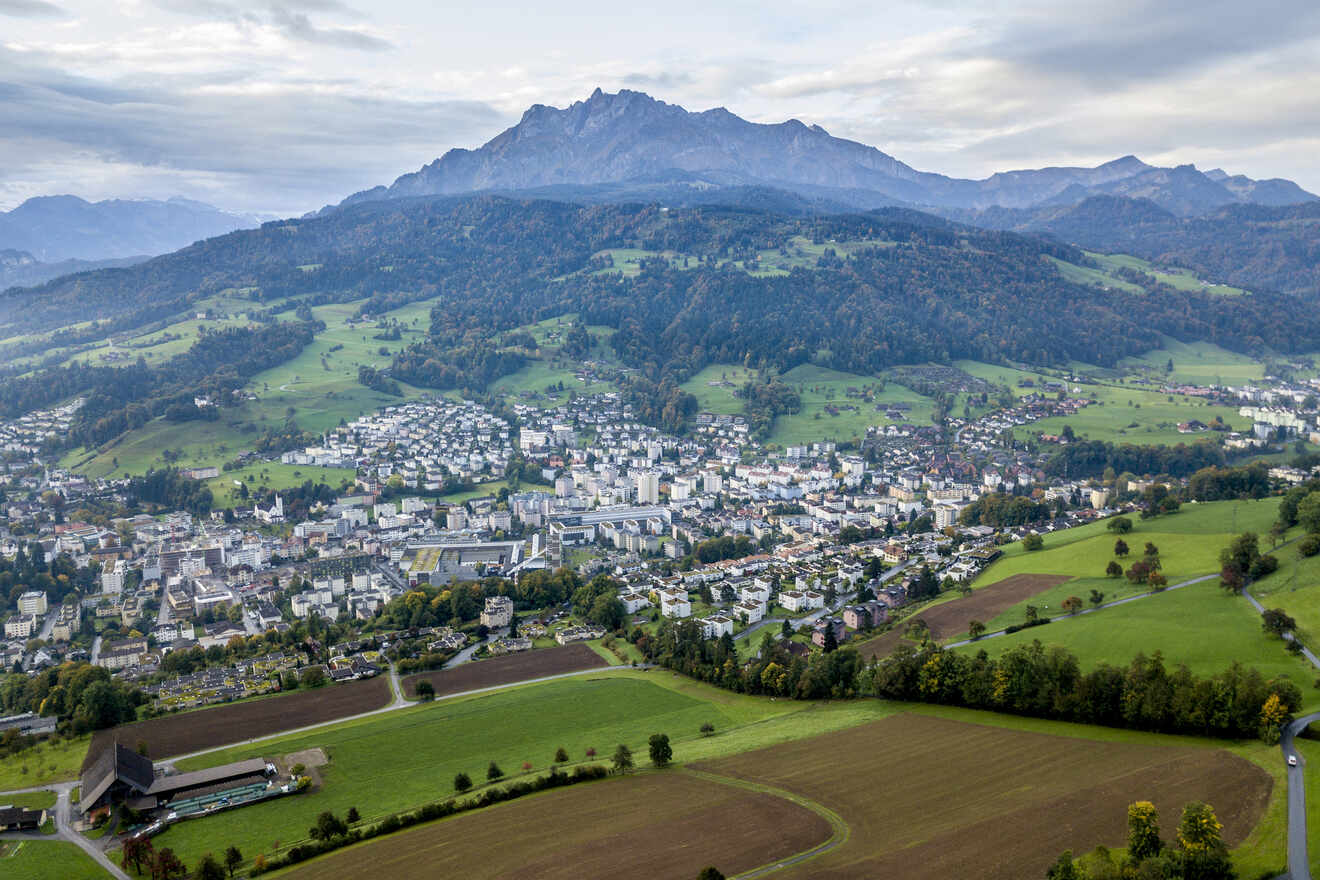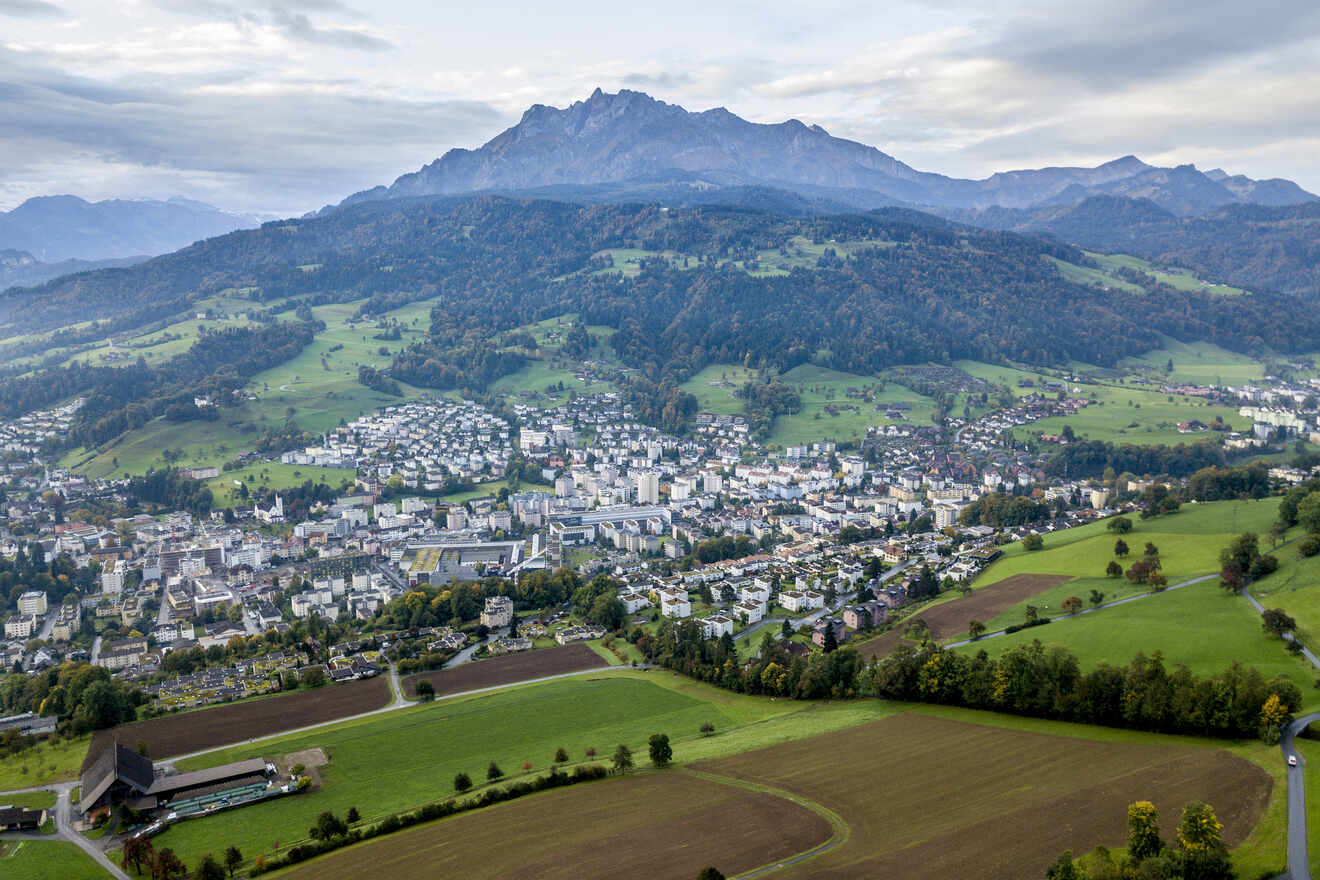 Can I move here? It looks just like the place for me and I'm sure any person who loves to stay in hotels that are surrounded by nature will want the same! Littau is a small area located west of the Old Town in Lucerne Switzerland.
This area is one of the best places where to stay in Lucerne for anyone who wants to be near the mountains and fresh air! It was not until 2010 that Littau became a part of the city as it is a bit further away, however you can easily reach the Old Town by bus, it's just a 20-minute ride.
The area is located at the foot of the mountains so imagine the views you'll get of the beautiful mount Pilatus! Just picture tons of trees everywhere, hills and small forests. If you love being outside and exploring natural spots then the ​​Gütschwald forest, which looks like an enchanted place from a children's book, is perfect for you. You can take the kids and make a whole fun day out of it!
Let's see the best hotels in Littau!
Other accommodation options in Littau, Luzern
Things to do in Littau, Luzern
Explore this natural area and go hiking
Catch a sunset and enjoy the views of Mount Pilatus
Take the kids and organize a picnic in Gütschwald forest
Climb on a hill and see the best views of Lucerne from above
Go shopping for local products at Gaby's Hofboutique
Frequently asked questions about Lucerne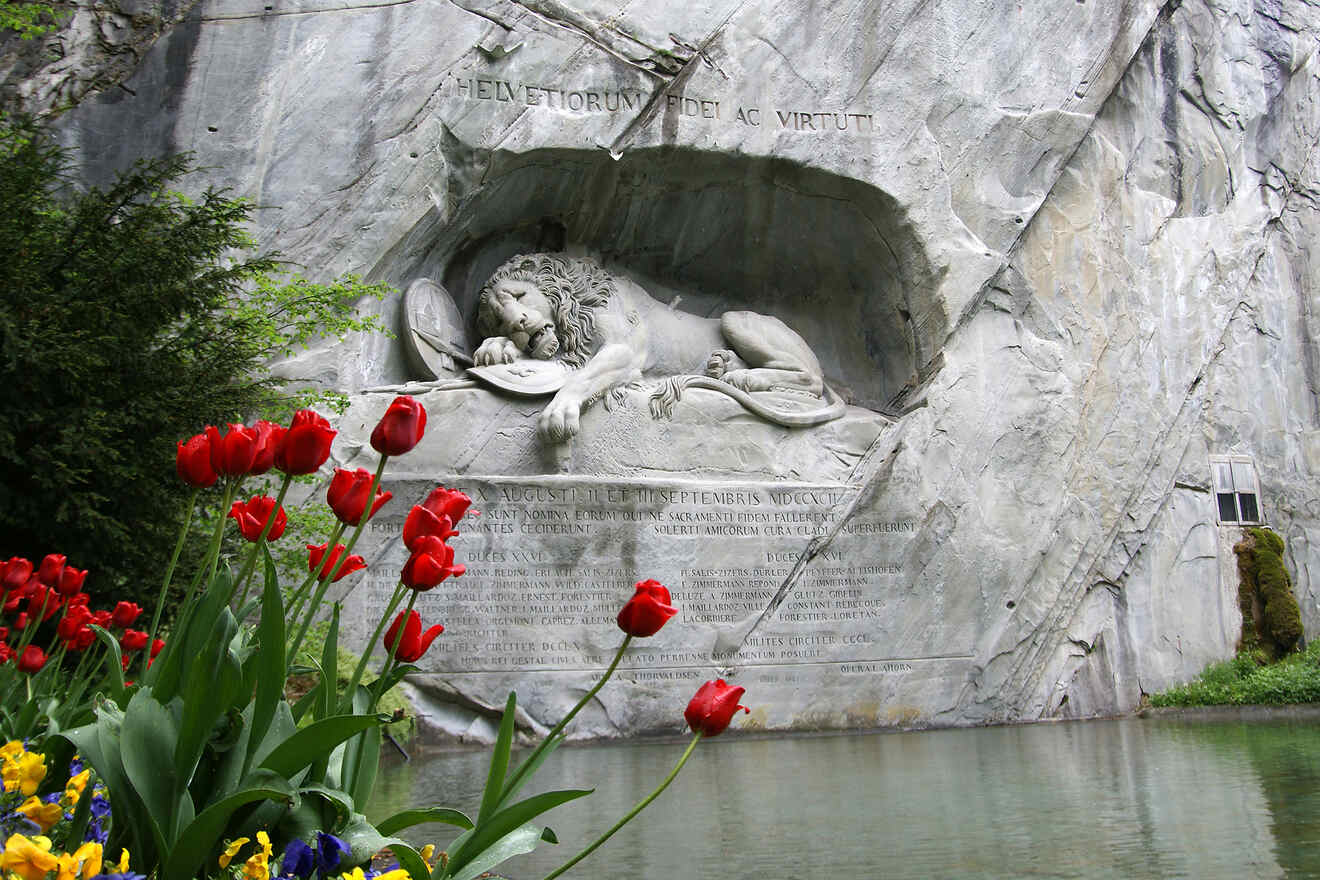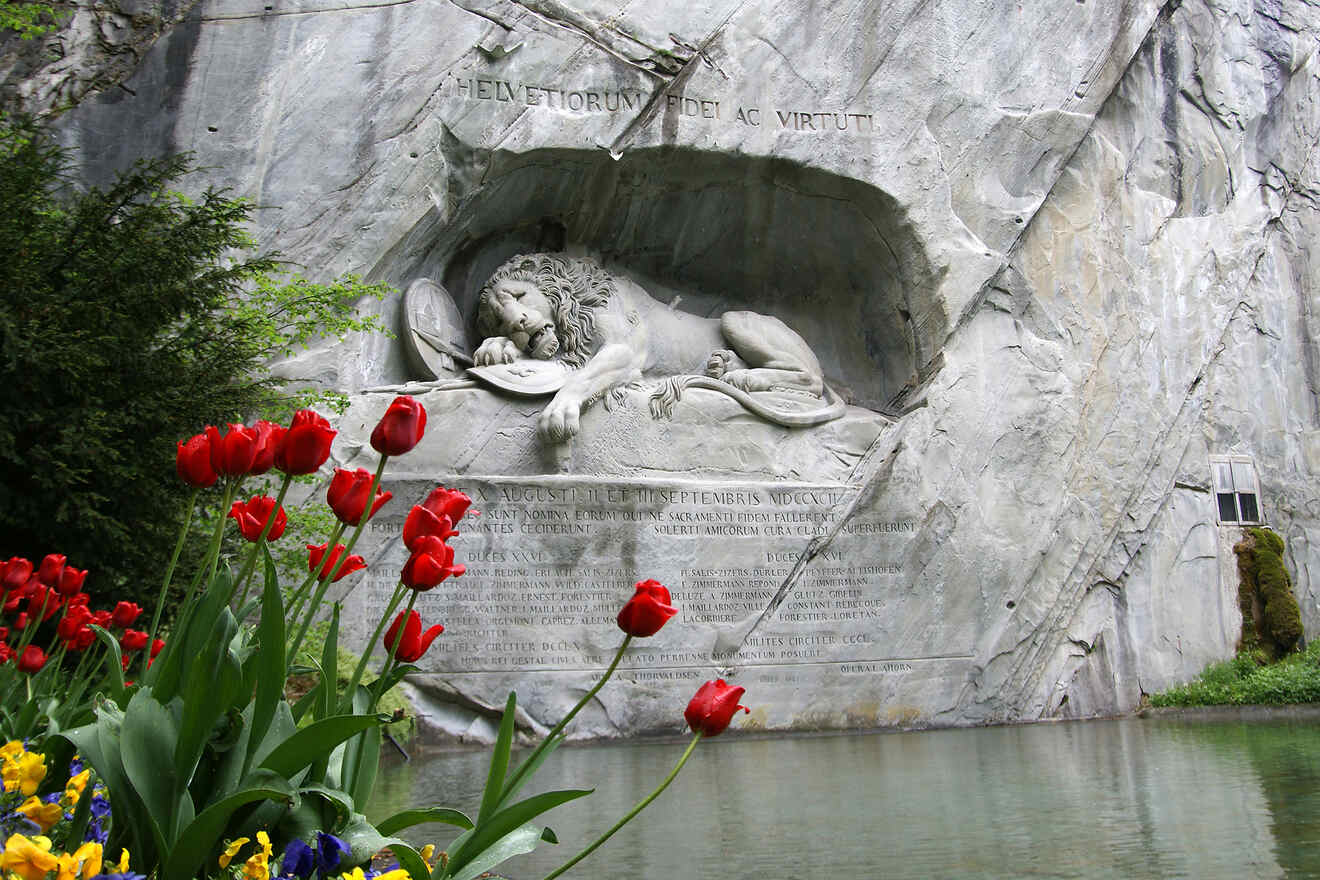 Conclusion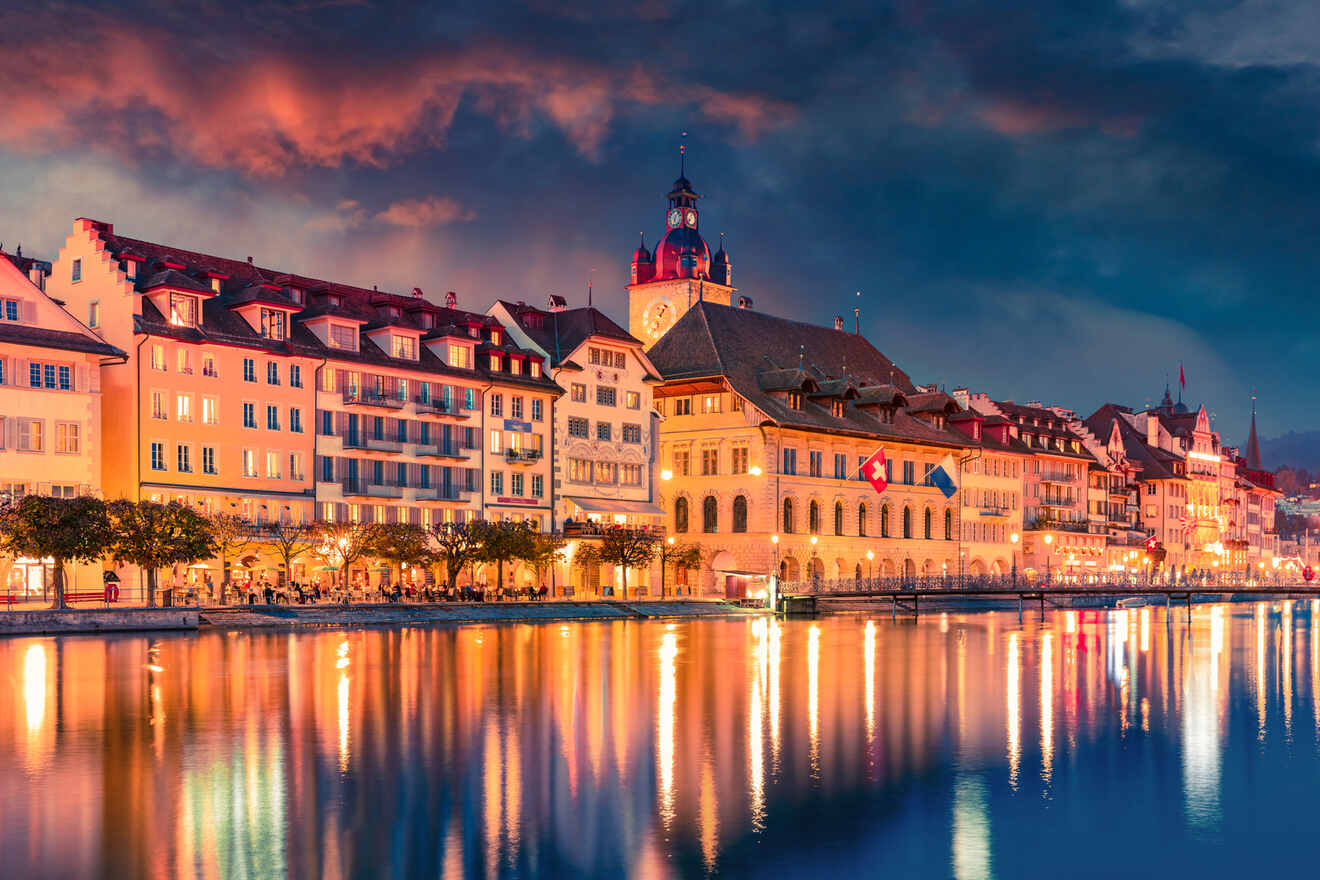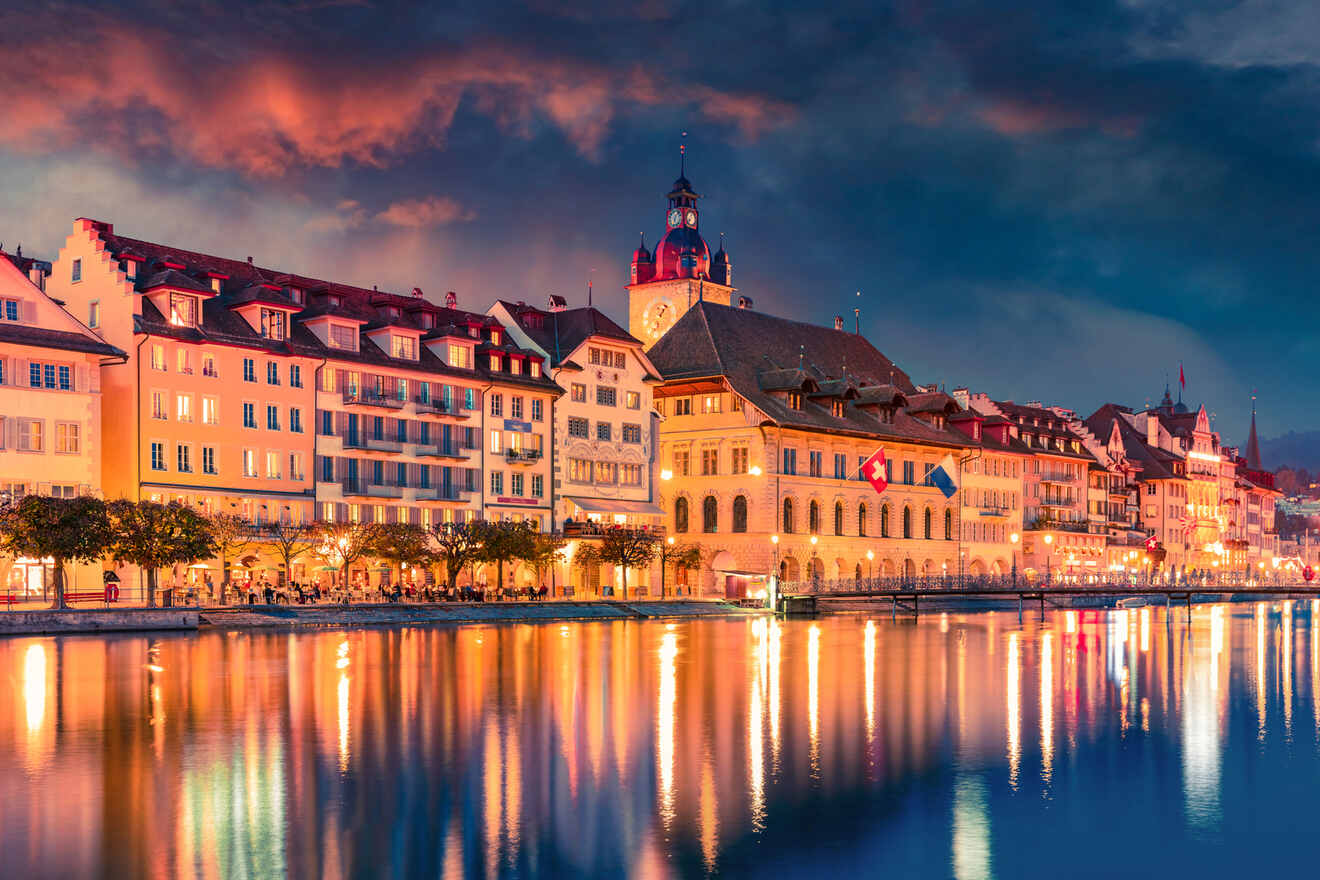 I'm so craving some free time in the forest now! Preferably one in Switzerland that has views of Mount Pilatus! But I'll settle with the one in my country, but you, my friend, are the lucky one! I hope this article helped you decide where to stay in Lucerne, which affordable Swiss hostel to book or maybe which luxury hotel to indulge in as well as where to go hiking or to ski! I know I've got some good ideas!
I know I gave you tons of the best places to stay in Lucerne, Switzerland, most just within walking distance from the main attractions and near the lake, but here are my top two favorite hotels both located in the Old Town:
I know Lucerne, Switzerland looks like a big place but everyone will look for the best places to stay here so make sure you book the hotels in advance especially any of the five-star hotels that everyone raves about! I hope you enjoy exploring the shores of Lake Lucerne, the River Reuss, and eating tons of chocolate near the Old Town!
Don't forget to leave me a comment if you have any questions about your stay in Lucerne Switzerland, hotels, Mount Pilatus or if you just want to say hi!
Safe Travels,
Victoria
---