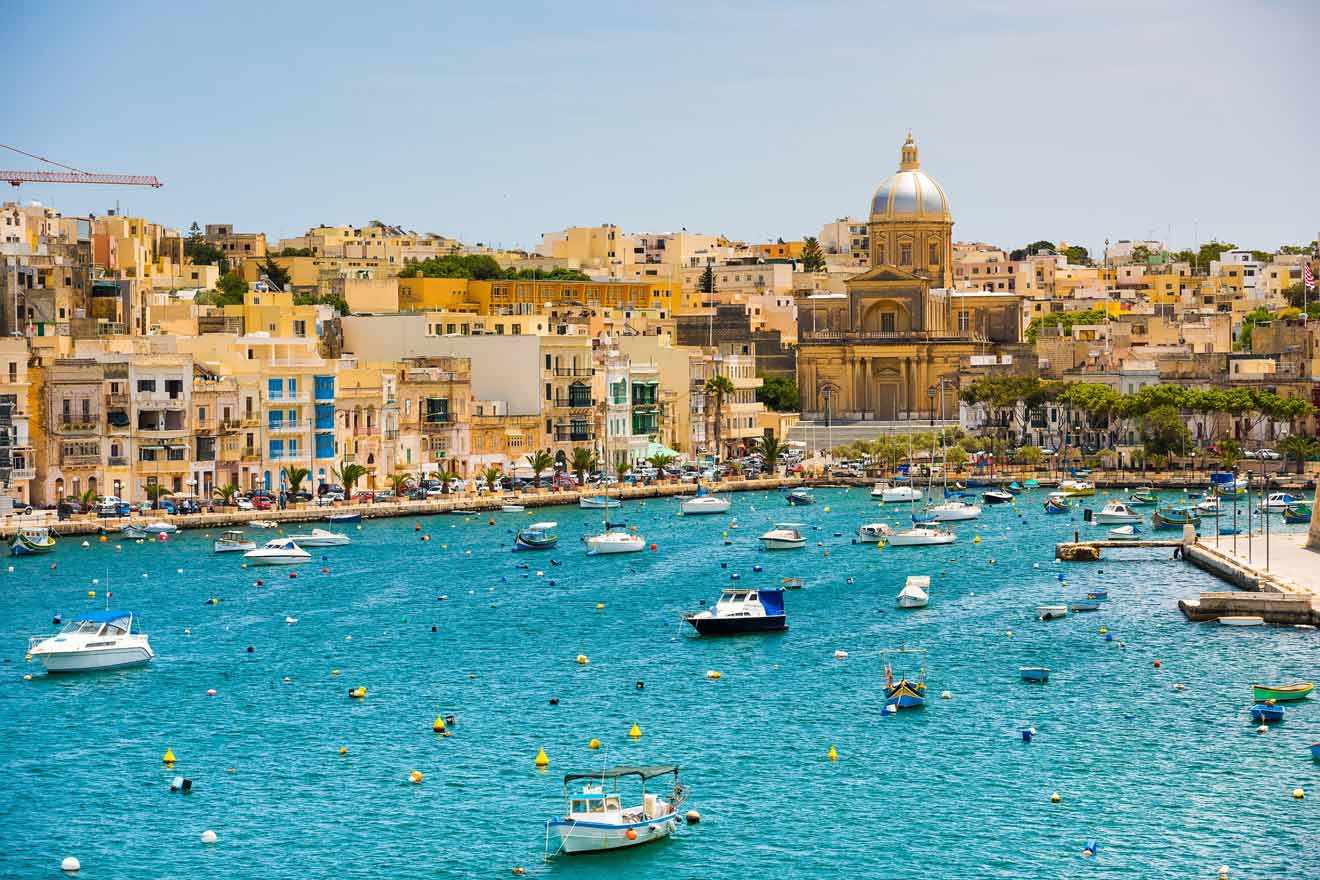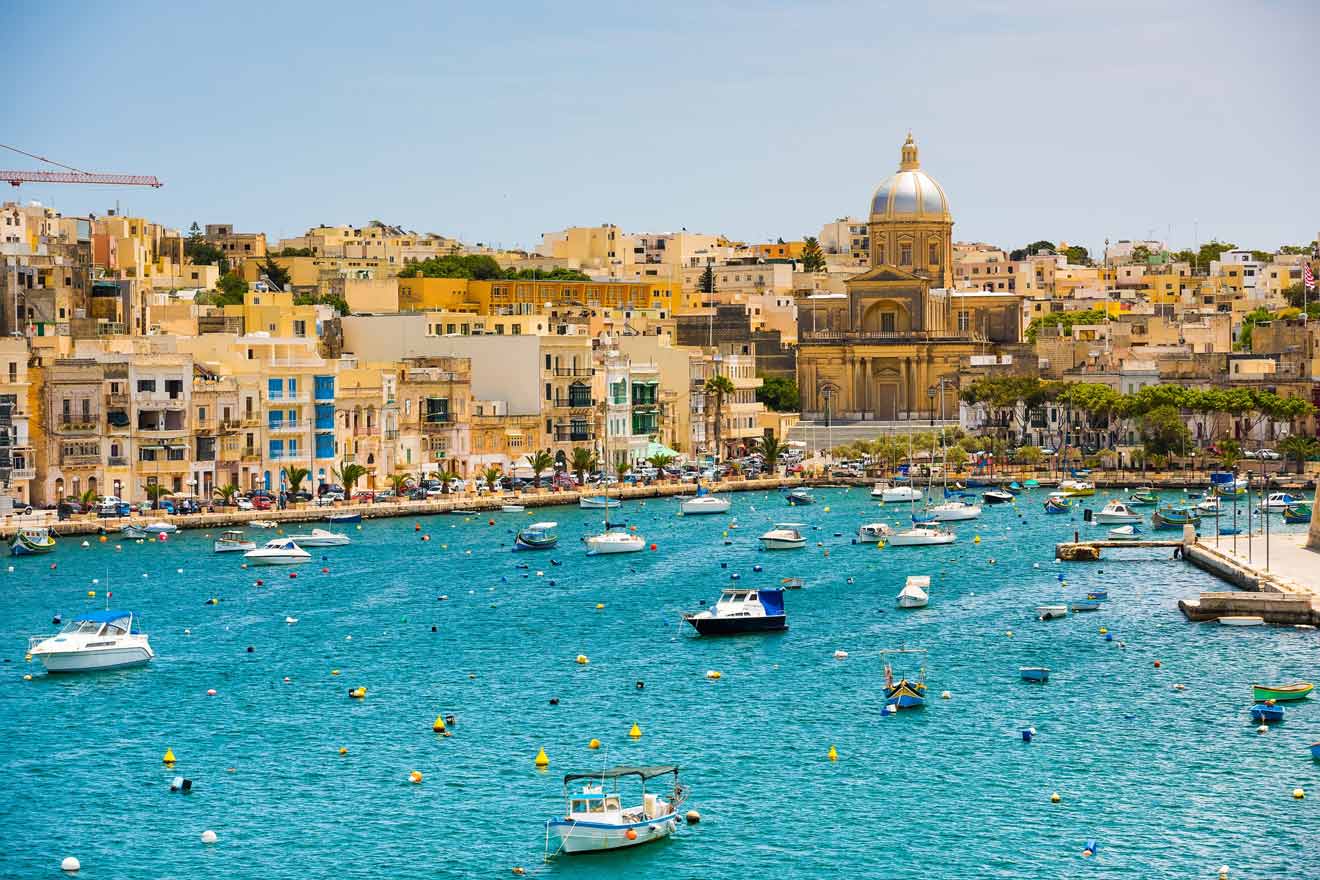 Malta is a relatively small but beautiful country situated in the central Mediterranean Sea. Its fascinating history, unique culture, and scenic views captured the hearts of many.
When it comes to finding the best places where to stay in Malta, first-time visitors may find it confusing or a bit challenging due to the lack of clearly defined cities on the main island. So I'm going to share all my personal hotel recommendations, practical travel tips, as well as the top things to do or visit to help make your Malta holiday dream come true!
Please note that some of the areas I will be discussing are extremely popular, and accommodations fill up quickly so booking in advance is highly recommended.
Are you ready? Let's do this!
For a quick virtual tour of the island, I have here a video you'll surely love. This will help you visualize the areas and neighborhoods I will be discussing in this article.
If you are in a hurry
The best area to stay in Malta if you are visiting the country for the first time is the capital city, Valletta. This is the perfect place to learn more about Maltese history and culture.
Below is a list of the best accommodations in Malta for each budget in case you don't have time to read the whole post.
Now let's take a look at the best places to stay in Malta on one convenient map. Read on to find out more about each one and the best accommodation according to interest and budget options.
1. Valletta – where to stay in Malta for the first time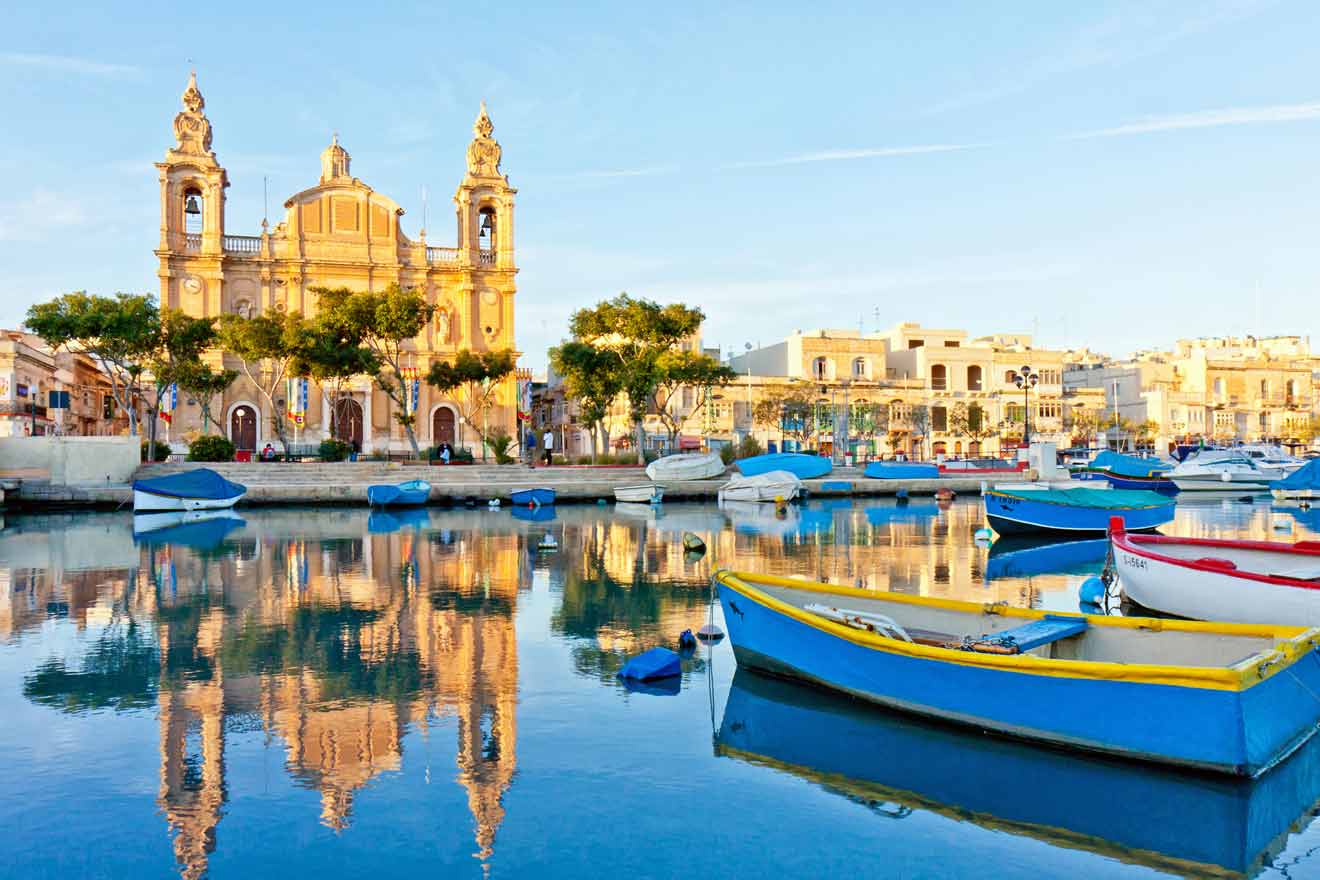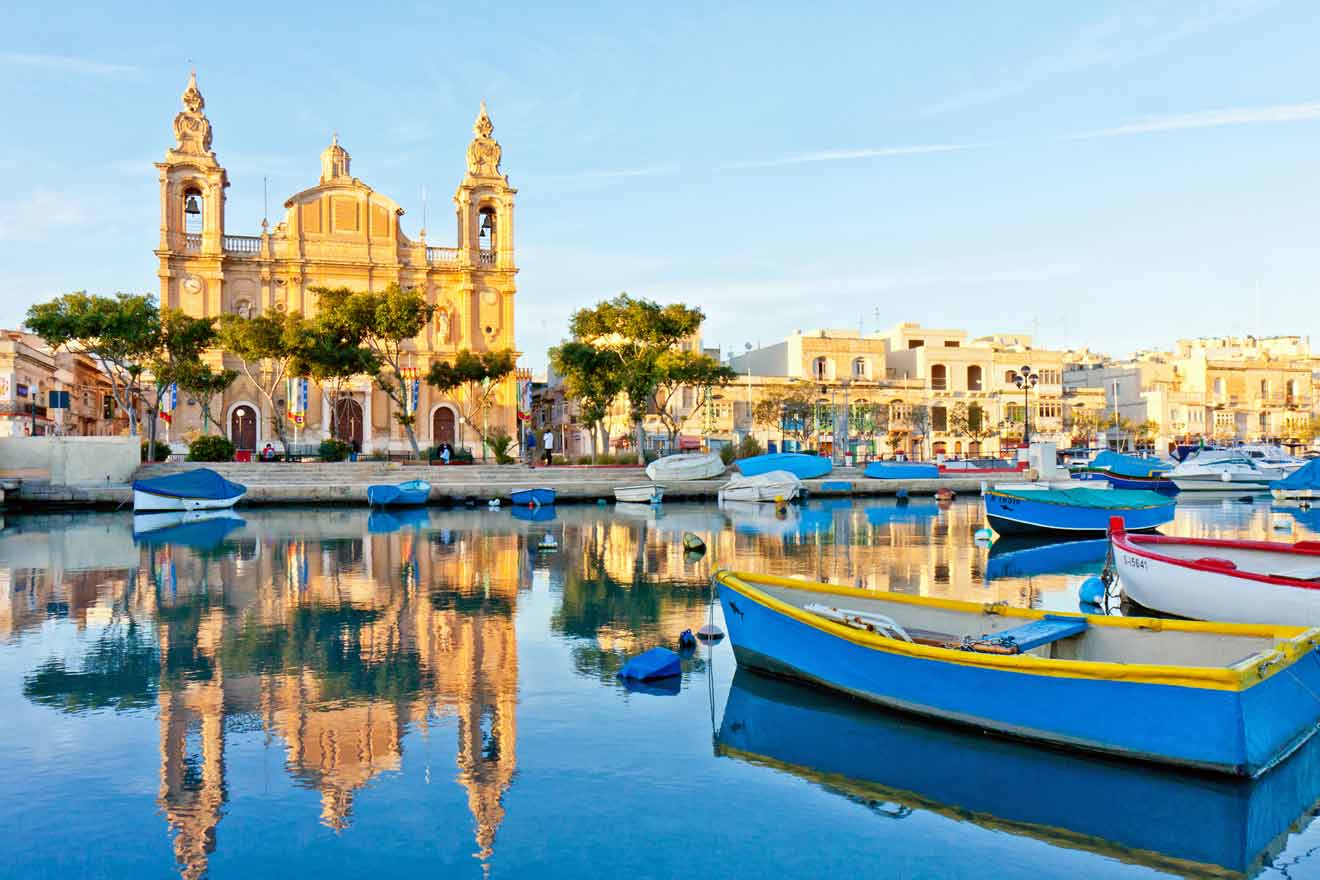 It can be challenging to find a place to stay in Valletta, since the city center is quite light on accommodation choices, mostly because it has tried to preserve the historic area from urban development.
But if you really like to stay in the capital, facing the Grand Harbour and the Three Cities, make sure to save some more money in advance, because I have already found the perfect place where you will want to stay and lay down all your money! All of the accommodations are close to the historical palaces and best restaurants in Valletta offering local cuisine.
By the way, can you believe that Valletta is the smallest capital in Europe with a population of only 6 000 people?
Yeah, you've heard that right! Moreover, Valletta has been declared a UNESCO World Heritage site, thanks to its historical character, dating back to the 16th century.
There has never been a better time to explore this historic city with charming narrow lanes, wander around the Upper Barrakka Gardens with a view of the Grand Harbour, or stroll along Merchant's Street.
Staying in this historic city will surely be an unforgettable part of your Malta getaway. Below is my top favorite accommodation in the neighborhood that you will surely love. Just a heads up, this is a very popular area, so booking ahead is highly recommended.
NOTE: While Valletta has a lot of tourist attractions and historic buildings, it doesn't have beachfront hotels or properties to stay in. Check out the neighborhood of Mellieħa and St Paul for private beach resorts and hotels if that's what you're looking for.
Other accommodation options in Valletta are:
Things to do in Valleta:
Check out the magnificent Grand Master's Palace
Visit a masterpiece of Baroque art at St. John's Co-Cathedral.
Attend a concert or theatrical performance at Teatru Manoel.
Have a walk at the Upper and Lower Barrakka Gardens
Pick a souvenir at Merchant street
Learn Malta's history at The National Museum of Archaeology
Go to the National Museum of Fine Arts and see paintings and sculptures
Take a photo at picturesque Grand Harbour
2. Sliema and Gzira – best area for couples and seniors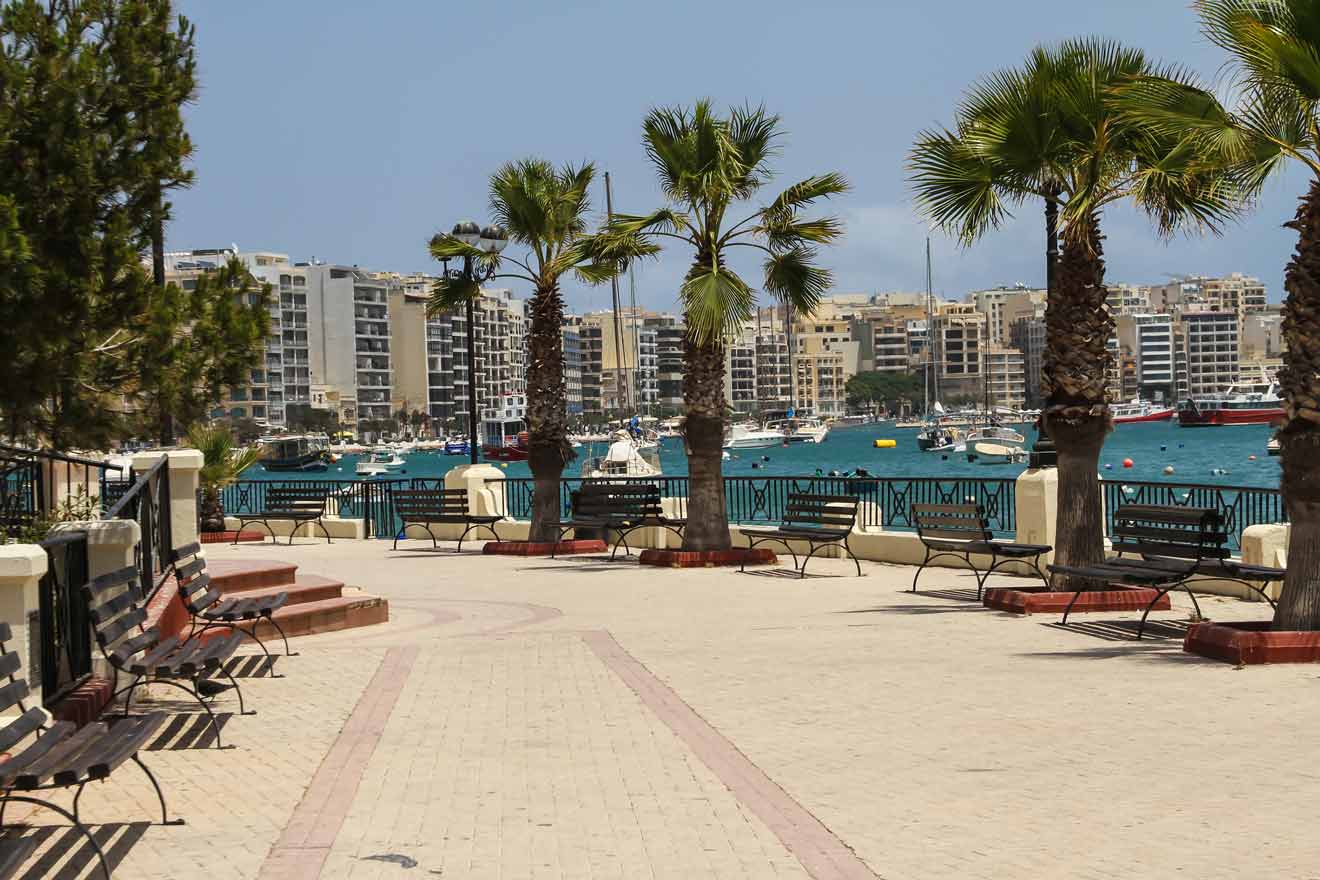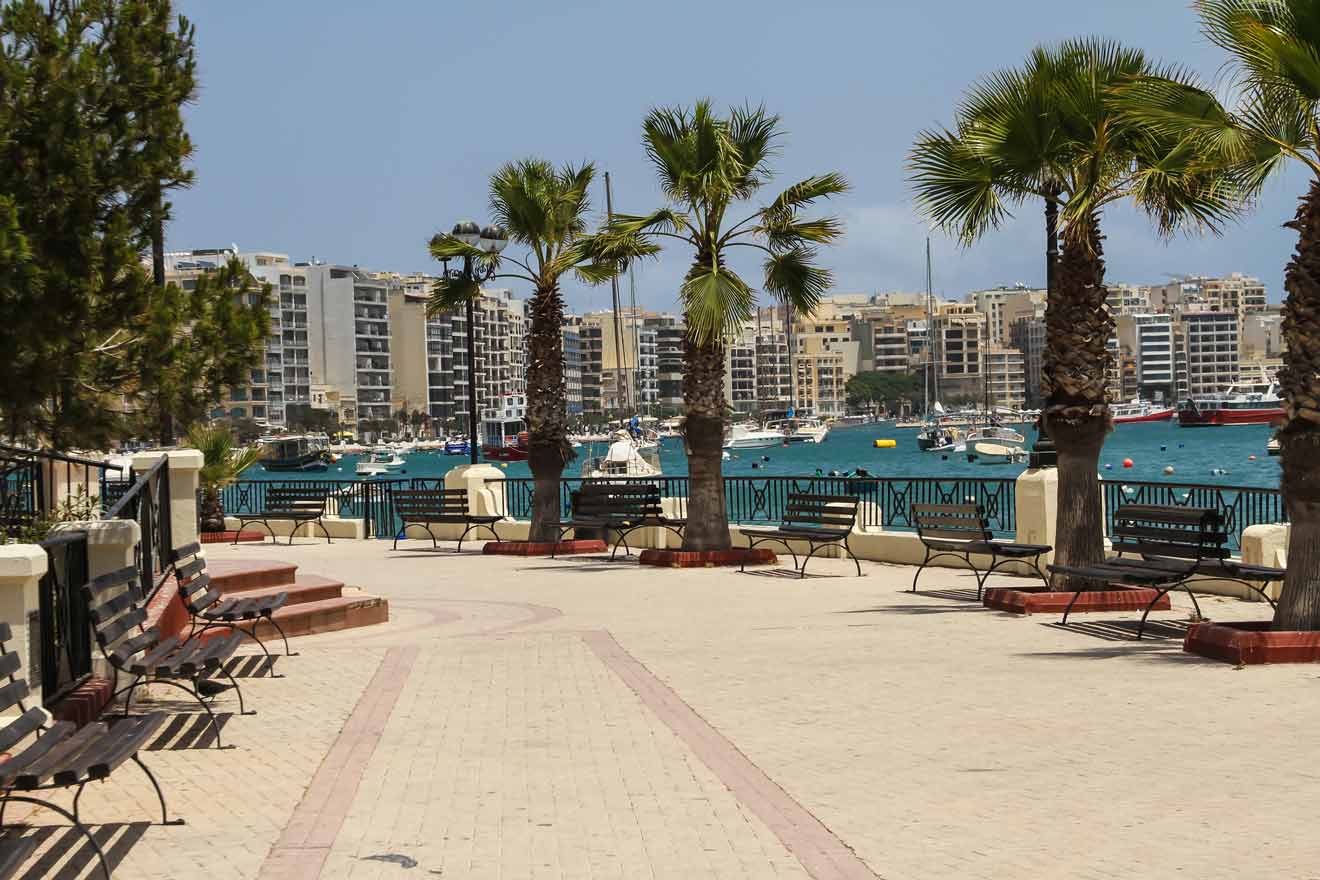 Located close to Valletta, Sliema is another popular resort town, especially for couples of all ages and seniors. It's also suitable for families, but I suggest seeking out other options as Sliema has only rocky beach areas.
When it comes to accommodation, Sliema is rich in budget rooms and boutique hotels with air conditioning at a really good price. I decided to stay here exactly for this reason, to explore Malta on a budget, while being within easy access to all major points of interest. But Sliema also happens to have a variety of other accommodation options, meeting the needs of all types of travelers.
During my time here, I stayed at the Corner Hostel and had everything I needed, including free WiFi. There were plenty of frequent bus routes that would get me to Valletta, Mellieħa, Popeye Village, to name just a few…so public transport wasn't really an issue.
I suggest not renting a car, as traffic was often congested and it was really hard to find public parking. Thanks to The Point Shopping Mall in Sliema is the best plan for shopping lovers to find stores with global brands, casual cafes and restaurants, and a supermarket.
Just like Sliema, Gzira is light on attractions, though they both have a nice stretch of pleasant waterfront parks (check out to do things below). Moreover, it's just a few minutes away from Sliema, so why not explore this unusual, far quieter part of Malta with the fascinating Manoel Island nearby?
Other accommodation options in Sliema & Gzira:
Things to do in Sliema and Gzira:
Swim in the crystal clear waters of Balluta Bay
Check out manmade bathing pools in Fond Ghadir
Stroll, jor or have a walk at Sliema promenade
Enjoy the panoramic views of Tigné Point Beach
Watch a perfect sunset at Fort Tigné
Visit Parish Church of Sacro Cuor
Visit Church of Our Lady of Mount Carmel
3. St Julians Bay & Paceville – where to stay for nightlife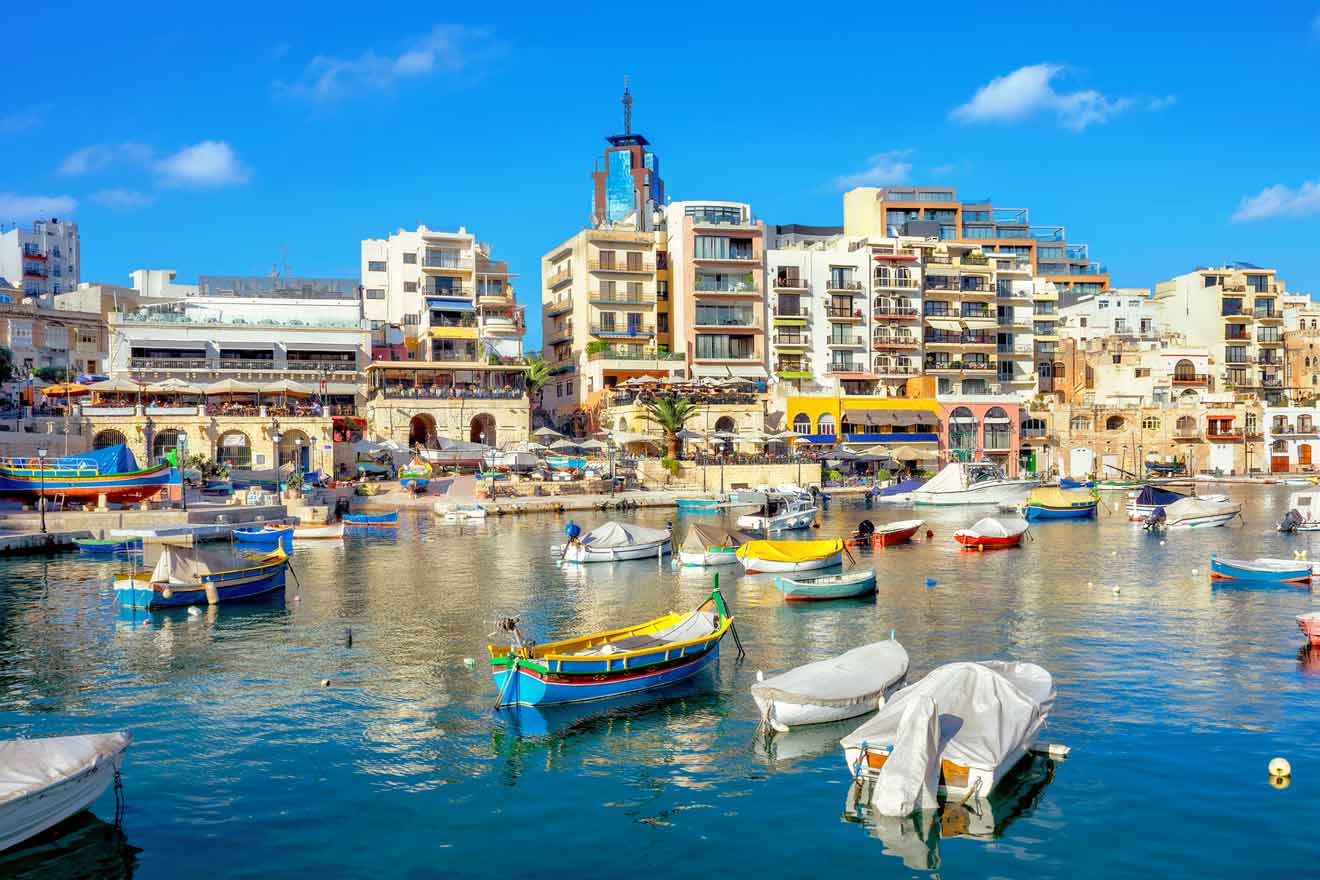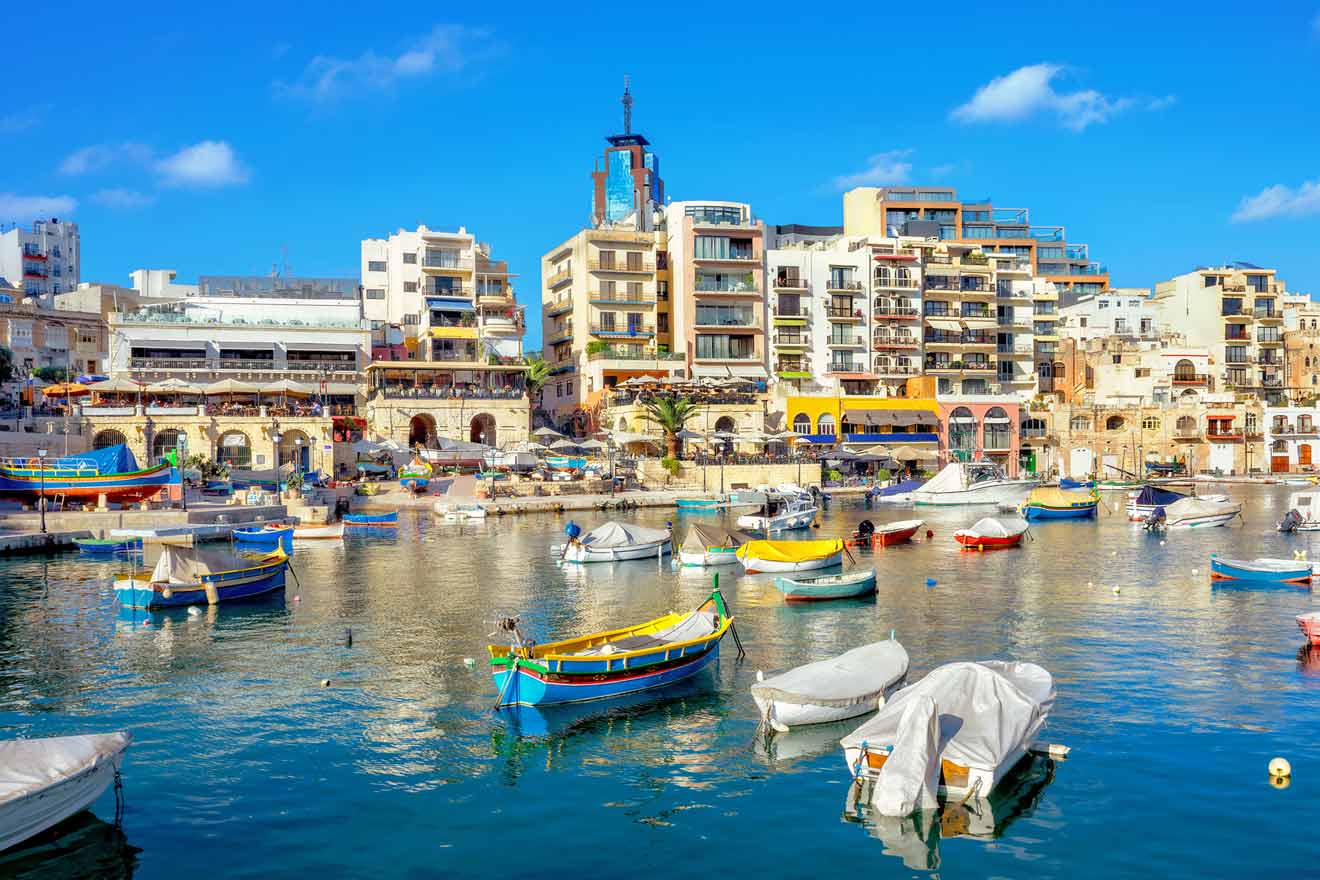 If you are looking for where to stay in Malta to party and dance the night away, the lovely St Julian Bay might be the right choice for you. Join the young crowd as they drink in the boisterous pubs and bars. But that's not all!
St. Julian also offers some very stylish boutiques and shops with designer clothes. Apart from that, take a stroll down St. Julian's backstreets and enjoy the serene tranquillity. You can easily reach the neighboring party town Paceville, with one of the corresponding buses.
This area is one of the busiest and more developed, so it's no wonder that is quite popular among singles and couples of the younger generation, looking for nightlife, clubbing, and dining out. When it comes to beaches, St. Julian's is rather poor, with one artificial and not so clean, rocky beach.
Also, I would like to warn seniors not to book somewhere near Paceville, as the area is quite noisy. If you like to rent a car, make sure that you are a confident driver – as I said before, this is one of the busiest parts of Malta.
Other accommodation options in St Julians Bay & Paceville:
Things to do in St Julians Bay & Paceville:
Swim or sunbathe at St George's Bay
Spend a day at Balluta Bay Beach
Take a walk at St. Julian's promenade
Take an Instagram-worthy photo at Spinola Bay
Check out baroque architecture at Spinola Palace
Play at Casinos in St Julian's
Spend the night partying at Paceville – a nightlife district
4. Mellieħa – best town for beach lovers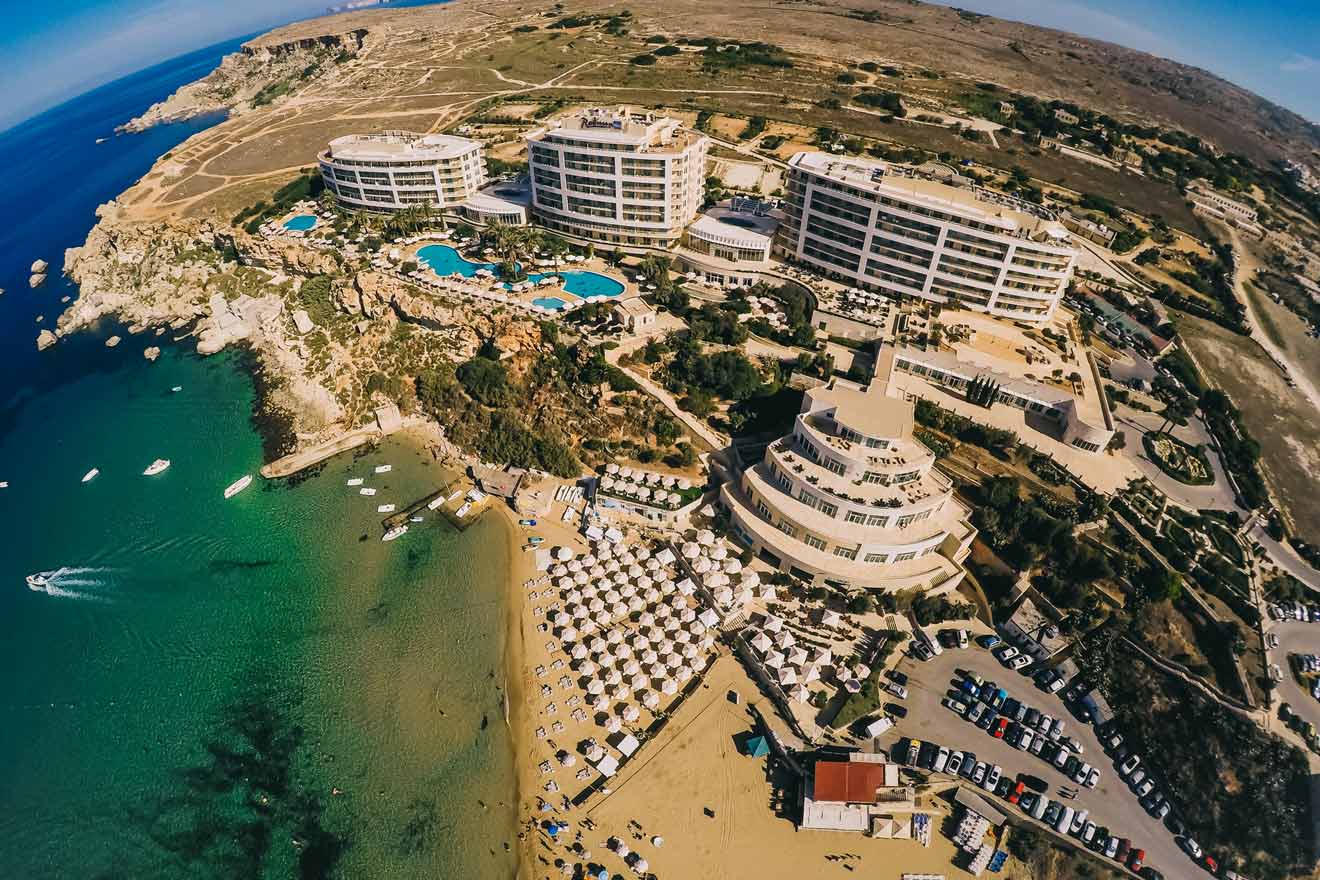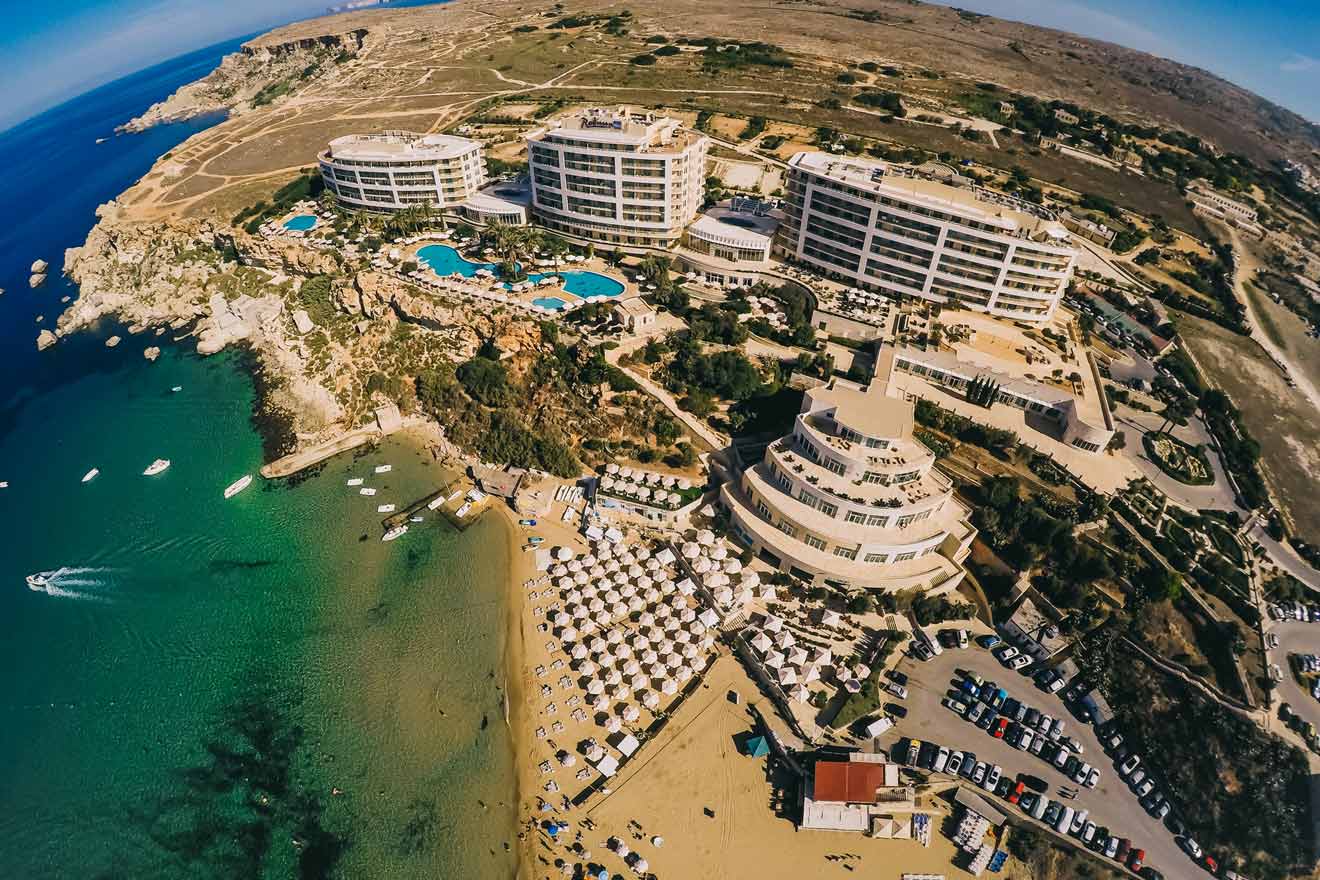 Well, you were probably convinced that Malta is poor on beach options, but that's not the case with Mellieħa. Located in the North, Mellieħa is best known for being one of the largest sandy beaches in Malta. The village can get quite busy during summer as this is the favorite beach vacation spot for beach lovers looking to stay near Mellieha.
Despite the famous Mellieħa Bay, you can easily reach other beach resorts such as Għajn Tuffieħa and Golden Bay. Again, I would say that this place is excellent for lazy beach days, but if you are curious to explore beyond beaches, you might want to rent a car or get public transport.
During my trip to Malta, I visited Mellieħa Bay on my way to Popeye's Village, and I remember the streets were quite steep since the area is situated on a hilltop. Compared to the other places in the country, it was much quieter and less affected by mass tourism, unlike St Pauls Bay.
I would recommend Mellieħa to anyone who is seeking an easy-going experience, with no nightlife – just beaches. You will be spoilt for choice by the variety of beaches in this part of Malta. See the things to do list below for the top beaches!
Other accommodation options in Mellieha:
Things to do in Mellieħa:
Admire the beauty of Ghajn Tuffieha Bay,
Sunbathe in Mellieha Beach
Go to a sandy beach at Ghadira Bay and Golden Bay
Swim or Kayak at the Coral Lagoon
Visit two churches: Mellieha Parish Church and Lady of the Grotto
Check out St Agatha's Tower (Red Tower)
Sing, dance, and be amused at Popeye Village Malta
5. St Paul's Bay (Bugibba & Qawra) – where to stay for families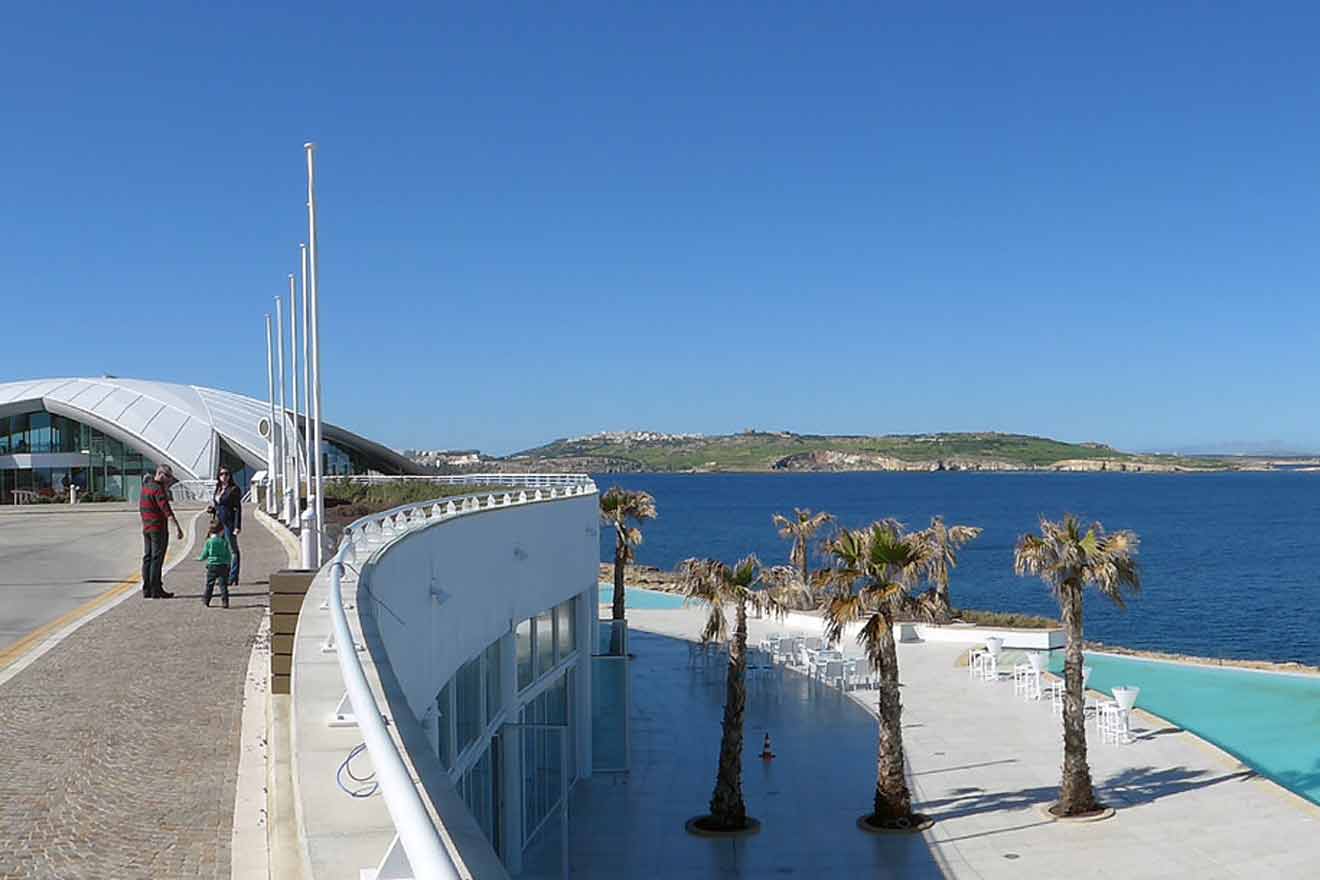 Further up the northeast coast of Malta, you will find St Paul's Bay which is divided into touristy neighborhoods such as Bugibba and Qawra. And although it's nearly 15 km (9 mi) away from Valletta, it would take you at least an hour by bus. Yeah, I know…it felt like it was ages away!
So, if you like to explore outside of this area or tour the island, then I recommend renting a car to make sure you have a great day out. This area is home to spacious resorts with large swimming pools and a service dedicated particularly for kids, so it would be a great choice for families who aren't looking to explore cultural and historical value but rest.
You will be well-located between sandy beaches – there is an artificial sandy beach at Bugibba, and several other rocky spots in Qawra, so make sure to take some sandals as you enter the water. Even though you will be isolated from Maltese cultural attractions, public transport is frequent and can take you pretty much anywhere.
Saint Paul's Bay is the ideal area to stay if you are traveling with a family and looking for an organized resort with all the necessary facilities for kids. Being far away from the nightlife and historical attractions, it offers an opportunity to explore Malta on single-day trips, including the Three Cities.
Other accommodation options in St Paul's Bay:
Things to do in St Paul's Bay (Bugibba & Qawra):
Enjoy water adventures at Bugibba Water Park
Scuba & Snorkeling in St. Paul's Bay
See the panoramic view of Golden Sands Beach
Feel the relaxing sea breeze at Buggiba Perched Beach
Hike at Xemxija Heritage Trail
6. Gozo – for a laid-back holiday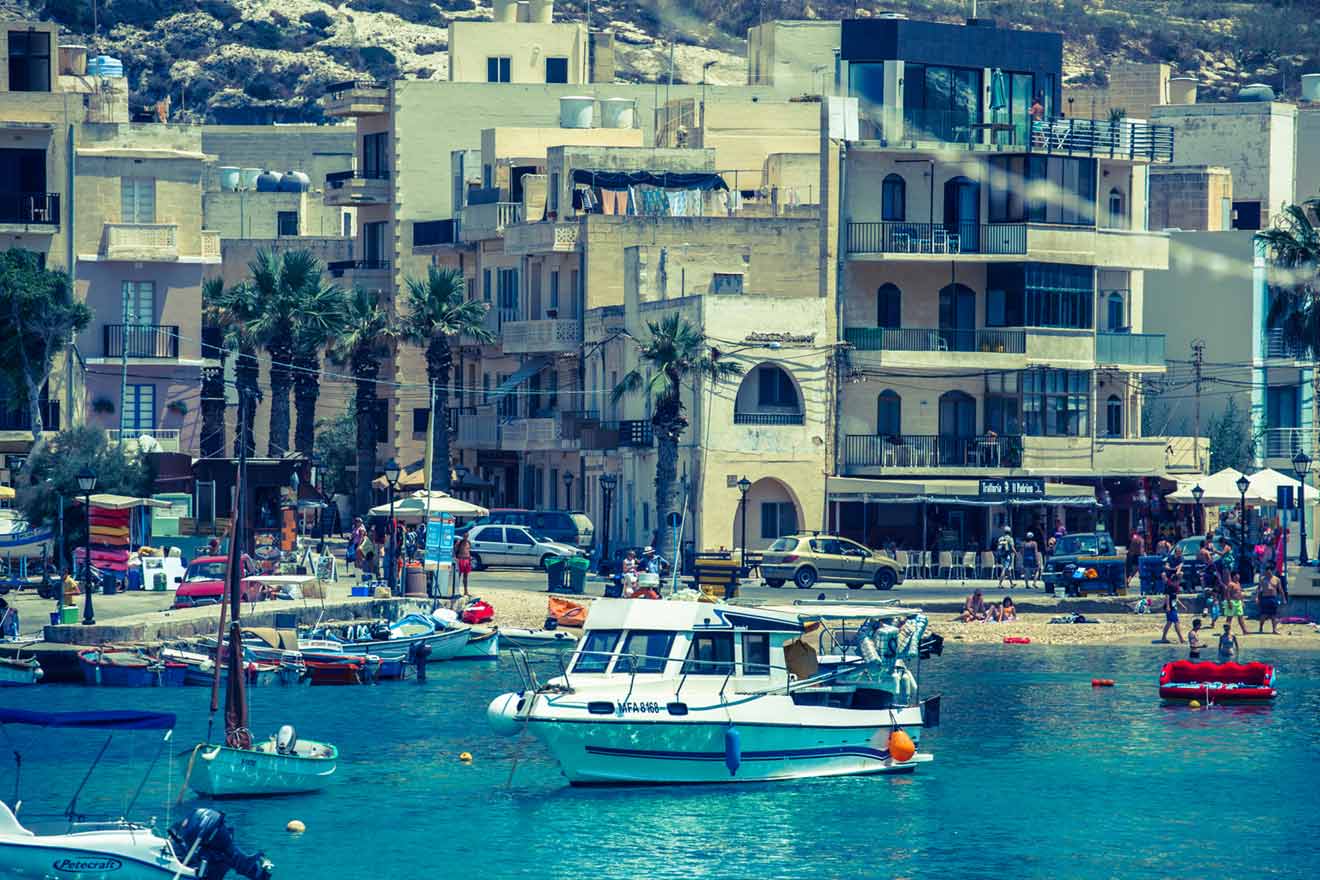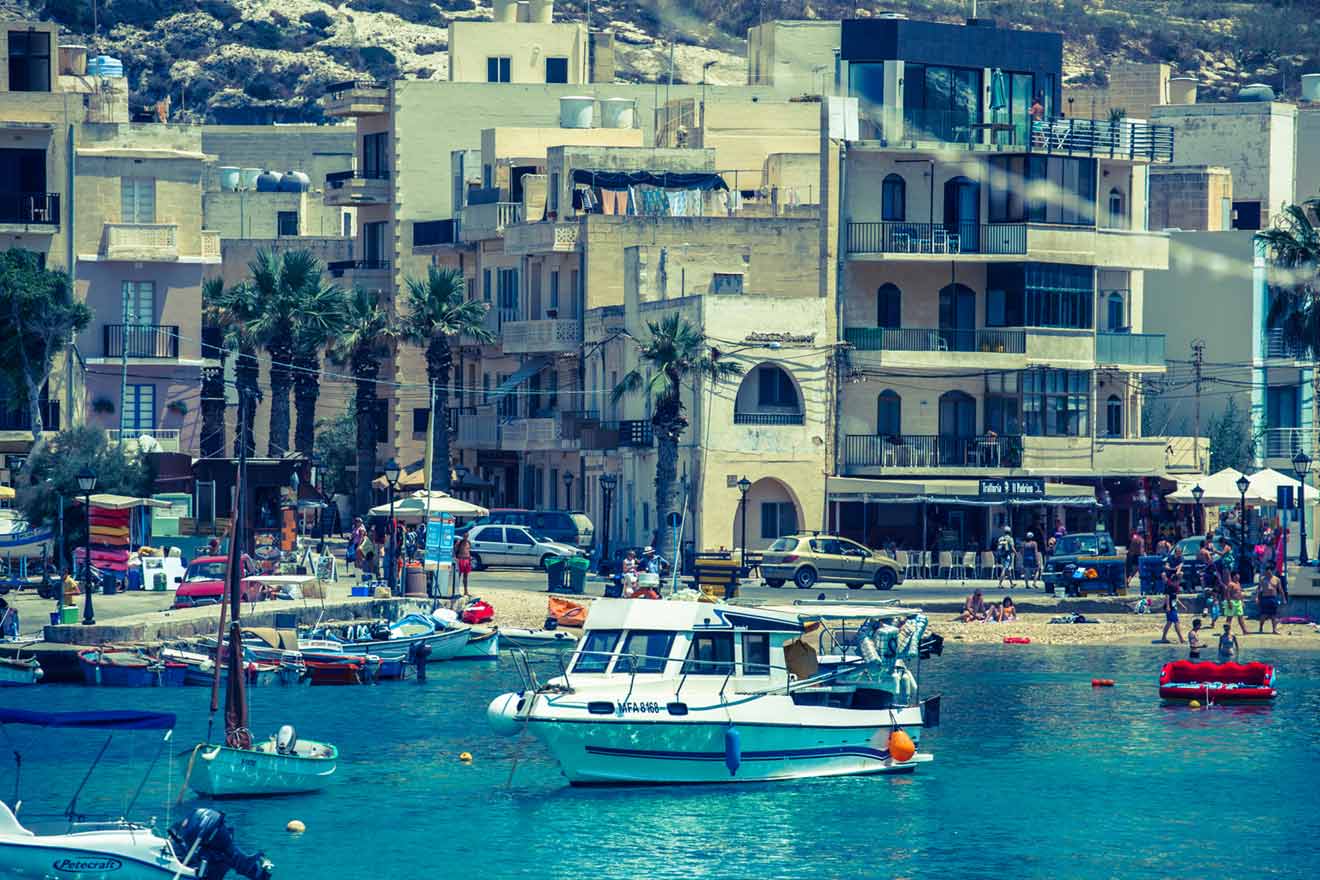 The main reason to stay in Gozo (the second largest of Malta's three islands) is, I would say, its remote position and traditional rustic feel, unlike other resorts. I was actually surprised by how quiet and unspoiled a place can be!
I came here on a day trip from Sliema to escape the crowds and experience the old charm of Victoria, the capital of Gozo. I also had the chance to stop by the incredible Xlendi Bay, and snap some really good photos.
Gozo is the best choice if you like to explore the island's natural attractions and churches. Life moves at a slower pace here so if you want to get away from it all, this is the place to be. Moreover, if you like being active, try out some outdoor activities such as hiking, kayaking, rock climbing, or biking.
It's important to know that you can easily navigate around, even if this is your first time visiting Gozo. If you want to stay right in the heart of Gozo, I suggest you check out the capital Victoria, but if you want to be near hiking trails, then Xlendi Bay might be a better option.
In the list below you can check the top areas for where to stay in Gozo based on different styles and budgets.
Other accommodation options in Gozo:
Things to do in Gozo:
Explore the stunning Citadel
Walk along the shore of Ramla Bay beach
Wine tasting experience at Ta' Mena Estate
Check out the architecturally beautiful church of Ta' Pinu National Shrine 946
Visit a fishing village in Marsalforn Bay
See a watchtower at Dwejra Bay
Take a scuba diving course at the Blue Hole
7. Marsaskala – where to stay in Malta for budget travelers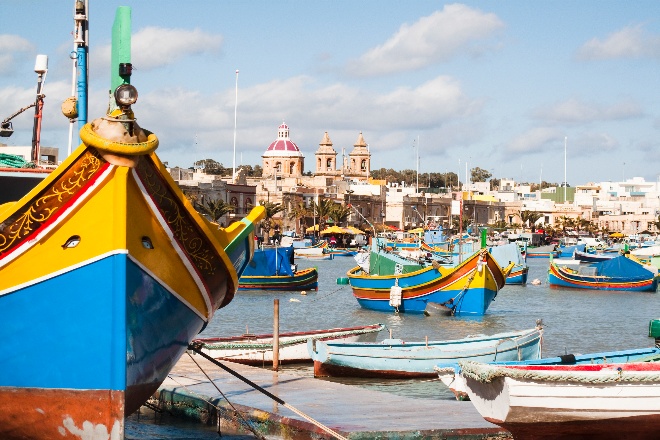 Marsaskala is a seaside town lying in the southeast of Malta. It was originally a fishing village with only a few pubs in the area. So if you're looking where to stay in Malta in a quiet vacation spot, this is the place to be!
In contrast to high-end, luxurious hotels and resorts, Masaskala features more boutique hotels, guest houses, and rooms for rent. You can find budget-friendly rooms to stay in and guesthouses for groups traveling together to save a little money and also have the entire place for yourself. Sound like the perfect friends trip getaway right?
If you like the beach, you'll find St. Thomas Bay in Masaskala. You can also have a walk and take in the beautiful views of Zonqor Point Salt Pans or visit the historic sites of Torri Mamo and St. Thomas Tower. If the neighborhood sounds good to you, here are the places I highly recommend in the area:
As for the luxury, five-star hotel, it's hard to find one in the area. As I've mentioned, the neighborhood is more about guesthouses and affordable rooms. So if you wish to stay in luxury hotels, I recommend you check out 1926 Hotel & SPA in the neighborhood of Sliema and Gzira.
Other accommodation options in Marsaskala:
Things to do in Marsaskala:
Join the festive village feast of Marsaskala at the end of July
Visit the historic sites of Torri Mamo and St. Thomas Tower
Enjoy the views. of Il-Park Nazzjonali tal-Inwadar
Snorkel or swim in St. Thomas Bay
Take some Instagram worthy photos at Żonqor beach
Bonus 1: The top 2 day trips in Malta!
No matter where you decide to stay in Malta, I highly recommend you get out and explore the island, starting with these two must-do day trips. Since Malta isn't too big (just 1 hour by car from top to bottom), you can easily access both these great spots from any town or resort you choose!
1. A day trip to Comino and Blue Lagoon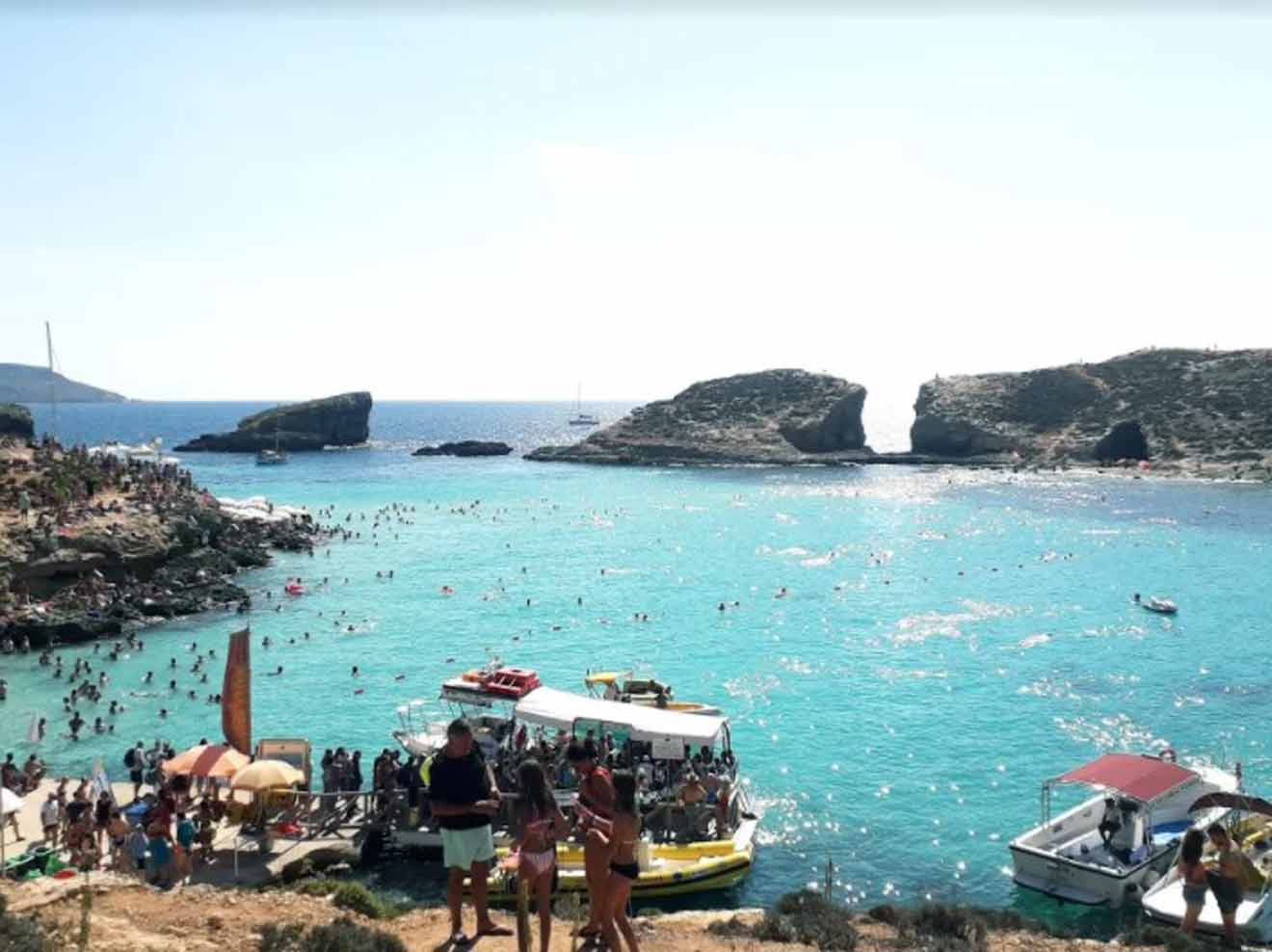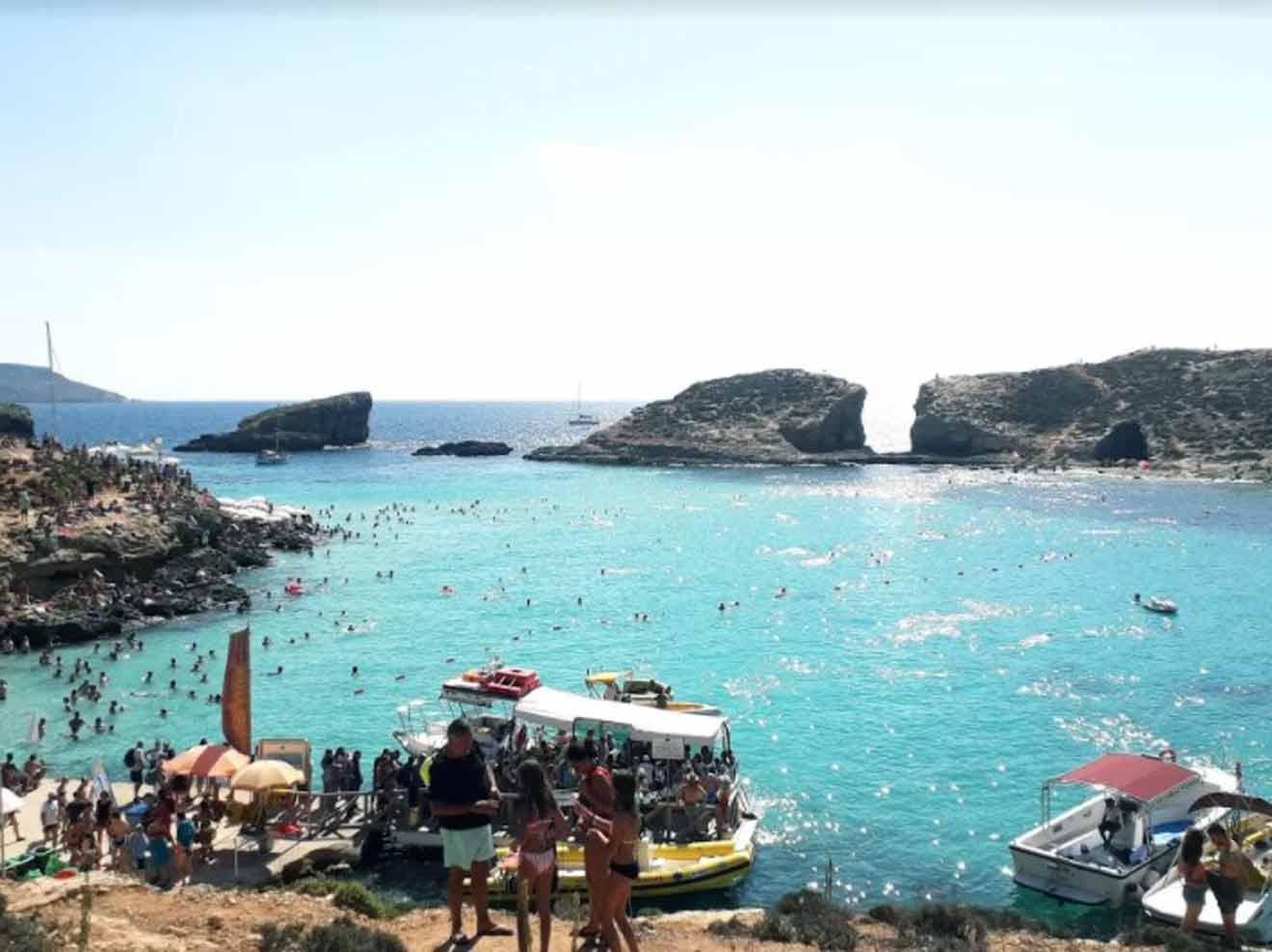 Your Malta trip wouldn't be complete without a visit to the famous Blue Lagoon in Comino Island.
The island welcomes you with its incredibly scenic views and cliffs, hidden beaches, and blue grotto or sea caves. You can also hike to the coastal towers and check out historic buildings of the past.
You can get to the main island of Comino and Blue Lagoon in just half an hour by boat from Malta. Boats leave every 45 minutes and you can check the schedule and pricing here and here.
There is no accommodation on the island itself so if you want to stay as close by as possible, I recommend choosing a hotel like The Duke Boutique Hotel in Gozo or the Radisson Blu in Mellieha.
PRO TIP #1: Make sure to bring some water shoes as there are no sandy beaches here, just a flatter area with rocks to sit on. It can be a bit slippery, but once you enter the water you will be fine, the lagoon itself is sandy.
PRO TIP #2: For lunch, you can stop by the food trucks with cold drinks, burgers, and hot dogs. But if you want something healthy, you can either bring it yourself or buy some fresh fruit and drinks in pineapples.
2. Visit Popeye Village Malta – a film set of 1980's musical production 'Popeye'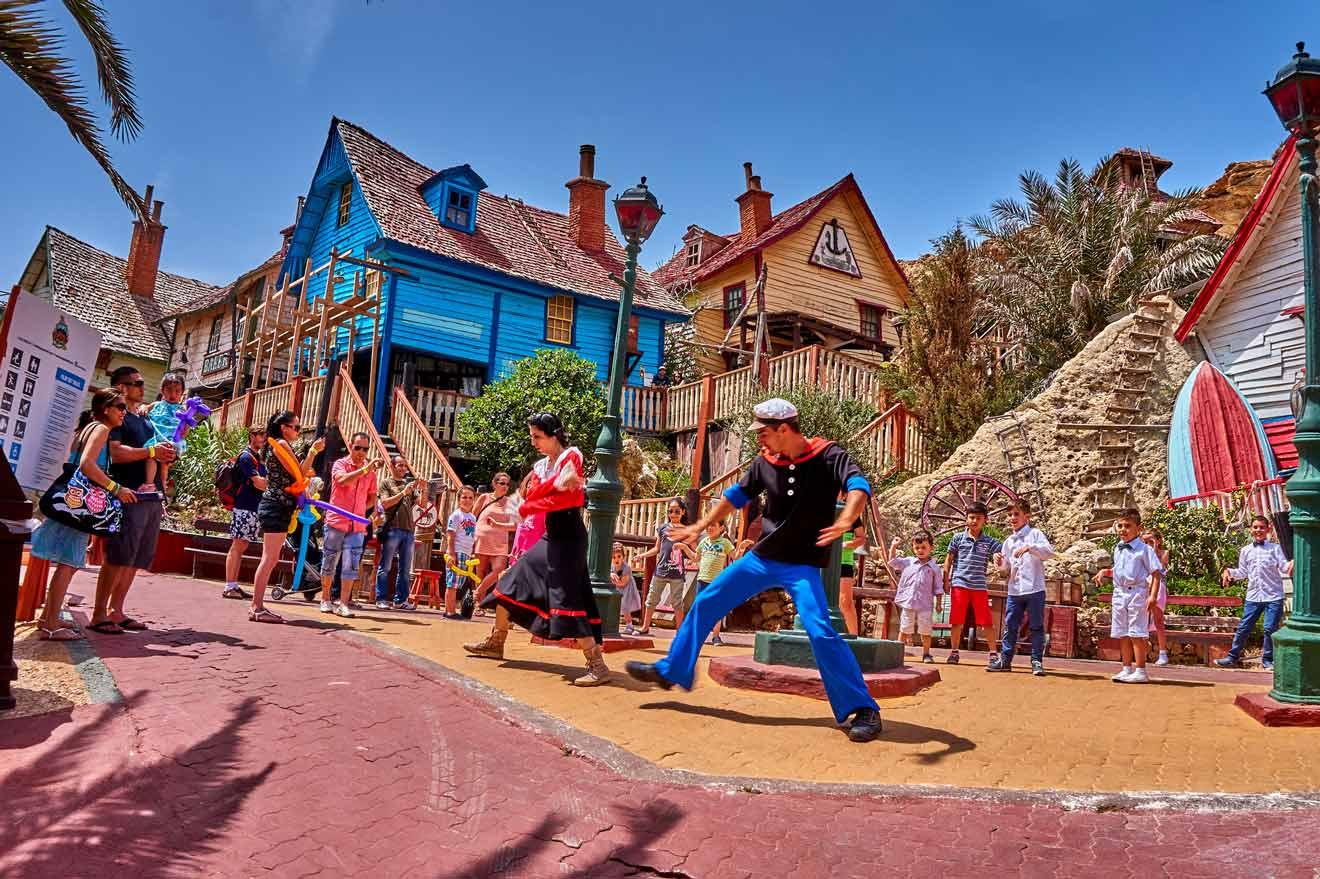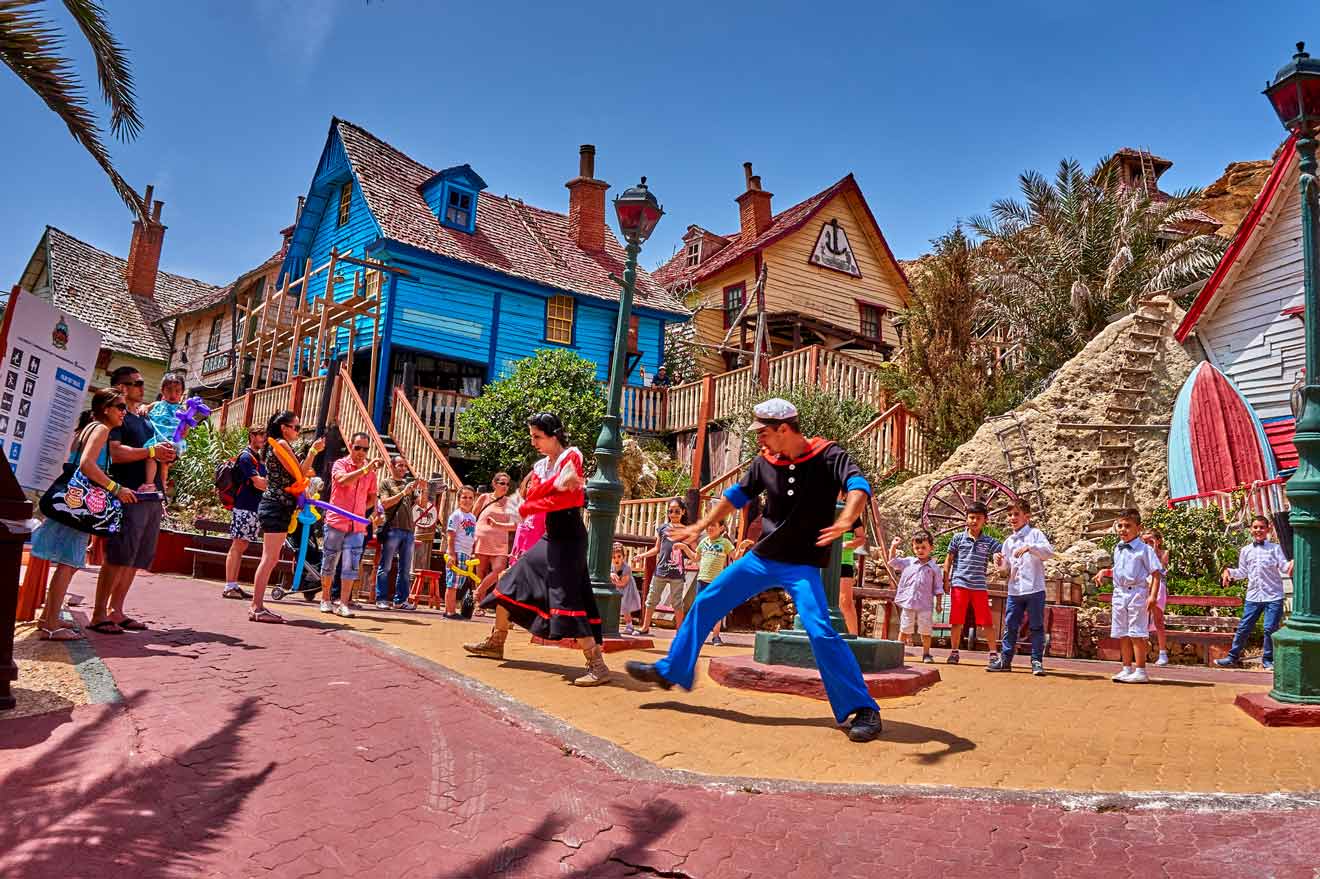 If you've ever dreamed of stepping into a real-life movie set, dream no further. Popeye's Village (or Sweethaven) will give you the opportunity to feel like an actor even for a day and enter a world where fantasy meets reality.
Located at Anchor Bay, only 3 km (2mi) from Mellieha, the 1980's Popeye musical film set is the perfect place to be with family.
You'll get to see people dressed up as Popeye, Olive, and Bluto. A day full of puppet shows, short animation performances, games, and giant water trampolines that kids will surely love. Another bonus is if you are obsessed with mini golf, you will find the best local course for free!
There's also a free speedboat ride around Anchor bay is also worth taking for sure, as this will give you a taste of Popeye's day sailing in the sea.
If, like me, you have Popeye's village on your list of things to do in Malta, staying in the neighborhood is possible with the spectacular view over Anchor Bay awaiting you. Let me share with you the best accommodations in the area.
Lucky us, Popeye's Village is located in the town of Mellieha where there are luxurious 5-star hotels such as Radisson Blu Resort & Spa nearby to another super comfortable hotel at a good price like Solana Hotel & Spa.
NOTE: An average summer ticket for adults is €15 and €12 for children, whereas winter ticket prices are €11 for adults and €9 for children.
Bonus 2: Where to stay without a car in Malta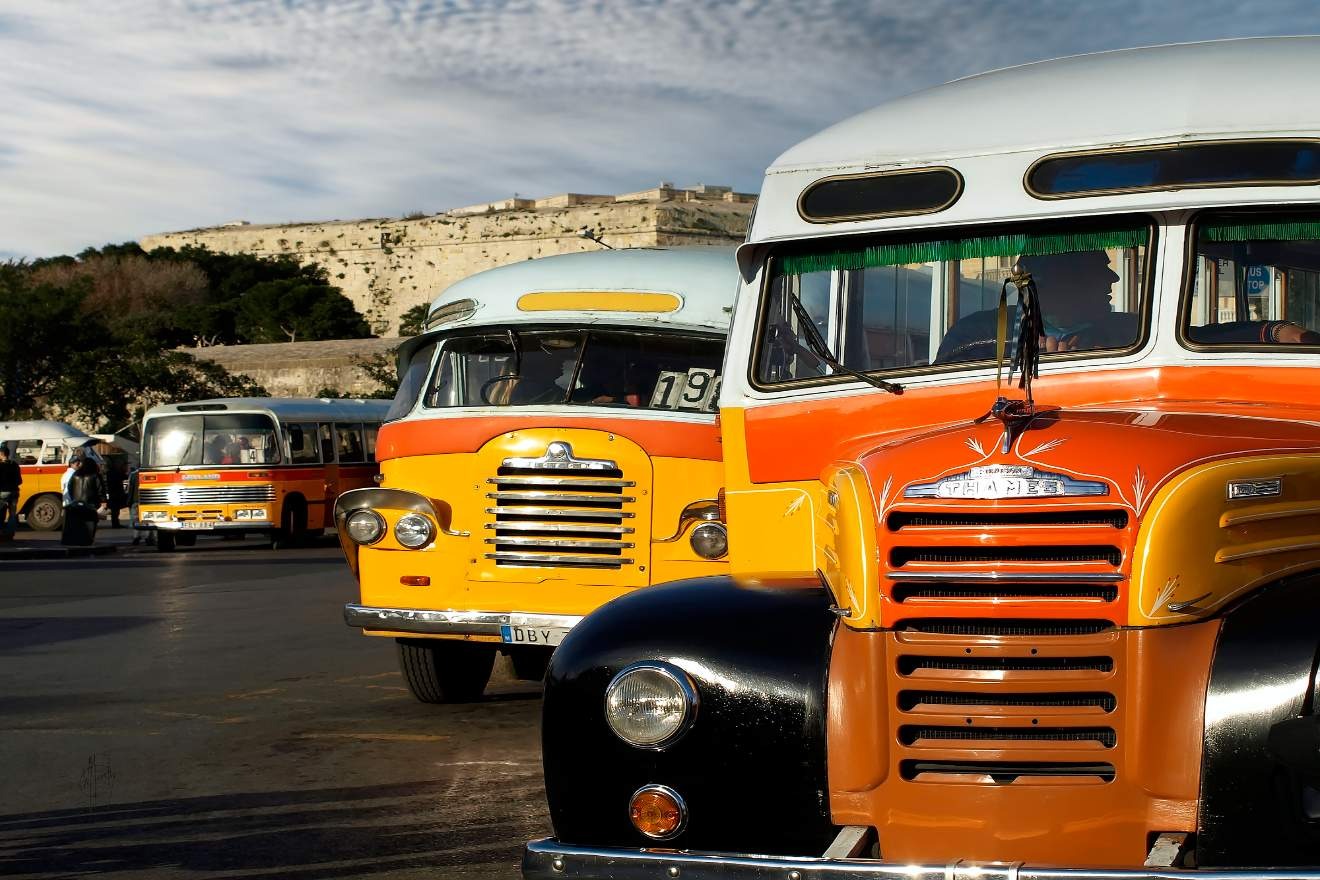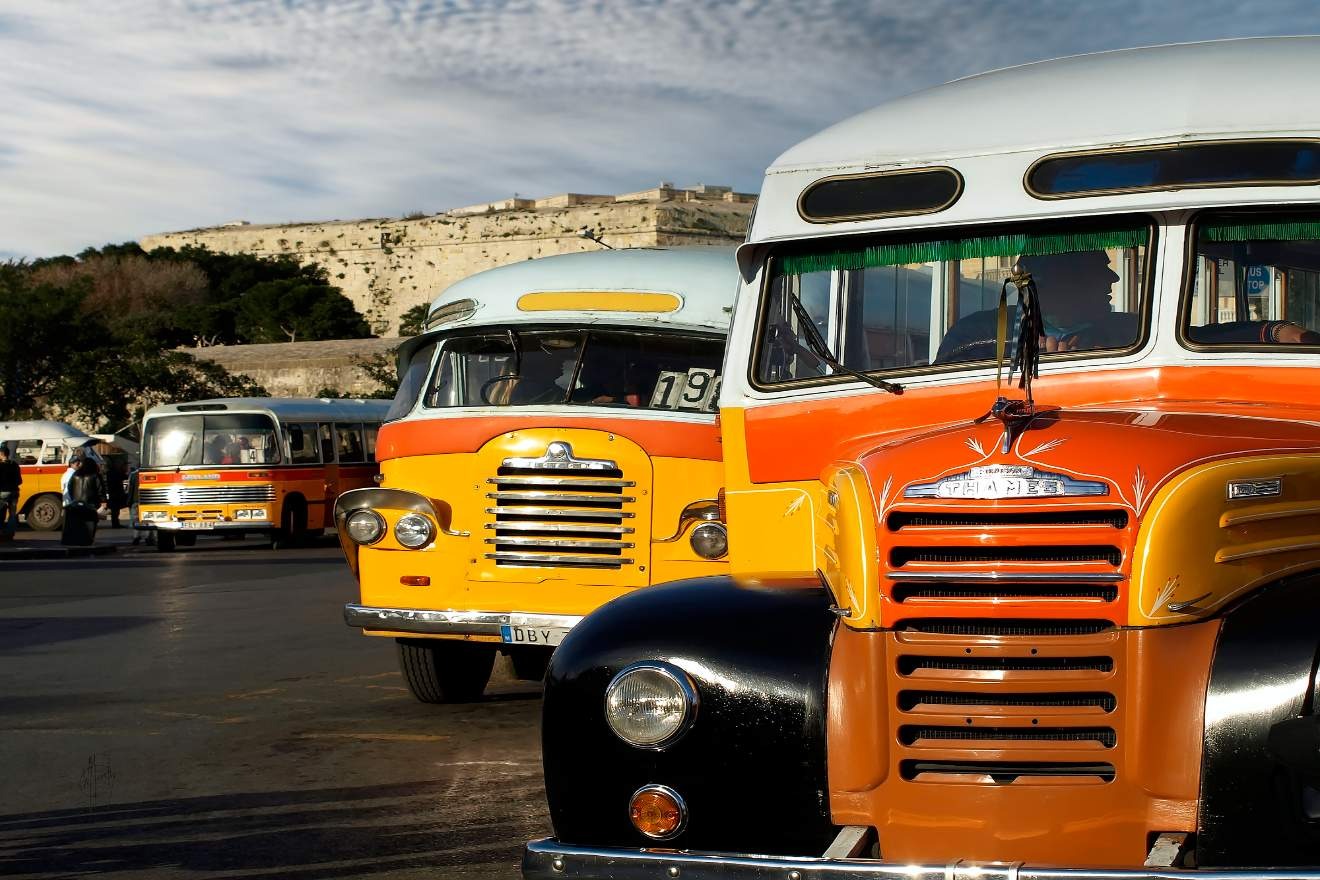 Although Malta is a small island, navigating the country's tourist spots can be a bit tricky and time-consuming without a private vehicle. Its transportation is limited to buses and taxis only.
So if you plan to get around Malta without renting a car, it's best to pick an accommodation highly accessible to public transport and must-see tourist attractions.
PRO TIP: If you zoom in on google maps it will show you where the bus stops are located with a little blue square showing a bus symbol.
Here are the top two neighborhoods I recommend staying in if you don't have a car.
Capital City – Valletta
As for where to stay in Malta without a car, there is no better place to do so than the capital, Valletta.
The main bus terminus is located just outside this historic city. It can connect you to most tourist spots in Malta like blue Grotto, Ħaġar Qim Temples, and Dingli cliffs.
Choose The Phoenicia Malta for a luxury stay or if you are looking to save a few pennies, check out this stylish Osborne Hotel for a reasonable price.
Seaside Town – Sliema
My next favorite and the area I chose to stay in during my vacation is Sliema. The place is originally a small fishing village that turned into a residential and commercial hub.
The neighborhood has a variety of options in terms in terms of prices as compared to Valletta and is less busy, despite also being well connected. 1926 Hotel & SPA is your top luxury choice here and the Waterfront Hotel is a great mid-range option!
Frequently Asked Questions About Malta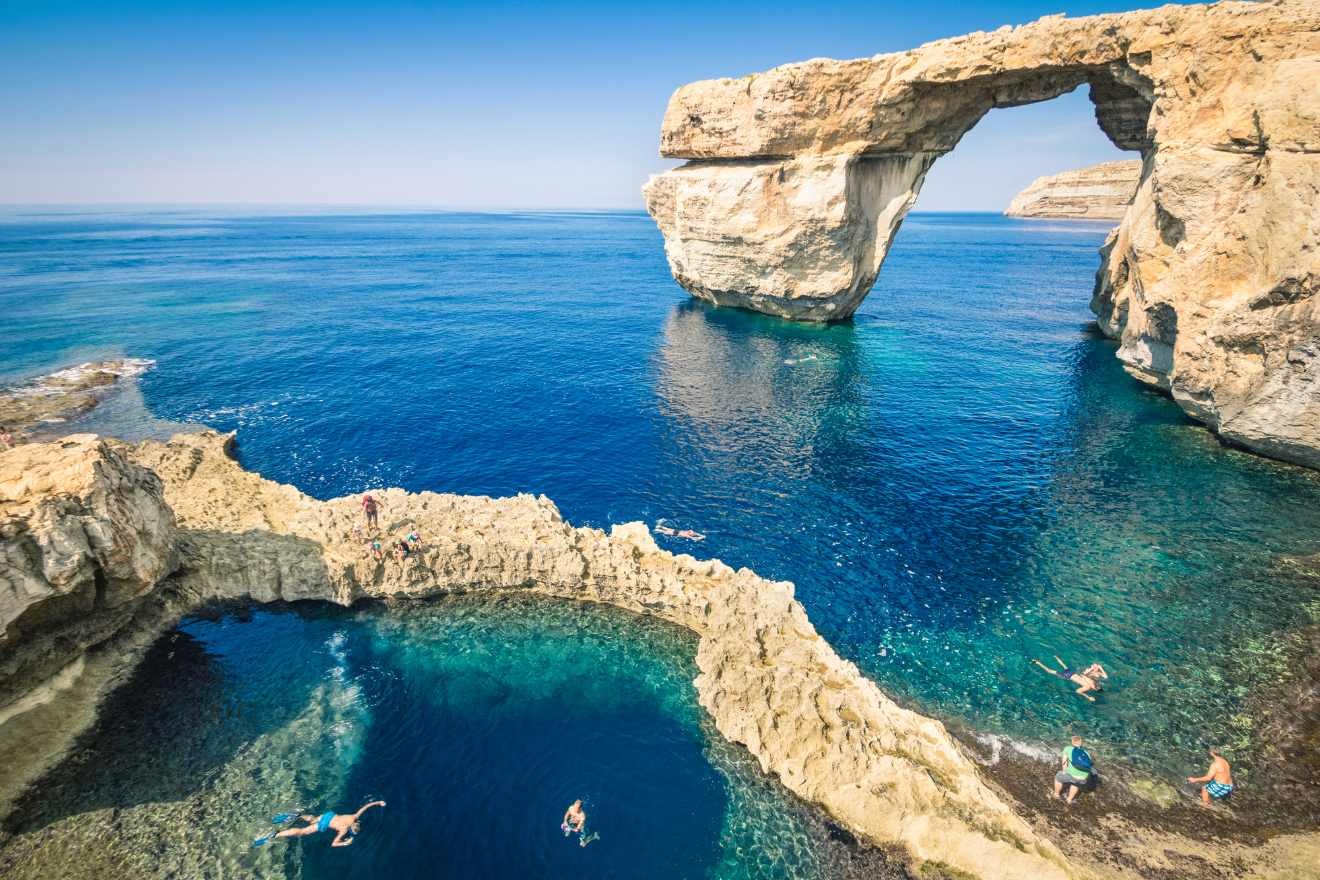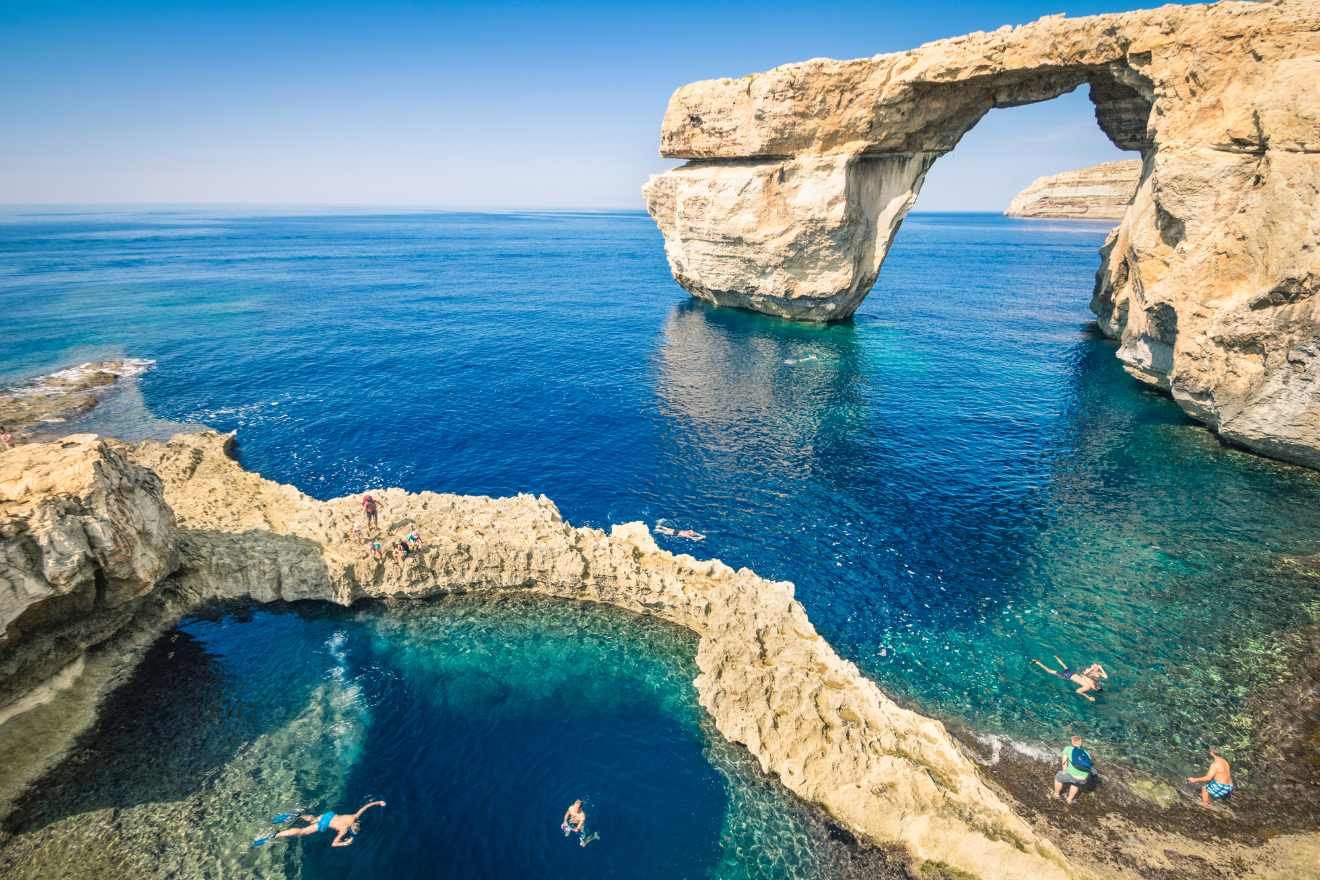 Conclusion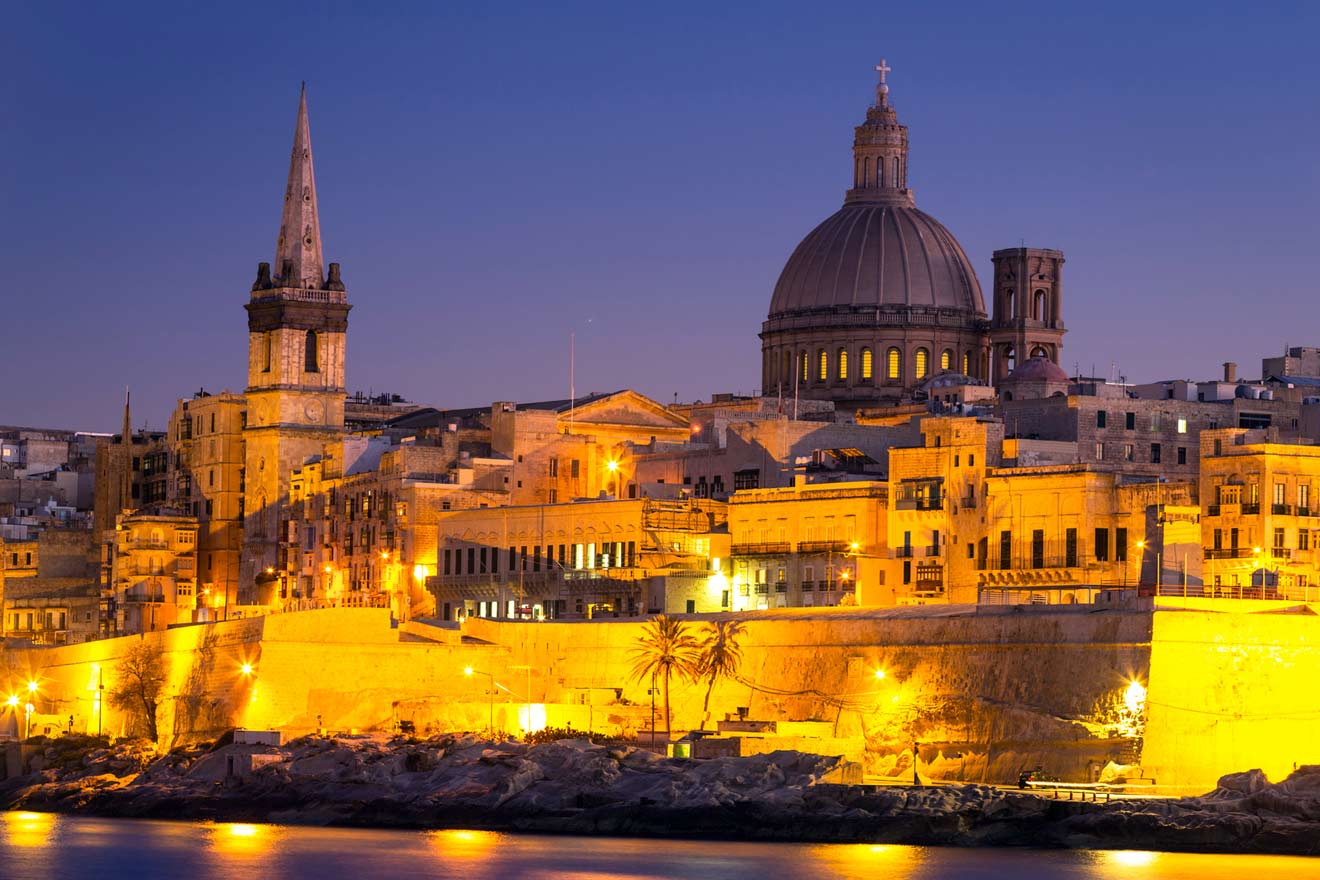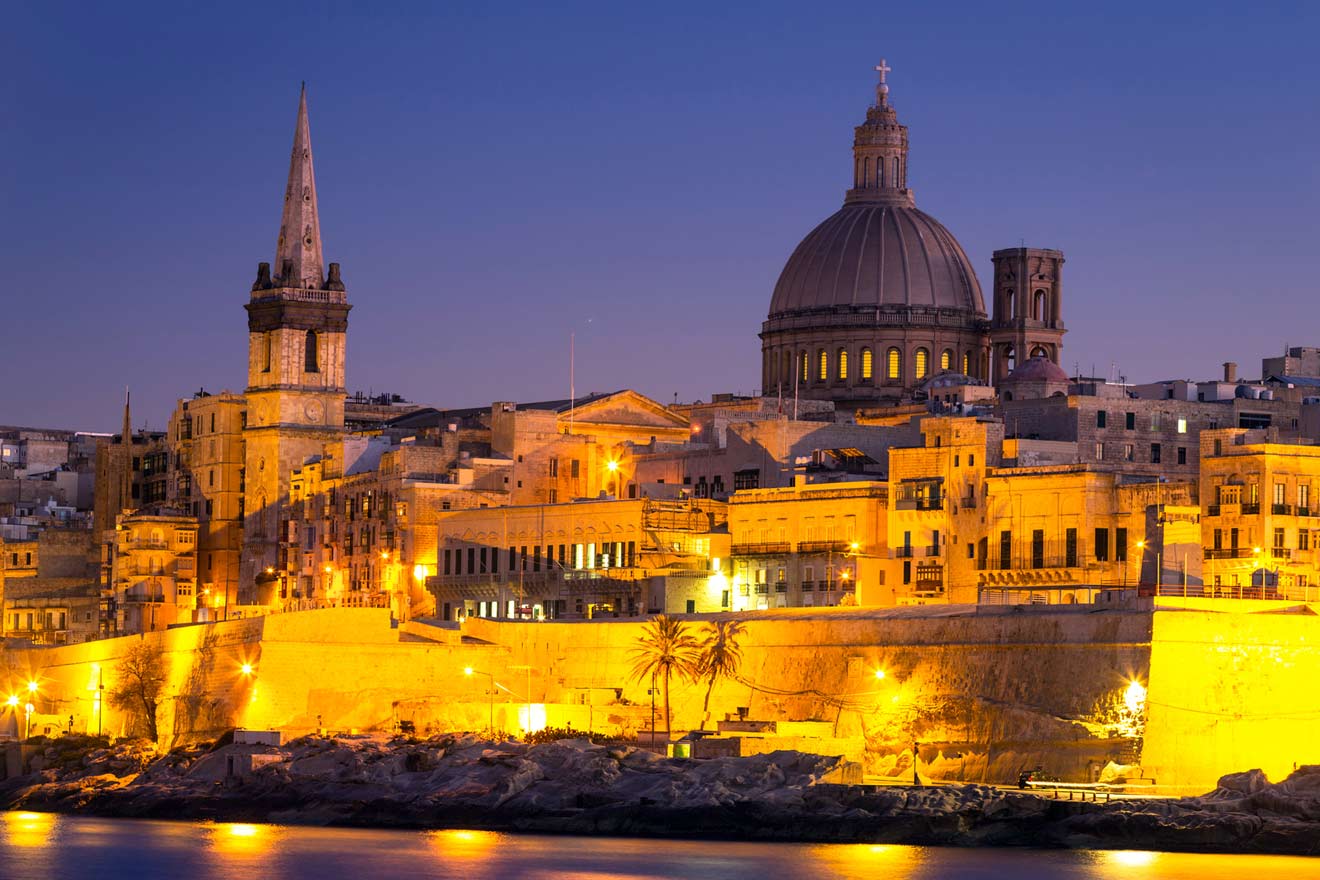 Have you decided on where to stay in Malta? If not, feel free to check my recommendations above. You'll find all types of accommodation from inexpensive hotels to luxury retreats and budget home comforts. Don't be late and book your dream accommodation in advance as good hotels fill up super quickly here!
For the most accommodating stay, I recommend The Waterfront Hotel in Sliema because its spacious rooms facilities are very convenient. Moreover, the hotel is close to everything, but far away from the noise of the bars. For families, I suggest booking at Park Lane Boutique Aparthotel because of its spacious rooms, private kitchen to cook, rooftop pool, and terrace to enjoy sunset views.
Get ready for a terrific holiday on the Maltese islands, the best destination for beaches, outdoor activities, relaxation, culture, and history. With plenty of opportunities to experience the island's lifestyle, it would be a pity not to head to Malta this year for some fun.
If you've been here before, please share your recommendations and thoughts in the comments below. If not, would you tell us which area seems to suit your travel needs?
Wishing you a safe journey and a relaxing stay!
Yulia
---