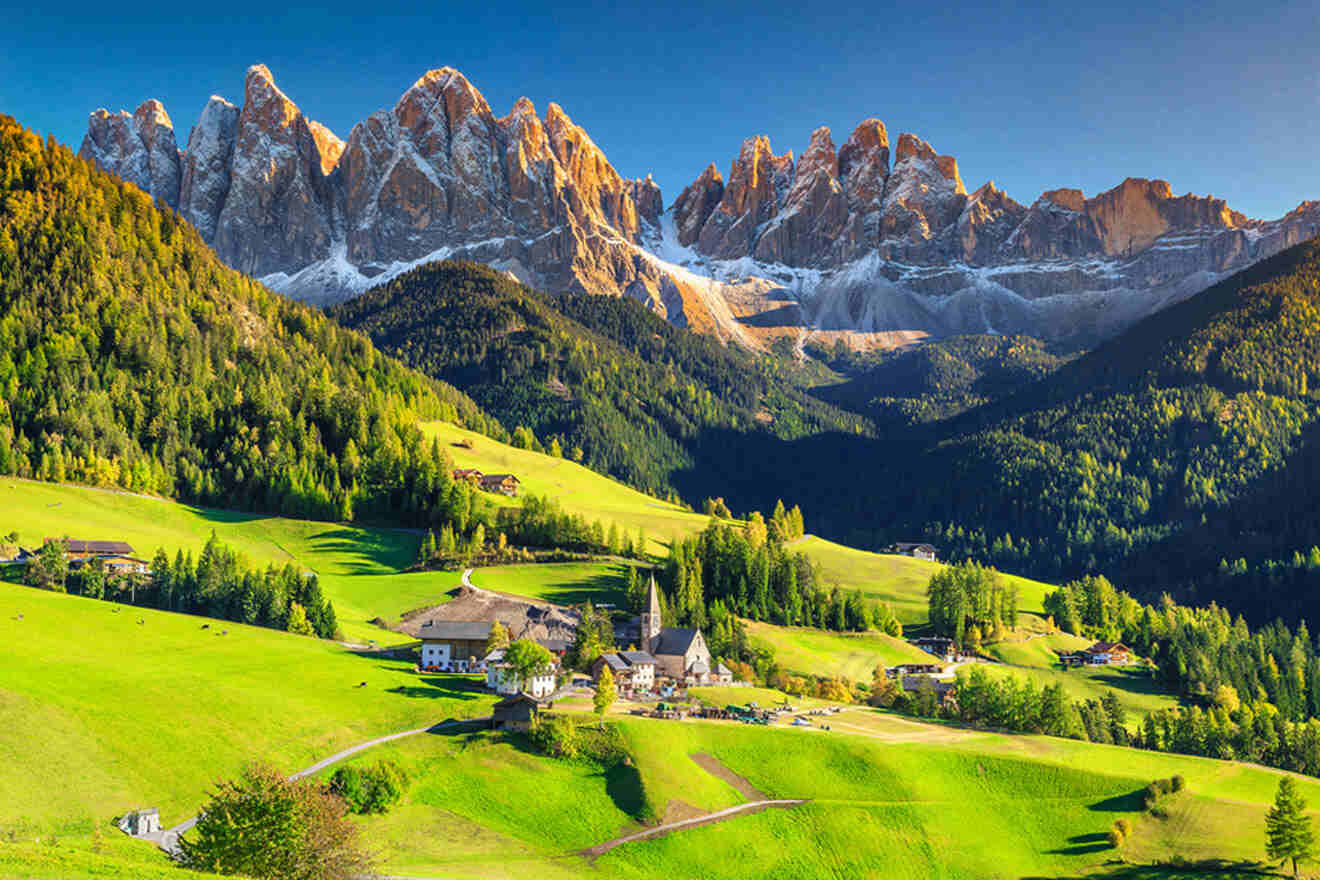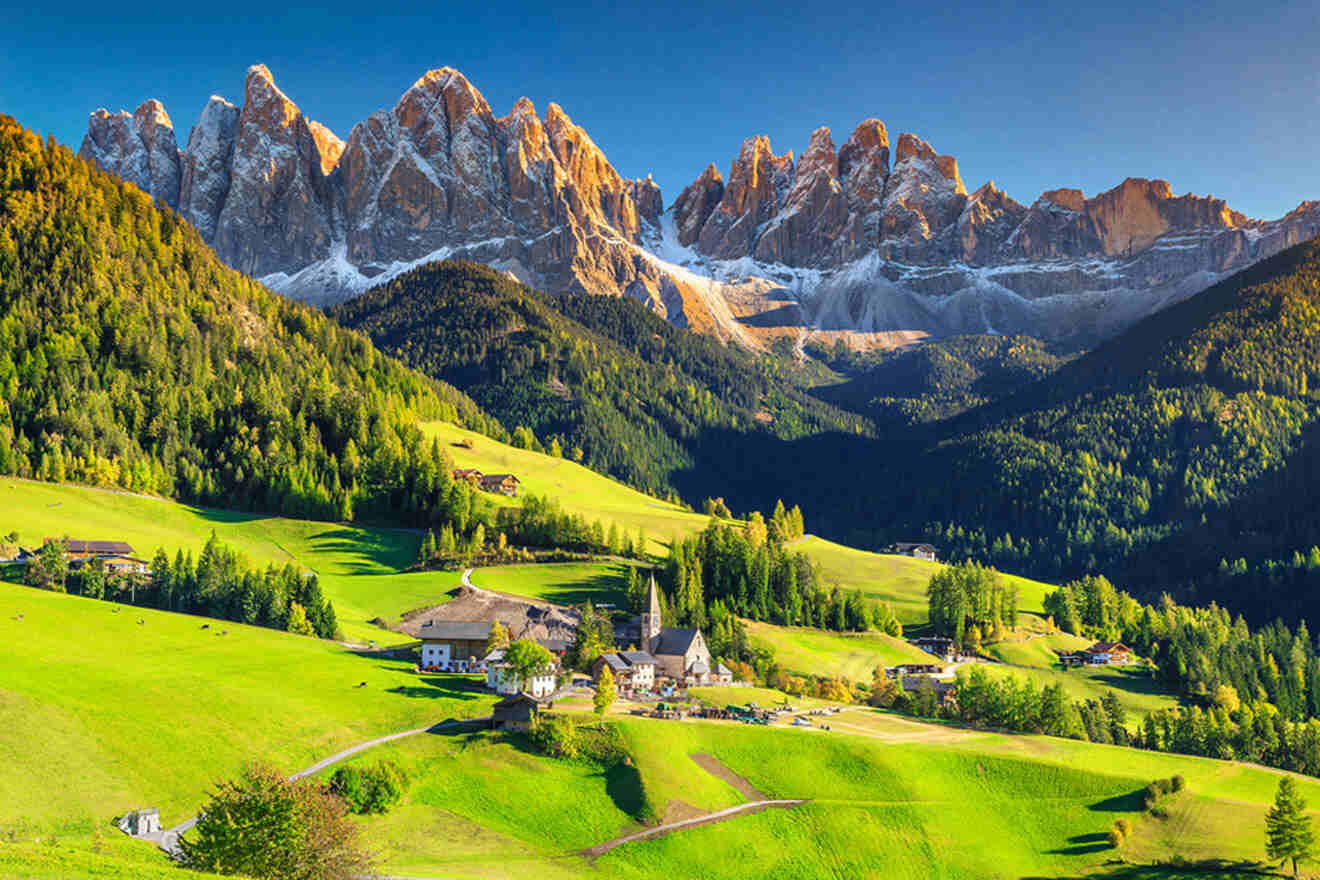 Planning a holiday in the Dolomites is no easy thing! This region in Northern Italy is vast, and it has so many places to discover, but the secret to finding the right one lies in being super specific with what you want to do.
That's all at first! Next, you should read this amazing post on where to stay in the Dolomites to learn more! Cortina D'Ampezzo is by far one of the best towns to set base. But as I mentioned, this region is packed with many other spots, and I've just concluded such a long research that will help you!
In this post, you'll find 10 more areas, besides the first one, like Val Gardena, Alta Badia, San Candido, San Martino di Castrozza, and so many more, which I made sure to categorize by interest so you can easily imagine which one you'd love to see!
In the end, I've also included a little surprise for hiking enthusiasts and a bonus with the best hotels in the Dolomites for hiking!
The hotels and areas in the post are some of the most popular ones, which means that you need to book your hotel in advance, especially in the peak season (June to late August).
Let's roll!
If you are in a hurry
Don't worry if you can't read the whole post and just want to explore various options for lodging in the Dolomites. I've made this short list for you that has the best hotels in Cortina D'Ampezzo, one of the best areas to stay in the Dolomites:
Check out the map below that will help you visualize all the areas where to stay in the Dolomites that I've included in the post:
1. Cortina d'Ampezzo – where to stay for the first time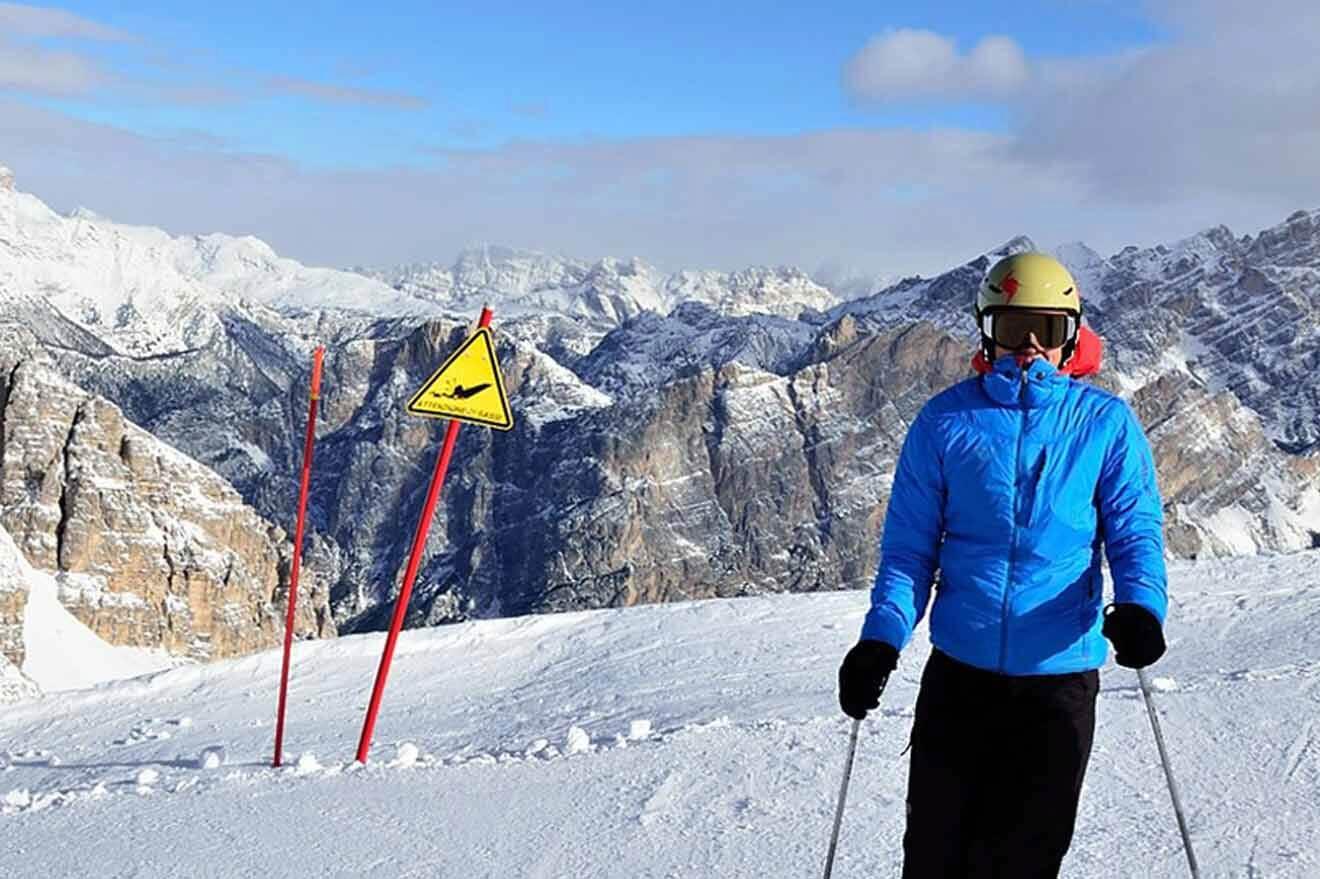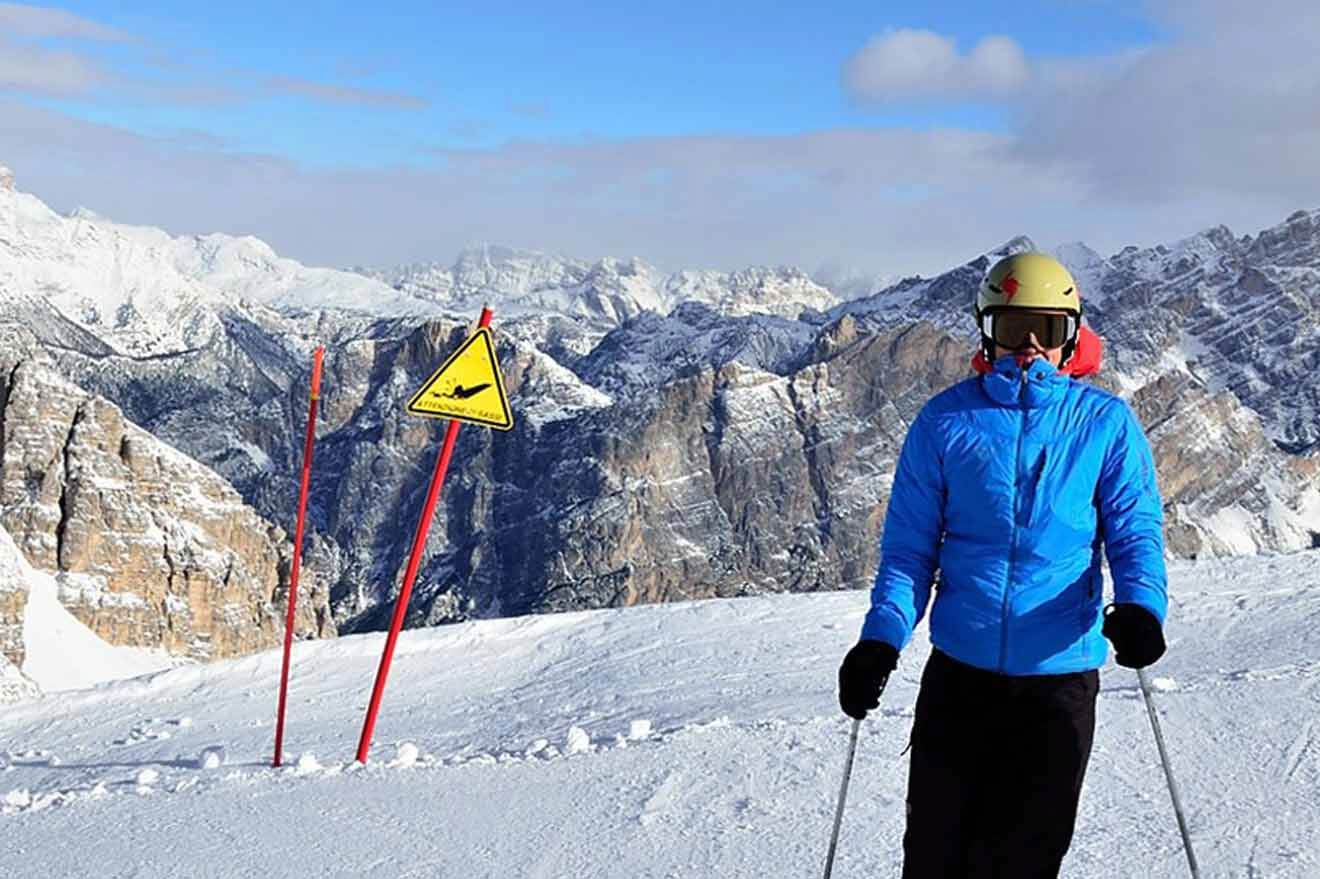 Known as one of the most scenic spots in the Eastern Dolomites, this lively town is set in Ampezzo Valley in Belluno! Its panoramic views and famous ski resort bring tourists from all around the world!
Once here, immerse in the beauty by either hitting the ski slopes or exploring the hiking trails, depending on the season! Everyone loves this town for its very central location and easy access to other gorgeous places in the Dolomites like Lake Sorapis, Lake Federa, and the Croda da Lago Chain.
But it's not only the outdoor activities that make this town so popular! You'll also find lots of small boutique shops, restaurants, luxury hotels (and cheaper ones), and even an amusement park where you can take the kids!
There's never a dull moment here, and if you're planning to come, book your stay in advance to secure your preferred hotel. This is especially important during the high season (June to late August), as that's when prices get higher!
Other accommodation options in Cortina d'Ampezzo
Things to do in Cortina d'Ampezzo
2. Val Gardena – best place to stay without a car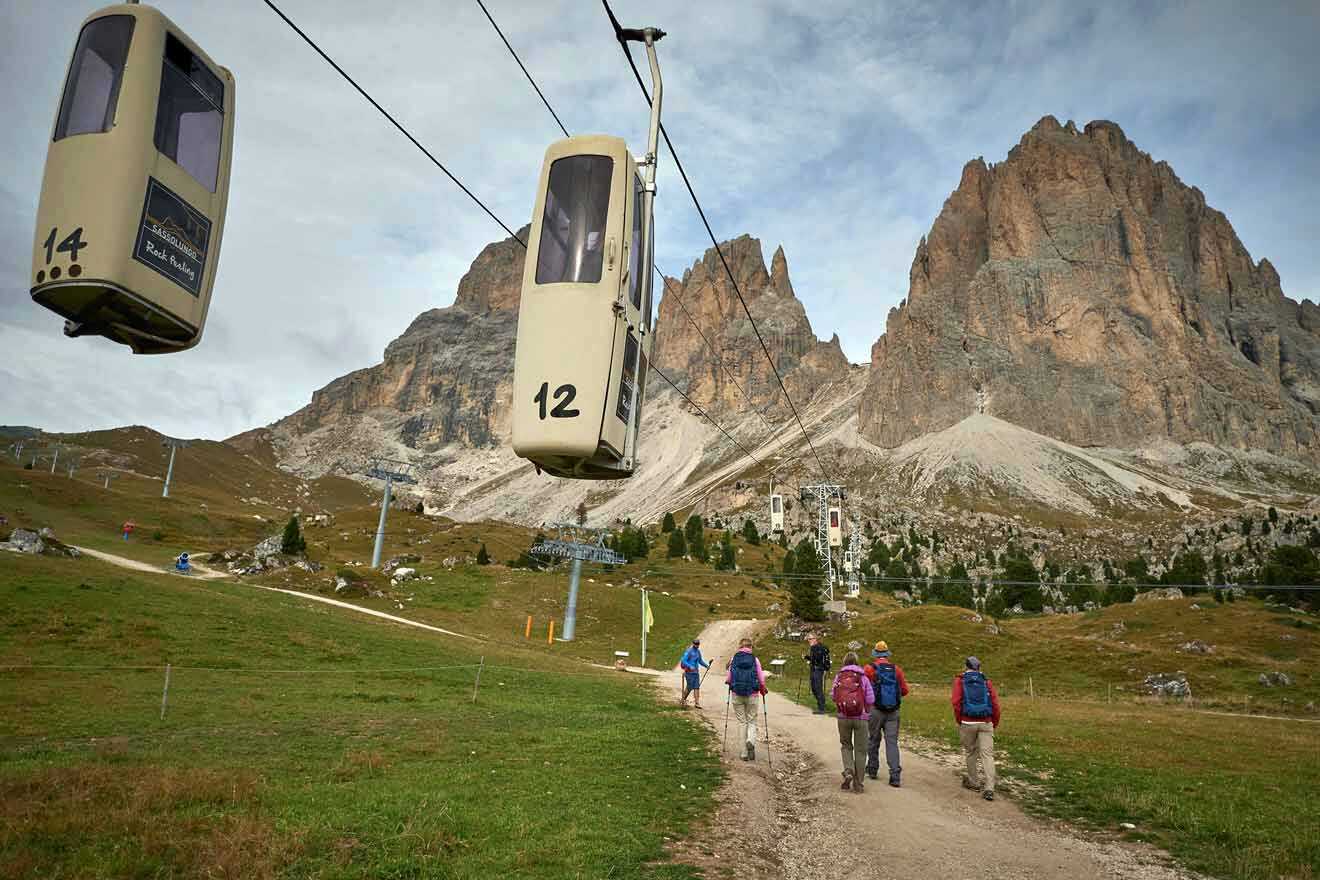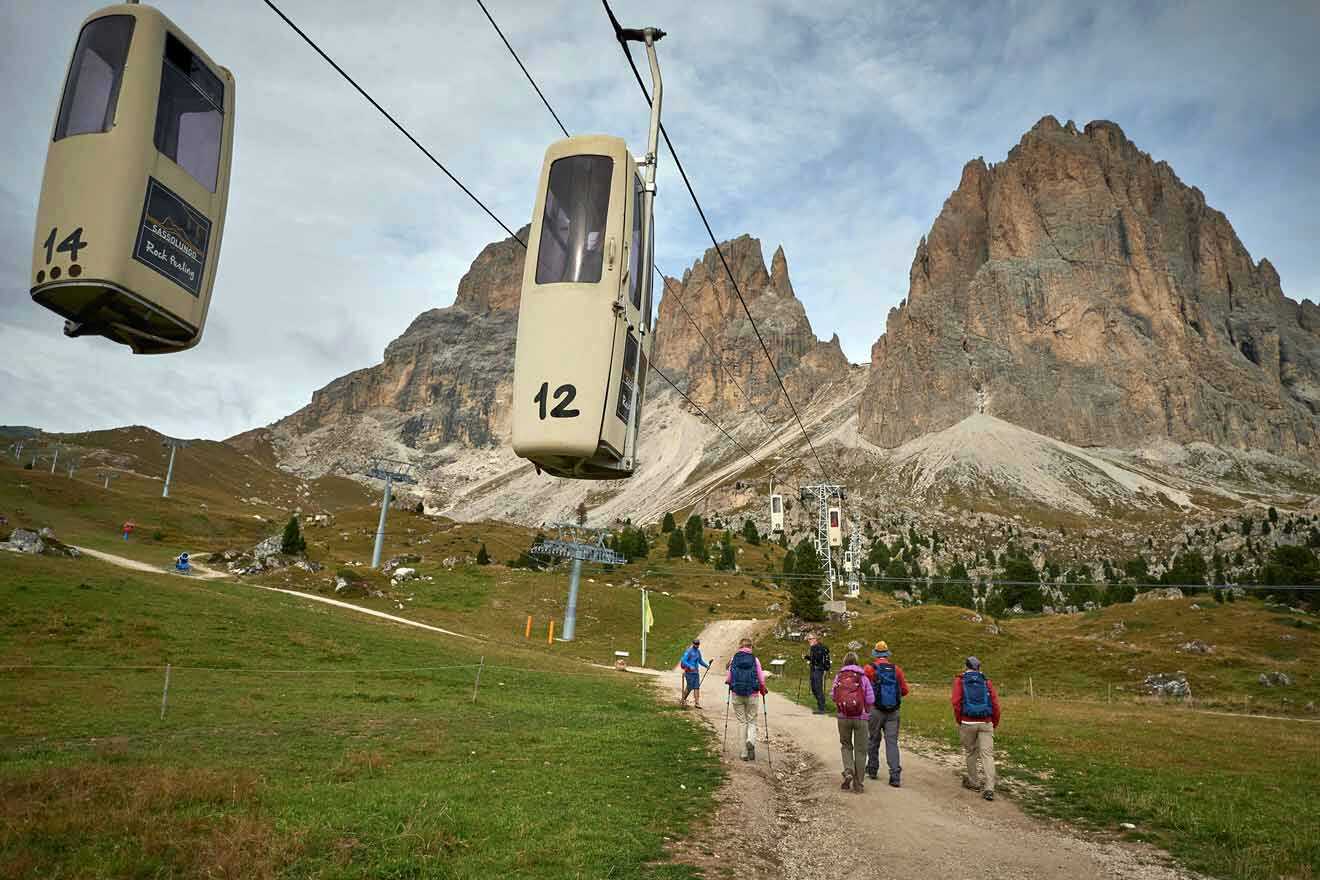 As you might've guessed from the name, Val Gardena is actually a valley that stretches from Gardena Pass and Sella Pass to Valle Isarco in South Tyrol.
Set in the Western Dolomites, this valley is made of several towns: Ortisei, Santa Cristina, and Selva di Val Gardena. There are also a few smaller ones, but these are usually those frequented by tourists.
If you're not planning to rent a car while holidaying in the Dolomites (although, in general, you should), I recommend staying at Val Gardena since their public transport is pretty reliable! Moreover, most of the hotels here offer tourists a Val Gardena Mobile Card that gives them free access to public transportation in the area!
While you're here, make sure you get a chance to see some of the places like Seceda, Alpe di Siusi, the Sassolungo Group, the Resciesa plateau, Vallunga, and Val de Chedul valleys.
Unlike its sister areas, Val Gardena enjoys warmer weather throughout the year, with the summer season starting in early May and ending in November).
Other accommodation options in Val Gardena
Things to do in Val Gardena
Explore Selva di Val Gardena town
Hike to the Cascata Waterfall
Hit the slopes in Alpe di Siusi
Visit the Santa Cristina town
3. Alta Badia – where to stay in the Dolomites for hikes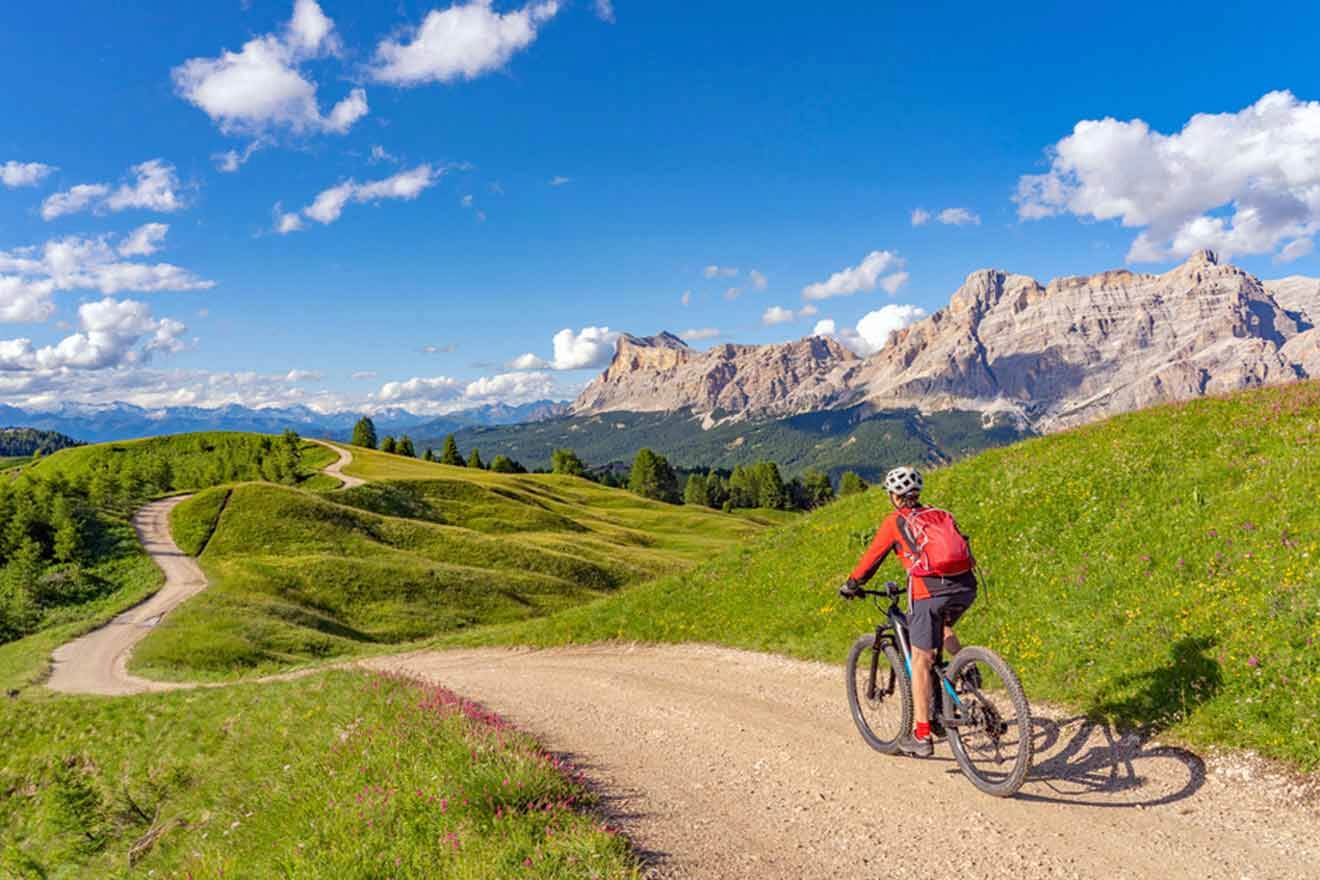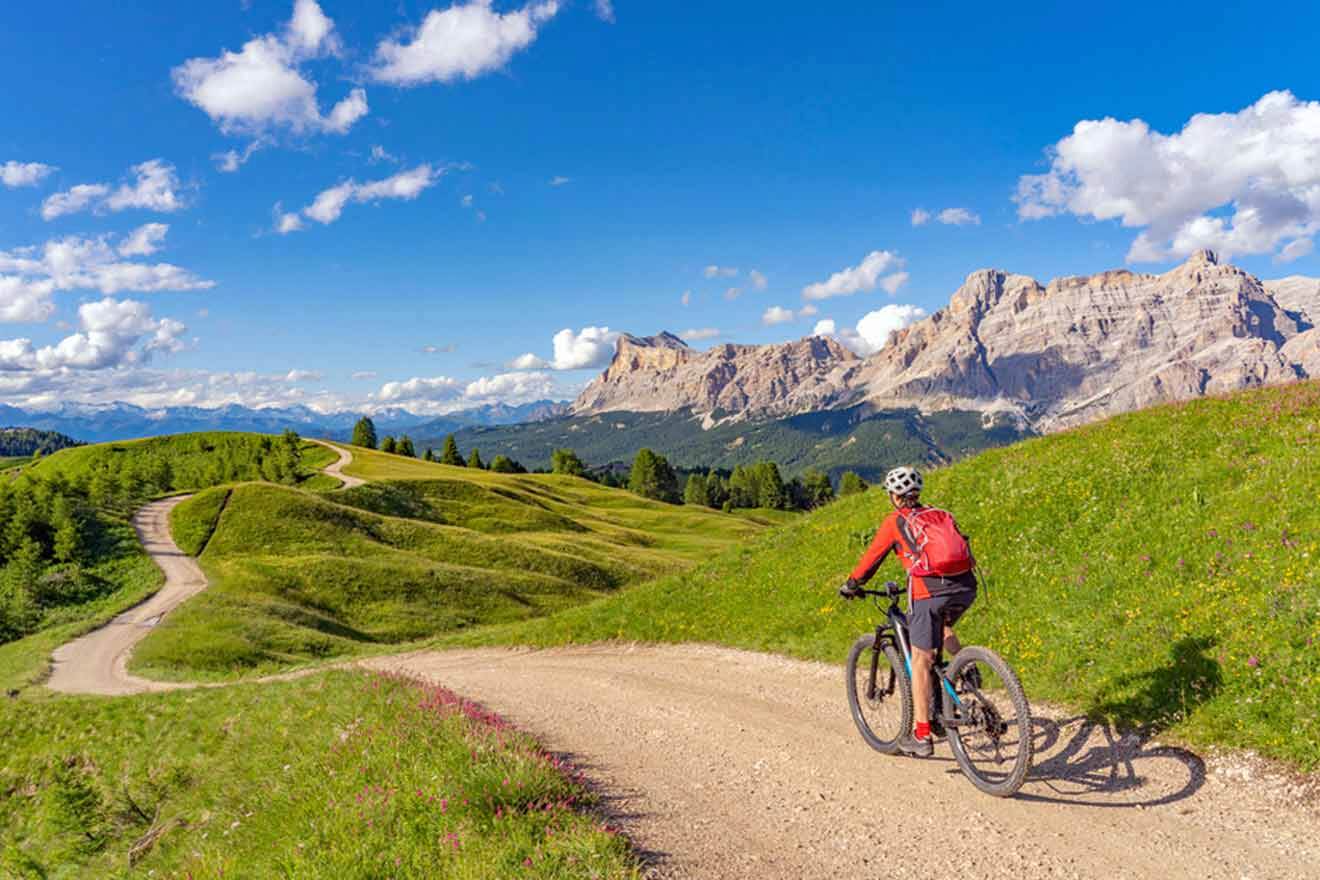 With a more central location in the Dolomites, Alta Badia is also an area that's made of different towns: Corvara, Colfosco, San Cassiano, La Villa, and Badia.
This is a much-loved area by summer hiking enthusiasts as there are so many trails. Some say go as far as to say that these are some of the most scenic ones in the Dolomites! A few of the most popular ones are near the Sella Massif, Puez-Odle, and Fanes-Senes-Braies.
Alta Badia itself is a pretty high-class area with so many Michelin-starred restaurants where you can indulge in the yummiest dishes from the Ladin, Austrian, and Italian cuisine, prepared by famous chefs. As you can guess, there are many luxury hotels, too!
If you're coming in the winter and want to hit the slopes at Dolomiti Superski, this area is perfect as the mountains are well-connected through chairlifts and other transport links.
Other accommodation options in Alta Badia
Things to do in Alta Badia
Enjoy a fancy dinner at Burje 1968
Spend the whole day skiing at Skipass Corvara
Go hiking around the Sella Massif
Visit the Corvara Zoo
Explore La Villa town
4. San Candido – the busiest place to stay in the Dolomites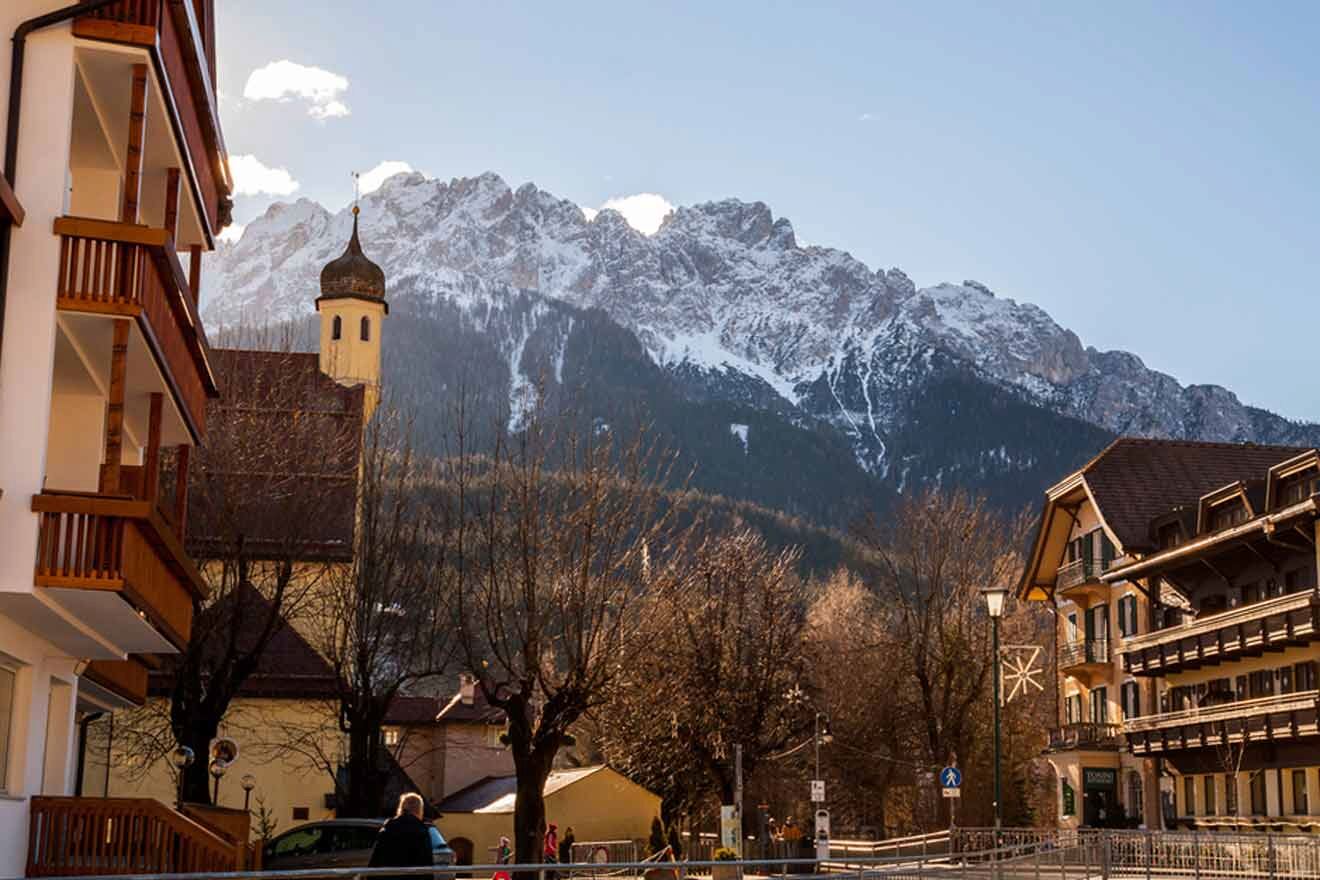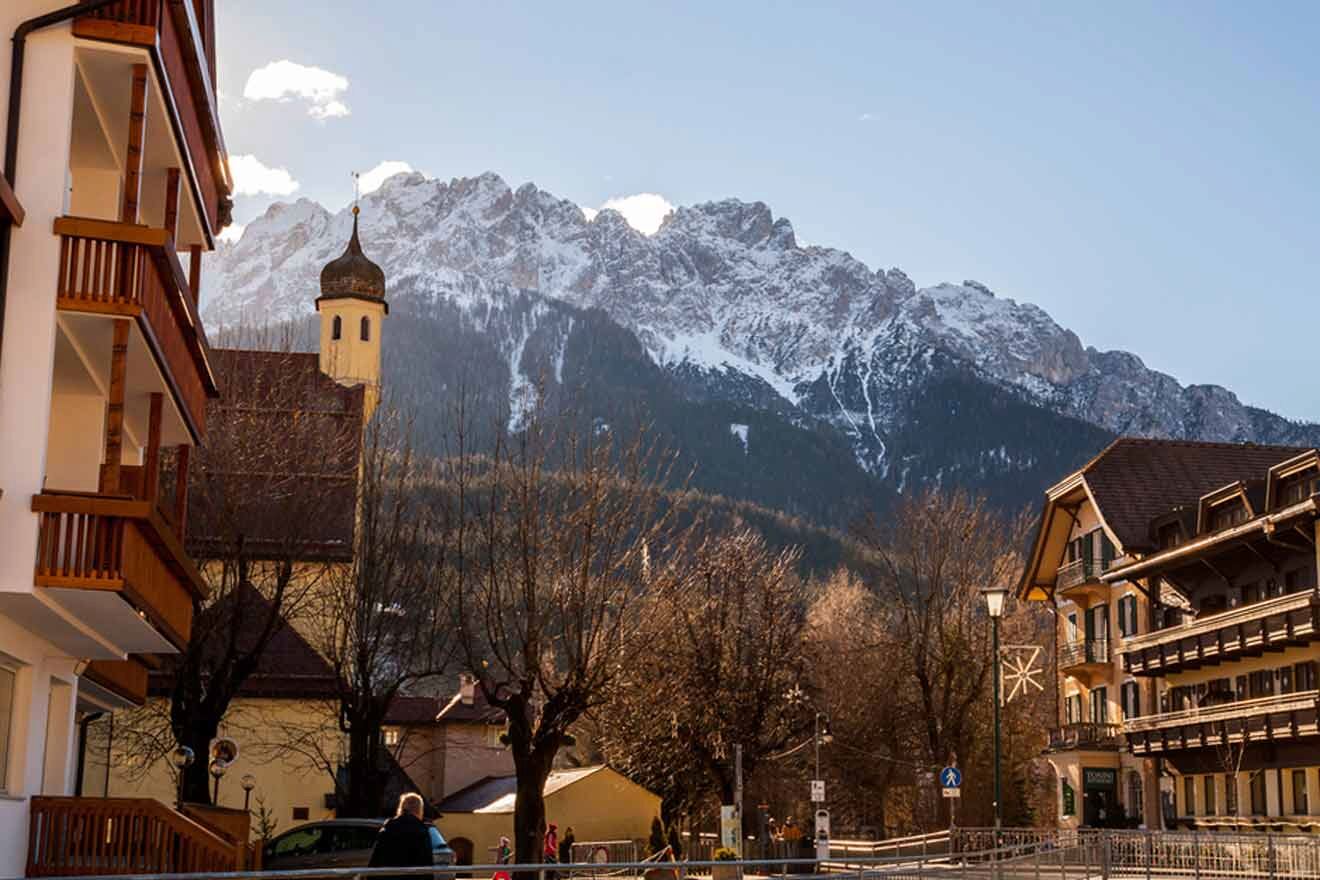 Set in the Alta Pusteria Valley, which is one of the busiest parts of the Dolomites region, this town is a great spot for outdoor enthusiasts!
Hiking, mountain biking, mountain tours, rock climbing, and skiing in the winter season! You can find all this and more in San Candido and the Alta Pusteria Valley, which by the way, extends from Brixen all the way through Austria!
You'll see some of the most amazing peaks around here!
San Candido is a small town, but it has such a charming atmosphere, and it's the perfect base for those of you who want to explore the Alta Pusteria Valley!
When you need a break from exploring the hiking trails or going on adventures, you can spend a chill day in town! There are some museums and churches that you can visit, plus some cool restaurants where you can indulge in some yummy food!
Other accommodation options in San Candido
Things to do in San Candido
5. San Martino di Castrozza – where to stay on a budget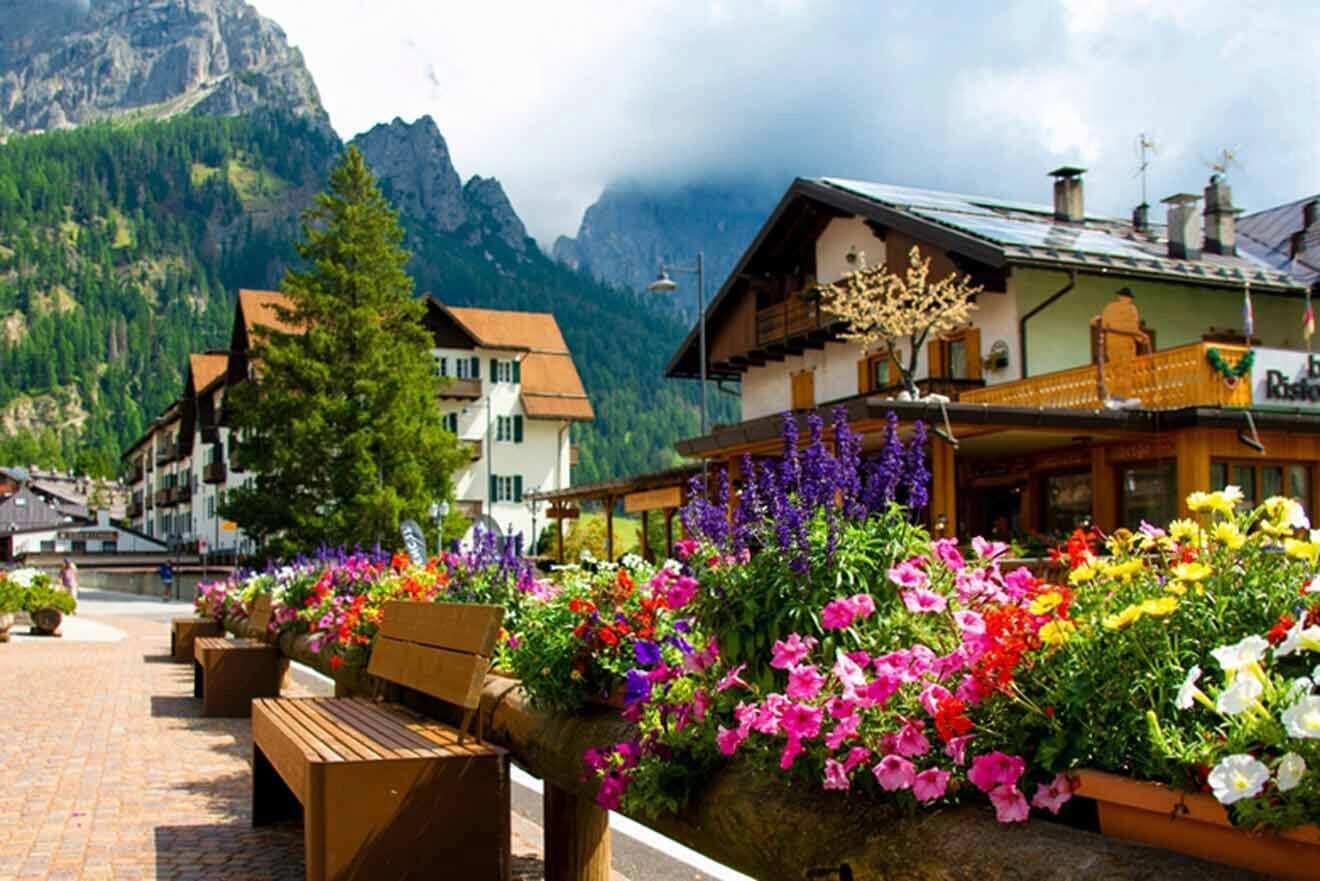 Located in the Primiero Valley in Trentino, this resort town is the base for many travelers who want to hike in Pale di San Martino, a much-loved mountain region in the Dolomites and probably one of the most spectacular, too!
If you want to make the most out of your travel budget during this hiking holiday, then I think this area is perfect for you!
San Martino di Castrozza is a bit more affordable than the other towns in the Italian Dolomites. You'll find accommodations that are much cheaper (even in the peak season if you're lucky and book in advance) and restaurants as well.
From here, you can visit Val Venegia, Baita Segantini, and many other attractions!
The resort town is mostly made of hotels, restaurants, and some bars, but if you're coming in winter, then you'll also get to hit the slopes!
Other accommodation options in San Martino di Castrozza
Things to do in San Martino di Castrozza
Hit the slopes at Ski Area Colverde
Grab a bite at Pizzeria Ristorante Sass Maor
Explore the Pale di San Martino plateau
Enjoy a drink at Ranch Bar
6. Val di Funes – where to stay for a romantic getaway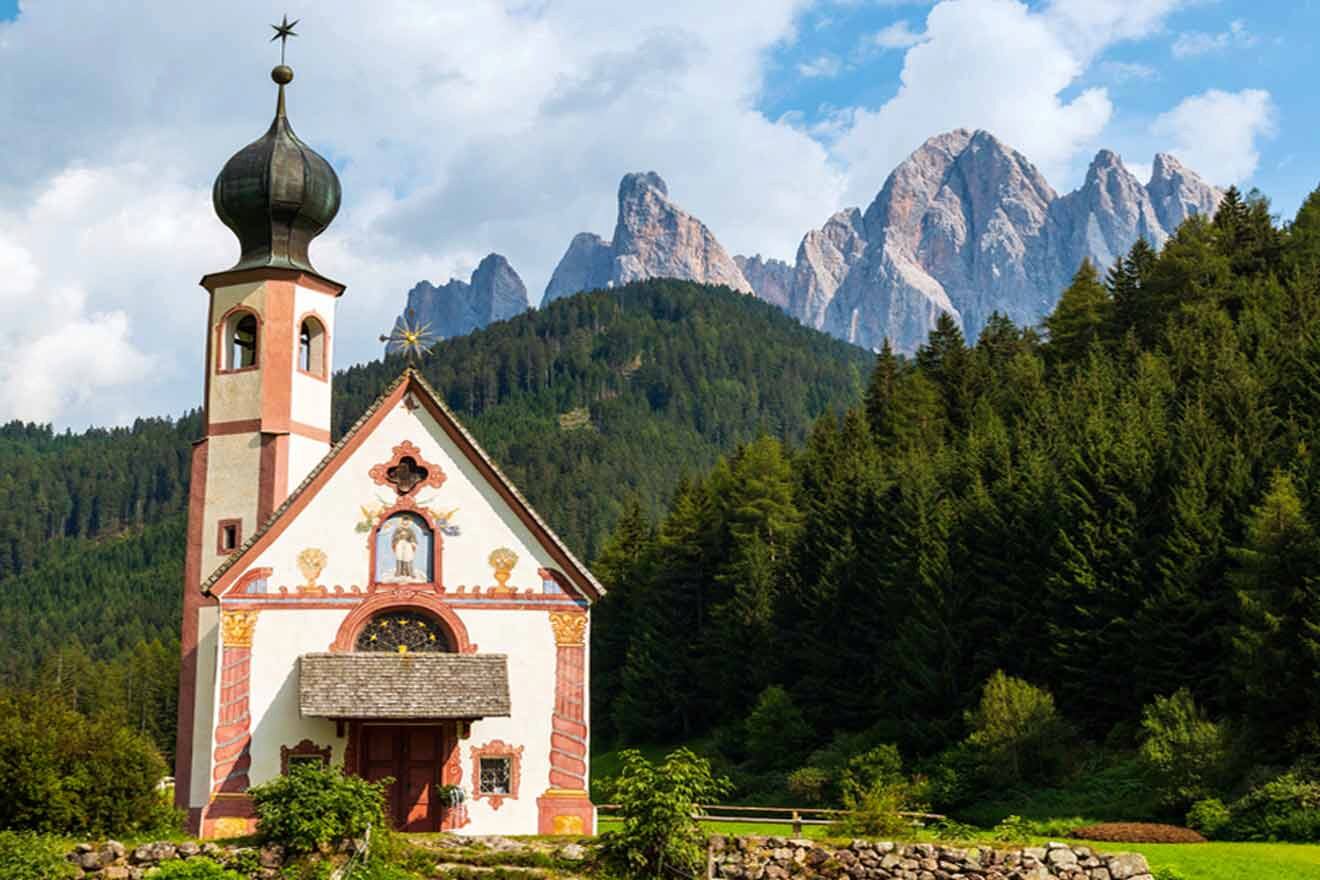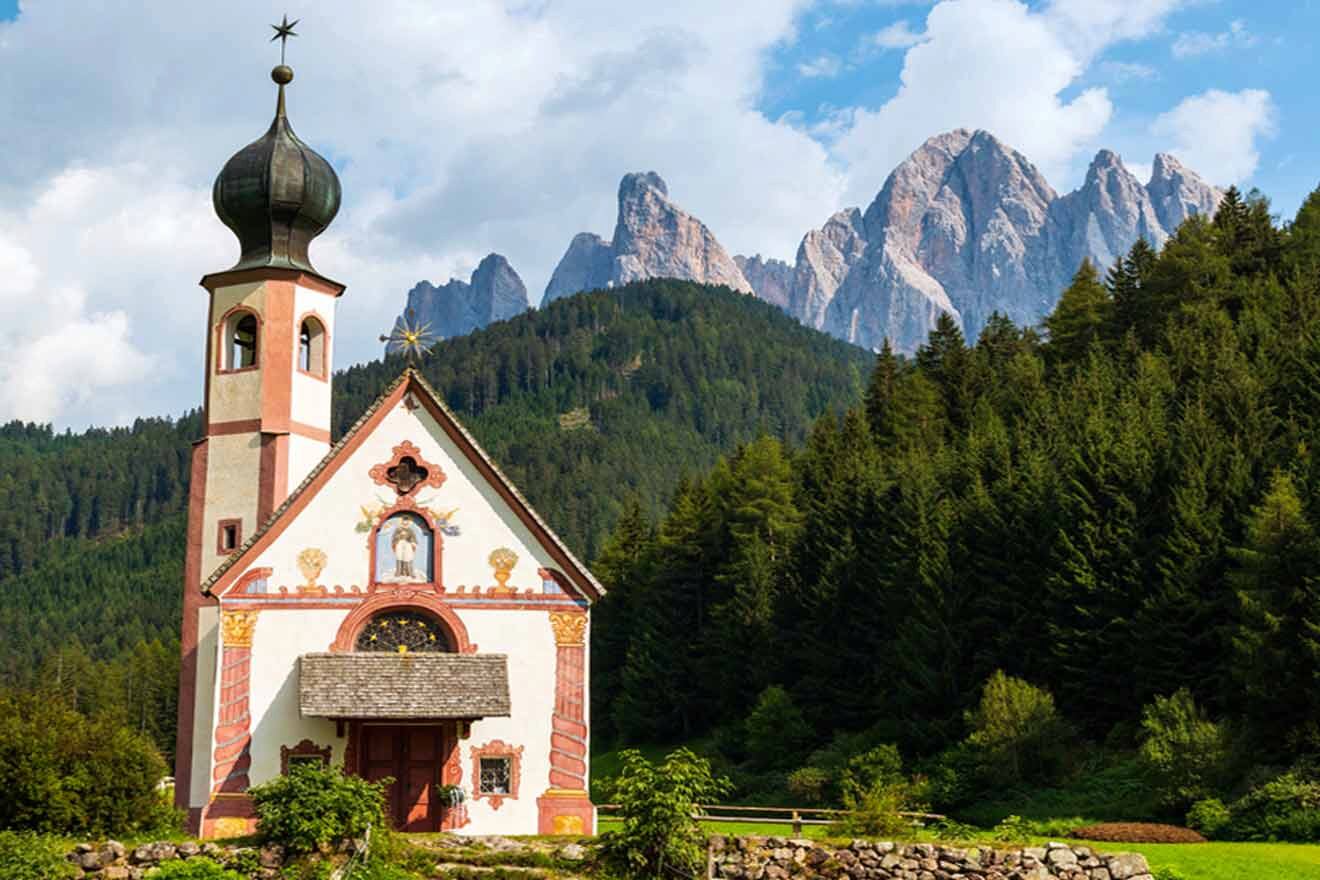 Are you and your partner looking for a gorgeous place to stay in the Dolomites that is part of the Southern Limestone Alps?
Then check out this picturesque valley that's located between the Val Gardena towns and Alta Pusteria! The otherworldly Val di Funes will make you feel as if you've landed on a foreign planet! Mountain peaks rise everywhere and turn pink or orange depending on the time of the day, with plenty of fresh air and wildlife!
It really is one of the most gorgeous places in the Dolomites and very romantic! It's the place to be for photographers, videographers, and content creators who can take incredible shots here.
In terms of how you can spend your time, well, there are plenty of options, from hiking the famous trails like Panoramaweg and Sunnseittenweg or the Adolf Munkel Trail that leads to the base of the Odle Peaks.
The main village in Val di Funes Valley is Santa Maddalena, where you'll find a famous church with the same name and the Zannes trailhead!
Other accommodation options in Val di Funes
Things to do in Val di Funes
Visit the Santa Maddalena church
Explore the hills overlooking the valley
Admire San Giovanni Church
Hike the Adolf Munkel Trail
Take lots of pictures
Eat fresh food at one of the Alpine pasture huts
7. Alpe di Siusi – where to stay for the best views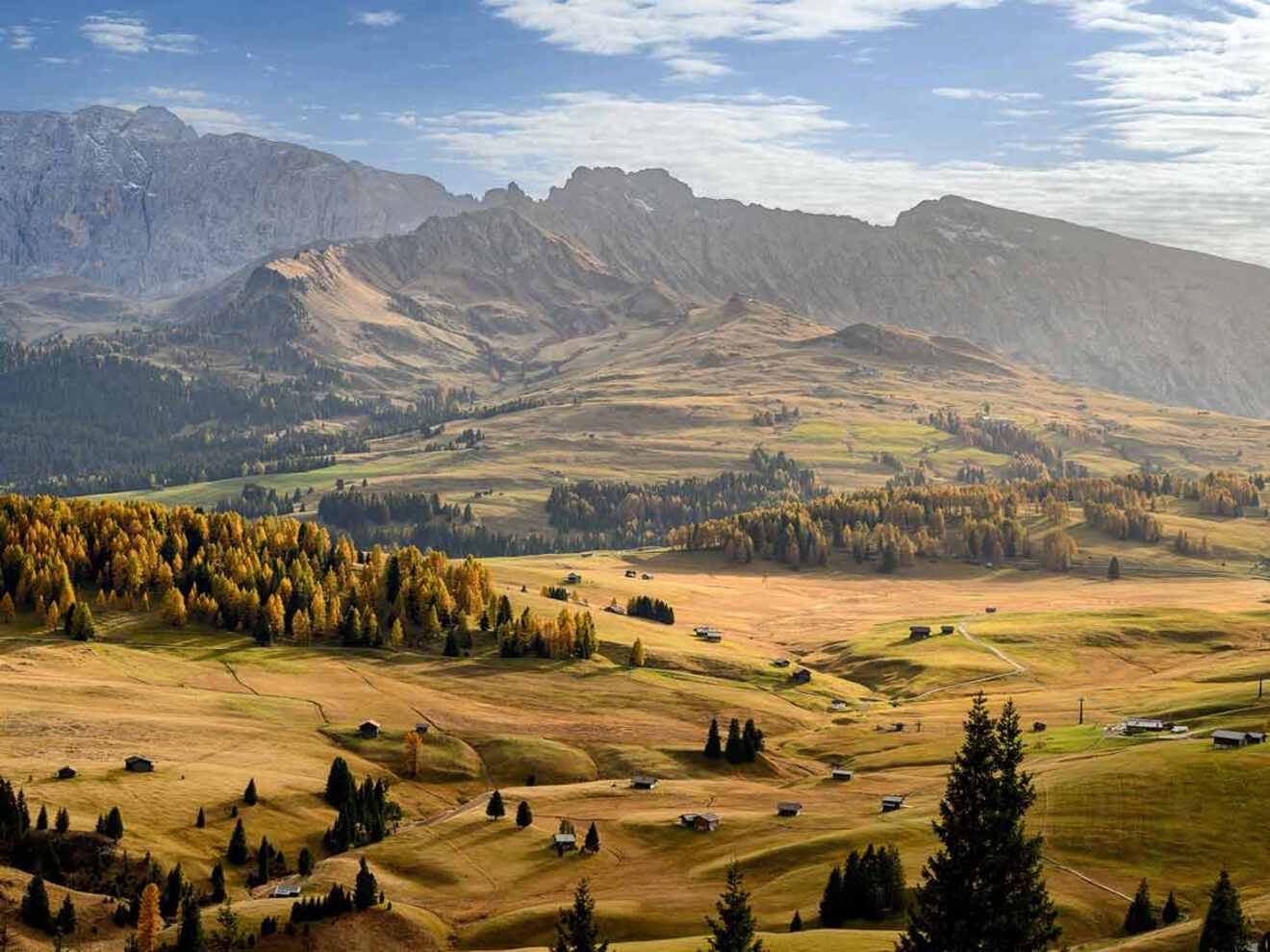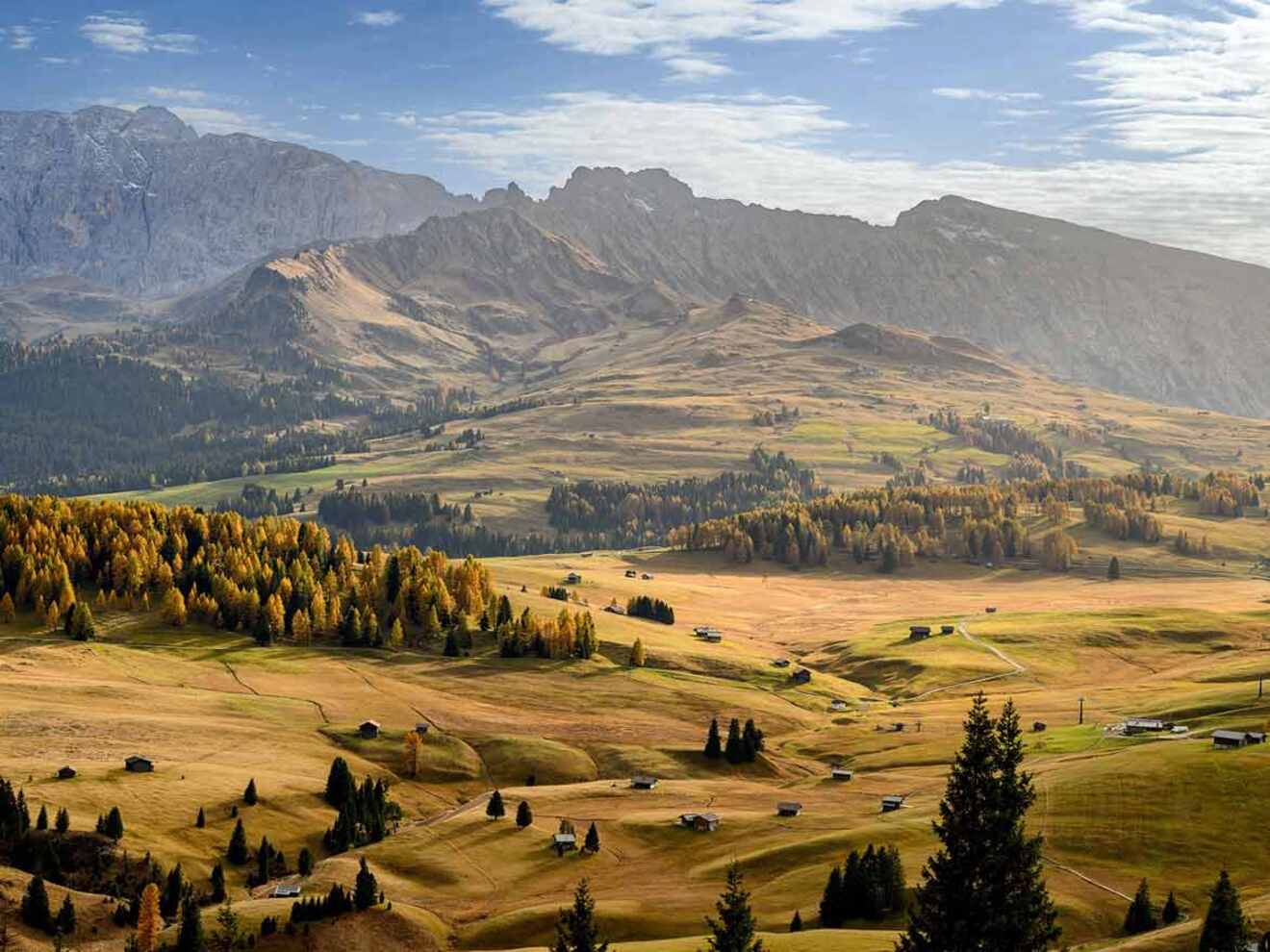 Although you'll find incredible sights pretty much everywhere in the Dolomites in Northern Italy, Alpe de Siusi is something different!
Here, everything looks as if taken from a paradise postcard! Alternatively known as Seiser Arm, the area has the largest high-altitude Alpine meadow in Europe! You'll get to admire the stunning views of the Langkofel, Puez-Odle, Sella Group, and Kesselkogel mountain ranges!
Alpe di Siusi is a car-free area, so you'll have to plan your trip in this area really well, as you can only drive there directly on the day you have your hotel reservation. So I definitely recommend getting a room at one of the hotels here as it'll be easier to explore this region!
Hotels tend to be a bit more expensive just because everyone wants to come to witness those views. If you're traveling on a budget but still want to see Alpe di Siusi, you can head to Compatsch by car. From there, it takes around 1h to reach one of the most gorgeous parts of the area.
Alternatively, you can take a cable car from Ortisei Alpe di Siusi to reach it! You can check the timetable and prices here.
Other accommodation options in Alpe di Siusi
Things to do in Alpe di Siusi
Explore the Sciliar Rosengarten Nature Park
Hike to the Langkofel Peak
Visit the Compatsch town
Catch a scenic sunset near the Langkofel Peak
8. Bolzano – where to stay in the Dolomites for culture lovers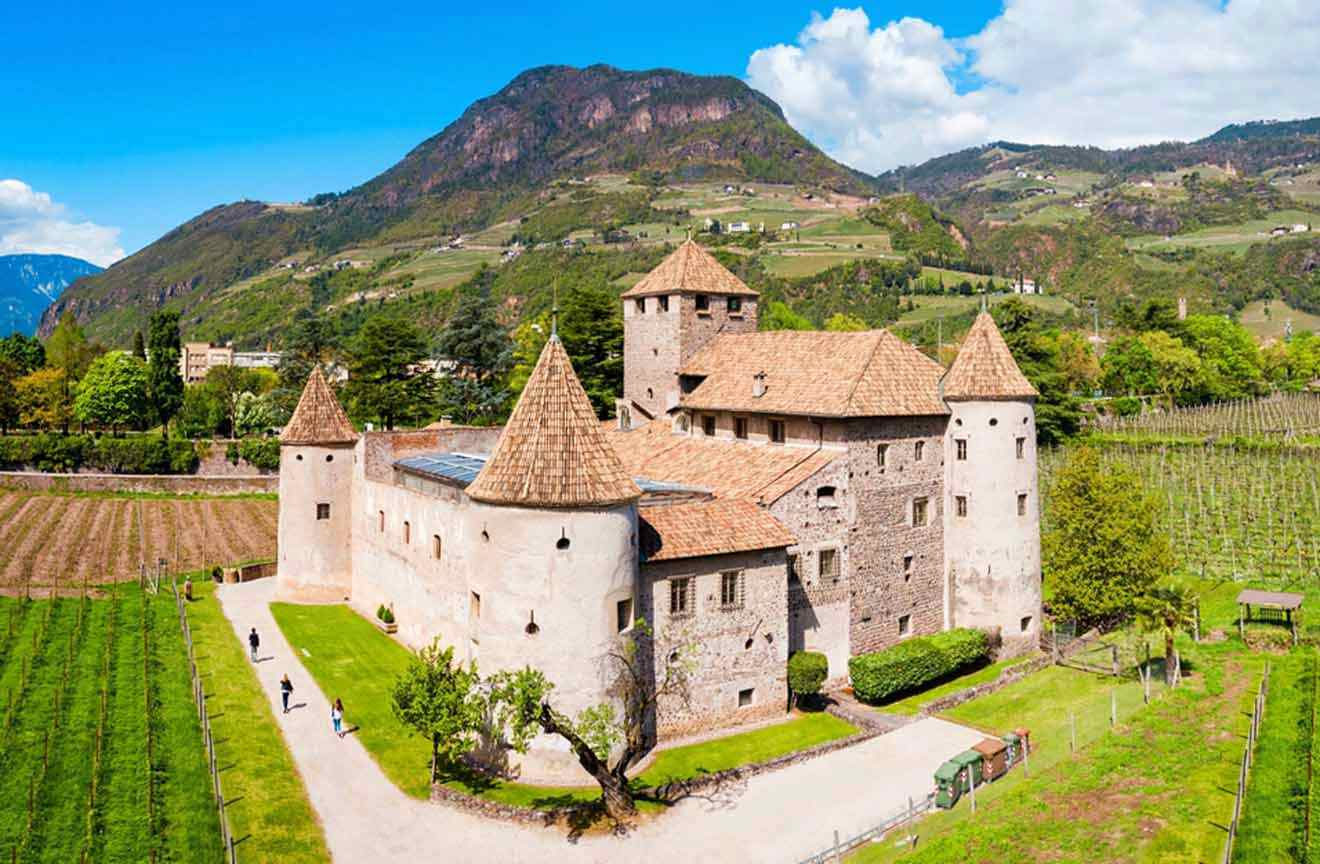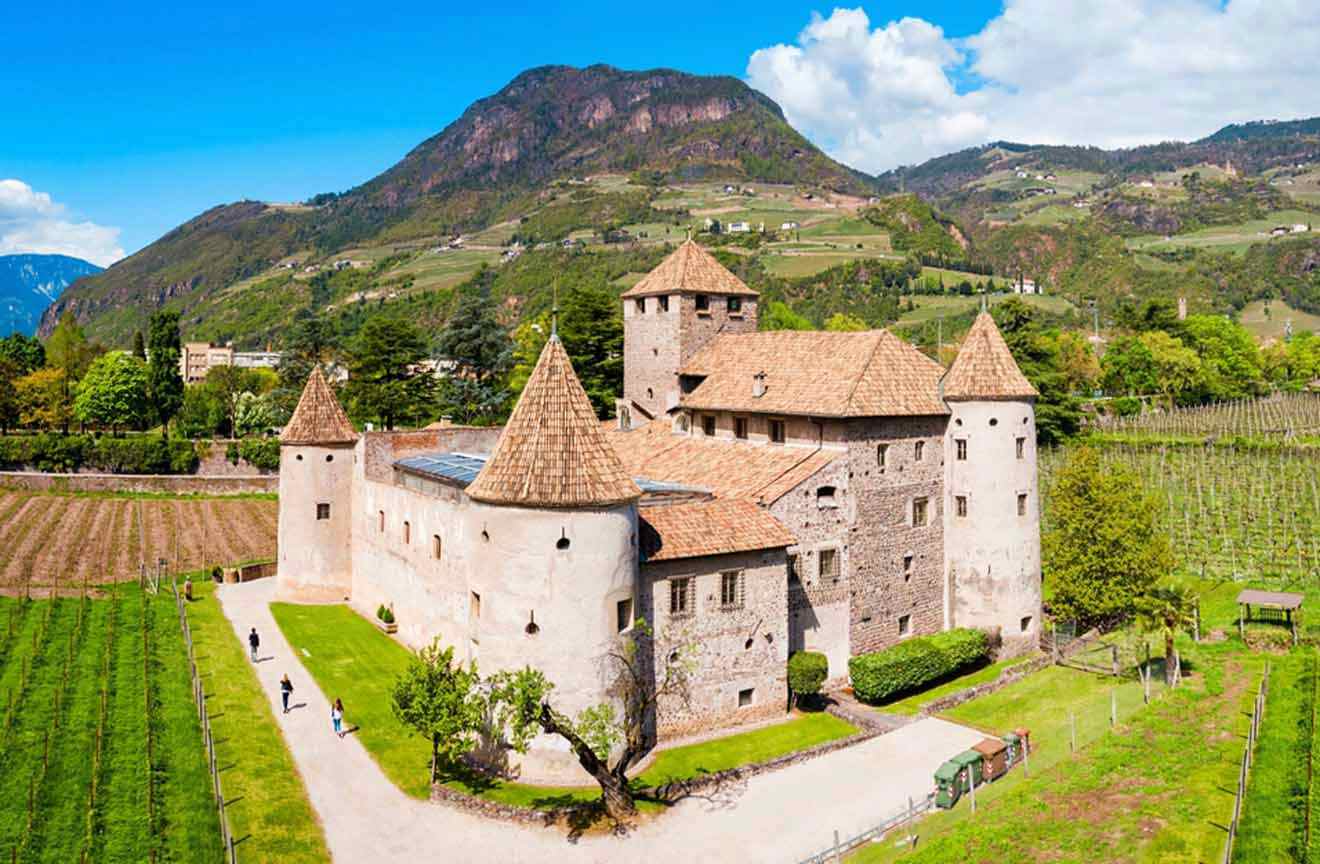 Set in the charming Val d'Ega in South Tyrol, the amazing city of Bolzano is packed with lots of fun attractions from museums, parks, and castles, making it the perfect place for culture lovers!
It's also a great place to stay in the Dolomites for those who want to explore Val d'Ega! The valley is famous for its hiking trails and its gorgeous lakes like Lake Carezza with its blueish-green water surrounded by the dramatic peaks, specific to the region!
Talking about Bolzano, the city is super close to Trento, yet another beautiful Italian city, with lots to offer! If you're headed there, make sure you read our post with the best areas to stay in Trento and come prepared!
Going back to Bolzano, whenever you're feeling adventurous you can explore the town and all its attractions! Maretsch Castle and South Tyrol Archeological Museum are just some of the main ones! You'll also find many restaurants where you can indulge in some dishes!
Other accommodation options in Bolzano
Things to do in Bolzano
Visit the beautiful Maretsch Castle
Stop by the South Tyrol Archeological Museum
Enjoy a coffee in Waltherplatz
Grab a bite at Löwengrube
Try some Italian wines at Malojer Gummerhof
Go on a private tour to the heart of the Dolomites
9. Val di Fassa – best place to stay for nature lovers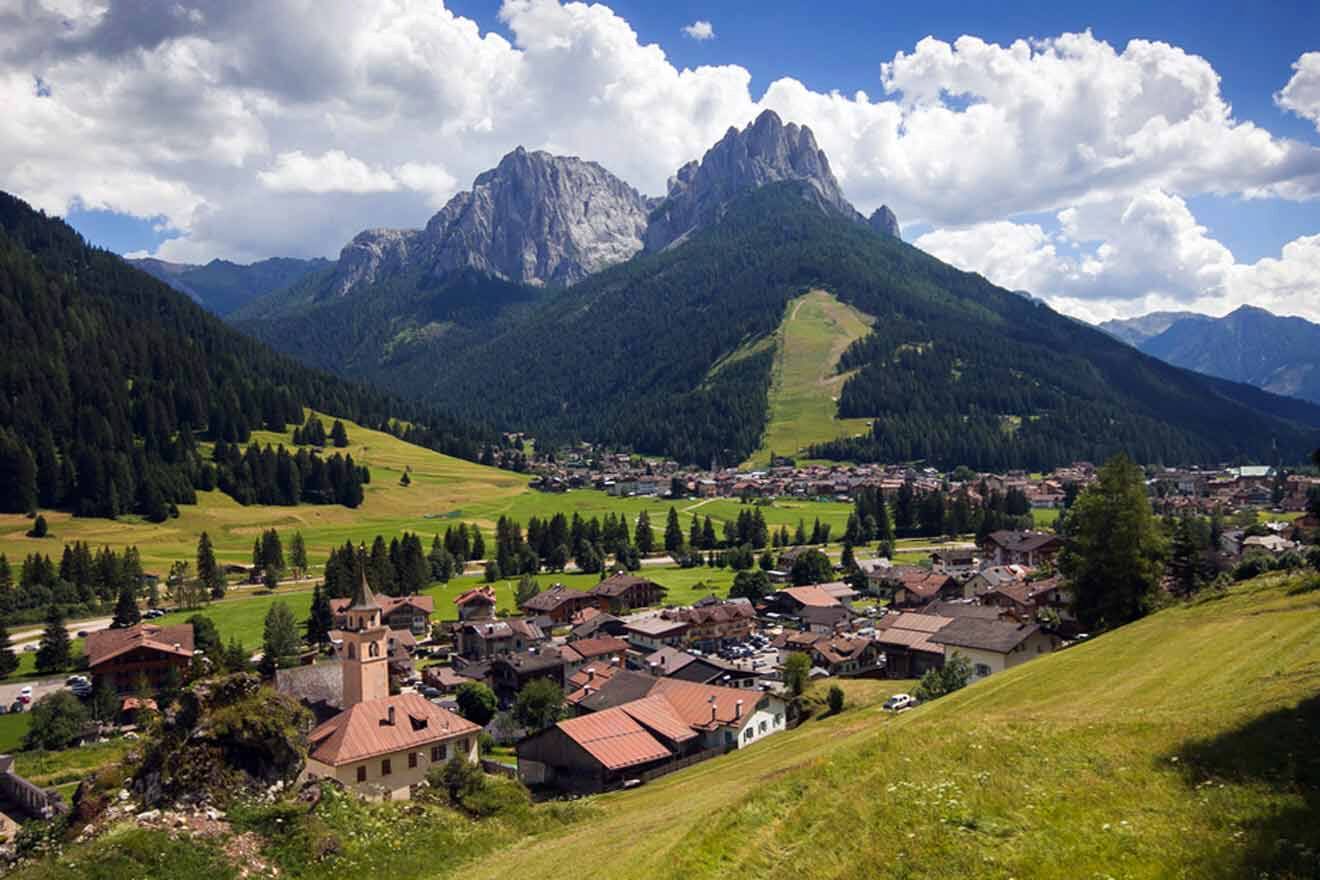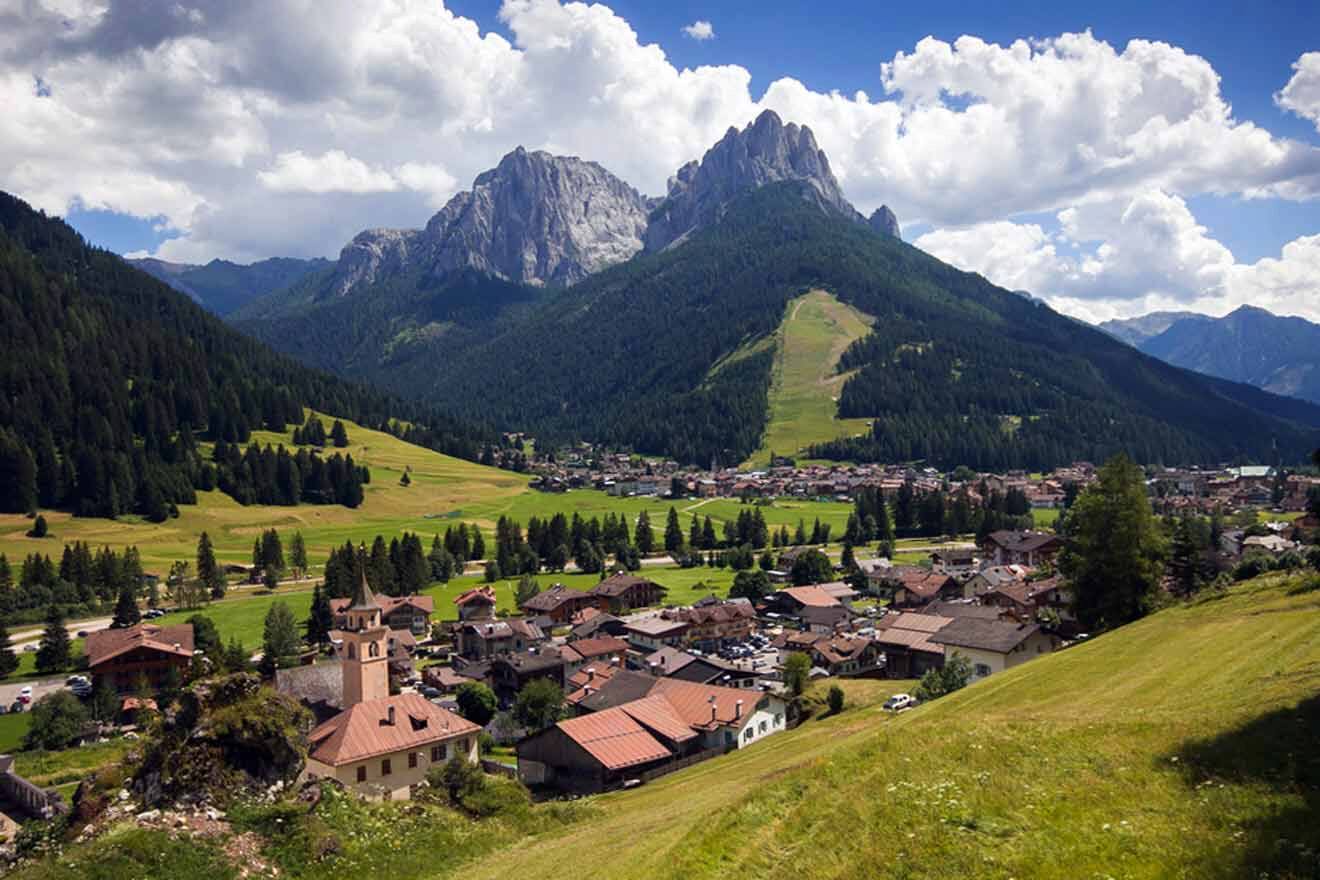 Epic sunrises, dramatic landscapes, virgin forests, and wildlife – Val di Fassa is like a dream come true for every nature lover!
This incredible valley is located in the northeast region of Trentino, and it's surrounded by some of the most breathtaking and high peaks in the Dolomites, like Rosengarten, the Sella Group, and the highest peak in the Dolomites, the Marmolada!
A real-life sanctuary where you can immerse in the beauty of these blessed lands! If you want to admire all these peaks, you can take the cable car to Col Rodella's viewpoint, where you'll probably remain in awe of how incredible everything is!
Just like all the other areas in the Dolomites, Val di Fassa offers lots of hiking trails and ski resorts! It really is a great place to stay in the Dolomites, no matter the season. Whether you're coming in winter or summer you'll find plenty to see and do!
Other accommodation options in Val di Fassa
Things to do in Val di Fassa
See some cute animals at the Kingdom of Salvan – Buffaure
Explore the Sentiero Incantato Park
Spend a fun day at Adventure Park Piciocaa
Grab a bite at Malga Aloch
10. Near Lago di Braies – where to stay for relaxation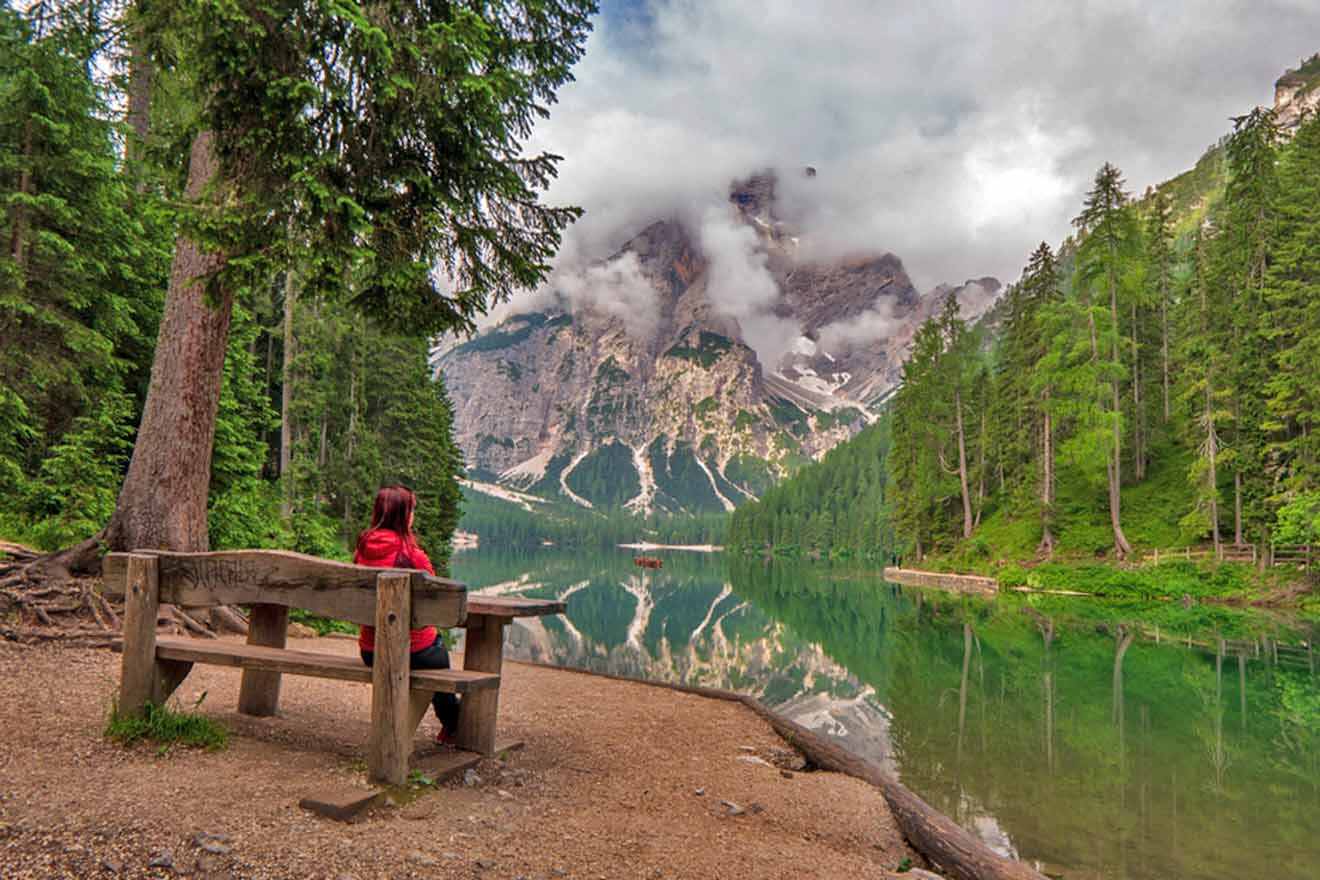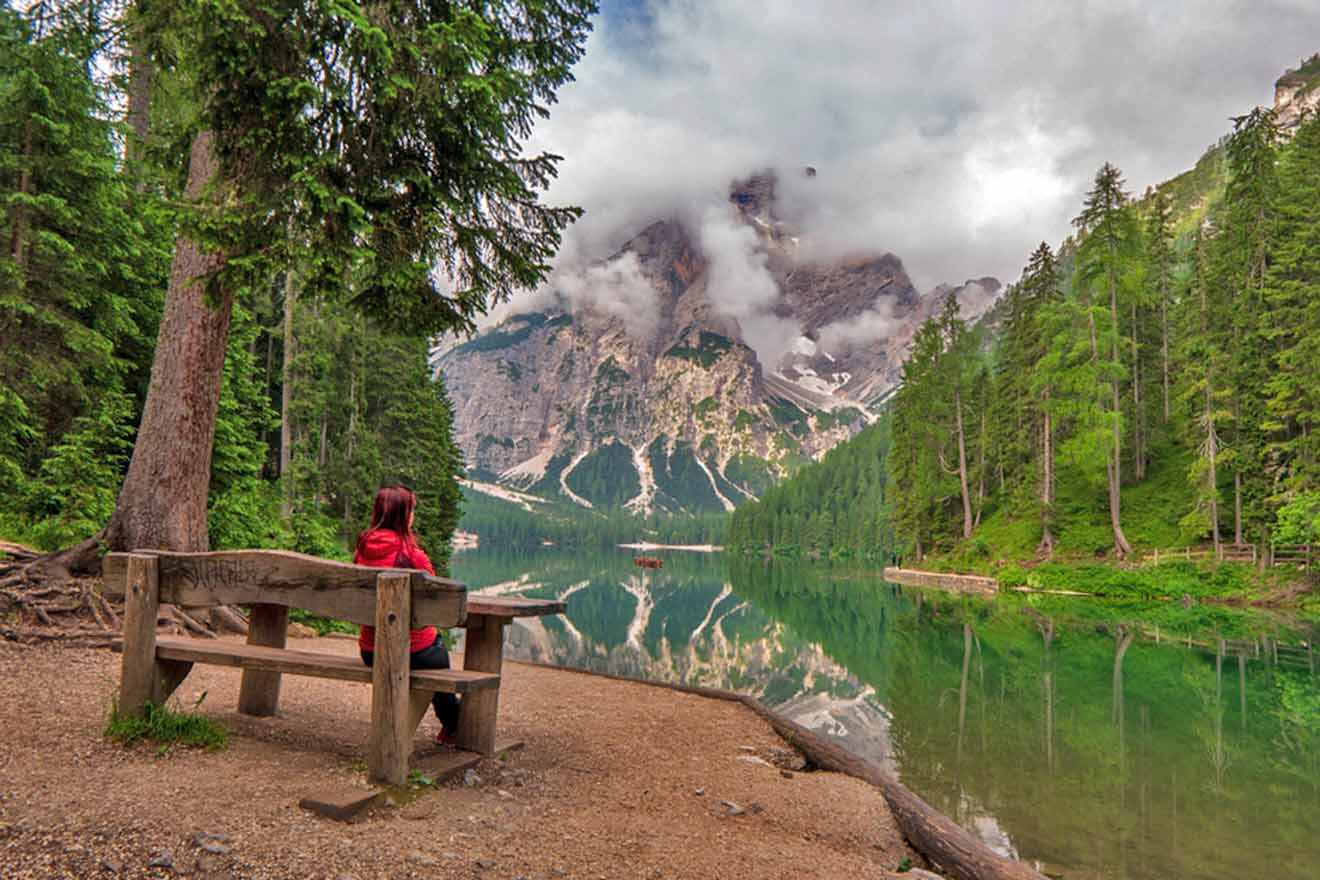 Known as one of the most beautiful lakes in Italy, Lago di Braies is set in Braies Valley, and it's so, so famous! It's no wonder that locals call Lago di Braies "the emerald of the Dolomites!"
Lots of tourists who visit the Dolomites don't miss the chance to stop by this gorgeous lake. If you're one of them, but actually want to spend your whole holiday in the area near Lago di Braies, then check out the hotels in this section!
I've included some gorgeous ones that are pretty close to the lake, perfect for those of you who want to relax as much as possible during this holiday!
Surrounded by snow-capped mountains, the lake offers that unique tranquility and silence you don't find in many places!
Other accommodation options in Lago di Braies
Things to do in Lago di Braies
Visit the Kapelle Pragser Wildsee Chapel
Cool off at Cascata ghiacciata di Braies
Admire Lake Braies in its full glory
Go hiking around the lake
BONUS: Best hotels in the Dolomites for hiking
Hiking is one of the main activities in the Dolomites! Many people who love hiking come to explore this gorgeous region and all its trails (there are many). That's why I thought I'd make a bonus with some amazing hotels that are set near some of the most famous trails in the region!
I've already ordered them from most to least expensive, and the prices start from €140 to €500. I also added the nearest trail to each hotel!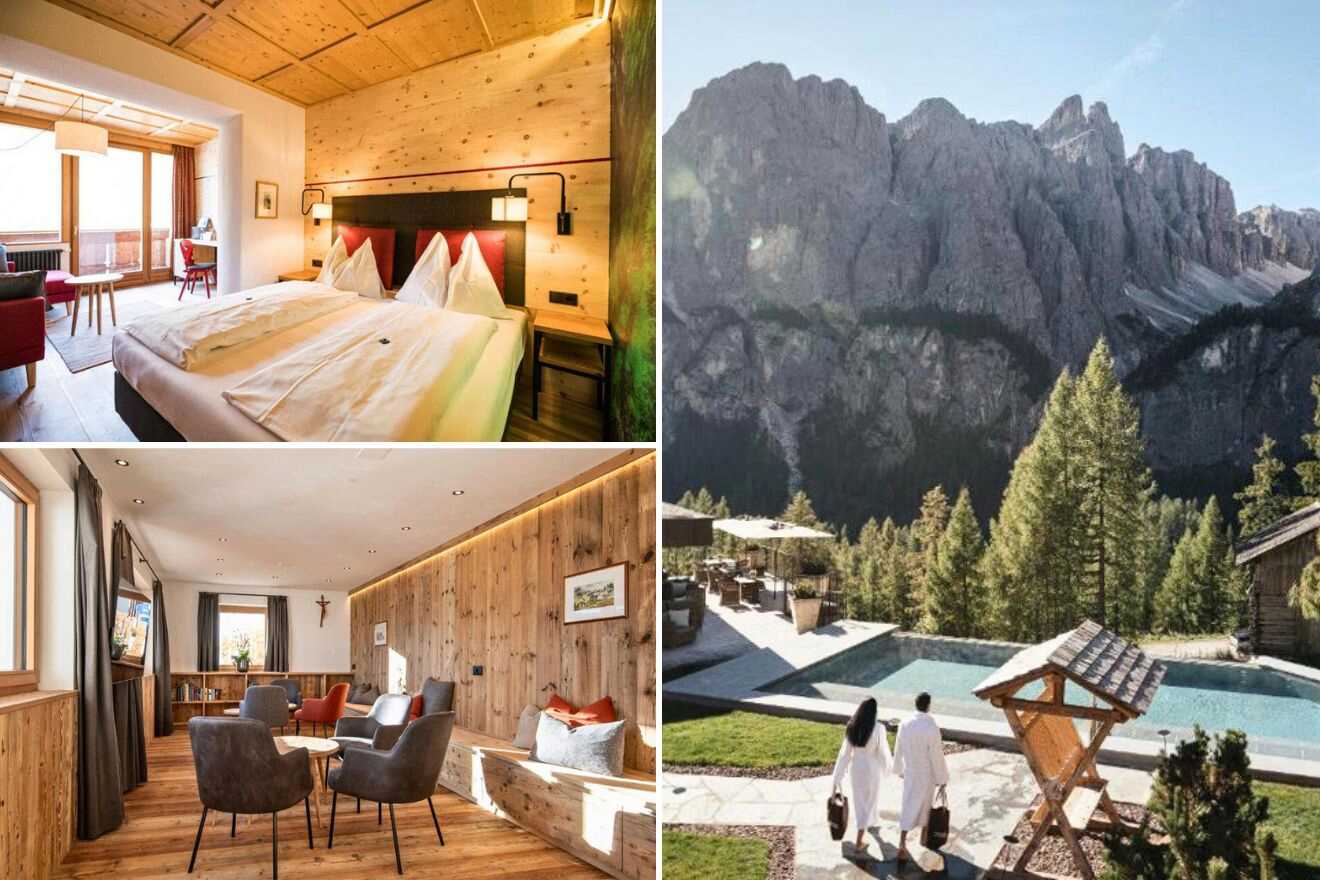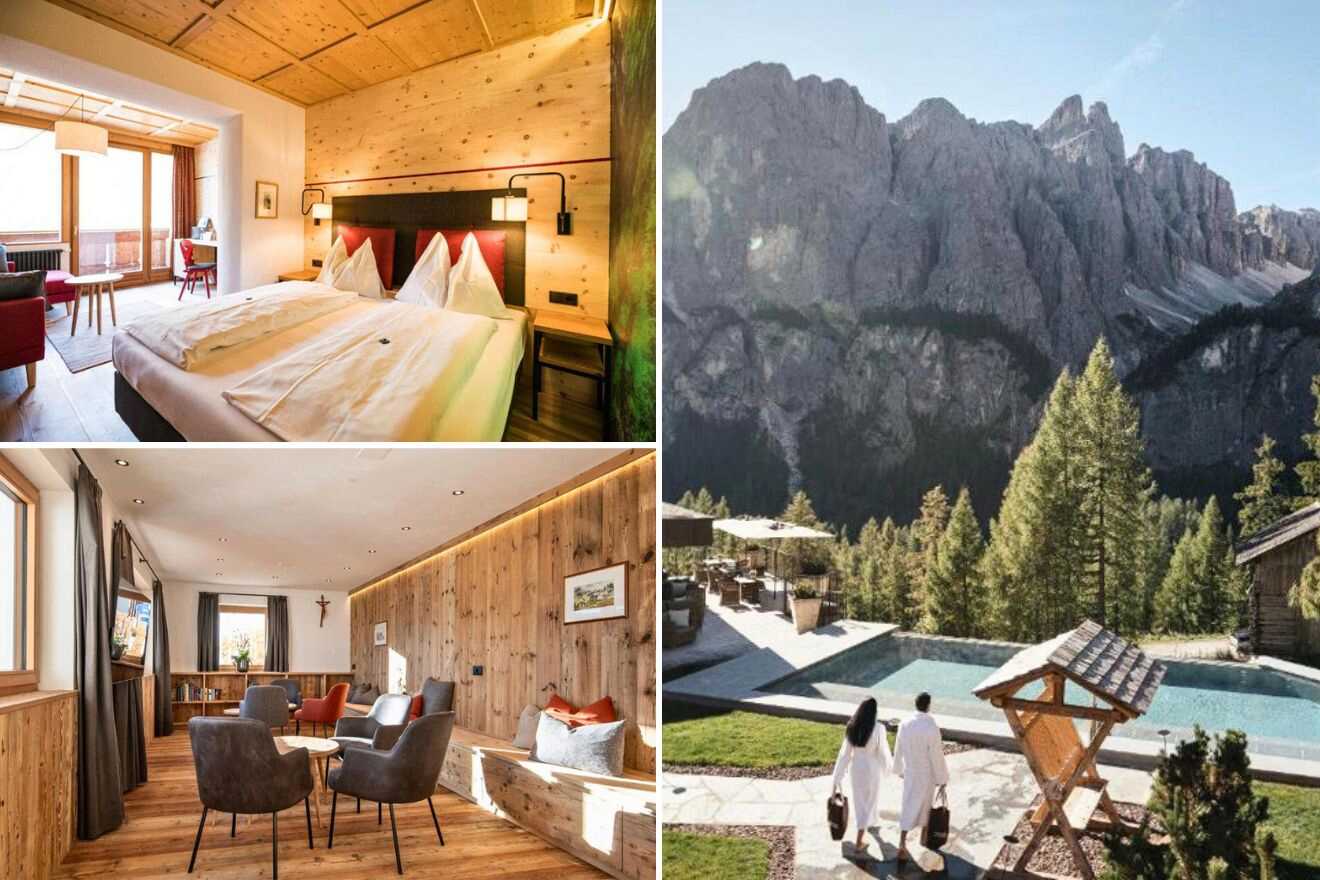 Kolfuschgerhof Mountain Resort – You'll absolutely love waking up to this incredible view every day! Set near the Piz Boe hiking trail, this fabulous resort is beautifully decorated with such an amazing atmosphere! Swim in the infinity pool all day, book a massage, enjoy yummy food, and explore the area! You'll never get tired of it!
Berghotel – Sexten – Wine and dine with the Dolomites in the background! Now that sounds like the dream holiday! This hotel is set near the Three Peaks Dolomites hiking trails, and it has indoor and outdoor pools, a wellness center where you can unwind after a day of hiking and gorgeous rooms!
Rifugio Fermeda Hutte – Experience the charm of mountain lodges while staying at this cabin in the middle of nowhere! It's near the Seceda hiking trail and offers simple yet comfortable rooms, ski-to-door access, and an on-site restaurant.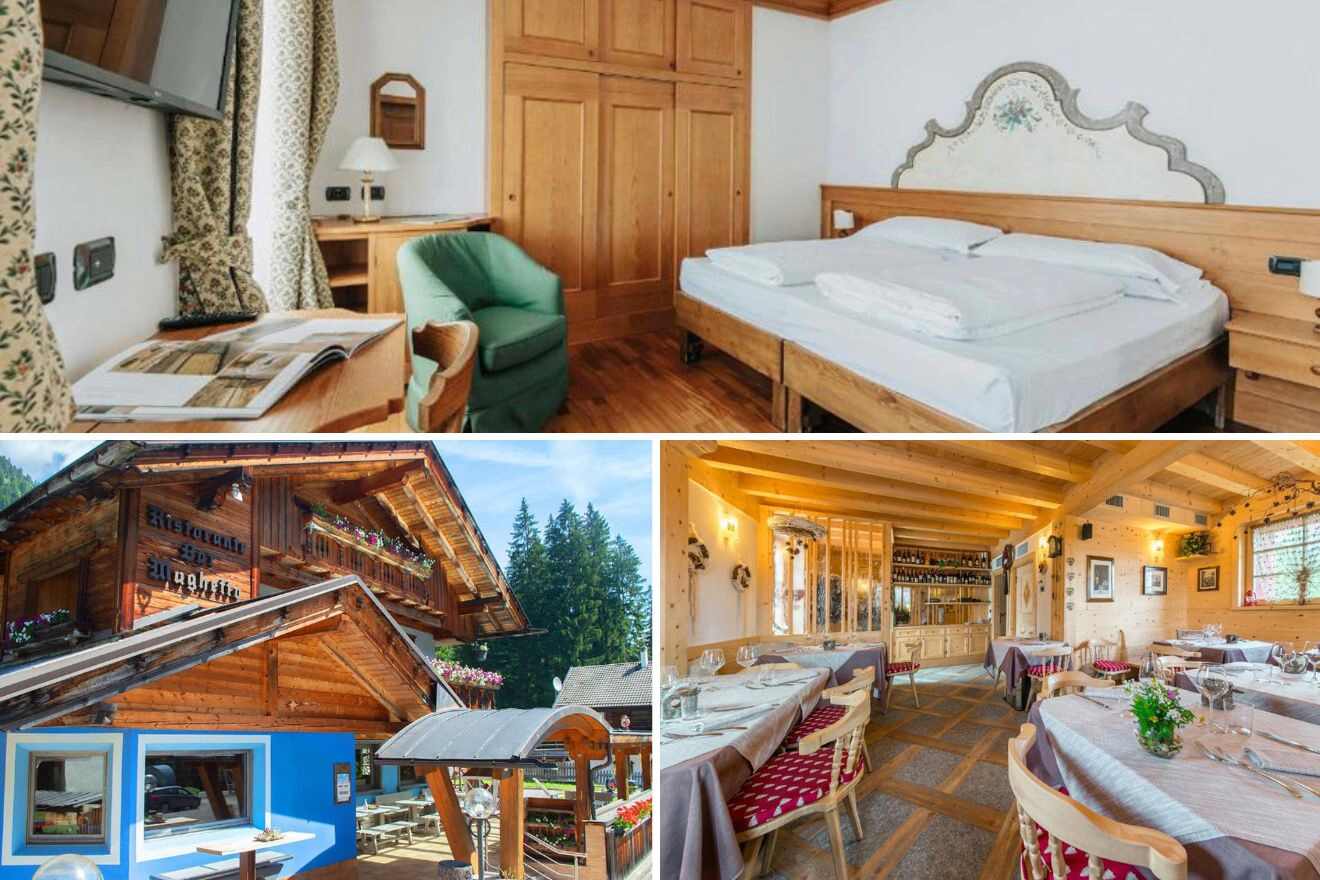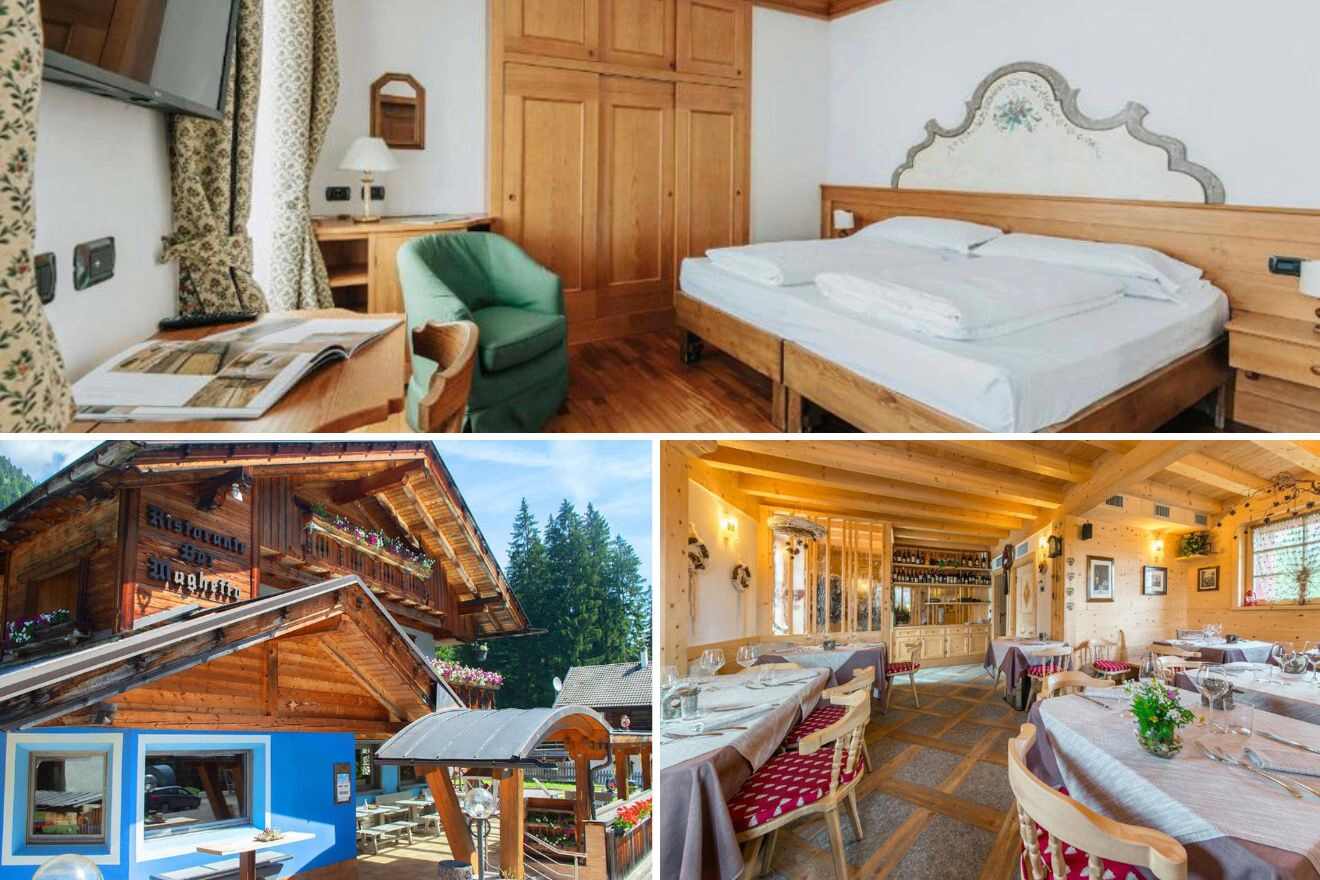 Franceschi Park Hotel – A gorgeous hotel that's set near the Toffana di Mezzo hiking trail! This accommodation has everything you need for your holiday, from comfortable rooms where you can relax to a spa center with various treatments and a restaurant.
La Locanda del Cantoniere – Ciasa Vervei – Spend your nights stargazing at this gorgeous accommodation that's located near the Cinque Torri hiking trail. It also offers direct access to the ski slopes, Alpine-style rooms with balconies, and a restaurant.
Al Mughetto – Offering a combination of chic and elegant decors, this accommodation is set near the Cadini di Misurina hiking trail. During your holiday you can relax on the sun loungers and go on bike tours! Each morning you can enjoy a yummy breakfast at the restaurant on-site and then head out to explore the hiking trails!
FAQs about where to stay in the Dolomites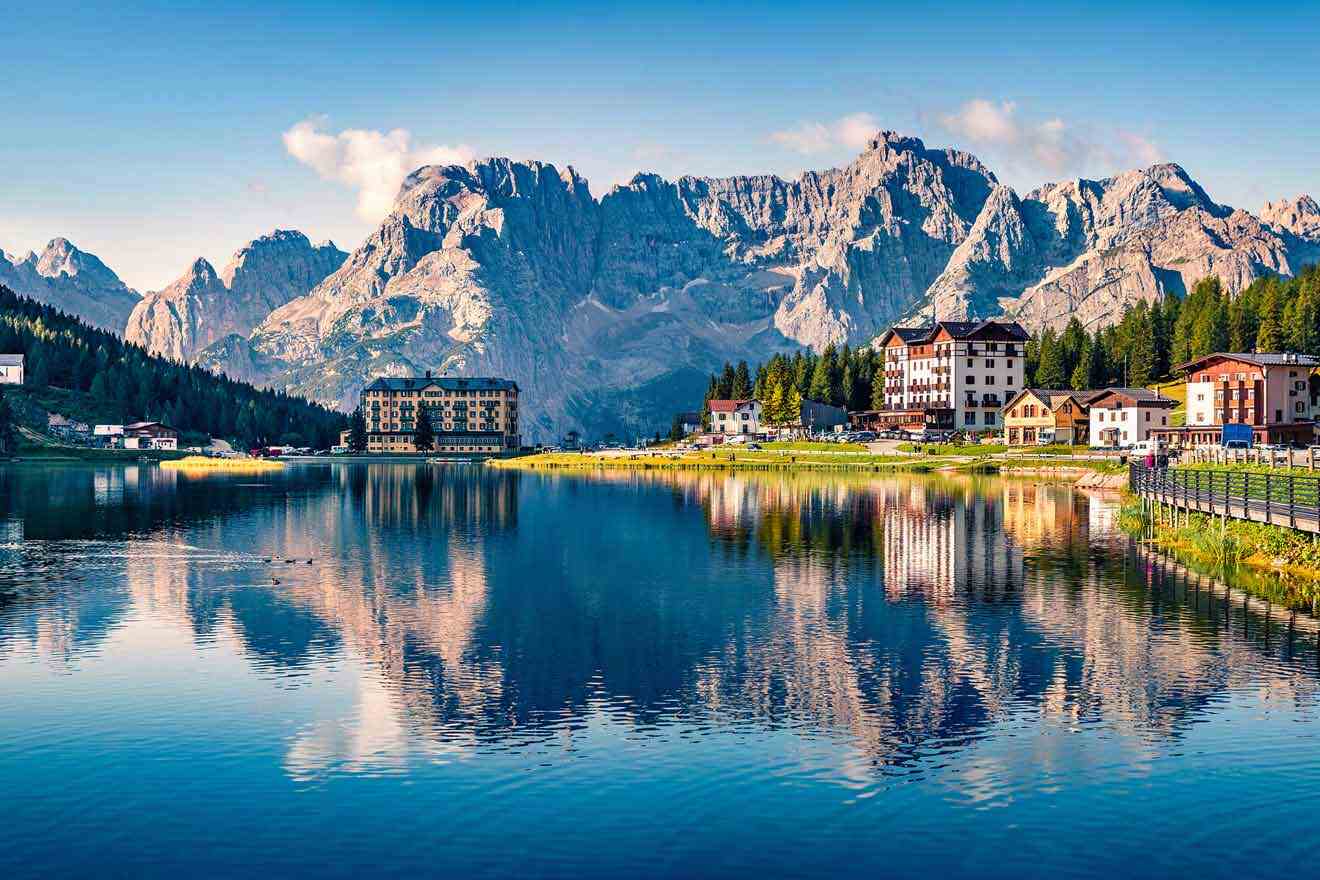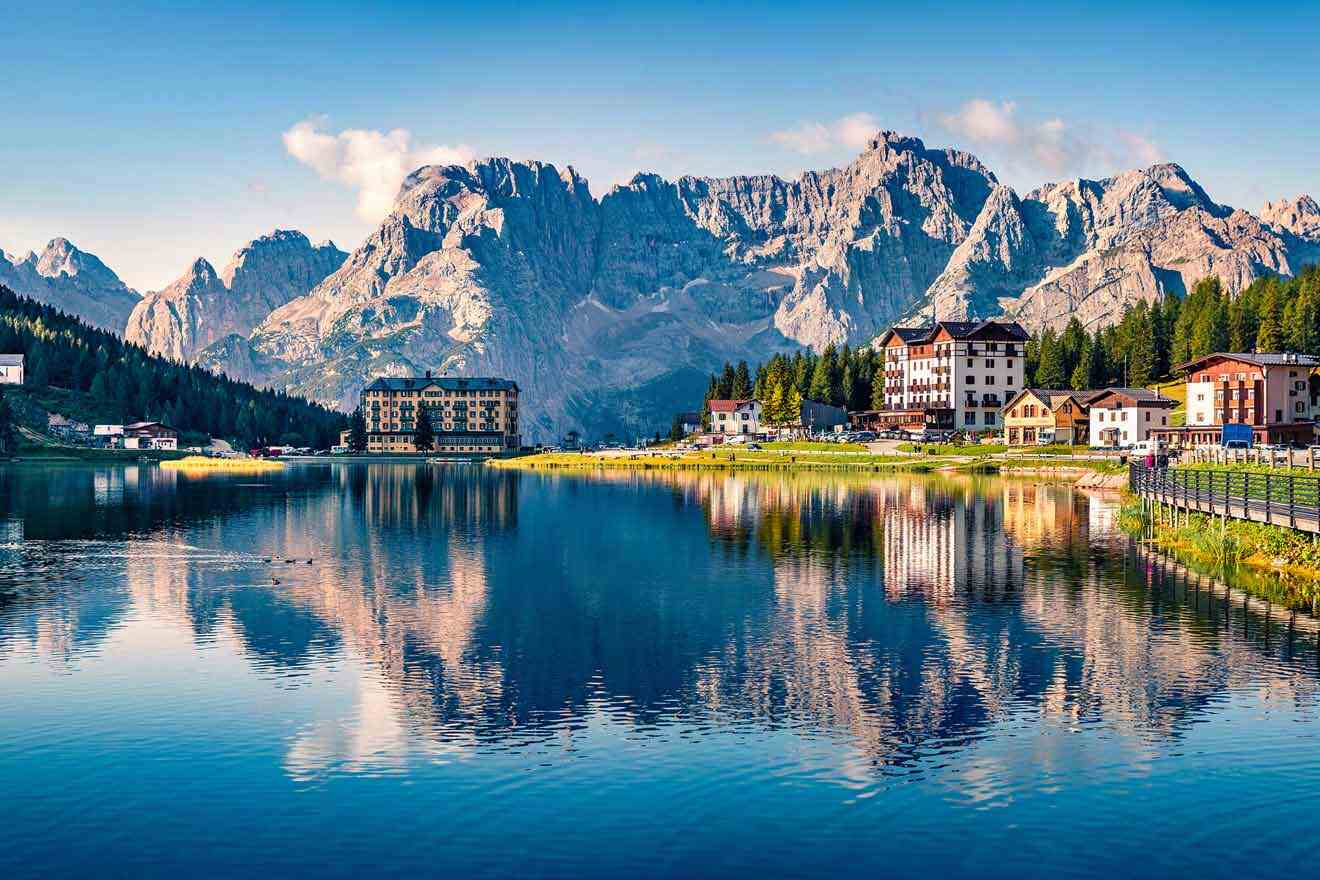 Conclusion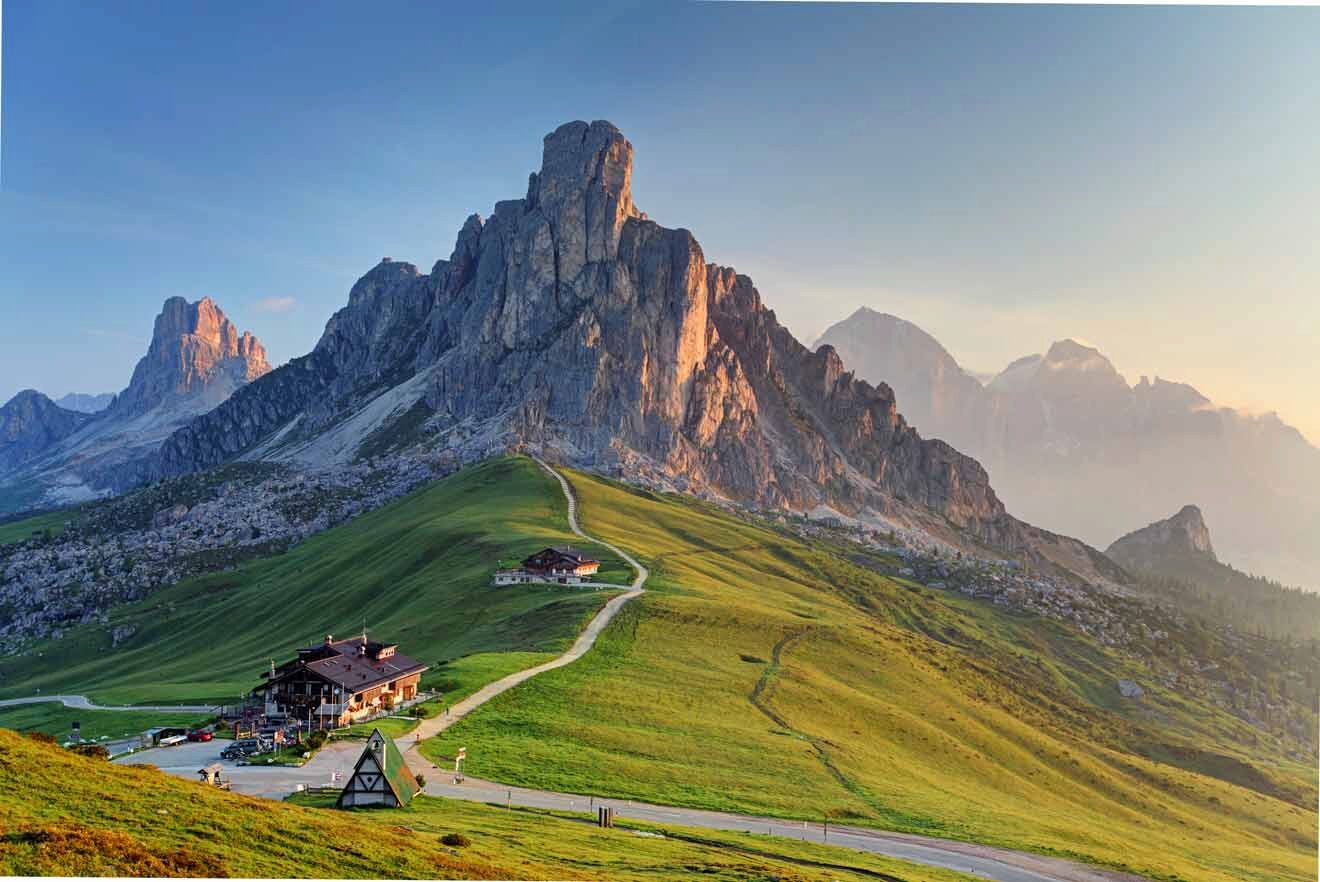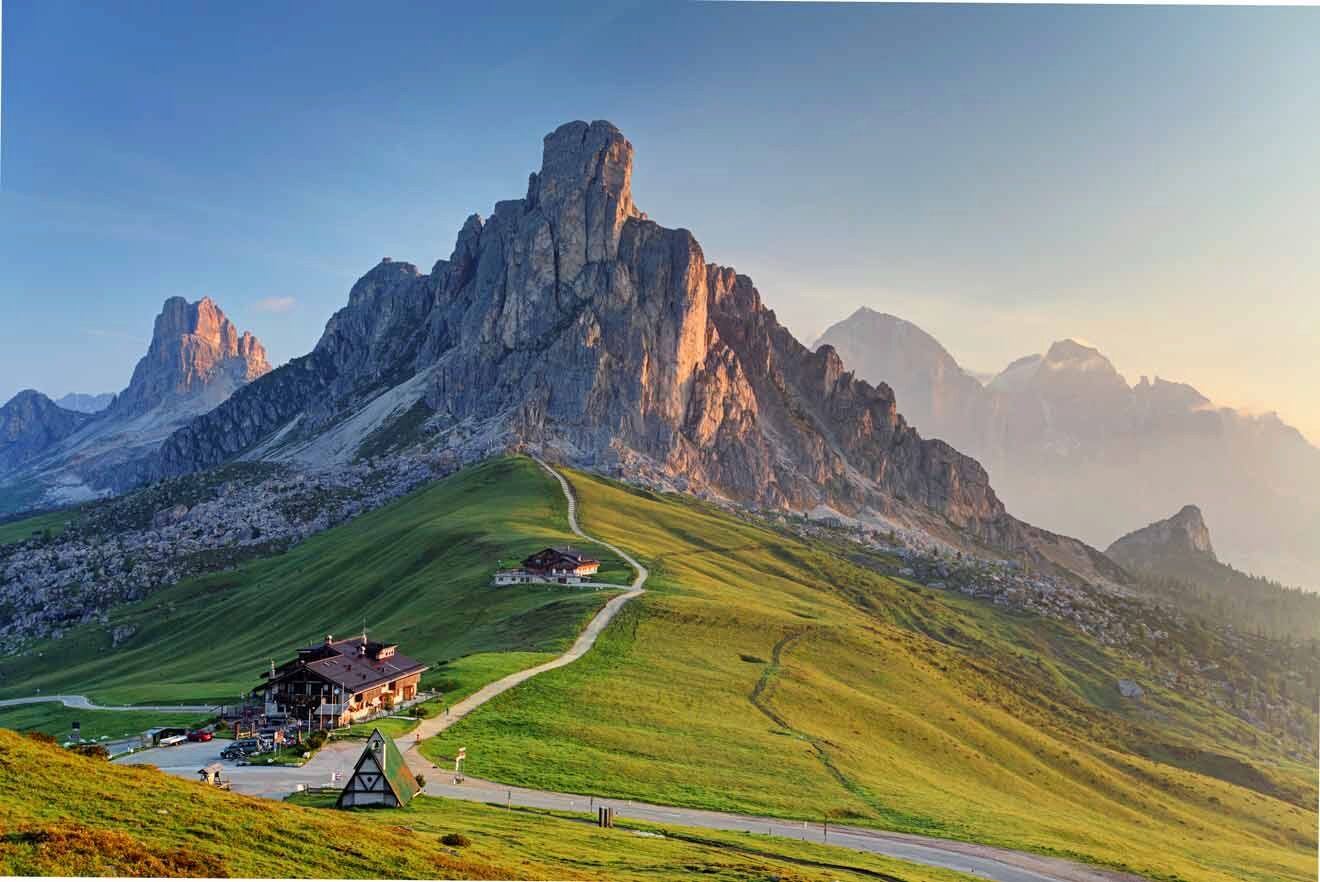 Phew, that was a long one! But I'm so happy you made it until the very end!
I've had a blast telling you all about where to stay in the Dolomites and surprising you with the extra sections at the end with the best hotels for hiking in the region.
I know there's a lot of information to chew on, and it might take you a while, but make sure that once you decide where you want to go, you book your hotels early! This region gets so many visitors, especially in the summer season (June to late August), and the prices usually get higher then too!
If you still feel a bit unsure and need more help to find the perfect fit for your needs, then check out my 2 favorite ones below, both located in Cortina d'Ampezzo:
Hotel de Len – A gorgeous hotel with bright rooms, a steam room plus other spa facilities and a bar.
Radisson Residences – One of the best mid-range hotels in town that offers mountain views, a spa, and a pool.
Et voila!
What a ride this has been! Don't shy away from asking me any questions! I sprung so much information here! Just drop me a comment in the section below, and I'll help you out!
Safe travels,
Victoria
---