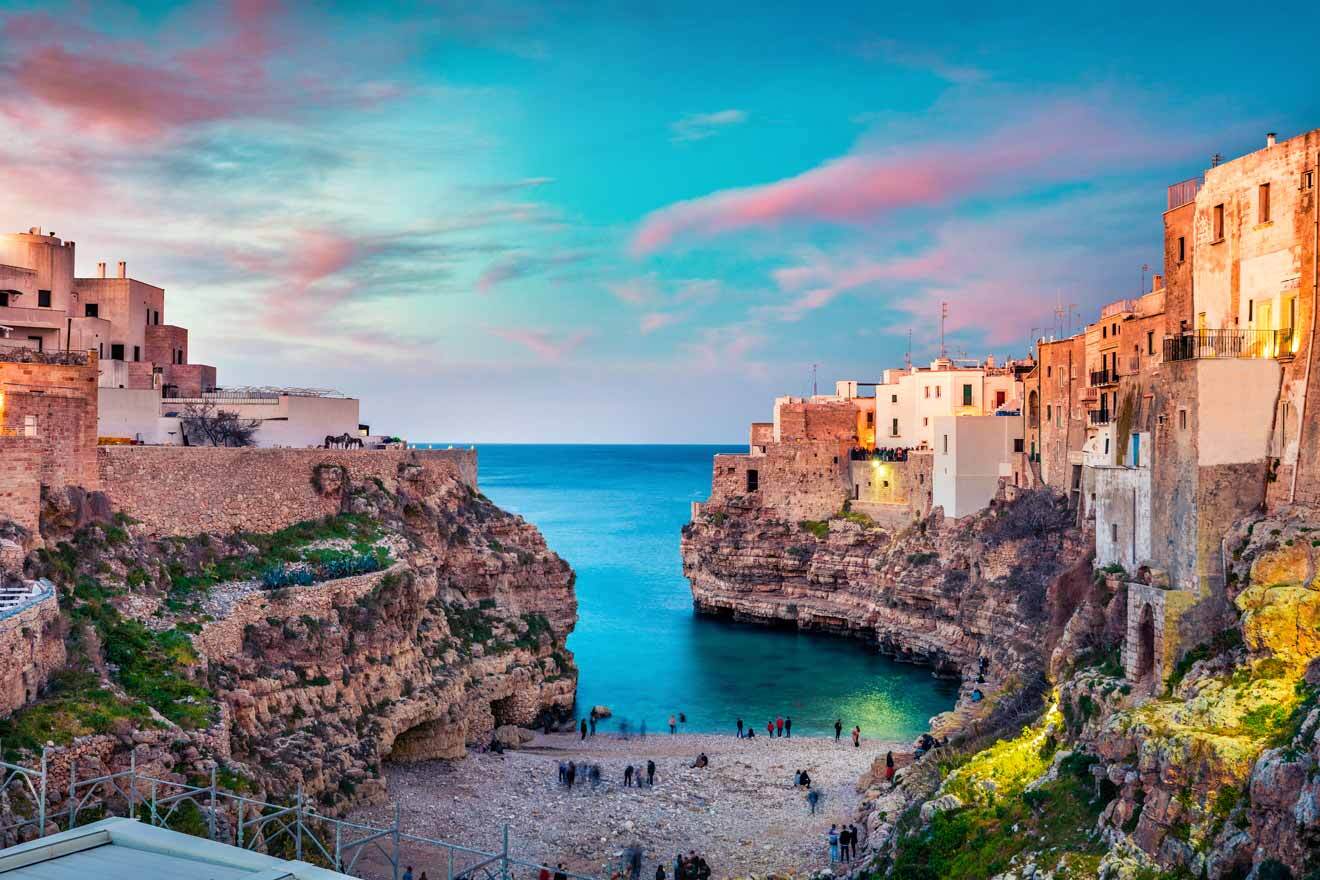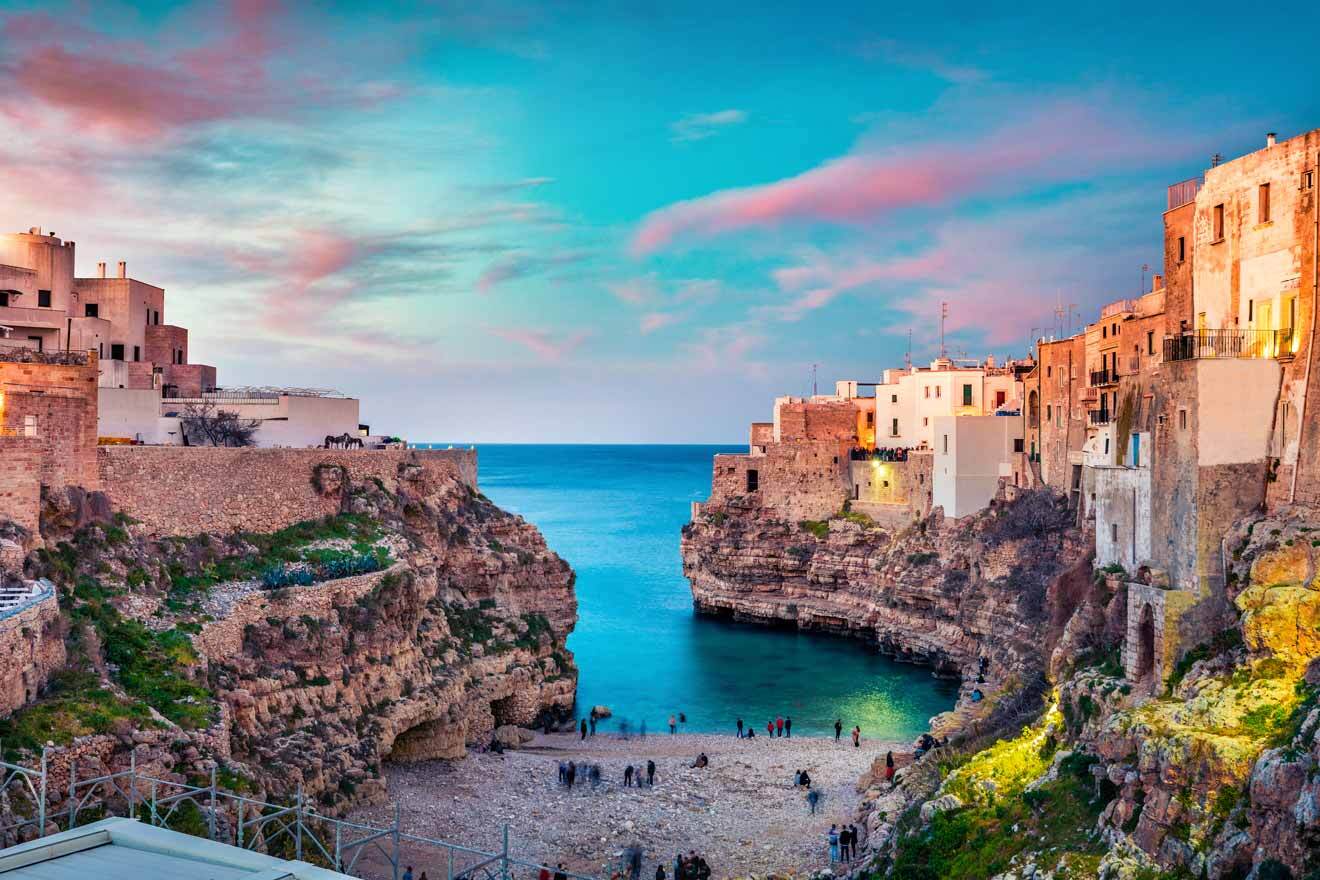 Are you planning to travel to the diverse and wonderful Puglia region? Great choice! Puglia is such a rich region you have historic cities full of beautiful ruins and other major sights, charming towns with amazing local cuisine, and beautiful pristine waters that will enchant beach lovers! Puglia is truly a hidden gem, and so versatile that everyone will find it appealing!
Since there are so many good spots in the region, I researched for hours where to stay in Puglia, so you can rest assured you are staying in the top areas and have the best accommodations. You can just pick the best area for you and half the planning is done for you!
This article features the locations of Bari, the capital of the region; Polignano a Mare, with beautiful beaches; Alberobello, with stunning trulli houses with whitewashed walls; Ostuni and its surrounding olive groves; Lecce's rich old town, and Monopoli's nearby beaches.
Each location has 4 options for the best hotels and nearby attractions you should visit! This fantastic region is getting more popular every year, so it is vital to book your room in advance!
Let's check out the best areas in Puglia. Shall we?!
If you are in a hurry
If you need to book fast, here are the best accommodations in Bari; this is the best area for first-timers, and it features historical attractions, amazing food, and beautiful beaches:
Since the region of Puglia is quite big, here you have a map to help you understand the exact location of each historical town and seaside town:
1. Bari – where to stay in Puglia for the first time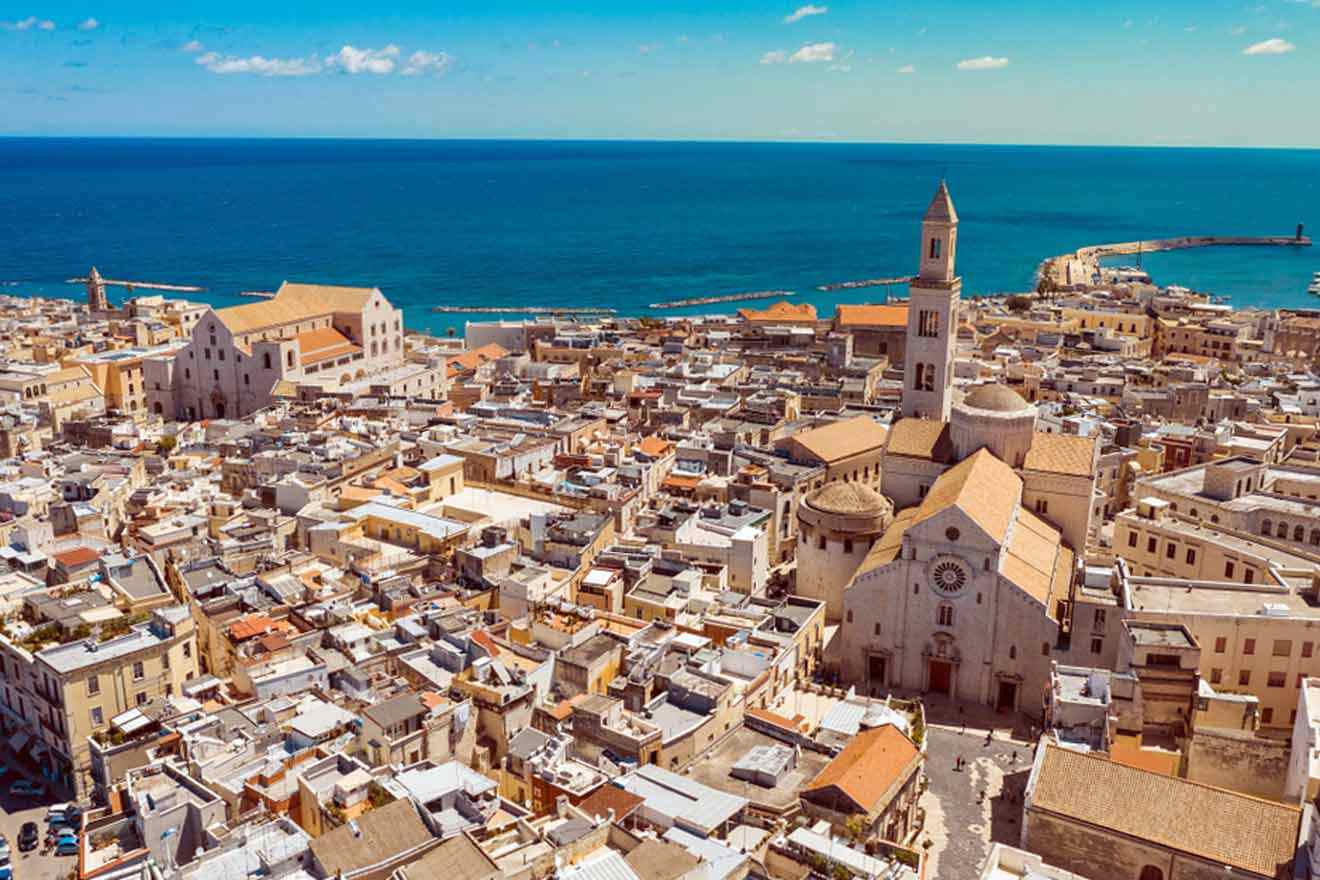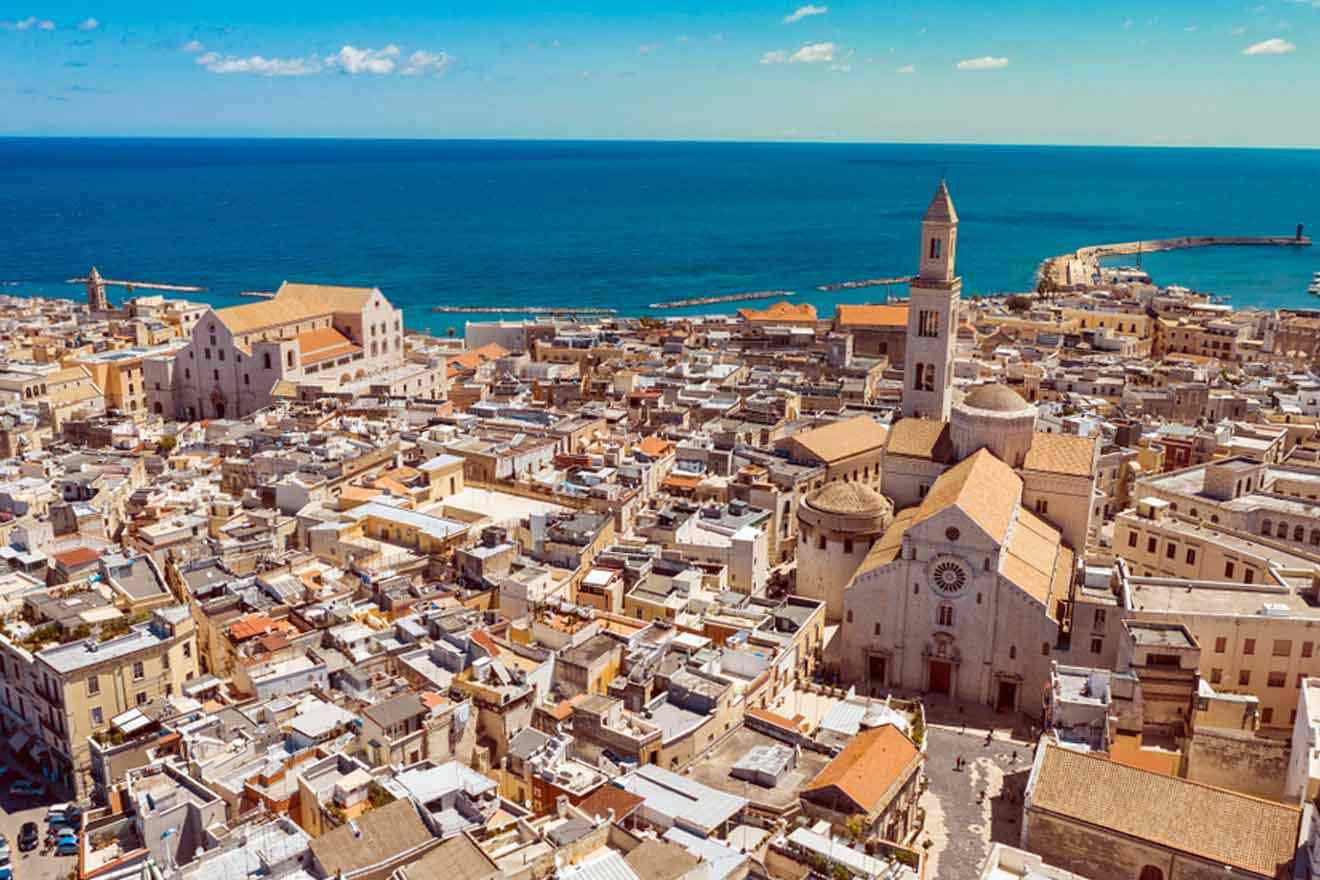 I had to start with the capital of the region: Bari. This amazing city has a rich history, beauty, and culinary delights at every corner. The historic center, also known as Bari Vecchia, is the perfect place to get lost with its beautiful narrow streets and all the major sights, from basilicas to castles, and many restaurants offering the most delightful and traditional dishes.
This city in southern Puglia, Italy, has an amazing view of the Adriatic sea, perfect for a leisurely stroll around the picturesque town and stopping by charming cafes, and why not rest and swim at Pane e Pomodoro beach before heading back to the city center?
Another great thing about this historic city, full of gorgeous whitewashed houses, is its closeness to other beautiful towns; for example, just a 60-minute drive away, you have Matera, which is home to the UNESCO World Heritage Site "Sassi di Matera."
Bari is, without a doubt, a great option for first-timers looking to explore Puglia; apart from having amazing attractions within walking distance, there are many nearby towns you can visit easily while you stay in the capital city. For anyone who loves a good day trip, Bari is the one for you!
Below you can see the top accommodations in Bari for all budgets!
Other accommodation options in Bari
Things to do in Bari
2. Polignano a Mare – for beach lovers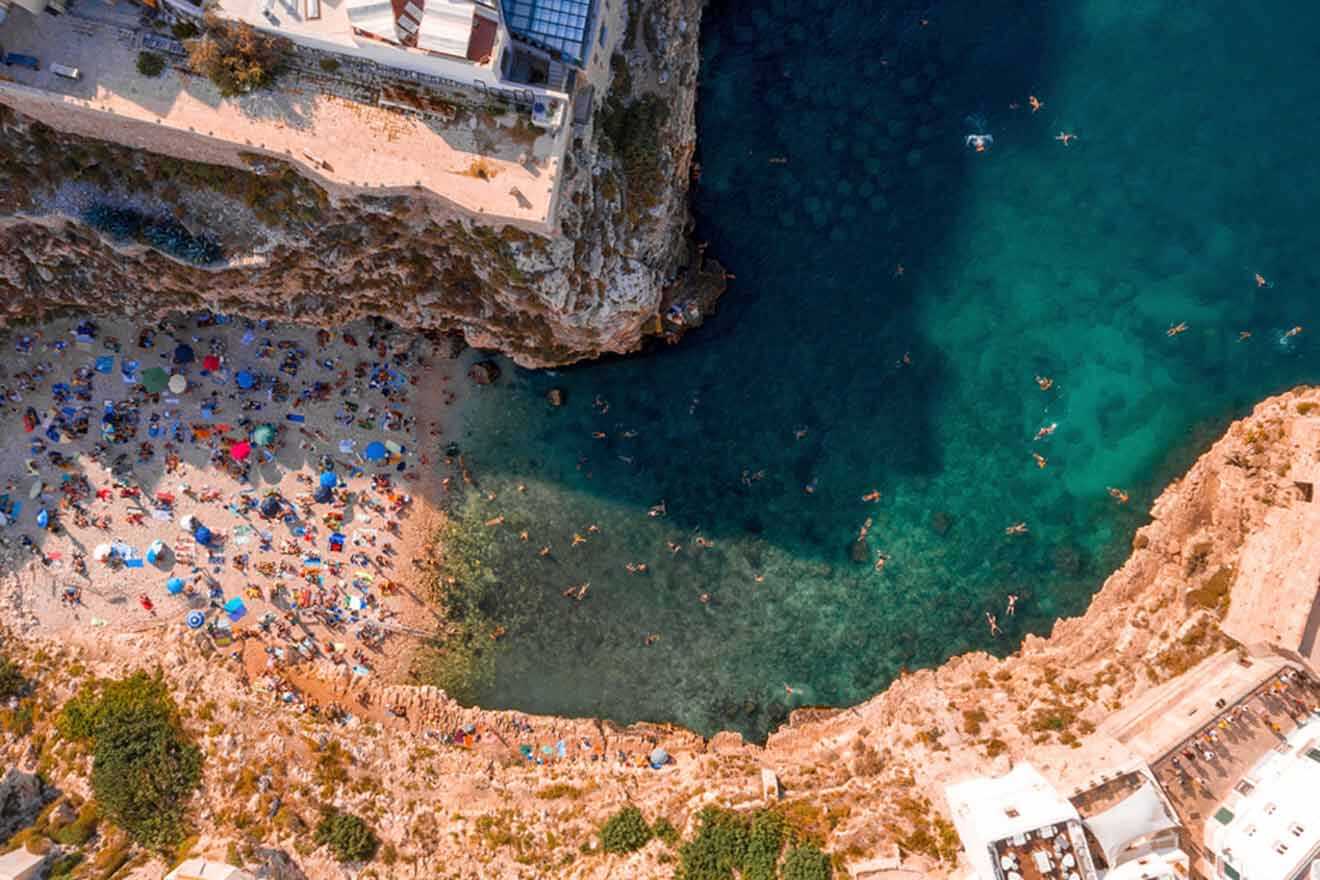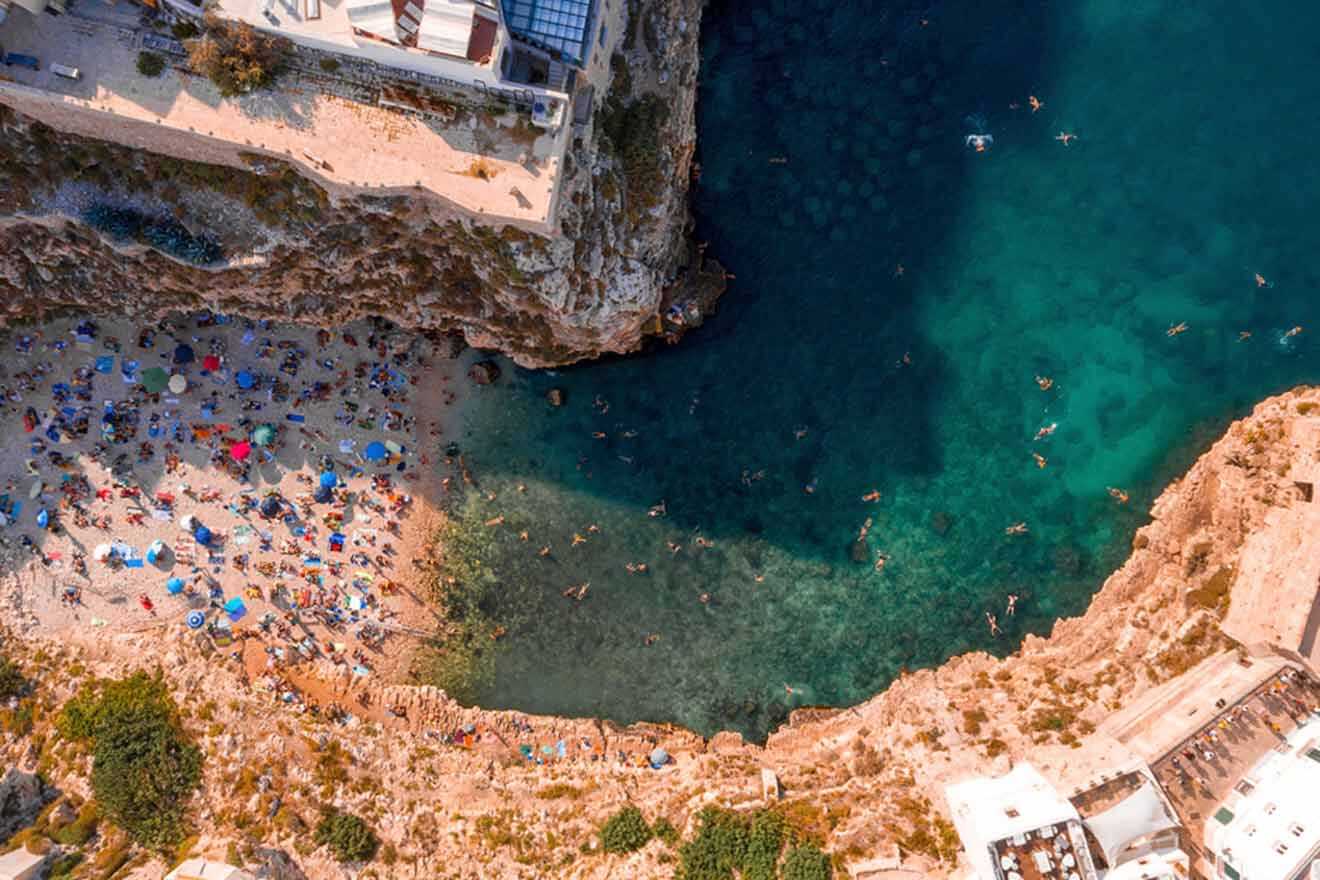 Wow! What a stunning coastal town, truly a hidden gem! This incredible town features the most amazing cliffs and scenic views of the pristine water of the Adriatic Sea. Staying here will make you feel like you are in a beautiful Italian film about romance and art in the summer!
Polignano a Mare is a serious haven for beach lovers. It has some of the most stunning scenery and its beaches are famous all over the world!
Imagine walking around in the small town, filled with ancient, medieval buildings with exposed stone walls! It's a great opportunity to learn about the town's rich history. Something beautiful about this town is that it is known as the city of art; its streets and landscapes have inspired many artists, and maybe it will inspire you, too!
Did you know that cliff diving is one of Polignano a Mare's main activities? But don't worry! You don't have to do it if you visit; you can simply lie down on the beautiful beaches of the area and enjoy one of the most stunning scenarios in Puglia.
Other accommodation options in Polignano a Mare
Things to do in Polignano a Mare
3. Alberobello – stay in a UNESCO site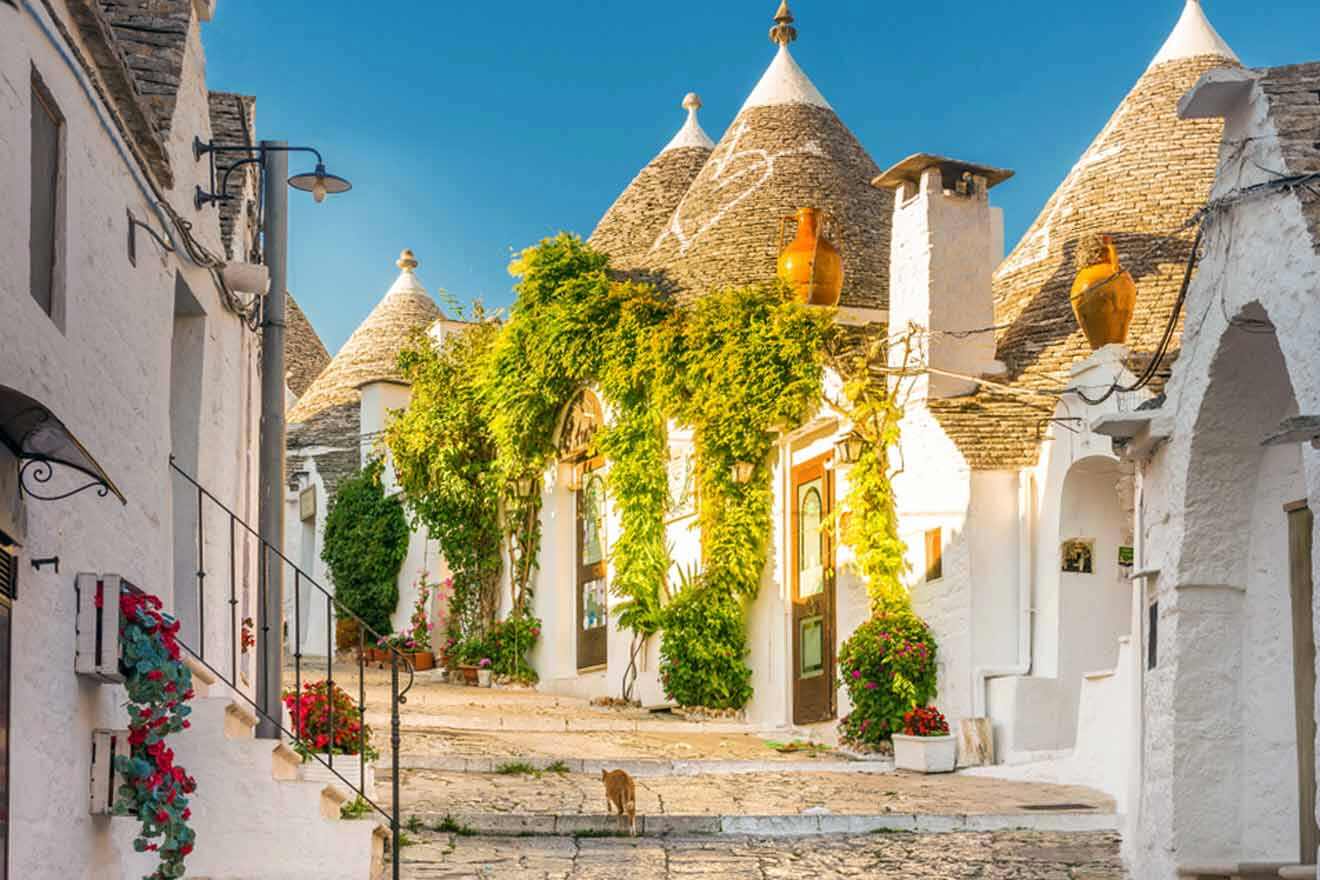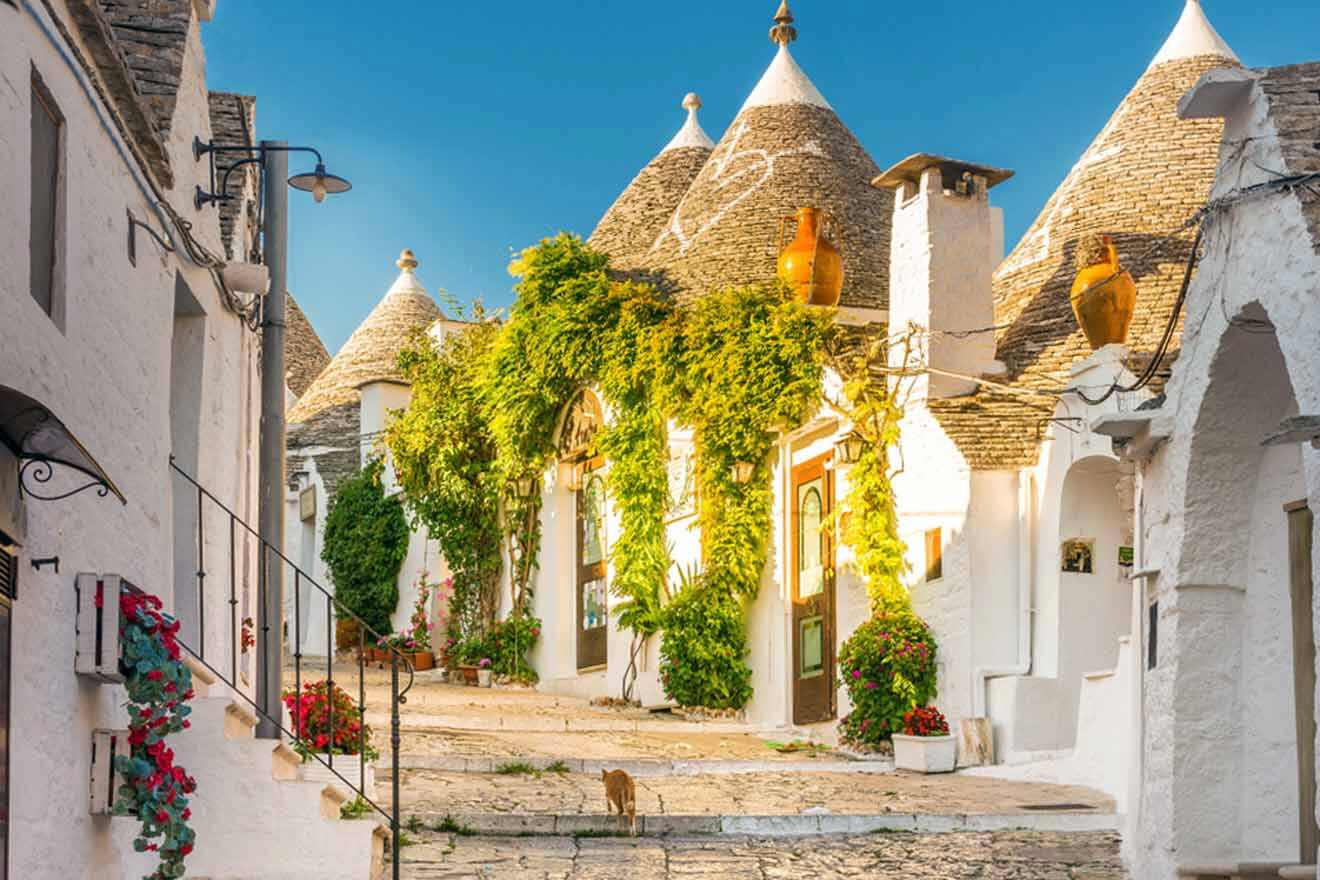 Alberobello is a must-visit for history lovers! This is such a unique town located in southern Puglia. Undoubtedly, the Trulli are the main attraction of the cute little town!
The trulli are cone-shaped houses that will make you feel like you've been transported to another world! They are built in such a way that the temperature inside is perfect in both winter and summer.
One great stop in Alberobello would be visiting Trullo Sovrano, a 2-story trullo that has been turned into a museum, where you can experience how life would have been in the past! It features furniture and decor from the time of the trulli.
Albelobello has a super rich history, which is still alive nowadays when you visit the town; for example, you can be part of the many festivals and celebrations, such as Saints Cosma and Damiano, or the Christmas celebrations in the winter!
The culinary experience here is also spectacular! Imagine tasting homemade Orecchiette, a fresh focaccia Barese with tomatoes and top-quality olive oil, all accompanied by Primitivo wine, the region's wine! The beach is only 20 minutes from Alberobello, so fresh seafood is offered in the area – and it may well be the best you'll ever taste!
Other accommodation options in Alberobello
Things to do in Alberobello
4. Ostuni – for a cozy stay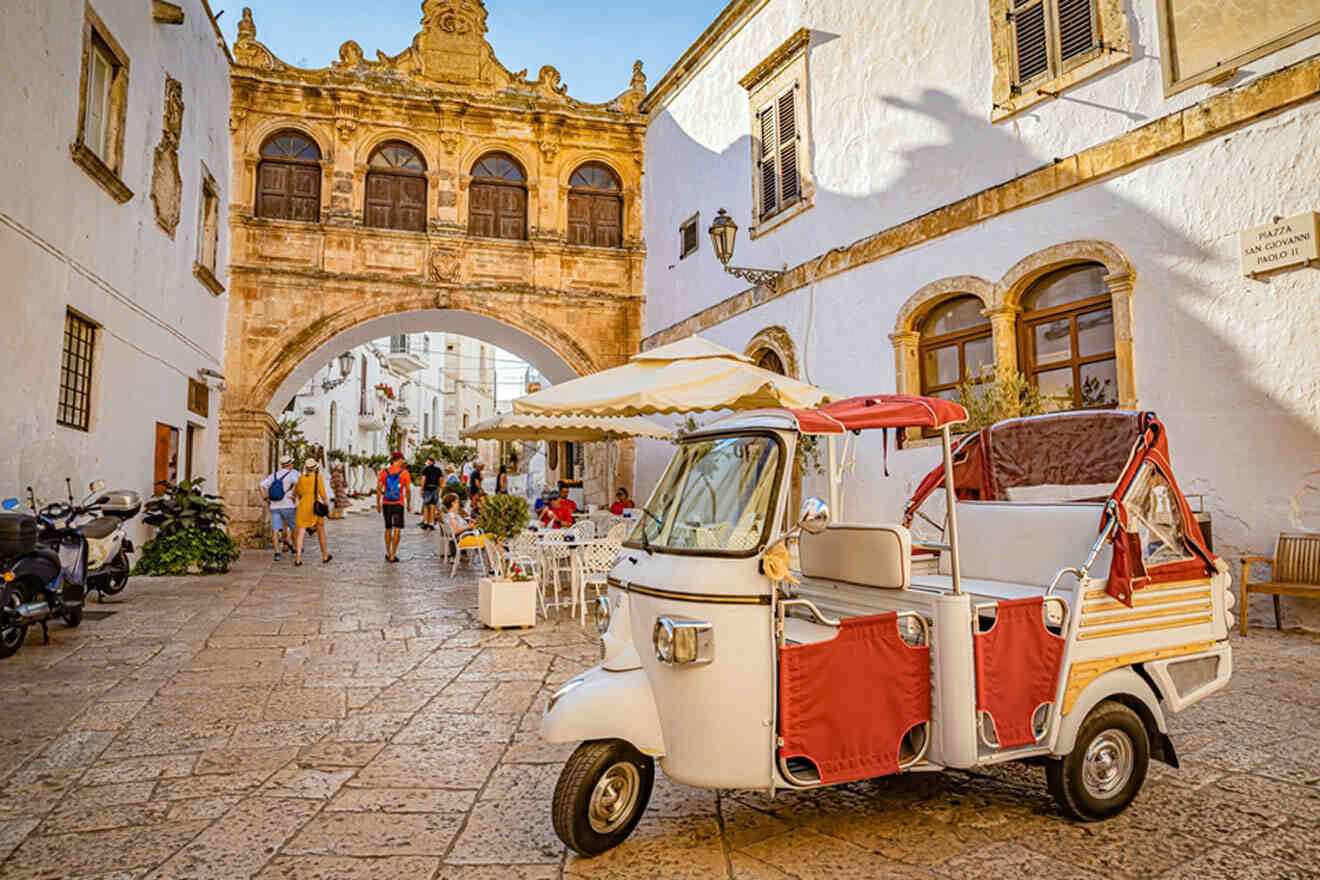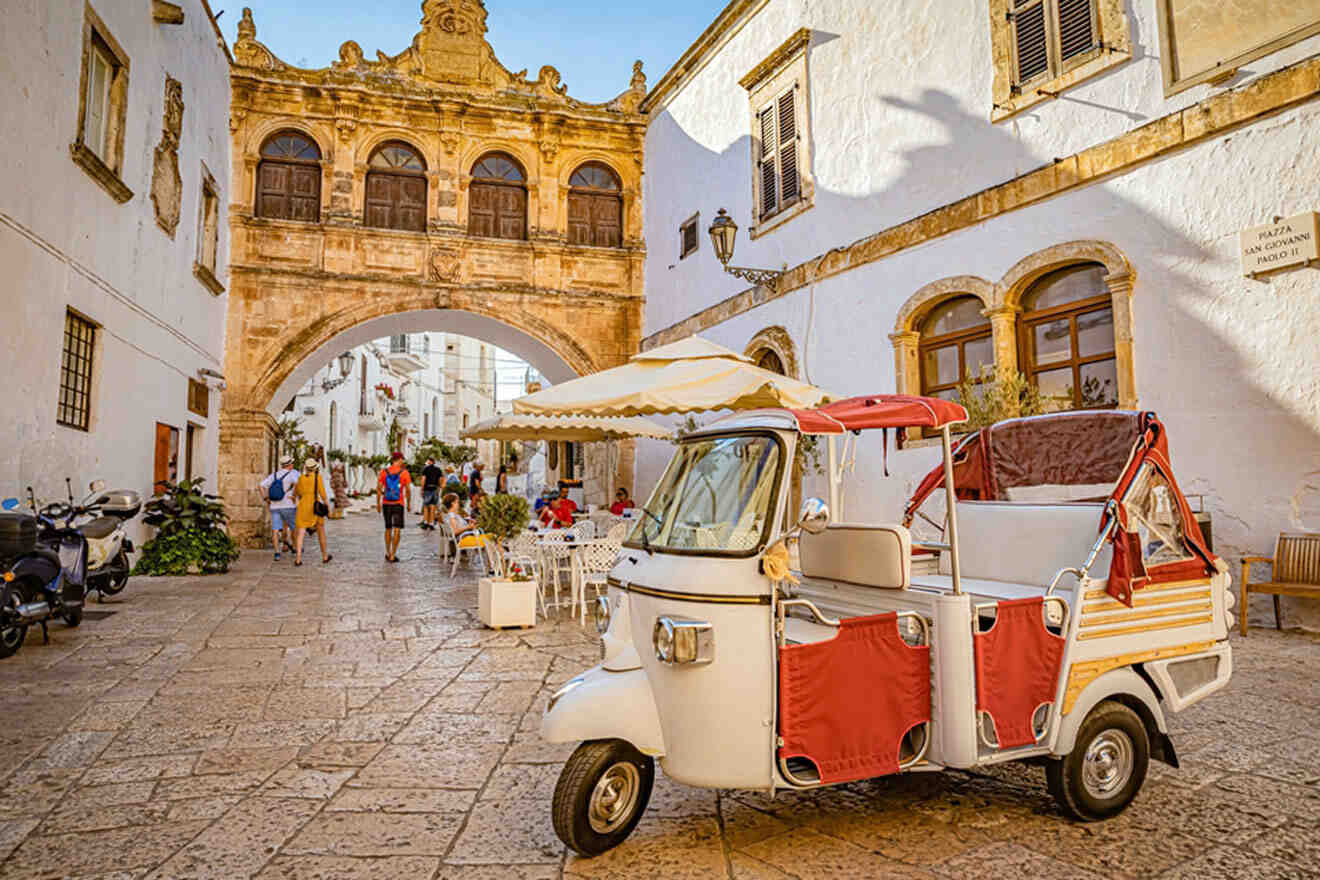 Let's take a look at the outstanding White City of Southern Puglia! Imagine a town set on a hilltop washed in white and shining under the Mediterranean sun like a little piece of paradise! The ocean views as you start going uphill in the city are truly stunning, you will feel like you are part of a movie set!
Go for a walk in the narrow streets of the historic center, get lost in the charming alleys, and enjoy an amazing meal in any of the cute little cafes and restaurants you can find on your way through the city's staircase. Once you get to the top of the hill, soak in the sun, and admire the panoramic views, the sea, the olive trees, and the charming town of Ostuni!
Just like the rest of the country, Ostuni has incredible cuisine, including fresh pasta, regional wines, and one of the best olive oils in the area. Actually, the city is known for being a great olive oil producer! Before leaving this amazing city, stop by one of the many local craft shops, and buy a little ceramic souvenir so you can remember this trip for the rest of your life!
Other accommodation options in Ostuni
Things to do in Ostuni
5. Lecce – for a historical encounter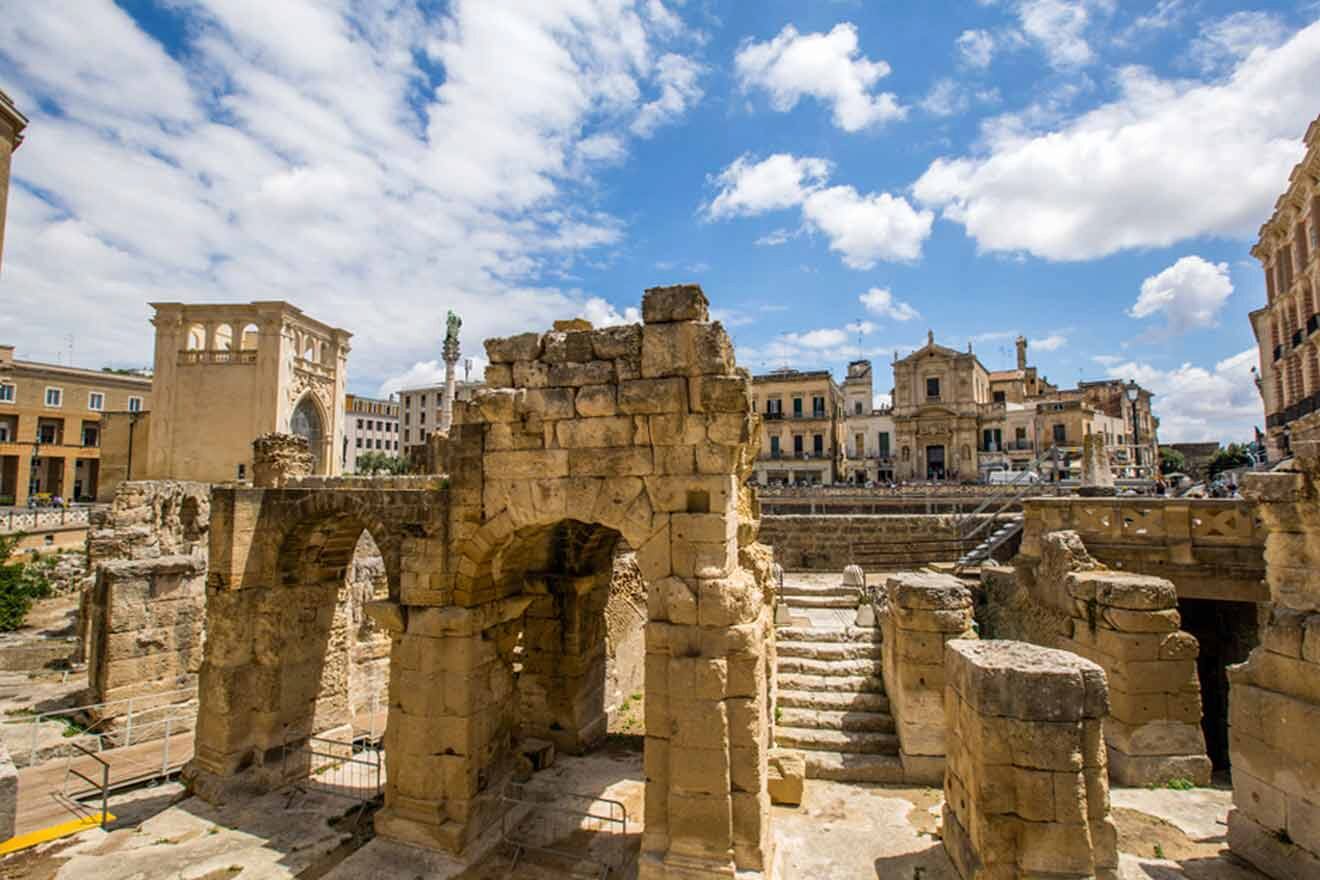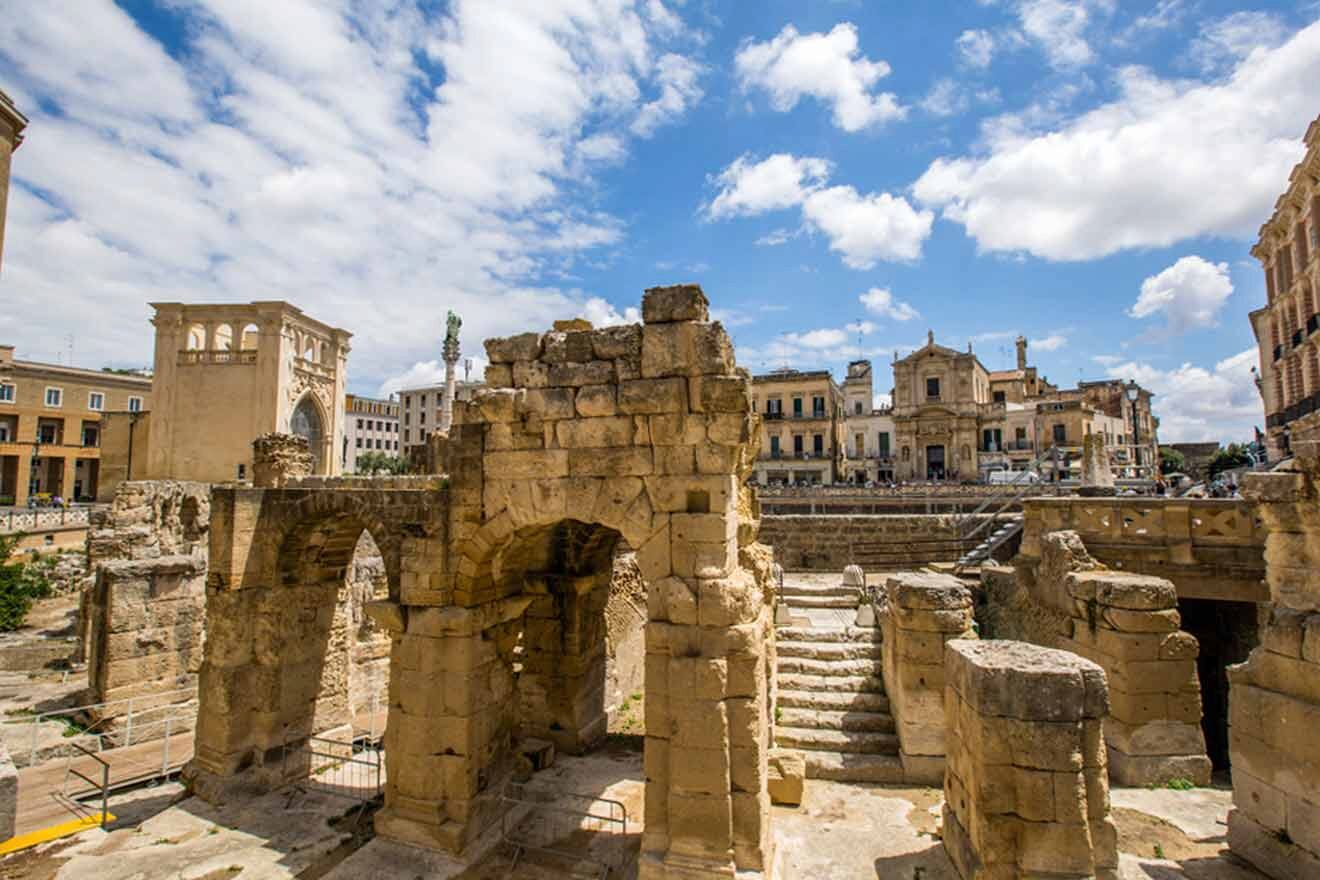 Ah, Lecce, bella città, another hidden gem in southern Italy, located in the Salento peninsula! If you are going to stay in Lecce, you need to be ready to be amazed by this city's stunning Baroque architecture that will have you daydream while wandering around this open-air museum. Everything in this city, including Piazza del Duomo and Basilica di Santa Croce, is a piece of art that will transport you in time!
The architecture in the city is incredible, you have astonishing ancient ruins, cathedrals, and basilicas with the most exquisite detail in their facades and the inside of the monuments, and big piazzas that will be filled with locals, live performers, and much more! Walk around or sit in one of the many restaurants' terraces and watch the world go by while sipping on an Aperol spritz. You'll feel like a true Italian!
Of course, Lecce is another culinary heaven, from pasticciotti to pizza, fresh pasta, and gelato, because we all need a summer treat to freshen up! Lecce has everything you need for the perfect summer or winter holiday, and it is an amazing place to visit alone, with a partner, friends, or with the entire family!
Let's see the best accommodations in the area!
Other accommodation options in Lecce
Things to do in Lecce
6. Monopoli – for coastal towns fans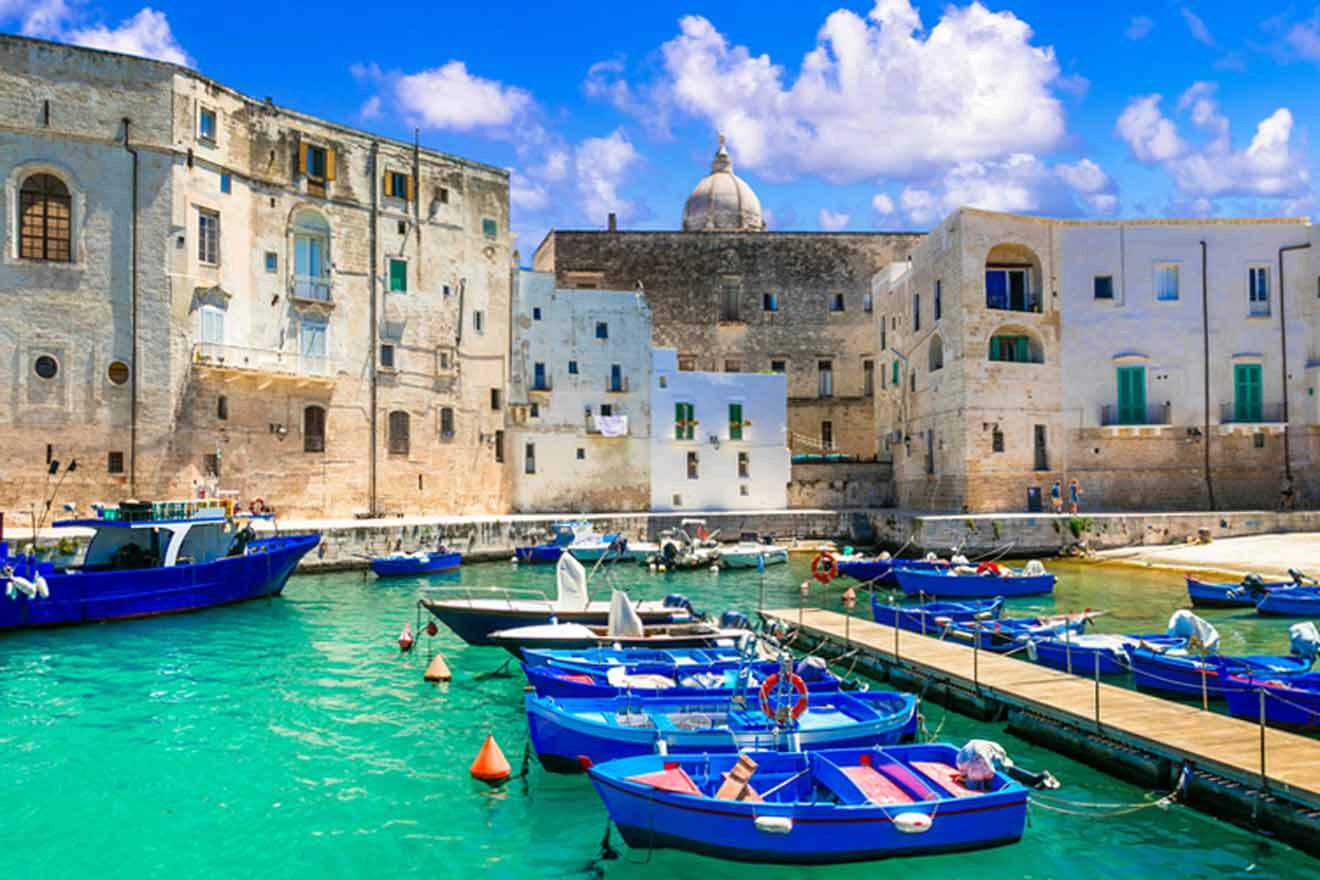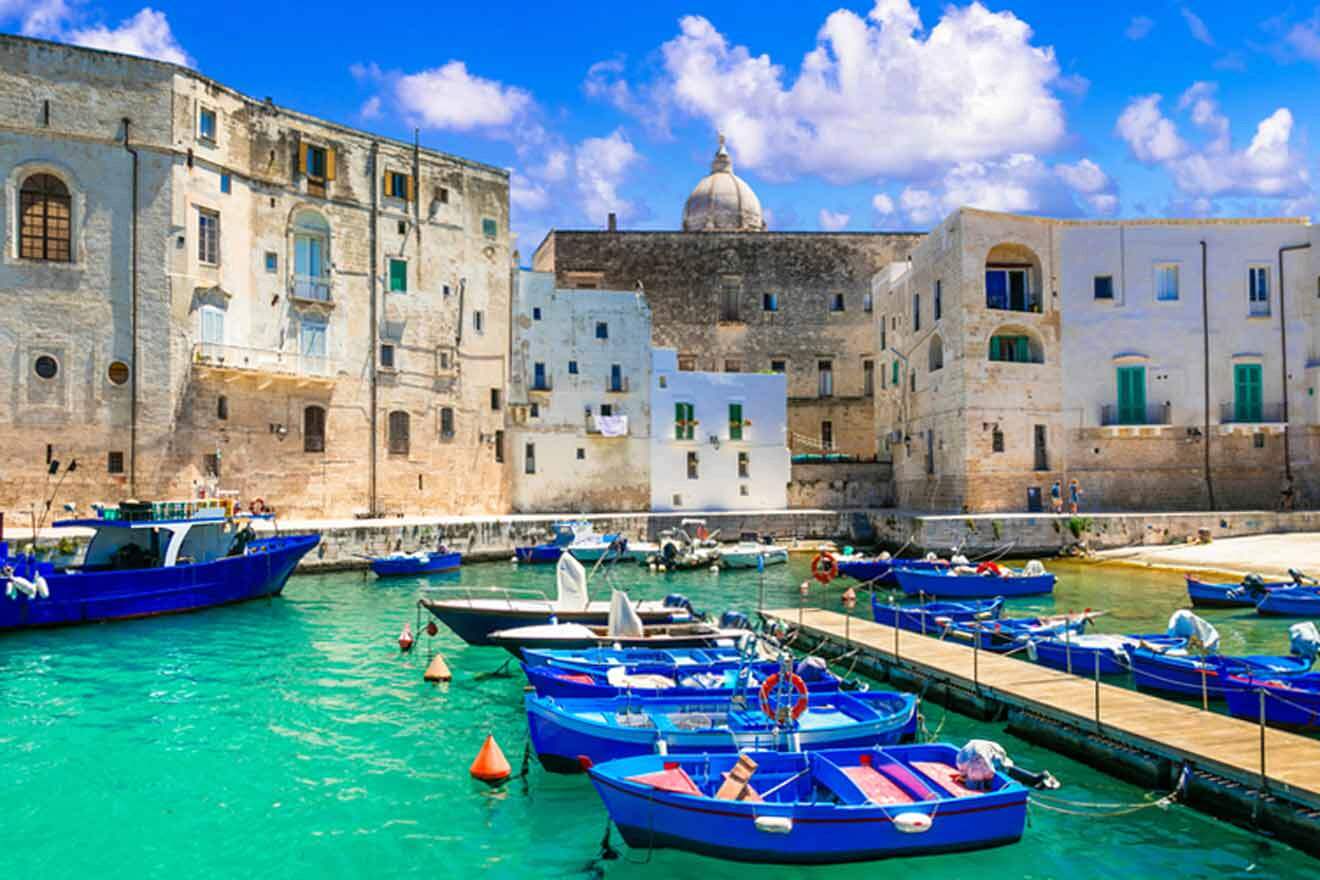 And the last amazing spot, in Northern Puglia, is the beautiful coastal town of Monopoli. First things first, one of the most amazing aspects of Monopoli is its beaches, crystal-clear waters, soft sandy shores, and beach clubs; everything together makes it look like the perfect postcard came to life. Put on your sunglasses and sunscreen, and get ready to spend the most fantastic time sunbathing under the sun and swimming in pristine waters!
Take a walk through the old town and let its narrow streets transport you back in time. You'll stumble upon ancient churches, charming piazzas, and hidden corners that are begging to be explored. This entire coastal town is the perfect place to take your camera and gather memories for those Instagram stories!
Wouldn't it be perfect to close the day with a delicious meal? Picture this: You wake up and explore the old town, after you take a lunch break and lay on the sand; when your skin feels warm enough, you jump in the ocean, then you head to any of the amazing restaurants you can find in the city and eat fresh food, drink red wine, and try a delicious traditional tiramisu. Chef kiss!
Other accommodation options in Monopoli
Things to do in Monopoli
Visit the stunning Basilica Cattedrale Maria Santissima della Madia
Explore a castle Castello Carlo V
Relax at the beach, Cala Porta Vecchia
Bathe in pristine waters at Spiaggia di Porto Ghiacciolo
Have aperitivo at Piazza Giuseppe Garibaldi
FAQs about where to stay in Puglia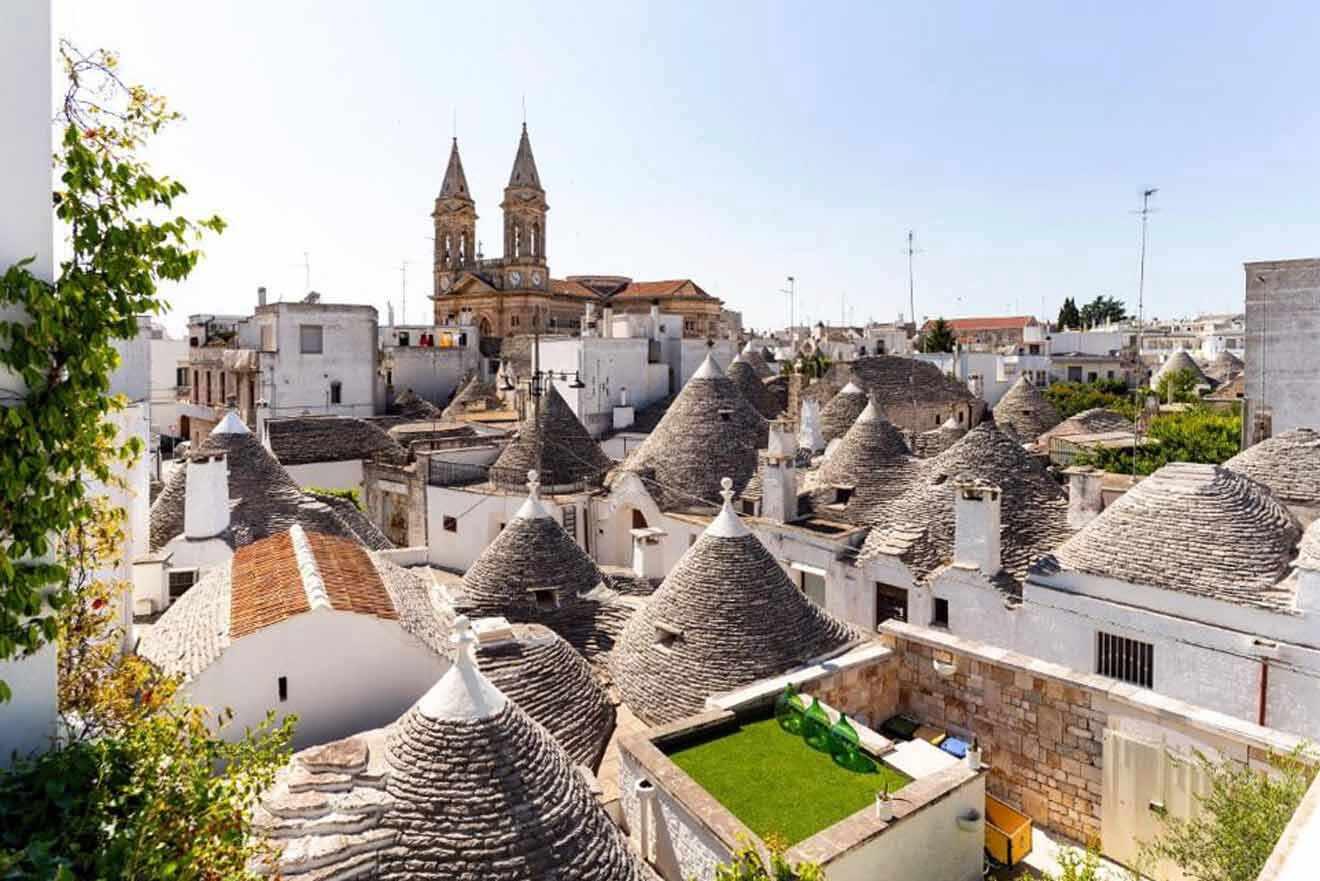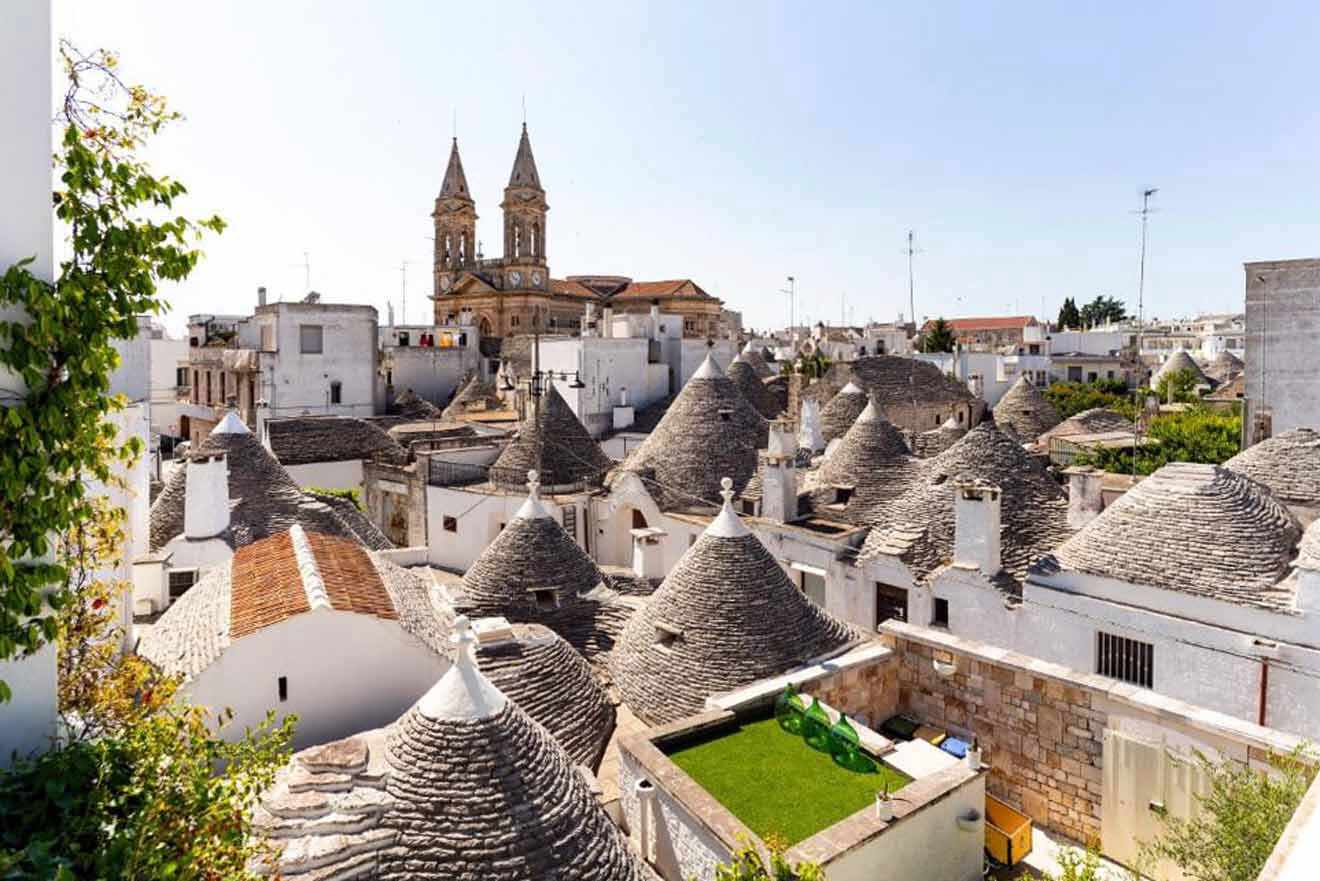 Conclusion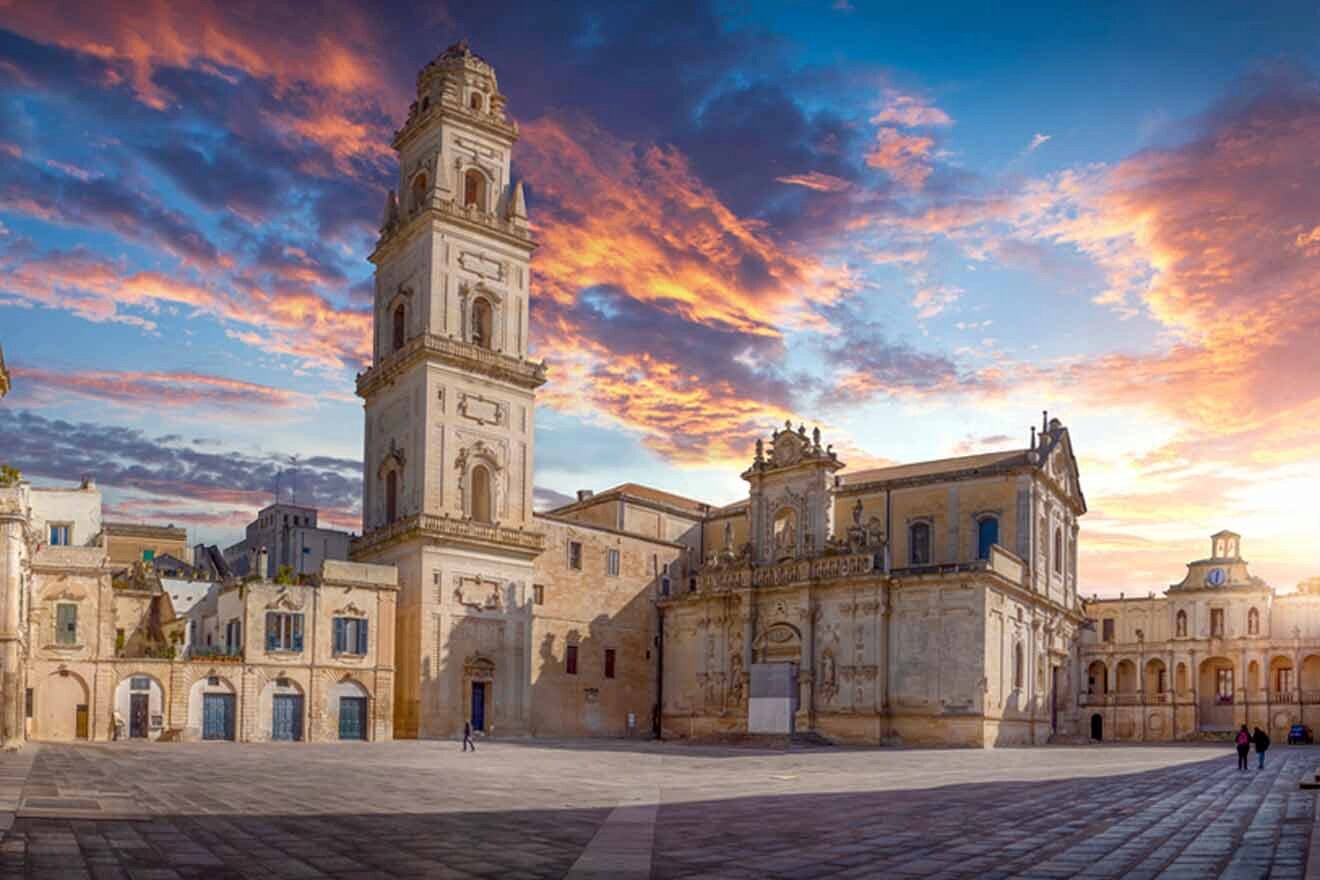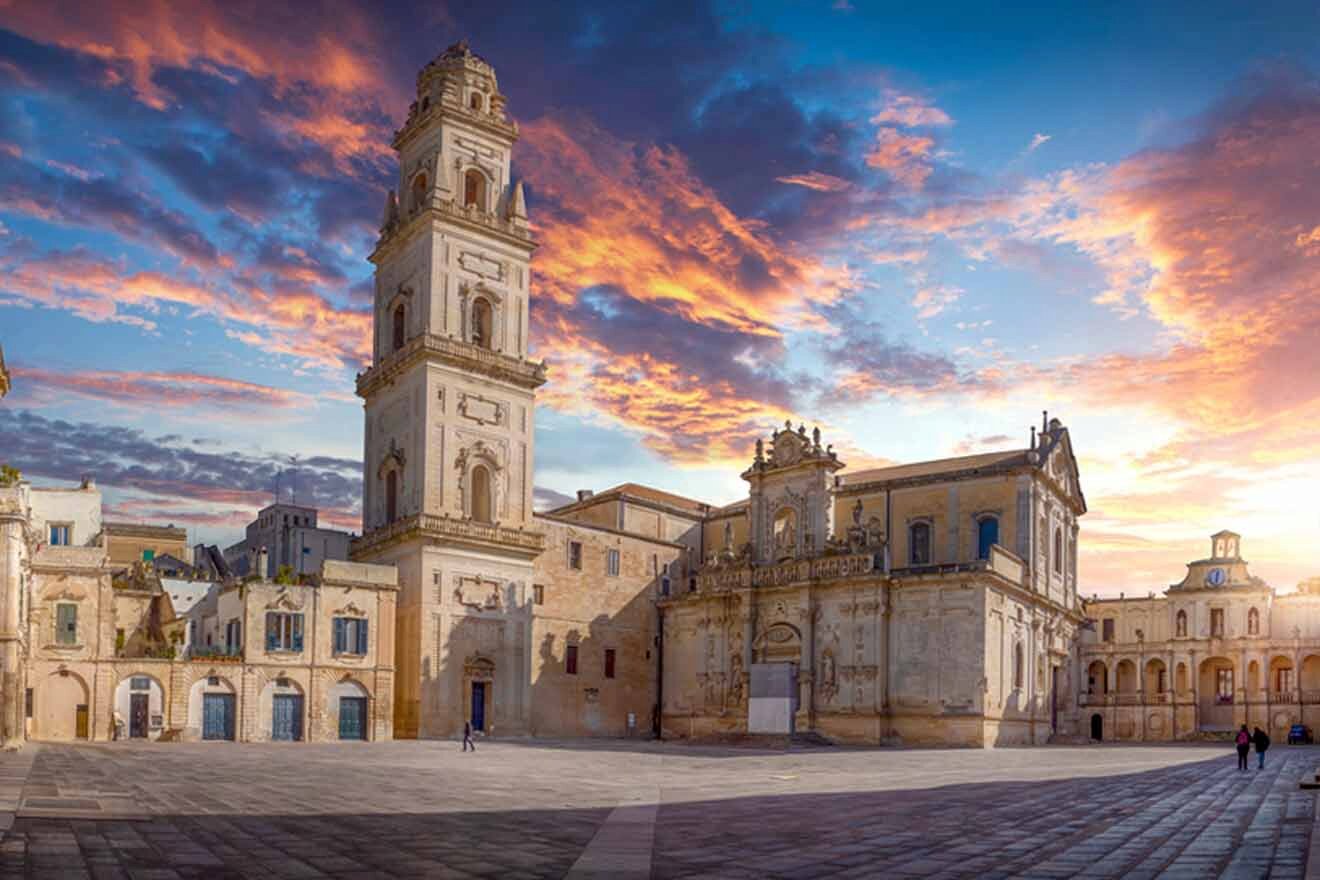 That is a wrap for today, folks! What an amazing range of cities in the region of Puglia, plus amazing accommodation options where to stay in Puglia, from luxury hotels to self-catering apartments.
Honestly, I love all the accommodations mentioned in this post, but if I had to name my 2 favorites, I would go with:
Echi di Puglia – Located in Bari, this gorgeous hotel has an outdoor pool to freshen up during the hot Italian summer
LE home B&B – I am in love with the decoration and style of this bed and breakfast located in Lecce. Stunning!
Which of these areas in Puglia is your favorite? Have you ever stayed in any of these? Let me know in the comments, and right after, book your hotel room before someone else does and start planning the rest of your vacation!
Until the next trip,
Daniela
---