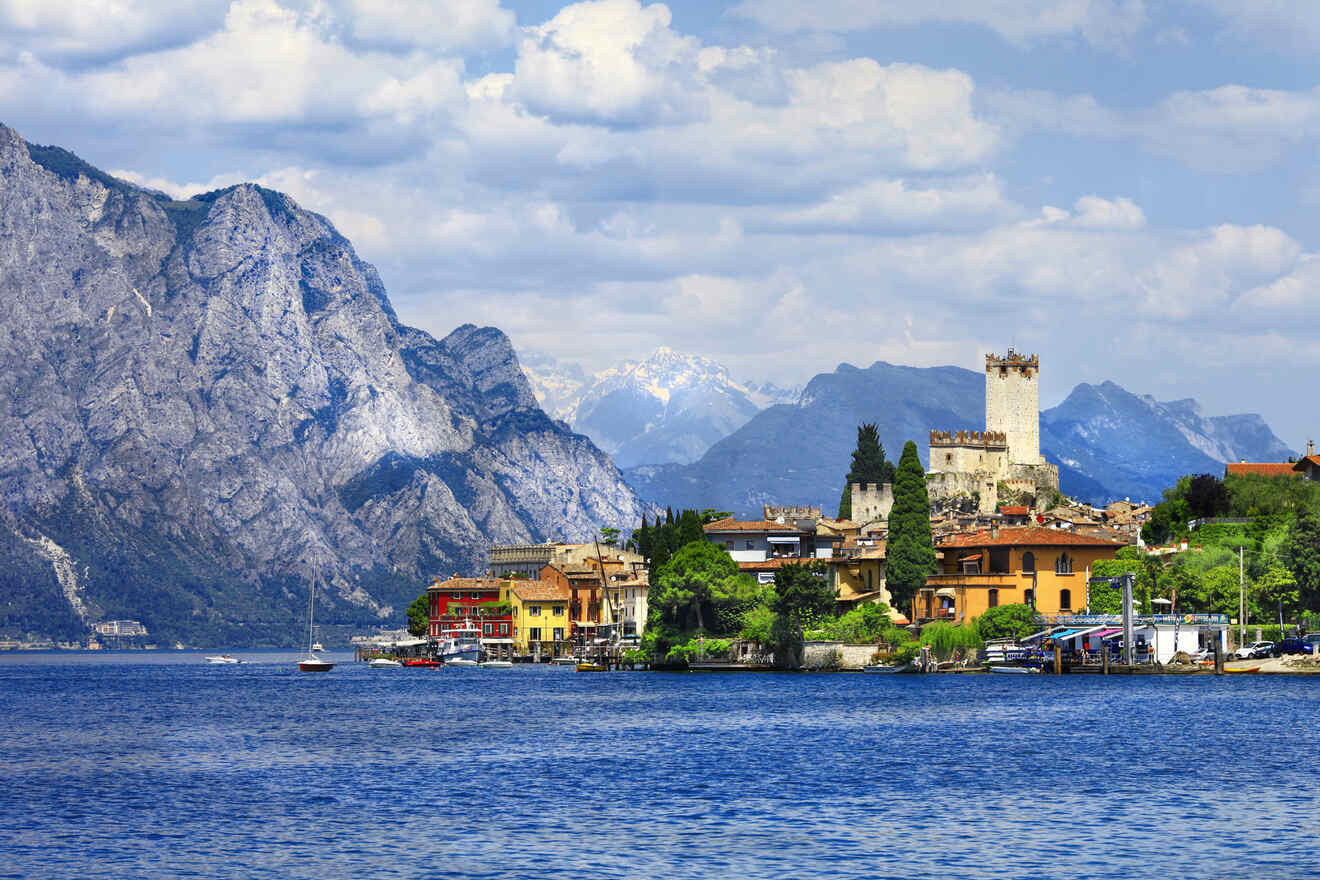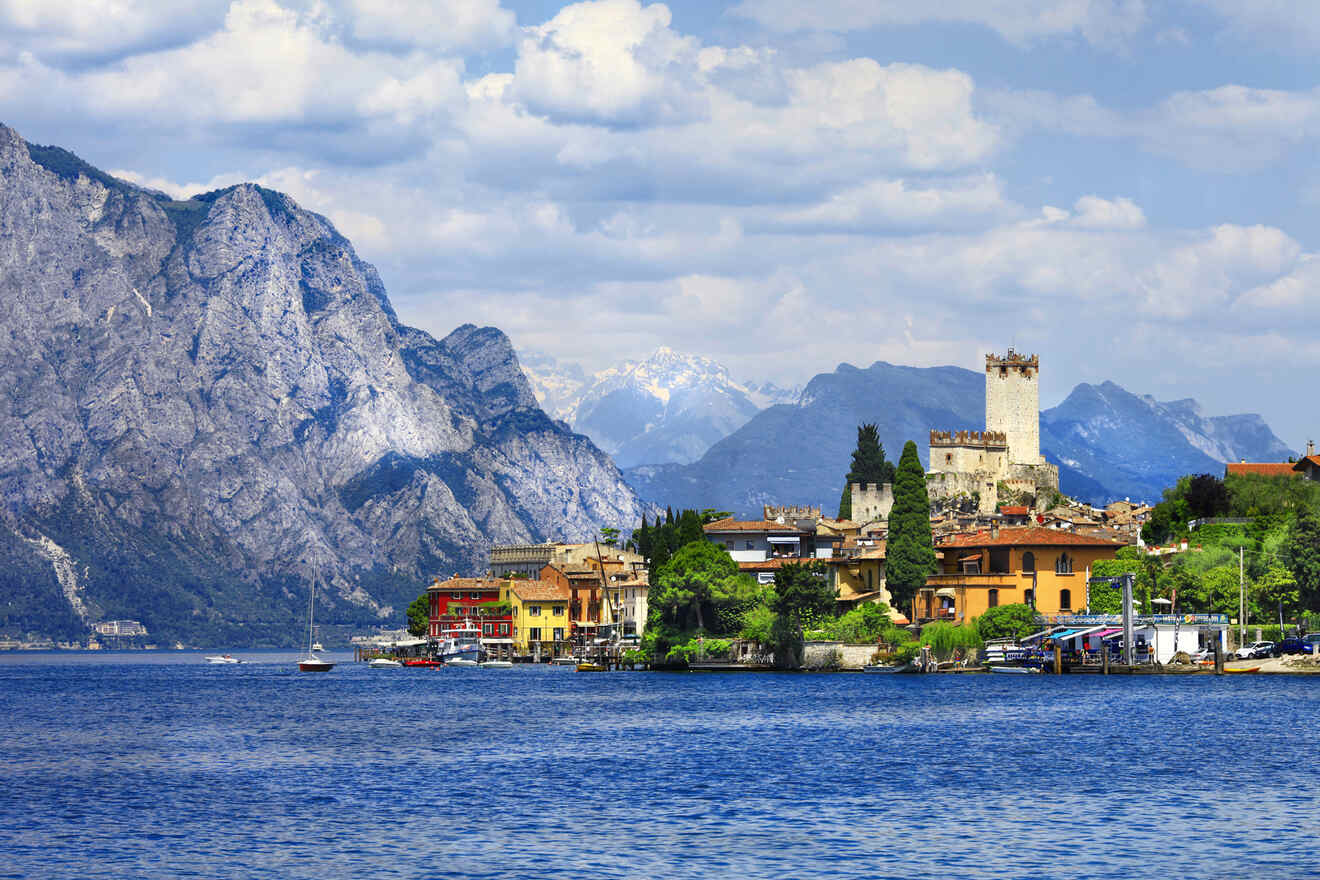 Located in northern Italy, Lake Garda is one of the most charming destinations in the country, with its picturesque towns facing the water, olive groves and tourist attractions for any taste!
Covering three Italian regions (Veneto, Lombardy, and Trentino-Alto Adige), it is also the biggest lake in Italy, so it can be really hard to choose which will be the best holiday base where to stay in Lake Garda for your travel needs!
And that's where I come! Since I've spent almost every summer of my life there, I decided to help you with your decision by creating this guide to the best towns where to stay in Lake Garda, including hotel options for different budgets.
Riva del Garda is the best place to stay in Lake Garda for first-timers, but Desenzano del Garda is better to enjoy the nightlife, Limone Sul Garda for laid-back vibes, Malcesine for couples, Sirmione for history buffs, Peschiera del Garda for families, and Bardolino is the coolest town in the area.
But just a reminder, if you want to stay in any of the hotels mentioned in the blog, make sure you book them some months in advance, especially if you're going to Lake Garda during summertime when it gets super crowded.
Basically, Lake Garda makes an excellent base for any kind of traveler… so start reading now to see which town is best for you!
Let's jump right in!
If you are in a hurry
If you just want to quickly book accommodation, here are the top hotels where to stay in Lake Garda, in the town of Riva del Garda:
Check out this map to see where all of Lake Garda's towns are located:
1. Riva del Garda – where to stay in Lake Garda for the first time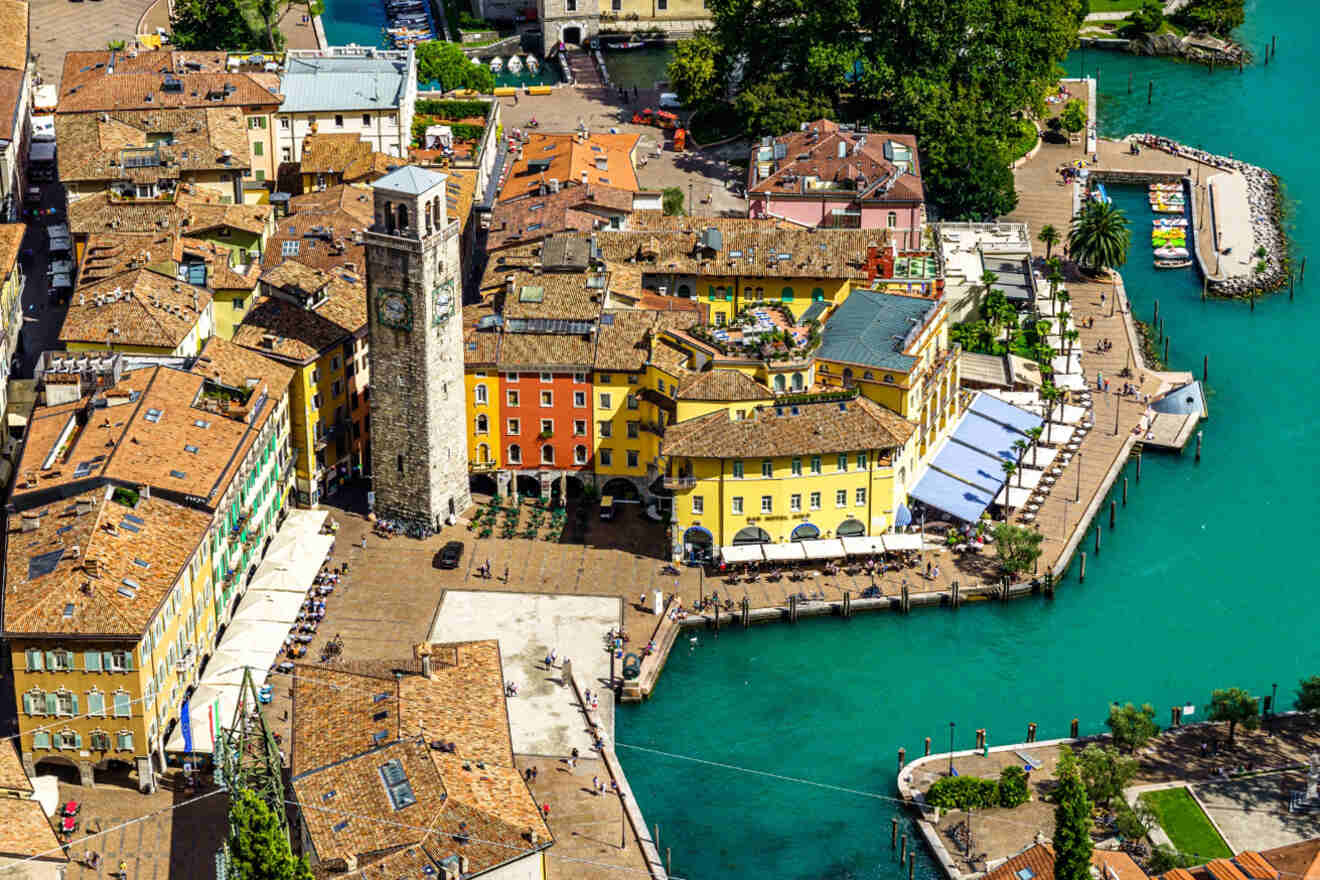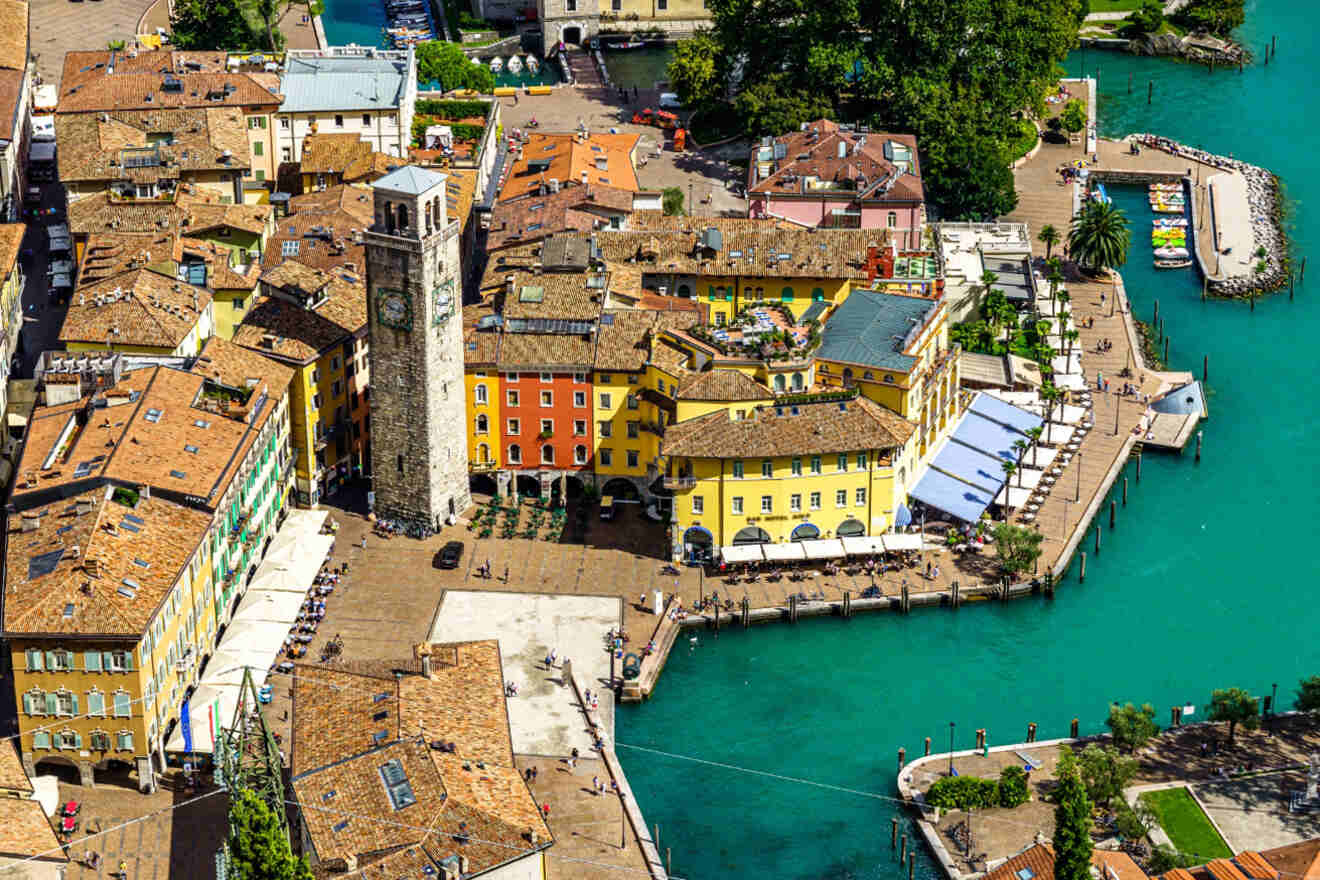 Located on the north shore of Lake Garda (in the Trentino Region), Riva del Garda town offers something literally for everyone: tourist attractions, a chill atmosphere, historic sights, and outdoor activities, etc. Making it the best place where to stay in Lake Garda for first-timers.
Sitting right between the mountains and the water, Riva del Garda is the perfect place to chill in one of the charming restaurants/cafes on the shore of Lake Garda while you're sipping your coffee or aperitif!
And when you are not enjoying the panoramic lake views, you can walk around its historic town center, particularly charming for its medieval old streets, visit the ancient churches and museums, or join some outdoor activities in the surroundings, like mountain biking.
From Riva, you will also have access to one of the best things to do in Lake Garda: the Rocca del Riva Castle. Hosting a Museum with art exhibitions, photographs, archaeology, and much more, this is a real must if you are in the area!
If you like the idea of staying here, check out the following hotels in Riva del Garda, and don't forget to book them far in advance if you want to secure yourself a spot.
Other accommodation options in Riva del Garda
Things to do in Riva del Garda
2. Desenzano del Garda – best town for nightlife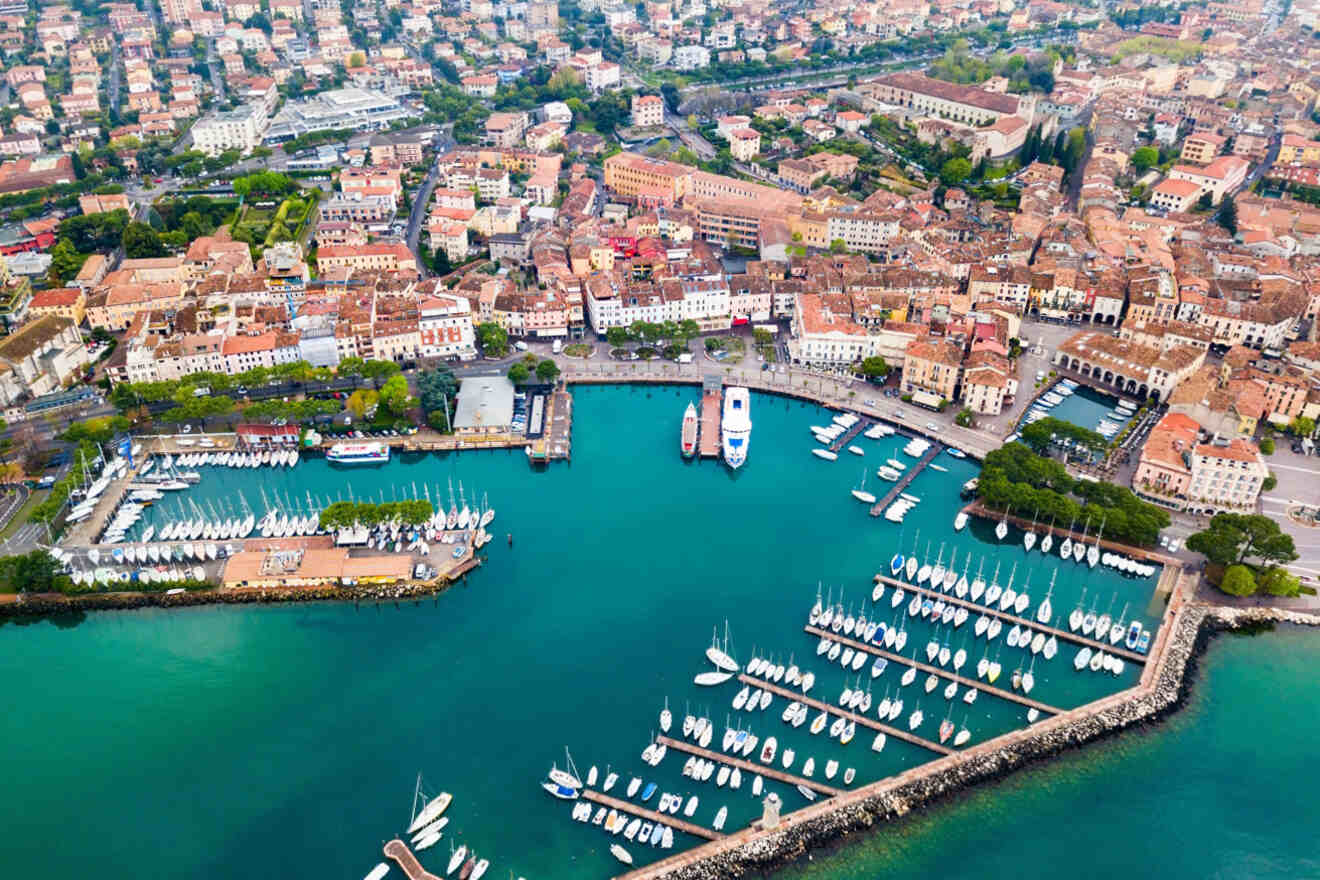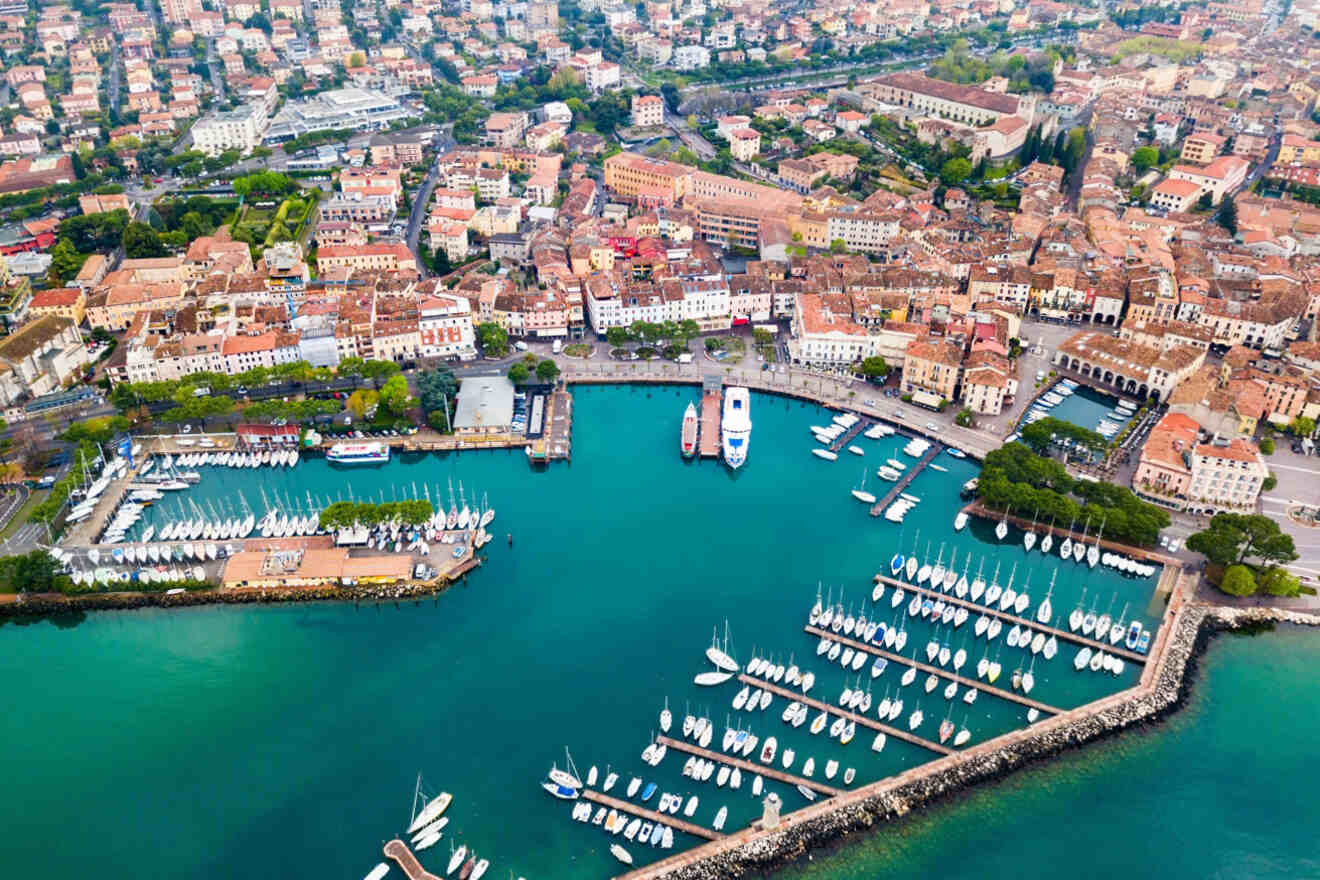 Desenzano del Garda is a resort town located on the southern shore of Lake Garda, close to many Italian cities like Bergamo, Venice, and Verona, the reason why it offers many accommodation options as well as a vibrant nightlife!
In fact, here there are bars and discos for any taste and music genre like the Coco Beach Club to enjoy happy hours with music right on the lakeshore, the exclusive Sesto Senso Club or the Biblo Club if you want to dance to Latin rhythms.
But this small lively town offers much more than cool clubs, from a historical center to a wonderful promenade with many cafes and restaurants (like basically all the other Lake Garda's towns), and countryside with vineyards and olive groves right in the surroundings!
But one thing you cannot miss if you stay in Desenzano is visiting the famous Roman Villa, a short walk from the old town, offering ancient ruins, colorful mosaic floors and breathtaking lake views from its rooms.
So basically, Desenzano is the perfect place in Lake Garda to enjoy culture during the day and some crazy fun at night!
Other options in Desenzano del Garda
Things to do in Desenzano del Garda
3. Limone Sul Garda – the most laid-back town on Lake Garda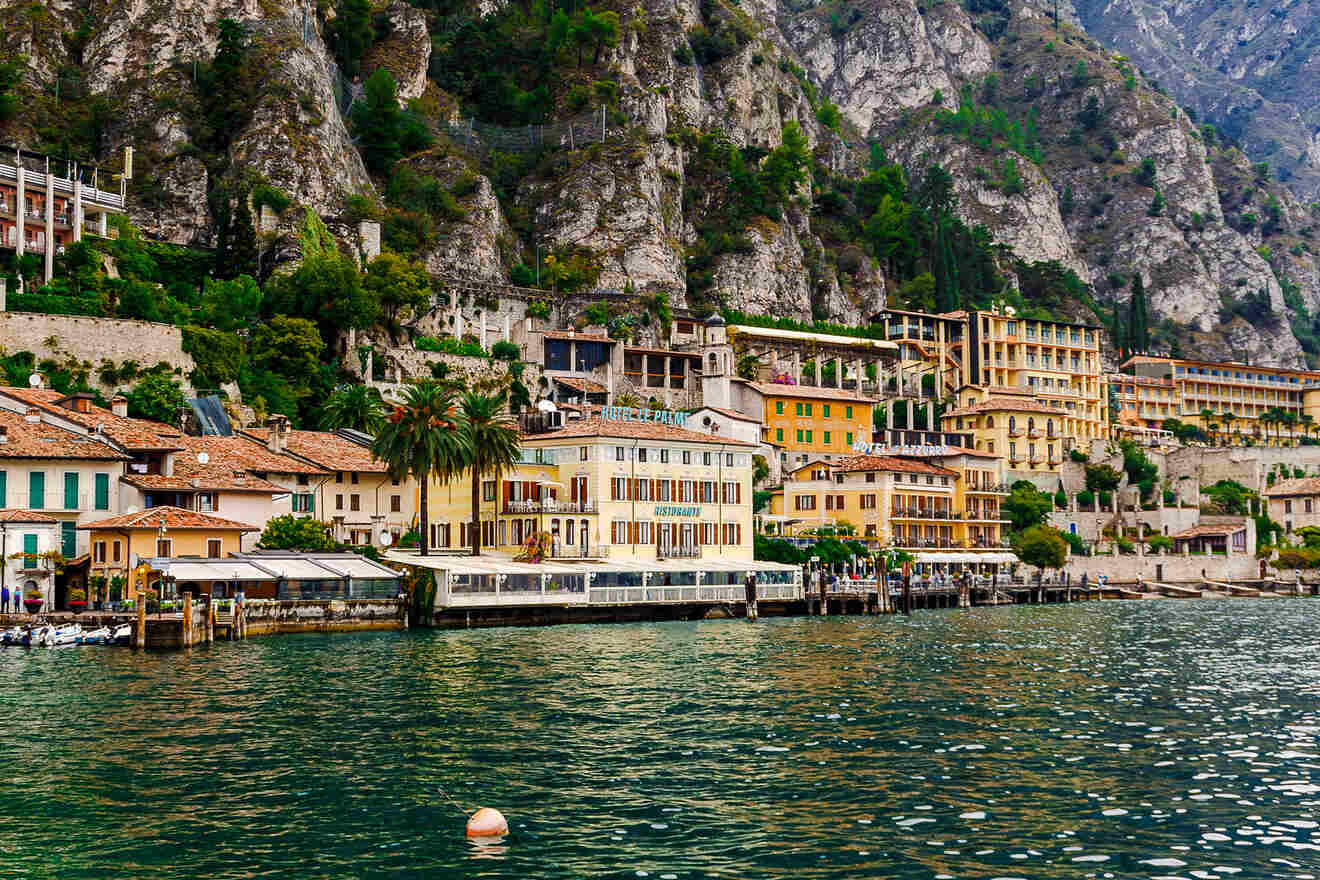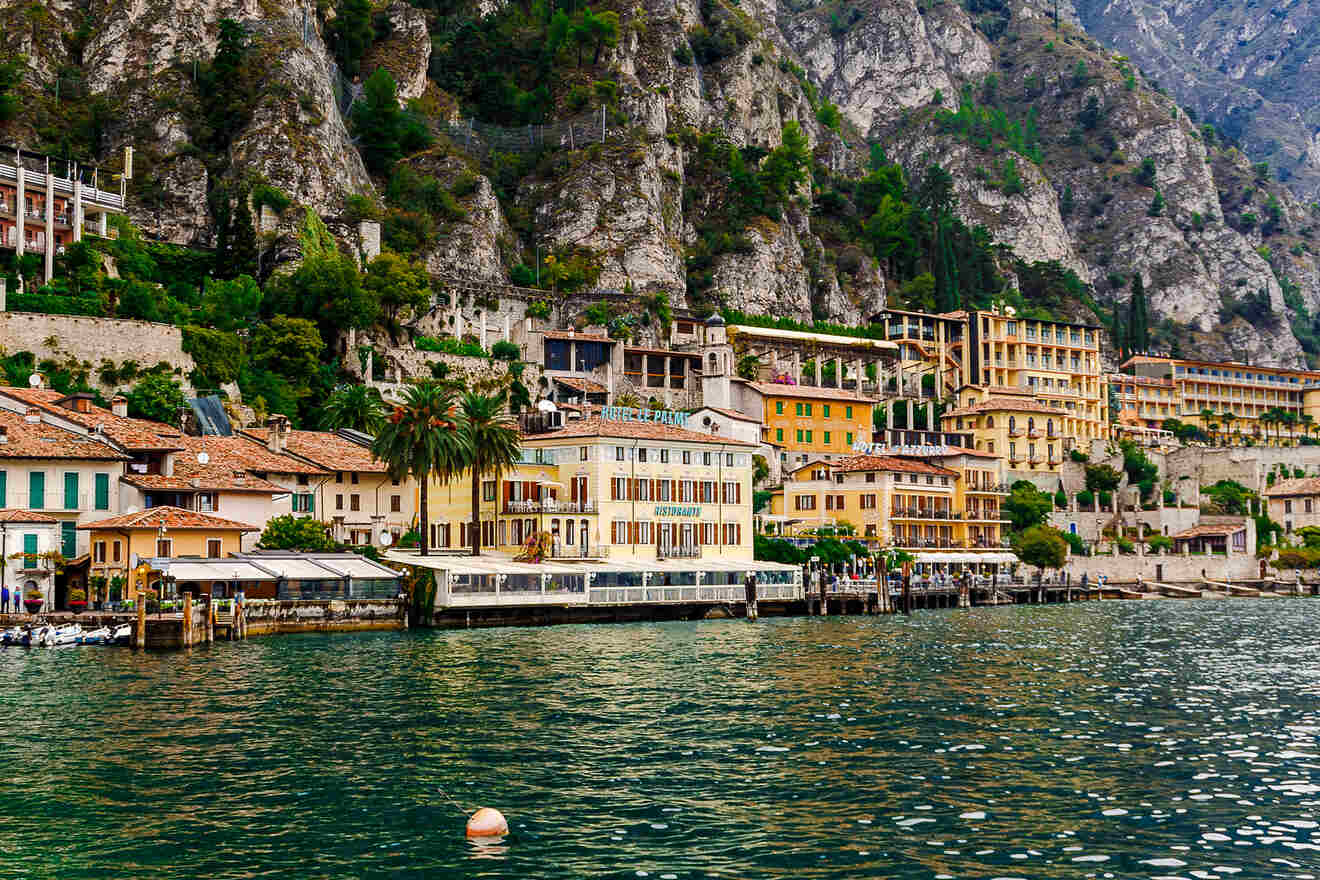 If you are looking for a very quiet town that gives you access to many activities at the same time, Limone Sul Garda is for you. It's located on the northern-west shore of Lake Garda, in the Lombardy Region.
"Limone" literally means lemon due to the countless lemon trees surrounding the town, growing thanks to the mild climate of the area… so I definitely suggest you check out one of the beautiful lemon groves in the area.
As I said, there are countless things you can do in Limone. If you're an active kind of person, you need to take a panoramic ride (or walk) on Limone's scenic new cycle path right on the Garda Lake shore.
If you love history and culture, a must-do in Limone is visiting the eccentric Vittoriale, the former home to the Italian poet Gabriele D'Annunzio. You will rarely see a house like this in your life, featuring crazy decorations and unique rooms, a good attraction even for families!
And the good thing is that after joining all these activities, you can always go back to the laid-back old town and just enjoy its dining and shopping options!
Other accommodation options in Limone Sul Garda
Things to do in Limone Sul Garda
4. Malcesine – where to stay in Lake Garda for couples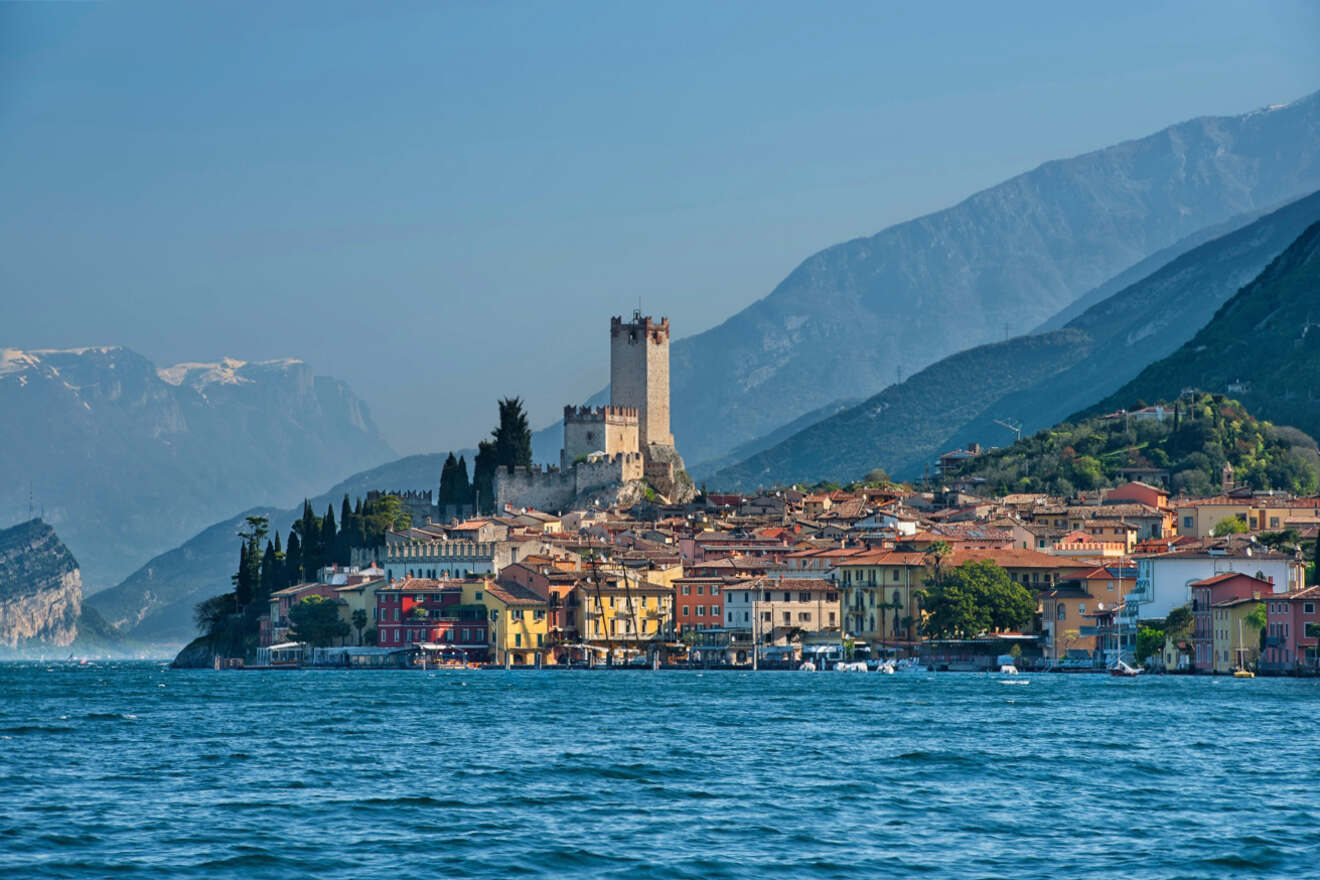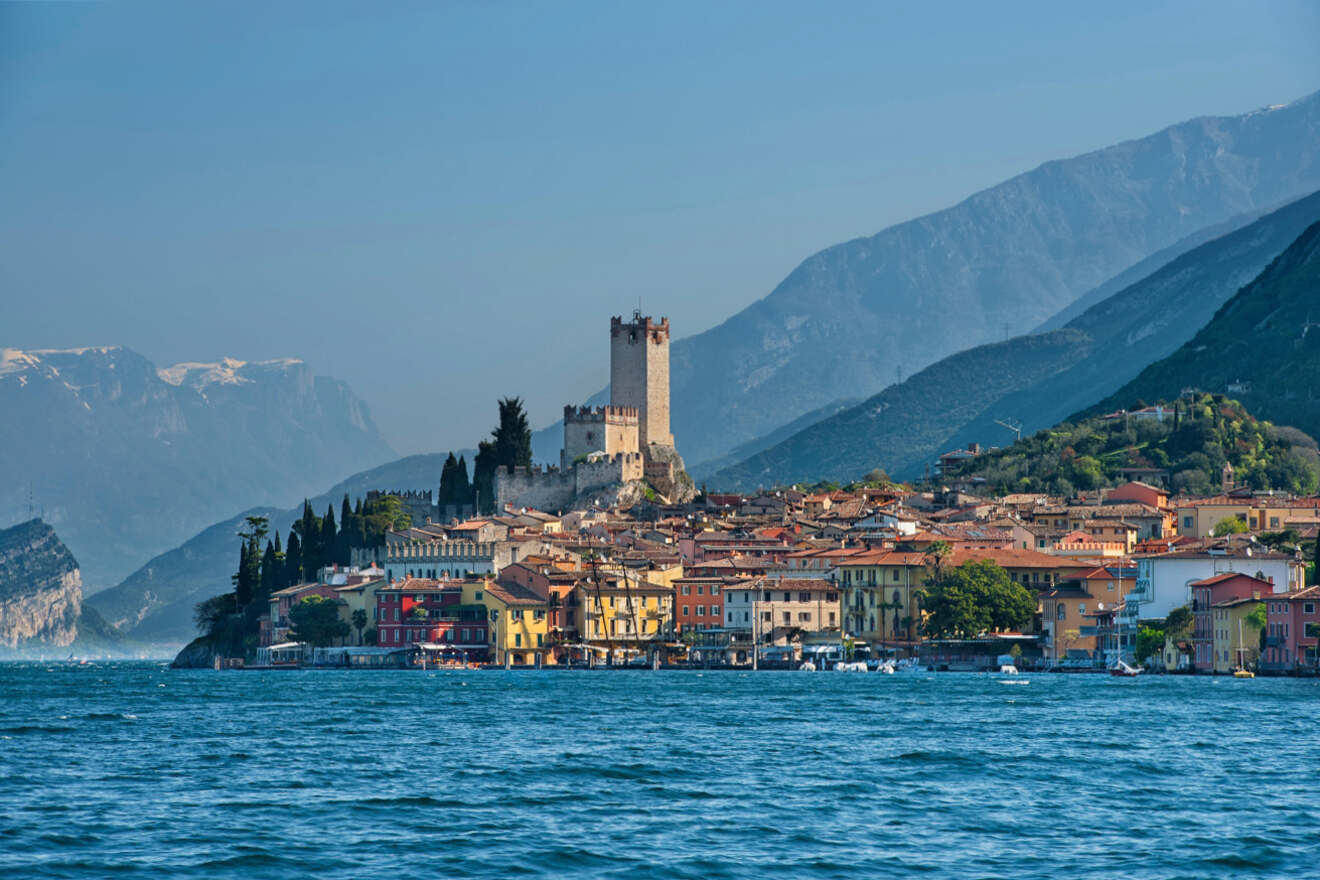 One of the most charming towns of all Lake Garda, and personally my favorite, is Malcesine, located on the northern shores of the Lake, in the Veneto region (about 1.5 hrs from my hometown Verona!).
This little town has a beautiful historic center that will make you travel immediately back in time, many typical restaurants, and a lot of panoramic spots, which makes it the perfect setting for a romantic getaway with your couple!
Talking about sightseeing, in Malcesine, you can have amazing views of both the mountains and the Lake from its Scaliger Castle, the most popular attraction in the city, featuring striking architecture and a Natural History Museum.
But the main reason the castle is famous among locals is its high cliff jumps straight into the lake, the highest point is 24 meters… Do you dare?
Another must in Malcesine is definitely the Monte Baldo cable car, which will take you to a 1,800 meters (5,905 feet) high viewpoint in just a few minutes. This is THE place to enjoy the panorama and take some pictures!
Are you already thrilled by everything Malcesine has to offer? Then check out the following hotel options:
Other accommodation options in Malcesine
Things to do in Malcesine
5. Sirmione – where to stay in Lake Garda for history buffs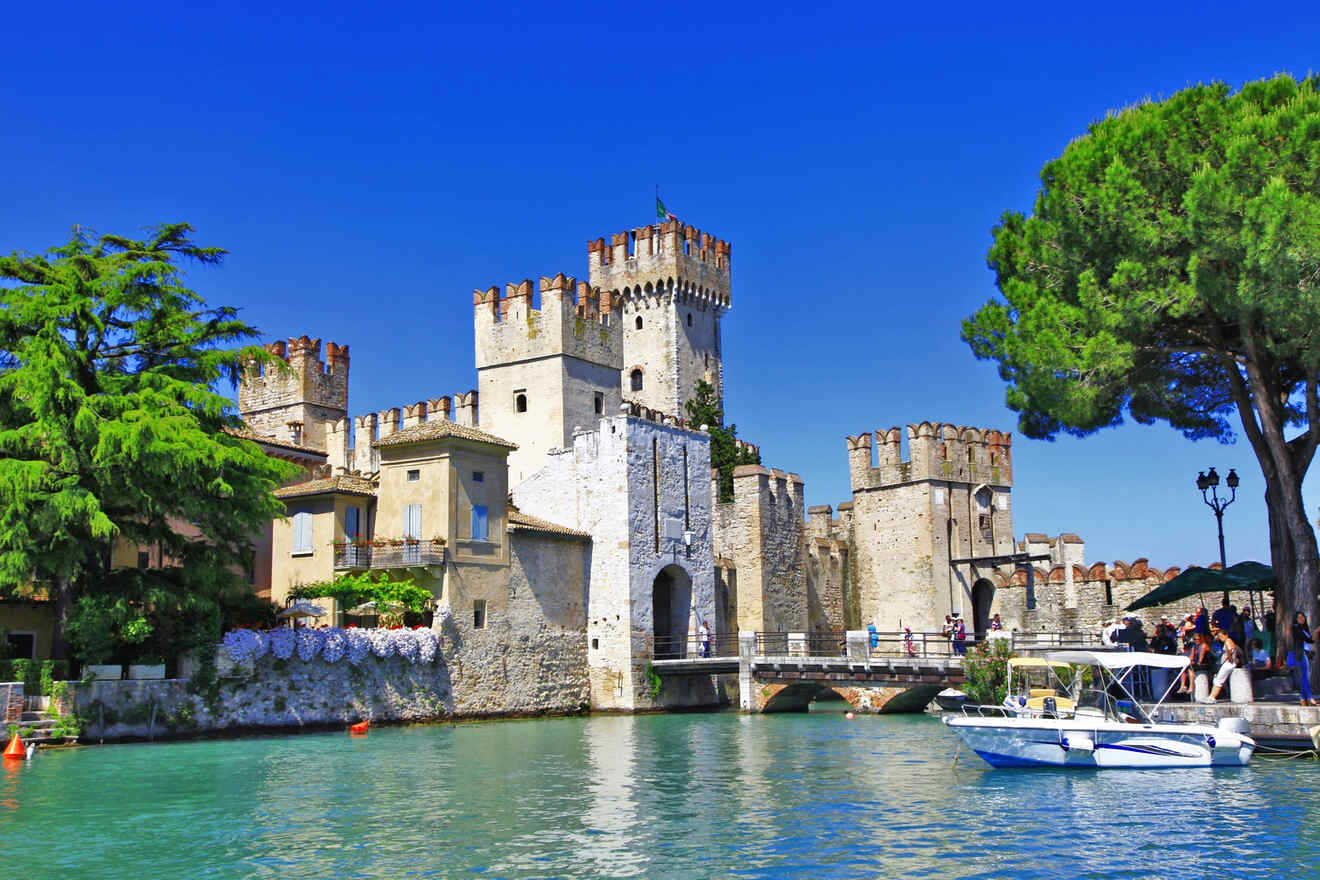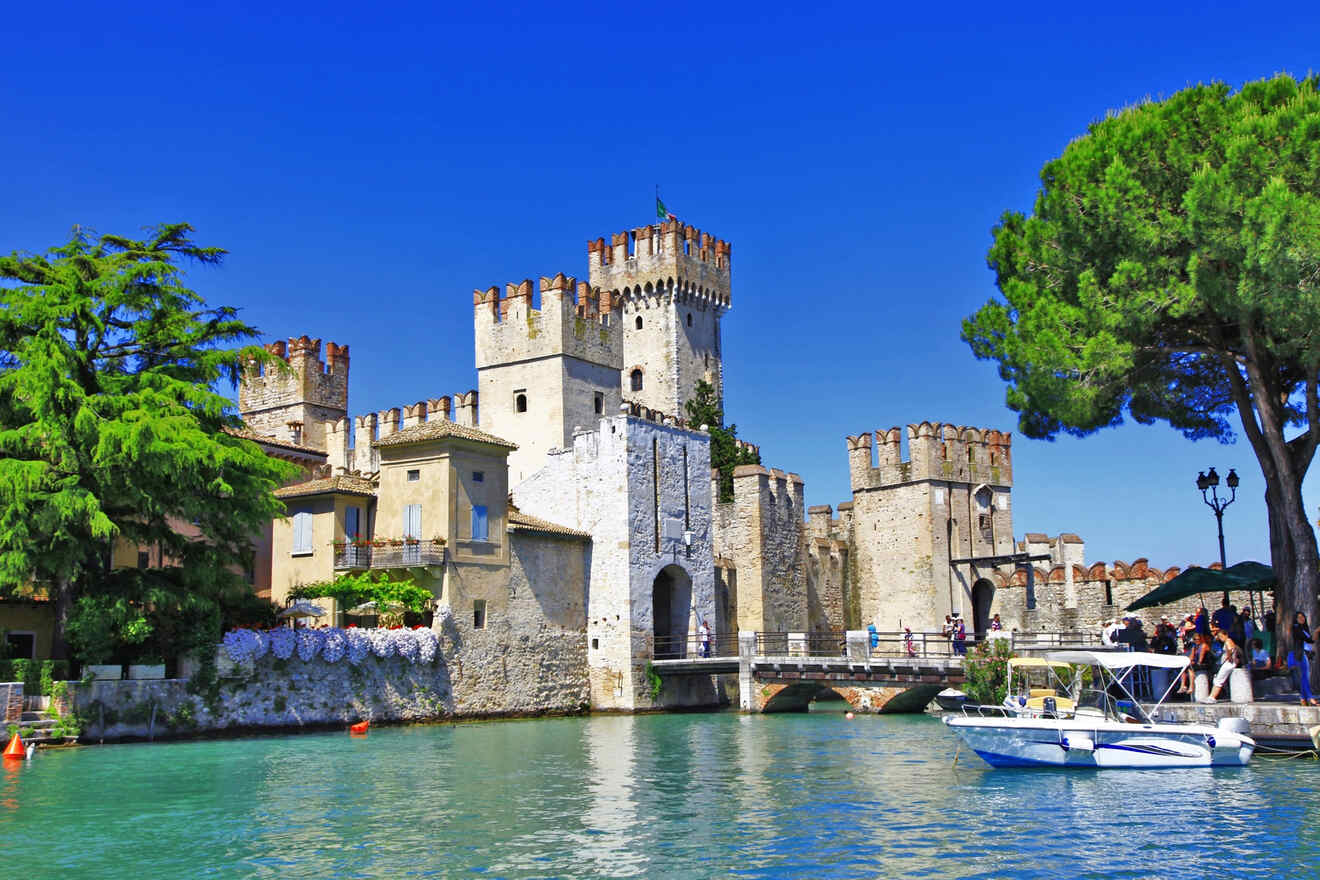 Sirmione, located on the southern shore of Lake Garda (on the Lombardy side), is one of the most popular towns on the lake, and there are many reasons why!
First of all, Simione has a very strategic position right in the middle of Milan, Verona, and Venice, and it also offers beautiful beaches and countless historical and cultural attractions. Some examples?
On the Lake Garda shores, you'll find the medieval Scaliger Castle, dating back from the 13th century, or you can also explore The Archaeological Site of Grotte di Catullo, featuring a Roman villa and a museum… History buffs have just found their paradise!
But Sirmione's historic center itself is worth a visit, where you can stroll around its charming small streets, buy some souvenirs at its small stores and eat delicious Italian specialties at the restaurants, cafes, and gelato places.
Other things you can do in Sirmione are enjoying some sun and crystal clear waters at the secluded Jamaica Beach or join the many boat tours and cruises to other lakeside towns… you basically have no excuses to get bored here!
Other accommodation options in Sirmione
Things to do in Sirmione
6. Peschiera del Garda – best town on Lake Garda for families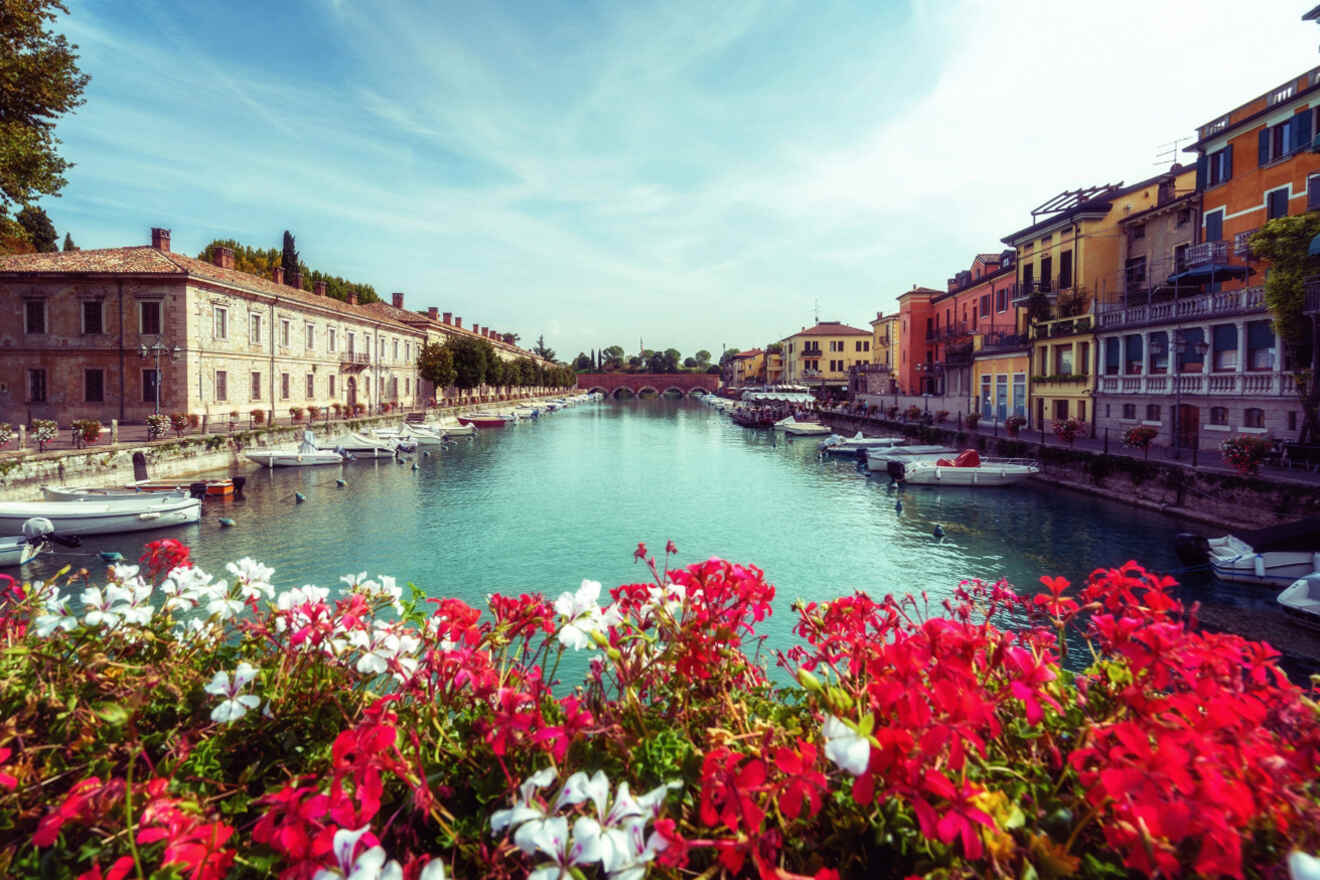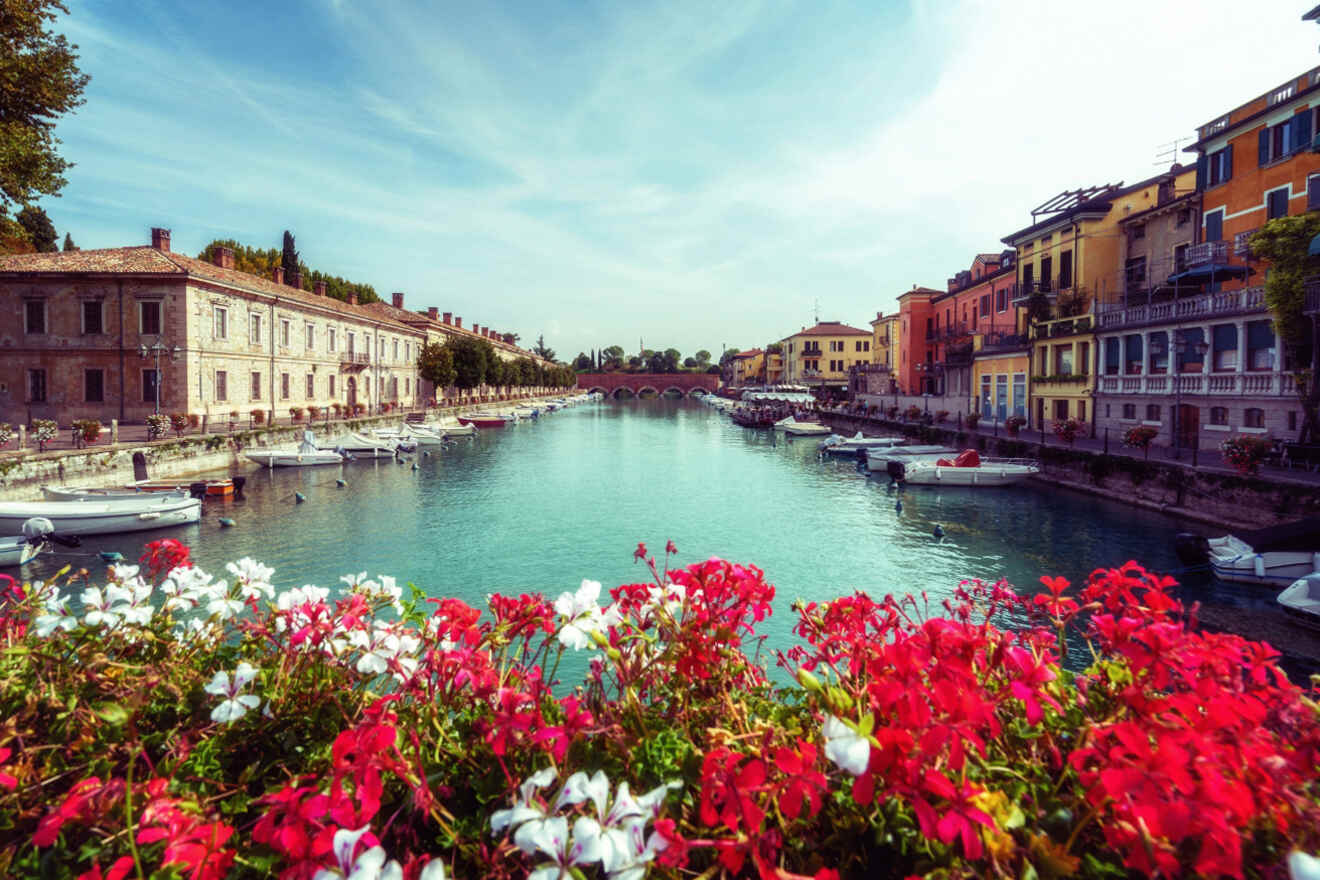 If you are going on a vacation to Lake Garda with your family, I have the best option for you: Peschiera del Garda, located in the Veneto region in the southern part of the lake.
In fact, this magical city is located just a few minutes' drive from Italy's most famous theme park, Gardaland, as well as other exciting parks to have some family fun, like Movieland and the waterpark Caneva world!
But apart from great adventures, Peschiera del Garda has a charming old town with many pizza places and delicious seafood restaurants, surrounded by the huge walls of the Fortress (a UNESCO Heritage Site), from where you can reach the rest of the city by a pedestrian bridge.
And if this is not enough for you, the city also offers access to beautiful beaches, like Braccobaldo Beach, and historical attractions, like the Porta Verona, and Madonna del Frassino Sanctuary.
NOTE: if you don't have a car, Peschiera is the main transport hub in the area, hosting a railway station and motorway, perfect if you want to travel from and to other towns in Lake Garda!
Other accommodation options in Peschiera del Garda
Things to do in Peschiera del Garda
7. Bardolino – the coolest place to stay in Lake Garda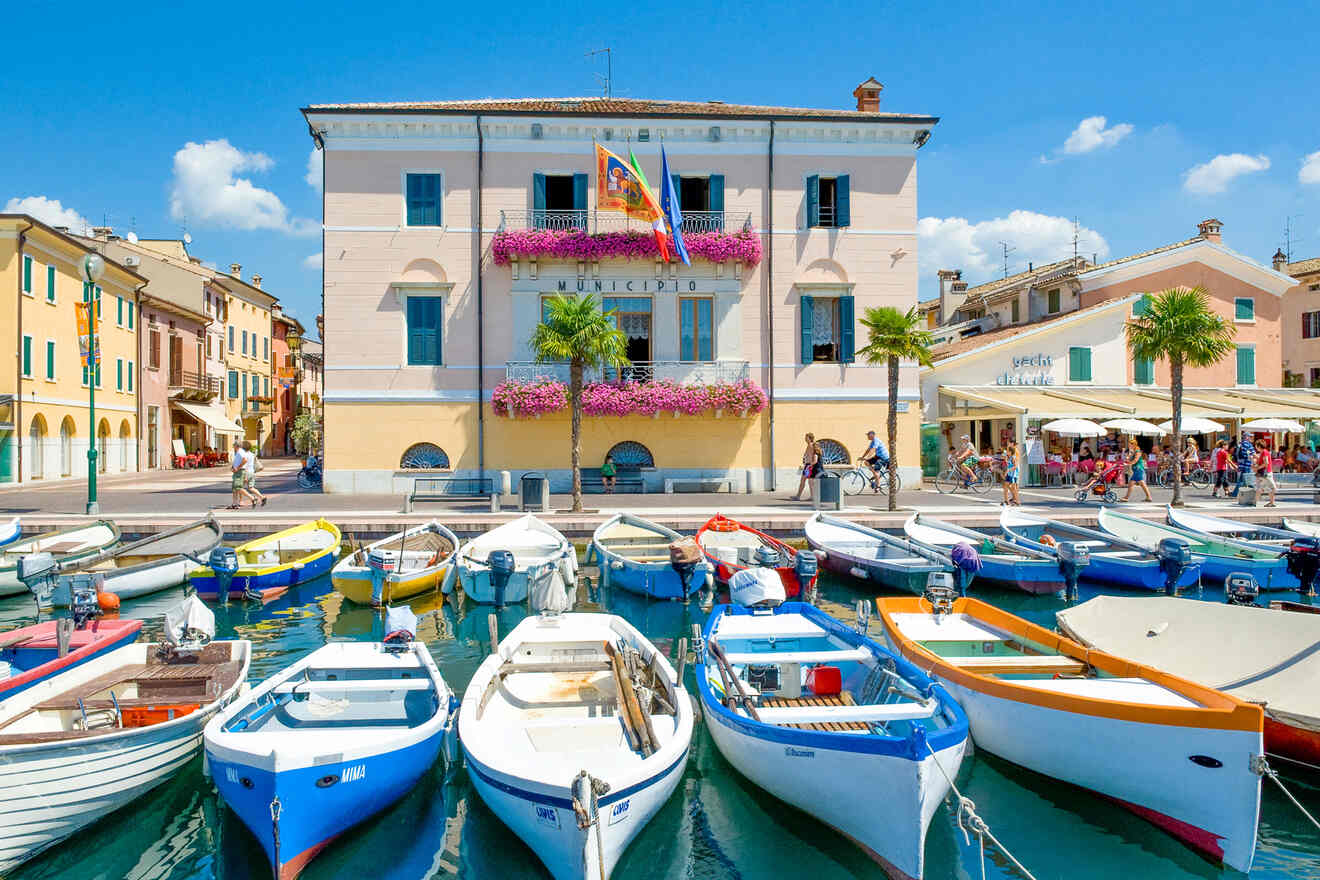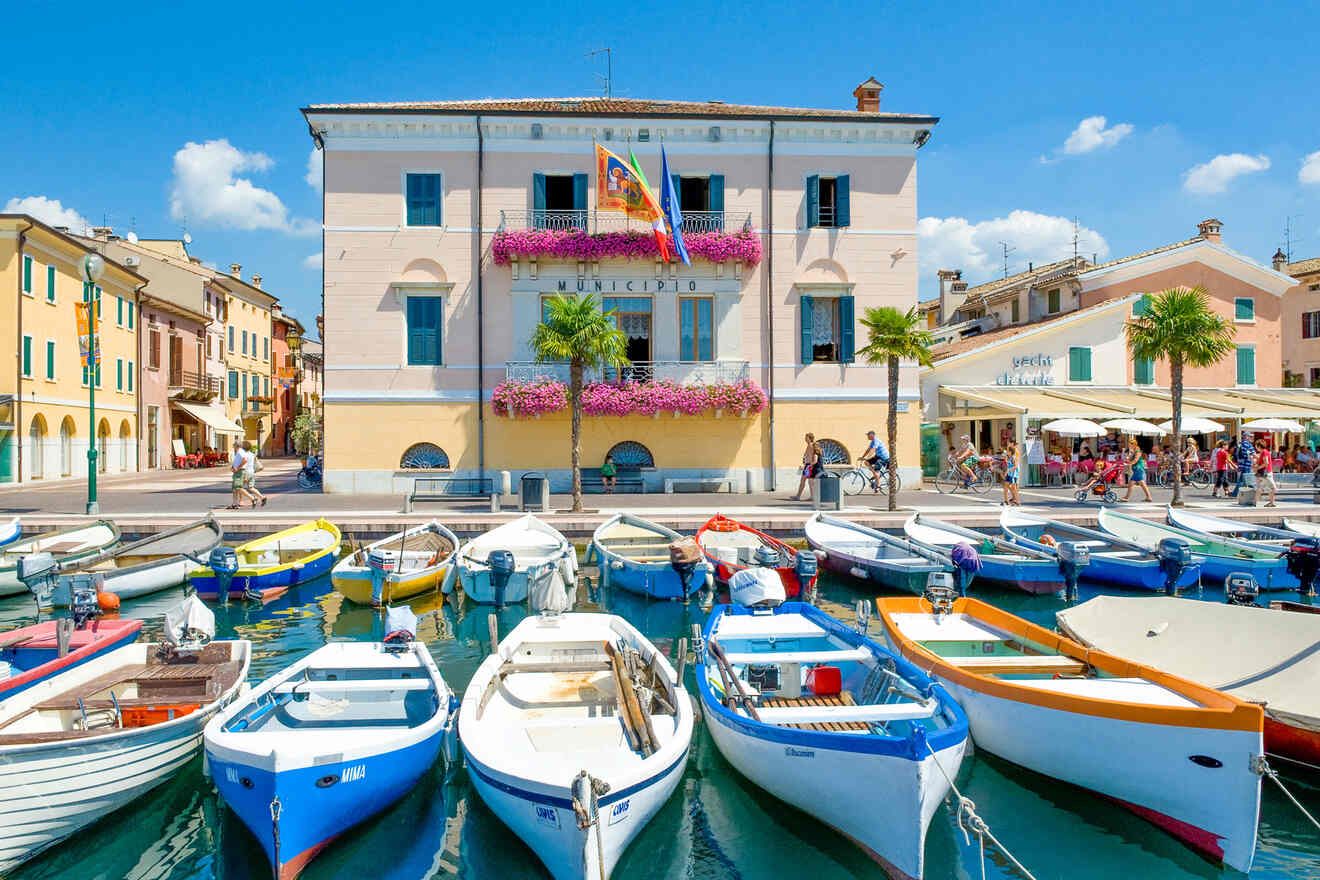 Nestled on the eastern shore of the lake, in the Veneto region, through the years Bardolino has become one of the most important touristic destinations on Lake Garda during summer, especially for people from Verona, my hometown!
This historic town has the perfect combination of old and new, hosting ancient buildings and cool bars and restaurants at the same time (that get super lively at night), which makes a very cool contrast!
Shopping addicts will also be happy here because in this picturesque village, you'll find countless options to empty your pockets, from souvenir shops to boutique stores and high-end fashion places!
But one of the main reasons Bardolino is famous for, is its amazing red wine, Bardolino (or the Rosé Chiaretto), a PDO regional wine produced in the surrounding vineyards, so you cannot leave town without trying a glass of it, in one of the many wine bars of the town center!
P.S.: If you're going to Lake Garda during late September/early October, Bardolino hosts the yearly 'Festa dell'Uva', a harvest festival dedicated to the rosé wine 'Palio del Chiaretto'.
This a great opportunity to experience a real local event and enjoy wine stands by the lake, live music, street food, and fireworks… You will love it!
Other accommodation options in Bardolino
Things to do in Bardolino
FAQs about hotels on Lake Garda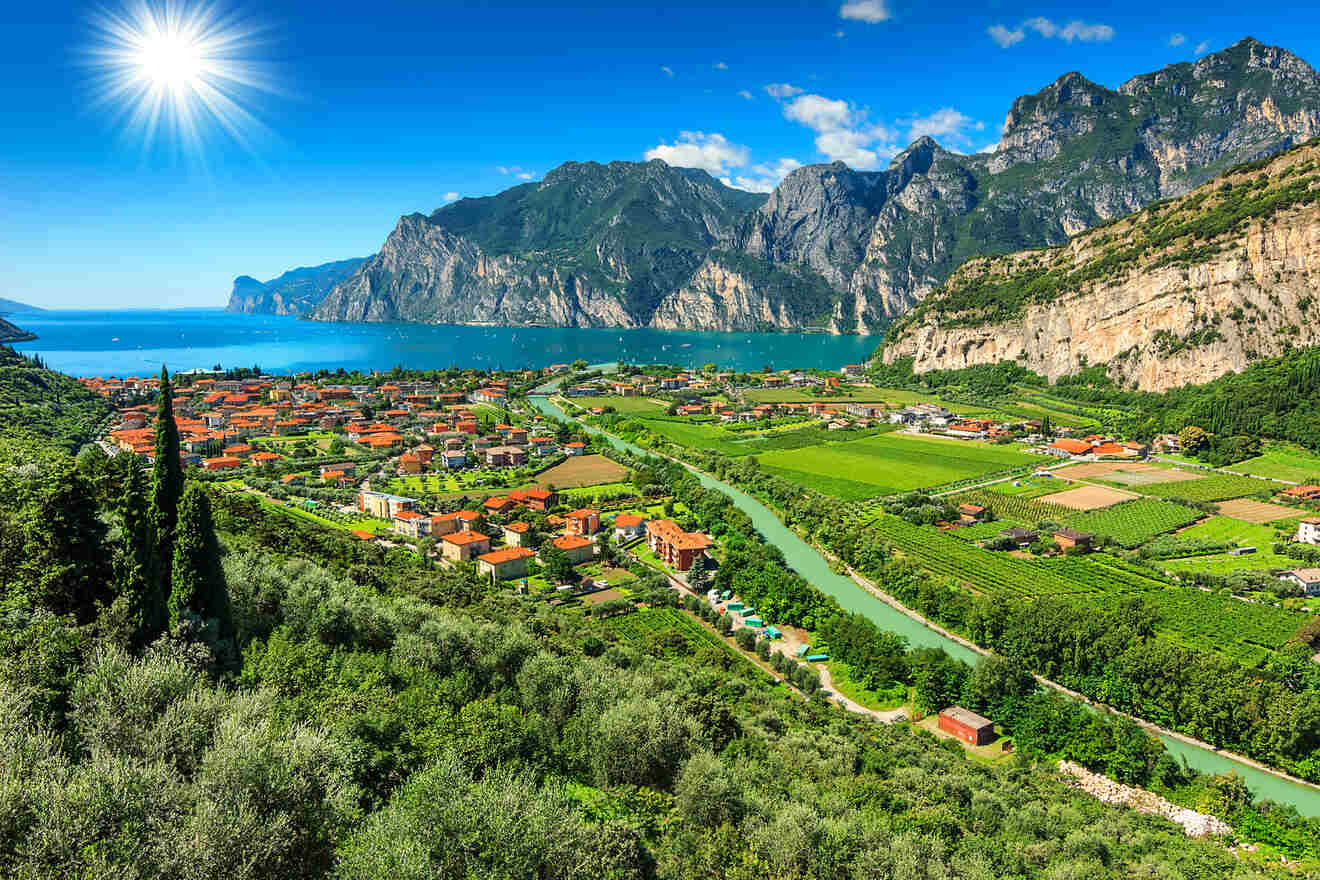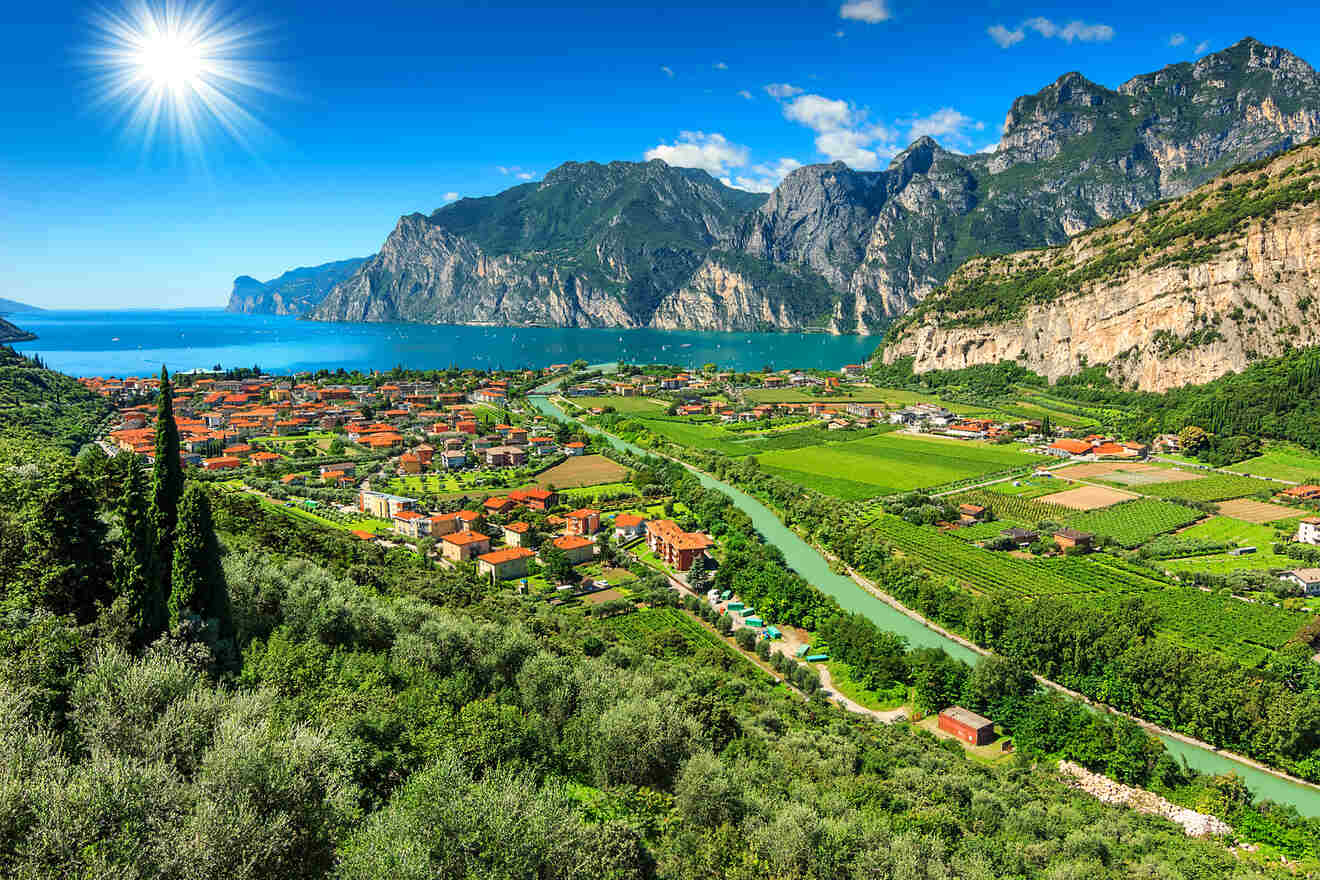 Conclusion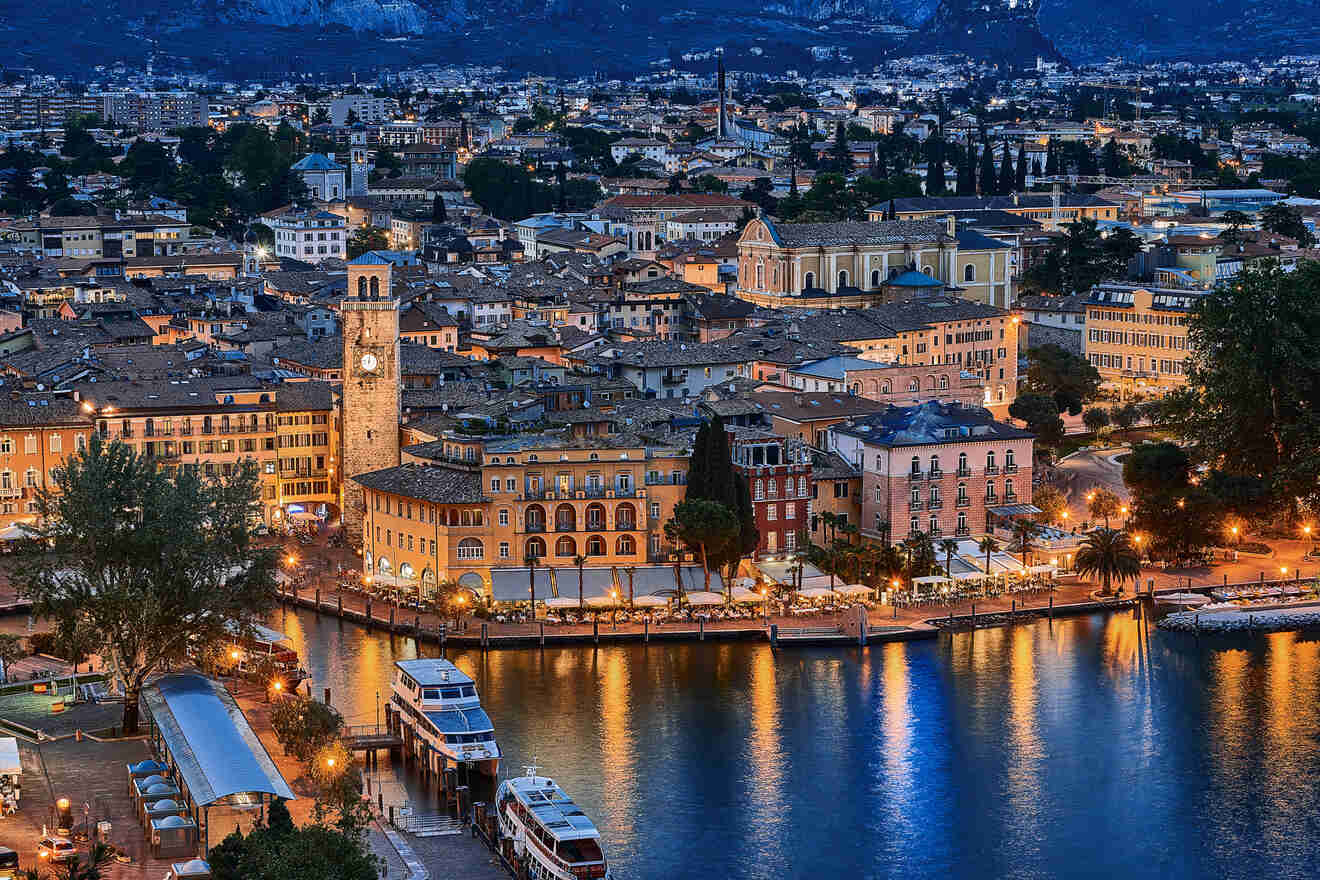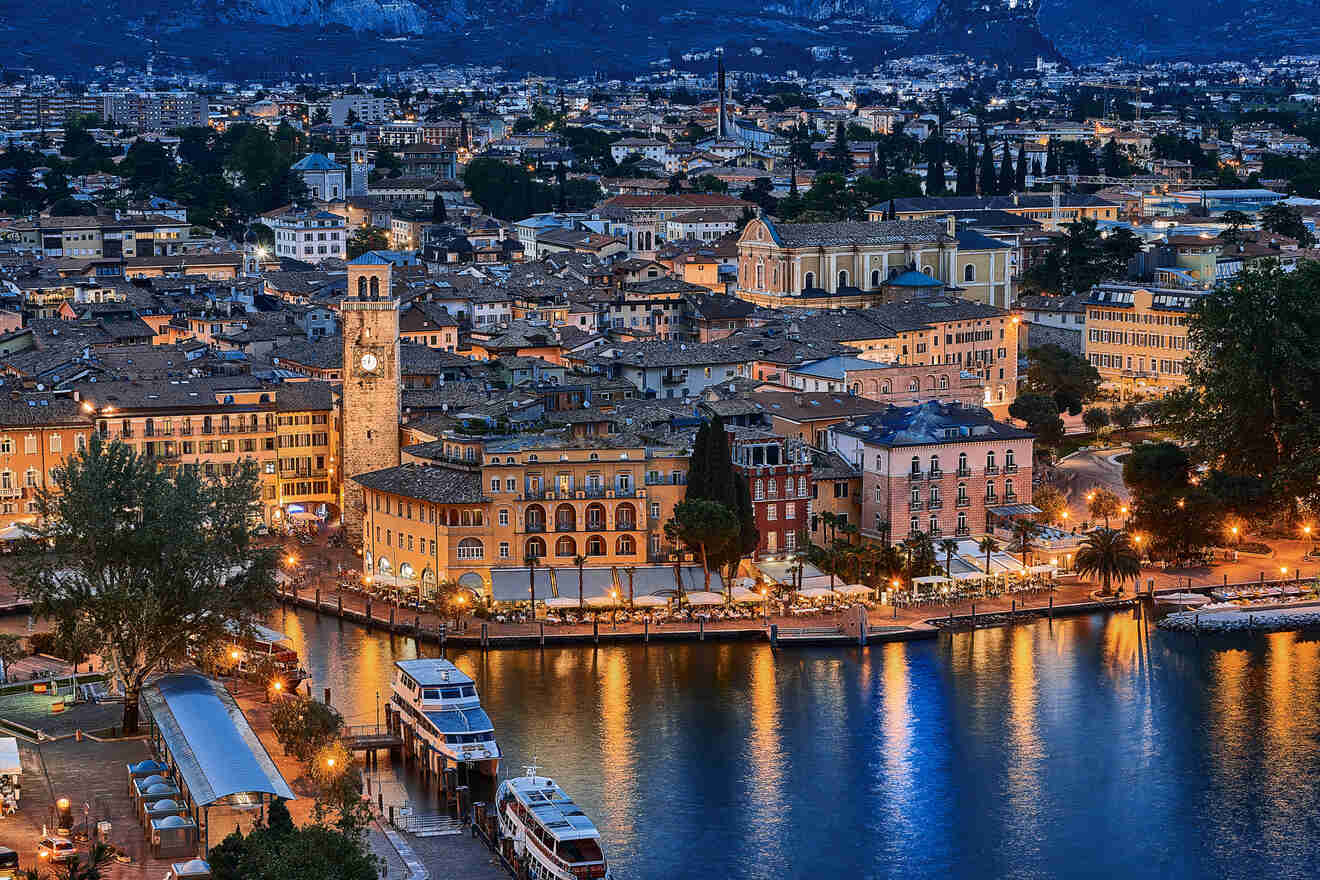 Here we are at the end of this extensive guide with all the best charming towns where to stay in Lake Garda!
We saw cities for any kind of traveler and, for each one, I included accommodation options for different budgets, so there's something for anyone here!
If you are still undecided about which is the best hotel for you, check out my 2 favorite options, located in Riva del Garda, the best place for first-timers:
Do you like something? Then book your nights immediately, so you don't risk losing your spot, especially if you are going during summertime!
Have you ever visited Lake Garda? If so, and you have other suggestions for me, please let me know in the comments below, and don't be afraid to share your doubts or questions, I am looking forward to answering you!
Enjoy Lake Garda!
Elena
---