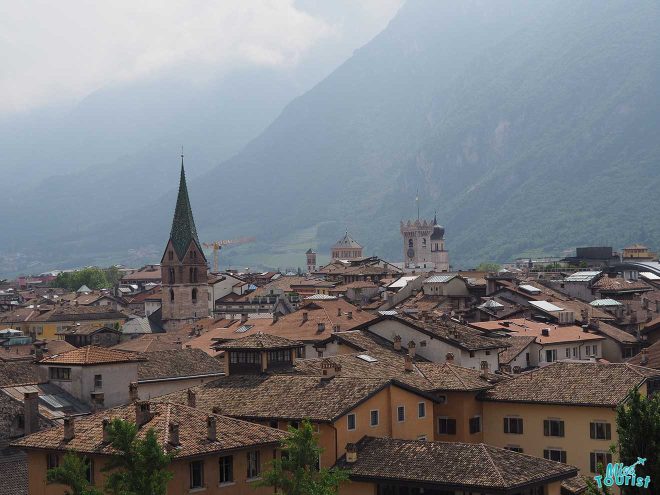 Are you considering going to Trento soon? That's awesome! Trento has a very diverse history and nature that you will definitely love! The best part is that you can actually go during any season, as there is always something exciting to do there.
If you haven't yet, be sure to check out my article on Things to do in Trento which will give you a full picture on places to visit around the area. While in this article, you will find my list of recommendations for the best hotels in Trento, Italy to help you book a room fast and easy!
As you might already know, Trento used to be part of Austria and Austria-Hungary which is why you will find a lot of German influence in their architecture and culinary dishes. It is the third-largest city in the Alps, and because of the surrounding mountains it is the perfect choice for hiking or skiing activities.
Below I have handpicked the best hotels in Trento with great reviews, good locations, and awesome amenities! I also broke the options down into different price categories for your convenience:
Best Hotels in Trento
Trento is ranked among the wealthiest and most prosperous cities in Italy, but there are still various good hotels for all kinds of budgets there! But keep in mind: you should book your stay quickly, so the best ones don't get sold out!
Out of the wide variety of Trento hotels in Italy, here are my best recommendations in the city, sorted by price: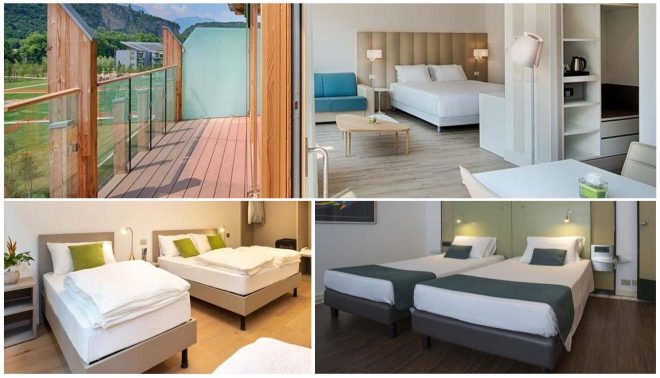 Luxury (€180 and up)
Trento has great luxury hotels that will help you feel relaxed after a full day of discovering the area. Here are some of the best accommodation options in the area:
Middle-priced (from €100 to €180)
Budget (up to €100)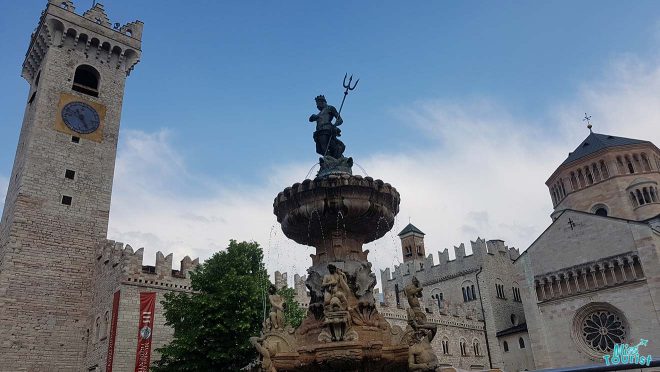 Finding good-quality budget hotels in Trento might not be easy, but after some research, I can assure you it's not impossible!
Here are the best accommodation options for those of you traveling on a tight budget:
BONUS: Best hotels for families in Trento
Are you planning on traveling with your family or with a group of friends? Trento city has it all! For all the outdoor activities and cultural buildings it offers its citizens and visitors, the variety of Trento accommodation is fit for everyone and everything.
Let me share some of the best hotel options for big groups and families with kids: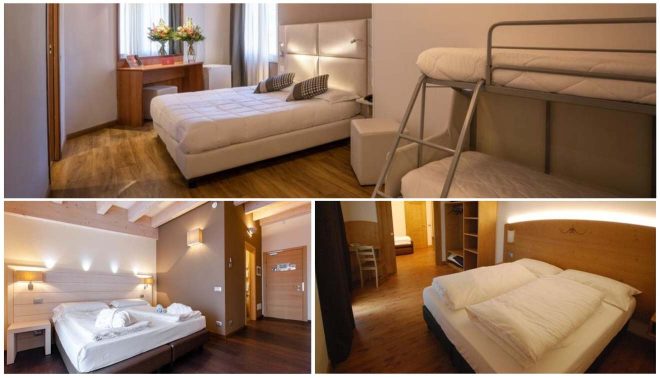 Luxury (€150 and up)
Le Blanc Hotel & Spa – The closest ski slope is no more than 100m away and the ticket office is about 250m from the hotel. It is modern and the rooms are spacious – they can fit up to five people which is great for family trips! You can make use of their lovely wood furniture while catching up on work with the free Wi-Fi.
Best Western Hotel Adige – This is an amazing 4-star hotel with a diversity of rooms to accommodate any group size! As part of their facilities there is an indoor swimming pool, Finnish sauna, steam bath, and a beauty center. It is also close to the highway and 7 km from the city center, so you can take your car or use public transportation to get there!
Middle-priced (from €90 to €150)
Hotel Everest – This hotel is comfortably close to the central station and the local attractions! Every room has its own personal décor, but they all have air-conditioning and a private bathroom. Plus, you can request a bicycle to move around the area free of charge.
Scrigno del Duomo – This guesthouse is in a 16th-century building, with modern furniture, that overlooks Piazza Duomo. Who wouldn't want to wake up to this view? There are many restaurants and shops within 100 m from the accommodation and the shared kitchen has everything you could need!
Budget (up to €90)
Hotel Monte Bondone – This hotel is located up in the Trentino Alps surrounded by woods, with amazing facilities like a tennis court, indoor golf facilities, and a fitness center! It is only 100 m from the ski slopes, so it's ideal for a skiing vacation. The guests receive a Trentino Guest Card to easily move around the city – read more about it in this article.
B&B Nicole – This unique accommodation is a B&B in Trento where you can choose from a double room or a family room. It offers a great price for the location and service! Plus, the decoration makes you feel at home with warm colors and spacious areas.
---
Conclusion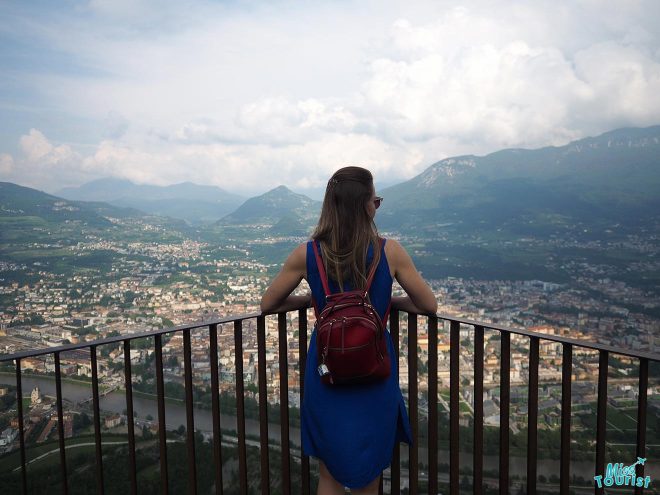 Though not a big city, Trento is one of the best cities in the world for skiing and hiking, and I will definitely keep recommending it! It is a wonderful city with many beautiful buildings with Italian Renaissance and German-influenced architecture, while also having some modern buildings to amaze you.
I have selected only the best hotels to fit the different price ranges for your convenience and made sure the hotels only have fabulous reviews and facilities!
Whichever accommodation you choose, I know you are going to love your stay in Trento. If you want more information on what to do while in Trento, I recommend giving this article a read.
I hope this list was useful and you will have the best vacation in Trento!
If you have any questions, leave them in the comments below and I will gladly get back to you!
Yulia
Pin it for later!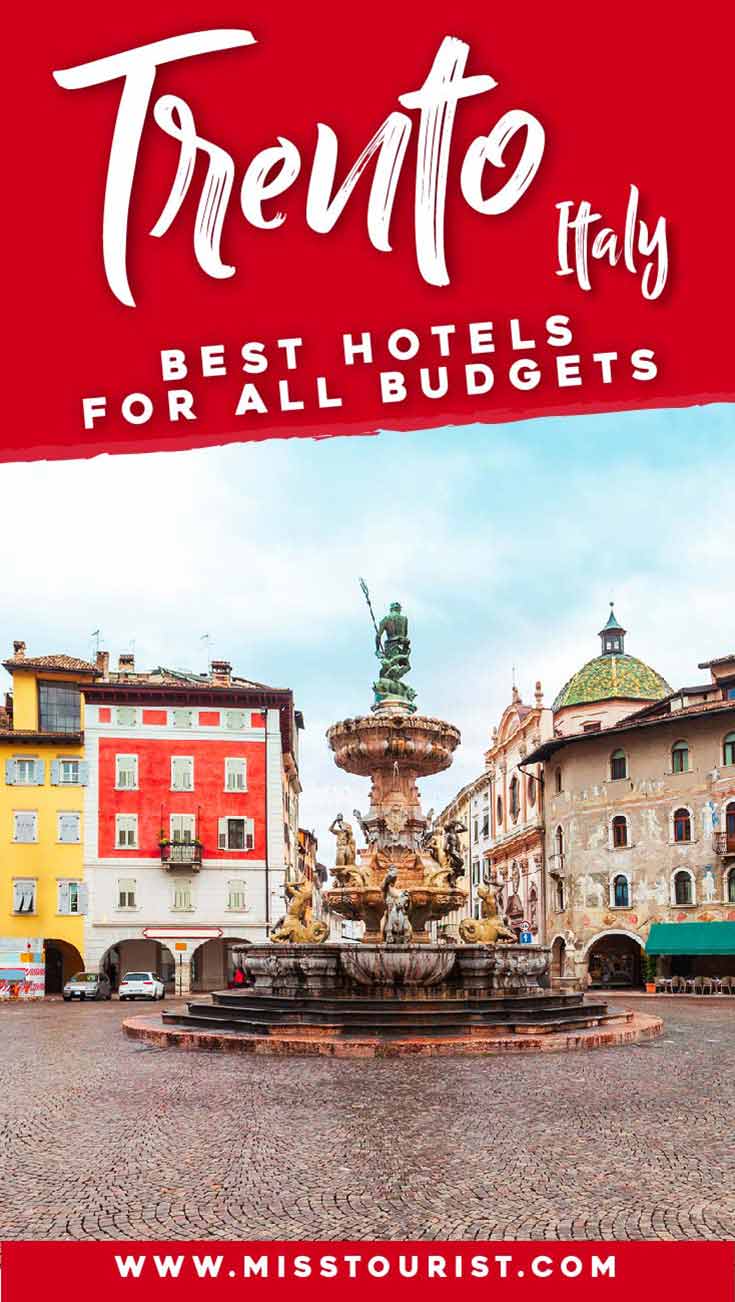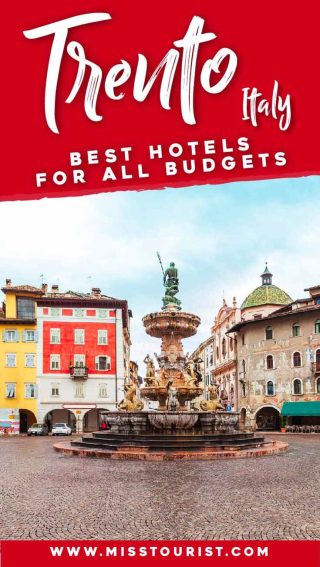 Pin it for later!