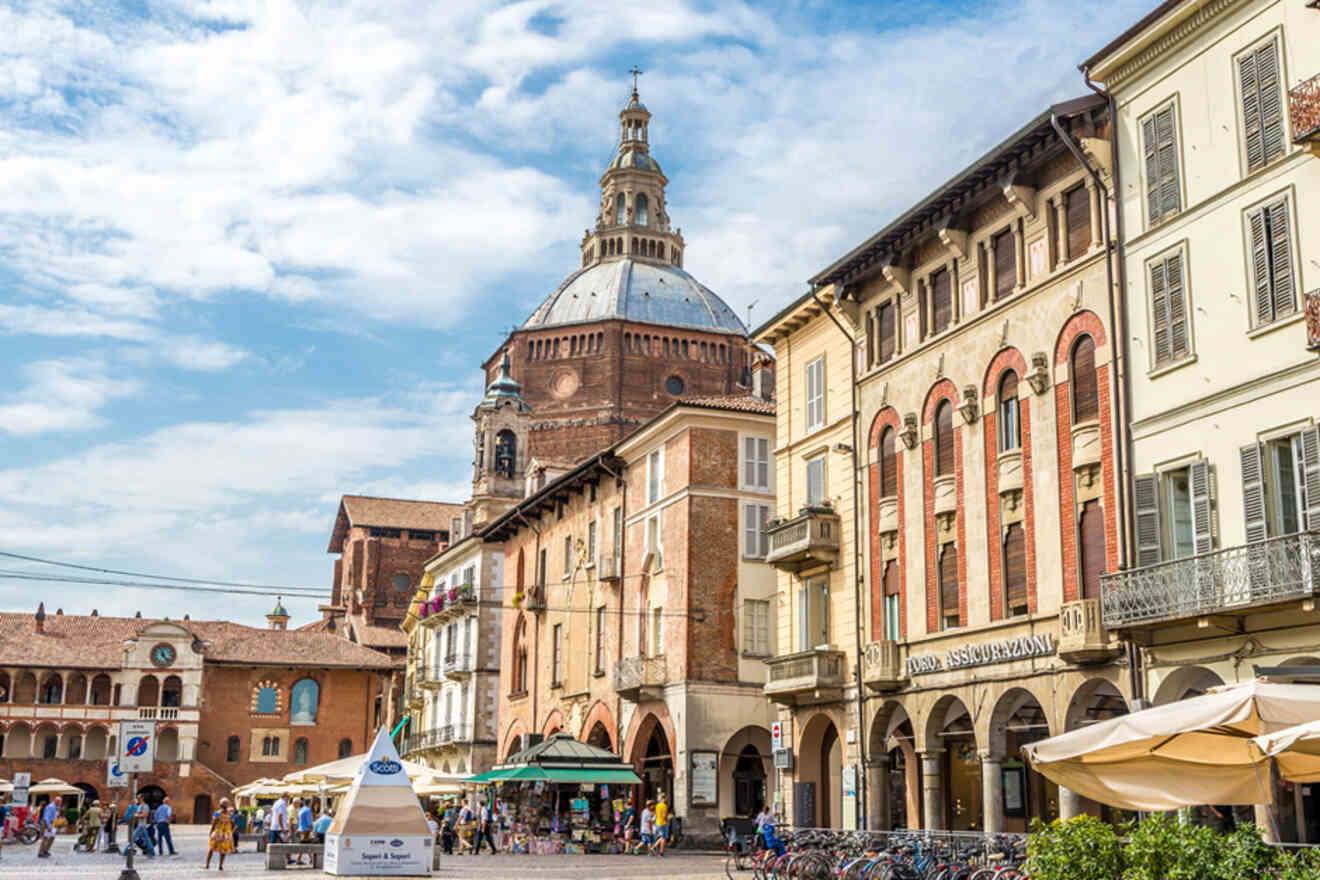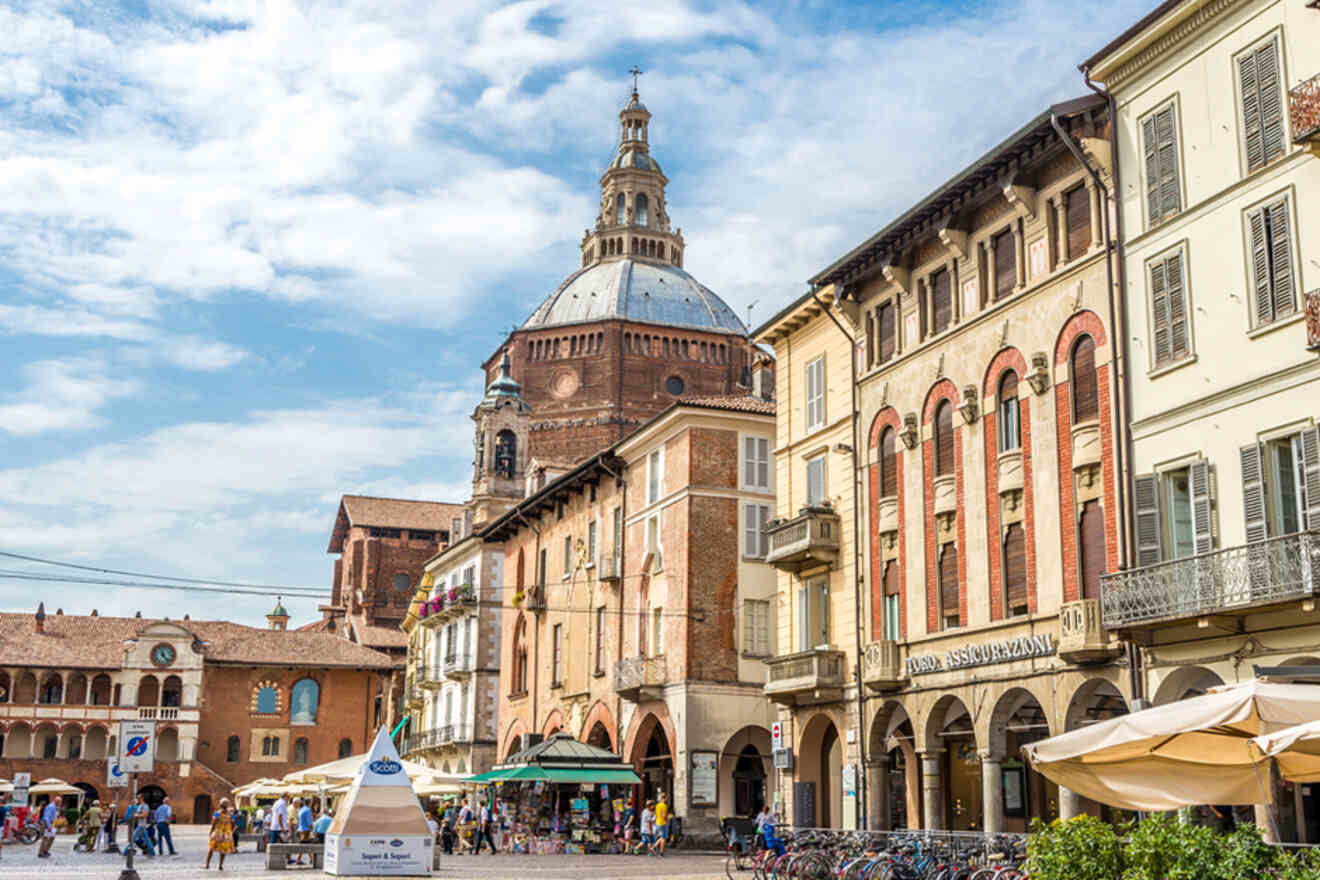 This little historical city in Northern Italy will become your favorite destination! Located south of Milan, Pavia is a magical place where tradition is still much alive, and the wine industry is flourishing!
If you're planning a trip there then follow me as we'll discover the best things to do, how to get to, and around Pavia, Italy, and where to stay. I've lived here for 2 years and it's honestly such a gorgeous little place! Once you finish reading this carefully-curated list you'll be more than ready to embark on this trip!
Just don't forget to book your chosen tours and hotels in advance! Although small, this university city is becoming more and more popular and lots of people come here!
Now, grab a glass of prosecco, sit back, and enjoy!
Andiamo!
If you are in a hurry
Don't worry if you can't make it through the whole post, just have a look below, and you'll find the main things you shouldn't miss for anything in the world when in Pavia, Italy:
How to get to Pavia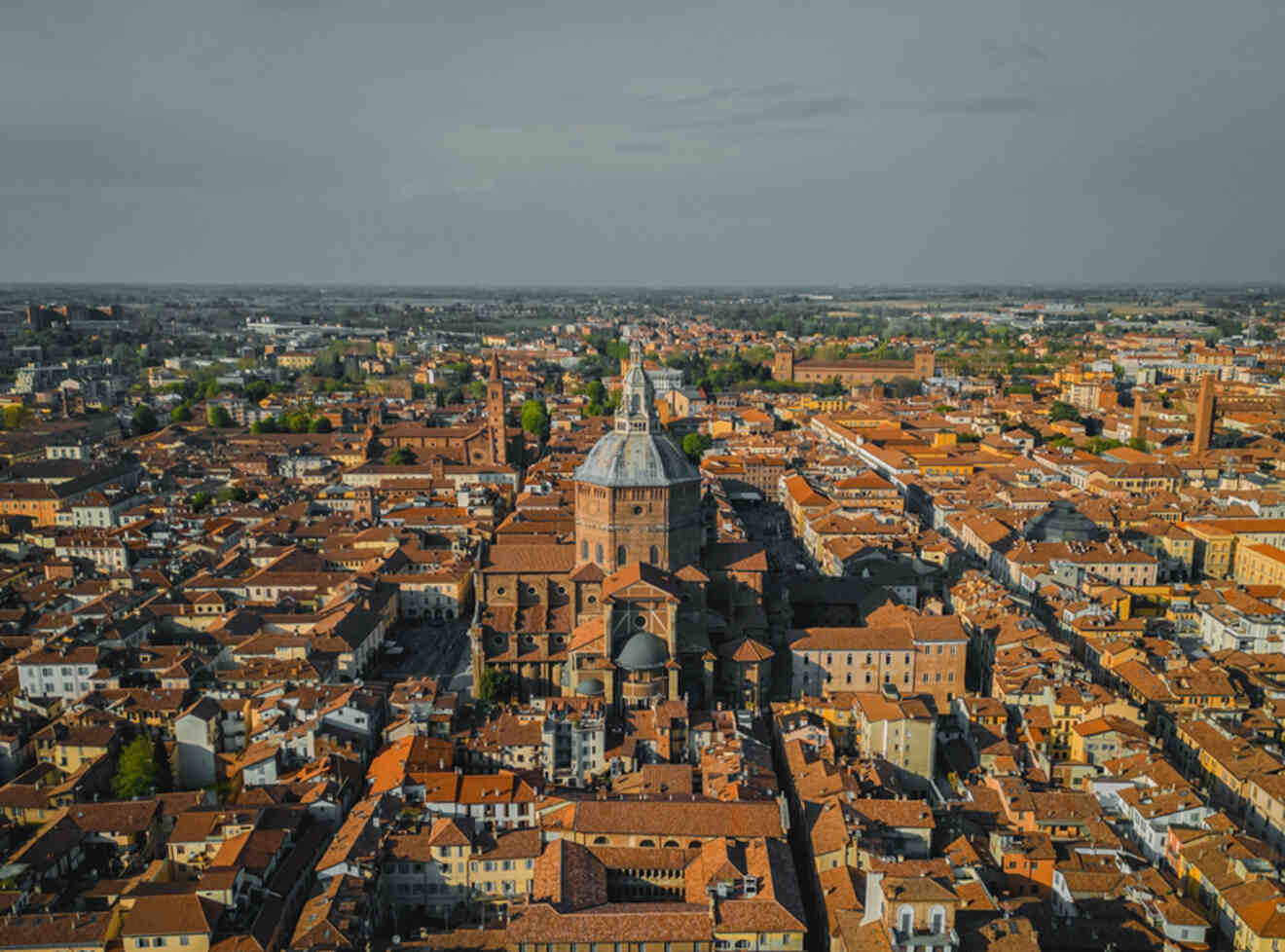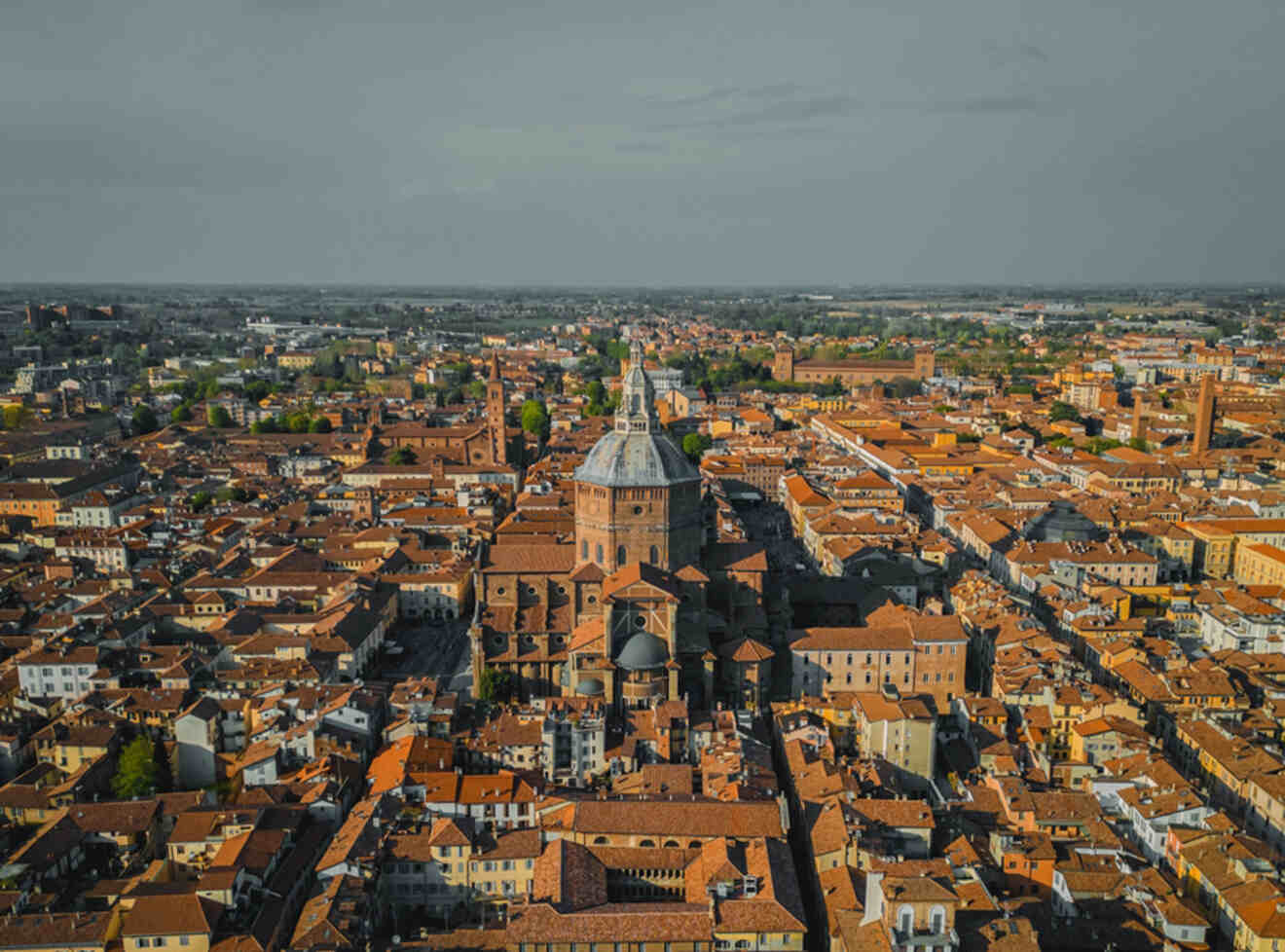 Known since medieval times as the "city of 100 towers," this little Italian town has easily reached every traveler's list of places to see in Lombardy, mostly because it's been so well preserved and looks like the perfect traditional Italian village!
Filled with cobblestoned streets, which gave Pavia its second nickname, "the walkable city," this place is only a 2-hour journey from any airport in Milan. You'll easily find a bus right from the airport terminal to Central Milan (the journey takes around 50 min) and then from there, the train to Pavia takes only 30 min.
Top things to do in Pavia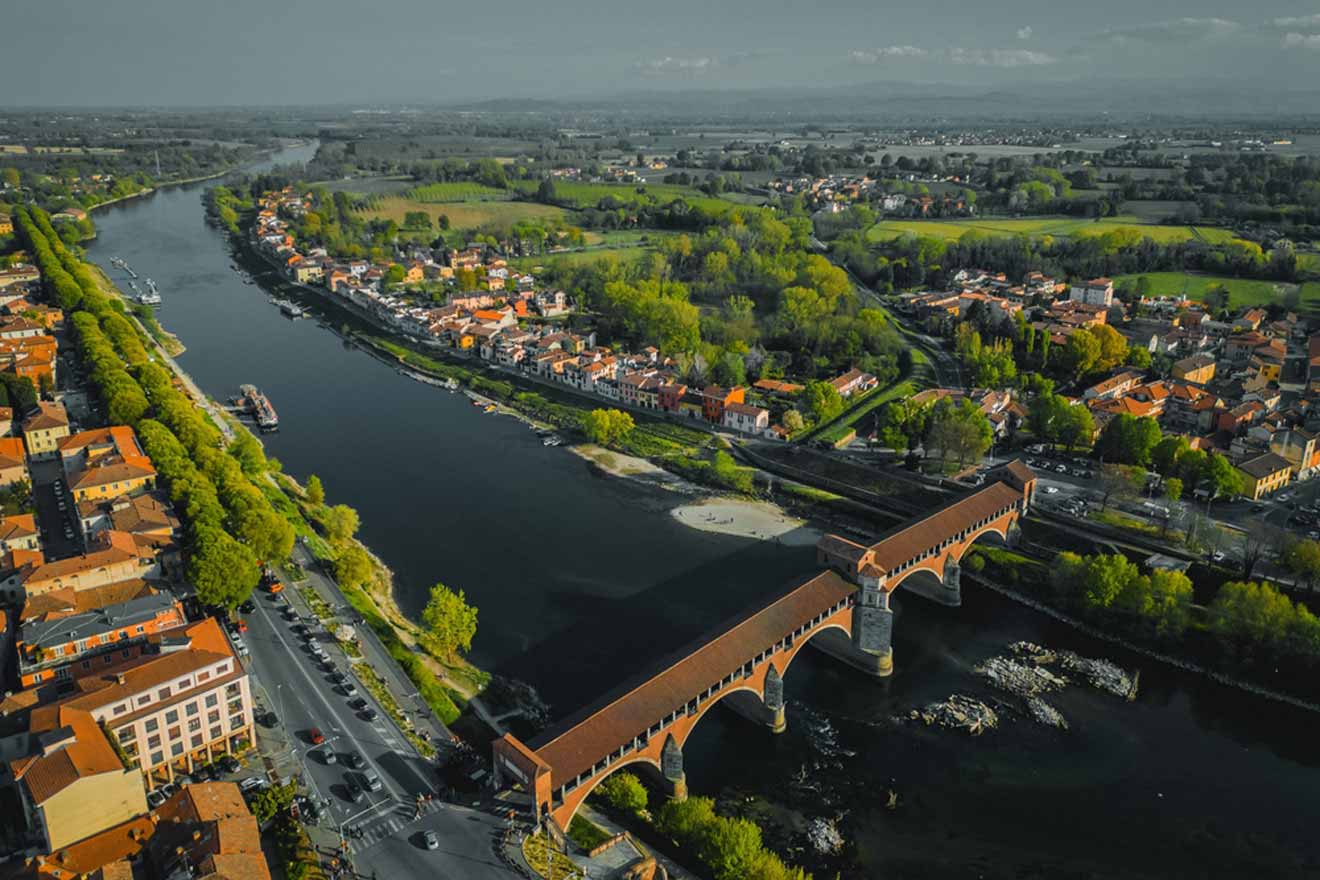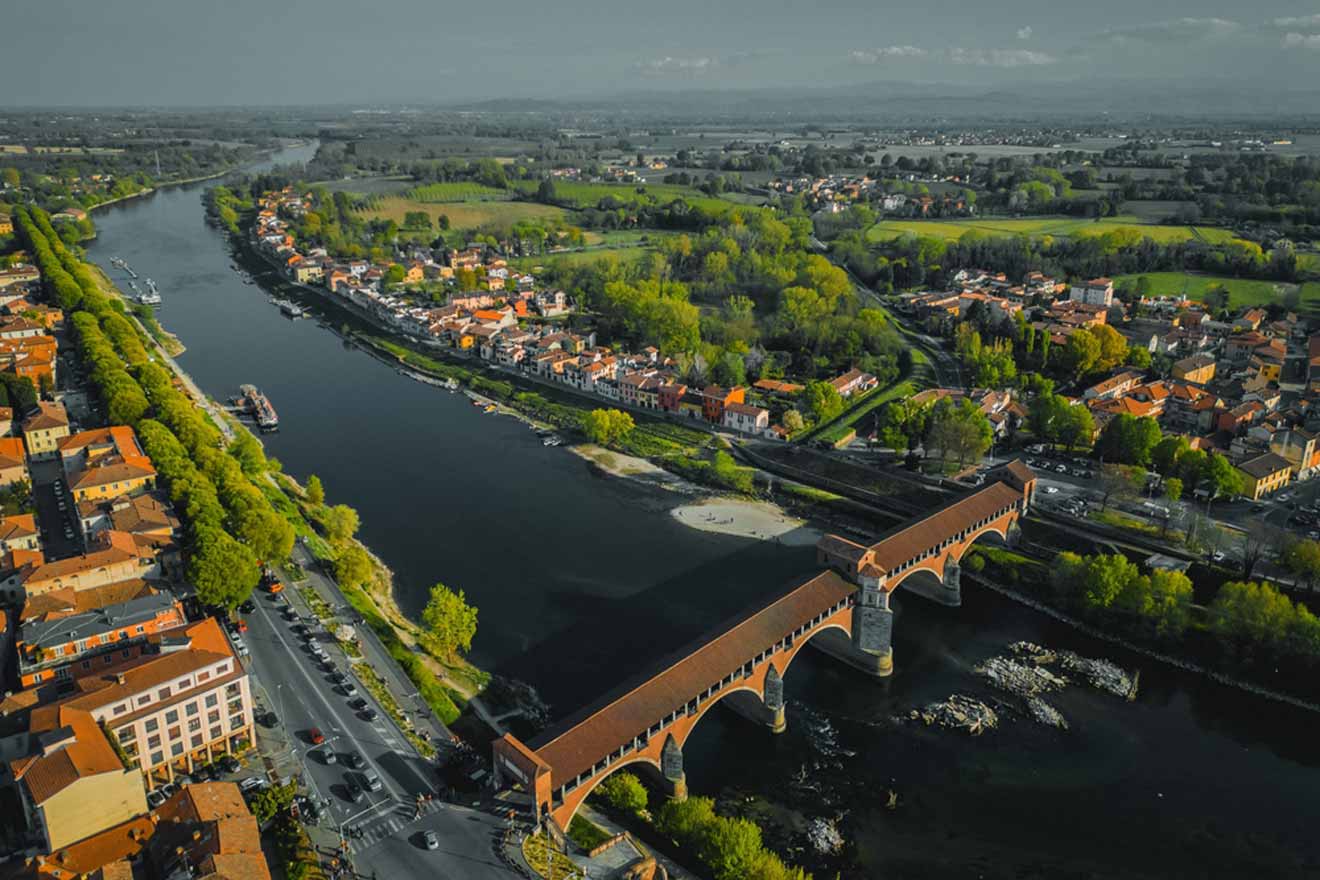 Although small, this cute little Italian town (which was once the capital of the Kingdom of the Lombards) is so rich in history, and just like most cities in Italy, its architecture is mesmerizing!

I had the chance to live in Pavia, Italy, and discover all its magical attractions, so you can consider this a local's list of the best things to do in Pavia – the city of 100 towers. There are no longer 100 towers but a few are still standing!
For those of you already wondering, yes, there are indeed many towers in Pavia built in medieval times. They served to establish a status of power among the wealthy Pavian families.
1. Enjoy an aperitivo and an Aperol spritz in the Piazza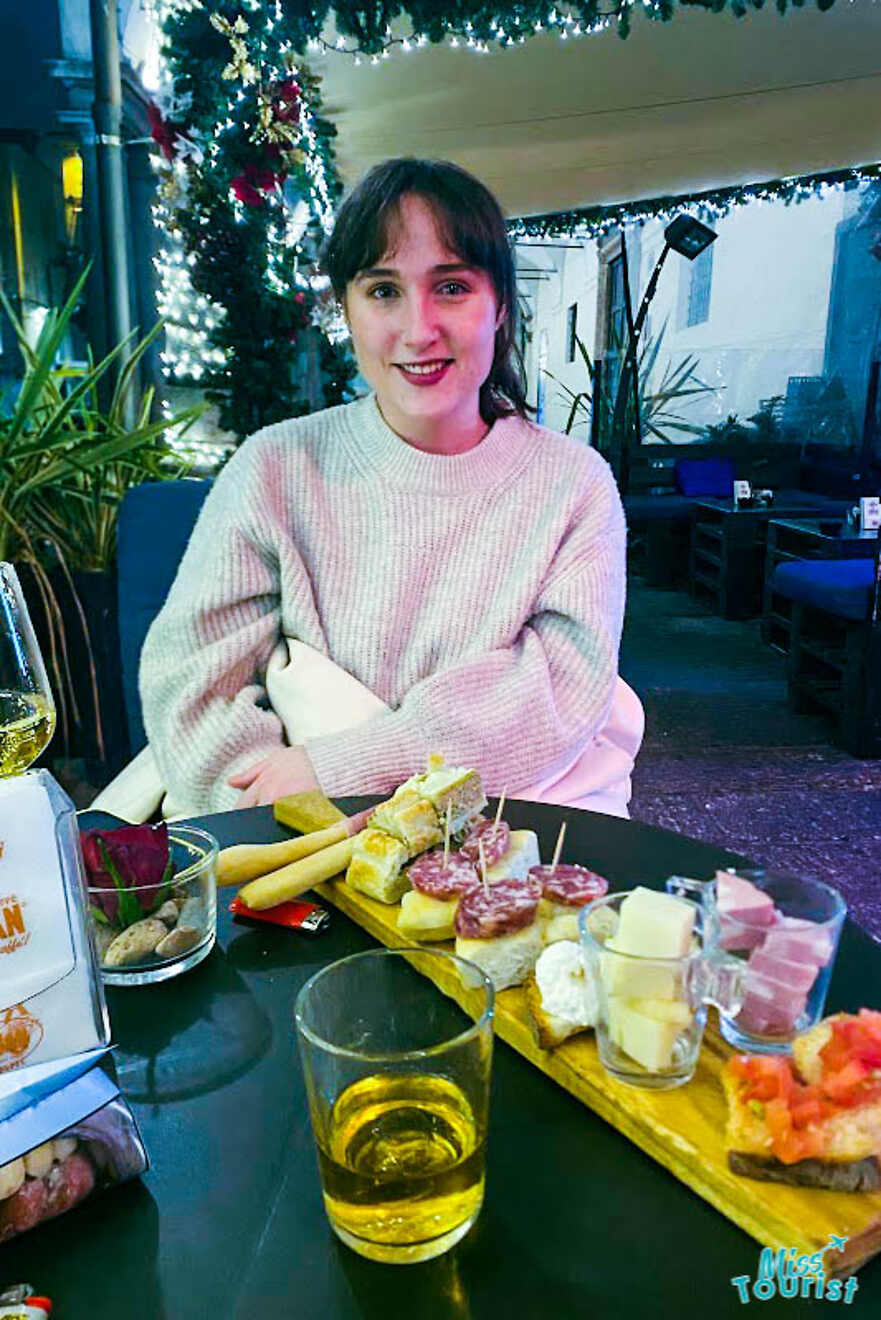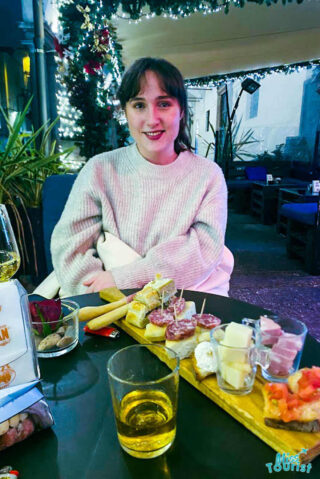 What happens in Italy stays in Italy! And what better way to start your trip than with a cheeky drink at 11 AM and a traditional Italian aperitivo!
Better yet, by ordering your drink of choice, which can also be non-alcoholic, you can get an aperitivo for just €1!
I highly recommend this as the first thing to do after your trip. My favorite spot is at L'Altro Cupolone Fusion Bistrot, which has the cutest fairy lights, and it's not filled with students like the other bars in the Piazza. You will sit and relax, enjoy your drink, and just watch the locals wandering about. There's no better way to feel the local vibe!
To the foodies among you, I'd recommend taking a guided street food tour where you'll taste 3 sorts of sweet and savory bites.
TOUR PRICE: US$100
2. Catch a sunset on Ponte Coperto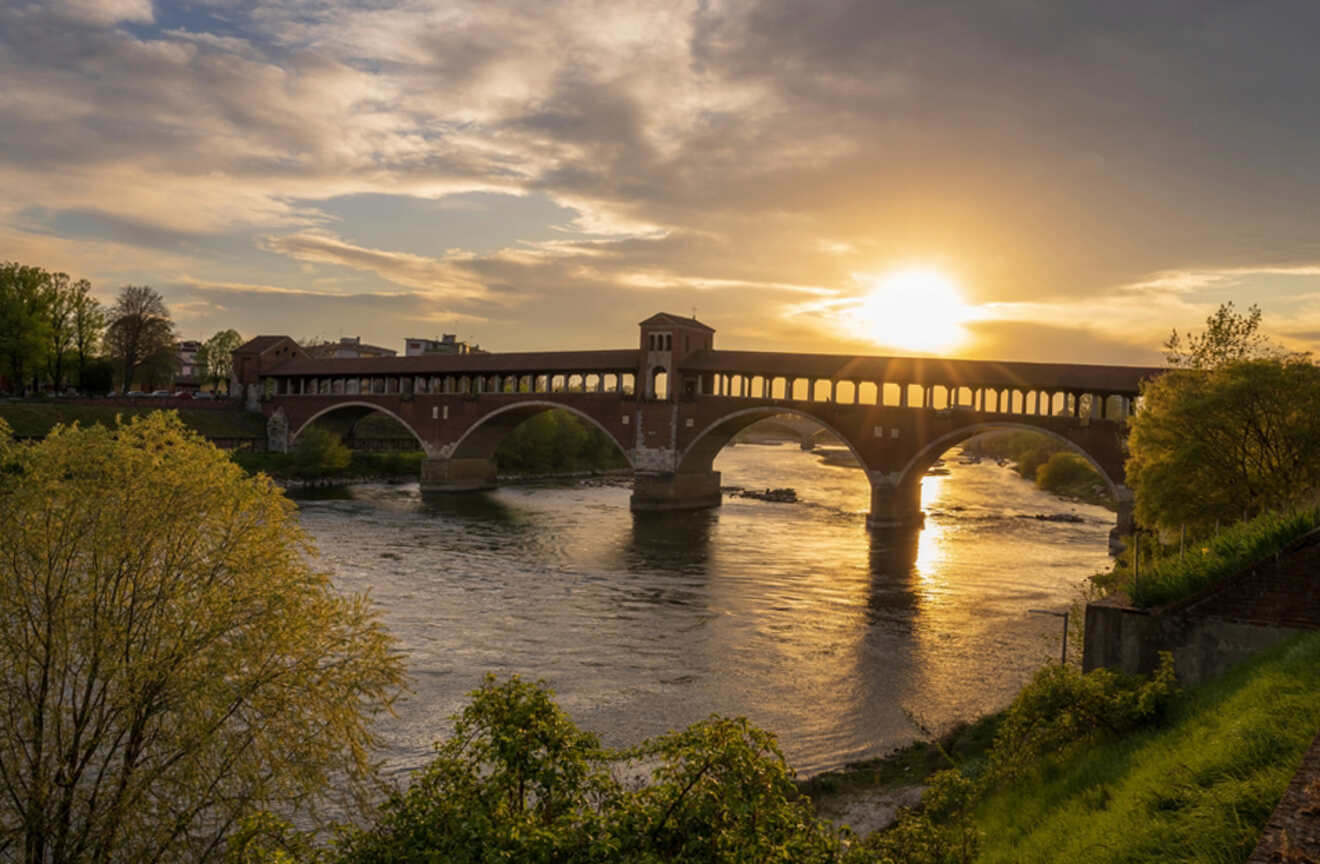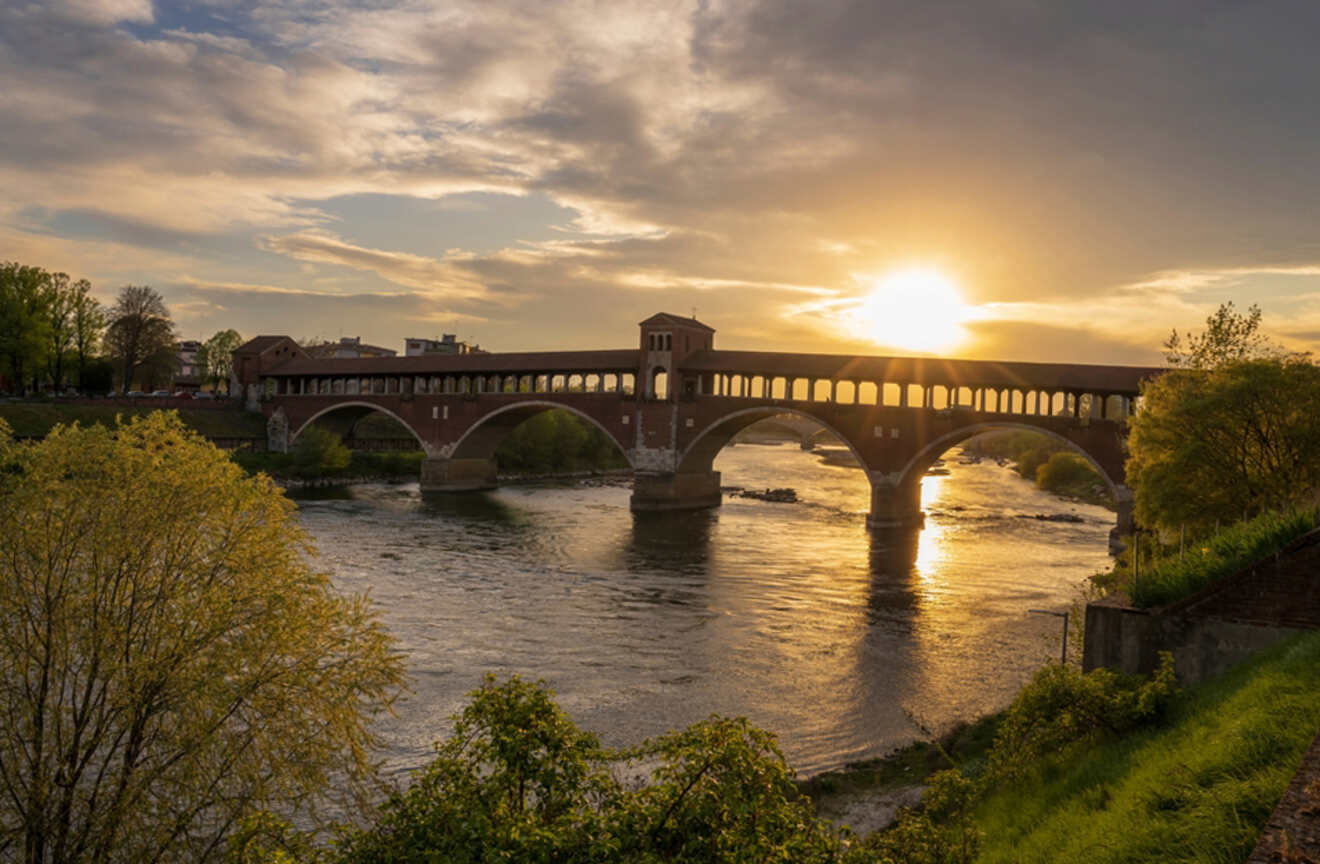 This iconic bridge Ponte Coperto (Covered Bridge), was completely destroyed during World War II and rebuilt into what we see today!
Perfect for a short promenade at sunset while enjoying your gelato, Ponte Coperto offers such a beautiful sight of the Ticino River, and its archways really give the whole place such a mystical, mysterious vibe!
TIP: Don't forget to snap a photo here because this place is an amazing backdrop for your Instagram photo.
3. Have a picnic at Area Vul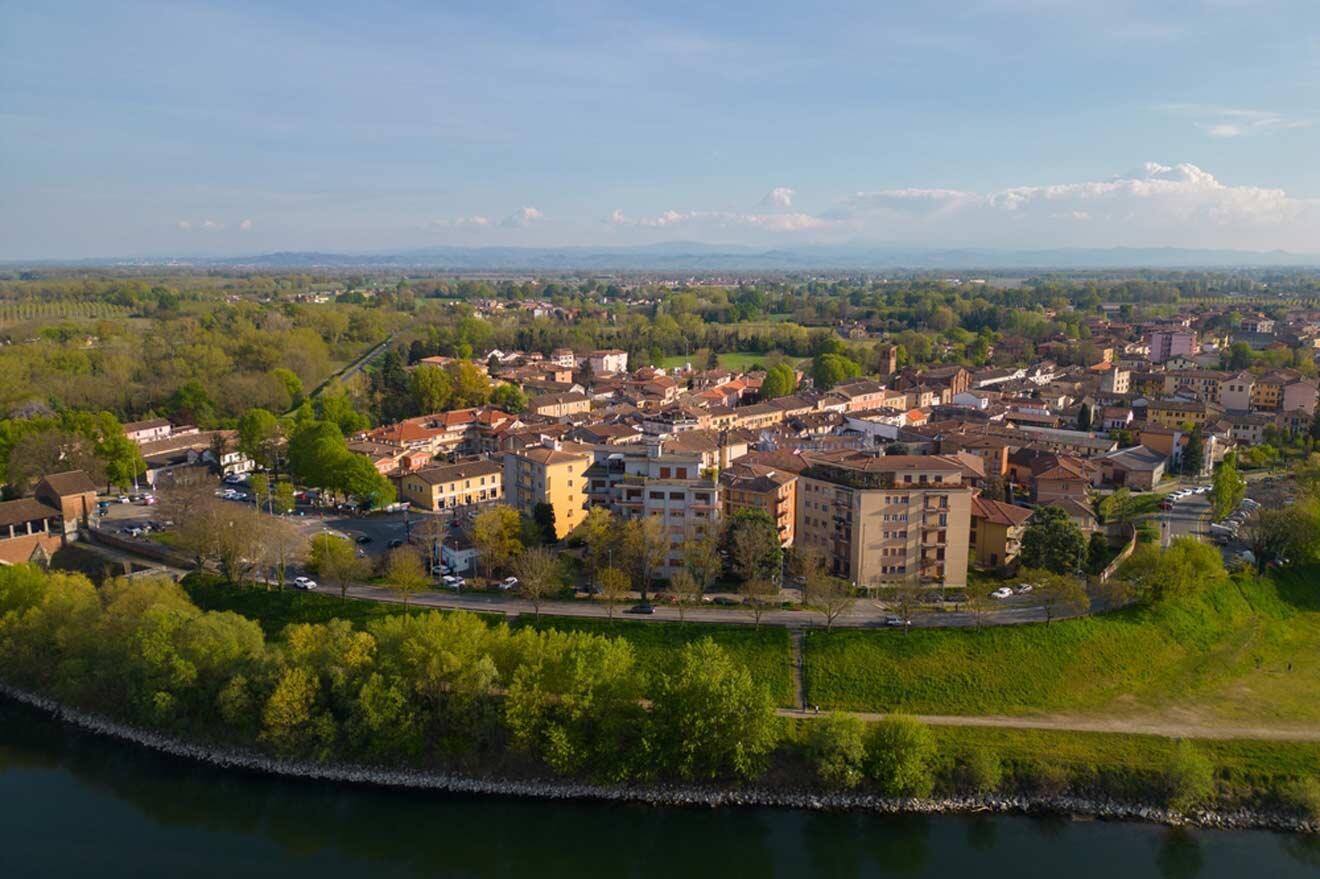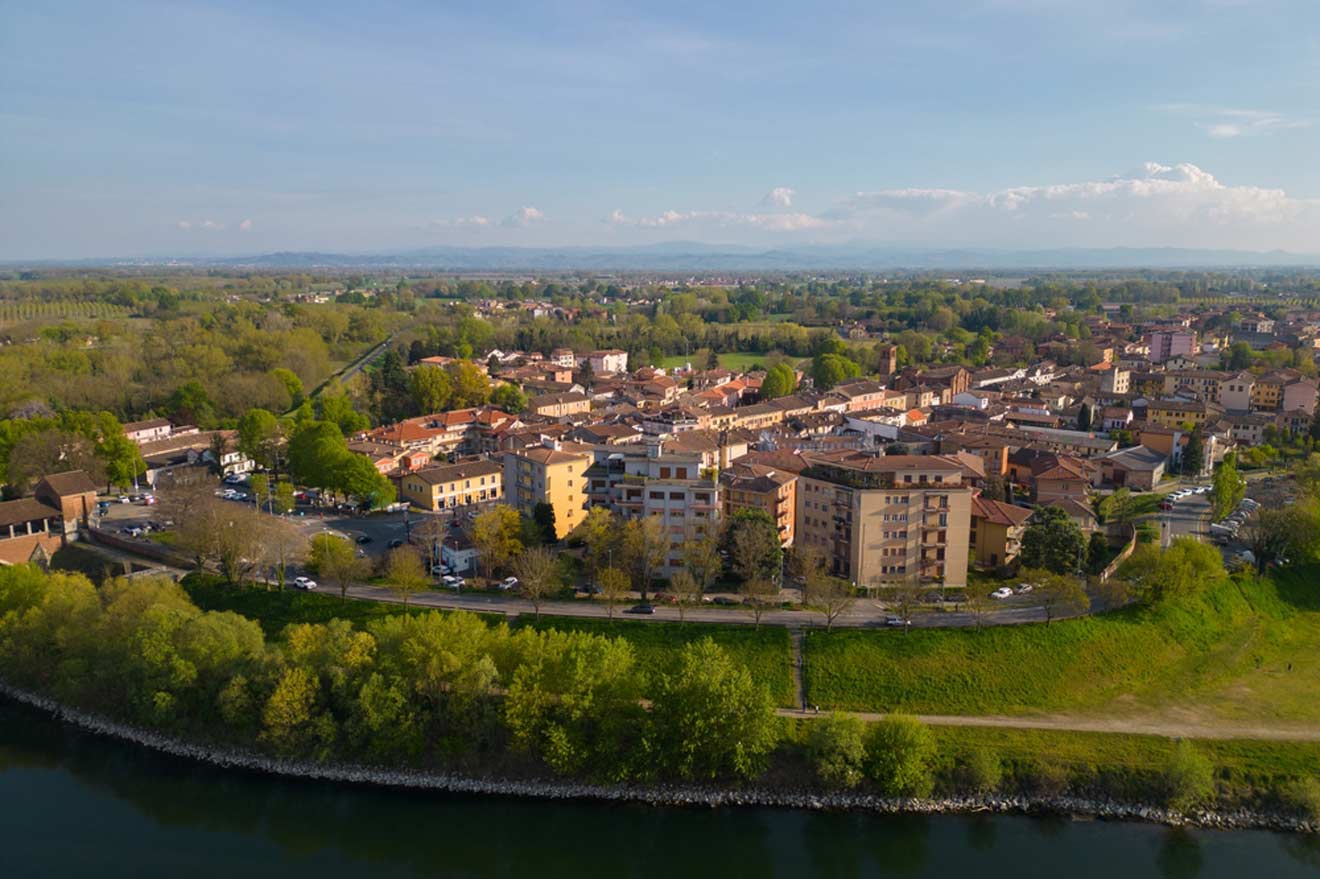 Pavia's charm doesn't sit just in its museums or monasteries, this city has such a pleasant atmosphere in its most unexpected corners!
Area Vul, for example, is a little park near the river with amazing picnic areas and lovely big trees. If you have the time, you can get some goodies from the local mercato (bazaar) and a small blanket, and come here at noon for the perfect siesta. You can admire the views of central Pavia and even see the Duomo from here – it's so cute!
4. Visit Duomo di Pavia in Piazza Duomo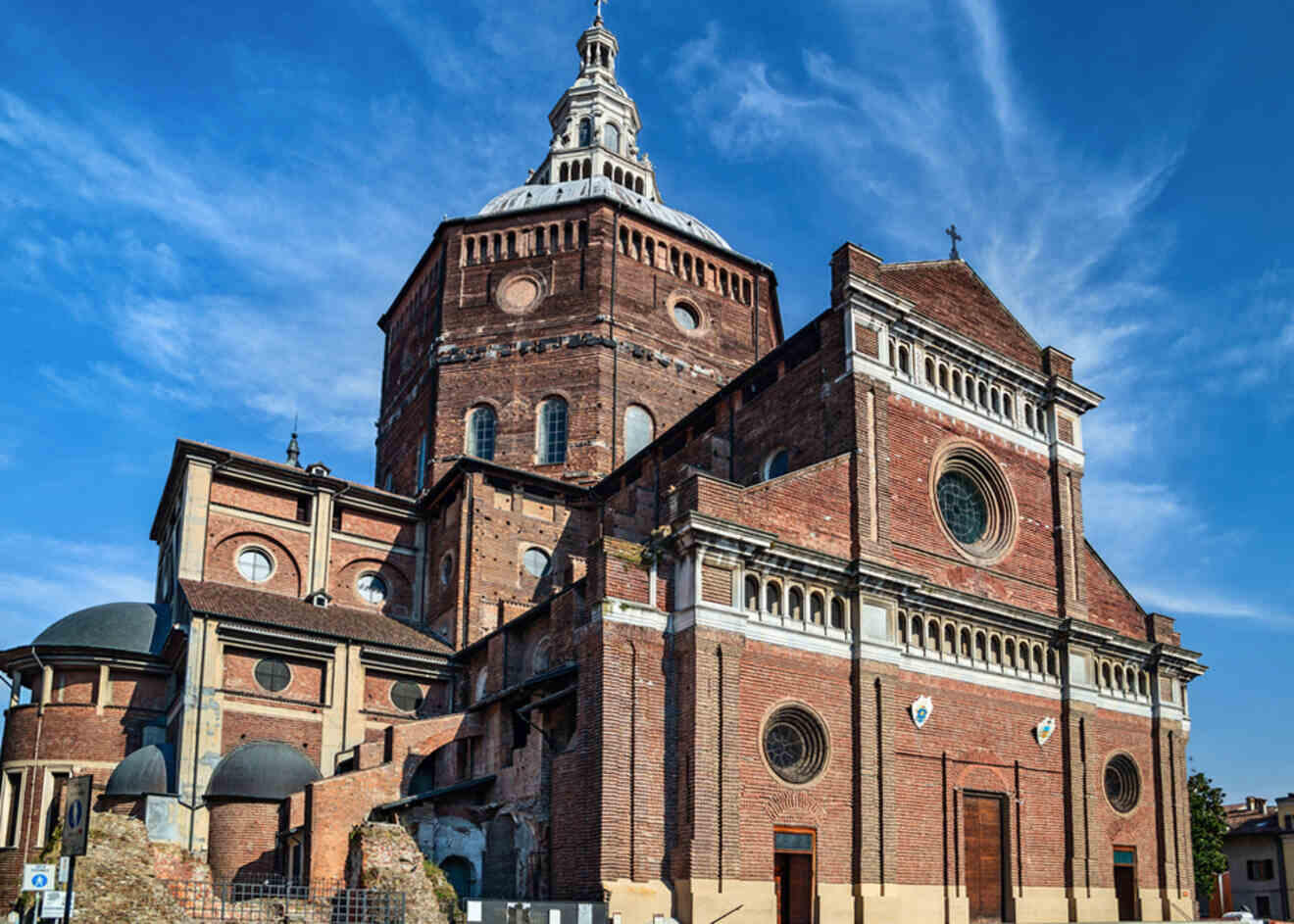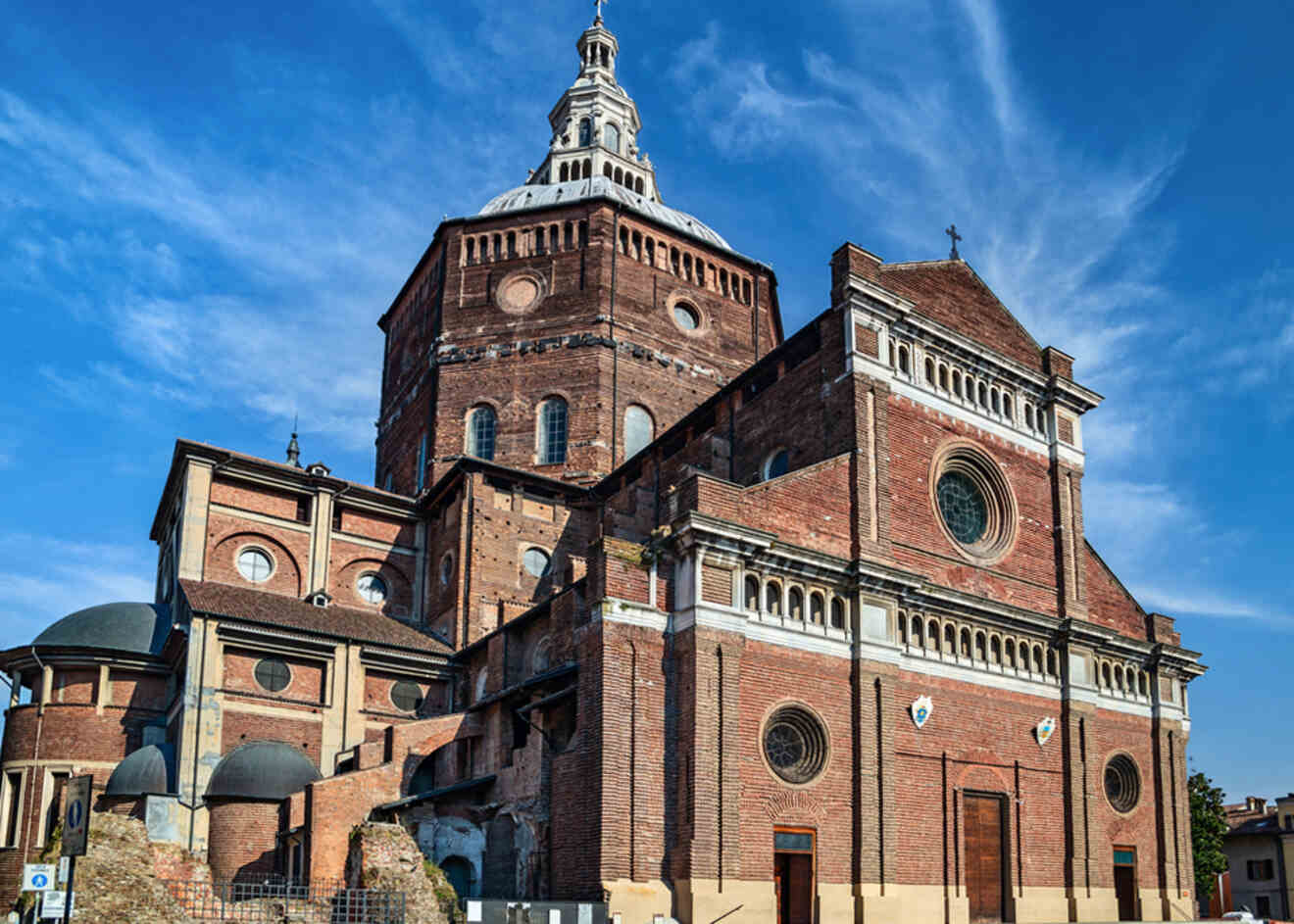 Is it really a trip to Italy if you haven't seen a few churches and duomos?
I think not!
Just like most Italian cities, Pavia has a Piazza Duomo (Duomo Square) with its own Duomo! The whole square is so beautiful, and there are a few restaurants and bars opposite including Miscusi, a specialty pasta restaurant that I highly recommend.
Word has it that the cathedral has a reliquary which contains a thorn from Christ's crown!
You can visit Duomo di Pavia, also known as the Santo Stefano e Santa Maria Assunta Cathedral, for free and admire its architecture!
5. Walk around University of Pavia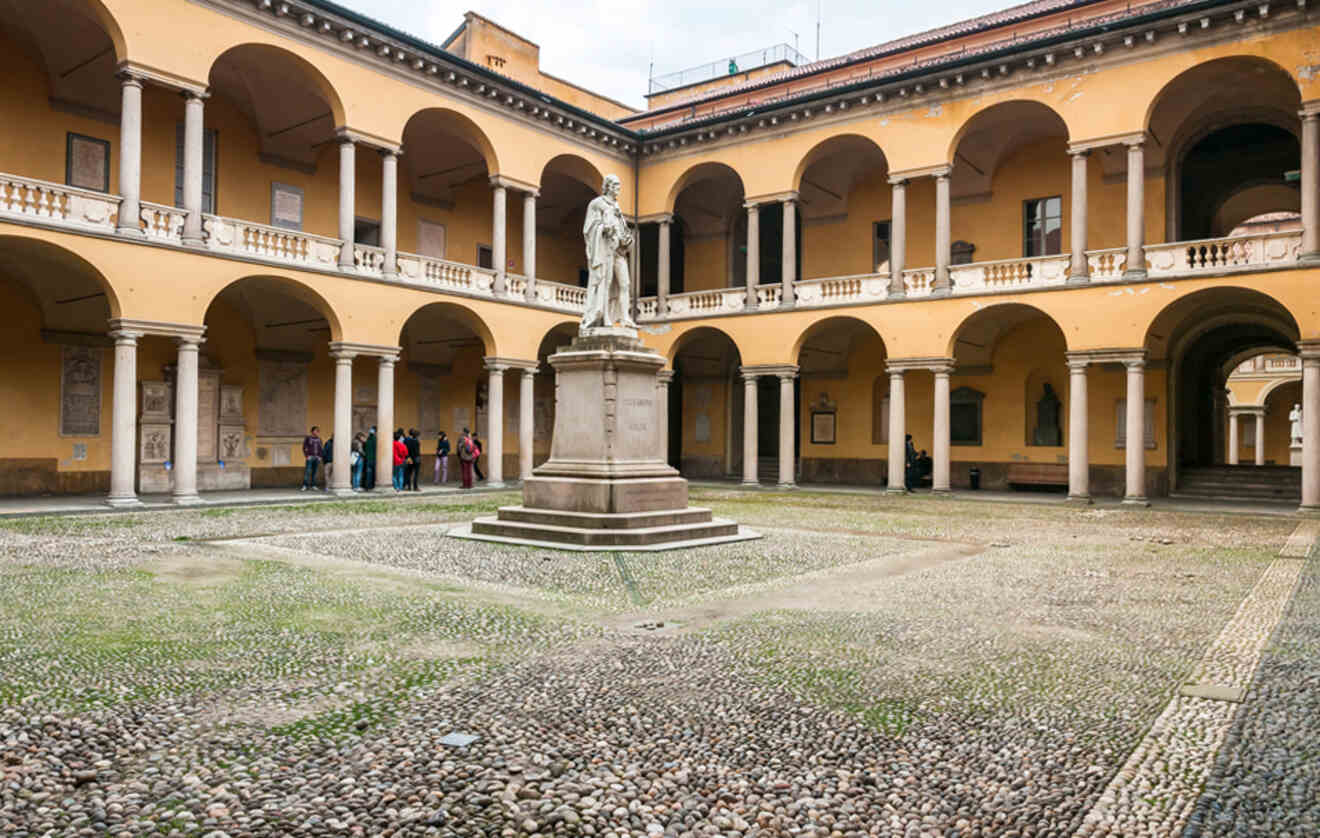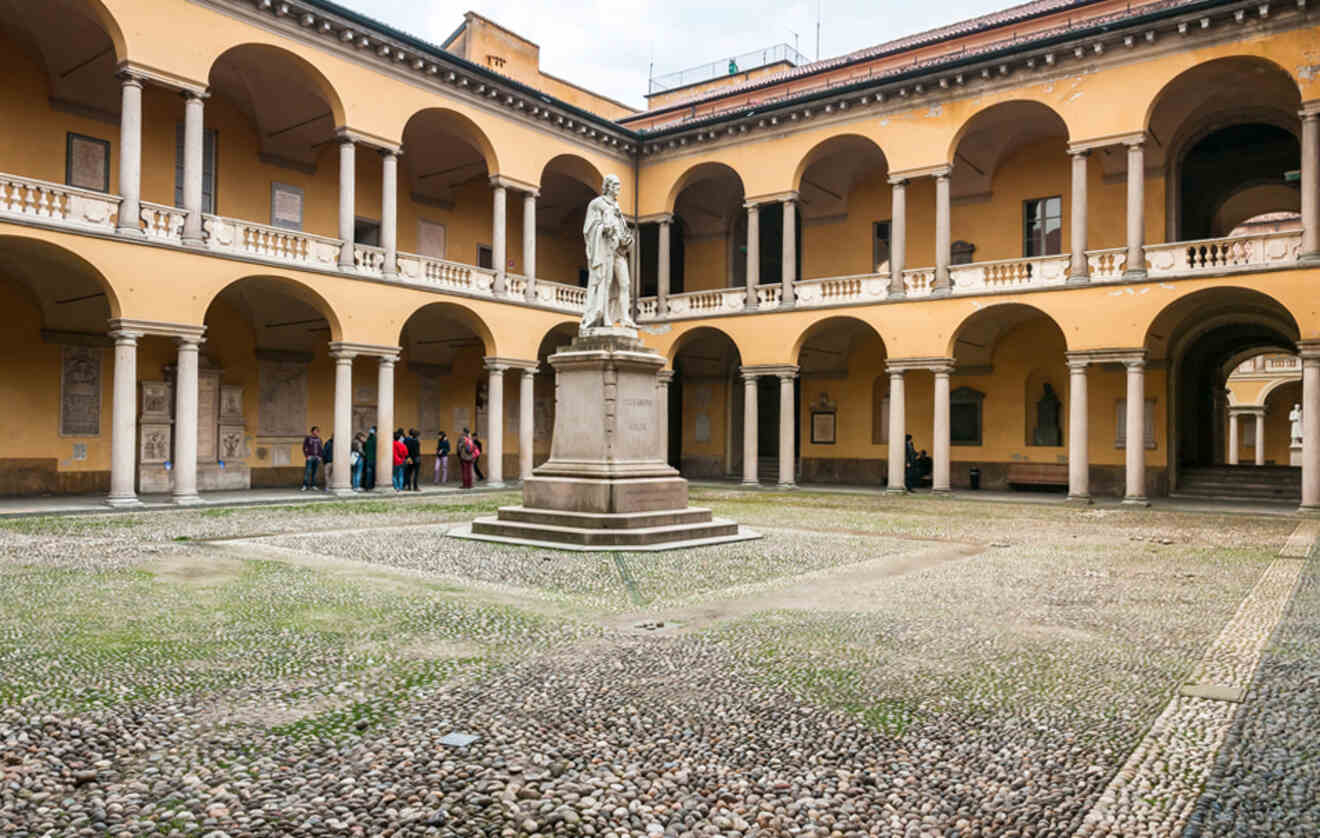 Founded in 1361, the University of Pavia set near Piazza Leonardo da Vinci is one of the oldest universities in the world!
The University's campus is spread across the whole town and its buildings are absolutely incredible! You'll probably decide to spend hours analyzing the architecture which includes baroque and neoclassical styles!
Once here, check out all the statues and see if you can recognize them!
If you get tired, you can relax in the courtyards, which are super tranquil (and some even have Wi-Fi)! But make sure you also visit the University History Museum inside the campus!
6. Admire the flowers in the Botanical Garden
If the weather is too nice to spend it inside a museum admiring frescoes then I highly recommend a trip to the city's Botanical Garden!
The entry is free and you can visit the building (which holds classes sometimes) and is pretty unique on its own, and also all the little pathways in the gardens that are enriched with trees, colorful roses and statues!
7. See the Santa Maria Del Carmine church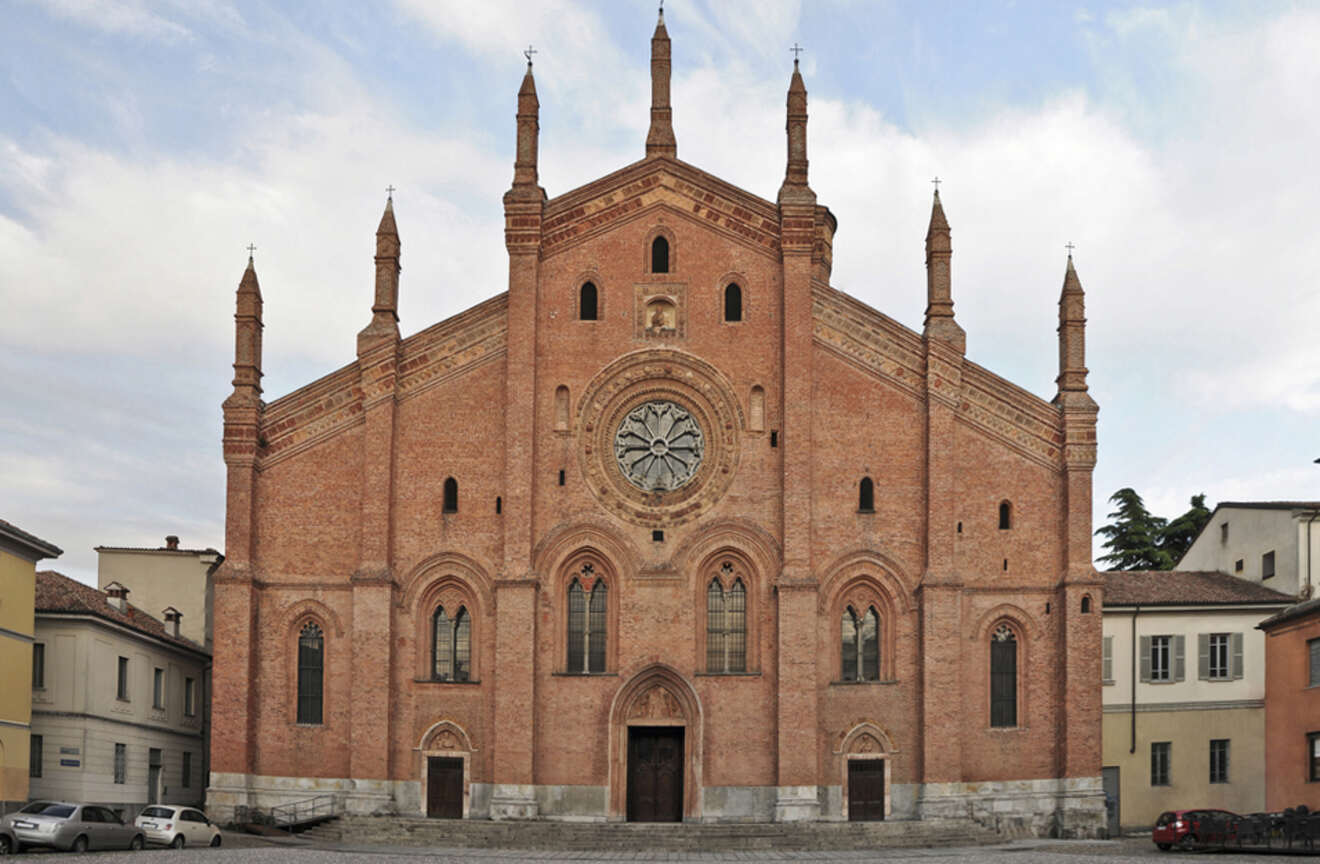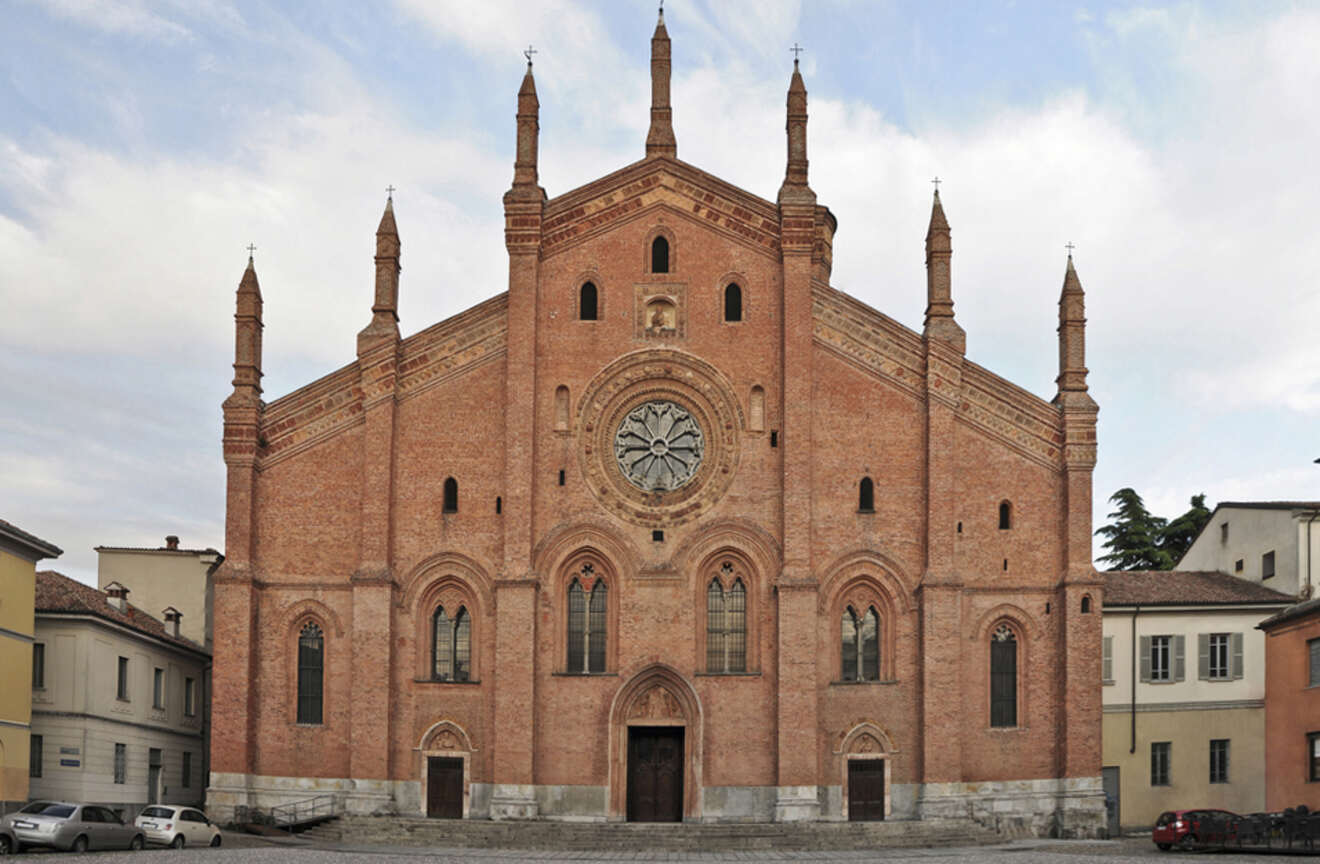 History enthusiasts will surely feel in their element while exploring Pavia!
One of the places that you shouldn't miss here is the Santa Maria Carmine, a famous church, which is super old and it's really eerie inside. The architecture is so unique and its paintings are beautiful!
There are so many hidden churches in and near Pavia and it makes a really cute activity to go on a hunt for the best ones! I especially recommend visiting the San Pietro in Ciel d'Oro church (St. Peter in Golden Sky) which dates back to the eighth century and is the burial place of St. Augustine!
And here's a list of some other ones you shouldn't miss:
Church of San Michele Maggiore
Santa Maria di Canepanova (has unique frescoes)
Basilica San Teodoro
Chiesa di San Salvatore
Certosa di Pavia Monastery (known for its Gothic and Renaissance styles)
8. Catch a movie at Pavia's secret cinema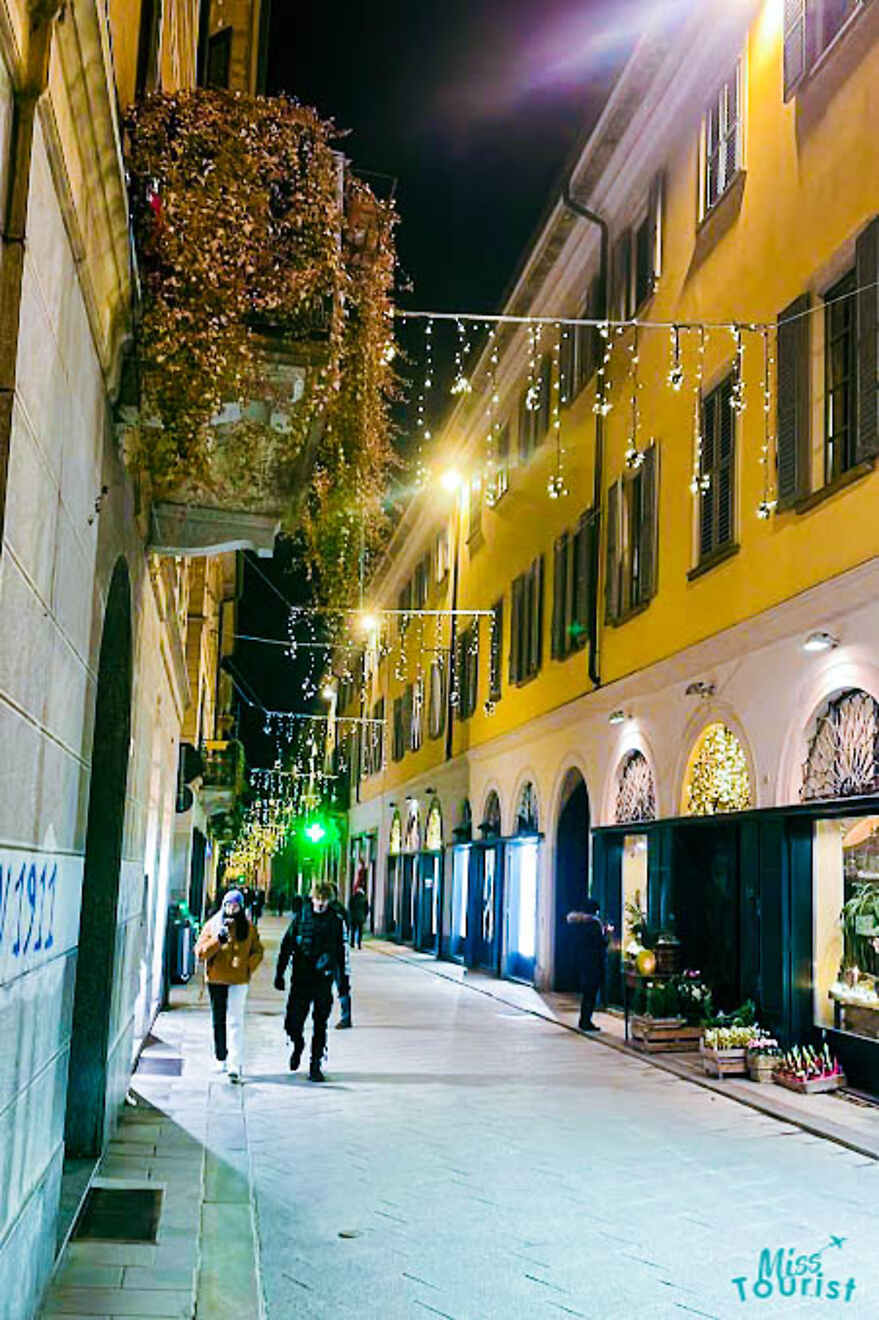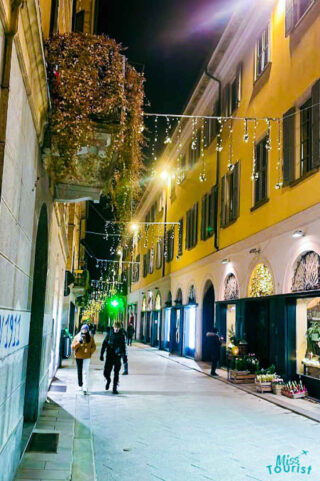 If you need a break from all the history, then I know just the place: Cinema Politeama!

This super cute and small theater still shows films in their original language which is hard to find in this area!

You'd never know it was there, it's tucked away inside a tiny courtyard off Corso Benso Cavour and only the locals know about it!
9. Eat the best gelato at Gelateria de Cesare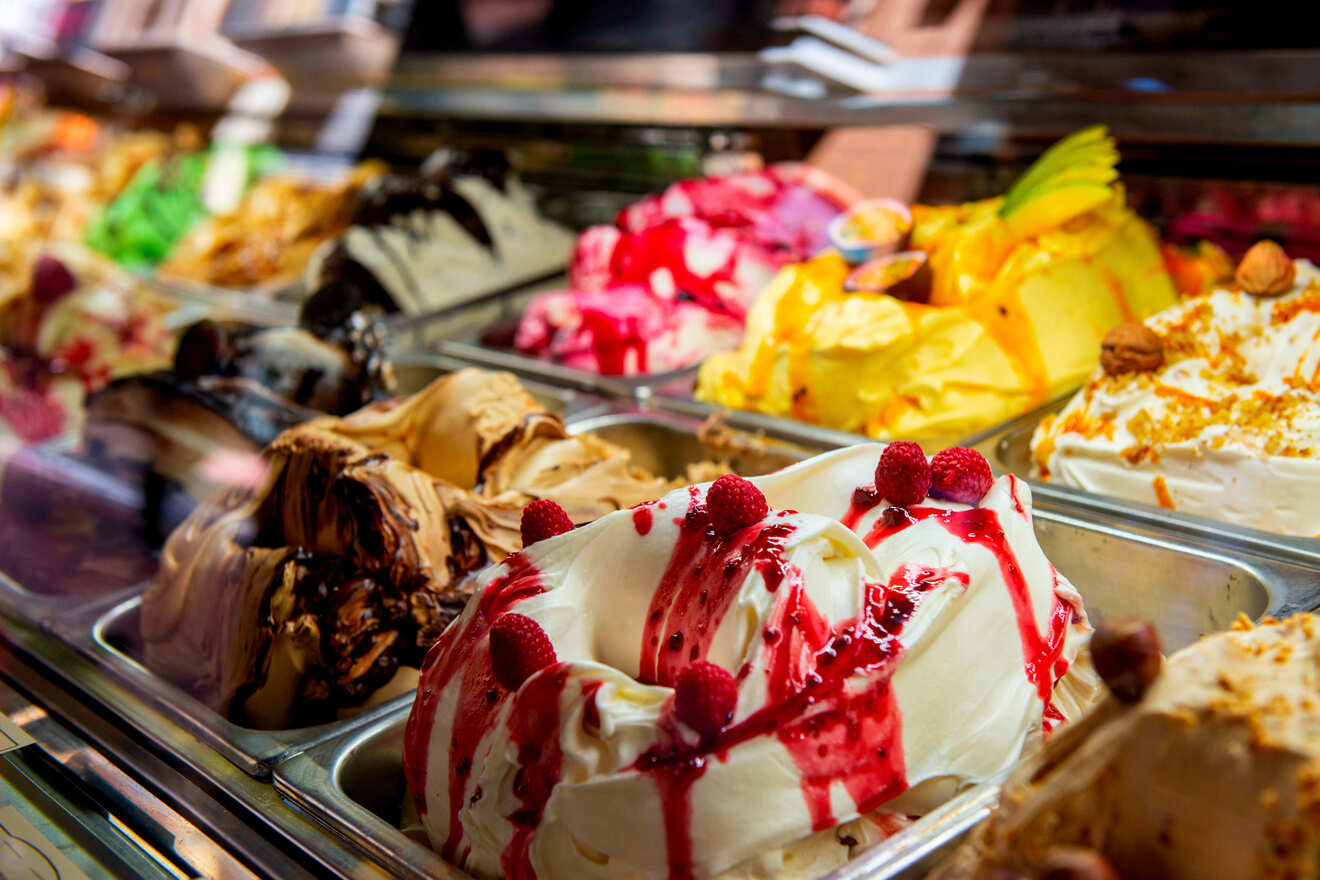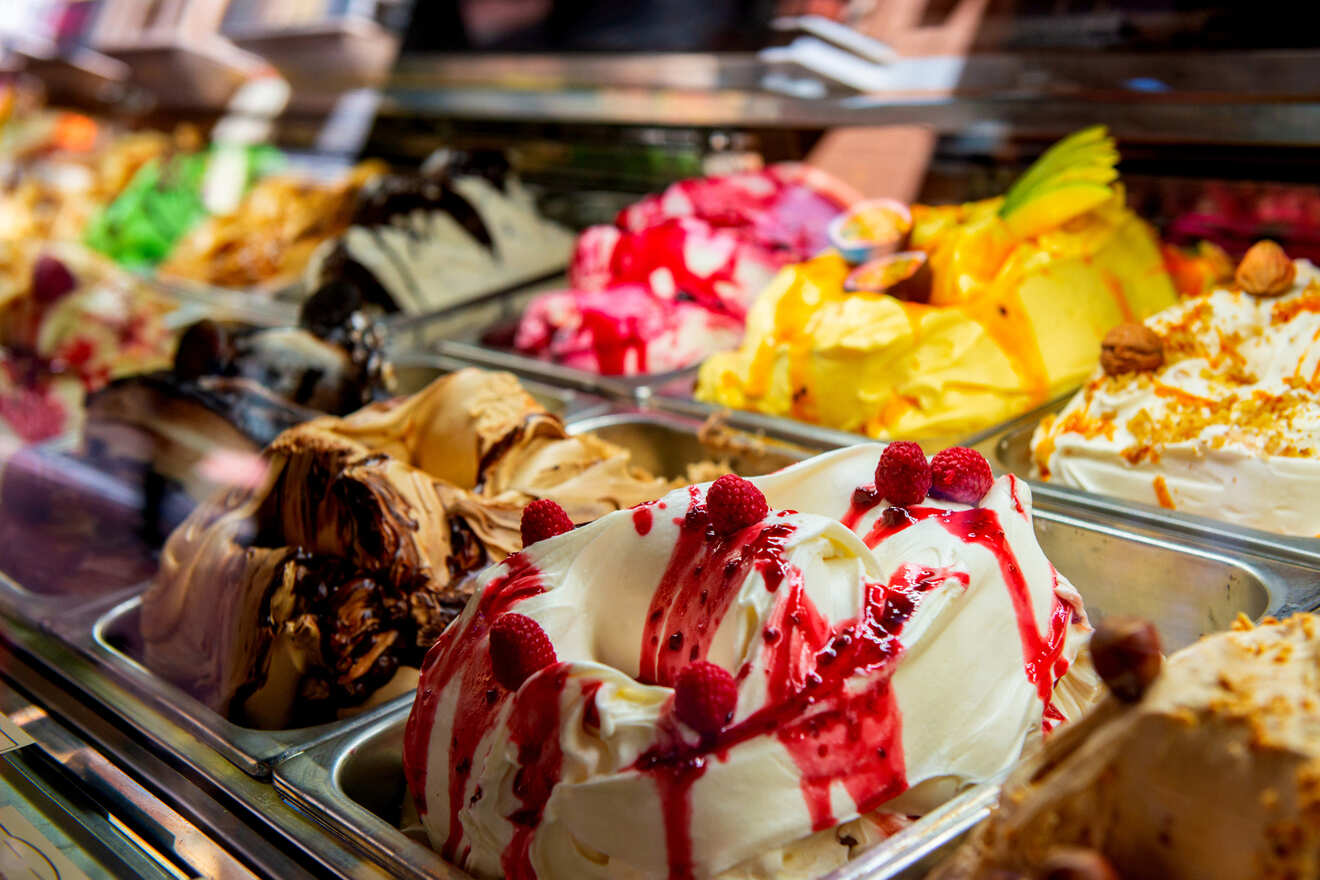 On Corso Garibaldi you'll find Gelateria de Cesare, one of my favorite ice cream places ever!
I can't say that I'm a big fan of ice cream but I would actually give up everything just to have a taste of the flavors they have here!
PRO TIP: Make sure you bring cash with you as they don't really accept cards (unless you beg them to pay by card and usually they don't take it too kindly)!
You can sit inside and eat it but most of the locals just order from the little window and wander down Corso Garibaldi, which is a super cute street with loads of really Italian boutiques and unique little artisan places.
10. Check out Visconti Castle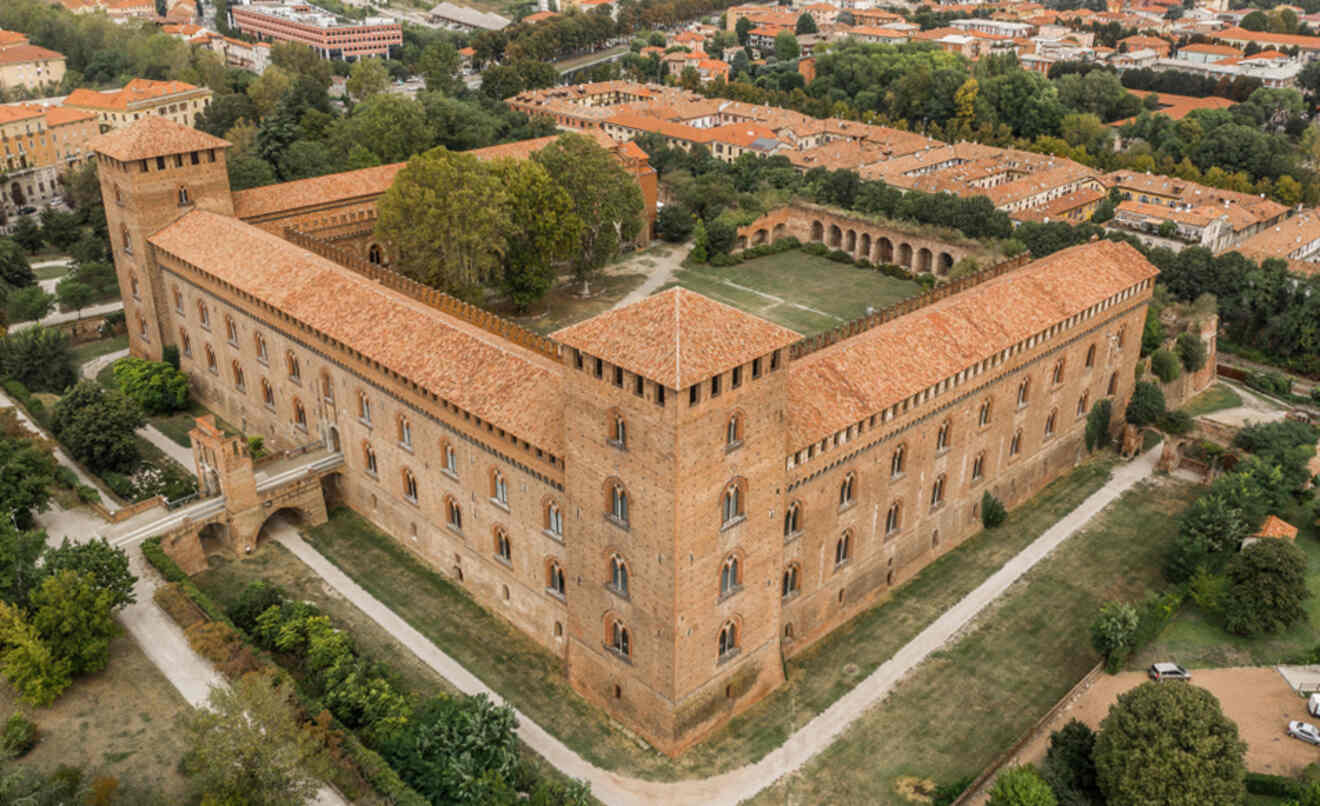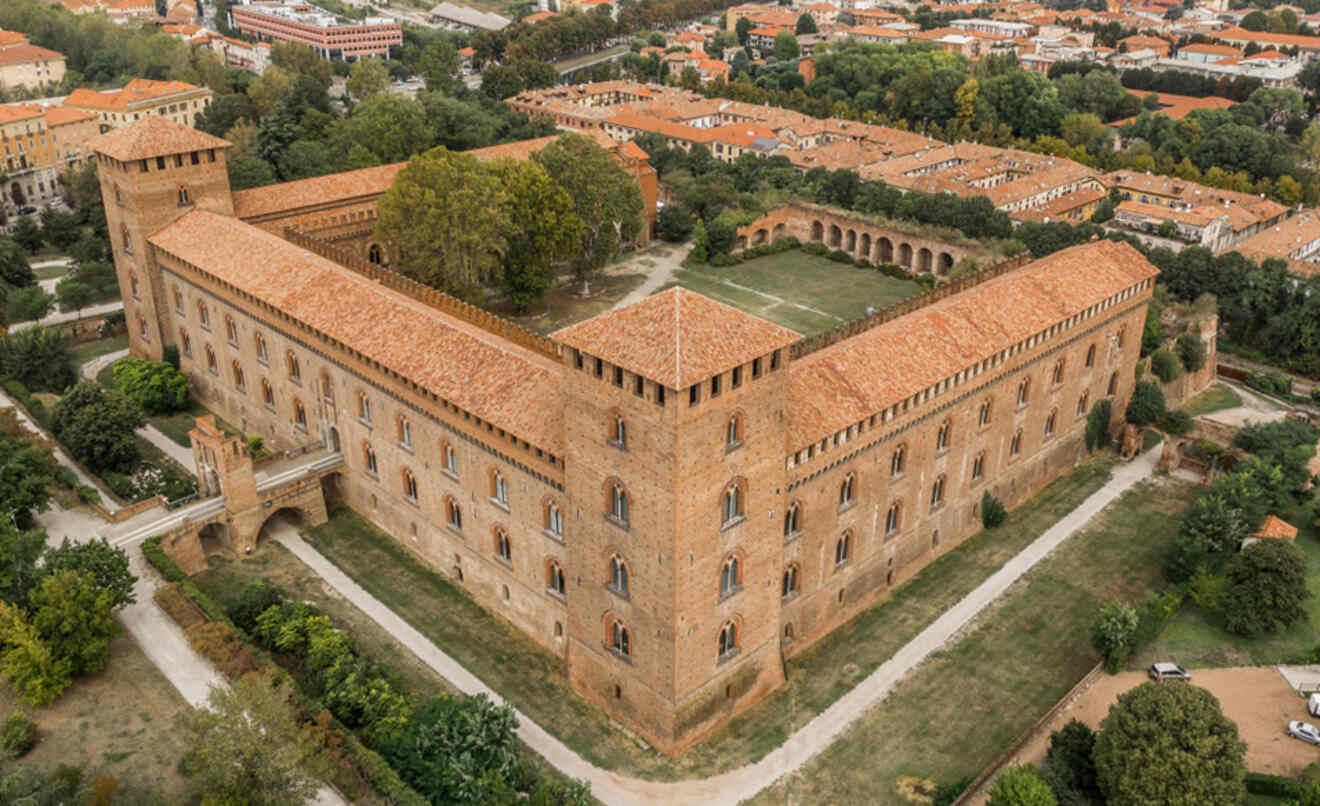 Once the home for the rulers of Milan, Visconti Castle is a stunning place which has gothic style!
You can come here to either have a picnic in the castle courtyard or head inside if you want to admire its architecture and see some local works of art!
PRICE: €10
Getting around Pavia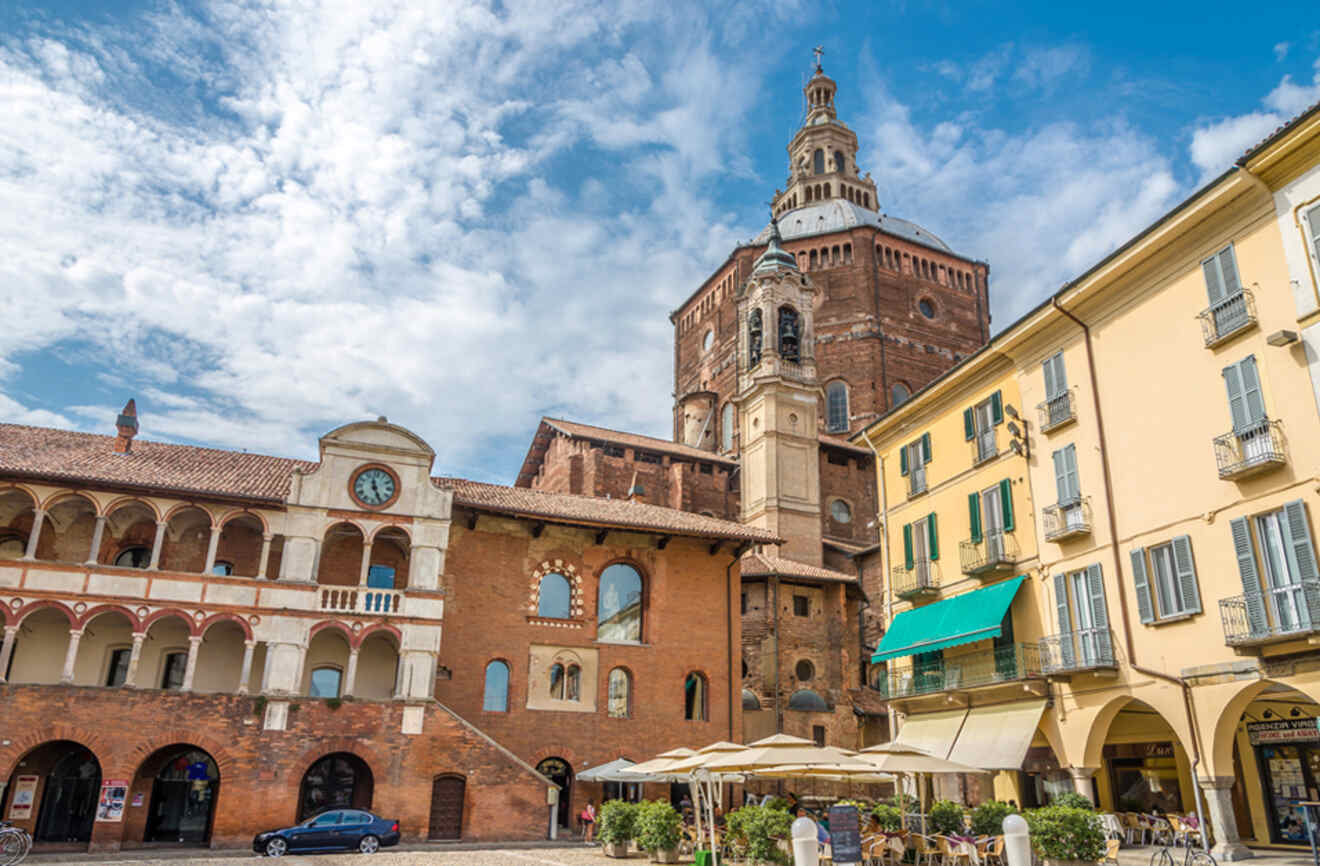 If you decide to rent a car to explore multiple towns in the region then I definitely recommend it! However bear in mind that it's a restricted zone for cars in the center of town. You can get a permit in advance here, or just park on the edges of town.
The best way to get around the city is walking, everything is super close and you're surrounded basically by all the attractions and restaurants.
If you need to get further afield, the best way to get around is using the bus system. Generally reliable but sometimes it runs a little late! Use the Autoguidovie app to buy your bus tickets and ALWAYS activate your ticket on the app before getting on the bus. Tickets last for one hour from activation.
Where to stay in Pavia
Looking for the perfect place to stay in Pavia, Italy? Then check out the short list below, where I added some fabulous hotels which I ordered from most to least expensive and the prices start from €108 (US$120) to €180 (US$190):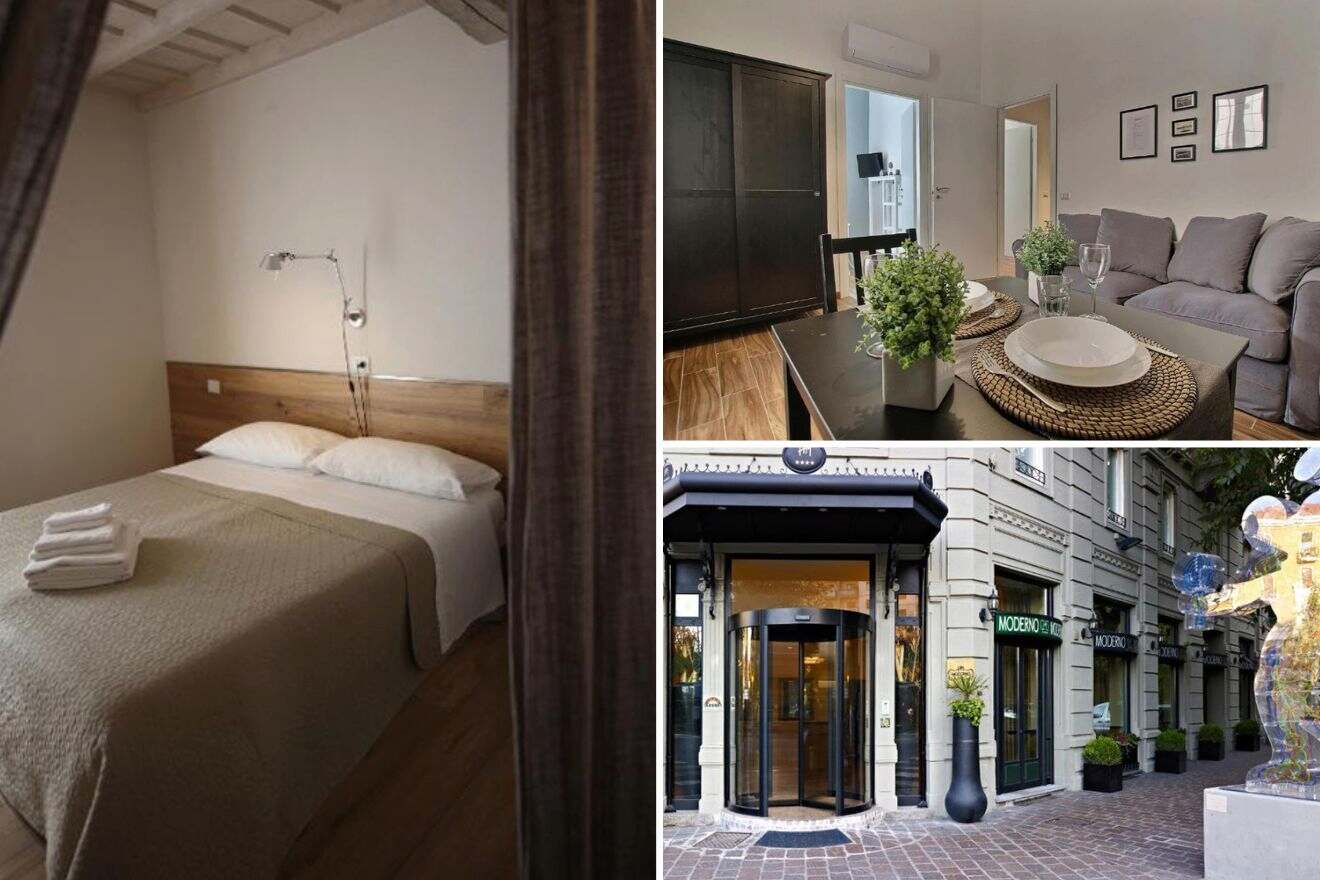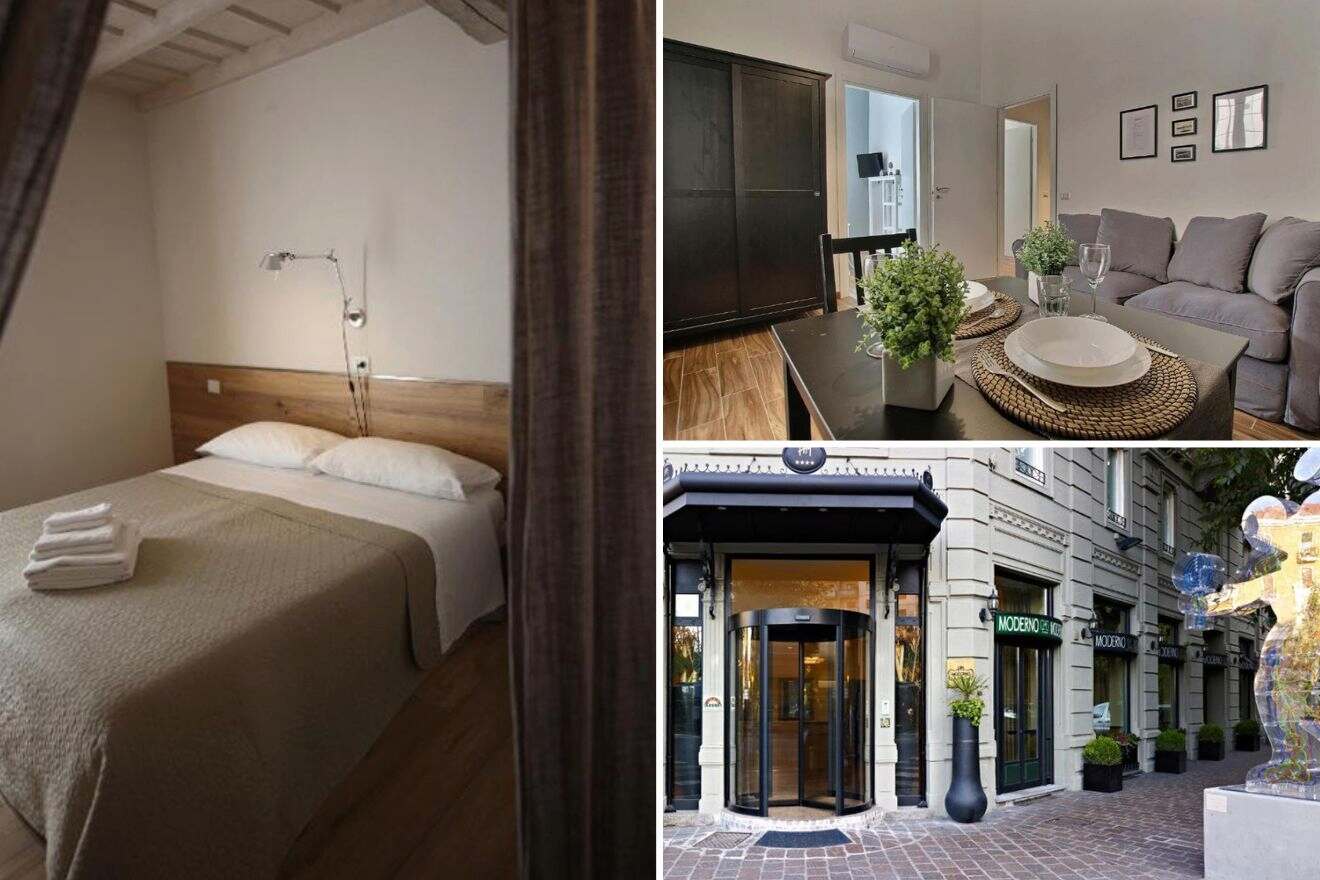 FAQs about Pavia, Italy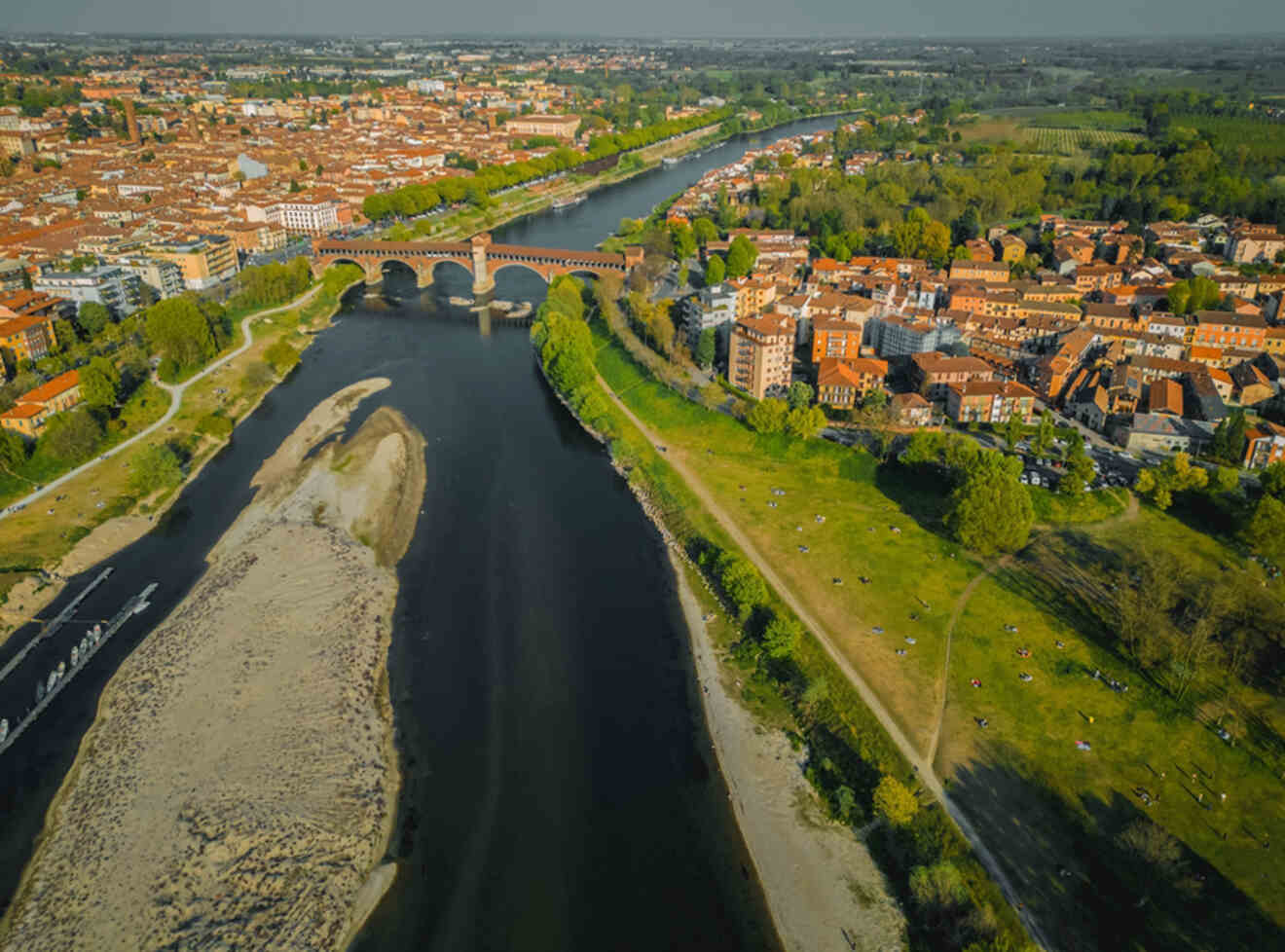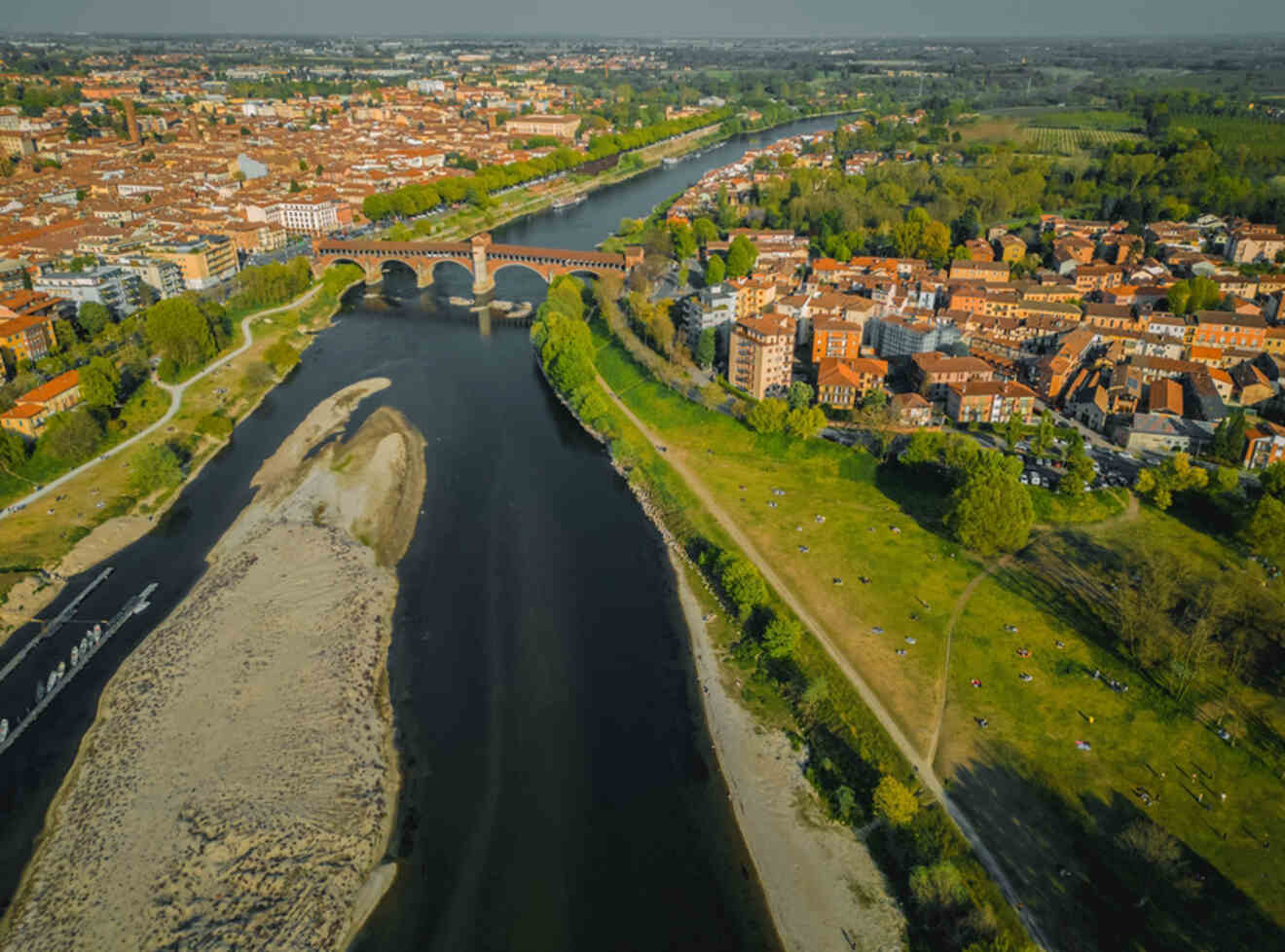 🤔 Is Pavia worth visiting?
Yes, this traditional Italian city in Lombardy is surrounded by Oltrepo' Pavese, the so-called Tuscany of northern Italy and is great for history lovers. It also has some beautiful churches, museums and monasteries!
🚜 What is Pavia, Italy known for?
Pavia is a tranquil town in northern Italy, just a train ride away from Milan known for its agriculture, history and as the home to one of the oldest universities in the world!
⛪ What are the top attractions to visit in Pavia?
Ponte Coperto, Basilica San Michele Maggiore and the Duomo Di Pavia are some of the best attractions to visit in the city.
🍝 Which are some great restaurants in Pavia?
Conclusion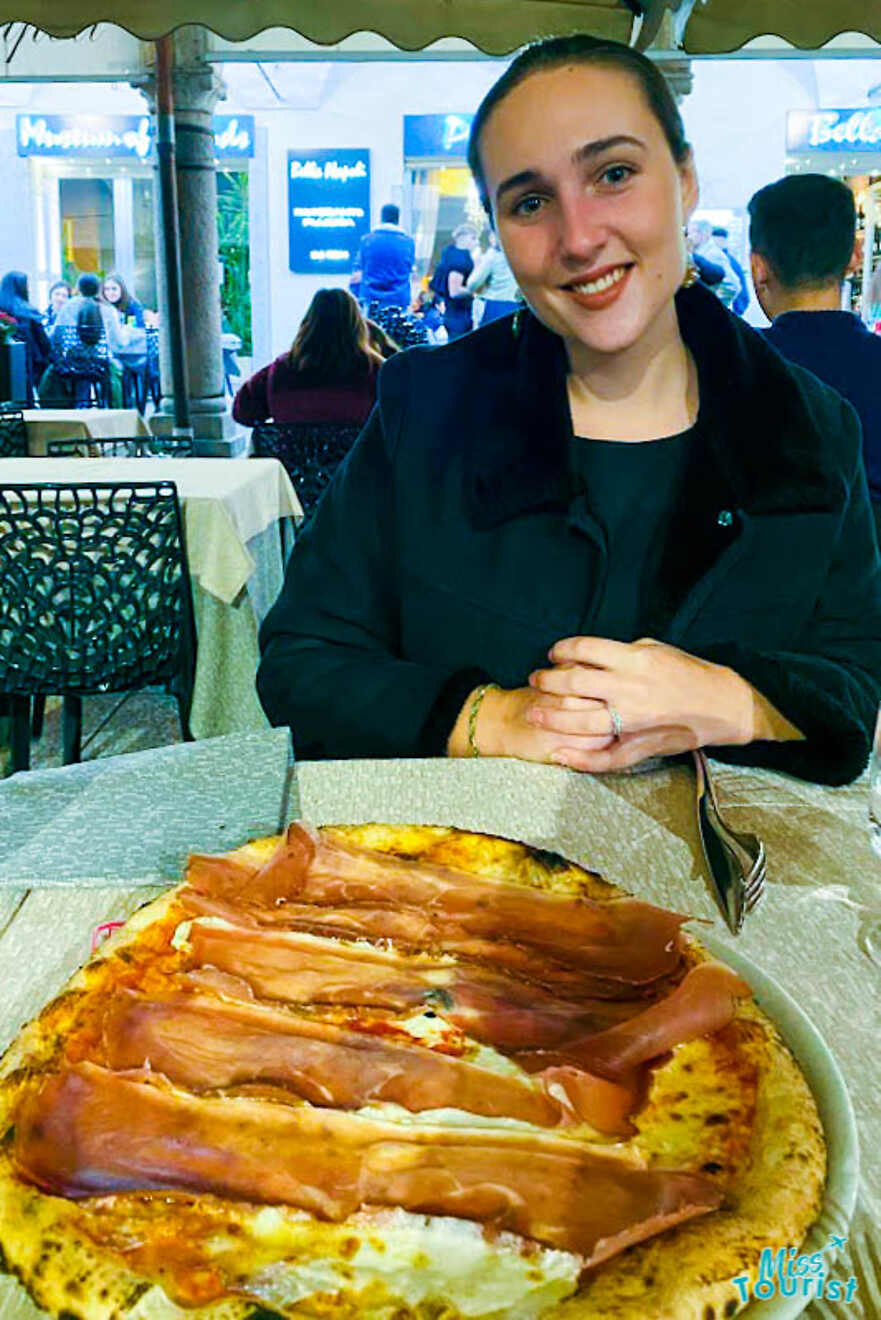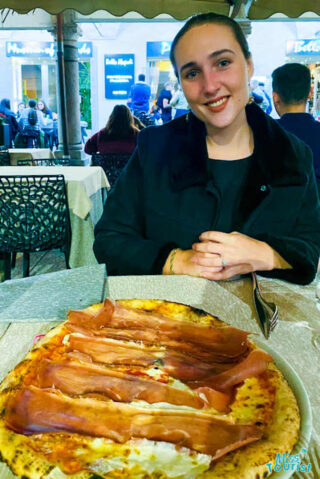 This province is spectacular! Once you reach Pavia, and get off from the train or car you'll feel like you've time-traveled to another place and era!

And now that we've gone through this super useful guide on how to visit Pavia, Italy, where to stay, and which attractions to visit, I'm sure you're more than ready to plan your trip to this part of Europe!

Just remember though that you have to book your hotels or tours in advance, Pavia is not only close to Milan but it's becoming more and more popular with tourists!
We've gone through a pretty long list of things today! And if I missed anything by mistake, don't hesitate to drop me a comment below, I'll answer ASAP!
Buon viaggio!
Lizzie
---
Pin it for later!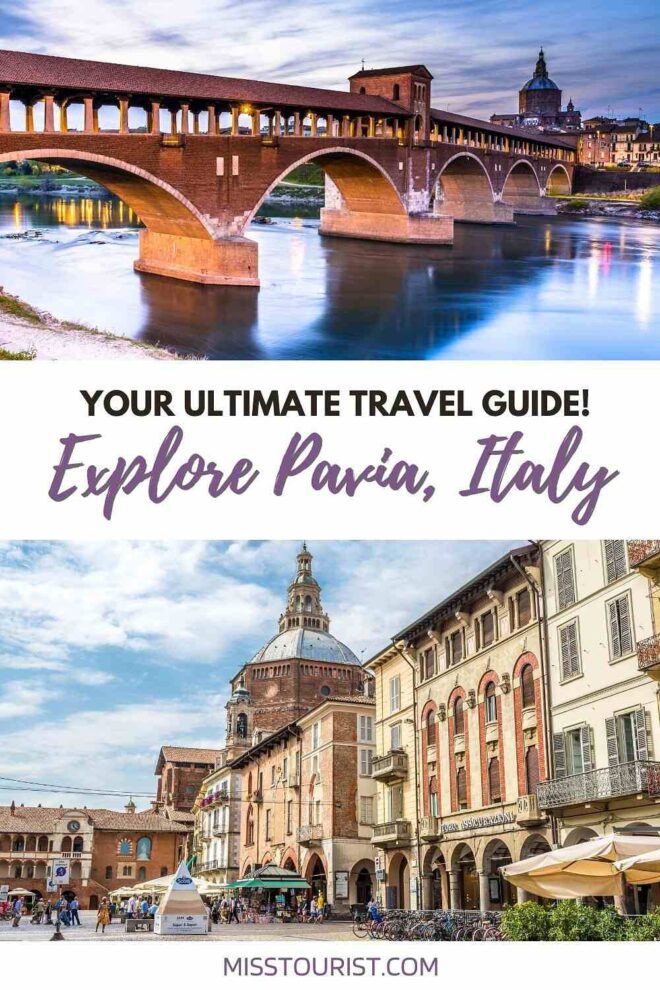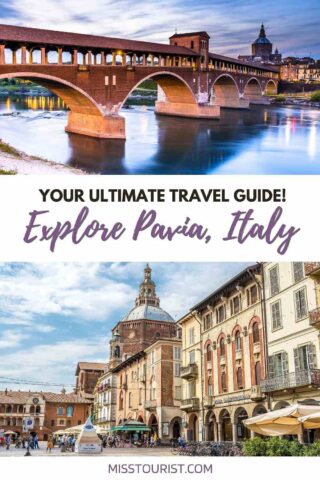 Pin it for later!