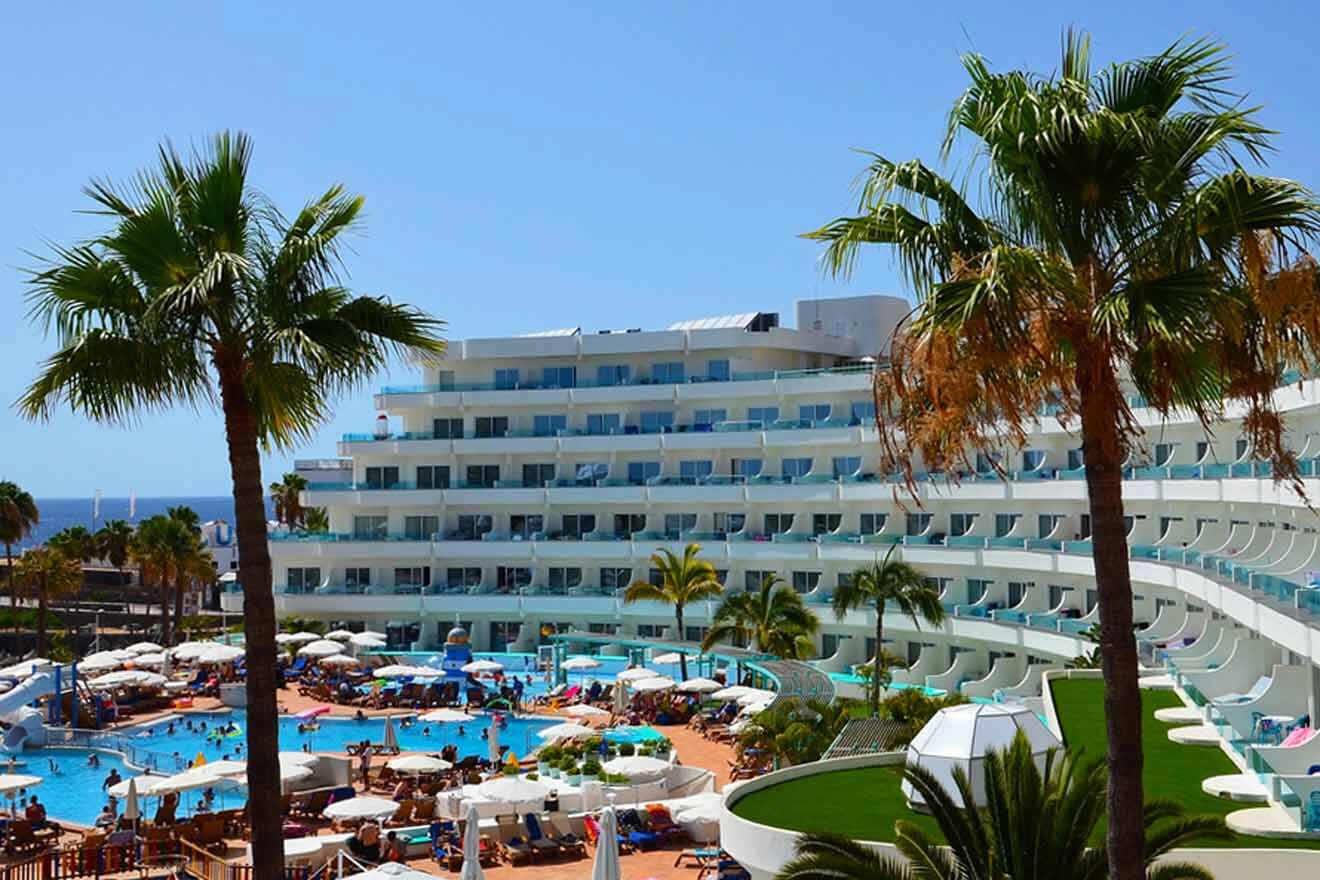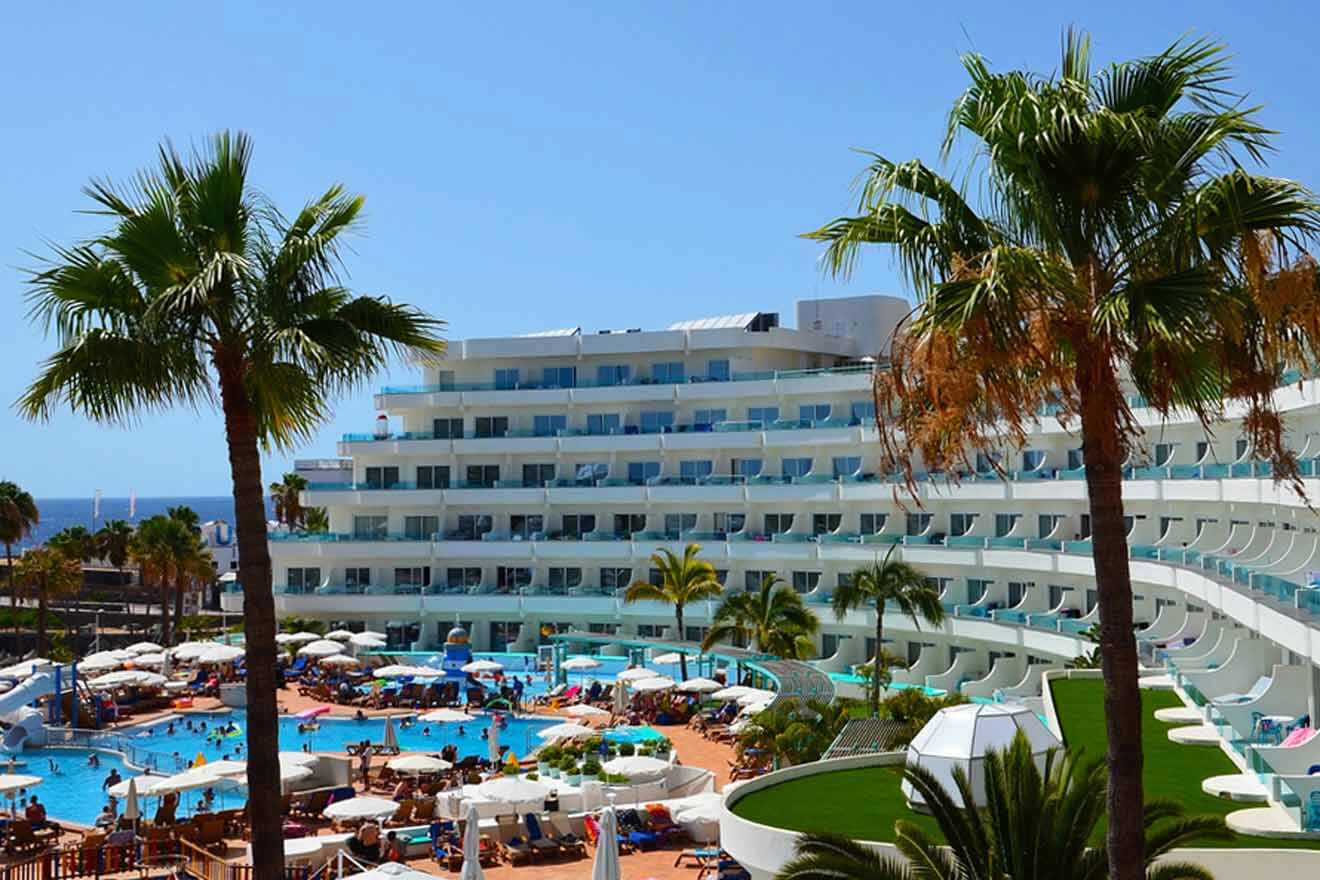 Are you looking for family hotels in Tenerife? Awesome! I have been comparing all the TOP family-friendly hotels with the best kids' clubs and kids' pools out there!
I have gathered 20 amazing options, so by the end of the article, you'll be booking the hotel of your dreams!
This article is arranged starting with the most luxurious hotels first. But to be honest, almost all of them are 5 and 4 stars.
NOTE: these are the best hotels in Tenerife, so if you want to book your first choice, you have to book in advance!
If you are in a hurry
If you need to book your hotel room fast but don't have enough time to read the whole article, here you have the top 3 best family hotels in Tenerife:
1. Bahia del Duque – enjoy easy access to sandy beaches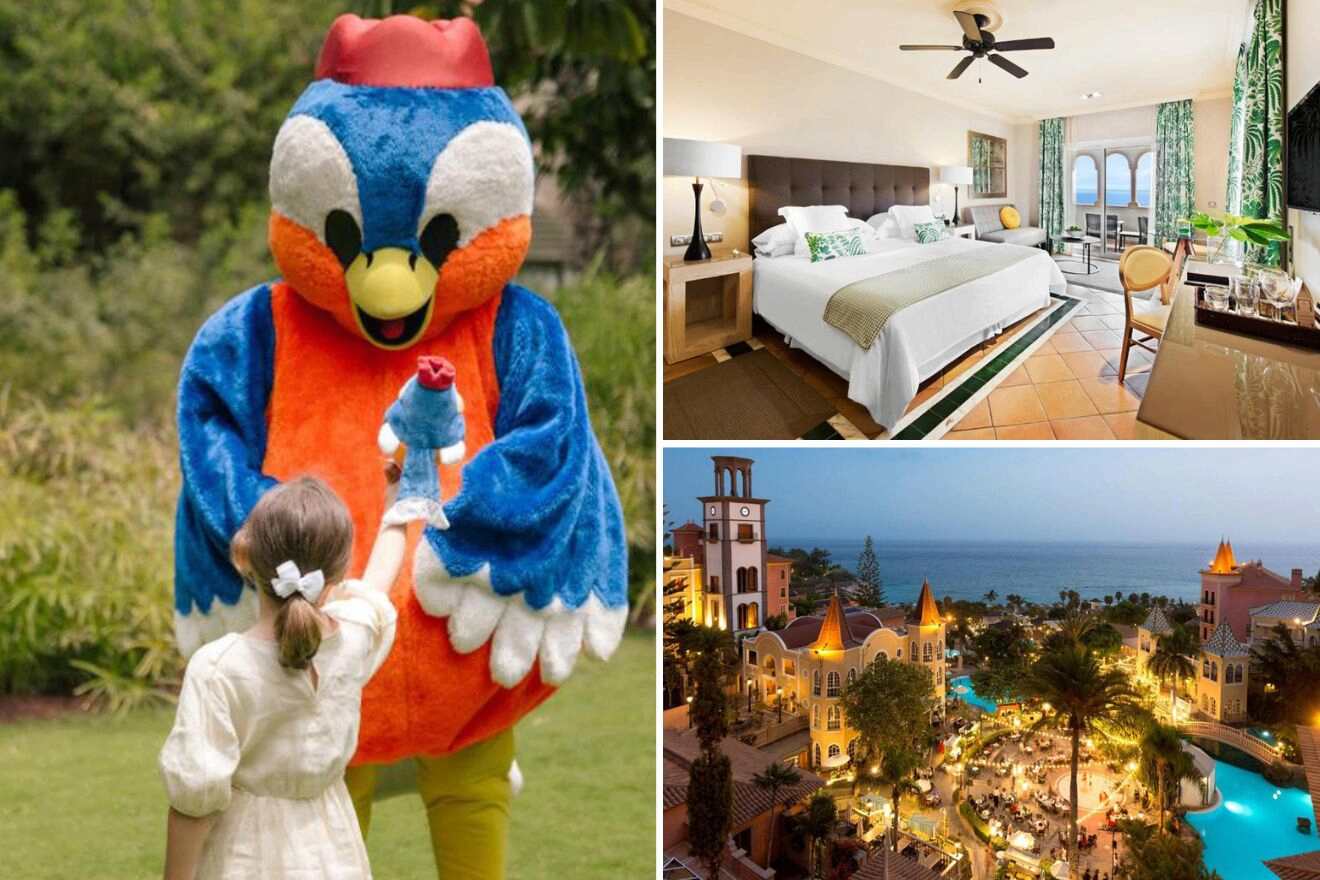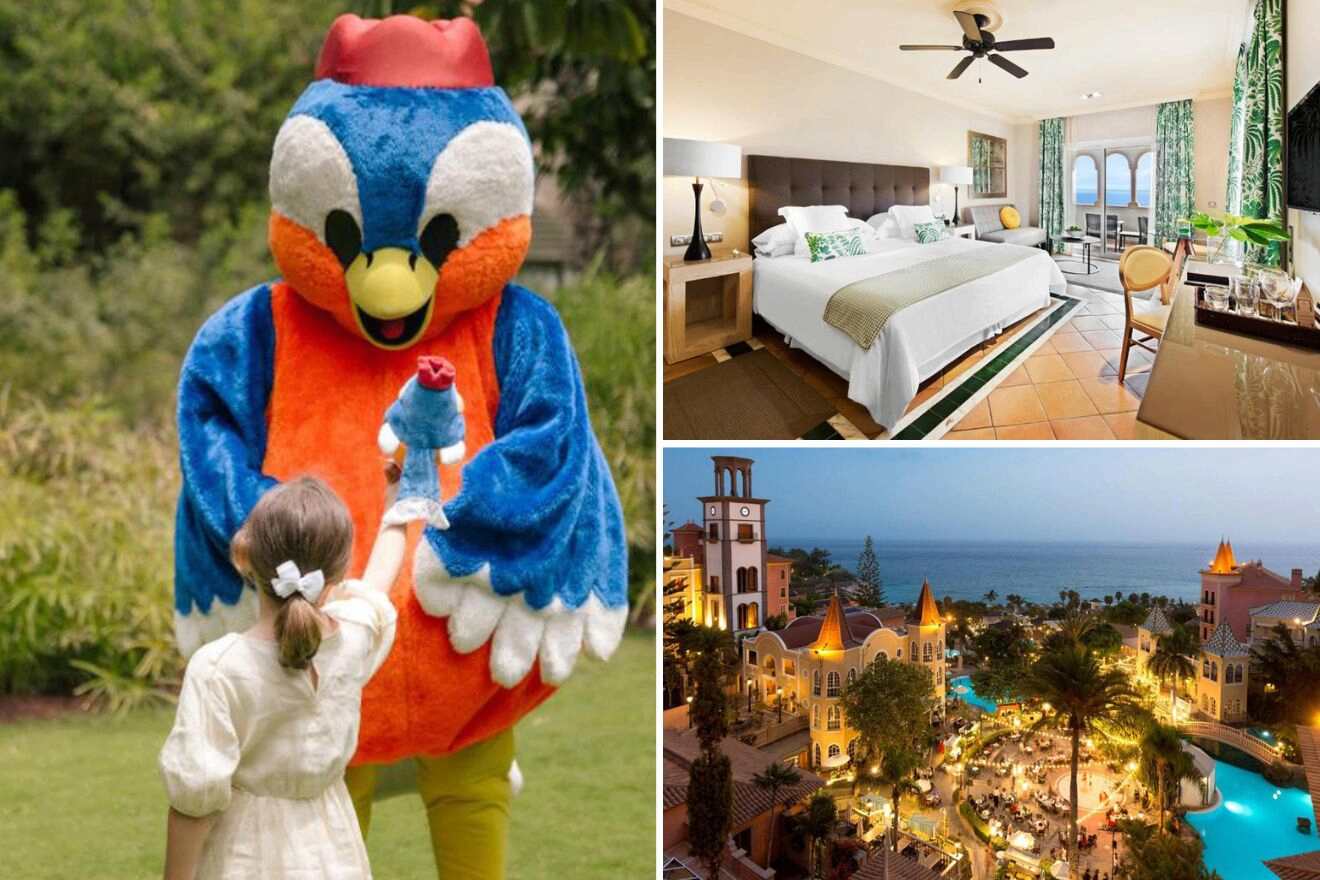 Wow! What an incredible hotel located in Adeje by the beachfront! This hotel welcomes families with kid-friendly amenities for a wholesome family holiday! It comes with a tennis court where you can enjoy matches with your family. Dive into kid-friendly swimming pools! There are 5 swimming pools, including a kids' pool. They also provide a supervised kids club and activities, including an indoor play area.
10 onsite restaurants are offering local cuisine and international dishes. If your family likes the great outdoors, you can go for a hike or explore the area with the hotel bikes. Alternatively, you can engage in family-friendly water sports! I highly suggest families book the double deluxe rooms for extra space and comfort!
2. Royal Hideaway Corales Suites – with family rooms and villas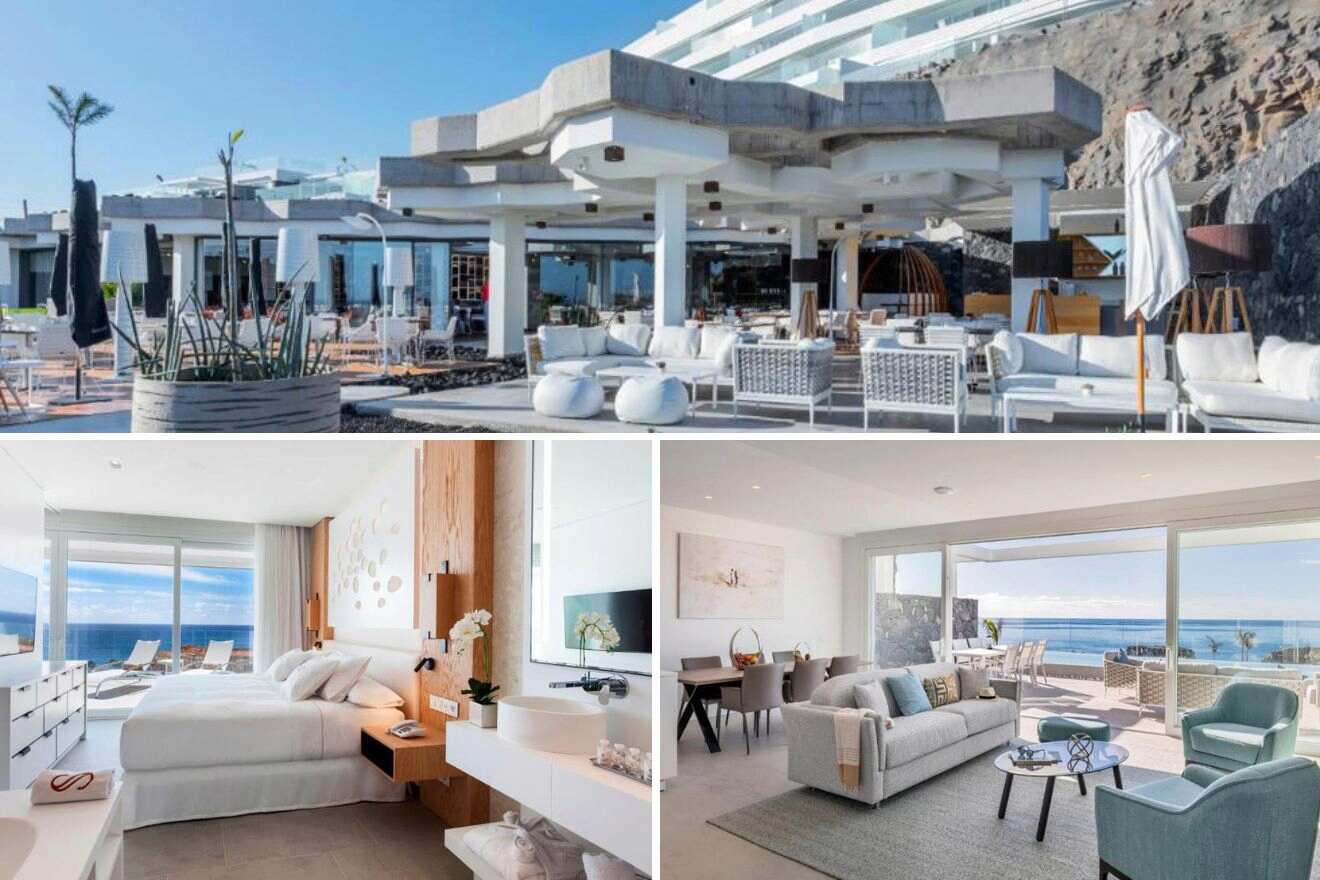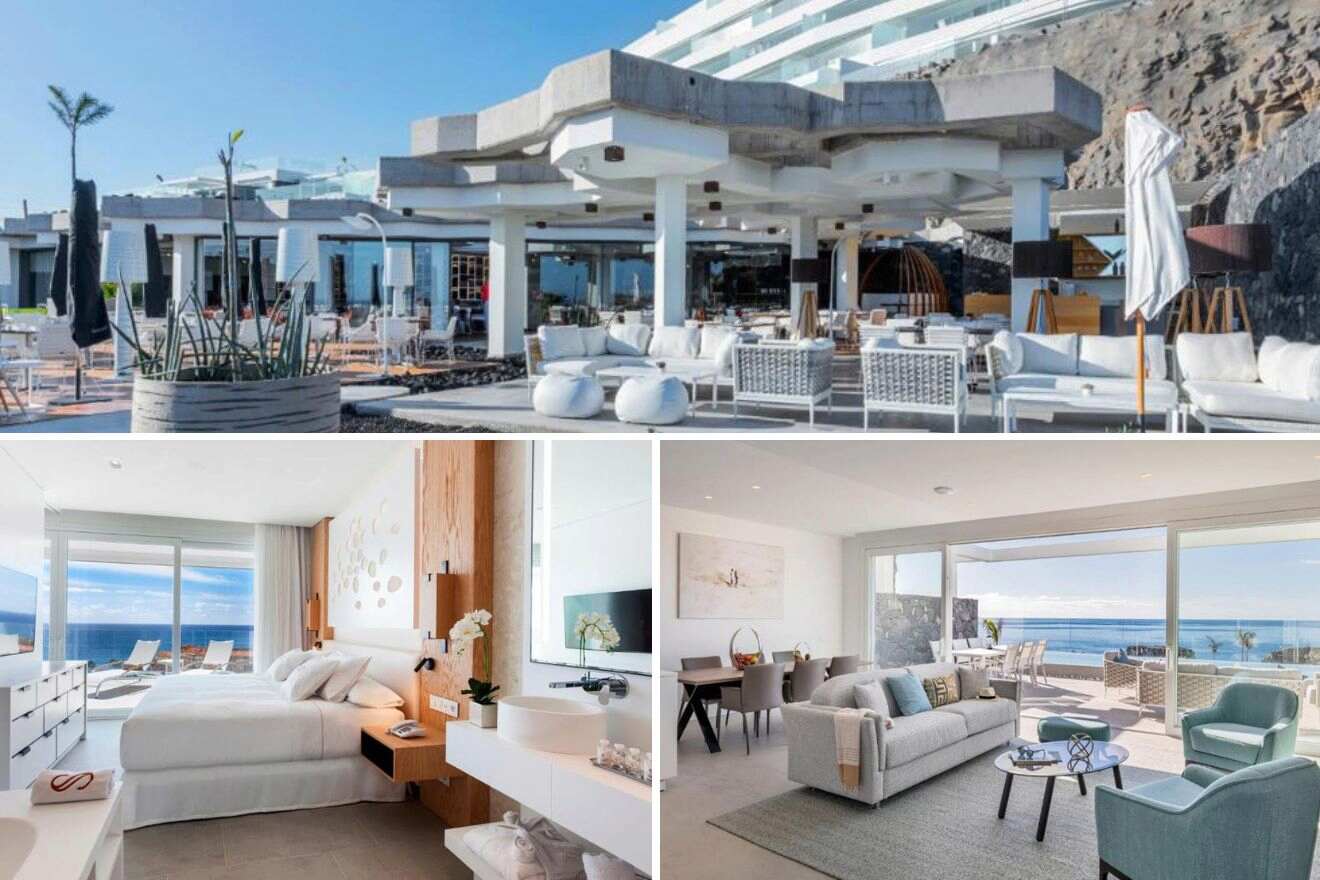 This beautiful hotel is located in La Caleta. It features unique modern and futuristic vibes. You can dive into marine life encounters thanks to the beachfront location! Refresh in the outdoor swimming pool while your kids spend time in the kids club. You've also got access to child-friendly menus at the 2 on-site restaurants.
I recommend opting for this spot with evening entertainment! This property offers dinner nights and music concerts on-site! Relish spacious family suites with sea views. I highly recommend the villas with a private pool to families. These can host up to 5 guests. In these accommodations, you can experience magical sunsets from private balconies!
3. Vincci Selección – a resort near national parks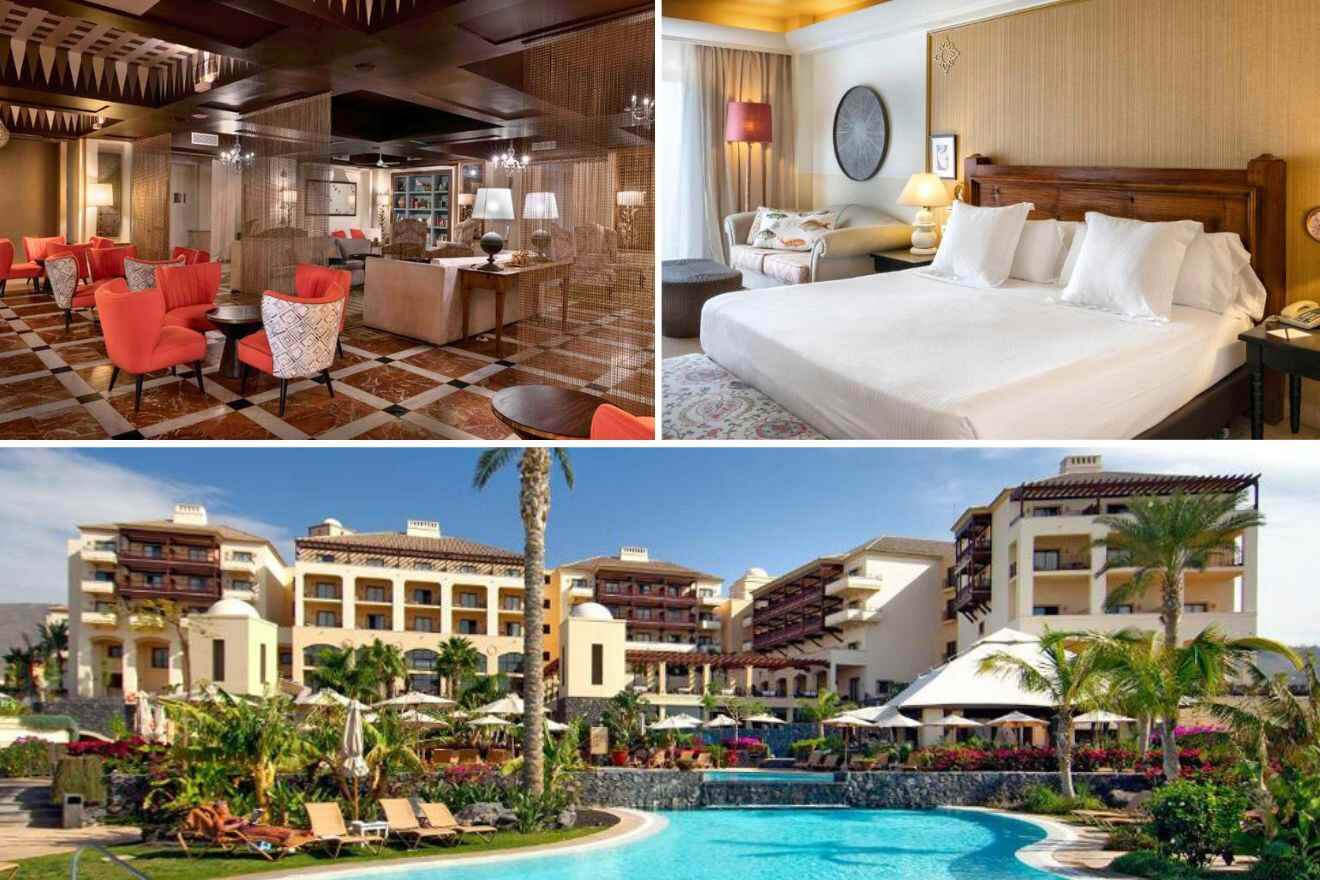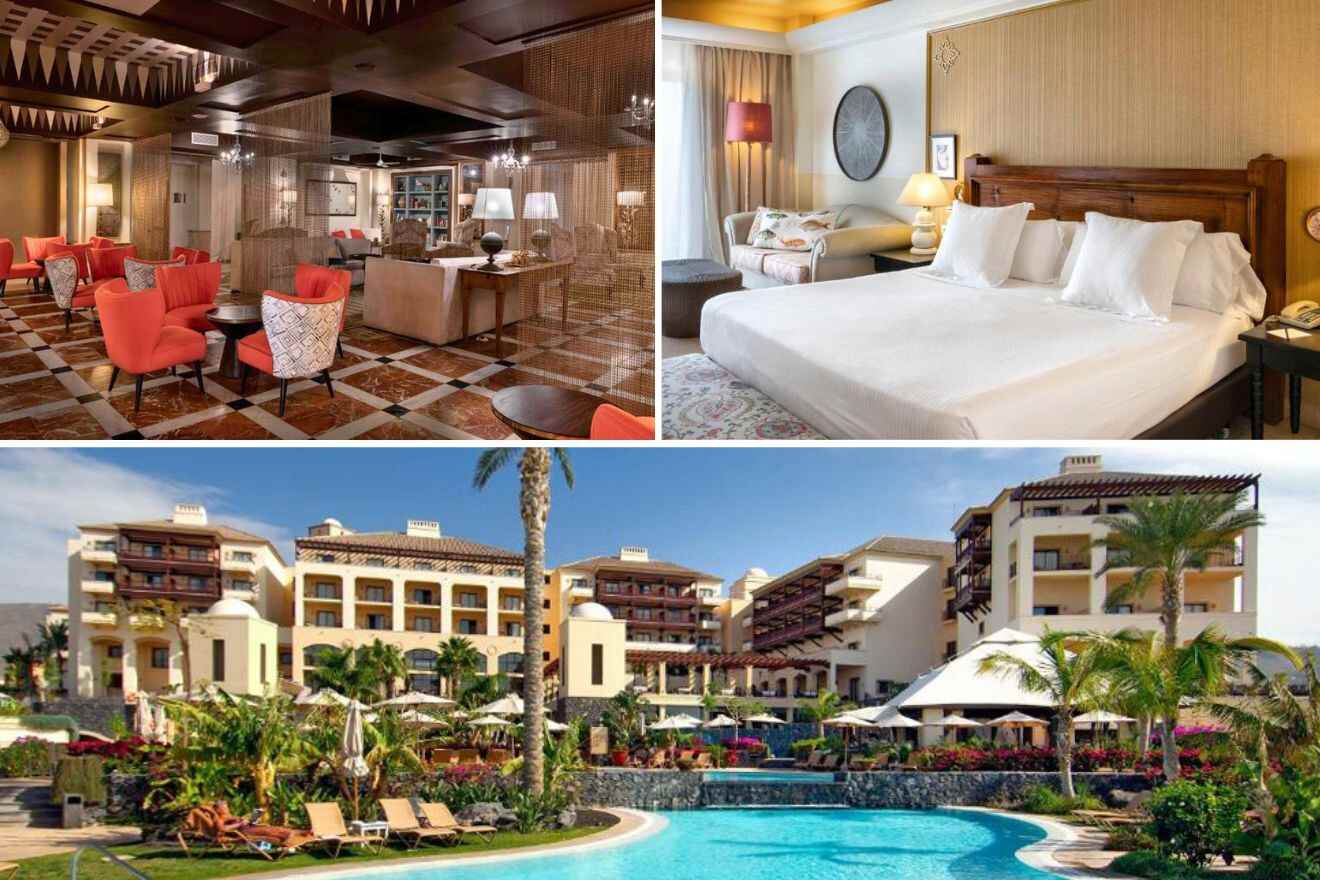 If you are looking for movie-like scenery, this Adeje hotel will deliver! Stay in an accommodation with children's entertainment! This hotel comes with a great kids club offering amazing activities for them and babysitting services for younger children. You'll also be near hiking trails if that's your thing! Explore the beautiful surroundings with your family and create wholesome memories.
The hotel comes with 5 outdoor swimming pools so that you can spend some time under the sun. Stay in spacious family suites with sea views! There are plenty of family rooms that can host up to 4 family members.
If you want to get to know the Island and what it offers, check out our Where to stay in Tenerife guide!
4. Hard Rock Hotel Tenerife – with many children's areas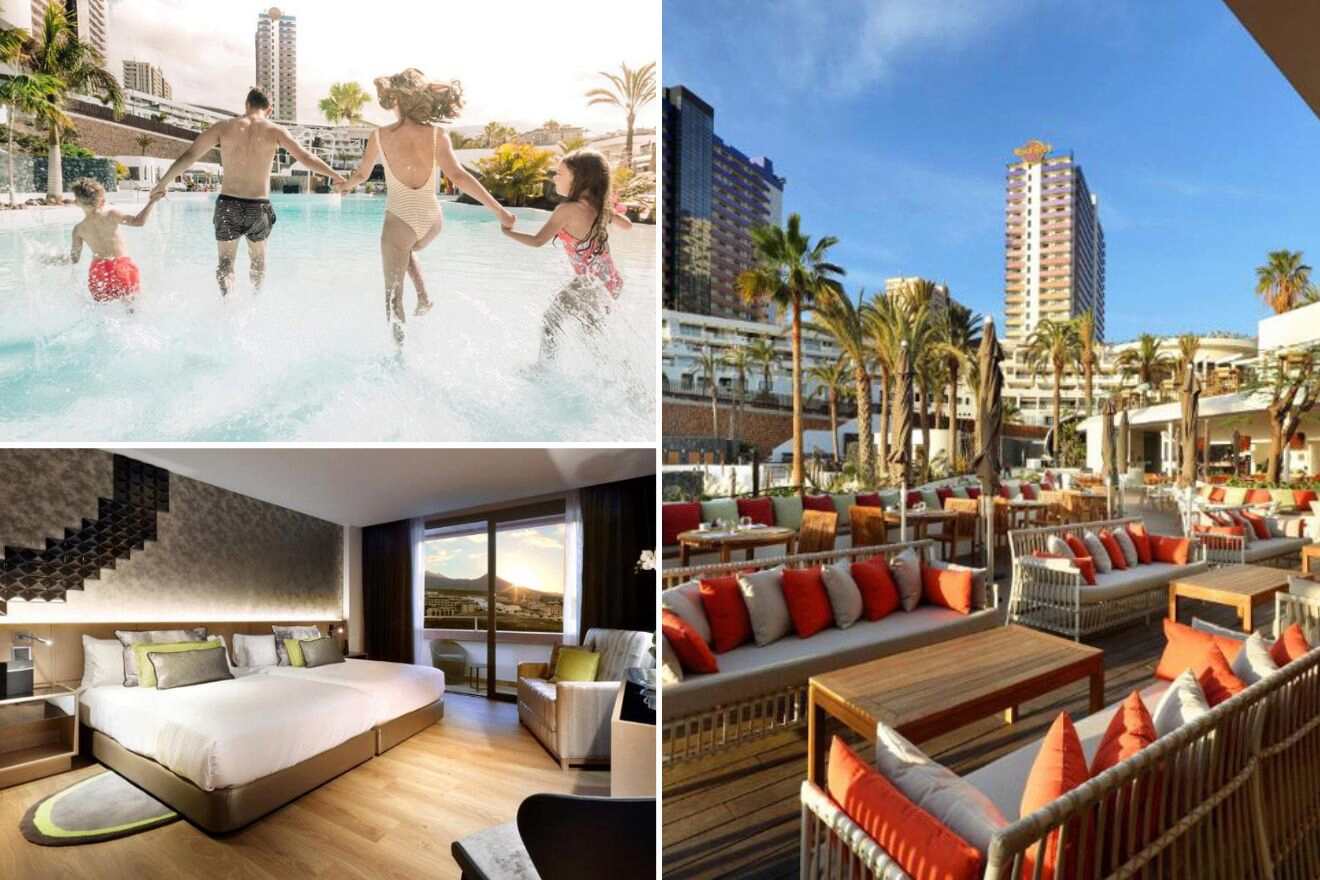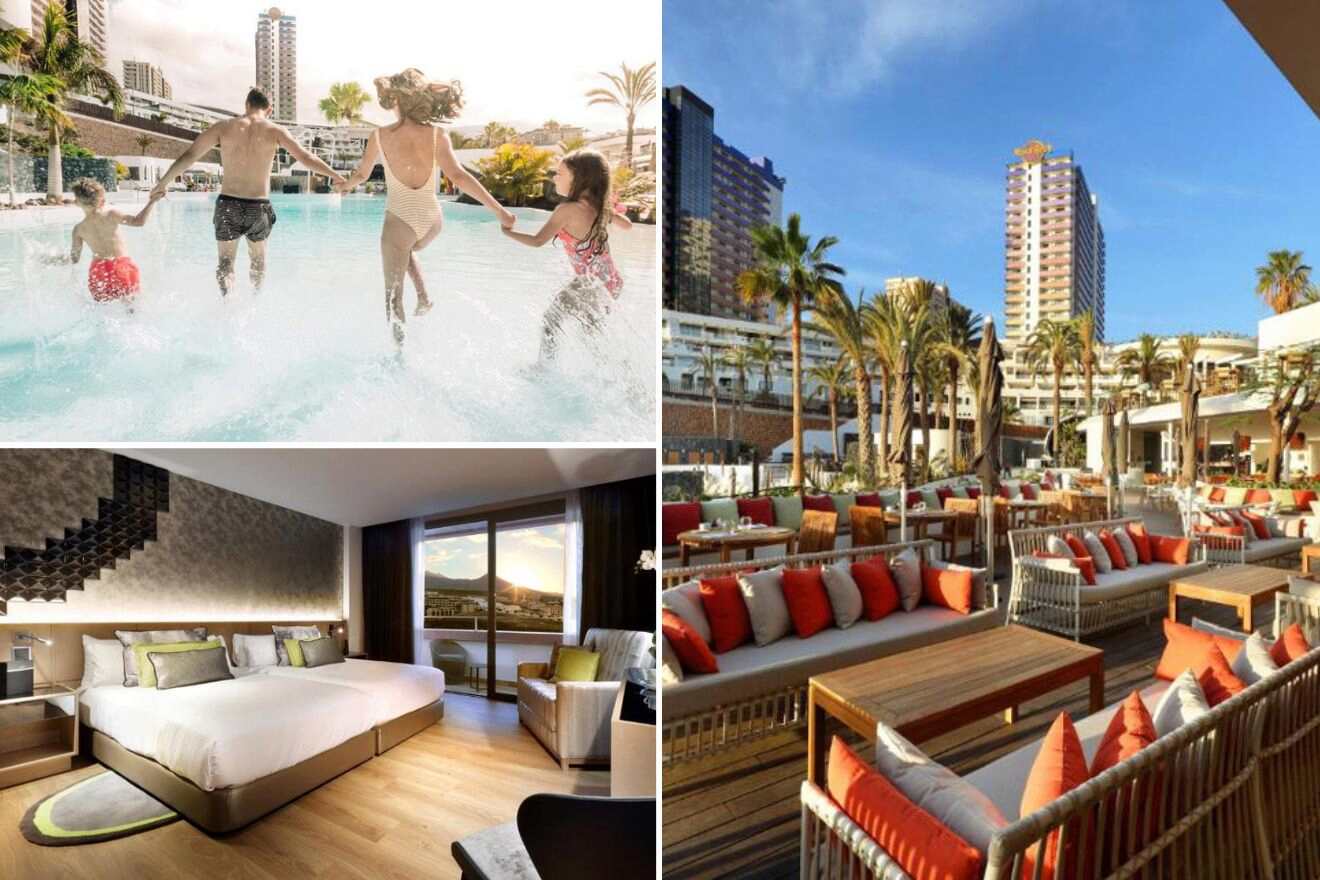 This hotel is modern and luxurious. It has all the amenities you need, ensuring a fun-filled vacation for the whole family. The ocean and the sandy beach are only a short walk away from your room. If you prefer, you can swim at the outdoor pools, which include a splash pool. Use the age-specific activities at the mini club for teens and kids! Alternatively, the whole family can explore resorts with a mini-golf course and game rooms!
There is an onsite spa center, which offers massage services. You can also use the hot tub for a fee. The hotel offers spacious family suites and interconnecting rooms. All of them come with flat+screen TVs and air conditioning, and most of them come with a private balcony.
5. Gran Tacande – with beachfront views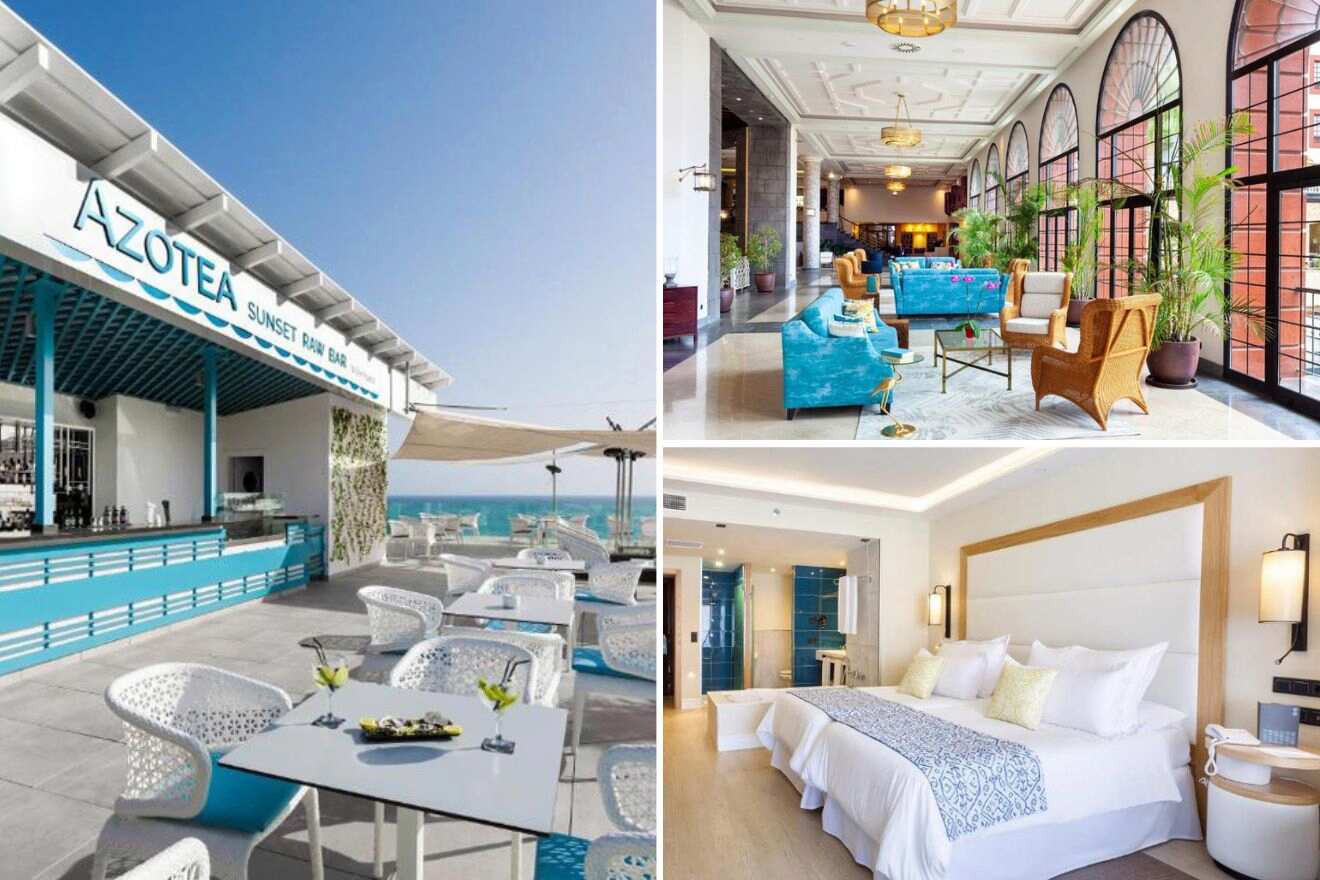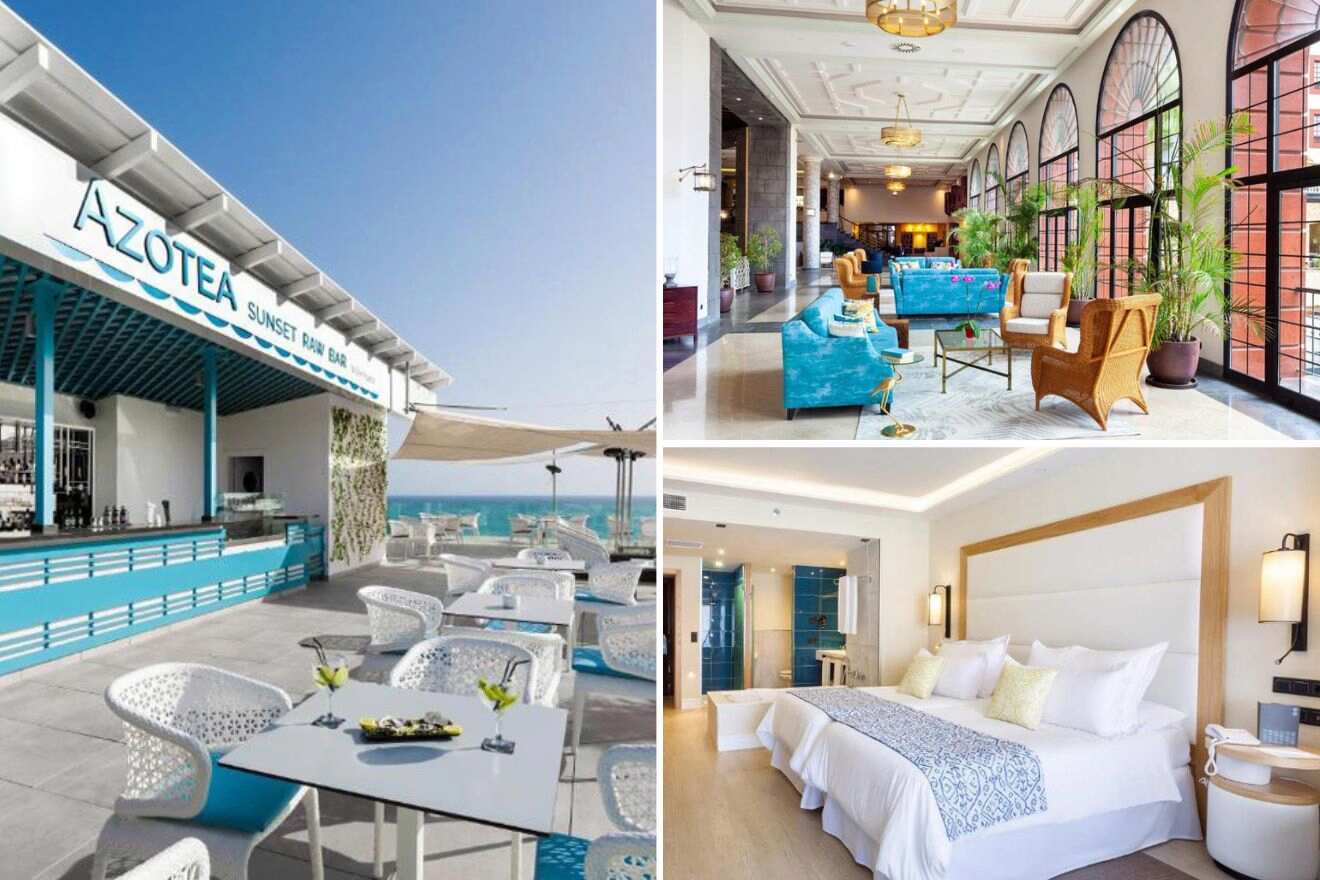 Enjoy this beautiful hotel with direct access to the beach! The hotel is located in beautiful Adeje, and Siam Park is a 40-minute drive away! There is a family pool onsite and a children's pool where children play. The whole family can use the game room and join aerobic classes at the fitness center.
If you wish, you can use the paid bike service and explore the area. The onsite restaurant offers Mediterranean cuisine with gluten-free options. I suggest the suite with ocean views to big families. This room can host 2 adults and 2 kids and features stunning views from the private balcony.
6. H10 Atlantic Sunset – great for families with young kids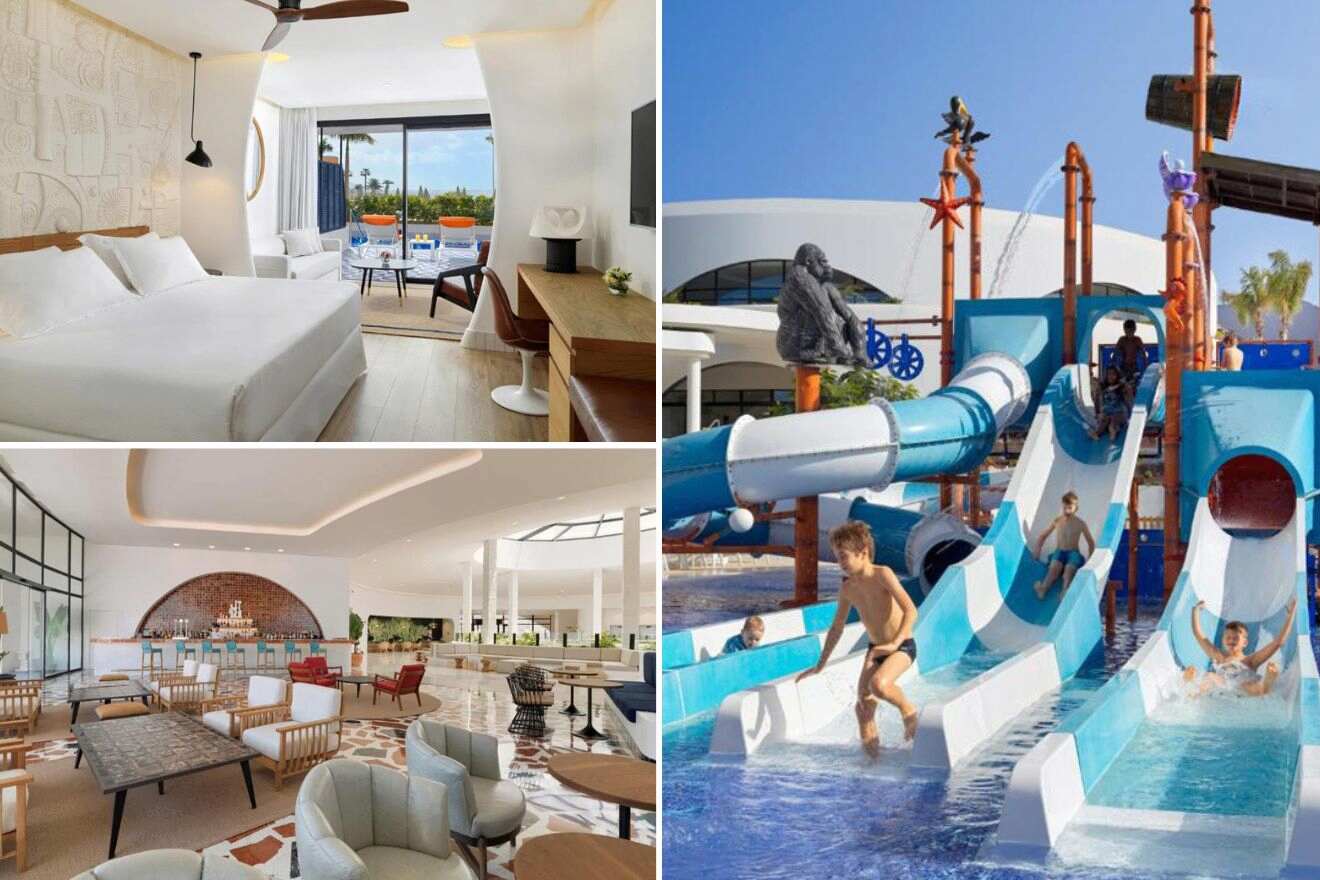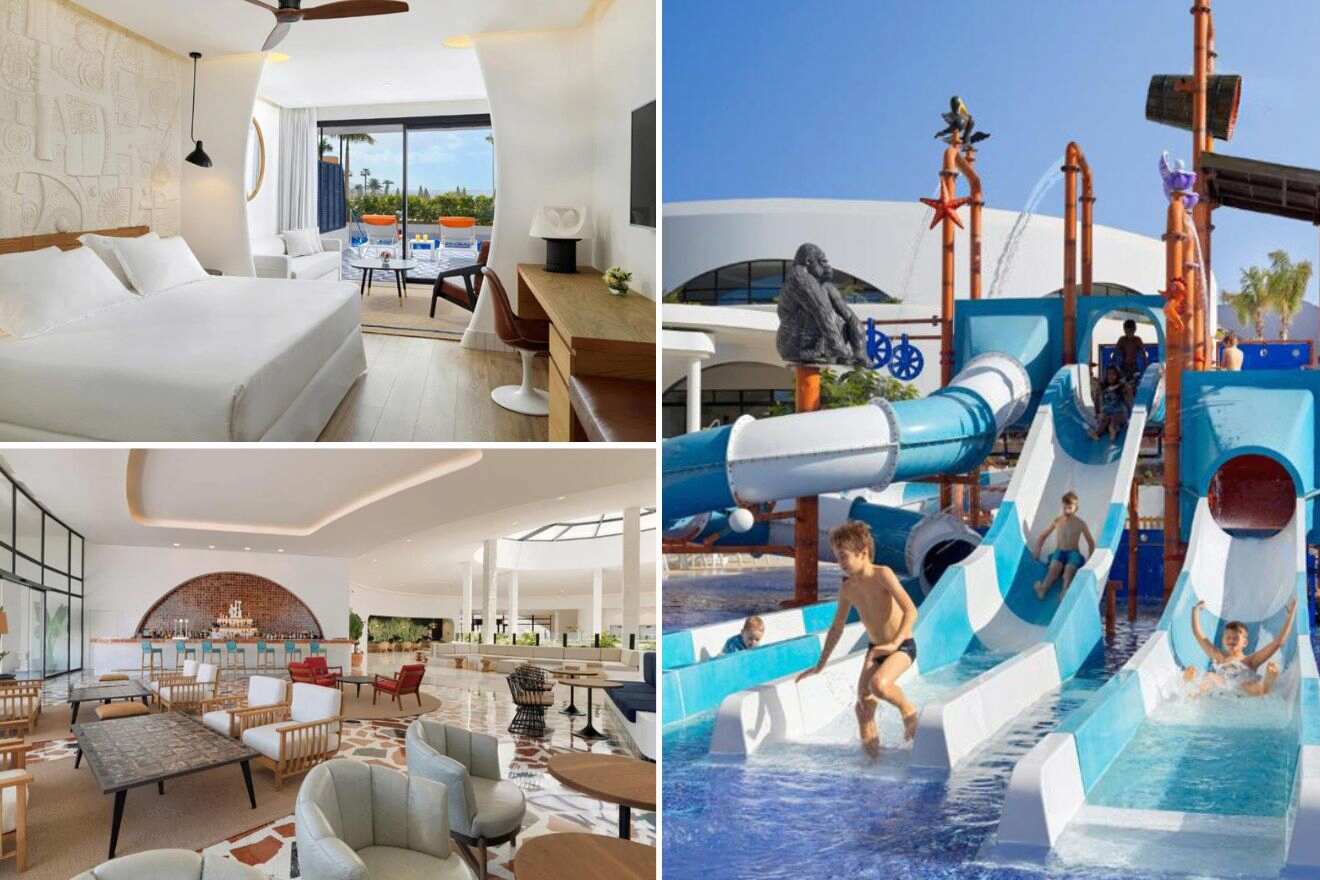 This stunning hotel is located in Callao Salvaje, and features stunning ocean views. It comes with a splash park and pools for all ages. There is a kids club which includes an indoor soft play. For the grown-ups, there is a fitness center and a spa. Indulge in massages, body treatments, or the sauna for a fee – great amenities for a fun-filled vacation with the whole family!
6 onsite restaurants are offering traditional cuisine and international dishes. There is something for everyone! The rooms are modern and beautifully decorated. There are special family rooms depending on the number of family members. Choose accordingly when booking!
7. Hotel Cleopatra Palace – close to a shopping center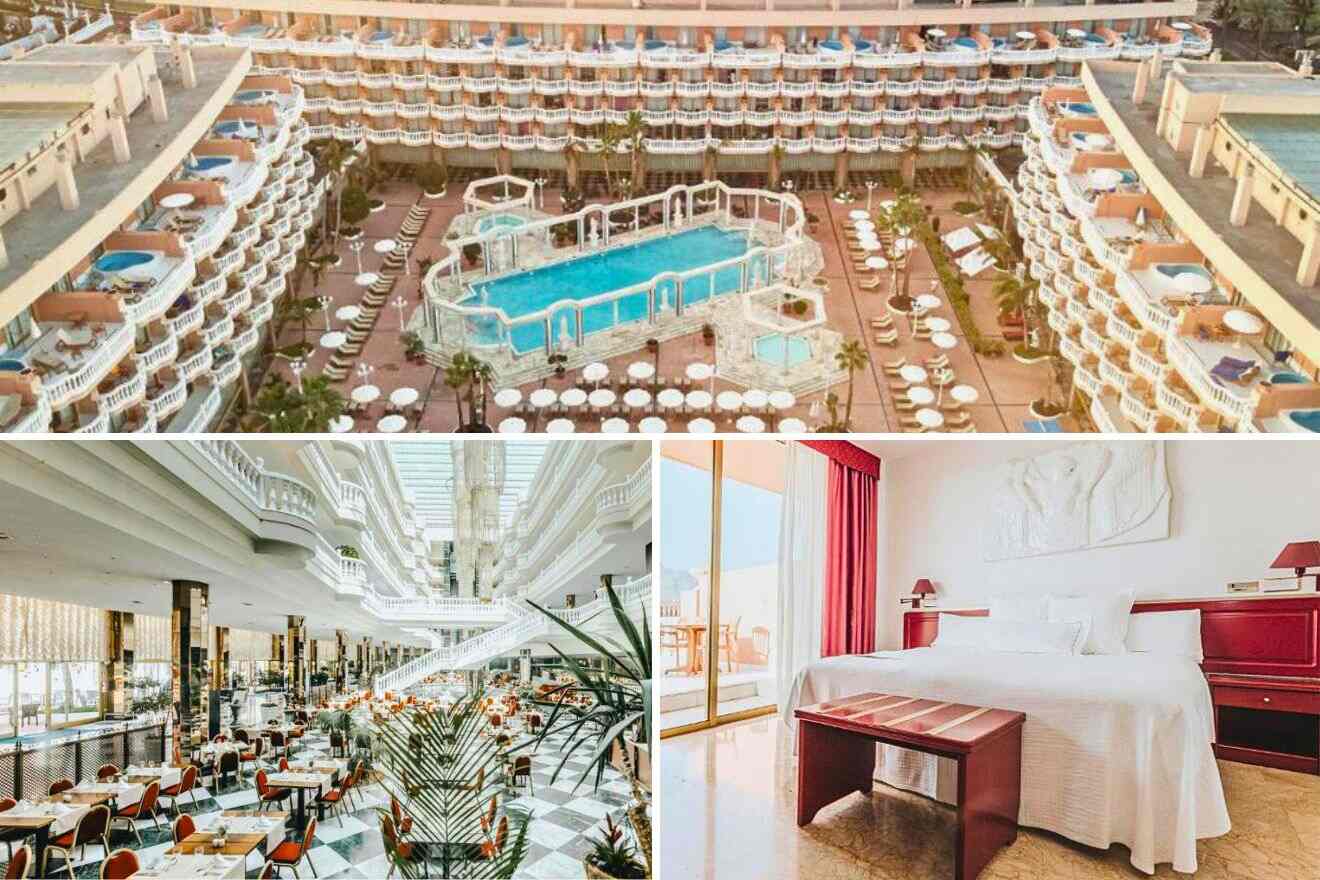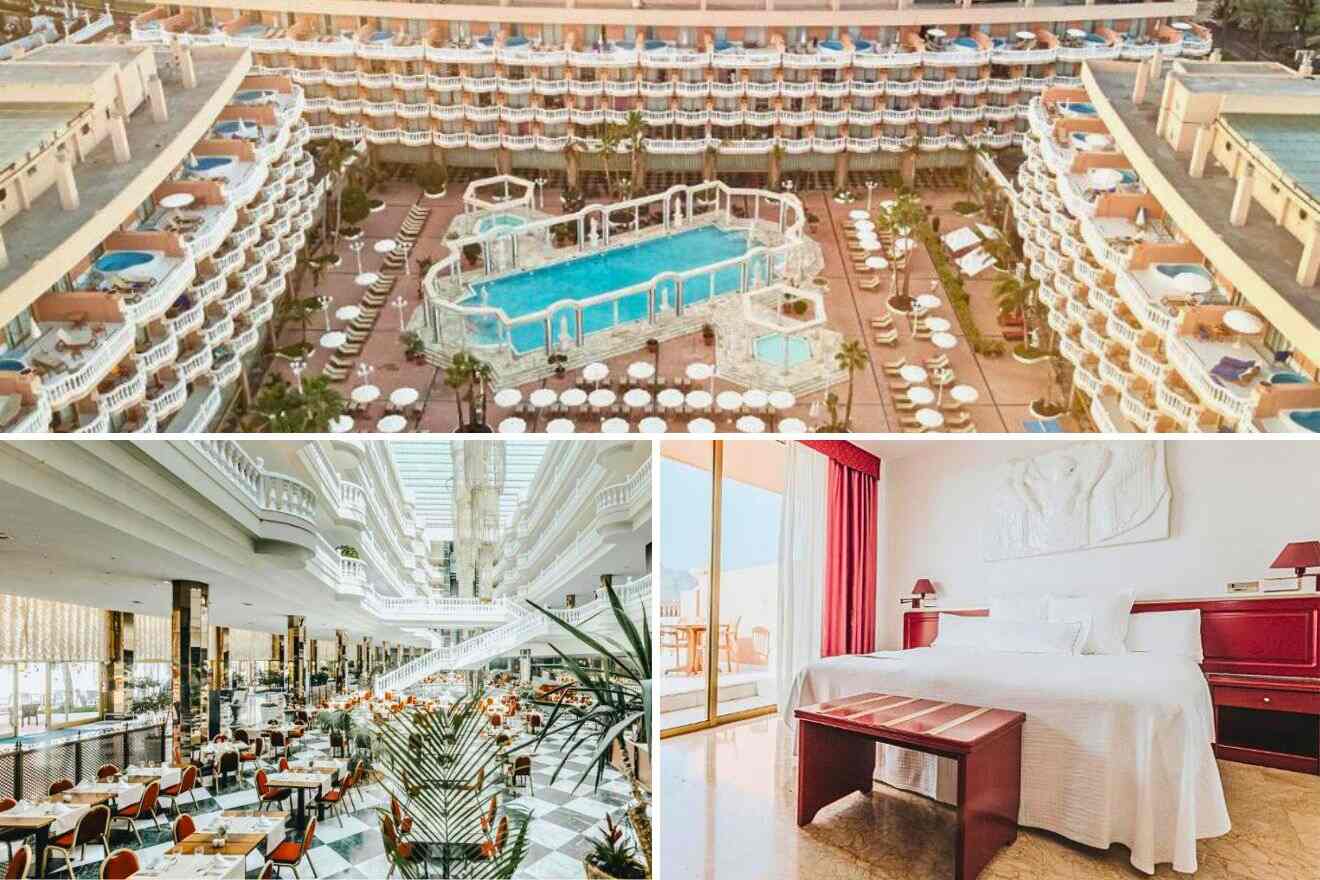 I love how much fun this hotel looks! It is located in Playa de las Americas, and the Playa de las Americas golf course is 0.5 miles (1 km) away. Safari Shopping Centre is a few steps away, so you can go shopping on your vacation! There are 2 swimming pools onsite, one for the whole family, and the spa comes with a children's swimming pool.
There are many family rooms available at this hotel. All of them accept 2 adults and 1 kid per room, so I would recommend the hotel to small families. Rooms look stunning! Some of them come with their own pool. For extra family members, some of the rooms come with 2 double beds, instead of a sofa bed.
8. GF Victoria – for afternoon treats and kids' buffets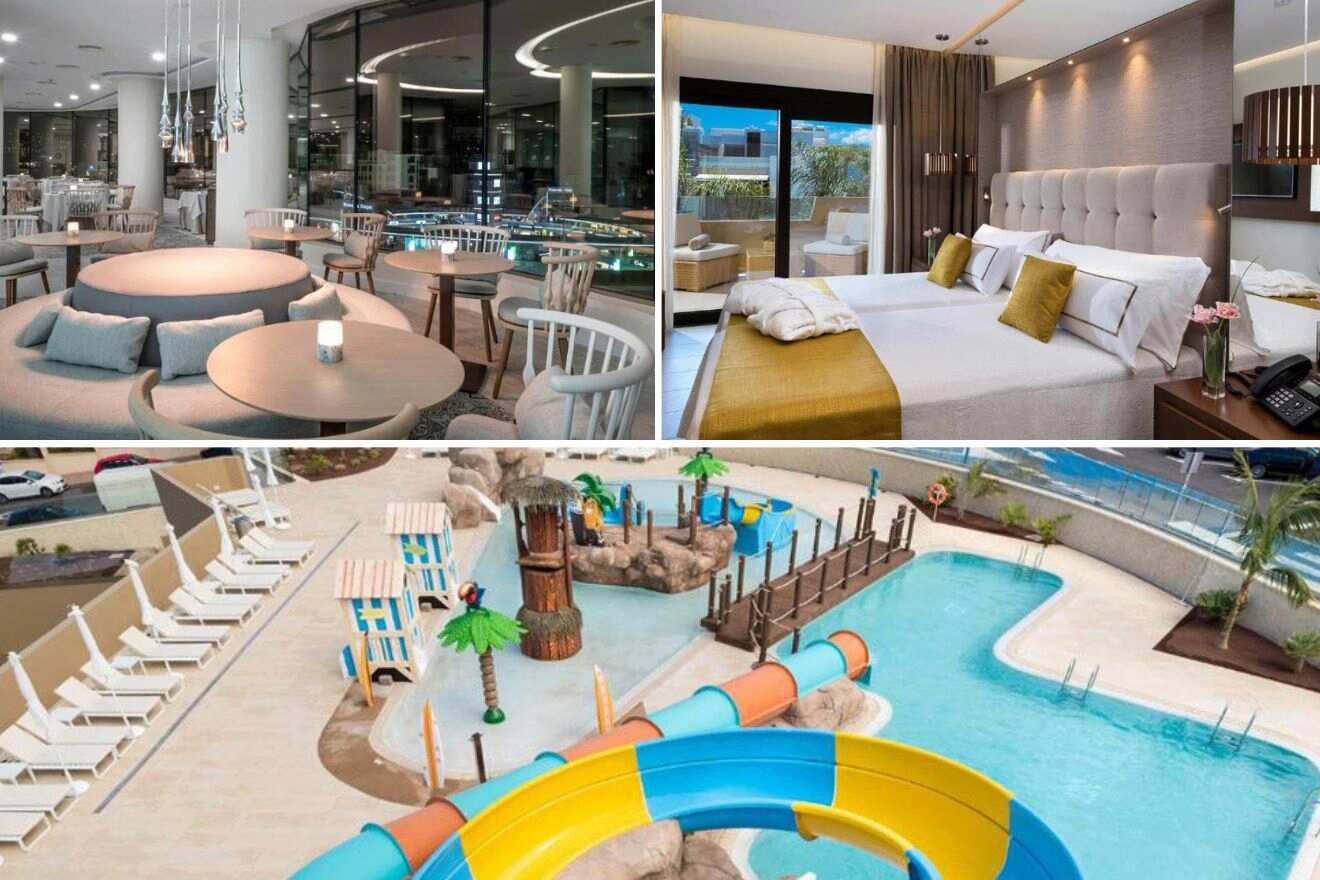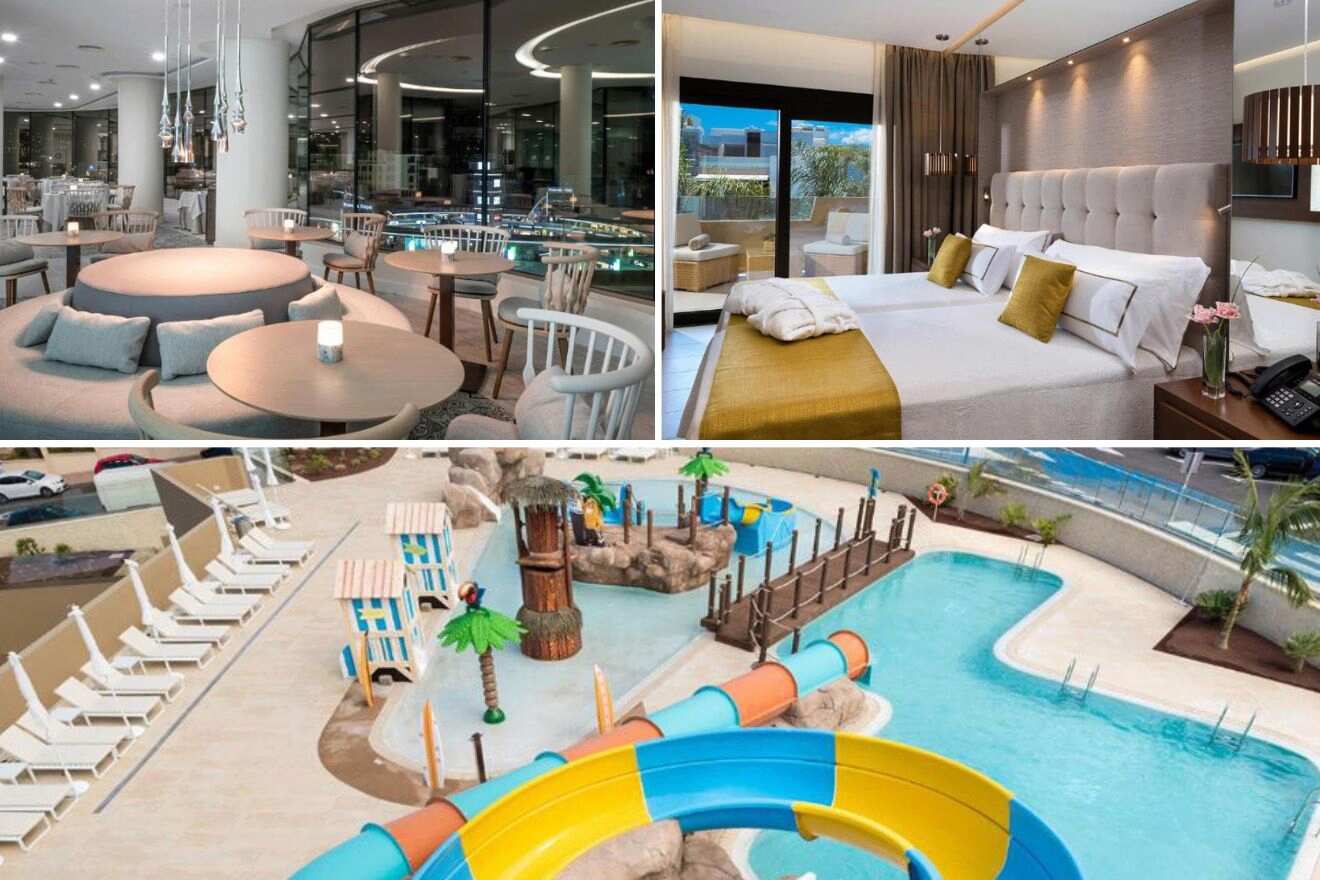 What an incredible family-friendly hotel in Costa Adeje! Here, you can dive into water parks and splash zones. Or, have a spa session at the wellness center to relax with the family! There are amazing a la carte restaurants onsite and a main buffet restaurant. Perfect to savor child-friendly menus at the hotel. Make use of the bike rental service and explore the beautiful surroundings and the outdoor adventure zone!
This family hotel offers plenty of family-friendly rooms, all of which come with a flat-screen TV, air conditioning, and amazing views. Select rooms come with private jacuzzis or private pools. The biggest room can host 2 adults and 2 kids.
9. Hotel Suite Villa Maria – for stunning villas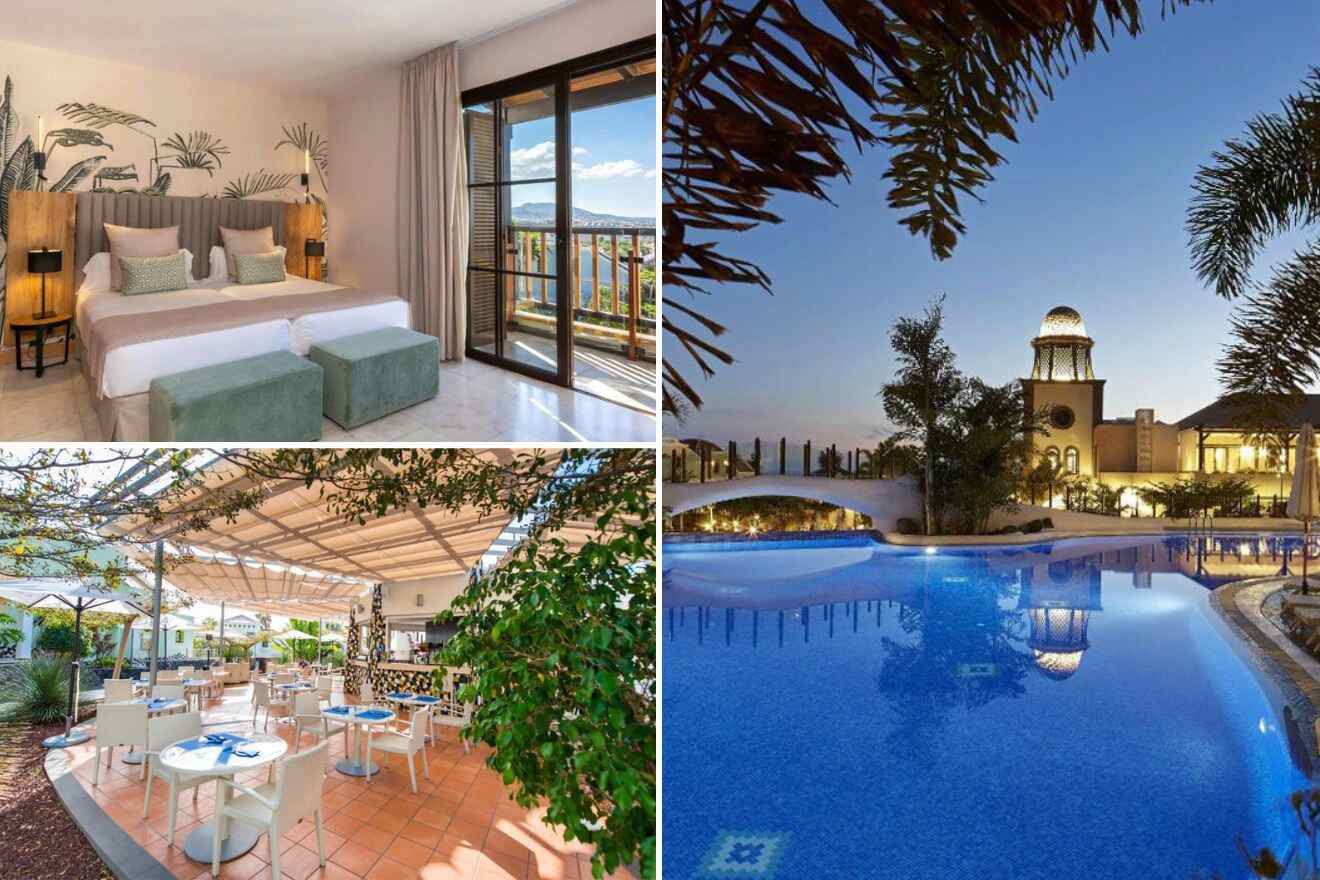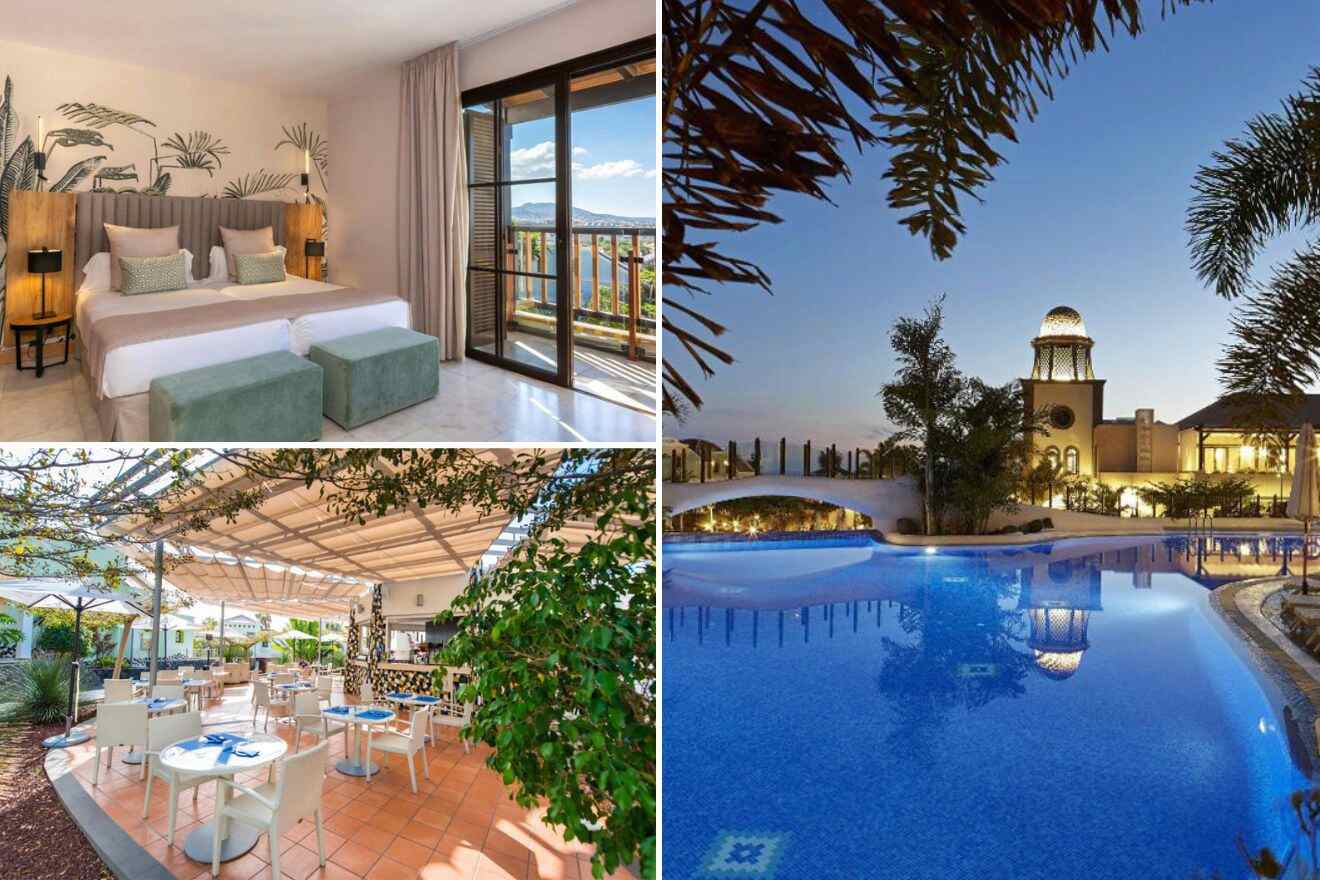 This great hotel is located in the beautiful area of Adeje. It comes with everything you need for a fun and relaxing family stay. There are 3 outdoor pools onsite, including a heated children's pool. There is also a game room where families can spend time playing. I highly recommend families make some time to use the cute mini golf area!
There is one a la carte restaurant on site offering traditional local food. All the villas look dreamy and look perfect for a homey family getaway. Some of the villas come with a private outdoor pool. The biggest villa can host up to 6 family members!
10. Hotel Botanico – for access to a lush garden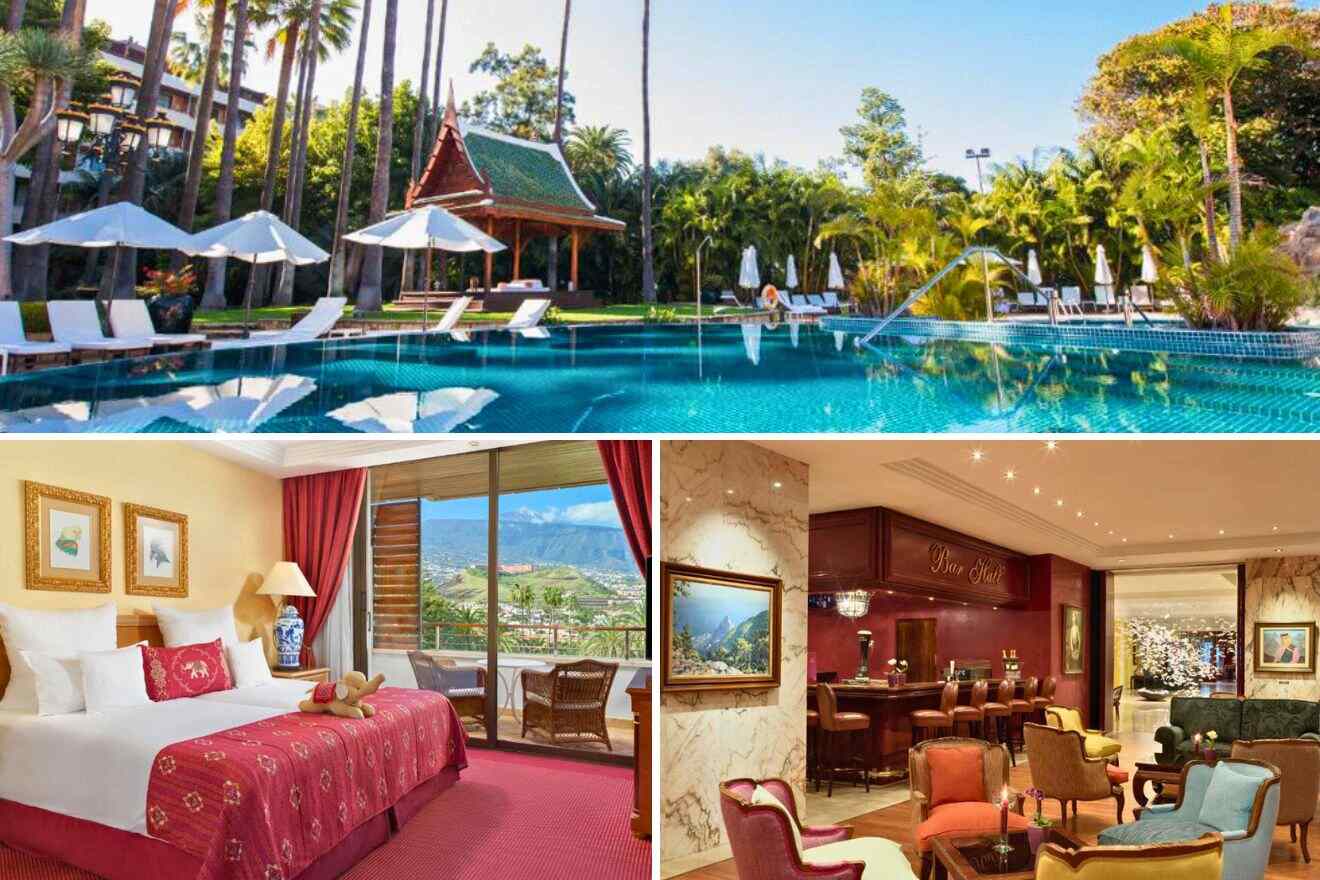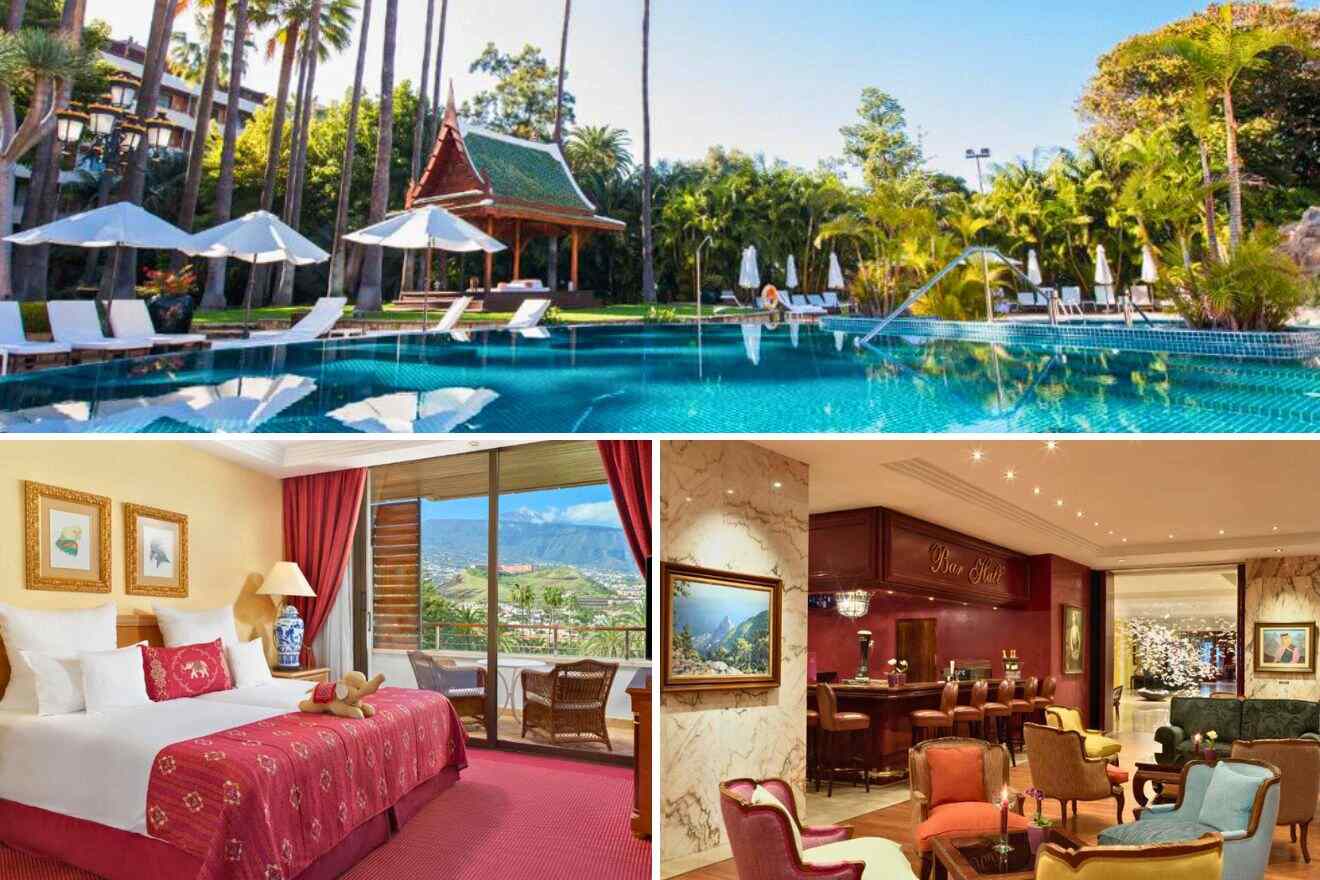 Located in Puerto de la Cruz, this fantastic resort features a charming Bali theme! The hotel features a kid's club to keep them entertained. There is a beautiful garden, perfect for wholesome family strolls. If you wish, you can relax in any of the pools. The resort centre comes with 3 stunning restaurants offering local and international cuisine.
Rooms like the senator suite offer unparalleled views of the ocean and bathrooms with a bathtub. All the rooms at this property come with flat-screen TVs and streaming services. They are all equipped with air conditioning and free Wi-Fi.
11. Adrián Hoteles – with a bike rental service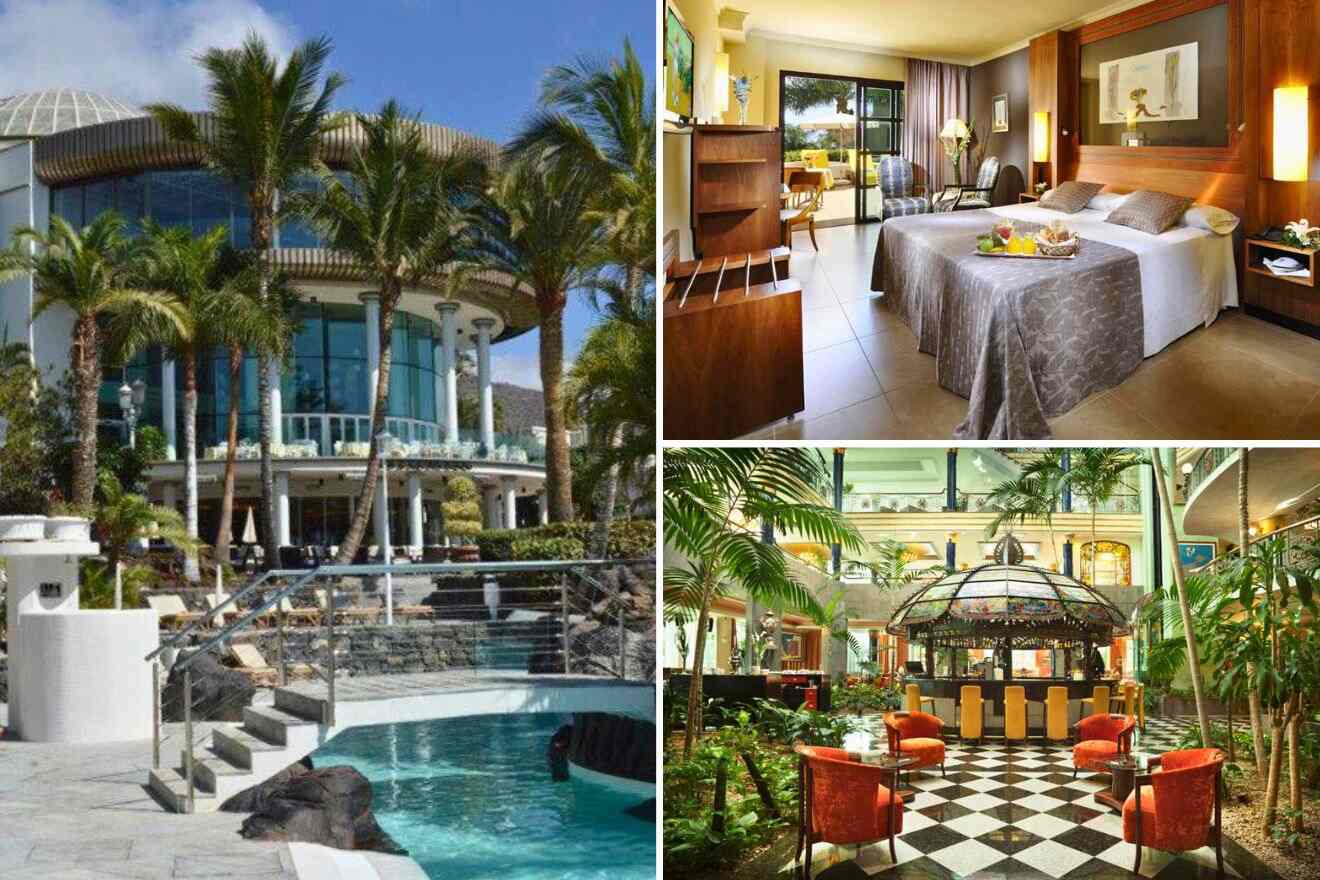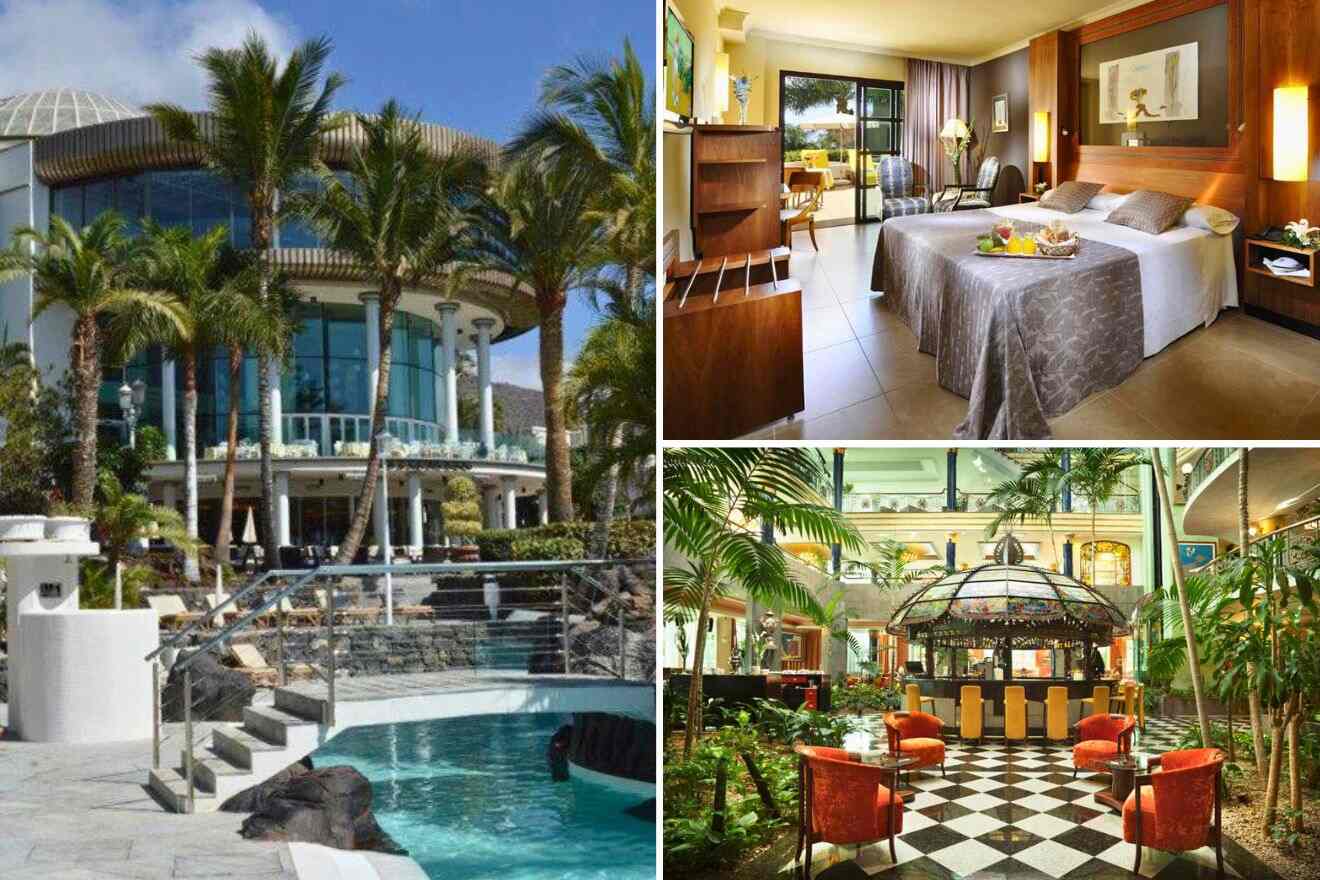 This hotel features lovely natural decorations and surroundings, perfect for a wholesome family stay! The hotel is located by the beachfront, which is ideal for playing beach sports like volleyball or simply relaxing by the ocean. The hotel has a children's playground, so they can play while you use the spa center, and the whole family will be happy!
At this hotel, you can enjoy amazing family-friendly activities. For example, mini-golf sessions and tennis matches at the tennis court. Even amazing bike rides along the shore! The junior suite is the only room suitable for families. It admits 2 adults and 1 kid, and the kid has to be 12 years old or younger.
12. Dreams Jardin Tropical Resort & Spa – onsite water sports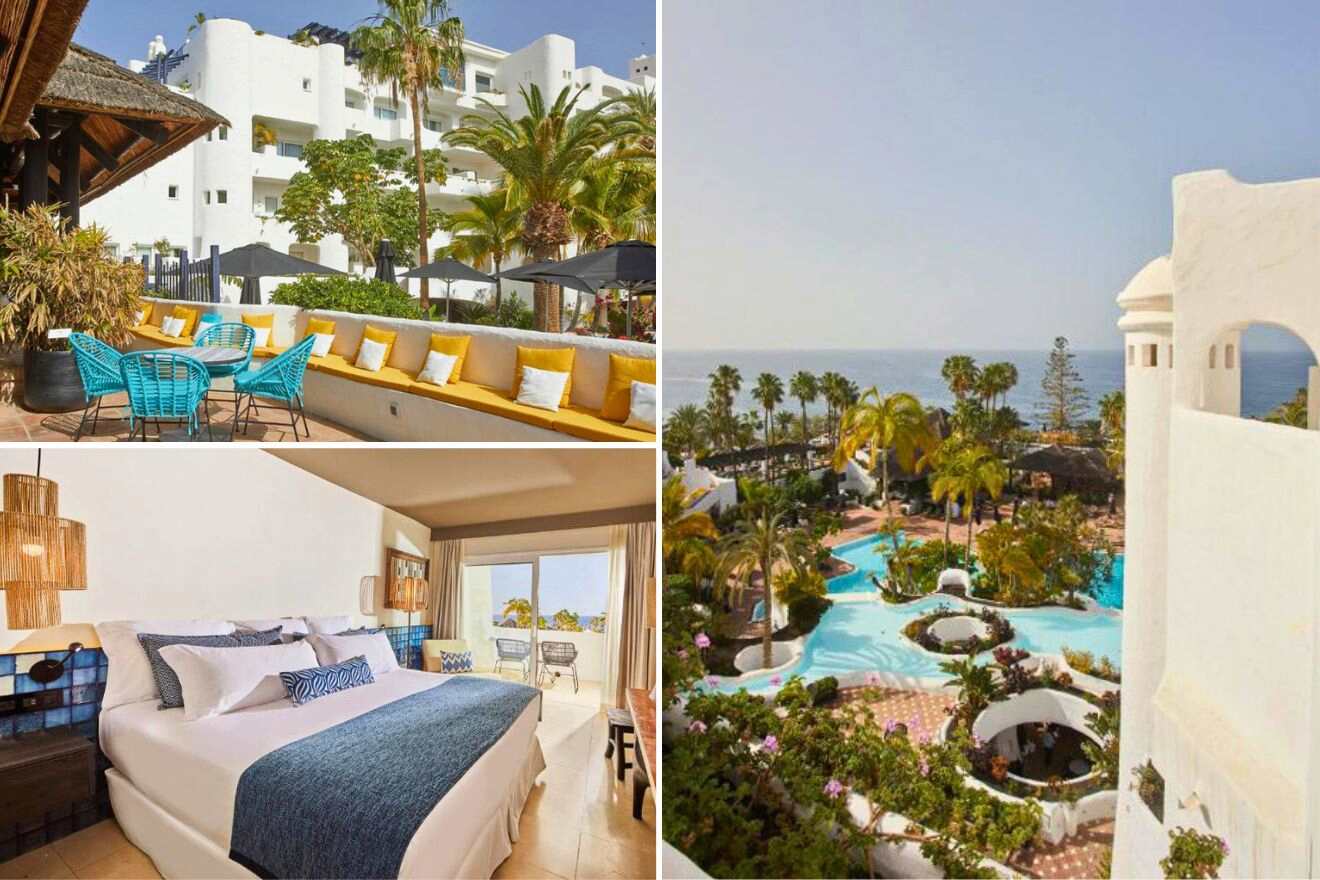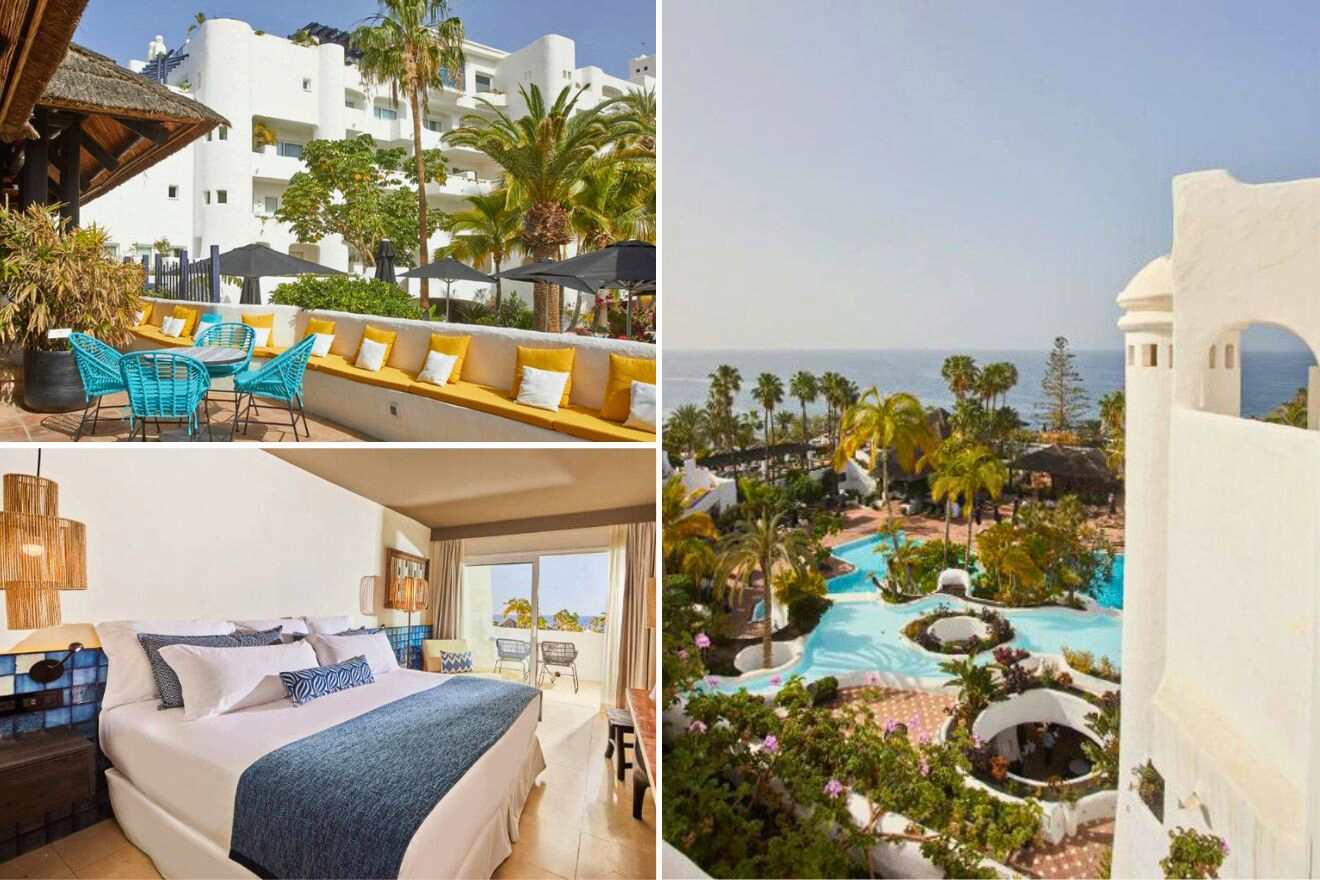 Wow! This resort has it all! It is located in Adeje by the beachfront. And it features all the amenities you need to enjoy all year-round sunshine! An incredible kid's club onsite provides great activities tailored for them. The heated pools are family-friendly, and one of them is for kids. You can even go diving here!
You can choose the option for half board when booking, which does not include drinks. The rooms are spacious and bright and have a modern design. Rooms like the Preferred Club Suite come with a spacious balcony to enjoy breakfast with the family. The biggest rooms host 3 guests.
13. Green Garden – with themed rooms tailored for kids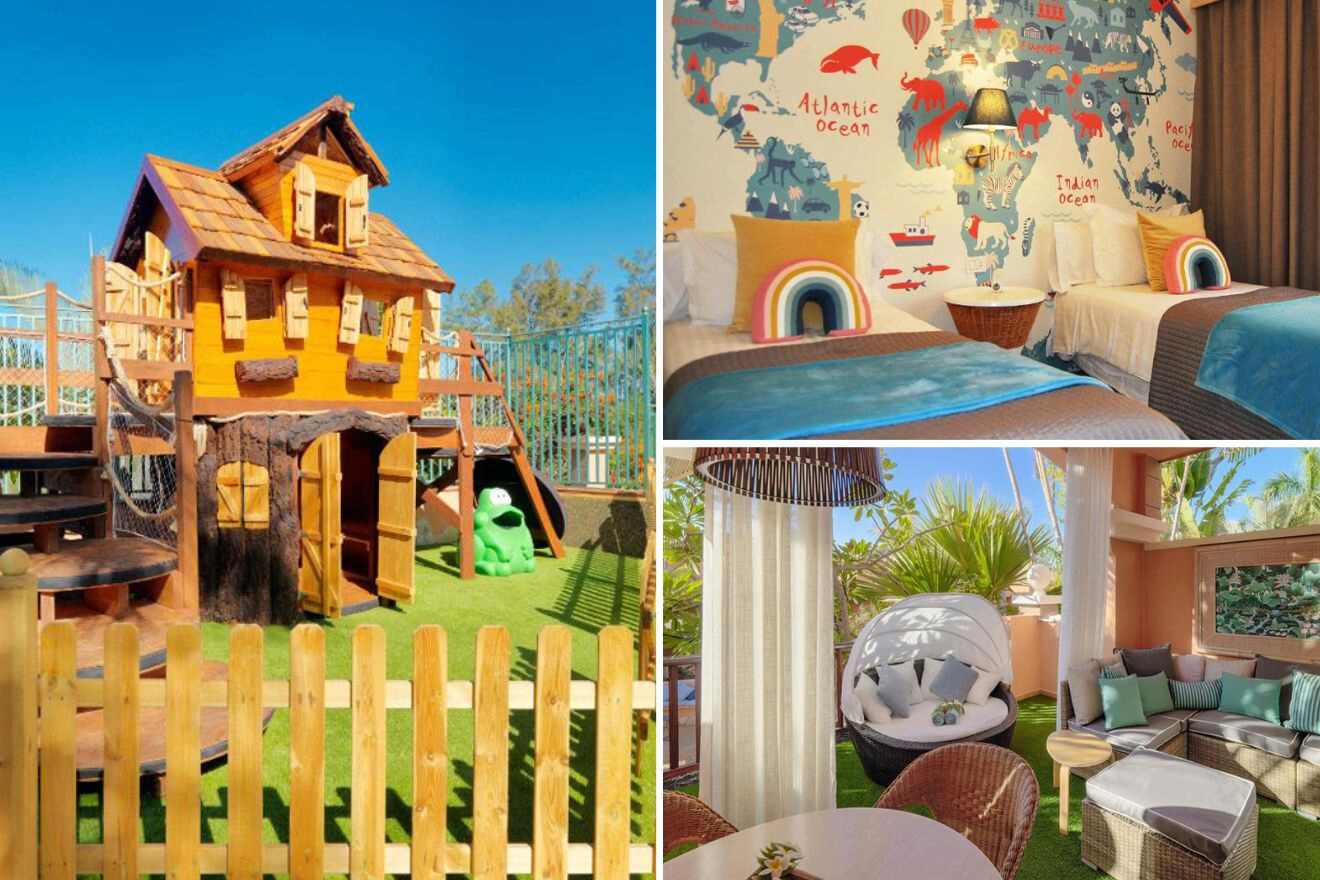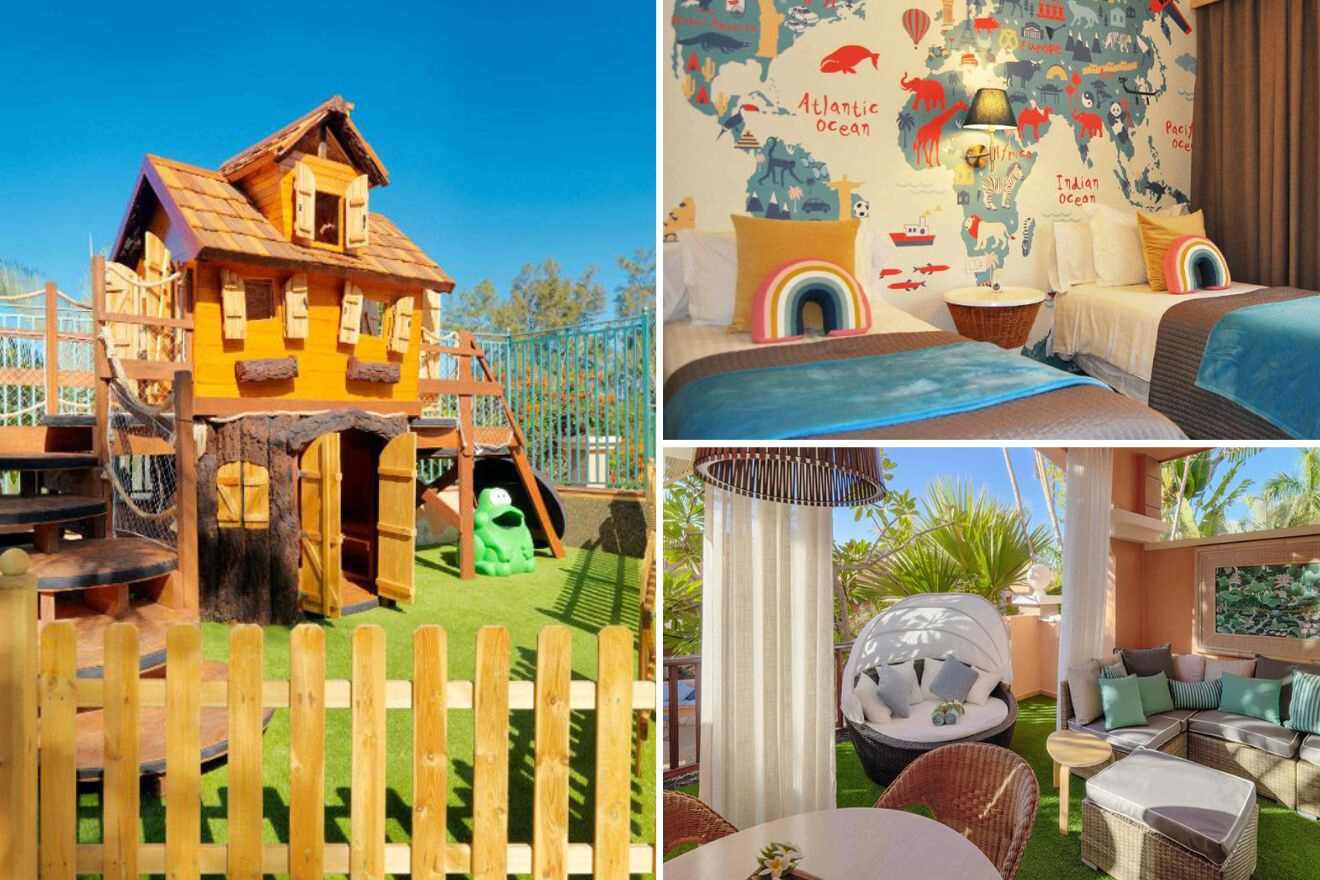 This stunning resort features a lovely Indonesian style. Playa de las Americas beach is a 25-minute walk away, and you'll love all the amazing activities you can do there! The accommodation offers a kids club, and comes with tailored activities and cute playgrounds. There are 3 onsite pools, including one for kids.
The onsite restaurant offers meals from many international cuisines. Including kid-friendly meals and a children's buffet. The villas are completely stunning and nicely decorated. The biggest one can host families of 6 and comes with kid-friendly decor in some rooms. All villas come with a private pool, so don't miss out and book in advance!
14. Las Terrazas de Abama – for family-friendly restaurants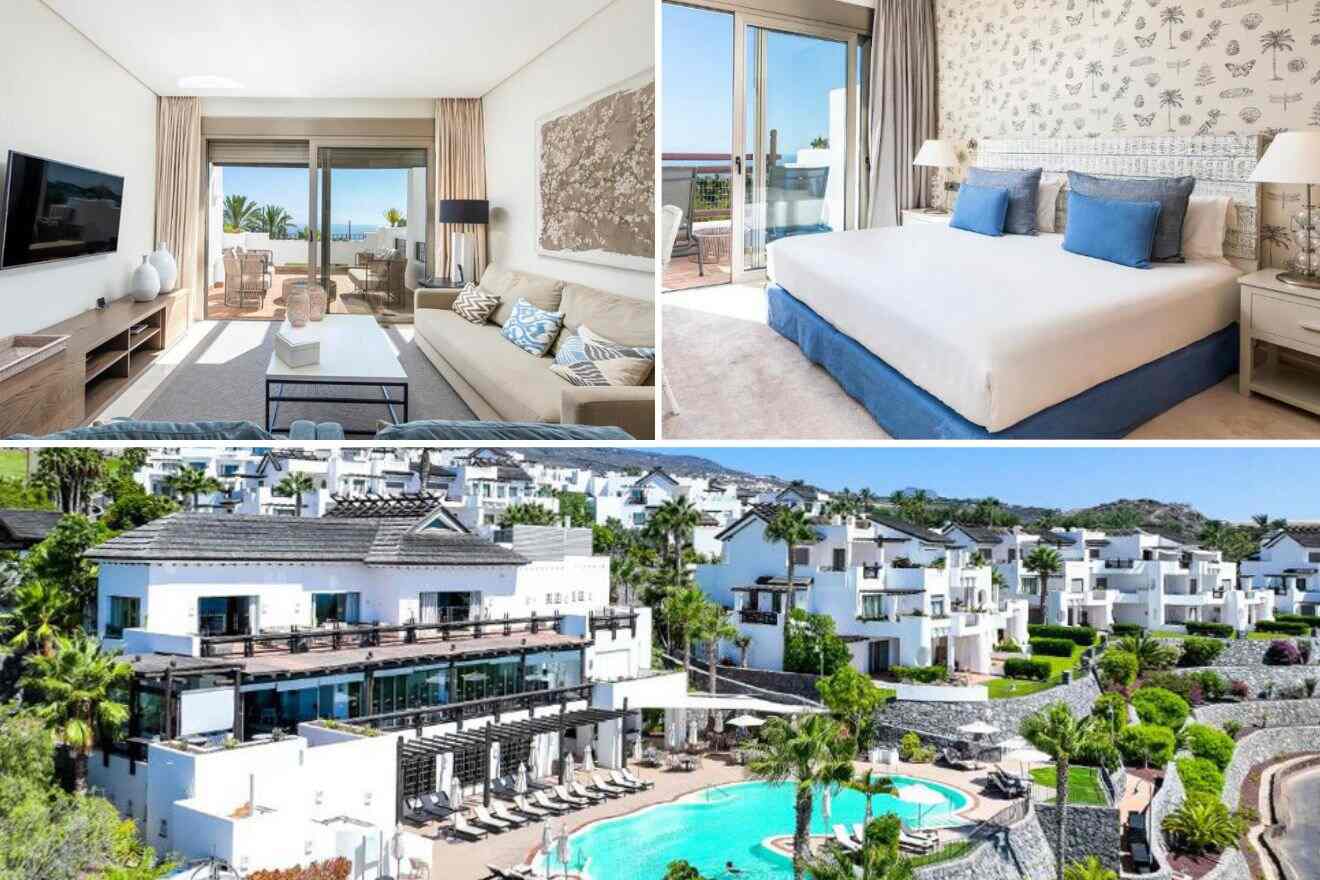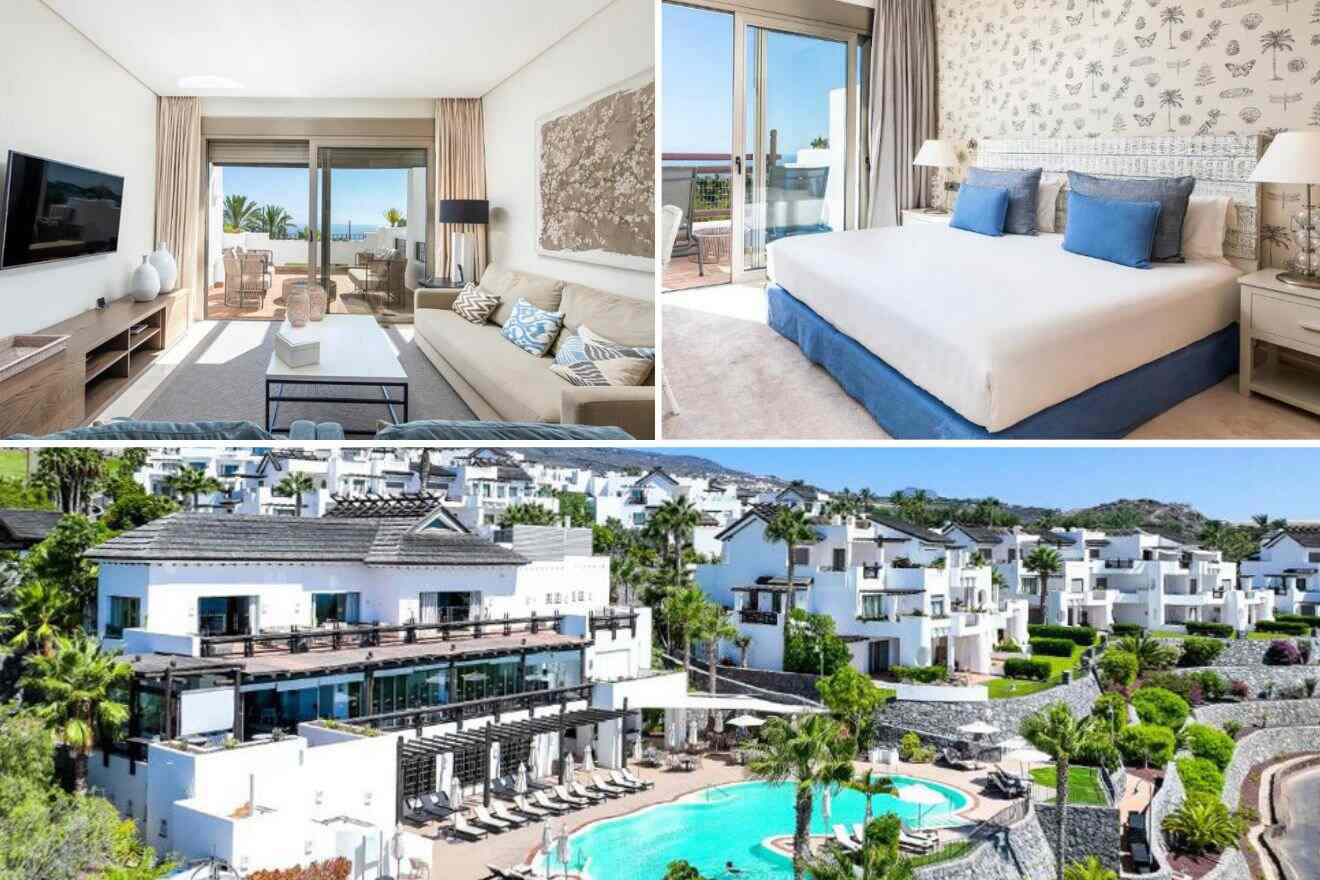 Wow! This hotel looks beautiful! It is located in Guía de Isora, and the beach is a 30-minute walk away. The hotel features kid-friendly pools and a heated infinity pool with stunning views. Guests can use the kids club for an additional fee, as well as the tennis courts and bike rentals. Which I highly recommend to enhance the whole vacation!
There are 4 onsite restaurants; 3 of them are family-friendly, and offer kids' meals. All the bedroom suites look dreamy, and some of them come with spa baths and unbeatable ocean views. The biggest suite can host 8 guests, which is perfect for big families or families traveling together!
15. Iberostar Selection Anthelia – an all-inclusive hotel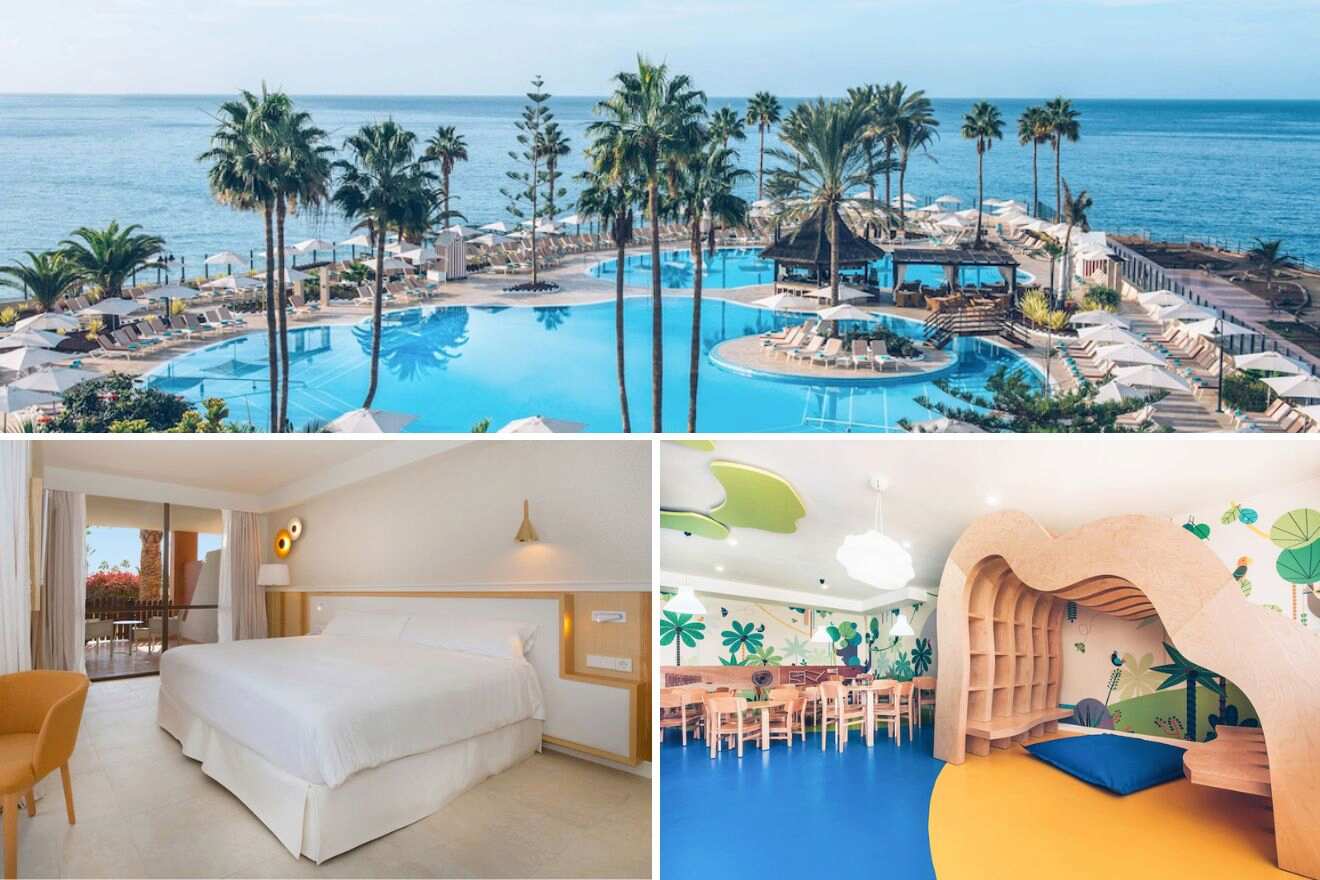 Oh la la! This hotel looks like a dream. Perfect for enjoying an all-inclusive hassle-free family vacation. The resort comes with 2 stunning outdoor pools and a cute water playground with a pirate ship for kids! There are 4 onsite restaurants offering delicious meals of different cuisines. There is a children's area where kids can play while you relax in the spa center.
The hotel is located in Adeje and is surrounded by a beautiful garden. The beach is only a few steps away from the property. If you are traveling with a big family, this resort offers connecting rooms. These rooms come with nice views and can host up to 5 guests.
16. Gran Melia Palacio de Isora – for unique views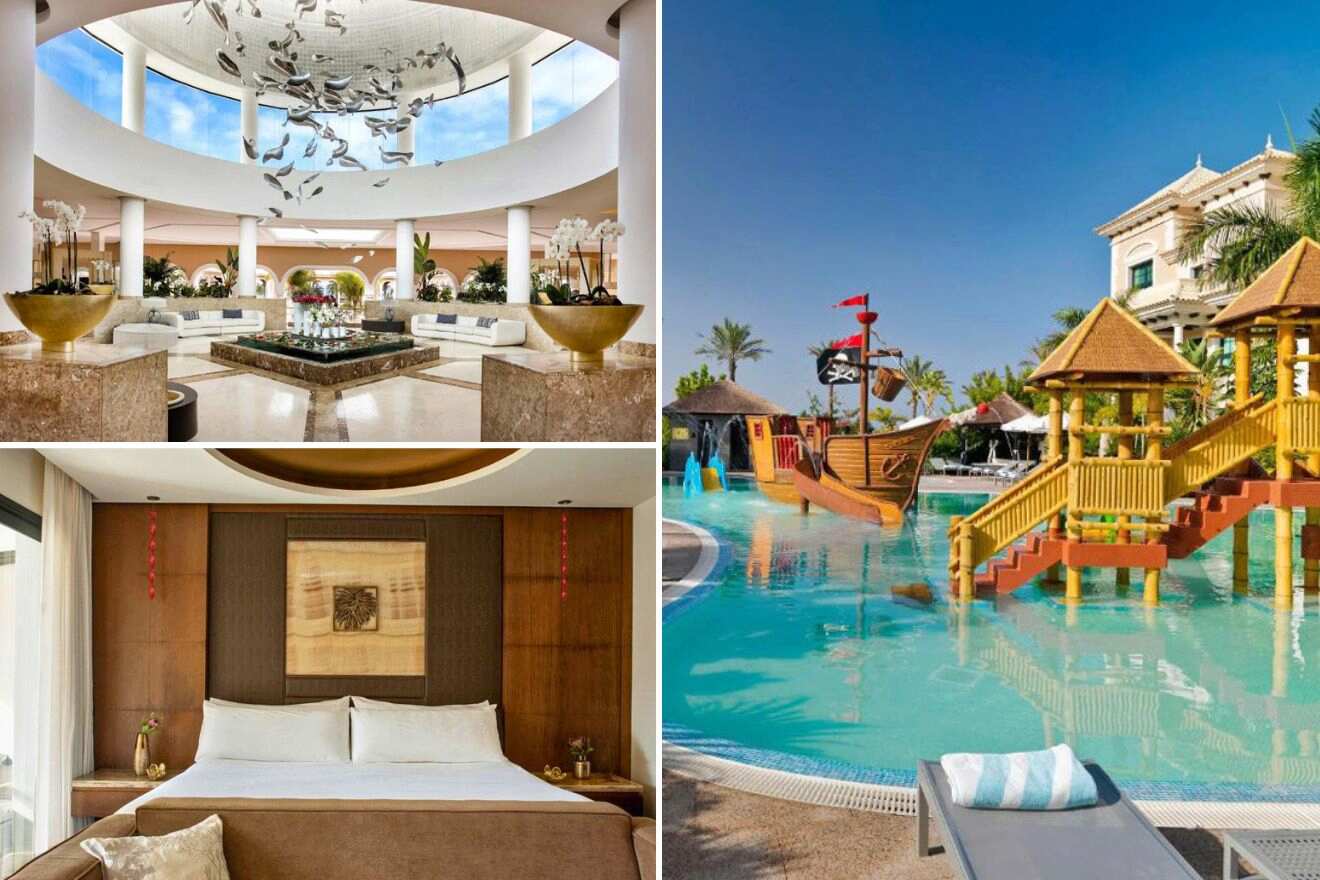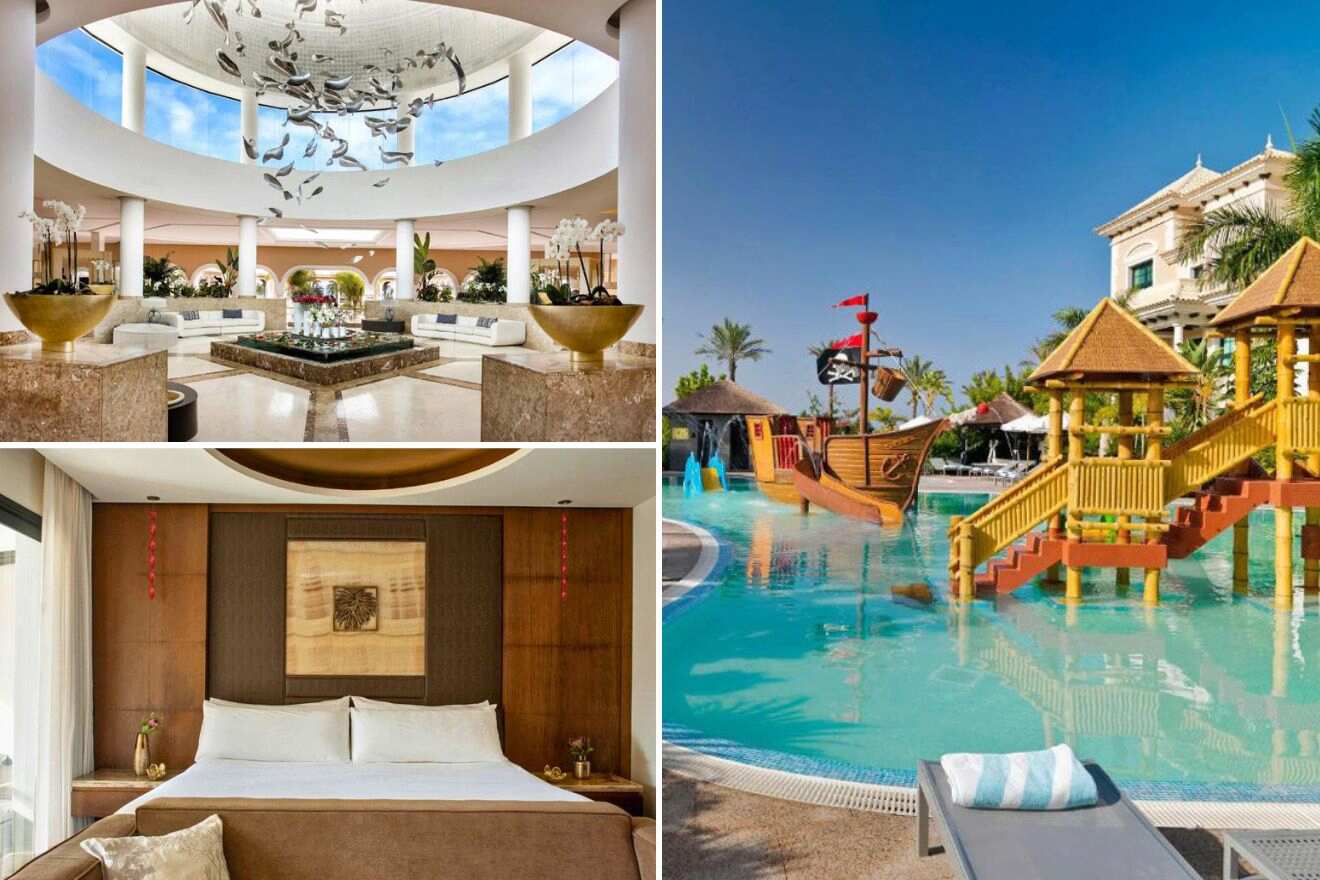 Oh, my God! This hotel looks so luxurious and features movie-like views! Staying here, you will be surrounded by mountains, beaches, and the ocean. So unique! The property is located in Alcalá and offers great amenities. It features 3 outdoor pools with lovely views, including a kid's pool. There is a lovely tennis court for family matches and live shows every evening.
The 5 onsite restaurants offer worldwide cuisine and a tranquil ambiance. The suites and rooms look incredible. They are nicely decorated, spacious, and luminous. The biggest rooms can host 6 family members and come with 2 separate bedrooms and a living room.
17. Bahia Principe Fantasia Tenerife – with a princess castle!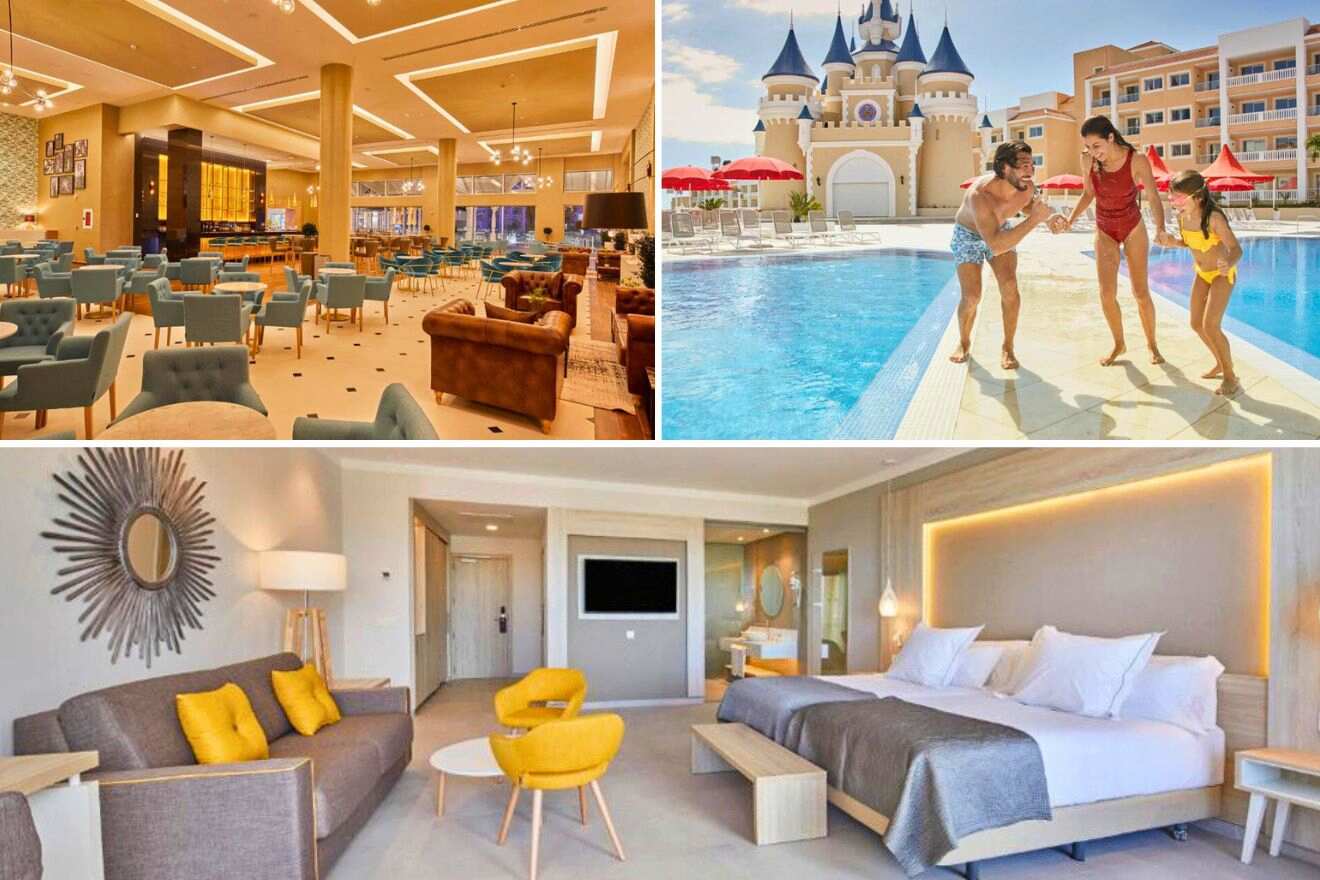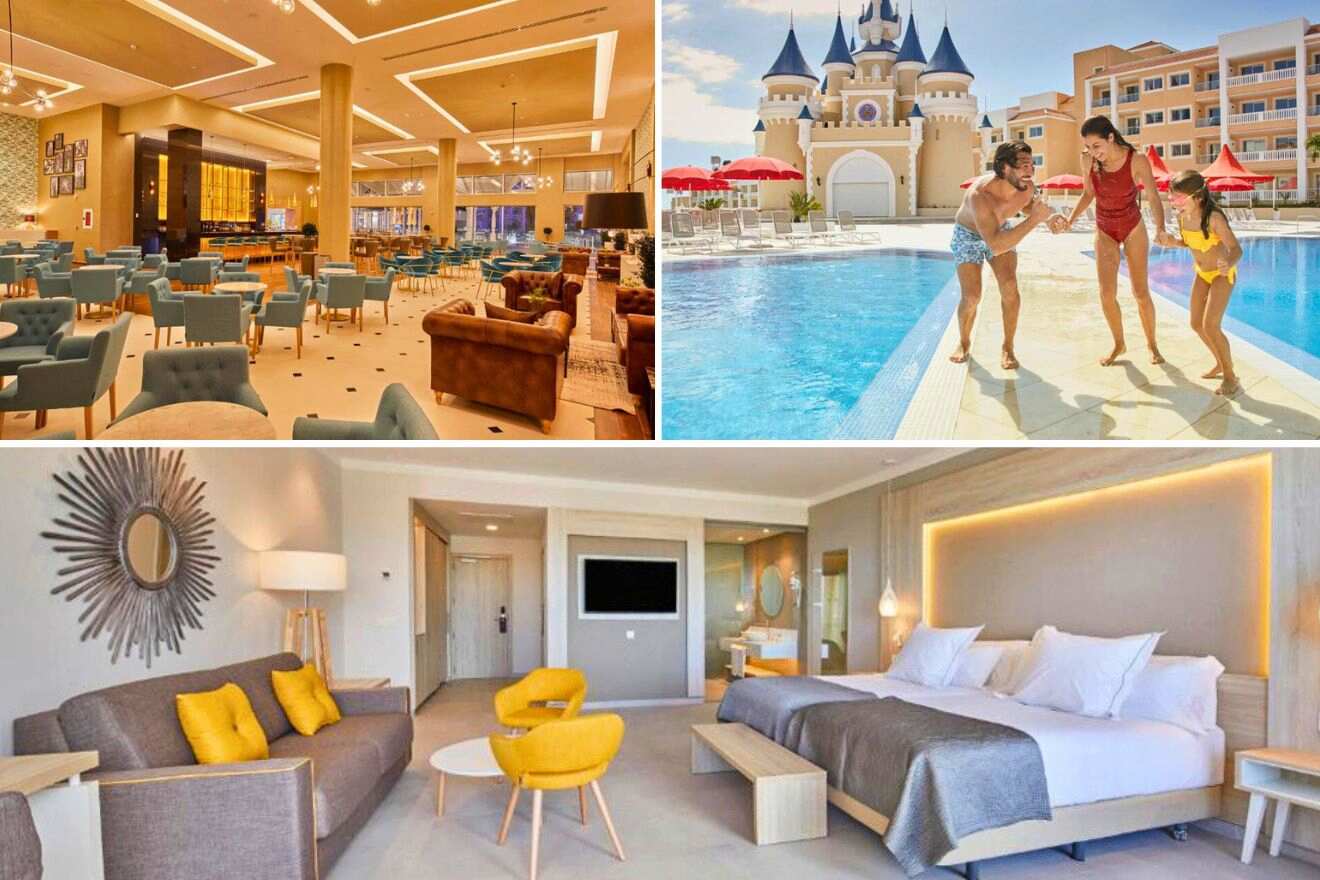 This hotel looks ideal for families with kids! It is located in San Miguel de Abona, only a 20-minute walk to Playa San Blas. The hotel comes with a fantastic pool area. There is a water park with slides and a big princess castle around them! There is also a kids club with great activities available to guests for a fee.
The onsite restaurant offers kid-friendly meals and is open for breakfast, lunch, and dinner! The property offers a wide range of family-friendly rooms and suites. Most of these rooms come with a private balcony and a bathtub in the bathroom!
18. Parque Santiago III Official – for cute mini golf!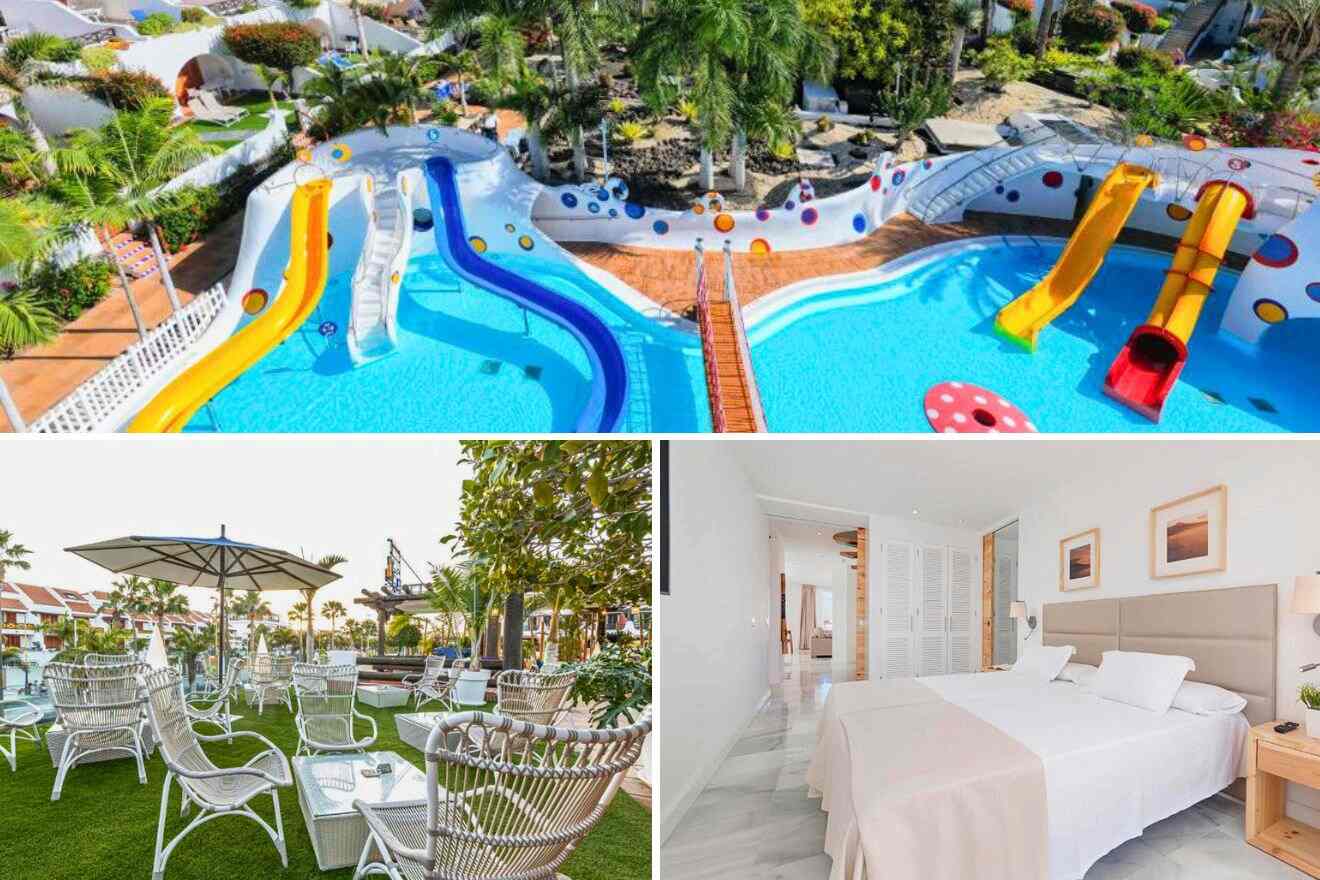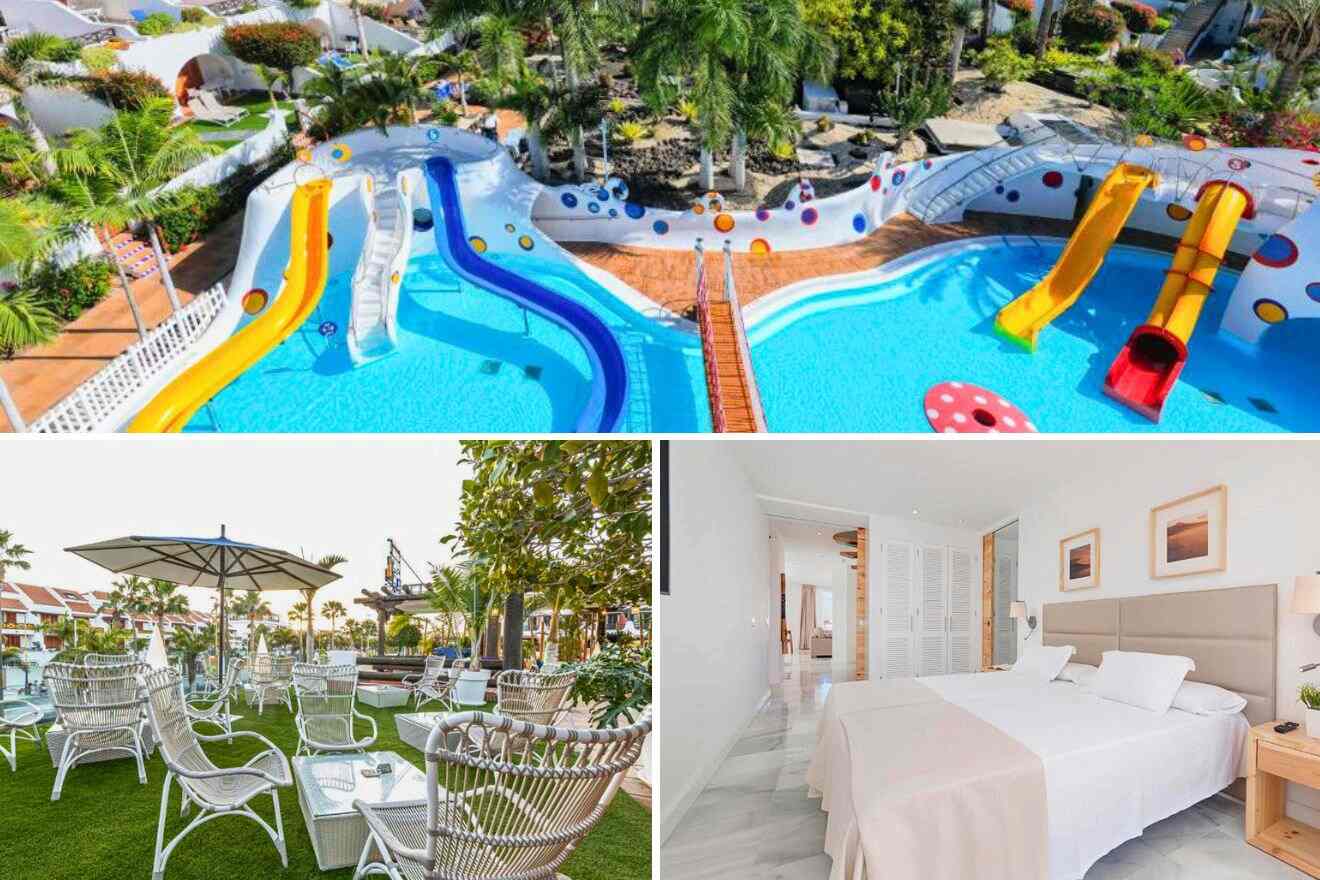 Located in Playa de las Americas, this hotel is modern and homey! The hotel comes with a beautiful garden area surrounded by palm trees and flowers! There is a huge pool area at the hotel with several pools, including a water park with many slides for kids! If you want to have fun with the family, use the mini golf at the hotel.
The villas are super modern and spacious. Most of them come with a garden area and furniture where you can enjoy a meal and a private balcony with lovely sea views. The biggest villa comes with 5 separate bedrooms and can host 10 guests.
19. Klayman Diamond Aparthotel – with free breakfast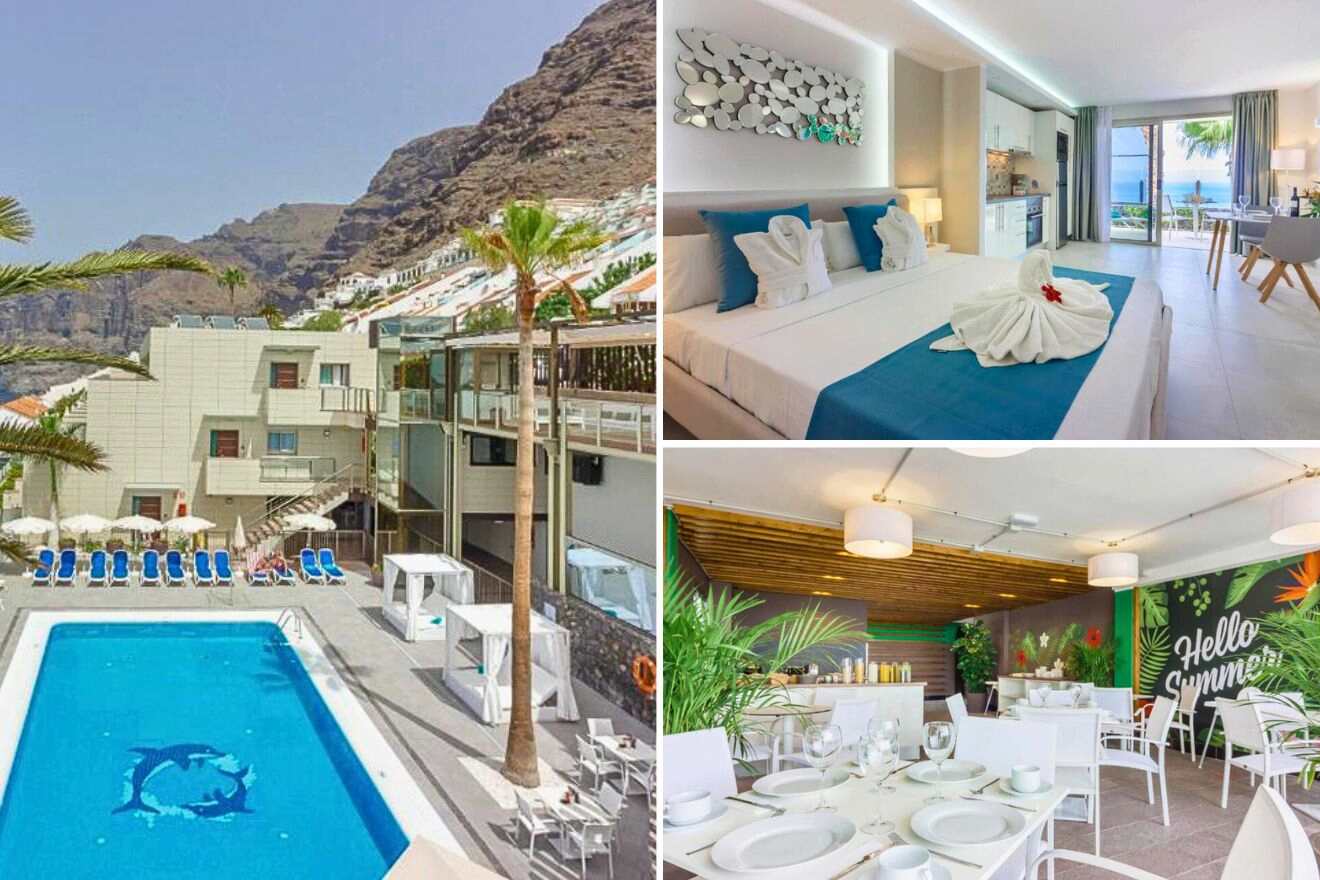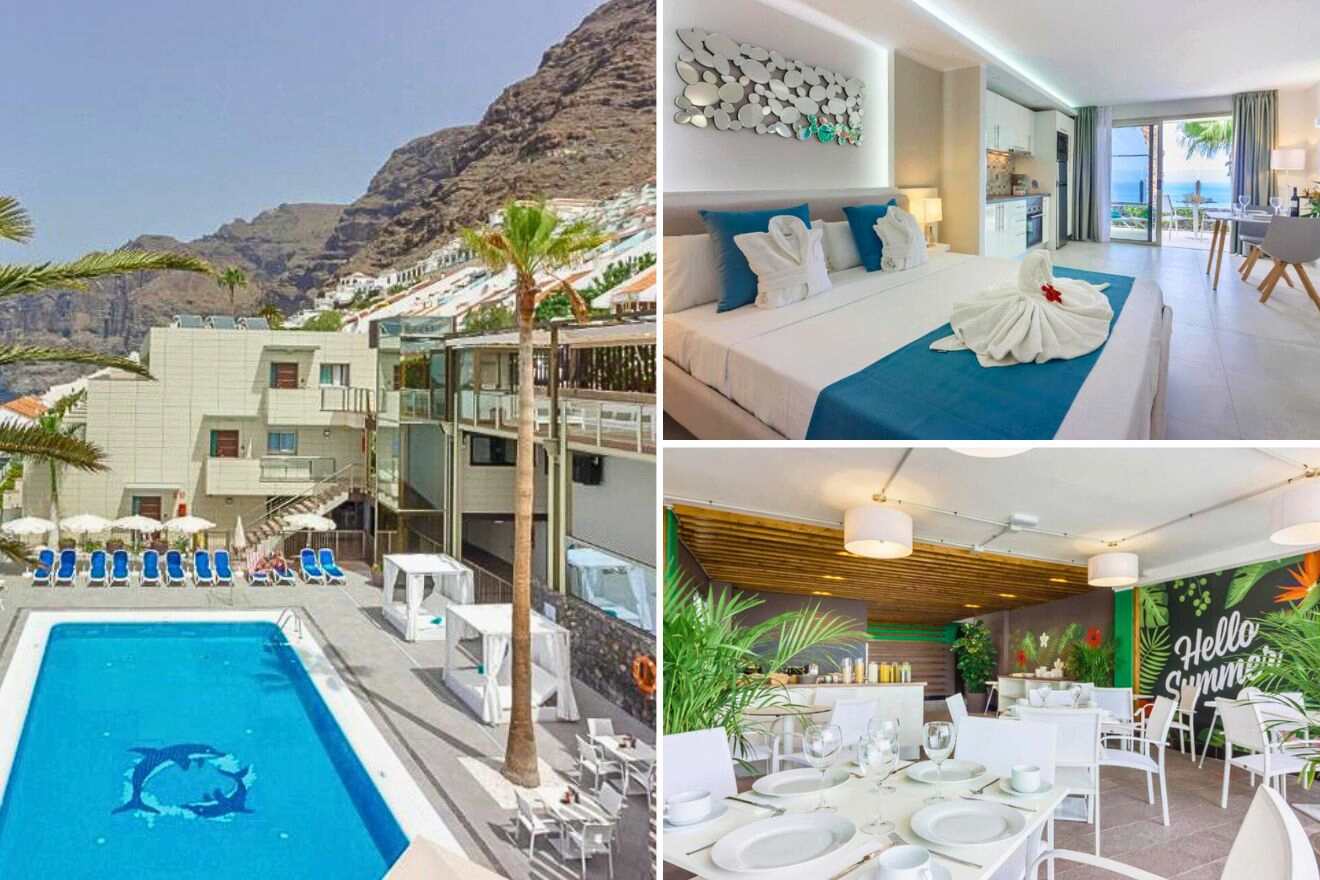 This hotel is located in Acantilado de los Gigante and looks super cozy! The property has a play area for kids to spend time. An outdoor swimming pool with heated water is also open to all guests. Every morning, enjoy a complimentary breakfast with the whole family!
The 2-bedroom apartment is the best option for families. It can host up to 5 family members. This apartment features 2 separate bedrooms and an equipped kitchen to prepare wholesome homemade meals. The living room area has a flat-screen TV with satellite channels. And the terrace is furnished, perfect for private meals under the sun!
20. Sunset Harbour Club – with a tennis court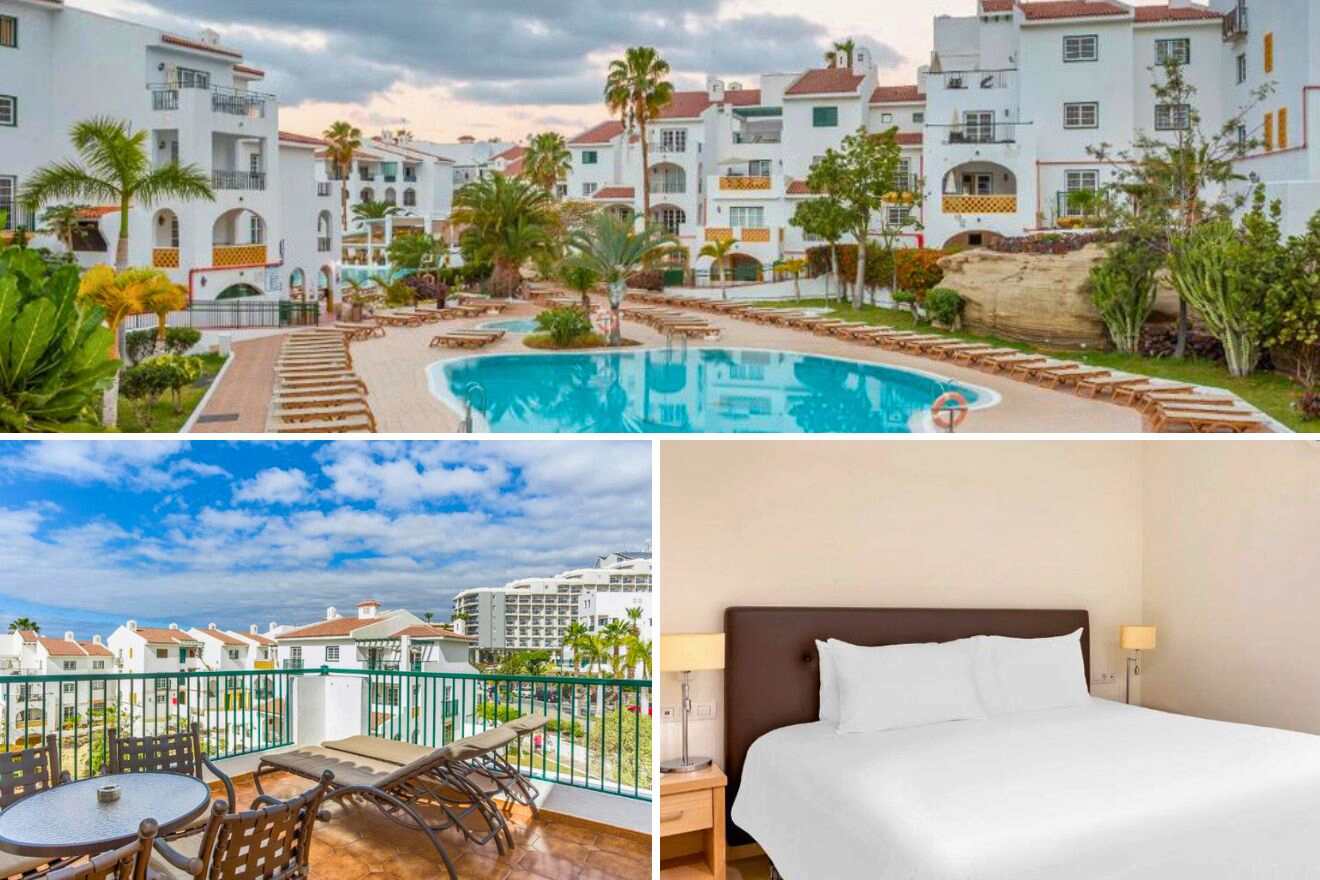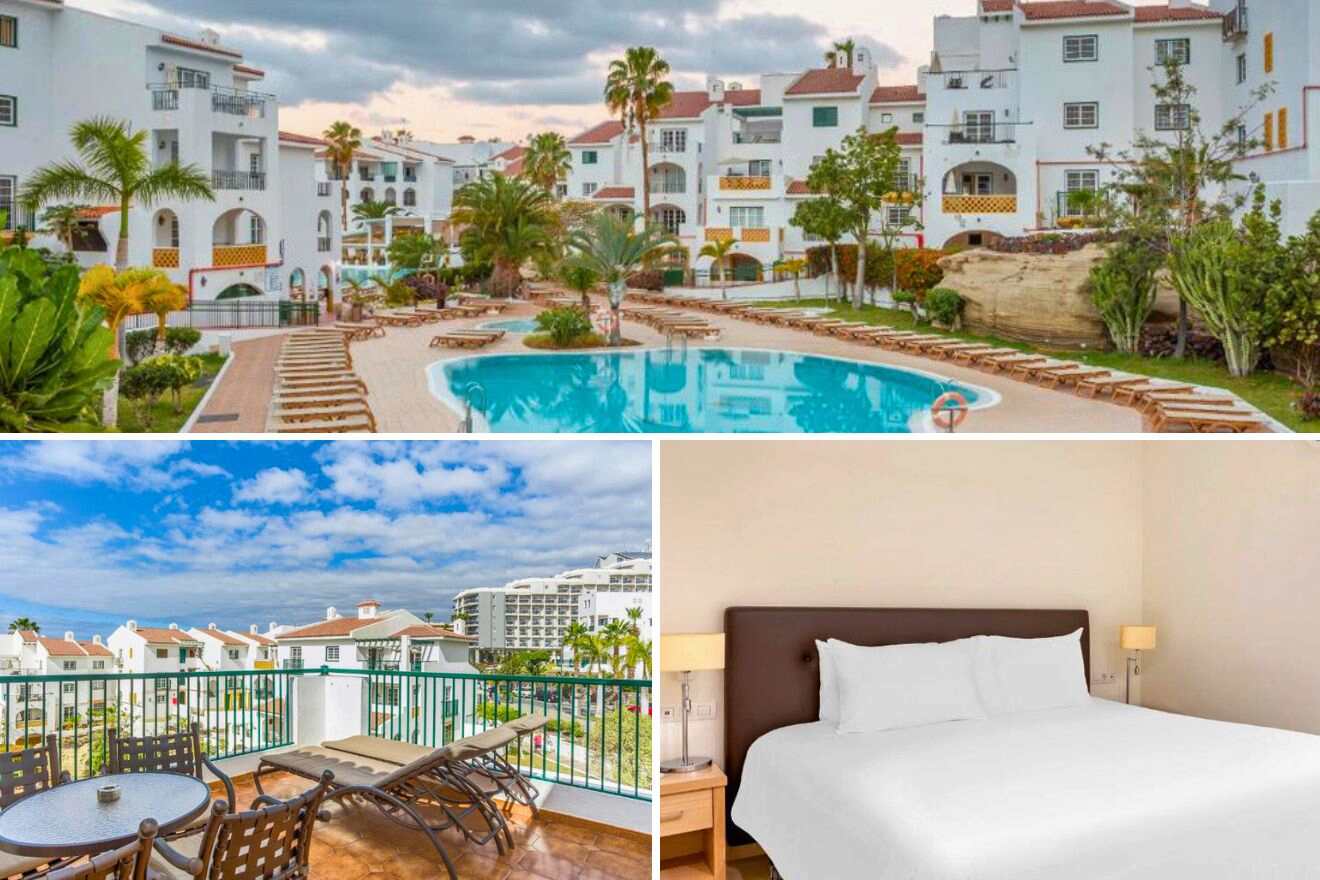 I love the style of this property. It features a stunning colonial style, and the facade is beautiful and painted white with gold touches. The hotel is located in Adeje and comes with 2 outdoor pools that can be enjoyed by the whole family. There is a lovely playground for kids outdoors as well, so they'll never be bored! Plus, the onsite restaurant offers family-friendly menus!
There is a tennis court where families with older kids can play! All the apartments look simple but spotless and bright. All of them come with a kitchen and a private balcony to enjoy the views. The biggest apartment can host 6 guests.
FAQs about family hotels in Tenerife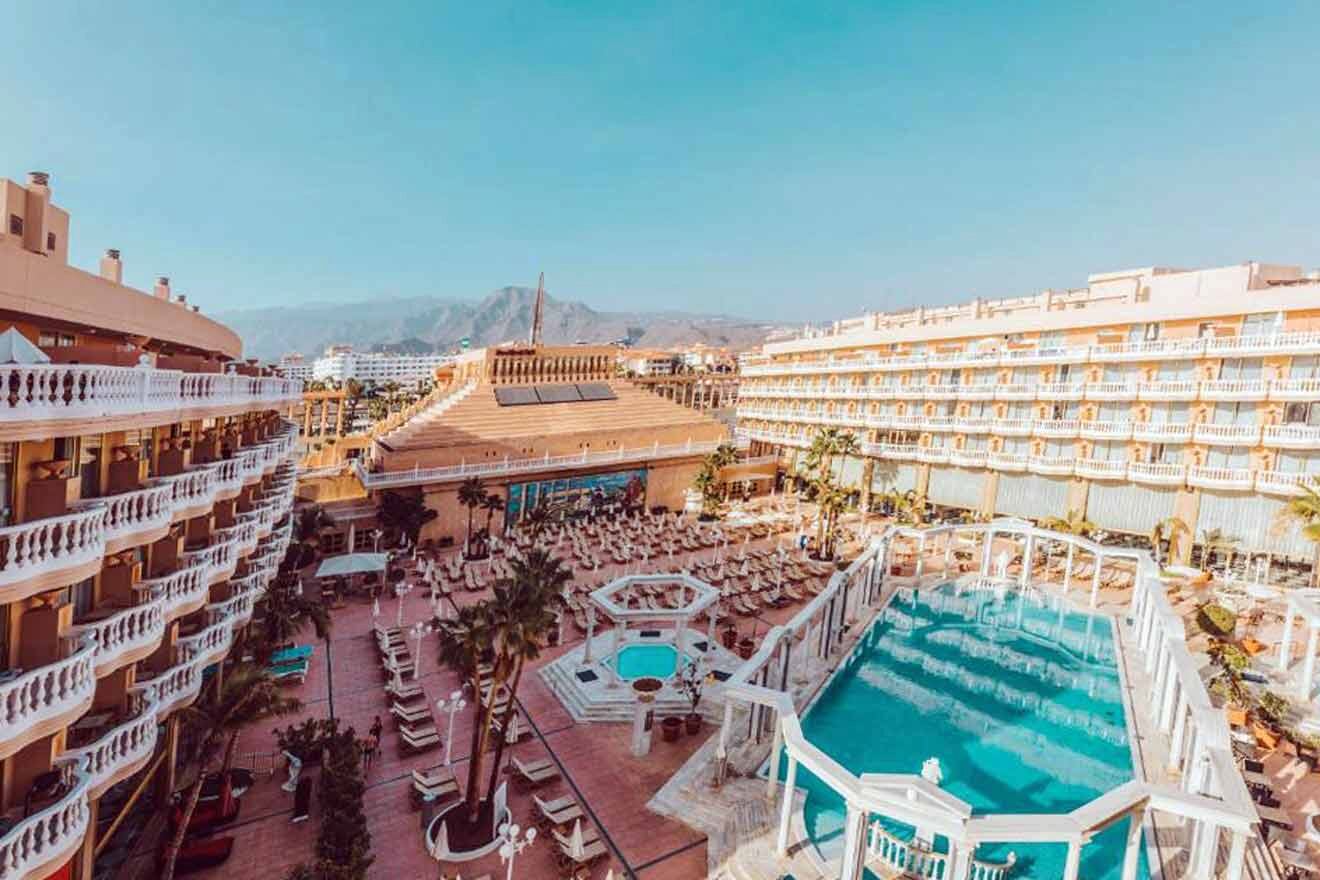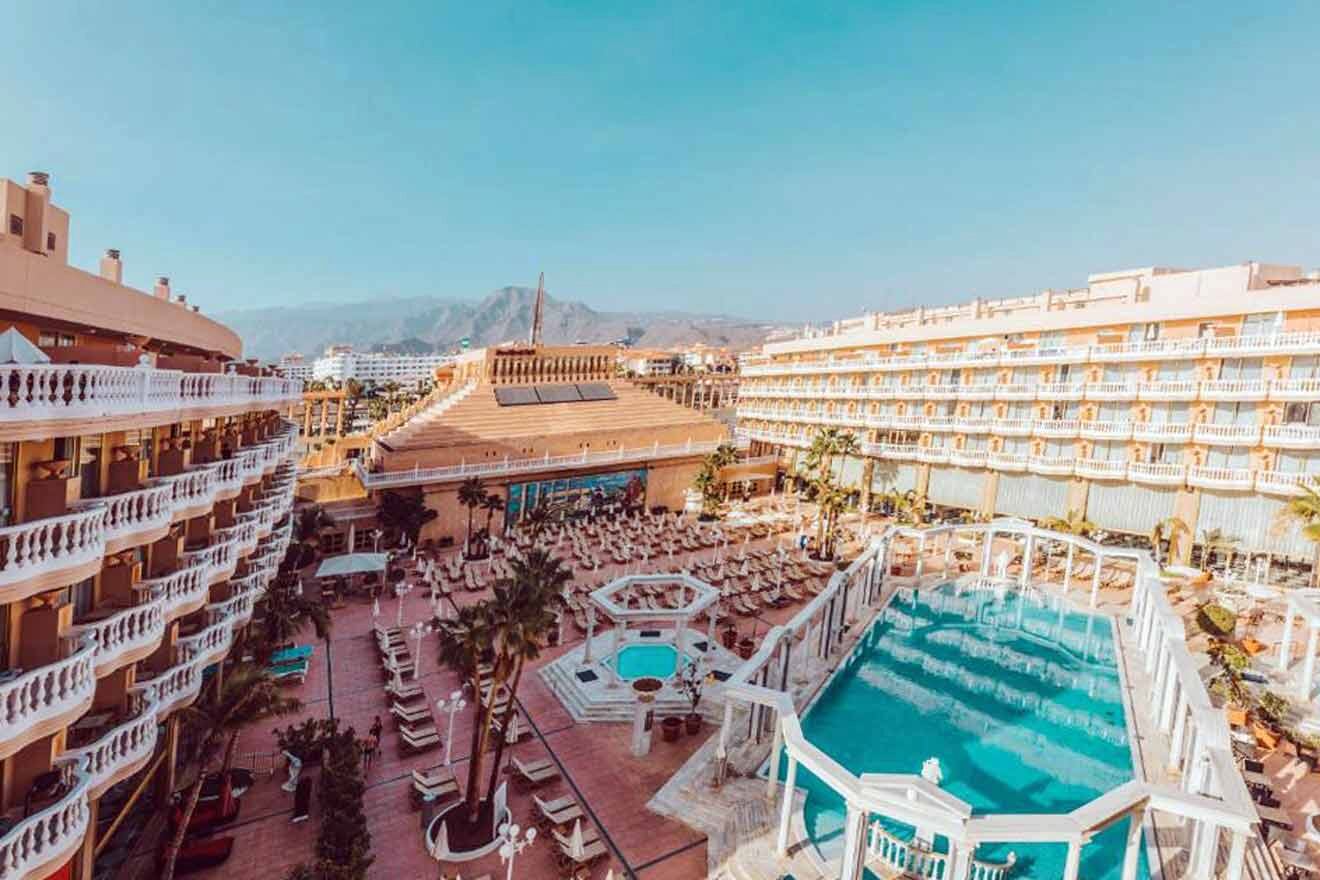 Conclusion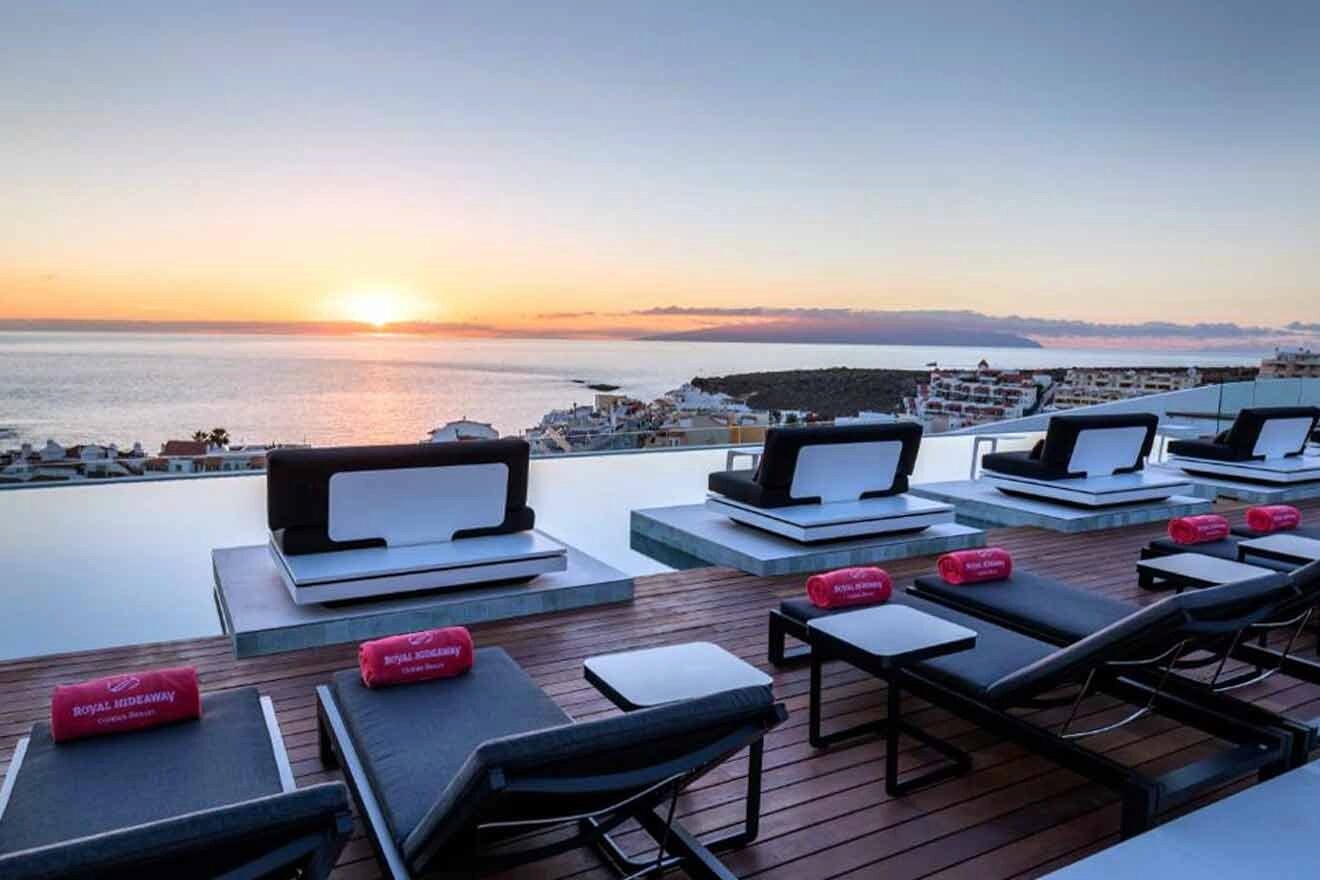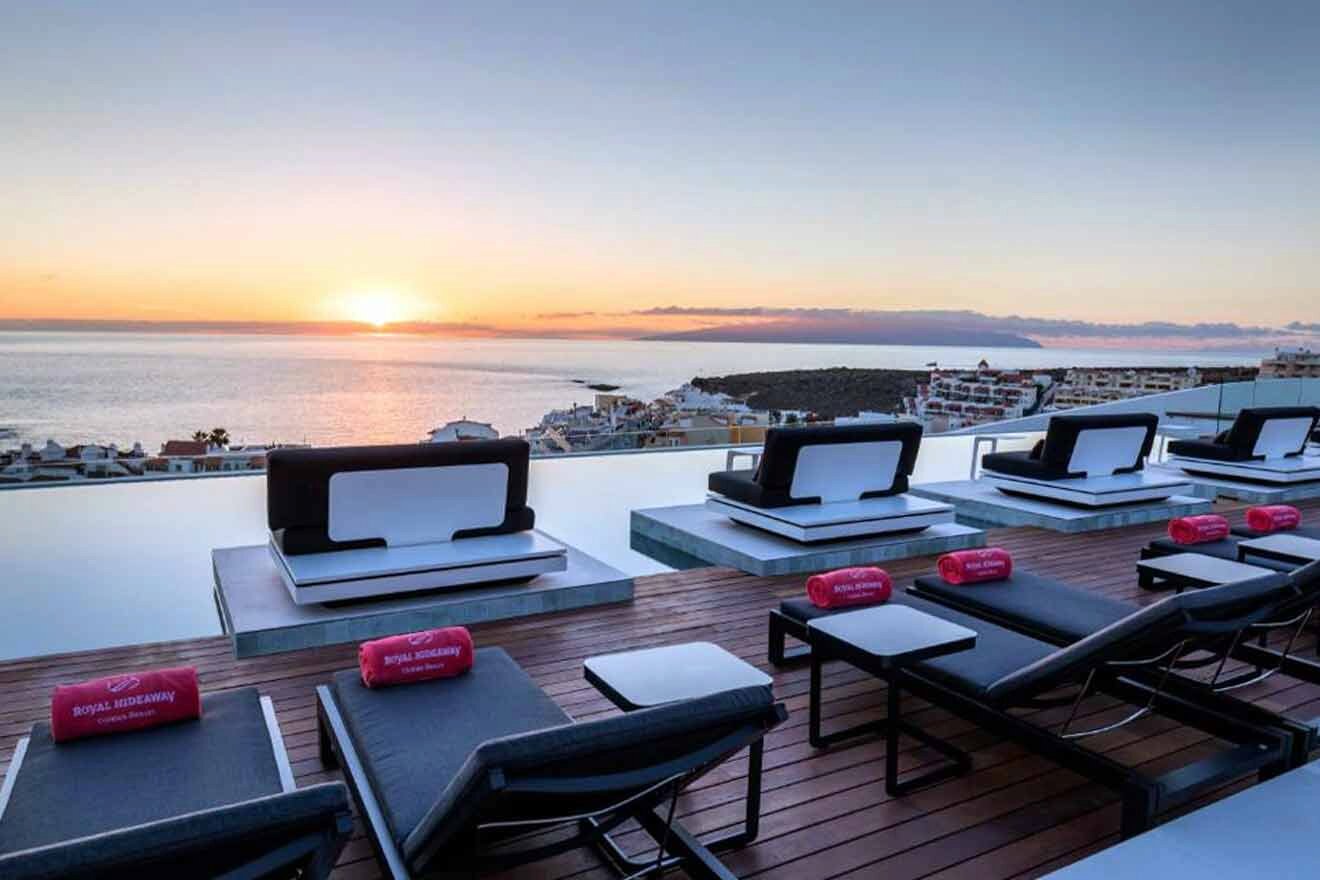 That is a wrap for today, my lovely people! Those were the best family hotels in Tenerife! I gave you 20 incredible options with top-tier amenities for the whole family. I am sure that by now you know which hotel you will book!
Honestly, all the hotels look dreamy, and I would be more than happy to stay in any of them. But if I had to choose my 2 favorites I would go with:
Bahía del Duque – it looks super elegant and luxurious. I love it has so many dining options and incredible views!
Iberostar Selección Anthelia – who wouldn't want some all-inclusive goodness? Time to feel pampered!
These hotels are super popular, so if you want to save a spot for yourself, you must book in advance!
Which of these family hotels in Tenerife is your favorite? Let me know in the comments, and if you need any more help, I'll be glad to assist!
Until the next time,
Daniela
---
Pin it for later!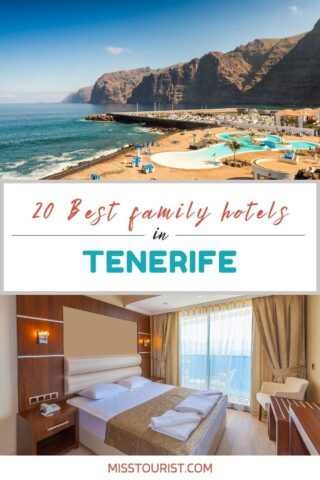 Pin it for later!