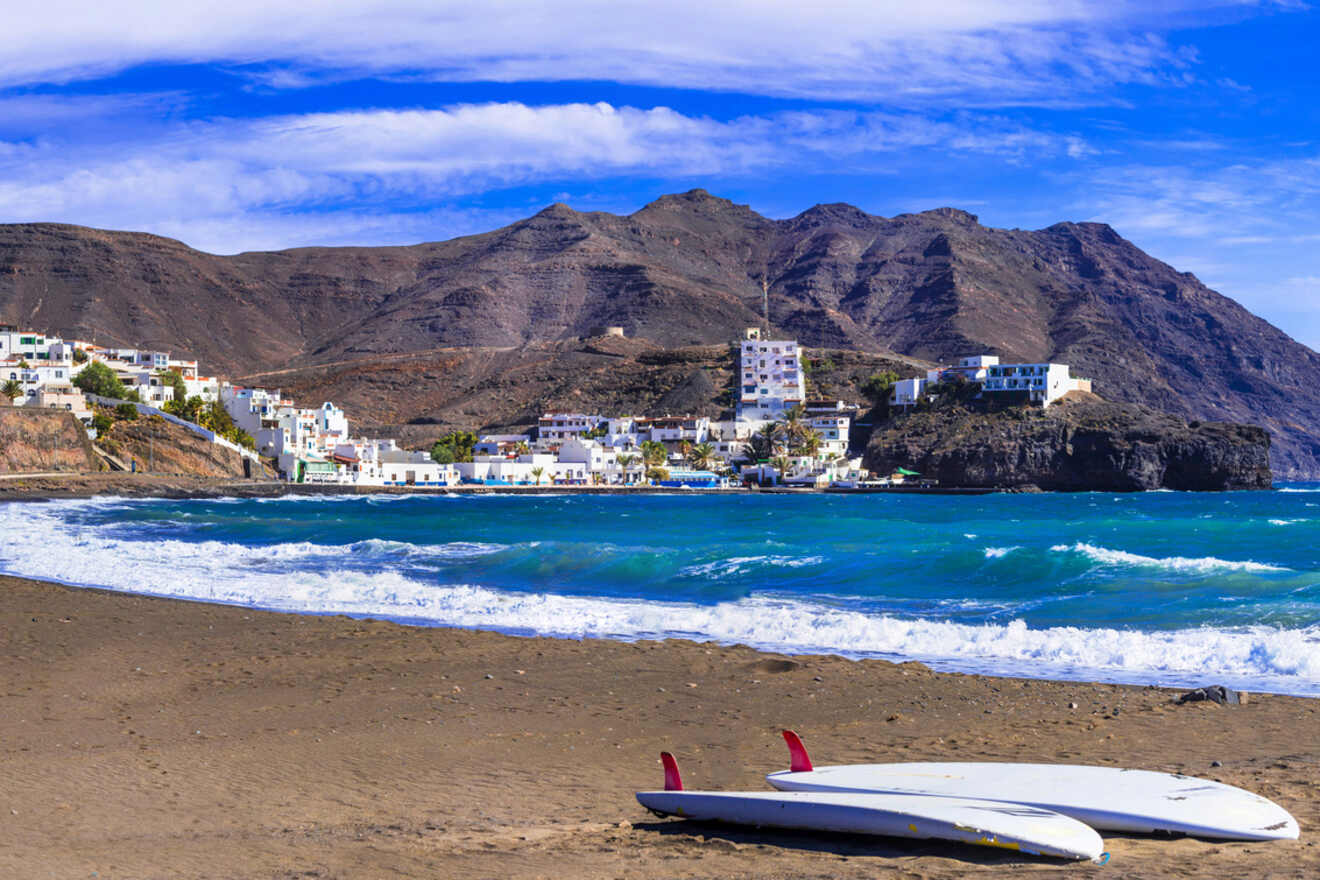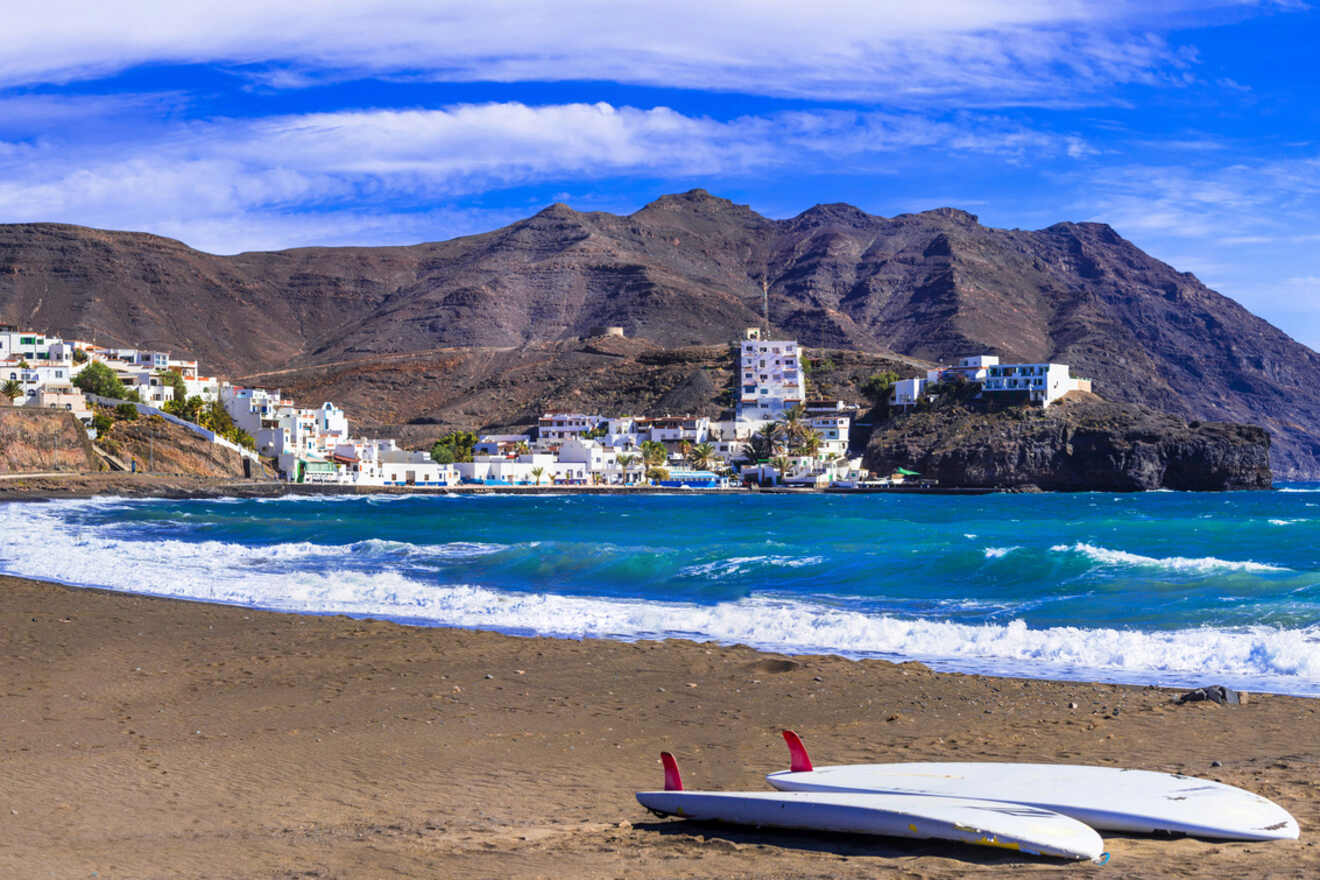 A paradise for surfers, island lovers and beach enthusiasts, Fuerteventura is the second largest of Spain's Canary Islands and the oldest one – it originated from a volcanic eruption 20 million years ago! That's a really long time!
No wonder people are saying that the Canary Islands (including Fuerteventura) were part of the lost civilization of Atlantis! Are you intrigued? I sure am!
Fuerteventura sits in the Atlantic Ocean 60 miles (100km) off the north coast of Africa and its beaches are amongst the top 25 in Europe. No wonder surfers all over the world come here to ride the incredible waves!
I know by now you're probably wondering where to stay in Fuerteventura but don't worry, I've come up with a list that has the best hotels and resorts located right on the beach, that will help you decide in a minute which are the best places to stay for you! But make sure you book the accommodations in advance, this island is one of the top travel places for tourists.
Andale, the Canary Islands are waiting for us!
If you are in a hurry
If you want to book quickly, check out this short list with the best hotels on the island of Fuerteventura:
Here's a map that will help you visualize all the best places to stay and beaches that I will be talking about in this post
1. Corralejo – where to stay in Fuerteventura for first-timers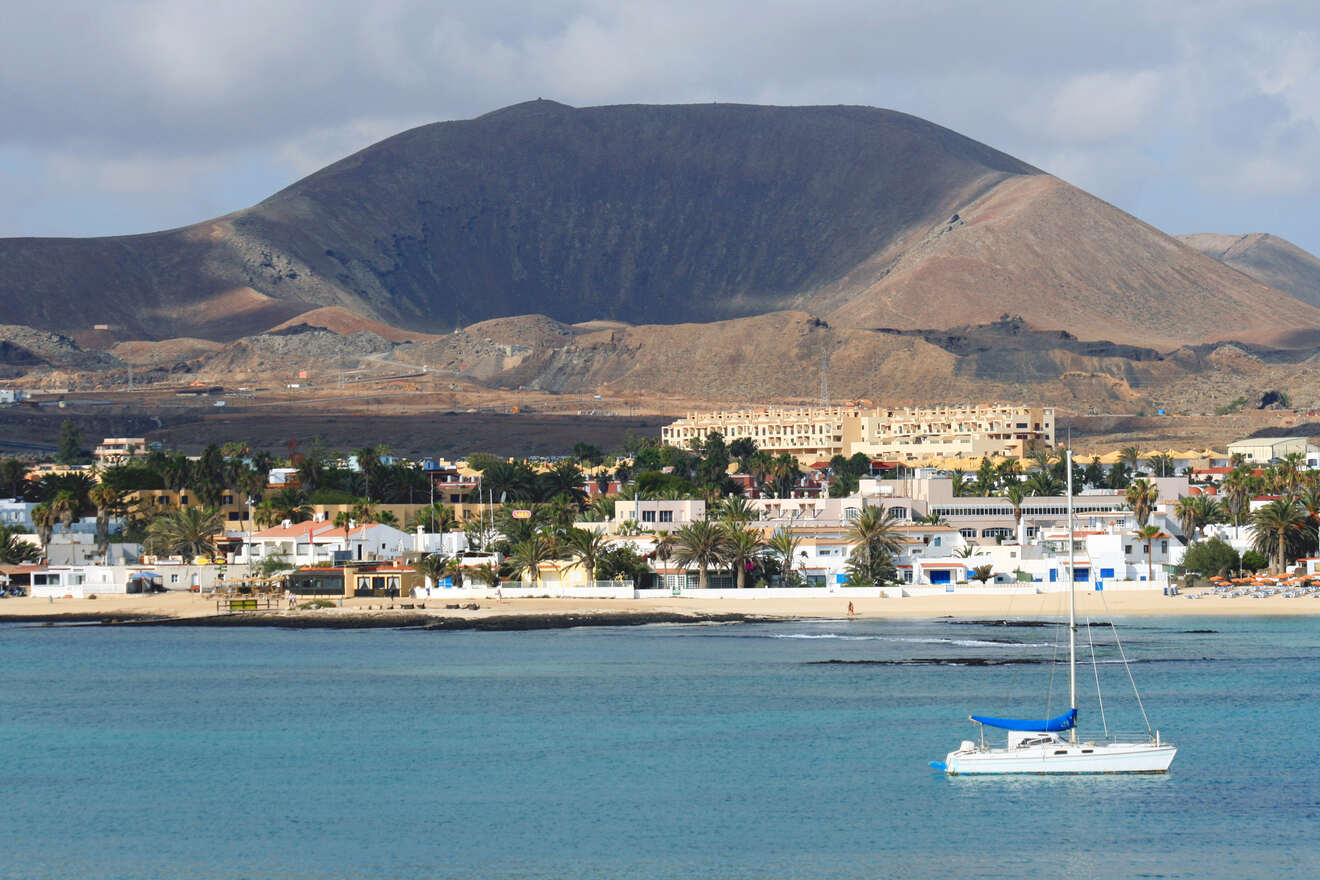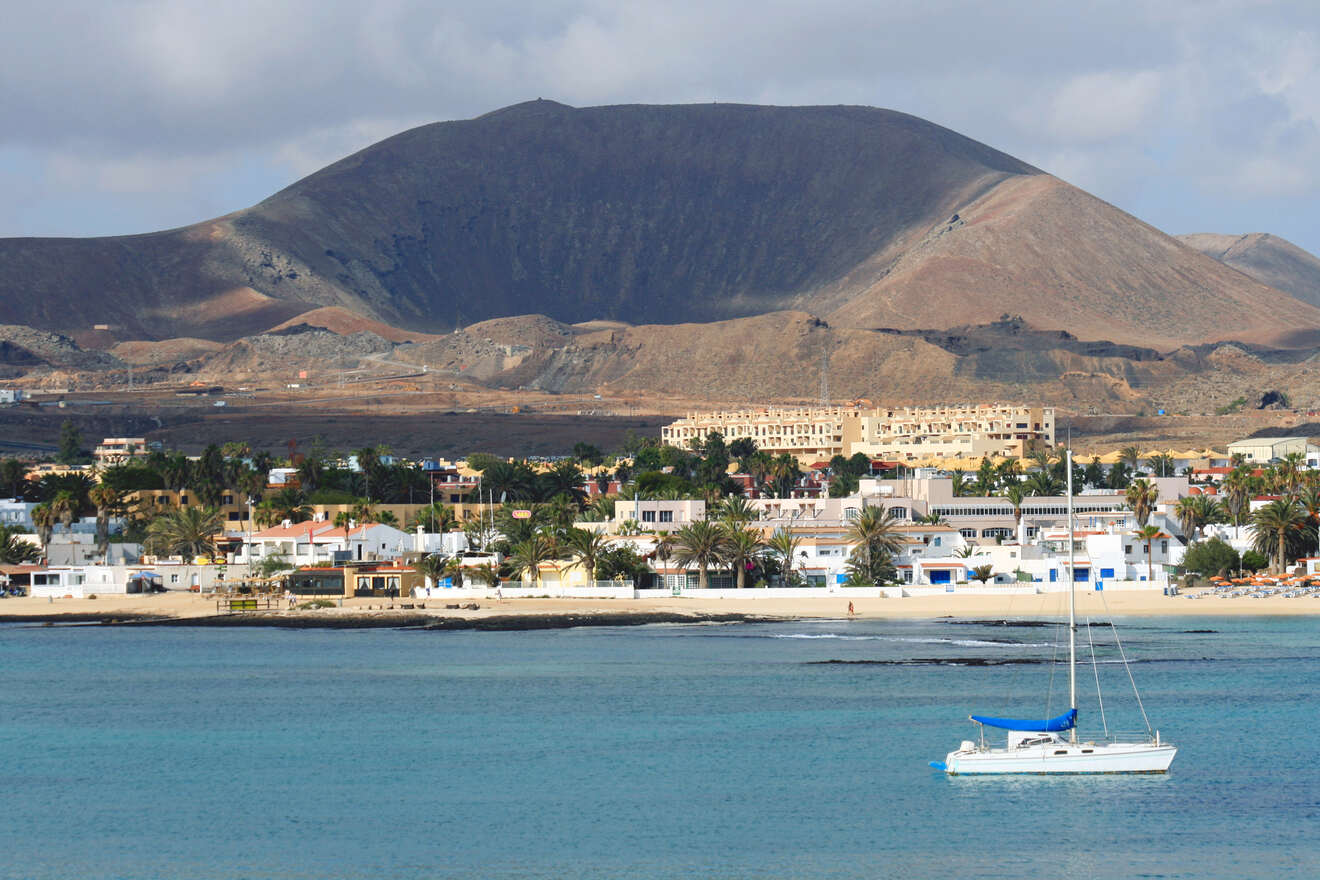 Located in the north part of the coast, this resort town is an oasis of sugary sand dunes and blue crystal water! Honestly, the road from the airport to Corralejo has some of the best views! Just picture a long highway with sand on both sides and the bluest sea. It literally looks like a painting made with the best colors ever!
With its laid-back atmosphere and lively harbor, Corralejo is your traditional Spanish vacation spot. Corralejo is definitely the best place to stay in Fuerteventura if you're visiting the island for the first time because there's something to do here for any type of person. You'll find some of the best beaches here, some of which are especially suited to families traveling with kids.
If that sounds a little too calm for you, there are tons of beaches ready for anyone who's into surfing too! You have to try out those Spanish waves, they are amazing! Let's not forget the most beautiful and famous beach in Corralejo, the 6 miles (10 km) Playa Grande, where the white sand dunes meet the sea and create a magical picture.
You can explore the town and harbor area at night, that's when the restaurants and bars get ready to show their tourists an amazing time! Speaking of the harbor, Corralejo is also a great spot to stay if you want to do some island hopping as you can take a ferry to Lanzarote in 30mins!
Other accommodation options in Corralejo
Things to do in Corralejo
2. Costa Calma – where to stay for water sports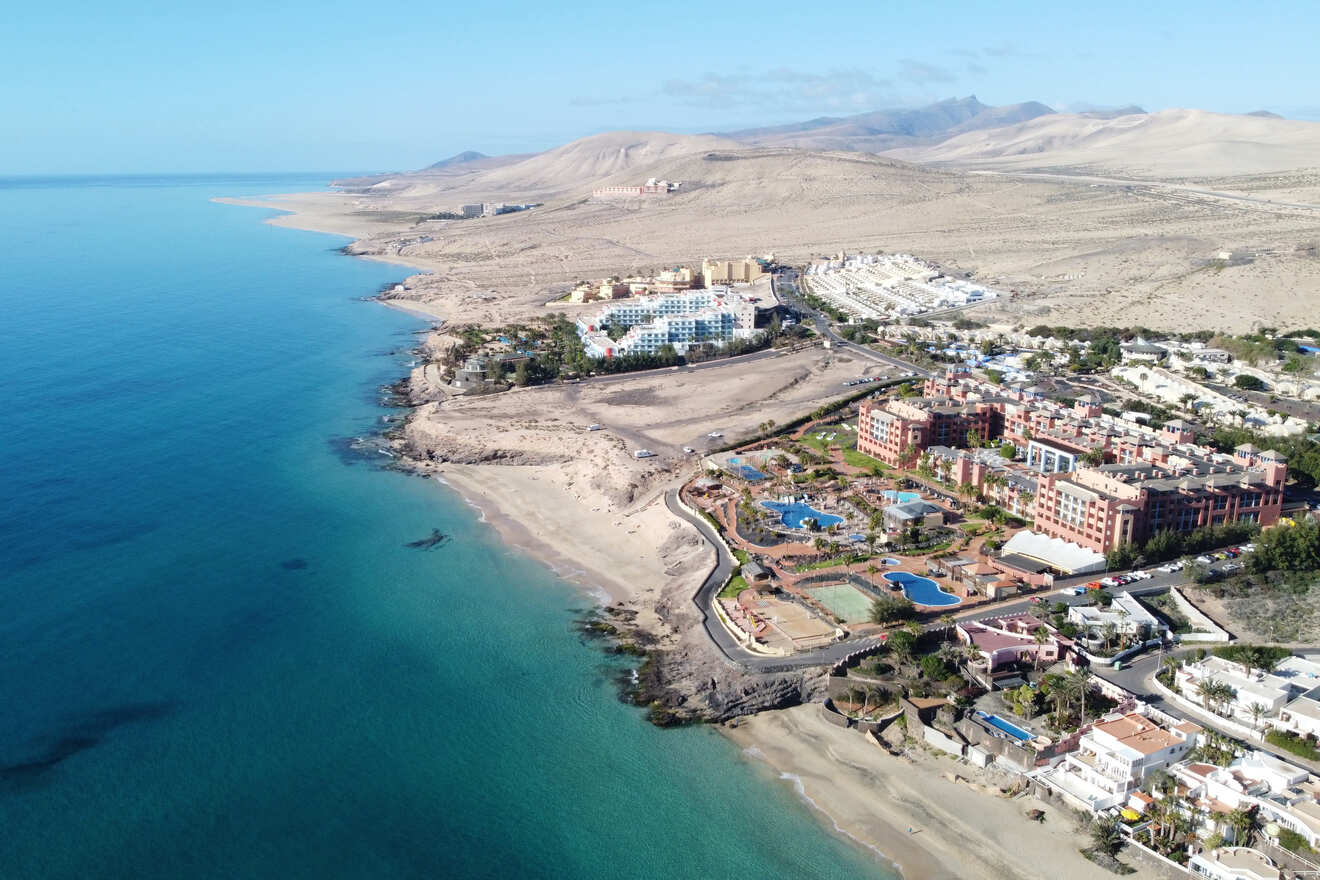 Located on the south of the island, just a 1 hour drive from the airport, Costa Calma is a beautiful area that is perfect for surfers and anyone who is coming to Fuerteventura to try all the possible activities and water sports.
You'll find some of the best beaches here and the winds and small waves favor those who want to try windsurfing or kitesurfing. You can also try snorkeling, jet skiing, surfing, or kayaking!
The beach is not the only big attraction here, if you stay on this part of the island you'll be able to experience the unique Sunday Market in town. I love attending these cute gatherings while I'm on holiday! You get to taste the most delicious fruits and vegetables and go shopping for little souvenirs that will remind you of your vacation.
Costa Calma doesn't really have a town center, however, you'll find a road along the coast surrounded by nature dotted with beach resorts, small shopping centers, bars and restaurants. Make sure to book your accommodation in advance, especially during the summer as the best hotels here sell out fast!
Other accommodation options in Costa Calma
Things to do in Costa Calma
Enjoy sunbathing on the Costa Calma Beach
Try windsurfing on Playa de la Barca
Take the kids to the quiet Pájara Beach in Costa Calma
Go surfing on Sotavento Beach
Explore the​​ Afrikanischer Markt (Costa Calma African Market) and go shopping for souvenirs
3. El Cotillo – best place in Fuerteventura for couples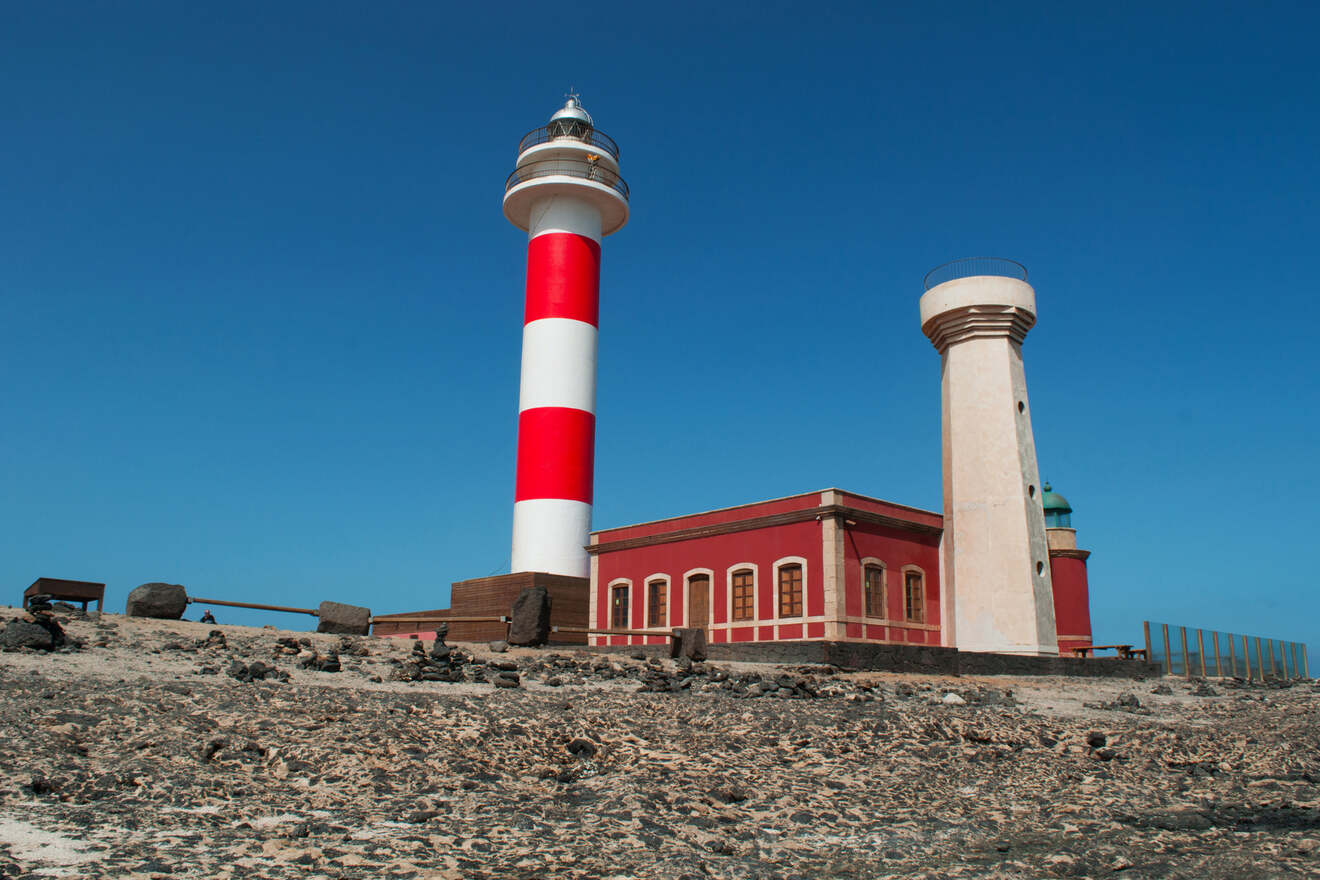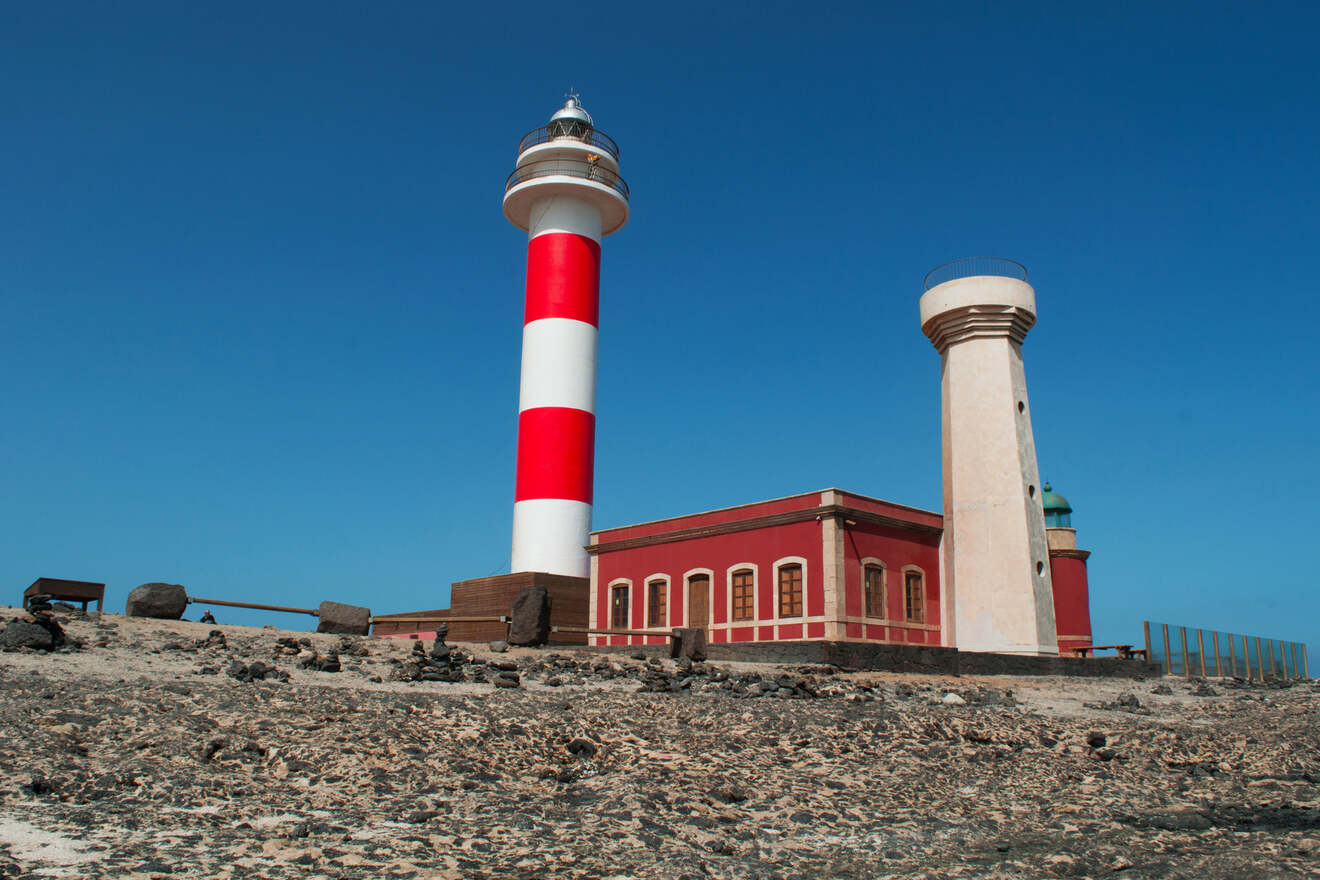 Located on the north west side of the island and filled with whitewashed houses and white sand, El Cotillo is Fuerteventura's best spot for romantic walks on the beach and tranquil sunsets near the cliffs.
This remote town used to be a fishing village and although it became popular among tourists, not everyone hurries to come here. That means that couples can enjoy some peace and quiet! And have you seen the pictures? I feel like this spot should definitely appear in one of those romantic movies!
What's more, during those hot summer days the ocean breeze here cools you down perfectly. This will only help you to enjoy the local vibe of the town even more. For more amazing authentic experiences in Spain check this post on where to stay in Tenerife!
If you catch the view of the tiny white houses during the golden hour you'll feel like you were transported to a whole different world. Here everyone is super friendly, calm and just wants to live by the sea all their life! For an unforgettable experience, go to the Los Lagos beach which has the most amazing lava lagoons and turquoise waters!
Other accommodation options in El Cotillo
Things to do in El Cotillo
Eat seafood in the best restaurants in town

Watch the sunset with your loved one at El Cotillo Beach
Visit the Torre del Tostón fortress
Spen a fun day near the lagoons at Playa Los Charcos III
Go sunbathing and swimming in the turquoise waters at Los Lagos beach
4. Morro Jable – where to stay in Fuerteventura for a local atmosphere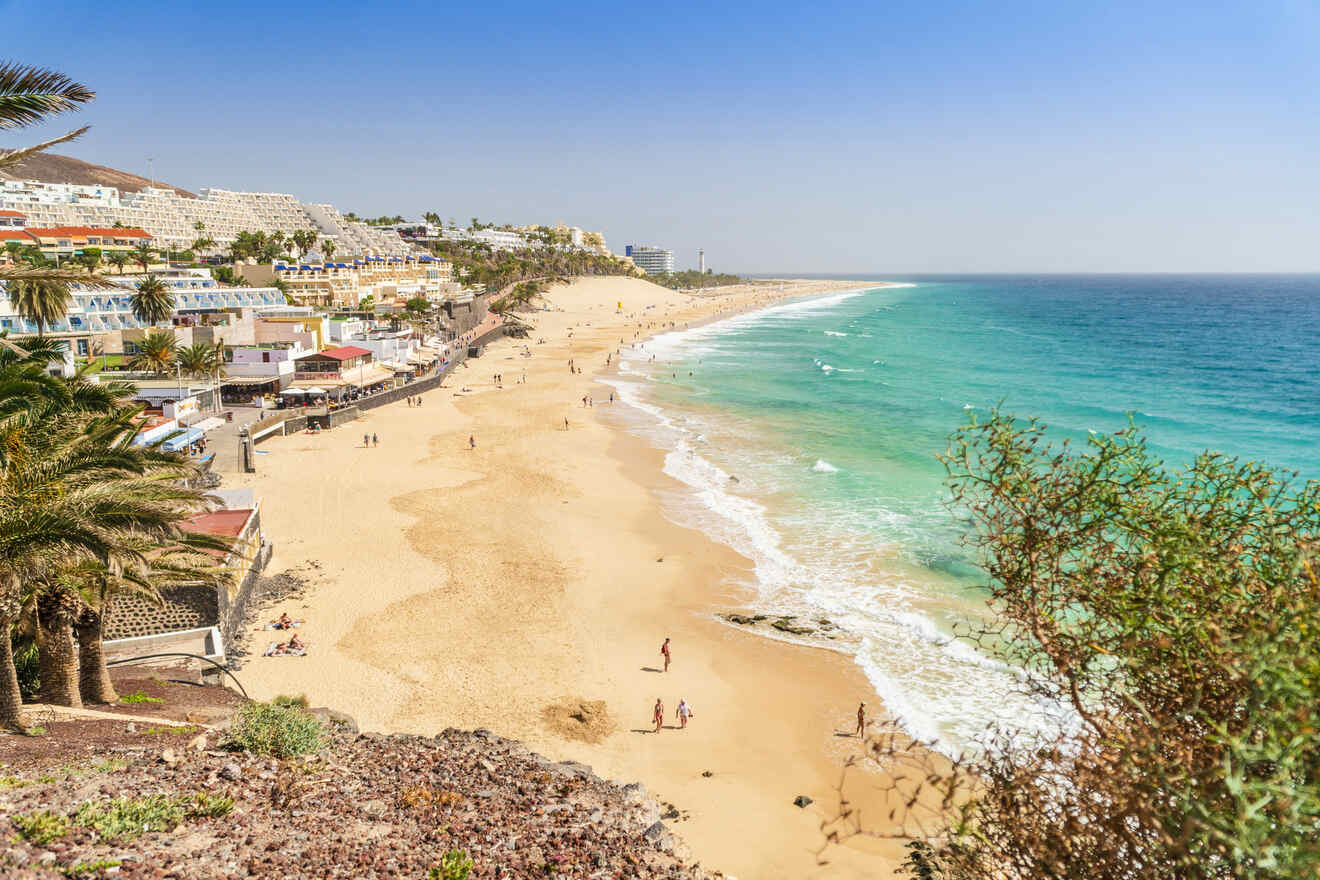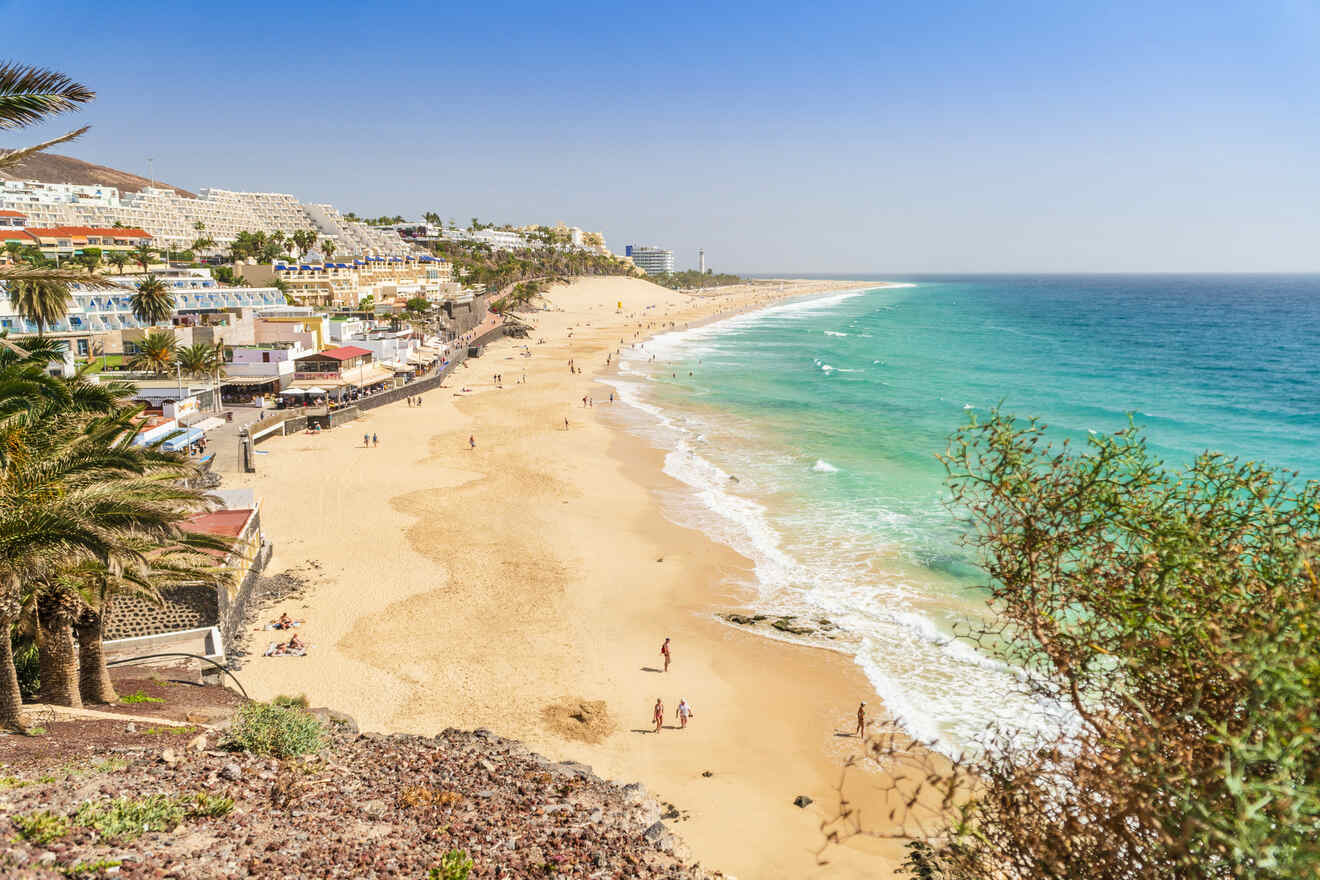 Located right on the southern end of the coast around a 75-minute drive from the airport lies Morro Jable, tucked away between the cliffs. This lovely fishing village has managed to keep its authentic local atmosphere even though it's a popular holiday spot on the island, especially among German tourists.
The little whitewashed houses and white sandy beach look like they've been taken straight out of a postcard! The picturesque seafront promenade leads the path towards the old town and the harbor where you'll find many restaurants and bars that, as you might've guessed, have the best seafood dishes possible. It is a fishing village after all!
This town has amazing resorts, popular among families with small children and this part of the island also has a cool local market which takes place every Thursday.
If you come all the way here you have to visit one of the most famous beaches on the peninsula, Playa de Confete. Playa de Confete is surrounded by the highest cliffs on one side and the most magical turquoise water on the other and is located not too far along the coast from Morro Jable on the Jandia Peninsula. It's reachable by public transport or you can rent a car and get there in under an hour on mostly dirt roads.
Other accommodation options in Morro Jable
Things to do in Morro Jable
Go sunbathing and swimming on Playa del Matorral
Take a trip to visit Casa Winter to learn some interesting history
Take a night walk on the Playa De Jandia beach in Morro Jable
Explore the old town part of Fuerteventura in Morro Jable
Play a round at Jandia golf course
Take a trip to visit the amazing beach at Playa de Confete and the Jandia Peninsula in the nearby Jandía Natural Park
5. Caleta de Fuste – best place to stay for families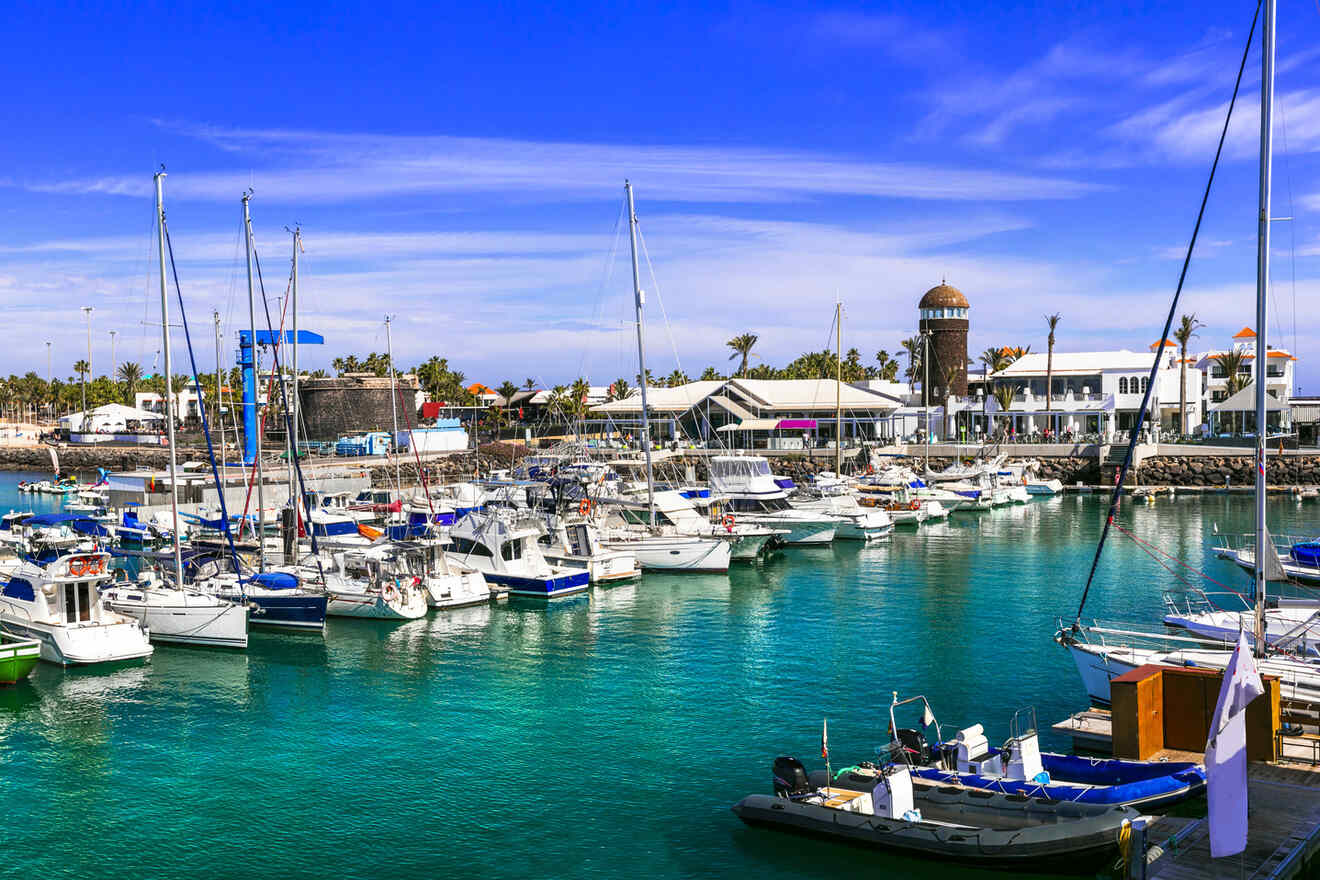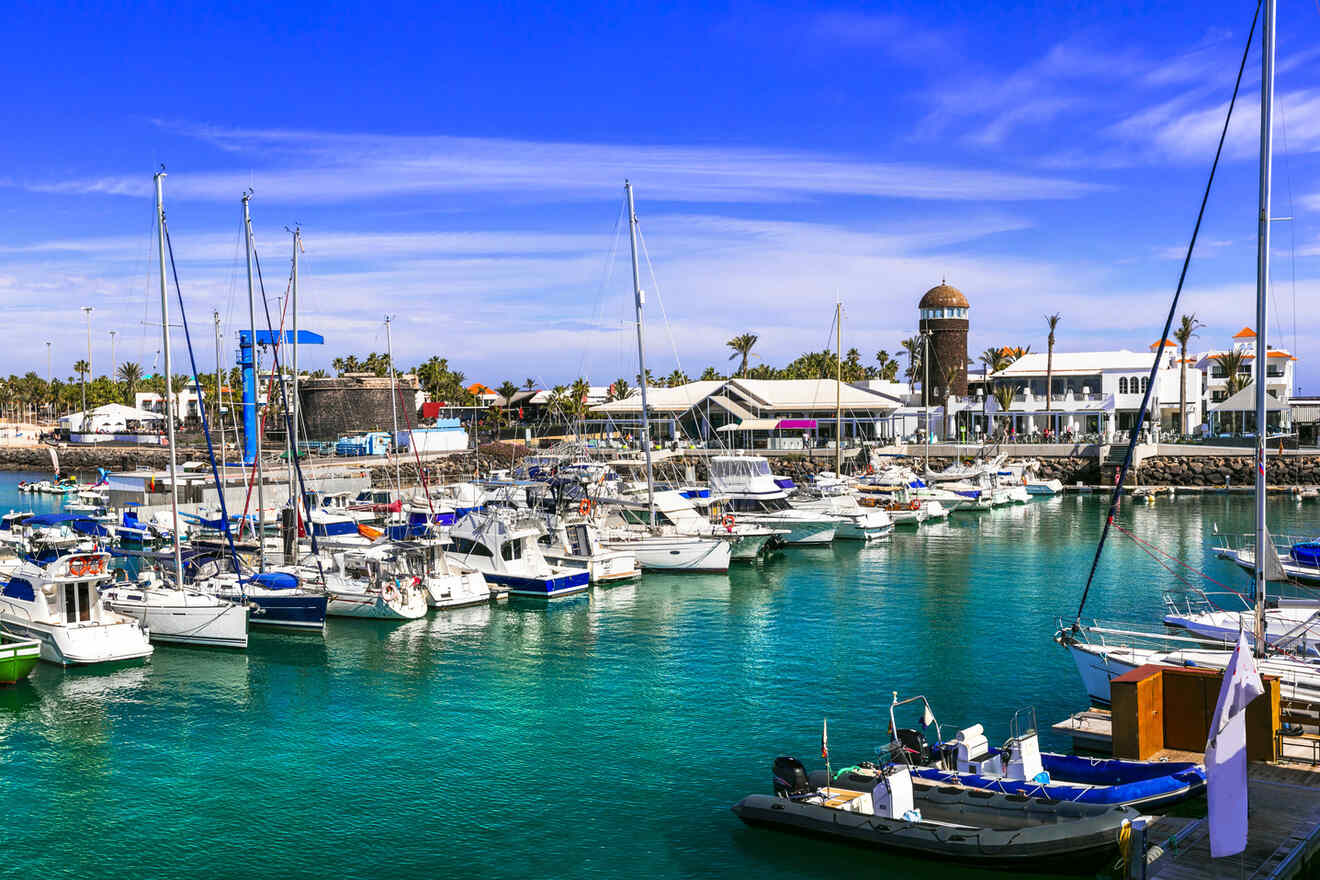 Located on the east coast, this resort town is close to the airport and filled with bars, restaurants, and great hotels perfect for families who are traveling with small children. This part of the island has a laid back atmosphere and is very calm, the seaside promenade offers amazing views of the whole town and it's a lovely place where you can take long walks at sunset.
The family-friendly beach in Caleta de Fuste resort town is quite big and the winds aren't as strong here, which means it's a safe spot for kids and you'll find all the facilities you need like sunbeds and umbrellas.
If you also want to explore other parts of Caleta de Fuste, there are plenty of golf courses in this area. There's also a cinema if you want to catch a family movie, a shopping center and for an authentic local experience, you can head to the weekly market to get some nice island souvenirs.
Other accommodation options in Caleta de Fuste
Things to do in Caleta de Fuste
Frequently asked questions about Fuerteventura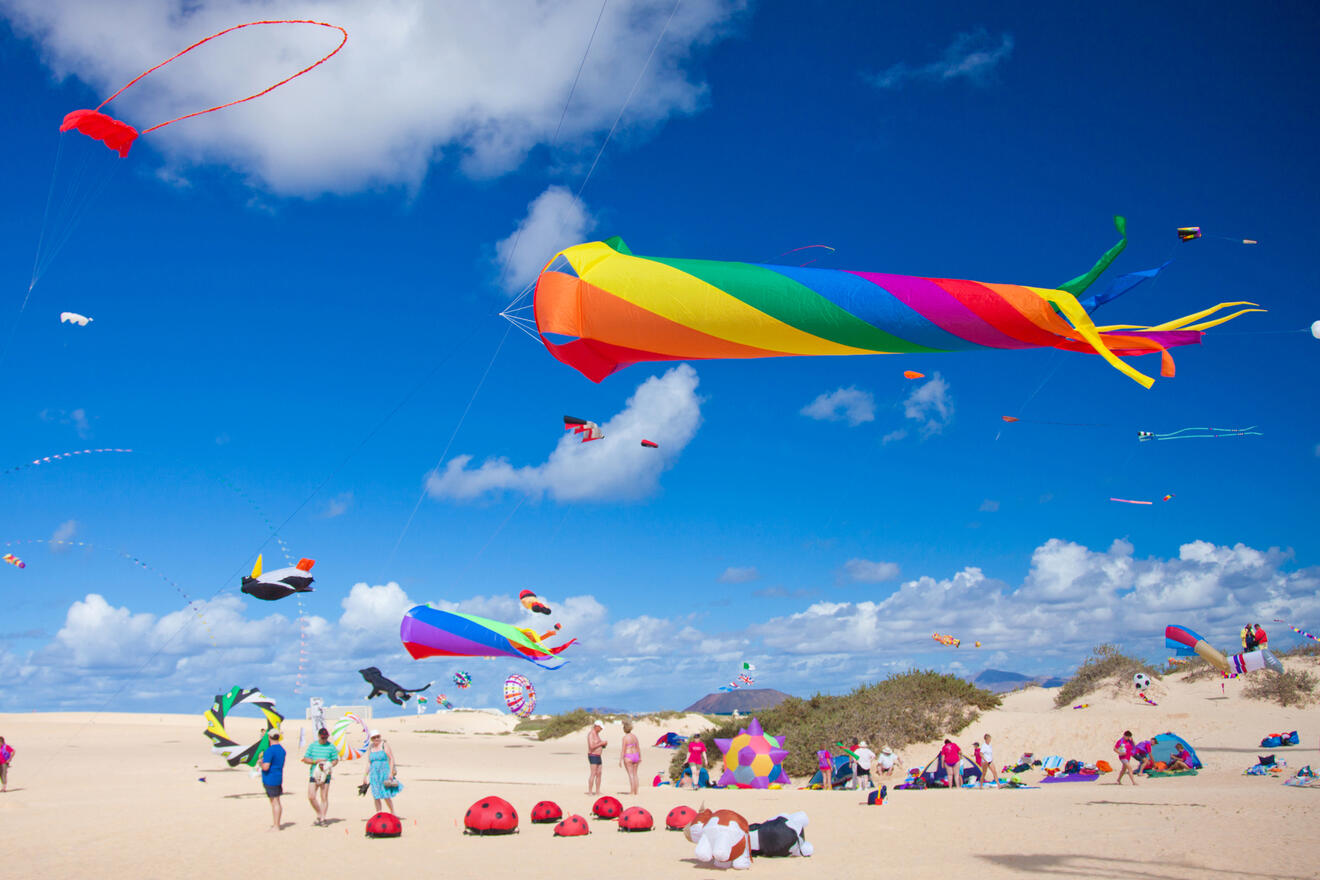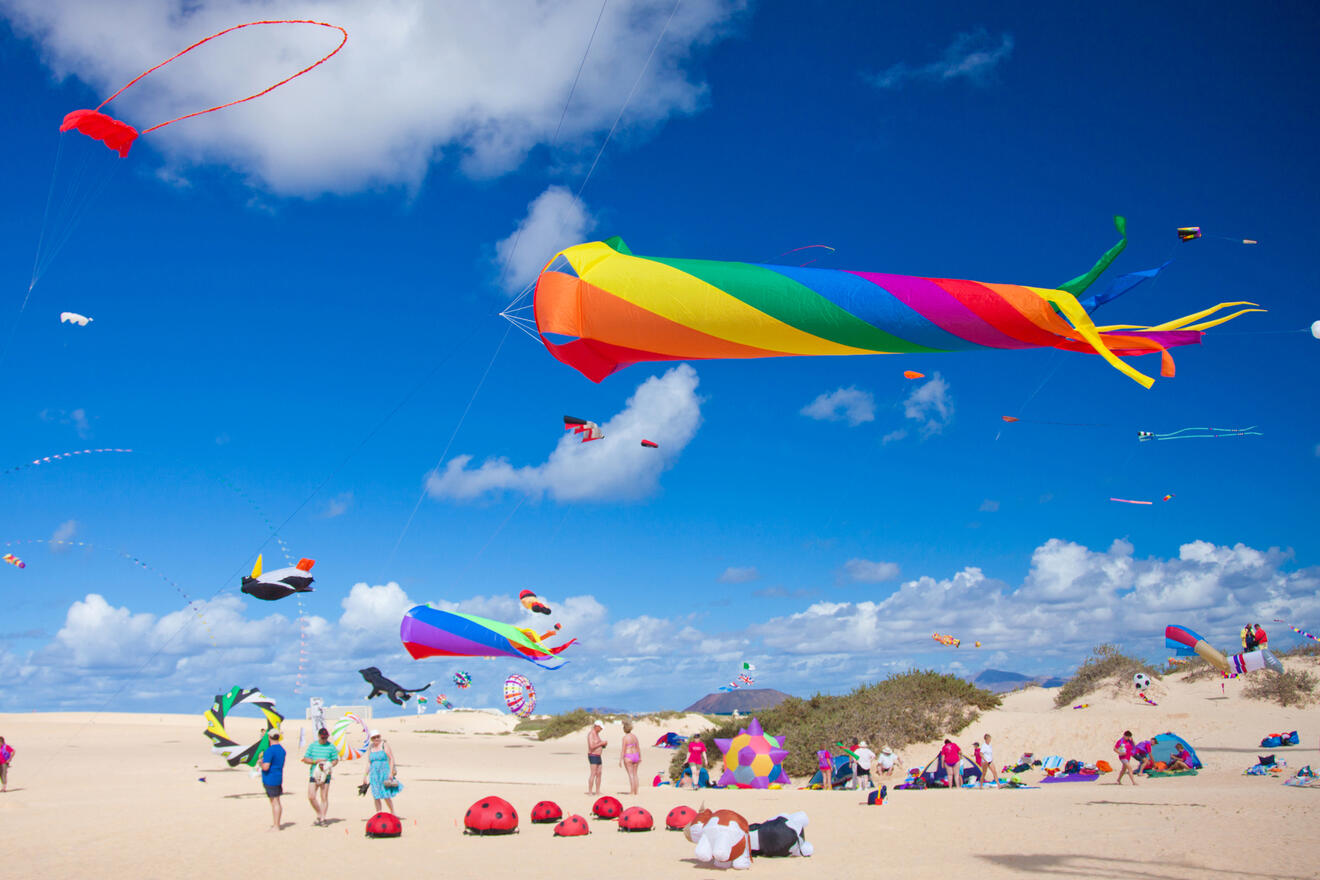 Conclusion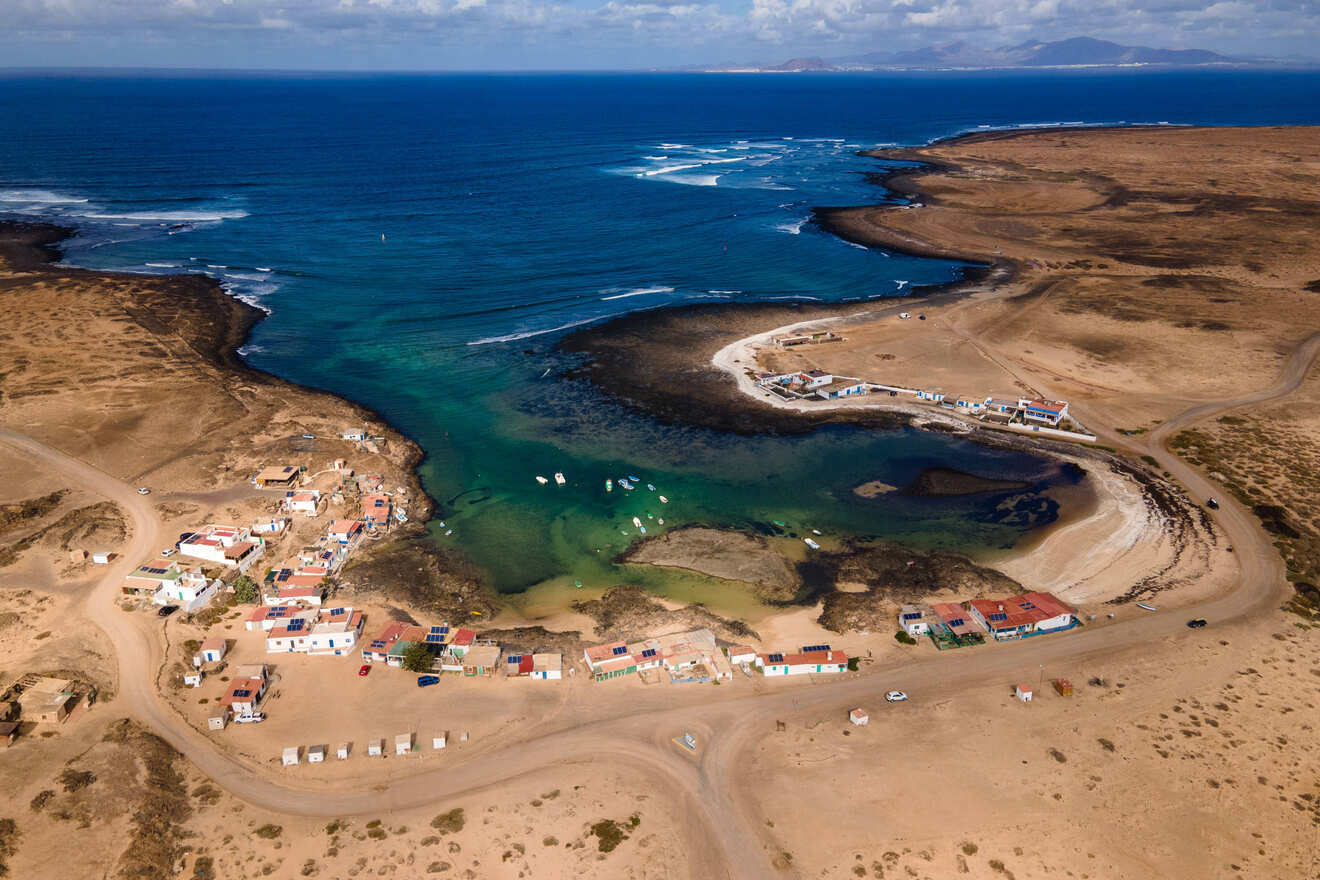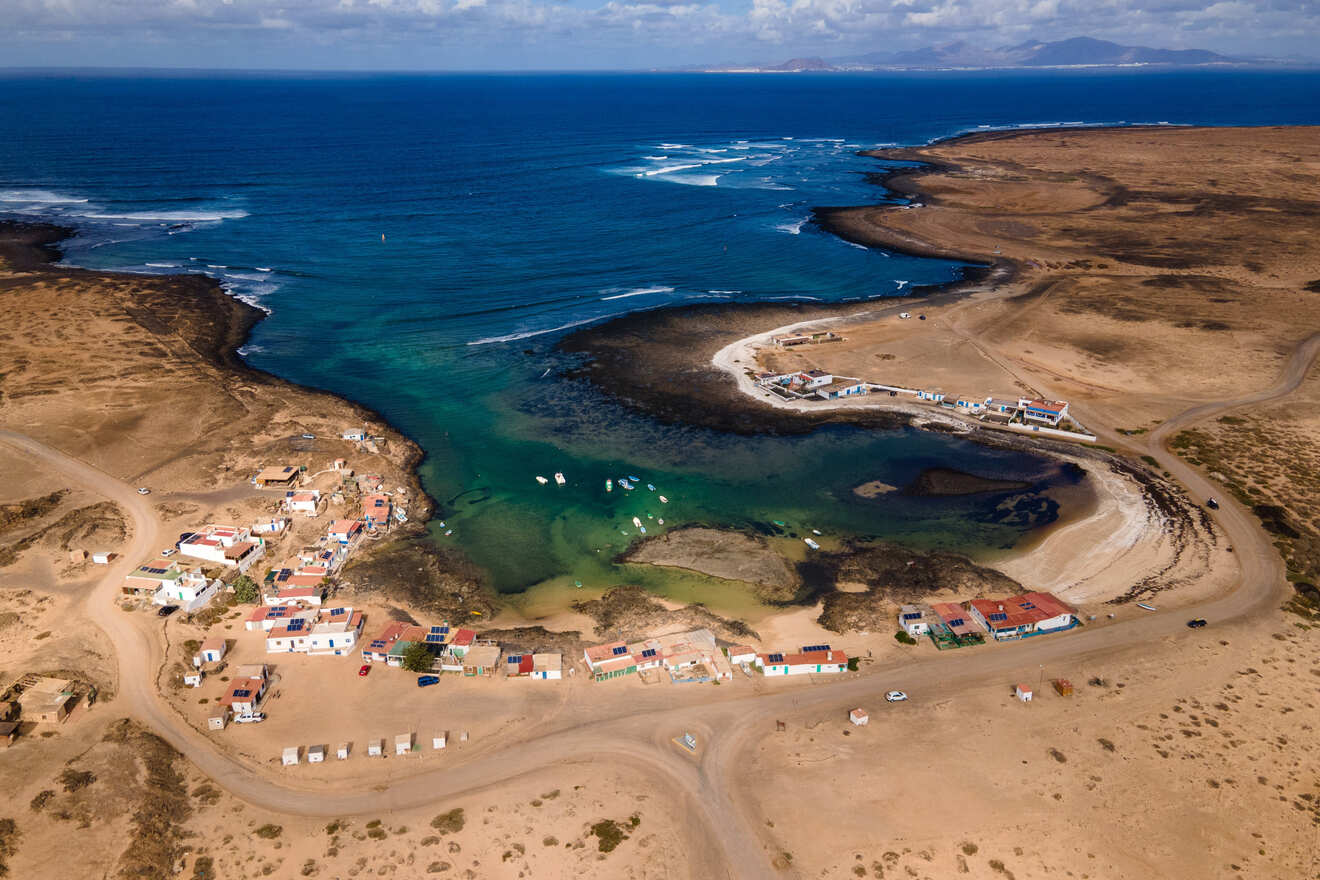 I really want to be right on the beach now! You're so lucky to visit this island and I hope this post helped you decide where to stay in Fuerteventura, which are the best beaches to go surfing and windsurfing and which things you can't miss here!
Make sure to book your spot in advance, no matter which hotel you choose as these places sell out fast and I don't want you to miss out on your perfect holiday spot! I know I've given you a long list of the best hotels and resorts, but here are my two favorite ones, both located in Corralejo.
Feel free to leave me a comment if you have any more questions or suggestions about Fuerteventura. Enjoy surfing the beach waves of Fuerteventura and the nightlife of this lively island!
Safe travels,
Victoria