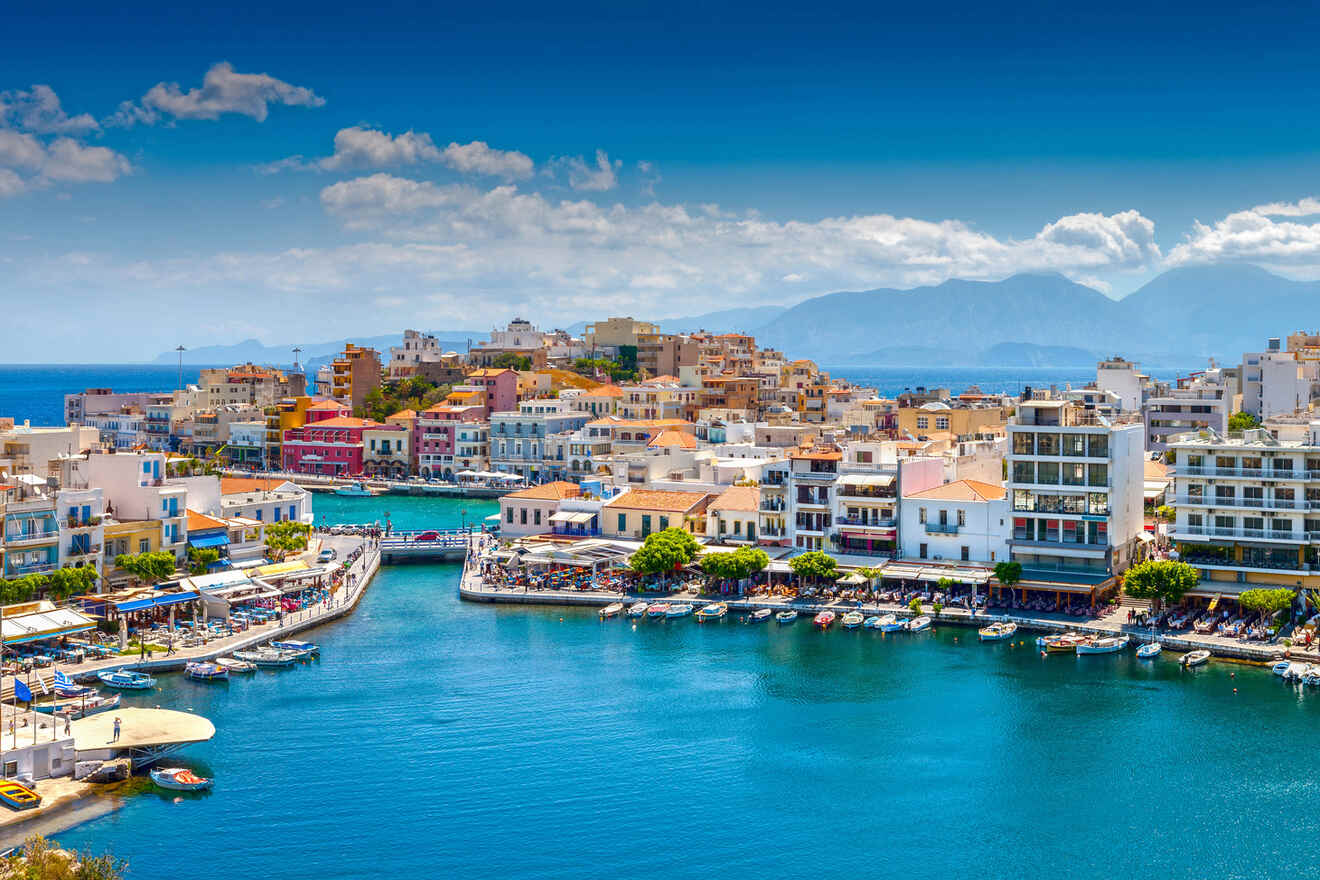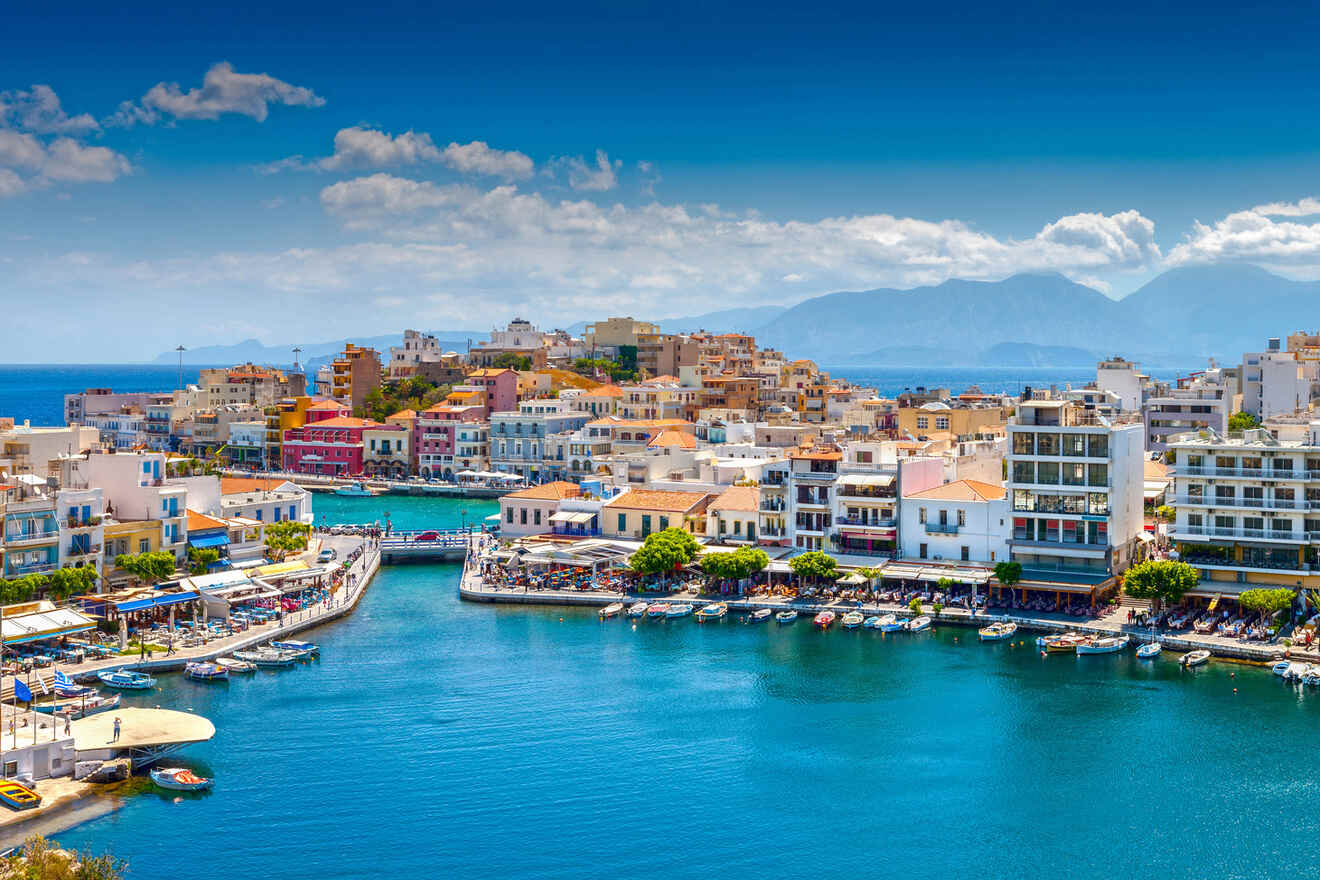 Hello fellow travelers, and welcome to the largest island in Greece and the 5th biggest one in the Medditirean sea! I think Crete is one of the best places to stay in the country and the picturesque views of the White Mountains and traditional food will make sure you'll share the same opinion by the time you leave! This place is every historian's dream come true! There's an archaeological museum at every corner and an ancient ruin in all the towns!
Are you looking for where to stay in Crete? Then you'll be happy that here you'll find the dreamiest crystal clear water surrounding the heavenly beaches from this island. I'm sure you'll enjoy the Cretan air as well; apparently, it has healing powers! Hippocrates, known as the "father of medicine," said that, so I guess we can take his word for it!
The villages on the islands are full of family run businesses, the best hotels, and local tavernas. Walk around the old town and admire the Venetian architecture and stop at one of the tavernas to eat some fresh fish!
In this article, I'll present the best Cretan hotels and areas in the village for each type of visitor. From luxury hotels to on-budget Airbnbs, I have made a list of some of the best places that you can find here. Even if it's the biggest Greek island, make sure you book in advance as they sell out quickly! Plus, most places have a free cancelation policy, so there's no risk if you change your mind!
Let's go! We have many villages to visit!
If you are in a hurry
Below you can find some luxury hotels and cool accommodation options for your next trip in Crete, all located in the central area of Chania:
Here is a map of Crete that will guide you through all the areas that I'm going to talk about: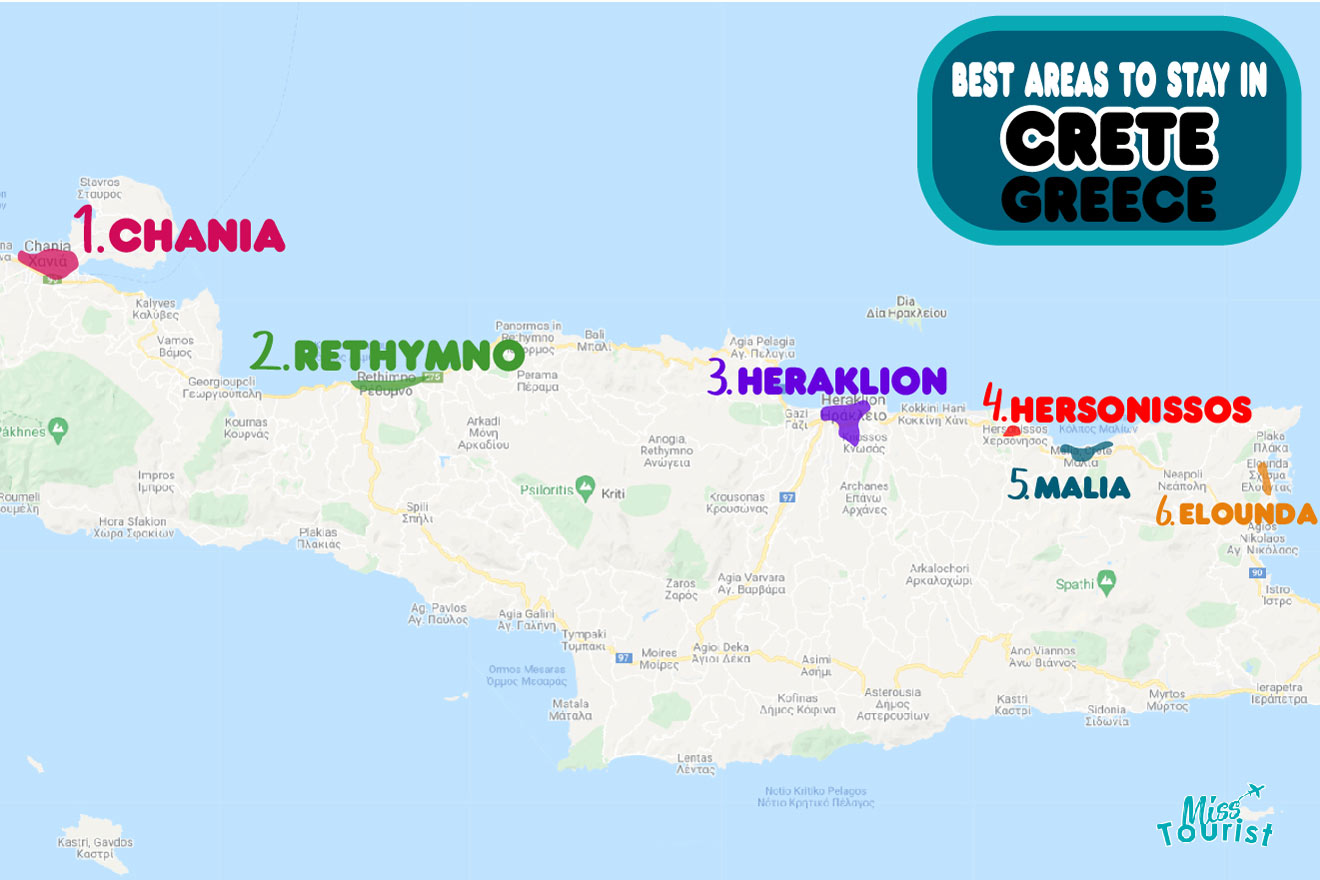 1. Chania – where to stay in Crete for the first time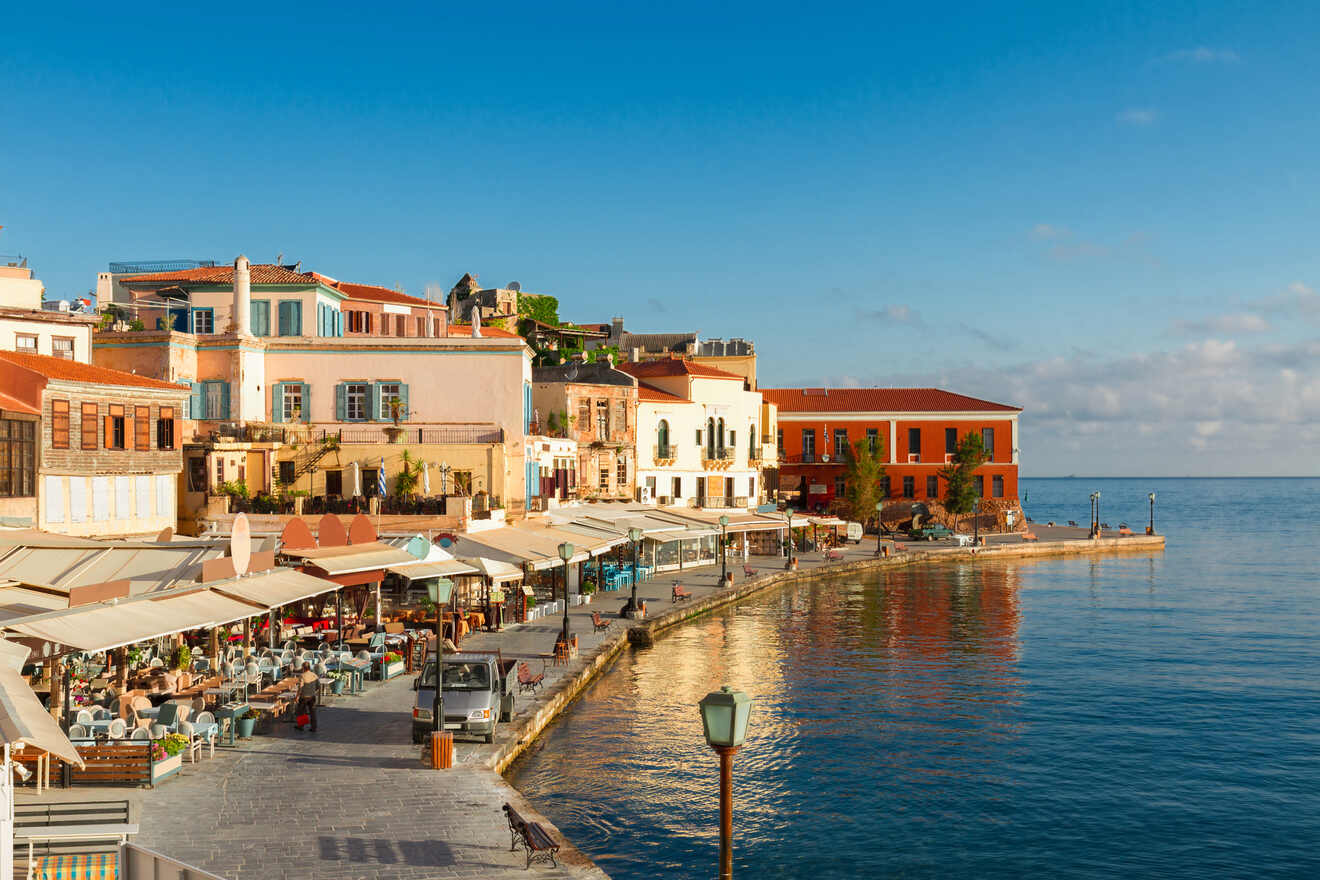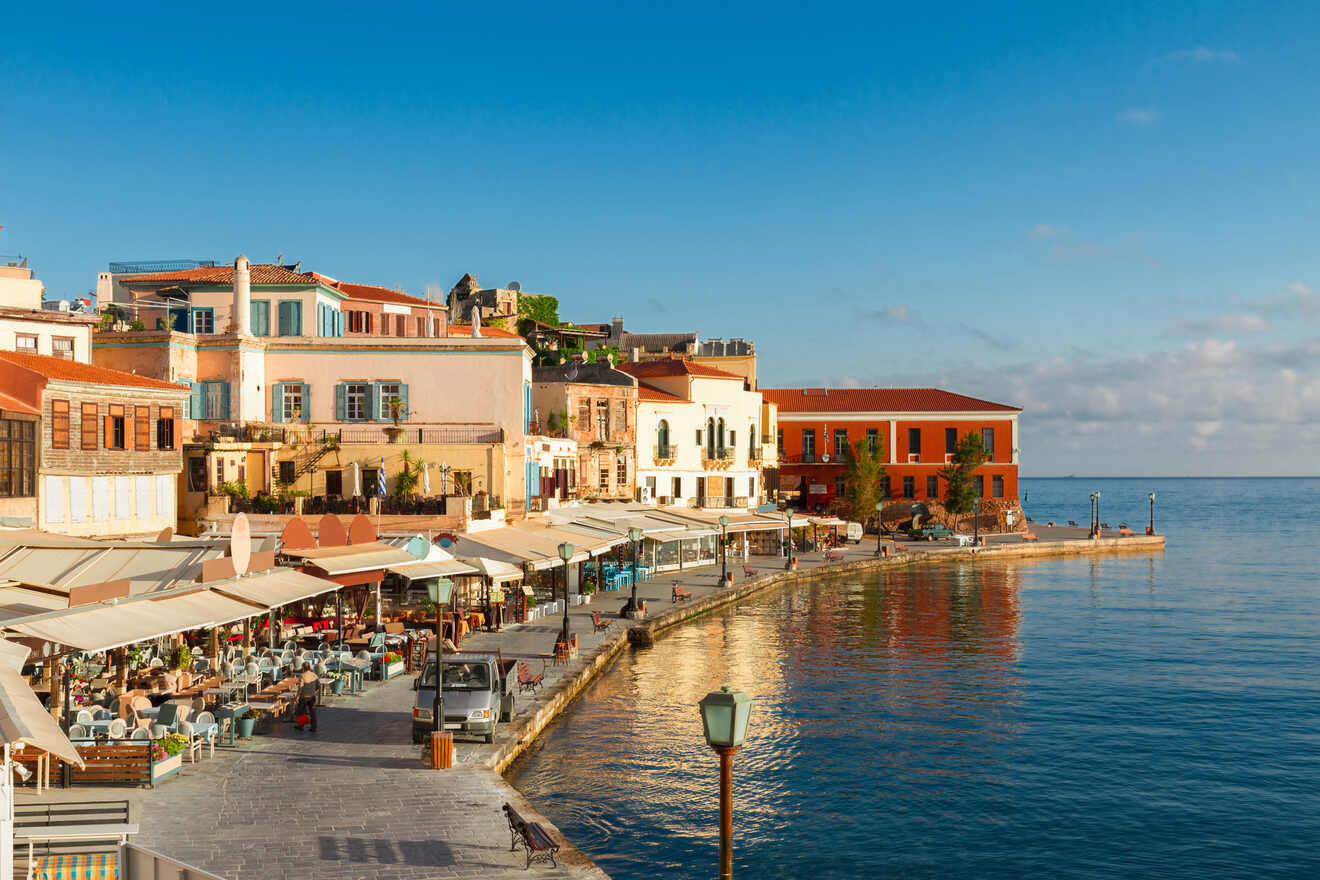 Are you ready to get lost on the streets of this stunning town in Greece? Also known as Hania, this beautiful village located in the west part of the island is one of the best places to stay in Crete. If this is your first time here, you should stay in Chania, as it is the second largest town and the most beautiful one if you ask me, so you'll have plenty to do or see! Just make sure you book in advance to get the best deals!
Divided into two parts, the new village and the old one, you'll fall in love with the vintage architecture, colorful villas, and small streets full of plants and multiple stairs. In the old part of Chania, you'll find the harbour that has an authentic Old Venetian lighthouse that will transport you back in time.
Sit at one of the local bars and restaurants fronting the sea, wander around the old town, explore all the souvenir shops and boutique hotels, mingle with the Greek people, and enjoy this magical romantic sight.
In the new part of this western Crete town, you'll find more shops; however, they are bigger, and some are designer! Stop at one of the nearby stores if you're in the mood to treat yourself. You're on vacation, so why not! You'll find large hotels in this area as well, but the best part about Greece is that there's a historical site at every corner!
Luxury hotel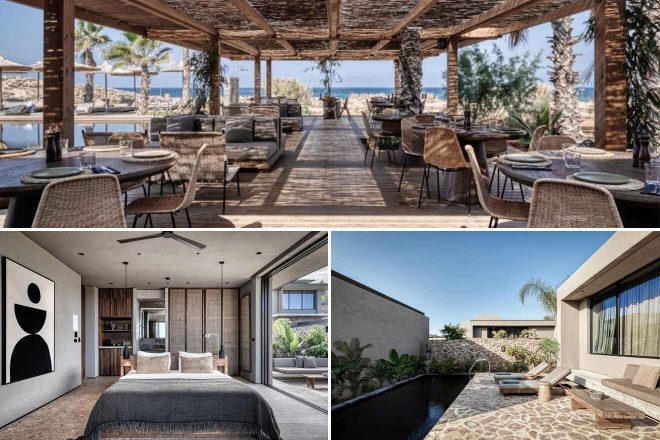 This beautiful resort in Chania has a contemporary design. I just love the huge windows in the rooms, giving you a chance to enjoy the great views from your bed! The hotel has a private beach area, so you'll be able to enjoy some peace and quiet. The breakfast at the restaurant is so delicious and they have family rooms for those traveling with kids.
Other accommodation options in Chania
mid-range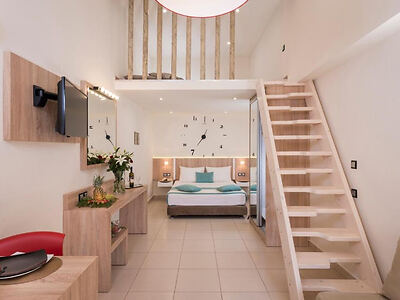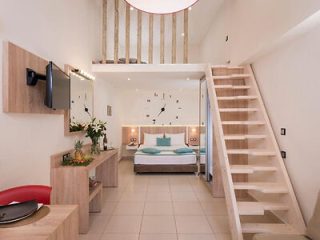 A family run contemporary hotel that has great rooms and a charming terrace
budget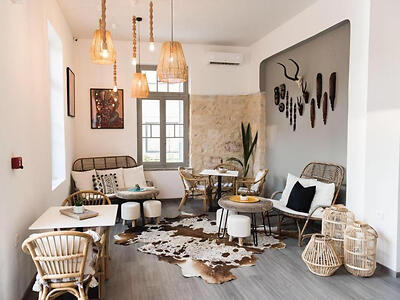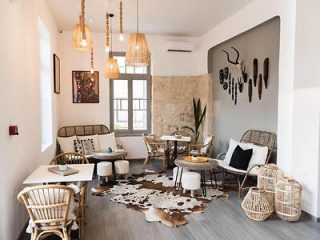 One of the best villas, with perfect comfy rooms and a stunning bar
airbnb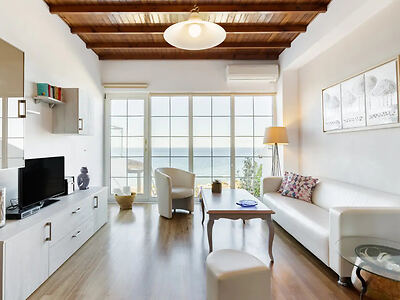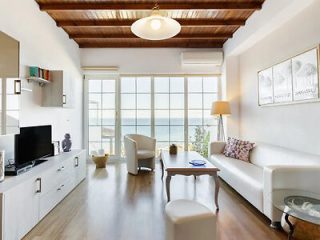 Stay in Chania in a lovely place with an amazing view of the sea 
Things to do in Chania
2. Rethymno – best place to stay in Crete on a budget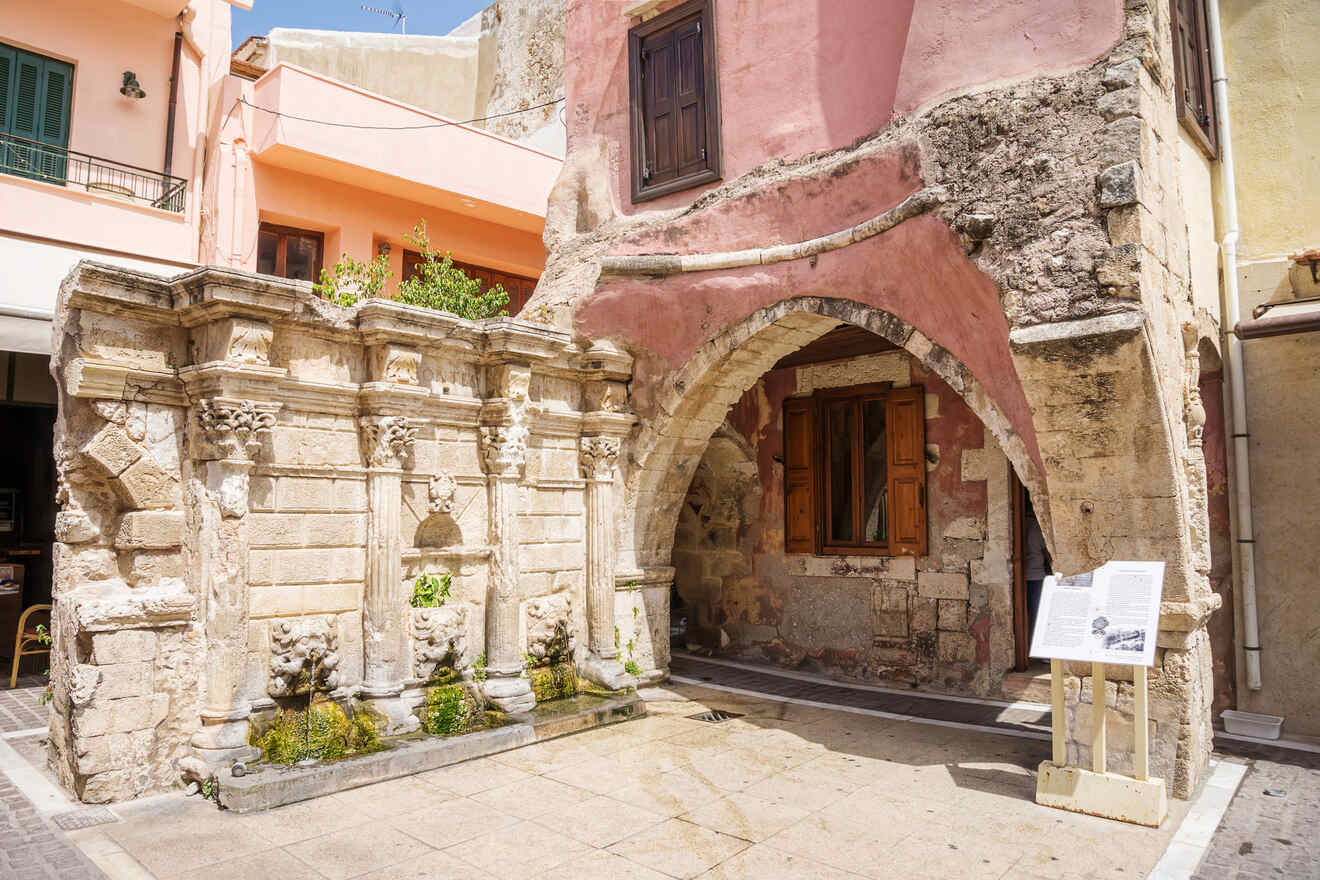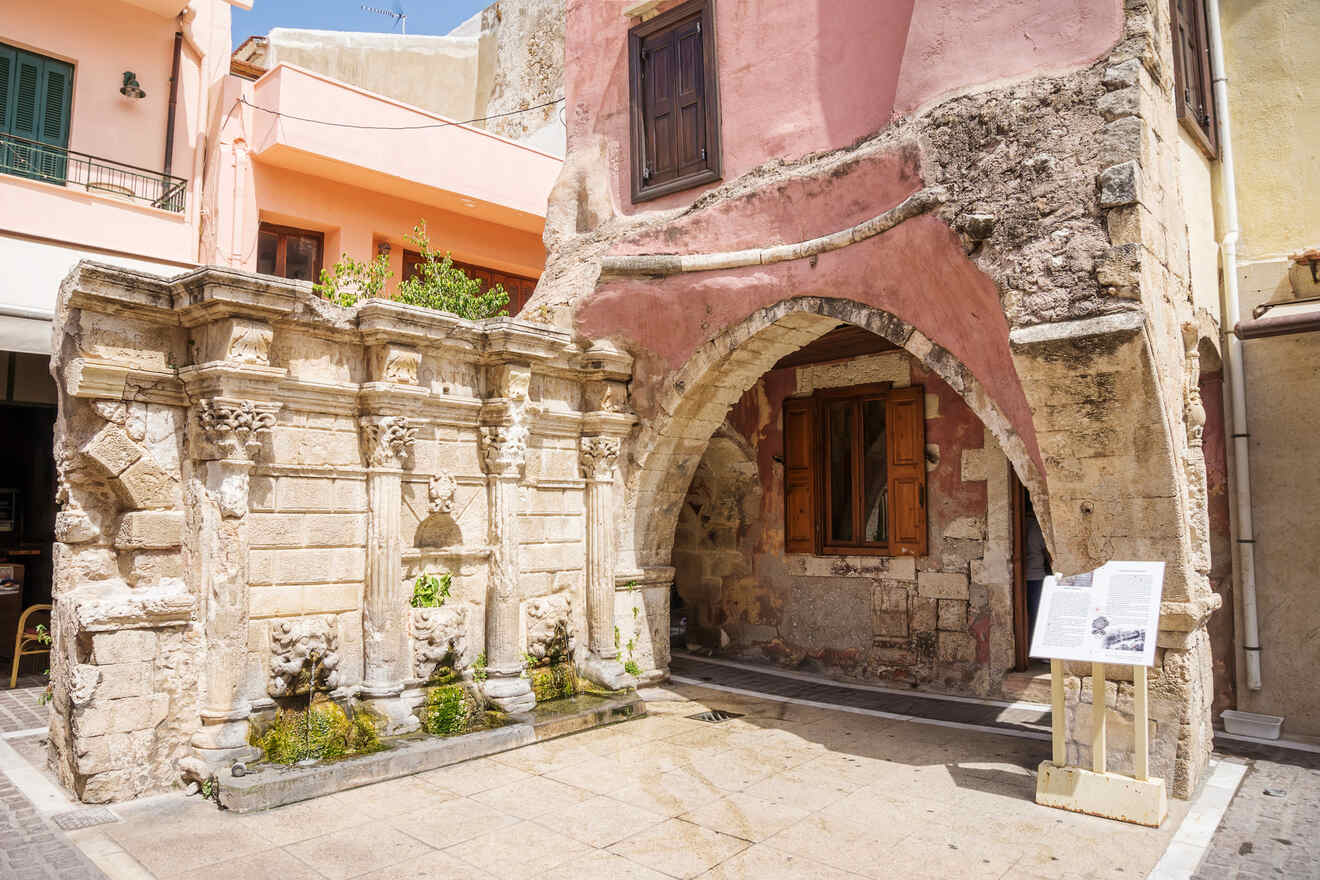 I'm sure you'll want to visit this perfect little village on the Greek island once you find out about the amazing hotels and little local shops around this area. The town is located in the north, just 45 km (20 miles) away from Chania. The long sandy beach will be the best place to relax and spend some time admiring the crystal clear water and enjoying the sun.
Travelers who go on holiday on a budget will love this place in Crete, Greece because it is a university town filled with students and you'll find tons of affordable hotel options.
The streets are paved with cobblestones, so it will be like traveling back to ancient times. Explore the beautiful beaches of Rethymno; they are great for water sports enthusiasts. Take advantage of the unique mountain scenery and wander around the charming traditional hillside villages but don't forget to visit an amazing museum or two in town.
The history in Greece is so rich you'll catch yourself falling in love with every little stone and fortress that has a hidden story and meaning. This medieval town is very well preserved, probably the best out of all the villages in Crete, so the atmosphere near the Orthodox churches and mosques is quite fantastic.
Spend your holiday nights at the greek tavernas, under the moonlight, starry sky, with a glass of the best wine, and enjoy this unique experience. If you want to visit more parts of Greece during your holiday; check this complete article on where to stay in Mykonos!
Luxury hotel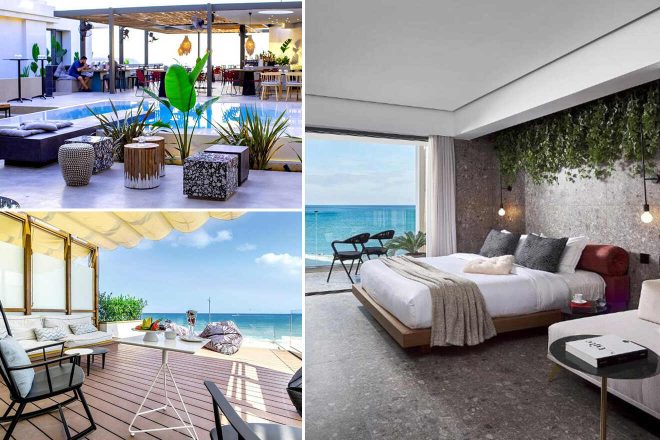 This charming Rethymno hotel located near the seaside has the most amazing rooms. Each unit has a patio from where you can admire the great views of the sea while drinking your morning coffee. Just have a look at the bathtub and you'll already be picturing yourself relaxing there with a glass of wine after a full day at the beach. If you want to explore around, the Venetian Harbour is located within a walking distance.
Other accommodation options in Rethymno
mid-range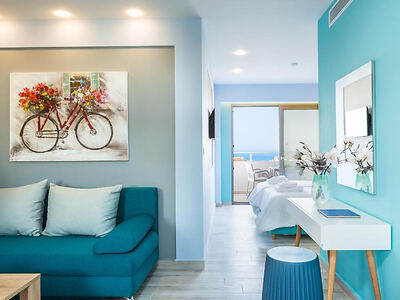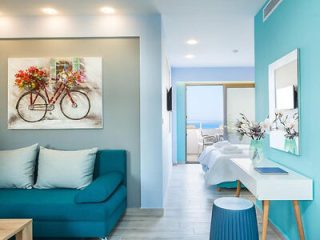 A charming boutique hotel with soundproof rooms, a bar, and an outdoor pool
budget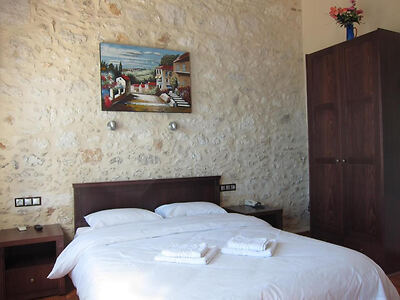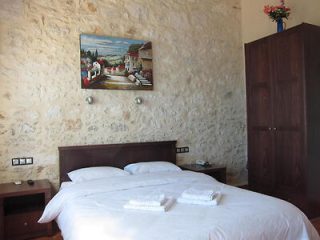 A Rethymno hotel with amazing rooms that have balconies with picturesque sea views
airbnb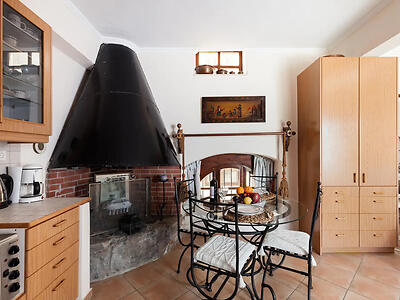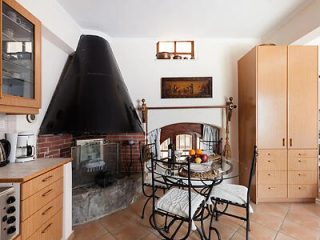 A great place with one outdoor private pool and a patio, you'll find beaches nearby
Things to do in Rethymno
3. Heraklion – where to stay in Crete for the urban life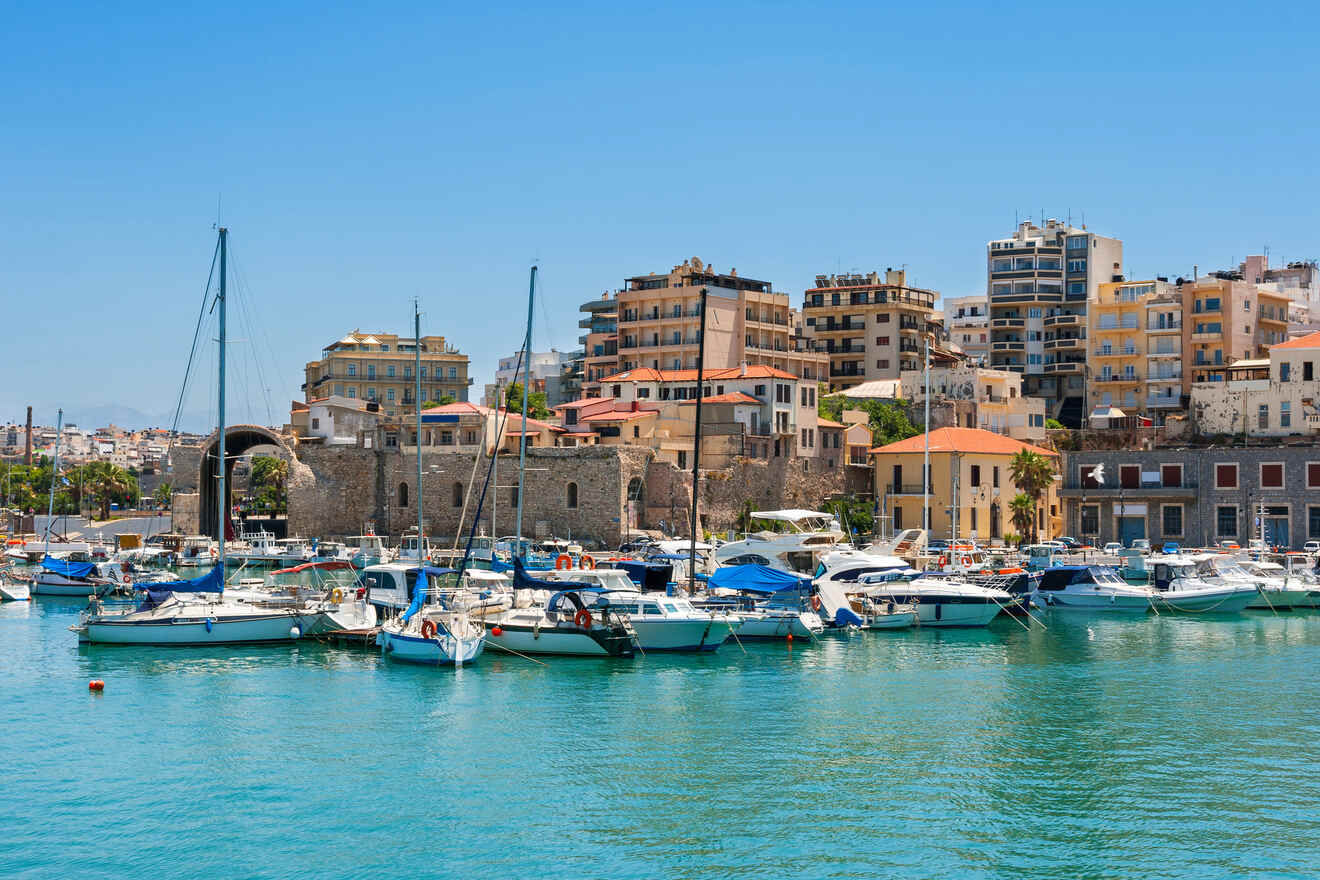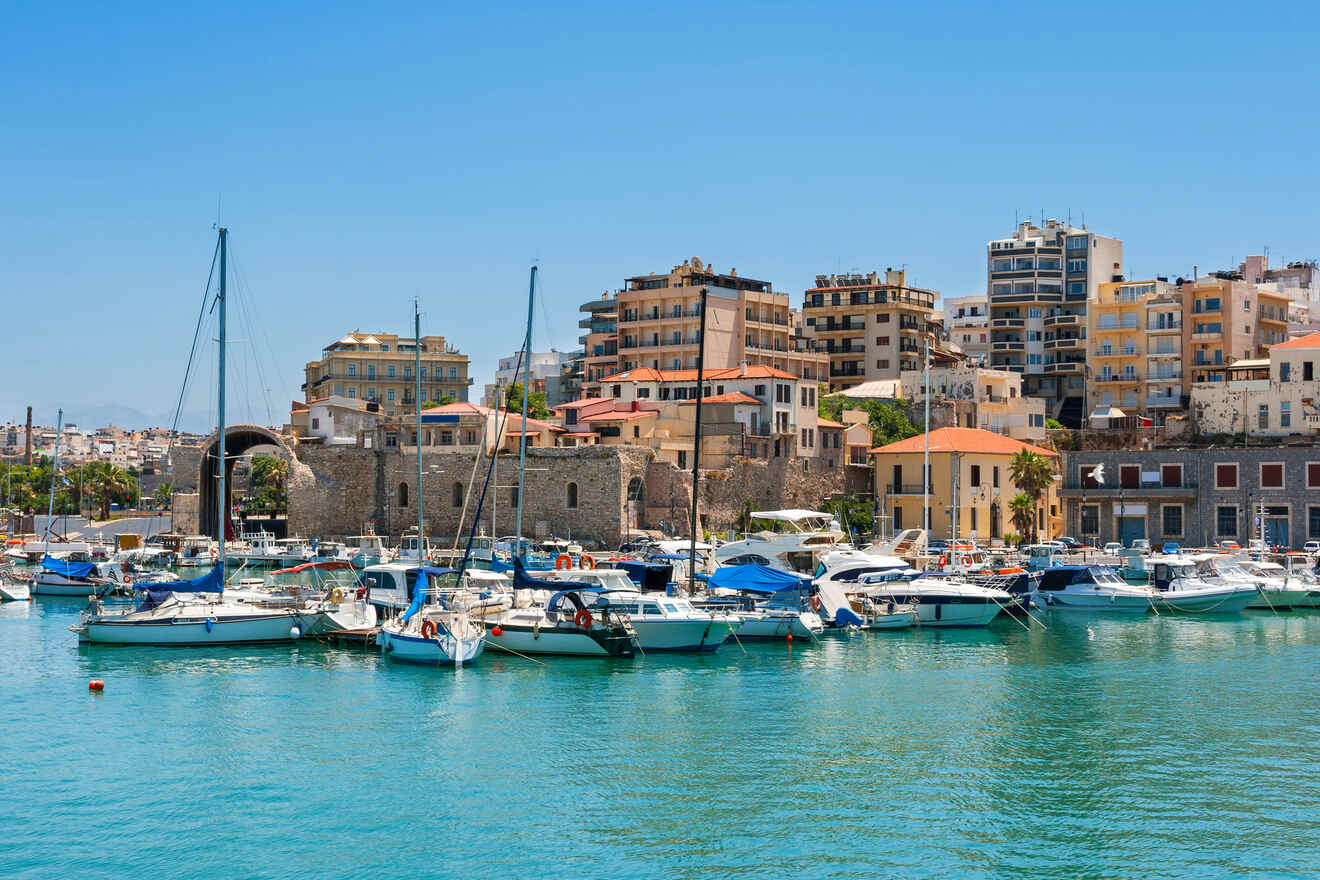 The capital city, also known as Iraklio, which lies on the island's north coast along the Sea of Crete, combines the modern and urban vibes perfectly with the older part of the town. Even if you decide to set your base here and stay at a boutique hotel, you can take the ferry to other islands as Heraklion has great traveling connections. Who doesn't love traveling by boat?
Don't let the designer shops and cool restaurants or bars fool ya; this fantastic island is filled with traditional old tavernas, history sites, and museums. You can visit the archaeological site of Knossos place, it will take you 20 minutes by car to get there
Still acting as a fishing village, you can go in the morning and see the fisherman catching the prey of the day and while you're there, make sure you check out the 16th-century fort (it's located within a walking distance) for some amazing views. If you stay in Crete, Heraklion, you'll find many valleys with vineyards and olive groves that look very romantic, just like the ones in movies, so couples are going to love these spots!
Although it's an urban city, you should explore the old city walls which the Arabs built. Initially, there were seven bastions in case of combat, but only the Martinengo Bastion managed to survive. You can find the tomb of the famous writer N. Kazantzakis and check out the stunning views! Check out this article for where to stay in Santorini if you want to find more cool towns and beaches on the Greek islands!
Luxury hotel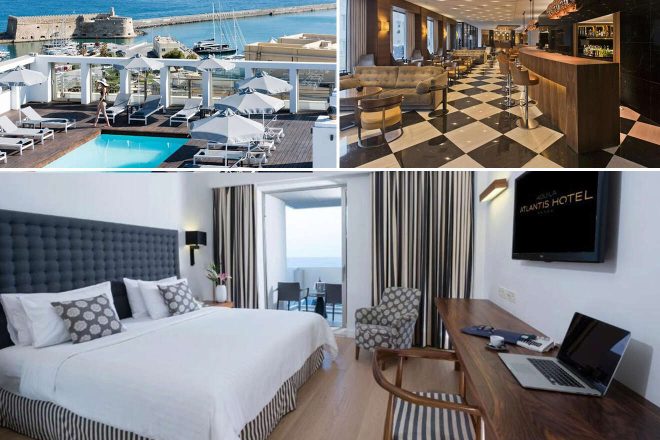 One of the best places to stay in Crete! I just love the sun loungers by the pool; what a great place to have a cocktail and enjoy the sunset! The rooms in the hotel have elegant decor with views of the village and the harbour. The food is delicious here, and there's a bar where you can enjoy a glass of wine before going up to your room!
Other accommodation options in Heraklion
mid-range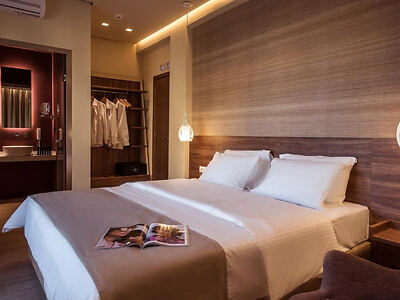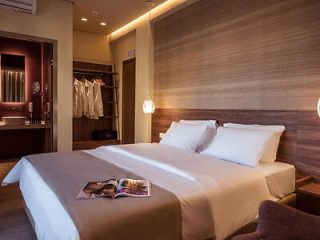 A perfect hotel very picturesque, with cozy rooms with balcony and a restaurant 
airbnb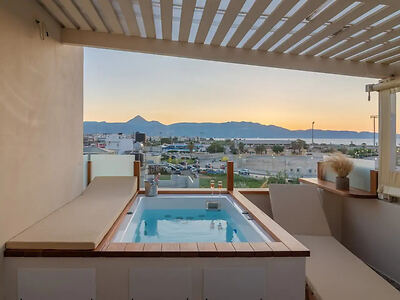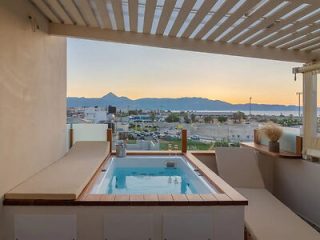 A gorgeous, spacious Crete apartment with a huge tub on the terrace
Things to do in Heraklion
4. Hersonissos – where to stay in Crete for families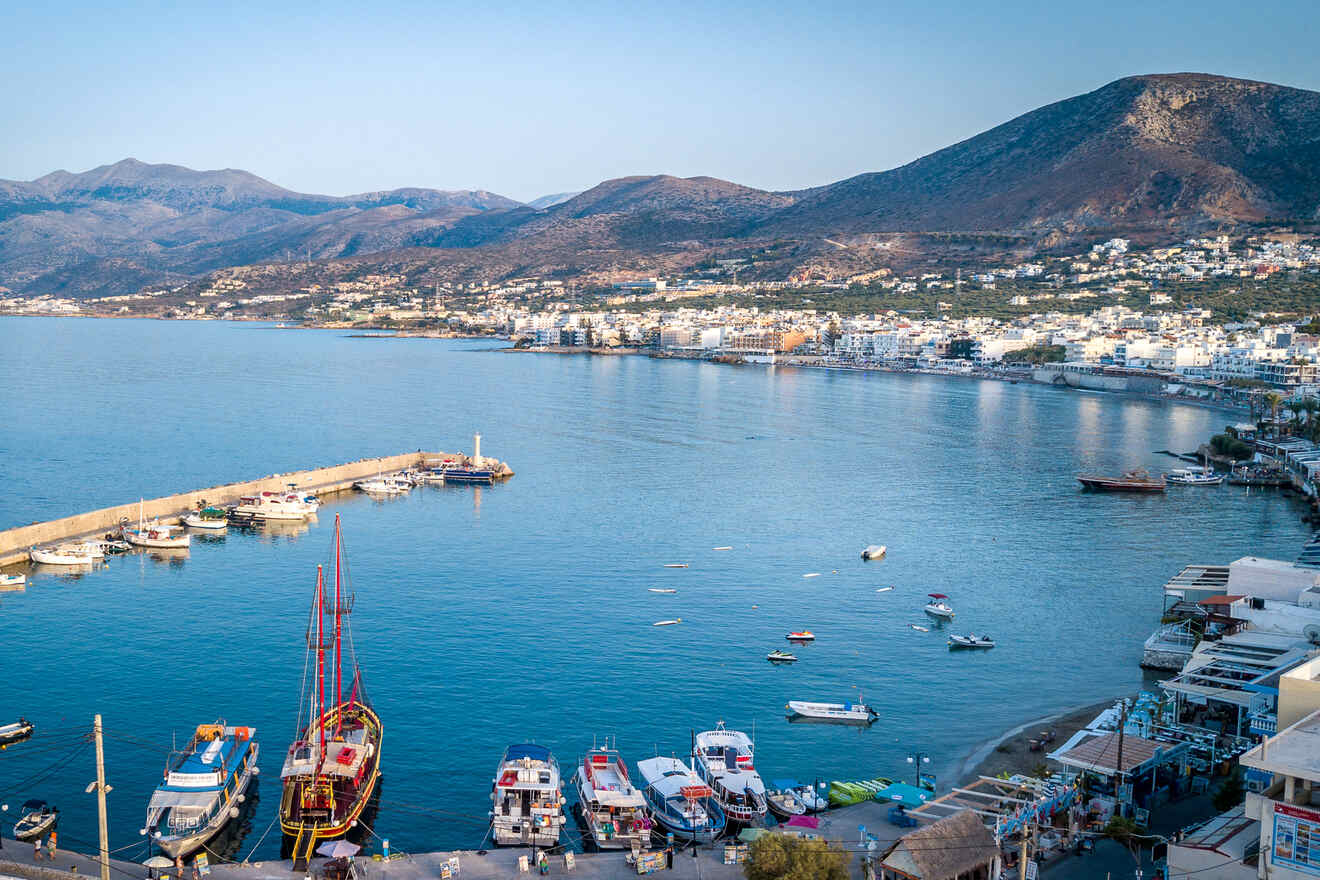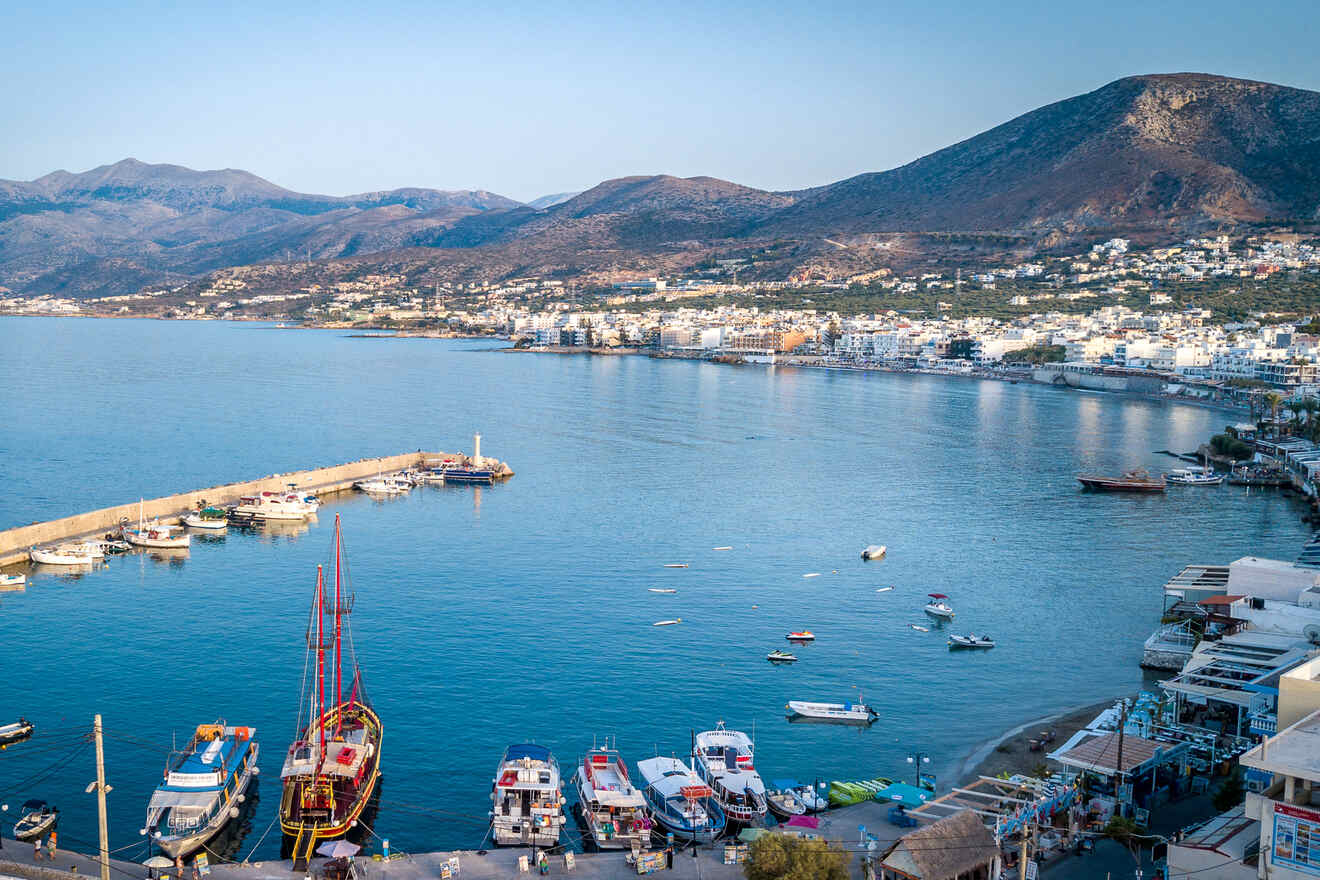 If you're planning a holiday with the whole family and want to find the best place to stay that will help you keep the kids entertained, Hersonissos is for you! It's located 20 km (15 miles) east of Heraklion and it's famous for its luxurious resorts, sandy beaches, and two fun aquariums!
There is also a fun, happy train to get from place to place and most restaurants here are well equipped with a children's area! Book your trip in advance if you stay in Crete, Hersonissos as it's a great place for kids and you wouldn't want to miss out!
This resort town has restaurants and bars with terraces where you can eat a delicious local dinner and enjoy the atmosphere of this Greek village at night. The views are magical and all the lights from the busy places blend beautifully with the turquoise water.
Make sure you take some time to explore the island and visit all the archeological sites and museums nearby. Shopping for souvenirs will never be this easy as there are tons of small boutique shops where you can find the most authentic and unique gifts.
I highly recommend taking at least one day just to relax and explore the Cretan beaches in Hersonissos. Take the family, bring some food, make a picnic and enjoy the beautiful weather and warm crystal clear water. Maybe go and watch the sunset near the rocks on the beach, it will surely look stunning!
Luxury hotel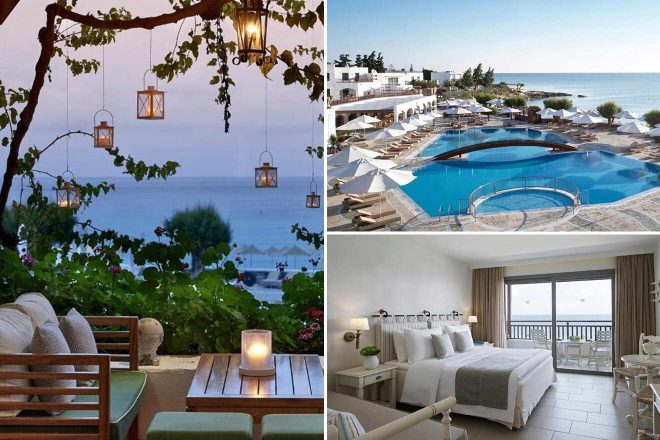 This luxurious seaside resort in Hersonissos has it all! With 15 pools both for adults and for children, a water park on site where families can have fun all day long, an open-door cinema, and a spa where adults can relax, this hotel will give you the experience of a lifetime! I just love romantic dinner settings near the sea surrounded by rocks and candles.
Other accommodation options in Hersonissos
mid-range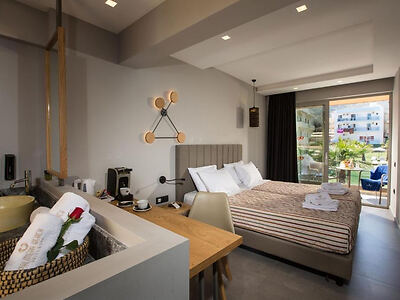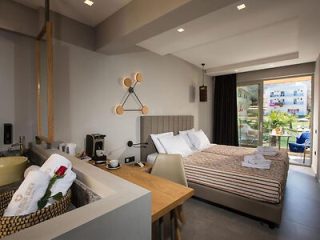 A great Hersonissos hotel with pools for children, spacious rooms with a bar and restaurant
budget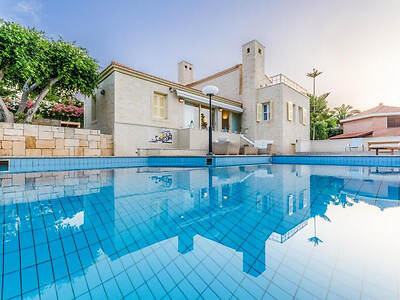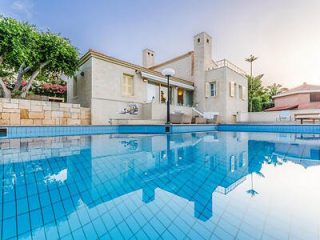 A perfect hotel for families with a shopping center on site and 2 pools
airbnb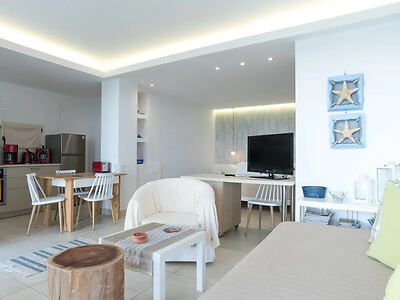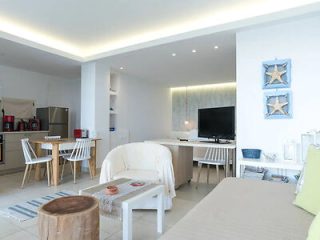 A great place by the beach with a private backyard and a modern cool room
Things to do in Hersonissos
5. Malia – best place to stay in Crete for nightlife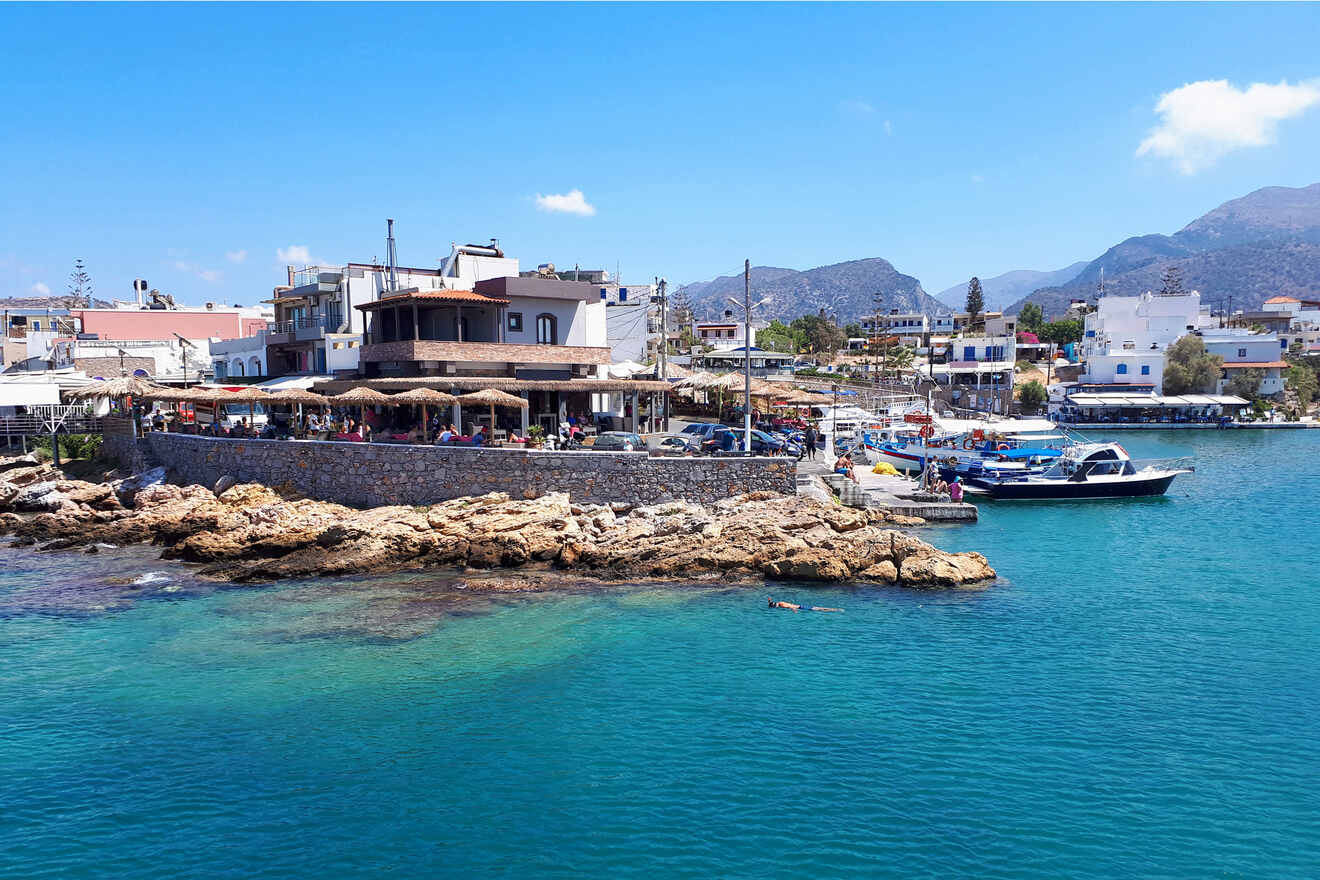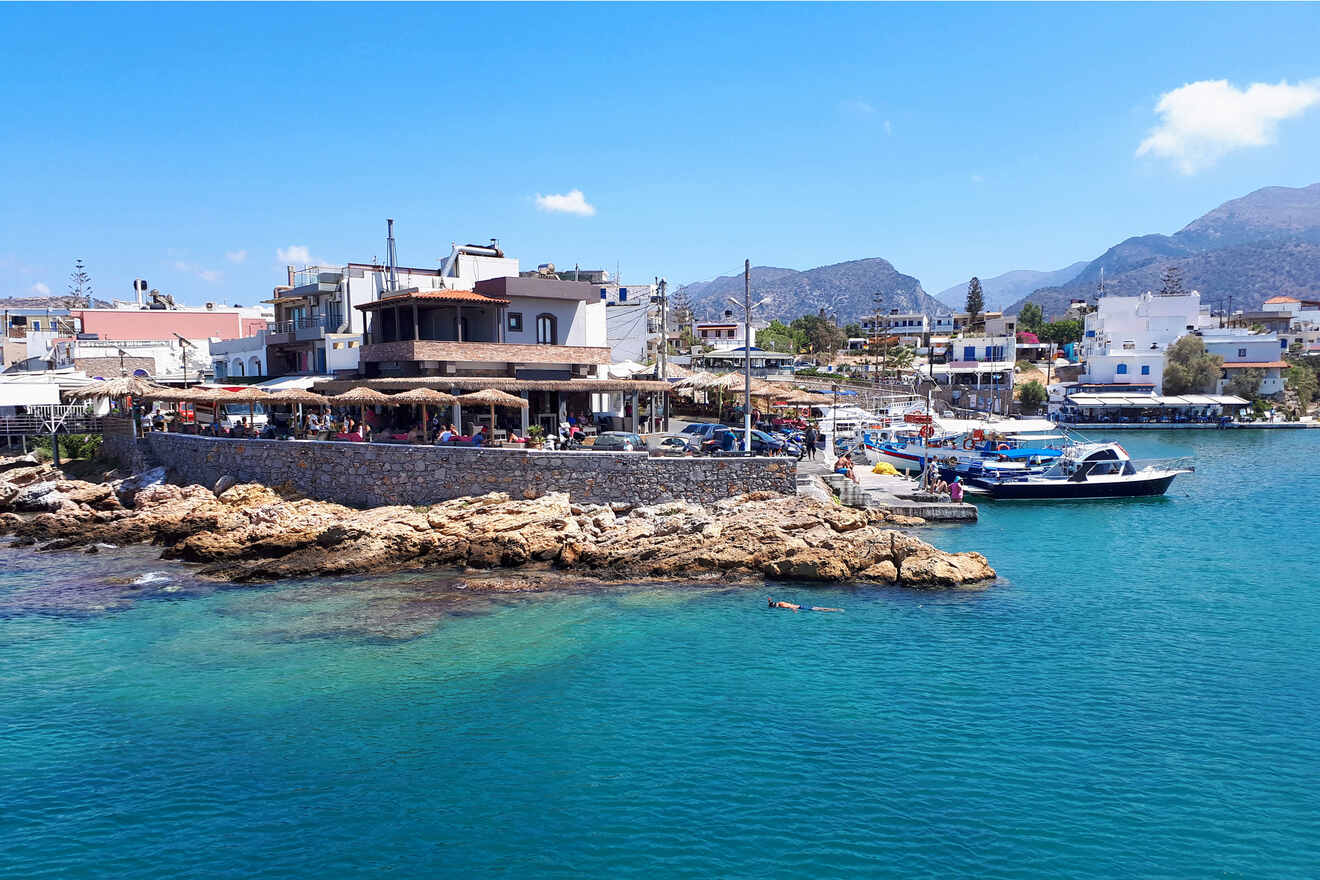 You better put your dancing shoes on! This village, located 30 km (20 miles) east of Heraklion, is the best city on the island for couples and people who want to party the night away in the Cretan bars. Have fun in the sun on the beach during the day and get drunk on cocktails in town during the night! If you're still in the mood for some exploring, don't worry Malia still has tons of ancient archaeological spots too.
On most streets, you'll find restaurants that serve delicious traditional food and some nice hotels to stay in while you visit Malia. You'll probably find a young European person at every corner of the city looking to have some fun as this is the best area to stay in Crete for nightlife. Everyone is very friendly in this town so don't be scared to mingle with everyone in the bars!
If you need a break from all the bars and restaurants, spend a night wandering around the small streets of Malia that have beautiful pastel-colored houses and plants hanging from the windows. I highly recommend exploring the old part of this beautiful village while the sun sets over the island, couples are going to love this fantastic experience!
Luxury hotel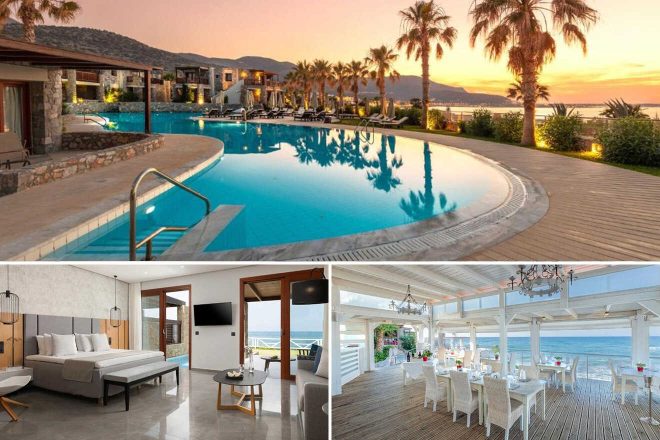 Wake up in this Greek paradise after a night of partying in the town! I love the atmosphere of this hotel, which has a private beach, 4 swimming pools and a great restaurant which serves traditional food. Watching the sunset here from the big outdoor pool should be spectacular! Take some time off from bar hopping and relax in the luxurious spa.
Other accommodation options in Malia
mid-range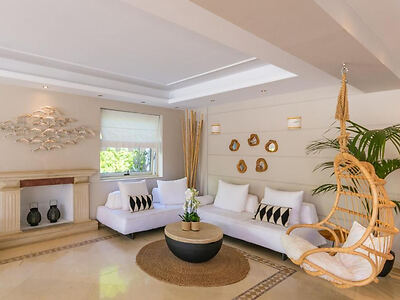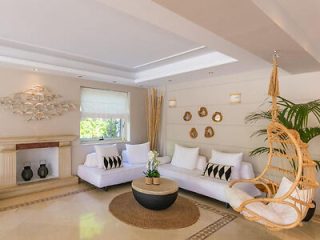 A tropical hotel with a sun terrace, swimming pool and spacious modern rooms
budget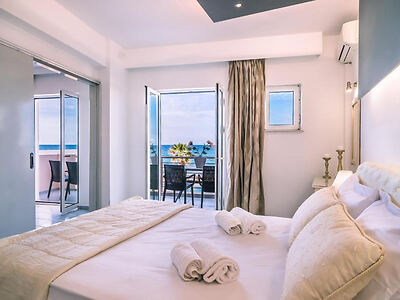 A hotel located near the beach that has comfy apartments and a garden
airbnb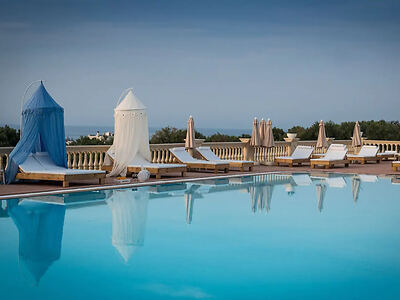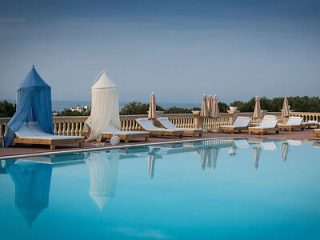 One of the best places to stay with beautiful sights of the sea and elegant rooms
Things to do in Malia
6. Elounda – where to stay in Crete for luxury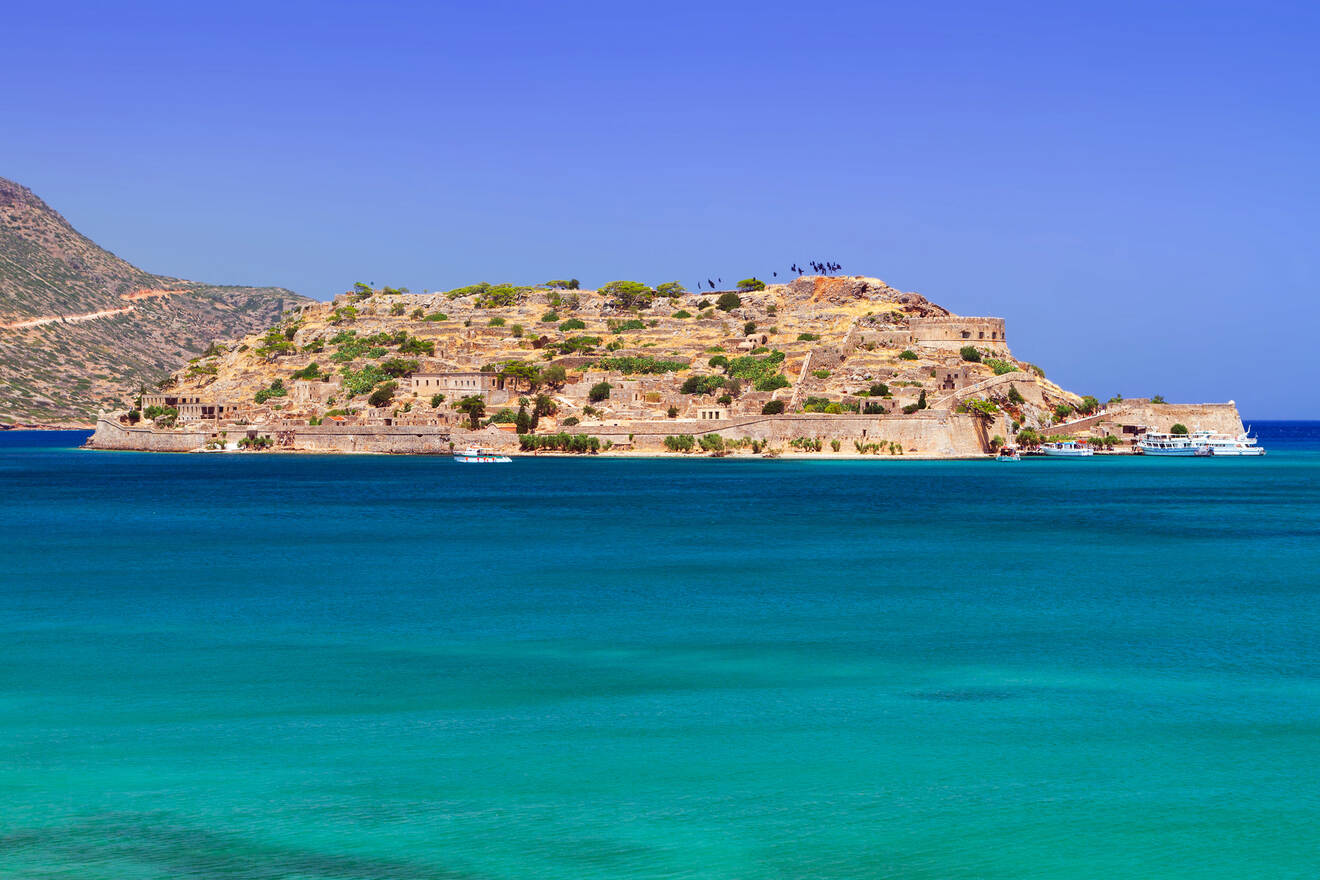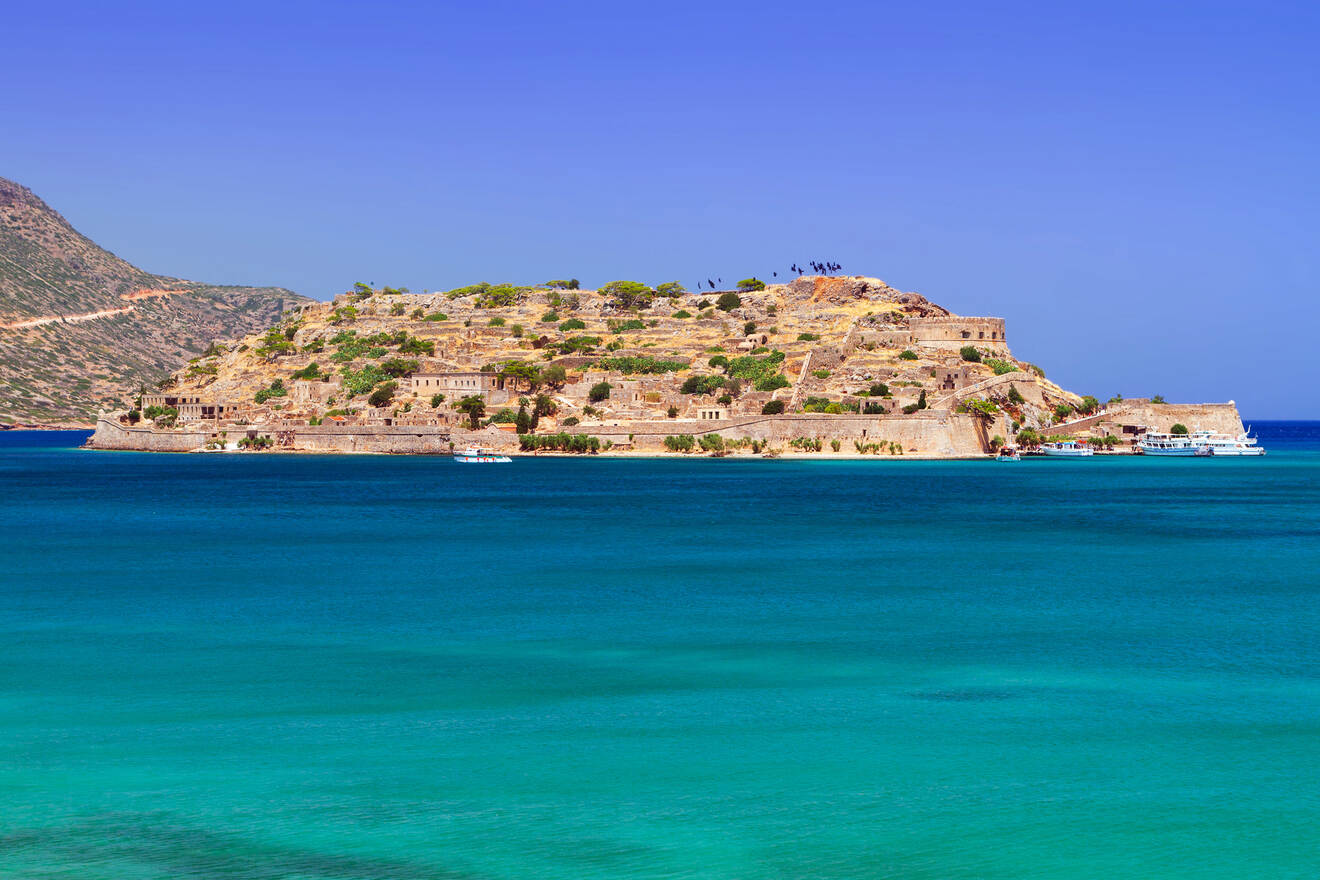 A former fishing village, this place is now one of the trendiest areas to stay in Crete; although it's small, this luxurious town has a lot to offer. Famous movie stars, like Brad Pitt and Angelina Jolie, have spent their holiday here so you'll find the best luxury resorts and beaches. That's not the only thing that makes Elounda a top tourist location, the picturesque landscape of the blue lagoon visible from the Gulf of Korfos harbour will take your breath away!
If you're looking for an extravagant place where to stay in Crete, I've found your match! You can enjoy many things in this perfect city; you can go shopping around town or have dinner in a fancy restaurant and admire all the high-class people who are strolling around Elounda. Although this area has many contemporary aspects, you'll still enjoy that old town vibe and get to see archeological sites.
There are beautiful beaches near Elounda where you can enjoy some peace and quiet and maybe sit under a palm tree and watch the beautiful crystalline water. Another nearby place that you can reach is Spinalonga Island; you can take a day tour by boat to this deserted island which was used as a leper colony between 1903 and 1957. The sights here are unique and still see some of the ruins.
Luxury hotel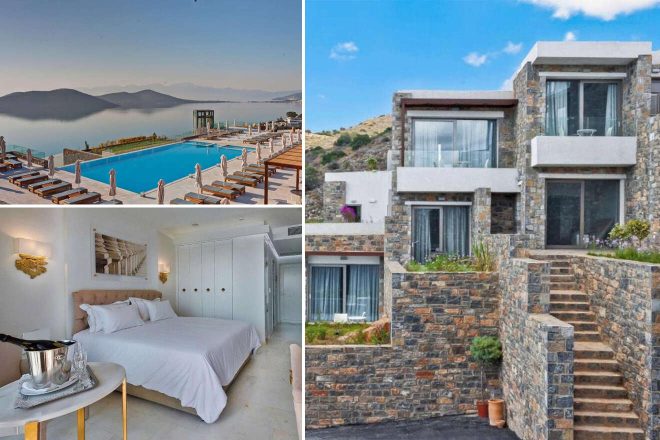 Did anyone ask for the best views in Crete? This famous boutique hotel in Elounda has the best outdoor pool in town. Sipping cocktails at sunset and admiring the blue sea will make you feel like you got lost somewhere in paradise. The rooms are very spacious and the restaurant serves the best sushi ever!
Other accommodation options in Elounda
mid-range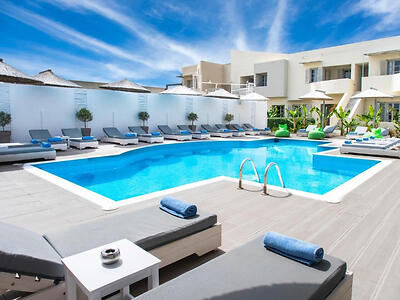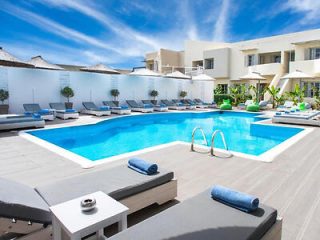 Admire the amazing mountain views from the outdoor pool and enjoy some yummy drinks in this hotel
budget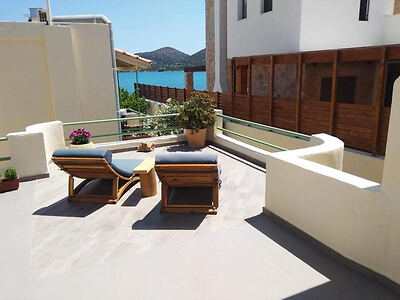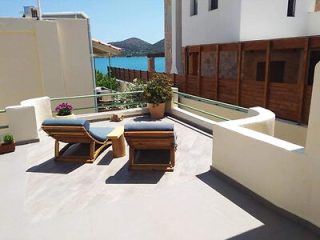 A great Elounda apartment with beautiful sea views, a restaurant and spacious rooms 
airbnb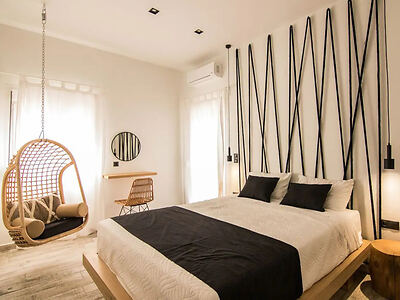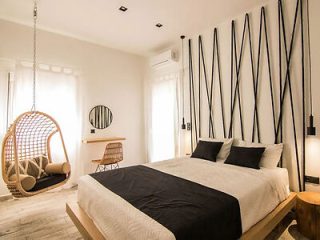 One of the best places to stay with 2 bedrooms, a kitchen and a beautiful garden with flowers 
Things to do in Elounda
Take the boat to visit Spinalonga Island
Go swimming in the blue waters of Kolokytha Beach
Sit in the town square and admire all the best-dressed people
Have dinner at the fancy Lotus Eaters restaurant by the sea
Enjoy the views near the ancient Windmills Pros Elounda
Have a relaxing night in at the boutique hotel
Sit under the trees on Paralia Schisma Elounda beach
Visit the Spinalonga Fortress
Catch the sunset while sipping the best wine at BEERaki Pub
Eat some delicious fresh sushi at Eegospasio in the city
Go on a day trip to another Crete town to see the ancient ruins
| | |
| --- | --- |
| 👑 Luxury price: | €100 |
| 💵 Mid-range hotel: | €50 |
| 🛏️ Budget: | €30 |
| 🏠 Airbnb: | €100 |
| 💰 Accommodation prices: | Low |
| 📍 Best Area: | Chania |
| 🛎️ Best luxury hotel: | Domes Zeen |
| 👛 Best budget hotel: | Kumba Hostel |
BONUS: The 5 best beaches in Crete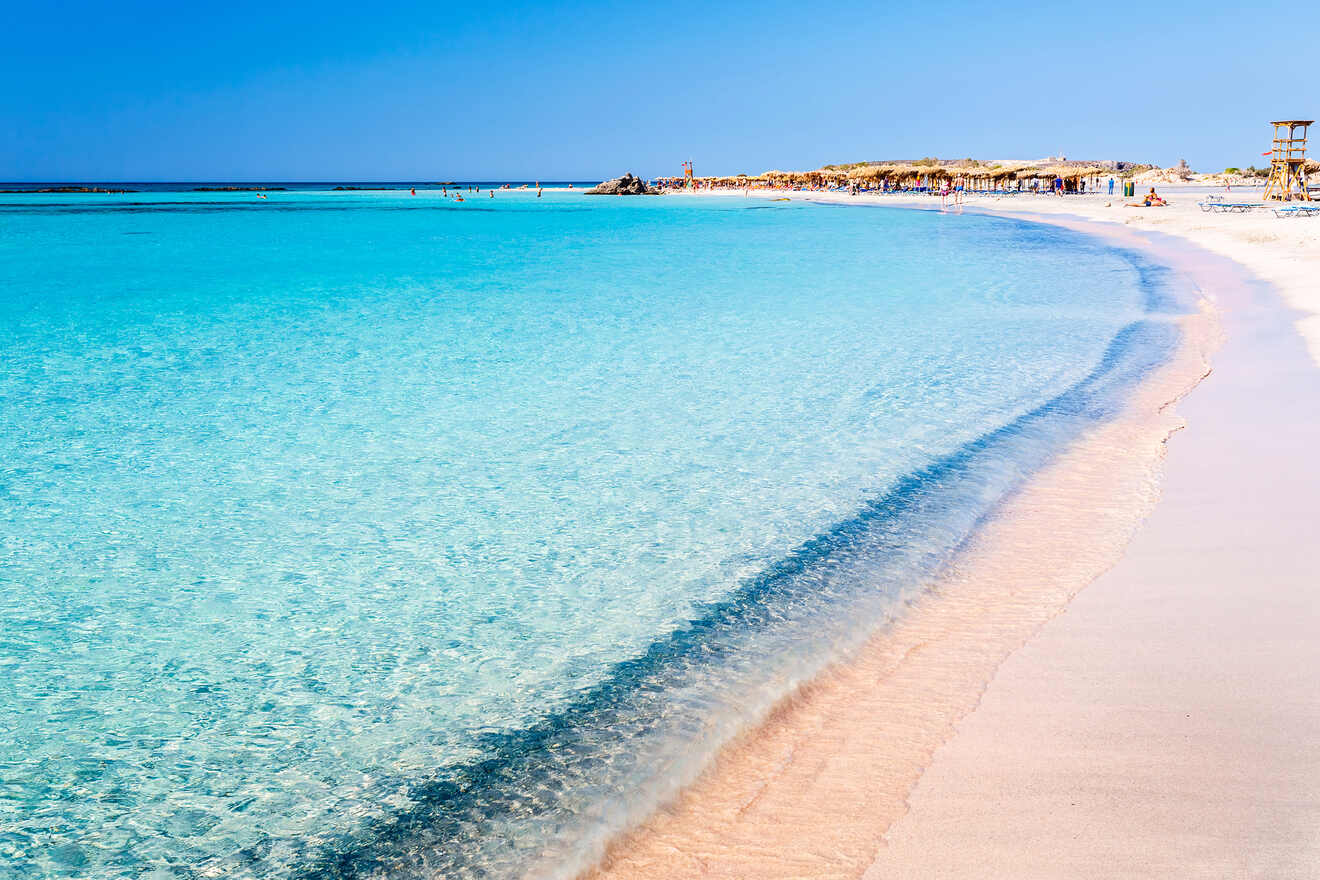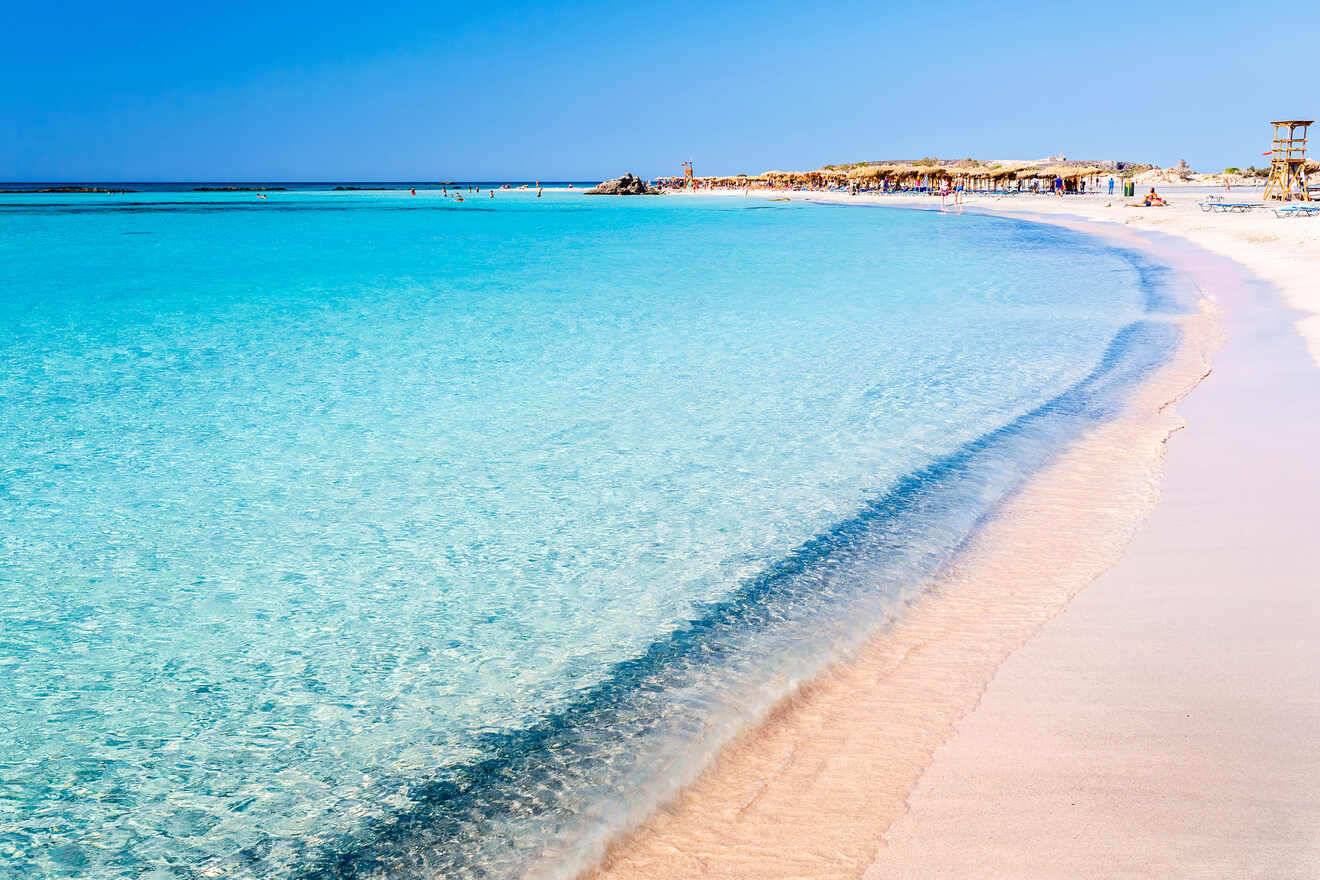 Whether you've already planned your holiday here or you're debating with the whole family about where to stay in Crete during your vacation, one thing is certain: you have to pack lots of bathing suits because here you'll find some of the best sandy beaches out of all of the Greek islands.
I know you'll have lots of famous archaeological sites to visit, not to mention there's a museum at every corner, but I'm sure you'll also be in the mood for some good old beach fun. And if beaches are your main reason to visit Crete, you might want to make sure you stay near some of these beauties.
FUN FACT: Zeus the King of Gods was born in a cave and he was raised on mount Ida. A place in Crete that has now become a popular ancient excavation site!
If it's good enough for the Gods, it's good enough for me! Let's see some of the best beaches in Crete that you should check out during your holiday! Everyone I know who went on vacation here recommended that it's best to rent a car, just so you can move easily from one place to another, so I think you should consider this so you'll have the best Cretan experience!
1. Elafonisi
Located on the southwestern corner of the island, this perfect place is just a 1.5 hours drive away from Chania. The beach is famous for its pinkish sand, which was white before but it turned this color because of the shells.
This lagoon beach in Crete can get quite busy during the summer, you can't be surprised since it looks like paradise, with blue water and pink sand. Families will like this place as the water isn't too deep so the kids can play in peace. You can explore around and discover some nice restaurants with traditional food.
2. Falassarna
This beautiful tranquil spot is located on the west end of the island just 40 km (20 miles) away from Chania by car. On the road to Falassarna, you'll see tons of olive groves and greek villas.
The water is amazing, although it's not really recommended for families to come here as the currents are really strong; however, windsurfers should check out this friendly beach in Crete. There are also many restaurants and tavernas that you can visit after a full day at the beach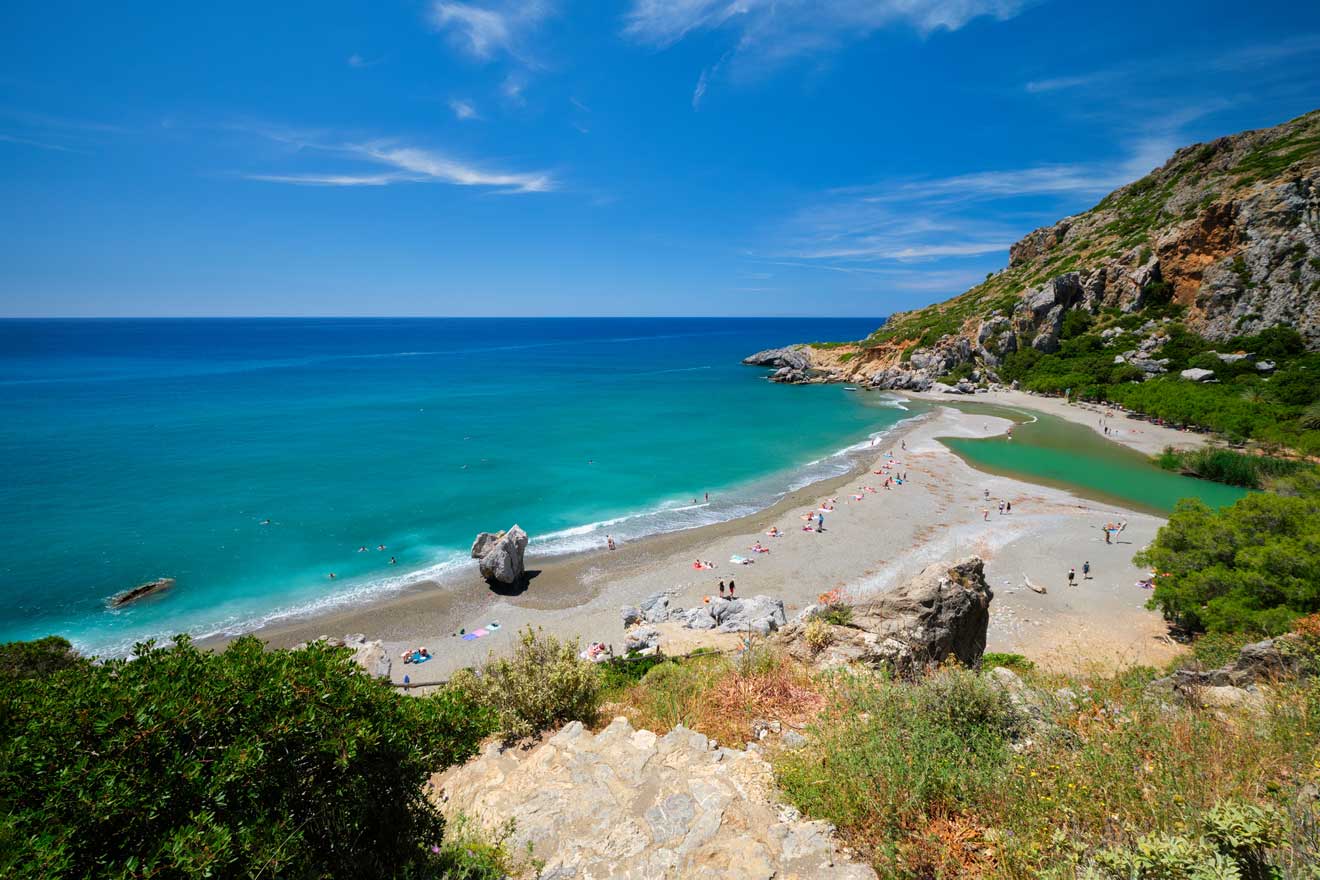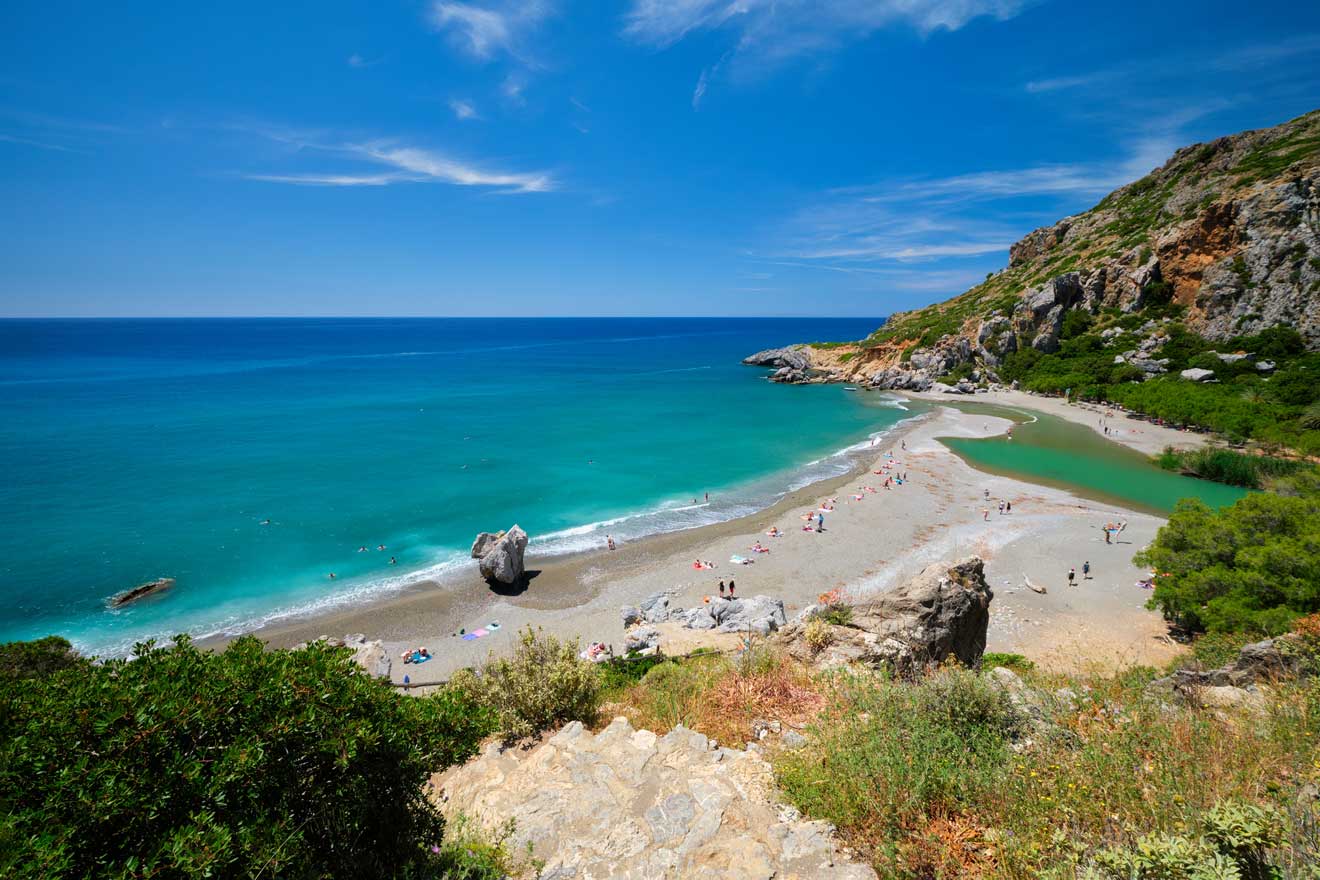 3. Preveli
A remote beach located on the south of the Cretan coast just 1.5 hours away by car from Chania; cliffs surround this place, so if we have any adventure fans here, then check out this one!
It might be a bit tricky to access the beach just because you have to go down a steep path, but hey, looking on the bright side you can get some exercise done during your holiday! Make sure you stop at one of the tavernas before going down to the beach for some delicious refreshments.
4. Balos
Located 55km (30 miles) northwest of Chania, this white sand beach is one of the best places on the island. Surrounded by rocks and crystal clear water this beautiful place doesn't have any restaurants at it's shore so you should buy a meal to go from one of the restaurants you pass on the way. Be careful on the road, it's quite rocky but once you get here it will be so worth it! Enjoy the silence!
5. Seitan Limania
Just 20 km (10 miles) away northeast of Chania, this hidden beach is worth the climb down from the top of the rocks surrounding it. The views are as beautiful as from above and from below. It's quite small so you won't have any other activities than tanning and swimming in the blue water!
Frequently asked questions about Crete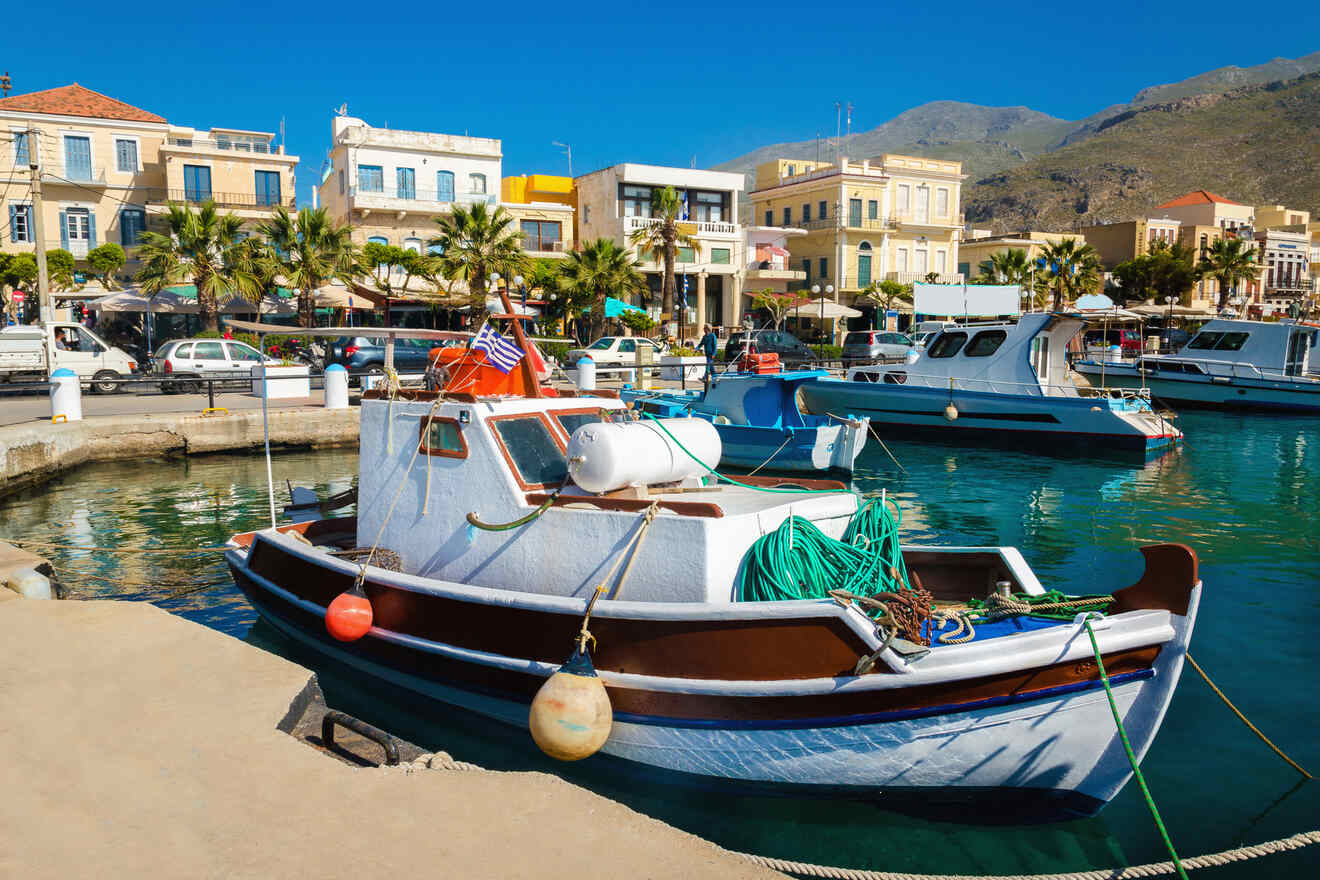 🏝️ What is the best part of Crete to stay?
One of the best places to stay in Crete is Chania, it has the best hotels like Domes Zeen and great restaurants. Plus, you will fall in love with the vibe in the picturesque Old town and there's an archaeological museum at every corner.
🌅 What is the most beautiful part of Crete?
The northern part of Crete is definitely the most beautiful and one of the best places to stay as it has most of the major towns mentioned above and the top tourist attractions.
💙 Which part of Crete is best for couples?
If you're wondering where to stay in Crete with your loved one then Malia should be your destination on the island. It is filled with many romantic restaurants, friendly locals, and picturesque views. Ikaros is the perfect resort for a romantic getaway. 
🌞 Which side of Crete is warmer?
Although the south part of the Cretan island is usually a couple of °C warmer, temperatures are roughly the same in all areas.
Conclusion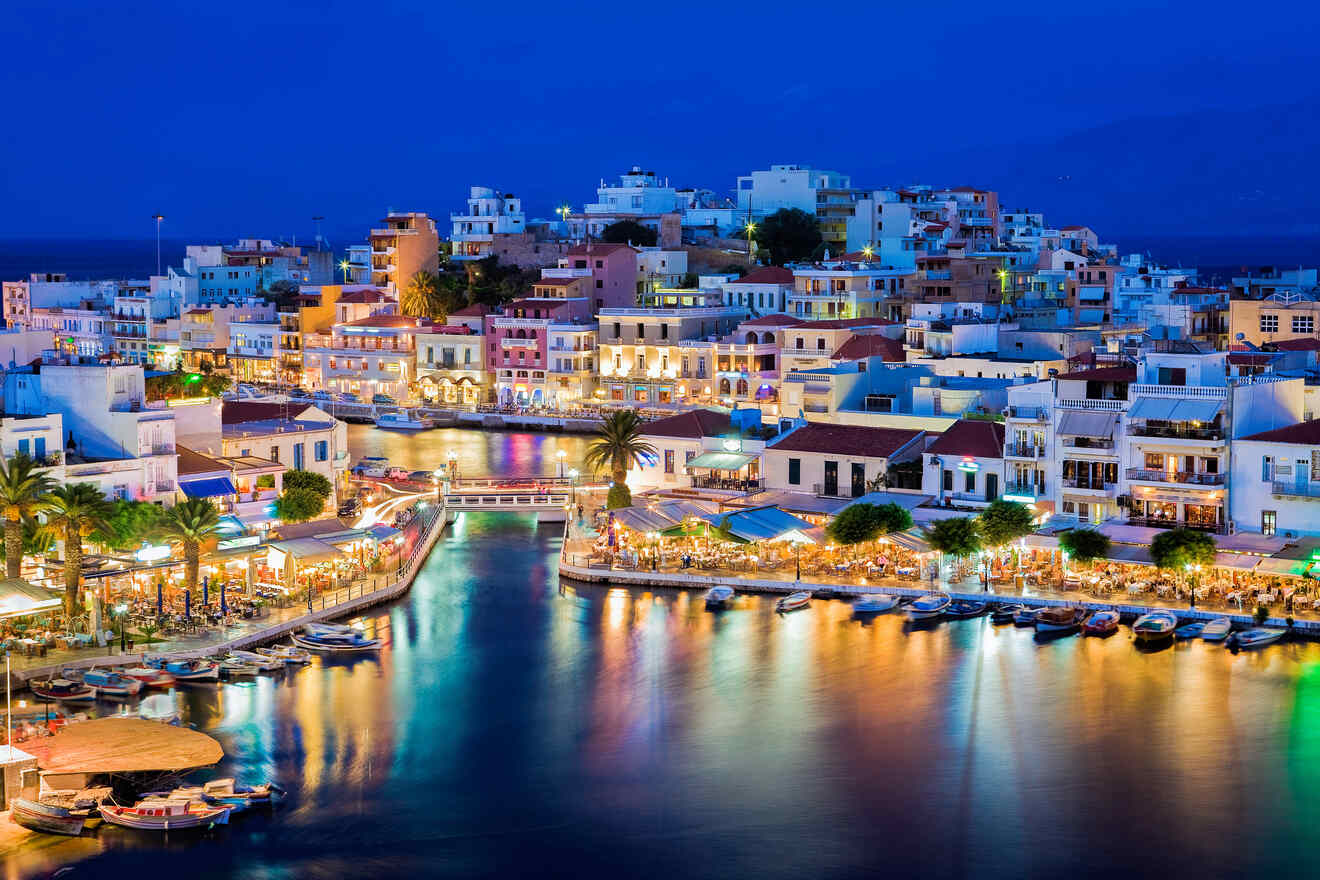 I hope you had fun during this virtual written tour of the villages in Crete, I sure did! I'm happy I've got the chance to help you find the best area to stay on the islands and which hotels are best suited for you! Make sure you book in advance as these sell like hotcakes! Remember you can always pick one as a base and explore from there.
I know I've given you tons of hotel choices from where you can choose the best one to stay in during your holiday in Crete but here are my top two favorites hotels from Chania:
This is where I leave you, I'm sure you're already sailing on a boat to Greece or dreaming about the pink Cretan sand! I wish you a fun holiday filled with adventures in the gorge or in the village and day drinking in all the friendly bars.
Do leave a comment below if you have any questions or suggestions for our fellow travelers!
Safe travels,
Victoria
---
Pin it for later!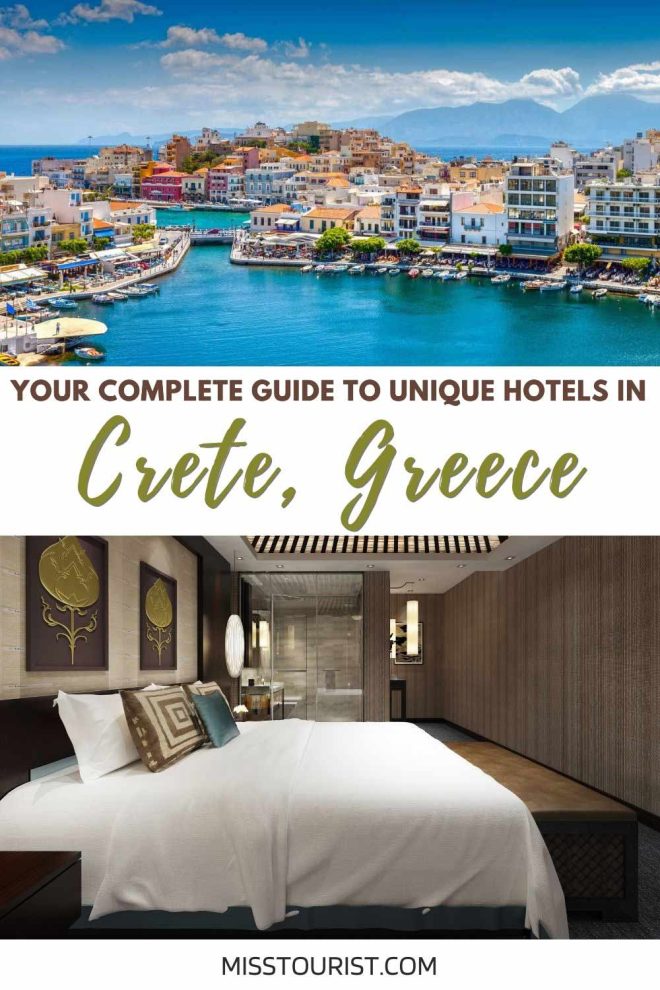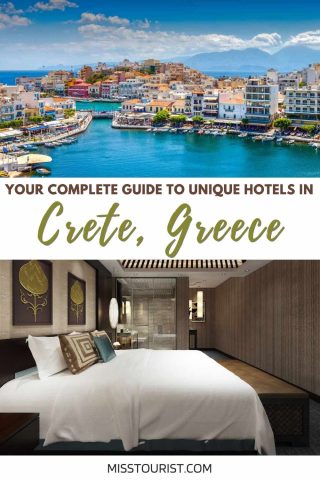 Pin it for later!