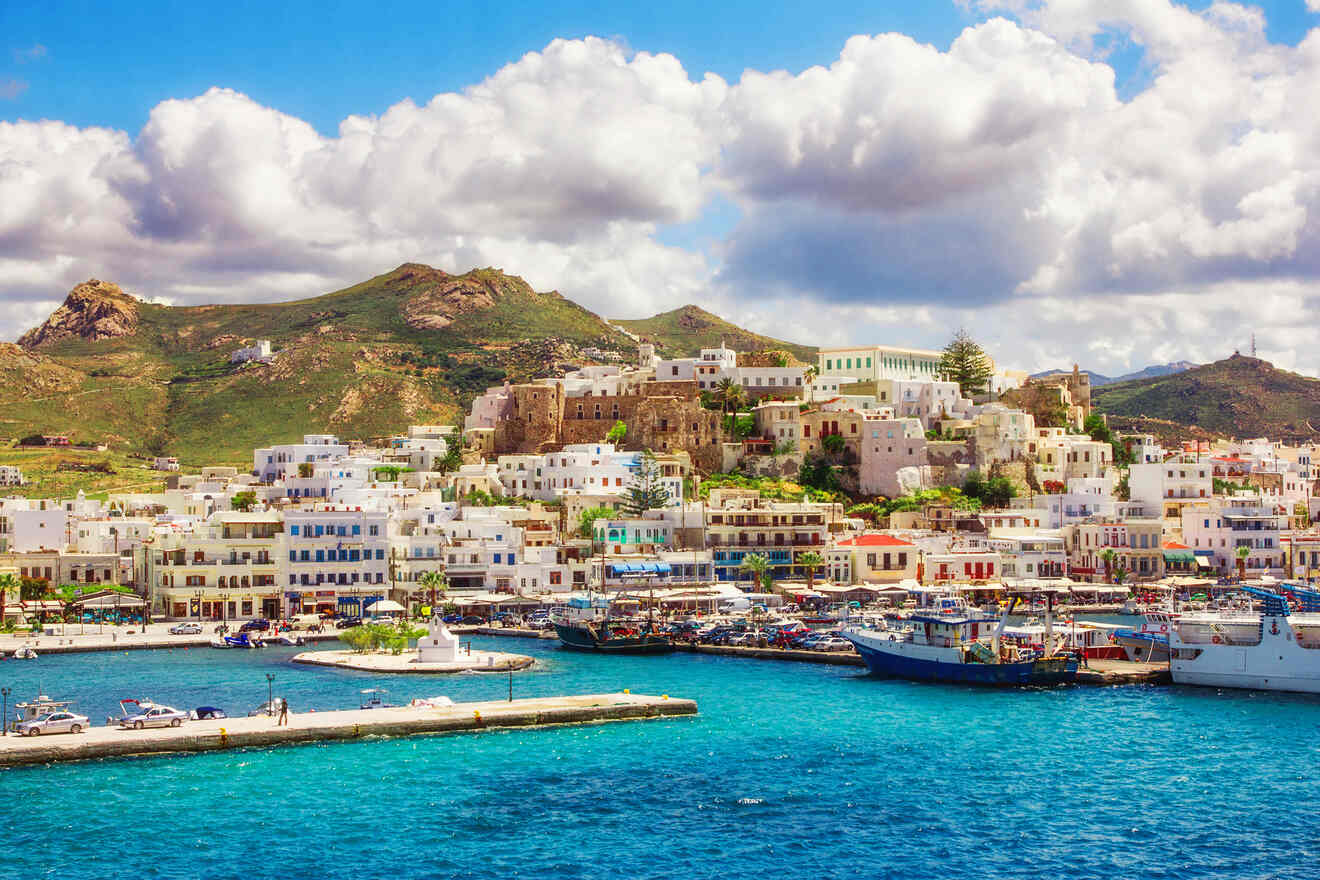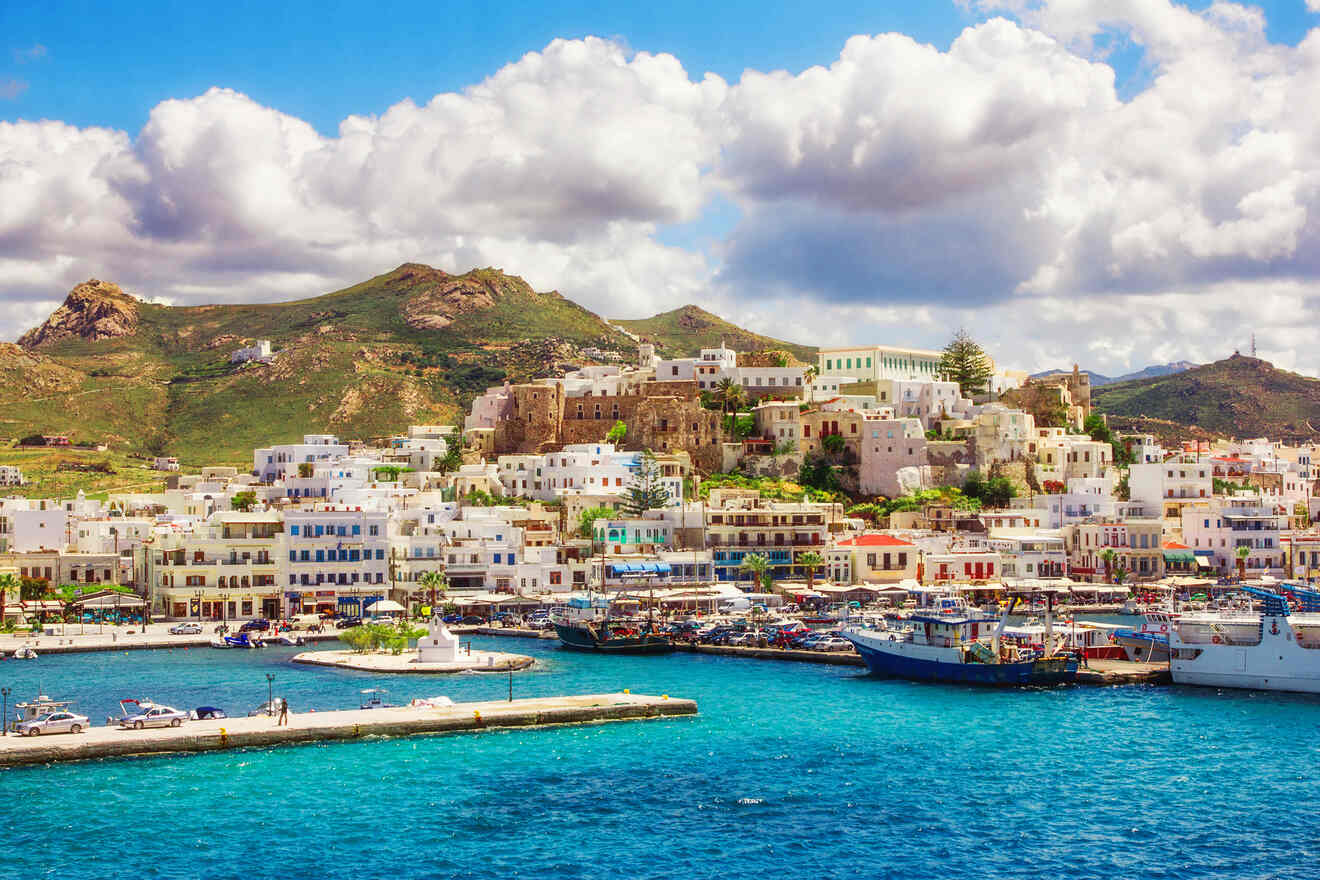 There are no words to describe the color of that crystal clear water, those amazing foods, and the beautiful Greek Island vibe in Naxos. A very nice summer holiday is just about to start for you!
Naxos is one of the popular vacation destinations in Greece and it is the largest island of the Cyclades Islands. There is one airport and a ferry port on the island so you can easily reach this incredible destination by plane or ferry.
Once you step onto Naxos, you will see a great number of tavernas (small restaurants) with octopuses hung in front of them (which looks very Instagrammable by the way), villages with cute narrow streets full of whitewashed buildings, and of course the amazing beaches. I'm sure you will have a great time on this beautiful island!
Naxos is a peaceful island compared to the other party islands in Greece yet, it still offers more than enough shops, cafes, and restaurants as well as great accommodation options. In this blog post about where to stay in Naxos, I will tell you the 5 top areas and their best hotels which I handpicked especially for you.
As these are the best ones, you have to be quick and make a reservation in advance in order not to miss them. Many of the hotels have a free cancelation, so don't worry if you change your mind. Also, there is no good bus service on the island so I highly recommend you to rent a car in advance too, to get around.
Let's start to explore the island!
If you are in a hurry
Here are the best places to stay in Naxos with hotels from luxury to budget. They all have great reviews and great locations!
Here is a map of Naxos with all the best 5 areas of the island I will be talking about in this blog post and giving hotels in each, so you can easily visualize them along the coast:
1. Chora (Naxos Town) – where to stay for the first time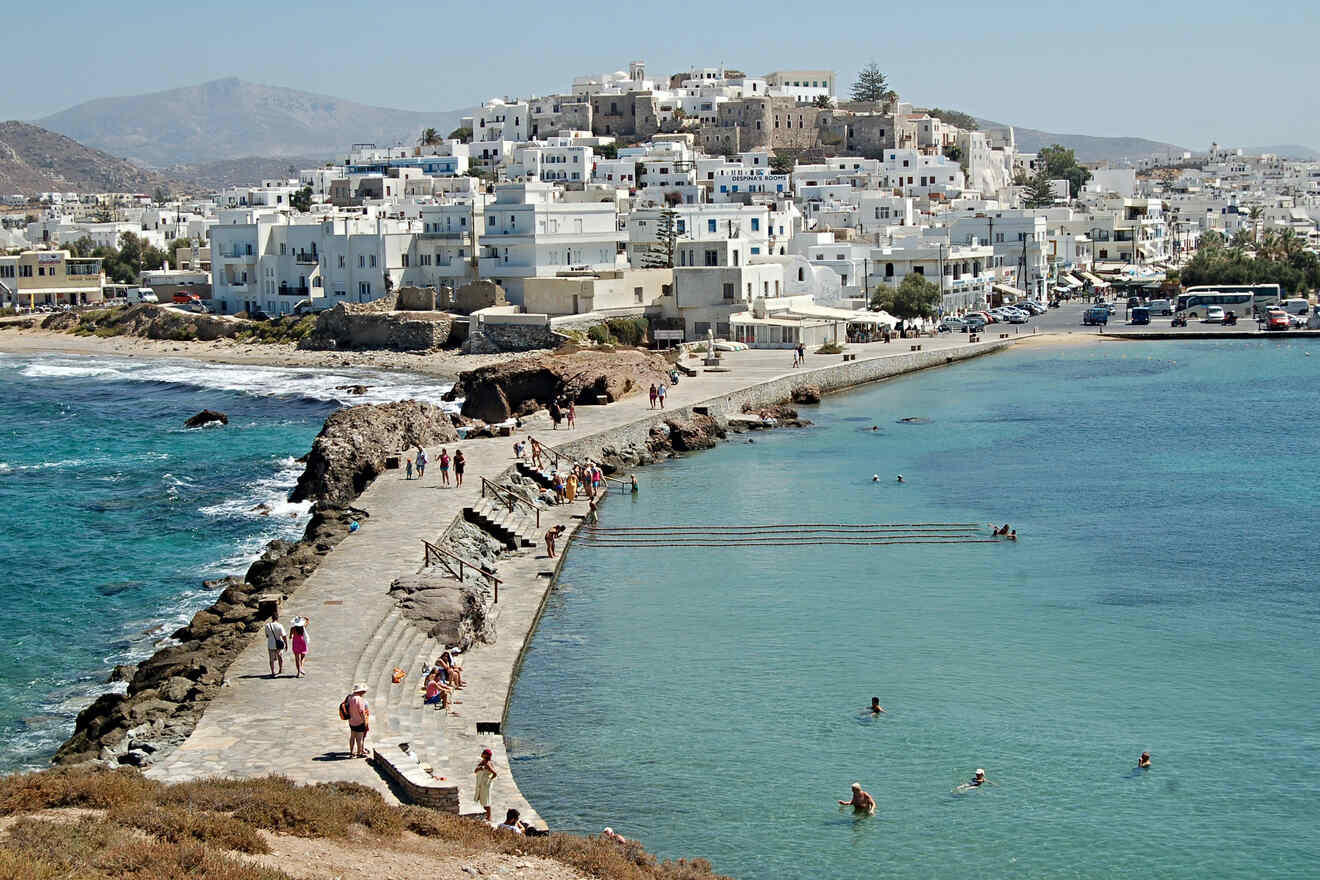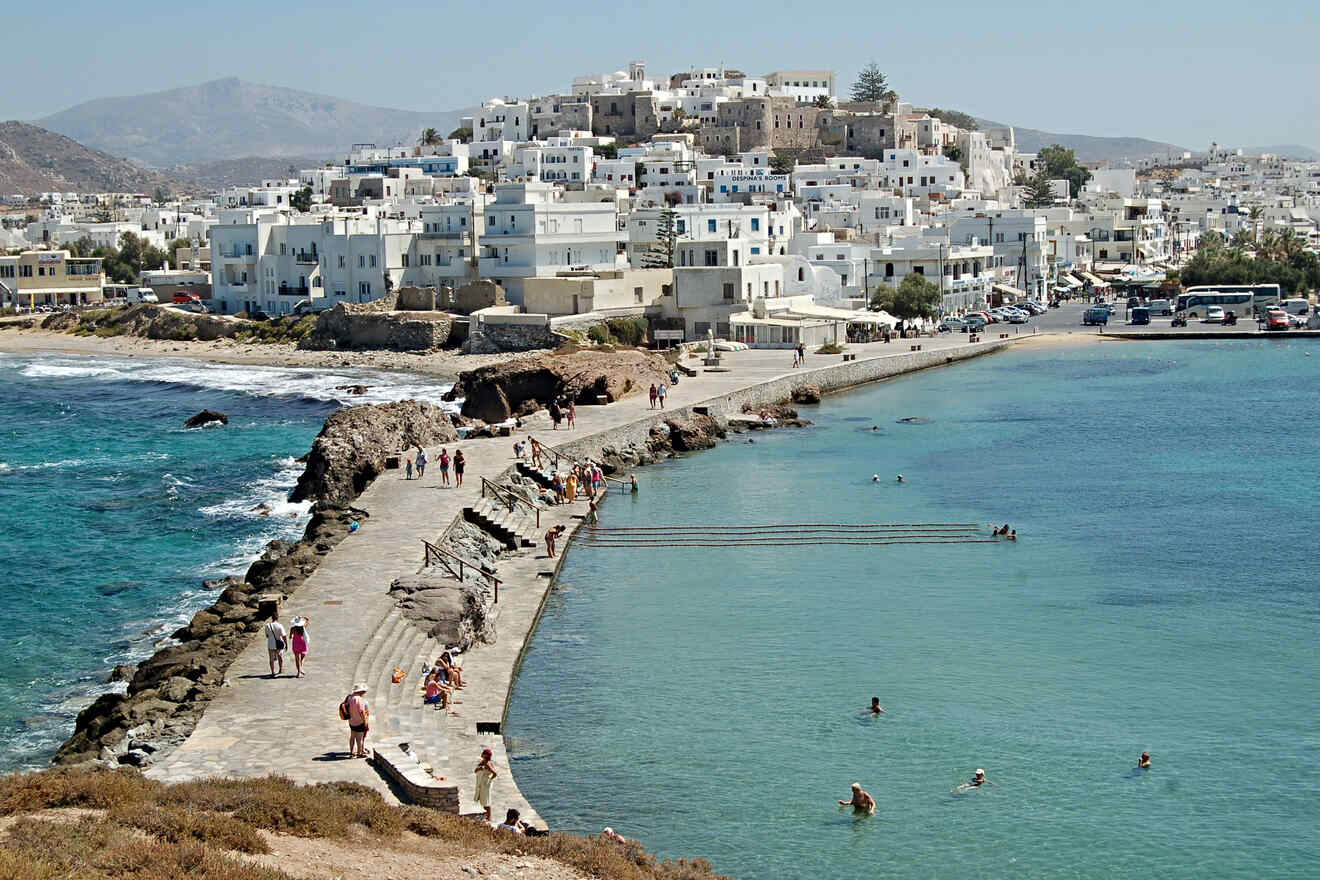 Located on the west coast of the island, Chora, also called Naxos Town, is the biggest village in Naxos. Thanks to having the main ferry port you will find the majority of the hotels, restaurants, and bars here. Naxos Chora is also the historic center of the island and where you can see the old town, the famous Agios Georgios Beach, and most of the main attractions. Get ready to travel back in time in this cute village!
In Chora, start your day getting lost in narrow streets, see orthodox chapels, an Apollo Temple from 6th century BC and the Venetian Castle. Check out the town's lovely shops, then when it gets dark, have a nice traditional dinner in one of the tavernas by the seaside followed by a pint in the cool pubs. How does that sound?

Naxos Town is not only the best place to stay for first-timers because of the variety of activities it offers, but it is also a great base to make day trips to gorgeous beaches due to its perfect location. You will be able to find many great accommodation options here and I've already picked the best ones for you.
As this is the most popular area on the island and these hotels the best ones, they sell out super fast. That's why you should not forget to make a booking in advance!
Other accommodation options in Chora (Naxos Town)
Things to do in Chora (Naxos Town)
Have a stroll to Castro and see the Venetian Castle
Spend time at beautiful Saint George Beach

Attend a

marble carving workshop
Get a suntan at Agios Georgios Beach
Attend a Cycladic style boat tour
Check out the bars which are open till the late hours
Visit the Archaeological Museum of Naxos
Walk to the waterfront at the port of Naxos
Join a Naxos Mythology Tour
Visit the amazing 6th century BC Temple of Apollo and enjoy the picturesque view
2. Agios Prokopios – best for great beaches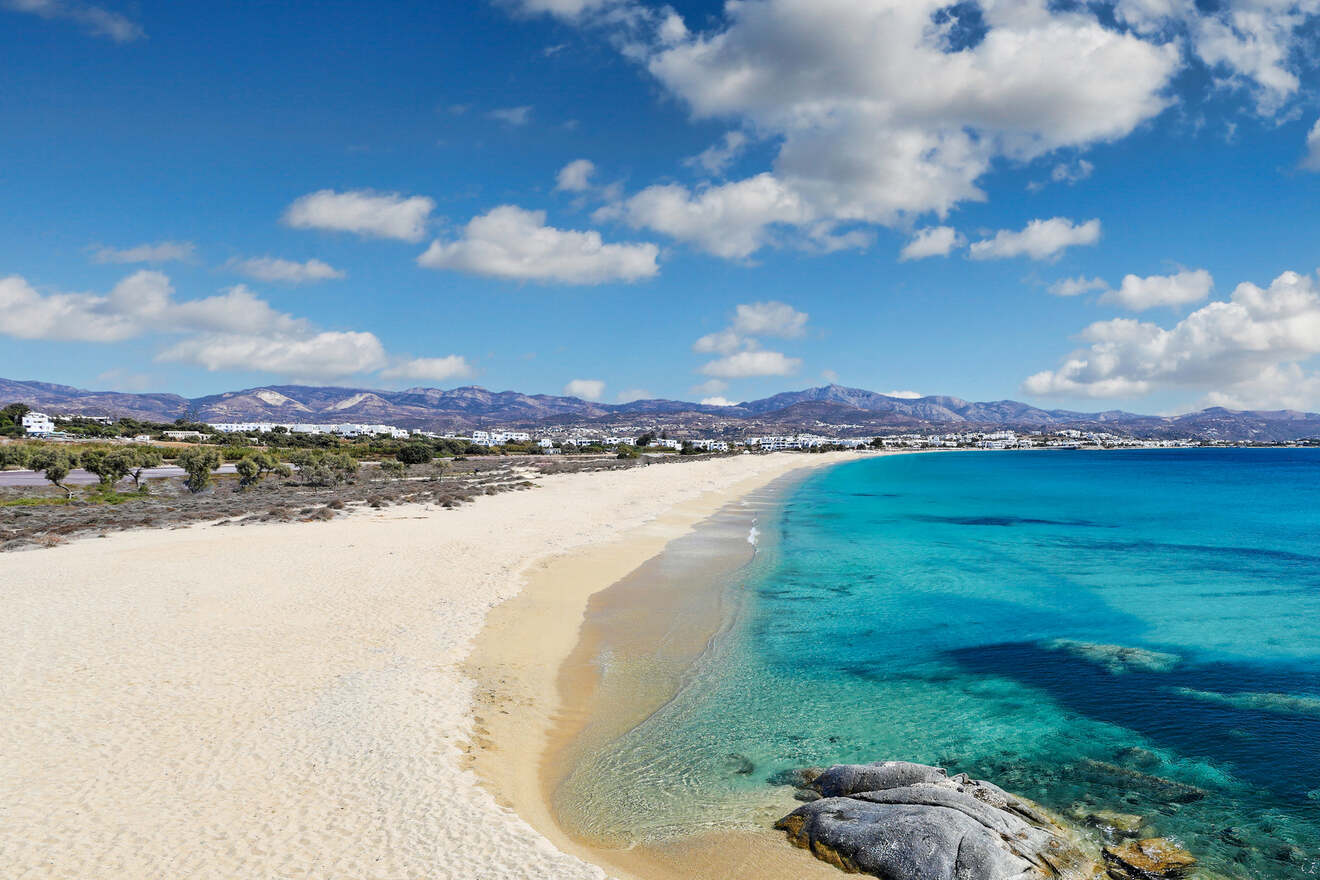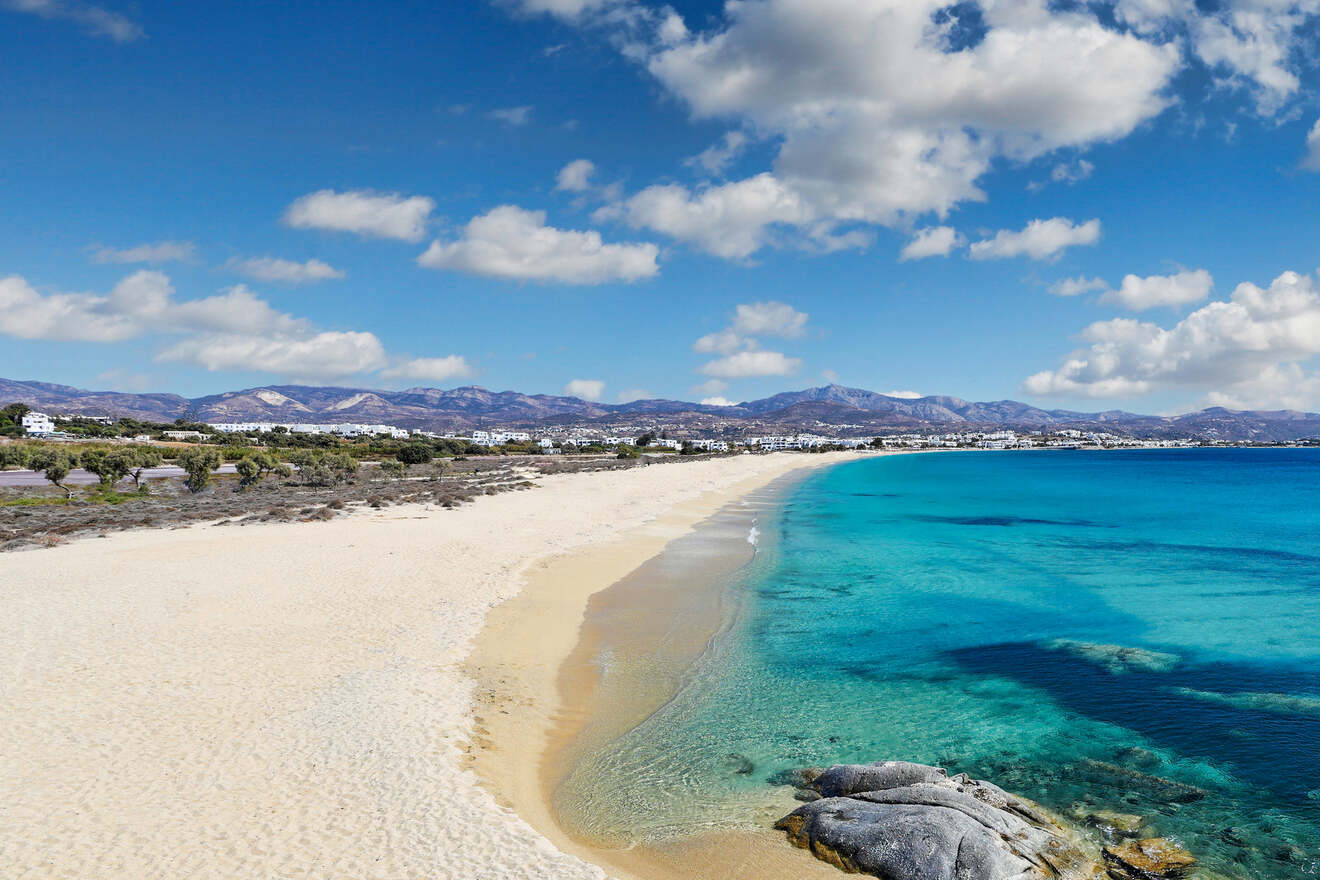 About a 15 minutes drive to the south of Naxos town, Agios Prokopios is the place where you will be closest to the stunning beaches you have dreamt of. That's why my pick for beach bums is definitely this beach town, Agios Prokopios.
Beautiful golden sand beaches are one of the top expectations when visiting a Greek island. If you stay in Agios Prokopios you will make that happen by being within walking distance of the best ones! You can enjoy suntanning on the beach, do water sports and join boat tours to discover the coast. Here you will find a very large beach with golden sand and crystal clear sea which also offers many beach clubs, restaurants, and bars. What more could you expect?
If you are dreaming of a holiday chilling on the beach and staying in a hotel just by the sea, Agios Prokopios will highly fulfill your expectations. If you are looking for other fantastic Greek islands with beautiful beaches, check out these posts about Mykonos and Santorini.
But now, let's check out the best places to stay in Agios Prokopios, and I know you wouldn't wanna miss your dream place so make sure to make a booking in advance!
Other accommodation options in Agios Prokopios
Things to do in Agios Prokopios
Enjoy swimming in the crystal clear water at Agios Prokopios
Make a day trip to a cute fishing village called Agia Anna
Check out amazing waterfront tavernas in the village and make sure to try some Greek-style octopus
Try windsurfing at Laguna Beach Park
Head to Aqua Fun and have fun with kids
3. Plaka – the best place to stay for families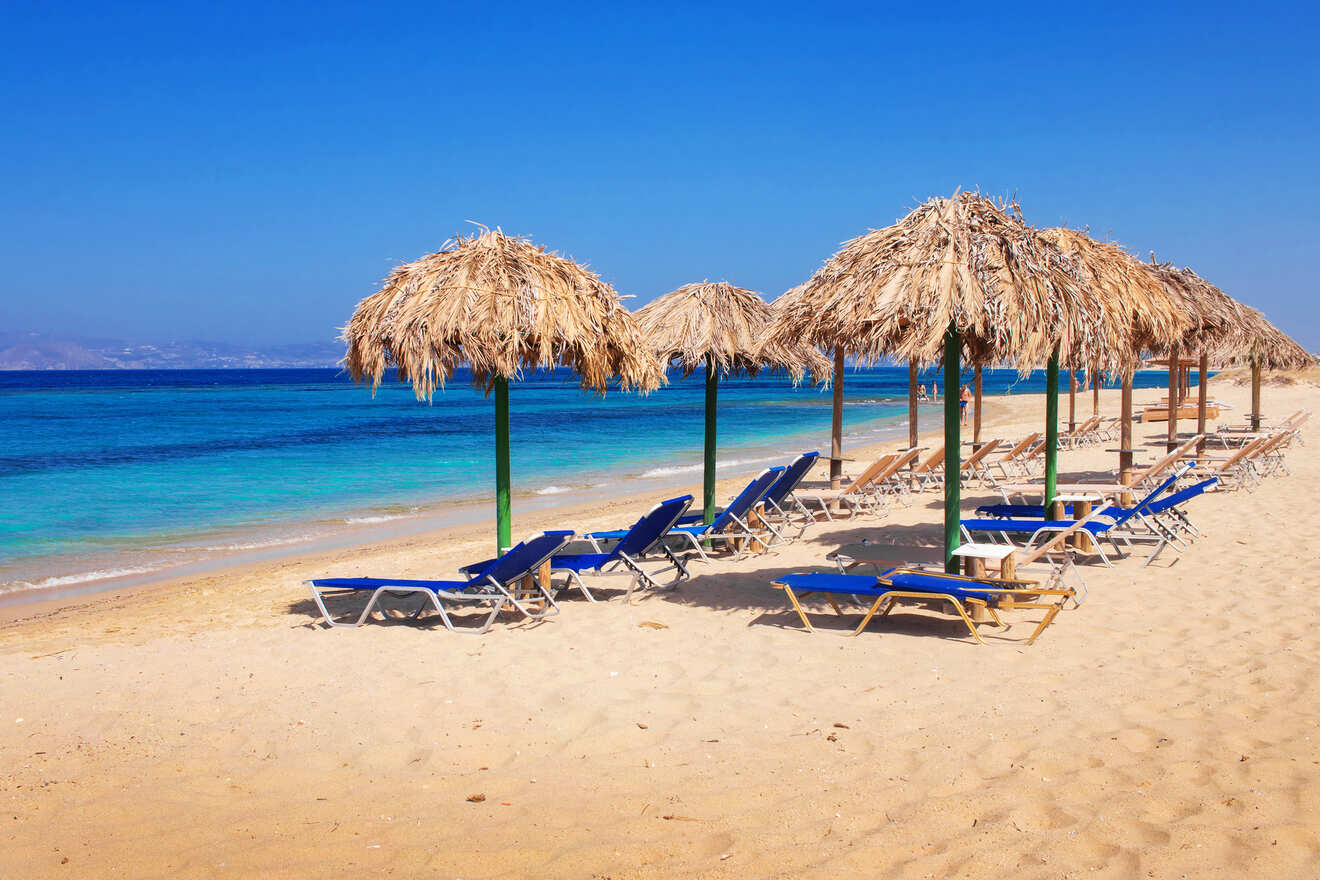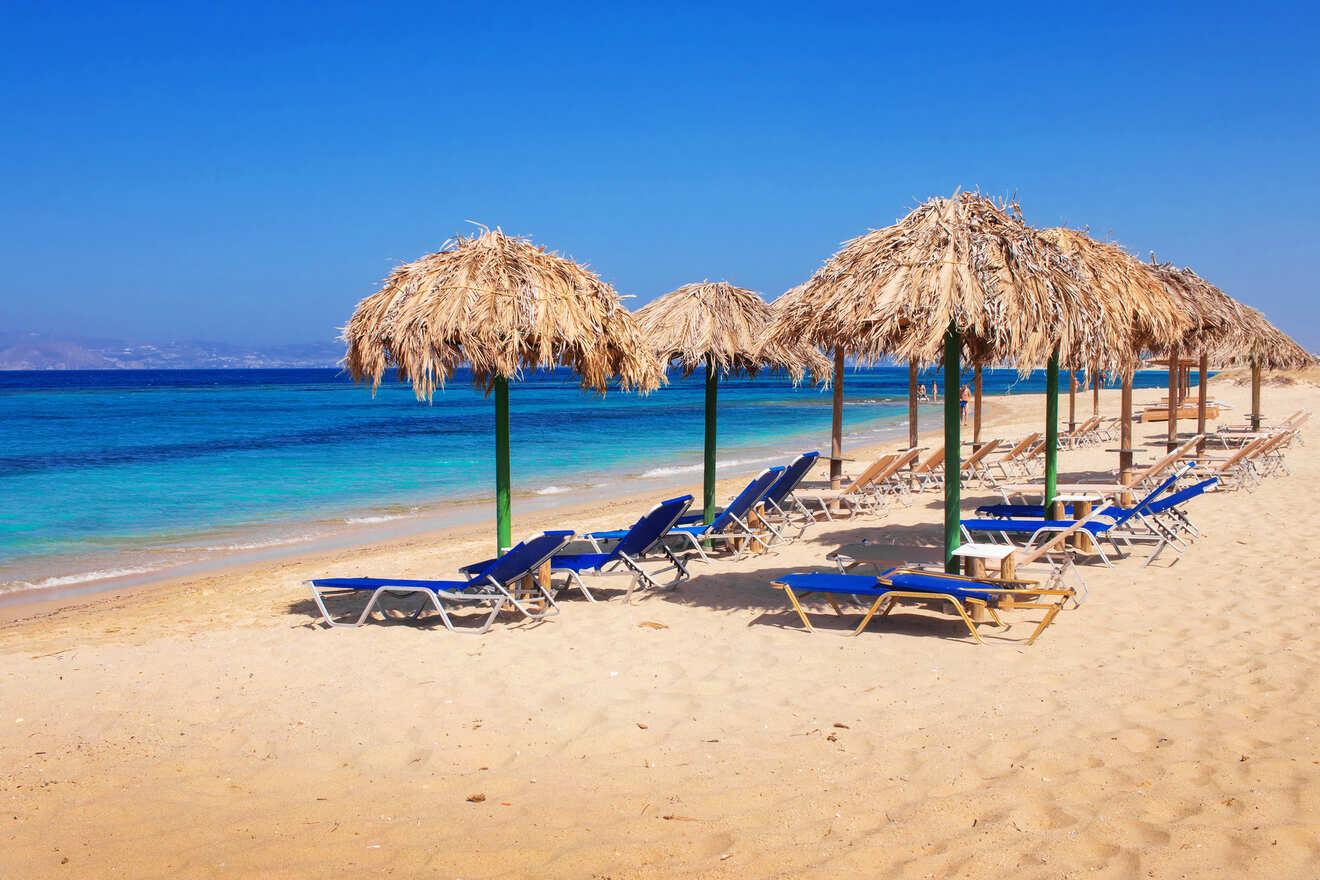 Plaka is located to the south of Naxos Town and just a 20-minute drive from there. Plaka Beach is the longest beach on Naxos Island with 4 km (2 miles) of golden sand and boasts a blue flag cleanliness certificate. Thanks to its family-friendly hotels with spacious rooms, kids amenities, and quiet shallow water beaches, it is a great place to stay for families.
In Plaka Beach, you will be able to find a great selection of tavernas, beach bars, and shops. Get ready to taste delicious local foods, enjoy water sport activities with your families, and to experience the famous Greek hospitality. You will love Plaka Beach!

There are great accommodation options in Plaka Beach from boutique hotels to luxury resorts and rental houses. I picked the best ones for you to have an unforgettable holiday with your family.
Other accommodation options in Plaka
Things to do in Plaka
Enjoy swimming in the turquoise water at Plaka Beach which has a blue flag cleanness certificate
Have a meal at Tohu Beach Bar Restaurant where the kids can build sandcastles while you sip some wine
Have a day trip to Naxos Town and join a cultural food and villages tour
Take windsurfing lessons or try other water sports with kids at Plaka Watersports
Have some local bakery products with wonderful Greek coffee at Artos Bakery
4. Agia Anna – a village with a chilled vibe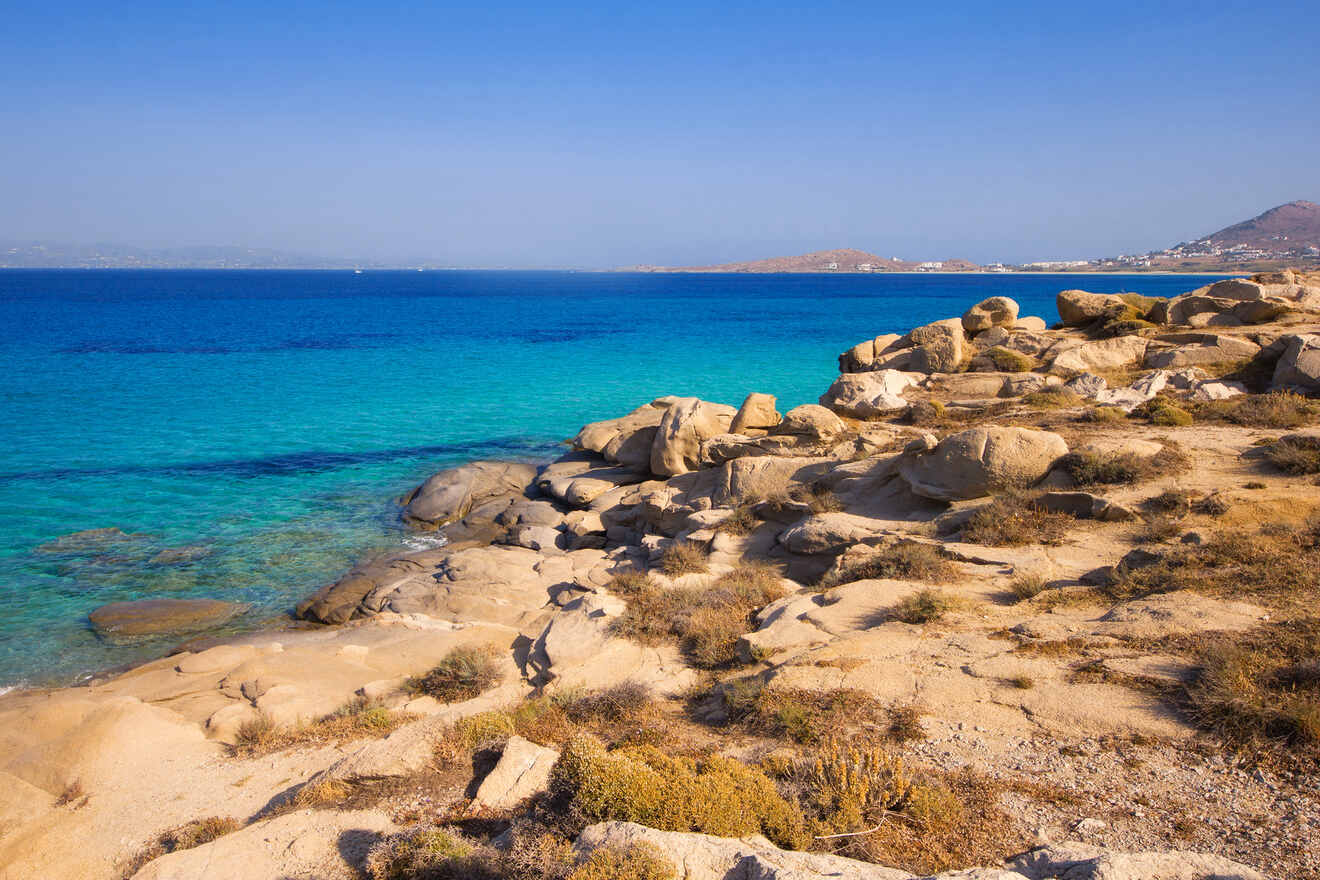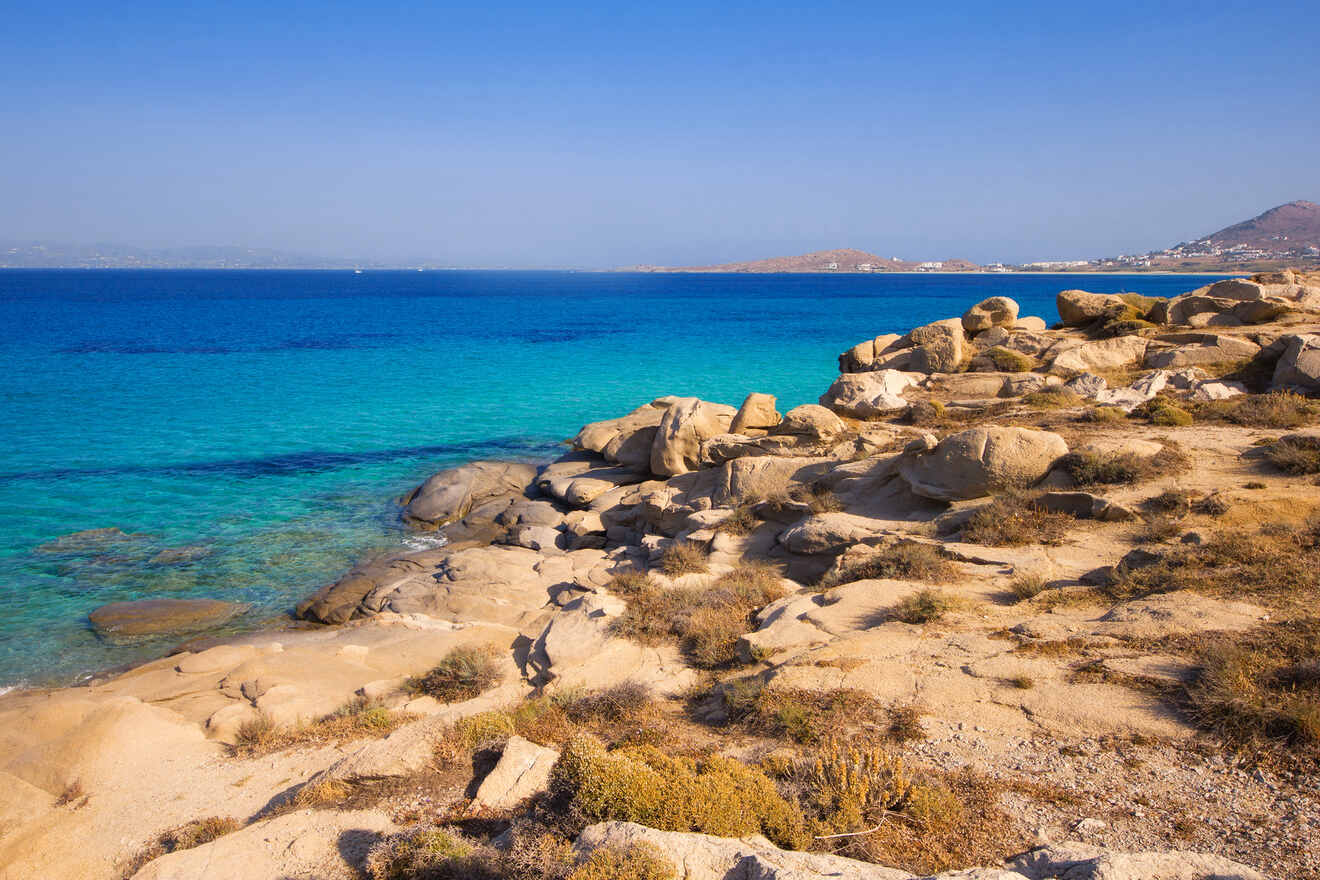 Agia Anna is a fishing village located between Plaka and Agios Prokopios and a 15 minutes drive from Naxos Town. Here you won't find lively nightlife but you will be able to find relaxing beaches with a chilled vibe. If you want a laid-back holiday, Agia Anna is the answer to where to stay in Naxos.
Agia Anna offers a long sandy beach with shallow turquoise water. When you go to the northern part of the beach you may encounter wavy water which is fun for bodyboarding but if you find the small cove next to Agia Anna's small port, you will be able to enjoy the calm water as it is well protected by the winds.
Grab your beach essentials, swim in crystal clear water, and enjoy a sunset walk on the powdery sandy beach. I know you can't wait to go to Naxos Greece!
Even though Agia Anna is one of the quiet villages compared to the other parts of the island, you will still be able to find enough tavernas, local shops, and bars. This village also has a great selection of beachfront resorts for all budgets.

Let's check out the best ones:
Other accommodation options in Agia Anna
Things to do in Agia Anna
5. Mikri Vigla – where to stay in Naxos for kite and windsurfers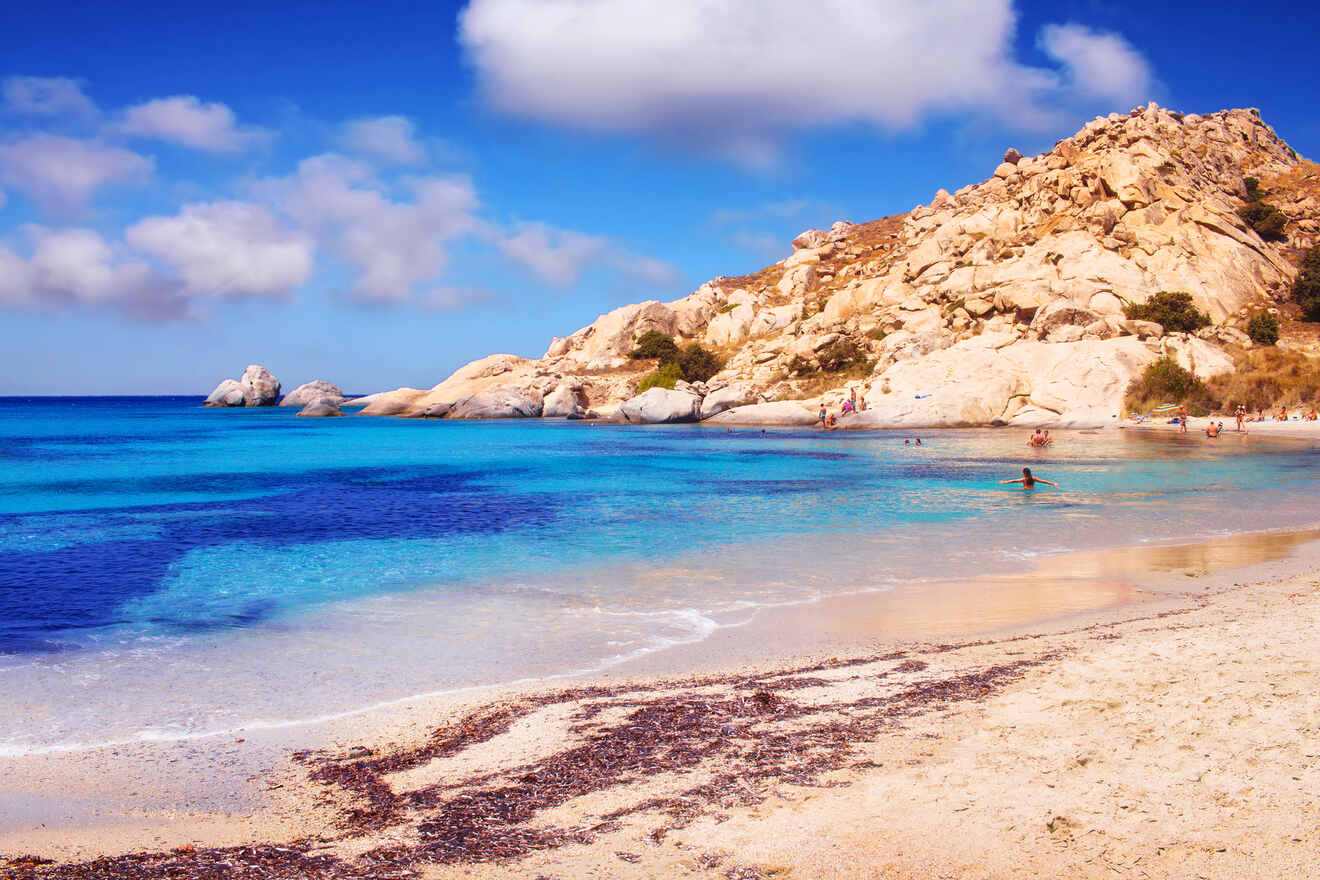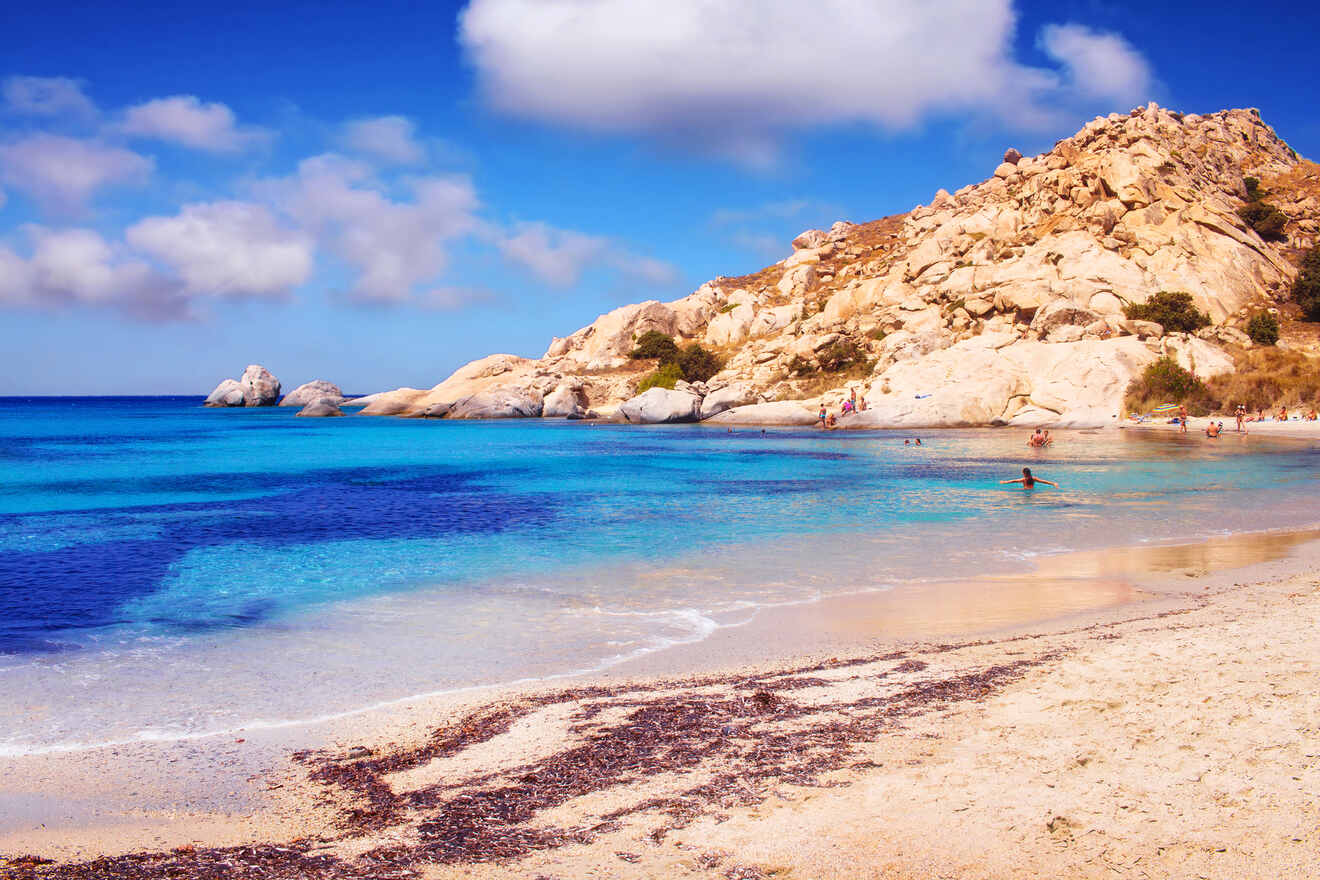 Located 12 km (8 miles) south of Naxos Town, Mikri Vigla is an internationally renowned windsurfing village thanks to its perfect wind conditions. So if you are a kite or windsurfer, or always wanted to start, you have found a perfect place!
Mikri Vigla has a long sand beach and constant wind which makes it perfect windsurfing conditions for beginners and advanced surfers alike. The town has international visitors from all around the world meaning you will find a great friendly atmosphere in Mikri Vigla Beach.
Here you will also find many restaurants, shops and great hotels by the beach. Here are my top picks for those of you surfers:
Other accommodation options in Mikri Vigla
Things to do in Mikri Vigla
Frequently asked questions about Naxos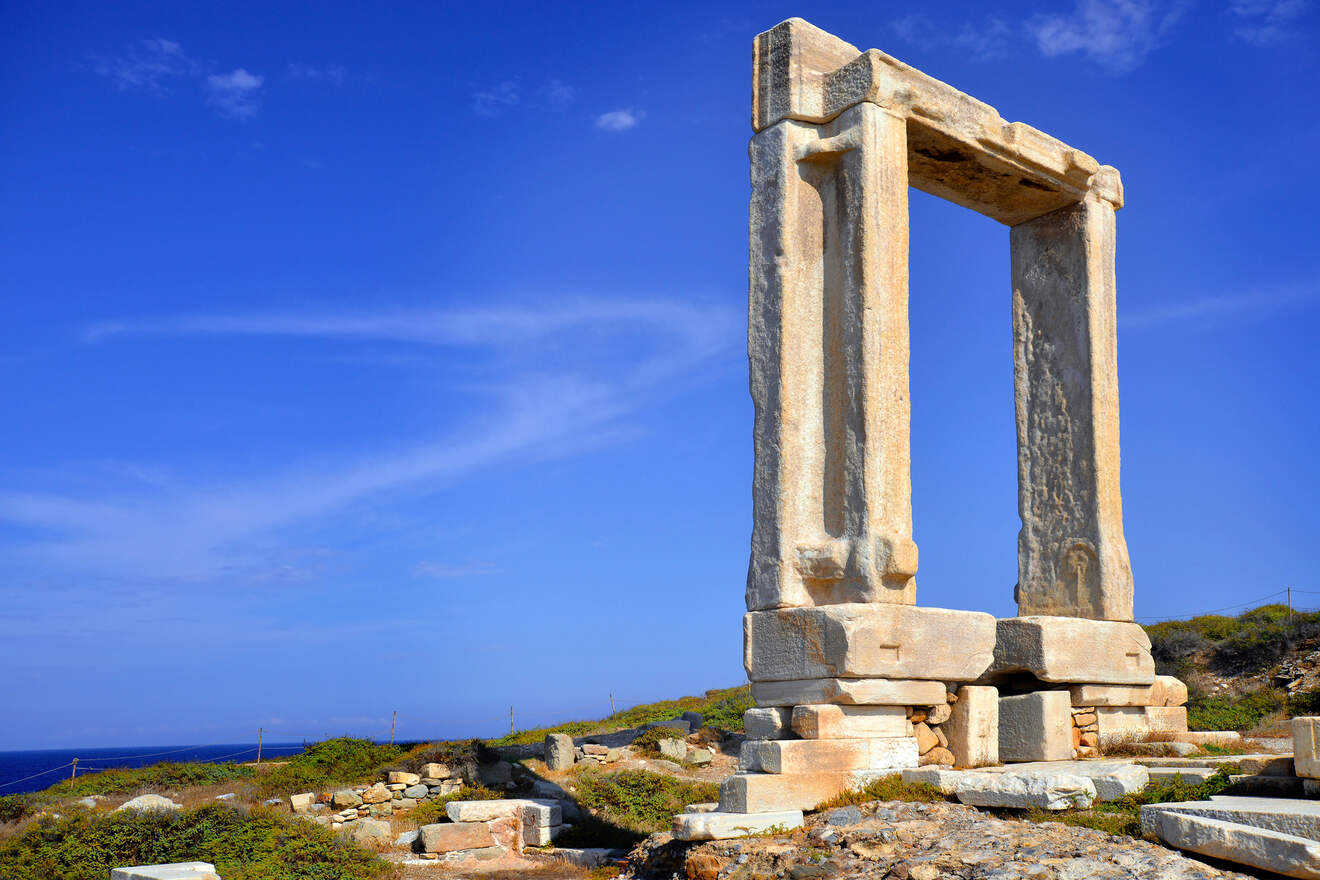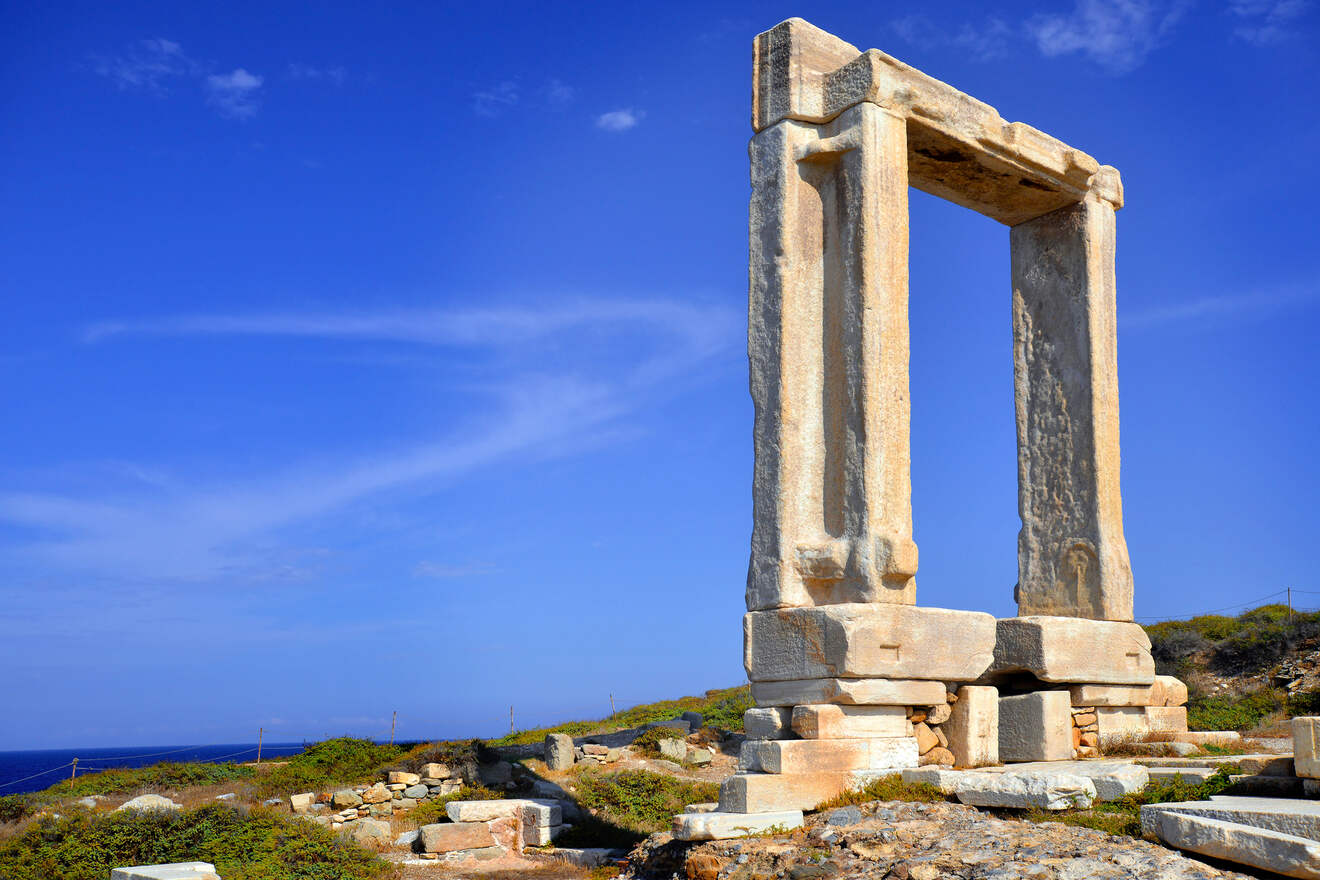 Conclusion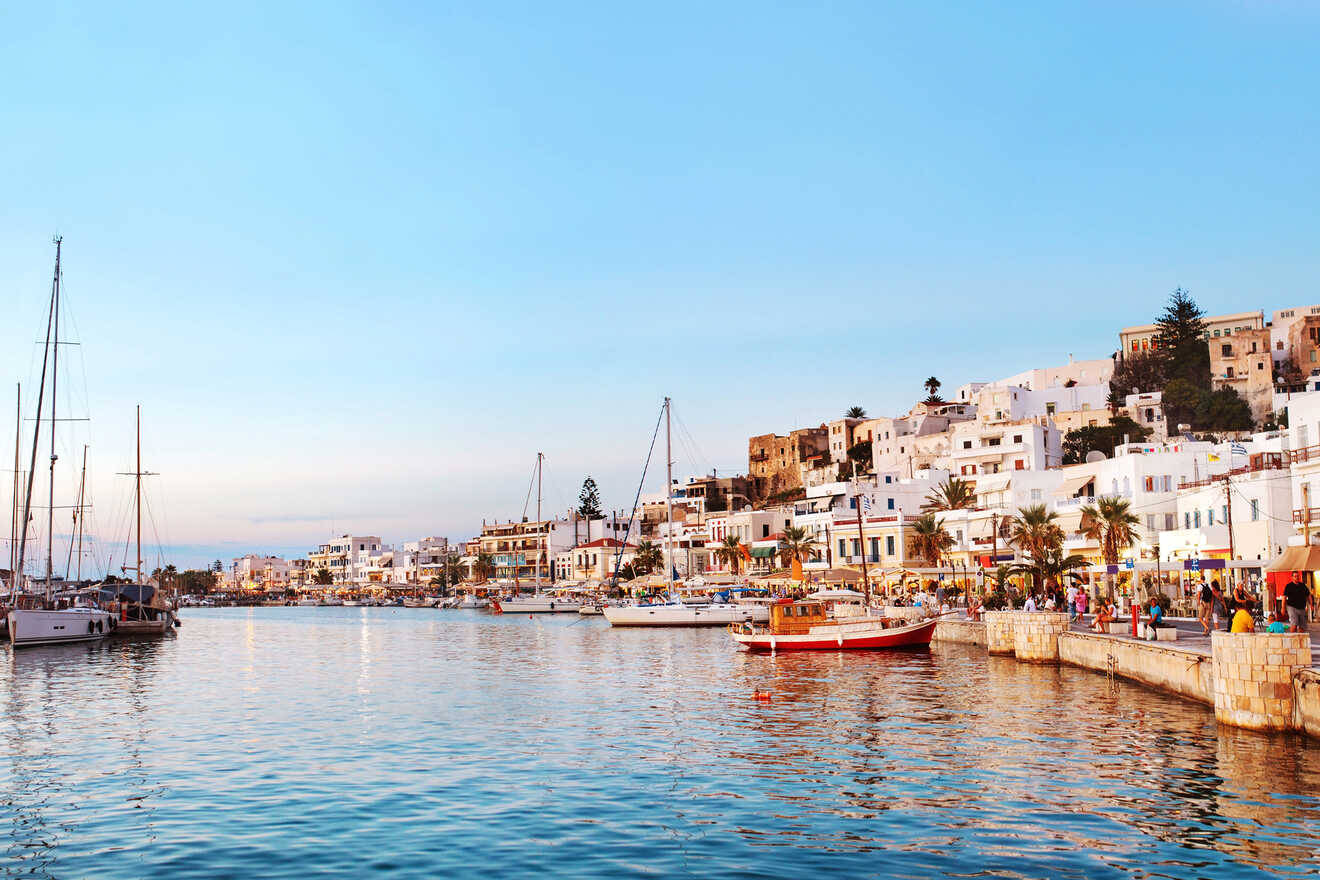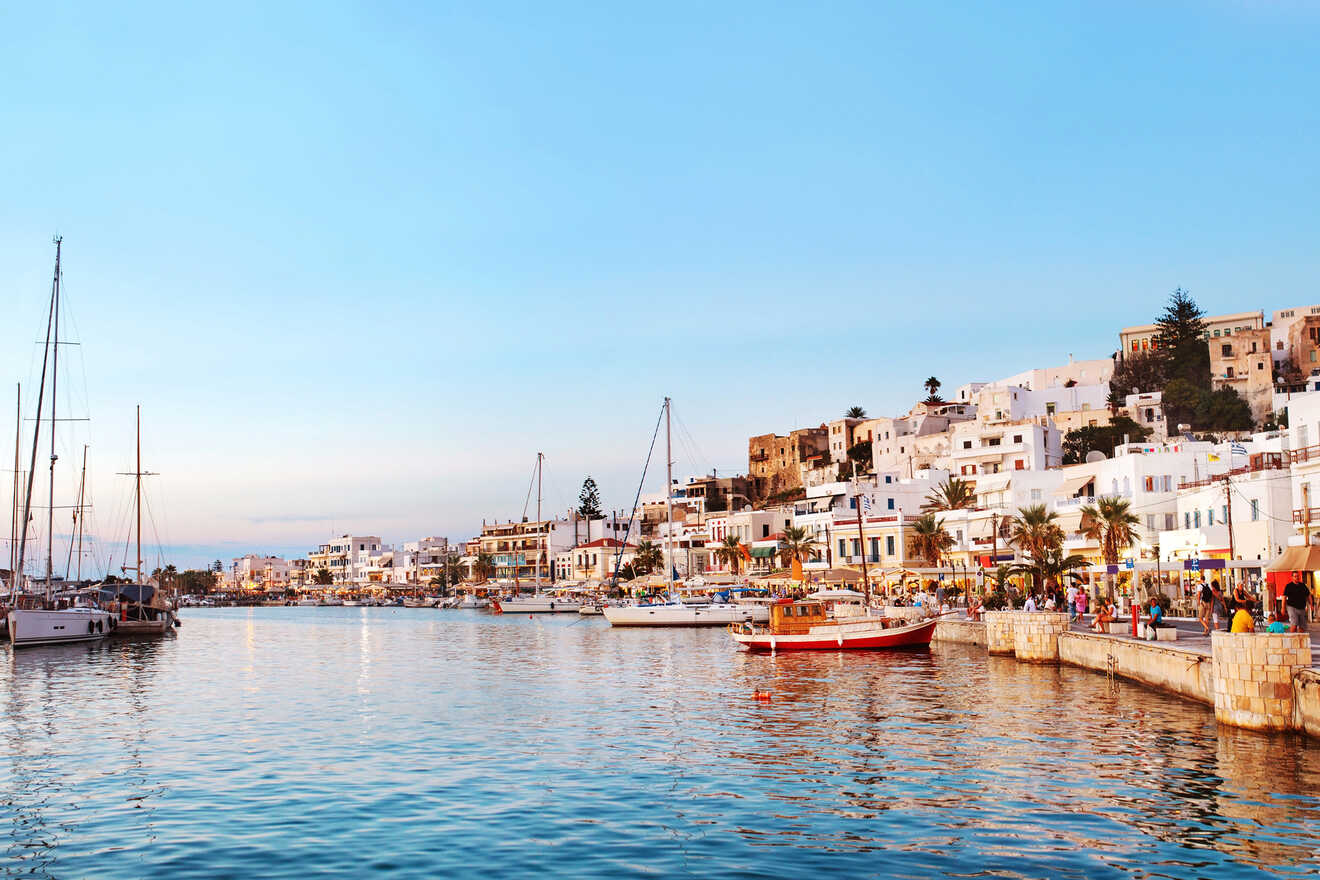 Here we came to the end of an island tour. In this blog post, I talked about the best places to stay in Naxos with hotels from luxury to budget as well as Airbnbs in each town and gave you some information about the vibe of the area so you could pick the perfect one for you!
As I've already said, thanks to the convenience of the main ferry port and proximity to main attractions, Naxos Town is the best area to stay for first-timers. However, if you fancy a hotel in another area you can easily drive to other towns. That's why I highly recommend you rent a car for Naxos and do not forget to make a reservation in advance to not miss your favorite place!
To sum up, here are the best 2 hotels in Naxos island with easy access to the coast or beach as well as good reviews. I definitely recommend you to stay in one of these if you can't decide between the awesome options in this list!
If you have any other suggestions or questions about Naxos Island and Greece please leave a comment below. I'll be happy to leave a reply to them!
Have a fantastic holiday,
Eylul