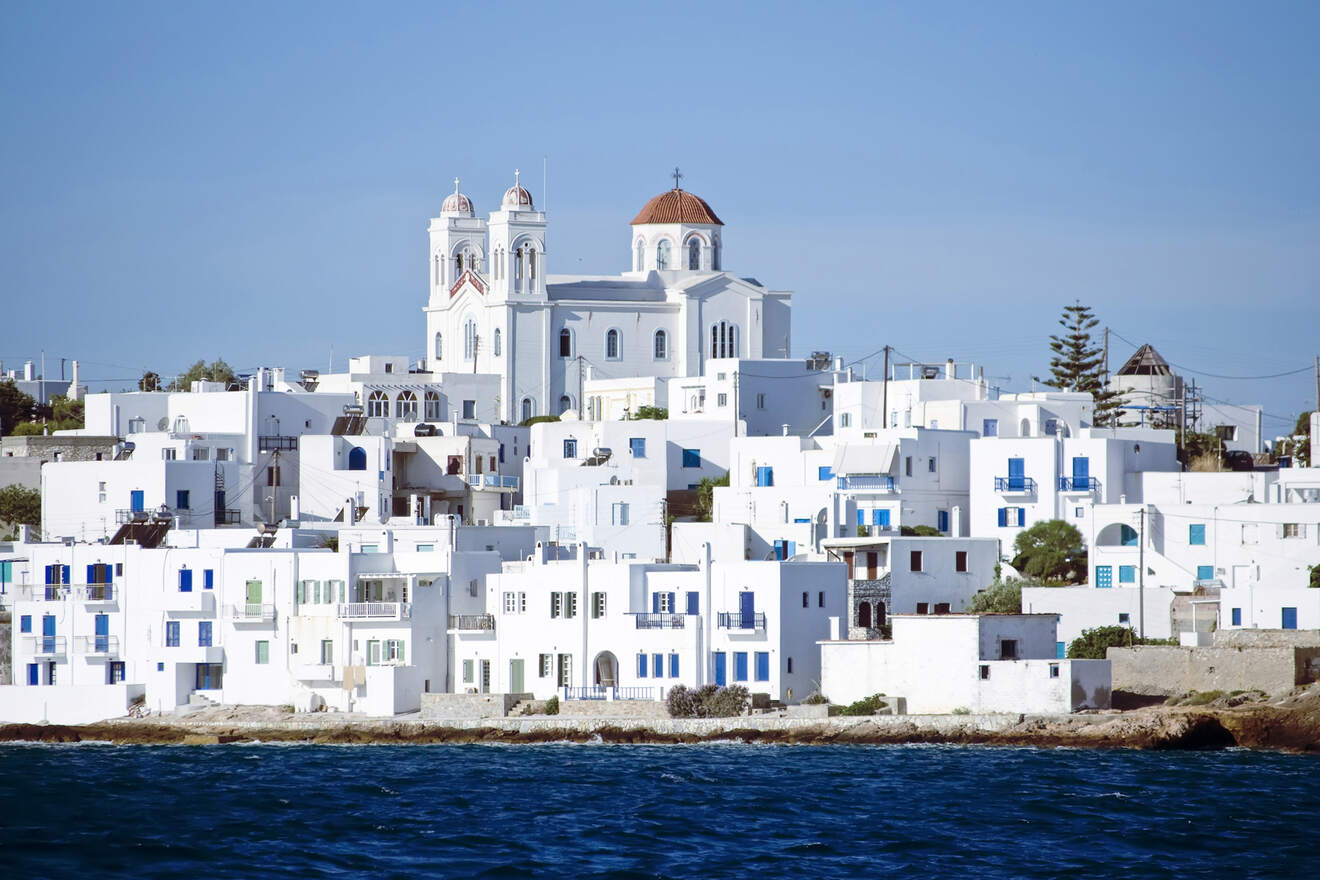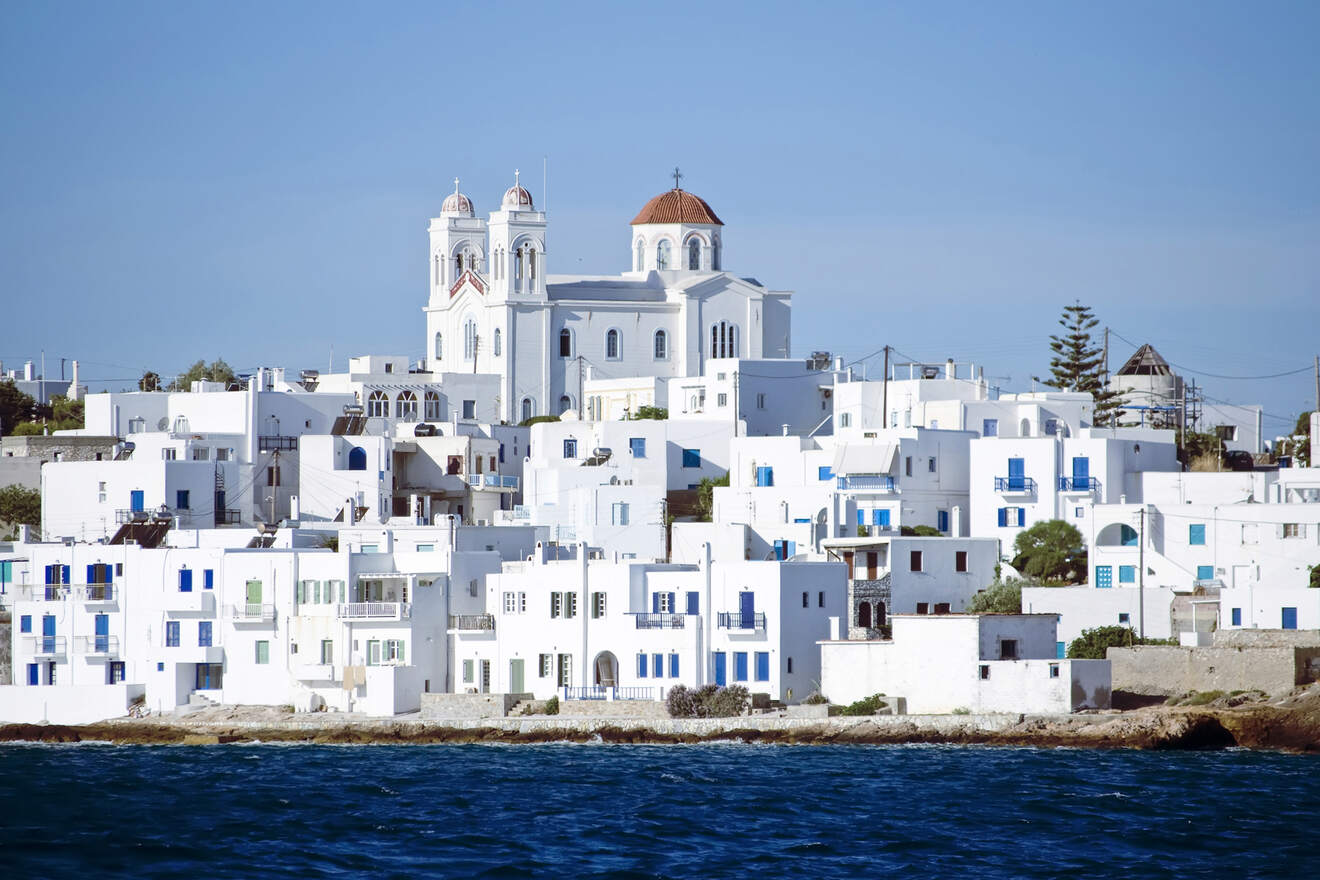 Can you ever get tired of the Greek islands? I guess not! Especially since each and every one of them is super unique while always offering the perfect mix of delicious food, stunning beaches, and interesting history!
The best place where to stay in Paros is Naoussa, a fabulous town with awesome beaches and attractions! However the island is pretty big, so I've added 4 more places to stay in Paros to this post including Parikia which is perfect for history lovers, Piso Livadi for families, Aliki for the best beaches, and Golden Beach if you're into water sports.
In each town, I have found you the best hotels and listed them from most to least expensive! But whichever one you choose, book it in advance! Boutique hotels, budget hotels, it doesn't matter, all the accommodations in Paros, Greece will sell out so fast, just like all hotels on the Greek islands as this country receives so many visitors!
NOTE: The hotel prices in Paros, vary between seasons with prices up to €100 extra during high seasons (July and August). So make sure you count that in before you book your tickets for the summer!
Ready to chill under the Greek pine trees?
Let's go!
If you are in a hurry
Who's ready to book right this minute? If that's you then have a look at the list below, it has my most recommended hotels on the island, all located in Naoussa:
Check out this map! It will help you visualize all the areas where to stay in Paros that I'll talk about in this post:
1. Naoussa – where to stay in Paros for the first time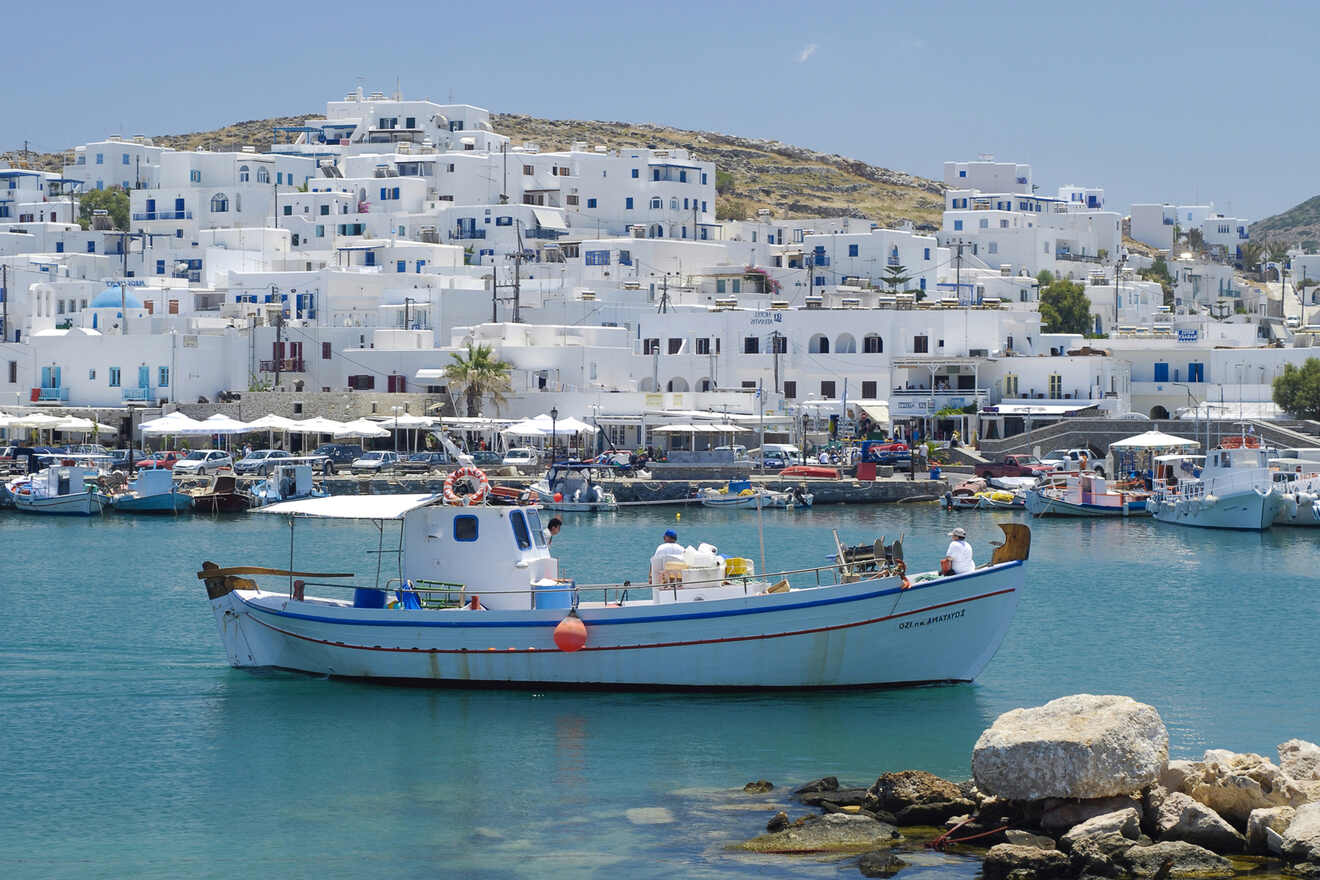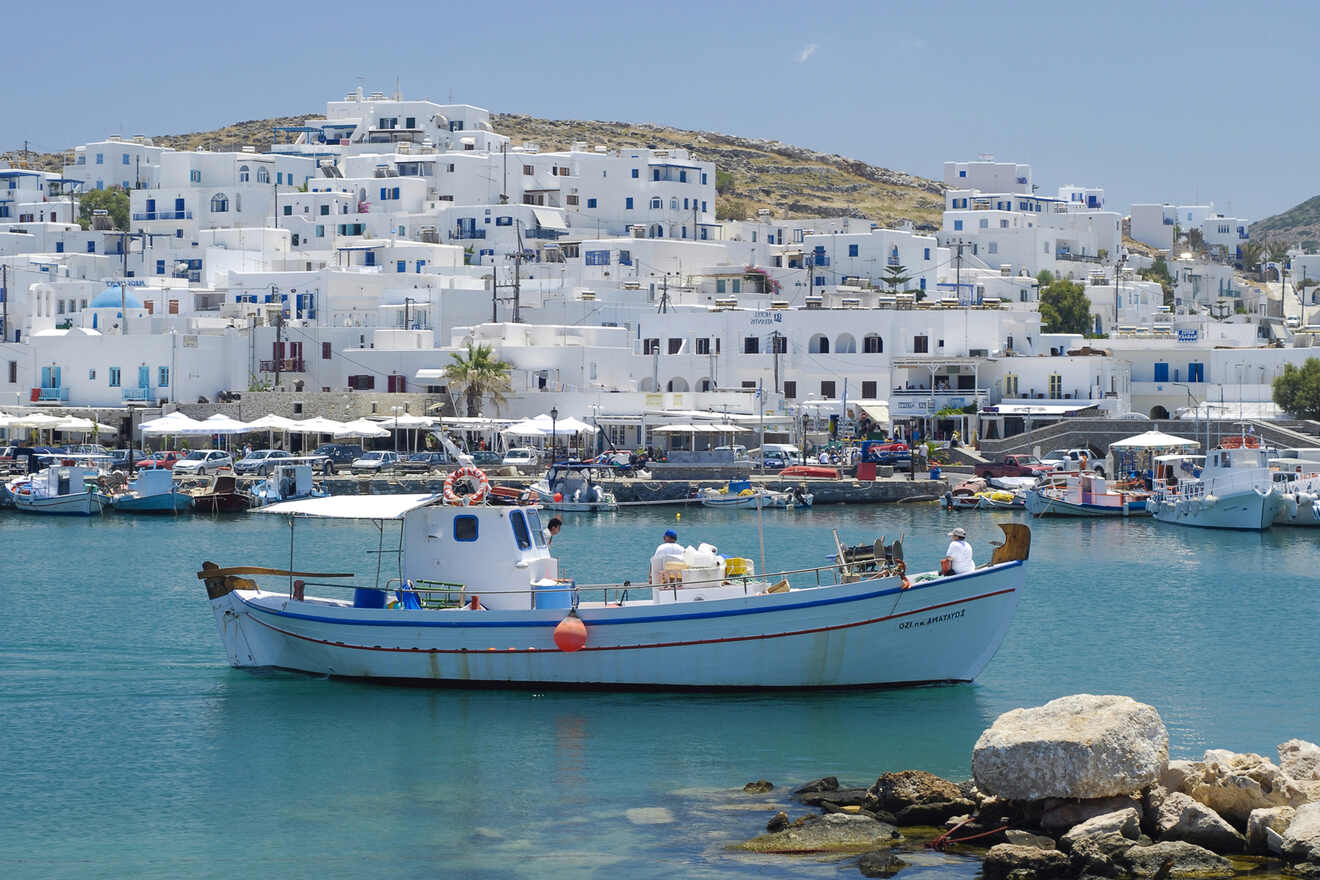 What I wouldn't give to be on a Greek island right now! Luckily you're headed that way now and to one of the best places to stay in Greece, Paros!
Naoussa is a beautiful village in the north part of the island that sits in a natural bay. This coastal village is a great place for first-timers as it has a little bit of everything! Great hotels, amazing beaches with soft sand, fun nightlife, and many attractions like the half-sunken Venetian castle.
Although Naoussa is a popular holiday destination, the picturesque fishing village has maintained its traditional charm and it's still filled with whitewashed cottages with blue window frames, doors, and many colorful flowers.
The small fishing port is super charming but there are also lots of exciting things to discover inland as well. You'll probably spend hours exploring the narrow cobbled streets, looking for souvenir boutique shops (there are many) and tavernas to eat delicious food!
You can also take short trips to other nearby beaches like Santa Maria and Kolymbithres beach! Or you can ditch everything else and check out the lively bars in Naoussa!
One thing that everyone needs to know about Naoussa is that all the hotels sell out super fast as this is the most popular place to stay, book yours in advance to avoid missing out on your favorite spot!
Luxury hotel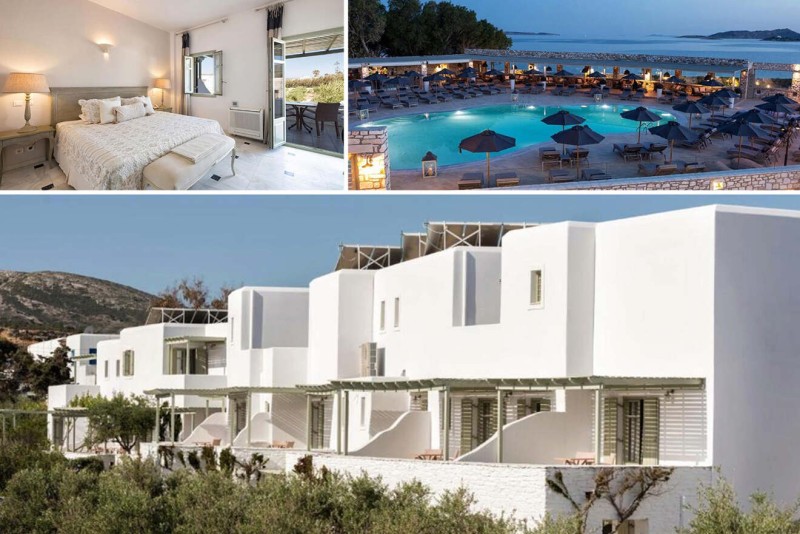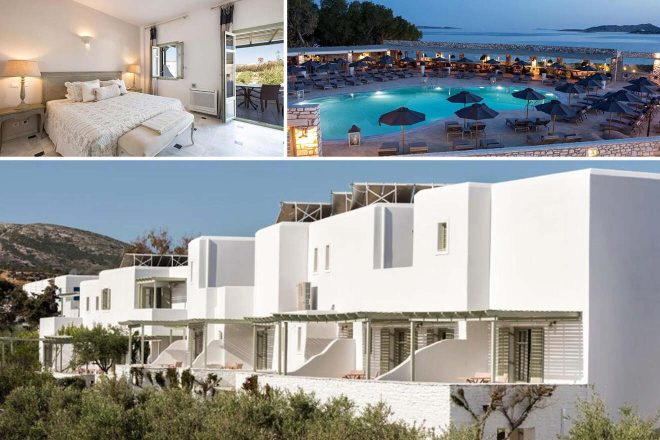 This beachfront resort has charming Greek decor! Featuring rooms with private porches that overlook the sea or the beautiful garden, this accommodation is a mesmerizing oasis where guests can relax at the spa all day, swim in the lagoon-style pool, and eat yummy food at the restaurant on-site.  
Other accommodation options in Naoussa
Mid-Range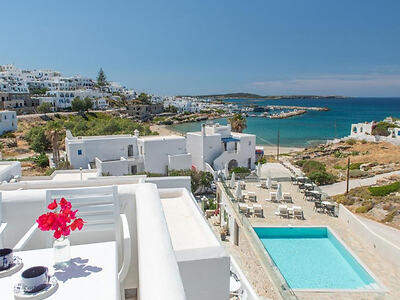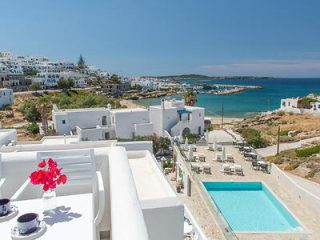 Set a short walk from the sandy beach, this white-washed building has stylish rooms and a great pool
Budget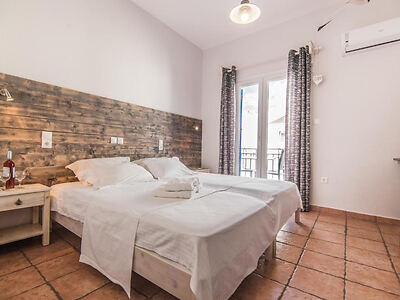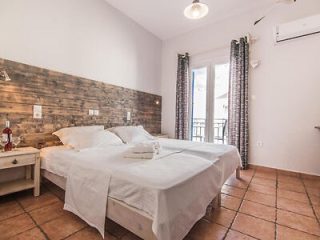 This is Naoussa's best hotel for budget travelers which is set near the sandy beaches with comfortable rooms and a pool
Airbnb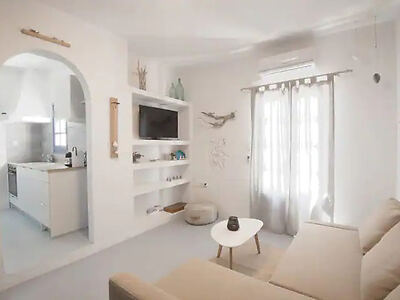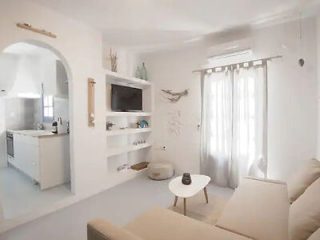 This stunning villa overlooking the sea has lots of space, a terrace, a kitchen and it offers free parking
Things to do in Naoussa
Sunbathe all day on Piperi Beach
Have fun wine tasting at Moraitis Winery
Chill on Agioi Anargyroi sandy beach
See the Venetian Castle ruins of Naoussa
Go for a swim at Piperaki Beach
Take a trip to Santa Maria or Kolymbithres beach
2. Parikia – where to stay in Paros for history lovers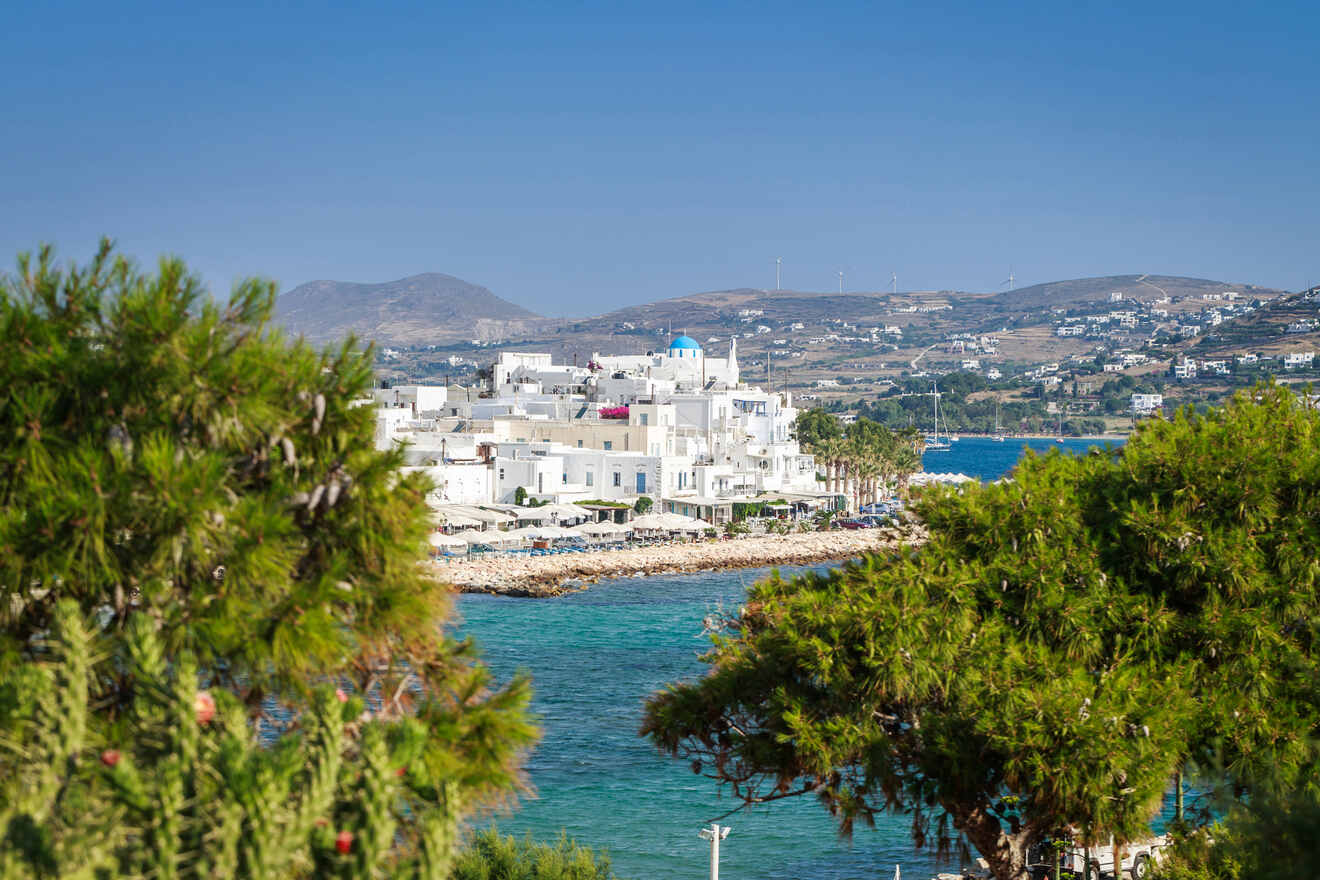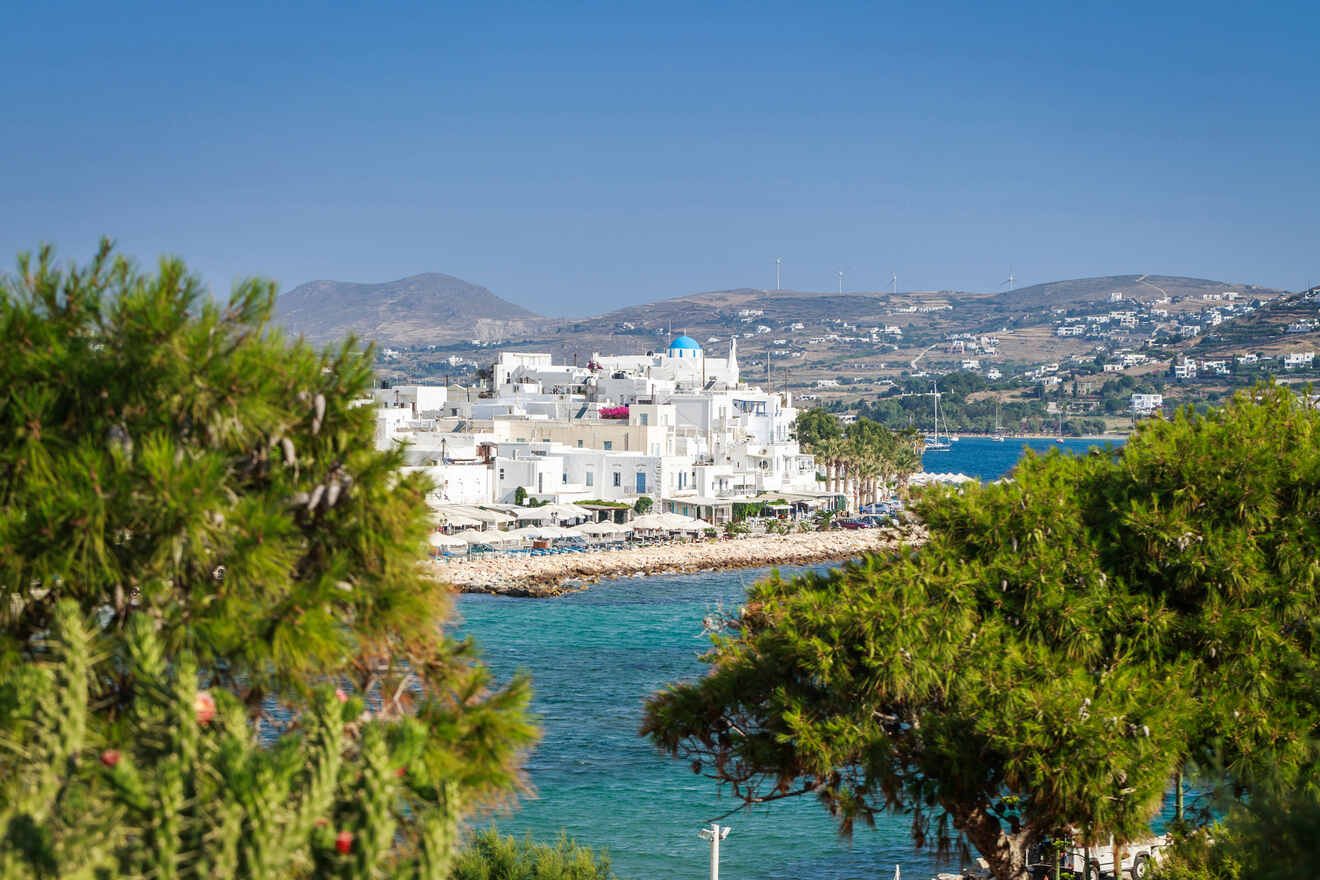 The Greek islands are a paradise for any history enthusiast!
If you're eager to learn more about this unique island then I recommend finding a place to stay in Parikia, the island's capital, and where most people usually arrive.
Parikia is home to some of the biggest historical attractions on the island like the Church of the Virgin Mary Ekatontapyliani, the Church of 100 Doors, and its small archaeological museum!
You'll fall in love with its Old Town, which is made out of narrow streets filled with colorful flowers, small tavernas, and a small village square.
But if you're looking for some action, the port area is alive day and night, with ferries coming and going every hour. Around the port, there are plenty of restaurants, bars, and cafes where you can dine and wine after a long fun day at the beach.
Speaking of beaches, you didn't think that this town doesn't have any, right? I just wanted to leave the best at the end!
There are lots of beautiful sandy beaches in Parikia, and some of the best ones are Livadia Beach and Paralia Parikia Beach. But if you are like me and can't get enough of the beaches here, you could even jump on a ferry and spend a night or two in one of the many hotels on Naxos Island, which is super close to Paros!
Luxury hotel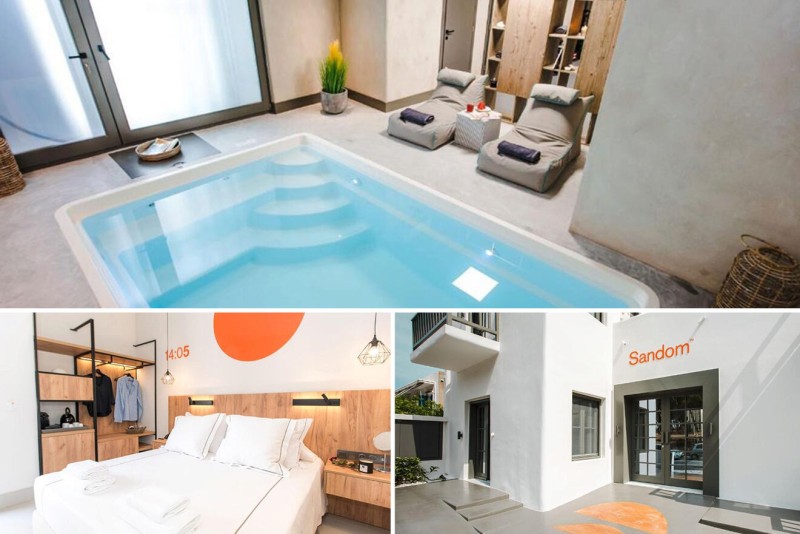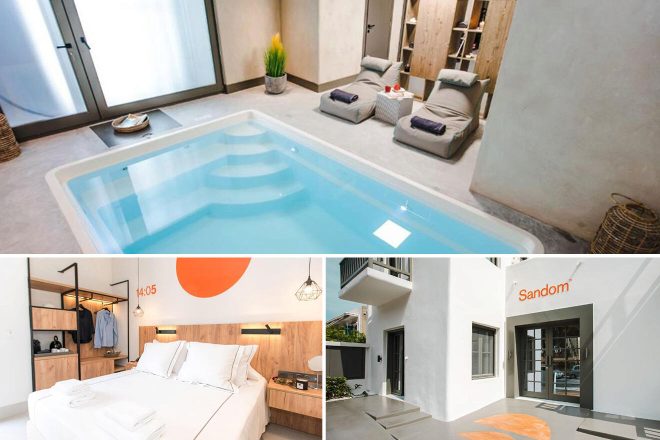 I like the minimalistic design of the rooms at his modern hotel in Parikia, plus they have all the facilities you need including air-conditioning and a flat-screen tv. Enjoy a delicious Greek breakfast before you head out to explore the island. Or if it's too hot, head for a swim in the indoor pool!
Other accommodation options in Parikia
Mid-Range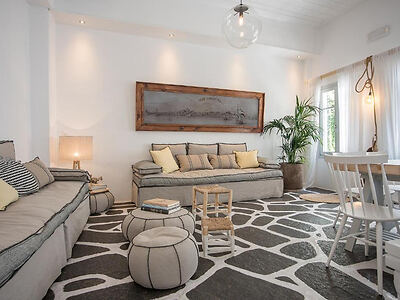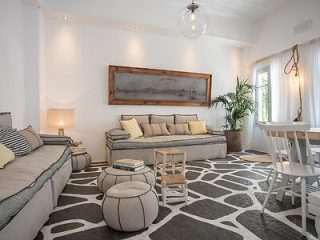 This hotel has a fabulous all-white decor, stone floors, and a nice courtyard where guests can relax
Budget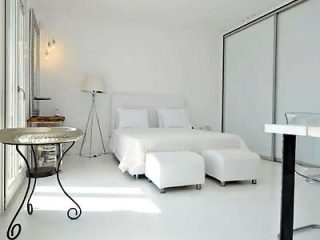 Set in a traditional white-washed house, this hotel offers breakfast, a garden, and free wifi  
Airbnb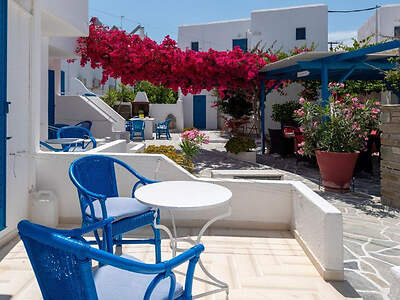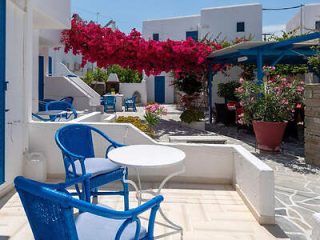 Enjoy your morning coffee on the balcony of this villa that overlooks the ocean and has a kitchen
Things to do in Parikia
Admire the beautiful Church of the Virgin Mary
Sunbathe on the beautiful Livadia Beach
Check out the Paros Archaeological Museum
Visit the Frankish Castle Paroikia
Buy souvenirs from the boutique shops in the Old Town
Learn new things about the Aegean Folk Culture
Check out the nearby Parasporos Beach
Join a bus tour around the island
3. Piso Livadi – best place to stay in Paros for families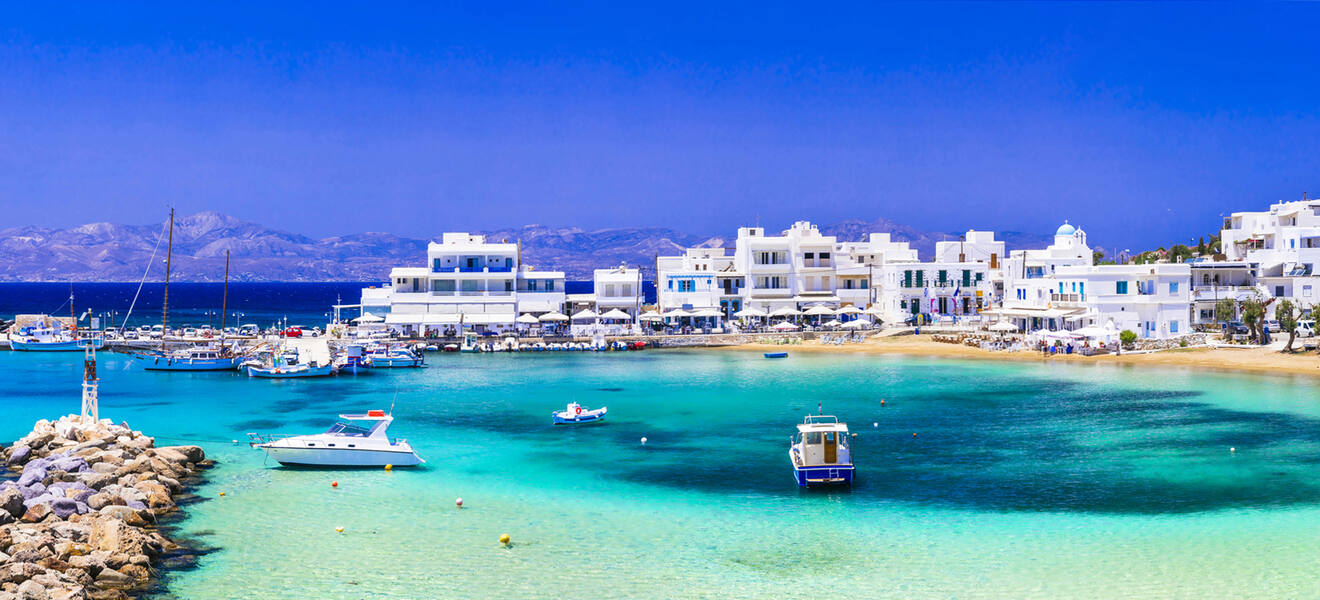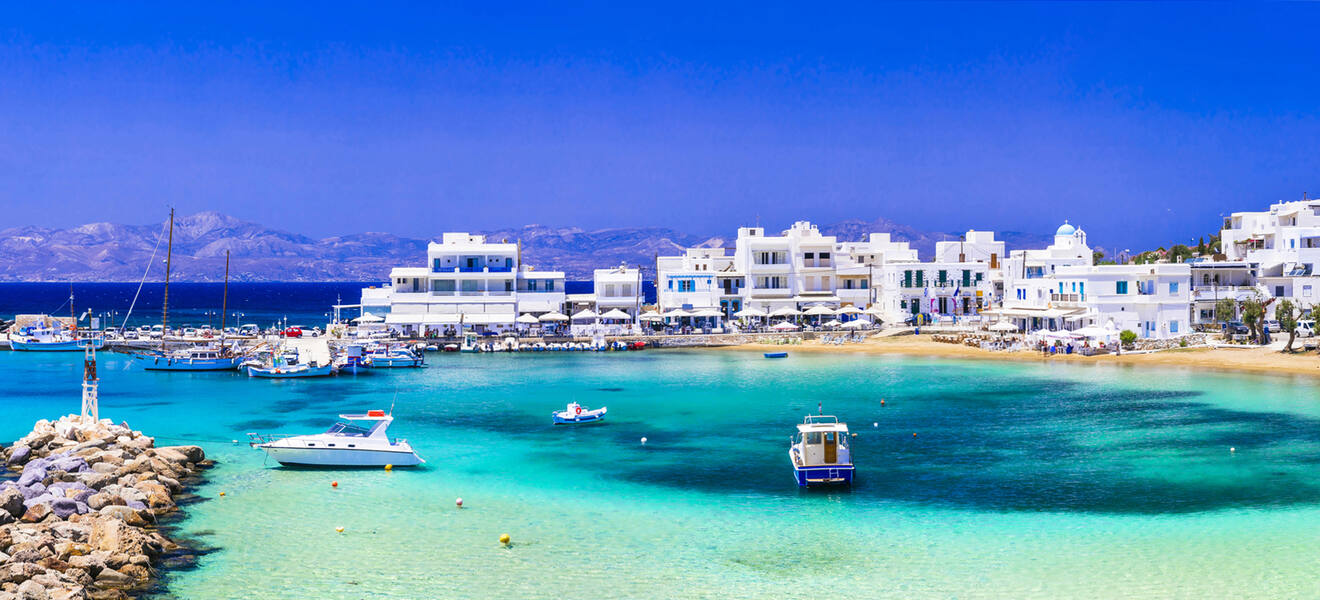 Traveling with the whole family to Paros island? Then you'll probably want to stay in an area that isn't so packed with tourists even during the high season.
Well, Piso Livadi is just that spot! Set on the south-eastern side of the island, this village was until recently inhabited just by locals. However, in the last years more and more hotels opened, and tourists started to come as well.
In spite of that, the small village still feels kind of untouched by tourism and has managed to keep its Greek charm.
The harbor area is probably the busiest part of town, as this is where all fishing boats and ferries arrive. Apart from that, you'll find the Piso Livady sandy beach, a great spot for you and the kids to swim, chill on the sun loungers and enjoy the sun all day. Not too far from here there's also find Logaras beach which is much bigger but just as beautiful!
The village has lots of shops and restaurants that will keep the parents happy while the kids enjoy their time at the beach!
Luxury hotel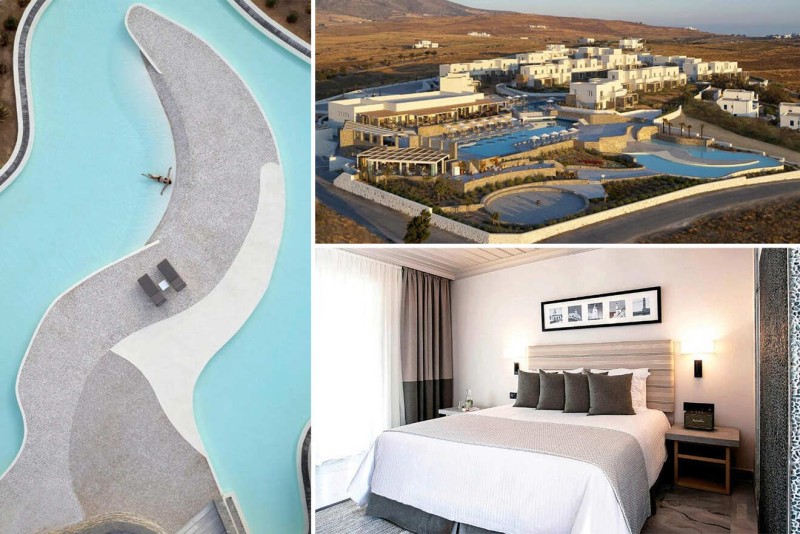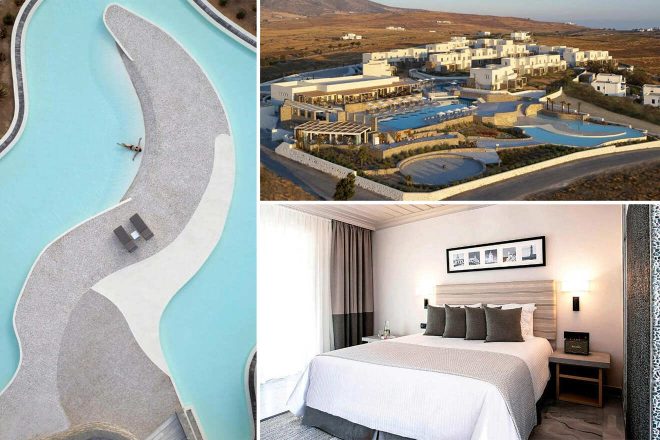 Set just a short walk away from the beautiful beaches, the accommodation has 2 pools and a family-friendly shallow pool where you and the kids can play! The rooms are spacious and they come with a balcony and a flat-screen tv. Start your day with a delicious Greek breakfast at the restaurant and then head to the spa!
Other accommodation options in Piso Livadi
Mid-Range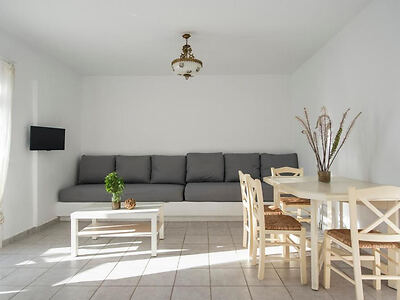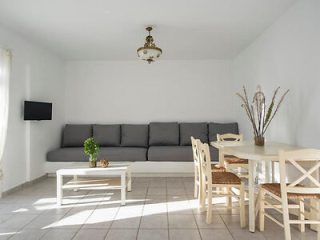 A great apartment for families that has lots of space and is equipped with many facilities, including a kitchen
Budget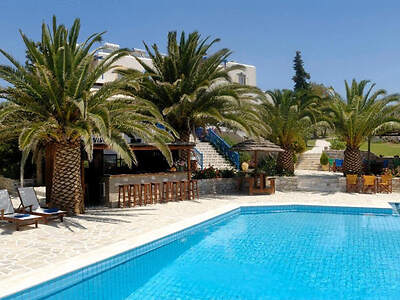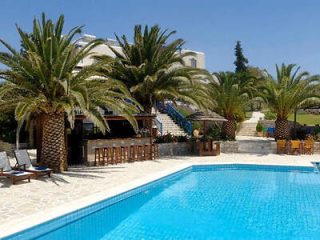 This affordable hotel sits near the popular beach Logaras and it has a children's playground and a pool
Airbnb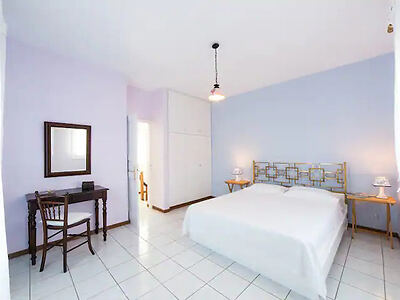 A stunning rustic home by the sea that has barbecue facilities, a balcony and a large living area
Things to do in Piso Livadi
Spend a fun day with the kids on Piso Livadi beach
Visit Paros Park Reserve
Take a sailing trip around the neighboring islands
Enjoy a delicious family dinner at Ouzeri Halaris
Go for a swim at the family-friendly Paralia Logaras beach
Join a day trip tour to Santorini
Explore the narrow streets of Piso Livadi
4. Aliki – best place to stay in Paros for the best beaches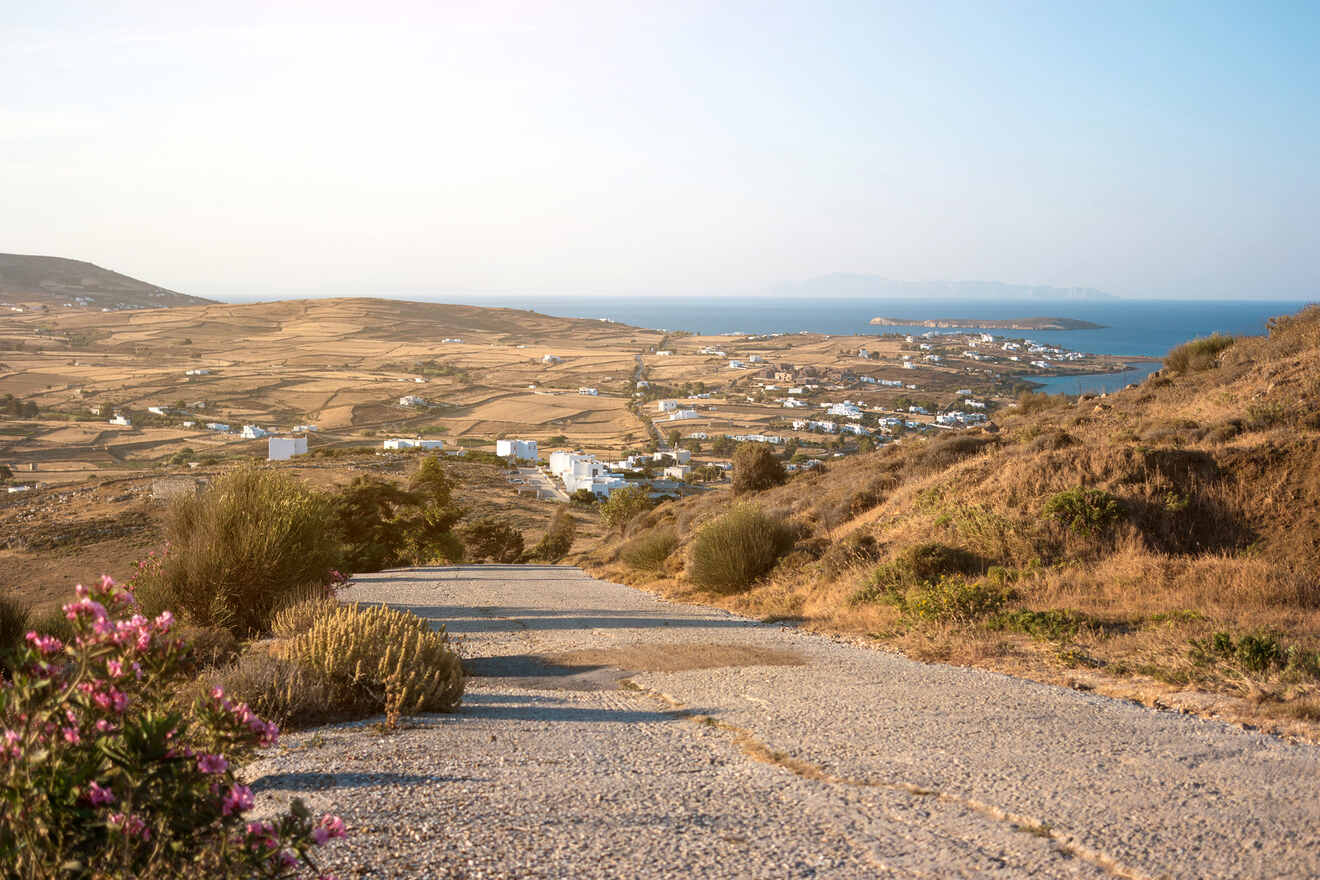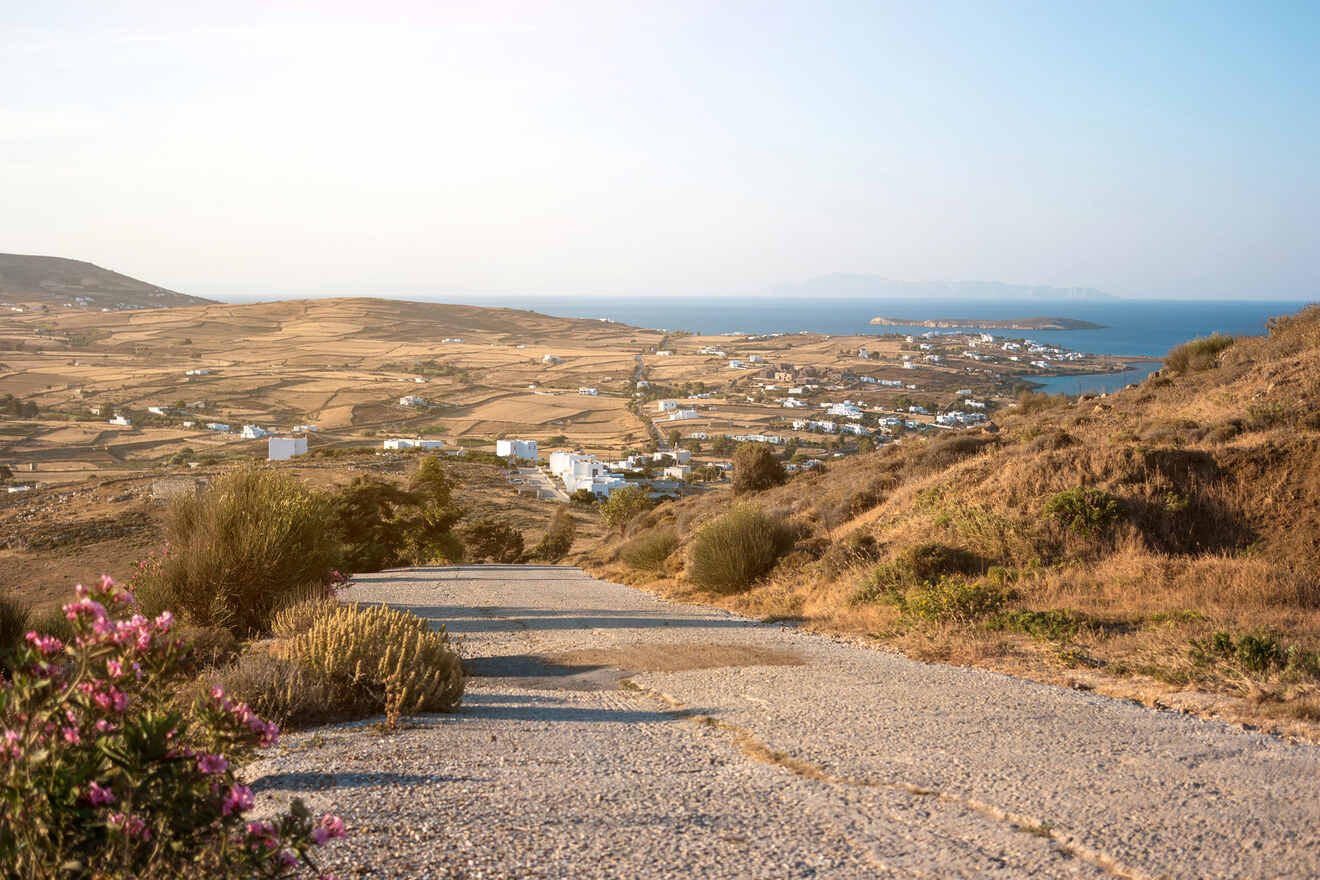 On the south coast of the island you'll find another fantastic fishing village that has become more and more popular with tourists!
Although Aliki was this remote location on the island, now it offers excellent attractions, boutique-style accommodations, and some unique local beaches! Yep, Aliki is a great spot for nature lovers and people who want to lay on the beach 24/7.
Its cute little natural harbour and whitewashed houses will make you'll fall in love with this place! Of course, the beaches are also pretty awesome.
You'll find a small one right in front of the village. The narrow strip of soft sand is perfect for lazy afternoons, enjoying the Greek sun! In that same area, you'll also find the harbor and a few beach bars where you can cool off with a drink during those hot days!
Eager to see the recommended hotels for Aliki? Let's check them out:
Luxury hotel
Helen's Minimal Studios & Apartments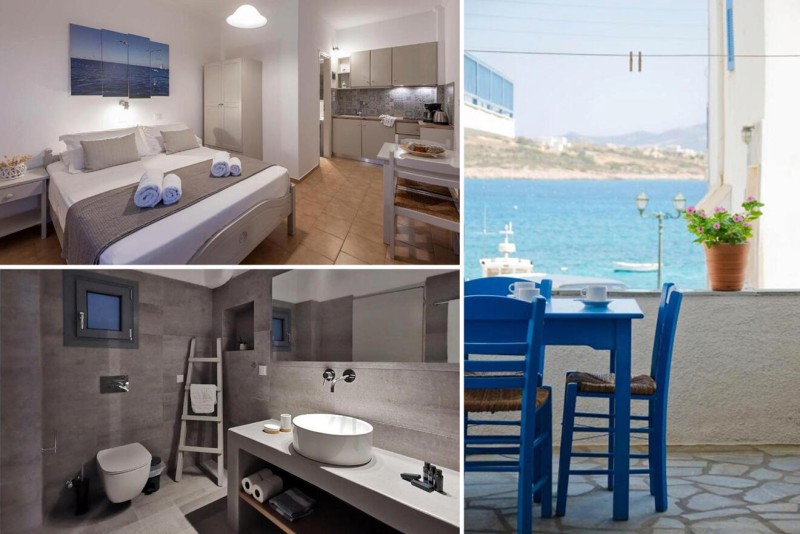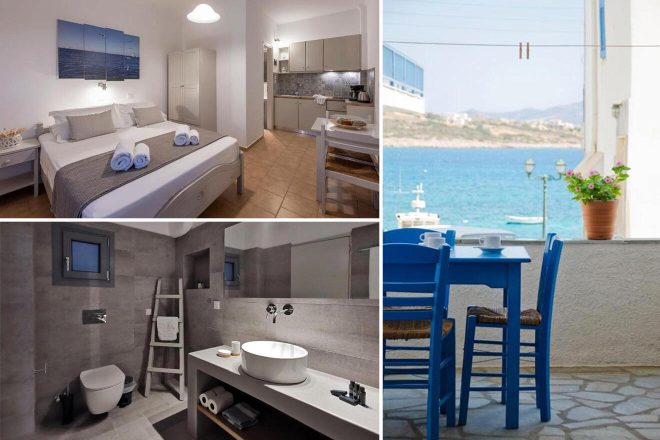 An excellent accommodation for your stay in Aliki! These apartments come with all necessary facilities including a kitchenette, free wifi, and a garden where you can relax during the day. Plus, the nearby beaches are just a 5-minute walk away from the hotel.
Other accommodation options in Aliki
Budget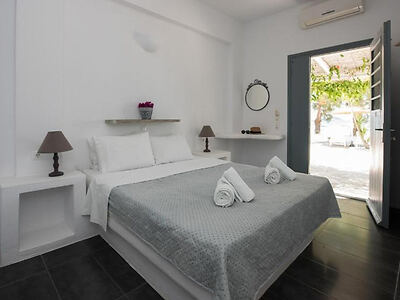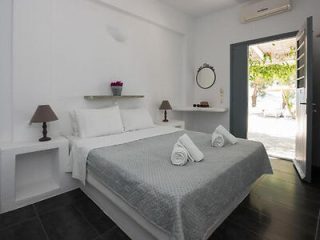 This budget accommodation has simple yet chic rooms with a kitchen, free wifi, and  sea views  
Airbnb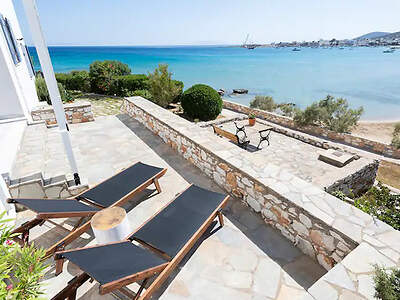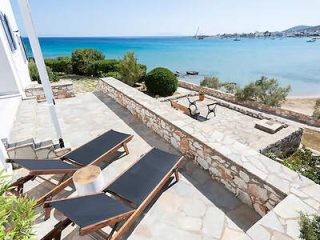 You'll love this beachfront house, it has a modern design, courtyard views, and a kitchen
Things to do in Aliki
Relax on Paralia Aliki beach
Enjoy a seafront dinner at Cafe Marina
Go for a swim at Piso Aliki beach
Explore the harbor area in Aliki
Grab some cocktails at Pela Luz Paros
5. Golden Beach – best place to stay in Paros for water sports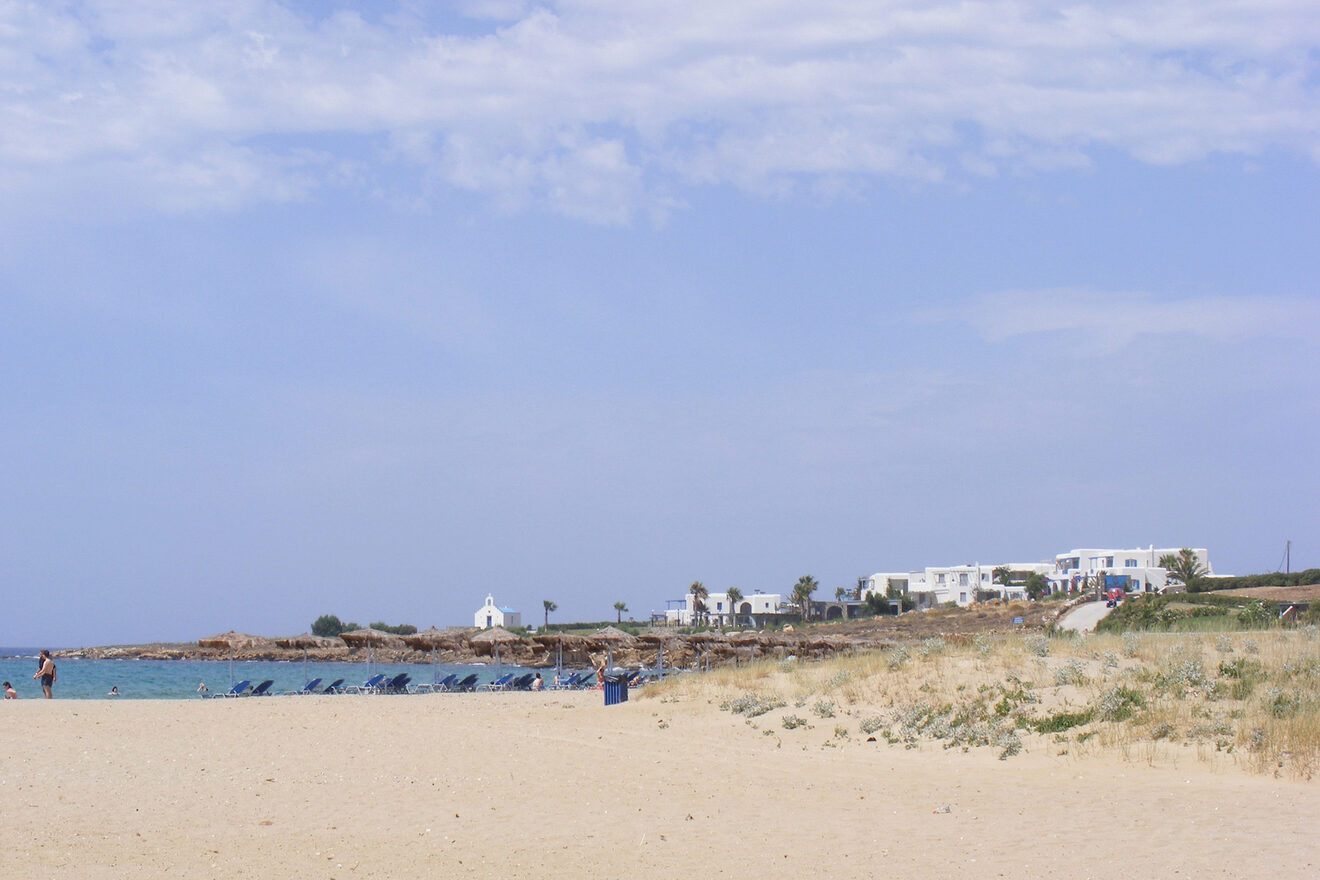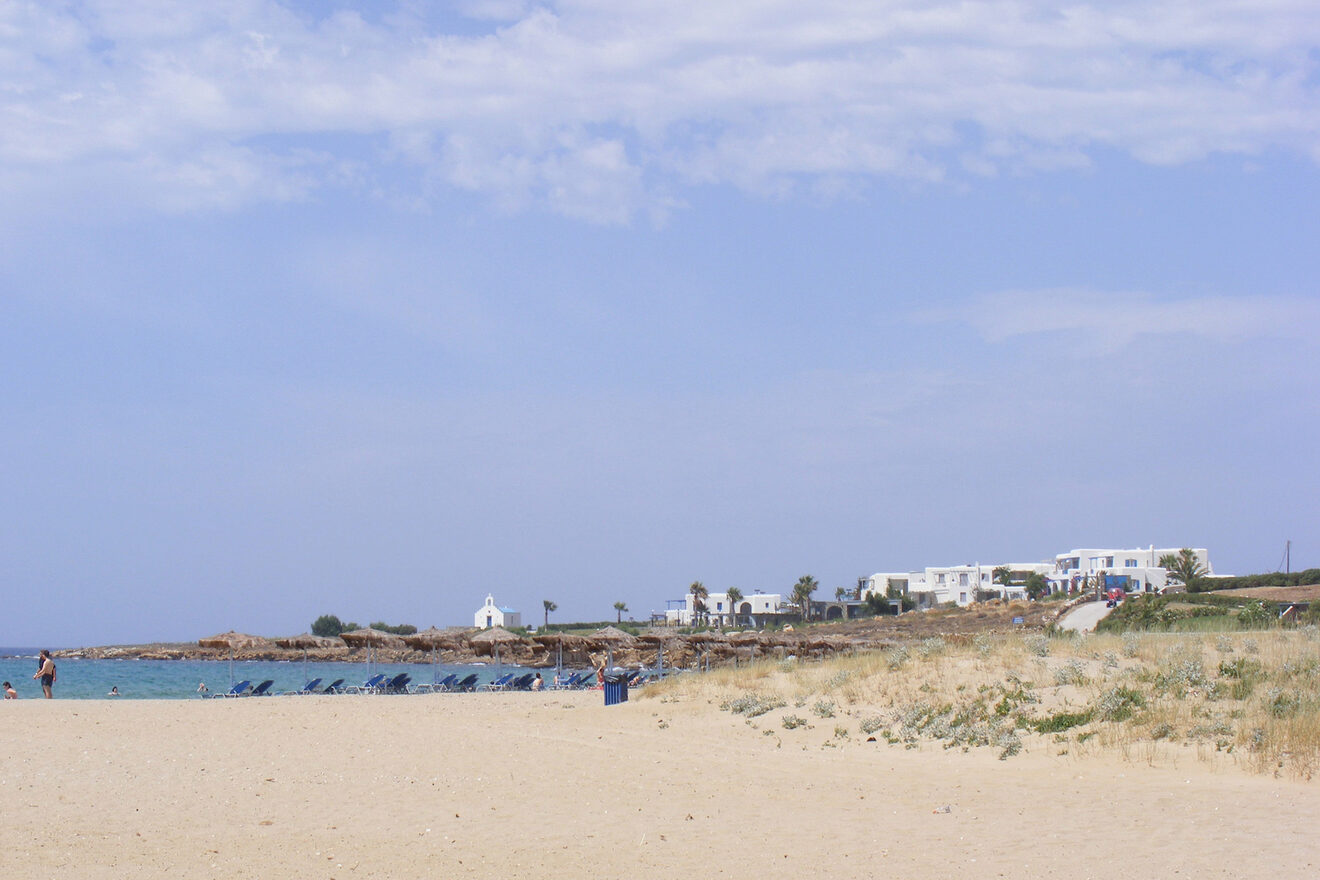 Once you see the sands on Chrissi Akti (or the Golden Beach) you'll understand its name!
Set on the east coast, this long stretch of gold sand is one of the best places where to stay in Paros, Greece, for people who want to try all sorts of water sports! On Golden Beach, you'll find the island's windsurfing community!
Actually, in august the Professional Windsurfing World Cup, is held on Golden Beach, bringing wind-surfers from all over the world!
If you've tried this sport but are not really sure about your skills, don't worry, there are a few schools right at the back of Golden Beach where you can learn, guided by a professional.
Although the beach isn't super big you'll still find the regular Greek harbor. Rather a small one, Drios harbour, which is set at the end of the beach and has some small fishing boats and private boats around.
Now let's find the best hotels in Paros, on Golden Beach!
Luxury hotel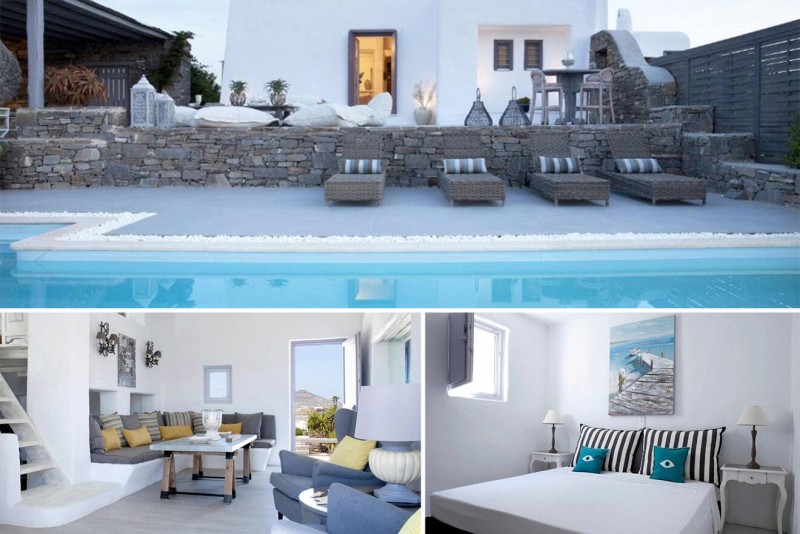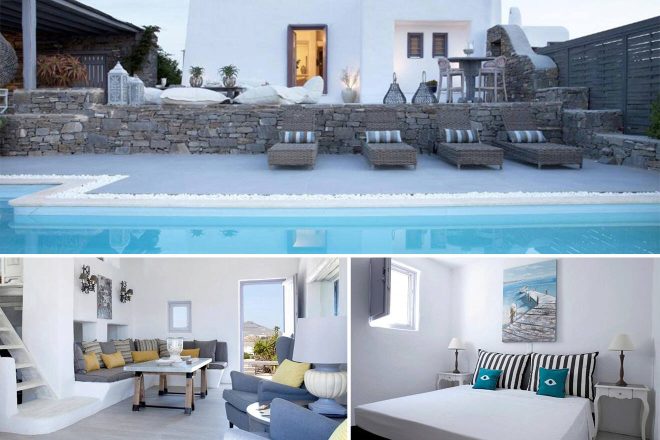 I like the fusion of modern and Greek decor of these villas. Everything is super chic yet simple and made to suit all your needs. Set just a short walk away from the beach, the accommodation has a swimming pool, a terrace with sea views, and private parking!
Other accommodation options in Golden Beach
Mid-Range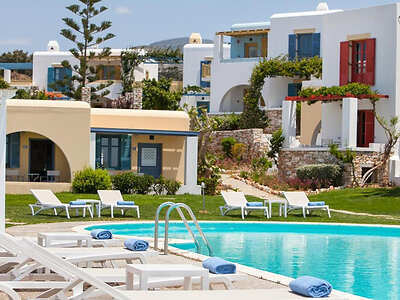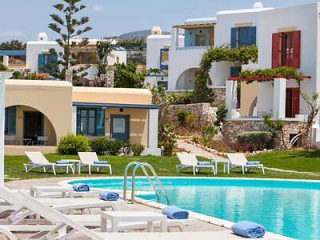 This traditional Cycladic style, beach resort has comfortable rooms, a poolside bar and even a tavern  
Budget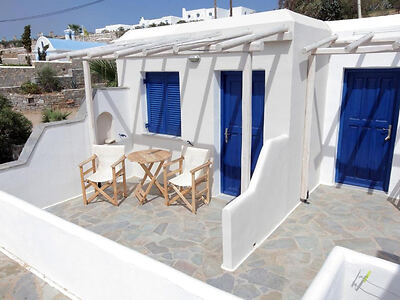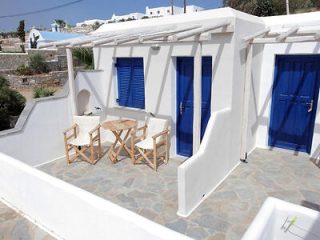 An amazing (and affordable) beachfront hotel that comes with sea view rooms, a bar and a stone-paved terrace
Airbnb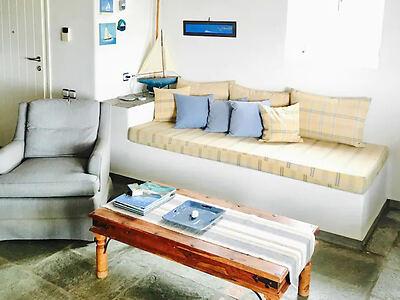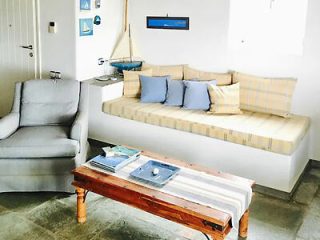 Chill on the terrace of the unique villa that has lots of space, a stunning decor, and an indoor fireplace
Things to do in Golden Beach
Improve your windsurfing skills at Golden Beach Surf Club
Spend a fun night on a beach club on Punda Beach
Sunbathe on the beautiful golden sand at the best beach
Grab a cocktail at Golden Garden Cocktail Bar
Explore the harbour area
Check out the nearby New Golden Beach
Frequently asked questions about hotels in Paros, Greece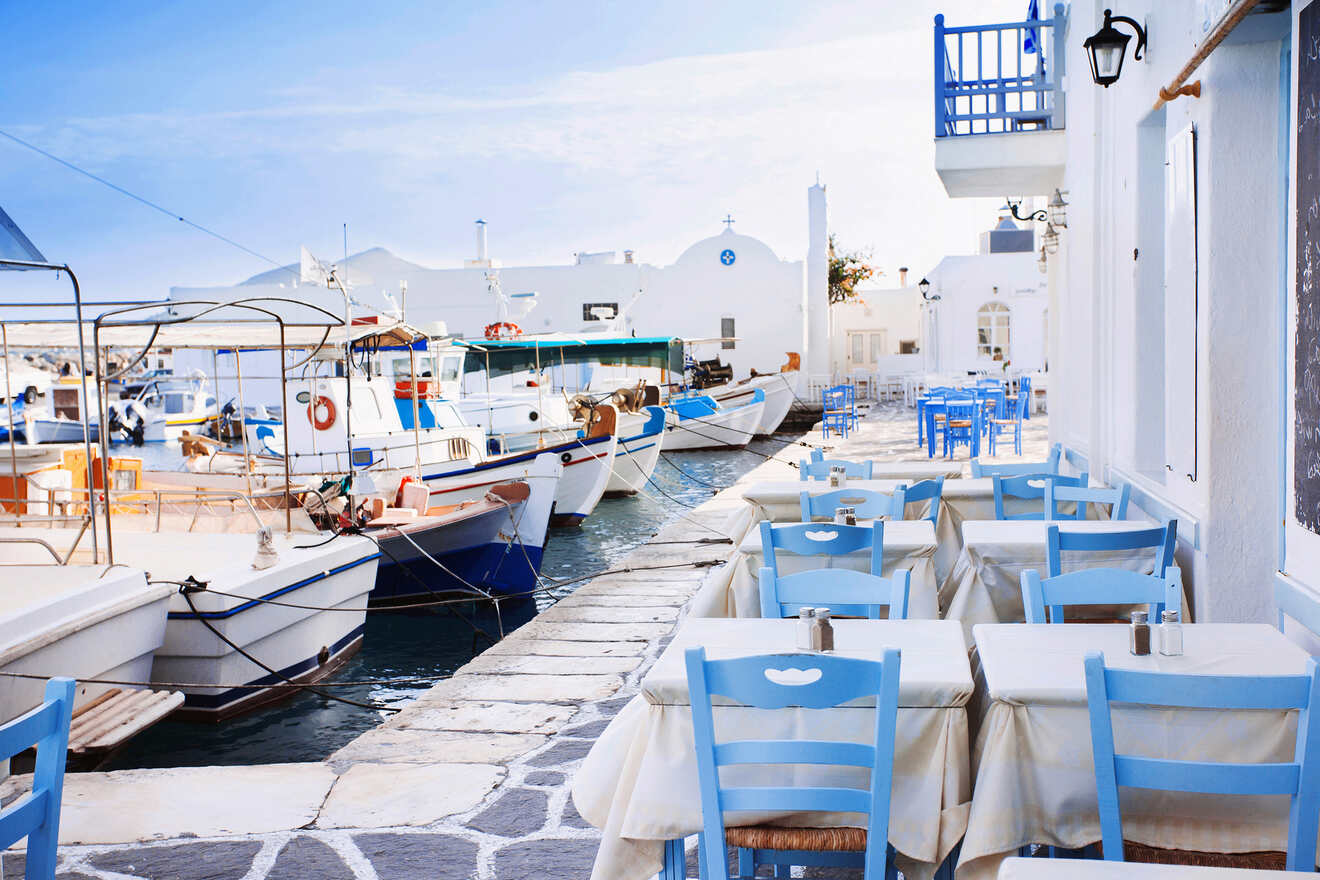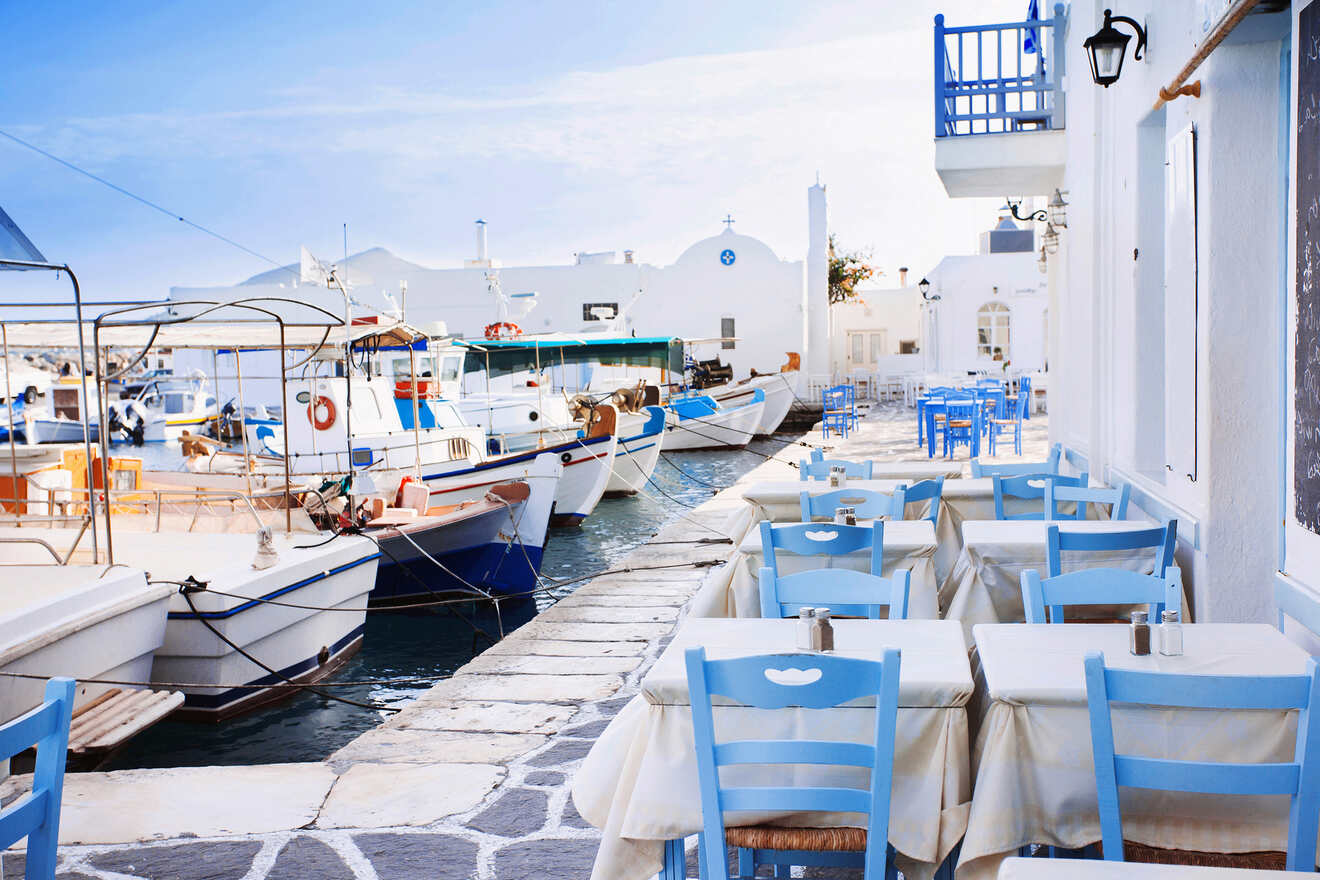 🏖️ Which part of Paros is best to stay?
Naoussa is one of the best areas where to stay in Paros, Greece. Here you'll find the best beach resorts like Saint Andrea Seaside Resort, many beach clubs, and fun attractions! 
🤔 Is it better to stay in Naoussa or Parikia?
Naoussa has a bit of everything for tourists. Great attractions, fantastic beach clubs, and some of the best hotels in Paros. While Parikia is more focused on history and culture and it also hosts the island's main port. 
🇬🇷 What is the main town in Paros?
Parikia is the capital city and the main town in Paros. Here you can learn many things about the island's history, check out the main port in Paros, and explore the tavernas in the town center.   
📆 How many days do you need in Paros?
If you spend 3 or 4 days on Paros island, you'll get to see all the attractions, spend lots of time on the beach, and take a day trip to Antiparos town or other islands.  
Conclusion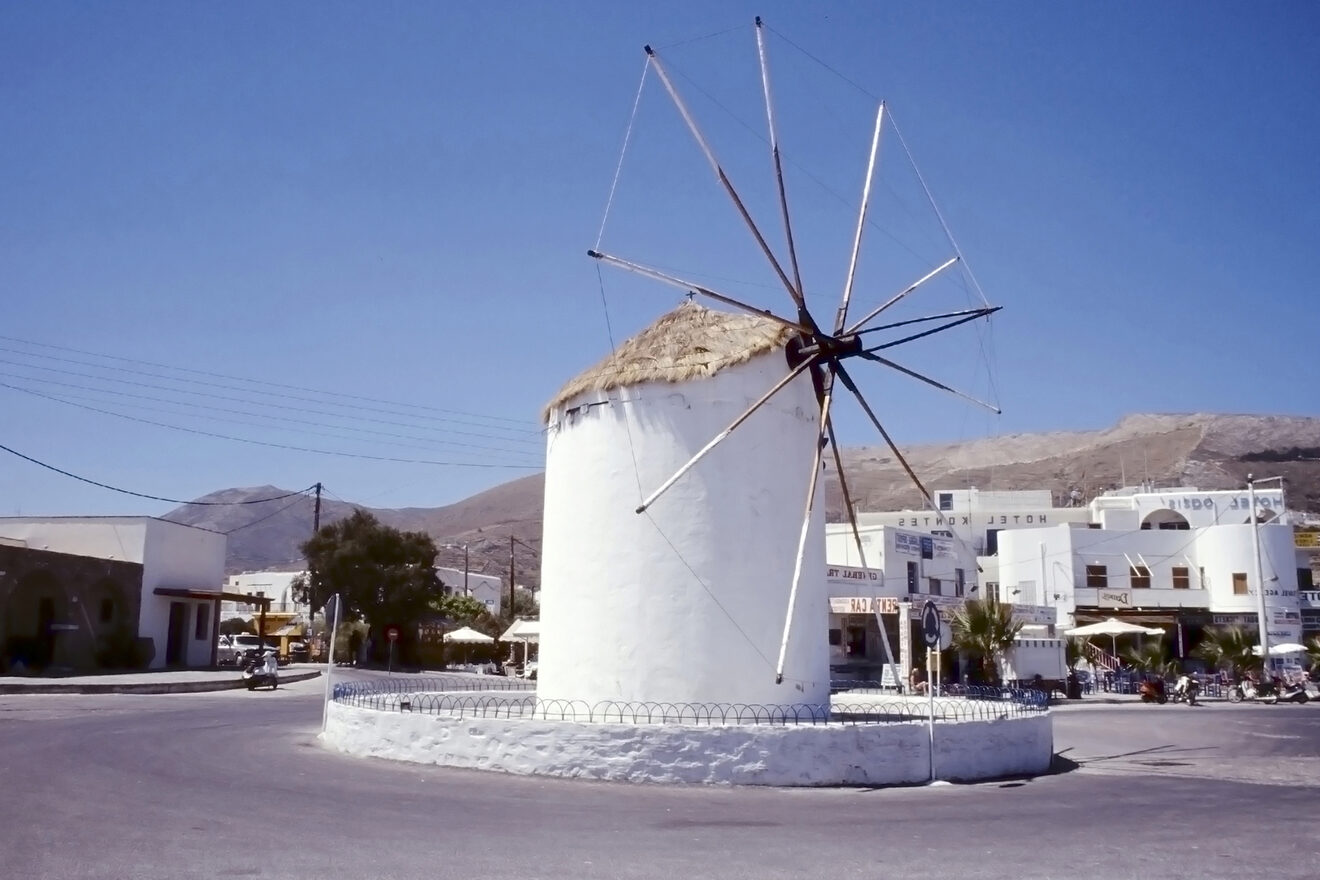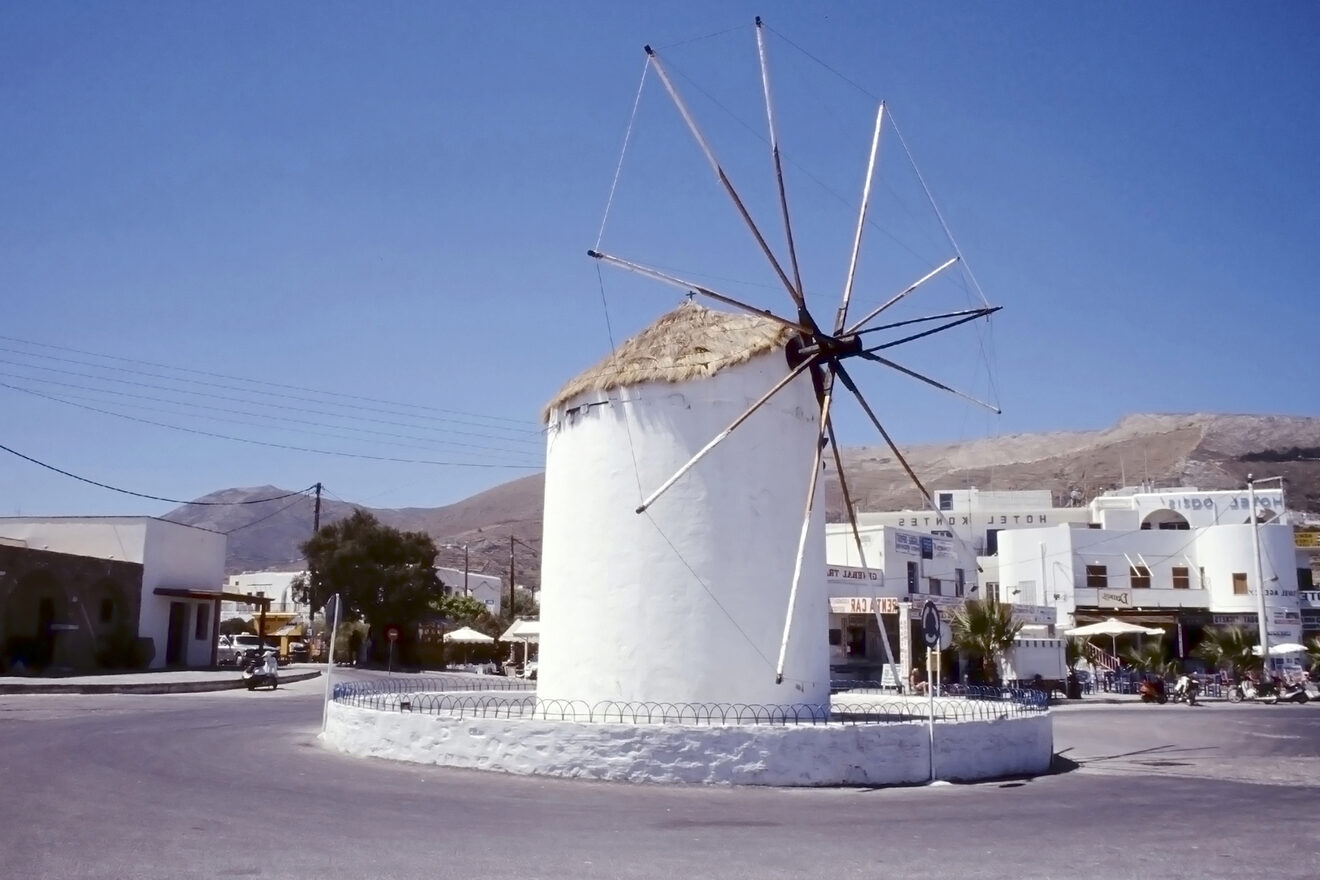 What a fabulous location! Who's eager to book their tickets already? I hope this post helped you decide where to stay in Paros. We've gone through a list of the top places on the island, each accompanied by my pick of the best hotels in Paros, listed from most to least expensive.
For some, the list of hotels may seem a bit too long, but trust me, you'll thank me later! However, to give you a little help, here are my top 2 favorite options to stay in Paros, both located in Naoussa:
Saint Andrea Seaside Resort – Offering beautiful rooms with private porches overlooking the sea, this stunning luxury resort has a dreamy swimming pool and a bar
Adonis Hotel Studios – Set within walking distance of the beach, this mid range hotel has unique Cycladic architecture and spacious rooms with sea views
Remember that you need to book your hotels in advance! Resorts and boutique hotels in Paros, Greece, sell out super fast and you'll definitely end up paying more if you book last minute.
Our fun and virtual Greek journey ends here, but yours is just about to begin! So enjoy your stay in Paros eat yummy food and go island hopping as much as you can!
Don't forget that I'm here in the comments if you've got any other questions about Paros Greece or the hotels!
Safe Travels,
Victoria
---
Pin it for later!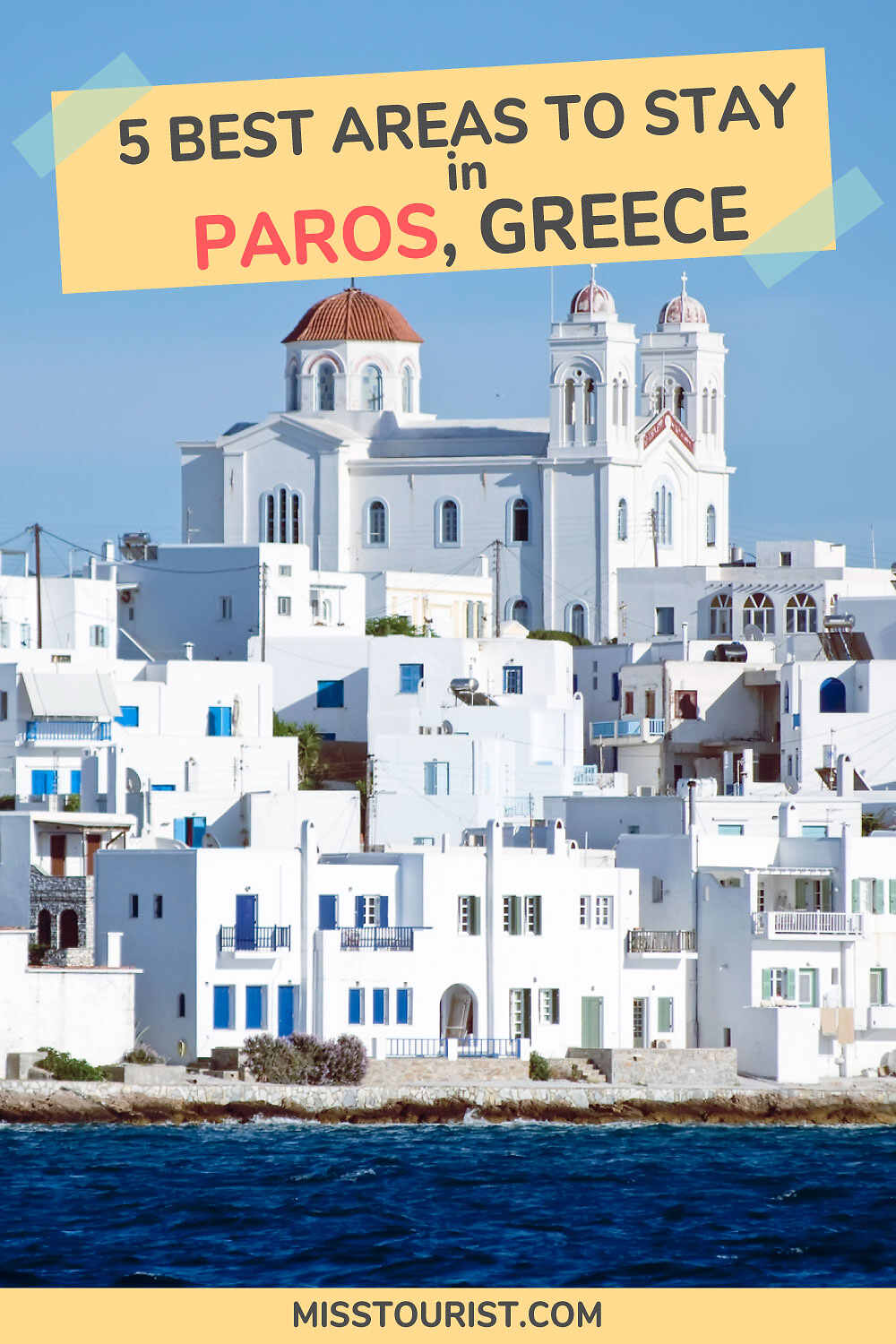 Pin it for later!