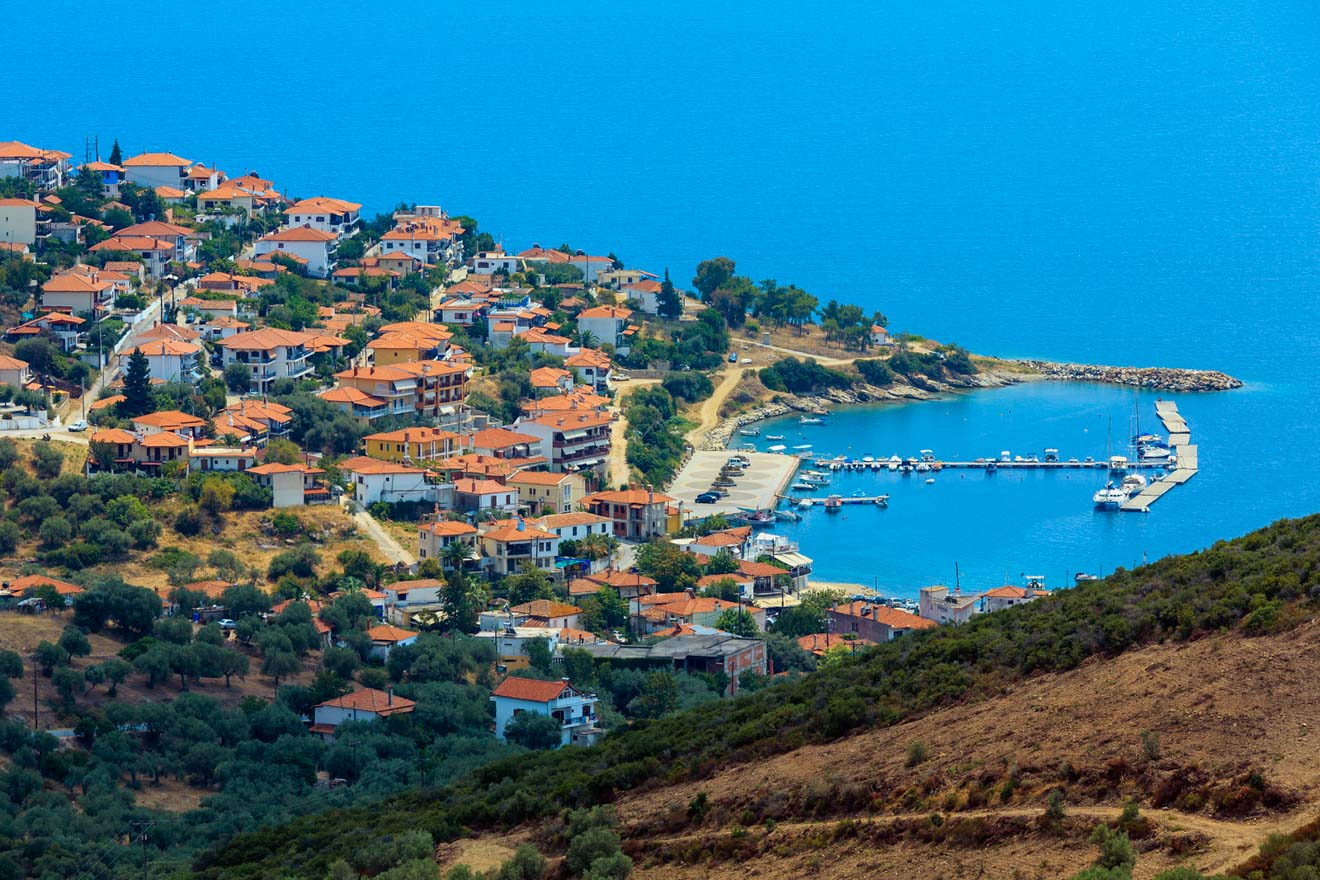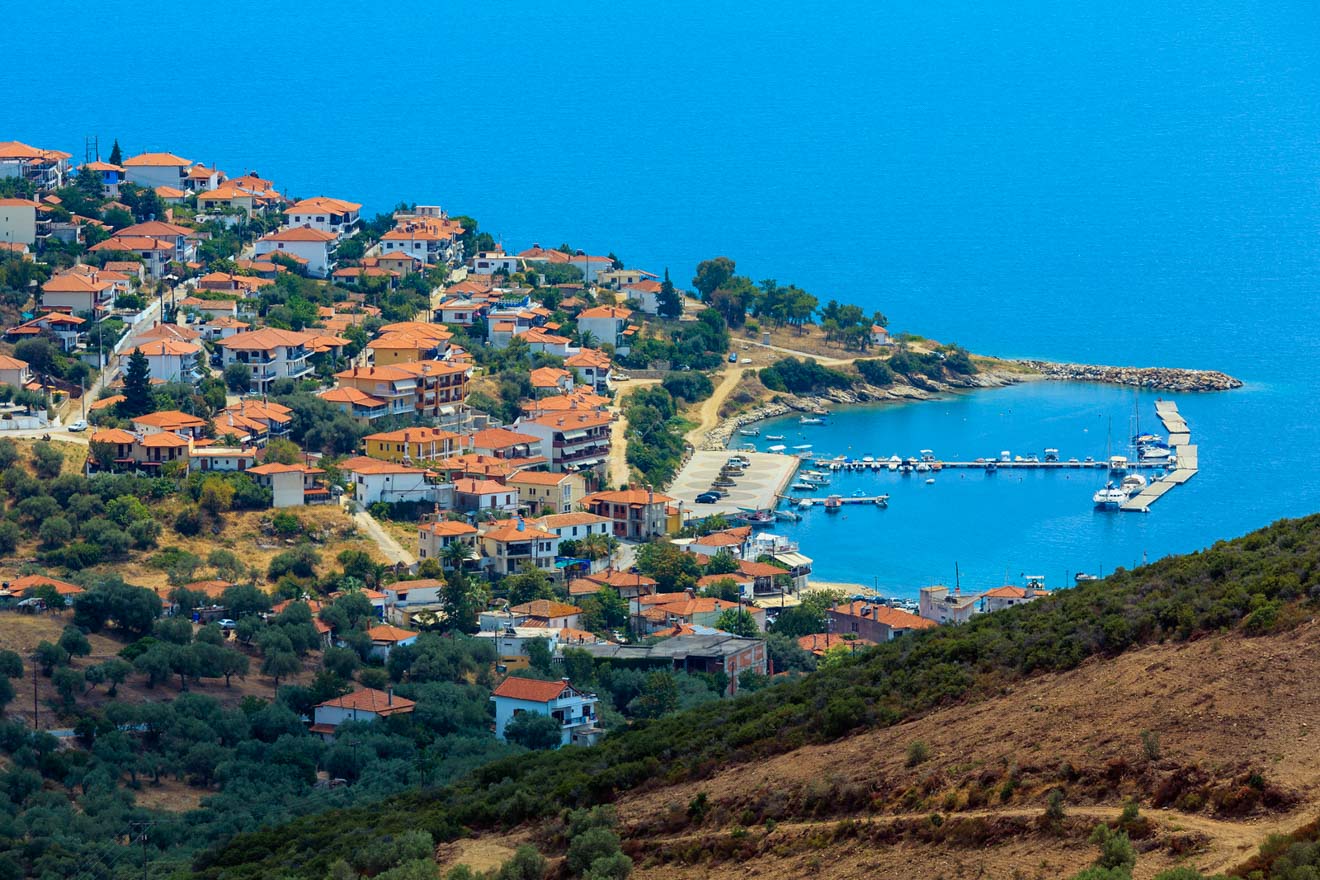 Greece is that beautiful country in south eastern Europe that pops up in your mind when you think of amazing turquoise waters, breathtaking sunrises and sunsets, dinners by the sea and all the beautiful things a vacation should have. That's right, Greece will give you an Instagram shot opportunity every 5 minutes!
The islands are famous in Greece but the mainland is just as appealing; you simply need to know where to go! So, welcome to Halkidiki, traveler! Halkidiki (or Chalkidiki) is a famous resort region in northern Greece. The region is made of three peninsulas or "feet", each with its own unique charm, history and magic.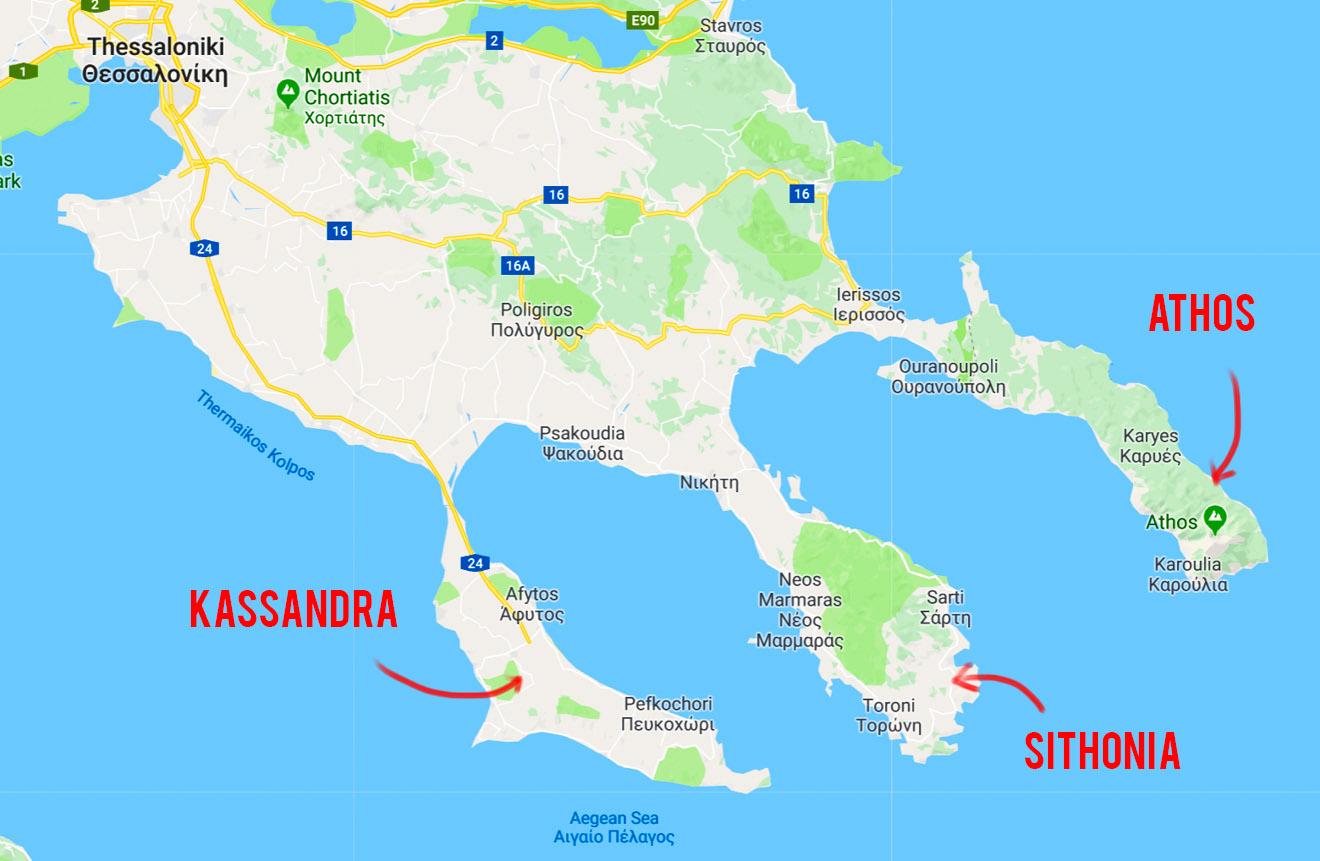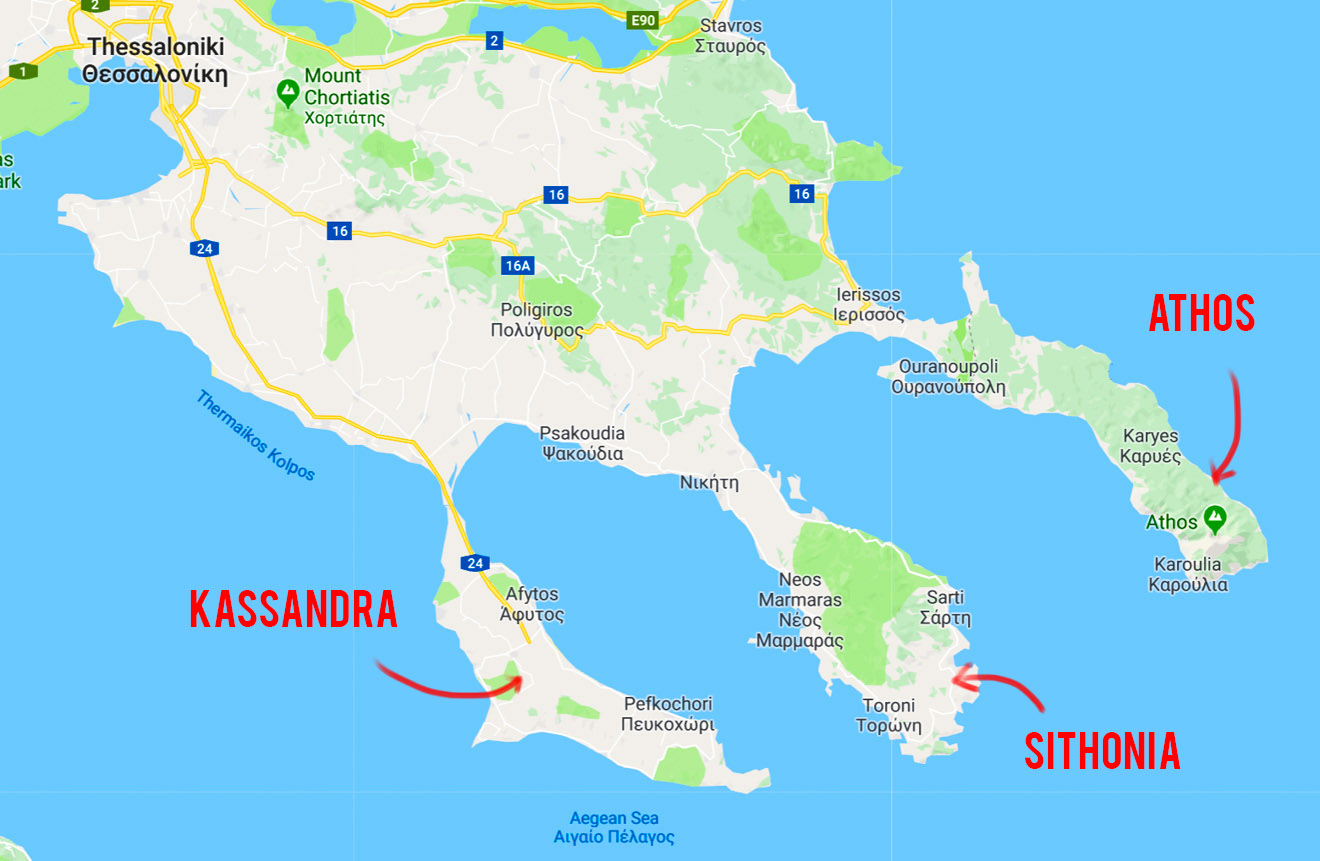 Each peninsula is different and each has its own specific crowd:
The first peninsula, Kassandra, has probably the most developed infrastructure and is the ideal place for nightlife lovers and party animals. Why? It is the closest to Thessaloniki and is full of students coming from there.
The second leg is Sithonia. It is perfect for nature lovers (read – me!). It can offer both amazingly blue sea scenery and magical forests as well.
The third is Athos, the world's only monastic state, home to twenty monasteries. It can only be visited by men and you will need a special visa to enter the area.
As I am not really a party animal lately and I can't really visit Mt. Athos because I am a woman, the choice was simple – Sithonia it is!
I spent most of my time visiting the Sithonia peninsula so I will talk about that mostly, but I will also tell you about the tour I took to see Mt. Athos from the water.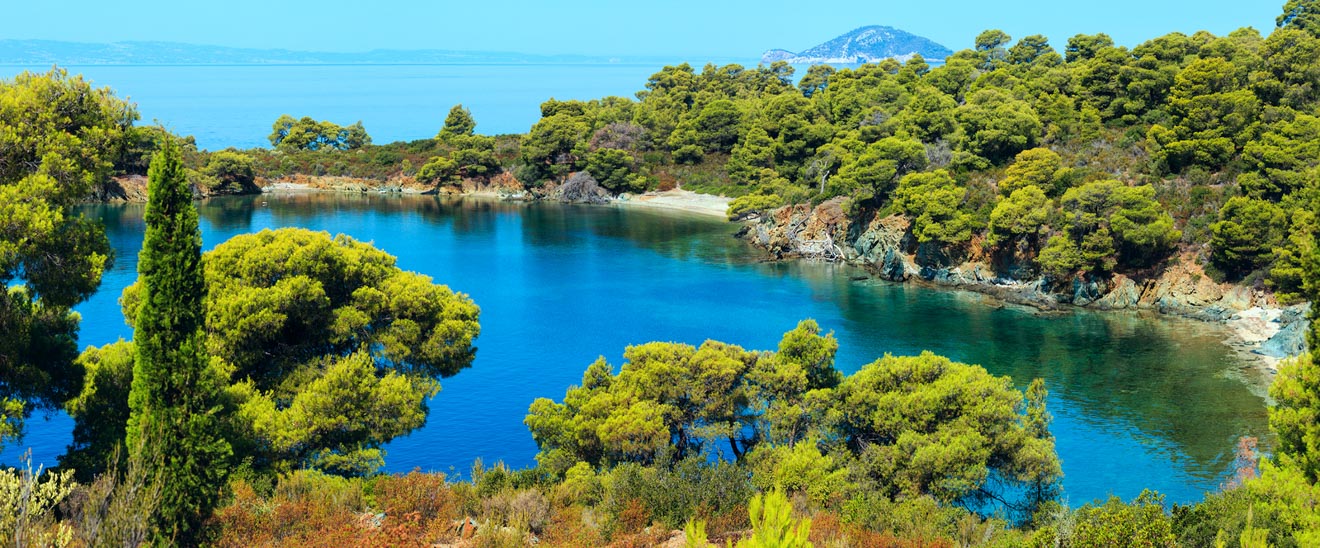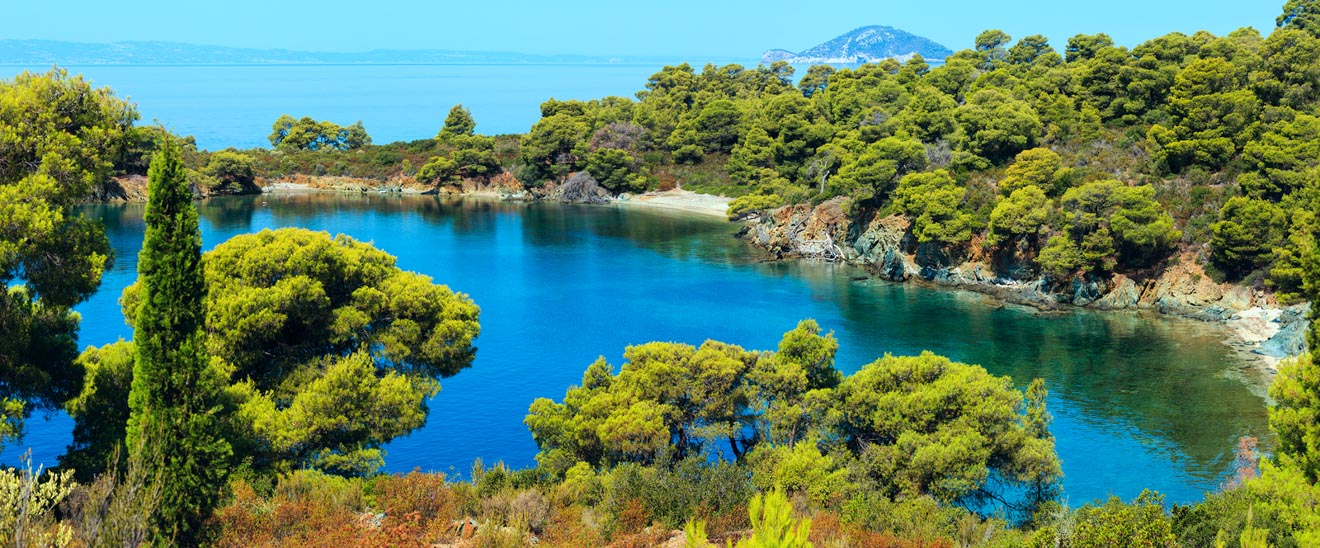 One important note from the start! For transportation on the peninsula – you will need a car! There is no way you can go sightseeing without it-public transportation is non-existent and renting taxis all the time would be too expensive. The roads are good, so why not rent a car for that period of time when you feel like exploring?
Technically, you can get around the peninsula in 2 hours if you just drive around it. 2-3 days will be enough to visit everything I have recommended below, but please do not forget to also have a rest and just enjoy the untouched beauty of those places. That is what you are there for, right?
Ok, without further ado, here are the places that you should visit on the Sithonia peninsula in Halkidiki:
8 Best Beaches of Sithonia
Halkidiki boasts an amazing 550 km of coastline featuring hundreds (if not thousands!) of different stunning beaches! Visiting the most beautiful ones is part of the sightseeing experience when it comes to Sithonia.
The beaches are different – some are fancy and full of nice restaurants while others are wild and almost undiscovered by tourists.
Let's talk about the ones that I liked the most (they are in order if you started in the north and went around the peninsula counter-clockwise).
1. Spathies Beach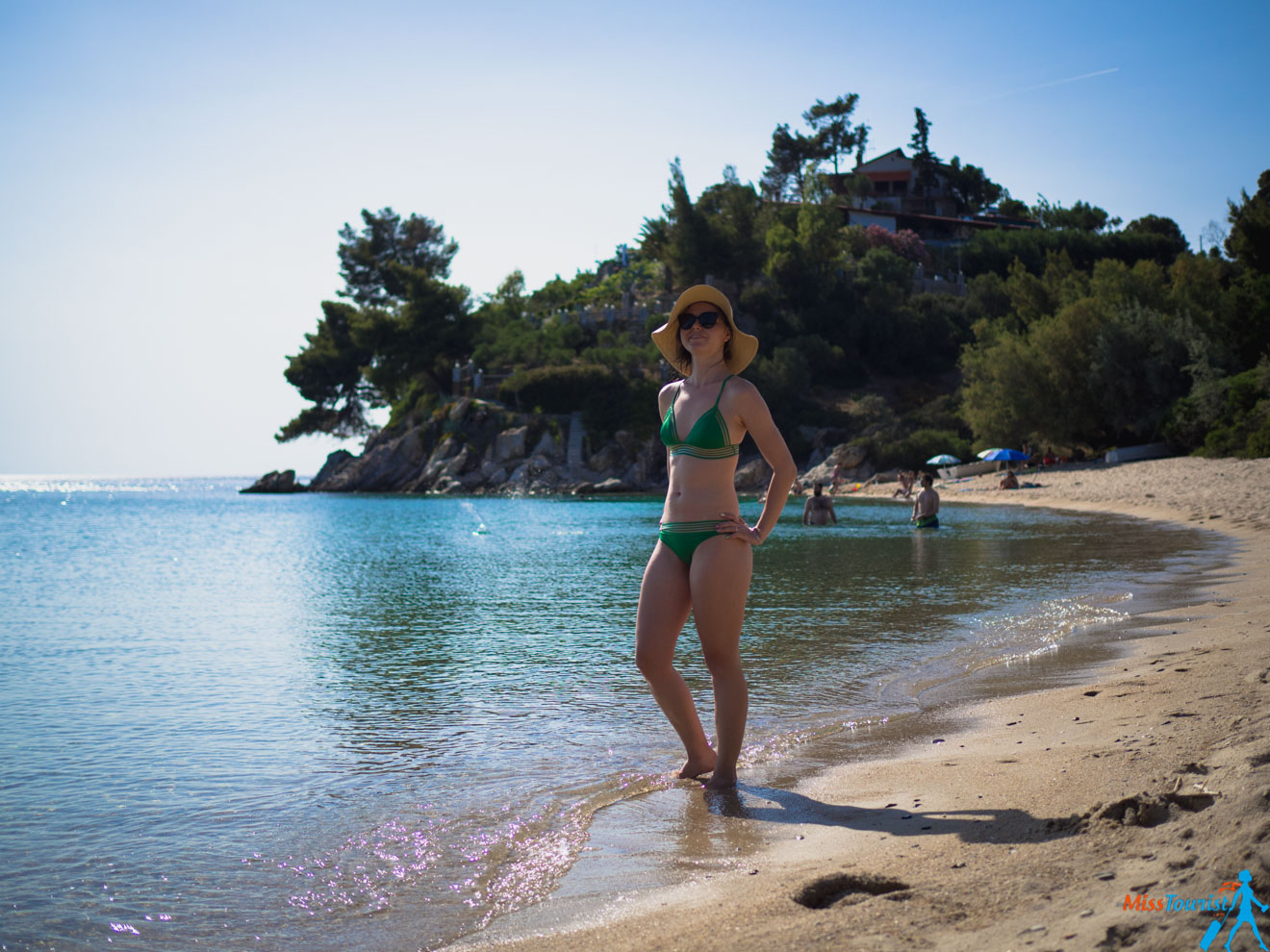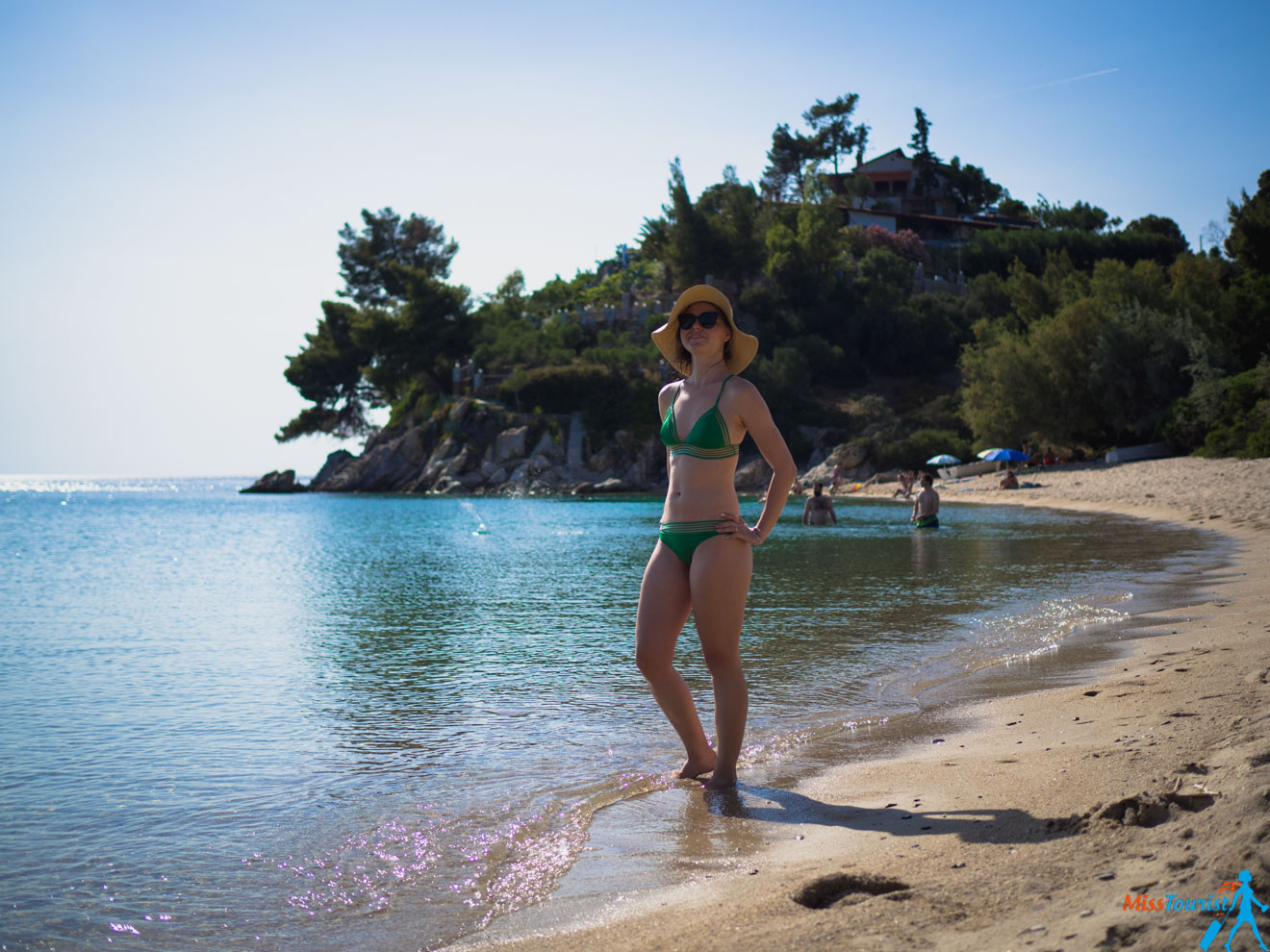 This is a very local beach that tourists don't usually know of, so it is a great place if you are trying to avoid the crowds – it is both nice and secluded. The only disadvantage is that there are no shops around, so, if you think you will get hungry or thirsty, take some snacks with you!
2. Elia Beach
Elia Beach has about a 2-km-long stretch of coastline on Sithonia's western shore. Some parts of it have pine trees that are perfect to protect you from the sun in the mid-day!
3. Paradisos Marmaras Beach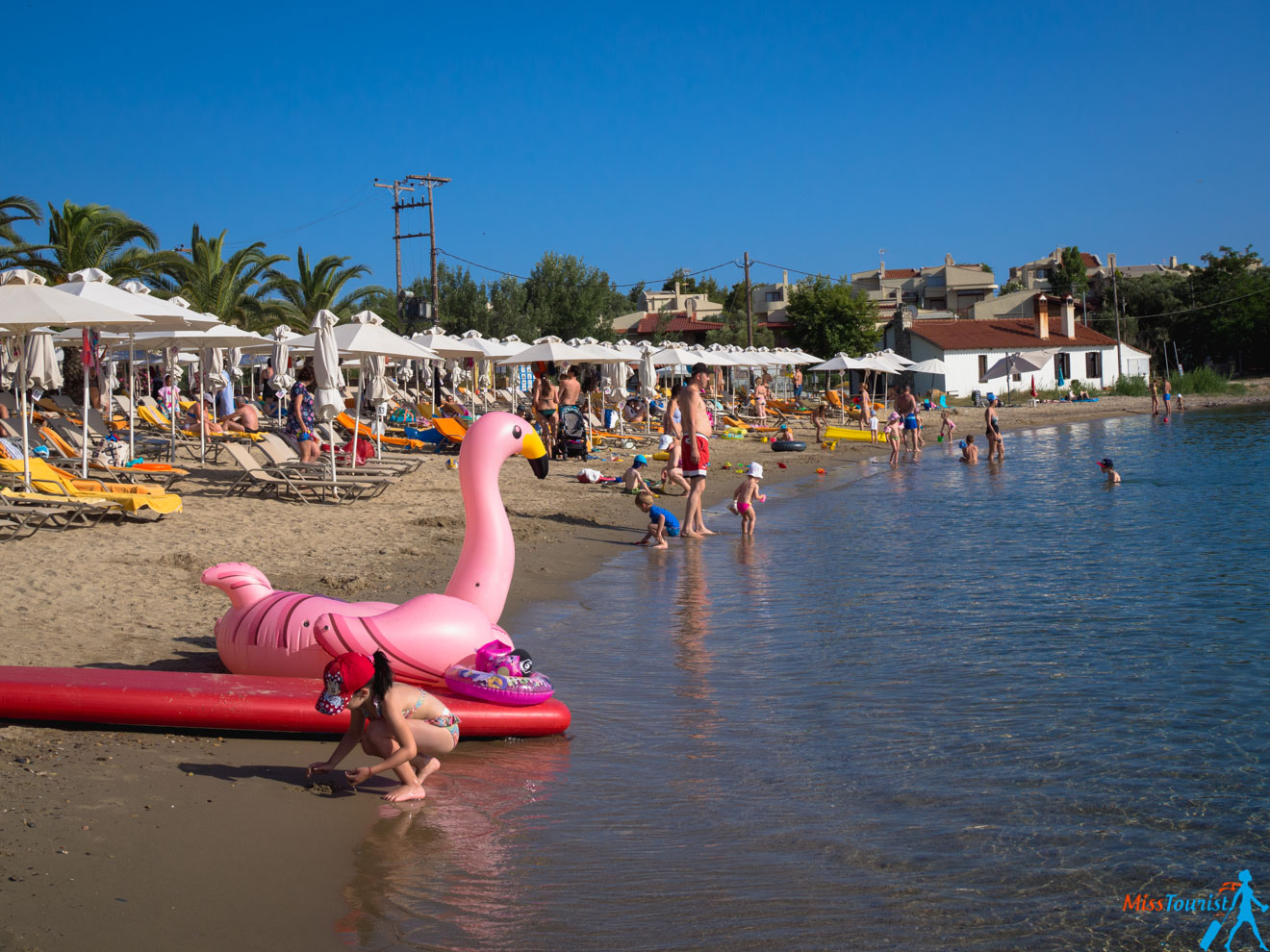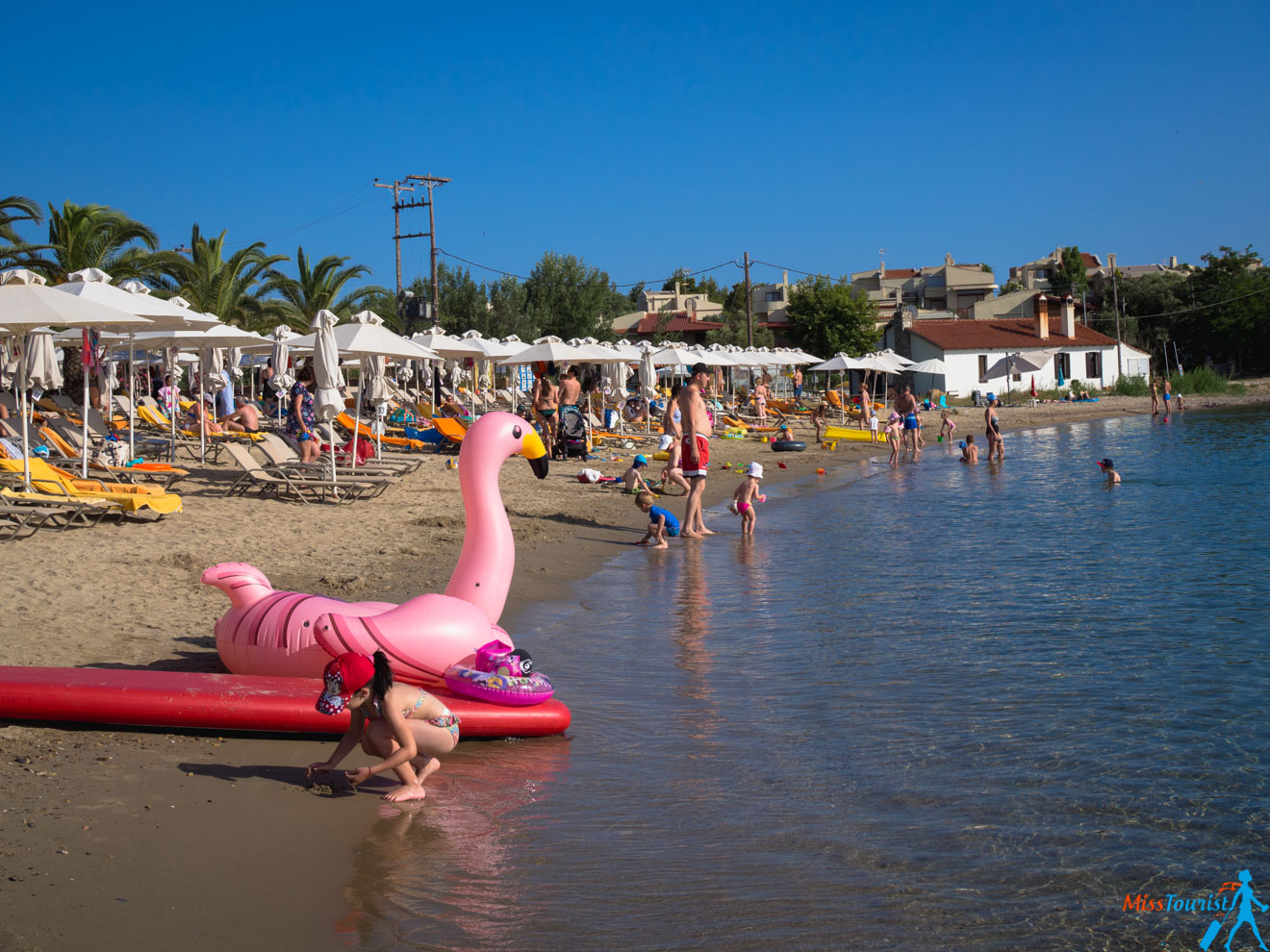 This is a narrow beach that serves the local hotels. I got the impression that Paradisos Beach is the most kid-friendly beach in Sithonia. There were many activities geared toward families like water slides etc.
4. Kalamisi Beach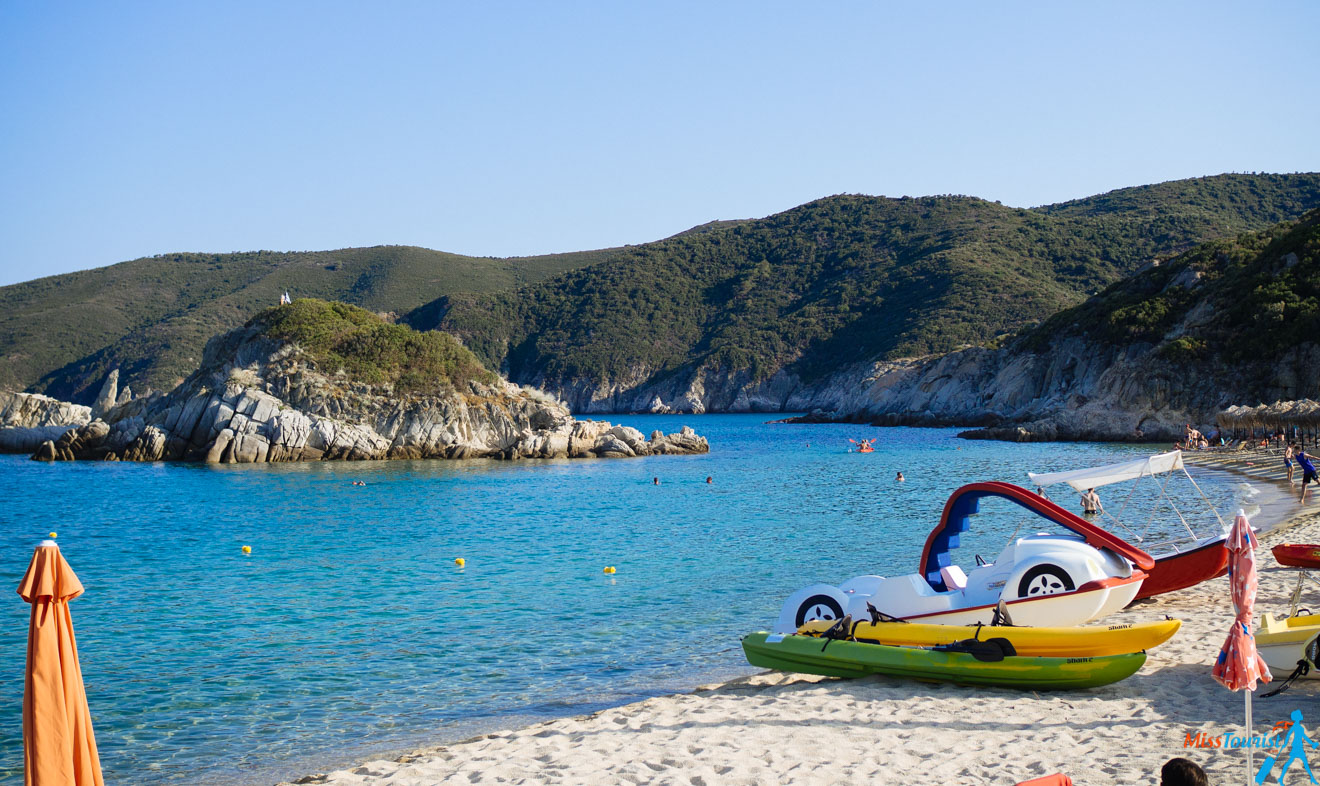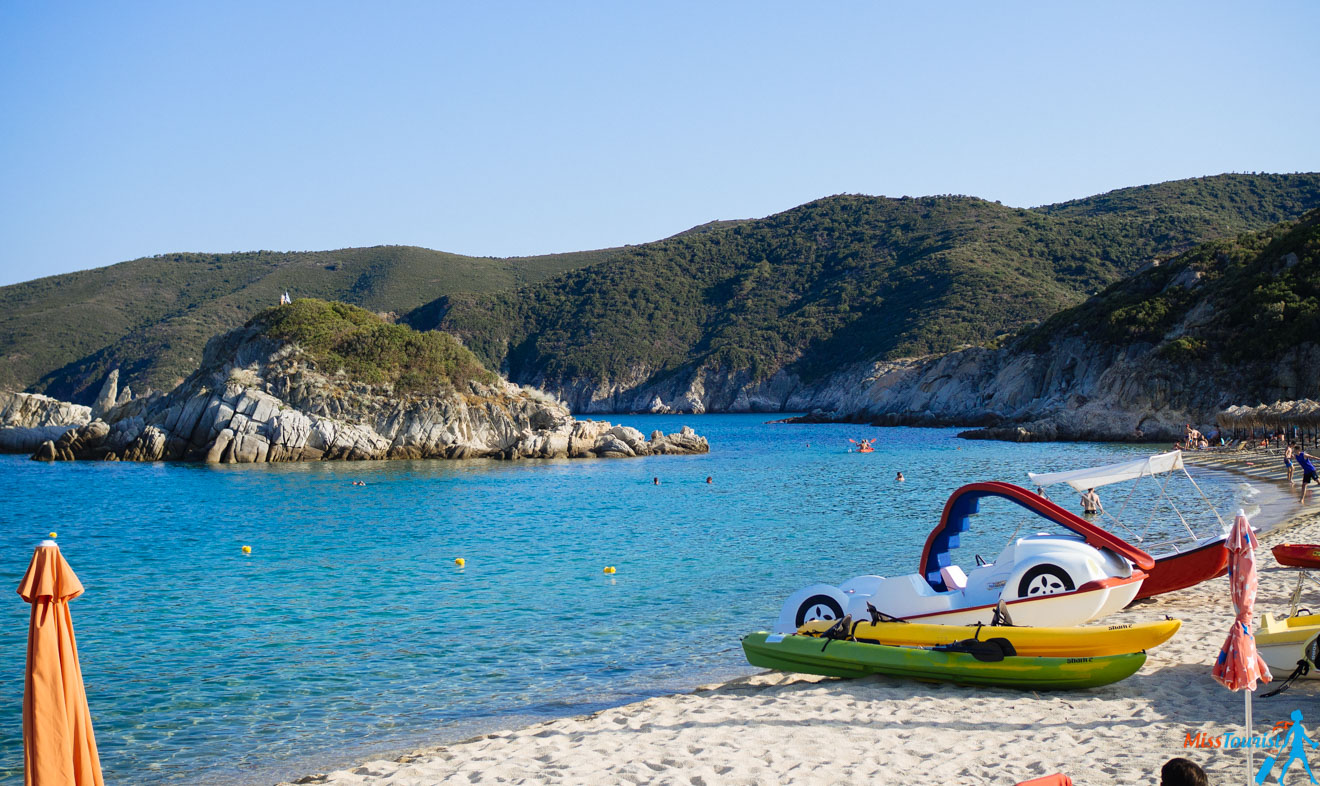 Kalamitsi Beach is the most southern beach of the peninsula and it has a very scenic ride to it, too!
Kalamitsi is probably the longest beach and it offers many water sport activities including diving! It has no pebbles and that is a huge advantage!
5. Klimataria Beach
This is one more great beach with crystal clear water. The bay is very sheltered so even if it is windy, the waters here will be calm. Make sure to visit Tigania Beach Bar, it is just around the corner and it has a fantastic view of the sea!
6. Kavourotrypes (Orange) Beach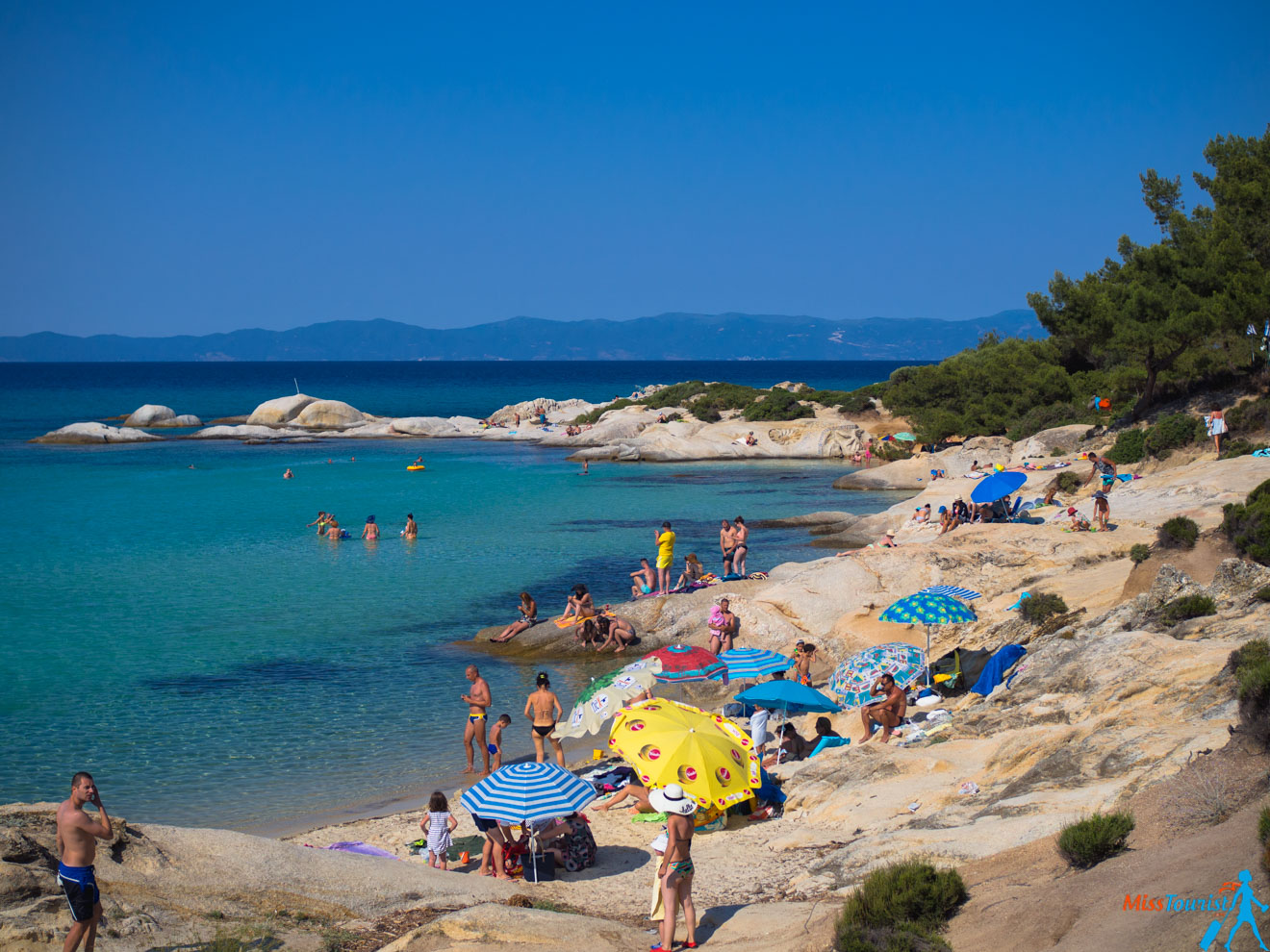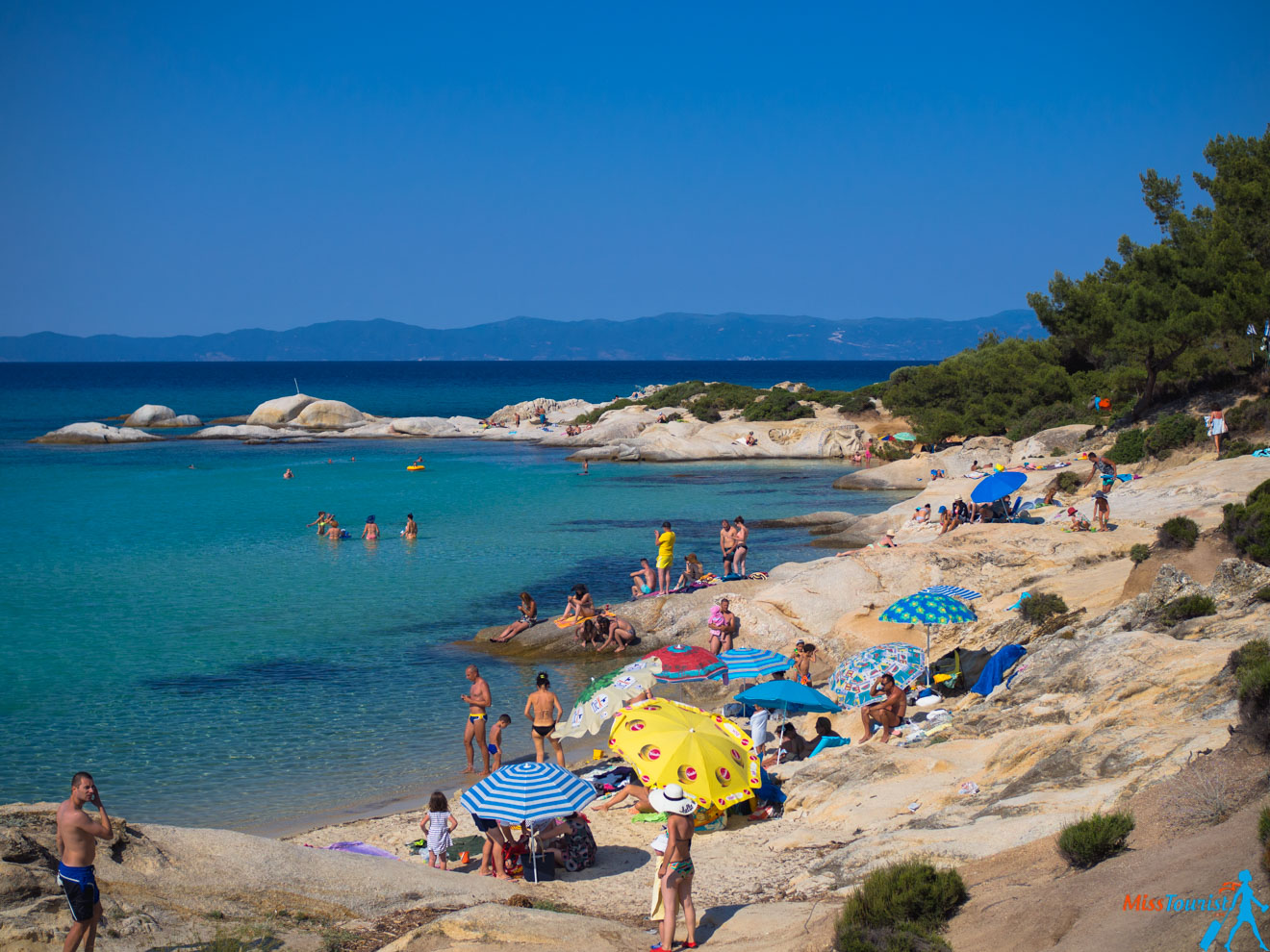 Orange Beach is also often called Portocali (which is "orange" in Greek). This beach was one of my favorites though a little crowded when we arrived. The beach consists of many little beaches because of all its coves. It's a little rocky (best to take water shoes if you have them), but very nice with its crystal clear blue water!
There is also a Mega Portokali Beach nearby that looks more secluded to me and is less well known, but unfortunately I didn't go there.
7. Karidi Beach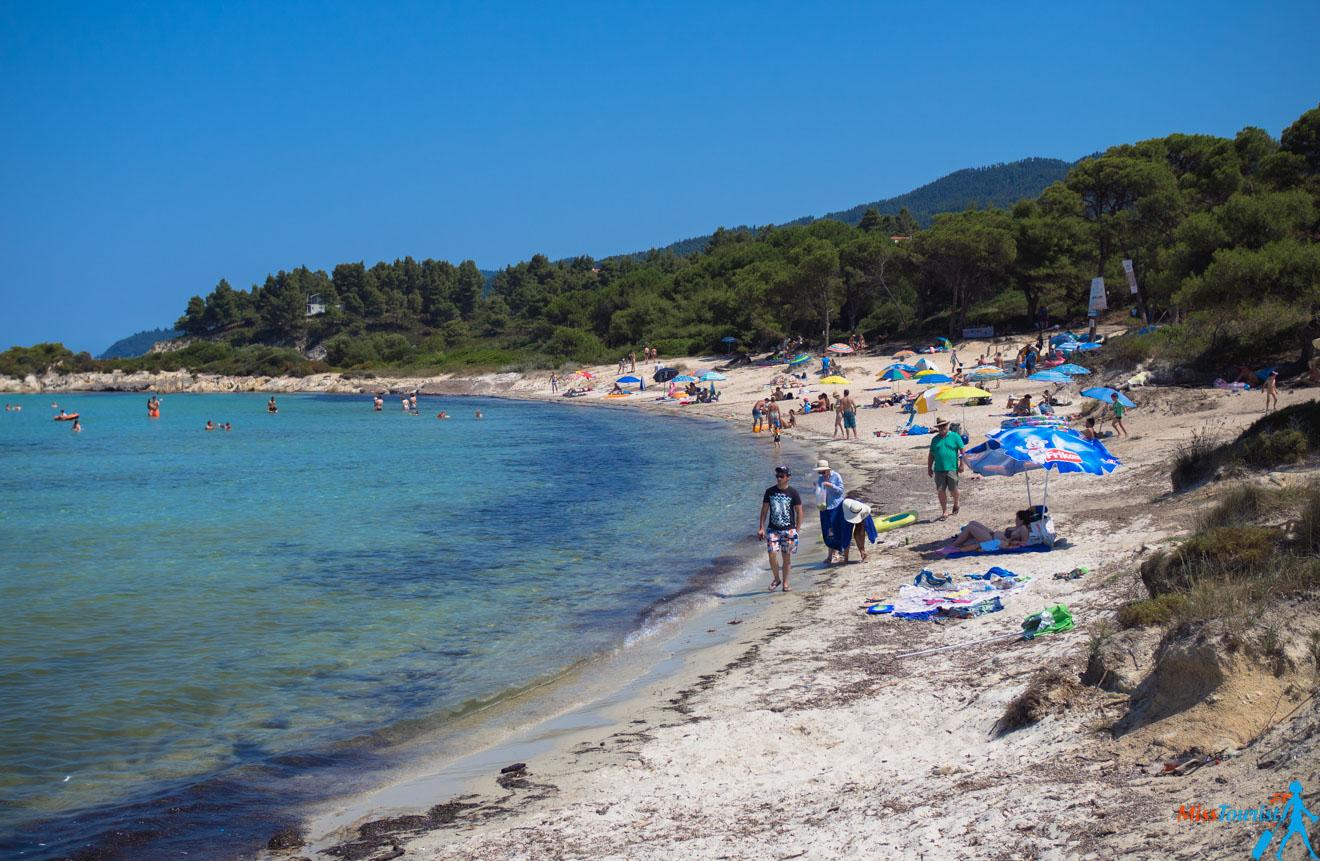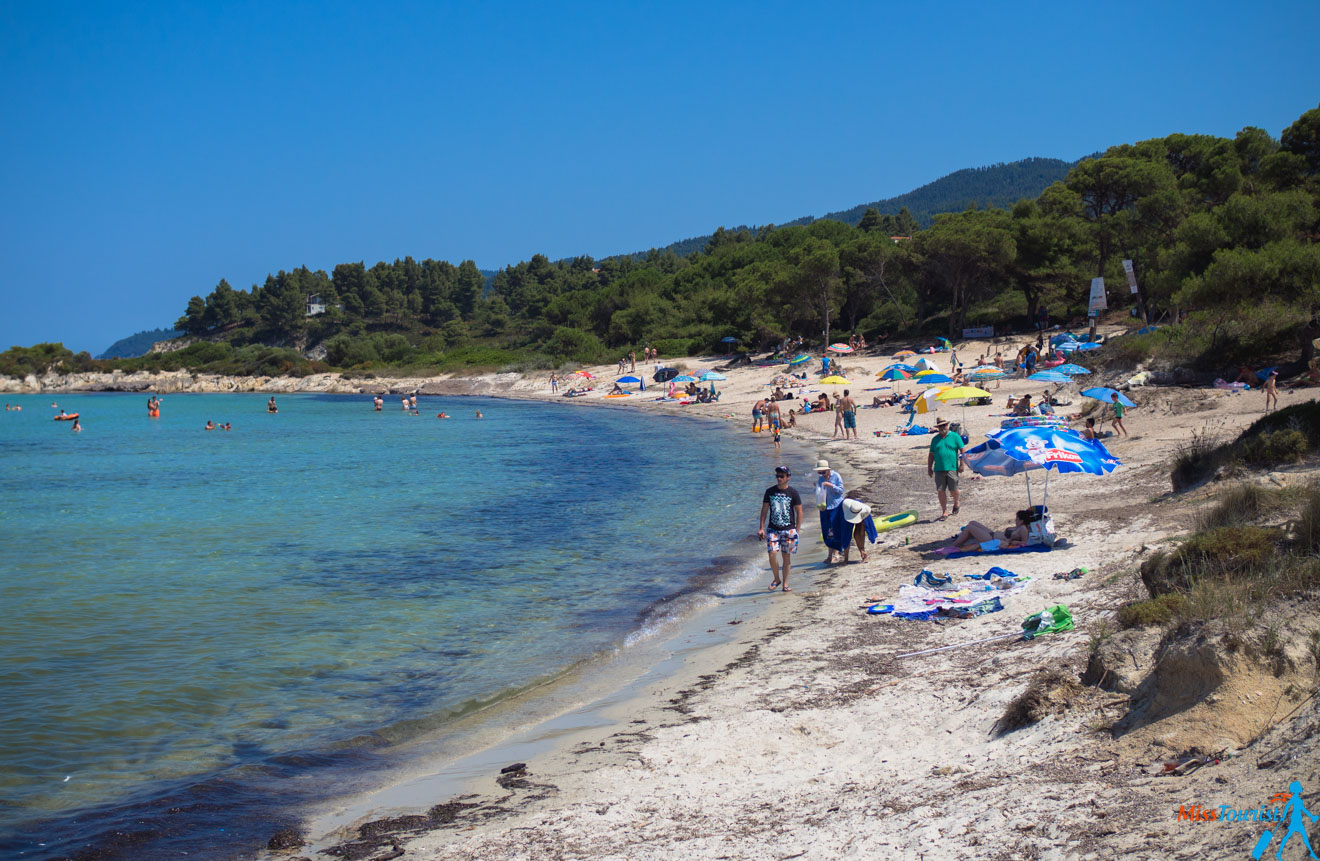 Karidi (Karydi) Beach is my second favorite after Orange Beach (although, again, quite a popular one). If you want to enjoy crystal clear water among the rocks, this is one of the best beaches on the peninsula for it! Please note there is just one shop where you can buy some snacks; there are no proper restaurants around.
8. Trani Ammouda Beach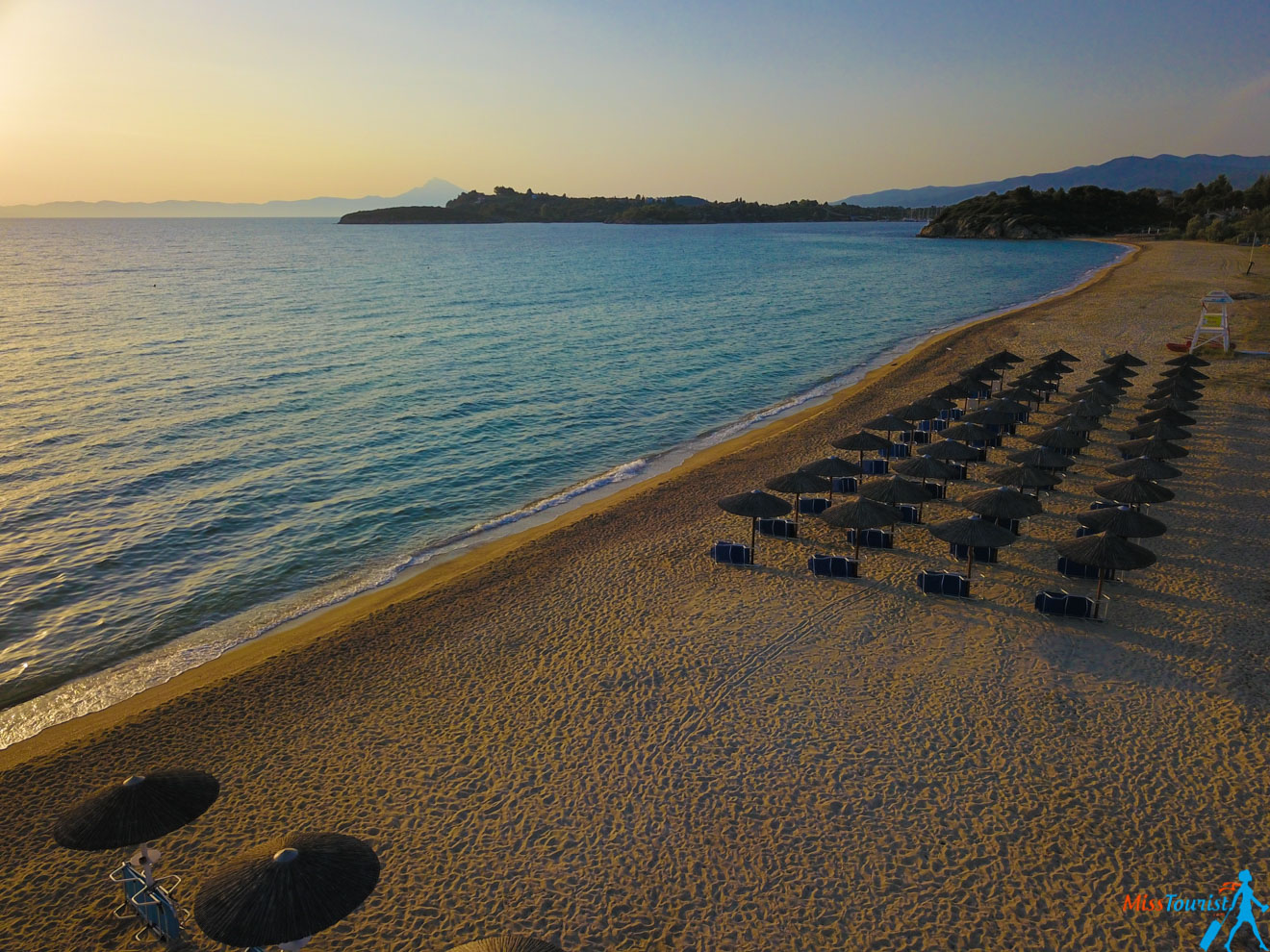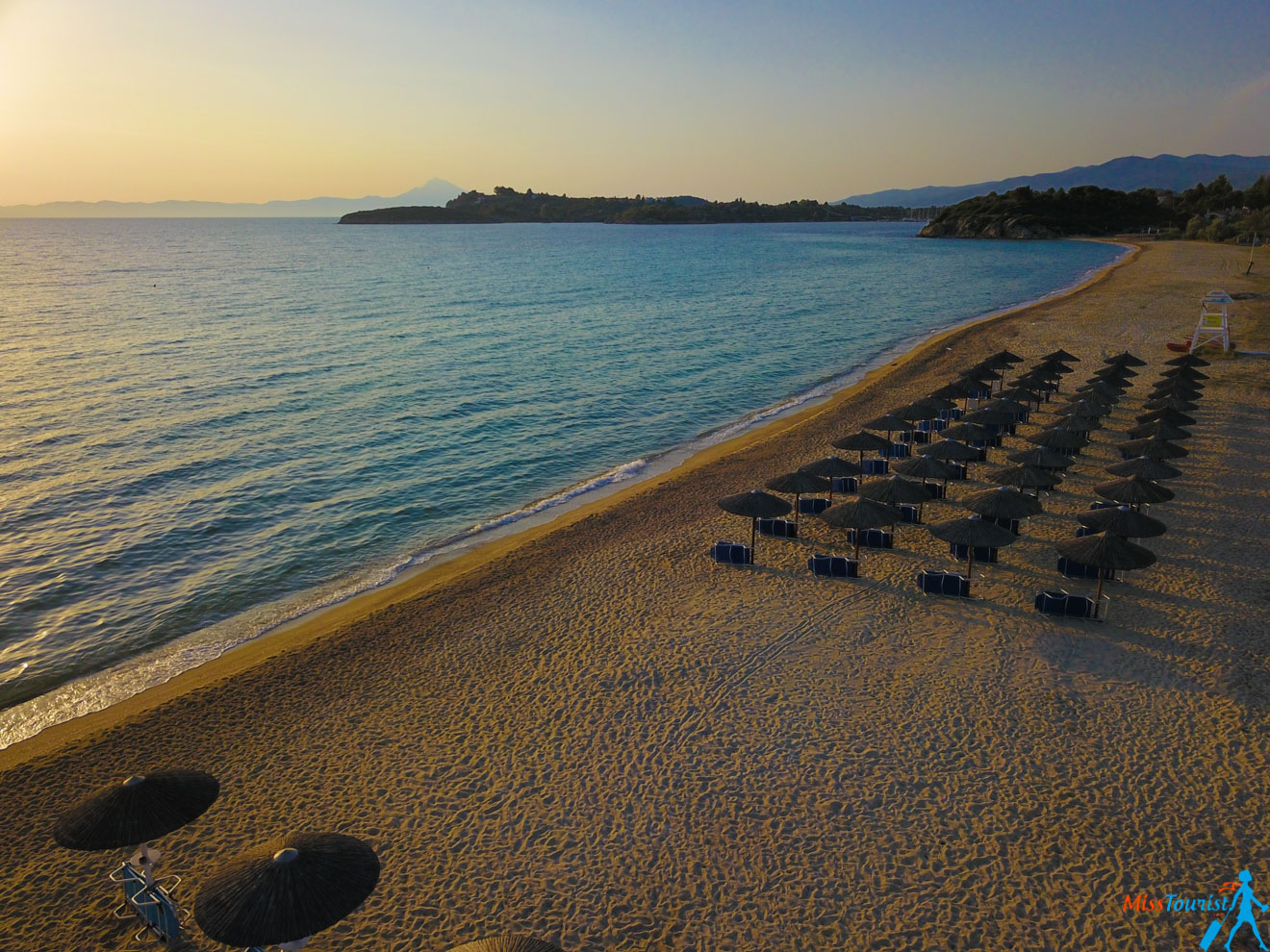 Trani Ammouda is the beach that was right in front of my hotel and also one of the best ones in my opinion. It is quiet, turquoise, long and has good infrastructure at the same time!
NOTE: There is also a beach called "Lagonisi Beach" just 20 minutes walking from there, so we could walk from the hotel when we felt like exploring without the car.Beaches are nice, but I am sure that sooner or later you would like to discover more things to do in Sithonia, right?
Here are some other places that I found to be interesting to visit:
Diaporos Island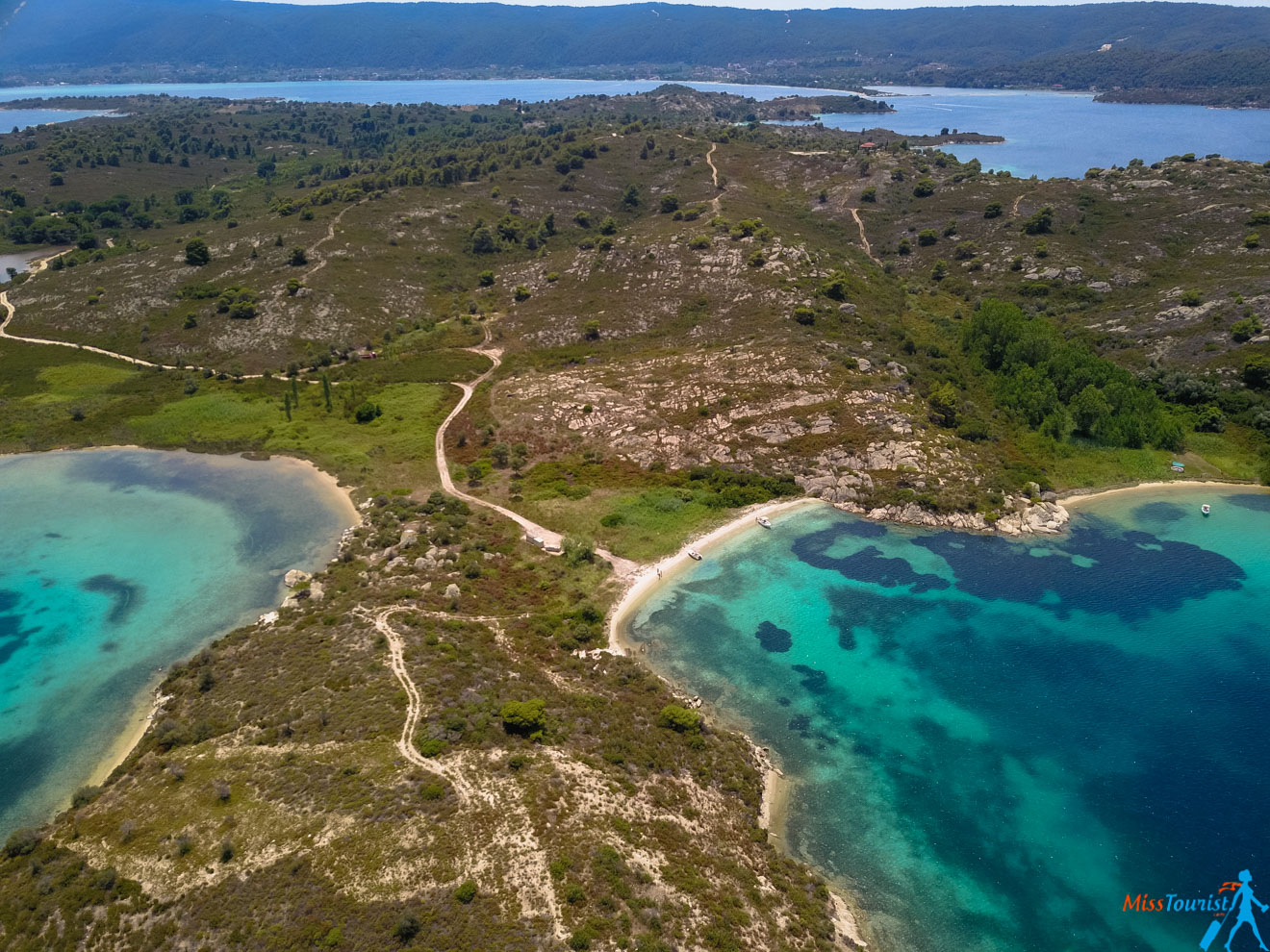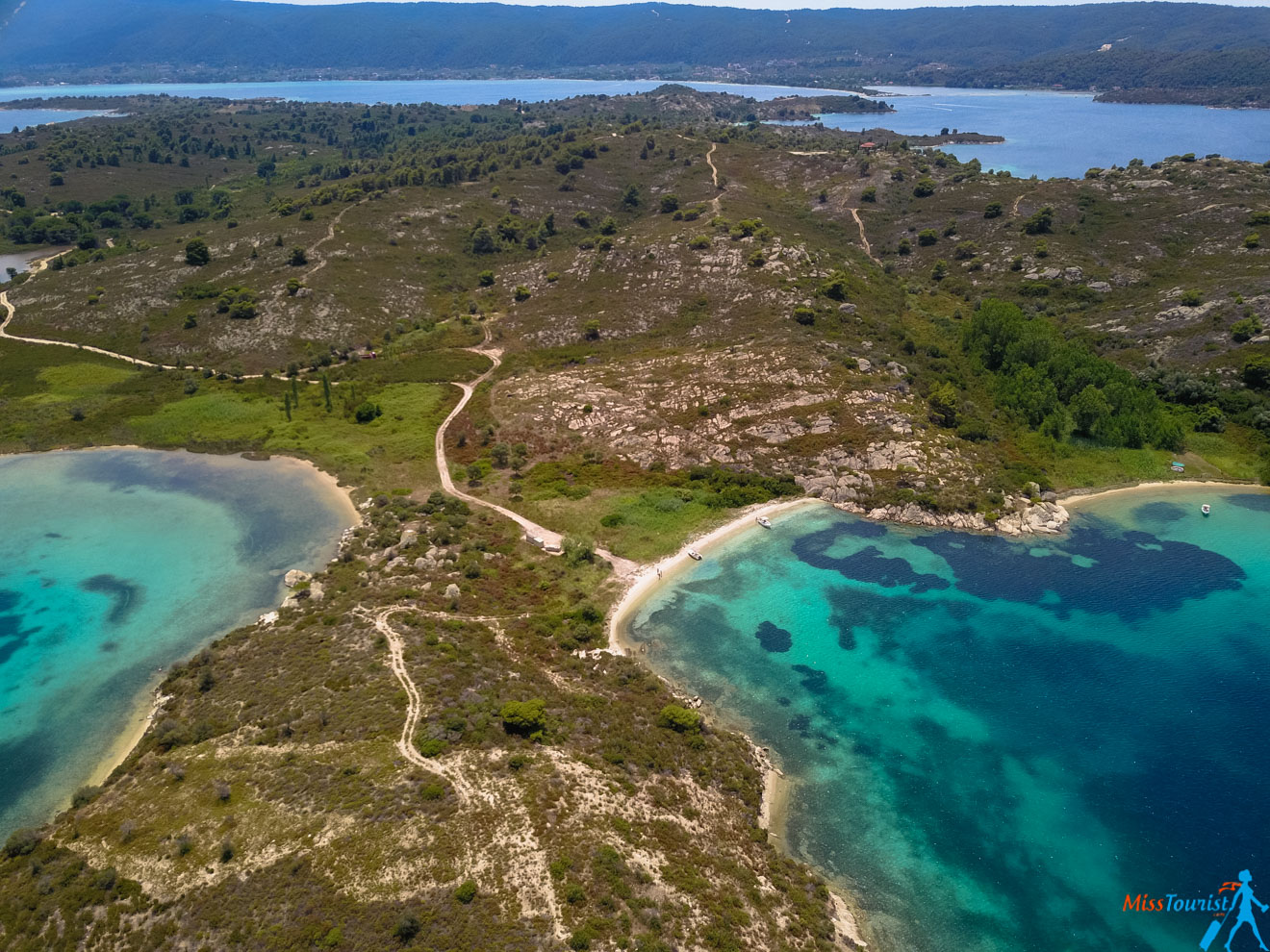 Diaporos is an island off the coast of Vourvourou on the Sithonia peninsula and it is the largest island in the entire archipelago.
The bay is deep enough for small yachts to enter, and the natural beauty of the location is simply astonishing!
In order to get to the island, you must either rent a boat or a kayak. There are no ferries to the island.
Kayaking takes about 2 hours to paddle around the island, if you are in shape. But to be honest, after I imagined how burned I would be after 2 hours of being exposed to the sun on a kayak, we decided to go for a boat.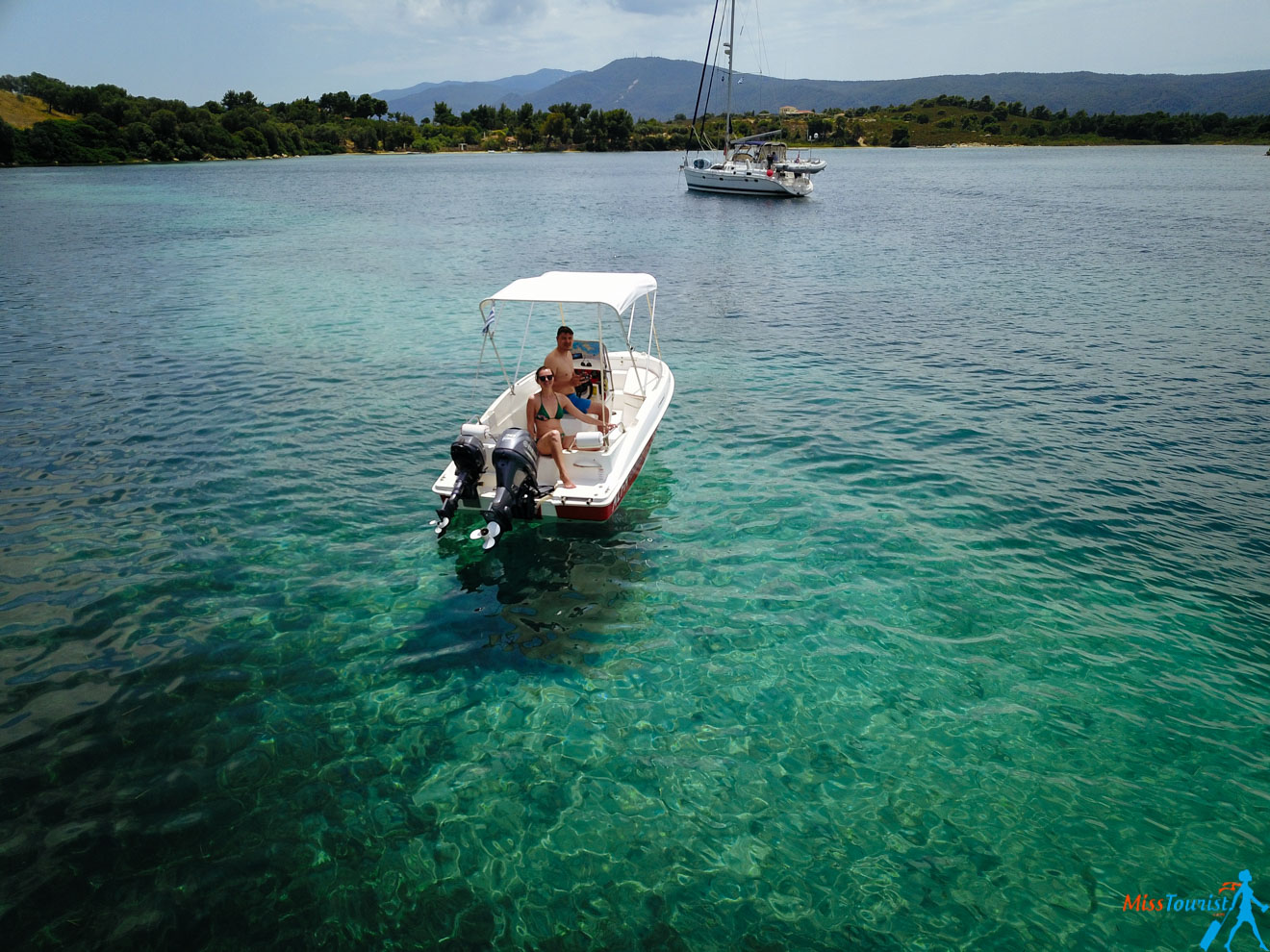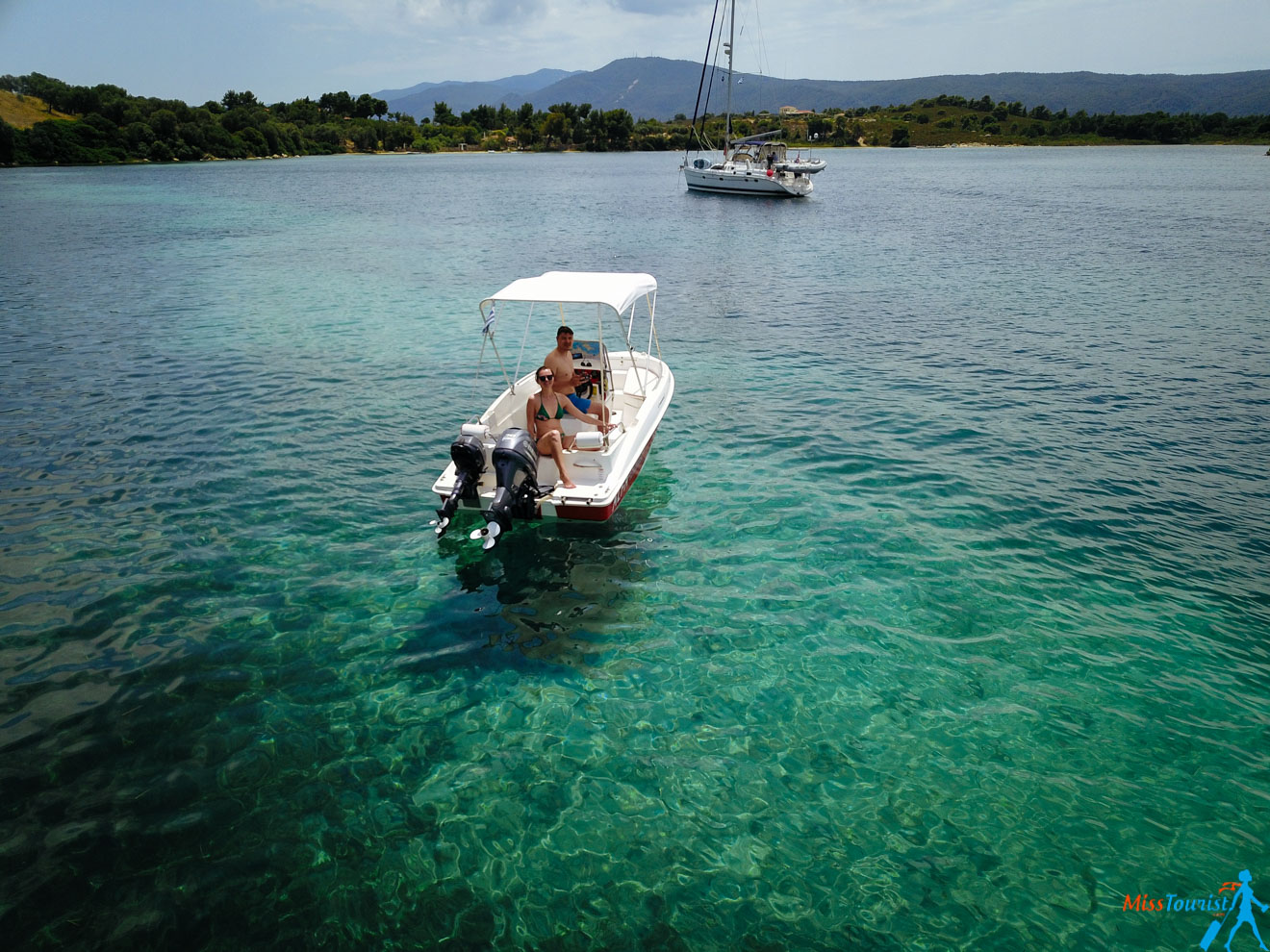 How nice would it be to rent a boat for a day, cruise around the island and stop in some isolated beautiful spots for a swim or a picnic?
Apparently, you do NOT need a license to drive a boat, as they have small motors, but please be careful and listen to the safety instructions attentively (especially the part when they explain where the reefs are).
We were completely fine, but it is not as easy as it looks. The guy who rented the boat to us said there are more accidents happening than I could imagine, some of them being quite silly.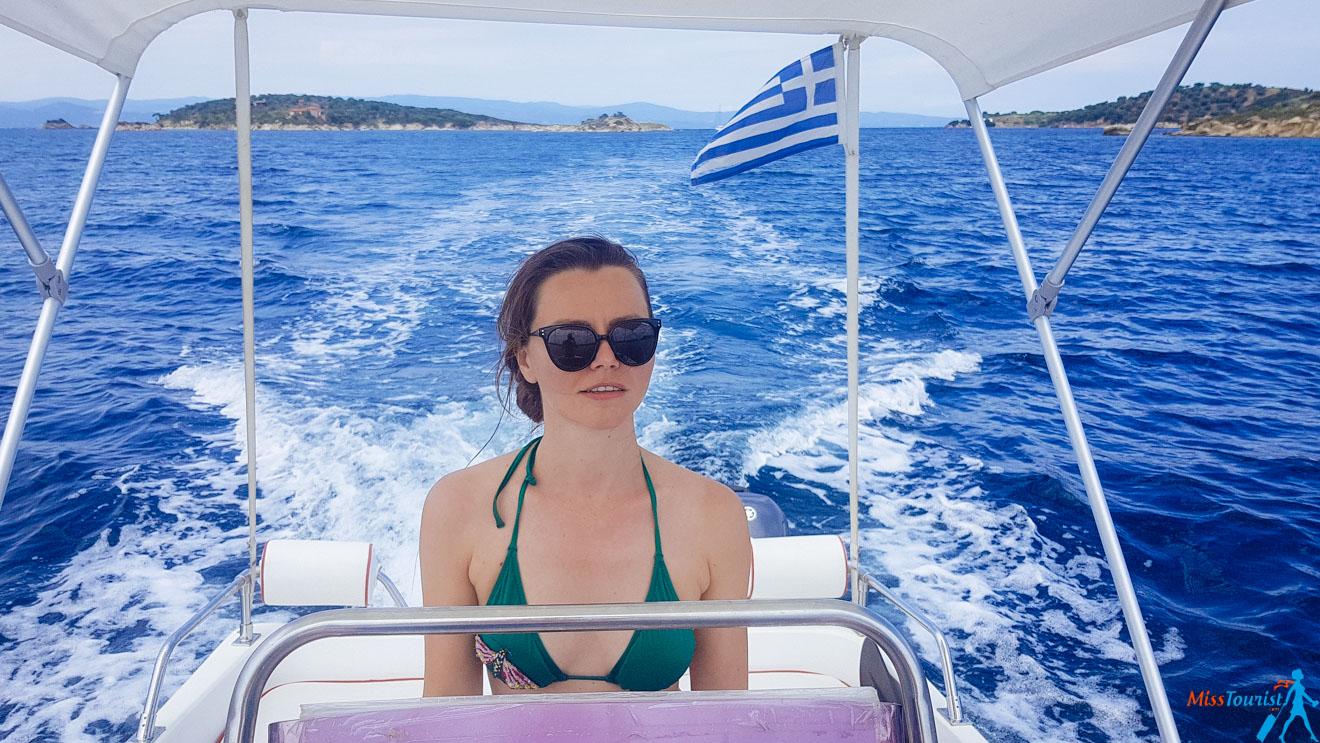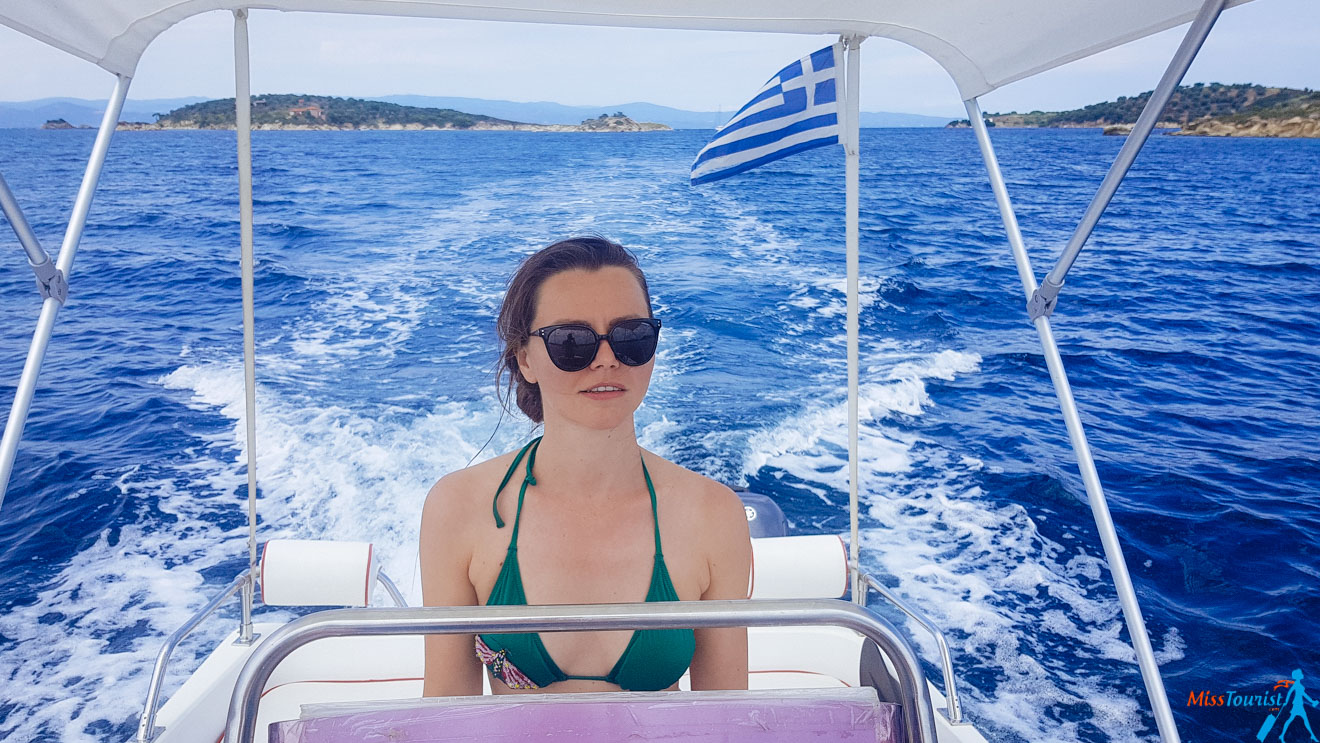 Now, about the pleasant part – it was definitely the most fun thing we did in Halkidiki!
Mostly, my boyfriend was driving the boat, but I also managed the boat for a bit and it was SO much fun!
PRO TIP: Check the weather the day before you are going because if it is going to be really windy, it is best to move your trip to the next day (as waves will be too bumpy).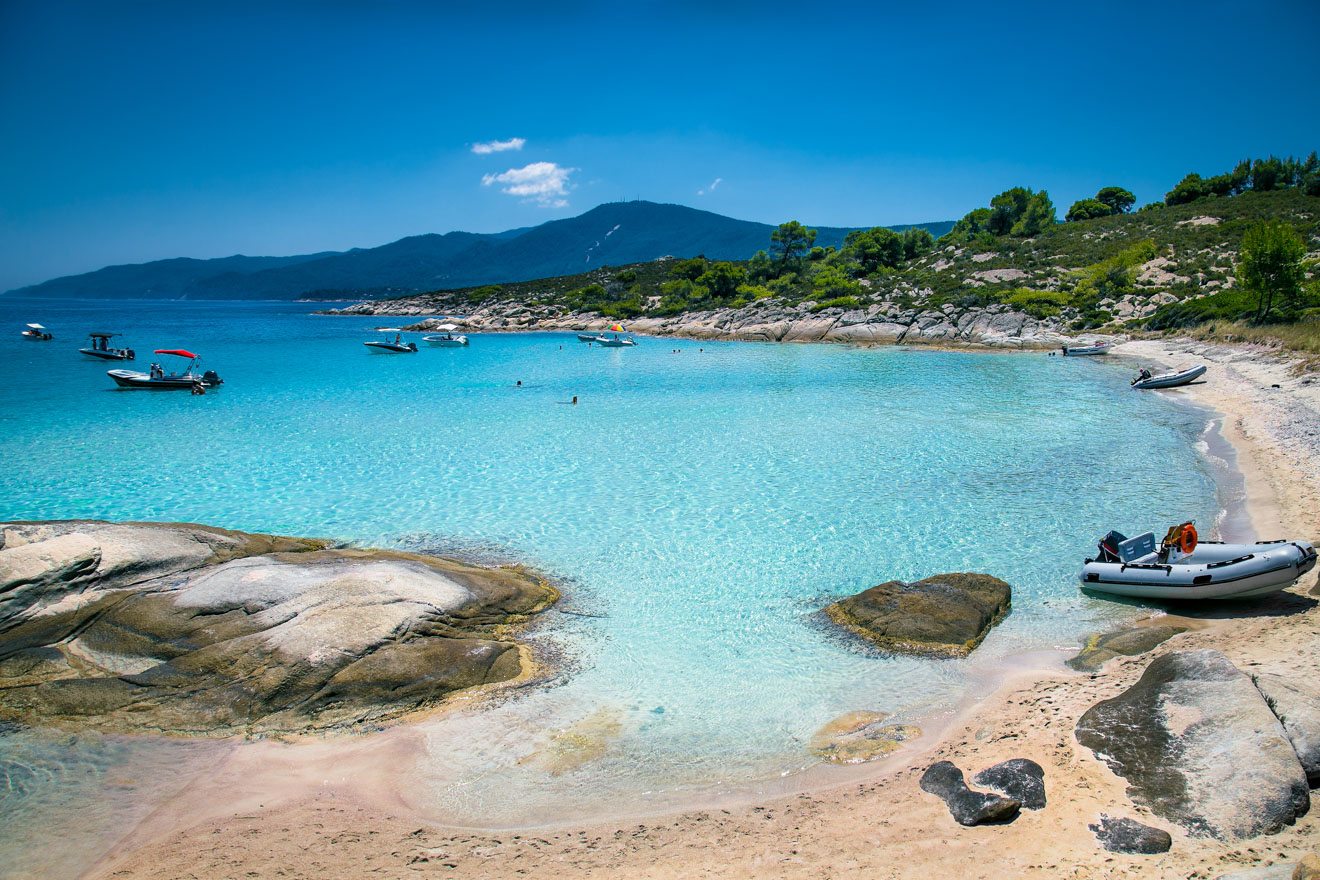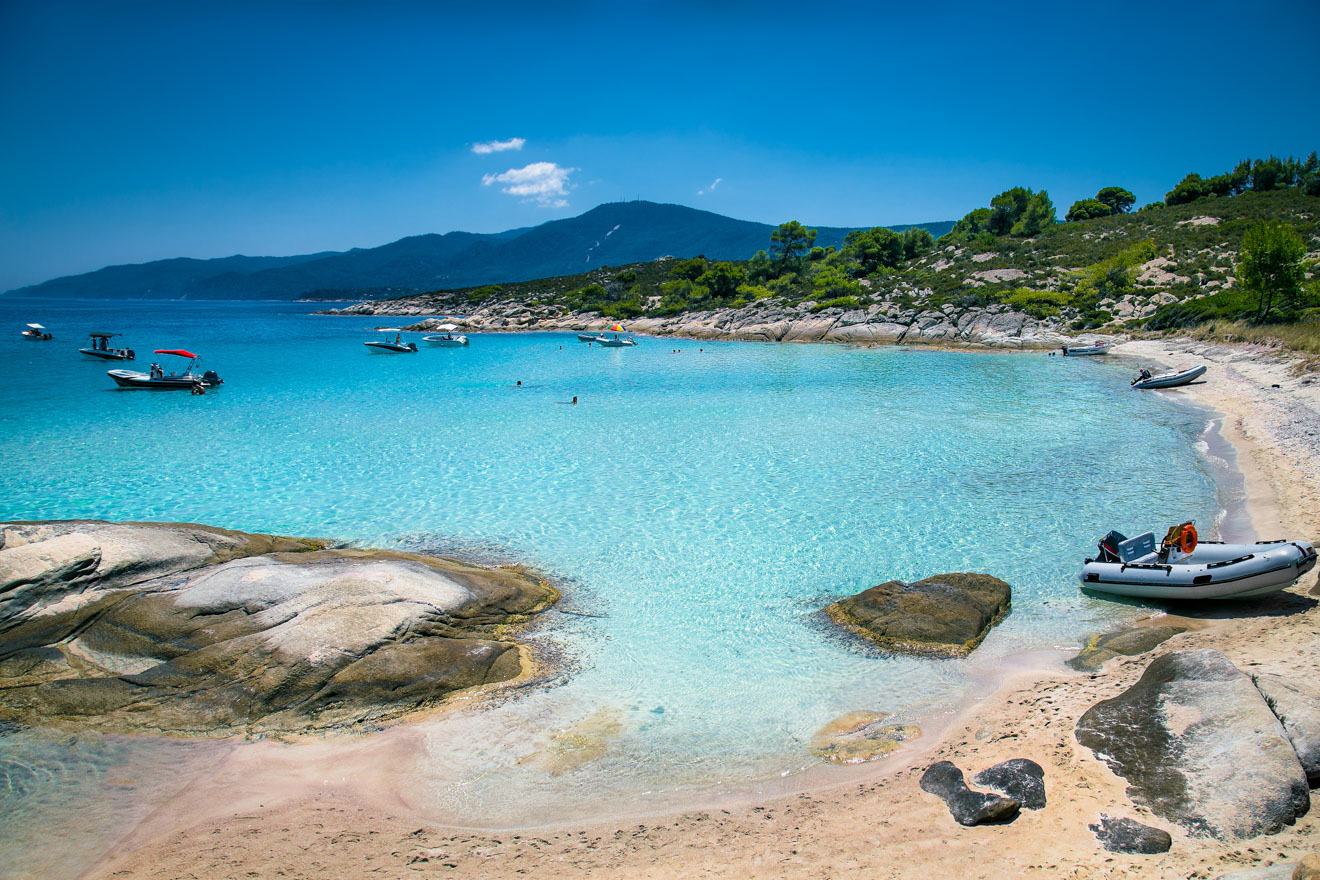 NOTE: By the way, do not forget to take at least some snacks and a lot of water. You are going to be on the boat for many hours and Diaporos Island has maybe 1 hotel where you could get some food from. So, my suggestion is to take care of it in advance!
PRICE: It usually costs from 60€ per day for a boat that can fit 4-6 people but the price really depends on the size of the boat you choose. The gasoline is paid on top of that separately (about 20-25€). I recommend booking well in advance, the boats sell out fast! You might find something last minute (we did), but your choices might be limited. The place to go is Vourvourou – that is where all the boat rental companies are located.
Mount Athos cruise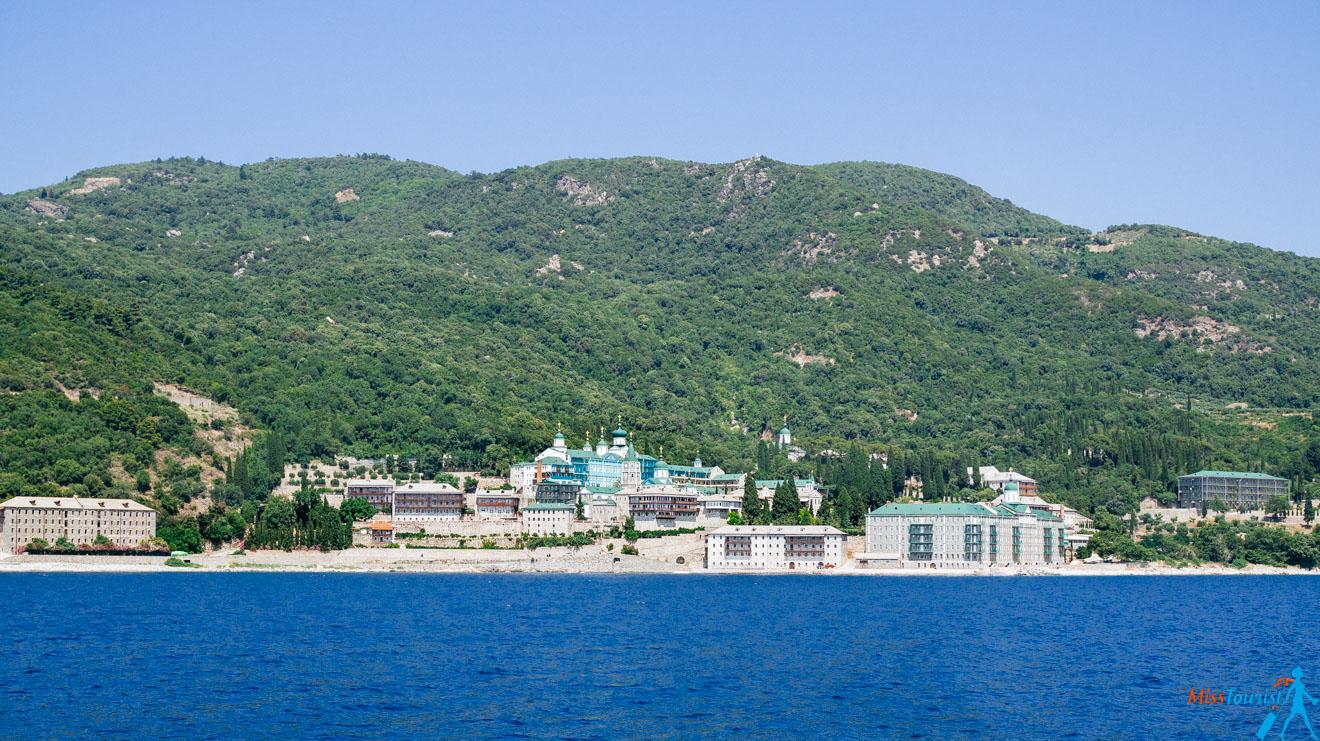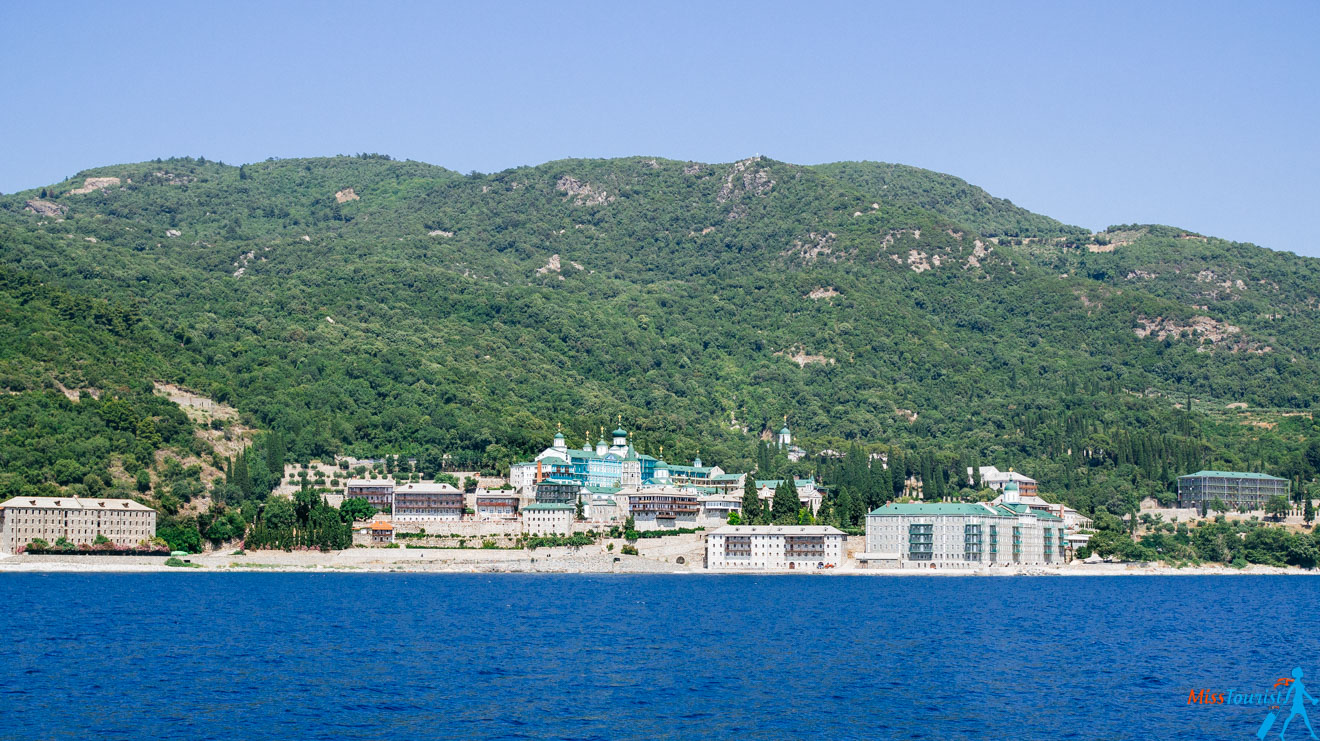 The third, easternmost peninsula of Halkidiki is Mt. Athos, the home of unique Orthodox communities and monasteries. This place is solely dedicated to prayer and the worship of God.
Mt. Athos is under UNESCO World Heritage protection and it is absolutely forbidden for women to enter.
Men can visit the territory to see the monasteries from up close or to hike the untouched natural surroundings there, but they will need to obtain a special permit to enter this autonomous zone (it is not hard to get one, though).
A good solution for people who want to see the peninsula can be taking a cruise around it (the boat is not allowed to get closer than 500m from the shore!)
The cruise takes about 2.5 – 3 hours during which you will see 8 of the 20 monasteries built on the peninsula. The info is also in English and in numerous other languages to help you learn a bit of history of the place.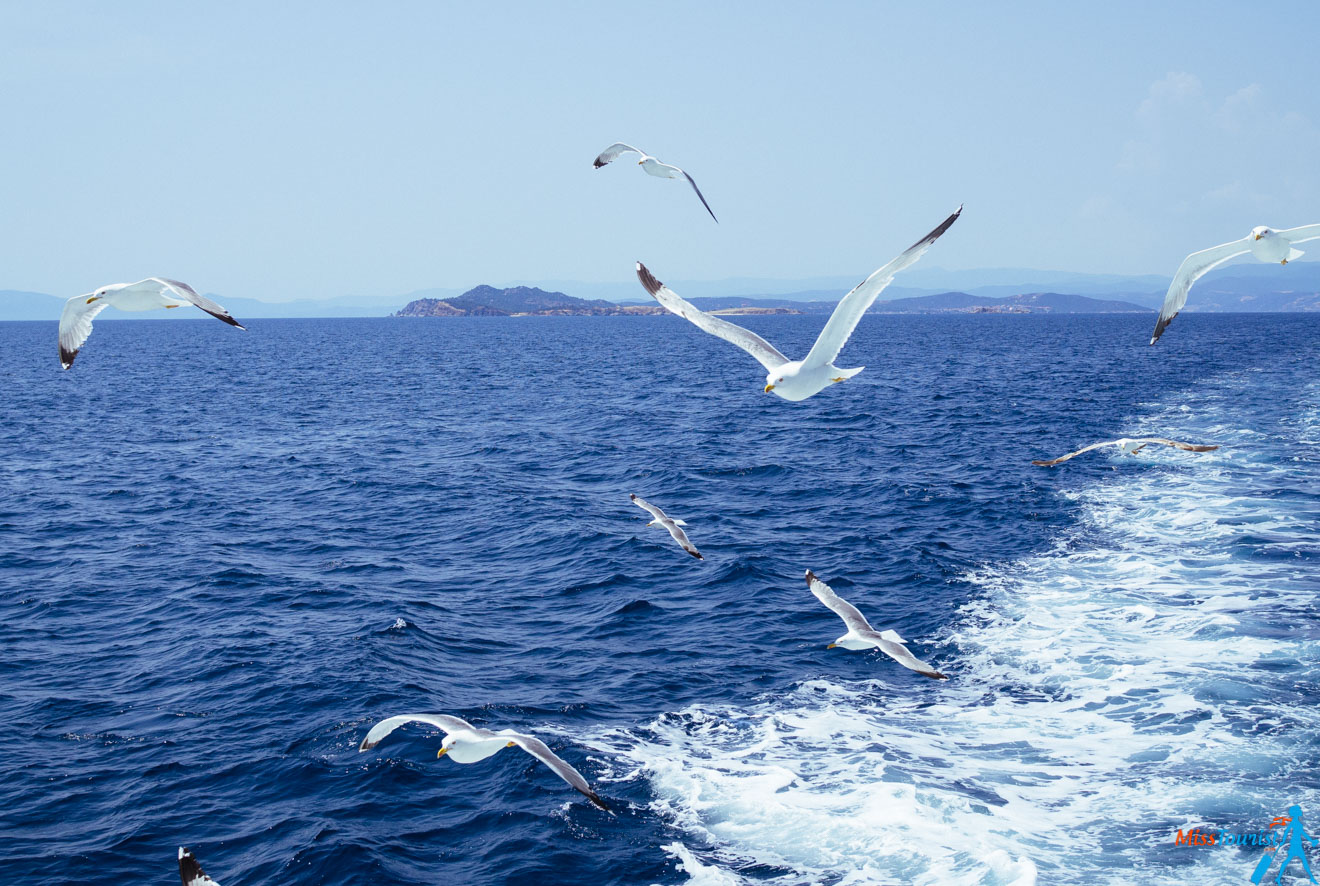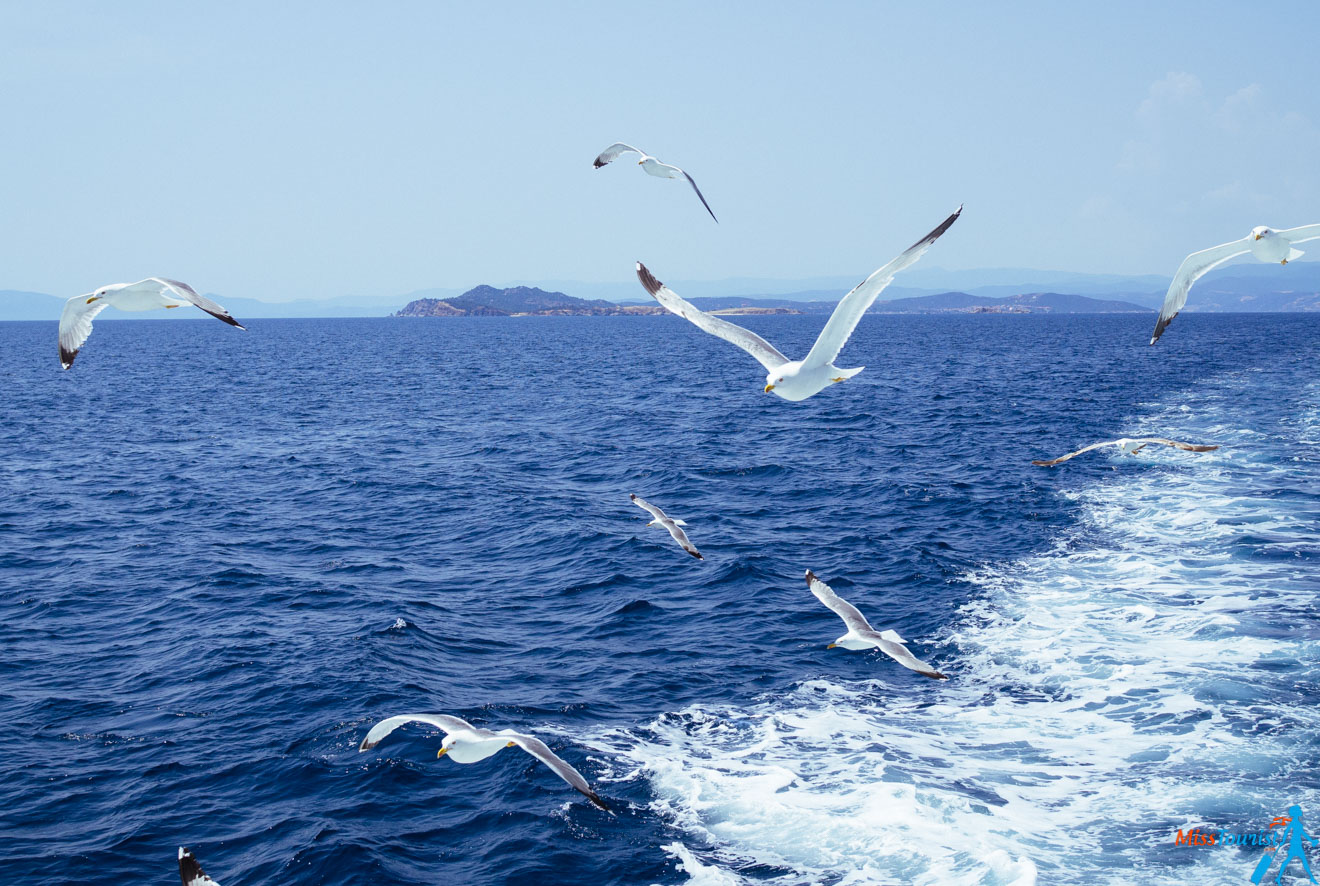 NOTE: You might want to take some bread to feed the seagulls. It is so much fun to watch them follow you all the way!
PRO TIP: Stay on the left side of the boat to see the monasteries better; on the way back the boat won't get as close to the shore to shorten the return trip. I also recommend staying at the end of the boat because that is where you will see the seagulls better (and they were quite an attraction all by themselves!).
PRICE: The price was 20€ and we booked it from our front desk (more on the hotel later in the article).
Ammouliani Island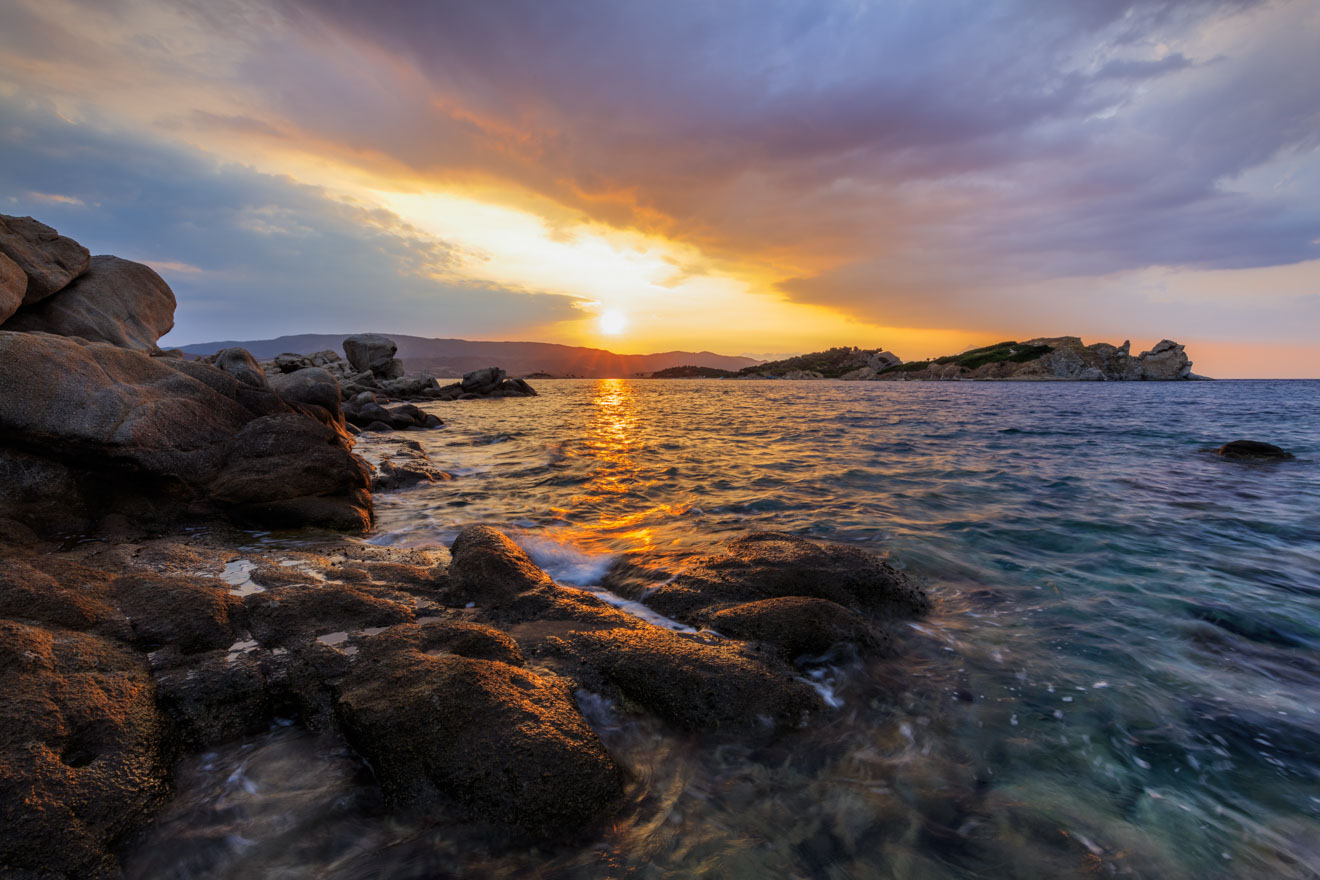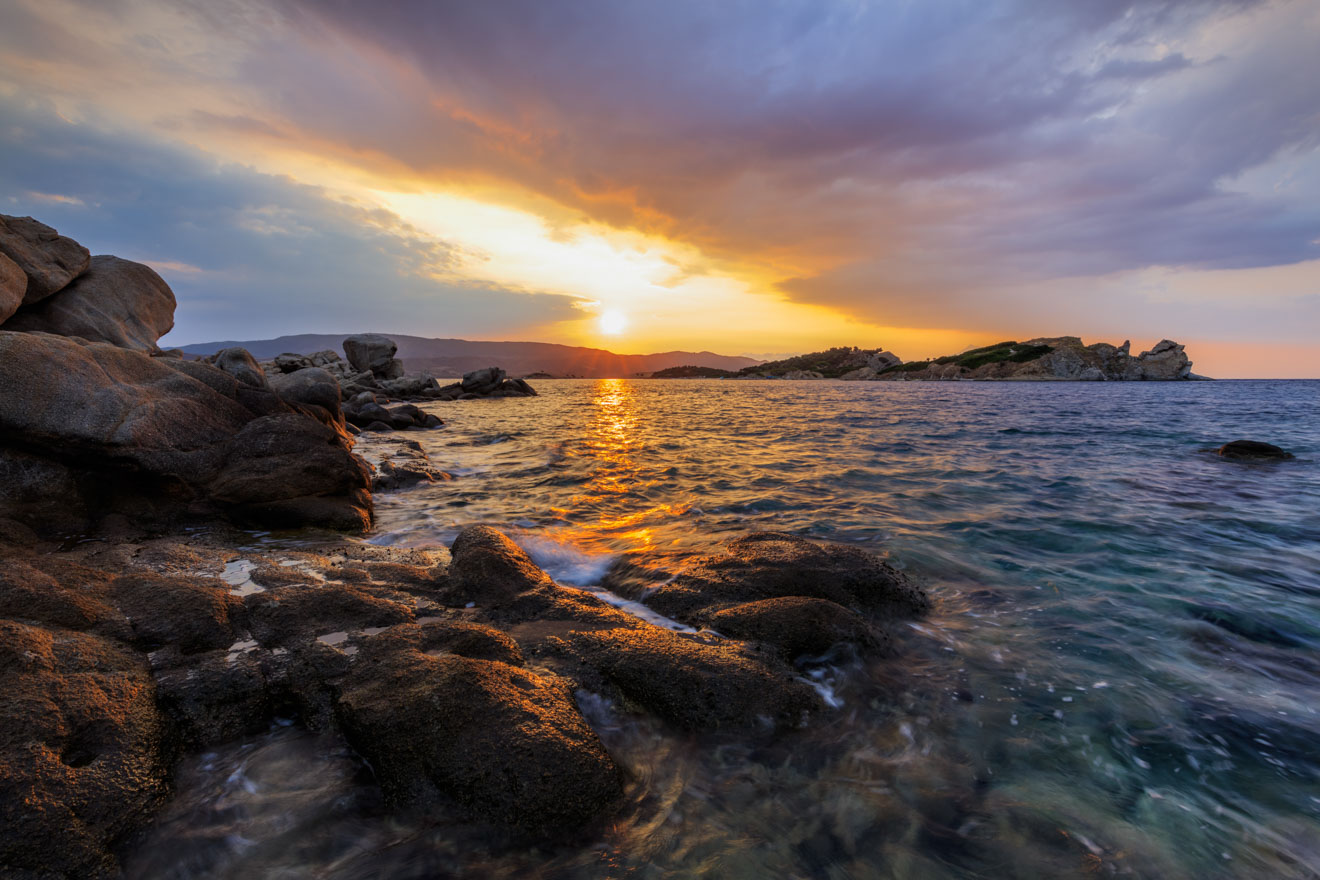 Nestled in between the Sithonia and Athos peninsulas, Ammouliani Island is a perfect vacation place for people who do not want to travel far.
Hotel choices are plentiful so you would not have any problems with finding accommodations if you wanted to stay for a couple of days.
If you want to visit the island as a day trip, it can be easily done. The boat leaves at 9 am and comes back at around 5; the cost is 30€ per person.
NOTE: Make sure to visit Alikes Beach on Ammouliani Island, it is very beautiful!
Parthenonas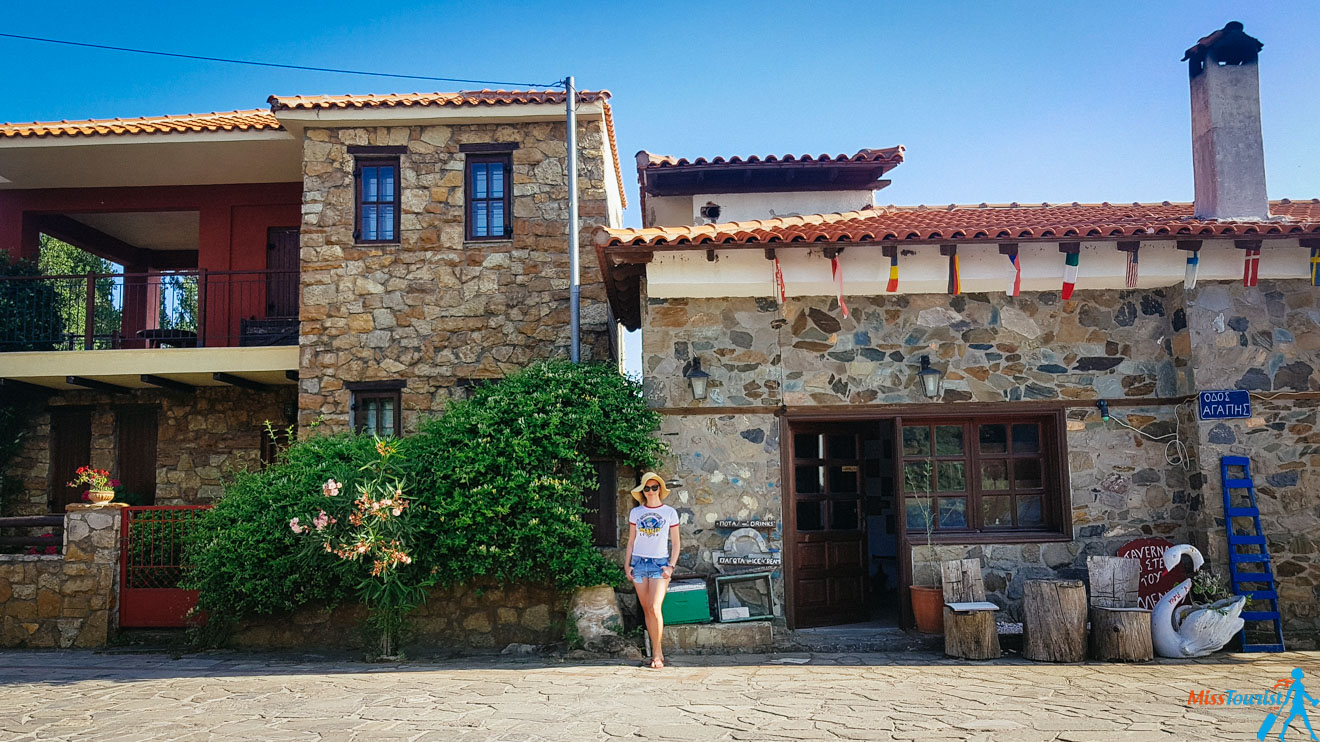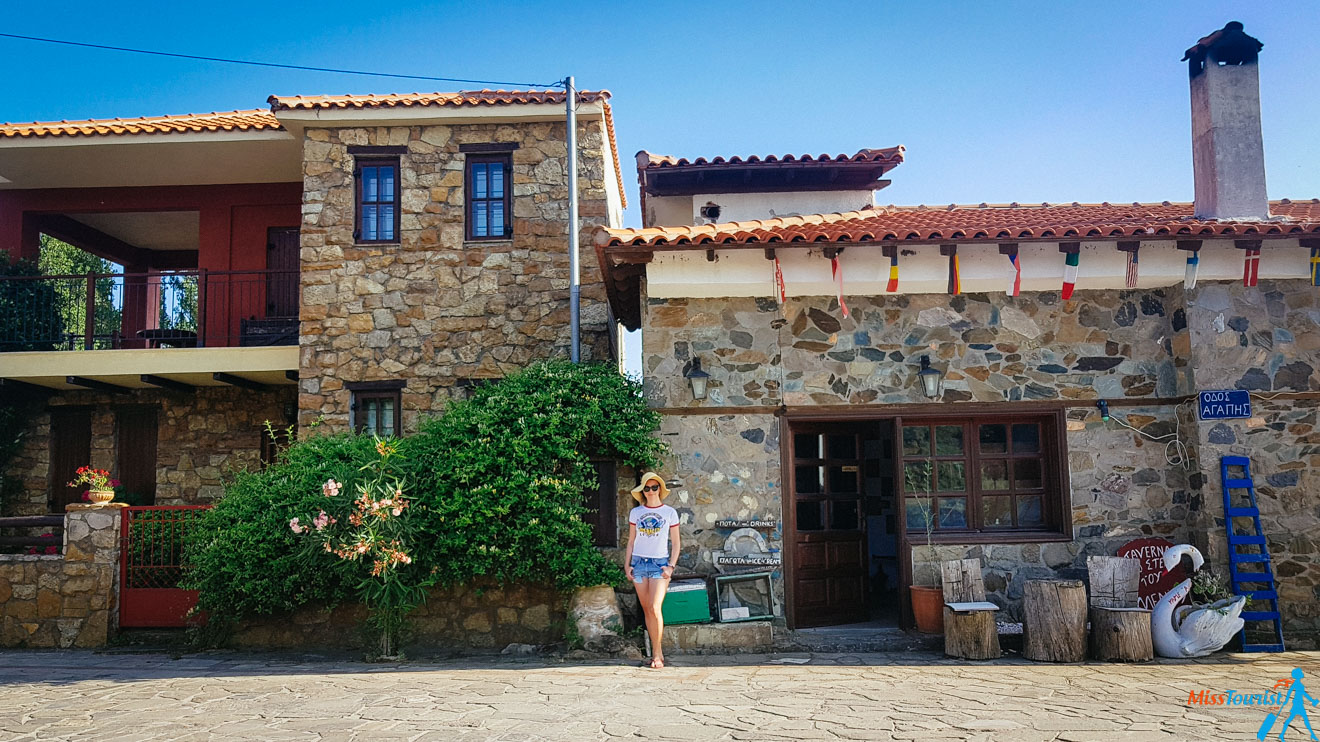 Parthenonas is a remote historic village that is worth stopping at in between your beach hopping as it is quite charming!
It has a spectacular panoramic view which makes it a perfect spot for a siesta! There is even an Original Folk Art Museum, but I haven't been there.
Bars and restaurants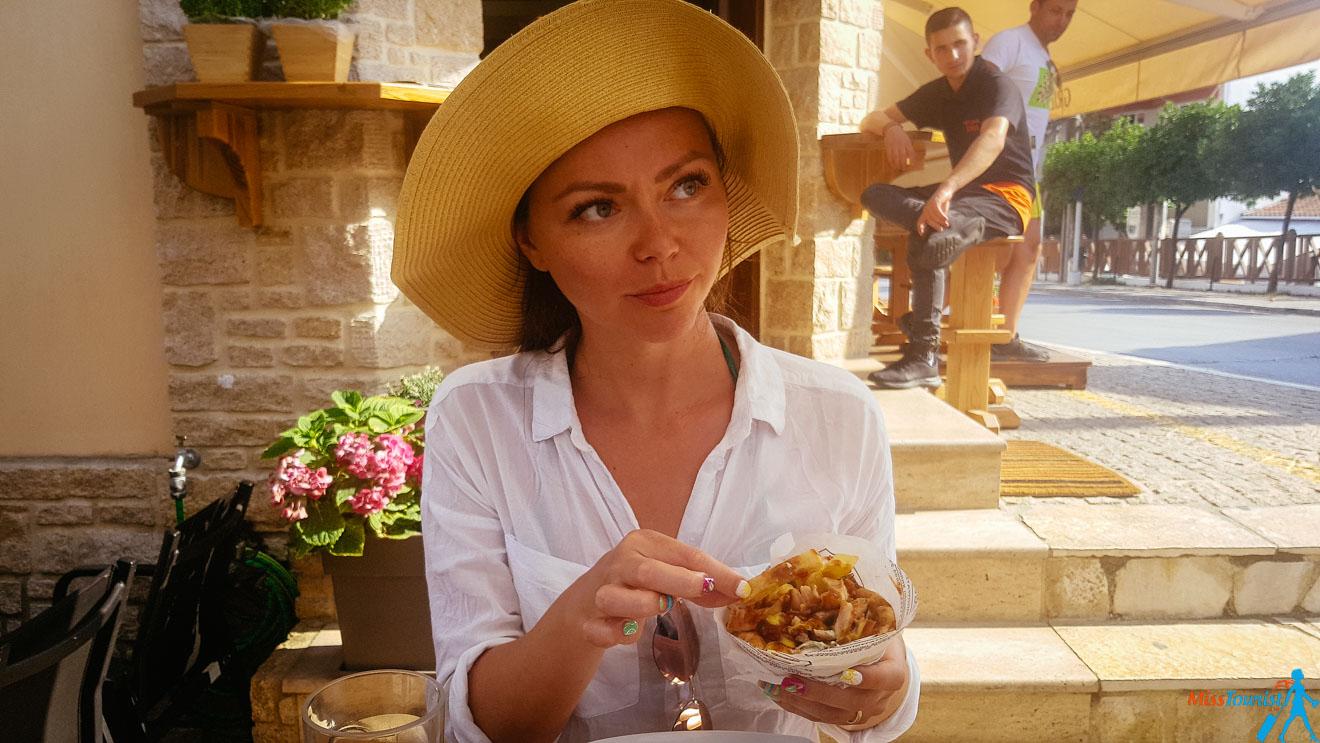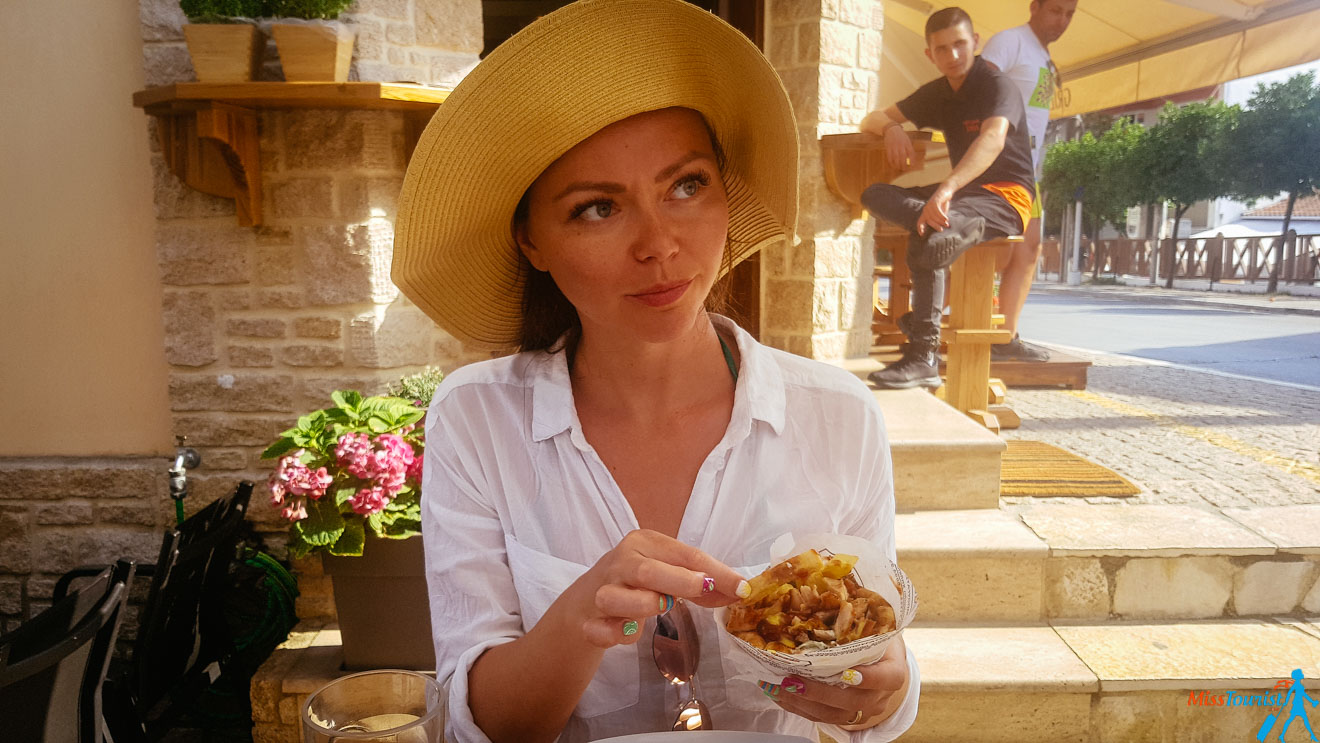 I ate gyros, Greek salads and seafood. I also drank amazing Greek wine during the whole vacation time – this is what I call a Mediterranean diet!
Everything in Halkidiki was delicious because the food is prepared from the purest of ingredients! With that said, here are my recommendations for some good restaurants and amazing beach bars (I haven't been to all the places on the peninsula, but here are the ones that I tried and liked).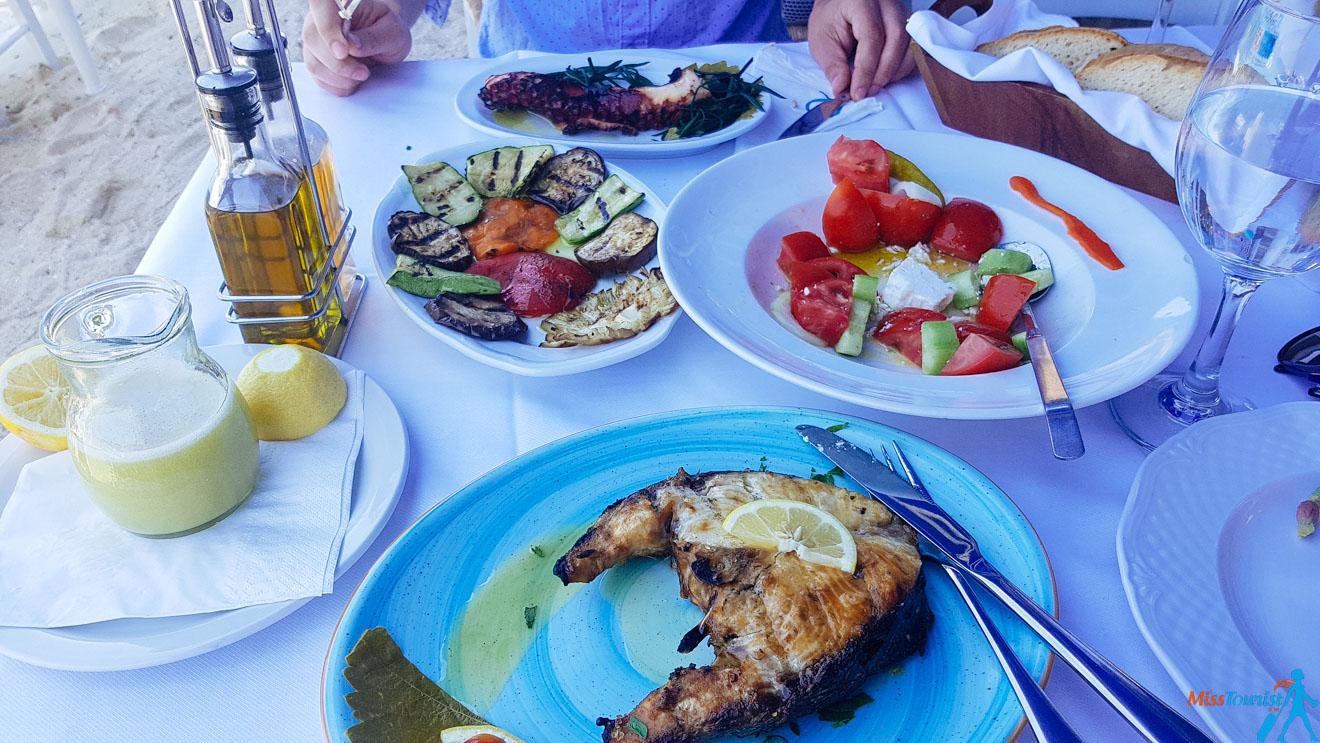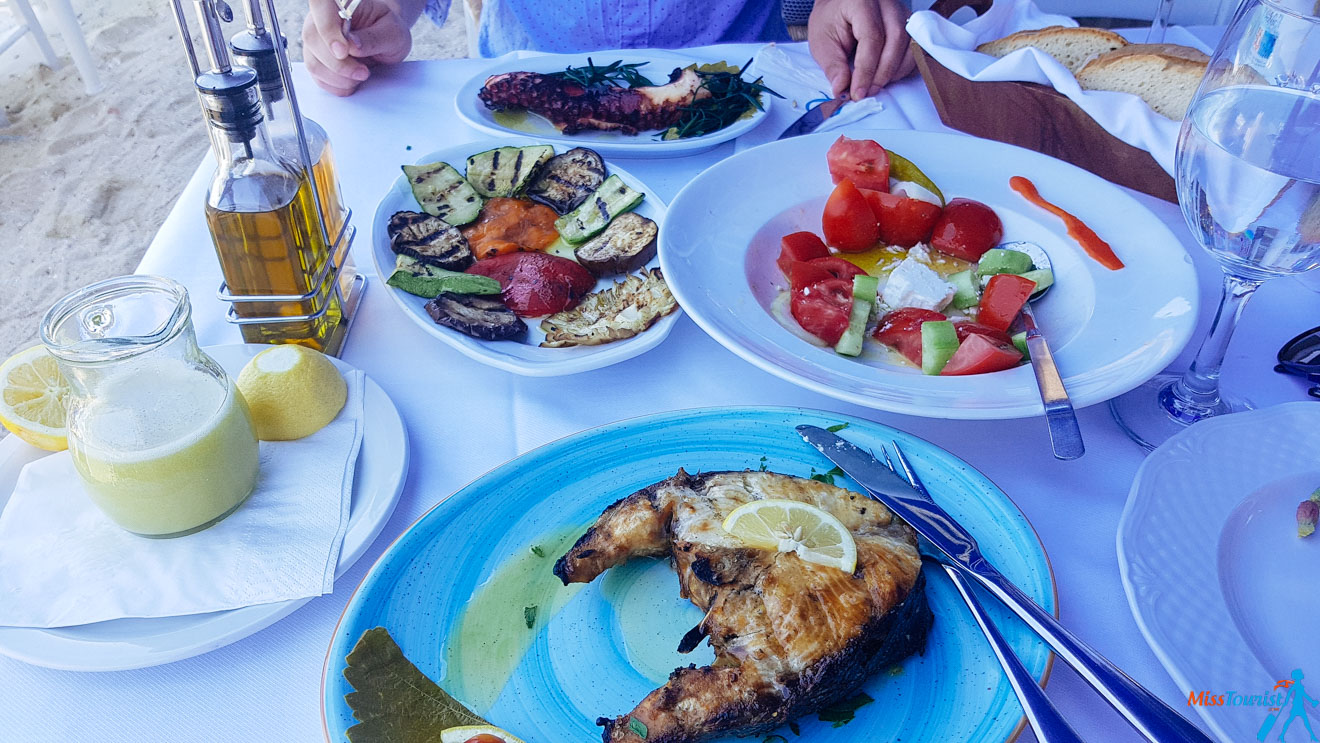 | | |
| --- | --- |
| 👪 Family-friendly score: | Great |
| 📍 Popular area: | Kassandra |
| 🏖️ Best for beaches: | Sithonia |
| ⛪ Must visit attraction: | Mount Athos |
| 🥙 Must try food: | Gyros, Greek salads |
| 💵 Avg hotel price: | €150 |
| 📅 How many days: | 2-3 |
Where to stay in Halkidiki
There are plenty of choices for all wallets on the peninsula – you can choose from a wide range of hotels, guest houses or apartments.
Here is my review of the hotel where I stayed:
Antigoni Beach Resort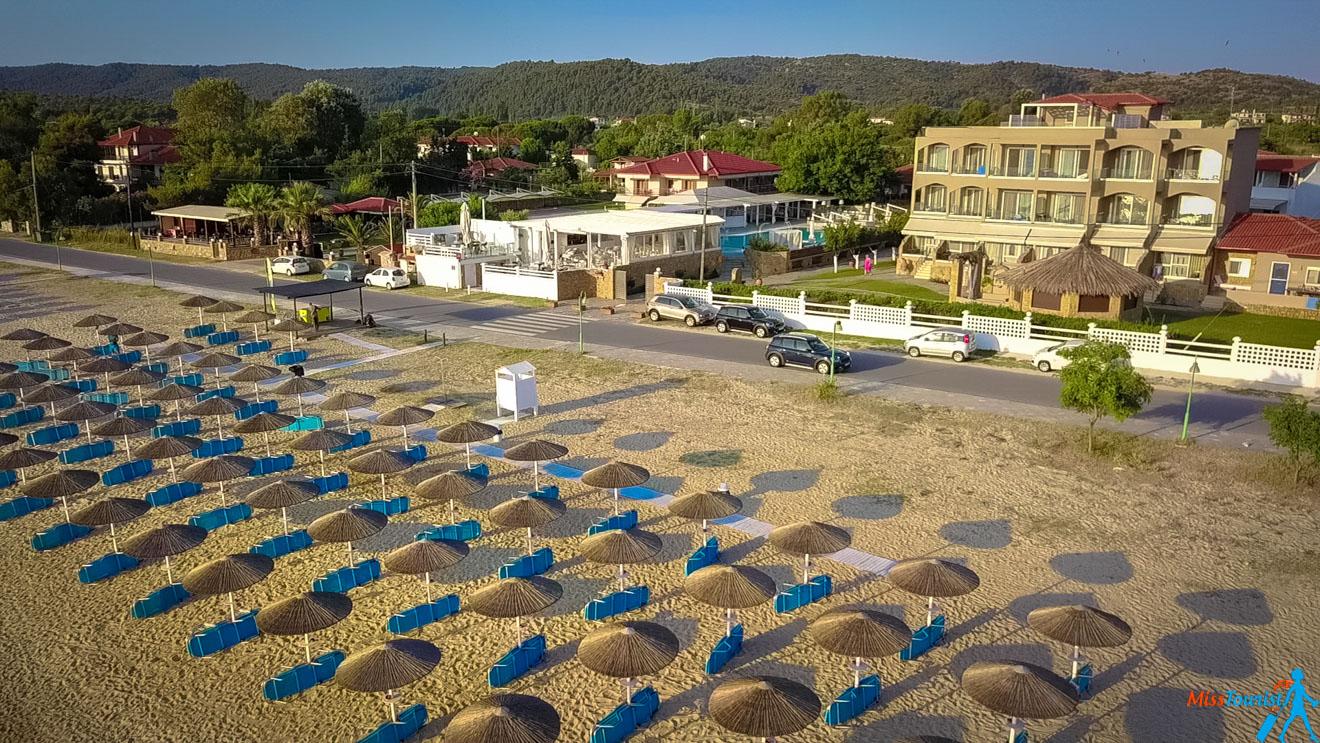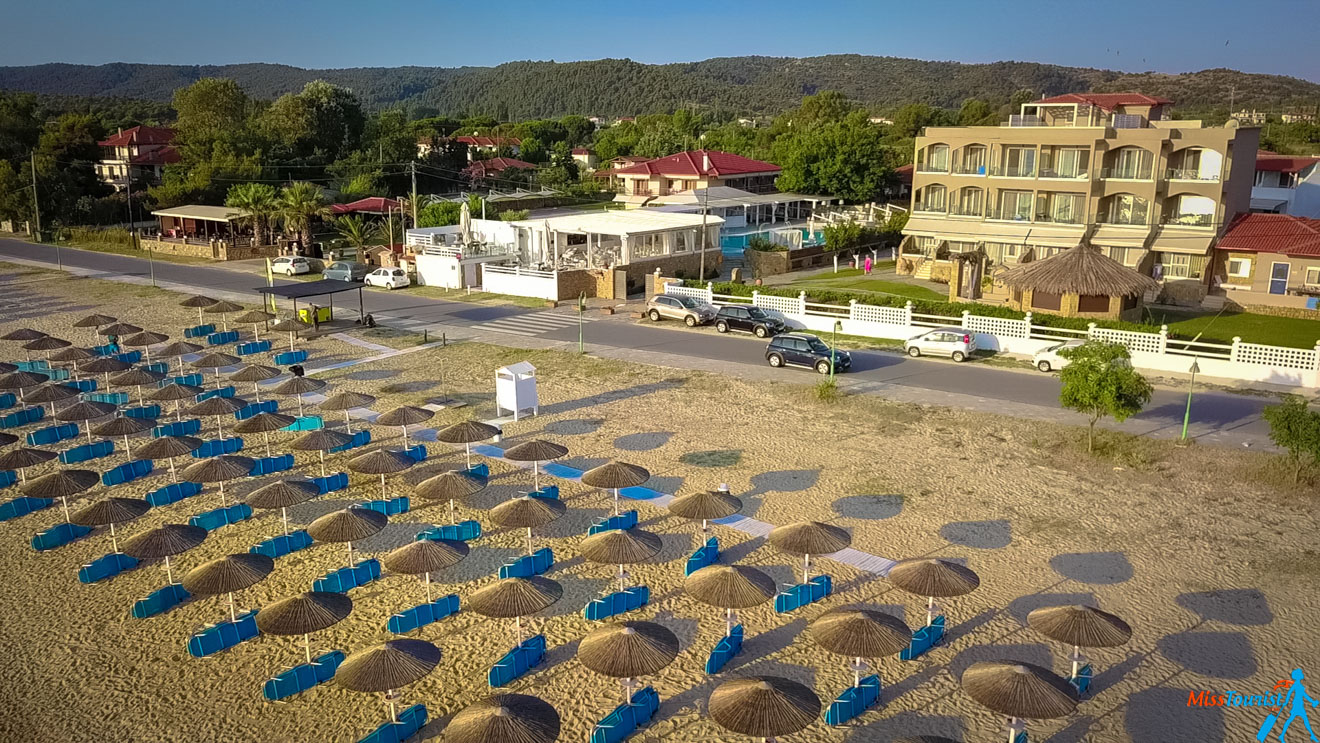 Antigoni Beach Resort is a great choice for both couples and families with kids as it is a charming place where you will find pure relaxation!
It is a quiet, middle-sized hotel with 50 rooms right in front of the sea. I stayed in a junior suit with a sea view and I could not be happier with it! All rooms are individually decorated, so yours will be unique and you are welcome to list your preferences on where you want to stay when you book!
Also the rooms are super spacious-we even had a special closet just for luggage!
Here is what mine looked like: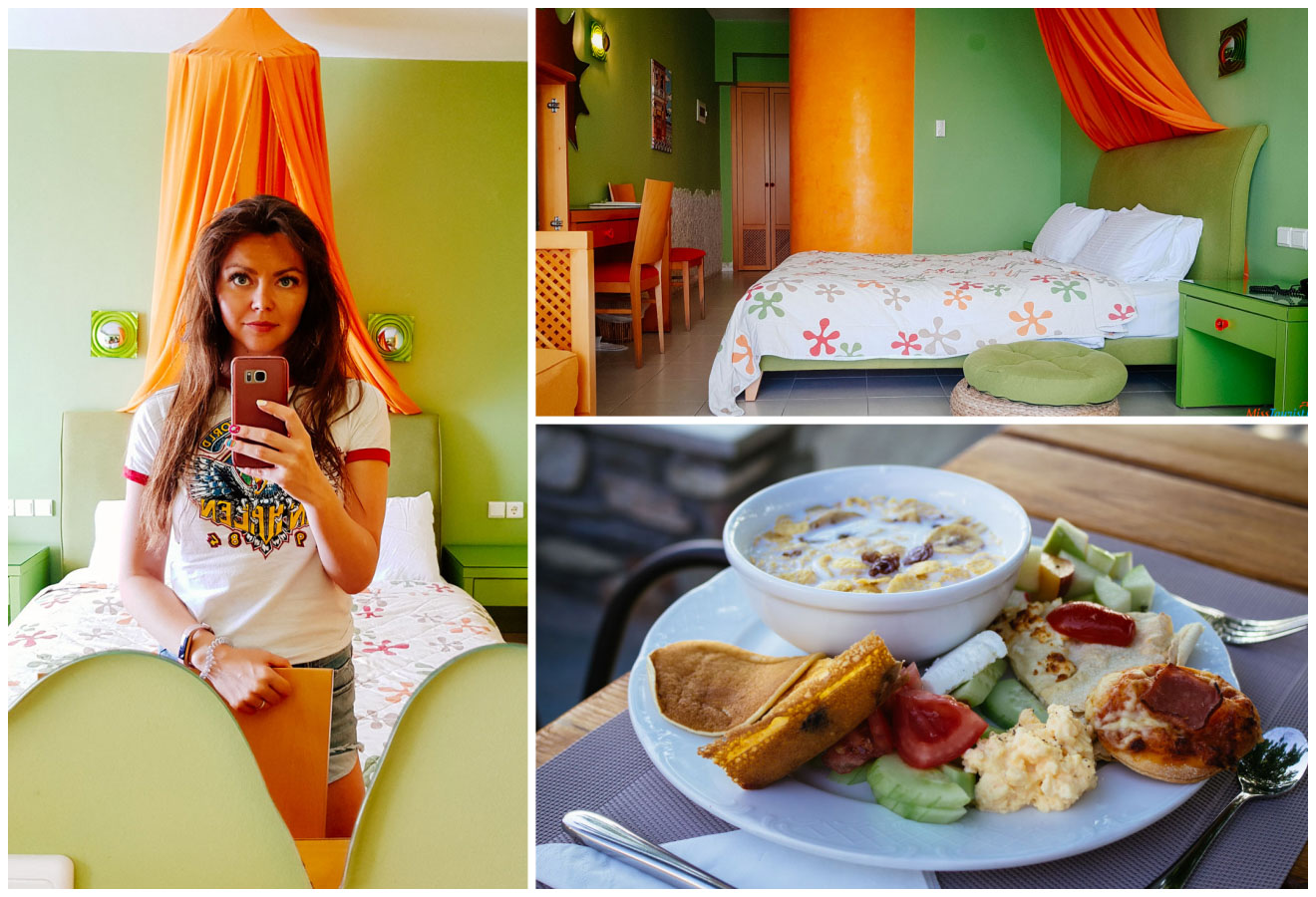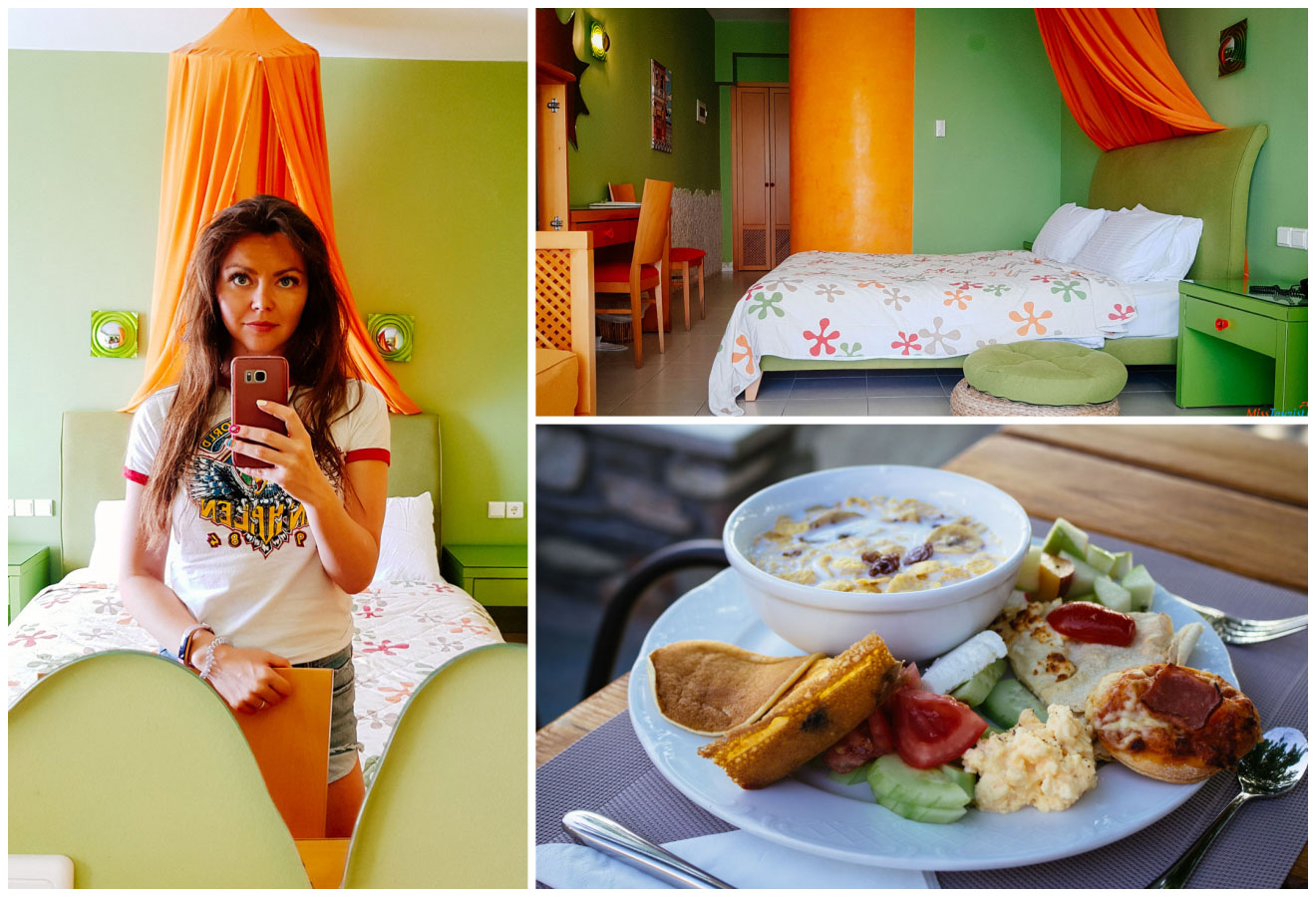 I liked that the rooms were arranged in such a way that other guests would not bother you. Our neighbors were a family with a child and I only heard them when they went out of their room.
Breakfast each day has a huge selection of dishes and you can find everything from a traditional English/continental breakfast to a large variety of Greek options. I loved that it does not get boring even if you stay for a long time!
The beach is literally in front of the hotel and the beach towels and chaise lounges with an umbrella are provided. The beach's name is Trani Ammouda and it is one of the best beaches in Halkidiki in my humble opinion: there are no rocks and it has a nice soft sand!
If you don't feel like going in the sea, that's not a problem, they also have a nice pool!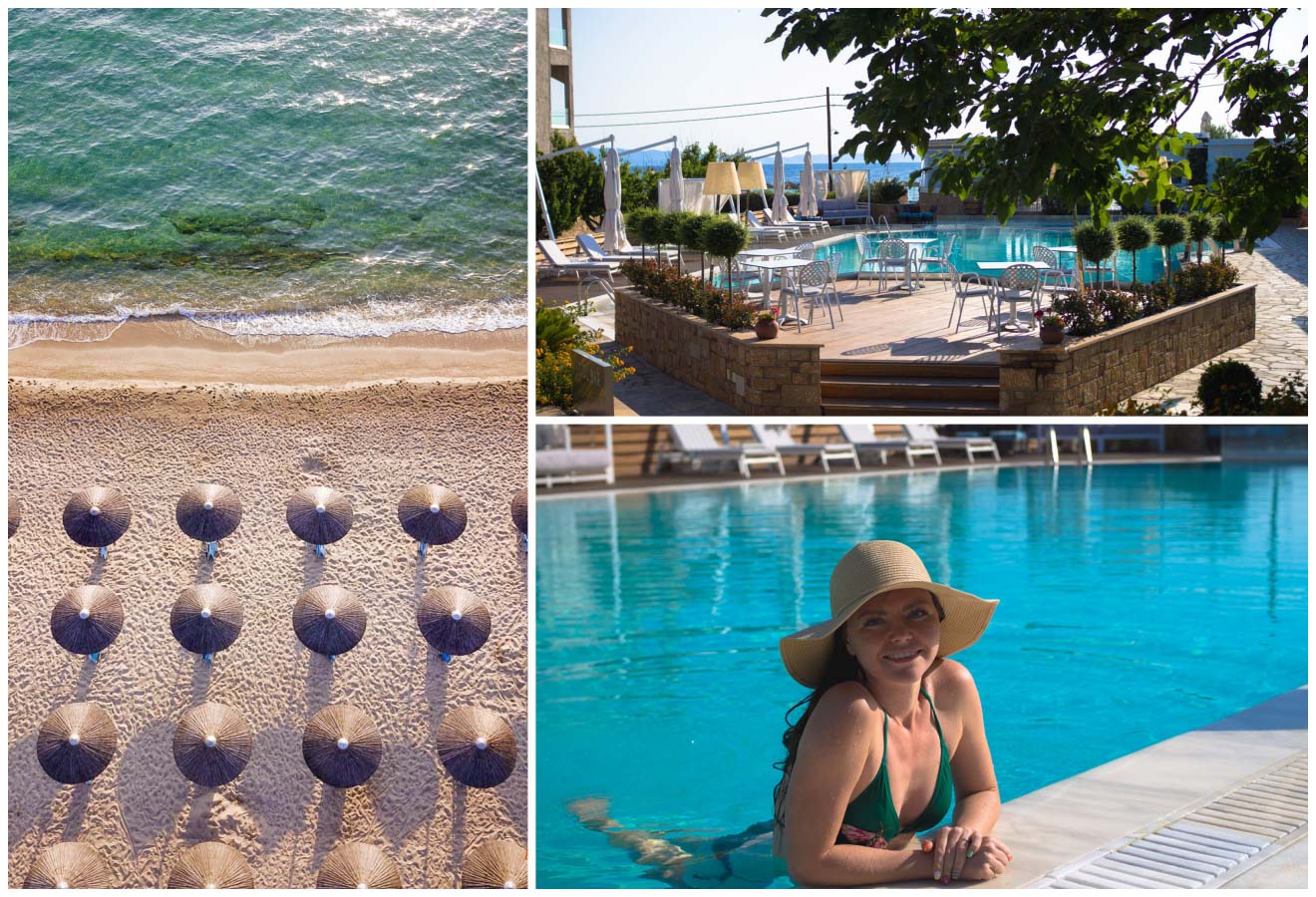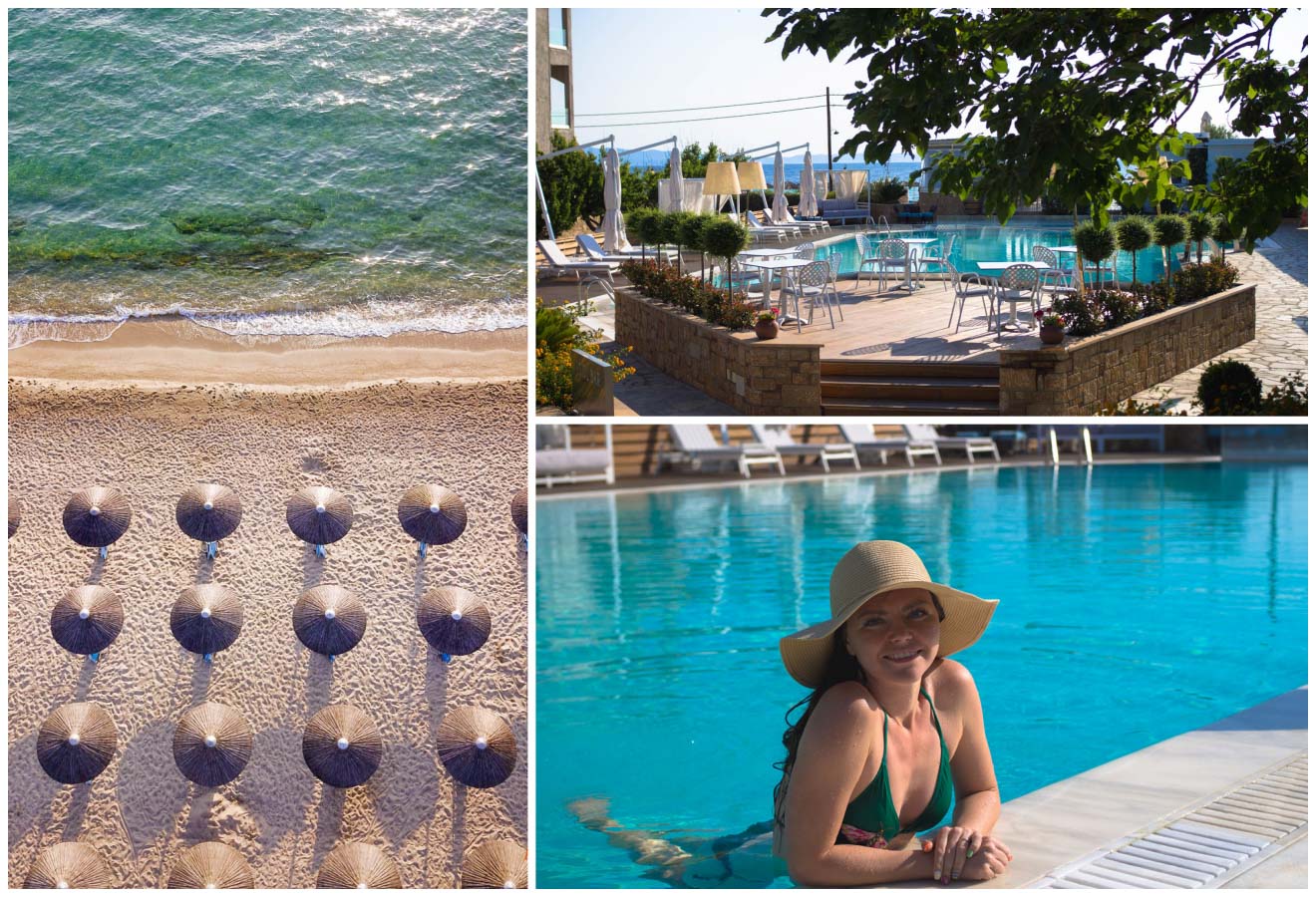 Other facilities:
There is table tennis you can play free of charge
The hotel has a very nice garden where in June there were many sweet peaches that we could eat right from the tree!
Upon arrival, you will be offered a 15-minute massage free of charge. My boyfriend loved it so much, he got a full treatment for his neck and back (and he is usually not a massage kind of guy!)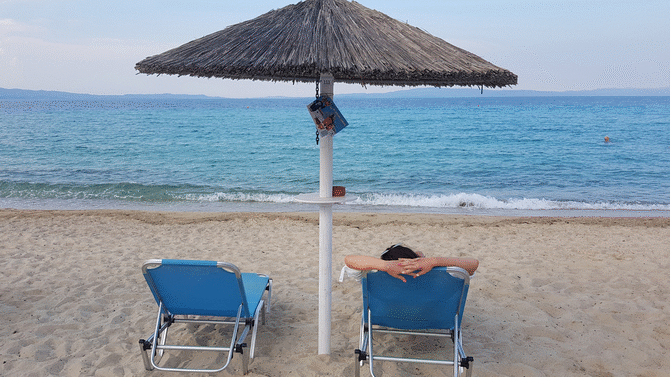 Service:
The front desk help was extremely nice! I asked them quite a number of questions and they were always happy to help. In fact, they recommended some of the hidden places in the list above and you can also book any tours through them if you wish to. I remember that we forgot an adapter for my drone at home and the front desk was ready to provide it. They had numerous adapters for different countries-so nice!
No wonder the reviews of this hotel are fabulous, check them out yourself here.
NOTE: If you do not want to rent a car (more on this below), Antigoni Hotel can arrange a transfer from the airport for you. If you do have a car, they have parking for hotel guests where they can leave their car in the shade.
Renting a car in Halkidiki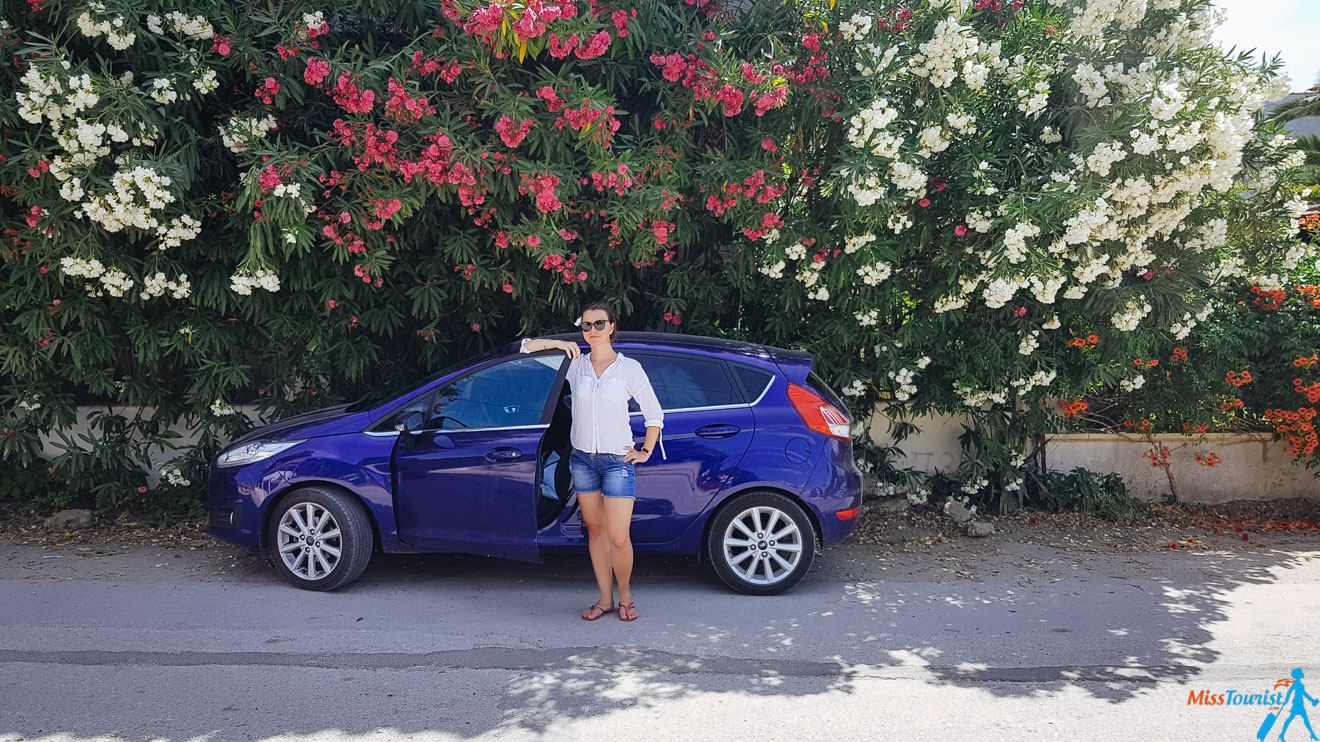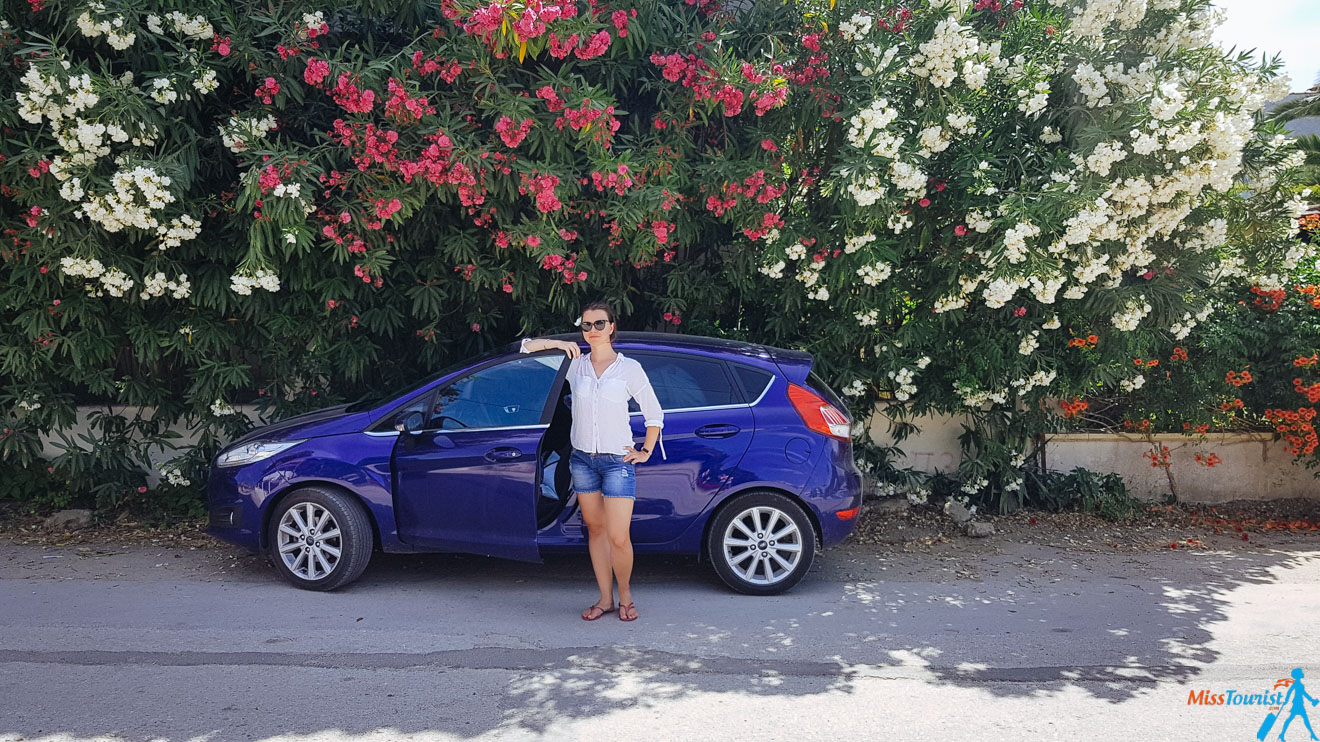 As I said above, there is no way you can properly visit anything on Halkidiki if you don't have a car.
If your plan was to enjoy the turquoise sea and the swimming pool at your hotel, that's totally okay too, you obviously do not need a car. But if you feel like discovering more in the area, you will need a vehicle.
The roads were great, it was a pleasure to drive around.
Check the offers of all international chains and locals suppliers here.
I like this site because you can easily set all the preferences that are important to you with a couple clicks. Conditions like unlimited mileage, second driver, baby seat – all of this is super easy to set up on the website.
They also have a best price guarantee policy, so you can be sure you will find the best rate!
When to go to Halkidiki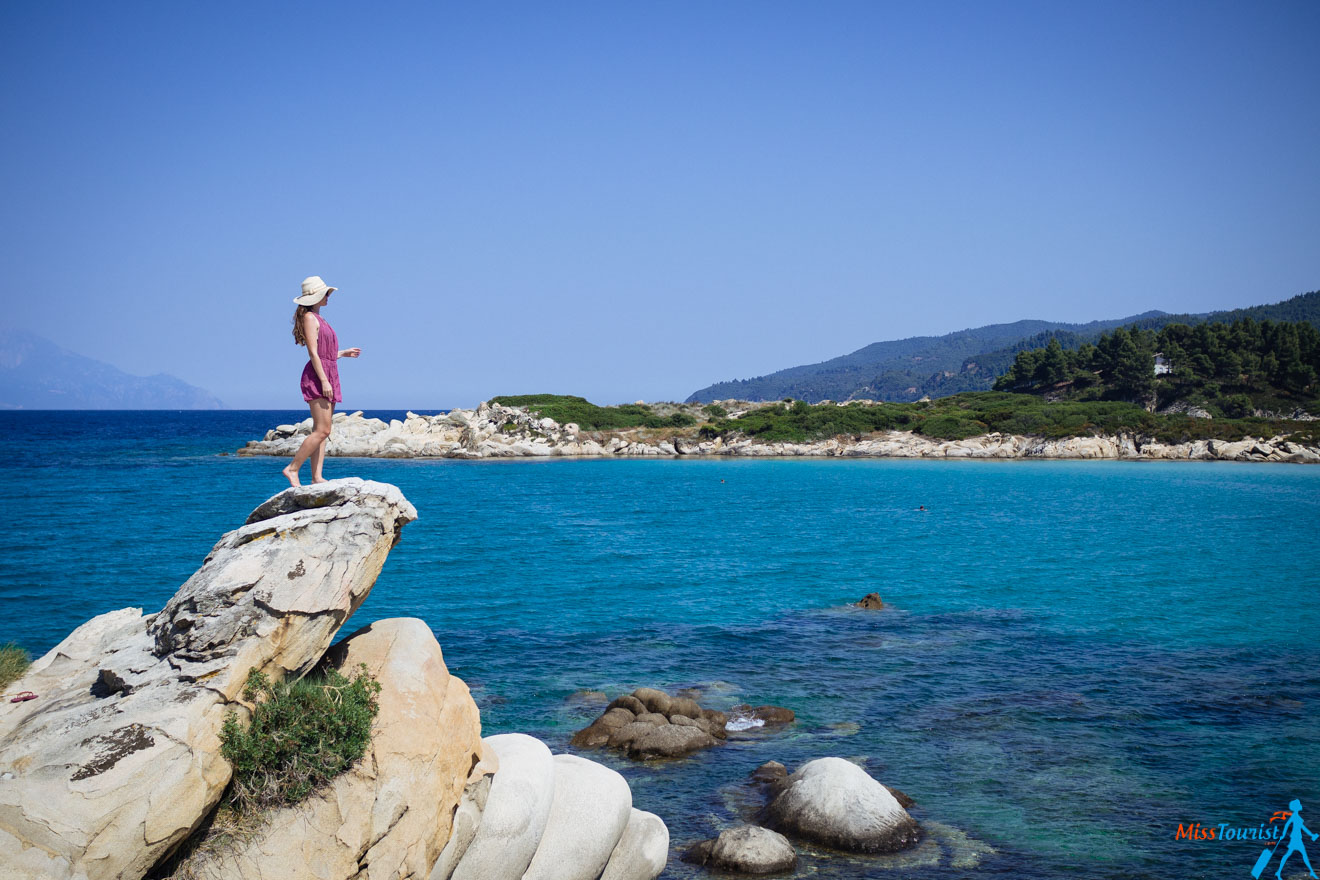 The season is from May to October and I think the best time to go is in the first half of June (or read more about the best time to visit Greece in general). The beginning of June is the time when the water is already warm enough to swim in, the crowds of tourists are not there yet and the weather is warm, but not too hot! I have heard that the beginning of September is also nice.
How to get to Halkidiki
The easiest way is to fly to Thessaloniki and then rent a car or use a transfer provided by your hotel. Depending on where you are and which peninsula you are staying on, it will take a minimum of 45 minutes to get there. It was 1.5 hours to my hotel, Antigoni Beach Resort.
P.S. If you would like to learn more practical information about the place, check out this full guide on Halkidiki, Greece – it has super detailed info on how to get to the place, places to visit and much more!
Conclusion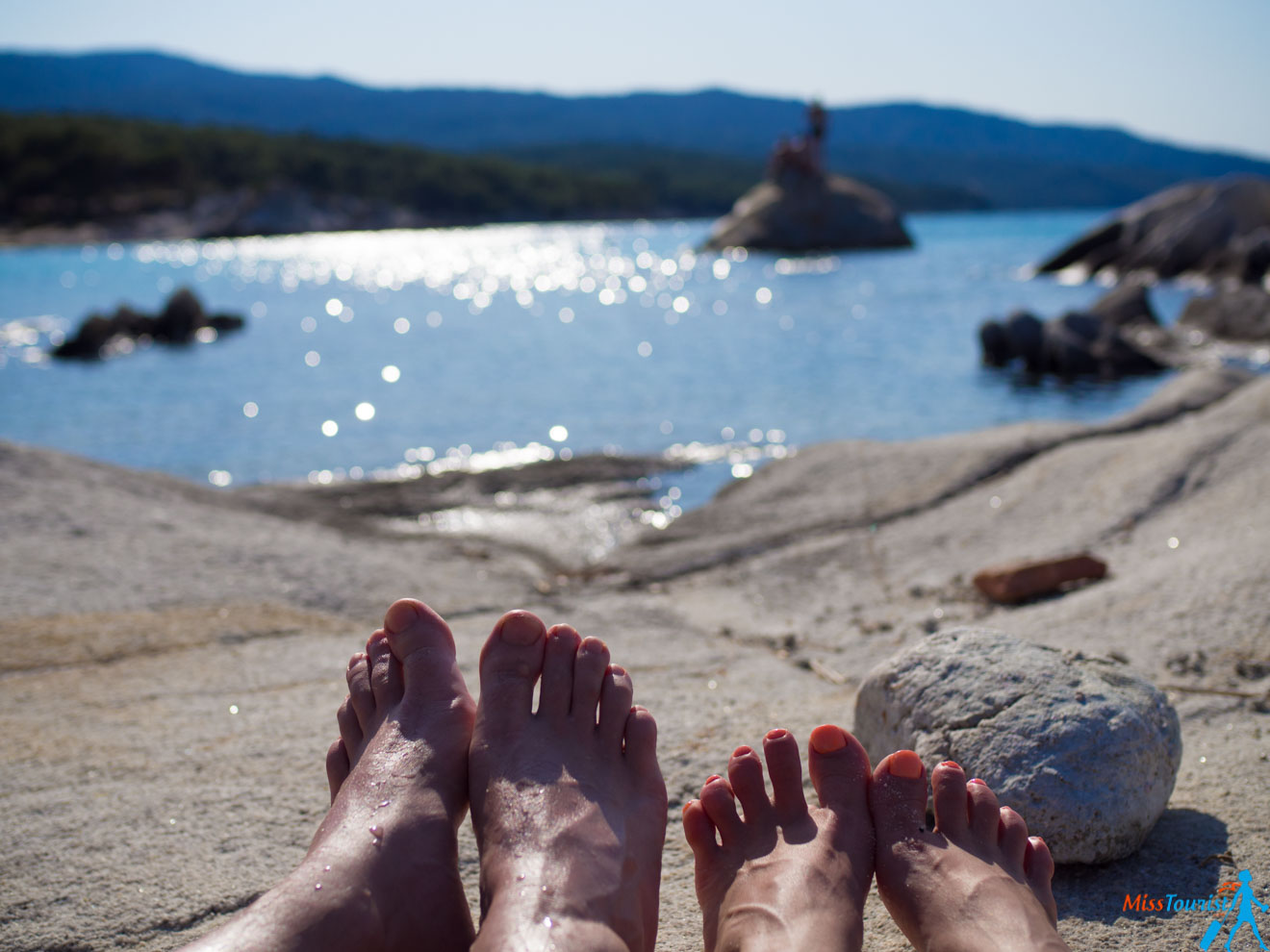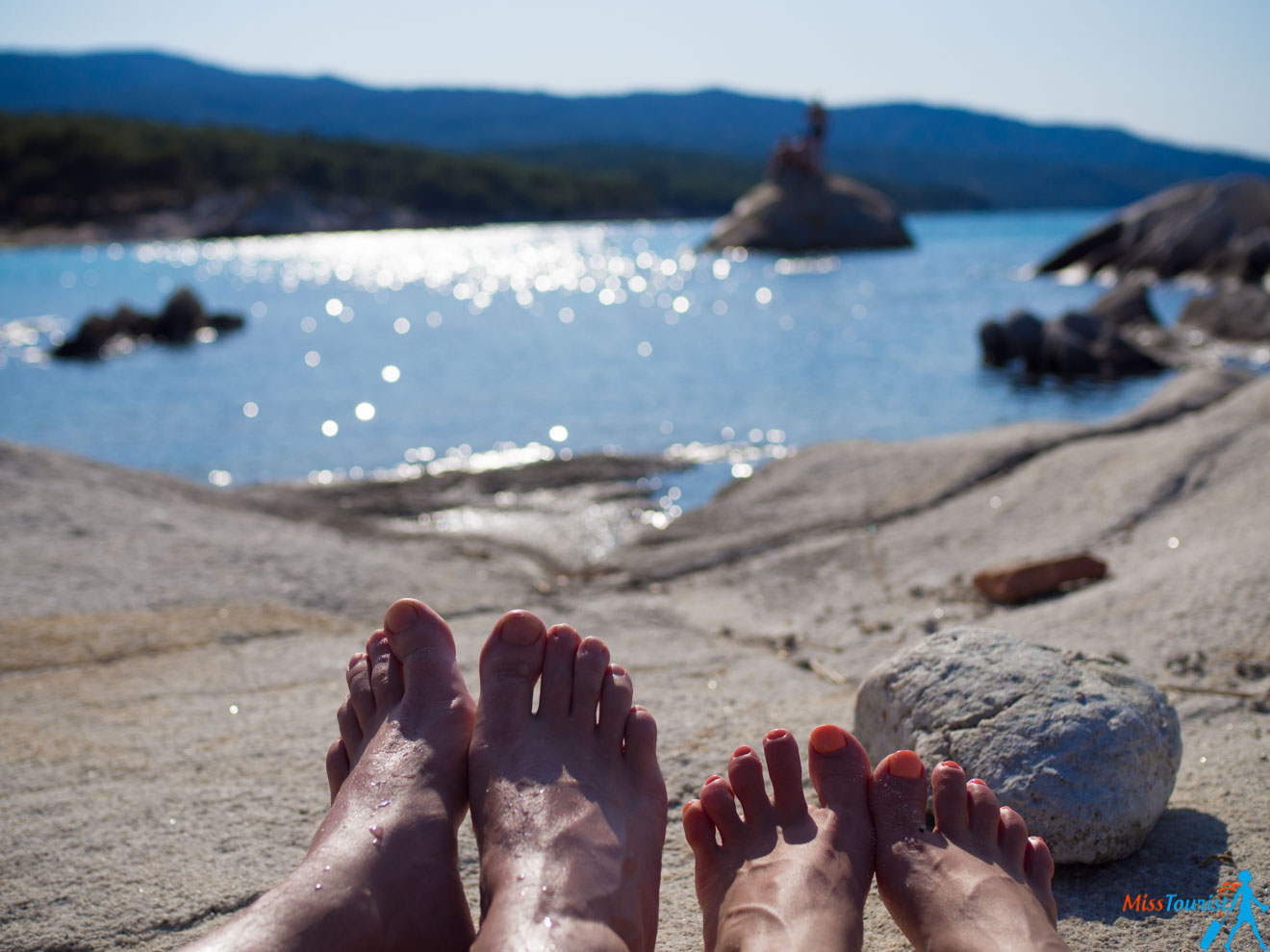 The Halkidiki region has the perfect combination of unspoiled landscapes, turquoise colored water, rich culinary fare, great nightlife and religious traditions!
Everyone will find what they want there – be it a family vacation, fashionable stay, extreme activities or secluded intimacy – Halkidiki has it all!
I hope my suggestions on things to do in Halkidiki were useful to you and you will use them to plan your vacation!
If you have any more questions, be sure to let me know, I love receiving comments from my readers!
Yulia
---
Pin it for later!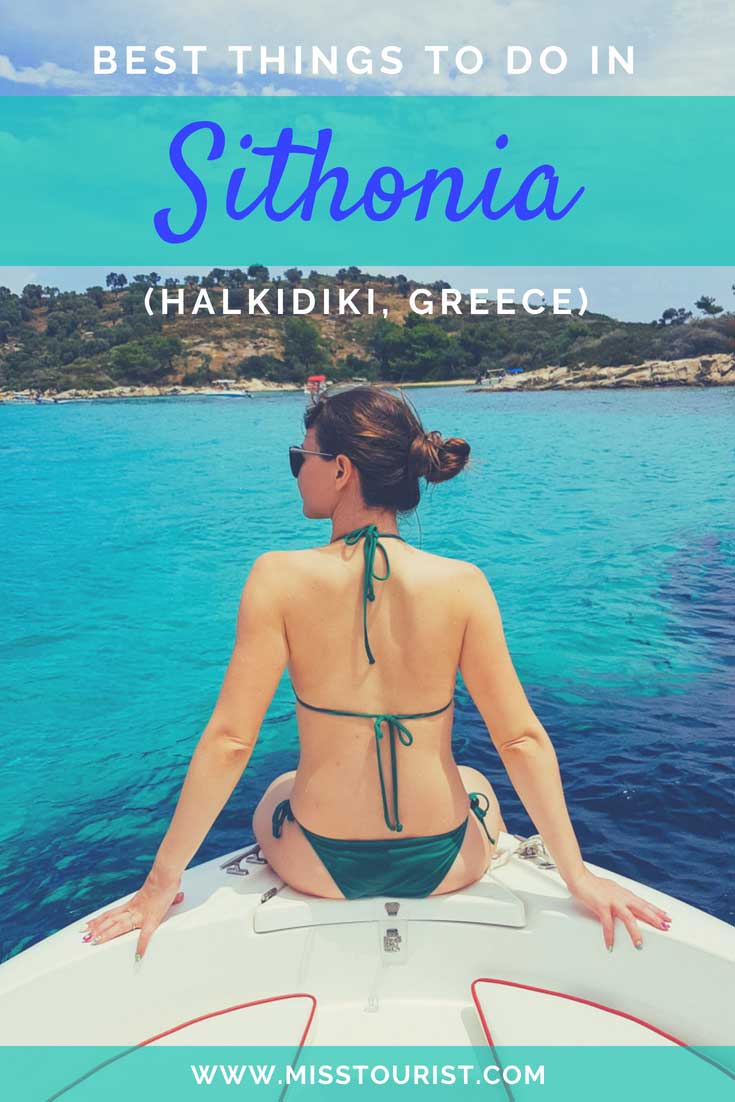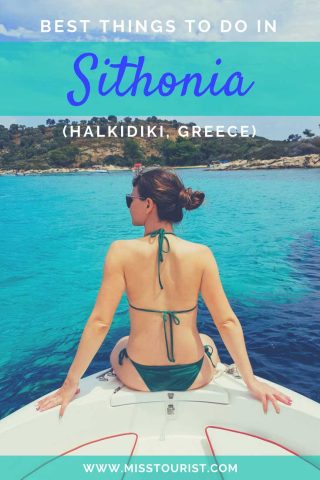 Pin it for later!