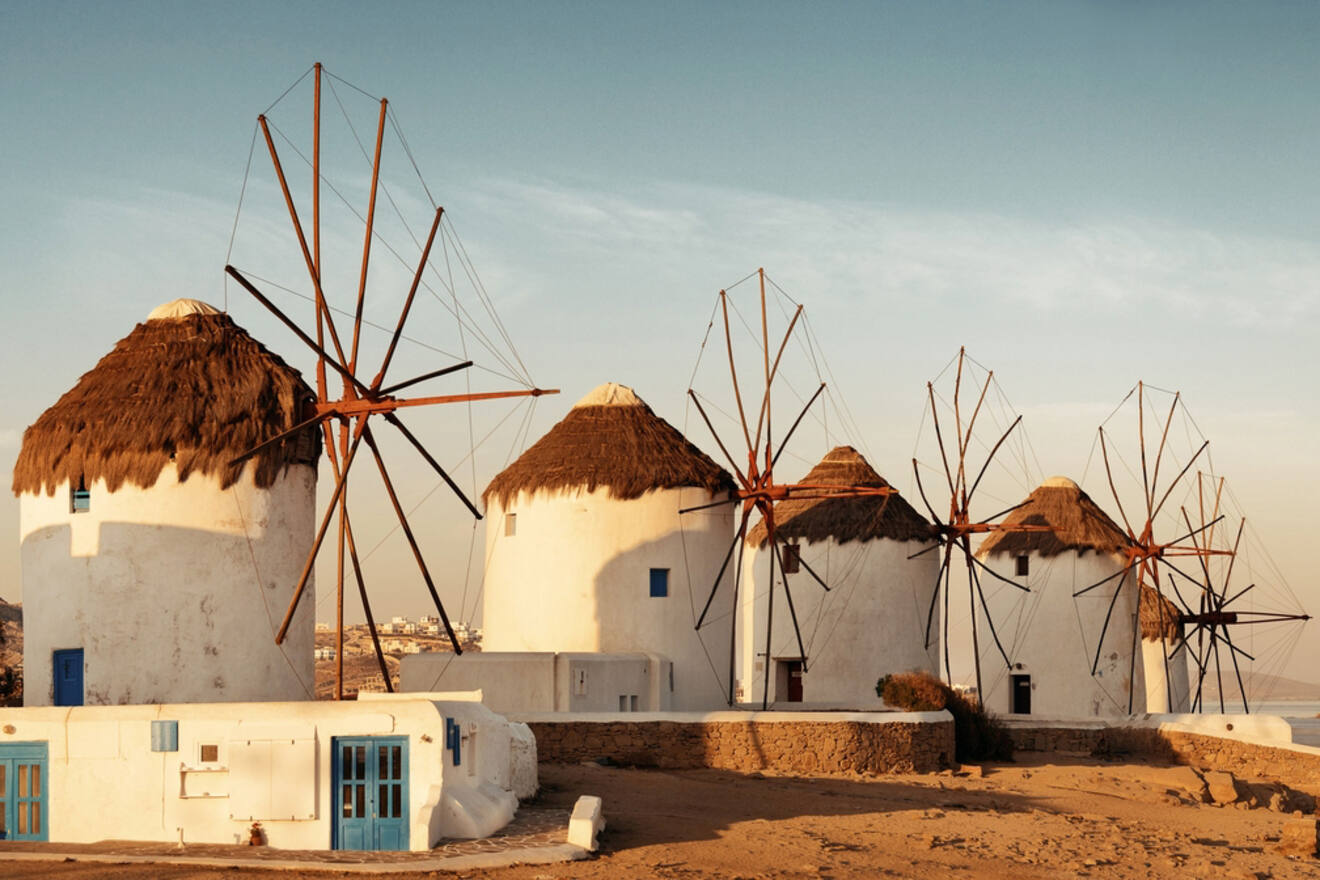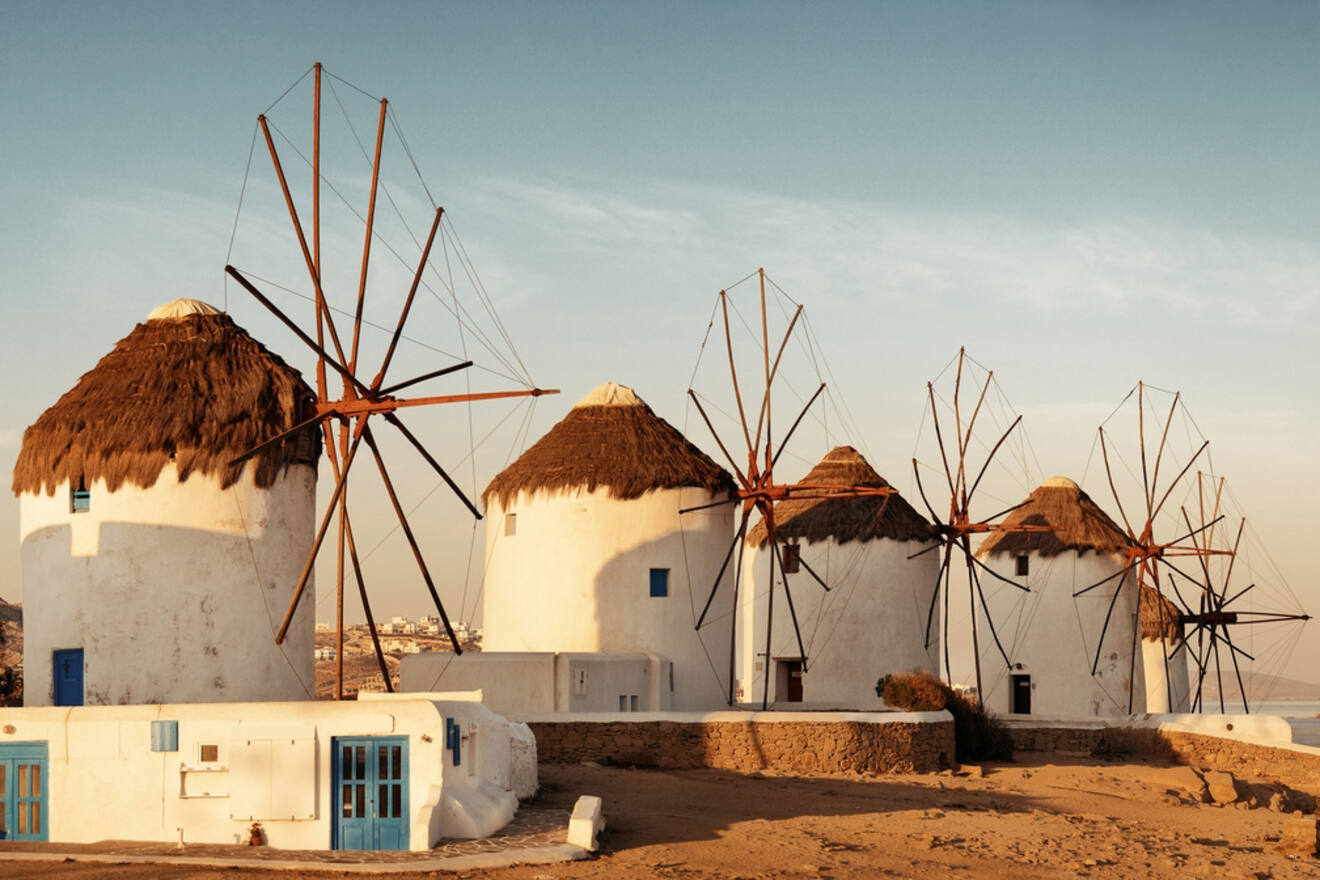 Are you planning to visit Greece and wondering where to stay in Mykonos? Being one of the most popular destinations in Europe, there are many options to choose from! The Greek island is widely known for its classic white-washed villages, blue detailing, cobblestoned alleyways, breathtaking turquoise sea view, immaculate sunsets, sandy beaches and vibrant nightlife.
Mykonos' Mediterranean climate attracts visitors all year round, making tourism one of its major industries. It's a perfect place that caters to everyone – may it be for families, couples going on a honeymoon, groups of friends or solo travelers! Besides that, Mykonos is a hotspot for the LGBTQ+ community, with many friendly establishments.
This island will not fall short of giving you a good time, no matter what your definition of a good time is. I know you would grab the chance to find the best places to stay and the best hotels on this white and blue island. I've broken down the top areas and accommodations, including everything from budget hotels, boutique hotels to luxurious hotels, to help you choose the one that fits you perfectly.
If you are in a hurry
Don't want to read the whole post or need to book something quickly? Here are the top 4 hotels in Mykonos for each price range:
Here are the popular neighborhoods to stay at in the island of Mykonos:
The island of Mykonos consists of multiple towns and beaches, but these are the ones that are popular and most frequent by tourists. Among them is Mykonos Town. The picturesque capital of Mykonos is the perfect place to get a grasp of Mykonos' electric and stylish atmosphere.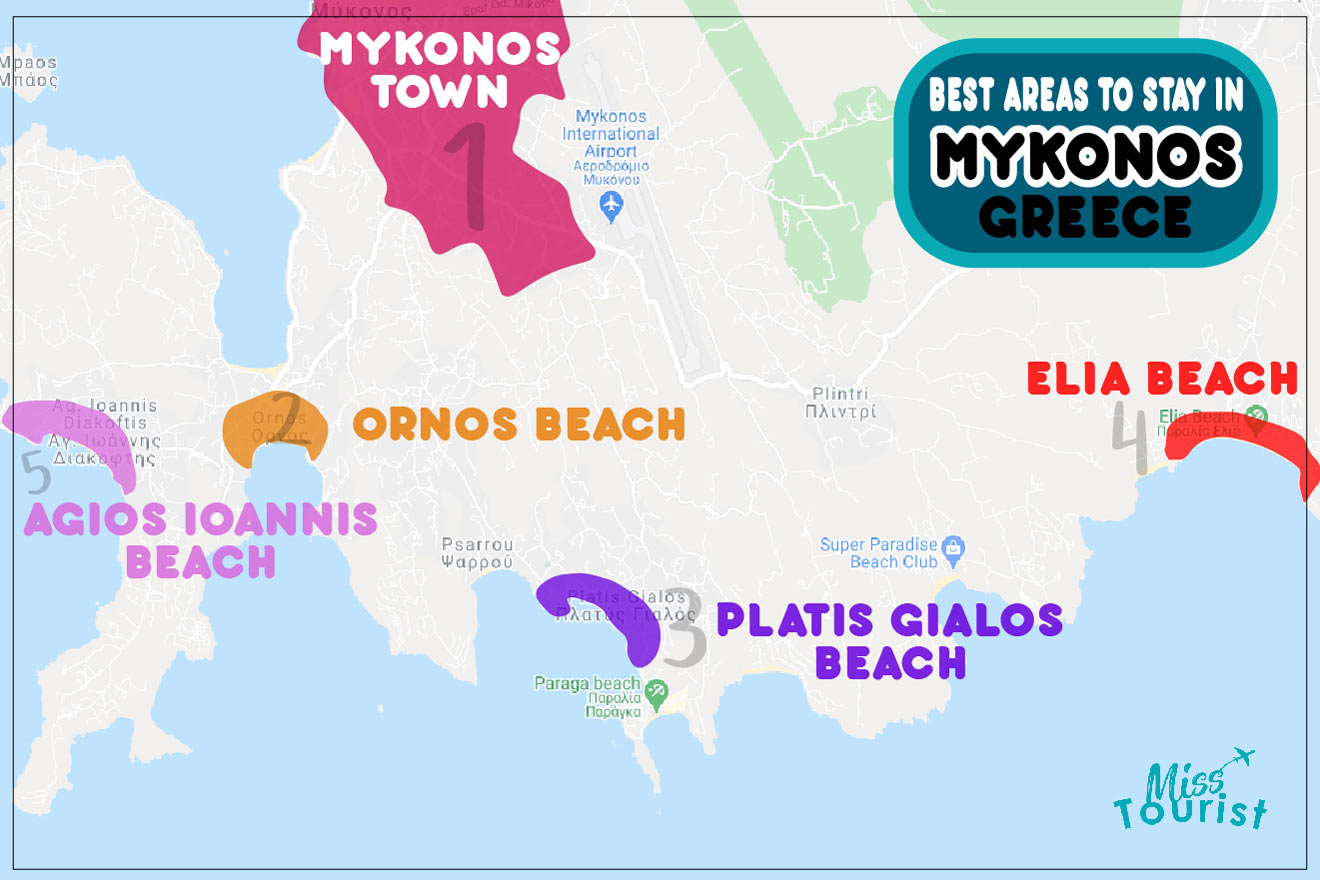 1. Mykonos Town – where to stay in Mykonos for nightlife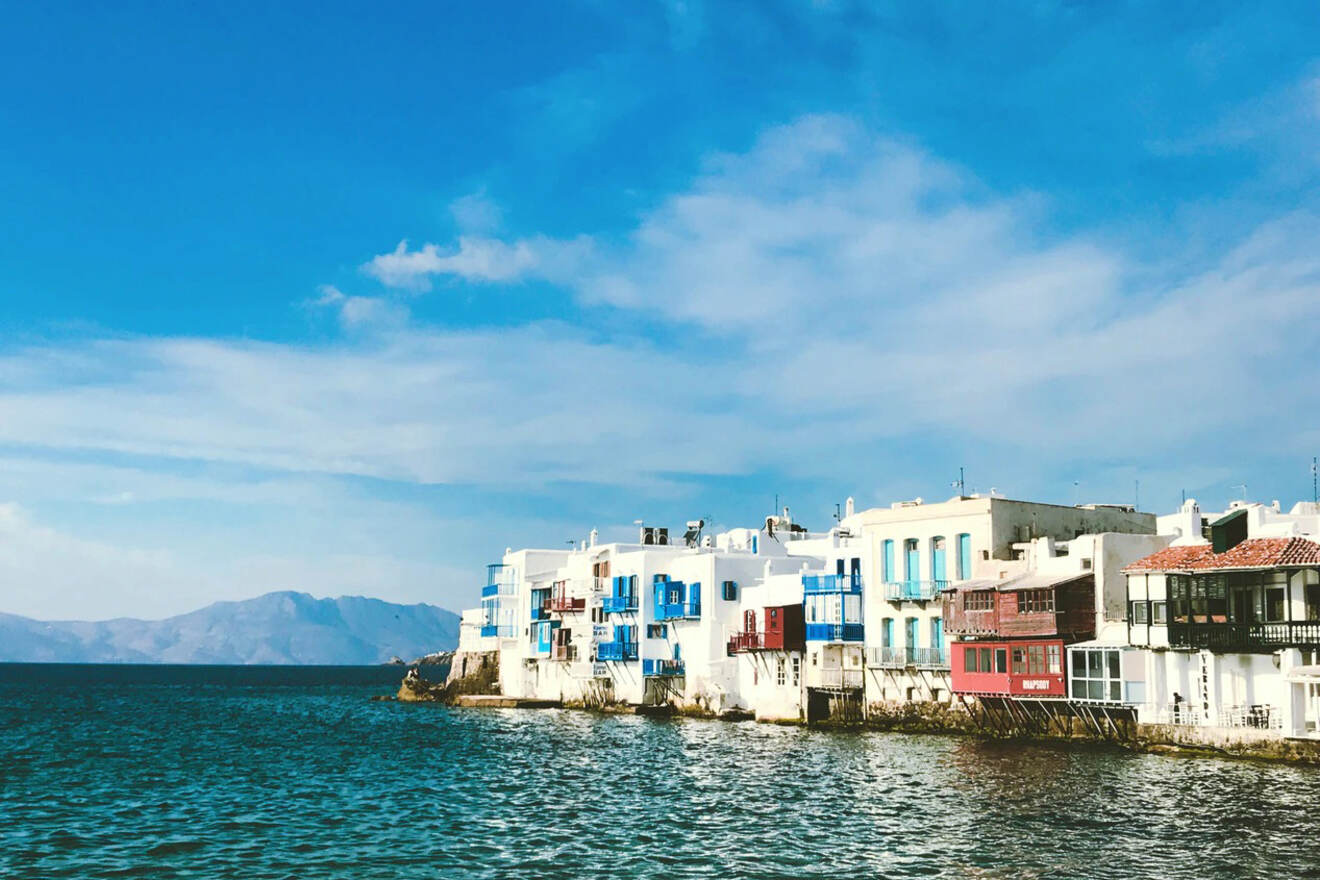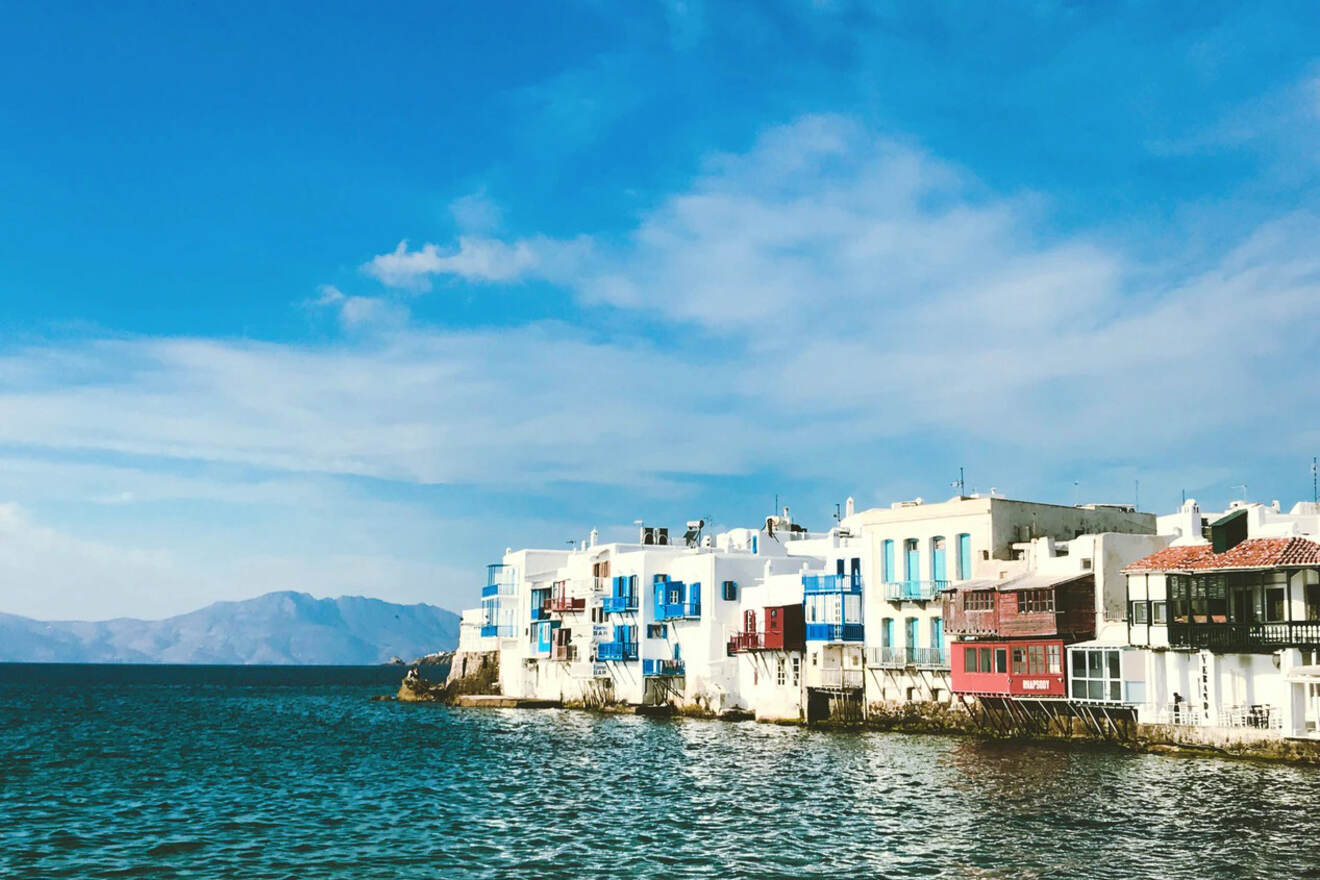 Mykonos Town or Chora, as called by the locals, is a traditional Cycladic village in the heart of the island of Mykonos. It's also known because of it's well-preserved Old Port and architectural landmarks. It's a picturesque town made up of white-washed houses, narrow streets, beautiful small churches, gorgeous pink bougainvilleas flowers, and windmills.
Mykonos Town is quiet in the morning and gets busy with tourists by lunch, with crowds lingering until the sunrise. If you are up for parties and dancing, you'd want to stay in Mykonos Town. A lot of restaurants, bars, and nightclubs can be found here. Especially in Little Venice across the Old Port, living up to its moniker as a party island.
Aside from that, there are a lot of museums and galleries in the area where you can dive deep into Greek culture and Megali Ammos Beach is just 5 minutes away by taxi from the center. It also offers plenty of accommodation options close to the airport for those on a tight time schedule.
Luxury hotel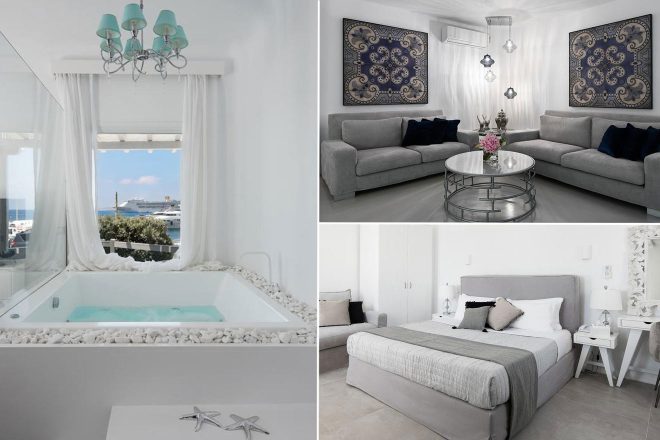 A luxurious, seafront hotel in the Old Port close to Little Venice and just a 10-minute walk to the town's heart. Considered one of the best hotels to stay in Mykonos Town, the rooms and suites are modern and elegantly-styled, with options like family rooms, massage, and excellent breakfasts. They're also sustainable Initiatives certified for making sure their guests have an eco-friendly stay and travel.
Other accommodation options in Mykonos Town
mid-range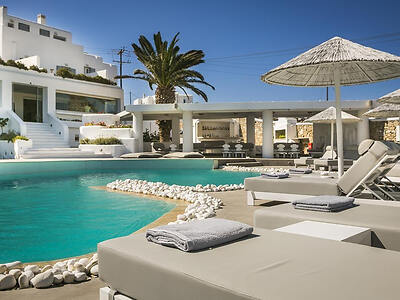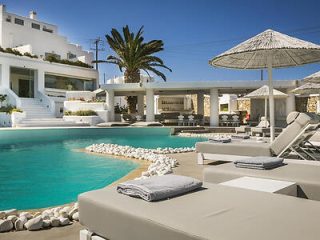 4-star hotel with breathtaking sea views, stylish rooms with balconies, poolside bar, and an exceptional breakfast
budget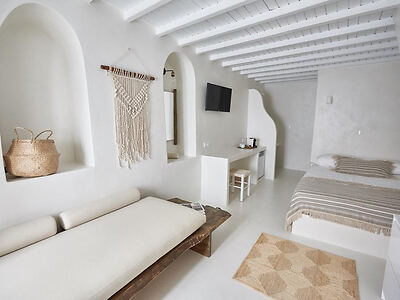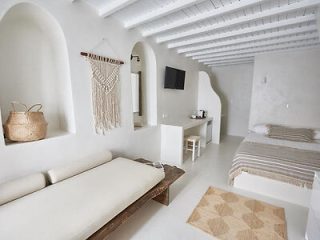 A cozy and clean place to stay, just a 3-minute walk from Little Venice
airbnb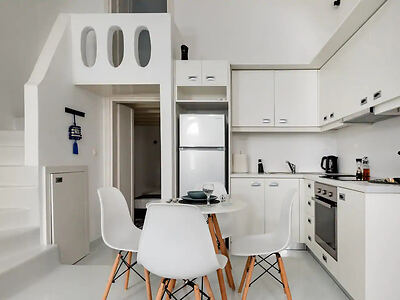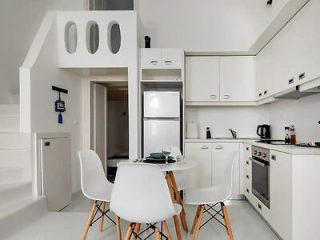 A traditional Cyclades-inspired villa that's functional and in an easy-access location
Things to do in Mykonos Town
2. Ornos Beach – where to stay in Mykonos for first-timers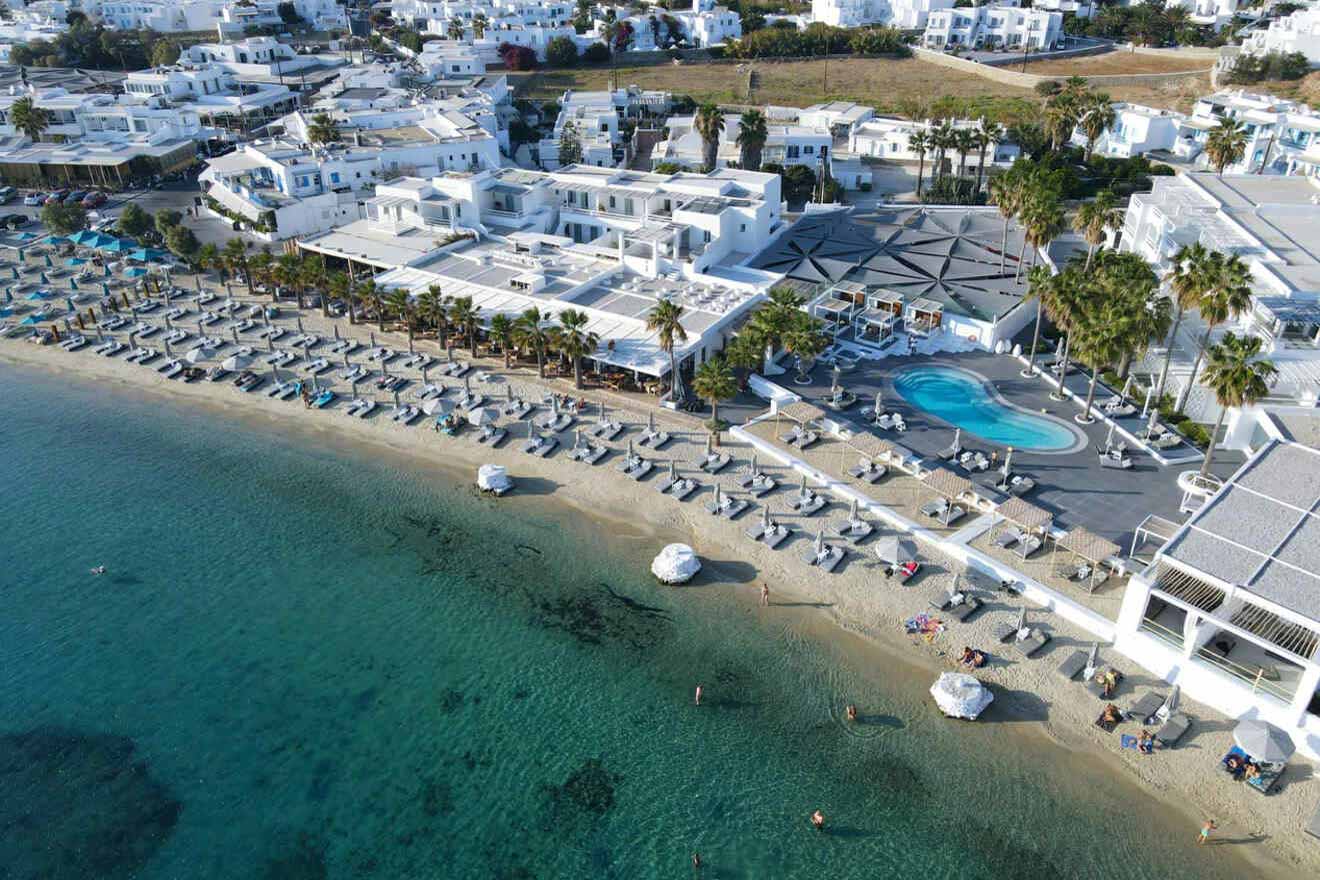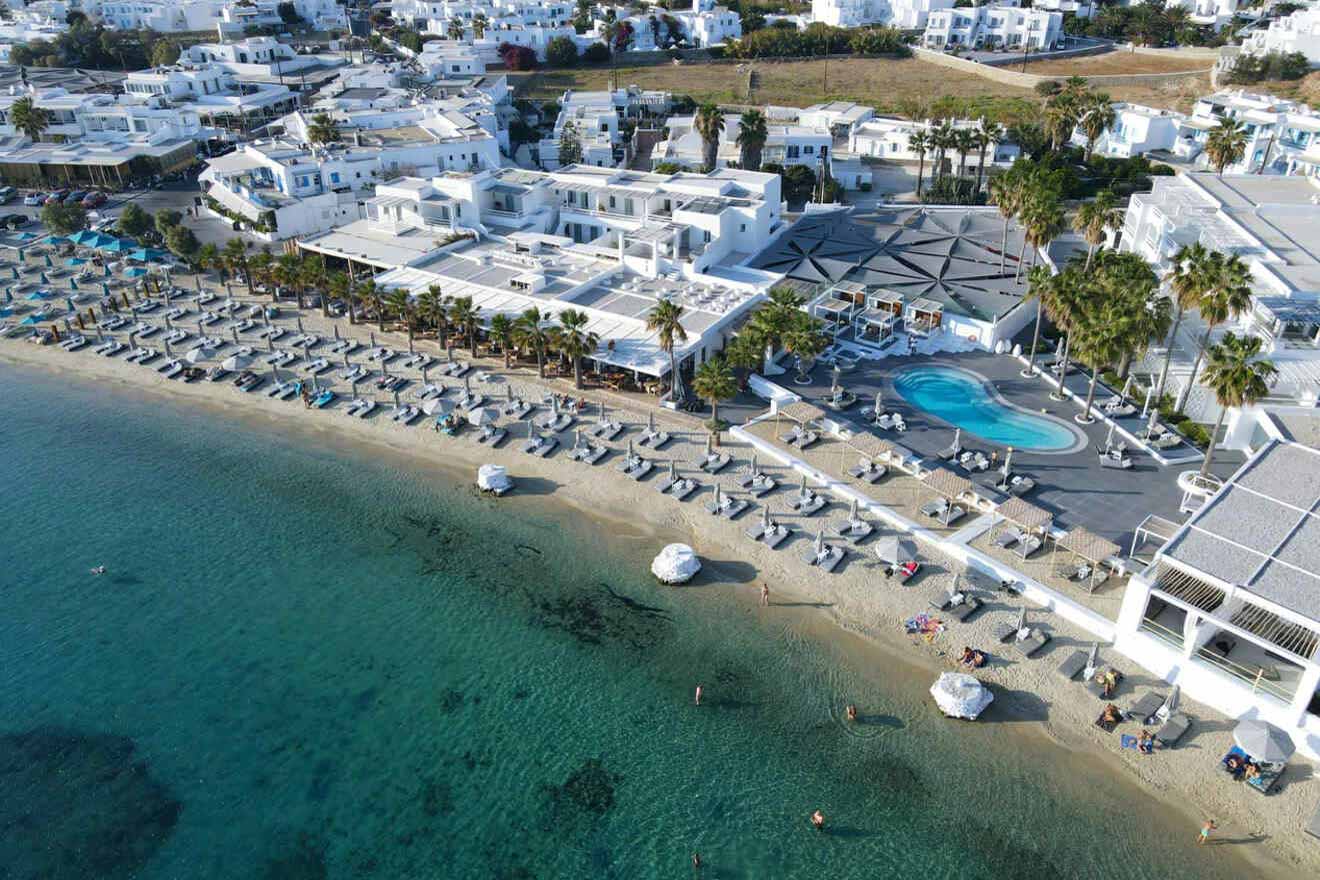 Ornos Beach is the nearest commercialized beach to Mykonos Town, just 2.5 kilometers southwest of the center. It's the best place to stay for the first-timers because you can be near the beach and the capital at the same time, making it easy to go back and forth without a hassle. Since the beach of Ornos is also a small port, there's a daily boat service to other beaches, making it super simple to get around by both public bus and water taxis!
Ornos Beach offers a wide variety of luxury, family-friendly, and budget friendly hotels as it is more developed than the other gorgeous beaches of Mykonos. Local people and tourists alike frequent the beautiful beach of Ornos because of it's hip vibe making it very popular. You can see trendy, classic taverns, bars, and restaurants everywhere, so you don't have to worry about being hungry or thirsty. Besides that, Ornos Beach is also great for children because of its shallow, calm, crystal clear waters. There's also a lifeguard stationed in the middle of the beautiful white sand beach.
Luxury hotel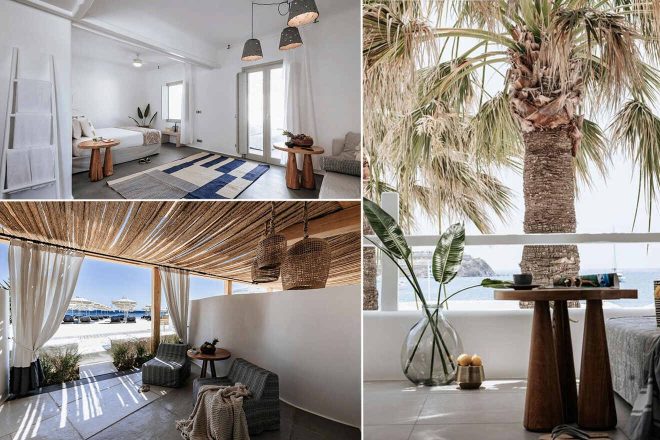 5-star hotel with a private beachfront area including sun loungers and beach service. Each of their beautiful, white washed rooms open out to a balcony, plus you have two restaurant options on site. Sip signature cocktails all day long at the beach bar during your relaxing stay in Ornos. 
Other accommodation options in Ornos Beach
mid-range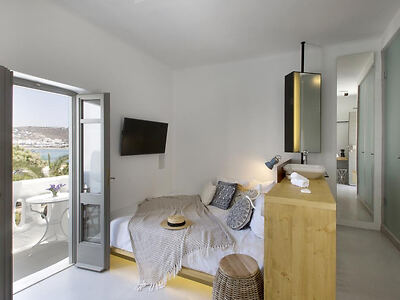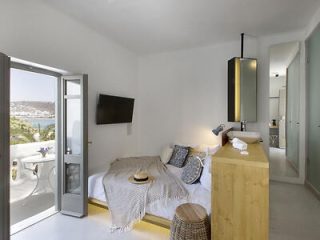 Elegantly-styled bedroom suites, this hotel has a spa, an outdoor swimming pool, and exceptional food
budget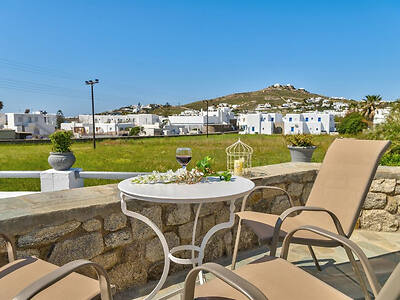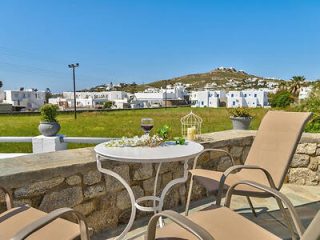 Budget Cycladic-style apartments, fully equipped with a kitchen, featuring sustainable initiatives making traveling eco-friendly
airbnb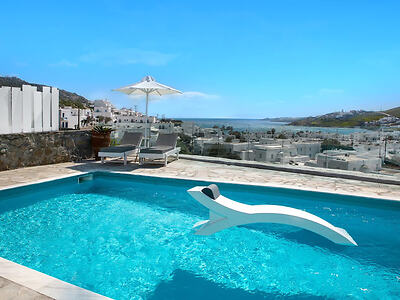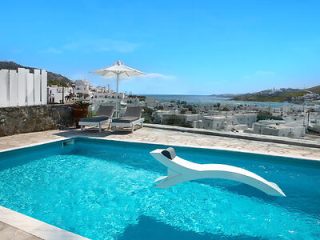 A Greek-styled, hilltop apartment with an outdoor jacuzzi, sunbeds, pool, and fabulous sea views
Things to do in Ornos Beach
3. Platys Gialos Beach – where to stay for thrill-seekers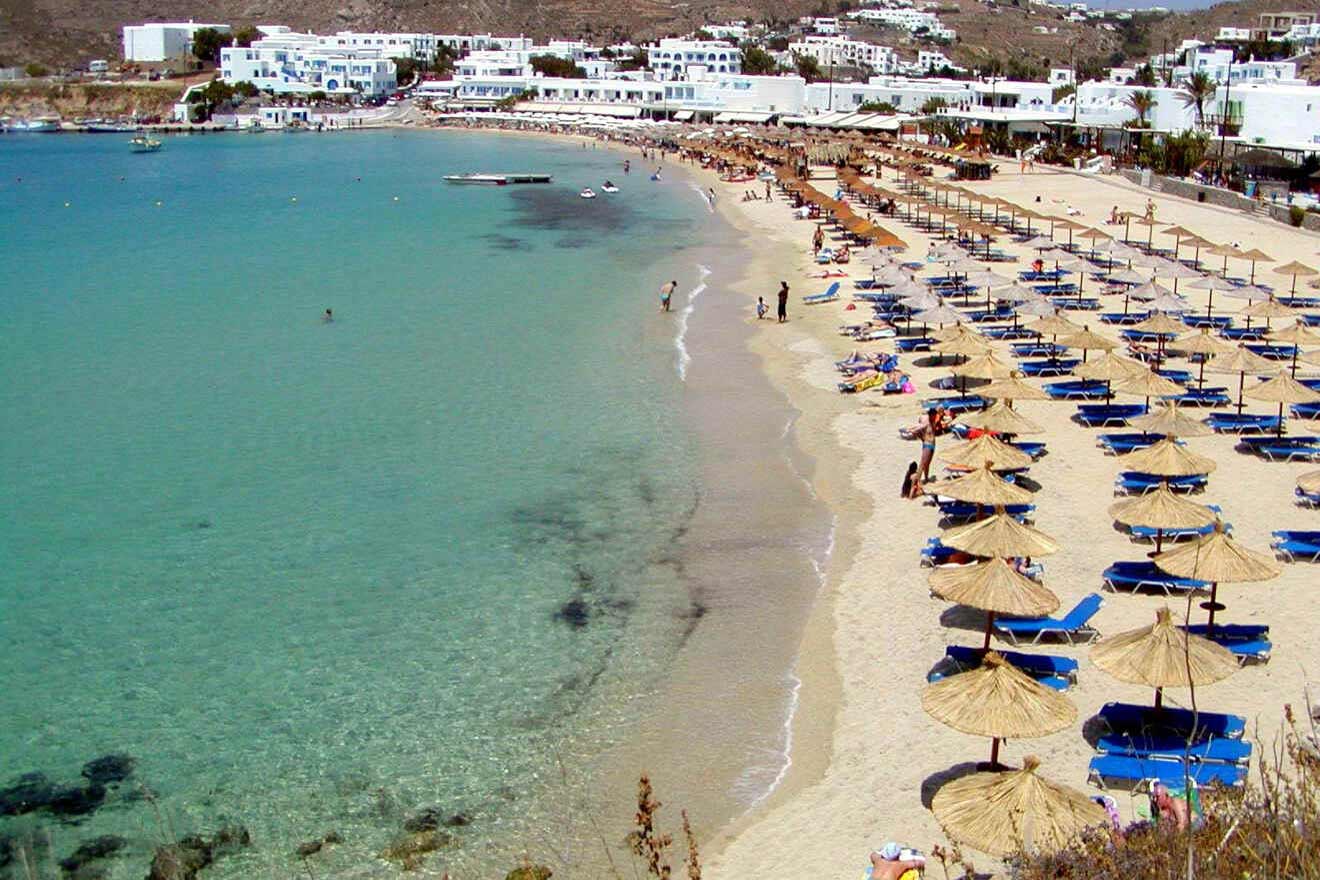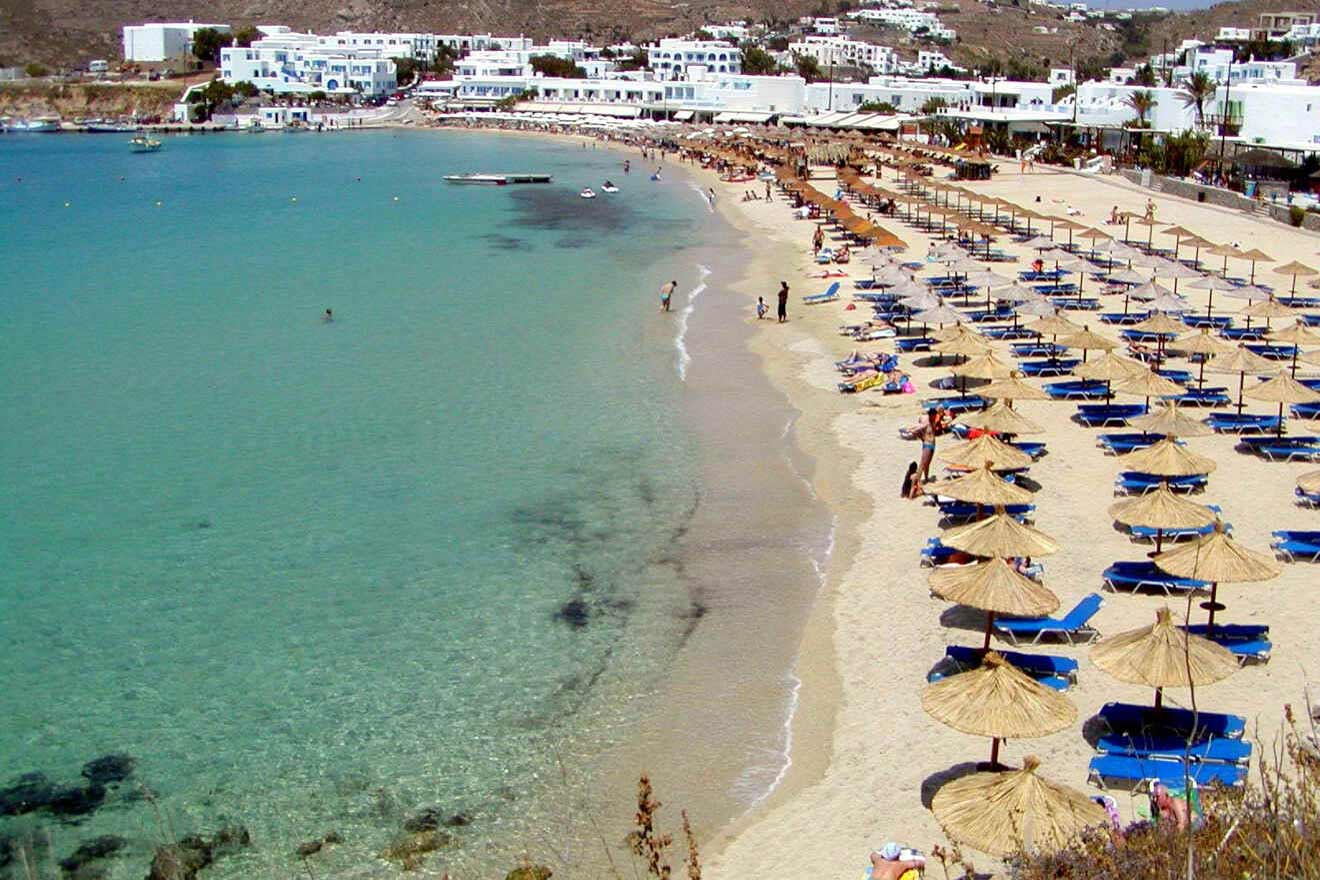 Platys Gialos Beach (also known as Platis Jalos) is a long stretch of white sandy beach in Sifnos island, just 5 kilometers southeast of Mykonos Town. Imagine swimming in clear blue waters and lounging on sunbeds with whitewashed boutique hotels and apartments as the backdrop. It doesn't get more picturesque than that!
Platis Gialos Beach offers a wide range of restaurants and bars, a lot of them beach bars. You can feast on everything from local Greek cuisines to fresh seafood and international dishes. After lunch, score some good finds in trendy boutiques or head down to the beach for fun water activities. Feel the thrill of wakeboarding, kitesurfing, or a banana boat ride. You can also join a boat or yacht cruise in the small port. Sunset cruises are immaculate and very much recommended!
Platys Gialos is one of the most popular beaches in Mykonos and has plenty of other beaches nearby, like Paraga Beach and Psarou Beach. Mykonos' white beaches are all connected by narrow coastal paths. Perfect for exploring on foot, stopping for a drink or two at some of their beach bars and restaurants.
Luxury hotel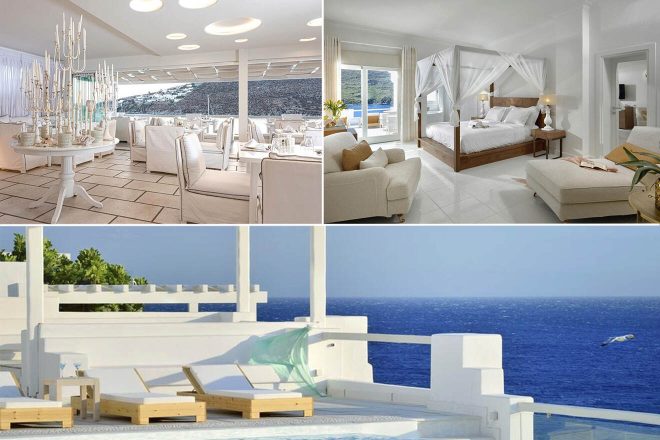 A luxurious 5-star hotel, just a few steps away from Platys Gialos Beach and overlooking Psarou Beach. Lounge in their infinity pool with a pool bar. Sweat it out in their fitness center and have a calming day at the spa. On top of it, it's a family-friendly boutique hotel that offers babysitting/child services. One of Mykonos' best hotels for a luxury vacation!
Other accommodation options in Platys Gialos
mid-range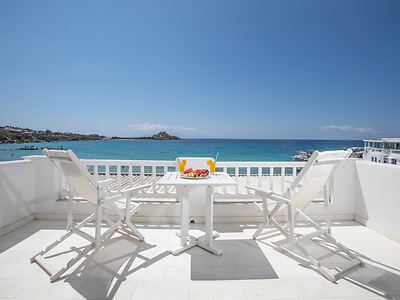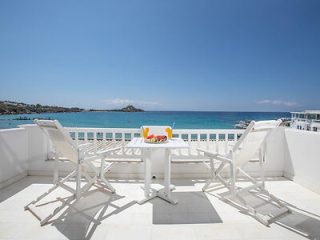 4-star beachfront hotel offering sea view rooms with a rooftop pool and pool bar
budget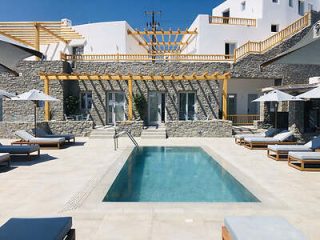 Affordable hotel with minimalist and classic decor, spacious rooms, and tasty breakfast by the pool
airbnb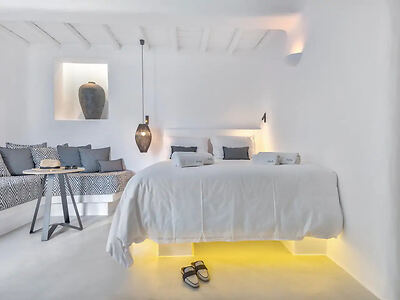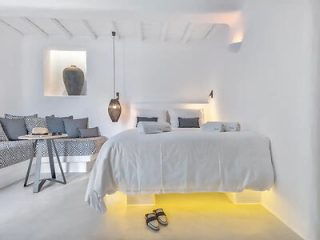 Entire apartment with an outdoor hot tub and within walking distance of Platis Gialos beach
Things to do in Platys Gialos
4. Elia Beach – where to stay to slow down and relax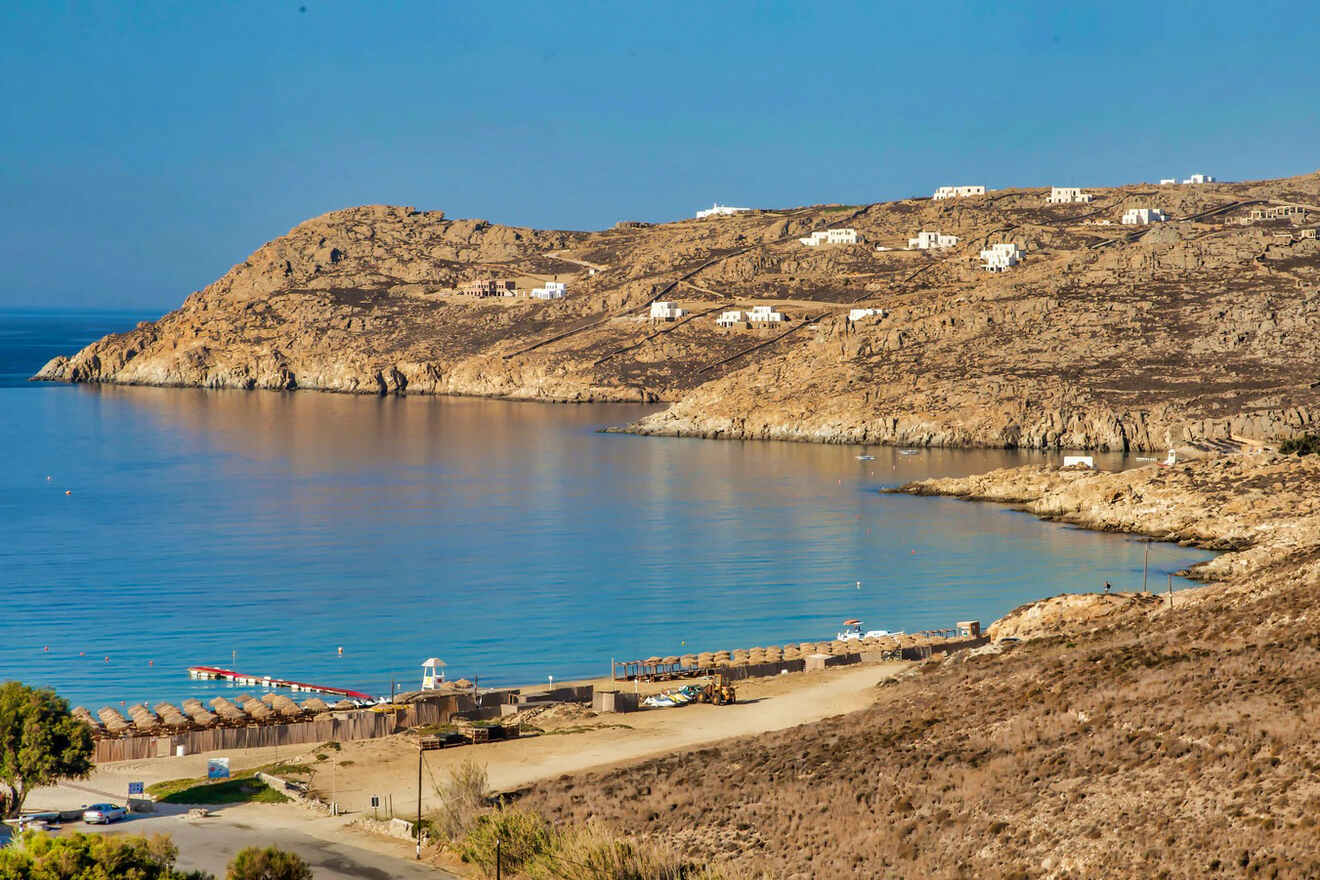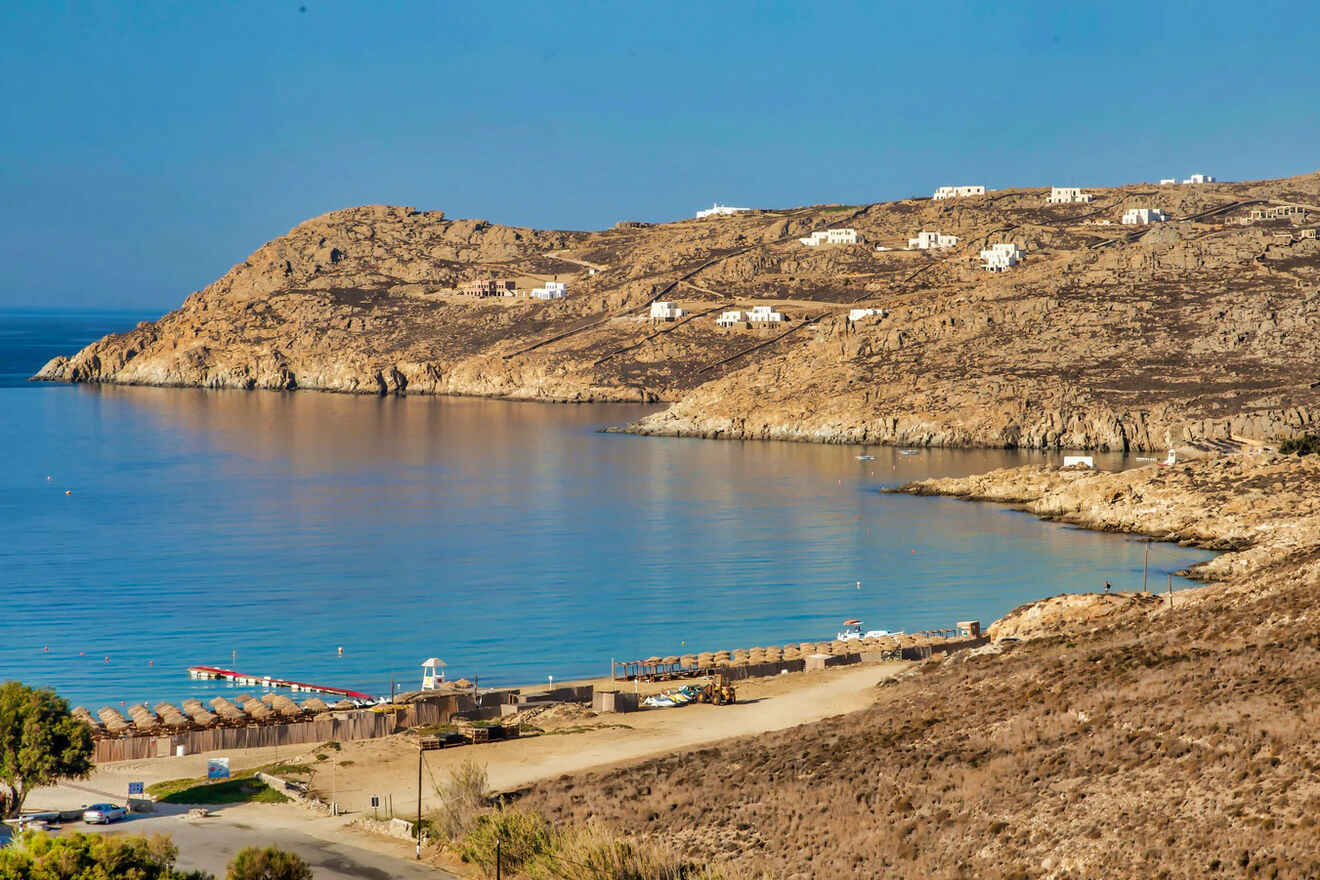 Elia Beach is 11 kilometers southeast of Mykonos' capital and the longest beach in all of Mykonos. Being a little further from Mykonos town center, it is much less commercialized compared to its counterparts like Paradise Beach and Platys Gialos Beach but that doesn't mean it doesn't have plenty of hotels to choose from!
If a crowded beach is not your scene, Elia Beach and Kalo Livadi Beach (just around the corner) are two of the best places to stay. You'll get to read a book, rest, and even doze off in the quieter and relaxed atmosphere of Elia Beach, Mykonos.
FUN FACT: It's not a rare sight to see people nude at Beach Elia. People have the liberty to go naked or keep their swimsuits on the whole beach but at the right end when facing the water, you will find a small, 100% nude section tucked behind a cove.
It's a favorite beach among the LGBTQ+ in Mykonos. Open, diverse, and carefree are just some of the things that perfectly describe this part of Mykonos! Stroll along the beach and choose one of the sunbeds with parasols that you'll find in perfect lines. Take in the heat, slow down, and just relax. Elia Beach is the best place to spend all day laid out on the beach and perfect your tan.
Luxury hotel
Myconian Utopia Relais & Chateaux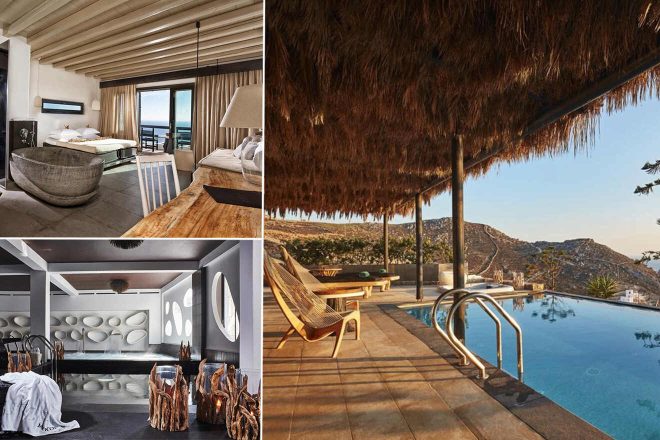 One of the top 5-star luxury hotels near the beach. With an exclusive sandy beach area, it's perfect if you're looking for some quiet and privacy. Some rooms have a hot tub or private swimming pool. Enjoy a romantic meal at the outdoor restaurant overlooking a calming view of the Aegean Sea. Plus, the airport shuttle service is free of charge!
Other accommodation options in Elia Beach
mid-range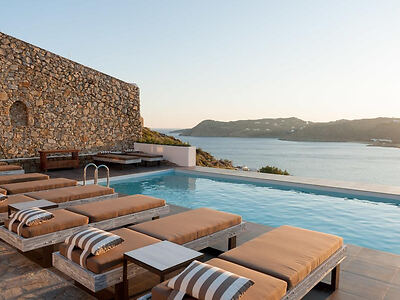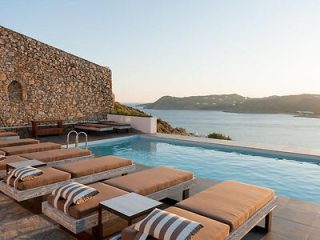 A beachfront boutique hotel, rooms have a balcony with breathtaking sea views of the Aegean Sea
budget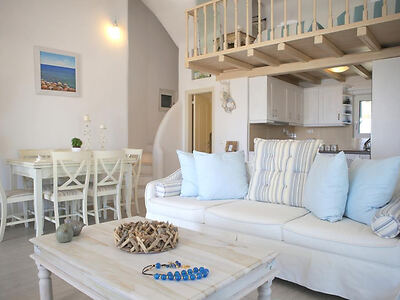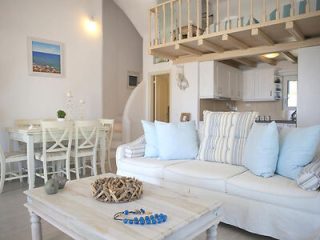 Units decorated in Cycladic culture designs, guests can enjoy their outdoor pool, BBQ facilities, and spa
airbnb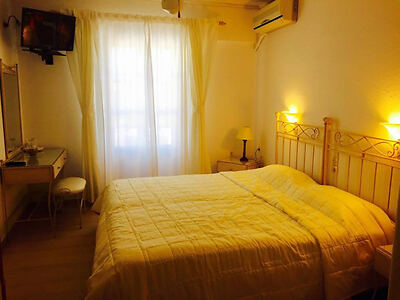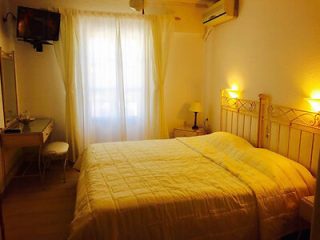 A first-class room by the sea with a Mediterranean kitchen and beach bar
Things to do in Elia Beach
5. Agios Ioannis Beach – where to stay in Mykonos for families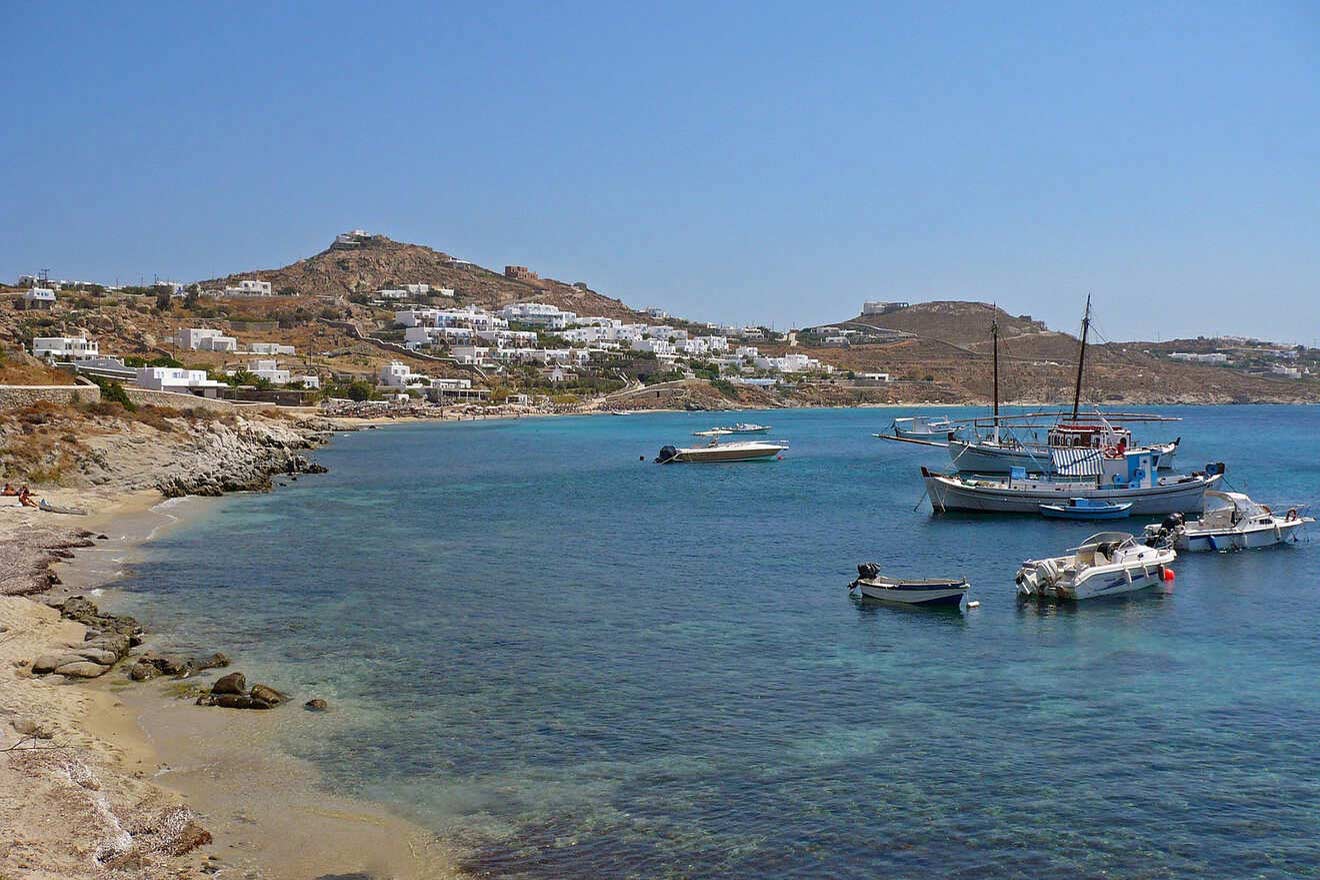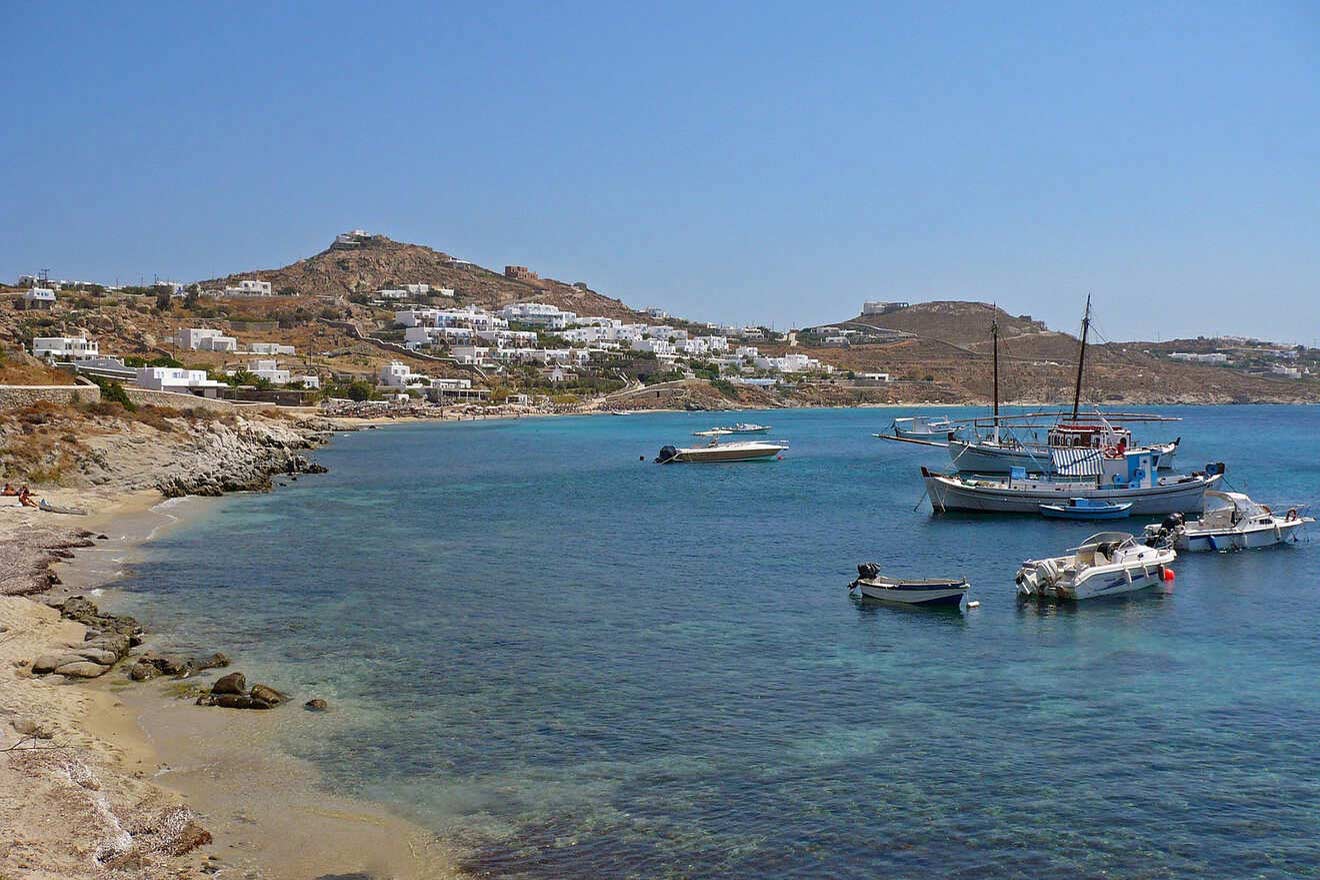 Agios Ioannis Beach (not to be mistaken as Agios Stefanos Beach) is a small beach with crystal-clear waters. Just 5 kilometers southwest of Mykonos Town, it's fantastic for swimming and snorkeling. This beach has a stunning view of the island of Delos (especially at night). Agios Ioannis isn't as popular as the other beaches on the island, but it's one of the best places to stay for a peaceful and quiet atmosphere!
People who bring along their children for a holiday choose to stay in Agios Ioannis Beach as the area offers a lot of family-friendly, luxury hotels, beach resorts, and other accommodations. With a refined, white sand beach, shallow waters, and a lifeguard on standby – parents will be able to relax and enjoy without worrying. There are also available water sports selections in the area, from surfing to scuba diving. And plenty of diverse restaurants, bars, and taverns to choose from. Families definitely won't get bored!
Luxury hotel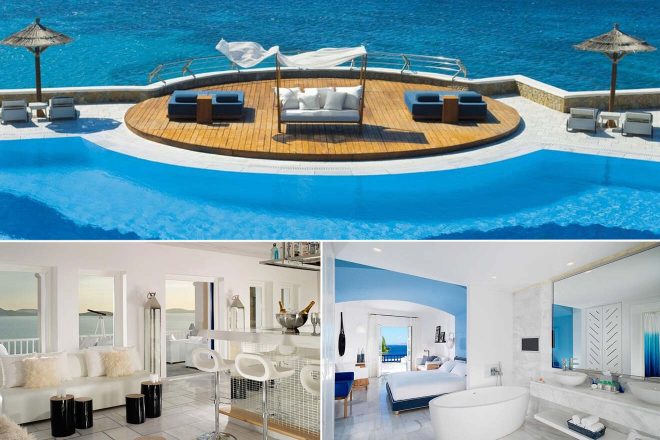 This 5-star luxurious hotel and beach resort has a private beachfront area, perfect for a quieter stay away from the crowd. Their restaurant offers fresh seafood, grilled specialties, and other Mediterranean flavors. They also have an outdoor pool overlooking the Aegean Sea. One of the best hotel resorts on the island of Mykonos and the perfect place to stay in Agios.
Other accommodation options in Agios Ioannis Beach
mid-range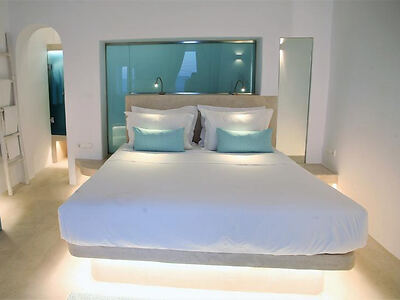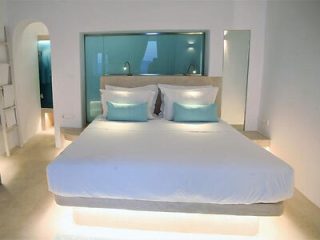 Hotel with private beach, beautiful suites with balconies and sea or mountain views, wellness centers, and more
budget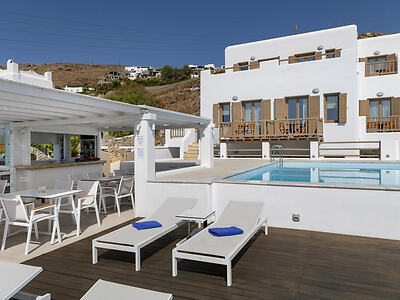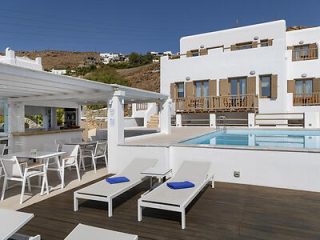 Offers luxurious amenities for a budget price, modern rooms, balconies, swimming pool, and breakfast
airbnb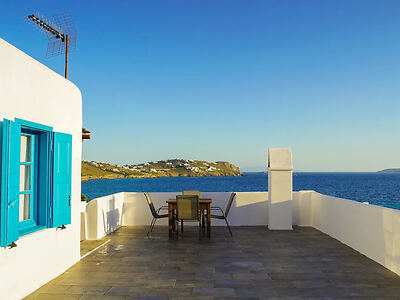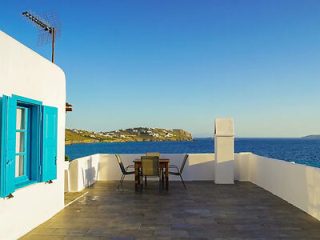 A spacious apartment within walking distance to the beach with a huge balcony overlooking Delos Island
Things to do in Agios Ioannis Beach
P.S. If you need some help with organizing all those activities, check out this post on a perfect Mykonos 2-day itinerary.
| | |
| --- | --- |
| 👑 Luxury price: | €230 |
| Mid-range hotel: | €150 |
| 🛏️ Budget: | €90 |
| 🏠 Airbnb: | €130 |
| 💰 Accommodation prices: | High |
| 📍 Best Area: | Mykonos Town |
| 🛎️ Best luxury hotel: | Trinity Mykonos |
| 👛 Best budget hotel: | With-INN |
BONUS: When to visit Mykonos?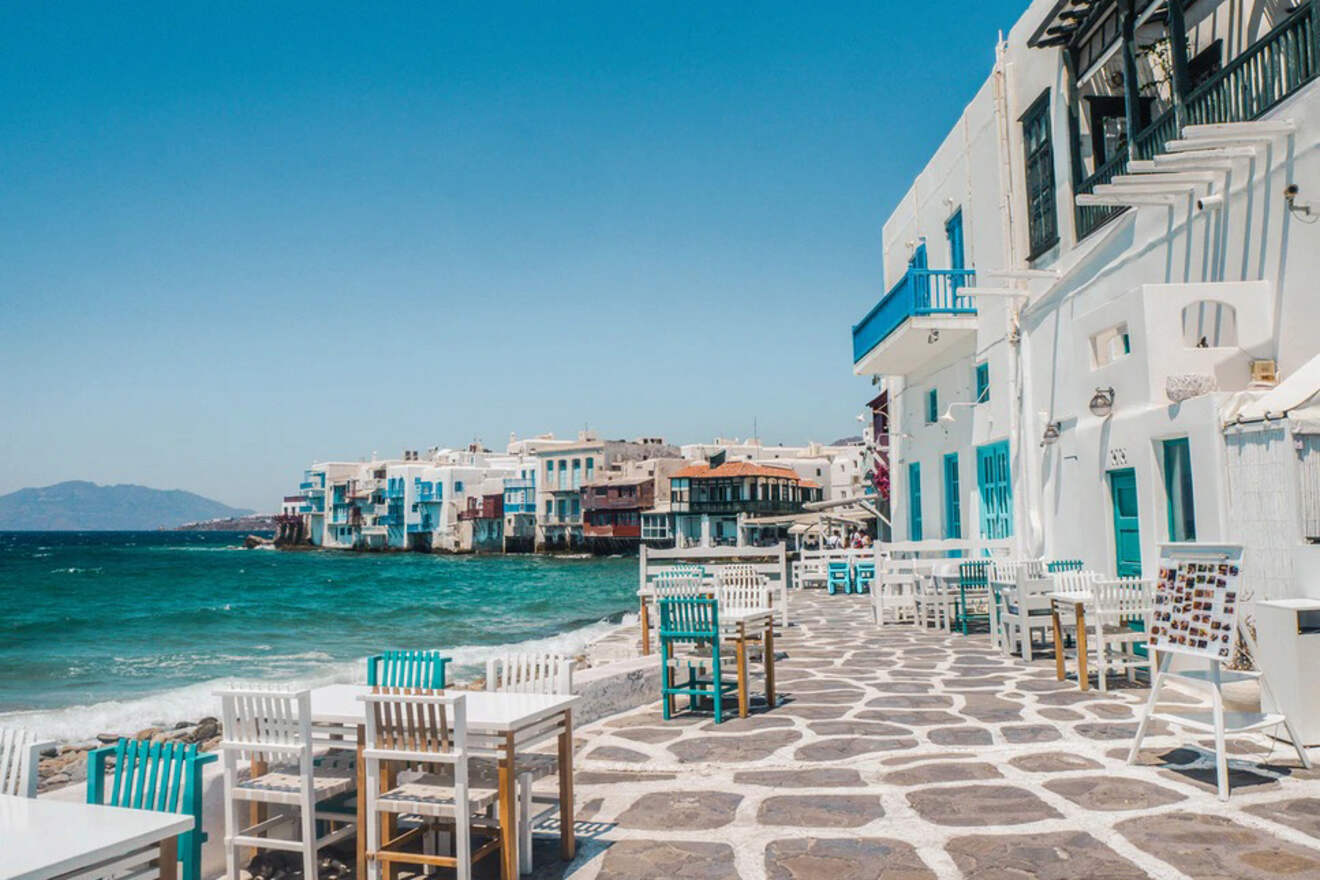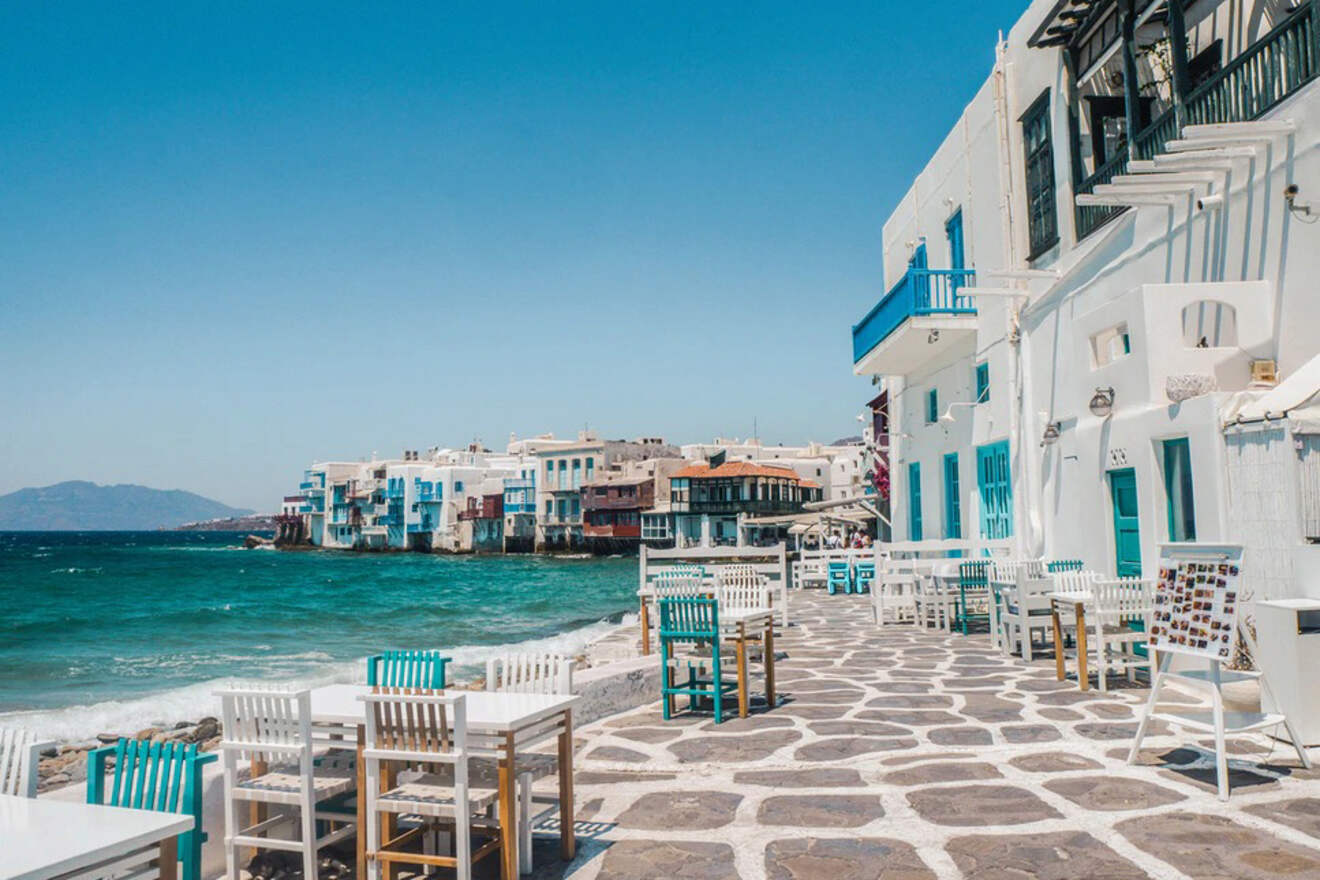 Mykonos' divine weather makes it a great destination all year round! Although most tourists come to the island for the beaches and parties, we all have different reasons for traveling. So I decided to break the seasons down to help you determine which time fits you best:
Summer (June-August)
Mykonos starts to be in full swing during the summer. As the temperature peaks, so do the prices and crowds, so make sure to book a few months in advance. Expect flights, accommodations, and tours to book up rapidly in summer but benefit from the warmest weather of the year, perfect for spending all your time at the beach. (These are Mykonos' best days to enjoy water sports under the sun!) Nights turn to days with non-stop partying around this time, so If you want to go to Mykonos for the nightlife, summer is the time for you!
Fall (September-November)
I think early September is the best time to visit. Large crowds during the summer are starting to disappear, but the nightlife and beach clubs are still raging. The waters are still warm, so it's perfect to go swimming. The weather from late September to early October is lovely, ranging from 20°C – 25°C (69-78°F). Look forward to a more relaxed atmosphere and the chance to mingle with local people, especially in the town of Mykonos.
Winter (December-February)
Winter in Mykonos starts to get chilly, there is frequent rain, yet it's not unusual to have the occasional warm, sunny days. There are fewer available flights and ferries to Mykonos, but choosing where to stay in Mykonos won't be a problem. You'll want to stay at one of the luxurious beach resorts or hotels in Mykonos because you can book them at a great deal. Businesses and other establishments operate on shorter hours, but the atmosphere feels cozier and intimate. And the best part? You'll get picturesque photos with no crowds!
Spring (March-May)
Springtime is the calm before the storm in Mykonos. It's a great season to score a stay in boutique or luxury hotels for a great deal while avoiding the crowds. March is ideal for taking in the views, sightseeing, and hiking. By April, the weather and waters are starting to warm up, the weather isn't too hot, and you'll get to feel the cool breeze on your skin. May might be the second-best choice as the weather is excellent and the tourist crowds are not there yet!
Frequently asked questions about Mykonos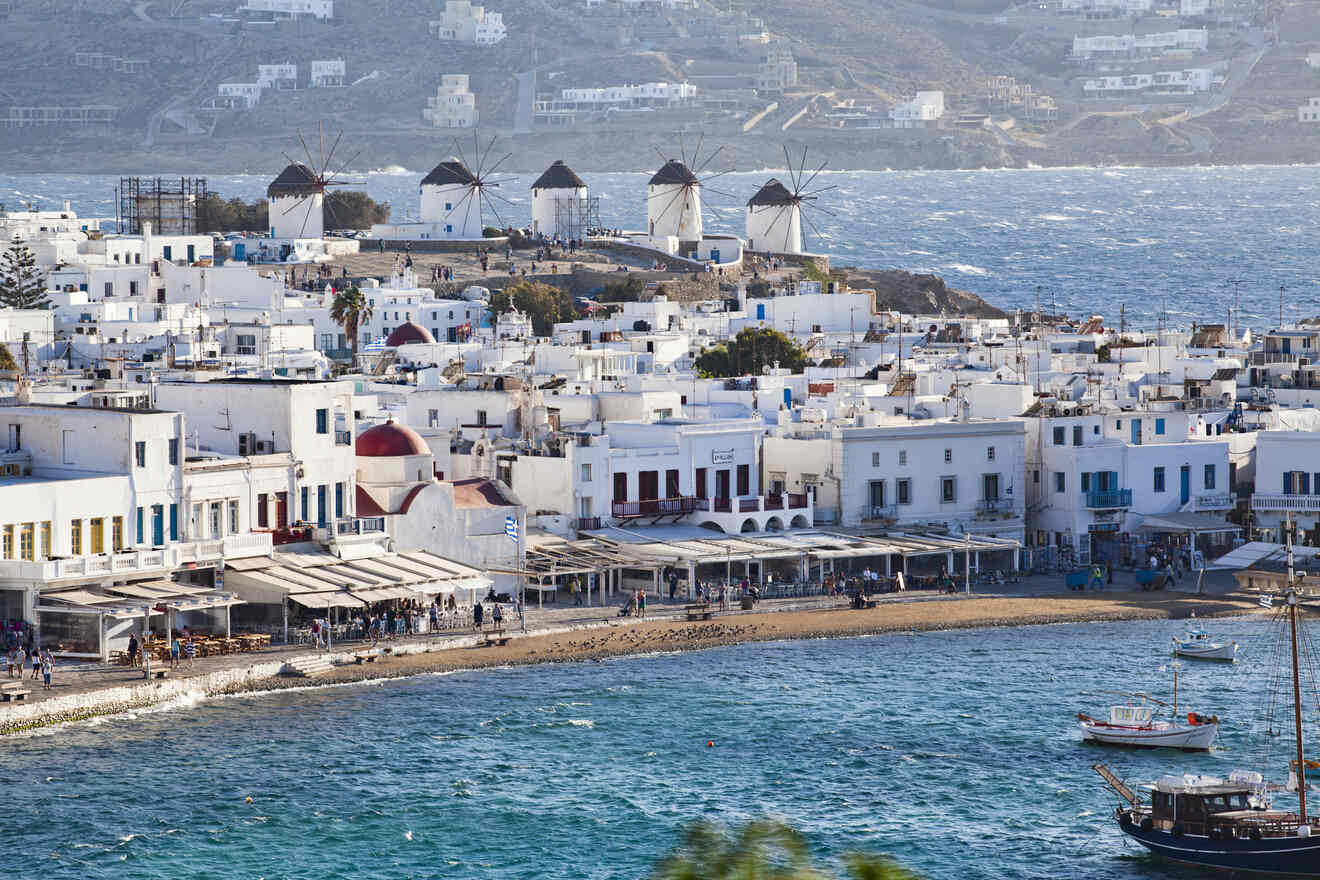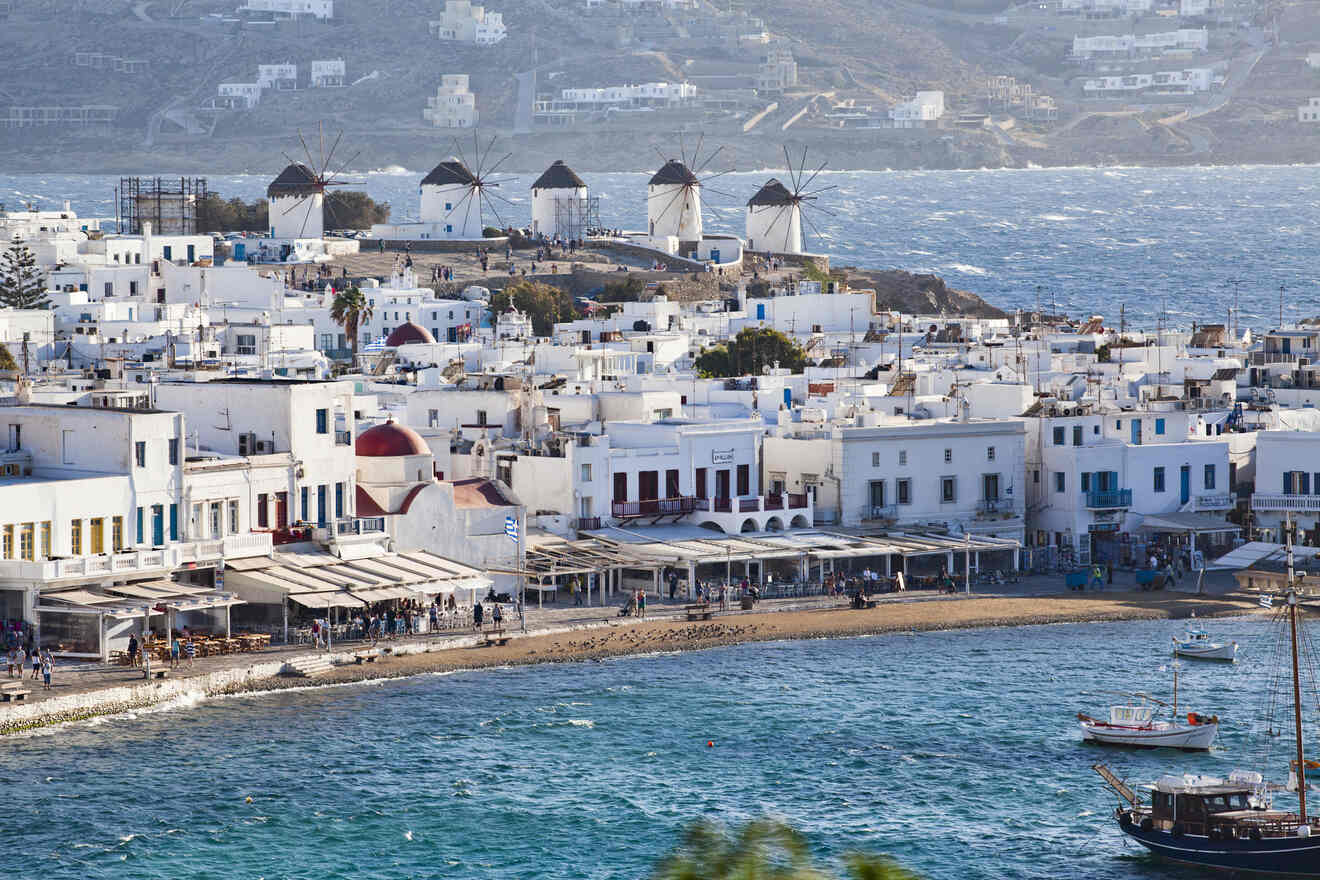 🏖️ Which is the best area to stay in Mykonos?
The best place to stay in Mykonos for first-timers is Ornos. 
● For families – Agios Ioannis
● For nightlife and parties – Mykonos Town
● For slowing down and relaxing – Elia Beach
● For thrill-seekers – Platys Gialos
🇬🇷 Is it better to stay in Mykonos or Santorini? 
Both Mykonos and Santorini are unrivaled with their unique charms. Go to Mykonos for crystal-clear waters and sandy beaches, nightclubs, dancing, partying, and shopping. Go to Santorini for romantic sunsets, fine dining, wineries, volcano views, and shopping.
🚎 What is the best way to get around Mykonos? 
An ideal way to get around Mykonos is by bus. Mykonos has an efficient bus system connecting beaches and attractions. Renting a car is also an option for more freedom, but keep in mind it's more expensive, and finding parking could be a hassle in peak season.
💃🏻 Where is the party area in Mykonos?
Little Venice in Mykonos Town has the most options of bars and clubs for parties that go on 'til sunrise. Paradise Beach is also famous for beach clubs with a wild party scene and renowned DJs playing worldwide. 
Conclusion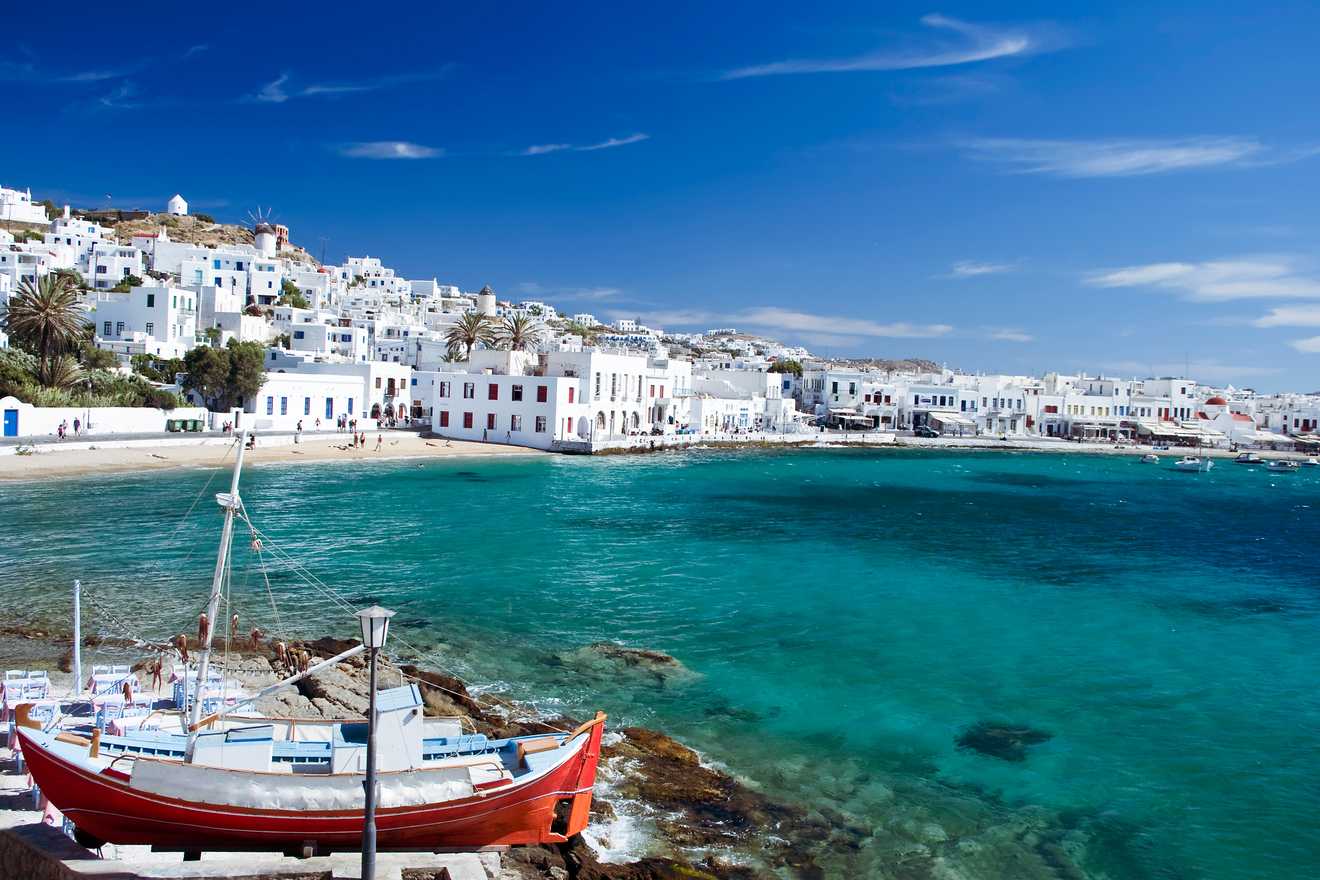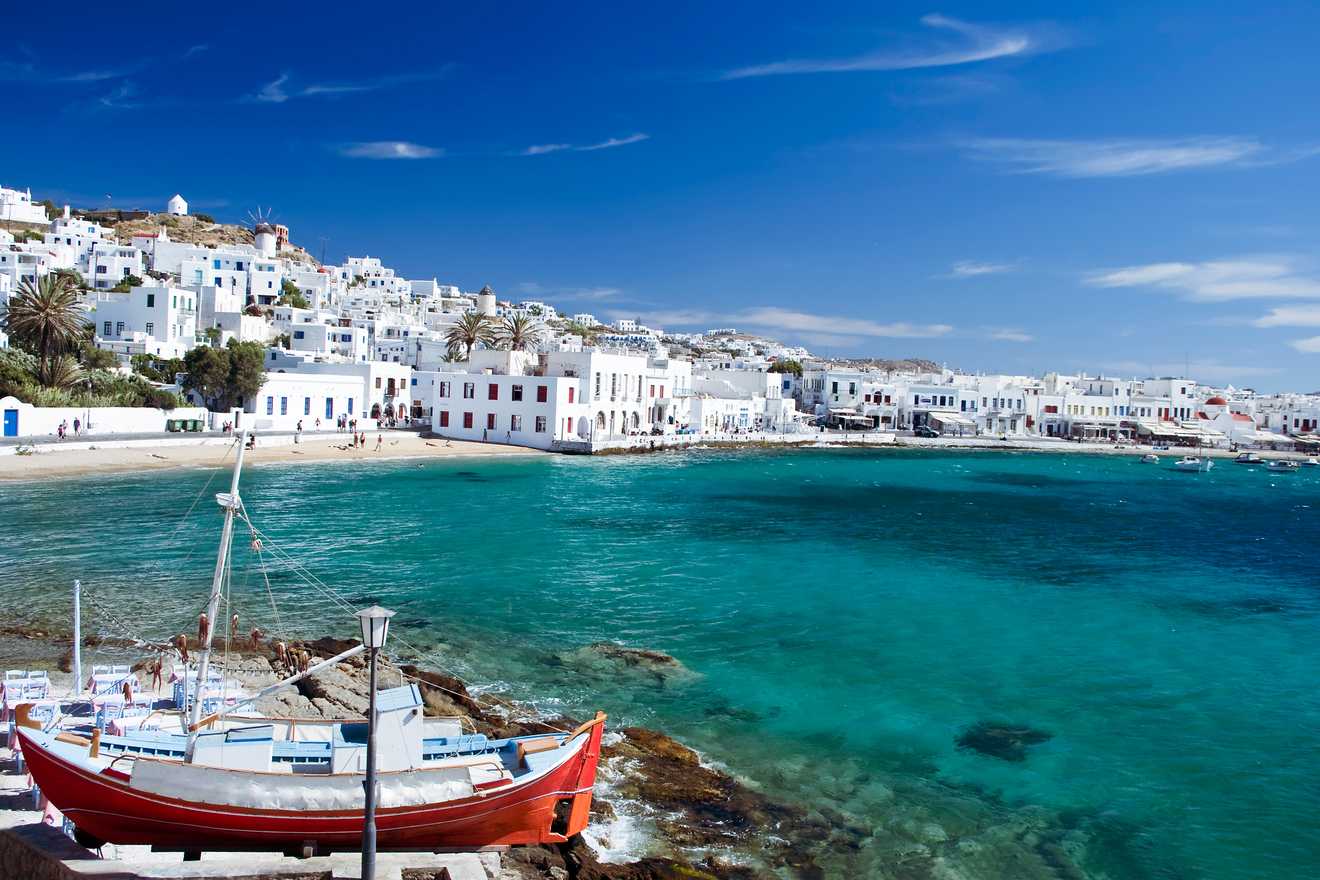 I hope that I helped you decide where to stay in Mykonos and what hotel to book within each of the different areas with this rundown.
Although I've just given you a vast range of different options, here are my absolute favorites:
Are you thinking of traveling to the other islands of Greece too? Make sure to check our accommodation posts about Santorini and Athens!
You won't go wrong with any of the hotels I've talked about. Wherever you decide to stay, I'm sure you'll be taken care of, and you'll have a great time. Don't take too long to decide on where to stay and what hotel to book. Mykonos is not the cheapest travel destination, hotels and other accommodations are getting booked fast!
I've tried to answer any possible questions you may have, but if you have any more, please leave a comment, and I'll reply to you asap! I hope you'll have the most incredible stay in Mykonos!
Happy travels,
Kate
---
Pin it for later!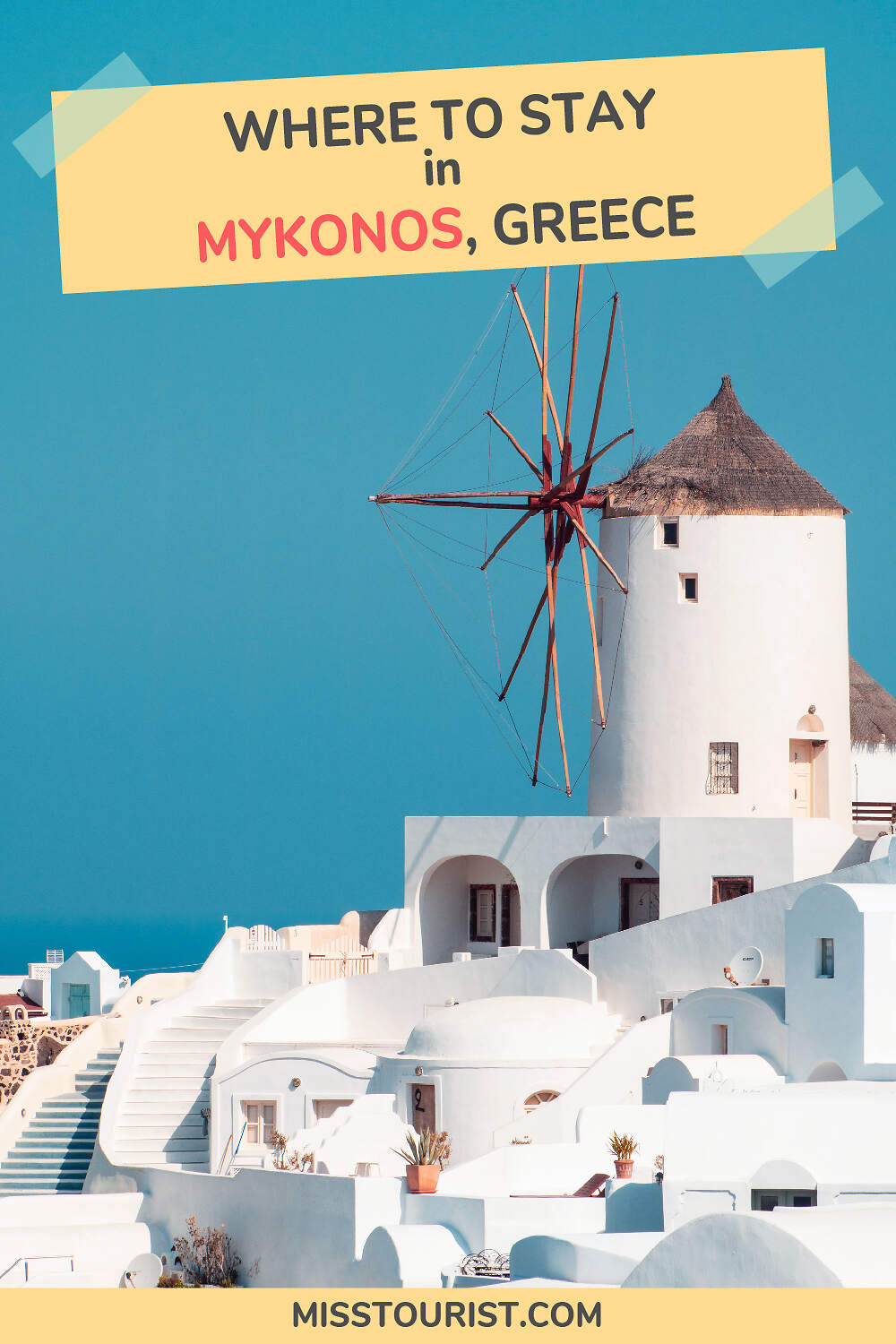 Pin it for later!