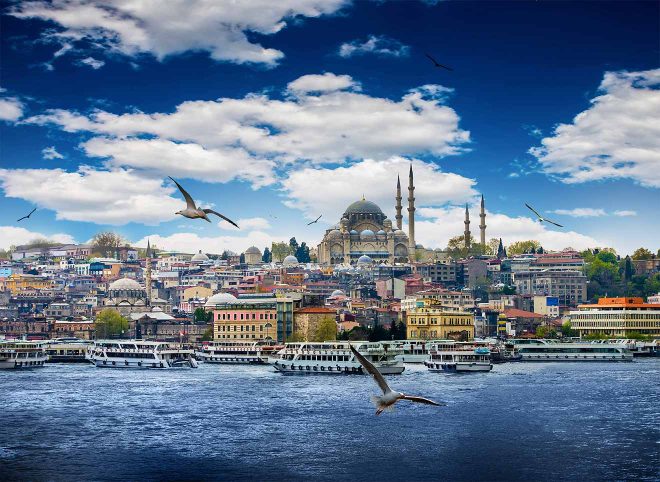 This famous Turkish getaway is indeed big, so deciding where to stay in Istanbul is key; so I picked 6 of the top neighborhoods, each of them with its own landmarks and charm. To make things even easier, I also give you the best hotel options in varied neighborhoods for all budgets! But let me tell you since this is a very busy city, I recommend booking as soon as you find the perfect option for you!
All the areas I mention below cover everything to enjoy a beautiful vacation: Taksim Square, Topkapi Palace, the incredible Modern Art Museum, trendy boutiques and more!
If you are just looking for a short answer and are visiting for the first time, the best area to stay is Sultanahmet. This area hosts the main landmarks of Istanbul, such as the Hagia Sophia Museum, the Blue Mosque (or Sultan Ahmed Mosque), Topkapi Palace, and more.
In this post we are going to talk about this and other great areas and i will suggest some awesome hotels and apartments for each of them, let's go!
If you're in a hurry
Which are the best neighbourhoods to stay in Istanbul?
First of all, here is a map of Istanbul so you can clearly see all the neighborhoods I'll be talking about: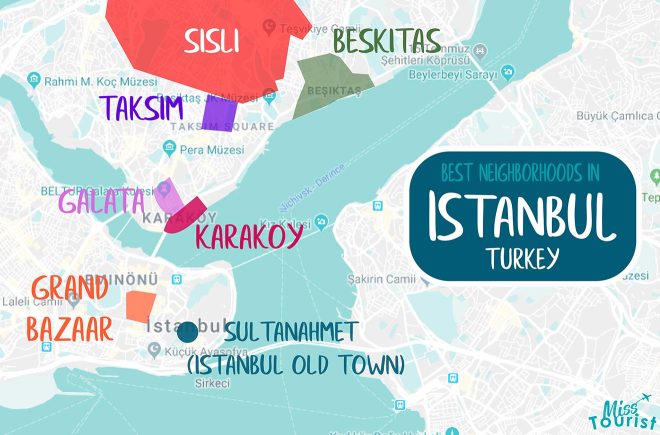 As I mentioned before, Istanbul is a big city, and it has plenty of different areas that you can choose from, each of them with its own charm and advantages. Below you'll find my personalized list of recommendations for all types of travelers and interests and if you like, check out this post on 17 things to do in Istanbul.
1. Sultanahmet (Old Town/Old City) – top area for first timers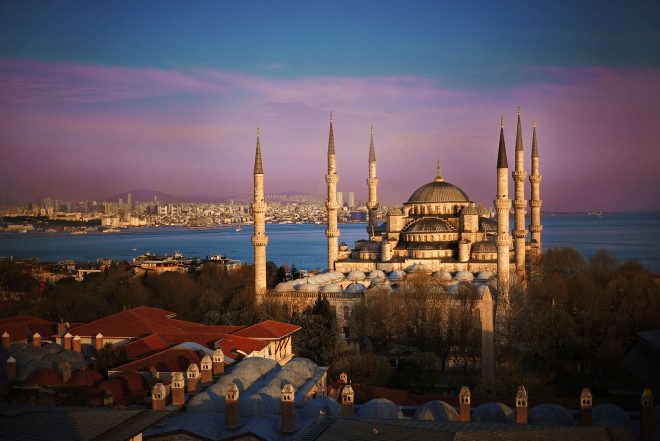 Sultanahmet is the most popular part of the city, one of the best areas, the cultural and historic heart of Istanbul, where all the main attractions, points of interest, and of course, historic buildings are located.
This is why Sultanahmet is recommended as the best area for people going to Istanbul for the first time! Known as the Old Town or Old City, you will find incredible landmarks here.
If you've never been to Istanbul before, you'll want to visit this area nevertheless, as it's hosting some unmissable spots in the Old City: Hagia Sophia Church and Museum, the Blue Mosque, Topkapi Palace, Basilica Cistern, and more.
It's also close to the Grand Bazaar and the Spice Bazaar, so you'll be steps away from everything worth visiting during your first visit. You'll also be surrounded by plenty of shops, restaurants, cafes, and bars!
The only downside of staying here is that the nightlife is pretty much non-existent, so the area is pretty calm and laid-back after the sun sets. This can actually be an advantage to some travelers, it all depends on your taste and preference!
Convinced? Here are the top safest hotels in Istanbul's old city, all sorted by price: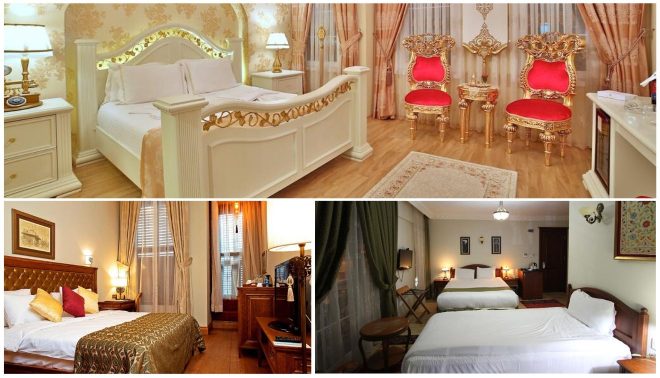 Luxury (US$250 and up)
White House Hotel Istanbul – If you're looking for a gorgeous, central hotel in Istanbul, Sultanahmet, is the place to be! And this upscale hotel is definitely one of the best in the entire Old City. Book a room here if you want to stay in the city's heart and enjoy some luxurious rooms, delicious breakfast, and more!
Celine Hotel – Ottoman Mansion – In case you want a hotel that offers great value for the money instead that's also located close to the Sultan Ahmed Mosque (less than 300m away!) and Hagia Sophia, then this one's perfect for you! The rooms are very clean and cozy, and the hotel even has an atrium with a fireplace!
Hotel Amira Istanbul – In case you didn't make your choice on the perfect luxury place in Istanbul's Old City for your stay, here's another amazing choice! This one's really close to all the main attractions in the area, and the rooms are simply gorgeous.
Middle-priced (from US$150 – US$250)
Golden Istanbul Royal Hotel – Here's another great hotel located very close to the Sultan Ahmed Mosque and Basilica Cistern, for example. It's surrounded by many awesome restaurants and bar options, so you'll never get bored in this area!
Kalyon Hotel Istanbul – This one's also located very close to Hagia Sophia (steps away). It awaits contemporary rooms, an open-buffet delicious breakfast, free Wi-Fi, an open-air cafe and bar, and more, a great option in the Old City!
Budget (up to US$150)
Basileus Hotel – If you're on the search for cheap hotels in Istanbul where you can have a very pleasant experience, then what are you waiting for? Book a room here, and you'll enjoy free Wi-Fi, clean rooms, private bathrooms, daily breakfast, and many other advantages.
Otantik Guesthouse – Here's another excellent option for a perfect budget stay in the Old City! This one has small but cozy rooms, and comfortable beds, and it awaits a continental breakfast and a super friendly staff!
2. Grand Bazaar / Bazaar District – best area for families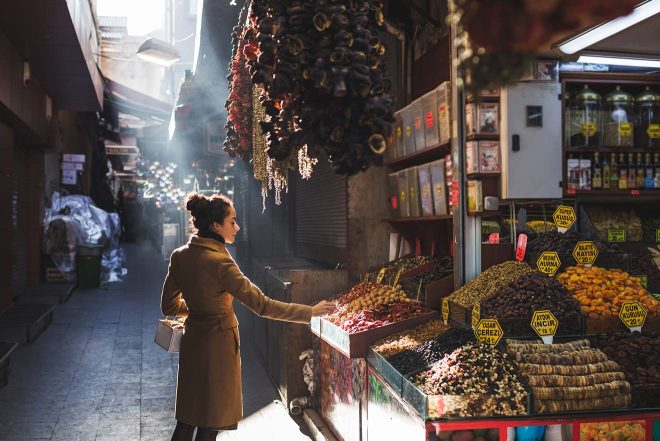 I'm sure you already know about this area in Istanbul (one of the oldest covered markets in the entire world!) by now – it's one of the must-visit places and the main shopping area of the city where you'll find plenty of Turkish sweets, tea, clothes, souvenirs and countless vendors waiting to negotiate their prices.
The area around the two main bazaars (the Grand and the Spice Bazaar) is also full of shopping opportunities, eateries, and tea gardens. It is also somewhat near the Old City Walls, where you can go and visit.
If you're a shopping lover, then I definitely recommend this area, as well as if you're traveling with your family, as you'll be close to the main attractions, Turkish cafe shops, and tea gardens in Sultanahmet.
The Bazaar District has plenty of hotels that you can choose from for all types and budgets. Here are the best ones I can recommend: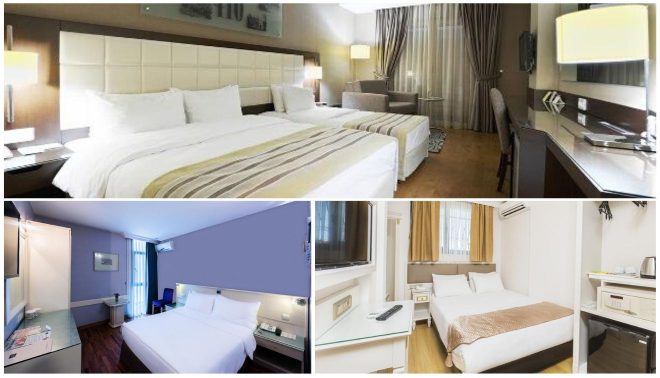 Luxury (US$180 and up)
Peyk Hotel – Located in the heart of the Historical Peninsula (near the Old City Walls), this upscale hotel combines modern amenities and offers comfort and elegance effortlessly. Thanks to its one-of-a-kind location, you will be in for a treat.
Messeret Palace Hotel – Featuring Ottoman deco, this 4-star hotel is located steps away from the Islam Science and Technology Museum and the Blue Mosque.
Middle-priced (US$60 – US$180)
Euro Design Hotel – Here's another excellent choice located close to many public transport options such as tram stop and metro exit. It's very close to the city center as well, and it awaits a concierge service, a continental or buffet breakfast, and a 24-hour front desk!
City Hall Hotel – This cozy hotel is located close to the tram stop and next to many important landmarks in Sultanahmet as well.
Budget (up to US$60)
Primero Hotel – Here's another great option that has an on-site restaurant, free Wi-Fi, flat-screen TV in each room, and a continental breakfast served each morning.
Mansion Gorki – This is a property where you'll have a very pleasant experience for some very good prices. This hotel has a 24-hour front desk, private bathrooms, and beautiful rooms with modern amenities and decor!
3. Galata – best area to stay in Istanbul for sightseeing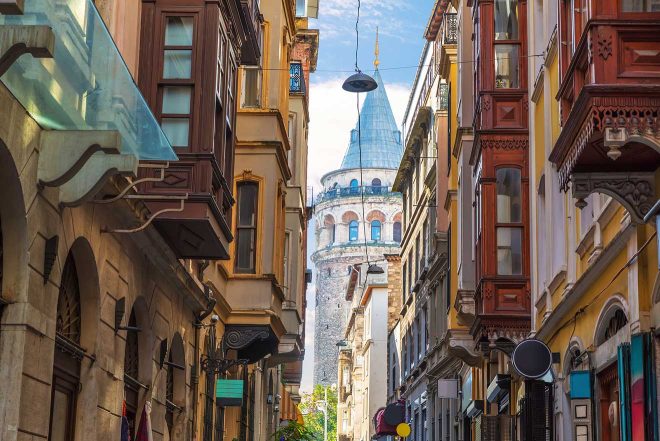 Full of amazing options to experience Istanbul in the best way, Galata will be the best place if you want to enjoy a good nigh of party.
NOTE: Beyoglu is actually a very big district consisting of smaller areas such as Galata, Karaköy, and Taksim, among others. I decided to present them individually, as each of them is unique and big enough to be considered a separate area.
Galata is the place where you can walk along the cobbled streets, admire the beautiful historic building, and party until morning in one of the many clubs and pubs located here. The main landmark of the city is the Galata Tower.
Around it, you can find many restaurants, souvenir shops, shops, fresh juice stalls, and more. It is also within walking distance to the famous Istiklal street and Galata Bridge. Rest assured, as you'll never get bored while in the area since you can also reach the Asian side of Istanbul super quick!
That being said, here are the best Turkish hotels in Galata that you can choose from: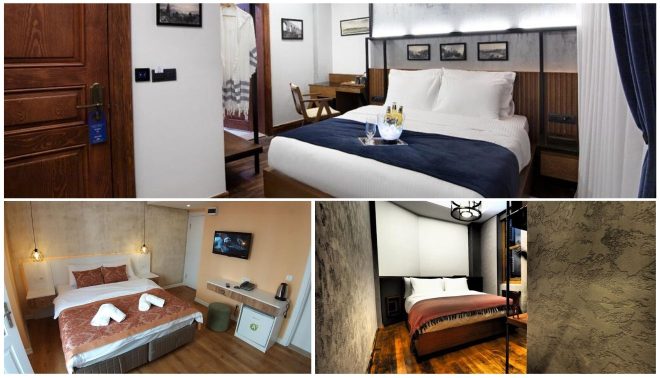 Luxury (US$200 and up)
Hotel DeCamondo – This hotel is simply amazing! Besides the fact that it looks stunning, some of the advantages of staying here include access to an on-site bar and terrace, as well as a restaurant, free Wi-Fi, and even a currency exchange office!
Pera Palace Hotel – This hotel is super close to Sok Market and Galata Tower, for example, and it's designed using unique neoclassical buildings, art nouveau, floor-to-ceiling windows, and oriental styles. Simply gorgeous!
Middle-priced (US$70 – US$200)
GalataCo Hotel – In case you want a hotel that's close to Galata Tower, and many entertainment options, then this one is for you! This accommodation offers 4-star service, and the rooms are super comfy!
Art Nouveau Pera – Here's another great choice where each and every tourist will feel right at home! It awaits free Wi-Fi, a Turkish bath, and even an on-site sauna, so what more can you wish for?
Budget (up to US$70)
Hostel Le Banc – Located in the center of the art, history, and nightlife, this hostel is my recommendation for you in case you don't want to spend a lot of money. You can also enjoy a delicious organic breakfast, Turkish coffee, and its cozy terrace with its amazing city view and located steps away from landmarks such as the Galata Tower and Galata Bridge.
Archeo – Here's a superb hotel option that comes with some very good fees that will help you save some money that you can use on meals or entrance tickets to some attractions like the Galata Tower! This cute hostel has free Wi-Fi, superb rooms, and comfortable beds!
4. Karakoy – best zone to stay in Istanbul for budget travelers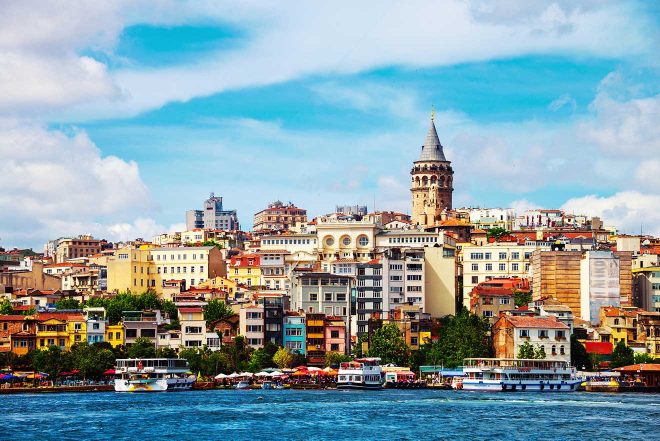 Karaköy is also one of the best areas in the Beyoglu district and a very charming part of the city, full of nice cafes, outdoor terraces, and tiny shops. It was once one of the most important ports of the city, located right near the Golden Horn, and you can still take the ferry from here and head over to the Asian side of Istanbul.
I think this is actually one of the coolest areas to stay in, especially for young people!
There are also countless Turkish and international cuisine that serves all types of food there. Ah, and did I mention this is a great place to stay if your budget is a bit tight? No worries, there are also many luxury and middle-priced hotels in Karaköy – there's something for everyone there!
While you're in the area, don't forget to visit the Istanbul Modern Art Museum if you're an art lover or to admire the interesting architecture and one or two historic building!
If you feel that this is the perfect neighborhood for you, check out my recommended hotels below: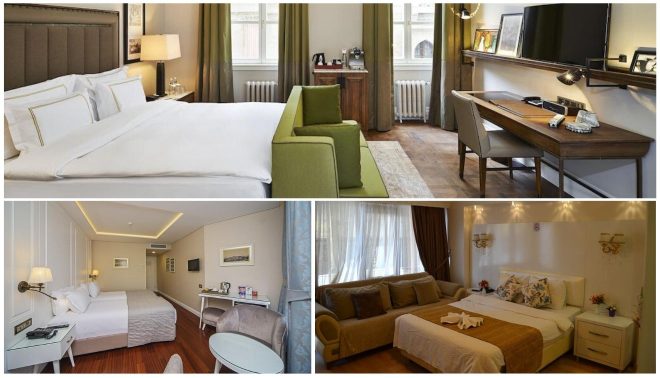 Luxury (US$200 and up)
The Bank Hotel Istanbul – If you're looking for a superb luxury stay in the North of the city center, look no further than this hotel! This gorgeous 5-star hotel has flawless reviews and even better service. Some rooms even have a gorgeous view over the waterway!
The Wings Hotel Istanbul – This upscale hotel also offers a view over the water, and it's not far away from the most important landmarks of the city. Plus, it has free Wi-Fi, a concierge service, and a daily breakfast!
Middle-priced (US$100 – US$200)
Peradise Hotel – Here comes another beautiful hotel overlooking the Golden Horn in the amazing area of Karakoy! The rooms are pretty, decorated in a traditional Turkish style, and the service is excellent.
Royal Tophane – In case you're still on the search for the perfect accommodation for you, this one might just be the one! It offers excellent service for some very good prices, and the rooms are amazing!
Budget (up to US$100)
Ada Karakoy Hotel – This hotel is located only 150m from the Karakoy Ferry Port, which means it offers great sea views! It's the ideal choice if you want a hotel that offers great value for the money in the district of Beyoglu. Plus, the tram station is super close, only 50m away, so you'll reach the city center in no time!
Pandan Karakoy Suit – For all tourists traveling on a tight budget, here is another very good option! Some rooms offer city and landmark views, and it has some cozy and clean rooms, perfect for a good night's sleep!
5. Taksim – best place to stay in Istanbul for luxury tourism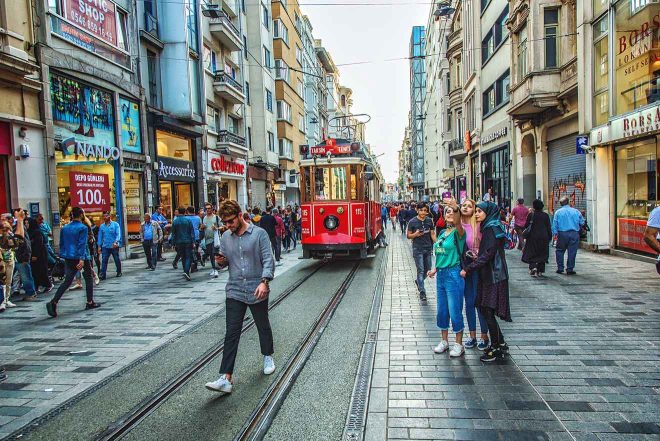 If you want to experience the luxurious part of Istanbul, Taksim is the place to go!
Even though Taksim is the perfect place for luxury travelers looking for a trendy boutique and spot to hang around, you'll find many well-known hotel chains here, such as Hyatt or Hilton, this doesn't mean that the area is unaffordable for other budgets as well!
One of the most important spots in the Taksim neighborhood (except for Taksim Square, of course) is Istiklal Avenue, also known as the busiest and most vivid street in the entire Istanbul. One of the best things about this area is that it's so well-connected to the rest of the city that you'll reach the main attractions in Sultanahmet or reach the Asian side of Istanbul from here in no time. By the way, it's also very well connected to the airport as well, which I think is a great plus!
If you want to make the area around Taksim Square your base while you're in Istanbul, here are your best accommodation options: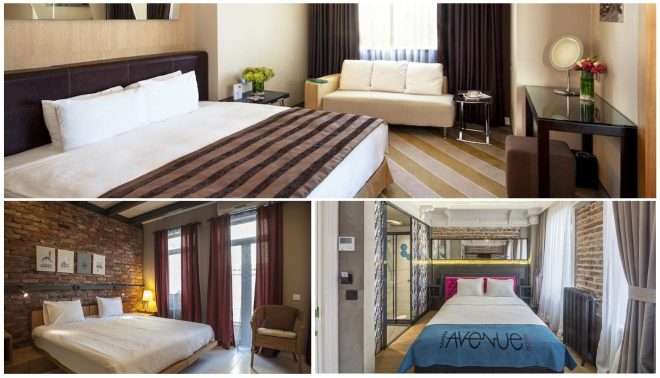 Luxury (US$150 and up)
Point Hotel Istanbul Taksim – This luxury option in Beyoglu is located in Taksim, close to many interesting sights and sites and less than a kilometer away from the Taksim metro station. This excellent accommodation is ideal if you want to be spoiled and enjoy 5-star service!
Titanic Hotel Istanbul Taksim – This 4-star hotel is another ideal choice. It's only 5 minutes away from Taksim Square, and it awaits with an indoor pool and a fitness center that offers massage treatments as well!
Middle-priced (from US$100 – US$150)
Peradays – If you want a hotel that offers an excellent service for the money, I recommend this one instead! It's located close to tons of food and drink places where you can spend some quality time, and it's located less than 500 meters away from the Taksim metro station! And did I mention how much I like the design of the rooms? It's so cool!
Sometimes Hotel Taksim – This hotel offers some great amenities and facilities that you will definitely enjoy! The rooms are simply gorgeous, I just fell in love with the design! But one of the best advantages of staying here has to be the fact that it's only 200 m from Istiklal Street, where you can find trendy boutiques and shops.
Budget (up to US$100)
Hotel Taksim Residence – This budget hotel is super homey, and it offers a local, traditional atmosphere. Even though the rooms are not that big, they're very cozy and clean, which is a great advantage!
T-Square Residence – This hotel looks great and is ideal for tourists looking to save some money on accommodation. It has free Wi-Fi, a terrace and balconies with city views, and a wide choice of breakfasts!
6. Besiktas and Sisli – top place for foodies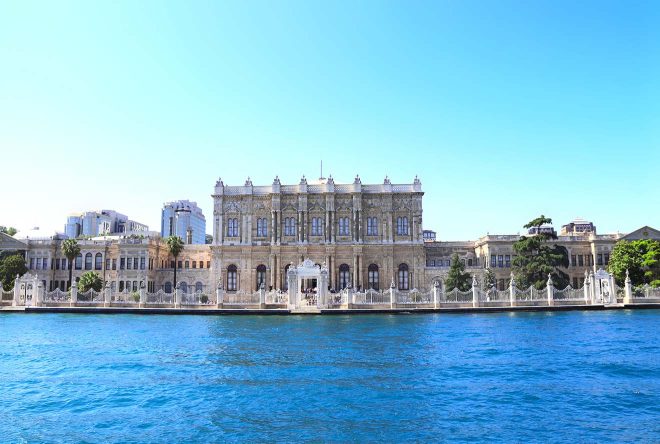 Beşiktaş is part of a bigger district called Şişli, two of the best neighborhoods in Istanbul. This area is close to the Bosphorus, so you can always take a nice stroll near the water and enjoy some freshly squeezed fruit juice from the street vendors and, of course, enjoy its delicious restaurant scene.
You can visit Dolmabahçe Palace, or you can quickly take a ferry to the Asian side. Plus, there are TONS of awesome restaurants and street food stalls, bars, clubs, and cafes where you can enjoy a Turkish coffee and even a fish bazaar! I never got bored walking around the tiny streets and trying different foods and sweets.
The feeling I got was that Beşiktaş never sleeps and there's always something to do there, regardless of how late it is!
By the way, Besiktas is well-known for the numerous luxurious hotels located here! Below you can find my hand-picked recommendations for all budgets and preferences:
Luxury (US$250 and up)
Four Seasons Istanbul at the Bosphorus Hotel – Here's one of THE best hotels in this part of the city that will offer flawless service, regardless of how many days you choose to book here! This property awaits beautiful views of the sea, a heated outdoor and indoor pool and free Wi-Fi, international cuisine, and more!
Mandarin Oriental Bosphorus – This 5-star hotel is located along the glimmering shoreline where East and West collide and will give you a legendary service while you stay here.
Divan Hotel Istanbul – And because this side of the Bosphorus offers so many luxury resorts, here's another great choice for you! This superb 5-star hotel has an on-site Turkish bath, spacious and beautiful rooms, and even its own on-site restaurant.
Middle-priced (from US$150 – US$250)
Movenpick Hotel Istanbul – This is a great value hotel that offers an indoor pool as well as a sauna, a fitness center, and massage services. This is actually a 5-star hotel that has some affordable rooms as well, so if you find a free spot here, make sure to book it!
Ada Suites – This incredible option will make you feel so special due to its idea of treating each guest according to their needs. In the hotel, you will find a garden, a terrace, and city views in the rooms.
Budget (up to US$150)
Linden Houses – This hotel has cozy rooms where you will get a good night's sleep! Plus, the area is great – even though it's surrounded by many bars and local food places, the street is quiet and nice. I'm sure you'll love it!
Hot Budget Ortakoy – Here's another great budget choice in an area full of tourists and locals alike, which means you'll never get bored here! This property offers 3-star service and some clean and cozy rooms, comfortable beds, as well as free Wi-Fi and private parking.
BONUS 1: Best apartments in Istanbul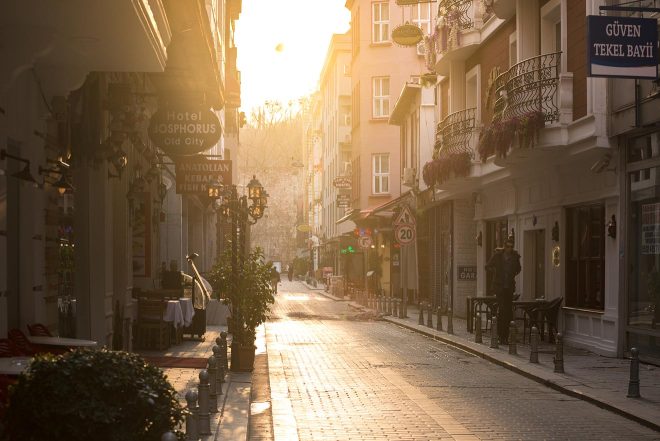 If you're the type of traveler that prefers a homey feeling and more space, or if you're traveling in a big group or with your family, then booking an apartment might be one of the best decisions you can make to make your trip better!
Below I have selected the best ones I could find in Sultanahmet, the best neighborhood for first-time visitors traveling to the city: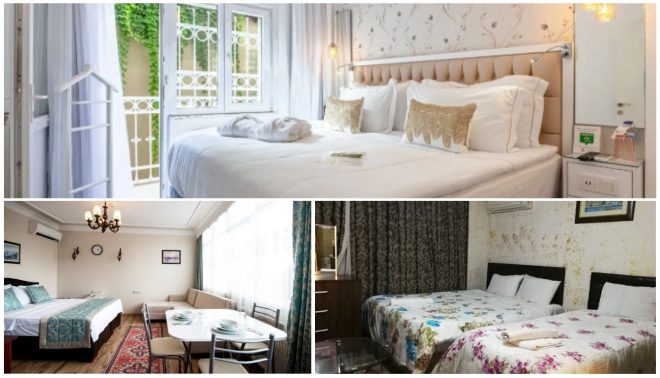 Luxury (US$150 and up)
Q Suite in Old City Istanbul – This apartment is superb and ideal for two guests. It's within walking distance from the Sultan Ahmed Mosque and Hagia Sofia, and it awaits complimentary soft drinks!
Front of Sea View Apartments Sultanahmet – Here's another luxurious option with a view of the sea! It's an ideal recommendation if you want to enjoy a homey feeling and be close to an endless choice of restaurants, bars, and pubs!
Middle-priced (from US$60 – US$150)
Penthause Studio in Sultanahmet – In case you want something with a better price, here's a great option for you! This apartment is not that big, but it's super cozy. It's recommended for up to 2 people, and you'll also have a private kitchen!
Cozy Suite with Sea View – This apartment is located in the heart of the old district I Istanbul, and with its classic decor and wooden floors, you will definitely feel at home. It also has an incredible sea view and has the advantage of having near the Blue Mosque and Hagia Sophia.
Budget (up to US$60)
Private room in Taksim

– It's hard to believe this cozy hotel apartment is super affordable. Probably that's one of the reasons why this place is almost always fully booked, so make sure to book yours in advance to stay here. Expect a sunny and bright room complete with a living area, kitchen, and dining. They also offer an airport pick-up for an additional cost.

Private Hotel Room//Heart of Historical Istanbul – And here's another very good apartment choice that I can recommend to you! It's five minutes away from the heart of the city, where you can enjoy the historic buildings, plus it's clean and cozy!
BONUS 2: Best hotels near Istanbul Airport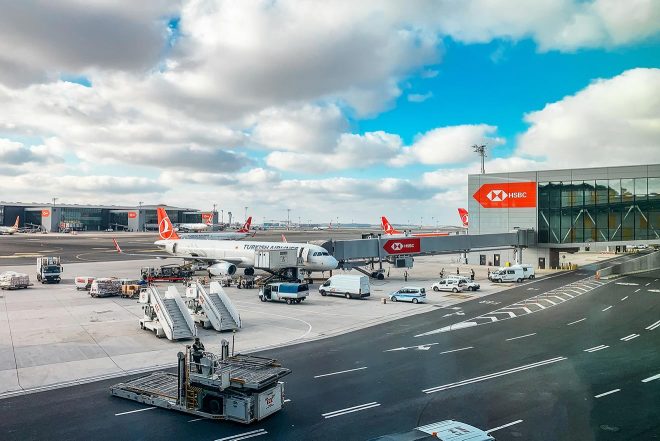 The city actually has two international airports – one on the Asian side of Istanbul (Sabiha Gokcen Airport) and one on the European side (Istanbul Ataturk Airport). Because all of the neighborhoods and areas I am recommending in this article are on the European side and because it's also the most visited half of the city, I'll talk about accommodation near Ataturk Istanbul Airport (IST) below.
The airport is located in Arnavutköy district, around 40 km away from the city center, so quite far away. If you have a very early or very late flight, choosing a hotel as close to the airport as possible might save you some precious time and sleep.
Check out my three best recommendations below:
BayMari Suites Florya

– Located just 5km away from the Ataturk airport, these suites offer accommodation with free WiFi, air conditioning, and access to a garden with an outdoor swimming pool, so you can enjoy your layover or early flight a little bit more.

White Corner Hotel

– Here's my second accommodation recommendation located 4 km away from the airport. Just like the first one, this 3-star hotel is an excellent choice and a super convenient hotel!

Confores Hotel – If you're on a budget instead, I can recommend this hotel. Confores Hotel features express check-in and check-out for your convenience, and some rooms even feature a terrace, and others also feature garden views.
---
FAQs about hotels in Istanbul
📍 What is the best area in Istanbul to stay in?
The best area for first-timers is definitely Sultanahmet, but if you are traveling on a budget, I recommend Karakoy.
👑 Which part of Istanbul is luxury?
Taksim is the area for luxury travelers to enjoy amazing stores.
🚌 What is the best way to explore Istanbul?
Istanbul is ideal for walking, but many areas can also be reached by public transport like trams or buses.
🐈 Why does Istanbul has so many cats?
Since the Ottomans worshiped cats for their cleanliness and ability to hunt, felines have become an essential part of Turkish culture.
👪 What is the best region to stay in Istanbul with kids?
The Sultanahmet area, with its historical attractions like the Blue Mosque and Topkapi Palace, is the best a family-friendly region to stay in Istanbul.
📌 Where is the center of Istanbul located?
The center of Istanbul is marked by Taksim Square, a bustling hub known for its cultural significance and vibrant atmosphere.
🏙️ What are the top things to do in downtown Istanbul, Turkey?
Explore the historic wonders of Hagia Sophia, meander through the vibrant Grand Bazaar, and cruise along the Bosphorus to savor the essence of Istanbul's charm.
Conclusion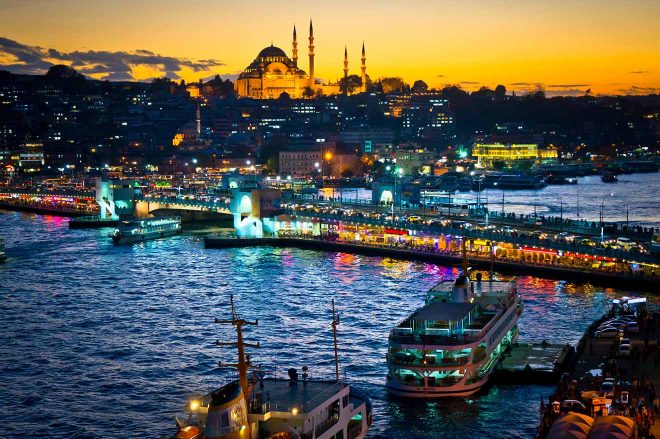 That's it! This was my complete guide on Istanbul accommodation! I hope you found this post useful, and maybe you already found the best hotel in Istanbul for your stay in one of my lists above; why not?
In this post, I have talked about the 6 best areas to stay in the city, with the best hotel recommendations in each varied neighborhoods. I've also picked some fabulous apartments and airport hotels for you, so you basically have everything you need here, especially if you're visiting Istanbul for the first time!
I cannot stress this enough: do not forget to book in advance because in this highly visited country it is common for hotels to be fully booked!
But to make things easier for you, here are my top 2 choices to stay in:
Celine Hotel – Ottoman Mansion – This is a great option if you want the whole Istanbul experience with its architecture that will make you feel just like in their name, in an Ottoman mansion.
White House Hotel Istanbul – If you are looking for elegant furnishing with luxurious rooms, this is the perfect option for you!
Are you heading to Istanbul soon? Do you have any other questions or concerns? Let me know in the comments below, and I'll gladly help!
Happy travels,
Romina
---
Pin it for later!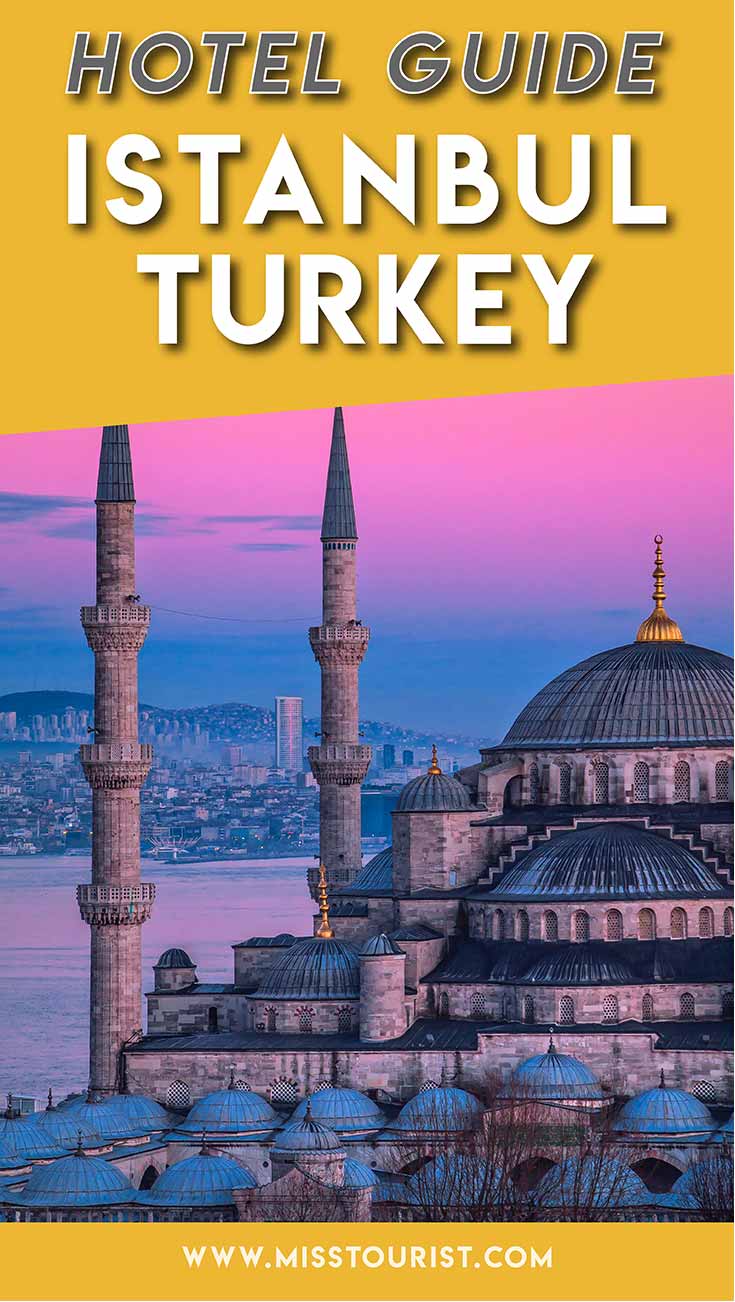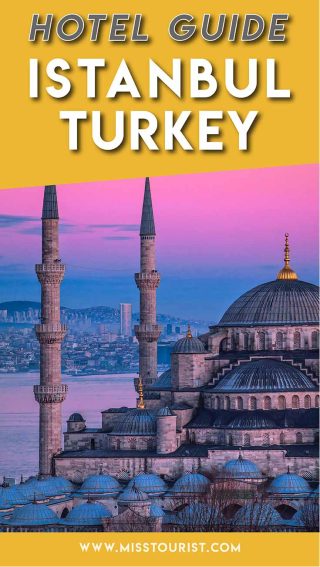 Pin it for later!