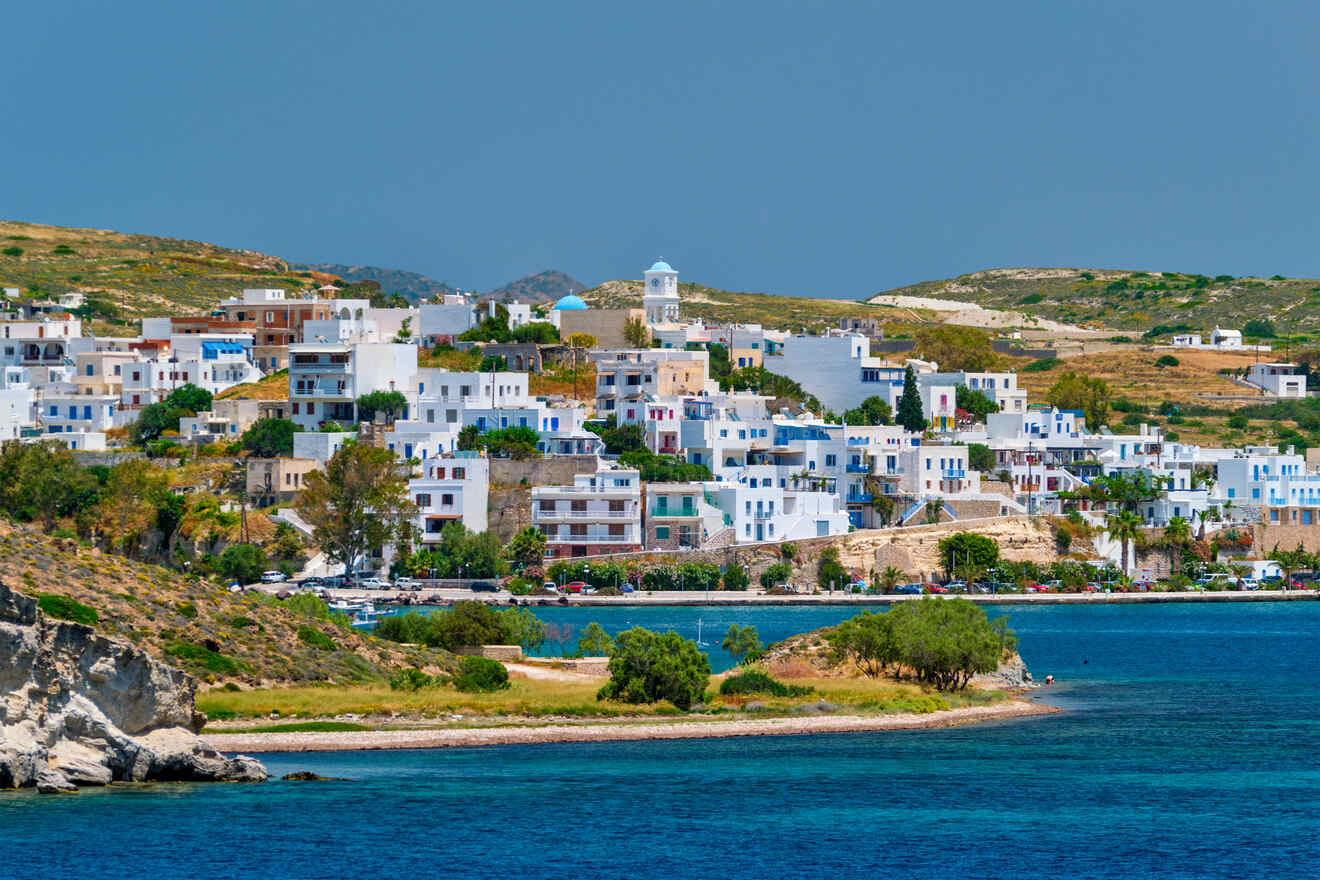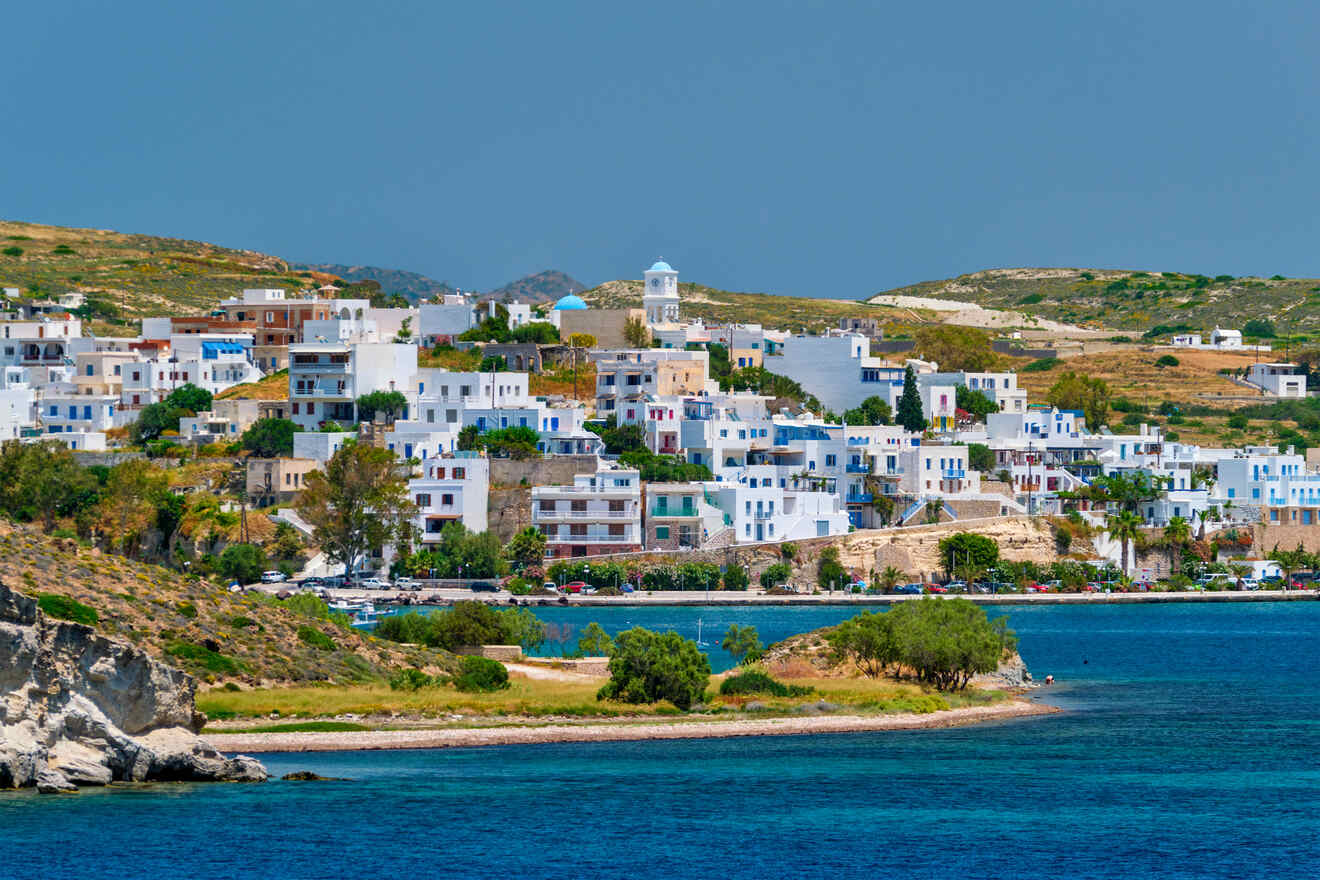 If you are reading this travel guide you are probably already looking forward to traveling to Milos Greece. I can tell you that you can start to get excited as I assure you that you will have a great time on this beautiful Greek island!
Thanks to easy ferry access from Athens and other Greek islands, the volcanic island of Milos, Greece, started to become a popular place to travel. Here you will find so many picturesque villages, nice beaches as well as a great number of local restaurants.
When you are doing research about where to stay in Milos, Greece, you might get confused about how to choose which area is better to stay in as the villages are quite spread out in Milos. However, you don't need to worry about it as I will be giving the 4 best areas to stay on Milos island in this travel guide.
I picked the best hotels for you in each area from luxury to budget. I just want to remind you of the importance of making a booking in advance as these places to stay on Milos Island can be filled up so fast during the summer. Many of the hotels have a free cancelation, so don't worry if you change your mind. I also highly recommend you to rent a car in advance too, to get around.
Let's start to explore the volcanic island Milos Greece!
If you are in a hurry
Here are the best places to stay on the island of Milos, Greece with hotels from luxury to budget. They all have great reviews and great locations!
Here is a map about where to stay in Milos Greece with all the best 4 areas of the island I will be talking about in this travel guide and giving hotels in each, so you can easily visualize them:
1. Adamas – where to stay in Milos for the first time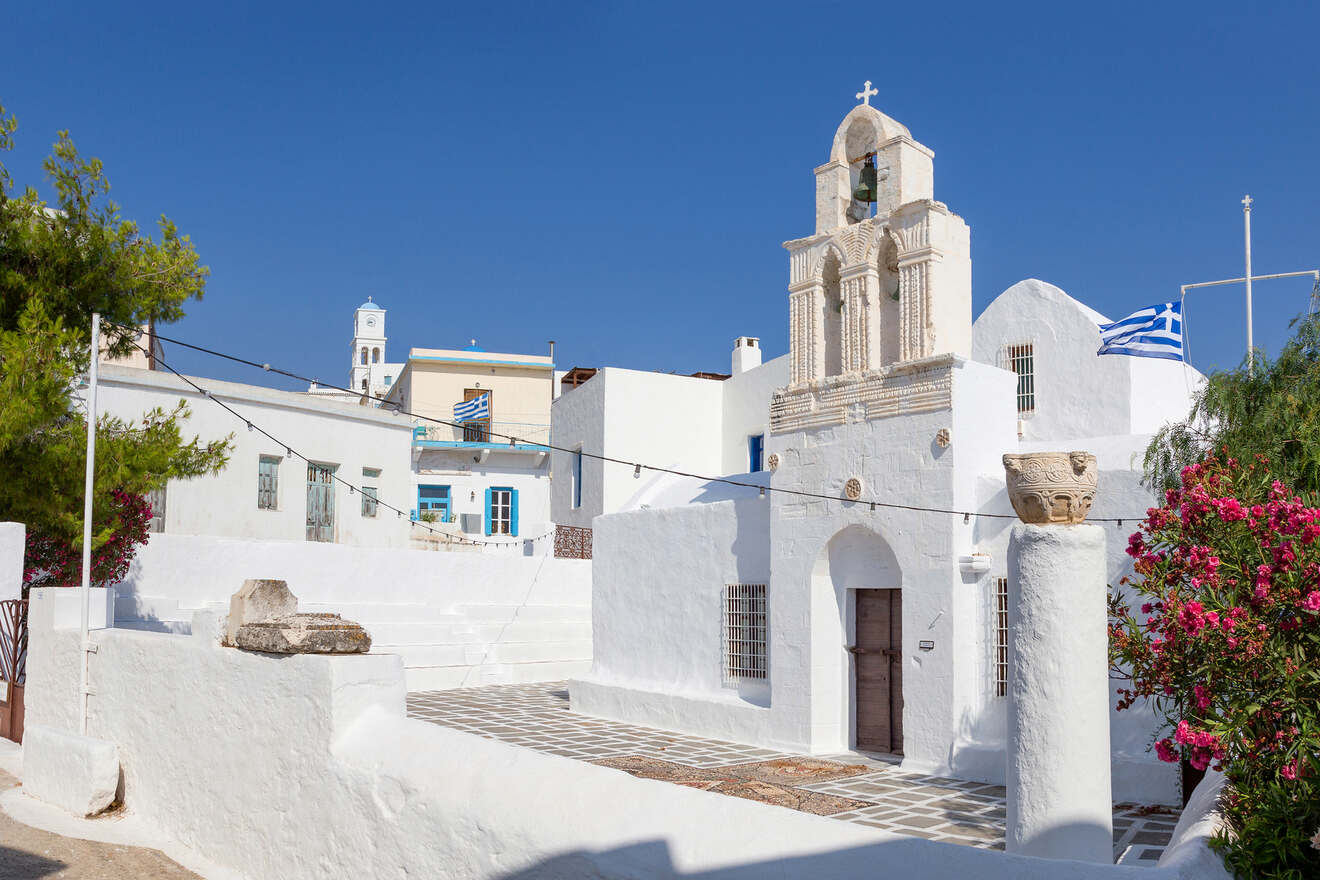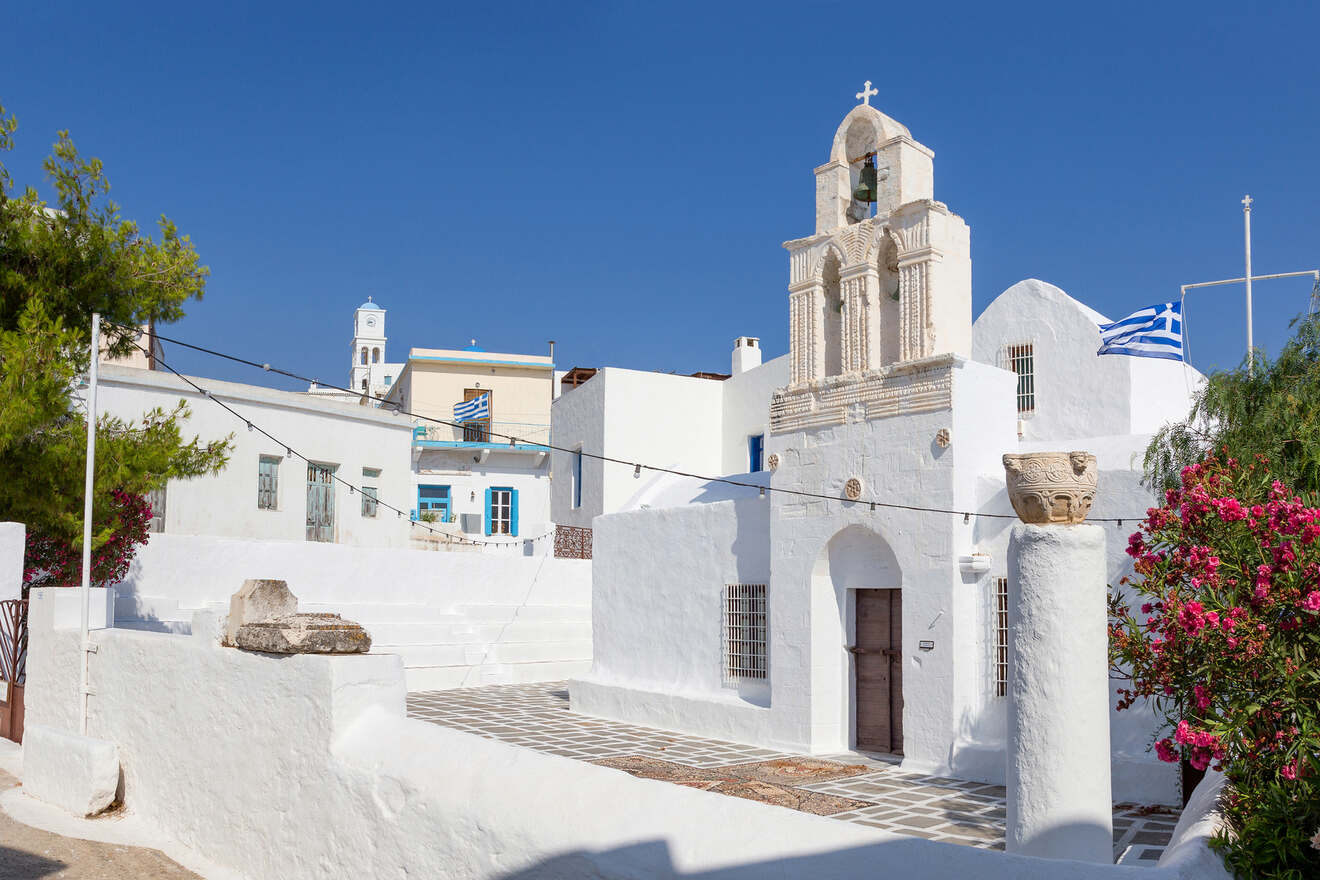 Milos Adamas is located on the northern side of the island and the place you will see first if you take the ferry from Athens. It is the largest town in Milos and the majority of the hotels, restaurants, and cafes are located here. That's why my pick for where to stay in Milos for the first time is definitely Milos.
Start your day in Adamas walking by the seaside, have a nice Greek coffee, and then head to the beach. Here, you will also have the chance to do many boat trips. Kleftiko Milos is one of the most famous ones you should definitely add to your list! You will find everything in one place in Adamas so I am sure you'll have a great time here!
Thanks to having the main port, Adamas has great access to other Greek Islands so if you are planning to continue your trip in Greece, check out our posts on Santorini and Mykonos!

Milos Adamas is the most popular place to stay in Milos. Here you will find accommodations for all budgets and I've already picked the best ones for you. Make sure to make a booking in advance to not miss your favorite place.
Other accommodation options in Adamas
Things to do in Adamas
Have a boat trip to Kleftiko Milos
Check out the beautiful shops in Adamas
Have great seafood in one of the nice taverns by the sea at night
Join a volcano hike tour
Head to stunning Sarakiniko Beach
Get a suntan at a sandy beach Lagada
Visit the ancient theatre of Milos
2. Plaka – best for history lovers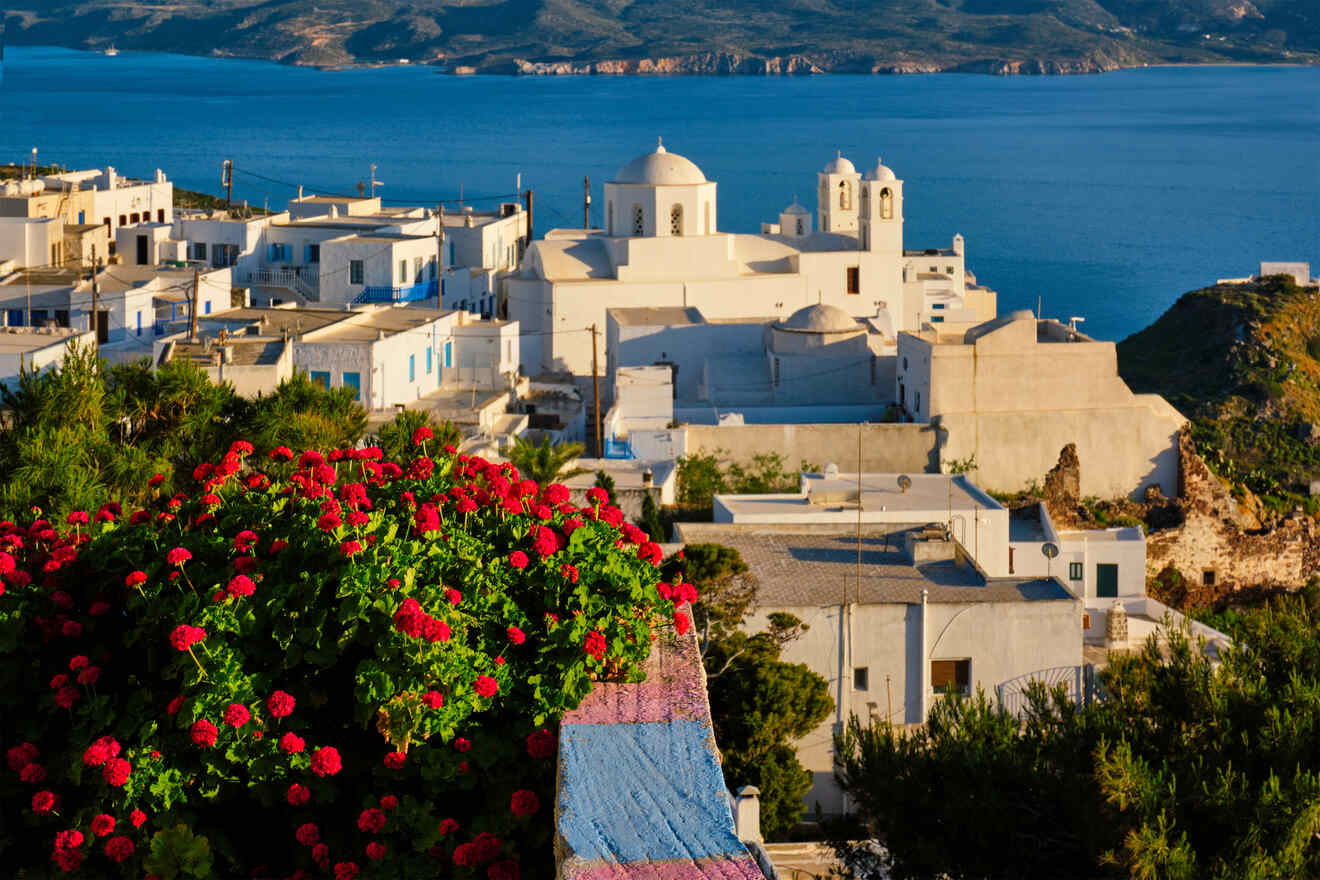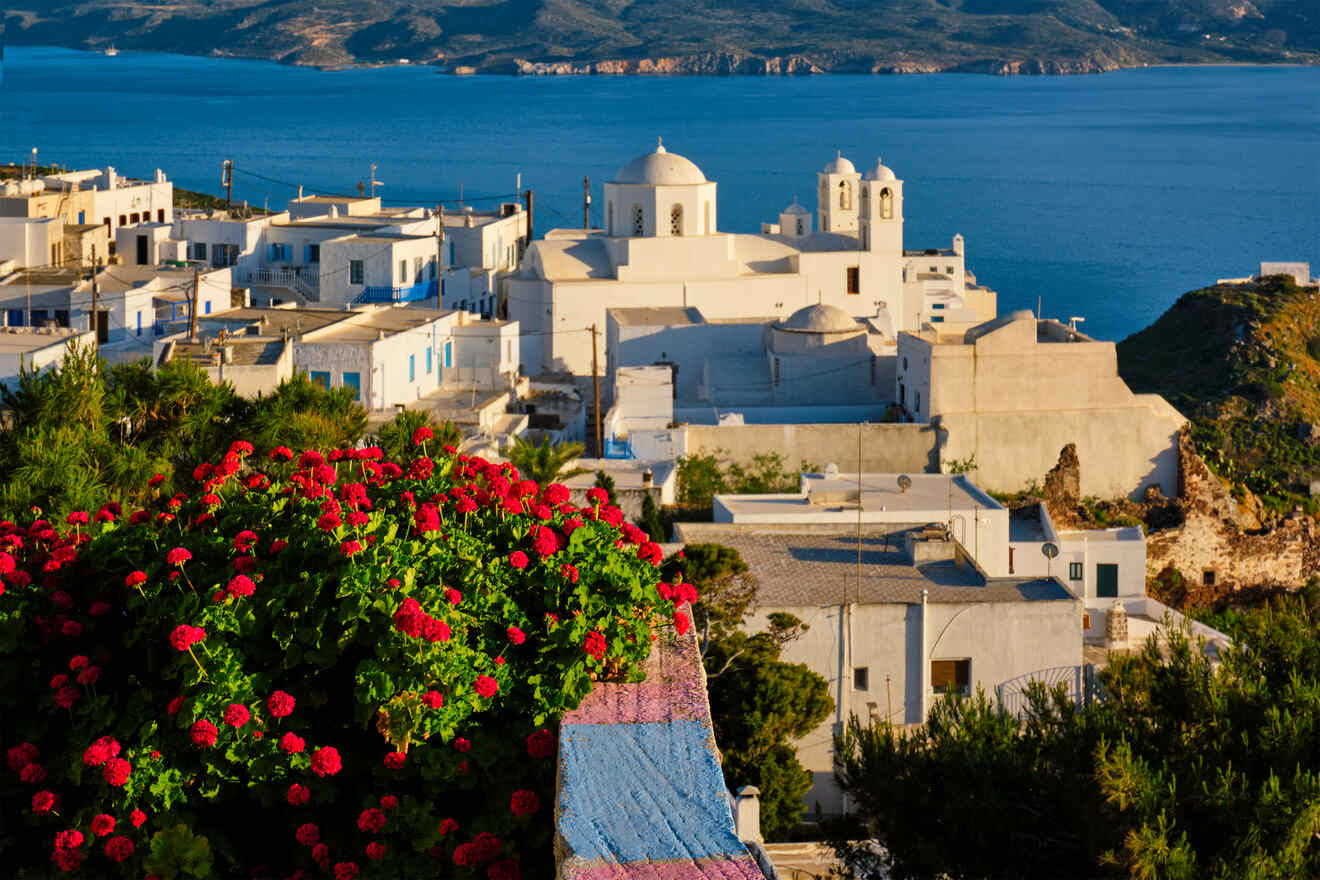 Plaka Milos is located 5 km (3 miles) north of Adamas and is the most historic village in Milos. Apart from nice beaches, if you are also interested in archaeological sites you will love Plaka.
In Plaka, you will find an archaeological museum, a historical castle, and cobblestone streets that will lead you to see the most beautiful views of the island around every corner and I know you will enjoy every sunset in Plaka!
Here you will be able to find many cute tavernas, cafes, and bars with a Greek island vibe. Accommodation options are limited in Plaka Milos but don't worry I found the best ones from luxury to budget. Just make sure to book them in advance as these ones are selling too fast.
Let's check out the best places to stay in Plaka Milos:
Other accommodation options in Plaka
Things to do in Plaka
Hike to Kastro (castle) and enjoy the spectacular view
Visit the Archaeological Museum of Milos
Check out souvenir shops for nice arts and crafts like famous replica 'Venus de Milo' statues
Have a wonderful dining experience in taverns in Plaka at night
Visit impressive Sand Gallery
Go to Tripiti village to see interesting volcanic rock on the beach
3. Pollonia – where to stay in Milos for relaxation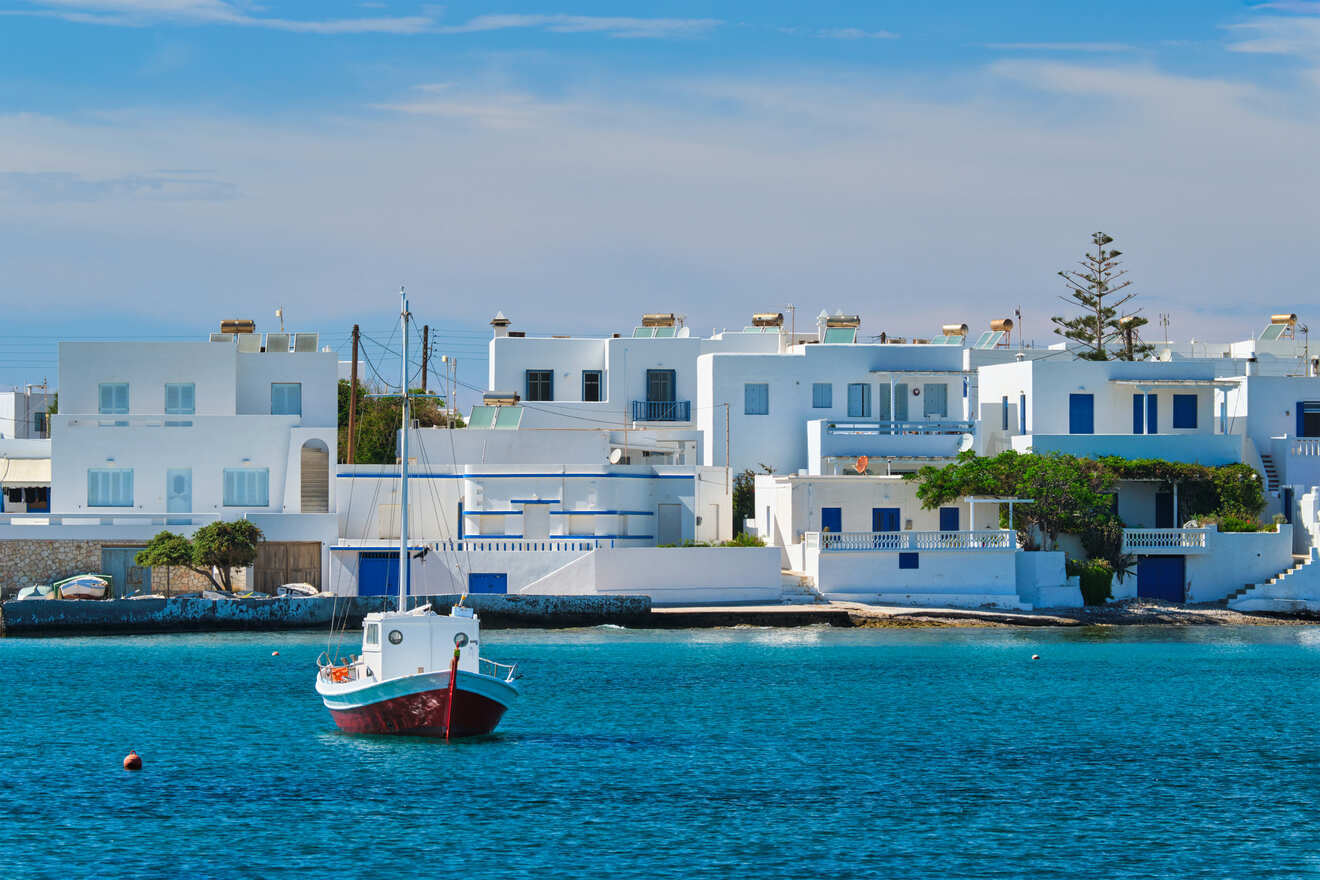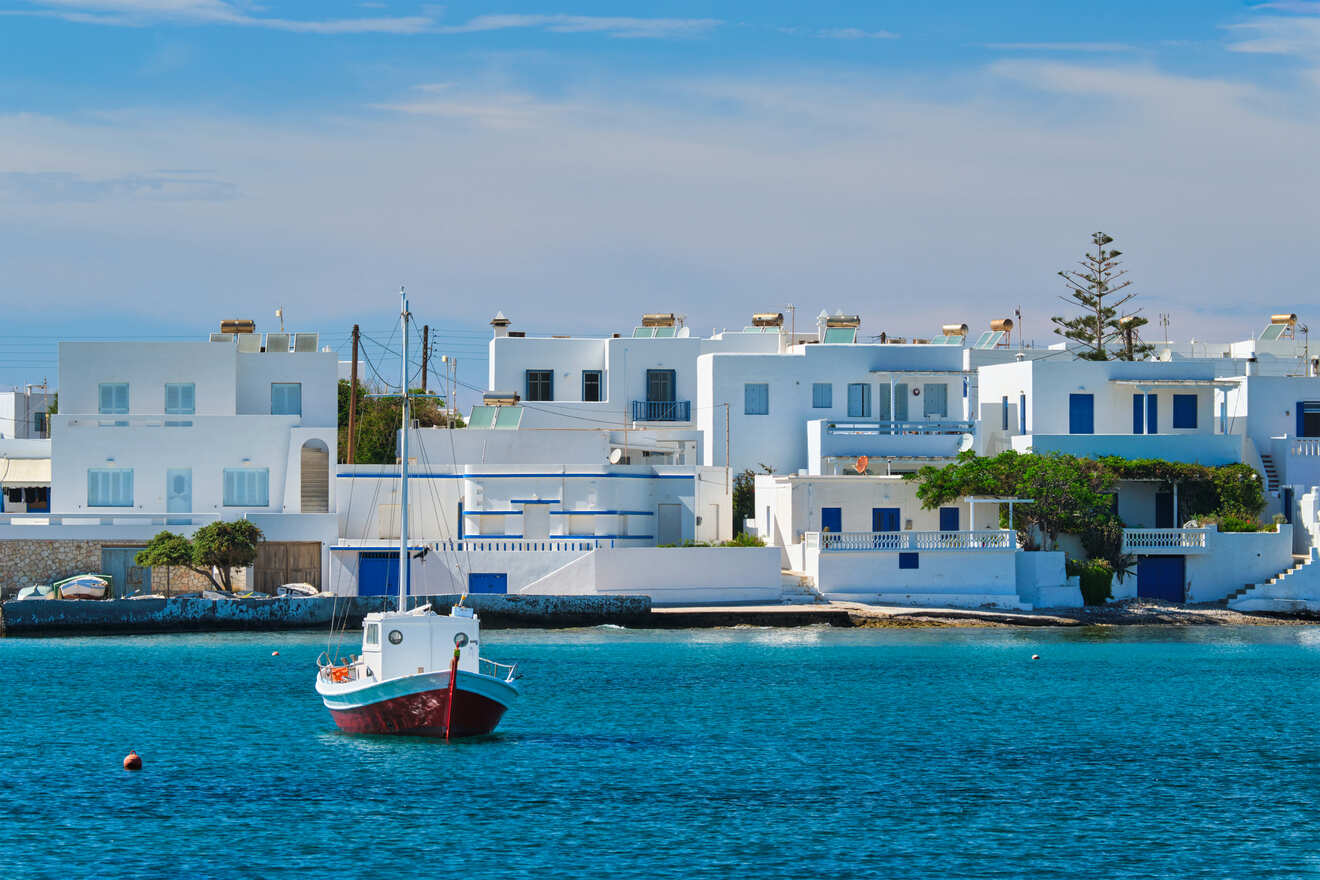 Located on the northwestern part of the island and 20 minutes drive from Adamas, Pollonia Milos is a nice, laid-back fishing village in Milos where you can relax on quiet beaches. Here you will find secluded pristine beaches, traditional restaurants, and authentic cafes.
Just picture yourself swimming in the calm crystal water then having the best local seafood followed by a beautiful sunset drink by the sea. This is what you expect from a Greek island right?

In Pollonia Milos you will find nice accommodation options with easy access to the best beaches. Let me talk about the best places to stay in Pollonia Milos for you to have an unforgettable holiday:
Other accommodation options in Pollonia
Things to do in Pollonia
Chill and swim at Pollonia Beach
Visit Agia Paraskevi Church
Taste amazing wines at Kostantakis Winery & Residence
Jump on a fishing boat to have local experience
4. Pachena Coast – best place for local experiences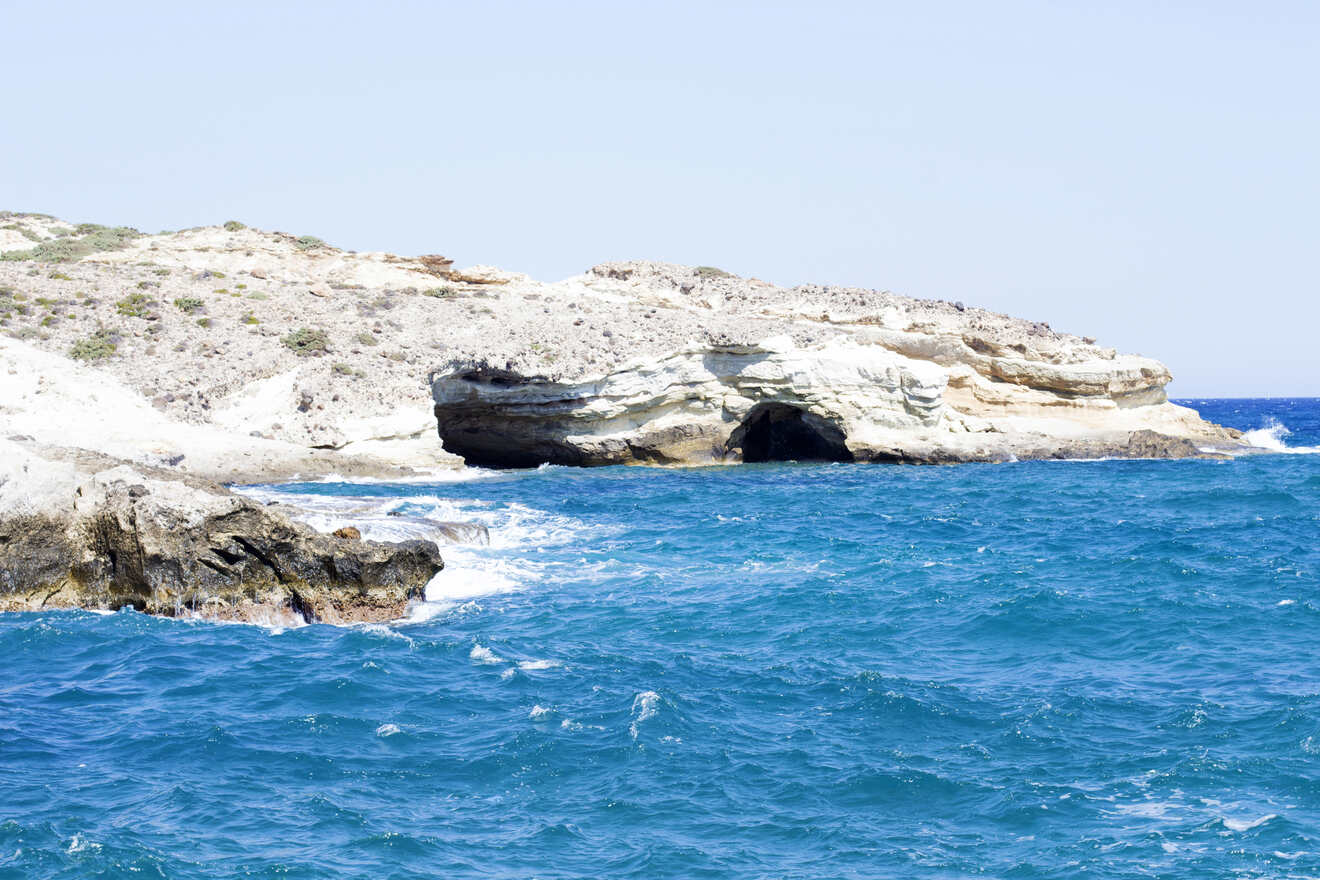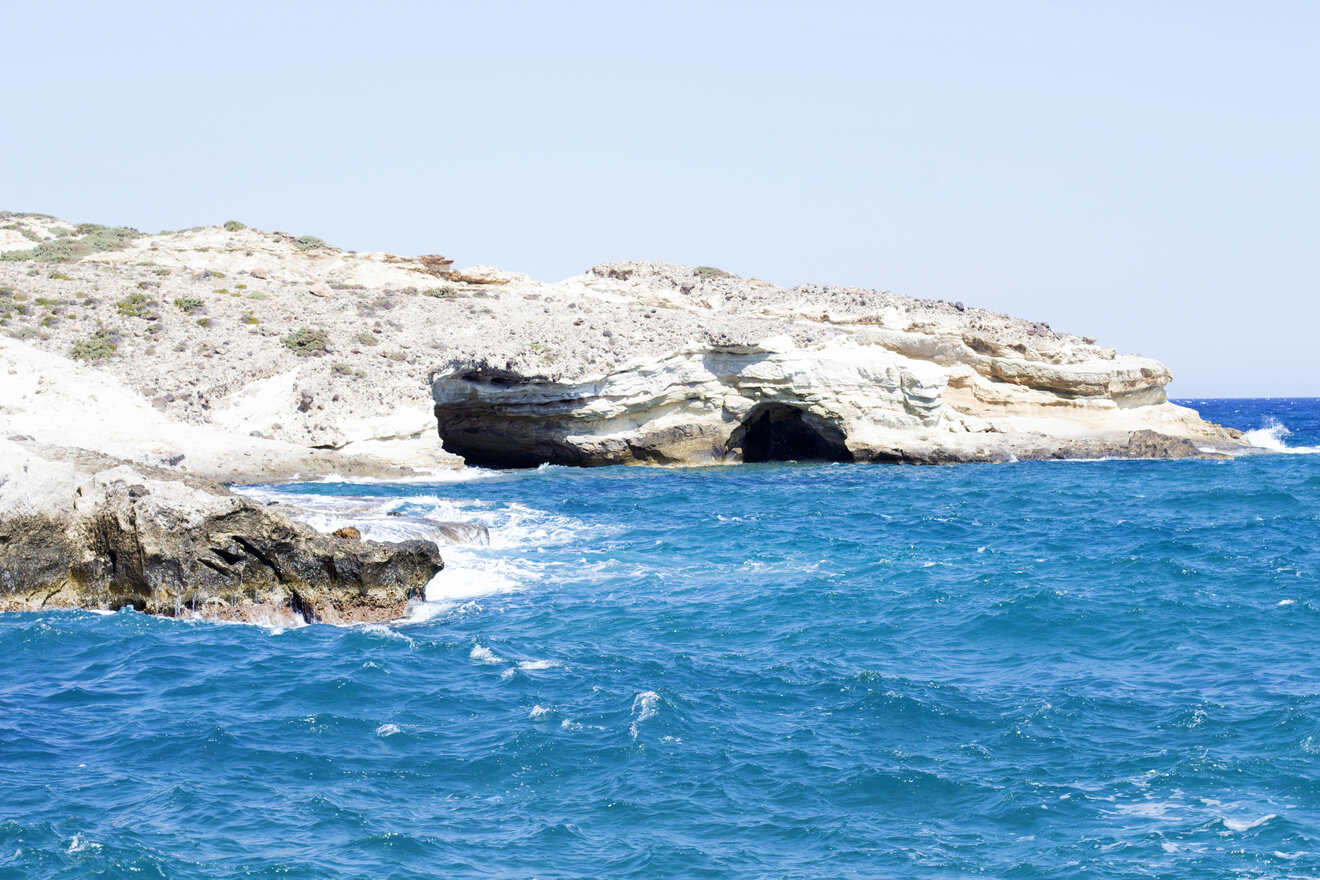 Pachena Coast is located on the northwestern end of the island and 15 minutes drive from Adamas. Here you will find 2 pristine beaches which are Glaronisia and Pachena Beach. Pachena is a fishing village that preserves its natural texture. If you want to stay in a less touristy village my answer to where to stay in Milos is Pachena Coast.
In this fishing village, you will be able to find traditional restaurants, cafes, and some small shops. In terms of accommodation, you won't be able to find big hotels but you will be able to find more like boutique hotels and historic Greek houses that have been transformed into pensions.
I have always liked to stay in these kinds of places with a local vibe so if you are like me here are the best places to stay in this beautiful village:
Other accommodation options in Pachena Coast
Things to do in Pachena Coast
Spend time at Pachena Beach
Swim in crystal clear water at Glaronisia Beach
Visit Papafragas Cave
Have mouthwatering foods and drinks at Avra Gastro Bar
Frequently asked questions about Milos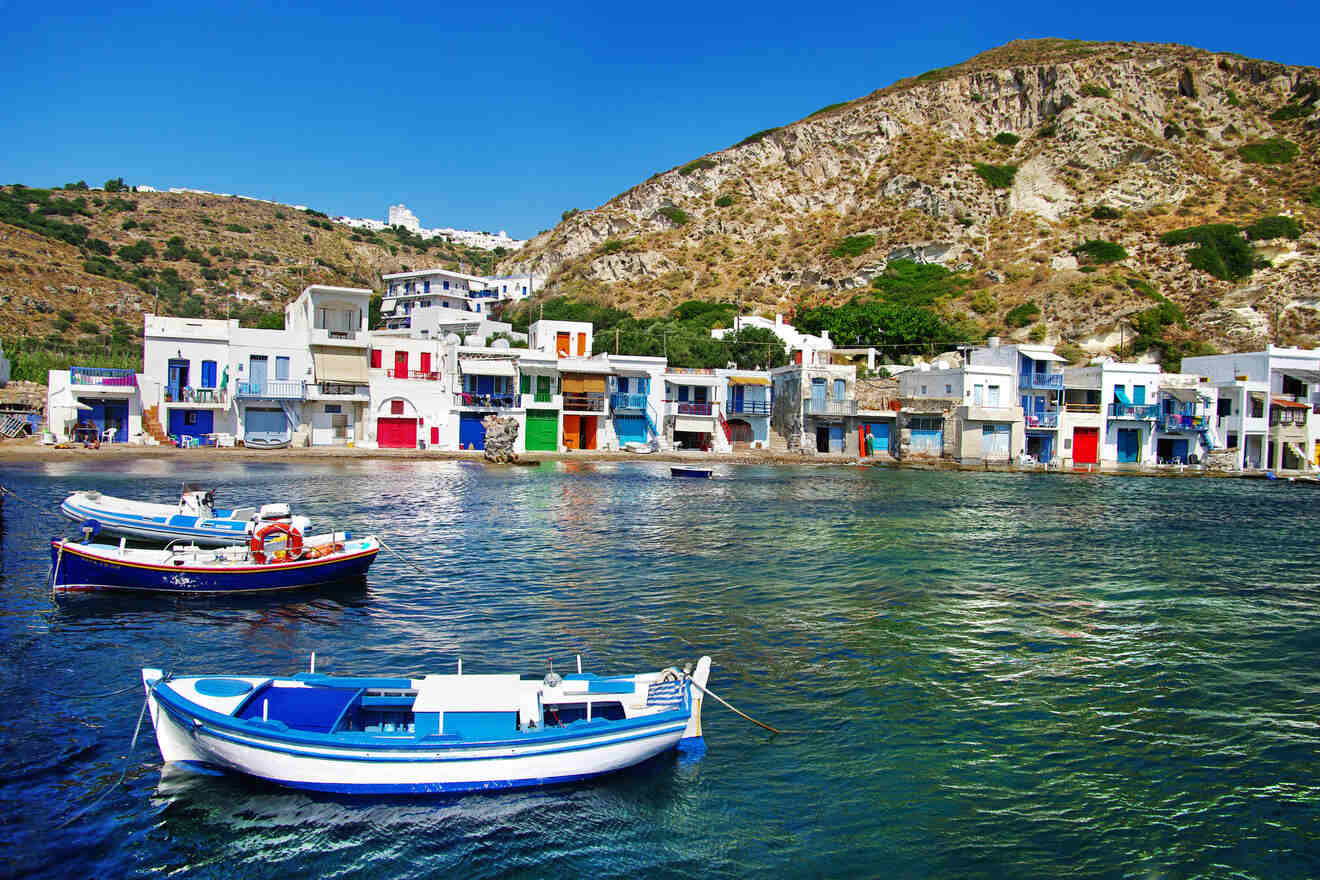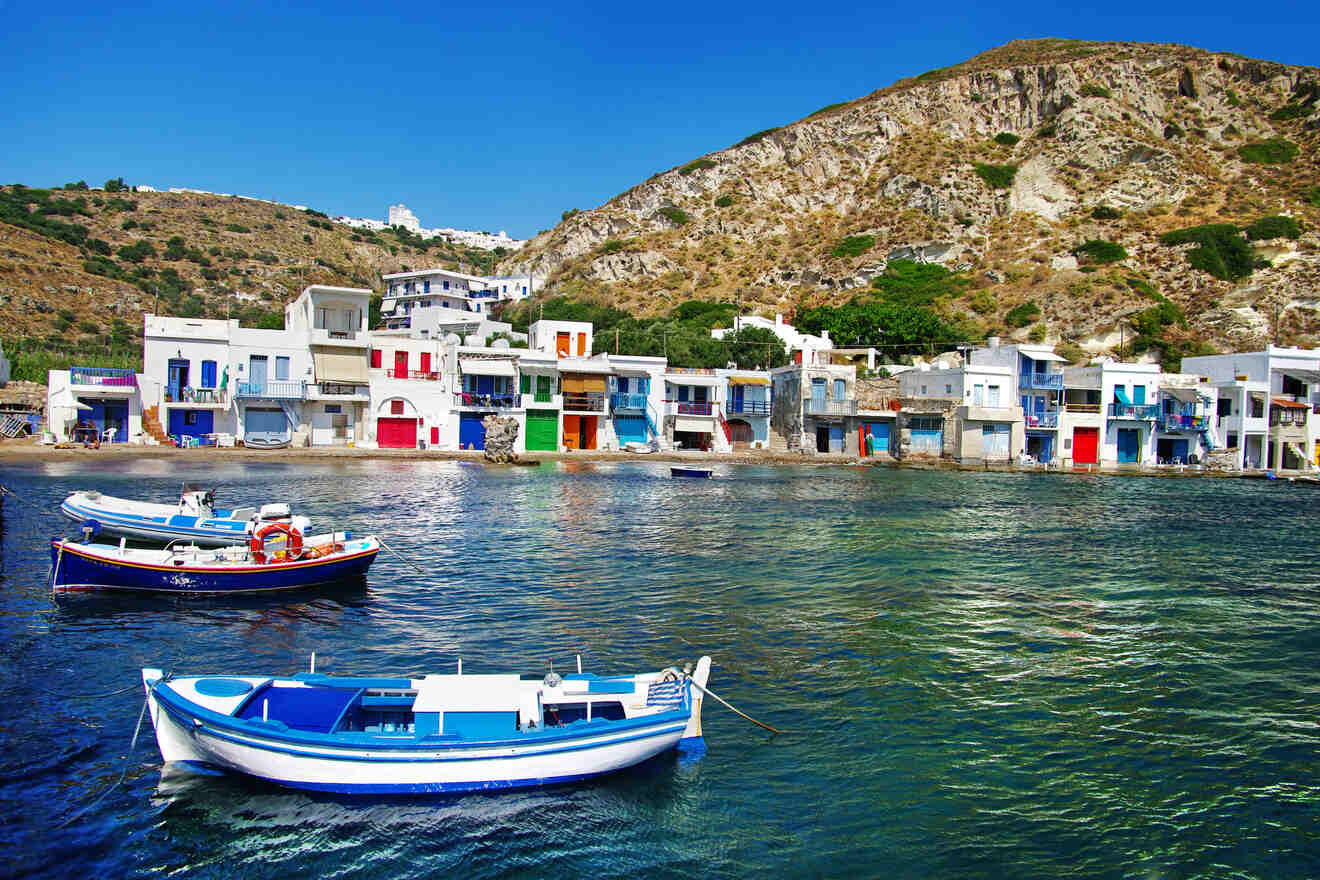 Conclusion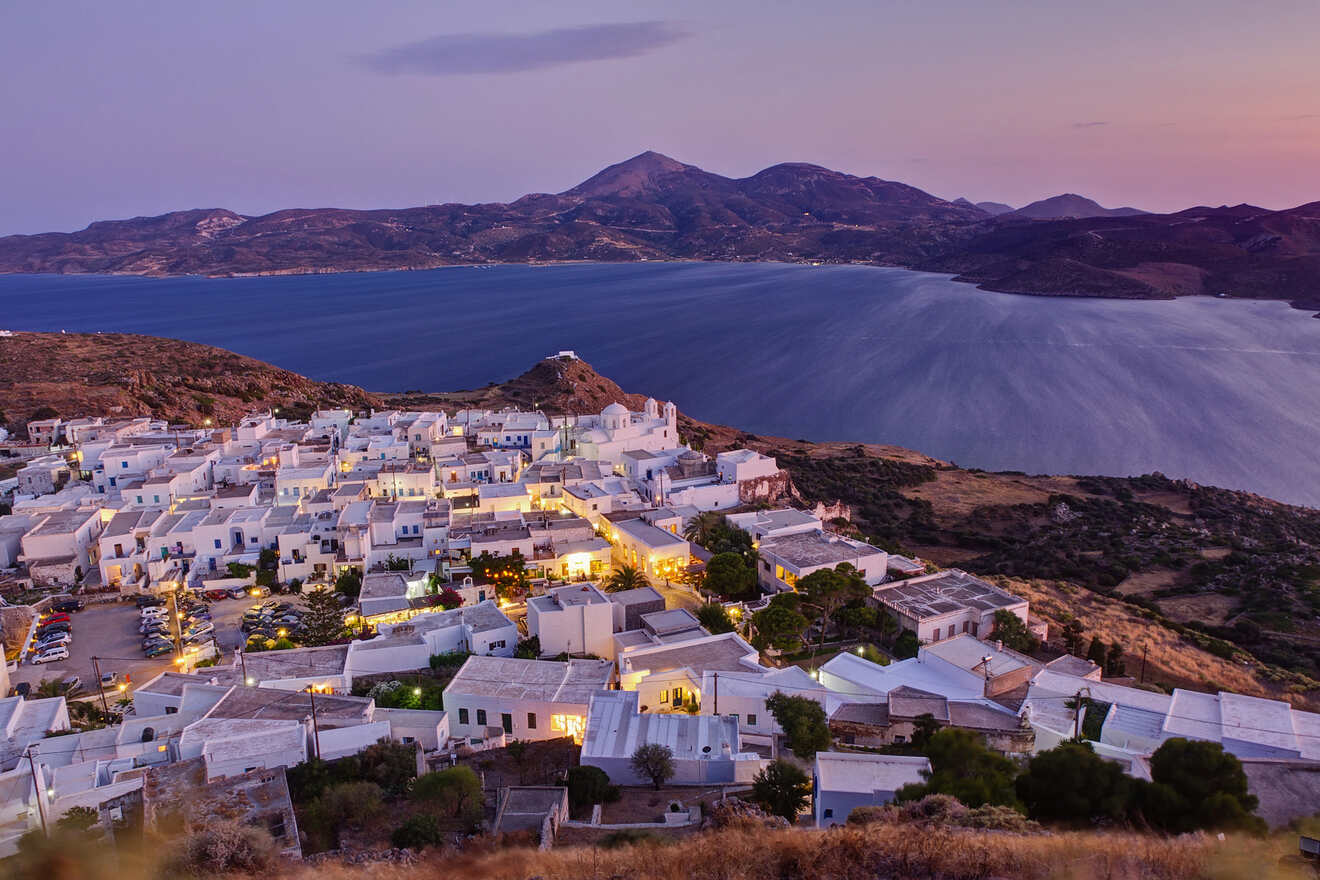 It is the end of our island trip to Milos. In this travel guide on where to stay in Milos Greece, I talked about the best places to stay on the island of Milos with hotels from luxury to budget as well as Airbnbs in each village and gave you some information about the vibe of the villages so you could pick the perfect one for you!
In order not to miss your favorite place do not forget to make your booking in advance!
To sum up, here are the best 2 places to stay on the island of Milos with a great location as well as good reviews. I definitely recommend you to stay in one of these if you can't decide between the awesome options in this list!
If you have any other suggestions or questions about Milos Greece please leave a comment below. I'll be happy to leave a reply to them!
Enjoy your stay in Milos Greece,
Eylul