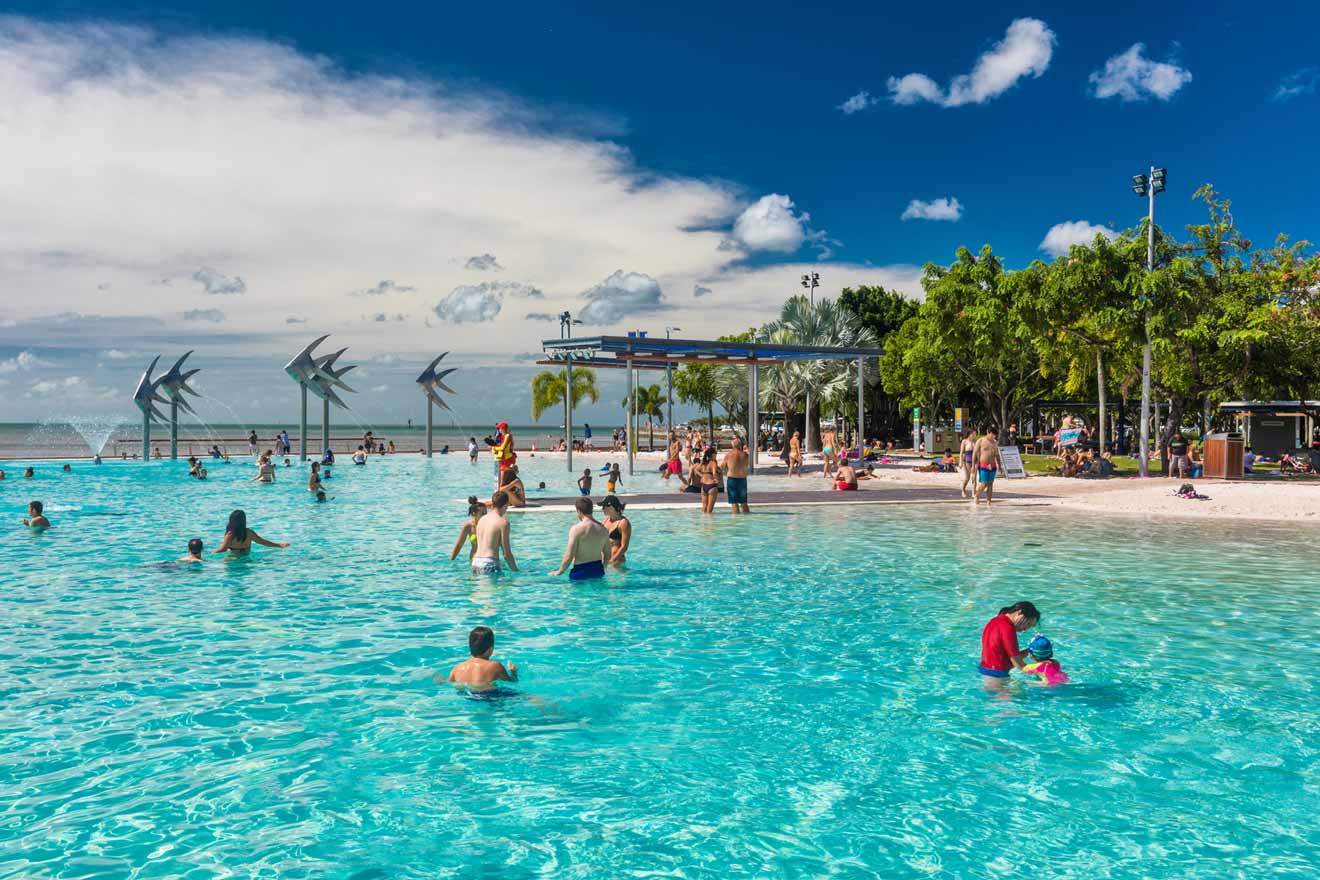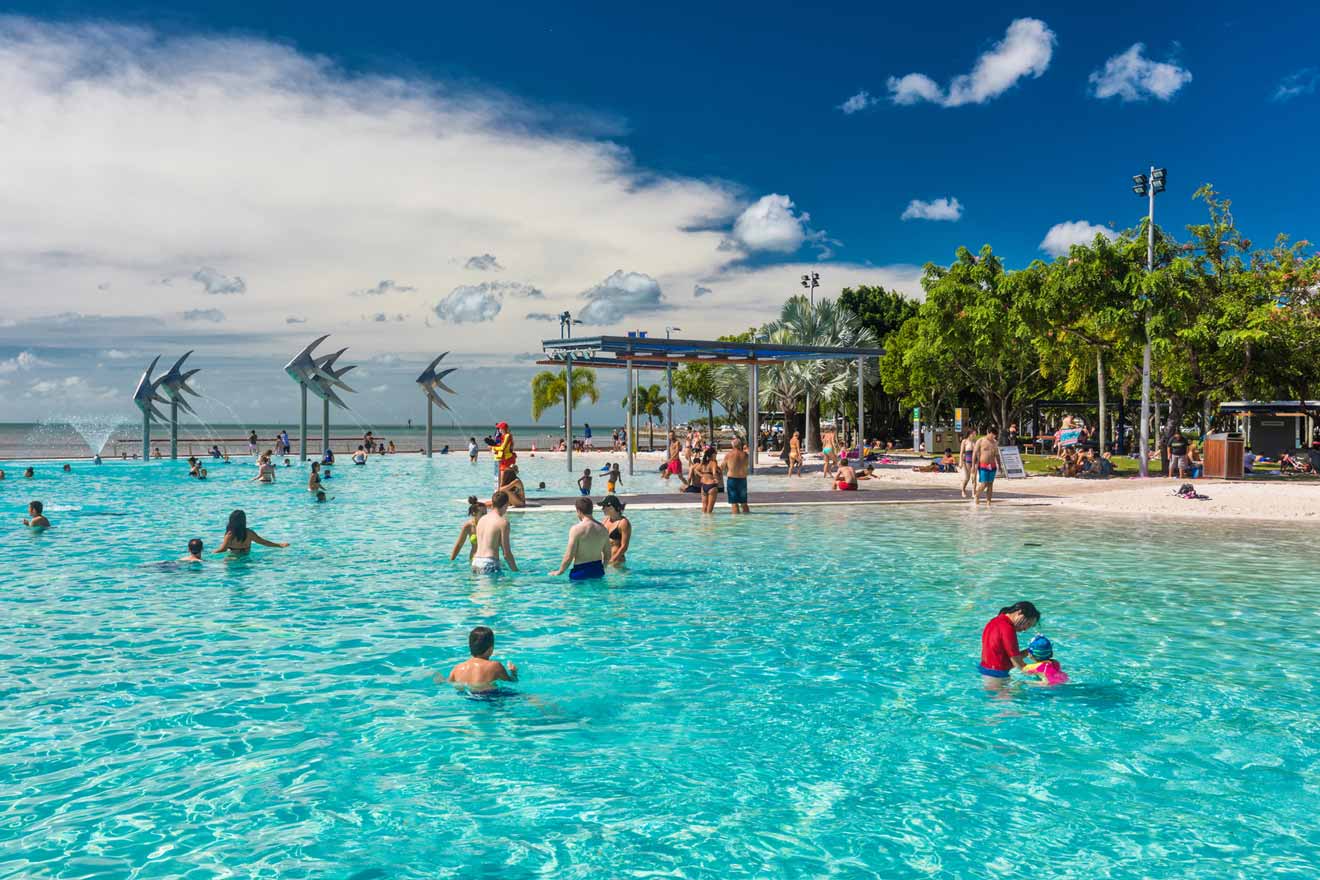 Cairns is a city in tropical North Queensland, Australia, known as the gateway to Australia's Great Barrier Reef and the amazing ancient Daintree Rainforest.
The city has many unique areas, each with its own character, different accommodation options, and attractions, so it is good to know them in advance in order to make the right choice for your travel needs.
But don't worry, I have already done the job for you and made this guide with the best areas where to stay in Cairns, including luxury hotels, backpacking hostels, and Airbnbs.
Cairns Esplanade is the perfect place to stay if you are coming to Cairns for the first time, alternatively, Parramatta Park is great if you are traveling on a budget, Cairns North is where to stay if you're looking for a laid back vibe, Trinity Beach is best for families, Palm Cove is for the ultimate beach holiday and Kuranda if you love nature!
Being one of the most popular destinations in Australia, I suggest you book your favorite hotel far in advance if you don't want to lose the spot!
Well… enough talking, let's jump right in!
If you are in a hurry
Check out this quick list of the best hotels where to stay in Cairns for different budgets, located in Cairns city center:
Check out this useful map to have a mental image of all the best areas where to stay in Cairns:
1. Cairns Esplanade – where to stay in Cairns for the first time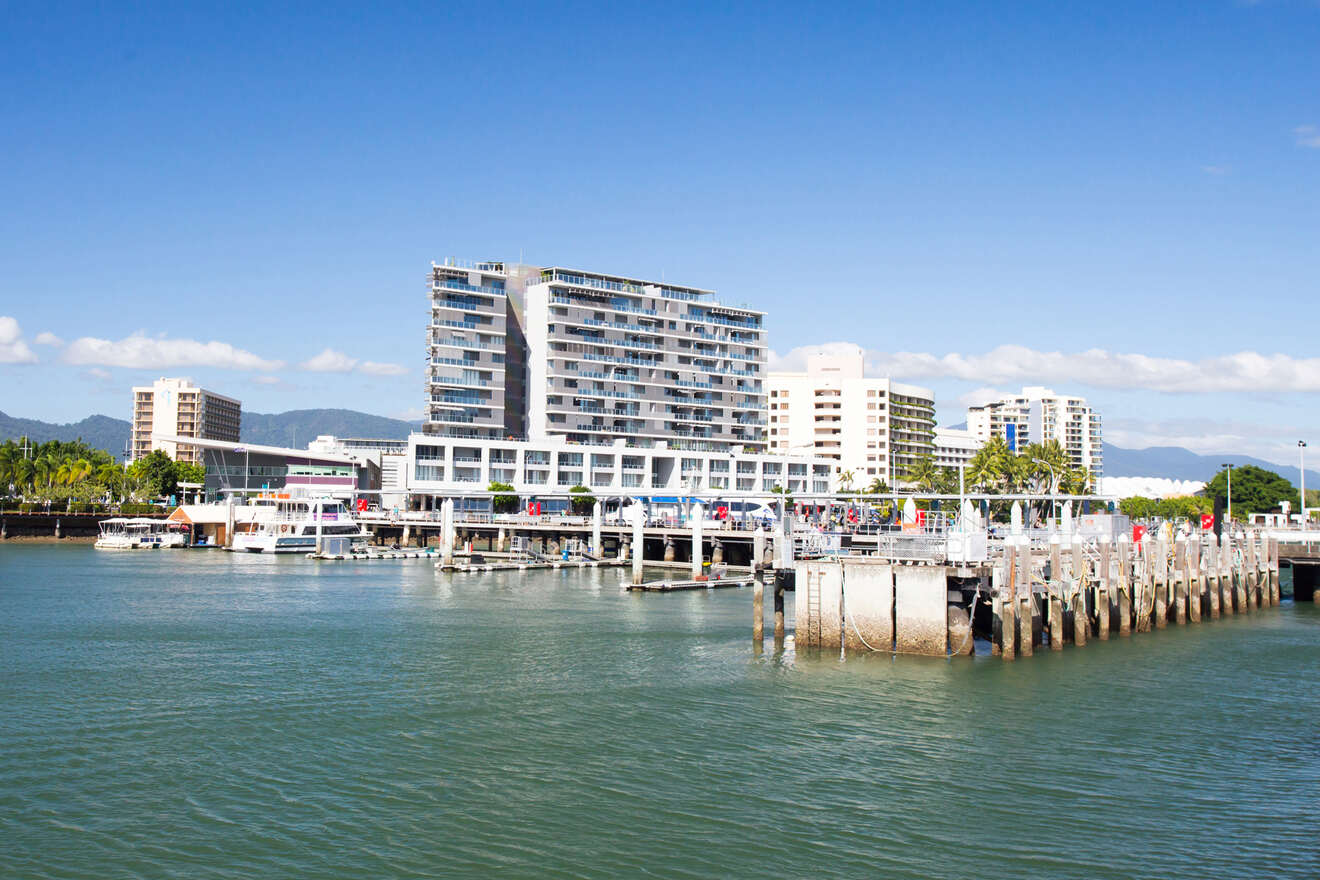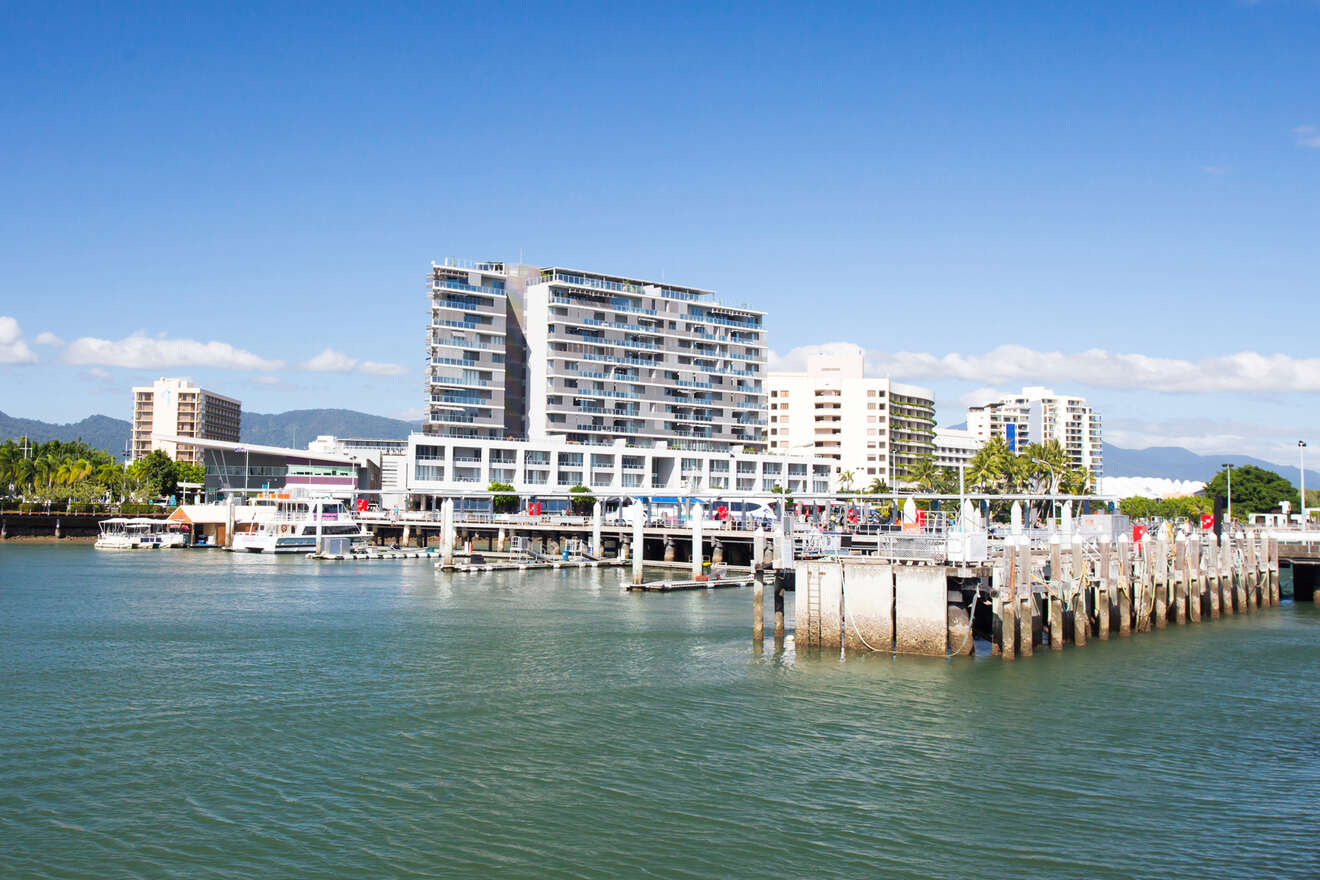 The Esplanade is a long coastal area expanding from North Cairns all the way south of the city center (Cairns CBD): the best starting point for people coming to the city for the first time!
In fact, here you'll have access to a big promenade where you can stroll, engage in outdoor activities (jogging, rollerblading, biking, etc.), and gaze at stunning views of the ocean or the
Esplanade's lagoon is one of the main attractions of the area!
The Cairns Esplanade Lagoon is a very cool place to chill while enjoying the views, have a family picnic, or swim in the Lake's salty waters!
In the Lagoon area, you'll also find many great waterfront restaurants where you can enjoy delicious dinners and refreshing drinks… and make sure you stay until dark when it lights up in shining neon colors: an incredible show to see!
Last but not least, this area is also perfect if you want to join a boat tour to explore the fantastic Great Barrier Reef, a UNESCO World Heritage Site that will just blow your mind as this is where the tours depart.
Cairns Esplanade has the widest range of options, from luxury hotels to family-friendly accommodation and budget hostels. Since it is a very popular area, hotels can be more expensive here and get booked up fast… so I suggest you reserve a spot as soon as you can!
Other accommodation options in Esplanade
Since there are so many hotels in Cairns Esplanade and it is the most popular area, I decided to give you some more options to choose from. Check them out, they're in descending order from the most expensive ones: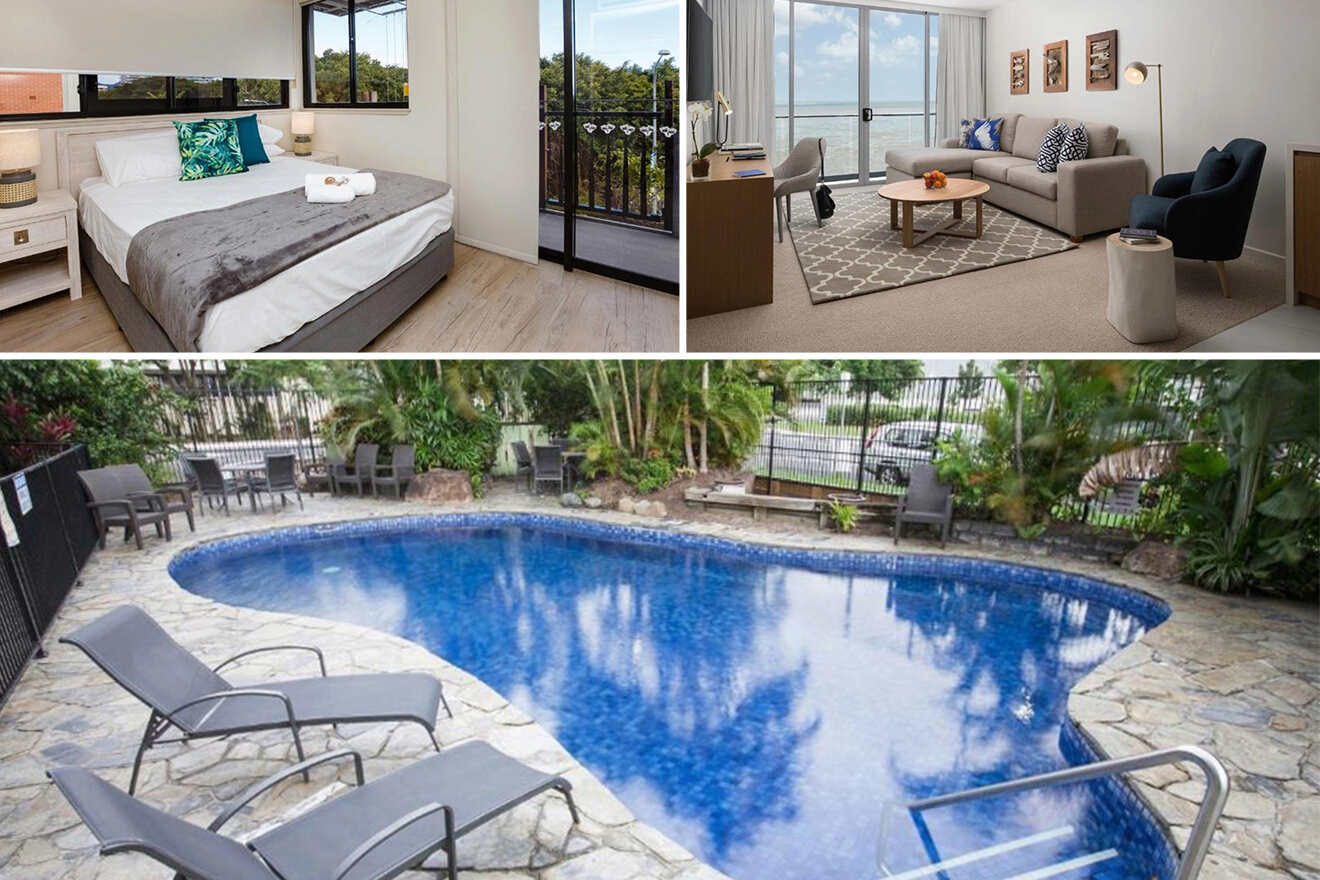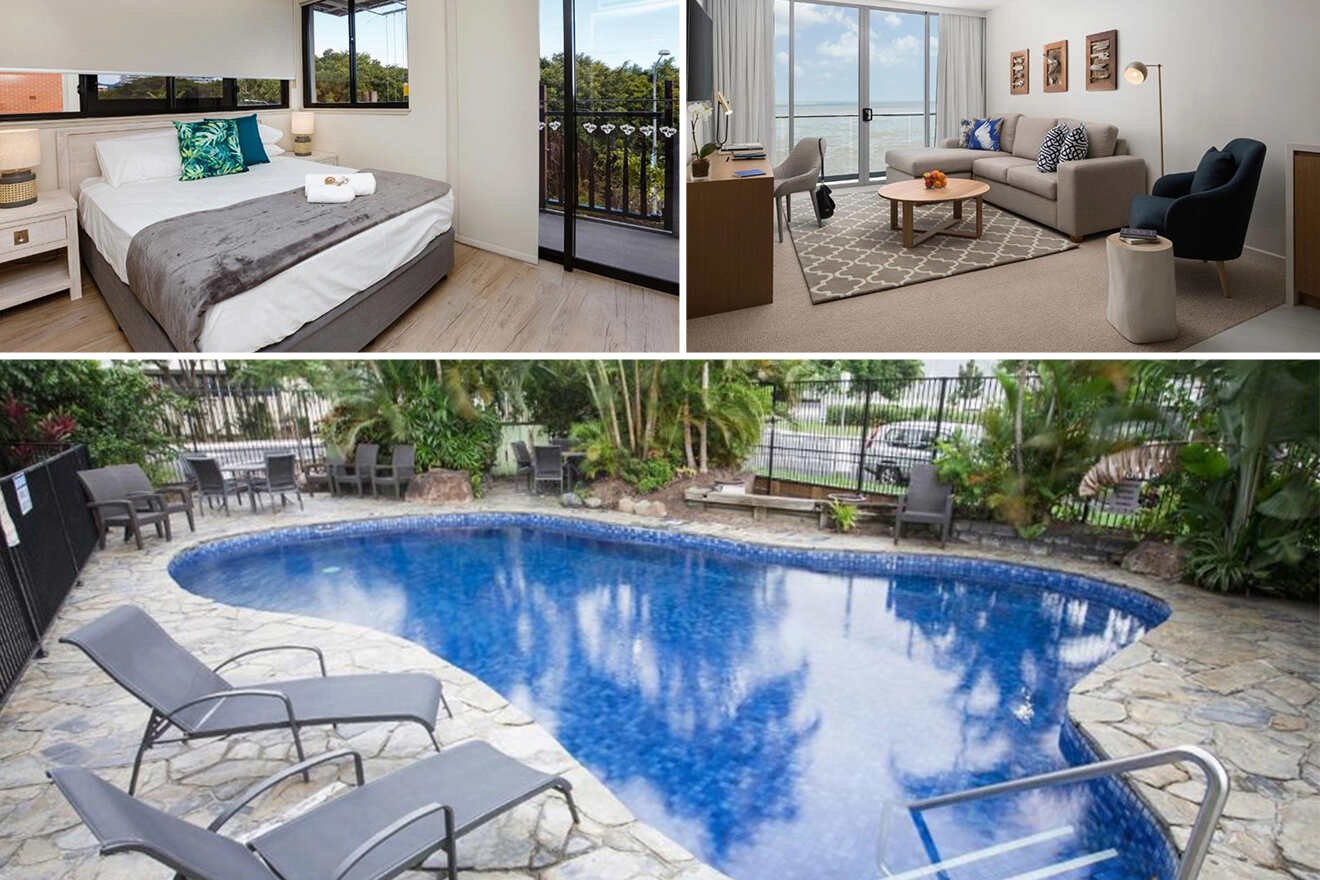 Luxury: Crystalbrook Riley – In this luxury hotel you'll be treated like a celebrity! Here there are three restaurants and bars (including Cairns' highest rooftop bar), a huge lagoon-style pool and private beach, a stunning Eléme Day Spa, and a fitness center. And if you ever feel like leaving the hotel, you'll be a very short distance from all the best attractions!
Mid Range: Cairns Plaza Hotel – This amazing hotel has the best location: walking distance from the beach, central Cairns, and many shops and restaurants. But the hotel itself is also amazing, offering very spacious rooms with a private balcony and free wifi… some of them even have a kitchenette or an ocean view, check them out!
Budget: Global Backpackers Cairns – This backpackers hostel is the perfect option if you are traveling on a budget but you don't want to renounce quality! Located a 1-minute walk from the beach, the property offers a wide range of accommodation options, from private rooms with balconies to shared dormitories, and organizes many cool activities!
Airbnb: Stunning Water Views – Check out this waterfront condo with stunning views of the Coral Sea right from your private balcony! Here you'll be just a few steps away from the cool night markets, as well as the great restaurants and shopping… so you have everything at your fingertips!
Things to do in Esplanade
Swim and splash in the Cairns Lagoon
Go rainforest tubing on the Mulgrave River!
Explore the Great Barrier Reef on this full-day catamaran tour
Bring your kids to have fun at Muddy's playground
Explore the underwater world at the Cairns Aquarium
Buy some souvenirs at the Night Market
Walk alongside the Cairns Esplanade and enjoy the water views
2. Parramatta Park – where to stay in Cairns on a budget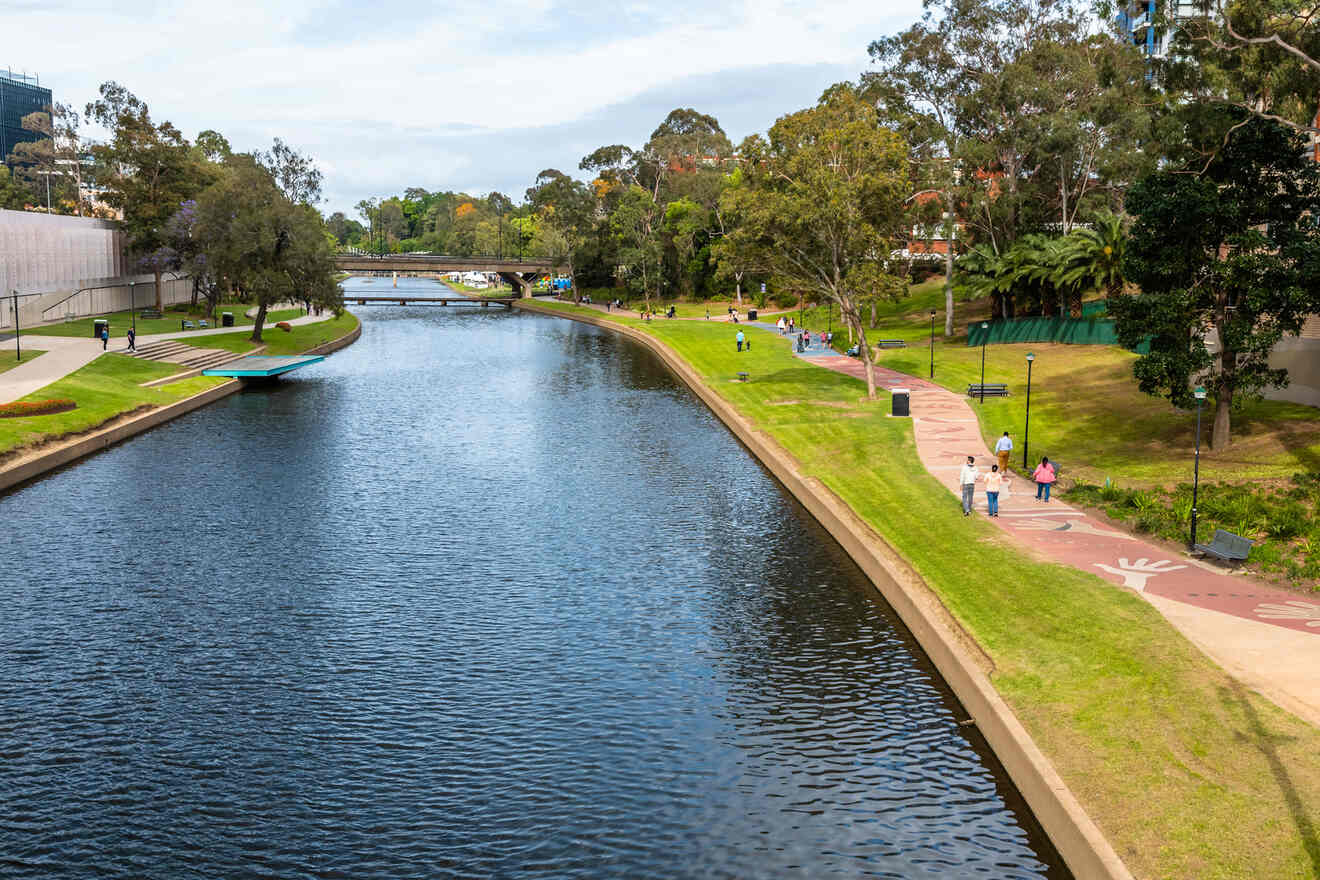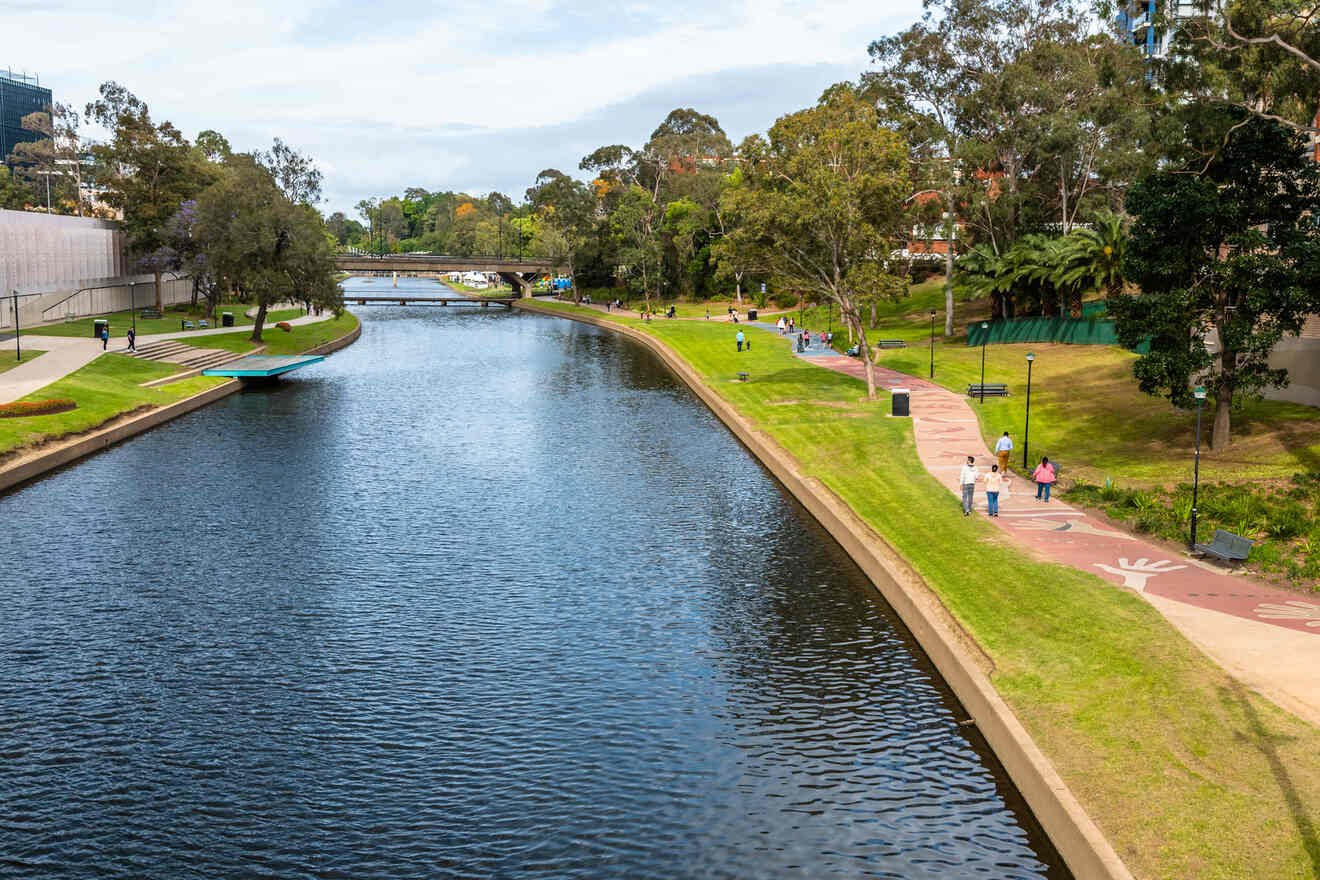 The Parramatta Park suburb takes its name from a huge green park with the best central location: west of the CBD, a short walk from the ocean, and close to the Cairns Railway Station… so you have easy access to everything!
This is a residential district characterized by a more suburban and laid-back atmosphere than many other areas of the city… so prices are also more affordable: the perfect place to stay in Cairns on a budget.
Apart from having long and relaxing strolls in Parramatta Park, here you can do some shopping in the many markets and shopping centers like the famous Cairns Central Shopping Centre, the largest shopping center in all of North Queensland!
And if you want to explore any other part of the city, this area is perfectly connected with public transportation… What else do you need?
Other accommodation options in Parramatta Park
Things to do in Parramatta Park
Go shopping at Cairns Central Shopping Centre
Chill out and have long walks in Parramatta Park
Attend a match or an event at the Cairns Convention Centre
See the coolest shows at the Cairns Showgrounds
3. Cairns North & Edge Hill – the coolest place to stay in Cairns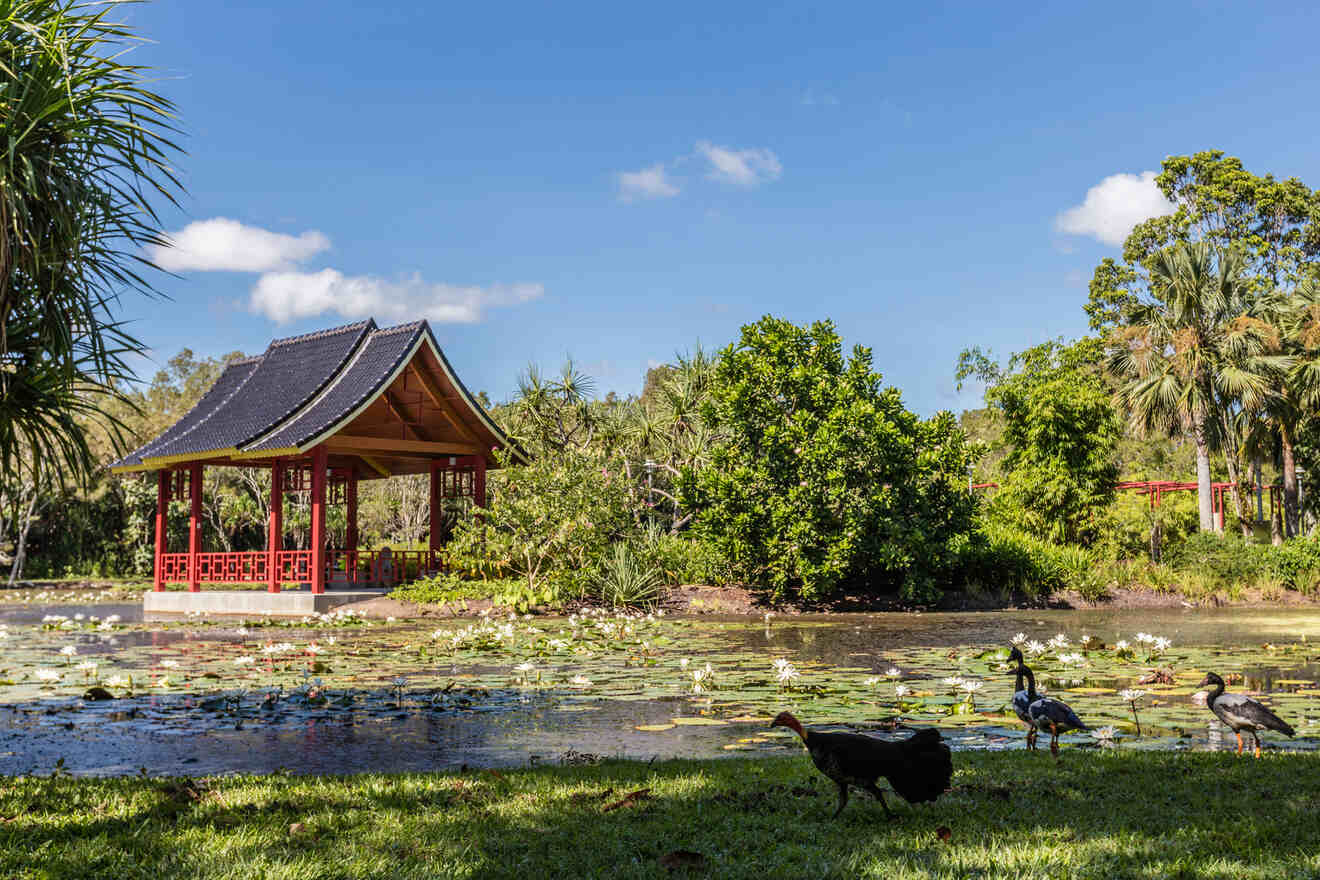 Cairns North is a small coastal district located north of Cairns CBD, with a laid-back and very cool vibe, located super close to the trendy area Edge Hill.
The two neighborhoods are very similar in terms of offers, brimming with quirky bars, boutiques, bookshops, and vintage stores. Cairns North even hosts an amazing night market, which you should definitely check out during a tranquil night!
But with their historical sites, cool attractions like the Botanic Gardens, and boat tours departing from Cairns Harbour, there's something to do at any time of the day!
You will also love the location of these areas, giving you direct access to the sandy beach but also being super close to the hustle and bustle of Cairns CBD. And if you want to extend your trip to other amazing Australian cities like Brisbane, the Cairns airport is just a 5 minutes drive away! (Check out this post for the best hotels in Brisbane).
Other options in Cairns North & Edge Hill
Things to do in Cairns North & Edge Hill
Spend an afternoon in nature at the Botanic Gardens
Have the most delicious brunch & coffee at Smith Street Cafe
Eat something tasty and delicious at the Night Market!
Jump on a full-day boat tour to Fitzroy Island
Buy some nice clothes at the cool vintage shops
4. Trinity Beach – where to stay in Cairns for families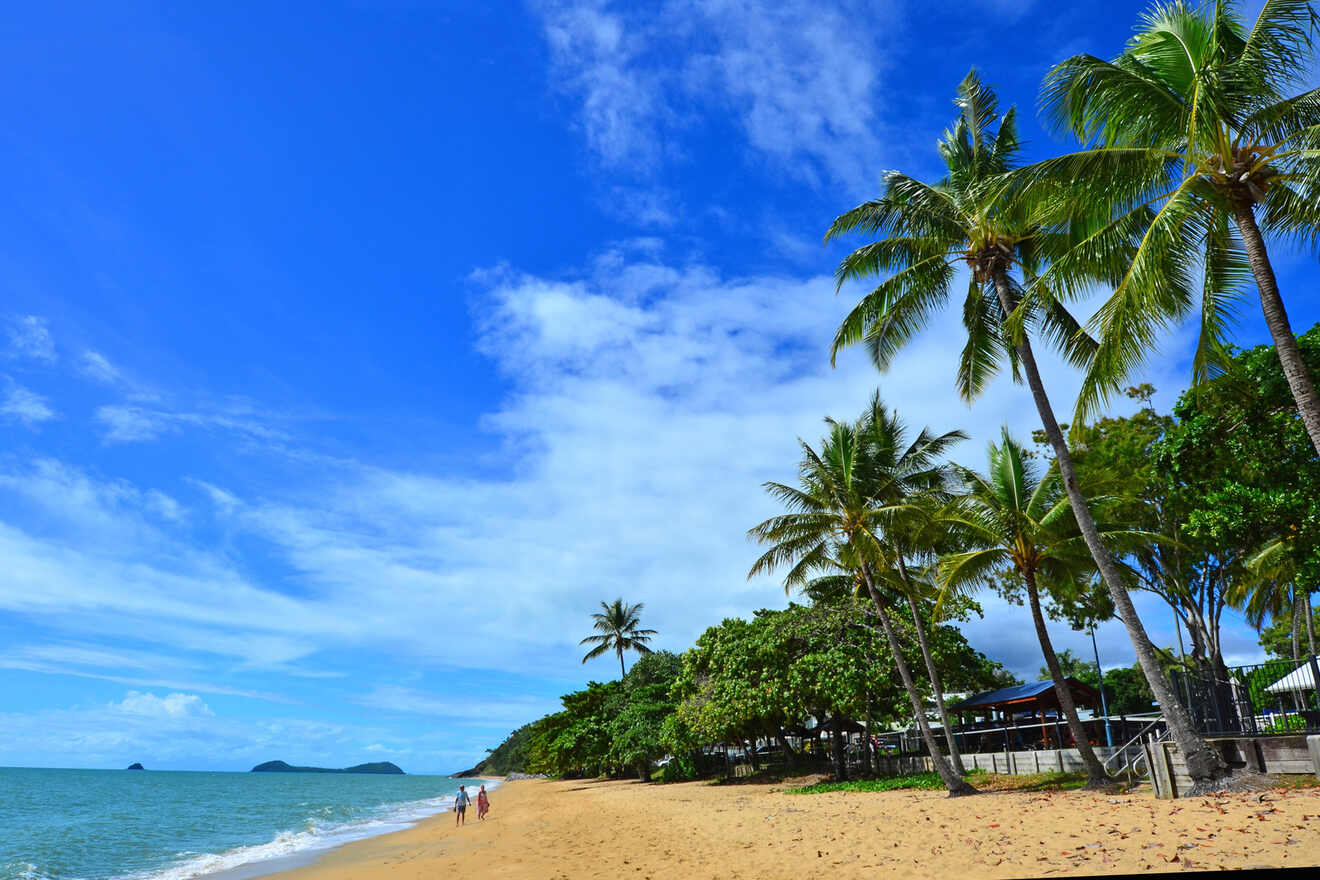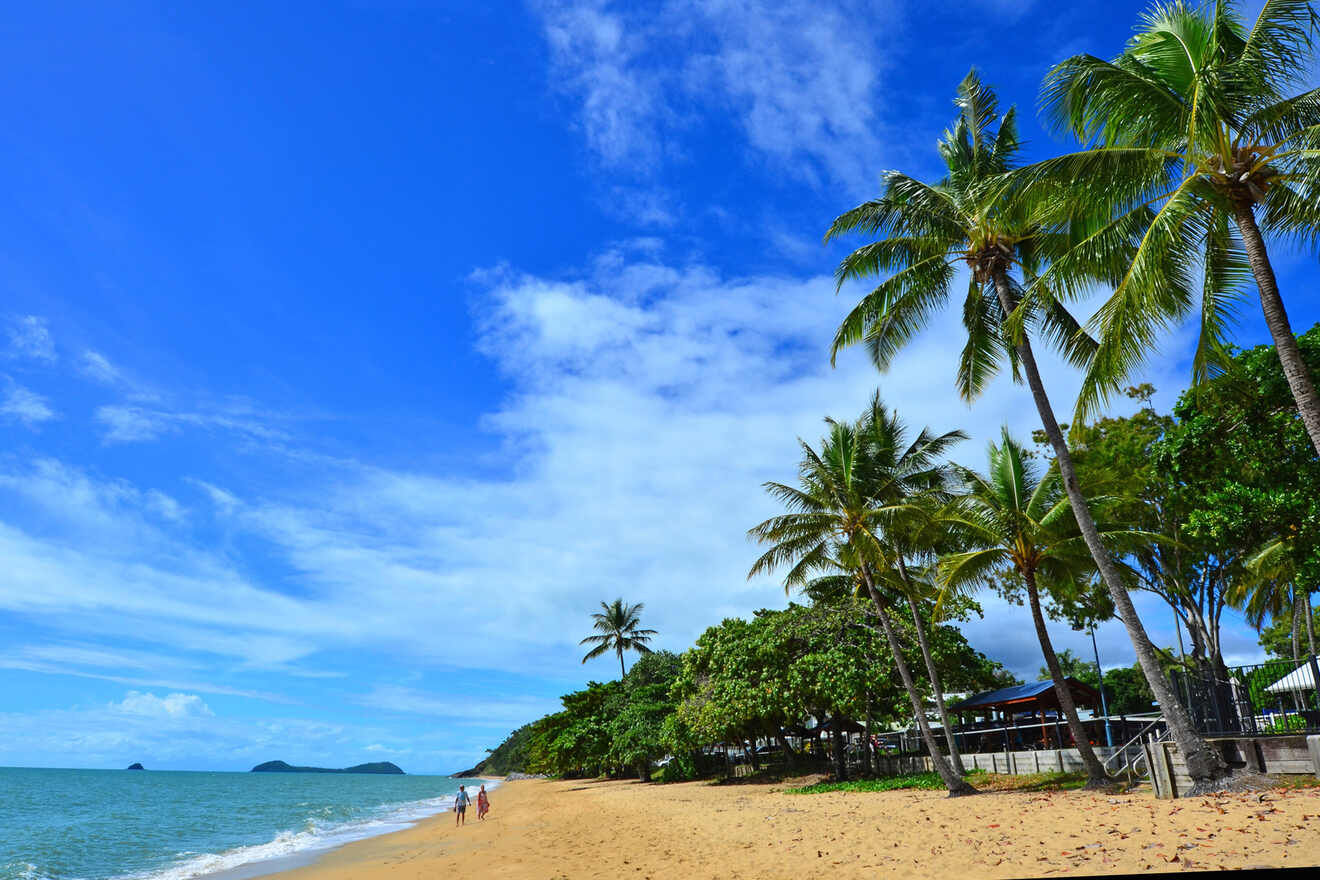 Trinity Beach, located about 20 minutes north of Cairns CBD, is known as one of the most beautiful beaches in Australia, and is the ultimate Cairns destination if you're going on a holiday with the family!
On the beach itself, a locals' favorite, you can either engage in cool water sports like surfing, paddleboarding, and jet-skiing or just sunbathe and enjoy some well-deserved relaxation.
And when you're not enjoying the beach life, this small residential area offers many shops to buy souvenirs and restaurants for the best dinners.
And if this wasn't enough for you, Trinity Beach offers access to some incredible parks, like the Kuranda wildlife park, where you can get close to lovely animals, from wallabies to kangaroos… your kids will love them!
Other accommodation options in Trinity Beach
Things to do in Trinity Beach
Lie down and relax at Trinity Beach
Have the best coffee at Tranquility Cafe
Bring the family to have a BBQ at the Coastwatchers Park
Get close to the beautiful animals at the Kuranda wildlife park
Catch some good waves or go jet skiing!
Have dinner at Trinity Beach Tavern while enjoying Great Barrier Reef views
5. Palm Cove – where to stay in Cairns for couples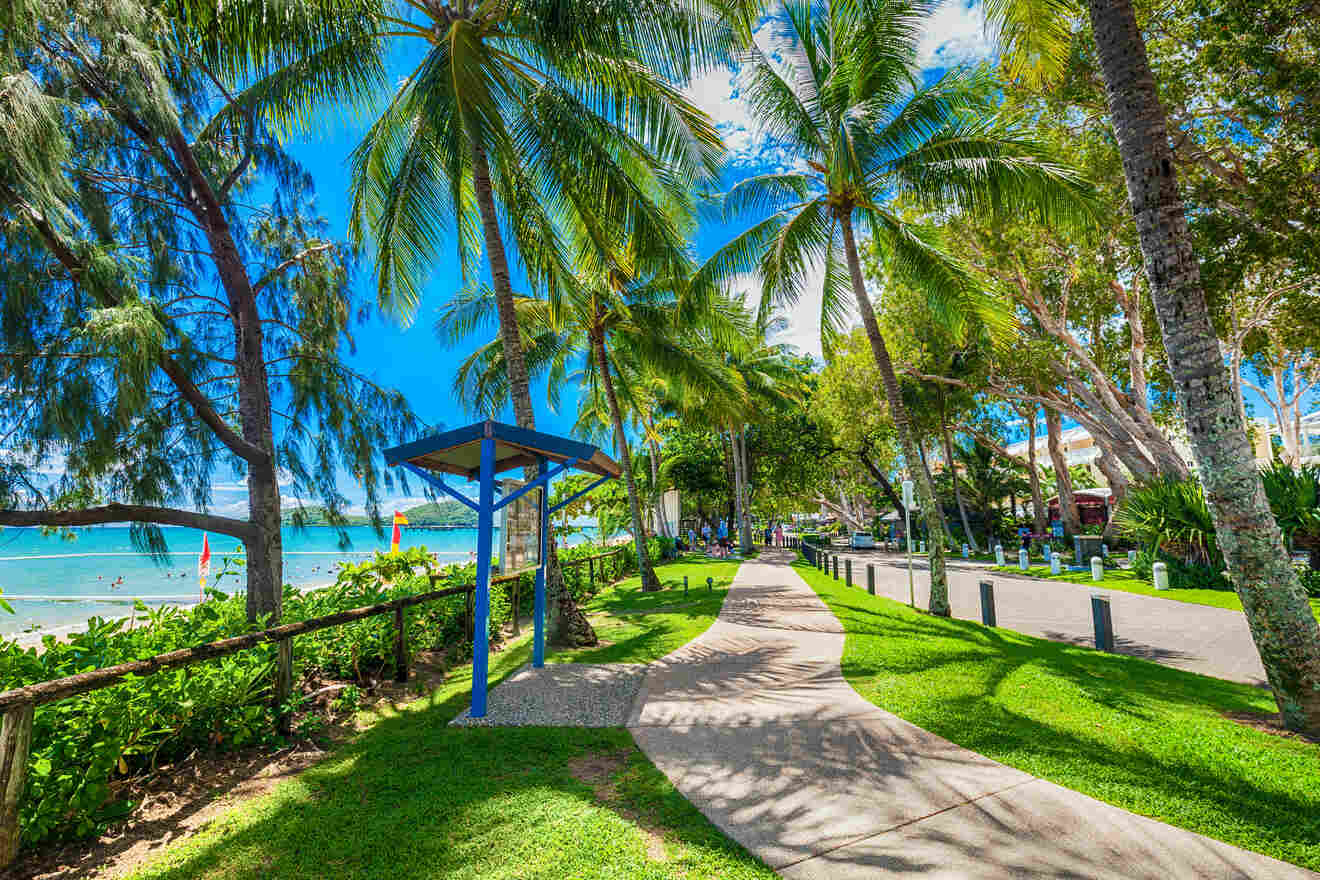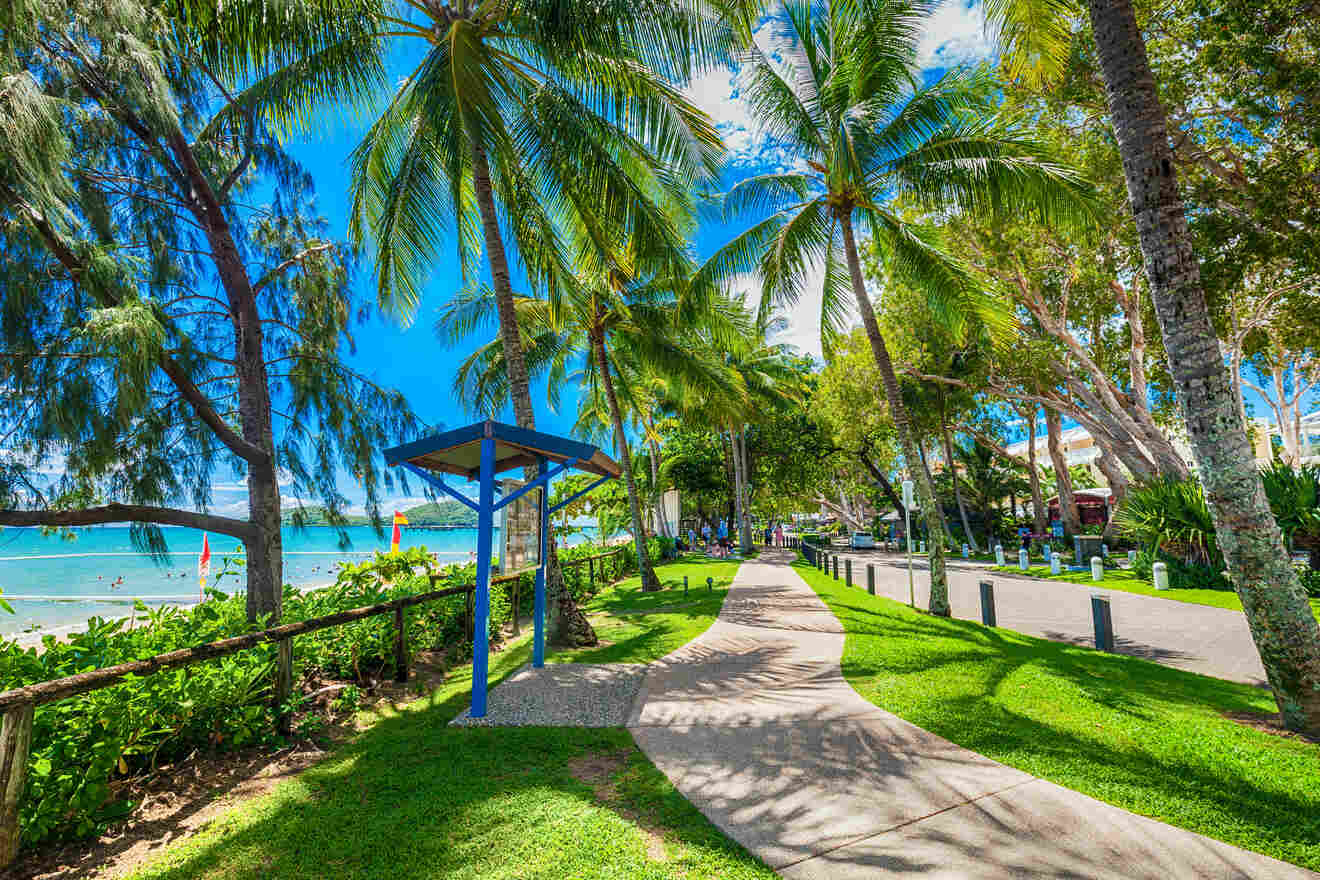 Palm Cove is a tropical and luxurious paradise brimming with ancient melaleuca trees and warm Coral Sea waters, about 30 minutes drive north of Cairns CBD.
With its stunningly pristine beaches, elegant resorts, fine-dining restaurants, and countless spa centers, there's no wonder why Palm Cove has become also a top pick for honeymoons and romantic getaways!
Here you'll find a super long esplanade to enjoy long walks, runs or rides, and several world-class restaurants serving the most delicious and fresh fish you'll try in your life, as well as some refreshing cocktails.
But one of the best Palm Cove attractions is the magical Crystal Cascades: natural swimming pools with waterfalls, nestled in green rainforest, rivers, and creeks… how can you miss it?
And if you have enough time, I suggest you visit the nearby Port Douglas, a town on the Coral Sea just a 1-hour drive north of Cairns, famous for the incredible Daintree Rainforest, and the countless other things to do there!
Even if it's a small town, Palm Cove offers many accommodation options, from luxury resorts to small boutique hotels and holiday apartments, let's check them out together:
Other accommodation options in Palm Cove
Things to do in Palm Cove
Go jogging or walking along Palm Cove Esplanade
Spend a day relaxing under the palm trees right on the beach
Go on a day trip to Port Douglas!
Check out the Daintree Rainforest, the largest tropical rainforest in Australia
Have the best fish at Palm Cove Jetty
Swim in the magical Crystal Cascades waterfalls
6. Kuranda – the best town to stay for nature lovers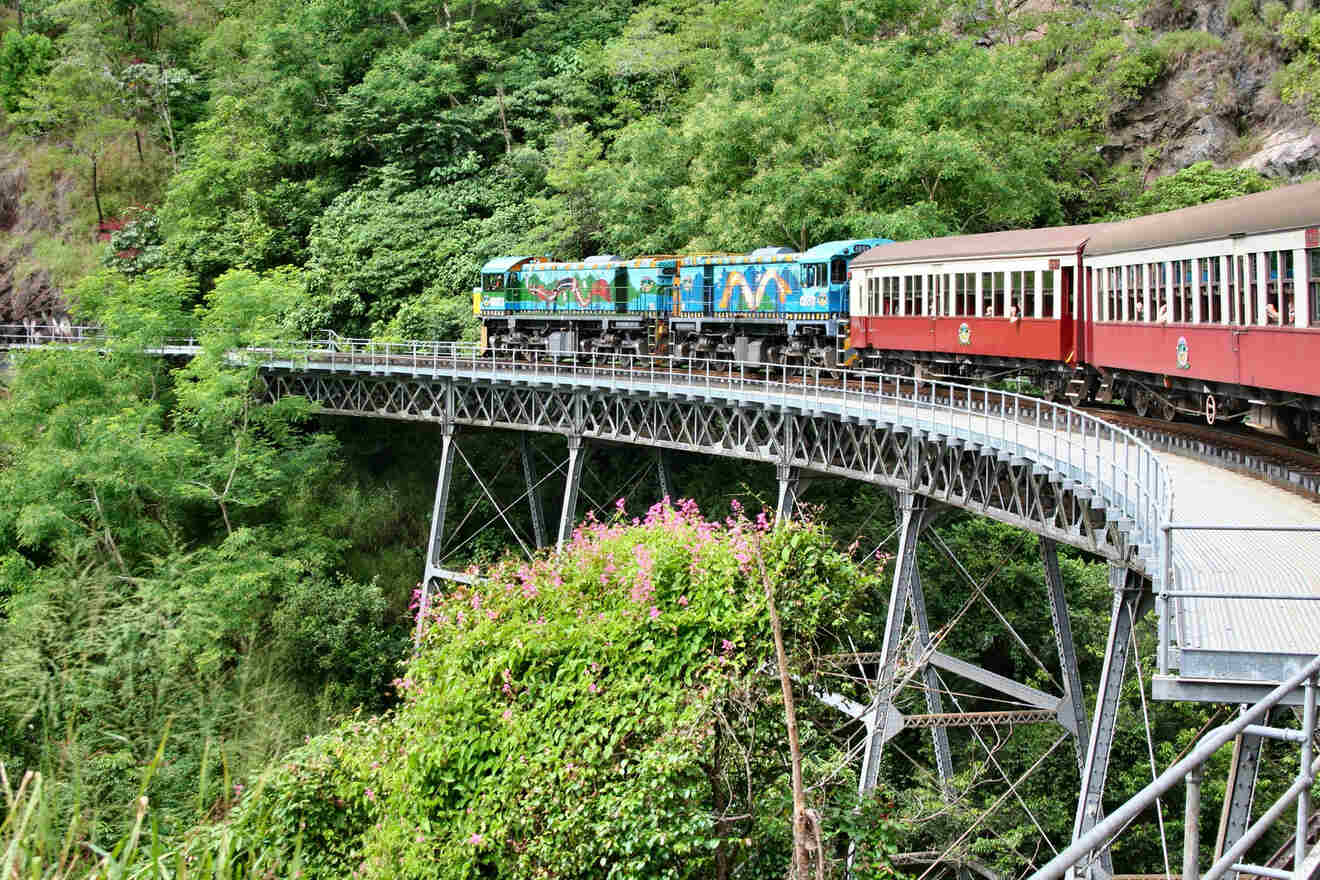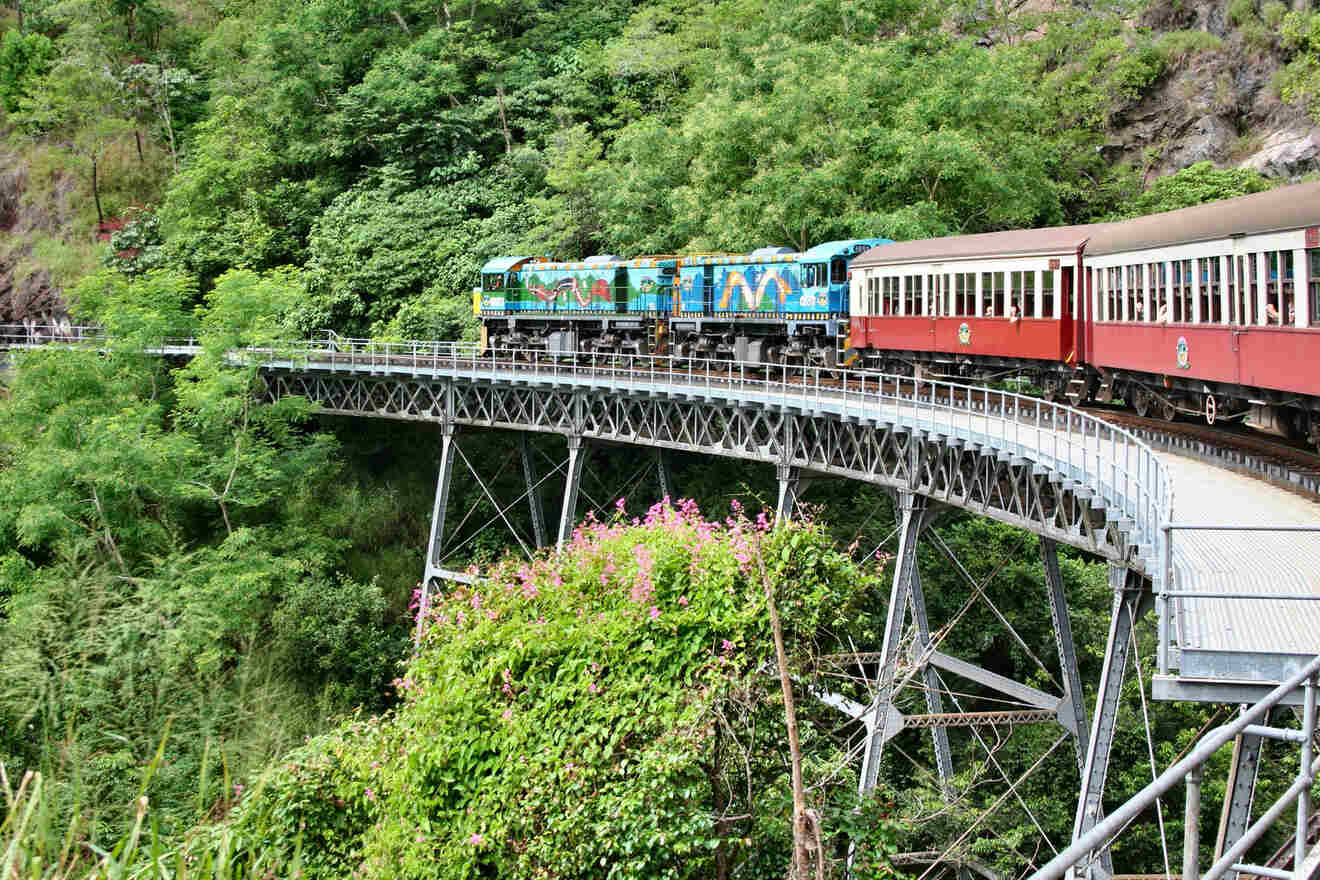 Kuranda is a rural village nestled in the Cairns mountains, 30km (18 miles) northwest of Cairns, known as "The Village in the Skys" for its altitude and cooler temperatures.
To get to the village you can take the Kuranda Scenic Railway, a historical and panoramic rail line that passes through the green rainforest hills and over the Barron Gorge National Park, where you'll gaze at the most incredible views of the Barron Falls!
Another way to see the majestic Barron Falls from above is to take the Skyrail Rainforest Cableway… a unique and exciting experience that you definitely need to try.
But Kuranda offers countless things to do, especially if you're interested in Australia's protected wildlife.
In fact, here you can visit the colorful Australian Butterfly Sanctuary, the Rainforestation Park (where you can see native Pamagirri Aboriginals dancing to traditional music), and the Koala Sanctuary: THE place to cuddle and see koalas.
Last but not least, Kuranda is also home to many eclectic markets, like the Kuranda Original Rainforest Market and the Heritage Market, perfect to buy some hand-crafted local goods, clothes, jewelry, as well as fresh local produce… Kuranda has it all!
Other accommodation options in Kuranda
Things to do in Kuranda
Frequently asked questions about where to stay in Cairns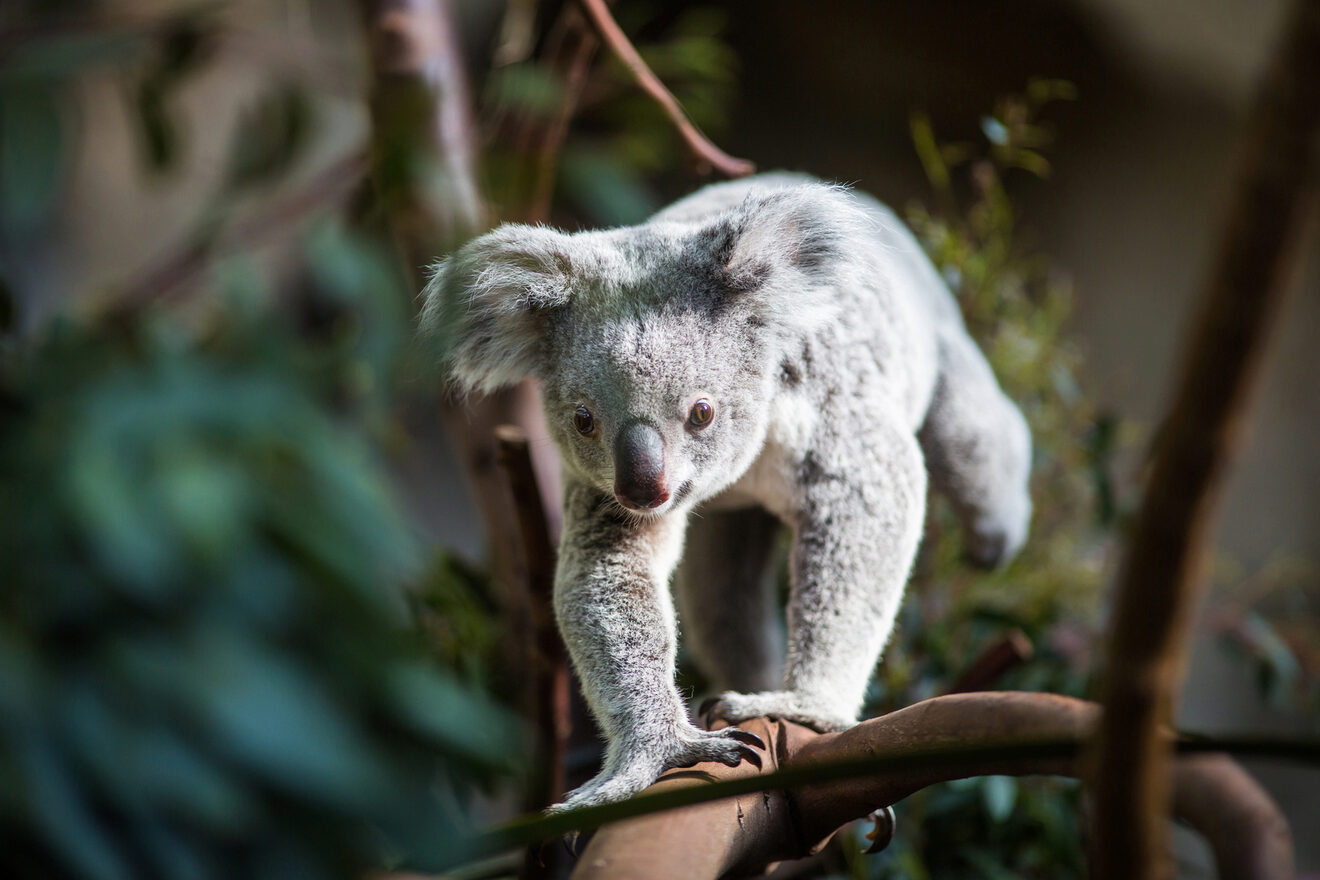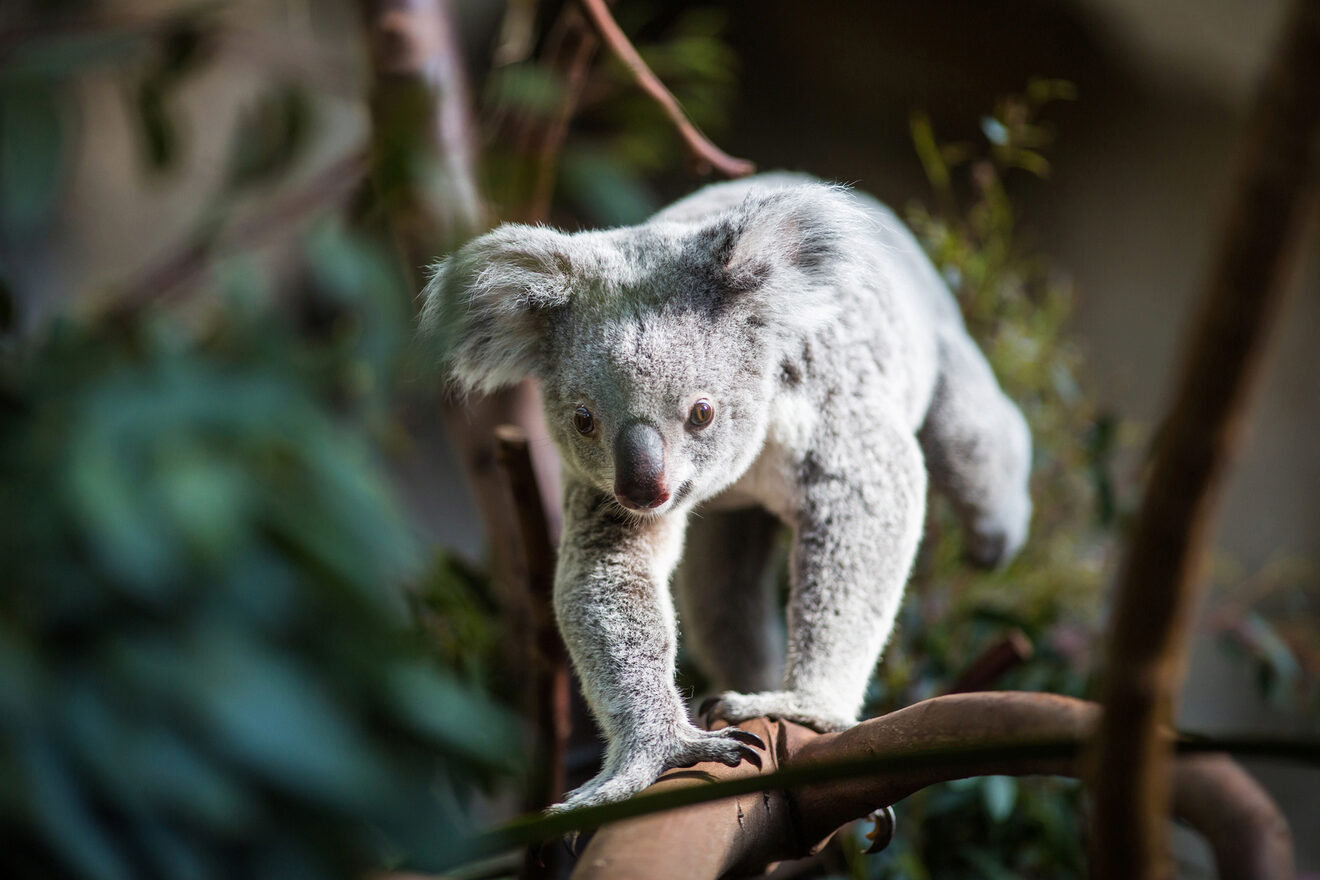 Conclusion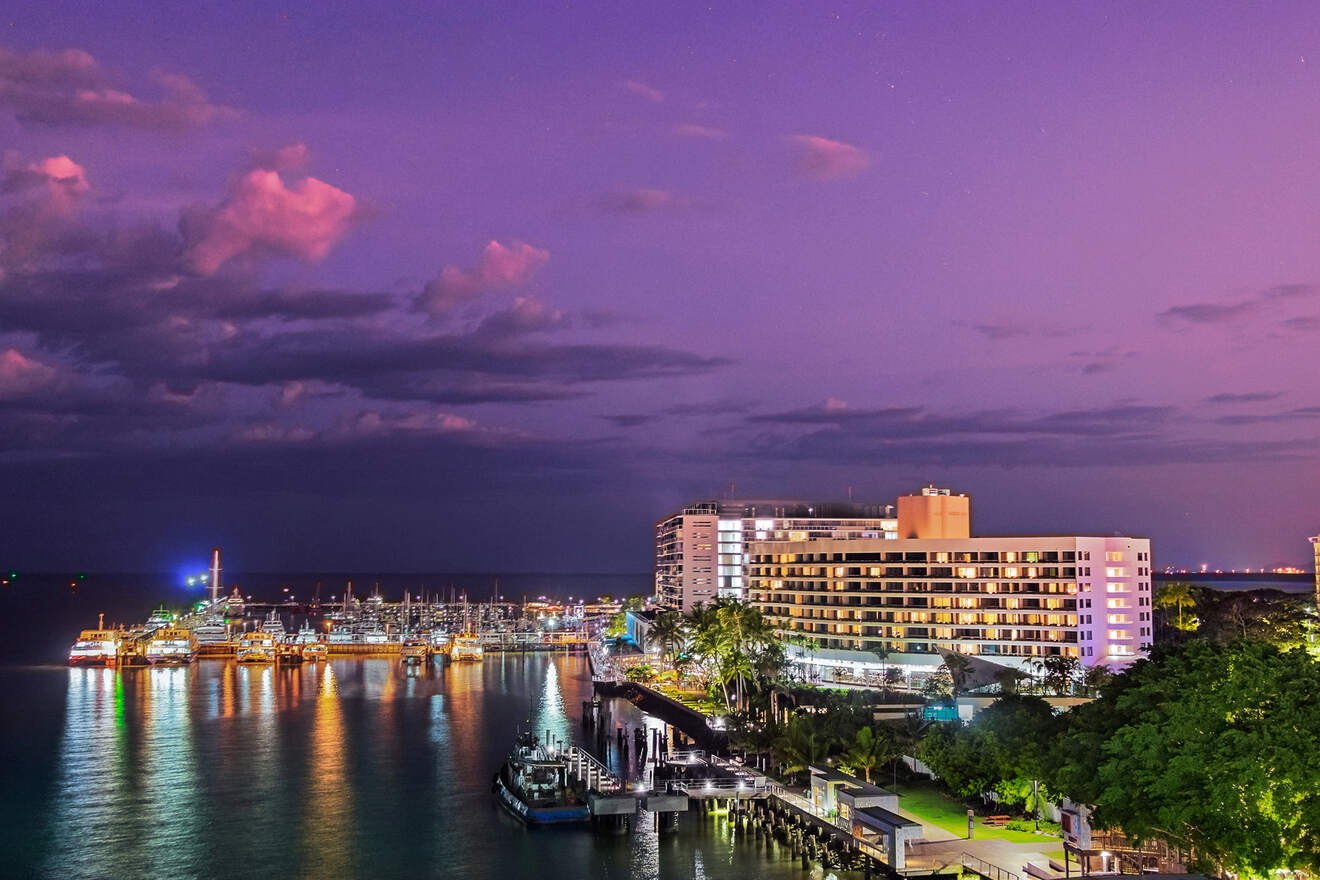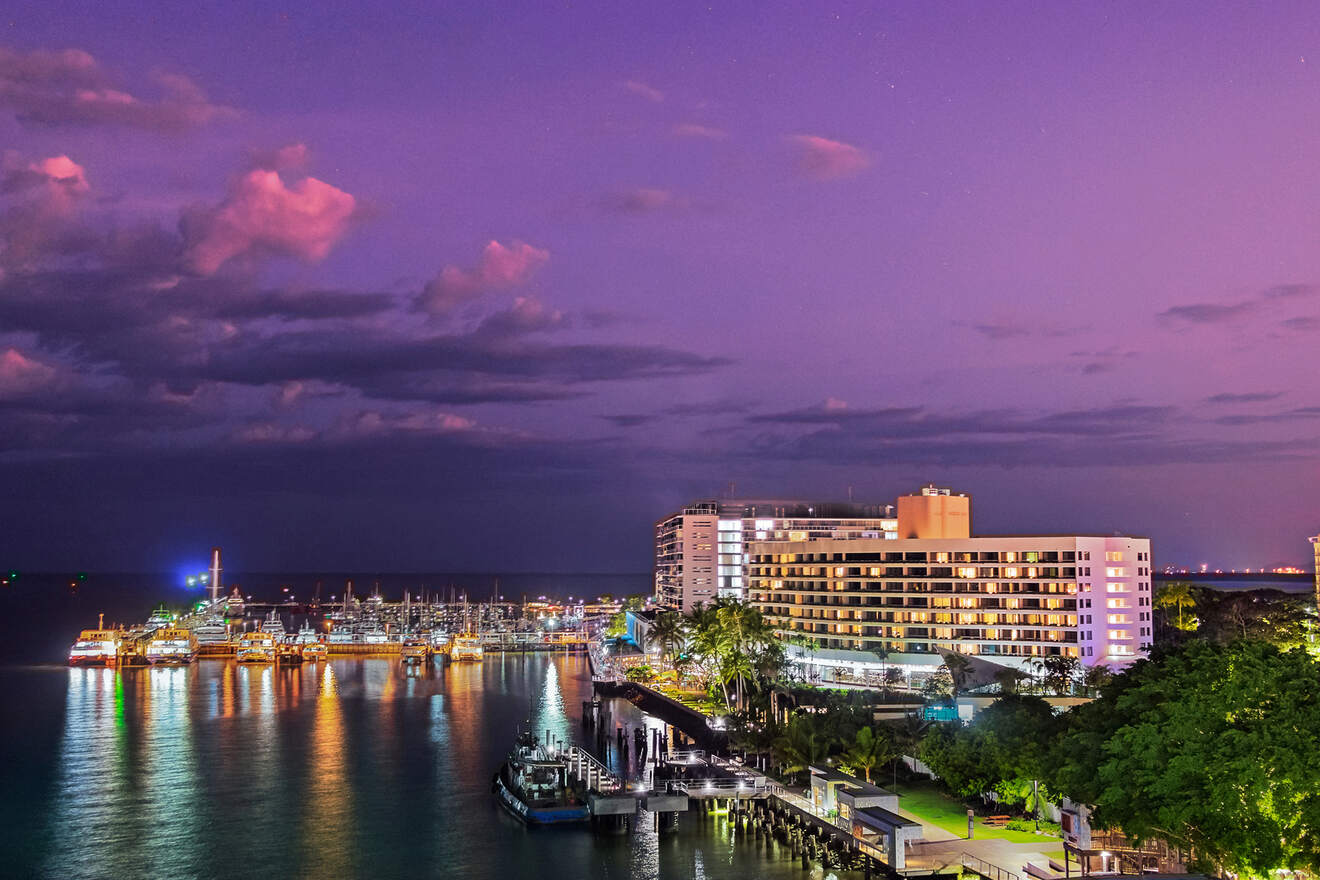 Congrats! You made it to the end of this extensive guide about where to stay in Cairns, located on the east coast of far north Queensland, also known as the Australian getaway for the Great Barrier Reef!
We have been through all the best areas and hotels in Cairns, including accommodation options for any budget and interest, so I'm sure no one will be let down.
But if you still don't know which accommodation is the best one for your holiday in Cairns, I cannot blame you: we went through soo many options! So check out my favorite 2 hotels, located near Cairns city center:
Shangri-La The Marina, Cairns – one of the best hotels to stay in Cairns city where some rooms enjoy ocean views!
Crystalbrook Bailey – the best hotel in central Cairns in terms of value for the price, offering a delicious breakfast every morning
I am sure this guide will help you find the perfect hotel for your travel needs, and I hope you enjoyed reading it as much as I did writing it.
If you have any questions for me or you want to give some extra tips, please do so in the comments below: I am looking forward to reading them all!
Enjoy your holiday!
Elena
---