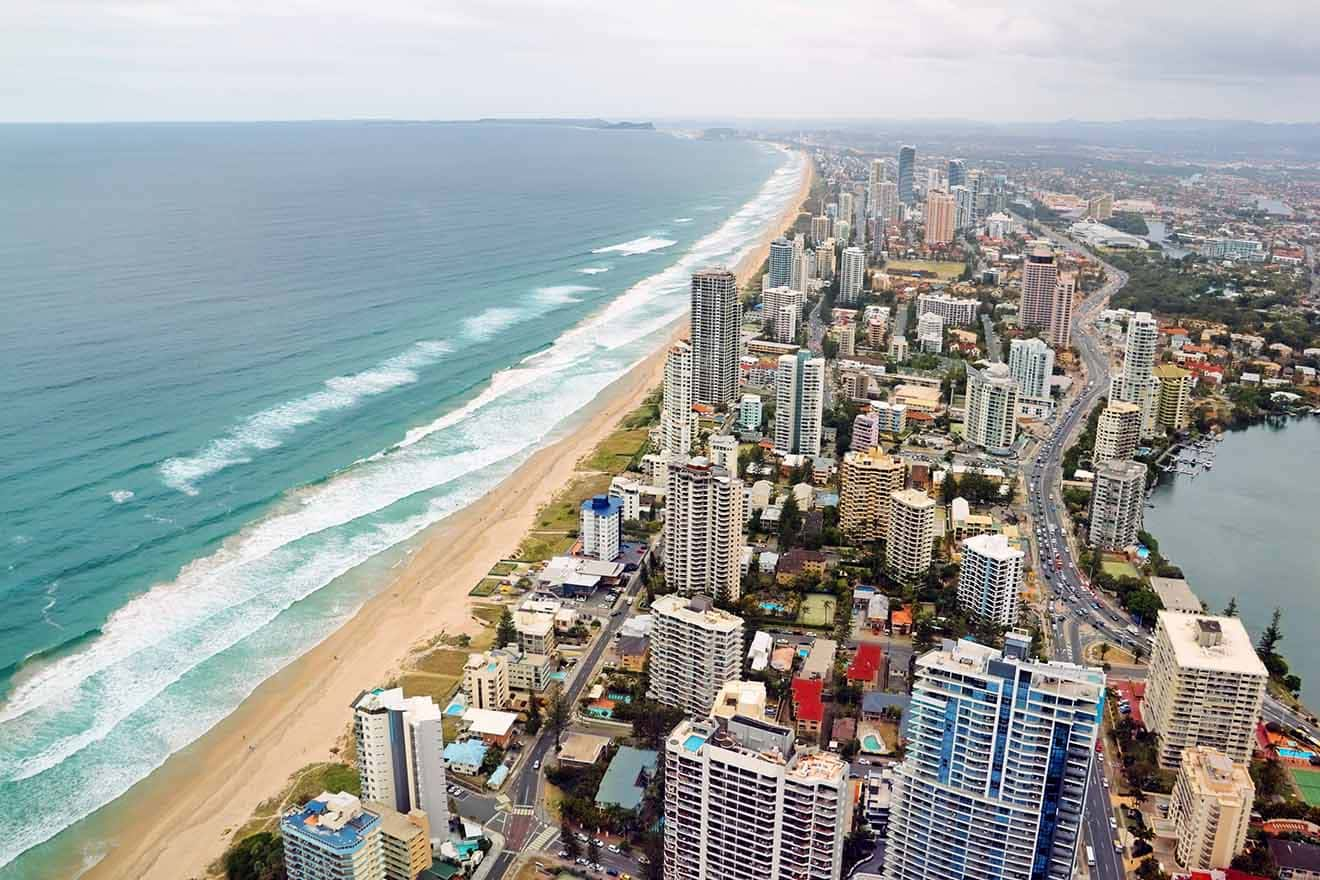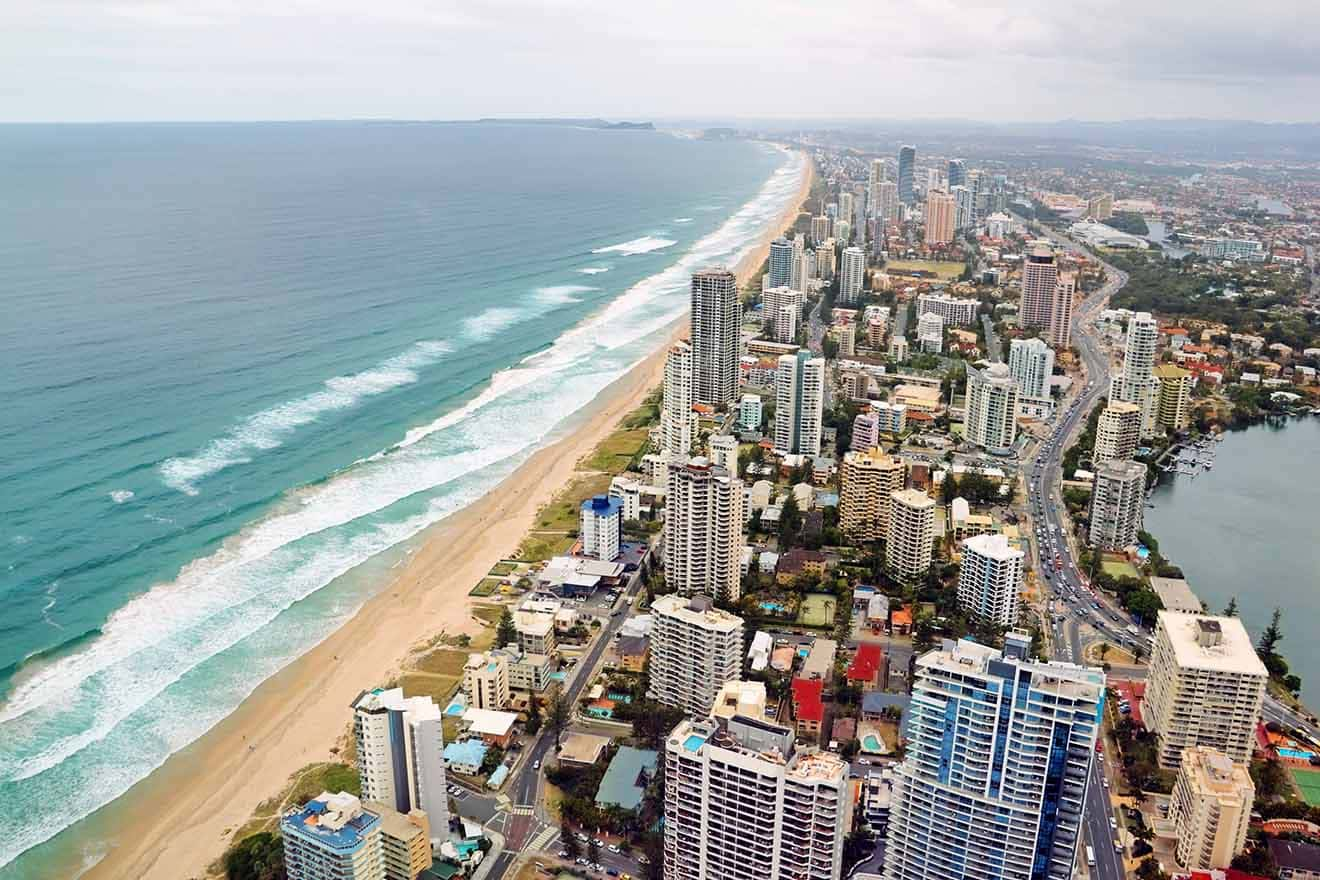 A mixture of white sandy beaches, and constant entertainment – think Australia's Gold Coast. One of the most popular travel destinations both for domestic and worldwide travelers, Queensland's glittering gem offers something for everybody's taste. In this article, I am going to give you an insight into the best neighborhoods of where to stay in Gold Coast as well as a couple of accommodation options (luxury hotels, budget-friendly apartments, bustling family hotels, and everything in between).
As the sixth-largest city in Australia, it is spread out along 70 km (44mi) of coastline with 81 unique suburbs and a variety of accommodation options, making it challenging for first-timers to choose the right stay. That's why I introduced my guide on where to stay in Gold Coast – with the purpose to help you find the best neighborhood to stay in based on your unique needs.
Australia's glitter strip with sunny beaches, award winning restaurants, and abundant nightlife welcomes visitors of all kinds to enjoy a memorable getaway (whether that be a romantic weekend, a girl's getaway, or a family holiday). So whether you are planning to sunbathe all day long, party all night long, or get back to nature, I will help you find the area in Gold Coast that best fits your travel wishes.
Let's jump into the best places to stay. I suggest booking in advance to make the most of special offers and find affordable flights that will save you some money.
Surfers Paradise – for nightlife
Broadbeach – for first-timers
Main beach/Southport – for theme parks
Burleigh – for couples
Currumbin – for nature lovers
Coolangatta – for families
If You are in a Hurry:
Here are some interesting accommodation options in and near Broadbeach. This is the most central location in Gold Coast with all the major attractions and hotels, so it should fit every type of traveler, especially those visiting for the first time.
1. Broadbeach – Where to stay for your first time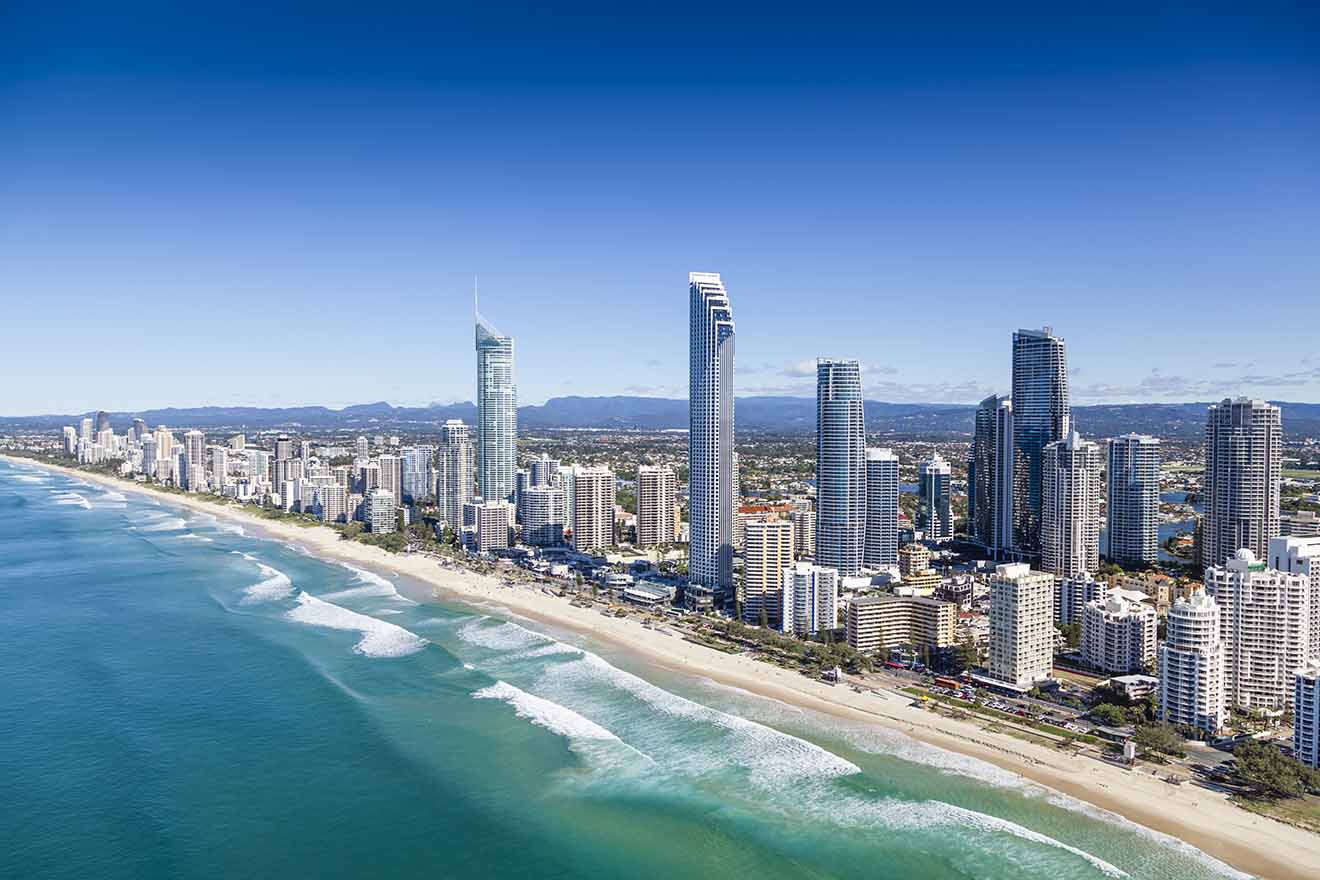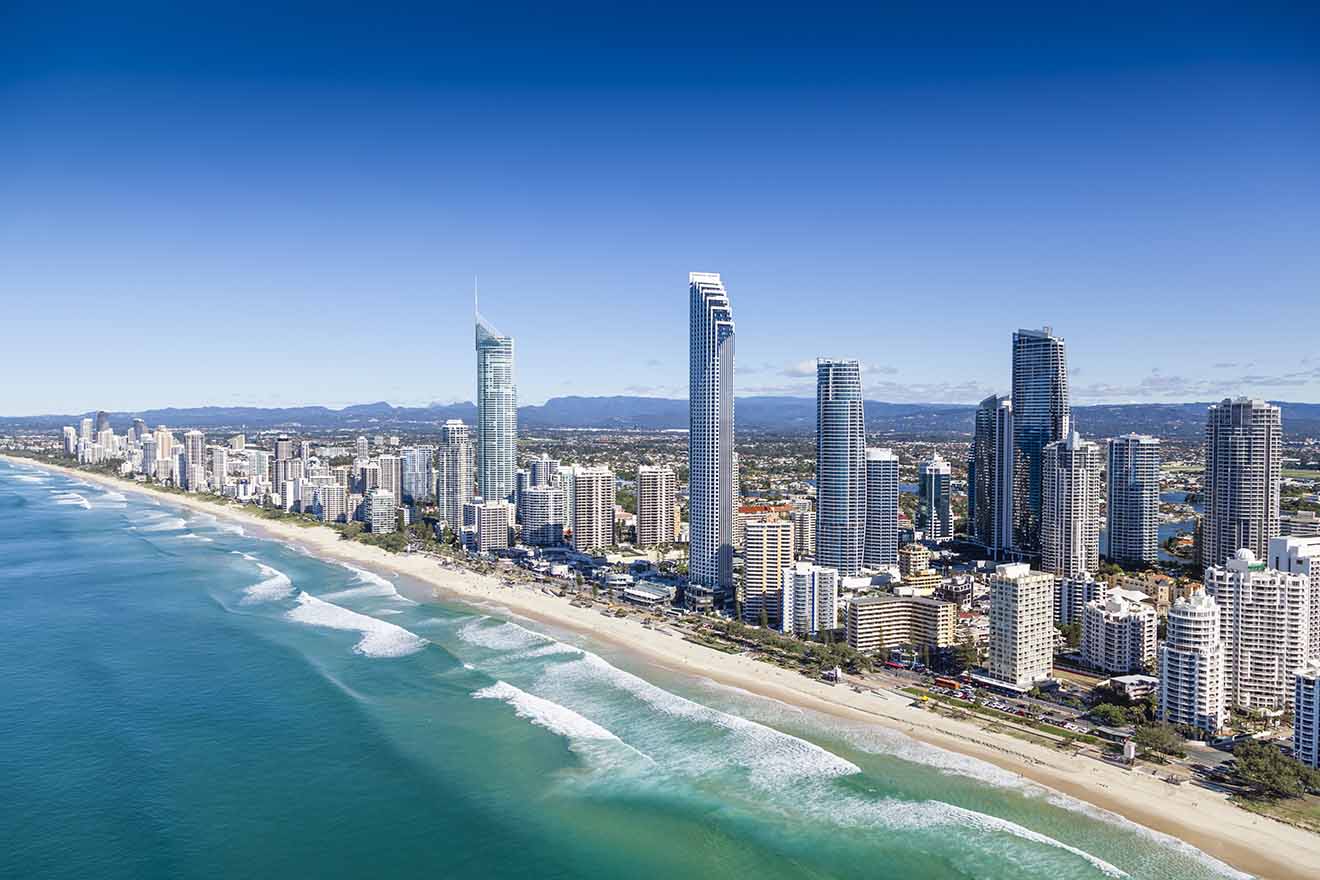 Home to Pacific Fair Shopping Centre and the Gold Coast Convention and Exhibition Centre, Gold Coast Broadbeach has become a well-known attraction to many international tourists. However, you will find a wide range of other activities and attractions, when you venture beyond that.
Situated in a very central location, just south of Surfers Paradise, Broadbeach offers a relaxed atmosphere at the beach where you can bask in the sunshine or indulge in a delicious meal. Moreover, with two large shopping centres, and many boutiques and local stores, you can shop until you drop!
Broadbeach offers the best of both worlds – the area is full of both hotels and residences, and as I mentioned, many shops where you can buy handmade arts and crafts. The walking distance between Surfers Paradise and Broadbeach is about 30 minutes.
Broadbeach is much quieter than Surfers Paradise, giving you the opportunity to relax while remaining close to all the action. The little sister of Surfers Paradise still has much going on, so you will never feel bored.
Top things to do in Broadbeach
2. Surfers Paradise – Where to stay for the nightlife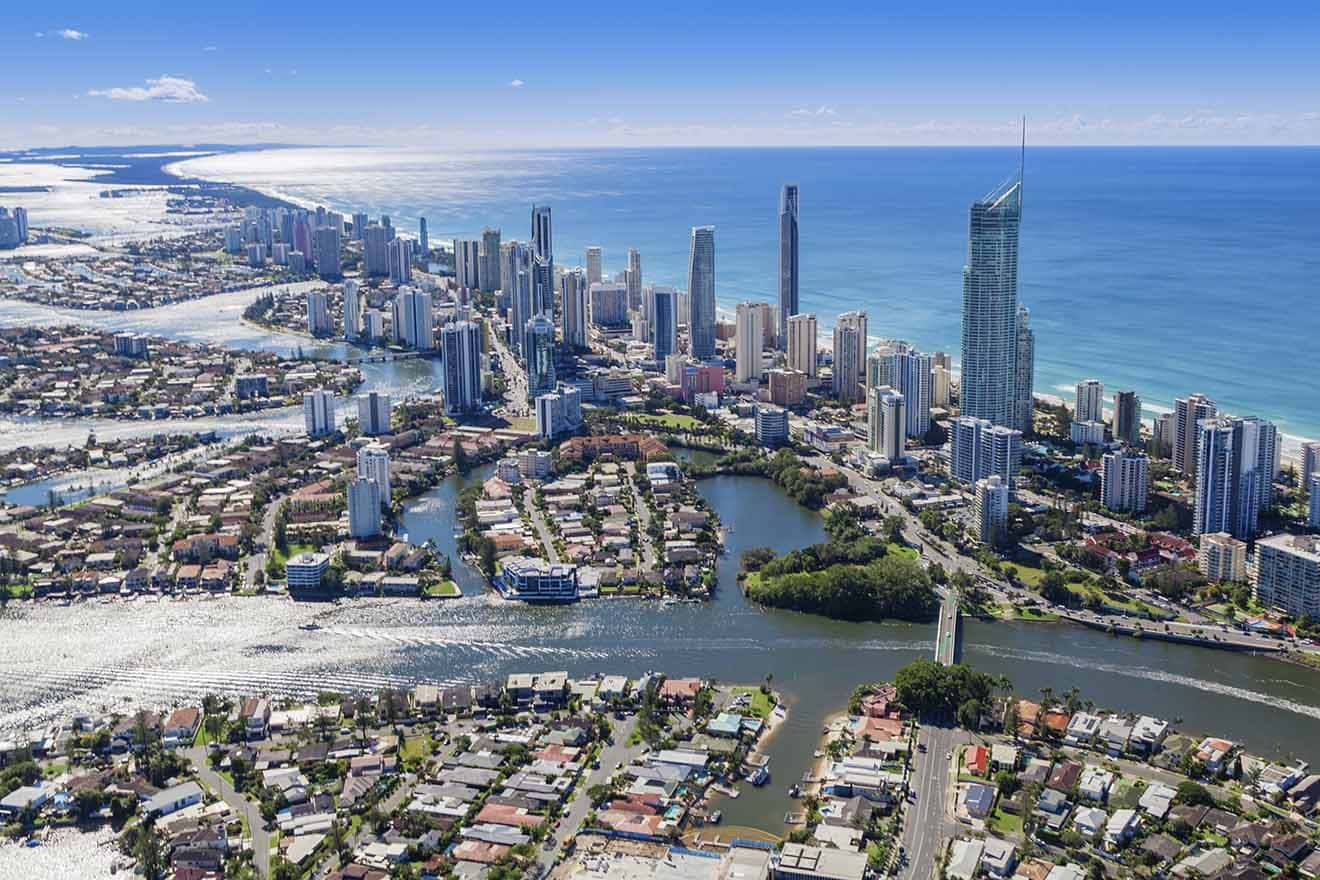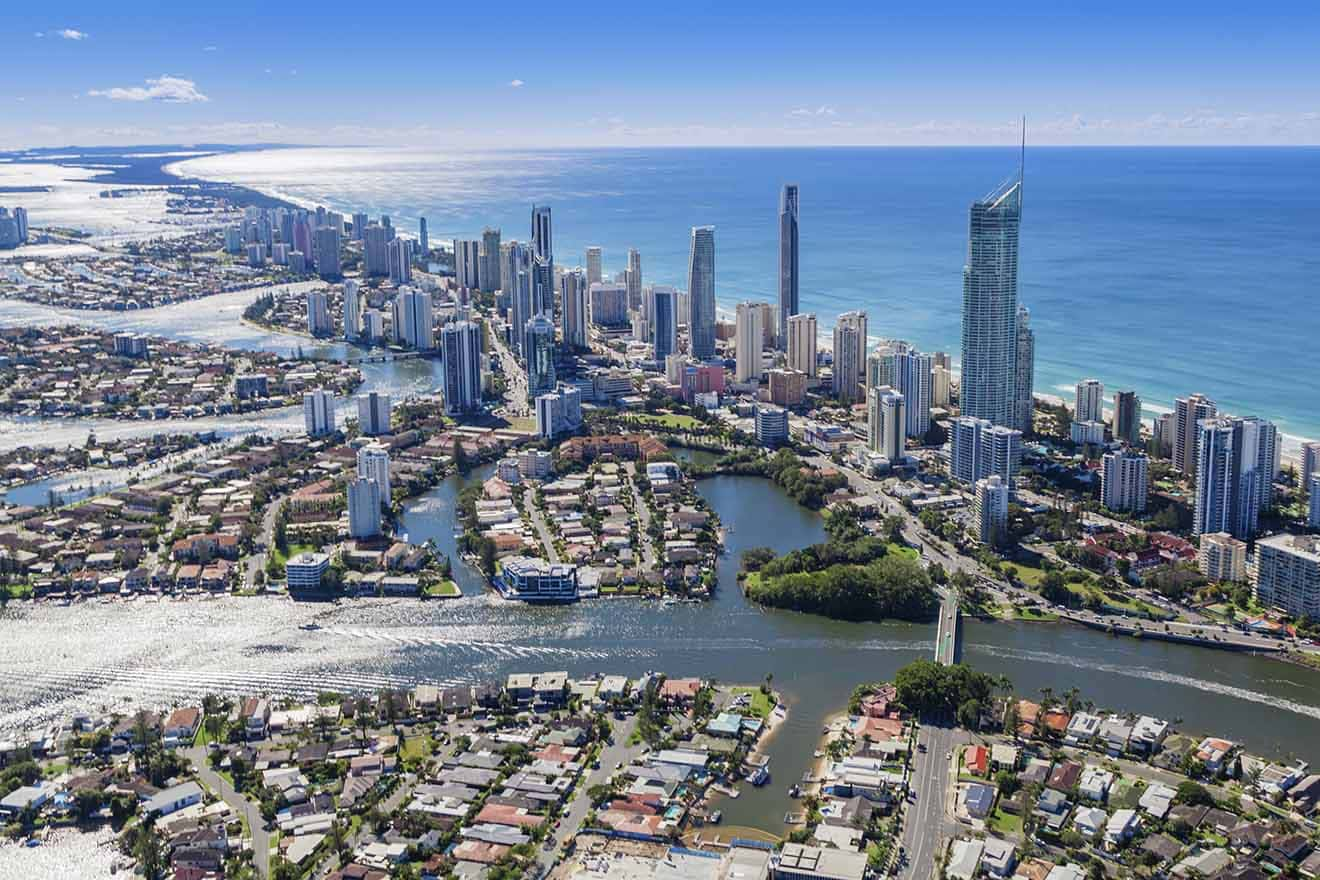 Let's start with Gold Coast Surfers Paradise. Right in the heart of the action, you will find one of the liveliest neighborhoods in the region. And without a doubt, one of the most popular neighborhoods with excellent bike and footpaths and ice cream shops along the way.
Australian, as well as international travelers, visit Gold Coast Surfers Paradise because of its long and stunning beachline, variety of restaurants, and crowds of happy people. Moreover, this is the prime zone for public transport, making it easy to wander around.
However, not only does Surfers Paradise has the best beaches but it also offers a wide selection of nightclubs and party venues. In fact, the famous Cavill Avenue is the heart of all entertainment and activity. Whether you want to enjoy a few drinks or dance all night long, this is the place to be. Ah, and as you might have guessed by its name, it's a great place to do some surfing as well. 🙂
Hotels in Surfers Paradise are close to all the action, and the prices may be a bit higher, however, I will cover something to suit everyone's budget.
Top things to do in Surfers Paradise
3. Main Beach/Southport – Where to stay for theme parks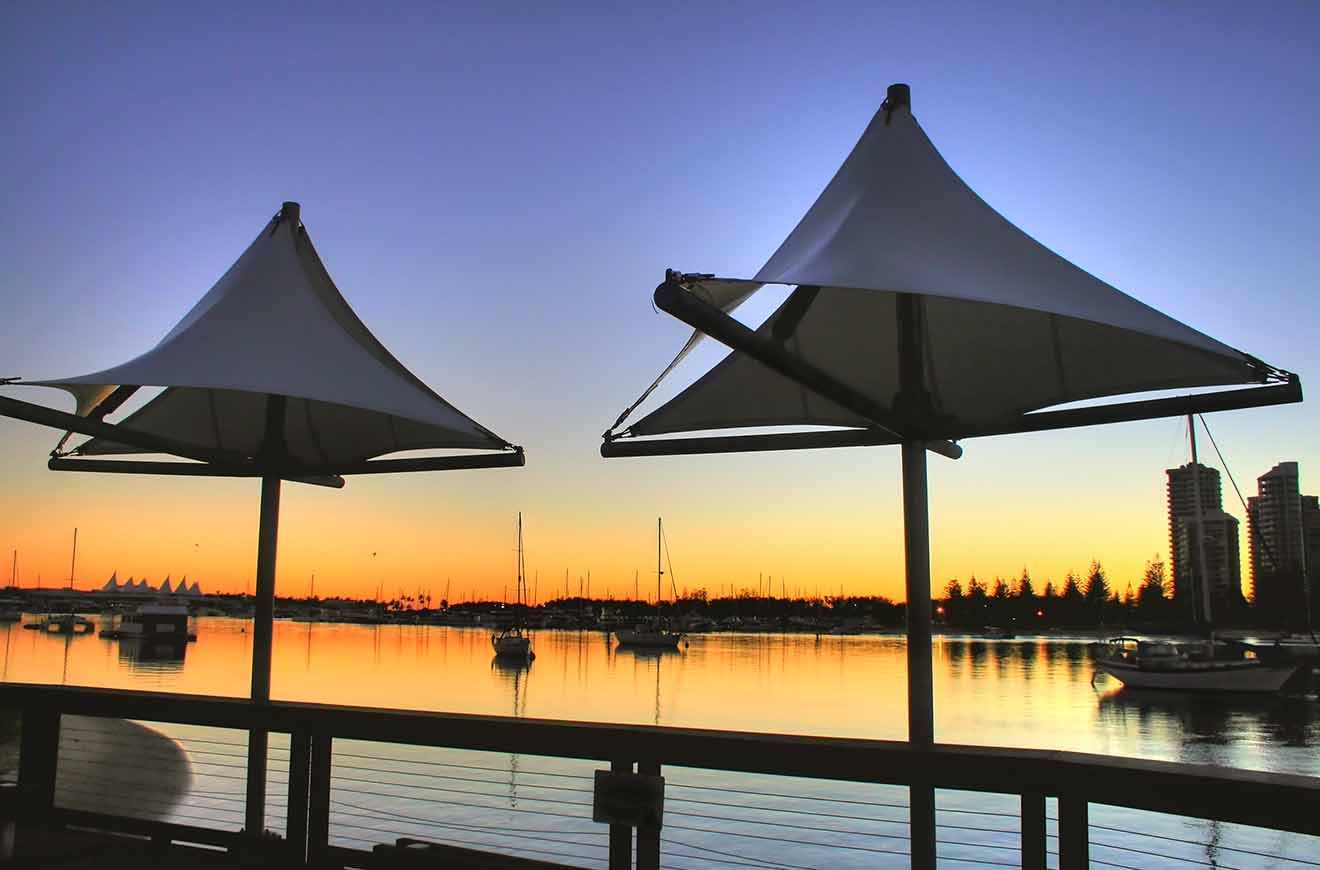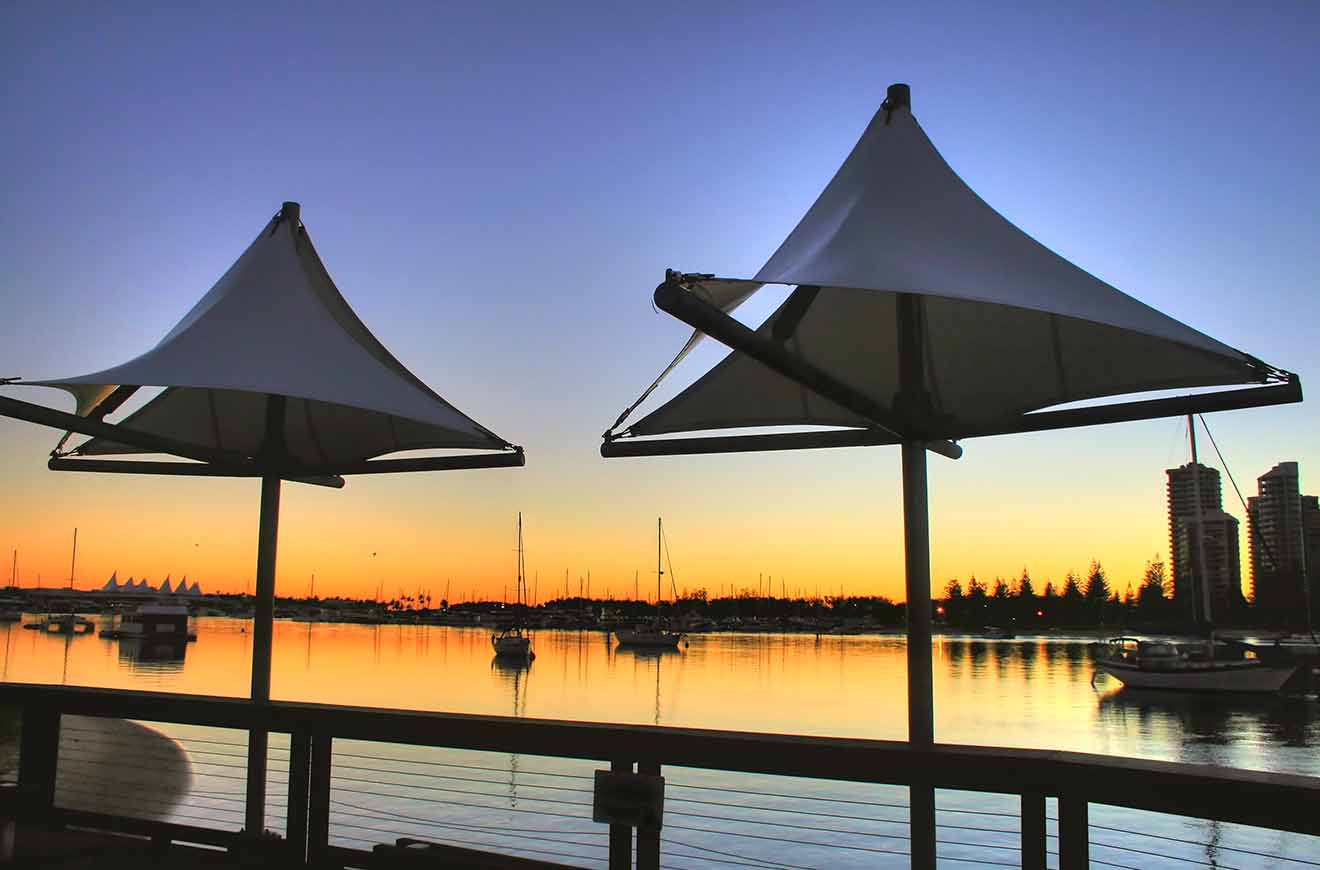 For luxury travelers, I highly recommend Main Beach, located at the northern end of the Gold Coast. You will find many sophisticated boutique hotels in Main Beach as well as a shopping centre whenever you feel like shopping.
Just a few minutes north of Surfers Paradise, Main Beach offers easy access to the city's main theme parks such as the Sea World, as well as the BIG4 Gold Coast Holiday Park. Besides Sea World, this area offers a few other options to stay for theme parks and have fun for a week, including Helensvale and Coomera that are about 25km(15mi) from Surfers Paradise. Gold Coast is very famous for its theme parks – going to a theme park is fun at every age and Gold Coast made sure to provide fun memories for everyone!
The Main Beach or Southport was once a central business district, but now it has transformed into a laid back, easy-going neighborhood where you can chat with locals, grab a nice meal or just enjoy marvelous sunrise. Moreover, you can also find a wide selection of affordable and mid-range accommodations. I picked something for every type of traveler on every type of budget.
Top things to do in Main Beach/Southport
Indulge in a shopping therapy at Australia Fair Shopping Centre
Take a boat ride or hire an inexpensive yacht at Southport
Grab a swimsuit and splash in the nearby rock pools
Discover the amazing native plants at Anzac Park
While away the mornings with breakfast at Cafe Catalina
Enjoy a family picnic at Broadwater Parklands
4. Burleigh – Where to stay for couples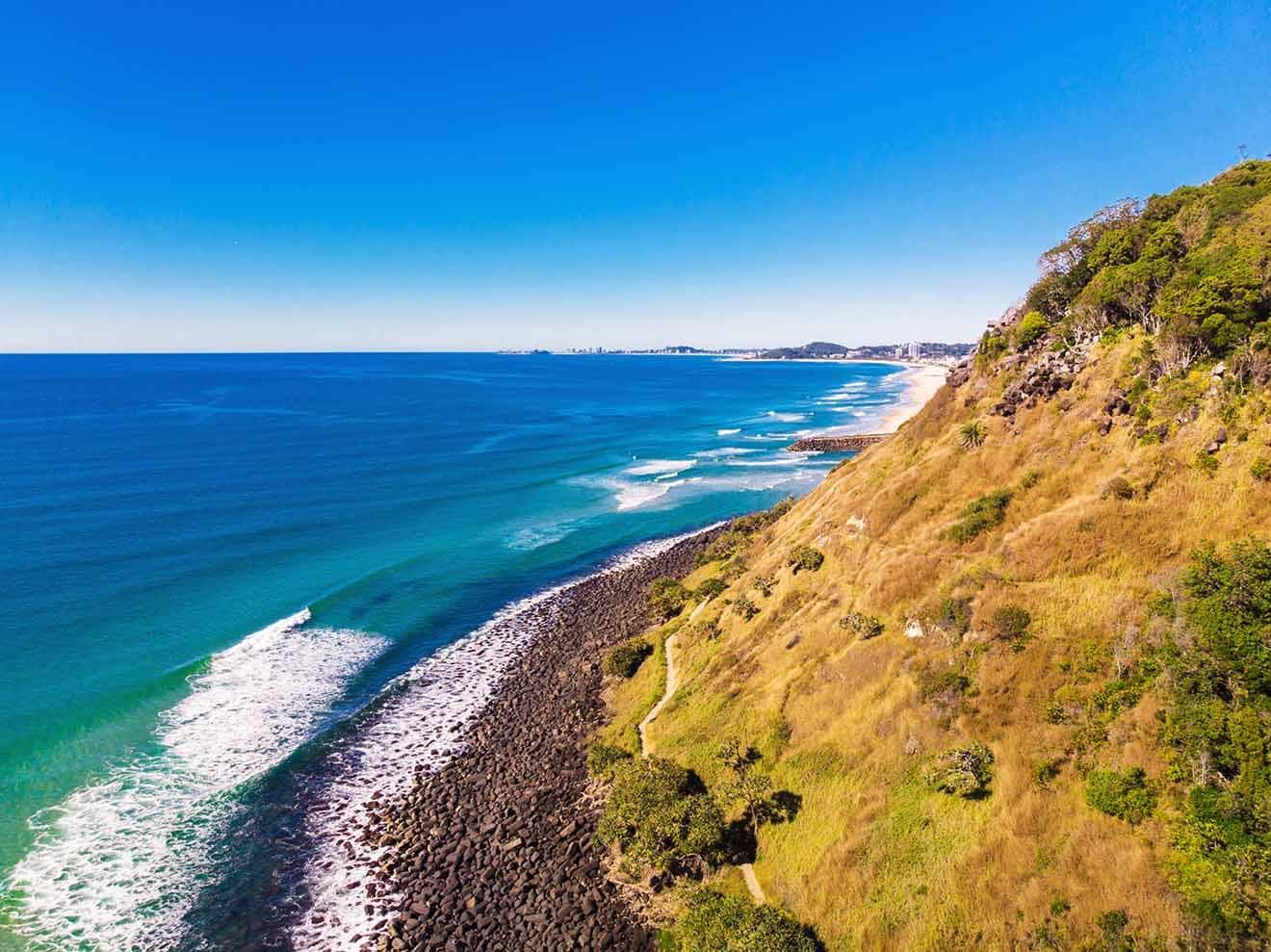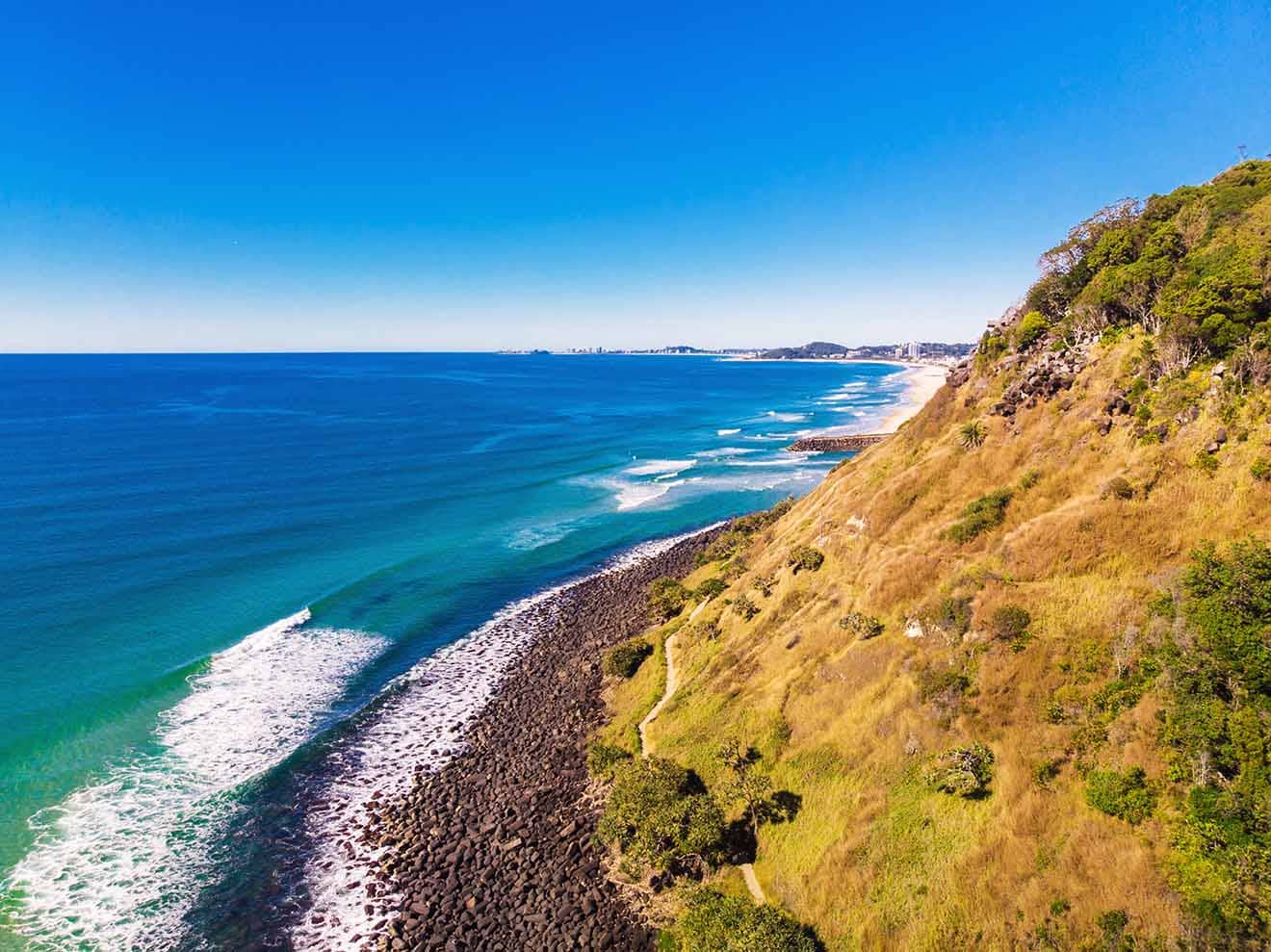 When I think of a beautiful area along the coast with plenty of great things to do, I cannot ignore Burleigh. Burleigh is home to one of the most popular sunset points, so the best thing to do here is to admire the gorgeous views from Burleigh Heads Beach and Burleigh Head National Park. It also has some of the most charming cafes, and vegetarian and vegan eateries along the whole Gold Coast which makes it my all-time favorite spot for coffee or food hopping.
Located to the south of Surfers Paradise, the break offers great surfing conditions and that's why many surfing events take place here. The best thing about staying in Burleigh Heads is that it is close to everything – you can take a tram and reach Surfers Paradise in just 15 minutes.
NOTE: There are always tons of people around the parks and beaches, so you will have to share!
Top things to do in Burleigh Heads
Head to the Village Markets to explore high street brands
Pick up local souvenirs for your loved ones at the Burleigh Markets
Enjoy a romantic dining experience at the breathtaking Rick Shores
Treat yourself with a refreshing dip at the Bathhouse by Greenhouse
Relive your youth with a boisterous night at Lockwood Bar
Hop on the rooftop at Burleigh Pavillon to enjoy epic ocean views
5. Currumbin – Where to stay for nature lovers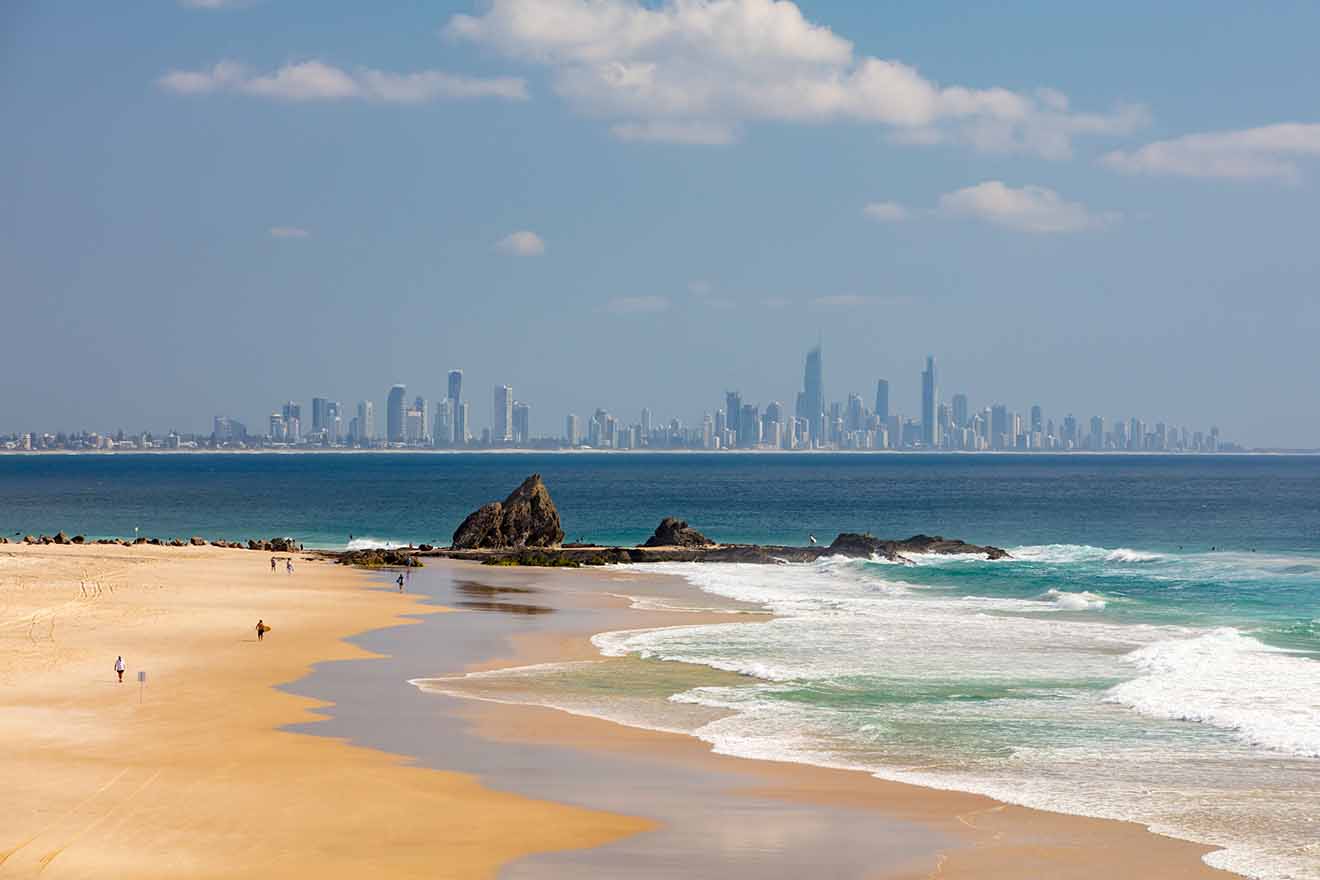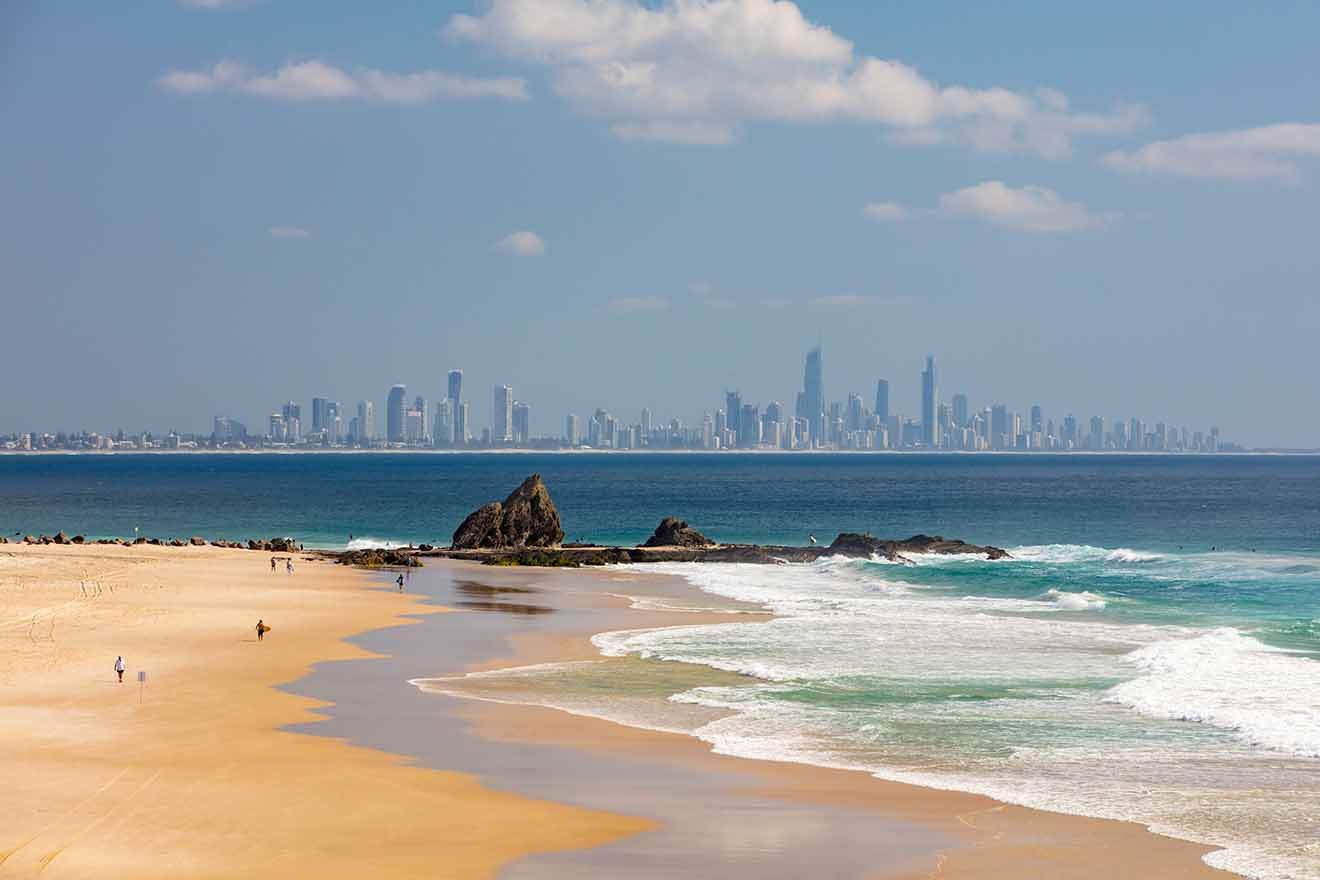 Set south of bustling Surfers Paradise, Currumbin is a small neighborhood that is ideal for families because of its amazing nature and animal attractions. There are plenty of exciting things to see here, such as the Currumbin Wildlife Sanctuary and the Cougal Cascades. Moreover, this area is rich with sheltered swim spots and surfing beaches.
Whether you are looking to play in the sand with your kids or learn about Australia's diverse wildlife, Currumbin is the place to book your stay in Gold Coast. I suggest heading to the coast to try out some scuba diving and snorkeling – it is definitely a fantastic area for ocean lovers!
Currumbin is a peaceful neighborhood with easy access to the city centre which makes it an ideal choice for all of you who prefer both natural attractions and exciting activities.
Top things to do in Currumbin
6. Coolangatta – Where to stay for Families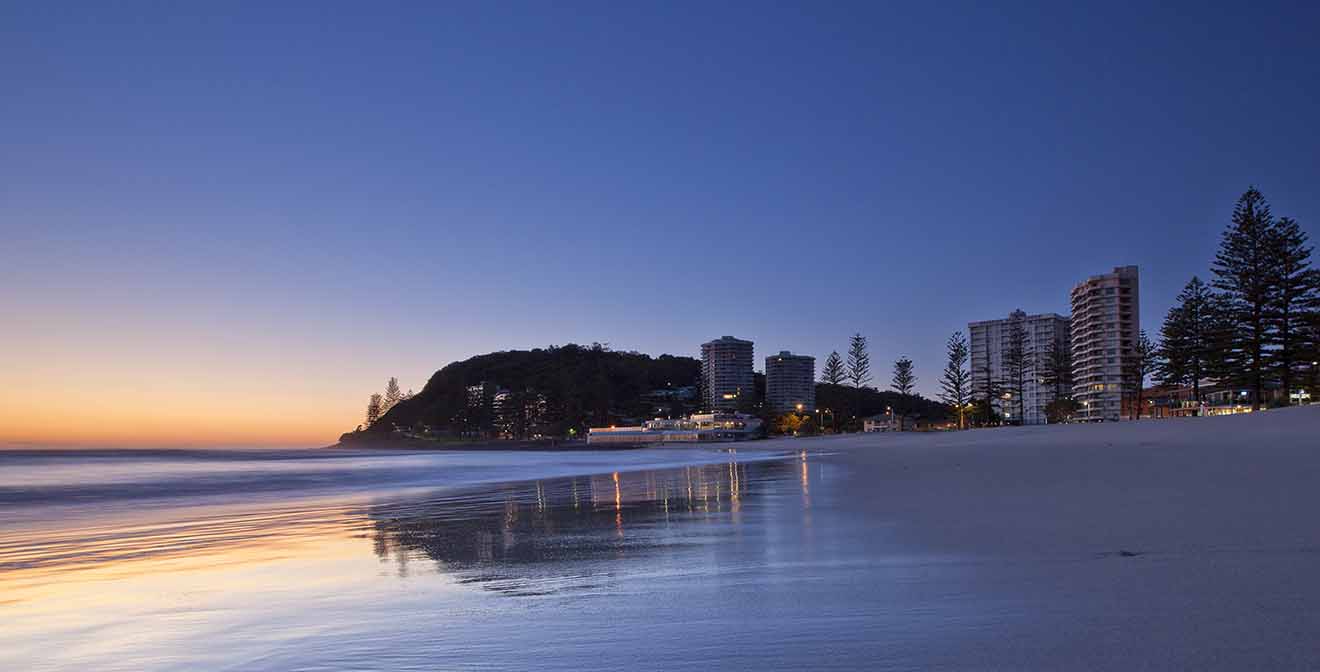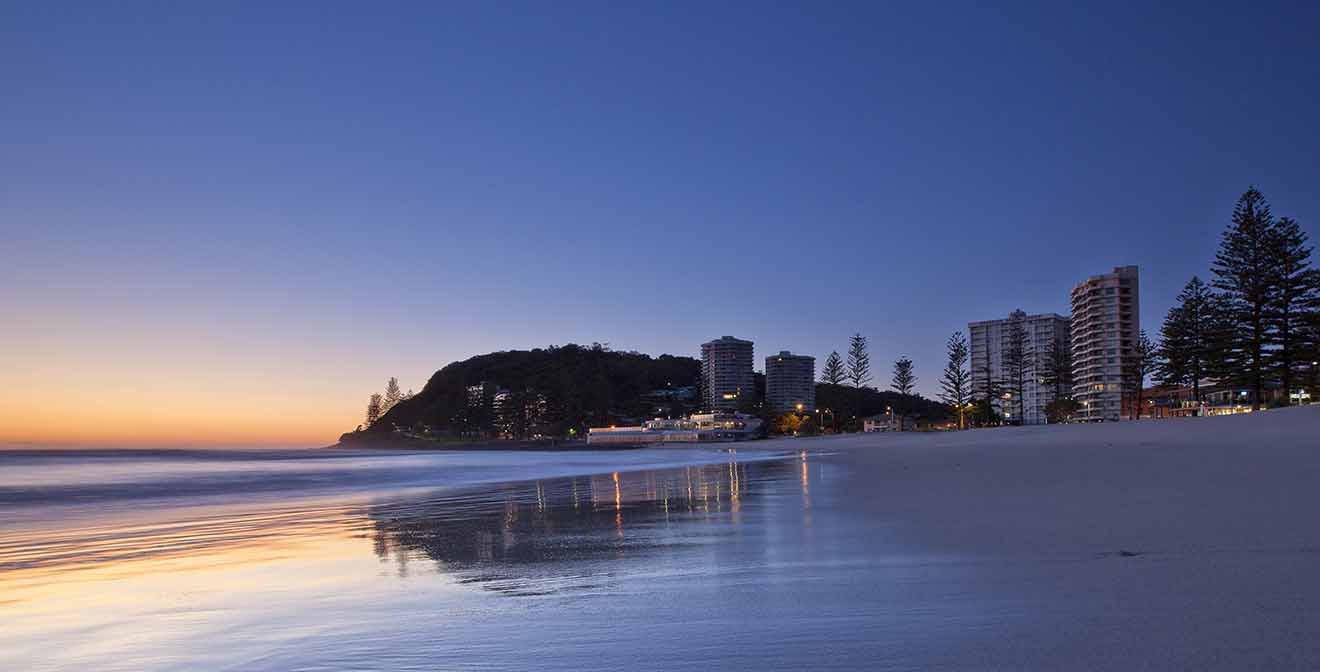 A little bit further out of the city centre, Coolangatta or 'the sleepy border town' (as locals love to call it) offers a peaceful environment for families that want to chill and relax away from the crowds and parties. It's very close to the airport and has easy access to the entire region by tram.
If you want to explore nature along Australia's coast, this is the neighborhood to book your stay in Gold Coast. With plenty of private beaches and exciting rock formations, you will have a lot to discover!
Coolangatta is also a great neighborhood to find affordable Gold Coast accommodation far away from the weekend crowds. The further South you stay, the more peaceful it is. There are fewer restaurants and shops than in other areas, but enough for you to choose from.
Known for its remote, hidden swimming spots, Coolangatta makes one of the most family-friendly settings on the Gold Coast. For outdoor enthusiasts, I recommend exploring the beautiful parks and walking trails.
Top Things to do in Coolangatta
BONUS 1: Gold Coast or Sunshine Coast: Where should I stay?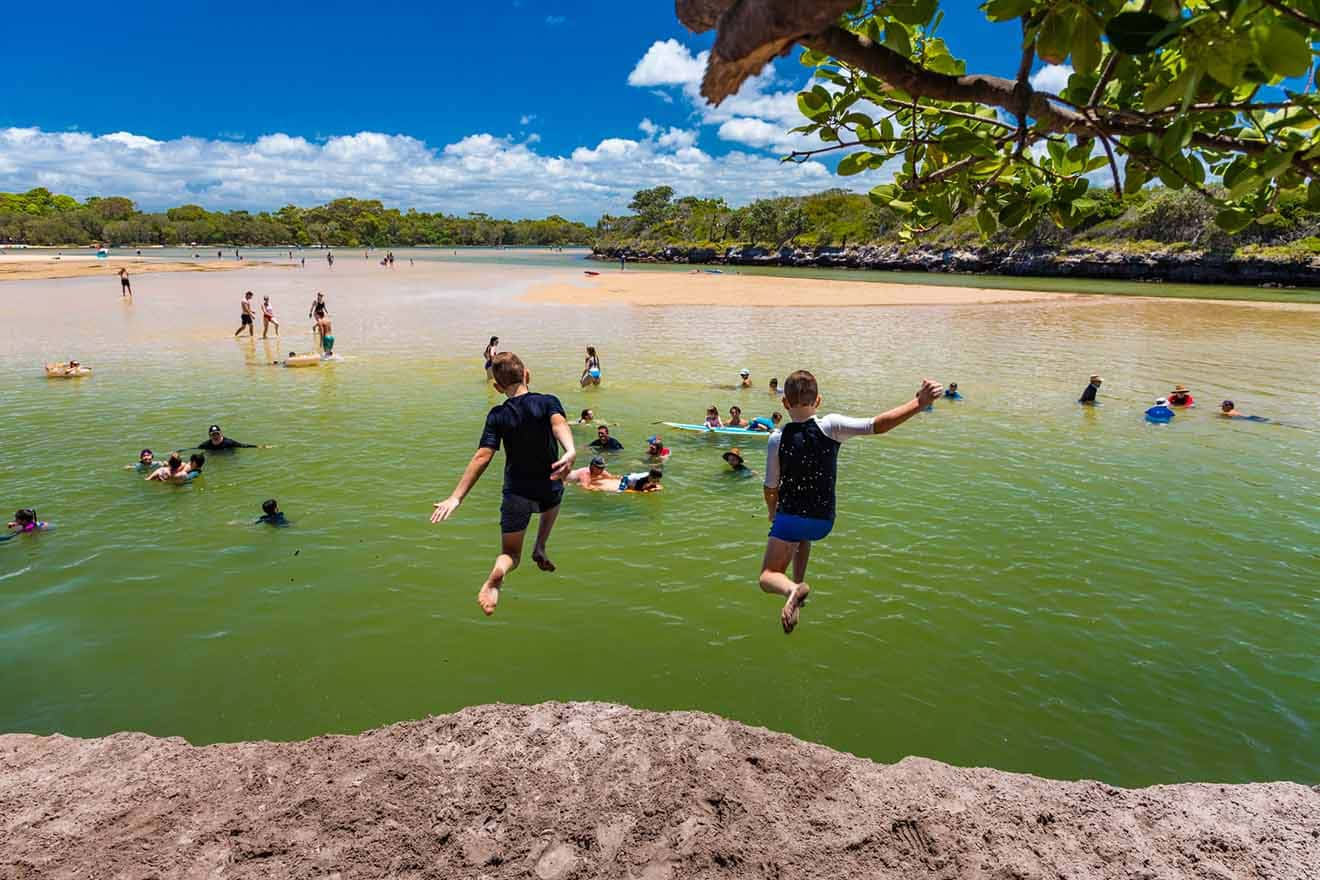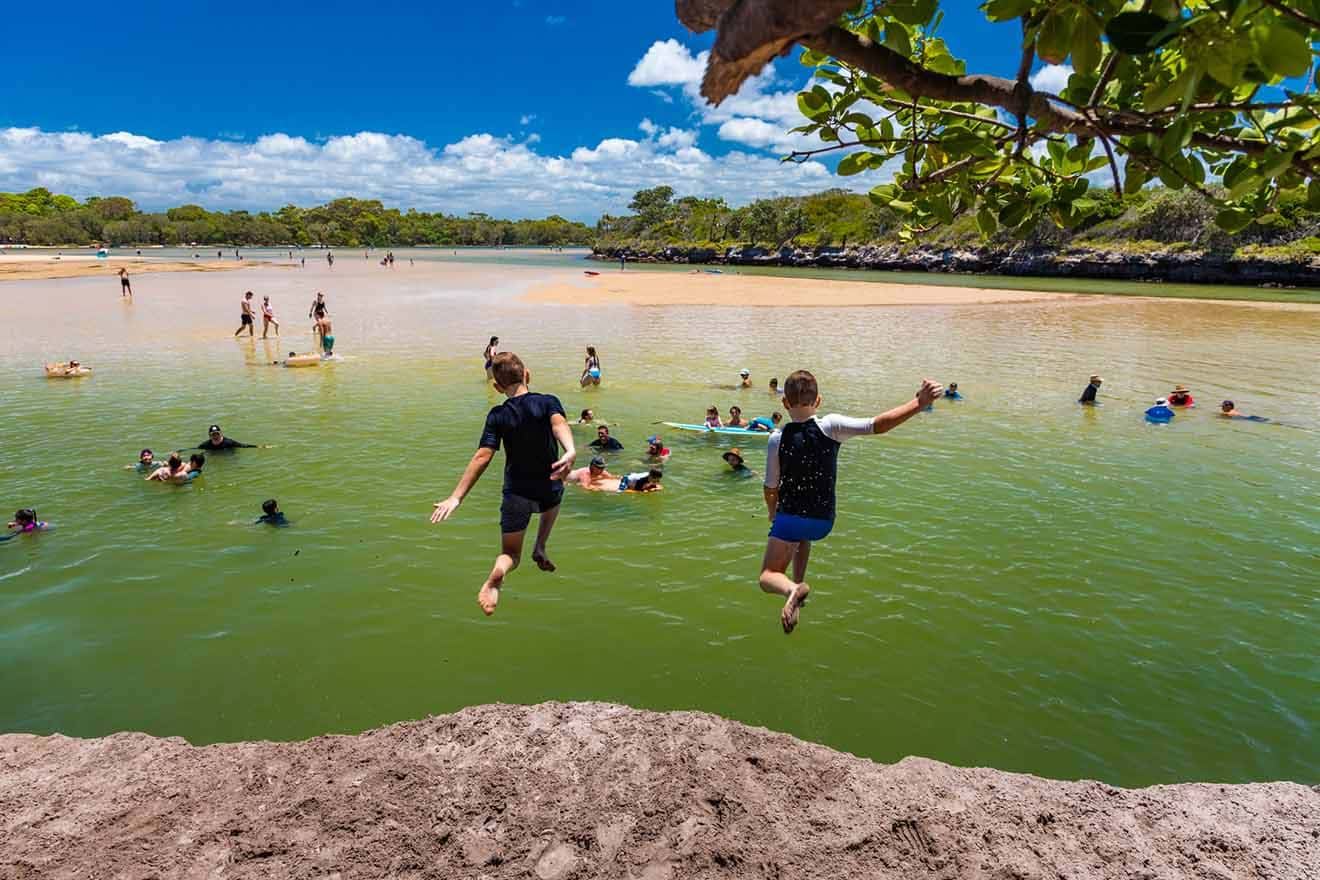 Gold Coast or Sunshine Coast? This question often arises among tourists who are seeking a beach-based getaway on the sunny coast of Australia. These popular travel destinations make the perfect example of a typical Australian holiday, however, if you are still wondering which one to choose, let me break it down for you.
It's no surprise that this can be a tough decision as both places are popular for their beautiful beaches, sunny skies, and reasonably-priced accommodations. So what makes them different?
Which destination is a better choice really depends on your individual situation and what is important to you as a traveler. For example, if you are a nature lover, I'd recommend staying at the Sunshine Coast because it has plenty of natural highlights that offer many natural experiences such as Kondalilla National Park. Another major advantage for visitors to the Sunshine Coast is the opportunity to take a trip to Fraser Island – the world's largest sand island.
However, if you want to explore the city's party culture and nightclub districts, the Gold Coast makes a better choice. Moreover, despite its adult-oriented reputation, the Gold Coast attracts families with kids of all ages with its enjoyable attractions. This area also has a casino that offers gambling opportunities for those who want to try their luck.
BONUS 2: The Best Romantic Hotels to stay in Gold Coast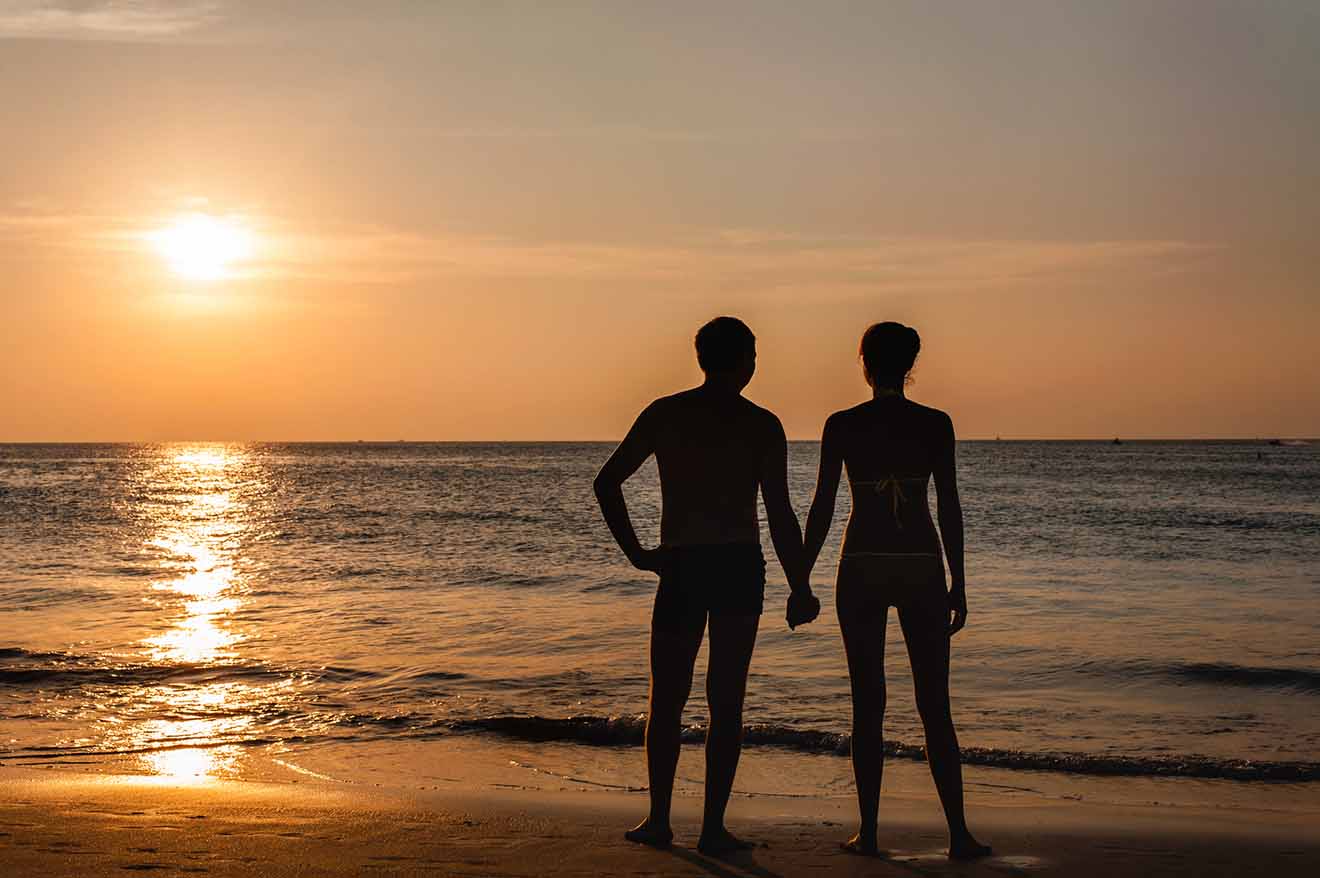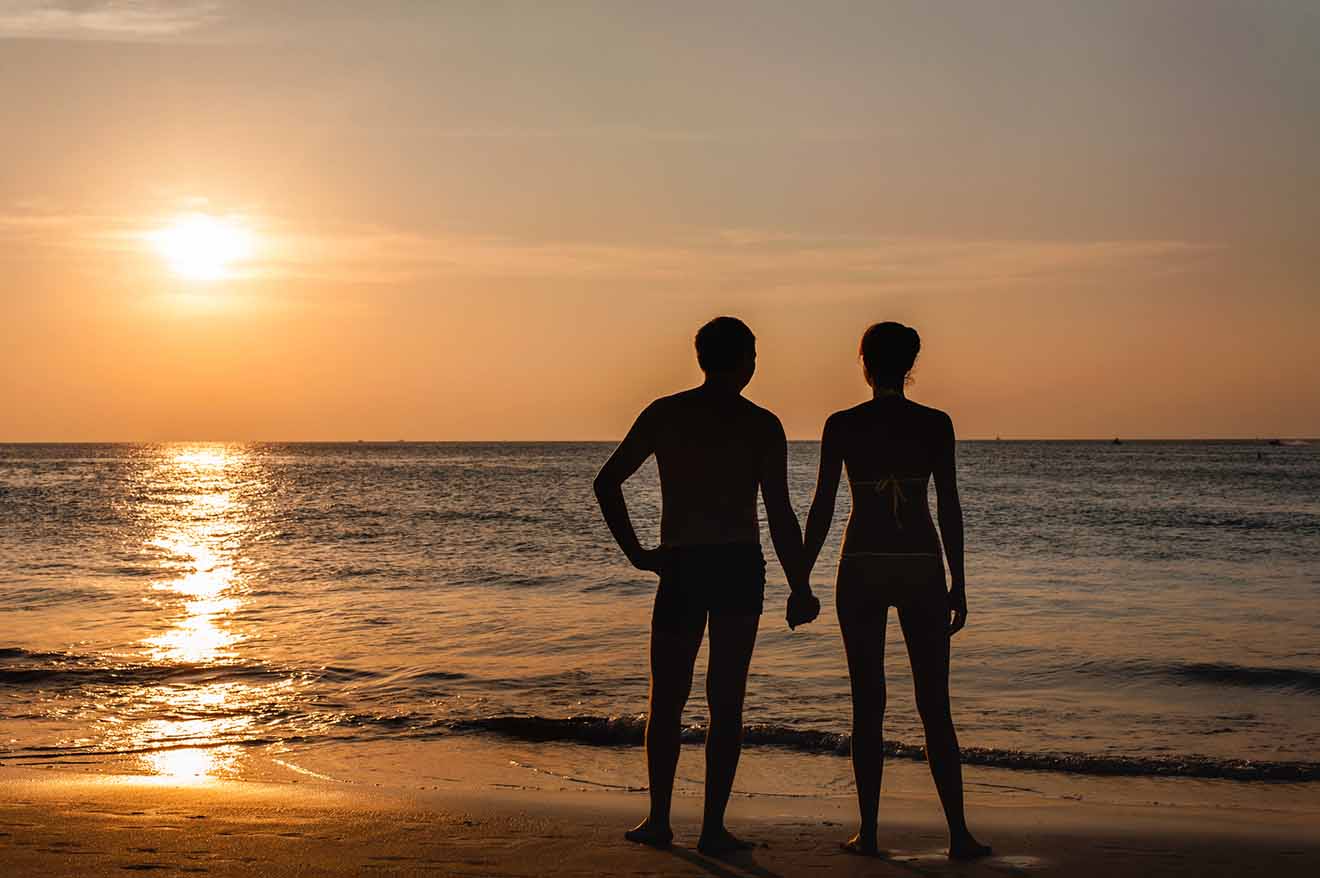 Is your anniversary coming soon? Or perhaps you're just looking to spend some quality time alone away from the busy everyday life? Oh, or is it time for that special honeymoon? Whatever the reason is, I am sure you will have an unforgettable stay at one of these romantic hotels in Gold Coast. And you won't be even breaking the bank, as they have some pretty good deals!
The Gold Coast isn't just for families and partiers but is also ideal for a couples retreat.
With an abundance of lush forest, shining shores, and secluded beaches, it makes the perfect spot to reignite your passions and spend intimate moments with your loved one.
From cozy nights under starry skies in award winning restaurants to pampering mornings spent in a superior spa, these Gold Coast hotels will seduce you on your next romantic getaway in Gold Coast.
Conclusion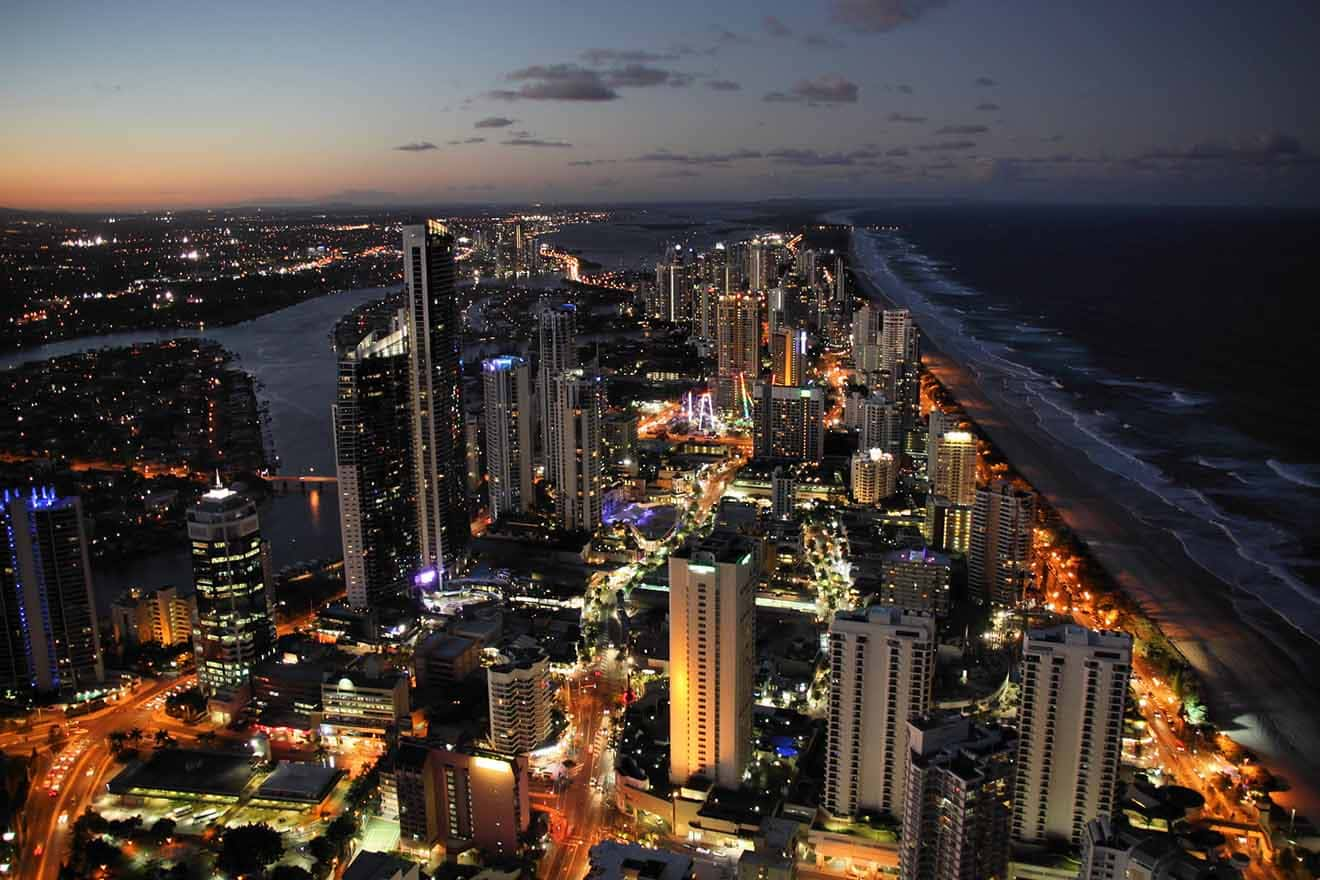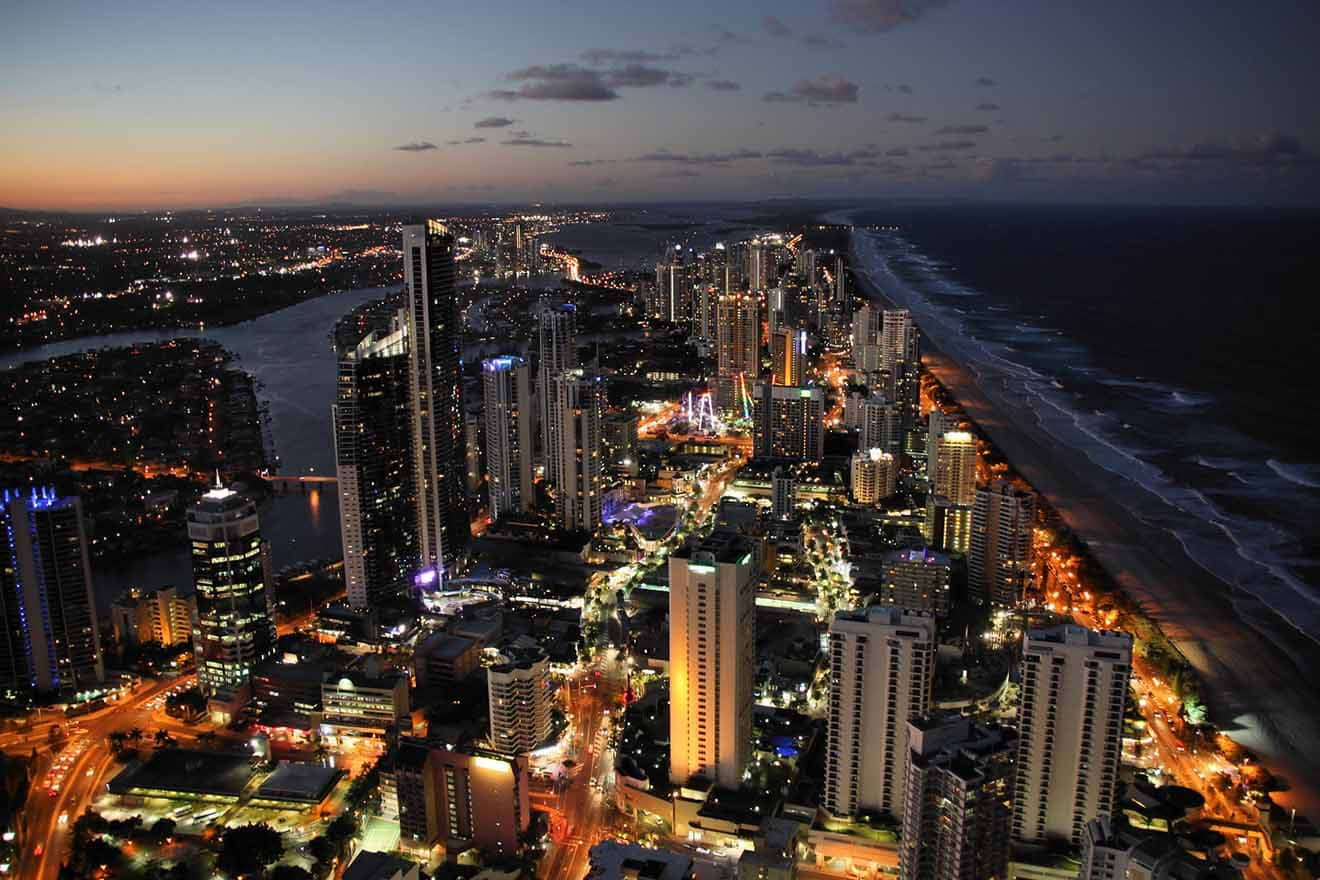 There you have my complete guide on where to stay on the Gold Coast. I covered accommodations to fit every type of traveler, so I am sure you will find something to satisfy your travel wishes.
If you want to stay close to shopping centres, restaurants, cafes and even nightclubs I recommend The Star Grand at The Star Gold Coast located in the heart of Broadbeach, because of its excellent central location. Moreover, this elegant and entertaining property offers many leisure activities and a 24-hour casino.
However, if you prefer somewhere quiet, I would say you should book your stay at The Pink Hotel Coolangatta, which is right next to the beach but a bit further from the hustle of the city. The rooms are absolutely exceptional, designed in a funky style, making your holiday even more enjoyable.
Enjoy your trip and please leave a comment below if you have any questions 🙂
Happy travels,
Aleksandra