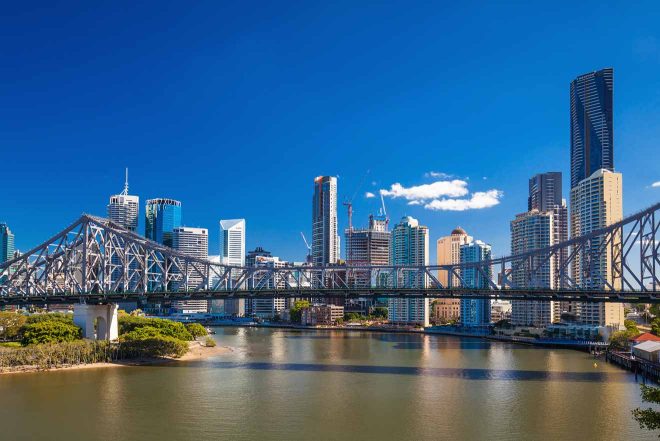 Brisbane, the capital of Queensland, is one of Australia's greatest secrets. Many tourists skip it by heading to Sydney or Melbourne which, in my opinion, is a huge mistake!
I am proud to say that I lived in Brisbane city for over two years and it is such a dear place to me, that I would like everyone to love it as much as I do! This is why I have decided to write this article, as I consider myself an (almost) local!
But now, you must be wondering where to stay in Brisbane for the perfect stay, right? In the list below, you will find the best hotels as well as apartments because, as you are going to see, Australians love that type of accommodation!
The capital of the Australian sunshine region makes for a perfect base for day trips such as the Gold Coast, Byron Bay or Fraser Island. You can escape to the beach, the rainforest or the mountain, which are literally one hour away from Brisbane.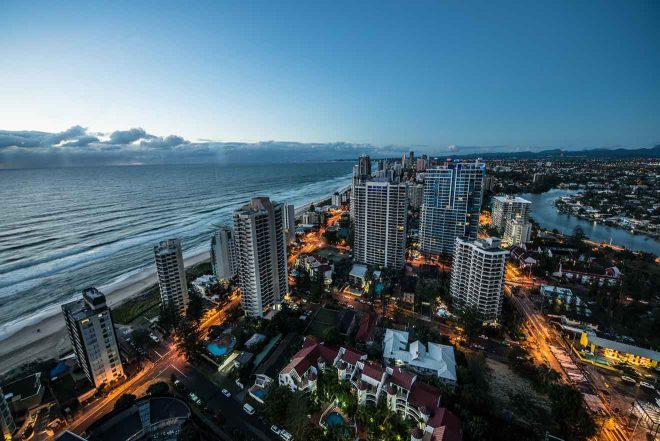 PRO TIP: Do not get too comfortable because this part of the country is ever-growing, so Brisbane hotels sell out fast! That's why you should book your Brisbane hotel deals ASAP, I don't want you to look for Gold Coast accommodation instead! 😉
So without further ado, let's get straight into it! Here is my hand-picked list of the best accommodations in Brisbane, Australia, all of them have great reviews and are located in a good area:
Best Hotels in Brisbane, Australia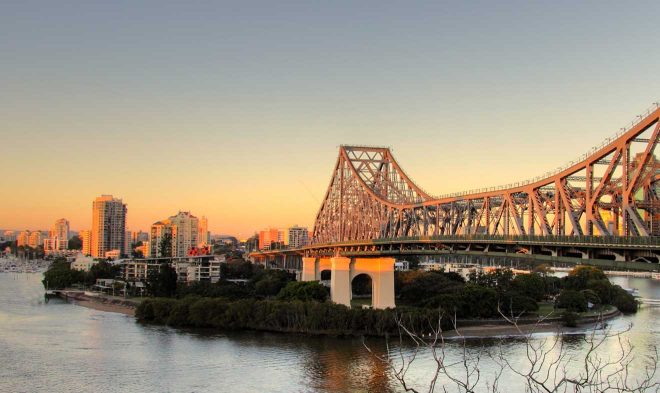 Sometimes it can be a bit of a pain to do the research and choose the accommodation for your holidays, that's why I have only selected the best Brisbane hotels for your stay in this sunny and lovely place.
Below you'll be able to choose from the best hotels, categorized by price and with no less than outstanding reviews: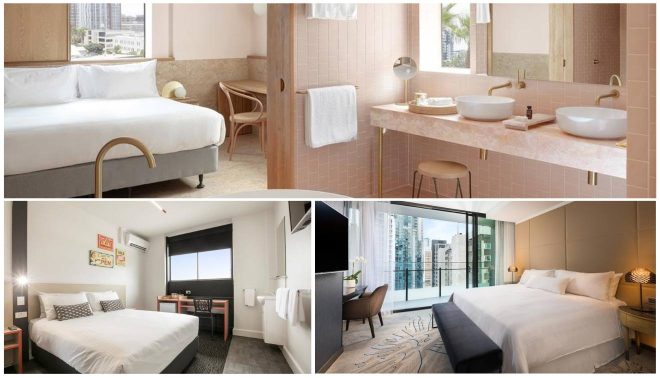 Luxury (US$160 and up)
Australians have great taste when it comes to good hotels! That's why almost all 5-star hotels in the city are at such a high standard. If you're talking about the Australian hotel industry, they are always trying to up their game! Because of this, splurging in luxury accommodation is always a good idea. You are worth it!
Here's where to stay in Brisbane for the ultimate luxurious experience:
The Calile Hotel – Wondering where to stay in Brisbane for the best luxury stay? Honestly the best place to stay in Brisbane, my inner interior designer is screaming with joy just by writing this! Plus, the great location close to Fortitude Valley Station and Roma Street Station, New Farm Riverwalk and Queen Street Mall offers easy access to all the most important attractions in the city!
W Brisbane – Here's another excellent place where to stay in Brisbane for luxury! They have a wonderful view of the South Bank, Brisbane River and the Brisbane Wheel! Its originality and quirky design are stunning and this is probably one of the best hotels in the city, if not the whole region!
Brisbane Marriott Hotel – In my opinion, this is one of the best luxury hotels in the city! Marriott Brisbane is the perfect classical luxurious hotel. They've got rooms with a view of the Story Bridge and it also has easy access to the New Farm Riverwalk, Queen Street Mall, and the South Bank as well. Plus, it's within walking distance to all the most important attractions in the city!
Middle-priced (US$55 – US$160)
There's a wide range of middle-priced accommodations where to stay in Brisbane, most of it is located right in the city, so there's really nothing that you have to give up on when booking these beautiful hotels!
Below you'll find a list of them, and most of them are new Brisbane hotels, so you are bound to end up in a pretty special place!
Here's where to stay in Brisbane for a great stay:
The Westin Brisbane – The décor, cleanliness and tidiness of this hotel are just perfect! Apart from that, add a tad of luxury and the location right in the Brisbane CBD and close to Brisbane River and you'll get the perfect Brisbane city accommodation. This is the perfect nest for those who want to be in a central location close to the central station, Queen Street Mall, the Botanic Gardens and also to South Bank Parklands.
Next Hotel Brisbane – Definitely one of the best hotels in the heart of the city, close to the South Bank! Located right opposite of Queen Street Mall, its location is arguably their strongest point. With an incredible rooftop swimming pool and excellent service, this is the perfect place to chill after strolling around the city and its shops!
Sage Brisbane – This beautiful Brisbane accommodation will give you all the city vibes at a really affordable price. Located in a central location in James St., Fortitude Valley, super close to the New Farm Riverwalk, this is probably one of the most famous boutique hotels in Brisbane!
Budget (up to US$55)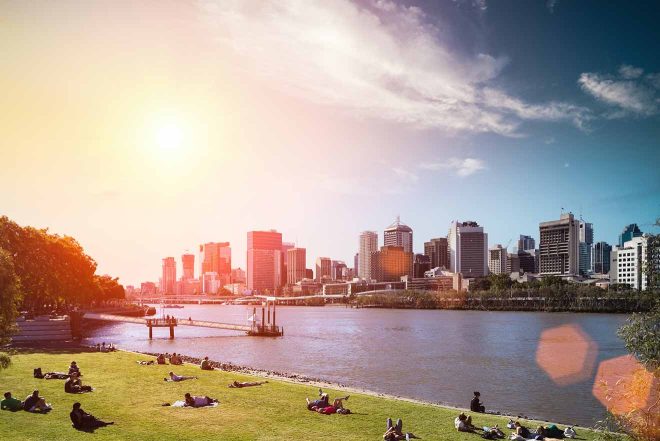 As we know, Australia is THE backpacker destination! Thousands and thousands of backpackers head every year to the Antipodes in order to travel, or work and travel. And guess what? They do love Brisbane!
The city's affordability and great weather are a backpacker's dream. And, of course, what else do backpackers love? Right, cheap accommodation!
Whether you are a backpacker or not, here is where to stay in Brisbane if you are on a tight budget:
Breeze Lodge – A great choice if you're looking for budget accommodation in Brisbane. You'll have to share your room with a couple of other travelers but if you are a female, you'll be able to choose female dorms without any hassle! Plus, it's located at Kangaroo Point area, close to South Bank Parklands and New Farm Riverwalk, 10 minutes away from the free ferry to the city!
Nightcap at Camp Hill – I have previously talked about this accommodation in my Top things to do in Brisbane post and I just can't stress enough about how good it is! This is one of the cutest, cheap hotels in the central part of the city and a perfect place for couples looking for an affordable Brisbane getaway and for all travellers who want to do some shopping or enjoy some entertainment options!
City Star Lodge – This is definitely one of the best places to stay in the city if you're on a tight budget! One of the best things about staying here is that you'll enjoy a great service while also being super close to the City Botanic Gardens, South Bank Parklands and South Bank Station, and more!
Best apartments in Brisbane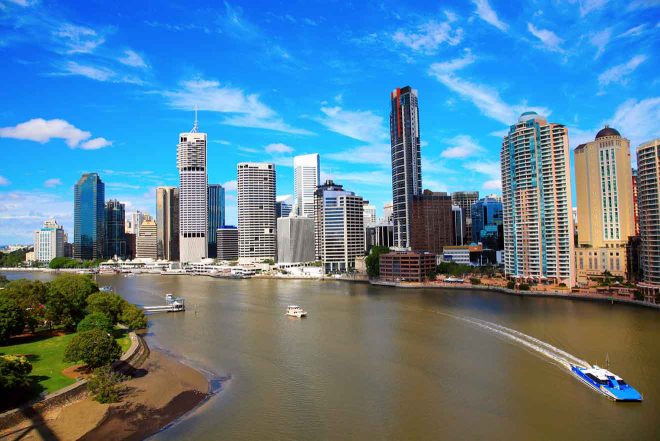 Are you wondering where to stay in Brisbane so you can enjoy a homey feeling? Or maybe you love your independence? Do you usually get a bit tired of eating out when travelling, and sometimes crave a bit of a homemade feeling?
I get you; I sometimes feel the same way when traveling! I enjoy eating out but I love having the freedom to cook at home. That's why, when travelling, I love staying in apartments!
When booking an apartment, you gain independence and, sometimes, this is also great for saving money as you don't have to splurge in overpriced meals every single time!
This is exactly why I created this list of Brisbane city apartments, which you can find below: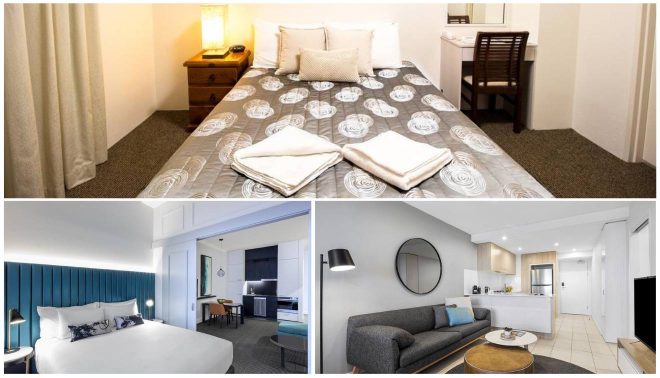 Luxury (US$160 and up)
For those looking for a more upscale stay, the city has a wide range of luxury apartments where you can enjoy your trip to the fullest! Here are the best ones I could find below:
Adina Aparthotel – Their reception is like if you've stepped back in time, in an amazing kind of way. Staying here will really make you feel like a queen, and the staff is so friendly and attentive that you'll definitely love it there! The apartments are so cozy and luxurious that long-term guests are the daily bread here, and that's always a great sign!
Stylish Apt Perfect 2 Explore Brisbane CBD – Are you looking for one of those luxurious places to stay during your trip to the city? This awesome apartment is located right in the heart of the Central Business District (Brisbane CBD), close to the Southbank and tons of food places and bar options! This one's great for a family as well, as it can fit up to 8 people.
Luxe 2BR CBD apartment with large open balcony – This one is probably my favorite out of all of the places to stay in Brisbane! It's also located right inside the Central Business District (Brisbane CBD) and it's so tastefully decorated that you will feel that you've stepped in a modern art museum! Plus, you'll be close to tons of awesome restaurants and bars if you stay here!
Middle-priced (US$80 – US$160)
Alcyone Residences – If you need an energy boost after lots of travelling or a place to call home for a few days, do not hesitate to stay here! This apartment complex has all the amenities to make you feel at home and you can also take a day off from sightseeing and try out the gym and outdoor swimming pool! The central location is a great bonus!
Arise Ivy & Eve Apartments – The great news about not staying right in the city center is that you get an awesome view of the city's skyline! Here, you'll be able to enjoy the city views from the cozy jacuzzi. And after that, why not give a try at making your own healthy meal in their fully-equipped kitchen?
Great CityView 2 Bed 2 Bath APT, Free Wifi & Parking – This is a great mid-range apartment in the city centre that can fit up to 5 people! Its convenient location means that you'll always be close to plenty of nightlife options close to the property! Plus, the decor style is really great and the apartment features everything you might need for a pleasant stay in the inner city!
Budget (up to US$80)
It is definitely possible to stay in a low budget accommodation whilst enjoying the comforts of having the whole place to yourself!
Check out the list below for a list of the best and cheapest apartments for your stay in Brisbane!
Top Sky View in Brisbane CBD – This private room right in the heart of Brisbane might be little, but it offers some unforgettable views of the city! You can catch the sunset there after a full day of exploring the city – what could be better than this during your weekend visit in Brisbane?
Rydge Aparthotel – Located in Spring Hill, a Brisbane suburb right next to the CBD, this apartment is a wonderful choice for your stay in Brisbane. Plus, its low price and sophisticated vibe makes it one of the best cheap apartments in Brisbane! Tired of walking around and don't feel like eating out? Just use your super convenient kitchenette!
Hampton Court Apartments – These apartments are a simple yet practical choice for a very affordable price. You don't have to give up on comfort if your budget is a bit tighter; staying here is a very convenient option! Guests rave about the comfy beds and excellent location between the airport and the city center!
Best hotels near Brisbane Airport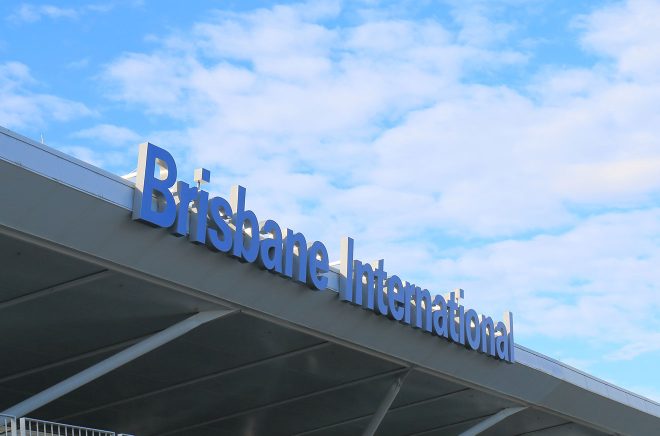 Located just 30 min away from the city center, Brisbane Airport amounts more than 20 million passengers per year, which makes it the third biggest airport in Australia!
Chances are you're landing there or maybe you'll take a flight somewhere else! Therefore, staying close to Brisbane Airport (BNE) is something you might want to do if your flight is at a strange time of the day.
Keep reading and you'll find out below! Here's my list of the best hotels near Brisbane airport: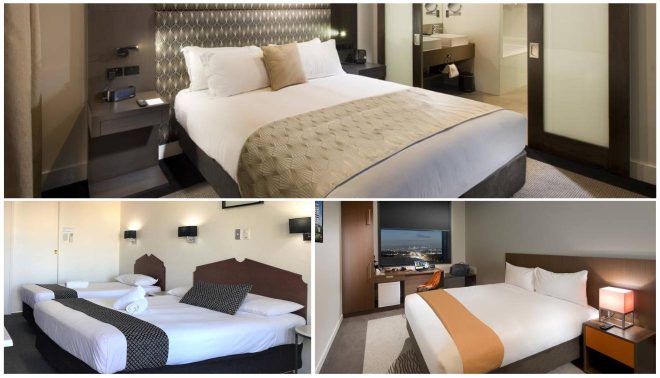 Luxury (US$160 and up)
Pullman Airport – Wondering where to stay in Brisbane near the airport and enjoy some luxury as well? I got you! If your flight is early in the morning or you arrive late at night, why not stay at the luxurious 5-star hotel? You can also cool off in their outdoor swimming pool; plus, dinner is served at their yummy on-site restaurant!
Novotel Airport – Another highly recommended option is Novotel Brisbane Airport Hotel. With similar prices to the one above, this place provides you with an outstanding experience and all the necessary amenities. To relax after the flight, you can get a drink and enjoy the rooftop terrace and swimming pool!
Middle-priced (US$80 – US$160)
Ibis Airport – This place is a perfect middle-priced option! It's super nice and homey – that's one of the reasons why the guests keep coming back! If you don't carry much luggage you can even walk to the domestic departures part of the airport.
Novena Palms Motel – Providing a free airport shuttle, this motel is a fantastic choice for those that want to leave the airport behind but are not ready to make the commute to the city. With the coziest beach vibes, this accommodation even provides dinner; guests love their Indian menu!
Budget (up to US$80)
Airport Clayfield Motel – Wondering where to stay in Brisbane close to the airport for a small rate? The mote is just a 7-minute drive to the airport and you can arrange pick-up if you request it beforehand. Breakfast is included and the lovely staff will make your stay unforgettable!
Ascot Budget Inn & Residences – Who said that you couldn't stay in a sophisticated place for a fraction of the price? This hotel shows us that it is possible to enjoy a luxurious experience even if your budget is low. Plus, it's located in one of Brisbane's most expensive suburbs, conveniently close to the airport!
---
Conclusion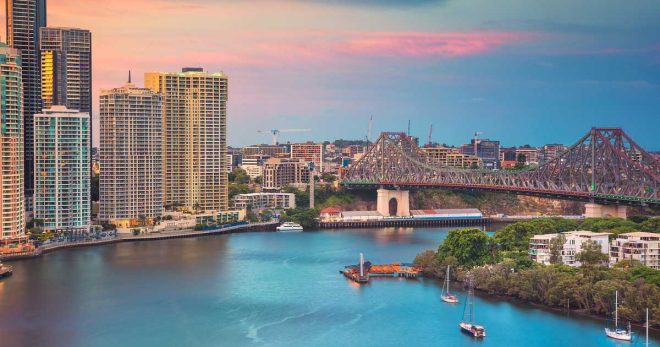 Congratulations! You have reached the end of this very well-researched article, if I may say so myself! 😉
In the article above I have selected some of the best accommodation where to stay in Brisbane, from hotels to the most incredible Brisbane apartments, as well as airport hotels. So, hopefully, by now you already know where to stay in Brisbane and I have made your life much easier!
If you're heading to Brisbane, make sure to check out my article about Top things to do in Brisbane, where I explain the best things to do in the "city of sun" from a wannabe local perspective!
As Australian tourism grows, Brisbane is earning its name in the travel world, which means that it's a destination with a rapidly growing popularity rate and accommodation are better booked in advance.
In short, do not waste any time and book your hotel as soon as possible, so you can get the cheapest accommodation deals! You've got plenty of choices above!
I hope your Brisbane trip will be as unforgettable as mine was!
If you have any doubt at all or just would like to say hi, drop me a comment below and I'll be happy to help you! Happy travels!
Arantxa
Pin it for later!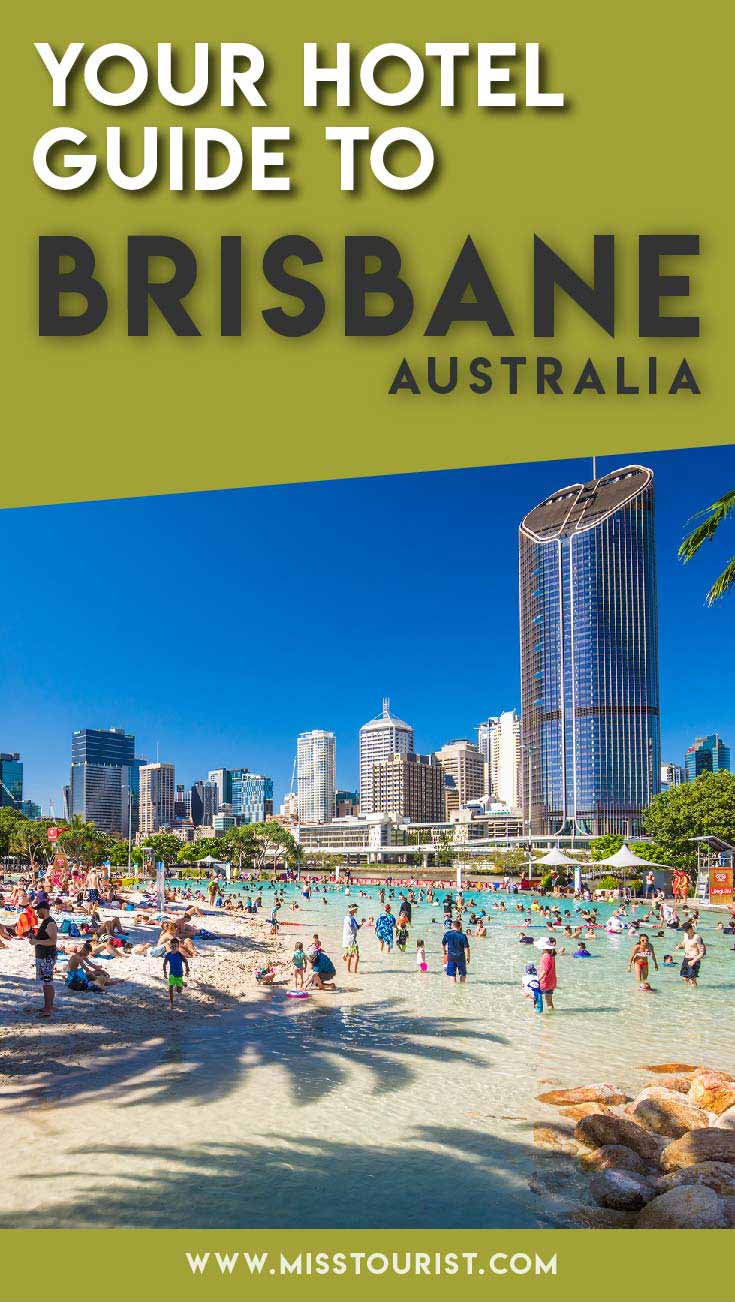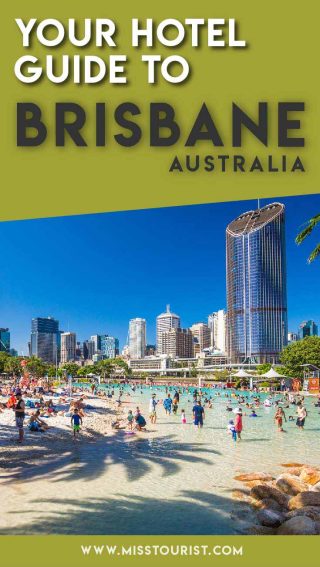 Pin it for later!