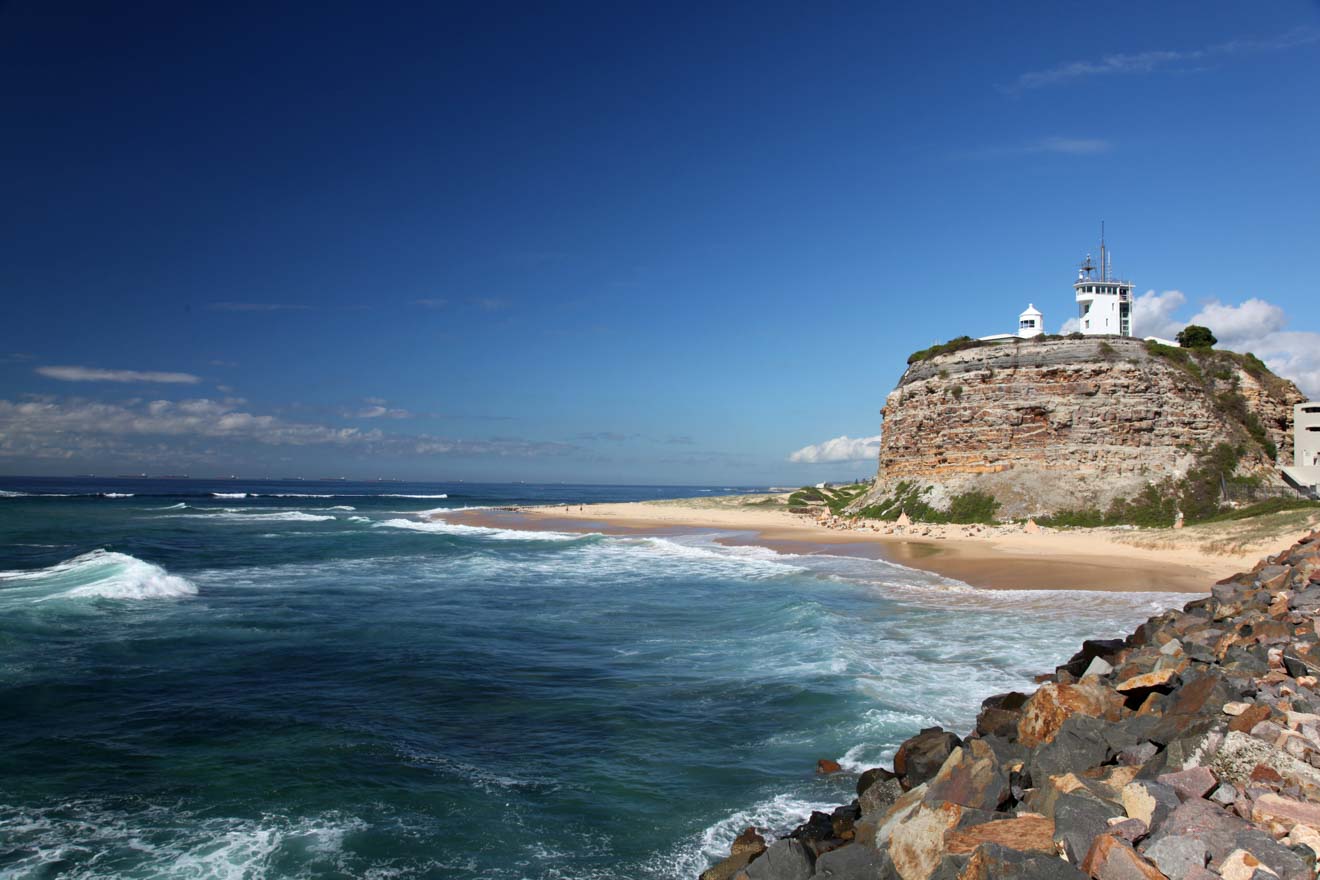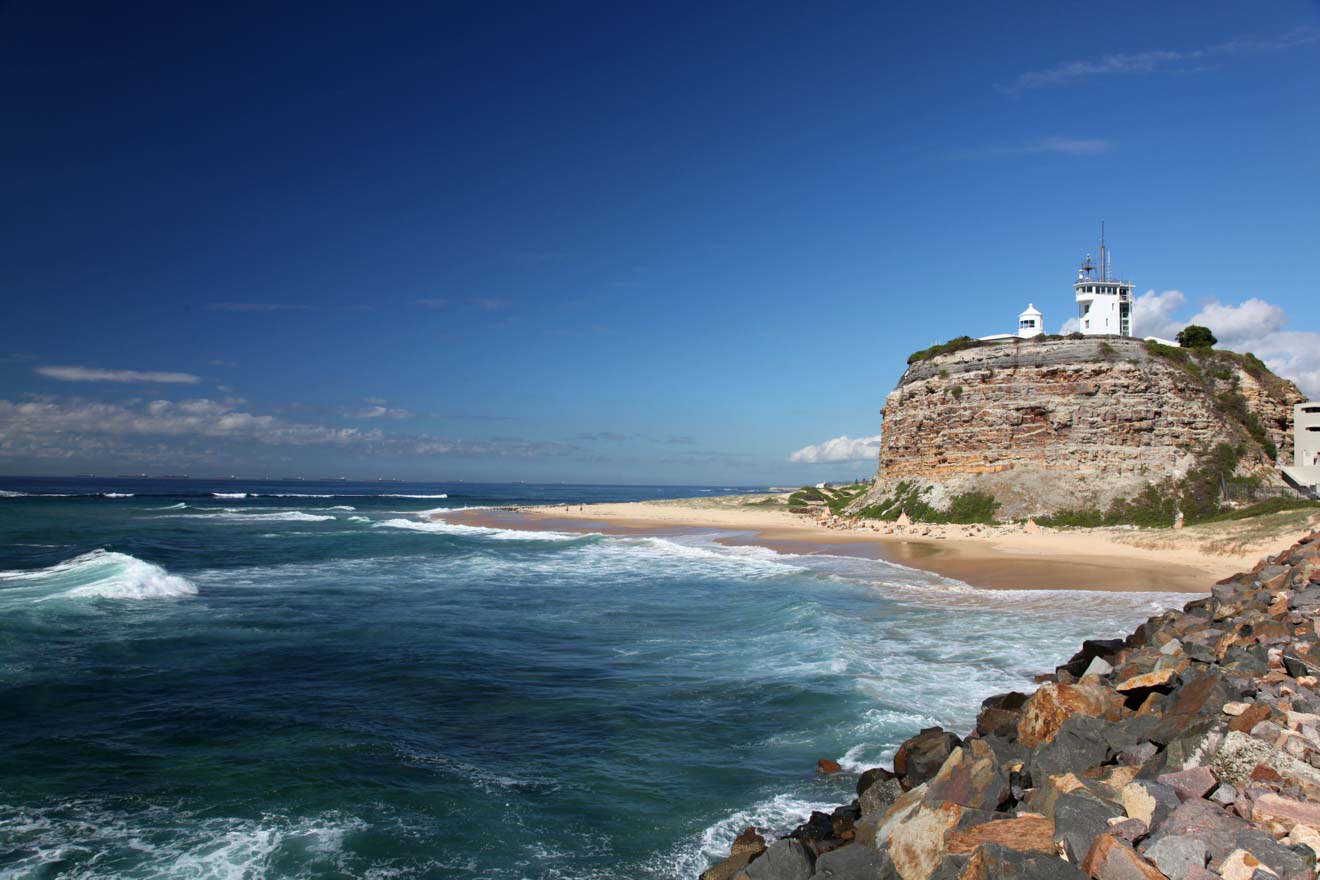 Newcastle is a gem hidden just two hours north of Sydney. With plenty of opportunities for sun, sand, and surf, this off the beaten track city is full of fun things to do without the crowds of Sydney.
Whether you're in Newcastle for a weekend getaway or for a full vacation, there is plenty to fill your itinerary.
Without further ado, here are the best things to do in Newcastle, Australia:
1. Be Humbled by the Sand Giants at Stockton Beach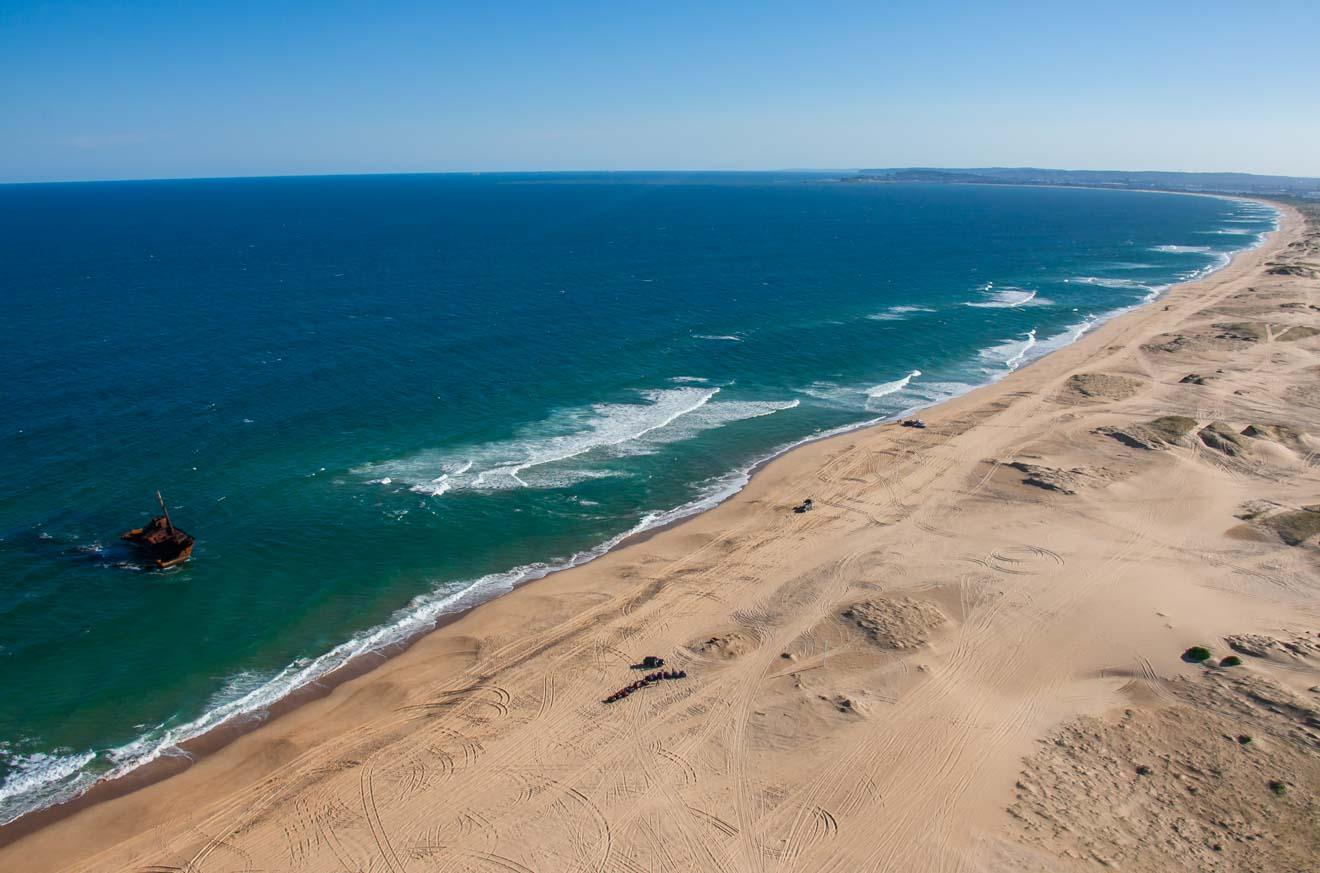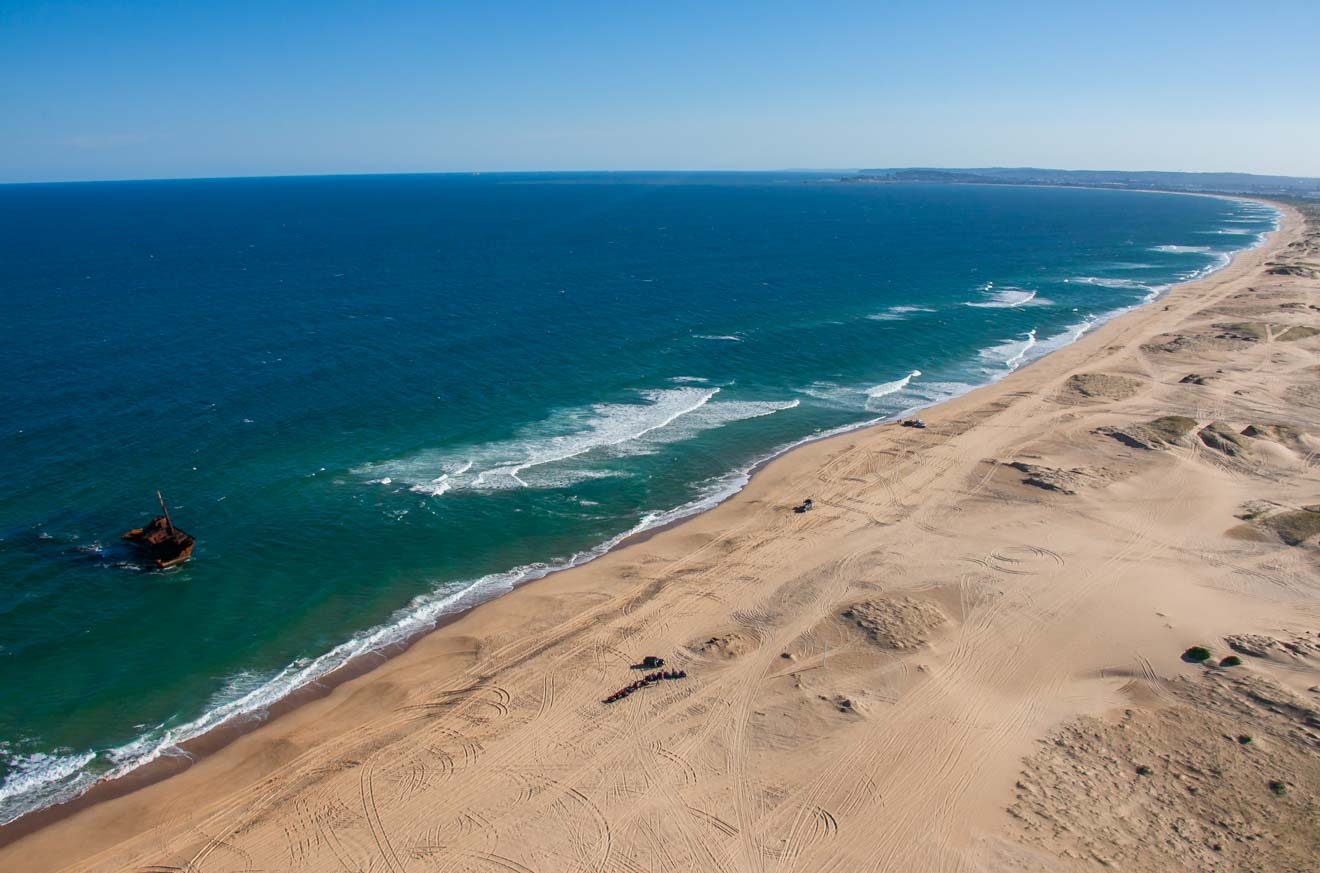 One of the best things to do in Newcastle is to take a walk along the 32km Stockton Beach, one of the biggest beaches in New South Wales, a.k.a. the Newcastle desert. 
It's hard to miss the incredibly huge sand dunes that reach up to 30 meters in places, and are actually the largest continuously moving sand dunes not just in Australia, but in the entire southern hemisphere!
Along with this, if you look out at low tide you may spot one of the many ships wrecked on this stretch of coastline.
You will find Stockton Beach north of the city across the Hunter river. If traveling by car, you will need to drive in a little bit of a loop inland to cross the Tyne Bridge, if traveling by foot, jump on the Stockton-Newcastle ferry at Queens Wharf in the city centre for a 5min journey across the water.
NOTE: A lot of the dunes are protected so you aren't allowed to climb or sand board at Stockton Beach.
2. Go Sandboarding in Port Stephens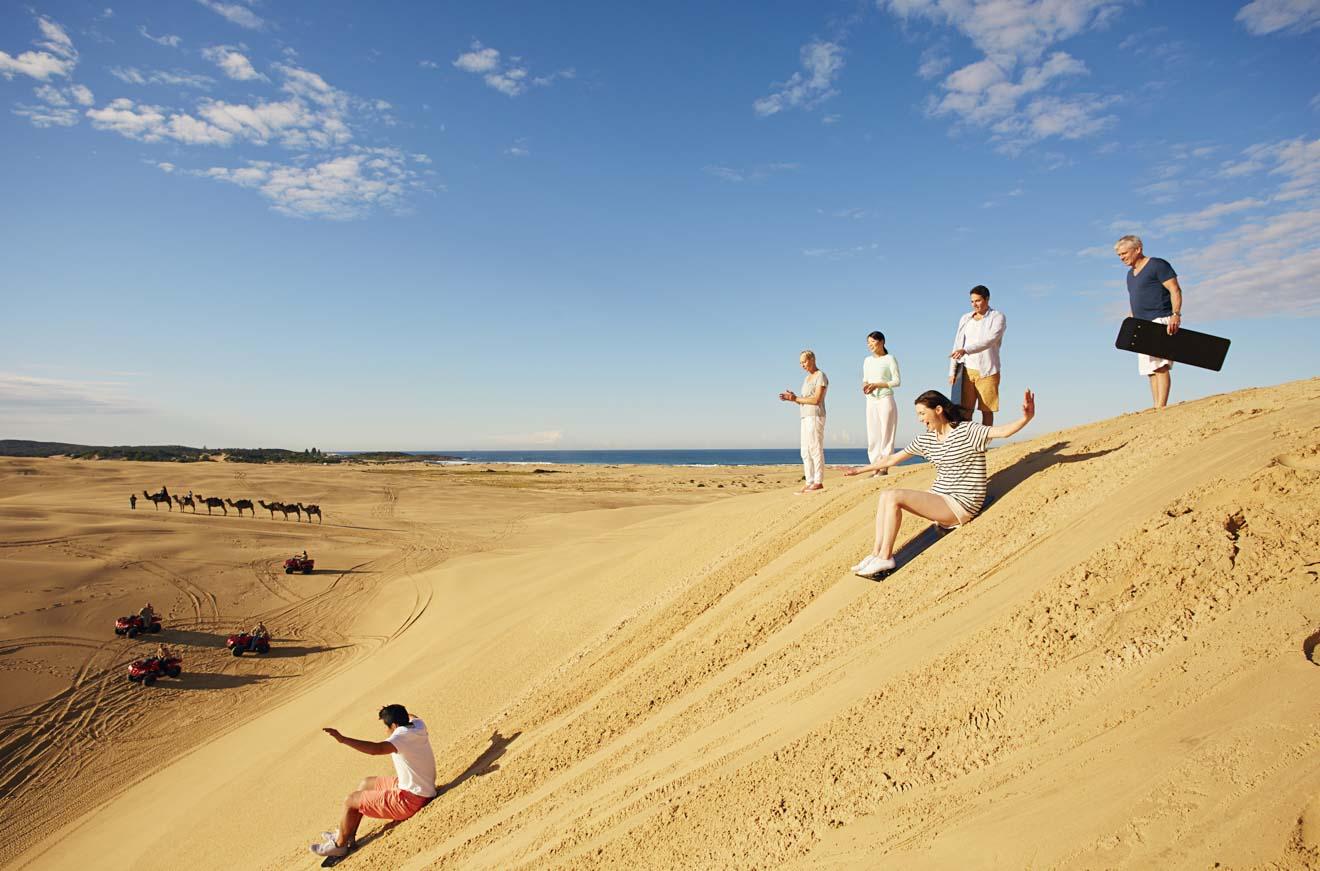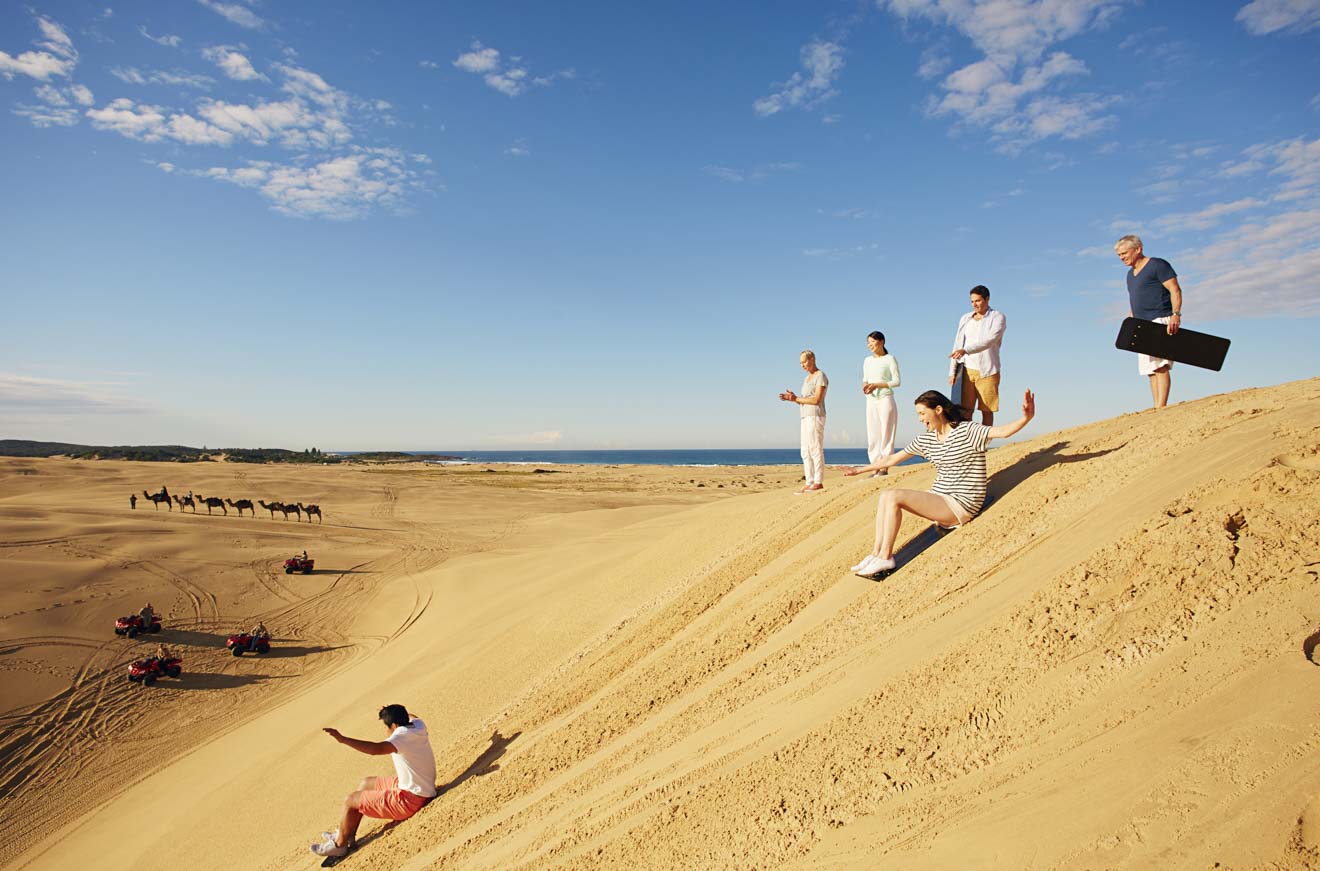 Trust me, your Instagram will thank you!
You don't have to go to the Sahara to get sick pictures of you sandboarding! Instead, just a short drive from Stockton Beach, go sandboarding at Birubi Beach in Port Stephens right here in Australia!
What's the only thing better than sandboarding? UNLIMITED sandboarding! For less than $20, you can go as many times as you'd like before catching the 4WD bus back to the starting point.
3. Visit Fort Scratchley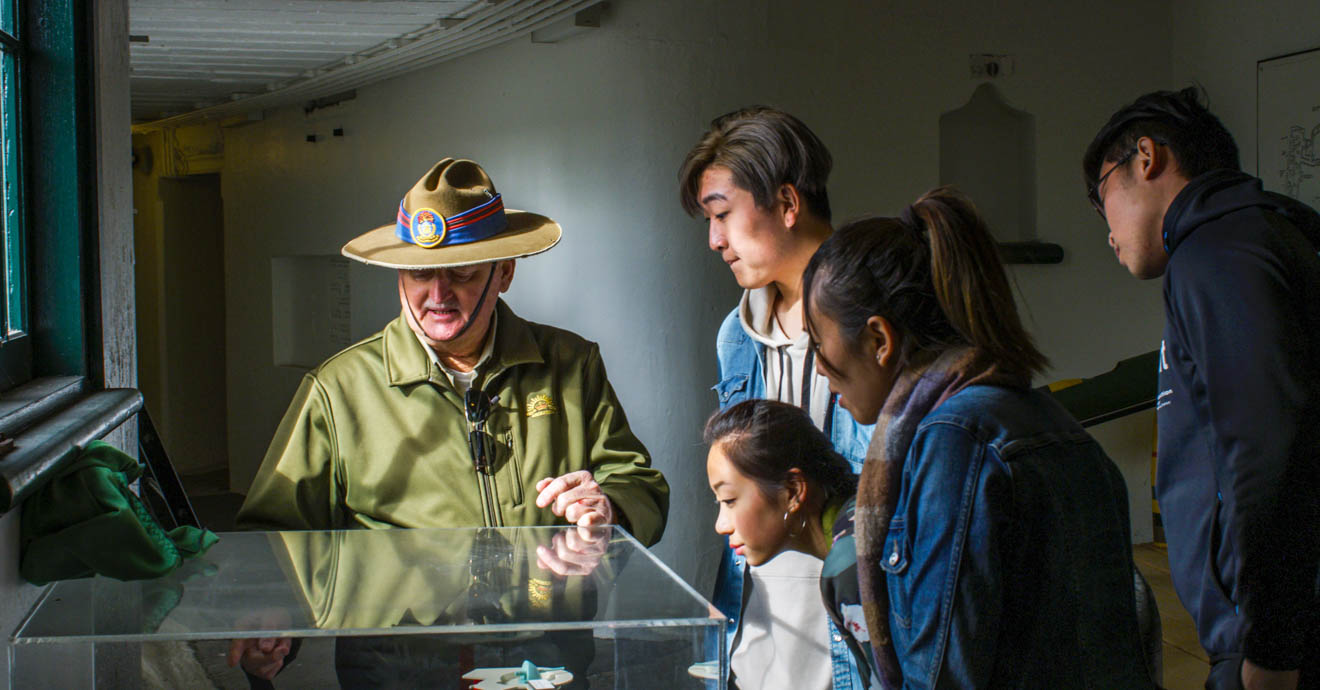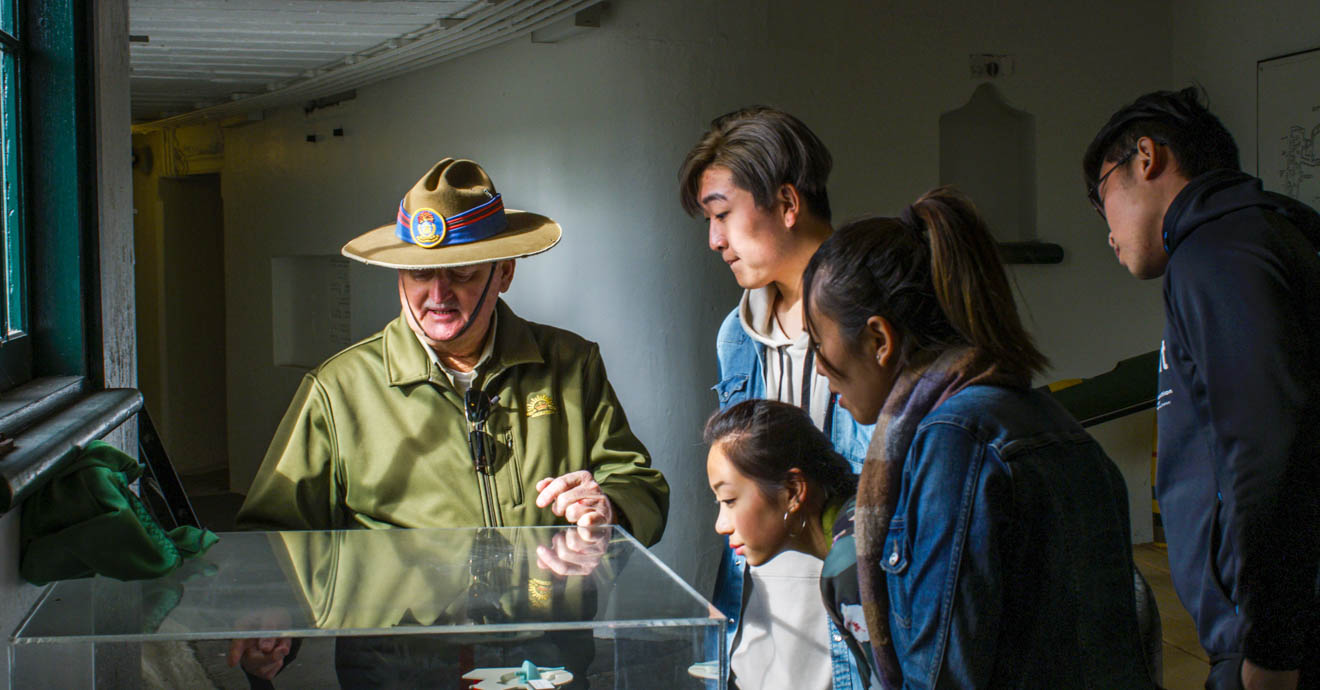 Located within a few minutes walk from the city centre. Fort Scratchley towers over the foreshore offering incredible, 360 degree views of the region with a chance of spotting dolphins and whales in the pacific ocean!
This site was important as it not only provided protection for the harbour, the city and the whole of New South Wales during World War II, but it was also the site for the first european coal mine in Australia, built by convict labour.
Admission is free but the facilities are only open 10-4pm Wednesday-Monday.
Afterwards, walk down to Nobbys Beach to dip your toes in the sand and see a different view of Fort Scratchley. Continue to Nobbys Headland to check out the lighthouse and rocks of the breakwall!
4. Take a Dip in Bogey Hole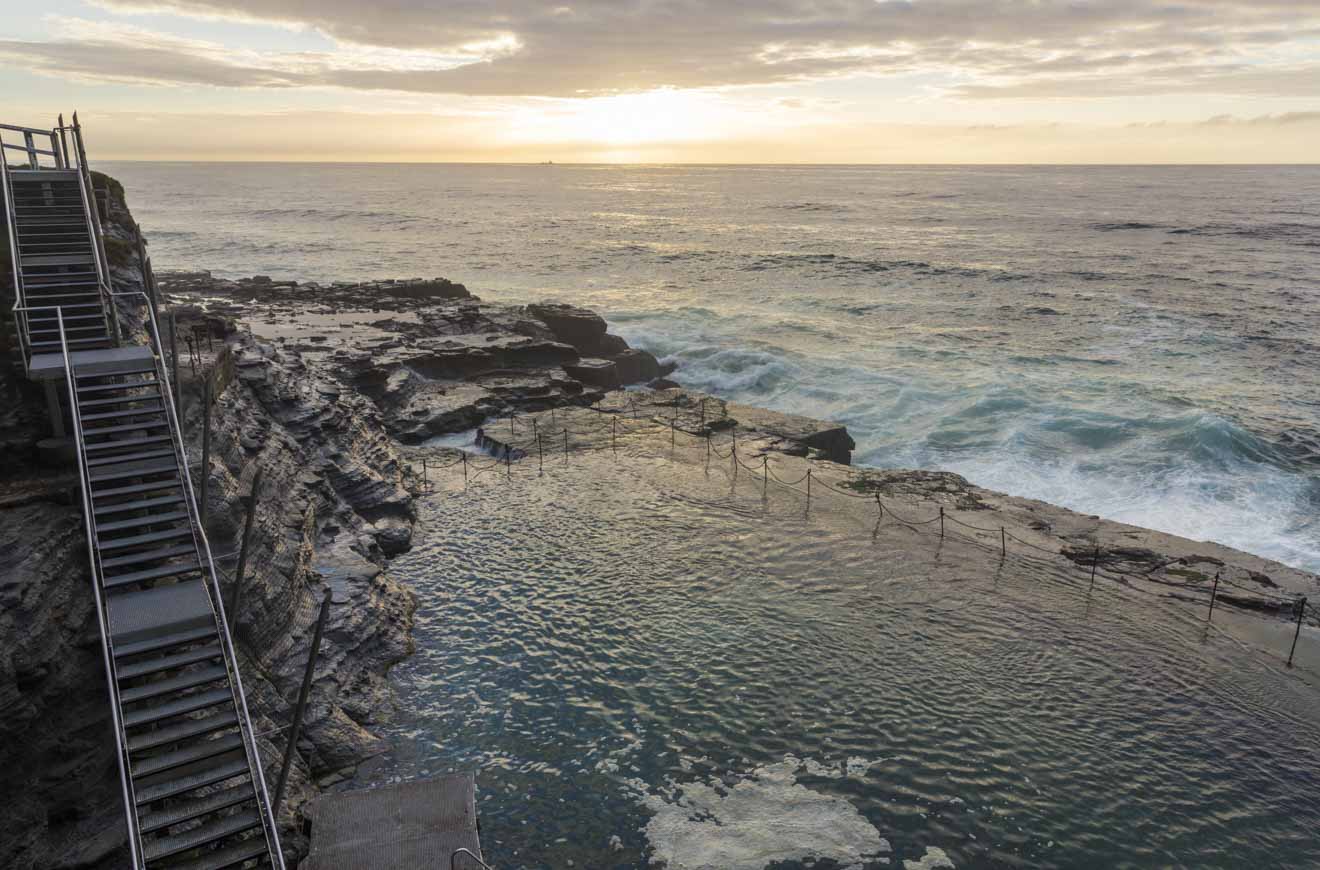 Basically a naturally formed version of Newcastle's popular ocean baths, this was by far my favorite thing I did while I was in Newcastle, and I highly recommend it if you're planning a trip!
To visit, make your way south from Nobbys Beach and walk along "the Bathers Way", the path that connects all the beaches of Newcastle's coast.
After walking the length of Newcastle Beach, you will descend a staircase along a cliff side walkway to the ocean. A naturally formed ocean pool sits below, and all that protects you from the sea is a railing.
Swimming and soaking in Bogey Hole feels like you are surrounded by the unpredictability, power and beauty of nature, even on a calm day.
On rough days, ocean water can rush into the Bogey Hole making it unsafe to swim at high tide. If you don't feel confident in taking a dip here, walk back up the Beach to the northern end where you will find the Newcastle Ocean Baths.
5. Stroll the Newcastle Memorial Walk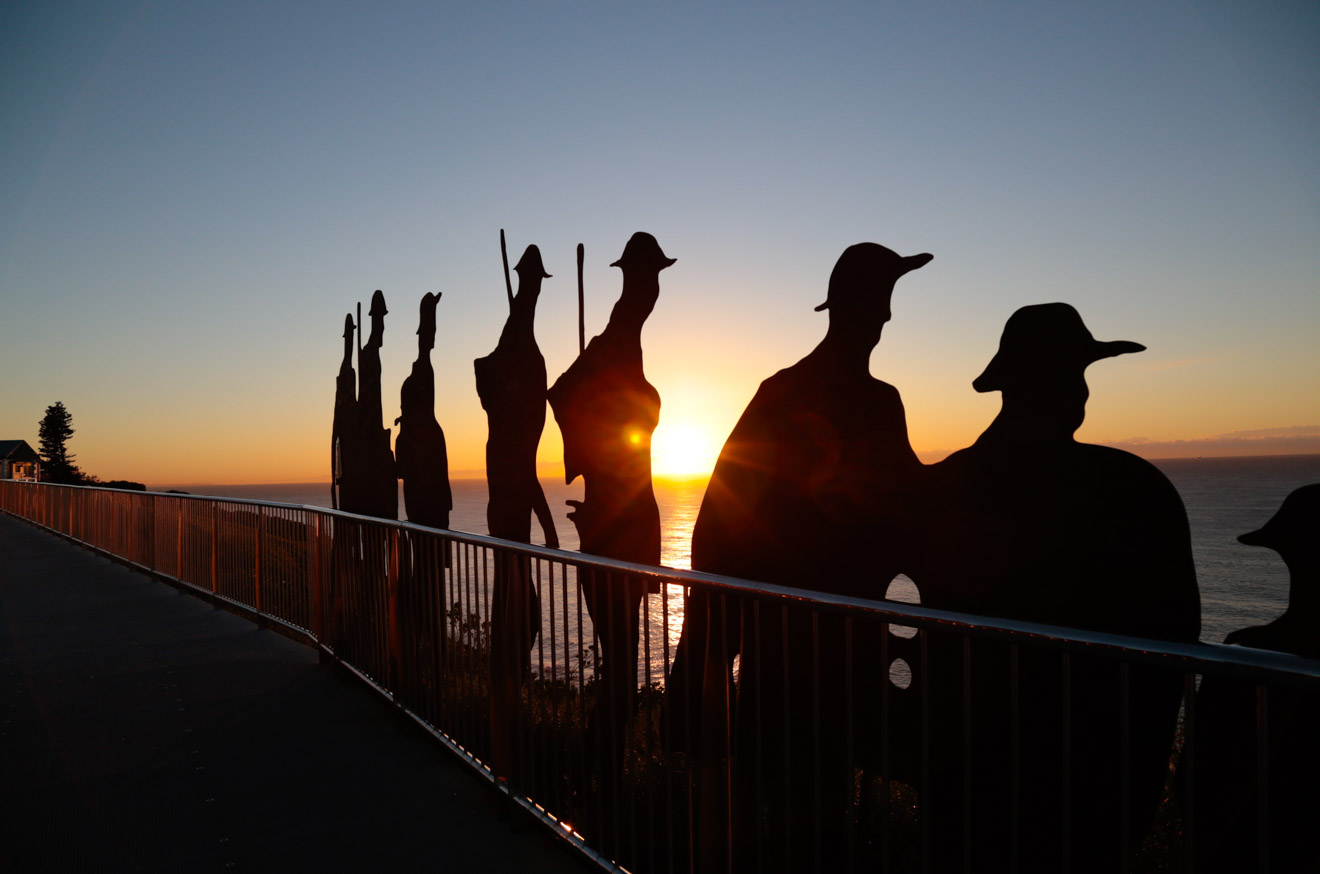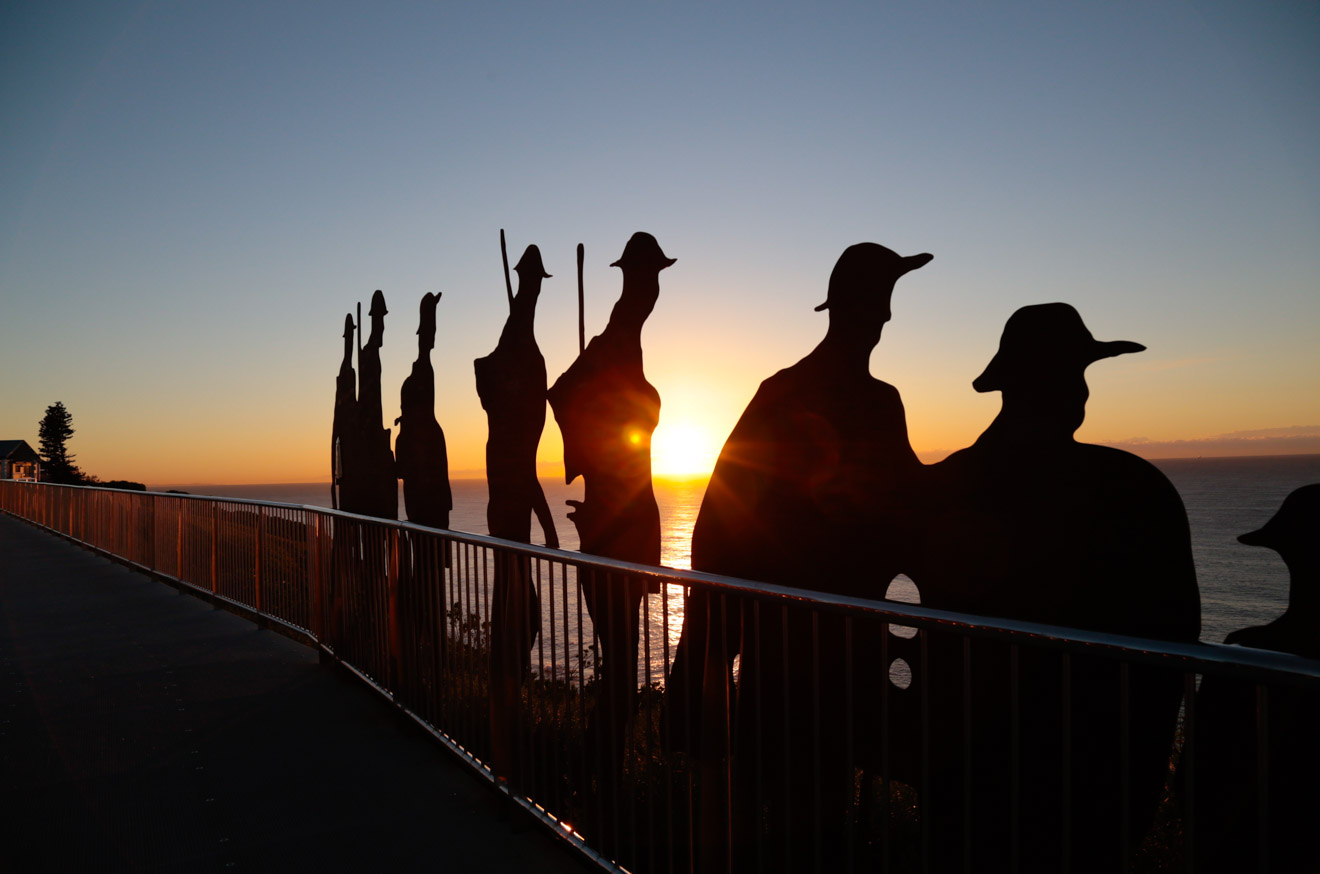 After exiting Bogey Hole you will find yourself in King Edward Park.
The Newcastle Memorial Walk extends from Strzelecki Lookout in the park to Bar Beach. Its path winds along the headland and offers views out to sea.
The Memorial Walk was created in 2015, on the 100th Anniversary of the ANZAC landing at Gallipoli during World War I. (ANZAC is the name given to the Australian and New Zealand Army Corps).
This walk, and the steel silhouette works of soldiers placed along it, commemorate the sacrifice of thousands of locals that enlisted in the war in service of the British Commonwealth.
6. Beach hop from Bar Beach to Merewether Beach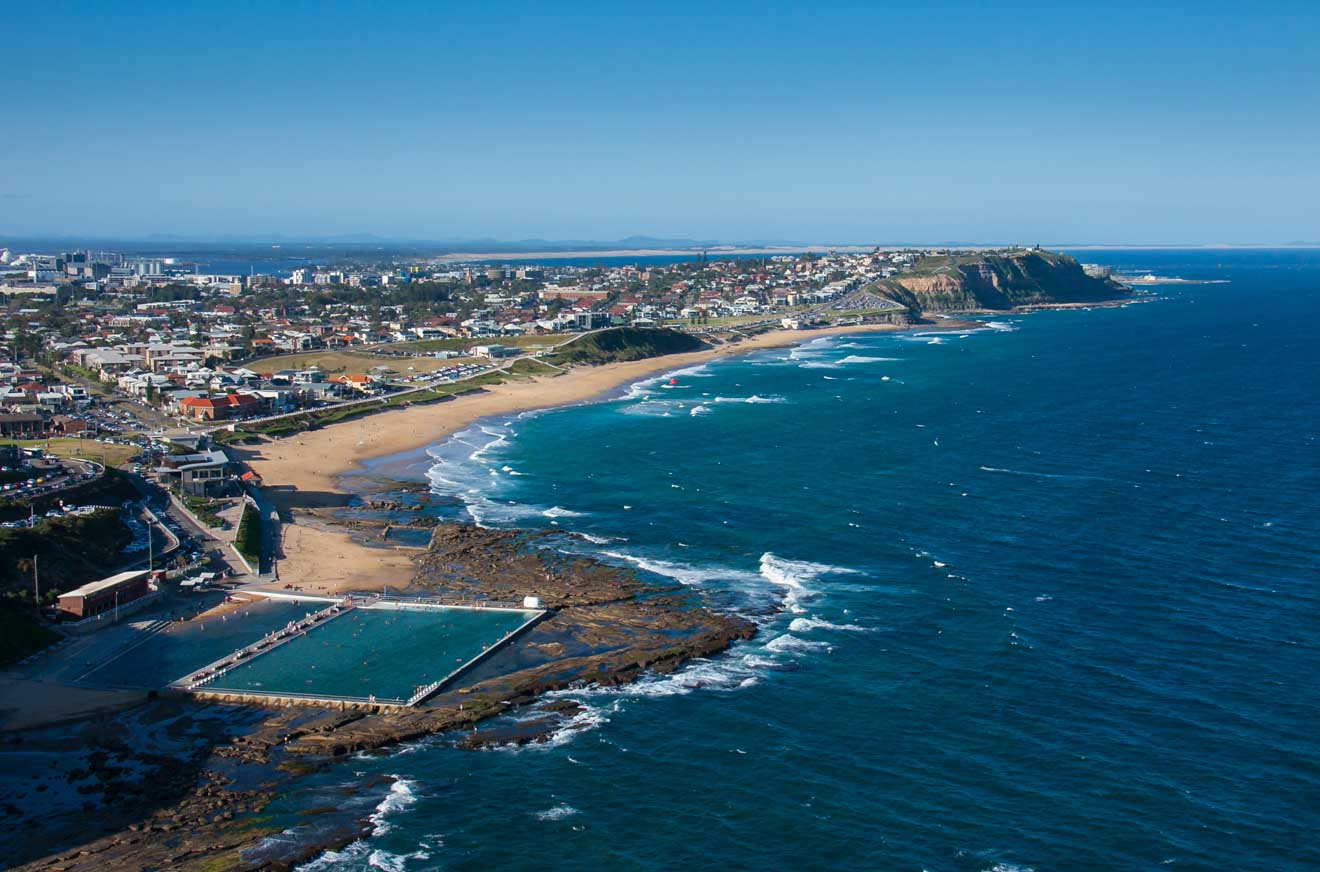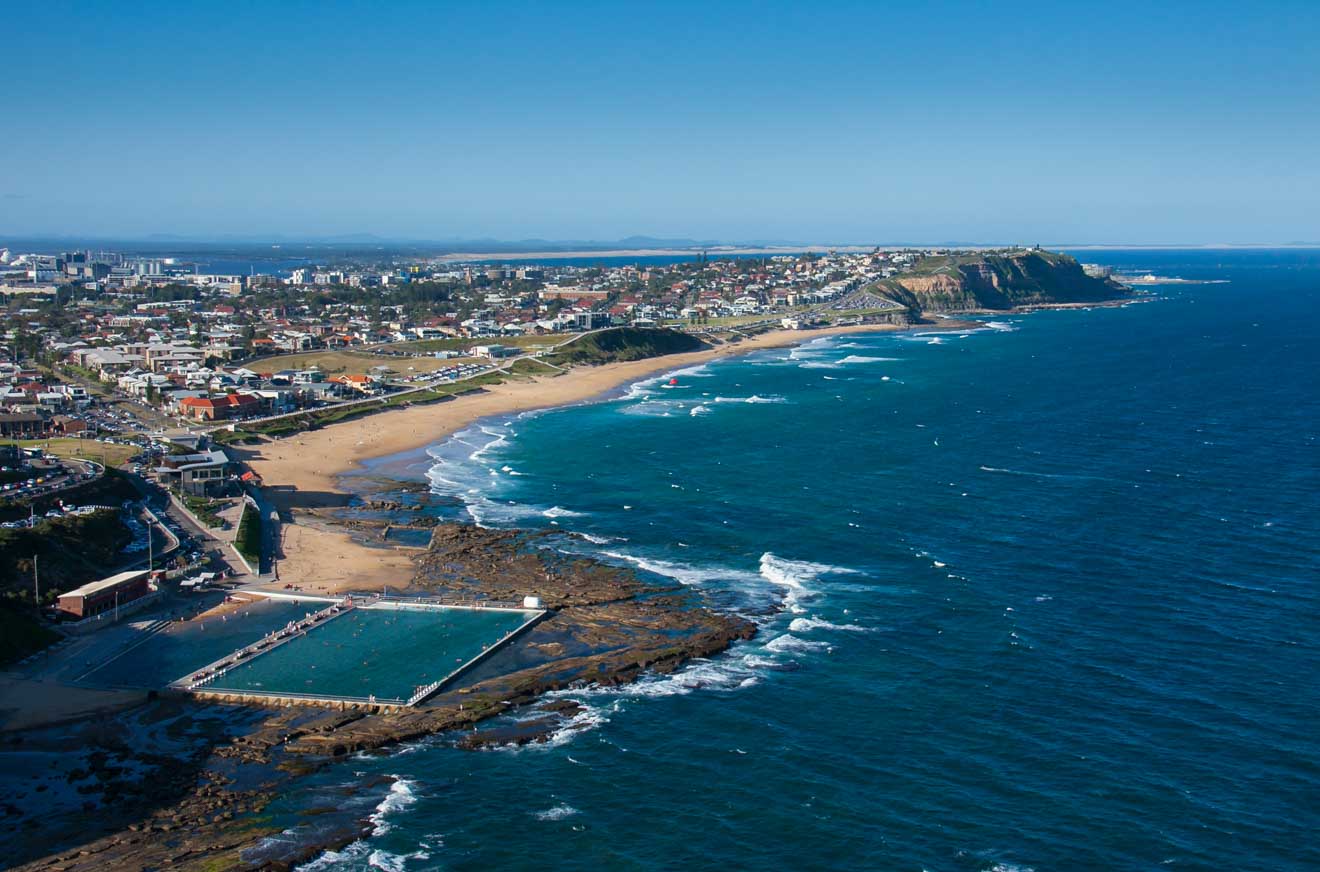 Start your walk at Bar Beach and walk southwest until it turns into Merewether Beach, one of the top spots for surfers. Stop at the The Beach Hotel for tasty pub fare and delicious drinks while taking in the incredible sight of the bay!
I happened to be there on a glorious day. Aside from the view and the various food options, one of the highlights of lunch at The Beach Hotel was the LIVE MUSIC. It was one of the highlights of my trip to Newcastle!
After lunch, stop by the Merewether Aquarium.
This aquarium was unlike any other on earth!
I hadn't looked into it before stopping by and was surprised to find that the aquarium is actually a pedestrian tunnel with vivid graffiti art creating beautiful under the sea themed murals!
I recommend ending your journey at Merewether Baths. The ocean baths are actually swimming pools filled with ocean water, but they are set right up against the sea. Take a soak, swim some laps, and refresh before your walk back!
7. Re-hydrate at FogHorn Brewhouse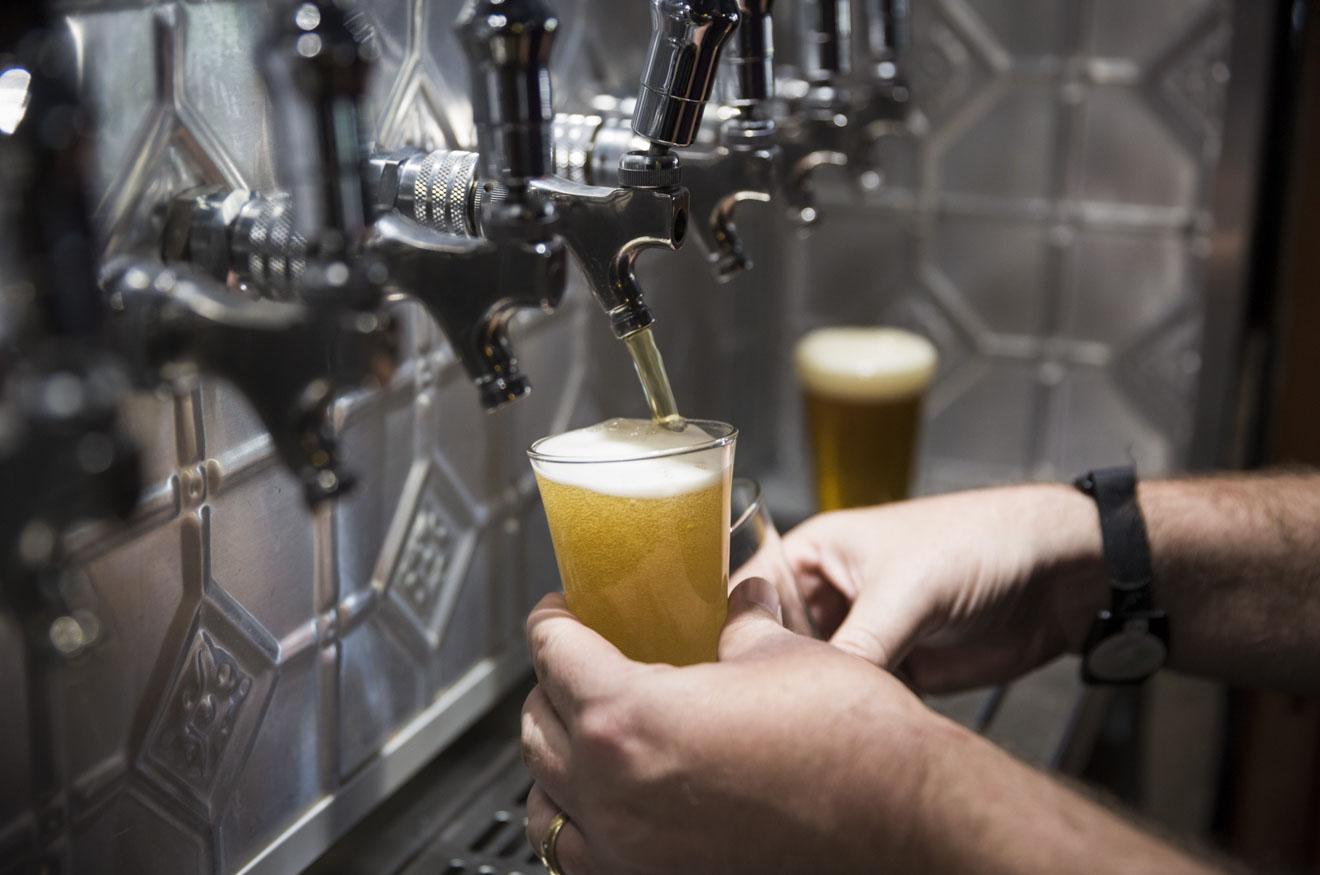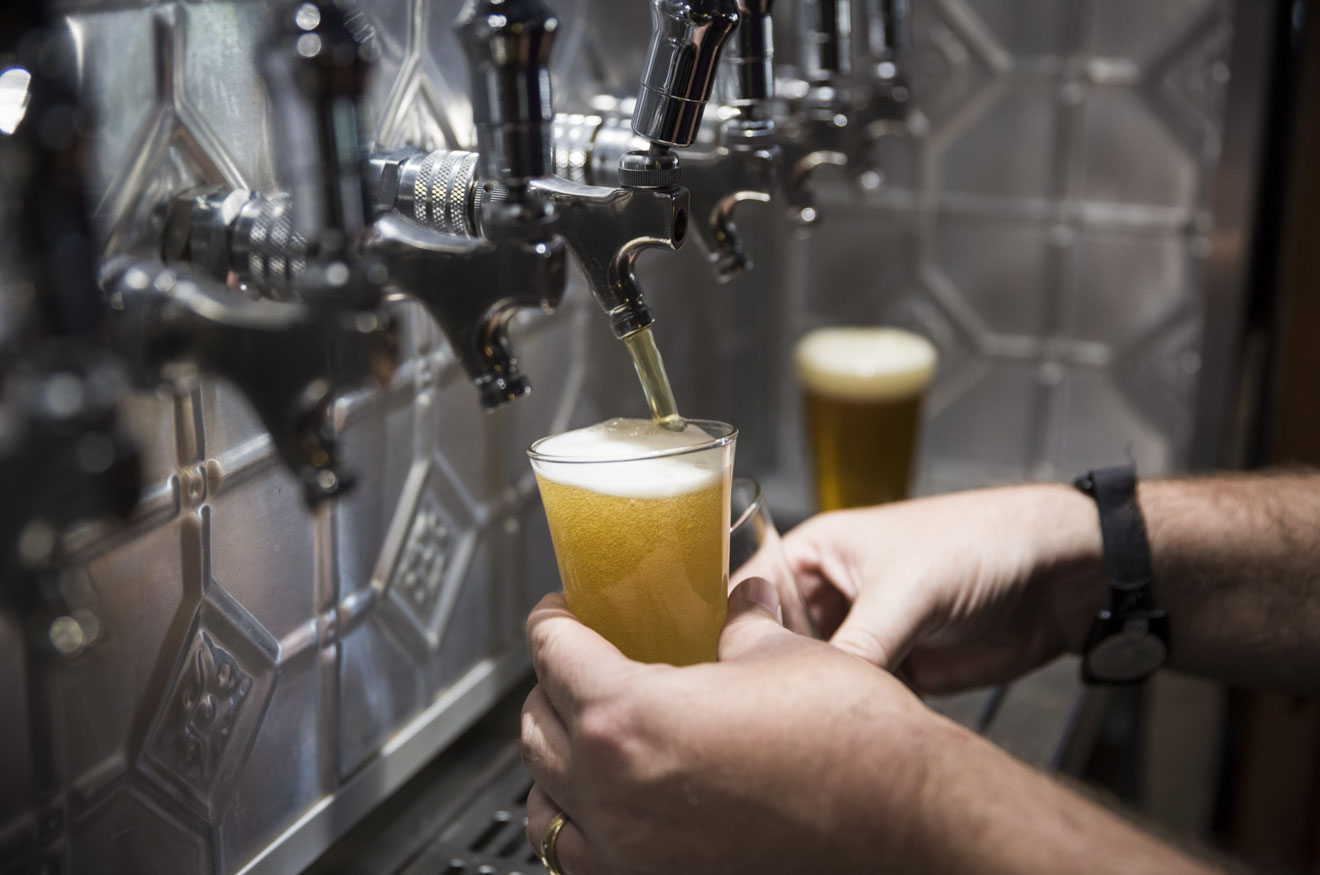 FogHorn Brewhouse was created by a pair of best friends in 2015 (goals). Since then, they have converted an abandoned warehouse into a fully operational brewery. They offer different types of beers, including IPAs, Pilsners, and ales.
Their restaurant features American pub favorites paired with the perfect beer!
Although I stole bites from my friends' meals, the best thing we ordered was the wings! Give them a try if you swing by FogHorn Brewhouse.
By the way – if you're in the city on a Wednesday night, be sure to try their schnitzel! I am very particular about schnitzel and am known to be a harsh critic. I came back here a second night to try it, and I have zero regrets! Besides, schnitzel is the perfect food to pair with a good beer!
The art deco warehouse also frequently hosts live music and comedy performances. I love a good open mic night, and we had a blast seeing the best comedians Newcastle has to offer! Be sure to check their current events to see what's on!
If you want to continue the tour, just a 15 min down the road you will find The Grain Store, another of Newcastle's great craft beer cafes in the city centre.
8. Feed the Emus at Blackbutt Reserve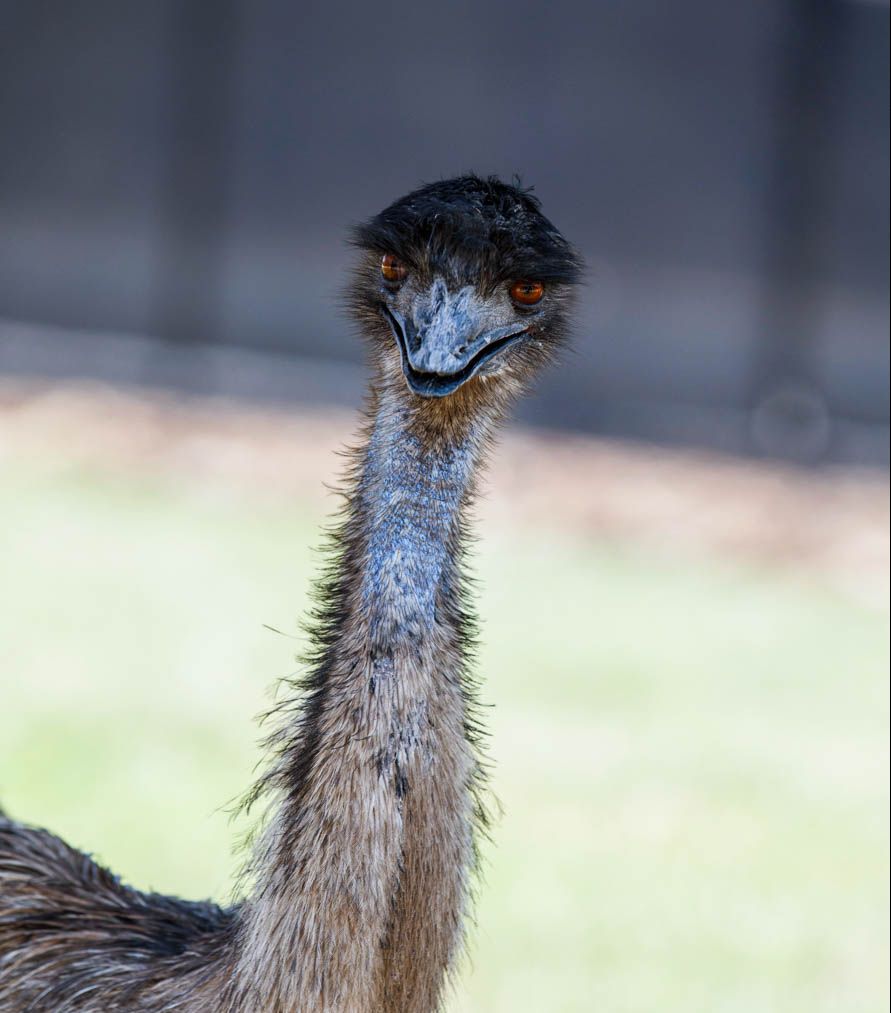 If you get tired of the splash and surf, head inland to Blackbutt Reserve. Visit the unique Australian wildlife and take the opportunity to feed the emus! They also have all of the classic Australian critters – crocodiles, koalas, wombats, kangaroos, and more!
If you're looking for some exercise, try one of the 9 walks through the Reserve and take in the lush flora and fauna!
9. Take a Self Guided Walking Tour of Beaumont Street
If you're hoping to learn more about the history of Newcastle, try this free self-guided walking tour around Beaumont Street!
I'm a history nerd, and this was a really fun way to see part of Newcastle away from the sand.
One of my favorite films is the Baz Luhrmann movie called "Australia." The pictures and buildings in this tour reminded me of that film. I can't recommend it enough!
If history isn't your thing, there are antique shops to browse through and coffee shops to enjoy! There are also tons of restaurants and cafes to check out in the area!
10. Take a Bike Ride Through Glenrock State Conservation Area
The best place to take a bike ride in Newcastle is Glenrock State Conservation Area. They have miles and miles of varying mountain biking trails that lead right to Glenrock Lagoon!
You can also explore the rainforest environment in search of waterfalls!
If you're more interested in history or culture, keep an eye out for Aboriginal sites in the reserve!
11. Exercise your Brain at Newcastle Museum
For a history junkie like me, the Newcastle Museum was at the top of my list when I first arrived. This FREE museum tells the tale of Newcastle in the form of three permanent exhibits.
The first exhibit is entitled A Newcastle Story, and it explains the early history of Newcastle, beginning with its Aboriginal origins.
The second exhibit is called Fire and Earth, which focuses mainly on Newcastle as an industrial powerhouse. Newcastle produces a significant amount of coal and steel, and this exhibit serves to educate viewers through an industrial lens.
The third exhibit is named Supernova. This exhibit operates as a science museum and covers topics like engineering and math. It contains loads of fun for kids and is definitely accessible to anyone regardless of age. It is perfect for families!
12. Visit Some Cool Places in Newcastle on a True Crime Walking Tour
If you are a true crime fan like me, this tour will be right up your alley! For an hour and a half, you will follow in the footsteps of murderers and criminals as you uncover a new side to Newcastle!
Key stops include the Convict Lumberyard and Newcastle's first gaol (gaol is Gaelic for jail!)
This tour isn't for the faint of heart – but it will make you see Newcastle in a whole new way!
13. Wine Tasting Day Trip to Hunter Valley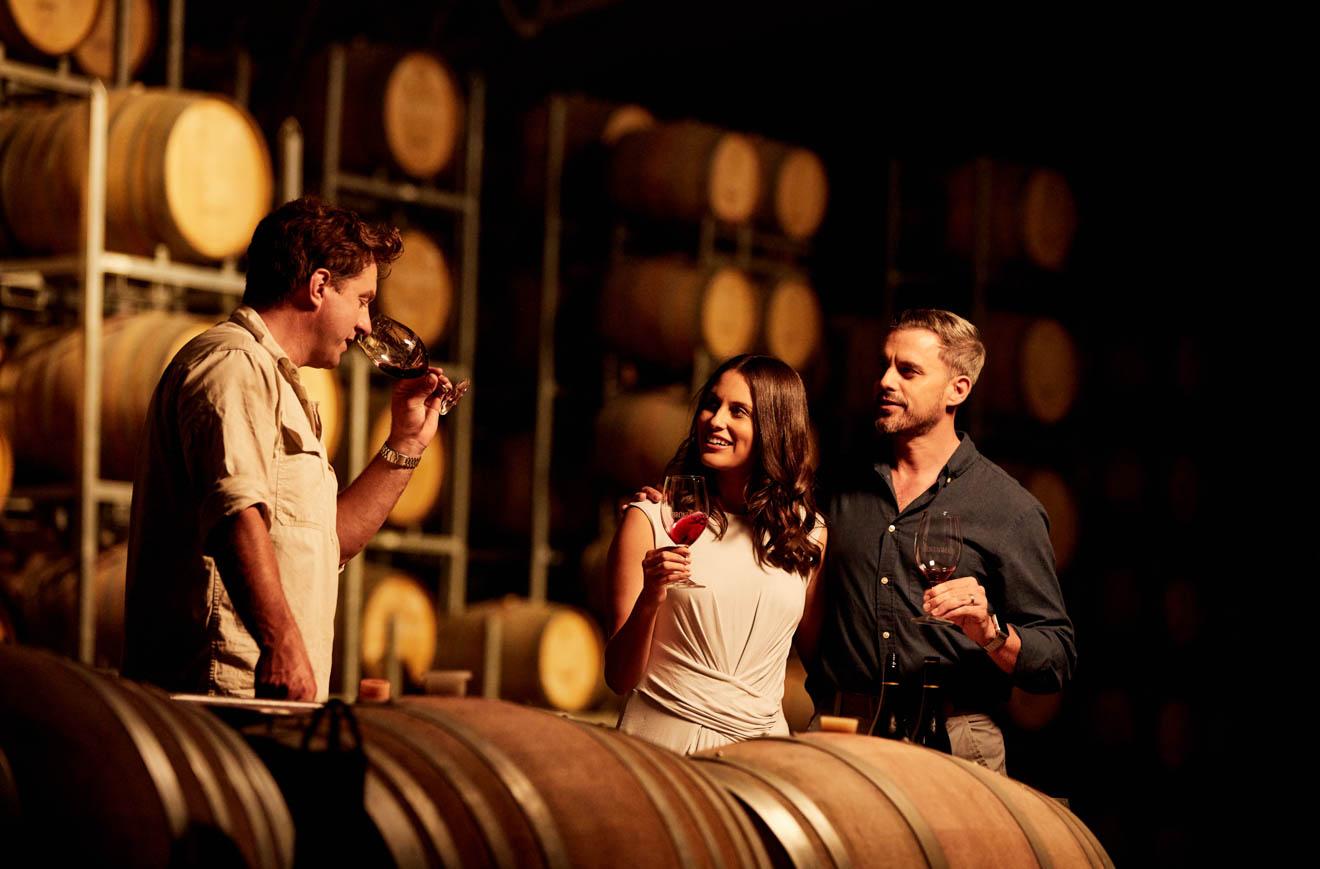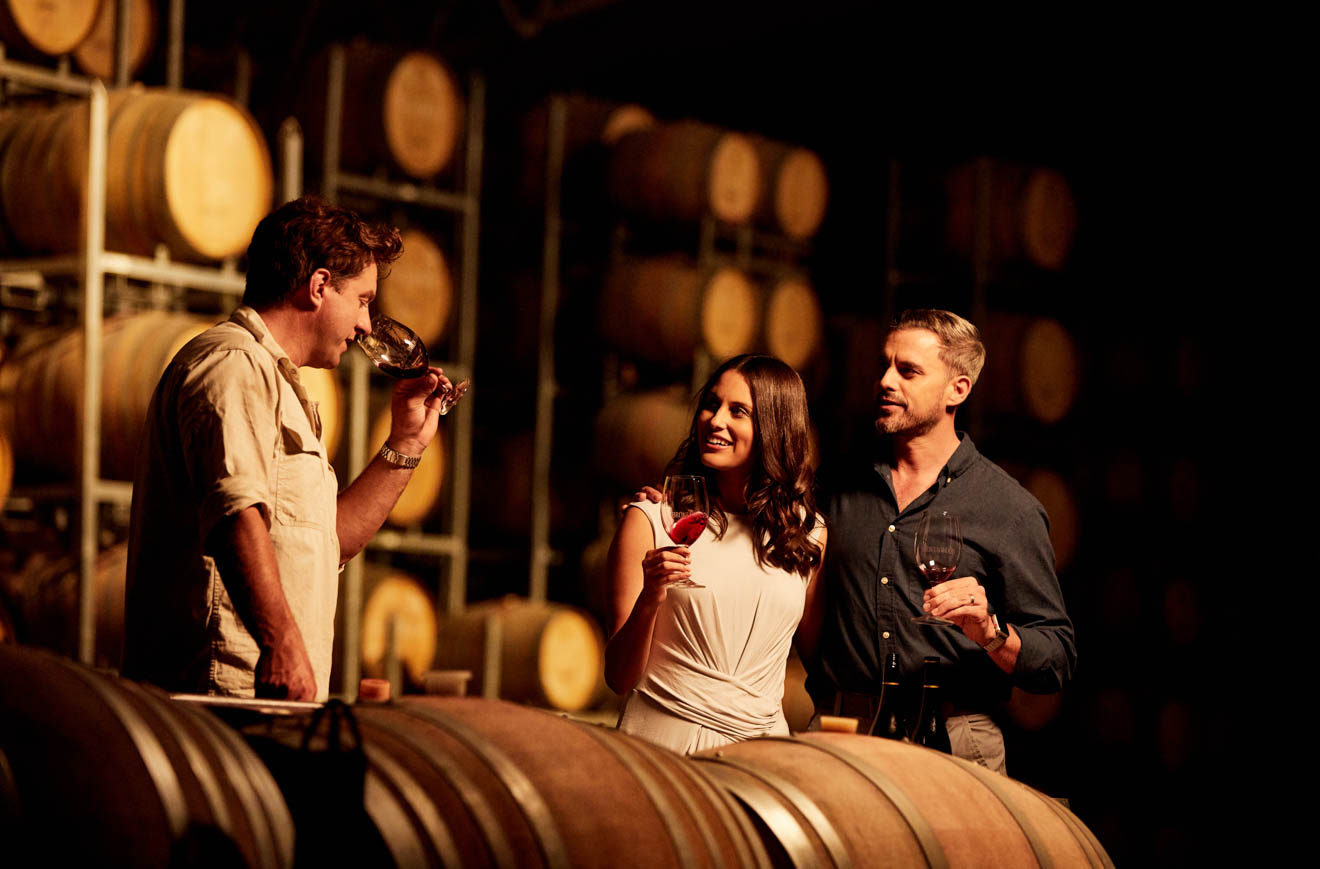 Wine. Cheese. Chocolate. I'm glad I've got your attention!
This 7 hour trip to the Hunter Valley is the perfect wine tasting experience! This trip includes wine tastings, wine and chocolate pairings, a class on how to pair wine and cheese, and a delicious lunch!
Although this day trip has a hefty price tag, you get a lot for your money.
Honestly, this tour was one of the best days I had while I was living in Australia and the wineries themselves were incredible!
We had beautiful weather and were able to eat lunch outside. My girlfriends and I had a day full of laughter and fun. The small group makes for a more intimate experience and it's one that I will never forget!
Check out this post for more information on the Hunter Valley wine region.
14. Jump Onboard a Harbor and Coast Sightseeing Cruise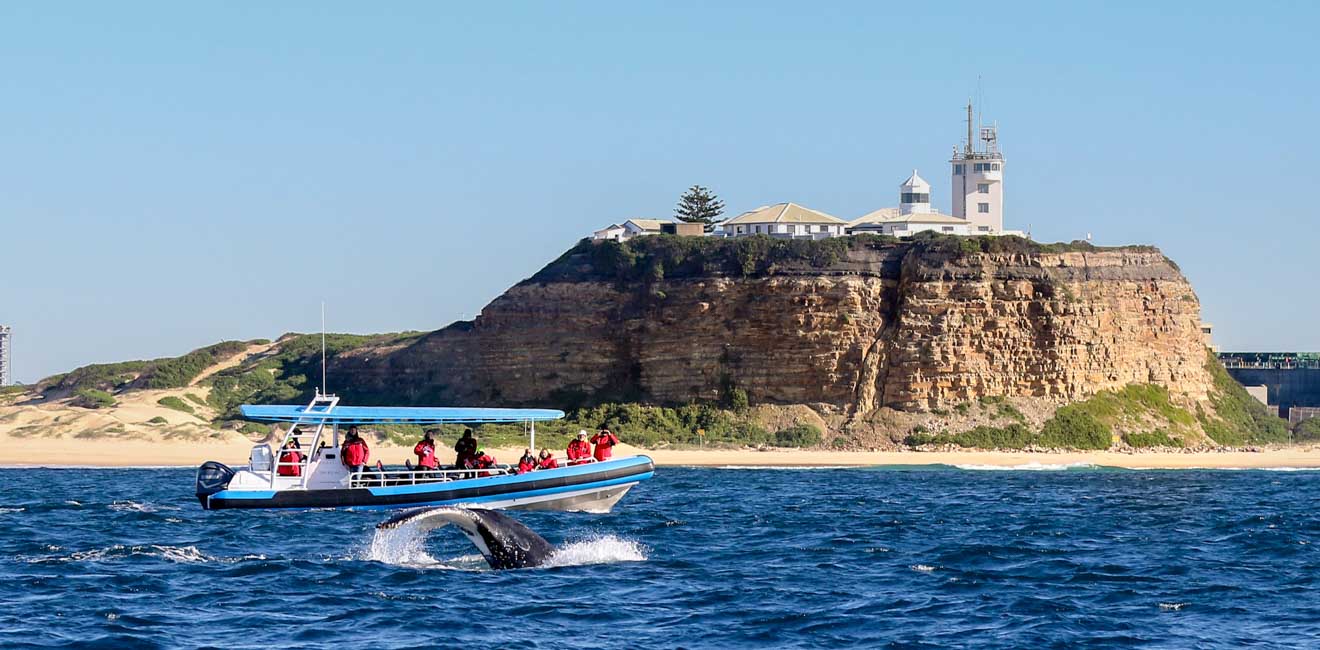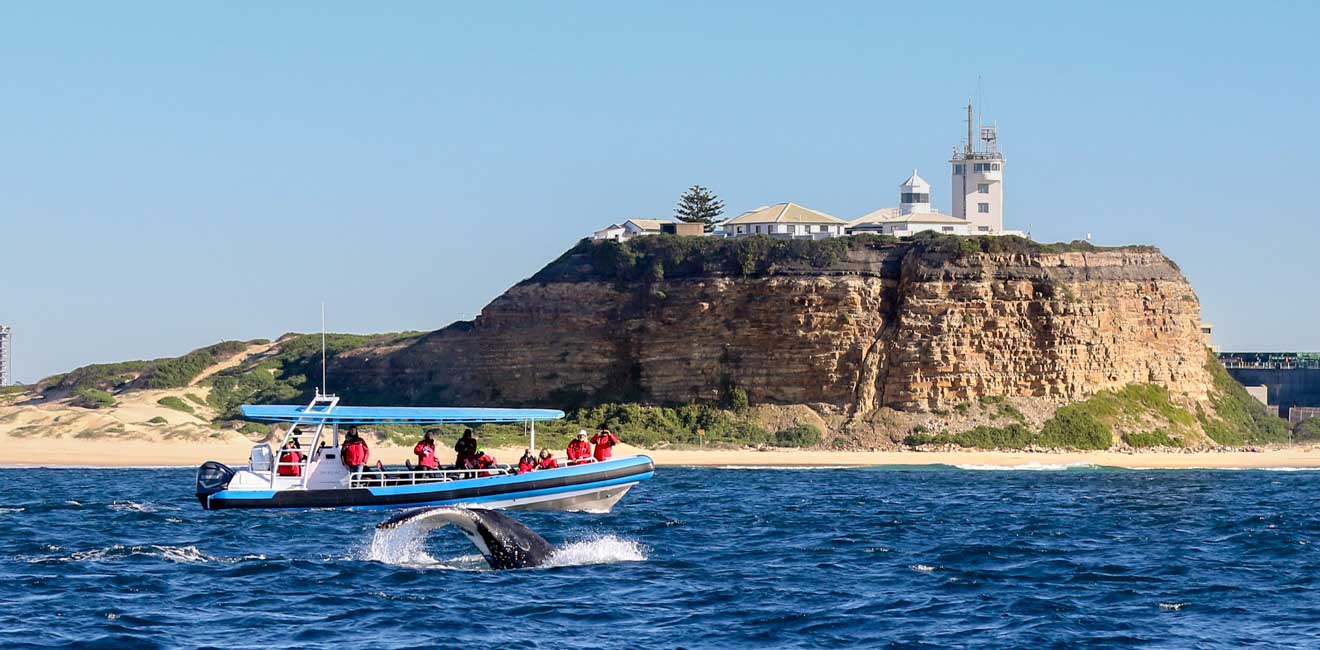 If you're tired of seeing the ocean from the shore and you're dying to get out on it, try out this harbor cruise! This eco-friendly cruise lasts for two and a half hours and gives you unobstructed 360-degree views that can't be beat!
Keep your eye out for elusive aquatic animals and marine life as you take the sites. From the boat you will have fascinating geological features pointed out to you. You will also sail past sites you may have explored on shore, like the Newcastle Memorial Walk, Bogey Hole, Glenrock Lagoon!
As you cruise down Hunter Coast, you'll pass some famous places in Newcastle, like sea caves and Catherine Hill Bay. On top of that, you'll uncover secret spots like Shark Bay, Moon Island, and Pinney's Headland! Adventure awaits you!
15. Take an Informative Pub Crawl (with Tastings)!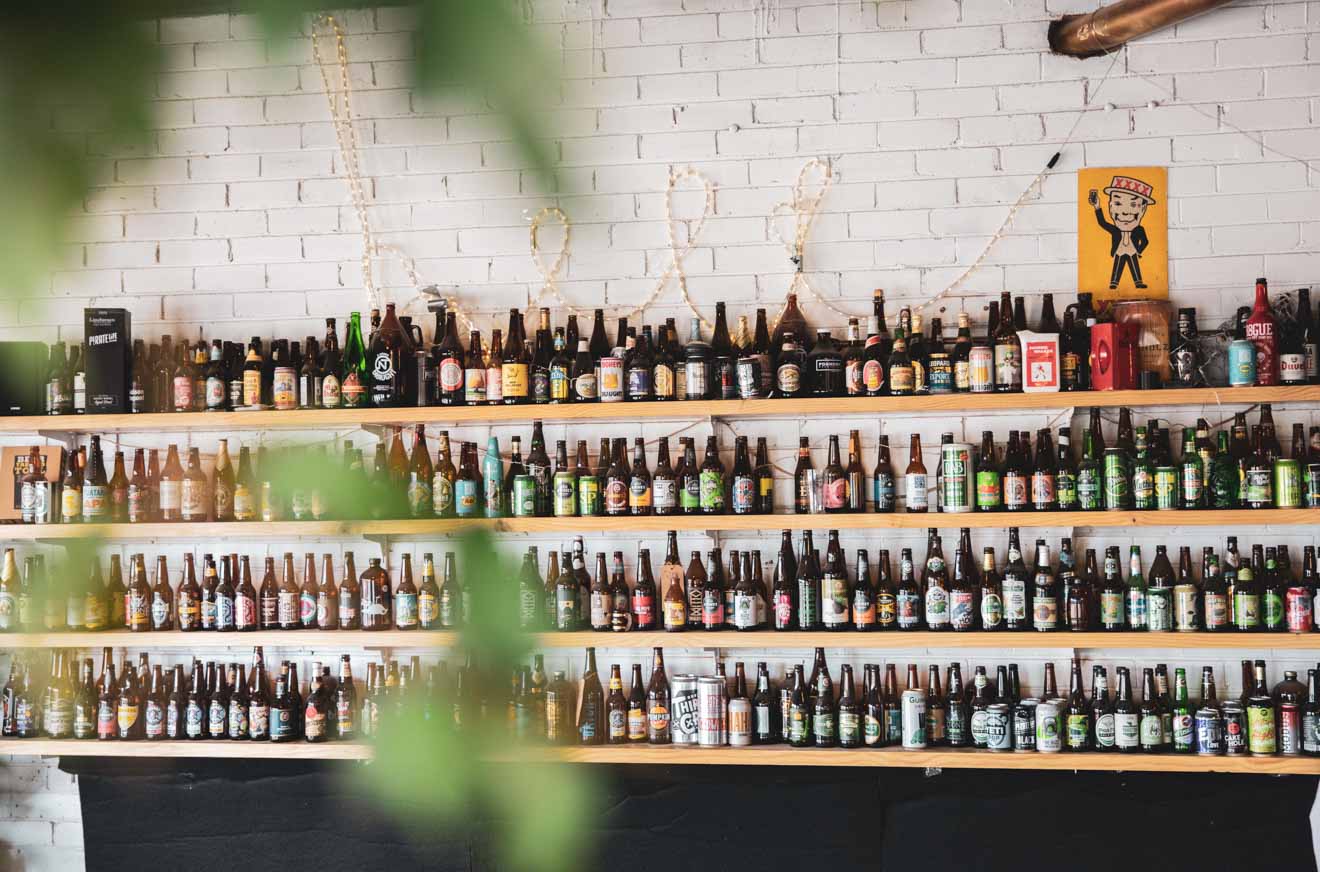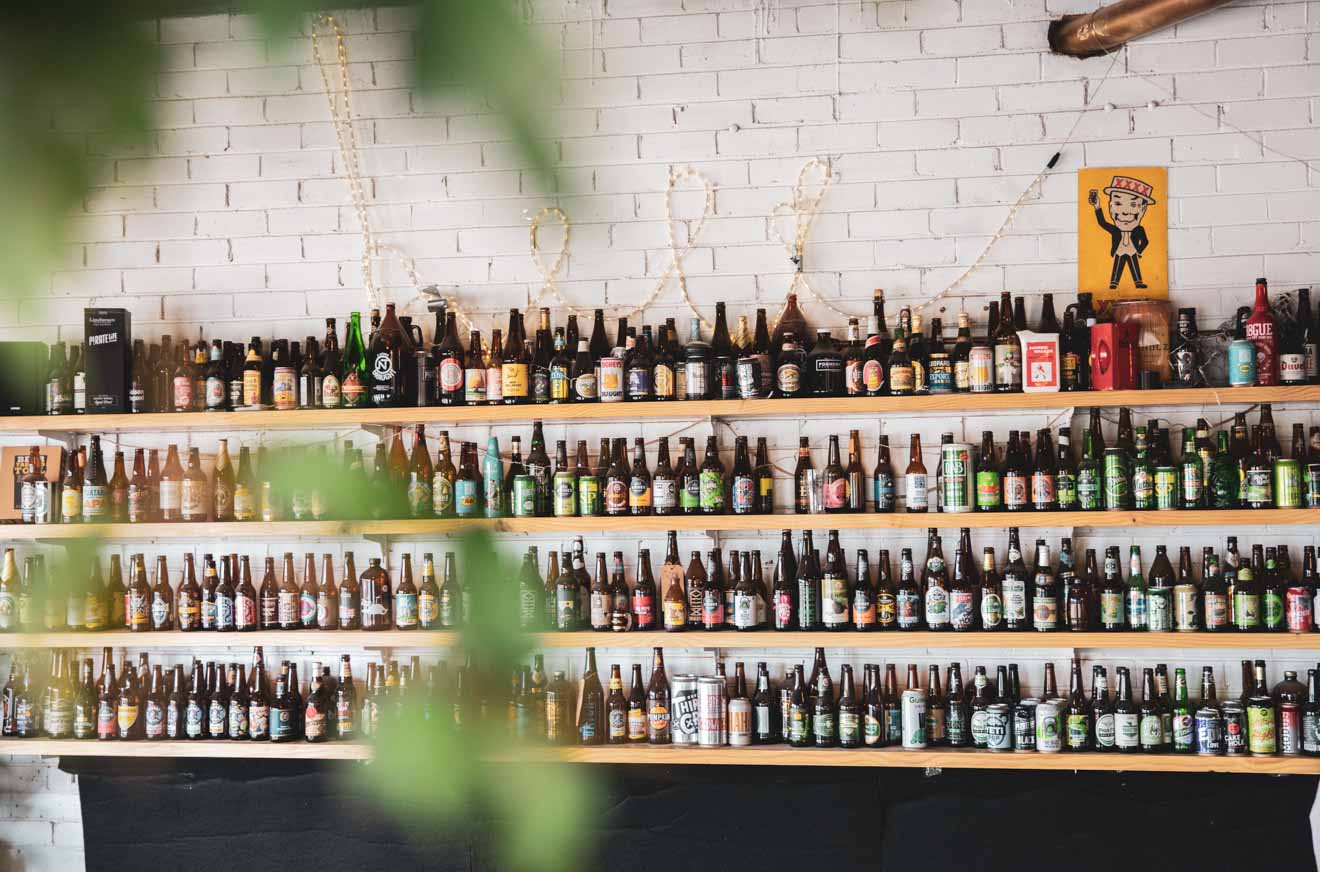 Attention all beer fans! This one is for you.
Newcastle's beer and brewery scene is growing rapidly. If you'd like to learn about the ins and outs of Newcastle's beer industry, this pub crawl is the way to do it.
Over three hours, you will learn about the origins of beer, how it's made, what to look for when you're sampling beer, and how to pair it with food. Along the way you'll meet the small business owners and proprietors of breweries, pubs, and restaurants as you make your way through this learning (and drinking!) experience.
Included in your tour is a hearty lunch. Enjoy the cold beer, delicious food, and new friends!
16. Explore Lake Macquarie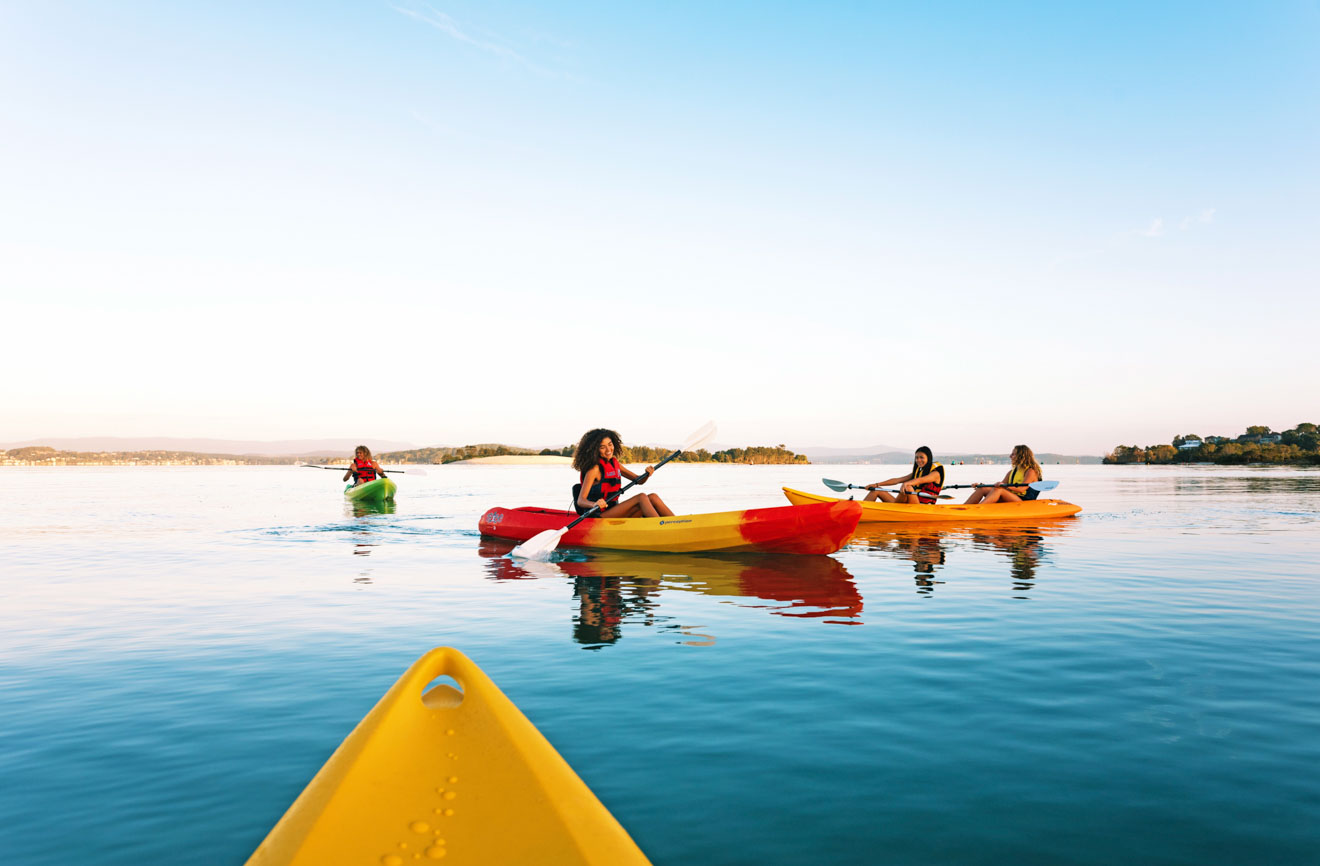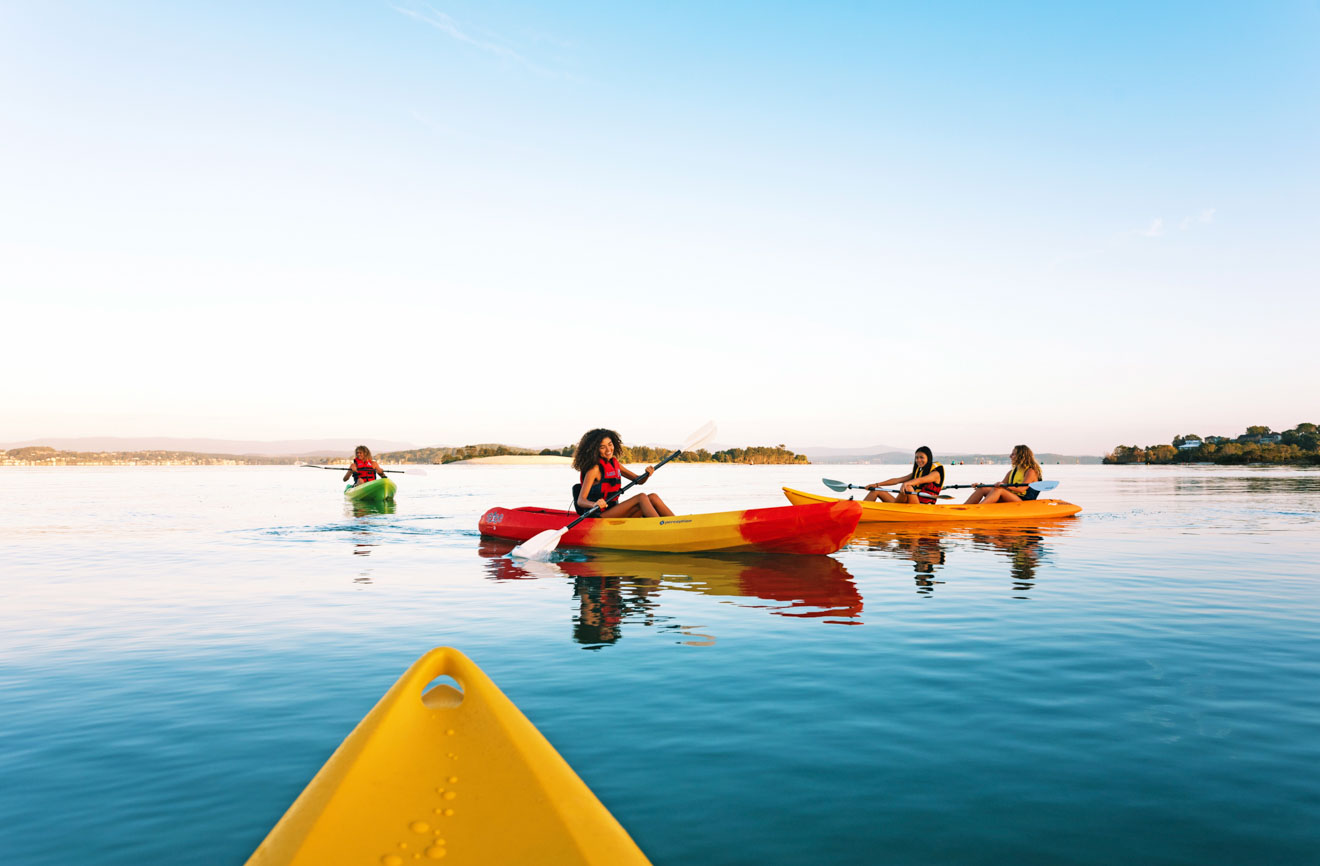 Just a 20 min drive south of the city you will find Lake Macquarie. Lake Macquarie is the largest coastal salt water lake in Australia and with 32km of mountains, calm water, nature and its own city within its 32km of coastline, you're sure to find an attraction to suit your preferences.
Relax at the water's edge to the sounds of bbqs and birds or jump in with a splash to try your hand at one of the numerous water spots common to Lake Macquarie such as kayaking or stand up paddle boarding.
Find some adventure at Belmont wetlands state park located on the lakes edge popular for bush walks, 4 wheel driving and bird watching.
| | |
| --- | --- |
| 👨‍👩‍👦 Family-friendly score: | Medium |
| 🚶🏽‍♂️Top free activity: | Beaumont Street |
| 🐦 Best kids activity: | Blackbutt Reserve |
| 🌊 Top water activity: | Harbor cruise |
| ☀️ Best time to go: | April – June |
| 📅 How many days: | 2-3 |
| 💵 Avg hotel price: | $100 |
BONUS: Unusual things to do in Newcastle, NSW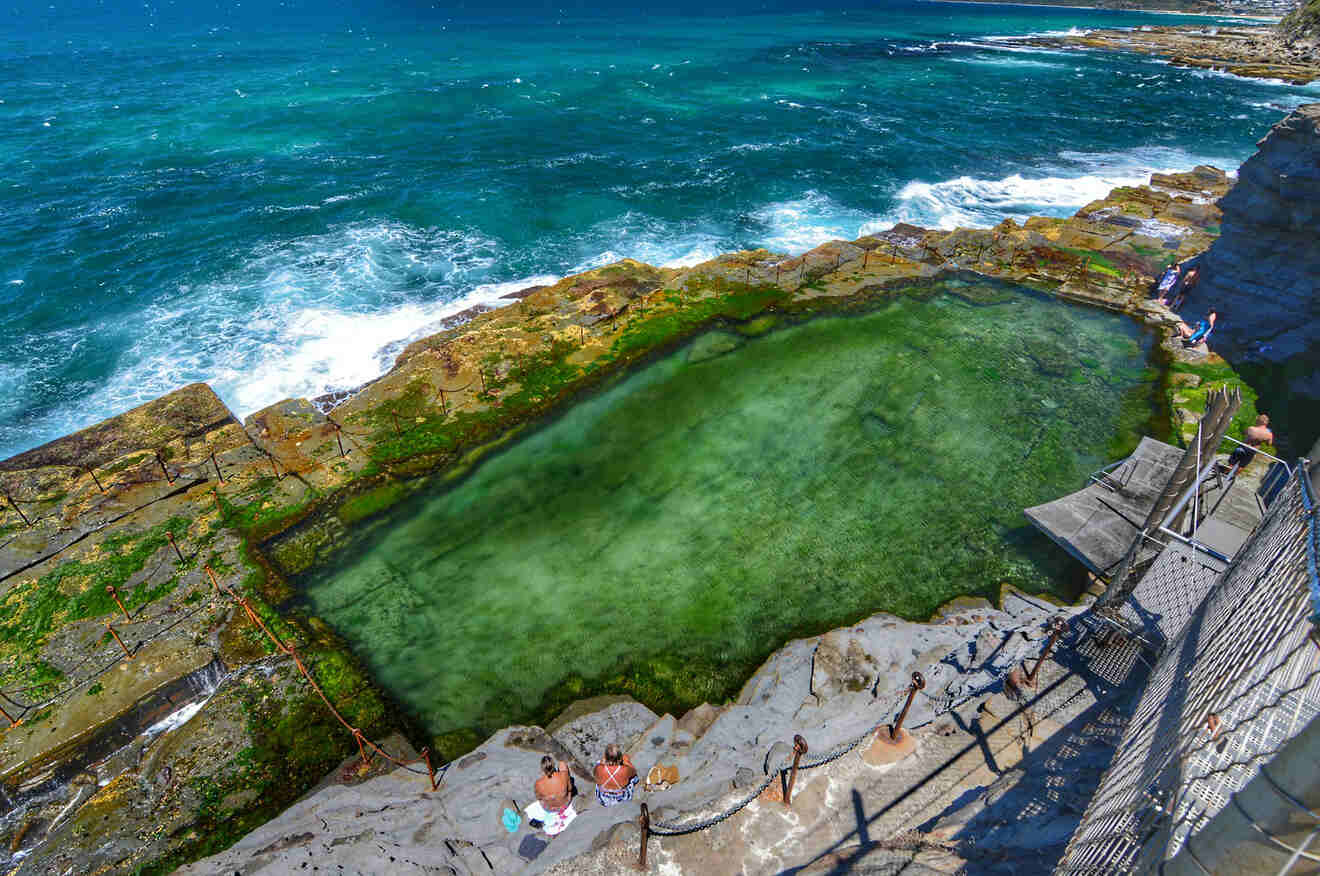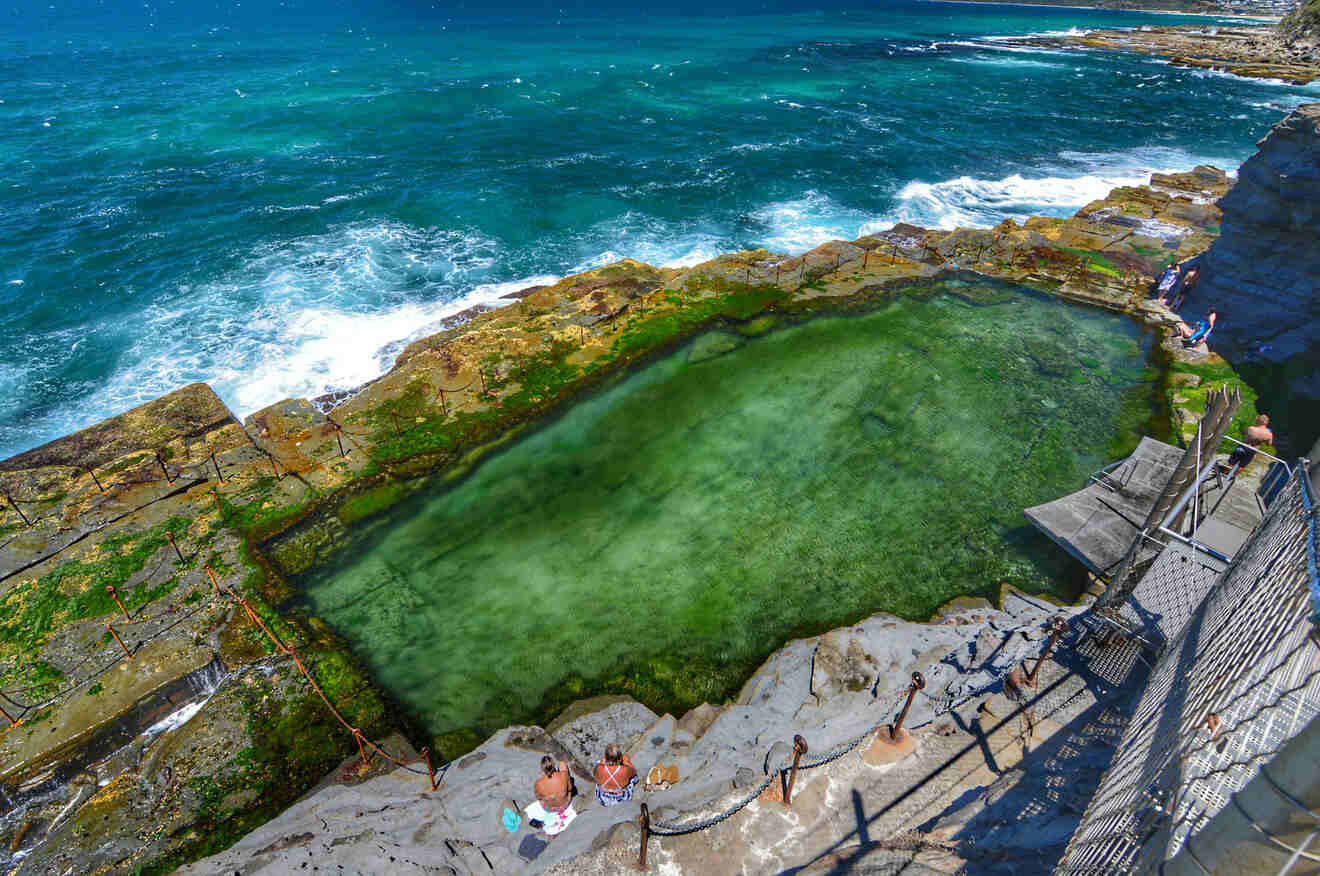 Are you looking for some unusual stuff to do in Newcastle? Here are 3 ideas for you:
Merewether Ocean Baths: Dive into the iconic Merewether Ocean Baths, one of the largest ocean baths in the Southern Hemisphere. With historic charm and stunning ocean views, it's the perfect spot for a refreshing swim or leisurely soak.
Worimi Conservation Lands: Immerse yourself in the vast sand dunes of Stockton Beach, where you can sandboard, explore Aboriginal cultural sites, and witness the unique Meeting Place sculpture.
Lock-Up Cultural Centre: Unearth Newcastle's history at a former police station turned contemporary art space. Experience thought-provoking exhibitions, artist talks, and creative events within these intriguing confines.
Practical Info About the City of Newcastle
Transportation
I took the train from Sydney Central Station, and the trip just flew by while my friends and I were chatting! The train will drop you at Newcastle Interchange in Wickham, one of Newcastle's suburbs right near the centre of the action of the city.
Where to stay in Newcastle, Australia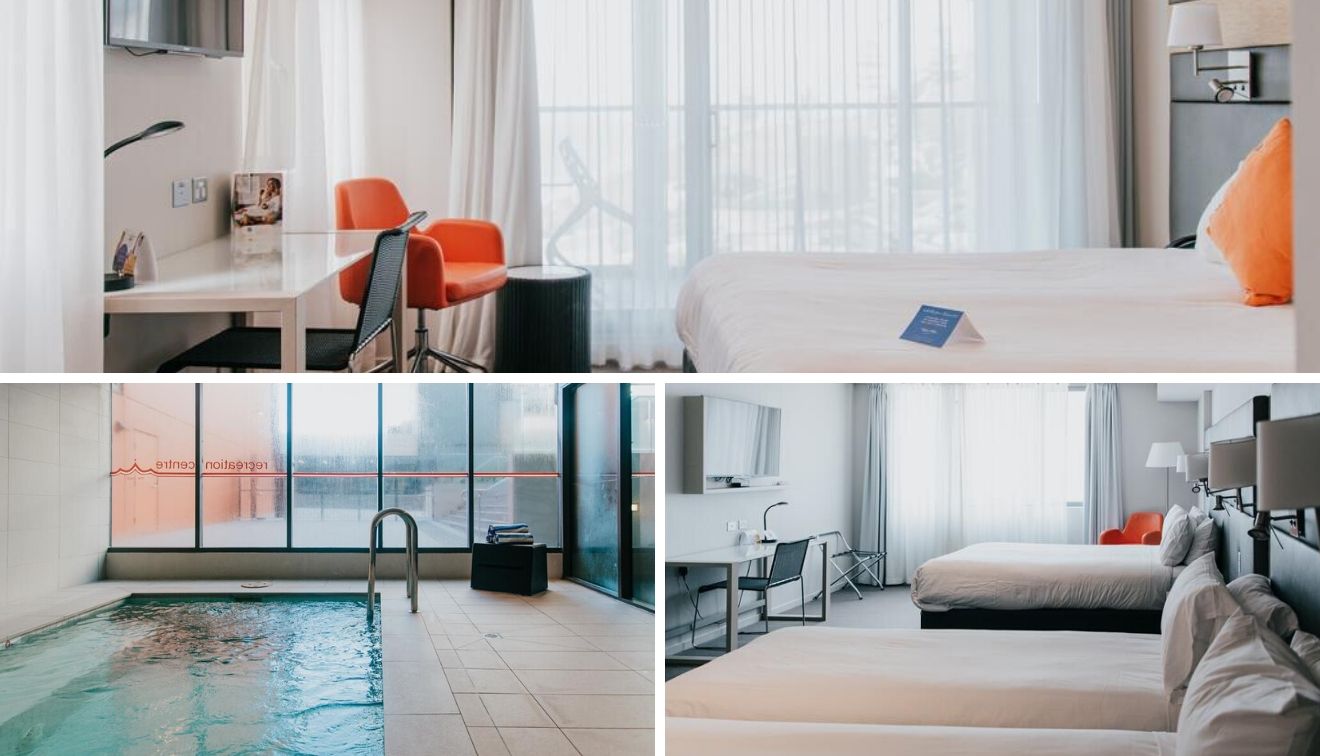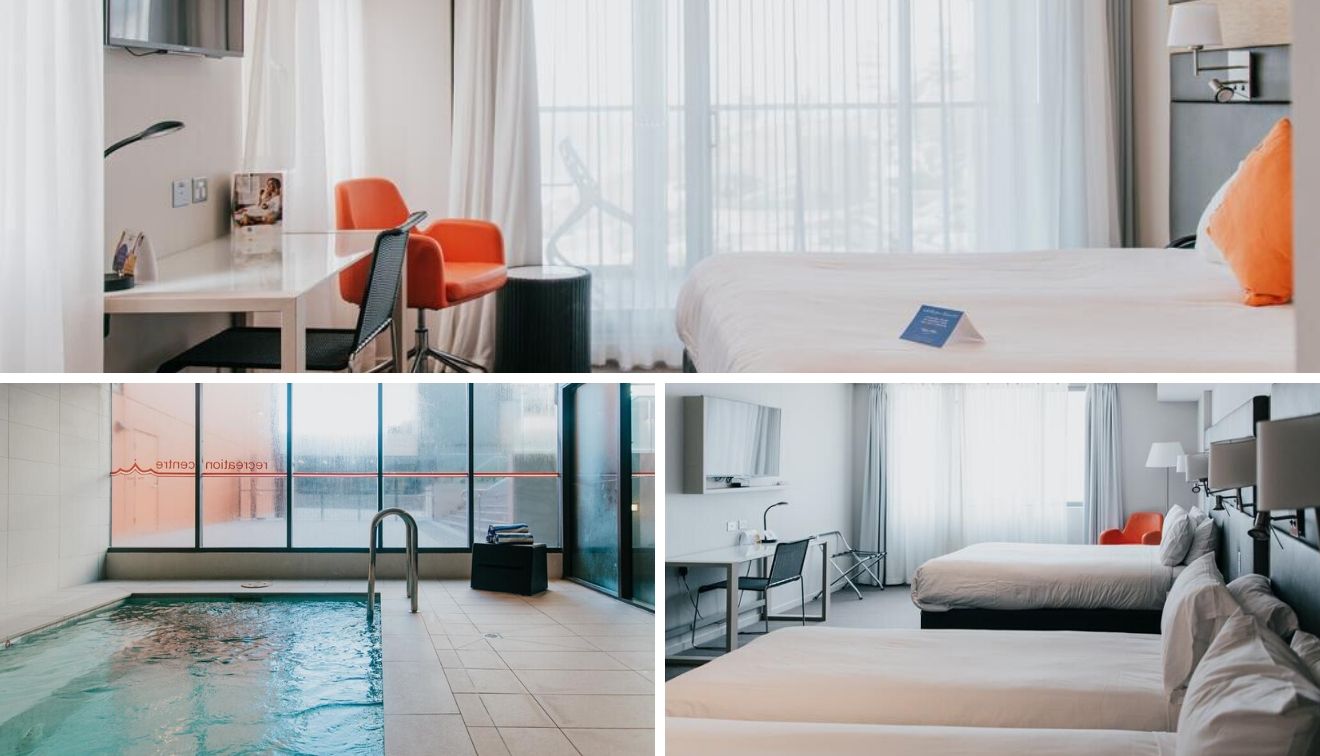 Luxury (from 160 AUD)
Novotel Newcastle Beach boasts 4.5 stars and beautiful views of the ocean! This place has amenities that could entertain you for days, including a gym and spa! There's no better place to get pampered than a vacation by the sea. There are tons of cafes and restaurants within walking distance, and you'll never run out of things to do nearby, like strolling along Nobbys Beach! Nobbys beach is a much quieter option for those who want to get away from the tourists!
Rydges Newcastle is located in the Honeysuckle (how sweet!) part of Newcastle. The balconies lookout over the Hunter River, allowing you to enjoy a view of Port Stephens across the bay. With beautifully appointed rooms, deluxe amenities and luxurious swimming pool, it is worth every cent!
Mid-range (80 to 160 AUD)
The Grand Hotel has by far the coolest aesthetic on this list – it looks like a slice of New Orleans in Newcastle! Most of the rooms have balconies, which is part of what contributes to the Old World feel. The only difference? The Grand Hotel has all of the modern conveniences you'd expect. It is located a convenient 5 minutes from the city's main beach, the center of the action!
On a hot tip from a fellow tourist, my friends and I checked out NOAH's and we're glad we did! It was located right smack on Newcastle Beach with unforgettable sea views. Many of the rooms at NOAH's have balconies- perfect for relaxing with a glass of wine after a long day at the beach!
Budget (from 30 AUD)
If you're looking for cheap accommodation in the city, I highly recommend Newcastle Beach YHA, it is located right across the street from the beach. This was one of the best hostels I have ever been to- they even have surf boards that you can borrow! I had a blast exploring King Edward Park with new friends from the hostel.
Another great budget option would be to rent a private room through Airbnb, this room is a great option in my opinion – it is clean, spacious, located in the center and it has fantastic reviews!
🏙️ What is Newcastle, NSW famous for?
Newcastle, NSW is famous for its stunning beaches, vibrant surf culture, rich maritime history, and being one of Australia's largest coal-exporting ports.
💑 What are some cool things to do in Newcastle for couples?
Explore the picturesque Quayside, enjoy romantic walks along the Tyne River, and savor local cuisine at the vibrant food scene.
📅 What are some enjoyable things to do in Newcastle on a Sunday?
Explore the bustling Quayside Market, savor local flavors at Grainger Market, or take a serene stroll along Jesmond Dene Park's scenic trails.
Conclusion
I hope this post has provided you with a lot of fun ideas of things to do in Newy, so you can have just as unforgettable of an experience as I had! 
Whether you enjoy the coastal activities or want to venture inland, there's plenty nice places in Newcastle waiting for you to explore them! 
Do not hesitate to contact me through the comments section below if you have any questions about Newcastle or any other places around (Blue Mountains for instance?).
Have a great trip!
Kate
---
---
Pin it for later!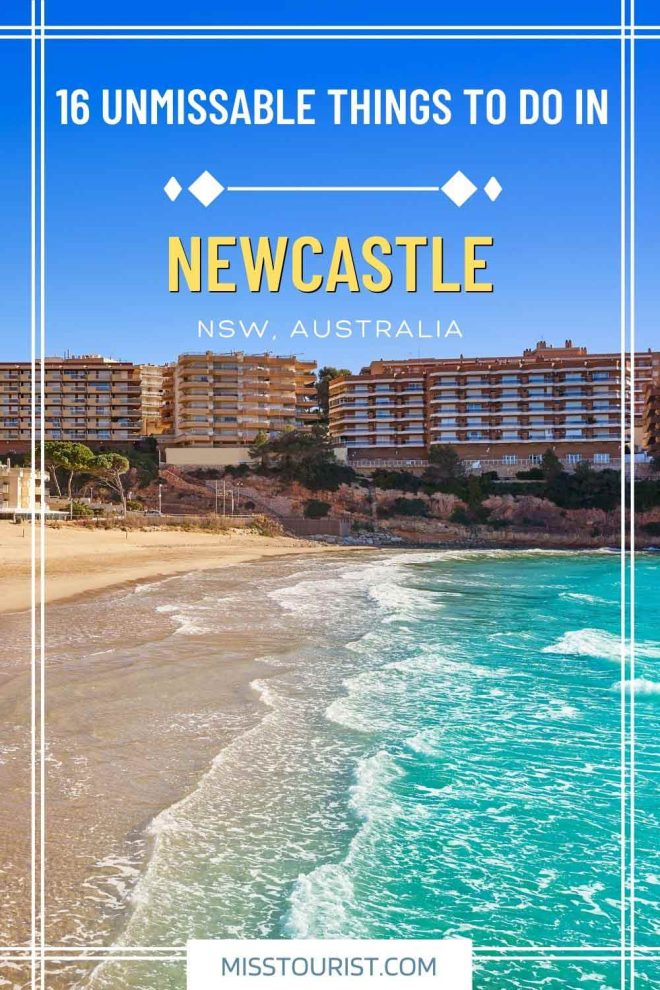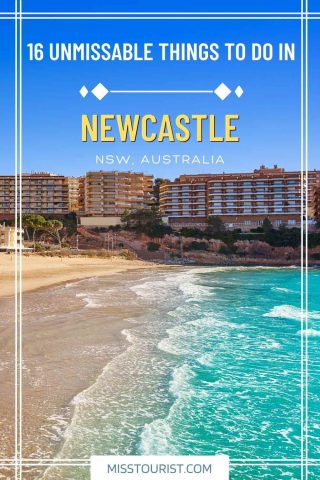 Pin it for later!