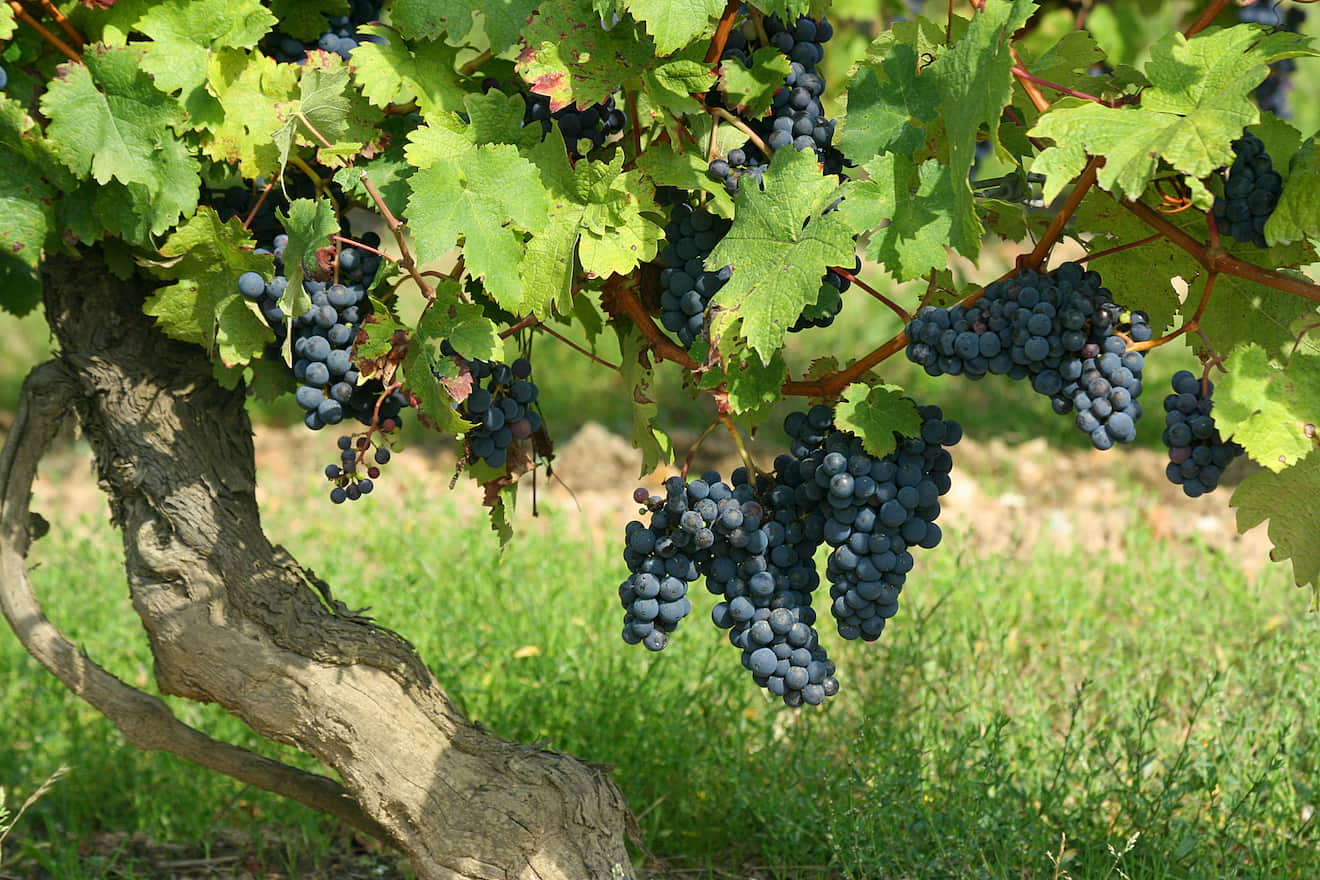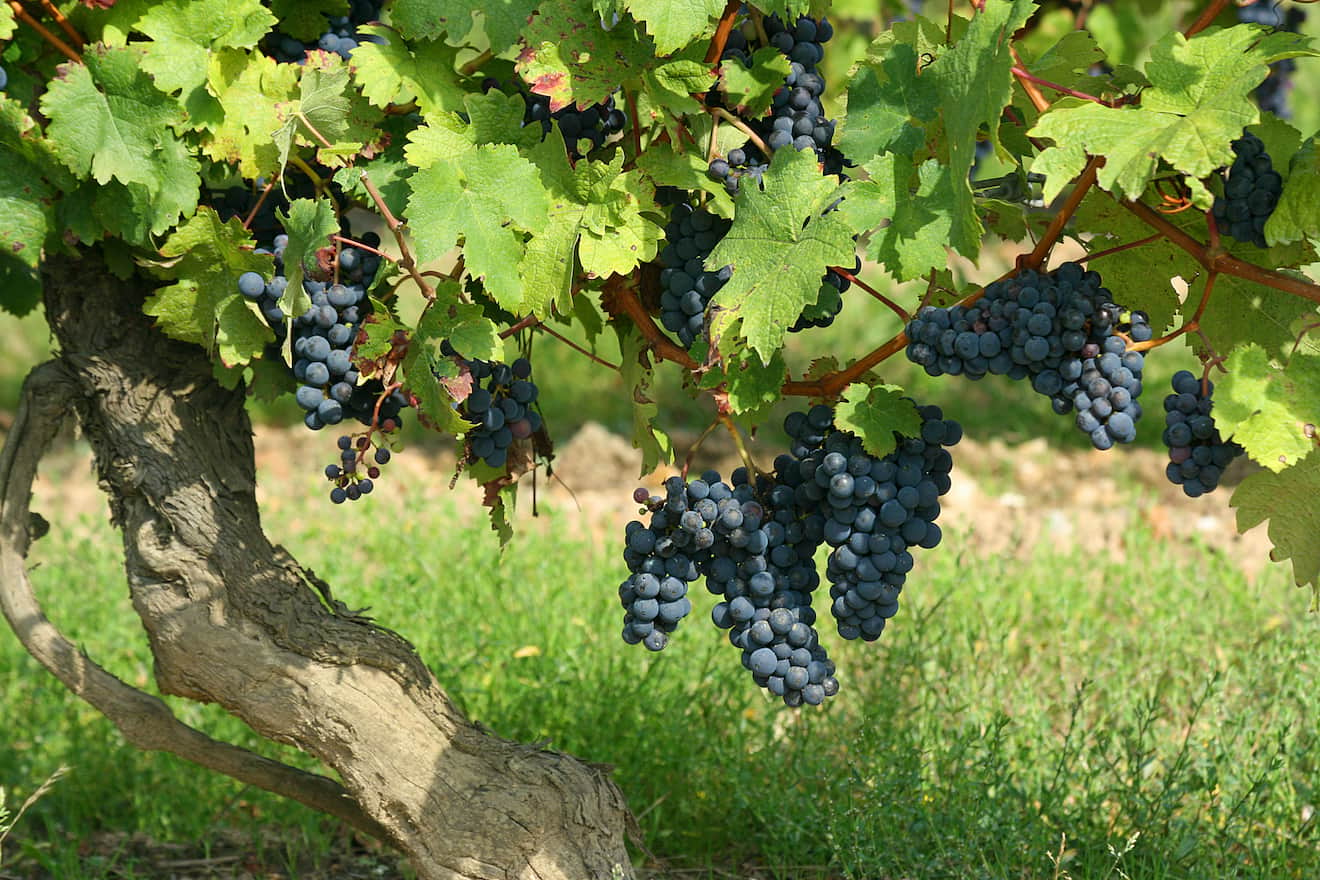 Located just 2 hours north of Sydney, The Hunter Valley has so many incredible vineyards and wine tours, it should definitely be on the list for anyone visiting NSW!
Before my trip to The Hunter region I didn't know how historic the wineries are, some even date back to the 1800s! I had a great day not only drinking wine, but learning its history.
Although many wines are grown throughout the valley, Hunter wines are most famous for Semillon (dry, crisp white) and Shiraz (full bodied and spicy red).
Even if you're not a wine lover like me, you'll still enjoy the picturesque landscapes of vast vineyards and mountain plateaus of Broken Back Range. You will also find plenty of distilleries, breweries and even a cheese and chocolate factory to enjoy in the area!
I think 2 nights is the perfect amount of time here. With so many Hunter Valley wine tours to experience, I've narrowed it down to my top 5, PLUS all the information you need to get to the Hunter Valley and find accomodation as well as choose the best wineries to visit!
Here it is!
1. Full Day Wine, Cheese and Chocolate Tasting Tour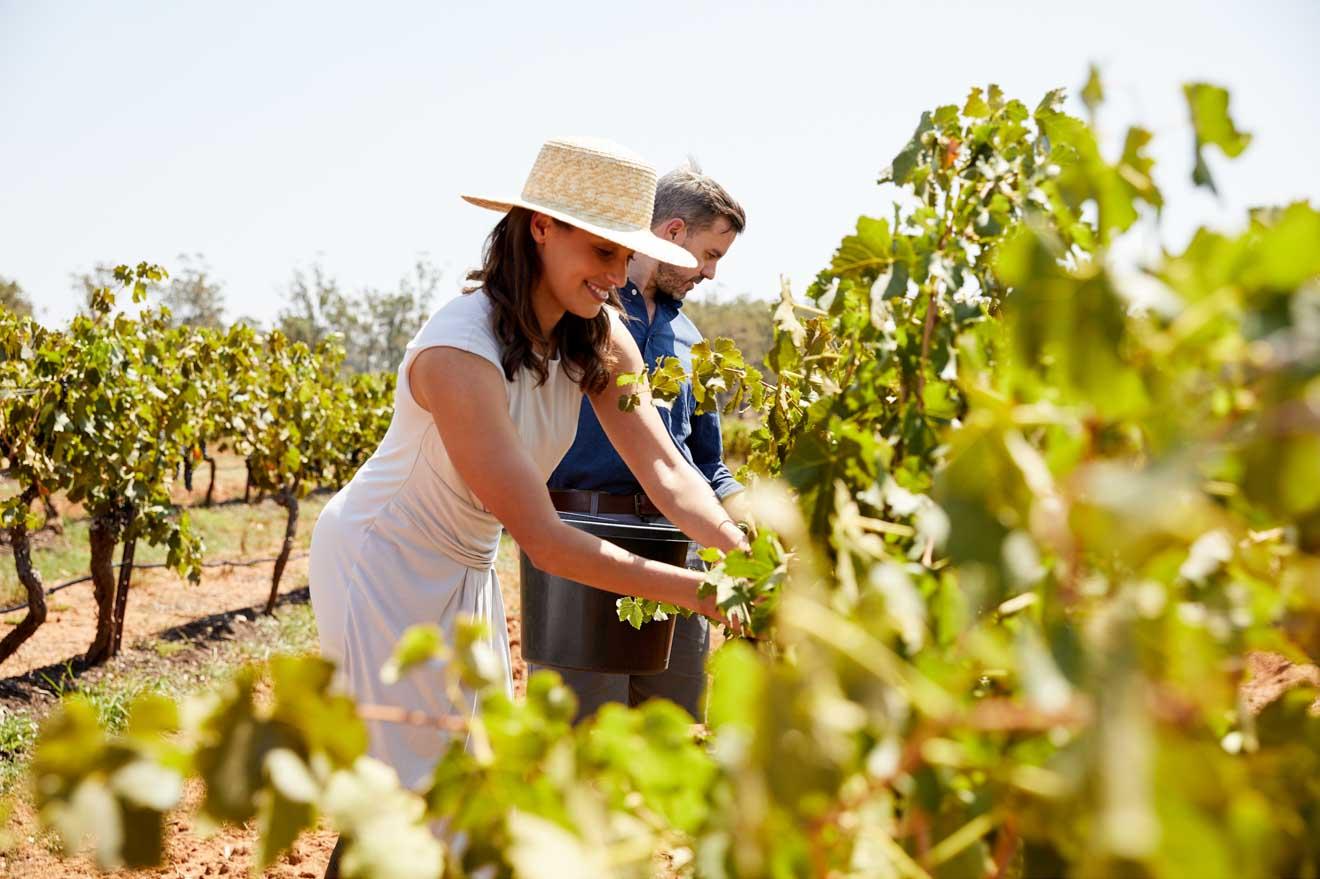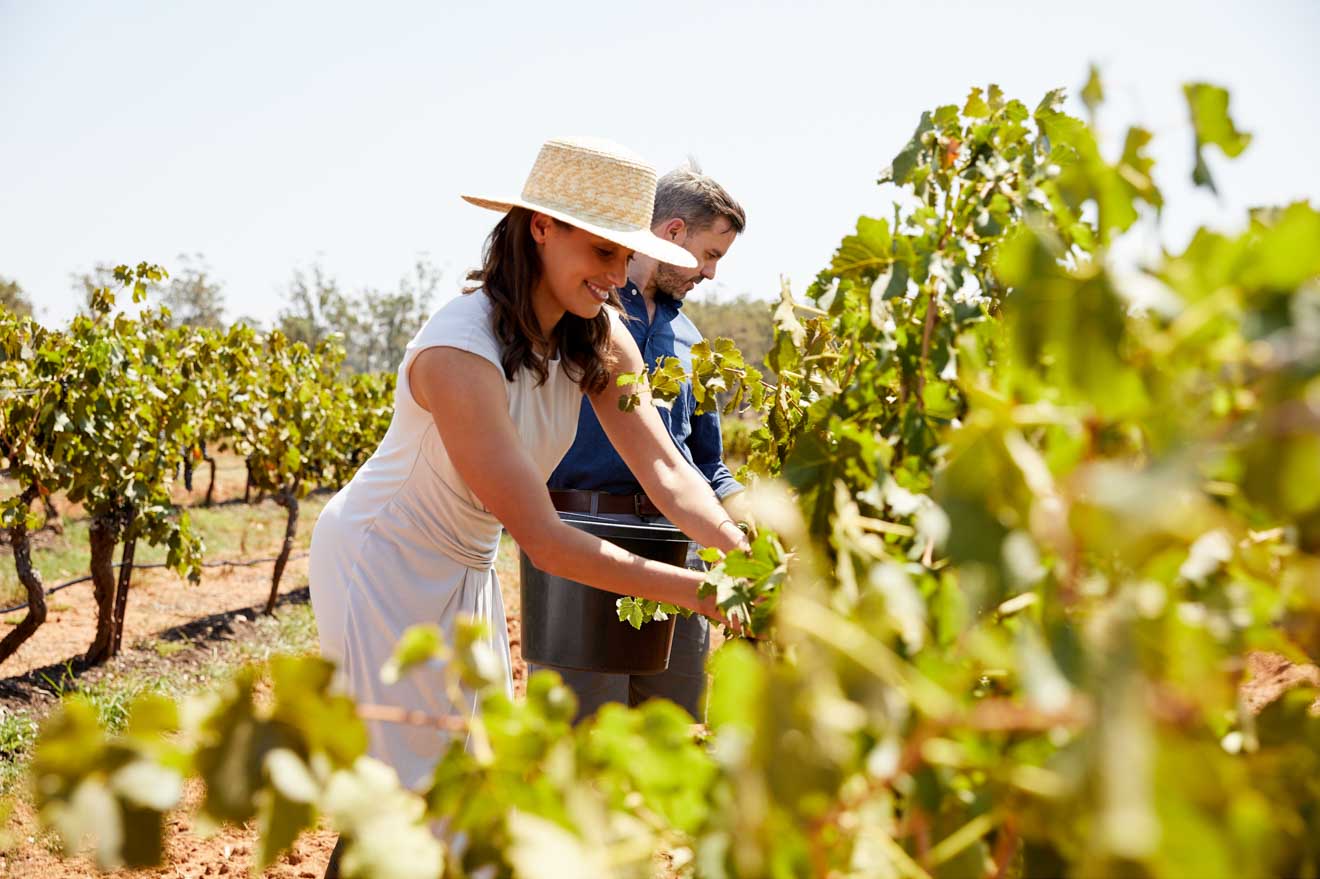 One of the most popular wine tours in the Hunter Valley, jump on board a full day tasting extravaganza. These day tours depart either the Hunter Valley itself, Sydney or Newcastle.
Join a small, friendly group on a music-filled fun day out. Stopping at 3 different cellar doors for wine tasting, as well as short stops for local cheeses and chocolate along the way, you'll definitely work up an appetite for the beautiful lunch included on these tours.
My favourite thing about guided winery tours is that you have a designated driver allowing you to fully enjoy your day!
WHERE: Hunter Valley: Hotel pick up.
Sydney: 812 George Street.
Newcastle: 81 Maitland Rd.
WHEN: Hunter: 10.30am-4.30pm. Tues, Thurs-Sun
Sydney: 7am-7pm. Tues, Thurs-Sun
Newcastle: 10am, weekends only.
COST: From The Hunter Valley, $135pp. From Sydney or Newcastle $145
2. Hop-On Hop-Off Bus


For those of you who like to enjoy tours at your own pace, the Hop-on Hop-Off Bus is a great option!
If staying in The Hunter Valley, wine tours like this would have been my choice of all the hunter valley tours.
Jump on and off the bus wherever you like for the most customisable of all the Hunter Valley wine tours.
Hourly buses run 10.15am-5pm. Pack A LOT of wine(ries) into your day or return home early if a half day tour is enough for you. Check the timetable here to build your own itinerary.
WHERE: Begin at any of the 16 stops in the Hunter Valley.
WHEN: 10.15am-5pm. Thursday-Sunday
COST: $72 pp
3. Brokenwood Wine Experience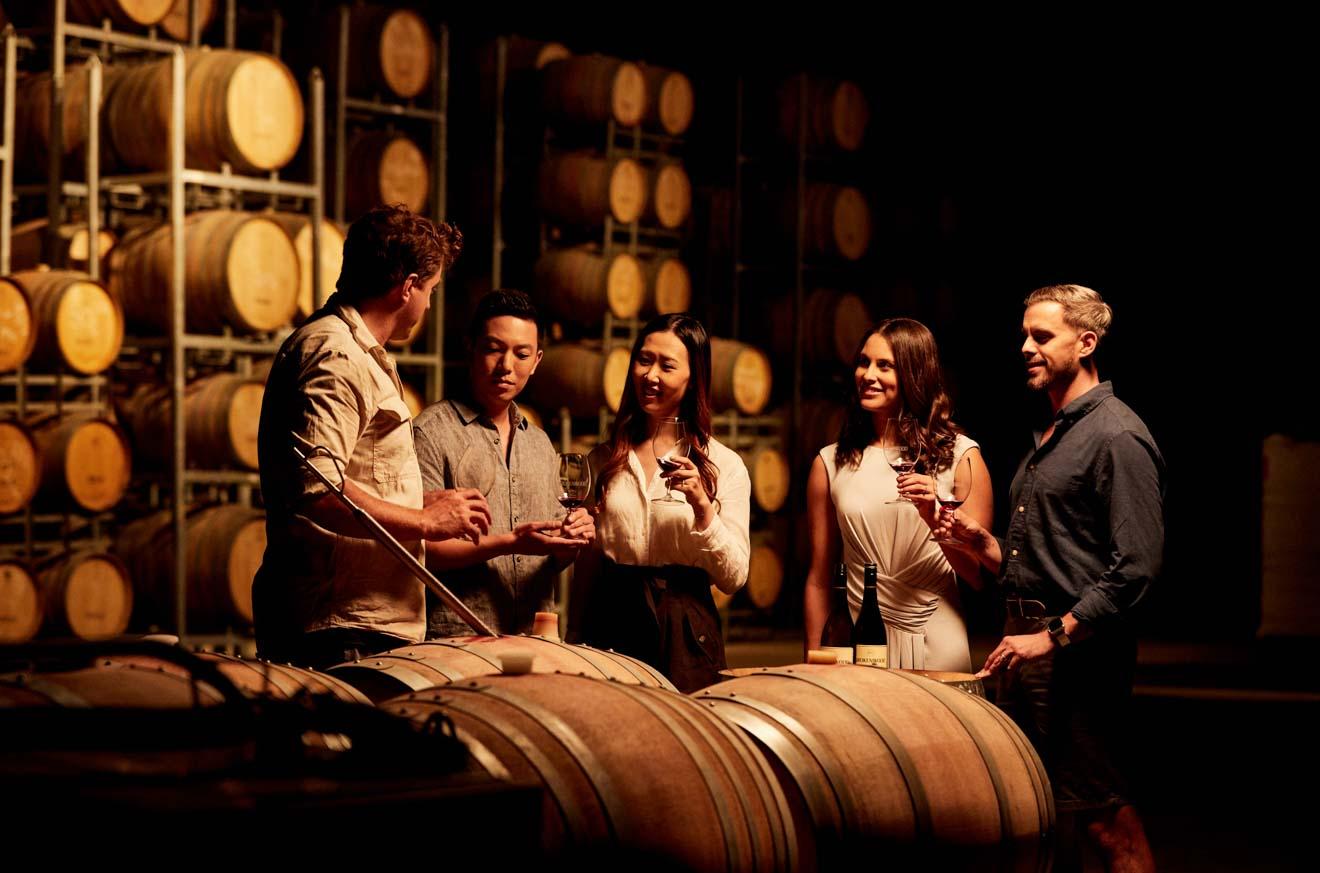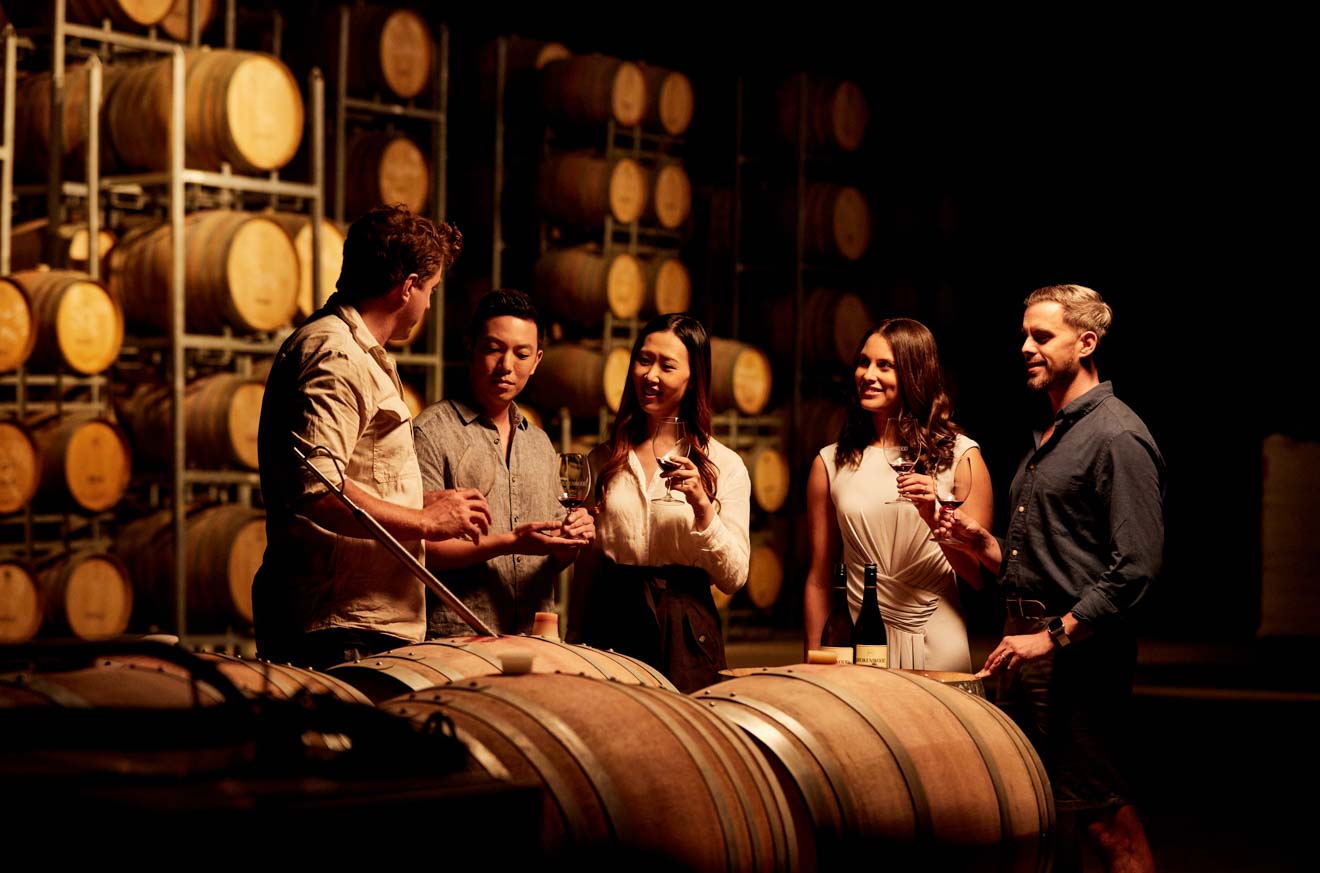 Established in 1970, Brokenwood Wines is one of the Hunter Valley's most recognised wine labels. Discover the world of wine on The Brokenwood Journey. For 2 hours you will be led by a personal tour guide through the tasting of 6 wines and canapes in a private tasting room. The pairings will be explained by the head chef before continuing onto your behind-the-scenes tour of the winery including pre-release samplings, straight from the barrel.
Alternatively, for those seeking unique, in-depth wine tours, VIP Soil to Cellar adds a Brokenwood Semillon and oyster paired tasting with an extended private tour of the winery featuring the famous Graveyard Shiraz vines. Indulge in a 4-course degustation in a private dining room matched with award-winning wines but don't forget to save room for the charcuterie platter and pre-release samplings in the barrel hall before taking home your own bottle of the Graveyard Vineyard Shiraz to enjoy later.
WHERE: 401-427 McDonalds Rd, Pokolbin
WHEN: 11am
COST: Broken Wood Journey, $110 pp. VIP Experience, $1,179 pp
4. Take a Sunrise Hot Air Balloon Ride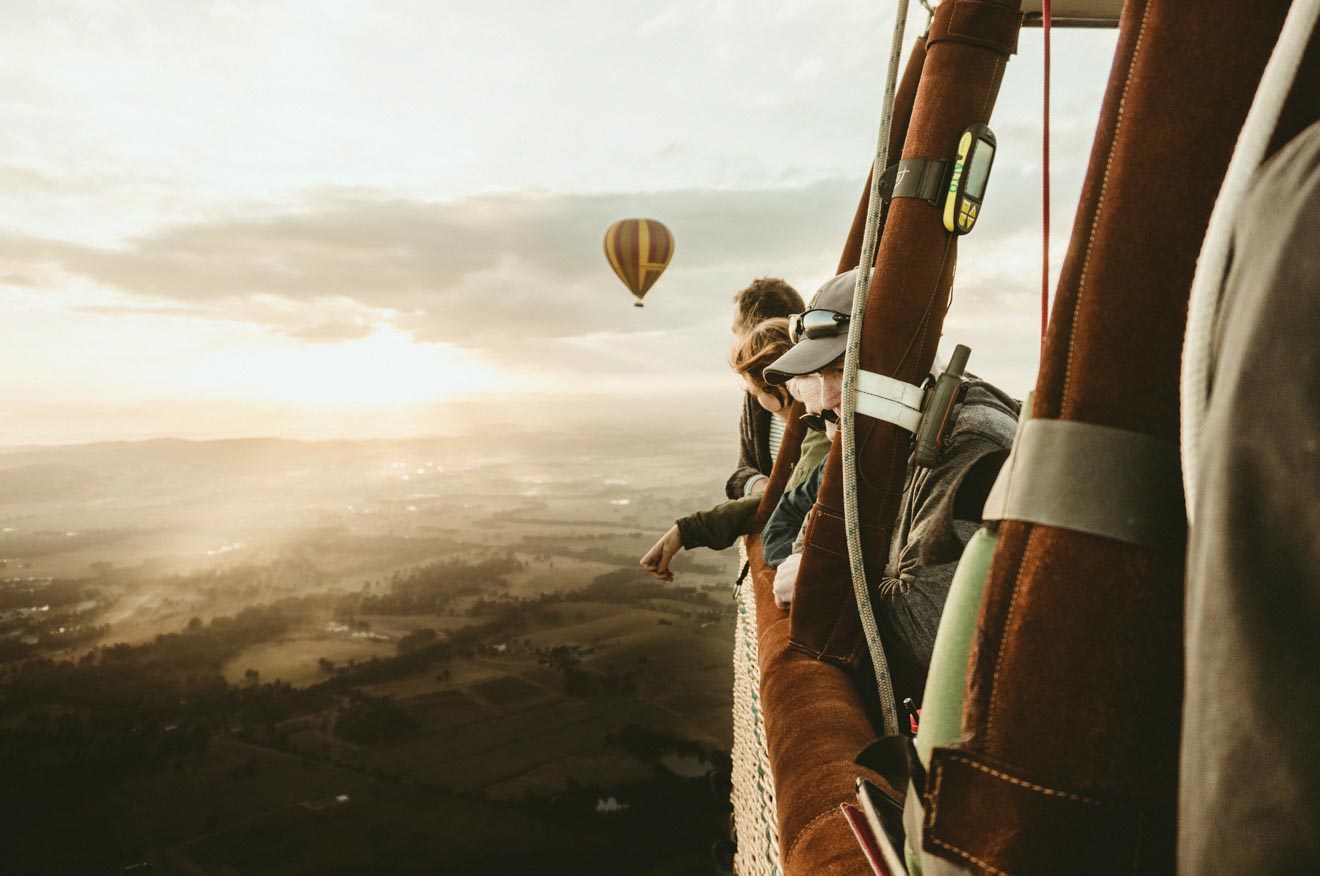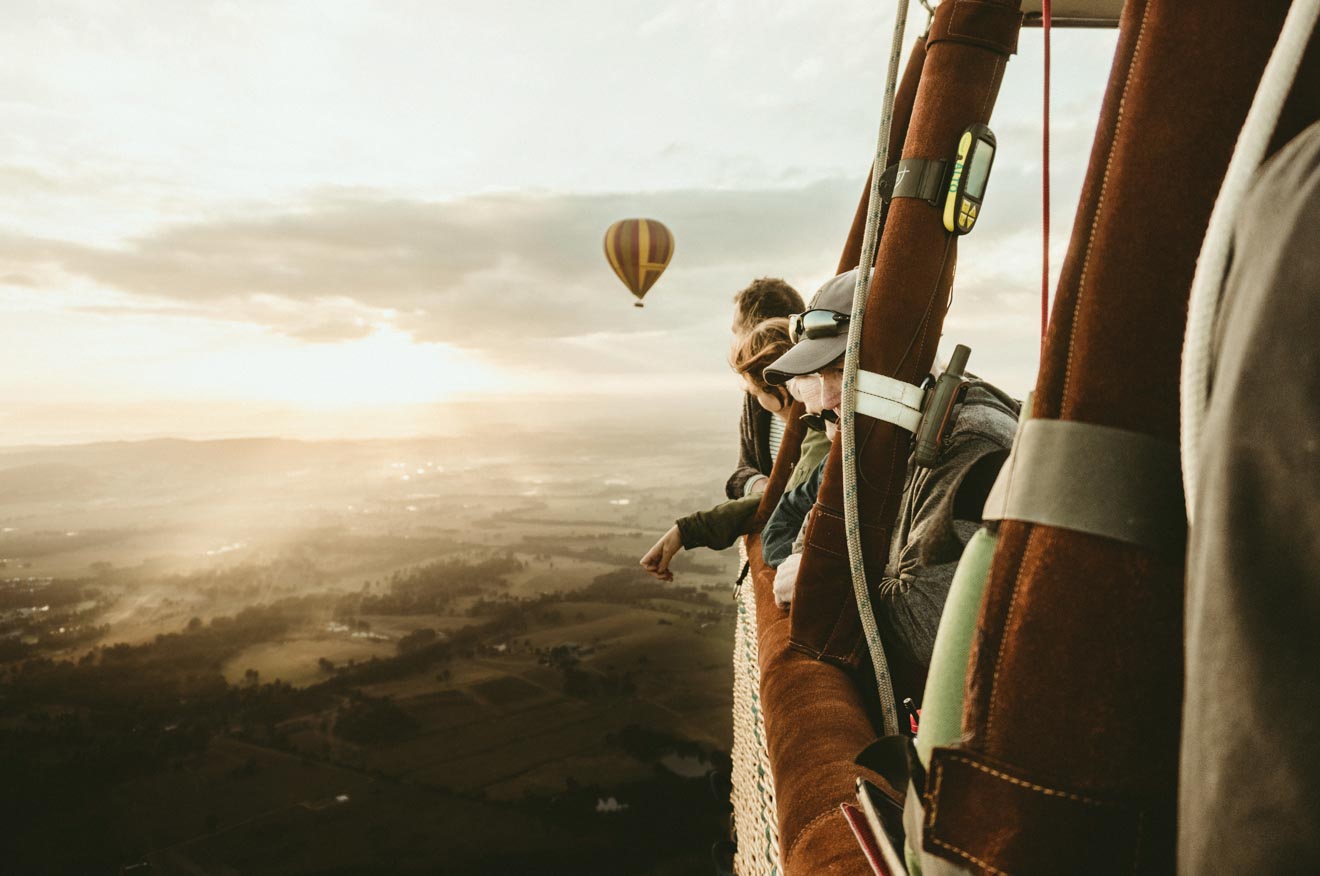 Depart at dawn from Peterson House for an extra special sunrise.
The 1-hour flight will take you high above the famous Hunter Valley with stunning views of the wine region before returning to a delicious sparkling wine breakfast.
This would be my other top pick of the Hunter Valley wine tours if I had an extra day.
TIP: Book Tuesday-Thursday for special deals.
WHERE: Corner of Broke Rd & Wine Country Drive, Pokolbin.
WHEN: Tours depart at Dawn, confirm departure the night before.
COST: From $269 pp
5. Private Helicopter Tour and Gourmet Vineyard Picnic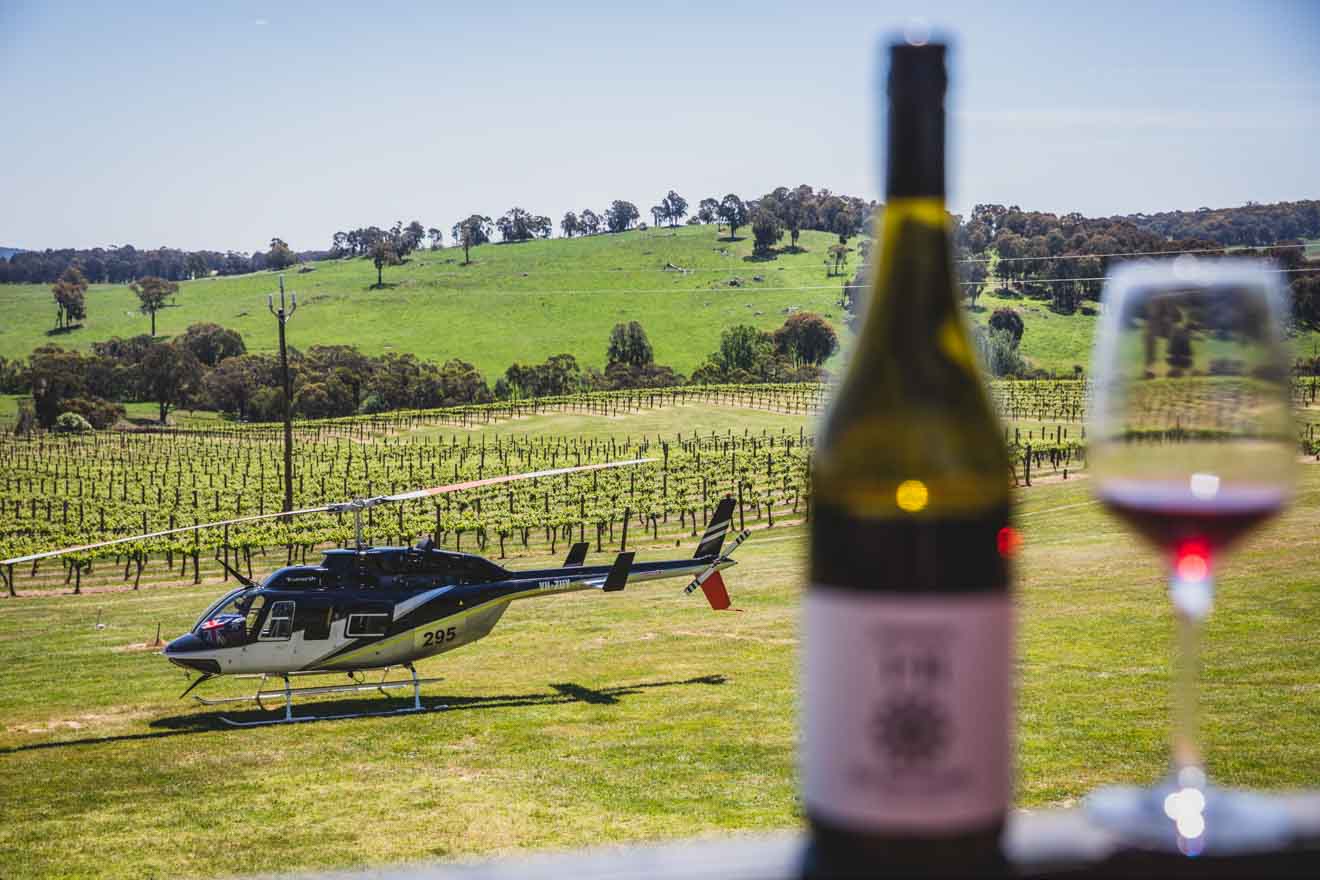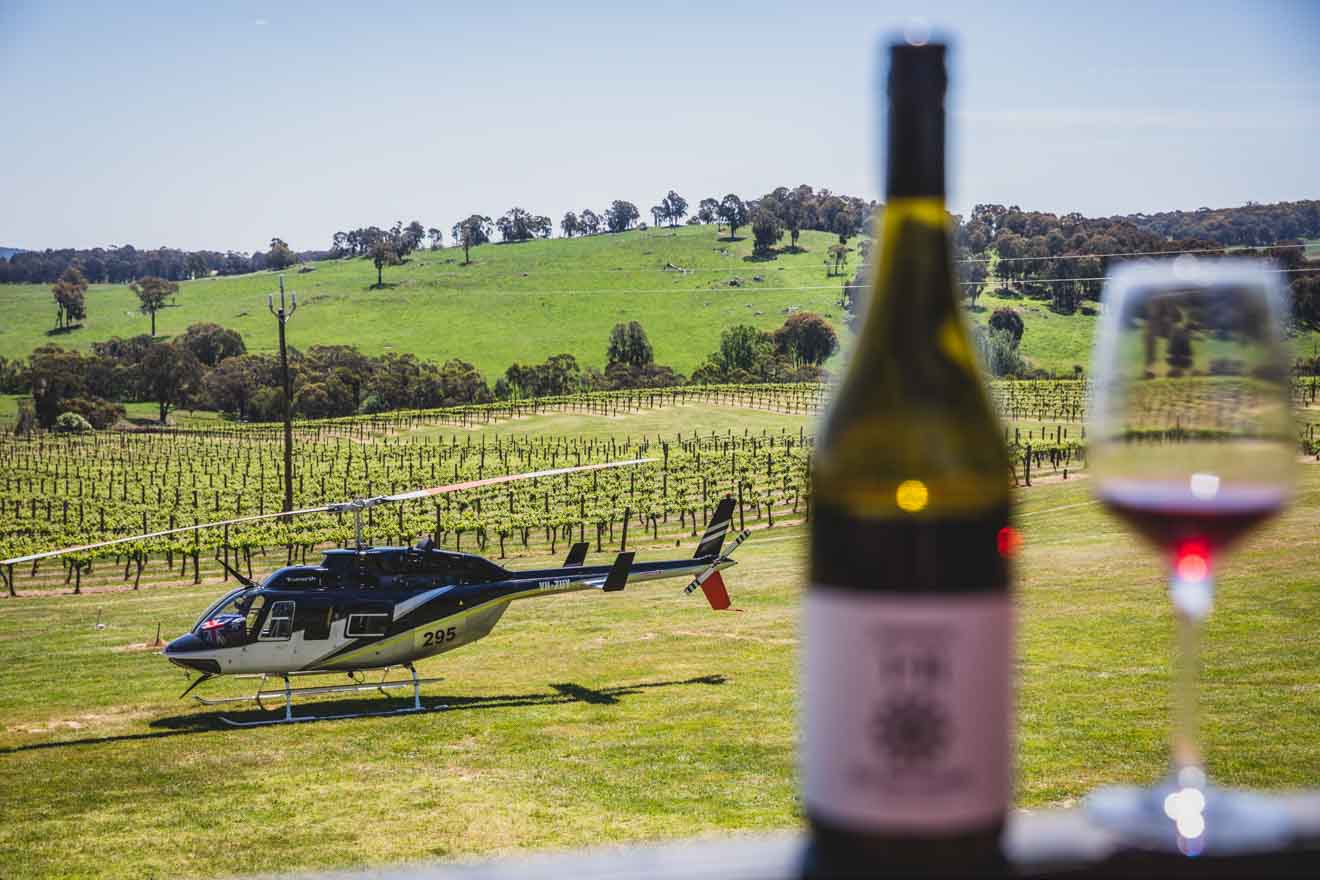 Indulge in the ultimate romantic winery experience. Set off in a private Helicopter for a beautiful 15 min flight en route to Audrey Wilkinson Vineyard on this half day tour.
After landing, find a beautiful view and enjoy the tastes of a delicious gourmet hamper including a complimentary bottle of wine from the Vineyard.
Stroll the grounds or participate in a wine tasting before your return flight to conclude the 3 hour experience.
NOTE: 15 min Scenic Helicopter flights are also available.
WHERE: Cessnock Airport Eastern Terminal, Wine Country Dr, Pokolbin
WHEN: Departures between 10am-2:30pm.
COST: 3 Hour tours from $290. 15min flight from $125 pp
Practical Information About the Hunter Valley
When to Visit The Hunter Valley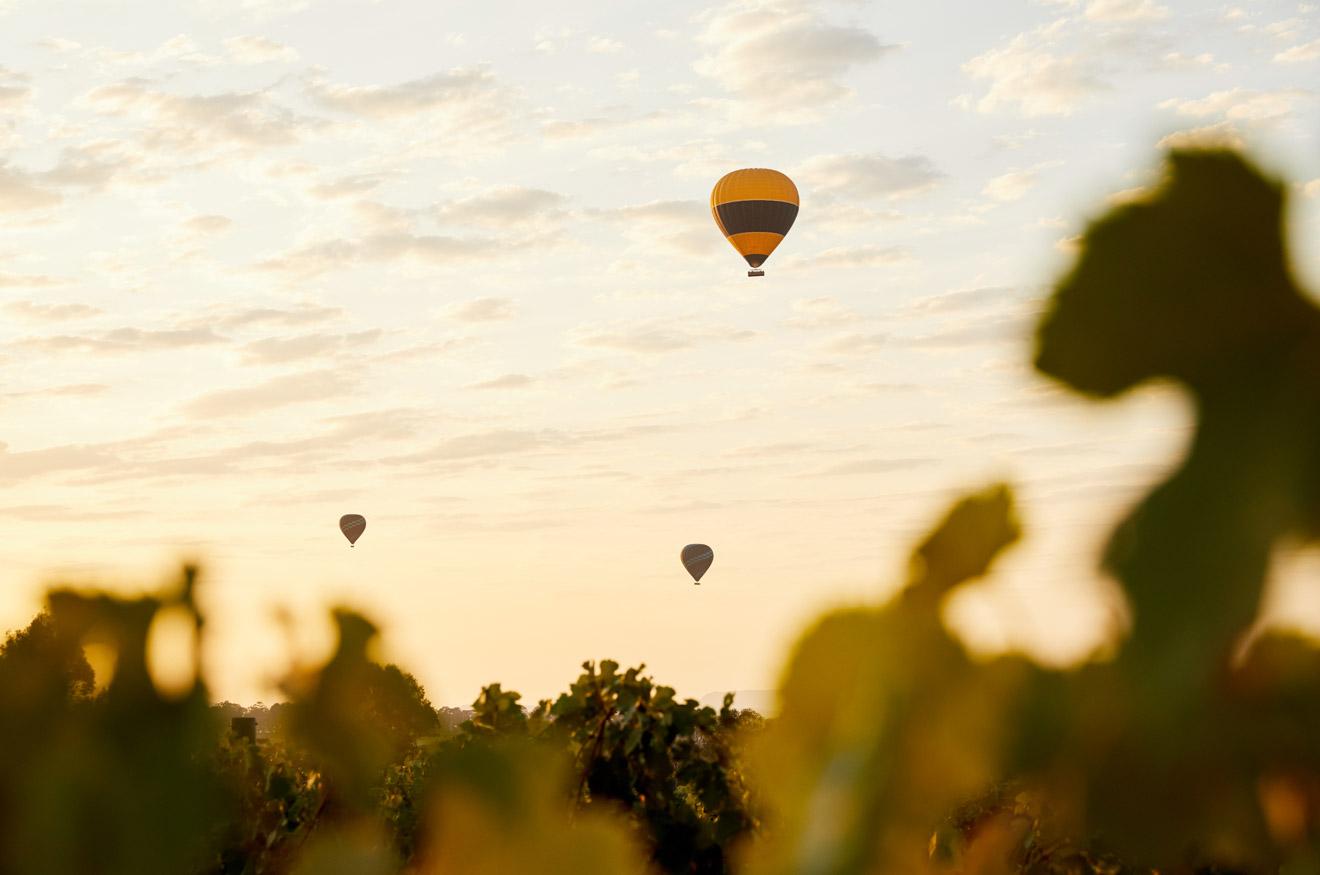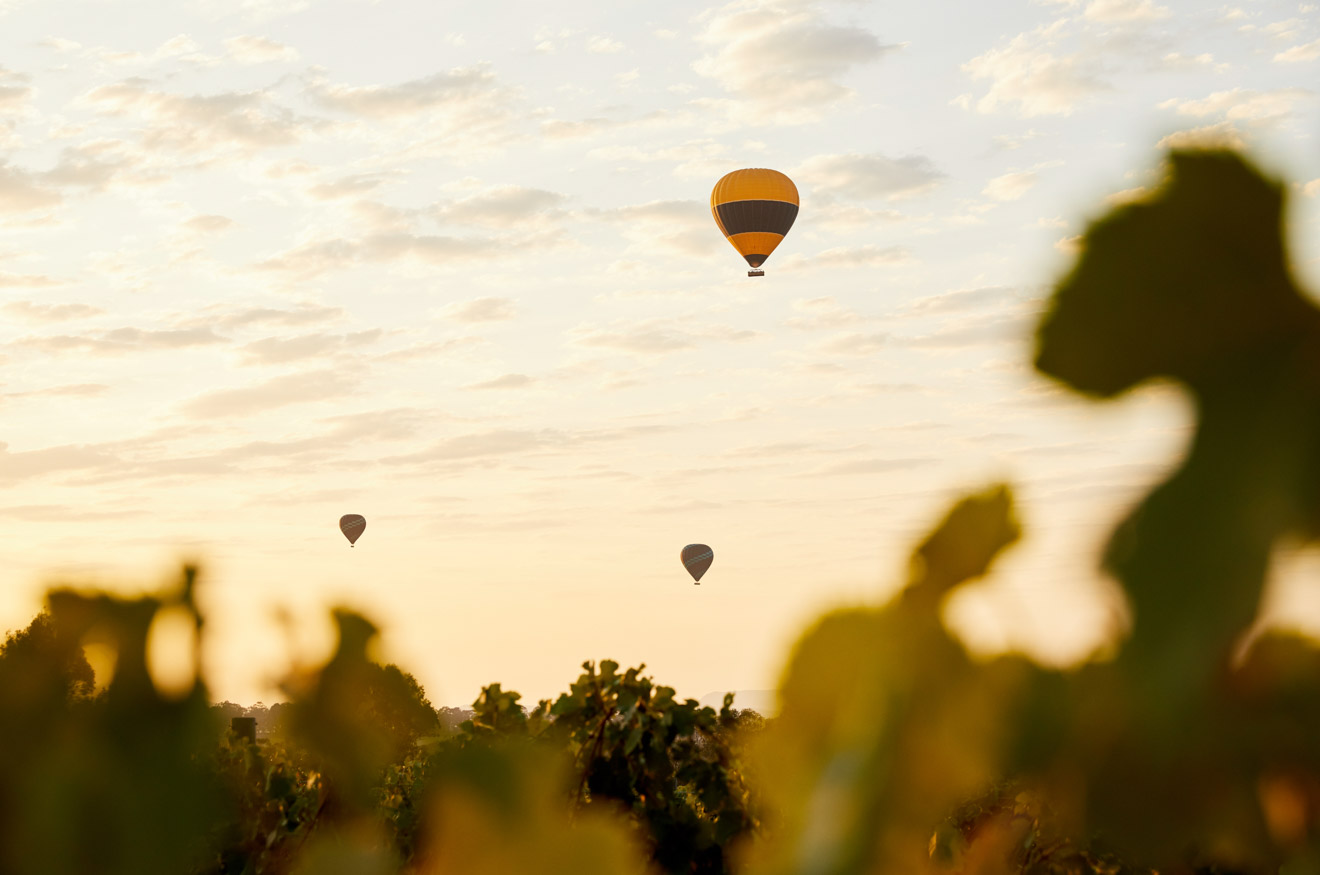 Spring (September-December) to see the vines at their best, with new shoots and grapes growing. Temperature is the best throughout the year as it's not unbearably hot.
Summer (December-March) is harvest time but is often over 40°C. Lots of music events and festivals during this time including the Hot Air Balloon Fiesta.
Autumn (March-June) colours and sunsets are beautiful but can be starting to get rainy.
Winter (June-September) is perfect red wine drinking weather. It can be chilly so bring extra layers for the mornings and evenings.
How to Get to The Hunter Valley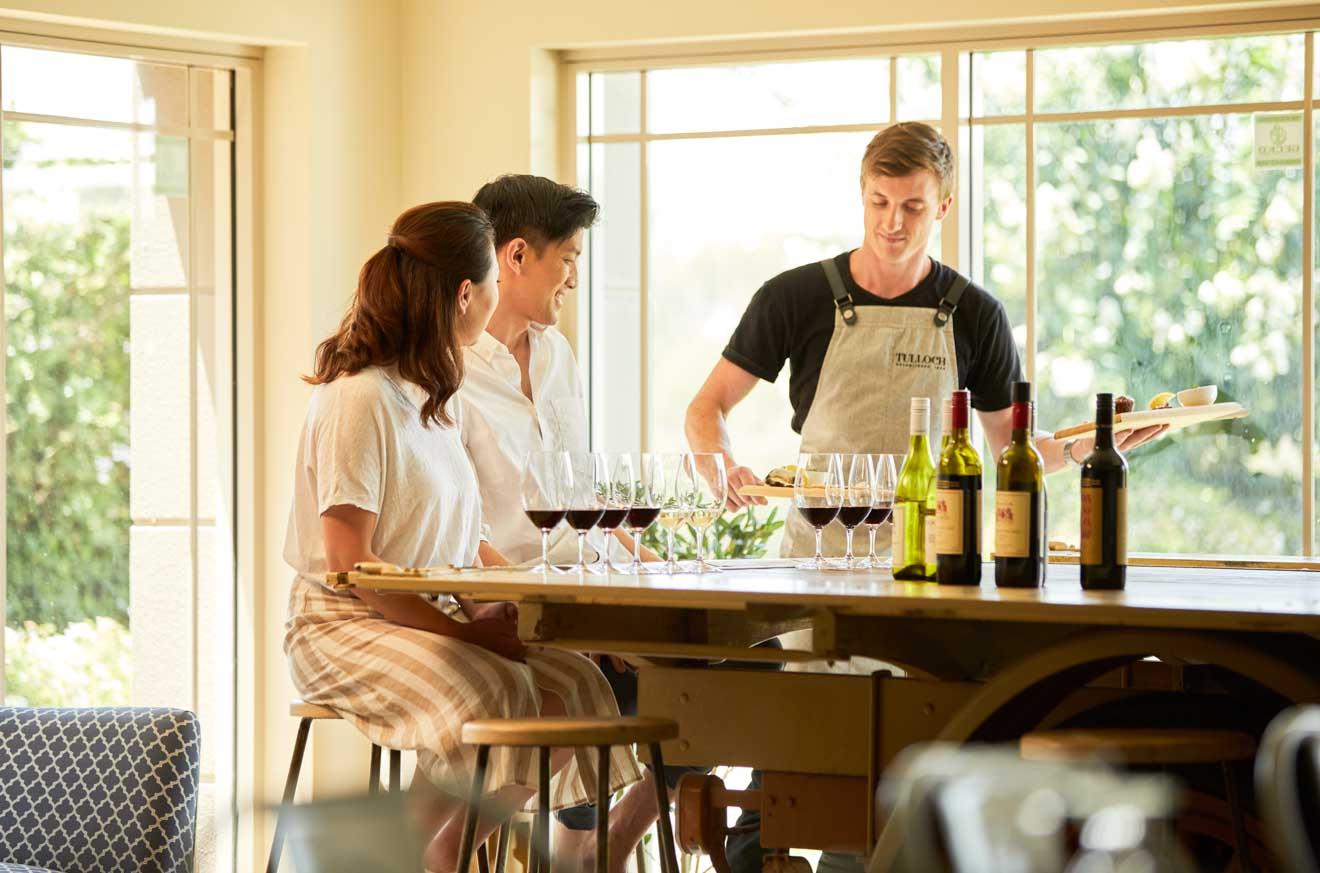 Located 160km from Sydney or 50km from Newcastle, the Hunter Valley is only accessed by road.
Drive:
I highly recommend driving from Sydney to the Hunter Valley. Simply follow the Pacific Highway north for 2 hours and follow signs to Cessnock.
Brown signs will guide you to the wineries.
If you don't have access to your own car, rent one from either Sydney or Newcastle for the trip.
Public Transport:
You will first travel by train to Newcastle, then take 2 connecting buses onto Cessnock, the gateway to the Hunter Valley. The journey will take 4.5 -5 hours and more info can be found here.
NOTE: Once in the region itself, there is no public transport so you would have to take tours to see the sights.
Tours:
If you don't have a lot of time, I recommend taking day tours through the Hunter Valley from Sydney or Newcastle.
The 11-12 hour tour is long but absolutely worth it!
Accommodation in The Hunter Valley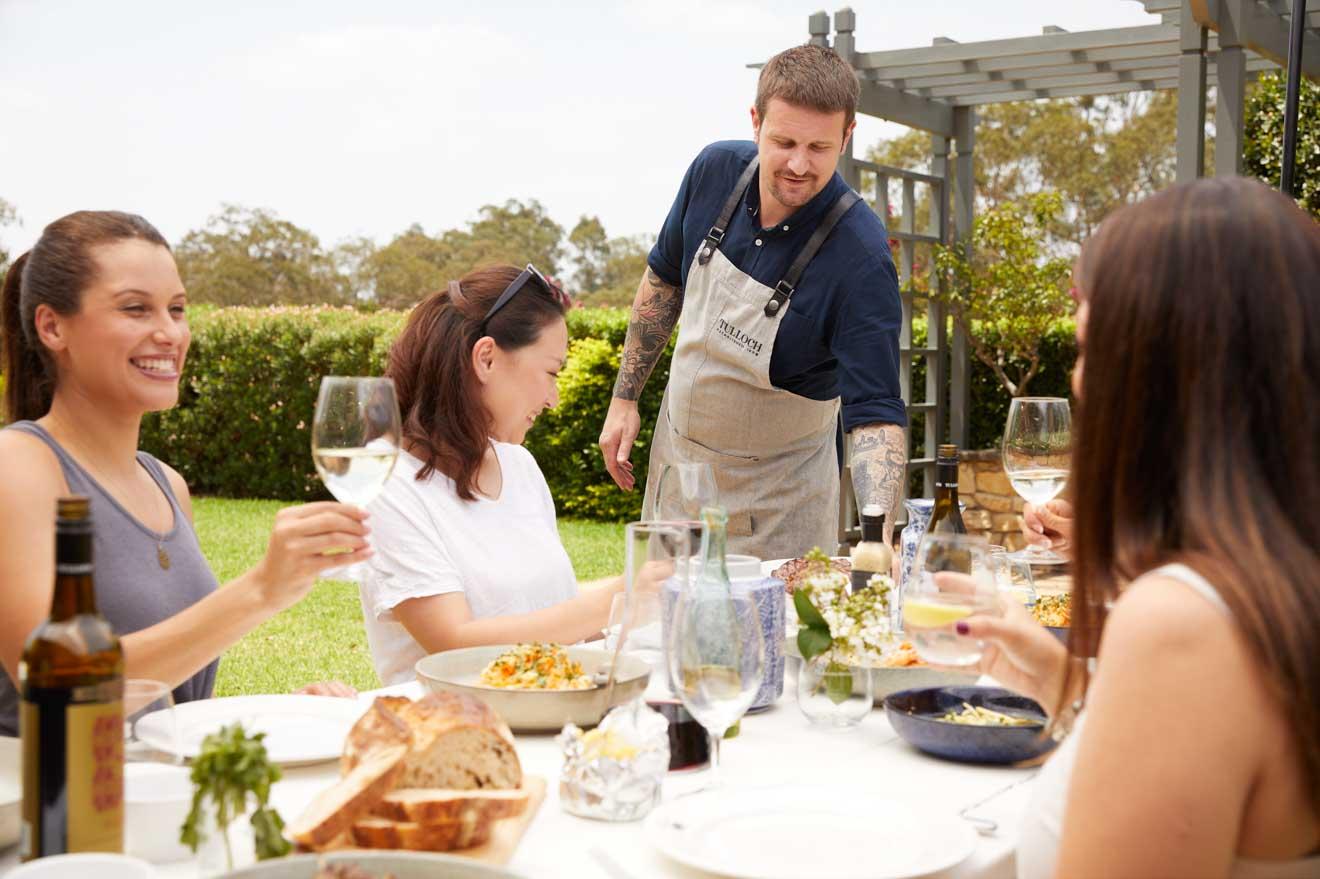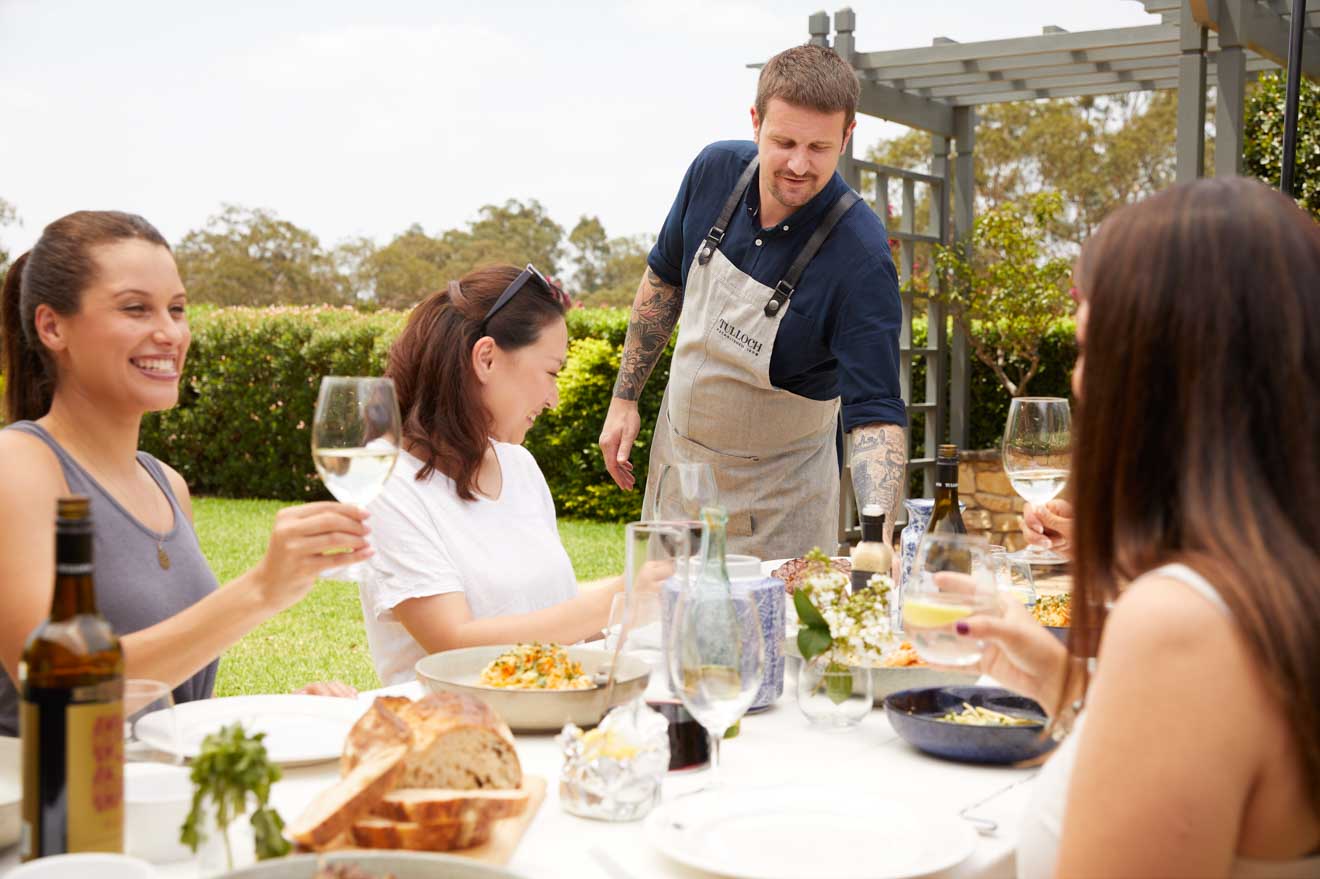 Although it is possible to see the region in a day from either Sydney or Newcastle as I did, I recommend staying 2 nights for the best experience and access to more Hunter Valley tours.
If staying in Sydney, don't miss the Blue Mountains and if you're continuing your tour up the coast, check out my other post on Coffs Harbour.
Luxury ($350+ AUD):
For the ultimate winery experience, The Grange on Hermitage is located on 28 acres of vineyards and gardens and is just a 5 min walk from Mistletoe Winery.
Alternatively, if you're getting up early for helicopter tours, Crowne Plaza is located just across the road and boasts a huge range of facilities for guests to enjoy.
Middle Priced ($150-$250 AUD):
For a holiday within a holiday, Oaks Cyprus Lakes Resort is 25 incredible acres filled with villas, pools, restaurants/bars and even a golf course!
For a beautiful view looking over the Broken Back ranges, H Boutique Hotel offers self-contained villas complete with a fireplace and patio.
Budget (Under $150 AUD):
Pokolbin Village offers spacious suites with access to a magnitude of shared facilities such as a pool, restaurant and bar.
For a more homely feel, head to Wine Country Drive Guest House. This small guest house features 4 motel-style rooms and is within close distance to shops, restaurants and other amenities.
BONUS: Best Wineries in The Hunter Valley
If you choose to explore on a self driven Hunter Valley wine tour, or need help planning which cellar doors to drop by on your Hop-on Hop-Off Bus, here are my top wineries in the Hunter Valley to consider for a wine tasting!
1. De Bortoli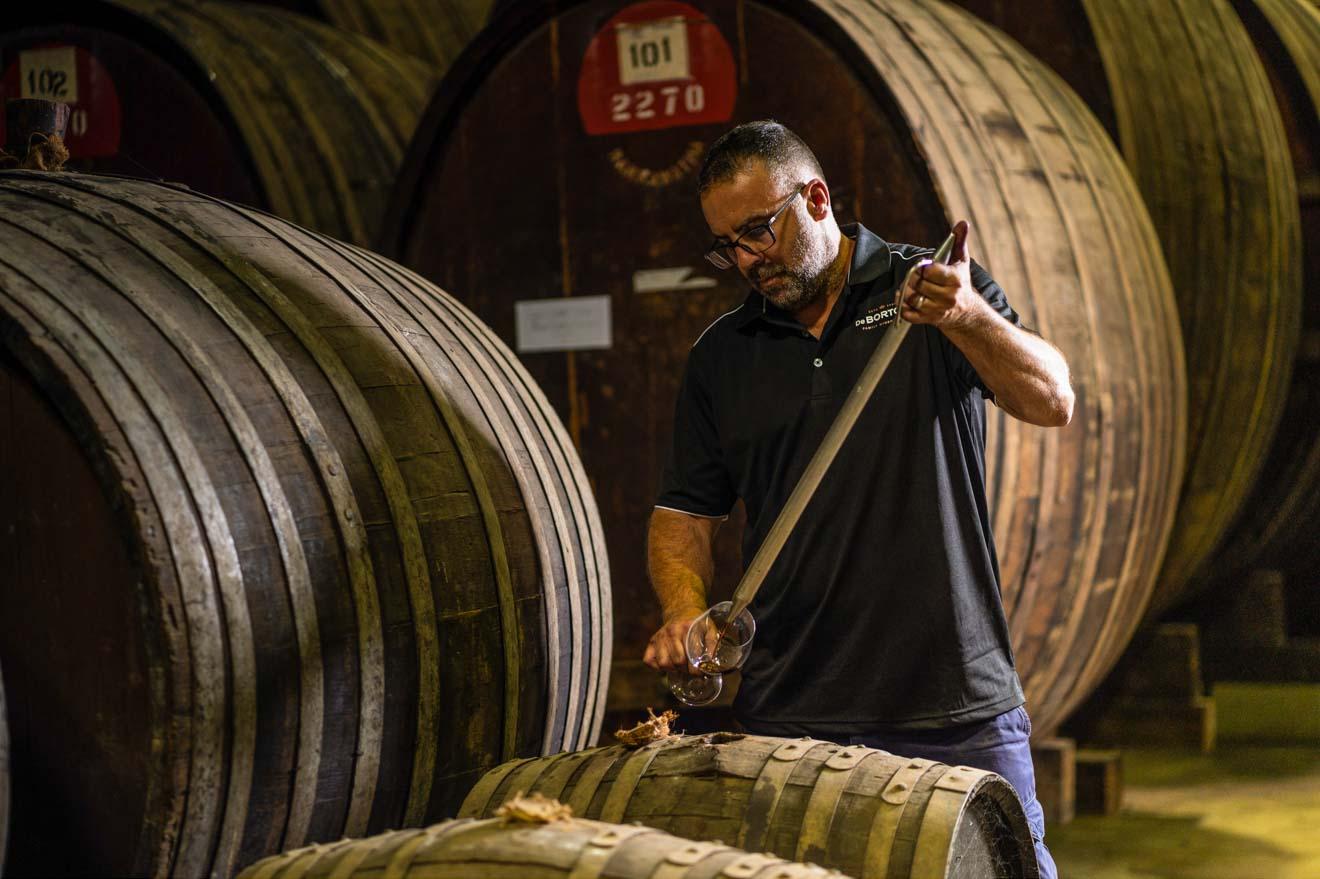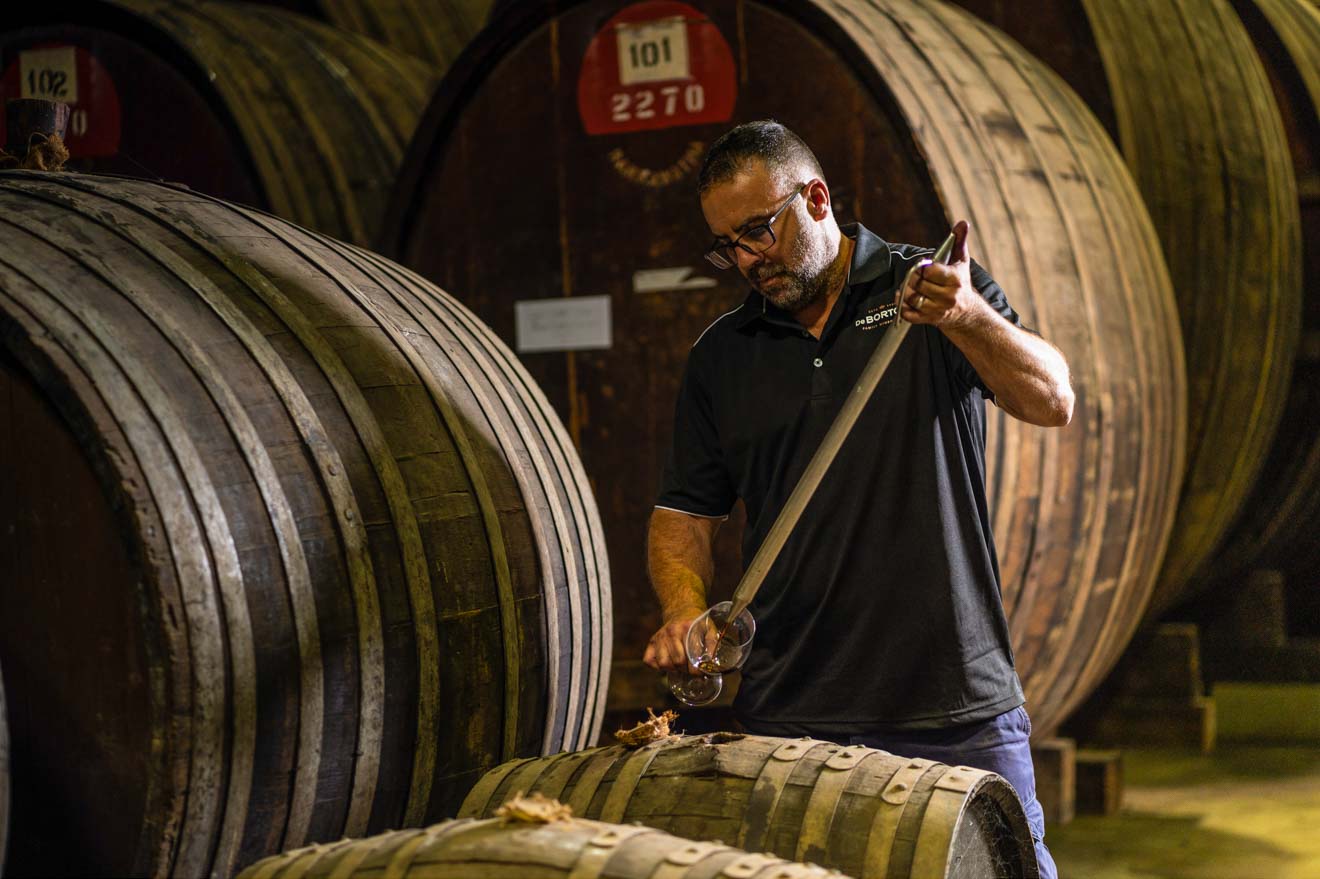 De Bortoli was started by two European immigrants. Originally producing simple table wines, the vineyard has expanded with their knowledge as it has been passed down through the family and now creates well-known premium wines, particularly their dessert wines.
TIP: Make this your first stop if you are staying at Crowne Plaza as it is a 5-minute walk.
ADDRESS: 532 Wine Country Drive, Pokolbin.
HOURS: 10am-5pm everyday.
2. Audrey Wilkinson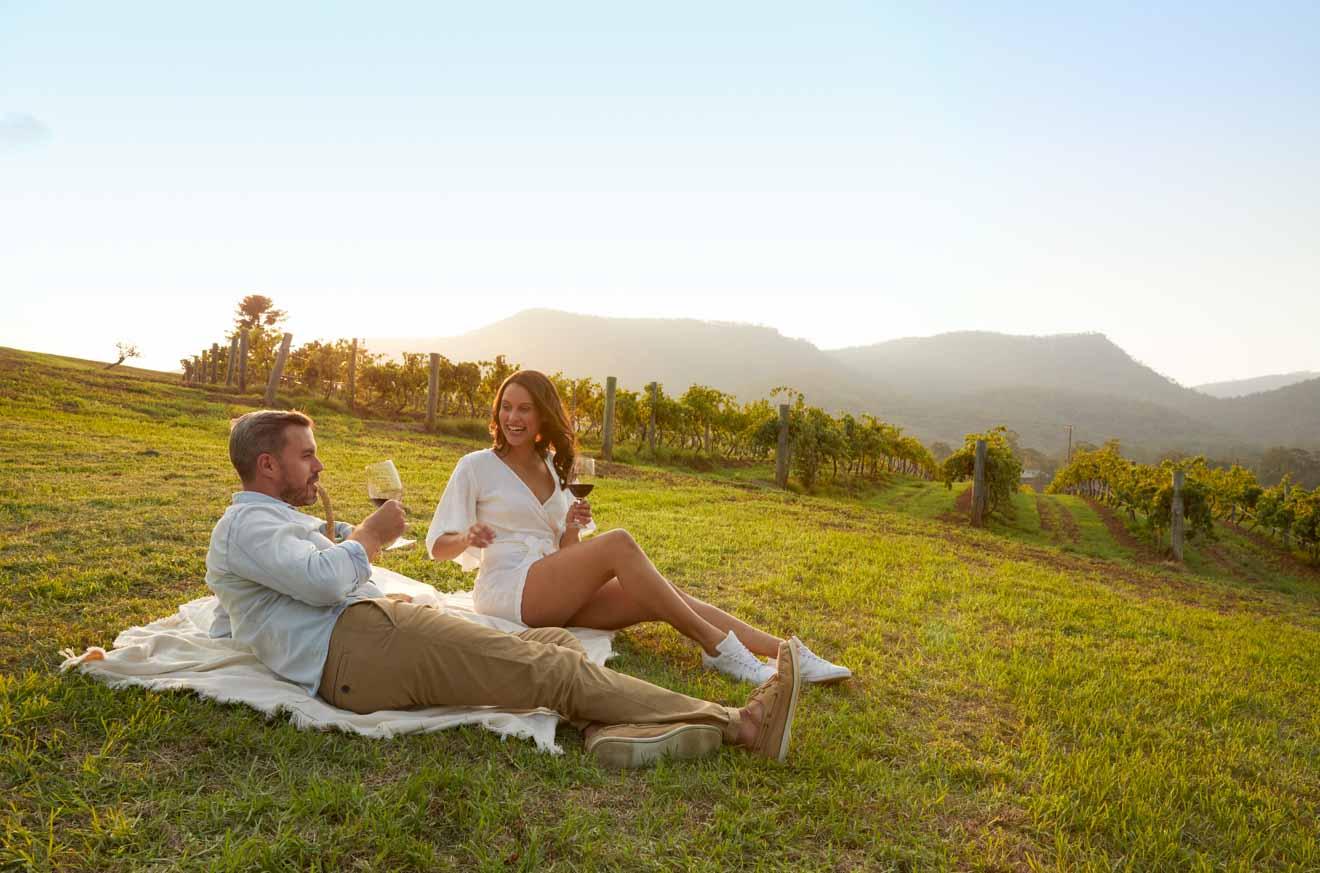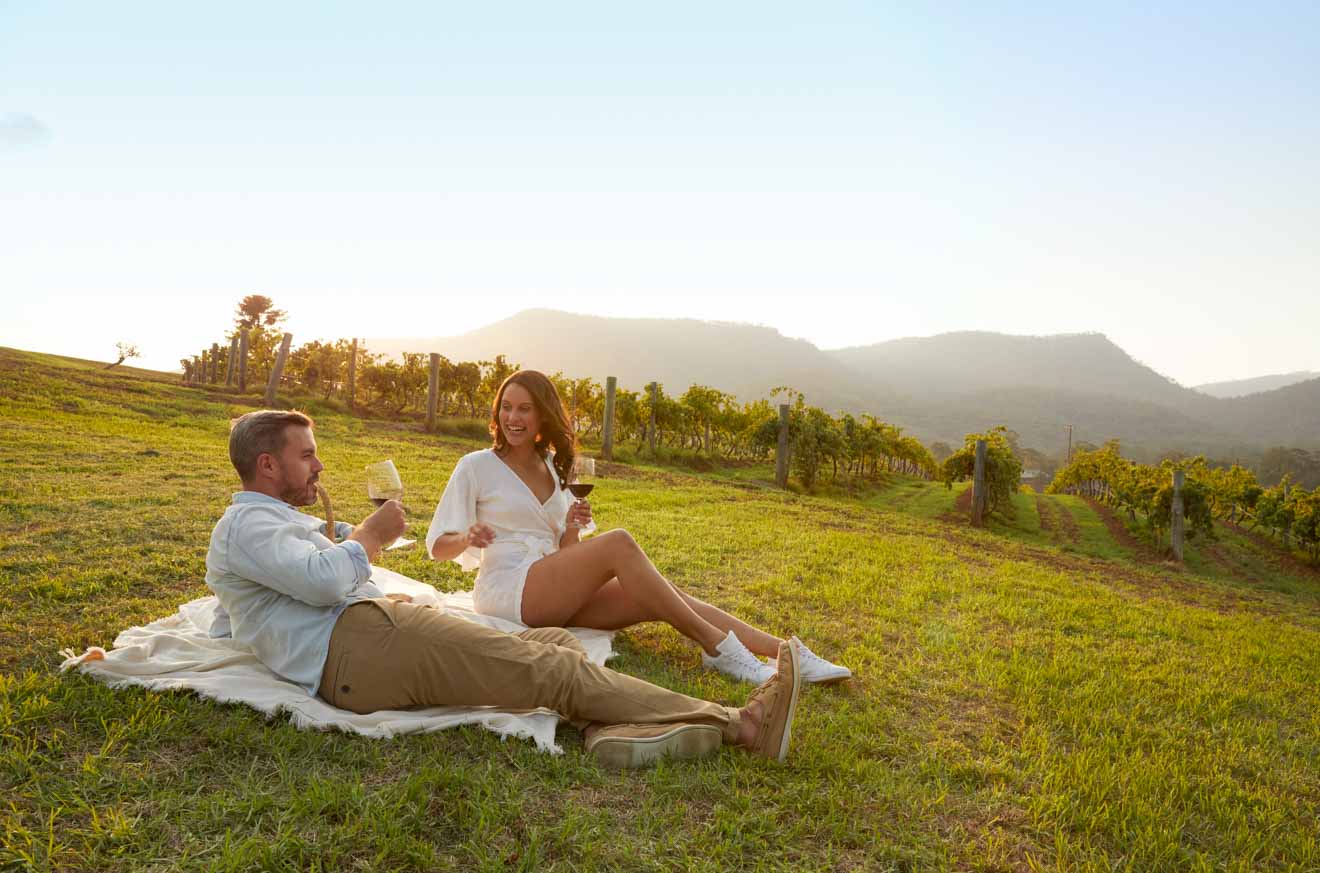 One of the most historic wineries in the region, Audrey Wilkinson was established over 150 years ago. It pays homage to a 15-year-old boy who took over the running of the winery after his father's death and created some of the best wines in the country.
I loved it simply as it has the best views over the region! Try and end your hunter valley tours here for an incredible sunset!
HINT: Don't miss their Moscato!
ADDRESS: 750 De Beyers Road, Pokolbin.
HOURS: 10am-5pm daily.
3. Usher Tinkler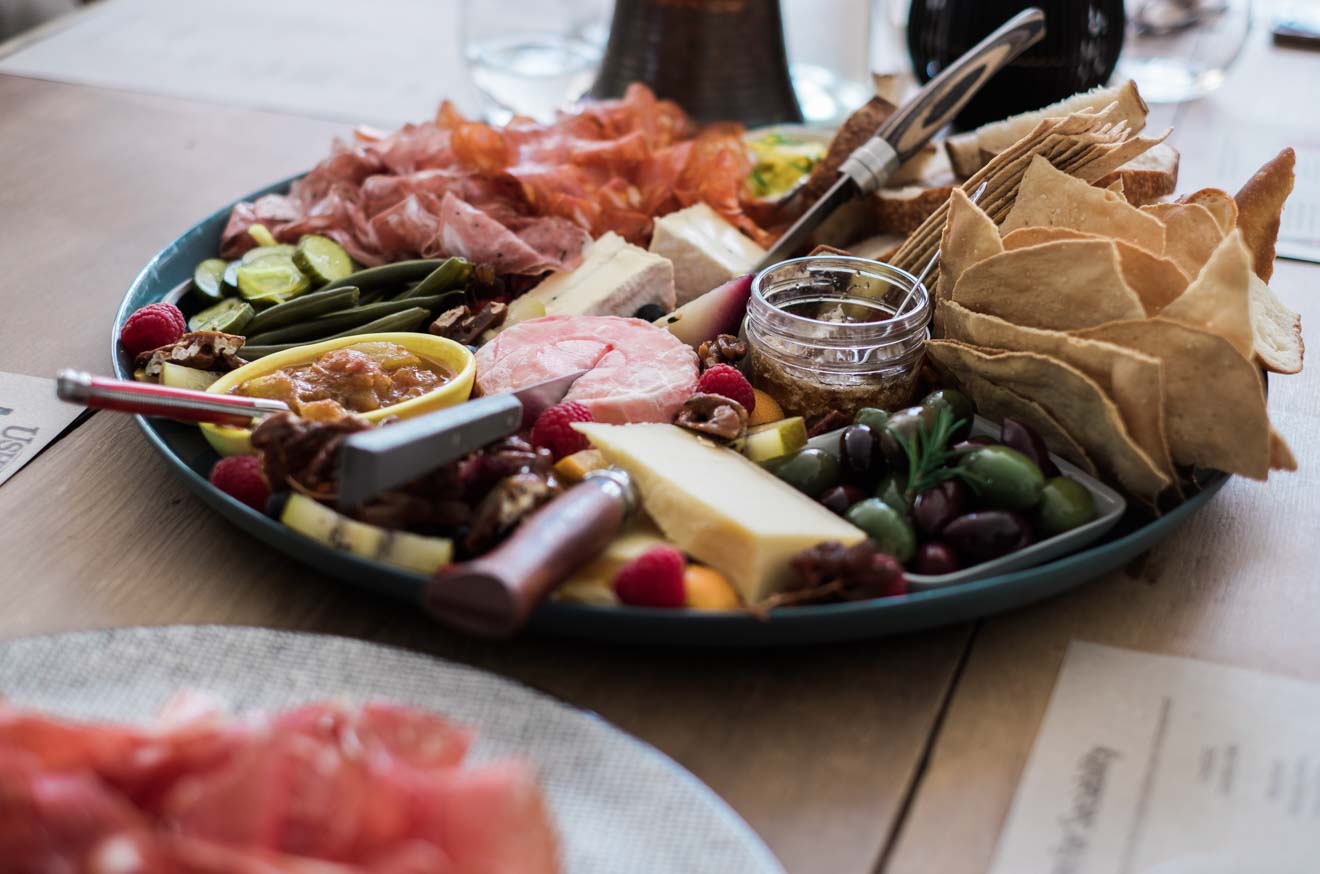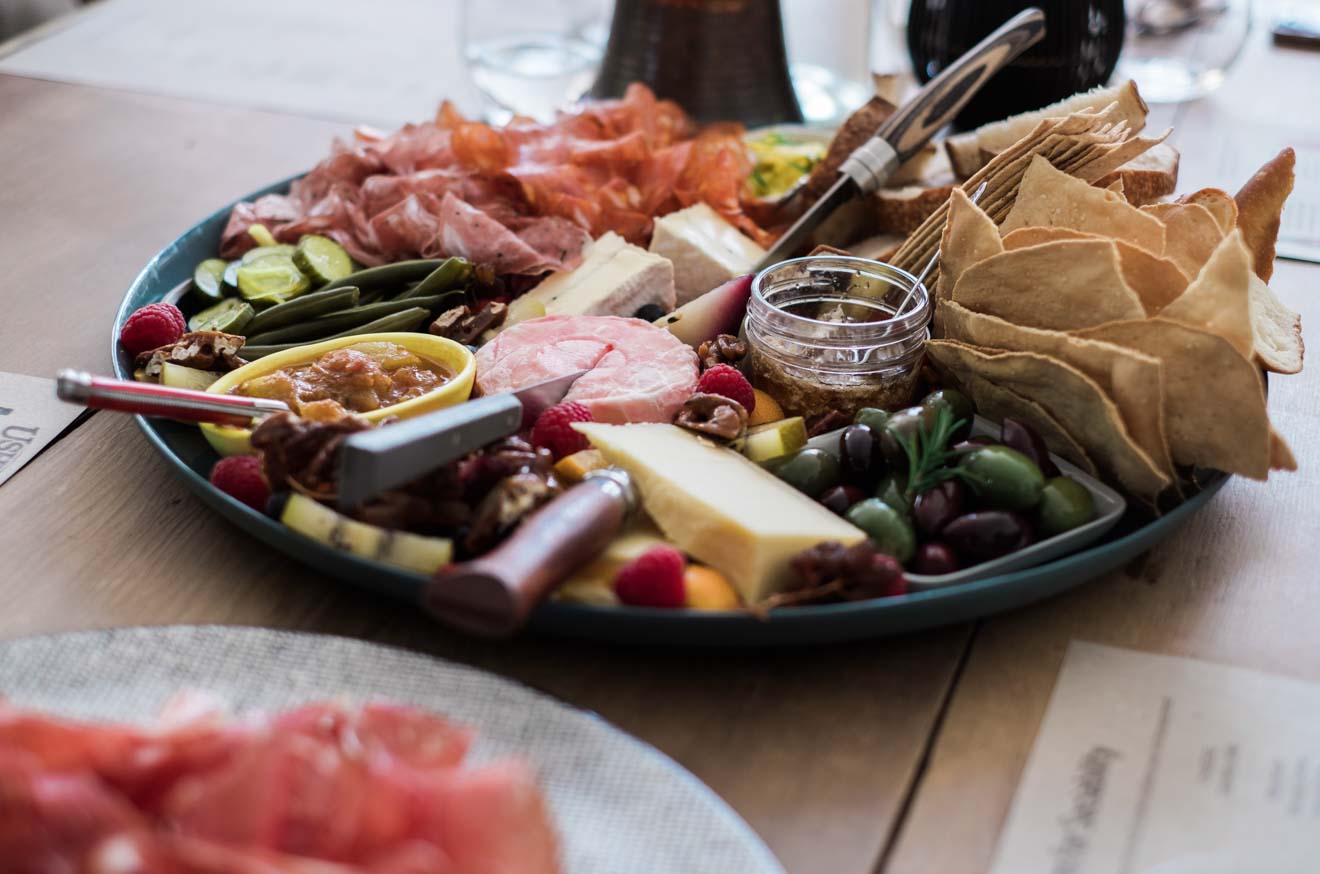 Usher Tinkler is one of the most beautiful boutique wineries in Hunter. It is located in a gorgeously renovated, old church, with floor to ceiling windows which offer an incredible view.
This is my favourite winery in The Hunter Valley, don't miss their fantastic rosé and phenomenal charcuterie boards!
ADDRESS: 97 McDonalds Rd, Pokolbin.
HOURS: 10am-5pm daily
4. Peterson House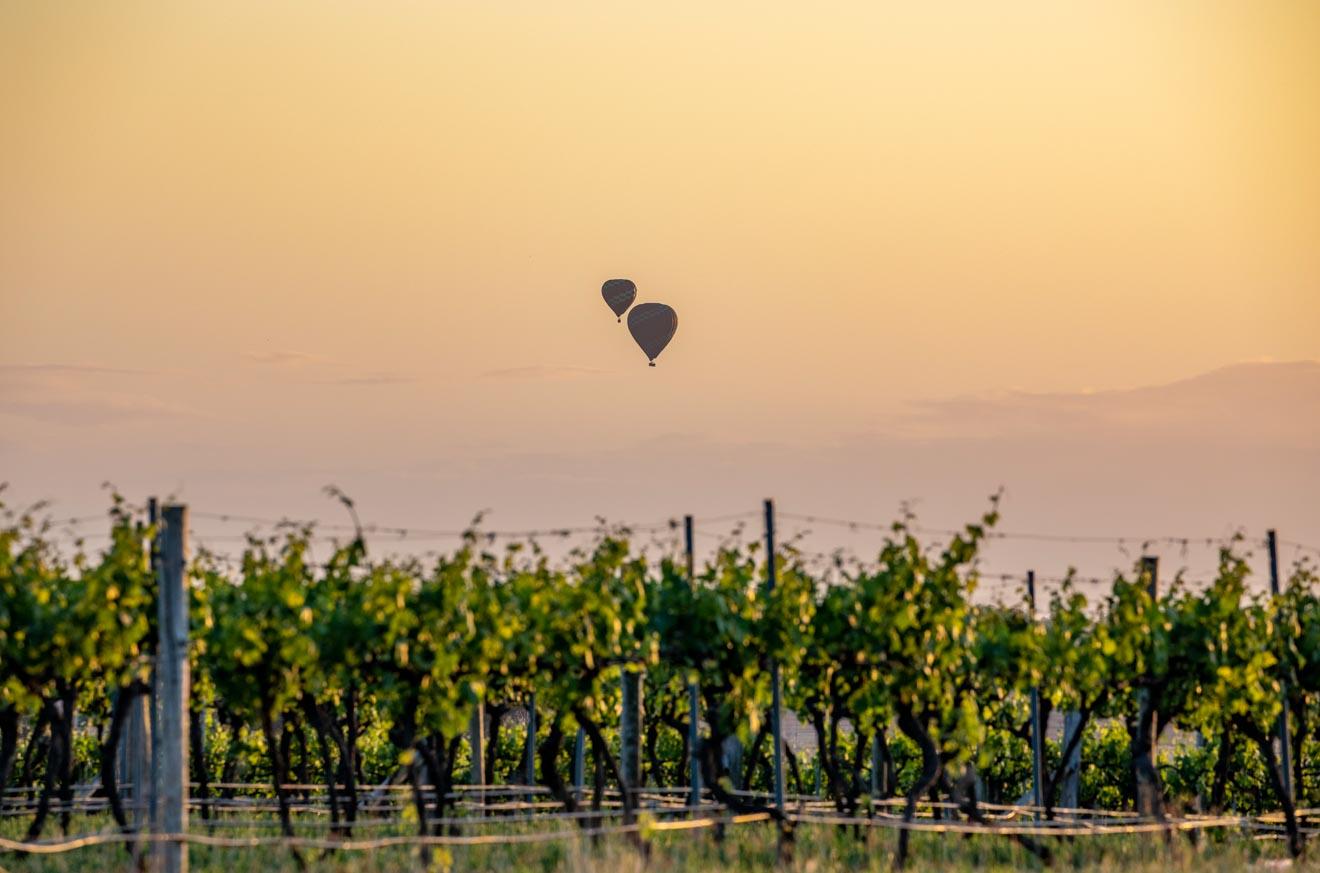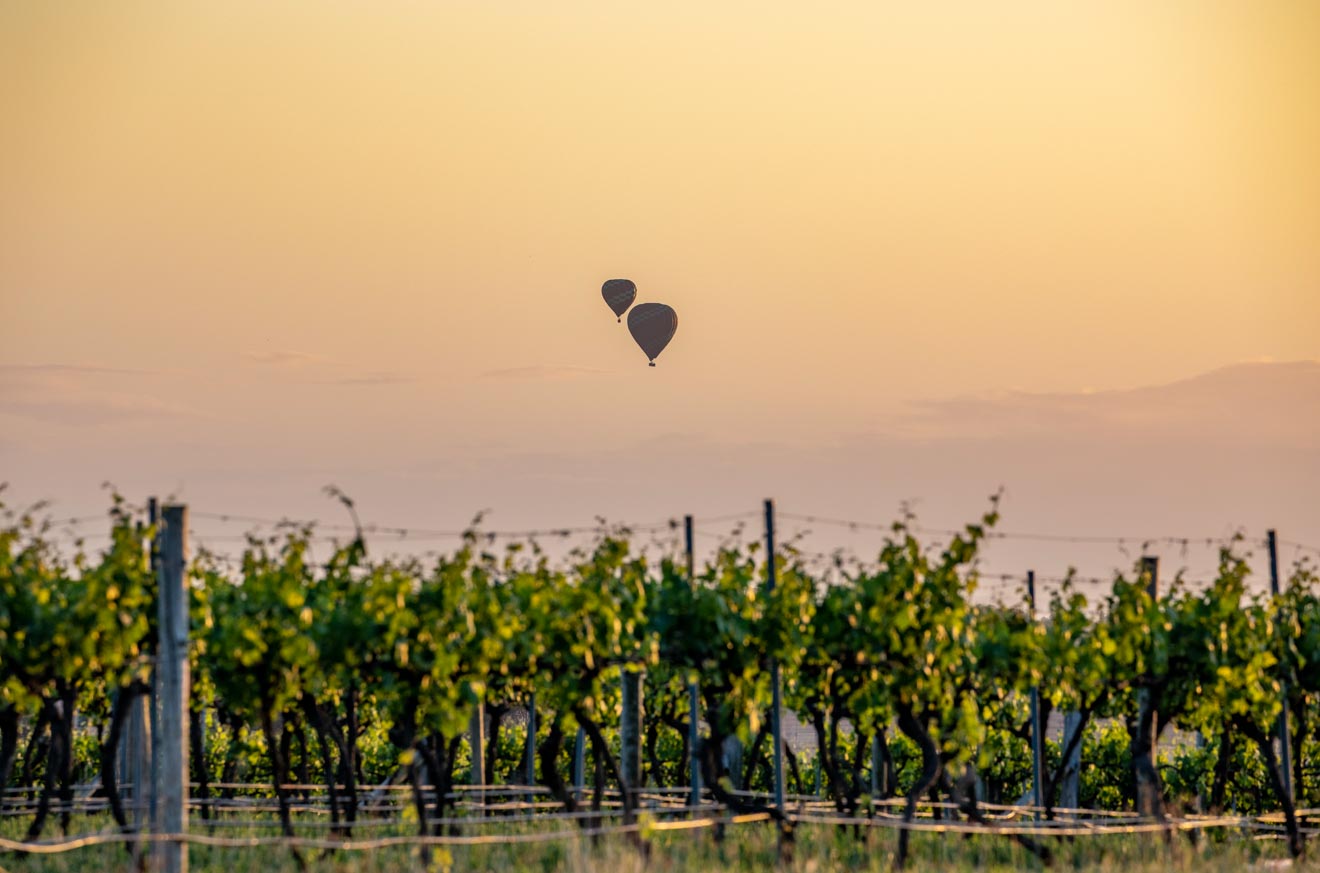 For the champagne lovers amongst you, Peterson House's sparkling wine is as close as you'll get in Australia. It is THE sparkling wine house with a huge selection of local white and RED sparkling wines.
I didn't even know that red sparkling wine existed until I came here but it's way better than you'd think!
ADDRESS: Broke Rd & Wine Country Drive, Pokolbin
HOURS: 8.30am-5pm daily.
Conclusion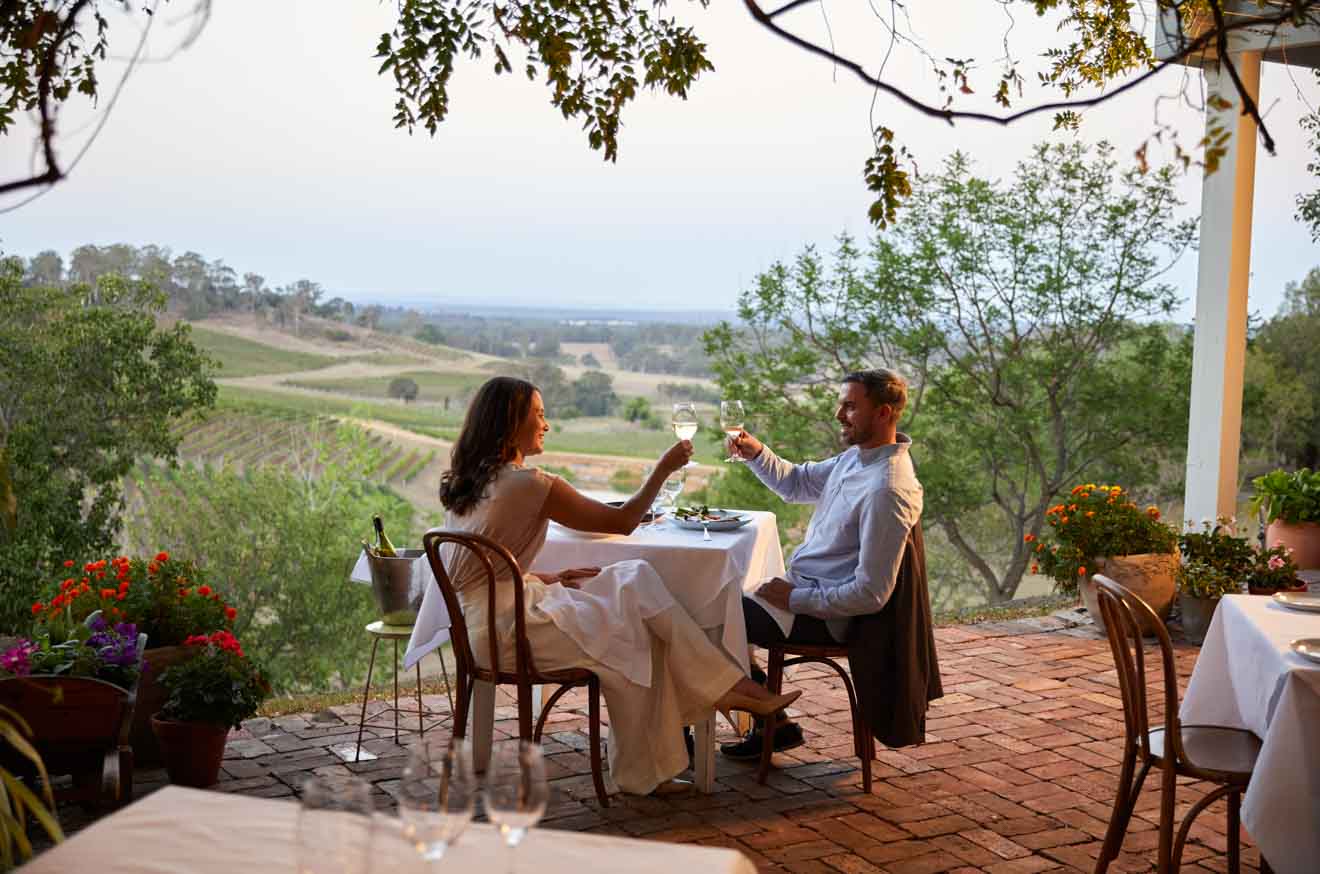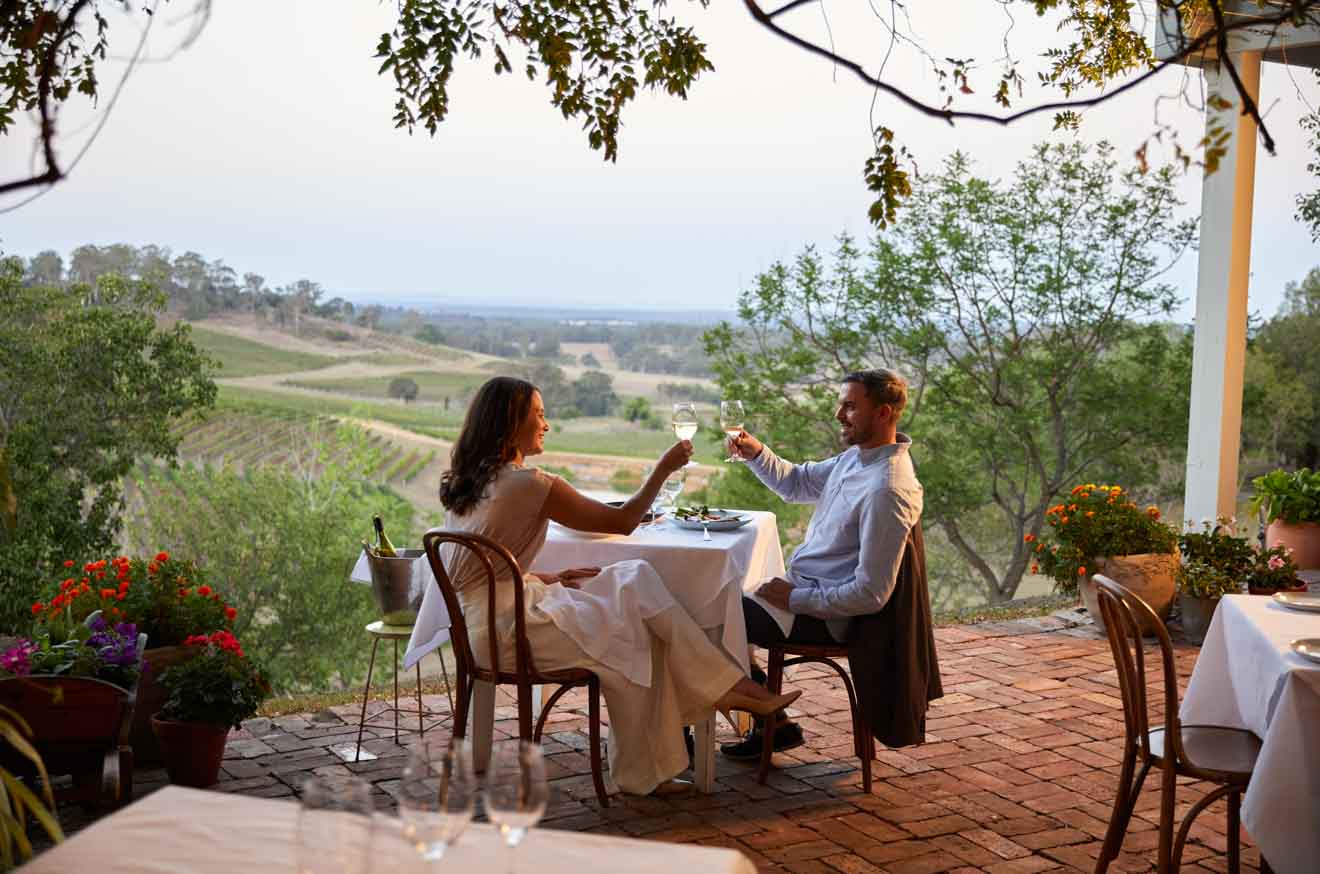 I hope I helped in planning your own Hunter Valley escape and which wine tours in Hunter Valley to choose. It's easy to see why this incredible spot is loved by so many and I had an amazing time on my winery tour. Hunter Valley has an abundance of picturesque locations, gorgeous boutique wineries, great food and of course, delicious wines, what's not to love?
If you're interested in any of Australia's other famous wine regions, check out our posts on the Barossa Valley, Swan Valley, and Margaret River Wineries.
Let me know in the comments below if you have any questions about Hunter Valley wine tours, I would be happy to answer them 🙂
Relax well,
Kate Fletcher
---
Pin it for later!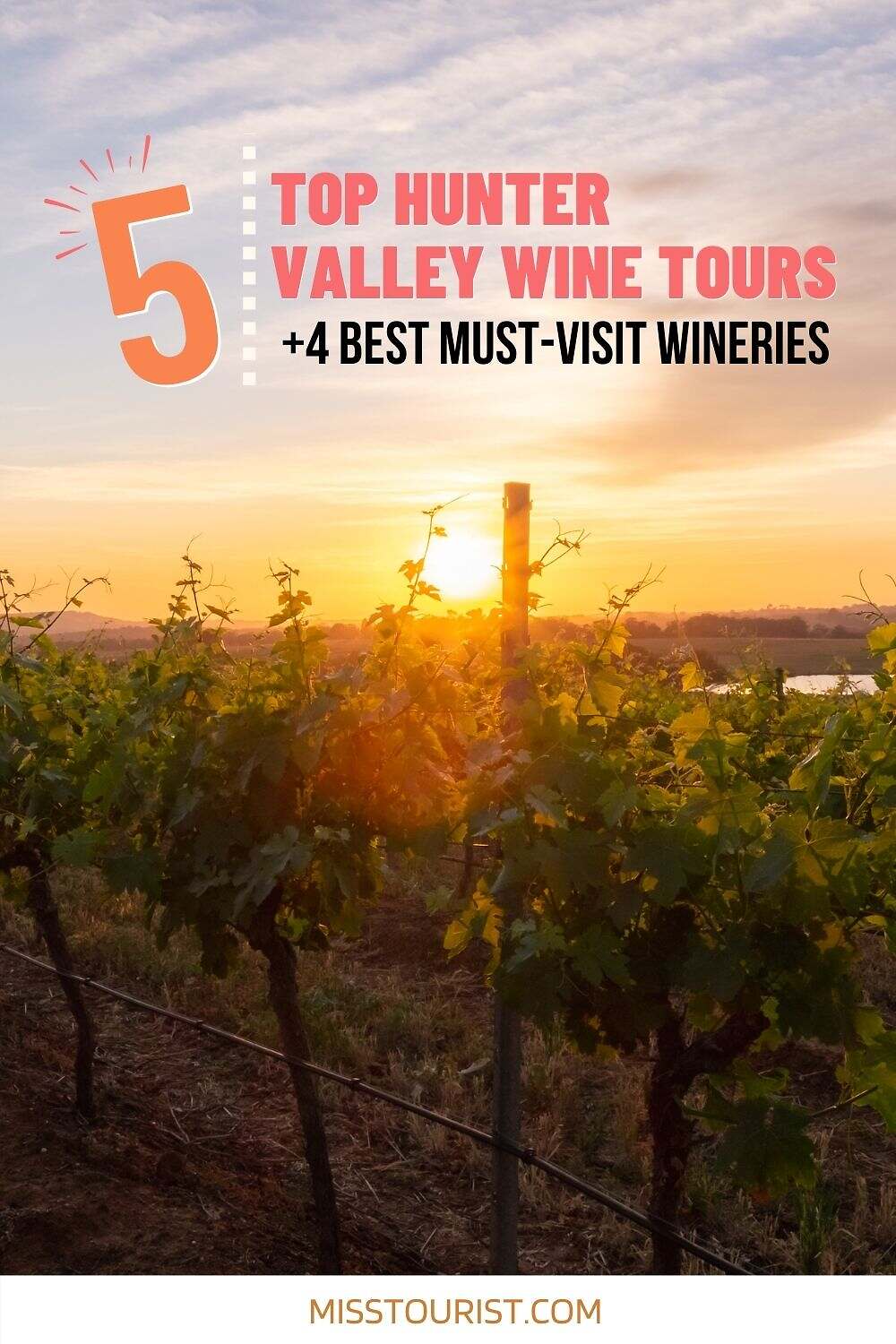 Pin it for later!