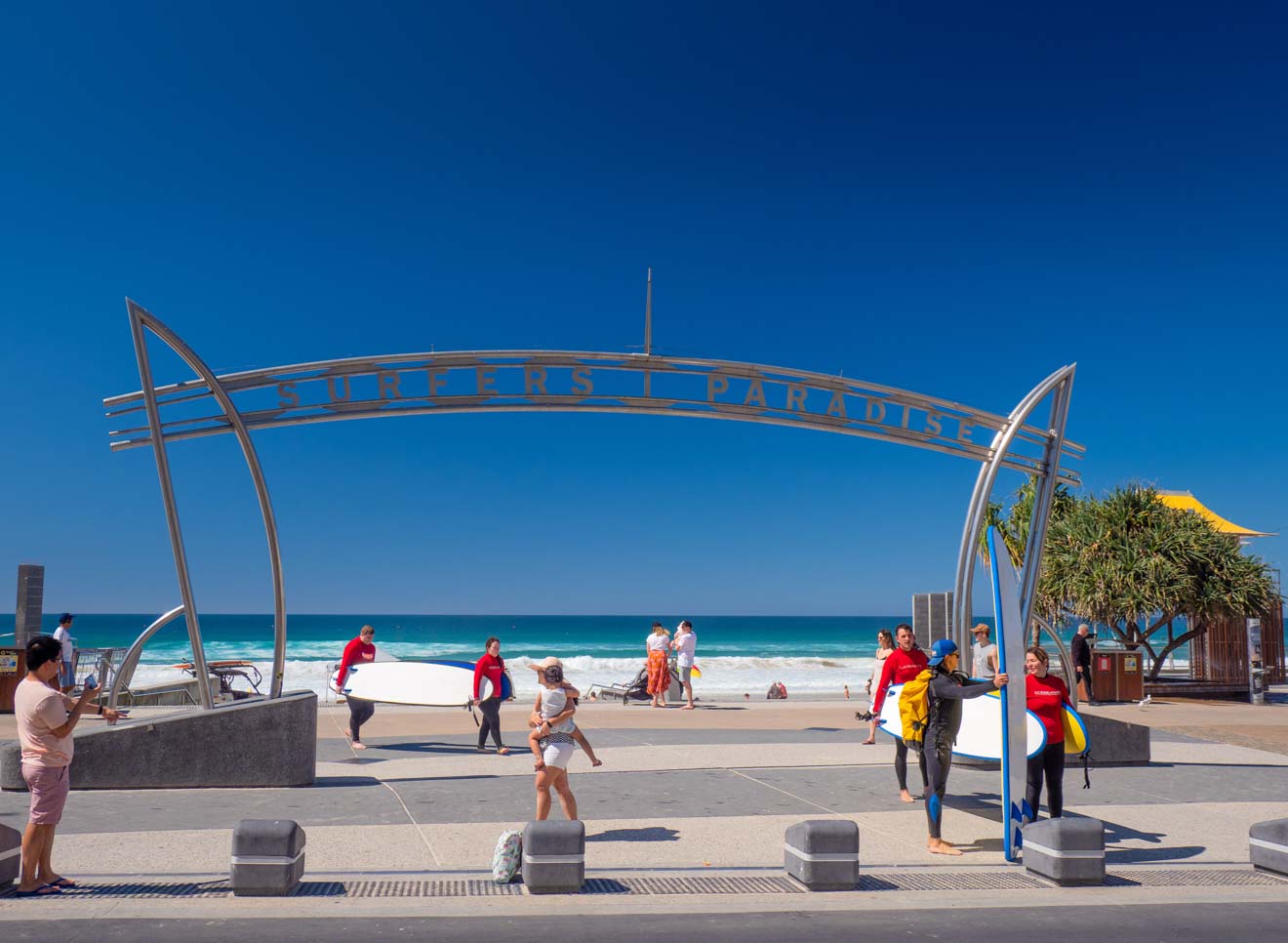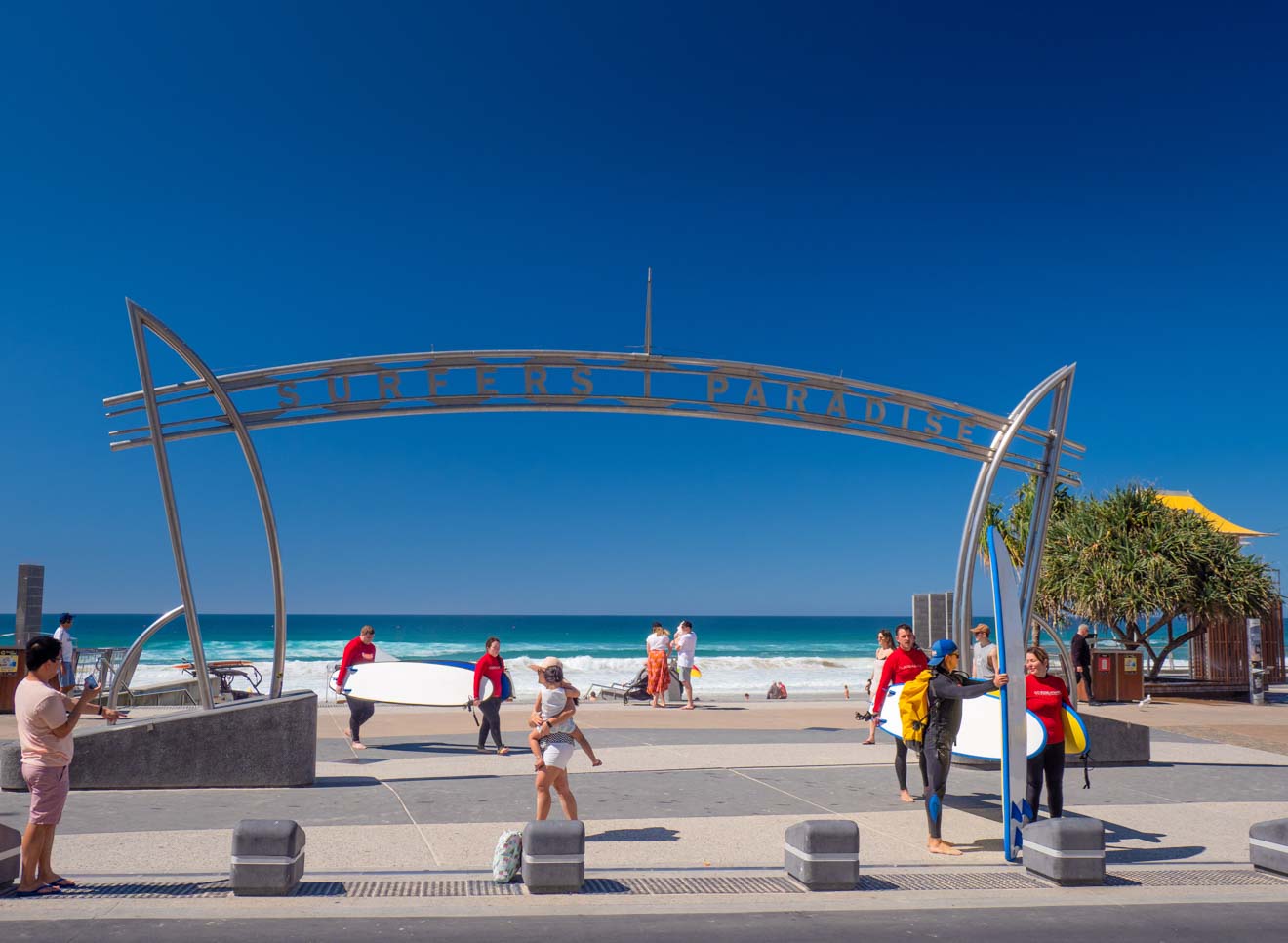 The Gold Coast is located in South East Queensland, on the border with New South Wales and one hour south of Brisbane city. It is a paradise for beach lovers and one of Australia's favourite holiday regions. Famous for its long sandy beaches, ideal for surfing, swimming and sun baking and with great weather for most of the year. There are lots of things to do on the Gold Coast and you can easily fill a 2 week vacation! From the famous theme parks to the National Park and rainforests to animal sanctuaries, there is so much to experience. The Gold Coast is the perfect holiday spot for people of all ages! Especially if you love the great outdoors.
Gold Coast has 300 days of sunshine a year so it's perfect to visit anytime of the year. They don't call Queensland the sunshine state for nothing – this land is a slice of heaven!
I have spent a lot on the Gold Coast – both on holiday and also have lived here. I love to share my knowledge so please find below my 13 Things to Do on the Gold Coast:
1. Enjoy Amazing Gold Coast Beaches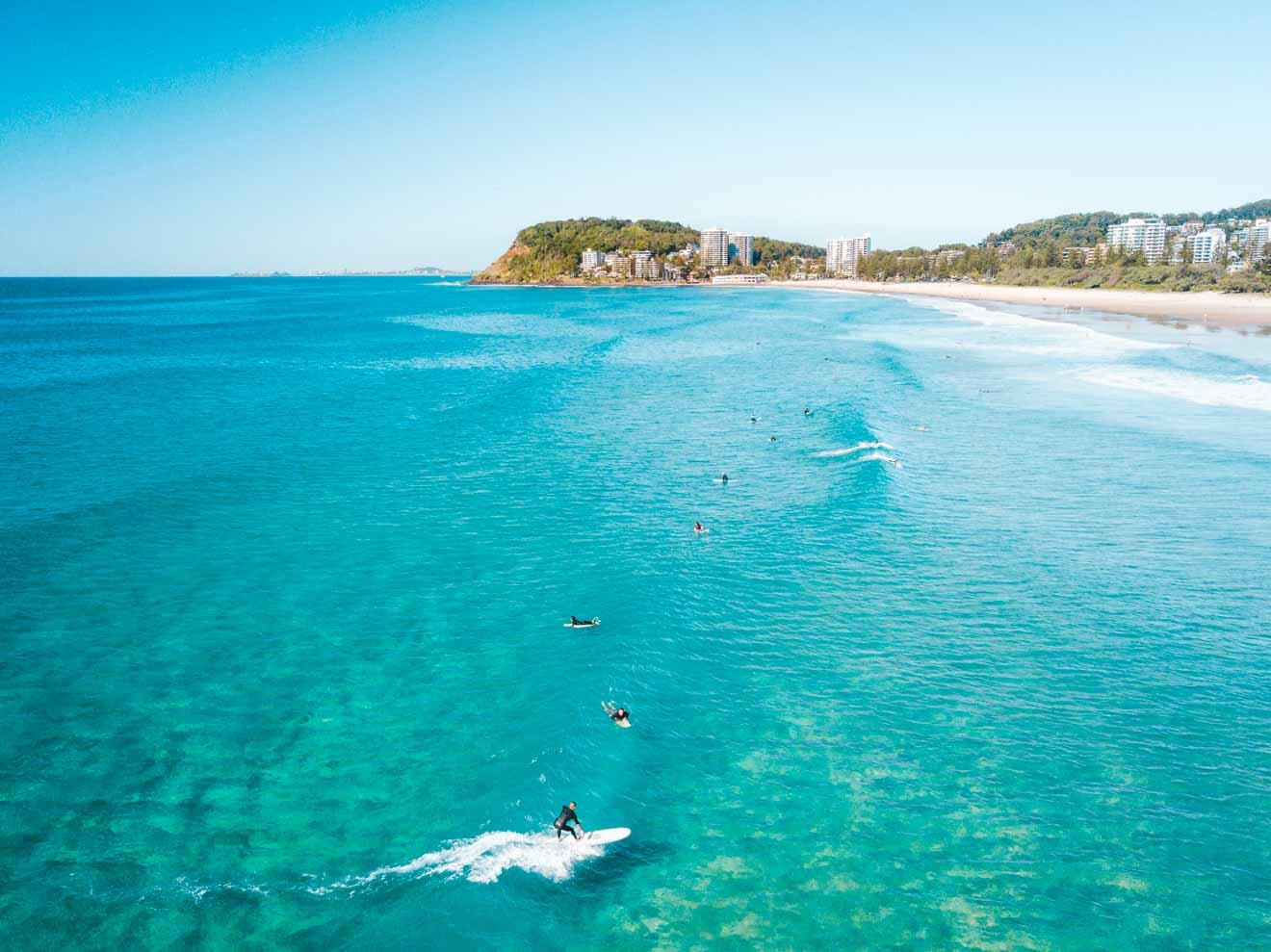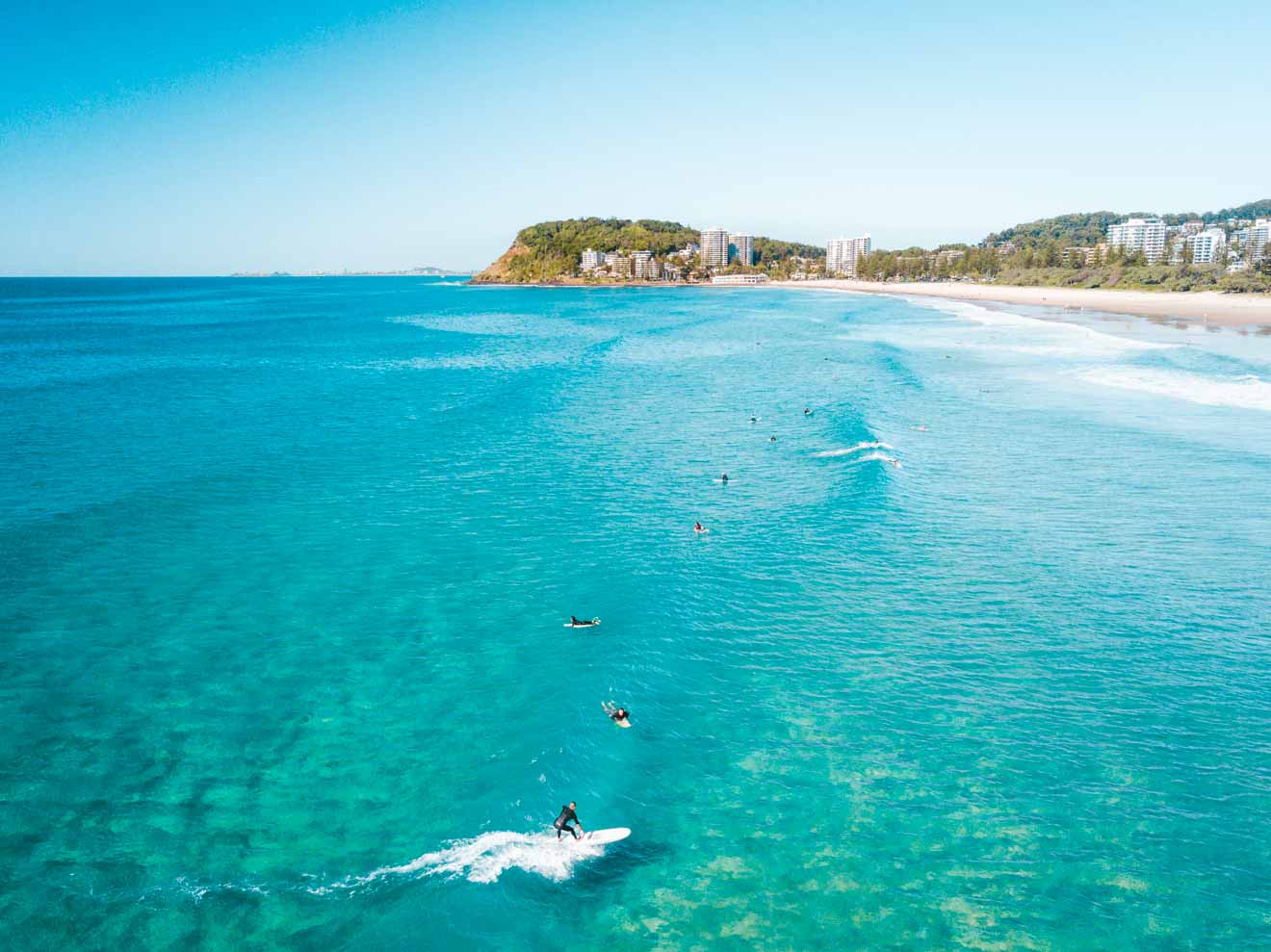 The best things to do on the Gold Coast are free!
With a coastline stretching from Coolangatta to South Stradbroke island, there are literally hundreds of ocean beaches to choose from. So it's no surprise the number one on my list of things to do in the Gold Coast is – BEACHTIME 🙂
By far the most popular is Surfers Paradise, home to most of the Gold Coast large hotels. Flanked on either side by Main Beach and Broadbeach this is the busiest stretch of sand for swimmers and sunbakers.
PRO TIP: Because of the high-rise hotels, Surfers Paradise gets a lot of shade over the sand in the afternoon. If you want more sun, less crowded waves and a nicer beach drive fifteen minutes south and hit up Burleigh Heads. It's where the locals hang with their friends and reminds me of the more relaxed beaches on the Sunshine Coast.
2. Get A Birds Eye View of the Gold Coast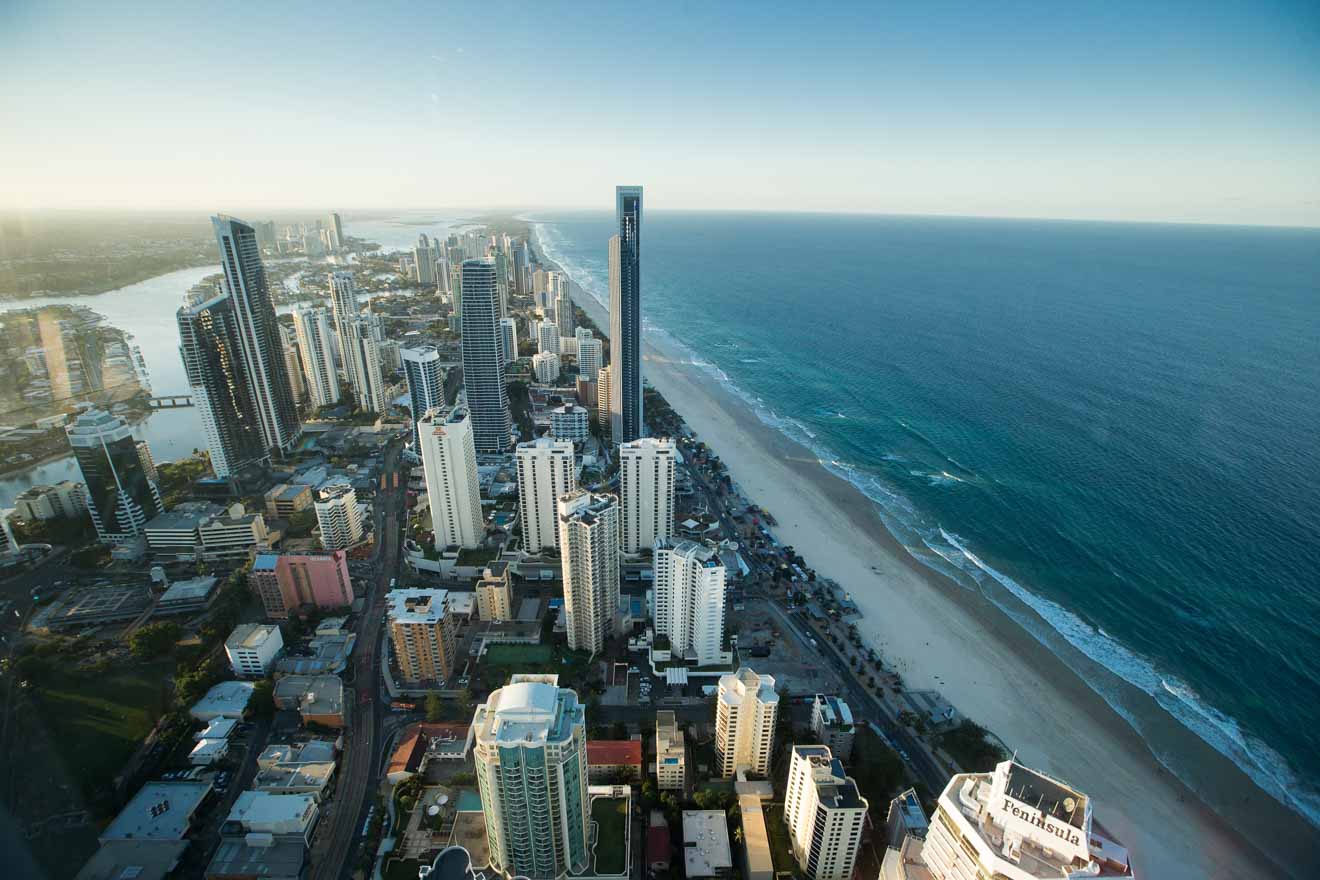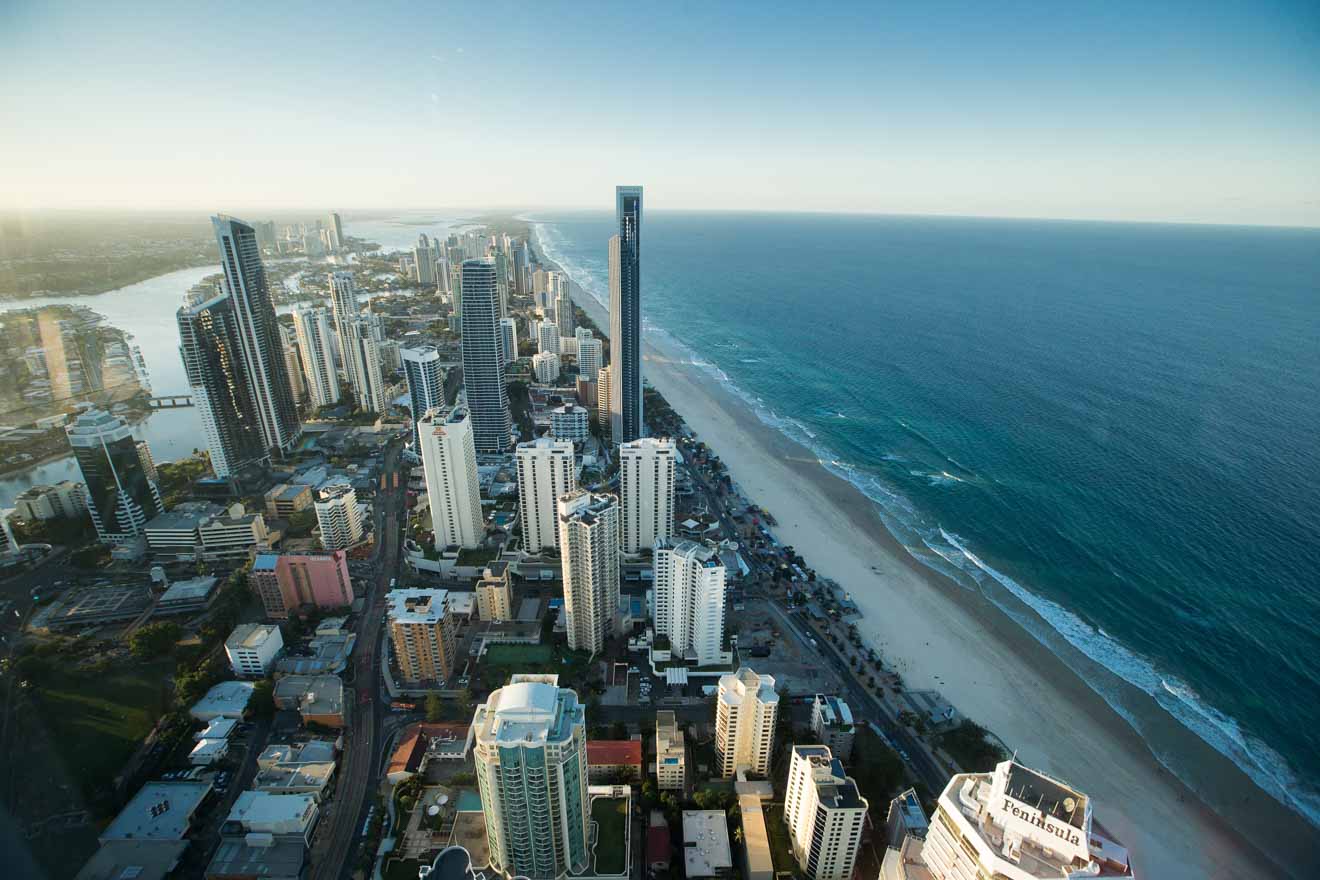 Try one of the fastest elevators on Earth – ascending up 77 levels in just 42 seconds!
SkyPoint Observation Deck is in the Q1 building. Situated on Level 77 this is the tallest building on the entire Gold Coast. On a clear day with no clouds you get spectacular 360-degree views along the coast and of the beauty of the Gold Coast hinterland. If you are feeling game there is also a Skypoint Climb if you don't mind hanging over the edge – not for the faint hearted!
PRICE: Adults $27, kids $15
3. Hike in Lamington National Park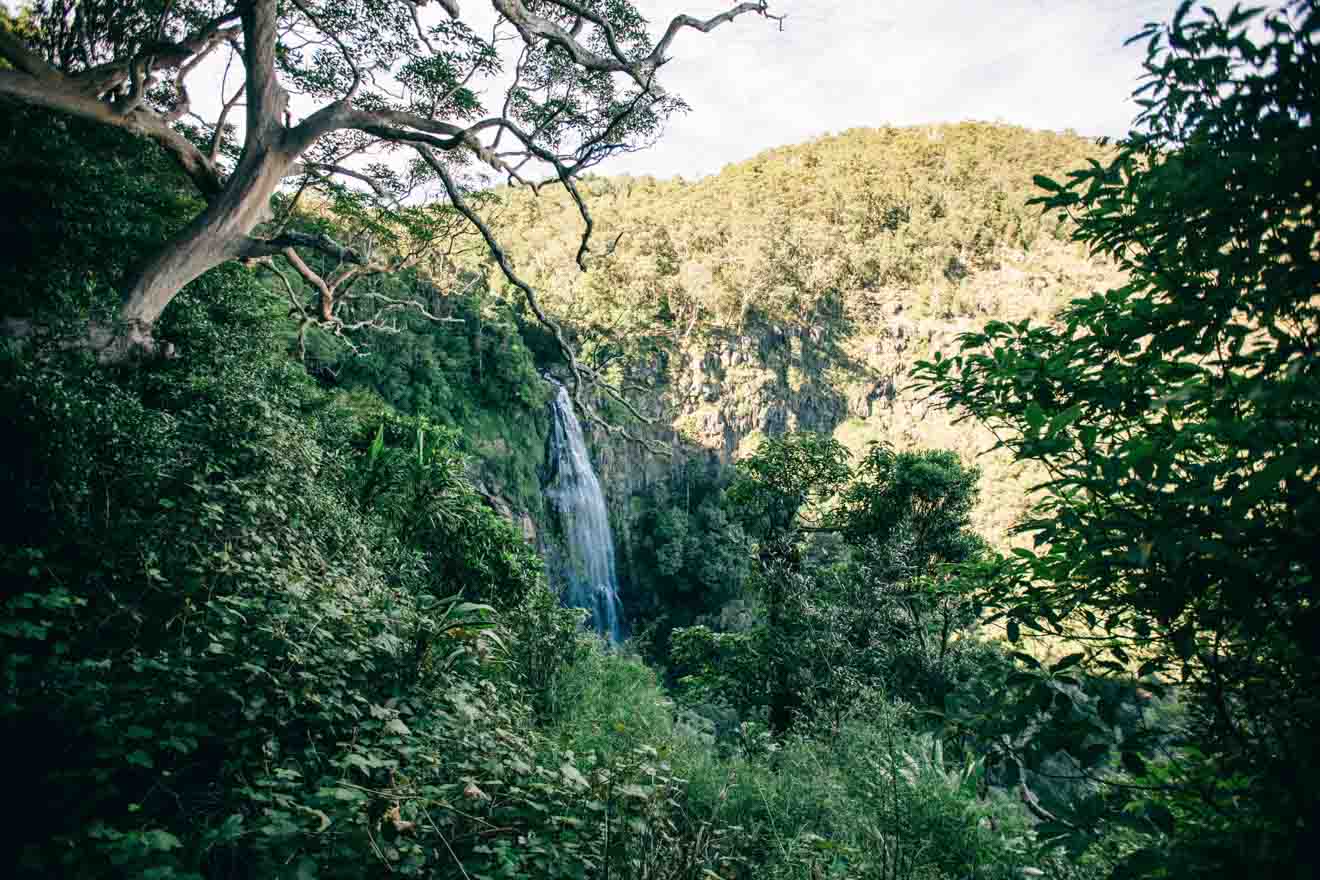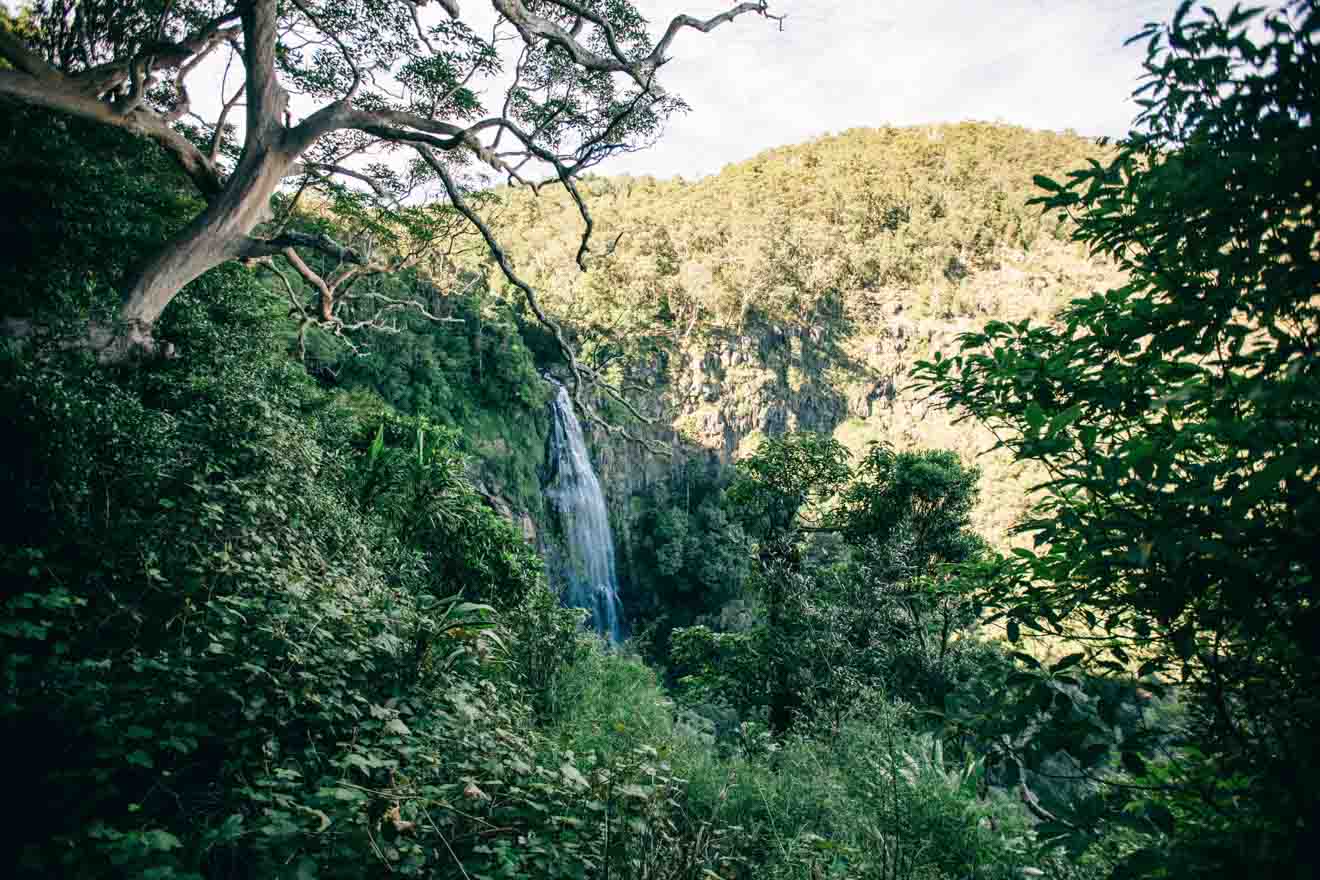 This National Park is a subtropical rainforest and part of the Australian National Heritage area. Famous for its waterfalls, there are over 160 kilometres of walking trails – enough to satisfy the most experienced hiker. Of course you can take a short stroll if you don't have the energy to walk that far!
If you have more time, other Gold Coast National Parks worth visiting include:
PRO TIP: After a hike, treat yourself to a winery visit! The O'reilly's Canungra Valley Vineyards is a great spot to grab a seat for lunch, a snack or a glass or two of wine and to rest your feet! It is located adjacent to Lamington National Park road so makes a perfect end to any hike.
4. Experience Laneway Dining and Live Music at Miami Marketta
There are many great restaurants and cafes on the Gold Coast, but for a unique experience head to Miami Marketta. Here 25 stalls offer a wide range of world cuisine sure to please even the fussiest of eaters. You can "dine around the world" as you try French, Spanish, Thai and of course Aussie and experience the feeling of street cafés.
The marketta is open Wednesdays, Fridays and Saturdays and often features live music which adds to the atmosphere.
5. Get Your Adrenaline Fix at Australia's Largest Theme Park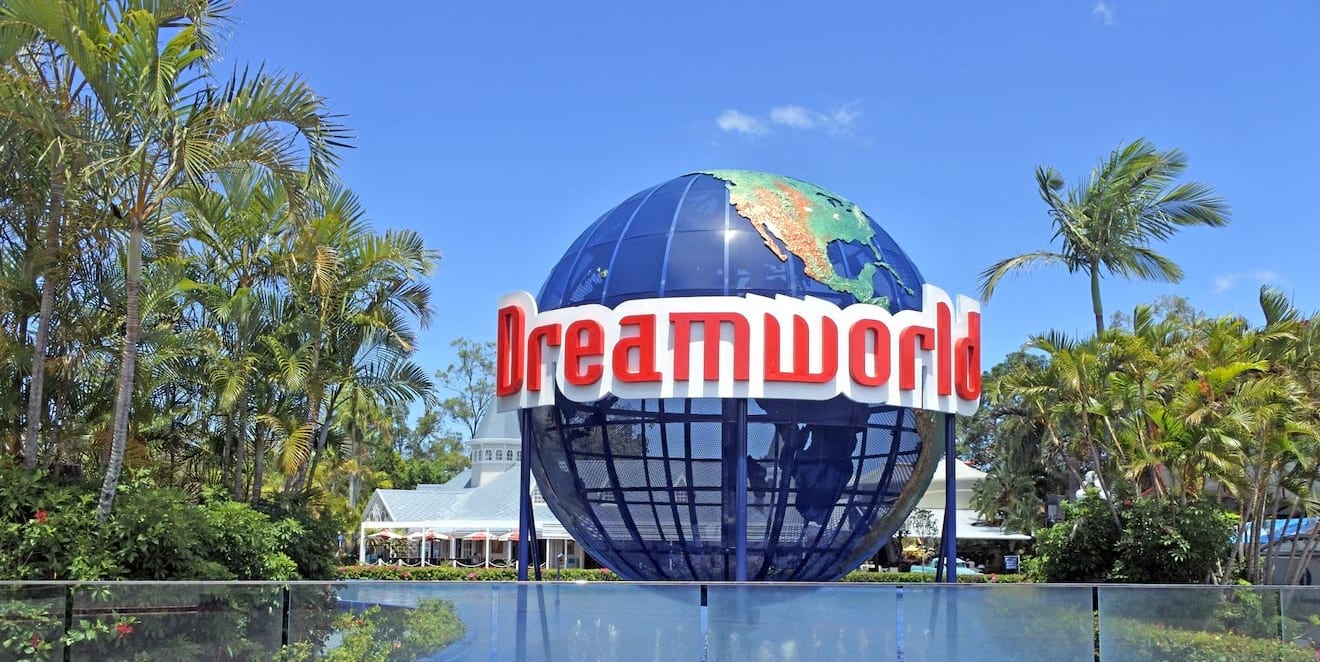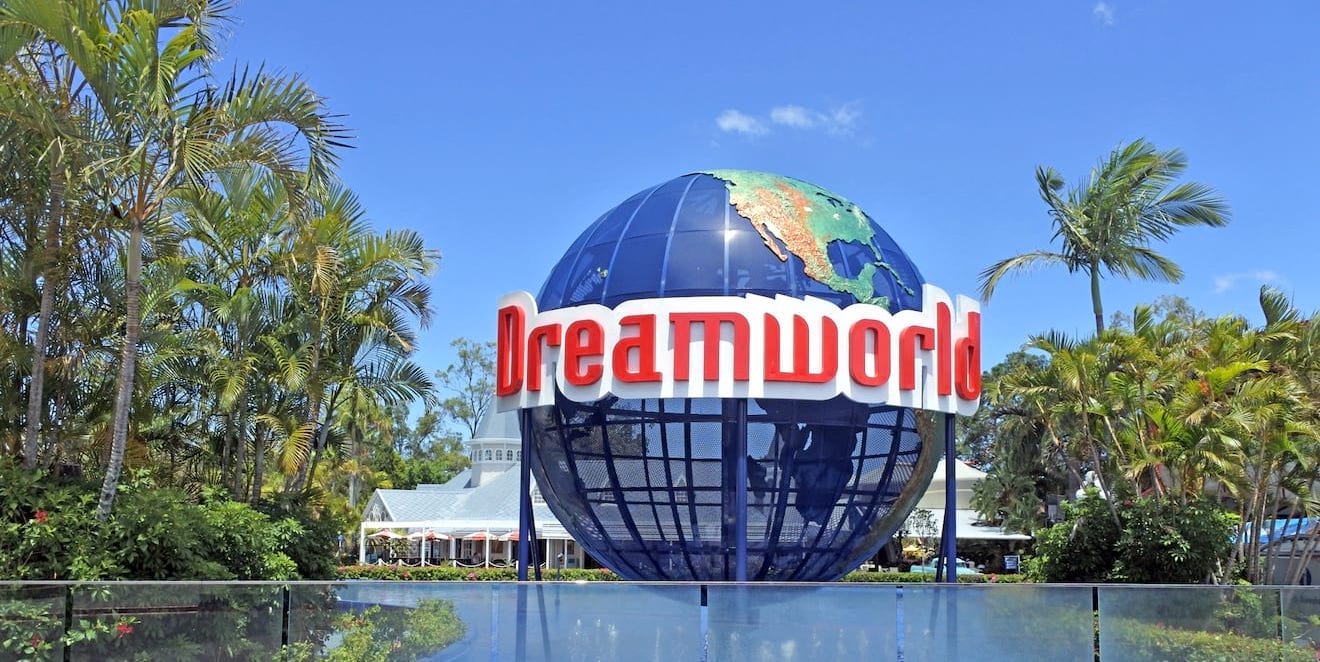 Dream world is home to the largest free fall in Australia. It takes just 5 seconds to fall the equivalent of 39 stories – don't eat too much before you try this out!
Dreamworld is one of the Gold Coast best attractions. It caters to all ages with kids rides all the way through to thrilling rides guaranteed to get your heart pumping. Located in Coomera – it's a 20 minute drive from Surfers Paradise and is a DON'T MISS on my list of things to do on the Gold Coast,
Prices: Adults $109, kids $99
6. Feed The Birds at Currumbin Wildlife Sanctuary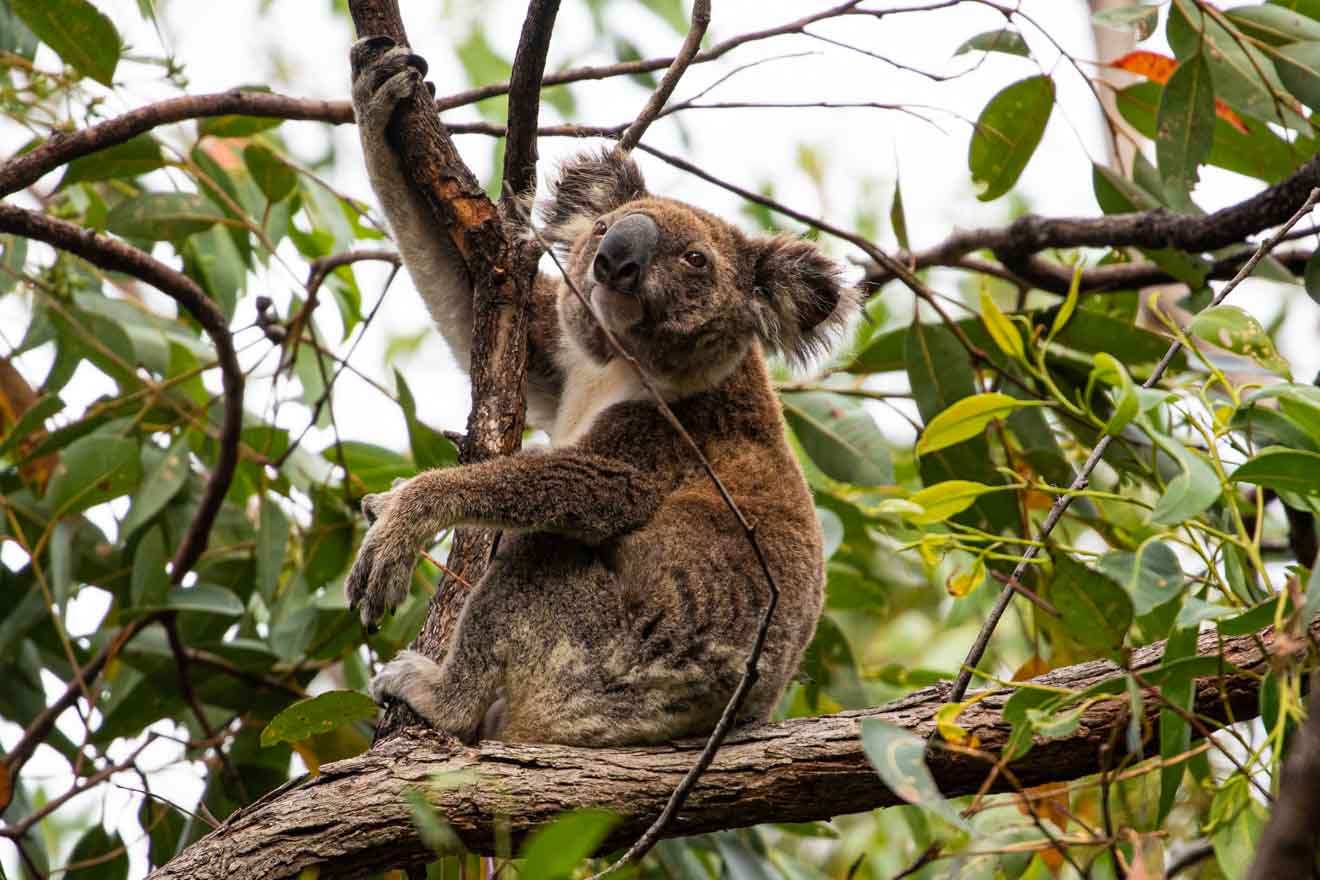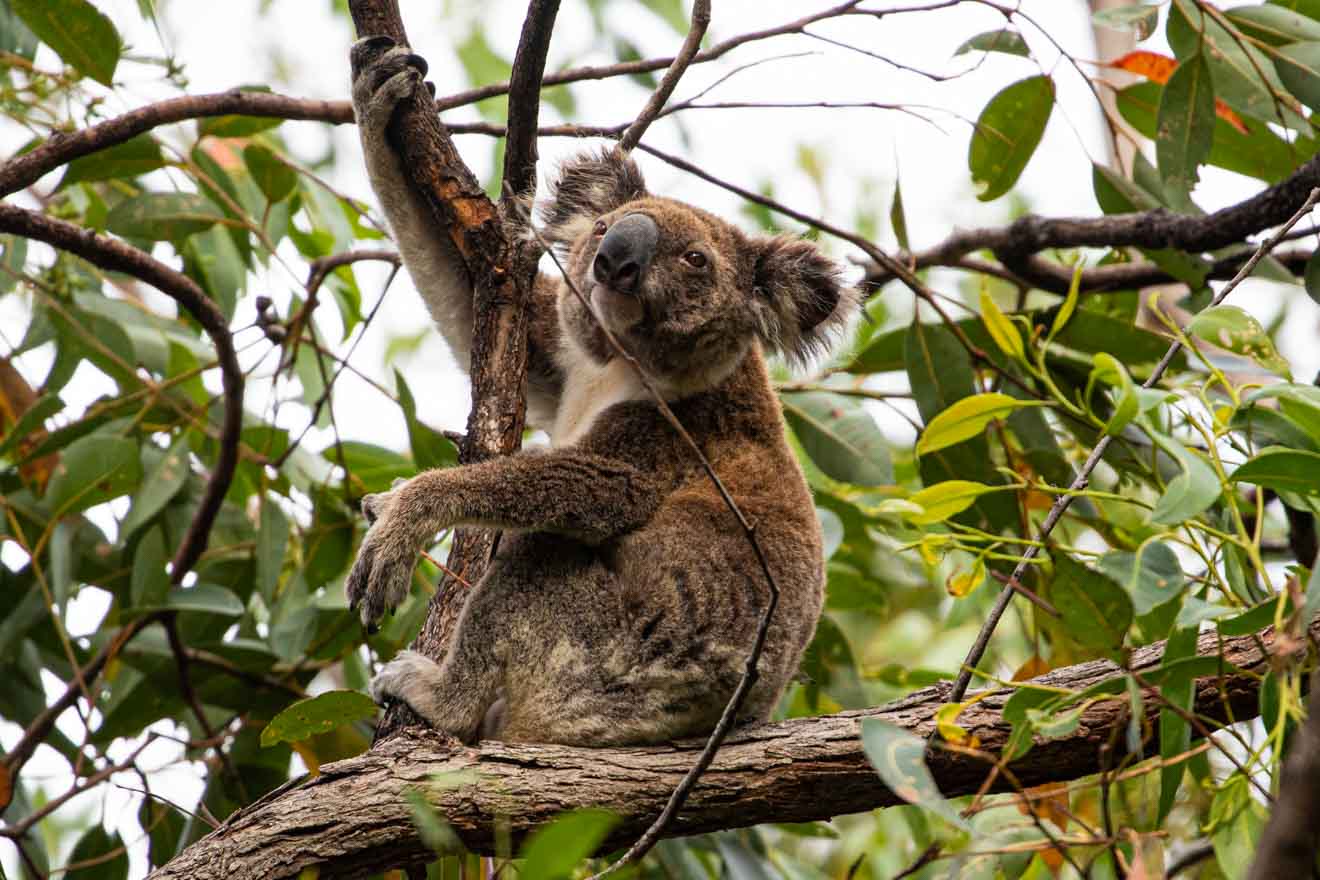 Having a photo with rainbow lorikeets at Currumbin on your head is an iconic Gold Coast shot. And perfect for Instagram!
This wildlife sanctuary, located in Currumbin Valley, just a twenty minute drive from Surfers, has a wide range of creatures, including kangaroos and also offers an educational experience into wildlife protection and conservation. I love that this place is a non profit venture and all fees go to supporting animals. If you love animals as much as I do, please add this to your list of things to do on the Gold Coast.
PRO TIP: This is a great place to get a photo taken with a koala. Queensland is one of only two states in Australia that allow people to hold koalas. Don't miss this chance!
PRICE: $39.95
7. Visit Hollywood On The Gold Coast
Warner Brothers Movie World offers a superb day for the family. From exciting rides to a behind the scene look at how movies are made – this is one of the best things to do on the Gold Coast. You might even spot some movie history amongst the activity.
PRO TIP: If you are planning on visiting several theme parks, then buy a 3 park 3 day pass. If you want discounts on your tickets and are planning on visiting SeaWorld (don't miss the dolphins!) and Wet N WIld (great waterslides) – they are owned by the same company as Movie World. You can buy a combo ticket for $139 – bringing the daily price to $46.34 a day!
PRICE: from $89 per day
8. Party in Surfers Paradise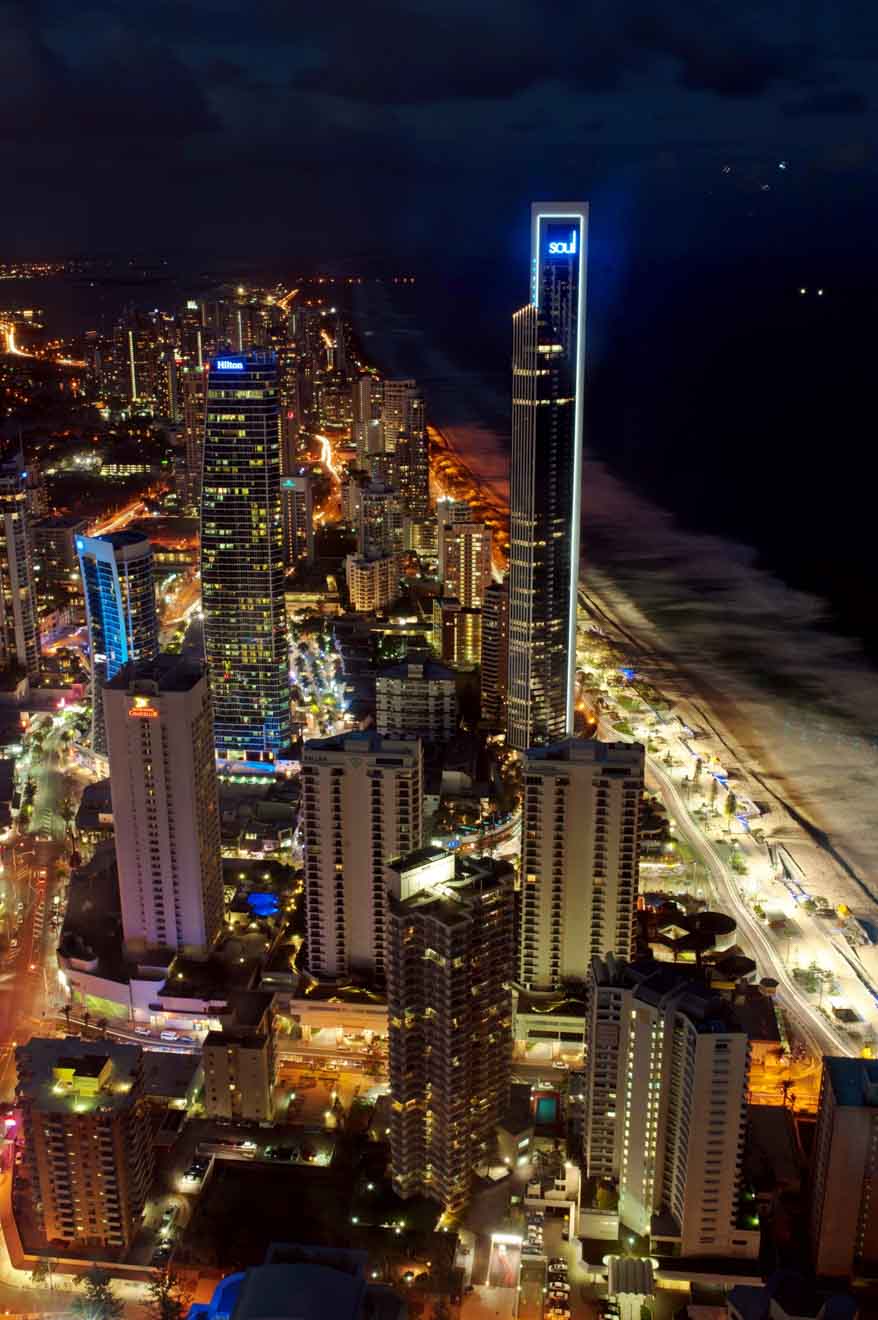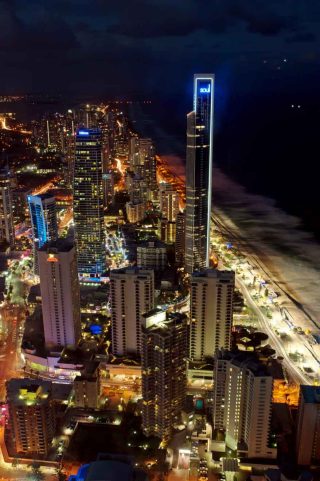 Surfers is definitely party central on the Gold Coast. If you are looking for bars, nightclubs and drinks until the early hours – there are plenty of spots, especially along the famous Cavill Avenue and Orchid Avenue area. Check out Elsewhere Bar, Cocktails and the Avenue – all located in this precinct and easy to walk from one to the other.
PRO TIP: Try to avoid Surfers in the month of November. During this time it hosts "Schoolies" week. Students from around Australia who have completed the final year of high school come here for wild celebrations. It is full of crowds and drunken activity – unless you are 17 or 18- its best to avoid these scenes!
9. Go Jet Boating
No things to do on the Gold Coast list would be complete without Jet Boating. This is the perfect combination of sight seeing and adrenaline thrills. Cruise along the water before launching into exciting 360 degree spins. The 1 hour jet boat tour experience is something you won't forget!
I have done this jet boat tour twice now and am ready to go for a third time. If you want extra adventure it can be combined with a helicopter tour. Doing the combination would be the most thrilling tour on the list of things to do on the Gold Coast!
PRICE: Adult $72, Child $54
10. Explore a Rainforest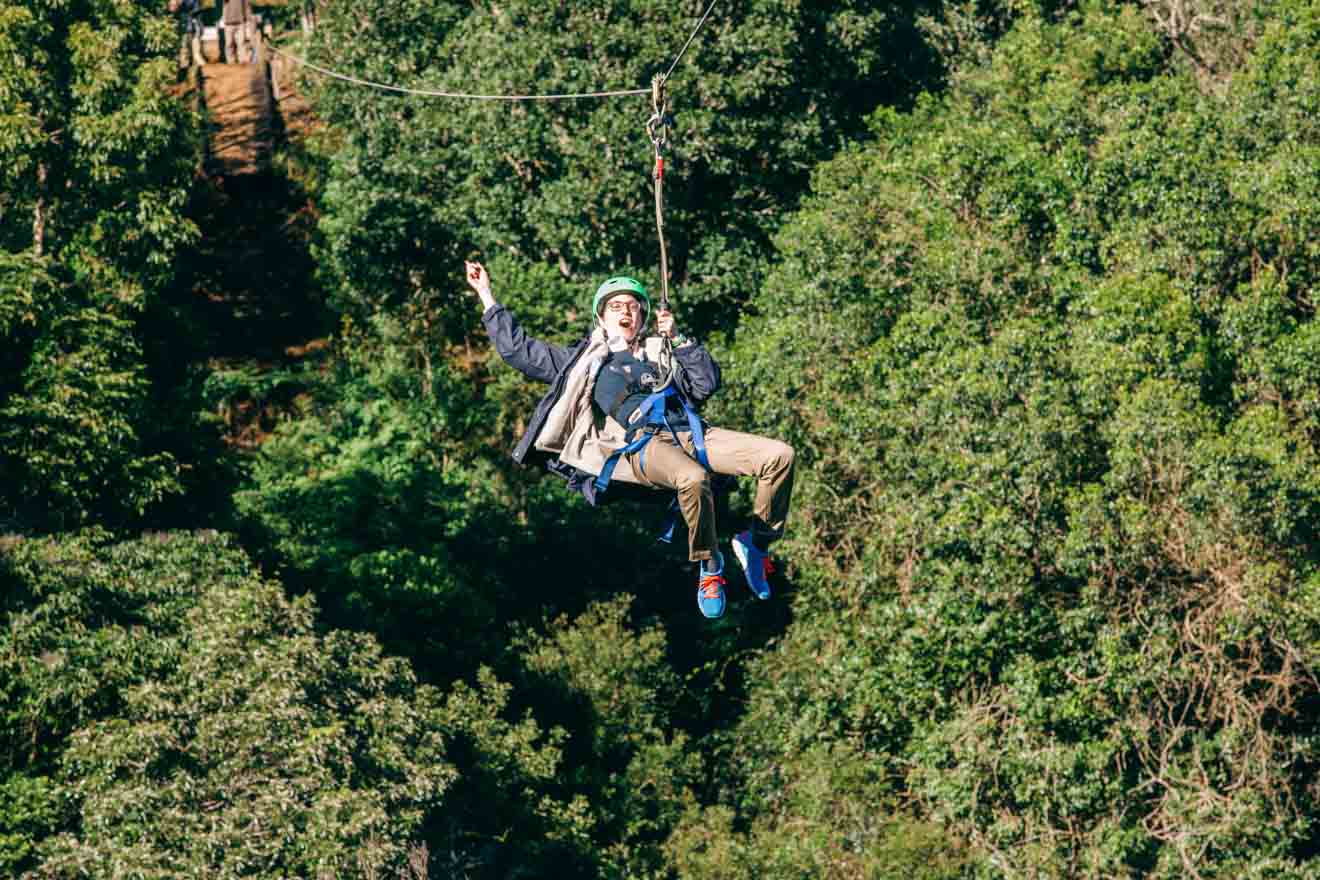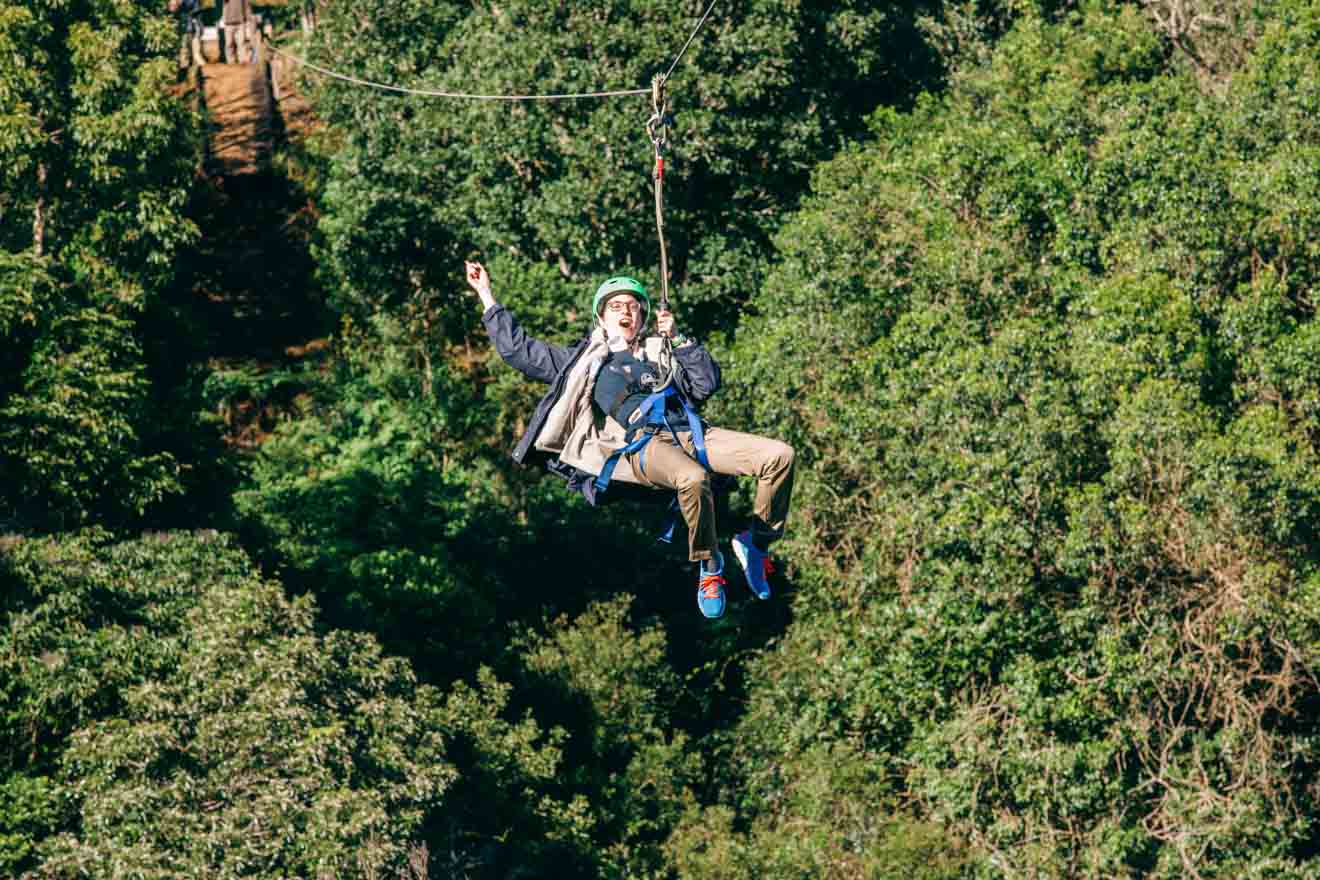 Just 40 minutes into Lamington National Park is O'Reilly's Rainforest Retreat. There are a wide choice of activities here – see glow worms , enjoy a flying fox experience above the rainforest canopy or have a 1 on 1 wildlife encounter. Even if you are not a guest staying here, you can enjoy an array of activities in the Queensland rainforest.
PRICES: Glow Worms – Adults $30 (Children $15), Flying Fox – Adults $35 (Children $22), Wildlife Encounter – Adults $15 (Children $8).
11. Learn to Surf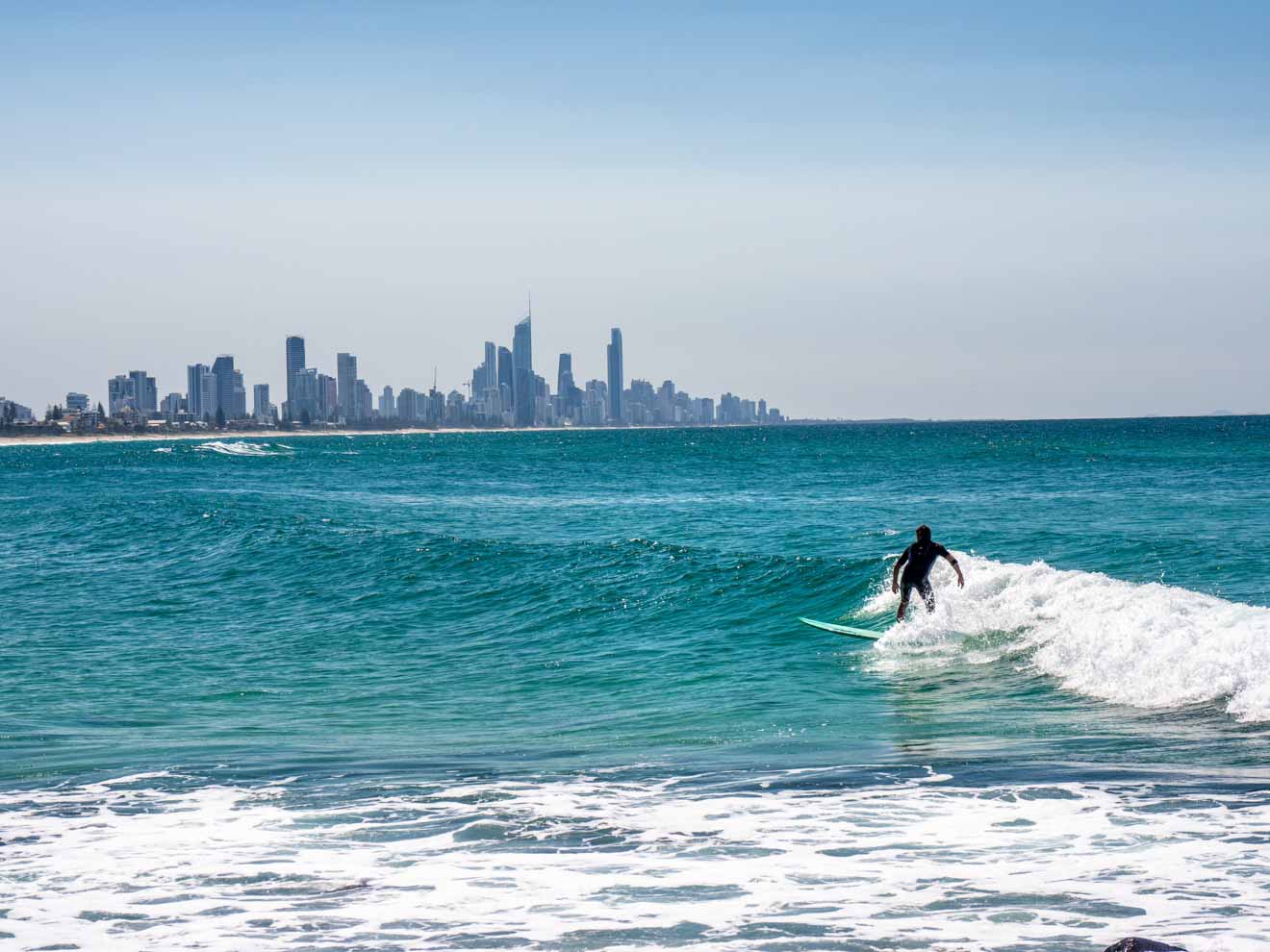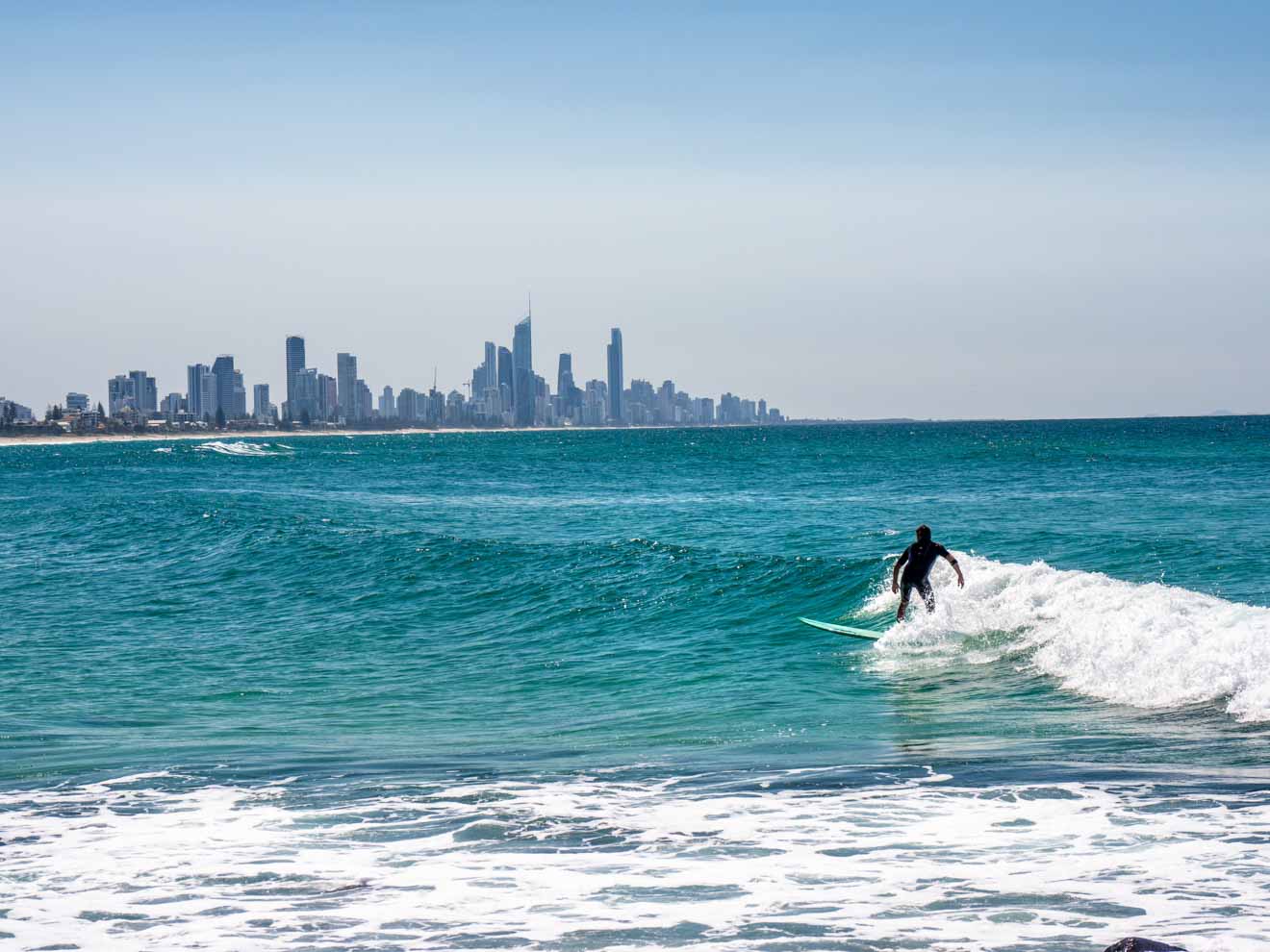 It would seem wrong to go to a place called Surfers Paradise and not surf, right?
As you have surely guessed, it is one of the Gold Coast's most popular activities!
If you have never tired before there are two-hour beginner's lessons and they run most days at 10am and 1pm. This is an absolute must on my things to do on the Gold Coast. They will help you Hang 10 in no time 🙂
PRICE: Adults $68, Students $63
12. Visit Stradbroke Island
For a taste of island life venture to Stradbroke Island (known as Straddy to the locals). It's well worth a day trip and offers something different from the rest of the Gold Coast region. It's a 40 minute ferry ride and you can catch the ferry from the Marina Mirage at Main Beach, Sanctuary Cove Marina or the Runaway Bay Marina.
If you would like to get an organized guided tour, I can suggest this one here, it looks pretty awesome!
| | |
| --- | --- |
| 💯 Top attraction: | Surfers Paradise |
| 🧒 Kid-friendly attraction: | Dreamworld |
| 🛥️ Top water activity: | Jet boat tour |
| 🏞️ Top outdoor activity: | Lamington National Park |
| 🚗Top day trip: | Stradbroke Island |
| 📅 How many days: | 3-5 |
| ☀️ Best time to visit: | December – February, March – May |
Practical Information
I have found a great video that wraps up all my recommendations above visually and also adds some attractions of their own, please take a look at it here:
Below you will find some useful information about the Gold Coast such as hotels/apartments recommendation, transportation tips and more!
How to get to Gold Coast
Gold Coast airport is in Coolangatta – about a 30 minute drive from Surfers Paradise. Many airlines fly there, check the rates for your dates here to get the best price!
There is also the option of arriving into Brisbane Airport. This is a one hour drive or a 90-minute train ride to the Gold Coast. Note that whilst there is a train station at Brisbane Airport, the train station you will arrive at on the Gold Coast is a 15 minute drive from Surfers Paradise.
If you plan on exploring the region and doing my list of things to do on the Gold Coast listed above, I would recommend hiring a car. There are car rental options available at both Brisbane Airport and Gold Coast airport.
Where to Stay on the Gold Coast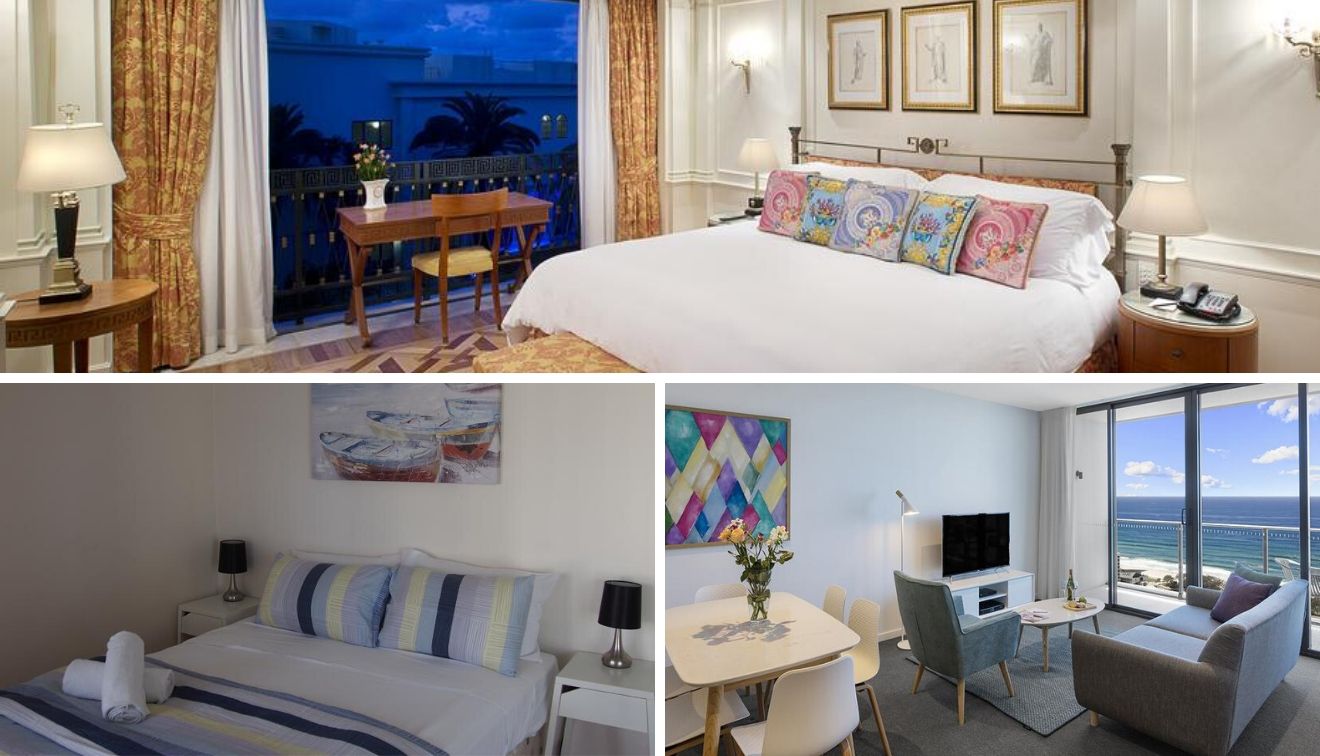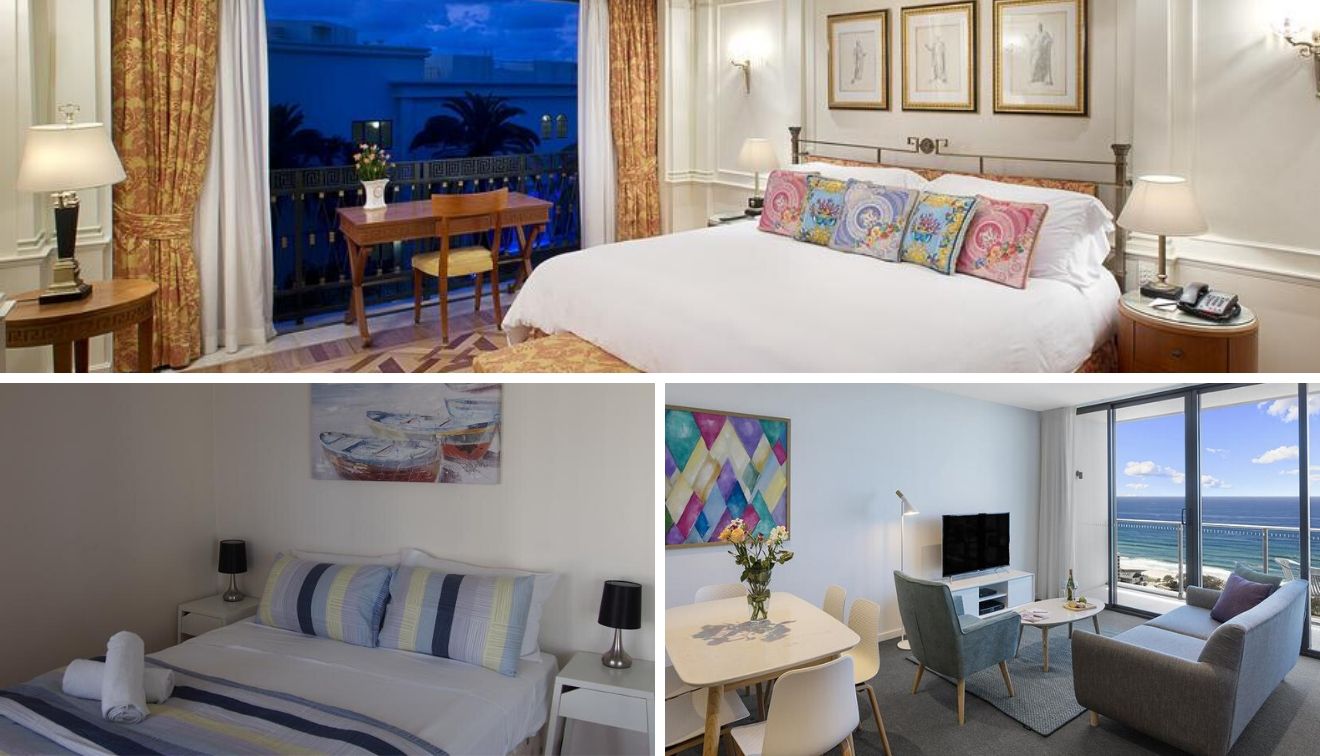 There are plenty of accommodation options along the Gold Coast to suit your budget. From busy Surfers to Broadbeach to Southport – depending on the pace you prefer – all locations offer a range of attractions and experiences on their doorstep. For more detailed accommodation options click here to learn more.
Luxury: ($300AUD and above)
For six star luxury it's hard to go past the amazing Palazzo Versace. If you want to feel like a celebrity then stay here! I think it's the top hotel in Queensland! For a true resort experience it's hard to go past the Intercontinental Sanctuary Cove. There is so much to do at this resort from the two golf courses to the salt water lagoon, you may never leave.
Mid: ($150-$300 AUD):
There are plenty of mid range options – I often stay at the Avani Breach Residences – having an apartment allows you to cook meals and save money. The QT Surfers is a hip trendy boutique hotel that has a quirky and fun side. It also has a great rooftop bar with my favourite cocktails on the coast.
Budget: (up to $150AUD)
The Monte Carlo is located on the beachfront in the heart of Surfers Paradise – it has free parking – great for your rental car and with this location, the best of Surfers is at your front door.. If you are looking to stay in Broadbeach the Sierra hotel is well located, and has two nice pools as well as a fitness centre.
Conclusion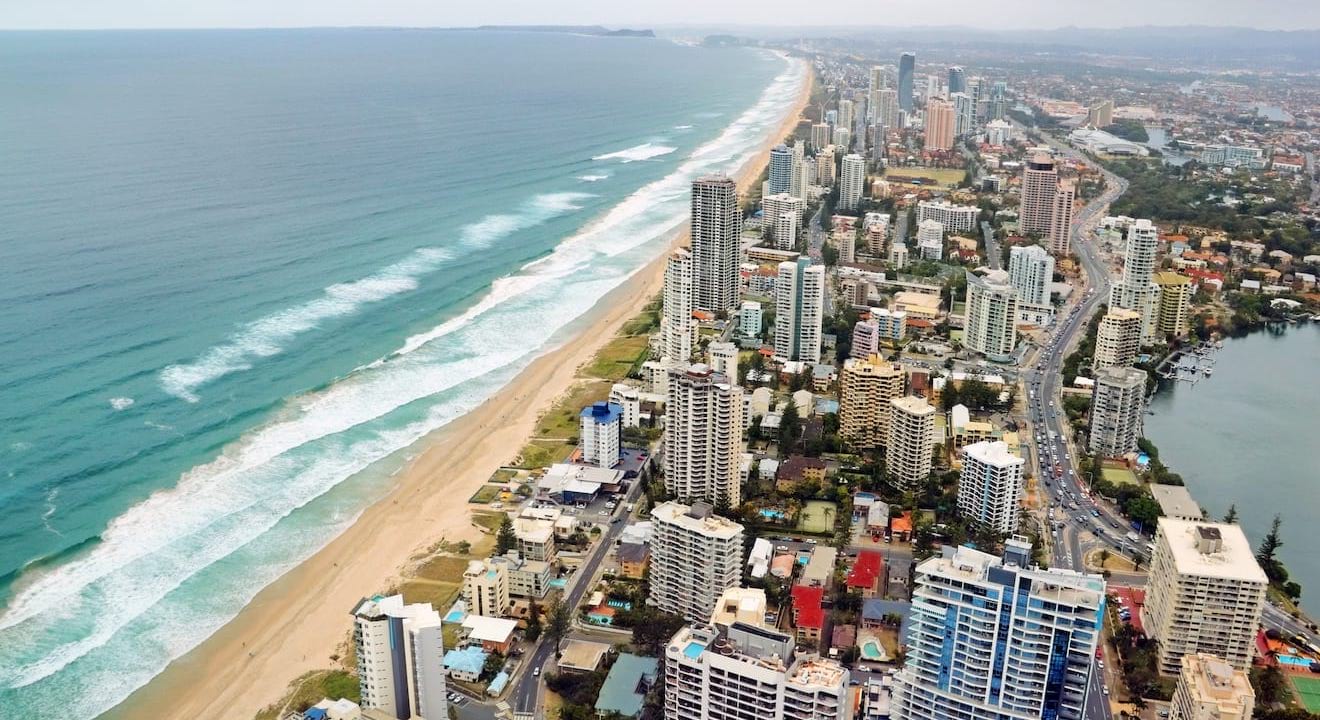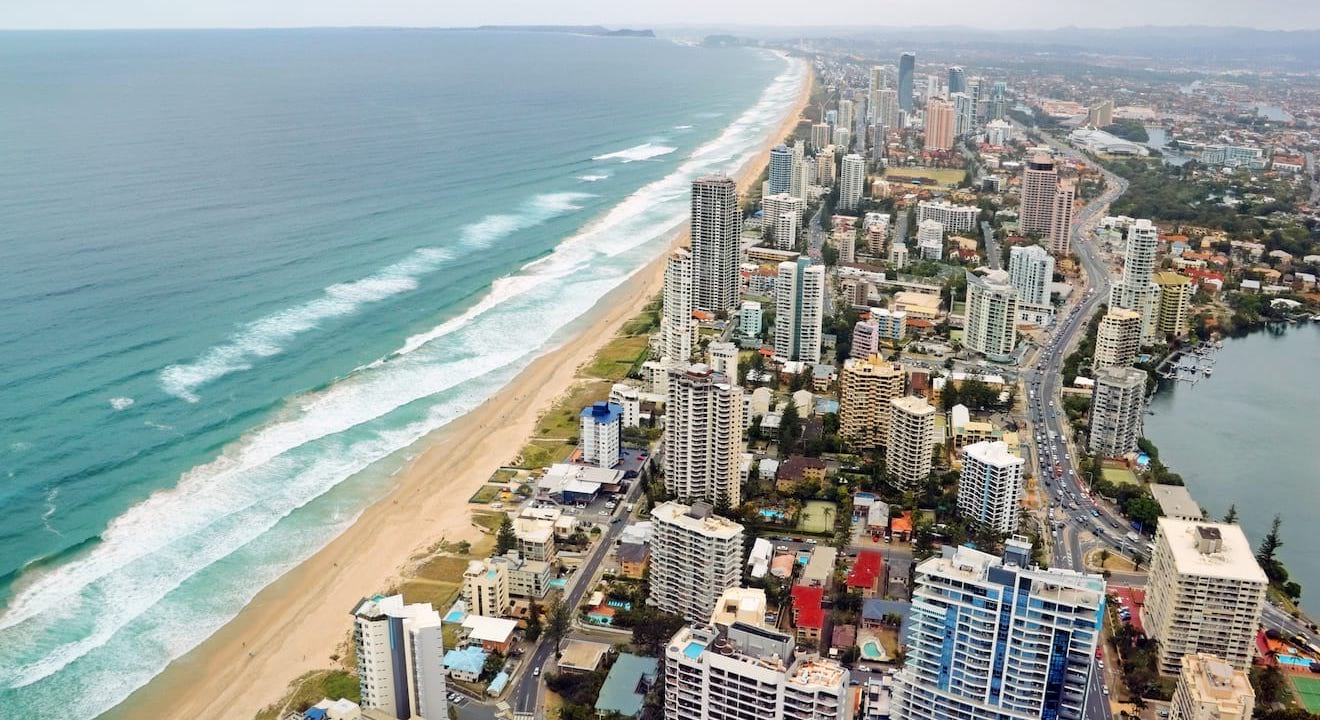 There is a reason why this is one of Australia's most popular destinations – there are so many things to do on the Gold Coast of interest. I have been a visitor here for years and I am always adding new activities and tours to my things to do on the Gold Coast list!
Even if you have been before, it is always worth another visit. The further you move out from the city lights of Surfers Paradise the less tourists you get, offering a different experience. And you can be guaranteed to find new food, markets, and places to explore. No matter what your age – from couples to families the attraction of the landmarks, panoramas, valleys, fishing, waterways, picnic areas under a waterfall or the islands and gardens. The Gold Coast has sites for all!
Do you have any questions about the things to do on the Gold Coast? Let me know in the comments, I will be happy to answer! Also if you have any things to do on the Gold Coast that should be added – I would love to hear! I am always looking to add things to do in Gold Coast!
---
Pin it for later!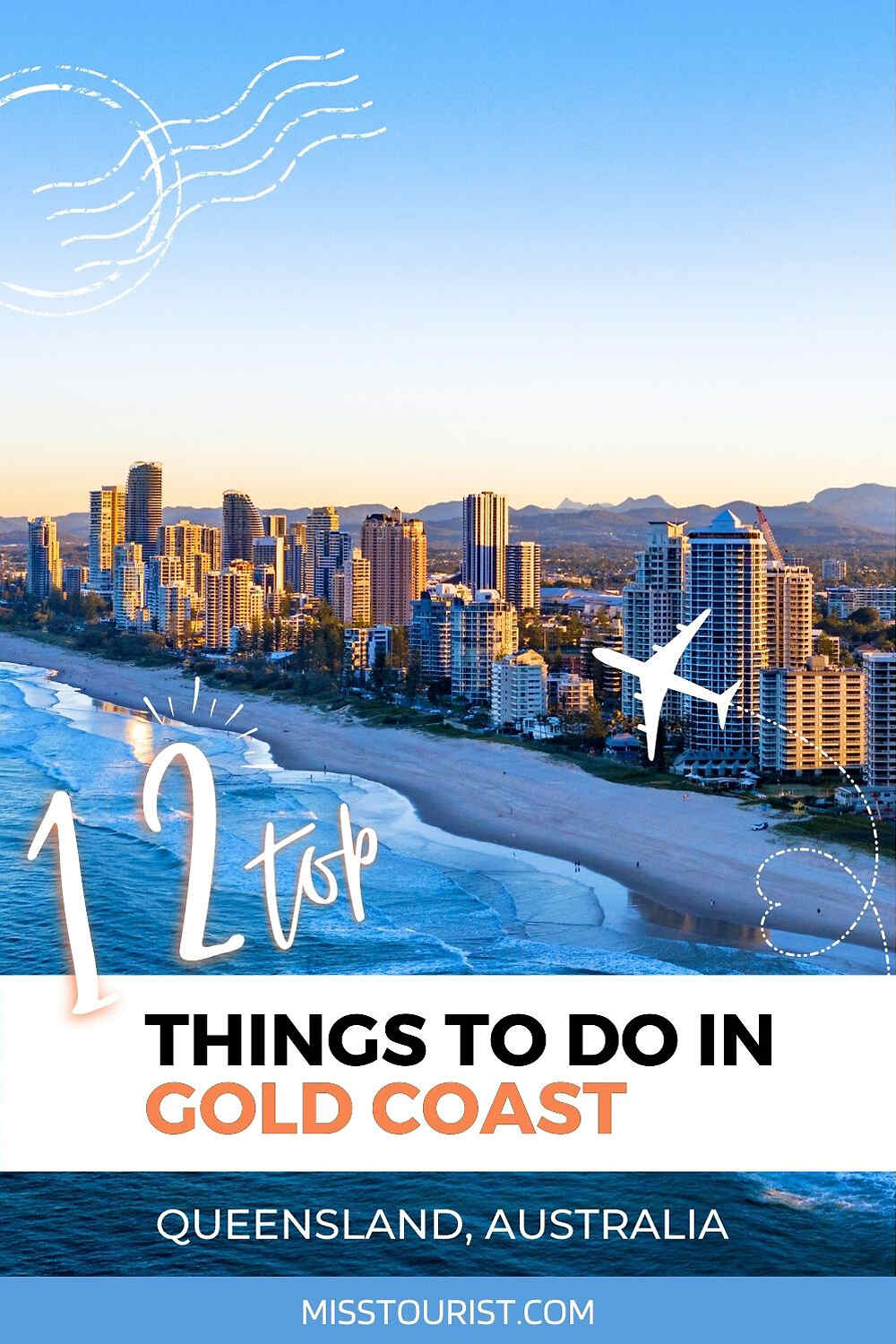 Pin it for later!