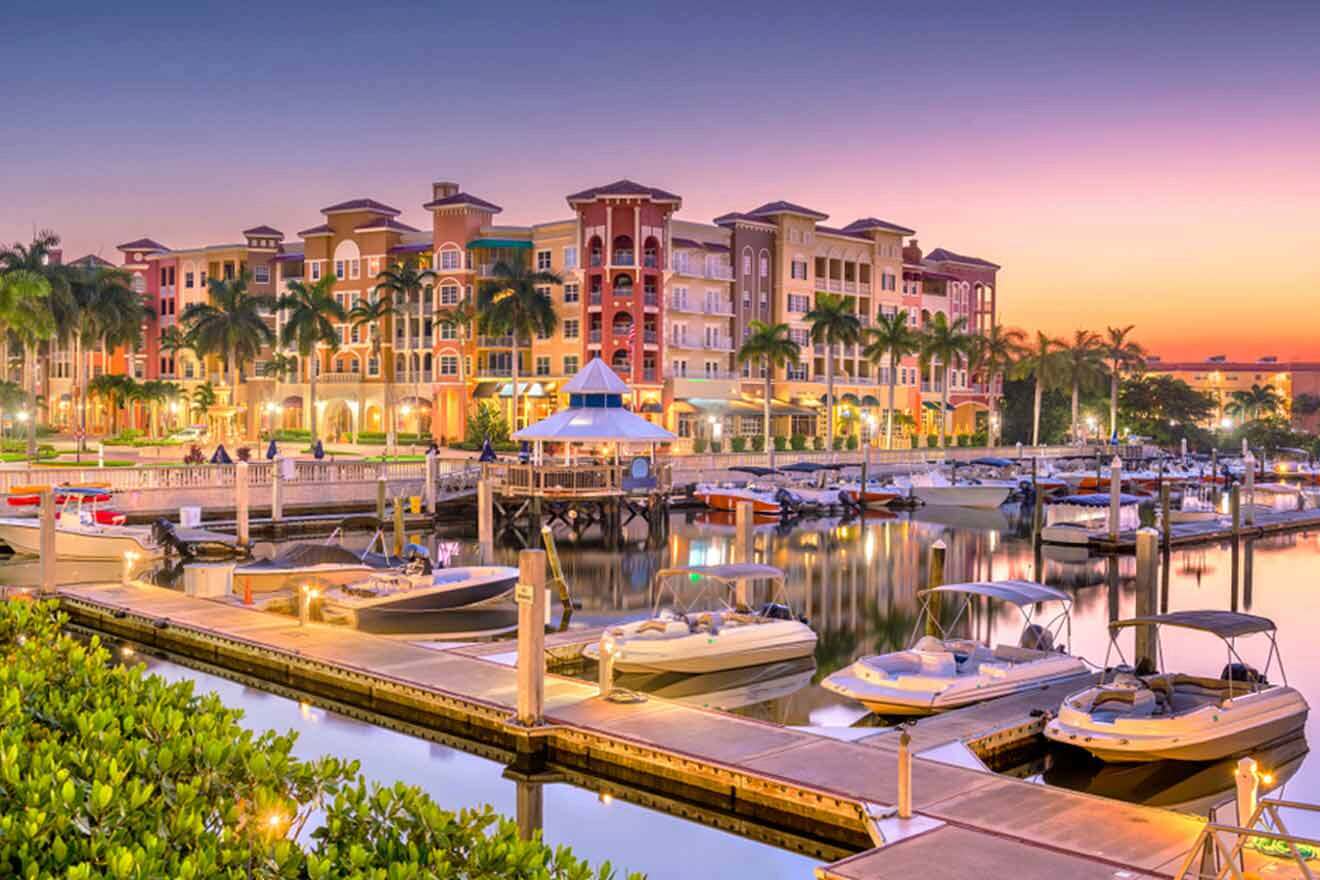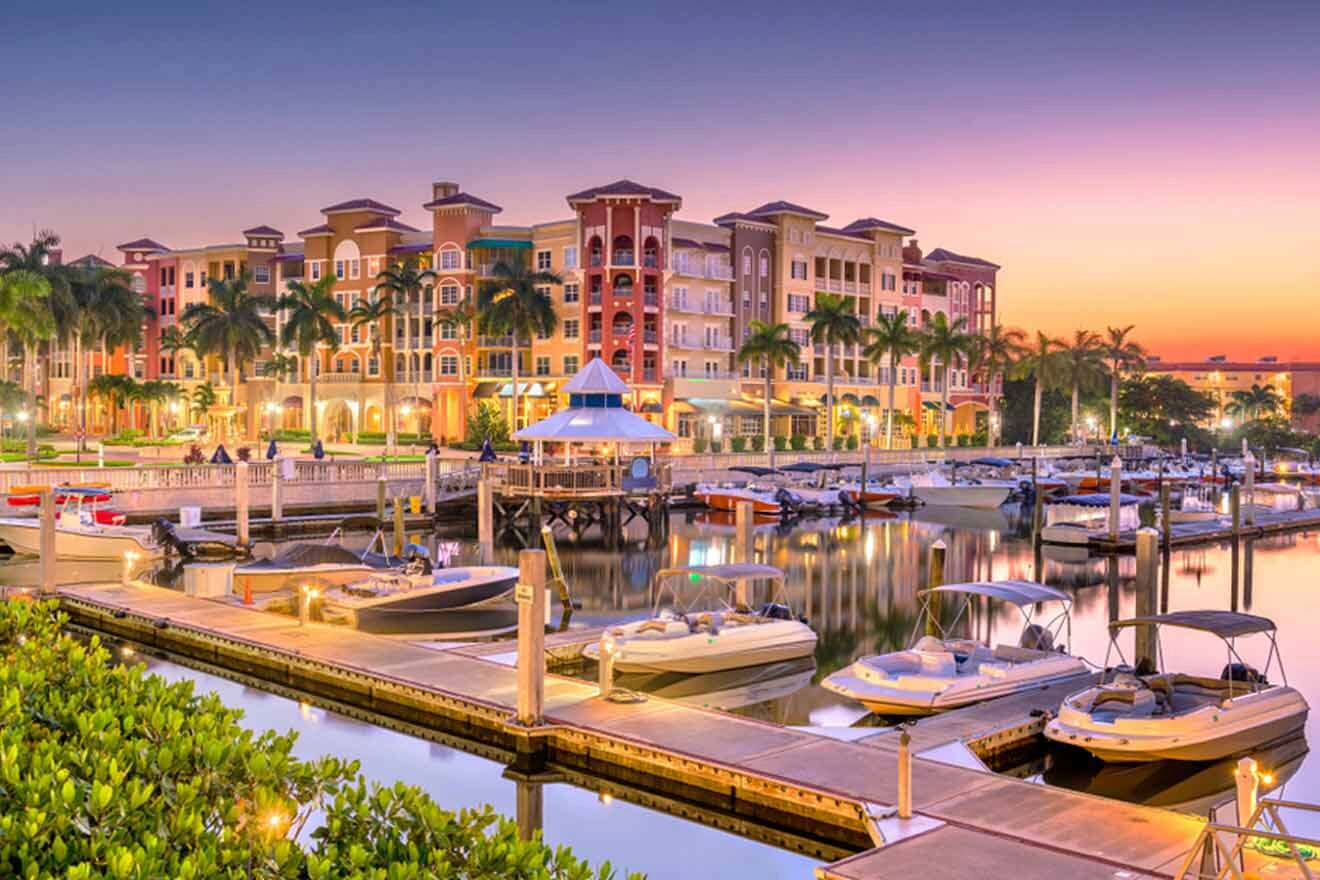 Naples is a gorgeous city on the Florida coast that everyone should experience at least once in their lives!
Hugging the Gulf Of Mexico, Naples is a beautiful city with so much to offer both visitors and locals alike.
Naples is one of the top vacation destinations in the state of FL! While Florida is a huge state with both the Gulf and Atlantic Coasts, Naples is high on the list when it comes to the best vacation destinations in Florida!
I have some super fond memories of Naples. The energy is different there. The sunsets, wildlife, ecology, and beaches are all extraordinary, and I am so excited to share the bounty and beauty of Naples with you!
You're in for a treat because you're going to get the ultimate list of the best things to do in Naples FL, from a Florida native!
Let's dive in!
If you are in a hurry
These tours sell out pretty quickly, so be sure to book in advance!
Here are the main things to book in advance:
1. Meander through the Naples Botanical Gardens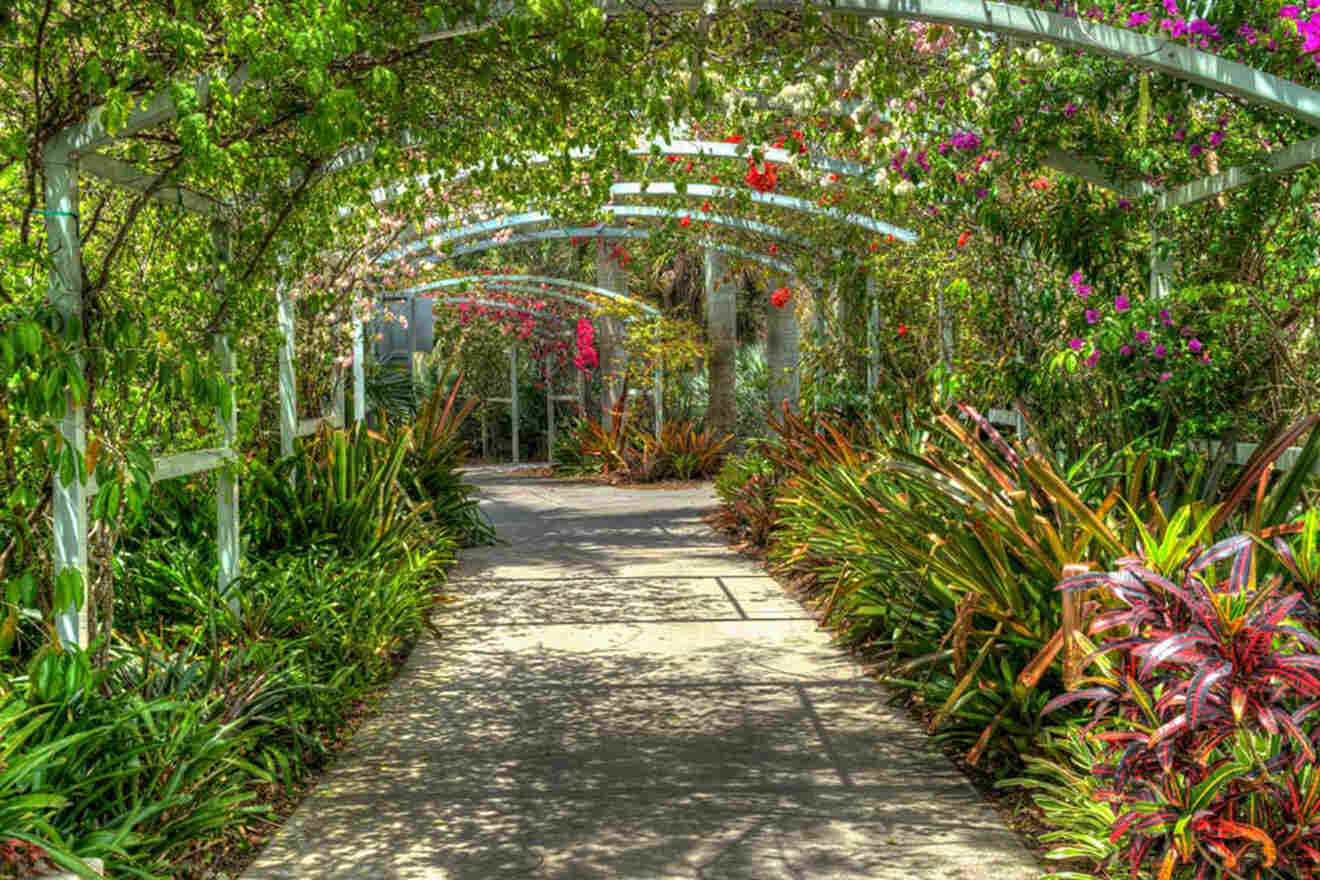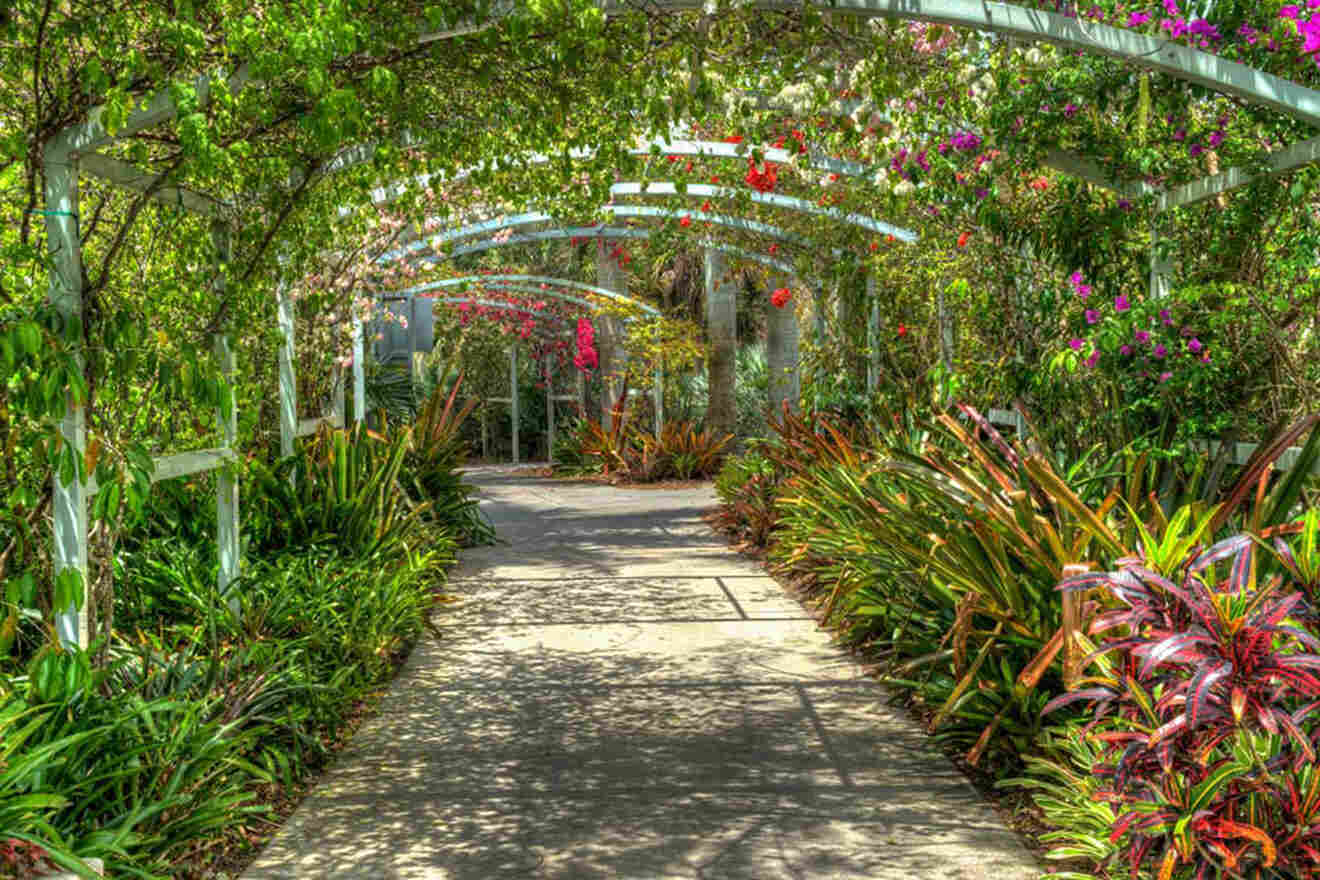 One of my favorite places in Naples is the Naples Botanical Gardens. For one, I'm a total plant nerd, and they have an incredible selection here. But also, the Botanical Gardens offers an excellent escape from the city and a break from the beach.
With an astounding collection of over 1,000 plant species on 170 acres, the Naples Botanical Garden is the perfect historic tropical garden to visit on your trip to Naples.
With differing habitats, gardens, and landscapes reflecting different environments, this experience gives you an authentic look into the different ecosystems and habitats that these plants inhabit in their original home.
As you walk throughout the Naples Botanical Garden, you will be greeted with huge elephant ear plants, birds of paradise, and other tropical beauties that just put you in a state of relaxation and vacation!
Going even deeper than just 'tropical,' you will get to see a Caribbean Garden, an Asian Water Garden, the Smith River of Grass, a Brazilian Garden, and the Buehler Enabling Garden.
With nine gardens to explore, this tropical natural paradise is an excellent place to visit for everyone!
PRICE: US$25
2. Check out the Naples Pier
As one of the most popular and iconic Naples activities, I am sure that anyone you ask about Naples will mention the famous Pier along Naples Bay.
This Gulf Coast gem features incredible views, a romantic place to watch the breathtaking West Coast sunsets, excellent fishing, and the classic Naples experience.
Another added benefit of the iconic Naples Pier is the marine life viewing! It is not rare to see dolphins, manatees, and other mysterious marine life hanging around the pier. The water is so turquoise and clear that it is easy to see these incredible creatures if you pay attention!
The Naples Pier also provides a shaded area with picnic tables. This is the perfect place for a romantic sunset picnic while taking in the incredibly vibrant colors of the setting sun.
Part of the reason Naples Pier is as popular as it is in its rich history. Originally built back in 1888, Naples city dock was for freight passengers!
Even more surprising, in the early 1900s, there was a small narrow-gauge train that brought in freight and baggage on the pier.
The Naples Pier is the pier that has stood the test of time. Destroyed by countless hurricanes and even fires, the pier has been rebuilt time and time again, speaking to its timeless nature as a Naples staple.
If you fancy going out on the water, check out this Sightseeing Boat Tour! It's so fun and getting to see Naples from the water is honestly just the best experience!
Book Your Sightseeing Boat Tour
3. Explore the Southwestern part of the wild FL Everglades!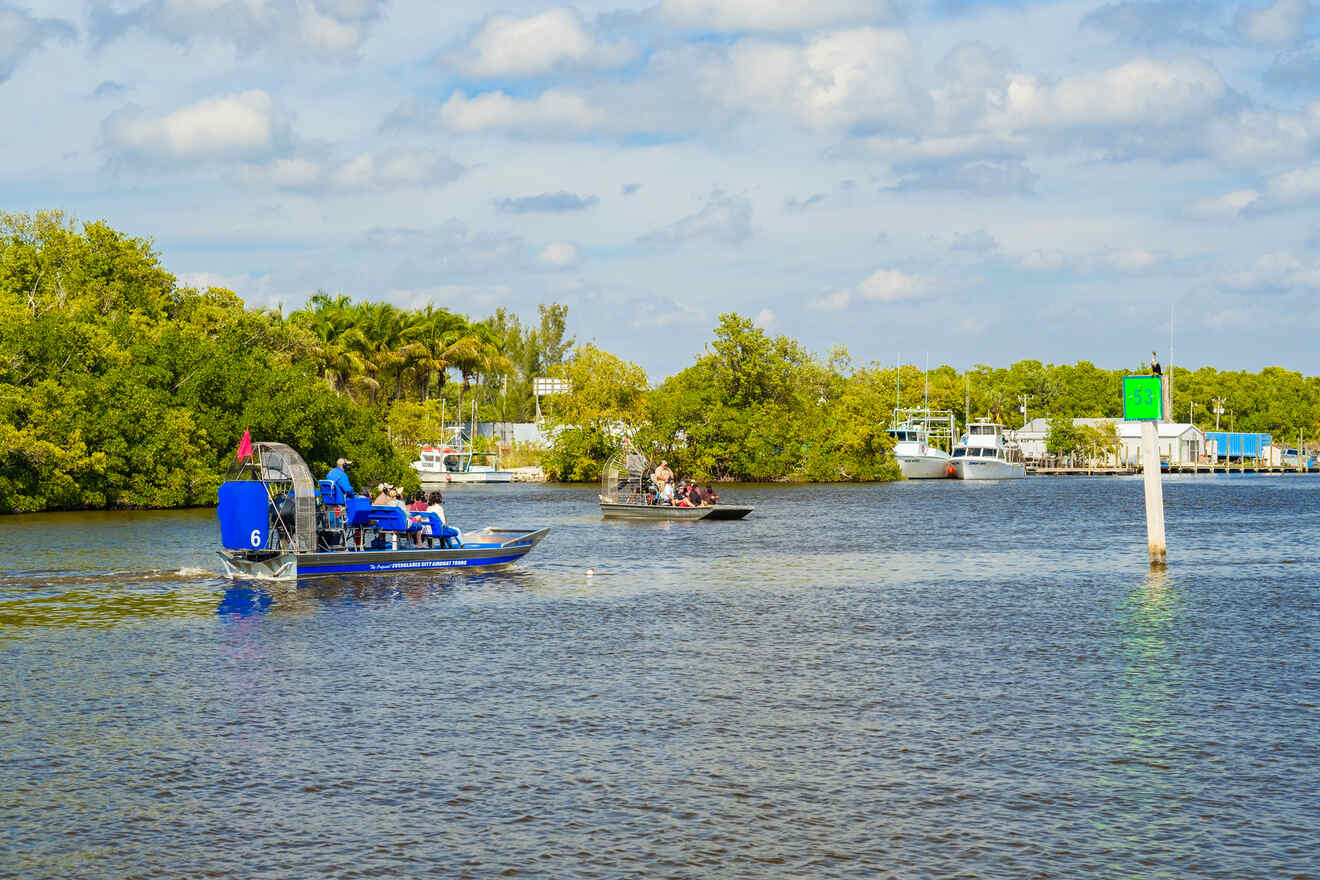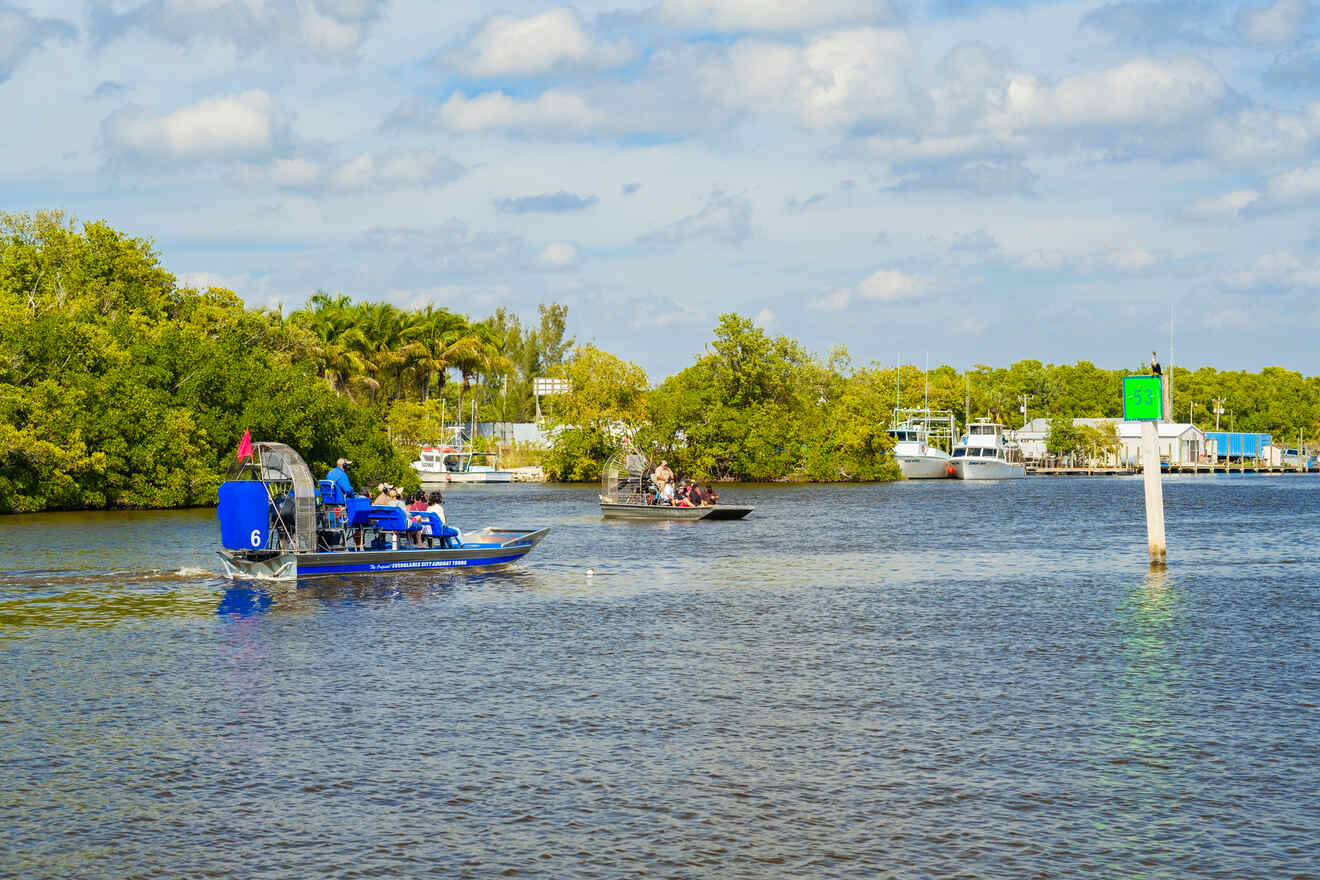 Sometimes referred to as the River of Grass, or the slowest moving river, the magic of the Everglades encompasses over 1 million acres throughout South Florida!
A magical wetland, prairie, scrub, coastal marshes, mangrove forests, salt and freshwater marshes, and hardwood hammock oasis, the Everglades is vast, diverse, and filled with fascinating biodiversity with prehistoric energy.
Most people visit the Everglades National Park on the East Coast of Florida. However, many people don't know that the Everglades in Southwest Florida offer an entirely different experience as the freshwater begins to mesh with the Gulf of Mexico waters.
In fact, Southwest Florida is famous for being the original home of the highly endangered Florida Panther. This incredible big cat calls the southwest portion of the Everglades its home and is under threat of extinction.
Pay a visit to this incredible natural wonderland and learn about this incredible animal's habitat and how to preserve it so generations to come can experience this incredible being and an intact ecosystem.
Since the Everglades are vast and expansive, encompassing 1.5 million acres, all sorts of wildlife call the Everglades National Park home. A visit to Naples without exploring this vast Florida wilderness is incomplete! Plus, you can also visit North Collier Regional Park on your way there to truly embrace Florida's diverse wildlife and national parks!
Check out this incredible guided tour that I recommend to all my friends visiting Naples. On this tour, you get to kayak through mangrove tunnels in a small group and see manatees in their natural environment.
PRO TIP: it really helps to have a car for this Naples destination. Many of the adventures and hikes are driving distance apart, making the experience much more pleasant with a car involved.
Book Your Mangrove Tunnel Kayak Tour
4. Bring the family to the Naples Zoo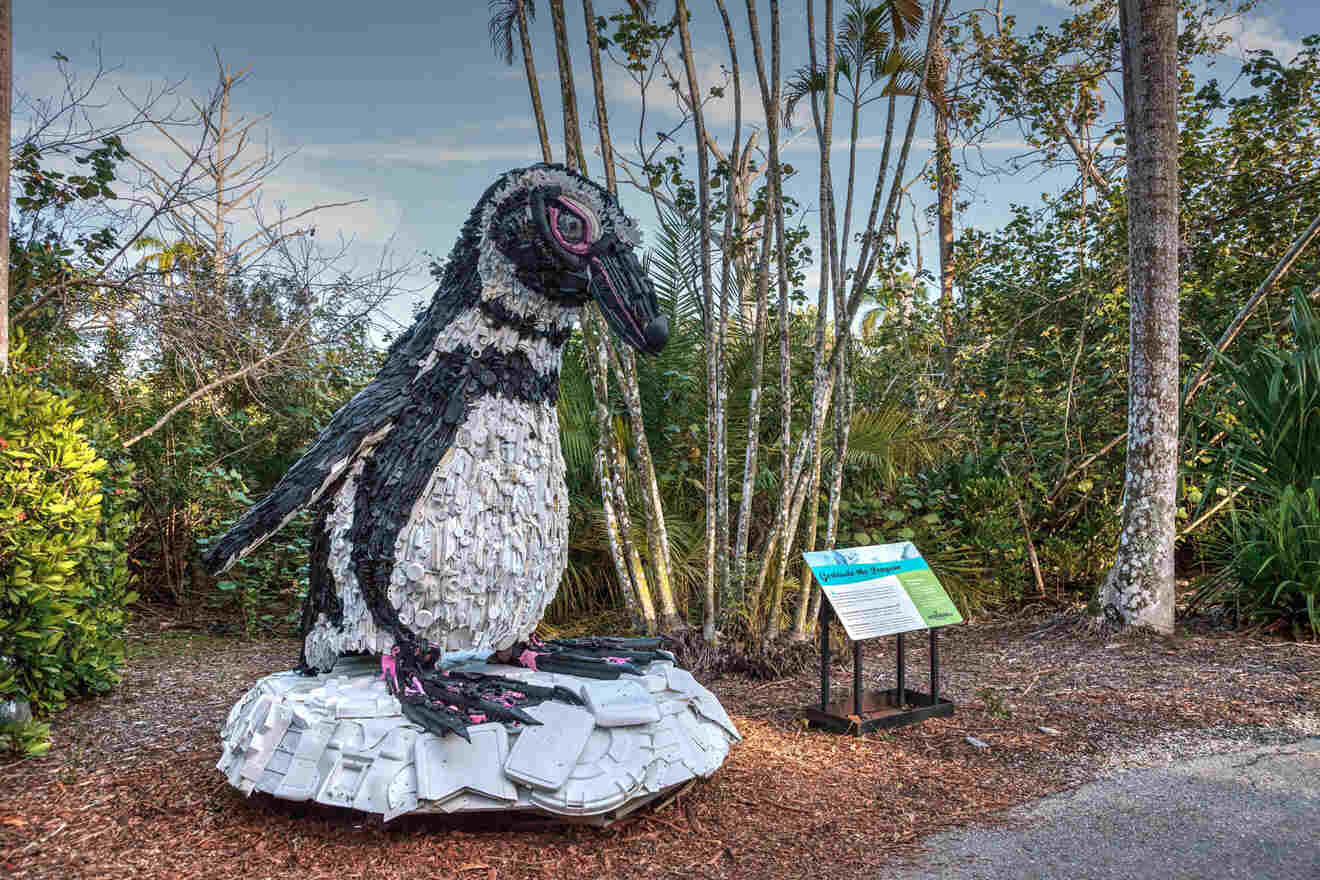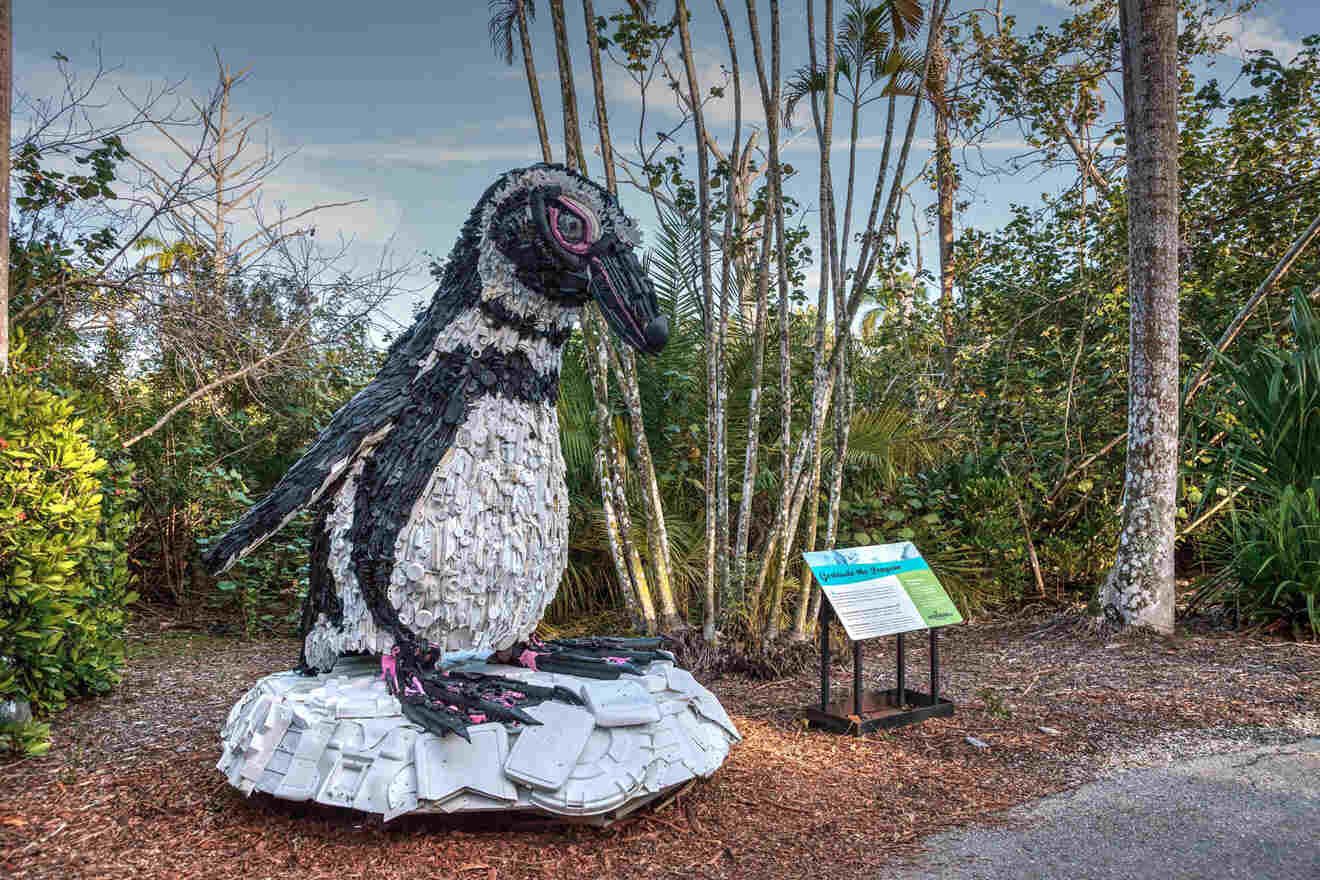 Beginning as a tropical garden in 1919, this 44-acre zoo has had many lives.
The Naples Zoo at the Caribbean Gardens is now a small city zoo with many native species, as well as some big cats, giraffes, a huge anteater, lemurs, and more.
This is one of the best things to do in Naples with the whole family! Since the Naples Zoo is relatively small, it is a great experience for the young ones without being an overwhelming experience.
However, while it's small, it packs a punch. Not only is the Naples Zoo a super enriching and educational experience where you can learn all about wildlife and their habitats, but they also do incredible conservation work around the globe!
When you purchase a ticket, you are also contributing to their global conservation mission and funding field staff's annual salaries in Namibia, Brazil, Kenya, Zambia, and Sierra Leone.
When you bring your family to this incredible zoo, you can also feel good about contributing to the conservation of wild spaces! Plus check out Monkey Island! You can go on a little boat adventure there with the whole family!
PRICE: US$23 for adults, US$15 for kids 3-12
5. Check out Tin City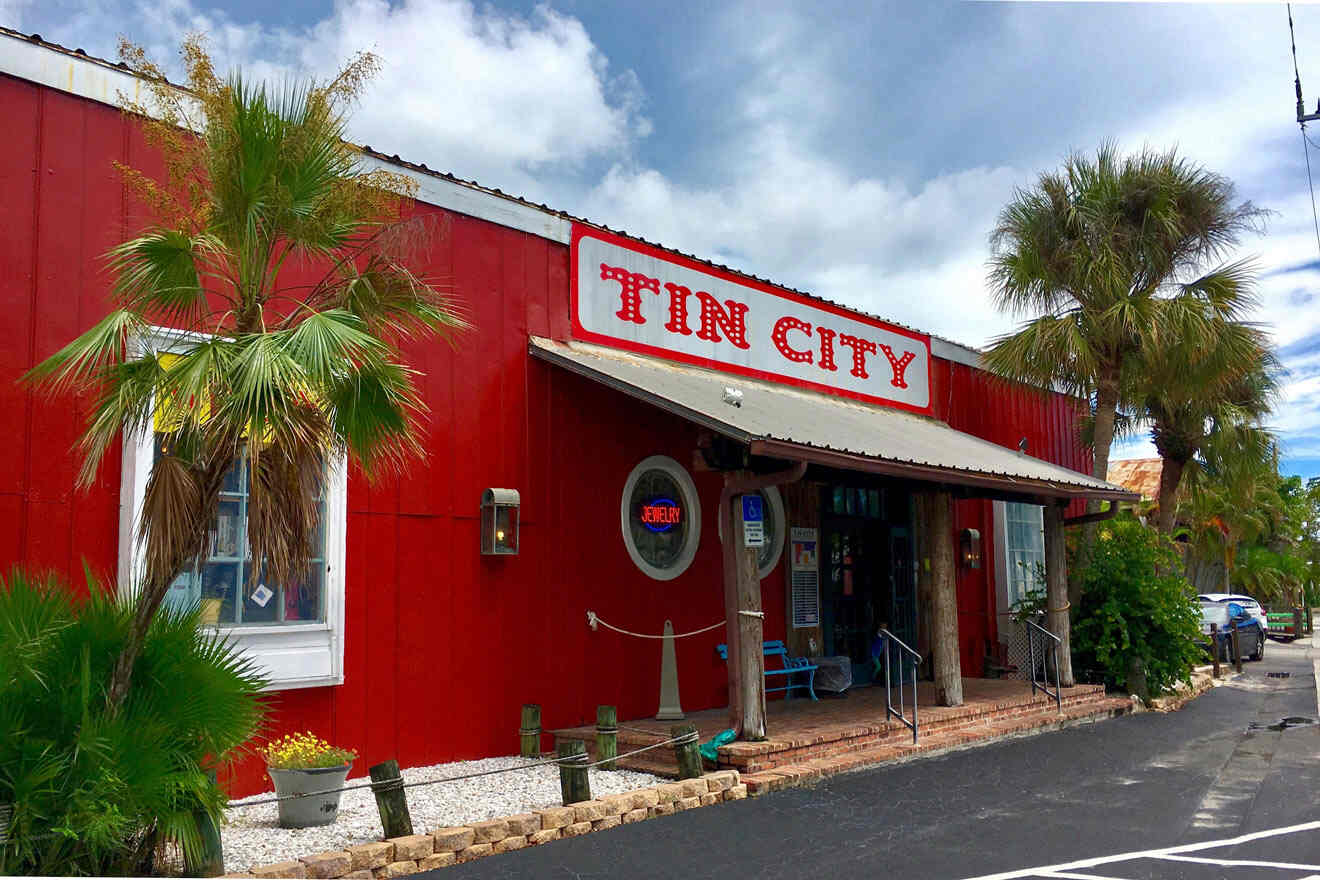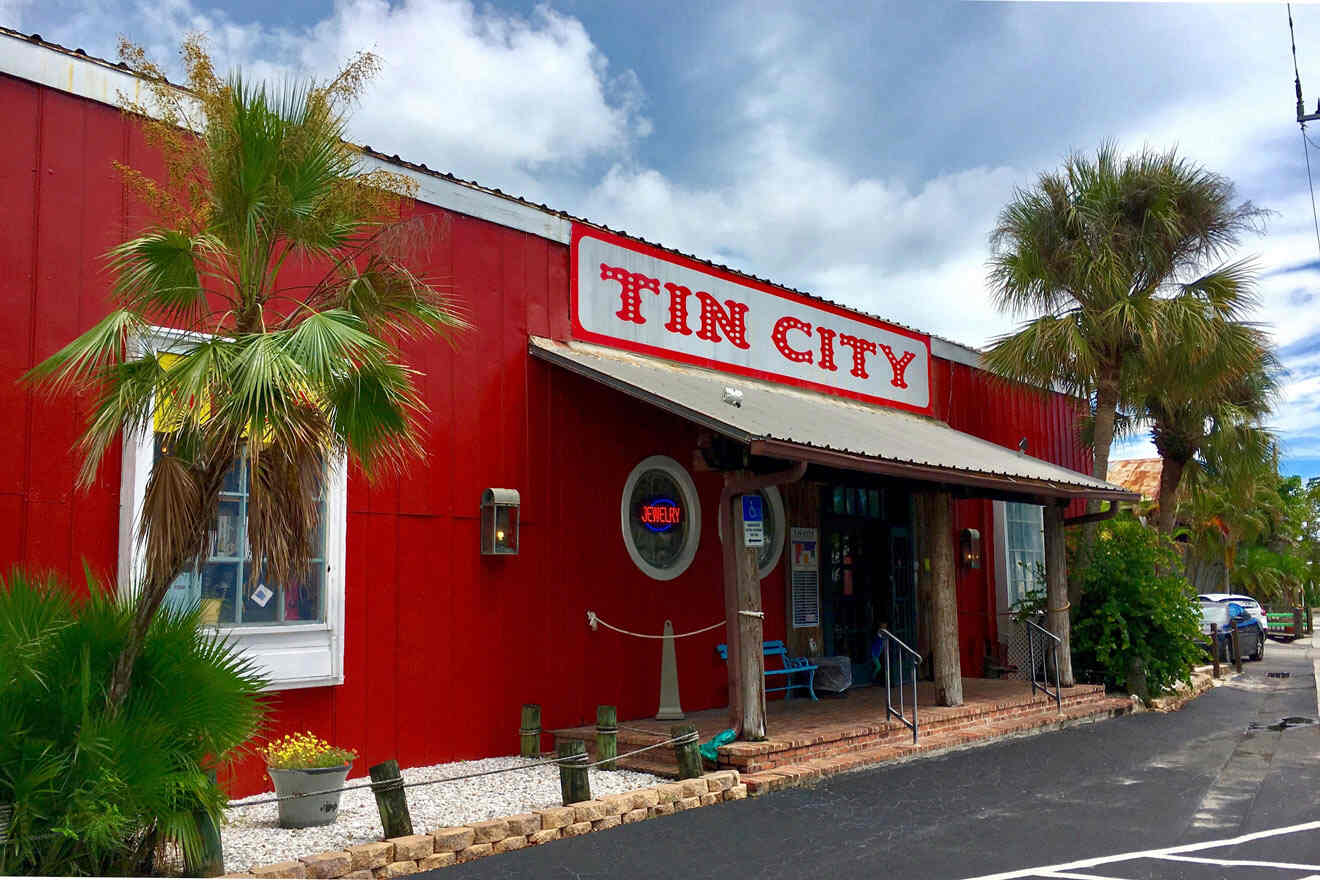 One of the coolest things to do in Naples, FL, is to check out the eclectic shopping district of Tin City.
This open-air shopping district is arguably one of the coolest places to visit in the entire county and for sure in Naples.
Home to over 70 different shops, and a few eateries for both casual and fine dining, there is so much to explore in Tin City. Grab some hot dogs at Cafe M&M while you're at it!
If you're a fan of unique places to visit as well as unique shopping boutiques, you need to check out Tin City. It is seriously one of the most exciting things to do in all of Florida!
Each boutique shop is housed in a historical building giving this distinct neighborhood depth and so much character.
Of course, all of these historic buildings are topped with Tin! Thus the name Tin City.
With antique shops and all sorts of unique and eclectic offerings, this is a super cool experience in Naples!
PRICE: Free
6. Unwind at Lowdermilk Beach Park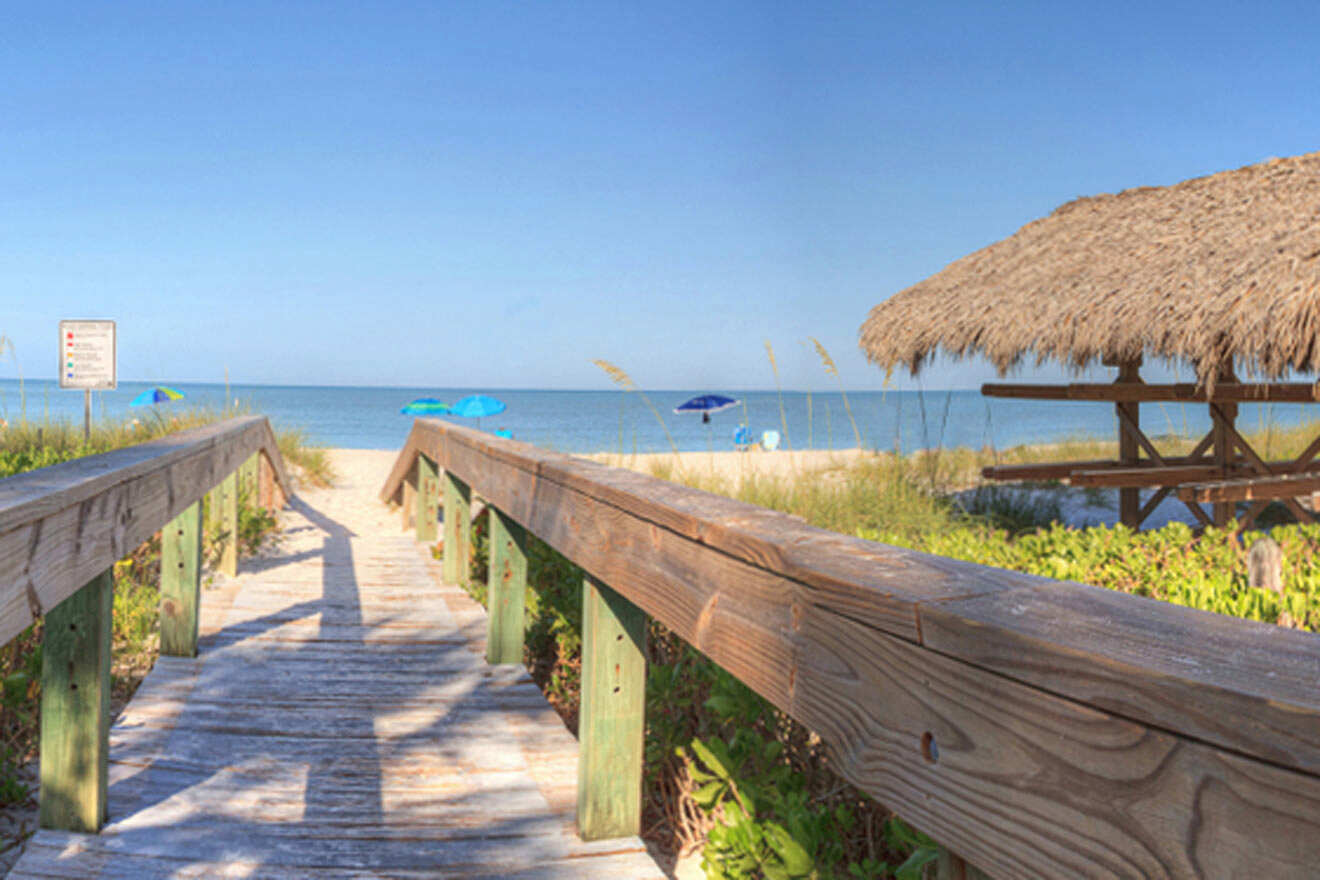 Naples's most popular beachfront park, Lowdermilk Beach, is the perfect place to enjoy some beach time with the kids in Naples!
There are plenty of activities to do at Lowdermilk Beach Park for the little ones. This is a great activity to do either at the beginning of a beach day or at the end so the youngsters can blow off some steam.
With two playgrounds complete with swings, slides, and plenty of jungle gyms, as well as two sand volleyball courts, there are endless activities to do here!
There is also a concession stand, showers, bathrooms, kayak, and paddleboard rentals right on the beach! There is truly something for everyone at Lowdermilk Park.
The concession stand is run by Rita's Italian Ice, so you can get hamburgers, salad, hotdogs, coffee, and of course some refreshing Italian ice!
Looking for the perfect place for your family function or friendly get-together? You can rent a gazebo at this park and enjoy a picnic at the two picnic tables provided.
PRICE: Free
7. Get some shopping in at Venetian Bay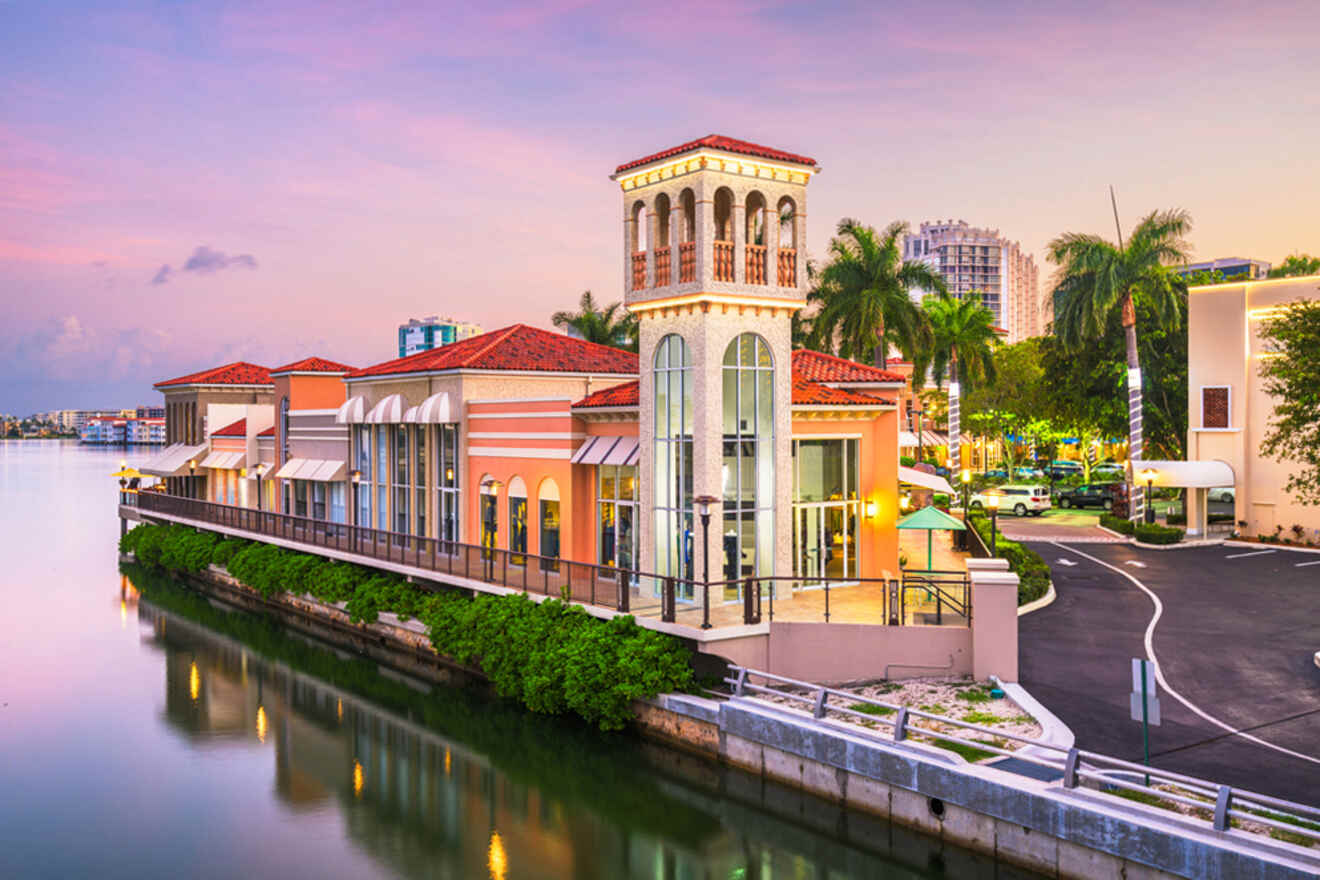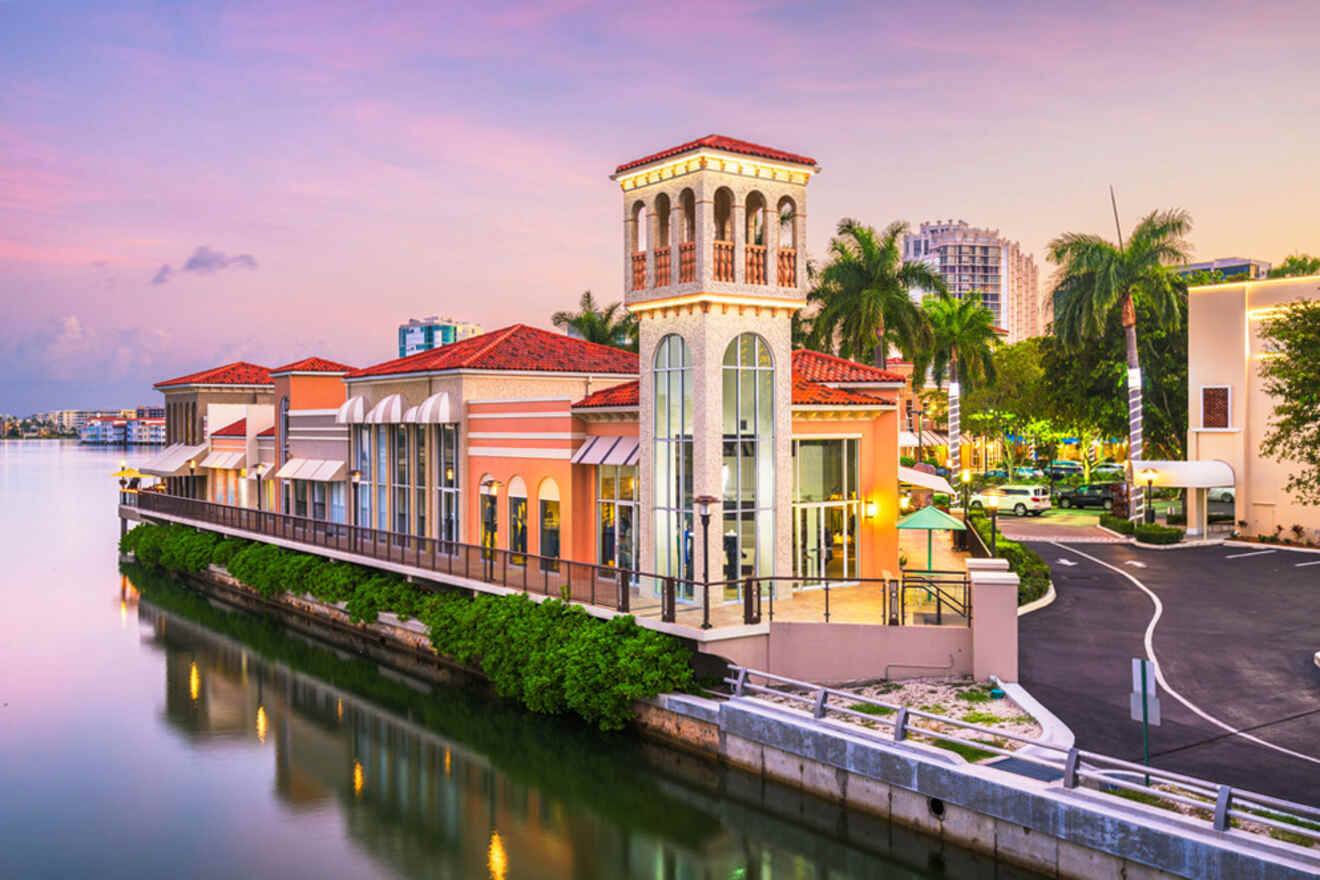 The Village Shops at Venetian Bay is definitely one of the best things to do in Naples, FL! If you're looking to do some quality shopping or just people-watch in a gorgeous environment, definitely head on over to Venetian Bay.
This luxurious open-air mall has all kinds of upscale and designer stores for an elevated shopping experience.
This high-end shopping district has everything from interior house decor to clothing, jewelry, and other accessories. For those who love to shop until they drop, this is one of the most popular shopping destinations on Florida's West Coast.
Grab a casual hotdog, or opt for a more fine dining experience with cuisines from all over the world to choose from.
This is also a great place to head to for happy hour cocktails to enjoy some delicious drinks and bites at an excellent price.
The Village Shops at Venetian Bay is a happening place with incredible waterside views. It is definitely worth checking out on your trip to Naples!
PRICE: Free
8. Head over to Revs Institute for Automotive Research
For anyone who enjoys automotive history, this is one of the best things to do in Naples, FL!
Known for "Preserving the Future of the Past," the Revs Institute for Automotive Research is a really cool place in Naples that is preserving the history of automobiles and showcasing some of the most iconic cars in human history.
Featuring vehicles from all the way back in 1896, Revs Institute offers an exclusive look into the past, where the evolution of cars has come from, and where it's going.
Each car on display is carefully kept and engineered by experts to be in perfect working condition. When it comes to the racing world, this institute plays a pivotal role in preserving some of these incredible historical vehicles.
Aside from the many cars on display, the Revs Institute has over a million exhibits! There are 4 main areas of this super cool institute. The first one is almost entirely dedicated to Porsche. The second exhibit, called automobility, is dedicated to human interaction and relationship with cars throughout modern history.
Next up, Vitesse focuses exclusively on sports cars. The last one is called Revs, which is dedicated to some of the famous racing daredevils and their cars.
PRICE: US$20
9. Splash in the crystal clear waters at Clam Pass Park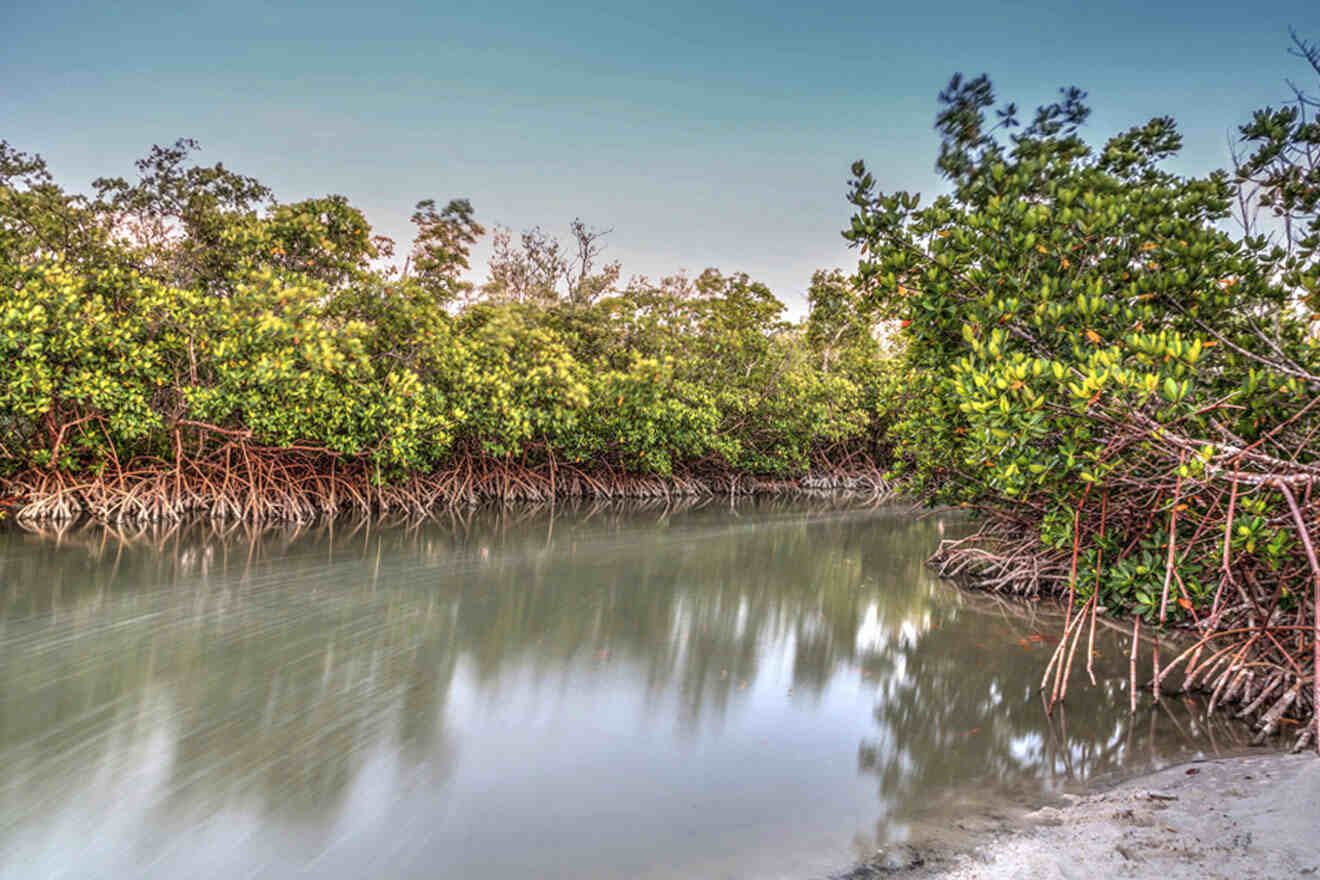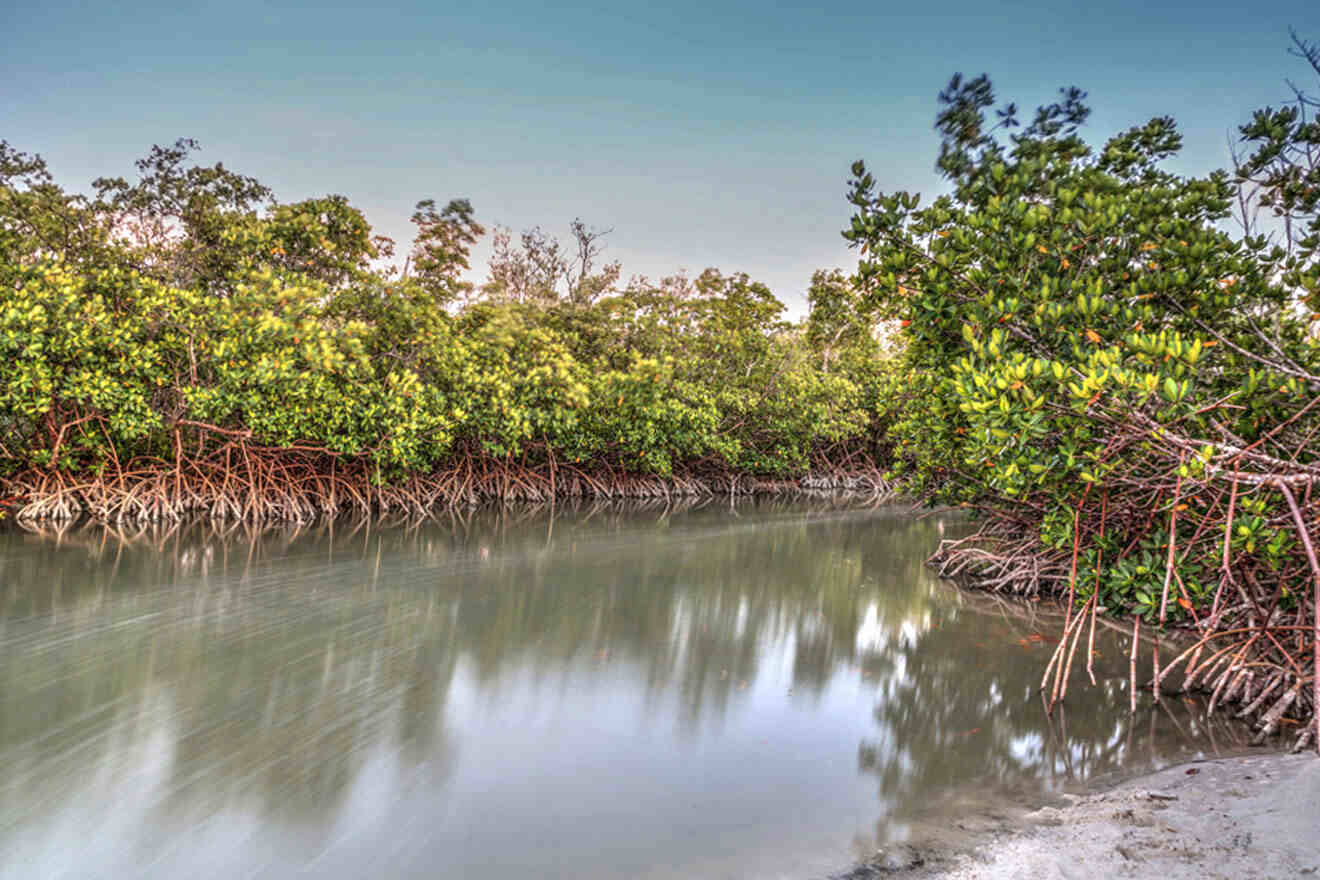 On a budget, one of the best things to do in Naples, FL, is to visit Clam Pass Park. This is one of the most beautiful beaches in Naples in my opinion.
The best part about Clam Pass Park is the remote nature of this gorgeous beach with crystal clear water and white powdery sand.
This gorgeous Naples beach park is home to a 3,000-foot boardwalk, gorgeous beaches, lush plants, and unbelievably clear water.
For those who are looking to escape the crowds and have a serene experience on the beach surrounded by wild Florida nature, this is the perfect place to escape.
Ideal for catching some sun while reading a book, swimming, snorkeling, biking, kayaking, canoeing, and more, Clam Pass Park really has it all.
Home to one of the most diverse mangrove forests, this gorgeous natural park has an incredible array of white, black, and red native mangrove species.
There are also free tram rides that take you straight to the beach. With all the abundant nature at this incredible beach, you may even get lucky enough to see some butterflies nectaring on some wildflowers with a backdrop of the calm Gulf waters.
Some wildlife you may be able to spot here are ospreys, hawks, eagles, wading birds, and even alligators!
PRICE: US$10 for parking
10. Lounge about at Sugden Regional Park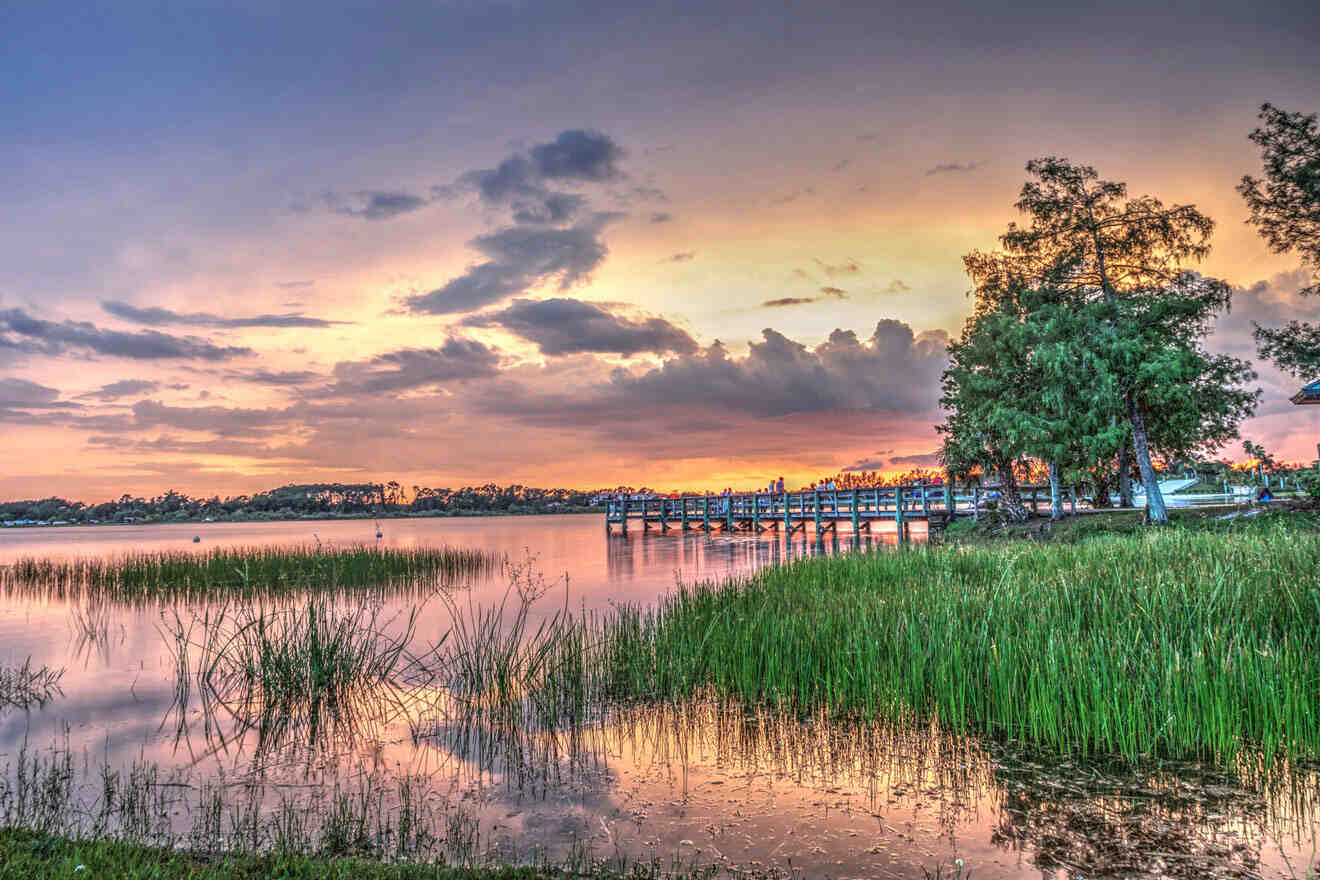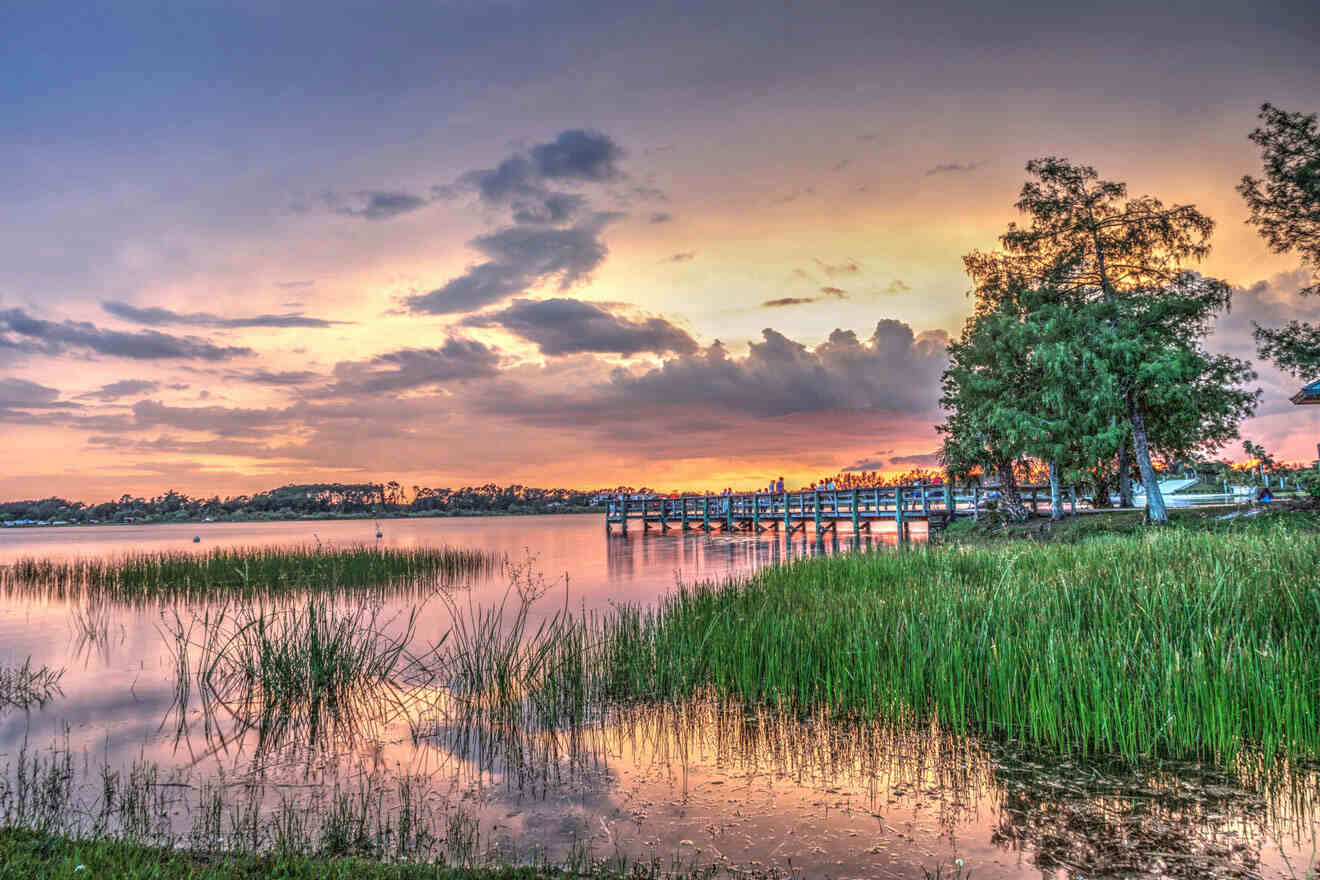 Looking for a simple, fun, and serene environment in Naples? Look no further than Sugden Regional Park.
Boasting a huge lake, 60 acres, lush lawns and vegetation, paved paths, and incredibly picturesque picnic spots, this is an excellent destination for anyone looking to unwind and see some entertainment.
There's even a freshwater beach where you can lounge about lakeside. Watch out for those pesky gators, though!
Overlooking Lake Avalon, Sugden Regional Park has all sorts of fun activities that guests can enjoy.
From fishing and volleyball to water skiing, kayaking, canoeing, and boating, this park is a great recreational experience.
PRICE: Free
11. Indulge the arts at the Baker Museum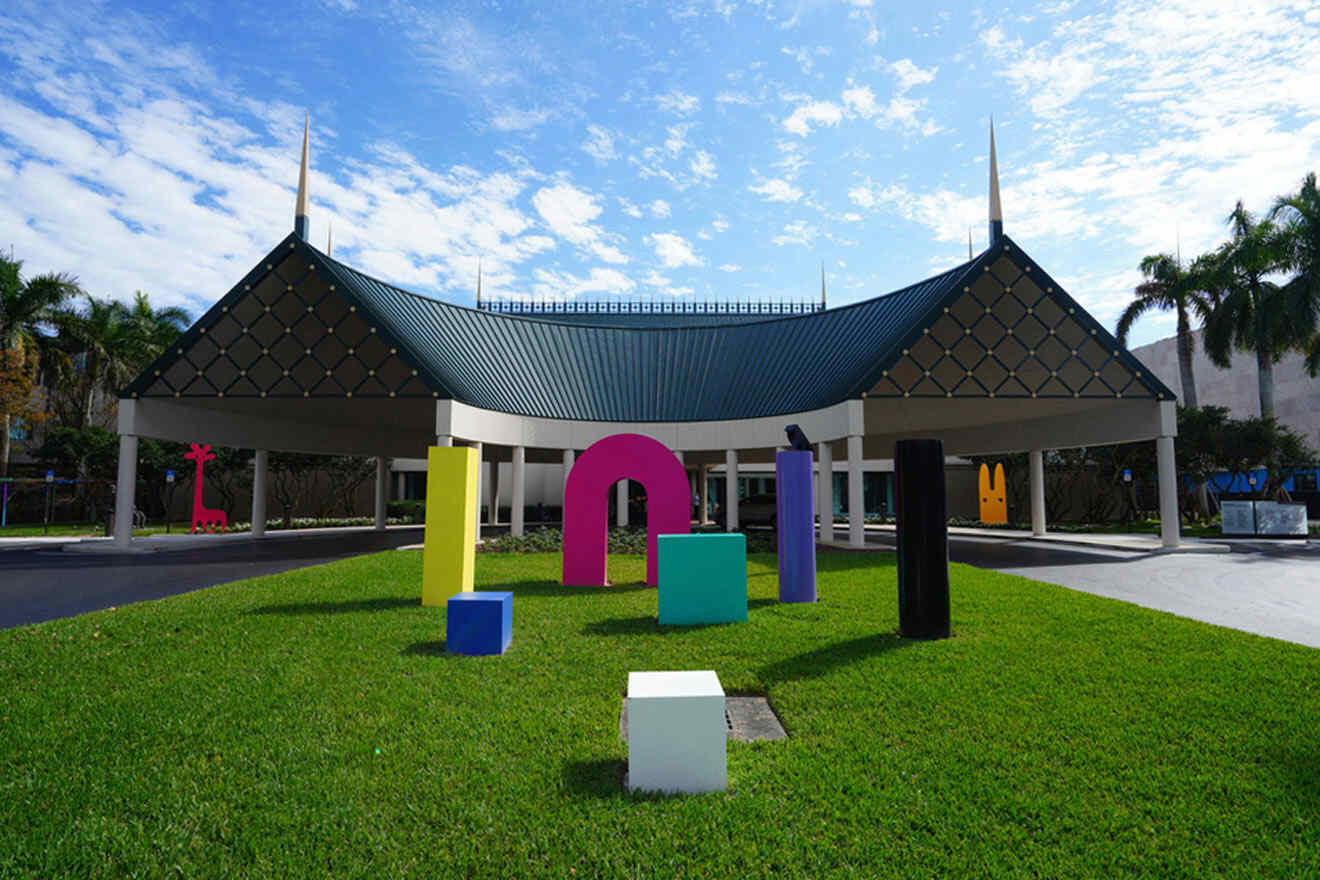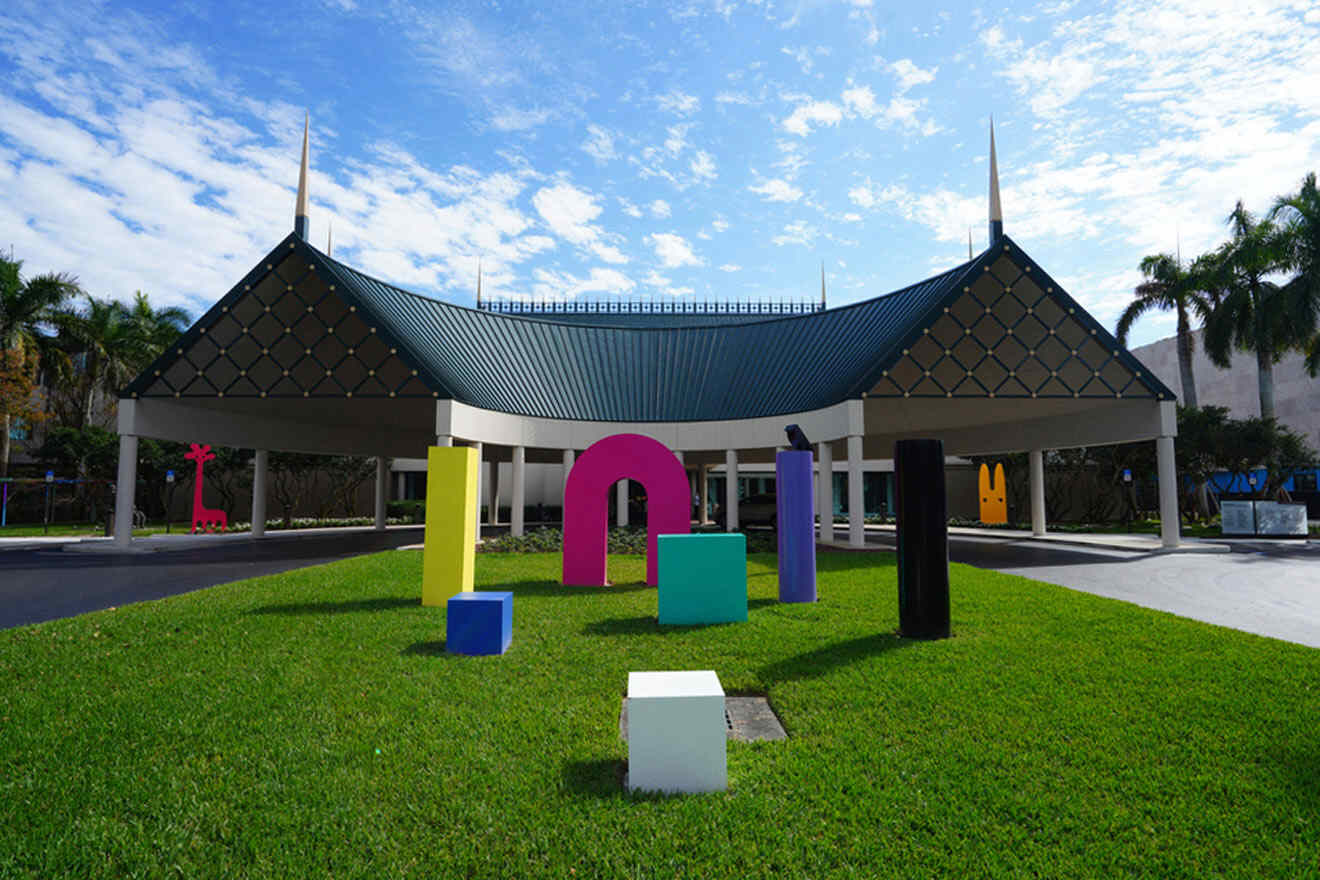 For all those artistically inclined folks out there, the Baker Museum should be high on your list!
The Baker Museum is home to Southwest Florida's largest collection of art. With 15 different art galleries in a 30,000 ft well-acclaimed museum, this is an excellent place to see some incredible art.
In addition to having plenty of art on display, this museum also offers scholarships for people of all ages, educational resources, and stewardship.
With a stunning glass dome conservatory, the Baker Museum is a really gorgeous place to visit in sunny Southwest Florida.
The dramatic welcome of incredibly painted gates makes for a beautiful beginning to this artistic and overall inspiring experience.
PRICE: US$10
12. Learn Naples's history at the Naples Historical Society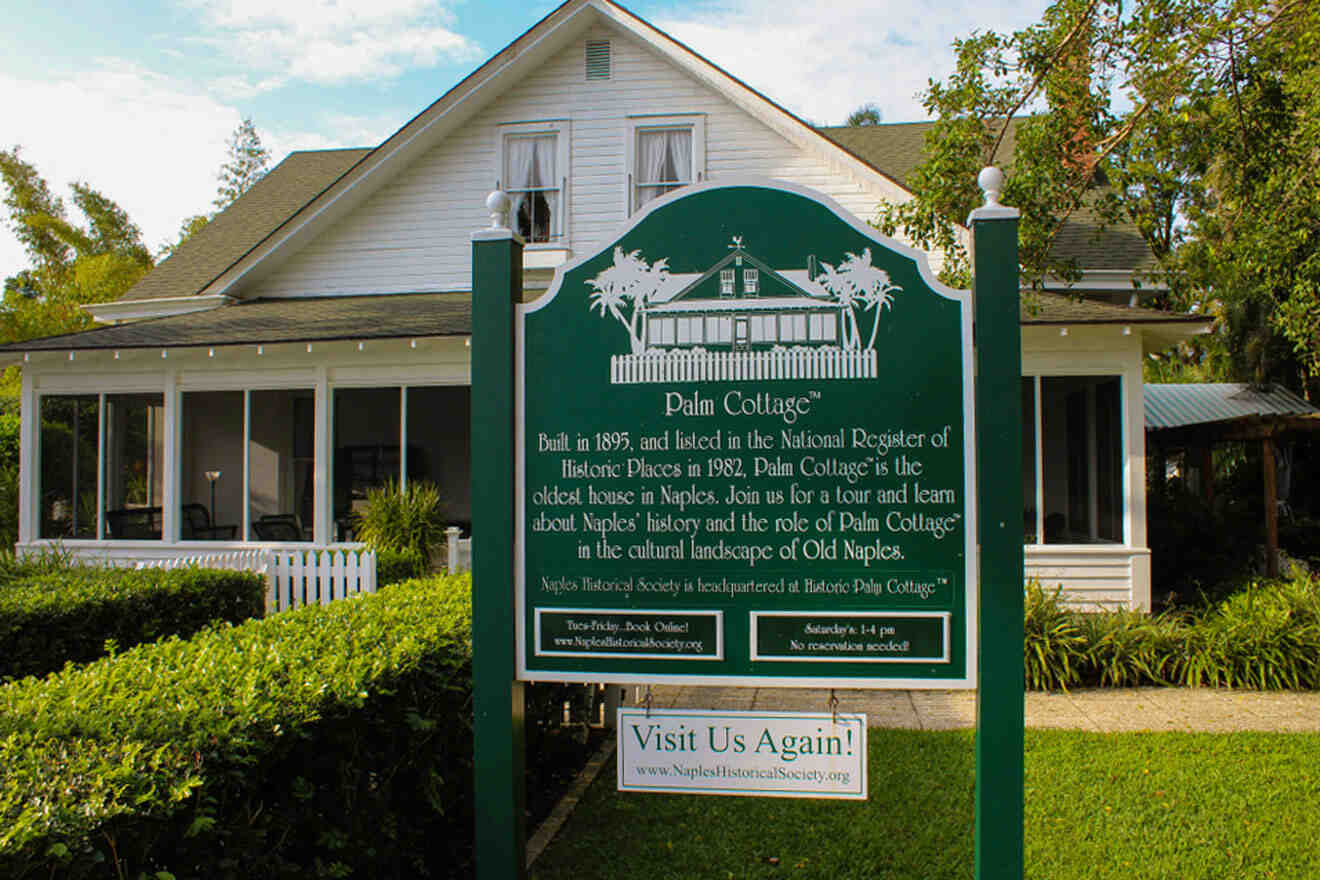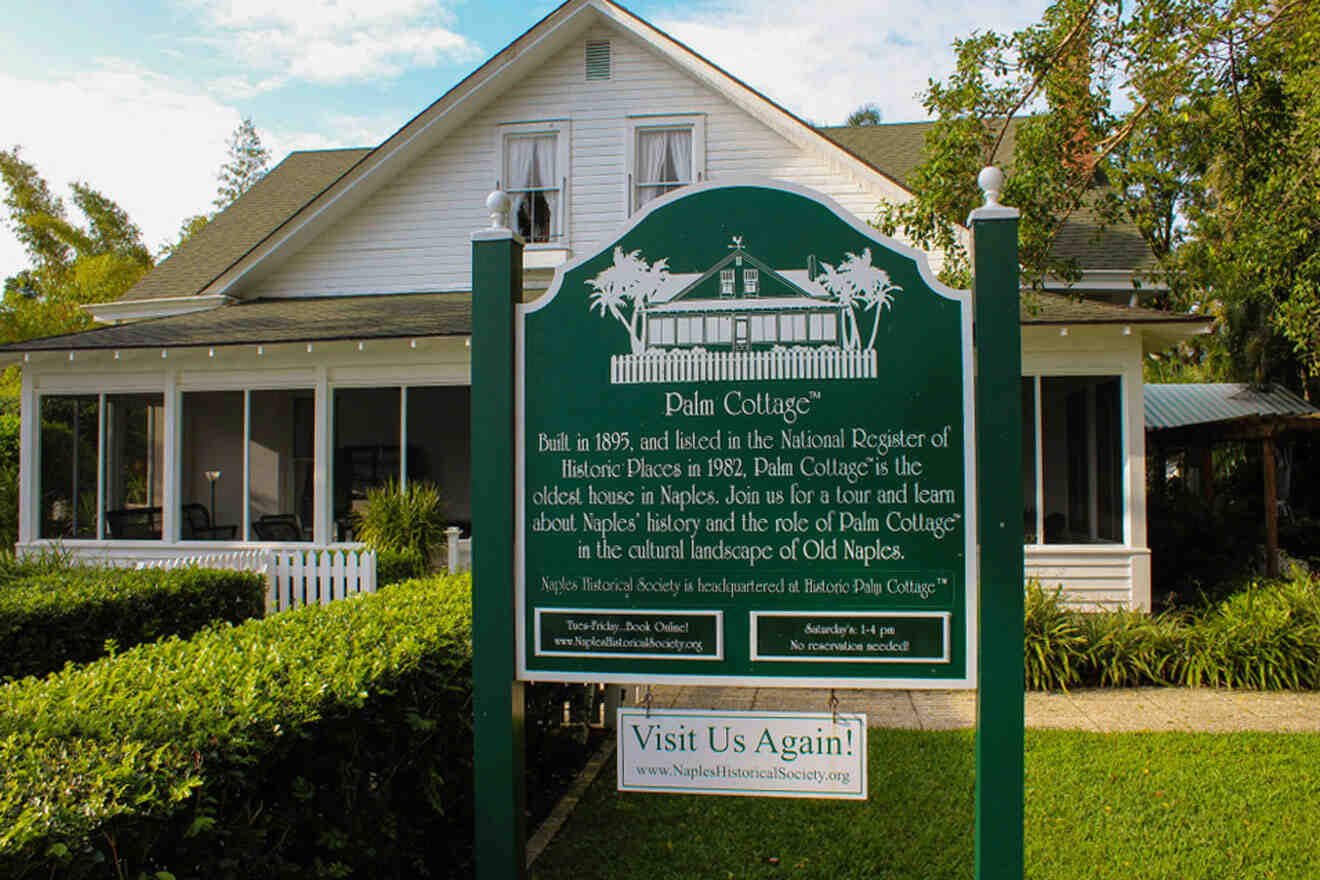 For history buffs and people interested in the history of Naples, the Naples Historical Society is the place to be.
Offering many different guided tours throughout historical sites in Naples, they provide an essential service of educating the public on the important local history as well as the history of Florida.
At the Naples Historical Society, you will find the historic Palm Cottage, one of the city's oldest houses preserved in time.
The historic Palm Cottage allows people to see some genuine local architecture of the past. Built-in 1895, this relic is a testament to Naples's past.
13. Check out the Golisano Children's Museum of Naples
Since 2002, the Golisano Children's Museum of Naples has been providing a haven and exciting museum experience for the little ones!
If you're looking for things to do with the family in Naples, look no further than the Golisano Children's Museum.
With plenty of dynamic and interactive exhibits, the Golisano Children's Museum encourages children to learn through play, the most crucial method of learning for children.
Activating their innate creative nature and imagination, this museum provides an enriching, educational, and super fun experience for kids of all ages. Youngsters will get to flex their creative and imaginative muscles through various hands-on activities and displays.
Visitors will be able to traverse daunting Everglades swamps, climb a massive banyan tree, build structures, and explore a maze!
There is also an area with super fun water activities that the little ones will just adore! There are endless things to do at the Golisano Children's Museum. This is the perfect thing to do with kids in Naples.
PRICE: US$20
14. See stunning nature at the Conservancy of Southwest Florida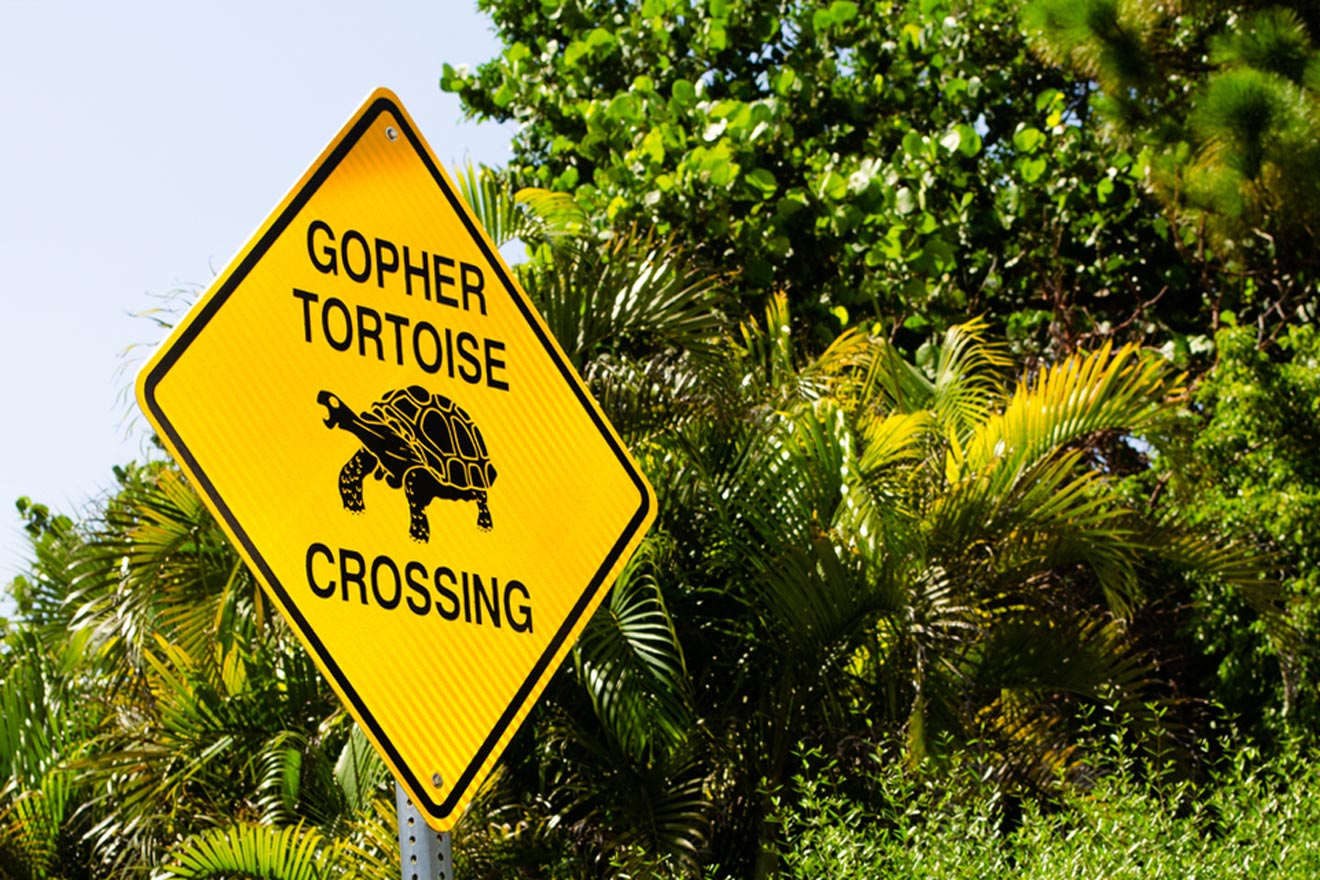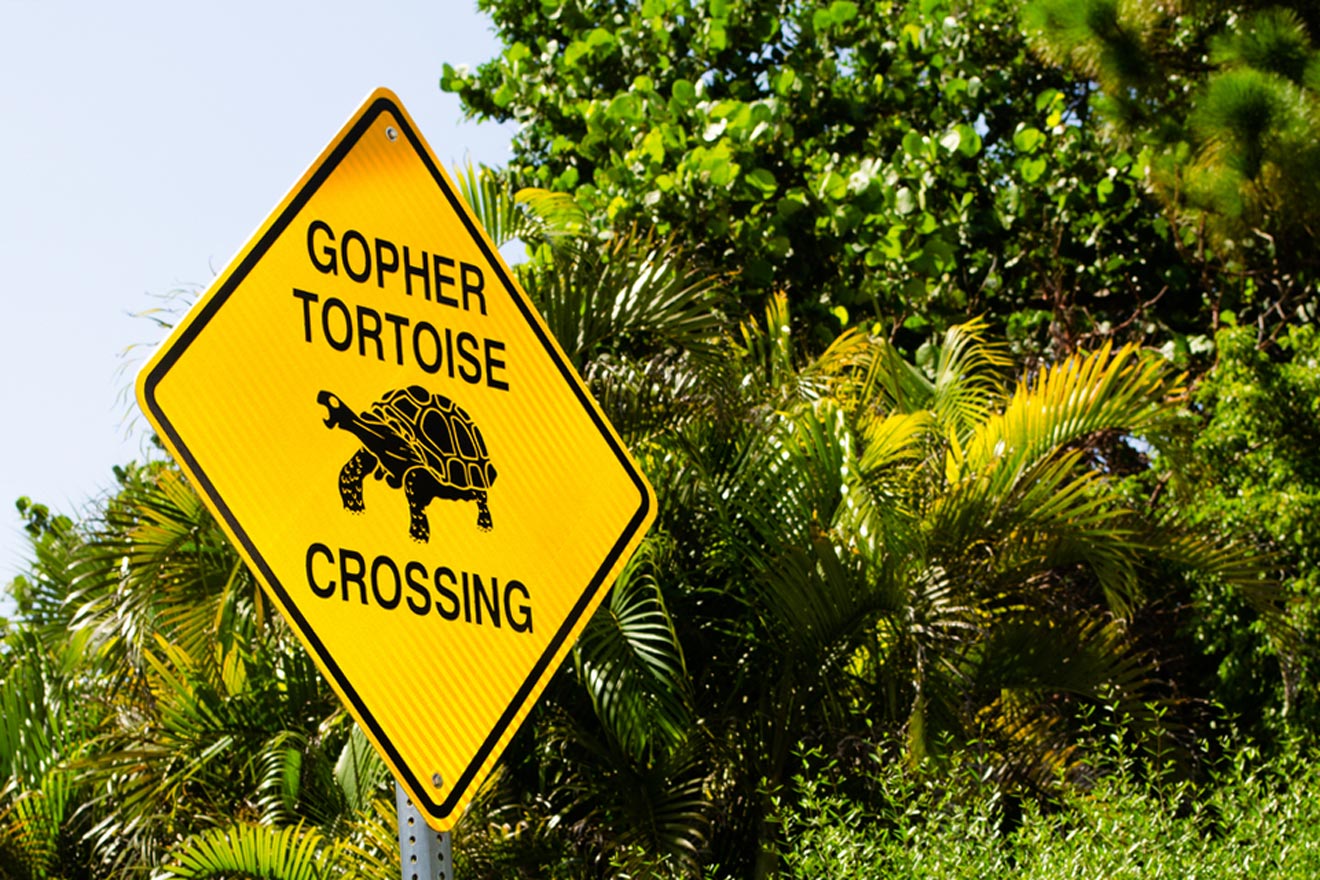 Founded by concerned citizens in 1964, the Conservancy of Southwest Florida is an incredible conservation effort to preserve wild spaces in Florida.
Their mantra is "Protecting our water, land, wildlife, and future." This natural preserve and organization do incredible work to protect and maintain our beloved wild resources and protect our future as a civilization.
The Conservancy of Southwest Florida deals with a variety of issues across different sectors. They are involved in wildlife rehabilitation, environmental policy, science, and education.
This is an excellent thing to do for nature lovers and those who feel passionate about the environment and preserving our wild spaces. There are plenty of activities to partake in, such as renting kayaks, going on a boat tour, walking nature trails, educational programs, and so much more.
Have fun with a cause! Go on some unforgettable adventures while supporting the conservation and preservation of this land so generations to come can enjoy it as well.
Looking for nature activities to do with kids in Naples? The Conservancy has a Little Explorers Play Zone that provides tons of different fun activities to keep the little ones busy while also connecting with their natural environment. The best of both worlds!
PRICE: US$18
15. Explore Rookery Bay National Estuarine Reserve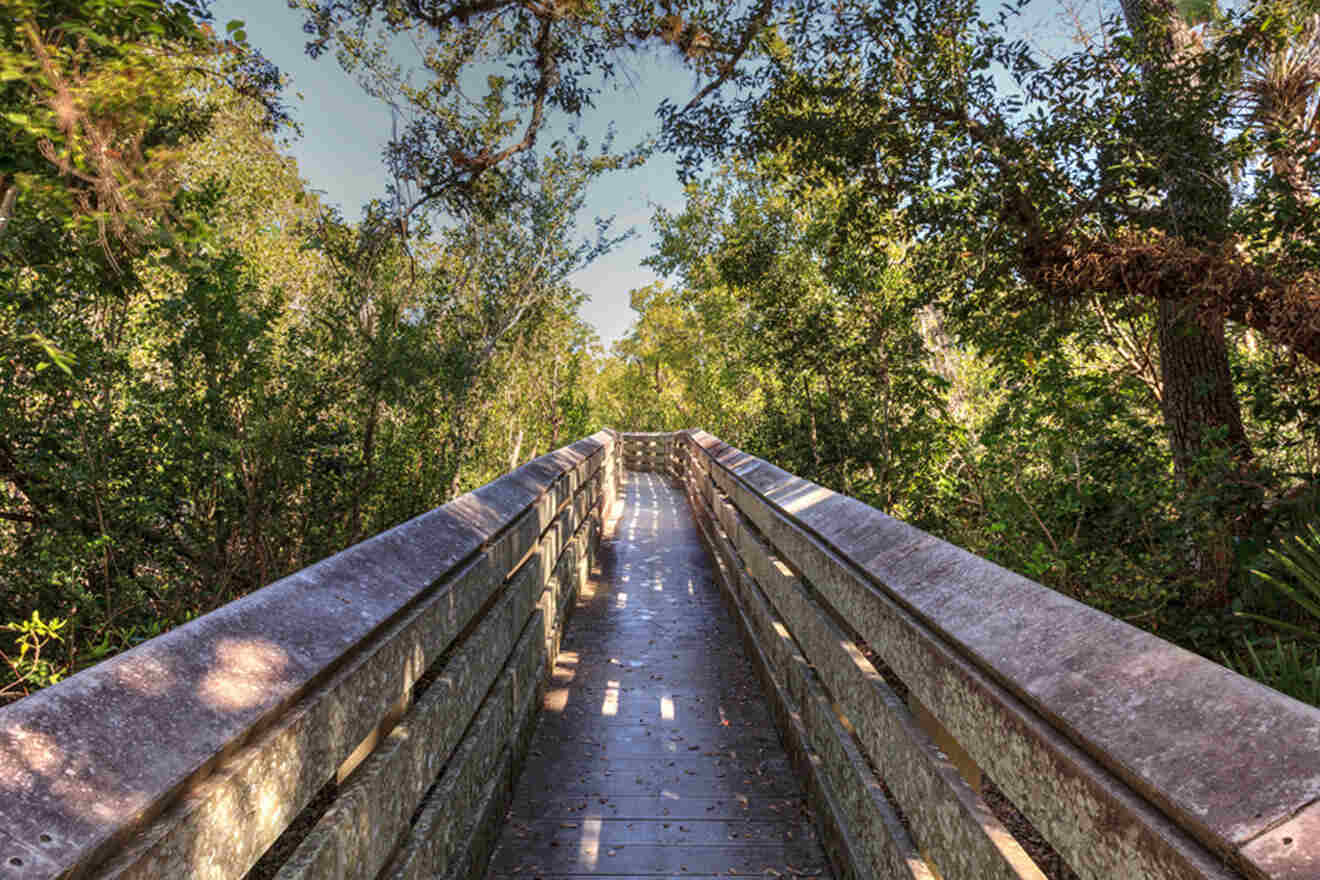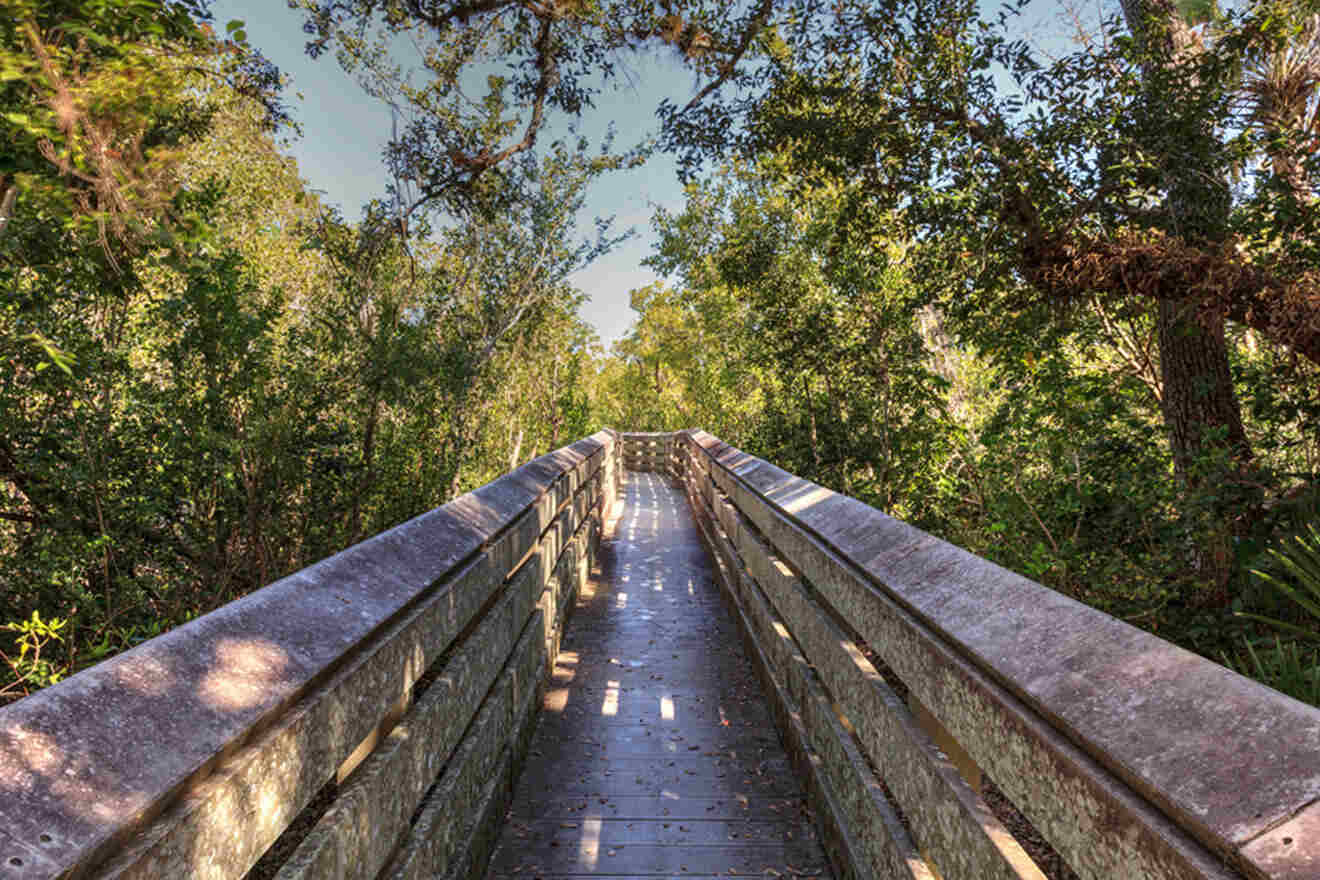 Situated on the northern end of the Ten Thousand Islands, the Rookery Bay National Estuarine Research Reserve is one of the best places to visit for nature lovers in Naples.
This incredible magical oasis on the Gulf Coast spans a whopping 110,000 acres!
Forty thousand of those acres are upland areas, various marshes, mangroves, and more. The remaining 70,000 acres are open water. This is also an amazing place for birding!
Rookery Bay is one of the last remaining untouched mangrove estuaries, unspoiled by shameless development and human activity.
The untouched nature of this incredible wildlife reserve is what makes it such a popular destination in Naples. Rookery Bay National Estuarine Research Reserve gives people an inside look into how some of Florida's coastal areas looked before rapid development.
This enchanting habitat feels like you just entered a magical fairytale land, a place where humans have not interfered with the natural processes of nature.
Check out this incredible guided kayak eco-tour and learn all about the incredible Rookery Bay National Estuarine Research Reserve. Paddle through mangrove mazes, and experience untouched wild Florida!
If you're looking for a great place to go birding, you should also check out the Bird Rookery Swamp Trail in Naples!
NOTE: Be sure to be very respectful of this sacred land when visiting. Do not litter, and keep a respectful distance from wildlife. Remember, you are a visitor in their home.
PRICE: US$65
16. Have some fun in the sun at Sun-N-Fun Lagoon
Looking for some super fun entertainment that the whole family will absolutely love? Head on out to the Sun-N-Fun Lagoon for a fantastic time!
This water park is absolutely exhilarating and filled with so much adventure. If you are visiting Naples with friends and looking for fun things to do with kiddos, Sun-N-Fun Lagoon should be high on your list.
With rides and adventure galore, there are 4 different swimming pools for different levels of swimmers, all carefully temperature-controlled, making for a super fun and memorable experience for the little ones.
There is also an interactive splash playground that provides a fun and enriching experience for the little ones.
The Sun-N-Fun Lagoon water slide collection is next level, and they have different slides for all different levels of comfort and young thrill seekers!
There is a cafe on site, as well as showers and lockers for rinsing off after a long day of playing and getting ready to move on to the next adventure.
PRICE: US$13 for adults, US$6 for kids under 48 inches (121 cm)
17. Check out the Naples Depot Museum
The Naples Depot Museum is temporarily closed due to hurricane damage. However, it is a classic destination in Naples that you should most definitely check out once it reopens!
Founded in 2000, the Naples Depot Museum is held inside a restored station used once by the Seaboard Coast Line Railway.
Displaying a variety of different parts of Florida's locomotive history, the Naples Depot Museum provides a fascinating look into some of Florida's lesser-known yet important history.
Be transported back in time to the roaring twenties, during the railroad golden age!
You can also see Seminole dugout canoes, old maps, restored vehicles like an antique swamp buggy, as well as the Naples Train Museum.
18. Learn more about Naples at the Collier County Museum
One of the official five Collier County Museums, this museum at Government Center is set on five acres and just teeming with native plants!
Native plants in landscaping in Florida, and globally, play a huge role in ecological balance in the age of non-native, invasive ornamentals.
This museum educates people on the history of Southwest Florida, the Indigenous people who lived here before European settlers, and various facts about the area's local history.
Among some of the exhibits are ancient exotic animals like Mastodons, educational exhibits on the original peoples of Southwest Florida, the Calusa people, some traditional crafts, and some of the travels and stories of the Seminole people.
With authentic old cottages, a recreated Indigenous village, a historic boat, and a tank from WWII.
19. Visit the beautiful Marco Island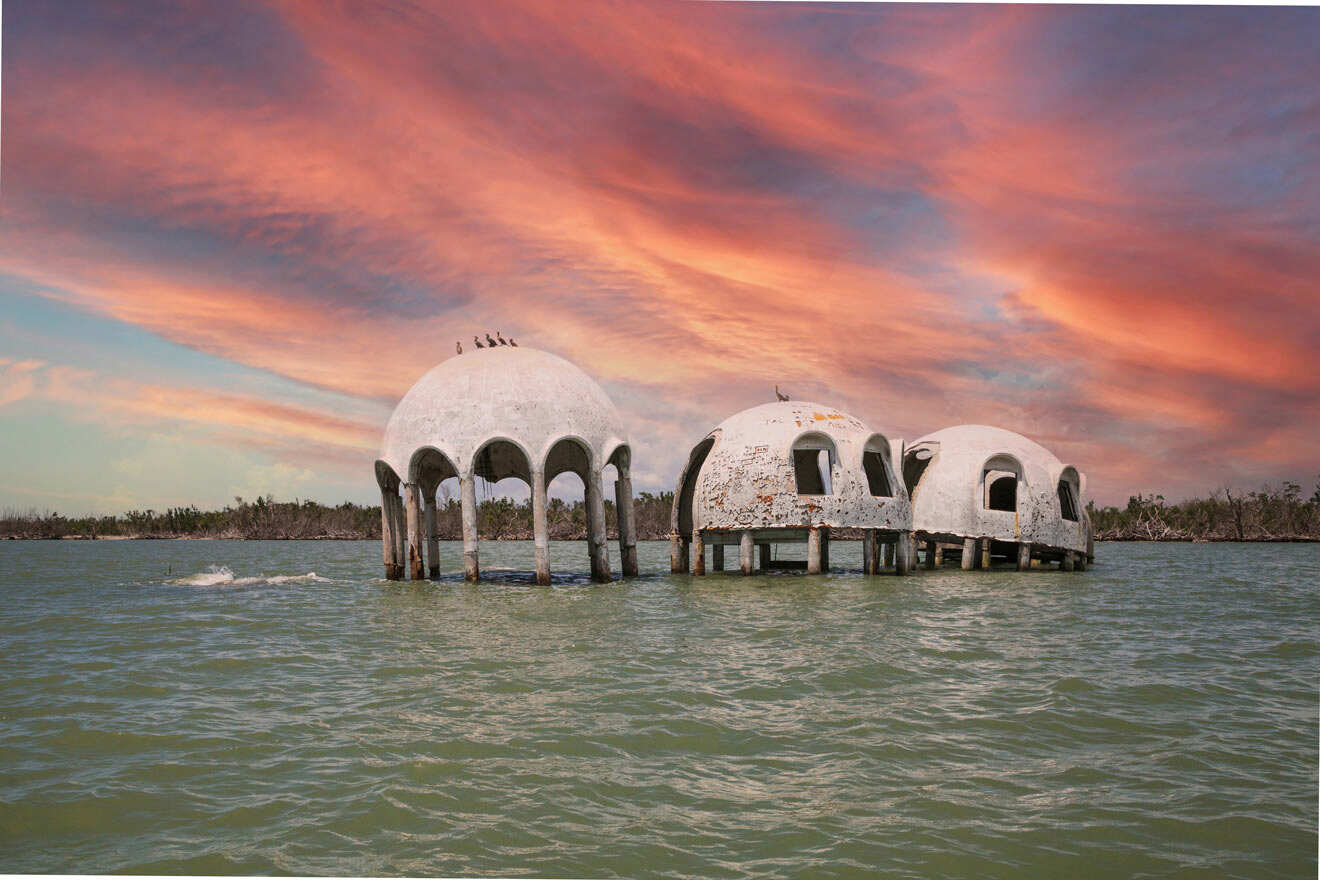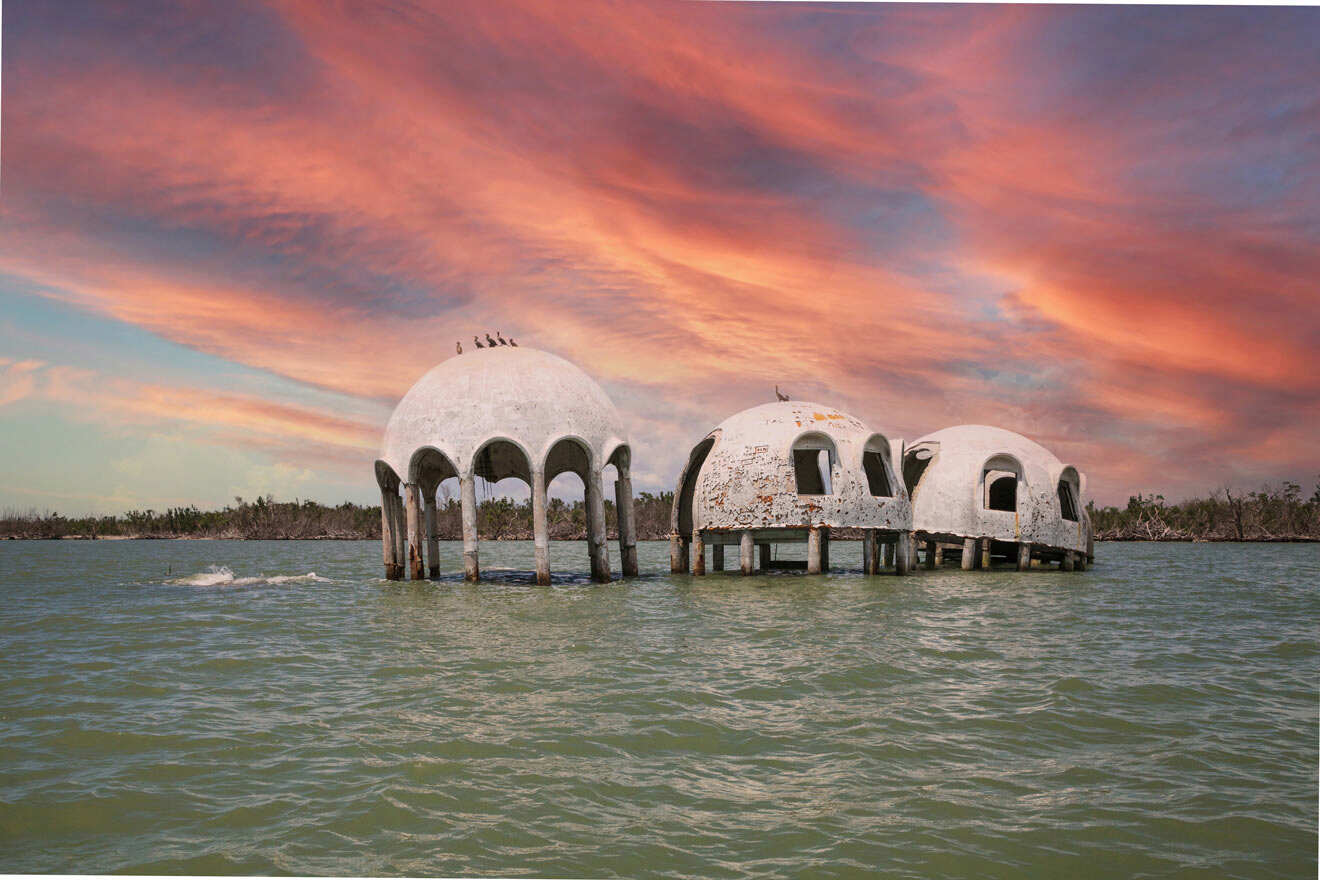 One of the best and most beautiful things to do in Naples is to visit Marco Island. Fun Fact: Did you know that Marco Island is actually the biggest island of the Ten Thousand Islands?
Marco Island, set in the Gulf Of Mexico, is just south of Naples and lined with mangrove estuaries and incredible feats of nature.
With plenty of beaches and sand bars, Marco Island offers some of the best shelling on the West Coast for your beach vacation!
Some fun things to do in Marco Island are fishing, lounging on the beach, heading to the farmers market, nature adventures, shopping, delicious food, and so much more!
With remnants of the Caxambas Clam Colony and the Witch Watchtower, there are tons of historical tidbits and sites to explore, giving your tropical getaway on Marco Island some depth and giving way to a well-rounded experience.
The Florida Domes on Cape Romano are definitely the most popular things to do in Marco Island. These otherworldly domes were once a billionaire's dream vacation home. However, erosion and hurricanes made it so these incredible domes, while cool to look at, were ultimately uninhabitable.
Why not explore the area with a guide? It's the best way to do so – and you'll get to see all sorts of amazing wildlife and go shelling! This tour is SO much fun for the whole family!
PRICE:US$85
Book Your Wildlife and Shelling Tour
20. Discover Delnor Wiggins Pass State Park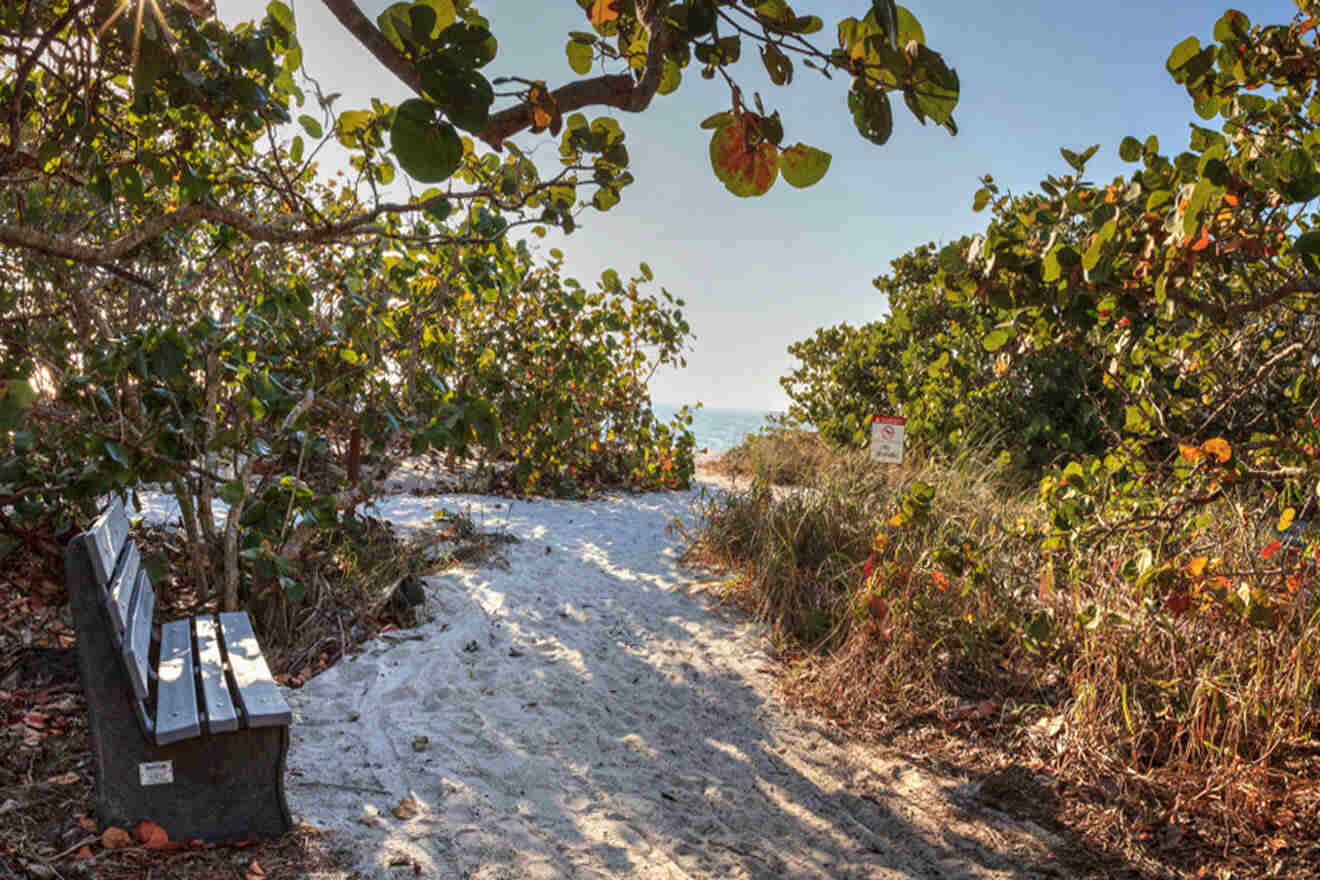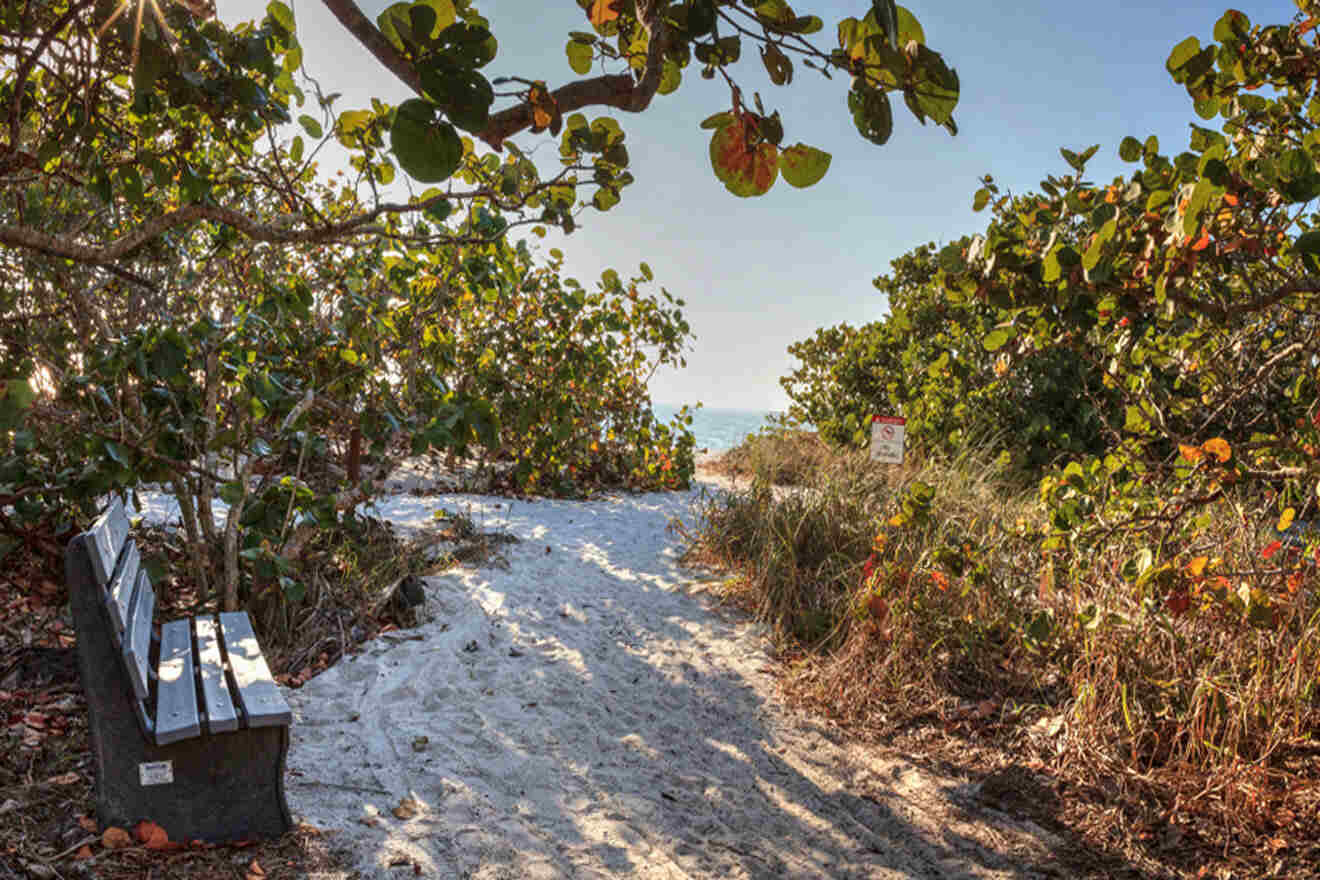 On a small barrier island just off the coast of Naples lies Delnor Wiggins Pass State Park, one of the most beautiful destinations in Southwest Florida. It's currently closed due to hurricane damage, but once it opens it's a must-visit!
Pristine beaches and mangrove swamps, rife with wildlife such as dolphins, sea turtles, and manatees, Delnor Wiggins Pass State Park is one of the best things to do with kids in Naples!
This park is just teeming with waterways. This is the perfect place to take a paddleboard, kayak, or canoe out in the water and explore the incredible mangrove swamps.
With the Cocohatchee River leading out into the state park, there is incredible diversity in flora and fauna, as well as towering trees that provide much-needed shade.
If you want more of an intense workout, paddle out into the ocean, where the waves are bound to make you sweat!
Naples Beach Adventures has all the water rentals you could possibly need. From beach chairs to umbrellas, to canoes, kayaks, paddleboards, you name it.
PRO TIP: Since it's one of the more popular Naples attractions, I recommend going on the weekdays and getting there early in the morning.
21. Explore Corkscrew Swamp Sanctuary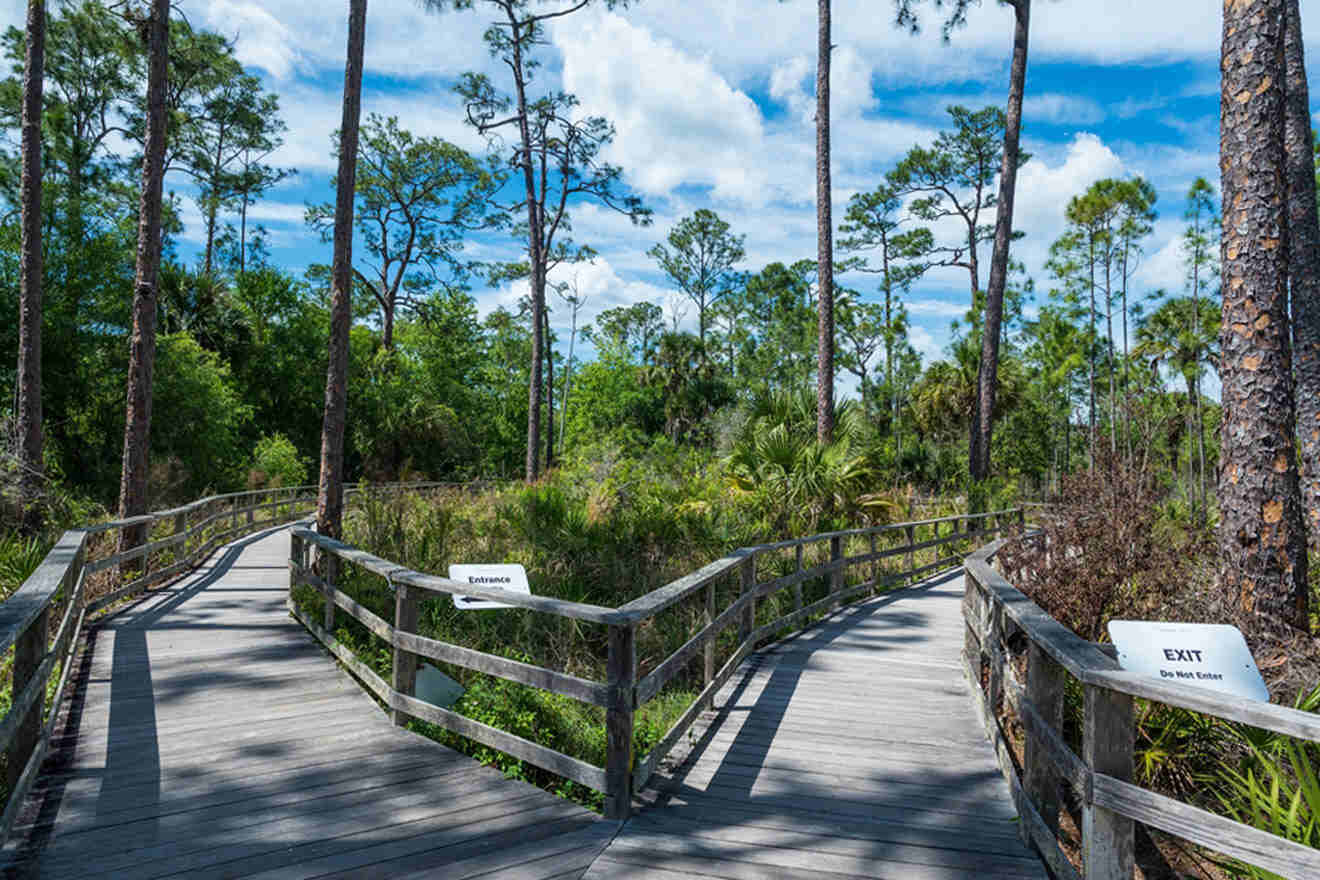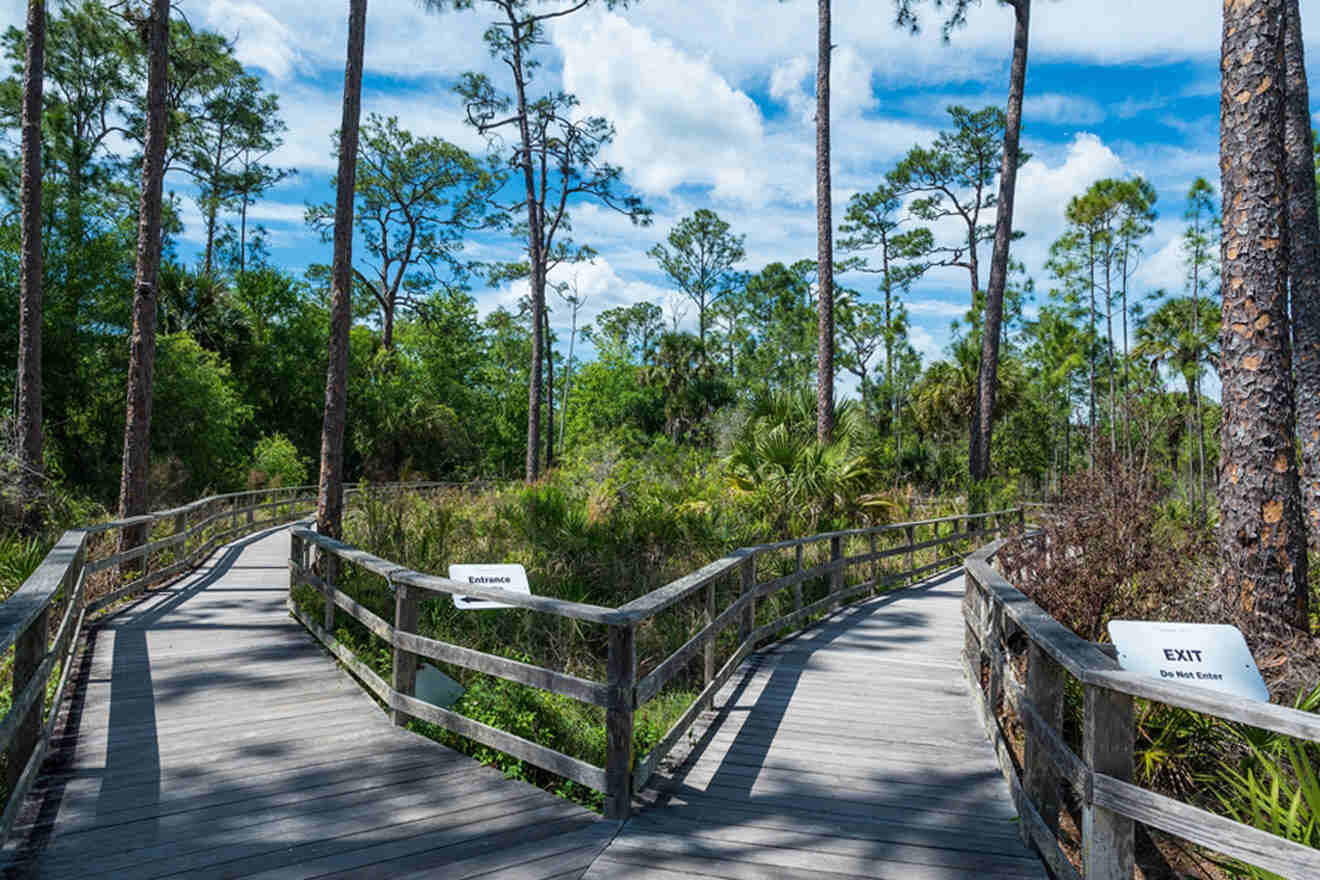 Journey into the wild heart of the Everglades ecosystem when you visit the Corkscrew Swamp Sanctuary.
Only a 30-minute drive eastbound from Naples, the Corkscrew Swamp Sanctuary is one of the most beautiful places to visit in the area.
Protecting the most vulnerable and integral flora and fauna of the Everglades ecosystem, the Corkscrew Swamp Sanctuary does incredible work to protect this massive ecosystem that affects our biosphere at large.
The sanctuary winds through flatwoods, marshlands, wetlands, and prairies before ending up at Bald Cypress Forest, the biggest bald cypress forest in the country.
A boardwalk takes you through these gorgeous landscapes where you can see protected wildlife such as American Alligators, White-Tailed Deer, Red-Bellied Turtles, Otters, and more!
The world's largest ghost orchid is also found in this magnificent nature preserve. This incredible orchid has set records for how many consecutive days it blooms!
PRO TIP: Definitely wear long pants and long sleeves as there are yellow flies and deer flies that leave a painful bite at this nature preserve!
PRICE: Free
22. Go shopping on Fifth Avenue South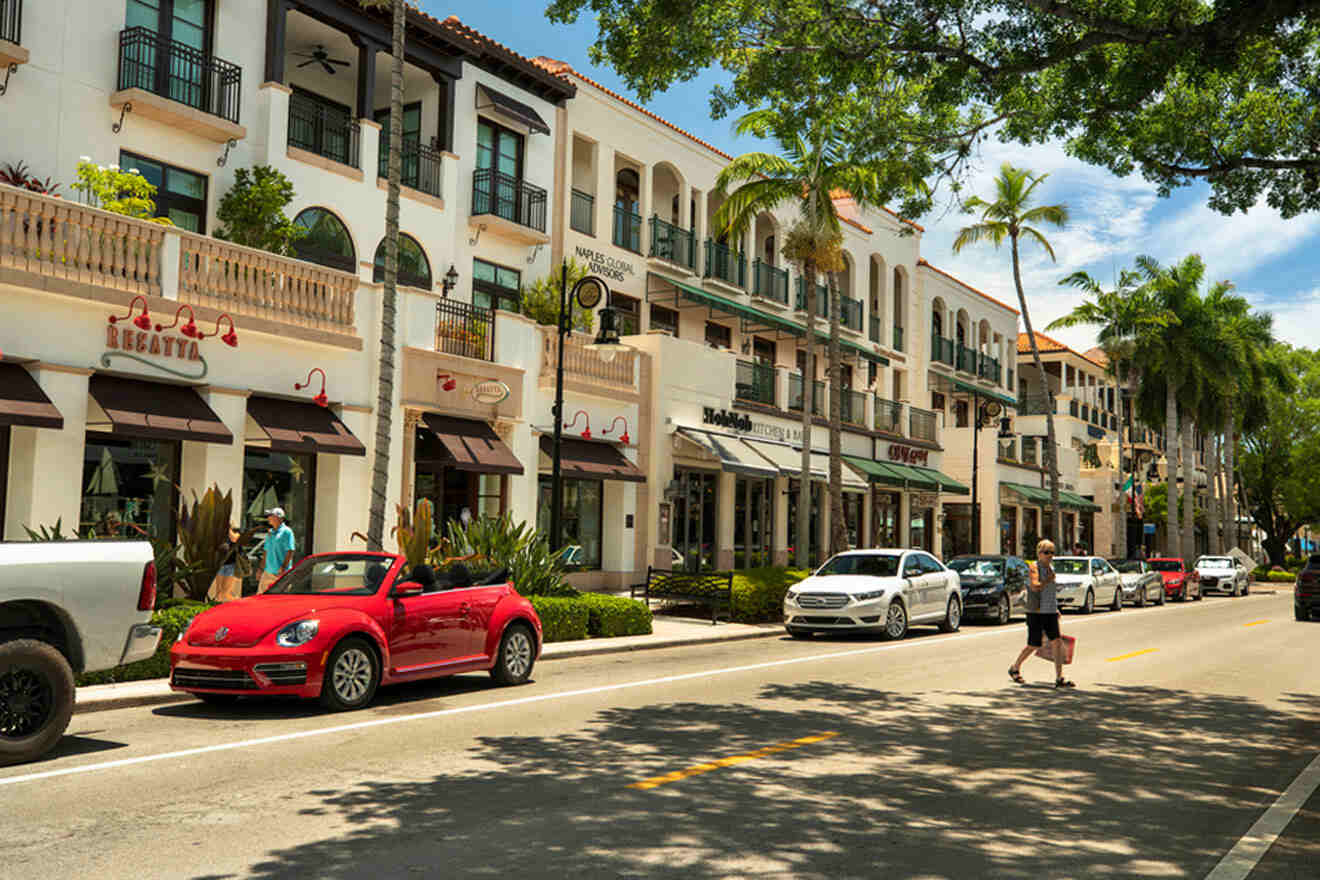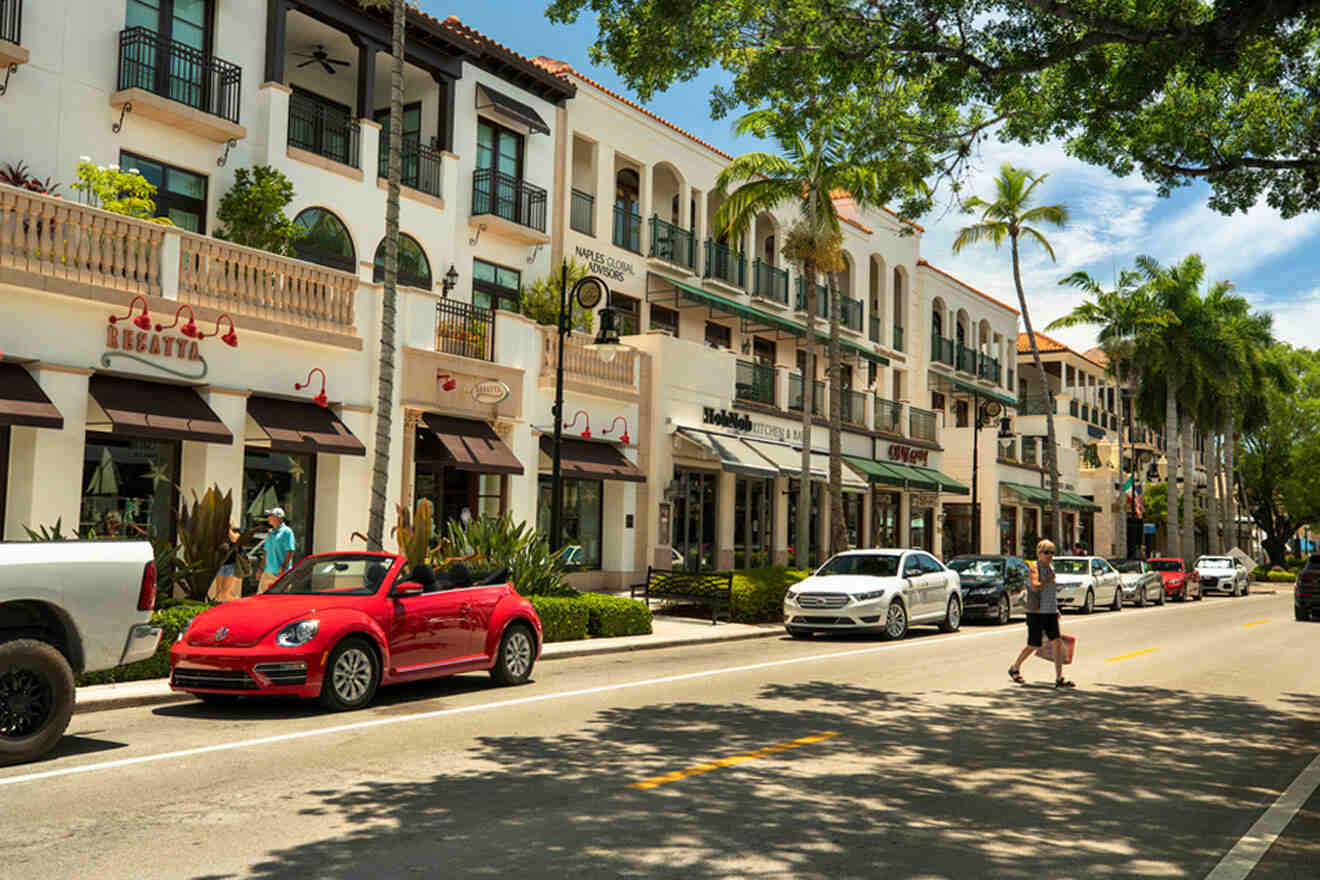 Naples is well known for its incredible shopping. However, Fifth Avenue South, in the heart of Downtown Naples, is one of the best places to go shopping in the country!
Plus, who doesn't love to shop surrounded by swaying palm trees and incredible weather?
This eclectic shopping experience is what has made Naples famous nationwide. Stretching all the way to the Gulf of Mexico in Old Naples from the Tamiami Trail, this shopping area is where modern design meets historical relics.
The result? A really cool shopping experience for all! Think – the perfect blend of glamorous and laid-back island vibes. Where luxury meets historic old Florida. Very tasteful.
With upscale boutiques, cafes, and restaurants, this is the perfect activity for anyone who enjoys shopping, window shopping, or people-watching.
Third Street South is another great shopping location in Downtown Naples. This glamorous and vibrant neighborhood has upscale retail shops, eateries, cafes, and restaurants!
Aside from shopping, there are also wineries where you can try fine Italian wine, galleries, and more on Third Street South in Naples. Whether you check out Fifth Avenue South or get the whole experience and visit Third Street South, one thing's for sure: you are going to have an amazing time!
As a side note, if you're looking for upscale vibes, definitely check out Naples Yacht Club!
23. See some incredible art at the Von Liebig Art Center
For those passionate about the arts, visiting the Von Liebig Art Center at the Naples Art Institute is one of the best things to do in the area.
Providing a community hub for the cultural enrichment of the arts, an educational center, and so much more, the Von Liebig Art Center is a Naples Staple.
South Florida is famously known as an artistic hub. However, Southwest Florida is especially known for its vibrant art scene!
For those looking to indulge in the arts, this is the perfect thing to do in Naples.
PRICE: Free
24. Visit the Cohen Education Center & Holocaust Museum
For those history buffs out there, this one's for you! The Cohen Education Center & Holocaust Museum provides learning opportunities for people of all ages to learn more about the Holocaust, and their exhibits are amazing and provide a real insight into that era.
This is a great place to go if you're looking for more cultural things to do in Naples! They also do guided private or group tours and educational visits for kids. Get your tickets here!
PRICE: US$13 online, US$15 if purchased at the museum.
| | |
| --- | --- |
| 👪 Family-friendly score: | High |
| 🏛️ Best museum: | Golisano Children's Museum |
| 🎢 Top paid attraction: | Eco Kayak Tour in Rookery Bay |
| 🚶🏽‍♂️ Best free activity: | Lowdermilk Park |
| 👧 Best attraction for kids: | Sun-N-Fun Lagoon |
| 🕺 Nightlife: | Downtown Naples |
FAQs about Things To Do In Naples, FL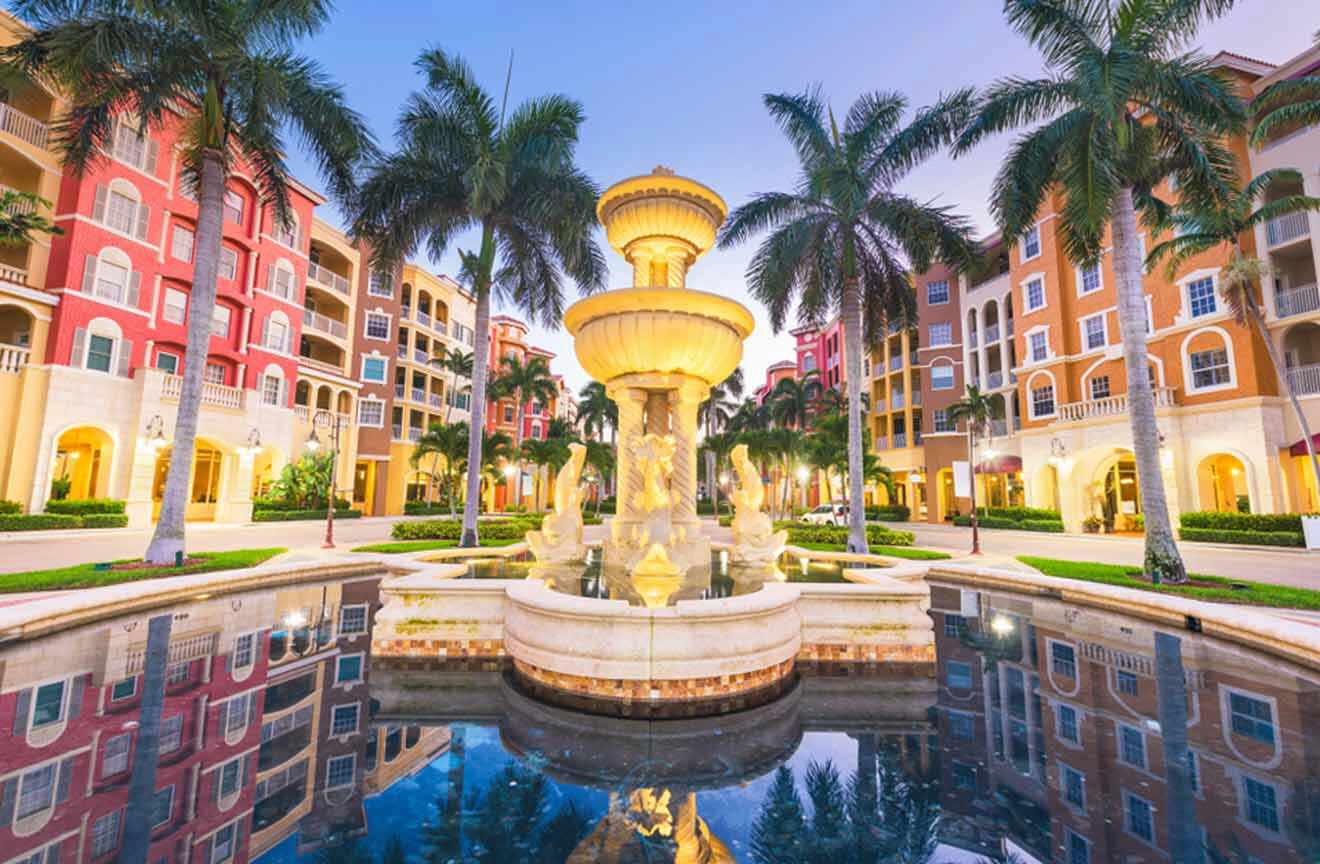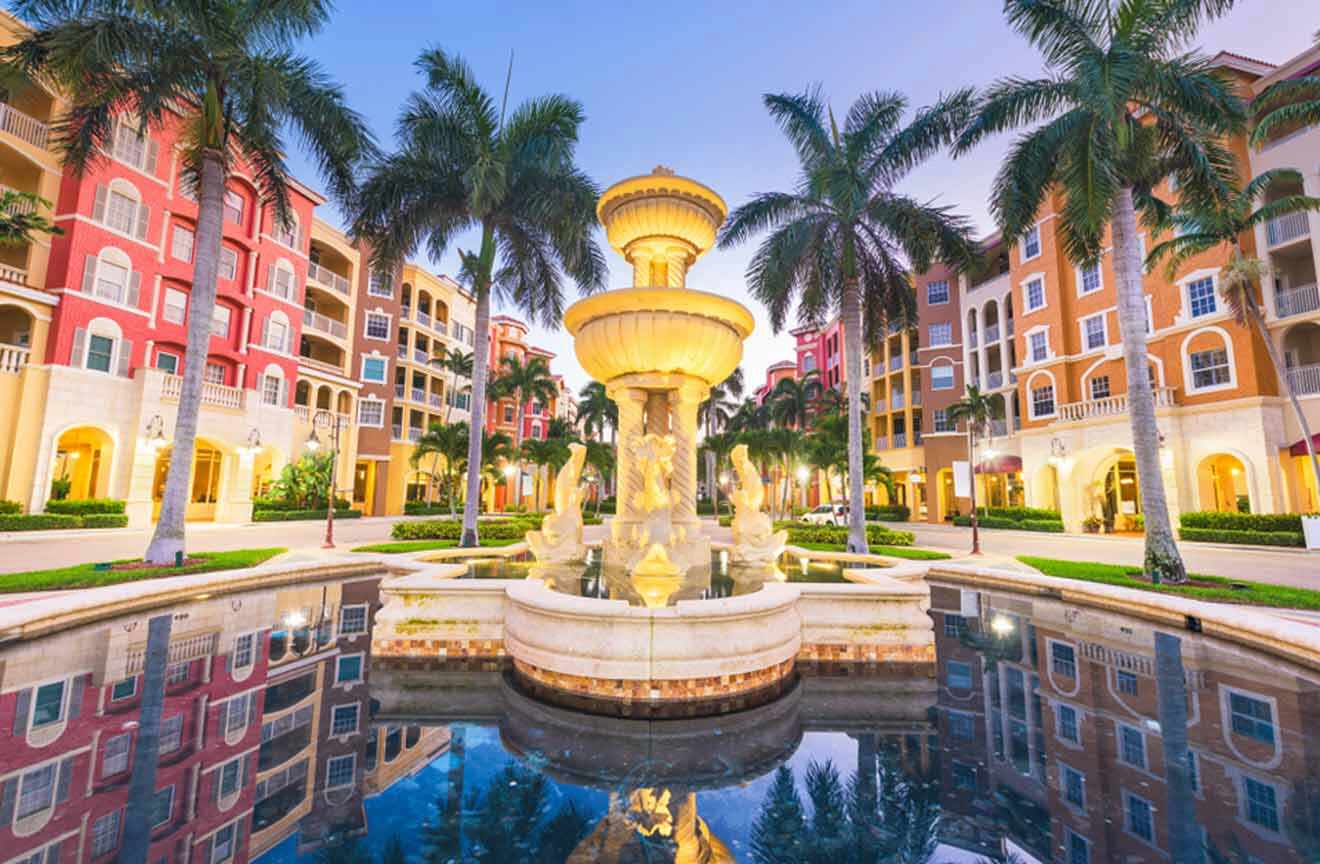 Conclusion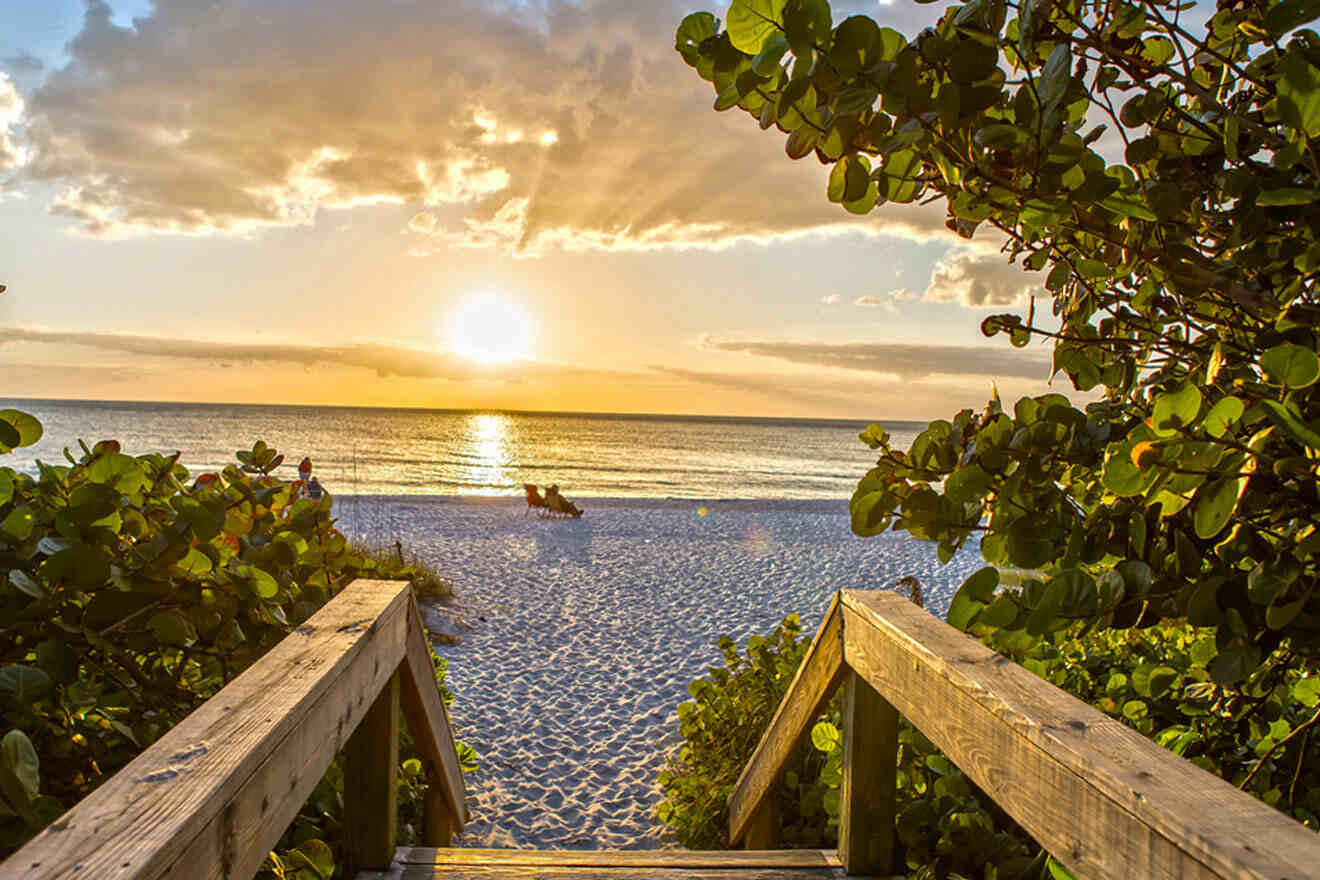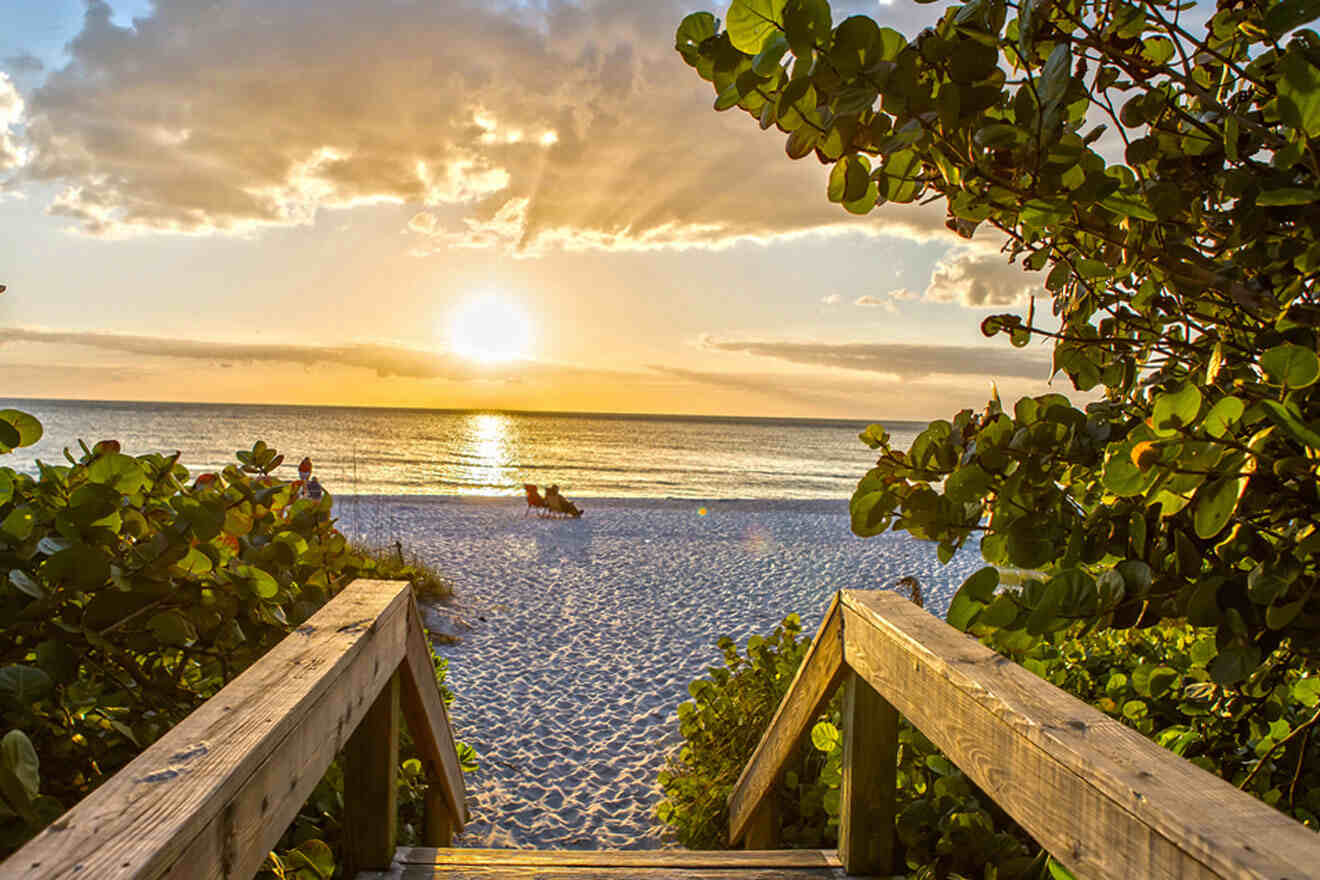 There you have it! The absolute best things to do in Naples, from a local! I love Naples so much. When I visited this gorgeous Gulf of Mexico city last, it was for my partner's birthday, and we had the most romantic and perfect time.
Here are the best 2 activities in Naples you should definitely go for!
Naples will forever hold a special place in my heart for the sheer beauty of the place, as well as the incredible wilderness surrounding it.
I know you will have a super memorable and lovely time on your trip to Naples!
Happy traveling!
With love and gratitude,
Amira G.
---
Pin it for later!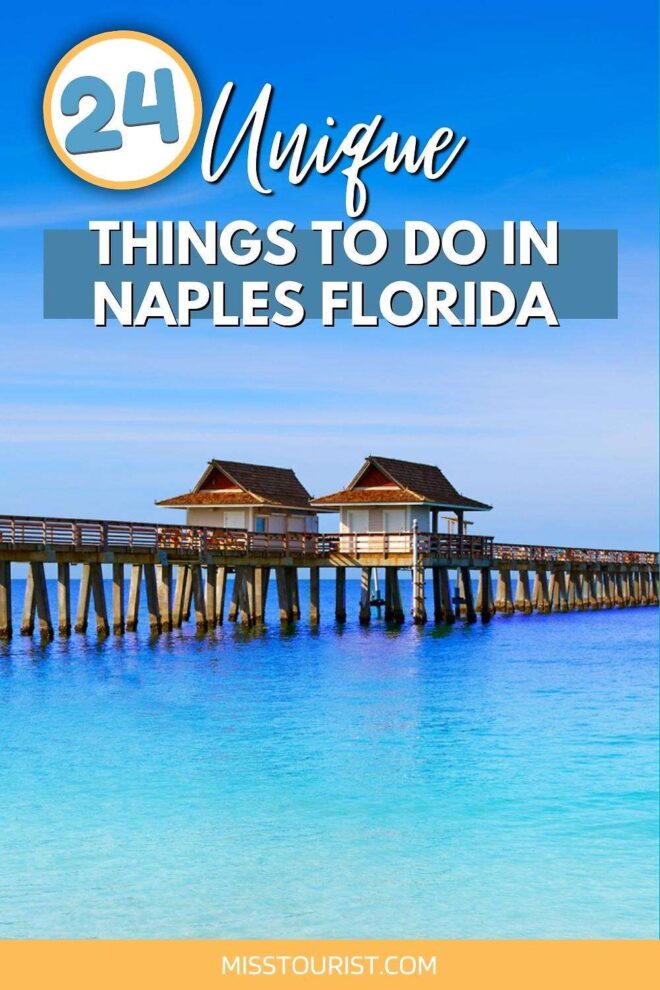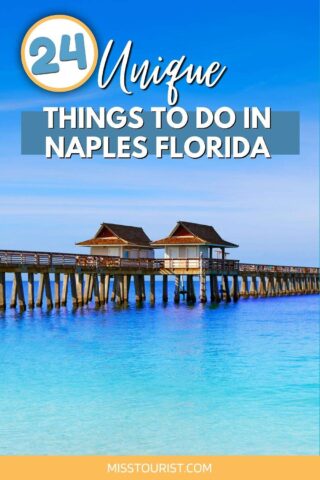 Pin it for later!