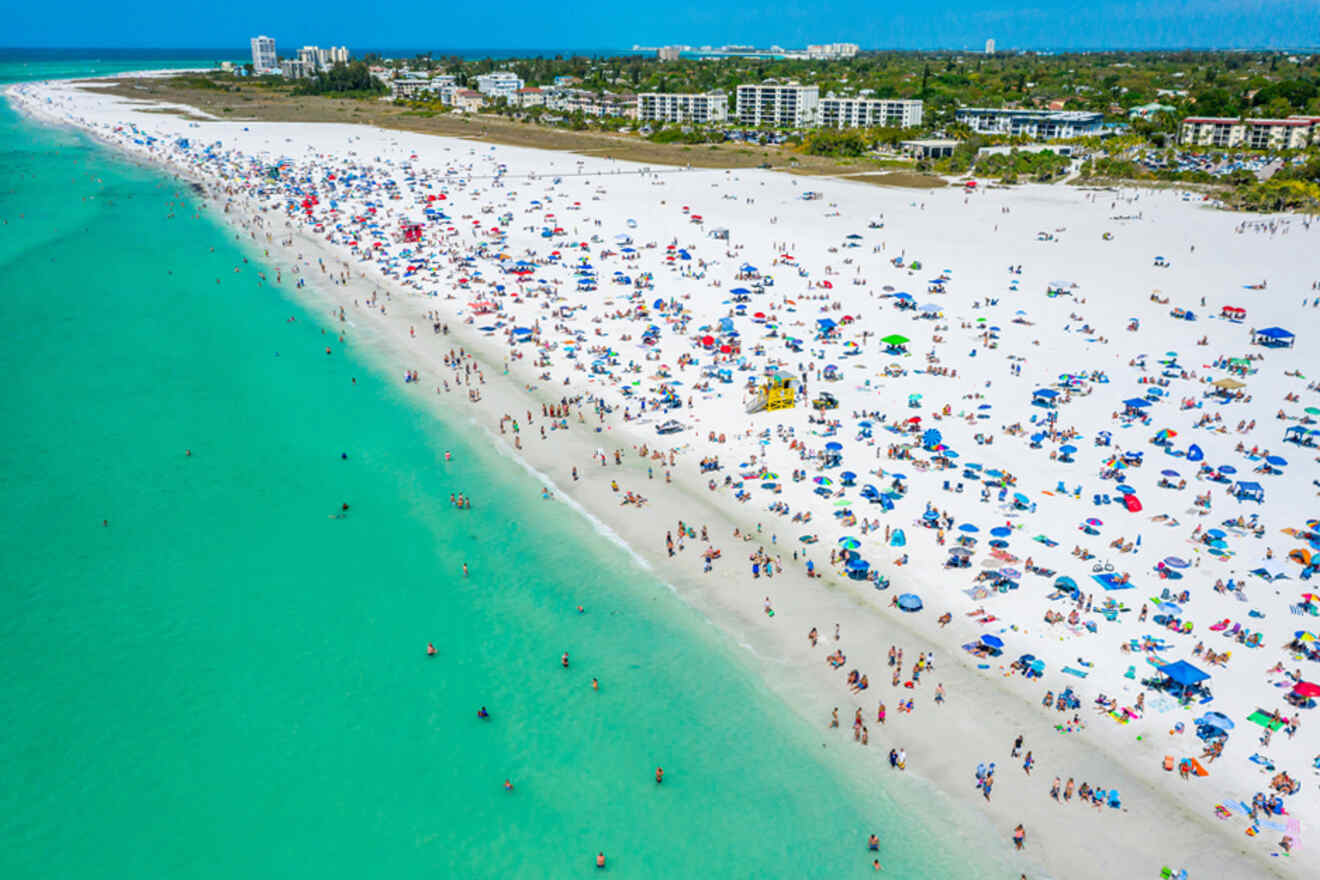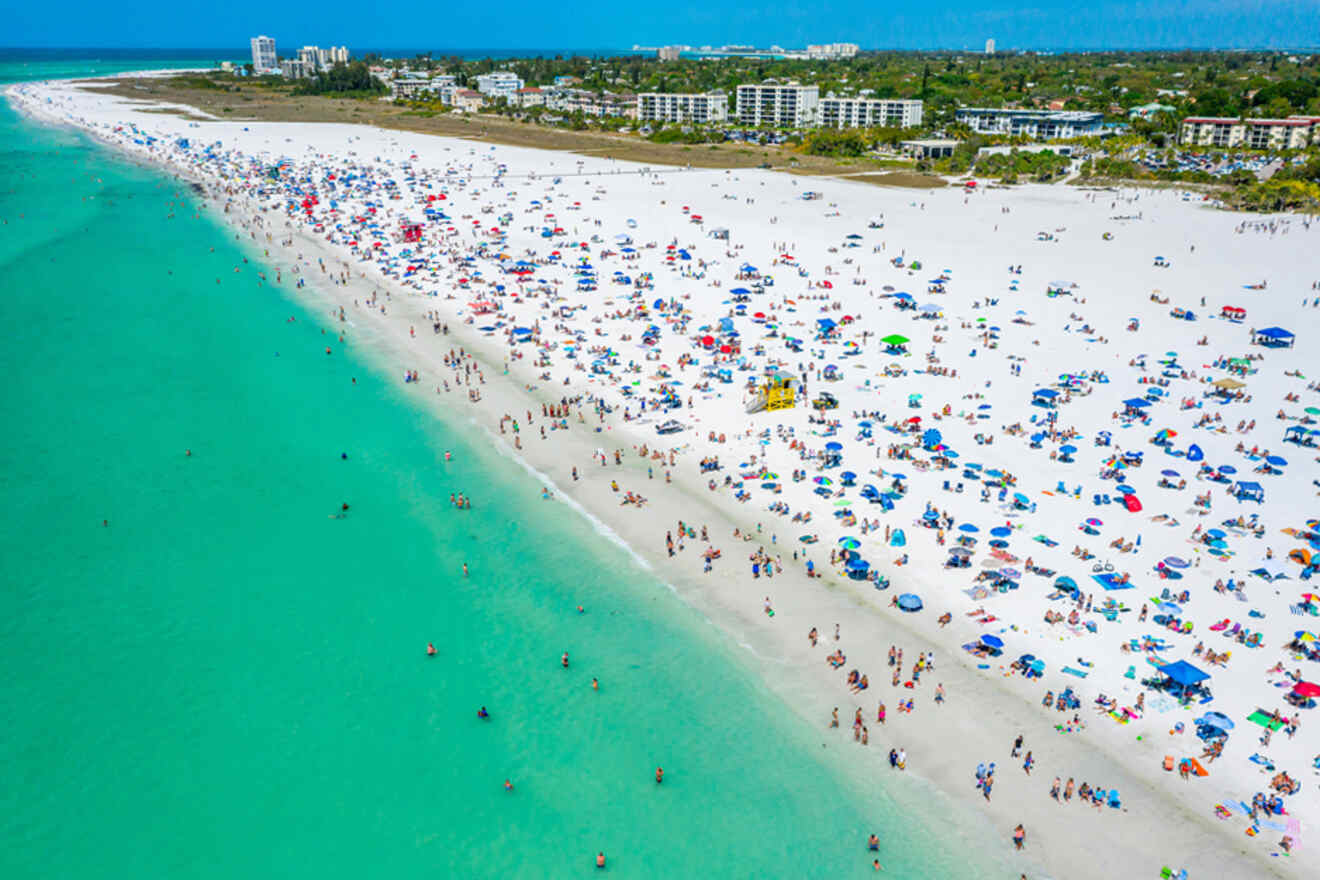 Sarasota is one of Florida's West Coast gems. With pristine white sand beaches, gorgeous turquoise waters, swaying palm trees, and delicious food, each of the unique beaches in Sarasota have so much to offer!
Visiting any coastal Florida city, one of the first things people do is hit the beaches. However, when there are a few beaches to choose from, each one better than the last and offering different amenities and beach experiences, it's good to know what each beach offers in advance to help you make the most informed decision.
For example, some people prefer a more remote, nature-forward beach, while others want a more lively populous vibe complete with vendors, a boardwalk, and the like.
Different strokes for different folks, am I right?
So, as a Florida local, I wanted to take the time to create this ultimate guide to Sarasota Florida beaches. This article will help you find the perfect beach for your trip to Sarasota!
If you are in a hurry
Sarasota is a popular destination, and if you want to ensure that you have a memorable time on your trip, I recommend booking these tours in advance!
Here are the main things to book in advance:
1. Go for a dip at Lido Key Beach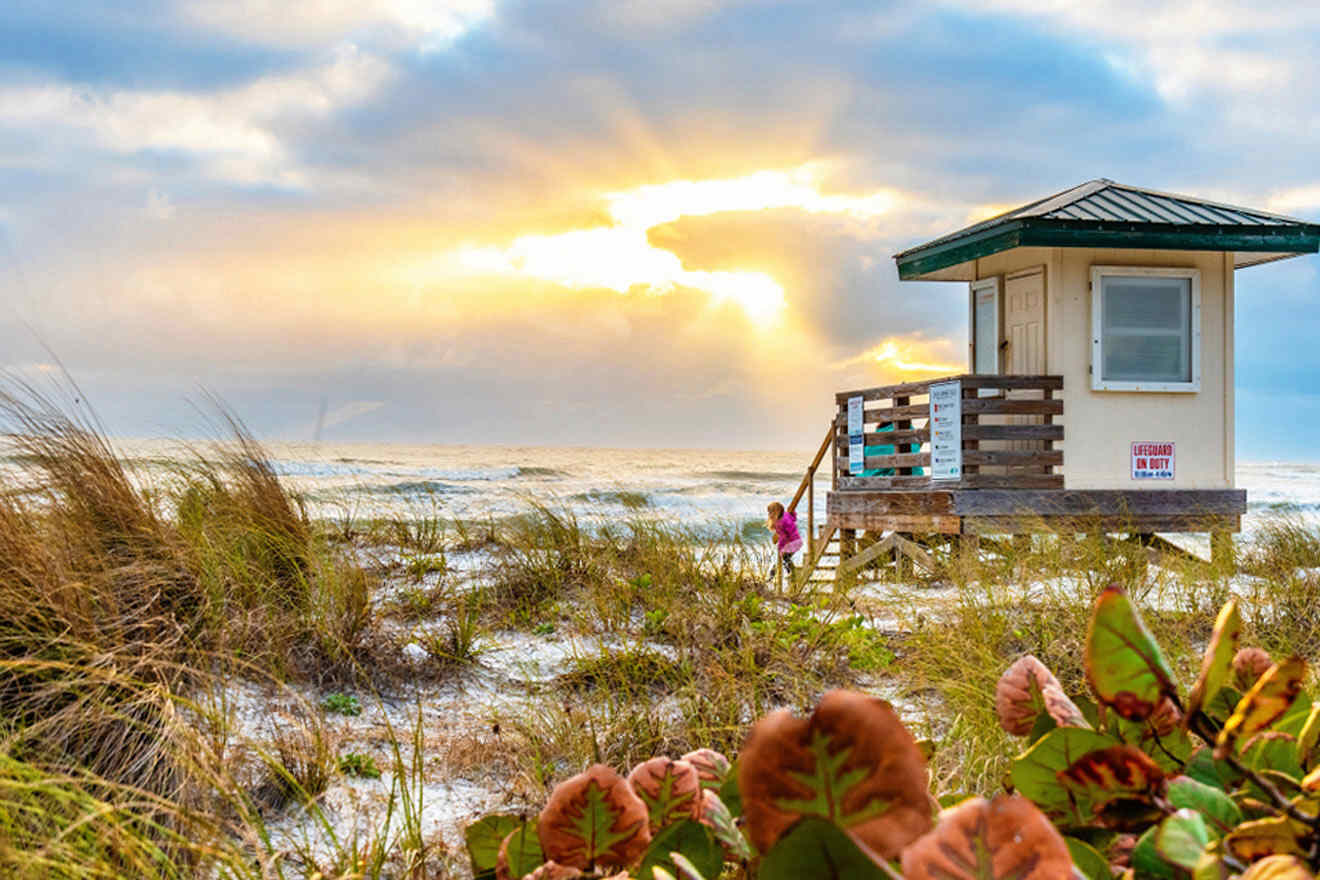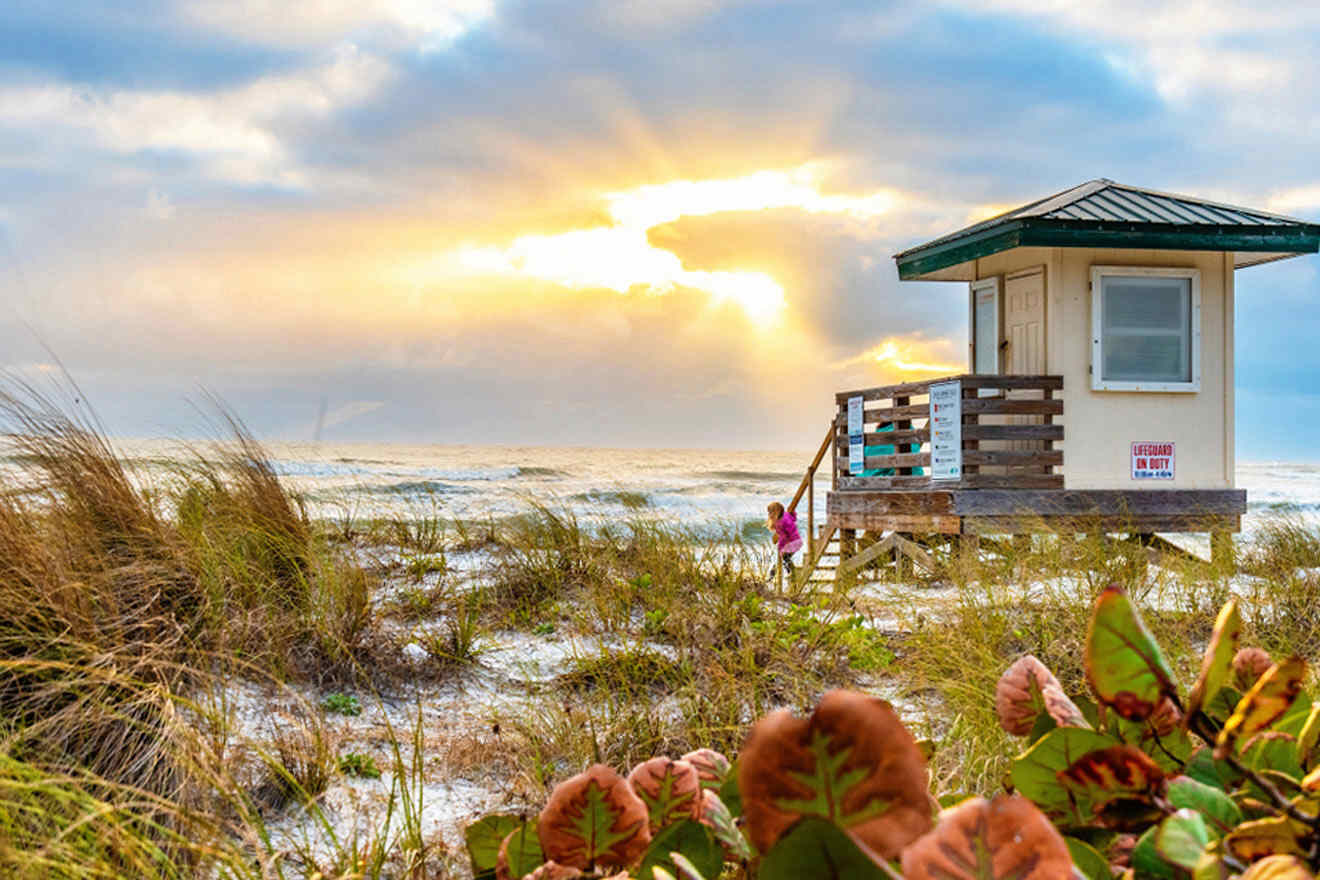 At the top of this list lies Lido Key Beach, easily one of Sarasota's best beaches and my favorite!
Not only is this one of the nicest beaches in the area, but it is also one of the closest beaches to Sarasota. It's connected to North Lido Beach as well so you can explore the whole area super easily!
You can reach this beauty of a beach via the John Ringling Causeway. With vast, white powdery sand beaches lapped by the gorgeous warm, calm, clear waters of the Gulf of Mexico, Lido Key Beach is a true Sarasota gem.
One of the best things to do on this beach is to walk. Mainly because the beach is so wide, you can enjoy pleasant views as you feel the sand between your toes and look for incredible sea shells!
With lifeguards on duty, beach pavilions, restrooms, and volleyball courts, Lido Beach is the perfect place to have a beach day! The convenient amenities help to make this beach super popular!
As you walk further north up the beach, there is a more natural vibe with swaying sea oats and other natural beach vegetation for those who prefer to escape the crowds. You can park at the smaller northern access parking lot if you want a more mellow, nature-oriented beach experience.
If you get hungry while at the beach, check out the Lido Island Grill for some delicious eats with a view of the beach.
Check out this super cool night tour where you get to explore the mangroves of Sarasota in a lit-up kayak! It's the best way to end your beach day
Book Your Glass Bottom Kayak Tour
2. Unwind at Caspersen Beach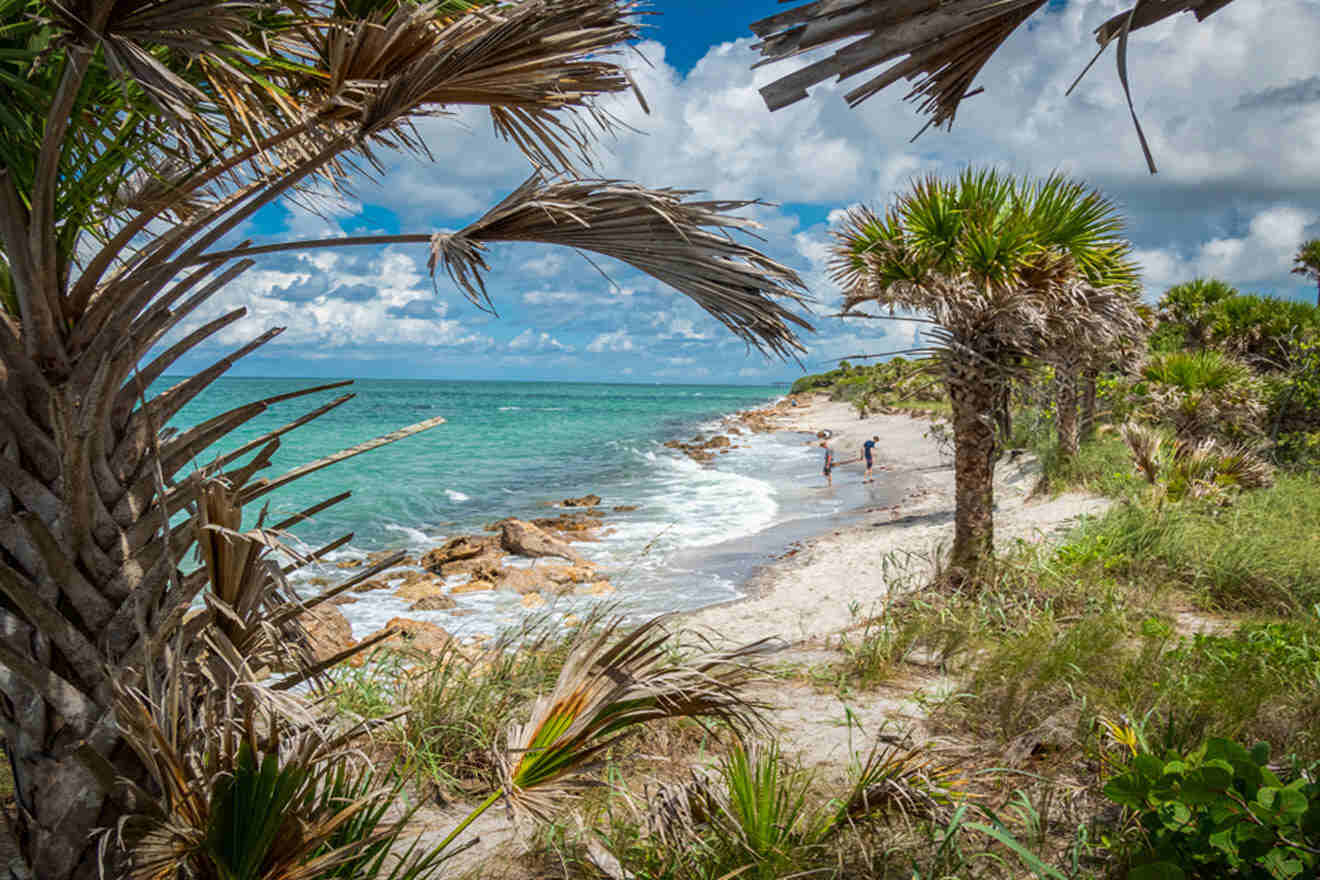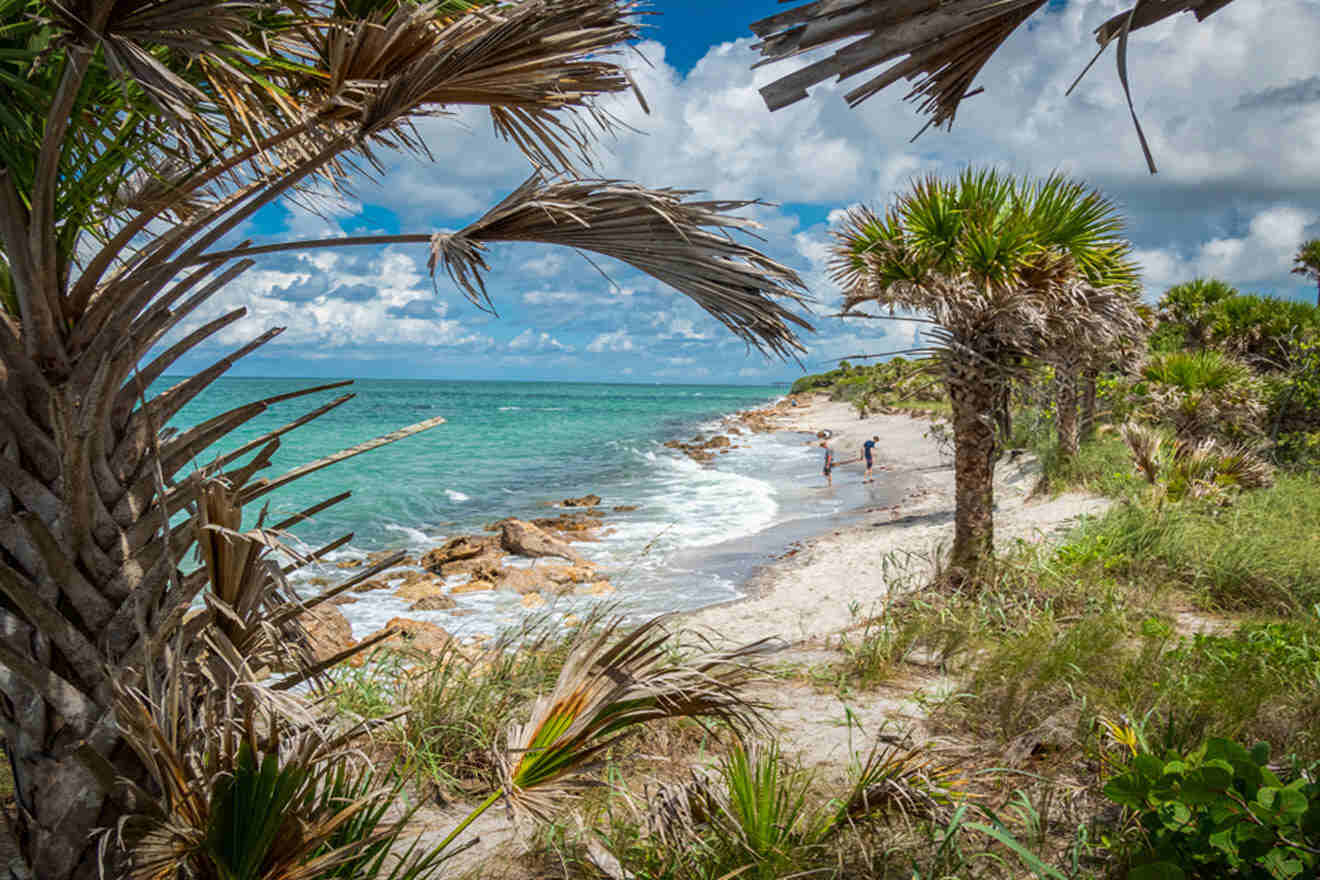 A prime hot spot for shelling and wildlife viewing, Caspersen Beach is one of the best beaches in Sarasota for families! When it comes to shelling, Caspersen Beach takes the cake.
You can spot anything from gorgeous prehistoric shark teeth and gorgeous, unique shells to nests made by sea turtles!
Caspersen Beach is a long stretch of 1.5 miles long and provides an excellent beach for swimming, relaxing, wildlife viewing, and shelling!
This is also an excellent beach for nature trails, kayaking, and canoeing, as a canoe and boat launch are onsite. Another amenity this beach has to offer is an ADA-accessible playground and beach wheelchairs for rent!
This beach also has a pleasant boardwalk that makes for a lovely stroll paired with incredible views.
PRO TIP: If you are going to Caspersen Beach for shelling, go during low tide. The receding waters provide the perfect environment to catch sight of amazing shells and other incredible sea wonders!
You can also venture down the coast for about 20 minutes to get to Manasota Beach, Stump Pass Beach State Park, and Blind Pass Beach if you want to explore other beaches in the area! Definitely worth beach hopping for those looking for the best beaches in and around Sarasota!
3. Enjoy the views at Longboat Key Beach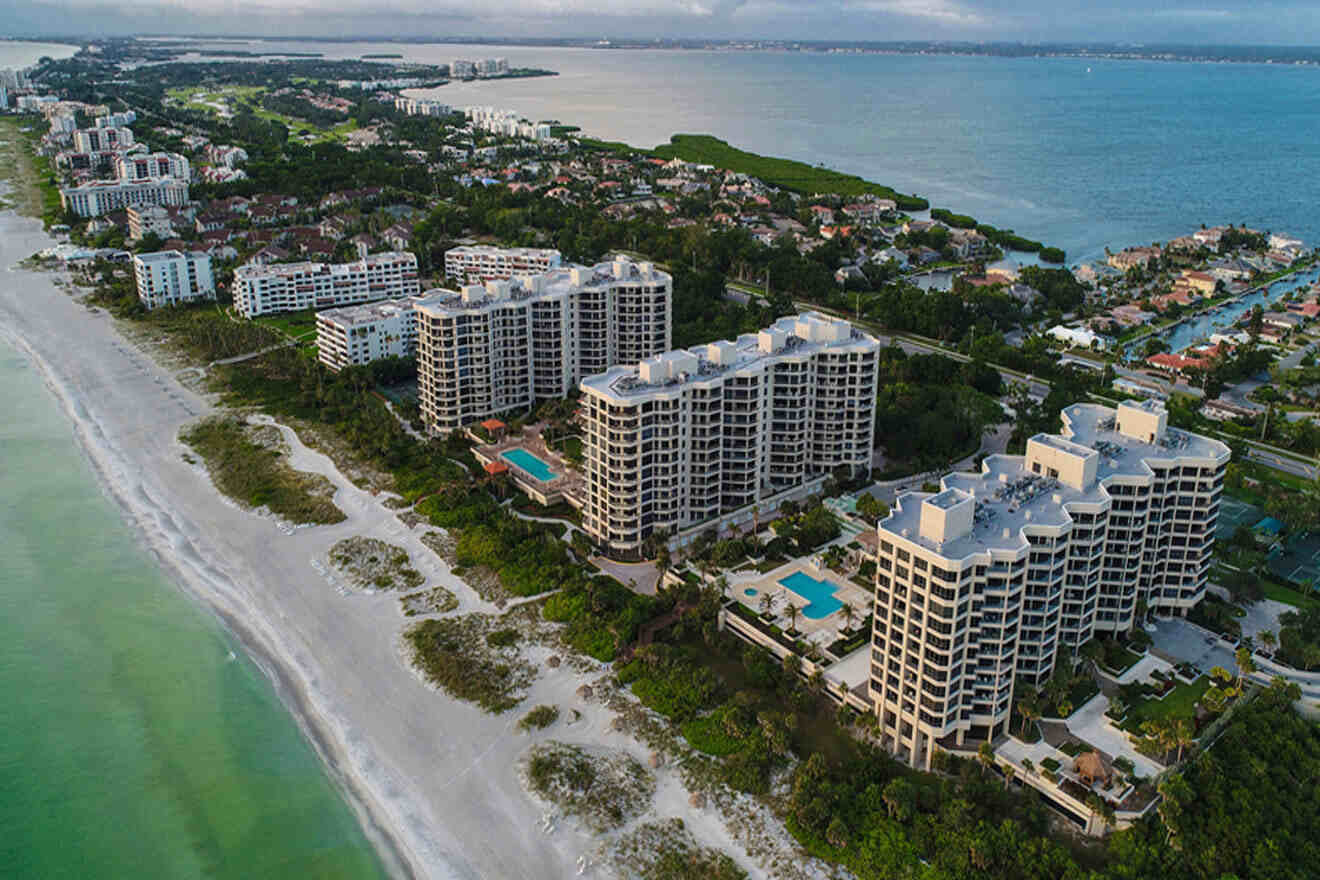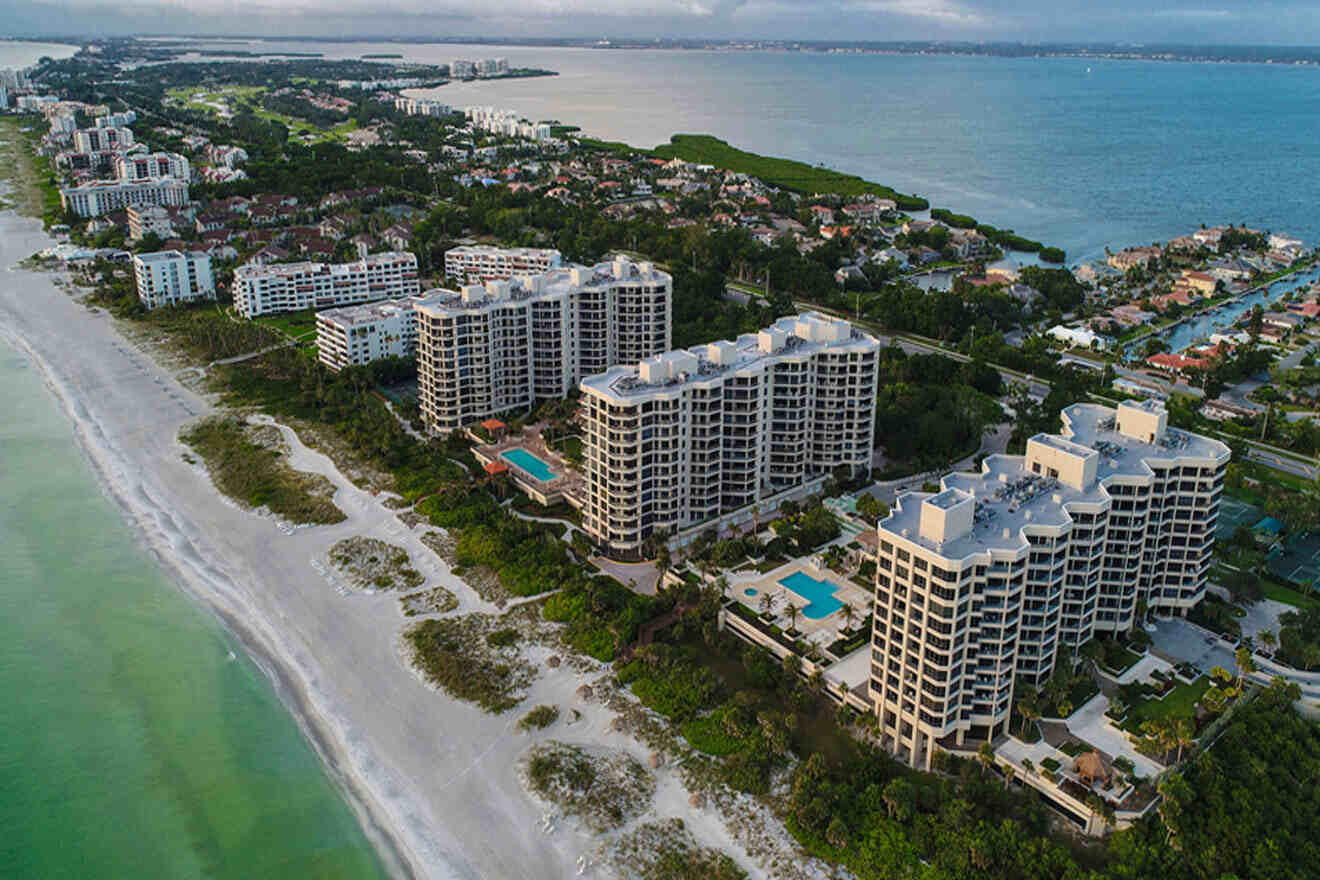 Located within Sarasota Bay and the stunning Gulf of Mexico, Longboat Key Beach is 12 miles of uninterrupted and incredible beaches.
This beach is truly a paradise oasis. With almost blindingly white sand beaches contrasted by turquoise and bright blue warm waters, Longboat Key Beach is one of the most beautiful beaches in Florida.
With absolutely breathtaking views and incredible opportunities for shelling, this beach is a true gem.
An added benefit of this beach is that a lot of the beachfront area on Longboat Key is privately owned. However, many homes are not full-time, so most of the time, the beaches are empty!
If you happen to come at a time when it is more crowded, Anna Maria Island, Coquina Beach near Bradenton Beach, and Cortez Beaches are all close by and offer some amazing beach experiences.
You'll also be super close to Beer Can Island at this beach! It's just a 5-minute drive!
4. Relax at Coquina Beach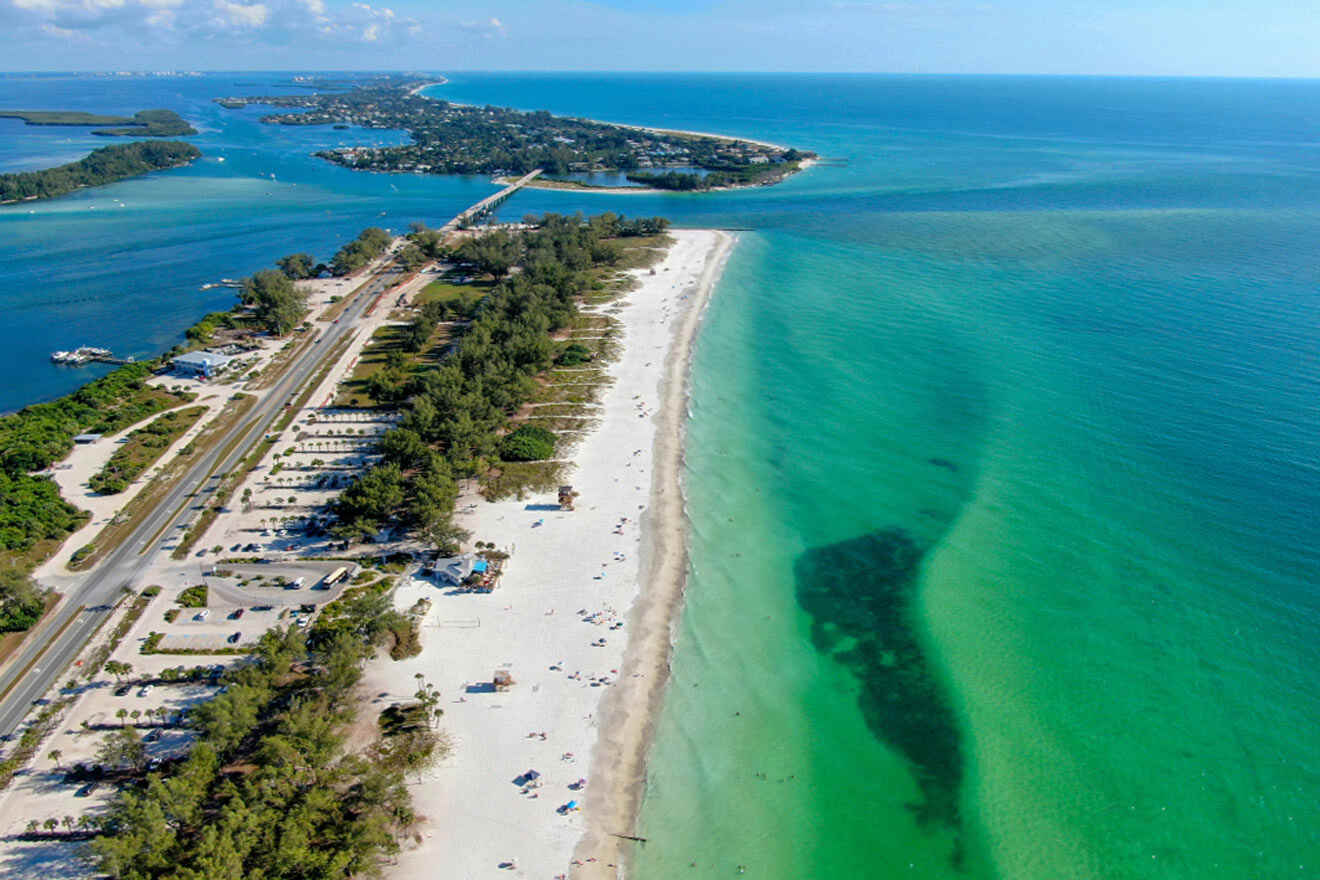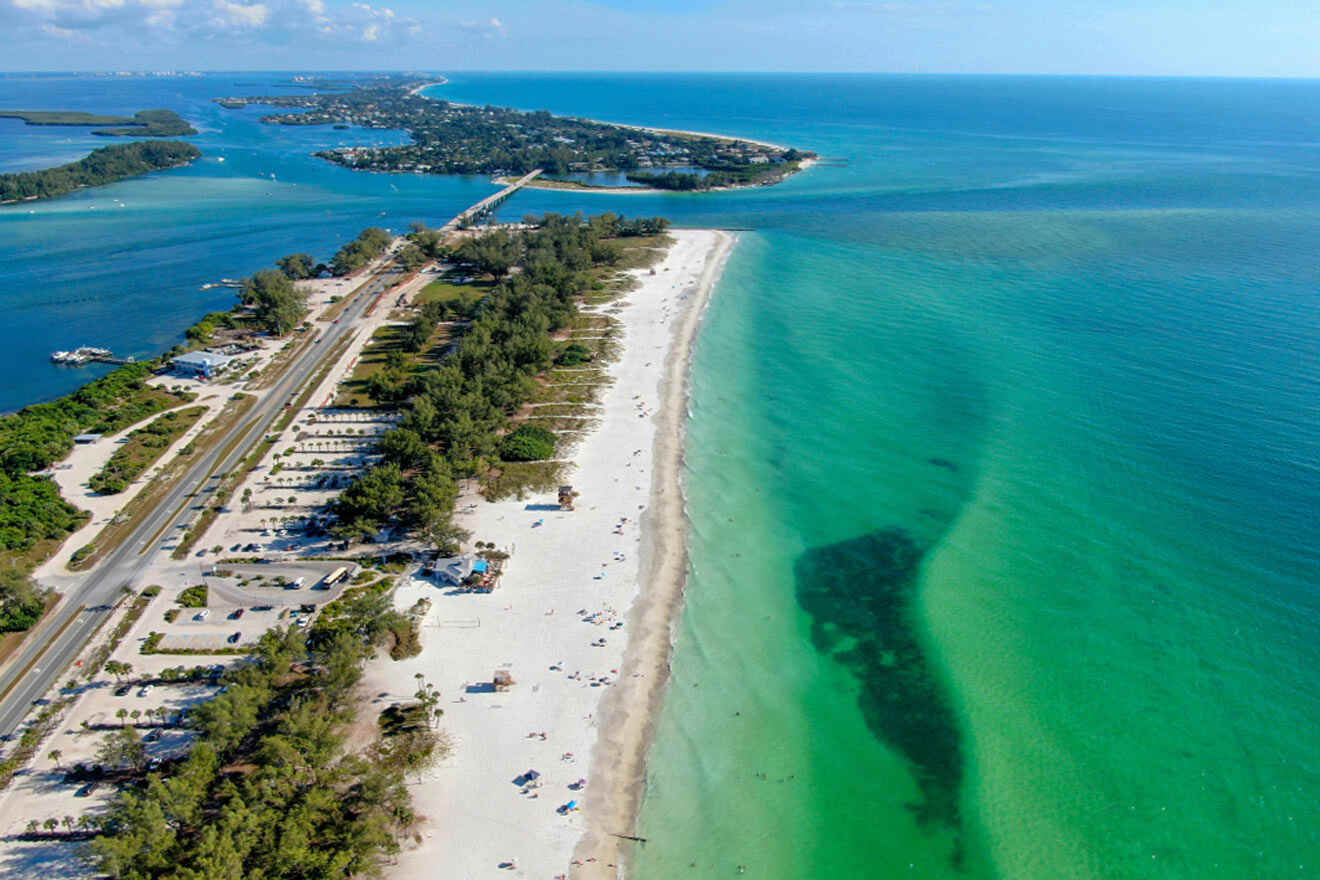 If you're staying in or near Sarasota, Coquina Beach is well worth making a day out of, located on the Southern end of the gorgeous Anna Maria Island.
There is plenty of parking at Coquina Beach, so if you're having trouble finding parking at other Sarasota Beaches, Coquina Beach is a great option, and it happens to be on Anna Maria Island, which is a super fun place to explore near Sarasota!
One of the most unique things about Coquina Beach is that it is surrounded by a gorgeous canopy of pine trees at the opening of the beach.
The beach is also pretty large, so typically everyone has a space to lay down their towel. The waves are quite small, and lifeguards are on watch constantly, so you can rest assured the little ones will be safe while splashing around.
There are volleyball nets, a concession stand, outdoor showers, bathrooms, and the Coquina Beach Cafe, where you can grab some chili cheese hot dogs for the whole family and chill on the beach chairs!
Want to go on the adventure of a lifetime on Anna Maria Island? Check out this super cool parasailing adventure! It's a small group tour so you won't have to worry about waiting around, and it's an amazing experience to start off your day at the beach!
Book Your Parasailing Adventure
5. Soak up the sun at Nokomis Beach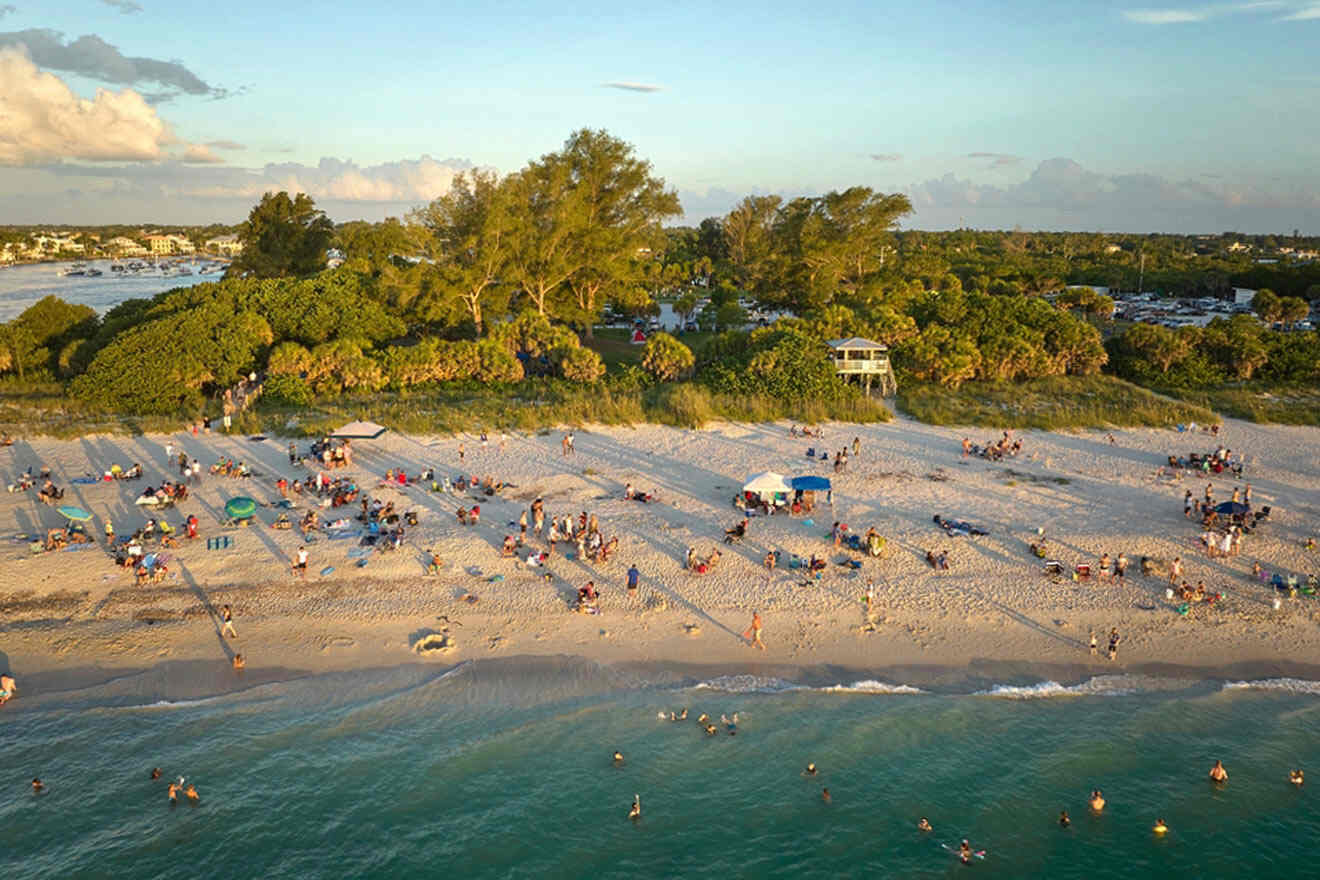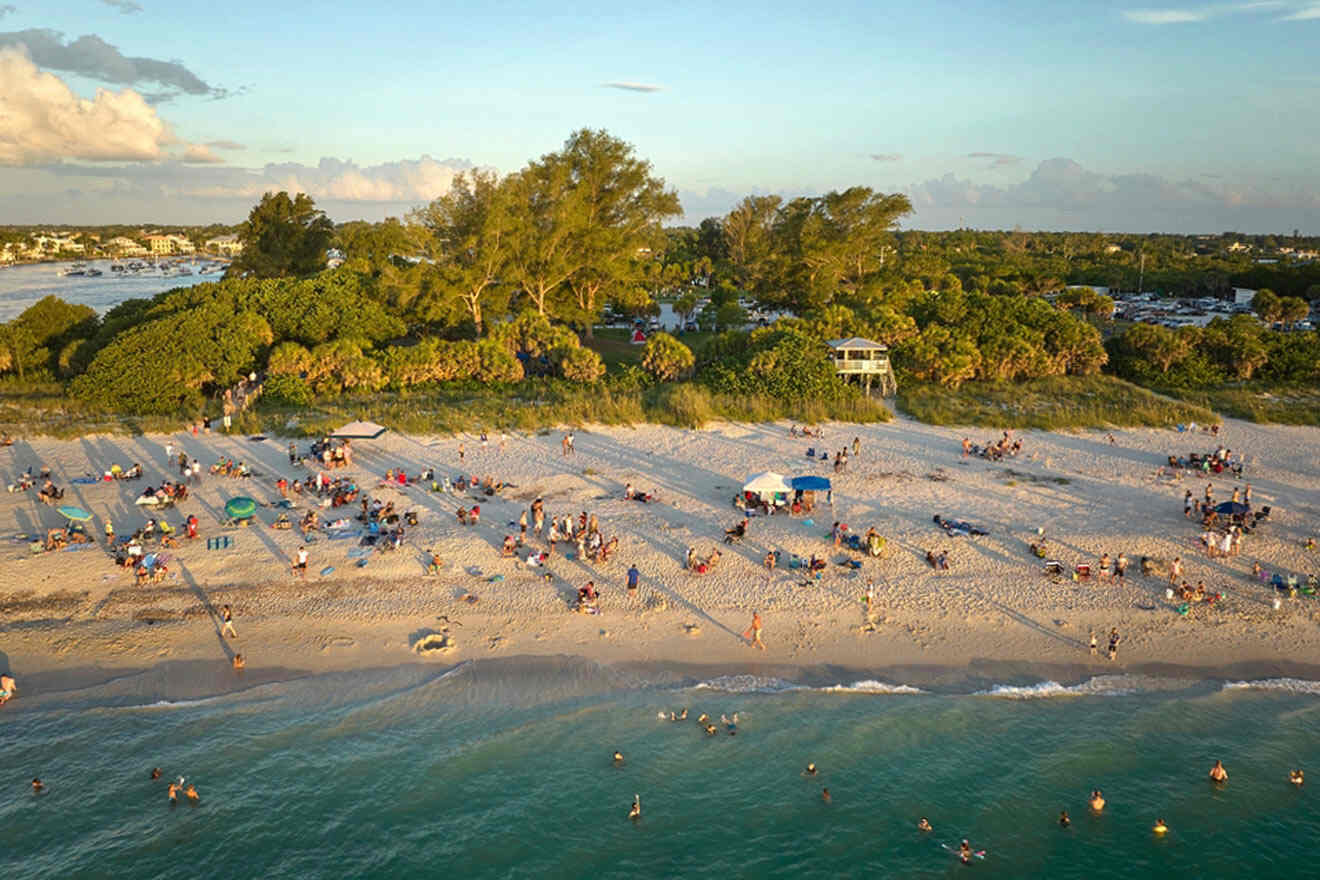 Nokomis Beach is famous for being one of the oldest beaches in the Sarasota area. This gorgeous beach is listed on the National Register of Historic Places!
There's a 1950s-style beach plaza with a concession stand featuring your typical beach fare. With crystal clear waters and white sand beaches, Nokomis Beach is a really incredible beach.
With wide beaches and a large parking lot, this is a lovely quaint beach with plenty of room for beachgoers and shellers.
At an easy walking distance down towards the south end of the beach, North Jetty Park for gorgeous views of Venice Beach and some great shelling opportunities. On Sundays and Wednesday evenings, an incredible cultural event also happens here called the Nokomis Beach Drum Circle! This family-friendly event is a really cool experience where you can listen to live hypnotic drum beats in a gorgeous beach setting.
Alternatively, you can venture northwards up to Casey Key Beach, a perfect place to chill away from the crowds!
PRO TIP: Pack a picnic and enjoy a refreshing meal on the beach! There are grills, picnic tables, and a picnic area for BBQing!
6. Go shelling at Venice Beach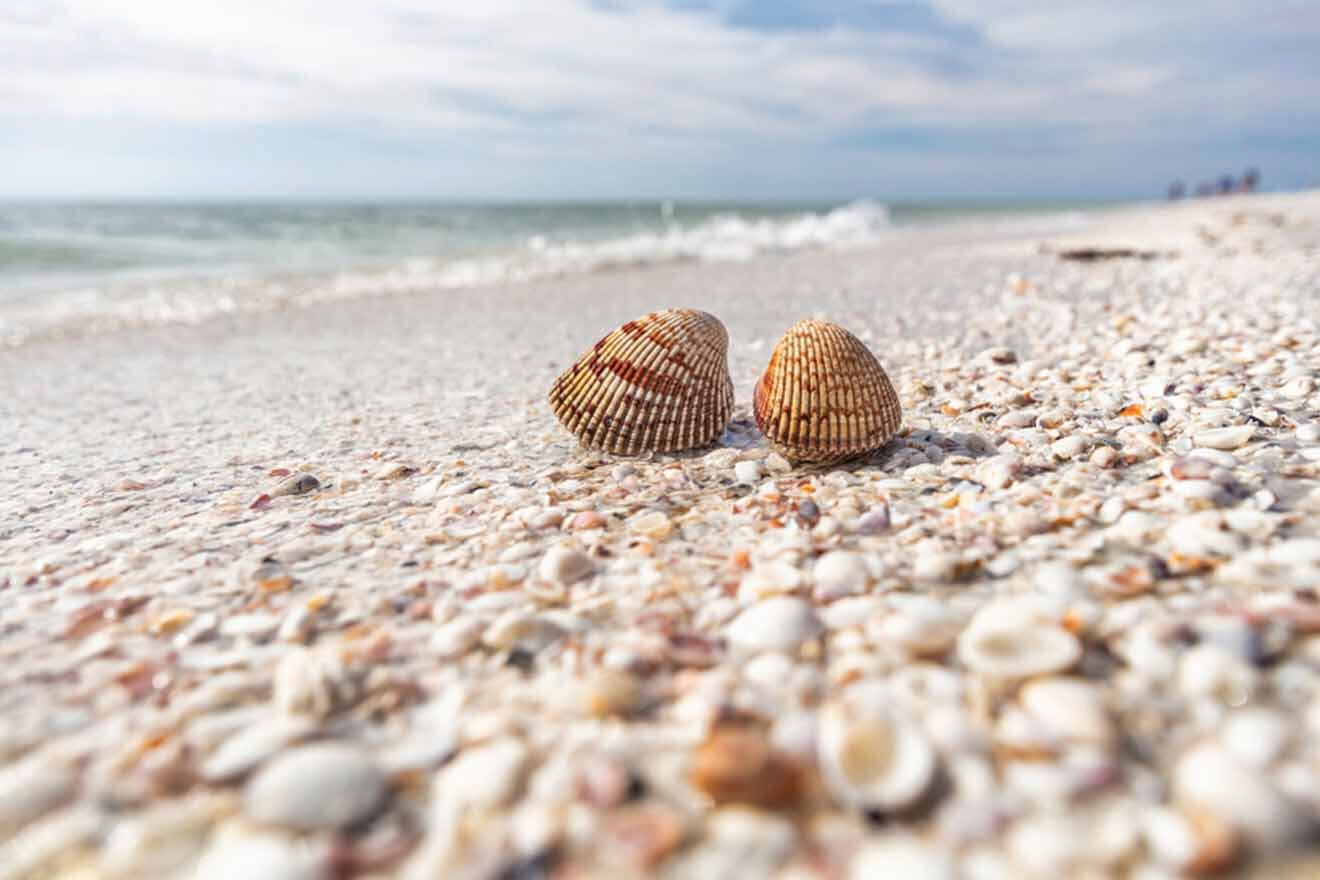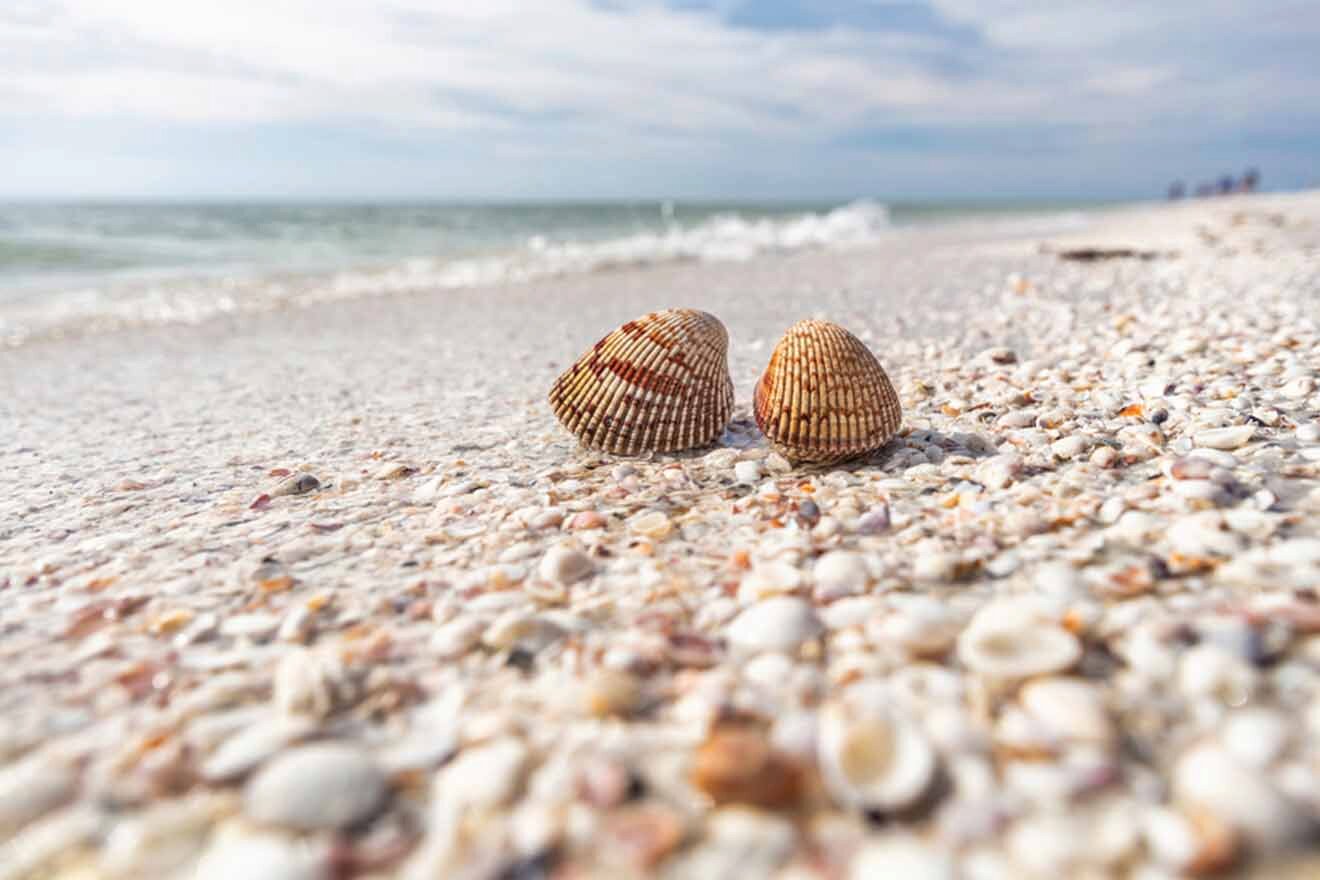 Venice Beach is an excellent public beach for shelling, finding fossils, playing in the waves, and beach lounging!
There is also an incredible coral reef off Venice Beach that is excellent for snorkeling, scuba diving, and seeing incredible marine life. Bring your snorkeling gear for the best day out!
Some amenities include a boardwalk, volleyball courts, and concession stands.
Venice Beach has multiple beaches, including a dog beach, a people-only beach, and perfect beaches for shelling and finding shark teeth!
Brohard Paw Park is a dog beach that provides an excellent opportunity for four-legged friends and their humans alike to enjoy the beauty that Florida beaches have to offer!
7. Enjoy the views at Siesta Key Beach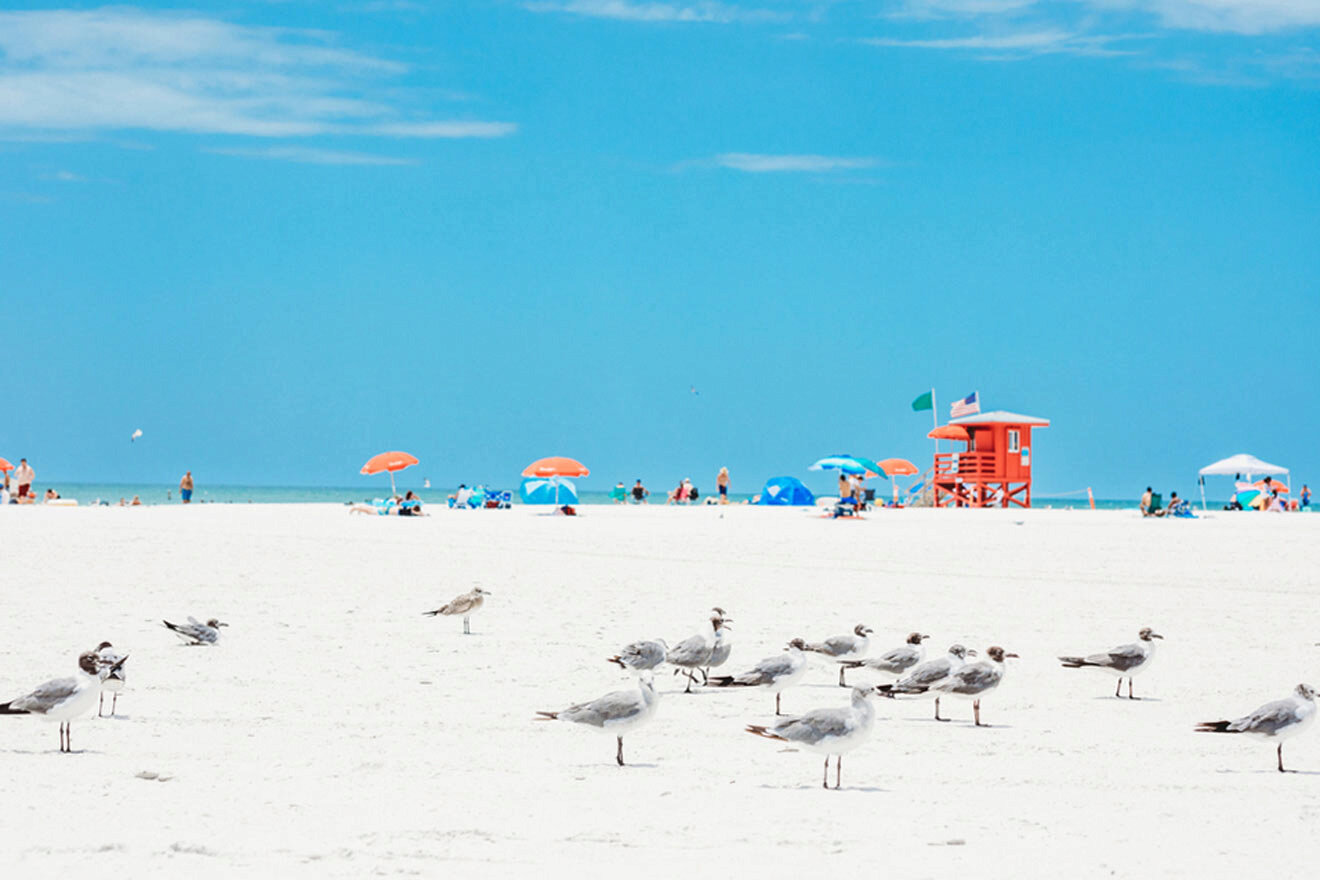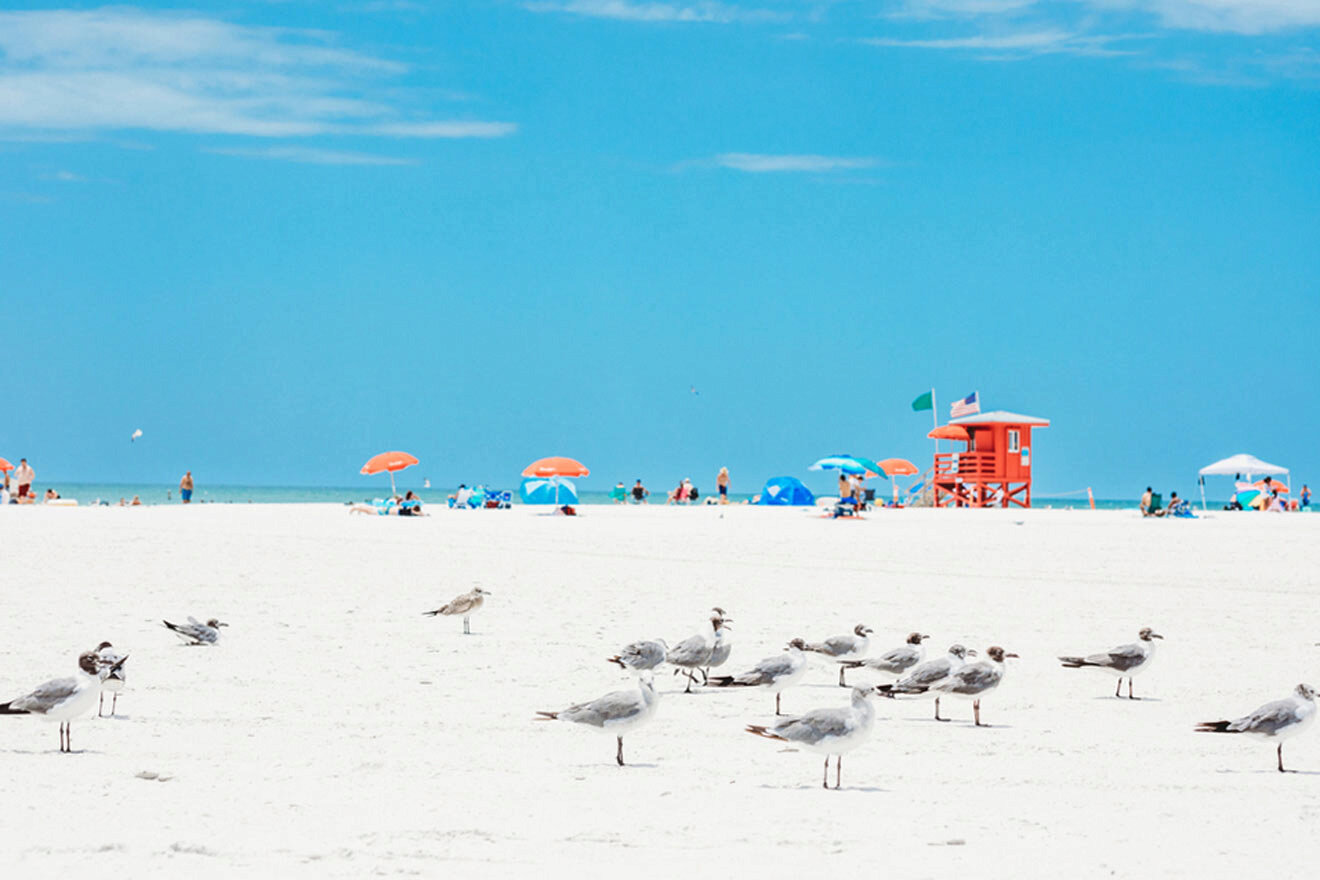 One of the most special parts about Sarasota beaches is the white-quartz soft sand, mega-charged with life-giving solar energy that recharges our body, mind, and soul with every step.
Siesta Key Beach is definitely one of the most beautiful beaches on Florida's West Coast. It's no secret, either. This is a popular beach destination for beach lovers from all over the globe.
Voted one of the prettiest beaches in the US, Siesta Beach is an exquisite seaside hangout with azure waters and incredible views and is one of the most gorgeous beaches to visit in Sarasota.
Siesta Key Beach is also an incredible beach for spotting wildlife and all sorts of marine life, such as dolphins and manatees, in their natural habitat!
There is also a spacious and free parking lot that can accommodate hundreds of cars, making Siesta Key Beach a super popular destination. Siesta Key Beach is one of the best beaches in Sarasota. Hands down.
PRO TIP: I recommend getting there early to reserve your parking spot and avoid some of the mid-day crowds. People love Siesta Beach, so play it safe and get there as early as you can!
Check out this super cool Siesta Key sunset electric bike tour to experience this stunning island from a unique perspective and make some unforgettable memories!
Book Your Sunset Electric Bike Tour
8. Be one with nature at Turtle Beach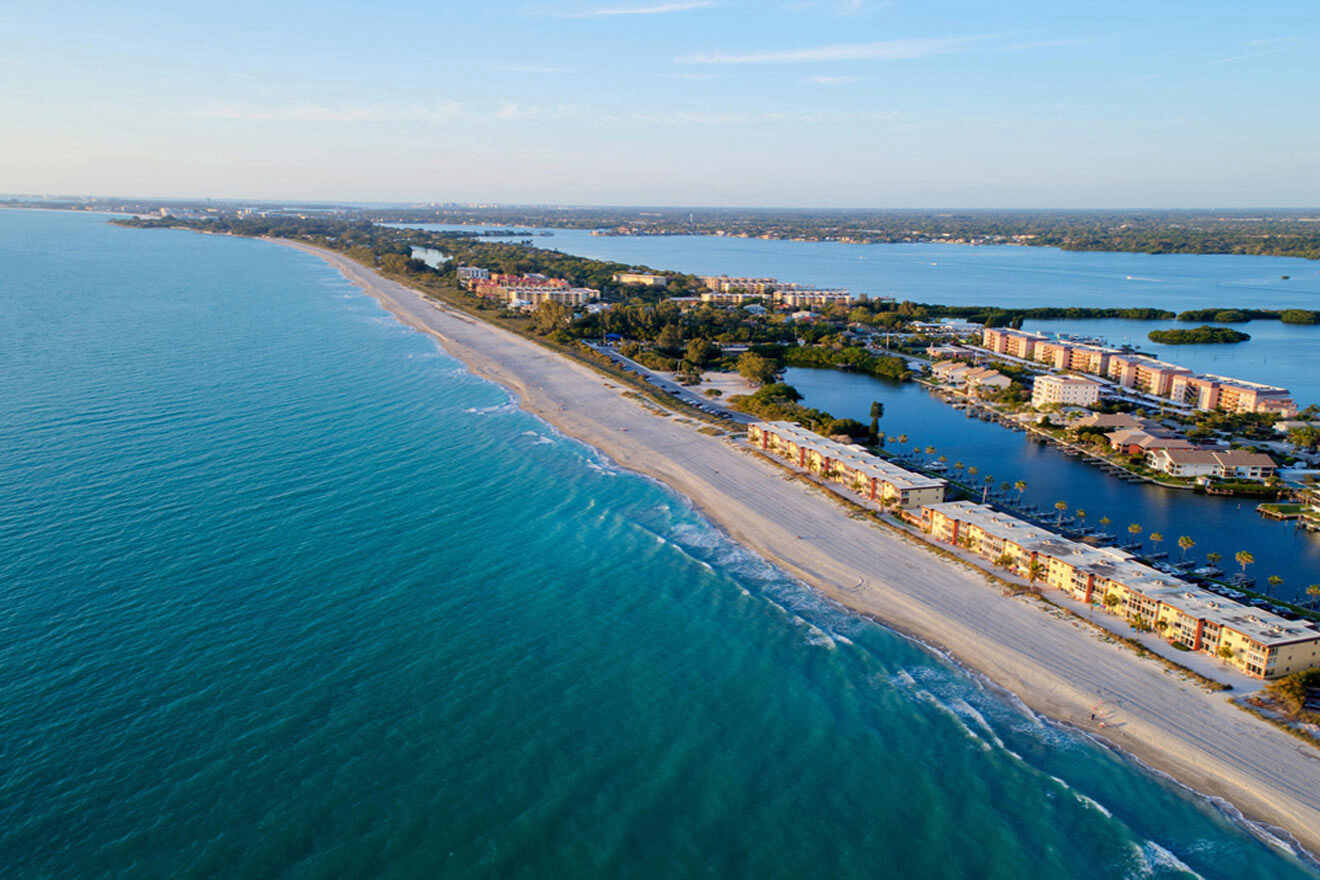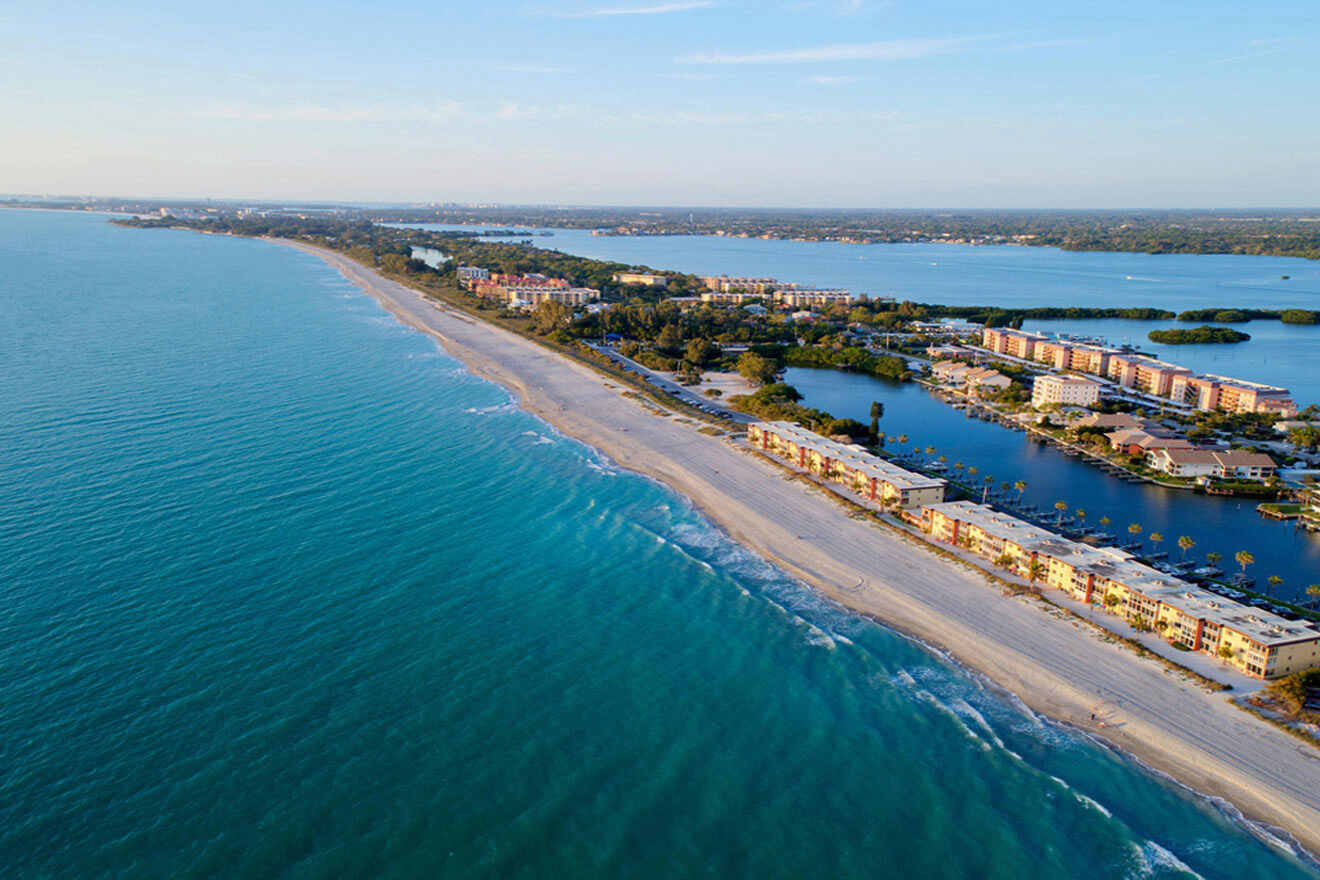 At the far end of Siesta Key lies Turtle Beach. One of the lesser-known Sarasota beaches, Turtle Beach, is one of the many gems that Siesta Key has to offer visitors and locals alike.
This incredible Siesta Key beach is laid back and perfect for nature lovers and beachgoers who want to avoid the crowds and hang out in the sand dunes!
Turtle Beach is a natural beauty in Sarasota County and is ideal for those who want a somewhat remote beach getaway.
Different from some of the other Sarasota beaches, Turtle Beach has more salt and pepper sand, as opposed to some of the other beaches in the area with sugary white sand beaches.
This Sarasota beach has what is called a bench of sand, where the beach actually sits a few feet above sea level so you can sit and look down at the water. The unique geography of this beach makes for an excellent opportunity to spot marine life and see all sorts of brightly colored tropical fish!
Since beaches are ever-changing with the constant lapping of the waves, the structure of this beach is different every time you visit. However, there are typically small points that extend out into the water creating small coves that are pretty shallow, and you can wade out pretty far without going above your waist!
PRO TIP: If you like walking along the beach, go south to Palmer Beach Park and walk past the condos for under a mile. Then you will reach a stretch of undeveloped beachfront which makes for the perfect environment to take a long meditative walk on the beach.
Turtle Beach is definitely up there on my personal list of the best beaches in Sarasota!
9. Hang out at Crescent Beach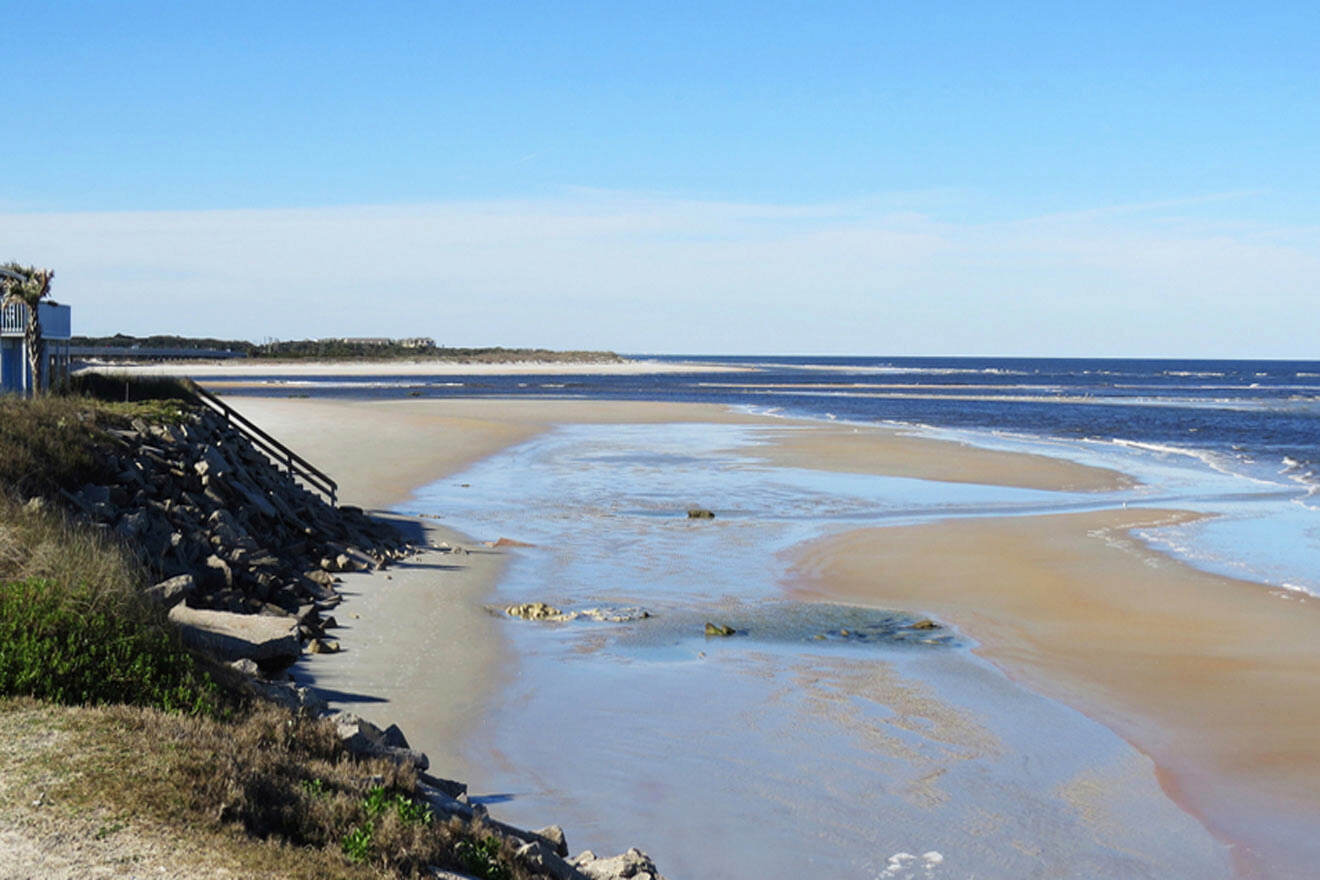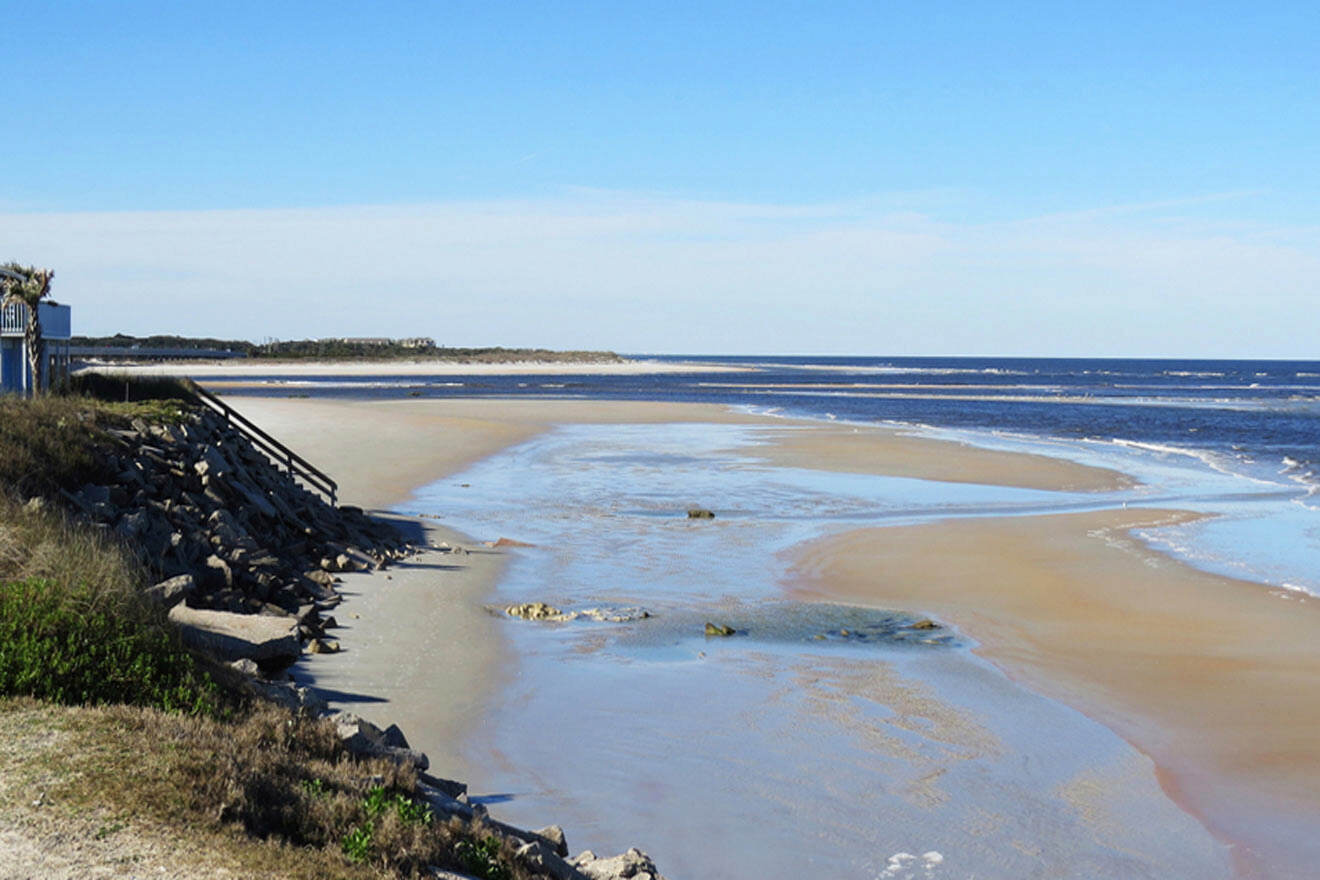 Located near Siesta Key Village, Crescent Beach is an excellent beach for photo shoots, breathtaking sunsets, and perfect beach days. Florida's Gulf Coast has so much to offer when it comes to stunning beaches, and Crescent Beach is no exception!
This gorgeous Siesta Key beach is only 17 minutes from downtown Sarasota and offers plenty of amenities, great swimming, snorkeling, lounging, and some of the best sunsets you have ever seen in your life.
Lined with hotels and condos, there are plenty of places to grab food in the area. Surprisingly, the crowds aren't too bad at this Siesta Key beach!
This is a popular beach for water sports enthusiasts, with opportunities to kayak, jet ski, canoe, and go parasailing for all those thrill seekers out there.
This beach is family-friendly and perfect for those looking for a nice place to relax on Siesta Key.
FAQs about Sarasota Florida Beaches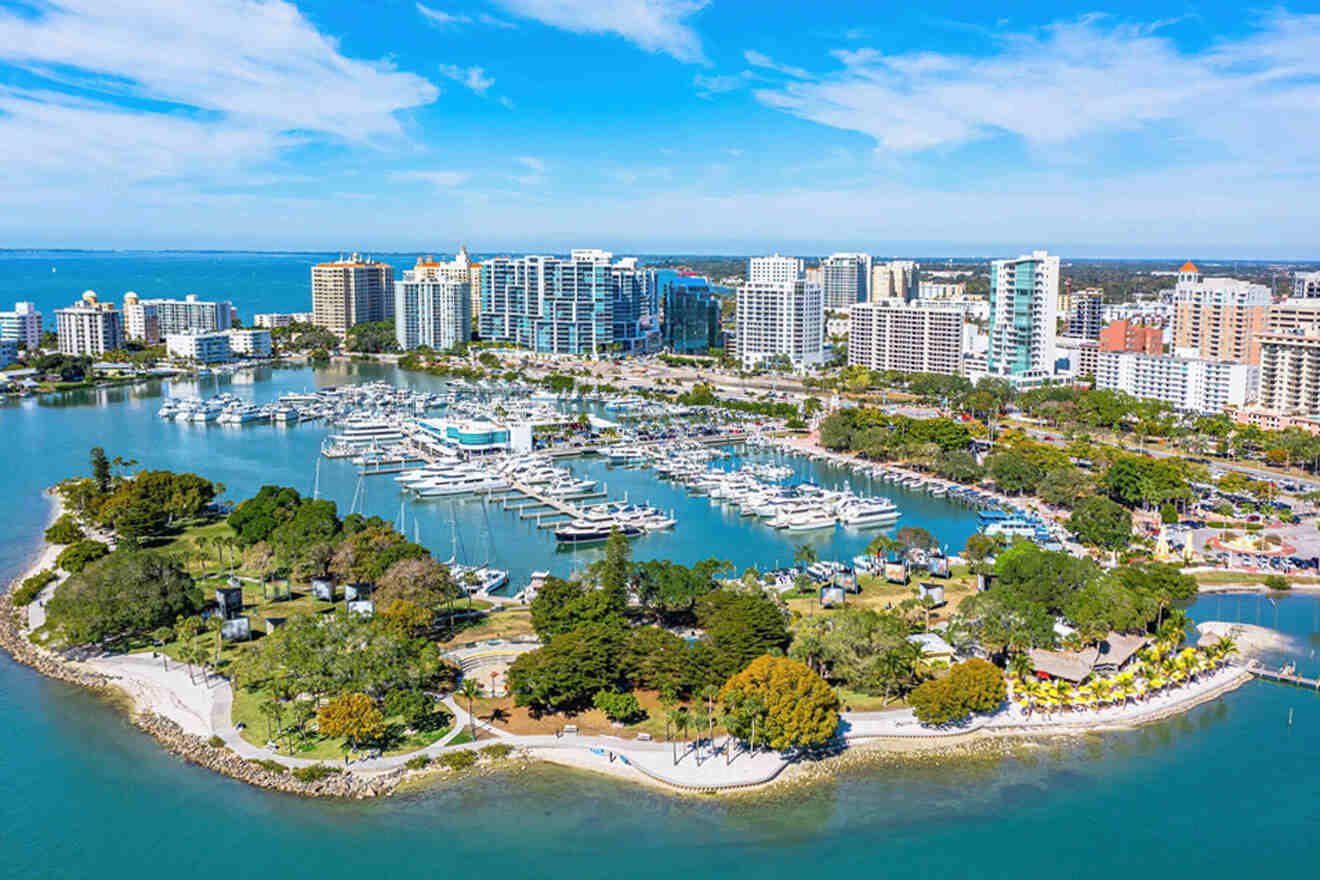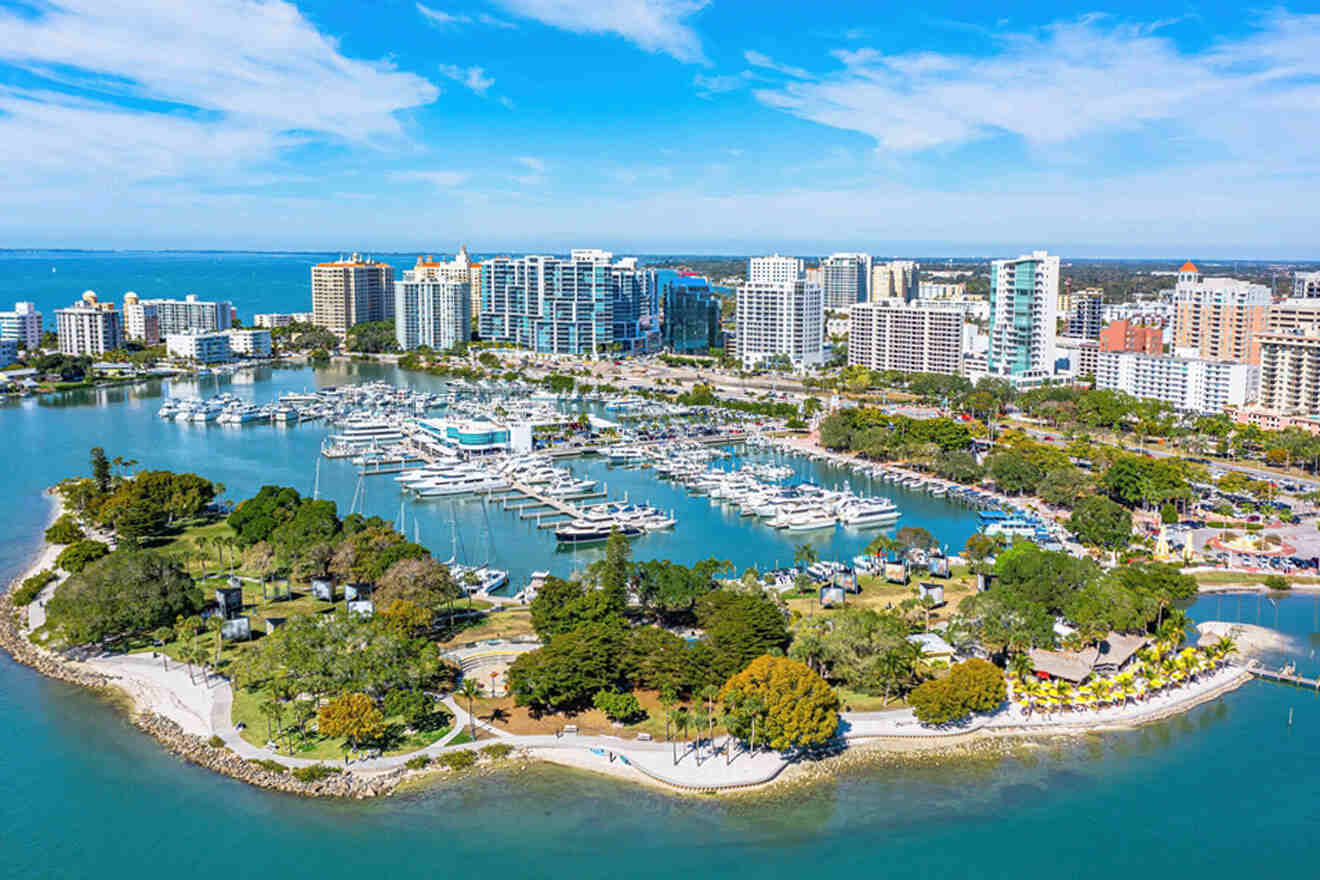 🌴 What are the best beaches in Sarasota Florida?
🌊 Does Sarasota have nice beaches?
Sarasota has some of the best beaches in the country. Sarasota beaches are unbeatable with the gorgeous Gulf of Mexico waters, white sand beaches, and incredible sunsets.
🏖️ What are some things to do in Sarasota?
Check out Lido Key, Siesta Key, Marie Selby Gardens, The Ringling Museum, and so much more! Sarasota is bursting with life and amazing opportunities to create some truly unforgettable memories.
🐟 What is red tide on Sarasota beaches?
Red tide is a pervasive issue of algae on the Gulf Coast of Florida. However, city officials go out and check the water quality every morning to ensure that the beach is safe for visitors. The worst time of year for the red tide is the spring and summer during the rainy season due to agricultural runoff from rising water levels. If you're worried about it, opt for visiting Sarasota in the fall or winter months.
Conclusion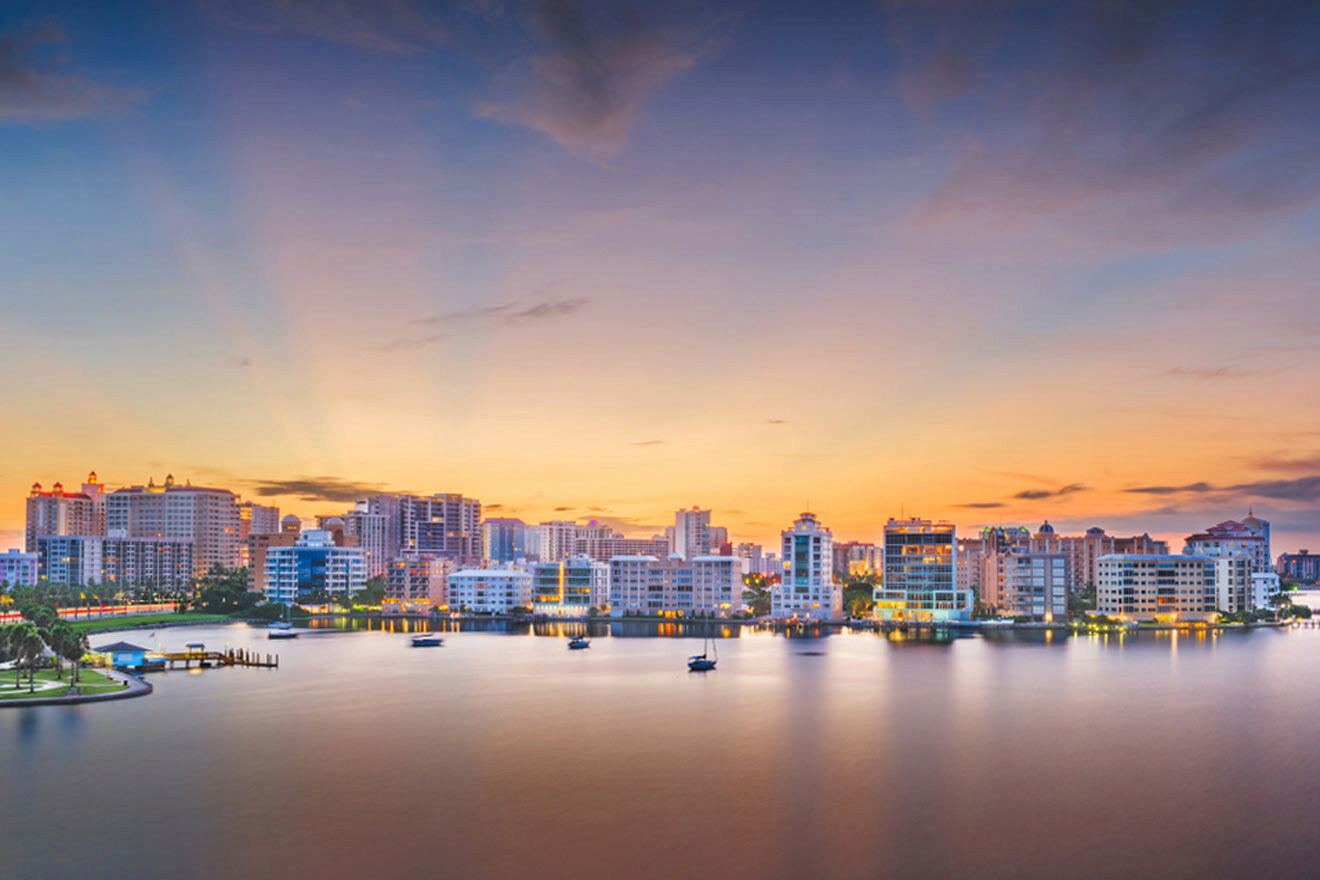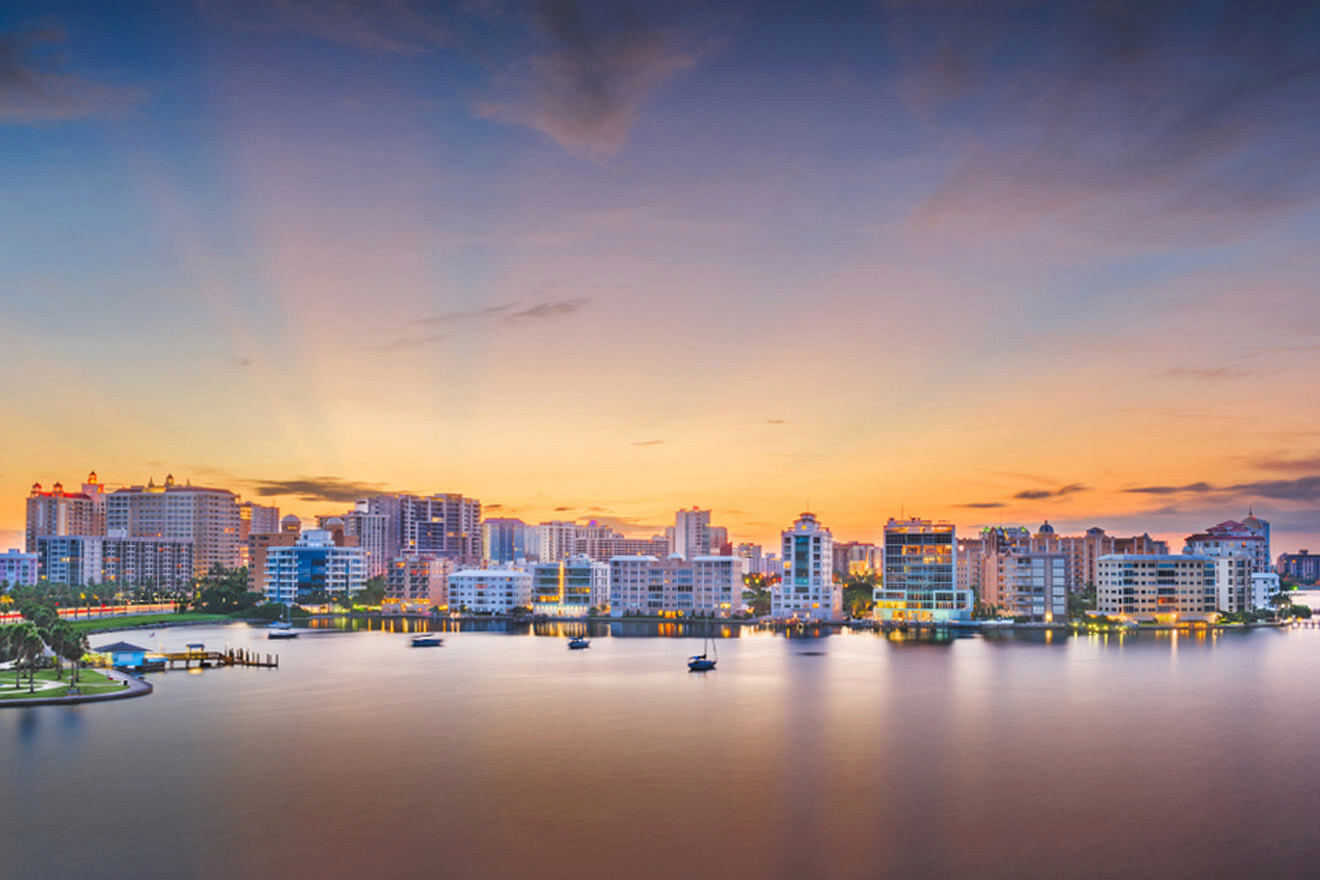 There you have it! The ultimate local guide to the best Sarasota Florida beaches. The Gulf Coast of Florida is a magical place with stunning beaches, powdery white sand, breathtaking sunsets, and insane biodiversity.
Whichever beach you end up visiting on your trip to Sarasota, I am confident you will have an excellent time and create some unforgettable memories!
With Love and Gratitude,
Amira G.
---
Pin it for later!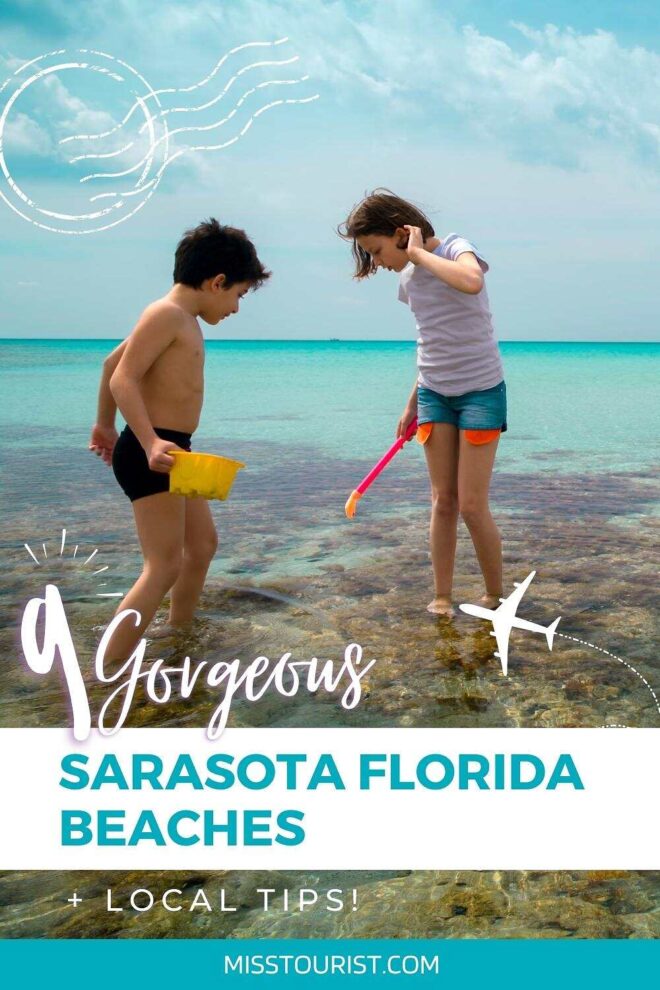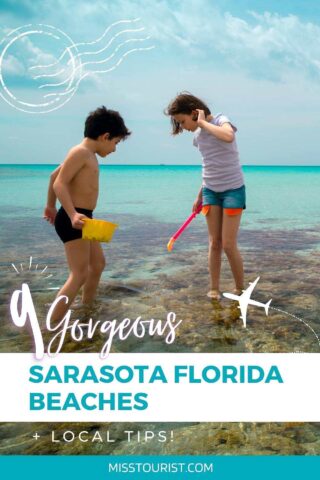 Pin it for later!