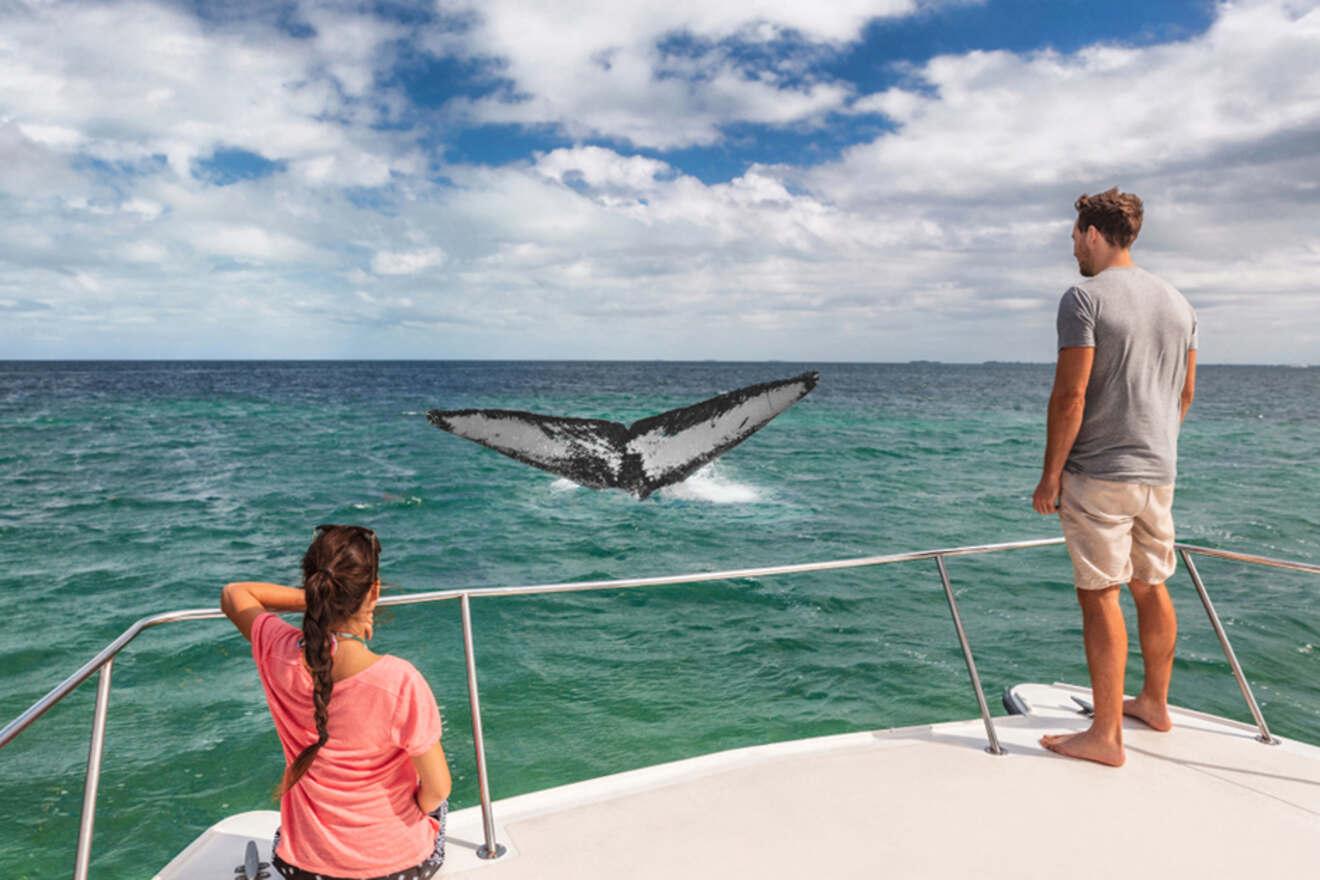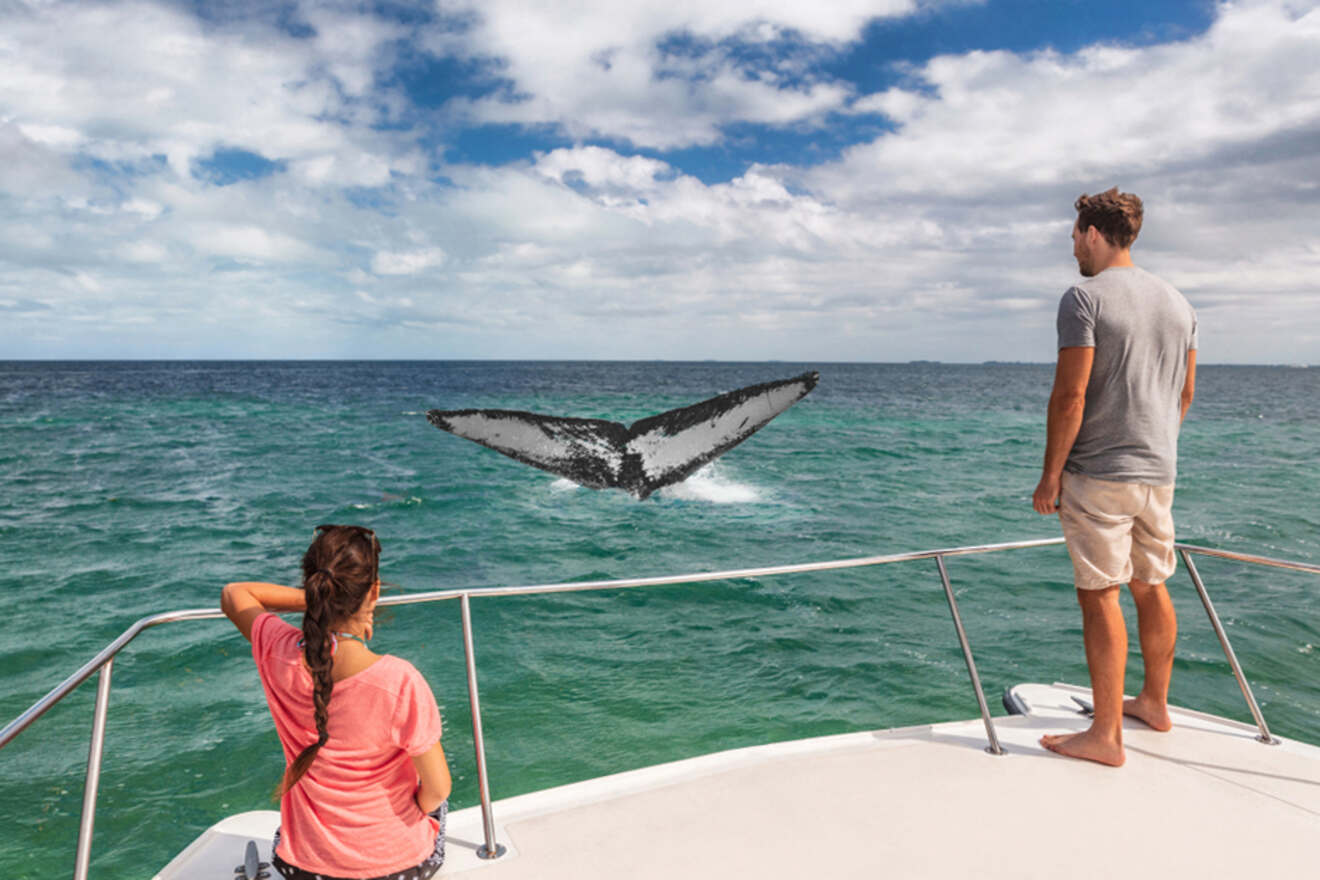 If you haven't been to Naples, Florida, yet, you're going to fall in love as soon as you get there. Situated on the Gulf Coast, Naples has everything you could possibly want in a charming Florida beach town, including pristine white sandy beaches and glittering ocean as far as the eye can see.
The best way to experience Naples is from the water, of course! Boat tours happen to be my favorite thing to do there, so I'm excited to share the best boat tours in Naples, Florida, with you today. And don't worry, we're going beyond just sightseeing tours in this article!
While I do love a good sightseeing cruise, I've included some more exciting options for the adventurers out there, as well as relaxing Naples boat tours for couples and family-friendly boat tours if you're traveling with kids.
It's my goal that by the end of this post, you'll have found the perfect boat tours in Naples, Florida for your next trip there. So let's dive in!
If you are in a hurry
Here are the top boat tours in Naples that you'd want to book in advance:
1. Meet manatees on a wildlife eco-tourism adventure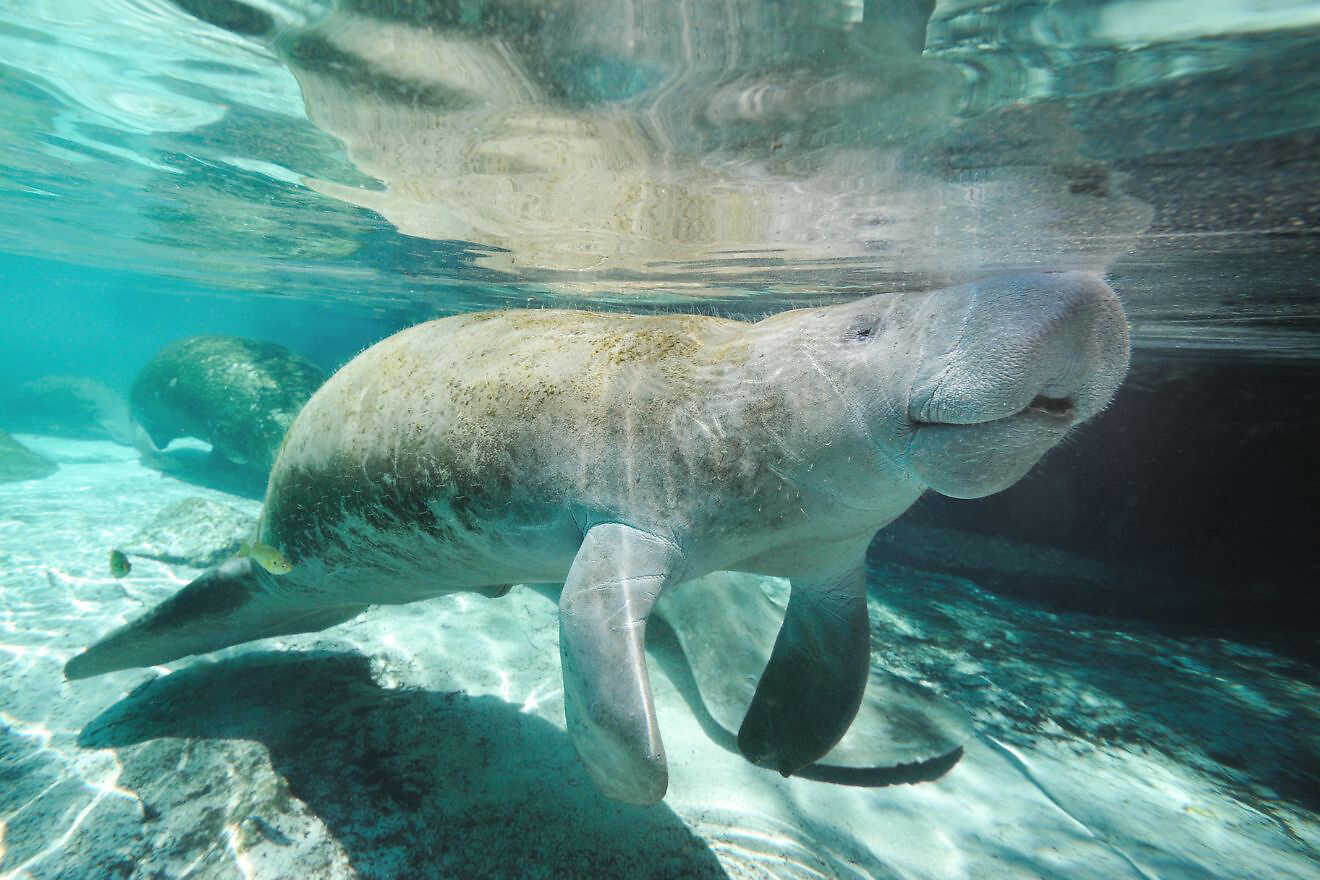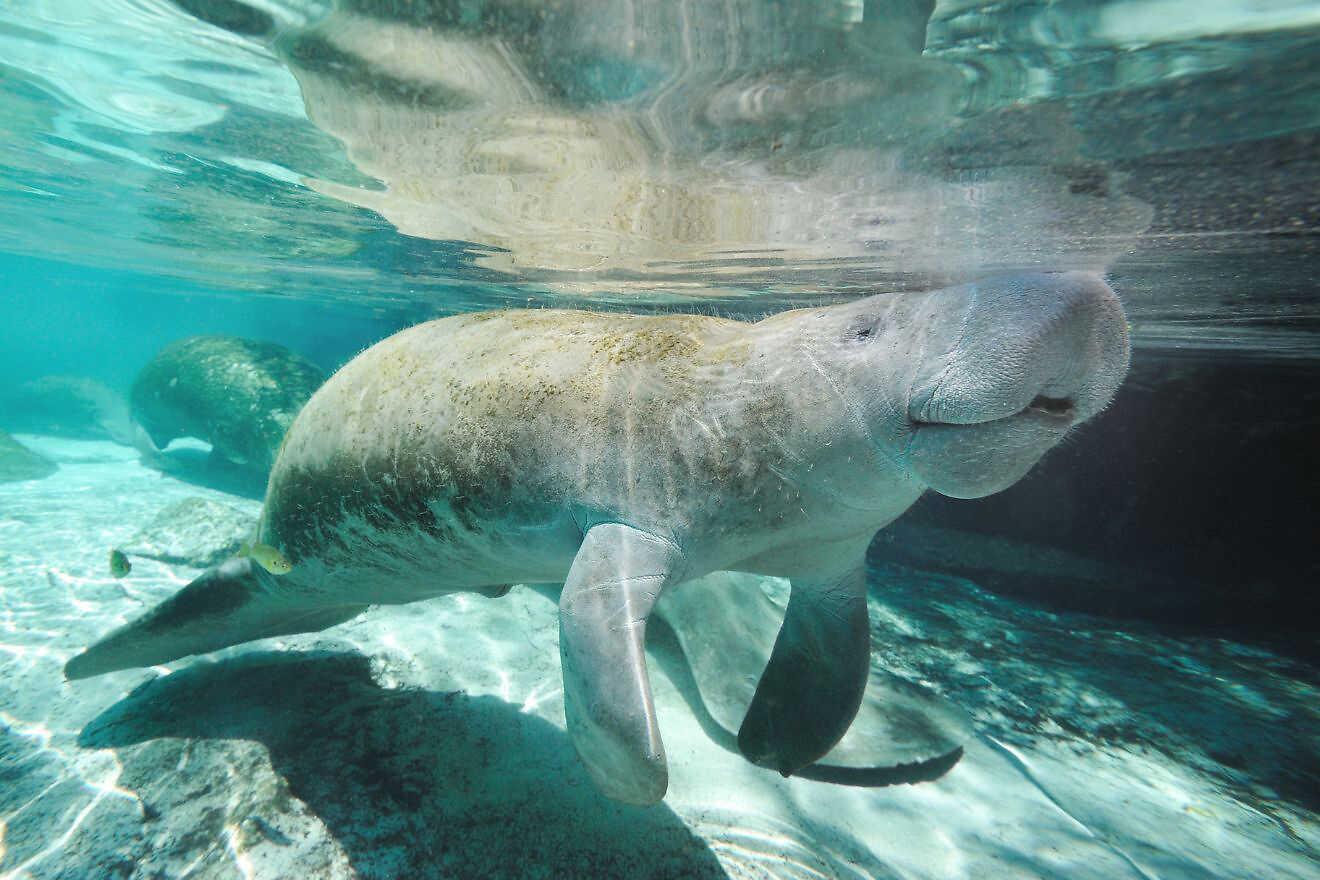 Duration: 1.5 hours
Price: from US$60 per person
Why you should take it: manatees are known to come right up to the boat!
One of the most amazing experiences you can have in the Sunshine State is getting up close to West Indian Manatees. These gentle giants call the waters around Naples home year-round, unlike other parts of Florida, where they only visit seasonally. This means that if you've ever dreamed of seeing a manatee in real life, Naples is the place to do so!
This tour is hosted by Manatee Sightseeing & Wildlife Adventures, which has been giving manatee-focused eco tours since 1999 and is the only manatee sightseeing tour company in all of southwest Florida that sees manatees every day, 365 days a year – their success rate for seeing manatees in the wild on boat tours this year is 97%!
Did you know manatees leave behind a footprint when they dive? Your captain will use this footprint to identify the best spots to see manatees – just wait until one pops up for a breath to say hello. 😍
Keep your eyes peeled for other wildlife, like dolphins, alligators, turtles, fish, and bull sharks as well. Your tour guide is especially knowledgeable about the area, so you'll learn a ton about what you're seeing – shoutout, Captain Paul!
The boat tours depart from Port of the Islands Marina and take you up the Faka Union Canal, which is part of the Ten Thousand Islands and the Florida Everglades. We're talking jaw-dropping, breathtaking views that you'll want to have a camera ready for. Polarized sunglasses and polarized camera lenses are provided for the best photo and viewing experience, which is a huge plus.
Book Manatee & Wildlife Boat Tour
2. Embark on a relaxing catamaran sailing excursion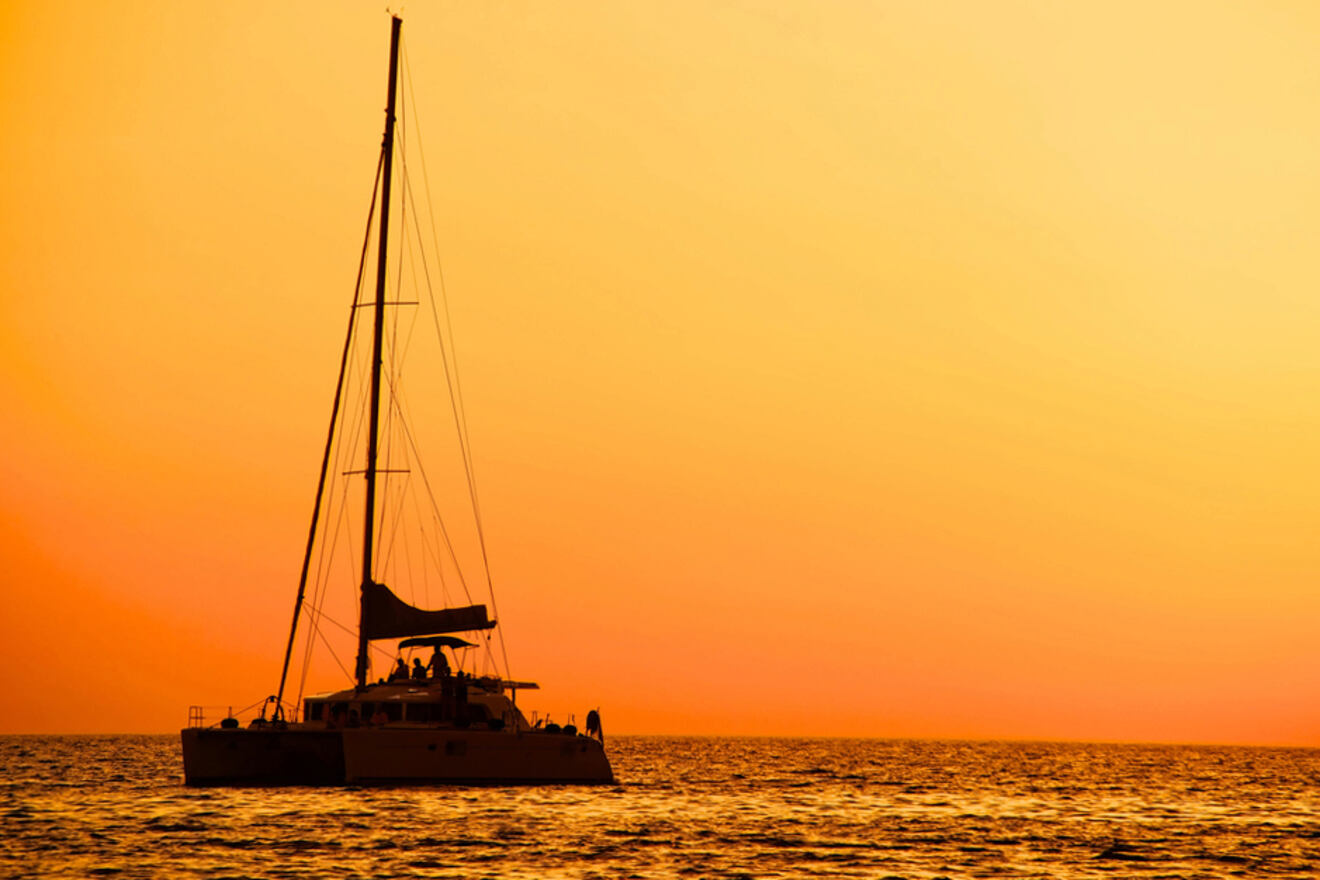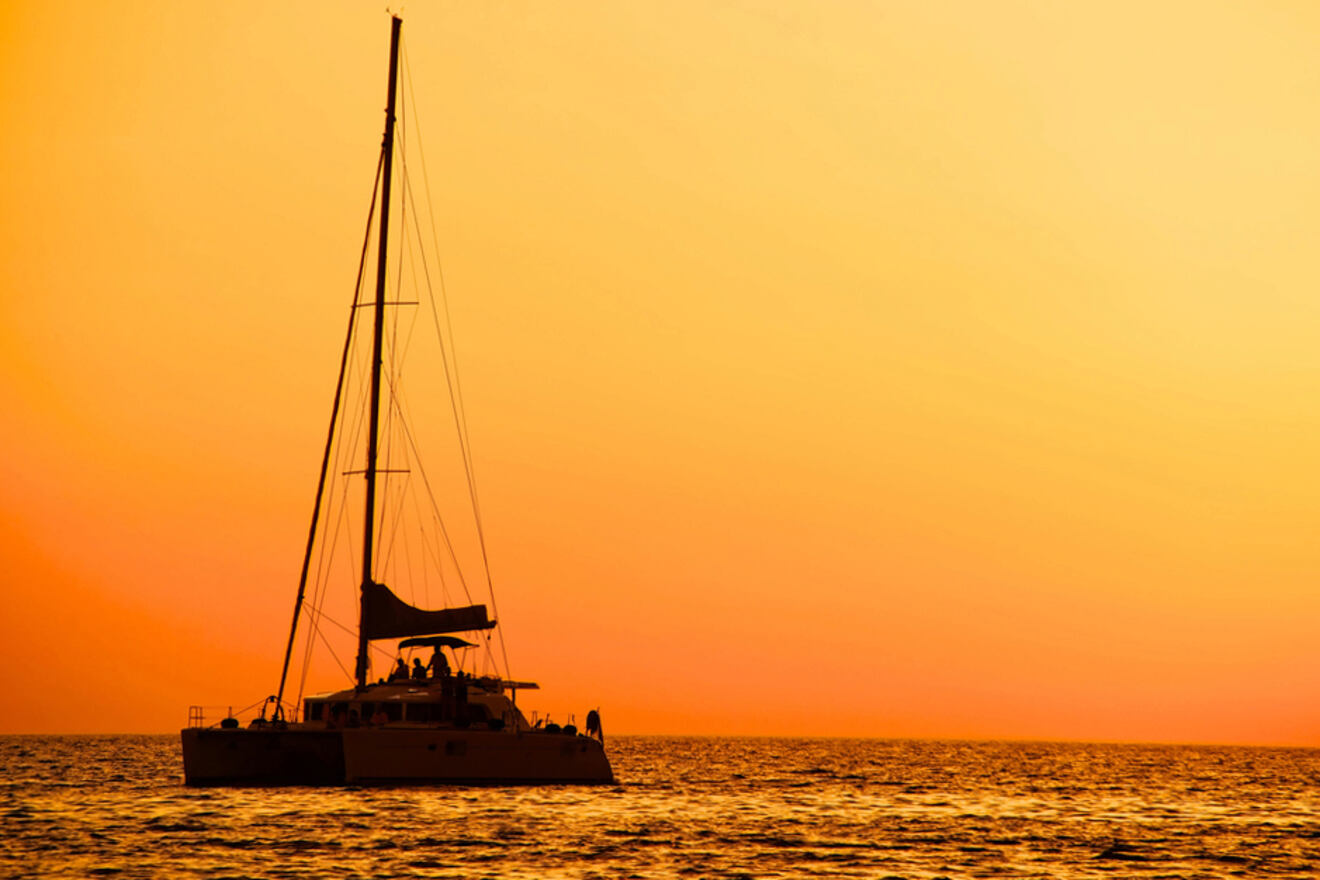 Duration: 2 hrs 45 min
Price: from US$85 per person
Why you should take it: sweeping ocean views and complimentary beer and wine are a match made in heaven
As a long-time Florida resident, it probably comes as no surprise that, yes, I do have a favorite type of boat. And while it's tempting to say a luxurious, impossibly large yacht, I've gotta go with a catamaran on this one!
For the uninitiated, catamarans differ from traditional sailboats in that they have not 1 hull but 2. This makes a huge difference in your experience on the water, as catamarans are spacious, stable, and very comfortable, making them perfect for a Naples boat tour where you just sit back, relax, and take in the scenery.
Set sail aboard the 42 ft (13 m) catamaran Cool Beans for an unforgettable sailing excursion along the Gulf of Mexico and Rookery Bay National Estuarine Research Reserve, which protects the many threatened and endangered animals that thrive here.
You have 2 options: a 2.5-hour day sail, which includes, weather permitting, a stop at a secluded island beach for swimming and shelling, or a 2-hour sunset sail, which includes a complimentary champagne toast.
With choices like that, you can't go wrong with either! Both boat tours include water, soda, beer, and white wine, so there's something for everyone. The sunset cruises fill up the fastest, so be sure to book ASAP if you're interested.
3. Take an eco-cruise to go shelling on Keewaydin Island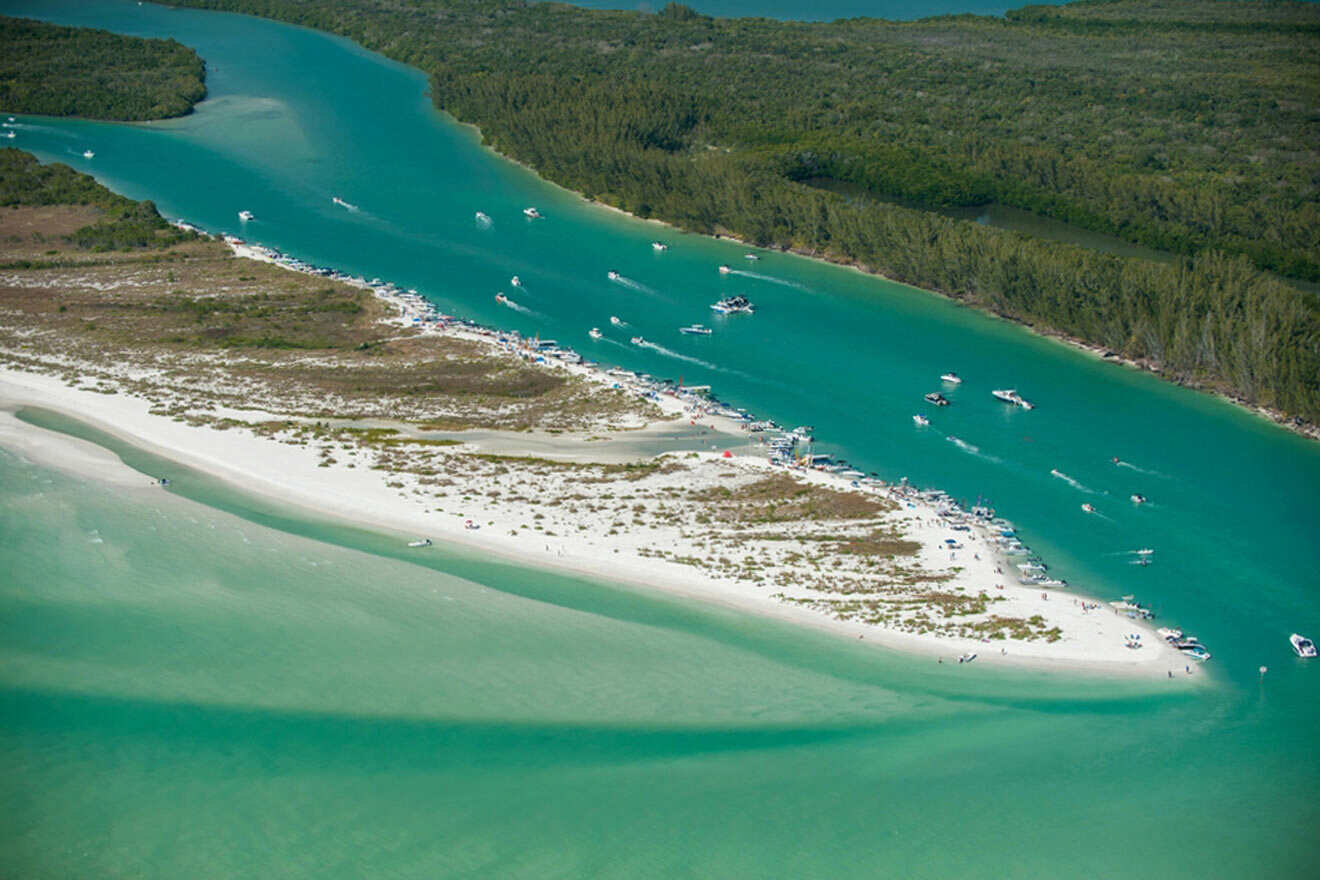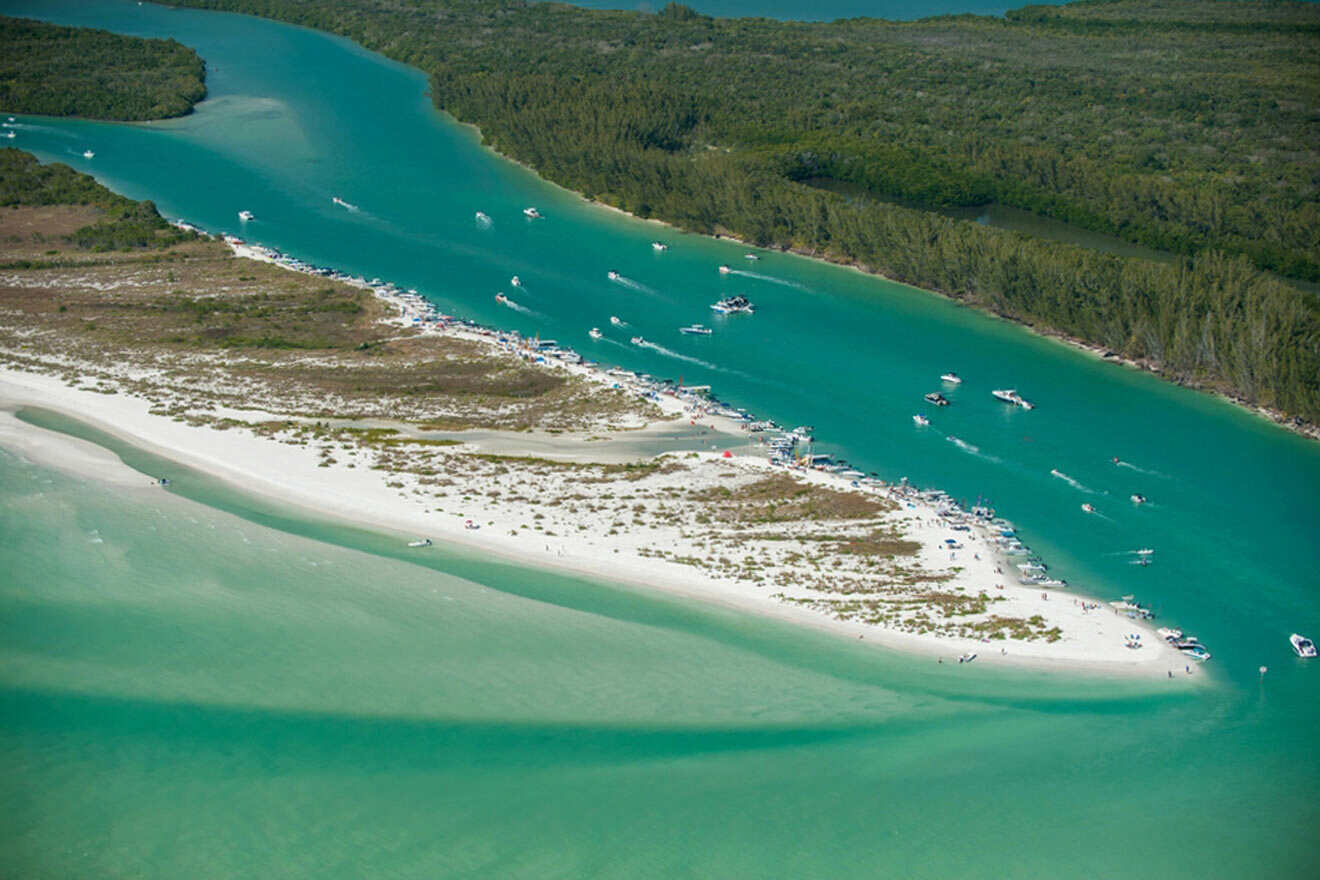 Duration: 3 hours
Price: from US$85 per person
Why you should take it: you'll find some of the most beautiful seashells of all time on this remote island
Keewaydin Island is a barrier island between Naples and Marco Island, part of Florida's Ten Thousand Islands, which is a remote archipelago off the coast of Southwest Florida. And yes, it's just as dreamy as it sounds. Forget about Florida – being here feels like you're somewhere far off in the Caribbean!
You'll need a boat to get to Keewaydin Island as it's not accessible any other way, and the eco-shelling cruise from Tin City in Naples is the perfect means of transportation. Offered by Pure Florida, one of Naples' most popular and highly rated boat tour providers, this shelling tour takes you on a comfortable ride from the Gordon River through Naples Bay, where you can do some sightseeing and wildlife spotting on your journey to Keewaydin Island.
When you arrive, explore this secluded paradise, from the vast mangrove forest to the unspoiled, postcard-worthy shoreline. Go for a swim in the glittering blue-green waters, then take a stroll on the soft white sand and find incredible seashells to bring home with you. This is an awesome experience the whole family will love!
The shelling tour is known to sell out quickly, so I recommend booking as soon as you are able for your trip.
4. Explore Everglades National Park on a biologist-led tour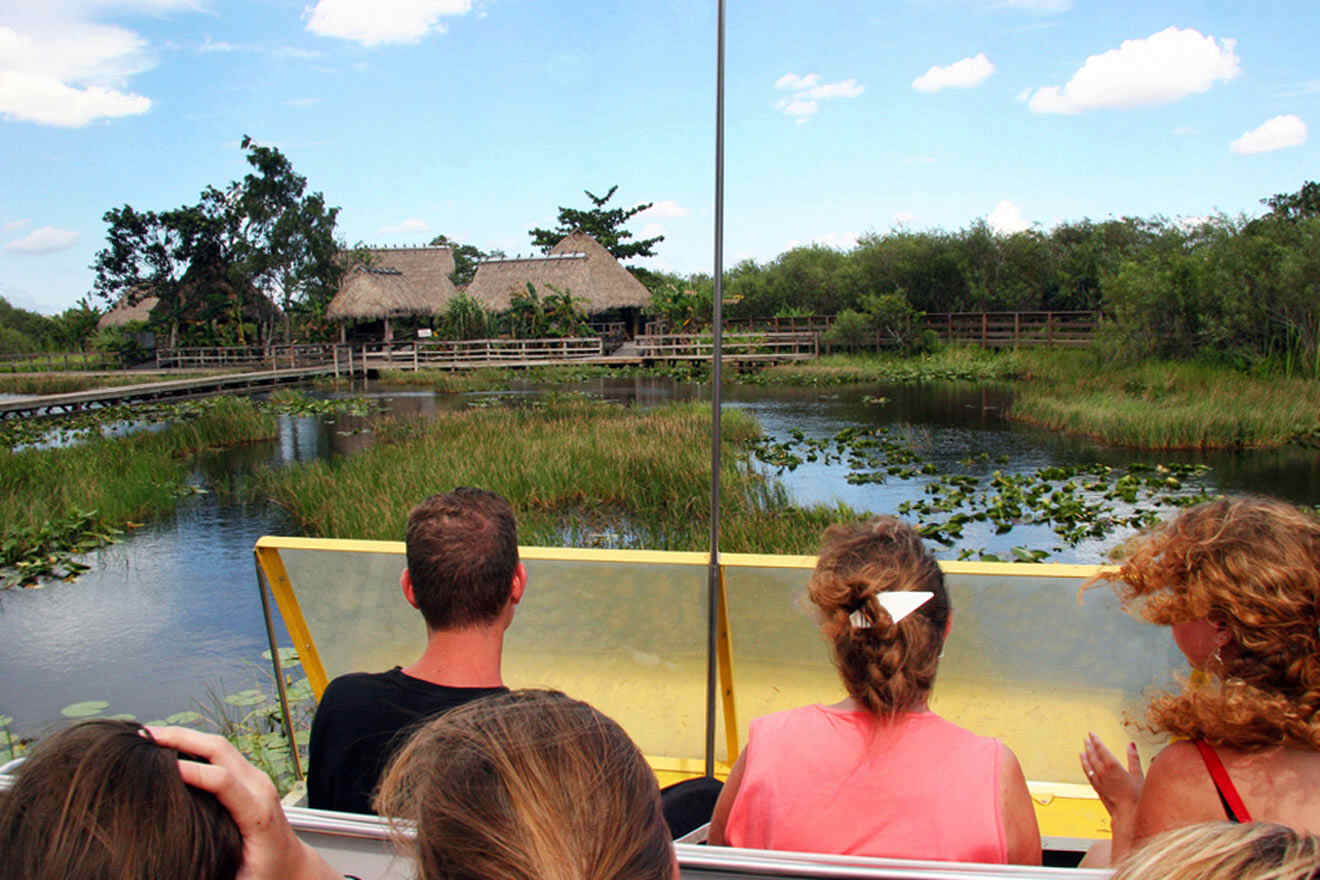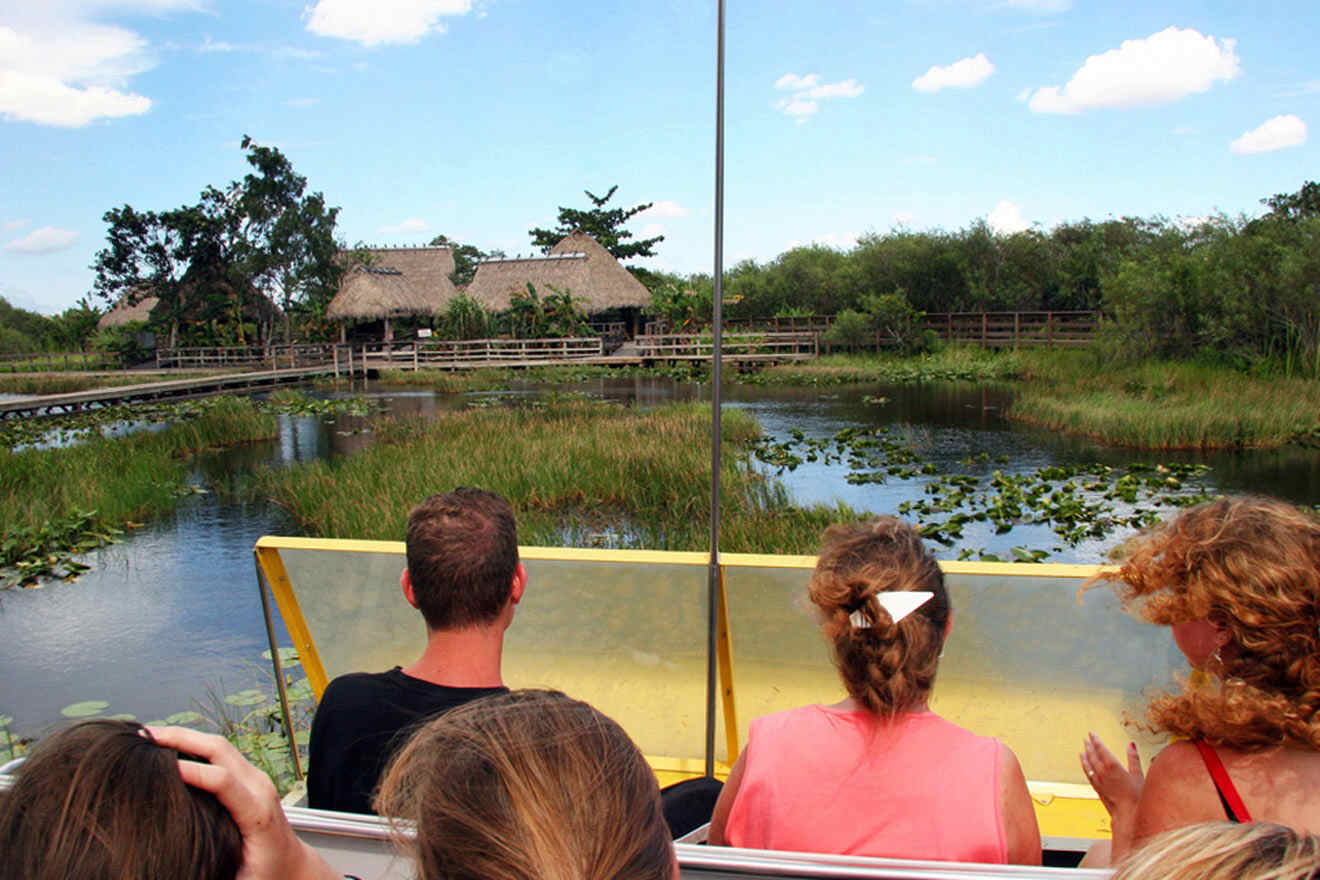 Duration: 6 hours
Price: from US$145 per person
Why you should take it: this tour takes you to remote parts of the Everglades you may not visit otherwise
If you're a nature lover looking for the best Naples boat tours, I have got the one for you! Immerse yourself in the incredible natural beauty of the Florida Everglades on the 10,000 Islands Boat Trip and Everglades Walk.
On this half-day, once-in-a-lifetime adventure, you'll travel with a small group on a guided boat tour from Naples to Everglades National Park. Along the way, you'll have countless opportunities to see the incredible bird species that call this area home while your captain shares fascinating history, legends, and lore about the Old Everglades.
The tour continues on a remote island, where you'll have time to explore and grab lunch (for an additional cost), then join a nature walk led by a biologist or master naturalist who will teach you about the extraordinary ecosystem you're surrounded by!
The price of this boat tour includes the expert-guided nature walk, snacks, water, soft drinks, and air-conditioned van transportation on the island, as well as your admission to Everglades National Park. 😊
5. Spot wildlife on a sunset cruise in Ten Thousand Islands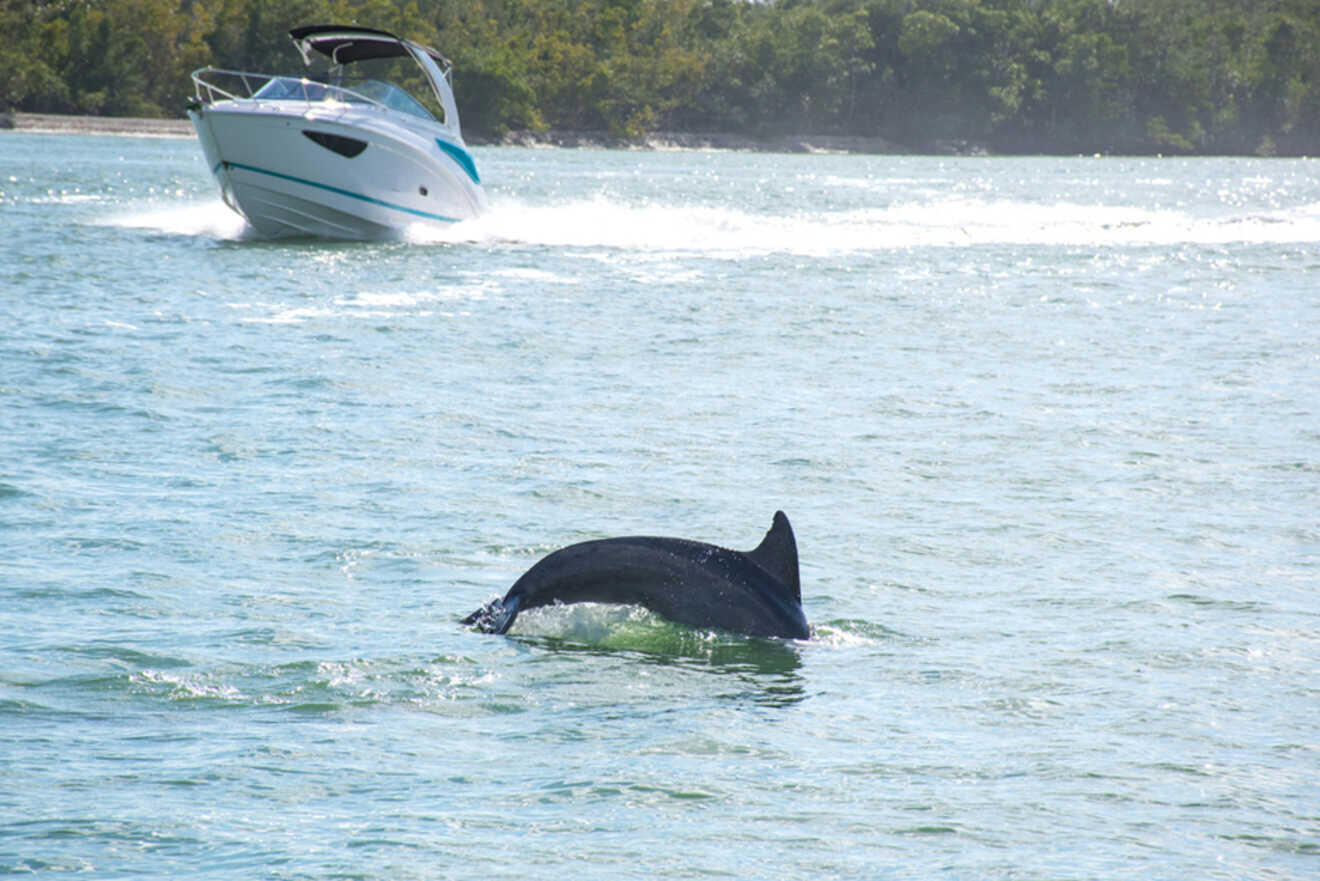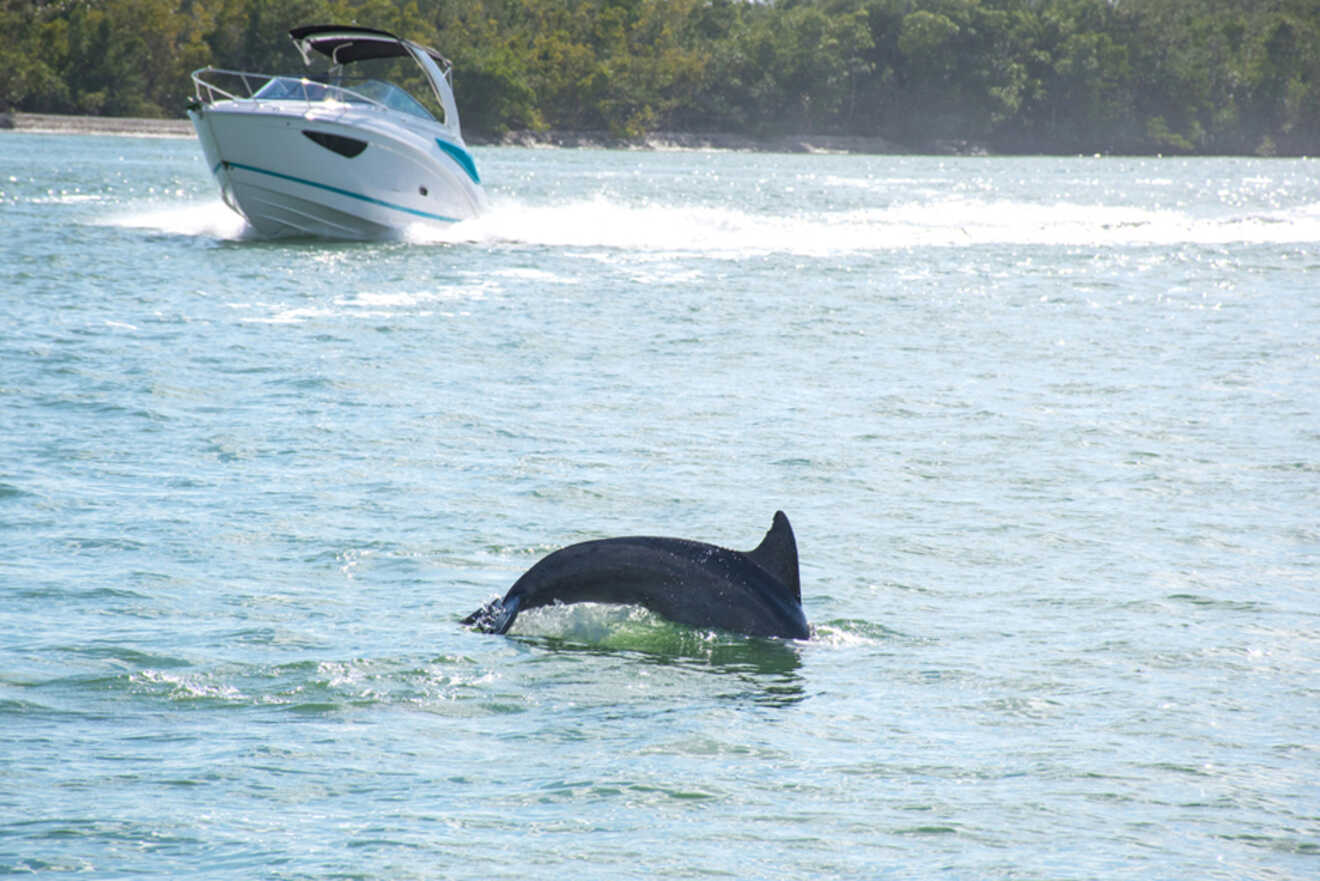 Duration: 3 hours
Price: from US$130 per person
Why you should take it: see bottlenose dolphins jump and play at sunset
Take a moment to imagine yourself on a relaxing cruise watching the sun sink into the horizon while wild dolphins jump and play around you! 🐬 Sounds too good to be true, right? Luckily, it's not – you can have that exact experience on the Manatee, Dolphin, & 10,000 Islands Sunset Cruise in Naples!
This sunset cruise is offered by the same provider as #1 on our list, the Manatee Sightseeing & Wildlife Adventures. They're known for their high success rate in spotting manatees during boat tours, so you already know this is a great choice if you're hoping to see marine life.
The Paradise Coast, which encompasses Naples, Marco Island, and the Everglades, is known for its spectacular sunsets, and there's just something so magical about observing one of these world-famous sunsets out on the water.
The cruise takes you through the Everglades and the Ten Thousand Islands, so you'll have an unparalleled view – not just of the beautiful sunset but of manatee and dolphin watching as well!
6. Cruise back in time on a Naples sightseeing boat tour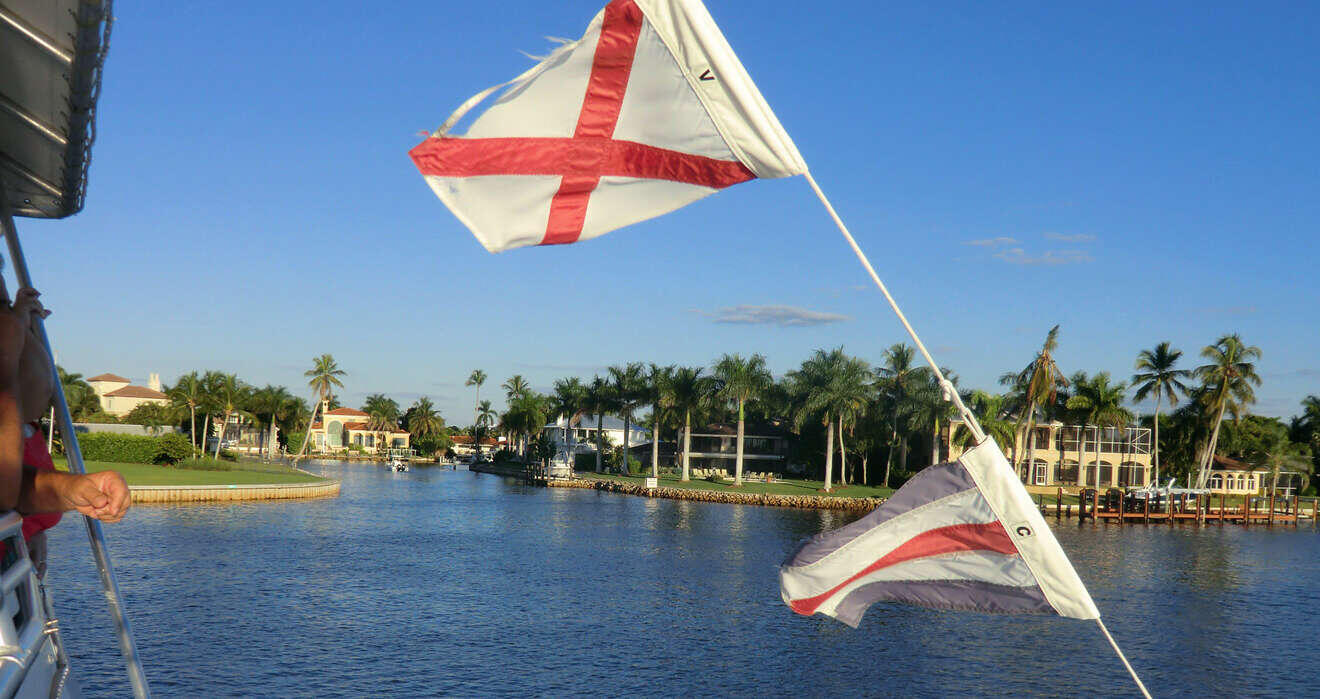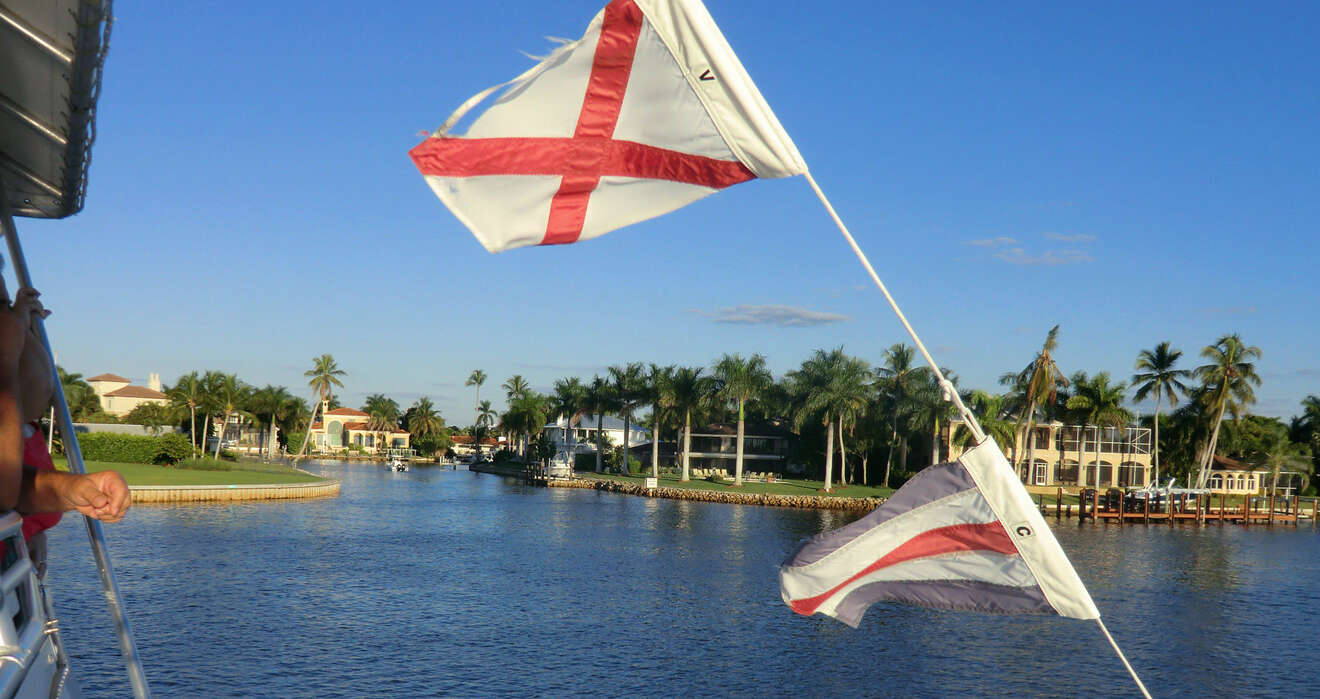 Duration: 1.5 hours
Price: from US$55 per person
Why you should take it: learn about Naples' storied history while passing by some of the most exclusive areas, like Port Royal
We've talked about some pretty unique Naples boat tours so far, but sometimes you just want to keep things simple. This Naples sightseeing boat tour is perfect for first-time visitors looking to see what Naples, Florida, is all about! It's also the most affordable option on our list, so it's a great choice that won't break the bank.
Climb aboard the merchant vessel Double Sunshine at Tin City for an exciting sightseeing tour through the Gordon River Greenway and Naples Bay. Learn about local history and interesting facts from your knowledgeable guide as you take in the sights, including historic buildings, the jaw-dropping millionaire homes in Port Royal, and breathtaking Keewaydin Island.
Chances are you'll spot some wildlife along the way, so keep a lookout for wild dolphins and birds!
7. Explore the 10,000 Islands Wildlife Refuge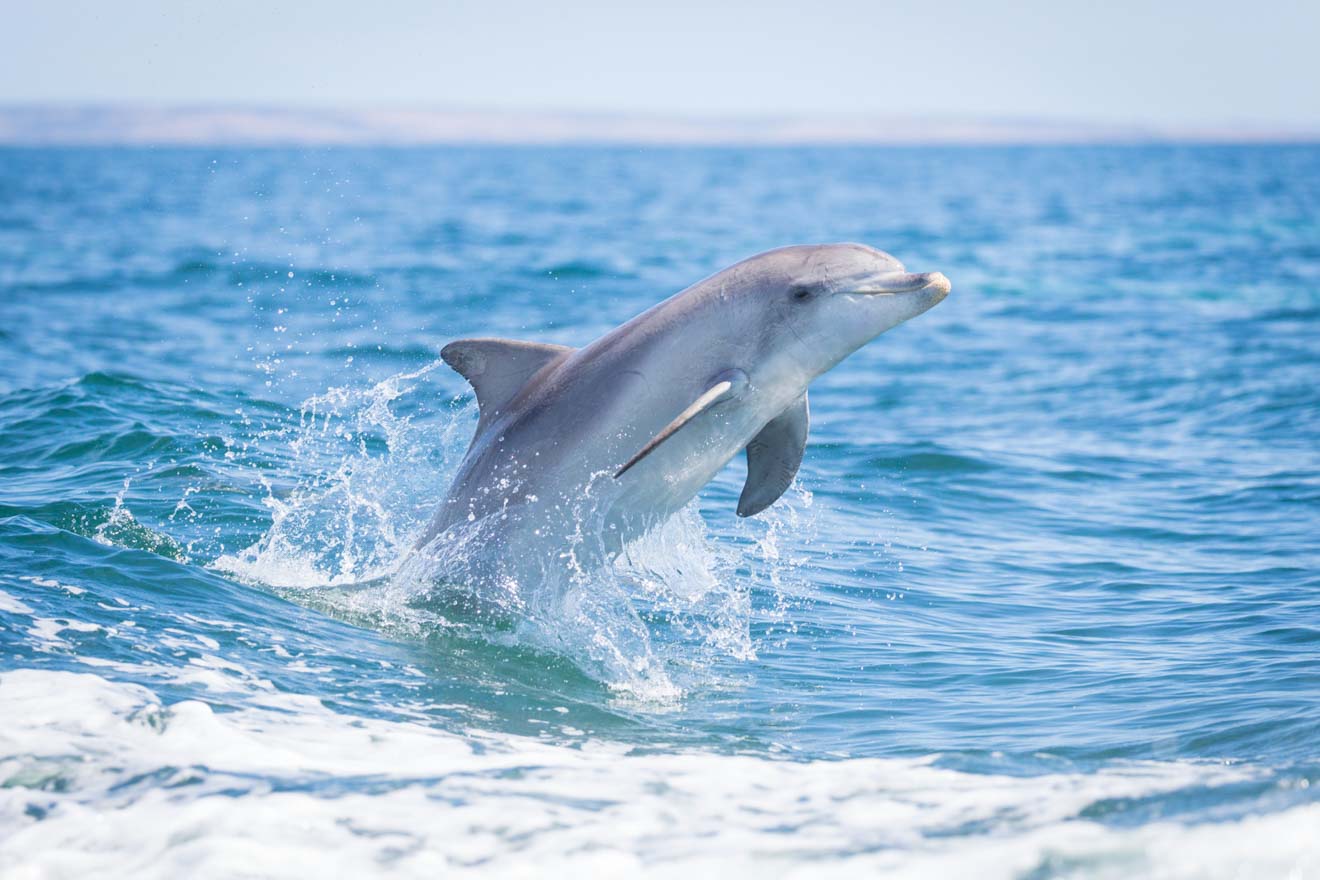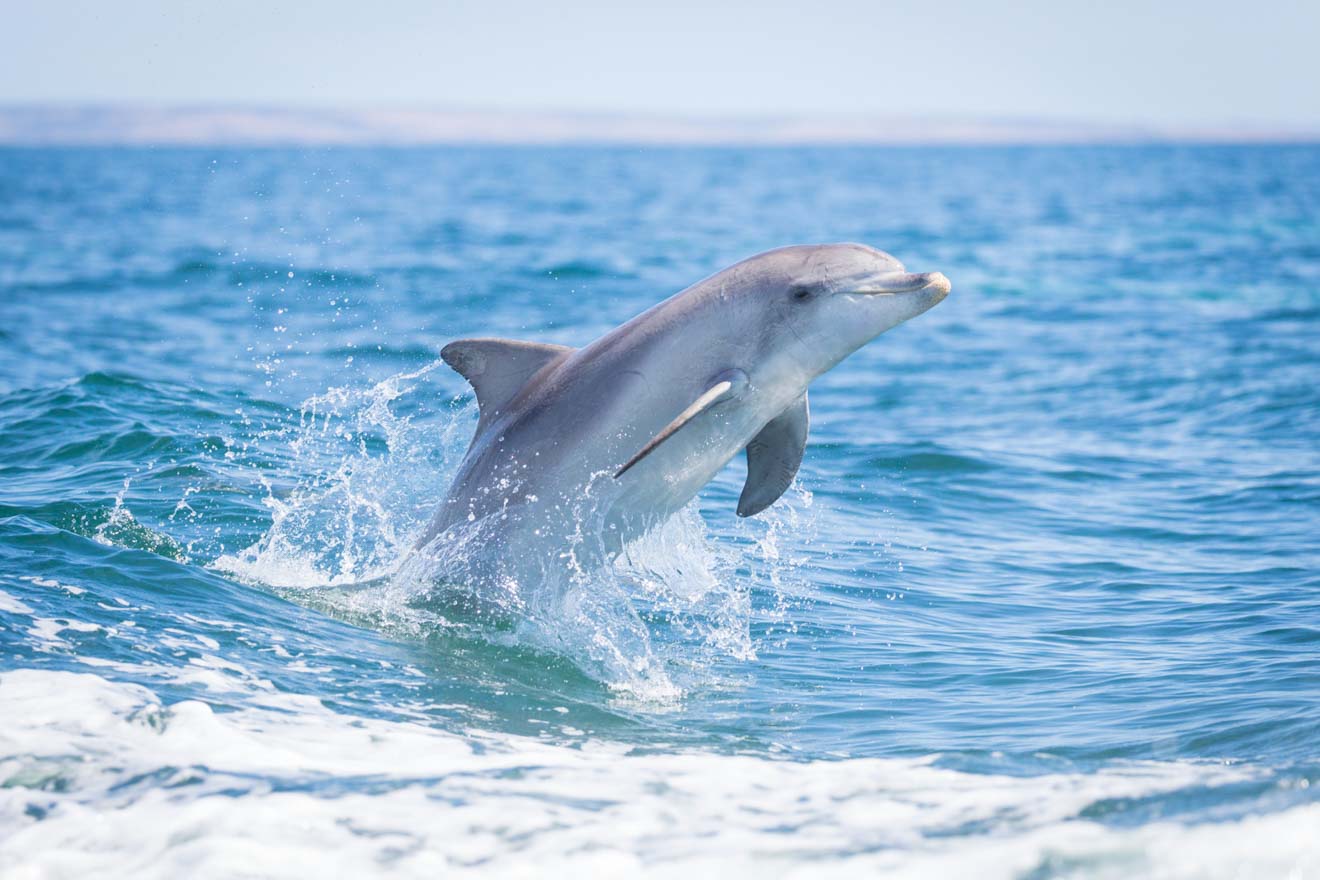 Duration: 3 hours
Price: from US$112 per person
Why you should take it: experience a unique, semi-private wildlife tour of up to six people
There's something to be said about small group tours. While they do tend to be a bit pricier than tours that accommodate many people at once, the extra splurge can make all the difference, especially if you're visiting somewhere you know you're excited to learn all about.
This tour, however, gives you a small group experience for an amazing price. With a maximum of just 6 guests, you can enjoy the benefits of a semi-private tour without breaking the bank, making it one of the best Naples boat tours.
On board the 24 ft (7 m) saltwater pontoon boat, you'll cruise through the Ten Thousand Islands National Wildlife Refuge, Rookery Bay National Estuarine Research Reserve, and the northwestern part of Everglades National Park – all incredible places in southwest Florida for dolphin watching and spotting other local wildlife, like manatees and alligators.
There's a stop on the way to an uninhabited island that you can explore on foot, and the adventure wraps up with stunning views of Marco Island. Polarized sunglasses and binoculars are also provided during the tour to make the most of your experience. 😎
8. Sightsee at sunset on the Gulf of Mexico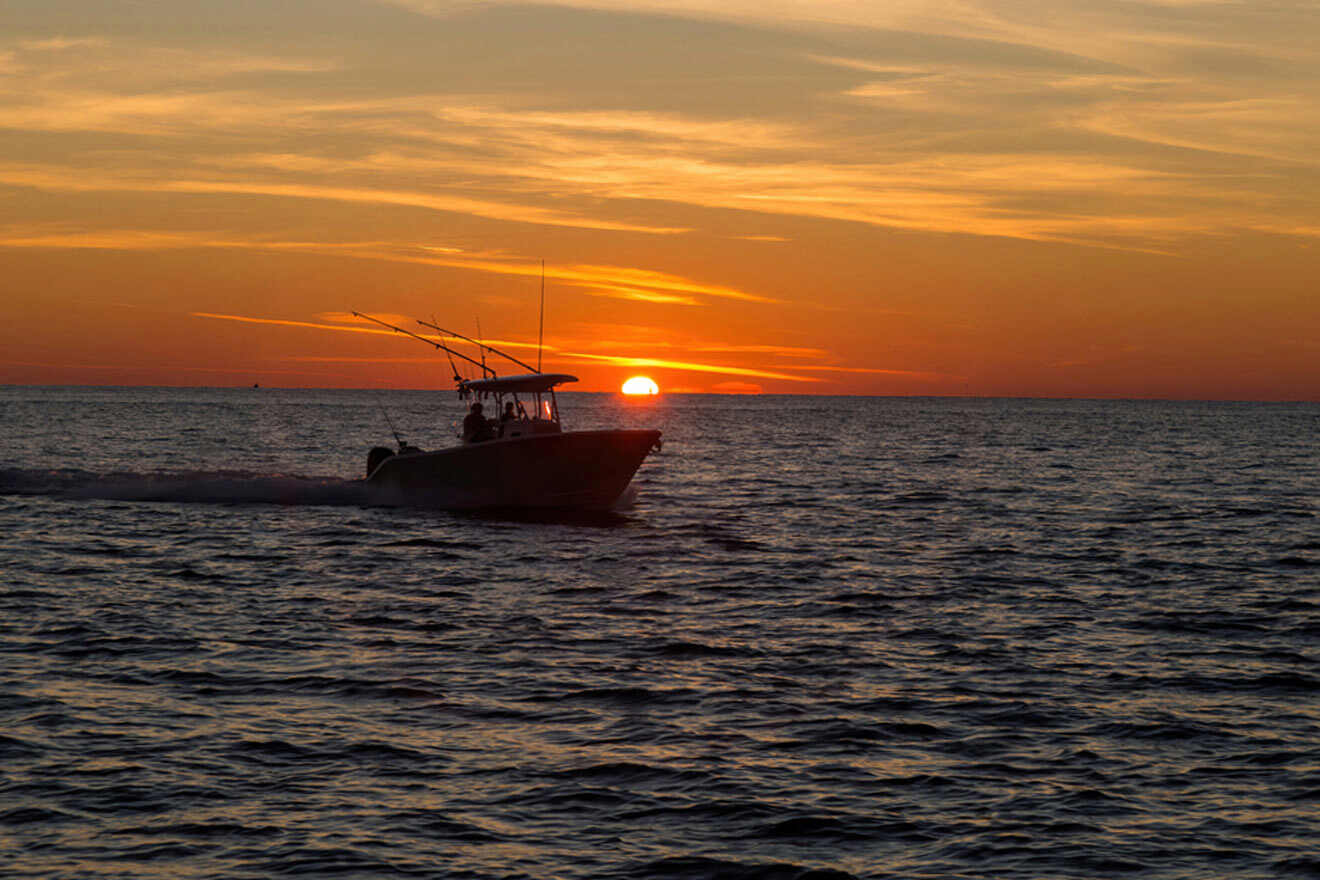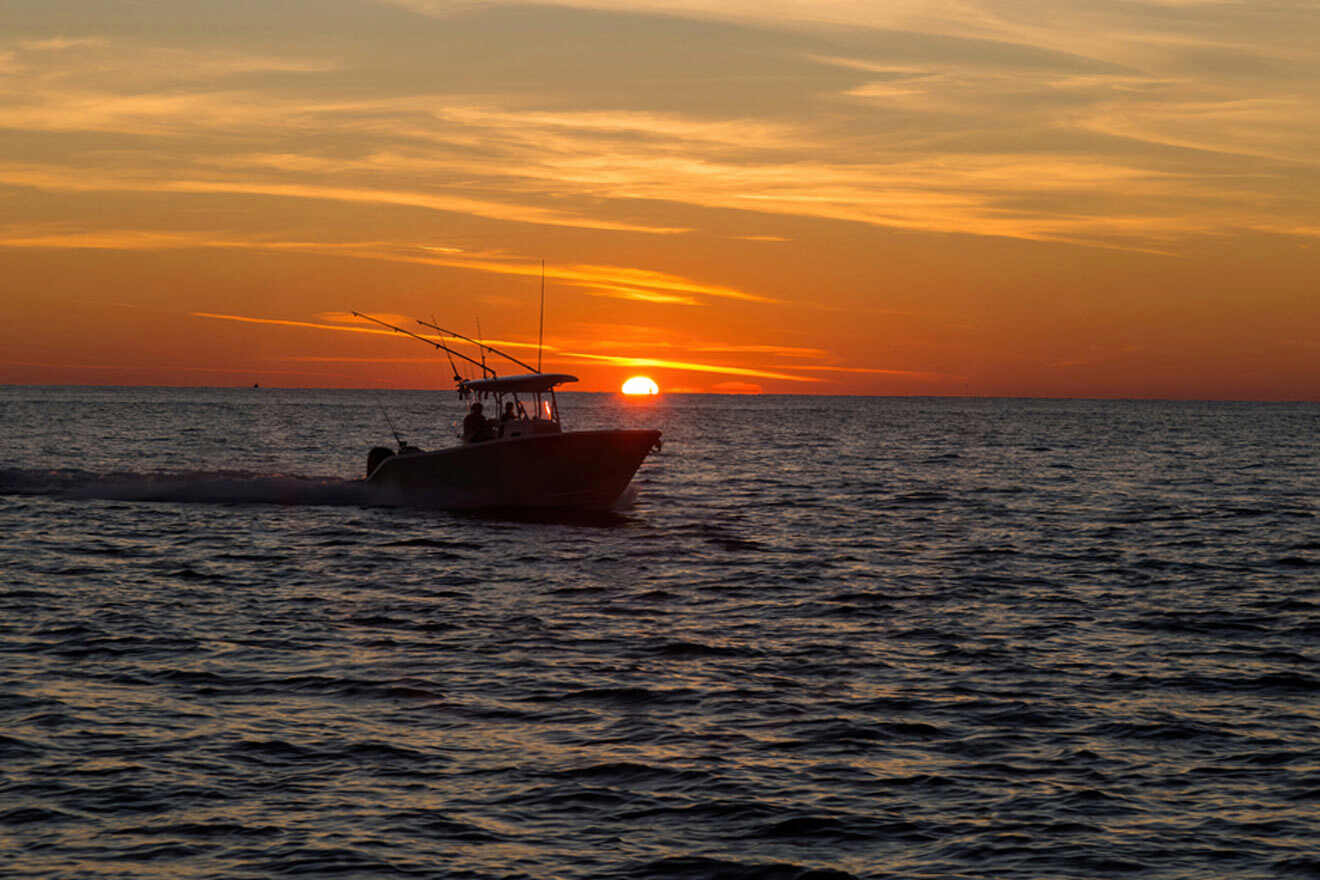 Duration: 1.5 hours
Price: from US$60 per person
Why you should take it: the boat's double decks ensure everyone gets the best sunset view
If #6 on our list of best Naples boat tours caught your eye, then you'll love this one too! The Gulf of Mexico sunset cruise is hosted by the same company as the Naples sightseeing boat tour, Pure Florida, and they're one of the highest-rated and most well-known boat tour providers in Naples. But rather than board the Double Sunshine for a day of sightseeing, you'll set out just in time for a glorious sunset!
Seeing the sunset from the water is an absolute must-do when visiting Naples, but there's no denying that sunset cruises can be a bit pricey. This particular sunset cruise is offered at a fantastic price point, so you can experience the beauty of an SW Florida sunset without the sticker shock.
You'll set sail on Naples Bay along the Gordon River and out to the Gulf of Mexico. Since the boat is 2 stories tall, there is plenty of space for everyone to spread out and get an unobstructed view of the exquisite sunset, as well as take photos.
9. Go deep-sea fishing with an experienced captain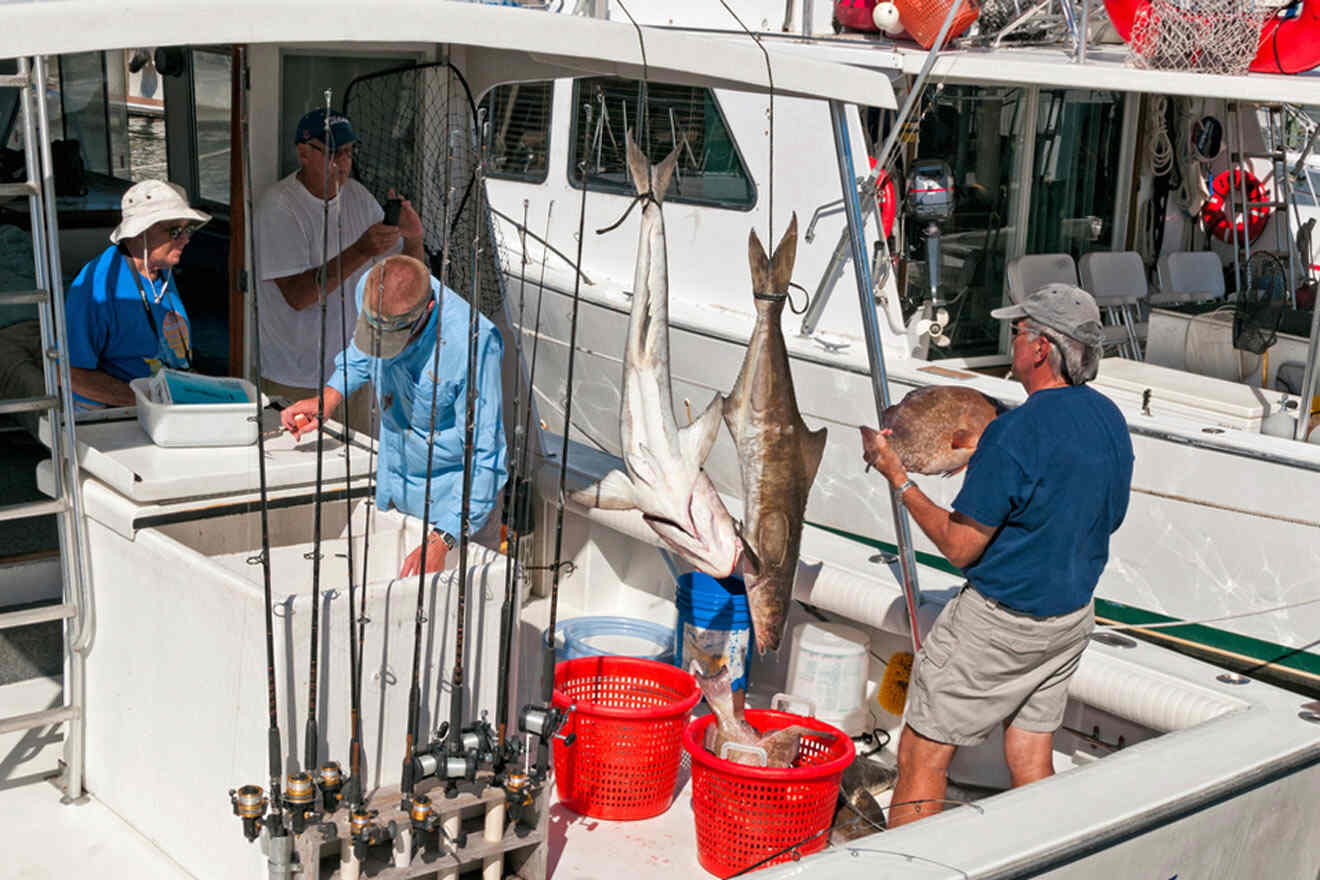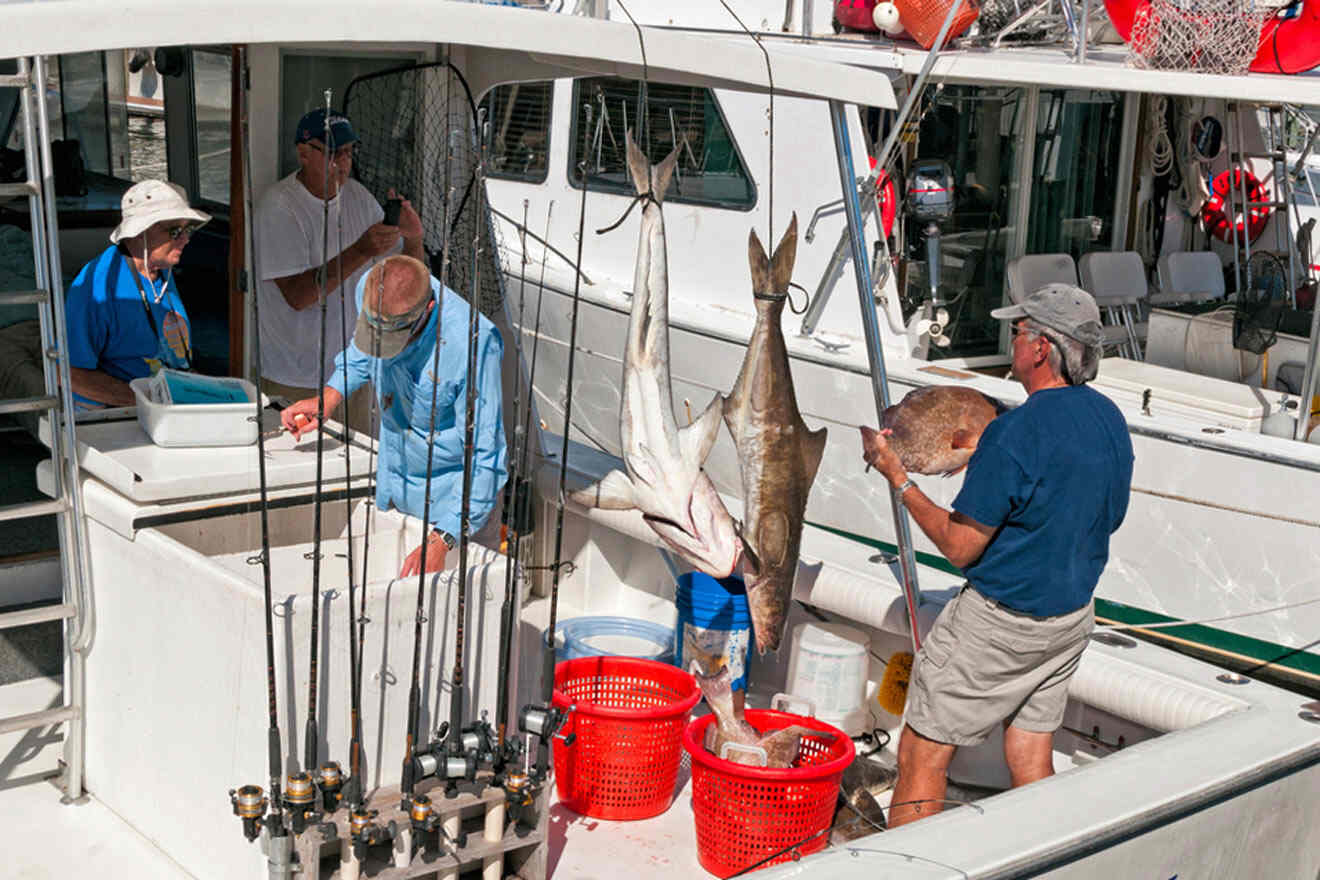 Duration: 4 hours
Price: from US$160 per person
Why you should take it: everything is included for a fun-filled day of fishing
Fishing is one of Florida's favorite pastimes, so if you've been dreaming of getting out there and catching some yourself, you'll want to check out the deep sea fishing experience offered by the locally loved boat tours provider Pure Florida on your next Naples trip.
The tour starts out at Tin City on Naples Bay and takes you 15 – 20 miles (24 – 32 km) offshore in the Gulf of Mexico for 4 hours of fishing fun! It includes everything you need, including all the equipment, bait, and tackle.
Few things are as disappointing as going fishing and not catching anything, but you don't have to worry about that here. The experienced captains know the best spots for catching amazing fish and are happy to share their best tips and guidance.
The best part is that when you return to land, your fish will be cleaned, iced, and ready for you to take home to cook. But if you're not in the mood to prepare your fish yourself for dinner, Pinchers Crab Shack and Riverwalk Restaurant at Tin City (the same place you disembark) will cook your catch for you for a small fee!
10. Drive your own powerboat on a scenic group tour
Duration: 3 hours
Price: from US$115 per person
Why you should take it: where else can you drive your very own miniature catamaran!?
Looking to kick the adventure up a notch? Look no further than this incredibly unique CraigCat boat tour, presented by Island Hopper Boat Tours, another highly-rated boat tours company in Naples. While all the other Naples boat tours on our list have you leaving the driving up to someone else, this is the only one where you're in the driver's seat!
What's a CraigCat? Good question! It's a compact, state-of-the-art, high-powered catamaran that seats just 2 people, ensuring you and whoever you're adventuring with have a front-row seat to the natural wonder of the Sunshine State.
On this 3-hour tour, you'll experience the beauty of the Florida Everglades and Ten Thousand Islands region as you enjoy a relaxing ride on your very own CraigCat, complete with a stop at White Horse Key to do some shelling!
The area you'll be exploring is home to dolphins, alligators, manatees, stingrays, and more, so you never know what fascinating creatures you might spot along the way. 🤩
11. Wine and dine on a Naples Princess cruise
Duration: 1.5 – 2 hours
Price: from US$52 per person
Why you should take it: cruise through stunning Naples Bay while you enjoy a luxurious, delicious meal
For an elevated experience on the water, check out Naples Princess Cruises. They've been providing one-of-a-kind luxury boat cruises on Naples Bay for over 30 years and are known for their daily public cruises serving incredible food and drinks!
The Naples Princess' Naples Sunset Dinner Cruise is the most popular experience they offer, serving up a double-entree buffet with caesar salad, chef's choice of vegetables, potato, and dessert, to be enjoyed on a state-of-the-art, 105-foot (32 m) luxury yacht alongside unmatched views of the sunset.
SeaBreeze lunch cruises are also available if you'd rather take a Naples Princess cruise during the day to spot wildlife and soak up the sunshine. The Naples Princess lunch buffet menu boasts deli meats and cheeses, assorted salads, fresh fruit, bread rolls, assorted chips, and homemade chocolate chip cookies.
FAQs about boat tours in Naples, Florida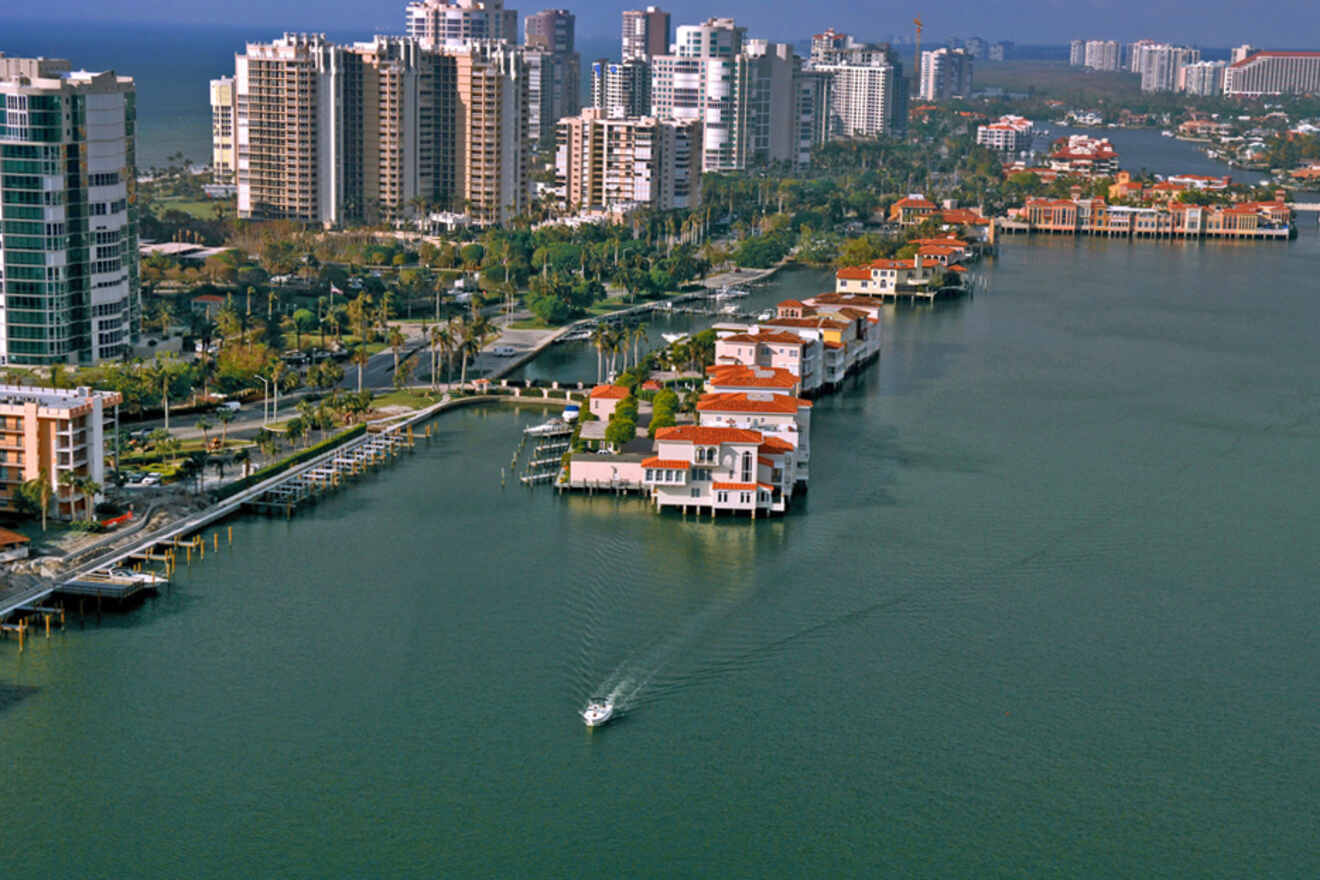 📏 How far is Naples from Marco Island by boat?
It takes around 1.5 hours to travel from Naples to Marco Island by boat, depending on the vessel, current conditions, and other factors.
🛥️ Are there any airboat tours in Naples, Florida?
Everglades Excursions offers half-day Everglades tours that depart from Naples and Marco Island, and there is an airboat ride included in the excursion.
👑 Are there any private charters in Naples?
This private half-day charter tour accommodates up to 6 guests, and where you go is up to you, as the itinerary is entirely customizable – swim, sunbathe, look out for wildlife, and enjoy the ride!
🦅 Can you see bald eagles and other shore birds on an eco-tour?
Yes! This eco-shelling cruise takes you from Naples to beautiful, remote Keewaydin Island and offers many opportunities to see bald eagles and shore birds along the way.
Conclusion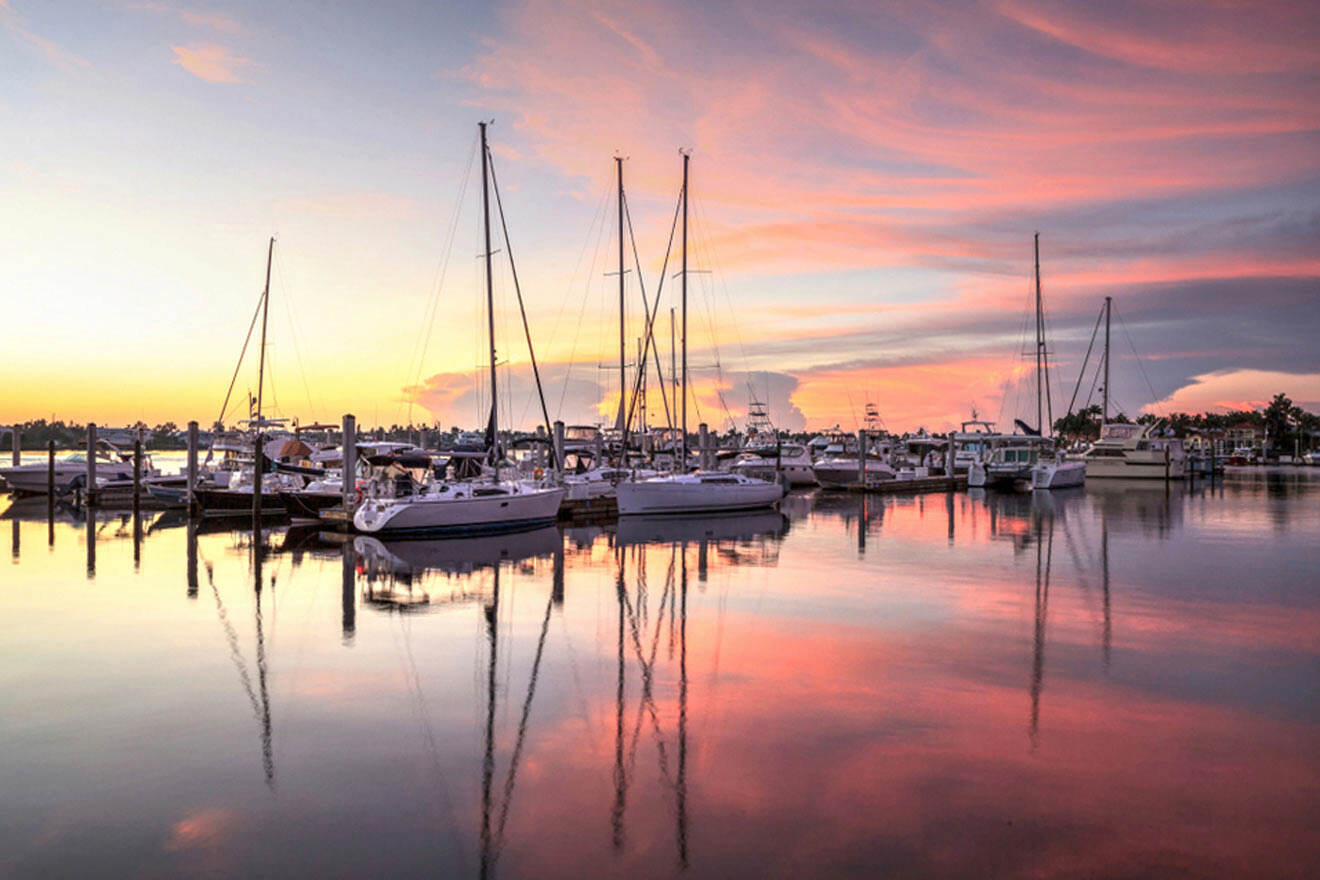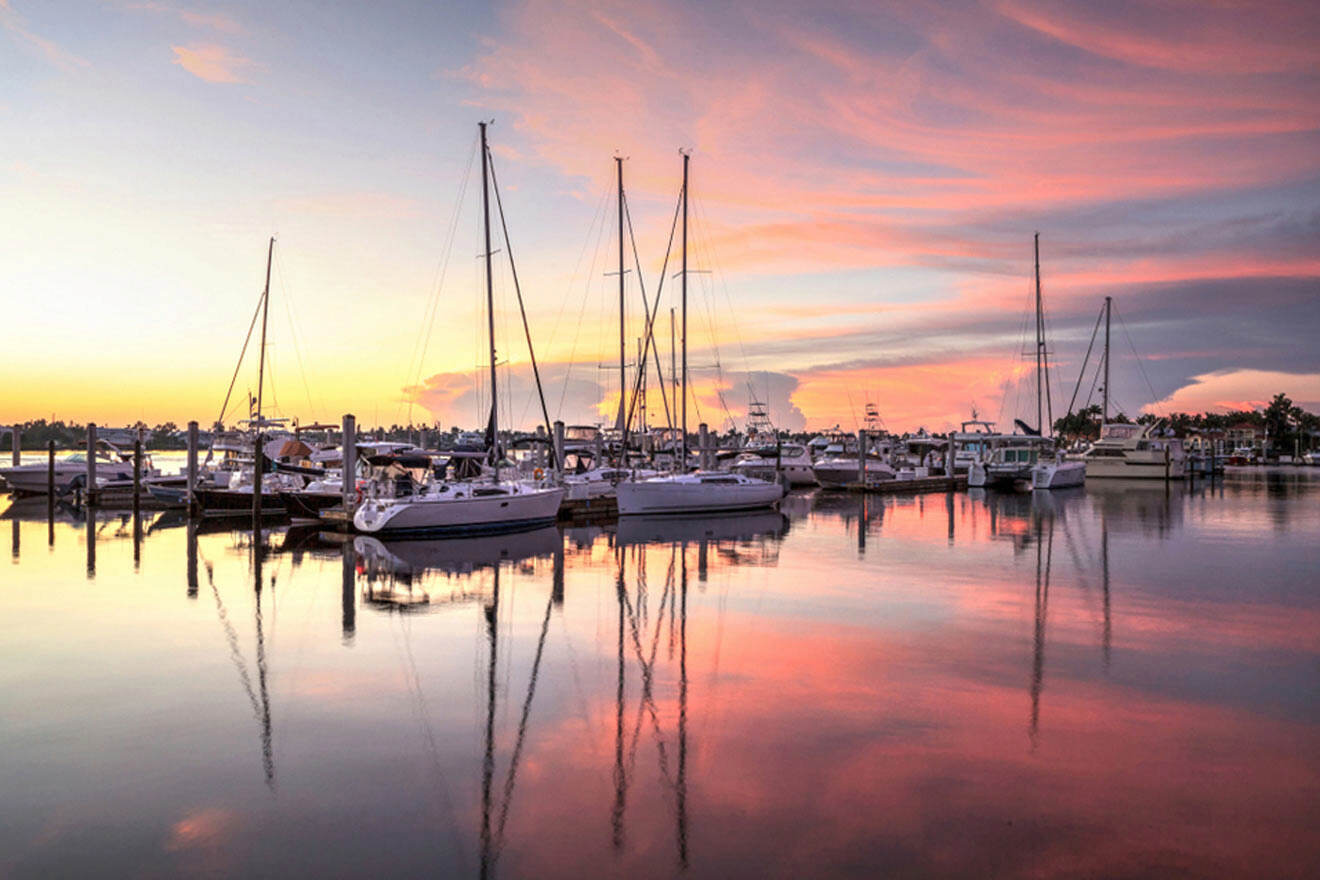 From eco-tours to dinner cruises, there are so many amazing ways to explore Naples on the water. I know we covered a lot of boat tours on this list – thanks so much for reading all the way through!
As a quick reminder, here are my top picks for the best boat tours in Naples, Florida:
Whichever you choose from today's articles, I know you're going to have an incredible time. There is so much to do and see in Naples beyond the beaches, from hidden gem islands to the Florida Everglades, and I'm excited about where your adventures here will take you.
Happy exploring!
Montana
---
Pin it for later!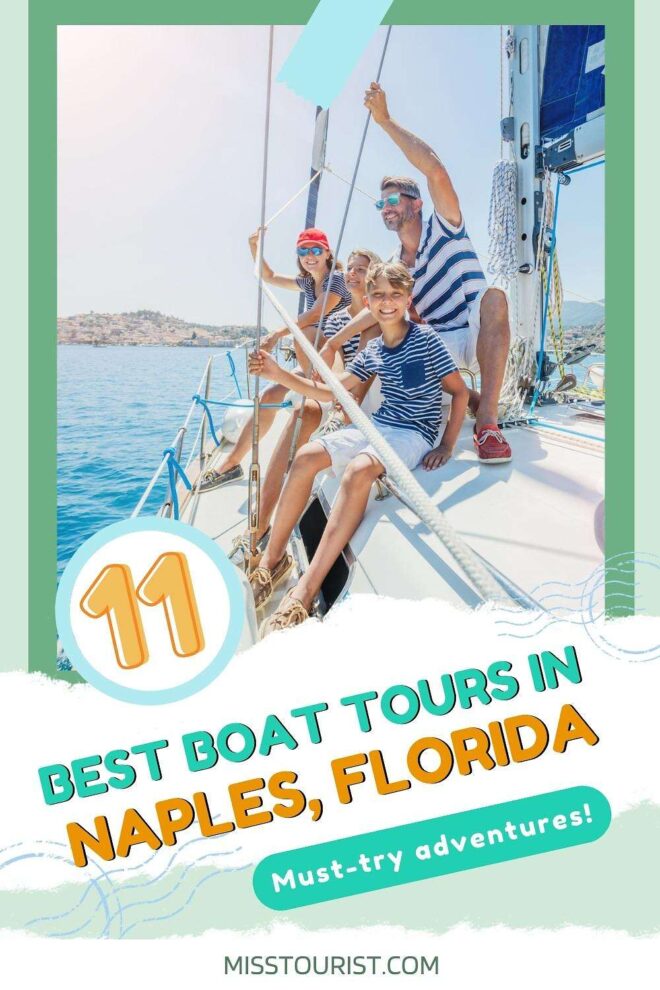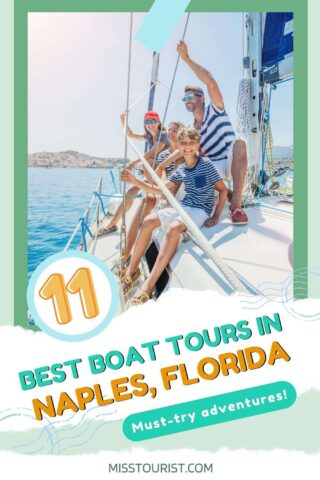 Pin it for later!