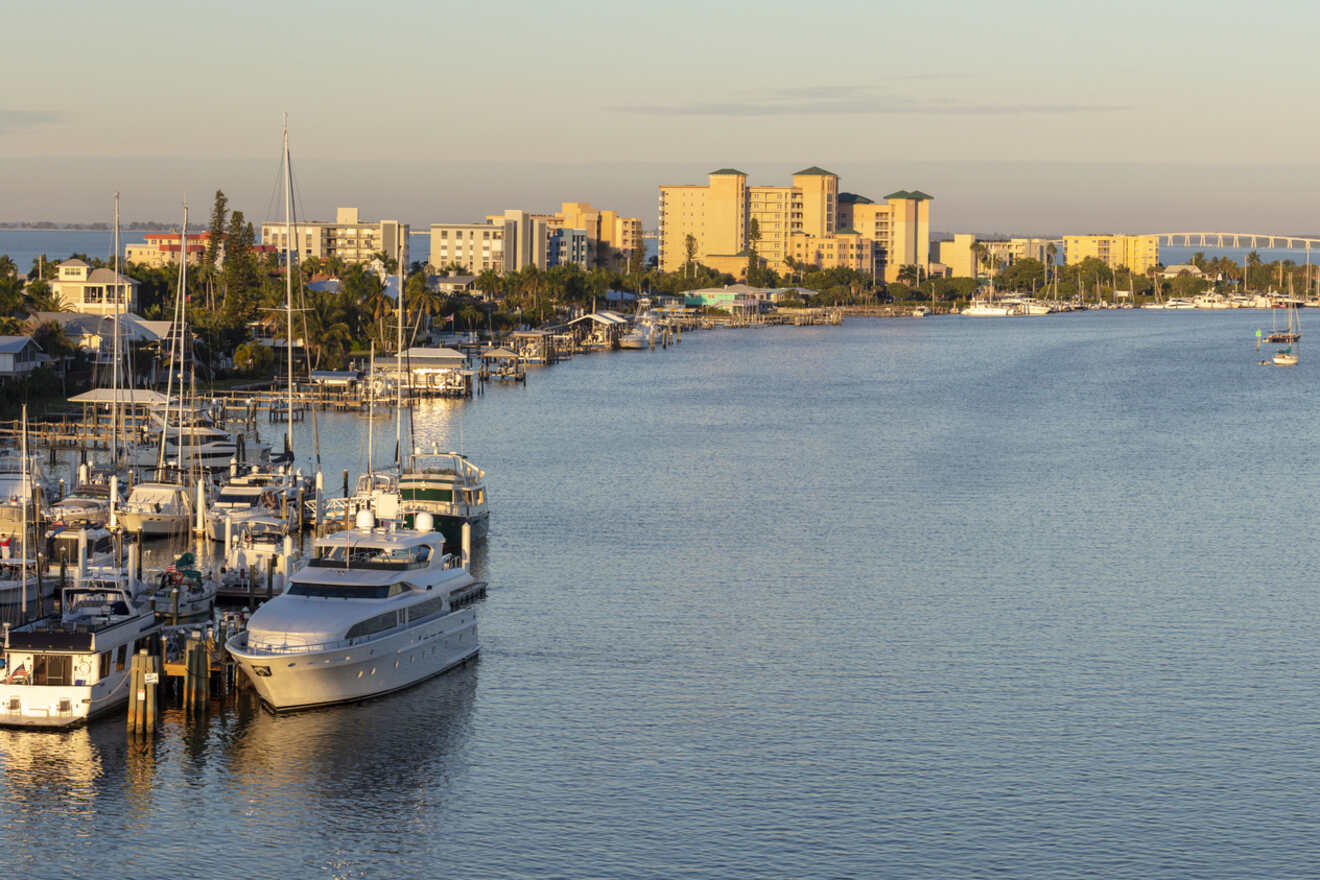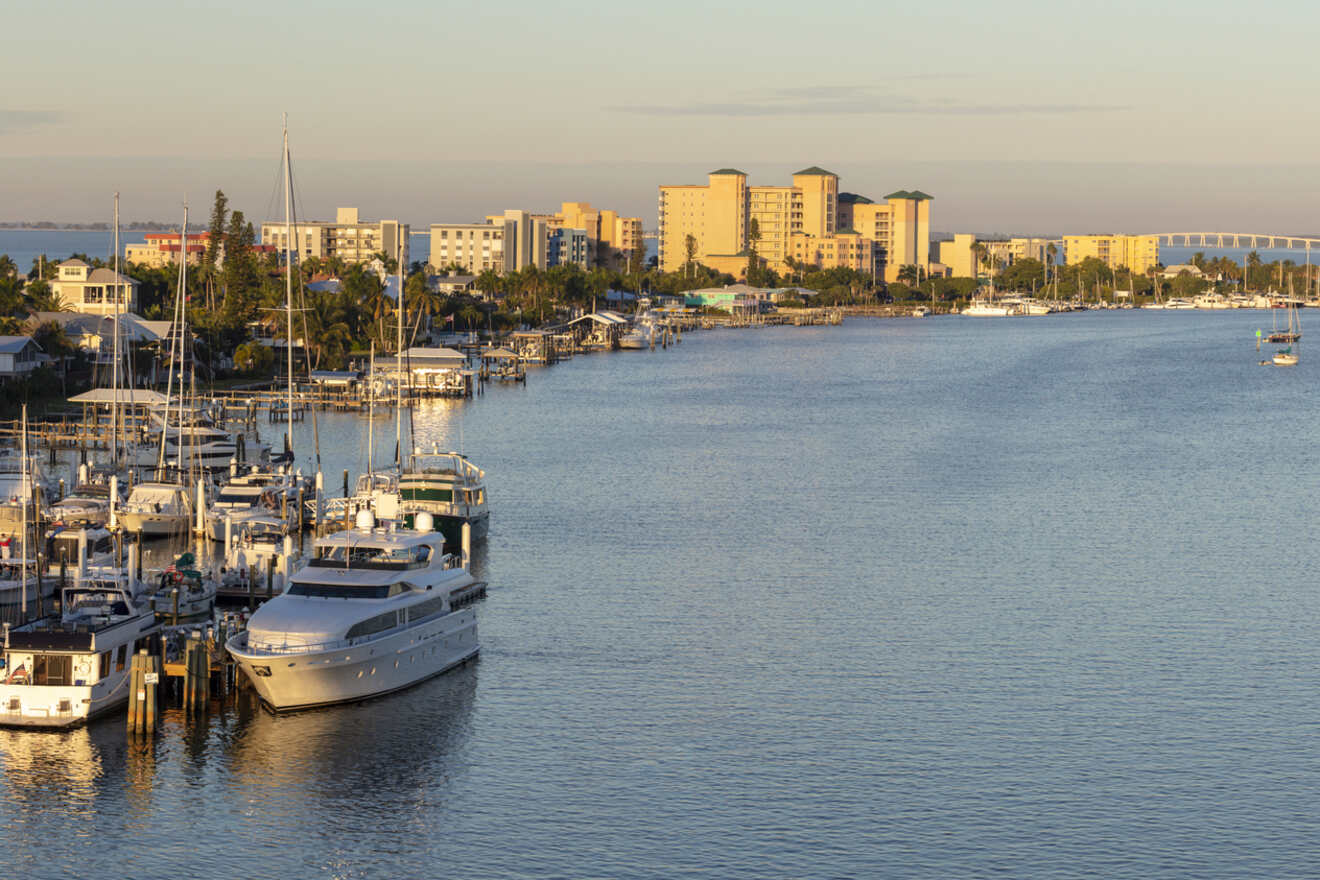 Stunning beaches, incredible surroundings, and weather that will put you in a good mood the minute you step your foot out of the airplane (or car). Welcome to Fort Myers! A destination in Florida where you can spend your days drinking cocktails on the beach and swimming all day in the ocean (maybe not in that order).
This city is a major holiday destination for American tourists and international ones. Maybe that's because out of all of the cities in Florida, Fort Myers has the highest total number of days of sun!
So grab your swimsuits, and let's see which are the best places where to stay in Fort Myers. I've made a list of the top areas and hotels here and have even thrown in some bonus sections about the best beach resorts and holiday home rentals at the end. Whatever you choose, I highly recommend booking a few months in advance to secure a good spot and get a fair price.
Vamos a la playa!
If you are in a hurry
For those of you who want to book your hotels in Fort Myers now, I've made a list of the best ones, all located in Downtown:
Here's a map that will help you visualize better all the areas to stay in Fort Myers that I will be talking about in this post:
1. Downtown – where to stay in Fort Myers for the first time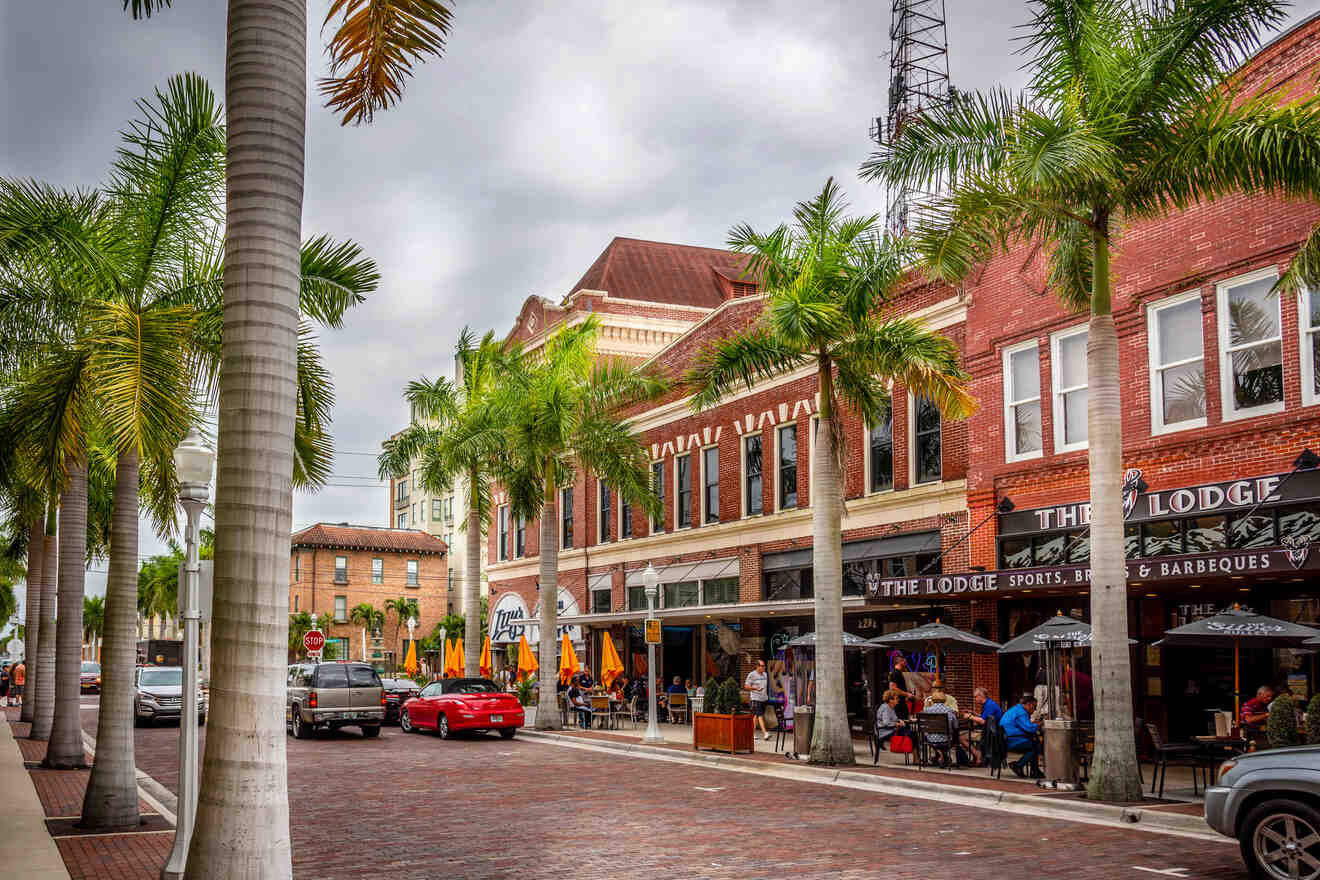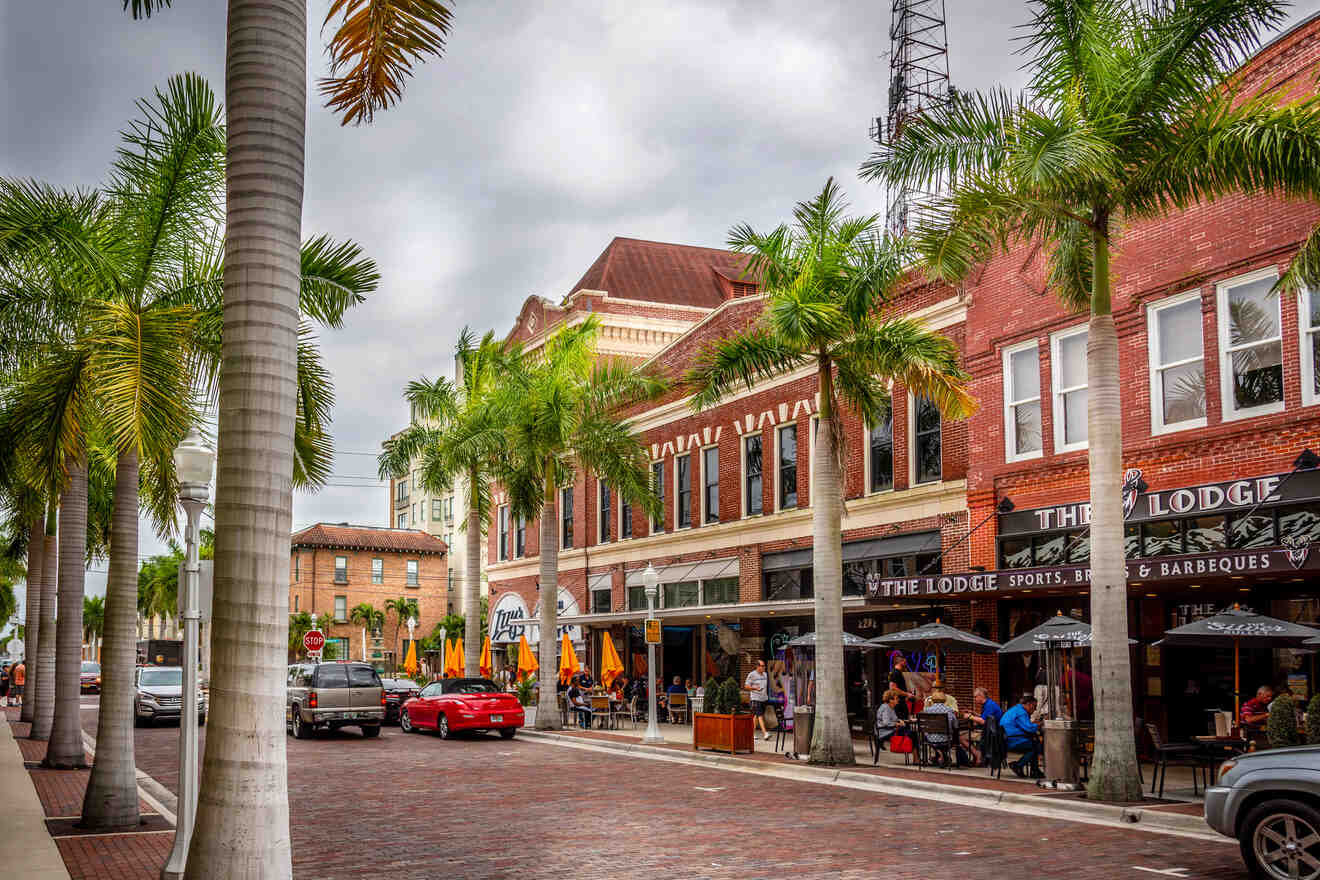 A holiday that includes palm trees, good weather, and the ocean breeze? Sign me up! Even though I'm more of a mountain kind of person, I love spending time in a warm place like Fort Myers in Florida!
In case you're planning a trip here for the first time, I think you will love Downtown Fort Myers, as it's the heart of the city and the place where you'll find tourist attractions and good restaurants. You'll also have easy access to other islands and towns in Florida that you should visit, like Naples.
What's great about Downtown Fort Myers is that you'll always find something to do. If shopping is your thing, you'll be thrilled to know that there are so many vintage stores here! Or maybe you love to party until the morning. There are plenty of nightclubs in this neighborhood too!
Obviously, you'll need a place to crash, and although there are many hotels here, I recommend booking yours in advance, as Downtown Fort Myers is a major tourist destination. All the places sell out so fast!
Luxury hotel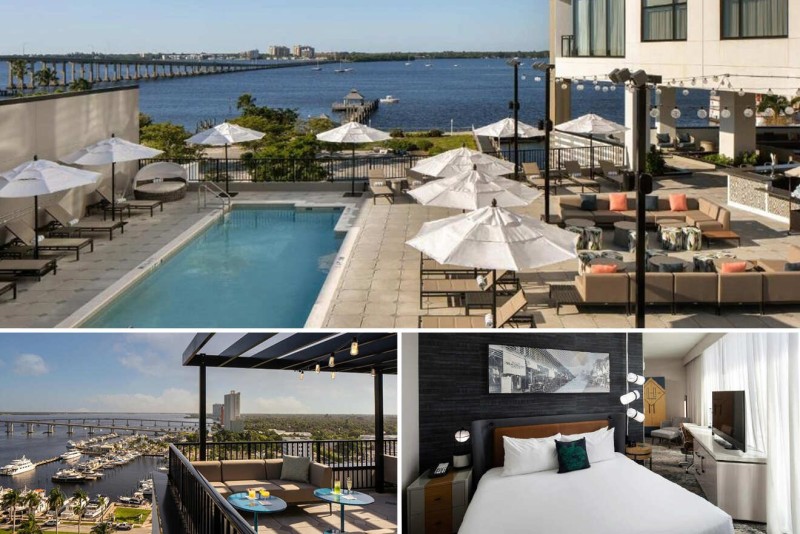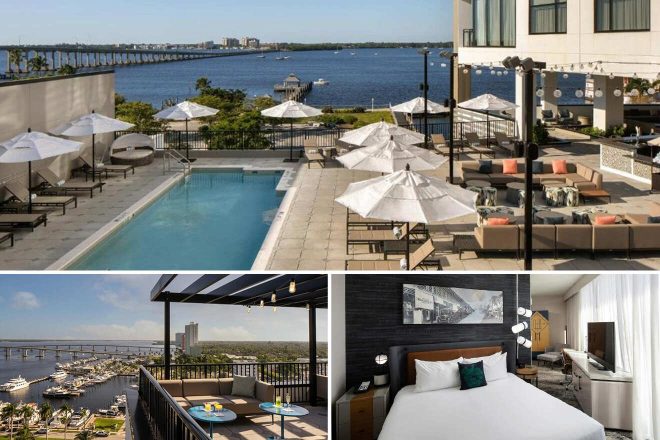 Chill on the terrace by the pool and enjoy a scenic sunset at this hotel in Fort Meyers. The accommodation offers free cancellation, a restaurant and a bar on-site, plus a fitness center!
Other accommodation options in Downtown
Mid-Range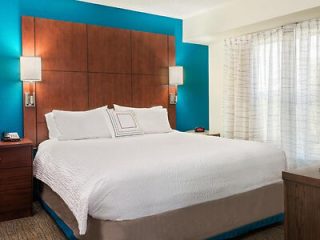 Have a glass of wine by the fire pit at this hotel that has family rooms and a fitness center
Budget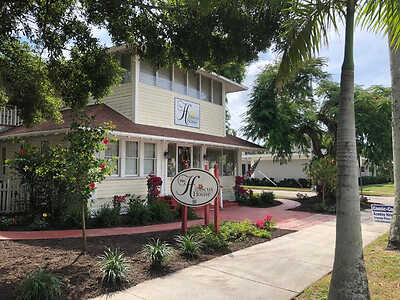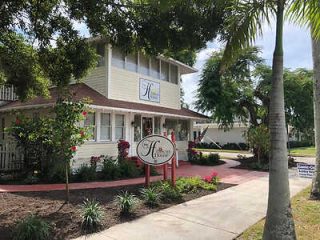 A comfortable place to stay in Fort Myers that offers free parking, air-conditioned rooms, and a terrace
Airbnb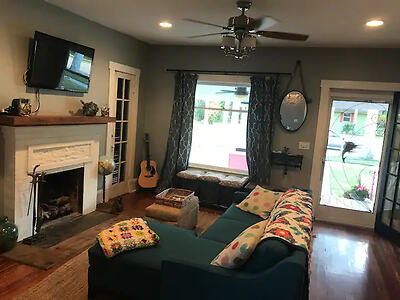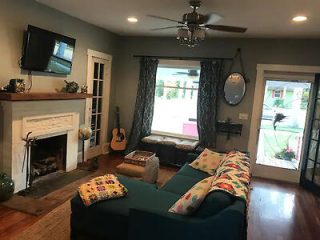 Relax in the heated pool of this accommodation that has a garden, 2 rooms, and a private balcony
Things to do in Downtown
Catch an exhibition at the Imag History & Science Center
Explore the historic district
See some unique butterflies at The Butterfly Estates
Check out the shops in the River District
Visit the Arts For Act Gallery in Fort Myer's Downtown
Enjoy the views of the Caloosahatchee River
2. Fort Myers Beach – best place to stay for beach lovers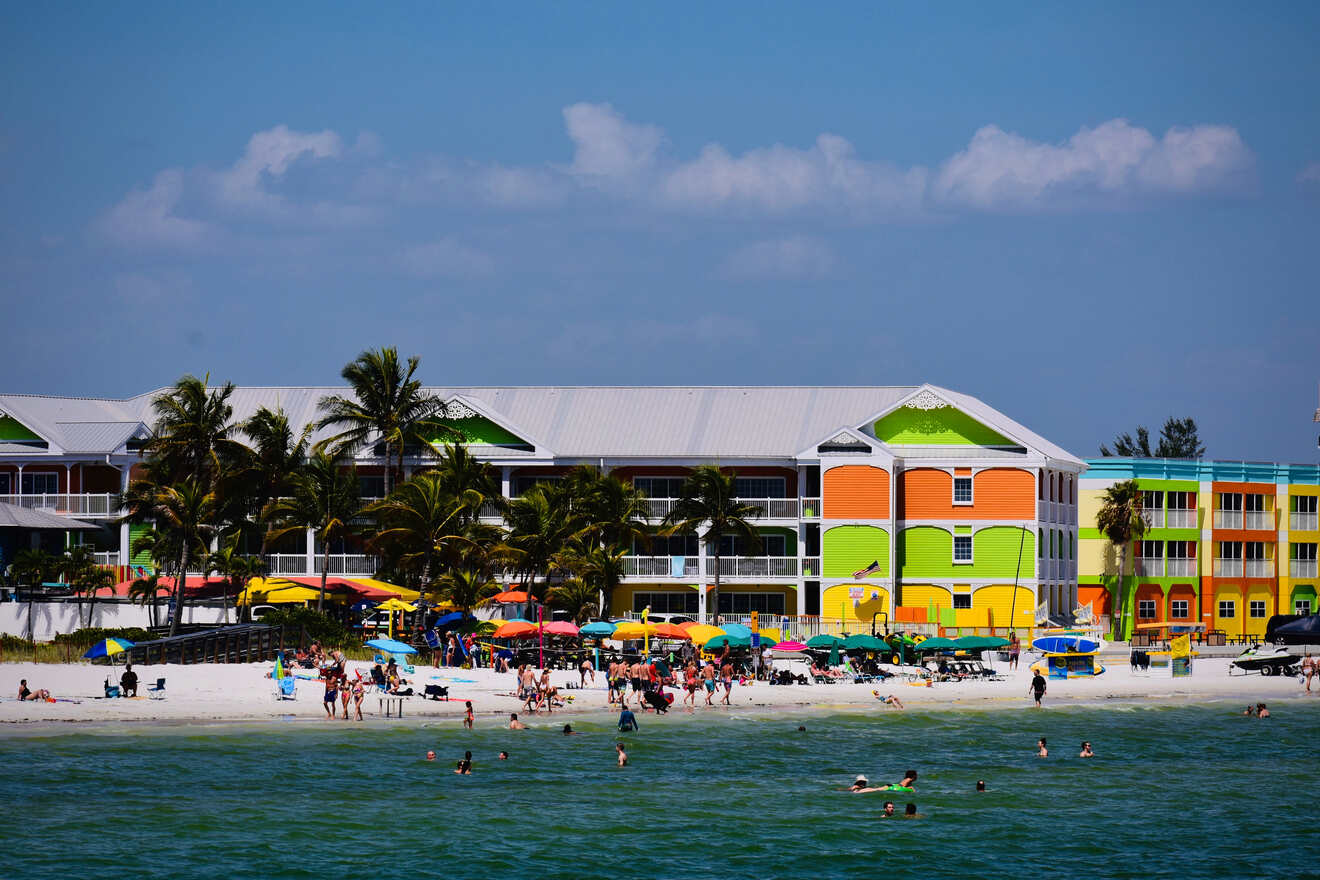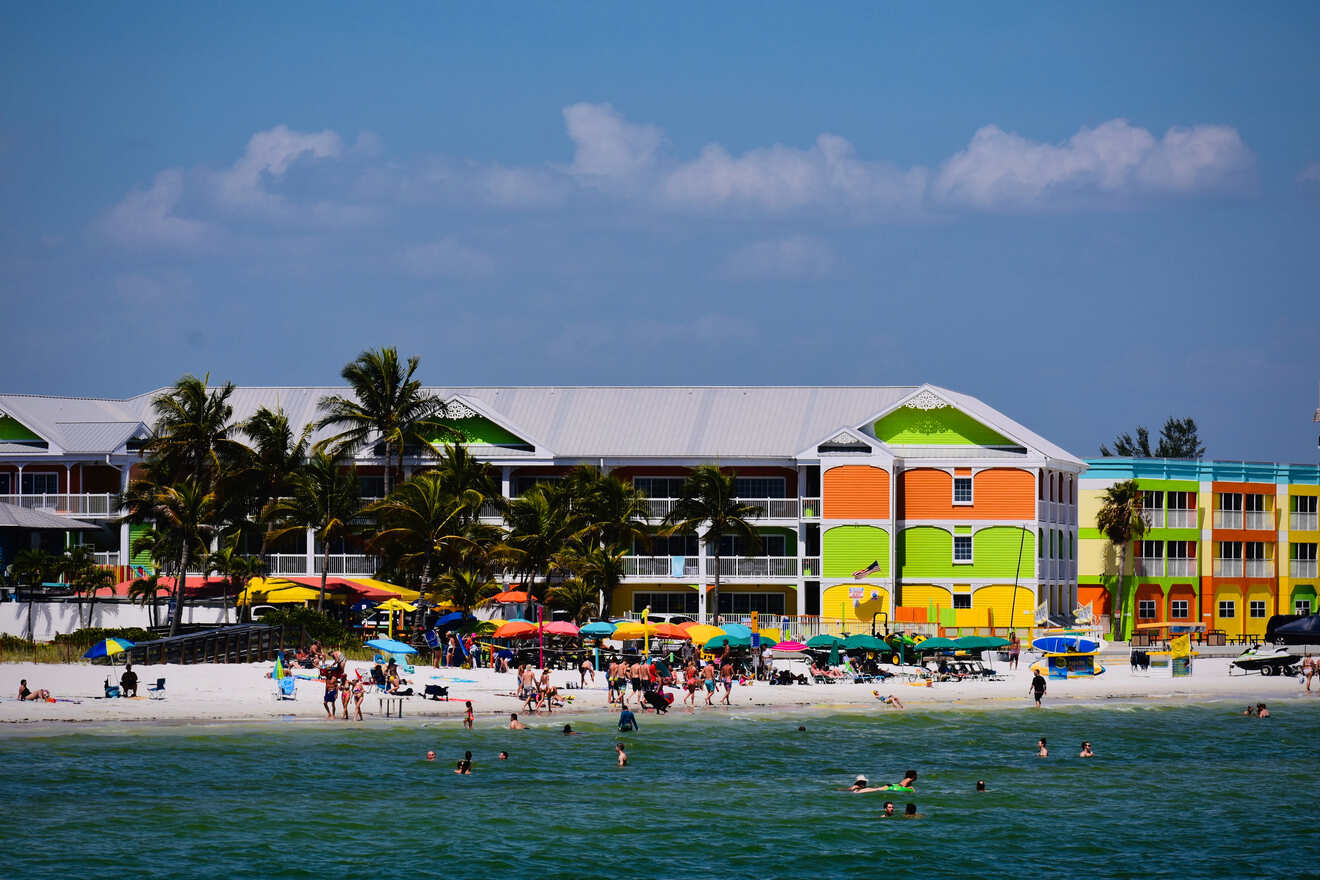 Located outside the city limits, just a 30-minute drive south of Downtown, Fort Myers Beach is a small town on Estero Island. People love to come here and spend all day sunbathing, swimming, and enjoying other types of outdoor activities like water sports.
The sugary sands and palm trees will convince you to leave all your worries at home and get into the holiday spirit and because it's a touristy area, most hotels and restaurants are within walking distance, meaning that you can easily explore the area on foot!
If you don't mind the excessive sand, and you love spending your time trying different water sports, then this is the perfect spot for you! And if you love the beach as much as I do, I think you'll like the Florida Keys, another stunning destination in Florida!
Luxury hotel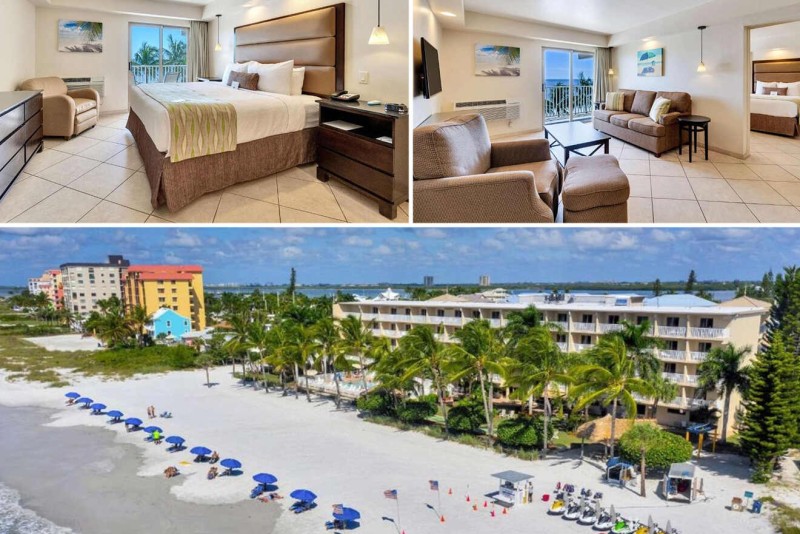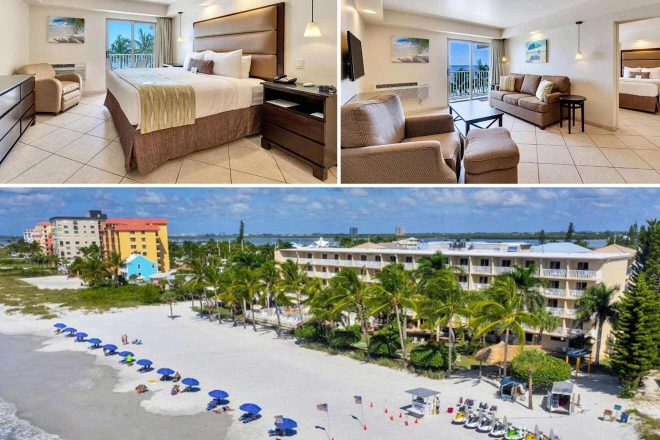 Get yourself a coffee and head to the balcony of your room to enjoy the beach view! This resort features a swimming pool, a private beach area, and a garden. It's adjacent to central Fort Myers Beach, and I think honeymooners will love it here.  
Other accommodation options in Fort Myers Beach
Mid-Range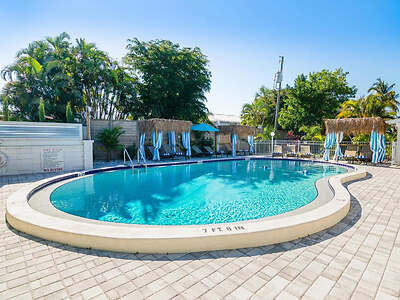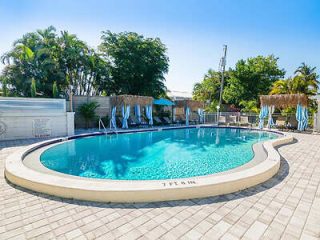 Chill on the sun deck of this hotel that offers different outdoor activities, beach chairs, and a swimming pool
Budget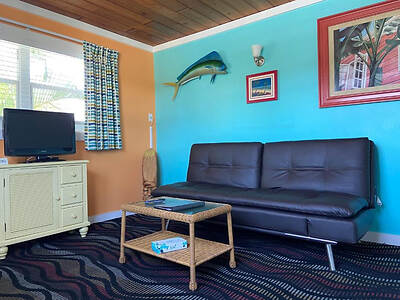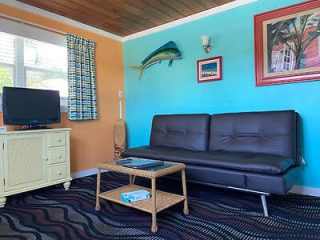 Enjoy your stay in Fort Myers Beach at this hotel with bicycle rentals, family rooms, and free wifi
Airbnb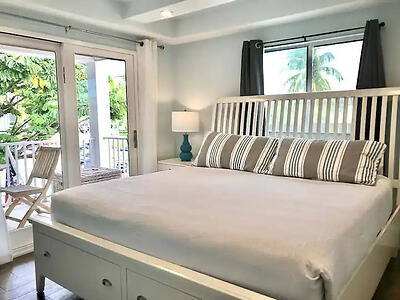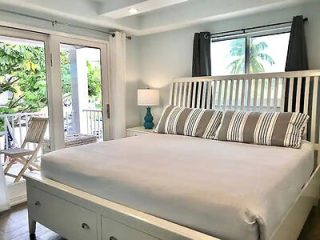 A spacious and comfortable pet-friendly villa that has 2 rooms, a balcony, and air conditioning
Things to do in Fort Myers Beach
Sunbathe on the sandy beach
Catch a sunset at Bowditch Point Park beach
Go for a walk around the Matanzas Pass Preserve
Explore the Fishing Pier at Fort Myers Beach
Visit the Lovers Key State Park
Find some jet ski rentals and spend a fun day in the ocean
3. Sanibel Island – where to stay in Fort Myers for families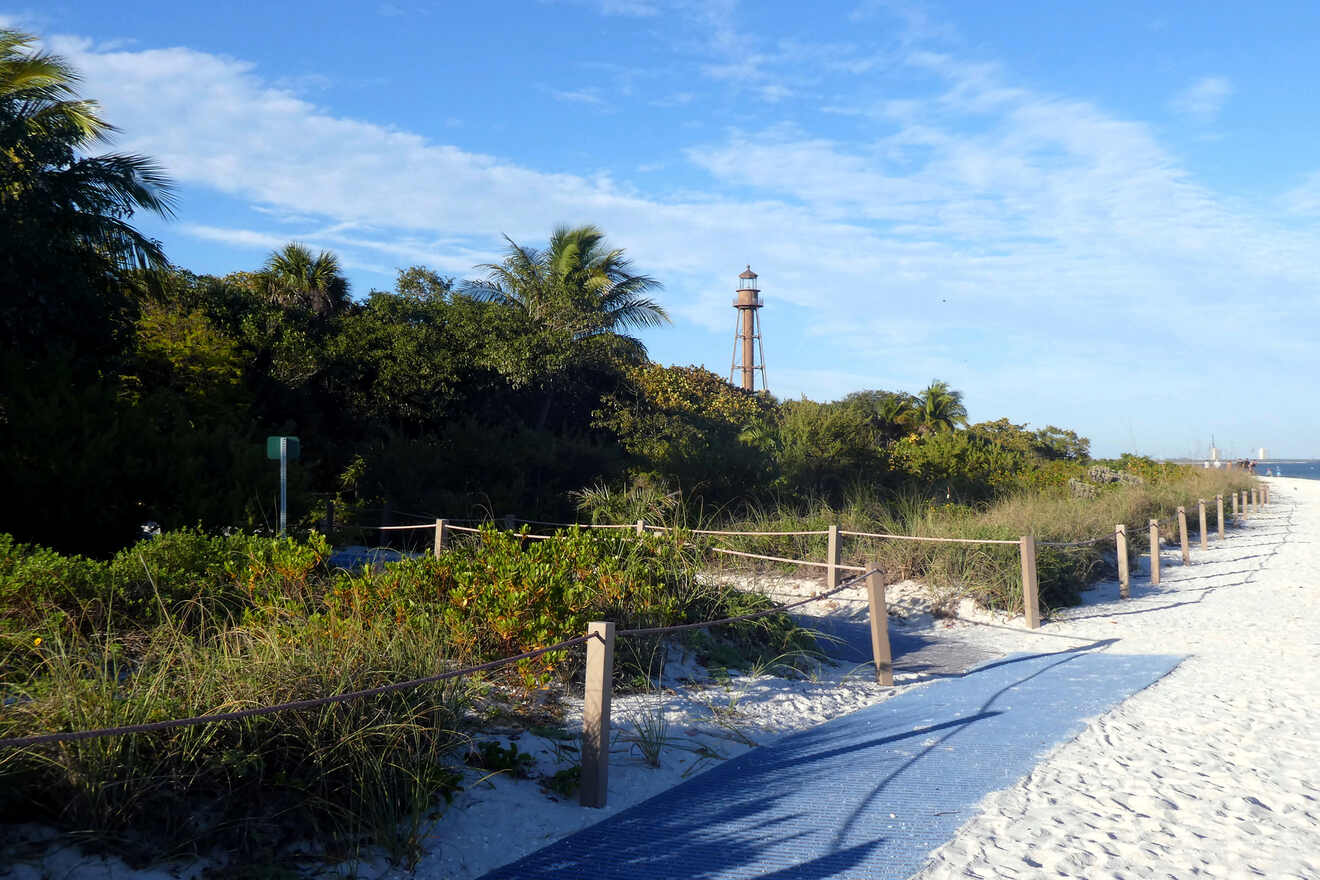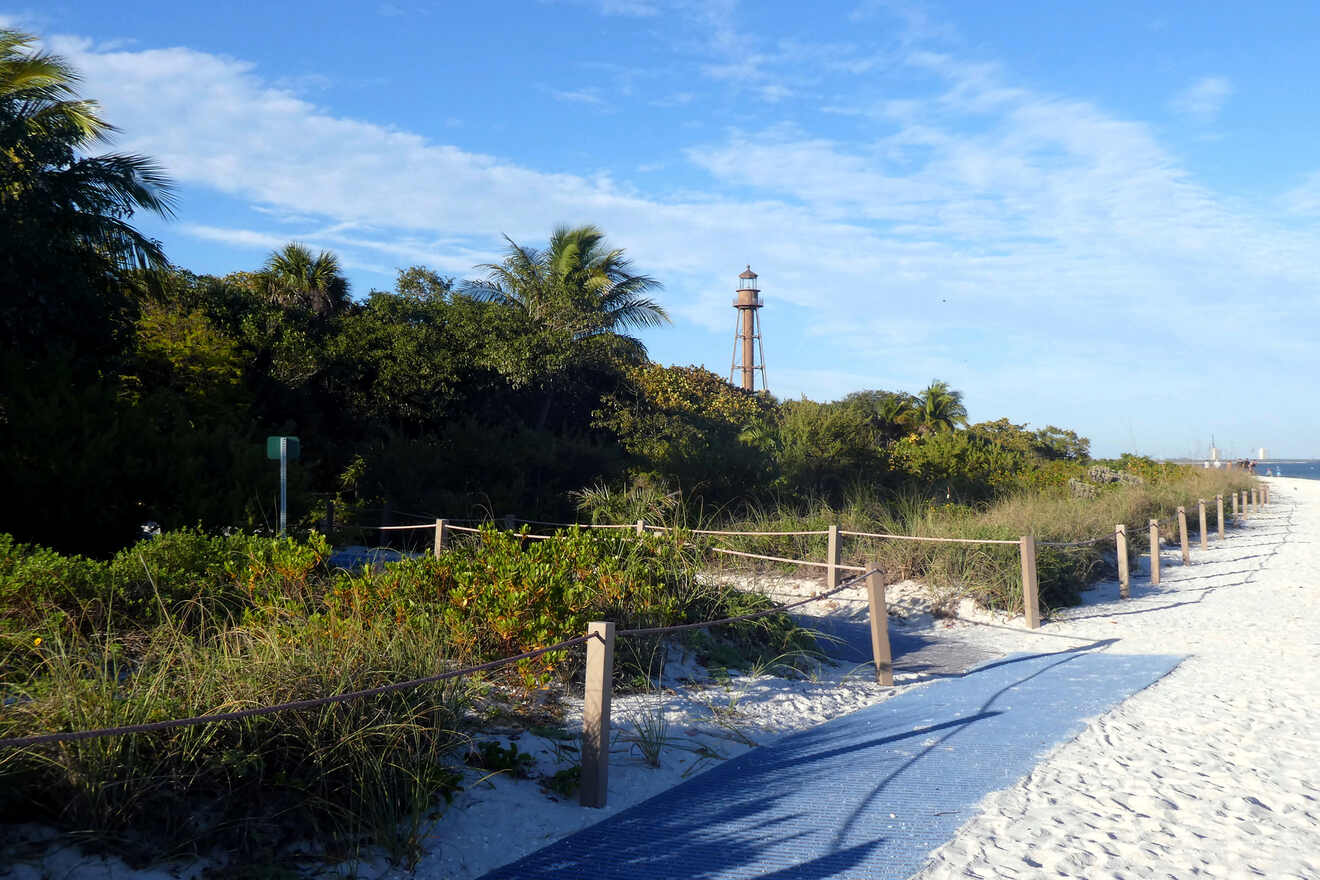 Located 25 miles (40 km) south of Downton Fort Myers, this island is a paradise for people who love to spend time outdoors, by the beach in a quiet and tranquil environment.
It's also a great place if you want to be surrounded by nature! And I don't mean just the beaches. There are many parks, nature and wildlife reserves where you can do things like bird watching!
This is why I am recommending this area for families! It's a bit quieter than the downtown area but the list of possibilities is endless. After all, it's a whole island, so naturally, there will be a broader range of activities from water sports to museum visits and fishing.
Sanibel Island also hosts unique restaurants that serve great food, including fresh seafood! As a super touristic place, you can imagine that you'll find a selection of the best resorts in the area, all offering fantastic facilities, like live music shows!
Luxury hotel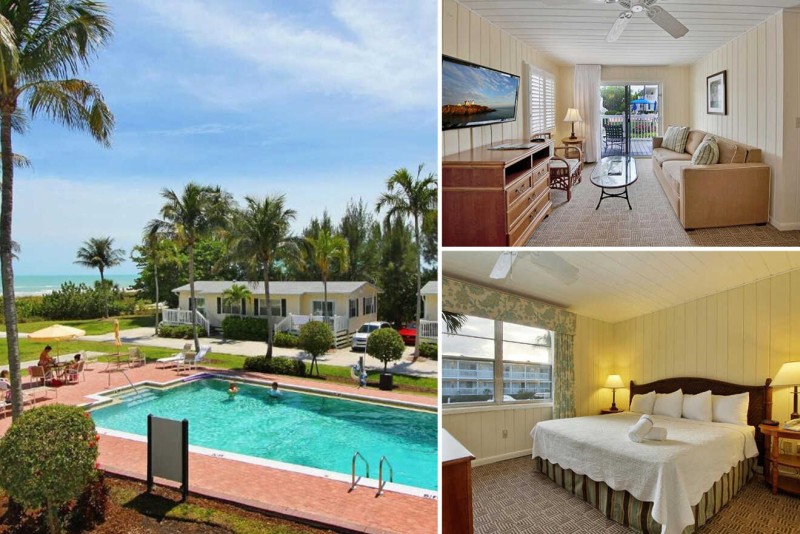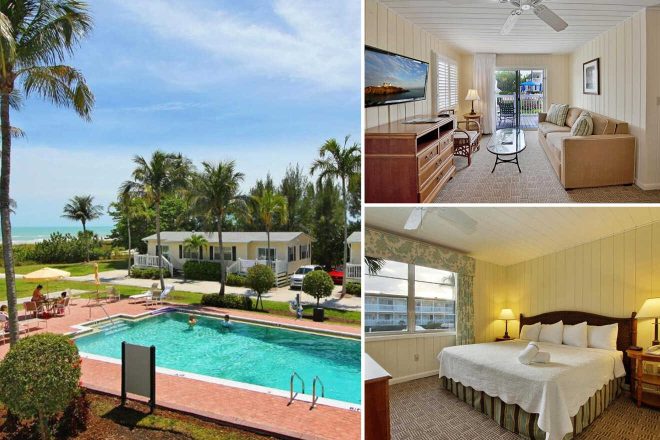 Enjoy Florida's amazing weather and swim in the pool all day long at this accommodation on Sanibel Island that offers beach access and family rooms. Order breakfast in your room and have it on the balcony while admiring the views!
Other accommodation options in Sanibel Island
Mid-Range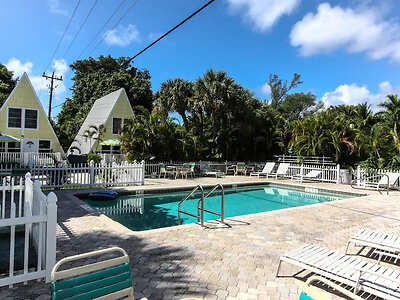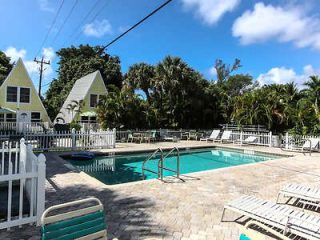 Attend a live music show, and chill on the sun terrace at this hotel that offers a heated pool and bicycle rentals
Budget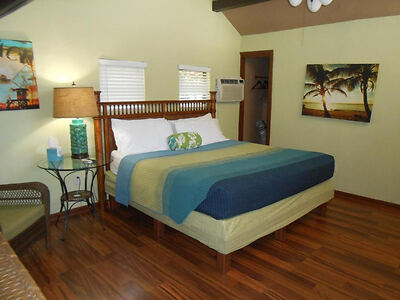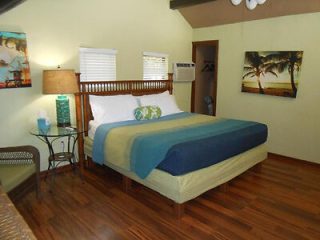 This budget inn has a lovely tropical design, an outdoor swimming pool, a terrace, and free wifi
Airbnb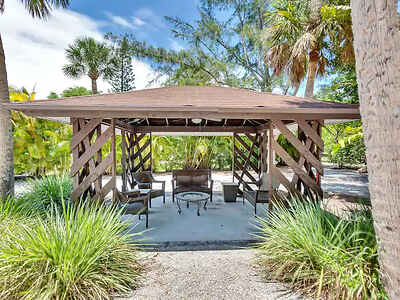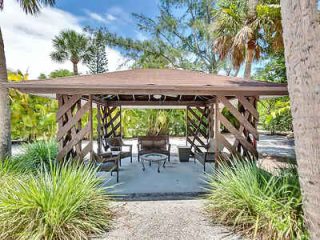 Offering all the privacy you need, this cottage has a spacious room, air conditioning, and a tv
Things to do in Sanibel Island
Spot some dolphins at Bowman's Beach
Spend a relaxing day at Dunes Golf & Tennis Club
Take the kids to the Bailey-Matthews National Shell Museum
See cute birds at the J.N. "Ding" Darling National Wildlife Refuge
Have a picnic at Lighthouse Beach Park in Fort Myers, Sanibel Island
BONUS 1: Best beach hotels in Fort Myers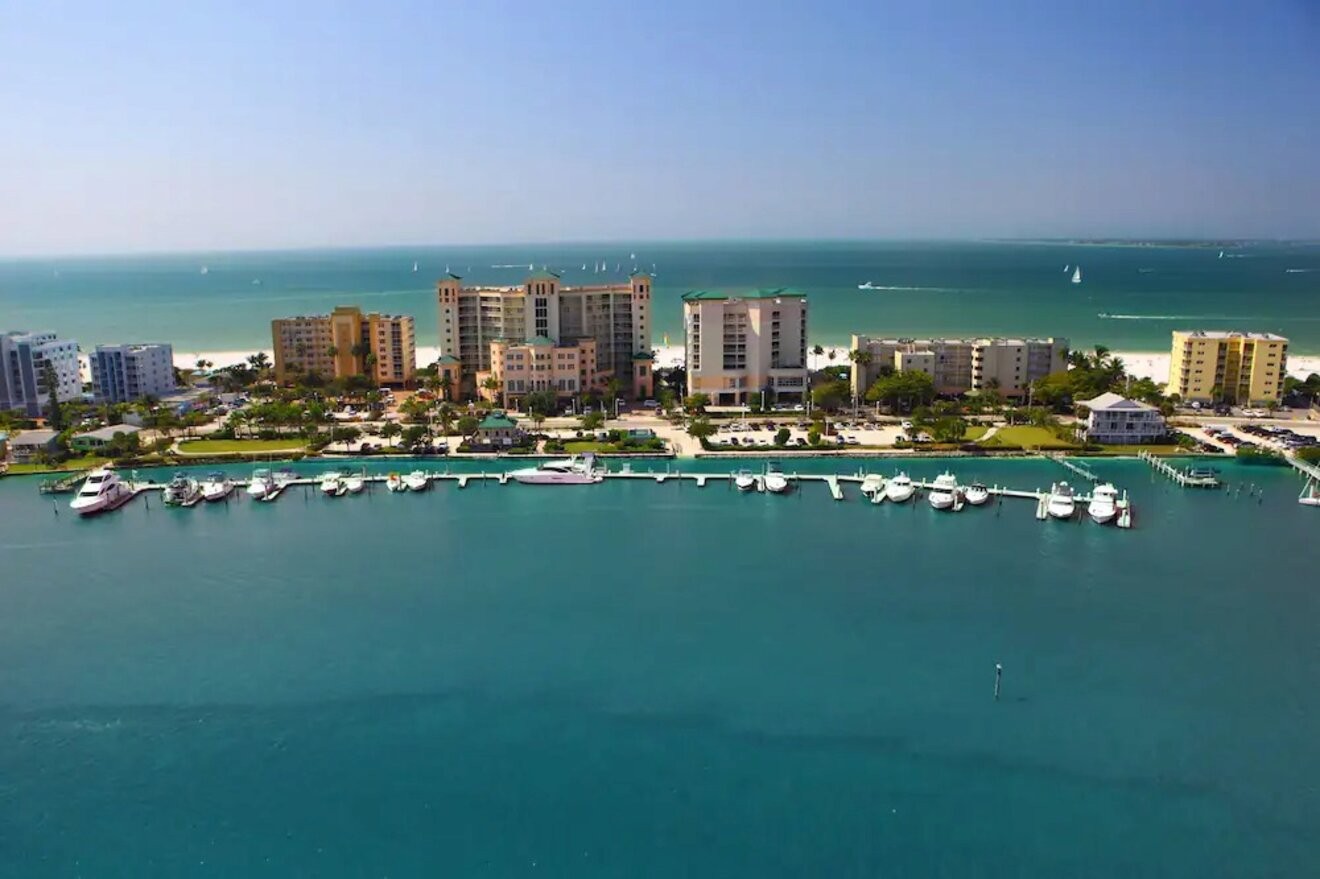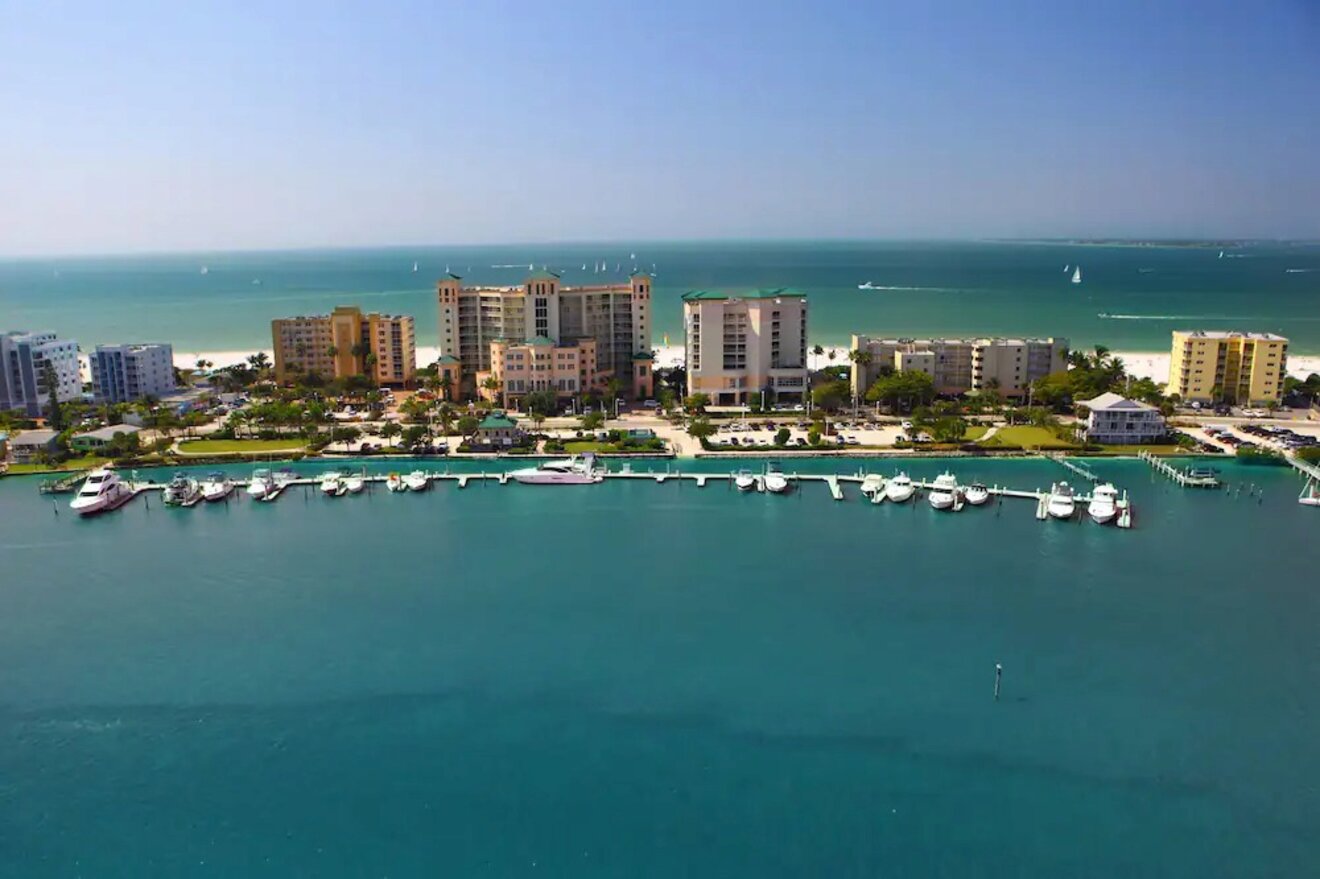 What's a trip to a place like Fort Myers if you can't be on the beach 24/7? Less sandy that's for sure! If you want to book yourself a hotel that's located right on the beach, then have a look below because I've put together the best beach accommodations to stay in Fort Myers.
Luxury (up to US$600)
GullWing Beach Resort – Have your coffee in bed and enjoy the beach views at this stunning resort located in Fort Myers Beach. You can rent bikes for free and explore the area or hit the pool and spend the whole day there!
Pink Shell Beach Resort – This great accommodation in Fort Myers Beach offers beach access, complimentary breakfast, kayak rentals, and other fun activities like yoga classes. So take one of the classes and then head to the spa. You'll feel like a brand new person!
Lovers Key Resort – After a whole day spent in Fort Myers Beach, head back to the resort and relax in the hot tub! The Lovers Key Resort has a restaurant and bar on-site if you don't feel like going out.
Mid Range (US$230 – US$350)
Outrigger Beach Resort – Enjoy your stay in Fort Myers Beach at this resort with spacious rooms equipped with a flat-screen tv and kitchenette and an outdoor pool. Grab a drink from the bar at Outrigger Beach Resort and start mingling!
BONUS 2: Best holiday home rentals in Fort Myers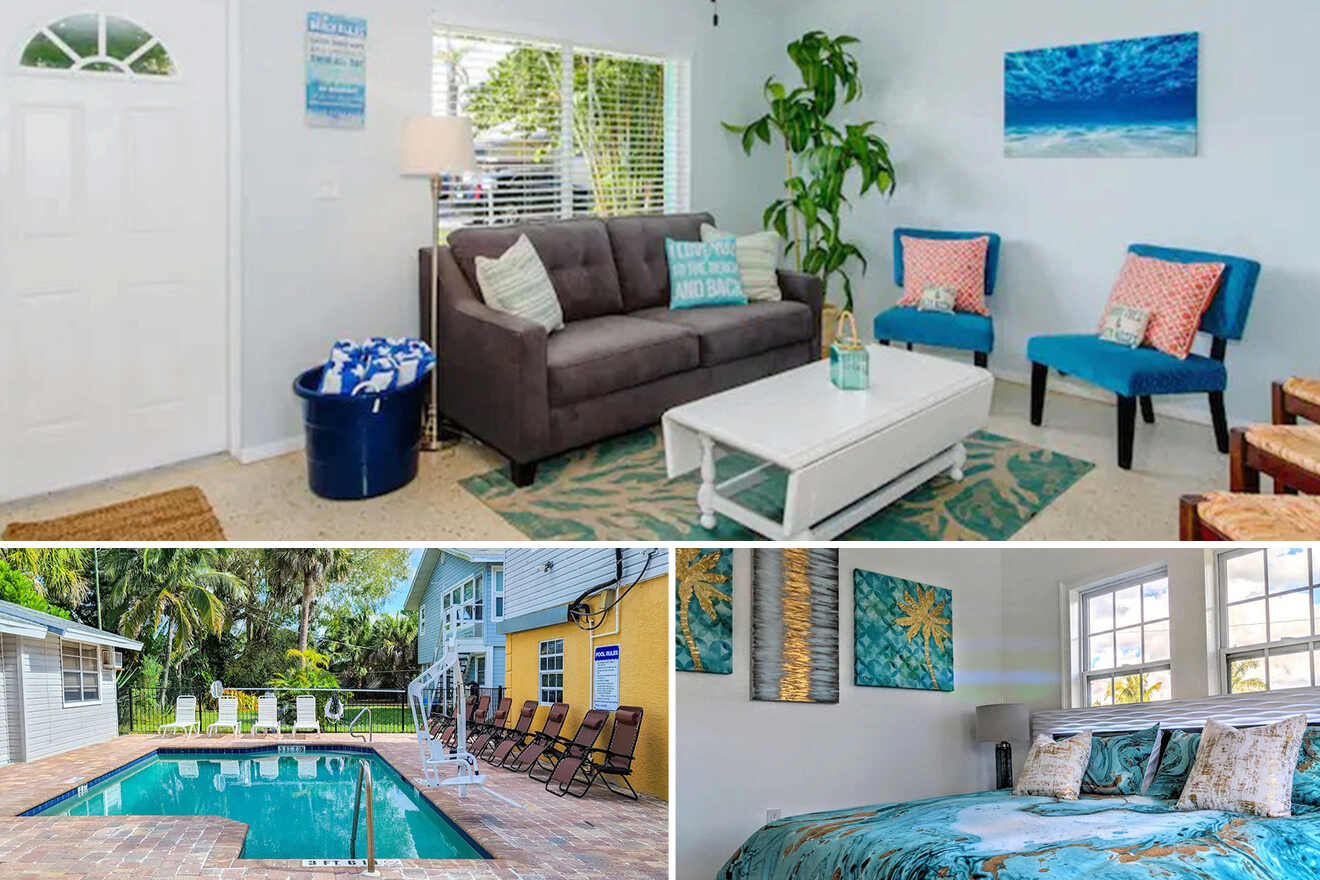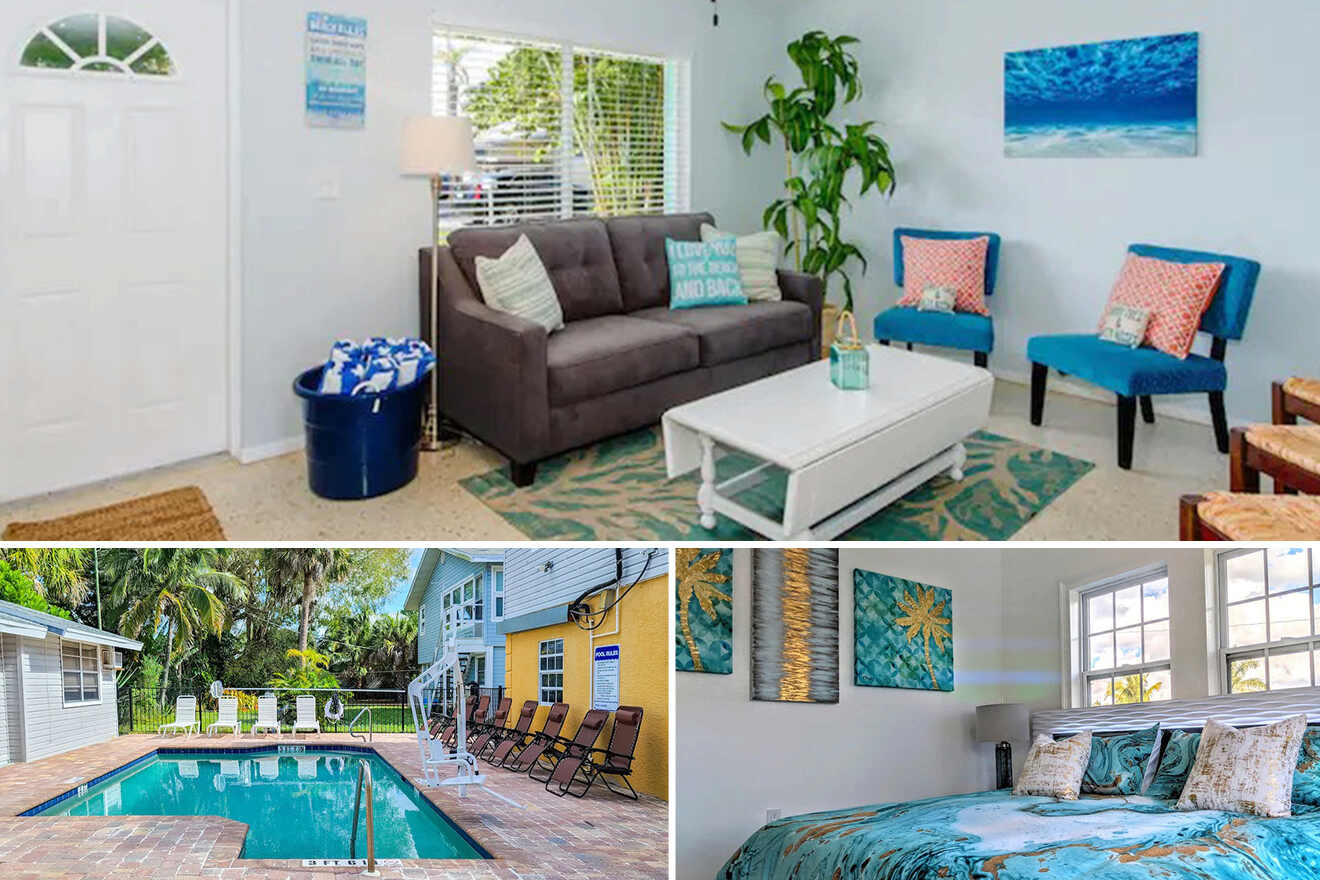 If you're looking for a bigger place to rent for you and your friends or family in Fort Myers, you've come to the right place. I thought some of you would be searching for these types of accommodations, so I've made a list of the best ones. The prices are between US$200 to US$600 a night.
Stylish Villa – Located in Fort Myers Beach, this spacious villa can accommodate up to 3 guests, and it has a great swimming pool and some sun loungers. You will also have access to a kitchen and BBQ facilities.
Modern Home – This villa is super elegant, and it can accommodate up to 10 people. It's pet-friendly, has a pool, and is located in Fort Myers Beach, so you'll be close to the ocean!
Mango Villa – A colorful place to stay in Fort Myers Beach where you can chill by the pool and cook for yourself if you're in the mood! The villa is located on the north end of Estero Island, and it can accommodate up to 6 guests.
FAQs about places to stay in Ft Myers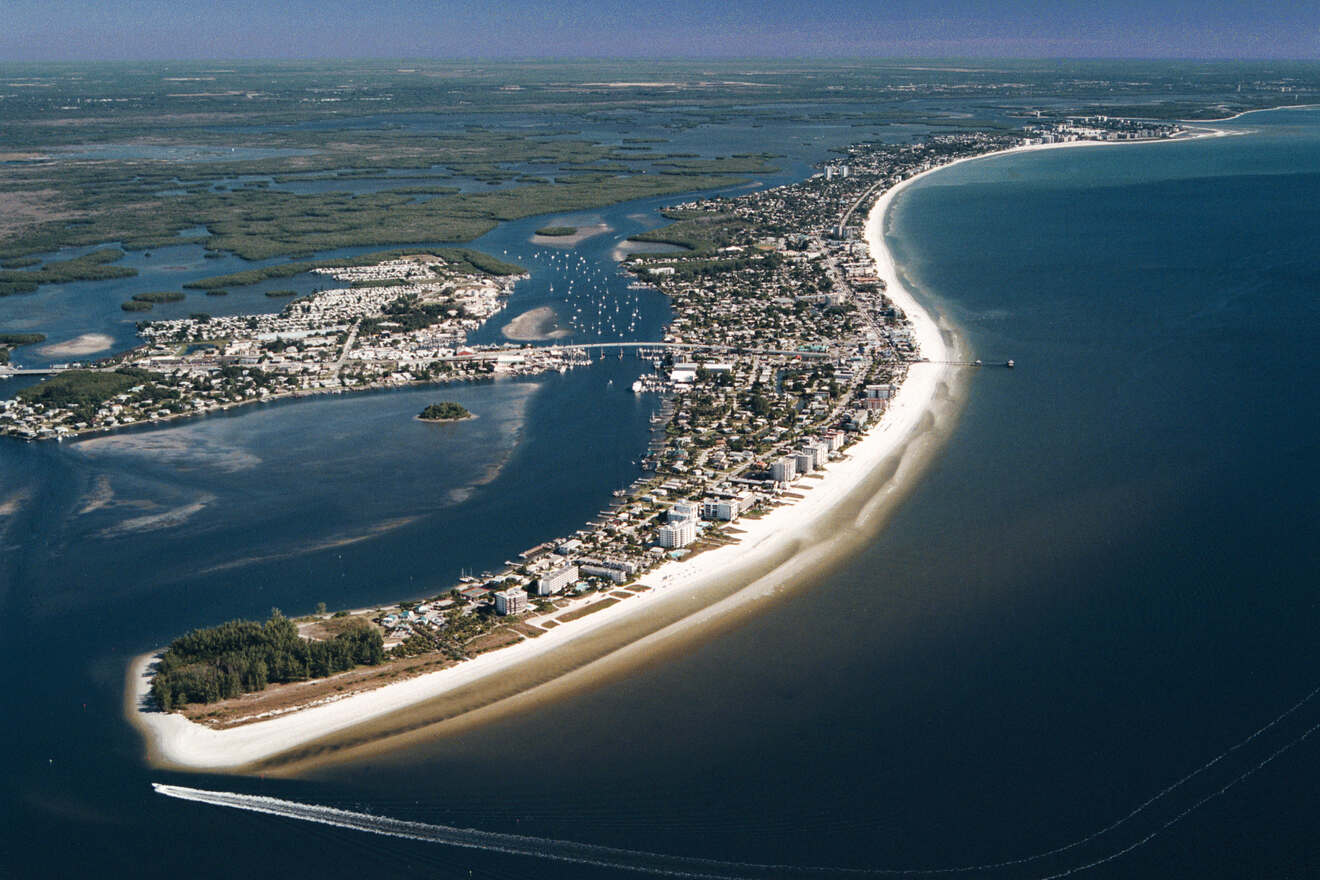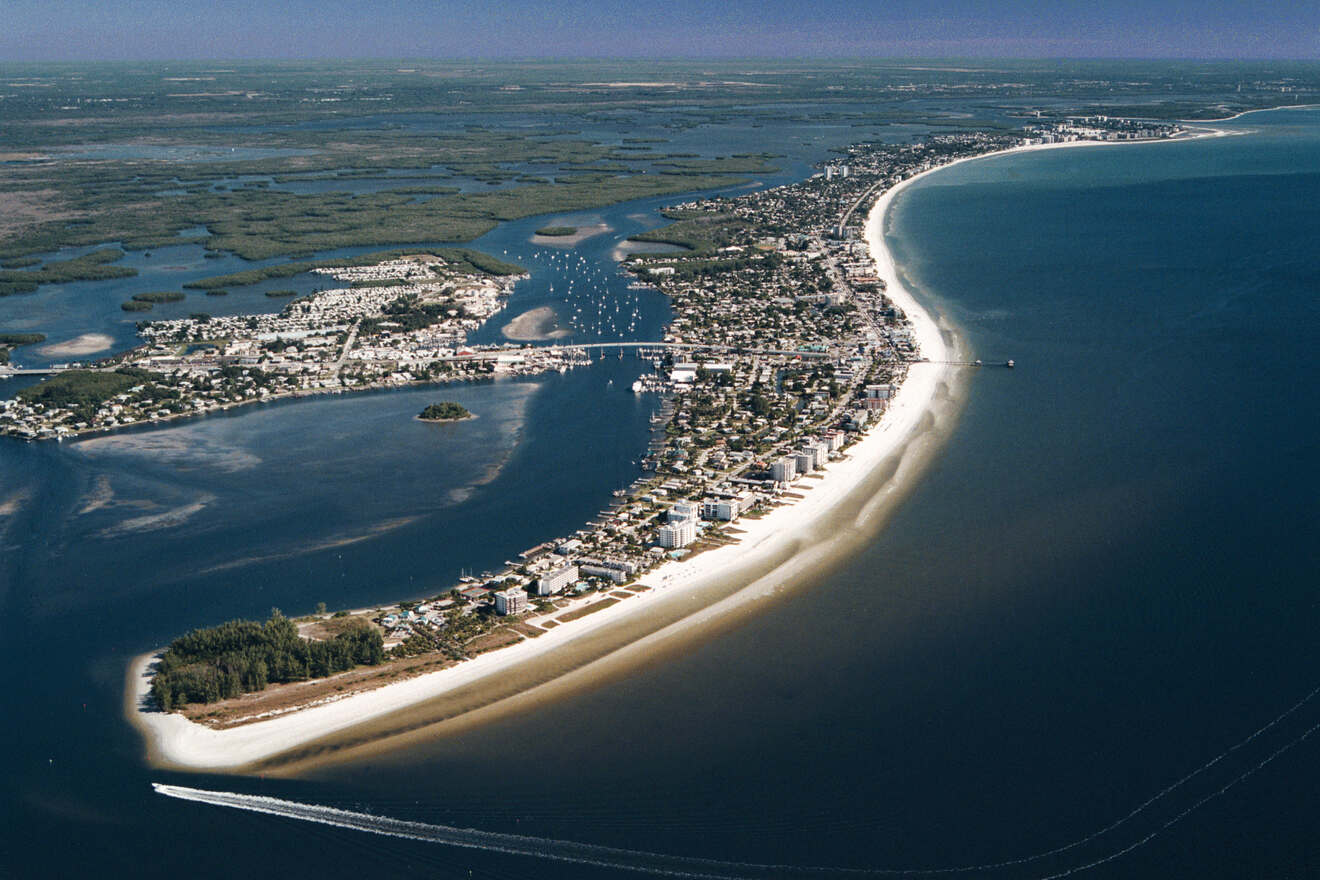 💯 What is the best part of Fort Myers?
Downtown is the best part of Fort Myers, as it's home to the best attractions, restaurants, and hotels in the city, such as Luminary Hotel & Co.  
🌊 Is Fort Myers Beach or Sanibel Island better?
It depends on your preferences. Fort Myers Beach is more crowded than Sanibel Island, a more tranquil place where people go to escape the city noise. 
 ✈️ Where should I stay when flying into Fort Myers?
🚌 What are the best Fort Myers hotels with airport shuttle?
🏖️ What are the best beachfront hotels in Fort Myers?
🏨 What are the best hotels in Fort Myers near Edison Square?
The Hibiscus House is the best accommodation to stay in Fort Myers near Edison Square, and it's located less than 1 mile (1 km) away from it.
Conclusion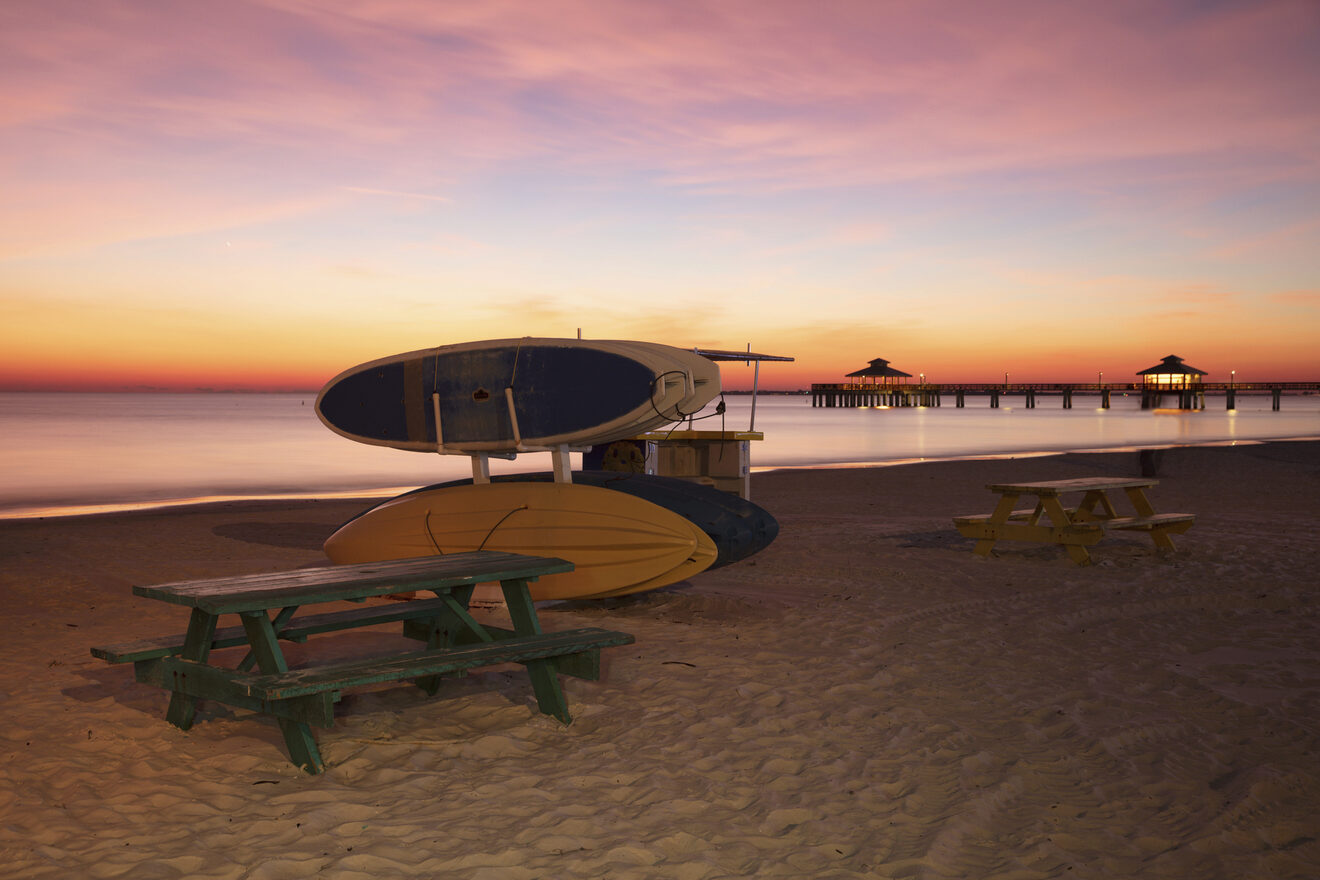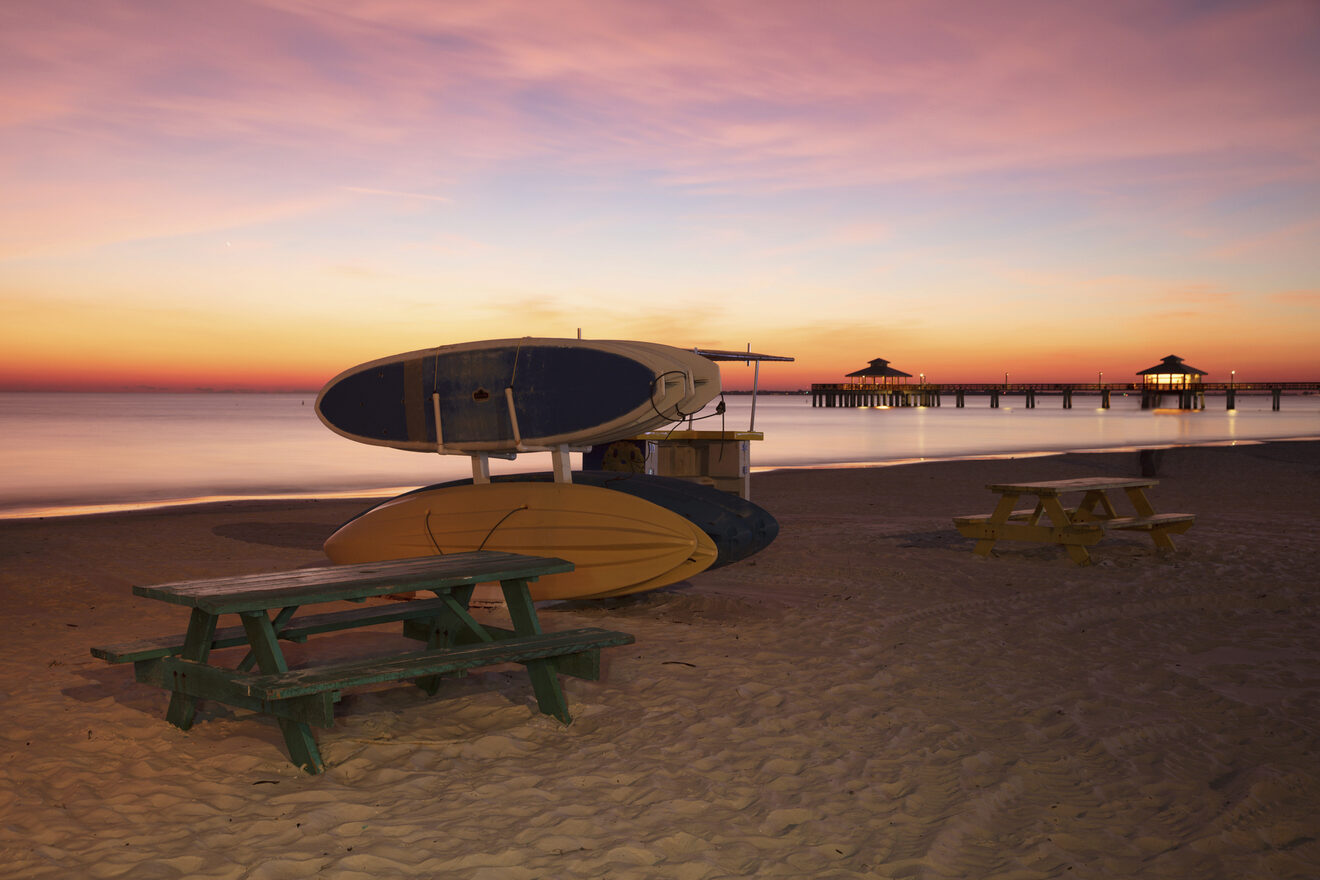 Ready to hit the beach? I know I am! I hope this post helped you decide where to stay in Fort Myers.
There are many hotel options in the article, so if you're having a hard time deciding which one to pick, here are my top 2 favorite ones, both located Downtown:
Remember that Fort Myers is a super popular holiday destination in Florida, and all the hotels will sell out super fast. That's why I recommend booking yours in advance. It will save you time and money!
Have a great trip, take sailing lessons, explore the Captiva Islands and swim all day long! If you have any questions about this destination, leave me a comment below, and I'll answer it ASAP.
Safe Travels,
Victoria