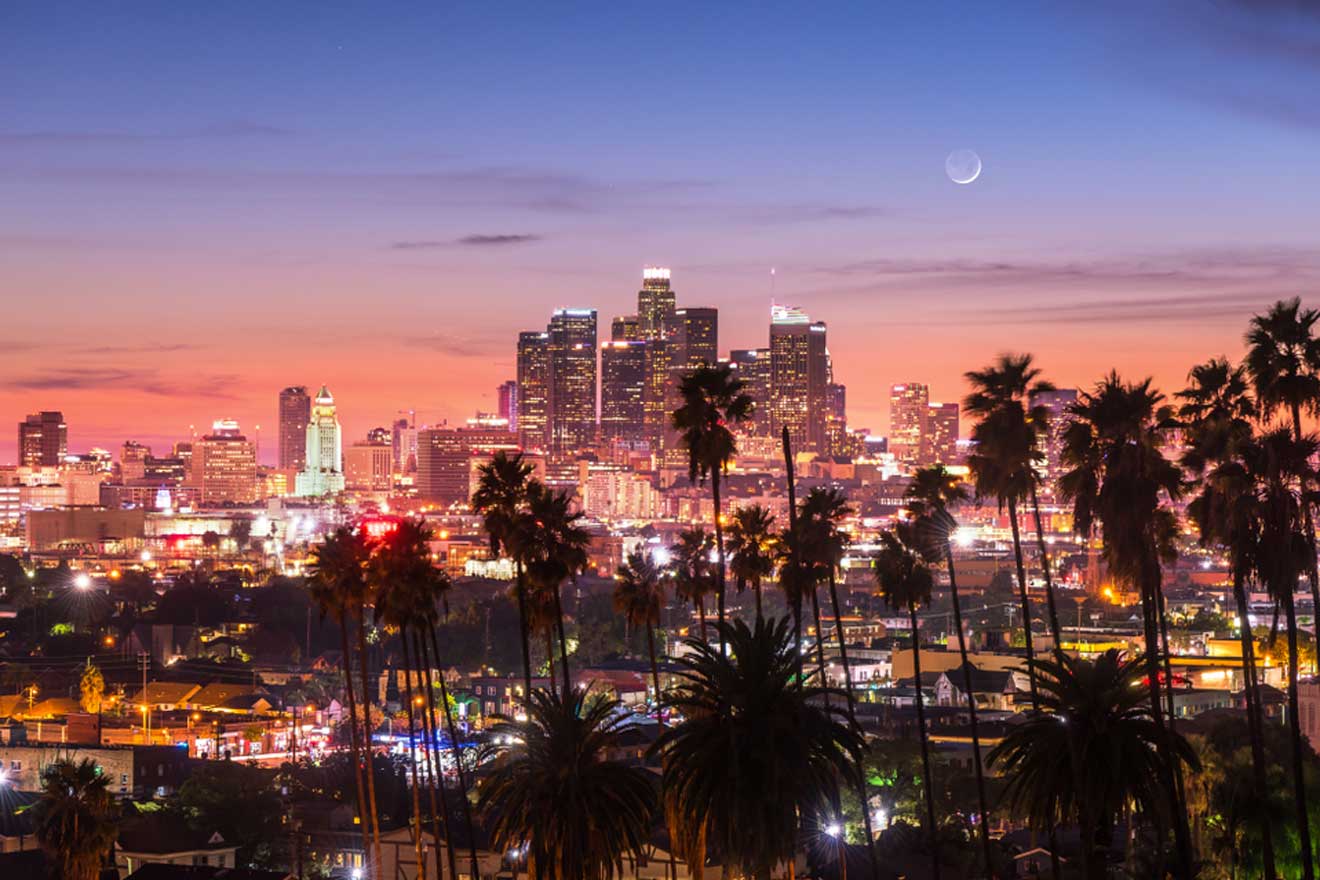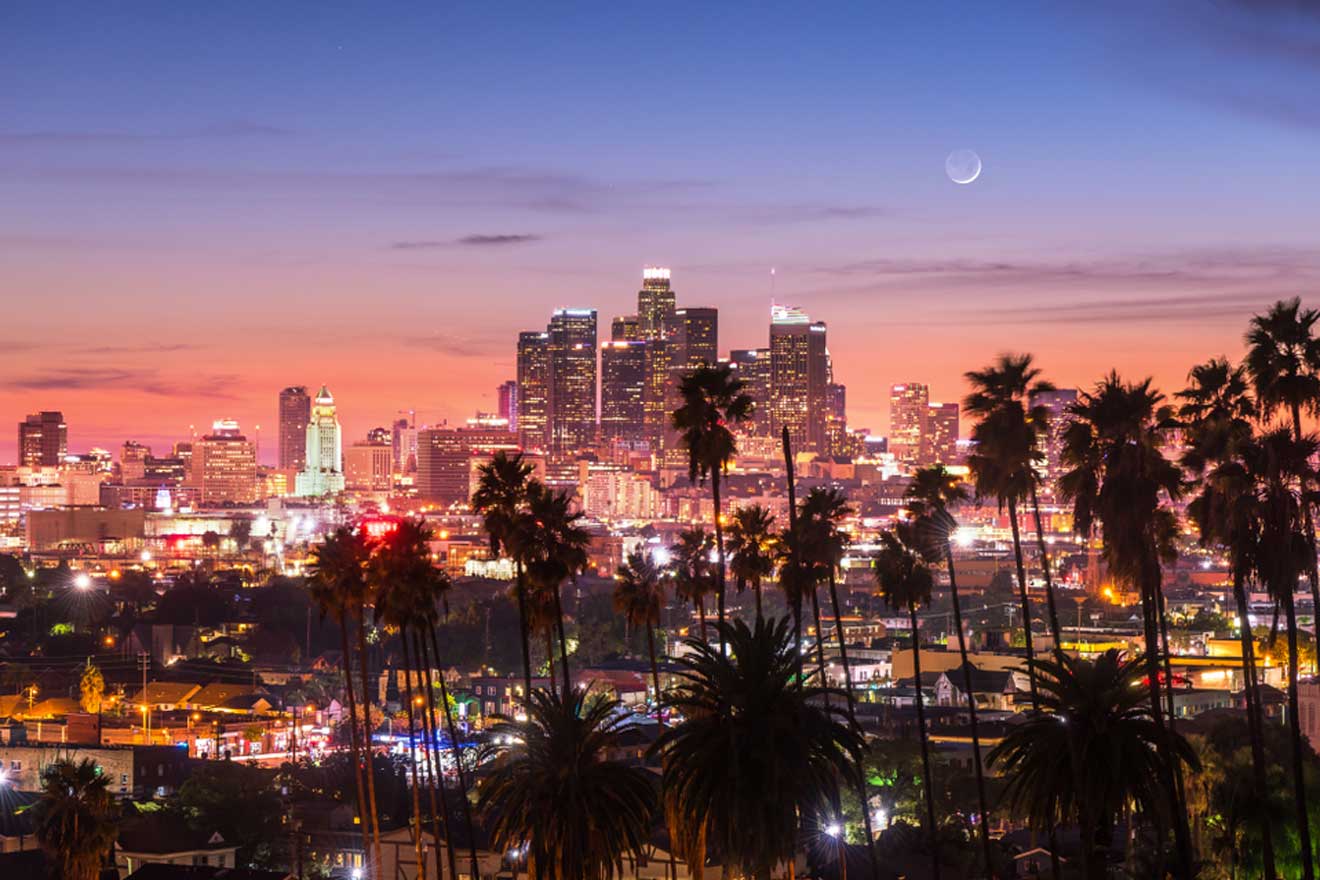 Welcome to the City of Angels! Los Angeles is the biggest city in California, with millions of people calling it home and millions of visitors coming every year to visit the stunning beaches and city lights and catch a glimpse of the biggest and oldest entertainment industry in the world.
Because you only have 2 days in Los Angeles, it's so important to keep your itinerary as concise and organized as possible! There's an incredible amount of things to do when you visit LA, and it can get quite overwhelming if you're unprepared. But have no fear – that's why I'm here! As a San Diego local, I've spent many weekends in Los Angeles figuring out the best and most efficient way to see the best parts of the city in only 2 days.
I'll be organizing this post between Day 1 and Day 2, and making suggestions on where to eat, what to bring, and how to make the best out of your travel experience along the way.
Oh, and don't forget to book all these tours and hotels in advance to avoid wasting time, and be certain that your 2-day trip goes as smoothly as possible. The last thing you want to happen is to spend a moment stressing when you're so limited on time!
If you are in a hurry
2 days in Los Angeles calls for a few tours of all the highlights – it's the most convenient and organized way to get around!
Here are the main things to book in advance:
And here are the best hotels: Conrad Los Angeles (luxury), The Prospect Hollywood (mid-range), LA PodLife (budget)
Day 1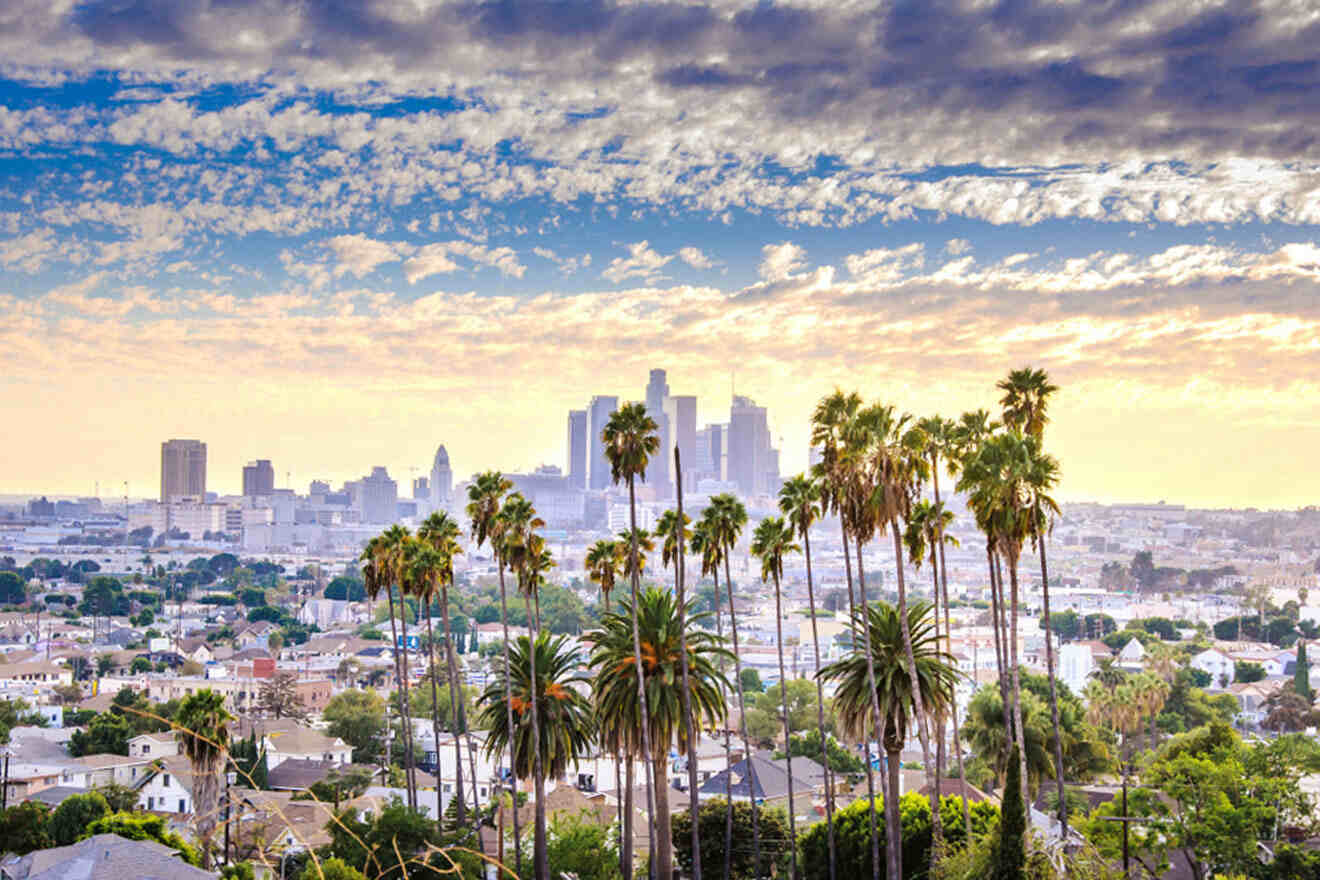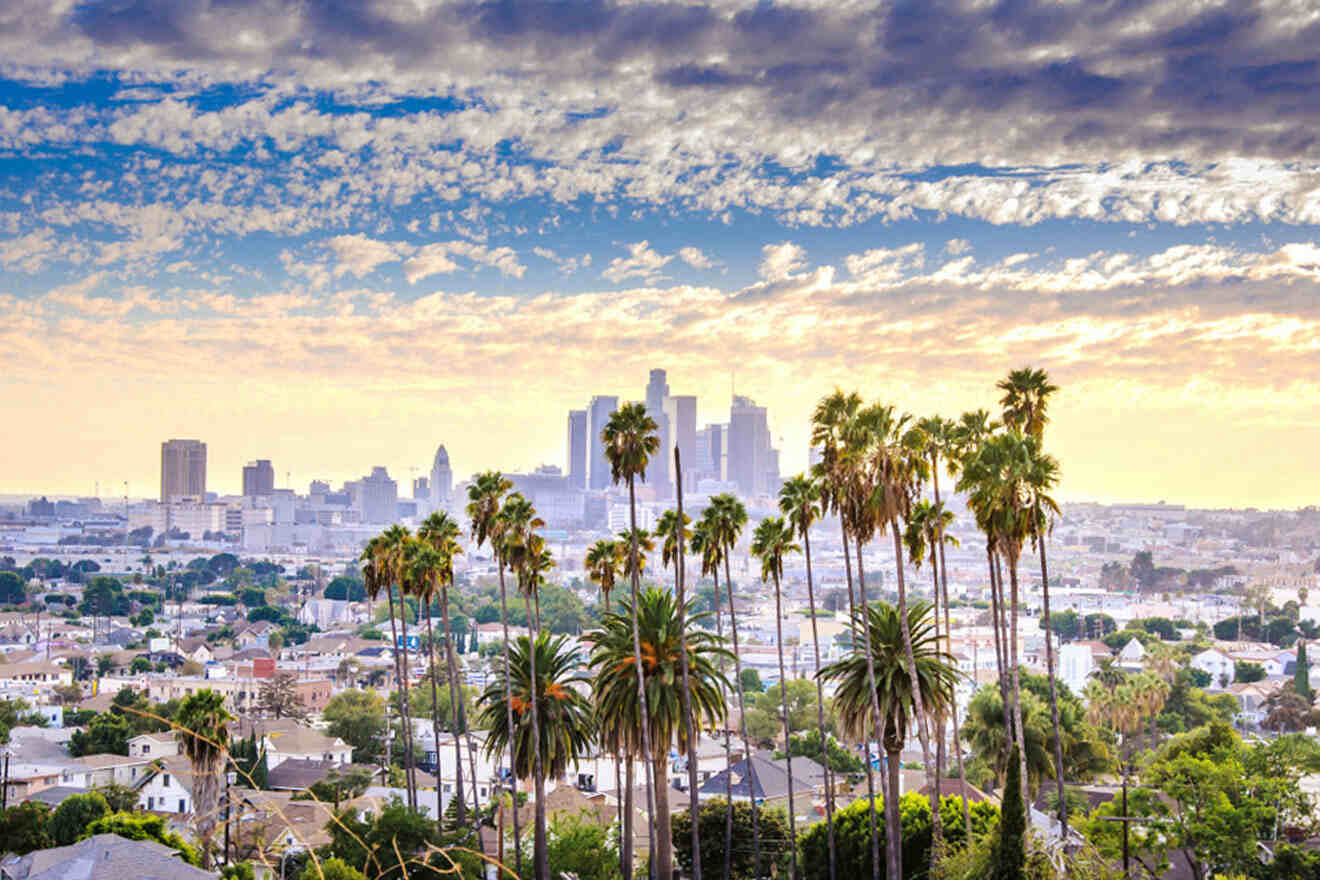 Jet lagged? Grab a cup of coffee at one of LA's hundreds of coffee shops (don't worry, I'll recommend some below) and prepare for your first day in Los Angeles to be action-packed!
I made your first-day itinerary centered around the most popular, must-see attractions. Think city lights, famous roads, shopping sprees, historical sites, museums, etc… it's all going to be here.
Keep in mind that you want to avoid the famous LA traffic while you're here as much as possible. I recommend staying in a hotel near the center of Los Angeles for the sake of convenience, spending less money on transportation services, and time waiting in traffic if you're here with a car.
I also recommend renting a car for your time here. There are public transportation services available here, but it's not as quick or efficient as traveling by car (even with traffic). If you don't want to use public transportation or rent a car, Uber and Lyft are options, but I wouldn't recommend those since the prices can easily rack up. You'll already be spending quite a bit here, so you don't want to spend anything extra if unnecessary.
Here's your first-day Los Angeles itinerary and a map of all places you'll visit:
1. Start your journey through downtown Los Angeles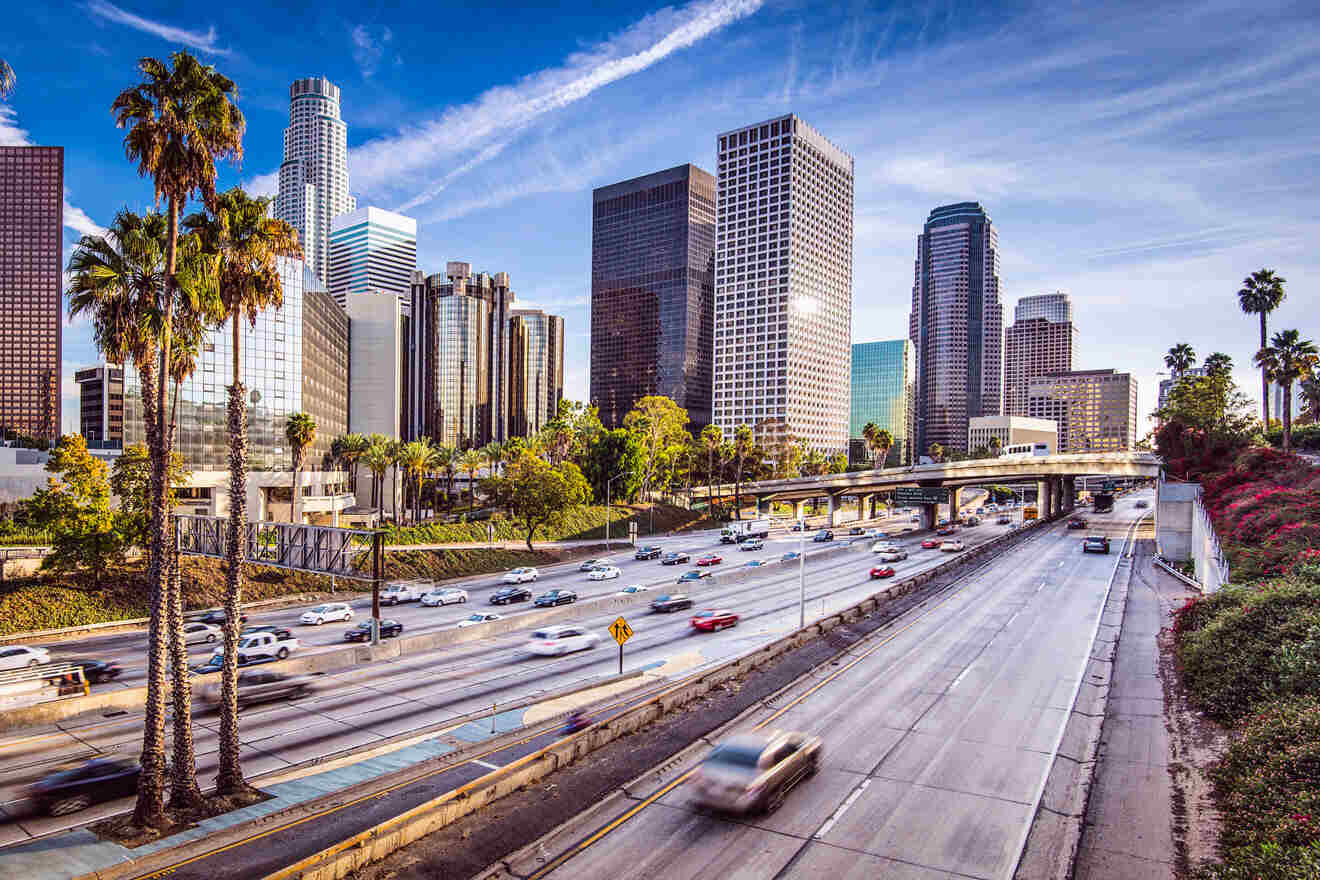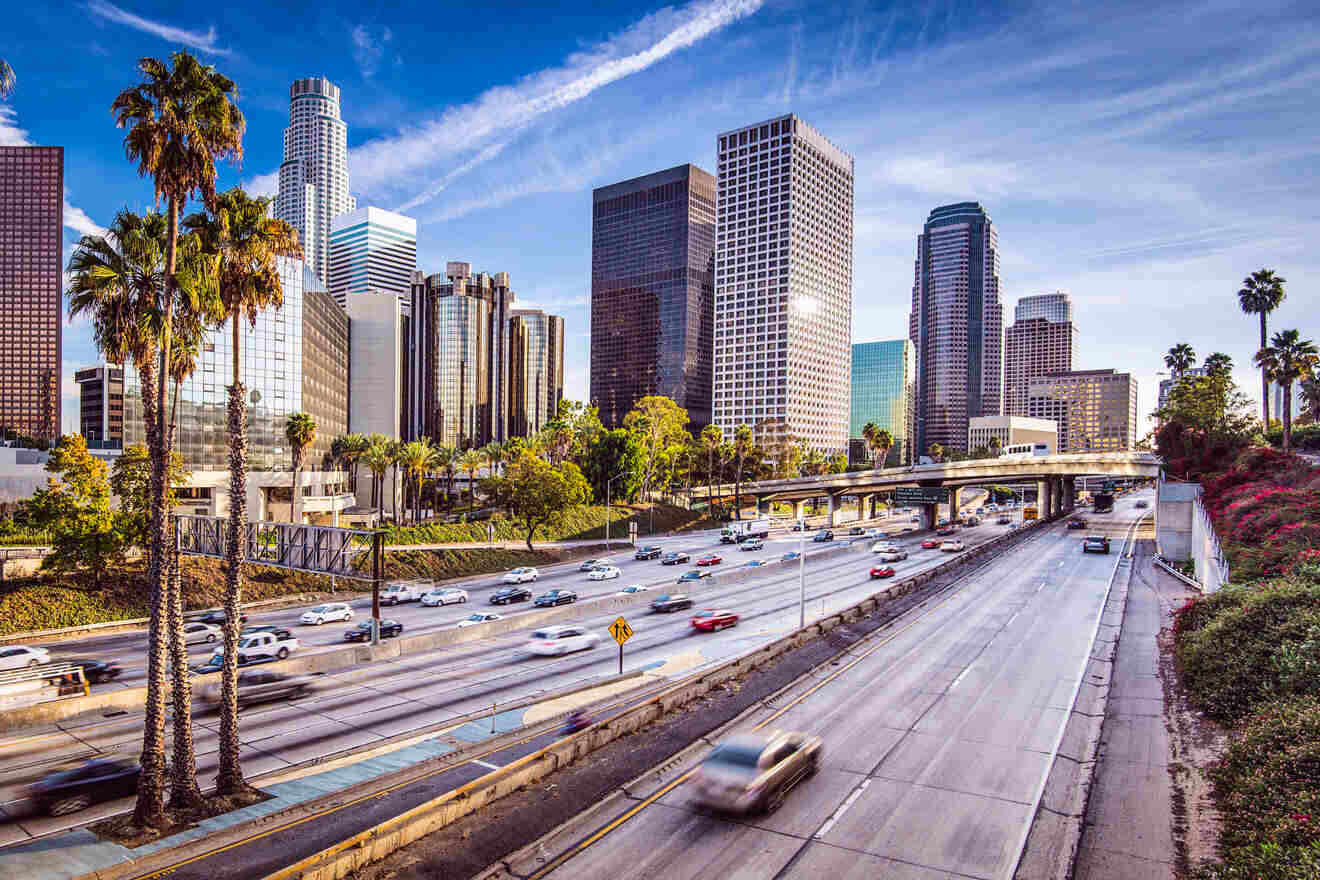 First, head over to downtown Los Angeles for a cup of coffee! You're going to need it for your first day in the big city. A few places I recommend checking out are Urth Caffe and Tilt Coffee Bar. They serve high-quality artisanal coffee drinks, so you can expect the best while you're here.
You can even grab a pastry to-go as you walk down the Los Angeles streets to the attractions I'm going to recommend. Being on the run constantly is also a huge city, LA culture-type of thing, so this is actually great if you want to experience what it's actually like living in Los Angeles.
After you grab your US$7 coffee drink (yes, the food and drinks in LA can get pretty expensive, so keep that in mind), take a short stroll down to Grand Central Market for some of the best food vendors in Los Angeles! From bakeries to Japanese food and some of the best street Mexican food in Southern California, there's something for everyone here.
I recommend grabbing a quick meal here (after you're finished with your cup of coffee) at Berlin Currywurst and trying out their delicious Leberkäse. This place is known for its German sausages, so it's great for breakfast!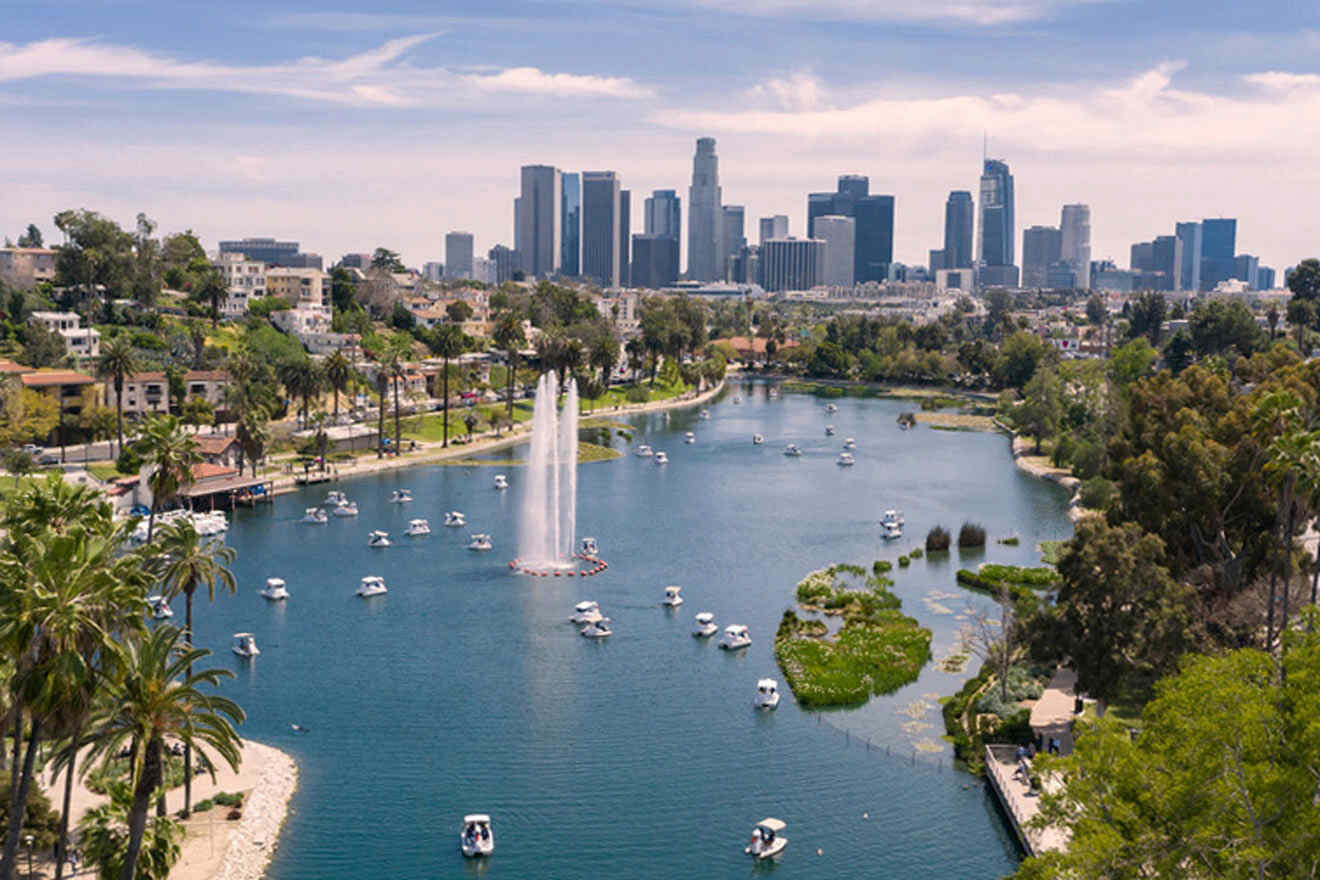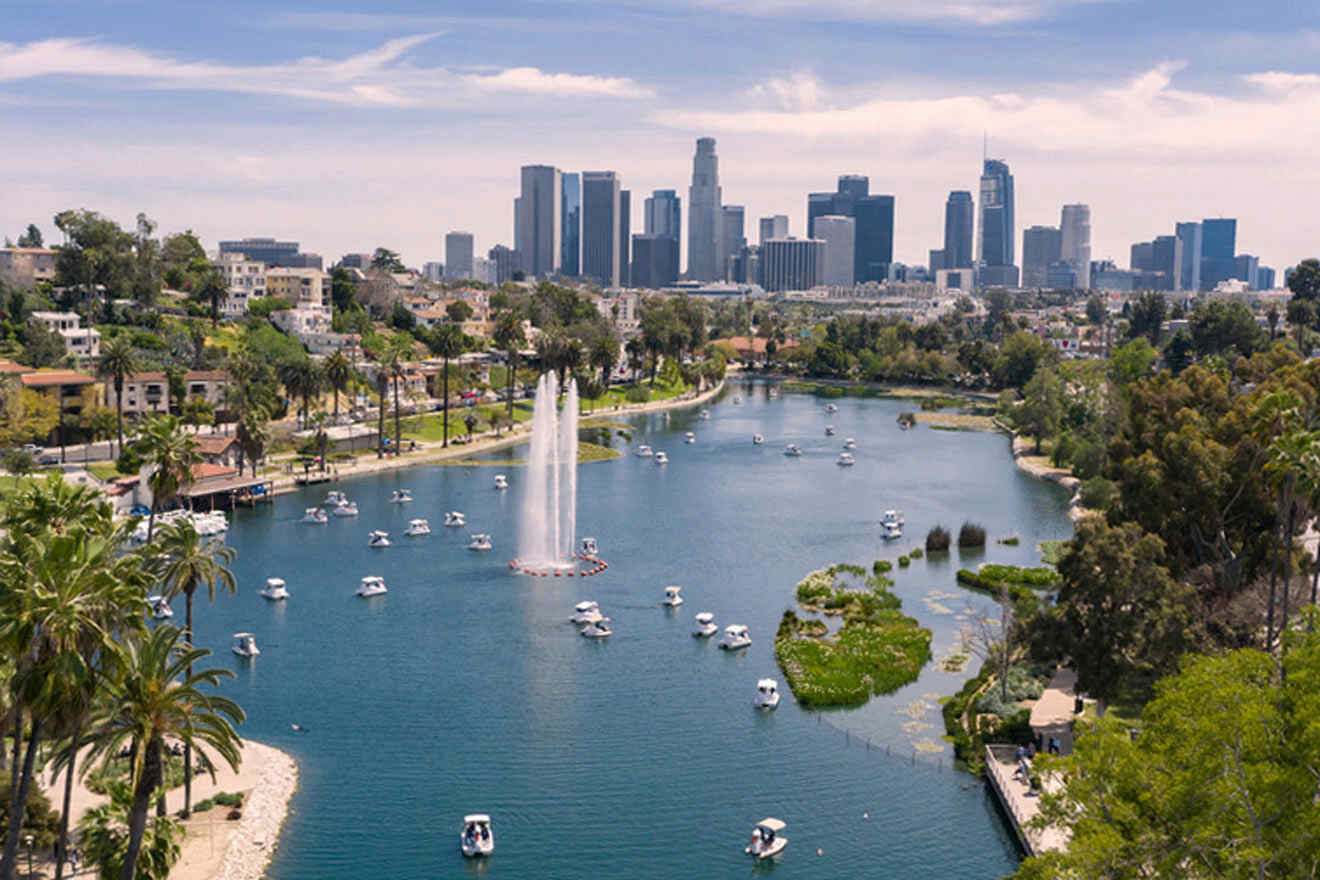 Downtown Los Angeles is also filled with historic things to do! After walking through the Grand Central Market, you can ride the famous landmark Angels Flight Railway (which will only take a few minutes, dropping you off up the street), explore the Arts District, and check out the renowned The Last Bookstore.
HACK: I recently found out about these GoCity passes! They're seriously the best invention ever – you pay a flat rate for a total of 2, 3, 4, or 5 attractions out of the 30+ options partnered with them in LA (I recommend checking if the attractions you want to see are partnered with them under "What to Expect"). This ends up saving you a ton of money on admission tickets.
If you're a foodie like me, I recommend booking a walking food tour with a local to discover the best of downtown LA's food scene! This tour is only a 2-hour adventure, and it's worth taking a look if you'd rather be led by a pro!
The guide will even walk you through some of LA's most notable architecture, like Union Station, Walt Disney Concert Hall, Bradbury Building, and the US Bank Tower, so you'll really make the most out of your time by sightseeing and eating all in the 2 hours!
CITY PASS PRICE: from US$90
2. Make your way toward LA's best museums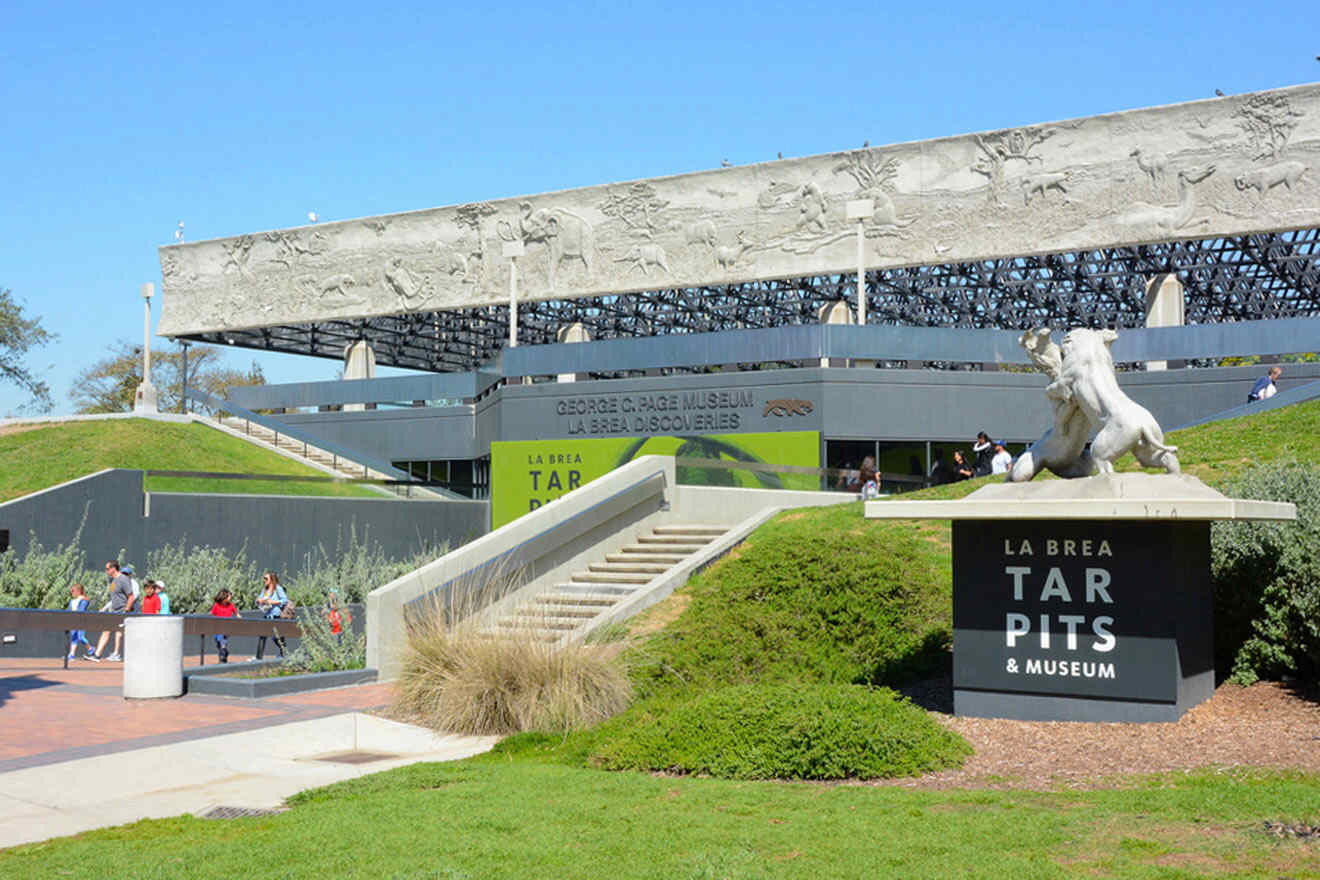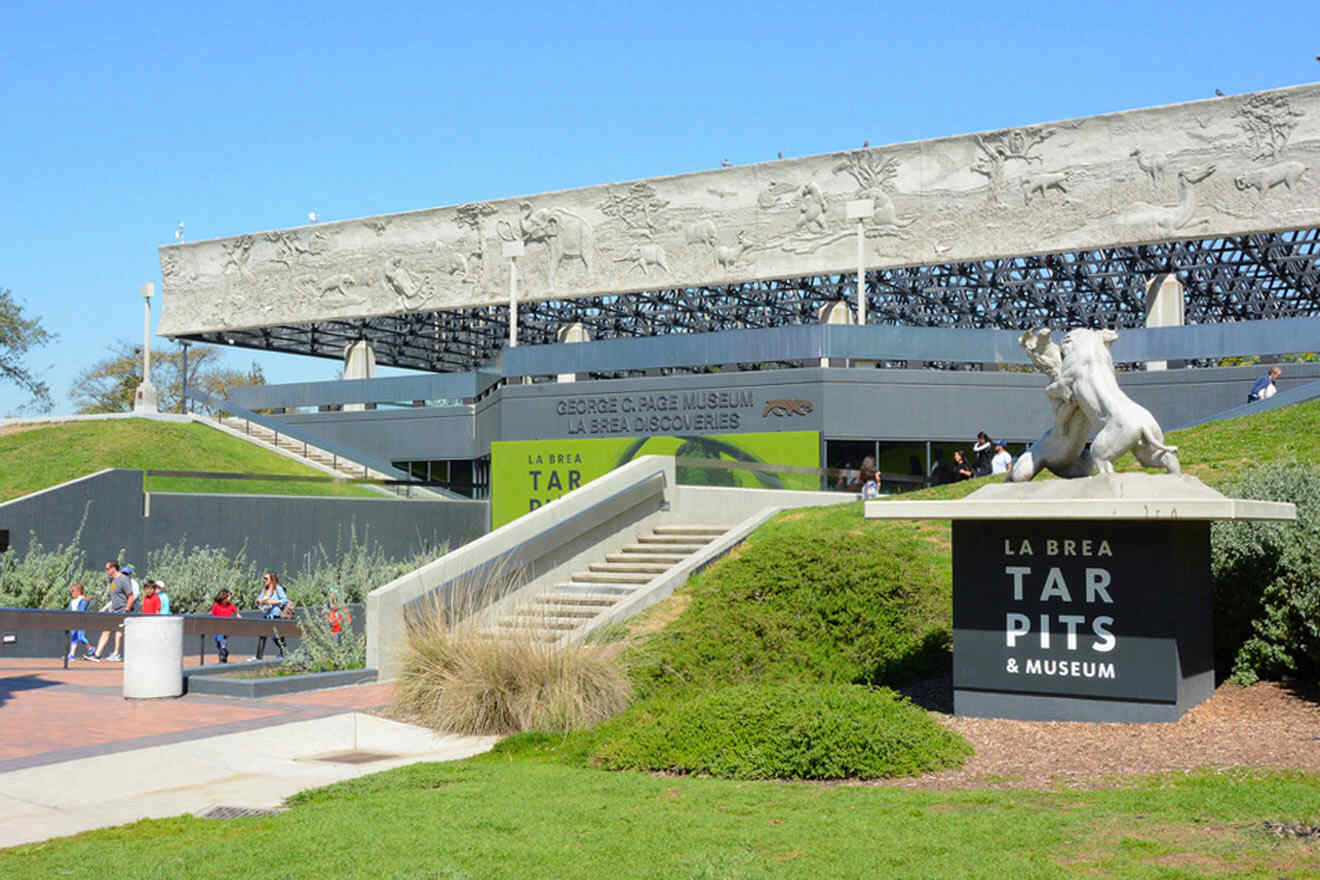 Next up on this LA itinerary are a few of the best museums to visit in the Los Angeles area. They are all located within a short walking distance from each other, being about a 30-minute drive away from downtown LA. I recommend parking at the La Brea Tar Pits and Museum parking lot because they charge you a flat US$15 rate, which isn't as pricey as other options nearby.
Now that you're parked at the La Brea Tar Pits and Museum, explore the active paleontological research site with real work and artifacts being discovered, uncovered, and studied by scientists right there as you watch! This is such a unique experience that I had to include it in this 2-day itinerary because it's unlike anything you'll see anywhere else in California. You can save your spot here to experience the prehistoric times of Los Angeles!
After exploring the ins and outs of the La Brea Tar Pits and Museum, take a short walk to the Los Angeles County Museum of Arts (LACMA), the largest art museum in the Western US. I recommend strolling around for up to 3 hours. There is SO much to see, so it's easy to spend all day here, but definitely put a time limit for how much time you spend inside in order to make time for other popular attractions on this list.
HACK: The LACMA offers free general admission for all visitors on the second Tuesday of each month! If you want to score that deal, plan ahead! Otherwise, buy your tickets in advance here.
If you have extra time on your hands after exploring the museums, take another short walk to The Original Farmer's Market and The Grove for some shopping!
If the Los Angeles County Museum of Art and La Brea Tar Pits and Museum aren't your cup of tea, The Academy Museum of Motion Pictures is a wonderful museum right across the street, with more of an original Hollywood and LA feel, displaying the arts, science, and artists behind moviemaking.
3. Spend your evening under the Hollywood stars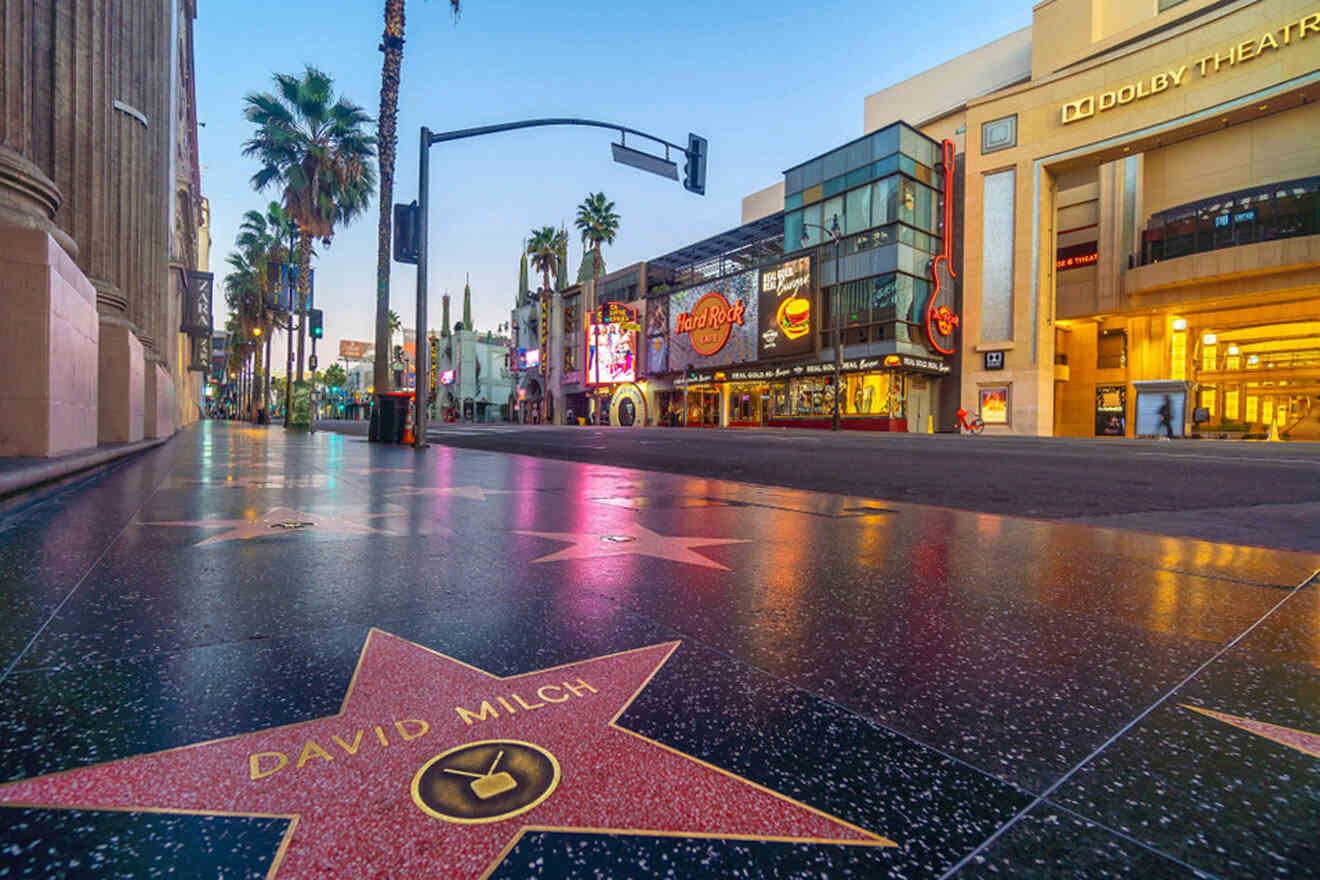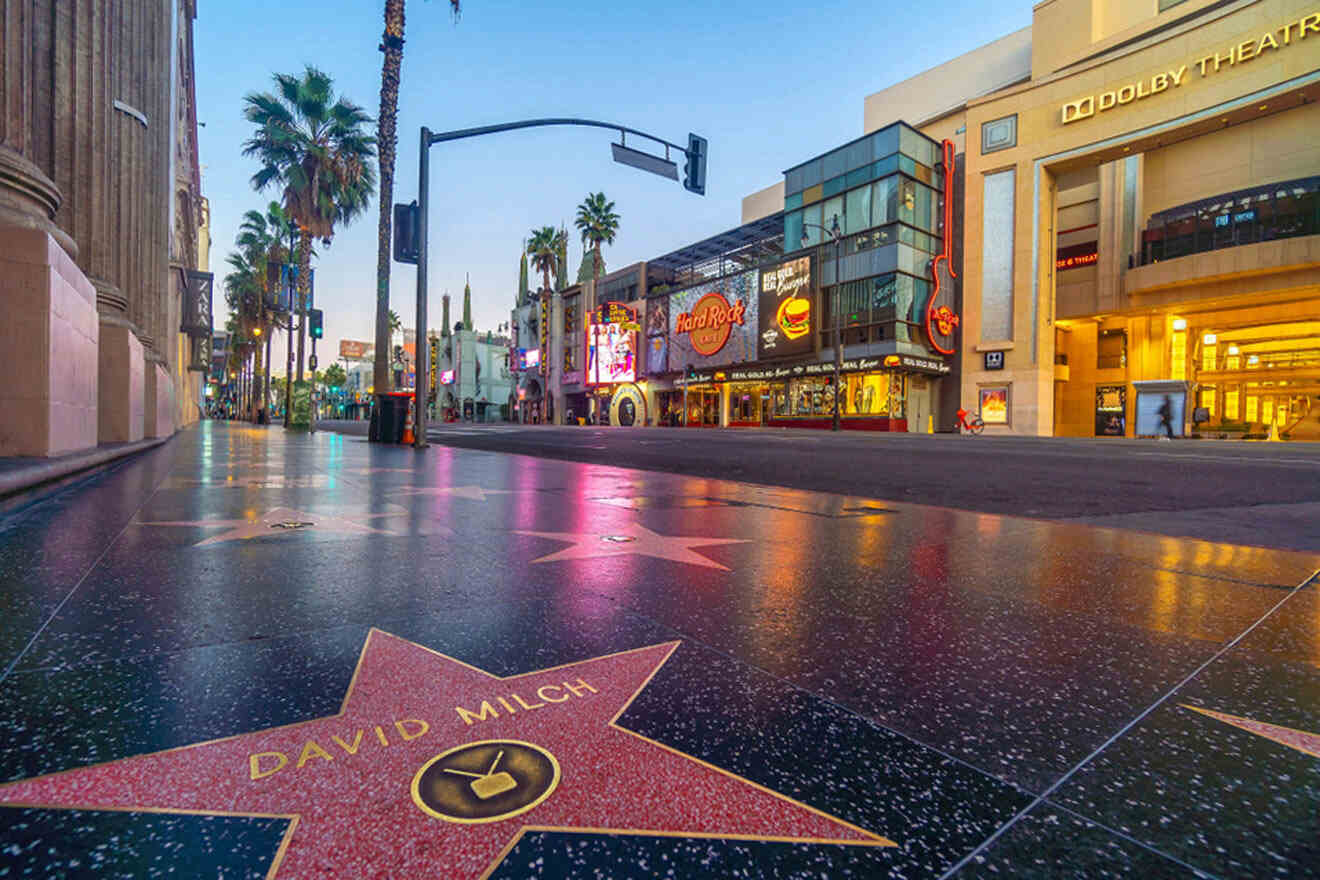 Last but not least, you're ending the day at some of the most iconic destinations and seeing the most classic, must-see attractions in LA! By now, you're probably hungry again, so here are a couple of food options I recommend as you embark on this last journey on your first day:
Now that you're approaching the evening and you're almost ready to get some rest, it's time to head over to your last stop: the Hollywood Walk of Fame! It is honestly not as exciting as many make it out to be – but it's an LA staple destination that you have to experience while you're here.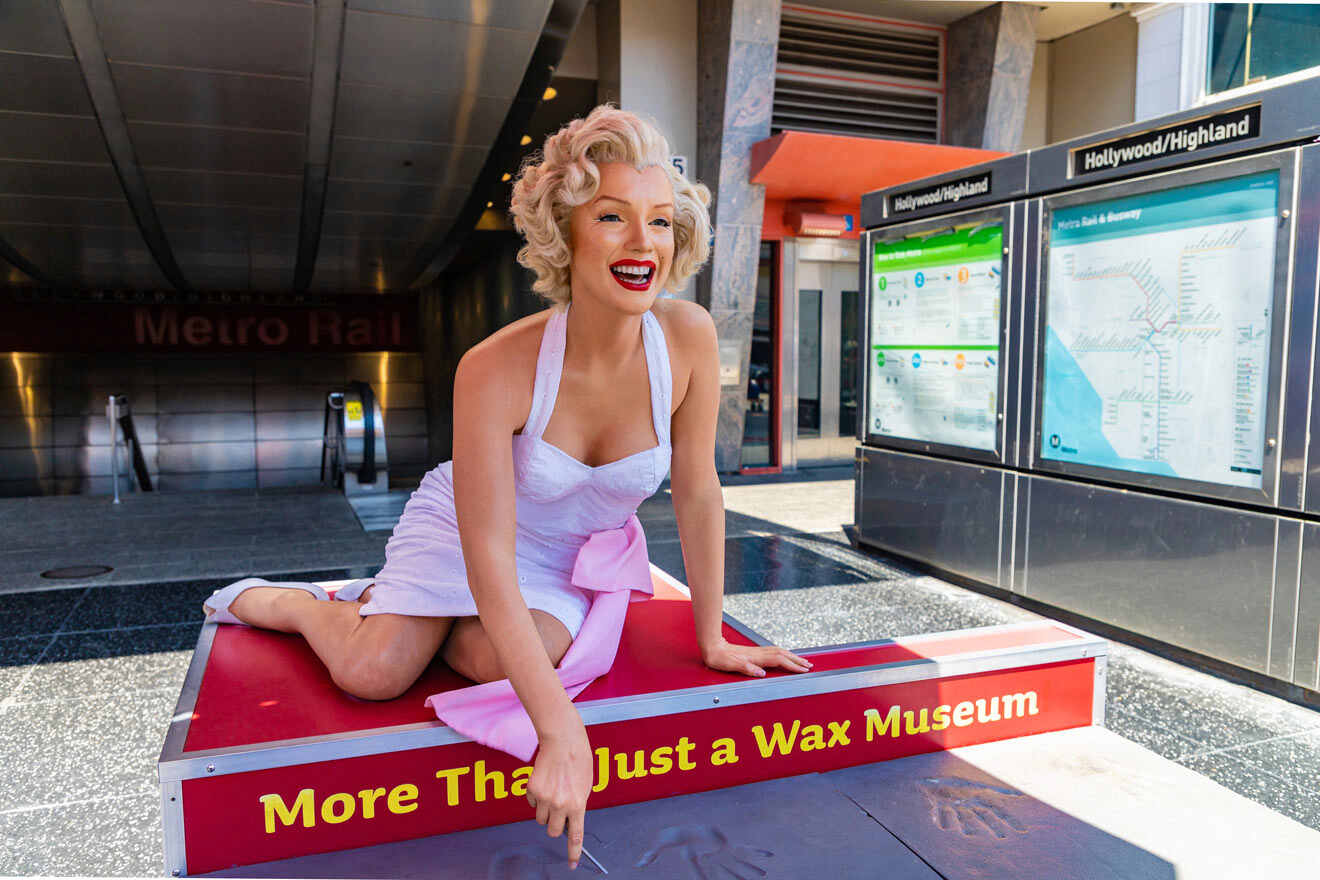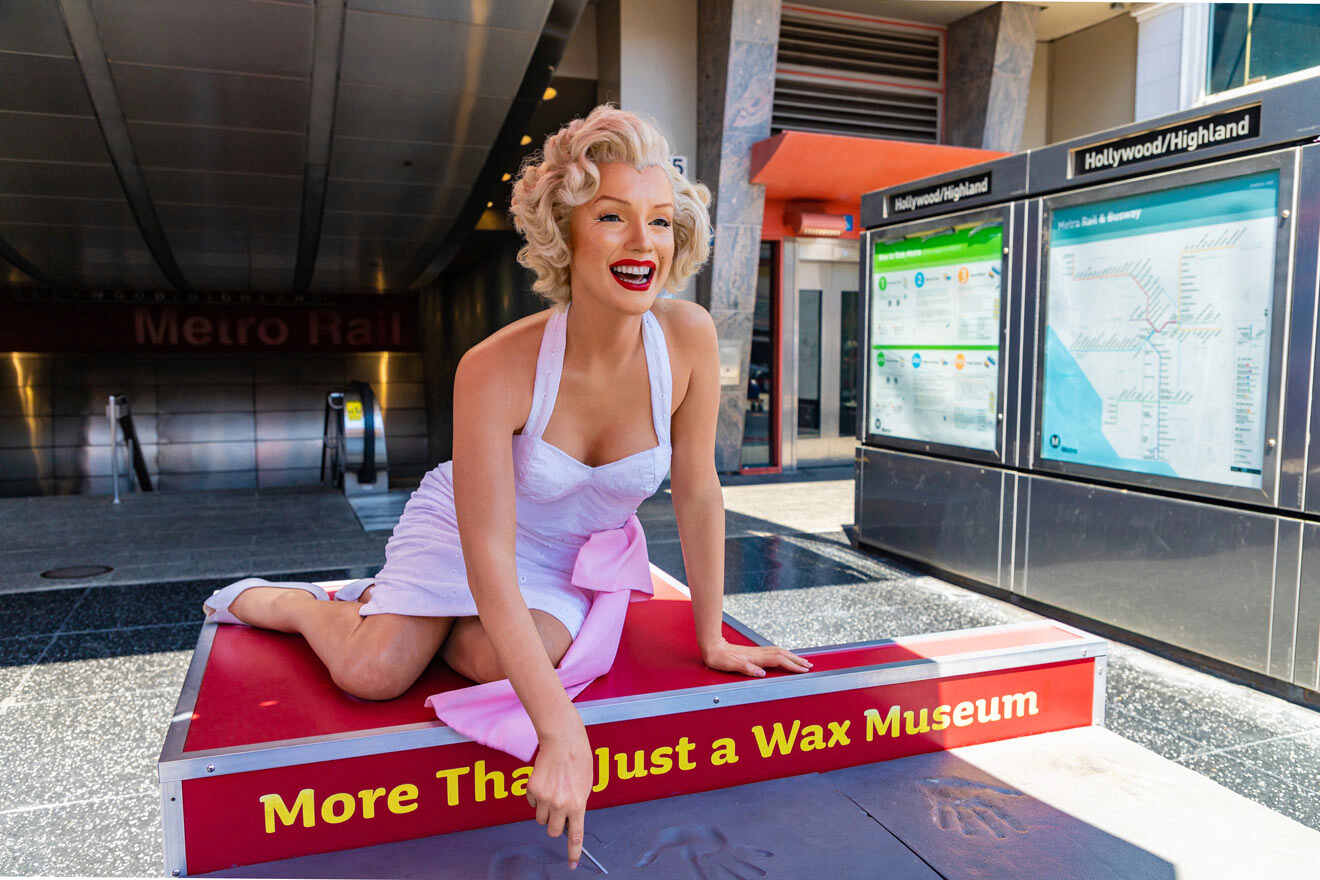 There are over 2,700 stars embedded on the streets of Los Angeles representing businesses, classic movie stars, and artists that have made a mark (and still leave a mark) in Hollywood and the entertainment industry's history! This walk is completely free and great for anyone. It does get quite crowded, as you can imagine, so keep your kids close!
You can also take a walk down Hollywood Boulevard for the Grauman's Chinese Theatre, Kodak Theatre (where the Oscars are held every year), and the famous Hollywood Wax Museum.
HACK: If getting around this itinerary seems a bit difficult for your first day, no biggie! Book this all-day guided tour of Los Angeles' most iconic attractions and go with the flow the next day, covering anything you feel like you missed on the guided tour.
Day 2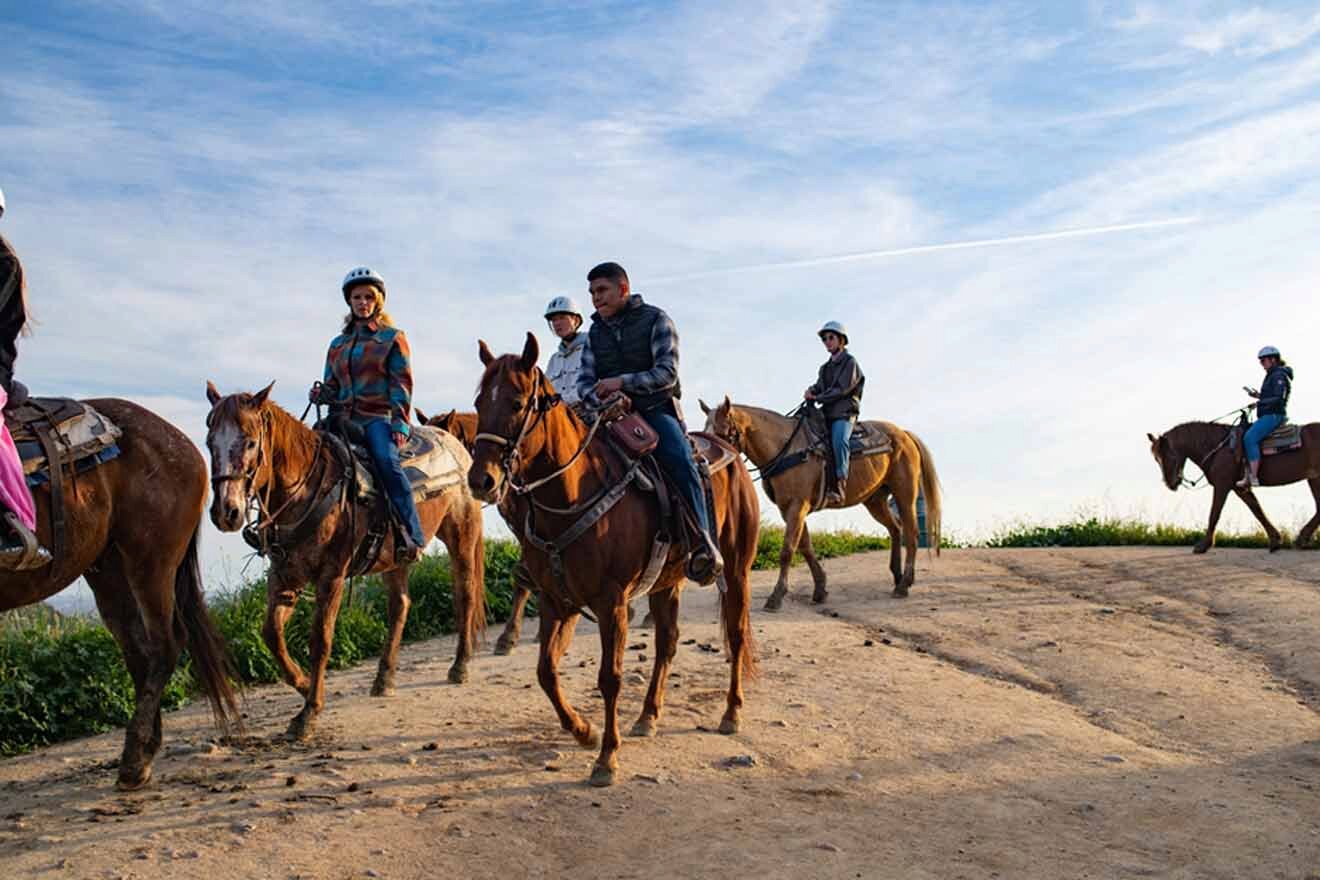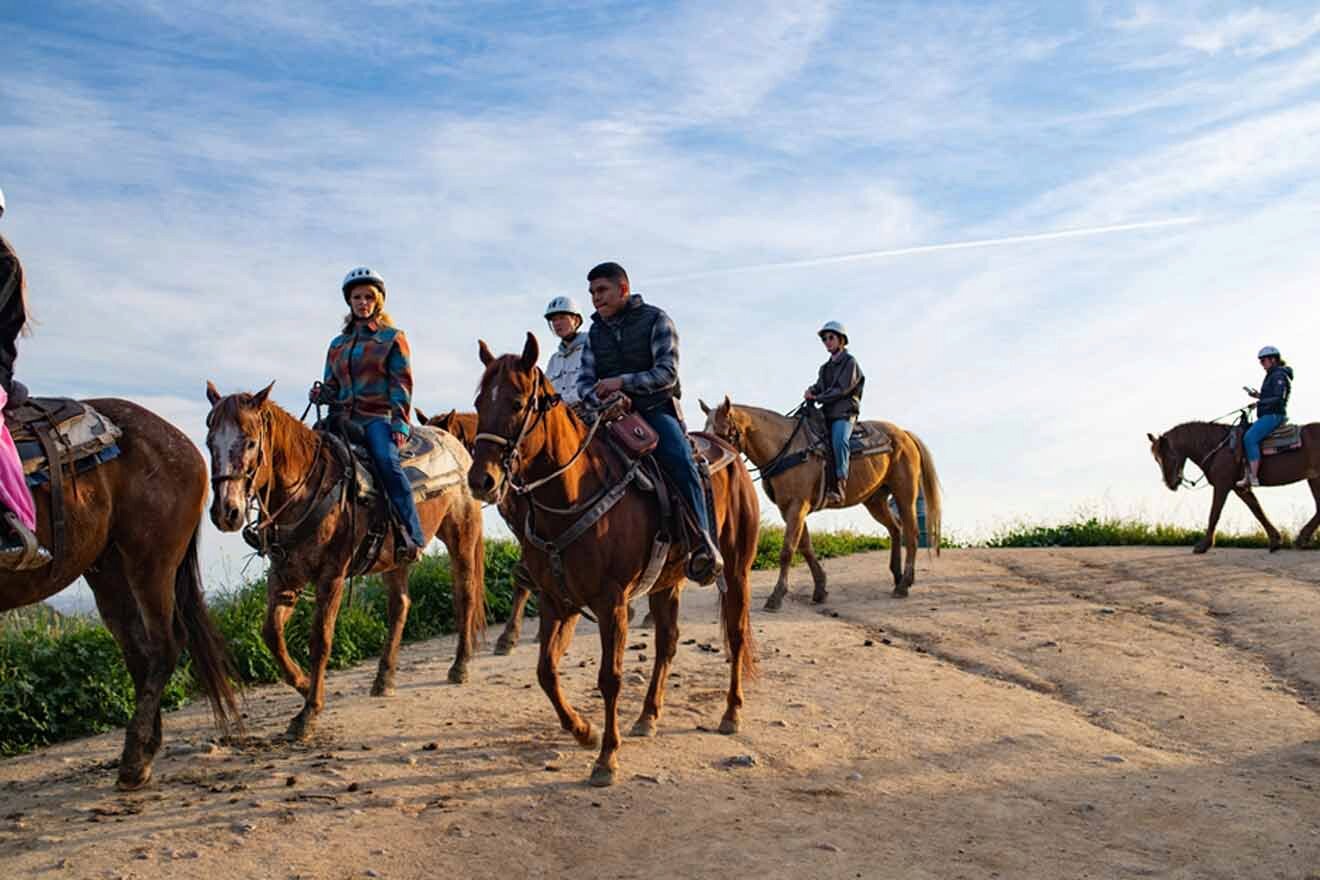 Alright, now that we've seen some of the best parts of the big city, your second-day Los Angeles itinerary focuses on seeing the most beautiful beaches and views that LA has to offer.
Unfortunately, there's not enough time in this 2 day's Los Angeles itinerary to head to Universal Studios Hollywood. It's one of the best theme parks in Los Angeles, so I recommend checking out if you have a day to spare and end up staying for a 3rd day!
It's also one of the most popular tourist attractions in Los Angeles with the famous Wizarding World of Harry Potter and Studio Tour, where you really get a taste of the entertainment industry and behind-the-scenes world of Hollywood.
If you're exhausted from the day before, I suggest booking 2 tours:
Here's a map of the places you'll visit on day 2 as well:
Ready? Let's get started on day 2!
1. Start your day seeing Griffith Park and The Hollywood Sign!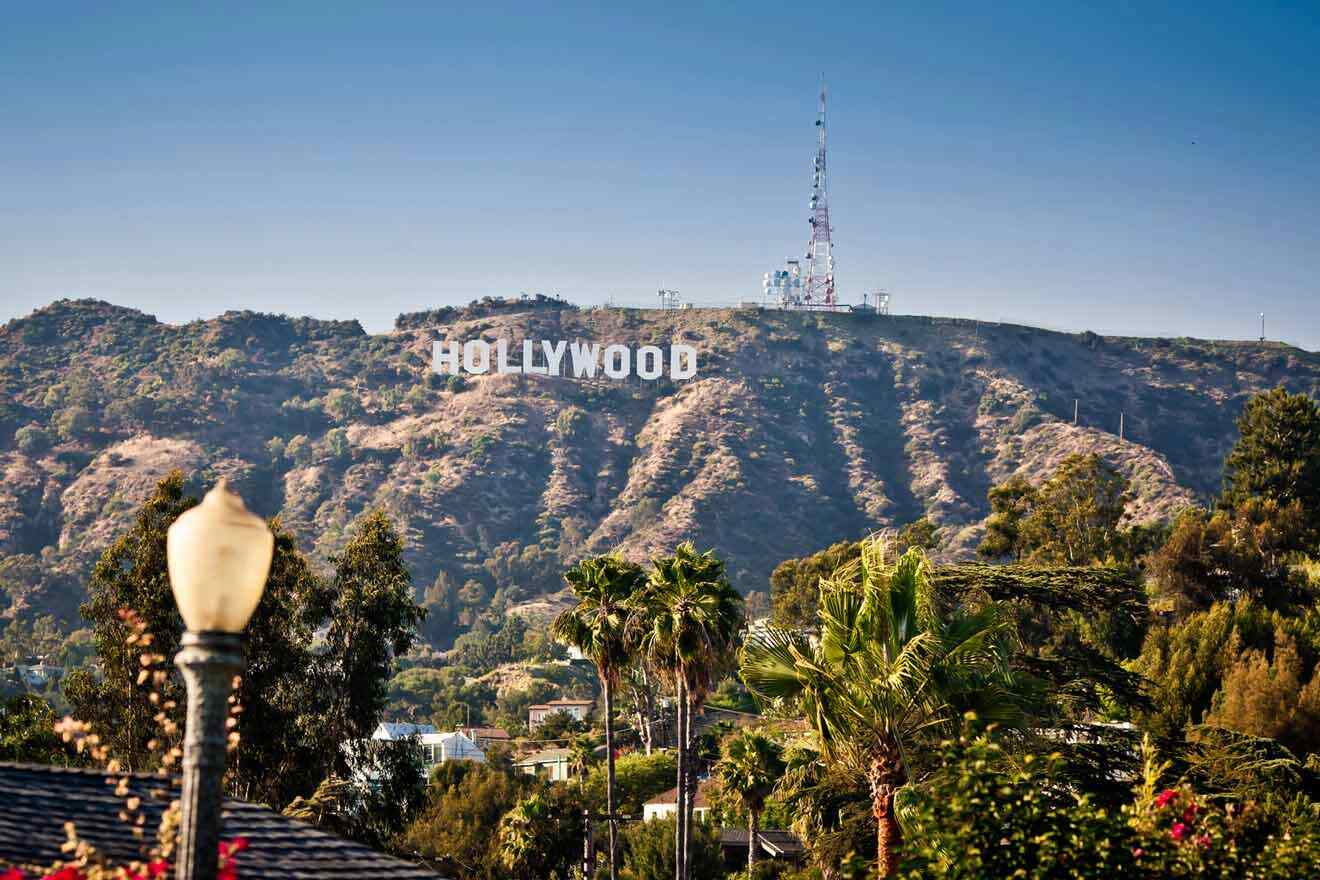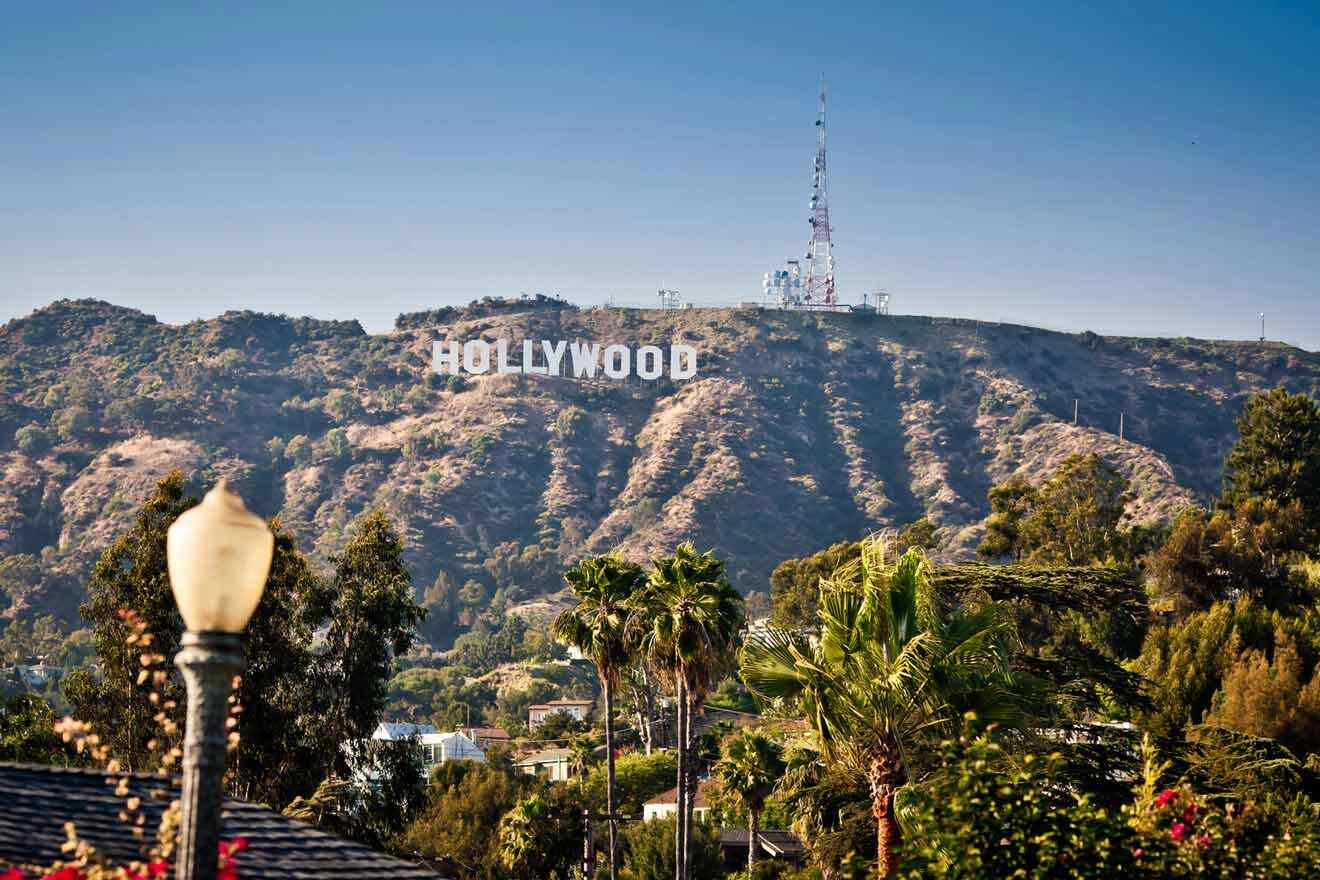 Don't worry, I didn't forget about the famous Hollywood Sign! There are quite a few ways to have the best views of the Hollywood sign and experience some of the major attractions in the area, so it's best to save this one for the morning of your 2nd day.
After grabbing a light breakfast at the popular Los Feliz Cafe, head over to Griffith Park, where you'll hike up to the Hollywood Sign. There are quite a few ways to hike up to the sign that I recommend (based on how much energy you have, how long of a hike you want, etc.):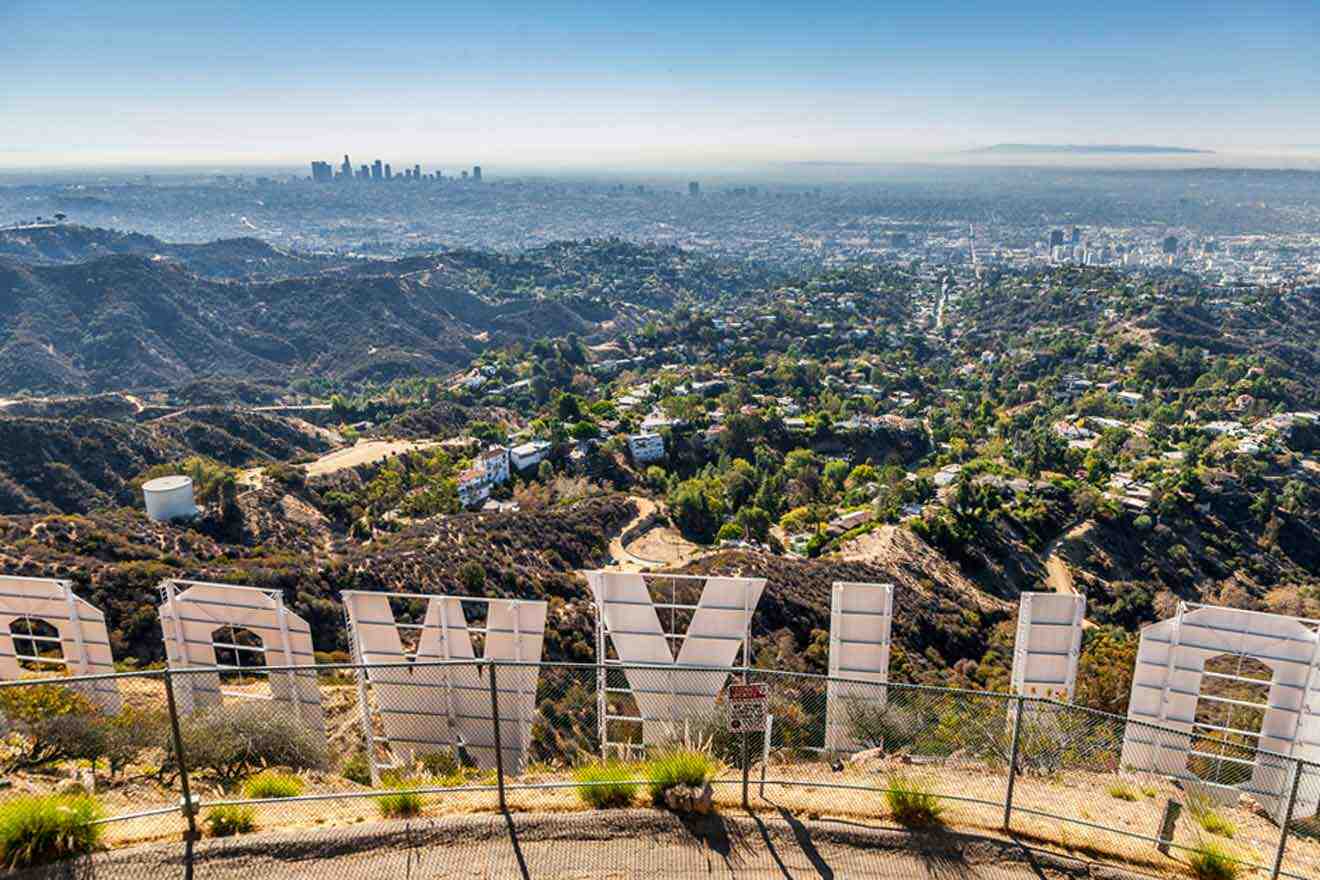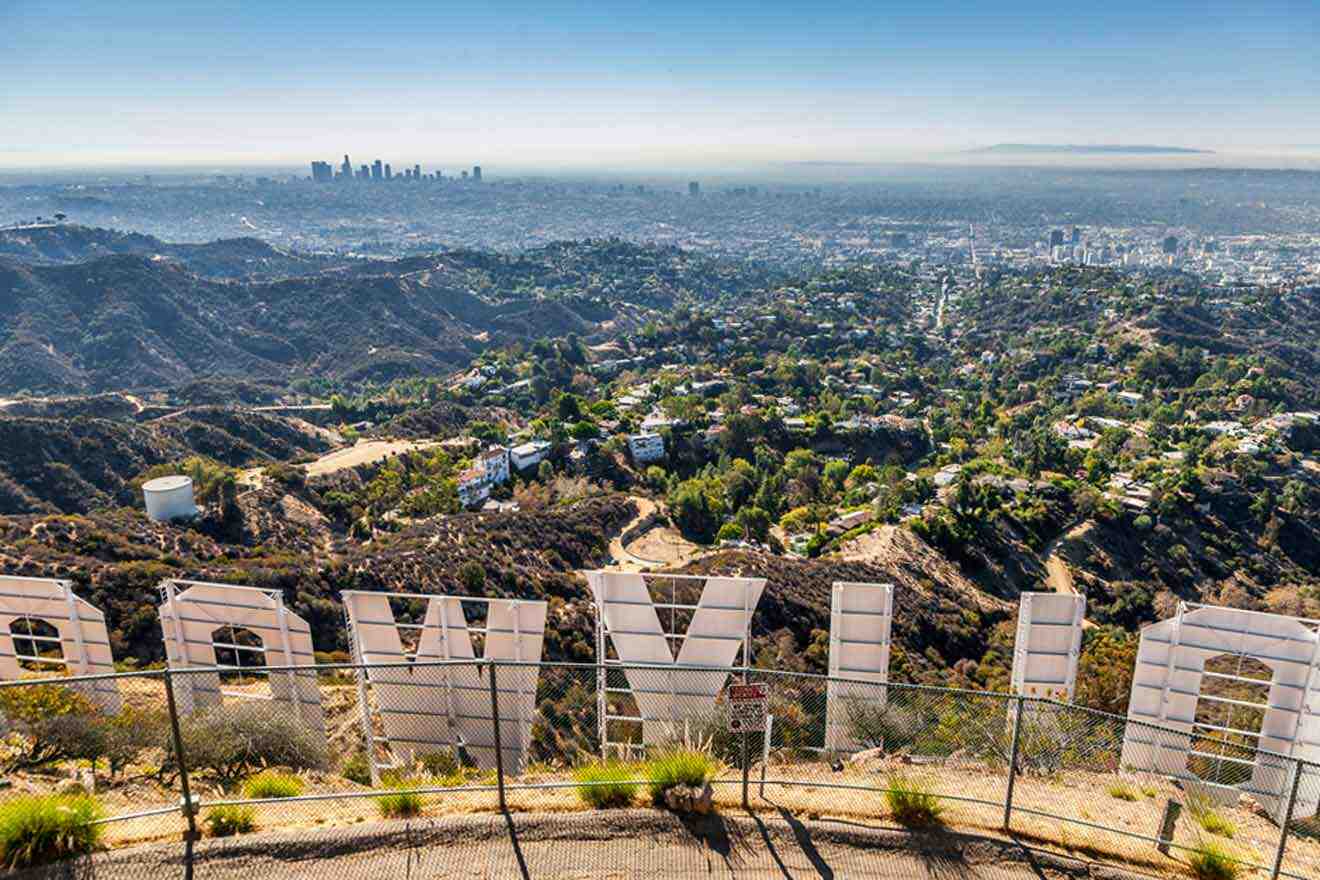 As you head back down, visit California's "Gateway to the Cosmos" at Griffith Observatory! This place is huge and super overwhelming, so I recommend booking a guided tour that will show you highlights of the Griffith Observatory in only 1.5 hours.
If you don't want to hike, visit Lake Hollywood Park for the best park for views of the Hollywood Sign. Bring lunch and have a picnic there for the best experience!
PRO TIP: Don't forget to bring lots of water and wear sunscreen on your hike! The Southern California sun is no joke! I use this UV-protecting sunscreen from Shiseido for my face and this easy spray-on sunscreen for the rest of my body. These are truly lifesavers when I'm out in the sun!
2. Make your way towards Santa Monica and Venice Beach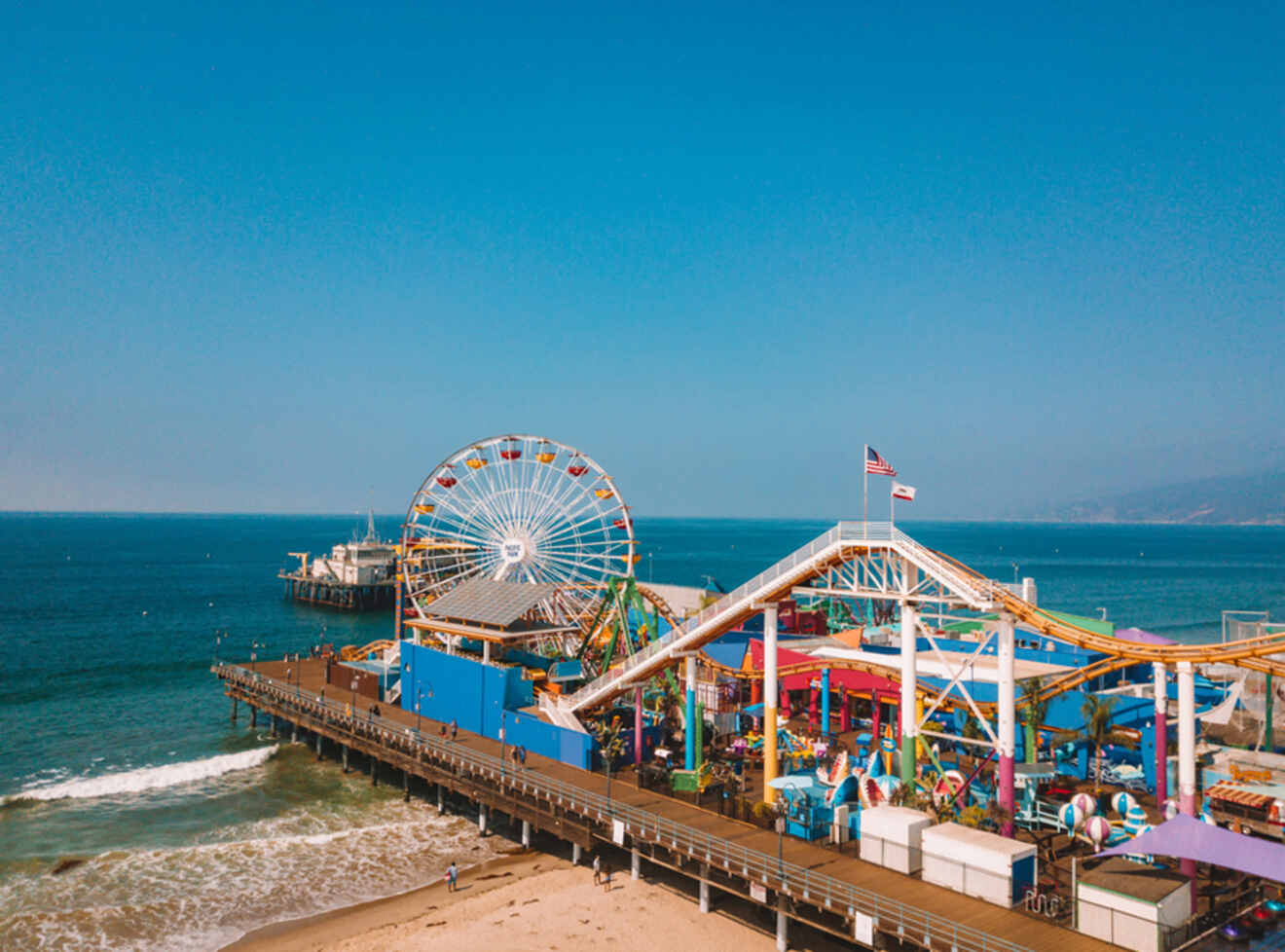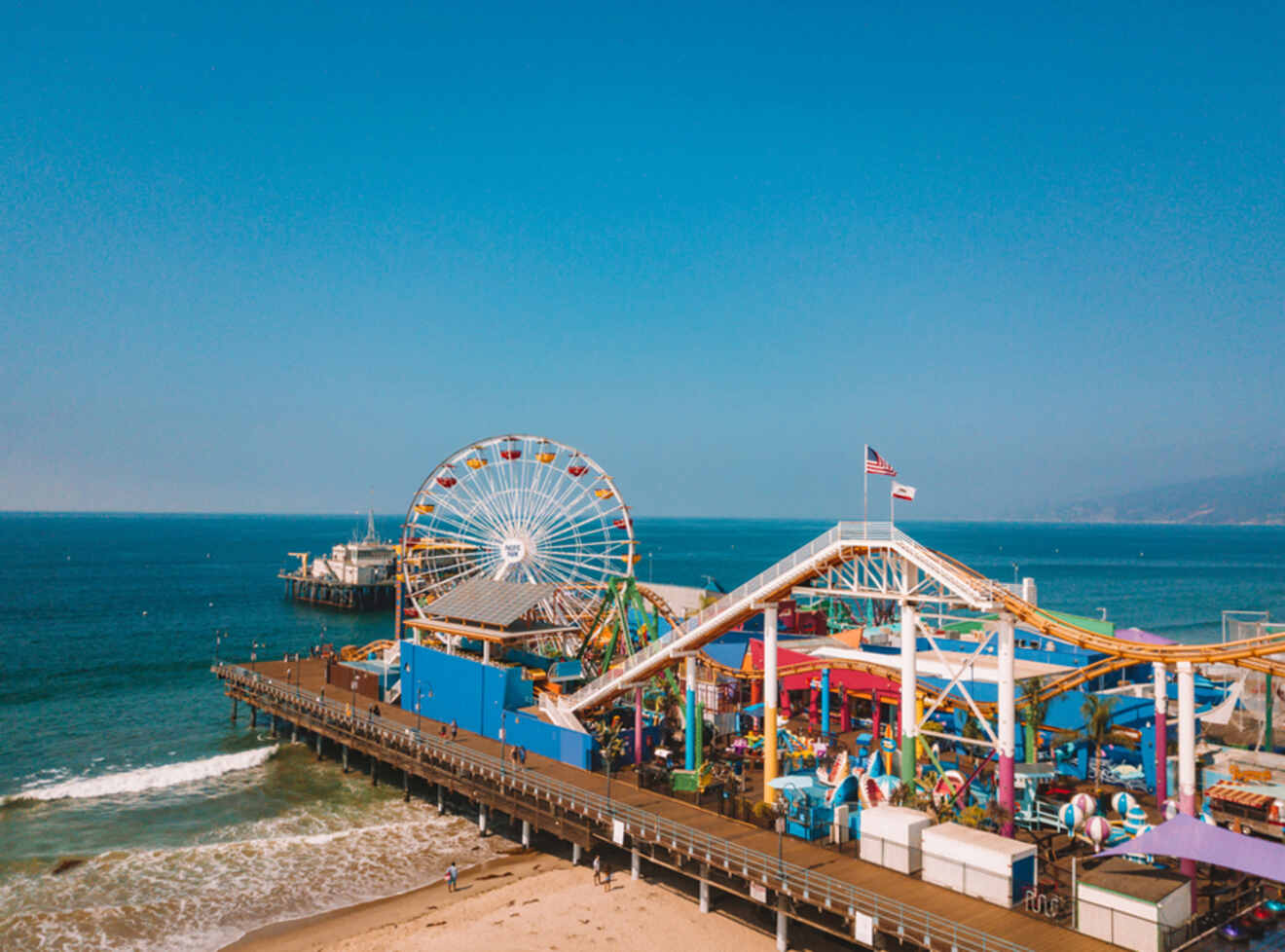 The bulk of your 2nd day in Los Angeles is going to be spent where it really matters here on the West Coast (aka the best coast): the beach!
Santa Monica is about a 20-minute drive away from central Los Angeles, which is basically all the driving you'll need to do until you head back home later in the day (so no need to worry about LA traffic until heading out for dinner). I recommend enjoying the entire day at Santa Monica Beach, building sand castles, laying out in the California sun, going for a swim in the ocean, or even bringing a soccer ball or football to play with on the beach.
Once you've spent a good amount of time at Santa Monica Beach, take a walk to the Santa Monica Pier and find endless entertainment everywhere you turn.
The Pacific Park amusement park is filled with street performers, rides, arcade games, street vendors, and more – there's SO much to see here. I recommend playing some games, snapping a photo by the famous Ferris wheel, and then heading down to the Third Street Promenade for lunch at 1212 Santa Monica! They also have a great happy hour menu with handcrafted cocktails at only US$9.
Santa Monica Pier is only a 45-minute walk away from the Ocean Front Walk in Venice Beach – so why not visit Venice Beach while you're here?! If that sounds exhausting trying to figure it all out, there are quite a few tours that will take you around Santa Monica and Venice Beach (that way, you can get a taste of both).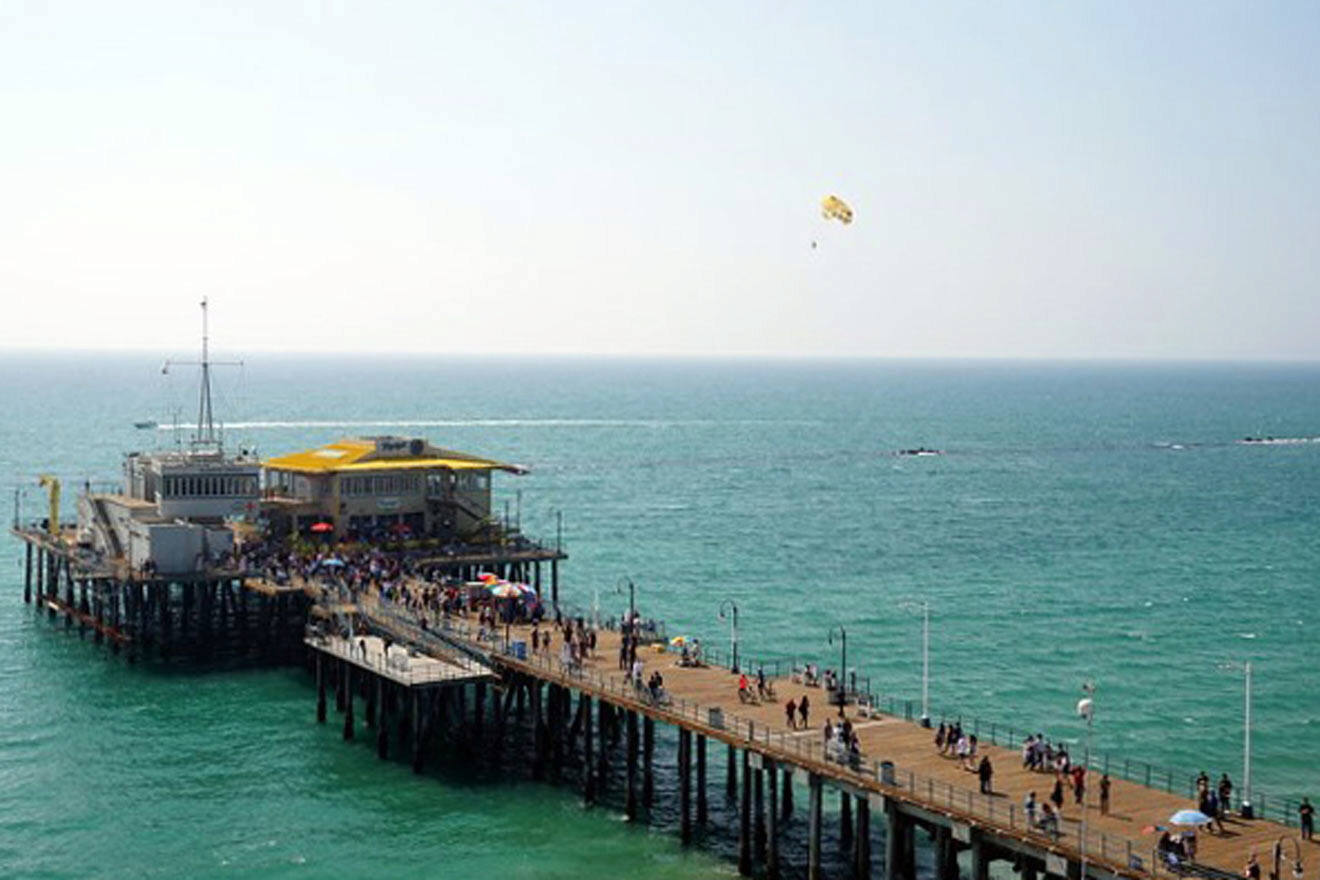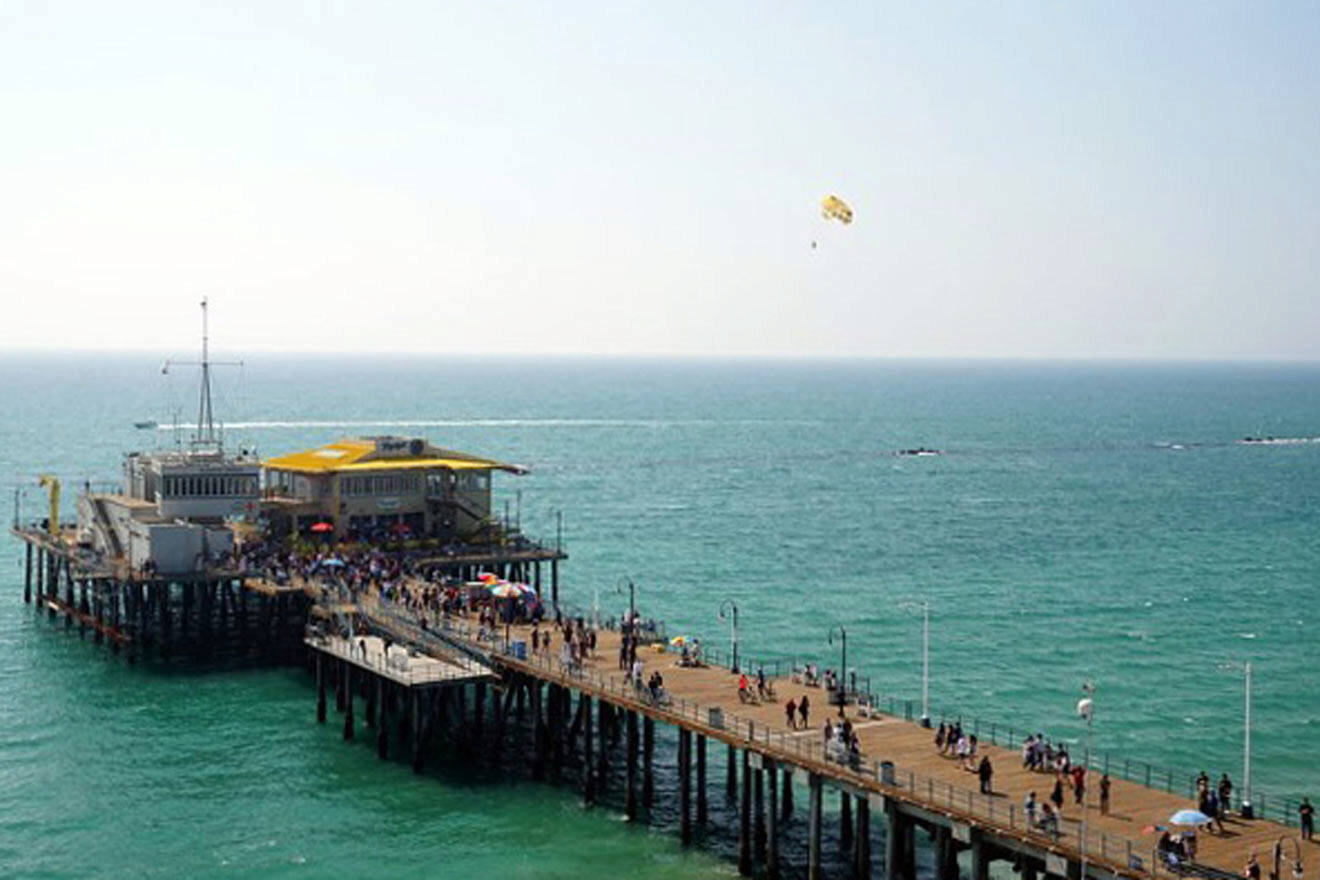 If that's the case, I recommend checking out a Santa Monica Beach Segway tour! Don't worry, they'll teach you how to use the Segway beforehand!
Venice Beach is well-known for the infamous Muscle Beach, Marina Del Rey, Ocean Front Walk along the Pacific Ocean, Venice Skate Park, and Santa Monica Bay, all located within a few steps away from each other. I recommend walking through Venice Beach and getting a taste of all this small but mighty beach town has to offer. After strolling along Venice Beach, it's time to head back to your car for dinner in one of LA's most popular attractions!
Walking along both the Ocean Front Walk and Santa Monica Pier is free! You're not spending a dime watching anything going on here. It's free entertainment, that's great if you're on a budget. The only time you'll need money is if you're playing games, going on rides, or buying food!
3. End the day in Beverly Hills for dinner and drinks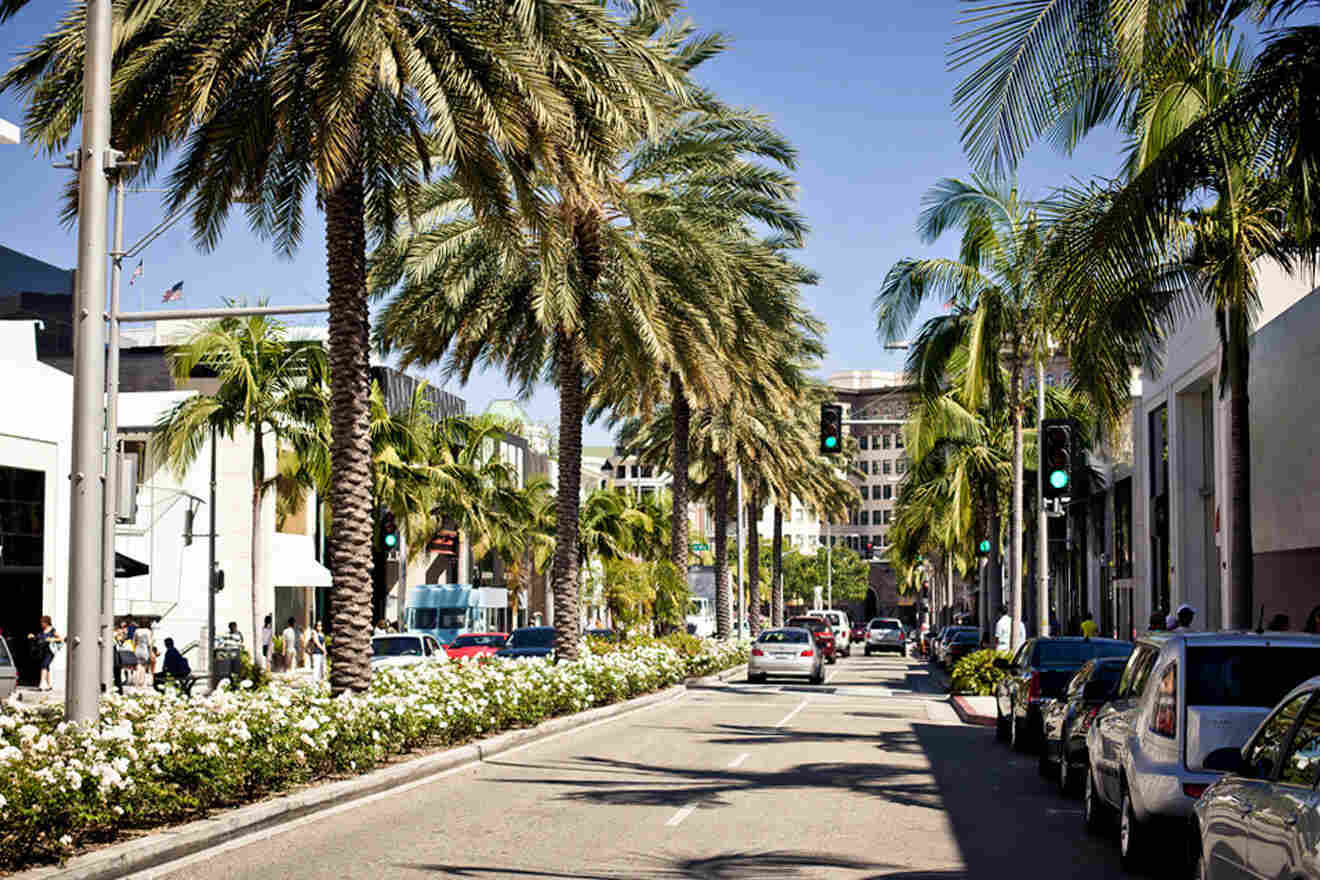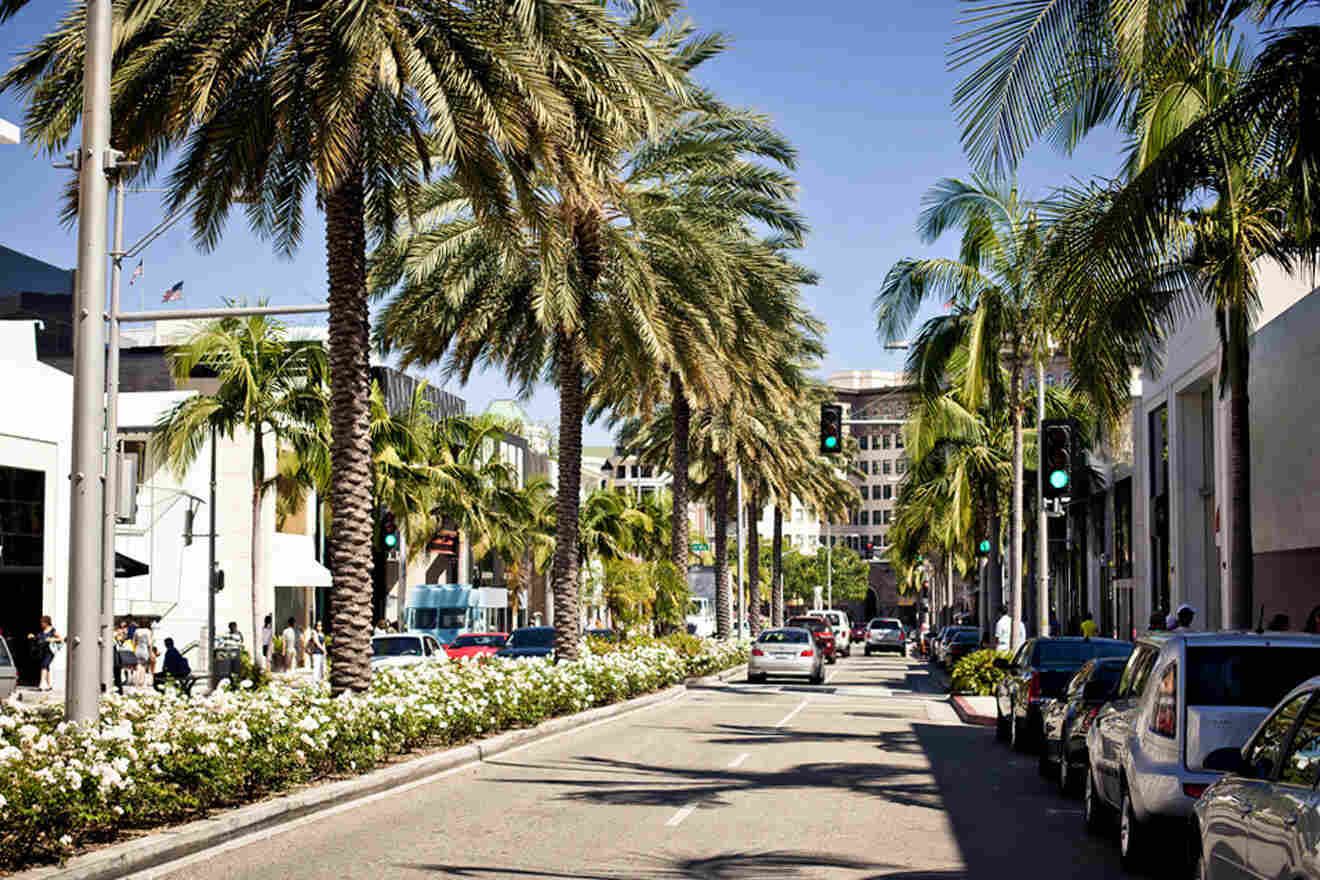 After all that walking and time out in the sun, it's time to unwind in the most glamorous (and expensive) neighborhood in the world: Beverly Hills in West Hollywood!
Beverly Hills is most known for the famous Rodeo Drive, a 2-mile (3 km) long high fashion shopping district. I recommend walking down the entire street to find top-notch restaurants, designer stores, spas, hotels, and more.
Here are my top 2 recommended stops in Rodeo Drive for dinner and drinks: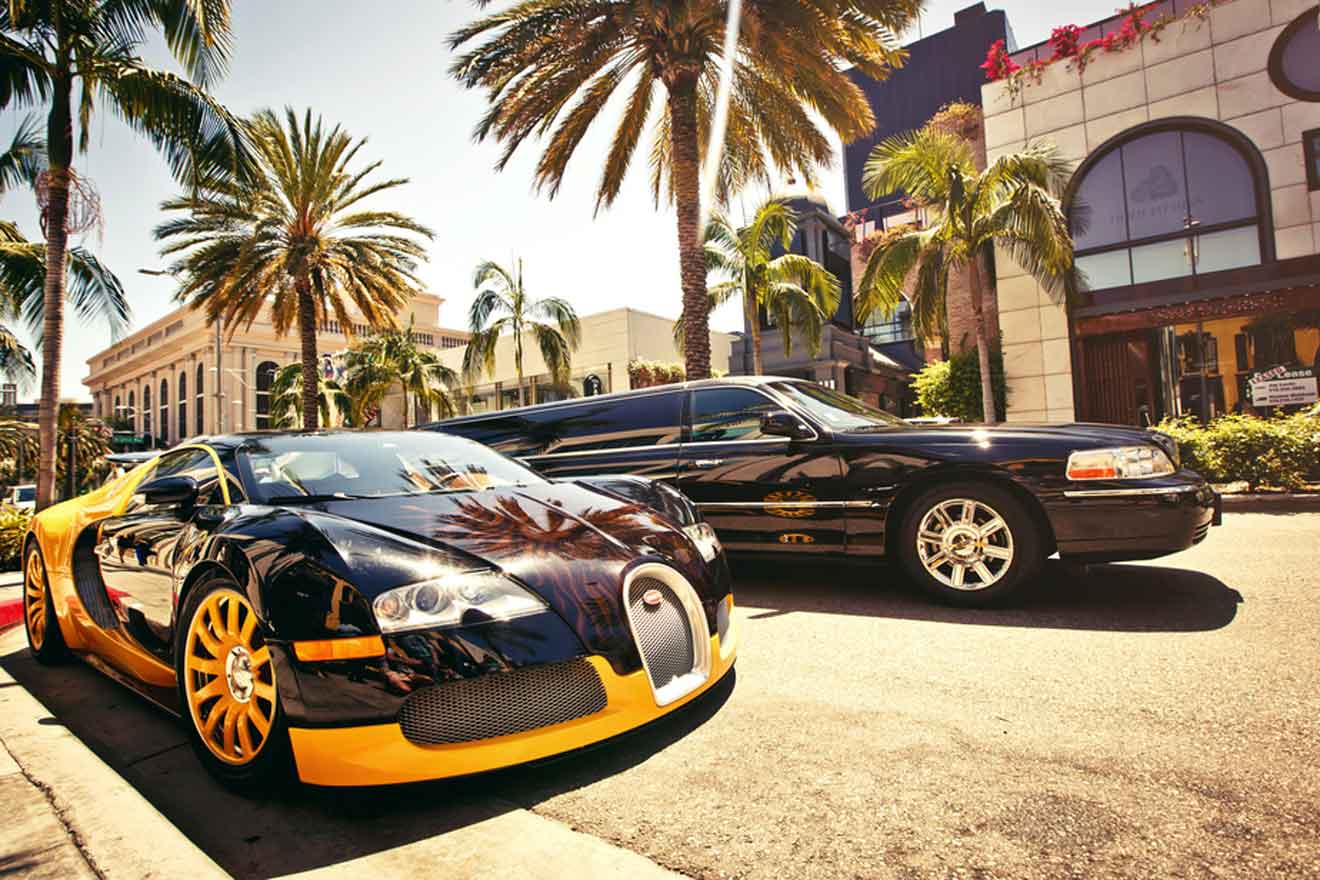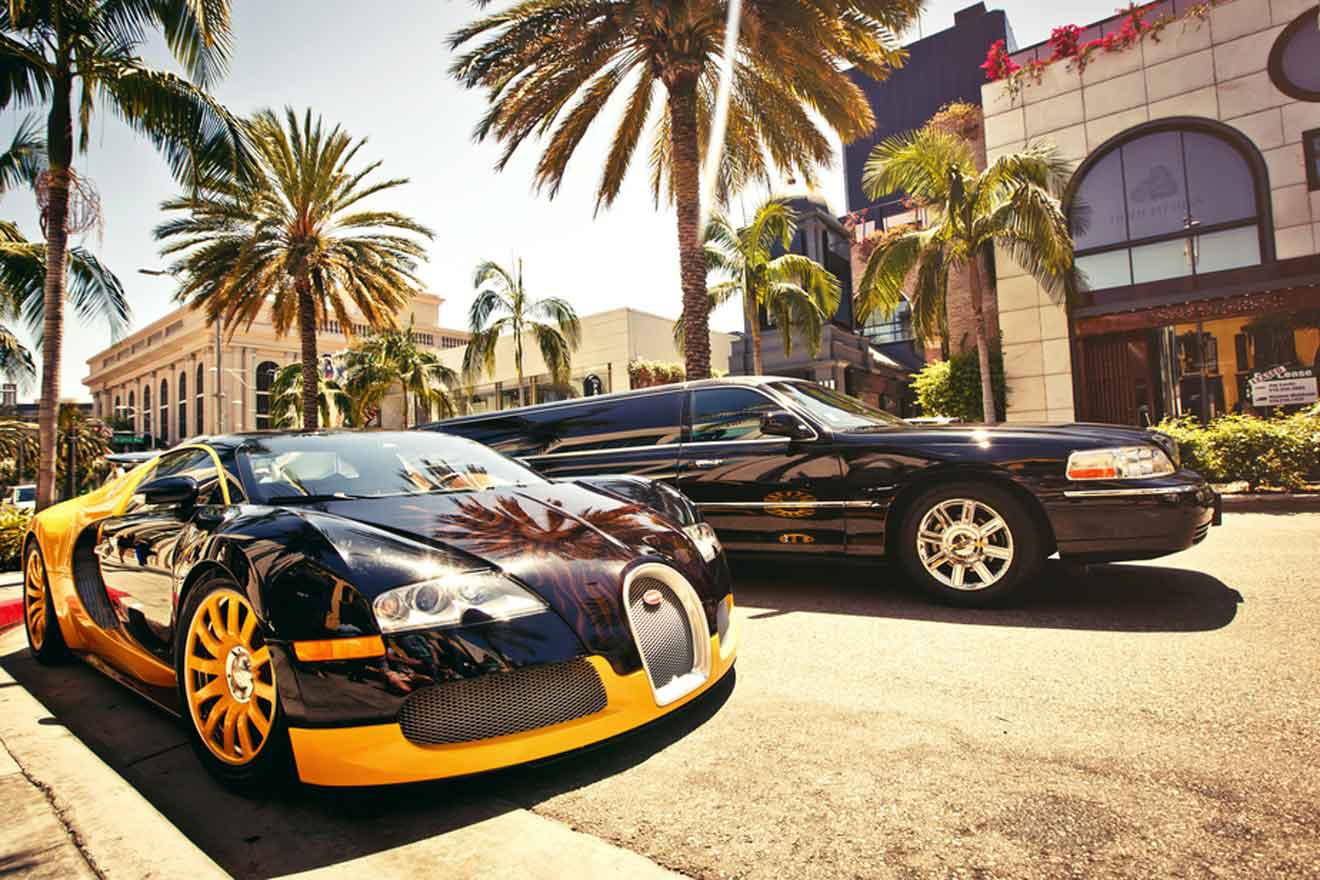 Beverly Hills is all about the glitz and glamor, so I recommend taking your time around the Rodeo Drive area admiring The Beverly Hills Hotel, walking through Santa Monica Boulevard, taking photos by the iconic Beverly Hills Sign, and going inside all the exclusive shops that you won't find anywhere else. Remember: it's completely free to window shop!
PRO TIP: There is free 2-hour parking available at the parking garage on Dayton Way before 6 PM. If you're parking after 6 PM, you can get your ticket validated at the restaurant and pay US$7.
After you walk through Beverly Hills, you can check out the iconic Sunset Strip nearby or head back to your hotel and relax because you're probably SO ready for a good night's sleep.
FAQs about 2 days in Los Angeles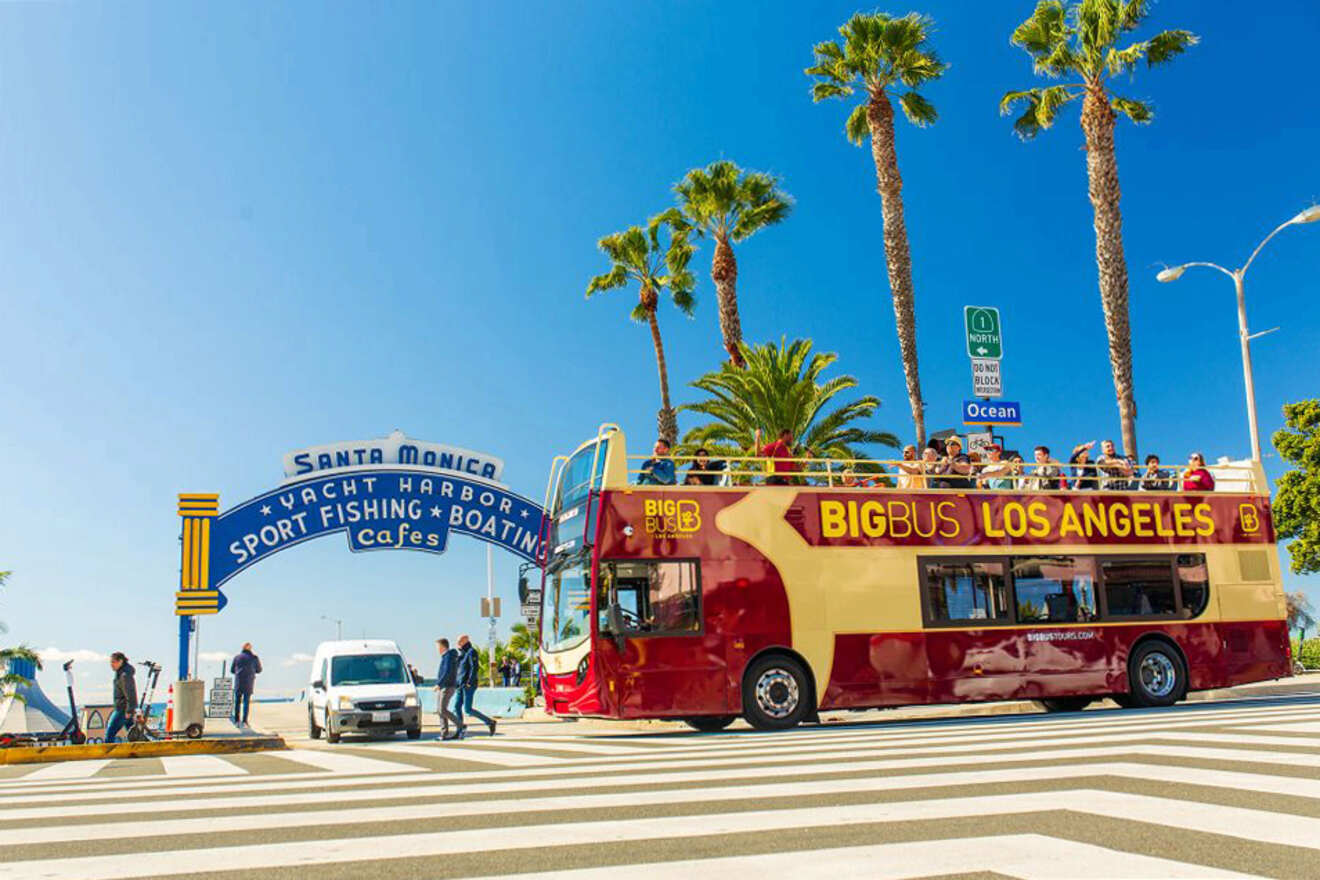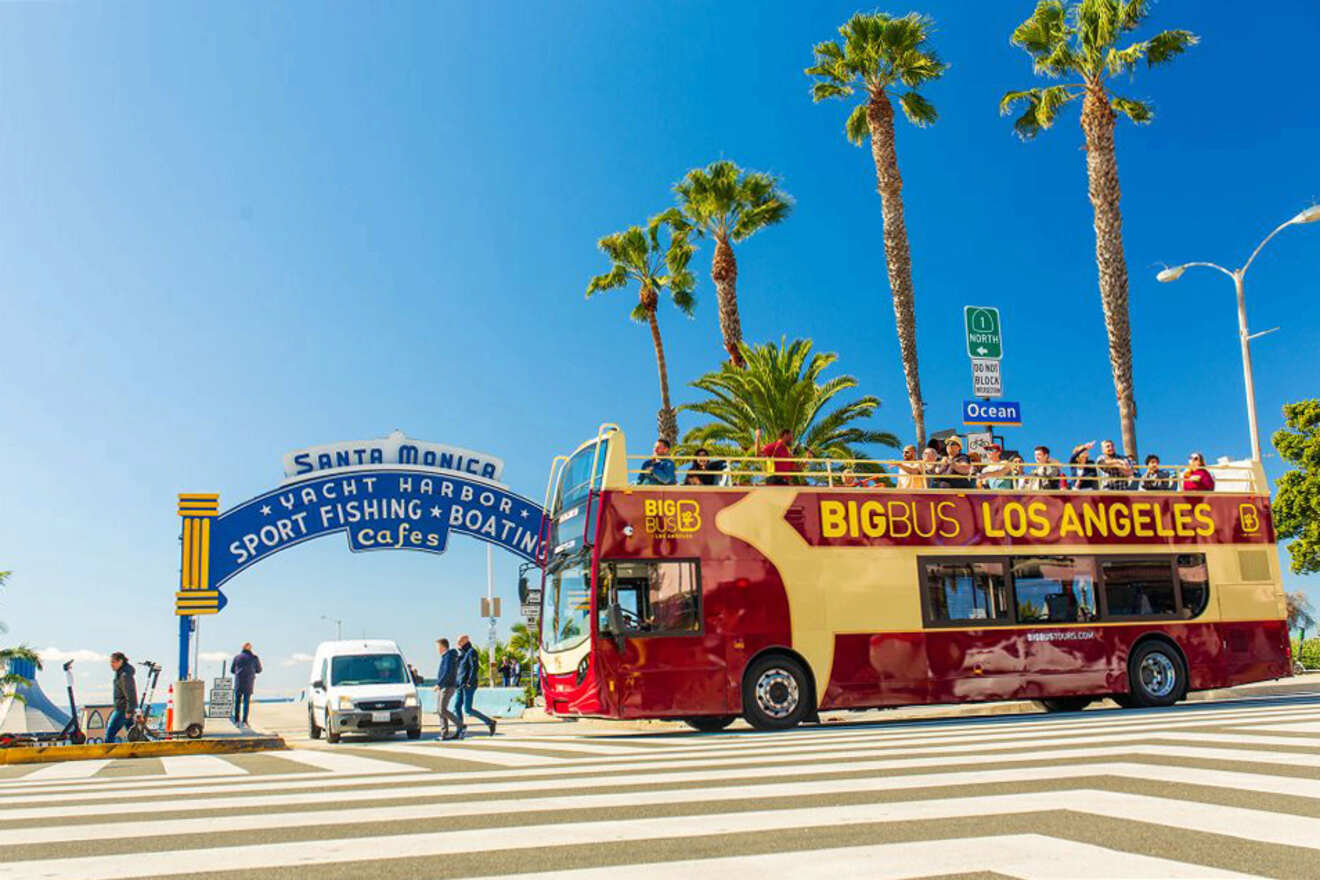 🕒 Are 2 days enough time in Los Angeles?
2 days is enough time in Los Angeles to see the city highlights! There's SO much to do here, so I recommend coming back to get the full Los Angeles experience.
🗺️ How do you spend 2 days in Los Angeles?
I recommend spending 2 days in Los Angeles by the main destinations: downtown Los Angeles, Griffith Observatory (Hollywood Sign), and the best beaches in LA: Venice Beach and Santa Monica Beach!
👨‍👩‍👧 What are the best activities for kids in Los Angeles?
🚗 How do you spend 2 days in Los Angeles and save the most money?
You can spend 2 days in Los Angeles without putting a dent in your wallet by getting a GoCity Pass! The pass allows you to choose anywhere between two and seven tickets to attractions to buy at a flat rate. You end up saving a pretty penny this way in the end.
Conclusion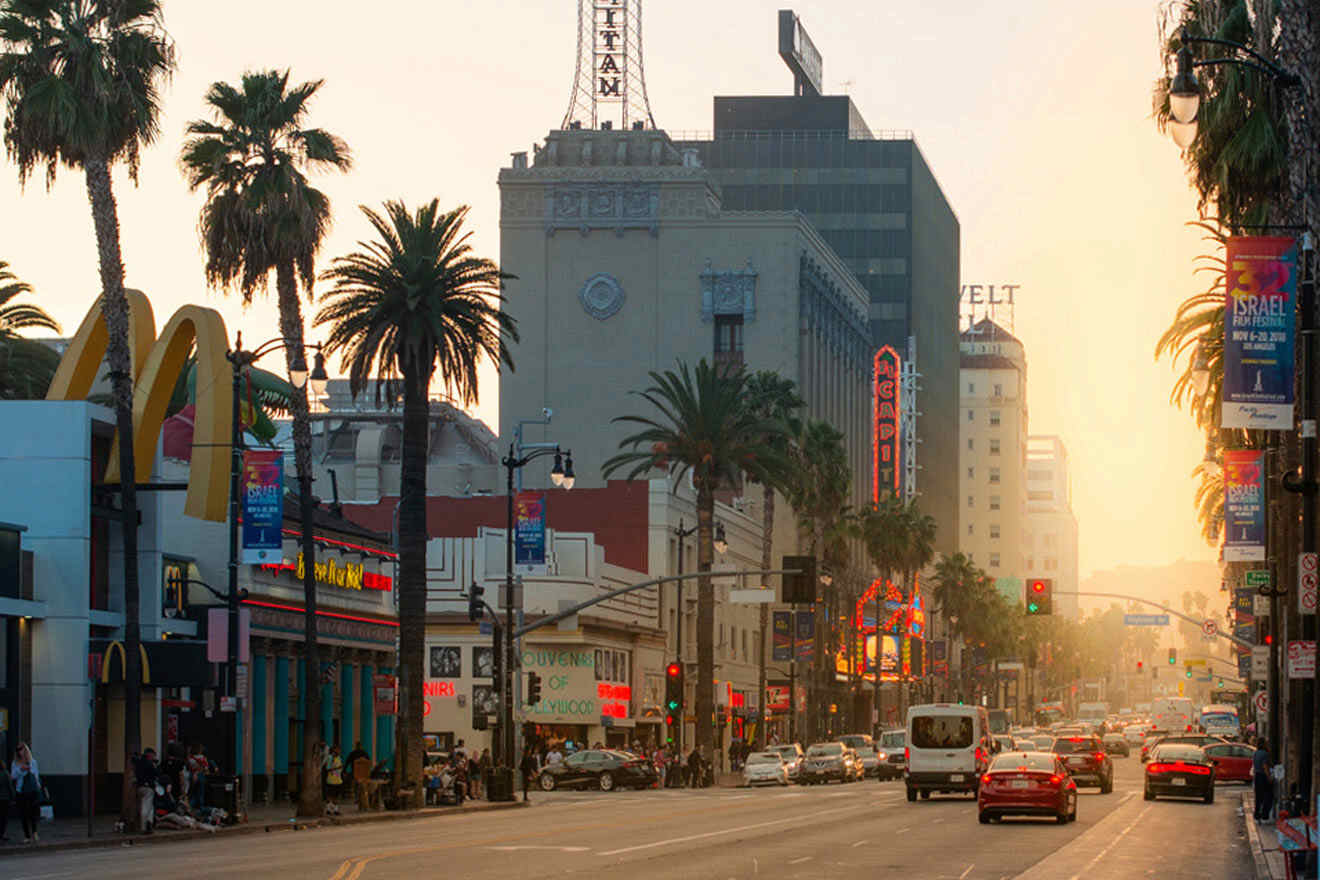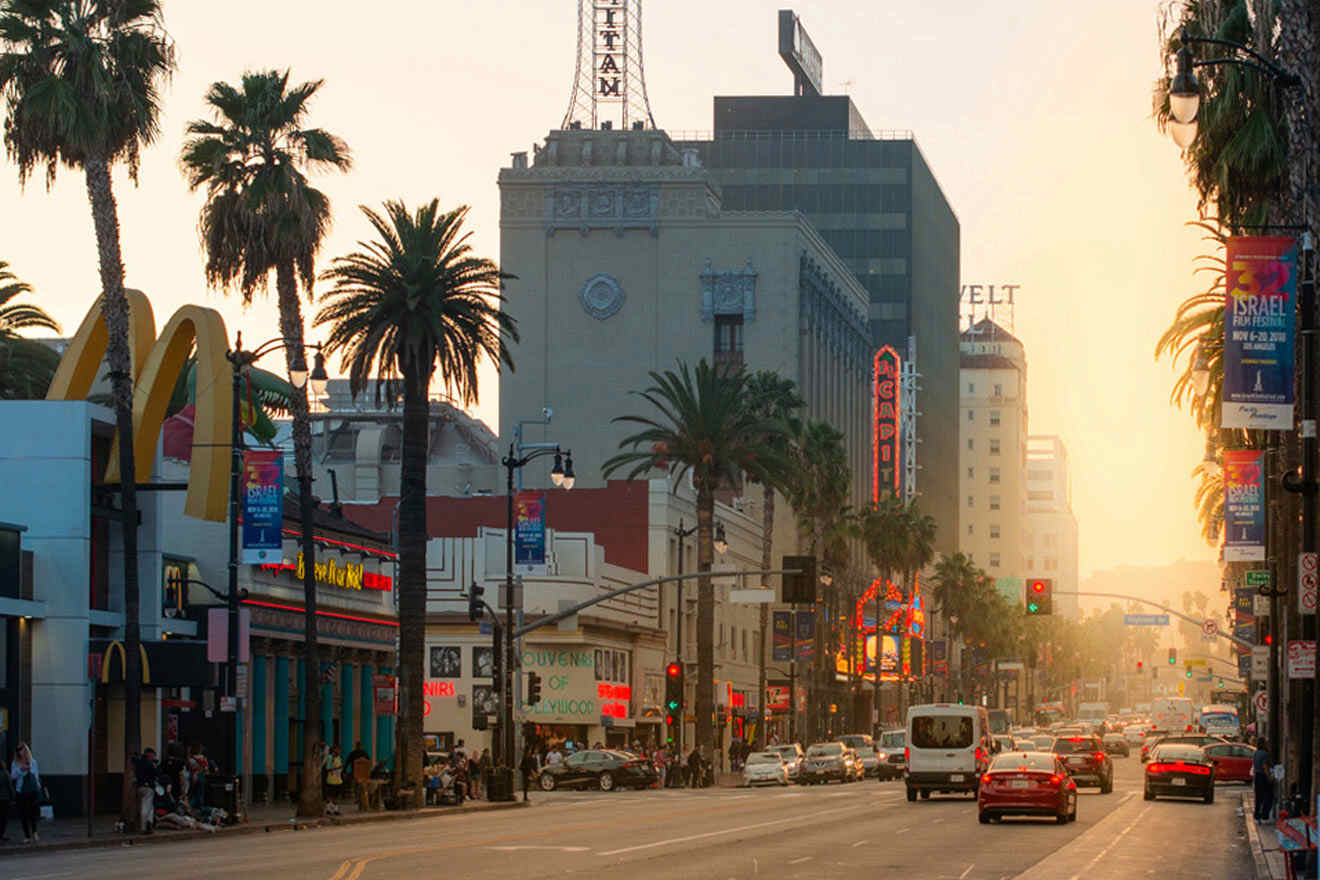 Phew! That was a lot! Now that you have your itinerary ready, you're ready for your Los Angeles trip! 2 days in Los Angeles really isn't long enough to see everything, but it's a good start to have an action-packed agenda visiting the iconic city highlights and beautiful beaches nearby.
These are my favorite activities and destinations from this list:
I hope you enjoyed reading this Los Angeles itinerary as much as I enjoyed writing it! I'm here if you have any questions or comments the next time you visit Los Angeles, so just leave 'em below! And don't forget to book all your admission tickets and tours in advance to save you the headache of waiting in long lines!
Stay safe, and have an amazing trip!
Xoxo,
Esabel S.
---
Pin it for later!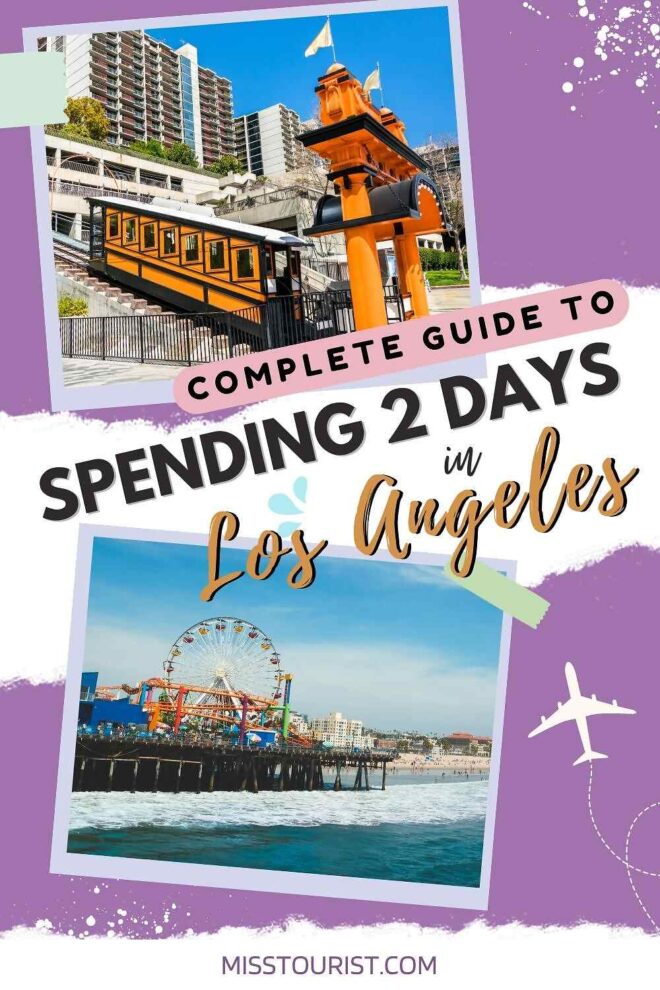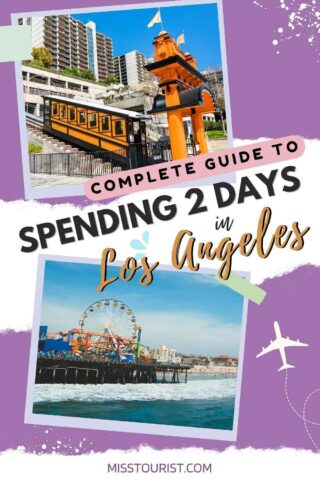 Pin it for later!