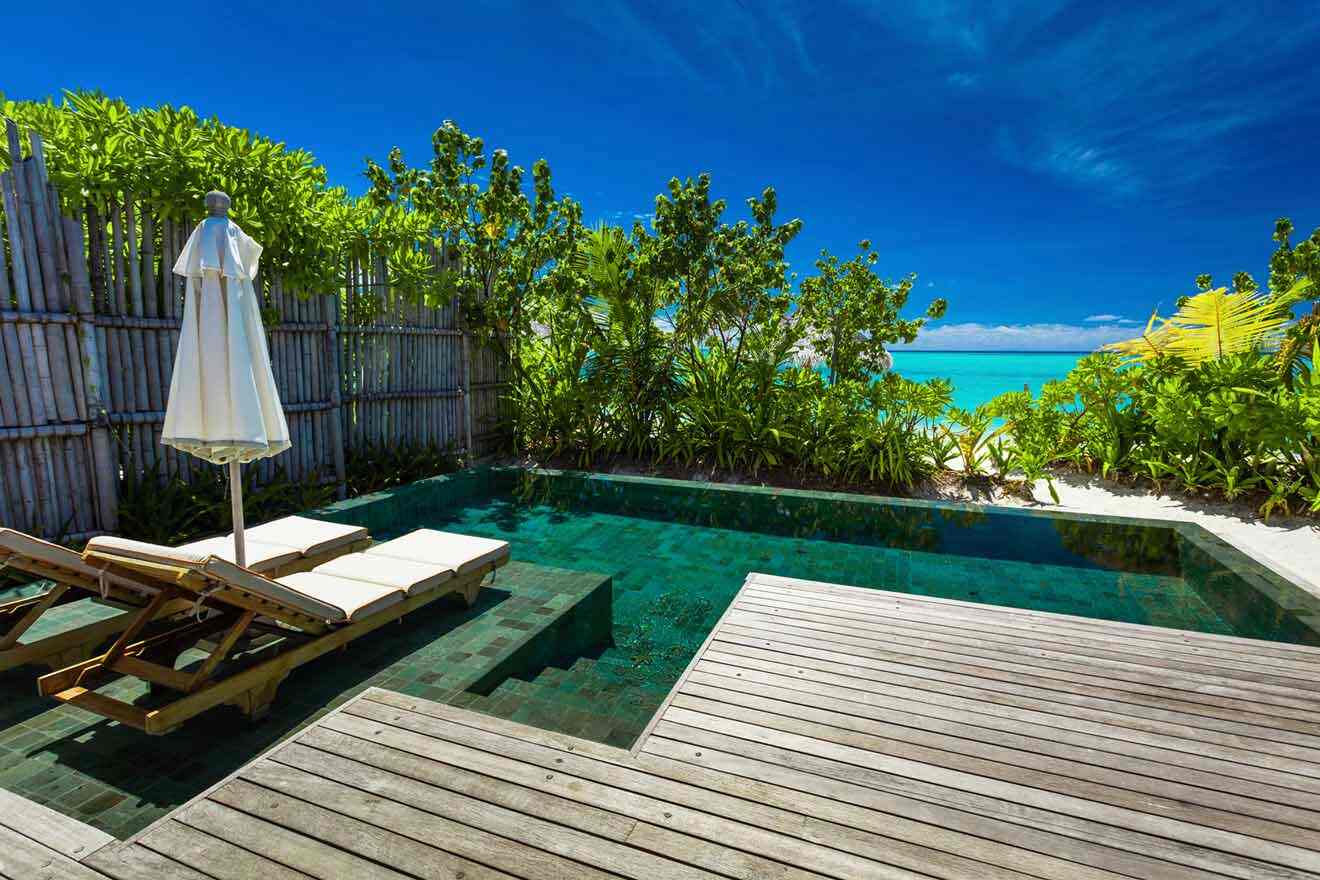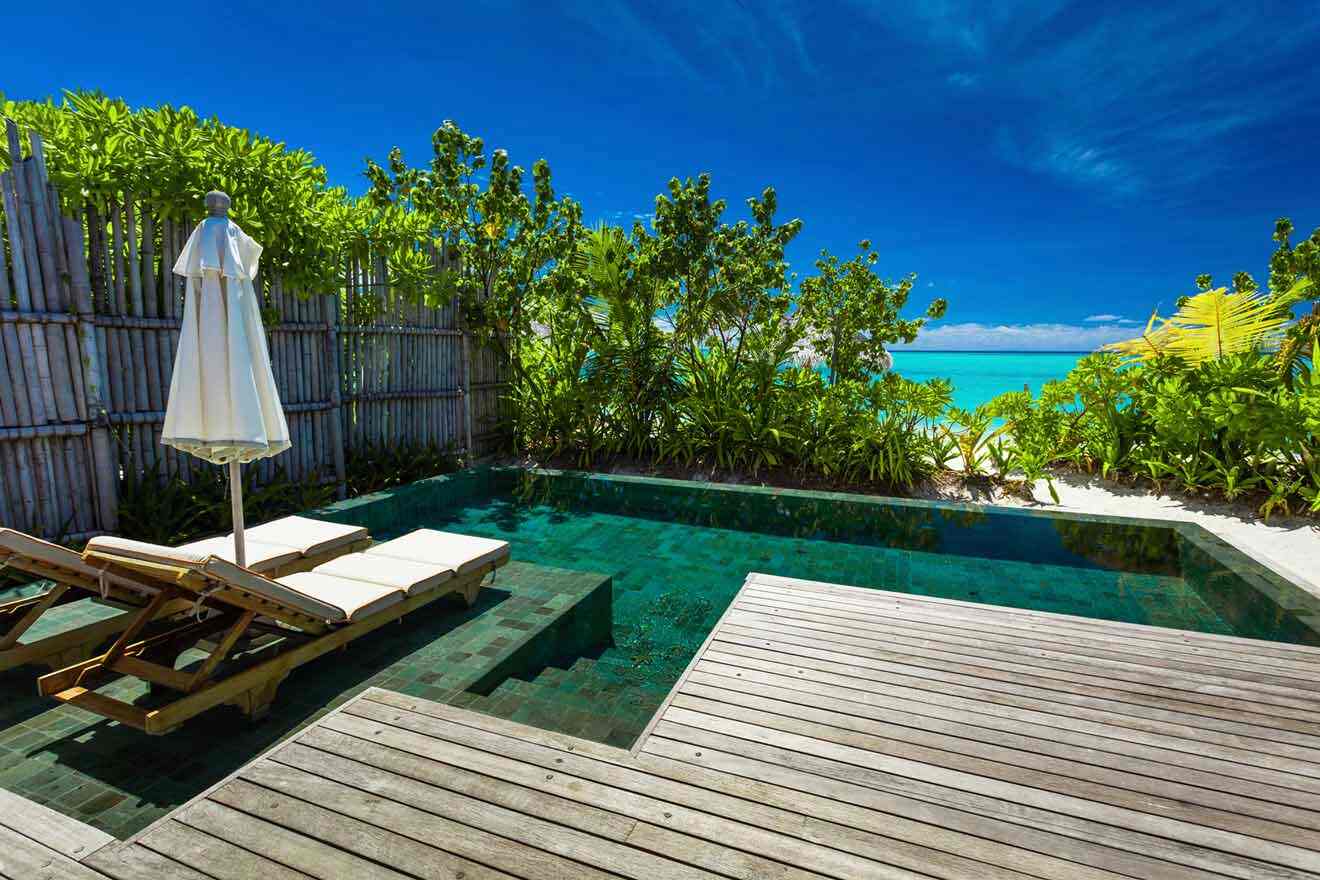 Golden sandy shores, epic sunsets, and unimaginable tropical beauty! The Caribbean islands are this and more, and if you're looking for some fabulous hotels with pool suites, then come along!
In this post, you'll find the best resorts with private pools in the Caribbean! I've done a thorough research and came up with a list that has all the goodies! I've also ordered it from most to least expensive so you can easily pick your favorite.
I know we're talking about many islands, but these hotels with private plunge pools or regular swimming pools are some of the best ones here. That means that they'll sell out super fast. So I highly recommend booking yours super early!
Are we ready to get this show on the road?
Vamanos!
If you are in a hurry
We're all busy these days! So if you don't have the time to read the whole post, then check out the list below. It has a short list of the best hotels with private pools:
If you need a bit of visual help localizing all the hotels, then check out the map below, which shows all the resorts I'll mention in the post:
1. Excellence Oyster Bay – with private plunge pools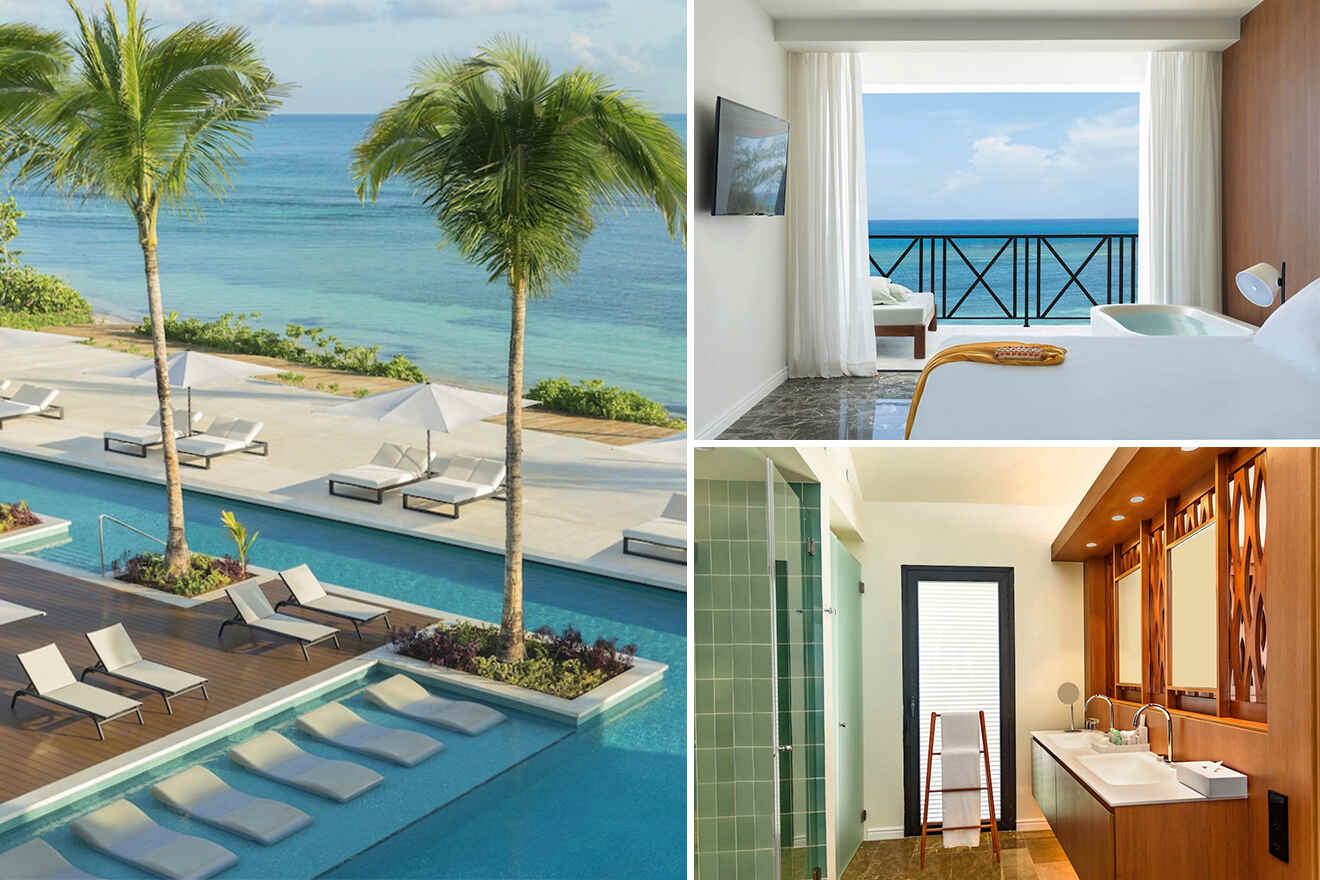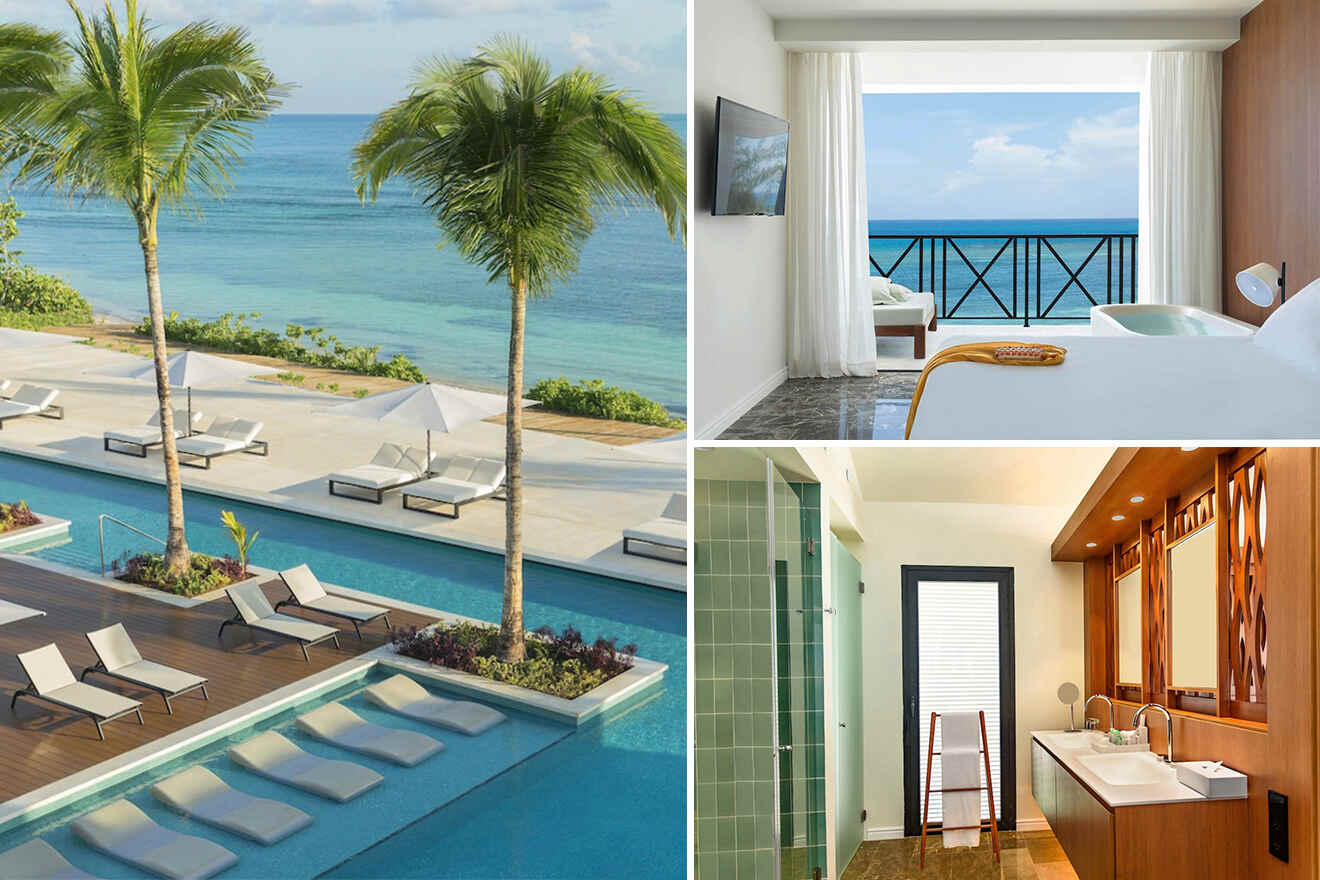 Set on the white sands of a beautiful Jamaican beach, this is one of the best all-inclusive resorts that offers rooms with ocean views and your own pools! Wake up and enjoy your coffee on the patio while admiring the turquoise waters of the Caribbean Sea.
Offering a private oasis of silence for their guests, the adults-only resort has a world-class spa where you can relax and enjoy their numerous treatments designed to make you feel like a brand new person! Of course, there are also plenty of activities to do here, like yoga, dancing, kayaking, or working out in the fitness center!
2. Jade Mountain – a dreamy hotel with infinity pools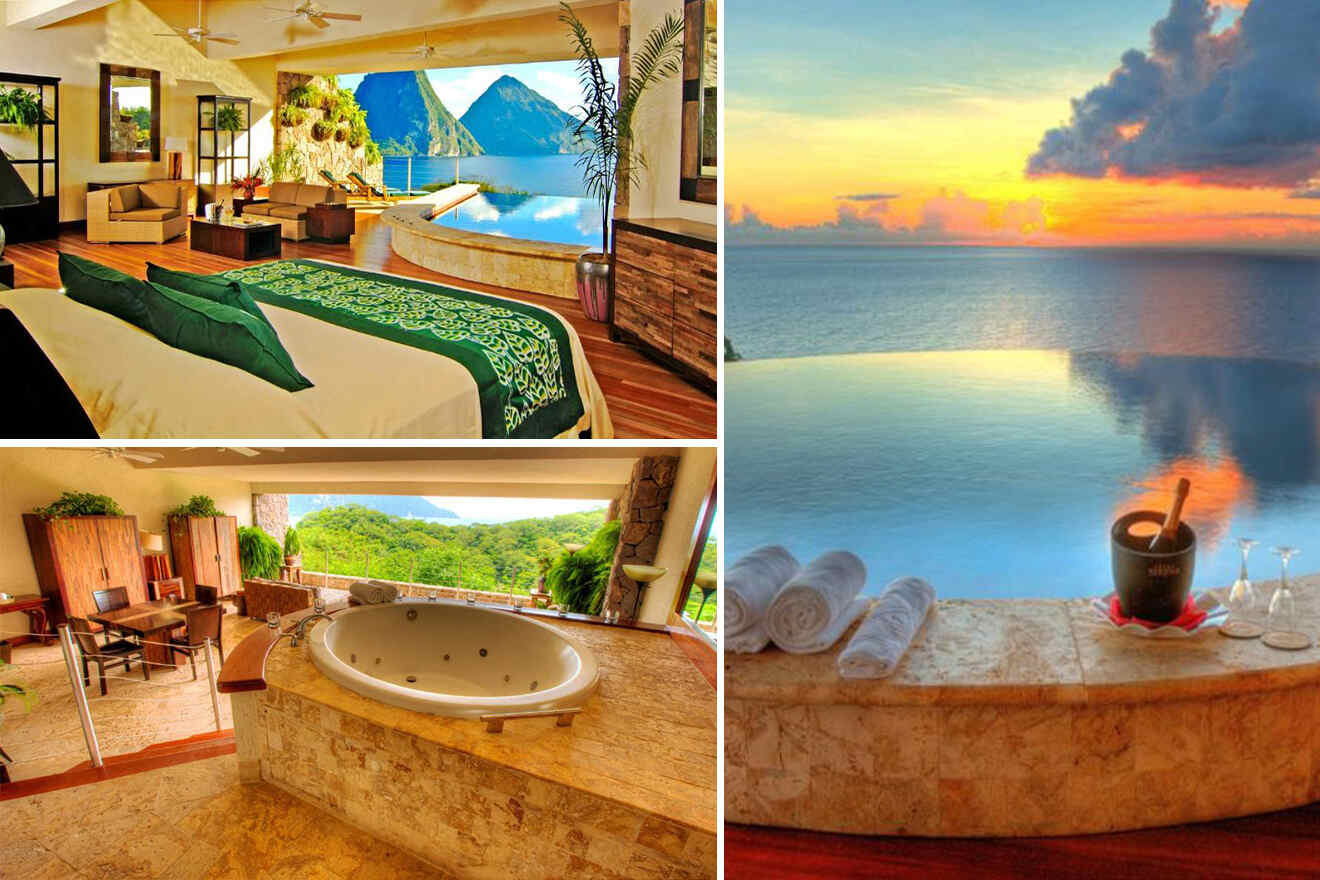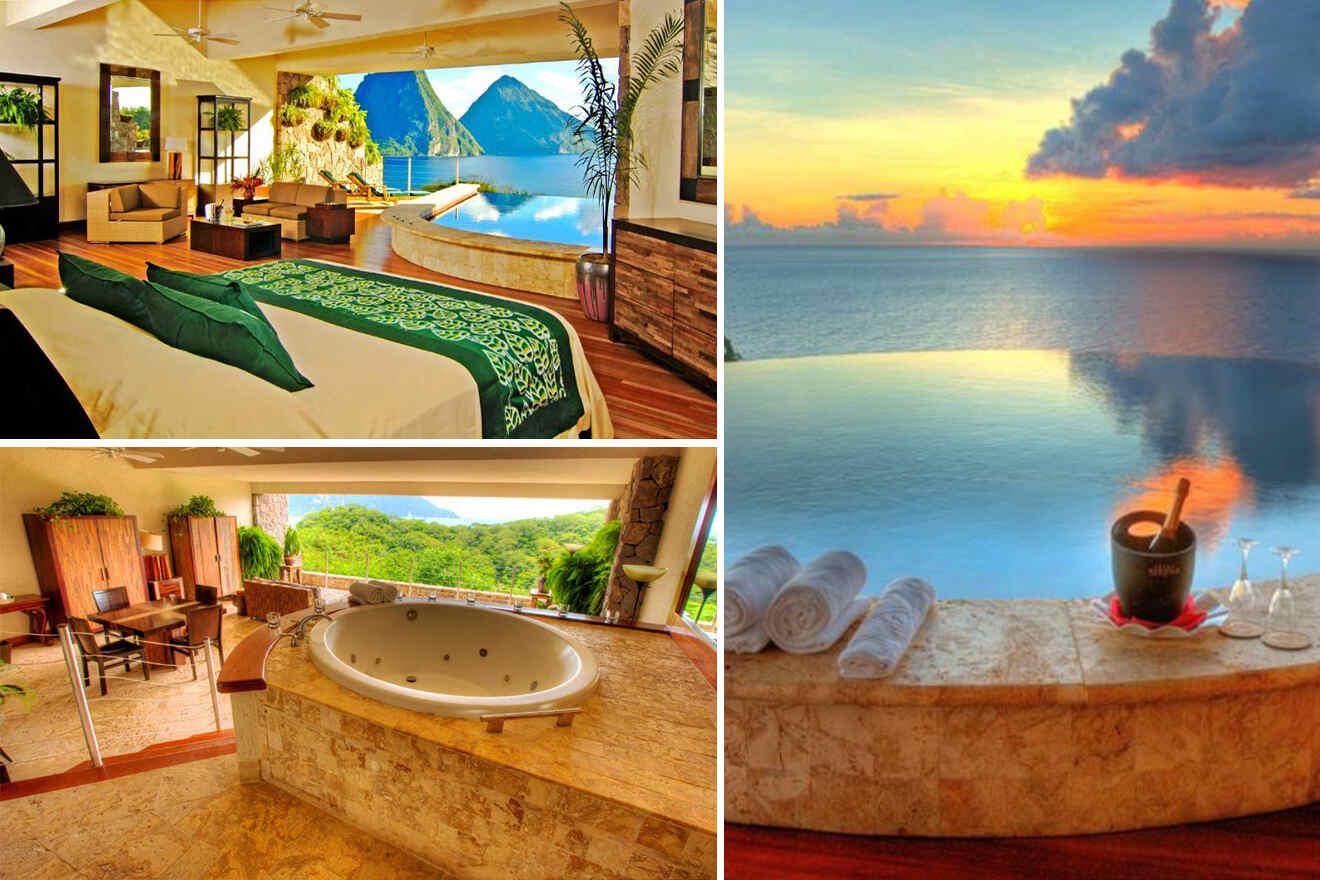 The minute you open your eyes, you'll feel as if you're in paradise! The first sight will be of the lush and lively greenery of Saint Lucia island, which you can also admire from your own private infinity pool! What a thrill!
Built and designed to match the atmosphere of the island, the accommodation is pretty secluded and simple in its facilities, but I think it's so perfect for a romantic getaway! Of course, you can try numerous water sports and even go hiking as the area is so bountiful in trails. I definitely recommend booking your hotels in the Caribbean in advance, as you'll need time to plan this trip, and these hotels sell out super fast!
3. Ladera Resort – one of the best romantic resorts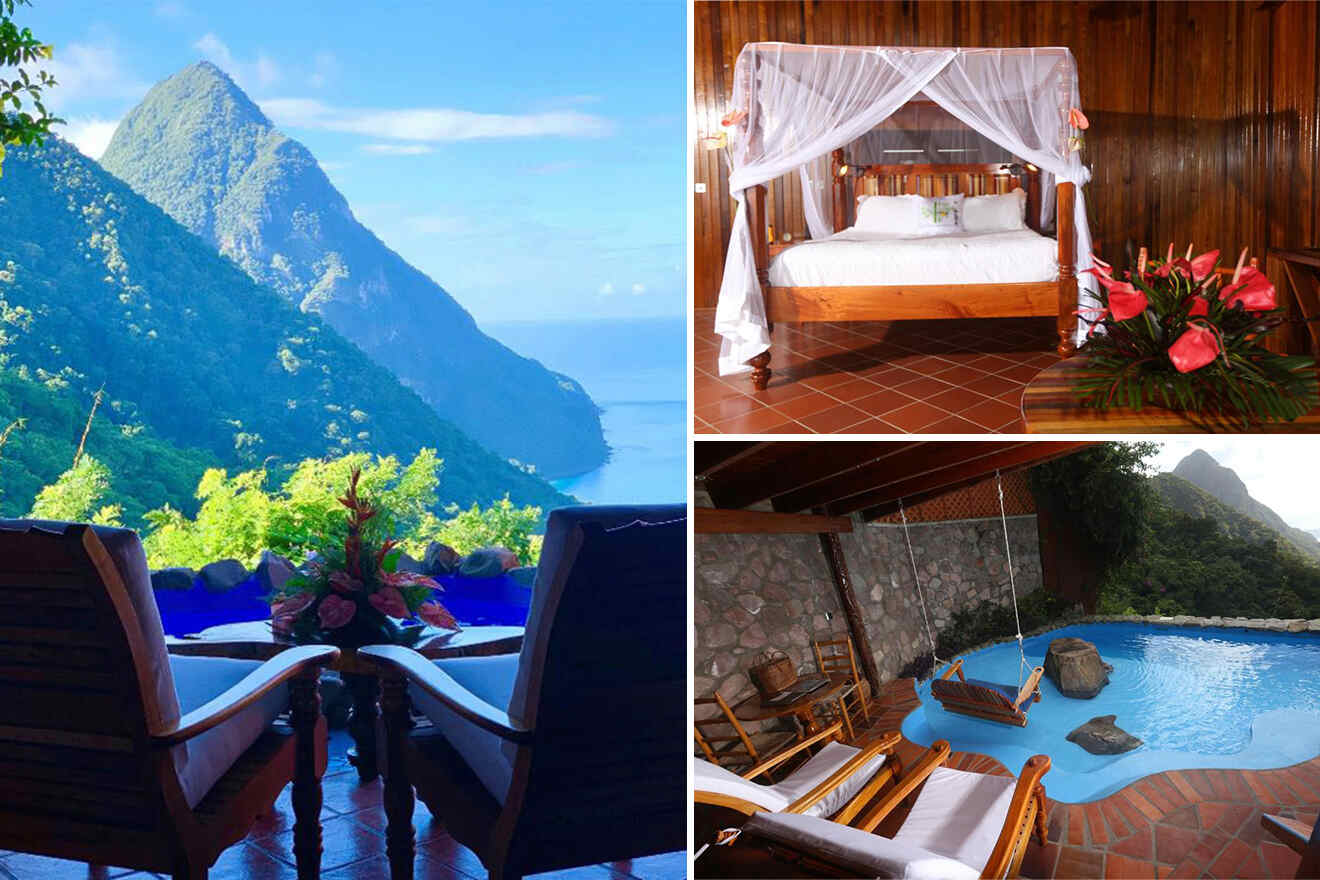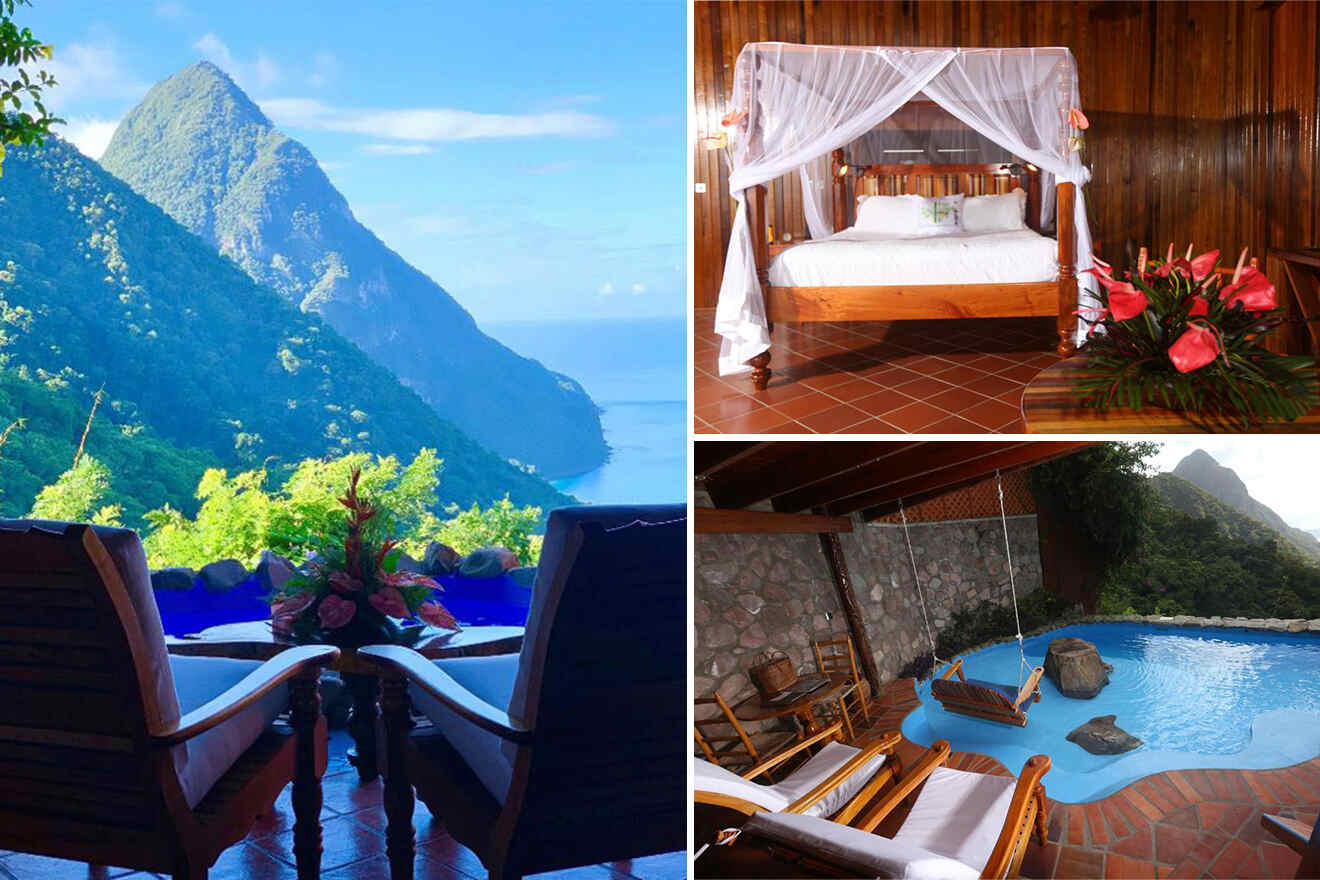 Still haven't found the perfect hotel for your romantic getaway? Then check out this one set on a cliffside on a UNESCO World Heritage Site on Saint Lucia island that overlooks the World Heritage Piton Mountains and the Caribbean Sea! Now that's a sight you can't miss out on!
Its beautiful open-air suites come with a private plunge pool, natural stonework, and uniquely crafted furniture, which add to the already magical atmosphere present at this hotel! Start your morning with the 24-hour room service, and then sign up for something super fun like hiking, horse riding, or windsurfing!
4. Spice Island Beach Resort – for a tranquil getaway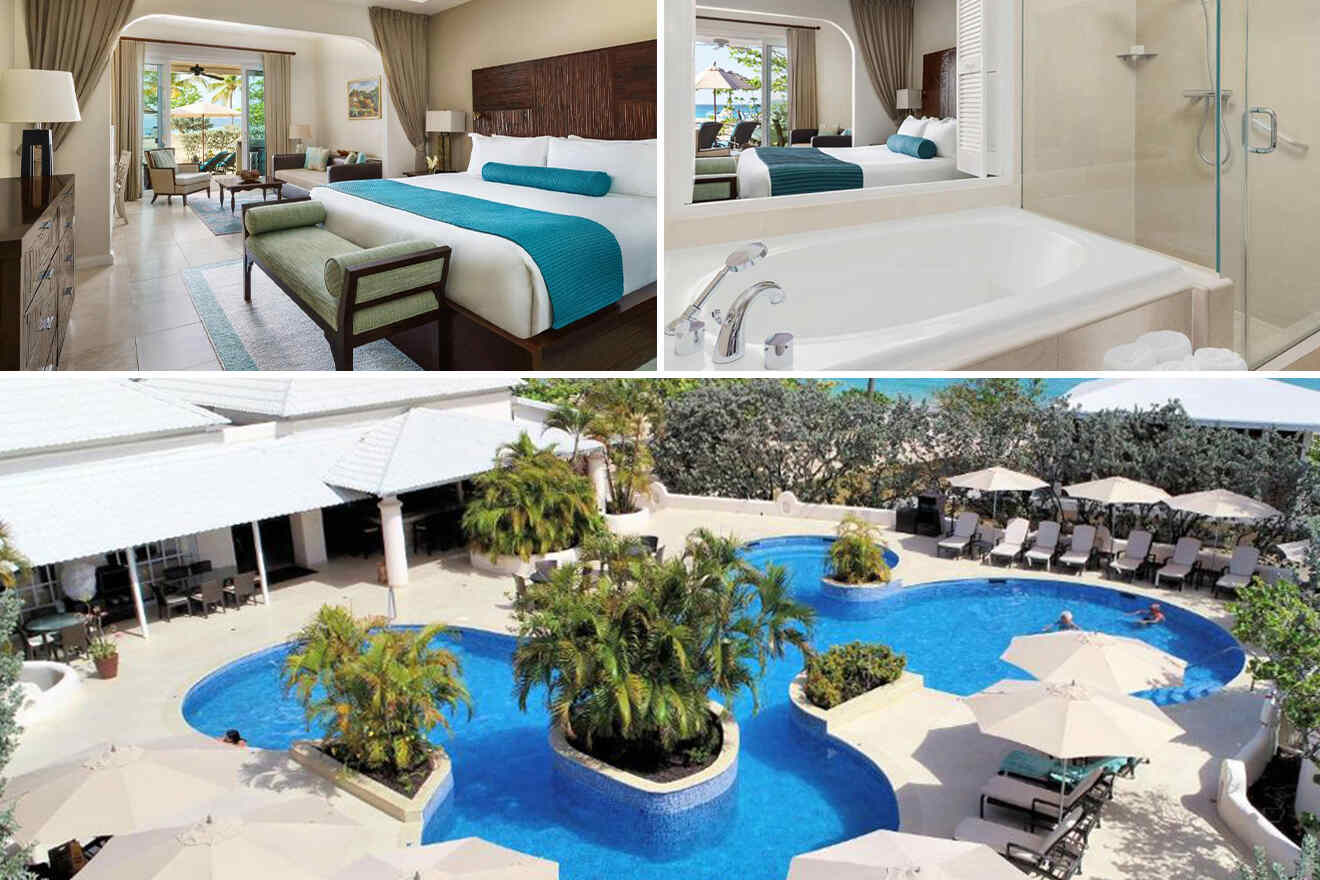 A tropical vacation in the Caribbean sounds like a dream come true, and I've got just the hotel for you! Located on Grenada island, near Grand Anse Beach, this resort offers suites with a private patio and your own private pool! That way, you can start every morning with a nice long swim before breakfast!
Surrounded by gardens and a beautiful ocean view, the resort is equipped with all the facilities you'll want during this trip, including 2 restaurants, a luxury spa, and even a tennis court. You can also borrow some bicycles from the resort to explore the island!
5. Park Hyatt St. Kitts – a stylish beach hotel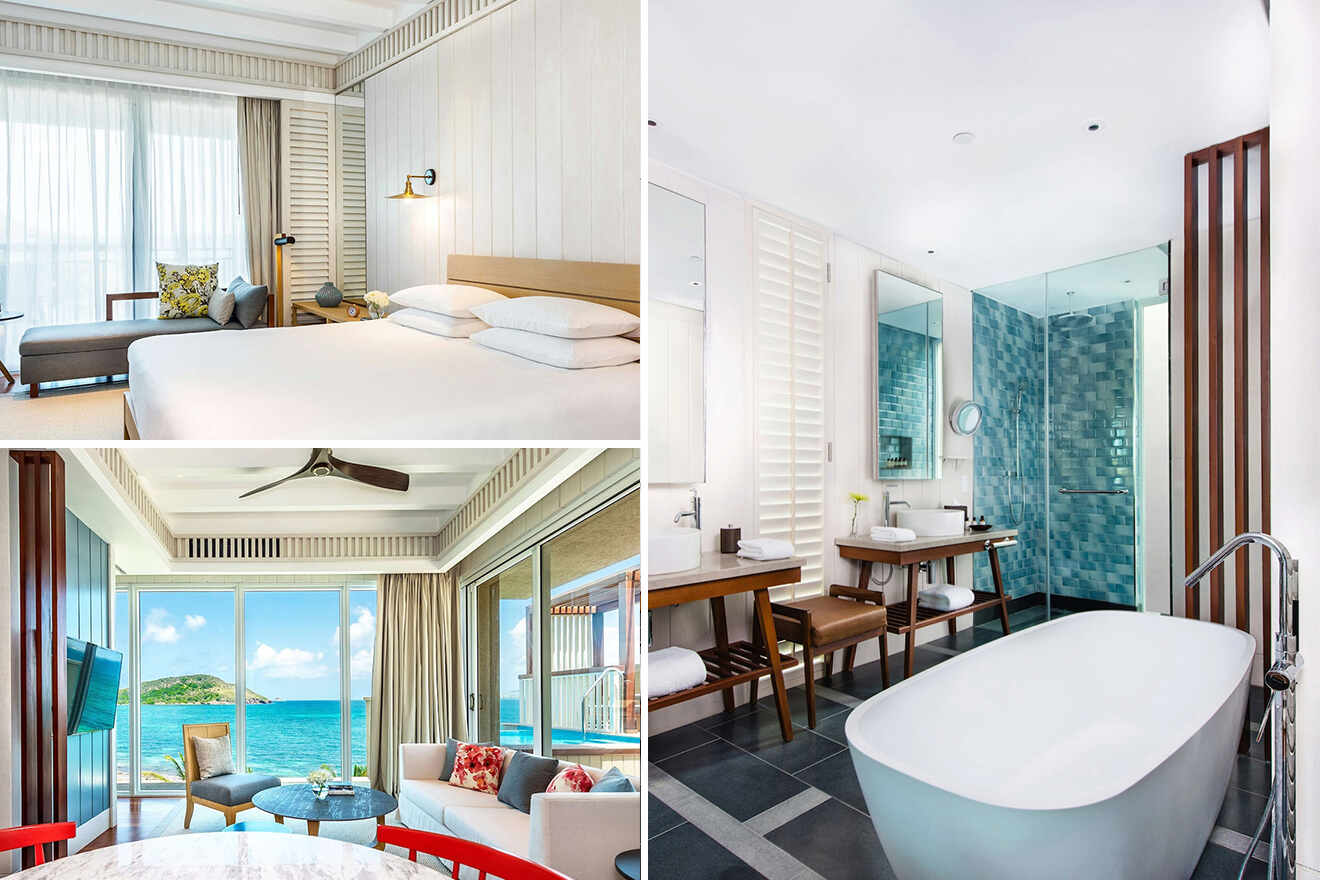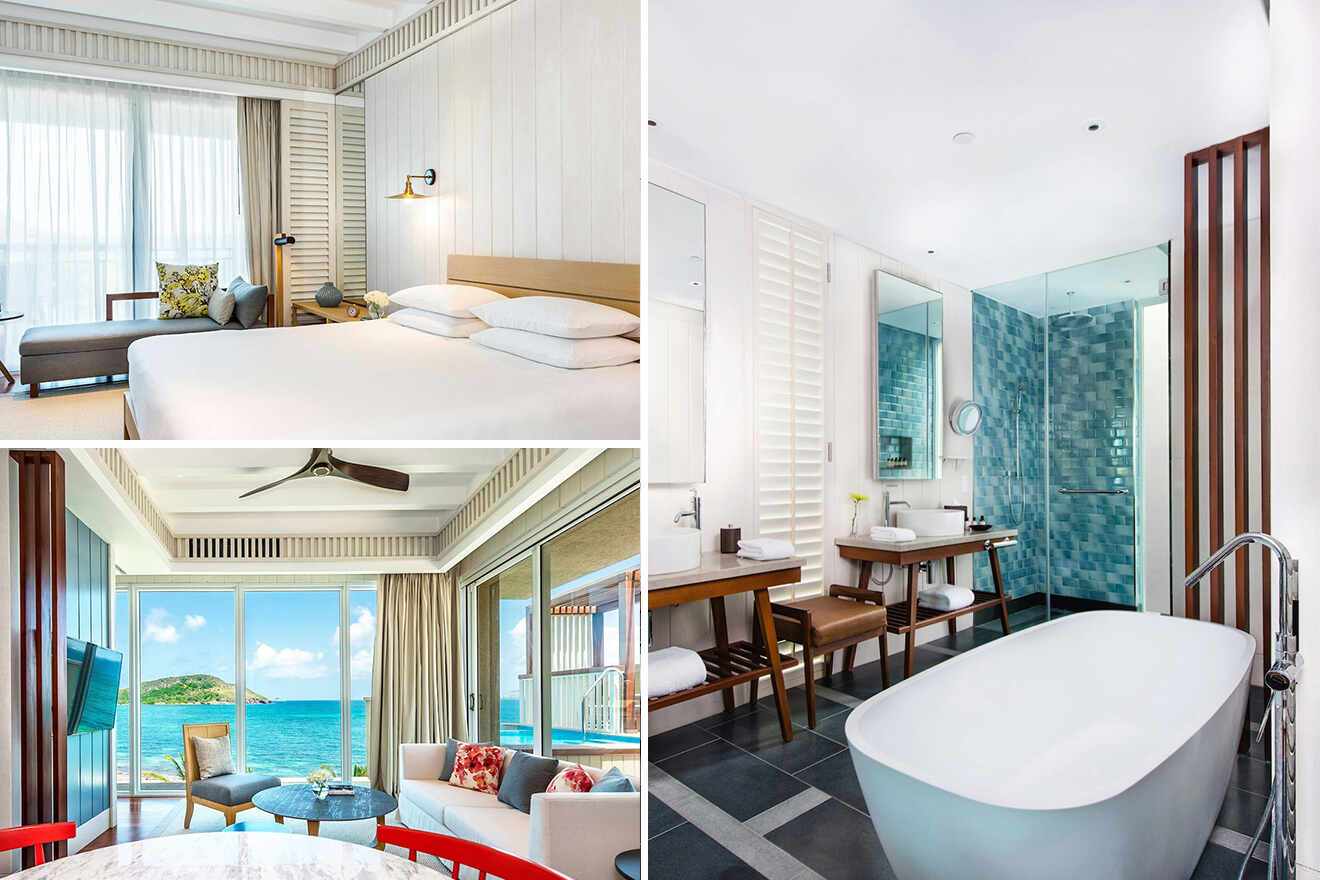 Gotta love a hotel that does such a great job at combining different design styles! I particularly like the blend of modern aesthetics with the tropical island ones in the suites of this place that have so much space, private plunge pools, and ocean views!
Enjoy your days here by practicing beach yoga, relaxing at the spa center, and eating all the yummy food at their 3 on-site restaurants. Basseterre island is filled with dreamy beaches, and you've got many rights a short walk away from the resort! On the days when you don't feel like doing anything, grab a book or your headphones and enjoy a long tanning sesh on the white sand beach!
6. Hermitage Bay – for nature lovers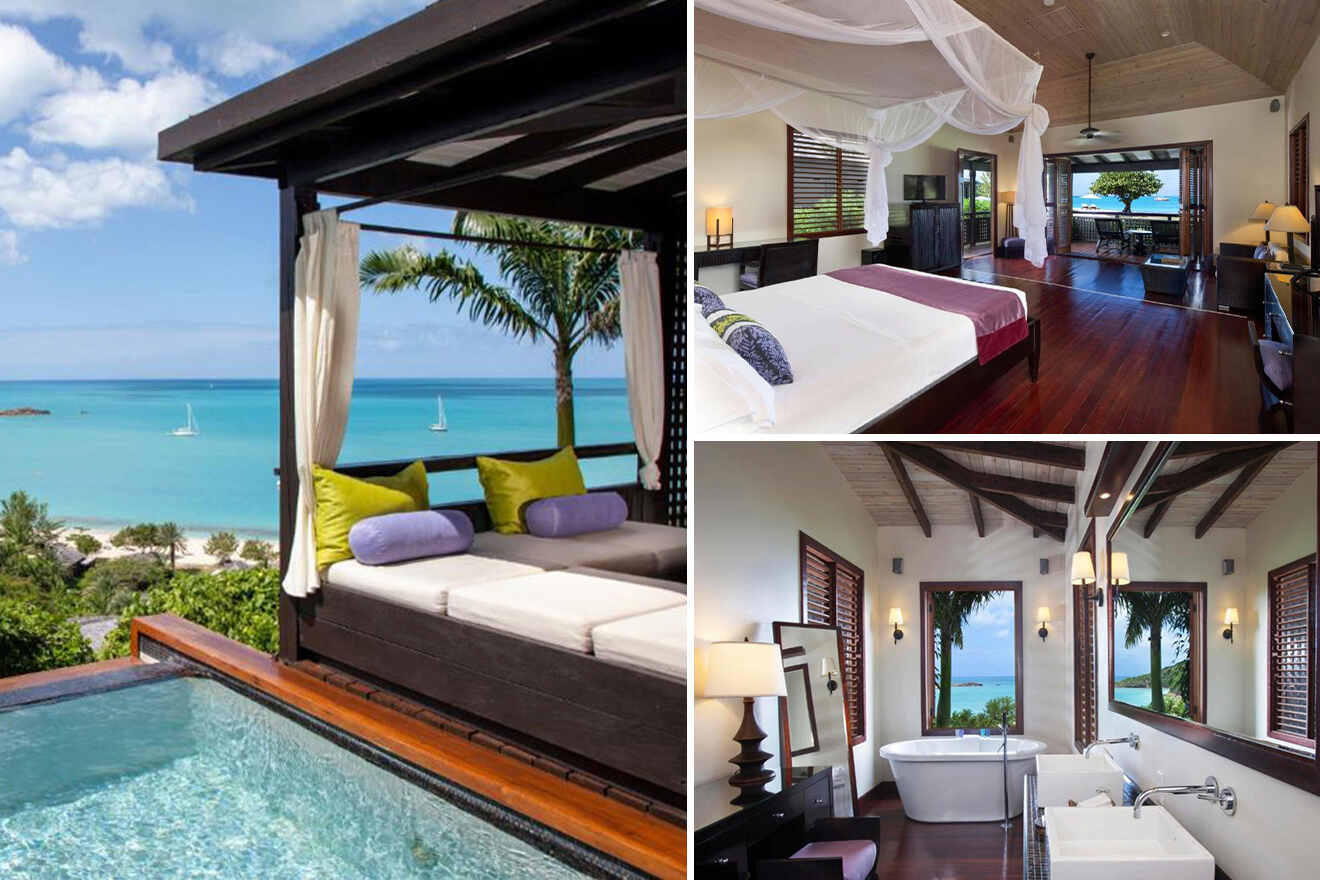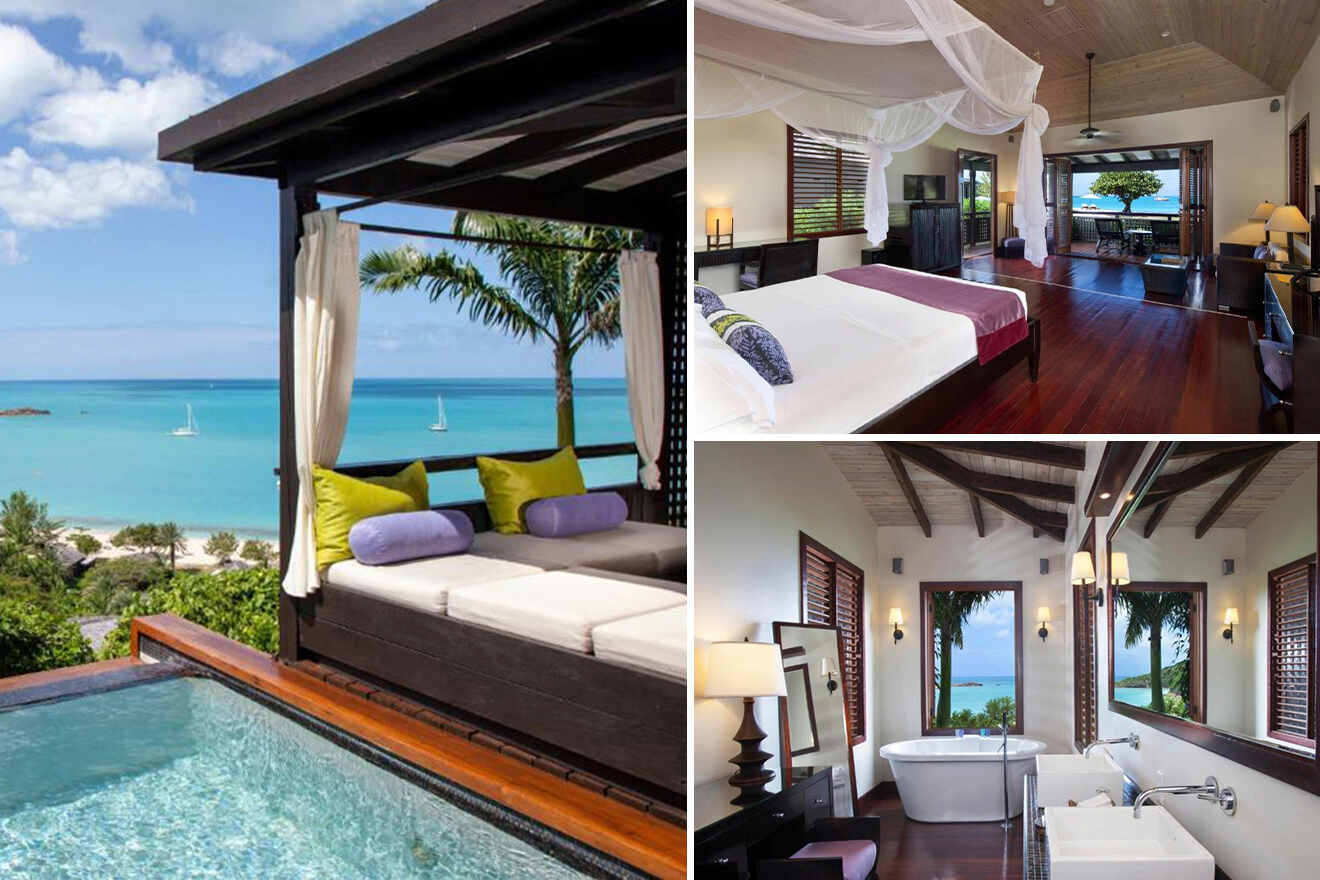 Tucked away between the trees and wild bushes of Antigua & Barbuda, these beautiful cottages have private plunge pools, an outdoor shower, and an outdoor sitting area and are so beautifully decorated with wooden furnishings!
Each day you can enjoy waterfront dining followed by a long and unforgettable sesh at the spa, where you can let your worries melt away in the sauna and get in the holiday mood! You can try different water sports on the beach as well as yoga and pilates, or rent out some bikes to explore around. This is one of the best all-inclusive resorts, and it also offers a free airport shuttle for all guests.
7. Cocobay Resort Antigua – a beachfront modern resort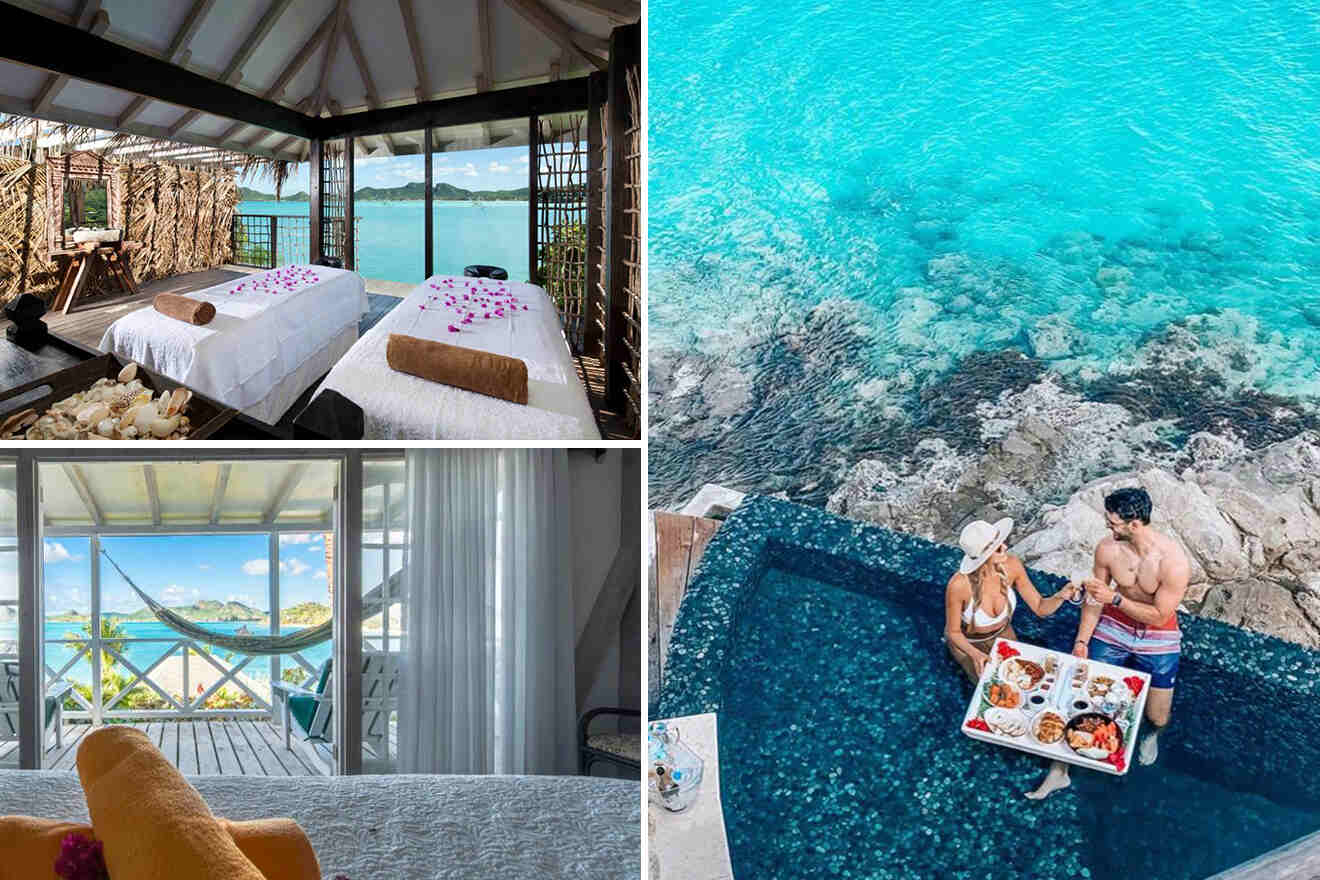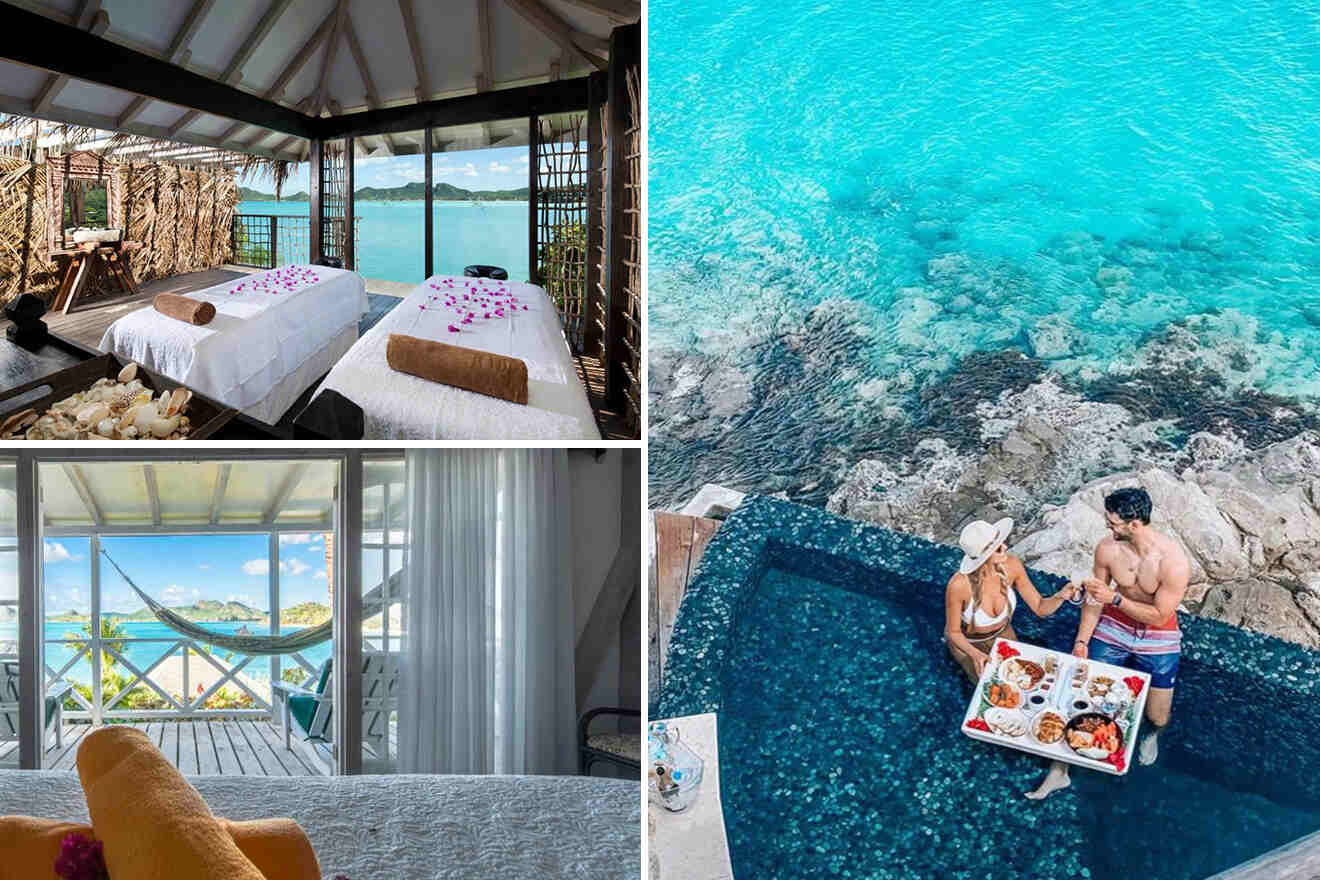 Jump from your bed straight into your own private plunge pool and admire the sea views at this adults-only resort in Antigua & Barbuda! Besides the beautifully-decorated private pool suites with outdoor showers, this place also offers a full-service spa, where you can enjoy a massage with a view of the ocean and relax on the private beach area.
The restaurant on-site will keep you nourished throughout your trip with all their delicious and healthy dishes. You'll probably need a lot of energy, especially if you want to try all the water sports, go hiking, or go on walking tours around the island!
8. Sugar Ridge Resort – elegant hotel with ocean views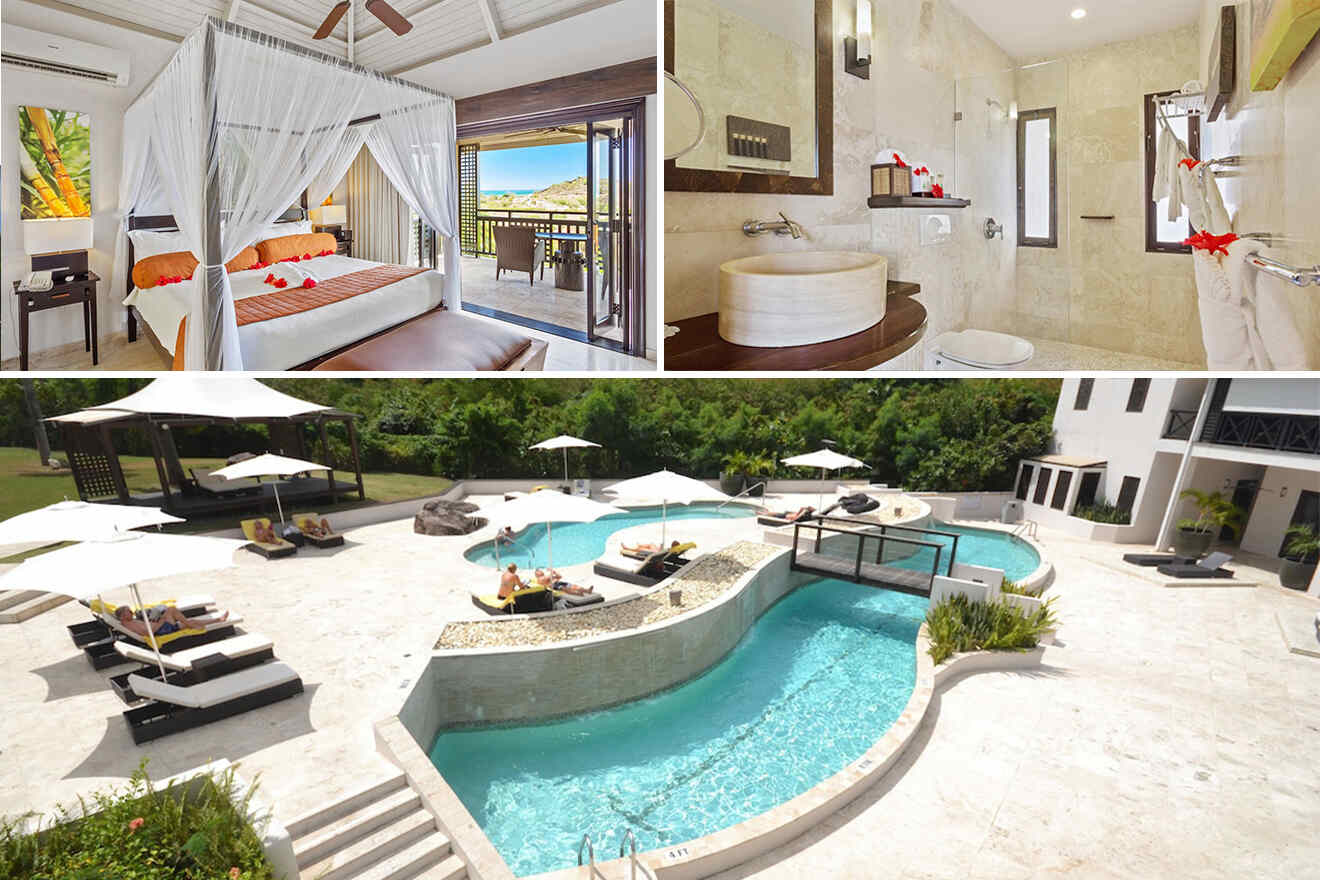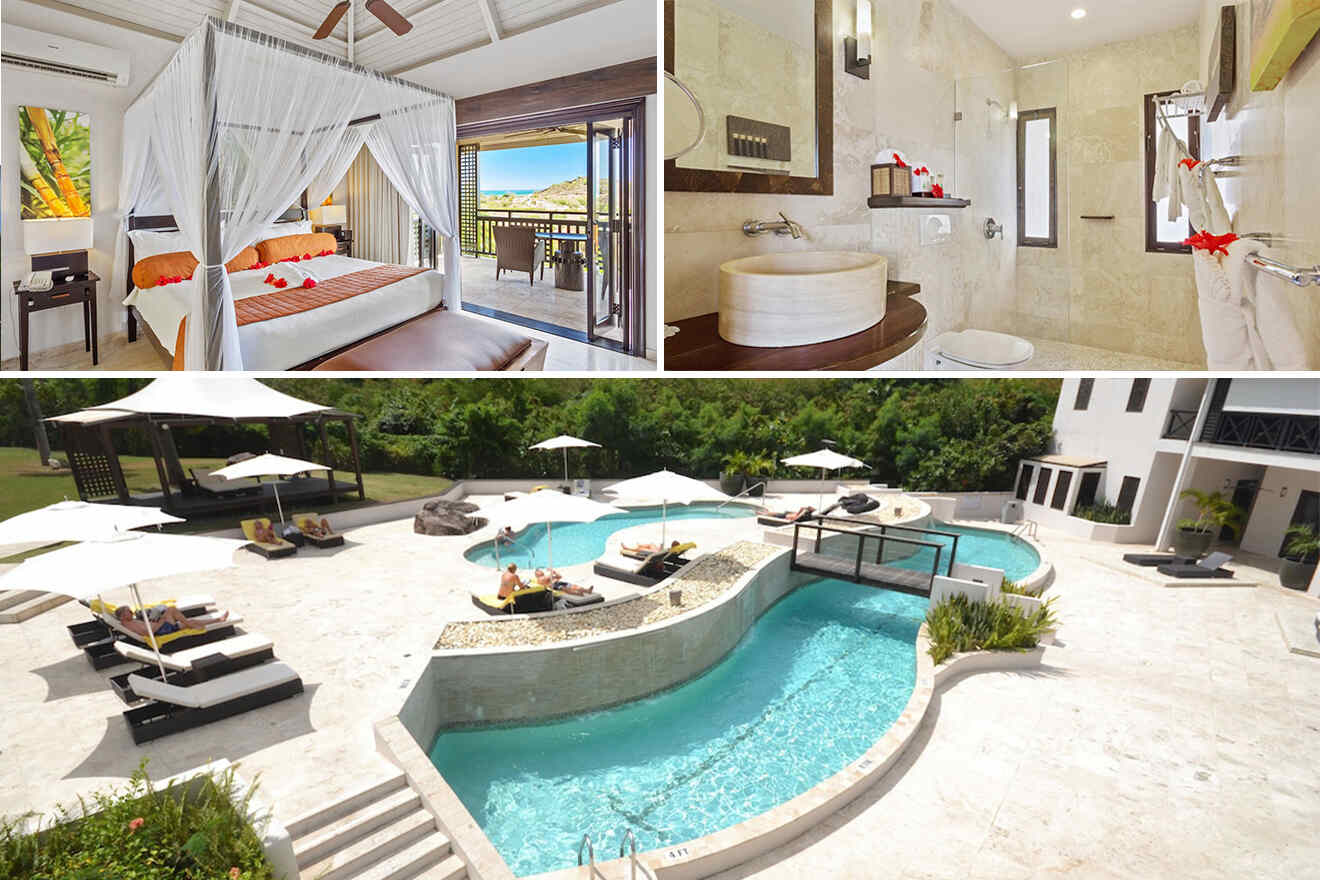 There's nothing like catching a sunrise on the white sand beaches in the Caribbean! And luckily, this Antigua resort has a beach nearby, so you can walk there quickly in the morning! If you're not really an early bird, enjoy a lazy morning in your own private plunge pool alongside your coffee!
The spacious private pool suites also come with a private terrace, comfortable beds, and ocean views. Then you can continue your day with a visit to the full-service spa, which has a couple of treatment rooms, or if you're craving a bit of body movement, sign up for their yoga and pilates classes. By the end of the day, you'll probably be famished, and what better place to go to than the 2 restaurants on-site?!
9. Secret Bay – secluded villas with a unique design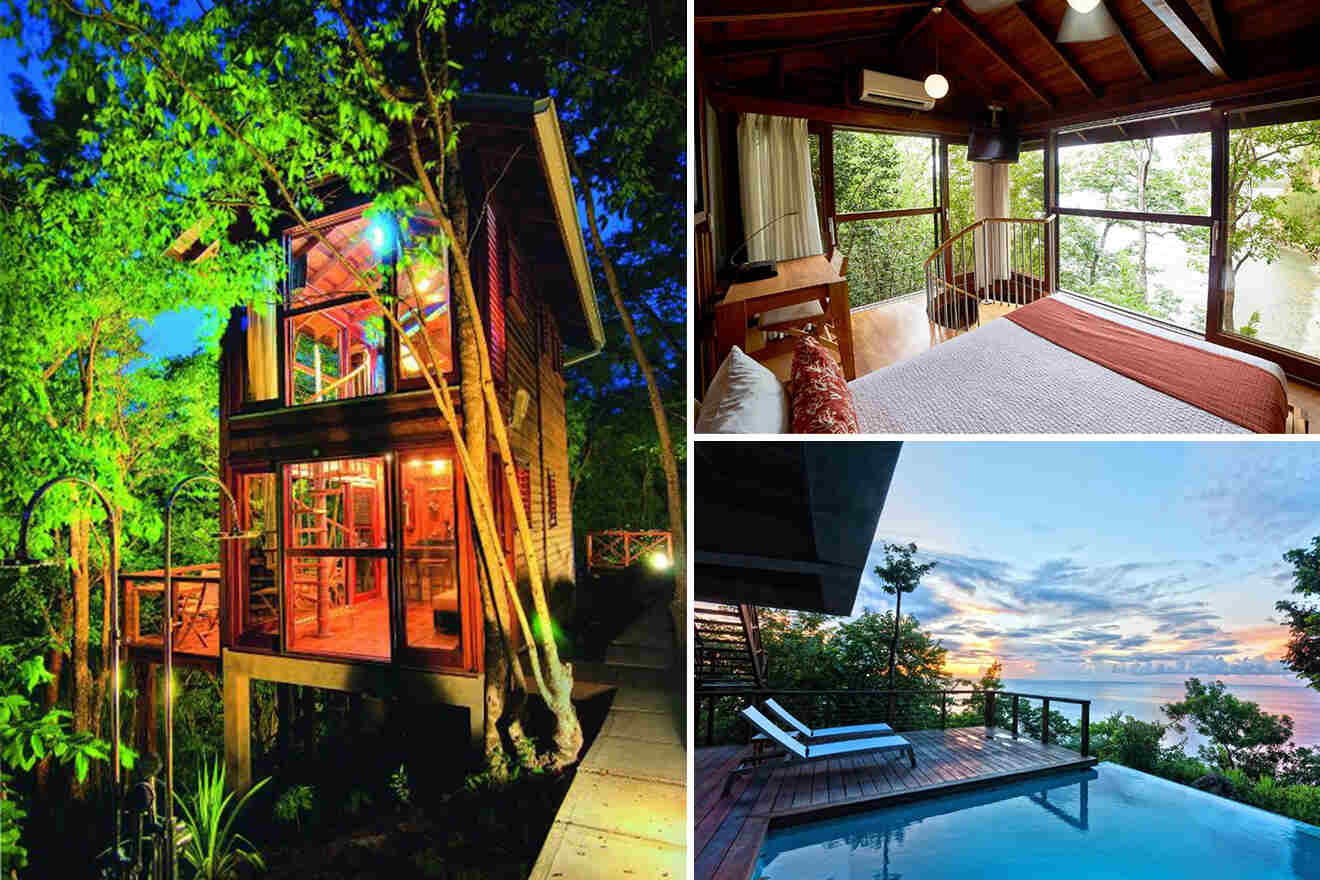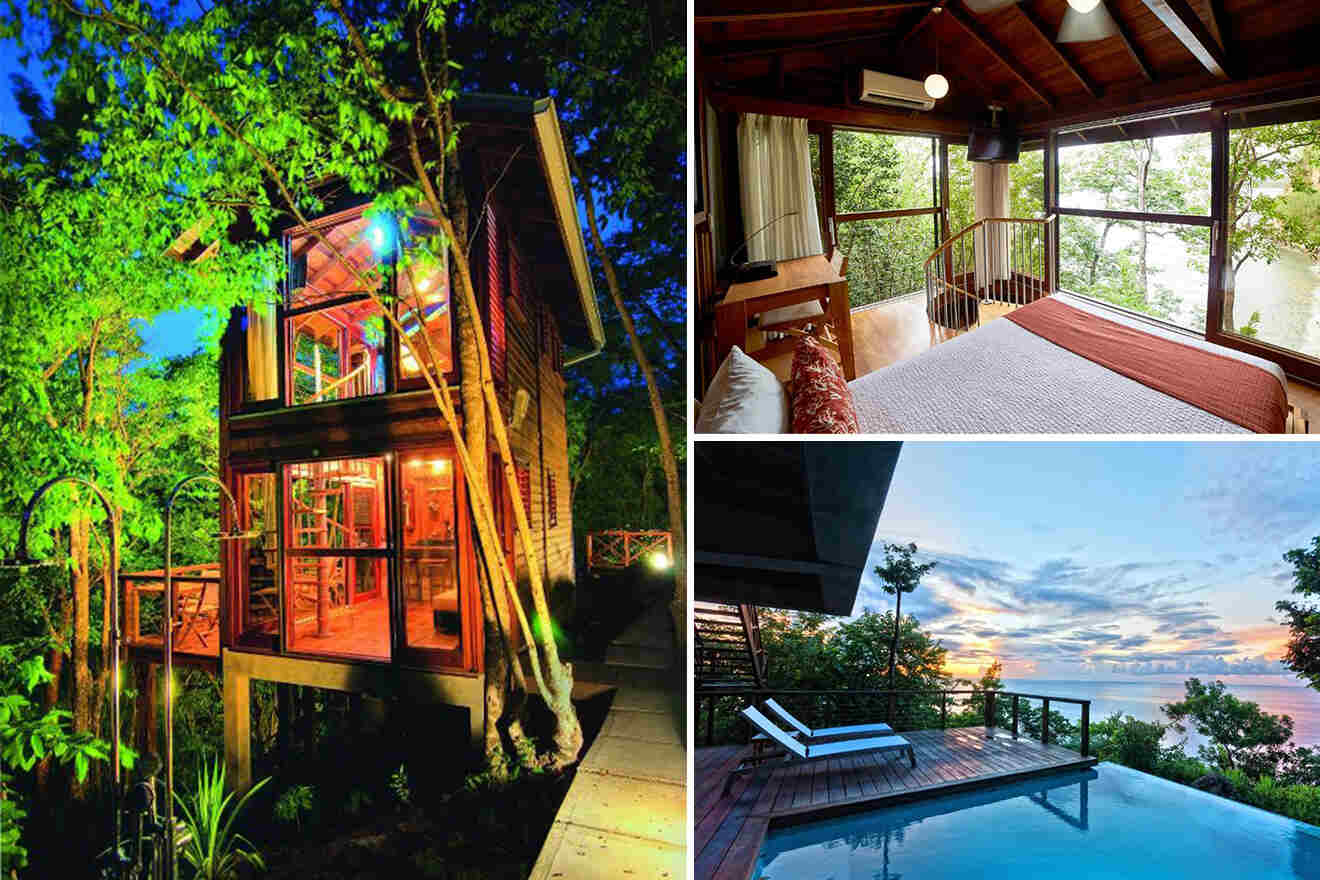 Have you always dreamed about staying in a tree house and being so close to nature? Then I think you'll love this hotel on Dominica island. Perched on a clifftop between trees and overlooking the ocean, this resort offers wooden made villas with a private plunge pool and balconies!
Its location is incredible, and you can even hire a private chef here, although they also have a restaurant for every guest. You can enjoy room service in your private villa and then head out to explore the amazing caves and beaches. But I'd definitely recommend visiting the spa as well for a long massage which will do wonders after that long flight!
10. Sugar Beach, A Viceroy Resort – hotel on the beach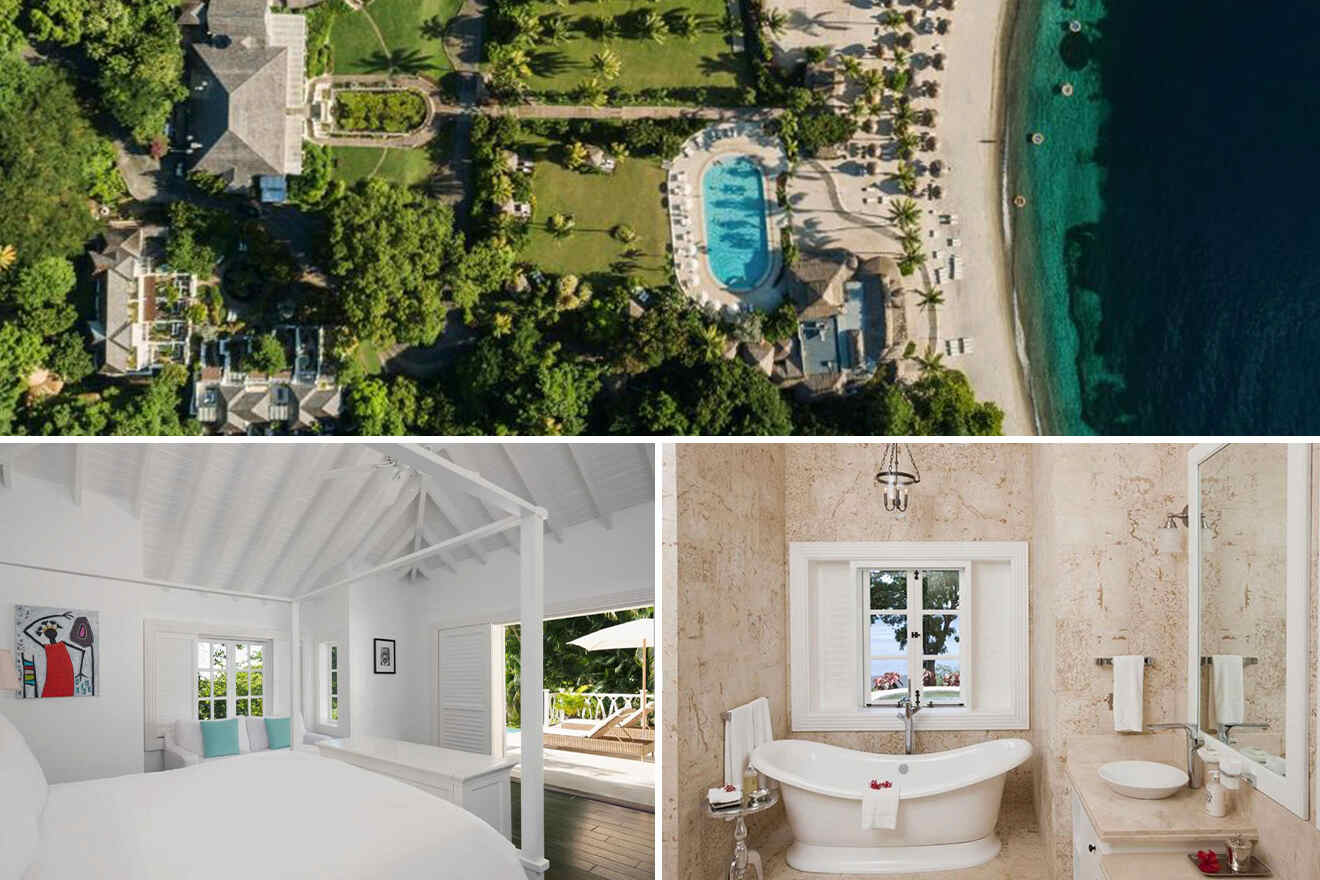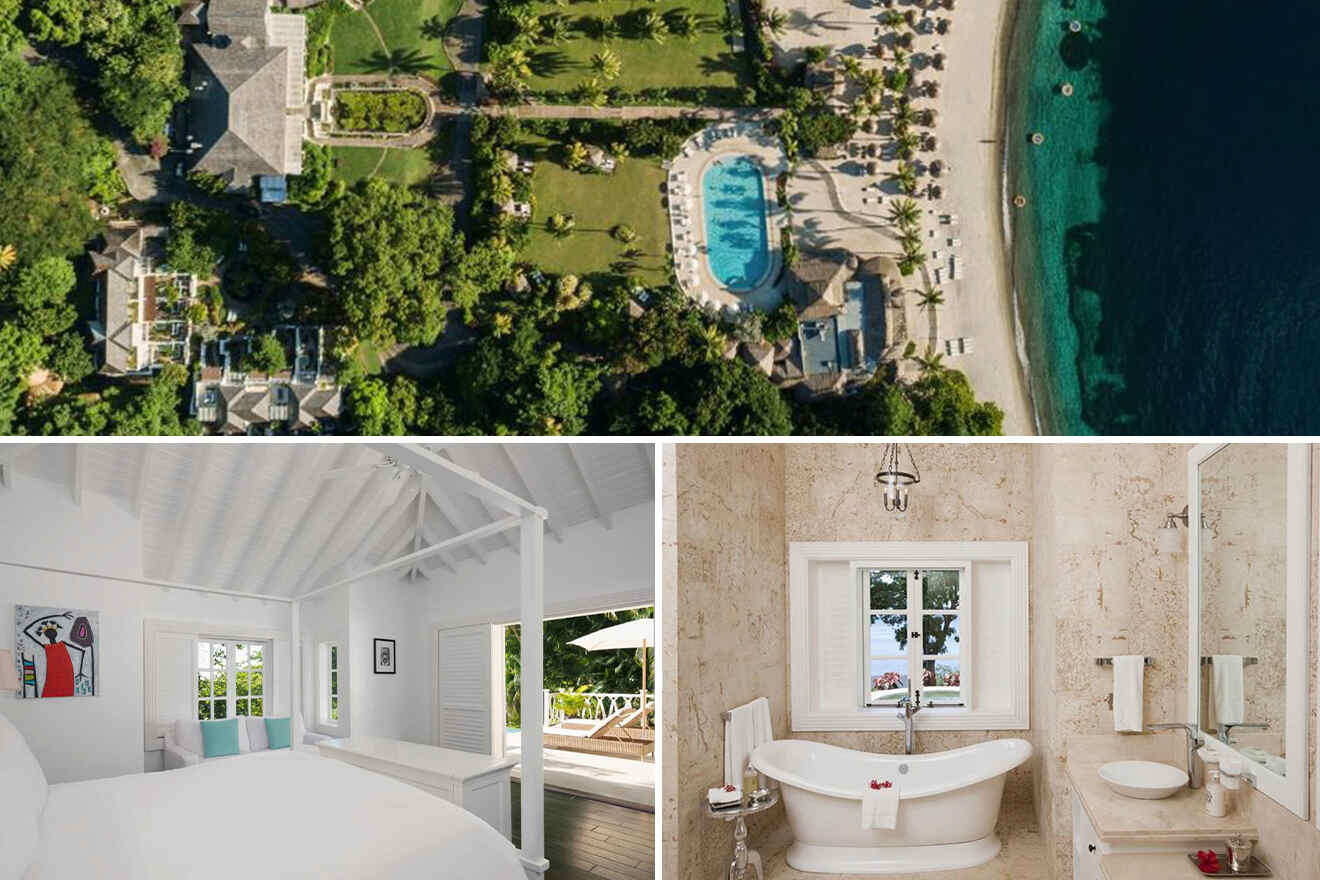 Got a crush on all-white decors, then I think you'll love this boutique hotel! Set on Saint Lucia Island, the adults-only accommodation offers different villas and cottages that have lots of space, a soaking tub, a private plunge pool, and a nice view of the ocean.
Enjoy your mornings in the private beach area or by the outdoor pool! Then you can head to one of their 3 restaurants and enjoy a yummy breakfast (and while you're there, check out their rum bar). When you're not out exploring the island, you can head over to the spa to try their Temazcal outdoor sauna or some facials!
11. Zemi Beach House – beachfront suites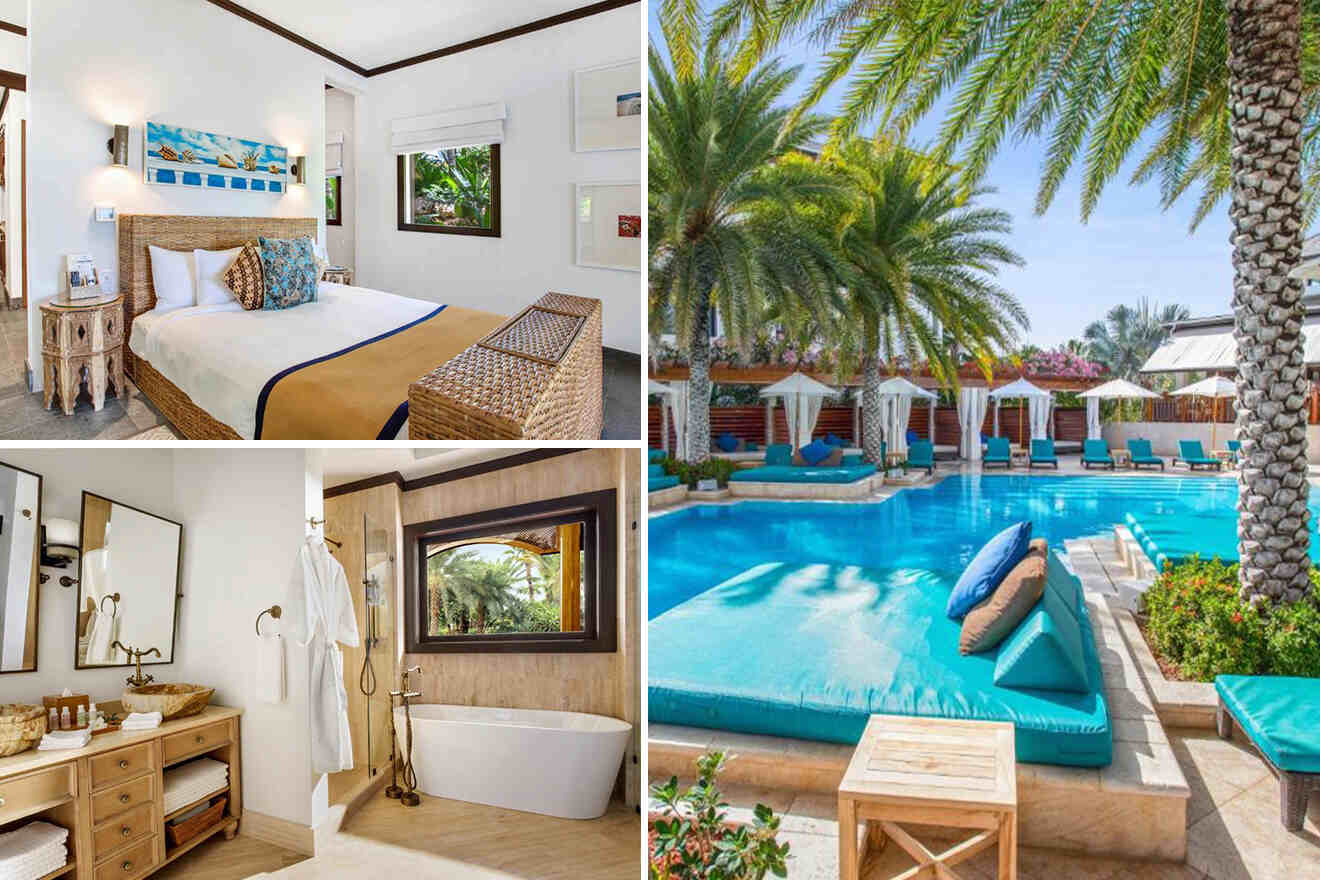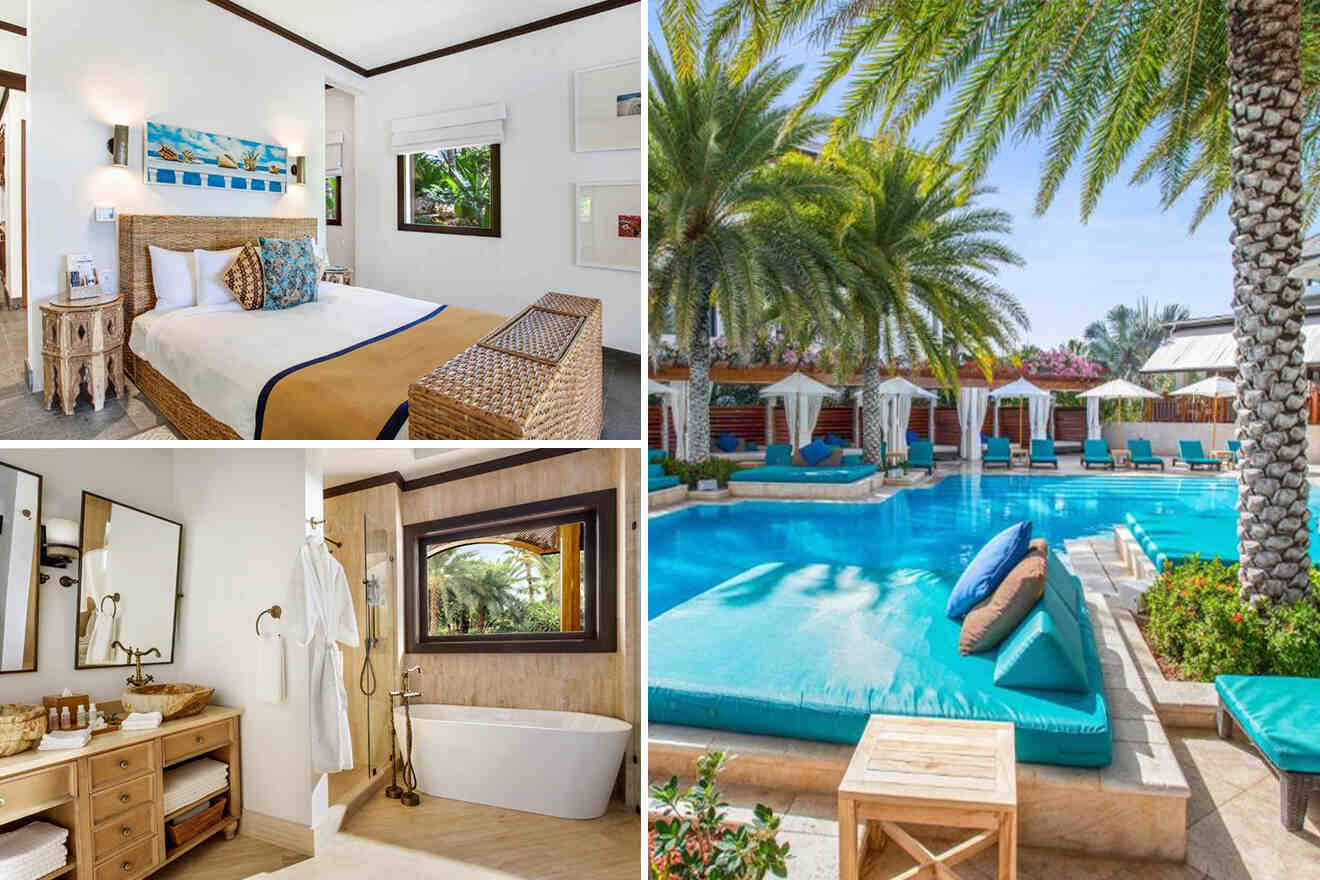 Coffee by your infinity pool? Yes, please! This amazing hotel in Anguilla offers private pool suites that have lots of space, a kitchen, and offer garden or ocean views. Featuring a decor with soft colors and modern furnishings, the accommodation has 2 restaurants where you can indulge in some amazingly prepared Caribbean dishes!
And during your trip, you can even join one of their themed dinner nights and live music performances! That's if you're not too tired from snorkeling or hiking all day long! But I think some time at the spa center, in the hammam, will make you feel like a brand new person!
12. Eden Roc Cap Cana – trendy resort with bungalows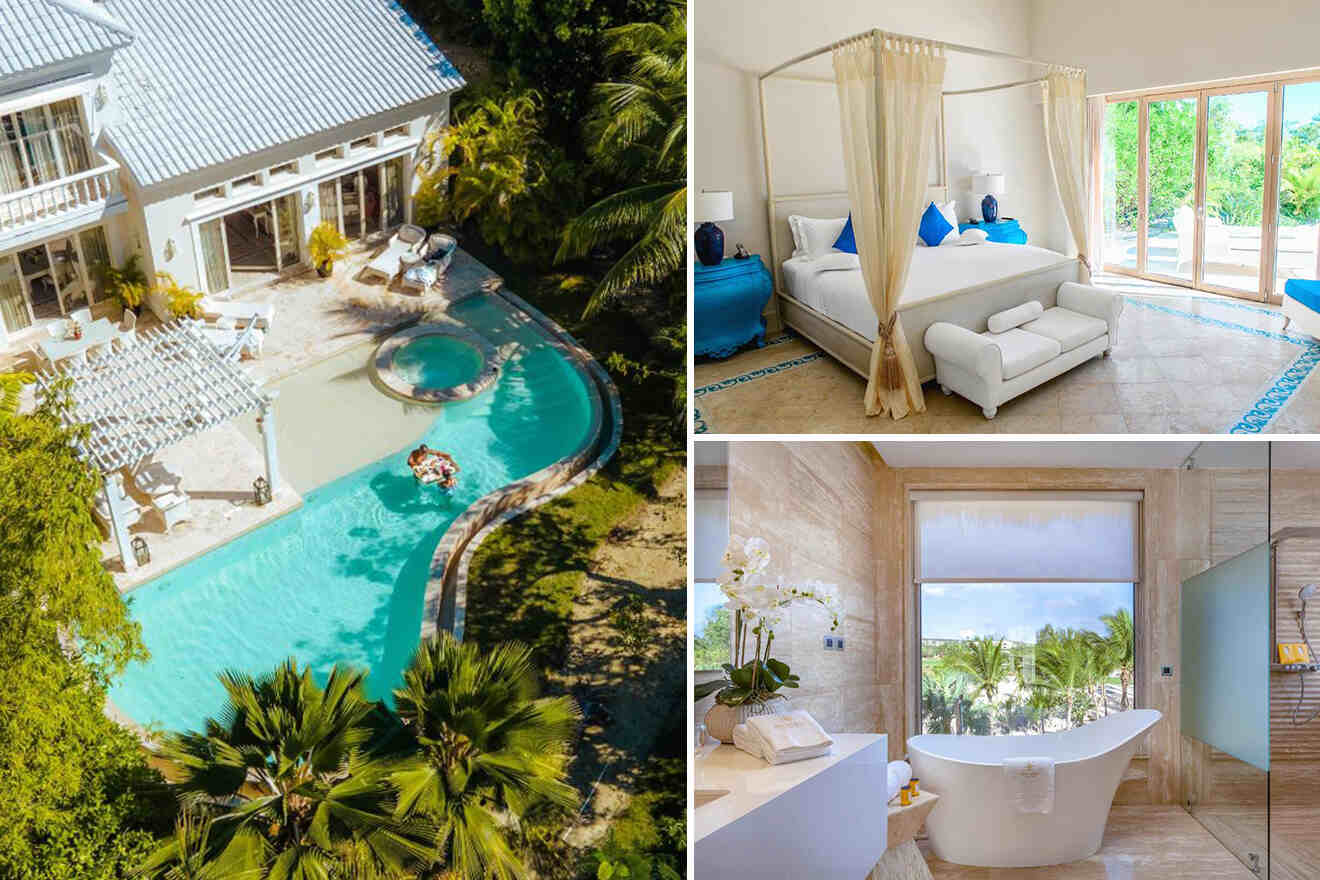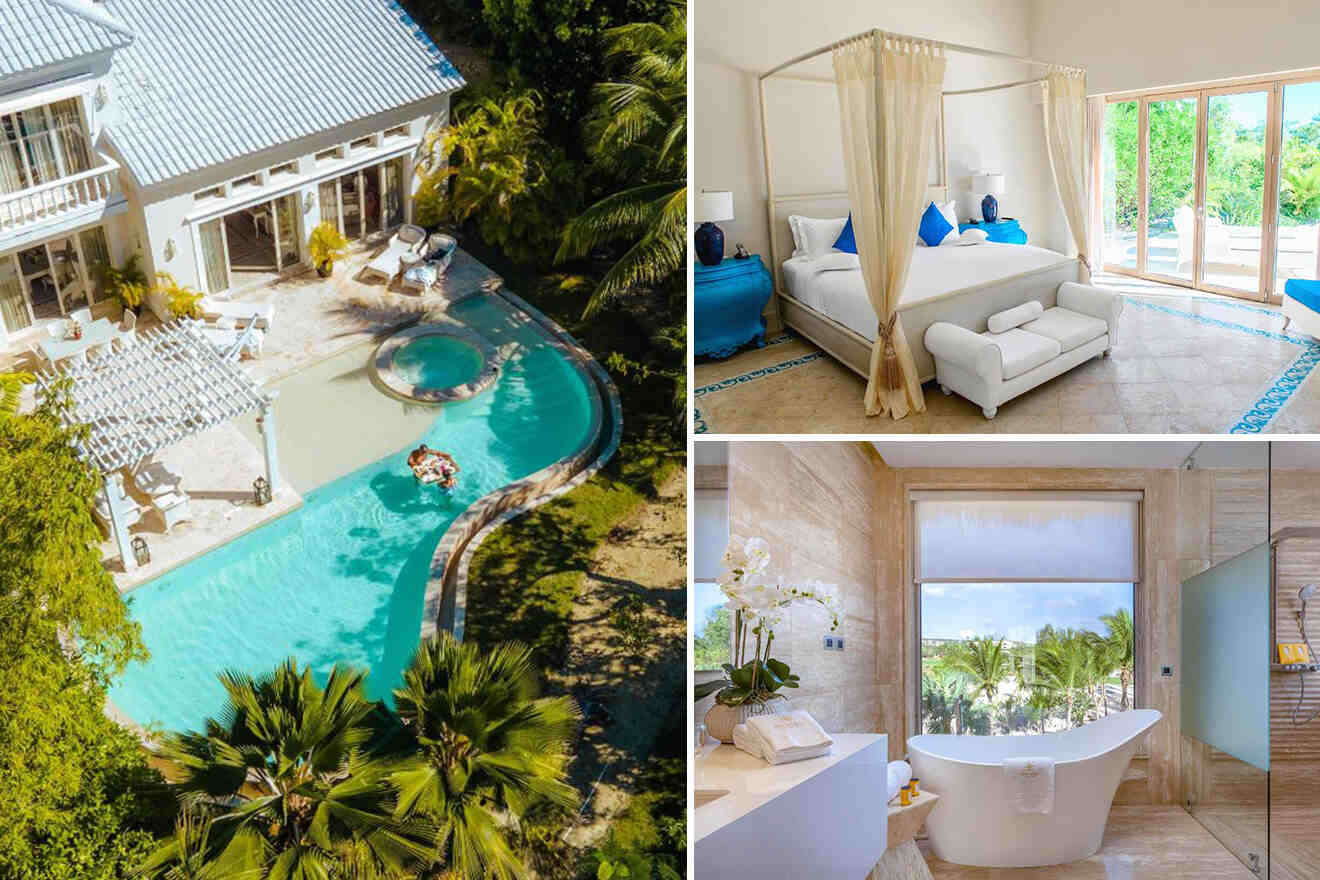 Punta Cana has become so popular, and honestly, I'm not surprised! Once you see its beauty, the wonderful beaches, and its crystal-blue waters, you'll feel hooked! Of course, the hotels also play a big part, just like this one which offers villas and bungalows with a private pool.
Each place is uniquely decorated with stylish furnishings and equipped with all the facilities you'll need throughout your stay. There are lots of things to do here, from going on bike tours, playing in the games room, or trying windsurfing, but for the days when you don't feel like doing anything (like good old Bruno Mars used to say), I recommend relaxing on the private beach or at the spa.
13. Serenity at Coconut Bay – perfect for nature lovers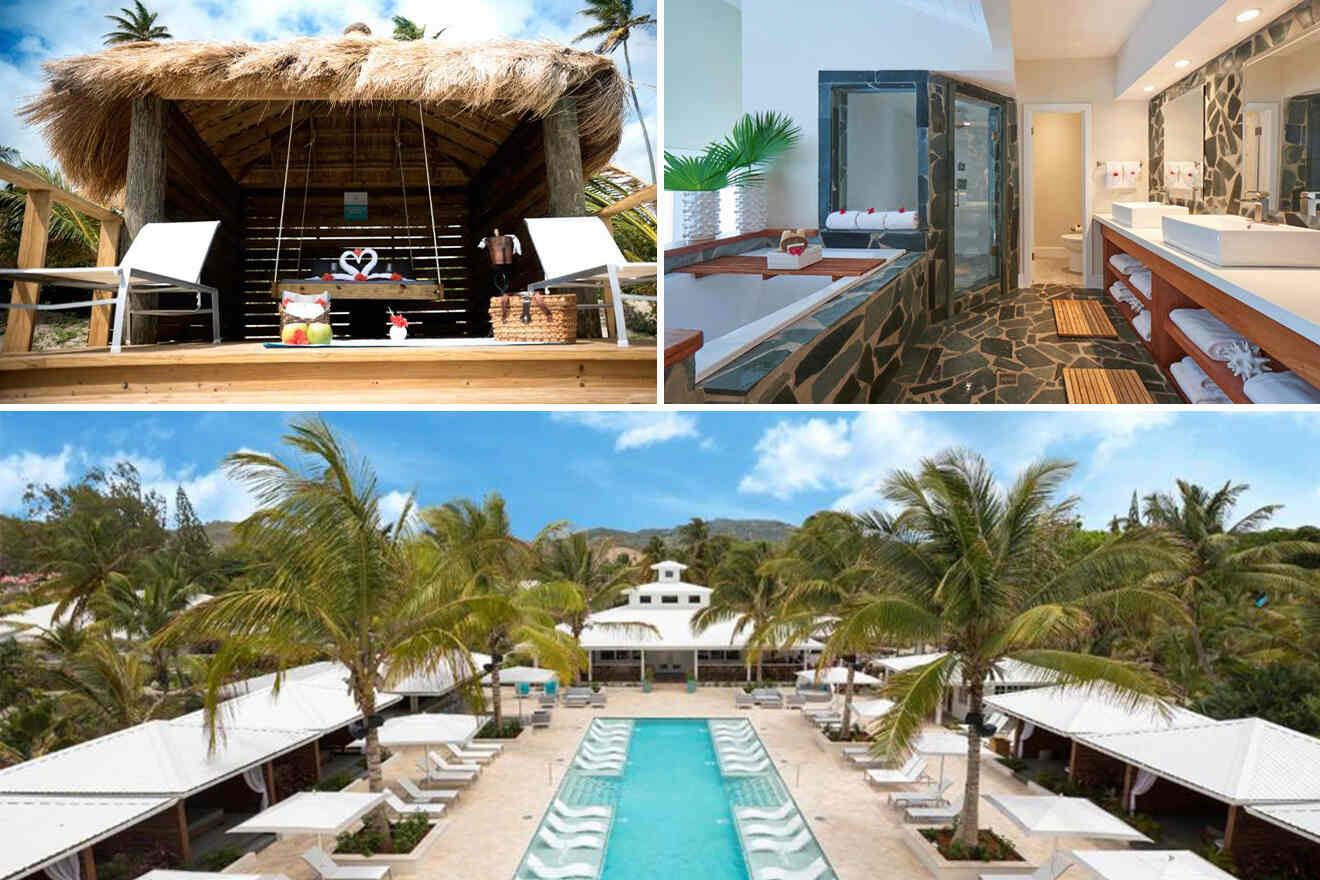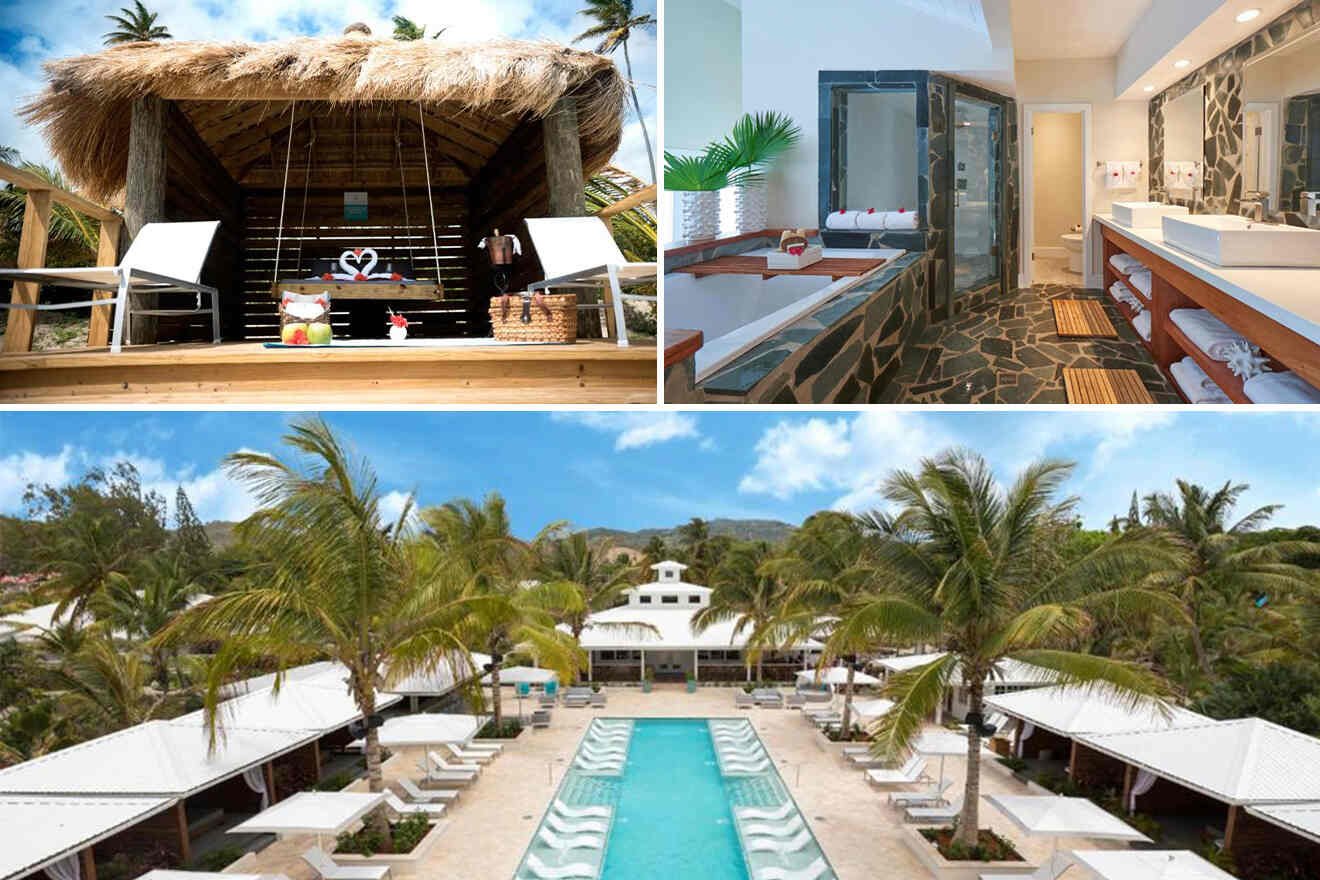 Saint Lucia Island is filled with amazing sites, and if you're heading there, you'll need a proper hotel! Just like this one which has suites with a private pool where you can enjoy your breakfast and coffee in the morning!
Afterward, you can head to the private beach area for a nice sunbathing session, a swim in the Caribbean Sea, and sipping some cocktails on the sun loungers! Although the resort offers so many facilities like a spa and a pool, I definitely recommend exploring outside of the hotel by going since Saint Lucia has many cool attractions!
14. Hotel Le Toiny – for a relaxing holiday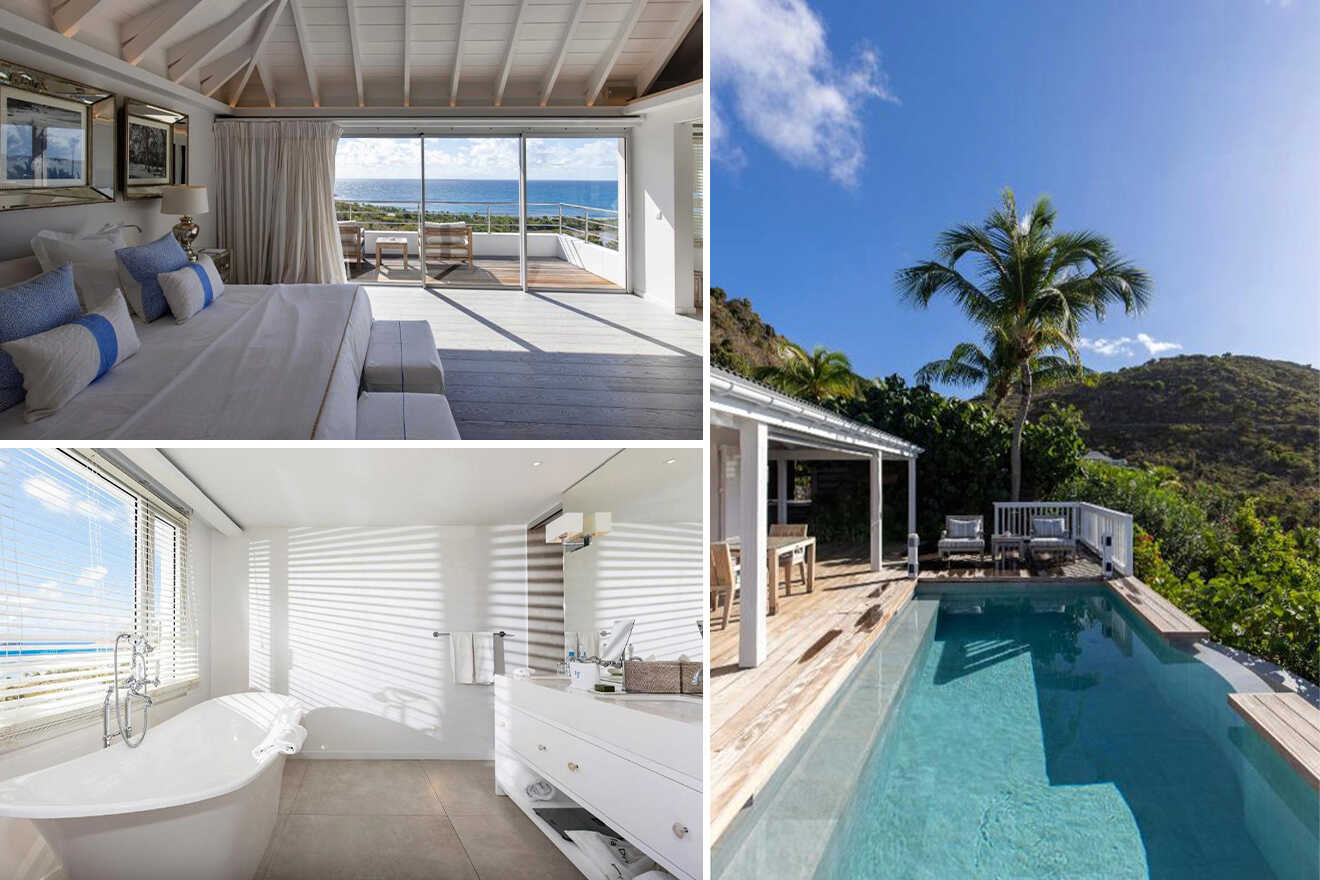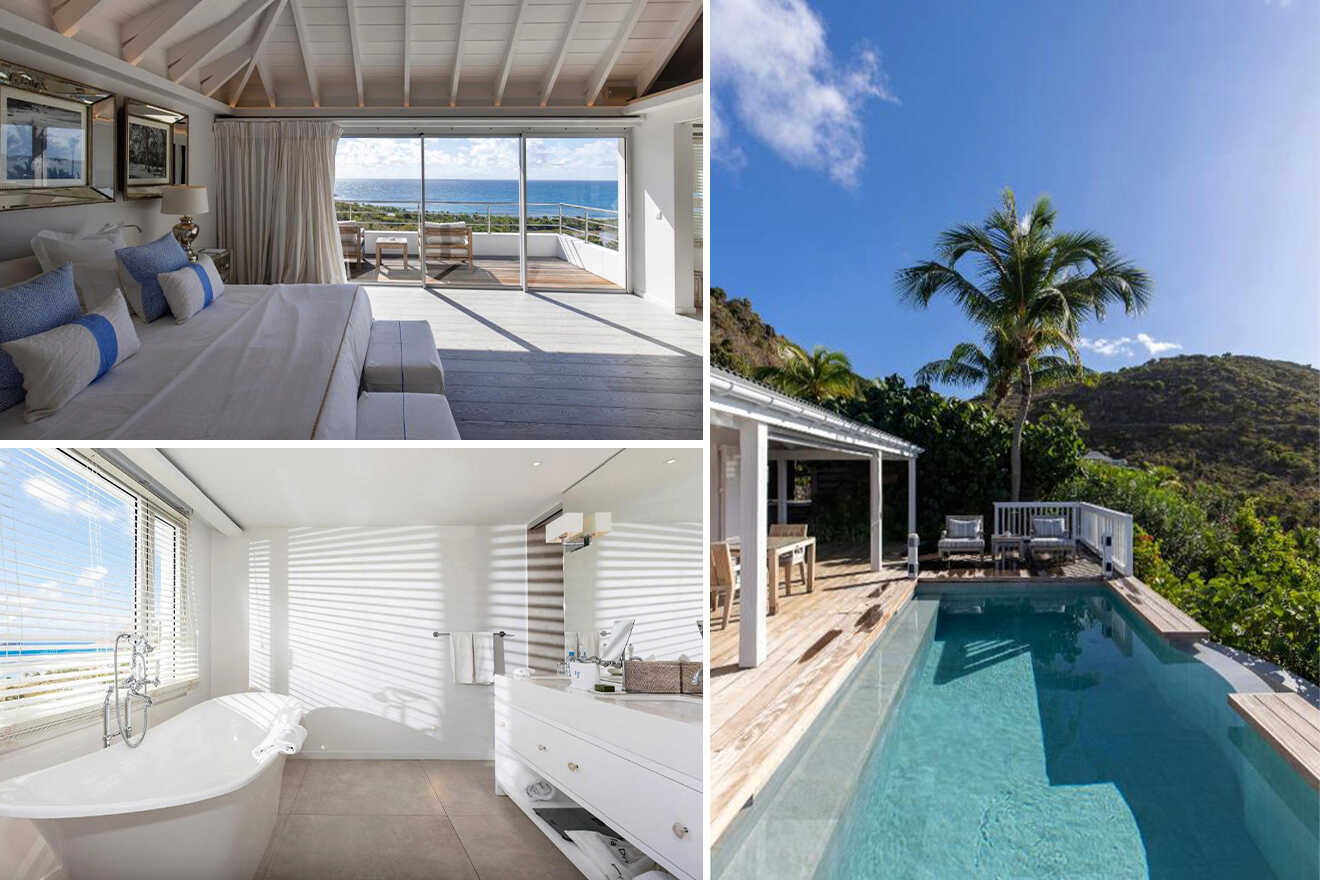 Are you ready for an unforgettable holiday on St. Barthelemy island? I'm sure you are, and just wait until you see this fabulous hotel which has suites with a private plunge pool, ocean views, and a beautiful all-white decor that I'm sure many of you will love!
There's nothing like that feeling of being on holiday, and here you'll get to live that feeling full all day long by eating delicious food at their Mediterranean restaurant, joining yoga classes, and relaxing at the spa center. Start your morning with a coffee on the private beach and get all energized to try all the water sports on-site.
15. Sanctuary Cap Cana – romantic resort on a secluded beach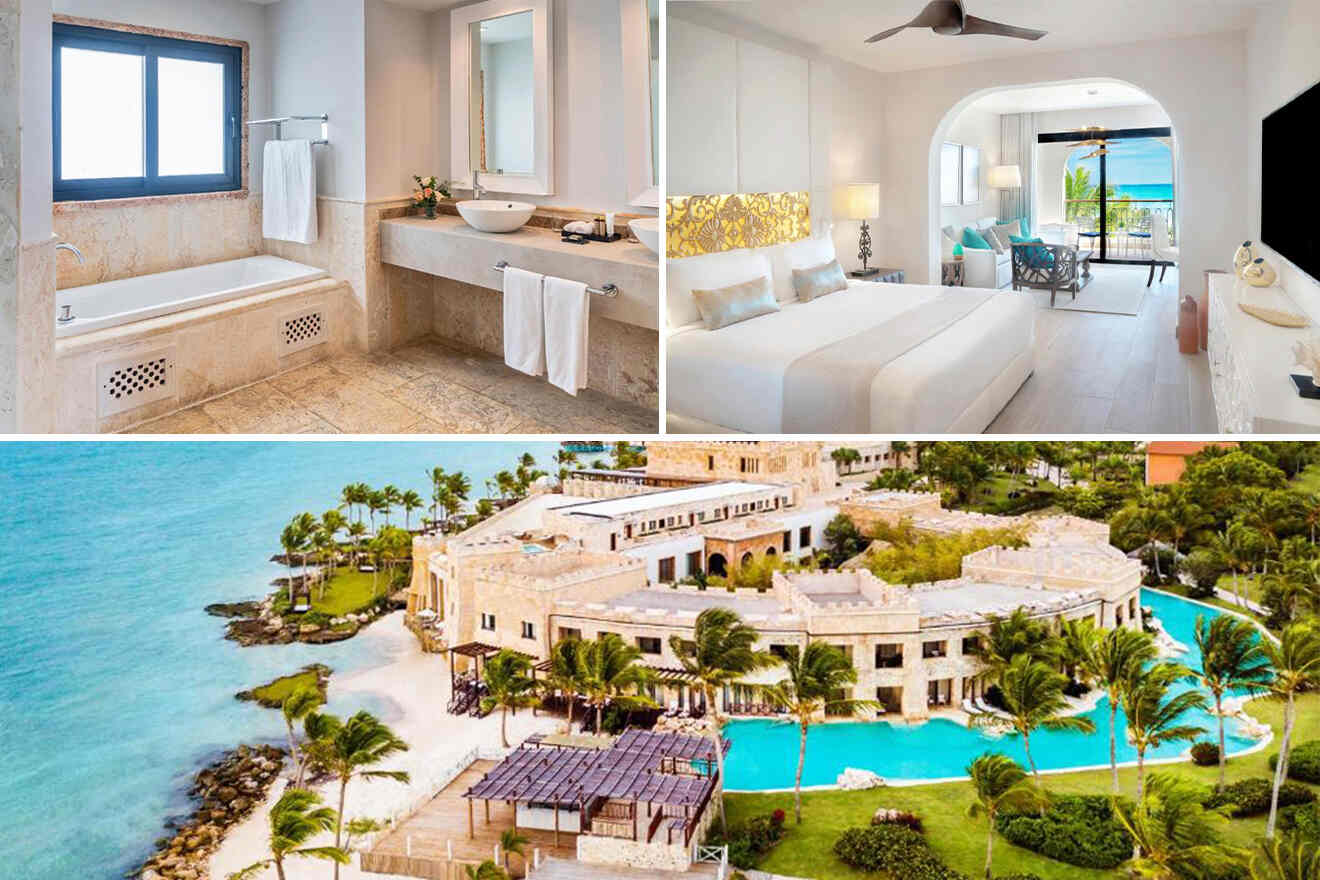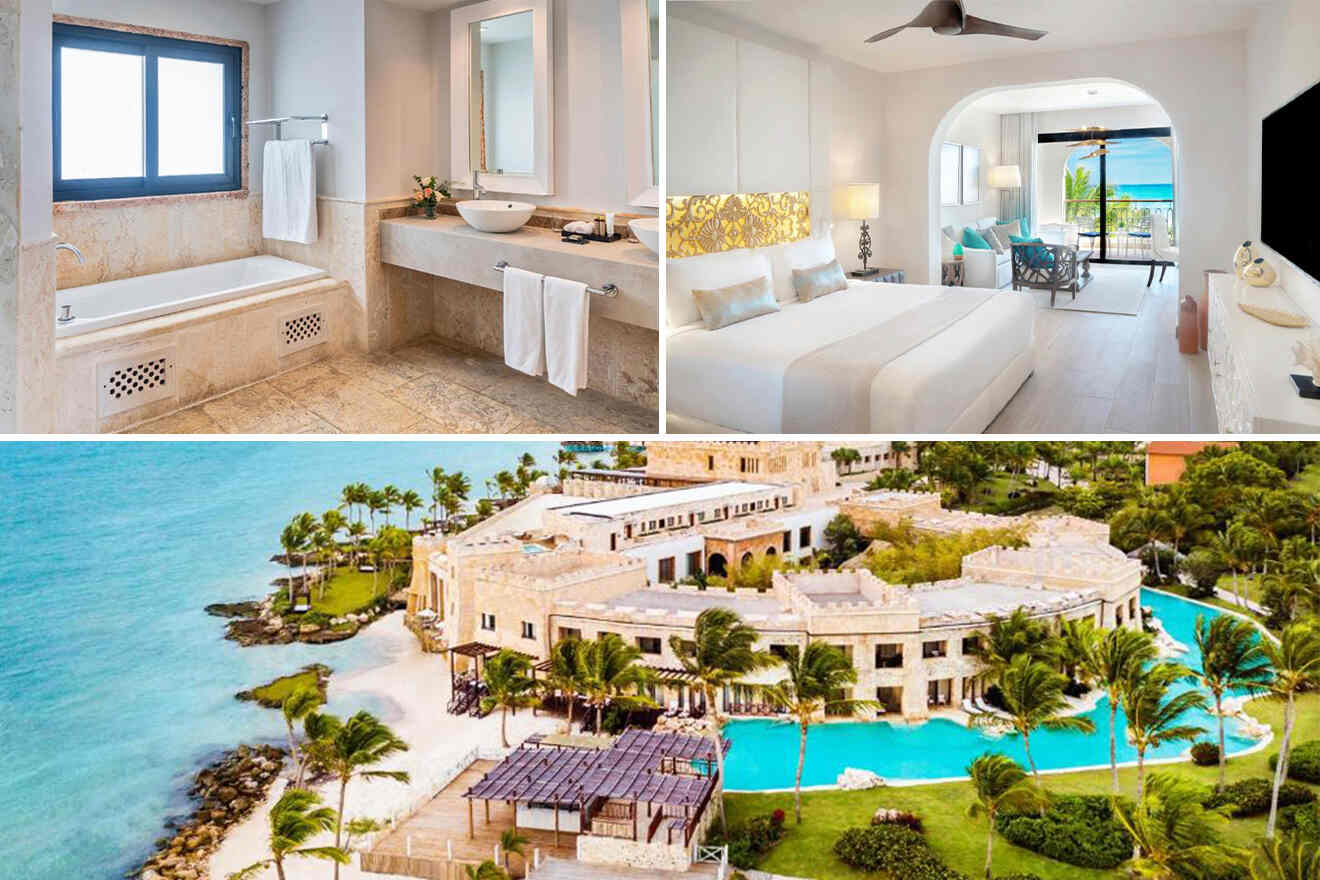 Set only minutes away from the Punta Cana airport, this fabulous resort offers direct access to the beach and some incredible honeymoon suites with private pools! By far one of the most romantic resorts in the Caribbean, this place comes with a full-service spa and room service.
Besides the incredible private pool rooms, you'll also have access to the other shared outdoor pools and, of course, to the private beach area where you can sunbathe and sip some cocktails. You can also arrange for some romantic dinners at one of their 6 restaurants or take some cooking classes together!
16. Rosewood Hotel – unique resort with private pools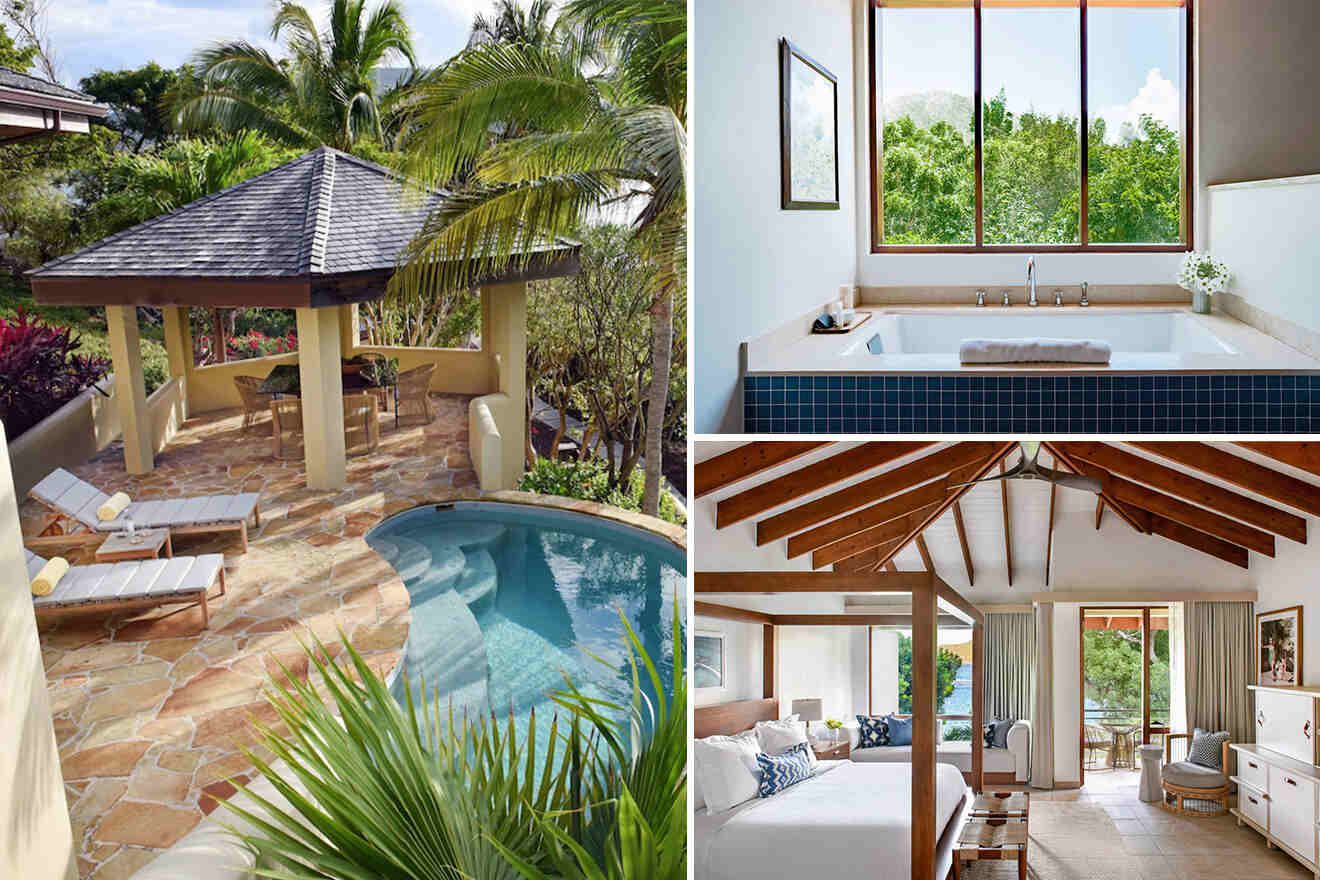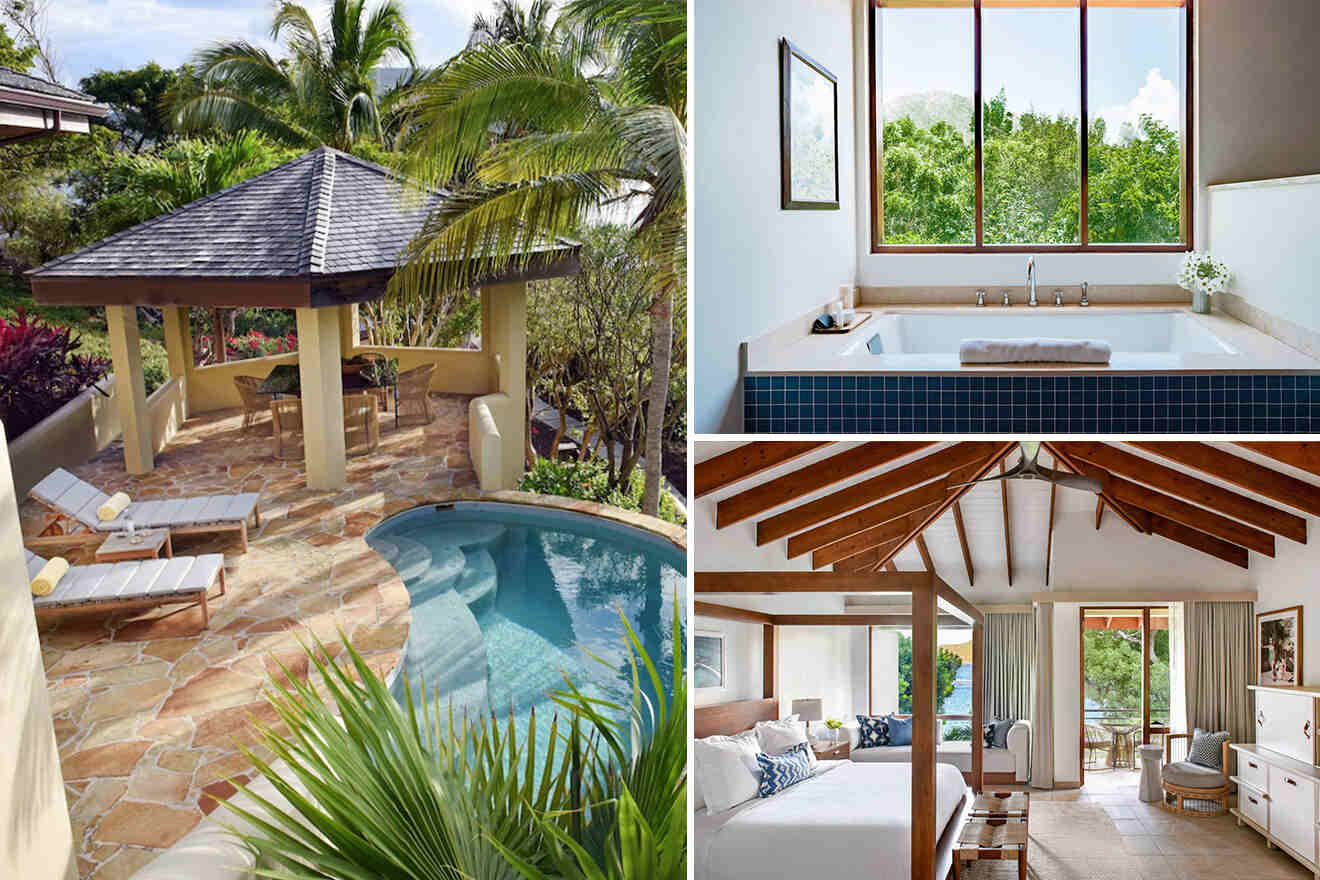 These Caribbean resorts are so unique! Especially this one, which is set on Virgin Gorda island that offers suites and cottages with private pools, 3 restaurants, and even yoga and pilates classes!
Wake up, have your coffee, and jump for a dip in your own plunge pools. Afterward, you can head to the beach or try one of the many water sports! They offer snorkeling, kayaking plus a game room where you can play all day! But I'm sure that after your flight, you'll just want to hit the spa center to try one of their massages or body wraps.
17. Baoase Luxury Resort – for a relaxed holiday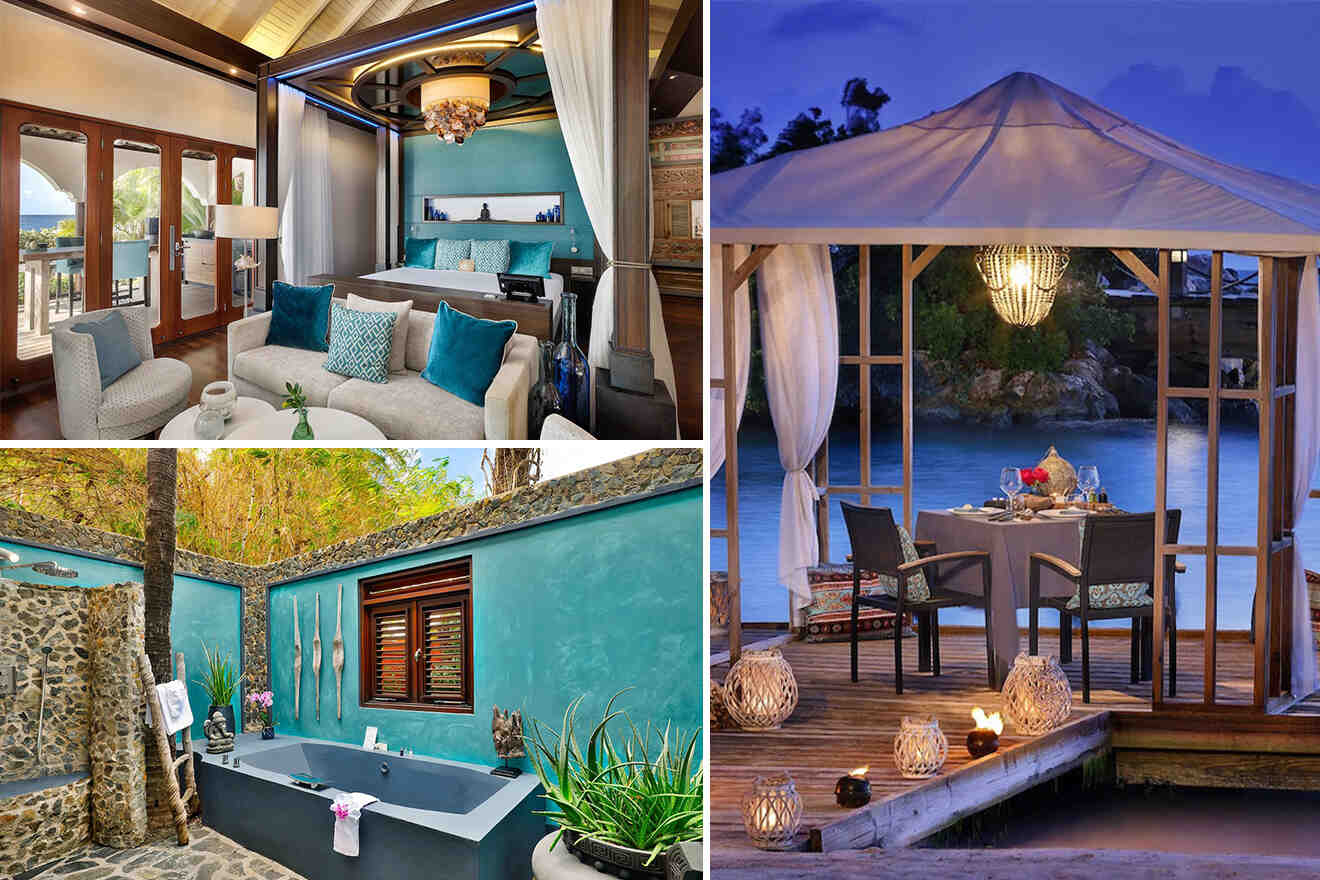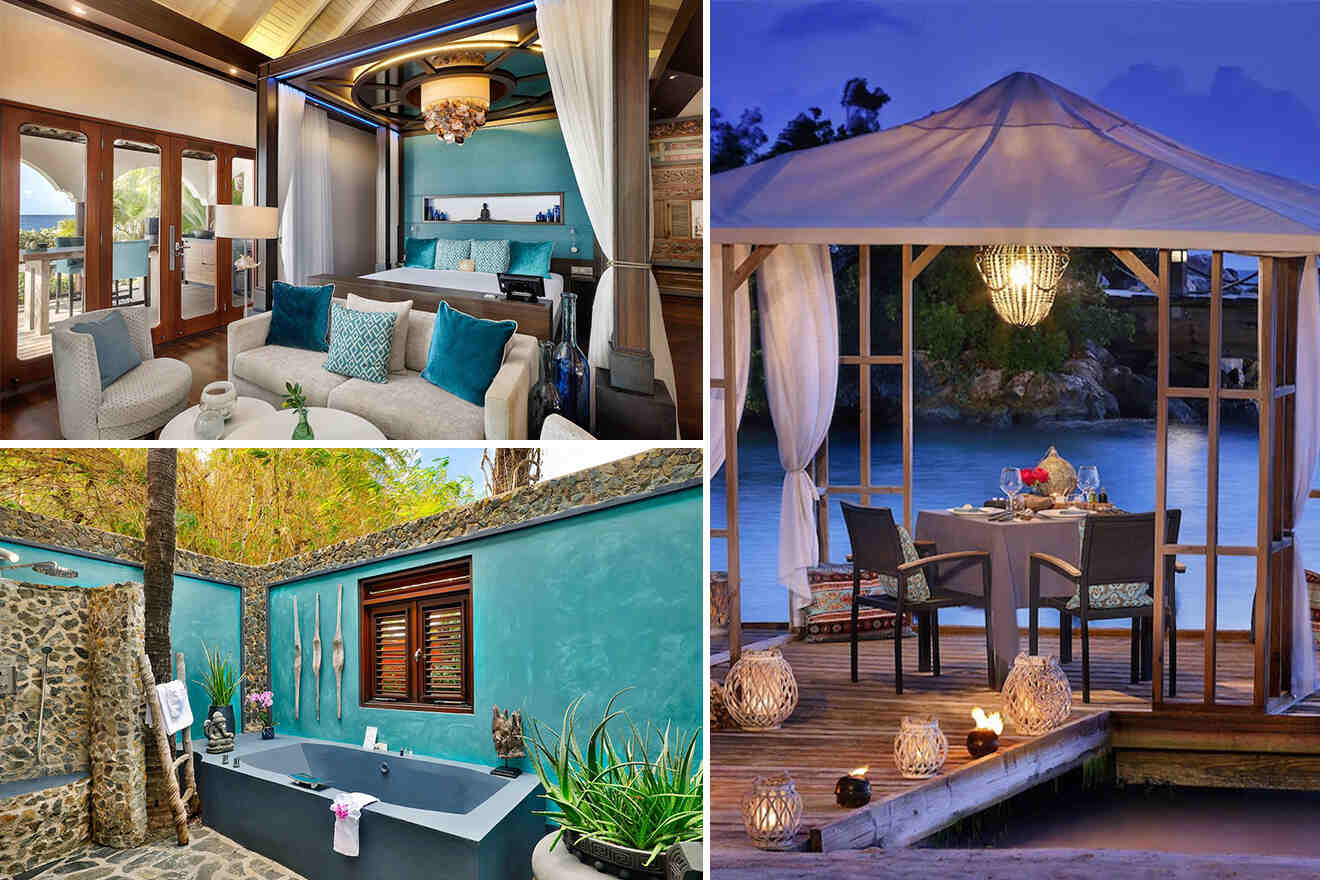 Still looking for a place to stay in Curaçao? Then check out this resort that offers pool suites (some even come with a whirlpool tub), a spa center, and such cool decor that fits the Caribbean scenery perfectly!
Enjoy your afternoons on your private pool deck, or head over to the beachfront restaurant to eat a delicious lunch there. Then you'll feel all energized to try some activities, from going on safari adventures, cave exploring, or snorkeling. You'll also have an entire private beach area just for yourself and the other hotel guests where you can relax and swim in the ocean!
FAQs about resorts with private pools in the Caribbean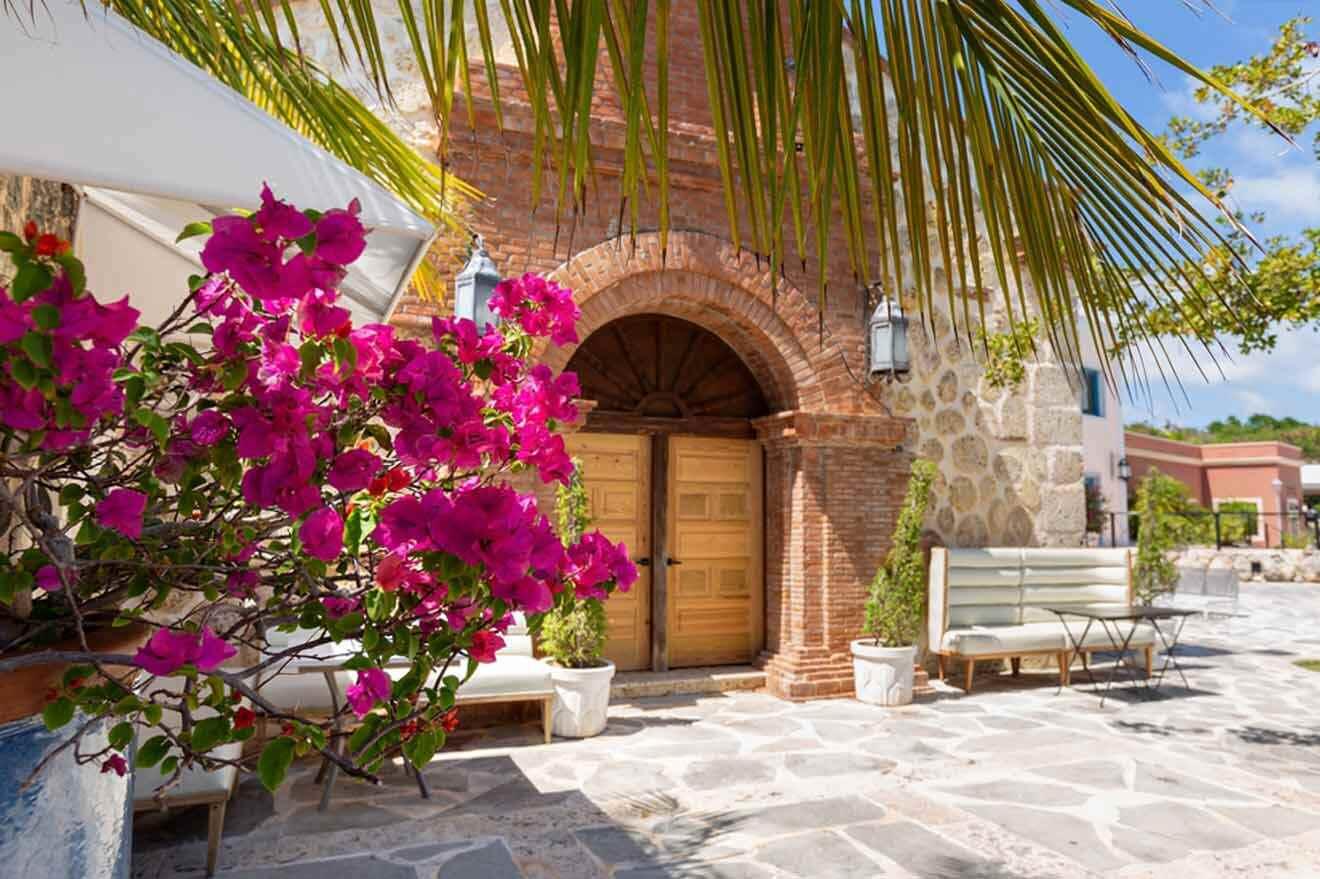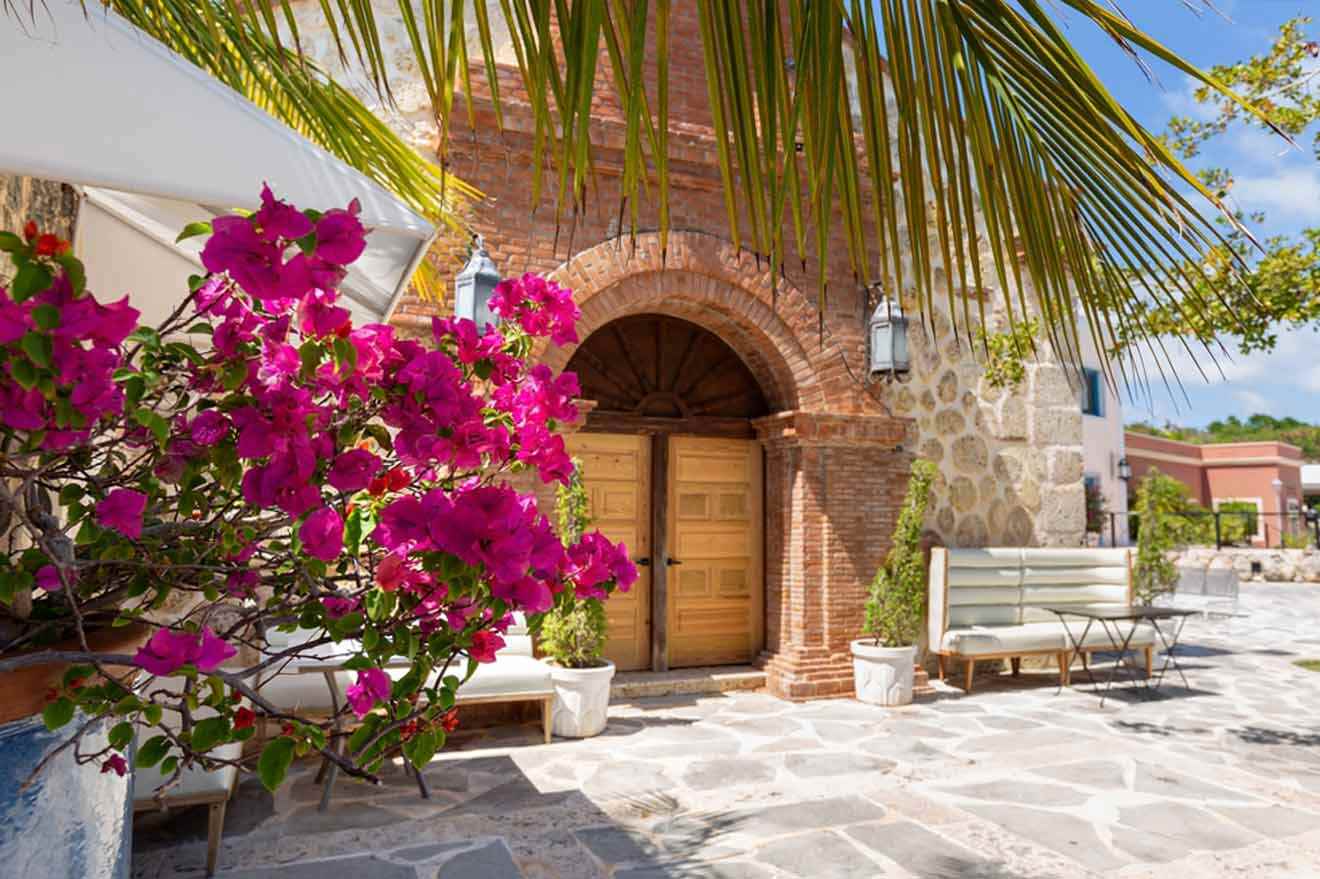 Conclusion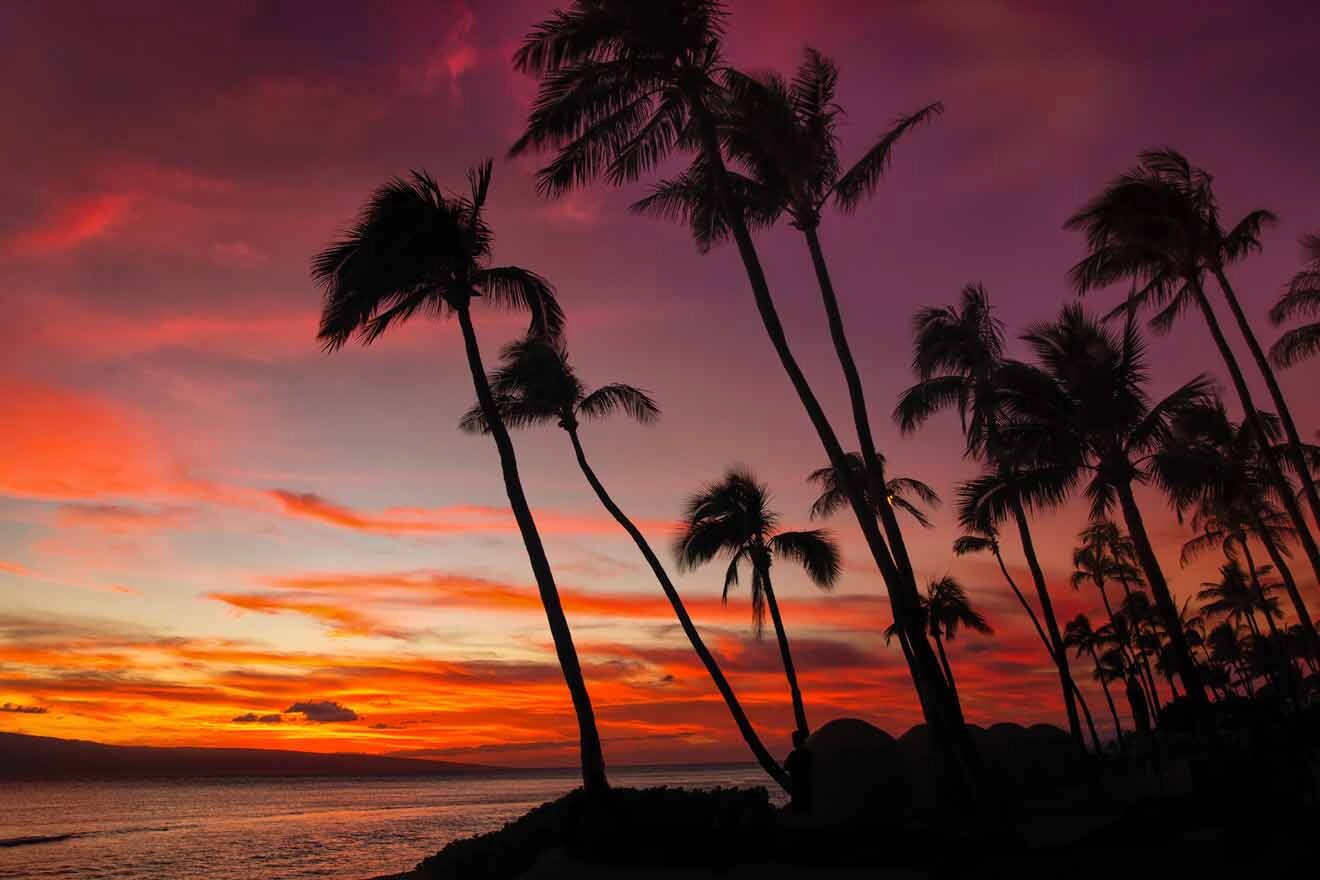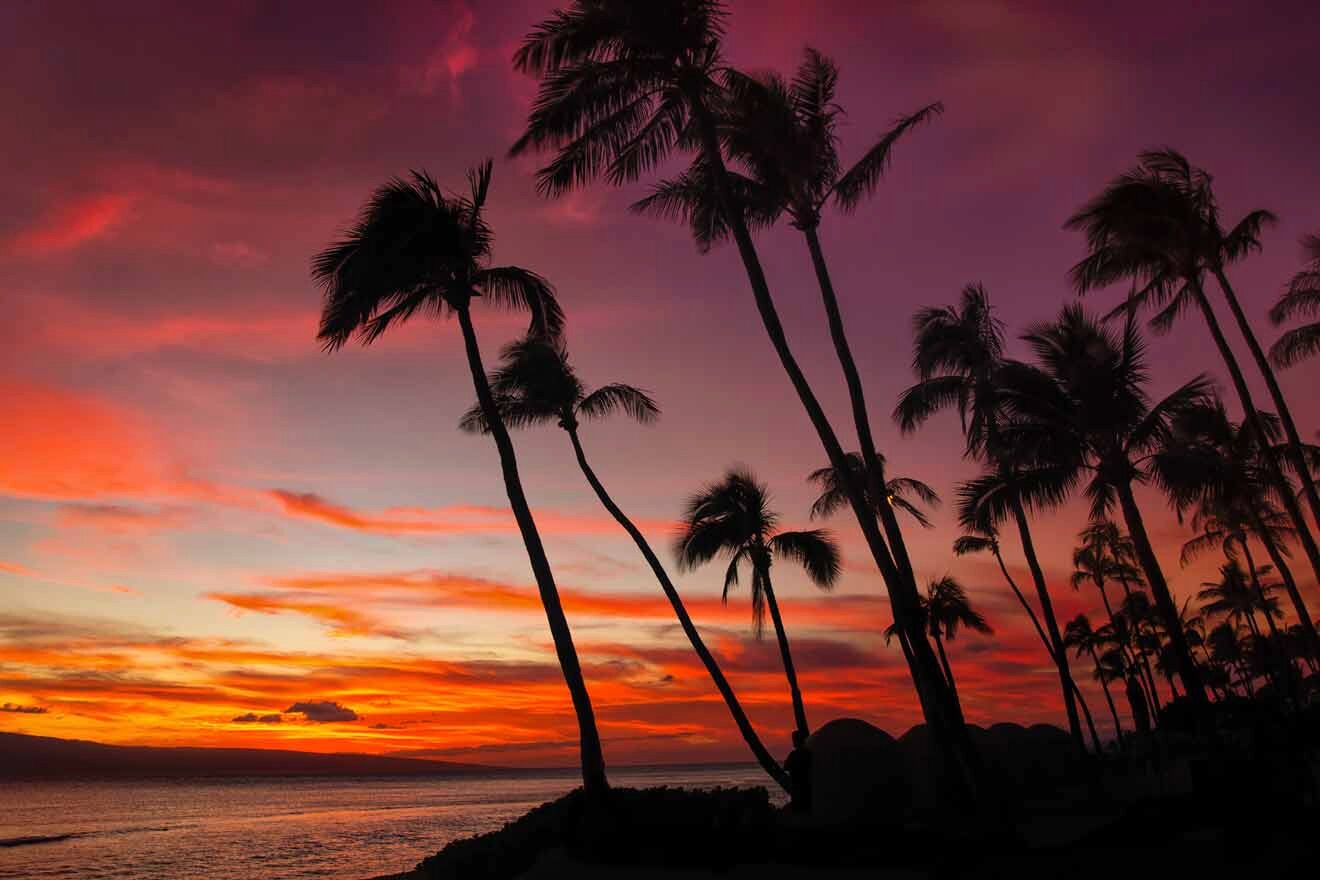 What a place! I told you nothing compares to the Caribbean islands or their elegant hotels with a butler service and plunge pool suites!
Now that we've gone through this long list of the best resorts with private pools in the Caribbean, I think you'll feel much better about which place to pick.
But if you're still having some doubts, check out my 2 favorite Caribbean hotels below that have suites with private pools:
Jade Mountain – Set in a dreamy tropical location, this hotel offers suites with infinity pools and lots of activities and water sports
Ladera Resort – One of the best Caribbean hotels with private plunge pool suites that also has a restaurant and a spa center
Just remember what I said about these Caribbean hotels, they will sell out pretty fast, so I highly recommend booking yours early!
Enjoy your own plunge pool suite and all the other incredible facilities here, and don't forget you can always drop me a comment below if you've got any questions!
Safe travels,
Victoria
---
Pin it for later!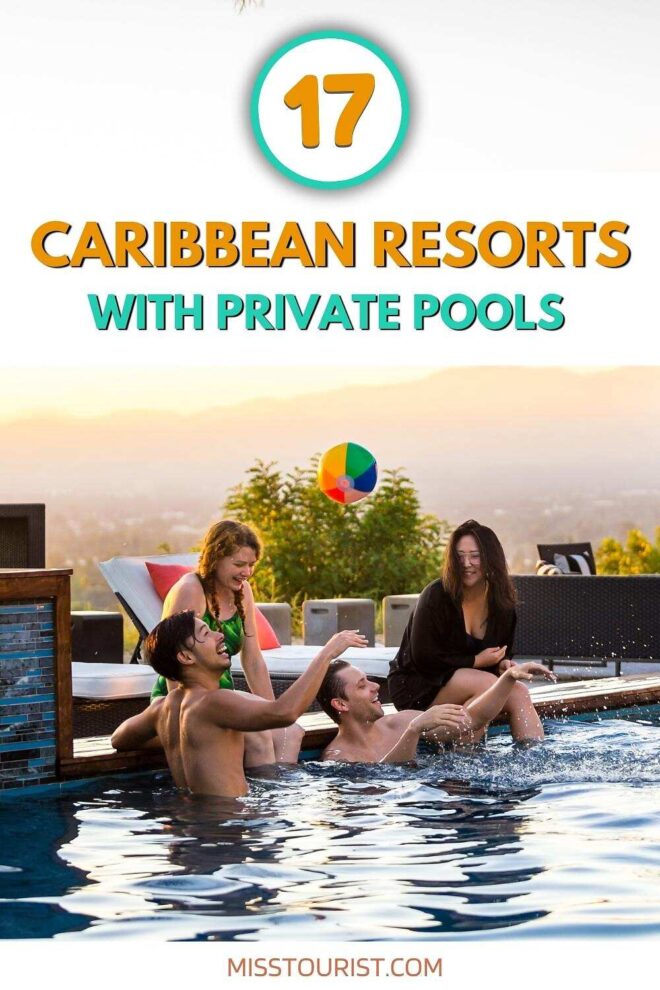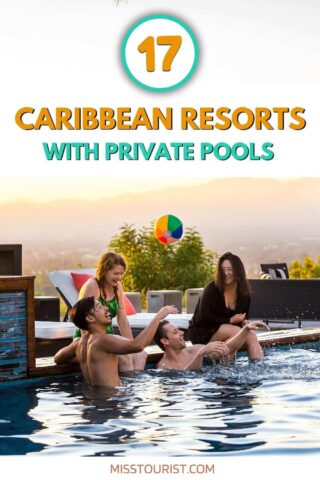 Pin it for later!