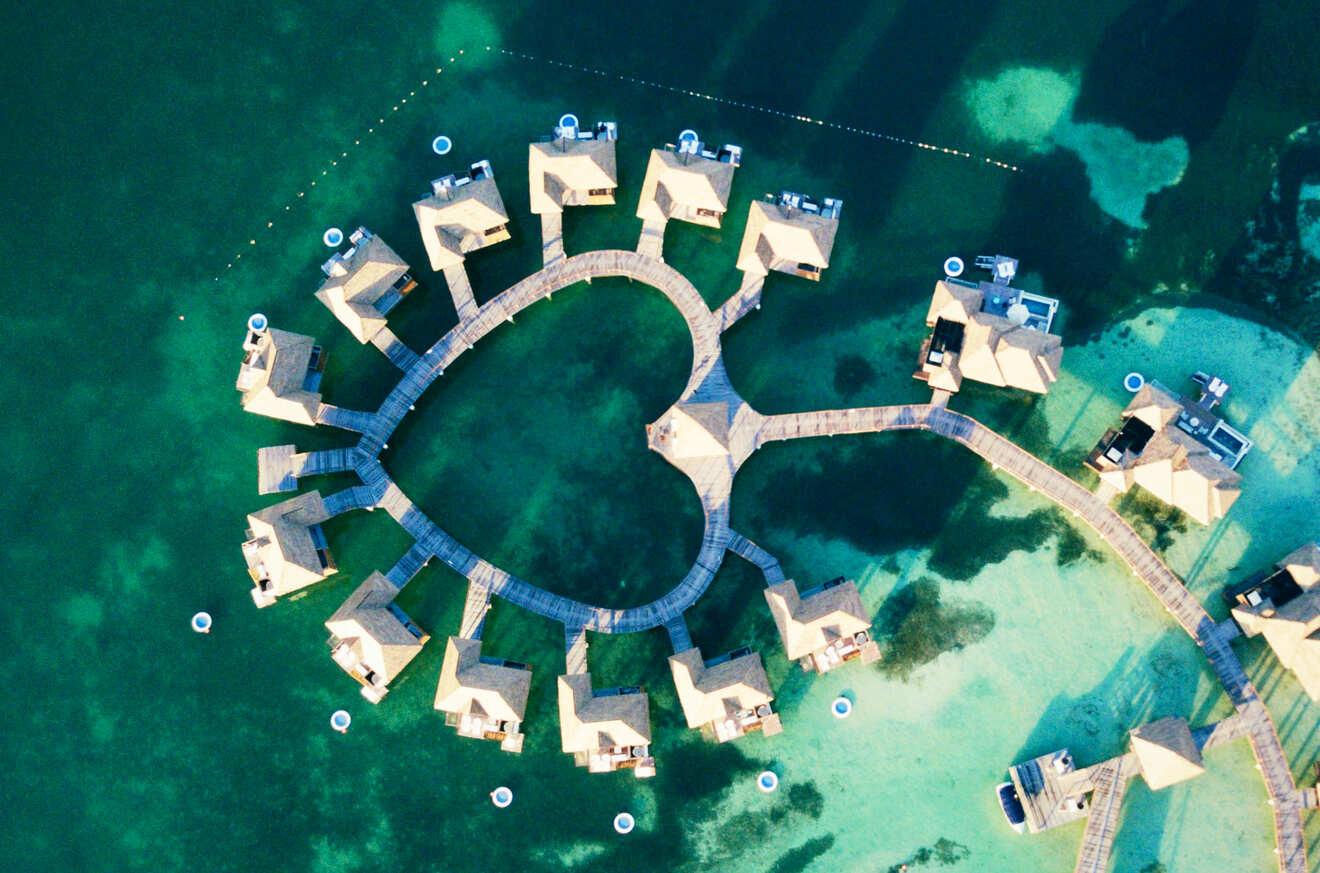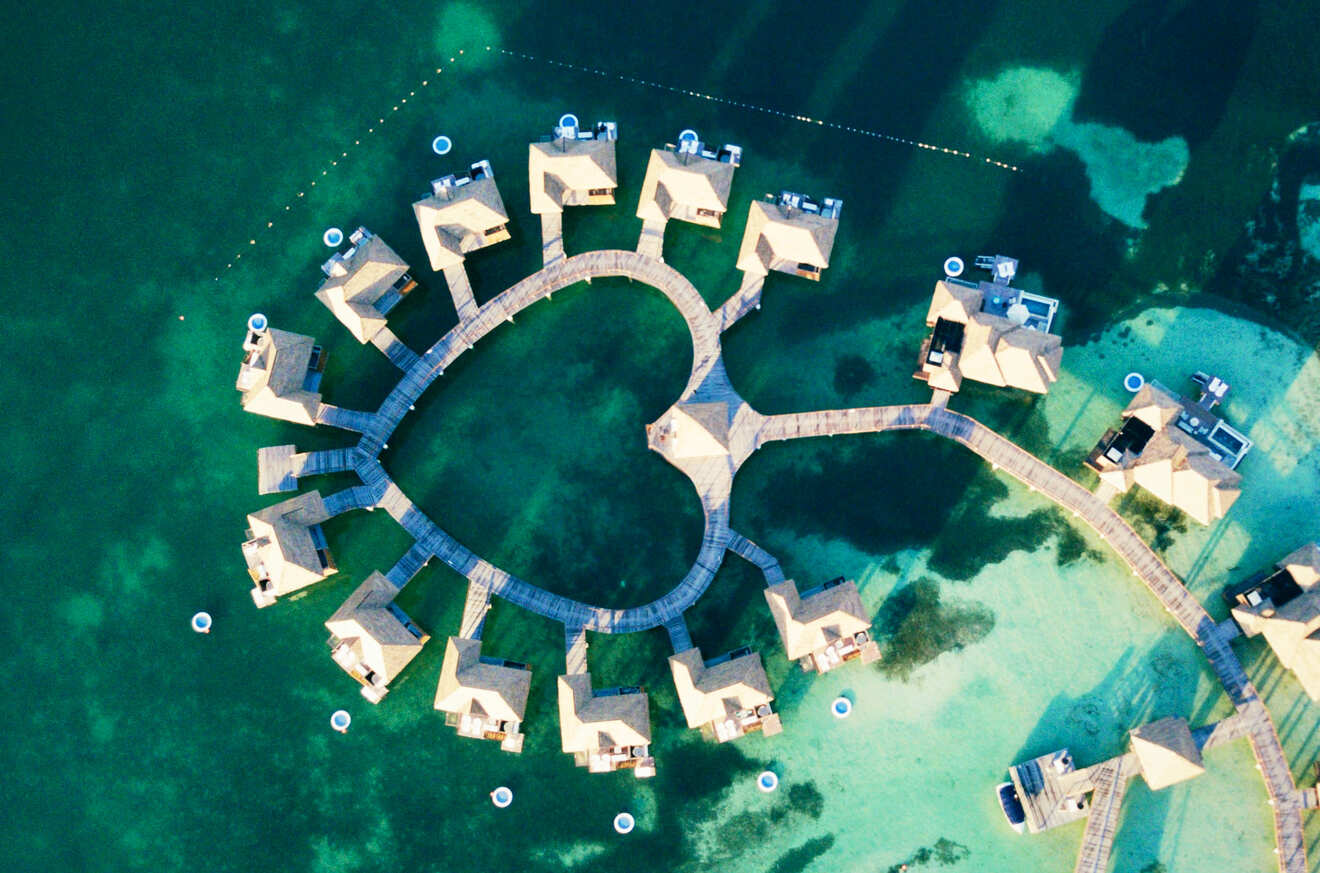 If you are planning a holiday to Jamaica and are dreaming about your stay in a luxury overwater bungalow, congrats, you ended up on the right blog!
Here you'll find the best overwater bungalows in Jamaica, perfect for a romantic getaway, an all-inclusive stay, or to just enjoy the Caribbean's finest turquoise waters and marine life! But I have to warn you, you will find only 3 overwater bungalow resorts on the whole island.
In fact, in Jamaica, there are the two Sandals resorts, both located in South Jamaica, offering stunning, all-inclusive overwater bungalows with glass floors (only for couples), plus the GoldenEye, another resort with family-friendly overwater bungalows.
I will talk about all 3 in more detail in this post, but since there are very few options, I also included some incredible luxury oceanfront hotels that you may be interested in, in case the 3 overwater bungalows don't suit your needs. So you can have the same exclusive experience while still being close to Jamaica's crystal clear waters!
NOTE: These are some of the best overwater accommodations in the Caribbean, so they get booked out months in advance, at any time of the year. If you want to stay here, I suggest you plan your holiday way ahead of time!
Are you ready? Let's start right now!
If you are in a hurry
Don't have the time to read the whole post? Then check out the best luxury overwater bungalows and the top oceanfront hotels in Jamaica:
Here's a map that will help you visualize all the overwater bungalows and oceanfront hotels that I will be talking about in this post:
1. Sandals Royal Caribbean Resort – for a honeymoon on a private island!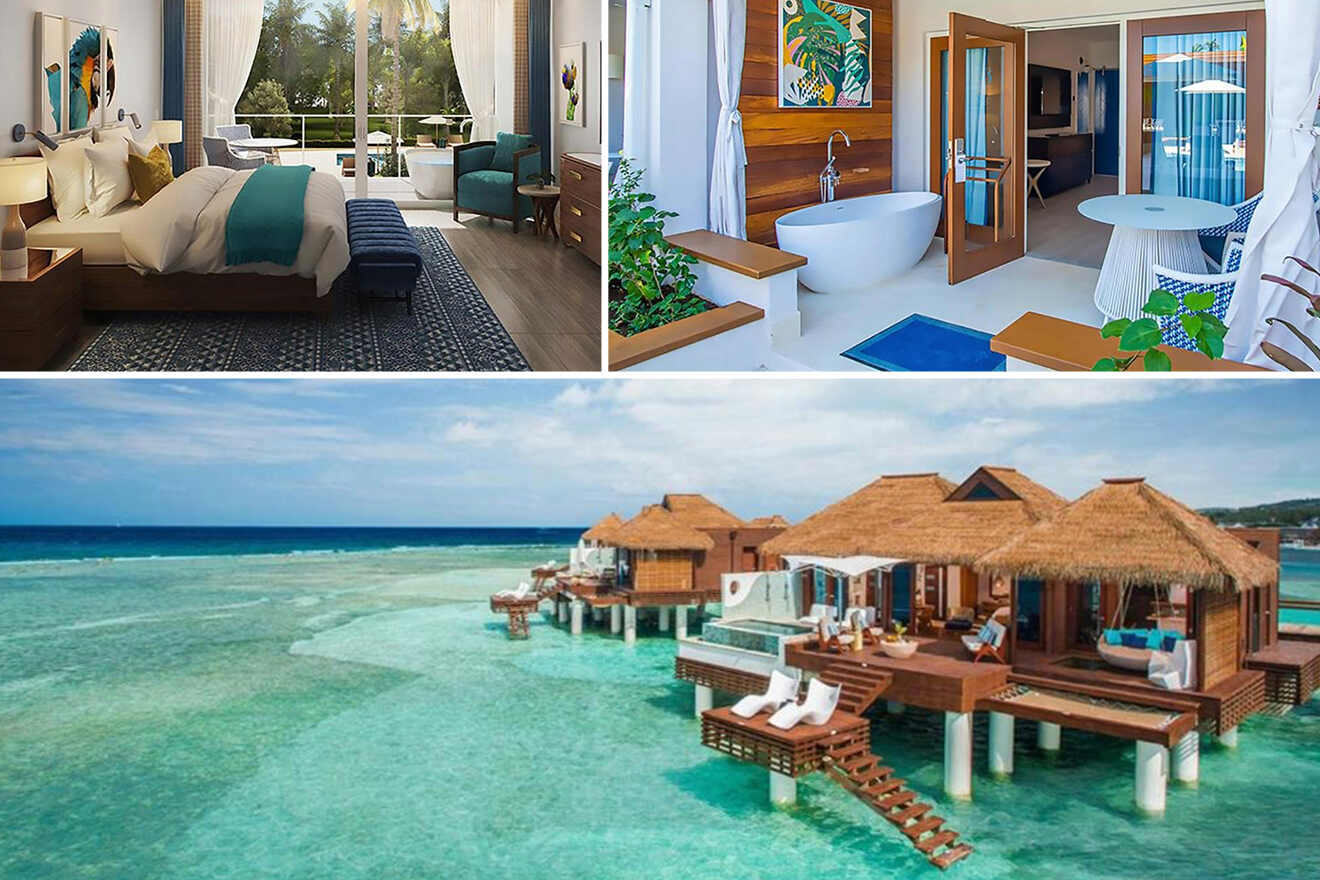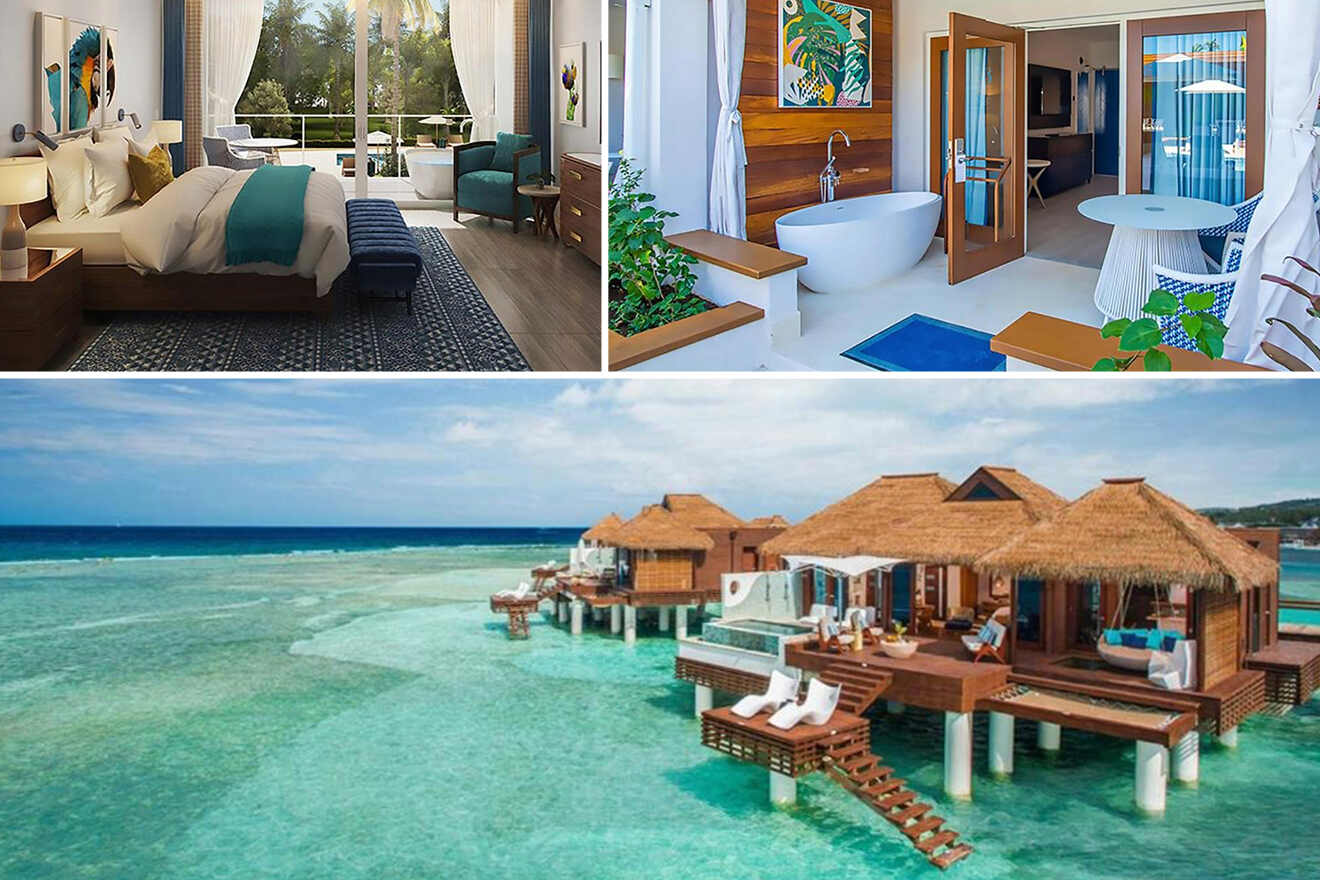 One of the two Sandals overwater bungalow resorts in Jamaica is the Sandals Royal Caribbean Resort which is ONLY for couples! The Sandals Royal Caribbean is located on its own private island, which makes it special among the Sandals South Coast Jamaica overwater bungalows as you will literally take a private water taxi from your overwater bungalow to the main resort!
Here you'll find 17 Sandals Royal Caribbean Overwater Bungalows, 5 of which (the Honeymoon Villas) have their private infinity pools, an expansive patio, glass floor sections, a walk-in closet, and a personal butler service. All of them have access to outdoor fire pits, an overwater bar, and afternoon tea every day! Sounds incredible, right?
2. Sandals South Coast Resort – all-inclusive package for couples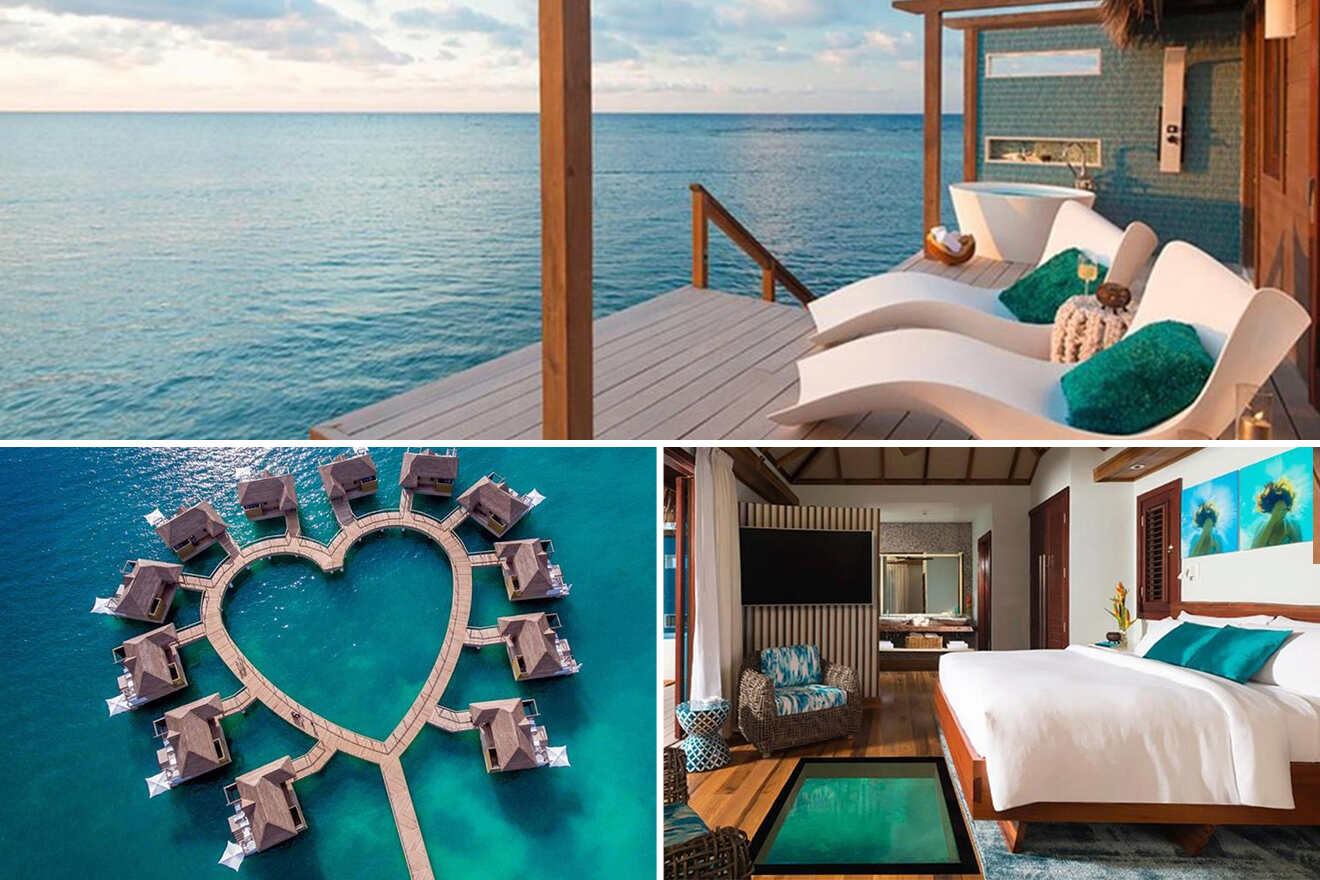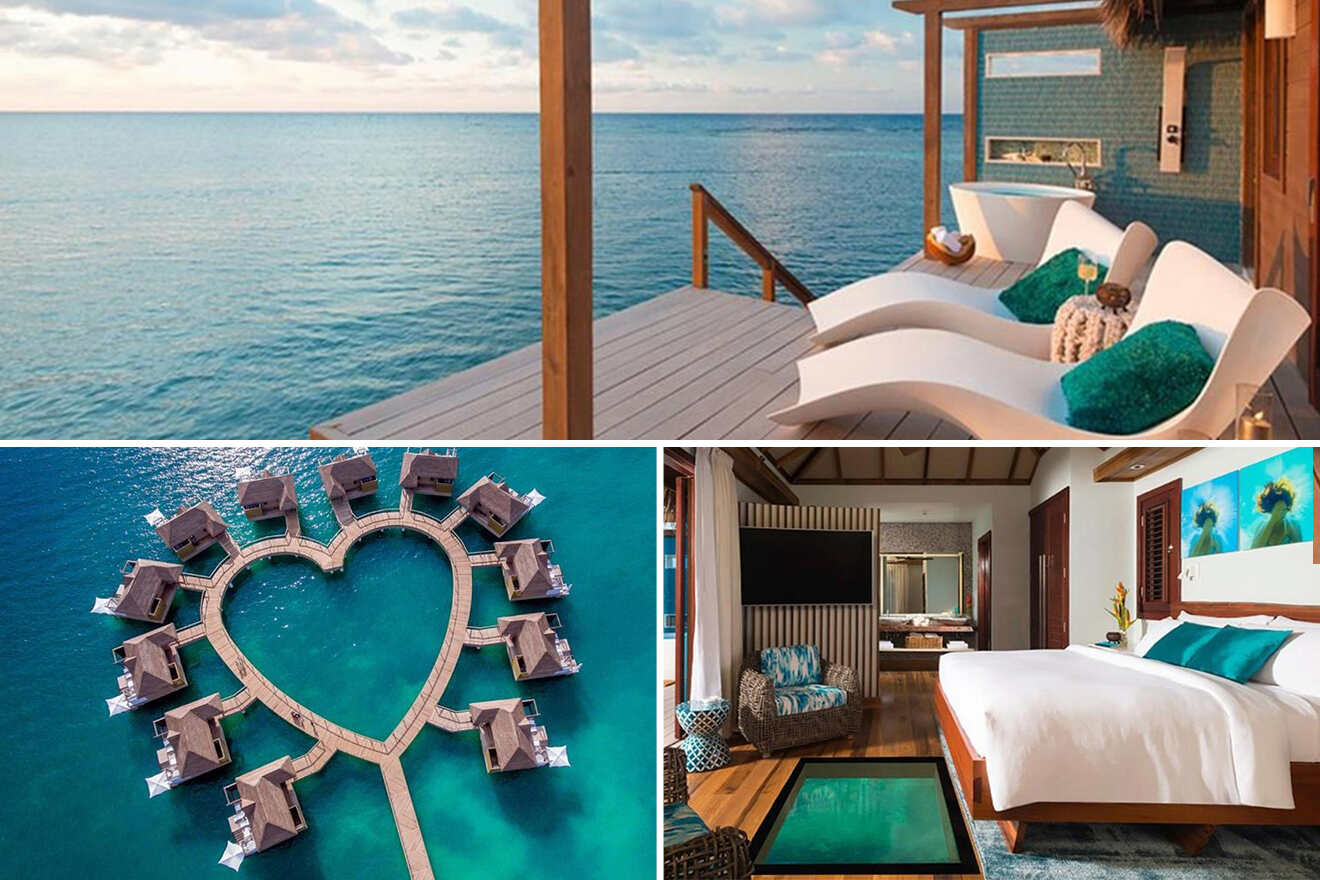 Here's the other one of the Sandals luxury overwater bungalows resorts in Jamaica, and Sandals south coast resort also features some incredible amenities!
Here you'll have access to unlimited gourmet dining in the 9 (!) fabulous restaurants, unlimited premium liquors at the bars, overwater hammocks, and the resort's exciting activities like scuba diving.
And wait until you see the over-the-water bungalows offering internal glass floor panels (with guarantee undersea views, spa-style bathrooms, butler service, an outdoor shower, and even a suspended patio with a swim-up platform… What else can you ask for?
NOTE: This property is actually rated lower than we would normally recommend, but since there are only 3 overwater bungalow accommodations on the island I wanted to give all the possible options. That being said, there are currently very few reviews, so it's not always a good representation of the overall feeling of the resort!
3. GoldenEye, Oracabessa – for an affordable tranquil getaway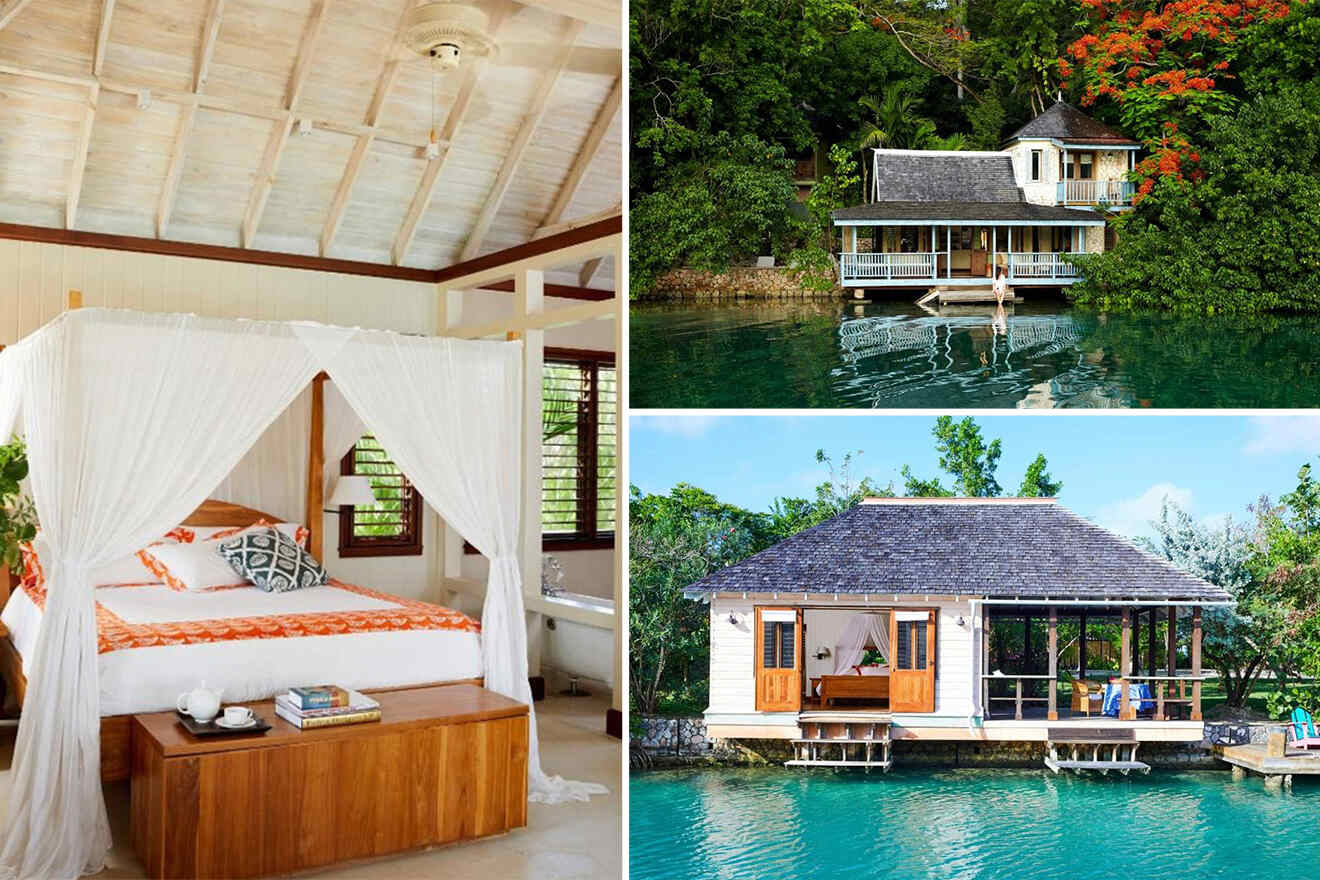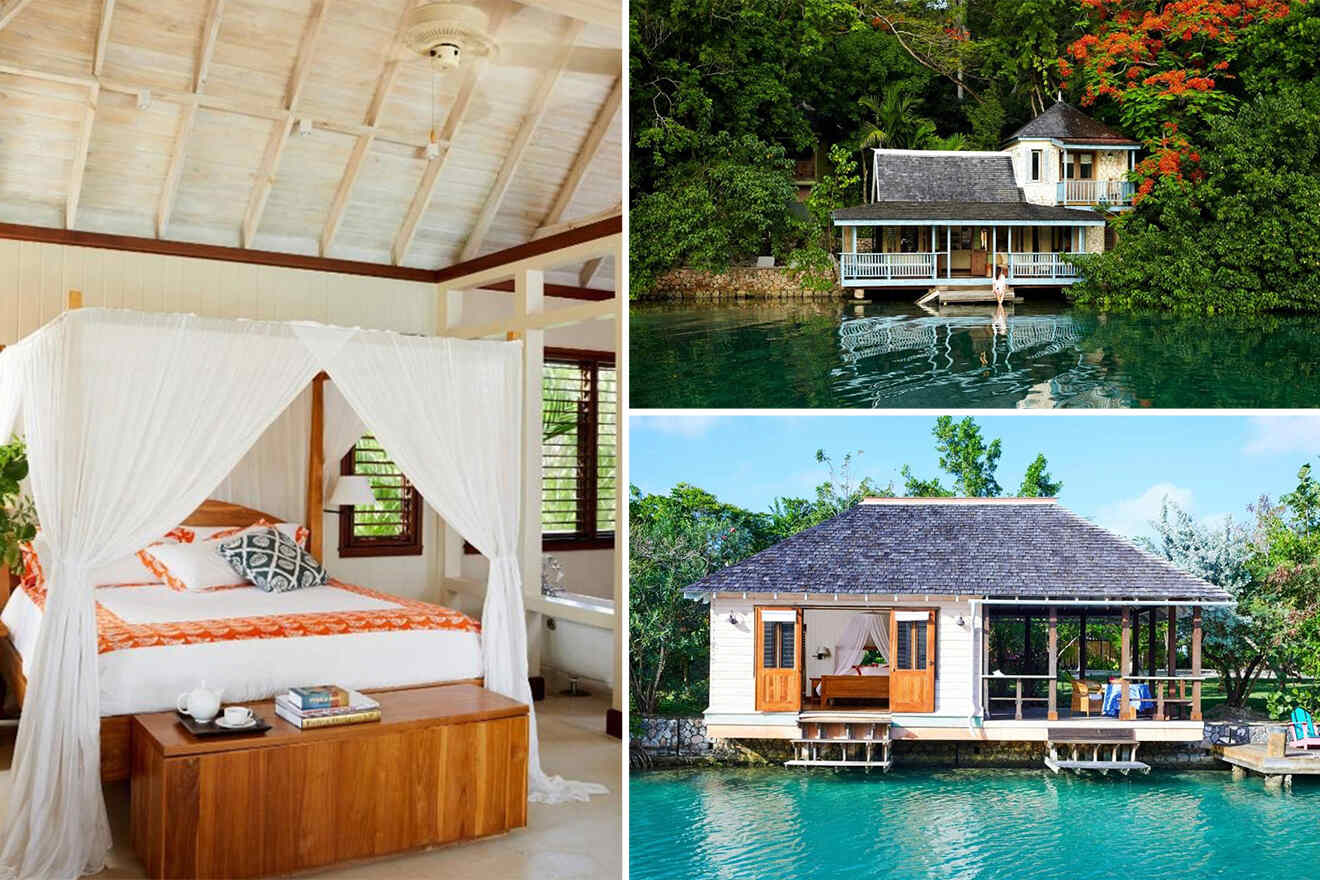 The last one of the amazing Jamaica overwater bungalows is GoldenEye, nestled in beautiful lush gardens featuring private beaches, hidden coves, and a saltwater lagoon…. The perfect place to disconnect and enjoy some quietness!
In this tropical property, you can choose from over-the-water villas, beach huts, and cottages located right in front of the ocean or the lagoon. All the properties come with kitchen facilities, soaking tubs, and access to 3 outdoor pools. Check out all the details in the link below!
Tips for staying in overwater Bungalows in Jamaica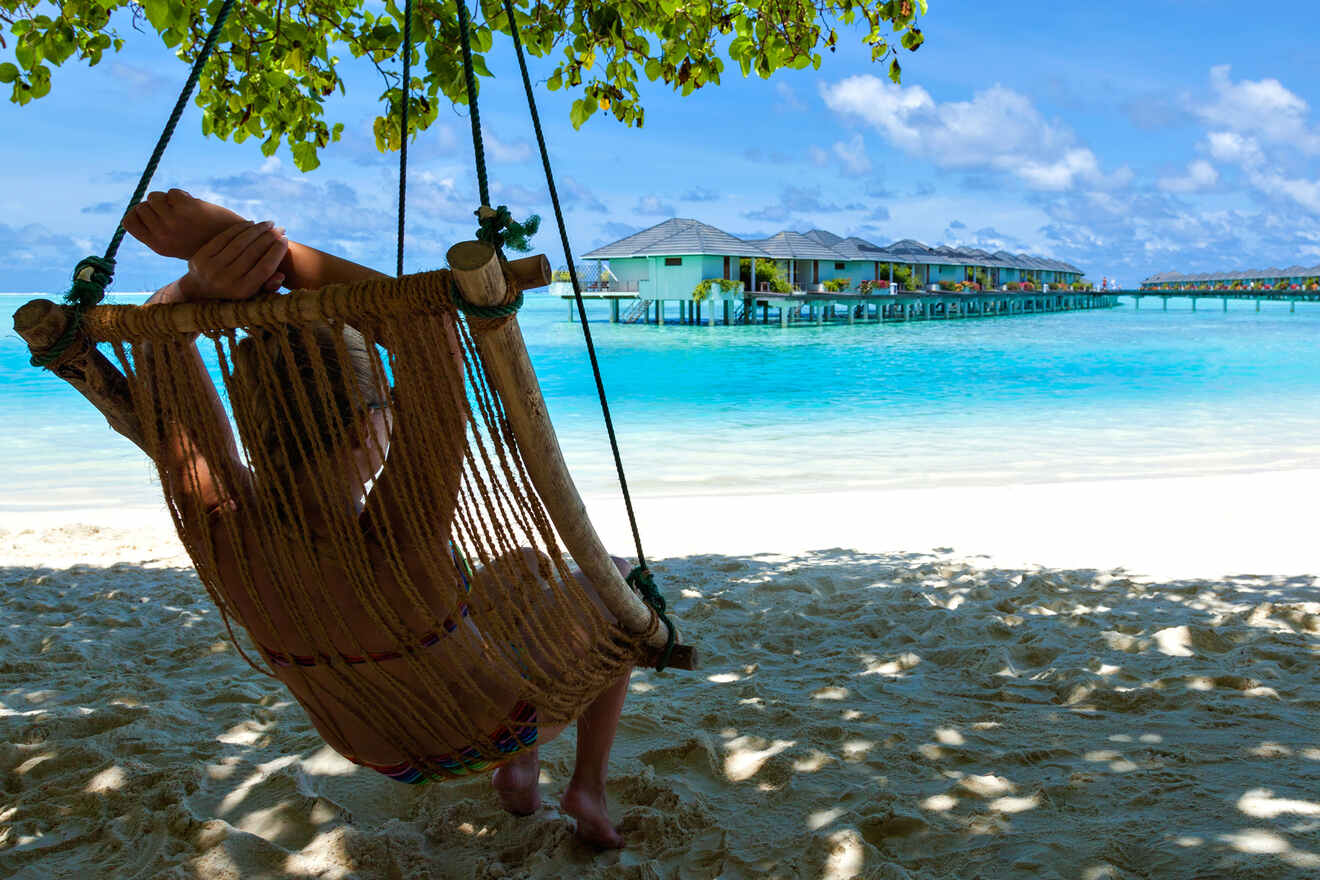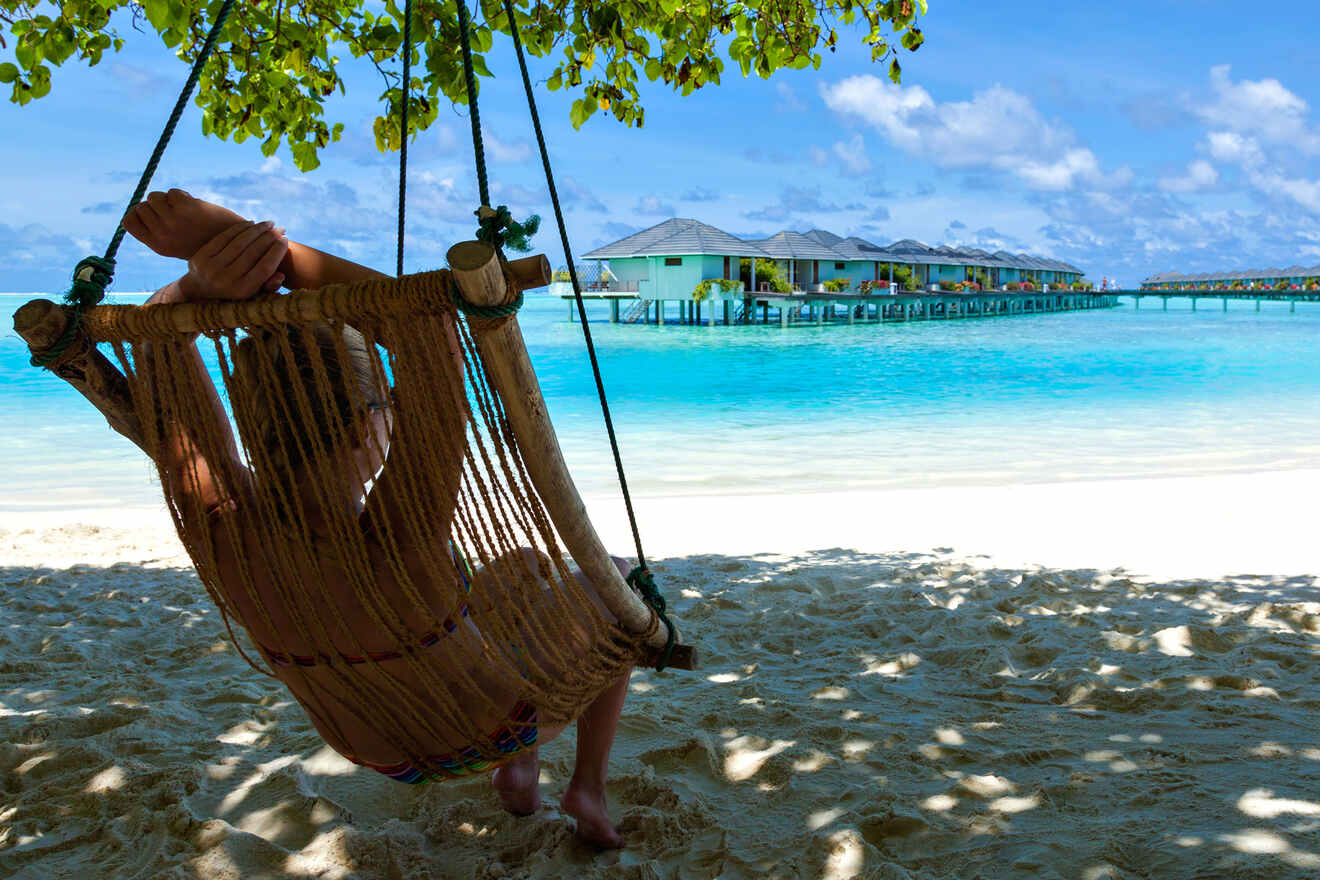 PRO TIP 1: These overwater bungalows are some of the best overwater accommodations in the Caribbean, so they get booked out far in advance. If you want to stay here, I suggest you plan your holiday way ahead in time!
PRO TIP 2: The price per night depends on the season and how many nights you'll stay. The nightly rate is higher for one or two-night stays, so book at least 3 nights to make it worth it!
PRO TIP 3: In case the bungalows are not available for your chosen dates, you can consider spending your vacation out in a more affordable suite or check out the other resorts on Sandals website, like the nearby Sandals property located in Montego Bay, one of the best places to stay in Jamaica!
BONUS: Luxury Oceanfront Hotels & Resorts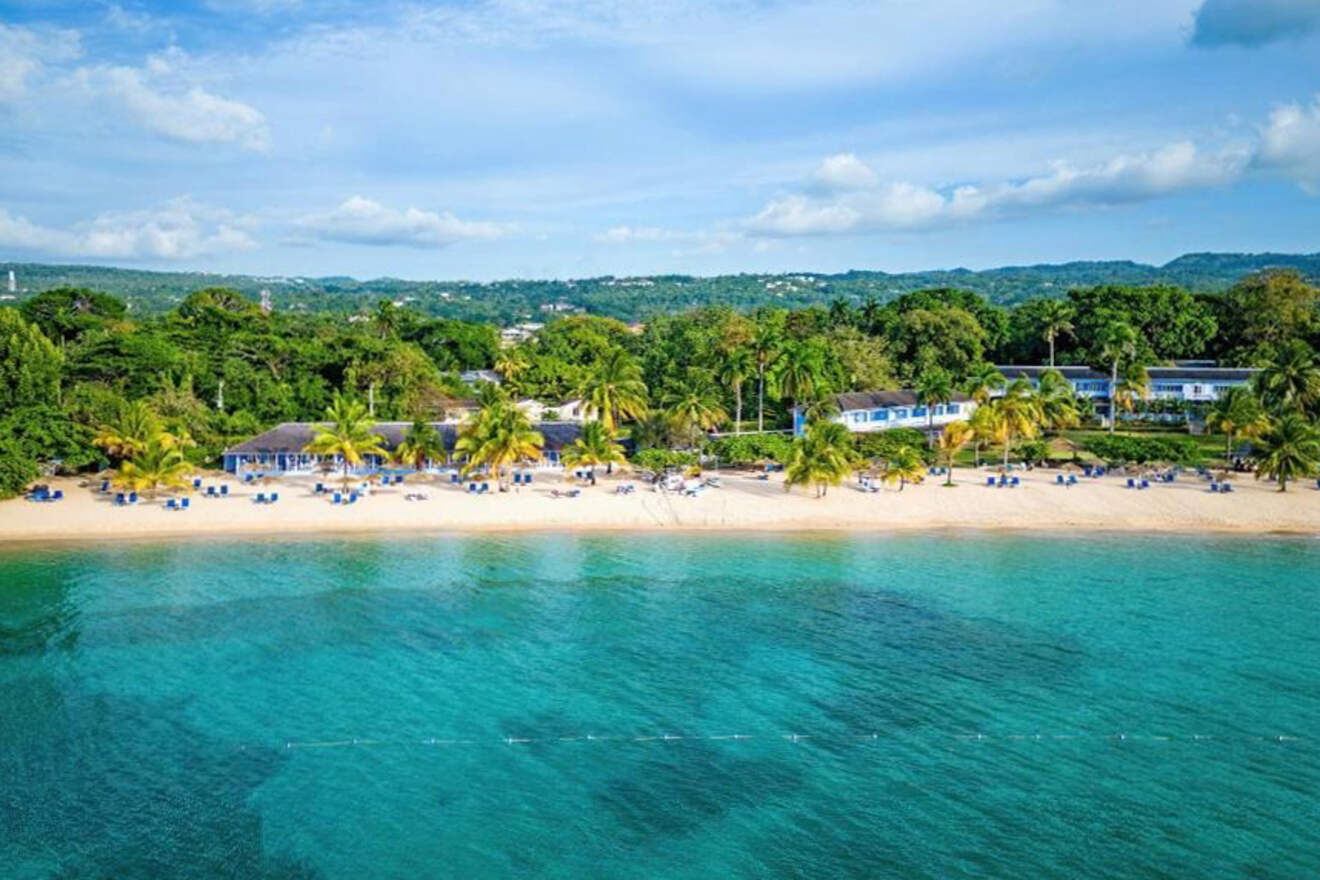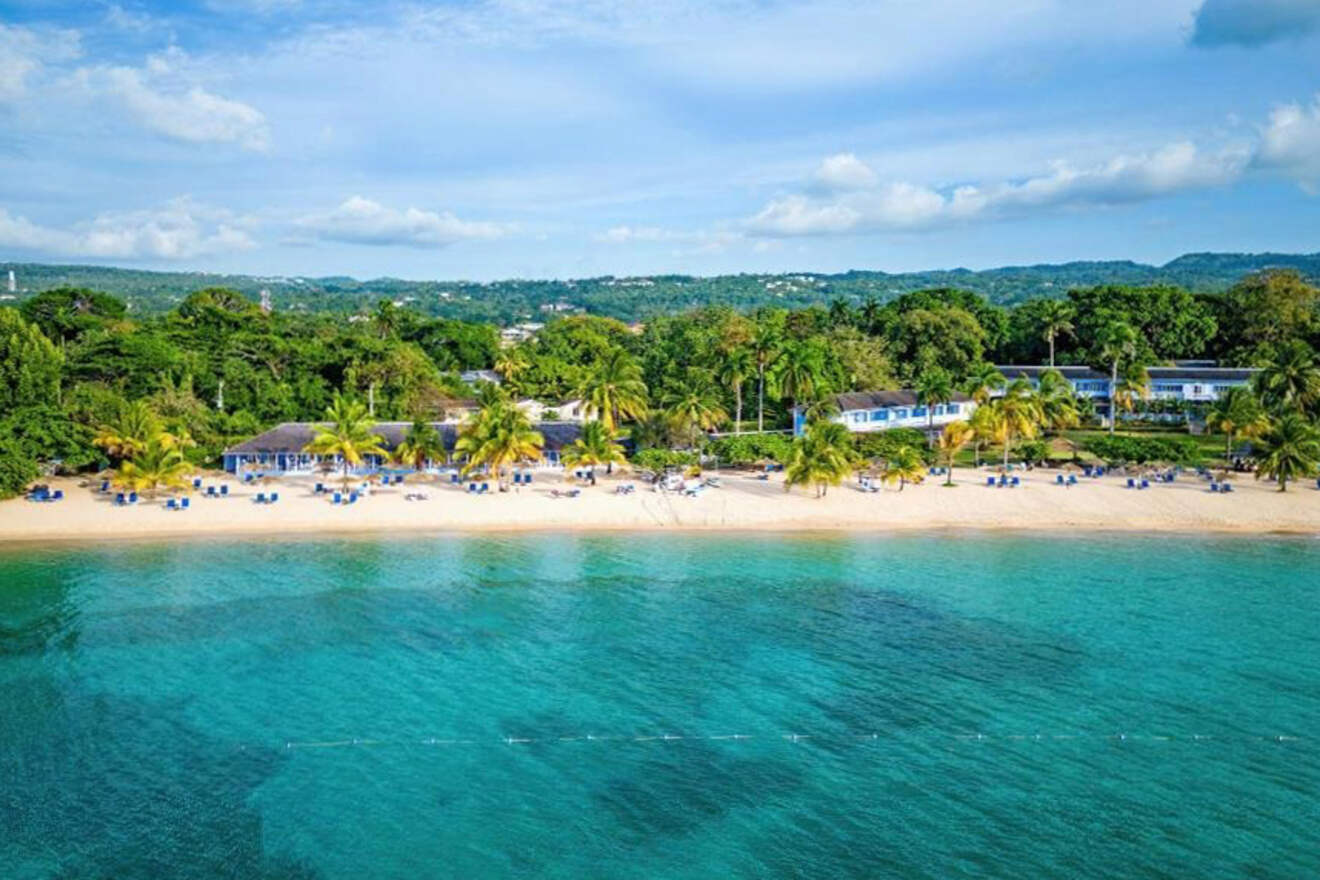 As I said in the introduction, there are only 3 over-the-water bungalows in Jamaica, two of them located on the south coast, but this doesn't mean you cannot have a luxury stay by the ocean anywhere else in the island!
If you are looking specifically for an overwater bungalow experience but the 3 above didn't quite tickle your fancy, there are plenty of other overwater bungalows in the Caribbean or the Maldives that you should have a look at.

But if you are set on visiting Jamaica, there are still many more exclusive hotels located right on the beach, so you'll get the peace of staying by the water and access to great amenities such as floating water hammocks, a private beach, delicious dining options, and more. Basically everything you can find in the overwater bungalow resorts except the overwater part.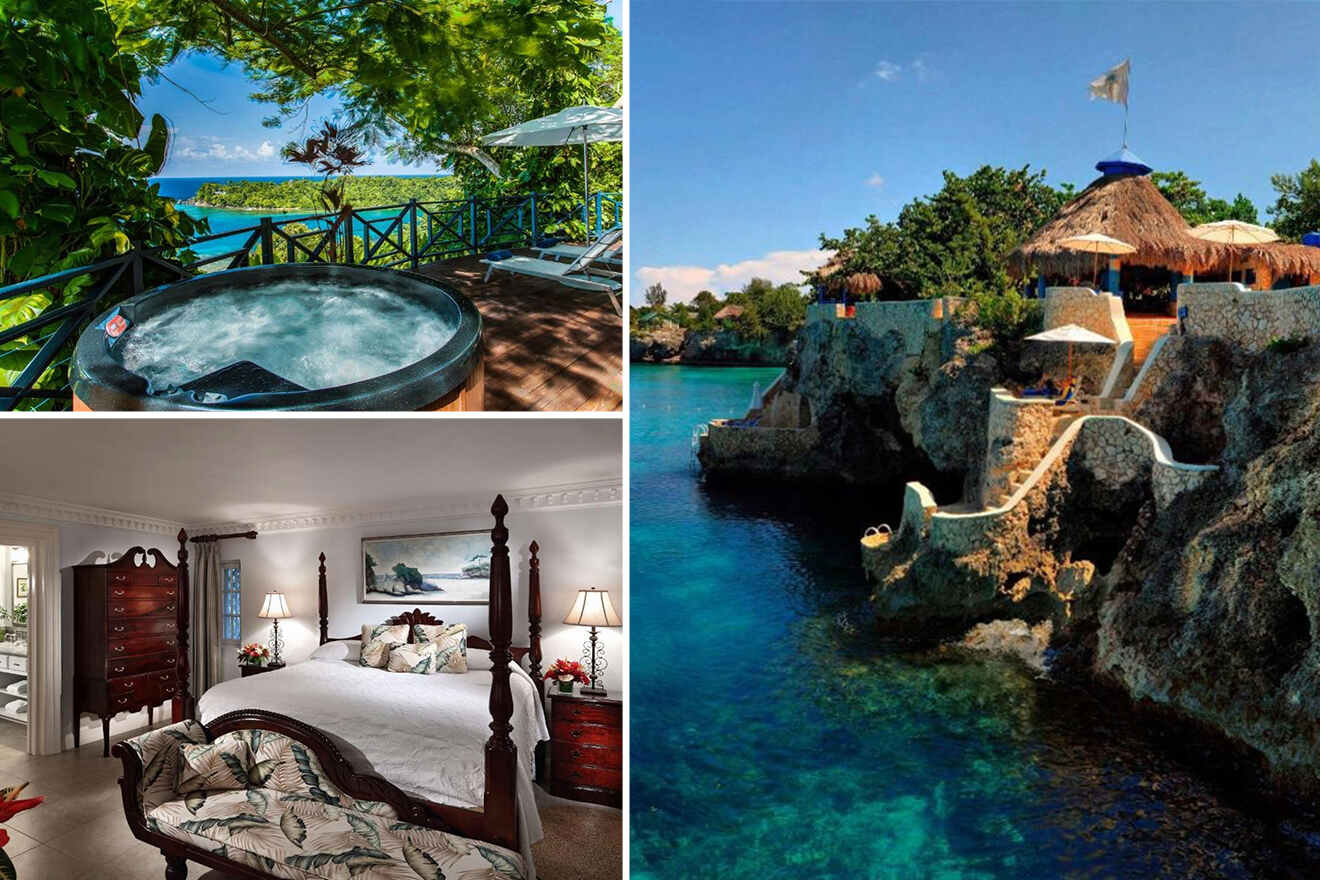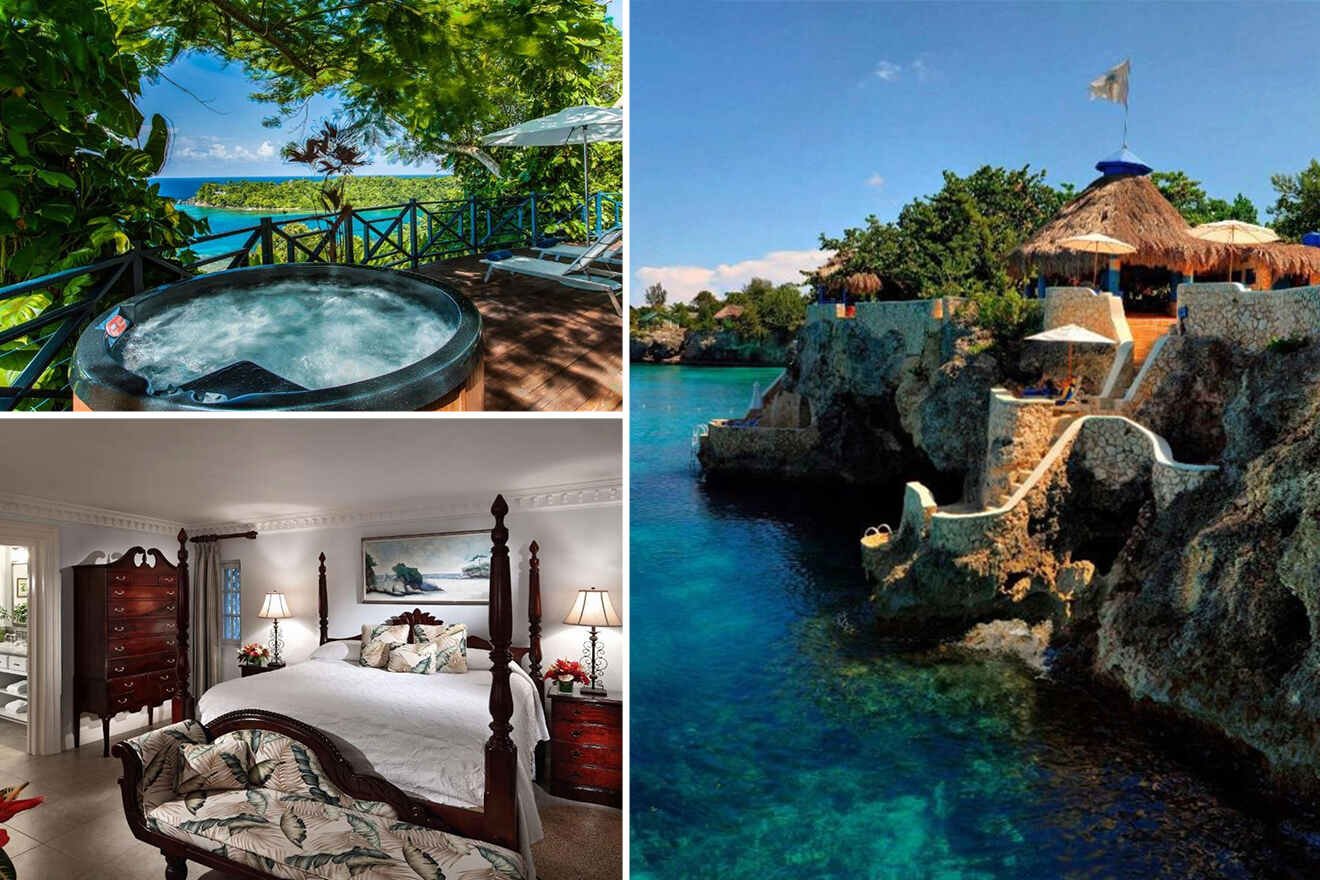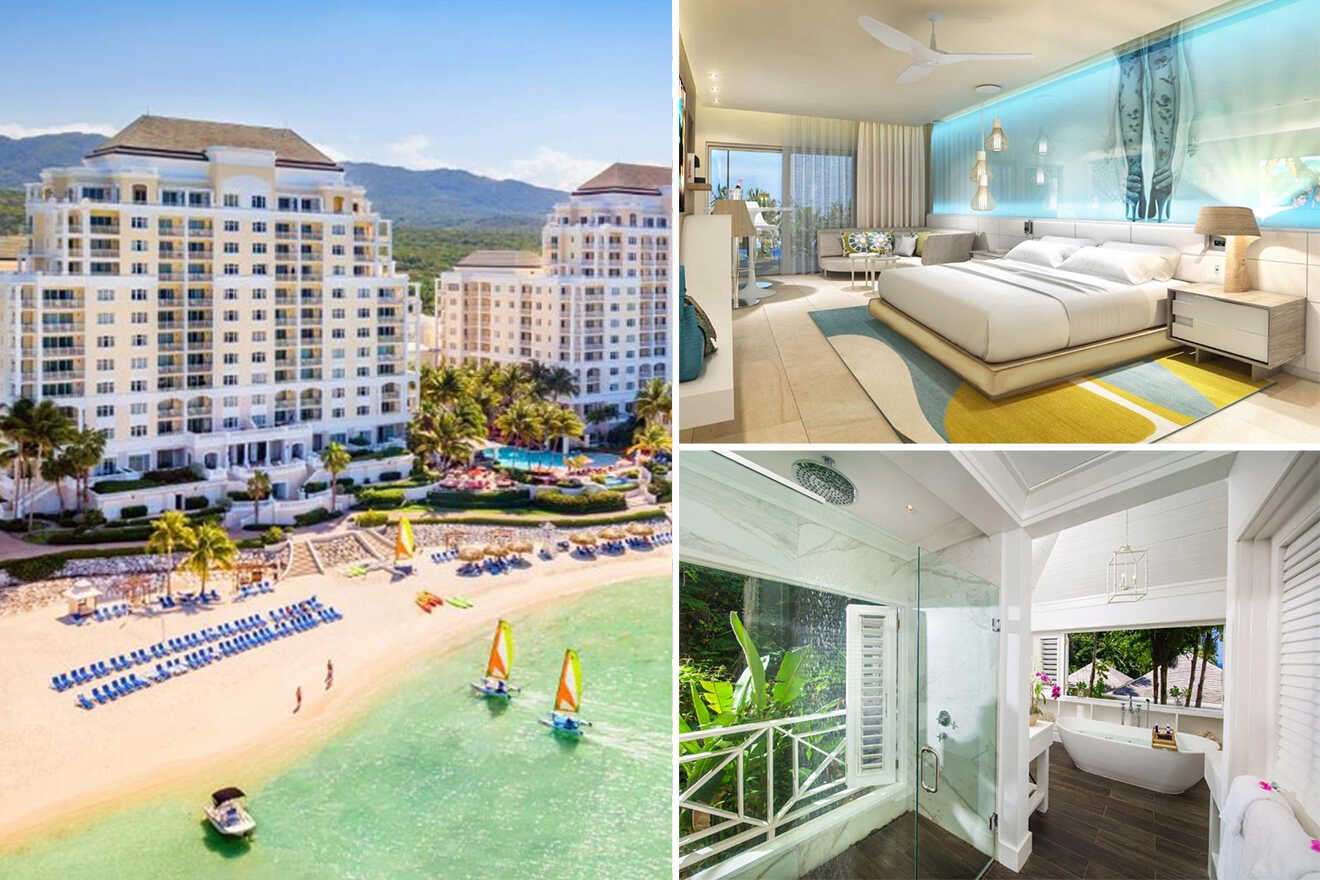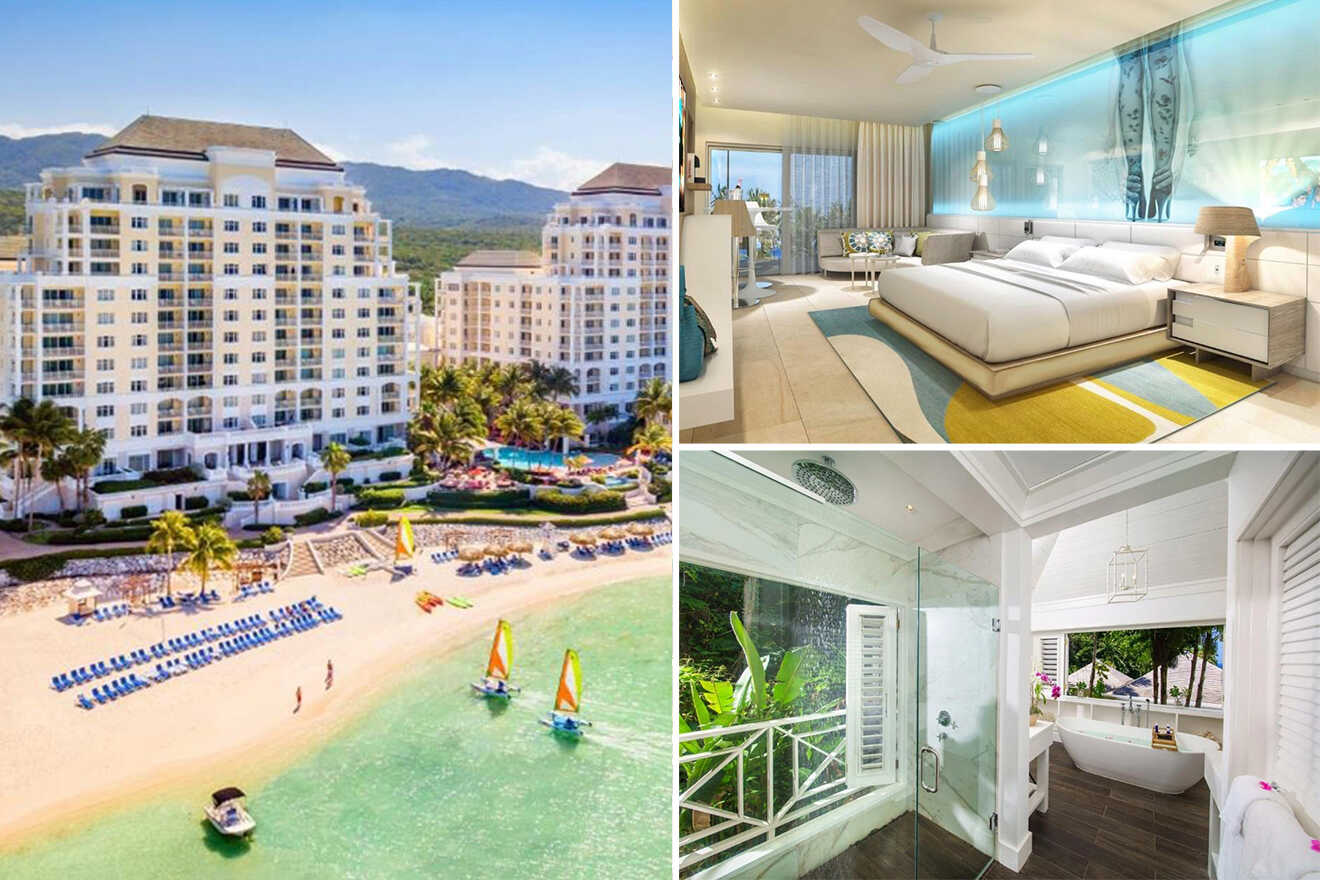 FAQs about Overwater Bungalows in Jamaica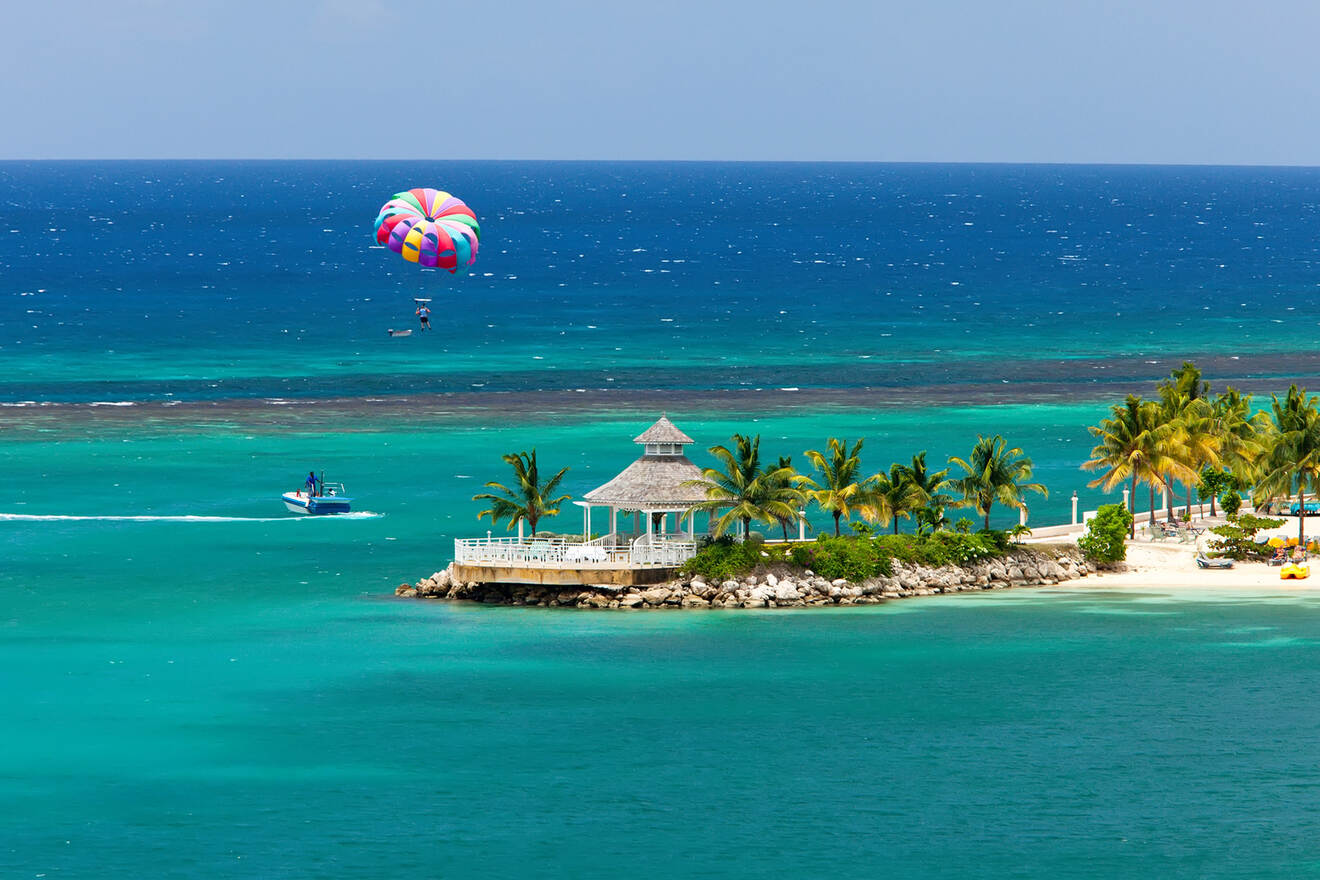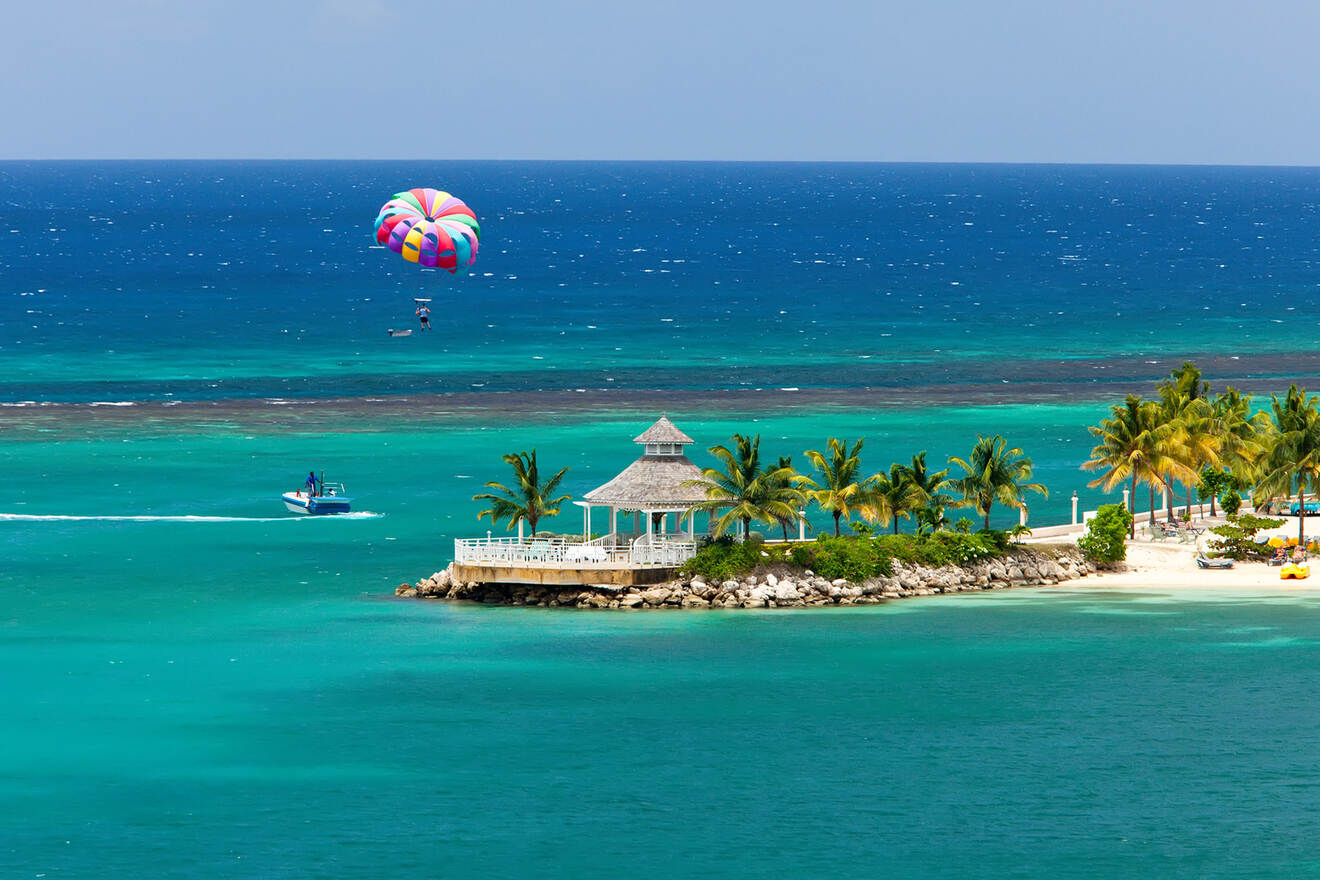 🏖️ Which are the best overwater bungalows in Jamaica?
💵 How much are the overwater bungalows in Jamaica?
There are only 3 overwater bungalows in Jamaica: a night stay in an overwater bungalow of the 2 Sandals Resorts will cost you around US$2000 (but if you book for 3 nights or more, the rates decrease), while a night at the GoldenEye costs about US$600.
📍Which is the best part to stay in Jamaica?
The best areas to stay in Jamaica are the ones near Montego Bay, Ocho Rios, and Negril, all of them offer access to beautiful beaches, green rainforests, rivers, and waterfalls.
🔞 Are the Sandals Resorts in Jamaica adults-only?
Yes, the two Sandals resorts offering overwater bungalows in Jamaica (Sandals South Coast and Sandals Royal Caribbean) are strictly reserved for adults, more precisely for couples-only, so they're perfect for a romantic getaway with your special one!
Conclusion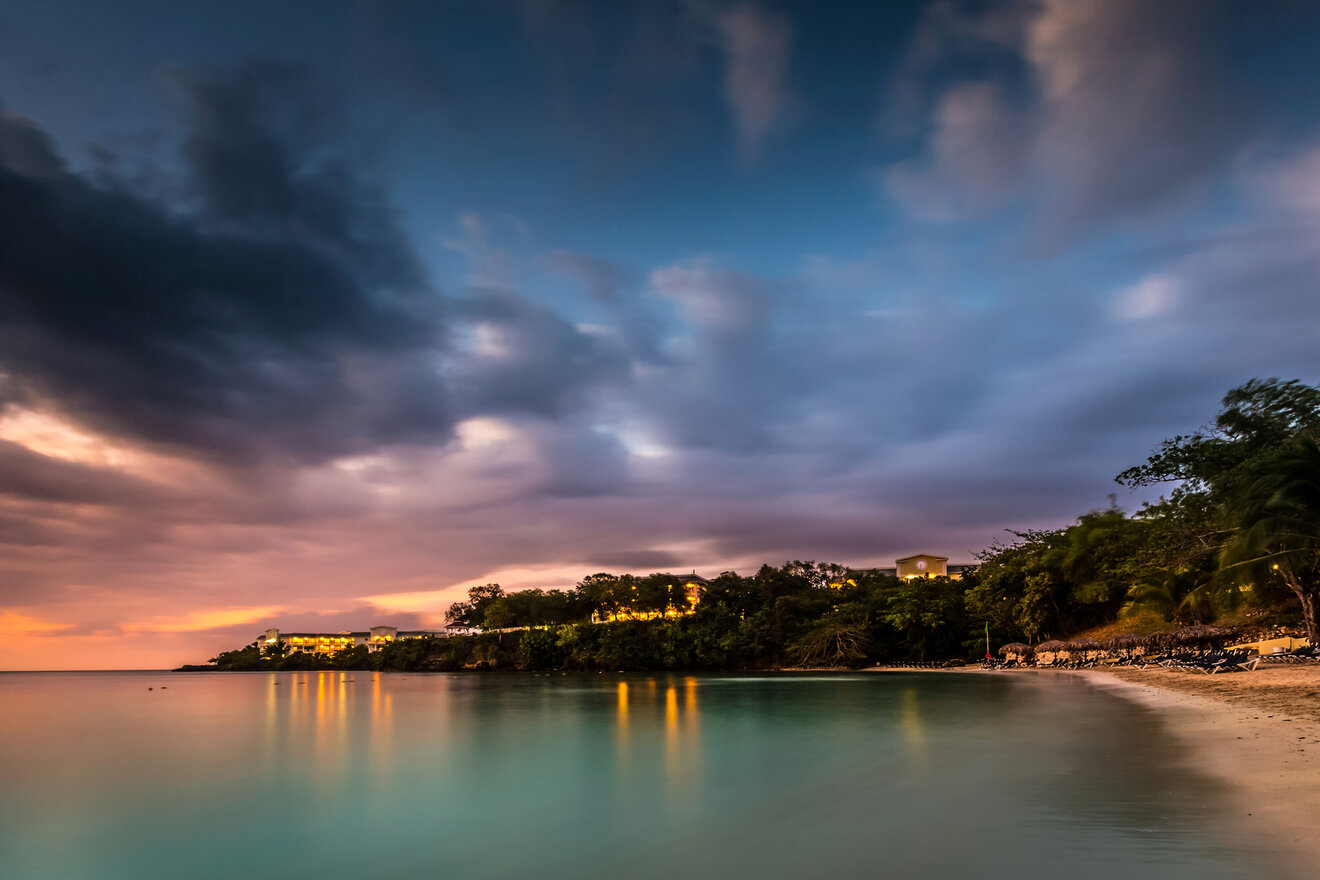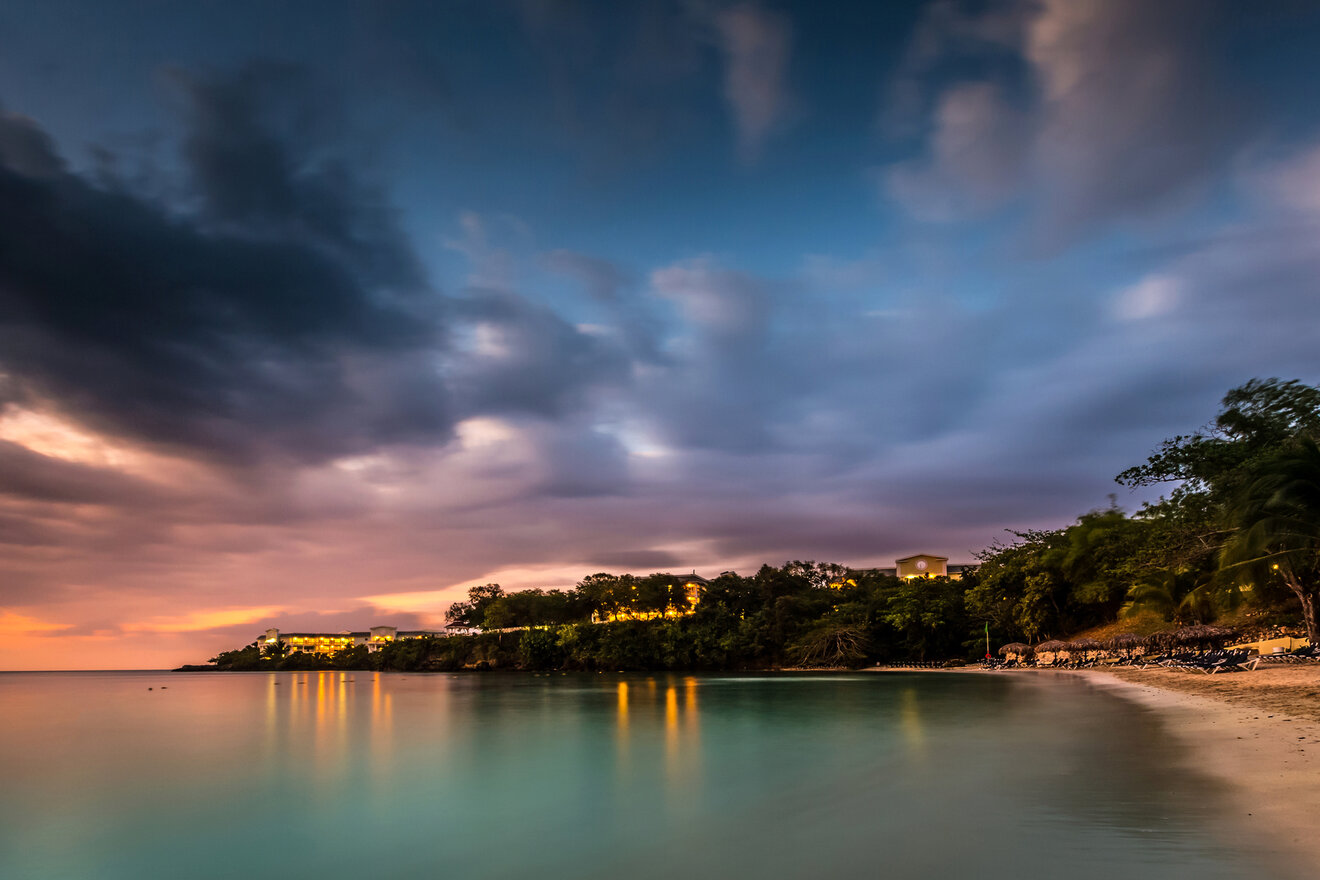 Well, here we are at the end of this luxury holiday through the best Jamaica overwater bungalows!
As we saw, there are 3 accommodations offering over-the-water bungalows in Jamaica: the all-inclusive resorts Sandals South Coast and Sandals Royal Caribbean, and the GoldenEye.
But don't worry if you missed out, there are also other incredible luxury hotels in Jamaica located right on the ocean, so you have the same exclusive experience near the water (even if you are just not properly over it!).
If you are really looking for a stay in luxury overwater bungalows, then check out the 3 resorts, available::
Sandals South Coast Resort – Sandals South Coast offers bungalows with a private spa-style bathroom and glass bottom floors offering an exclusive service only for couples
Sandals Royal Caribbean – In this luxury all-inclusive resort, you will relax on the over-the-water hammock or in the private pool of your bungalow! Couples only.
GoldenEye – A more affordable overwater bungalow resort set in a lush garden which contrasts beautifully with the ocean.
Remember to reserve your room far in advance because these resorts get booked out almost any time of the year!
I hope this blog was helpful for you, and if you have any questions about it or you want to give me some suggestions, please do so in the comments below, I am looking forward to reading them all and answering you!
Have an amazing holiday!
Elena
---
Pin it for later!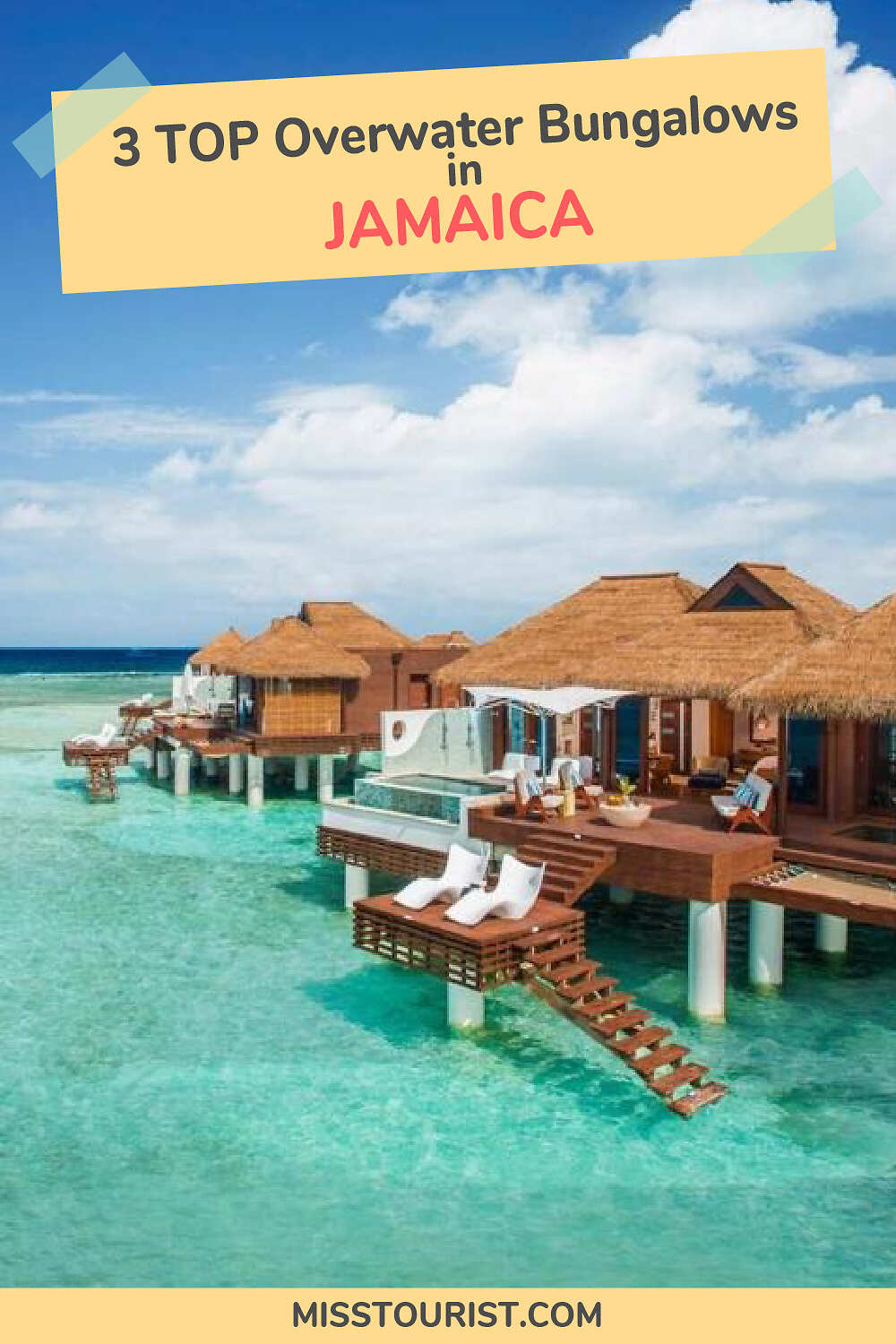 Pin it for later!