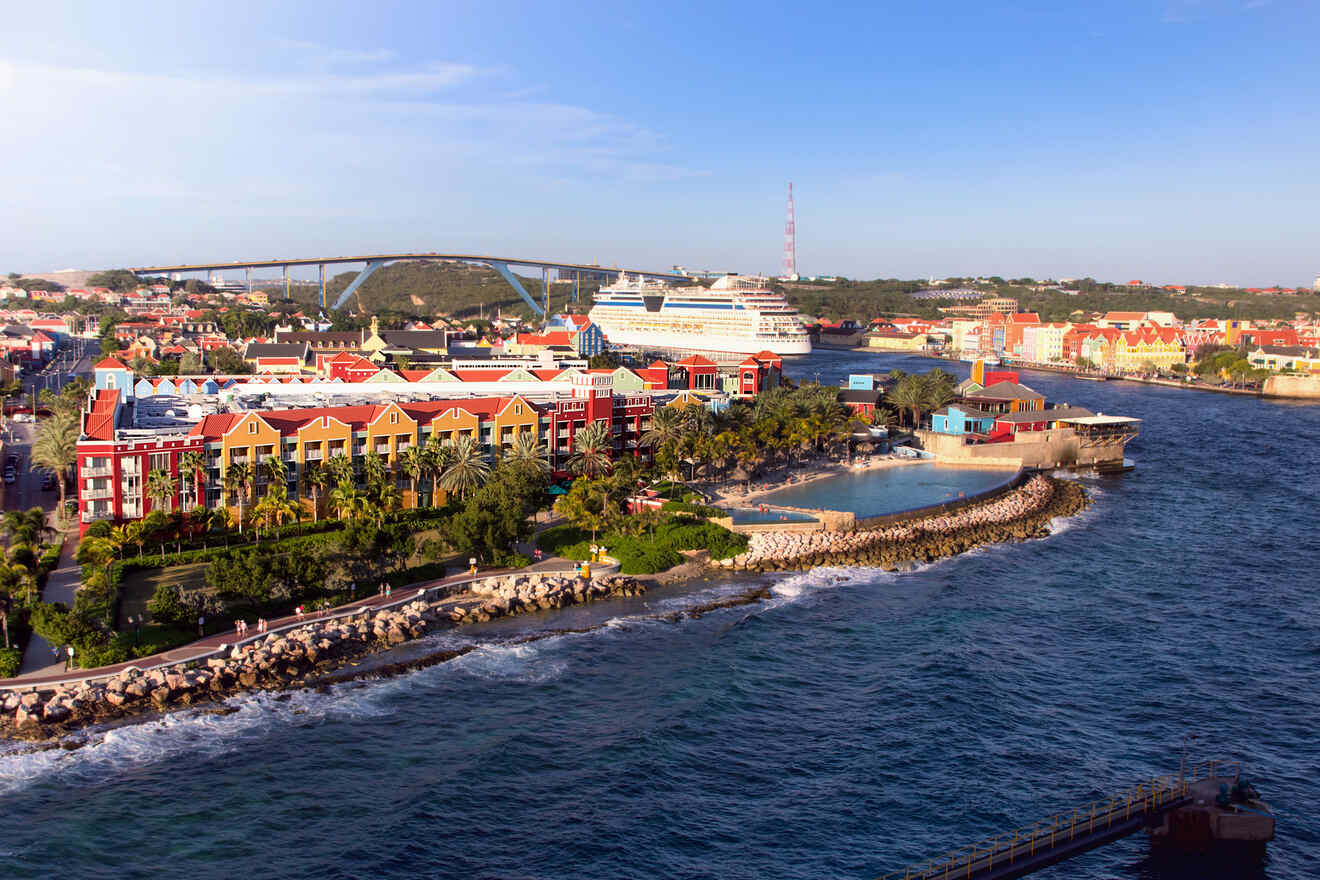 40 miles (65 km) from the Venezuelan coast, you'll find the small tropical island of Curaçao. While it is actually part of the Kingdom of the Netherlands, Curacao really has little in common with this country!
With turquoise waters, blond beaches, green rainforest and shining sun all year round, this tropical paradise will warm your heart! Maybe it is for this reason that the origin of its name comes from the Portuguese word coração, meaning heart.
Even if it is the perfect place to just relax and forget about all your problems, Curacao has definitely a lot more to offer. Its crystal clear waters are ideal for water sports, boat trips, and exploring their incredible marine life.
Take some time to make the right decision, and make sure you book your accommodation at least 6 months in advance… Everyone wants a spot in paradise!
Ready? Let's go!
If you are in a hurry
If you want to book now, then waste no more time, check out this quick list with the best hotels in the capital Willemstad, from Luxury to budget:
Here is a map to help you visualize where are located all the different areas and places to stay I will be talking about:
1. Willemstad – where to stay in Curacao for the first time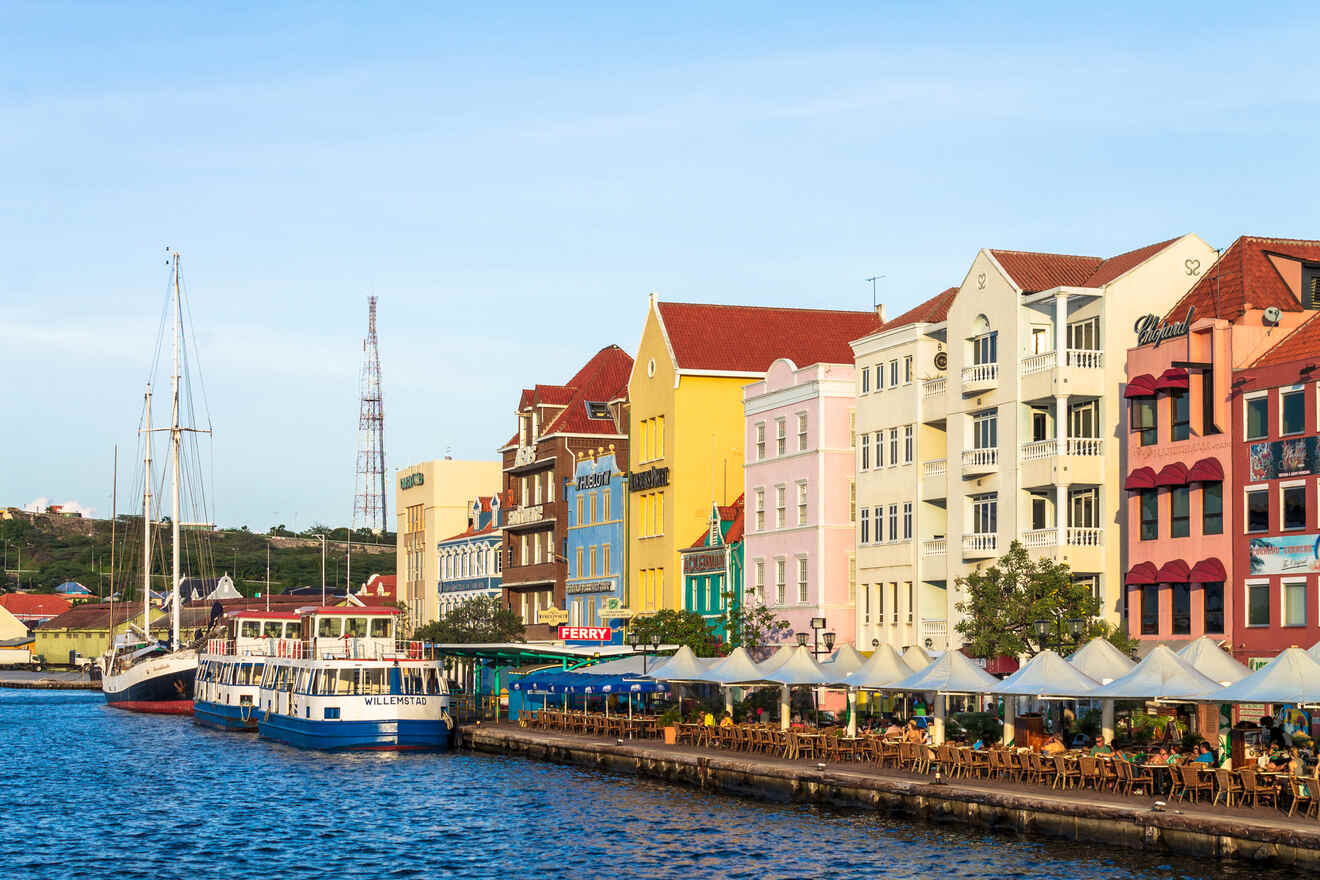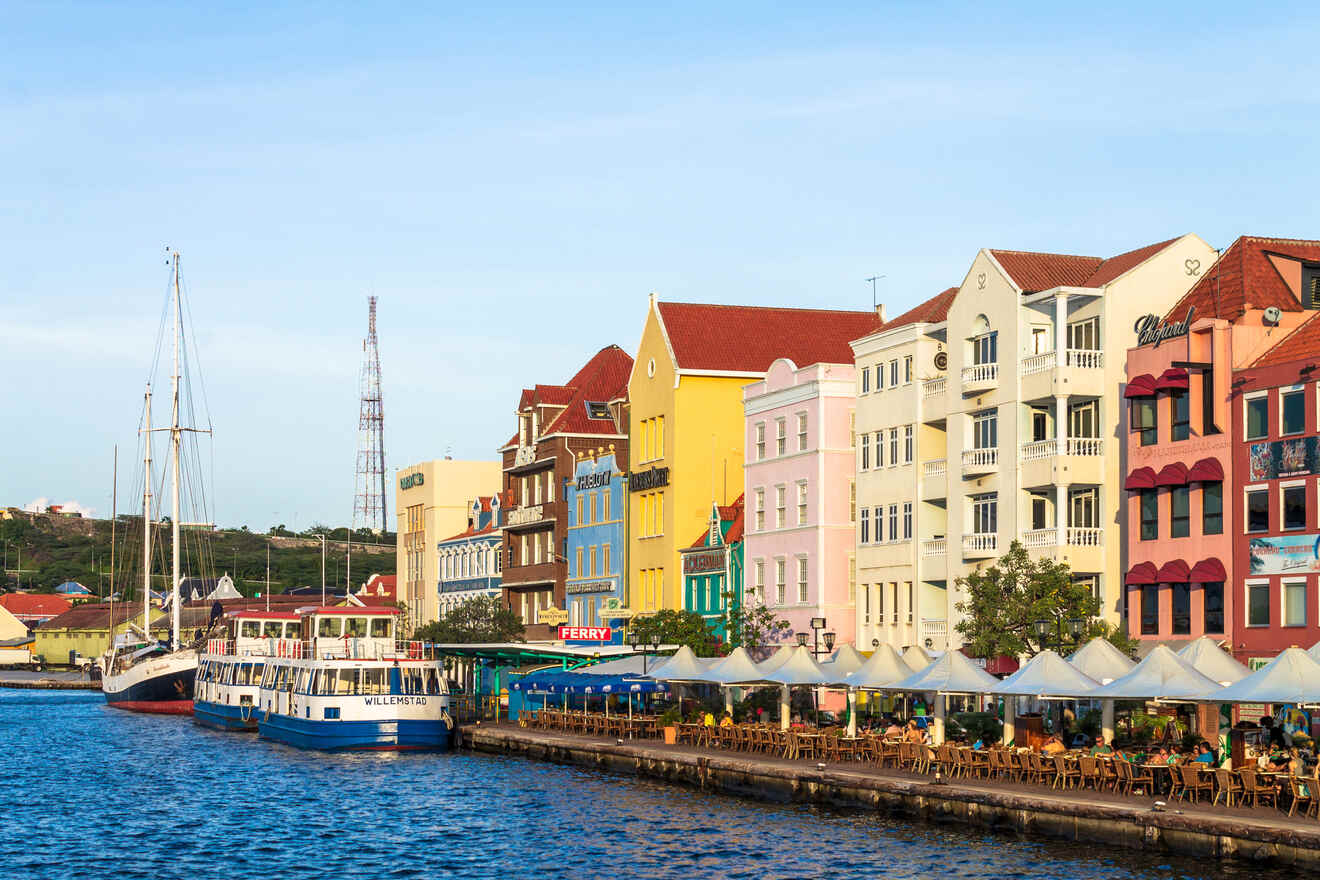 Willemstad, the vibrant and beautiful capital where all the ships arrive and depart, is definitely the best place where to stay in Curacao if it's your first time here. Located in the central region of the island, this is the lively heart of the island, characterized by historic landmarks in every corner and colorful colonial architecture, similar to the one you can find in Curacao's sister Aruba!
The capital hosts two distinct historic districts divided by the lovely St. Anna Bay (a narrow channel flowing into the Caribbean Sea). The first district Punda is full of narrow streets, shops, and museums, and Otrobanda, literally meaning the "The Other Side", is the cultural heart of Willemstad, where you'll find its famous UNESCO-designated buildings.
But other than culture, Otrobanda also offers a lot of entertainment like the Rif Fort Village, a shopping and leisure district of the city offering many bars and restaurants where you can try the local specialties (if you're brave enough, Iguana is one of these!).
I still haven't mentioned the sea, have I? Don't worry, being a coastal city, in Willemstad you can easily access the surrounding beaches and do some dreamy activities in the Caribbean Sea, like diving and swimming with turtles or dolphins (yes you read it right!).
1.1 Best Resorts in Willemstad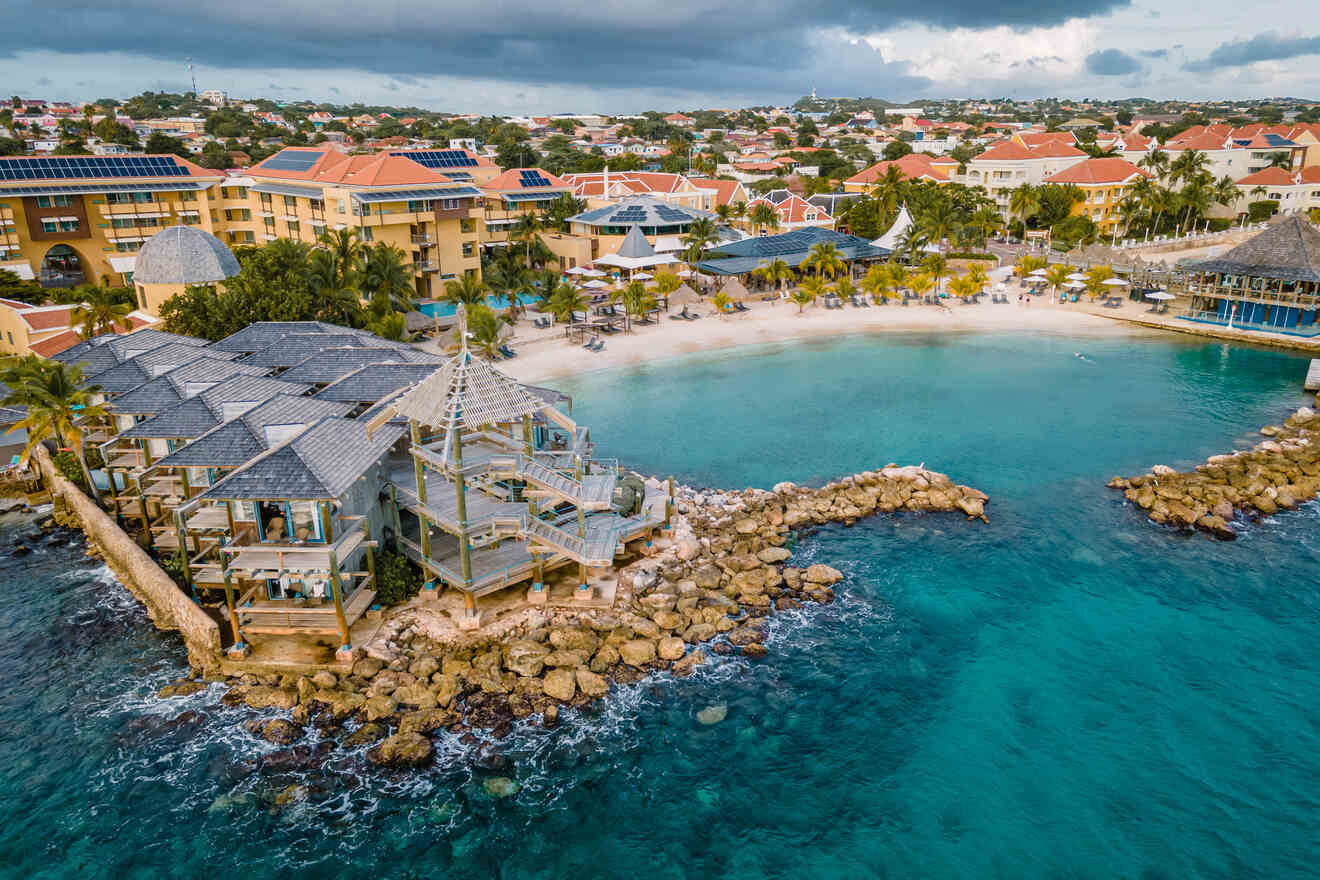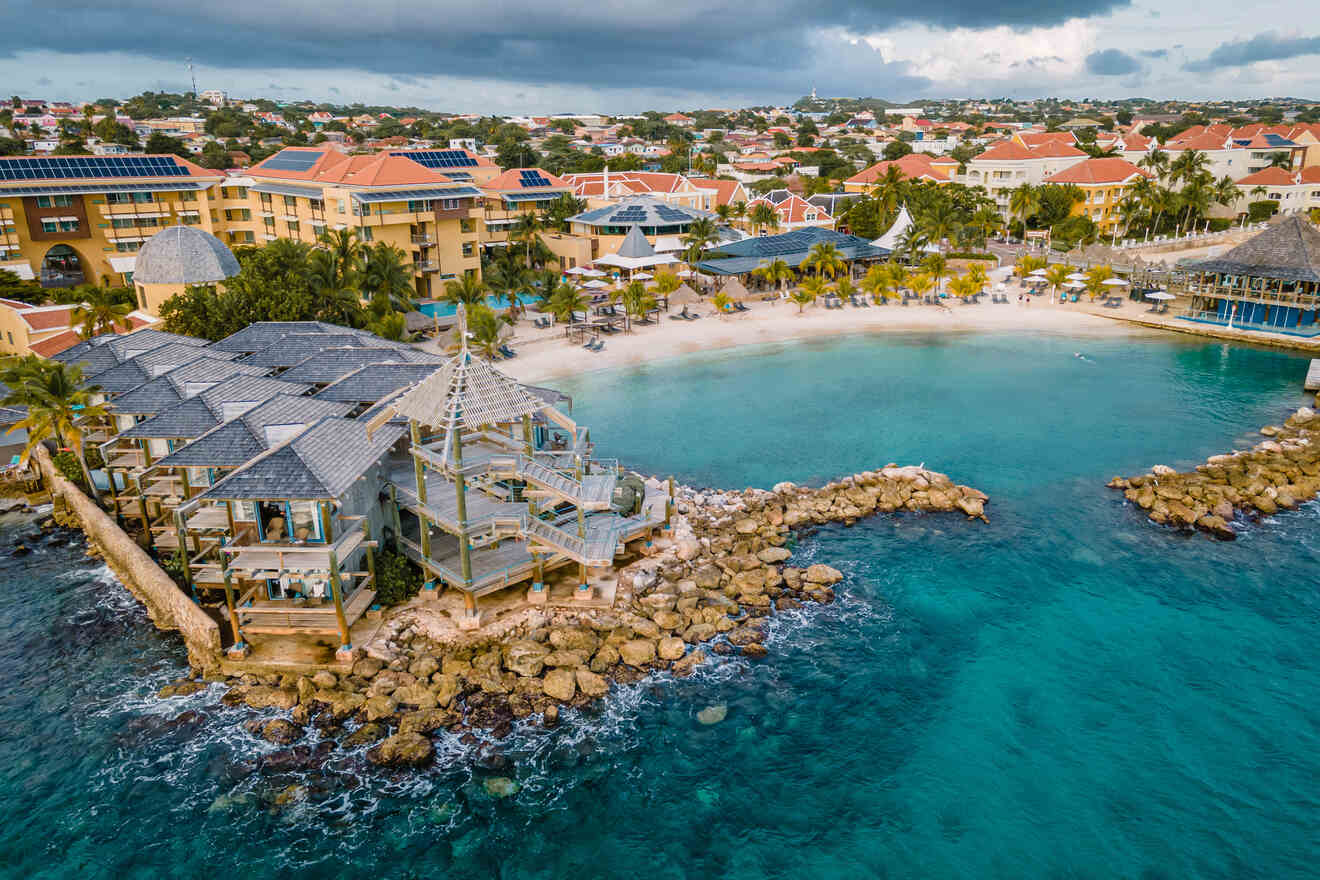 Looking for a luxurious place where you literally don't have to take care of anything? Then check out these incredible resorts. In Willemstad, there are so many good options to get spoiled and immerse yourself in a completely relaxing, stress-free holiday! Free access to private beaches, on-site bars, and restaurants, golf clubs, pools, relaxing spa… Willemstad resorts will give you all the amenities and comforts you need!
Here are the best ones:
Other all-inclusive accommodation in Willemstad
1.2 Most romantic hotels in Willemstad for couples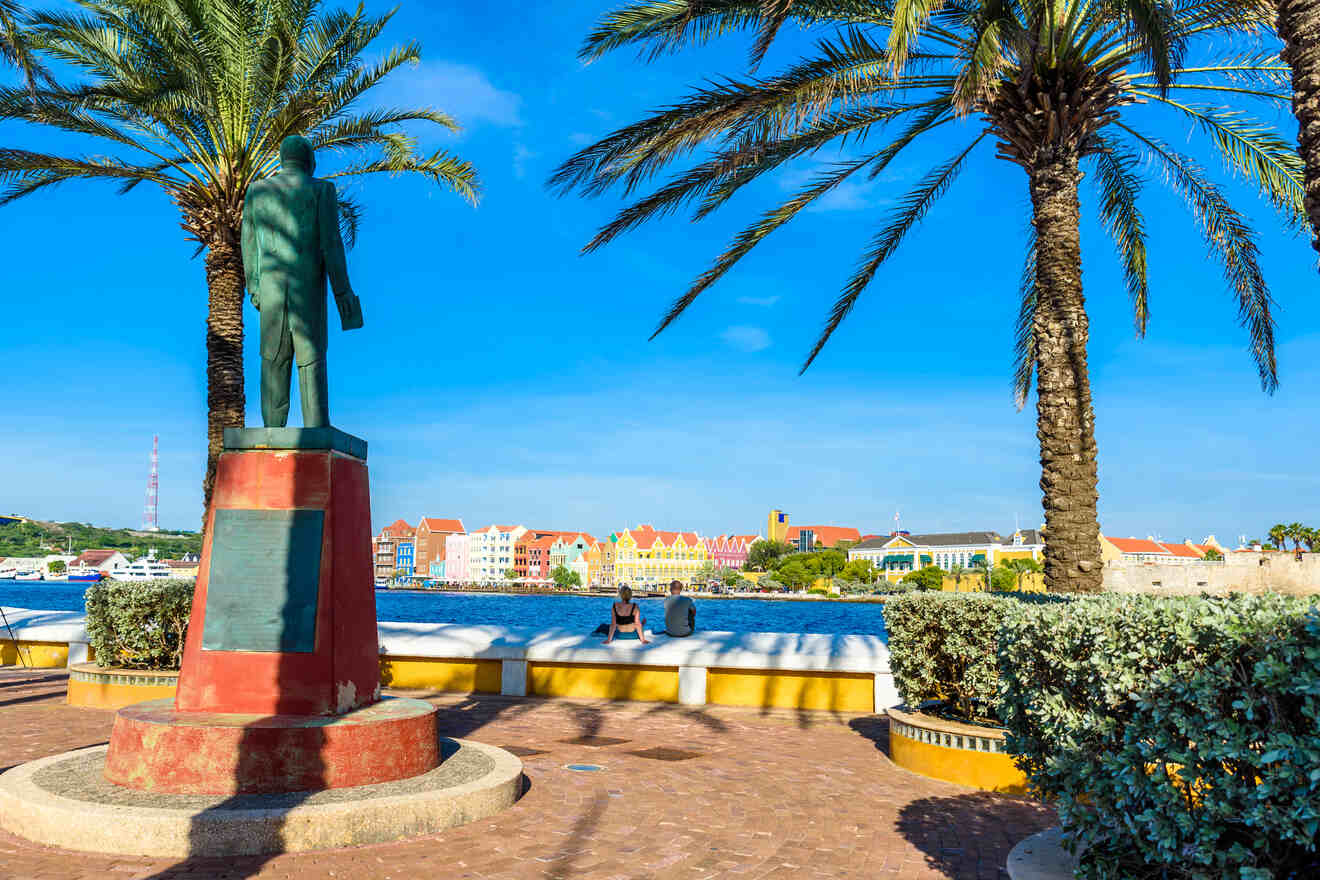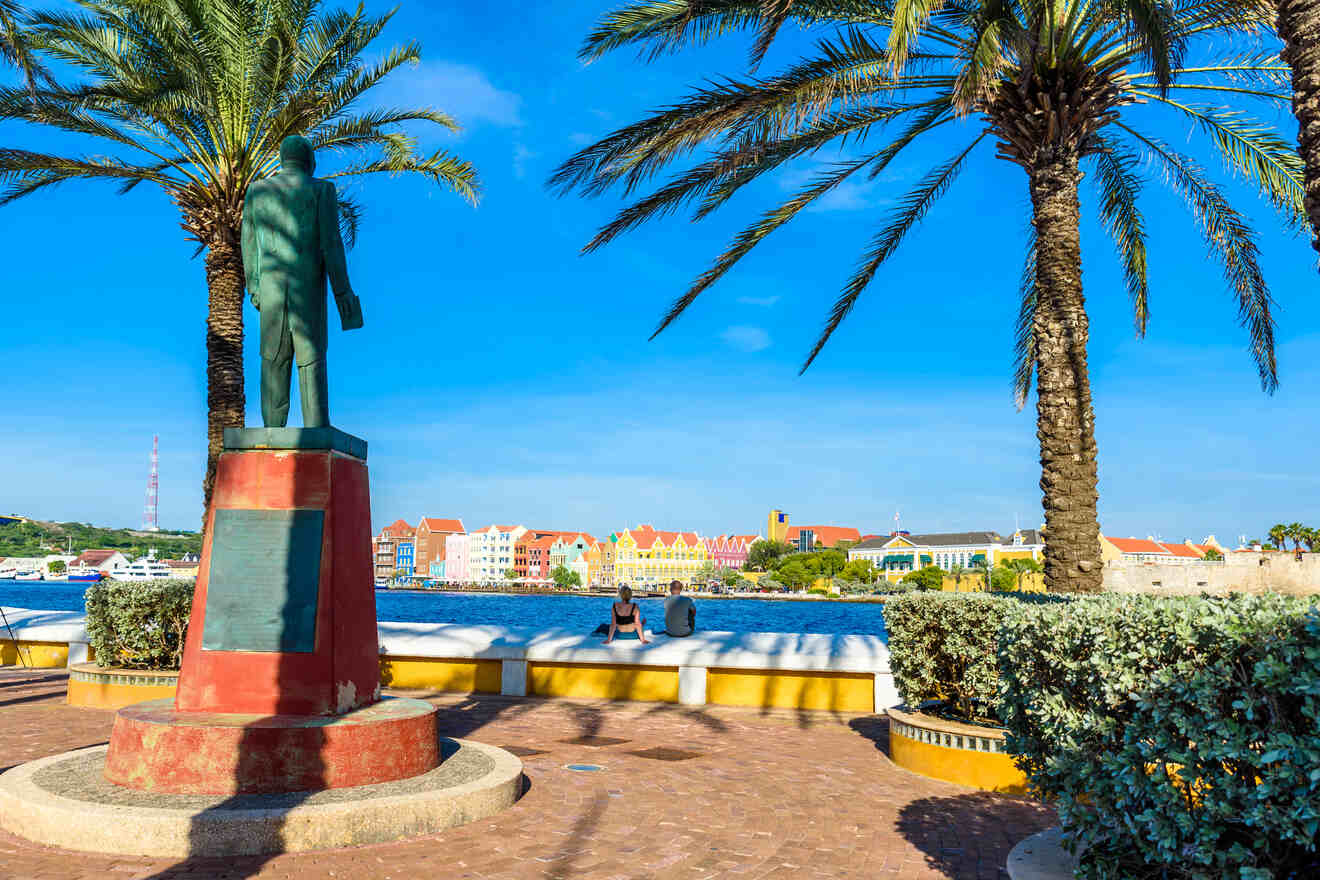 If you're looking for a romantic getaway with your special one or even a magic destination for your honeymoon, these are the most fabulous accommodation choices in Willemstad for you. Enjoy some peace and privacy in the spa of these luxurious resorts and hotels, make the best memories with stunning ocean views, and get ready for great nights in the hotel's bars and casinos!
Other couples accommodation in Willemstad
1.3 Best hotels in Willemstad, Curacao for nightlife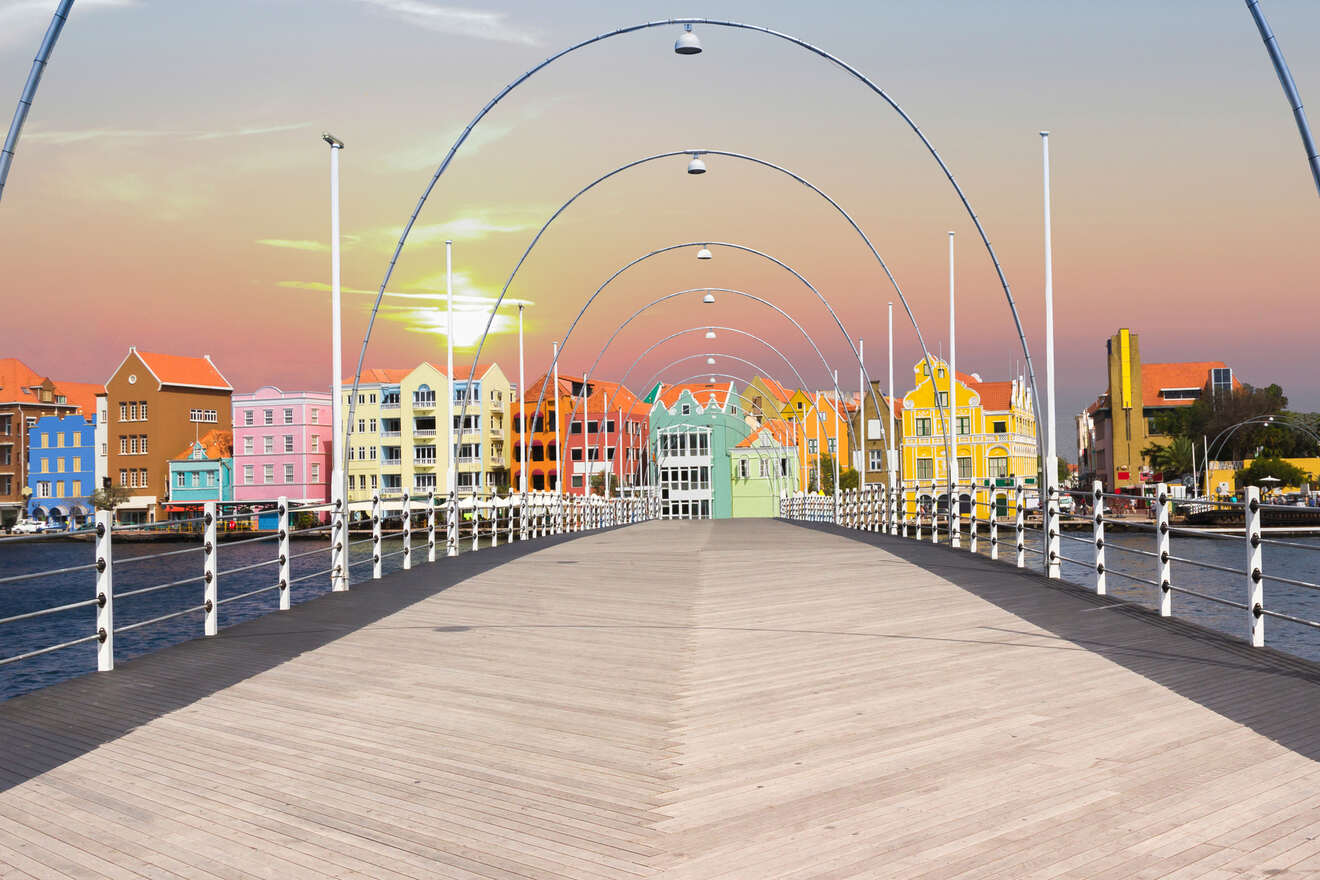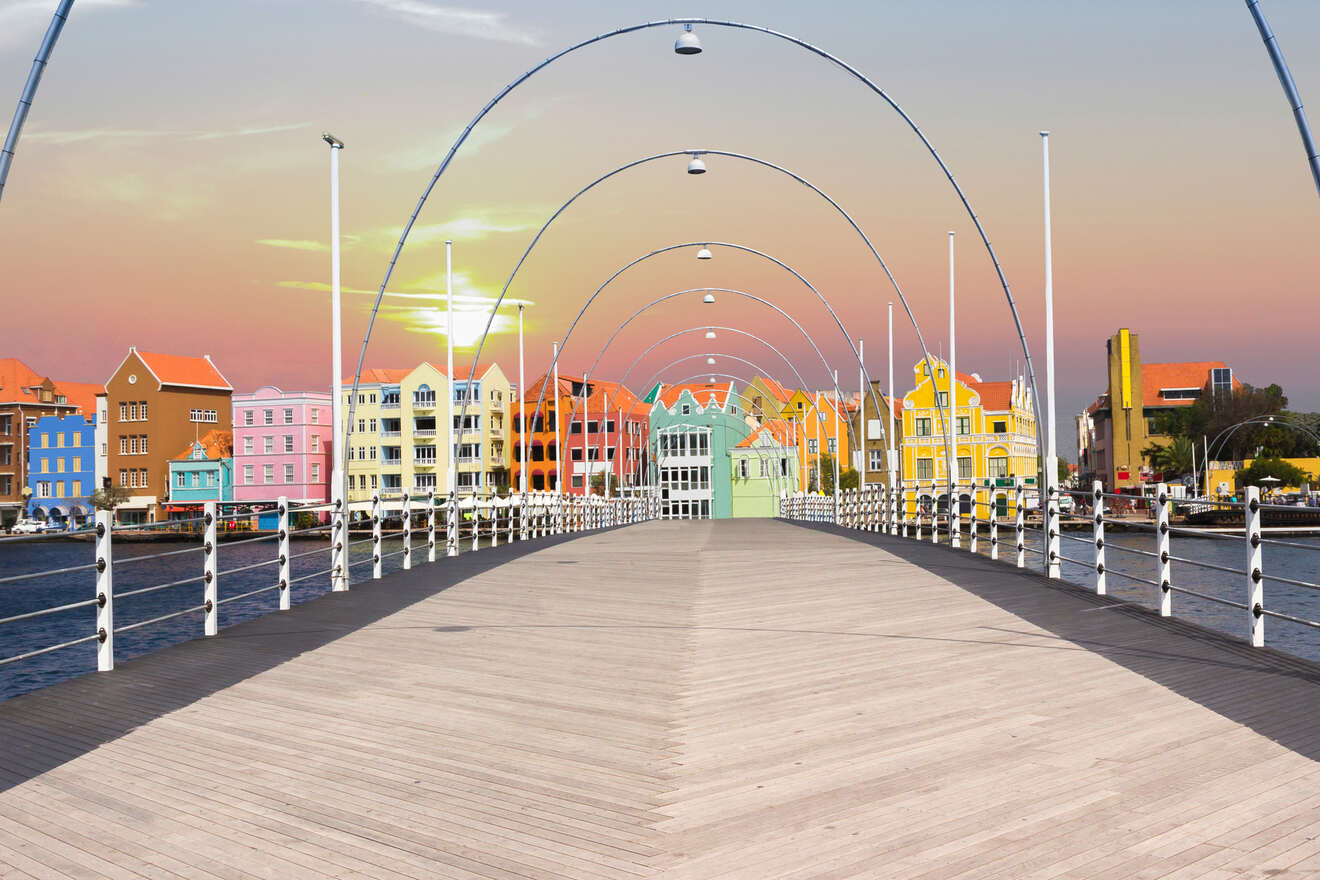 For those of you looking for a place where it is possible to party and enjoy the night without having to go out of the hotel, the following hotels and resorts are the best option for you! Cocktail bars, casinos, evening entertainment, nightclubs with DJs… get ready to meet new people, dance the night away, and have a blast!
Other accommodation for nightlife in Willemstad
Things to do in Willemstad
Visit some of the colorful land houses which are former plantation estates and slave dwellings
Explore the landmarks and highlights of Curacao with a Private Tour
Experience the beautiful underwater world with the Aquafari Tour Curaçao!
Go crazy shopping or dine out at the Rif Fort Village
Discover the street art in Handelskade street and take some pictures of it!
Have a stroll along the Queen Emma Bridge, which connects the Punda and Otrobanda areas of the capital!
2. Piscadera – where to stay in Curacao for nightlife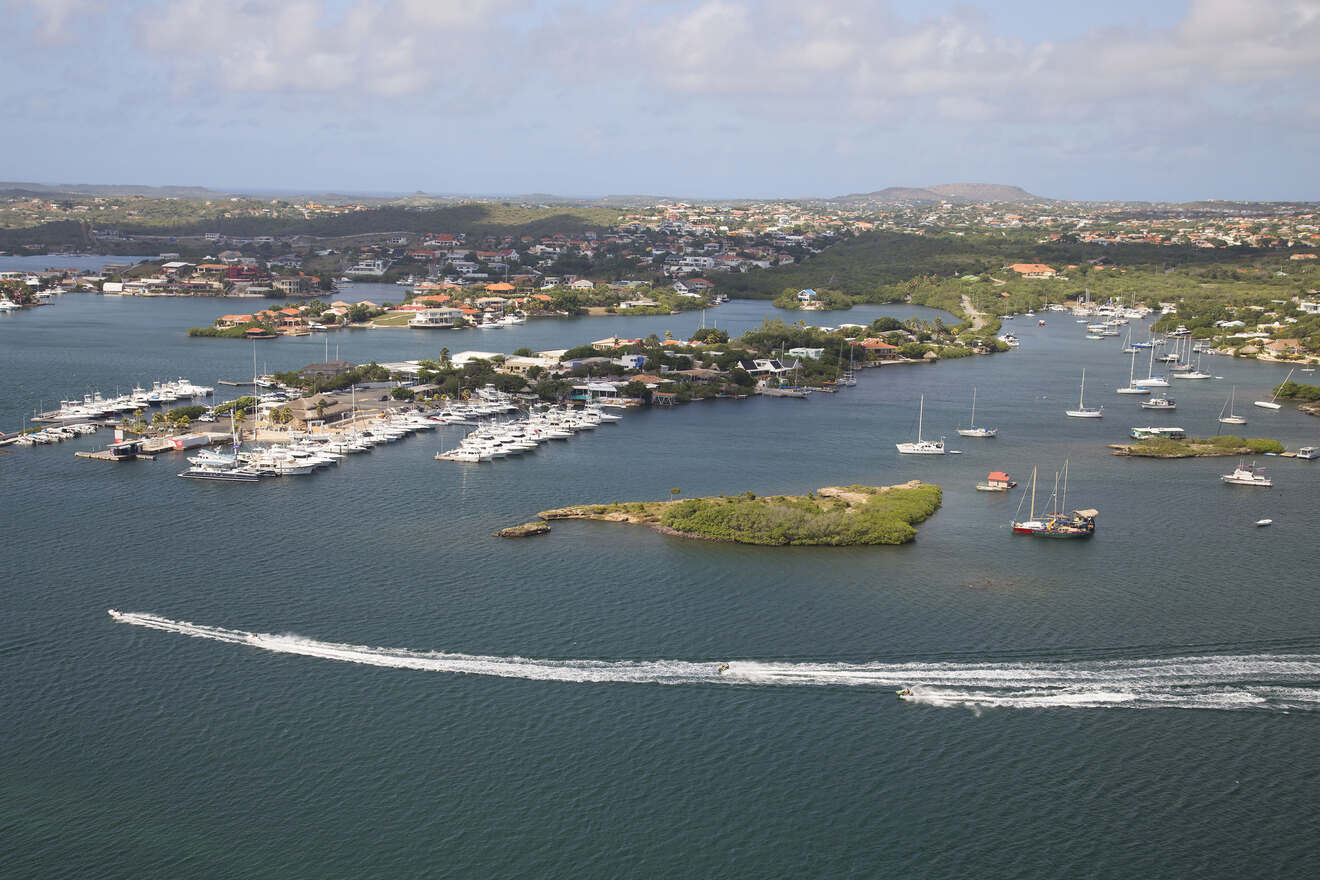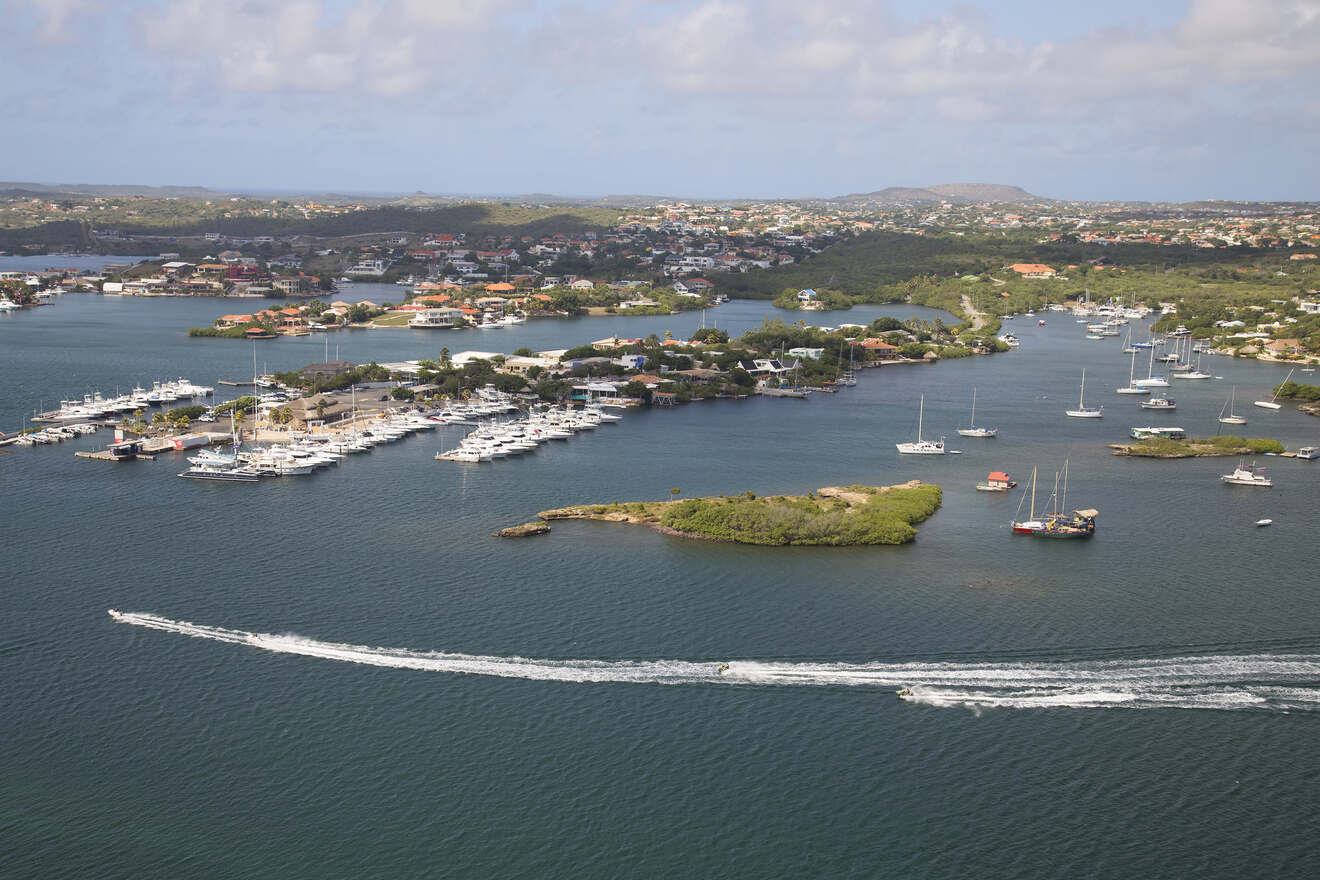 Located on the coast, west of the capital Willemstad, Piscadera is the ultimate destination for enjoying great nightlife and stunning beaches at the same time. During the day, enjoy the sun and a cocktail under a palm tree on Parasasa Beach, or go snorkeling in the blue waters of Blue Bay!
When the sun goes down, there are plenty of delicious dining options and amazing bars overlooking the ocean where you can enjoy a refreshing drink while listening to some live music. And of course, afterward, you can finish the night dancing on the beach or in one of the many crazy clubs until the early morning. After all, you'll just have to splash in crystal waters or lay on the white sand to get rid of the hangover!
But if you get tired of parties (I doubt it) there are also some cultural options in the area, like the local art at the Gallery Alma Blou or the Fort Waakzaamid Museum, an ancient fort from the Dutch colonial era.
Other accommodation options in Piscadera
Things to do in Piscadera
Go snorkeling in the blue waters of Blue Bay!
Spend the day relaxing on the white sand of Parasasa Beach, and have a Pina Colada in front of a beautiful sunset!
Enjoy some local art and check out the exhibitions of the Gallery Alma Blou!
Check out Fort Waakzaamid, an ancient fort from the colonial era
Eat delicious seafood at Pirate Bay restaurant, which after dinner becomes a nightclub where you can dance until the morning!
Go bar crawling in the lively bars like Miami Bar, Netto Bar, and Rif Fort Bar!
3. Northwest Curaçao – where to stay for outdoors enthusiasts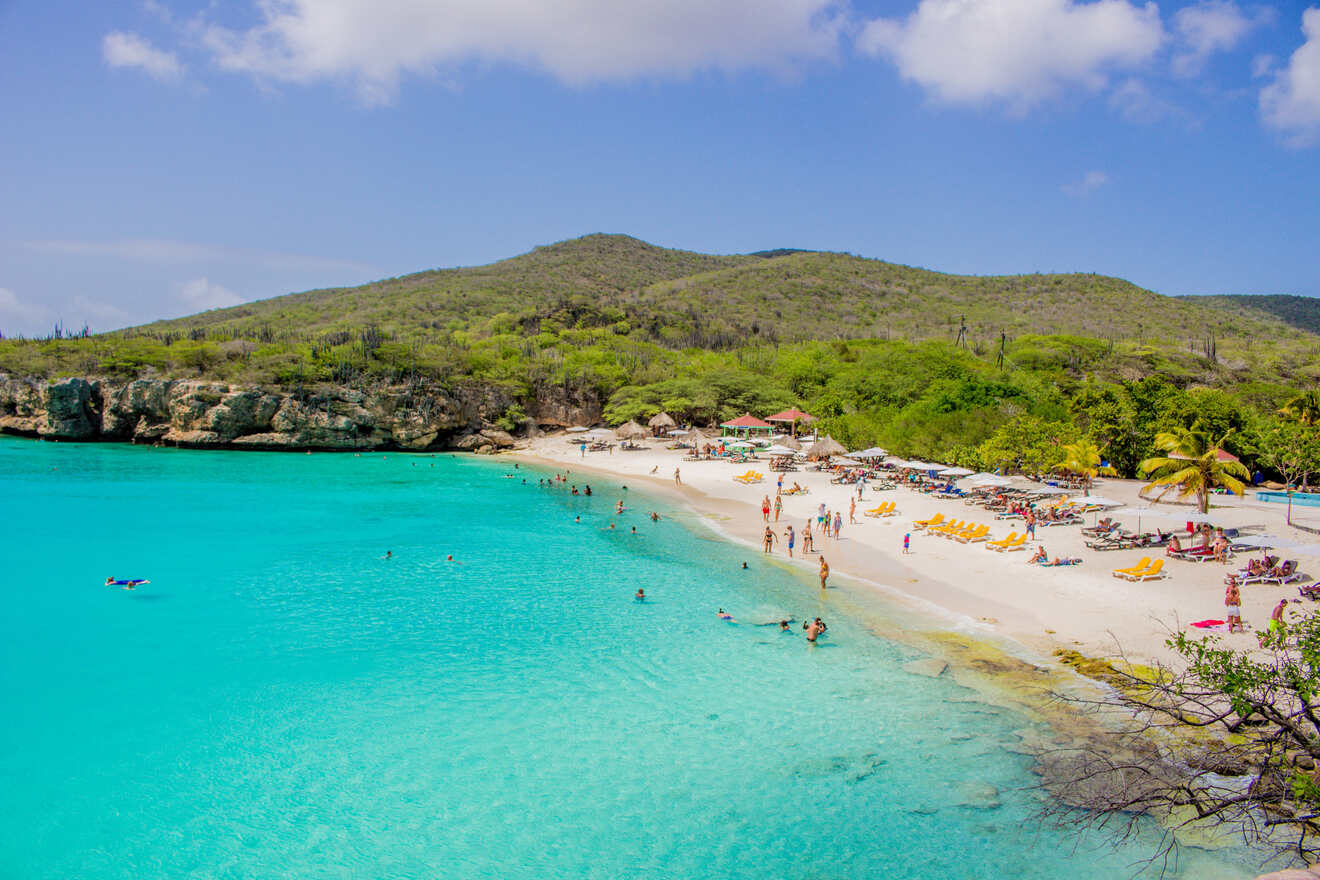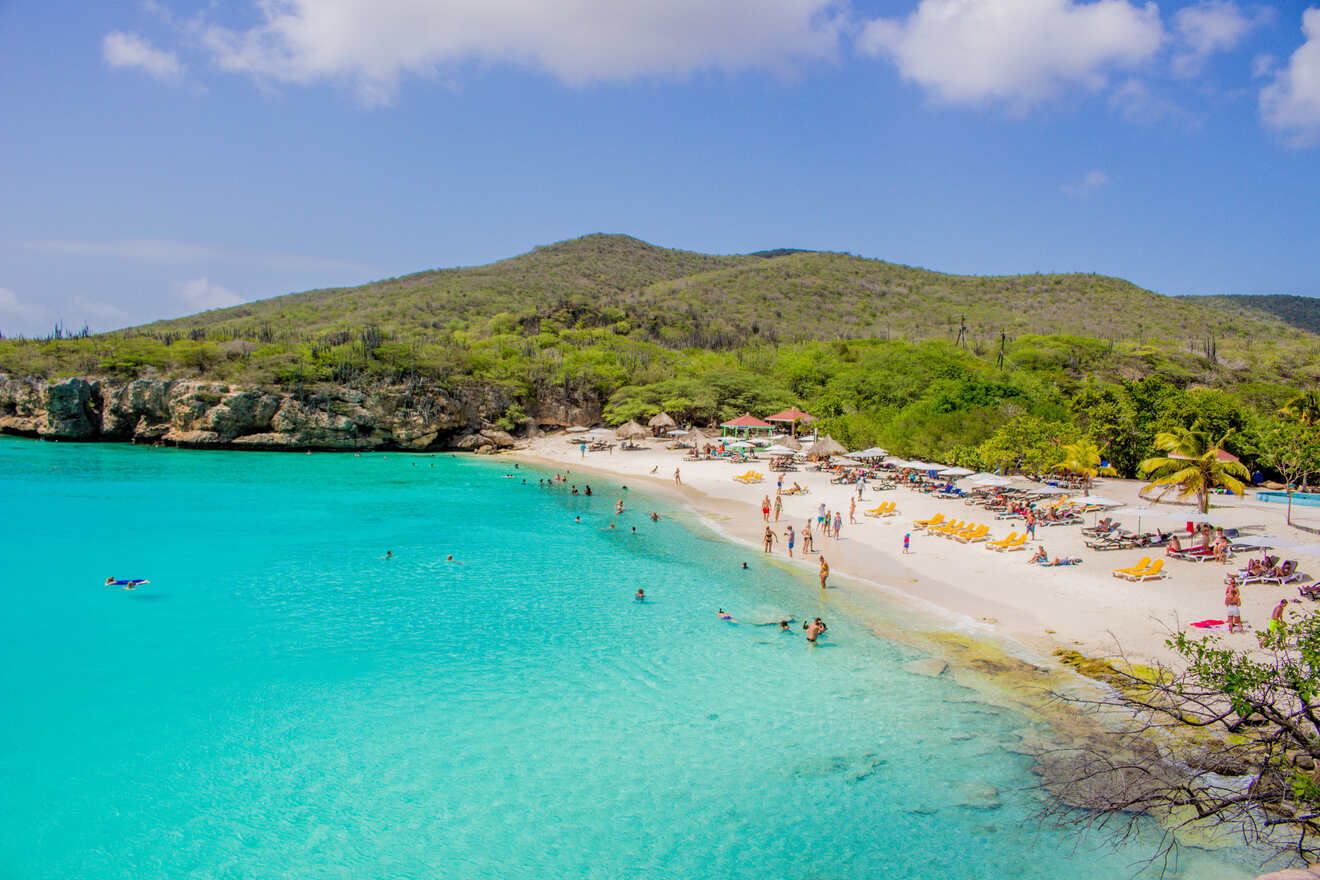 If when I say "Caribbean paradise" the first thing you could think of was green nature, wild hikes, and deep dives, then the Northwest part of the Caribbean island is waiting for you! On this side of Curacao, you will find Sabana Westpunt, the perfect town to stay in if you want to explore the surrounding untouched natural landforms and beautiful beaches.
If you move just a little east from Sabana Westpunt, still laying on the extreme north coast of Curaçao, you'll find several stunning natural parks! Check out the Shete Boka National Park to explore the volcanic origins of the island, or the oceanfront Christoffel National Park, offering 8 hiking trails, scenic car routes, and native wildlife!
If you're obsessed with the sea like me, you have to go to Boka Tabla, a half-submerged cave where you can watch the beautiful waves crash, or Boka Pistol, with even more fantastic waves and coral rock walls! But with terraces of rock and coral formed along the whole west coast, all the island's northern shore is a great and (worldwide famous) spot to dive… this part of Curaçao won't disappoint any outdoor enthusiasts!
Other accommodation options in Northwest Curaçao
Things to do in Northwest Curaçao
Explore the volcanic origins of the island in Shete Boka National Park
Discover the many hidden beautiful beaches like Playa Kalki, Playa Gipi, and Un Boka
Go hiking in Christoffel National Park
Visit the Watamula Hole, an amazing geological feature!
Go to watch (and listen to) the beautiful waves crash at Boka Tabla Park
4. Jan Thiel – where to stay in Curaçao with the family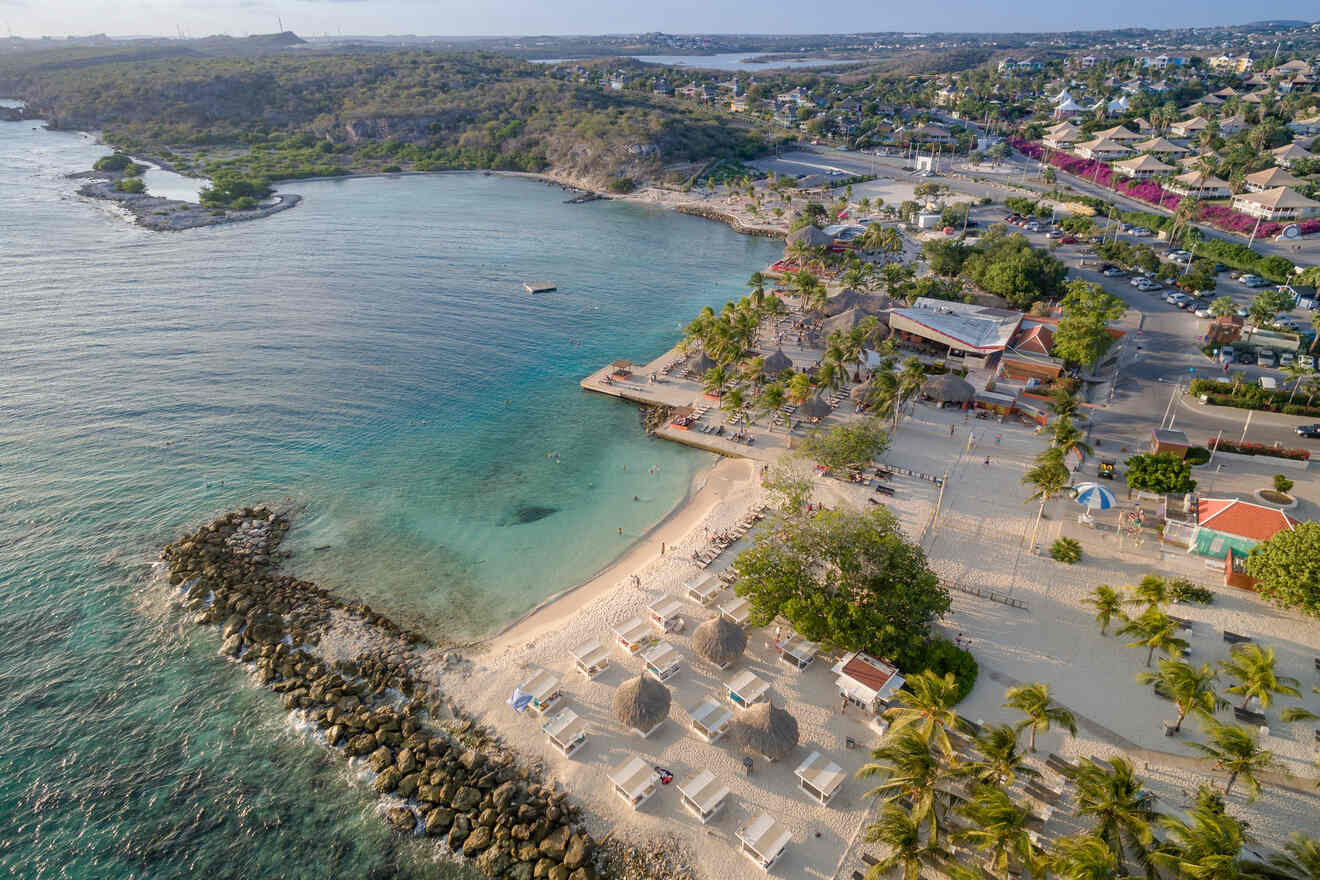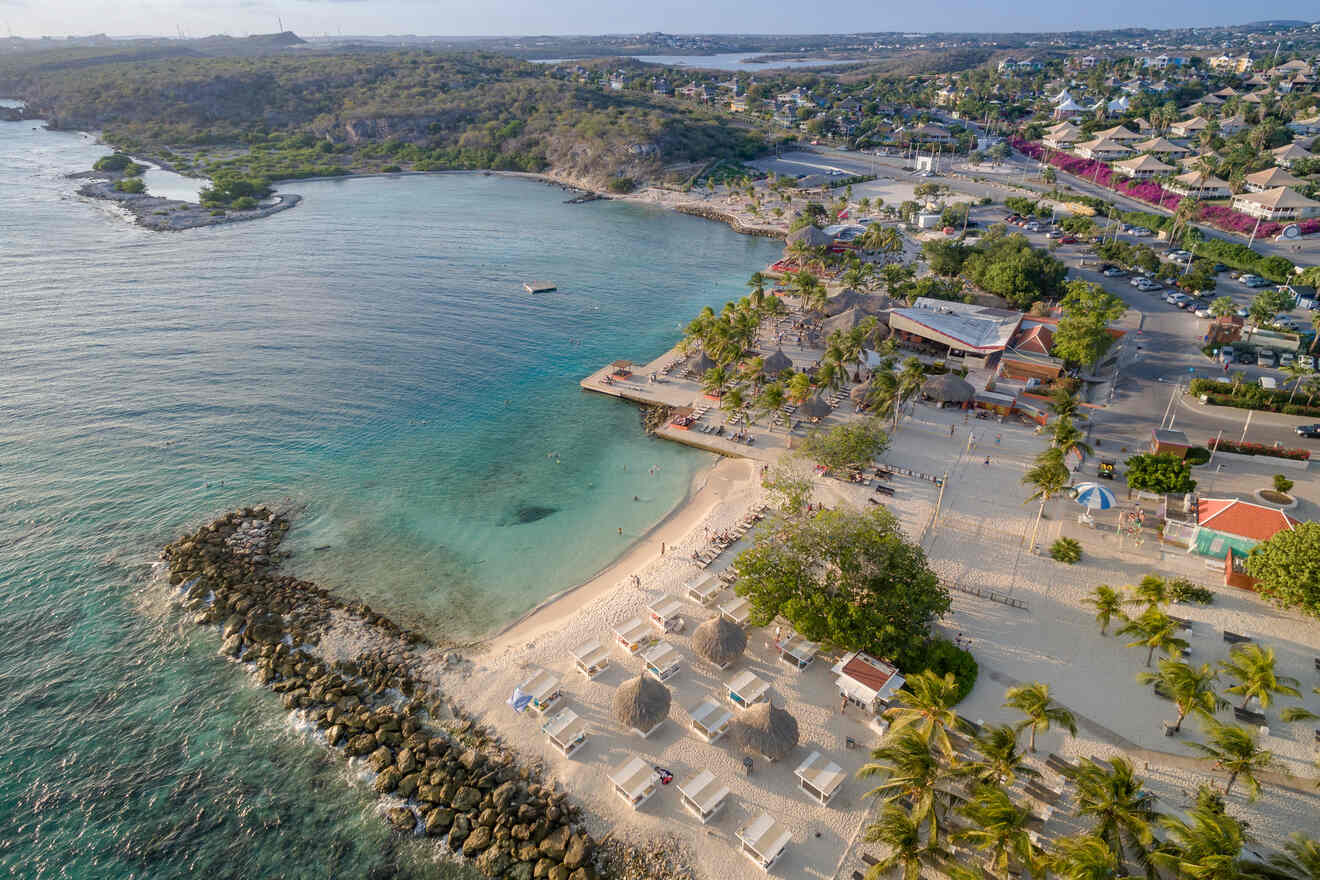 Jan Thiel is a lovely city lying on the south coast of Curacao, just east of Willemstad. Hosting some of the most exquisite beaches on the island where you can do the most variety of water activities, this is the perfect spot for a relaxing yet entertaining vacation with the family!
Get some adrenaline by water-skiing, go on a panoramic boat trip and dive with beautiful sea turtles… or just relax on the white sand of Jan Thiel Beach and let your kids have all the fun! What's more, Jan Thiel is connected to Mambo Beach Boulevard by the Jan Thiel Salt Pans, a stretch of untouched nature offering hikes for all levels, that any member of the family will enjoy!
In Jan Thiel's surroundings, there's also the Caracas Bay Peninsula, one of the few rocky pebble beaches of the Caribbean island, great for kayaking, snorkeling, and diving! But if you really want to make your kids happy, take them to the Curacao Sea Aquarium at the nearby Mambo Beach, where they'll be amazed by sea lions and dolphins in the live shows!
Other accommodation options in Jan Thiel
Things to do in Jan Thiel
Relax on the white sand of Jan Thiel Beach!
Take a catamaran on an adventurous day trip to Klein Island
Go on a hike with the family at Jan Thiel Salt Pans
Go kayaking, snorkeling or diving in the Caracas Bay Peninsula!
5. Mambo Beach – great place for a beach holiday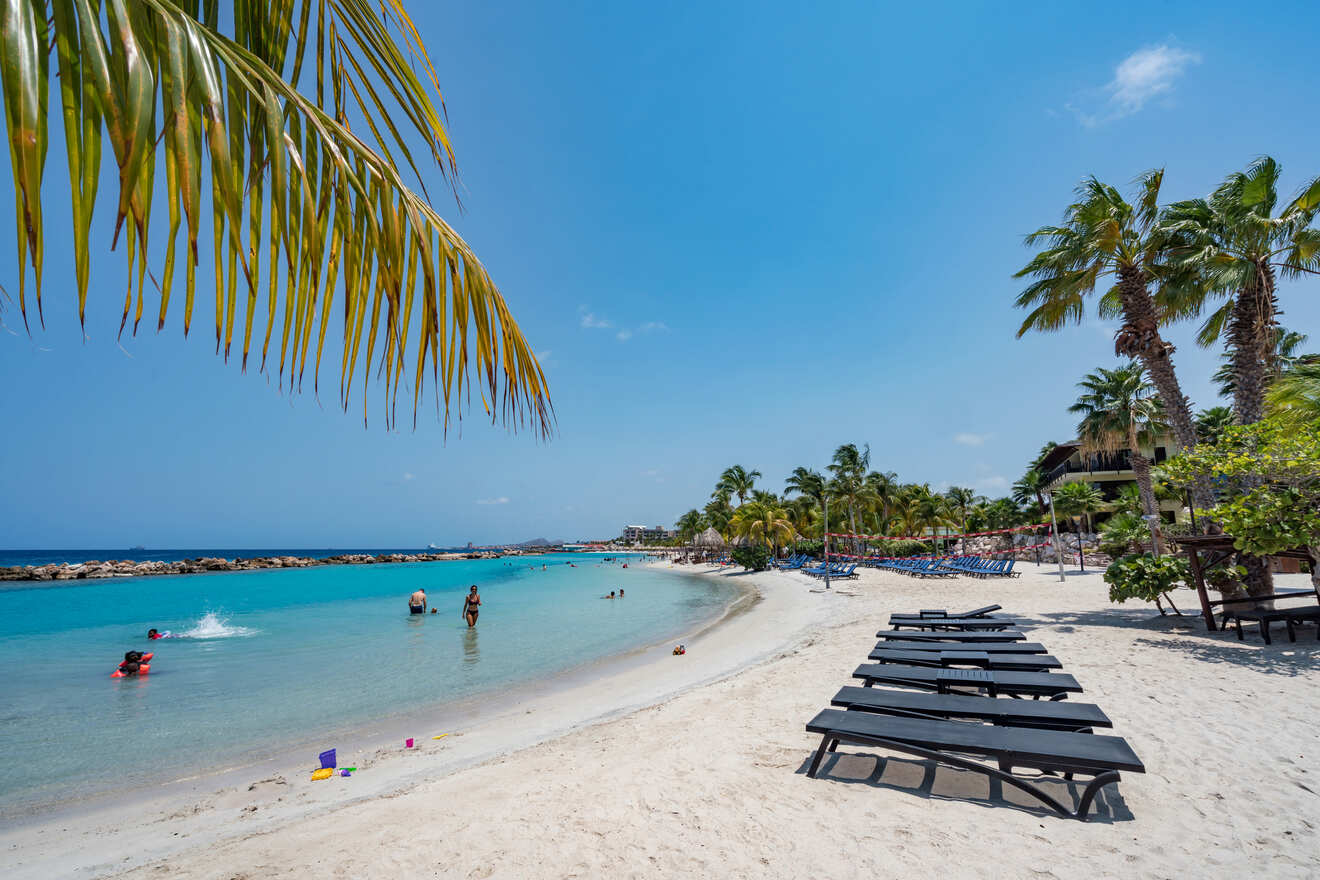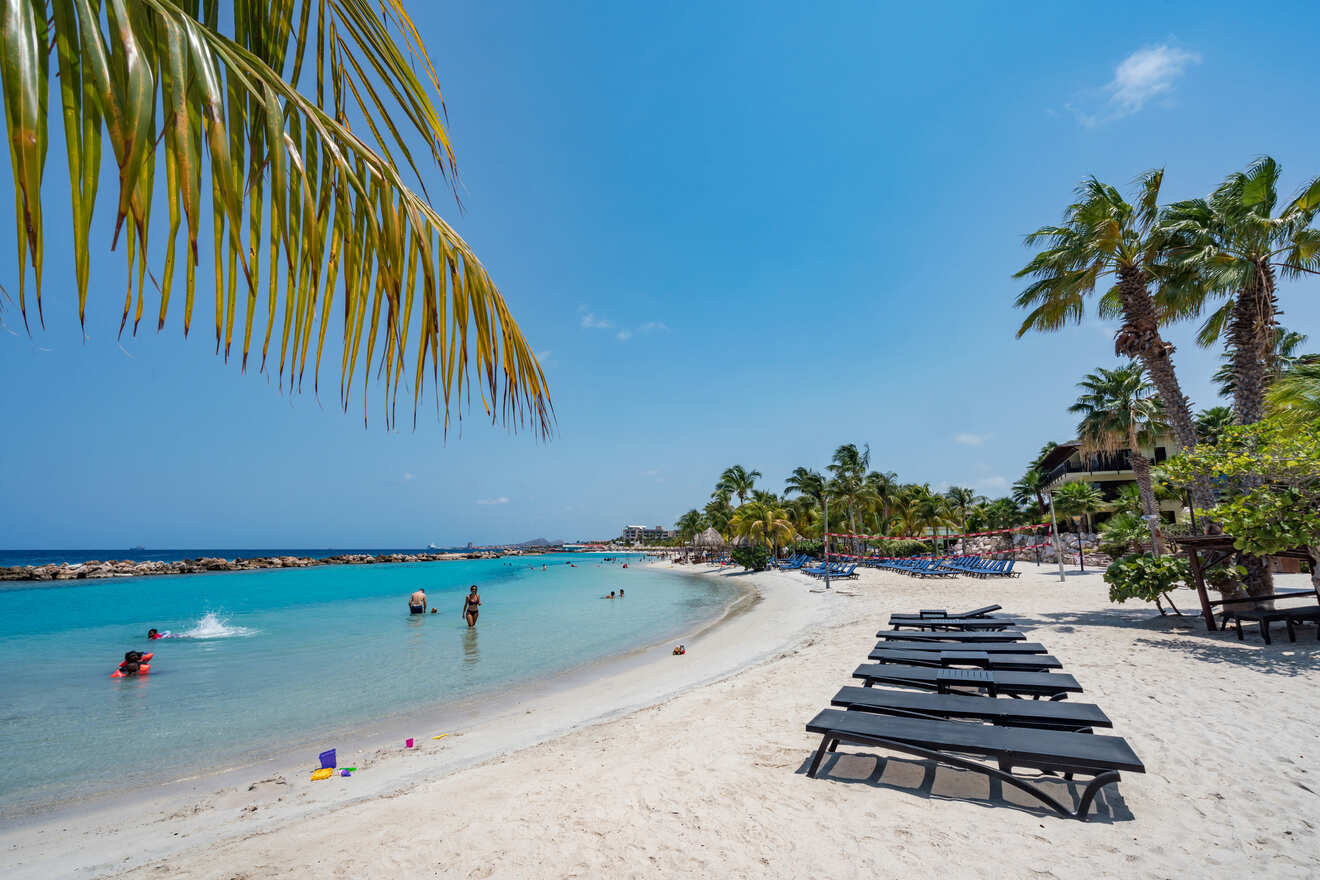 If for you "holiday" actually means beach holiday, then Mambo Beach, one of the most popular spots in the capital Willemstad, is definitely where you should book your stay in Curacao! Here is where urban style meets beachy vibes: you can spend days working on your tan, and take breaks from the sun having strolls along the boulevard, going shopping in the many boutiques, or eating in the countless dining options!
In Curacao Mambo Beach Boulevard you'll be able to enjoy any kind of meal at its numerous beach bars and restaurants. Grilled specialties, sushi, Italian, Indian, Mediterranean cuisine… food won't be an issue here (or if you get indecisive with too many options like me, maybe it will)!
Around Mambo beach there are so many other hot beaches to explore, like Mood Beach, Cabana Beach, or Wet and Wild Beach Club just to name a few! So… have you already bought your sun cream?
Other accommodation options in Mambo Beach
Things to do in Mambo Beach
Check out the modern boutiques and souvenirs shops in Mambo Beach Boulevard
Have a happy hour with a sunset view at the trendy beach bars like Chill and Hemingway!
Try as many international cuisines as you can in Mambo Beach Boulevard restaurants
Take your kids to the Curacao Sea Aquarium for interactive and close encounters with a big variety of sea animals!
Go swim in one of the many surrounding beaches, like Mood Beach, Cabana Beach, Wet & Wild Beach Club, Bonita Beach Club etc.
Frequently asked questions about Curaçao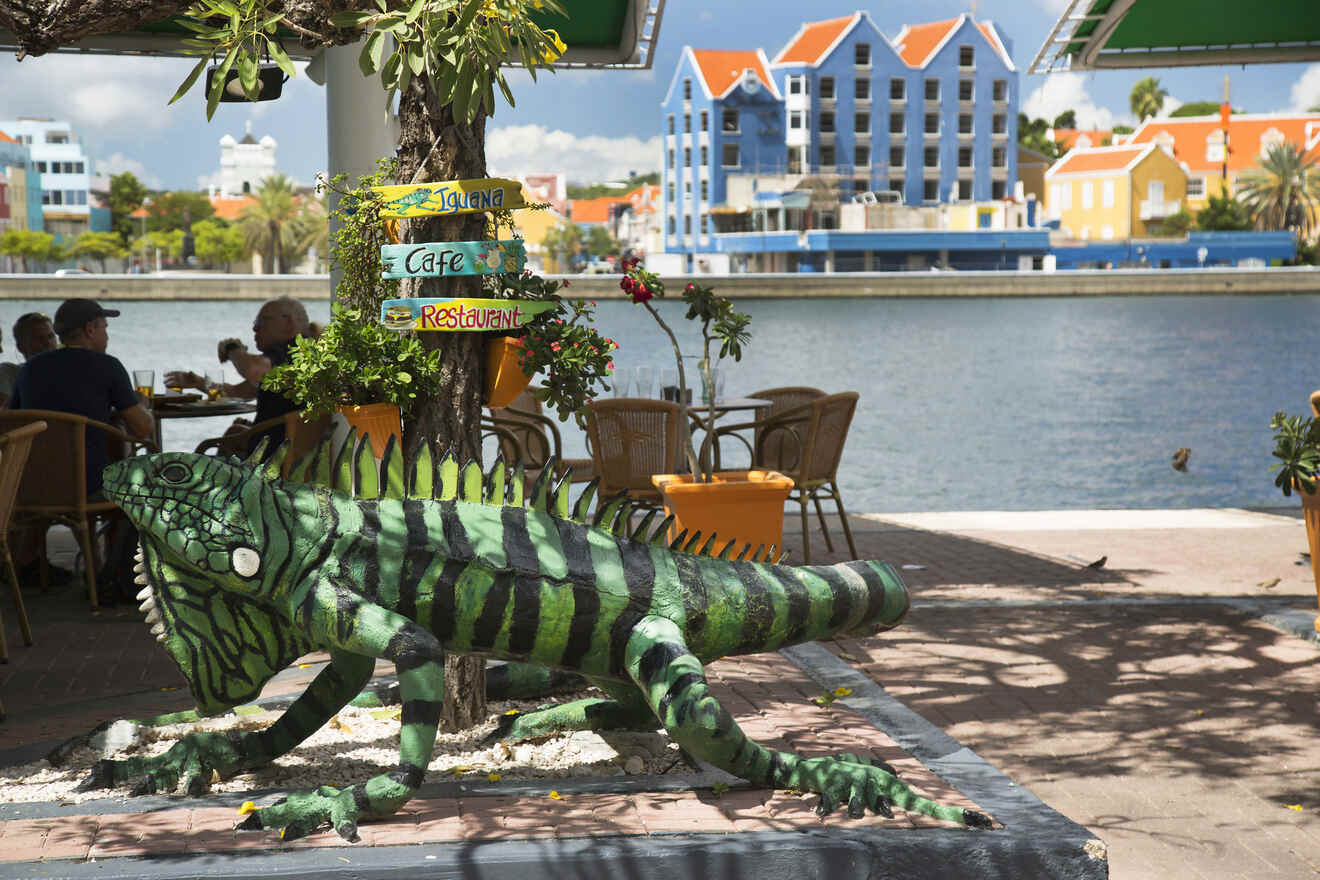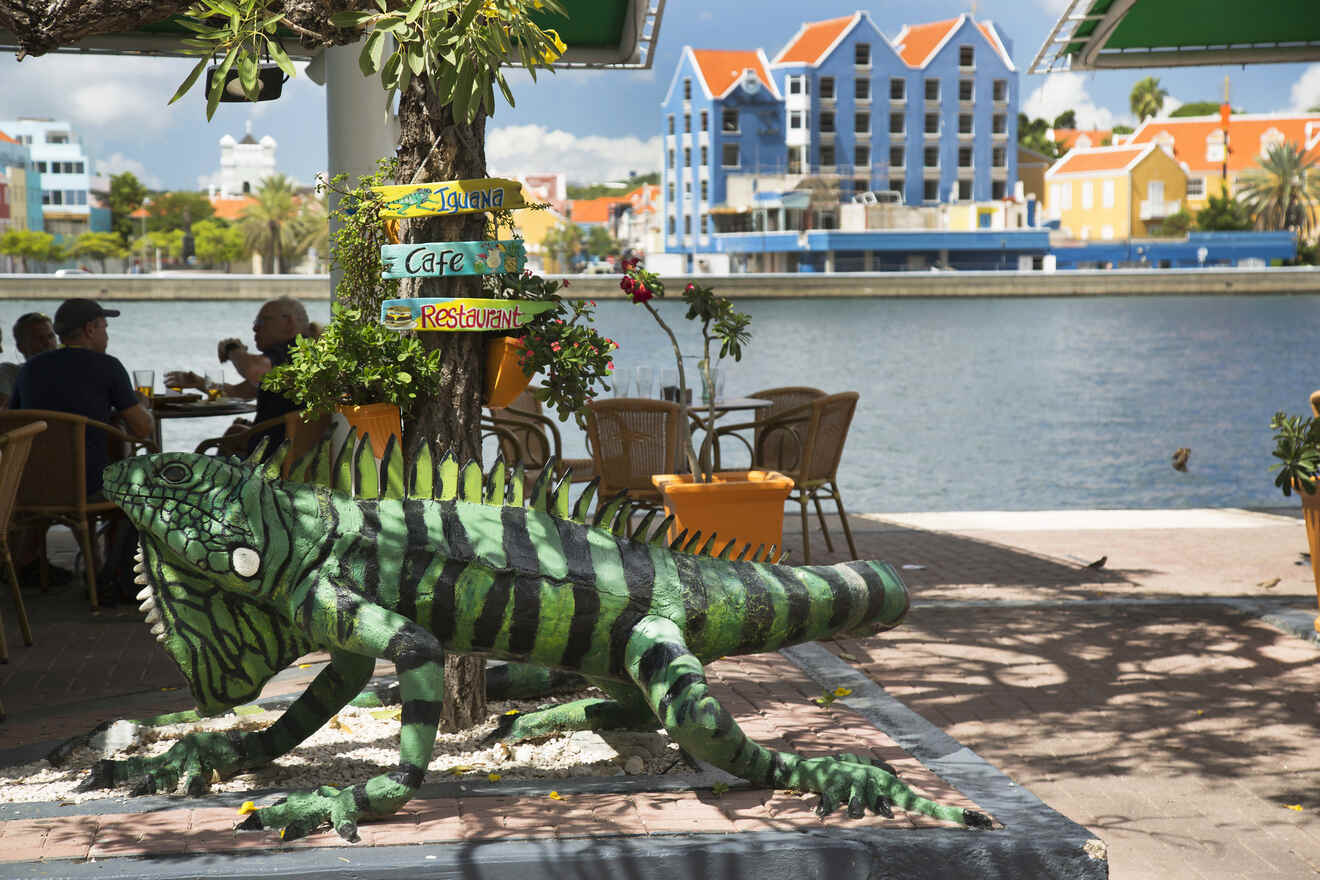 Conclusion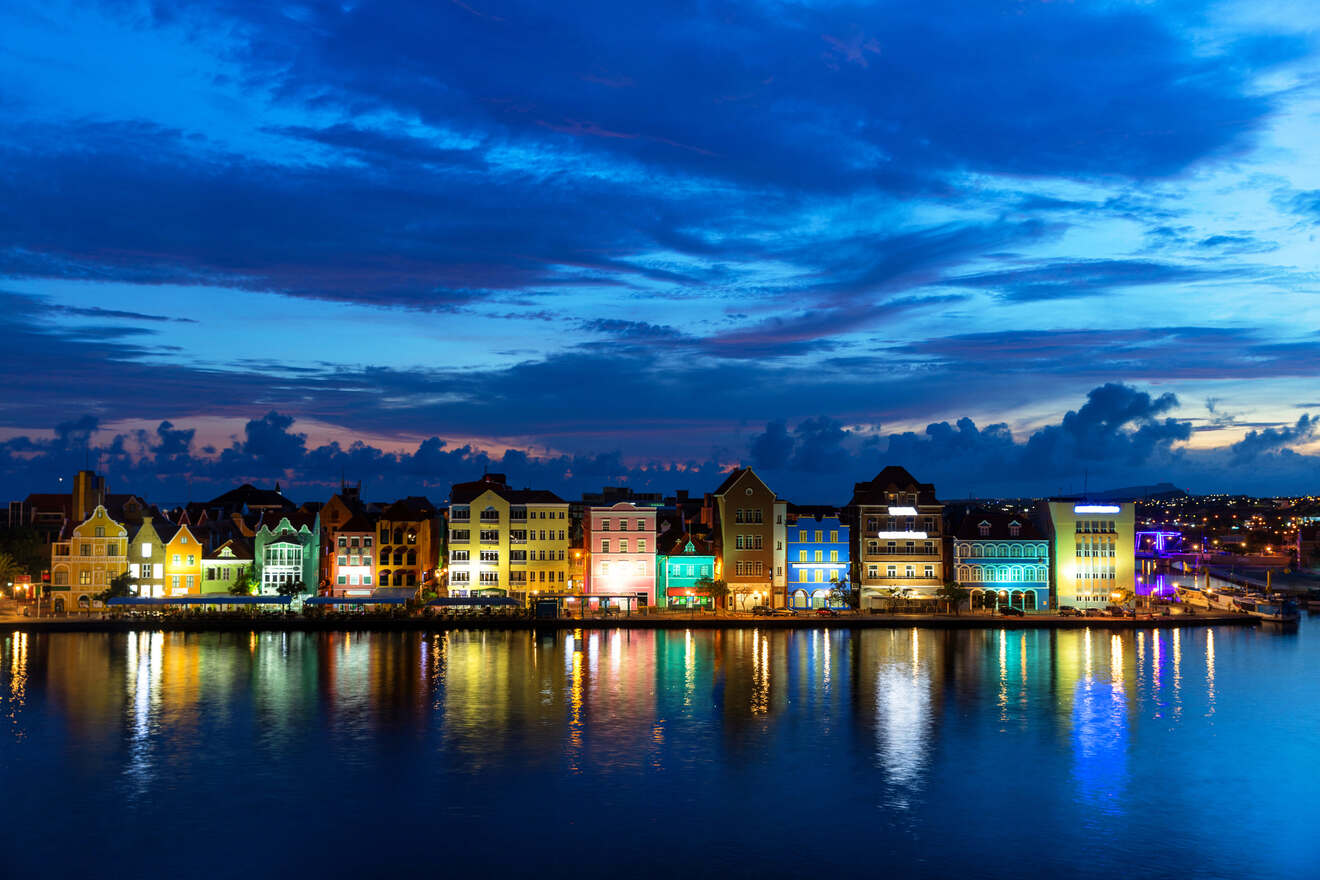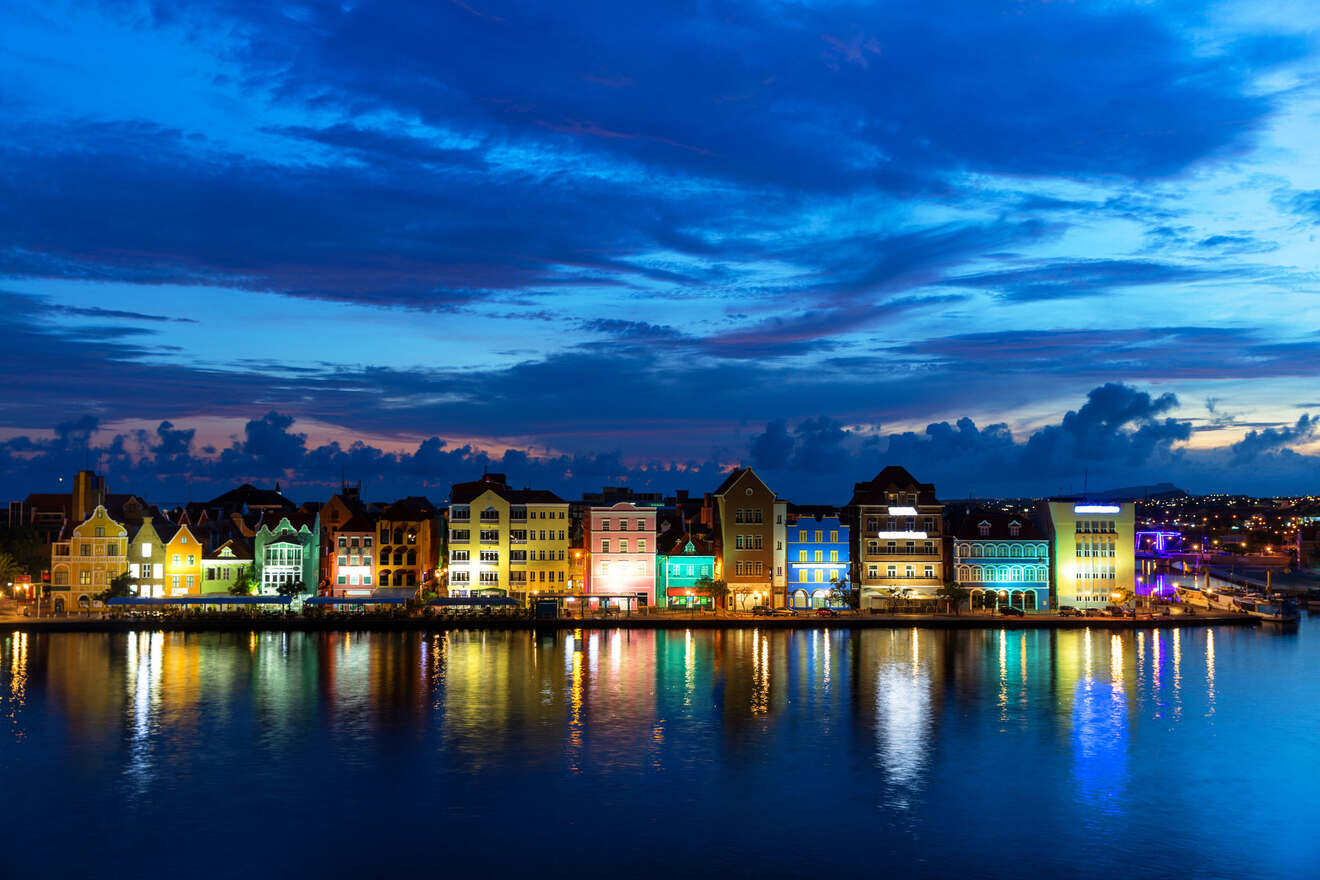 We came to the end of our warm vacation through Curacao's best neighborhoods and accommodations, from where you will have access to dreamy beaches, romantic experiences, exciting water activities, or family-friendly attractions! Diving, snorkeling, hiking, dining in delicious restaurants, having drinks in front of breathtaking sunsets… tourists love this Caribbean island, and you won't be an exception!
As you could see, there is such a big choice of amazing places to stay in Curacao, surrounded by untouched nature, blue waters, and colorful houses. Whether you're looking for a seafront hotel with an infinity pool, an exclusive all-inclusive resort on the beach, or more affordable hostels where to meet other travelers, this tropical gem won't let you down!
You still cannot make up your mind on where to stay in Curacao? Let me help you a little more. Here are my 2 favorite accommodation options with a great central location and the best value for money:
Curacao Avila Beach Hotel – luxurious beach resort offering all the comforts to relax and many exciting activities, right in the heart of Willemstad
Wind Creek Resort – 4 stars beach resort with central location, beautiful private beach, and saltwater infinity pool
I really hope you had fun reading my guide as much as I enjoyed writing it, and I am sure now you have all the right tools to find the perfect place for your budget and holiday expectations!
But if you haven't found what you were looking for in the article, or you wish to give me any other suggestions, please leave a comment below. I'm always happy to receive tips from travelers like me and I'm looking forward to reading them and answering your questions!
Have an amazing trip,
Elena