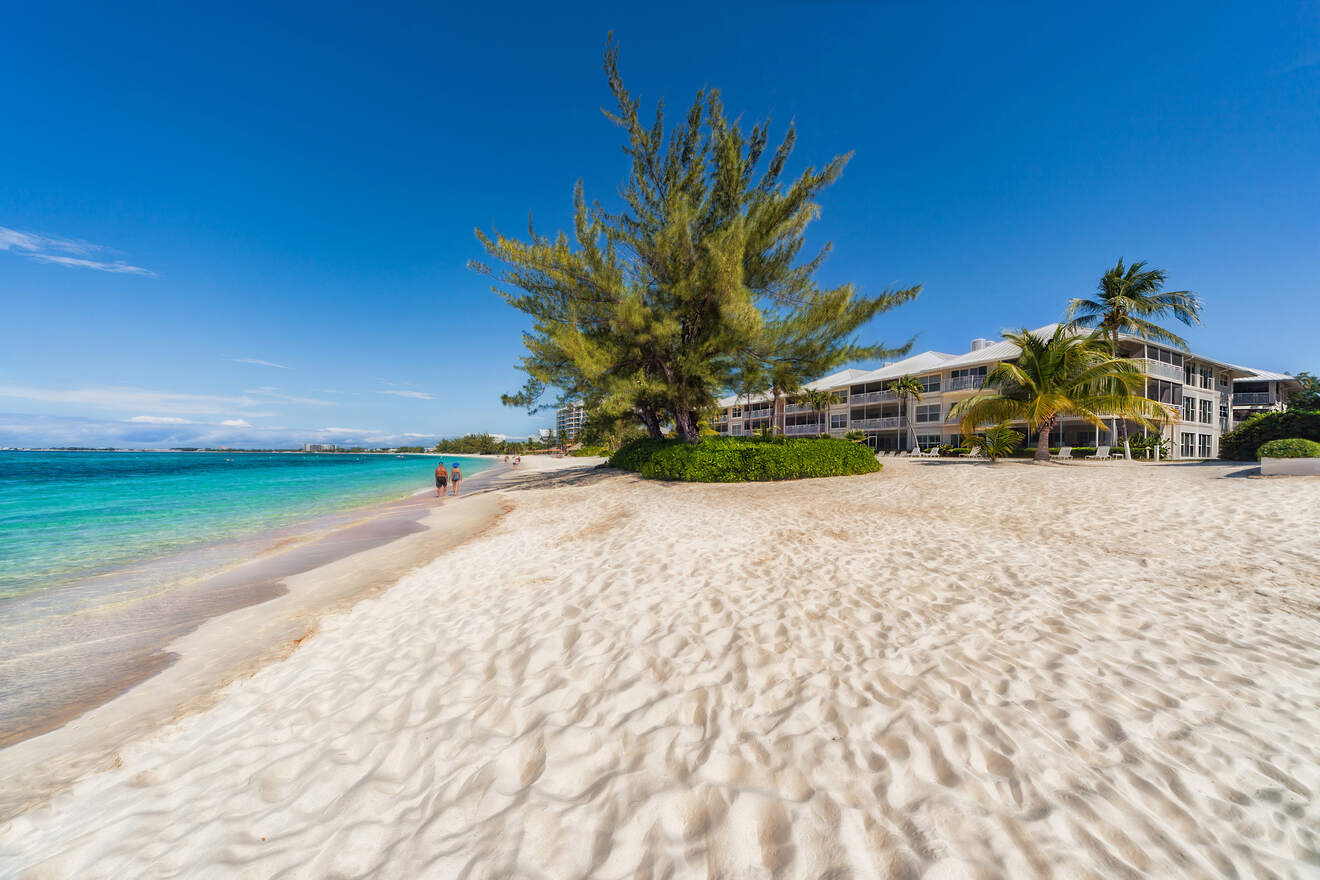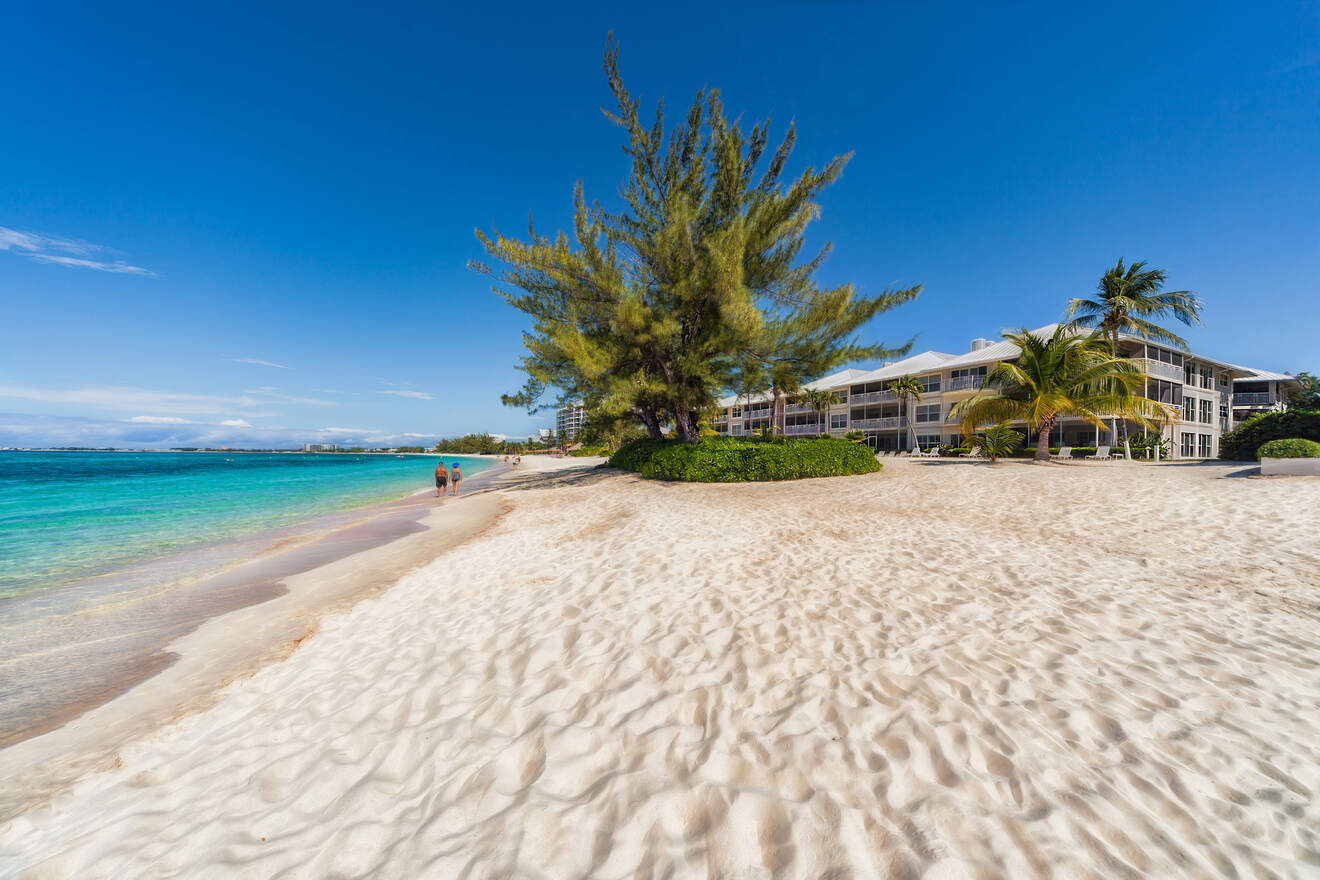 Welcome to the scuba divers paradise: Grand Cayman island! Located south of Cuba, Grand Cayman is the largest of the perfect trio of the Cayman Islands, with Little Cayman and Cayman Brac, and also where the capital, George Town, is located. If Christopher Columbus called the Cayman Islands "Las Tortugas" for the countless sea turtles swimming in its crystal clear waters, you won't wonder why scuba diving became a popular hobby here!
With a population of only 55,000 people, of which most are native Caymanians, the Grand Cayman brims with a strong local culture that you will feel from the very first day, and that mixes with gorgeous nature to create the perfect atmosphere!
From the award-winning stretch of white sand on the west side of the island, Seven Mile Beach, to the luxurious George Town offering a mix between tradition and modernity, and the natural wonders of the eastern side of Grand Cayman like the rare Blue Iguanas, every area of the island can surprise you with unique experiences and sensations!
So where to stay in Grand Cayman? I've researched through countless websites and created this guide with the best accommodation options, so I can help you choose the perfect hotel to make the best out of your vacation! Once you've made the right decision, make sure you book your accommodation at least a few months in advance… Everyone wants a spot in paradise!
Ready? Let's go!
If you are in a hurry
If you need to take a quick decision and book immediately, I got your back, check this list with the best hotels located in central George Town and Seven Mile Beach:
Here's the map with the 3 best areas to stay in that I will be talking about in this post, so you can visualize them: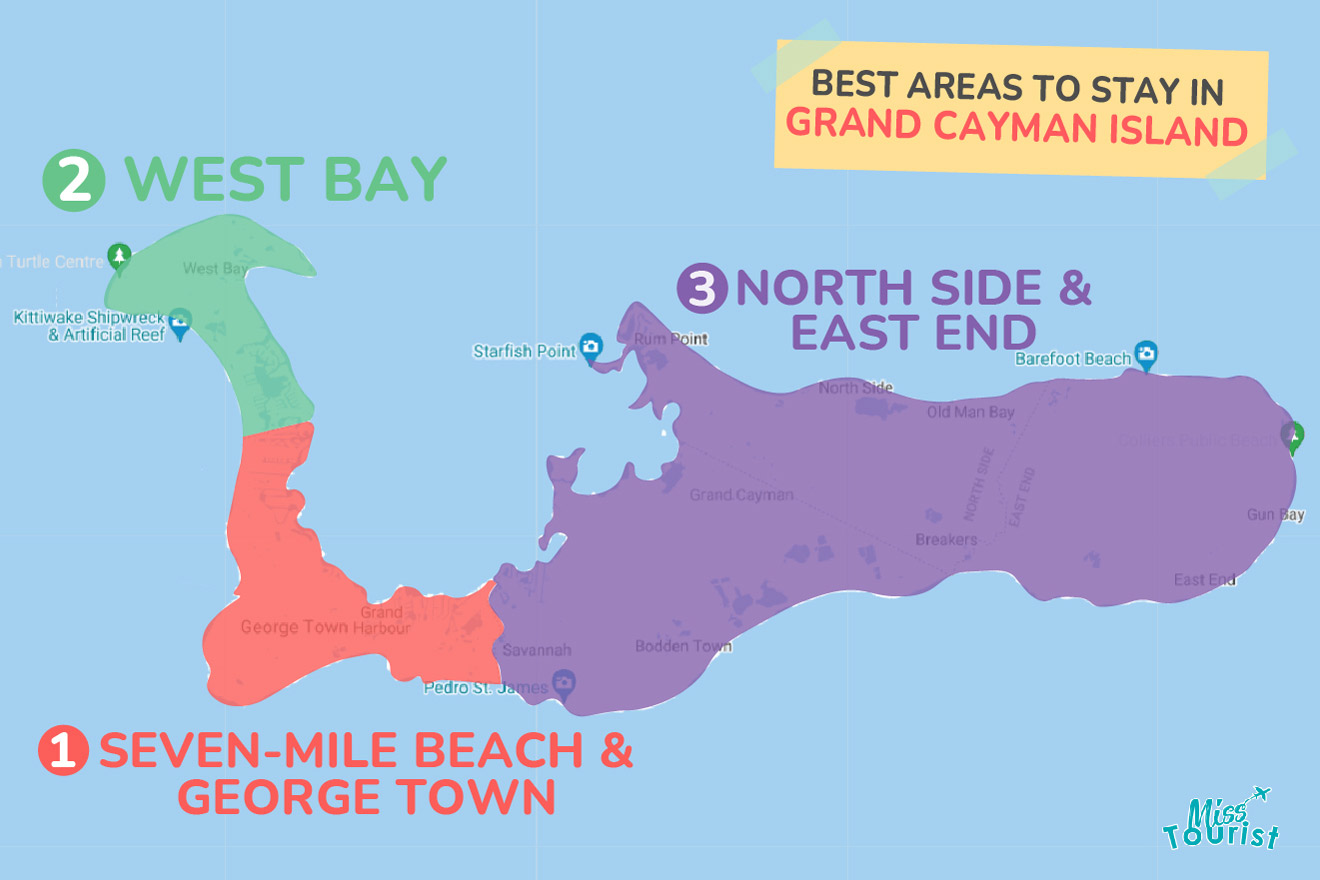 1. Seven-Mile Beach & George Town – where to stay in Grand Cayman for the first time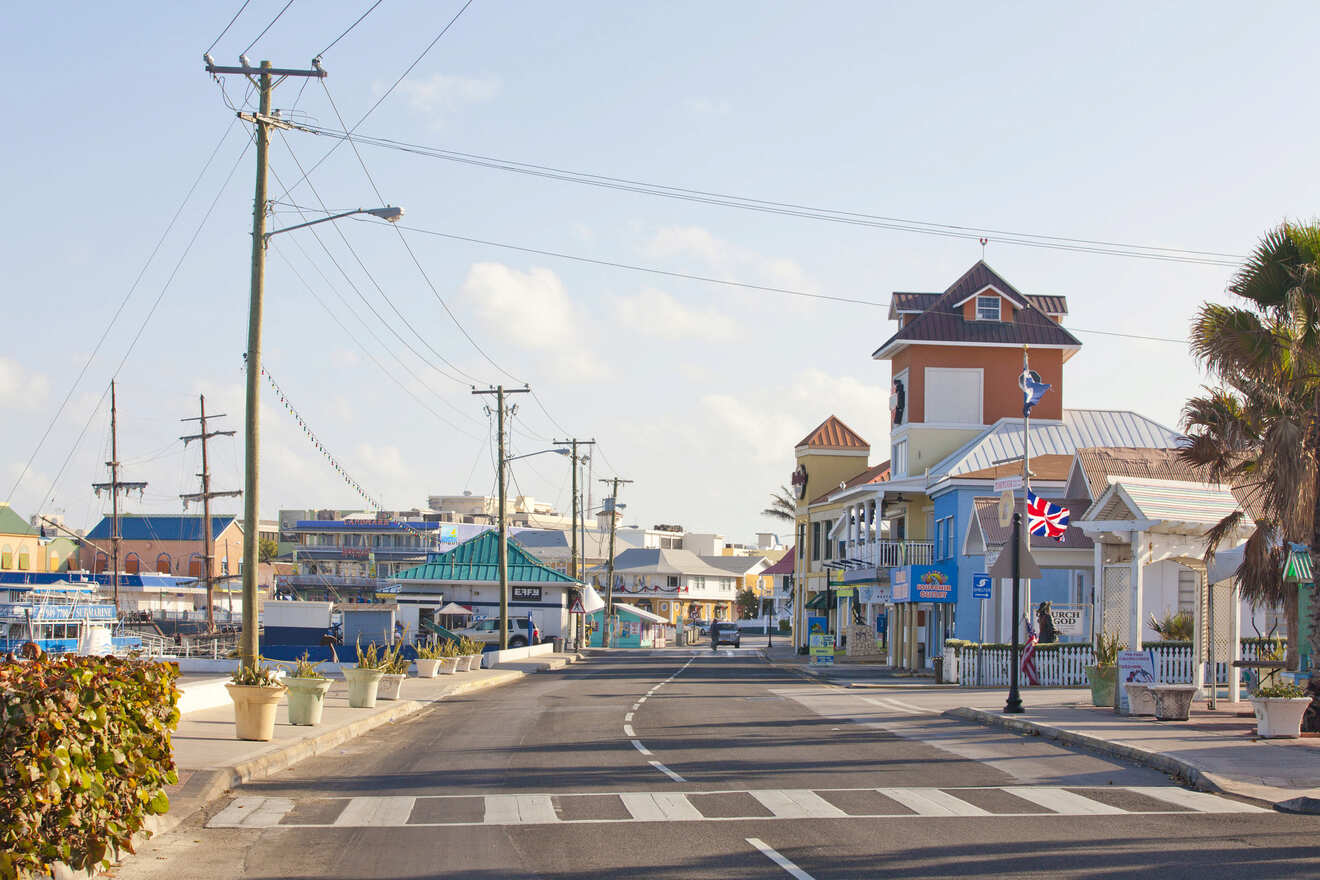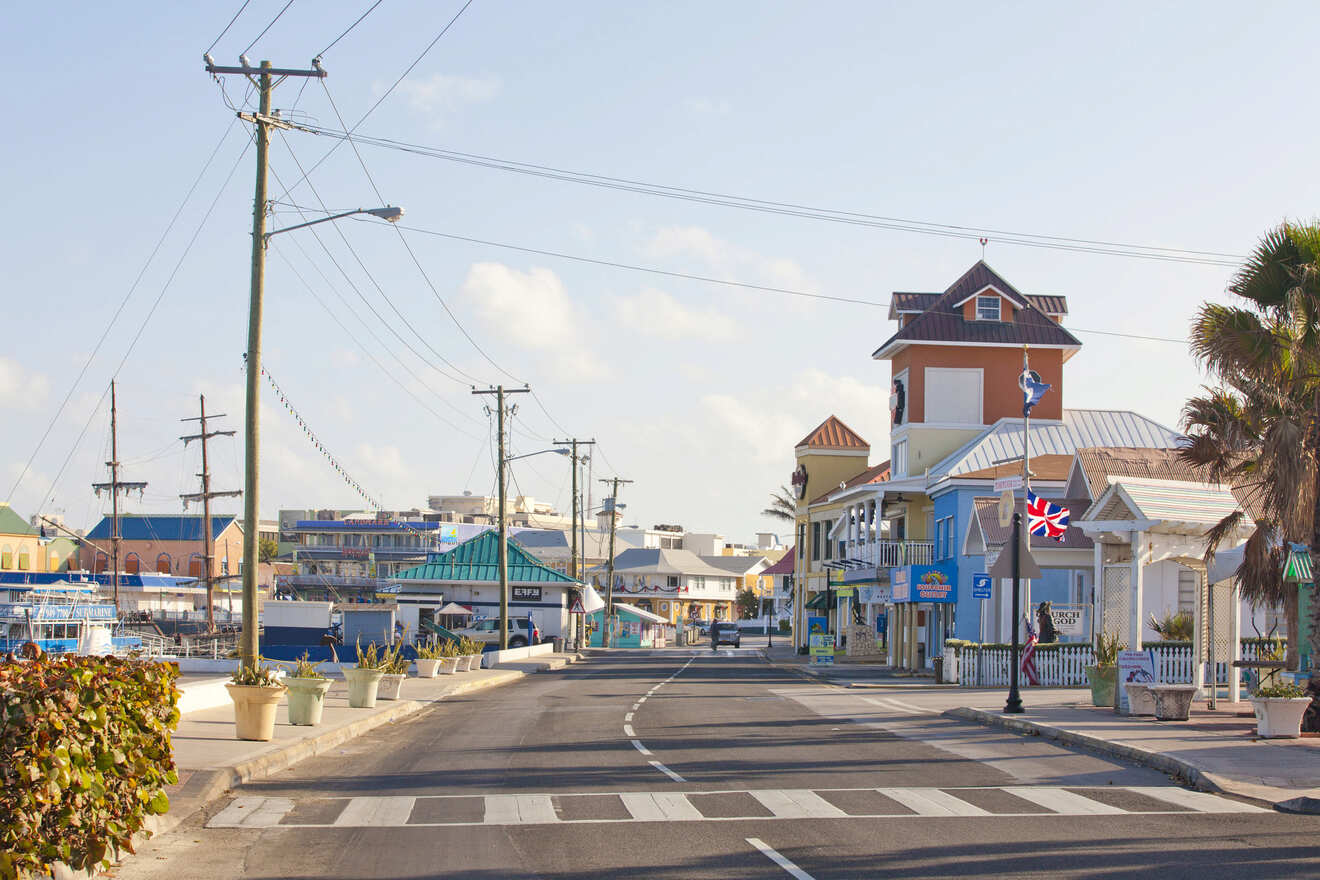 Home to both the biggest harbor and the airport, George Town is the capital of Grand Cayman. This central hub is the best place for any first-time visitor, offering glistening sea and immaculate beaches, as well as history and delicious cuisine with enticing local flavors!
Located on the south shore of the island, the capital is a popular stop for cruises and at the same time the starting point of many tour guides and excursions across Grand Cayman. If you're the type of traveler who prefers to explore a destination on your own, there are many cheap and quick transport connections that will bring you along the entire length of Seven Mile Beach.
The famous Seven Mile Beach (that is actually 5.5 miles long), lies just a short 10-minute drive from George Town city center and is one of the most stunning beaches you will see! Seven Mile Beach has its own town just across from the sand with nice restaurants and bars, crazy nightclubs, shops, and Camana Bay.
Walking on its shores is just an unforgettable experience, for this reason, it has become one of the most popular spots in the islands and home to many luxurious hotels and local restaurants… the perfect choice if you spare no expense! But make sure to book early as these are the best of the best hotels!
Luxury (US$1000 and up)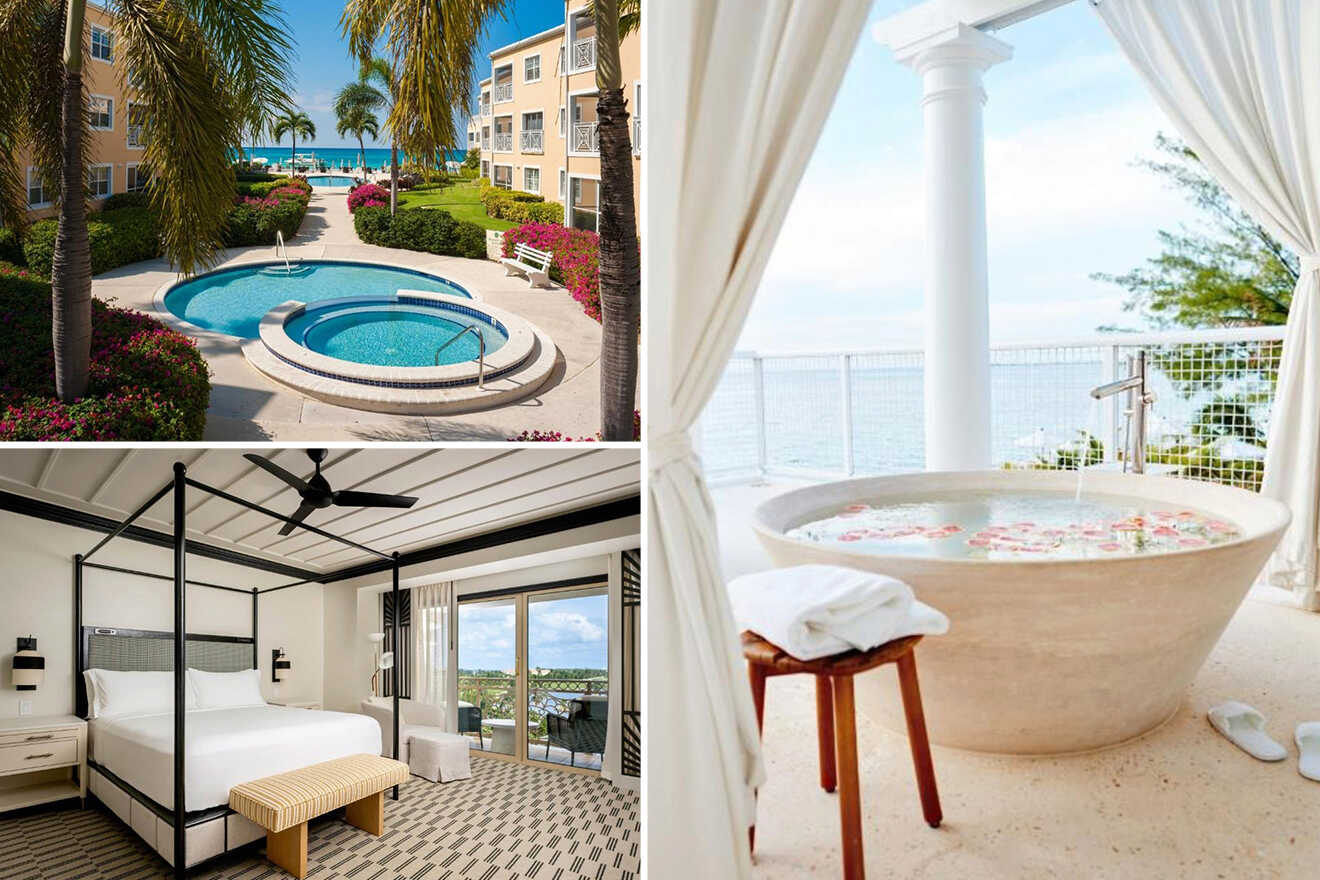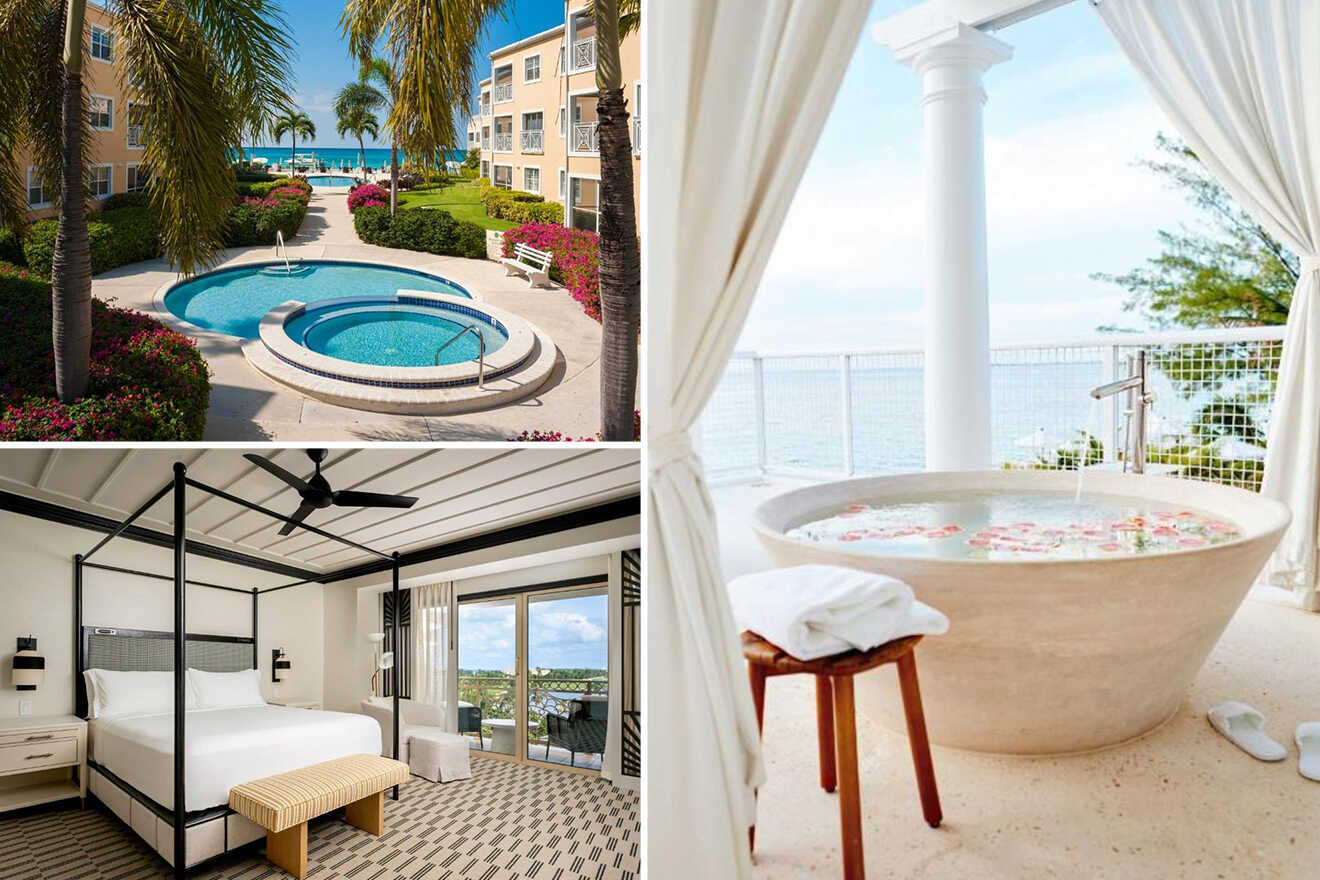 Mid Range (US$400 – US$800)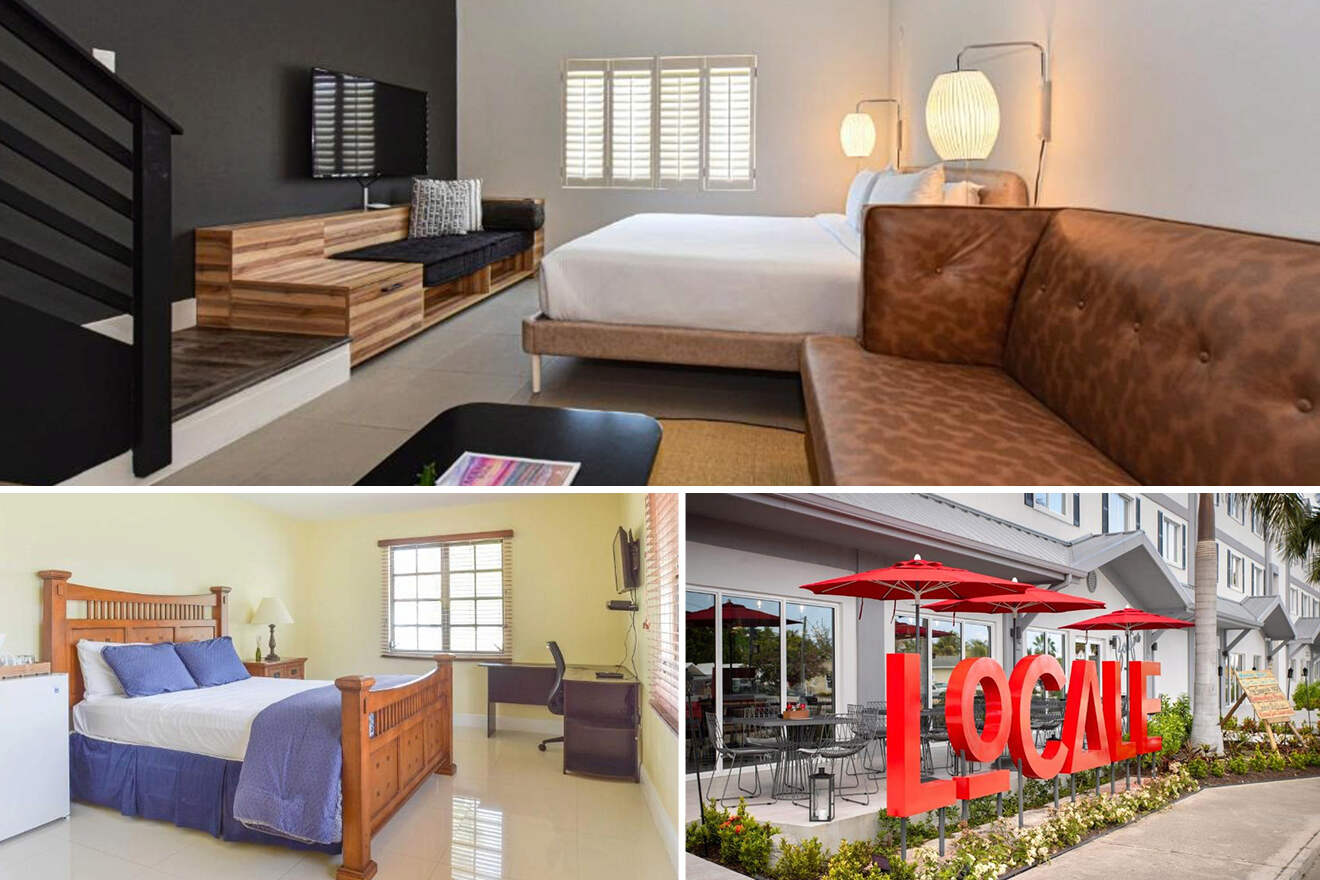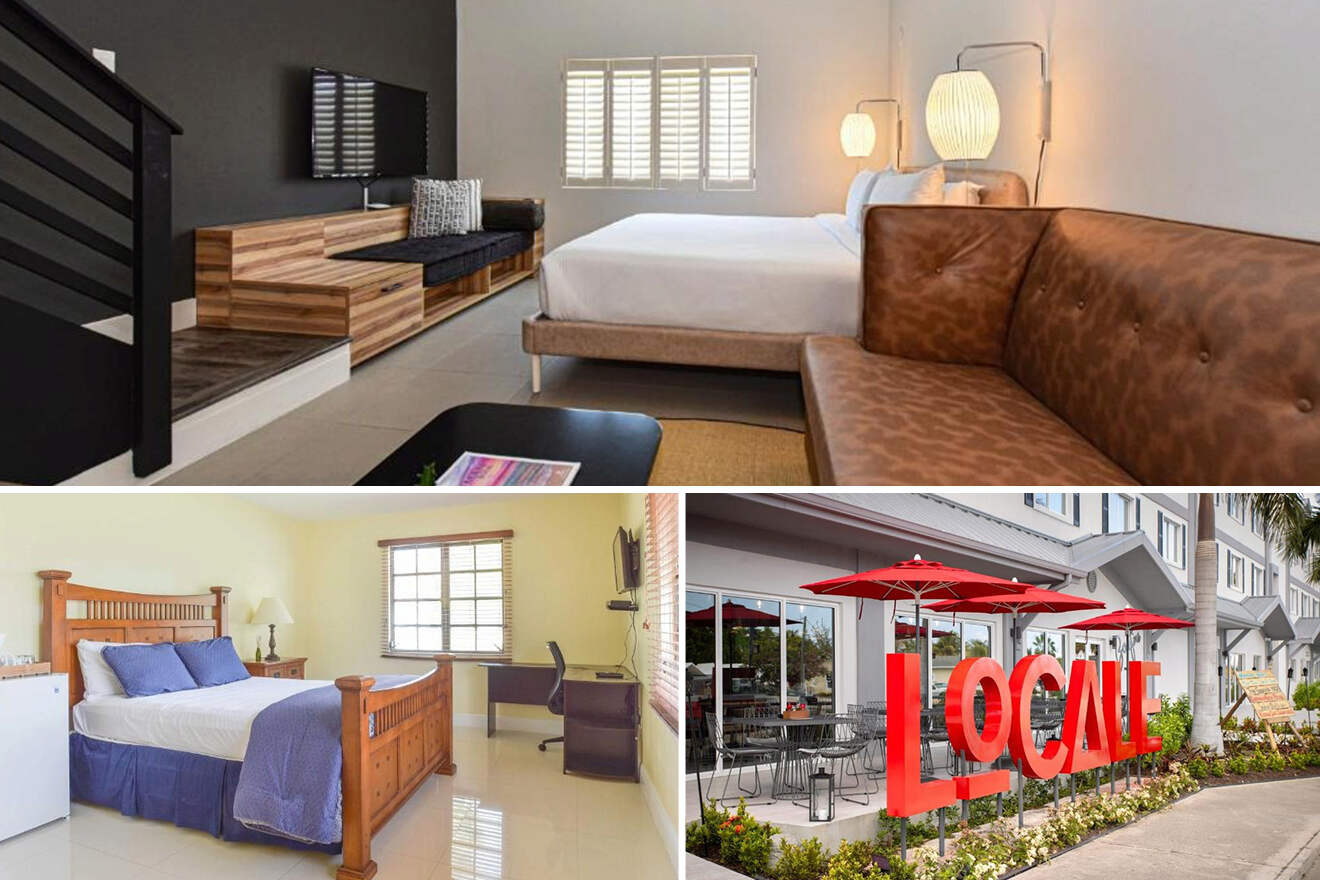 Budget (under US$400)
Things to do in Seven-Mile Beach & George Town
2. West Bay – where to stay in Grand Cayman for families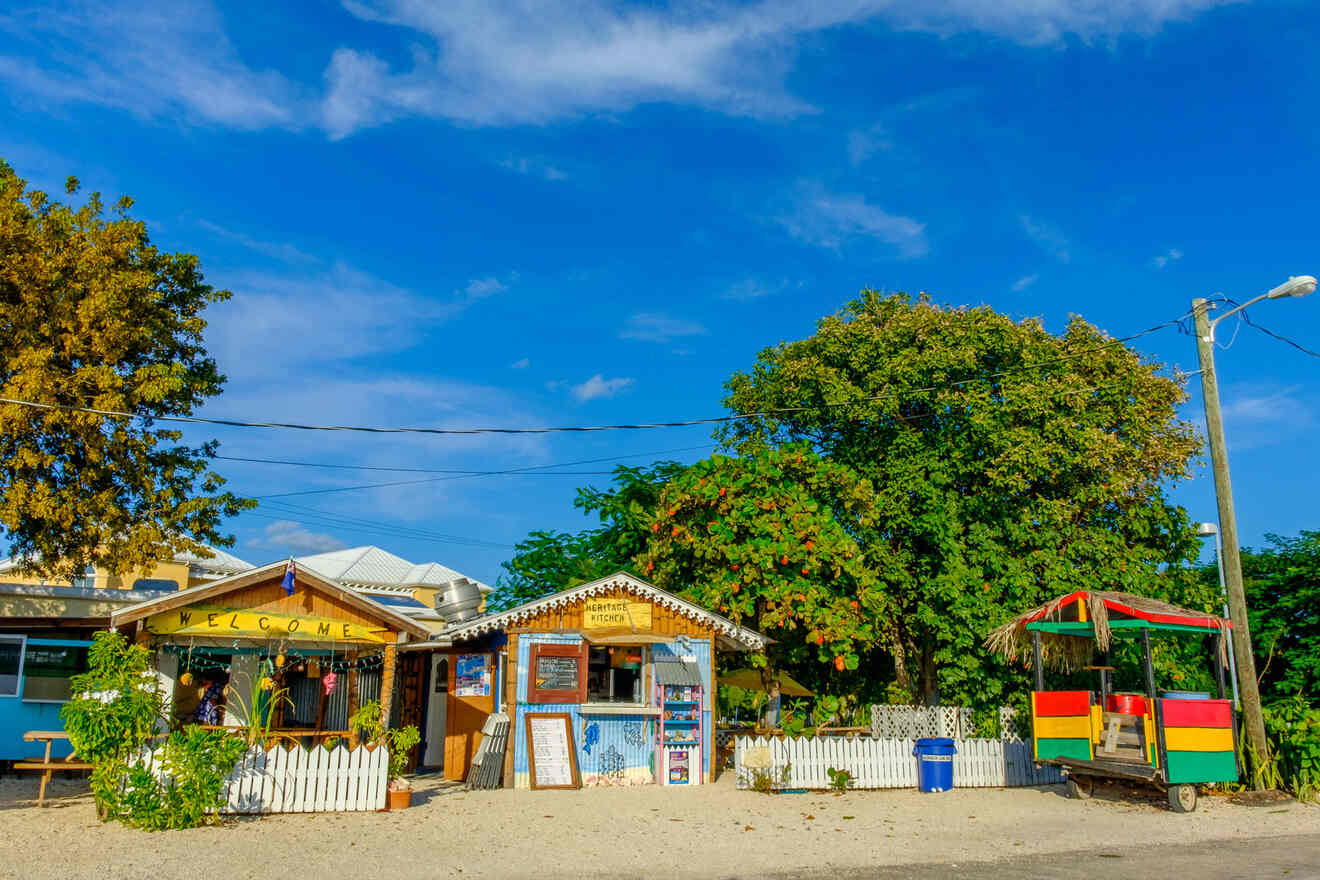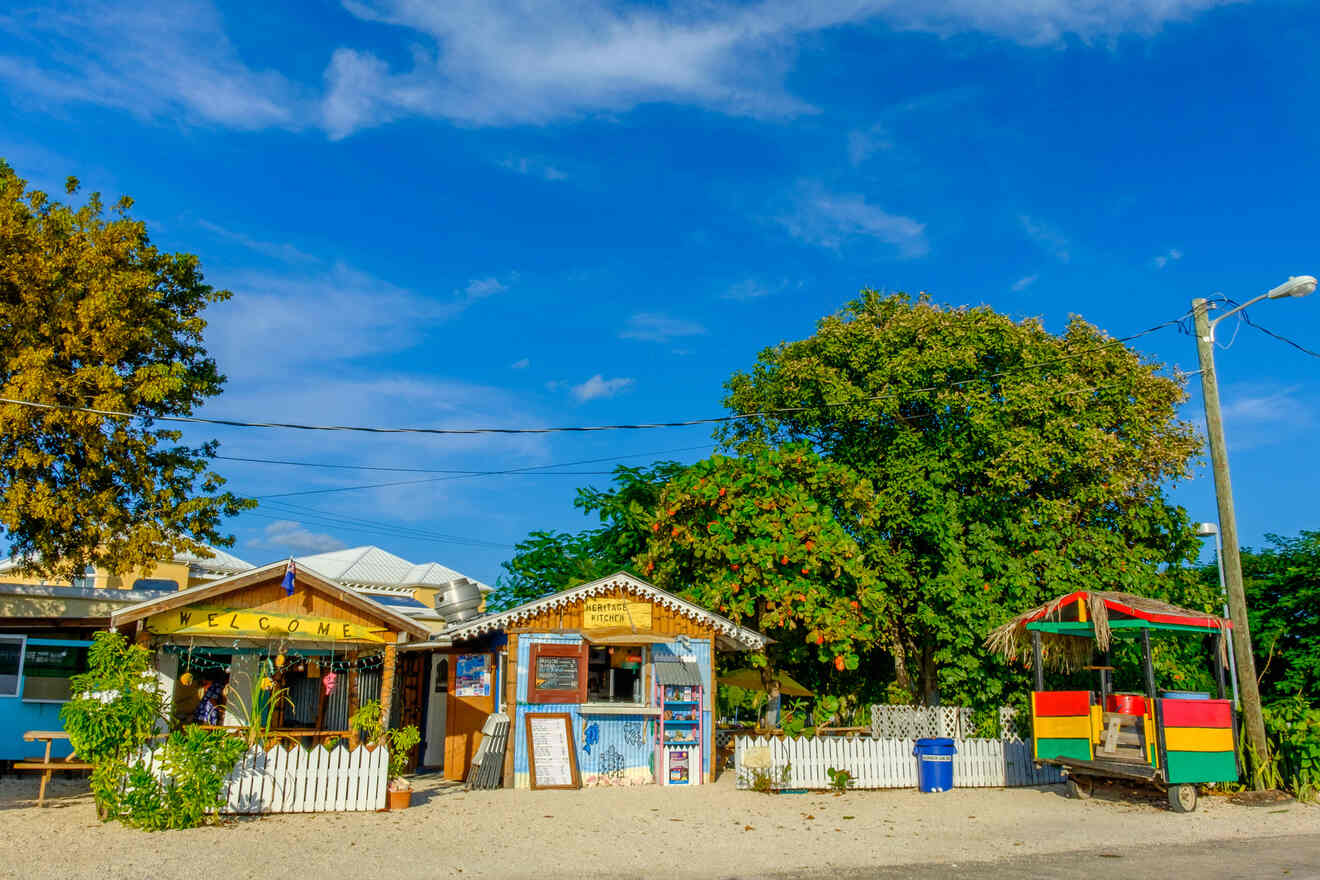 Heading up Seven Mile Beach to its northern tip, you will reach West Bay, a more peaceful residential area, perfect for families that want to avoid tourist crowds. In fact, here you'll find stunning deserted beaches, many restaurants where you can enjoy the best local cuisine in the territory, and countless fun activities.
From horseback riding on beautiful beaches, to kite surfing in Barkers Beach, spotting stingrays at Stingray City, and wading with turtles in the Cayman Turtle Centre, there's enough to keep the whole family entertained. If diving with tropical animals excites you and you have no fear, then you should also consider Belize, in Central America, where you can swim with sharks!
Even if less expensive than George Town or Seven Mile Beach, the area still has a more exclusive vibe, but it's totally worth it if you can enjoy quieter beaches from lovely homes, condominiums, or even dive resorts right next to the sea.
For this reason, all the accommodations that I will propose to you are in the luxury or mid-range as I didn't find any good budget hotels in the area… Keep reading to check them out, and make sure you book them as soon as you can: places sell out super fast in this area!
Luxury (US$1000 and up)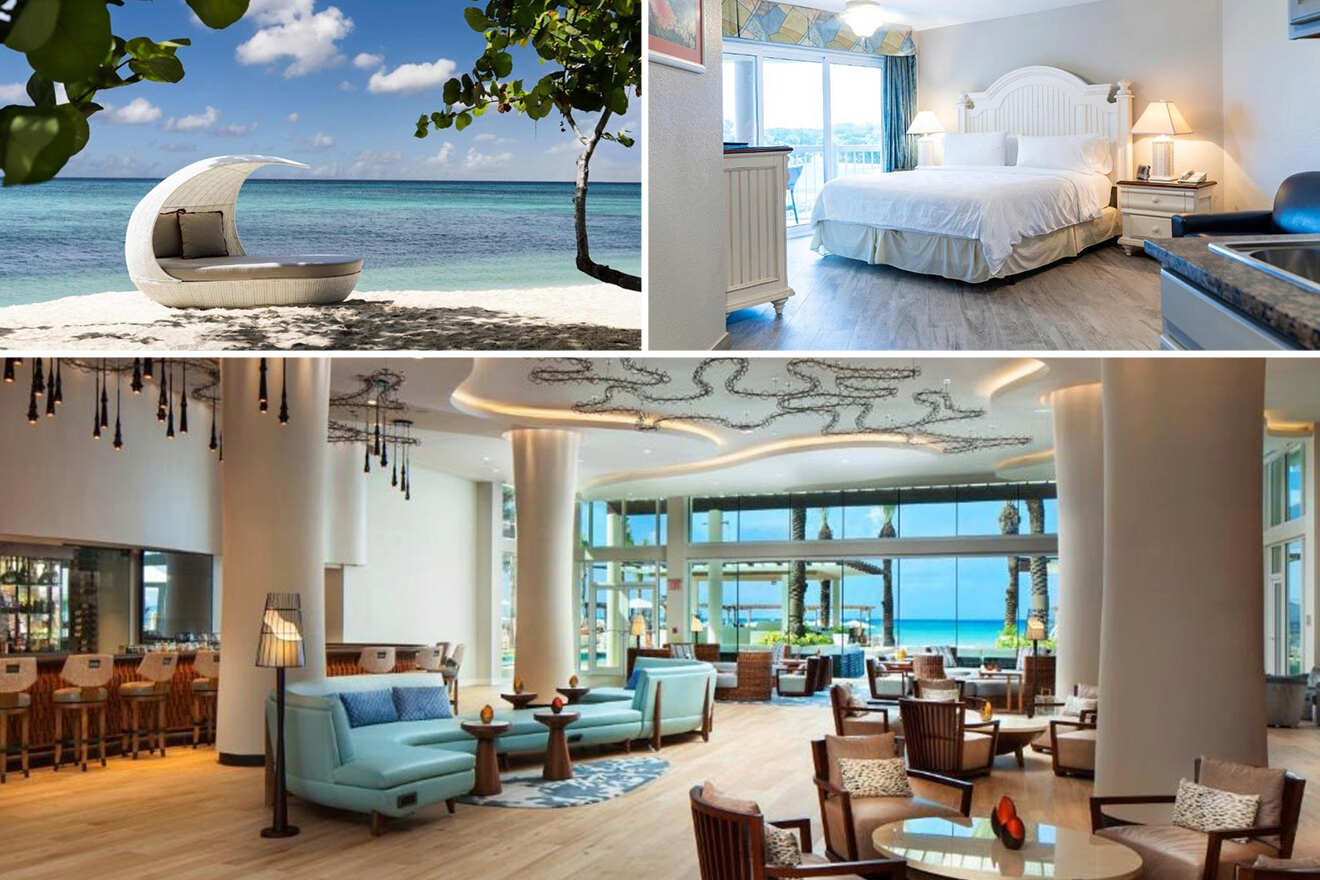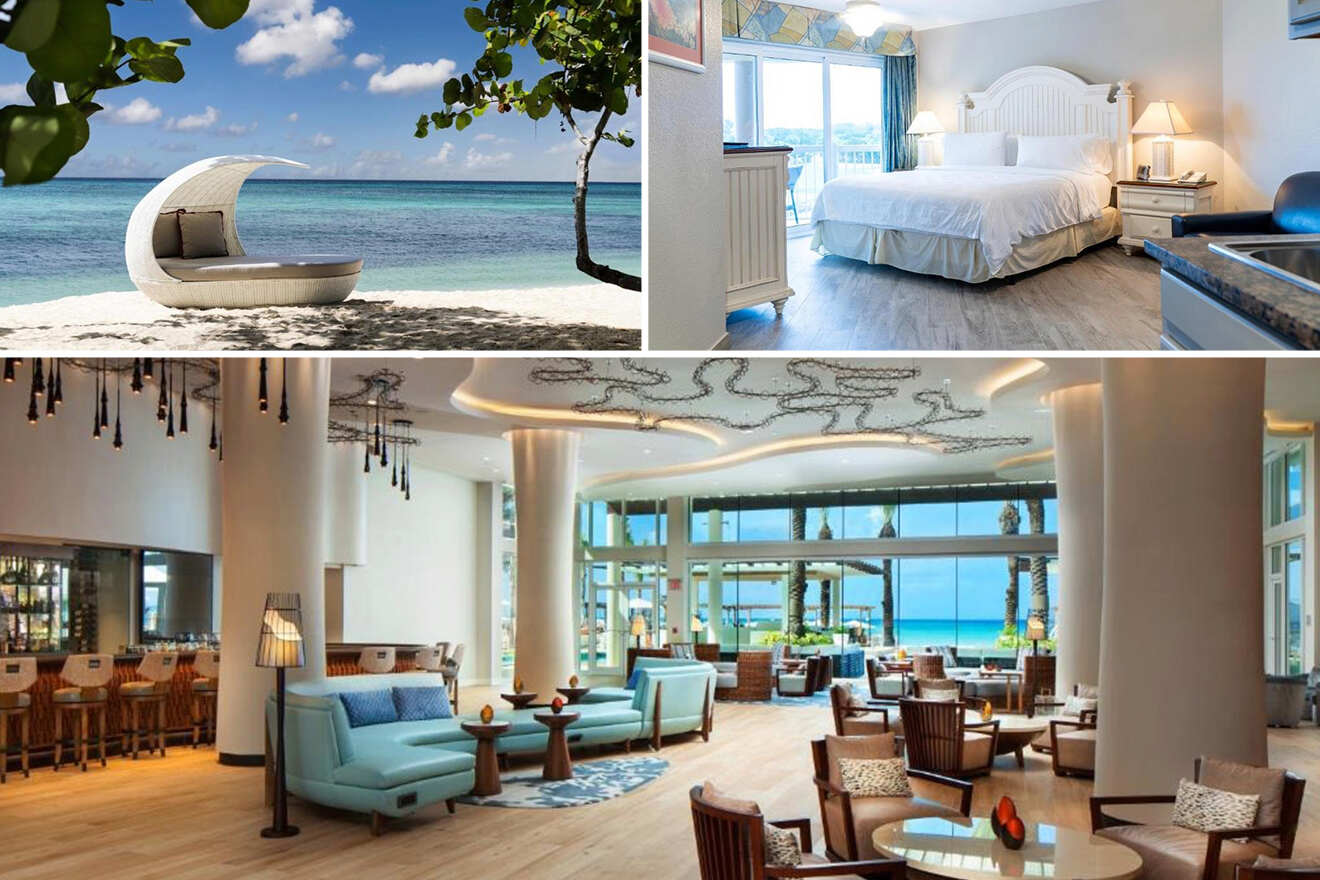 Mid Range (US$400 – US$800)
Things to do in West Bay
3. North Side & East End – best place for luxury on a budget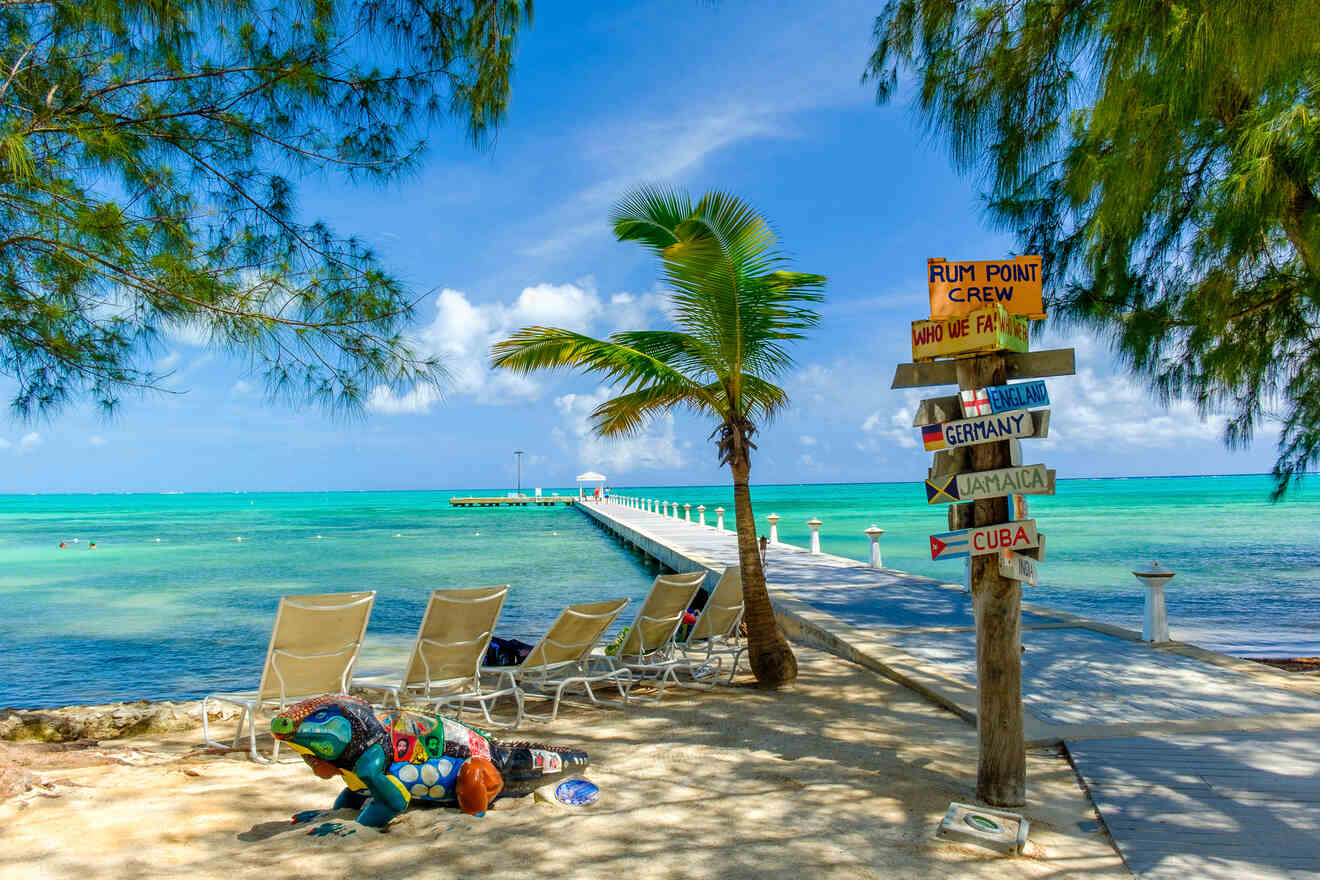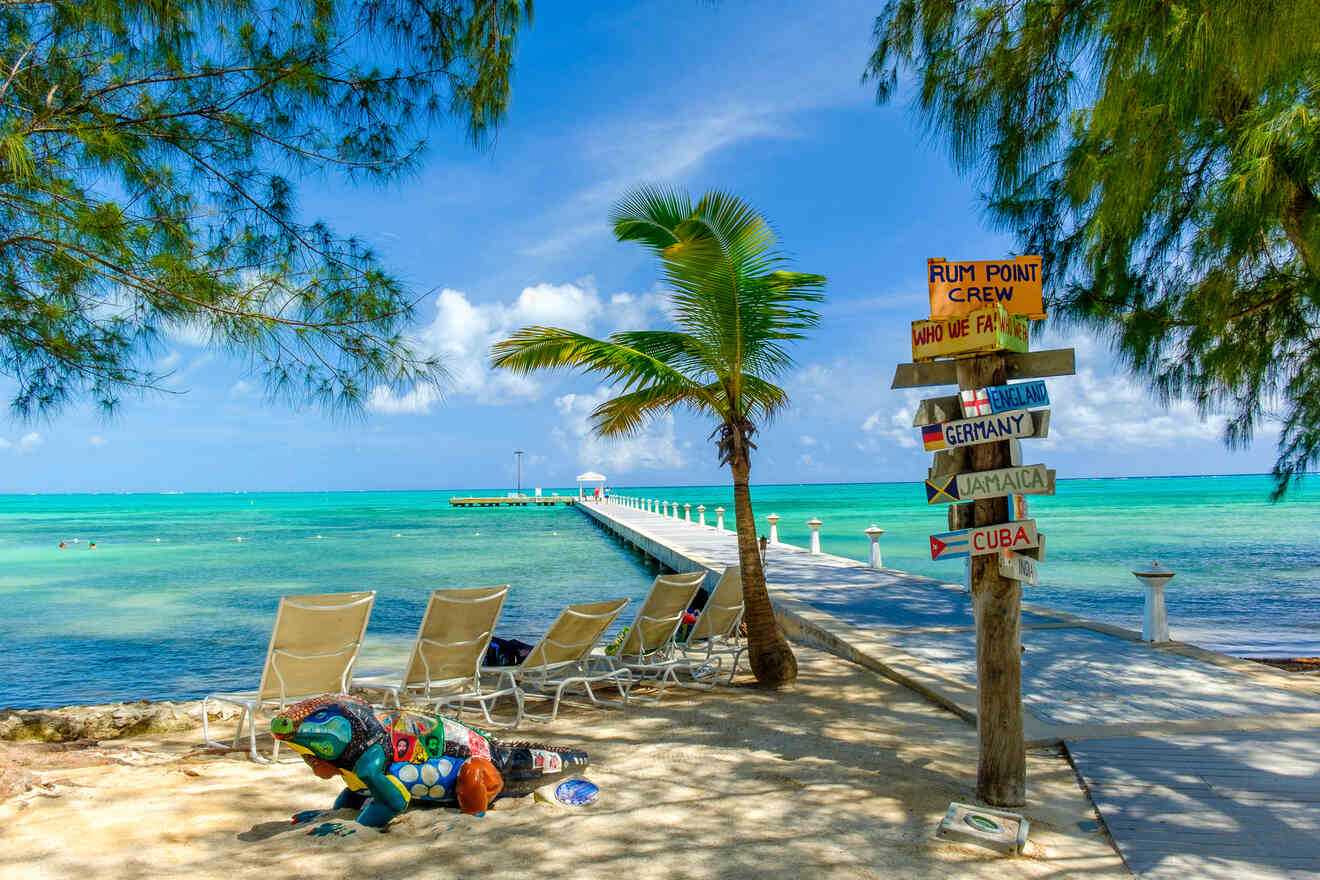 The East End & North Side of Grand Cayman Island are the perfect choice if you're traveling on a budget but still want the luxury amenities. If you are looking for a more secluded beach vacation offering beautiful blue waters, colorful tropical fishes just a few feet away from the shores, and very few people around you… this feels like a true paradise!
Here you can discover so many unspoiled beaches where you can have picnics in total peace in front of incredible sea views, otherwise, there are several very good restaurants along the coastline. But if you're looking for some excitement, you'll also be spoiled for choice with countless water sports and dive sites, available on the beaches.
Rum Point, located on the picturesque north side of the island is famous for its laid-back atmosphere and is the ideal spot for swimming, snorkeling, or just relaxing on the beach hammocks or under shady trees.
Being less-developed than Cayman's western side, East End maintains a small neighborhood feel, and is home to some of the friendliest residents on the island! Everything you need to disconnect with the world and reconnect with yourself!
The only good accommodation I found here is mid-range/budget-friendly however you will get more for your money here than in the other areas! I have listed them here in price order from most to least expensive under US$400: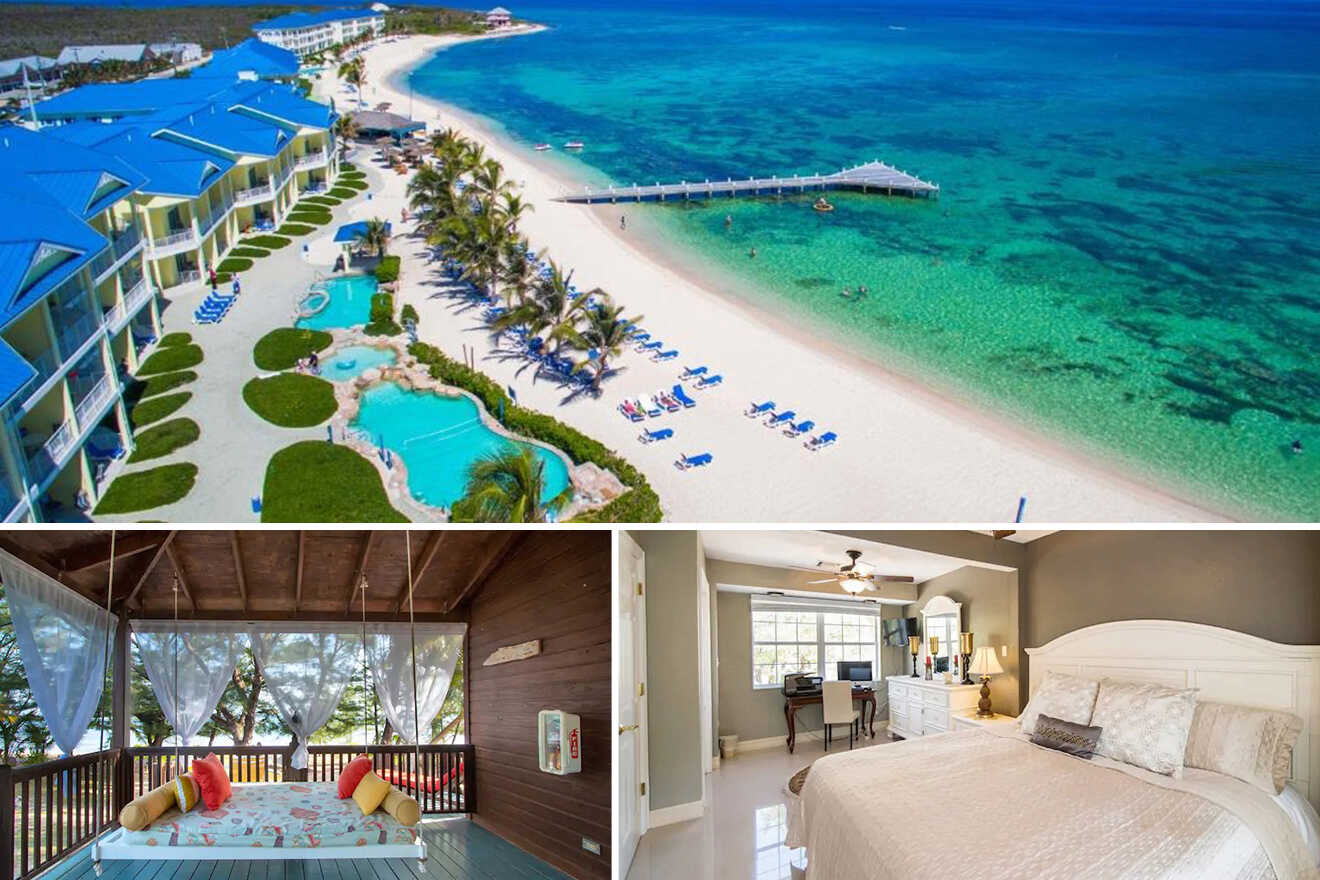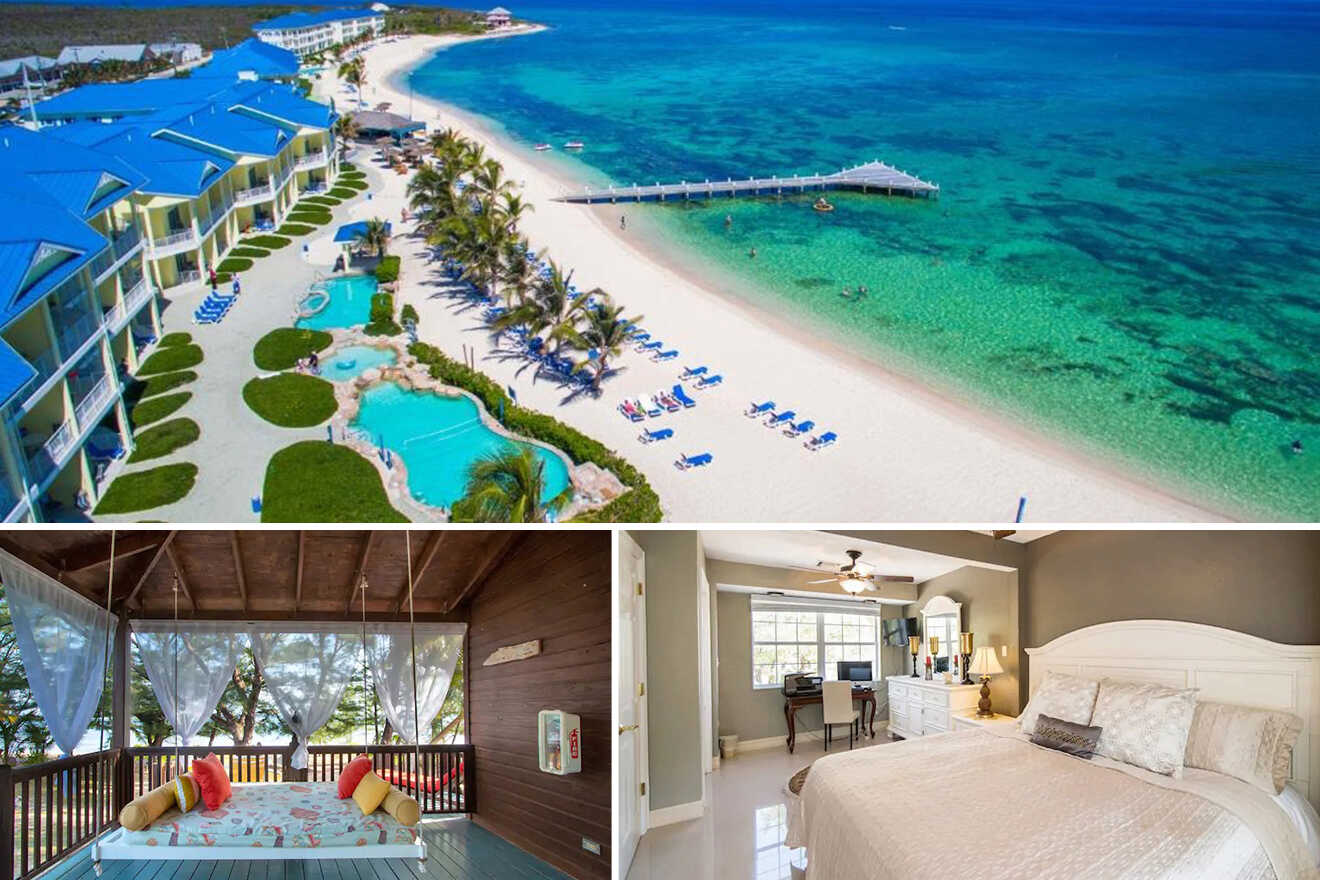 Budget (under US$400)
Things to do in North Side & East End
BONUS: The Best Holiday Homes in Grand Cayman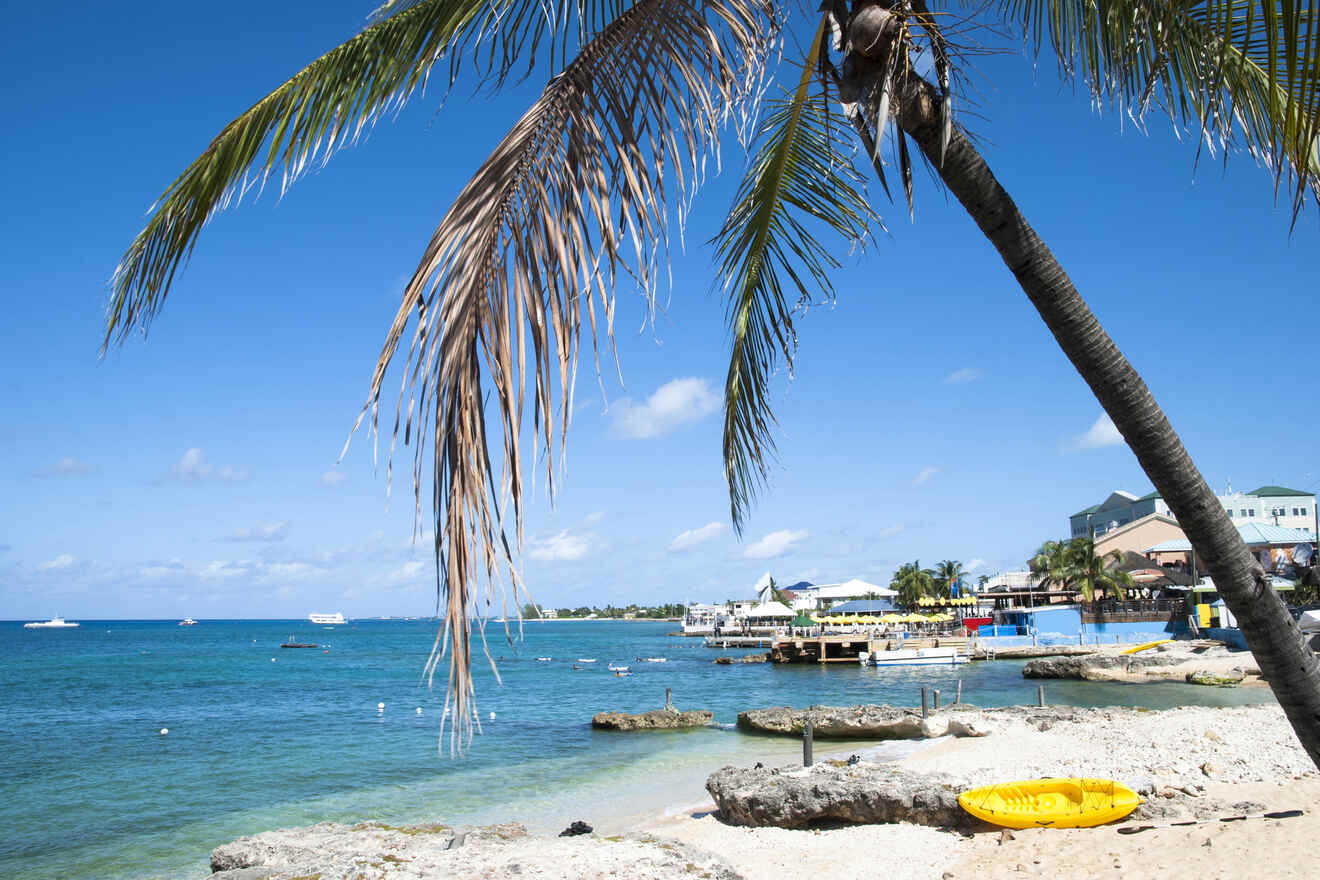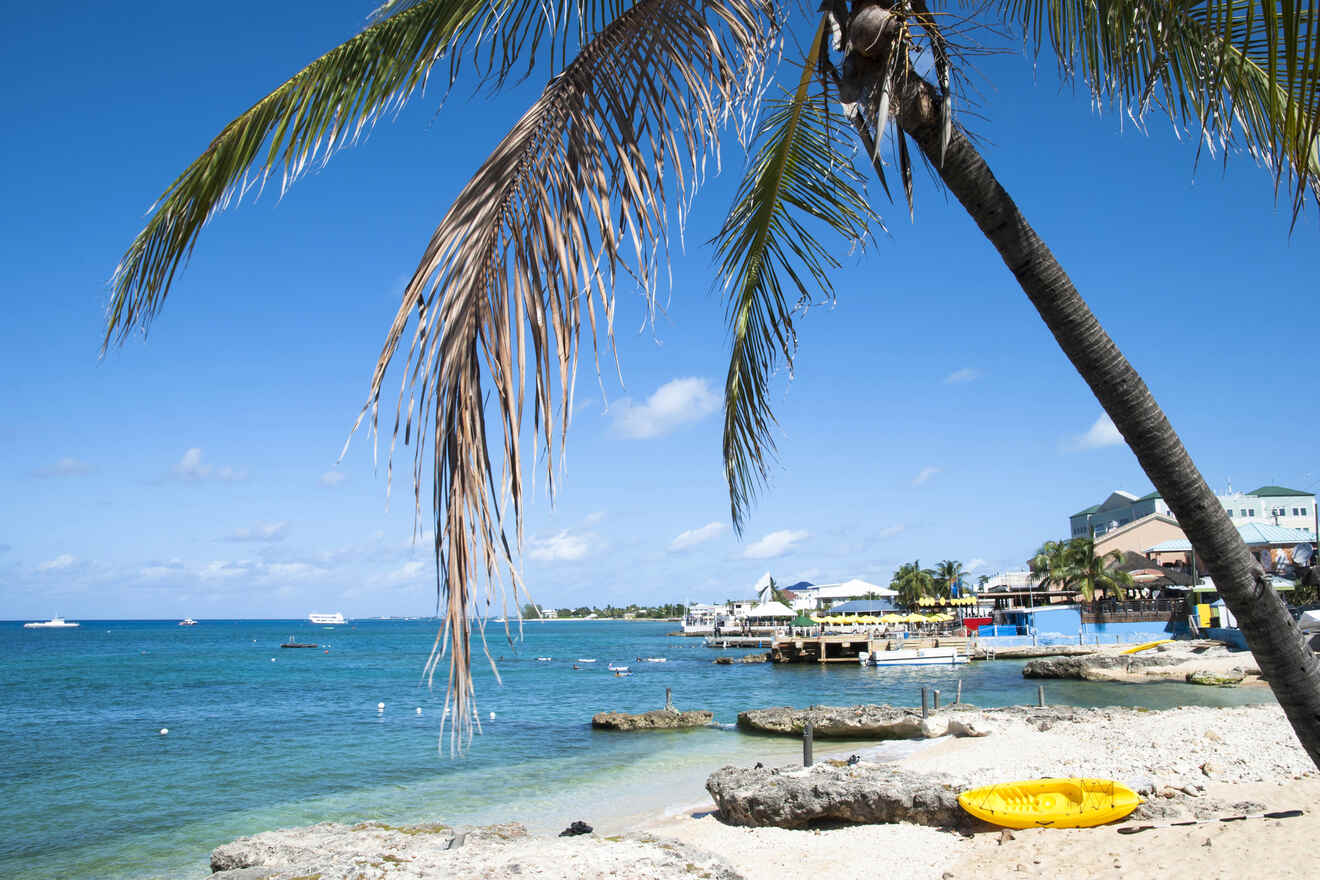 If you are the type of person who loves to keep the privacy and comfort of having your own space on a holiday, then you should opt for an amazing VRBO or Airbnb! There's nothing better than to share some quality time with your family, friends, or couple in dreamy houses while also saving some money.
Grand Cayman offers beautiful holiday homes right on the beach, where you can start your day with a view of the ocean, breathing the sea breeze while having breakfast, or splashing into the crystal clear water of the Cayman Islands! Sounds like a dream… but you can make it come true!
Let's take a look at these incredible options: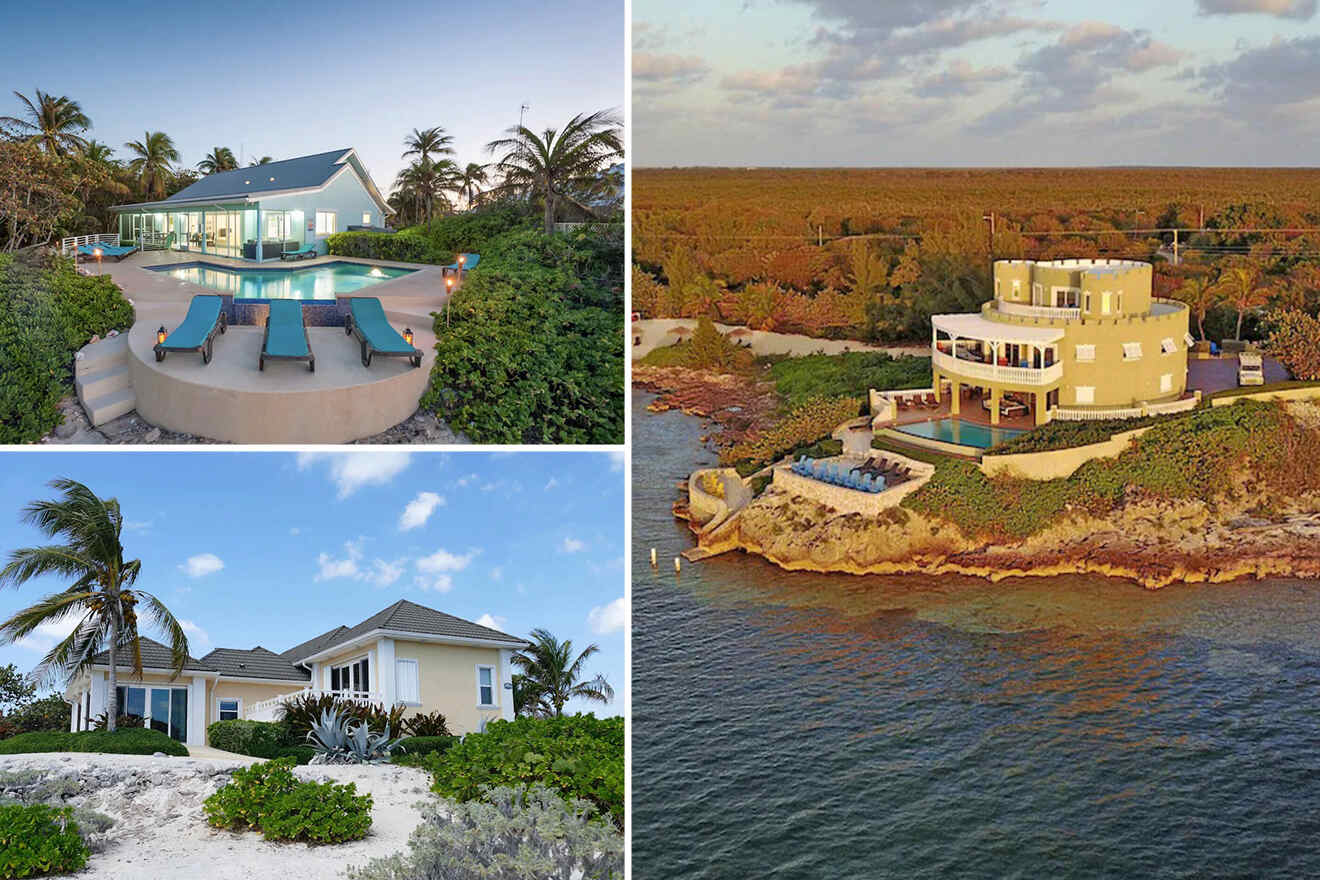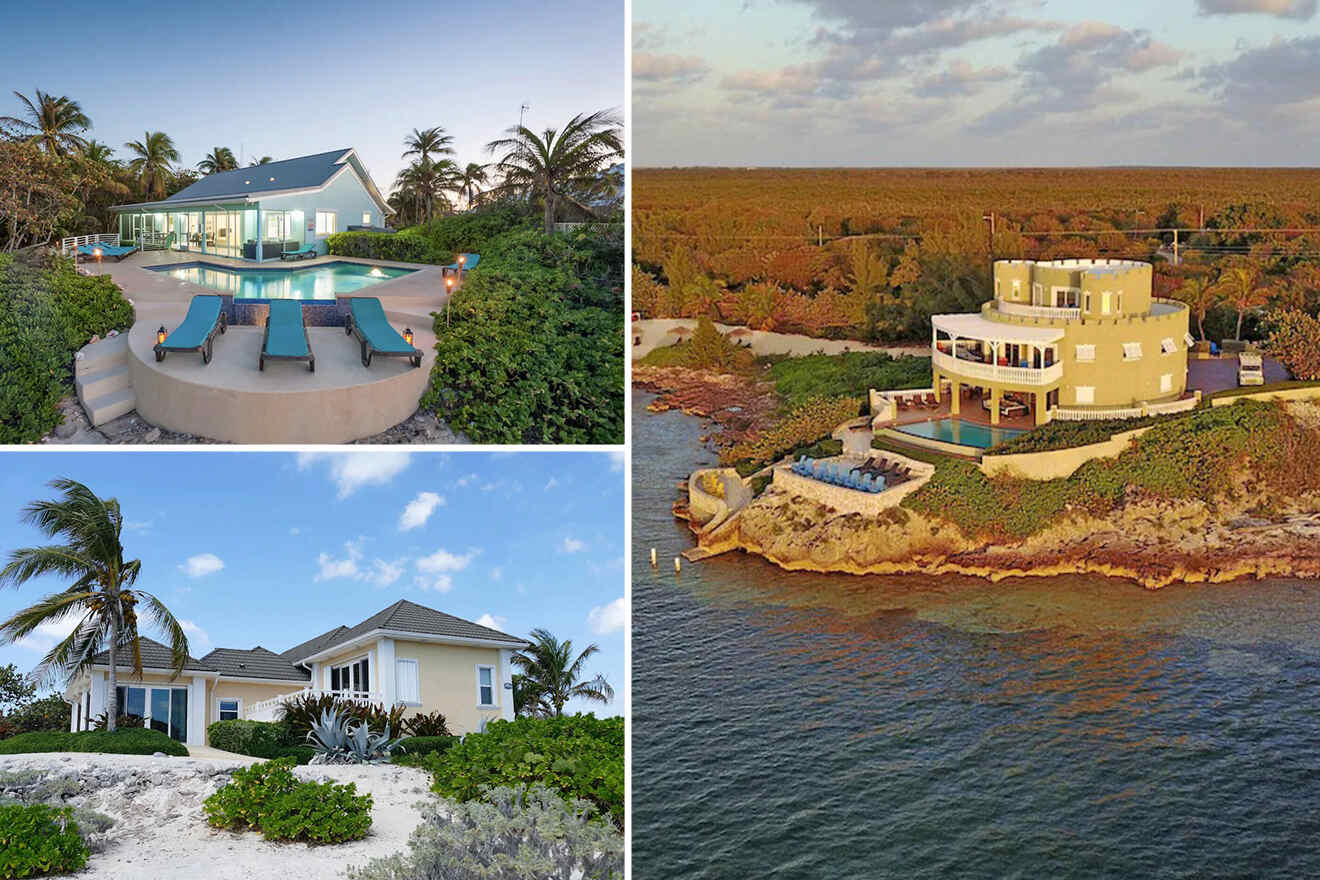 Luxury: Calypso Blue – Luxurious and modern oceanfront villa nestled in the beautiful and peaceful North Side of Grand Cayman, hosting up to 12 people! Enjoy the beautiful views of the sparkling Caribbean Sea and sunsets from your saltwater infinity pool and go snorkeling in the coral reef just out the back door!
Unique: Cayman Castle – Do you want to feel like a king? Then this breathtaking Guesthouse is what you need! With two private infinity pools, multi-tiered oceanfront terraces, a panoramic veranda balcony, you and your friend will have plenty of space to spread out! Located directly in front of the ocean, it will give you access to a wide white-sandy beach with fabulous snorkeling, kayaking, and sunbathing.
Families: Private Villa – This beautiful family villa right on the water was rated 7th best in all the Cayman Islands! Located on the quiet east end of the island, you will have access to many delicious restaurants and stunning beaches, where you can assist turtles coming out from the nests! Cool down and relax on the great pool deck or gazebo, with one of the best views of the ocean.
Budget: Gorgeous Vacation Apartment – Cozy and spacious apartment in a tranquil area of Georgetown, with a perfect location close to the best shops, restaurants, and beaches. Prepare a delicious breakfast in the fully equipped kitchen and sleep in the comfy beds of your nice room!
Frequently asked questions about lodging in Grand Cayman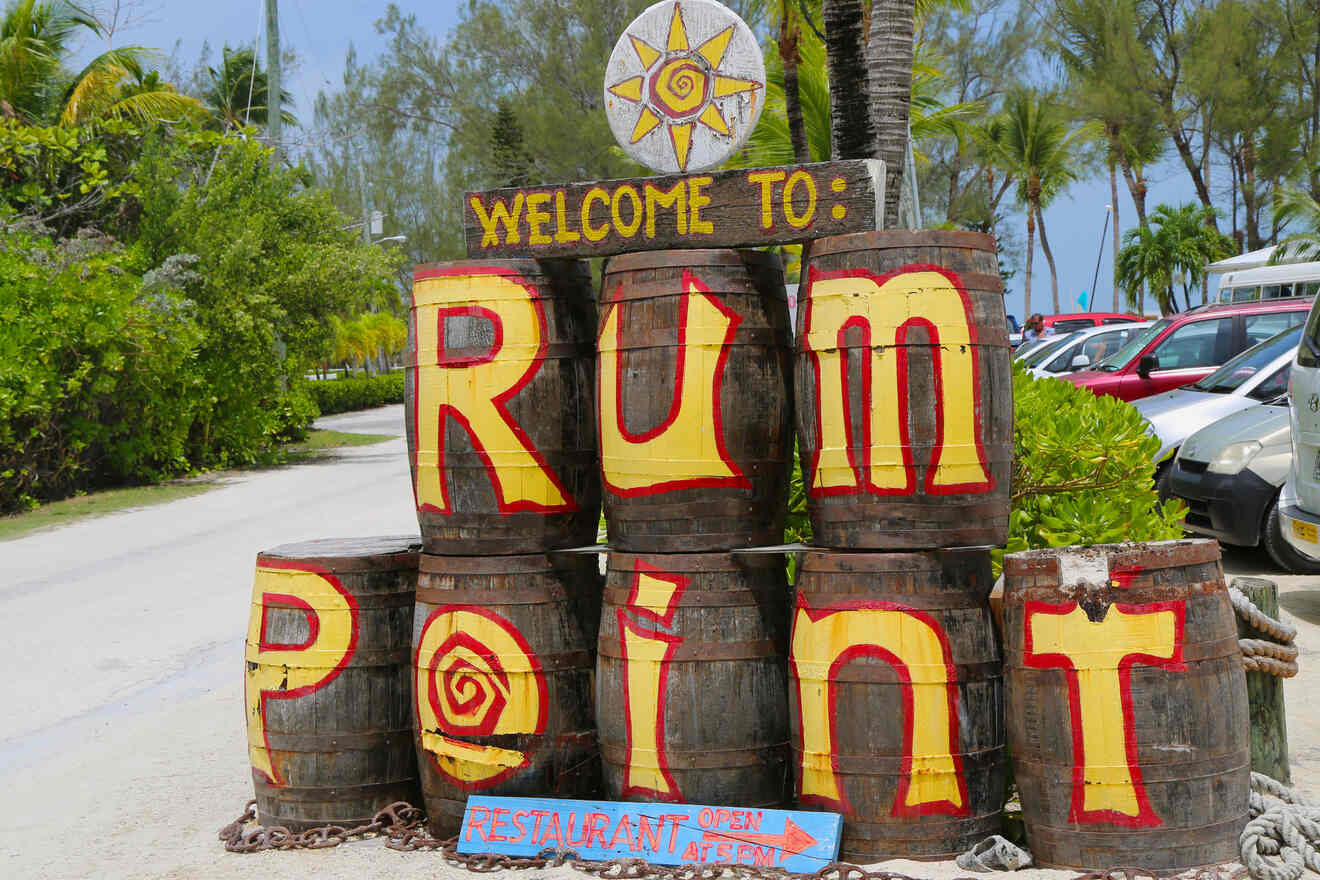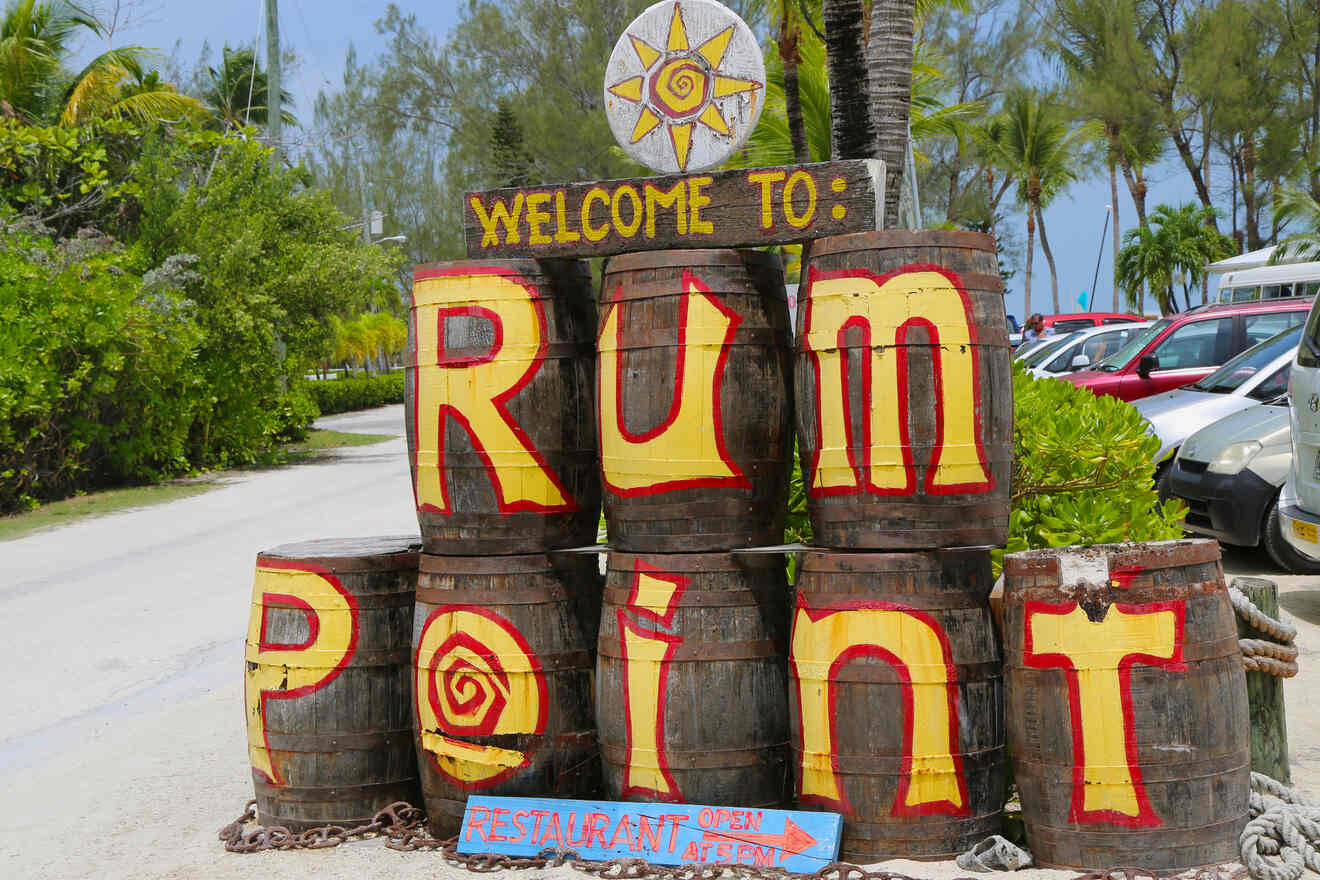 🏙️ Which is the best place to stay in Grand Cayman, Cayman Islands?
👪 Where to stay in Grand Cayman, Cayman Islands, with the family?
💰 Where to stay in Grand Cayman, Cayman Islands, on a budget?
The best place to stay in Grand Cayman on a budget is the North Side and East End. Stay at the budget-friendly Wyndham Reef Resort, featuring swimming pools and tennis courts, or Ruby's Hibiscus, located in a picturesque fishing village of East End
☀️ What is the typical weather like in Grand Cayman during the summer months?
Grand Cayman experiences warm and humid weather in the summer, with temperatures averaging around 85-90°F (29-32°C) and occasional afternoon rain showers.
📸 What are the best things to do in Grand Cayman?
The best things to do in Grand Cayman are having a long walk at the beautiful Seven Miles Beach, doing some activities and excursions such as rock climbing, jet skis, snorkeling, or visiting Starfish Cay, in the East End.
Which part of Grand Cayman is best for couples looking for a romantic getaway?
Conclusion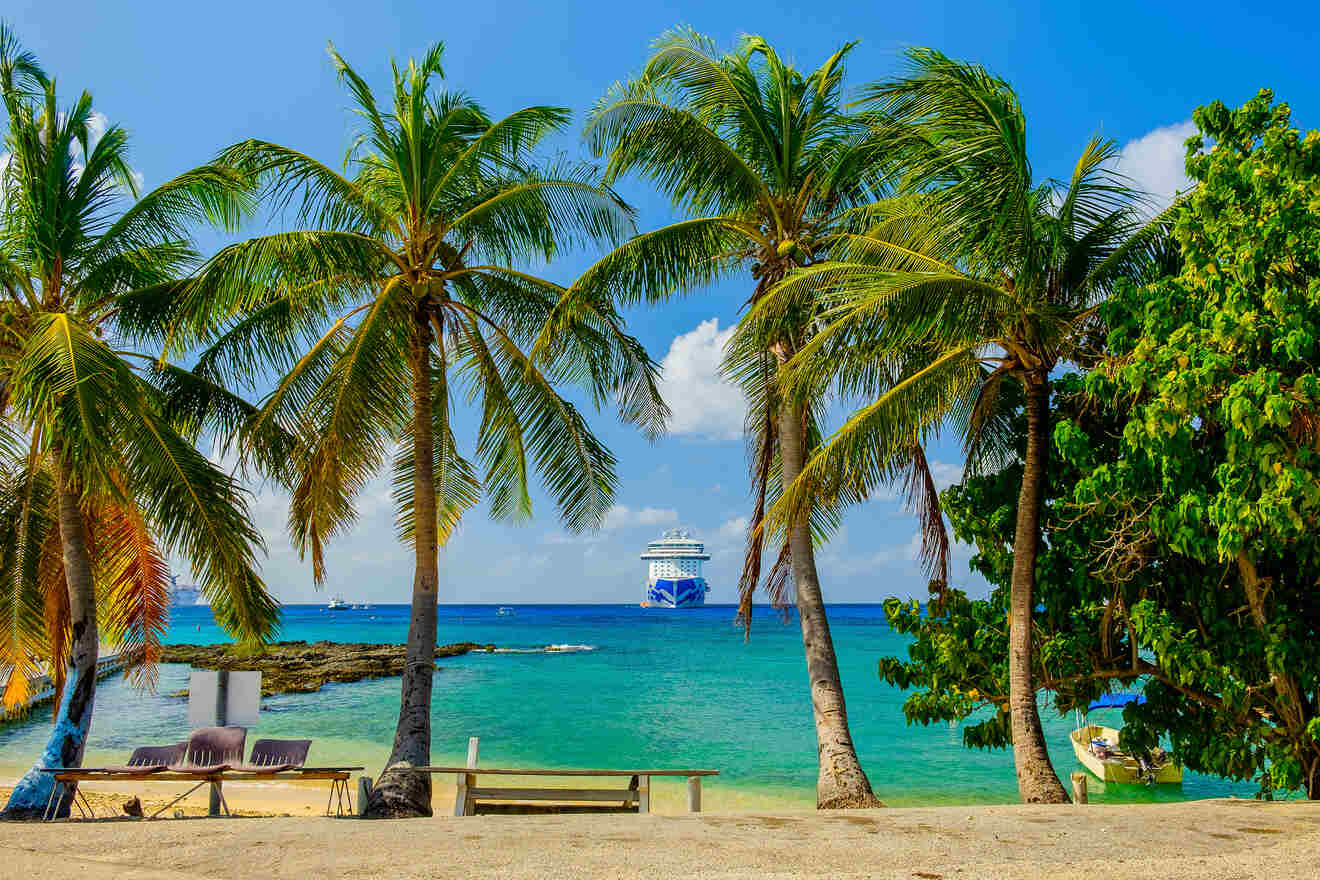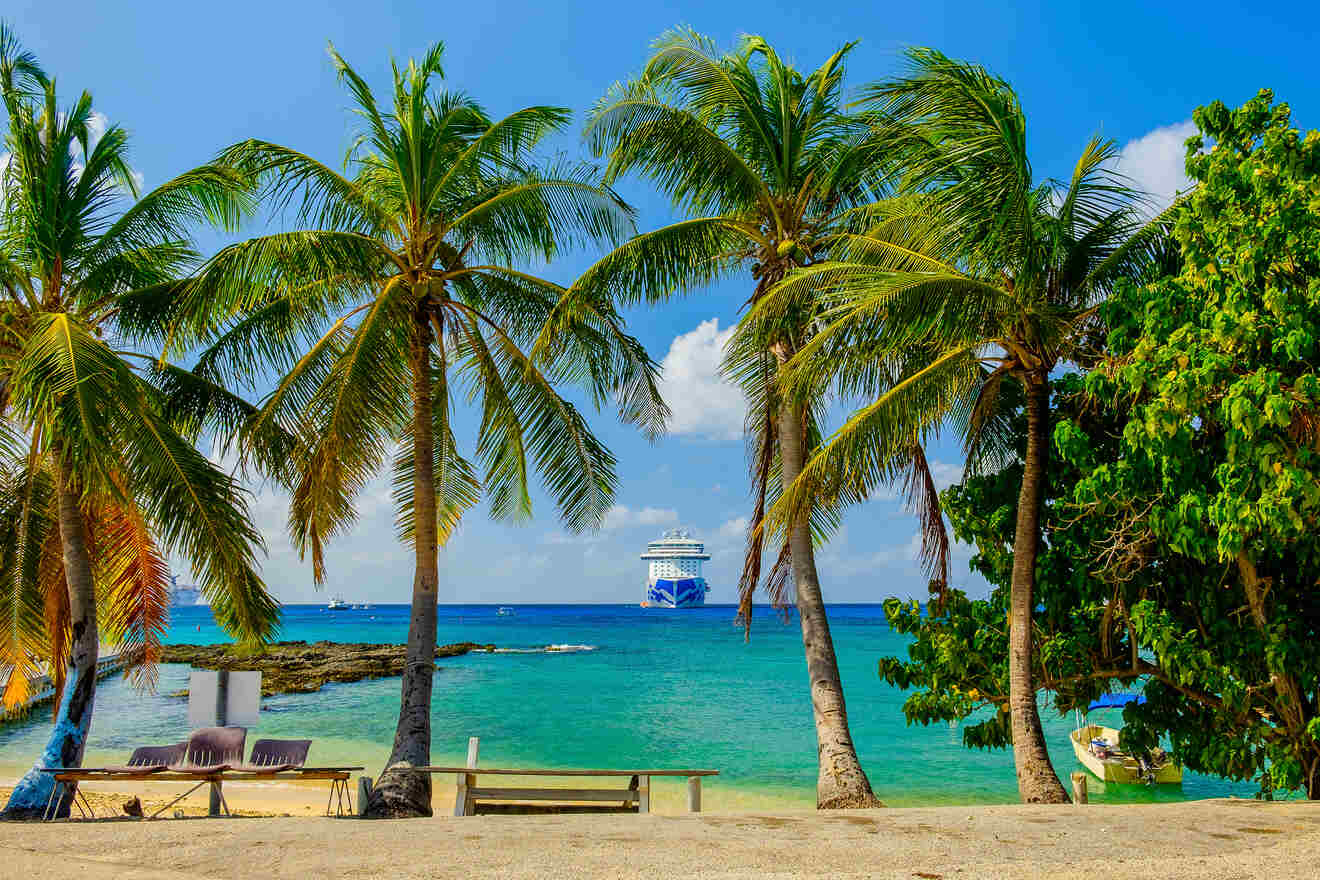 We came to the end of our sunny vacation through Grand Cayman, the biggest of the Cayman Islands, where you'll find world-class diving and unreal beaches.
Each of its areas is unique and offers activities and accommodations for different tastes and budgets: Seven Mile Beach with luxury resorts, the exclusive and quiet West Bay area, and the more affordable Northside and East End, for a secluded beach vacation!
Still cannot make up your mind on where to stay in Grand Cayman? Let me give you my 2 favorite hotels with a great central location and the best value for money. But make sure to book fast, as the best hotels here go fast!
I really hope you had fun reading my guide as much as I enjoyed writing it, and I am sure it will help you find the perfect place for your budget and holiday expectations! But if you haven't found what you were looking for in the article, or you wish to give me any suggestions, please leave a comment below. I'm always happy to receive tips from travelers like me and I'm looking forward to reading them and answering your questions!
Have an amazing trip,
Elena