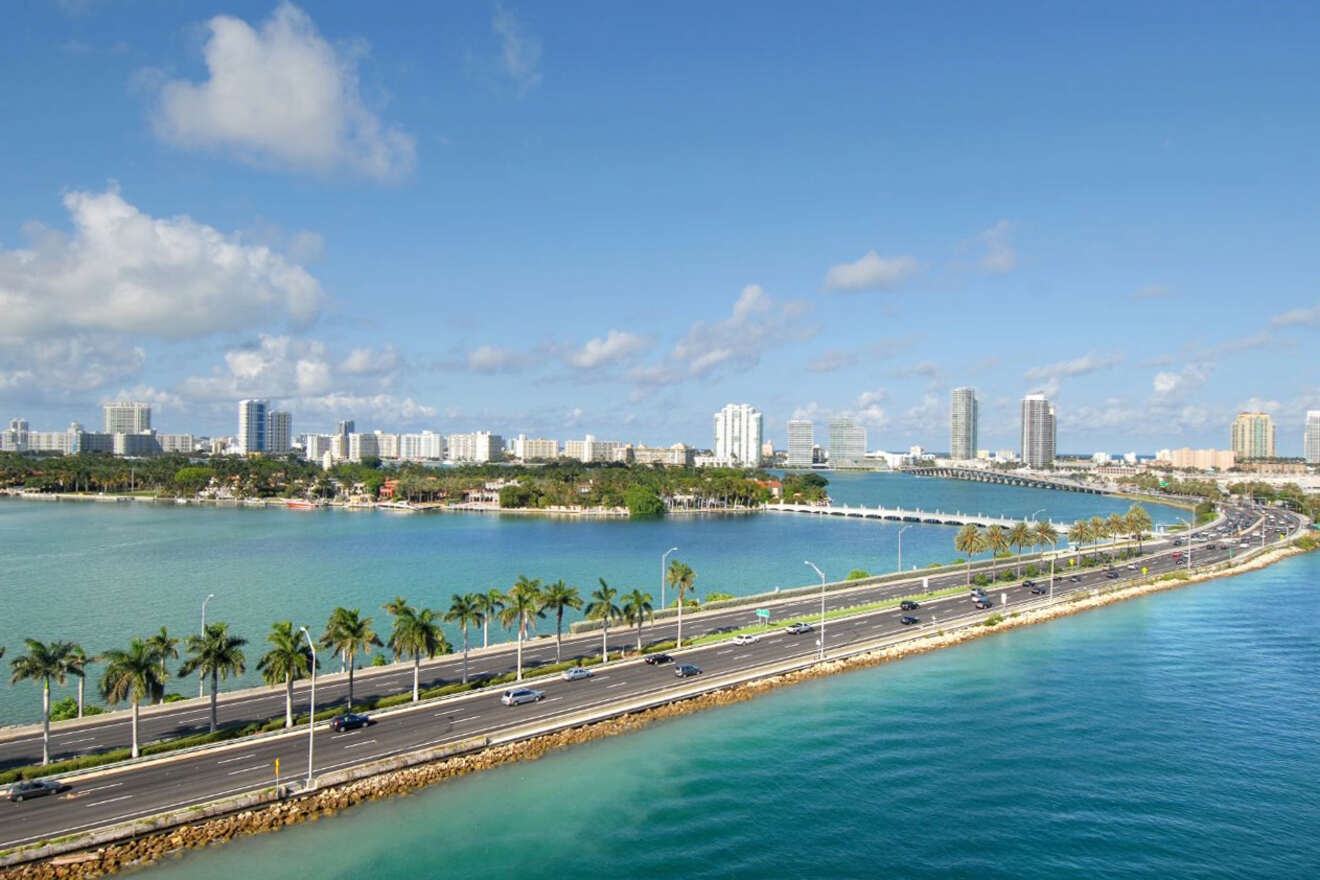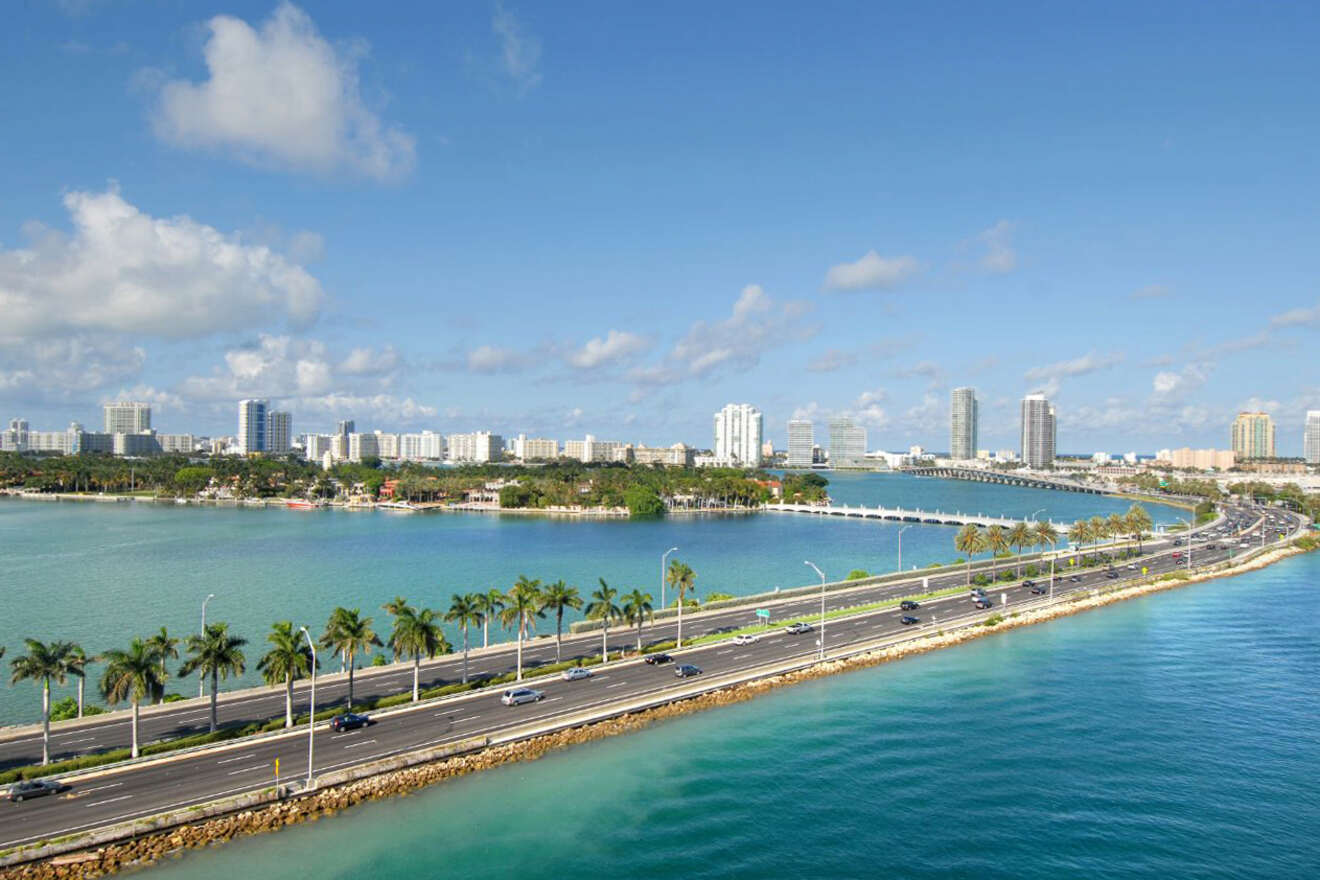 The drive from Miami to Key West is my all-time favorite road trip! Imagine the aquamarine waters on both sides of the road, sparkling in the sunshine as you make your way through the Florida Keys.
If you're planning to visit Key West, it may be tempting to fly there directly, but I promise you this Florida Keys road trip is worth every mile!
Growing up in Fort Lauderdale and visiting Key West at minimum once a year, I've driven from Miami to Key West more times than I can count, so I know firsthand how many incredible things there are to see and do (plus eat and drink) along the way!
This post will cover the best stops on the Miami to Key West drive, including breathtaking views, up-close encounters with wildlife, local eateries, popular roadside attractions, and so much more!
Don't worry – I'll also answer the most commonly asked questions about road-tripping from Miami to Key West (yes, we'll chat all about the iconic Seven Mile Bridge), so you can feel confident about your next adventure in the Florida Keys.
I'm so excited for you! Let's do this.
1. Explore beautiful Biscayne National Park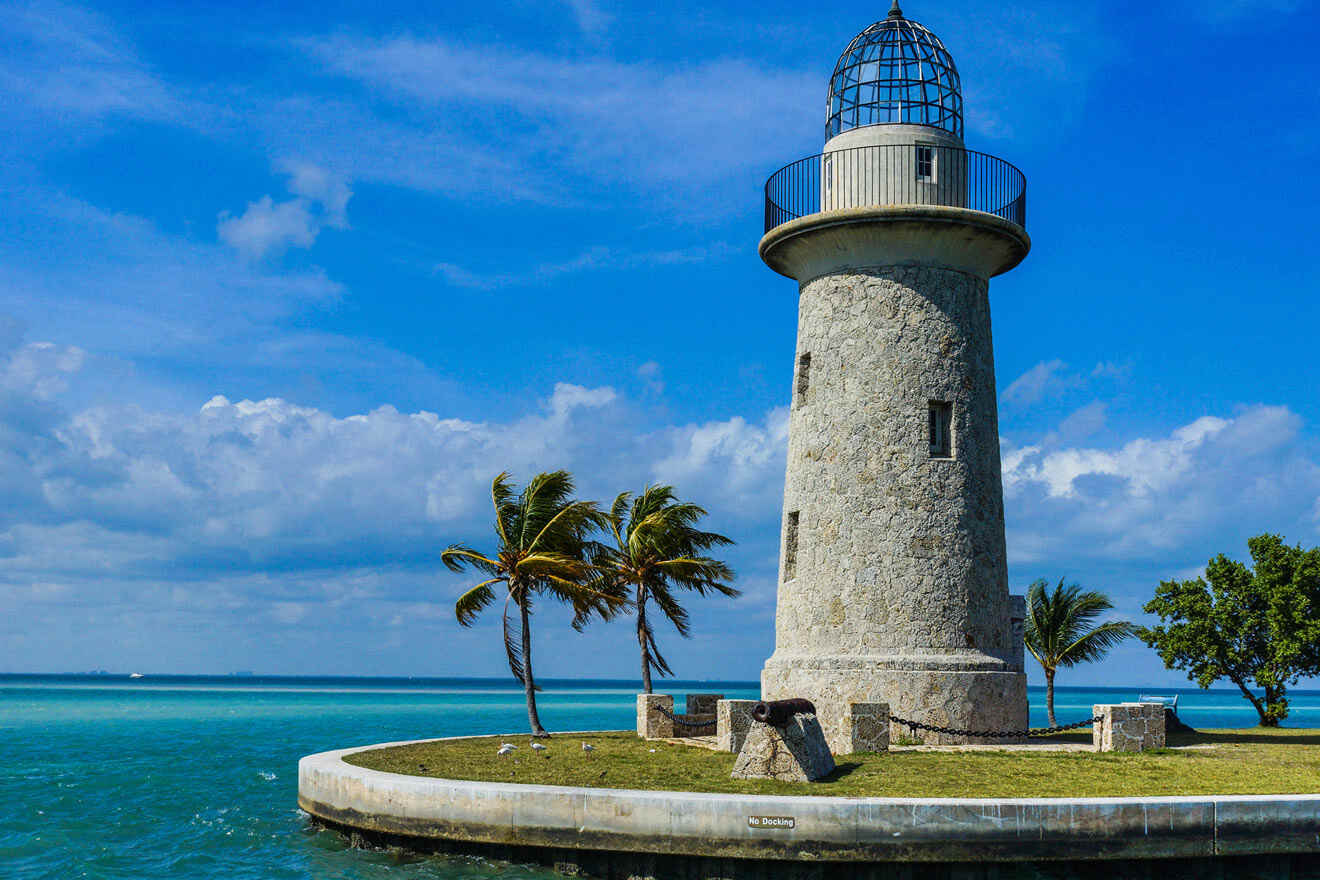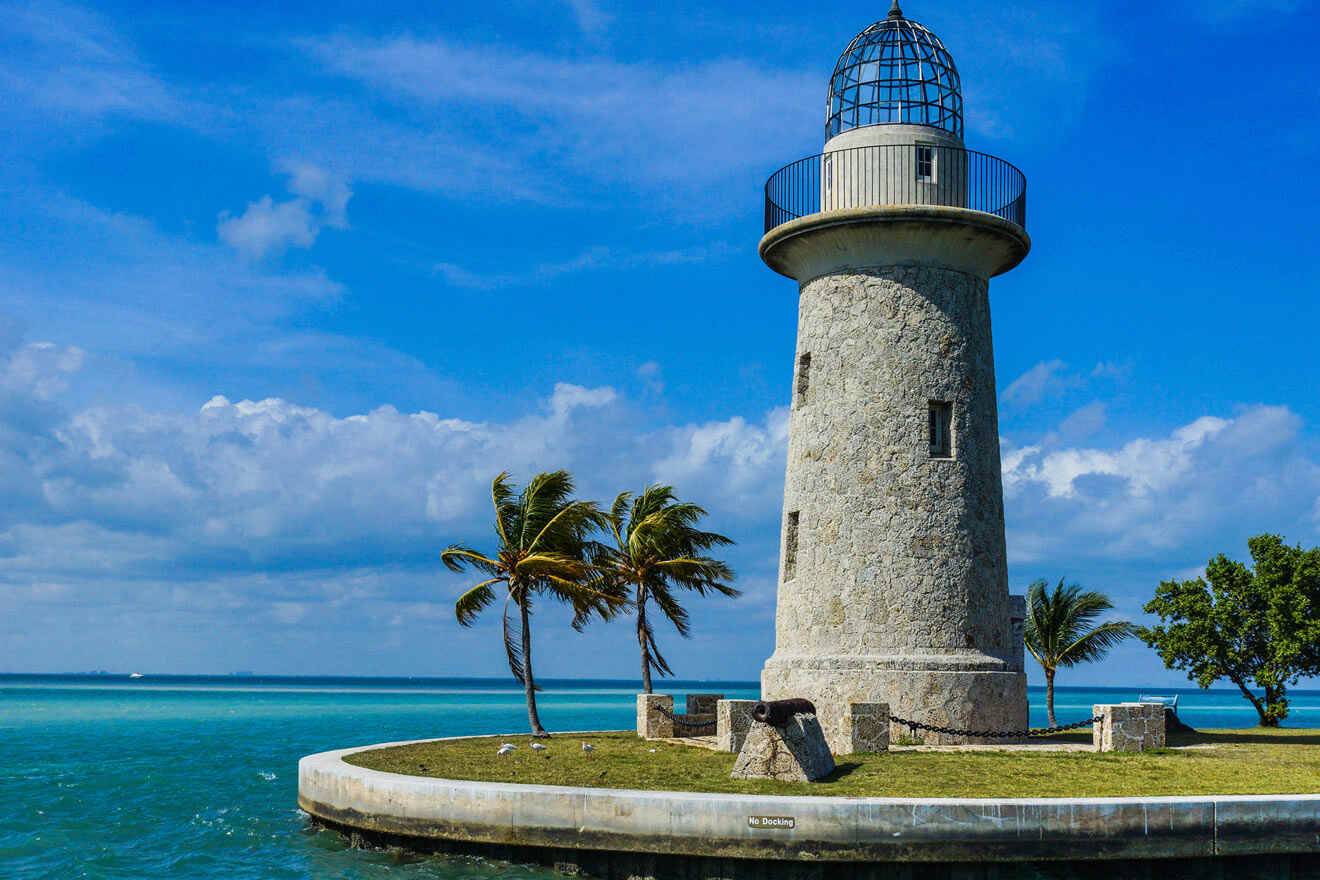 There is no better way to kick off your journey from Miami to Key West than visiting the absolutely stunning Biscayne National Park! It's 95% water, offering plenty of opportunities to explore by boating, paddling, snorkeling, or scuba diving.
I highly recommend taking one of the phenomenal guided tours conducted by the Biscayne National Park Institute, as the park's islands are only accessible by boat. Their eco-adventures get you up close and personal with the vibrant coral reefs teaming with tropical fish and even shipwrecks along the Maritime Heritage Trail!
In addition to its pristine nature and wildlife, Biscayne National Park is also the site of 10,000 years of human history! There is so much to learn and discover at this first stop on your Key West road trip.
PRO TIP: Guided tours fill up fast, so you should definitely book in advance!
PRICE: FREE entry, guided tours available for an additional price.
2. Marvel at the mystery of Coral Castle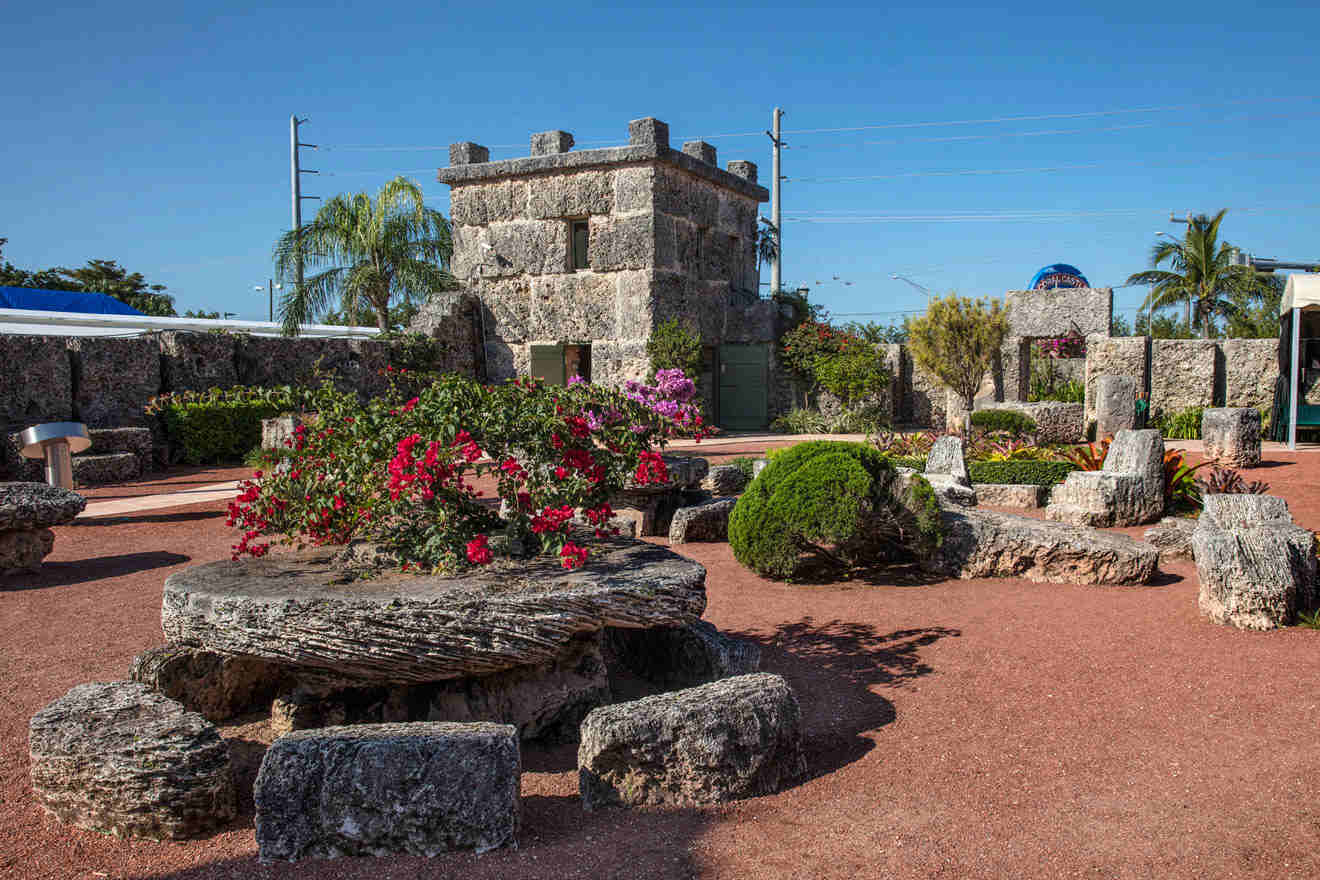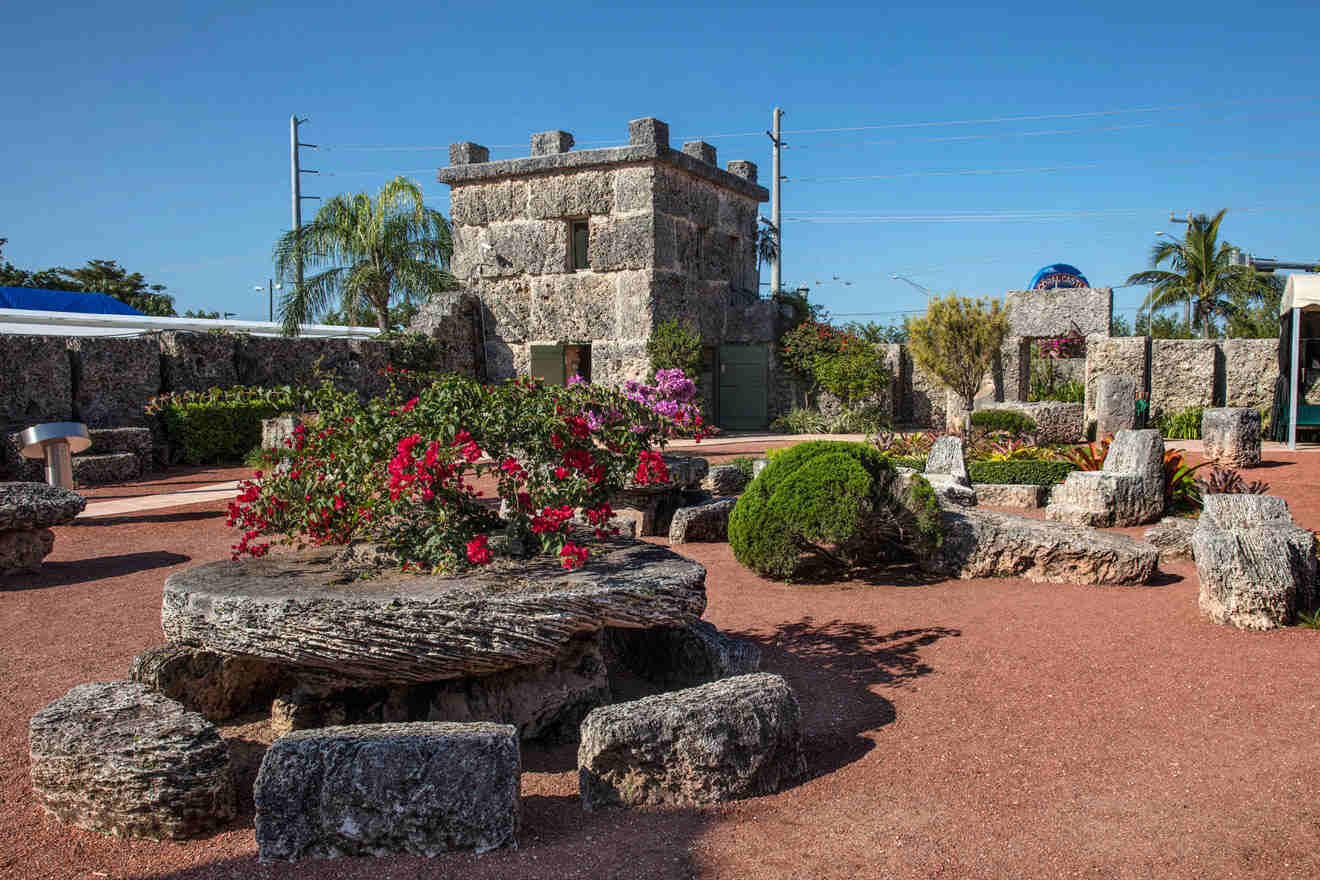 For a truly unique experience on the drive from Miami to Key West, be sure to stop at the Coral Castle Museum, one of the most unusual things you'll find on your Florida Keys road trip.
For nearly 30 years (starting in 1923), a man named Edward Leedskalnin secretly and singlehandedly carved over 1,100 tons of coral rock. The craziest part? To this day, nobody quite knows how he did it.
Edward offered a simple explanation, claiming to have learned the secrets of the pyramids. He also said that if he could learn them, so could anyone else!
Regardless of what Edward knew and where he learned it, there is certainly something magical about his feat, and it's definitely worth seeing in person on your way from Miami to Key West.
HOURS: Thursday through Sunday, 9 AM to 6 PM
PRICE: US$18 for adults, US$8 for children, and free for ages 6 and under
3. Take an airboat ride in Everglades National Park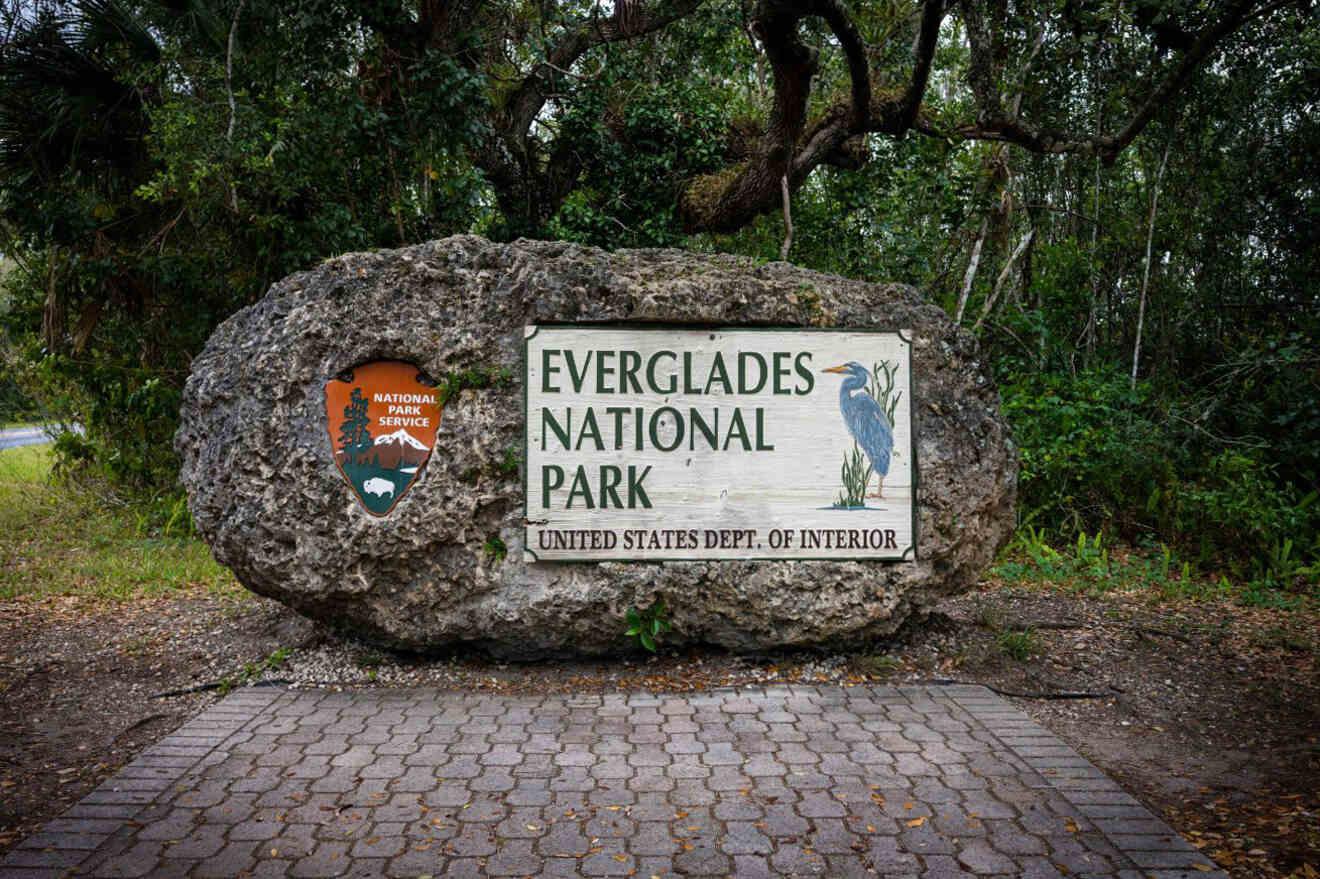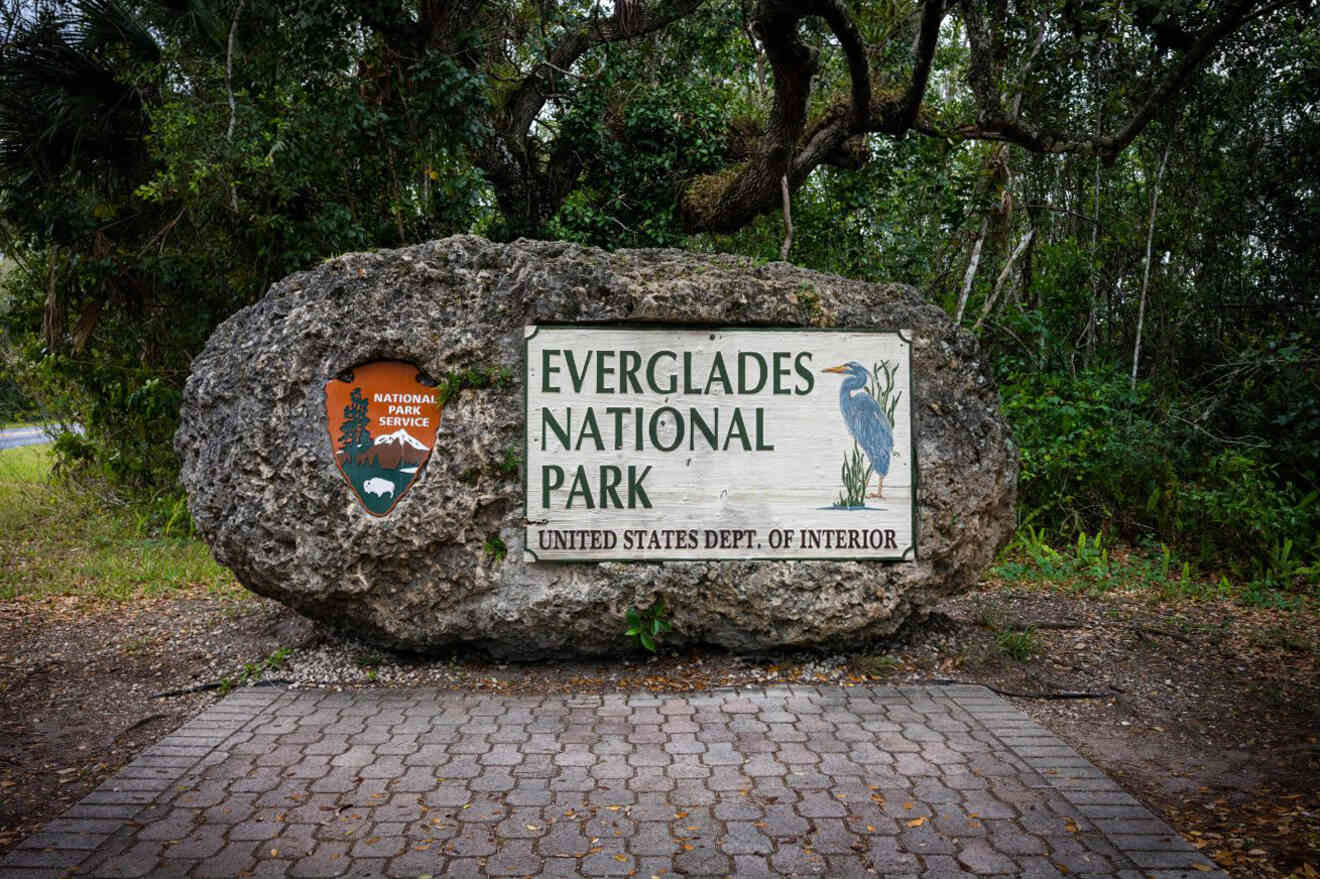 Exploring Everglades National Park isn't just a must-do for your next Miami to Key West road trip; it's a must-do for any Florida vacation! The Florida Everglades is an incredible, diverse landscape and the protected home of rare and endangered species like the West Indian manatee, American alligator, and Florida panther.
The best way to experience Everglades National Park is right on the water by airboat! This exciting, educational Everglades airboat tour and wildlife show offer an unparalleled look at the Everglades and the amazing animals that live there. Embark on a 35-40 minute expedition through the swampland and then wrap up the adventure with a wildlife and alligator show.
Airboats are very speedy, so this tour is a great option even if you're short on time and need to get back on the road to Key West once you've reached land again!
If you're traveling with little ones, make sure they're comfortable with a high level of noise, as airboats are extremely loud. I'm sensitive to noise, so I always pack earplugs – I recommend doing the same.
PRICE: US$33 for adults, US$25 for children
4. Step back in time at the Caribbean Club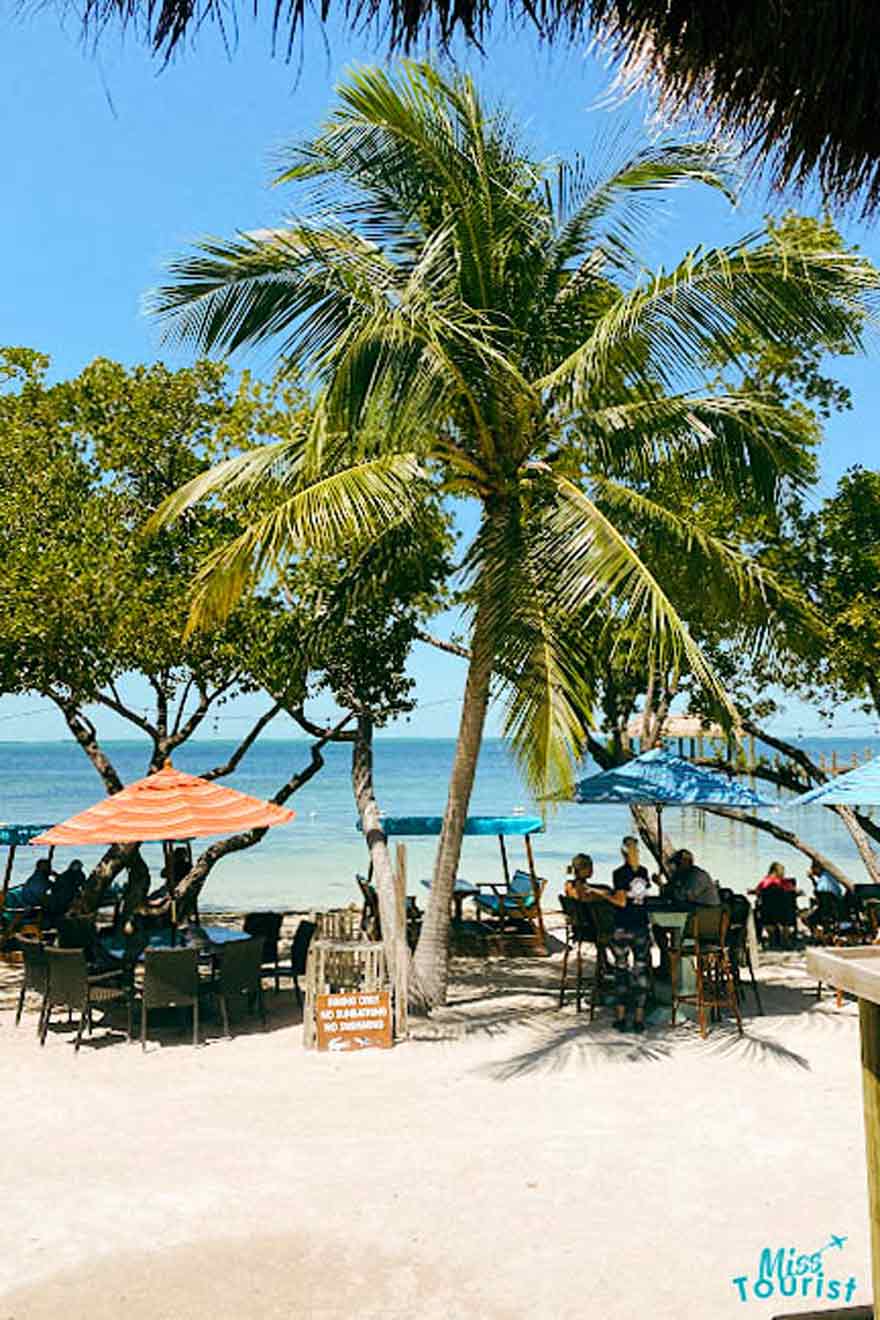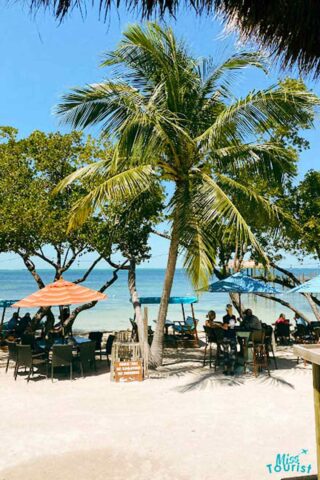 Just like that, you are officially on the Overseas Highway, one of the most scenic drives in the entire U.S.! Welcome to Key Largo.
Movie buffs and cocktail enthusiasts especially will love this one, although I think the Caribbean Club is worth checking out even if you don't fall within those 2 categories!
The Caribbean Club is the oldest bar in the Upper Keys, having opened in Key Largo in 1938. It's also a filming site for the 1948 movie Key Largo, starring Humphrey Bogart and Lauren Bacall. If that's not enough to pique your curiosity, the Caribbean Club is located right on Florida Bay, so you can enjoy their delicious drinks, like their famous Key Lime Pie Rum Punch, with spectacular views.
If you're there on an evening from Thursday through Sunday, you'll even be treated to some live music on their live stage. Feeling brave? Every Wednesday is karaoke night!
Just a quick tip: The Caribbean Club is cash only, but they do have an ATM on the property. I always try to take cash out in advance of my Key West road trip to avoid ATM surcharges.
5. Explore the coral reef at John Pennekamp State Park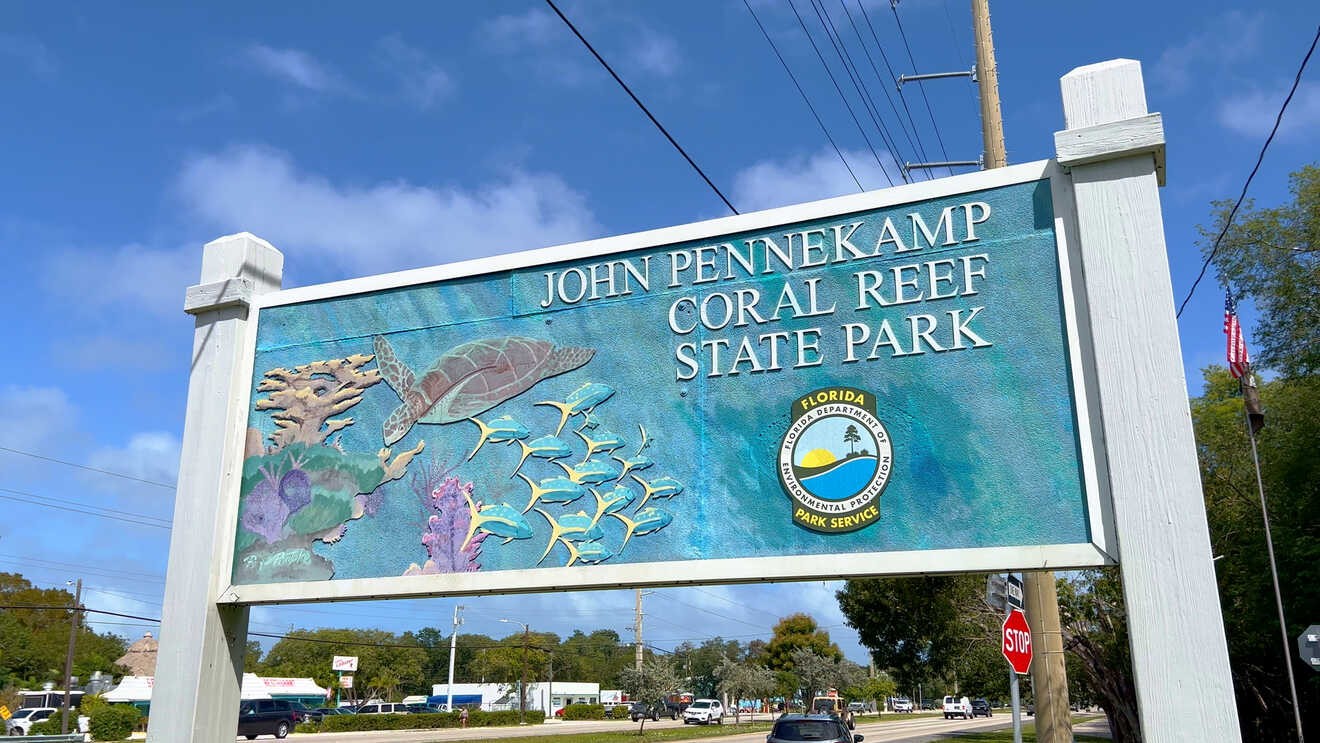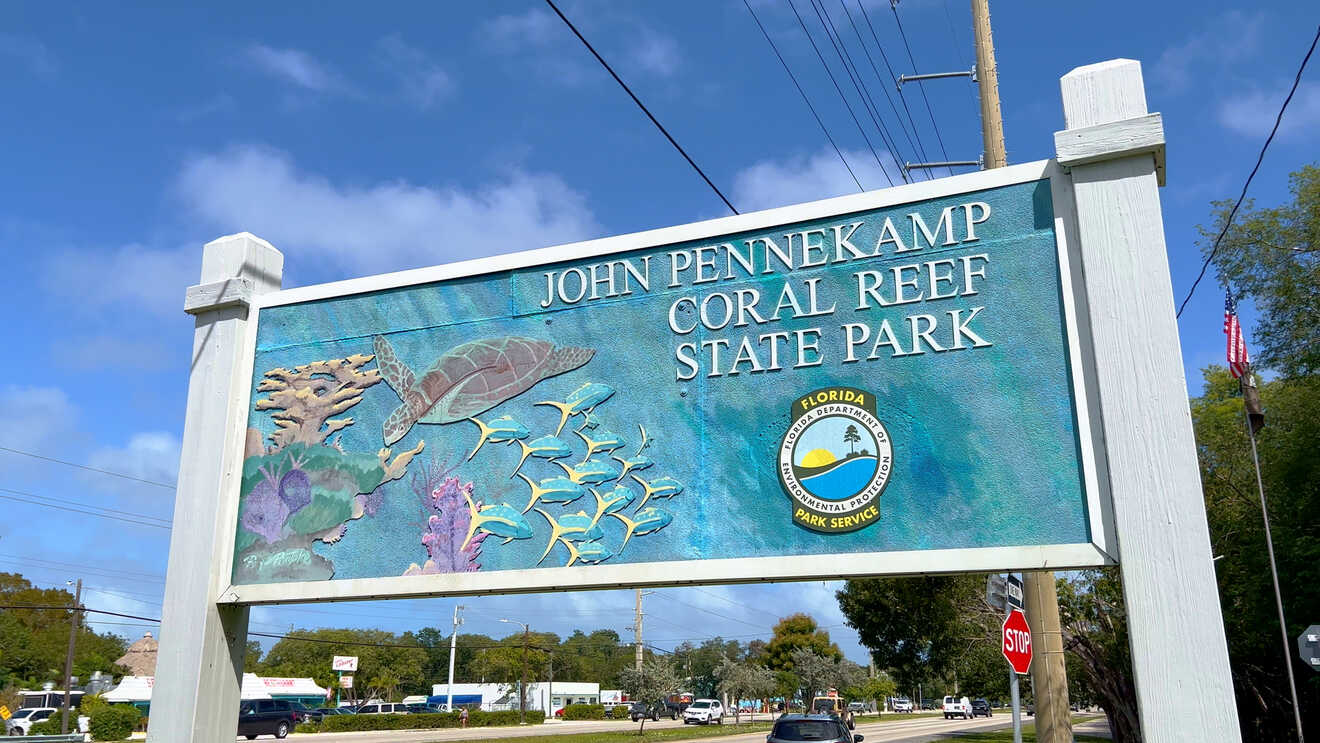 The Sunshine State is home to many undersea parks, but John Pennekamp State Park in Key Largo was Florida's very first, and today remains a popular destination for tourists and locals alike. This beautiful park was established to protect part of North America's only living coral reef, which is also the 3rd largest coral reef system in the world.
You can explore the wonders of the reef in several different ways, whether you prefer to paddle, dive, snorkel, or take a glass-bottom boat tour. Personally, I love to snorkel and highly recommend this snorkel tour in the state park, where you'll explore 2 shallow reefs and meet the colorful, tropical wildlife that inhabits them.
For those who would rather explore on foot, John Pennekamp State Park has 3 excellent nature trails in different habitats, including my favorite: the mangrove swamp! No Key West road trip is complete without a stop here.
PRICE: US$70 per person
6. Cruise on the iconic African Queen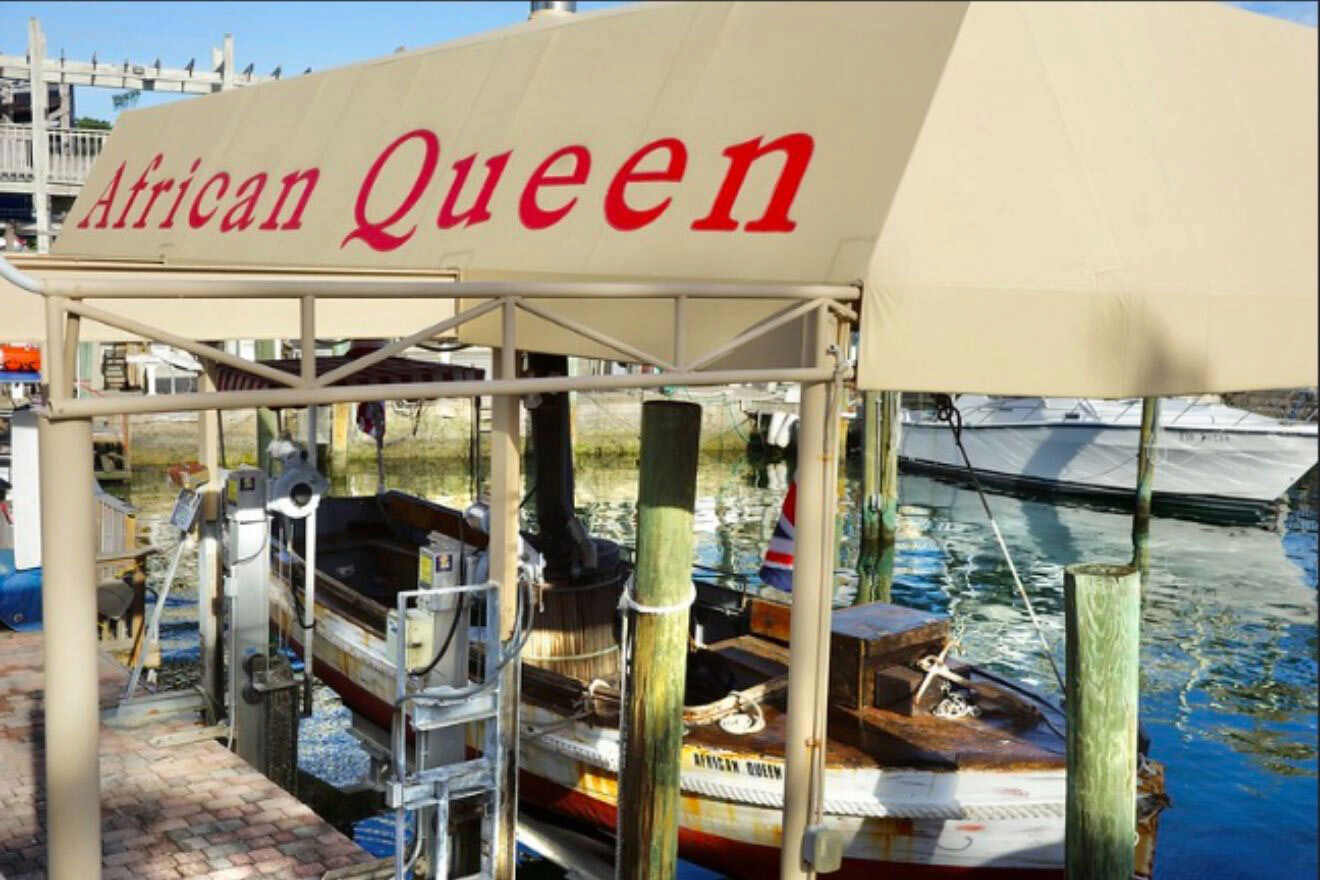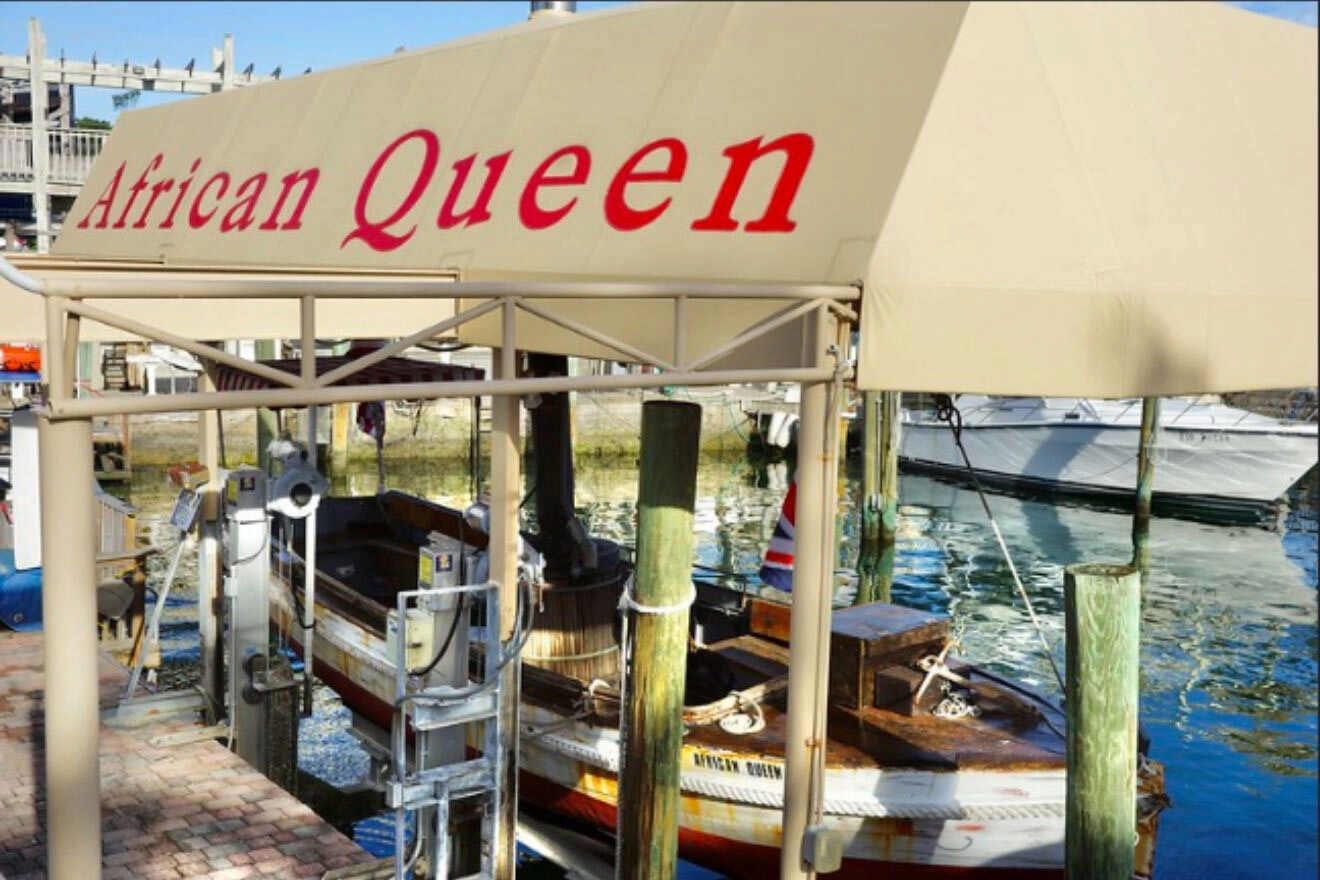 The Florida Keys have a surprising amount of Hollywood history to be uncovered, and a cruise on The African Queen is an excellent way to do so! This iconic steamboat is from the 1951 movie, The African Queen, starring (yet again) Humphrey Bogart and Lauren Bacall.
After working overseas and in the United States, The African Queen was given a permanent home in Key Largo, where it is registered as a National Historic Site. You can depart on a beautiful 1.5-hour canal cruise aboard this legendary boat and enjoy a comfortable, relaxing sightseeing tour. It's a wonderful excuse to get out of your car in Key Largo and leave the driving to someone else!
Canal cruises on The African Queen operate daily at the following times: 10 AM, 12 PM, 2 PM, 4 PM, & 6 PM. They fill up fast, so be sure to book your cruise in advance.
PRICE: US$60 per person
7. Visit the History of Diving Museum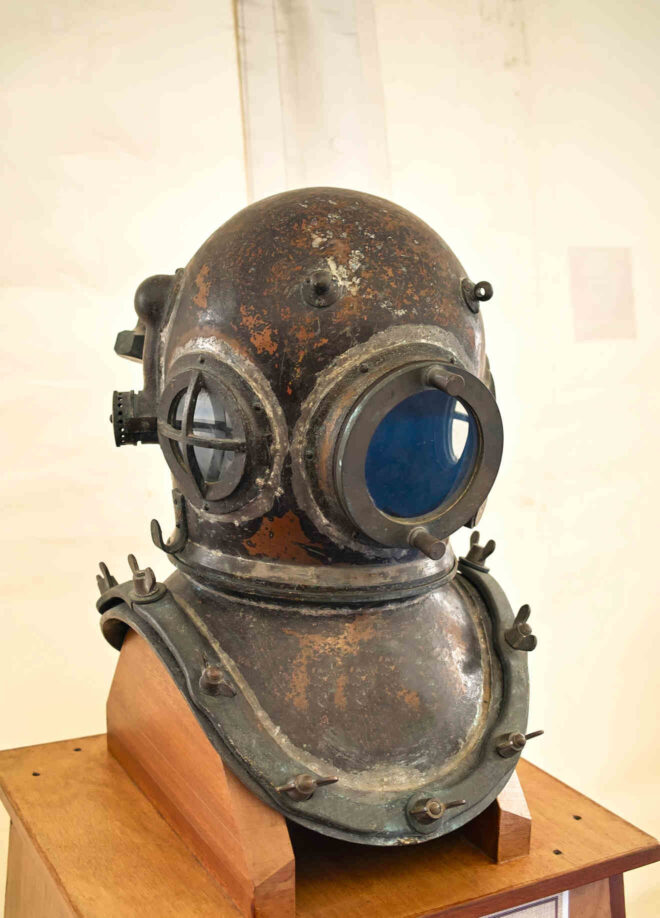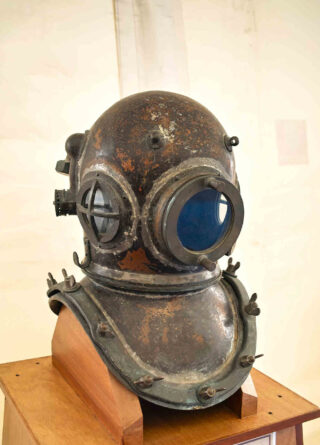 Look, I am in no way a scuba diving enthusiast. In fact, I'm actually terrified of it together. But somehow, the other side of that fear is fascination: diving really is one of the coolest things! As it turns out, diving is even cooler than I could have imagined – my visit to the History of Diving Museum was absolutely worth it!
Check out one of the world's largest collections of diving helmets, hand-operated air pumps, armored suits, lights, other accessories, memorabilia, and media. The founders, Drs. Joe and Sally Bauer spent a whopping 40 years acquiring this collection, which you can see up close at the History of Diving Museum.
This is a really unique stop on the Miami to Key West drive and one I recommend to everyone. It's truly an authentically Florida Keys experience.
PRO TIP: This coupon will save you US$2 off admission if you show it when purchasing your tickets.
PRICE: US$15 for adults, US$7 for children
8. Stroll through the Morada Way Arts & Cultural District
Support local artists with a visit to the Morada Way Arts & Cultural District in Islamorada. It's the only designated downtown between Miami and Key West, making it a fantastic stop on your Key West road trip! Take a stroll through the 6-block corridor, packed with galleries, restaurants, studio spaces, and other unique places to experience the local flair of the Florida Keys.
Any time is a great time to explore the Morada Way Arts & Cultural District, but for something special, see if you can visit during the first Thursday of the month for the Art Walk. This fun event is from 6 PM to 9 PM and features gallery openings, live music, local cuisine, and lots of libations.
One of the coolest things about Morada Way Arts District is its commitment to artists. They offer affordable gallery and studio space as a means to make these more accessible to emerging artists. A huge part of their mission is to enrich the lives of locals and tourists through the arts.
9. Try local beer at the Florida Keys Brewing Company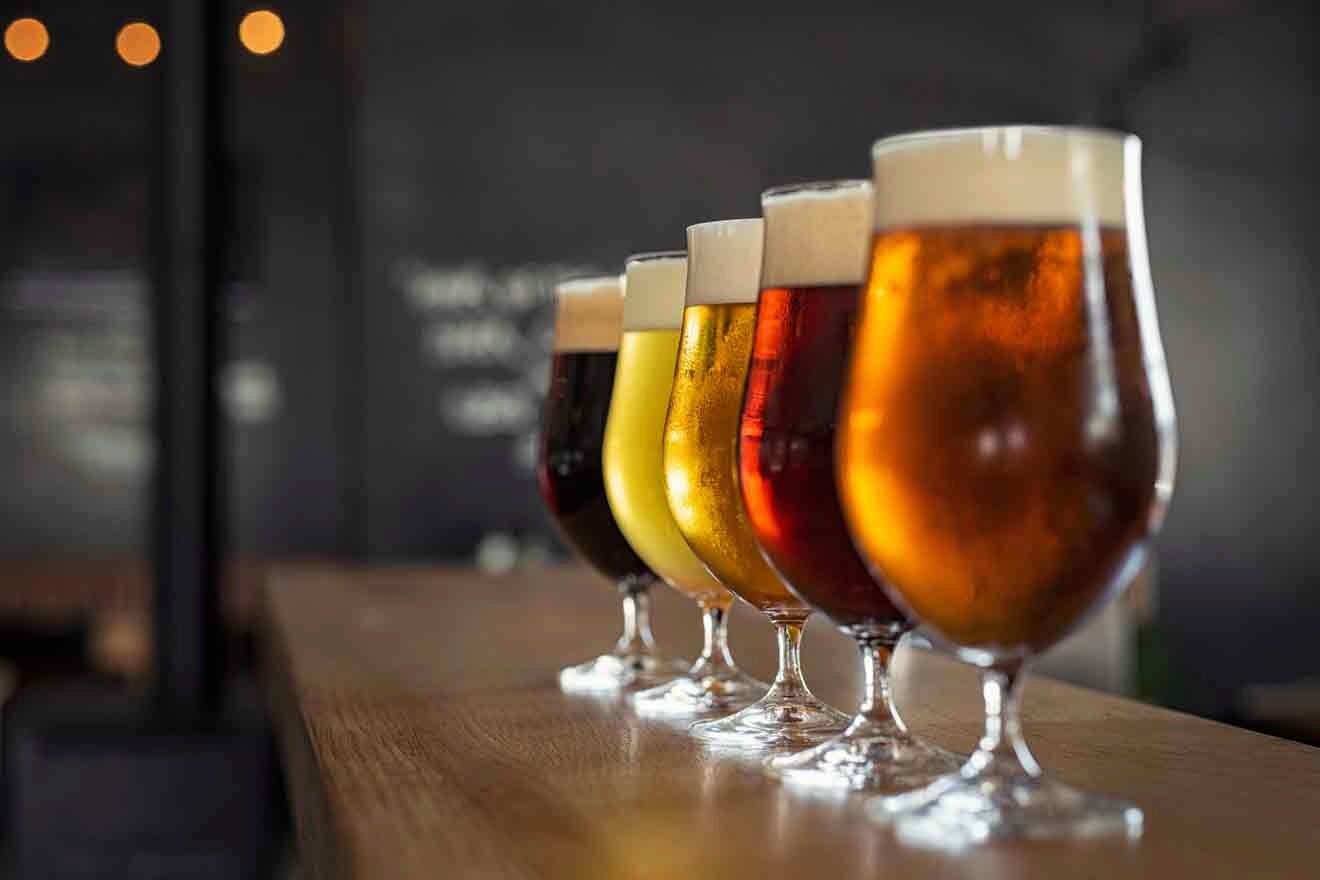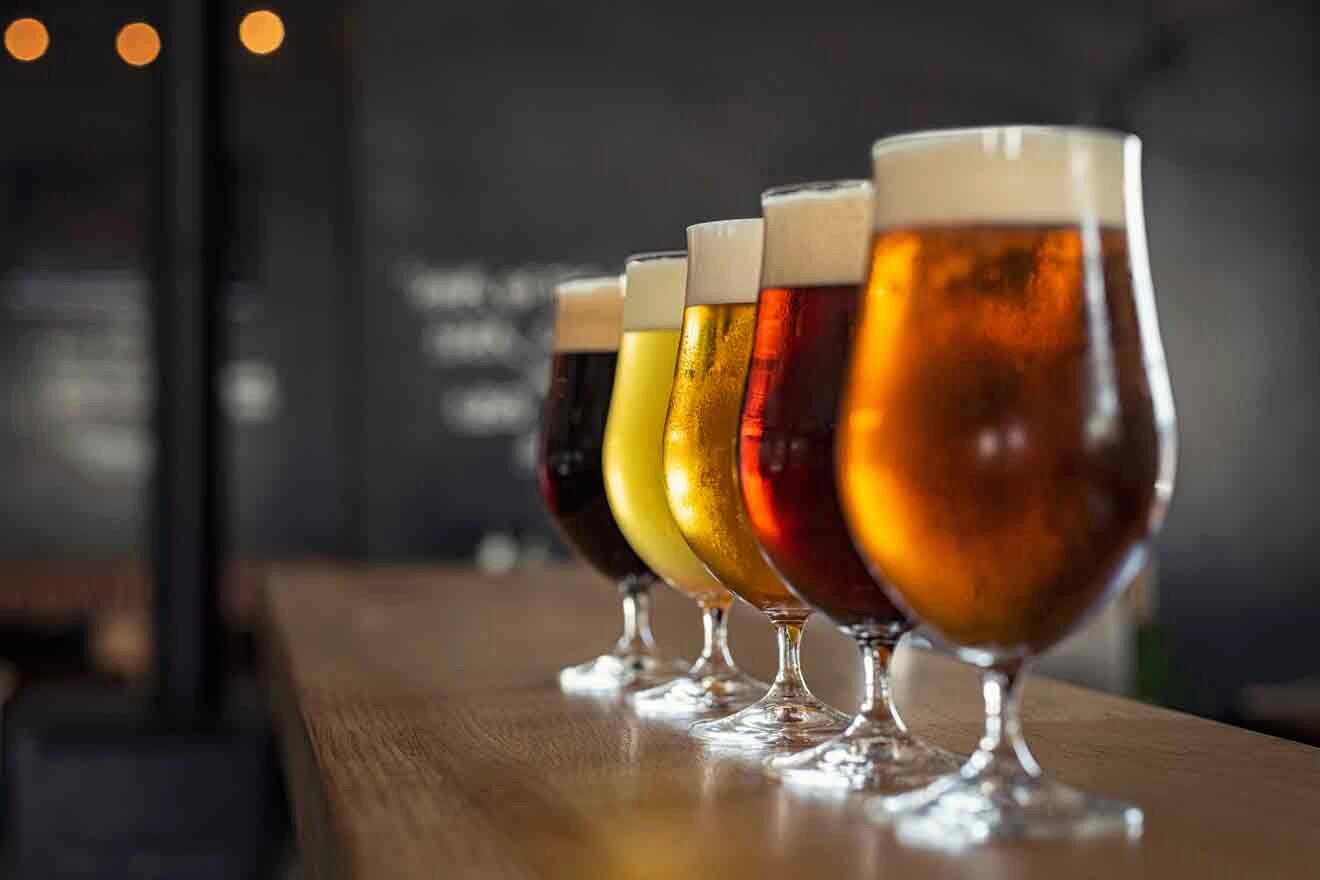 This stop is actually within the Morada Way Arts & Cultural District but deserved its own item on our Miami to Key West drive bucket list. The Florida Keys Brewing Company is the only microbrewery in the Upper Keys, serving up an amazing selection of locally crafted beer.
You can take a tour of the brewery and learn about its brewing process, sample some brews, try a flight in the tasting room, and relax in the outdoor beer garden. You'll find giant jenga, cornhole, hula hoops, and on certain days, live music! Check the event schedule for specific dates.
In case you're wondering, yes, the Florida Keys Brewing Company is both pet and kid-friendly – if you're driving down to Key West with furry friends or little ones, they're welcome to join you here! You can also grab a bite at the local food truck, which varies depending on the day. I'm a food truck fanatic, so that's a win for me. Yum!
10. Savor fresh seafood at the Islamorada Fish Company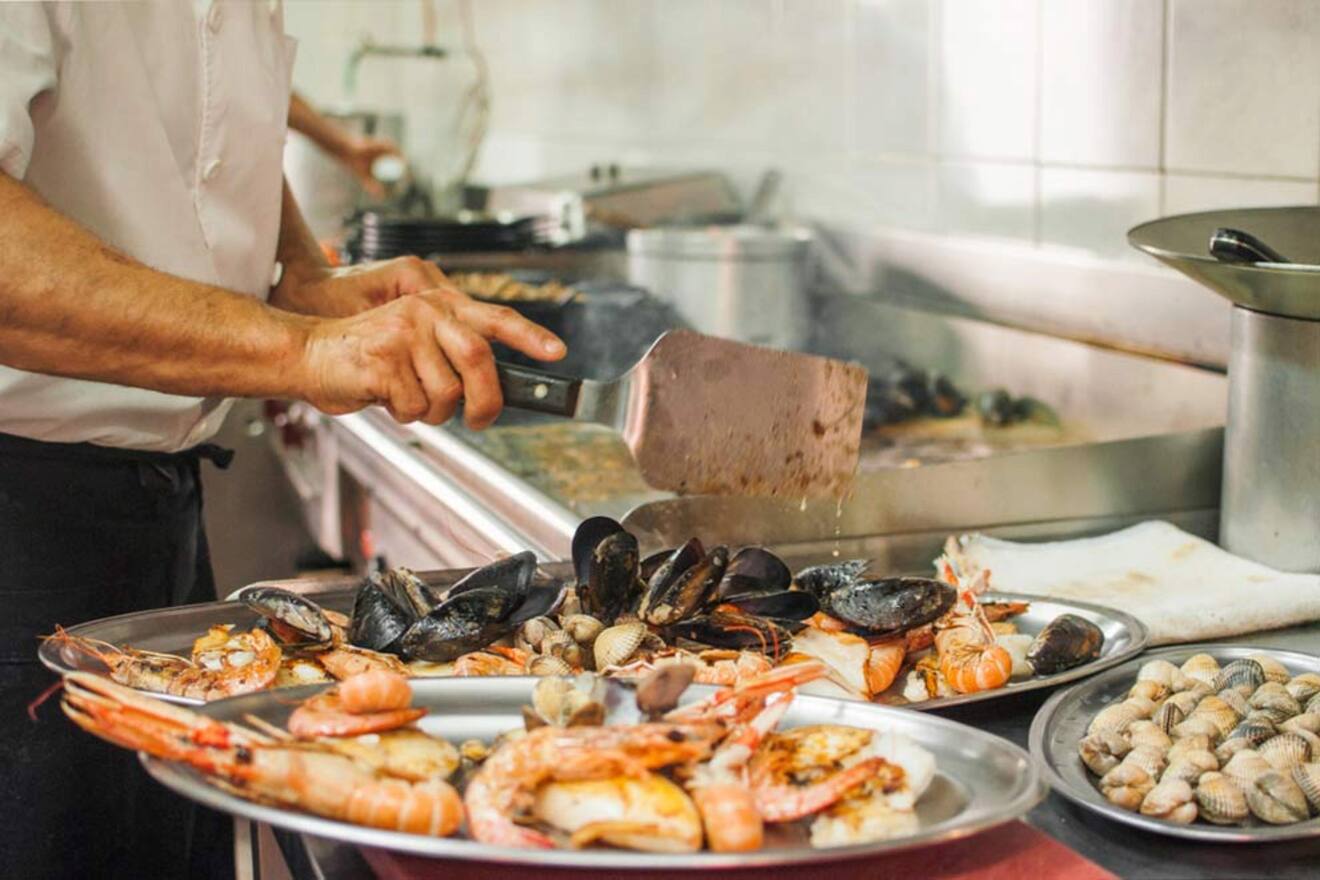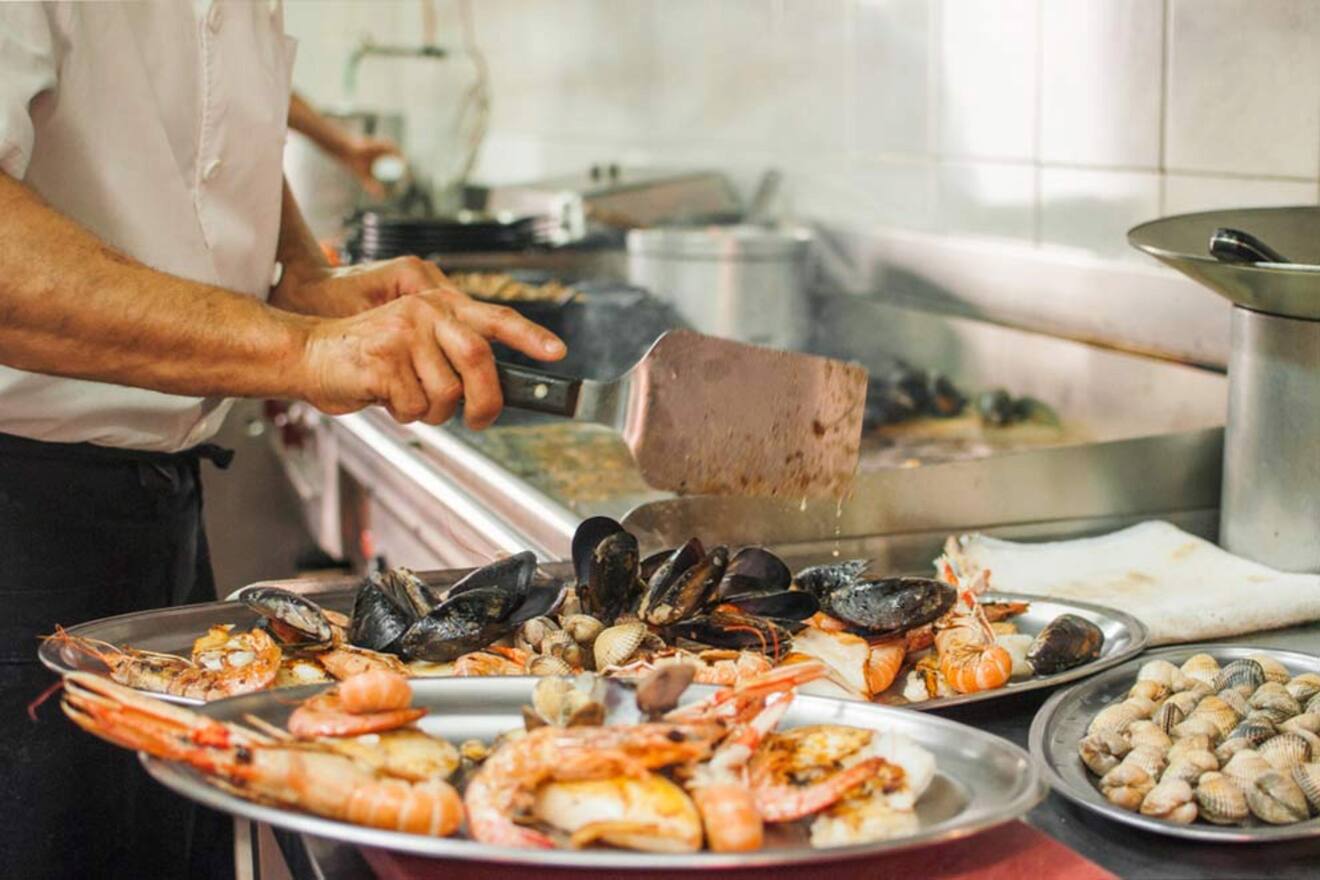 I've been visiting the Islamorada Fish Company on every Key West road trip since I was young, and there are 2 main things that keep me returning again and again. The views are phenomenal, and the food is even better!
There are actually a few locations of the Islamorada Fish Company, but this is by far the best, as it's the only one in Islamorada, and it opened all the way back in 1948. Enjoy a meal overlooking the bay of the Florida Gulf Coast, and maybe you'll even catch one of the sunsets the Florida Keys are famous for!
My go-to here is the fresh local catch. No matter what it is, it's always delicious! You can even select from a variety of different preparations: grilled, blackened, key lime butter, panko, or coconut fried. You'll want to finish off with a slice of homemade key lime pie, of course – it's a must on any Florida Keys trip.
Plan to do a little fishing yourself? There's an option for you, too – if you catch it, they'll cook it!
11. Feed giant tarpon at Robbie's Marina
On a road trip, I'm all about doing things you wouldn't be able to do anywhere else. If that's your style, too, look no further than Robbie's Marina in Islamorada. Here, you can feed massive African Tarpon from the dock and watch them leap out of the water to grab a snack.
It's truly a sight to behold! The sheer size of these fish is astonishing, and feeding them by hand is a one-of-a-kind experience not to be missed.
That's just one of the many reasons why Robbie's Marina was voted the #1 place in the Florida Keys for tourists to visit. You'll also find incredible water sports, dining, and shopping for locally made goods.
While you're there, try one of their Trailer Trash Bloody Marys, made with cucumber vodka and stacked with enough toppings to count as a small meal!
PRICE: Dock admission is US$3 per person, and a bucket of fish for feeding is US$5
12. Visit the Dolphin Research Center
I'm a sucker for dolphins. I mean, they are so freaking cute! If you're looking for a unique way to get up close with these amazing marine animals, I suggest a stop at the Dolphin Research Center in Grassy Key, about 1 hour and 20 minutes from Key West.
The Dolphin Research Center is an exceptional place, best summed up by its mission: "Providing sanctuary and a forever home since 1984." I guess you could say that's the Dolphin Research Center's PORPOISE! See what I did there? 😆
It's certainly a wonderful purpose. Badly injured and orphaned wildlife that is unlikely to make a full recovery and survive in the wild are deemed "unreleasable" by the Florida Wildlife Commission, and the Dolphin Research Center provides these animals with a safe refuge they can call home. They're provided with the care, support, and resources they need to live happy healthy lives!
Here, you can get to know the resident dolphins and sea lions, all living in the seawater lagoon. There are special tours and programs available – even painting with a dolphin, but you can also choose to stick with general admission and still have a great time!
PRO TIP: Save US$3 off admission by purchasing your tickets in advance online.
PRICE: General admission is US$25 for adults, US$20 for children
13. Soak up the sun on Sombrero Beach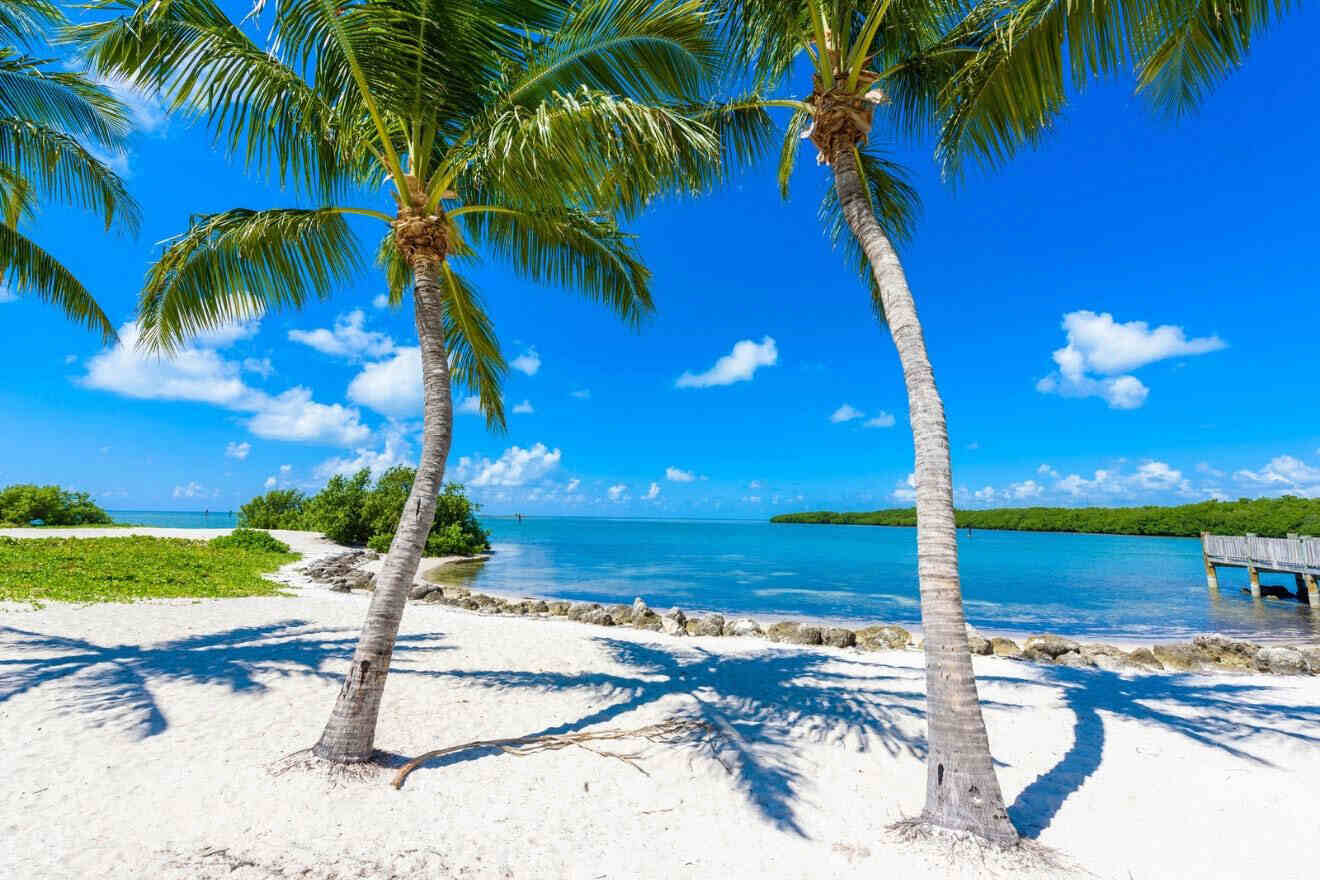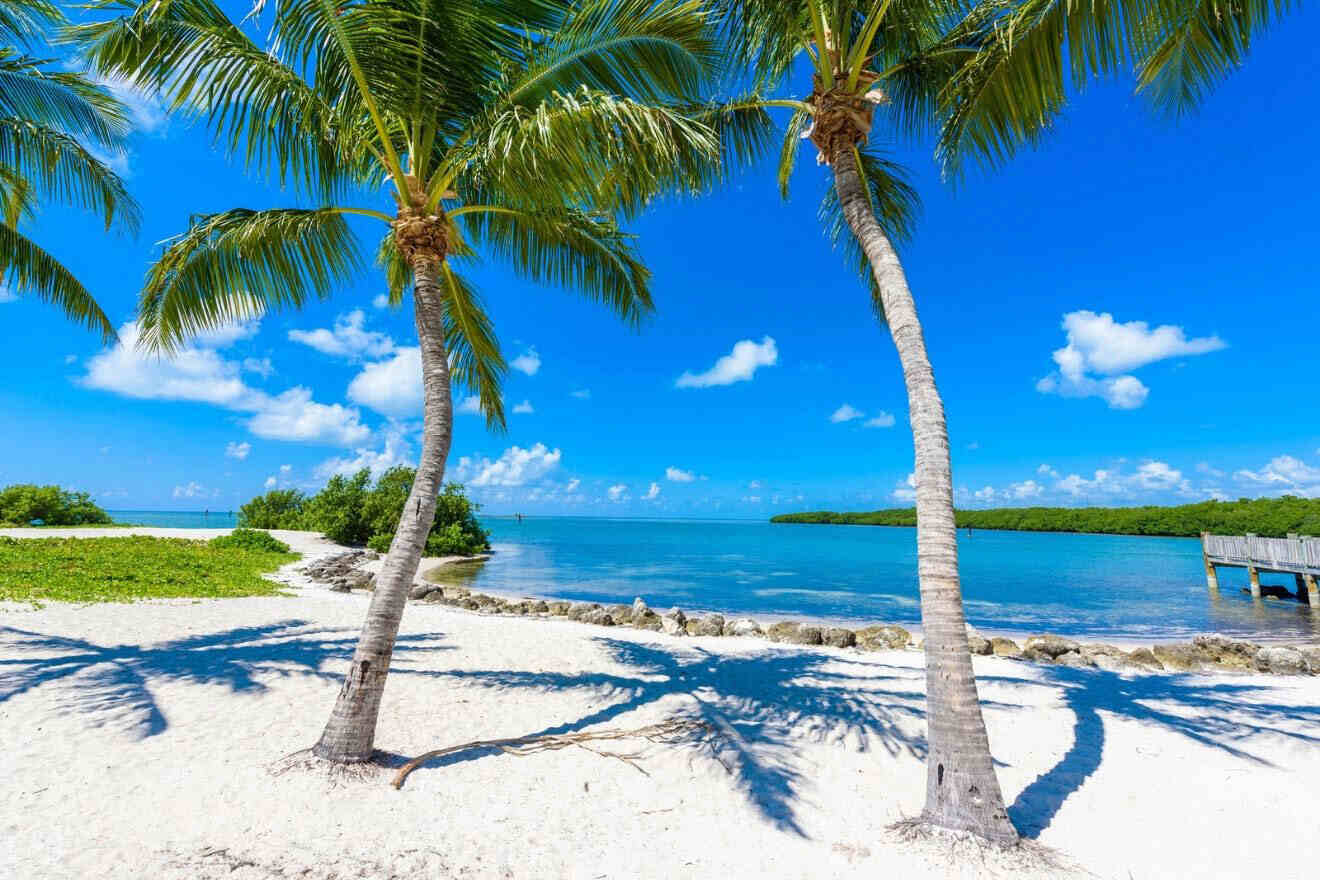 One of the best things about the Miami to Key West drive is that you can get out of the car and stretch your legs right on the sand of a breathtakingly beautiful beach! Sombrero Beach in Marathon is the perfect place to do so.
Crystal blue water, white sand, and a shady park with picnic pavilions make Sombrero Beach a fantastic stop on your way to Key West. Whether you want to spend a few hours soaking up the sun or take a leisurely stroll along the Atlantic Coast shoreline, you'll definitely want to check out Sombrero Beach and see what all the hype is about.
From April to October, Loggerhead Turtles come up to the beach to lay their eggs. This designates only around 10% of Sombrero Beach as off-limits, so it won't cut into your experience, but it's super cool to learn about and see in action.
14. Meet the sea turtles at the Turtle Hospital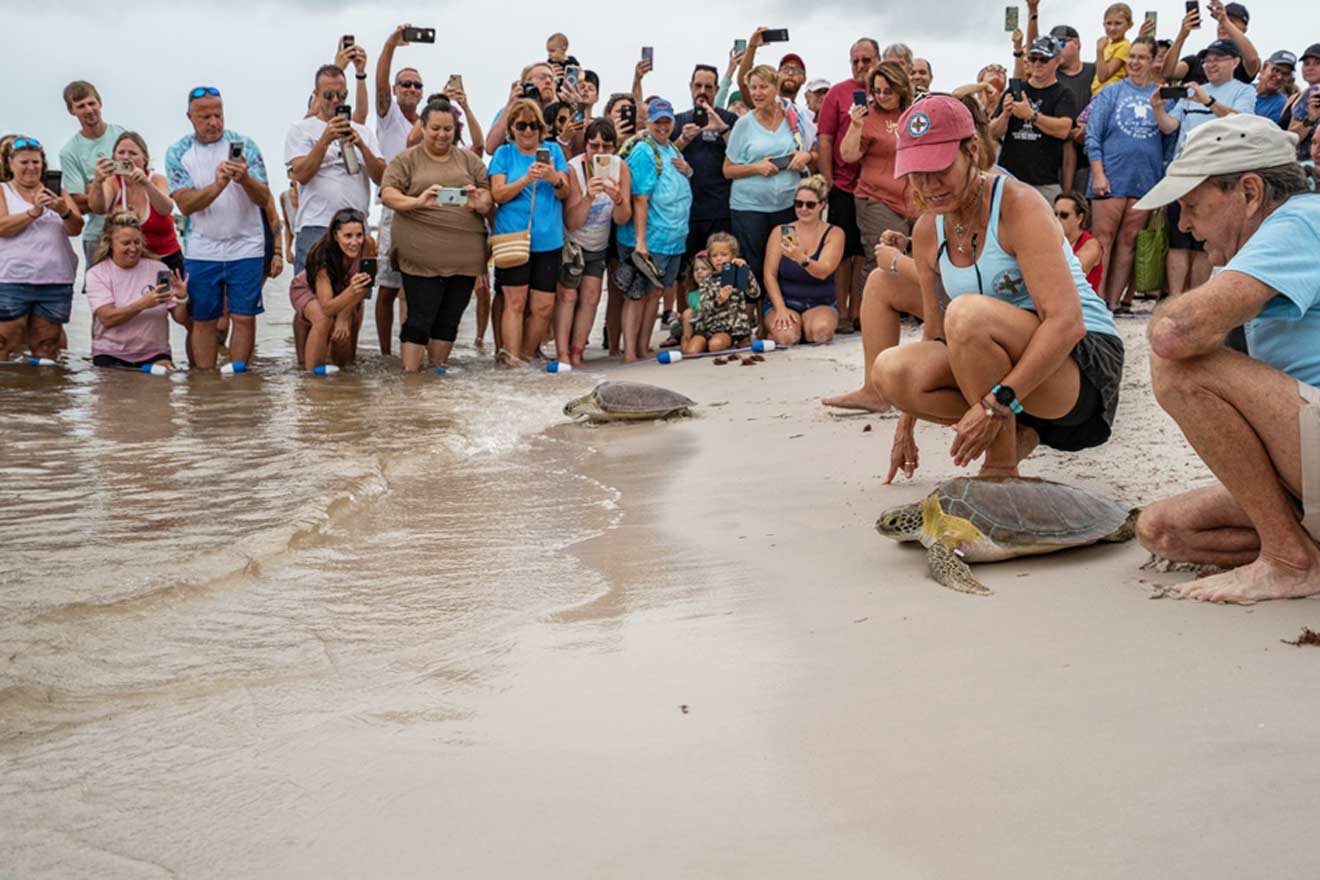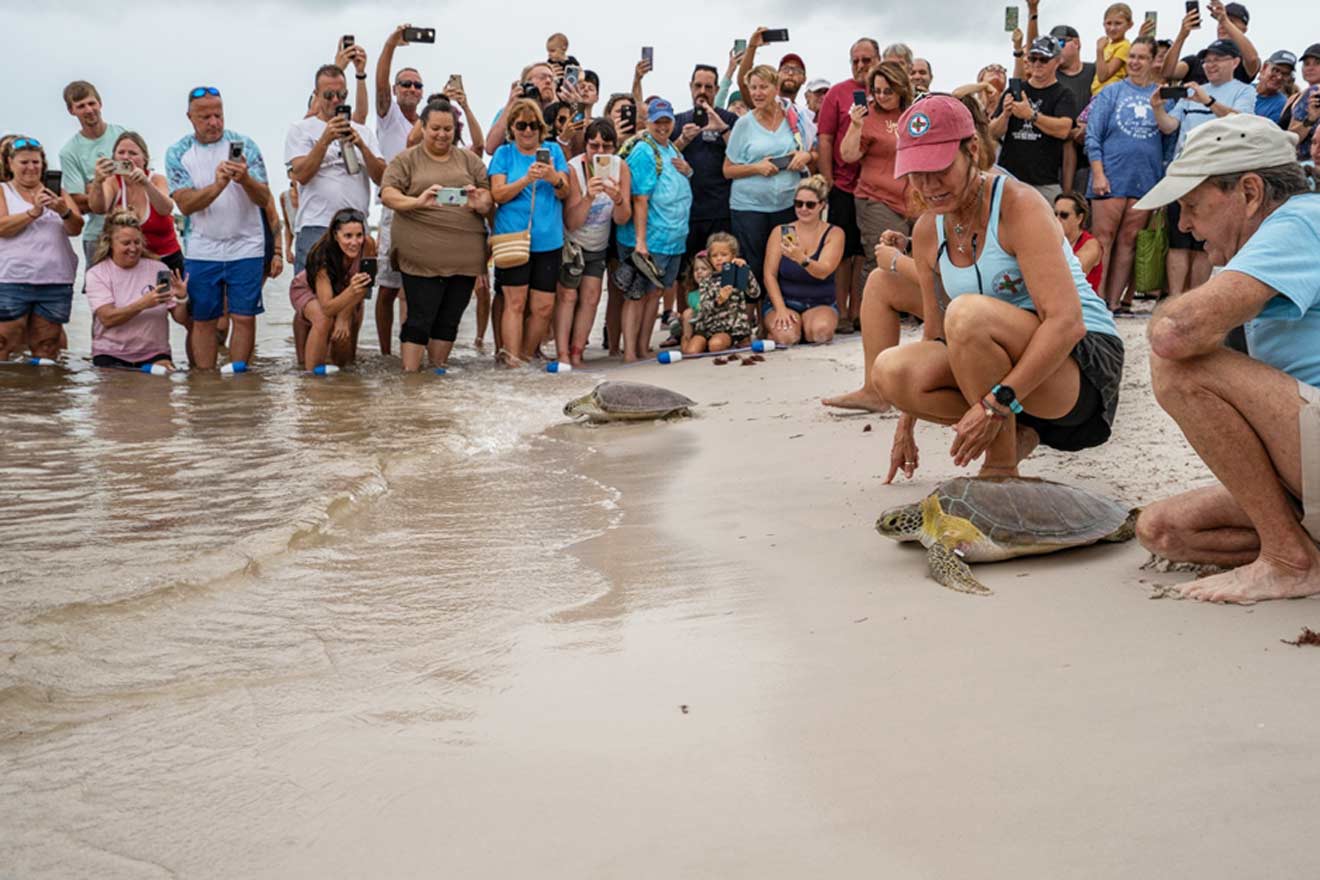 There are countless opportunities to get to know the incredible marine life in the Florida Keys, and we've already gone over a few of them! Next up is one of my favorite stops on a Miami to Key West drive: the Turtle Hospital, a fully functional veterinary hospital for sea turtles located in Marathon.
It's right before the Seven Mile Bridge, so if you need to work up the courage to cross (although there's nothing to be nervous about, I promise!), stop into the Turtle Hospital and meet some new friends.
You'll embark on an educational guided tour that brings you behind the scenes of the Turtle Hospital facilities and sea turtle rehabilitation center. After the tour, you'll get up close with the Turtle Hospital's permanent residents, and you'll get to feed these sweet sea turtles, which is such a special experience!
The only way to visit the Turtle Hospital is on one of their guided tours, as it is a working hospital. Advanced reservations are recommended since these tours are super popular and very limited! The tour typically lasts 70-90 minutes.
PRICE: US$30 for adults, and US$15 for children, ages 4 and under, are free.
15. Drive across the famous Seven Mile Bridge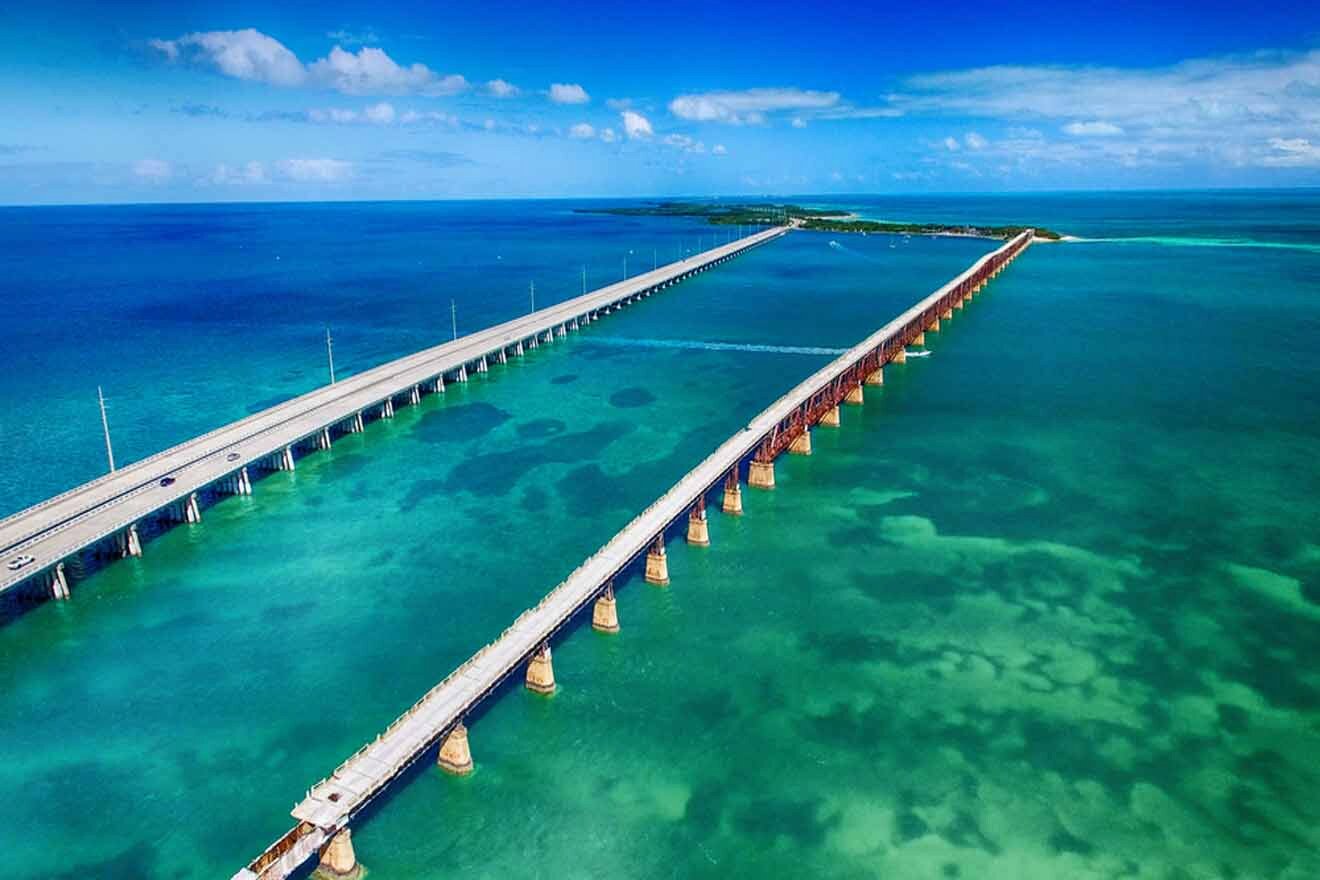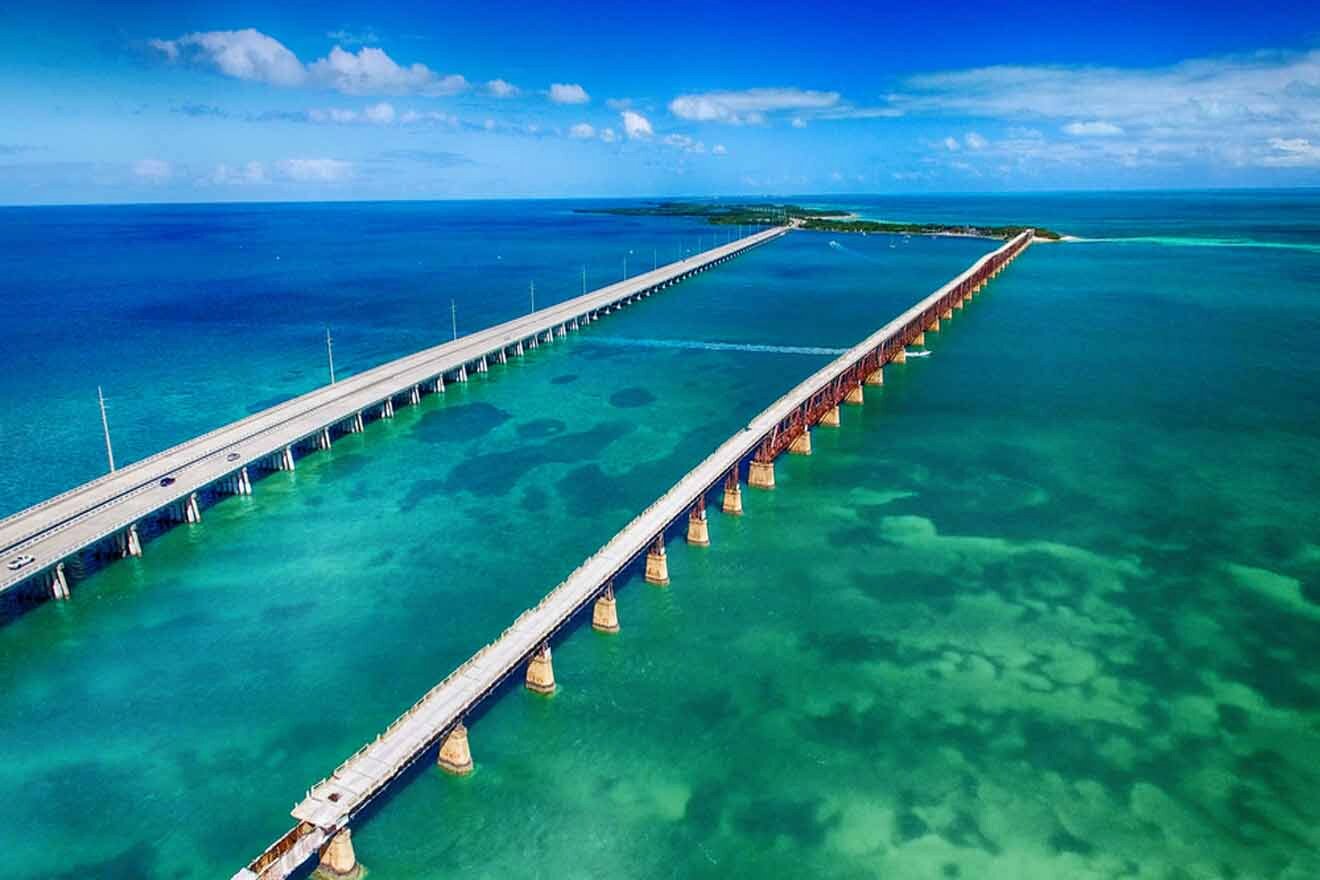 While this isn't a stop per se, it's an iconic part of the Miami to Key West drive. A necessary one, too, as there's no way to drive down to Key West without crossing it!
The Seven Mile Bridge connects the upper and middle keys, spanning from Knight's Key to Little Duck Key. There are 2 bridges beside one another.
Built-in the early 1900s as part of Henry Flagler's Florida East Coast Railway and once known as the 8th Wonder of the World, the original bridge is now open exclusively for pedestrians and bicyclists to enjoy. The new Seven Mile Bridge is specifically for vehicular traffic.
Both bridges have a gorgeous, glimmering ocean on both sides, which can be a bit scary for anyone prone to anxiety on bridges. However, I always tell people that the drive is so beautiful (and the final destination, Key West, is so worth it!), that it's not hard to distract yourself with the stunning surroundings and exciting plans for the remainder of your Key West drive.
16. Relax at Bahia Honda State Park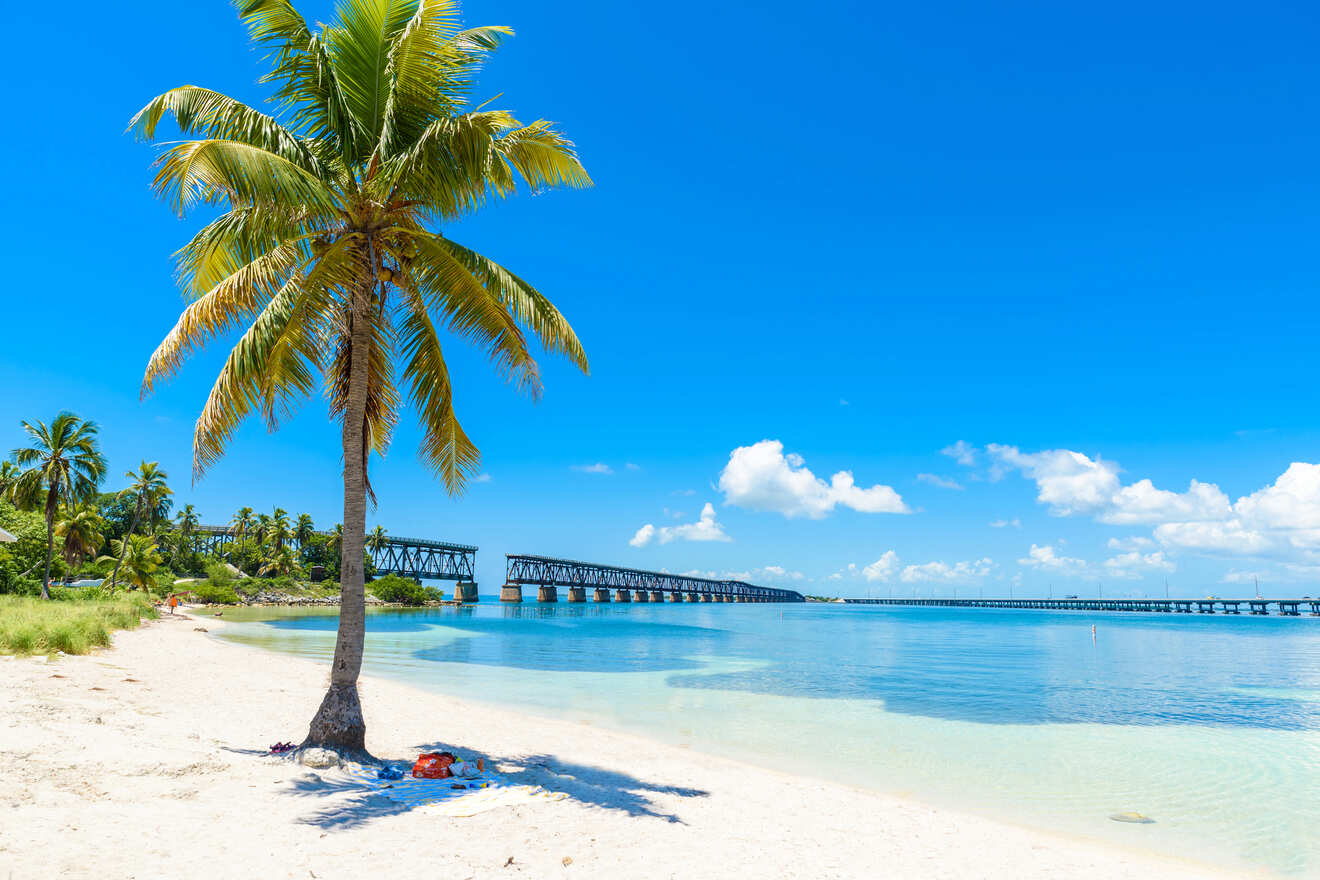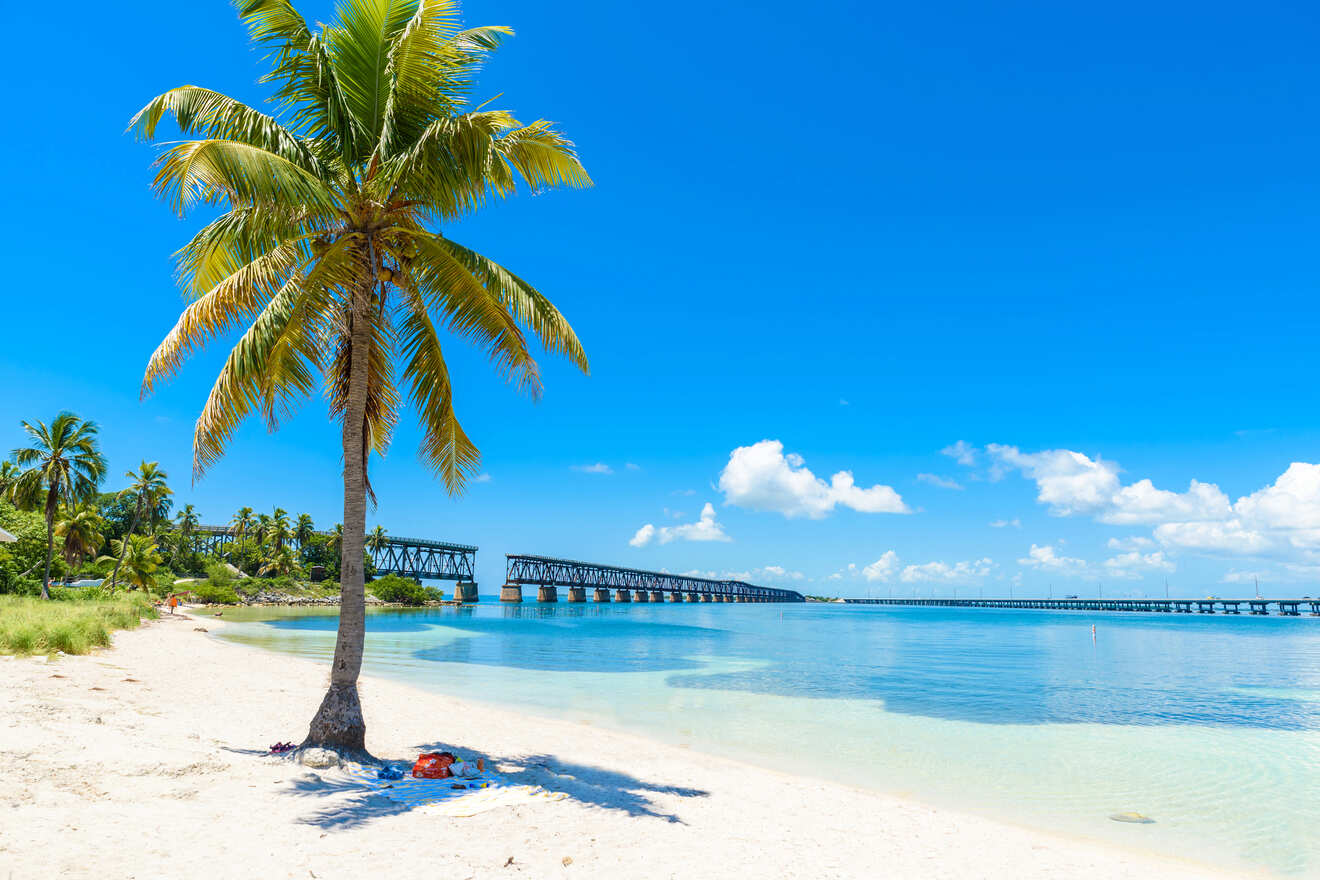 At this point in your Miami to Key West drive, you're only around 45 minutes outside of Key West! There's still more to explore on the road trip, though, and you won't want to miss out on this one.
Bahia Honda State Park, located on Big Pine Key, is another beautiful state park on our list, with 2 gorgeous beaches: Sandspur Beach and Calusa Beach. Hike through pristine nature, play on the sand, or take a dip in the crystal blue water – whatever you choose to do, you're going to love it here!
Henry Flagler's Overseas Railway turned remote Bahia Honda Key into a destination now enjoyed by locals and tourists alike. From the state park, you have an unparalleled view of Bahia Honda Bridge, a 100-year-old relic and famously more challenging to build than the iconic Seven Mile Bridge due to the depth of the channel.
PRICE: US$8 per vehicle, plus a Monroe County surcharge of US$0.50 per person
17. Stop by No Name Pub on your Miami to Key West drive
I love a good bar off the beaten path, and No Name Pub is just that! Also, on Big Pine Key, you'll find this funky tavern with casual al fresco dining, tropical libations, and autographed dollar bills on the walls.
It's been named the best casual dining experience in the Florida Keys, and it's easy to see why. It's got the laid-back, easy-going vibes the Florida Keys are known for while being an excellent stop on the Overseas Highway on your way from Miami to Key West.
The pub was opened in 1936 as part of a general store and bait and tackle shop that opened in 1931. During the late 30s, a brothel was opened upstairs as a way to make extra money. No Name Pub sure has a fascinating history! They also serve, unsurprisingly, an incredible key lime pie!
18. See wild Key Deer at the National Key Deer Refuge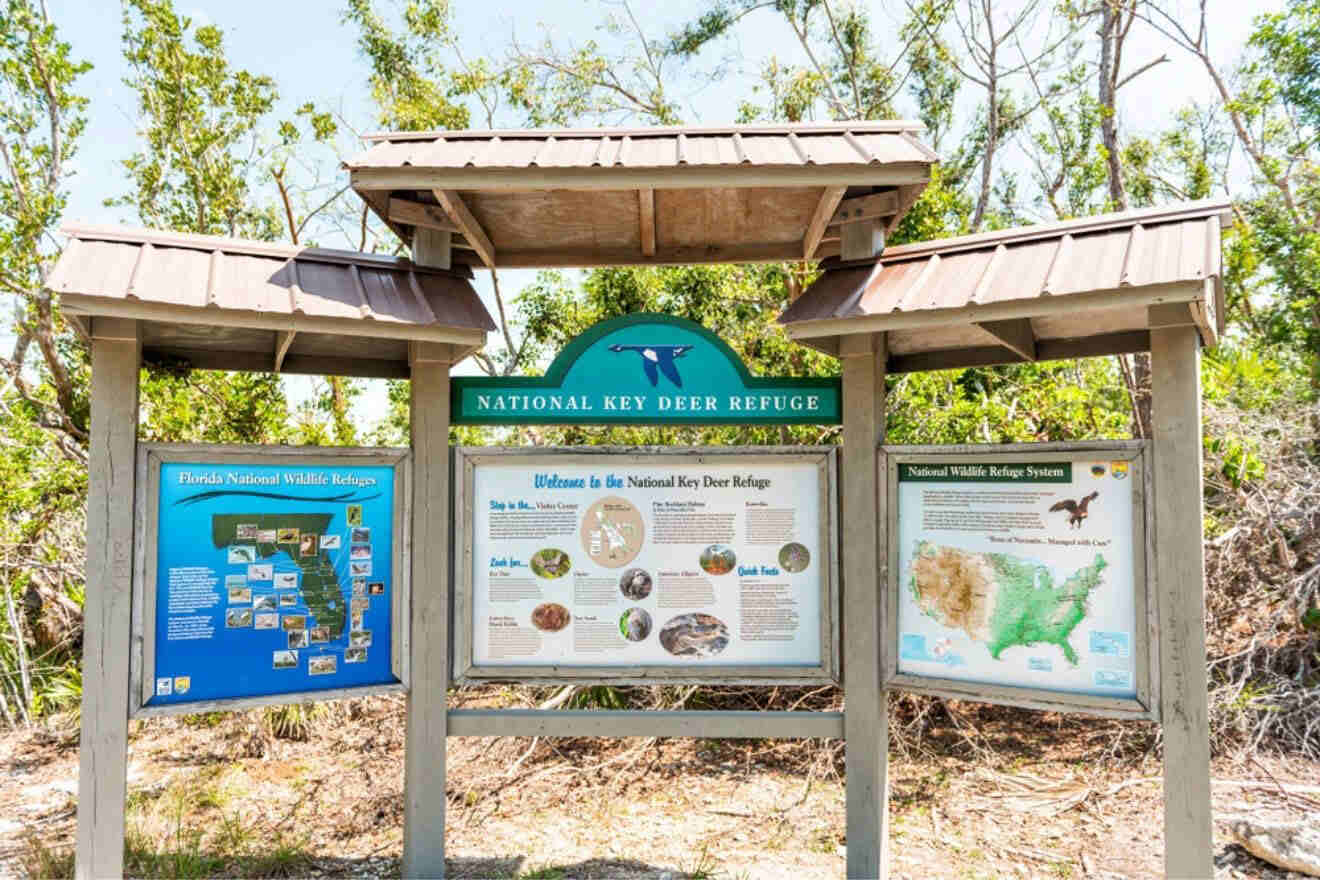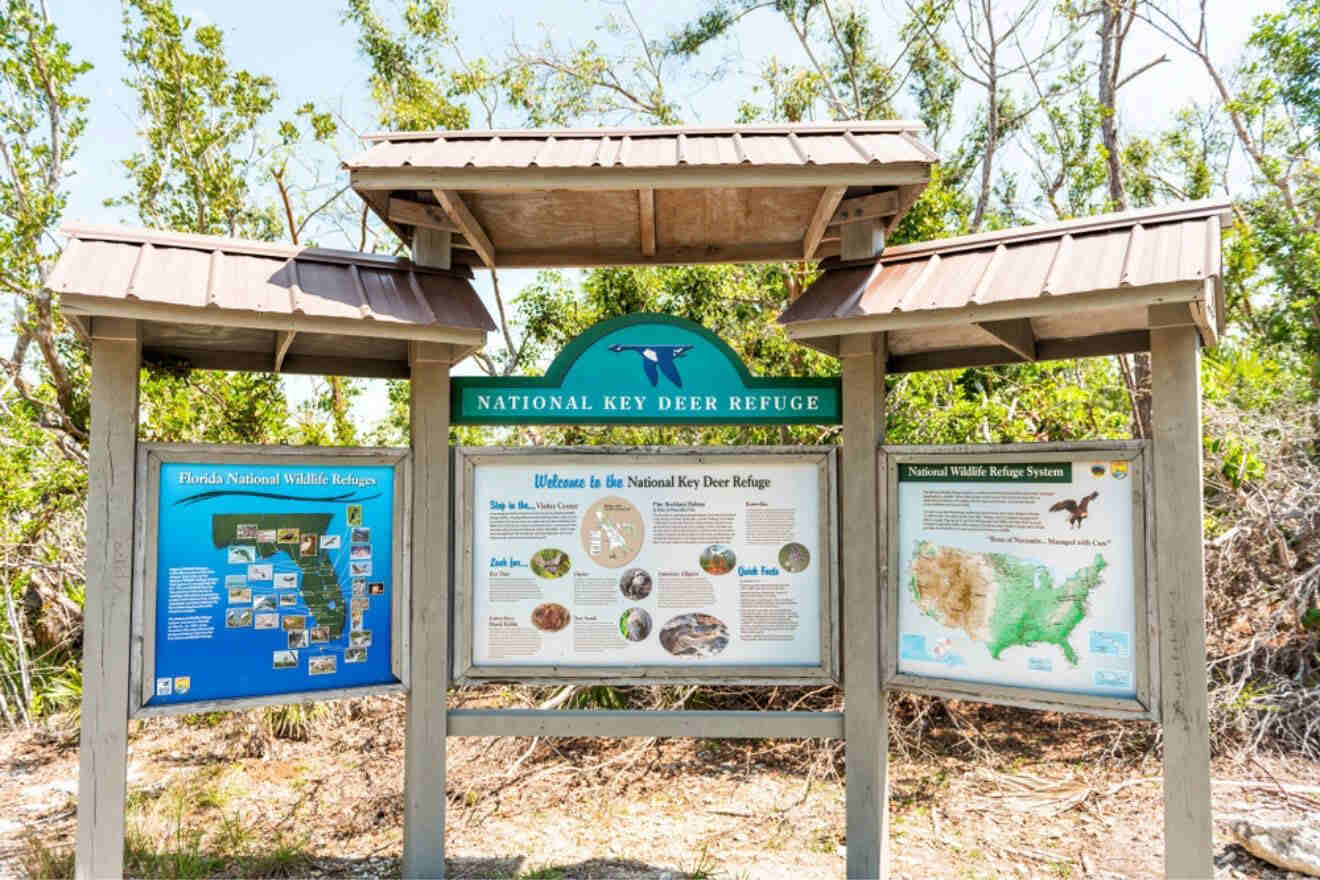 National Key Deer Refuge was founded to protect endangered Key Deer, the smallest species of white-tailed deer that are heartbreakingly endangered. Key Deer are native to the Florida Keys, so protecting and conserving their habitat is of the utmost importance to the longevity of the species.
A visit to the National Key Deer Refuge is really special because it's the only place in the world to see Key Deer. You can watch them roam in their rare, natural habitat, undisturbed by the hustle and bustle of our modern world.
If you can, try to visit when the Nature Center is open (Wednesday through Friday from 10 AM to 3 PM), so the refuge volunteers can share their expert knowledge with you and advise on the best places to go within the National Key Deer Refuge. There is no fee for entry!
19. Discover the best of Key West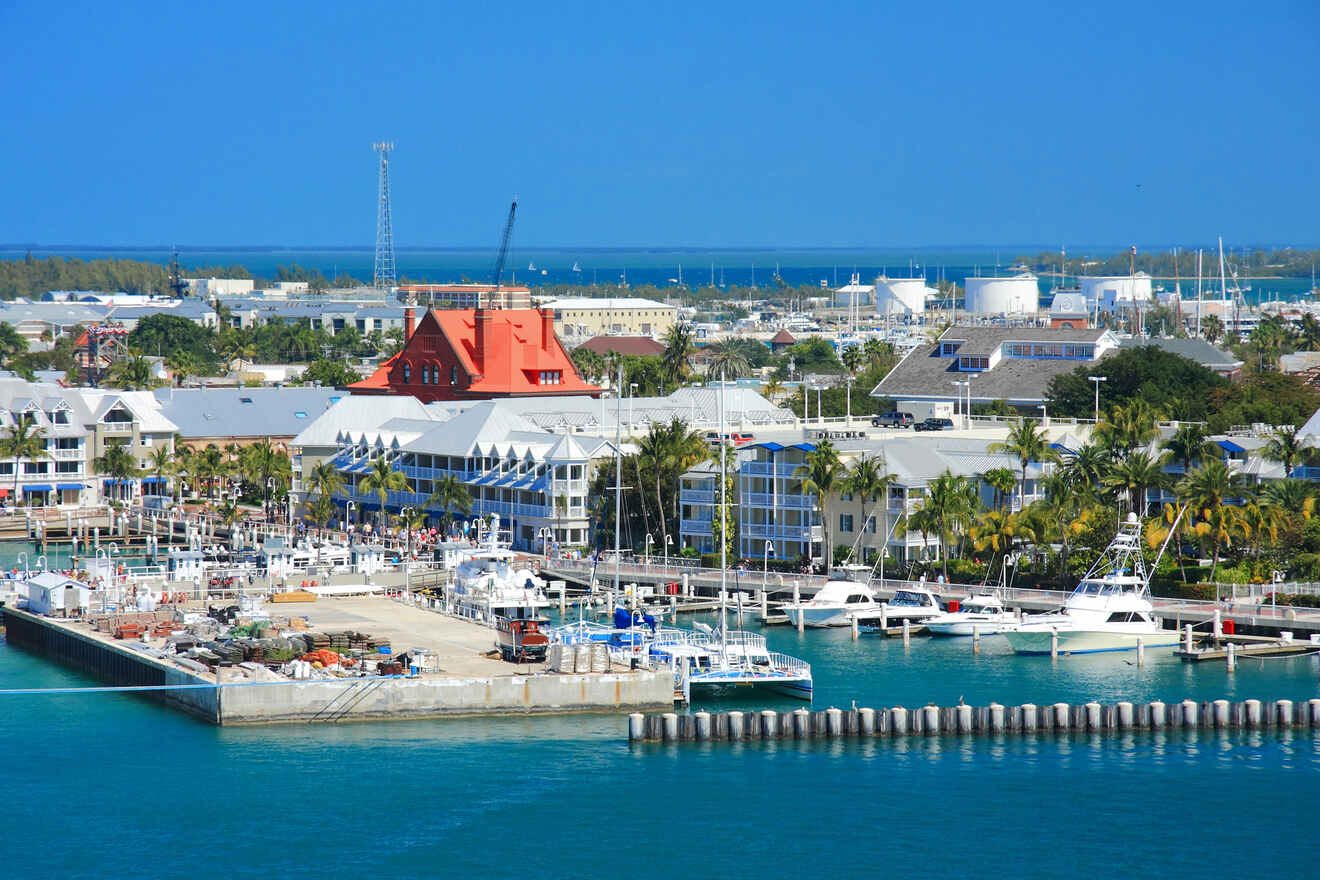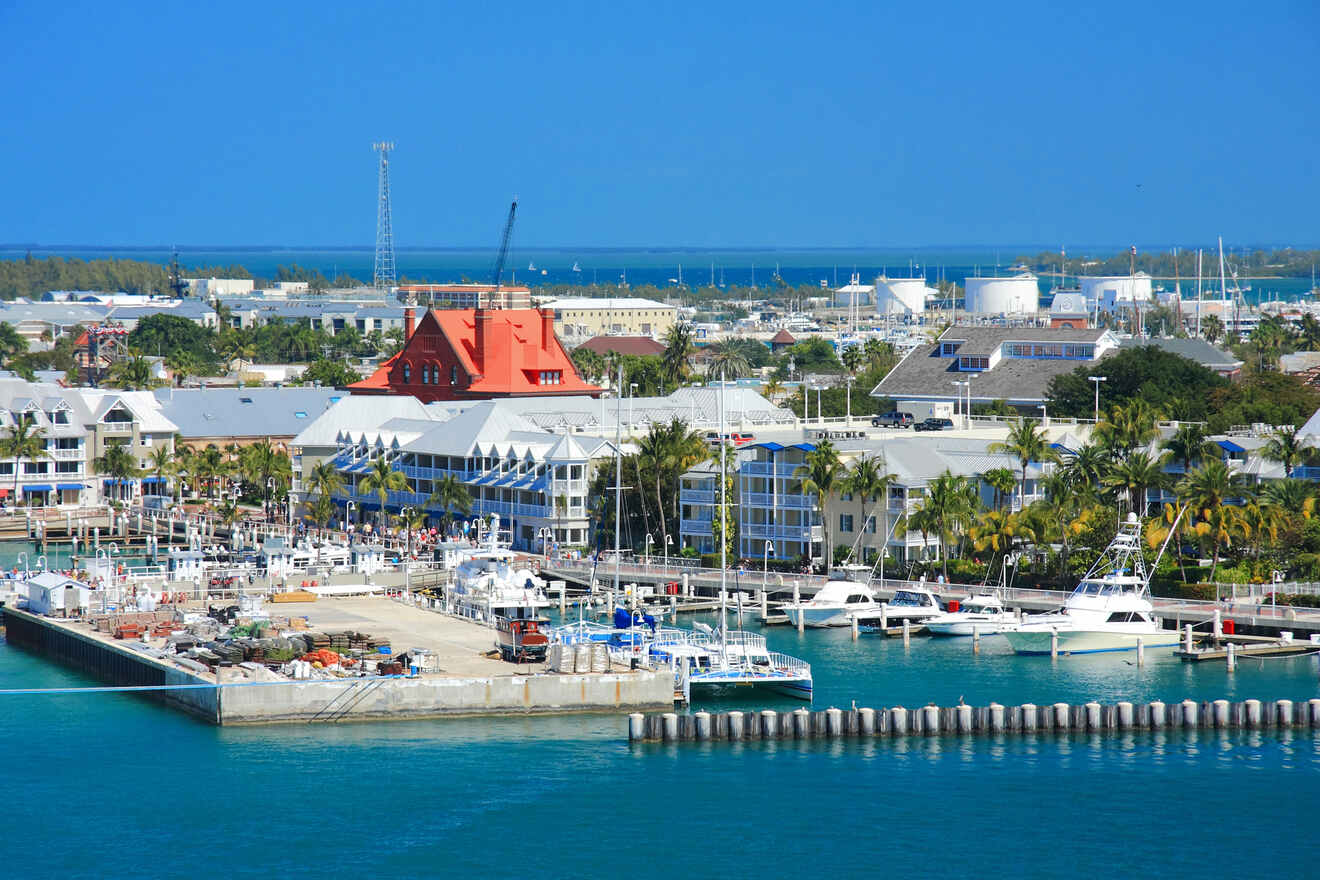 You made it to Key West – congratulations! Key West is hands-down my favorite place in the entire world. Its rich history, whimsical architecture, incredible dining and nightlife options, and laid-back, tropical vibe make it the perfect Florida vacation destination!
There is no shortage of fun things to do in Key West, whether you're looking for adventure on the water or relaxation on the shore. These are some of my personal unmissable spots in Key West, Florida:
Mallory Square – When you visit Key West, you've gotta check out Mallory Square for their nightly Sunset Celebration. Catch unparalleled views of a Key West sunset and its famous green flash, enjoy conch fritters and cocktails, and take a stroll along the waterfront.
Southernmost Point Buoy – Did you even visit Key West if you didn't post a photo of the Southernmost Point Buoy? This southernmost point mile marker designates the southernmost point in the continental United States and is an iconic Key West photo opp.
South Beach – This beach is much, much smaller than Key West's other beaches, but that's part of its charm. It's a cozy slice of paradise located on the southern end of Duval Street, with plenty of bars, restaurants, and shops nearby.
Duval Street – Speaking of Duval Street, it's a must-visit on your next Key West trip as well. Lined with restaurants, bars, shops, galleries, and more, it's a family-friendly destination during the day and the hub of Key West's vibrant nightlife after hours.
Hemingway Home & Museum – Full transparency: I got married here in 2022, so I may sound a bit biased, but I promise I'm one of many who are absolutely smitten with this place! The Key West home of legendary American author Ernest Hemingway, Hemingway Home & Gardens is an up-close look into his life and time here in Key West.
Key West Lighthouse & Keeper's Quarters – Right across the street from the Hemingway Home & Museum is this beautiful piece of Key West history: an original lighthouse built in 1848. Climb the 88 steps to the top for amazing views and check out the keeper's quarters for relics from bygone times in Key West.
Dry Tortugas National Park – Now, this isn't the easiest place to get to, but it's 100% worth the effort… and then some! Explore this incredible 100-square mile (260 square km) park in Key West, with 7 different islands, a vibrant coral reef, and a variety of activities, from swimming to snorkeling to diving. History buffs will definitely want to check out historic Fort Jefferson, a 19th-century fort on one of Dry Tortugas' islands!
FAQs about the Miami to Key West road trip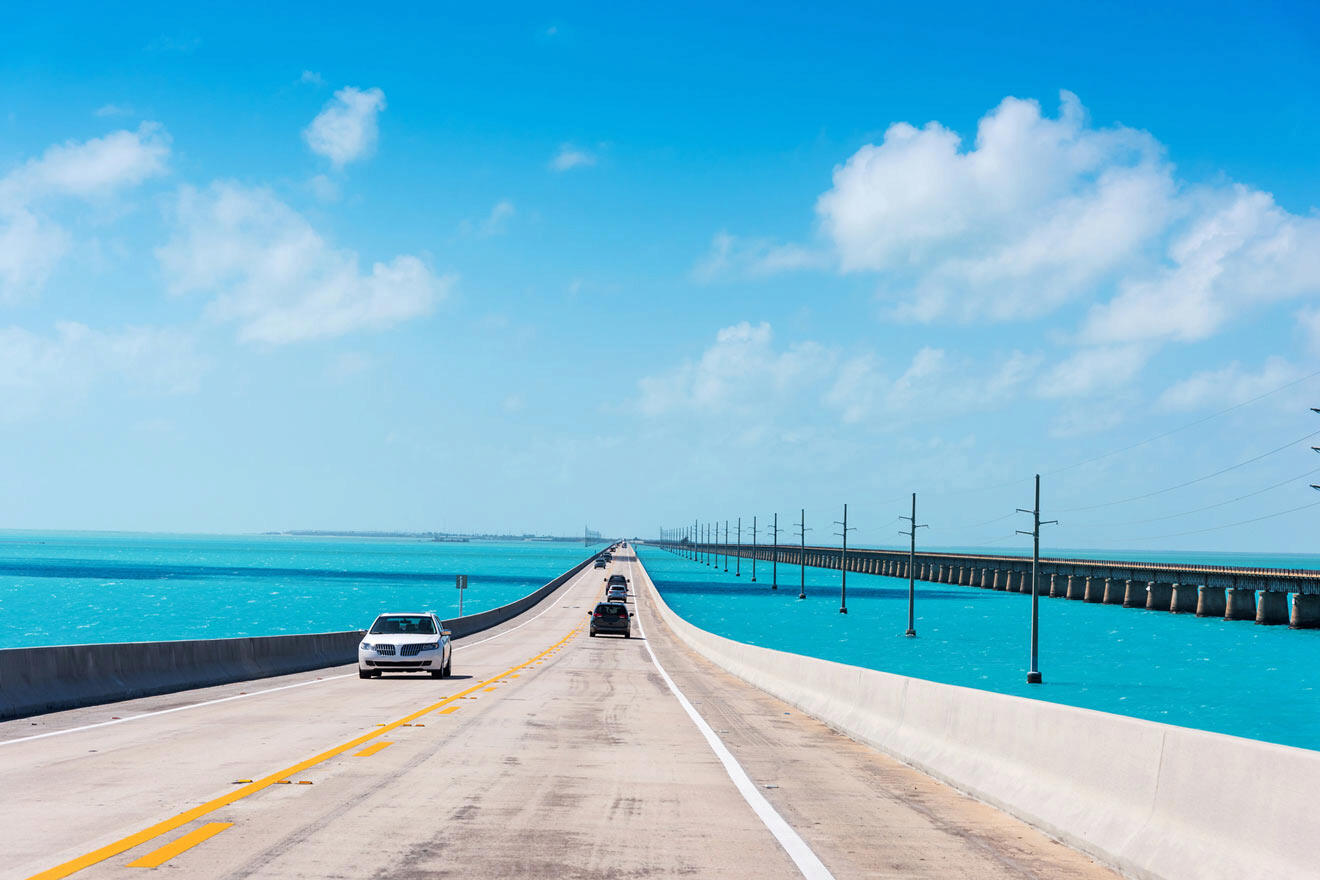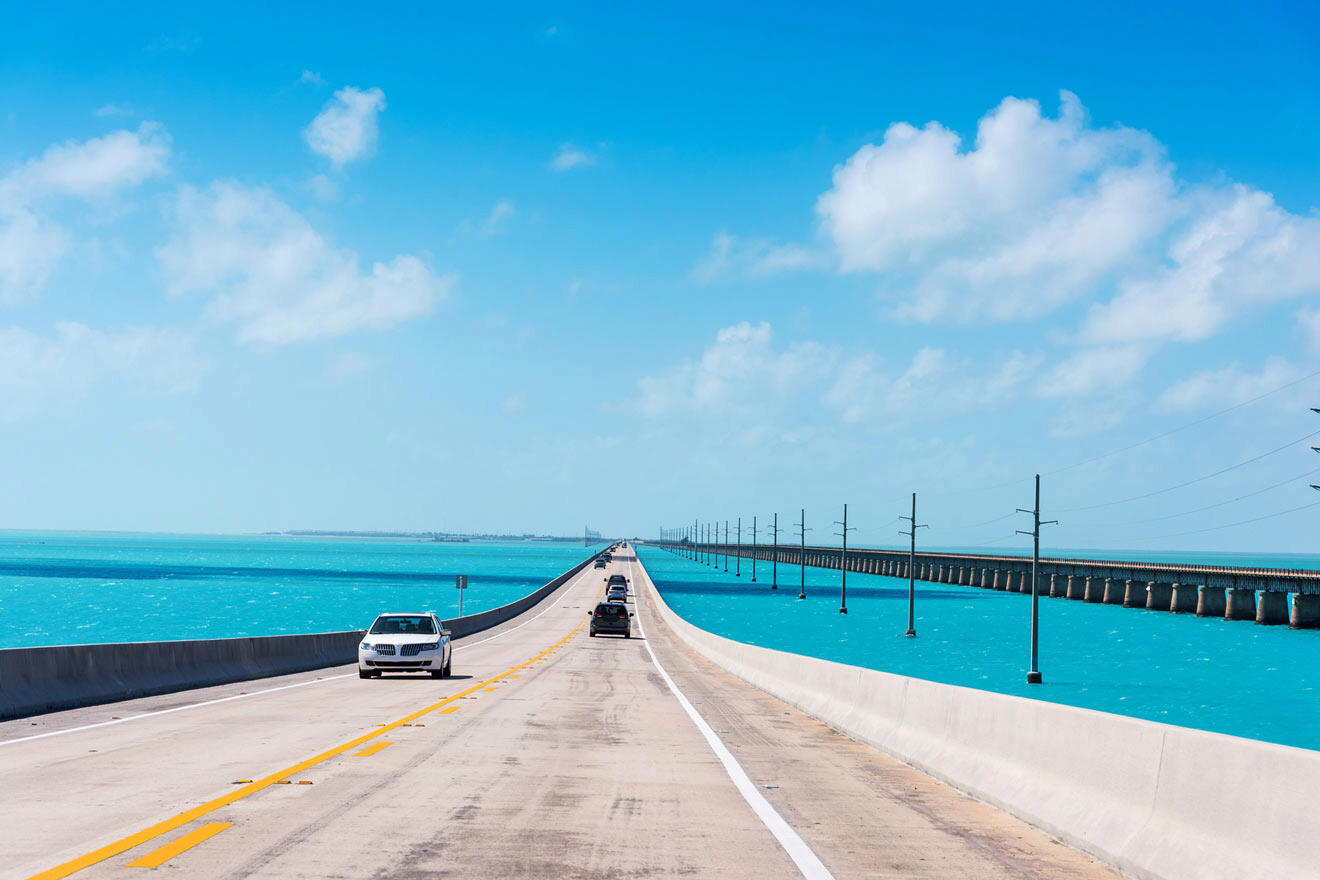 🚘 Is the drive from Miami to Key West worth it?
Absolutely! The drive from Miami to Key West is one of the most beautiful routes in the U.S., taking you on the Overseas Highway through the Florida Keys, and over the famous Seven Mile Bridge. It's worth every mile!
⏰ How long is the car ride from Miami to Key West?
The car ride from Miami to Key West is approximately 4 hours, although you'll want to allow more time to experience the Florida Keys on your way down! From water sports to historic spots to wildlife encounters, there are countless things to do on the way.
📅 What is the best time to drive to Key West from Miami?
The best time for a Key West road trip is any month not considered hurricane season. Hurricane season runs from June to November every year.
🏝️ What is the most scenic route to Key West?
There is only one way to reach Key West from the mainland and that's via the breathtaking Overseas Highway, which extends from Key Largo to Key West and boasts exactly 42 bridges, including the famous Seven Mile Bridge.
Conclusion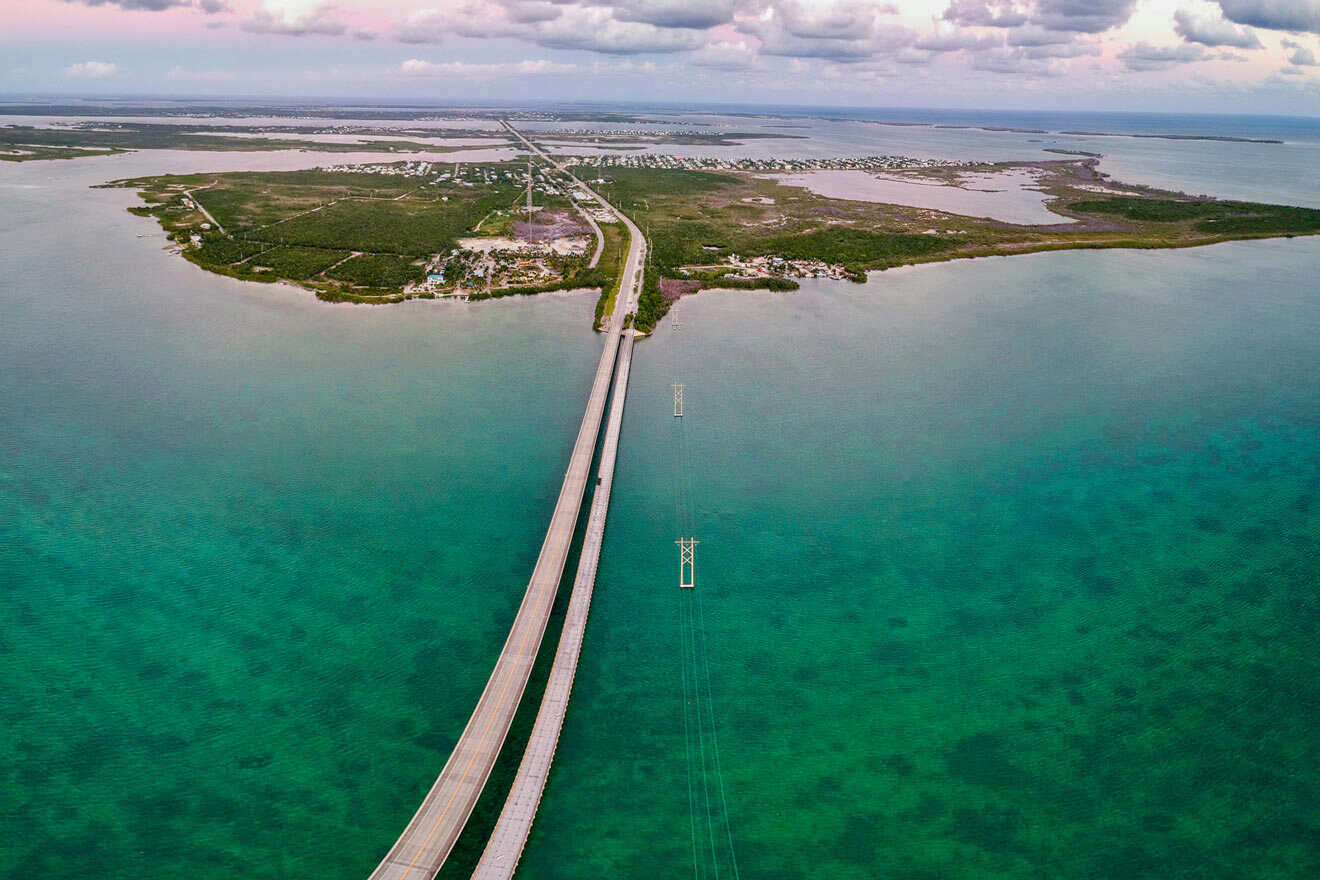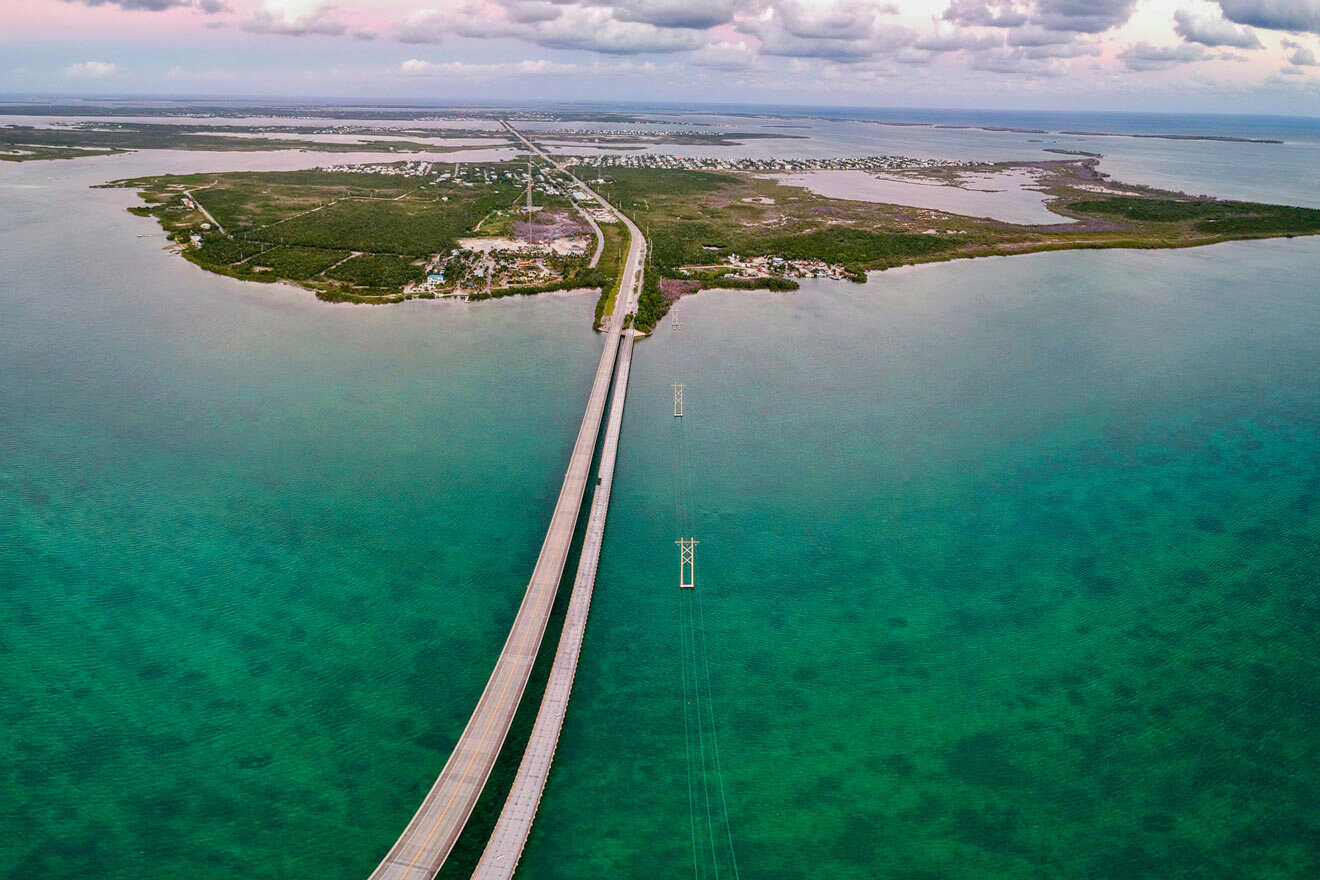 Are you beginning to understand why I adore the Miami to Key West drive so much? Not only is it an unbelievably beautiful route down the Overseas Highway, but there are many one-of-a-kind things to do, see, and experience along the way.
You can definitely do it in one go, but I recommend spending a night or two in the Florida Keys before you make it down to Key West. Otherwise, you may be a bit rushed trying to fit things in. As they say, the journey is an important part of the destination!
We went over a few favorites of mine that need to be booked ASAP, as they fill up quickly:
If you have any questions, leave them below in the comments and I'll get back to you ASAP. I'm here to help you plan the most amazing Key West road trip!
Happy travels!
Montana
---
Pin it for later!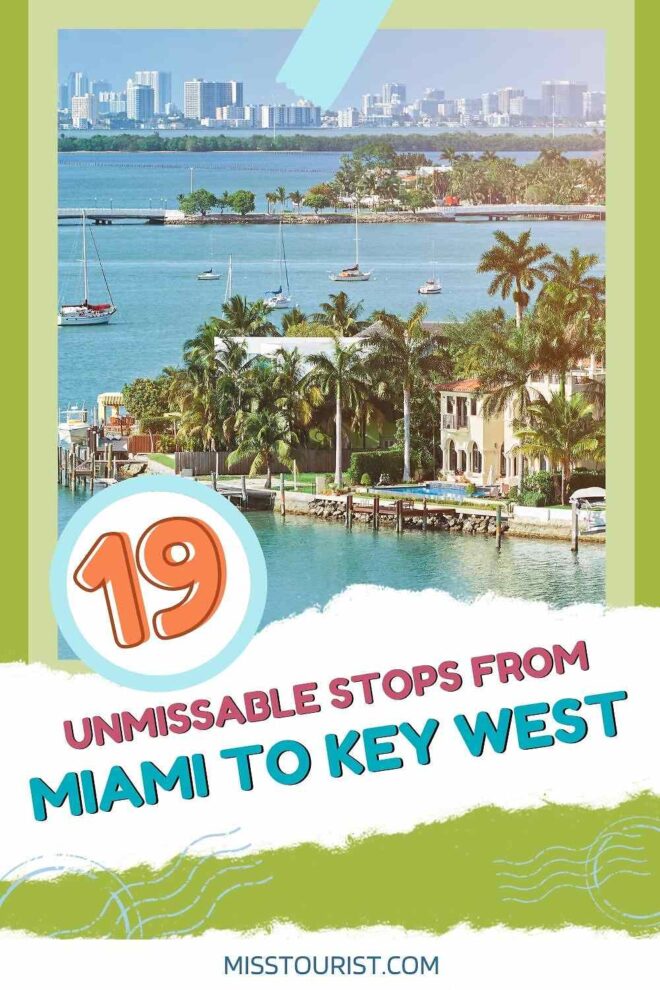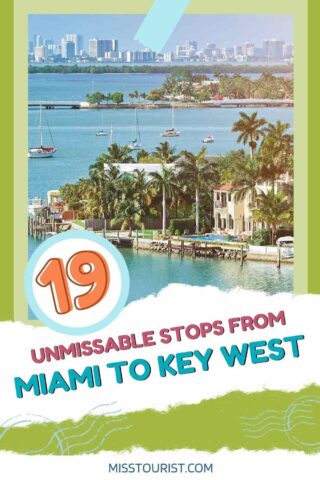 Pin it for later!