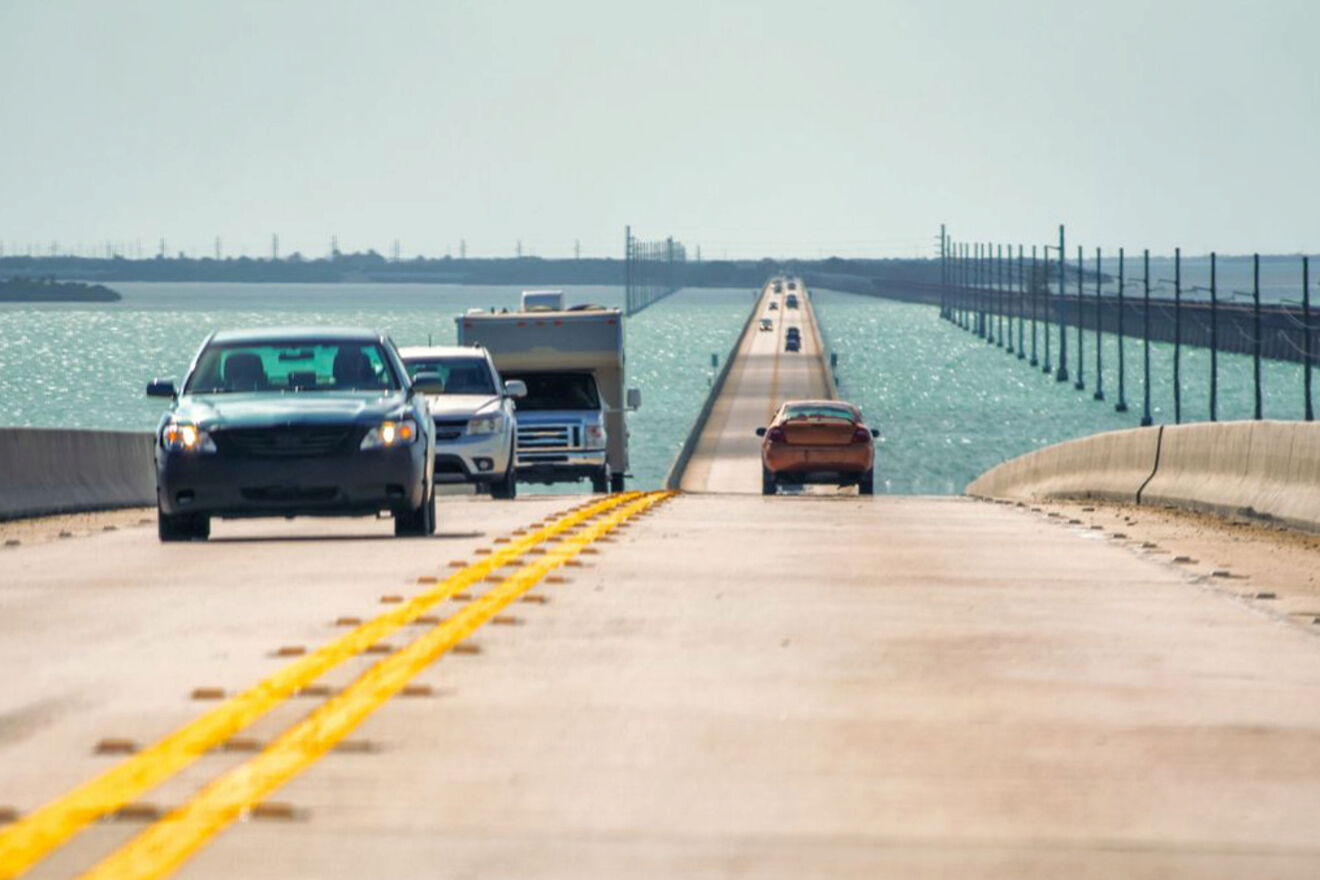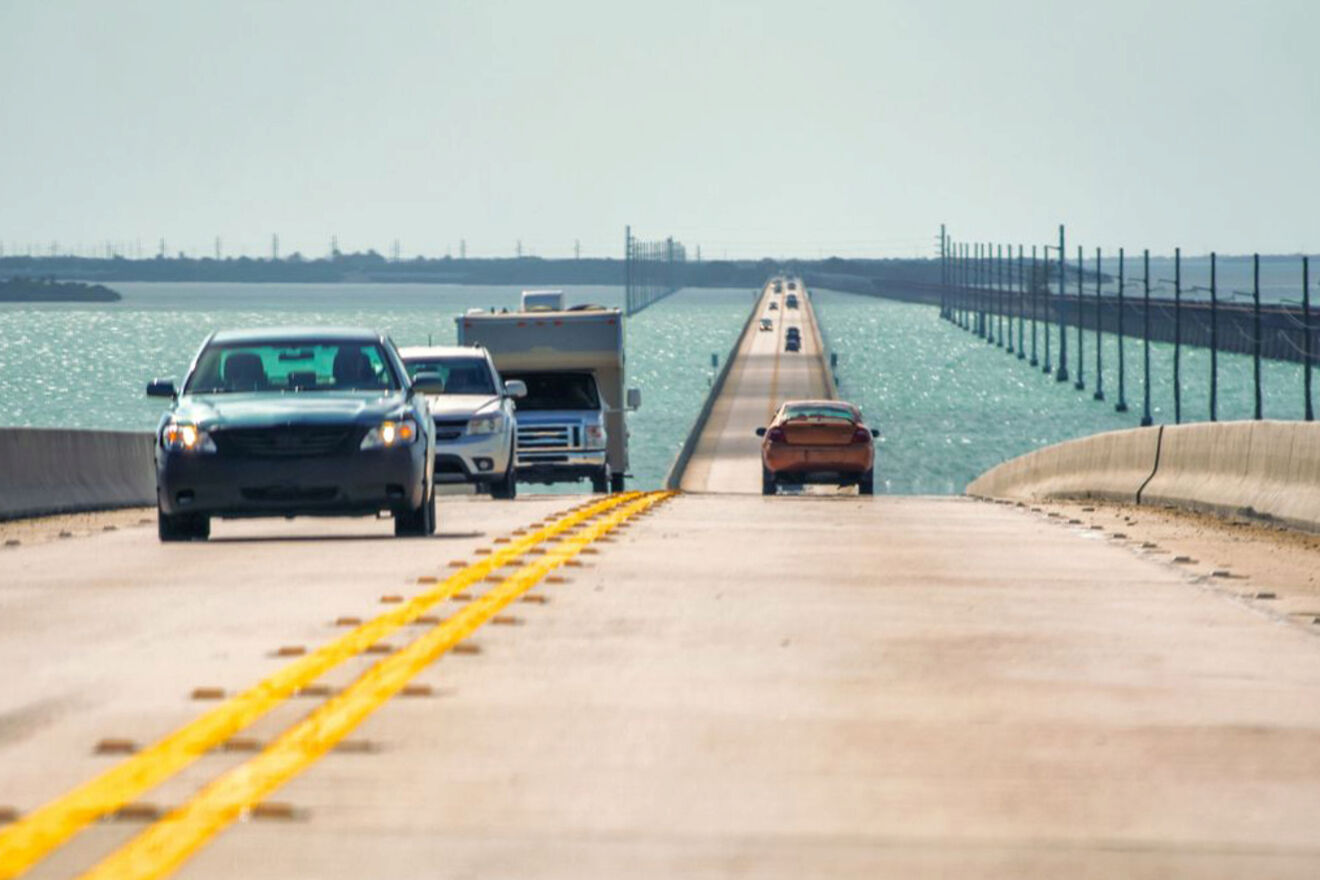 Welcome to your next favorite: Overseas Highway Florida road trip, which spans 113 miles (182km) from Key Largo to Key West! It's one of the most scenic routes in the United States, and the perfect way to explore the beautiful Florida Keys.
With sparkling aquamarine water on both sides, a string of laid-back small communities, abundant marine life, and exactly 42 bridges, it makes sense why the Overseas Highway was once called "the highway that goes to the sea."
Growing up in Fort Lauderdale, I've spent a lot of time on this stunning stretch in the Florida Keys. The Overseas Highway is such a special place – there are so many hidden gems to be uncovered! In this post, I'm going to share the very best stops along the Overseas Highway, from local eateries and roadside attractions to the iconic Seven Mile Bridge, once one of the longest bridges in the world.
Shall we?
1. Stop by the iconic Caribbean Club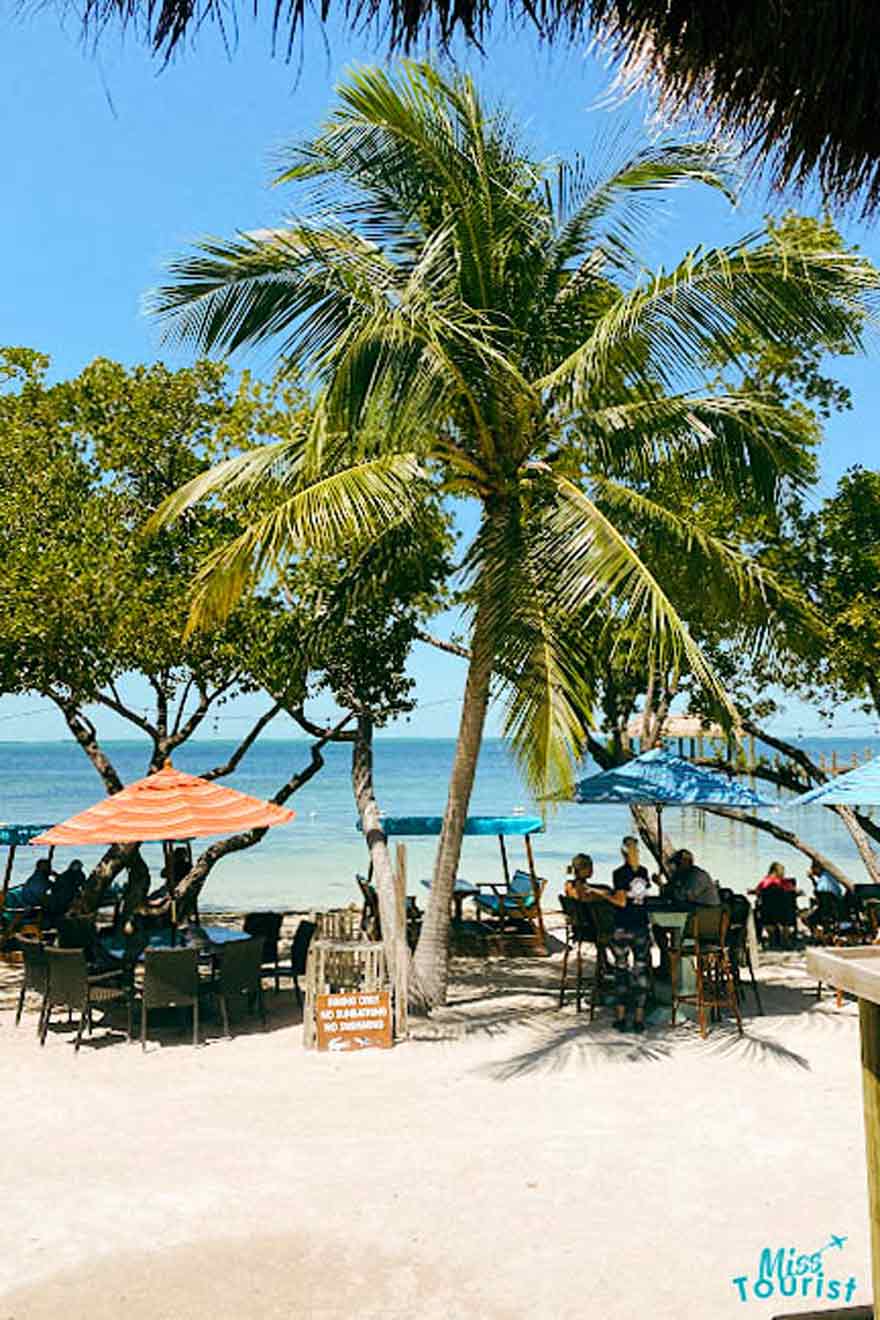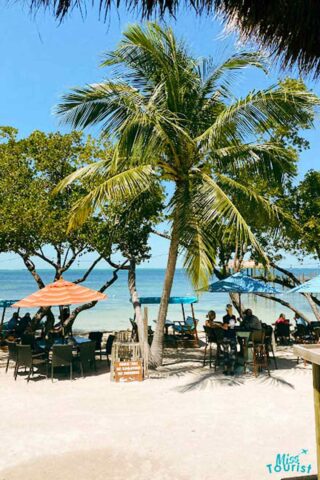 Our journey begins in Key Largo, with a stop at the Caribbean Club. This historic bar was opened in 1936, making it the oldest bar in the Upper Keys! It's also a piece of Hollywood history, as it served as a filming site for the movie Key Largo, starring Humphrey Bogart and Lauren Bacall.
If you're not the designated driver (or you're planning to stay in Key Largo for the night), you've got to try their Key Lime Pie Rum Punch. If drinking is not your thing, it's still well worth stopping in for a soda and checking out the extraordinary views of Florida Bay! It's the epitome of Old Florida.
NOTE: The Caribbean Club is cash only, but they have an ATM on site.
2. See the colorful coral reef at John Pennekamp State Park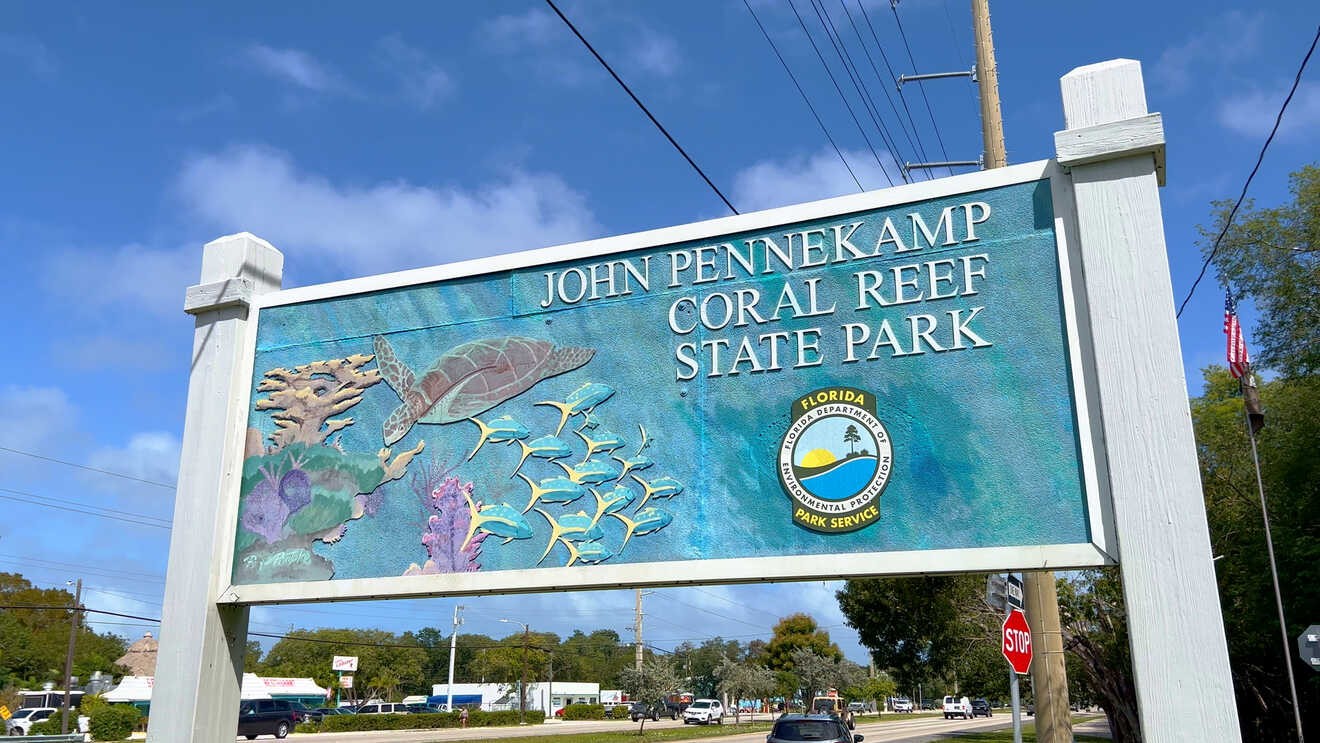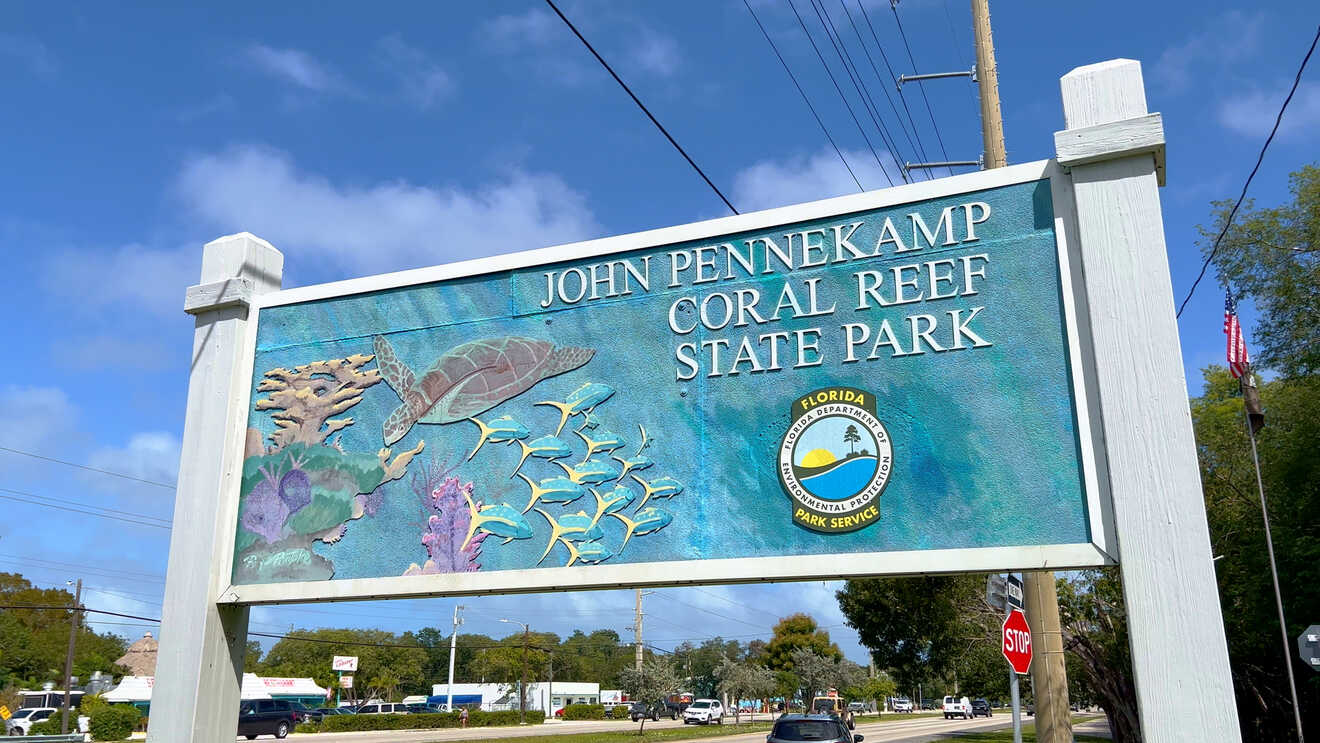 Up next in Key Largo is the breathtaking John Pennekamp Coral Reef State Park (Mile Marker 102.5) which was the first undersea park in the U.S.!
It was established to protect part of North America's only living coral reef, and visitors come from all over the world to see the vibrant reef and its colorful array of marine life. Glass-bottom boat tours are super popular at the state park, but you can get a closer look by kayaking, snorkeling, or diving.
I highly recommend this snorkel tour, where you'll visit 2 gorgeous shallow reefs teeming with fish and other sea creatures! The shallow water makes it kid-friendly as well, which is great because John Pennekamp State Park is somewhere the entire family will love.
PRICE: US$70 per person
3. Check out Rain Barrel Village
One of the coolest stops along the Overseas Highway is Rain Barrel Village (Mile Marker 86.7), an open-air tropical oasis and market where you can shop locally made arts, crafts, souvenirs, and more.
Take a stroll through the beautiful tropical gardens, amid the lush foliage and windchimes, and be sure to make a wish in the wishing well! Discover a variety of shops selling artisan goods, and find the perfect gift to take home and remember your Florida Keys trip.
Don't hit the road again until you've taken a photo with the 30 ft (9m) high, 40 ft (12m) long anatomically correct model of a Florida Spiny Lobster. She took Sculptor Richard Blaze a whole 5 years to complete! And by the way, her name is Betsy!
4. Chow down at Mile Marker 88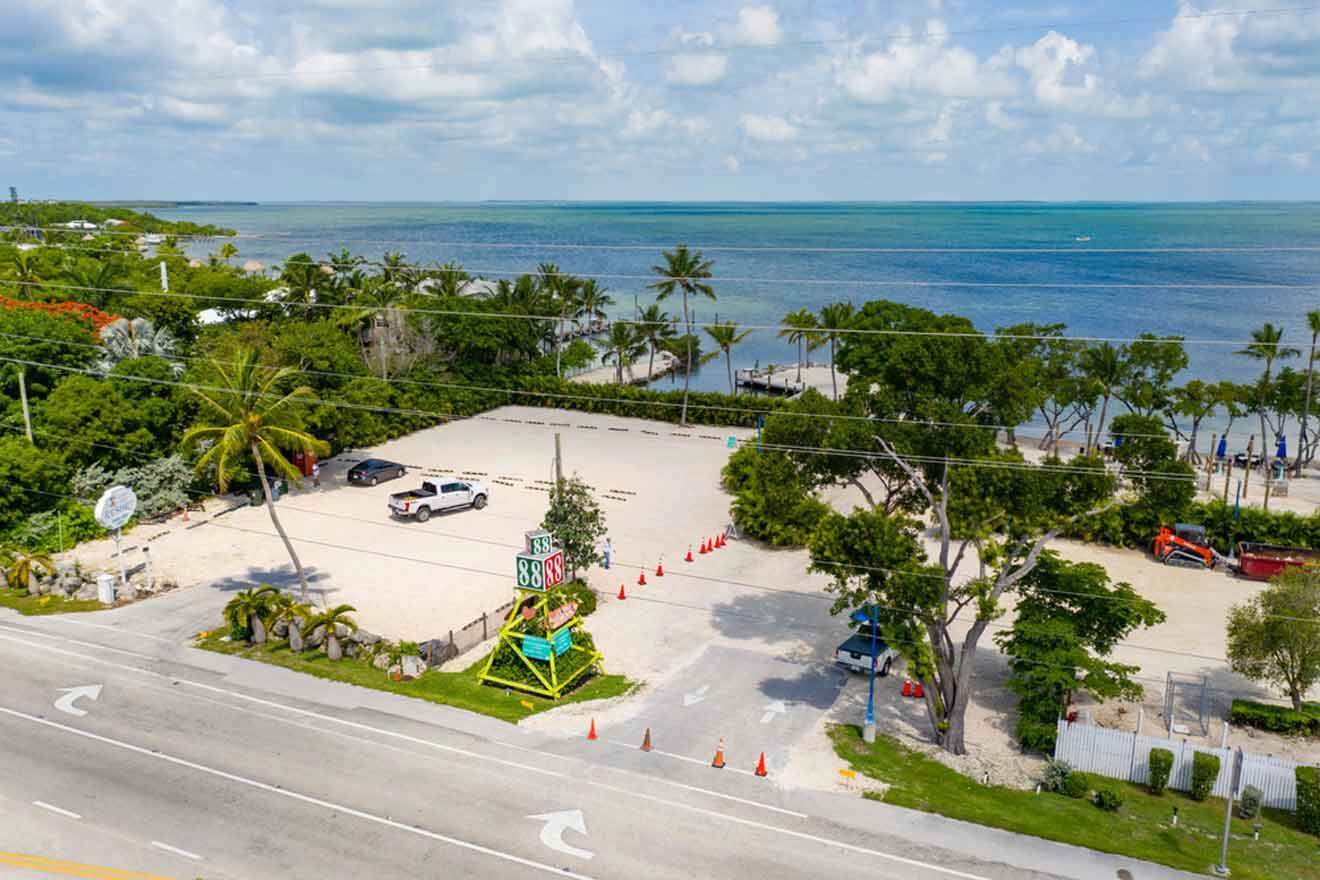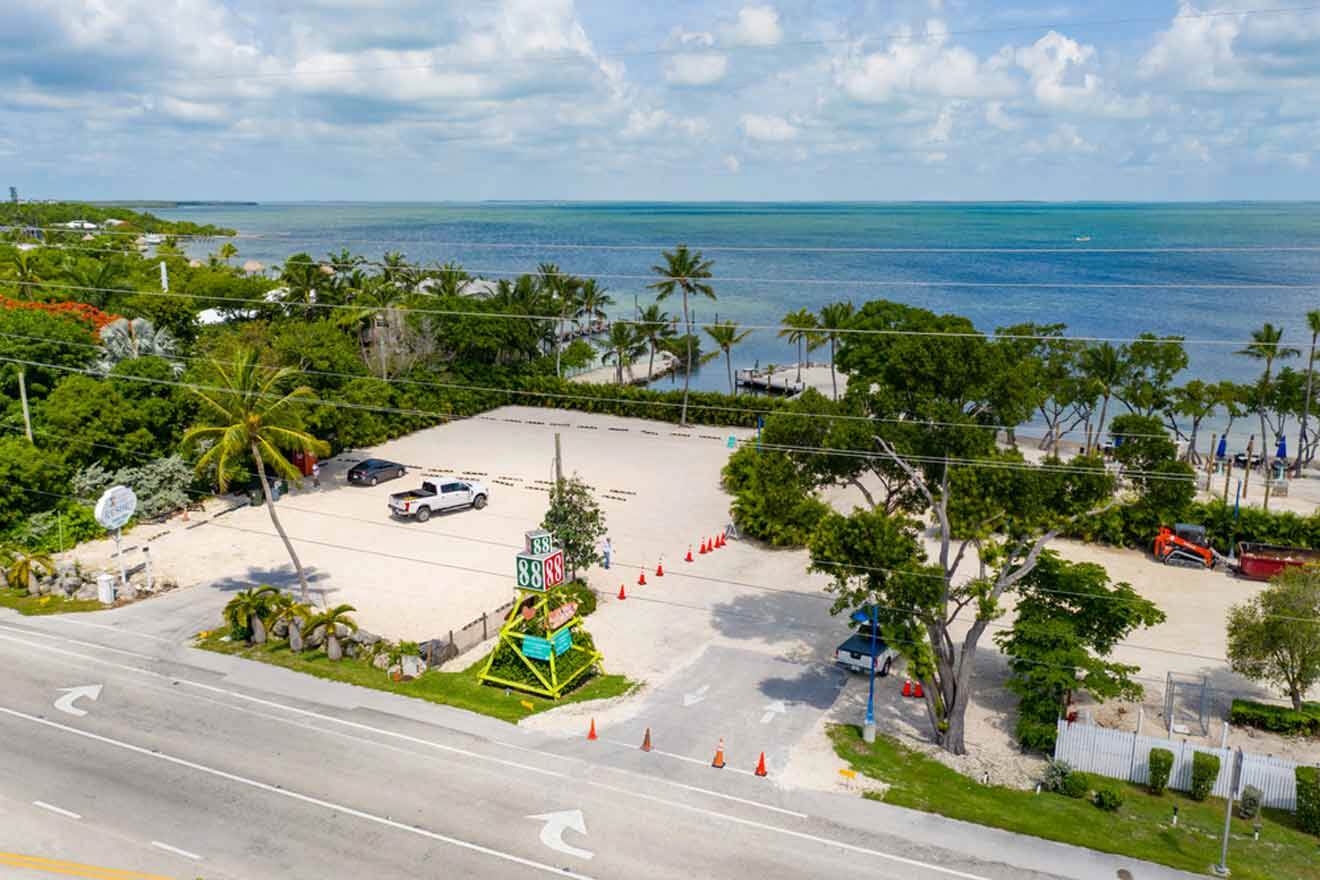 Marker 88 is my absolute favorite restaurant on the Overseas Highway! No Florida Keys trip is complete without enjoying freshly caught seafood al fresco.
Located at (surprise!) mile marker 88, this casual waterfront eatery serves up mouthwatering dishes with island flair, along with an impressive menu of tropical drinks, wines, and craft beer!
Marker 88 is a fantastic place to fuel up for more fun adventures on the Overseas Highway, and it's also an incredible photo spot. Be sure to snap plenty of pics at this picturesque slice of paradise!
PRO TIP: You can sit right on the sand if you make reservations in advance.
5. Visit the History of Diving Museum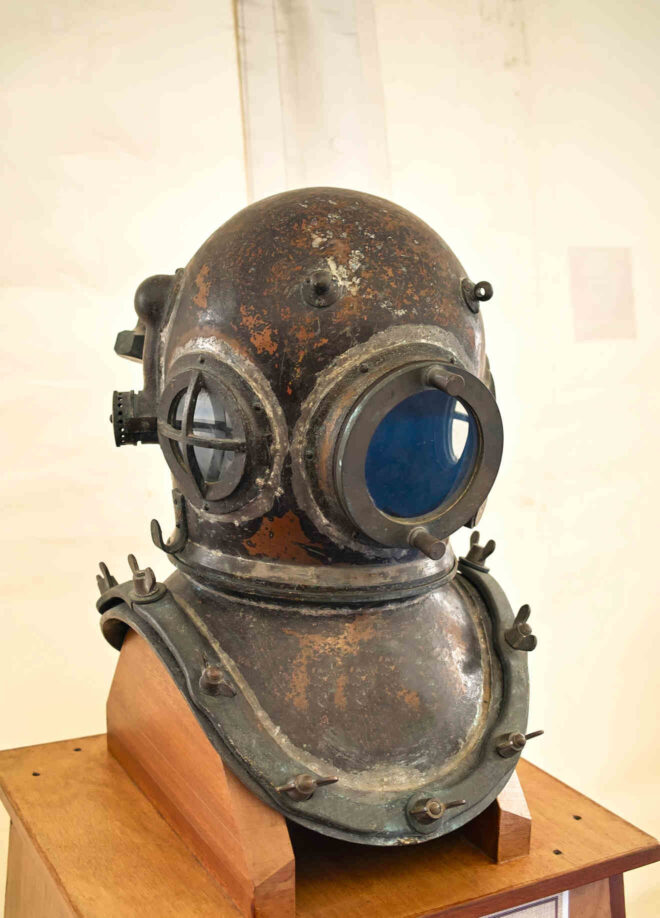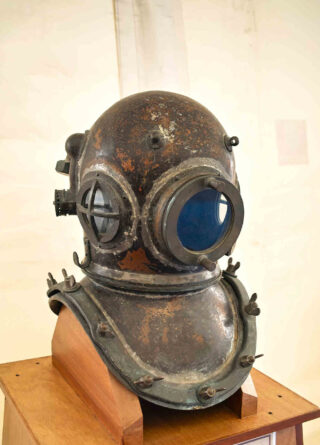 Road trips are my favorite excuse to stop in somewhere I wouldn't normally think to go to. Such was the case with the History of Diving Museum (Mile Marker 83) when I was driving from Miami to Key West on the Overseas Highway. I've got little to no knowledge about scuba diving, but I'm so glad curiosity led me to visit!
Discover one of the largest collections of diving helmets, air pumps, armored suits, lights, memorabilia, and media in the world! Drs. Joe and Sally Bauer spent 40 years acquiring this collection, and now it's on display for the public to see.
Even for someone with no diving knowledge or experience (me 😆), this museum is so fascinating and well worth the stop.
PRO TIP: Show this coupon in person to save US$2 off admission!
PRICE: US$15 for adults, $7 for children
6. Have a sweet treat at Keys Chocolates & Ice Cream
Stock up on some road trip snacks at Keys Chocolates & Ice Cream, the only chocolatier in the Florida Keys! It's loved by both locals and tourists and is a fantastic pitstop to grab some sugary goodies for the rest of the way, especially if you're making the drive from Miami to Key West.
Try handcrafted chocolates, key lime pie, one of their 36 flavors of small-batch ice cream made in-house, or all of the above! After all, it's your vacation! Calories don't count. 😉
7. Feed giant tarpon at Robbie's Marina
Speaking of ginormous wildlife, here's something you don't get to do every day! Robbie's Marina, located at Mile Marker 77.5, lets you feed massive African Tarpon from the dock! Dangle some food (aka dead fish) in the water, and watch these humongous fish leap up to snatch the snack.
Giant tarpon feeding at Robbie's Marina is definitely one of the most unique things to do along the Overseas Hwy! Robbie's Marina was voted the #1 place in the Keys every tourist should visit. I mean, who can compete with fish this big?
PRICE: Dock admission is US$3 per person, and a bucket of fish for feeding is $5
8. Meet sea turtles at the Turtle Hospital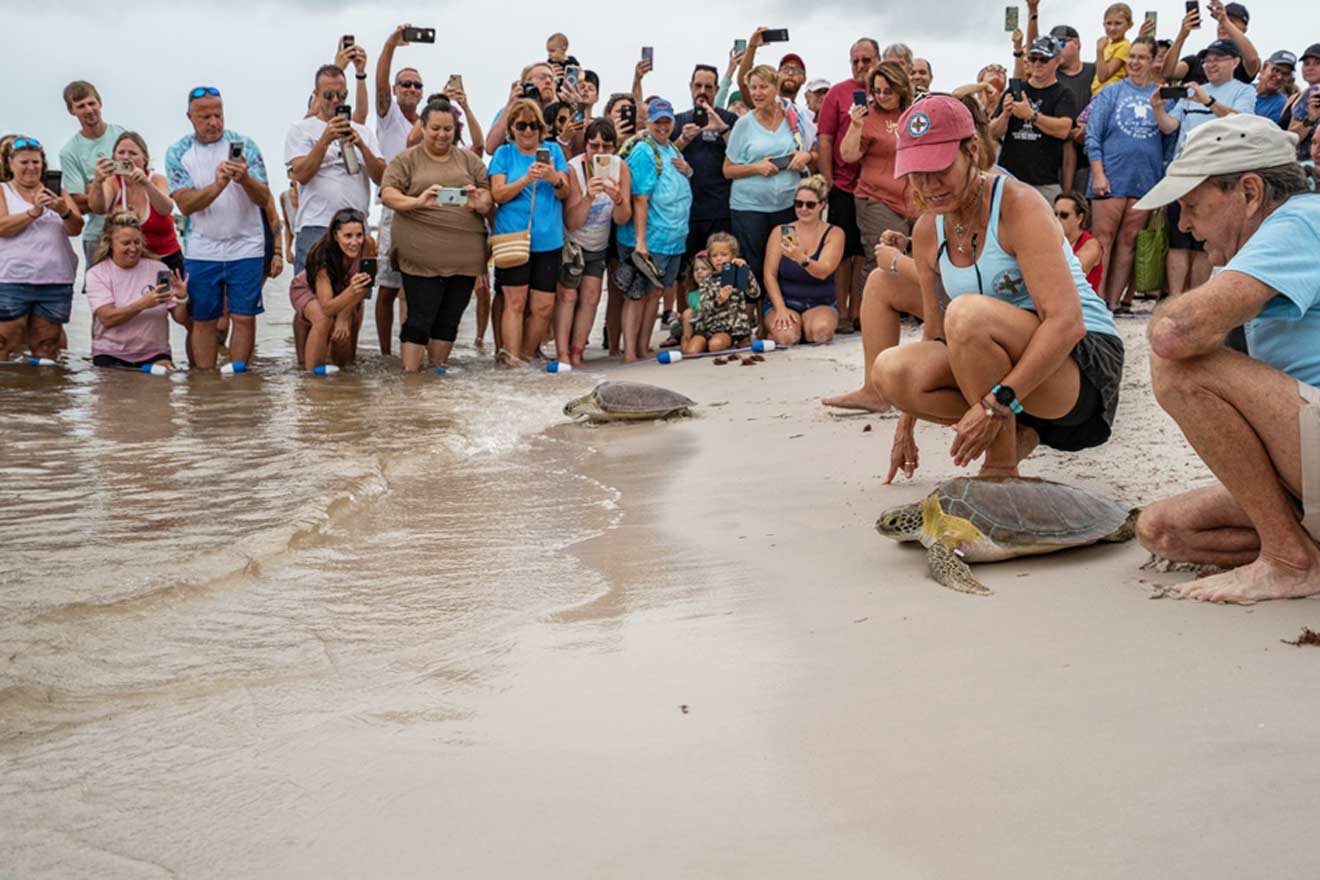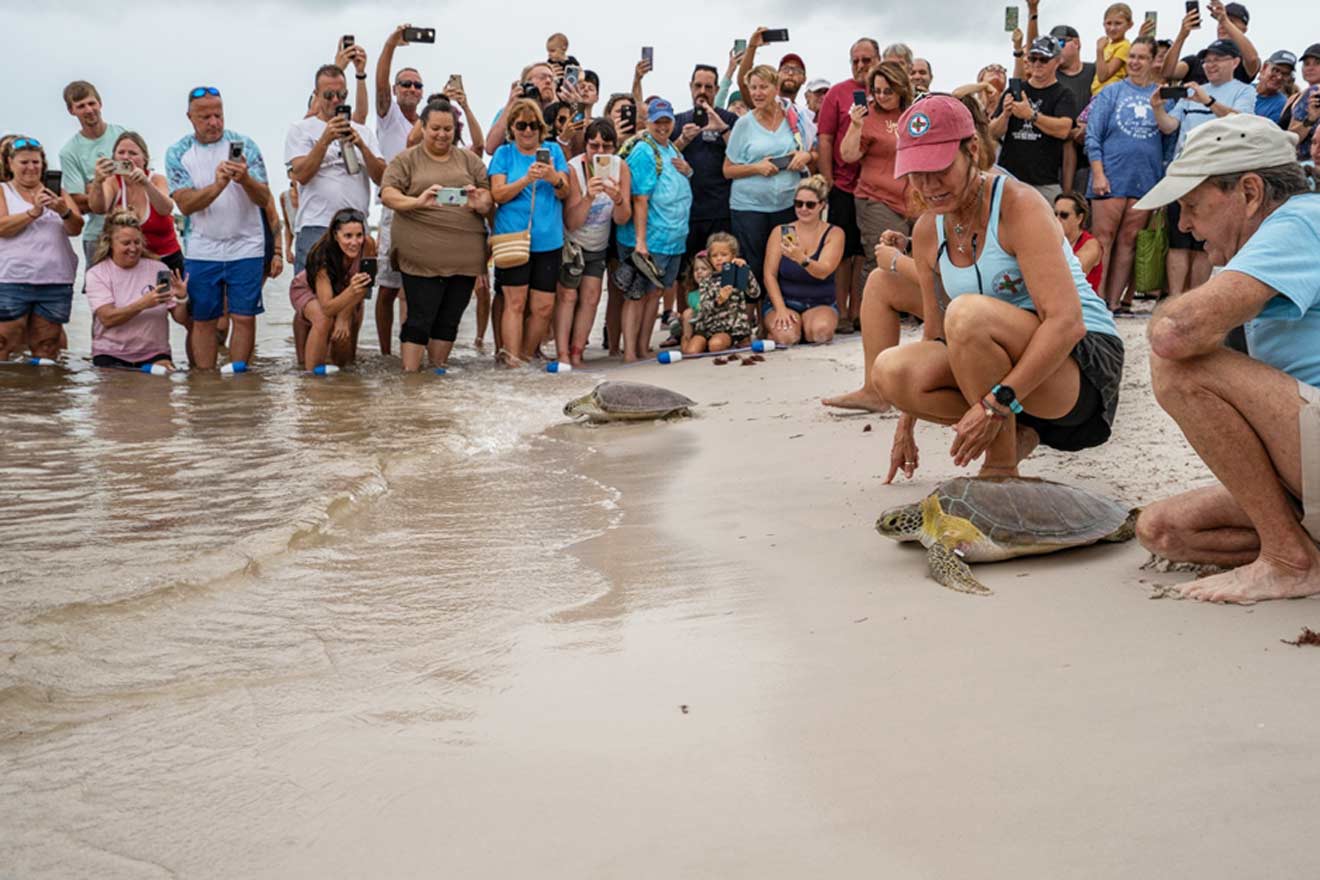 As you can probably tell, a trip to the Florida Keys is full of opportunities to get up close to spectacular marine wildlife. A really special experience on the Overseas Highway is a visit to the Turtle Hospital in Marathon (Mile Marker 48.5)!
You can take an educational guided tour of the Turtle Hospital facilities and get a behind-the-scenes look into the sea turtle rehab area. At the end of the tour, you get to feed the Turtle Hospital's permanent residents!
The experience lasts between 70-90 minutes, so with some planning, you can fit it in on a drive from Key Largo to Key West. Reservations are highly recommended, as the tours fill up very quickly! The only way to see the Turtle Hospital is on an official guided tour.
PRICE: US$30 for adults, and $15 for children, ages 4 and under are free.
9. Drive across the Seven Mile Bridge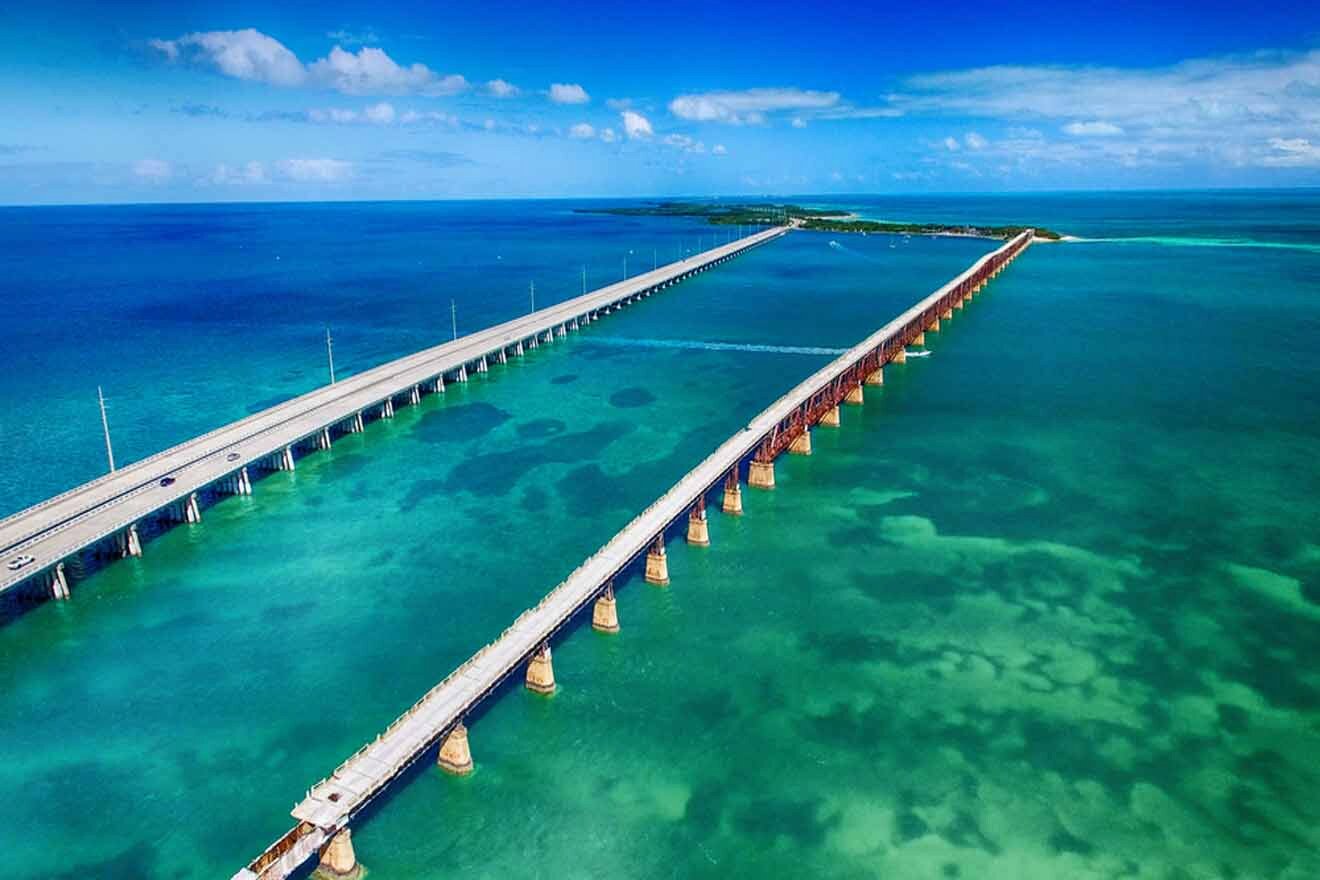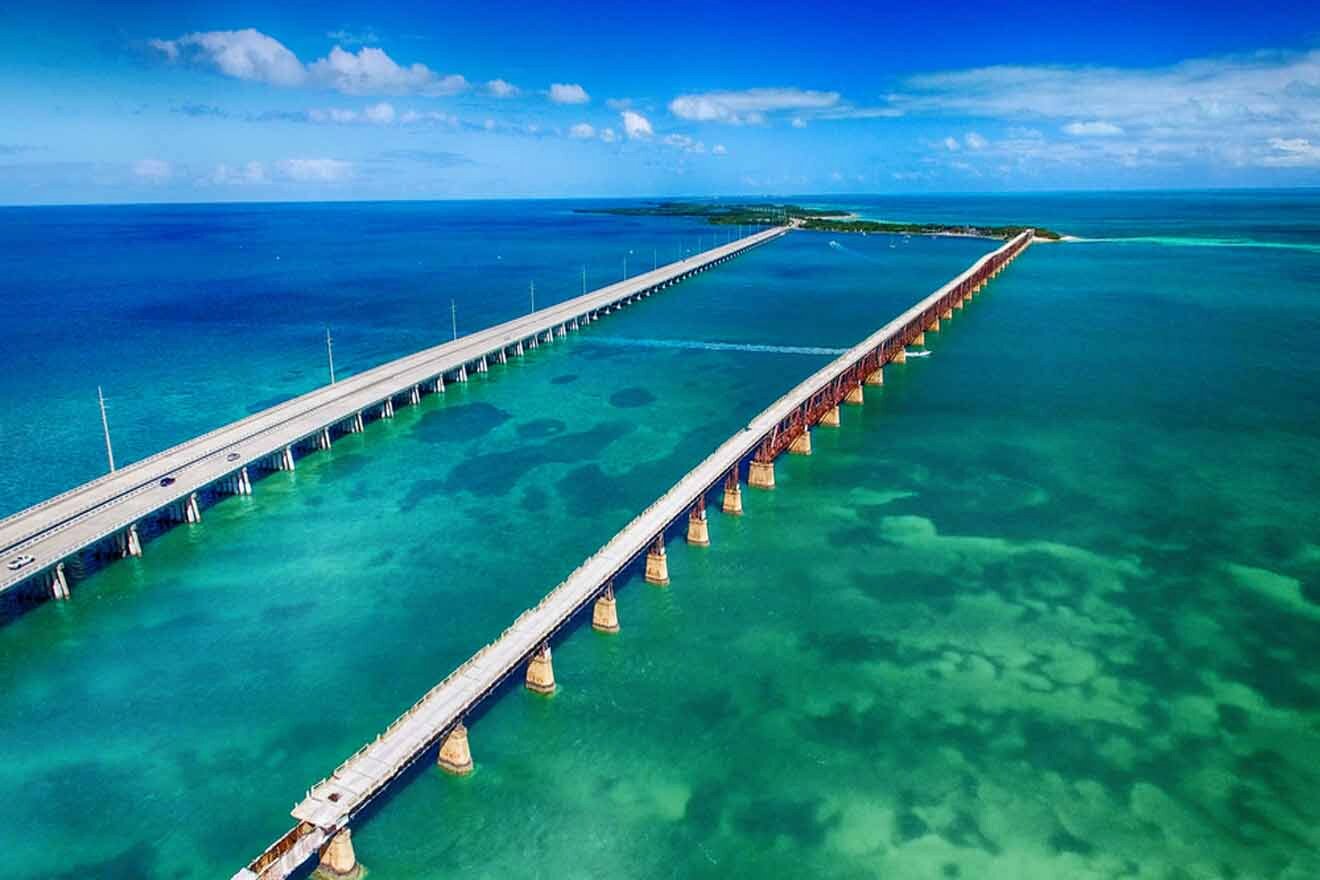 The drive down to Key West will take you over the scenic Seven Mile Bridge. I know what you're thinking – probably something along the lines of "Wow, that's a very long bridge!" But even if it may seem daunting at first, the gorgeous Seven Mile Bridge is a treat to drive along!
The Seven Mile Bridge connects Knight's Key (in the Middle Keys) to Little Duck Key (in the Lower Keys). There are 2 bridges side by side.
The old bridge, once considered the "eighth wonder of the world," was a feat of engineering by Henry Flagler: the overseas railroad. It's now designated for pedestrians and cyclists. The new bridge is the Keys highway with two lanes open to vehicular traffic – the Atlantic Ocean shimmering on one side and the Gulf of Mexico shimmering on the other.
If you have time for it, I recommend taking a stroll down the old bridge to Pigeon Key!
10. See the historic bridge Bahia Honda State Park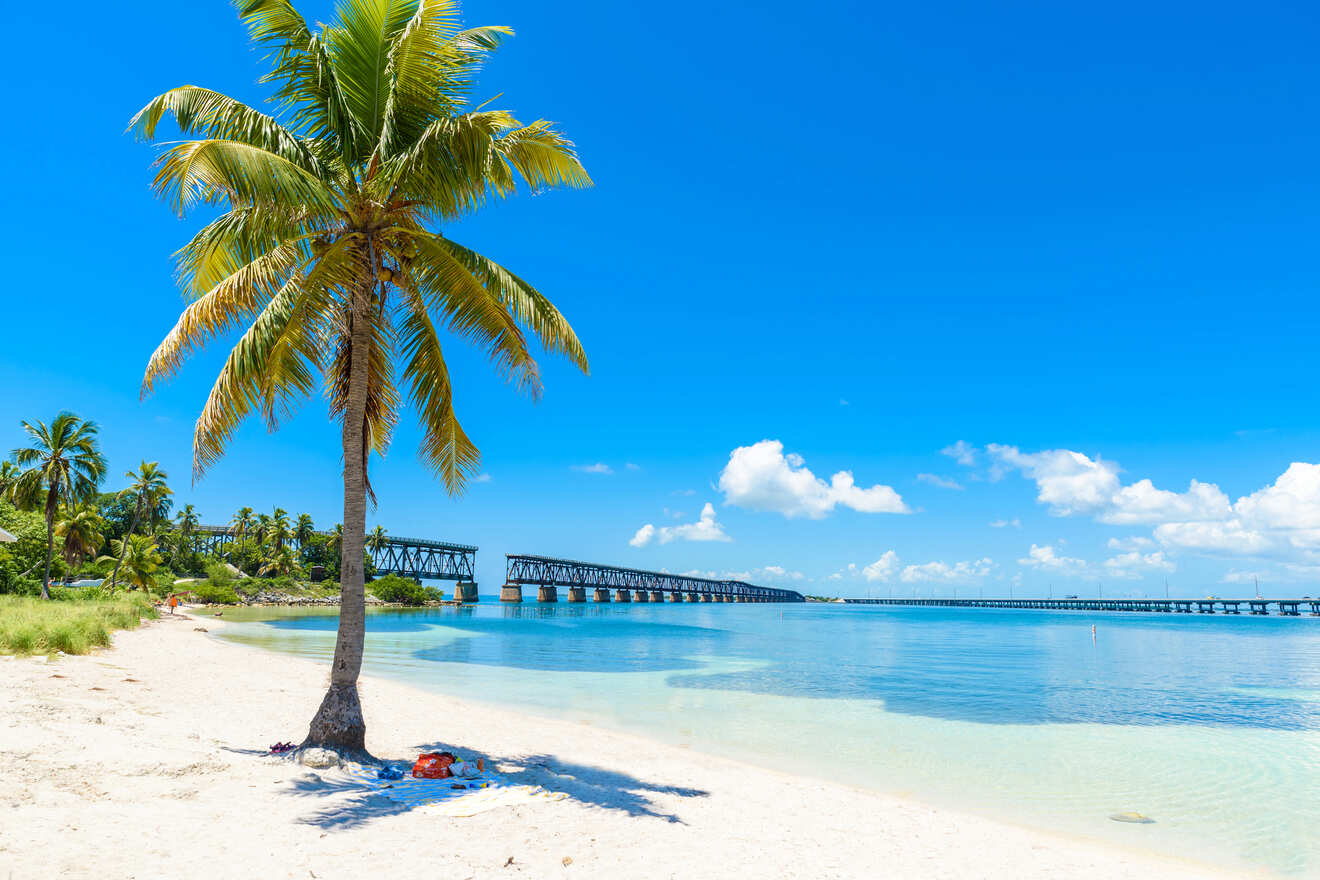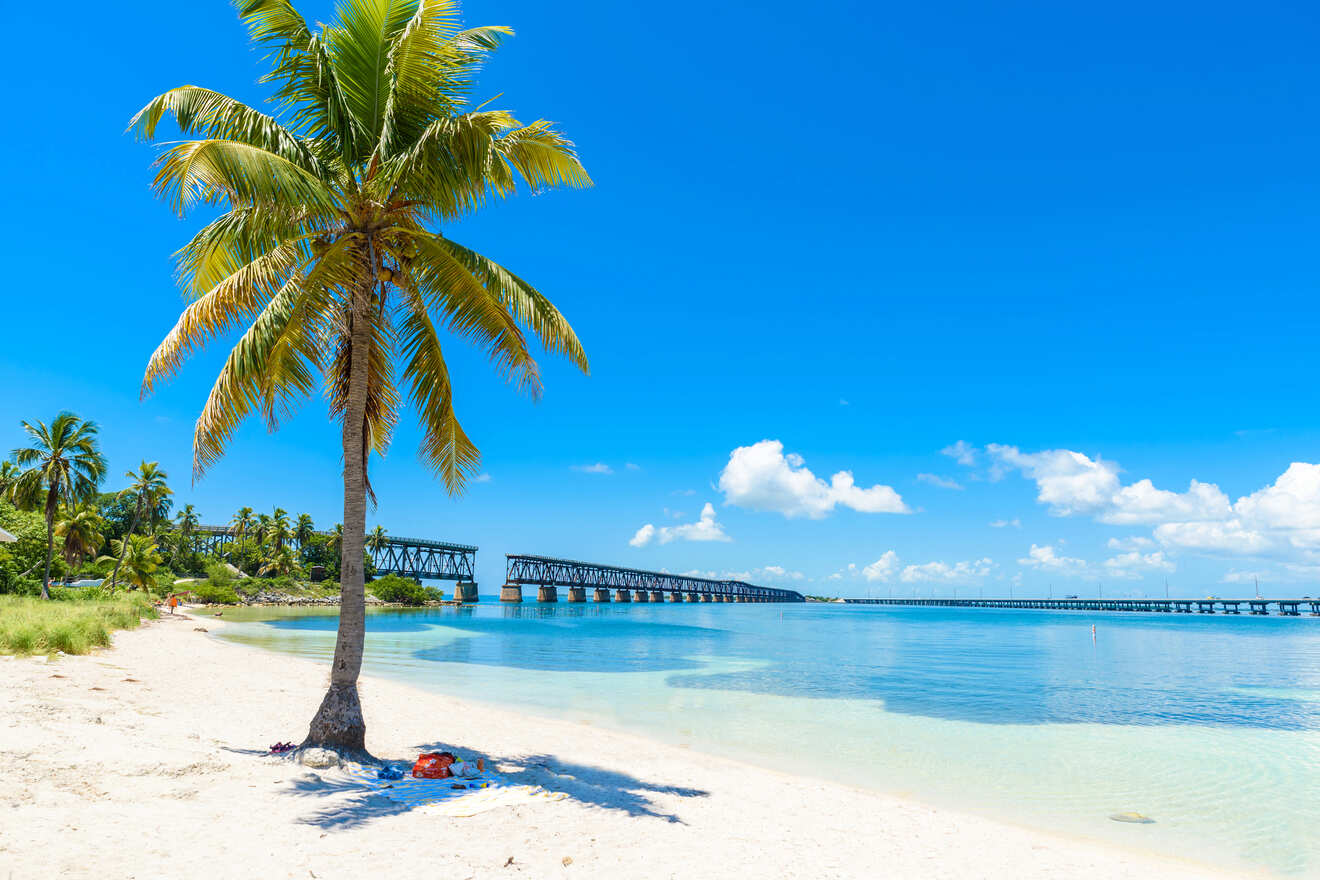 At this part of our journey, we're about 45 minutes away from Key West, and it's time for another stop at a breathtaking state park! Bahia Honda State Park is located on Big Pine Key. Even if you don't have time for a whole beach day, stretch your legs out on the sand or tip your toes into the glittering water.
The neatest part is the 100-year-old Bahia Honda Bridge, an extraordinary relic from Henry Flagler's Overseas Railway. This bridge was even harder to build than the Seven Mile Bridge because of how deep the channel is, so it's really cool to see such a prominent piece of Florida Keys history!
PRICE: US$8 per vehicle, plus a Monroe County surcharge of US$0.50 per person
11. Check Out National Key Deer Refuge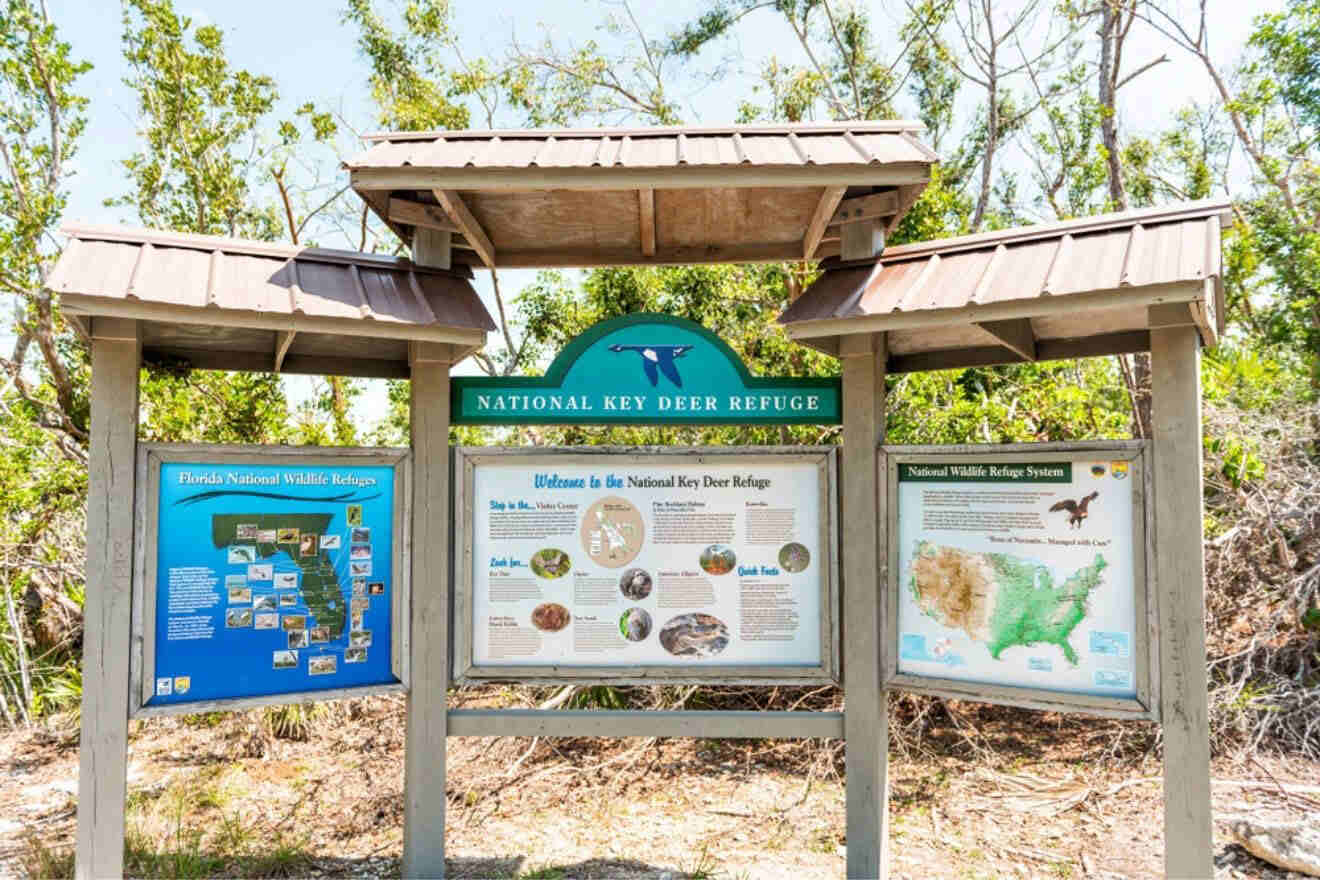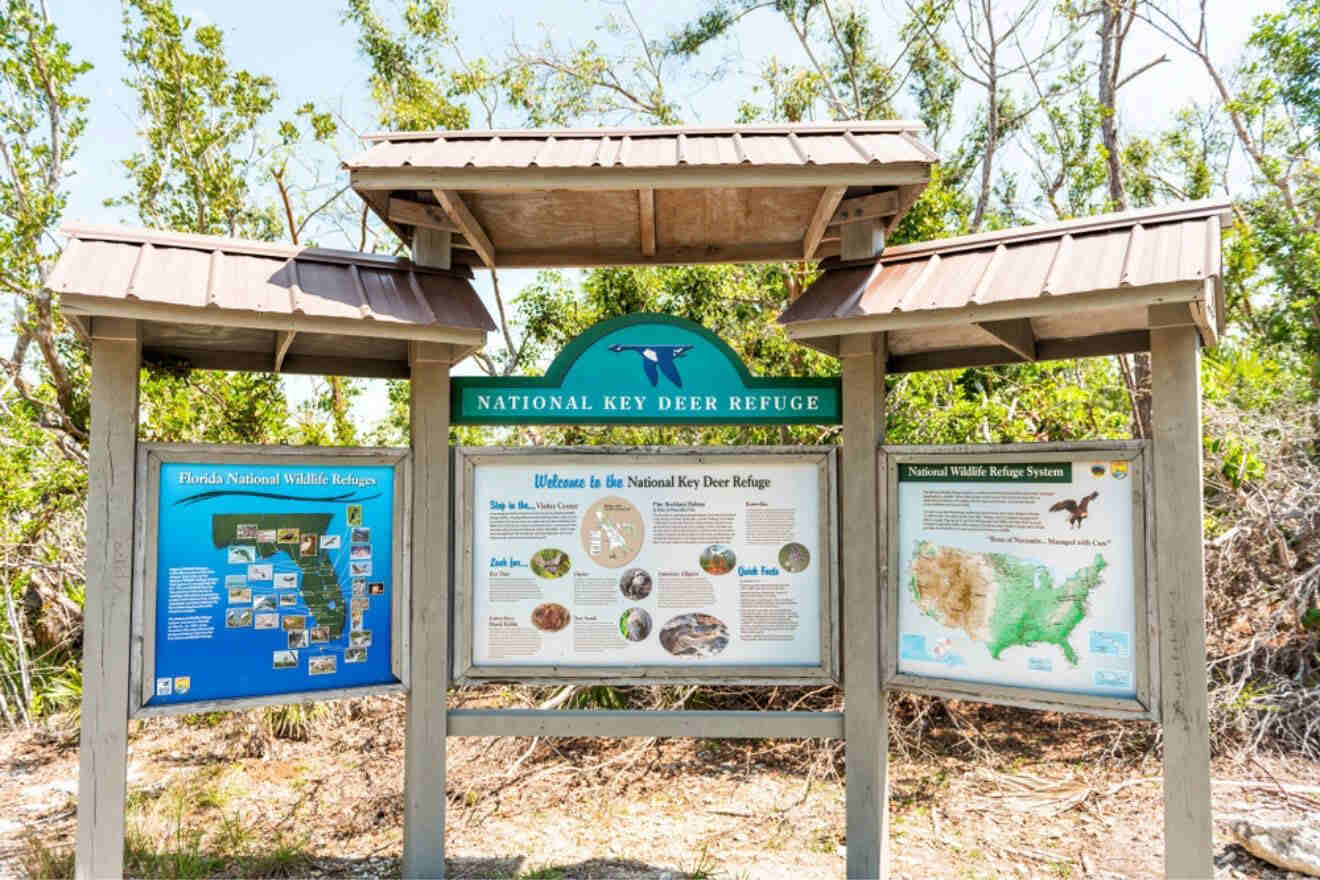 Key Deer are the smallest subspecies of white-tailed deer, so yes, they are adorable! They are endangered, but the National Key Deer Refuge was founded to help protect these animals and other native wildlife.
Key Deer can only be found in the Florida Keys, so visiting the National Key Deer Refuge in Big Pine Key is something you don't want to miss out on. See these beautiful creatures roam in their rare habitats, and spot many other amazing animals as well!
I recommend going when the Nature Center is open (Wednesday through Friday from 10 AM to 3 PM), so you can speak with the refuge volunteers to learn more about the area and the best places to go within the National Key Deer Refuge. There is no fee for entry!
12. Fuel up at Baby's Coffee
We've done a whole lot of exploring on our Overseas Highway road trip so far. Sounds like it's time for a cup of joy! Baby's Coffee (Mile Marker 15) is always a must-do when I'm driving down to Key West. It's important to have plenty of energy when we finally reach Mile 0!
This locally brewed coffee is delicious, and the story behind the building is great too! In the 1920s, a Cuban family owned what is now Baby's Coffee, and named it "Baby's Place" after their son (which is how Baby's Coffee got its name in 1991). When he grew up, "Baby" opened a cantina in this very spot, and local legend says Ernest Hemingway would often stop in for a drink.
13. Take a photo at Mile 0 in downtown Key West!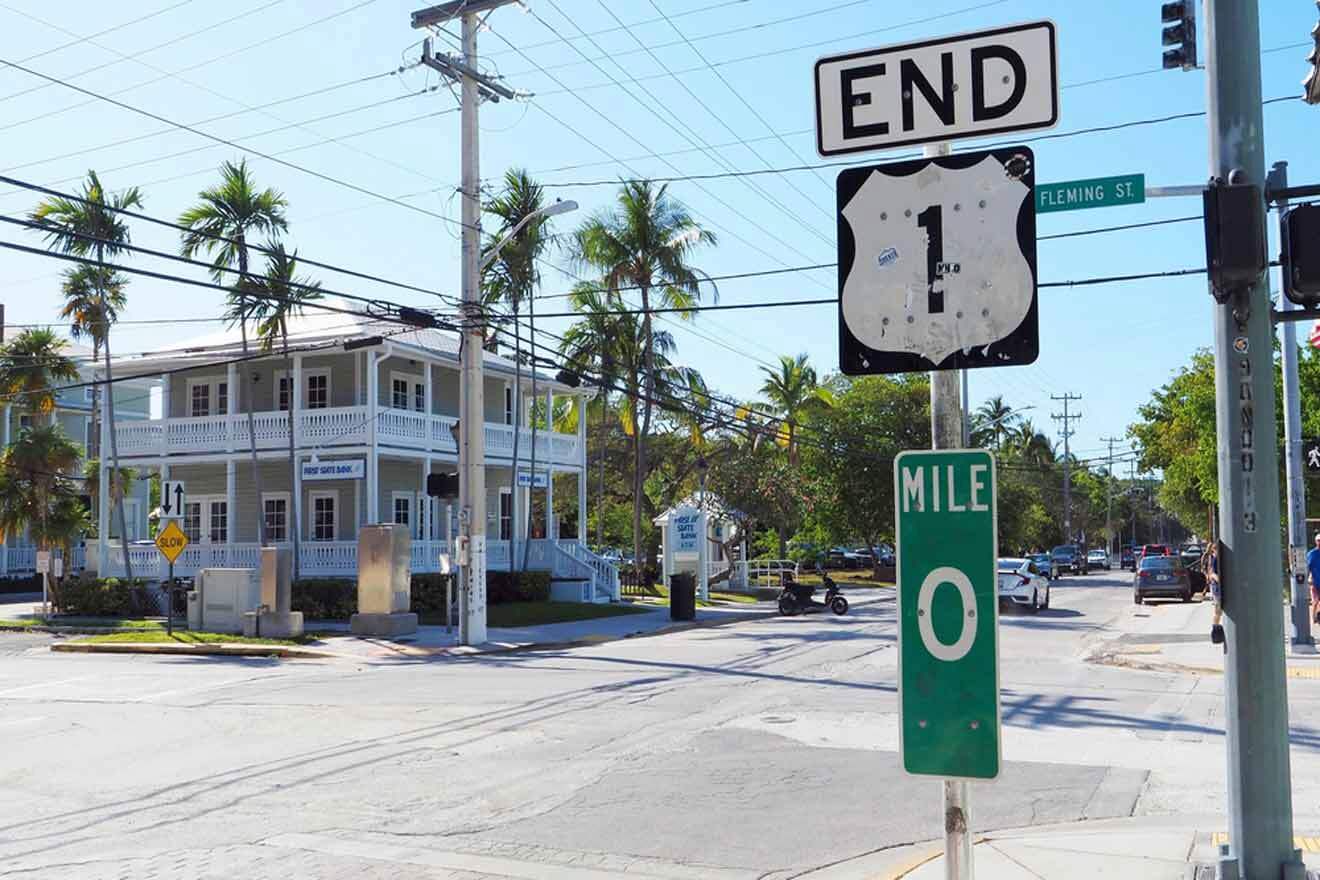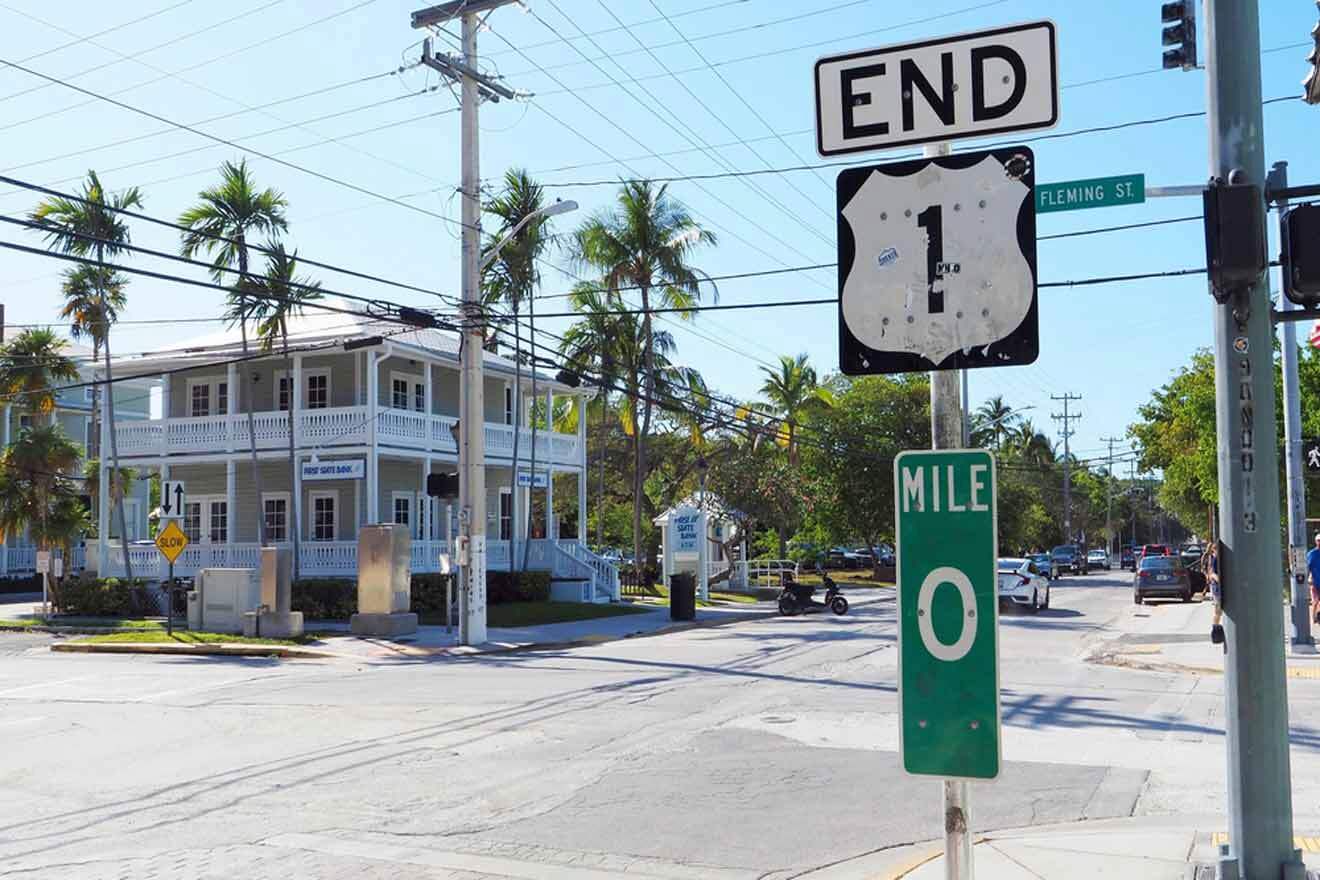 Congratulations – we've made it to Key West, the last stop on our Overseas Highway Florida road trip! Key West is my favorite place in the entire world, and where I tied the knot with my husband in 2022. There is so much to do and see on the island; I can't recommend visiting Key West enough!
You definitely need to commemorate your journey on the Overseas Highway with a photo of the legendary Mile 0 sign, located at the cross of Whitehead and Fleming Streets. Now go explore Key West!
Practical information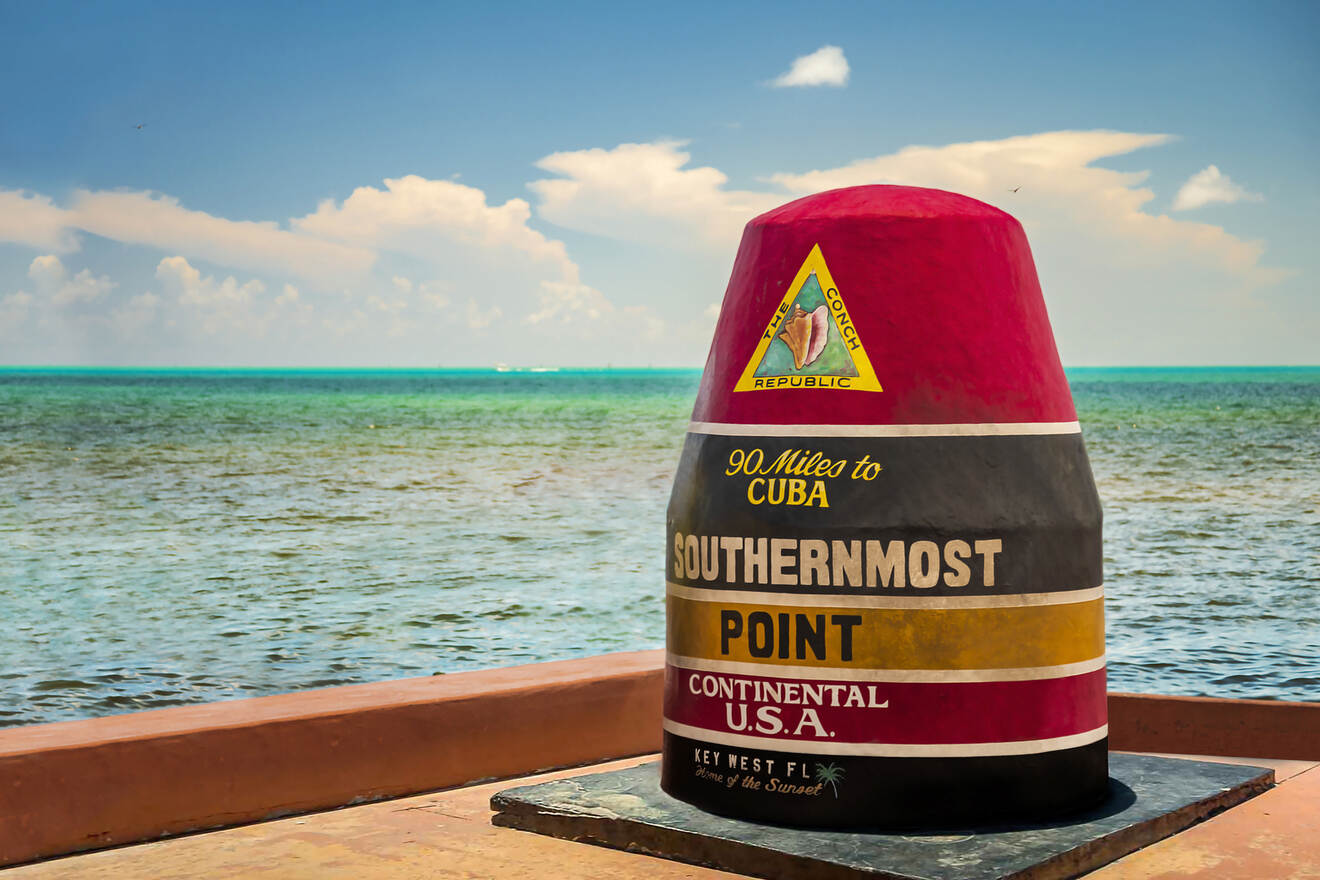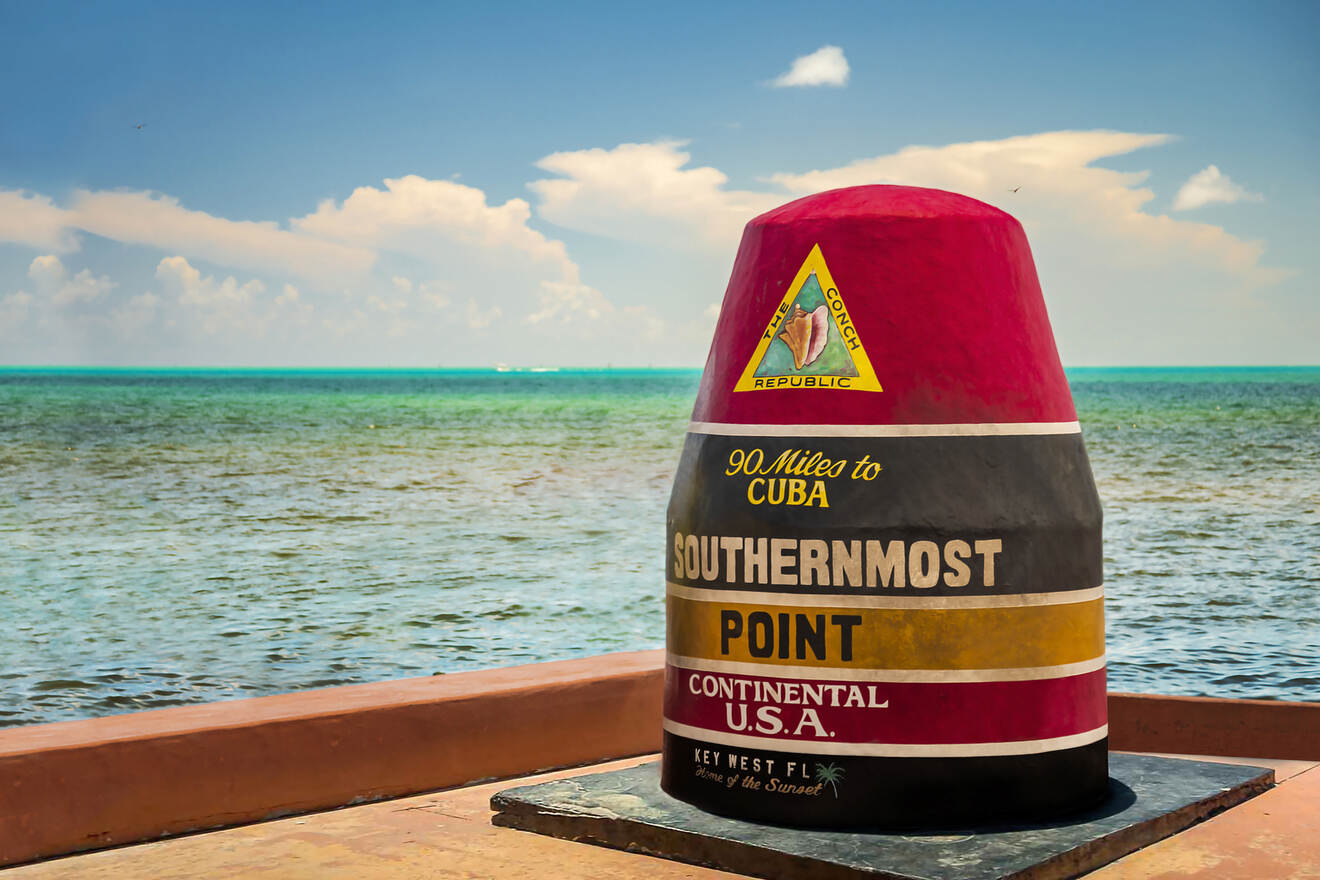 There are a few things to know before you go! The entire length of the Overseas Highway is 115 miles (185 km) – it's an extension of U.S. Route 1 (referred to as US 1) and the only road from the mainland down to Key West.
There are plenty of gas stations along the way, but I recommend filling up at the start in Key Largo, so you don't have to worry about it later on. The speed limit on the Overseas Highway ranges between 30 to 55 mph, typically slower in more populated areas. Much of the highway is 2 lanes, but there are opportunities for passing.
FAQs about the Overseas Highway Florida Road Trip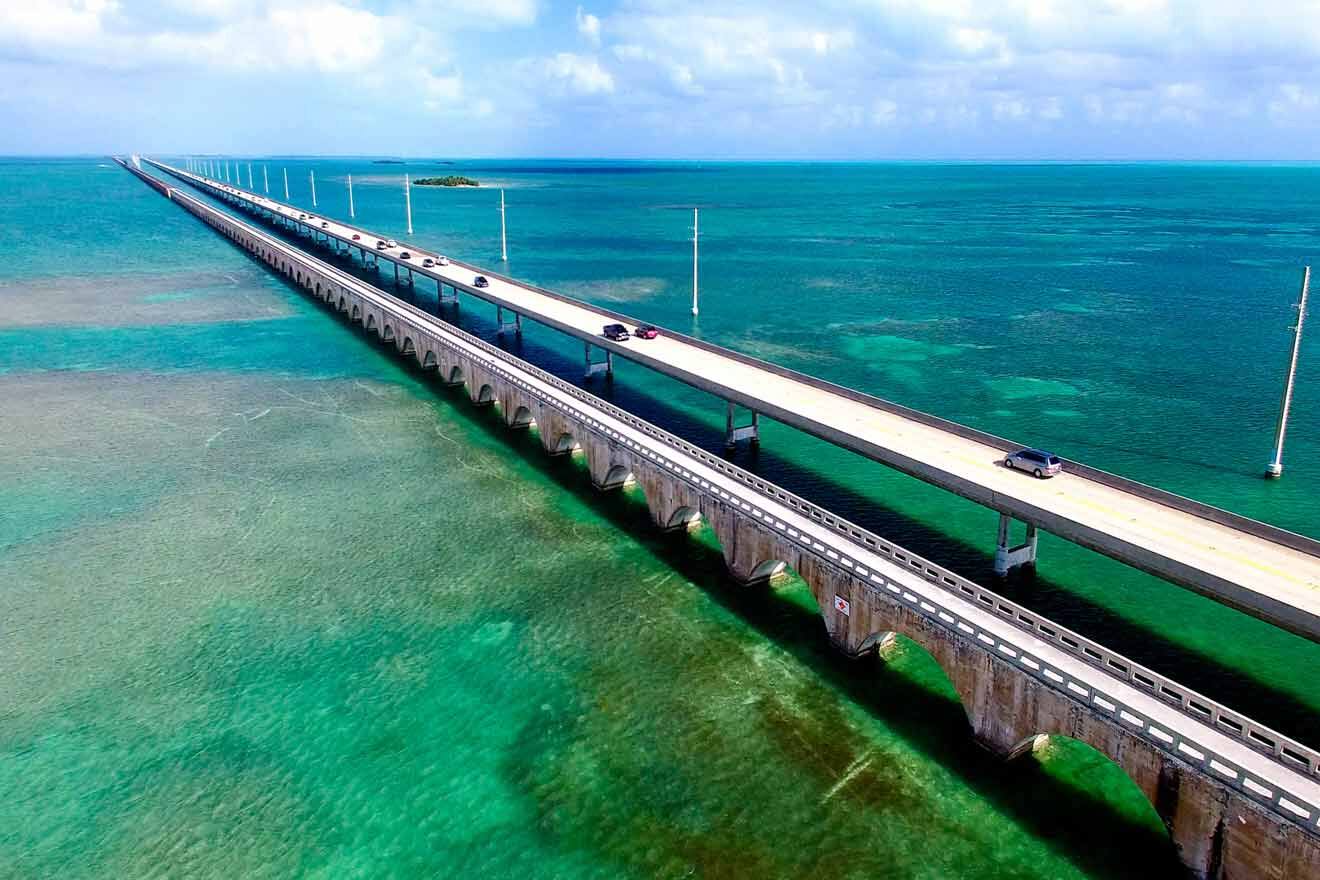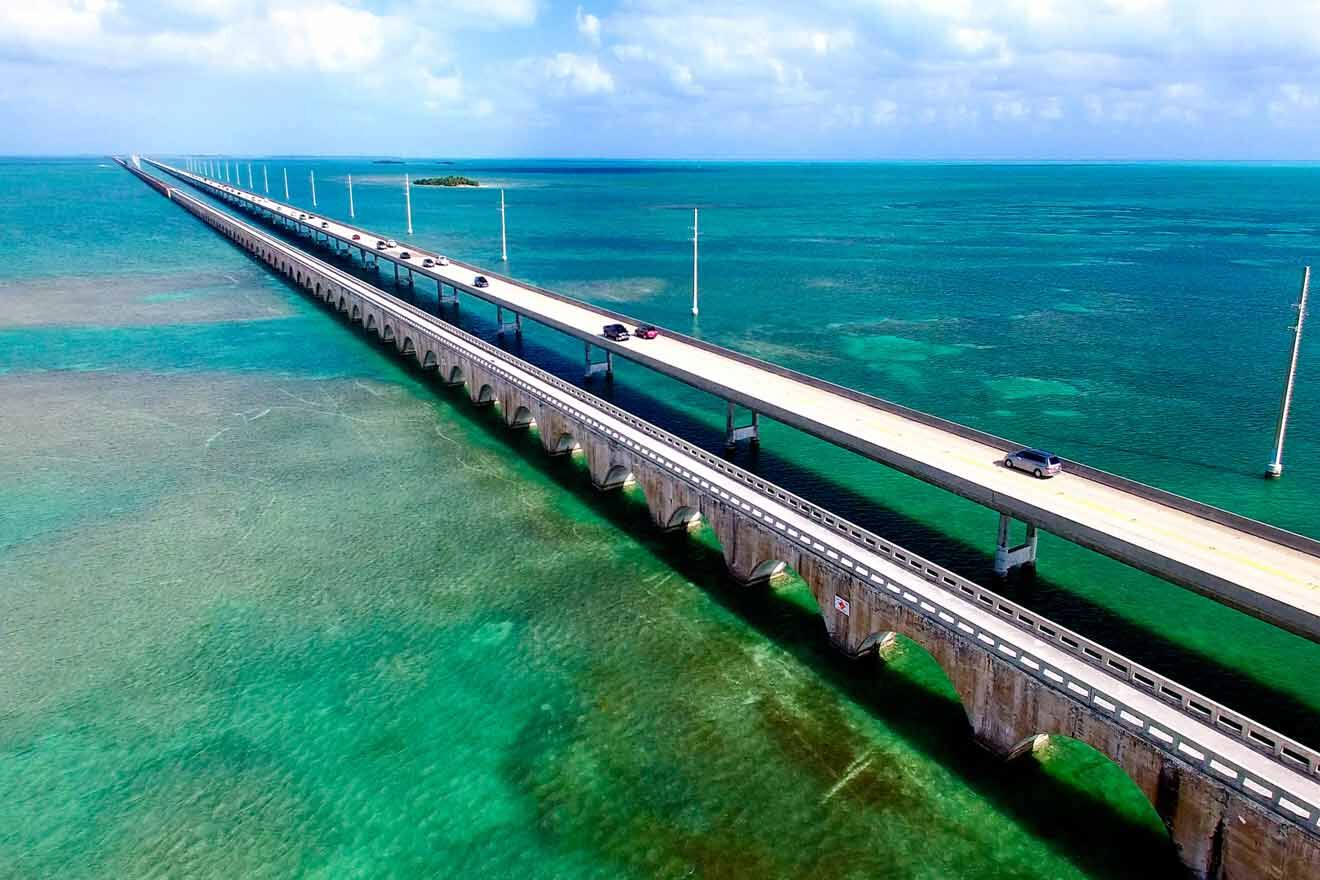 🛣️ Is the Overseas Highway scary?
There are 42 bridges along the Overseas Highway, so it can be scary for those prone to anxiety driving over bridges. There are so many beautiful things to see and do along the way though, it's easy to distract yourself, and very worth the challenge!
🚗 Where does the Overseas Highway start and end?
The Overseas Highway starts at Mile Marker 127 in Florida City and ends at Mile 0 in Key West.
🎣 Are there stops on the Overseas Highway?
Yes, there are plenty of things to do & see along the Overseas Highway from Key Largo to Key West. Explore the vibrant coral reef at John Pennekamp State Park, visit the History of Diving Museum, or grab a bite at one of the locally owned restaurants.
Conclusion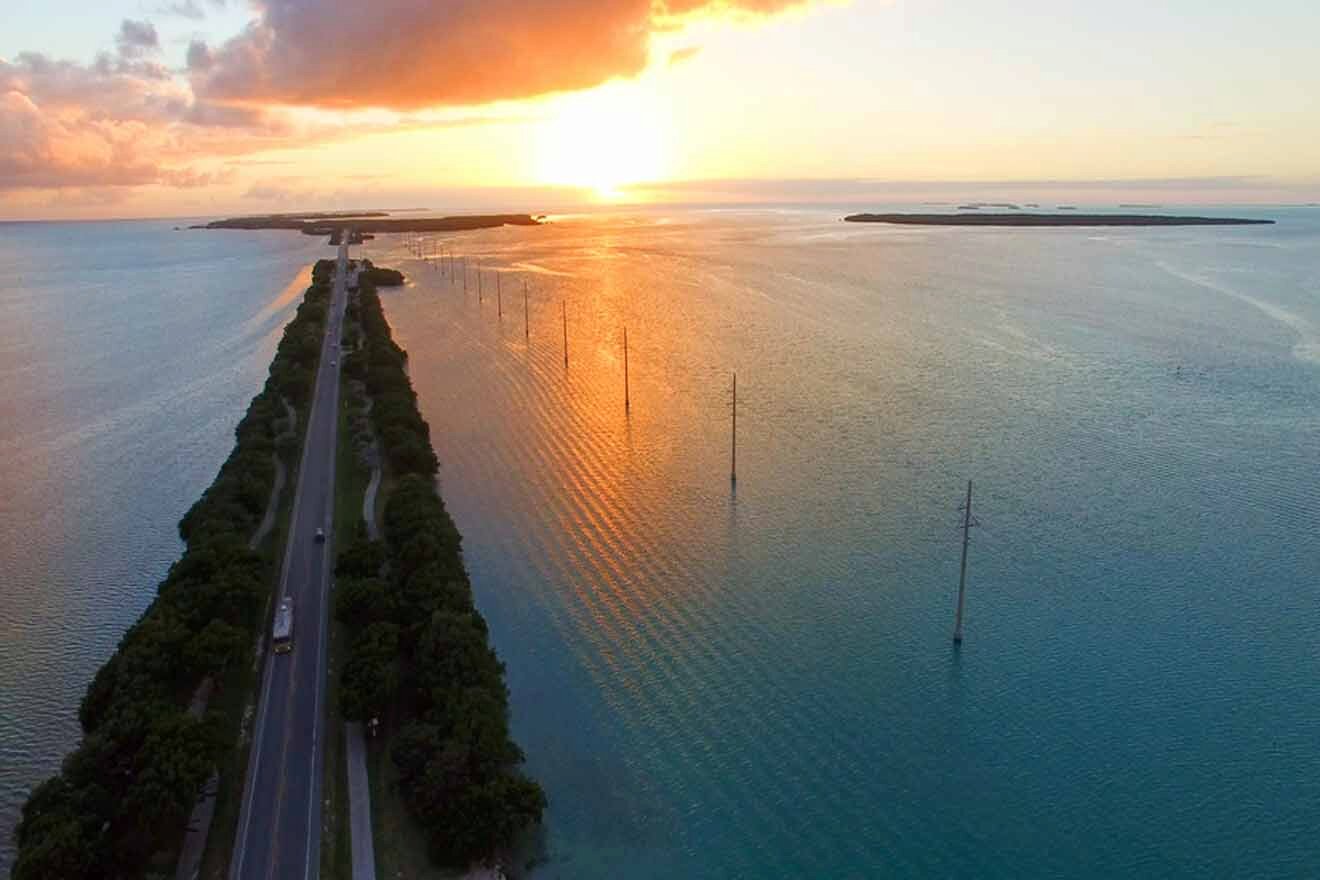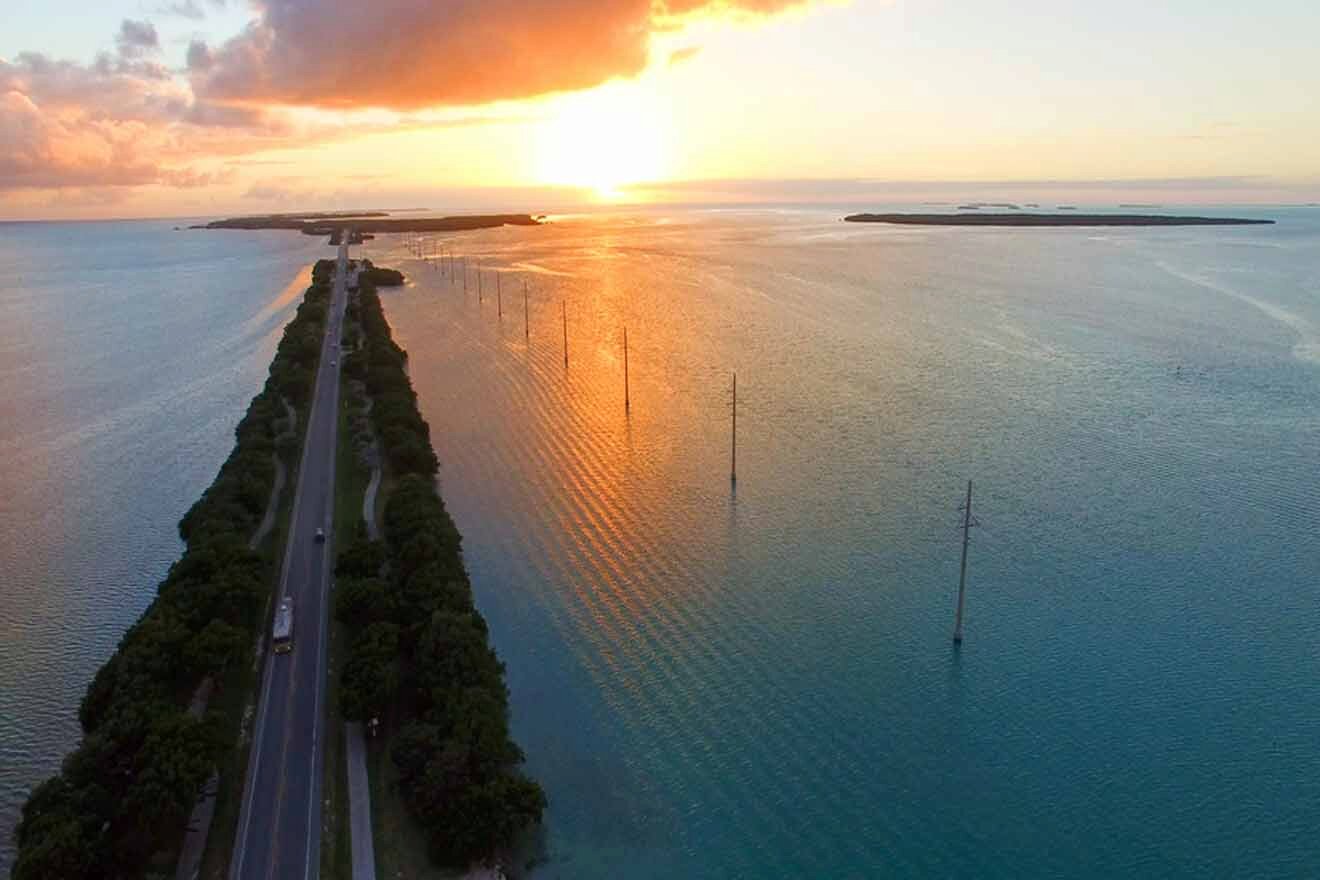 Just talking about all the fun things to do on the Overseas Highway Florida road trip has me ready to plan my next one – do you feel the same? If you haven't yet experienced this extraordinary part of the Sunshine State, you absolutely must!
From adventures with marine wildlife to historical bars and bridges, it doesn't matter if you're seeking a roadside adventure or just a moment out of the car – you'll find just what you're looking for on Florida's Overseas Highway.
Let me know if you have any questions in the comment section below! I'm happy to answer all your queries!
Happy travels!
Montana
---
Pin it for later!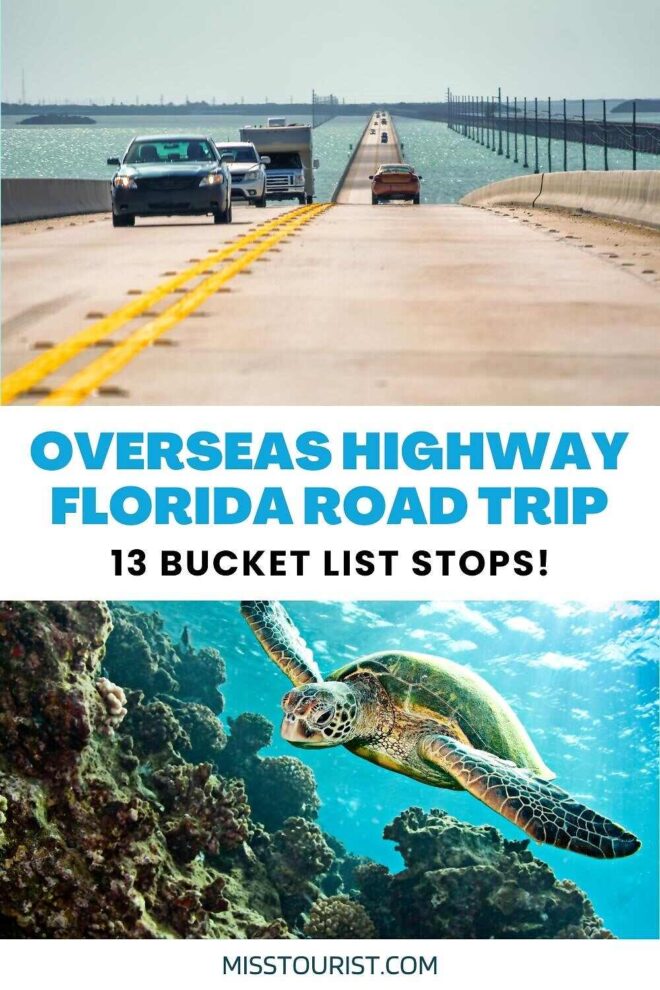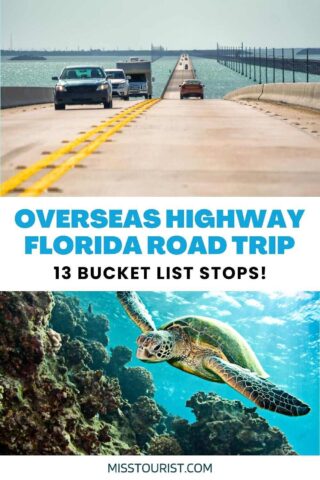 Pin it for later!