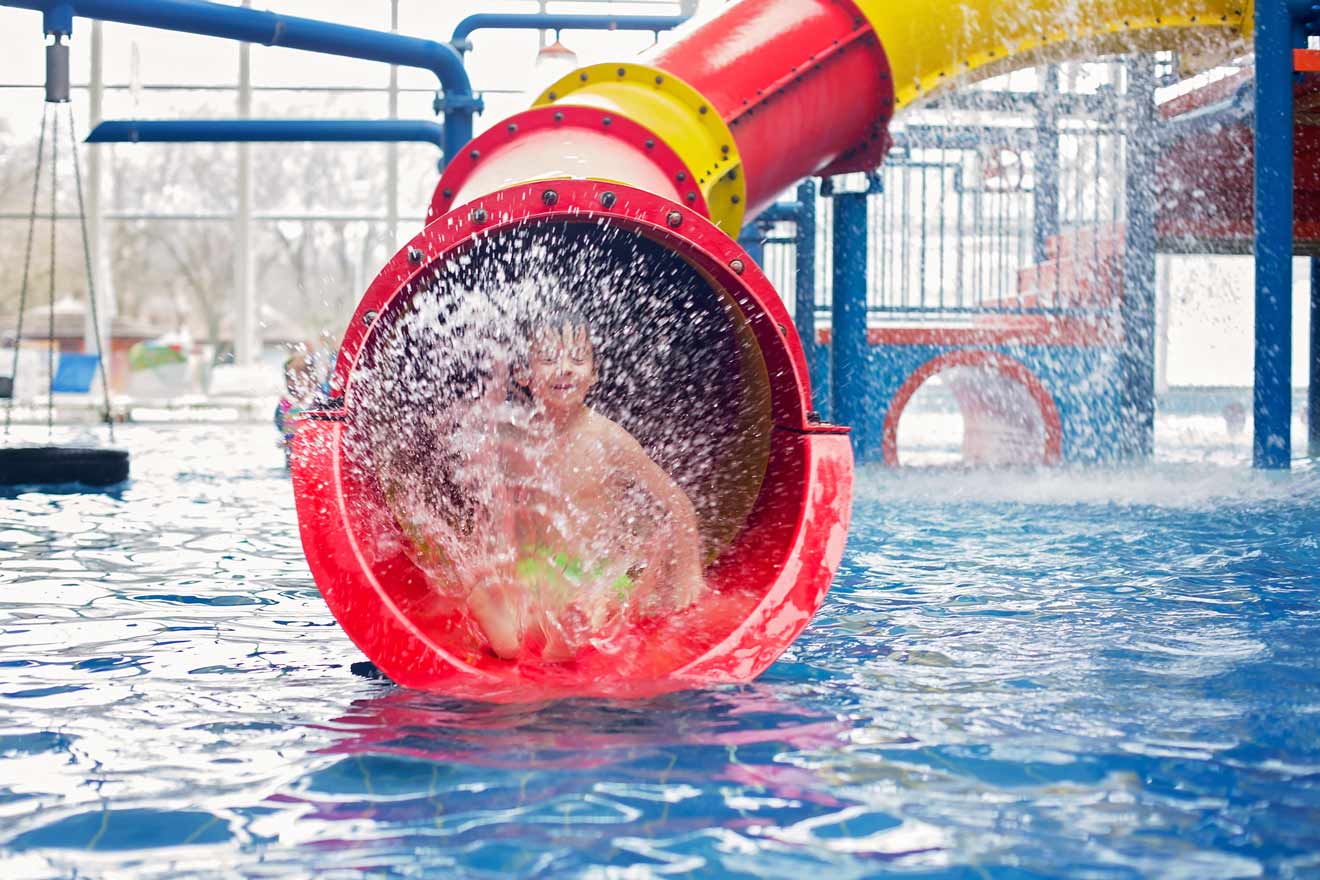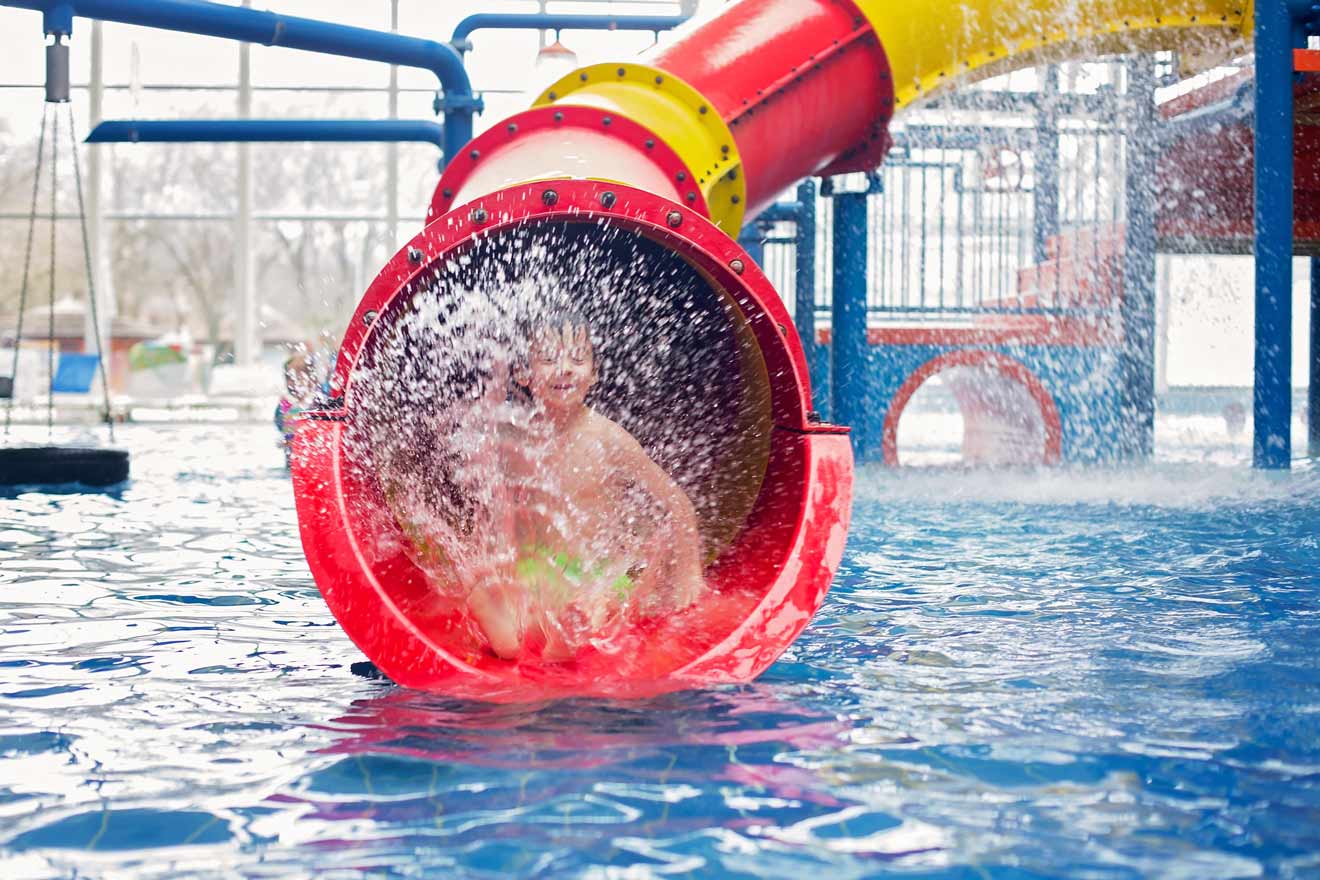 Planning your trip to Minnesota? Then you're in for a treat! This state has some amazing waterpark hotels where you can have fun 24/7 without having to leave your hotel!
It's crazy how amazing these hotels with water parks in Minnesota are! I've spent so much time going through them, picking the best of the best in the state, so I can give you the ultimate list, which I structured from most to least expensive.
And I didn't stop there! I went all in, and added a bonus section with some amazing vacation rentals that are located near water parks.
NOTE: Some of these hotels have a lower score than I'd normally recommend but since there were only a handful of waterpark hotels I wanted to give you all the options available. Then, you can decide which one you want to pick.
Since this list has only the finest Minnesota hotels of the type, I highly recommend booking your favorite in advance, otherwise you may miss out on your spot!
I'm sure you're eager to start, so let's go!
If you are in a hurry
Here's a short preview of all the juicy information you'll find in the post! This list has the best Minnesota waterpark hotels:
1. Great Wolf Lodge – great hotel with a game room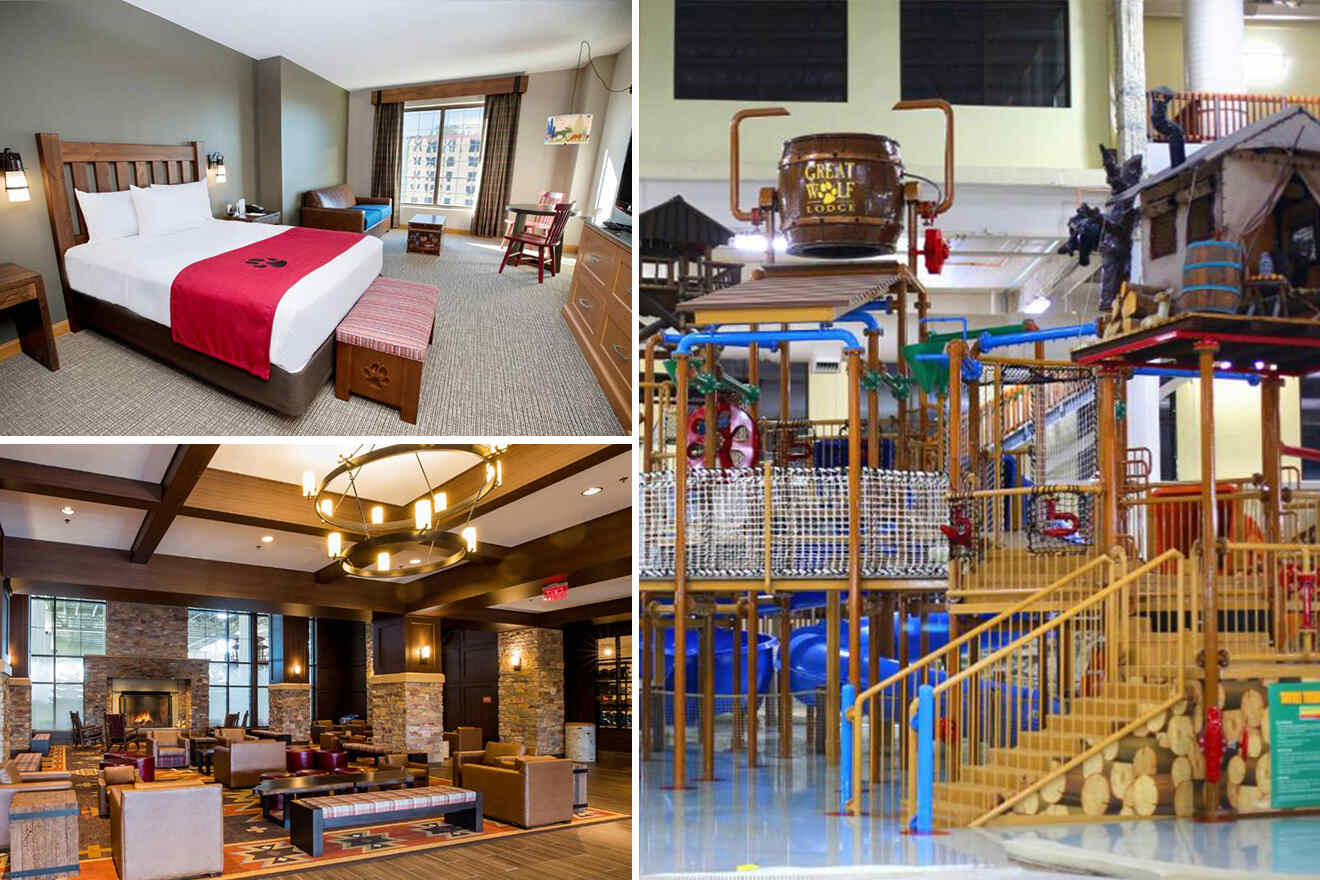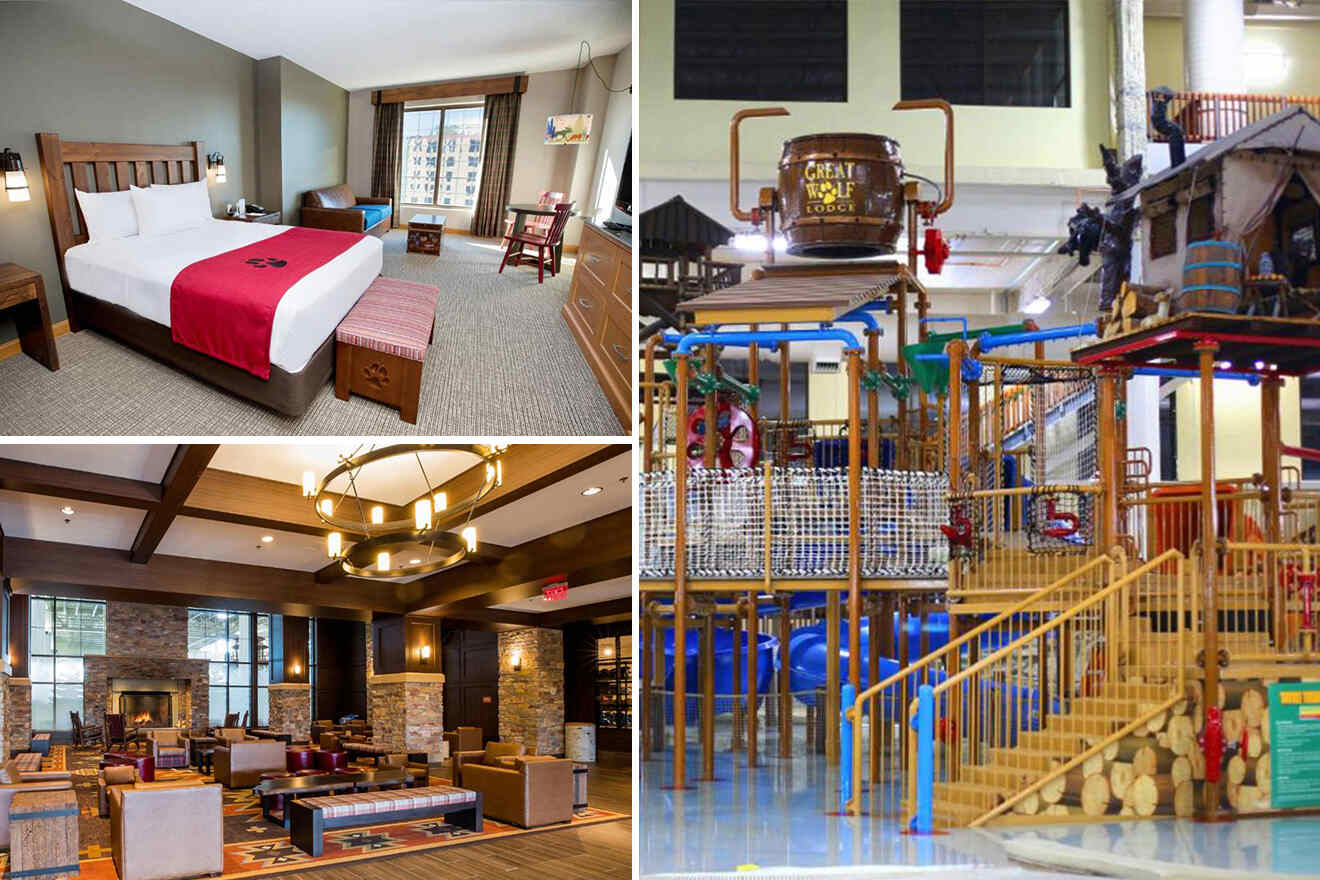 Your kids will fall in love with the huge indoor waterpark! Let the family fun begin – and never end! This holiday will definitely be an unforgettable one as you'll spend a lot of time making your children and inner children happy by swimming, going on water slides and playing in the game room of this hotel that's set 2h away from Lake Darling.
Besides all this you'll also get some amazing family suites that have a private bathroom, coffee makers (that I'm sure every parent will love), a balcony and free Wi-Fi. There are 4 on-site restaurants, so you can try a different one each day of your stay and a modern fitness center, too.
2. Timberlake Lodge – cozy hotel with a kiddie pool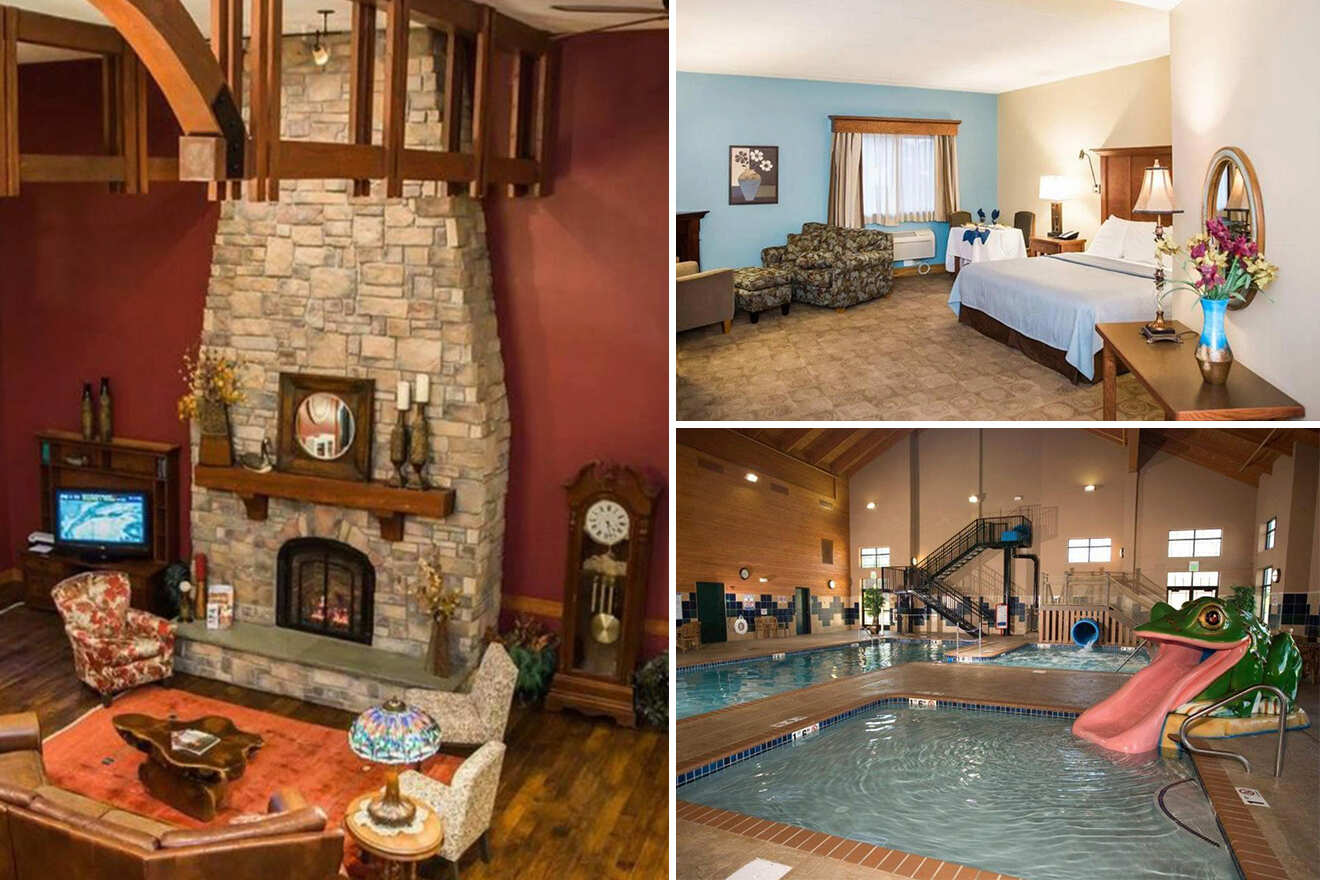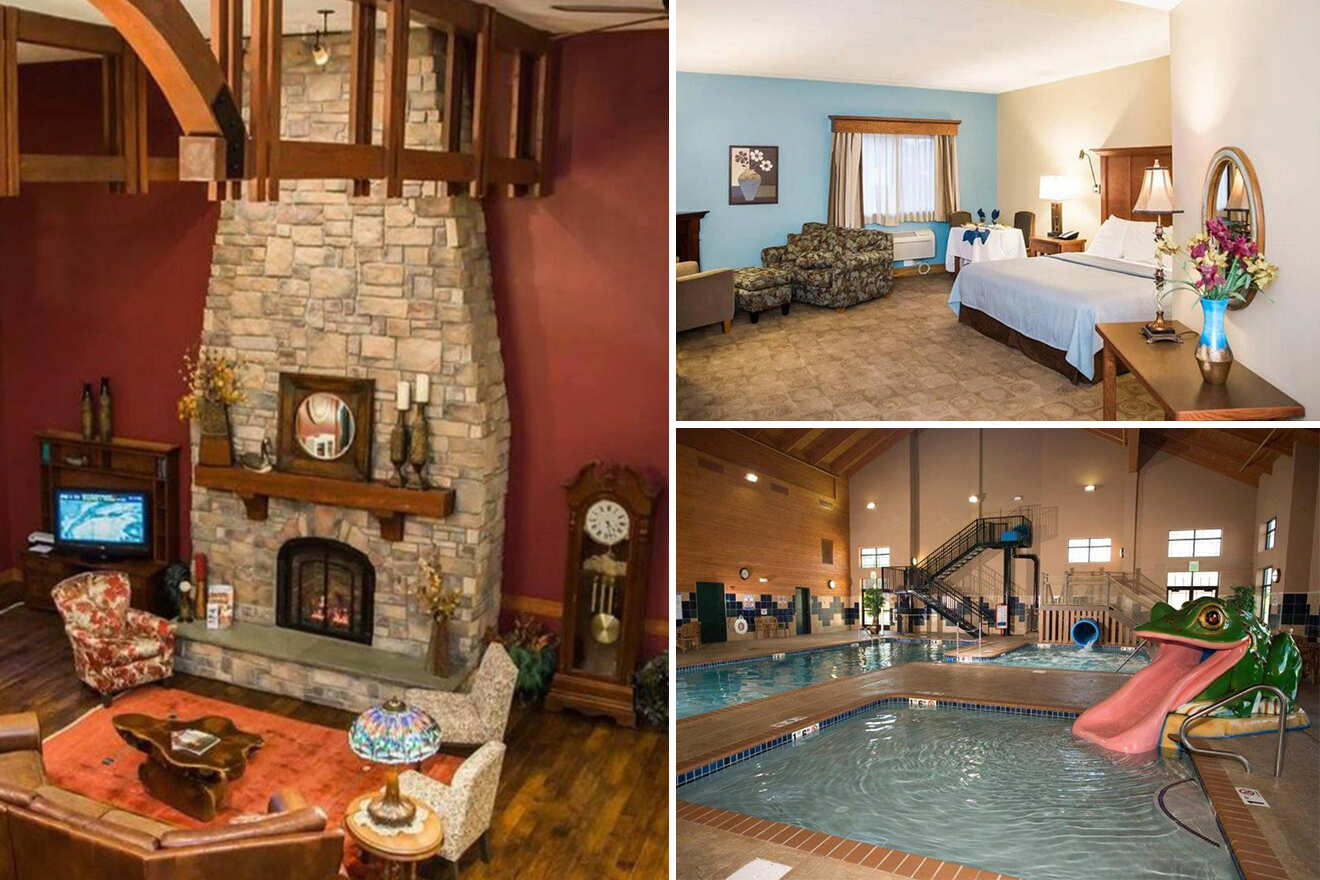 Planning your next family vacation in Minnesota? Well, then you're going to love this Grand Rapids hotel that has an indoor water park, with lots of animal-inspired water-slides (you're going to love the frog one), a children's pool and even some board games!
The family hotel offers spacious suites equipped with facilities like a flat-screen TV and free Wi-Fi. You can start your fun-filled day with some room service or head to the restaurant and enjoy your breakfast there, and then change into your swimsuits and head in the hot tub, or to the water park where you'll probably spend a lot of time so be ready to get soaking wet!
3. AmericInn by Wyndham – great for beach lovers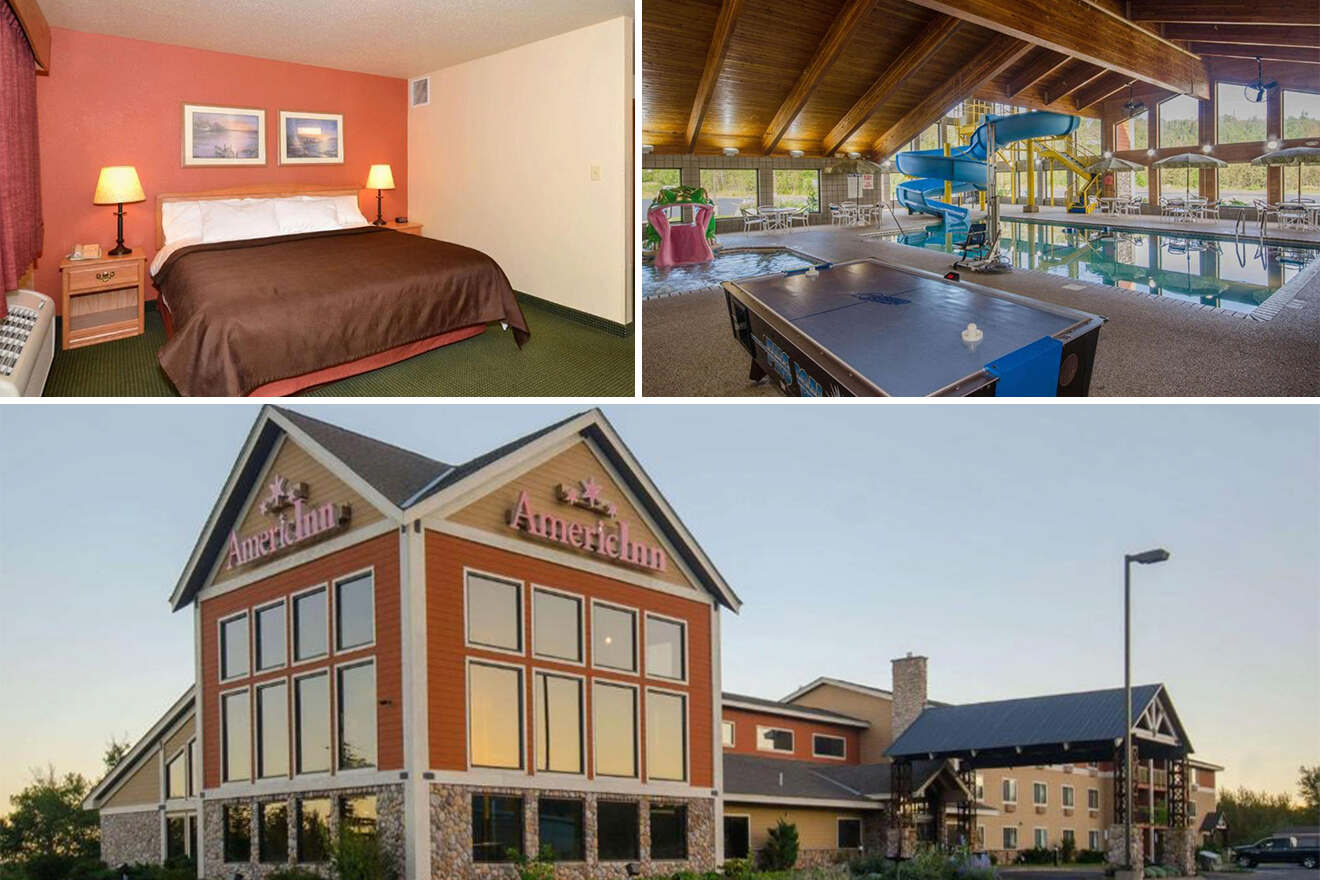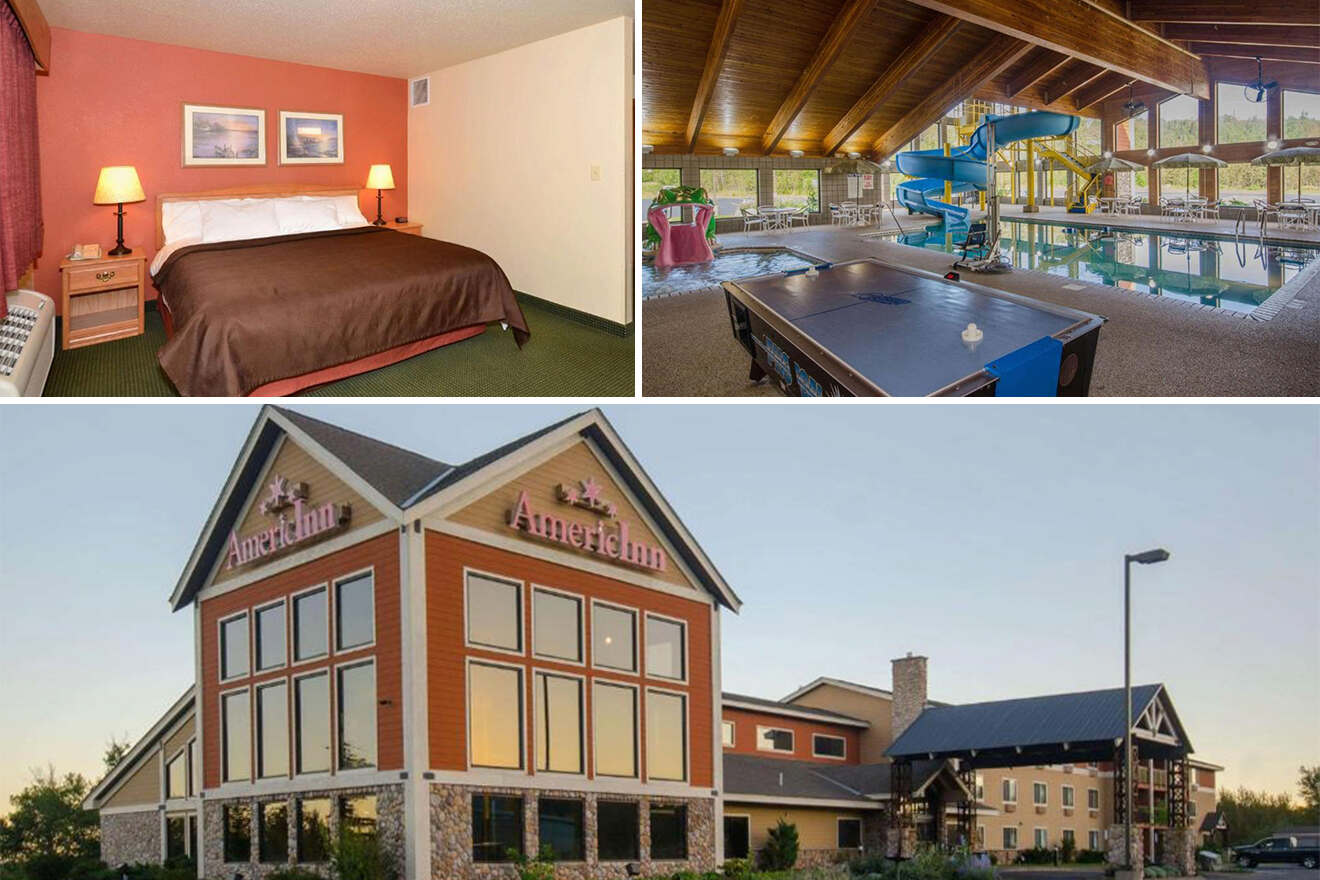 Who's super excited to go on water slides all day long? That sounds like so much fun and this waterpark hotel is so ready to offer you an unforgettable time! Set not too far from the beach and super close to the Tettegouche State Park, this accommodation offers lots of fun activities and spacious family rooms with free Wi-Fi.
During your stay you can go water skiing, fishing, and hiking as well (that's if you manage to take the kids out of the water park). But I'm sure they'll love their time in nature! For the parents who need some time off, you'll find the sauna and hot tub super helpful!
4. Best Western Rochester – modern hotel with an indoor pool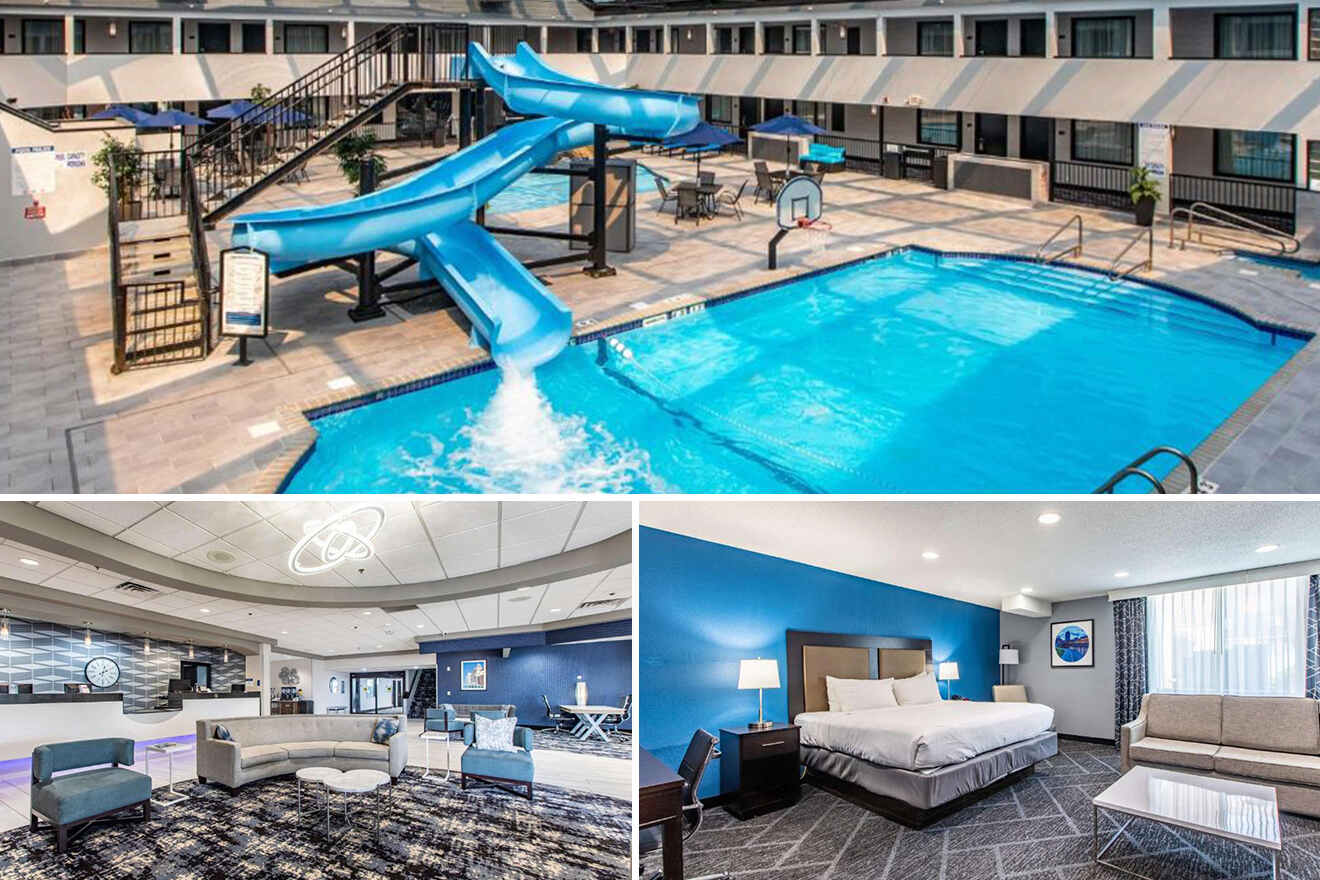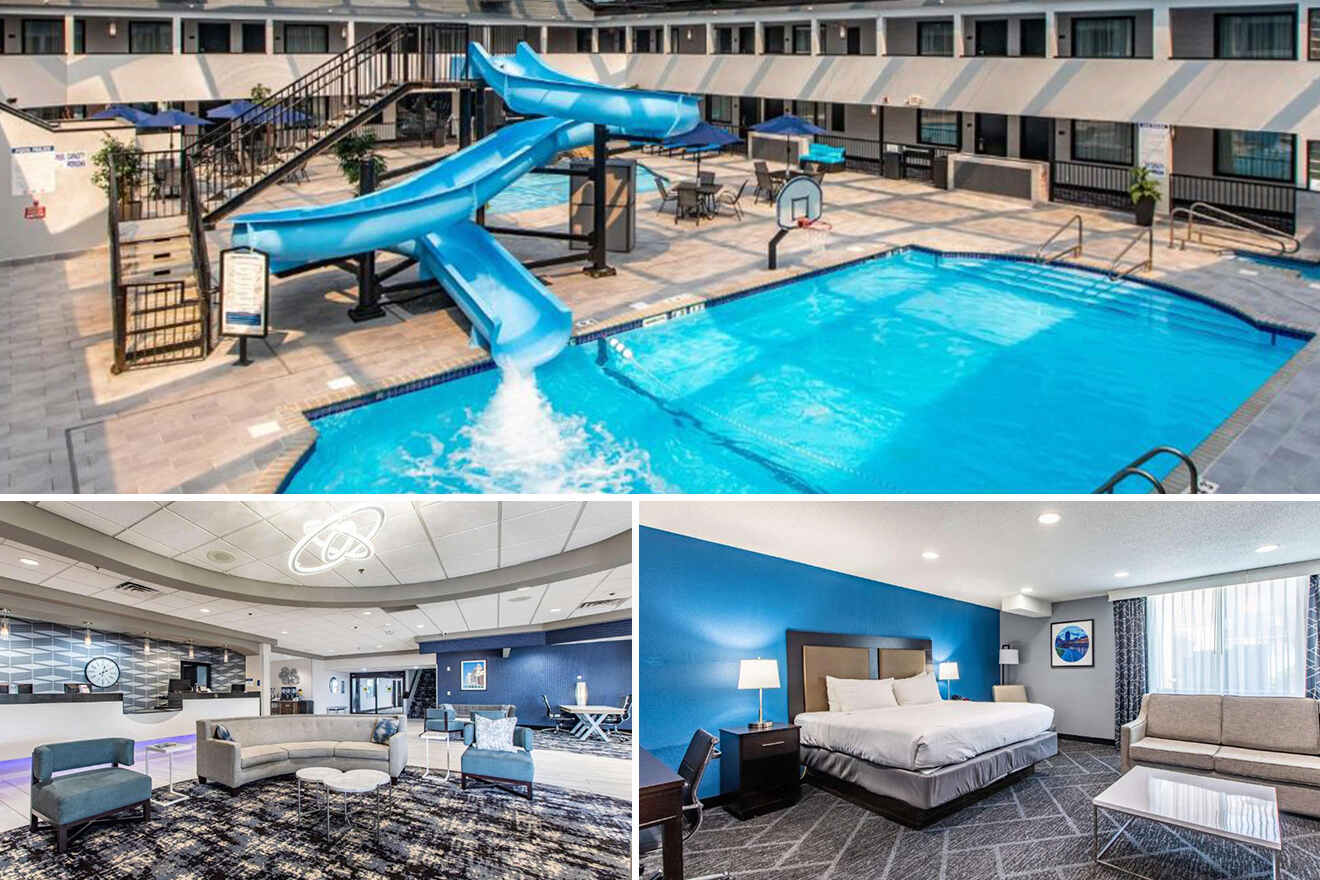 Play time is so important for kids and adults as well! And this hotel not only offers a fabulous on-site water park with fun water slides and different swimming pools but also a games room and a picnic area where you can enjoy the fresh air!
The hotel has family rooms with coffee-making facilities and a flat-screen TV. What's great about this place is that the continental breakfast is included in the price, plus they have an in-house snack bar! There's a fitness center on-site for anyone who doesn't want to skip gym day, and a hot tub where you can relax afterwards.
5. Rapid River Lodge – family hotel with a lazy river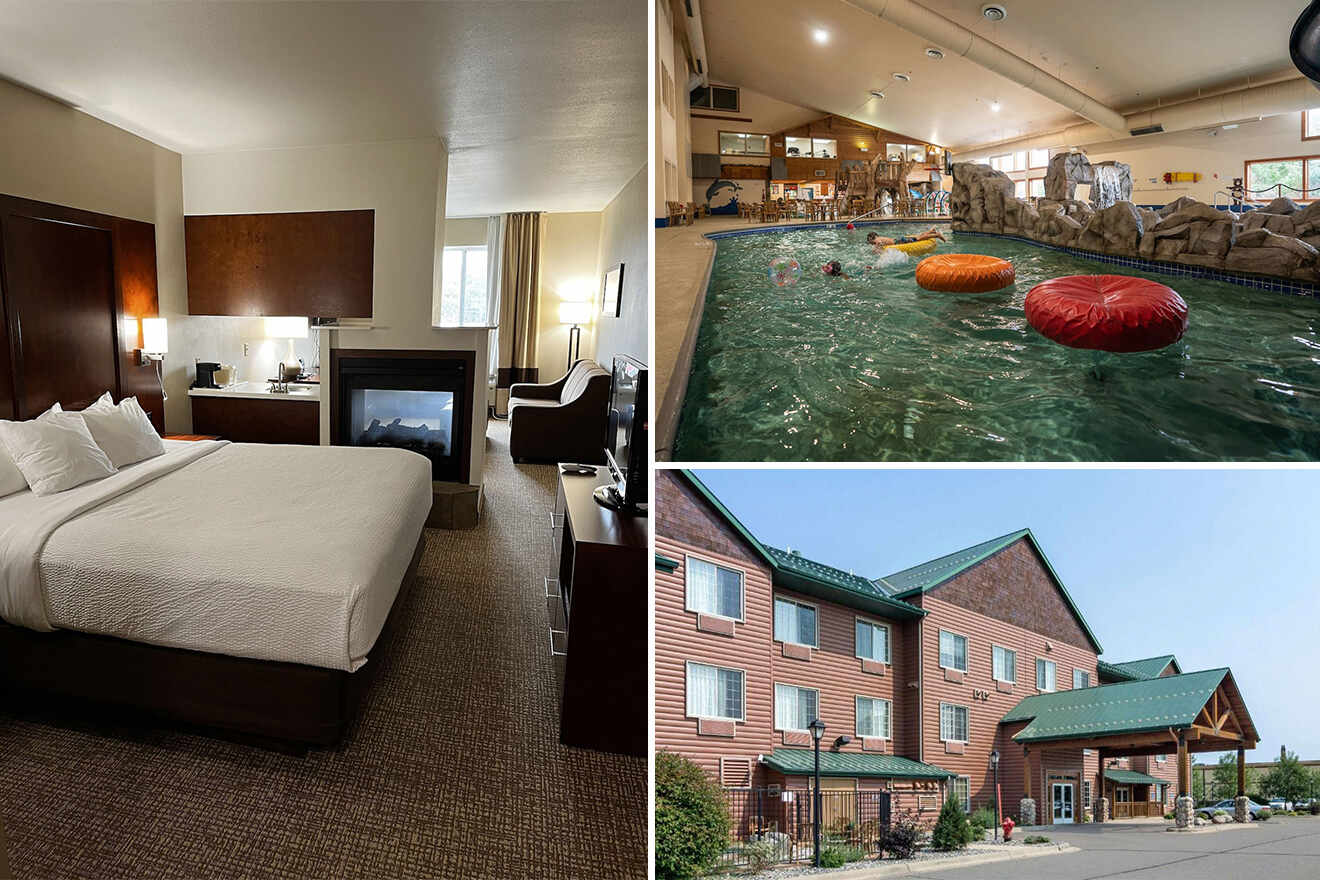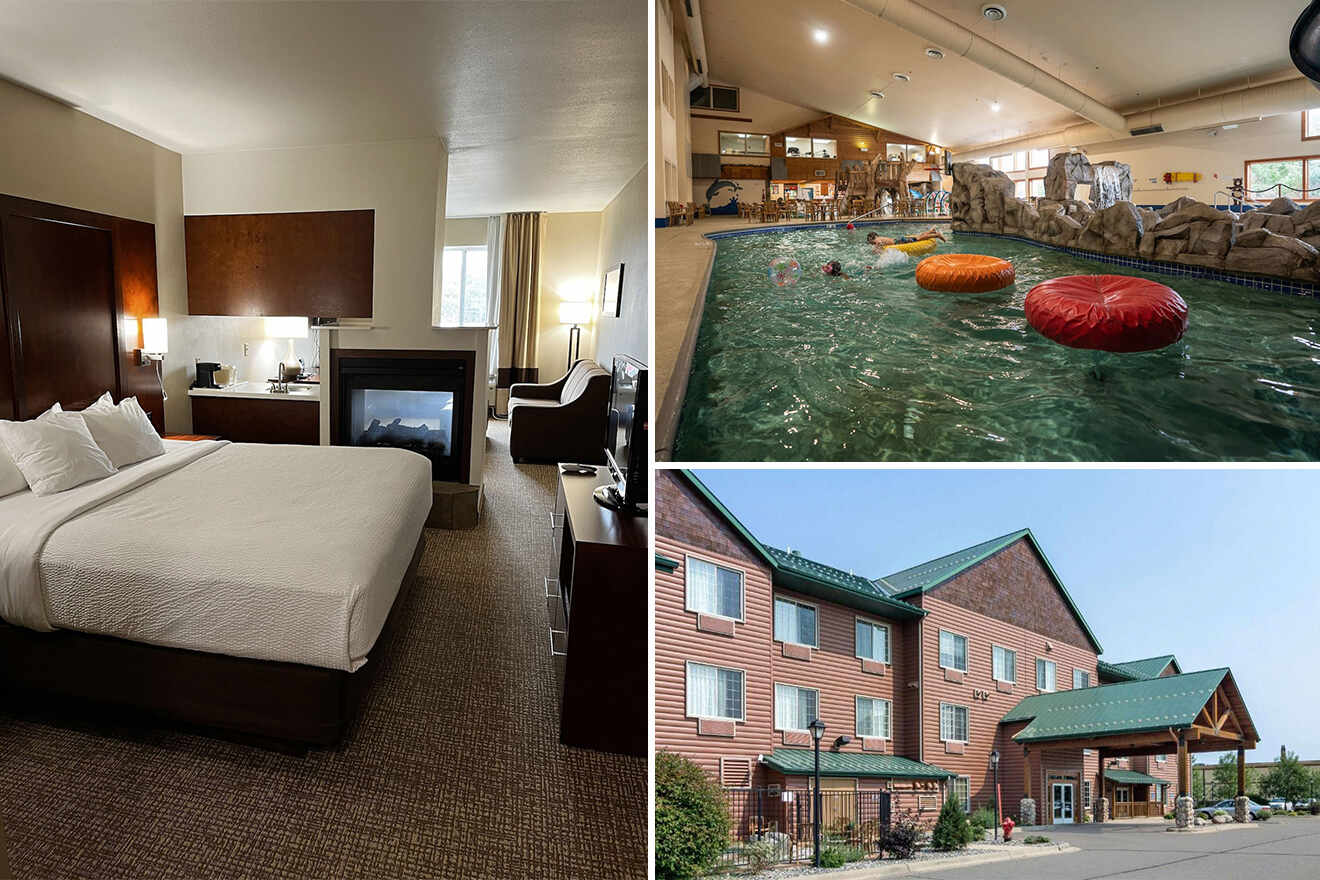 This family-friendly hotel that's set 2 hours away from Duluth Canal Park is all about offering you and the kids an unforgettable holiday! Their rooms are comfortable, spacious and super cozy so you can relax after a long day of playing in the games room, or working out in the fitness center (or business center if you've got office work to do)
And, of course, the highlight of this place is their indoor water park that has many water slides, a lazy river and a children's activity pool with cool features like rope bridges. I recommend eating a nourishing breakfast (which by the way is included in the price) because you'll need a lot of energy!
6. Holiday Inn Express Hotel – fun hotel with a games room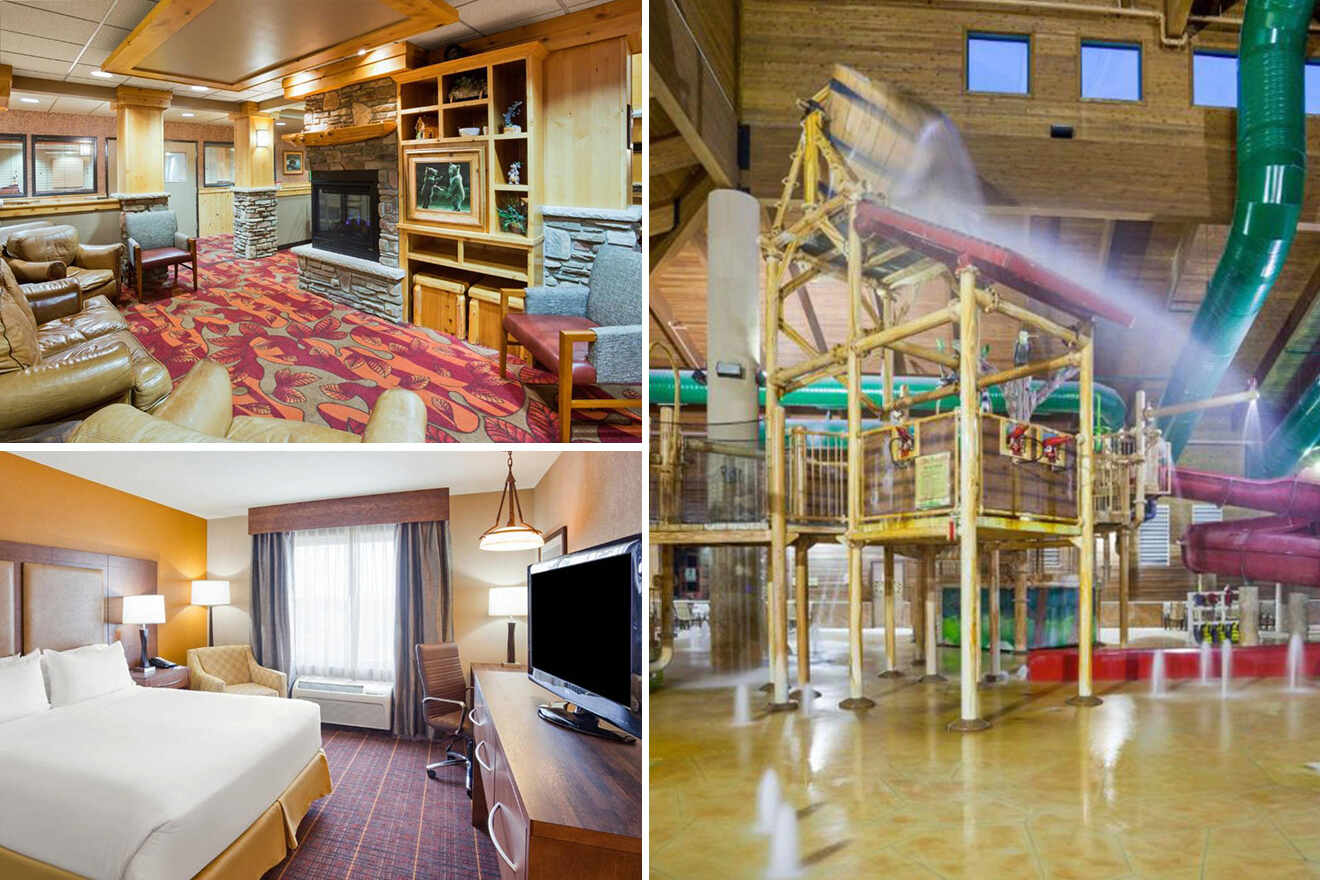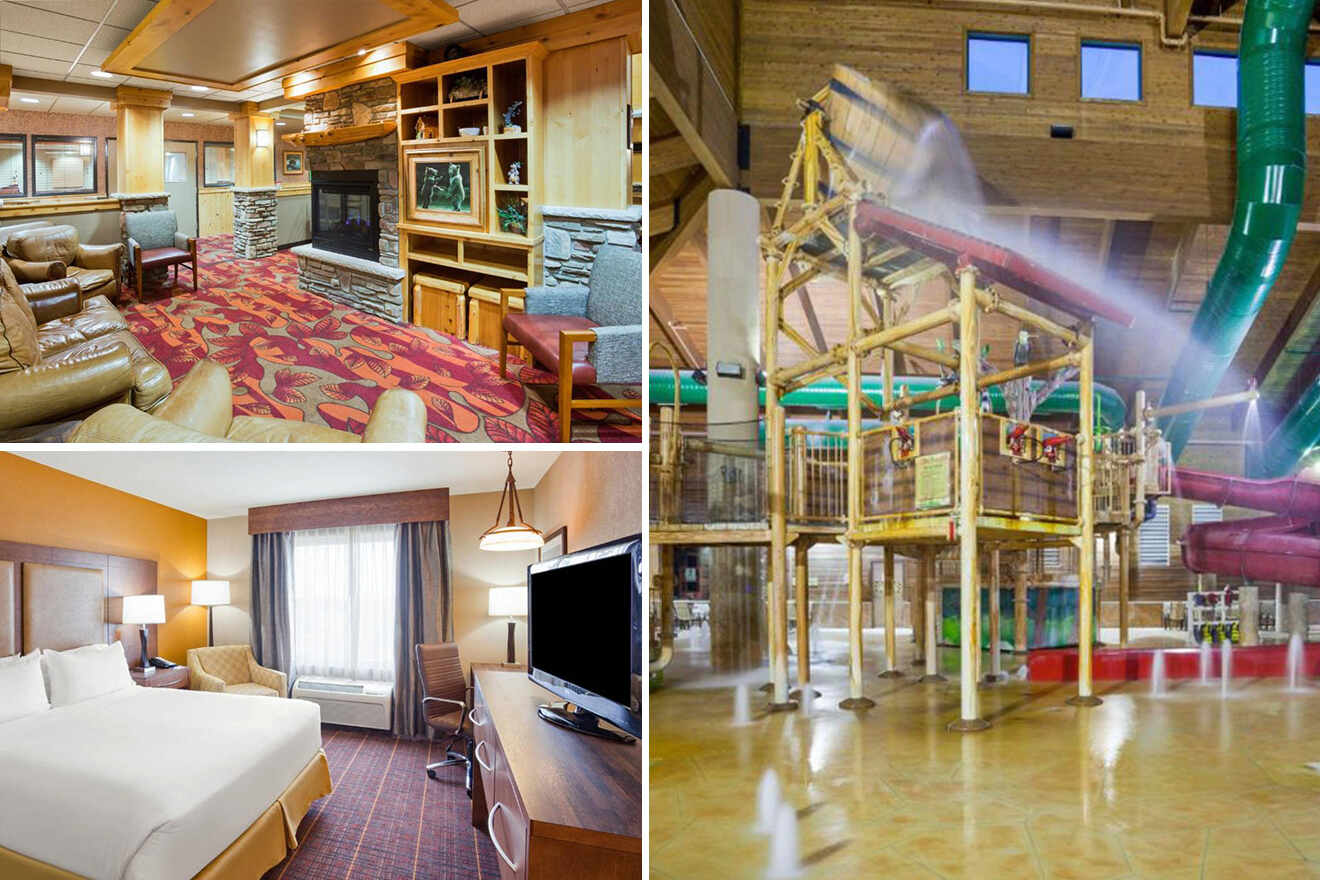 This amazing family-friendly hotel offers a daily continental breakfast, modern rooms with lots of space, and a business center as well. And, of course, a terrific water park with different water slides! The large indoor pool is probably the place where you'll spend most of your time.
But don't forget there's also a fun game room, where you can play and spend some time on dry land! Other amenities include a fitness center, a hot tub and a restaurant where you can indulge in some yummy dishes.
P.S. Your breakfast is included in the price.
7. TownePlace Suites – cozy hotel with an indoor pool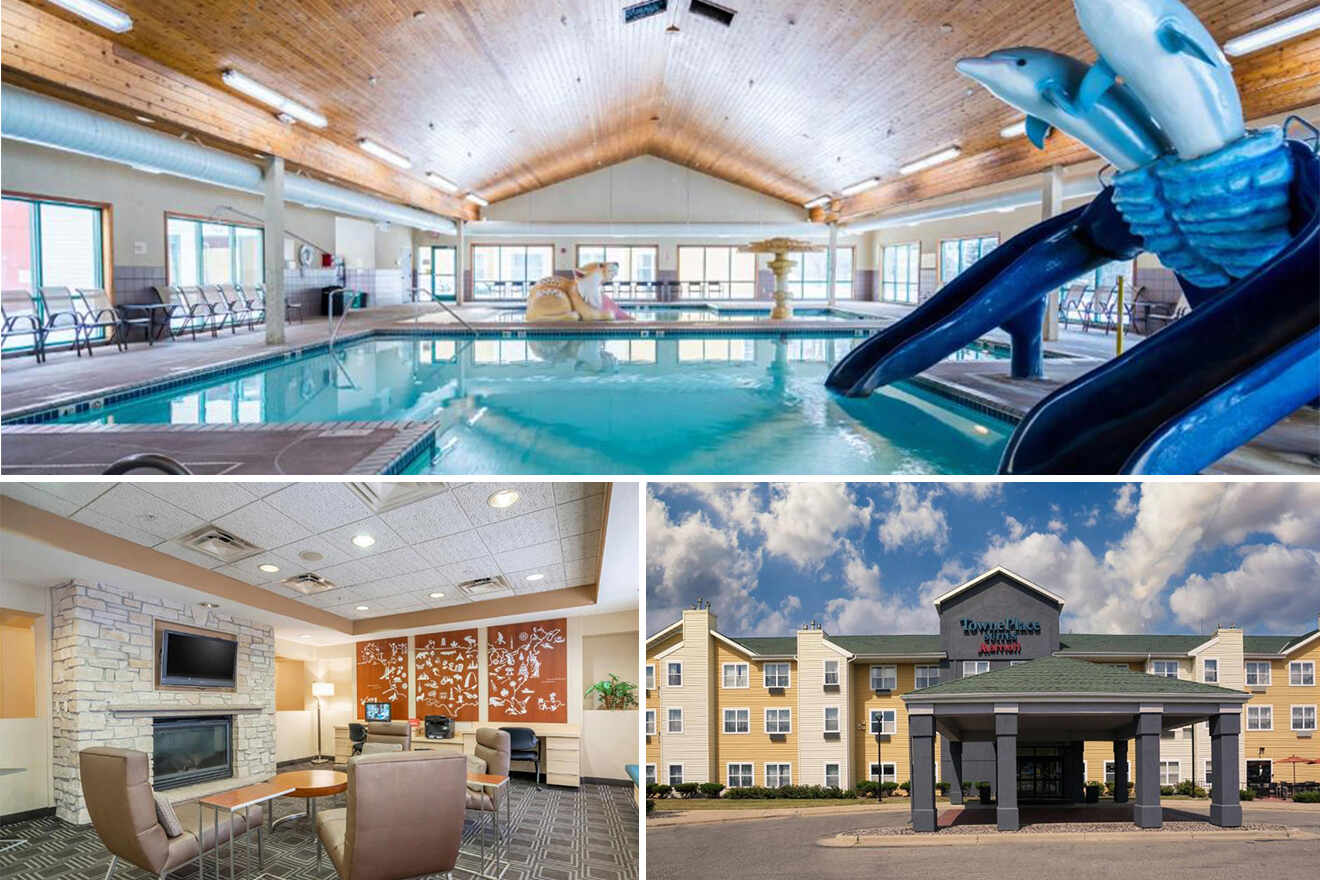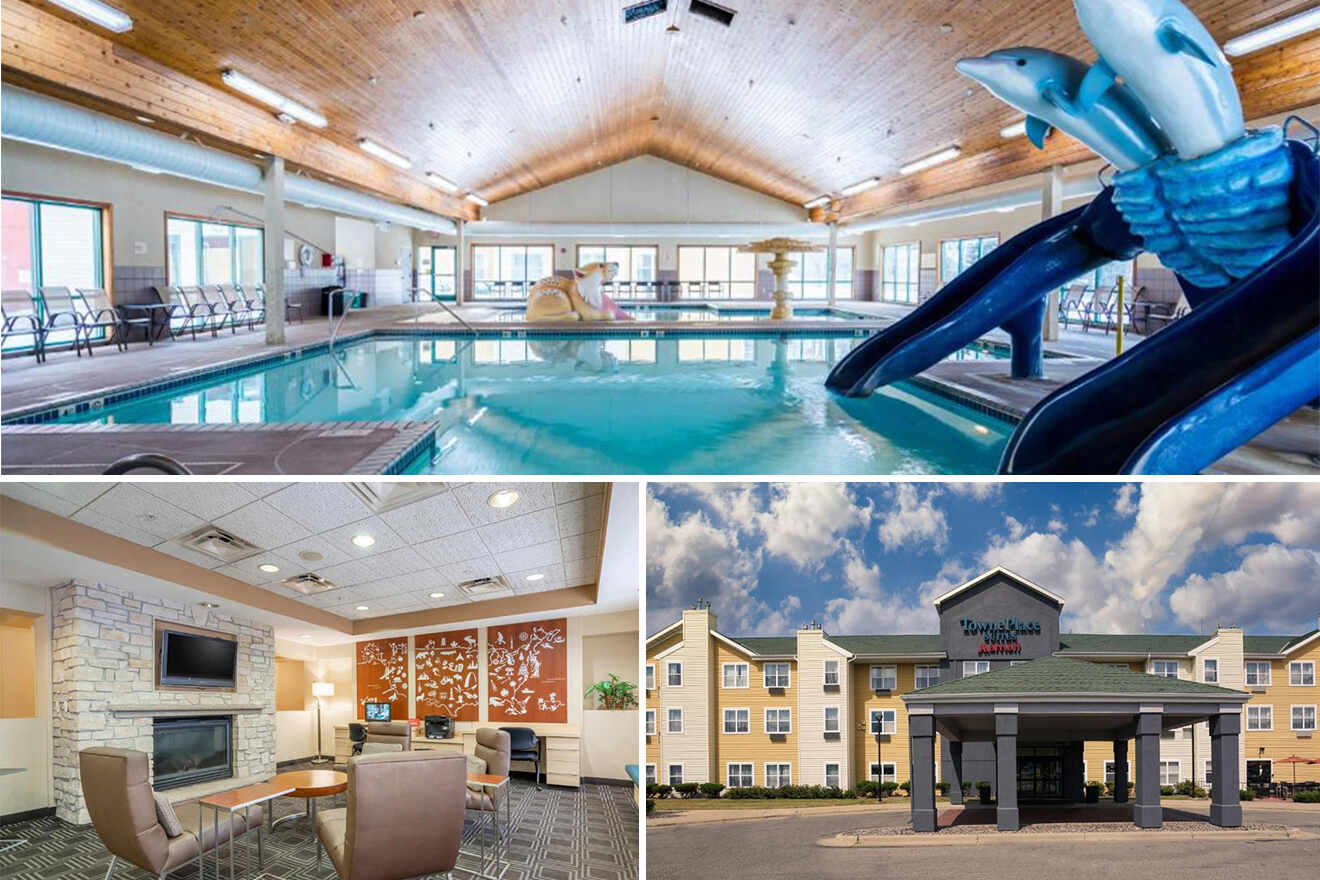 This family vacation in Minnesota will be an epic one and this accommodation will definitely contribute to that experience! The waterpark hotel features family rooms equipped with all the facilities you need including kitchen, air conditioning and free Wi-Fi.
As for the water park, you'll find the usual slides that the kids won't get enough of, a large indoor pool and even a cute water fountain! Every morning the hotel offers a continental breakfast, but you'll also find a few restaurants nearby in case you're looking for something else. The fitness center and business center are free to use for all guests at the hotel.
8. Thumper Pond Golf Course & Resort – unique water slides
You still haven't found the perfect hotel for your trip? Let's fix that! This family hotel boasts a water park with 3-story water slides, an activity pool with basketball hoops, a volleyball net, and an oversized hot tub that can fit up to 18 people, where you can relax after a day of running and playing!
And that's not it! You'll also find that the resort has a golf course (this will make all golf players happy) that offers 18 holes for players of all levels! See, there's something fun to do here for all ages! As for the suites, they've g*ot lots of options for families which come with comfy beds!
BONUS 1: Top VRBOs near the waterparks
I like to keep all my readers happy and I know that some of these Minnesota hotels may already be booked out, or maybe they're a bit too expensive for your budget. That's why I thought I'd offer you a list of different vacation rentals which are set near the coolest waterparks in Minnesota.
That way you can always head there for some underwater fun! The vacation rentals are listed from most to least expensive: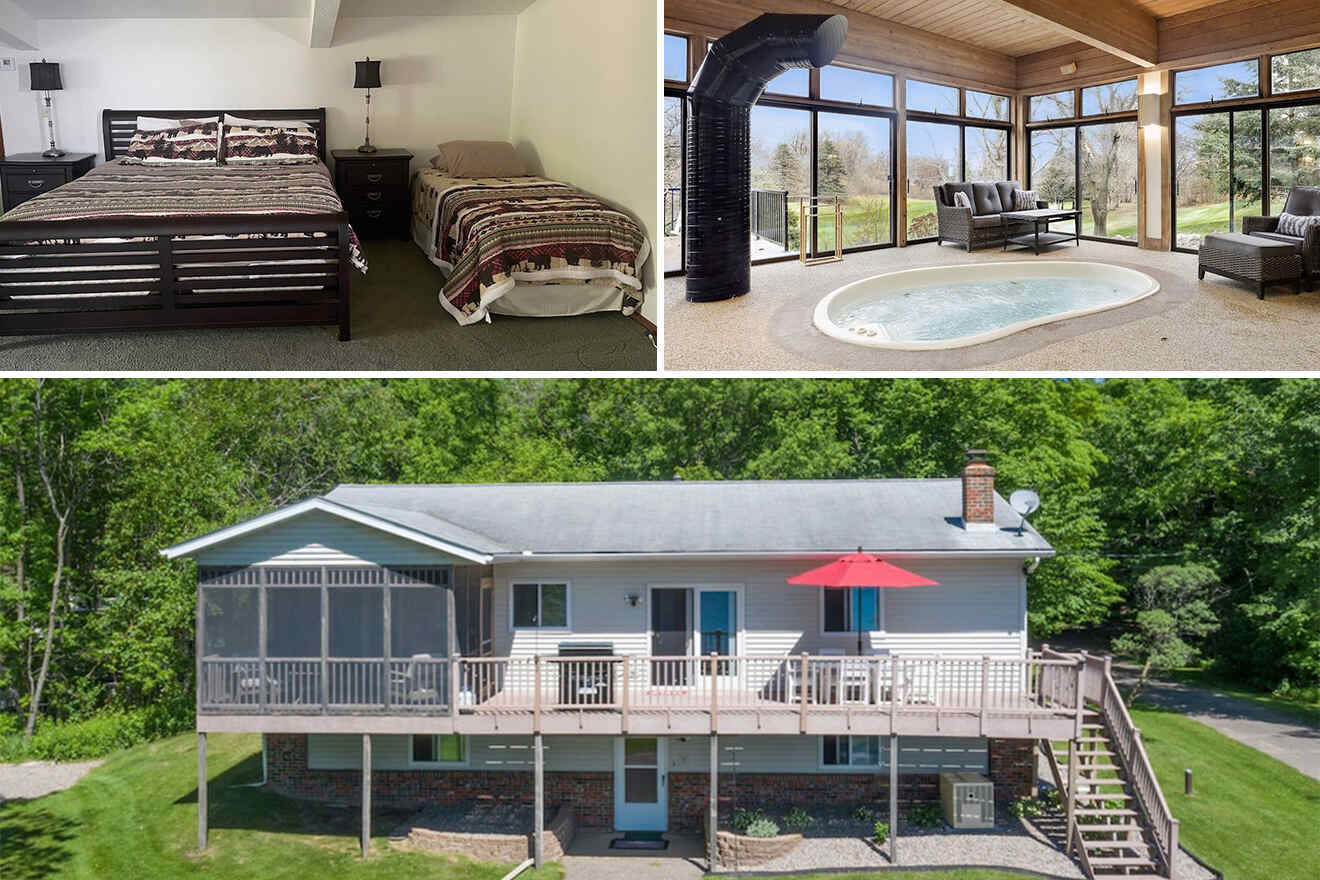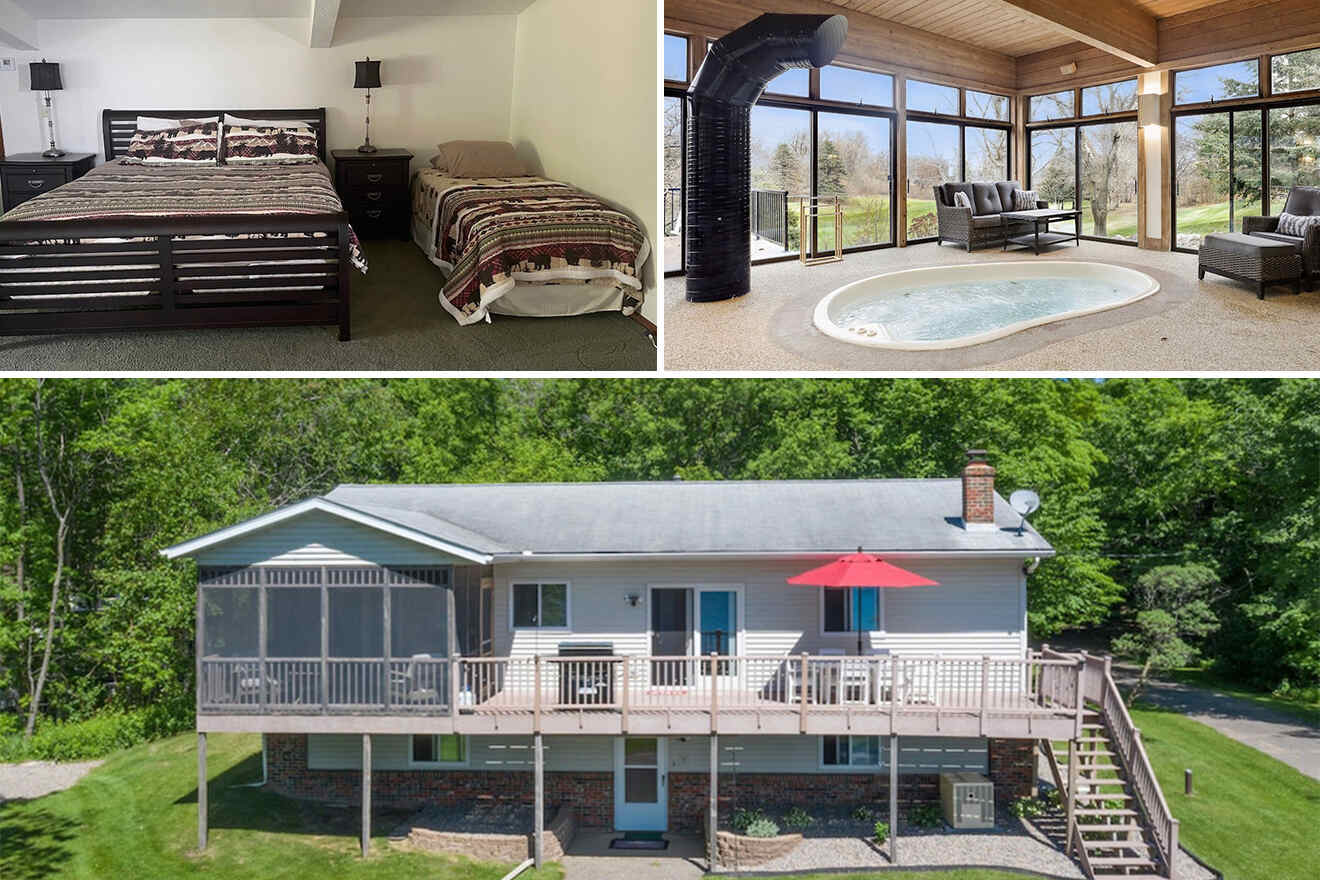 BONUS 2: Best Minnesota hotels for families
Still haven't found what you were looking for? Then, here's another bonus with 3 great hotels in Minnesota which are ideal for families.
These Minnesota hotels are mid-range with prices from US$120 to US$180: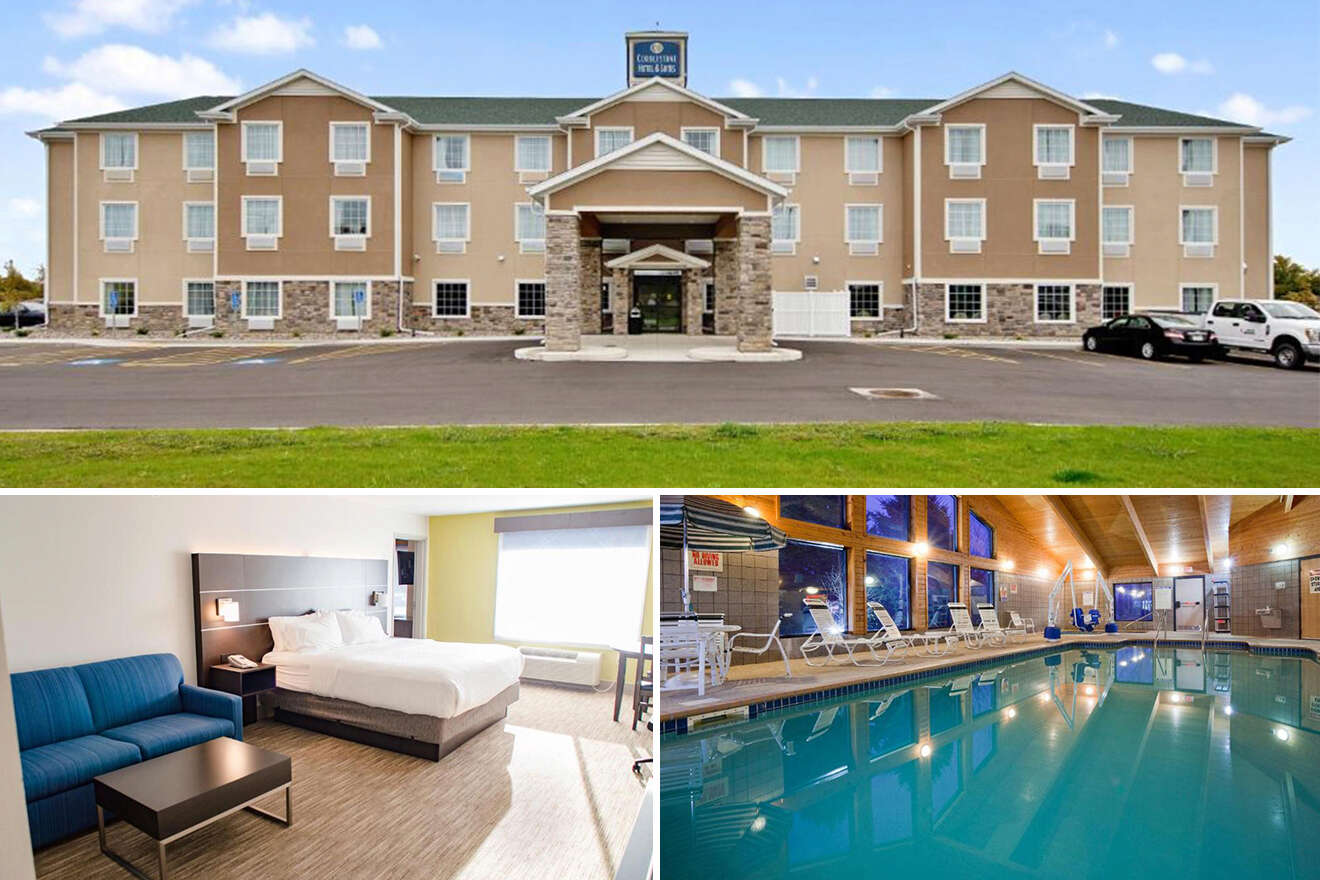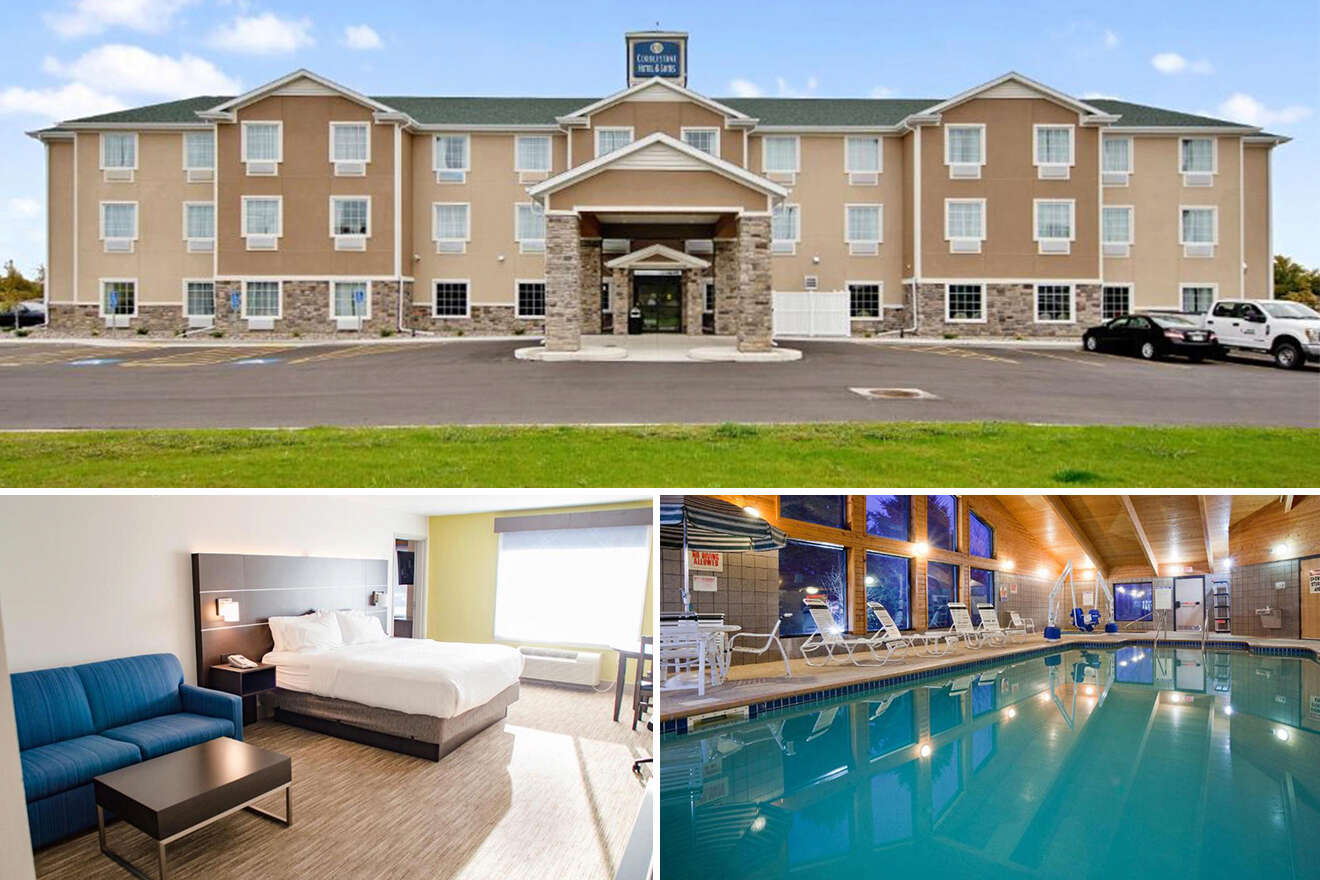 FAQs about hotels with waterparks in MN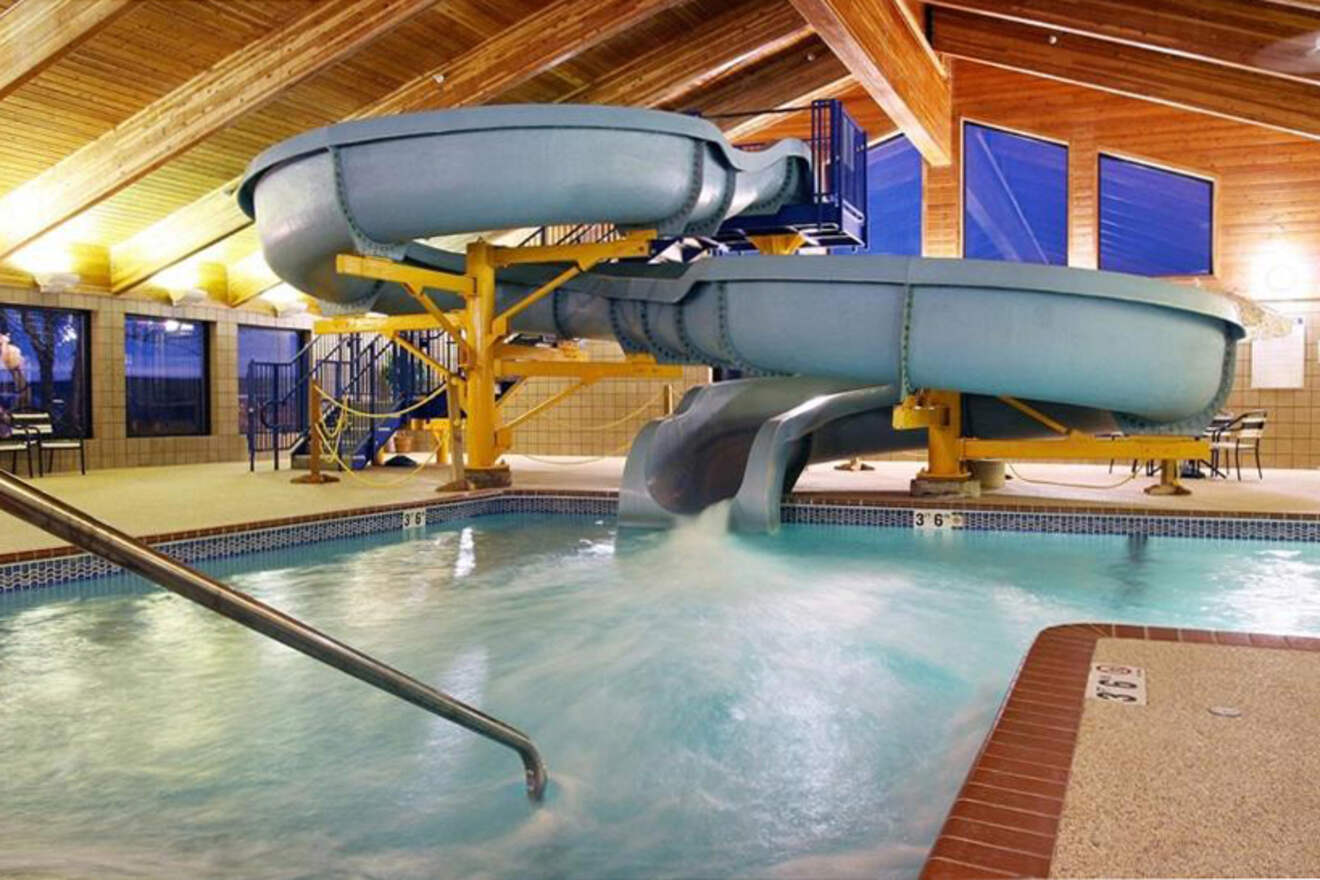 🌊 What is the largest indoor water park in Minnesota?
Big Splash Minnesota Indoor Waterpark is the largest indoor water park in Minnesota and it's located inside the Arrowwood Resort & Conference Center.
🤔 Is the Kalahari Water Park bigger than the Dreamworks Water Park?
Yes, Kalahari Water Park is bigger than the Dreamworks Water Park.
🤩 Which is the best waterpark in the USA?
Noah's Ark in Wisconsin Dells is known as one of the best waterparks in the USA! It has over 80 different features, including 50 water slides.
🏨 Which are the best hotels with water parks in Minnesota?
Timberlake Lodge and Rapid River Lodge are some of the best Minnesota hotels with waterparks! The accommodations have incredible water slides and other amenities like meeting rooms, and an exercise room and a lazy river.
Conclusion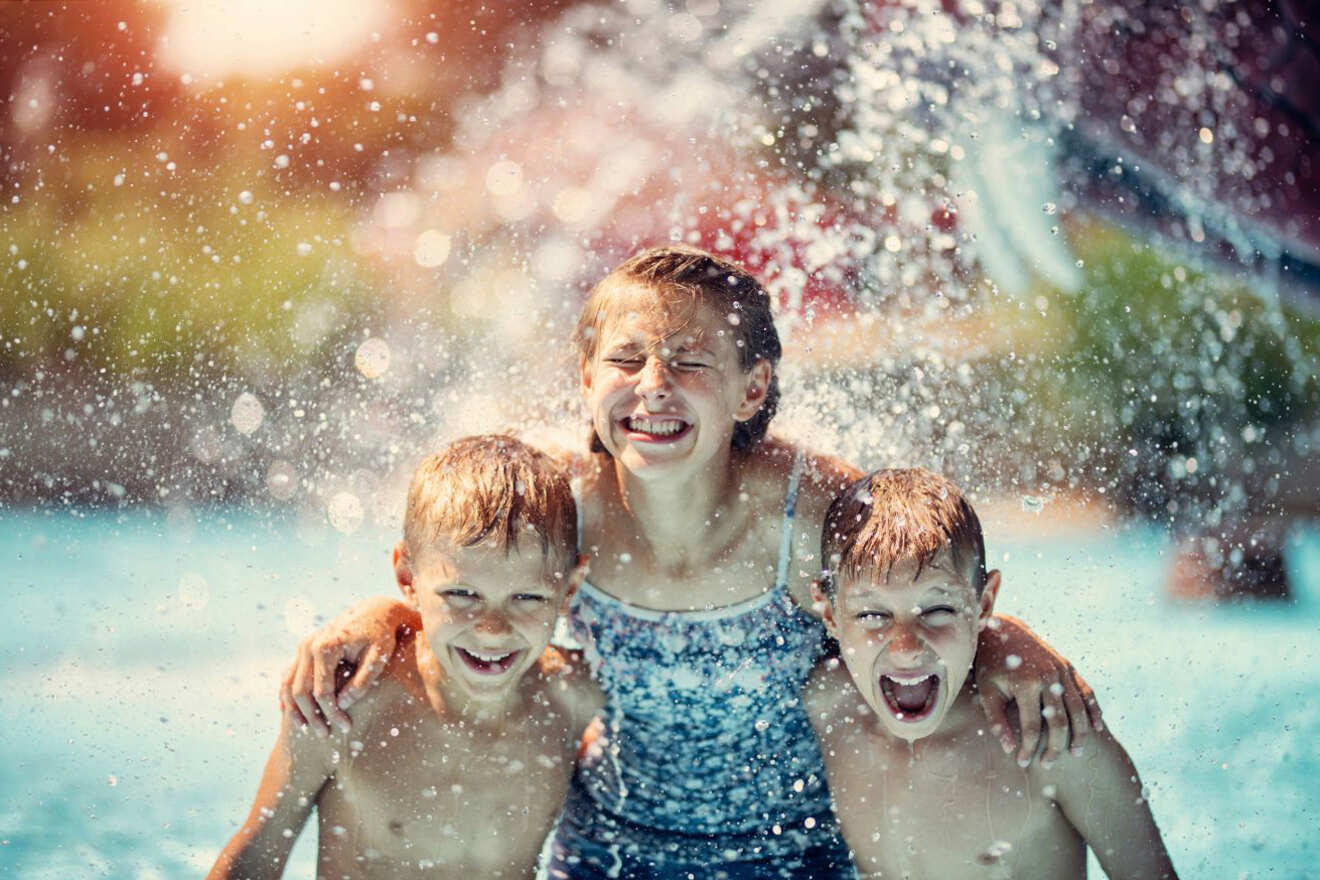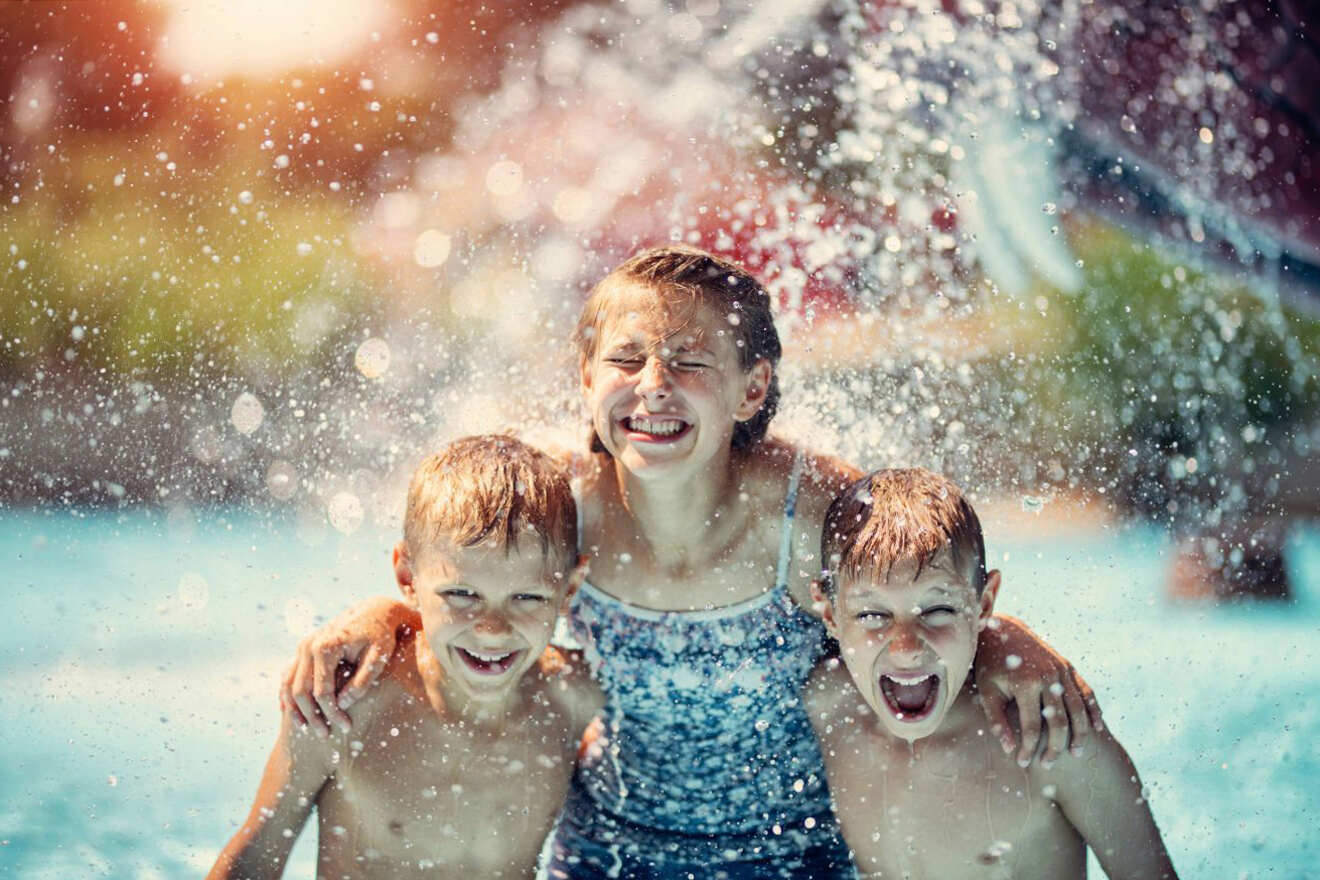 Here we are, at the end of this detailed guide that has the best hotels with water parks in Minnesota, some great vacation rentals near the water parks, and some fabulous family hotels.
That's a lot of information to process and I know it's not easy to pick just 1 hotel when you've got so many options! So, if you need a bit of guidance then check out my 2 favorite options below:
Remember that the list of great Minnesota hotels with water parks is short! That's why I recommend booking yours super early, otherwise you may miss out on your favorite spot!
It's been such a blast to virtually show you all these amazing hotels with water parks. I know I might've missed a few things so if you've got any questions don't hesitate to drop them in the comments section, below!
Safe travels,
Victoria
---
Pin it for later!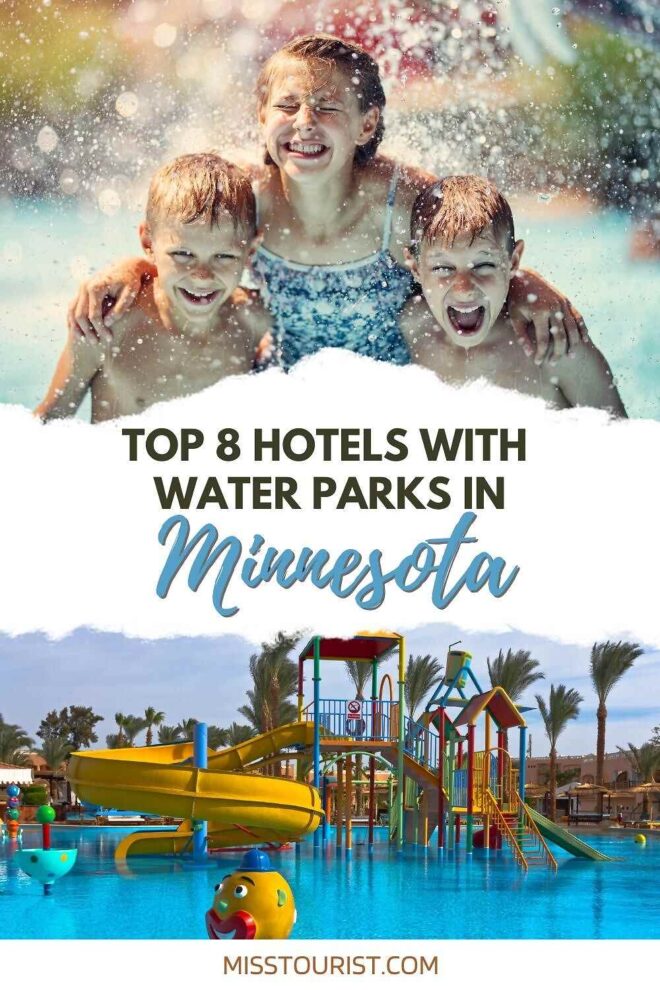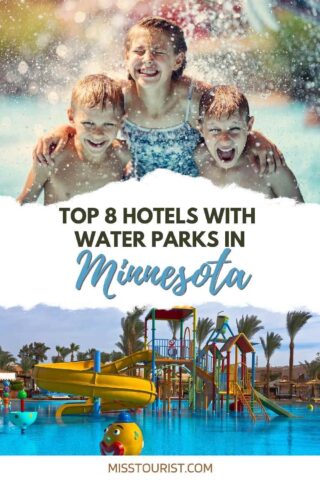 Pin it for later!