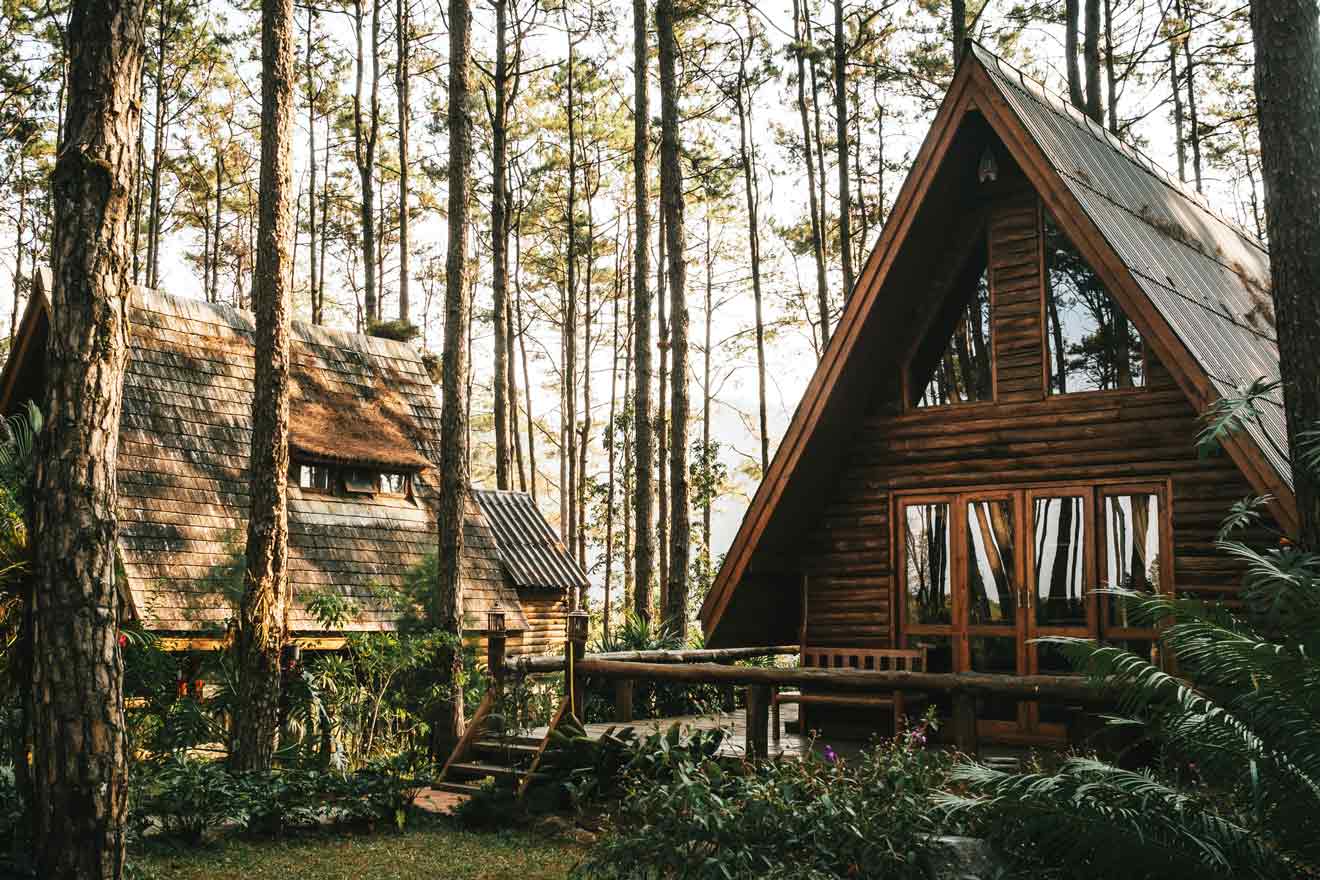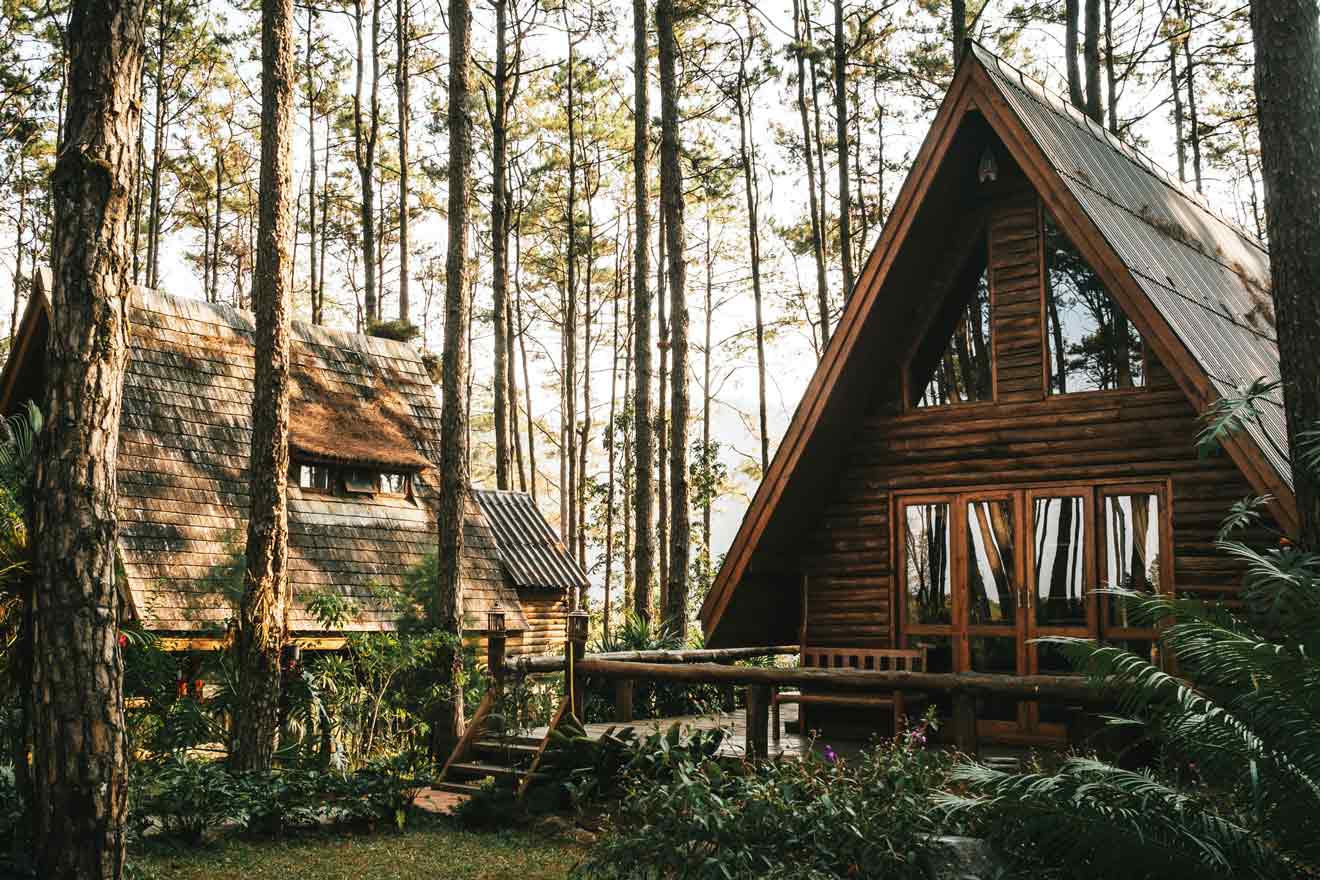 Welcome to the land of waterparks, beautiful nature, and lots of fun activities! I hope you've packed your hiking gear and fluffy clothes because that's what you'll mostly use while you're visiting Wisconsin Dells! But for that you'll need a place to stay, and what is a better type of accommodation for an outdoors adventure than a picture-perfect cabin!?
In this post, you'll find the best Wisconsin Dells cabins listed from most to least expensive. I've handpicked the ones with the most amazing reviews from a long list so you can be sure that all the options here are unmissable!
Since the whole area in and around Wisconsin Dells is so beautiful I've also added a short bonus with some great vacation rentals that have a spa bath (perfect for some alone relaxing time).
Plus it would be good to have that backup choice in case the main cabin rentals sell out. Which brings me to my next point: book fast! Sorry for the bluntness but trust me, when it comes to accommodations in this touristic place you can't risk it.
Time to go!
If you are in a hurry
Want to have a quick look at the best of the best without needing to read the whole post? Don't worry then, I've got you covered with this short list of the top Wisconsin Dells cabins:
Luxury (US$500 and up)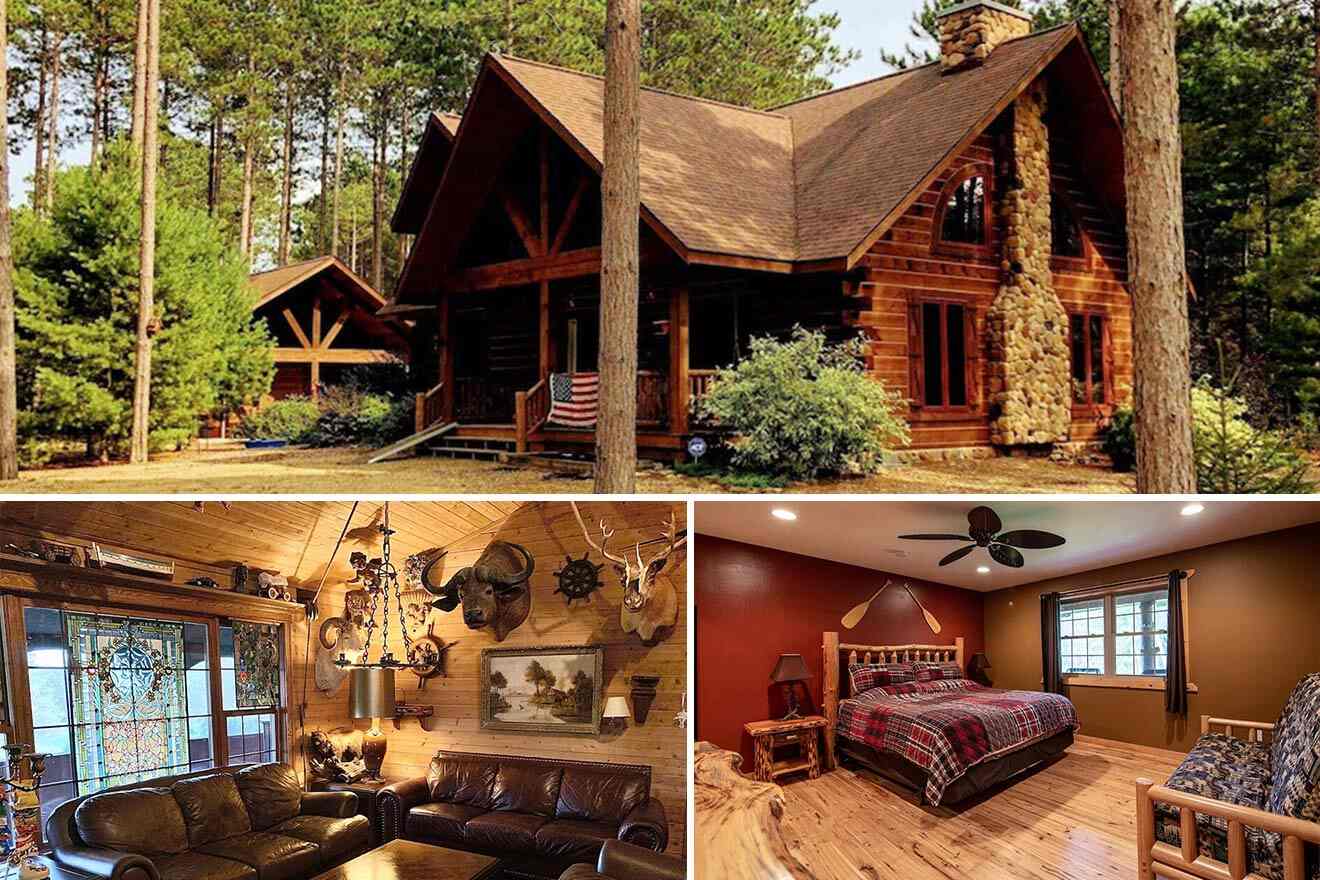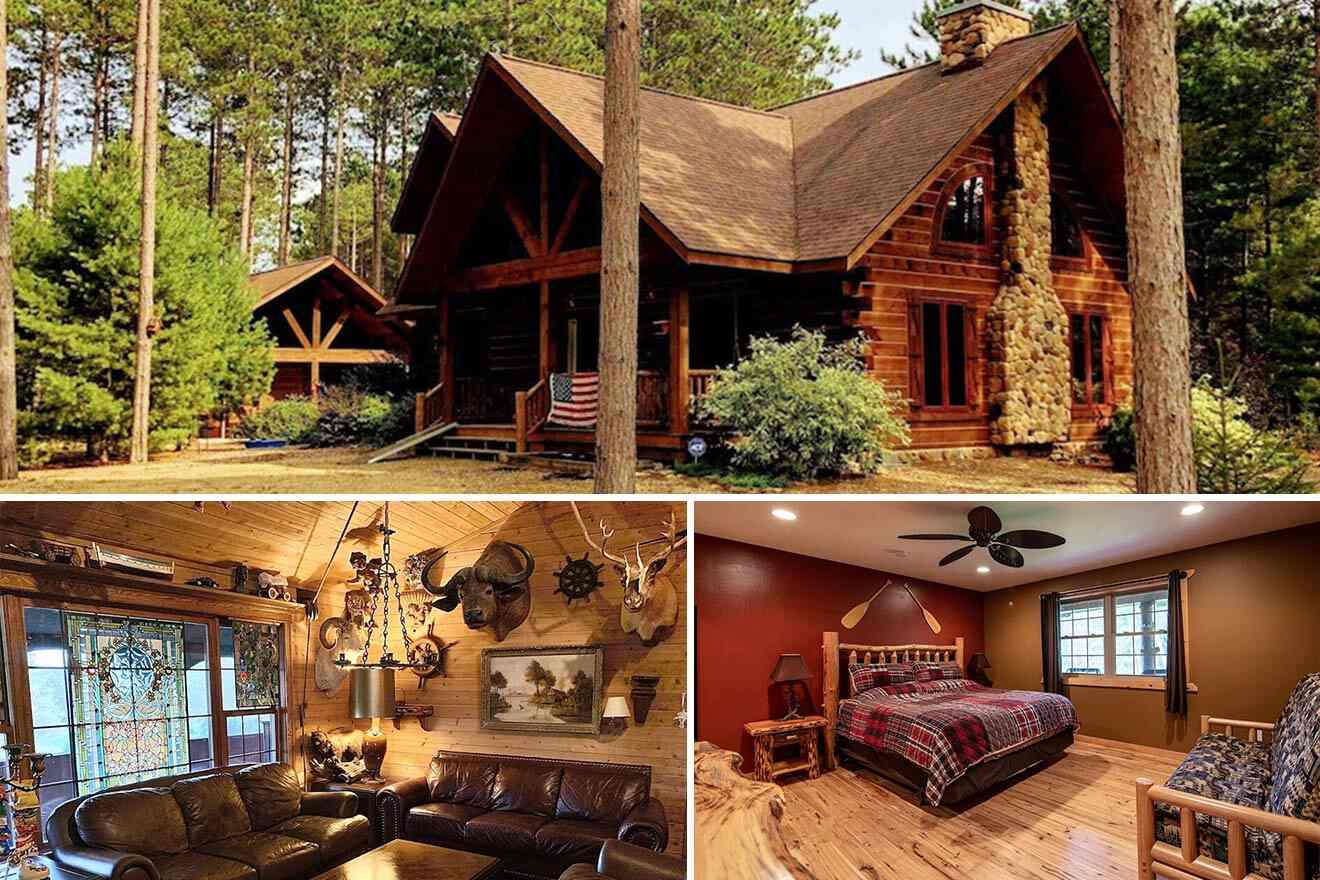 Mid Range (from US$350 – US$500)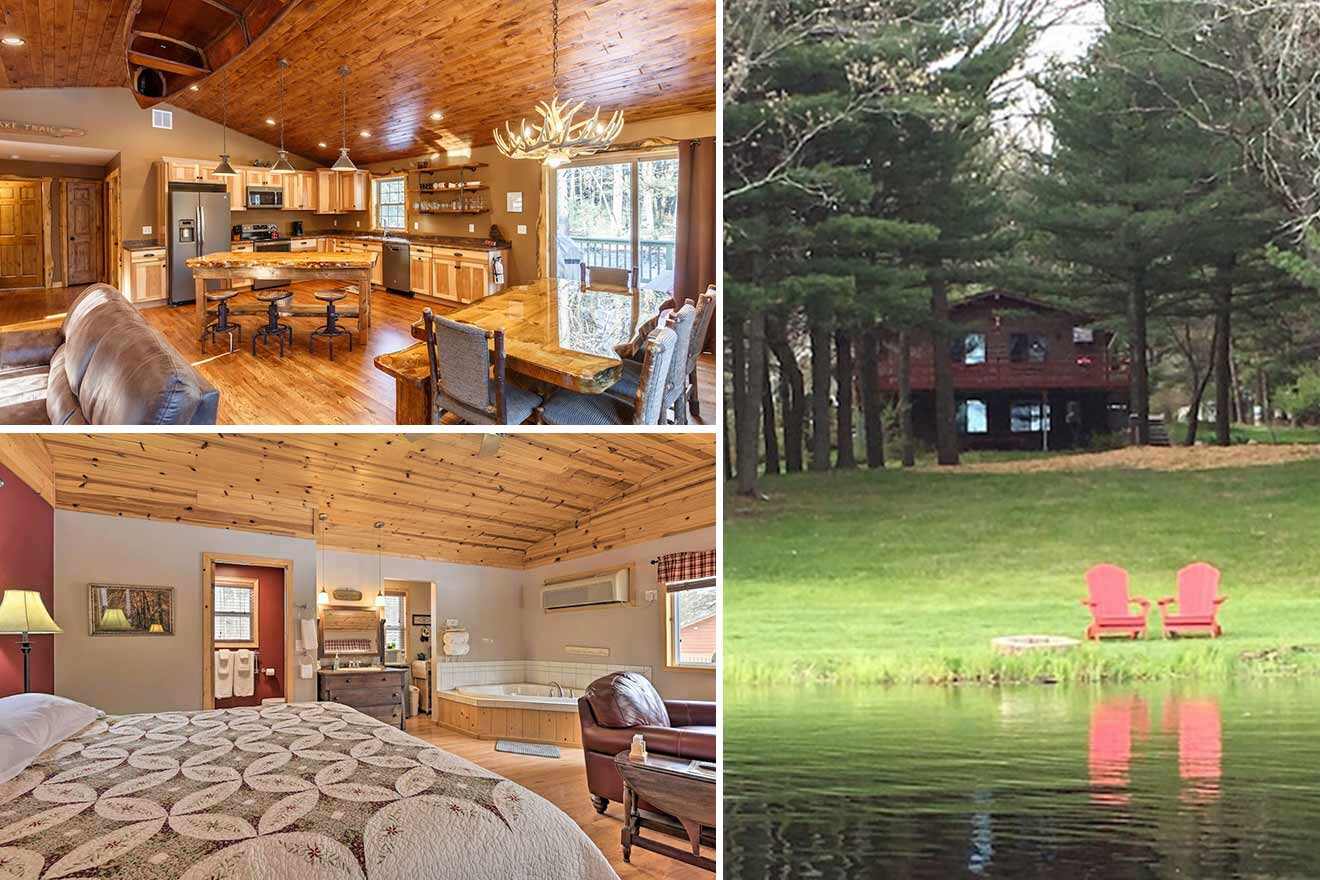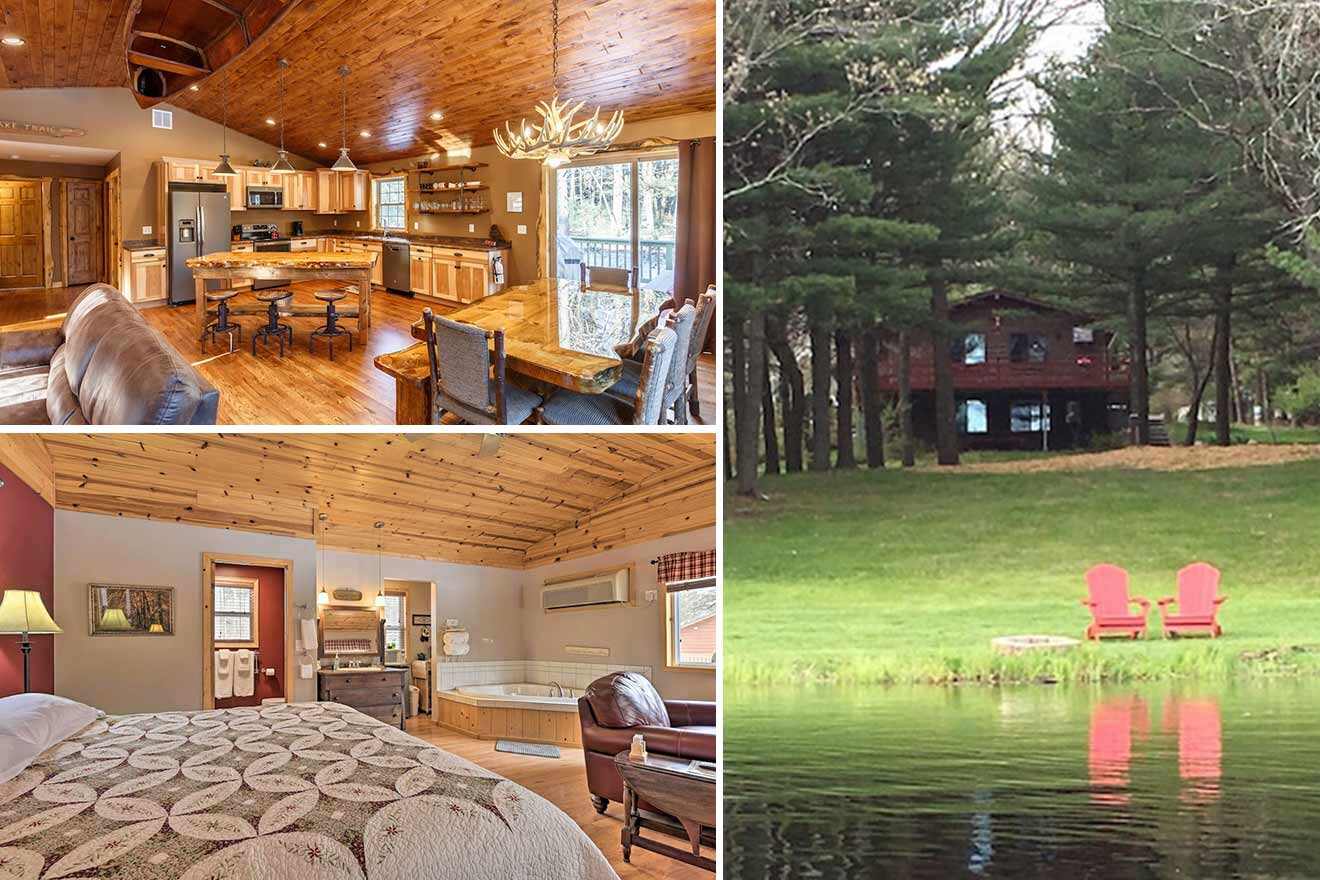 Budget (up to US$350)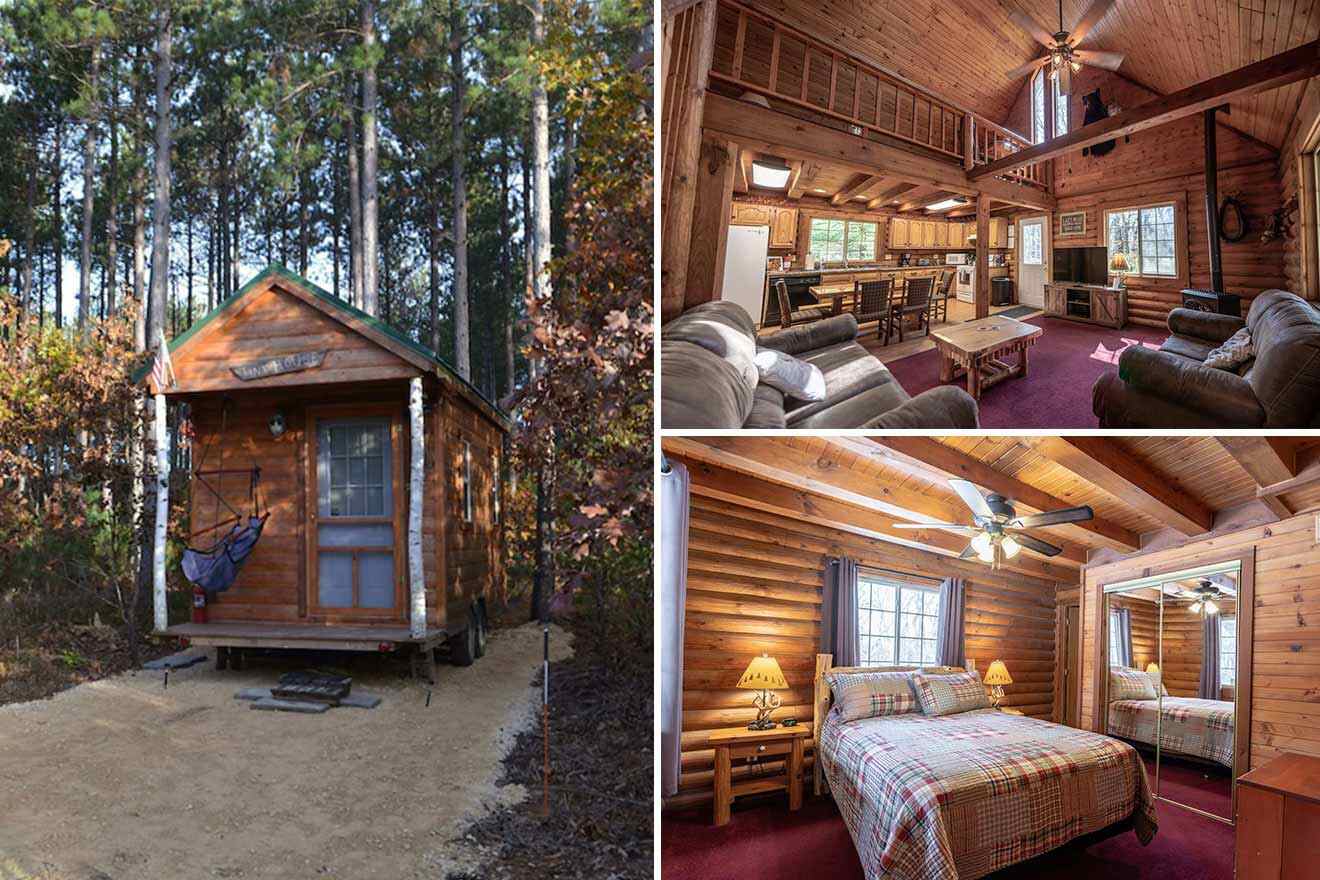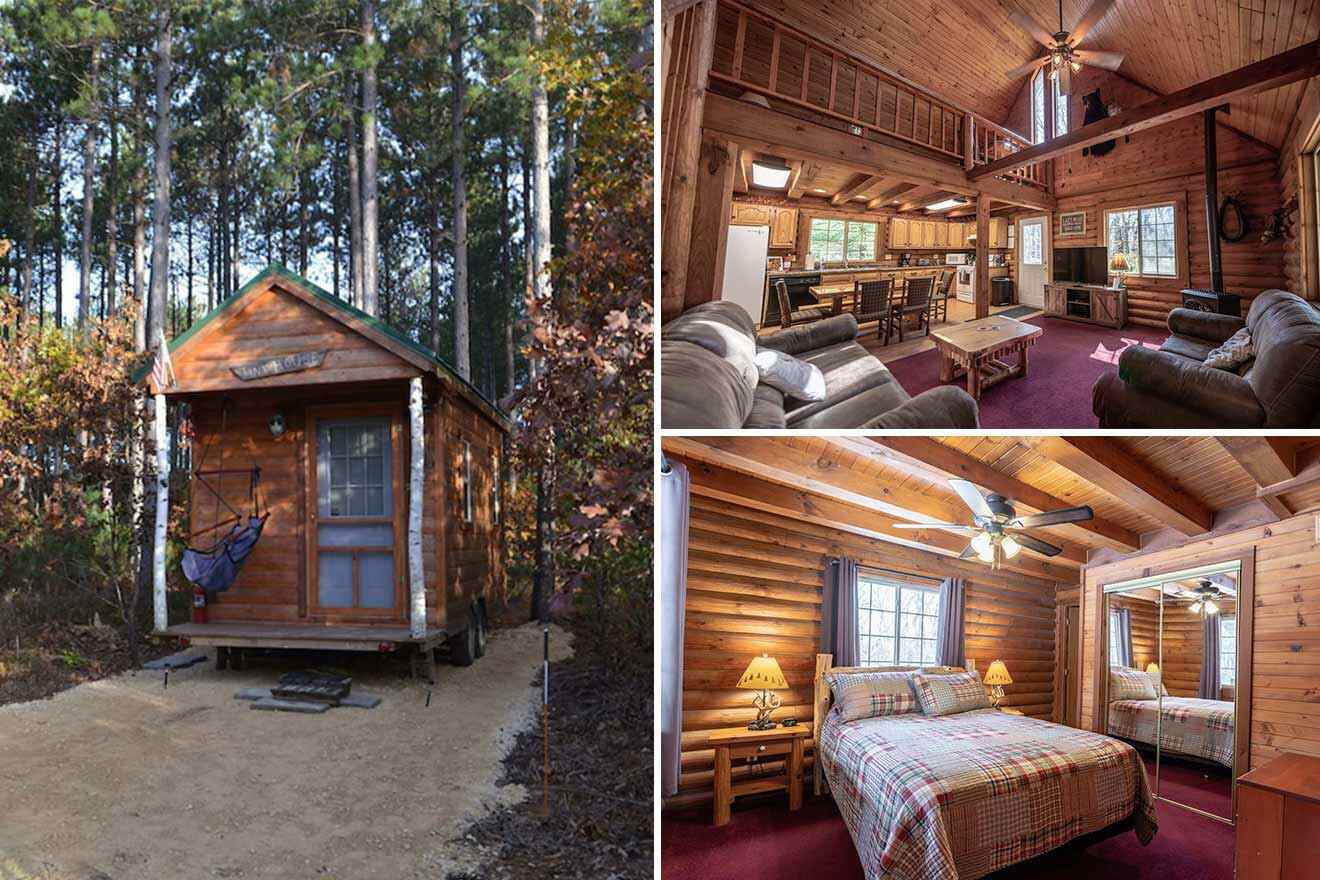 BONUS: Best VRBOs near Wisconsin Dells with a spa bath
If you're looking for some amazing vacation rentals near the Wisconsin Dells area where you can relax in your own private spa tub just minutes away from all the water parks in the area and other attractions?
Then have a look at the shortlist below, it has some amazing accommodations which mid-range and luxury with prices from US$400 to US$900: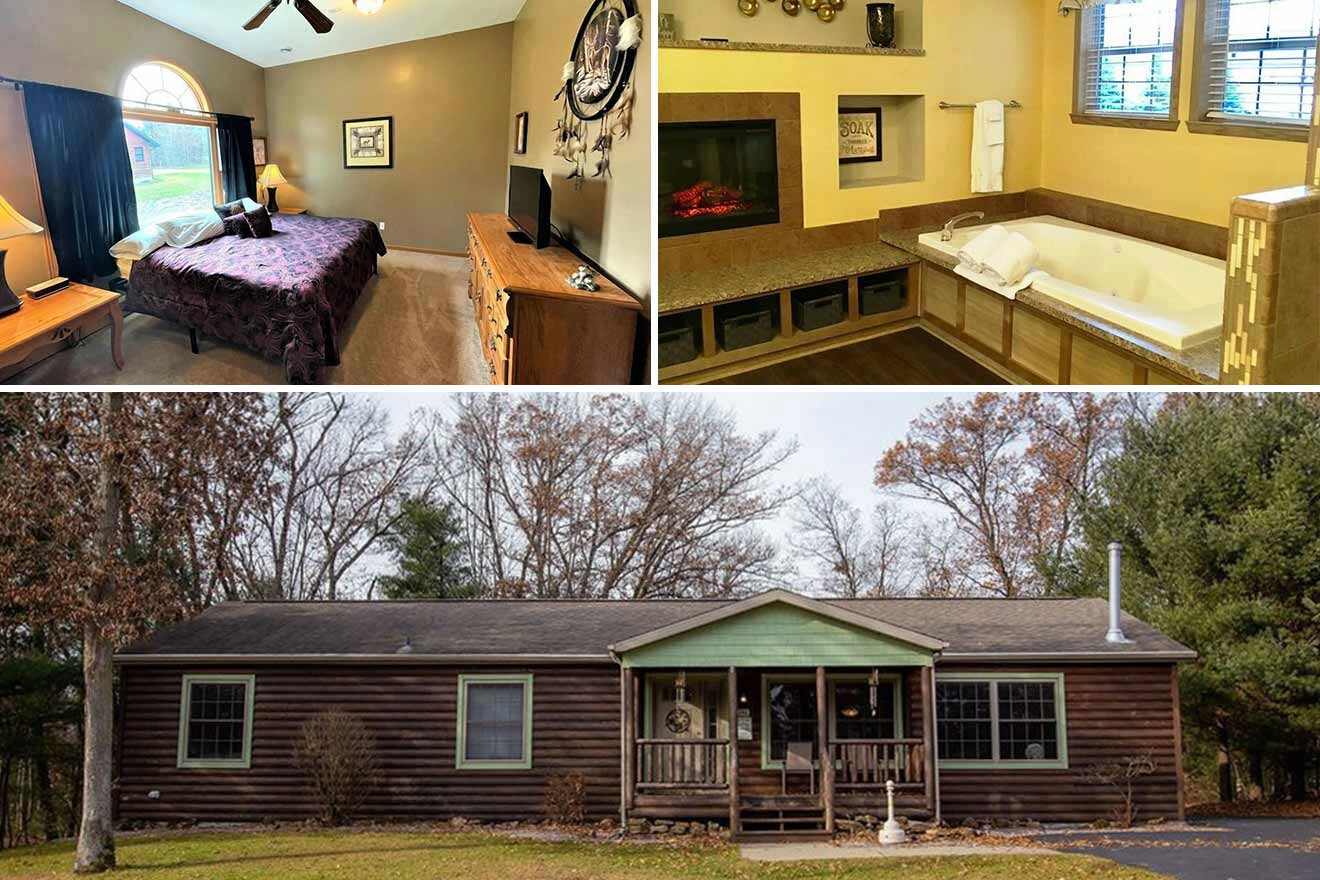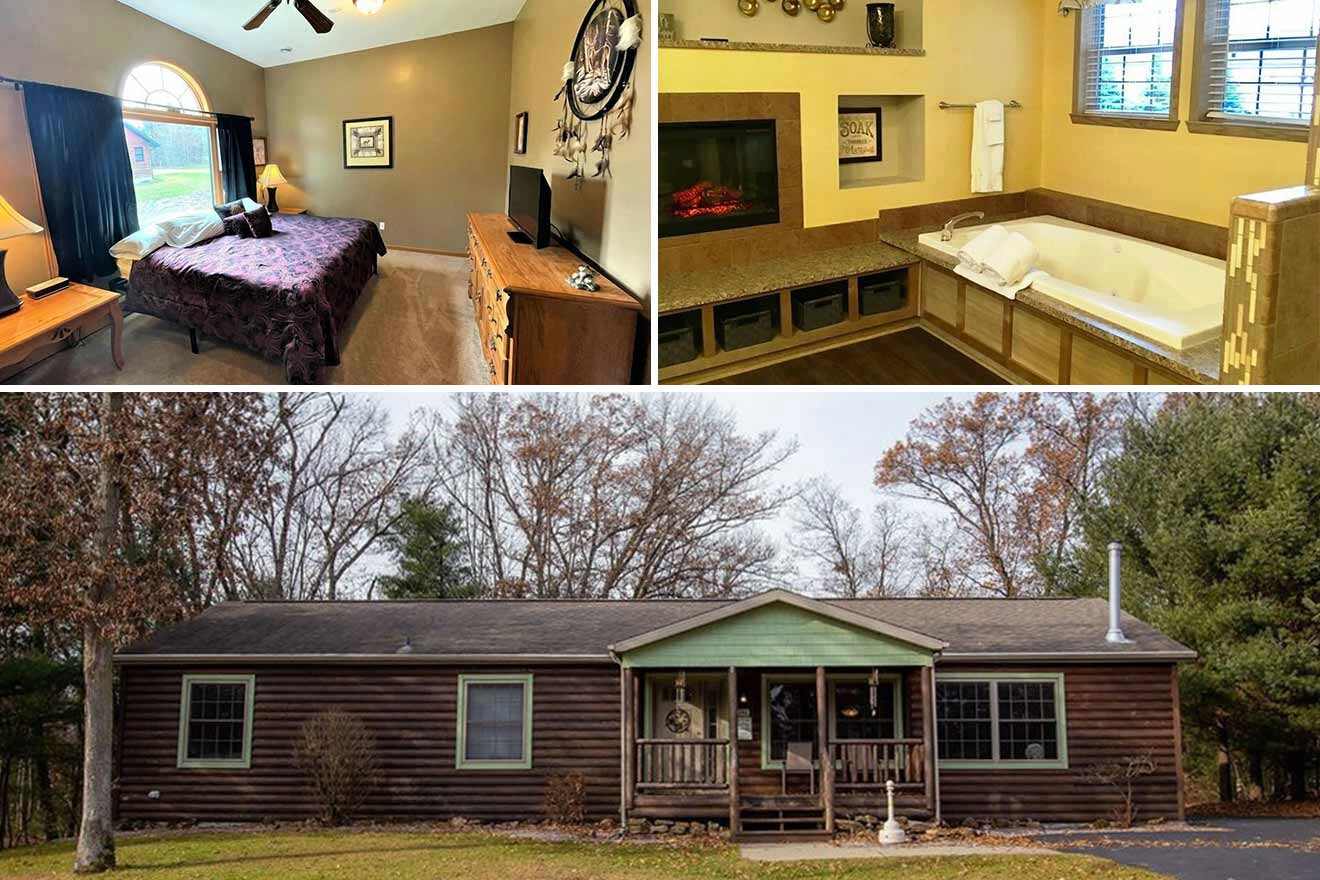 Crossing at the Oaks – Located in Lake Delton (which is known for its sandy beach) this accommodation comes with lots of space where you can fit around 20 people! So if you're in a big group, come and enjoy your time by relaxing near the fireplace, enjoying the heated pool, the theater room, and going out to explore around! You'll find lots of waterparks, golf courses and woods nearby.
Champagne Chalet – This stunning chalet has such a great style! Lots of wooden furnishing, a large living area that can fit all the guests and 6 bedrooms. When you're not exploring the area you can chill in the spa bath or look for the nearest sandy beach. The accommodation is also equipped with a big kitchen where you can cook for the entire group!
Making Memories Lodge – Perfect for a joint family vacation, this cozy lodge is set in a tranquil area but not too far from all the attractions and a sandy beach. It also has room for up to 12 people! Although it's tempting to spend all your time by the fireplace, or playing some billiards, don't forget there are many outdoor activities like kayaking and boating.
FAQs about Wisconsin Dells cabins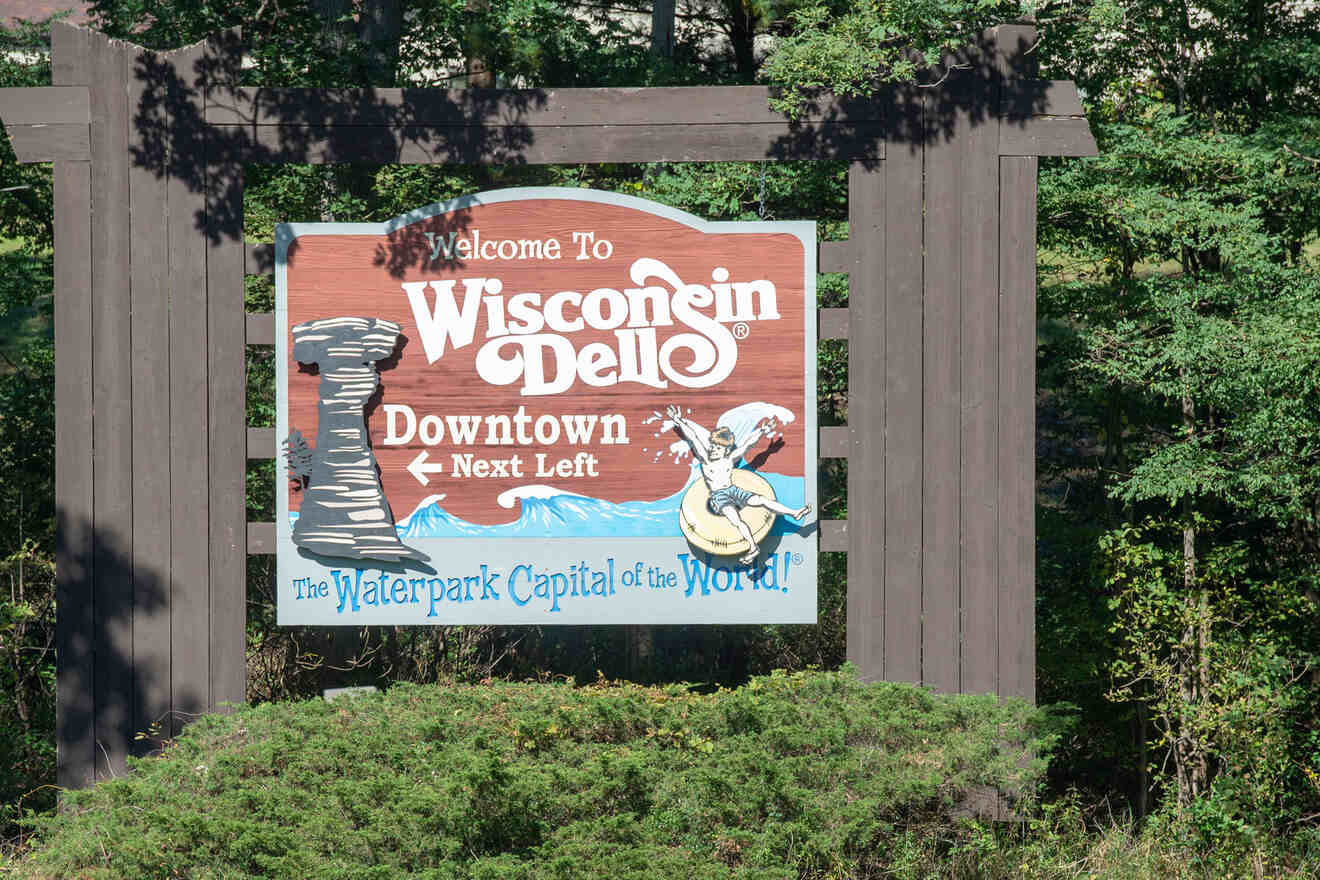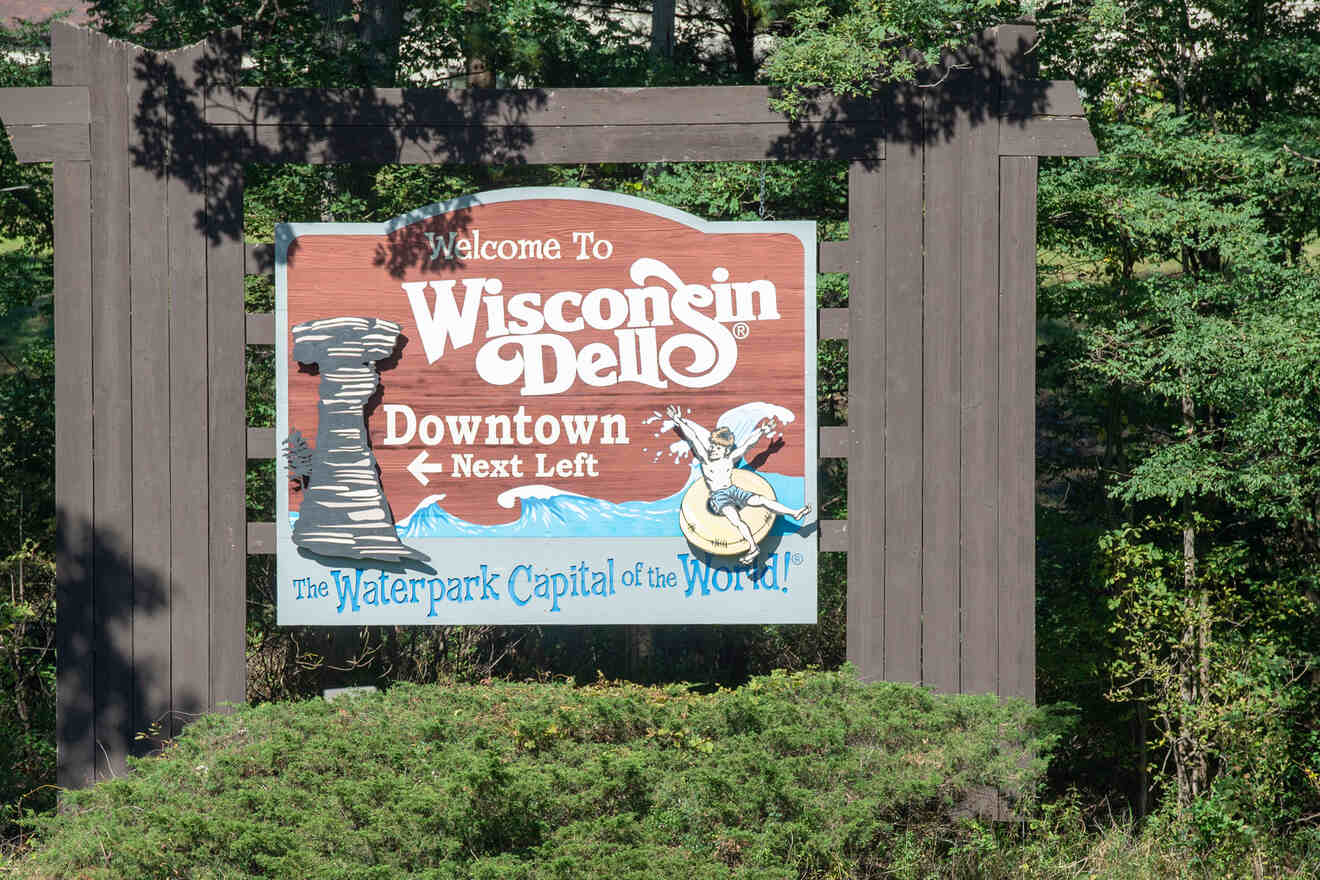 💰 How much does it cost to rent a cabin at Wisconsin Dells?
Renting a cabin in Wisconsin Dells can cost between $250 – $450 depending on the size and style you are looking for.
🔝 Is Wisconsin Dells worth visiting?
Yes! Wisconsin Dells has so many fun outdoor activities from kayaking to boating on the Wisconsin River! Plus it's also known as the water park capital of the world so all families come here for that.
🏊 Do any vacation rentals in Wisconsin Dells have a pool?
Yes, there are some cabin rentals in Wisconsin Dells that have a pool, like Mountain Village, which has great reviews and other amazing facilities.
🏘️ Where should I stay in Wisconsin Dells for a large group?
Log Cabin and Pines Cabin are perfect for large groups. These cabin rentals can fit up to 15 people and have a lot of space in the living room area.
Conclusion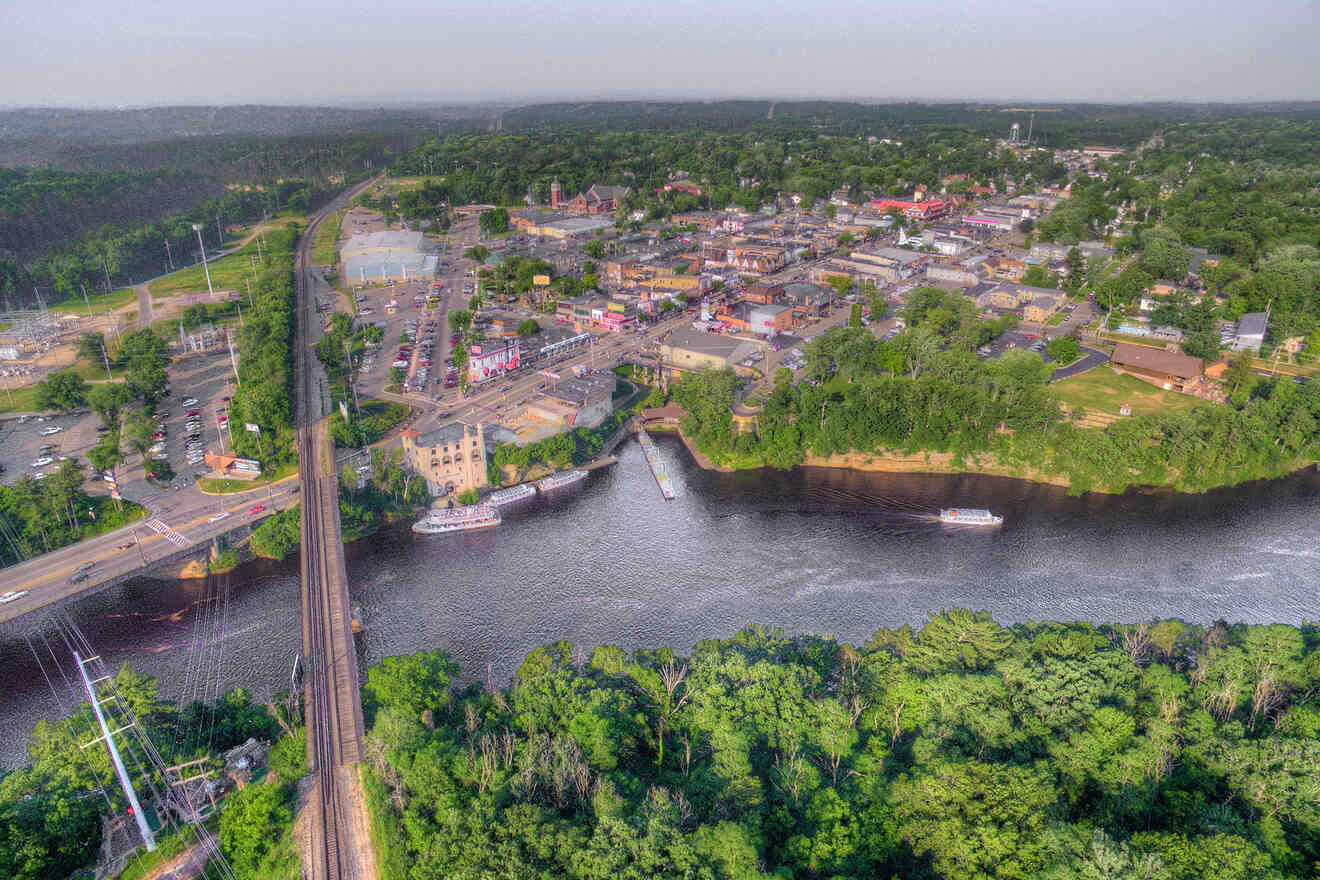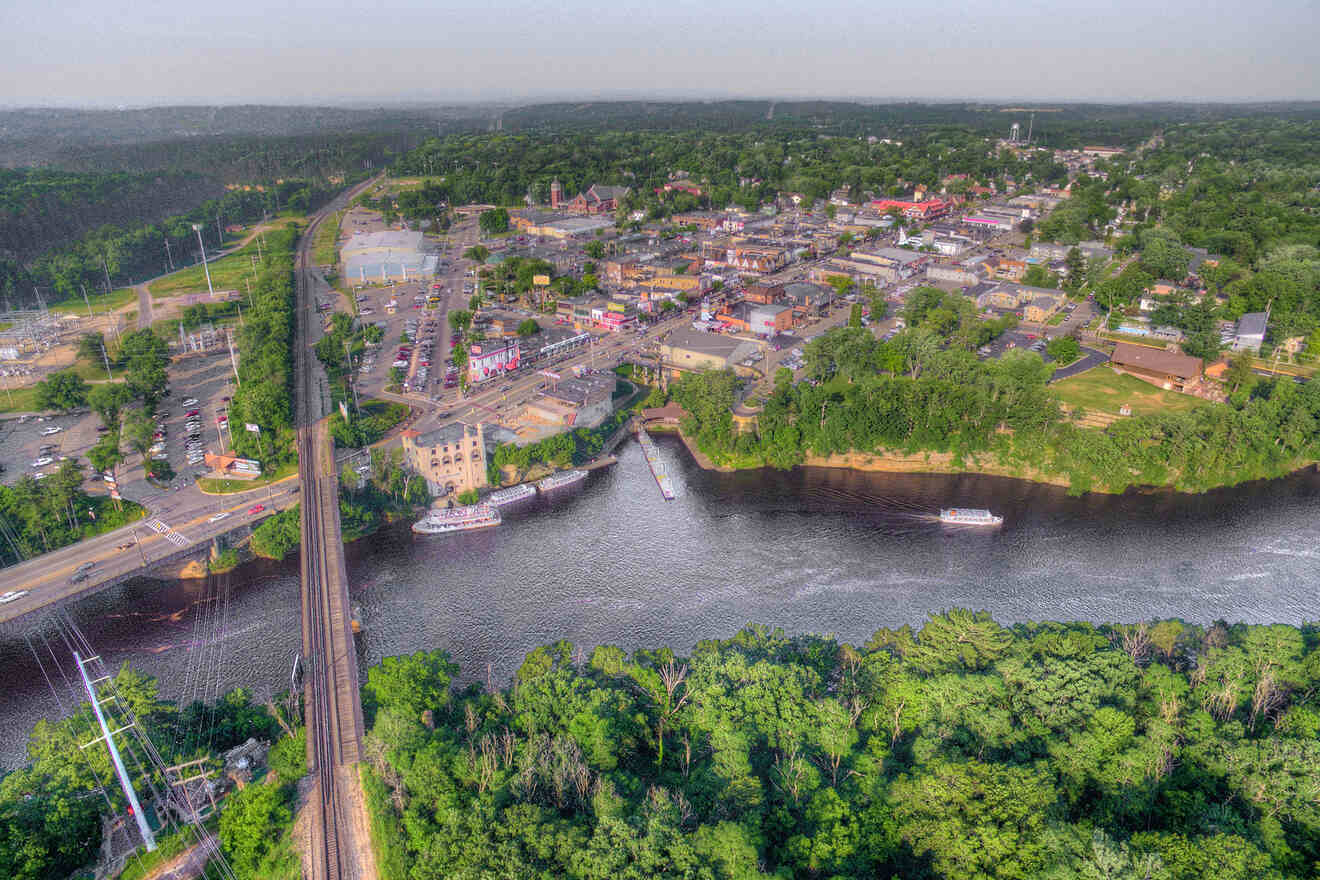 Can you already smell the burnt marshmallows and hear the fire logs cracking? Oh gotta love the woods and all these rustic Wisconsin Dells cabins.
I feel like by now you might've already forgotten which were the main points so let's do a quick run-down before we wrap this up.
The post has the best Wisconsin Dells cabins, listed from most to least expensive, plus a short bonus with some vacation rentals that have a spa bath.
While I know that many of you will be glad that I've offered so many options, I'm sure some may be confused by this. But don't worry I'll help you with that as well, by offering my 2 favorite cabins in Wisconsin Dells:
Rustic Cabin – A stunning cabin rental near the Wisconsin River that has a rusting design, an indoor heated pool, and a fire pit
Whitetail Ridge – A cute wooden cabin that comes with a cozy setting and outdoor furniture
Don't forget what I said about booking early! Trust me, these places will sell out super fast, so I highly recommend booking yours early!
Enjoy your holidays everyone and don't forget that I'm here in case you've got any questions. Just leave me a comment below and I'll answer ASAP!
Safe travels,
Victoria
---
Pin it for later!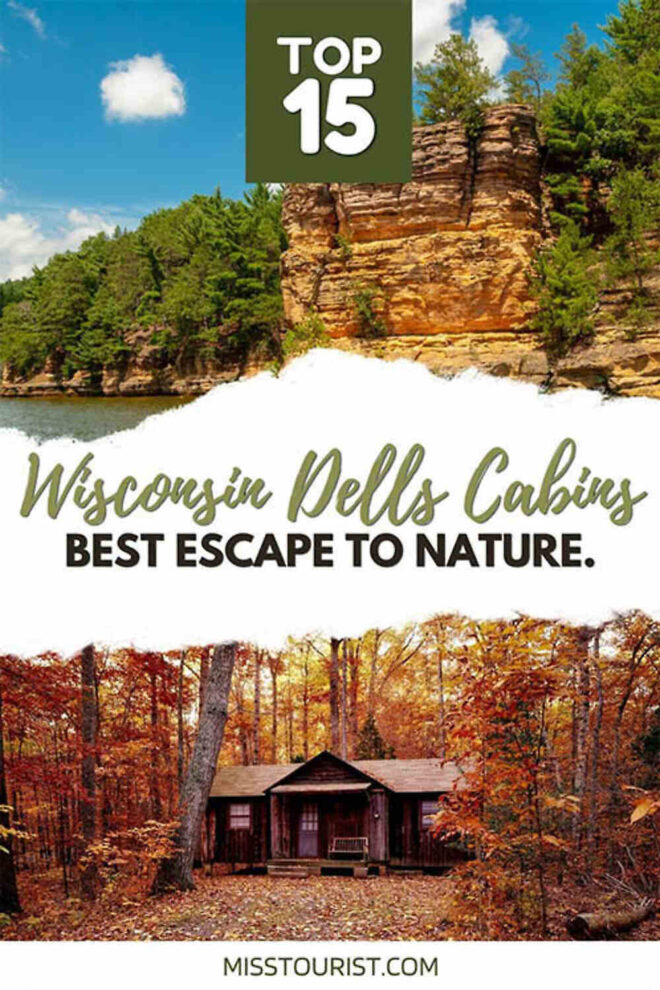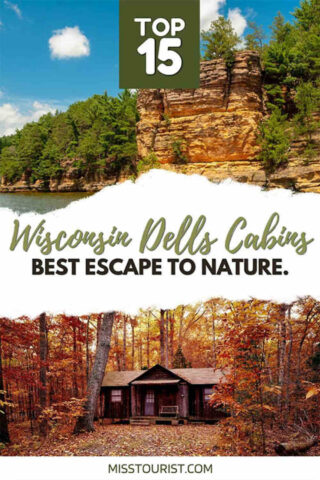 Pin it for later!