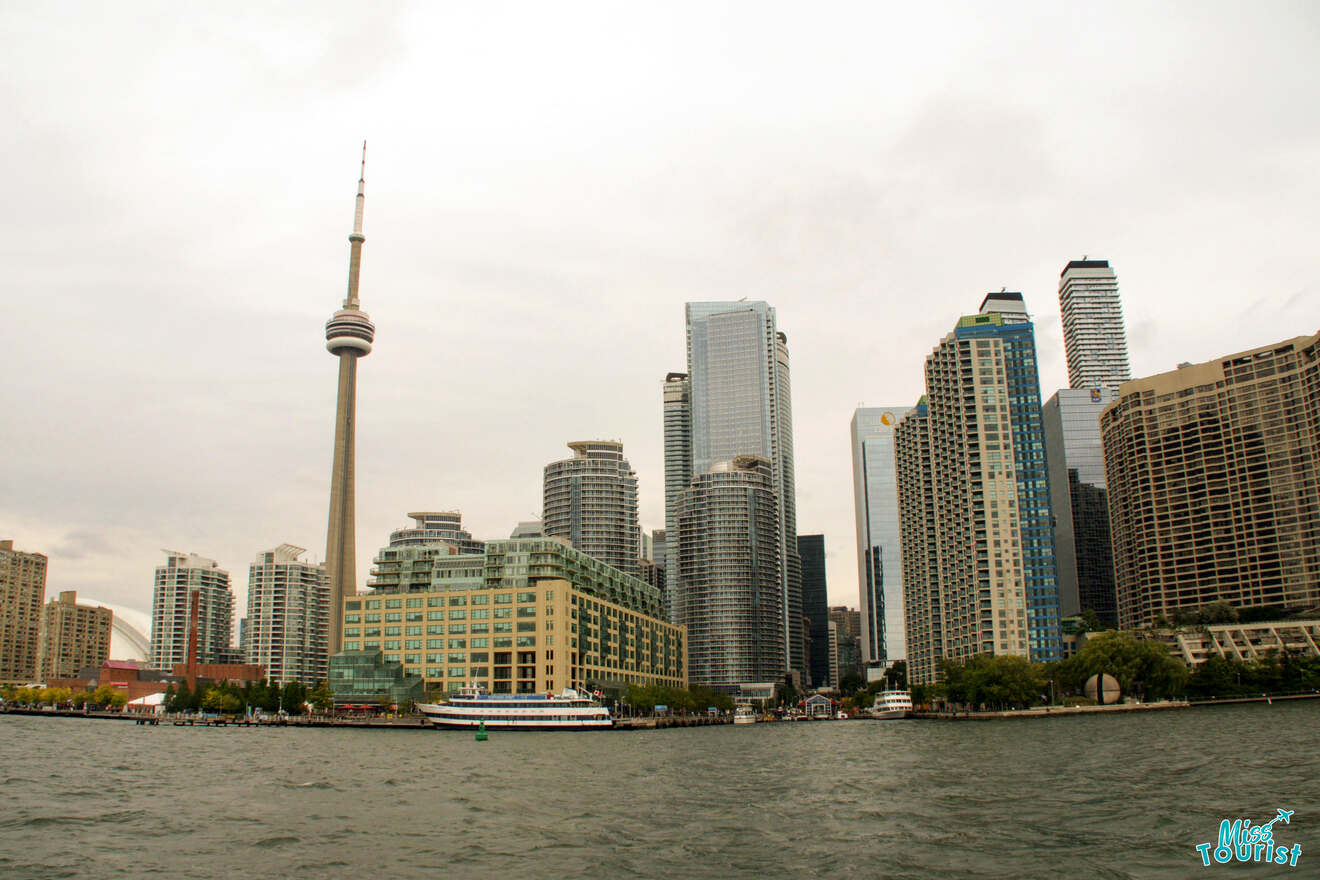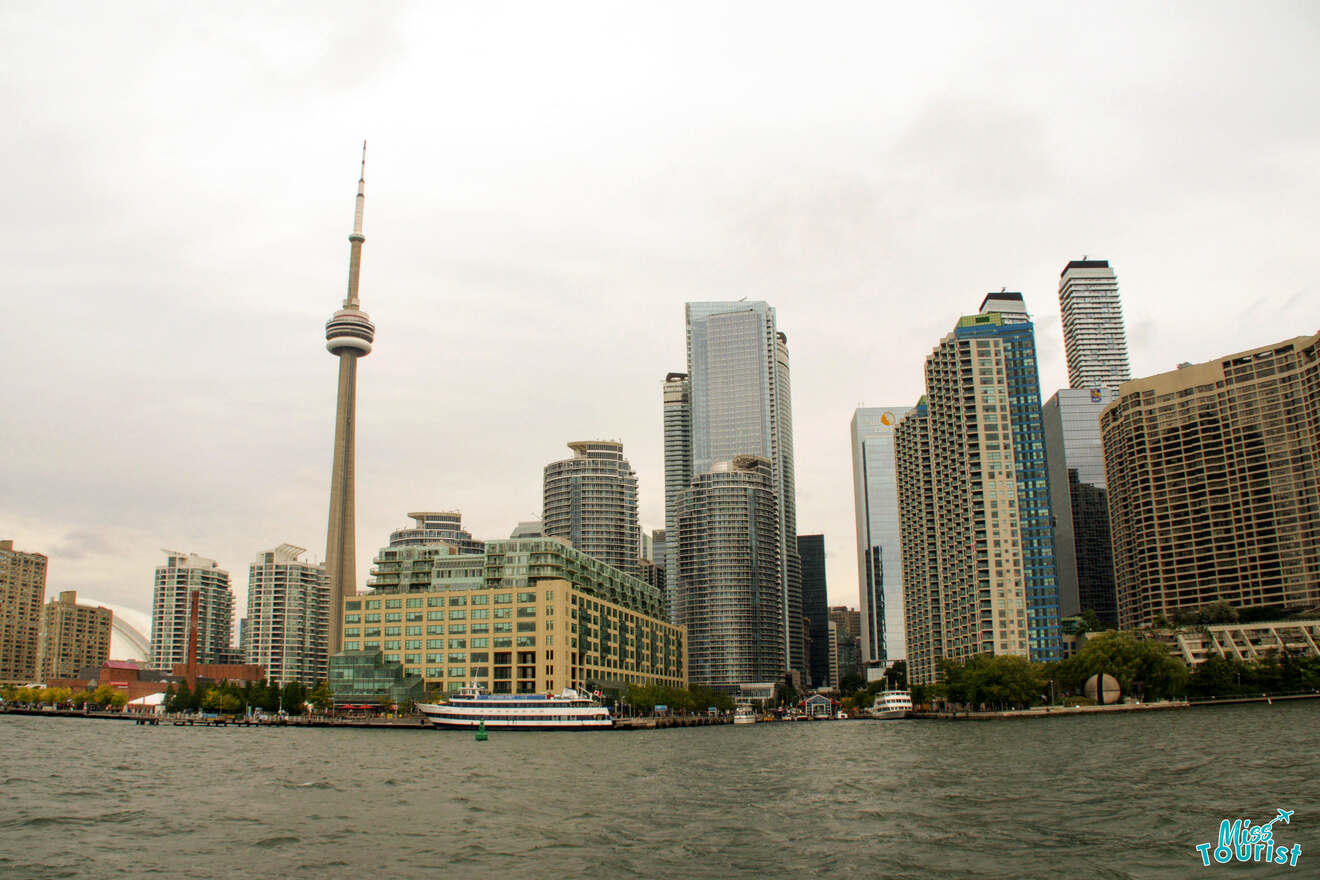 While it's not the capital (contrary to popular belief), the city of Toronto, Ontario, is the largest and the most populous city in Canada. From adventure to nature and history – Toronto has a lot to offer visitors of all types!
I lived in Canada for two years and had a great time in Toronto (Canada's largest city), with a local, finding all the must-sees and discovering the best secret spots to share with you!
Now I will walk you through all the must-sees and top things to do in Toronto with some bonus tips as well to help you get the most out of your experience!
There are so many things to love about Toronto. To start, the city is surrounded by Lake Ontario, one of the largest lakes in Canada, but my favorite part is probably the cultural diversity. Toronto is a center for immigrants coming to Canada, making it an incredibly multicultural city and super easy for tourists like us to blend in and become fully immersed in the culture.
So, now let's have a look at the best things to do in Toronto that you should NOT miss!
Let's go, there are so many Toronto Attractions to explore!!
1. Enjoy Panoramic Views from the CN Tower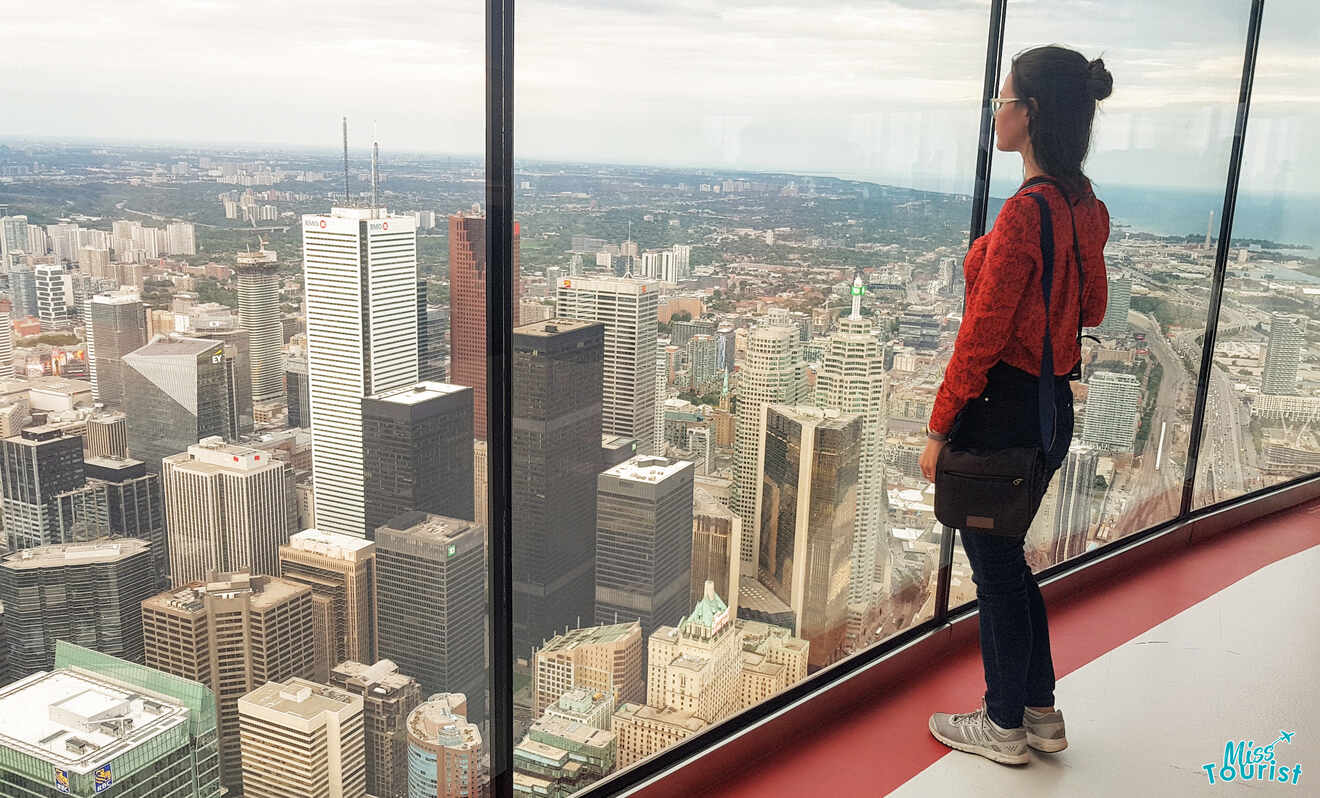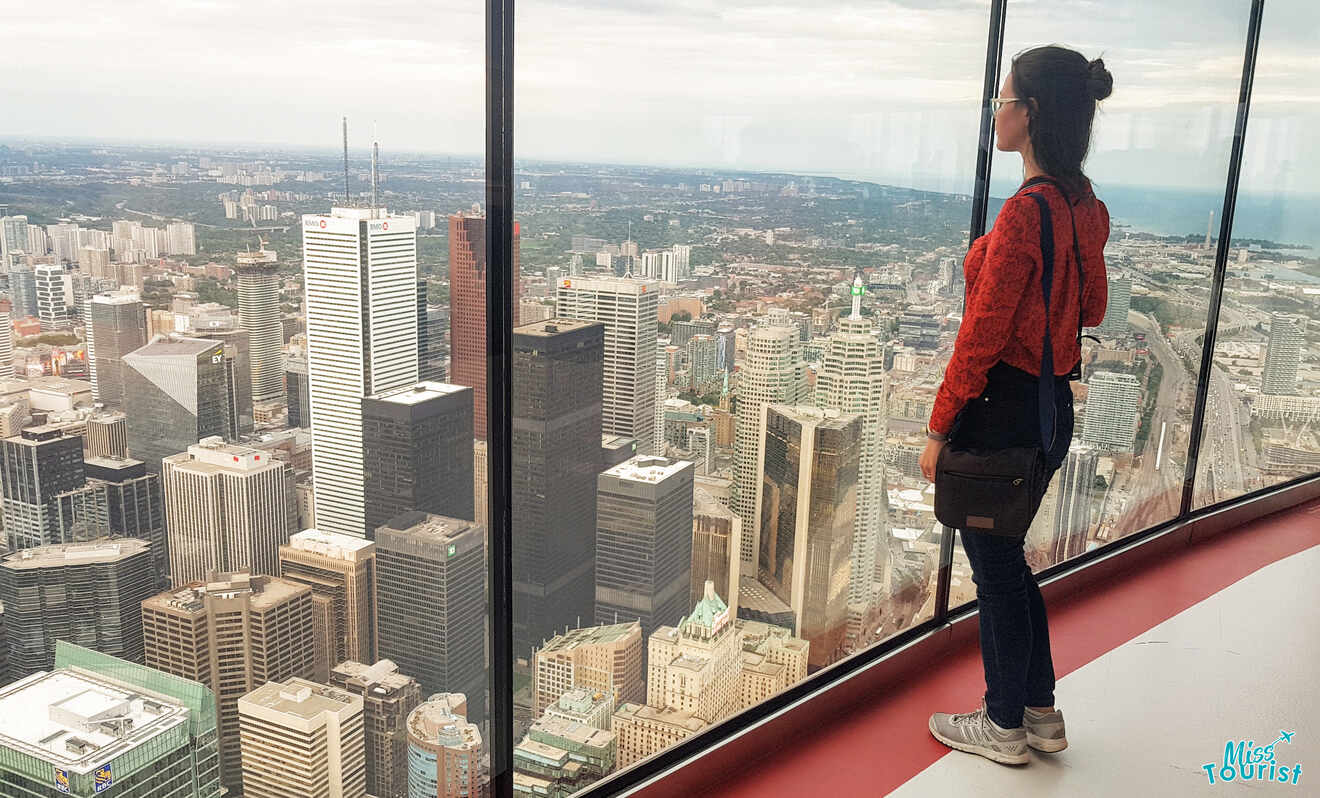 You simply cannot go to Toronto without seeing the most iconic landmark of the city – the CN Tower! The tower is 553.3 meters (1,815 feet) high and adds a unique look to the skyline of Toronto.
When it was built in 1975 it claimed the status of the tallest free-standing structure in the world and held the top spot for 32 years until it lost the title to the Burj Khalifa in 2007.
Apart from just looking at the beautiful building, there is plenty to do inside the CN Tower and many different observation decks and levels to choose from.
From the main observation level, you can enjoy a complete 360 degrees of incredible views of the city and even look at the street below through sections of glass floor. Dine at the revolving restaurant featuring the world's highest wine cellar, or ascend a further 33 stories to the Skypod to feel the tower moving in the wind!
PRO TIP: If you are planning on visiting additional tourist attractions, the CN Tower is included in Toronto's CityPASS and can work out as a substantial discount depending on what you visit.
GENERAL ADMISSION: Adults – CA$40, Children – CA$27
Edge Walk at CN Tower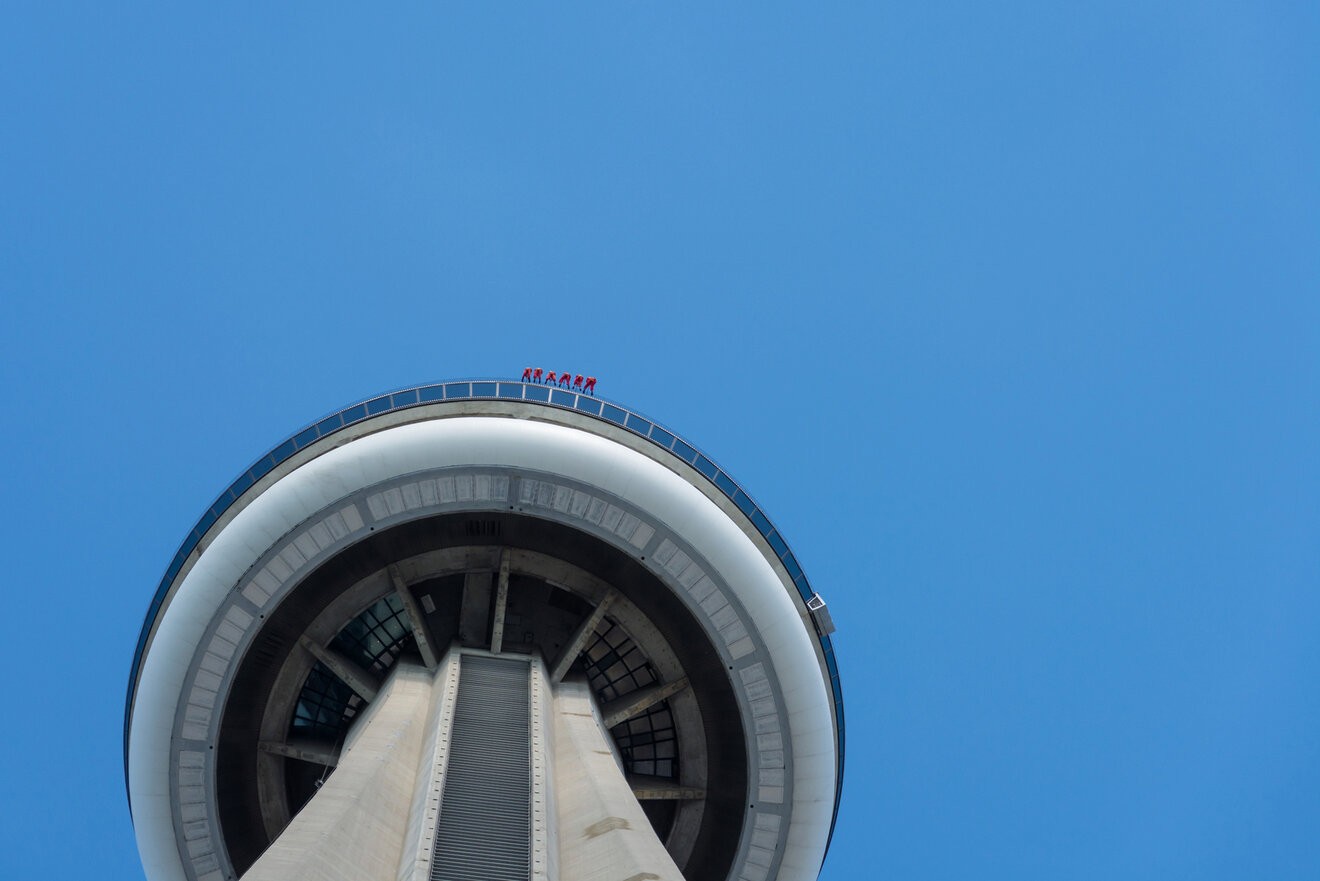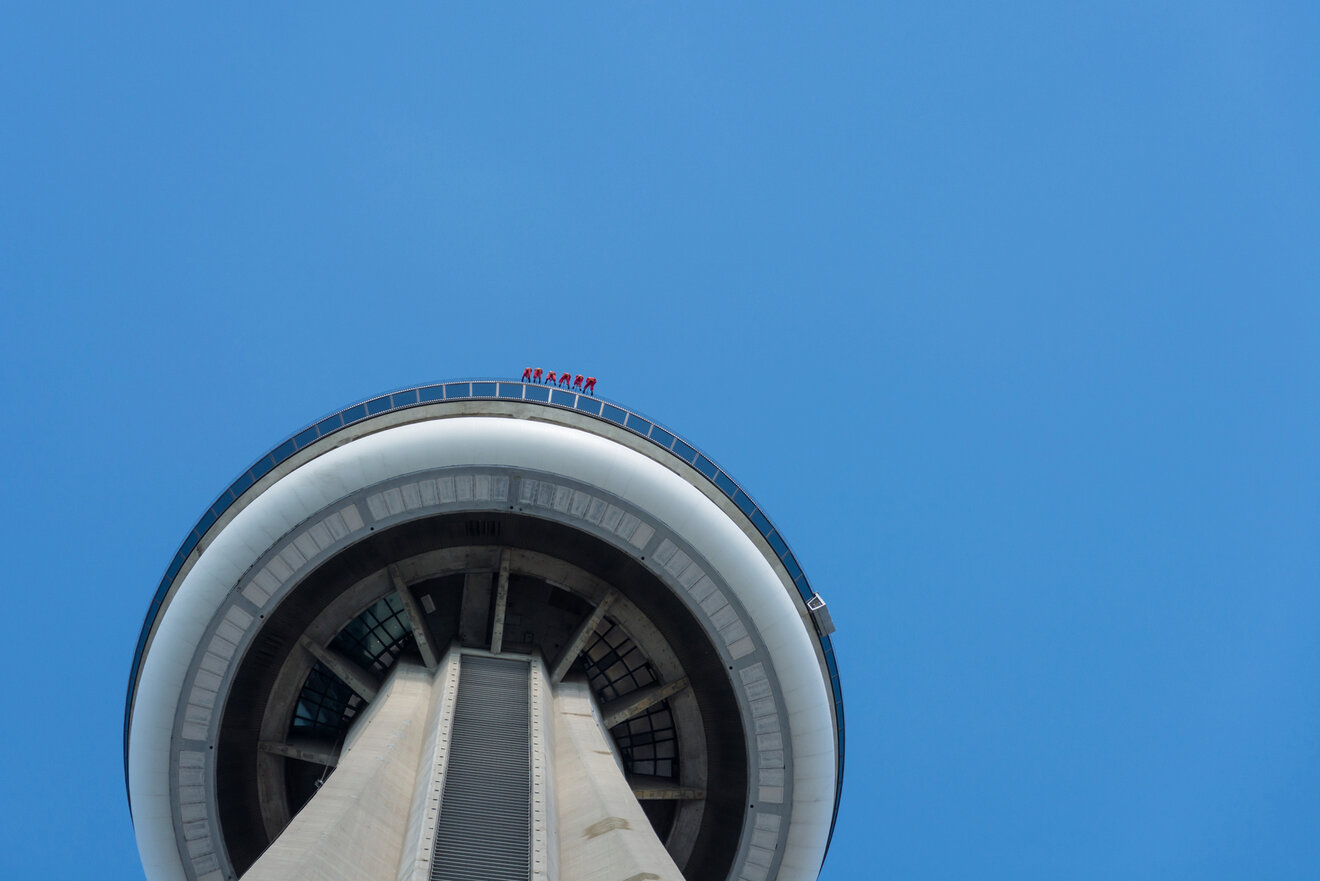 One of the most adventurous activities in this 'things to do in Toronto' list is the Edge Walk at the CN Tower. This is something definitely not for the faint-hearted!
The Edge Walk is a 1.5 m (5-foot) wide ledge on the outside of the observation pod. Connected only by a harness, you will walk the ledge which circles the CN tower, 356 m (1168 feet) above the ground! Yes, I told you it is not for the faint-hearted!
If you want even more of a thrill, you are even allowed to lean back towards the ground pushing your limits by facing the height straight on! Apart from the adventure – Edge Walk also gives you great panoramic views of the city. The Ontario Lake can be seen clearly at a distance from the Edge Walk just across the concrete jungle of downtown Toronto.
PRICE: From CA$195
2. Take the Kids to Ripley Aquarium Canada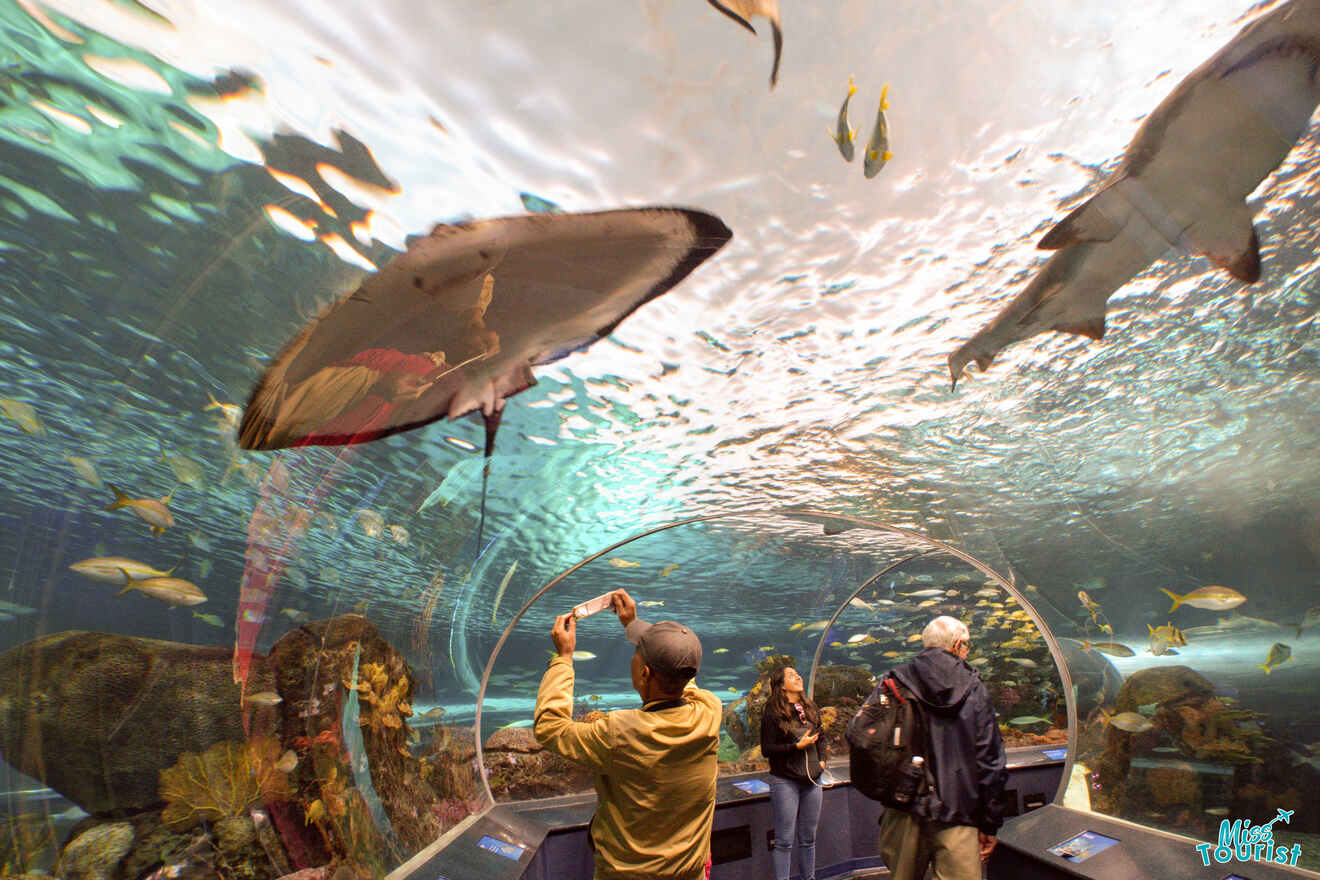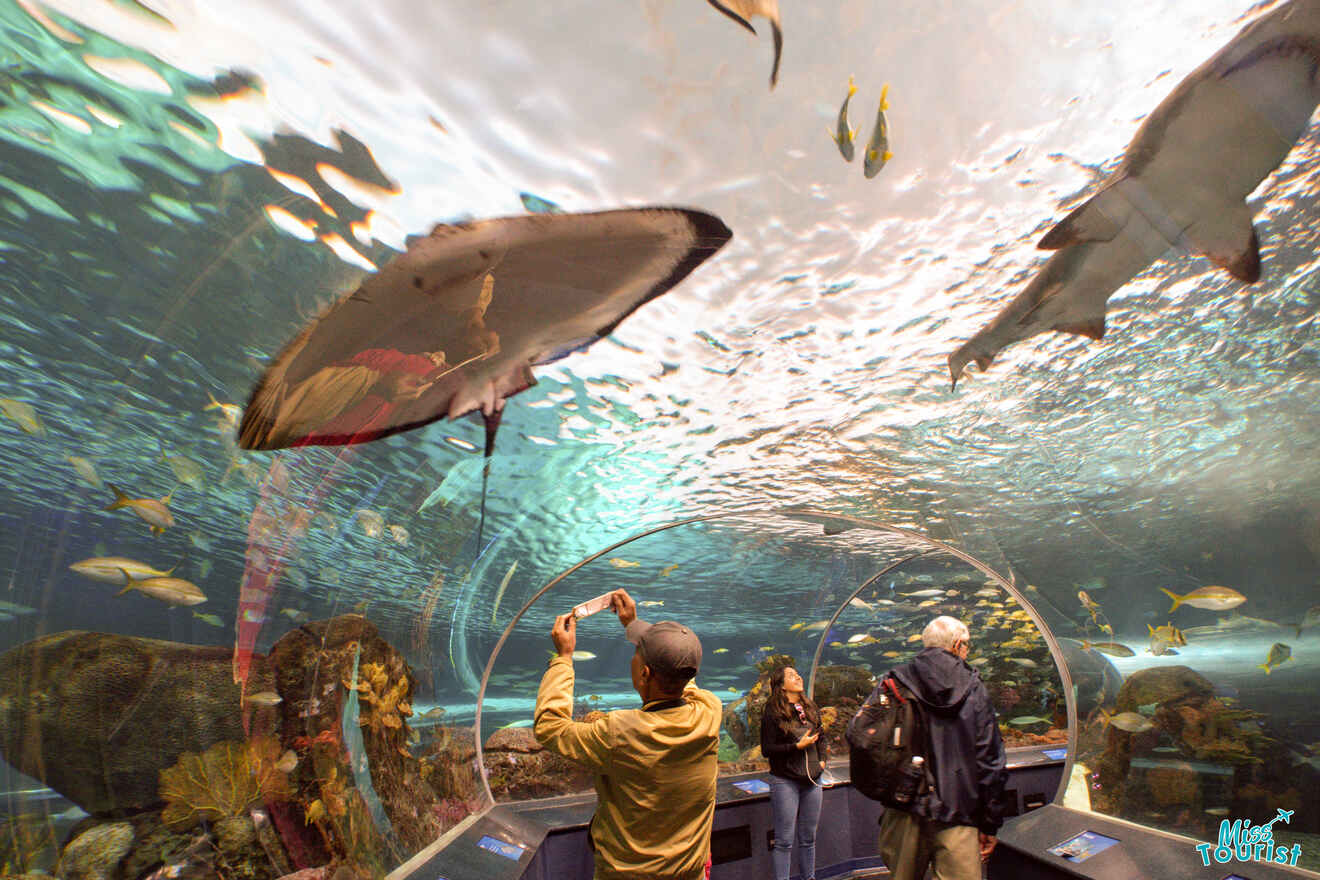 Ripley's Aquarium Canada is an exotic display of underwater marine life located right at the bottom of the CN tower.
The largest indoor aquarium in Canada, Ripley Aquarium is a huge 12,542 m squared (135,000 square feet) in size and is home to many different species of marine animals including jellyfish, manta rays, green turtles, tropical fishes, and colorful artificial corals.
If you're visiting Toronto with younger children then going to the Ripley's Aquarium will should be the top of your list of things to do in Toronto!
UPDATE: Another really cool attraction you can do if you are traveling with kids (or as adults too, really) is Little Petit Canada. The place has recently opened and shows the best places of Canada in incredible details. You will be in awe from the detailing there – the little cars will signal before turning, EACH person in Rogers Centre will be different, the billboards will show real movie ads etc.
PRICE: Adults – CA$43, Youth (6-13) – CA$29, Kids (3-5) – CA$12.50
3. Visit the Largest Museum in Canada, the Royal Ontario Museum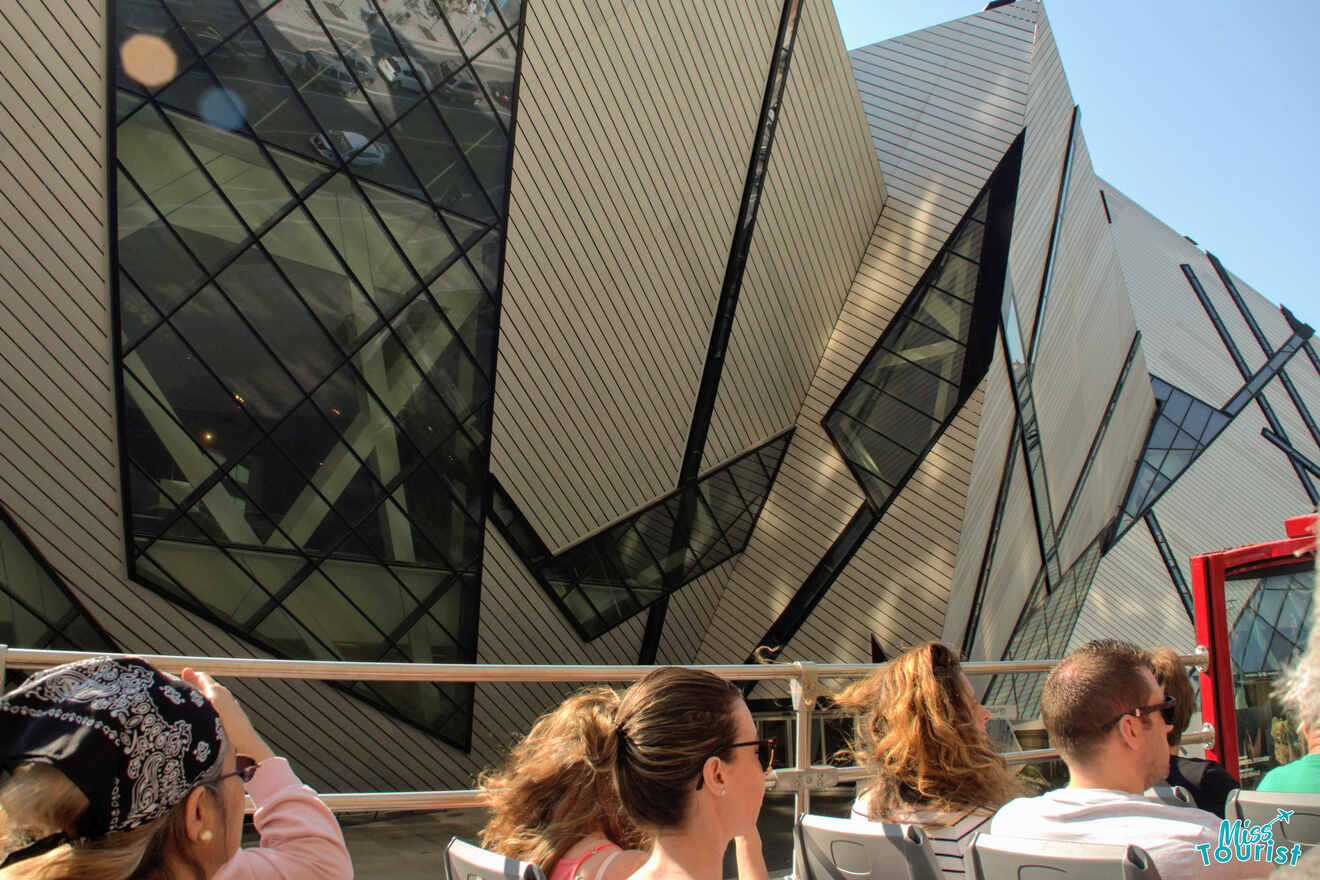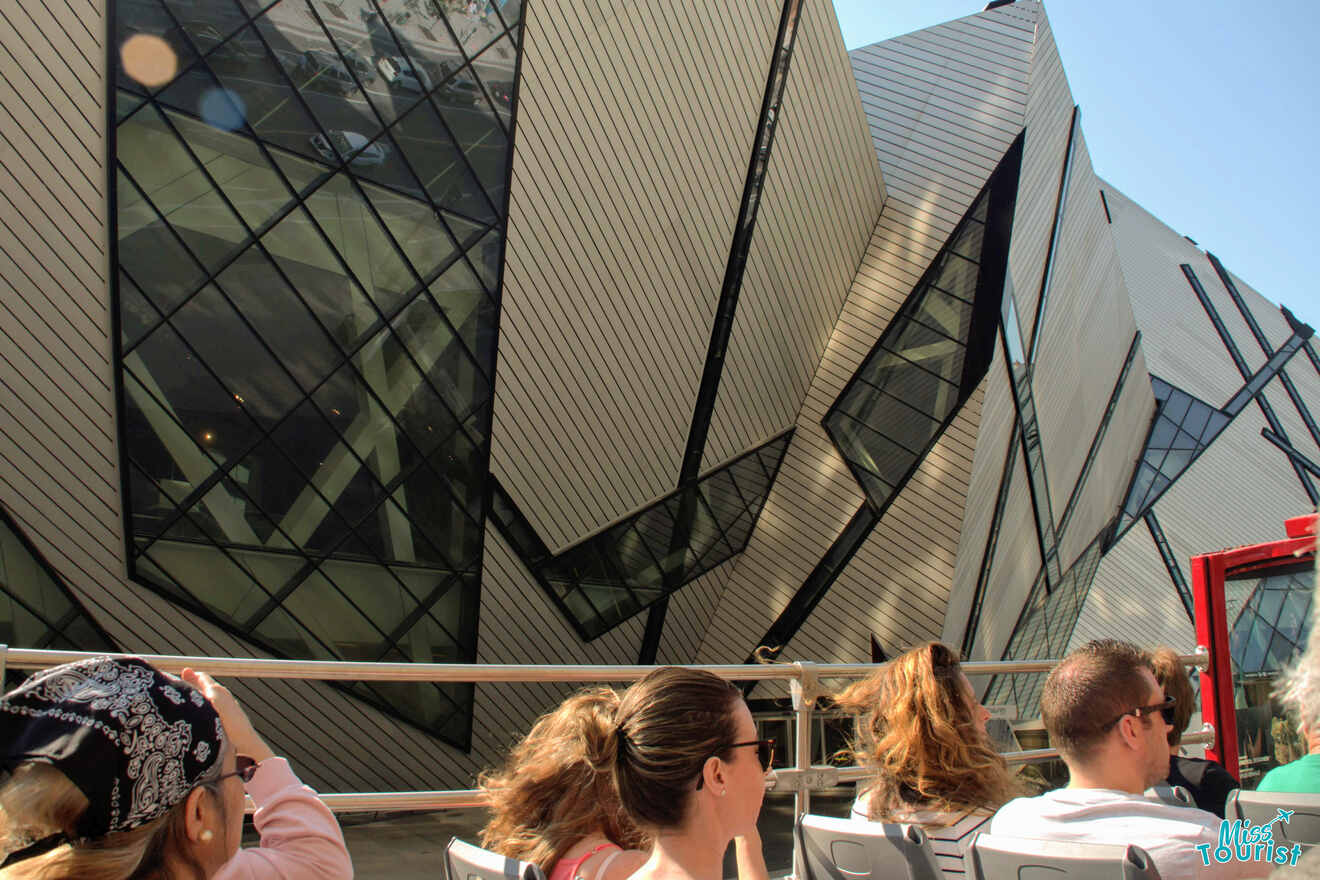 Toronto is home to so many museums but I think the Royal Ontario Museum is the best of them all!
With more than 30 different galleries and 6 million objects, it is the largest museum in Canada and displays everything from Chinese architecture to Roman artifacts, Dinosaur Bones, Egyptian archeological findings to biodiversity exhibitions. For the book lovers, there is even an in-house library too!
With many different exhibitions happening throughout the year, it's always worth checking what's on during your visit.
GENERAL ADMISSION: Adults – CA$23, Kids – CA$14
4. Explore Casa Loma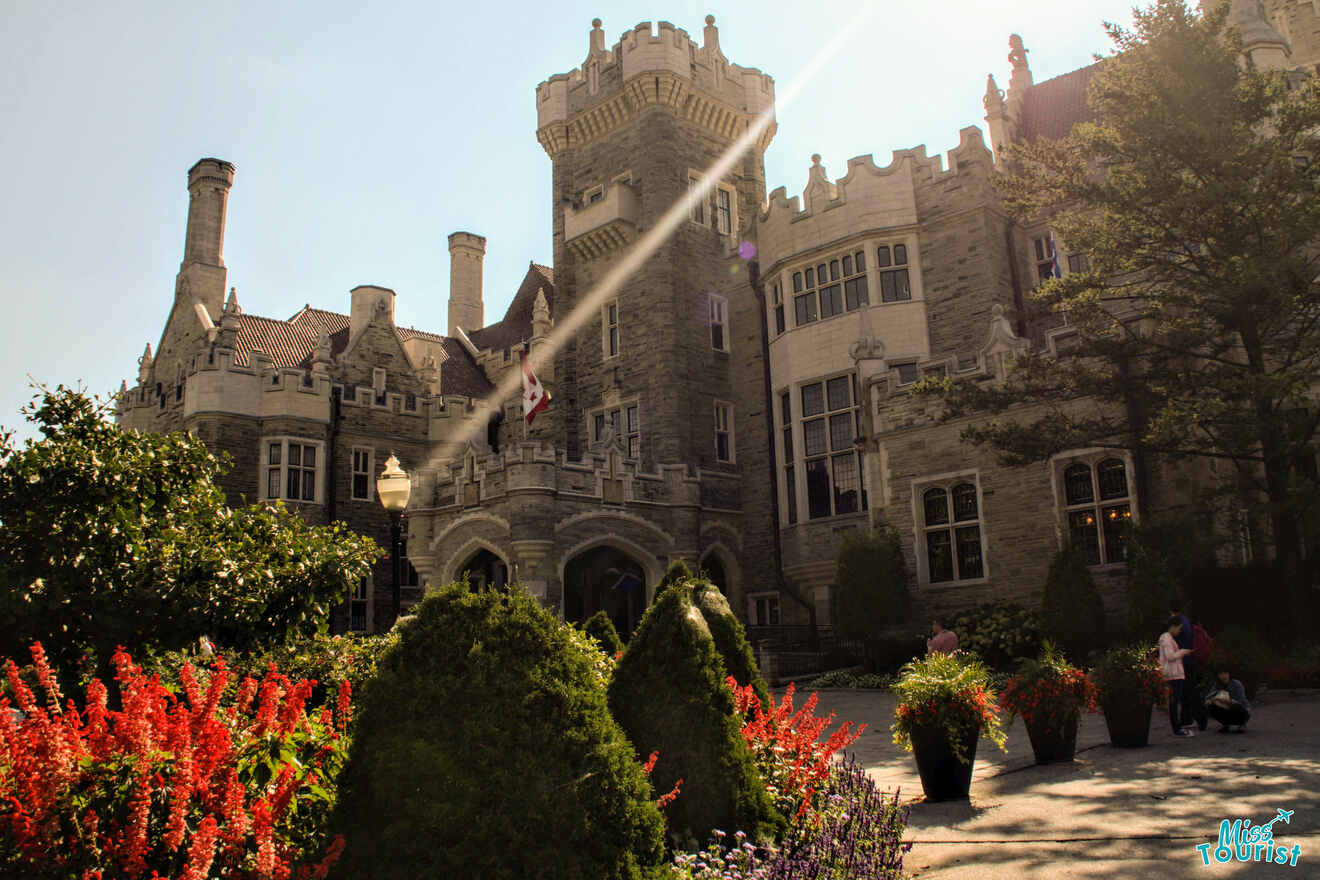 It's not very often that you come across a castle right in the heart of a metropolitan city. However, when in Toronto – it is absolutely possible!
You may recognize Casa Loma from many Hollywood movies like X-men, Scott Pilgrim vs. the World, and Chicago.
Built in 1911 by Sir Henry Pellatt, The Casa Loma palace is a luxurious property with 98 rooms spread over 6,010 square meters (64,700 square feet). Visiting Casa Loma today will take you back in time, stepping away from the urban architecture and modern fast-paced life of Toronto.
A visit of Casa Loma includes access to many suites in the castle, the garden, the stables, and many verandas and long passages in the castle.
GENERAL ENTRY: Adults – CA$30, Children – CA$25
5. Visit the Hockey Hall of Fame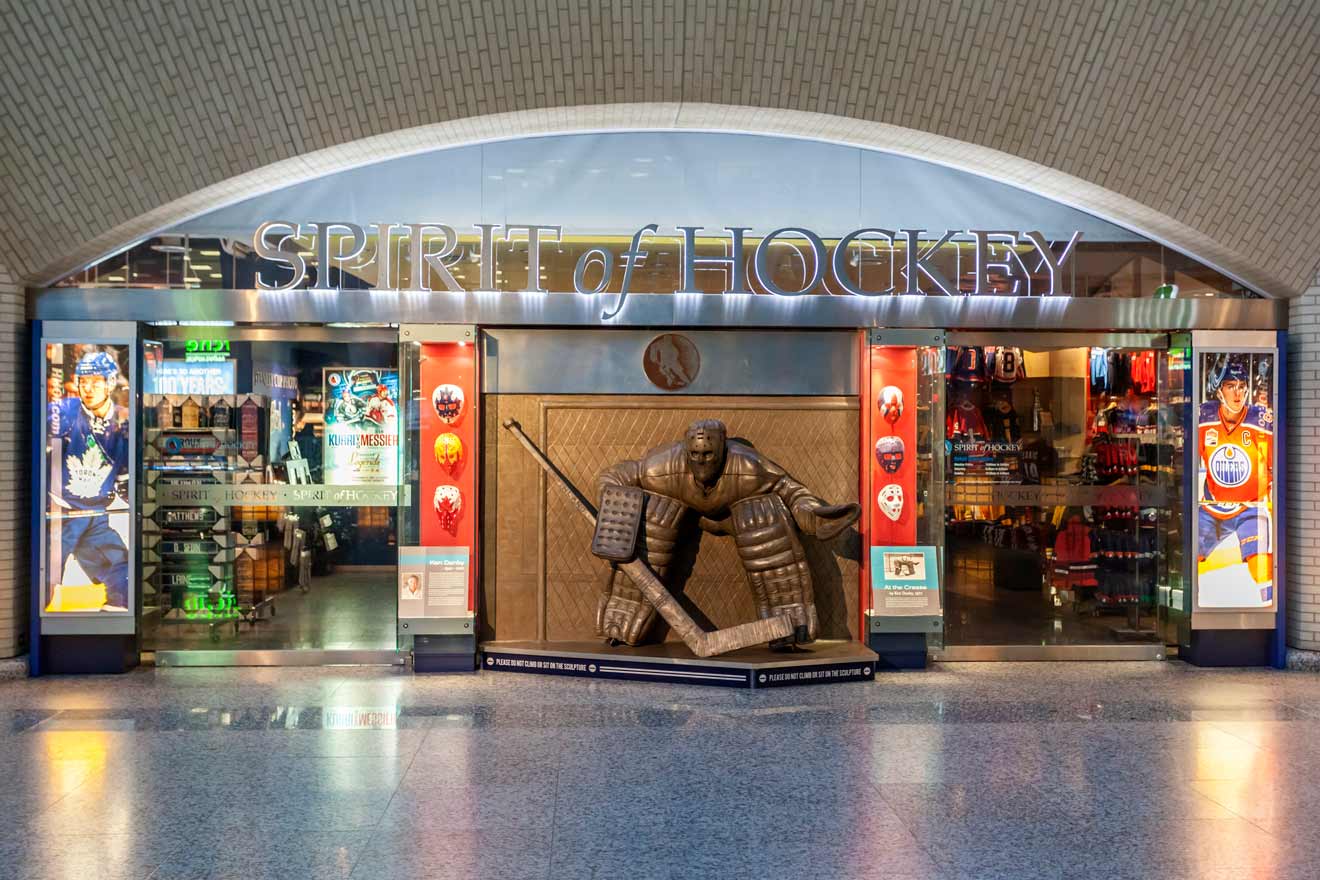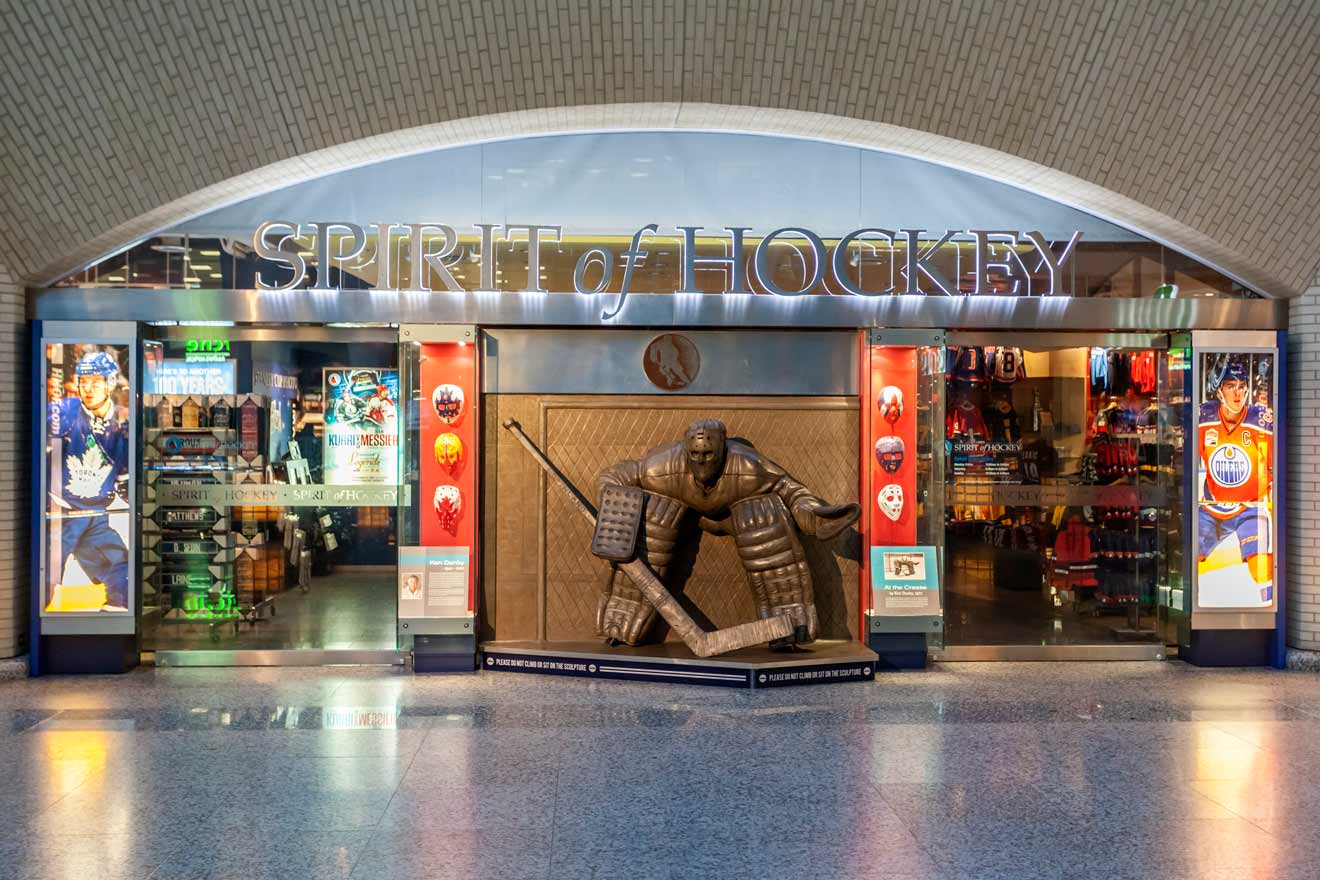 If Canada is known for any sport, the first thing that comes to mind is most likely ice hockey. Toronto is home to the famous Toronto Maple Leafs and has a long history with the sport.
At the Hockey Hall of Fame, you will find the world's largest collection of hockey memorabilia including the Stanley Cup on display!
NOTE: The Stanley Cup is not always on display as it tours Canada throughout the year.
But don't worry if you miss it, there are two huge theatres and interactive displays to keep visitors entertained and informed about the history of hockey in Canada!
PRICE: Adults – CA$25, Kids – CA$15
6. Eat Your Way through St. Lawrence Market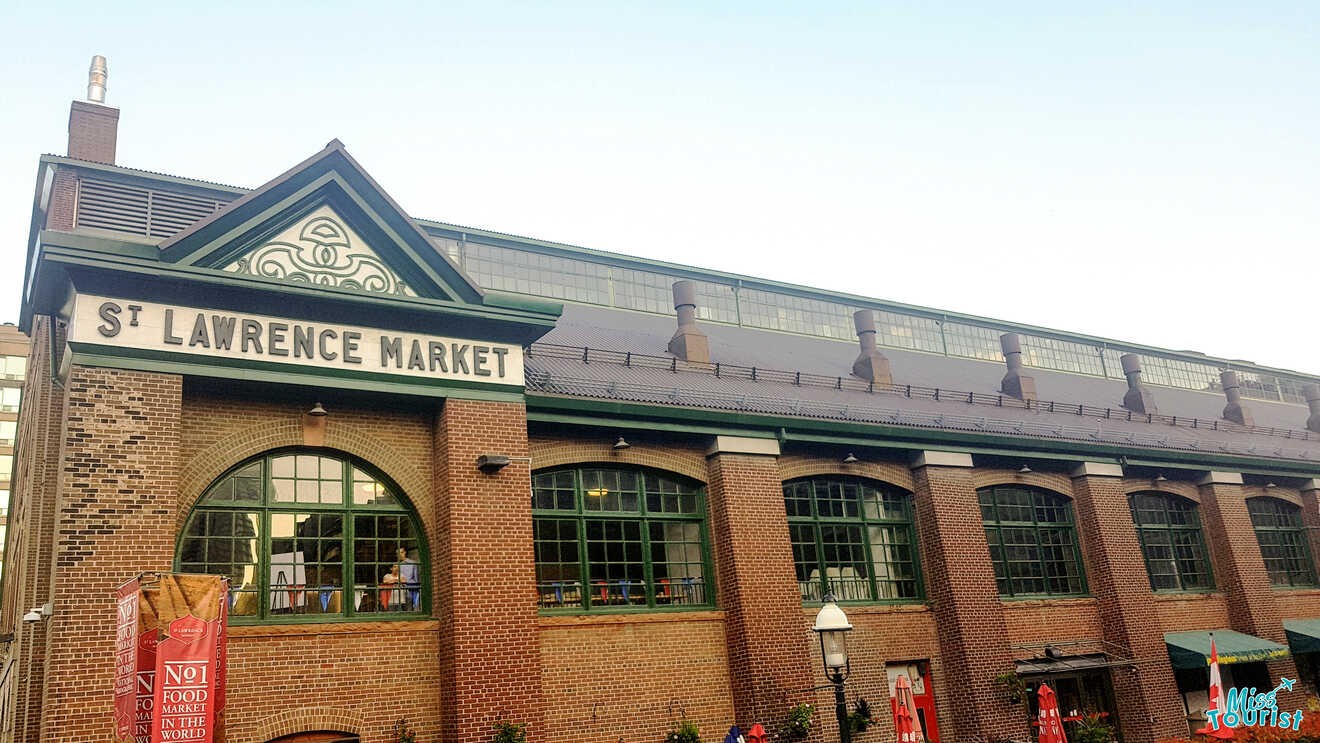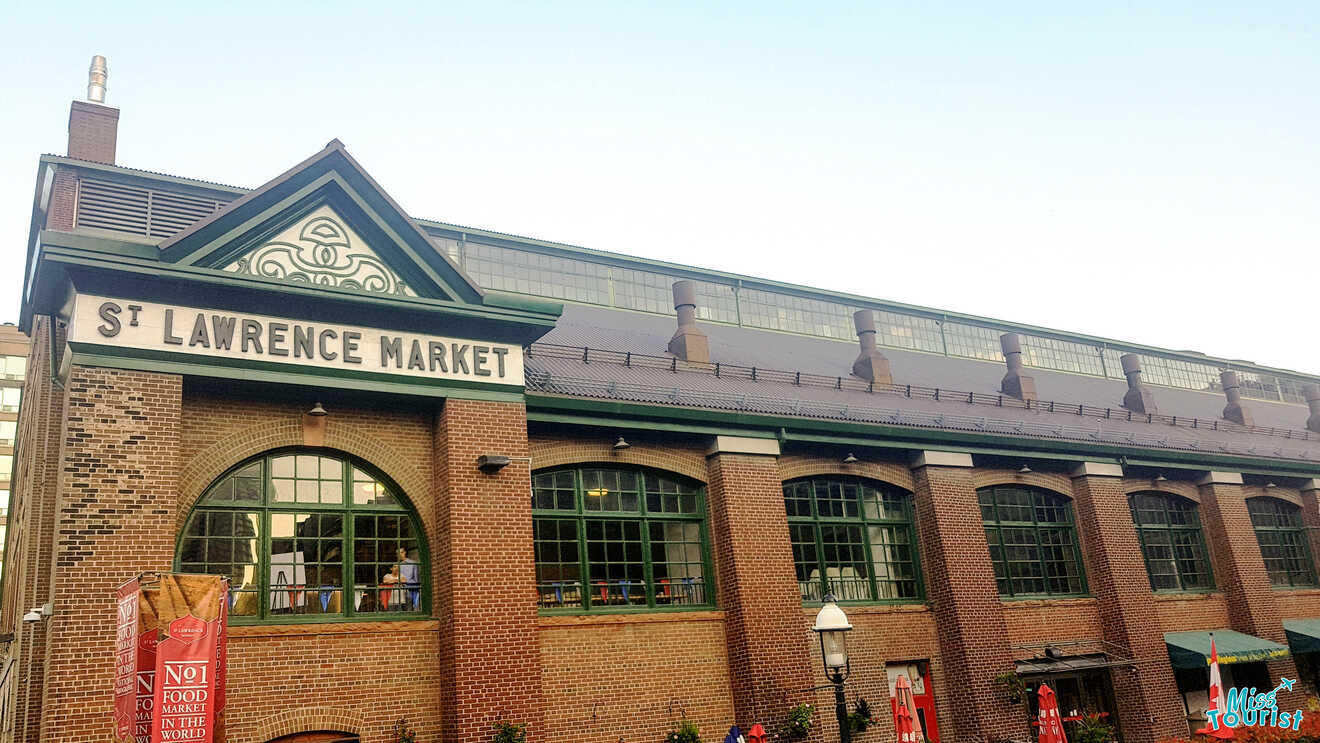 I don't think I need to tell you anything more than the fact that National Geographic voted St Lawrence Market the best food market in the world!
If you need any more reasons to add St. Lawrence Market to your list of things to do in Toronto I can tell you that it is the largest market in Toronto and home to 120 food vendors selling everything from seafood, dairy, baked food, and fresh produce!
Since the market is so big, it's helpful to know where to start. St Lawrence Market is divided into two sections. The South Market is where you will find all sorts of food items being sold whereas on Saturday afternoons the North Market.
In addition to all the stores, there are often cooking classes and competitions being held to entertain visitors so make sure to check what's on during your time in Toronto.
7. Explore the Historic Distillery District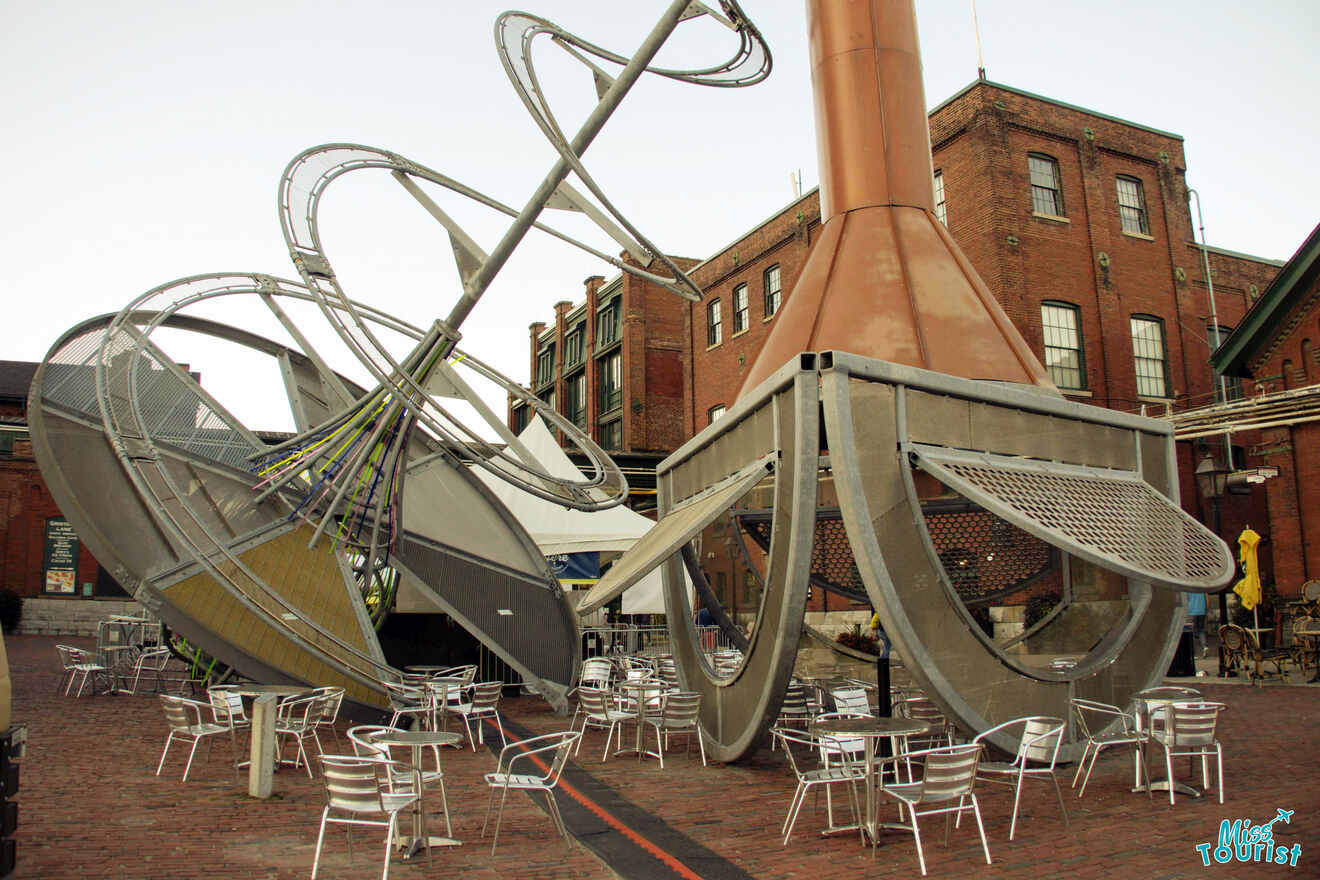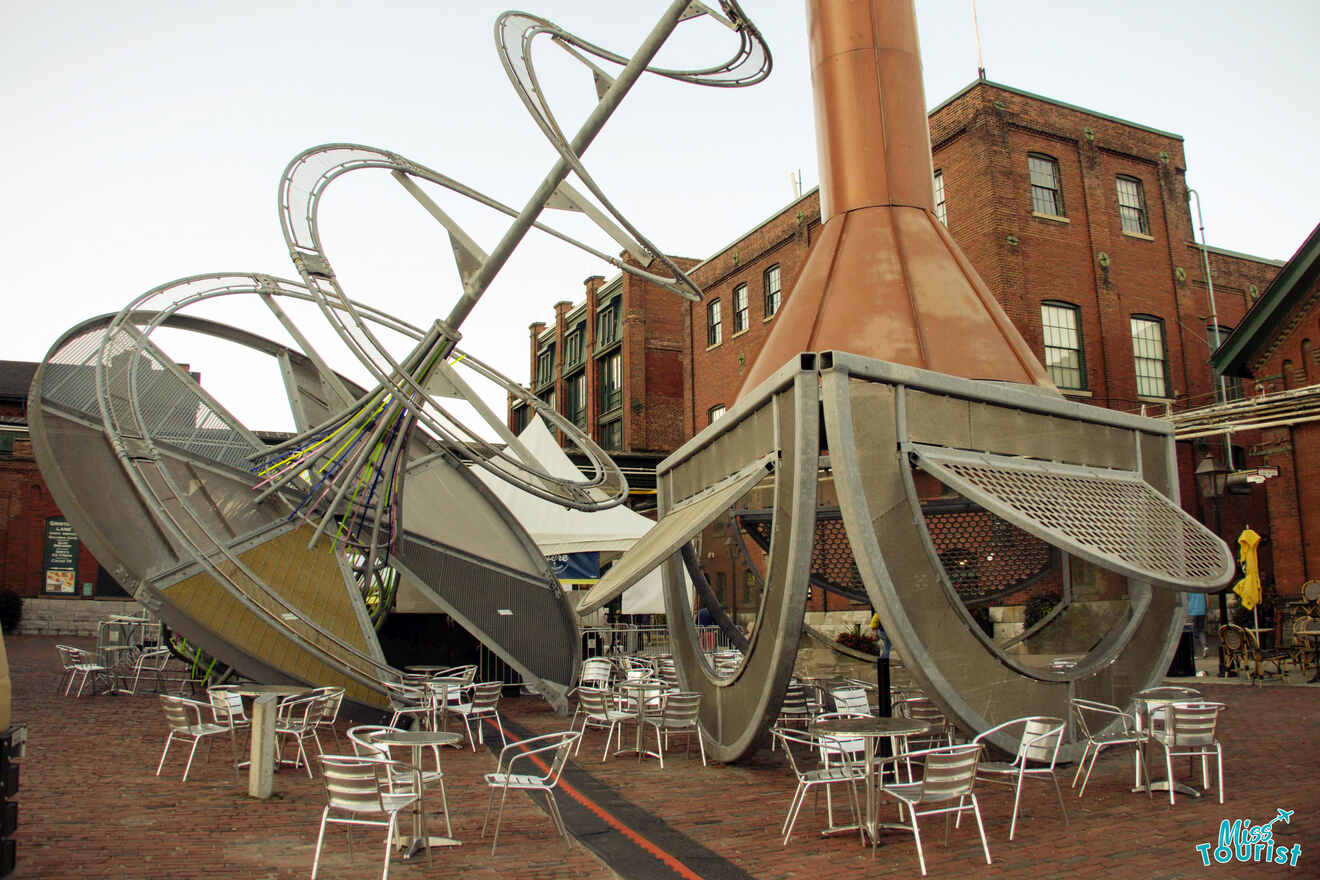 A visit to the Distillery District is another essential thing to do in Toronto.
This historic district has buildings dating back to the Victorian era, cobblestoned alleys lined with cute cafes and restaurants. You can easily spend half a day just wandering around and exploring the Distillery District!
Although the name may be synonymous with alcohol, this district is actually a creative center for the artists of Toronto. The many independent galleries here often host self-funded art workshops, music, and painting sessions, so it really is a great place to get a sense of the Toronto art.
Simply walk around and pop into the studios, or join a guided walking tour of the area to get the most out of your experience.
8. Watch Baseball at Rogers Center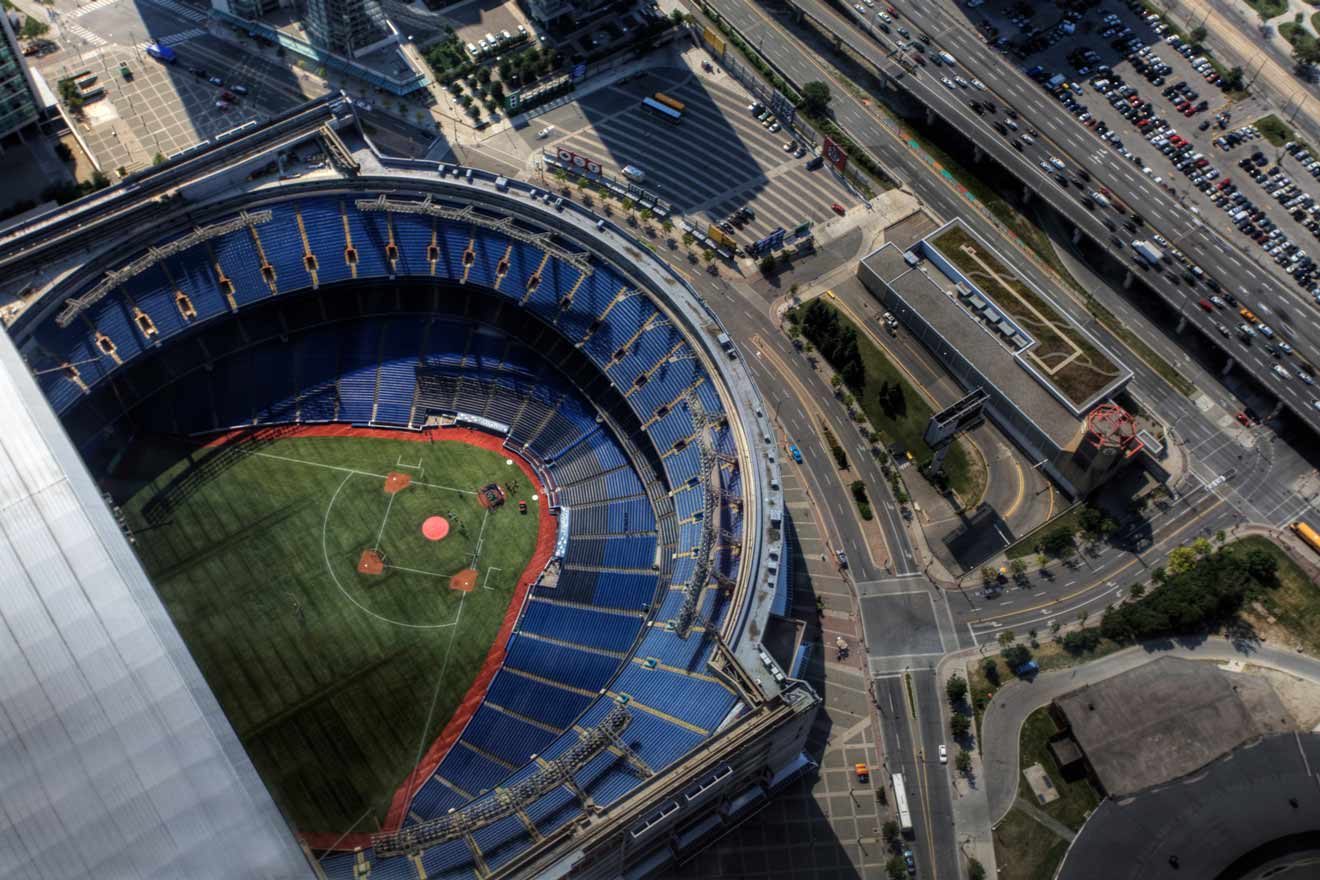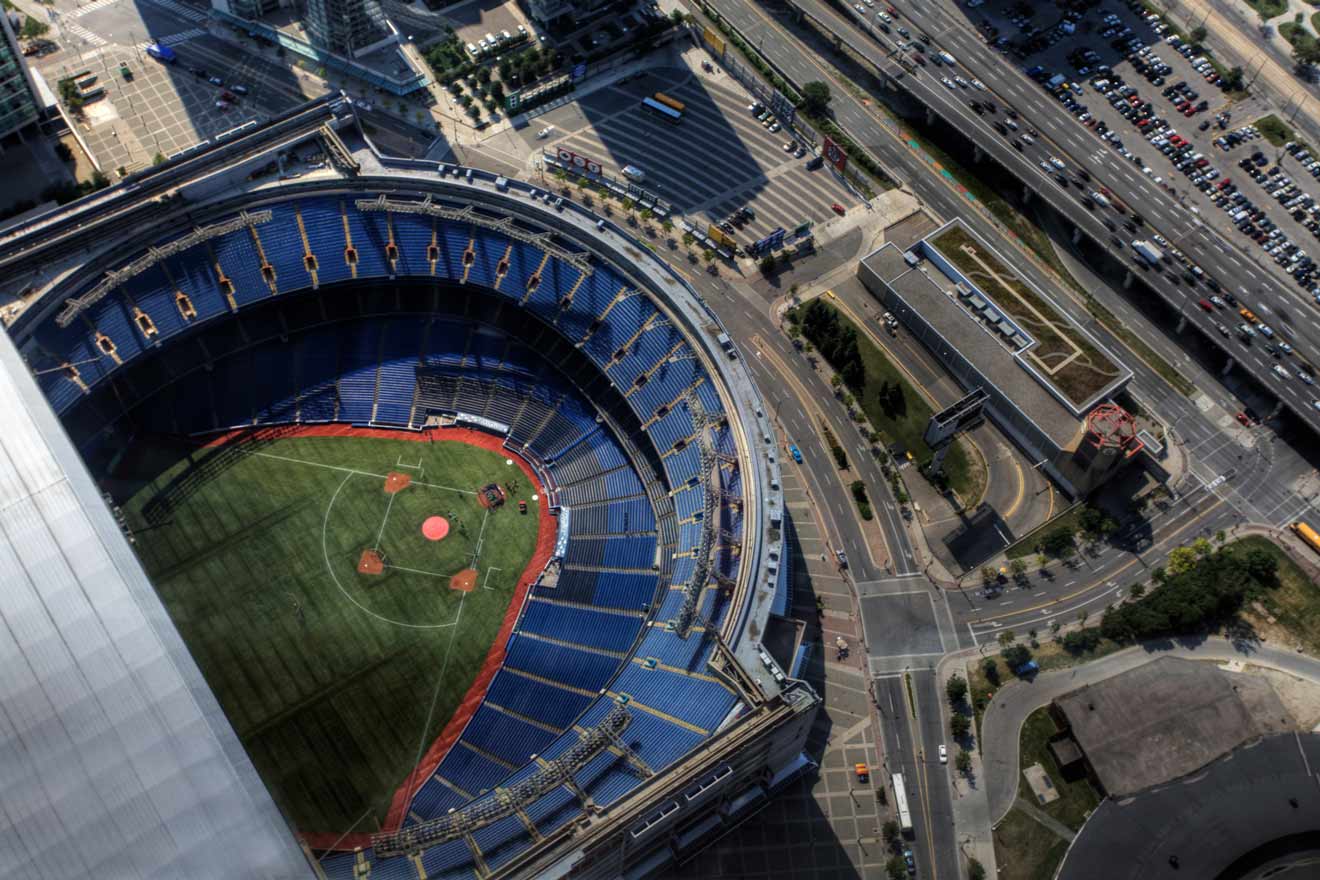 Formally known as the SkyDome, the Rogers Center is a multipurpose stadium right in the heart of Downtown Toronto.
Covering over 32,051 meters squared (345,000 square feet) in the shape of a dome, the stadium is home to the Toronto Blue Jays and is mostly used for baseball matches. You can catch a Blue Jays game between April – September during the season.
But if sports aren't really your thing, the Rogers Center is also used for big concerts and other large events in Toronto so check what's on during your visit!
9. Enjoy Toronto's Gardens
Remember when I told you that Toronto has everything to offer from history, entertainment to nature? Well here is your first taste of nature. Toronto has countless green spaces to explore but here are some of my favorites (all free entry):
9.1 Toronto Botanical Gardens & Edwards Garden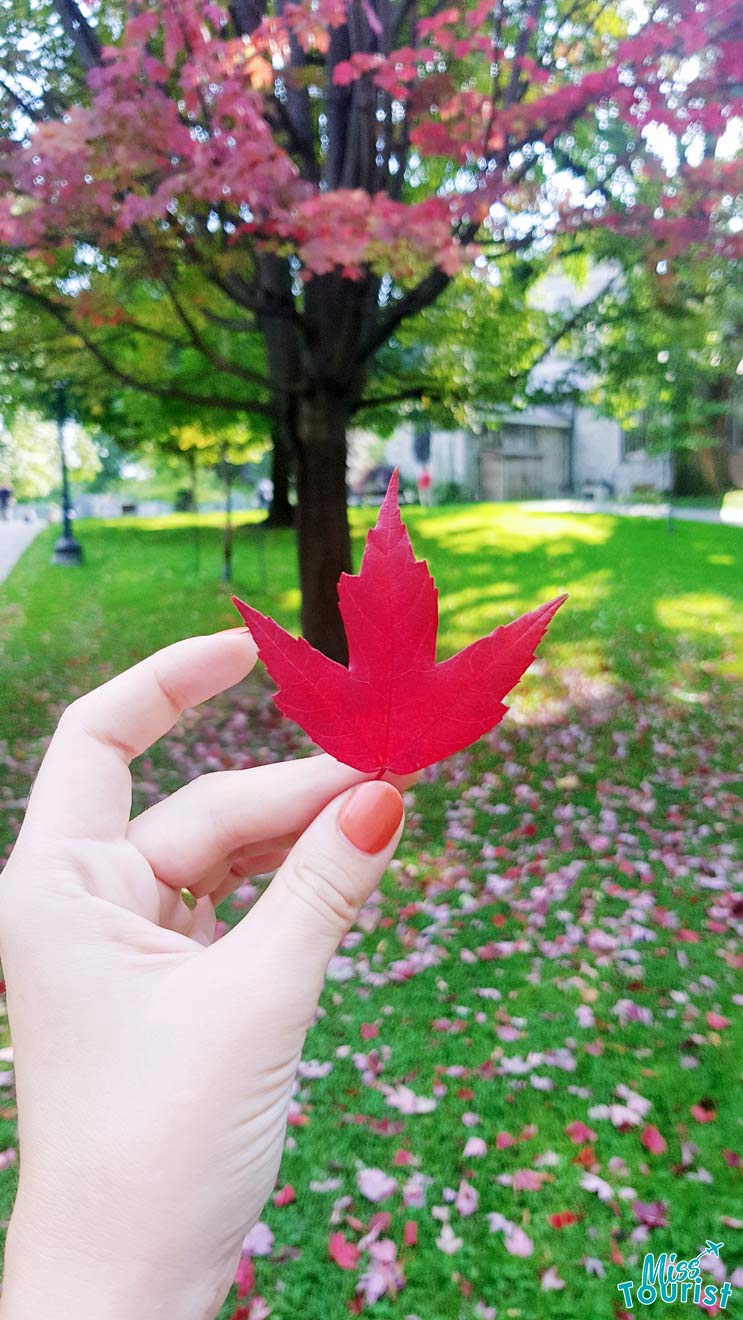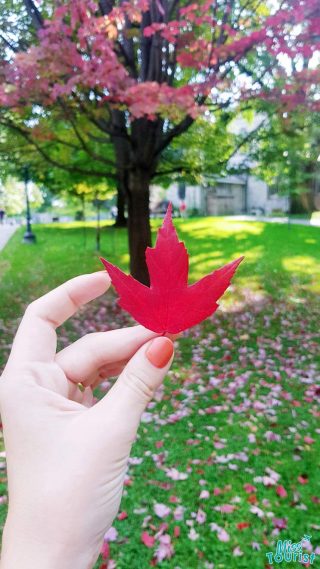 The Toronto Botanical Gardens are situated right in the heart of the city and provide a delightful oasis for anyone wanting to get away from the hustle and bustle.
The Toronto Botanical Gardens and the adjacent Edward Garden are full of manicured laws, quiet rivers, vegetable gardens, and beautiful flowers so grab a book and enjoy a quiet afternoon!
Apart from enjoying a leisurely stroll, there are different flower festivals, musical events, and plants shown at the Edwards Garden depending on the season so make sure to have a look if there is something exciting happening during your visit! The garden is open 365 days and it is free to enter.
9.2 Allan Garden Conservatory
The Allan Garden Conservatory is home to countless different species of plants and flowers from all around the world. The six greenhouses protect many plants that cannot survive the harsh Canadian winters.
That's right, since the conservatory is climate controlled, it's the perfect place to visit during the winter months as you can enjoy summer temperatures, even when it's snowing outside!
Don't miss the Tropical Houses in the conservatory which hosts the most amazing array of colorful flowers!
9.3 See the Cherry Blossoms in High Park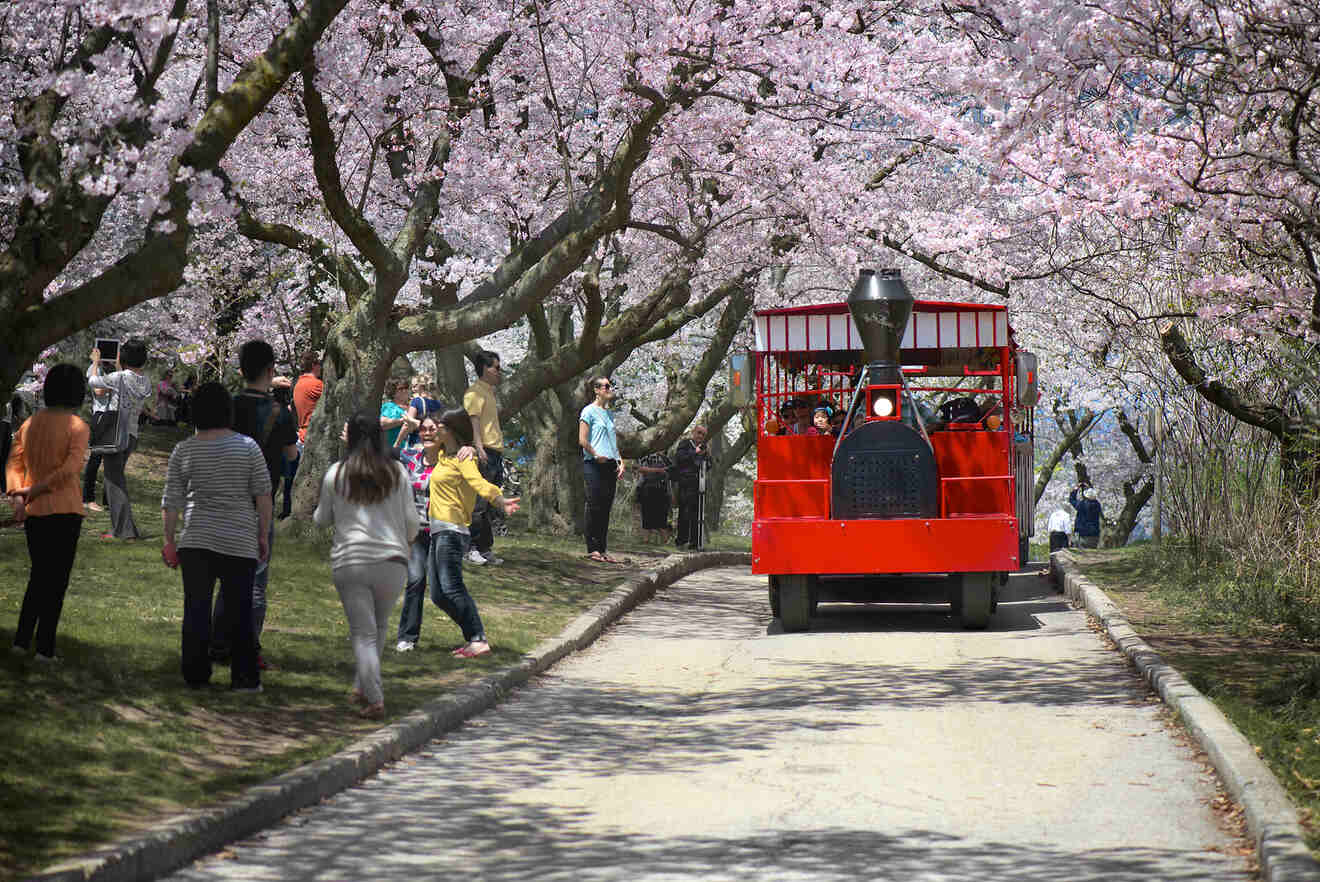 You don't have to go all the way to Japan to witness the beautiful display of the Cherry Blossom trees!
If you do specifically want to see the pink flowers of the Cherry Blossoms, you will have to have your timing just right as they usually bloom for just 1 week per year. To make it even more difficult, the dates are always changing and it's quite difficult to predict.
Normally, the trees come into bloom sometime between late April and early May and sometimes the start of the cherry blossom season is announced on the park's website.
PRO TIP: Make sure to arrive super early if you want to enjoy the park without crowds!
I was lucky enough to be staying with a friend who lives right on the edge of High Park and the trees happened to be on full display. It was magical but crowded, cars were backed up for kilometers at the entrance to the park.
But even if you aren't visiting in spring, High Park is Toronto's biggest public park and is spread over 61 hectares of land! With everything from manicured laws perfect for picnics, to rugged hiking trails and even a free llama petting enclosure at High Park Zoo, there is so much to do here that it's super easy to forget you are in a city!
If you're looking for even more interesting gardens, check out the Toronto Music Garden!
10. Go Shopping on Queen Street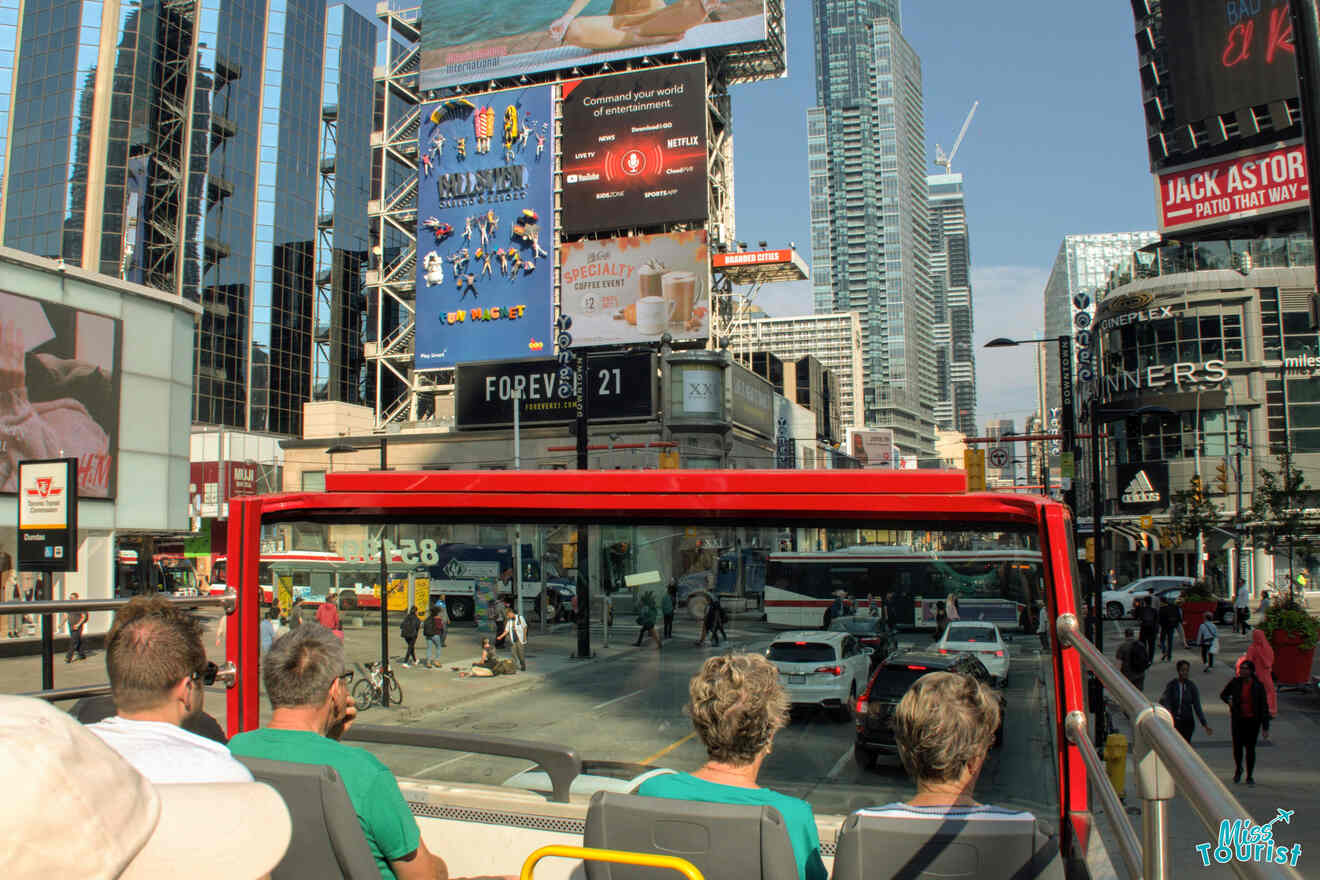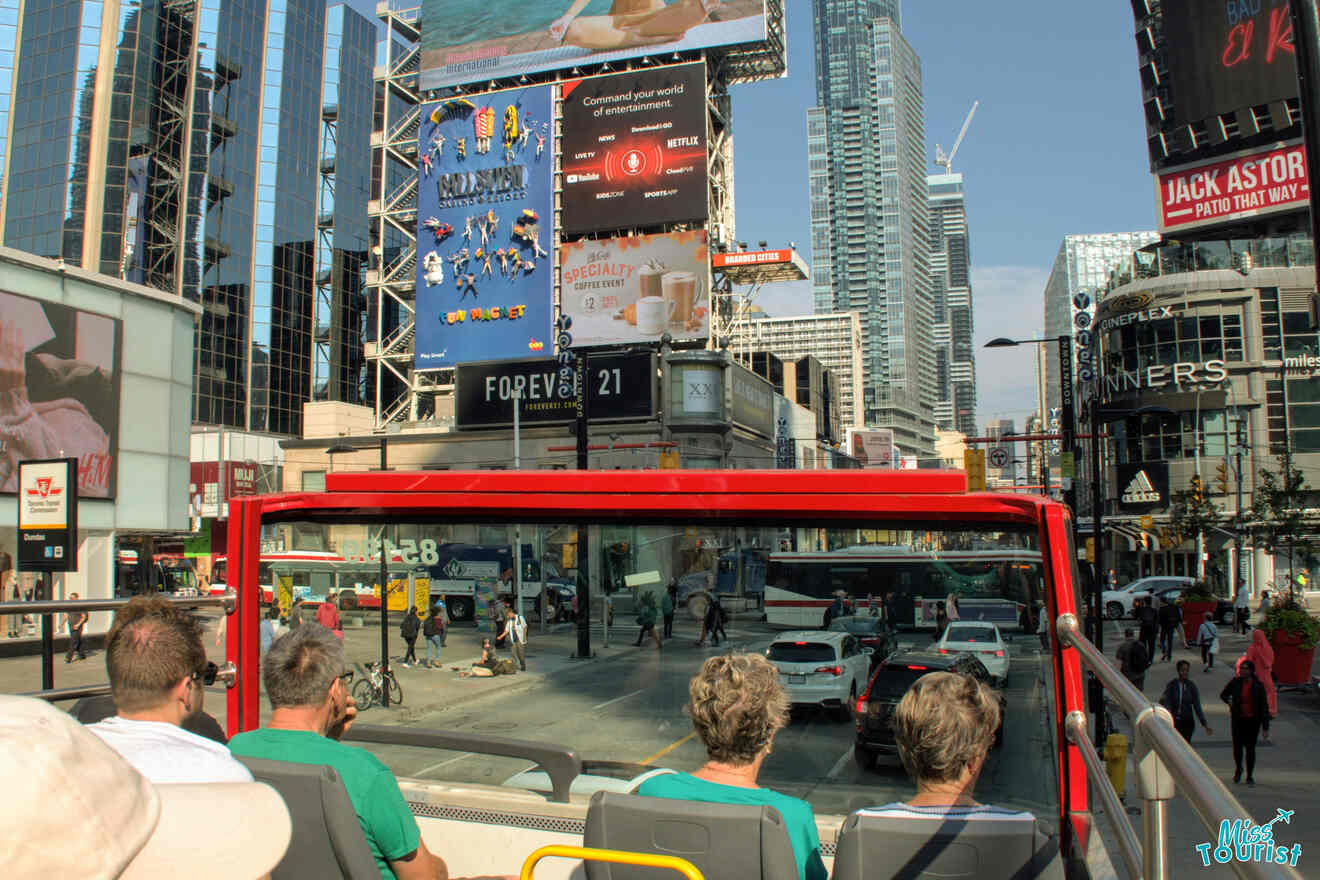 Queen Street is perhaps the trendiest shopping district of Toronto also known as the Art and Design district among the locals. Fashion buzzes in this district, so if you're someone who likes to keep your fashion game strong while traveling – shopping at Queen Street should be your definite stop on your itinerary in Toronto!
And even if you aren't so much into shopping you can still head to Queen Street to enjoy the vibe there, have some good food, enjoy some performing arts and listen to nice live music. This street is buzzing 24×7 and is where you can best experience the quintessential Toronto atmosphere. Stop by Graffiti Alley to see some great Toronto street art. Graffiti alley runs between Augusta Ave and Spadina Ave and just north of Queenstreet you will also find China Town!
Make sure to drop by Toronto Old City Hall which is a national historic site with incredibly decadent architecture to check out.
11. Visit the Art Gallery of Ontario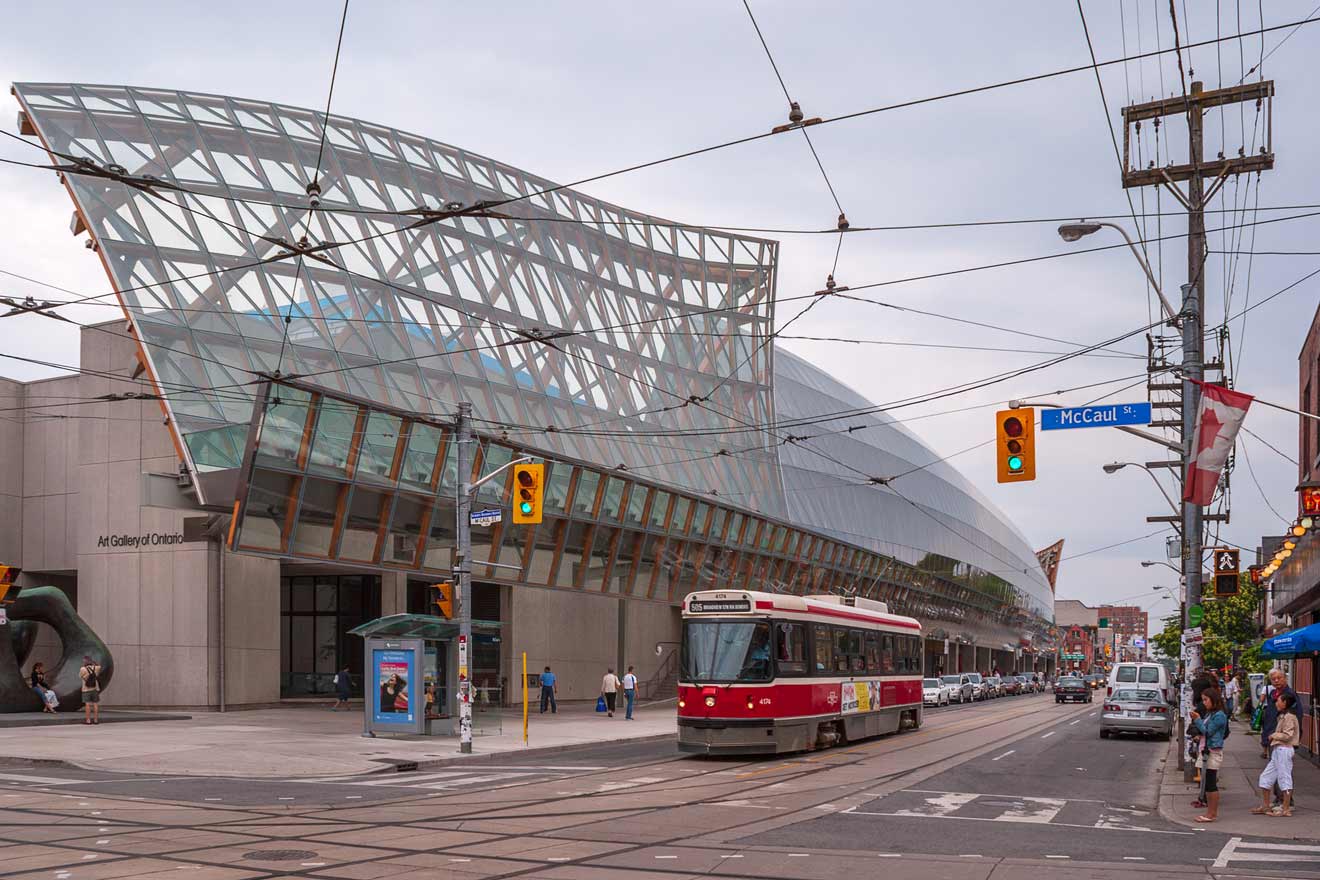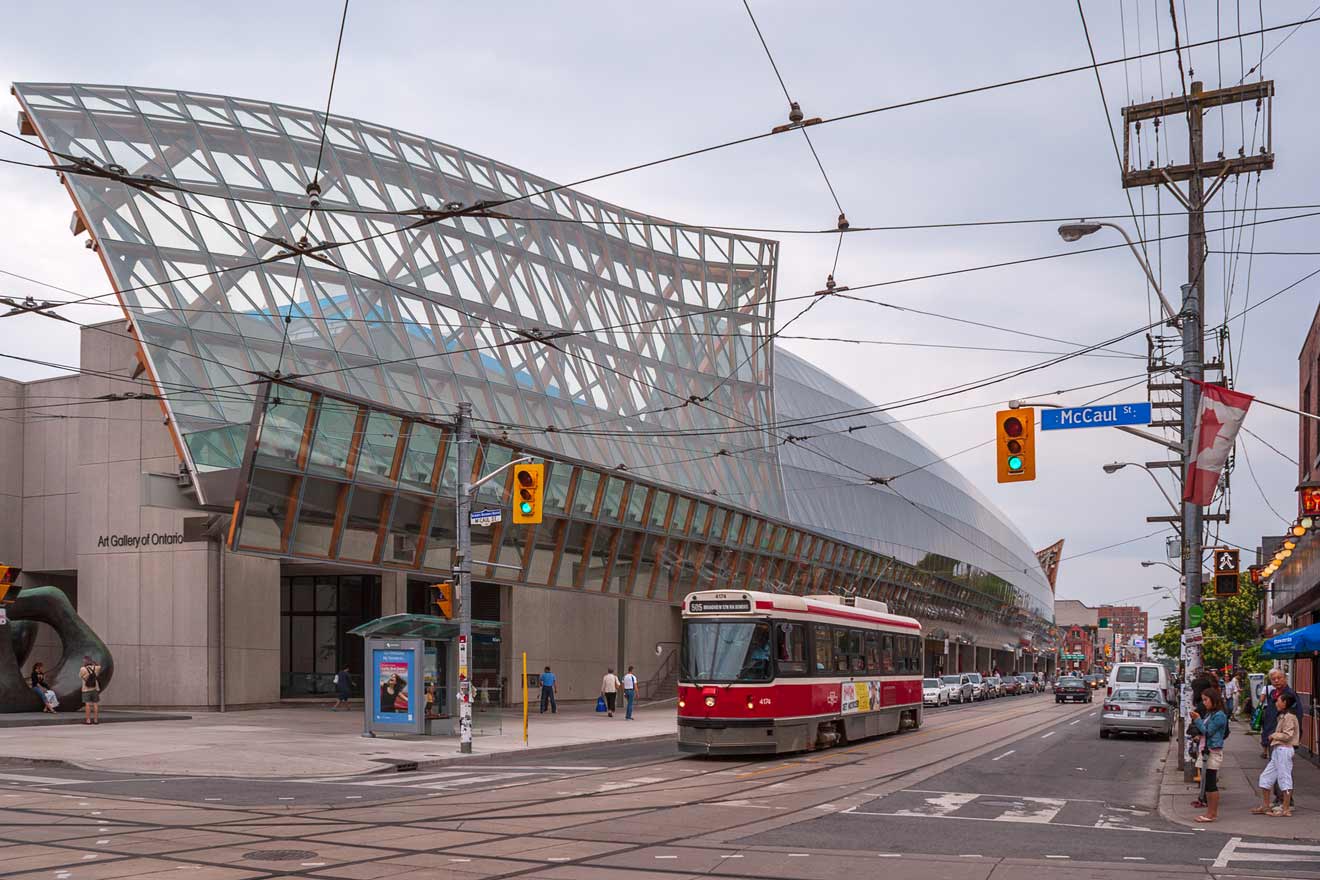 The Art Gallery of Ontario is one of the biggest museums in North America and hosts more than 90,000 pieces by different artists from all around the world!
Art lovers are in for a treat because here you can observe Canadian, European, and African art along with some pieces by renowned photographers. Throughout the year the gallery hosts many different exhibitions, workshops, and events so even if you have visited before, the Art Gallery of Ontario is sure to have something exciting in store for you.
PRO TIP: Entry to the collection galleries is free every Wednesday from 6-9 pm but must be pre-booked online.
PRICE: Adults – CA$25, Under 25 – Free
12. Check Out the Bata Shoe Museum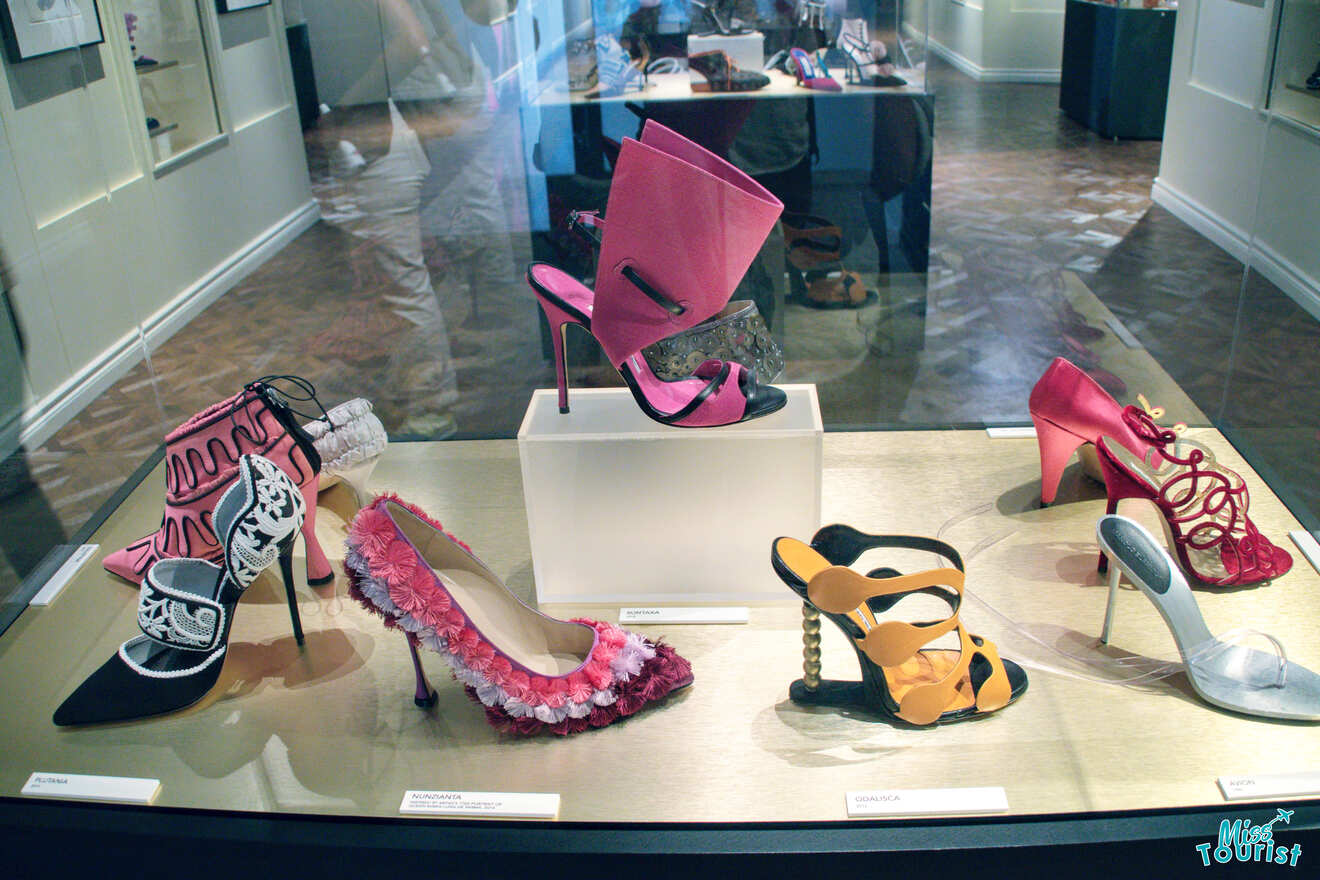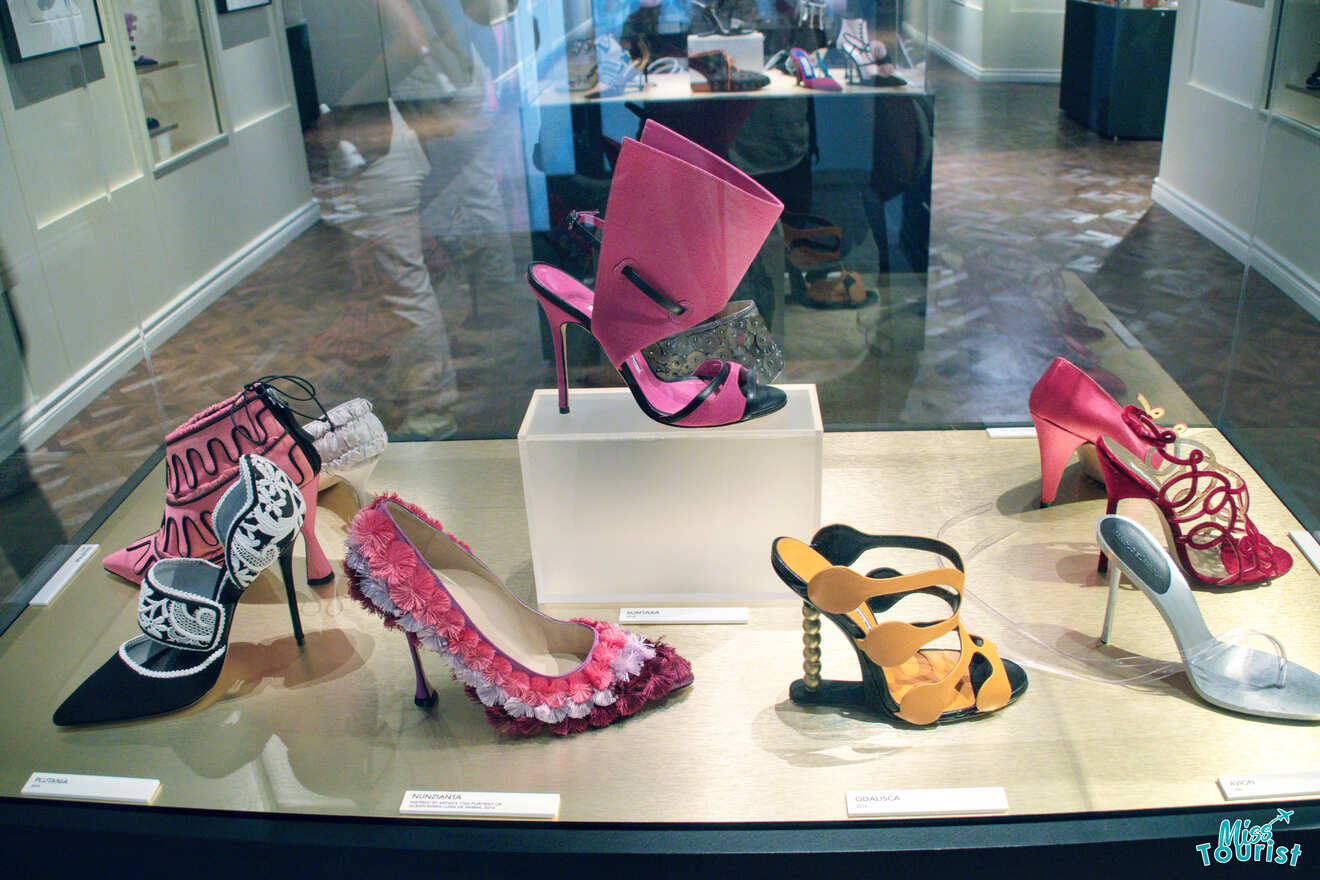 If you're thinking "why there are so many museums in this list?", you might be surprised to hear that Toronto has A LOT more interesting museums and galleries to visit but I have just listed the very top ones for you!
And if you're wondering if a shoe museum is really a thing, yes it most certainly is and what's more, the Bata Shoe Museum is the largest shoe museum in the world!
Housing thousands of shoe artifacts with over 13,000 pairs of shoes on display, the Bata Shoe Museum is something you might never forget! The shoes on display in the museum date back hundreds of years and feature everything from tiny Chinese shoes worn by women with bound feet, to shoes worn by the Egyptians and even modern shoes worn by famous celebrities!
PRICE: Adults – CA$14, Children – CA$5
13. Enjoy some Peace in Toronto Public Library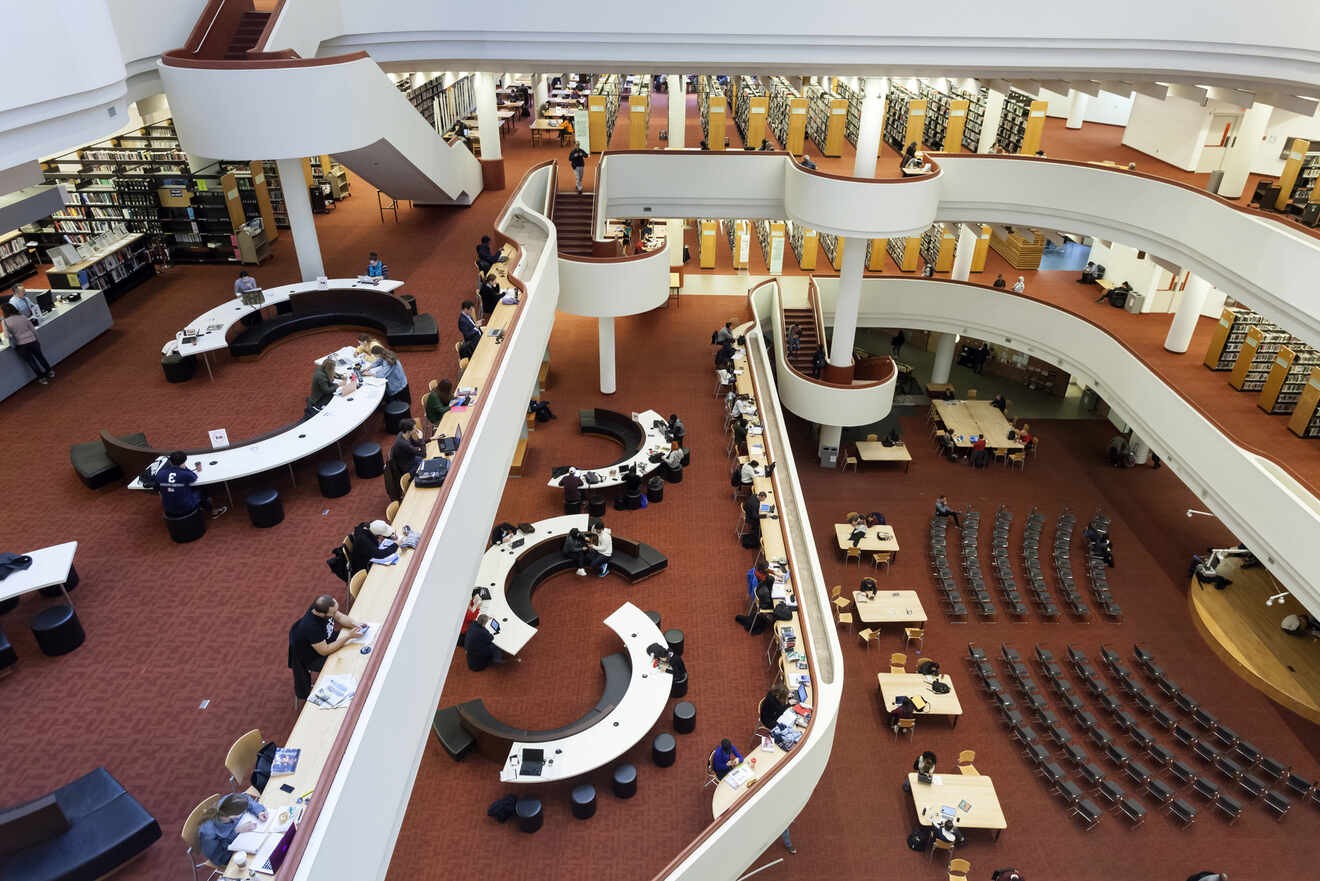 The Toronto Public Library is referred to as one of the busiest urban libraries all across the world!
I don't know about you but that makes me want to grab a book, find a quiet corner and curl up right now! Although that sounds lovely to me, you don't need to be a book-lover to add the Toronto Public Library to your list of things to do in Toronto.
There are different programs every day at the library including health and wellness seminars, travel writing sessions, and even Canadian arts and cultural seminars – something worth attending if touring a new country!
14. Take a City Food Tour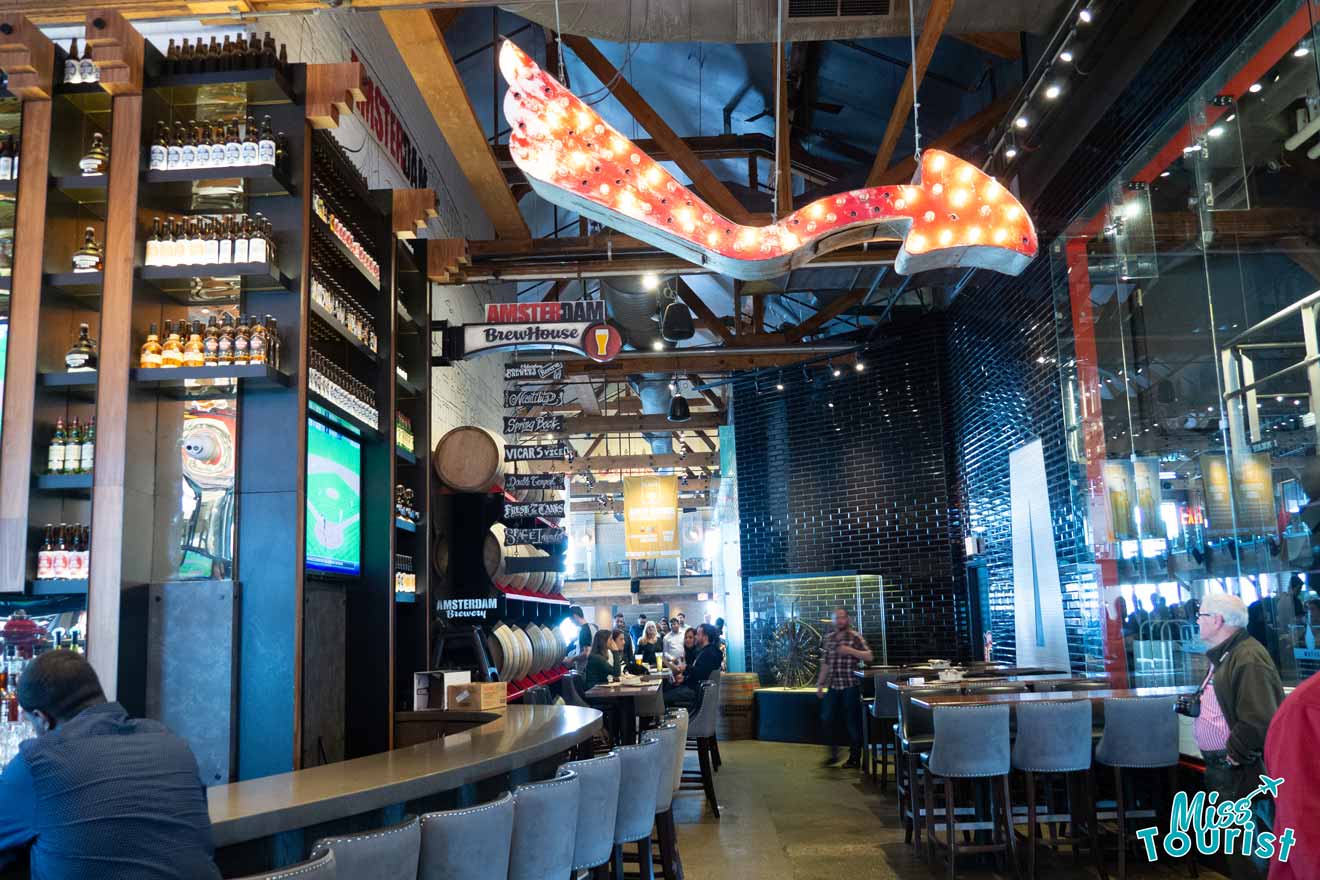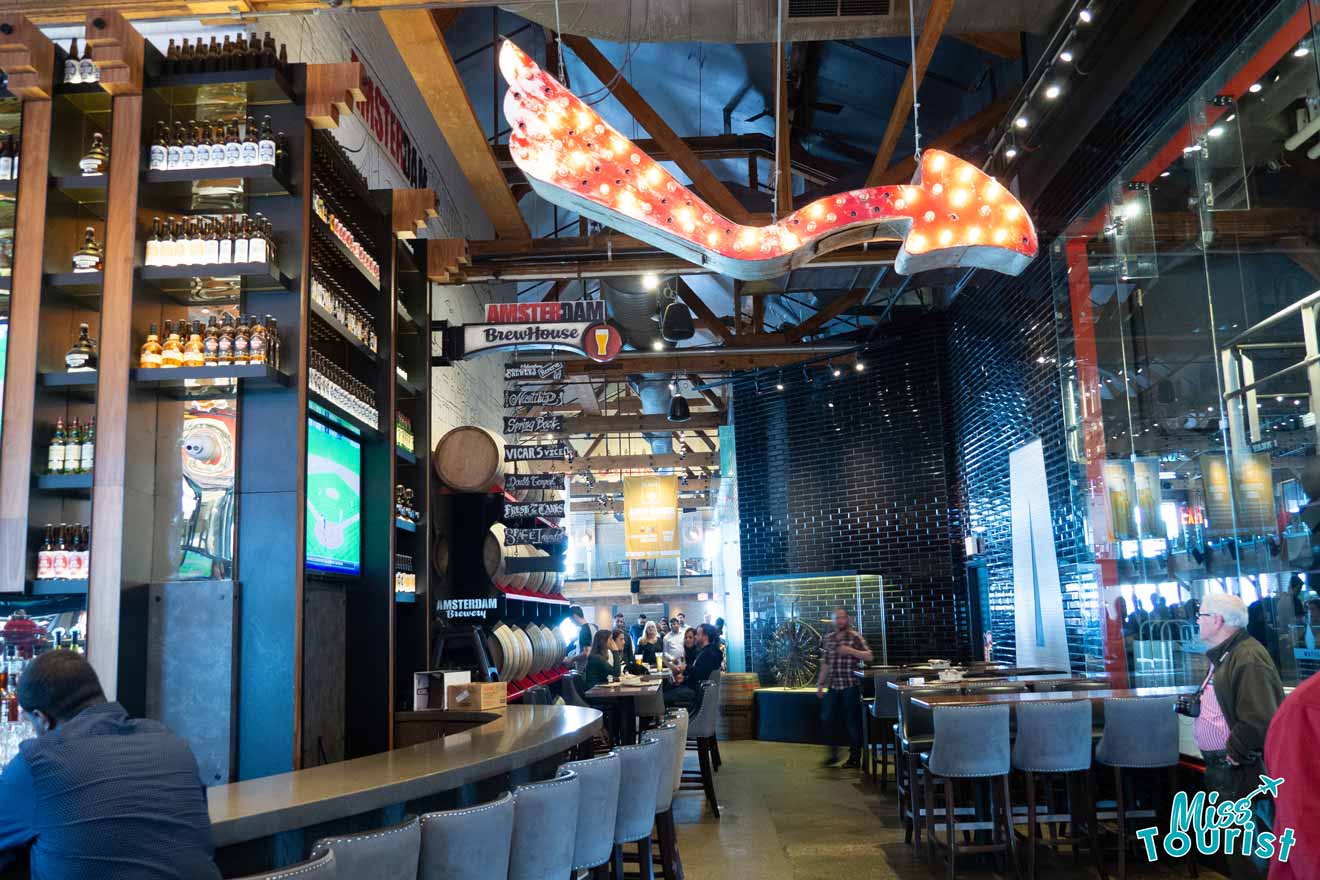 Food culture in Toronto or Canada, in general, is not as popular as in Europe or Asia; however, it doesn't mean that it doesn't exist altogether! With so much diversity in the city, Toronto has gradually become the food capital of Canada.
Here you will find fun fusions of Indian, Caribbean, Middle Eastern, and North American flavors all on the same plate.
There are so many options for different food tours across different regions of the city, here are my top suggestions:
15. Be Inspired at Evergreen Brick Works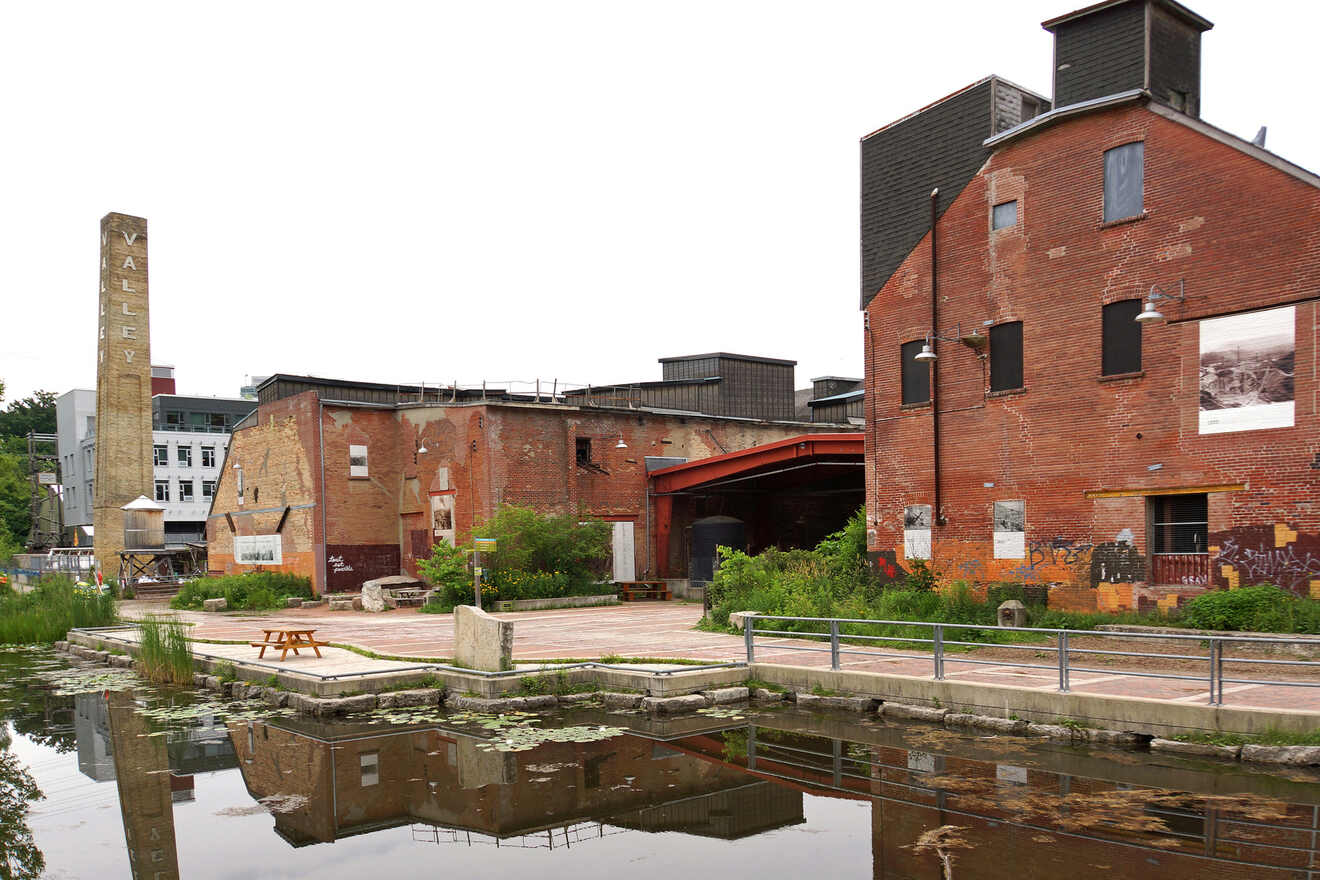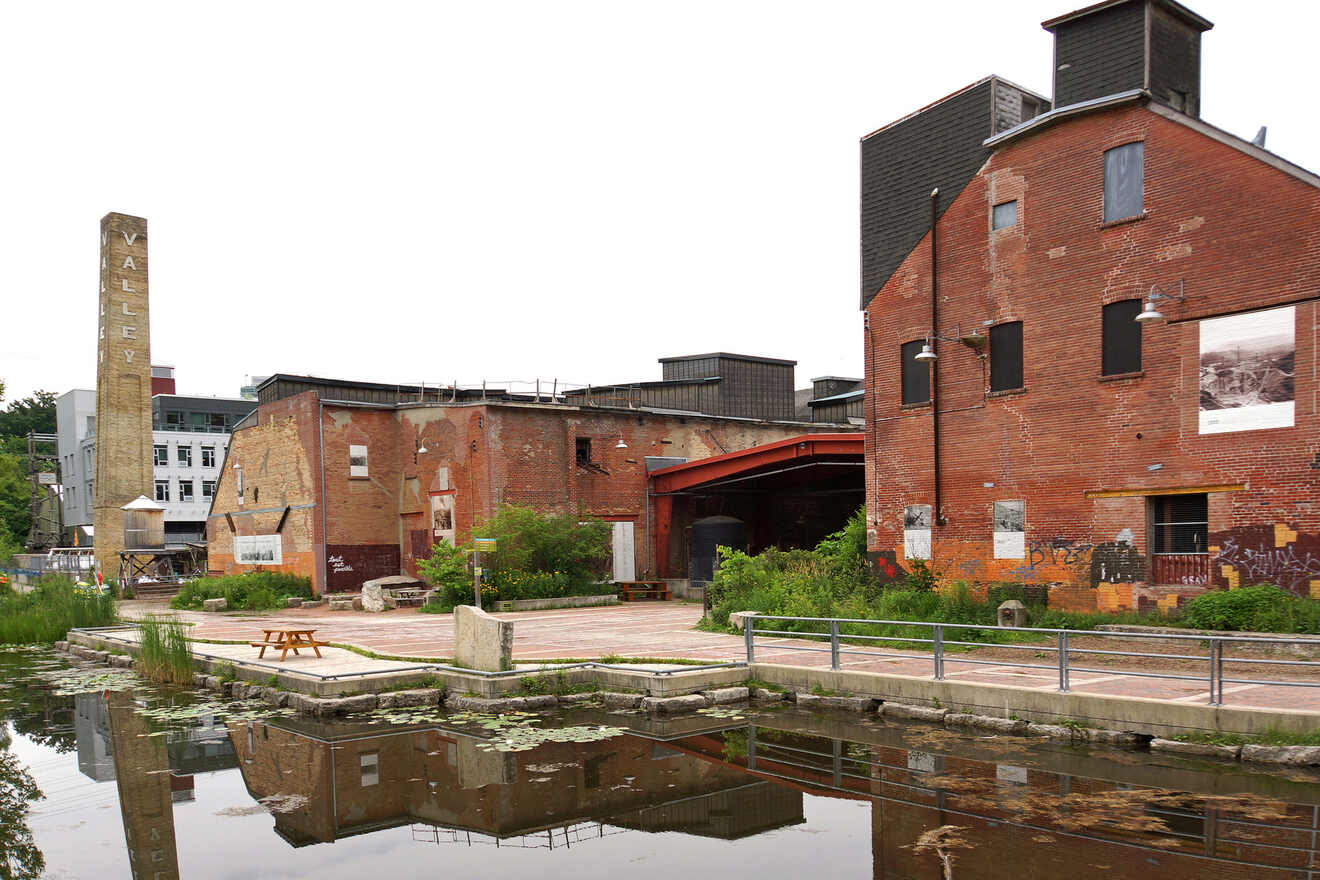 Here's something that is a little bit of a hidden secret for those in the know. If you are interested in sustainability then you will be excited to hear that Toronto was rated as one of the top ten ecotourism destinations in the world by National Geographic in 2010!
Despite this, many travelers to Toronto miss out on visiting the Evergreen Brick Works. This incredible center is a place where people can interact with different organic and sustainable practices.
Hosting farmer's markets, lifestyle events, plant shops, kids' nature play, and even a public skating ring, even if you are traveling with the family or even not that into environmental practices, there is bound to be an event here that will interest you.
You never know, you may be inspired and encouraged to switch to a greener lifestyle and adopt more sustainable practices!
16. Relax on Sugar Beach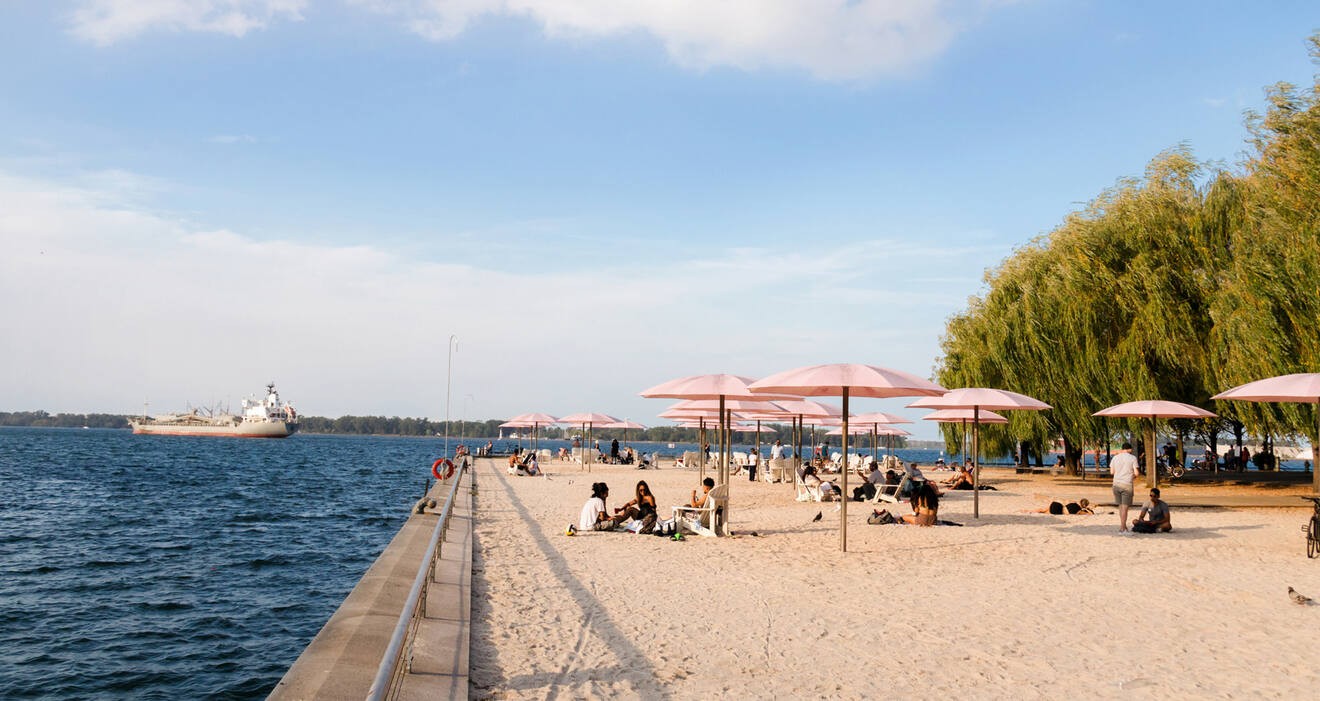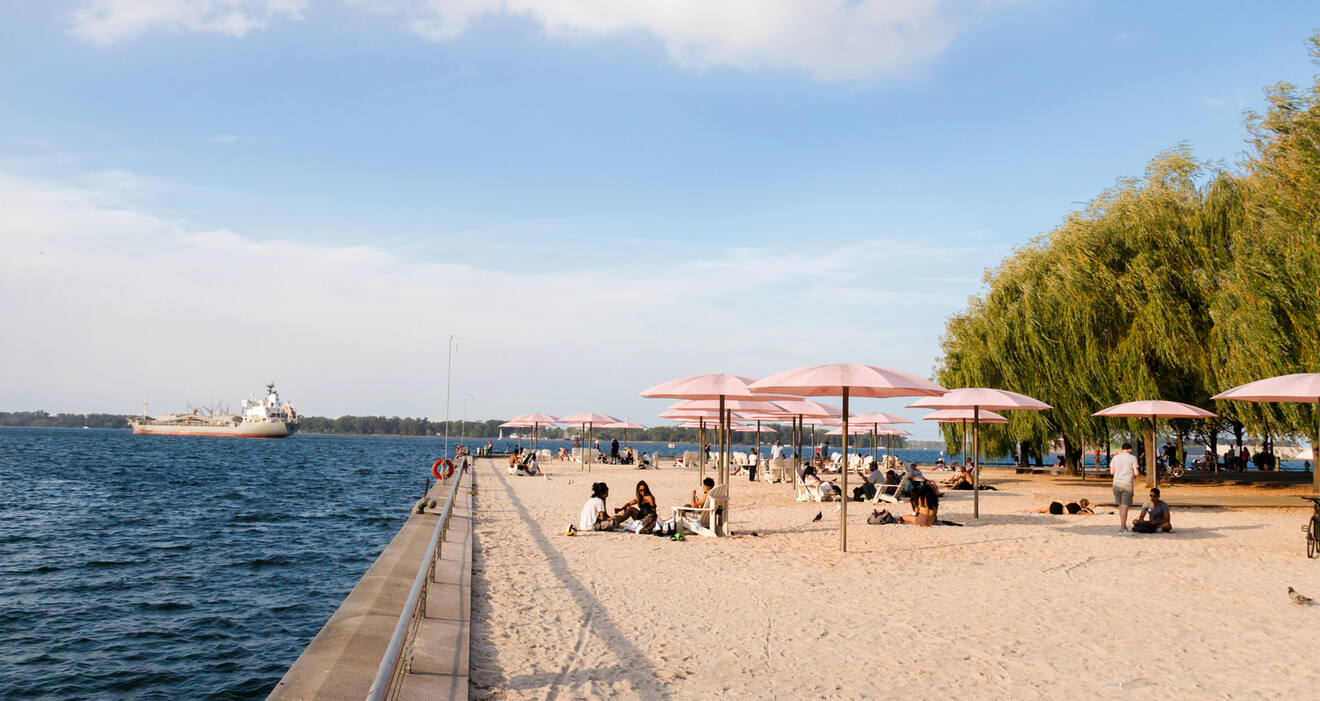 I'll admit that when I visited Sugar Beach it was a rainy day in Spring which didn't exactly inspire crowds to flock to the beach, but even then I could easily imagine how amazing this place must be in summer!
There are many beautiful and clean beaches on the Toronto waterfront – but if you want to level up your Instagram game, then Sugar beach is the place to be!
You wouldn't know it but this contemporary beach park with white sand, sun lounges, mats, and bean bags actually used to be a car park in an industrial neighborhood!
Nowadays, the colorful changing cabins on this sandy beach offer a great backdrop for an Instagram-worthy picture, and the comfy beach chairs and bright pink umbrellas will make you forget you are in the middle of the city!
Although you can't actually swim at Sugar Beach, head here on a perfect sunny afternoon and you're in store for some nice relaxation and plenty of Instagram photo opportunities!
17. Try some Outdoor Activities
We all know Canada is an outdoor paradise but don't think for a second that because you're in a city there is no opportunity to get outdoors. Quite to the contrary actually!
Being right on the shores of Lake Ontario, there are plenty of places to get active and try some fun outdoor sports!
17.1 Biking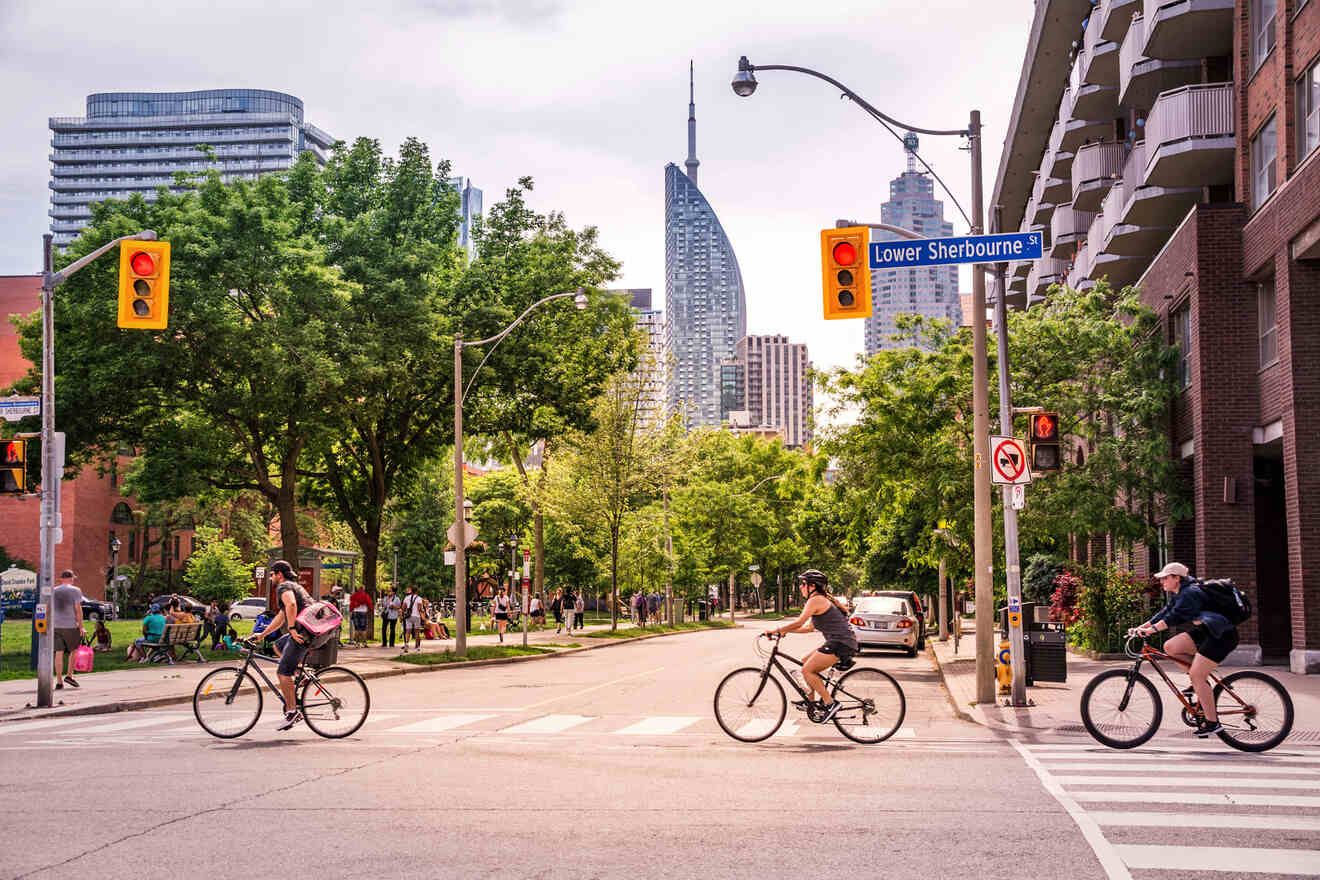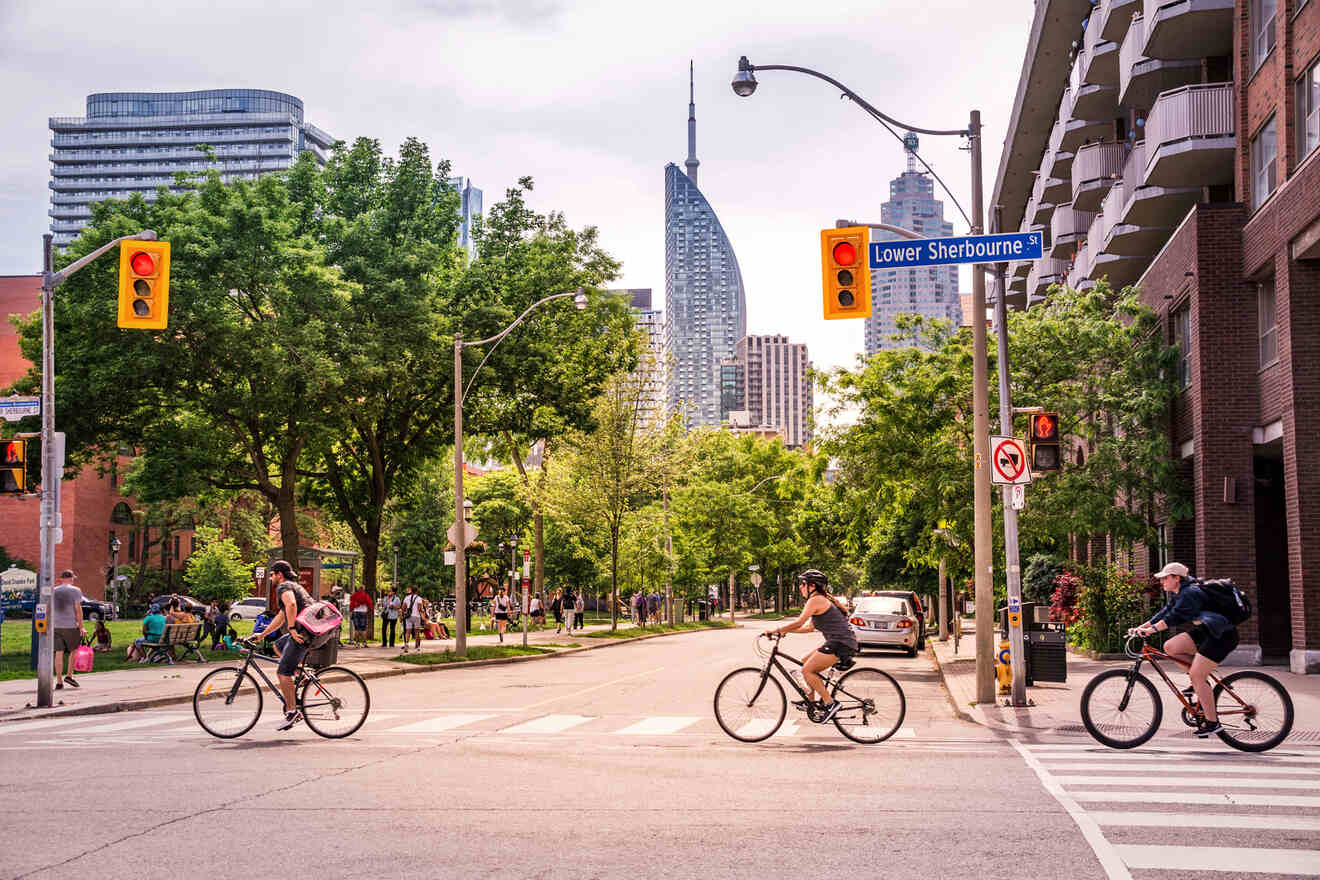 Biking is a very popular sport in Toronto! Though the freezing winters (December-March) in the city restrict all the biking opportunities for quite some time, however, outside of those months you should definitely give it a shot!
The landscape of Toronto is very versatile and it offers more than 70km of biking trails.
Some of the most popular biking trails are right at the center of the city and offer biking opportunities from beginner to advanced level bikers. Join a guided tour and cycle around the Toronto Islands, the largest car-free community in North America, or simply pick up a city bike dotted around the city and enjoy the freedom.
17.2 Kayaking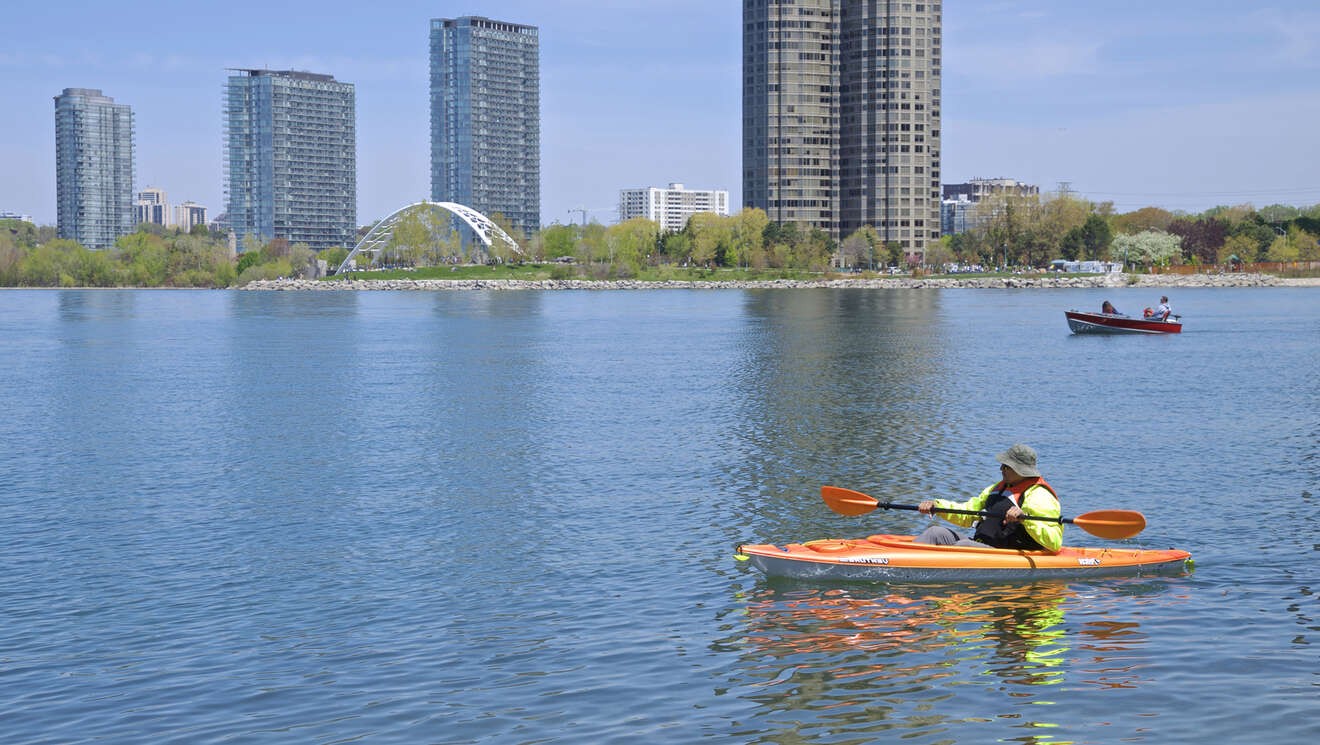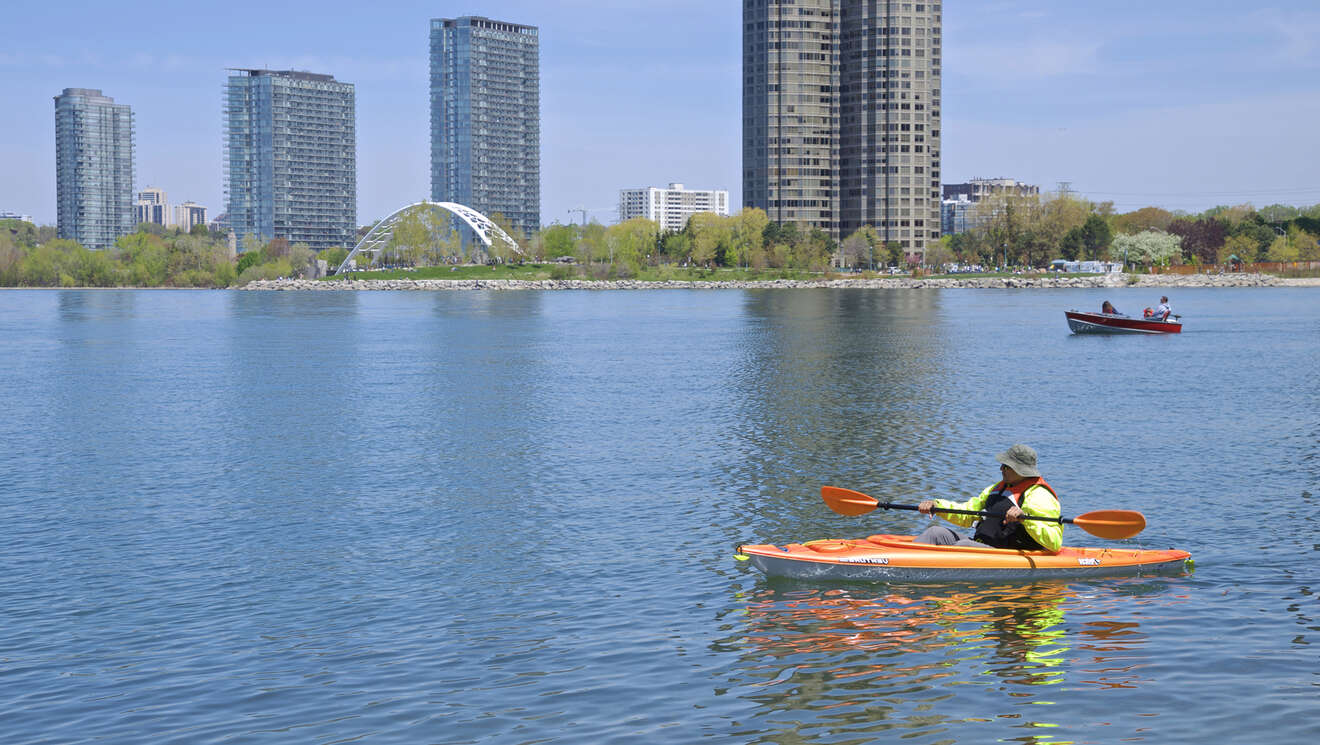 If you're not up for mountain biking then my favorite alternative thing to do in Toronto would be kayaking without any doubt!
Although Canada has the most lakes in the world, here I actually recommend you something a little more unique. Toronto has a lovely river which is a great alternative for lake kayaking.
The Humber River in Toronto is one of the largest rivers flowing across the city which merges into Lake Ontario. Located very near to the city center, it's easy to access the Humber River by public transport and its calm water gives you the perfect spot to kayak in nature.
Rent your gear from Toronto Adventures from CA$35 per boat, and set off on your adventure! If you've never kayaked before, you can also join a beginner's lesson for some tips and tricks.
During your paddle, you may even be able to spot turtles, egrets, and hawks. It's a great way to spend a nice, warm afternoon without lazing around.
17.3 Stand-up Paddle Boarding (SUP)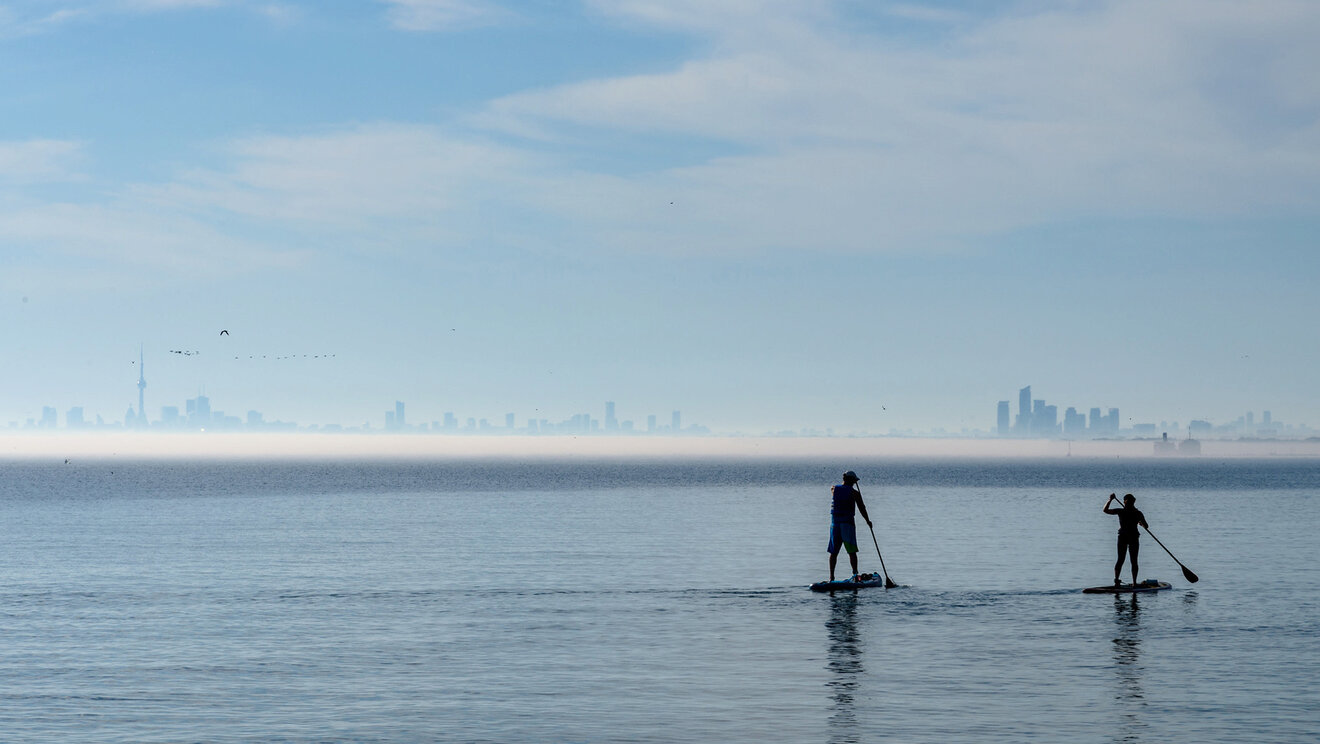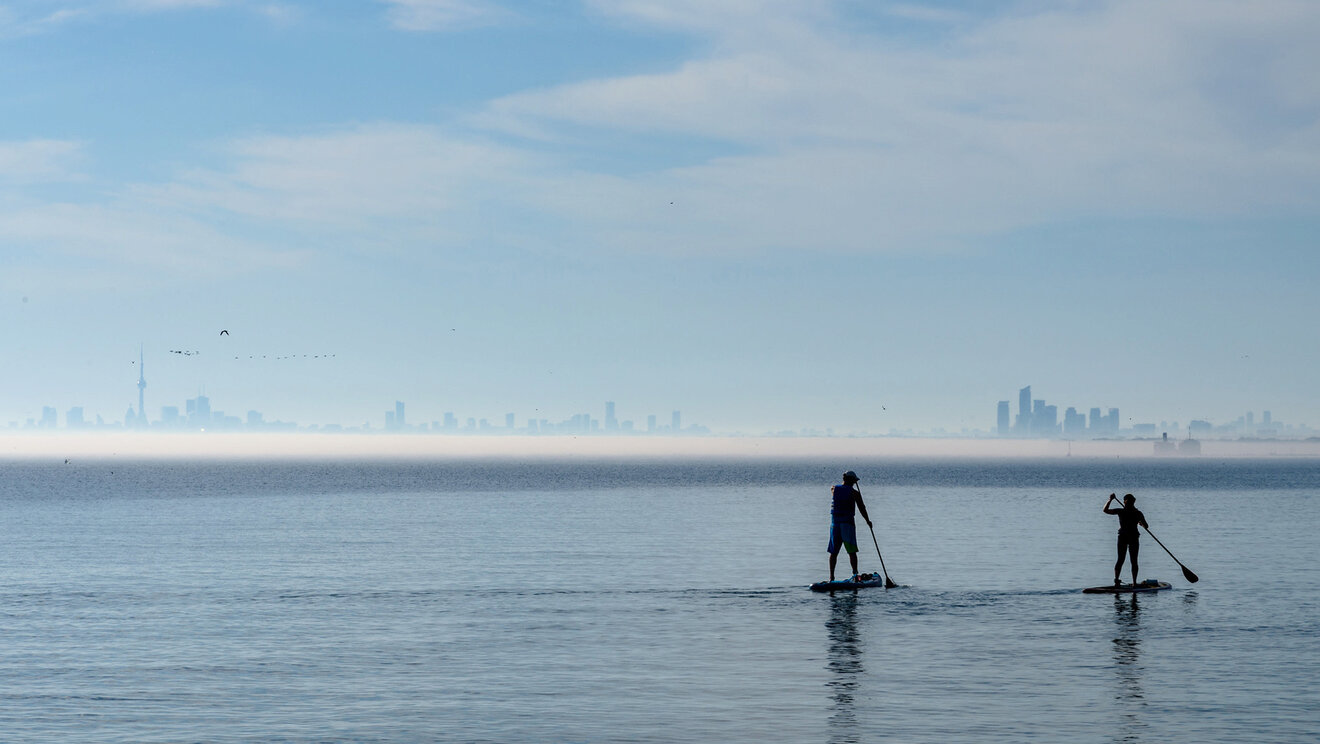 The waters of Toronto are an adventurer haven with tons of different water activities to enjoy and most importantly with some serious views! Though there are plenty of stand-up paddling opportunities in Toronto, the best view comes at Bluffers Beach, under an hour on public transport from Downtown Toronto.
To get more of the stunning views – the best time for standup paddling at Bluffers beach is during the sunset when the sun sinks down in the beautiful dark blue water of the sea.
Bluffers Beach actually has a unique creamy dark blue color which is a result of the waters merging with Scarborough Bluff. Here you will find a changing room, beach, and bathrooms, but even more importantly, the water at the Bluffers beach is usually very calm so even beginners can try their hand at standup paddling here!
You can rent SUPs from Oceah Oceah SUP & YOGA Scarborough, right on the beach from CA$30 for one hour.
| | |
| --- | --- |
| 🤩 Range of activities: | Large |
| 👪 Family-friendly score: | High |
| 🏛️ Best museum: | Royal Ontario Museum |
| 🎢 Top paid attraction: | CN Tower |
| 🚶🏽‍♂️ Best free activity: | Sugar Beach |
| 👧 Best attraction for kids: | Ripley Aquarium |
| 🚕 Average taxi price: | $1.75/km |
| ✈️ Cost of traveling: | Medium |
Where To Stay In Toronto – Best Hotels For All Budgets
One of the most important things to plan when traveling is where to stay. There are so many hotels in Toronto and not all of them are great value for money. So to save you time, here I collected a shortlist of the best hotels for each price range in Toronto.

If you are looking for more options, we also have an entire post dedicated to helping you decide where to stay in Toronto.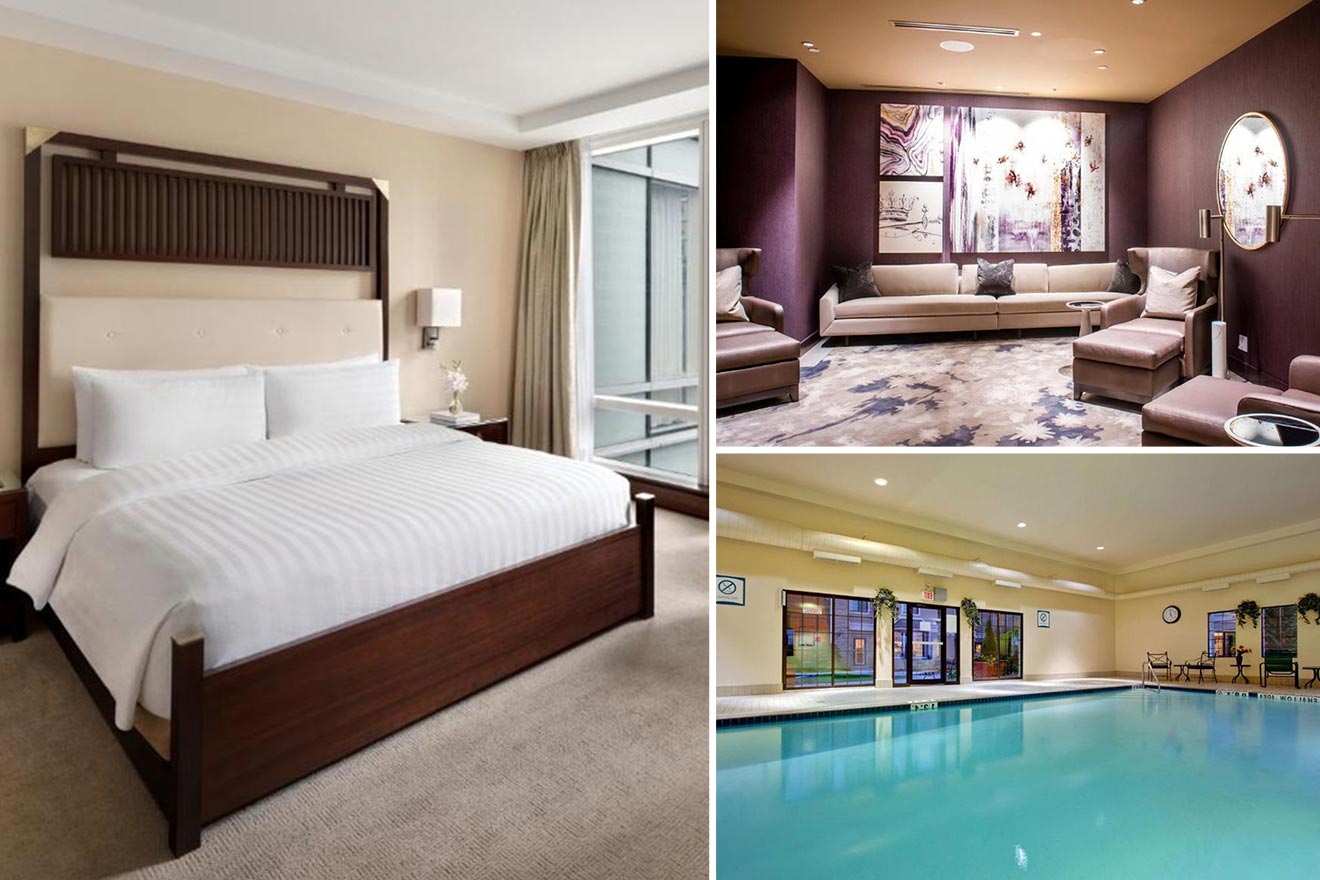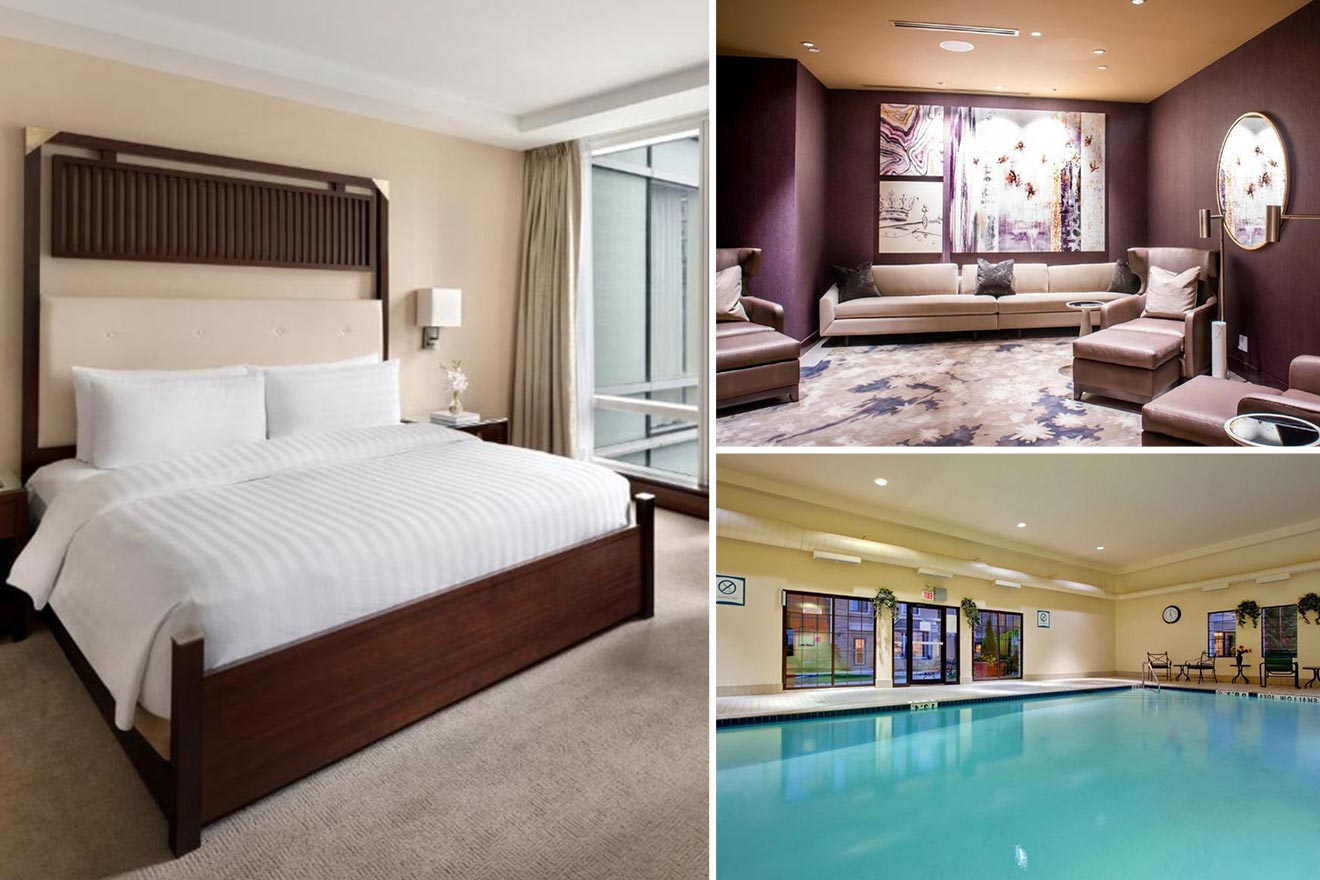 Luxury Hotels ($200+ per night)
Shangri-La Hotel Toronto – This is one of the best places to stay in Toronto. Situated in the center of the city, the hotel offers deluxe king-size rooms and suites and top-notch service maintaining the legacy of the Shangri-La chain of hotels! This 5-star hotel certainly won't let you down!
Omni King Edward Hotel – In the Old Town of Toronto, this is one of the most lavish properties in the city. Just 500m from the center, the hotel offers large deluxe rooms with marble bathrooms, a spa, a fitness center, and great attention to detail.
Mid-priced Hotels ($100 – $150 per night)
Home in Downtown – If you're looking for a great location for mid-range prices, check out this B&B with rooms equipped with a fridge, microwave, and kettle. This adults-only property features lovely garden views and a shared lounge where you can meet fellow travelers.
The Parkway Place – This cozy guesthouse features modern designs and a fully equipped kitchen. Its quiet location in Midtown puts you in a great position to visit the downtown area while avoiding the hustle and bustle at home.
Budget hotels (up to $100)
Sonesta ES Suites – Featuring an indoor pool, fitness center, and laundry, you won't find any better value for money than this one! Suites here feature full kitchens and TVs, plus the daily breakfast is a perfect way to kickstart your day.
The Only Backpacker's Inn – With shared BBQ facilities, an onsite bar, and a restaurant this hostel is the perfect place to meet new friends. Enjoy the buffet breakfast each morning, explore the countless restaurants of the surrounding area of Greektown, or use the onsite kitchen to save some money.
Practical information about visiting Toronto
Now that I have covered all the things to do in Toronto and ensured you have a great trip to Toronto, I thought sharing some practical information about the city would be ideal.
In this section, I am going to briefly tell you about some more practical information that you should know before booking your trip!
Best Restaurants in Toronto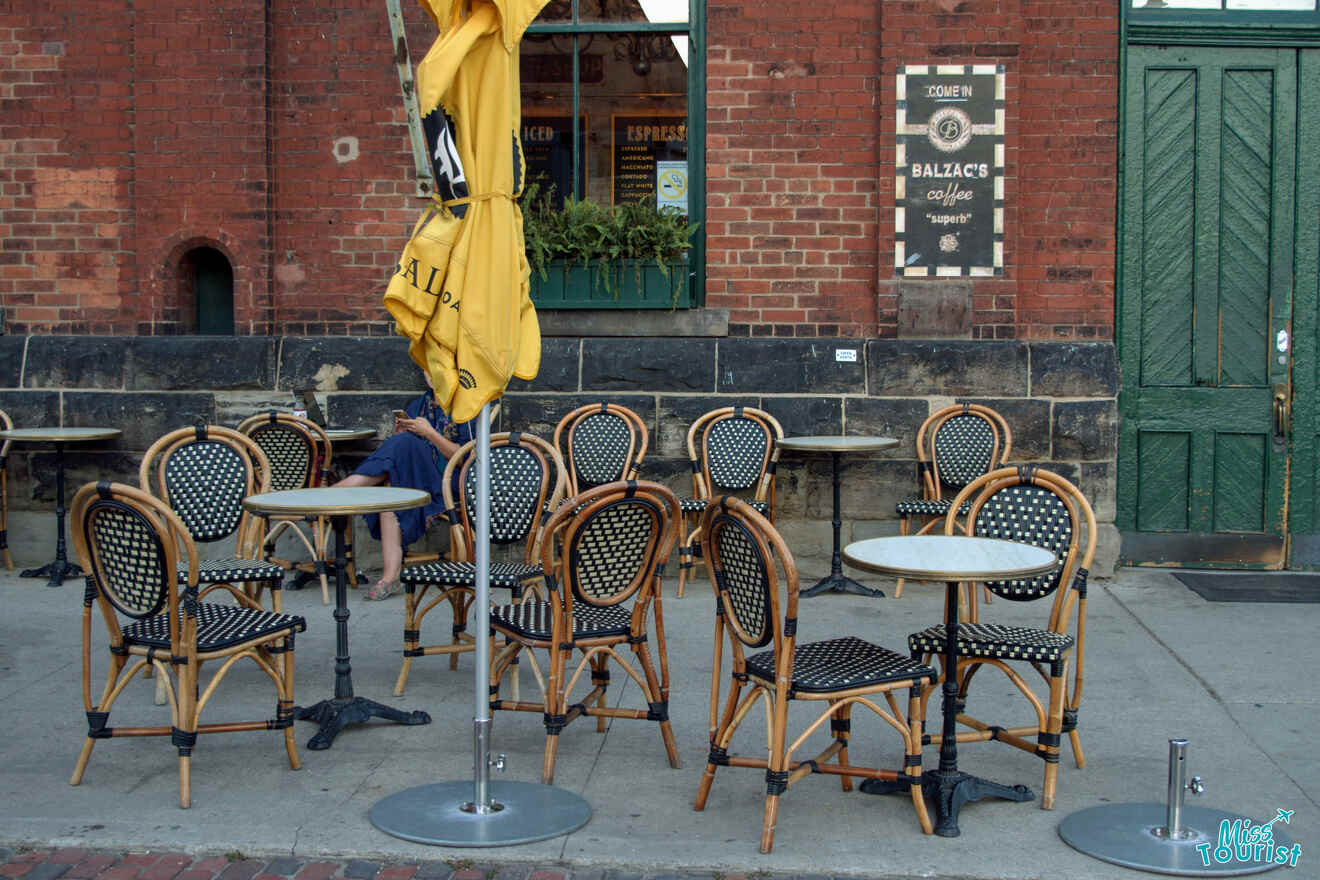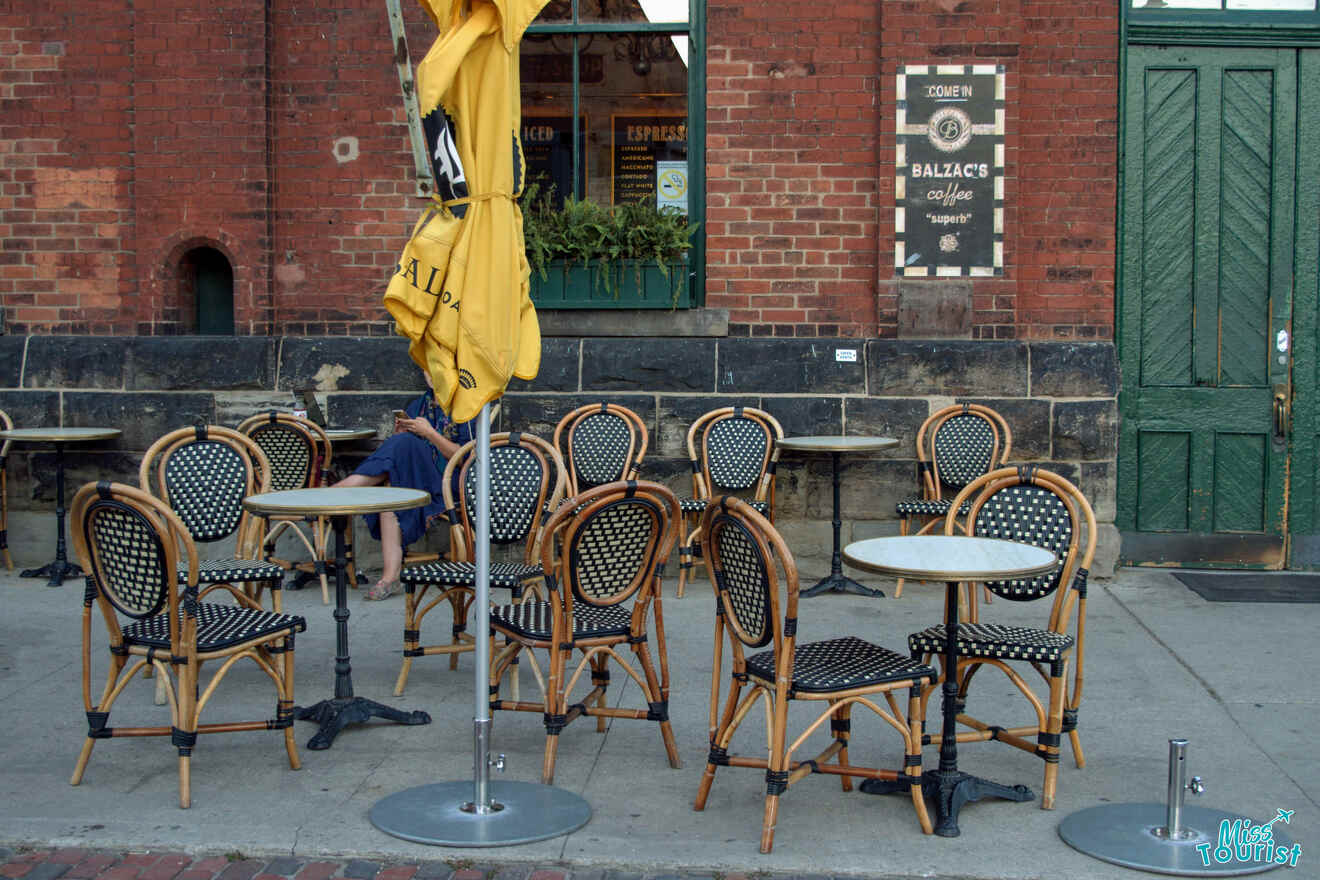 Okay so you have your accommodation sorted, now you need to figure out where to eat! Here I am sharing with you the best restaurants to dine-in in Toronto. Feel free to add your recommendations and suggestions below in the comments!
Alo Restaurant ($$$$) – situated on Queen Street in a Victorian building, visit Alo restaurant if you're looking for a high-end fine dining experience. It serves local food and wine with a modern French tasting menu!
Byblos ($$$) – for a more family-like dining experience, head on to Byblos – an Eastern Mediterranean restaurant with earthy forest like interiors. Prices are on the higher end of the mid-range scale but oh so worth it!
Patois ($$) – for real Jamaican spices and taste, Patois is the best restaurant in Toronto for an interesting meal. Combining the different cuisines from the Caribbean, the restaurant is an absolute treat especially if you're a fan of spicy food. The prices here are also pretty affordable.
How to get around Toronto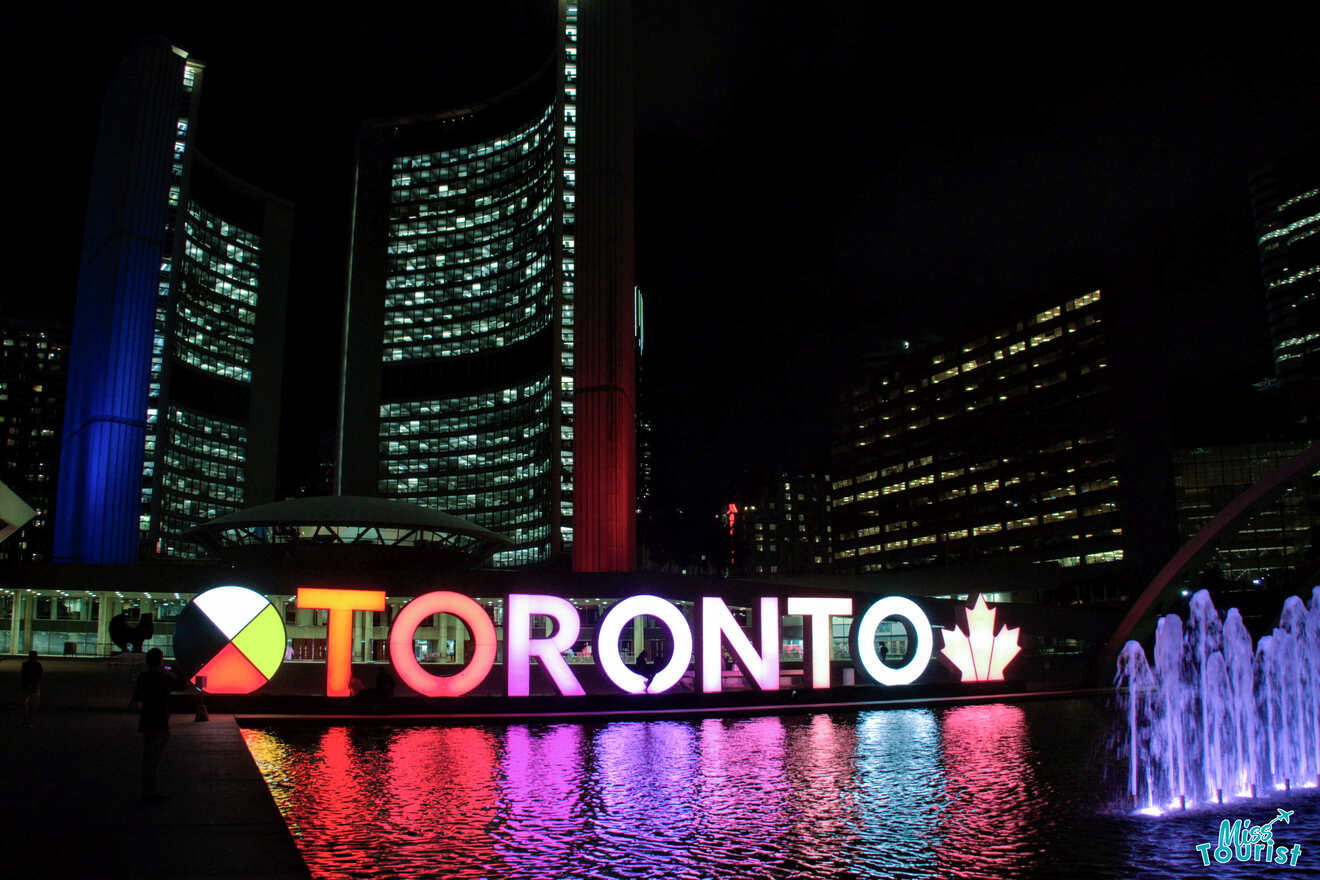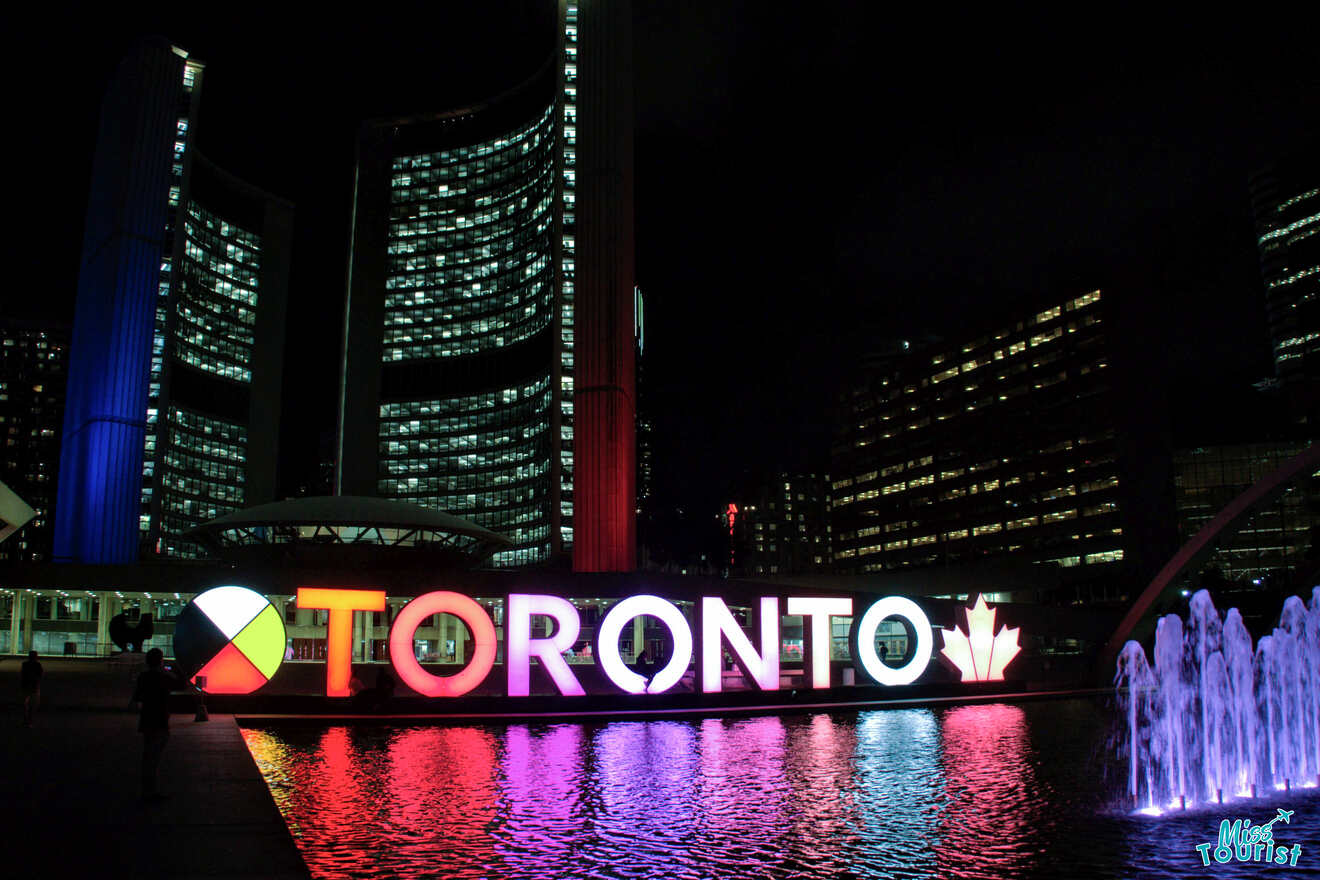 This final section of the city guide will focus on the different options to commute in Toronto. Just like any other big North American city – Toronto is also well connected with public transport by both metro and bus lines. Moreover, cab-hailing services like Uber also operate in the country making it easier for travelers to move around the city.
Taxi/Uber
For taxis metered fares start at $4.25, and charge $1.75 per kilometer thereafter depending on traffic. Most taxis accept credit and debit cards however there will often be an additional fee so cash is the best way to pay. You can easily hail a taxi on the street
Uber and Lyft are also widely used means of commuting in Toronto and the price can be a little cheaper than taxis with the minimum fare being around $5.50 for both.
Public Transportation
The public transport system in Toronto provides great connections between buses, subway, and streetcars, and the same ticket can be used to access all of the transportation mediums making it super convenient to use. You can even get all the way to the airport!
The subway is the easiest way to travel longer distances in Toronto as it only has two lines. The Yellow line runs North-South and the Greenline runs East-West and is open between 6 a.m. and 1:30 a.m.
Busses and streetcars mostly run 24/7 and access many places which the subway doesn't. Children up to 12 years old ride for free on Toronto public transport and regular tickets cost just $3.25 per ride of $13.50 per day, meaning public transport is a super affordable option for most people.
You can easily purchase your ticket at the machines located in the subway stations or onboard streetcars. Note if you wish to pay onboard streetcars, the machines will only take exact change, no credit or debit cards.
Toronto CityPASS – is it worth it?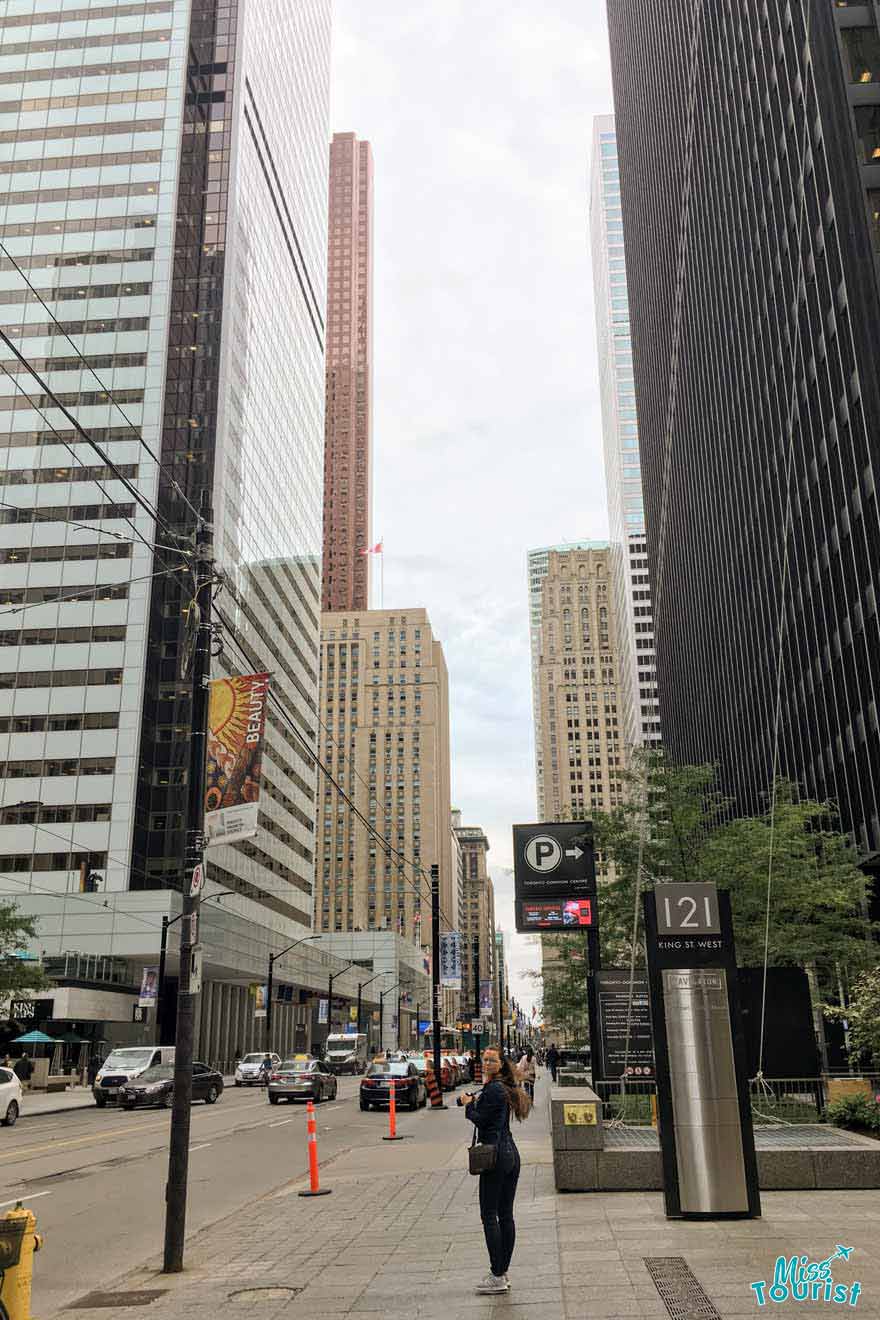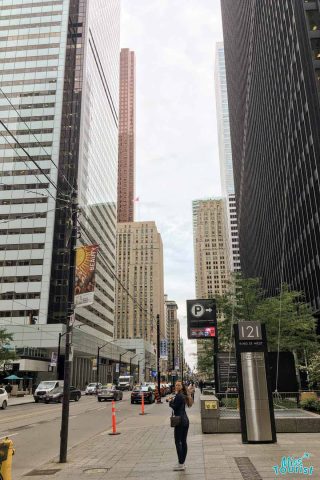 The Toronto CityPass gives you access to 5 major attractions in Toronto city for one discounted price. Those attractions are:
The CN Tower
Ripley's Aquarium of Canada
Casa Loma
Royal Ontario Museum
Toronto Zoo OR Ontario Science Centre (you can only choose one)
The cost of the cards is $82.41 for adults (13+) and $57.16 for kids. All of your tickets will be emailed to you upon purchase and you can simply use these tickets to enter each of the attractions once within 9 days of your first use.
If you plan on going to all 5 attractions, the Toronto pass saves you 38% of the normal entrance price, that's $50 of savings per adult and $30 per child. It's a no-brainer if you intend to visit all 5 attractions, but what if you have time (or interest) for only a few?
Below I have compared all the prices for each different attraction so you can easily calculate if it is worth it for you depending on which attractions you would like to see.
| | | |
| --- | --- | --- |
| Attraction | Regular Adult Price | Regular Child Price |
| CN Tower | $40 | $27 |
| Ripley's Aquarium of Canada | $43 | $29 |
| Casa Loma | $26.55 | $17.70 |
| Royal Ontario Museum | $20.35 | $12.39 |
| Toronto Zoo | $27.99 | $18.30 |
| Ontario Science Centre | $19.47 | $11.50 |
So, is the Toronto CityPass worth it? Yes! On average you only need to visit 2-3 of the above attractions to make the Toronto CityPass worthwhile.
Frequently asked questions about Toronto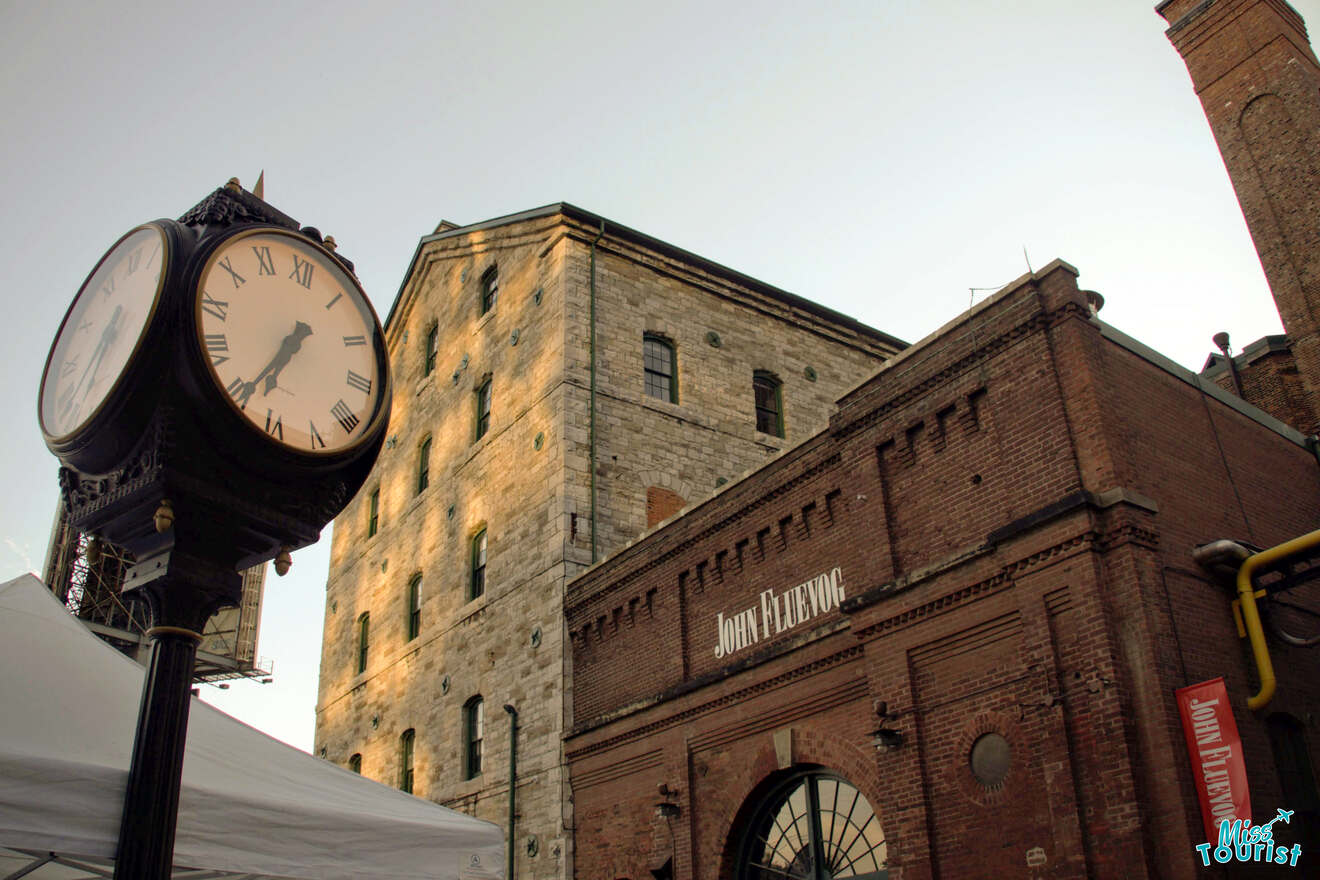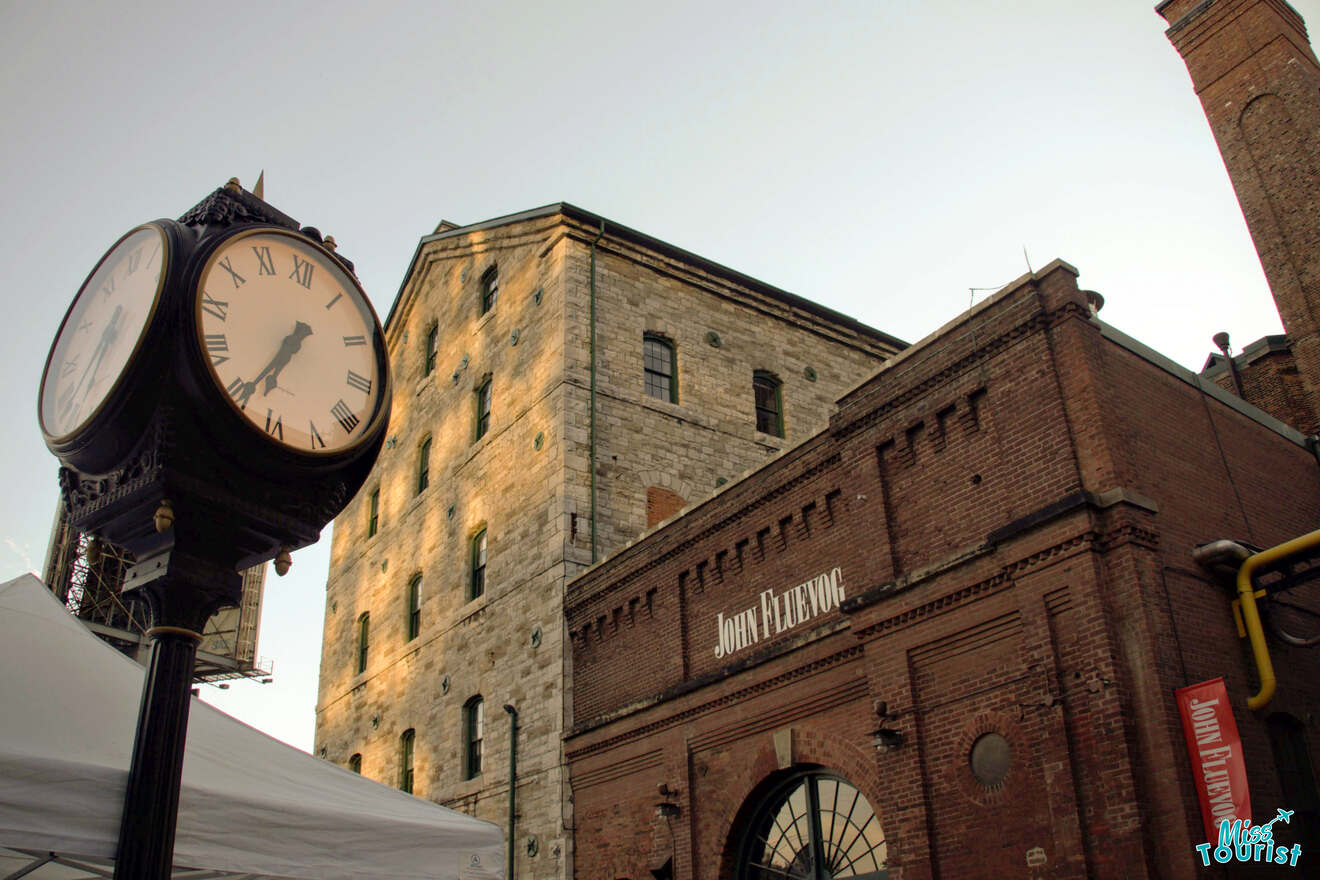 💲 What are the best free things to do in Toronto?
Walking around the different districts such as the Distillery District and Kensington are the best ways to experience Toronto for free. There are also beautiful (and free) botanical gardens and Sugar Beach. 
📅 How many days are enough to visit Toronto?
Toronto is a big city and so you should plan at least 4-5 days to visit everything it has to offer. If you don't have that long, 3 days should be the minimum. 
🧒 What are the best kid-friendly activities in Toronto?
Seeing the view from the CN Tower, Ripley Aquarium, the Hockey Hall of Fame, and the BATA Shoe Museum are some of the best kid-friendly activities in Toronto! 
❄️ What to do in Toronto in the winter?
Plenty! You can go ice skating, visit all the indoor museums, see the Snow Magic at Ontario Place and catch the winter festivals like Bloor-Yorkville Icefest and Winterlicious.
Conclusion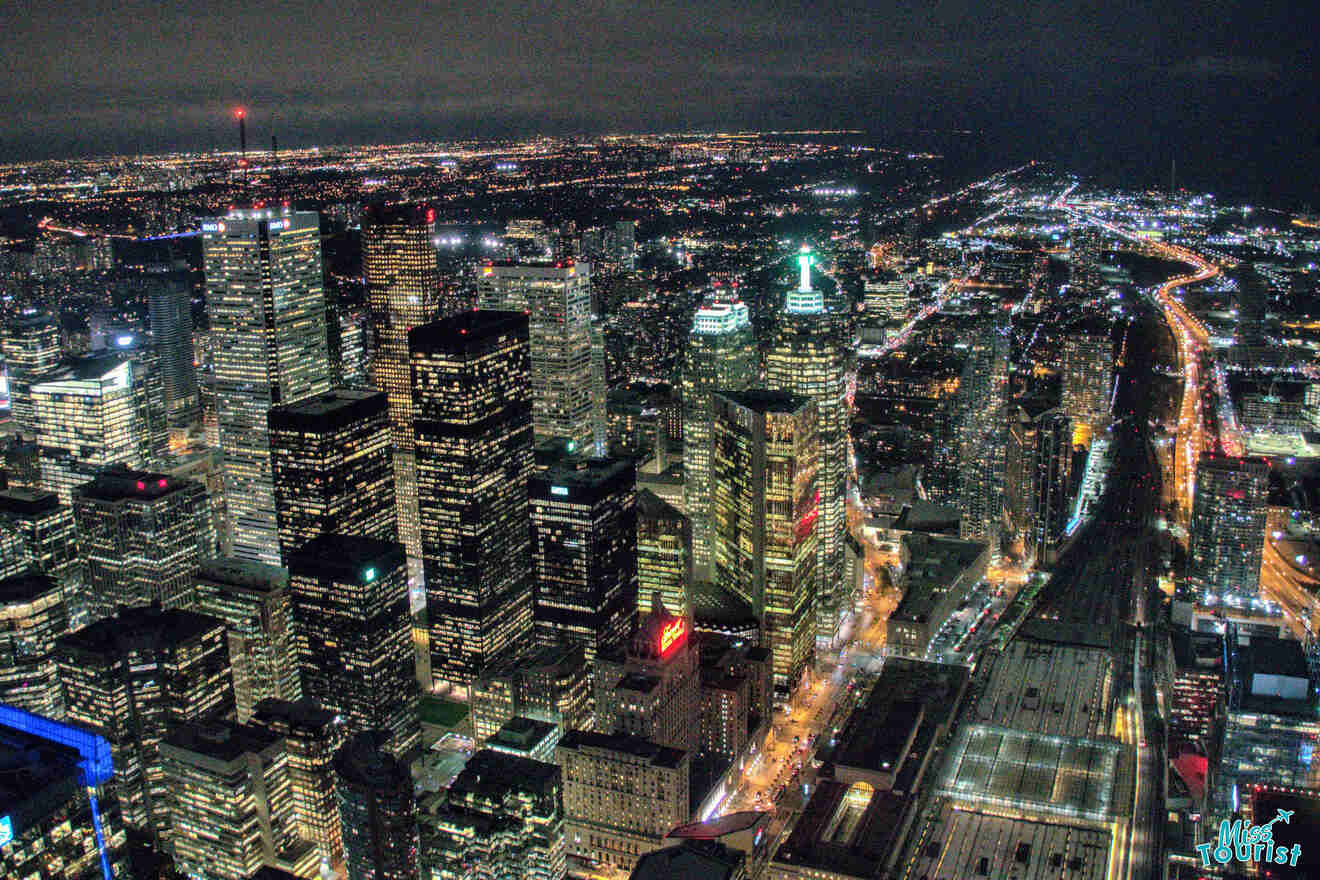 Phew! We have finally made it to the end of this long yet very informative post. I wanted this post to help in planning your full trip to Toronto starting with things to do in Toronto, to some bonus tips and lesser-known places you can visit in your spare time and as always some super useful insider tips to help you have a stress-free trip!
I sincerely hope this long post has answered most of your important questions regarding visiting Toronto, however, if you think that I have missed any essential piece of information – feel free to leave me a comment and I will make sure to help you out!
Also, if you think your friends and family might need this information – please share it with them by using the social sharing buttons below.
Happy travels 🙂
Kate
---
Pin it for later!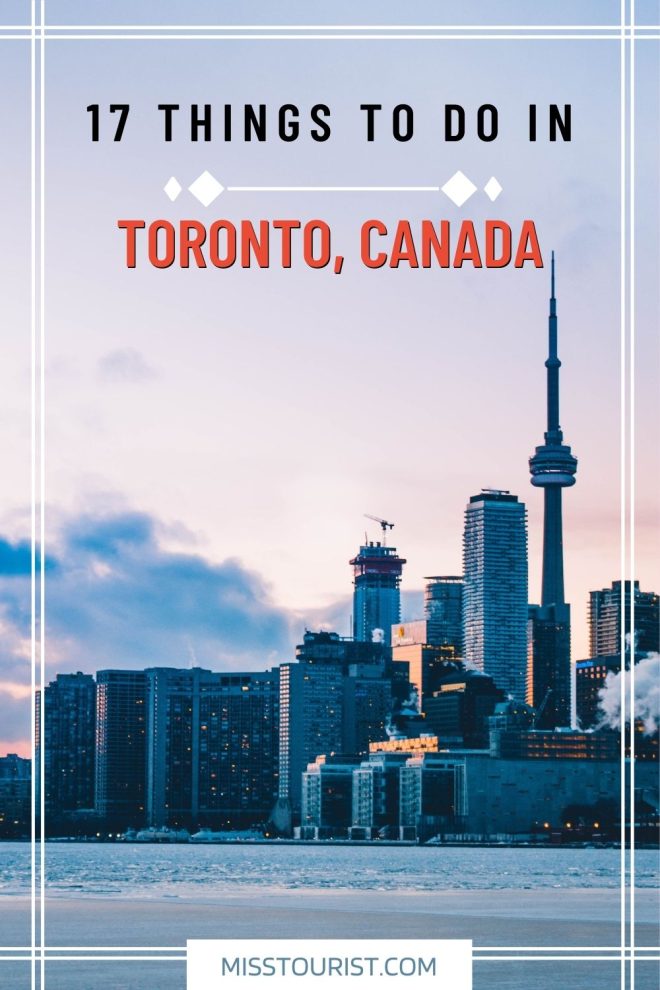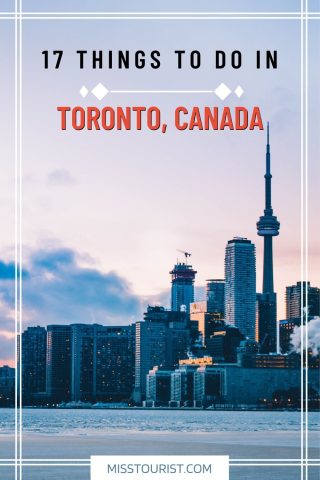 Pin it for later!