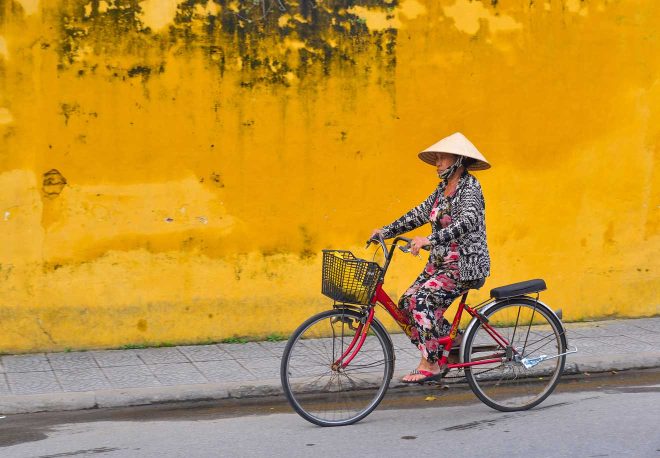 Ho Chi Minh City (HCMC), or Saigon to locals, is the largest city in Vietnam, a country with a population of nearly 100 million people! So you can already imagine the traffic, tourists and general chaos that surrounds this southern Vietnamese metropolis.
However, it is a city that is rich in history, tradition and most importantly – culture. Saigon is an absolute must-see in Vietnam and a great place to start or finish your time in this lovely country!
In addition, Ho Chi Minh City is an excellent base for multi or single-day trips around south and central Vietnam. With this is mind, many travellers choose to base themselves in Ho Chi Minh City and explore the country from there.
Moreover, tourists mostly stay in District 1 – this is the area where you'll find the highest rated hotels regardless of whether they're 5-star hotels or budget accommodation.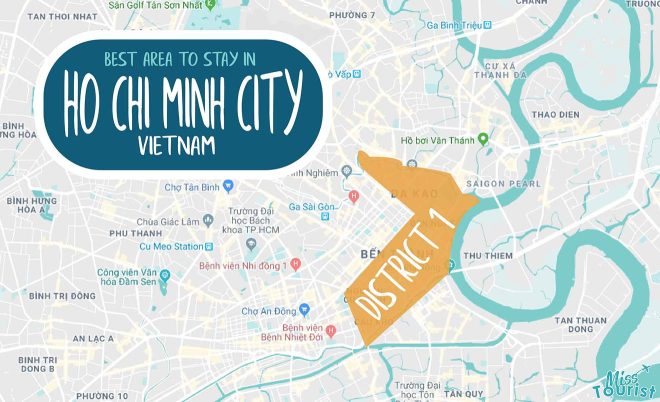 I have compiled a list of some of the best places to stay in Ho Chi Minh City for all budgets and personal preferences and I've even thrown in some hotels close to the airport if you're looking for convenience!
NOTE: A word of warning: Ho Chi Minh City is an extremely important economic and bureaucratic centre in Vietnam so alongside international tourists, millions of Vietnamese flock there every year for business, tourism and official purposes. This means that accommodation books out very early, so book in advance to ensure you don't miss out on the best choices!
So let's go, here is my guide of where to stay in Ho Chi Minh City.
Best Hotels in Ho Chi Minh City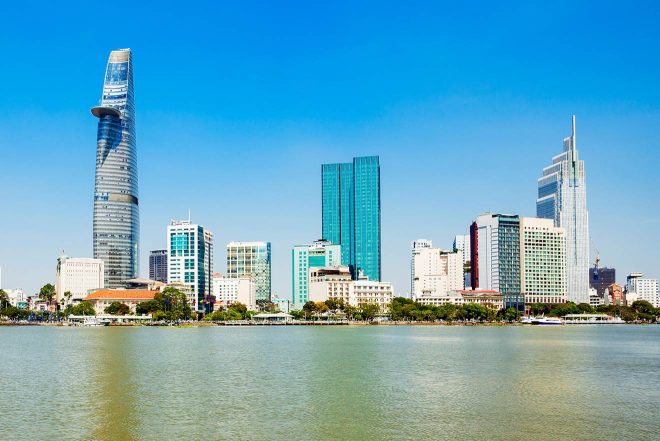 The most common, and according to many travellers, best choice of accommodation when travelling is a hotel. Due to its big size in terms of population and a Vietnamese trend to come to bigger cities from the countryside in search of work, you will find a massive amount of hotels in the city! These can range from the budget basements to the absolute luxury 5-star hotels in Ho Chi Minh City, which we will be talking about!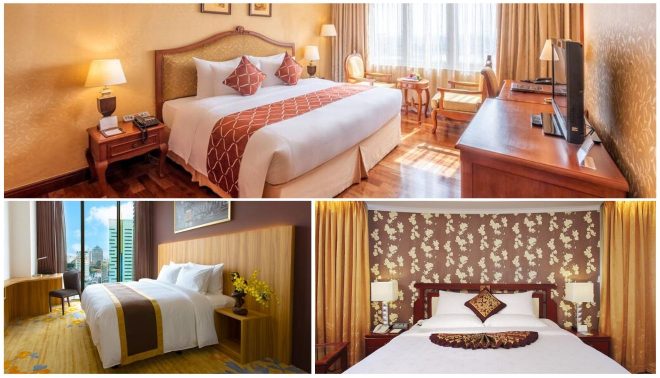 Luxury (US$160 and up)
Although Vietnam is still considered a developing nation, there is a huge amount of wealth in the country, and more so in the bigger cities. So if you are someone who likes the little comforts when you travel (trust me, you will appreciate them after a day of sightseeing in this hot and polluted city!) then this guide is perfect to find great 5-star hotels in Saigon:
Middle-priced (US$55 to US$160)
Ho Chi Minh City is awash with medium budget accommodation options, so you will be absolutely spoiled by choices! Also, in this section you will most likely get a very good value for what you're paying! This can be attributed to the fact that Vietnam, in comparison with western and especially European standards, is rather cheap.
To save you the hassle I have compiled 3 of my favorite choices of mid-range hotels in Ho Chi Minh City:
Rex Hotel – This is a great Ho Chi Minh City hotel located near Ben Tanh Market, City Hall, The Opera House and Central Post Office. Guest at the Rex can also choose from multiple in house restaurants and bars and can also relax an evening away at the in-house casino!
Fusion Suites Saigon – Located a little further away than The Rex, but still within district 1, Fusion Suites Saigon is a great boutique hotel in Ho Chi Minh City. With stylish and modern decor, an excellent restaurant and airport shuttle, it is hard to go past this hotel! An added bonus is the amazing breakfast that's included in the price!
Hotel Continental Saigon – Another impressive colonial-style building that doesn't disappoint on the inside either, matching the impressive facade with equally impressive colonial decor. Again one of the many Hotels in Saigon district 1, Hotel Continental is known mainly for excellent room facilities and one of the better hotel restaurants in the city.

Budget (up to US$55)
For decades South East Asia has been the backpacker destination, from full moon parties in Thailand, to river tubing in Laos and trekking the Vietnamese highlands that were once home to a long and sad war, SEA really has it all! The southern Vietnamese city of Ho Chi Minh City is no exception.
Here are three of my favourite cheap hotels in Ho Chi Minh City:
Bay Hotel Ho Chi Minh City – Impressively appointed rooms, in-house dining, a rooftop pool with an amazing view, tick, tick tick! The Bay Hotel has many amenities of an expensive 4 or 5 star facility, but the price of a budget one – what a great combination! Location is another positive as it's right in the heart of district 1, a great choice!
Alagon Central Hotel & Spa – Another great Ho Chi Minh Hotel is the Alagon Central, with simple, modern rooms and pool with great city views and a central location in district 1, there is a lot to like about this hotel. It has notoriously friendly and helpful staff which is awesome in such a hectic city!
Sunland Hotel – Rounding out this section is The Sunland Hotel, located on the outskirts of district 1. This hotel is a great choice for budget travellers as you are still located relatively close to the action and the prices are amazing. The rooms are simple, yet tasteful and guests can enjoy not one, but two swimming pools!
Best Apartments in Ho Chi Minh City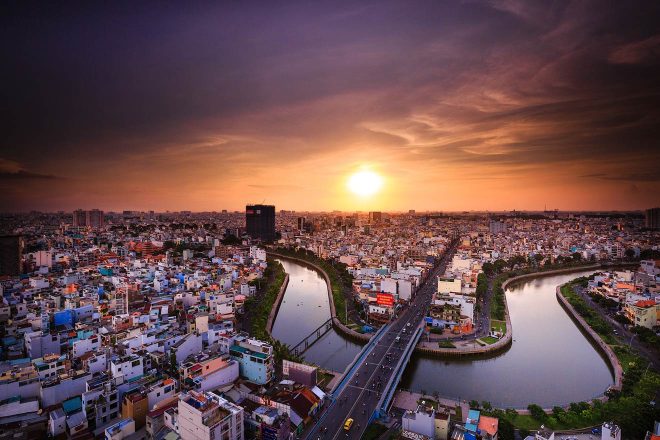 In terms of Ho Chi Minh City accommodation, hotels aren't the only way to go. Due to the nature of the city and its important commercial significance, there are many apartment spaces (for long-term stays but open to short-term also), available year round.
If you are travelling with young kids, a big family or just simply want your own space, then an apartment as opposed to a hotel room may be the way to go!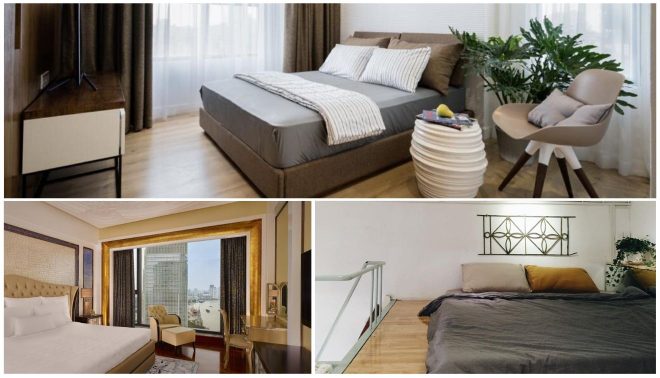 Luxury (US$160 and up)
In this section you'll find the best of both worlds, with three of my favorite apartments that still have that feel of luxury and opulence!
The Reverie Saigon Residential Suites – The reverie Saigon rivals some of the 5-star hotels from earlier in this guide. The levels of luxury in the rooms and facilities make this place an amazing stay. There are in-house dining options with different cuisines to choose from, a bar, and some seriously impressive views of the river!
Christina's Saigon – Ben Tanh City Living – Christina's is a perfect example of a property that has it all! Apartments are supplemented by facilities such as a fitness centre, an in-house bar and even a car rental service. The location, although not as central as some others, is still within district 1 and close to restaurants and cultural installations!
Norfolk Mansion – Luxury Serviced Apartments – It's in the name: luxury! That says everything about this property. You will truly feel like a movie star staying here, if the wooden floors and marble fittings don't do it, the in-house pool room or library will. Offering two in-house restaurants, you will never have to leave the property if you don't want to. Highly recommended!
Middle-priced (US55$ to US$160)
If you're travelling with a bigger group like a family with young children or even a group of friends, and don't want to blow your whole travel budget on accommodation but need perhaps a kitchen to cook meals and just enjoy the space, then this section is for you!
Warning, this section contains some of the best places to stay in Ho Chi Minh City!
Luxury Family Apt Icon 56  – Another entry in the list of properties that has it all is Luxury Family Apartments. Featuring tasteful, modern and spacious rooms, river views and a restaurant (if you don't feel like cooking in the in-room kitchen), you can't go wrong staying here. And, of course, it's right in the action in district 1.
Christina's Saigon – Beatty's City Oasis – Run by the same company as Christina's above, you can expect much of the same luxury feel and attention to detail here, for a fraction of the price. The rooms have a minimalist feel with modern touches, a kitchen, large tv and there are laundry facilities available too, what a bonus!
Aspire Saigon – There is really a lot to like about Aspire Saigon, all the features you would expect from an apartment; kitchen (including a microwave), living room and flat-screen TV with satellite channels. Located close to Bui Ven walking street, you're never far from the action at Aspire Saigon. A really great property on the whole, so recommended!
Budget (up to US$55)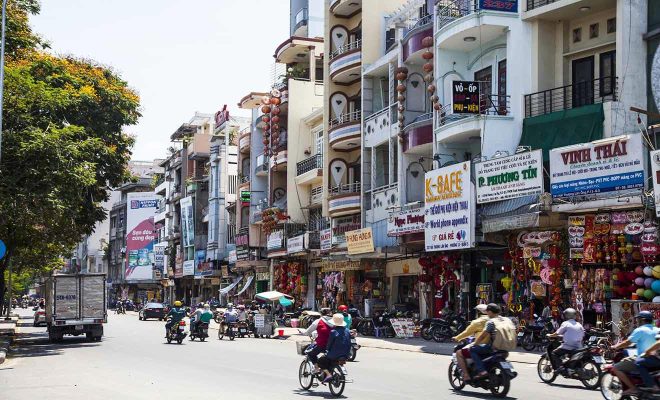 It's a simple formula: the more money you save on accommodation, the more you will have to spend on shopping, partying and (most importantly in Vietnam) eating! If there's one place you could scale back on the accommodation and indulge in eating out, it's Vietnam.
Here are the best budget apartments in the city:
Chiuchiustay Ben Tanh – Although a little on the small and basic side, this apartment is beautifully decorated. It really has the feel of an old Saigon hotel! Possessing everything you need to make your time in HCMC lovely, Chiuchiustay is also located in a wonderful, central location, close to Ben Tanh market.
Seven Dong Du – What I love about this property is its location right in a busy, very vietnamese street. You will feel totally like a local and at the same time be in a nice (and quite luxurious) apartment! There is a fridge and kitchenette for your cooking needs as well.
Kim Lien's Homestay – By far my favourite property in this section, Kim Lien's homestay is stunning! A two-level property, perfect for families, it ticks all the boxes of an independent apartment and even a few extra! Those being a lovely little balcony overlooking the street and even an in-house keyboard/piano.
Best Hotels Near Ho Chi Minh City Airport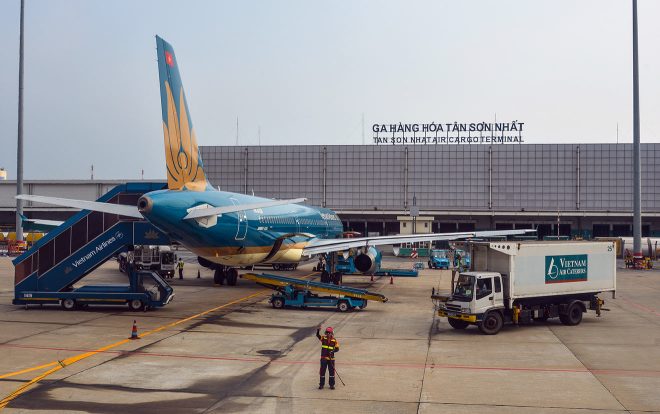 Let's get one thing straight, Ho Chi Minh City is huge! It has to be to fit 9 million people! This means that at times, traversing the maze of alleys, Pho stands and scooters upon scooters upon scooters can be quite difficult.
Above I've provided a list of budget, mid-range and luxury accommodation located in the city center right near all the action above; however, sometimes you need somewhere to stay near the airport. Whether it be because you're arriving late, leaving early or just simple in the city for a short period and don't have time for tourism.
So here are some options to find the best Ho Chi Minh airport hotel for your stay: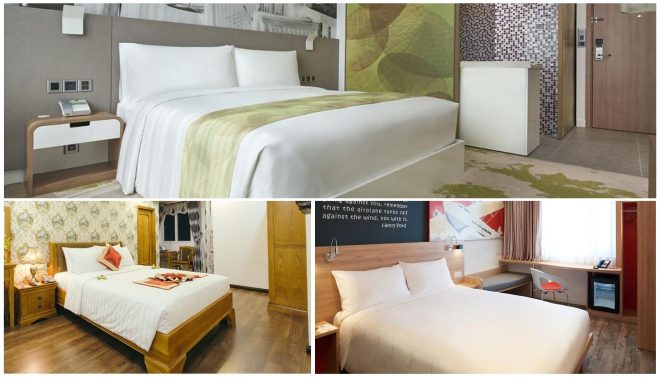 Luxury (US$160 and up)
You may have to give up proximity to landmarks and cultural installations by staying near the airport, but that doesn't mean you have to forget other luxuries like high quality sheets, marble bathrooms and a 24-hour concierge service!
In this section you will find hotels that are not only located near the airport but also provide that 5-star level of service and luxury which makes them some of the best Ho Chi Minh hotels.
Holiday Inn & Suites Saigon Airport – Located within 2km of the airport, The Holiday Inn is a great choice for travellers who want to be close to the airport and stay in luxury. The hotel is wonderfully appointed in a modern style and features all the creature comforts like 24 hour room service, a kids play room and in-house restaurants!
Sherwood Suites – This one is a little further away from the airport than the other hotels in this section but it is the most luxurious, Sherwood Suites will make you feel like a million bucks. From the buffet breakfast to the fitness center to the stunning views, this is truly one of the best hotels near Ho Chi Minh airport!
Eastin Grand Hotel Saigon – Rounding out the three is the 5-star Eastin Grand. Combining the best aspects of the first two in this section, the Eastin is the height of luxury and very close to the airport. Featuring a spa, fitness centre, pool and a buffet breakfast, it is hard to fault!
Middle-priced (from US$55 to US$160)
If you want to be comfortable, close to the airport and satisfied with the final bill of your accommodation, then staying near the airport for a reasonable price is more than possible, it's actually quite easy!
So here you have three options that meet the above criteria:
Ibis Saigon Airport – This hotel has everything you'd expect from an airport hotel – simple, comfortable rooms with modern decor, a 24-hour airport shuttle, breakfast served from 4:30 AM for those early morning flights and a 24-hour restaurant for those late arrivals. Simple, yet effective and most importantly affordable!
Blue Sky Hotel – This is a great choice near the airport, offering a daily buffet breakfast, rooms with a desk and cable channels, and there is even a rooftop terrace to relax and have a few drinks. The hotel also offers room service which is great after a long, tiring flight!
Republic Apartments Saigon Airport – A hybrid hotel/apartment, this property kicks up the luxury a notch. With 24-hour reception and a swimming pool, guests will never have to leave! There is also a kitchen in each apartment and modern, inviting decor. The beds are really comfy too! This is a great hotel in the Ho Chi Minh airport district.

Budget (up to US$55)
Usually it can be quite a challenge to find cheap accommodation near an airport that isn't a dirty motel, however, due to the general affordability in Vietnam and Saigon, it is definitely achievable here!
The Airport Hotel – This airport hotel has everything you could need from a budget hotel close to the airport – a flat-screen TV, seating area in the room and 24-hour reception. The hotel also offers a car rental service to make your time in the city a little bit easier. Oh, and the beds are huge!
New Space Hotel – This hotel has something you rarely find in the budget section: an in-house restaurant! This is an added bonus seeing as that it can be a little tricky finding food outlets so close to an airport. A great choice if you just want to check in, eat and go straight to bed!
David Homes – Another property that ticks all the boxes: 24-hour reception, daily breakfast and an added bonus – a hot tub! For me, that seems like a perfect way to relax after a long flight, amazing to find this in the budget section! You can even walk to the airport, double bonus!
---
Conclusion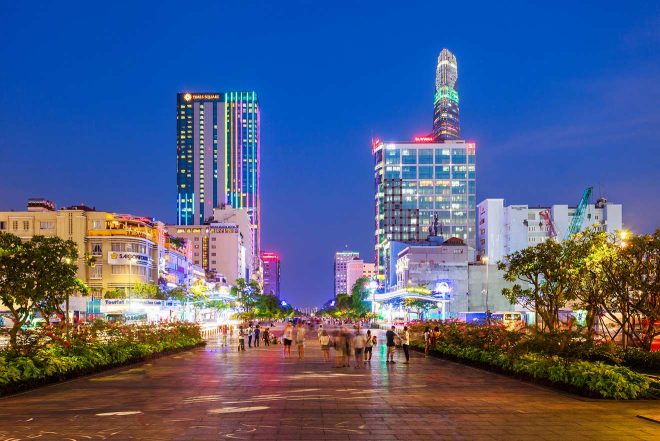 So there you have it, my complete guide to Ho Chi Minh accommodation! Whether you're looking for the best hotel in Saigon, somewhere that will allow you to explore the city at your doorstep, a hotel that provides first-rate service at a cut-rate price or just simply the cheapest hotels in Ho Chi Minh City, then you won't be disappointed!
I know travelling can be overwhelming, and even more in such a hectic country like Vietnam, so hopefully the research I have done here and on my Things to do in Ho Chi Minh City article will help to make your time in old Saigon or new Ho Chi Minh City a blast!
Please feel free to drop me any questions you may have in the comments below as I'm more than happy to help!
Happy travels!
Arantxa
Pin it for later!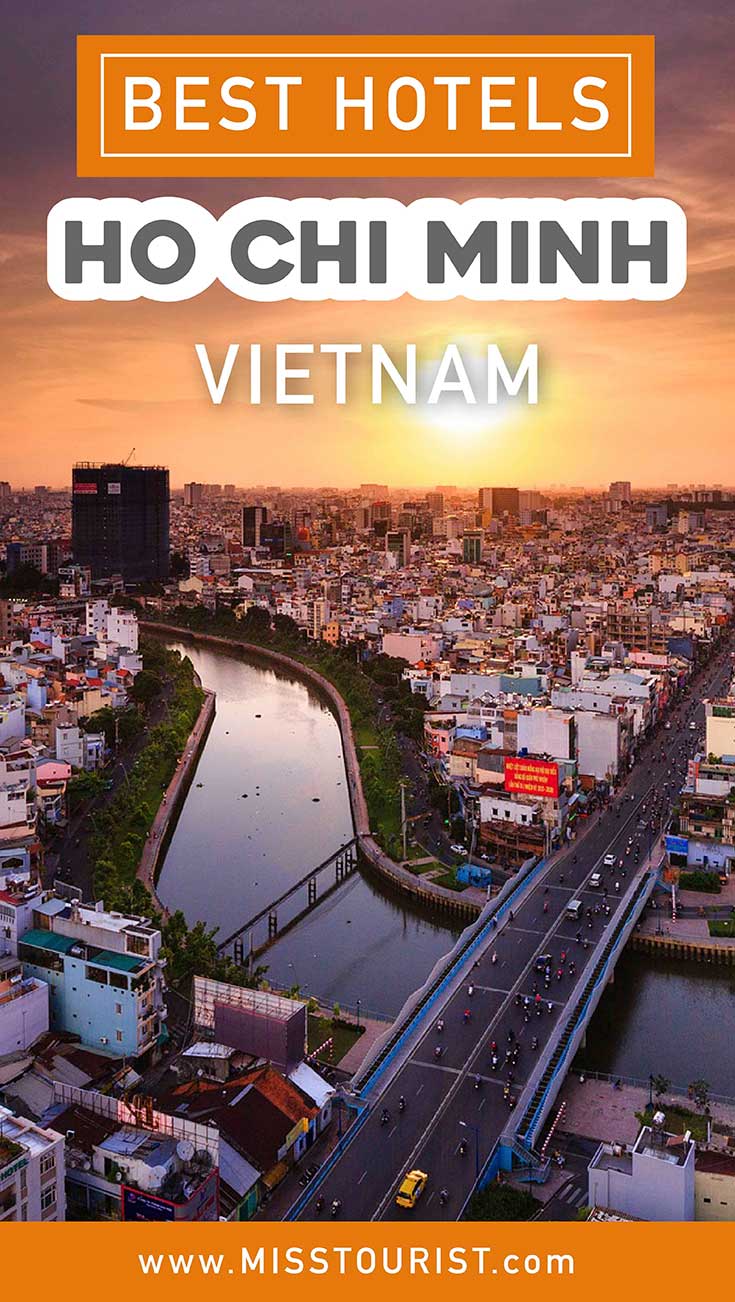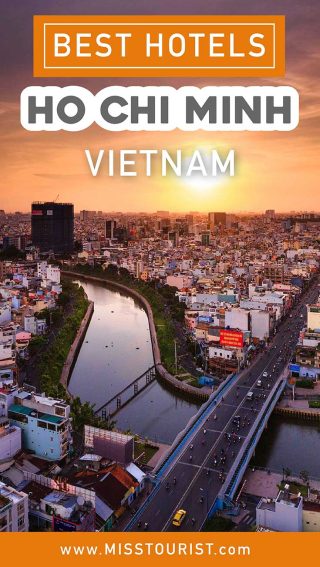 Pin it for later!