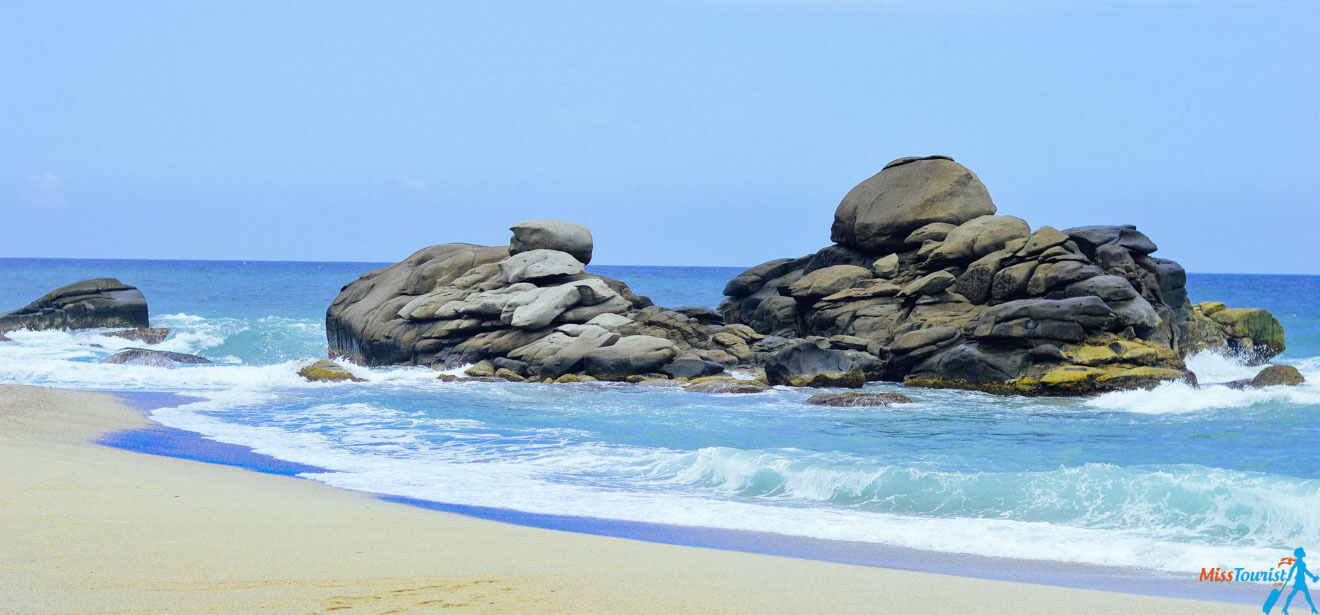 During the time I was living in Medellin, the second biggest city in Colombia, I kept hearing how awesome Tayrona National Park was and how it was the best experience in the country for my fellow travelers.
UPDATE: Here you can check out our new post about all the Not-to-miss Things to do in Medellin, with prices!
Naturally, I wanted to go see it with my own eyes! I included it in my Colombian bucket list and started to plan the trip.
If you were ever curious as to what is special about the park, or better, you are also planning your adventure to Tayrona, keep reading as there is some useful info for you in this post!
UPDATE: All travelers (from all countries) visiting natural parks and nature and wildlife sanctuaries in Colombia are now required to have a Yellow Fever vaccination certificate that provides proof of vaccination or a valid waiver. You can find more information about this on the website of the Colombian Ministry of Health.
Where exactly is Tayrona located?
Tayrona National Park is located on the Caribbean coast, a 1-hour bus ride from the city of Santa Marta.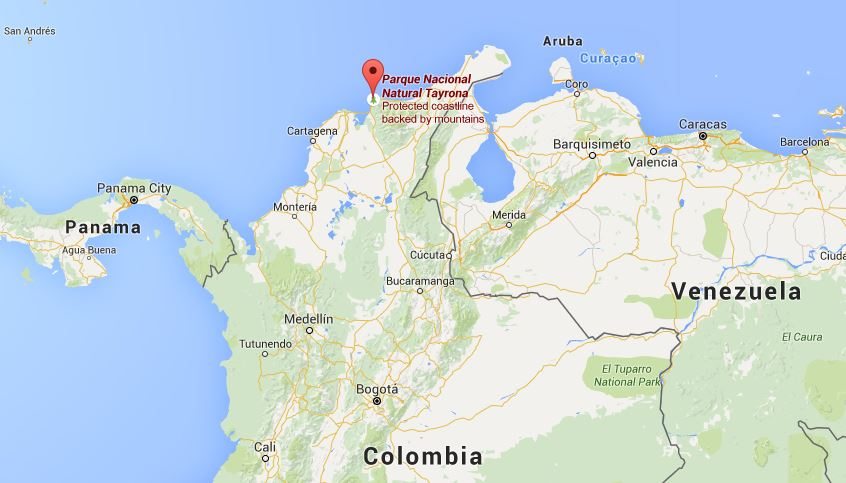 Why is it so famous?
The national park is a treasure for those interested in nature and its fascinating wildlife.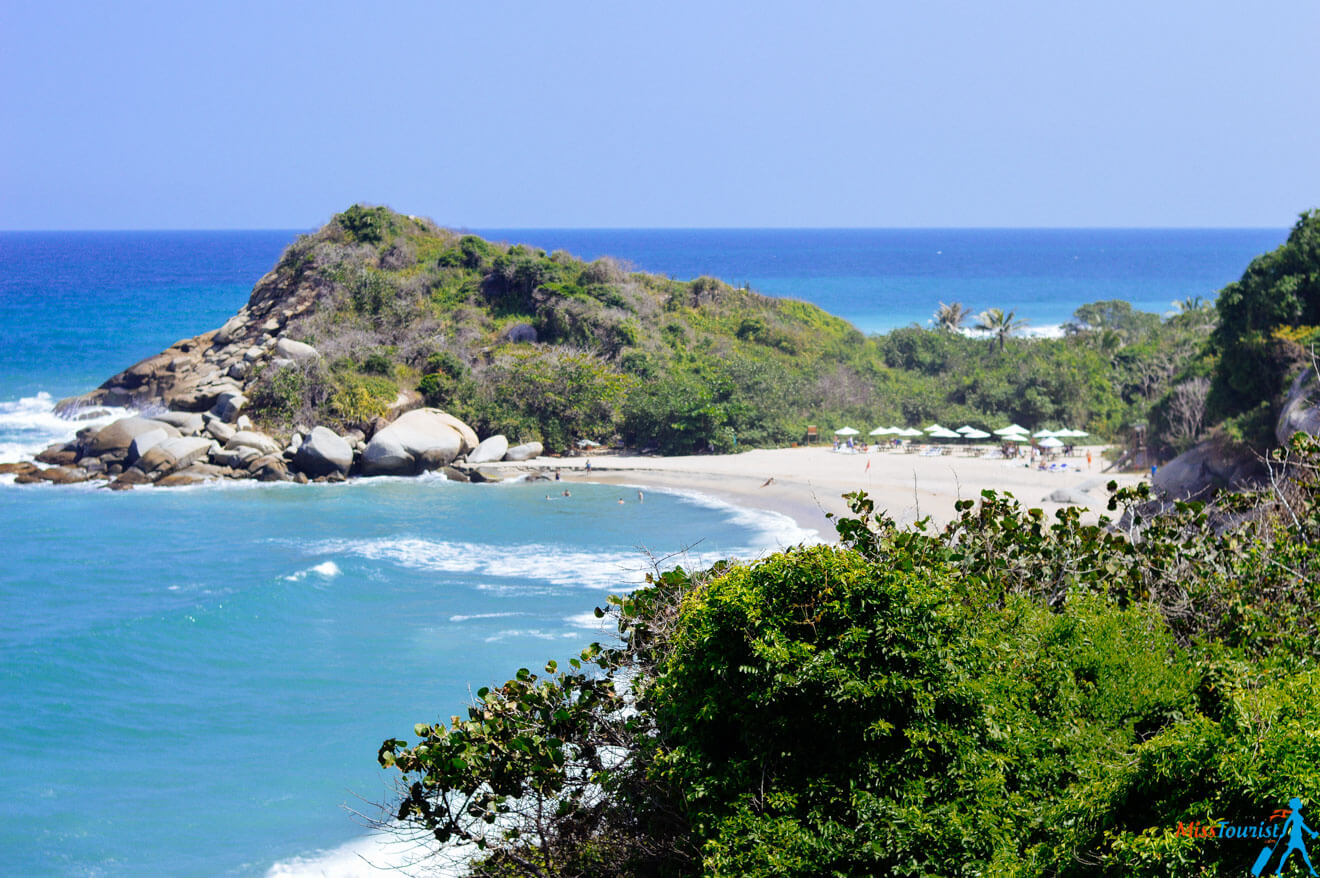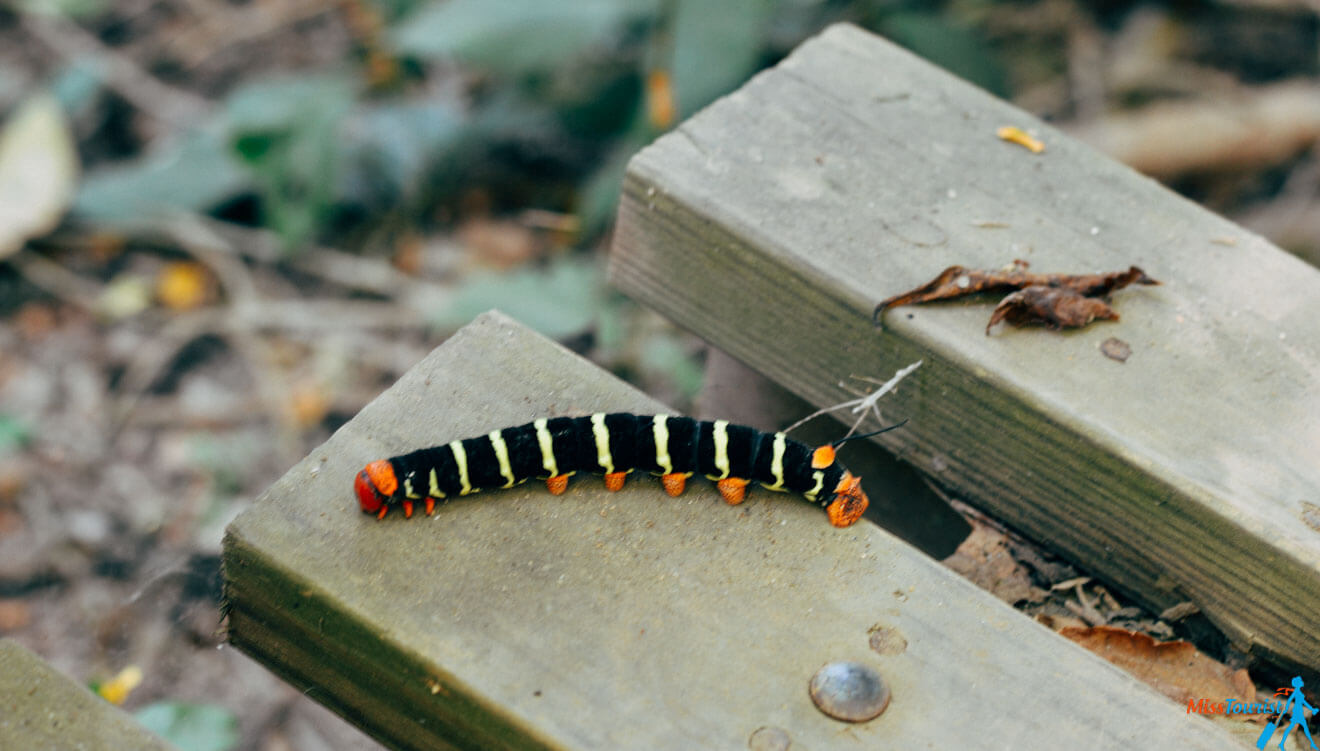 Even if you are not a big fan of animals, you will still love the park! Tayrona is also a great gateway for those who simply want to relax on some of the loveliest South American coast lines, have a digital detox and get closer to nature. And it is just a fun adventure by itself!
I read some articles before going, and, while I found them really useful, some of the info in them is a bit outdated.
That is why I decided to wrap up my own experience and write a more up-to-date post.
Here are some practical things that you should know before visiting Tayrona National Park:
Entrance price to the park
The entrance fee is 56,000 COP ($17.50 USD) for foreigners. It is quite pricey by Colombian standards which is why it makes sense to stay longer than 1-2 days. There is also a mandatory insurance fee that you have to pay when you enter the park, which is 2,500 COP per day (less than $1 USD)
PRO TIP: Do not forget to take your student card and a copy of your passport if you are under 25 years old! If you are a student, the entrance will be just 8,500 COP for you (a bit more than US $2.50). Good savings, huh?
Don't forget your passport!
I do not know what would have happened if I had left my passport in my hotel in Santa Marta (which is what I usually do if I go on a hike). Fortunately, I read a notice before we went. The cashier requires your passport at the entrance to the park when you buy your ticket. Do not forget it, please!
What about the food?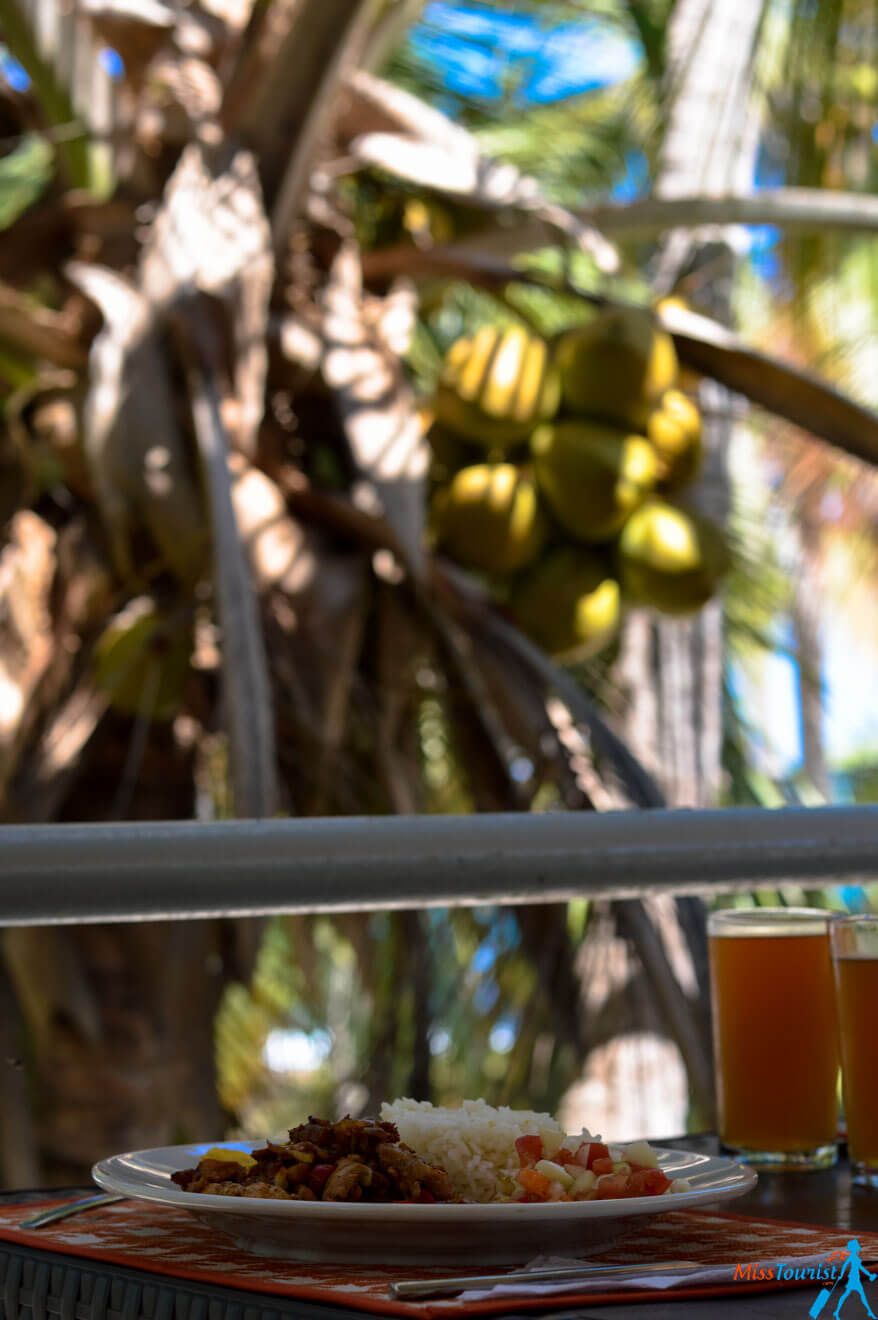 Remember, when in the park, any civilization is quite remote so you only have 3 options for food:
Bring it yourself for however many days you will be staying
Eat from local cafes that are there in each camp
Combine the above 2 options.
If you are traveling on a budget, you can bring your own food in your backpack.
Remember, though, you will have to carry it!
You can also eat in one of those camp cafes. All other blogs I read said that it was very pricey to eat there.
However, either that was many years ago and the prices are outdated or the guys were on a very low budget because I found the prices to be quite affordable.
I will let you decide if it is affordable or pricey by listing the prices here that I found when I visited in January 2016:
5,000 – 8,000 COP for breakfast (~$2 USD),
15,000 – 22,000 for dinner ($5-$7 USD),
5,000 – 6,000 for beer.
Update: 12,000 – 14,000 COP for breakfast (~$4 USD)
PRO TIP: For those who are staying longer than a couple of days, there is no need to carry 5-10 liters of water/bread all the way from Santa Marta because you can buy canned food right at the entrance to the park (10% more expensive than in Santa Marta).
Oh, and do not take alcohol with you! You can drink it inside the park, but you can only buy it in one of the cafes inside. You will not be allowed to enter the park with your own beer. There are security staff who will be checking your bag at the entrance.
What to bring to Tayrona park:
Packing smart is very important!

You don't want to be eaten by mosquitoes and get a sunburn, do you?
But you also don't want to overpack and bring unnecessary things that will kill your back afterwards.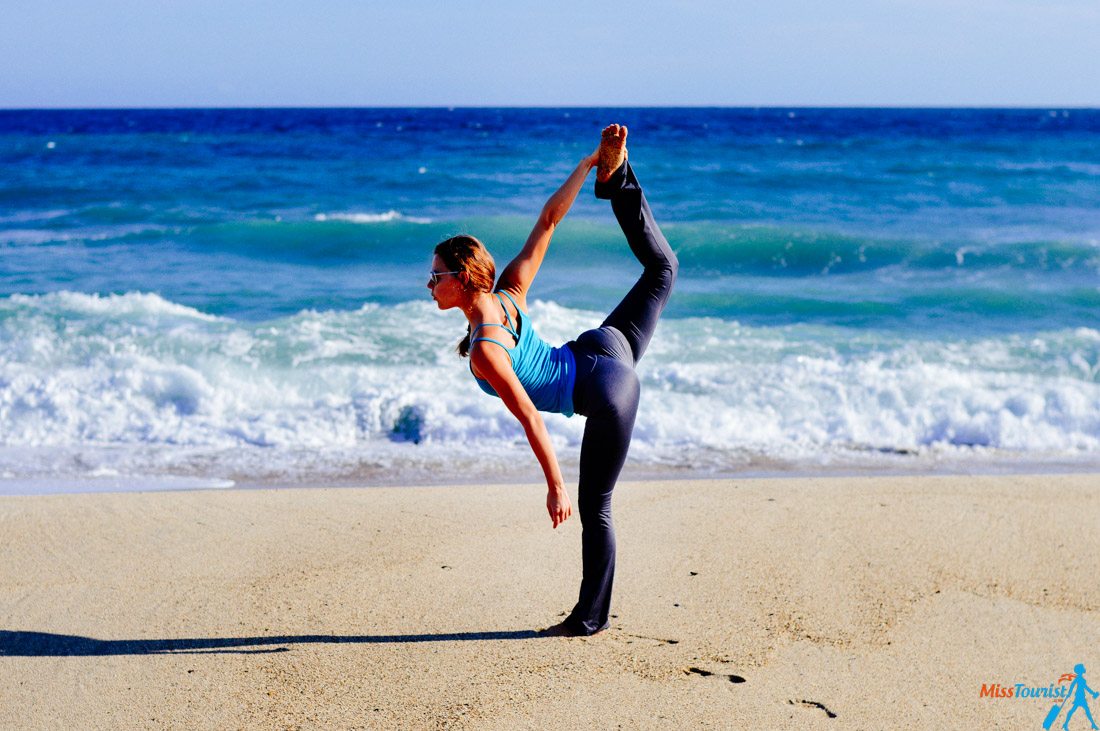 Here are the things that you should definitely pack in your backpack:
Water (you might buy some later, but you need at least 1 liter to get to the place)
canned food
Also, good shoes(any sneakers will do) and flip-flops for using the communal showers.
Oh, and in case you are wondering, no, there is no Internet in Tayrona National Park, so just relax! 🙂
"I surely can swim in Tayrona park, right?"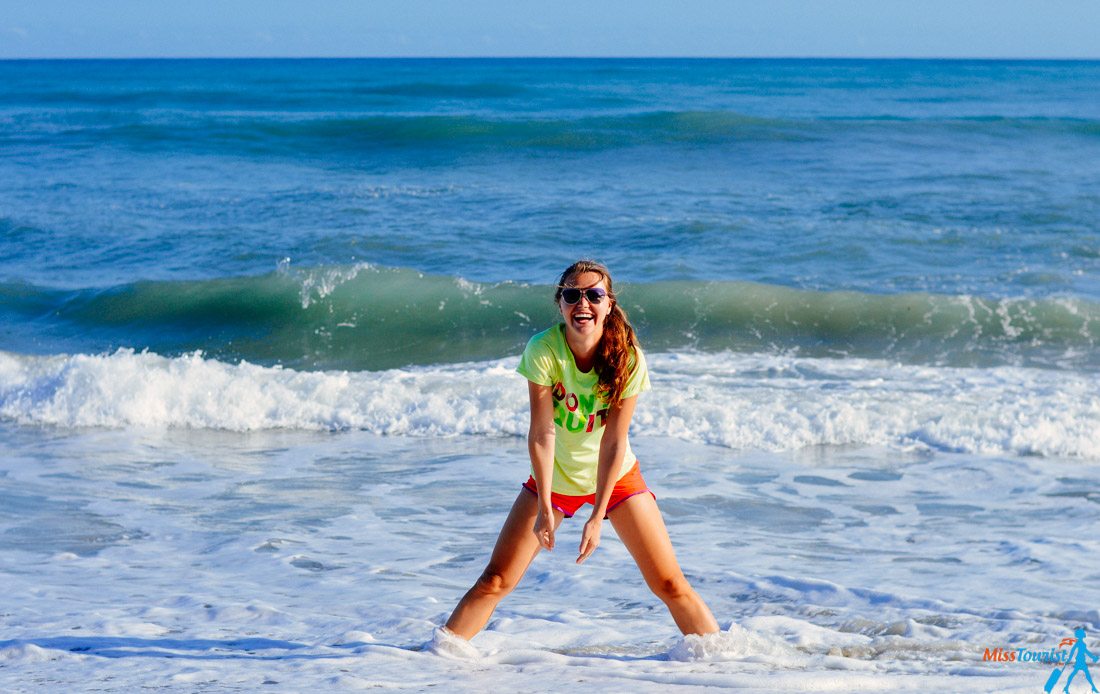 No, my friend, even if I told you to bring a swim suit, you can't really swim in Tayrona National Park as the Carribean Sea is rough there!
I understand you, you went all the way and you really want to swim in that turquoise water, I hear you. But please keep in mind that there is a strong rip tide, extremely dangerous under-currents and many people have died there.
There is one place in the park where you can swim, however, called La Piscina. But please keep in mind that it can get quite crowded during the high season. The weather is always pretty good on the Caribbean coast, but it tends to be the busiest in January and February.
If you are looking for a Colombia "beach and sea" destination, I recommend that you fly over to San Andres where you will find your paradise there!
How to get to Tayrona National park from Santa Marta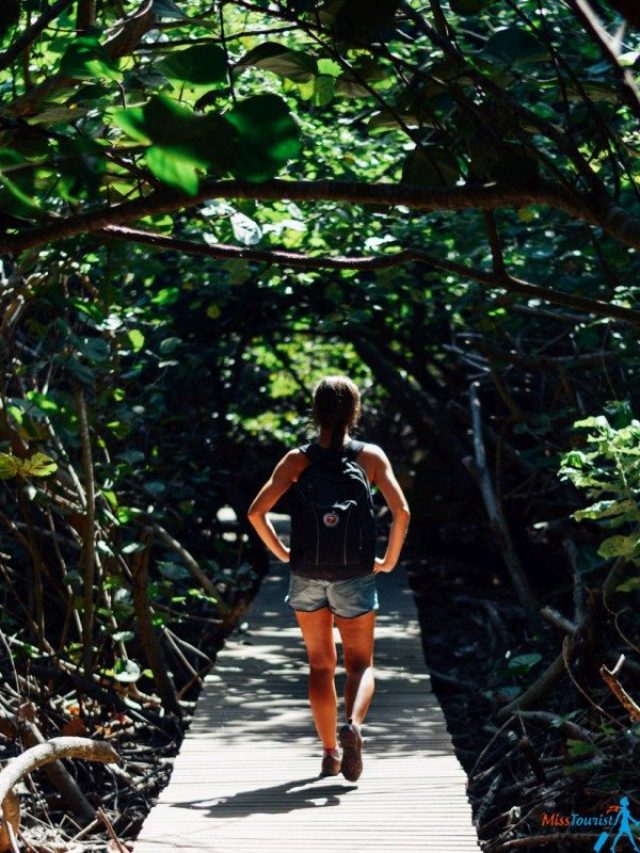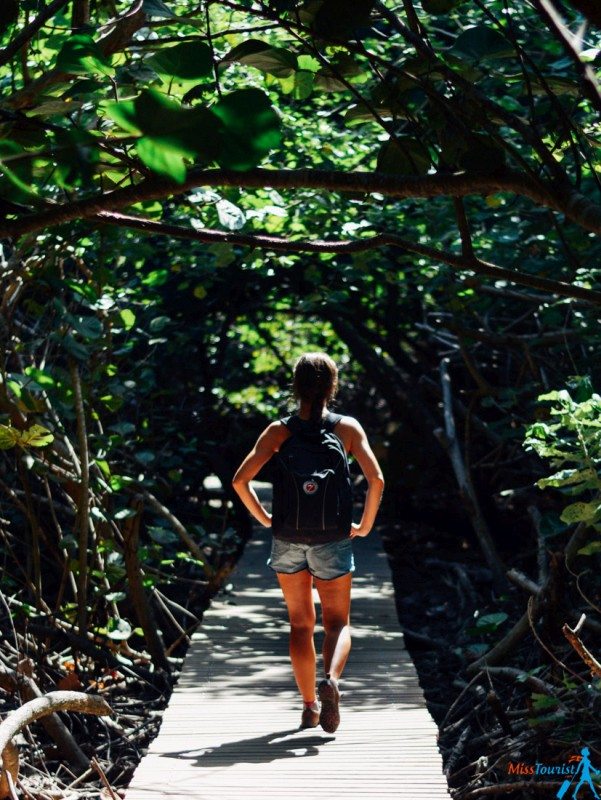 Santa Marta is the closest city to the National Park.
There is an airport in Santa Marta or you can also get there by bus. VivaColombia is really affordable, especially if you book it in advance, thus, I would suggest flying.
If you prefer, the bus to/from Santa Marta is 7,000 COP ($2.27 USD) and it will only take one hour to get there. On returning to Santa Marta, if you get off at the Mercado you can get another bus to Taganga for 1,600 COP (0.50 cents).
Once inside the park, there is an optional shuttle bus for 3,000 COP ($1 USD) that will take you to the starting point of the hike.
You do not have to take the bus, you can walk to the starting point, but I recommend taking it. There is nothing spectacular on the road and you will save about an hour of your time!
Now, the map is not exactly accurate, but I could not find anything on the internet, so I made one myself (you are welcome!)!
It aims to give a general understanding of where things are geographically located and how long it will take to go from one place to another.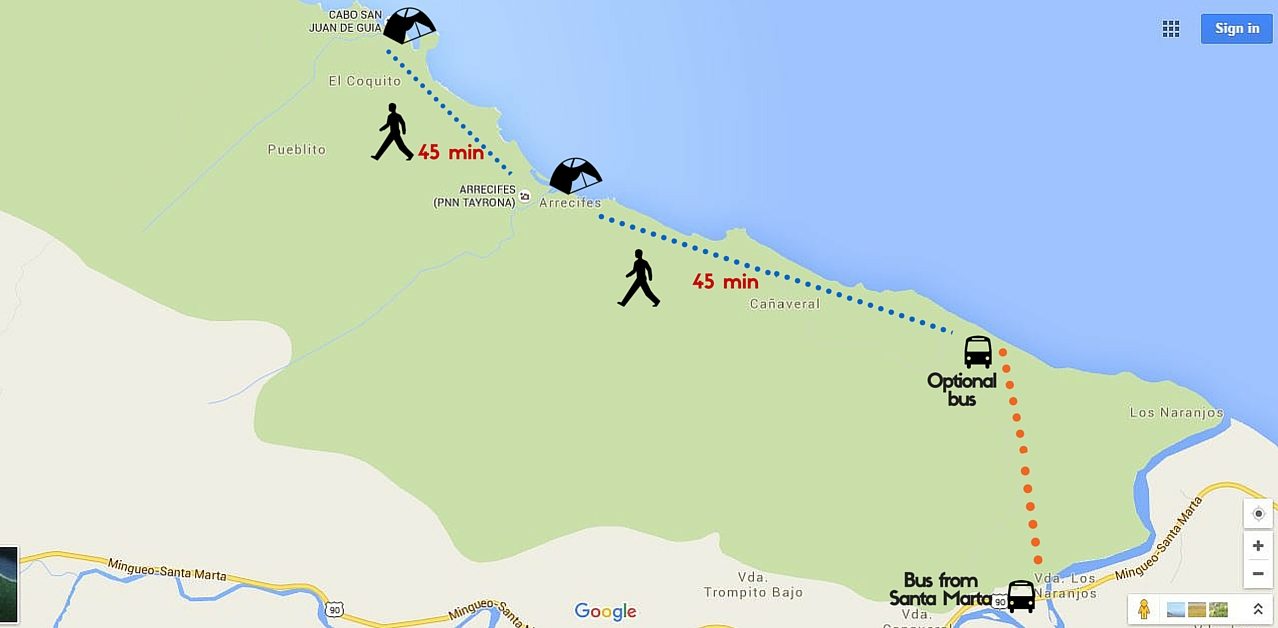 I have also heard that there are boats that can take you to the park (to the El Cabo San Juan entrance) from Taganga (located 20 minutes from Santa Marta by bus).
Note: If you are going from Cartagena to Tayrona (like me), you can either take a flight (recommended) or go by bus (approximately 5-6 hours).
| | |
| --- | --- |
| 💵 Entrance fee: | 57 500 cop (~$13) |
| 👙 What to wear: | Comfortable clothes and swimwear |
| 🏠 Where to stay: | Hotels, tents and Hammocks |
| ☀️Best time to go: | September – November |
| 📅 How many days: | 2-3 |
Where to stay in Tayrona park – a hammock, a tent or a hotel room?
And now, the big question is – where do you stay once you get there?
The park is very big and pretty hard to reach, so it does not make sense to visit for only a day. I stayed for 2 days, but I could have easily stayed longer.
Your sleeping options are a hammock in the common room, a tent (rented or your own) or a hotel.
UPDATE: I have written an extensive article with updated information on where to stay inside the park, as well as some good accommodations near it: Where To Stay In Tayrona National Park, Colombia
Let's talk about each sleeping choice in a little more detail.
1) A Hammock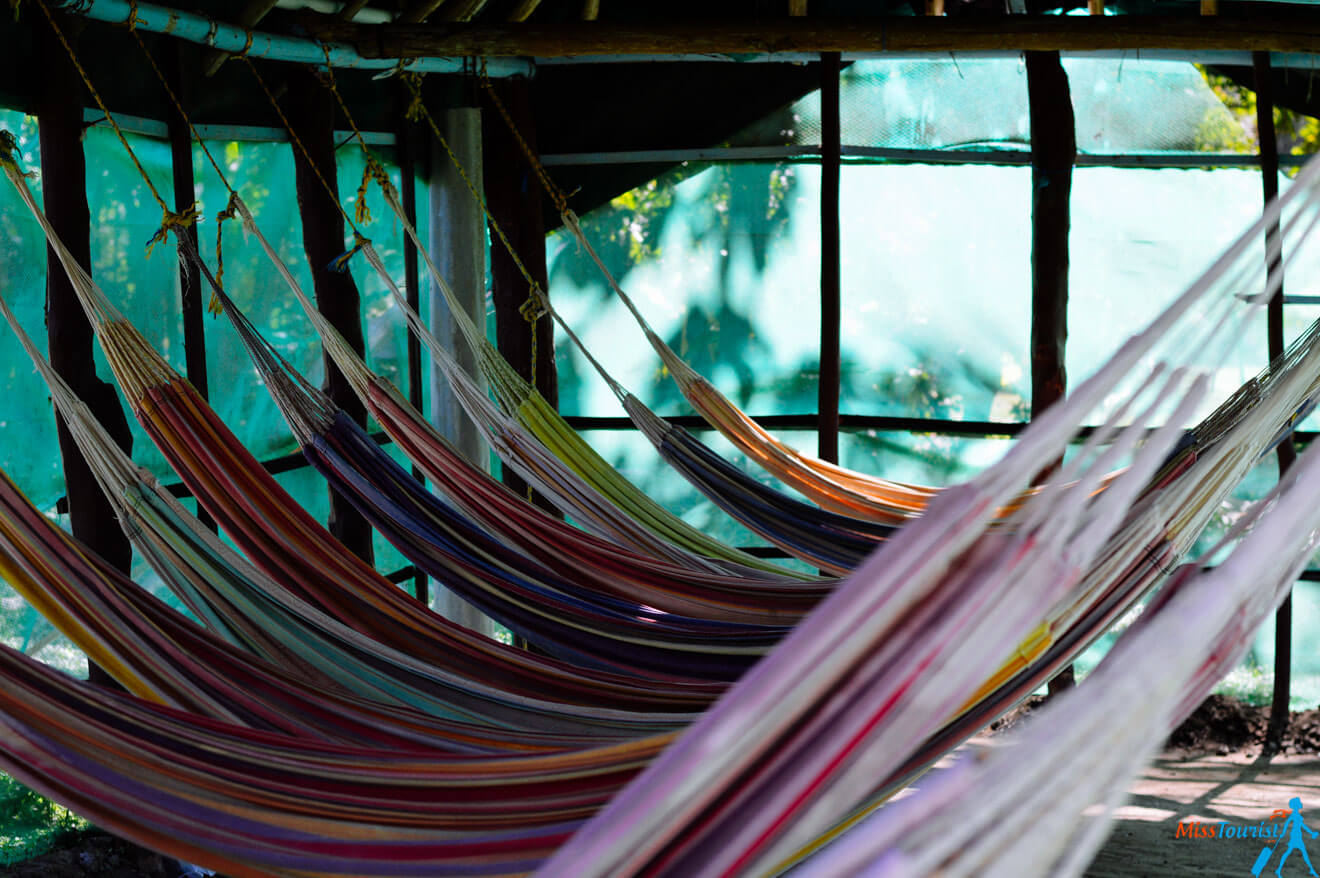 Hammocks, such a romantic way to stay in the park – lazily sipping your beer in a hammock under a palm tree, waking up to the sound of waves…
If this is how you imagine it, let me change your mind a bit.
Let's start with the fact that all the hammocks are located in one big communal room (NOT in front of the sea) separated from the outside by a mosquito net. Some of them had not been washed for a long time (if ever).
Even if I really wanted to try out the hammock option, I reconsidered when I saw how the hammock looked.
So, I decided to change my mind and opt for a tent.
PRICE: 10,000 – 13,000 COP ($3.50 – $4.50 USD)
Update: Hammocks in San Juan now cost 40,000 COP (around $13 USD) for one night.
2) A Tent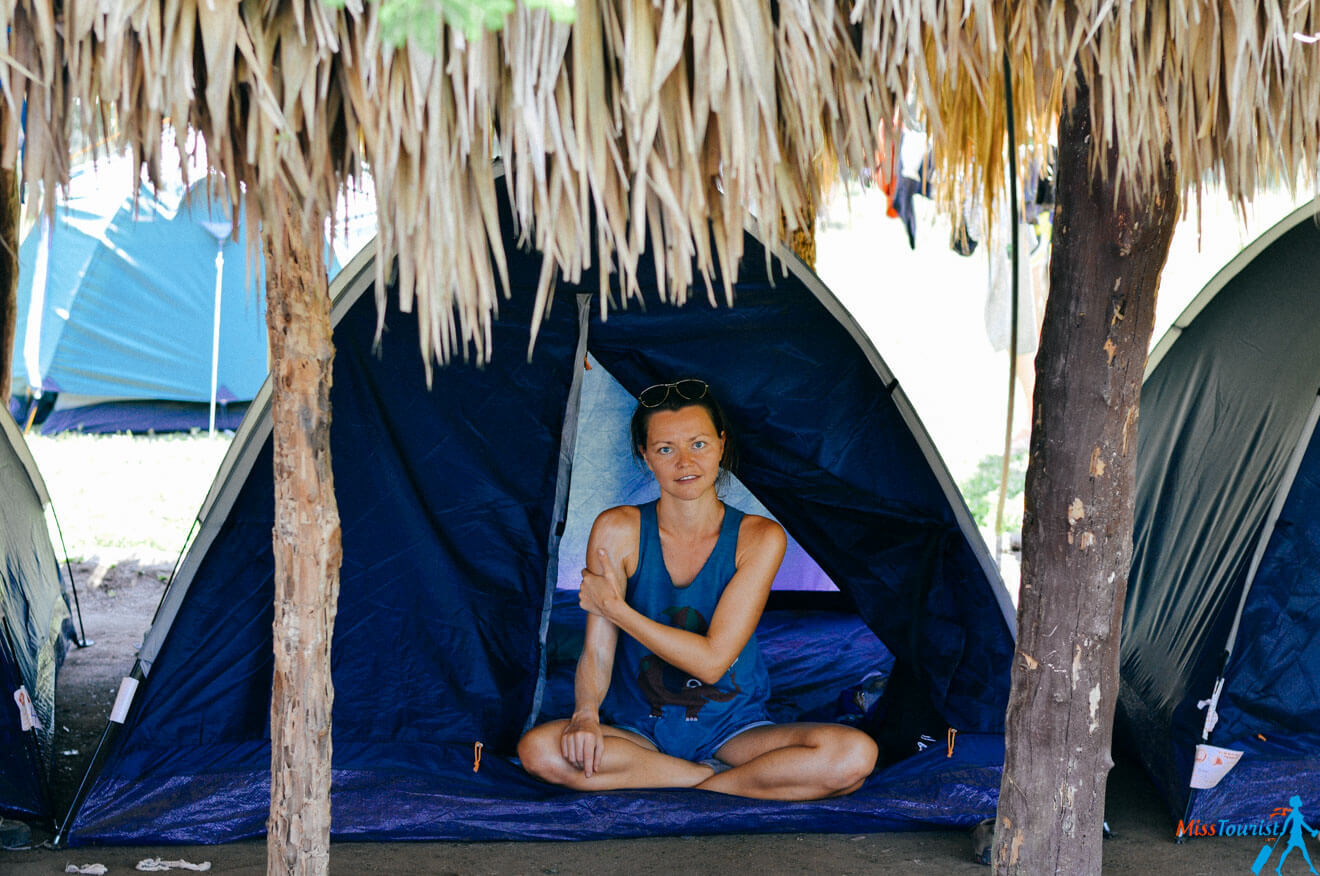 I decided to go for a rented tent (bring yours if you have one) and had no regrets!
Hammocks and tents are located in the campsite and have toilets and showers nearby. Facilities are basic, but enough.
Note that the shower is open only during specific hours and I think it only had cold water, brr!
Answering your question, there are no hostels (for now) in Tayrona park.
Note: If you want to stay in the campsite, I strongly advise you to arrive as early as possible, first of all because the sun is strong and it will be unbearably hot, and secondly, chances are, by 3 pm, there will be no free spots available for you.
Where to stay: Camping sites where you can stay: Arrecifes and Cabo San Juan (take a look at the map above). I stayed in Arrecifes and I quite liked it, but I have heard that San Juan is nice too, just that it's a bit more crowded.
PRICE: 40,000 – 60,000 COP ($11.50 -$17.30 USD) for 2 people
3) A Hotel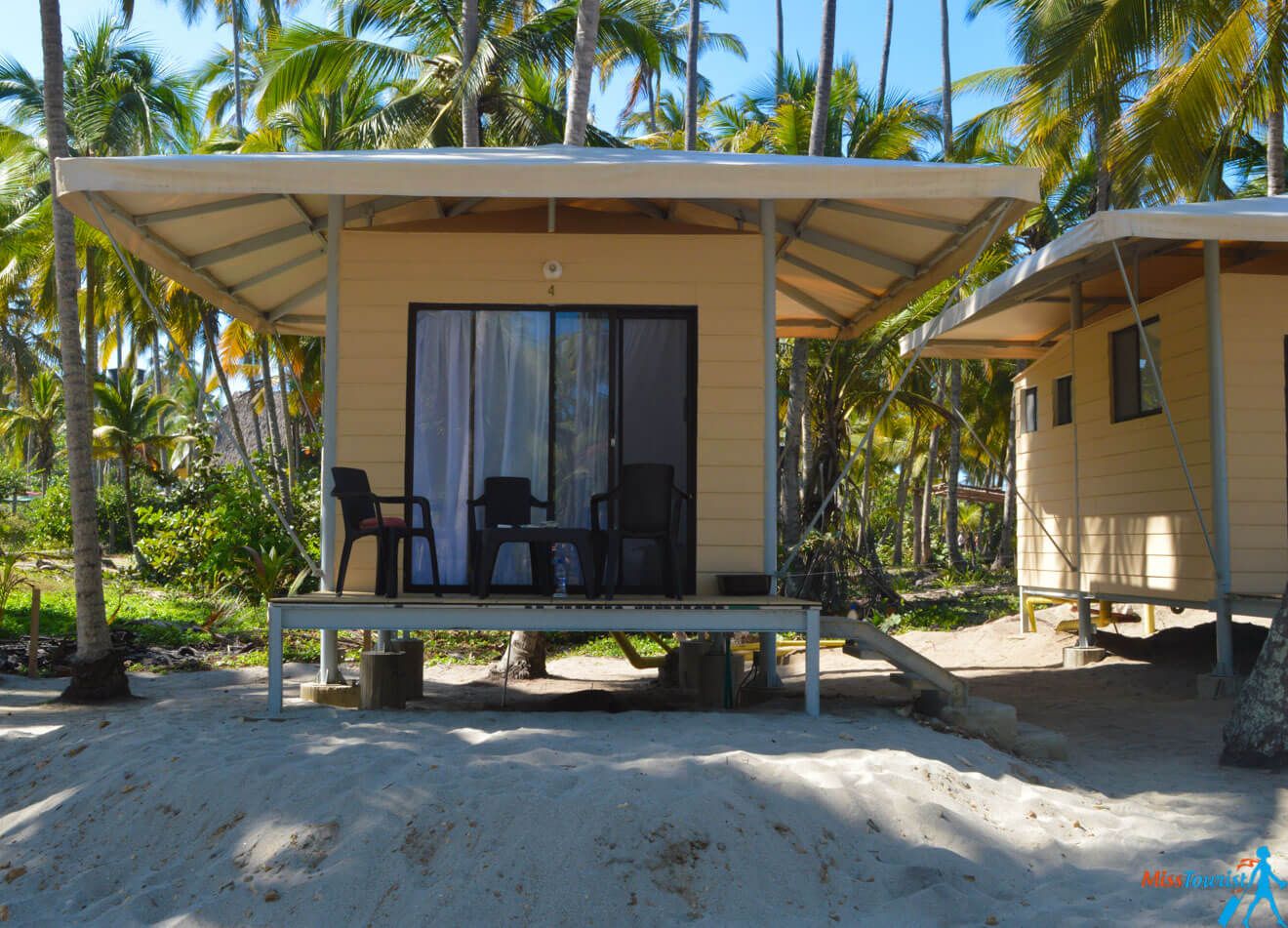 If you are not feeling like a great adventure with tents etc., no worries, I totally understand you!
Here are Tayrona National Park hotel options:
There are a couple of VERY expensive Tayrona National Park Eco hubs inside the park, but to be honest I find them a bit overpriced for what they offer. (from US $150 a day)
If you are searching for an affordable great hotel right on the beach that you have just to yourself, I know a great solution for you!
Sometimes we just need to relax and enjoy, and if that is what you want, I have a perfect place in mind for you!
Tayrona Tented Lodge is a small hotel consisting of 6-7 bungalows. I had to book it in advance and could only get it for 1 night (I would gladly have stayed much longer).
This place was my personal paradise!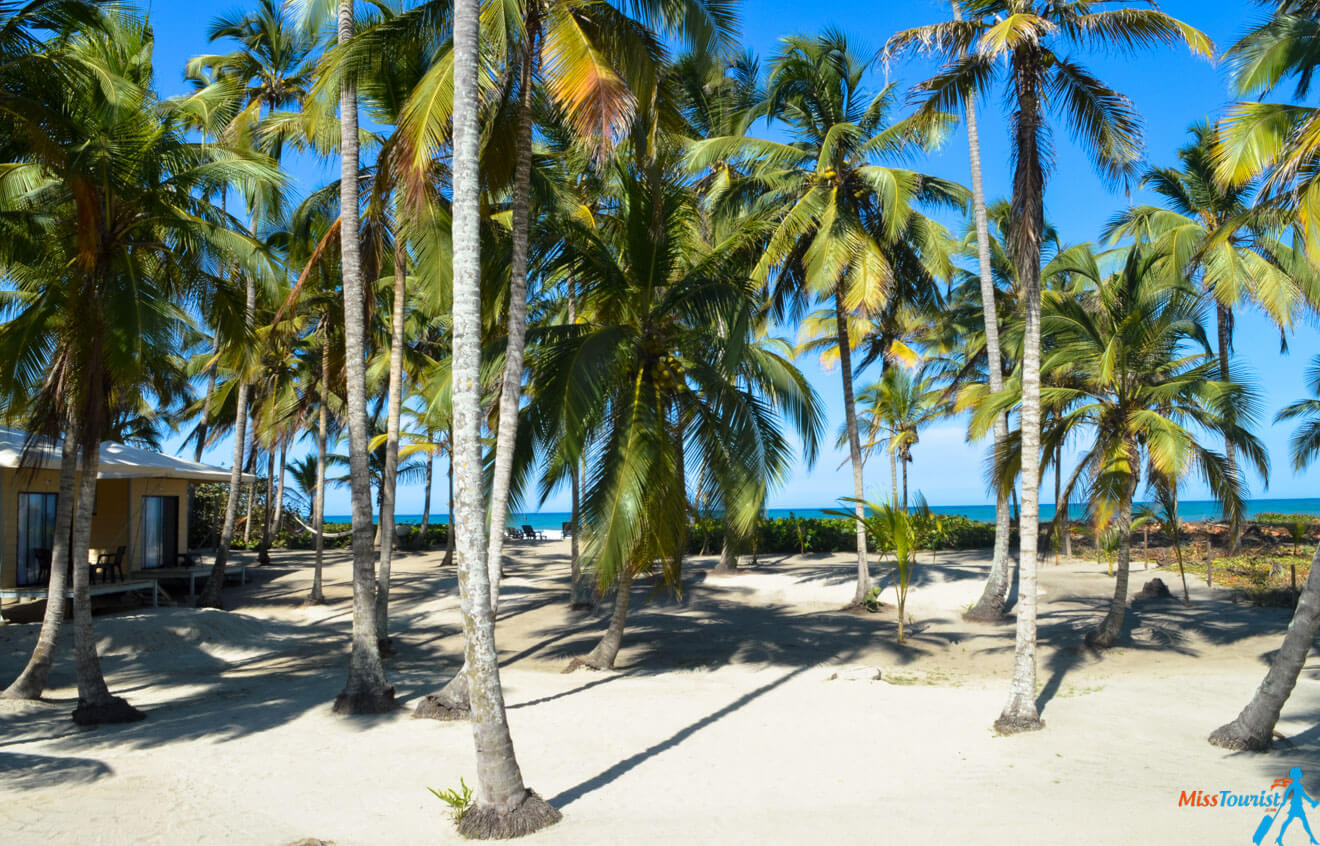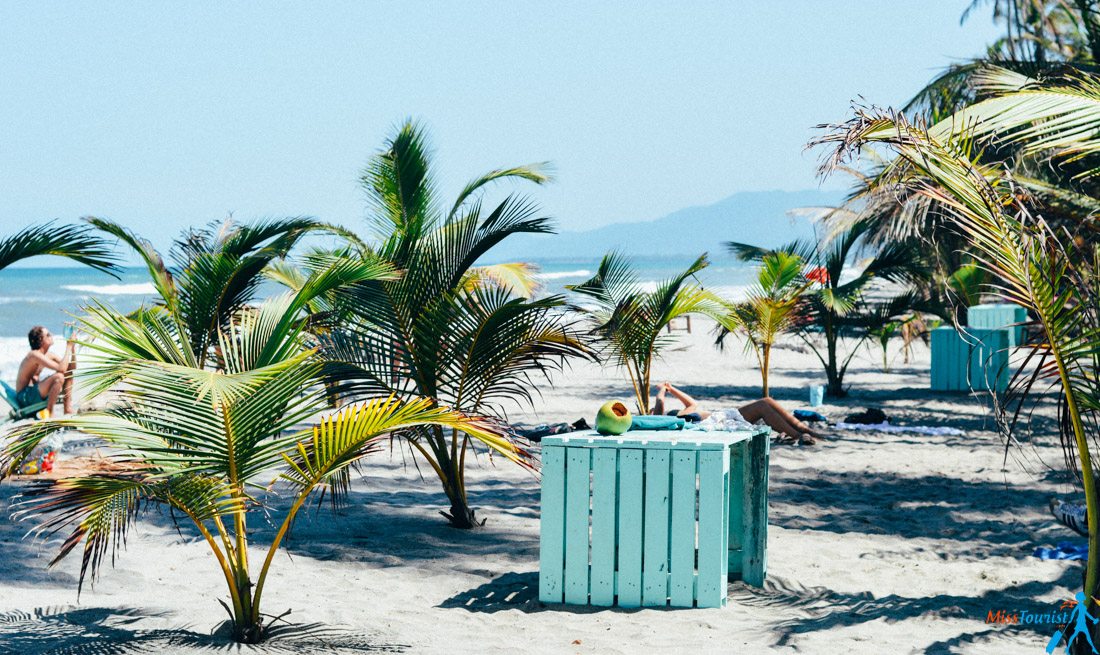 Technically, it is not in the park (only the eco hubs are inside, but these are located right at the entrance).
Tayrona Tented Lodge is a fantastic place to be, to just relax, read your book on that hammock (yes, near the beach!) and simply enjoy the moment; you will always have a chance to come back to your busy "real" life!
It is perfect for both romantic getaways (even a honeymoon!) and a family vacation. When I was there, I met some guys from the UK who wanted to come back with all their close friends one day and rent all 7 bungalows.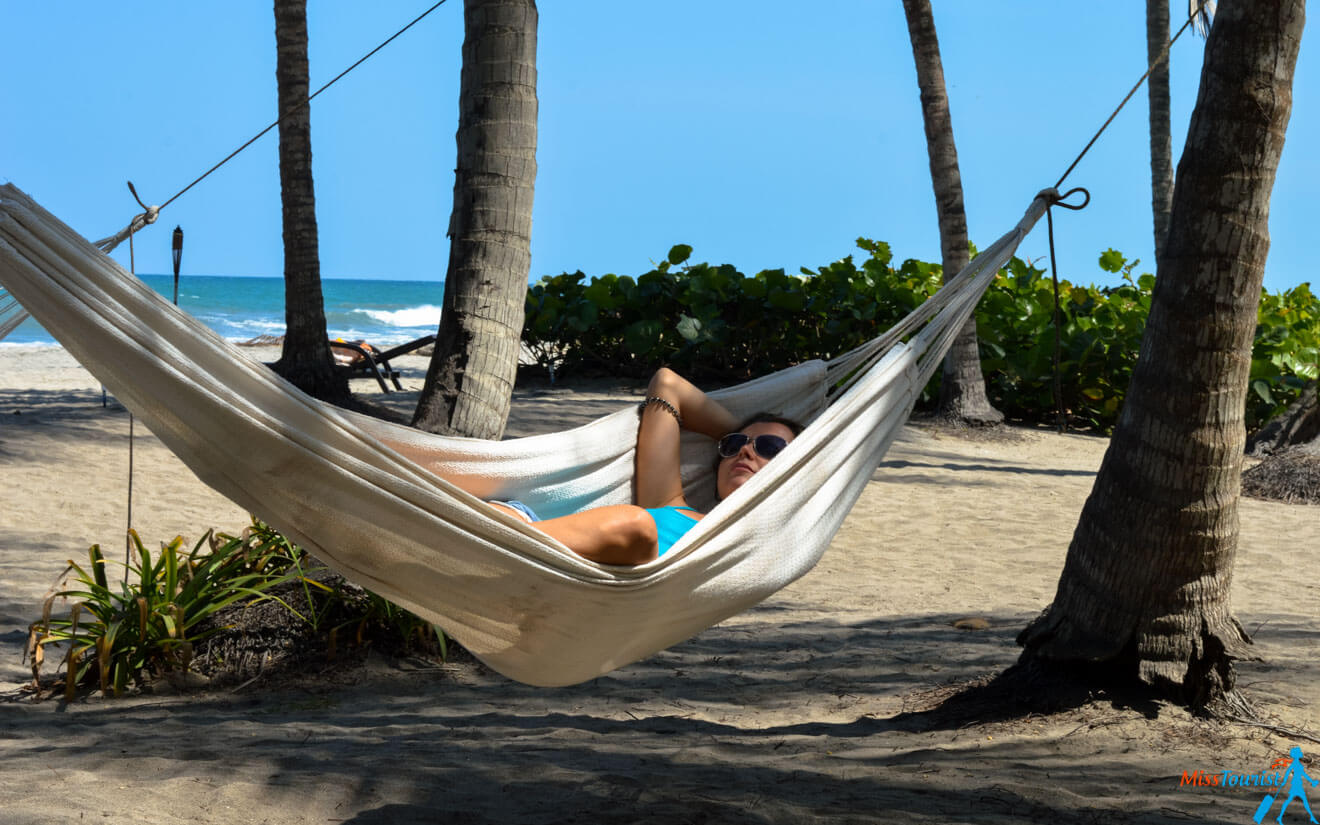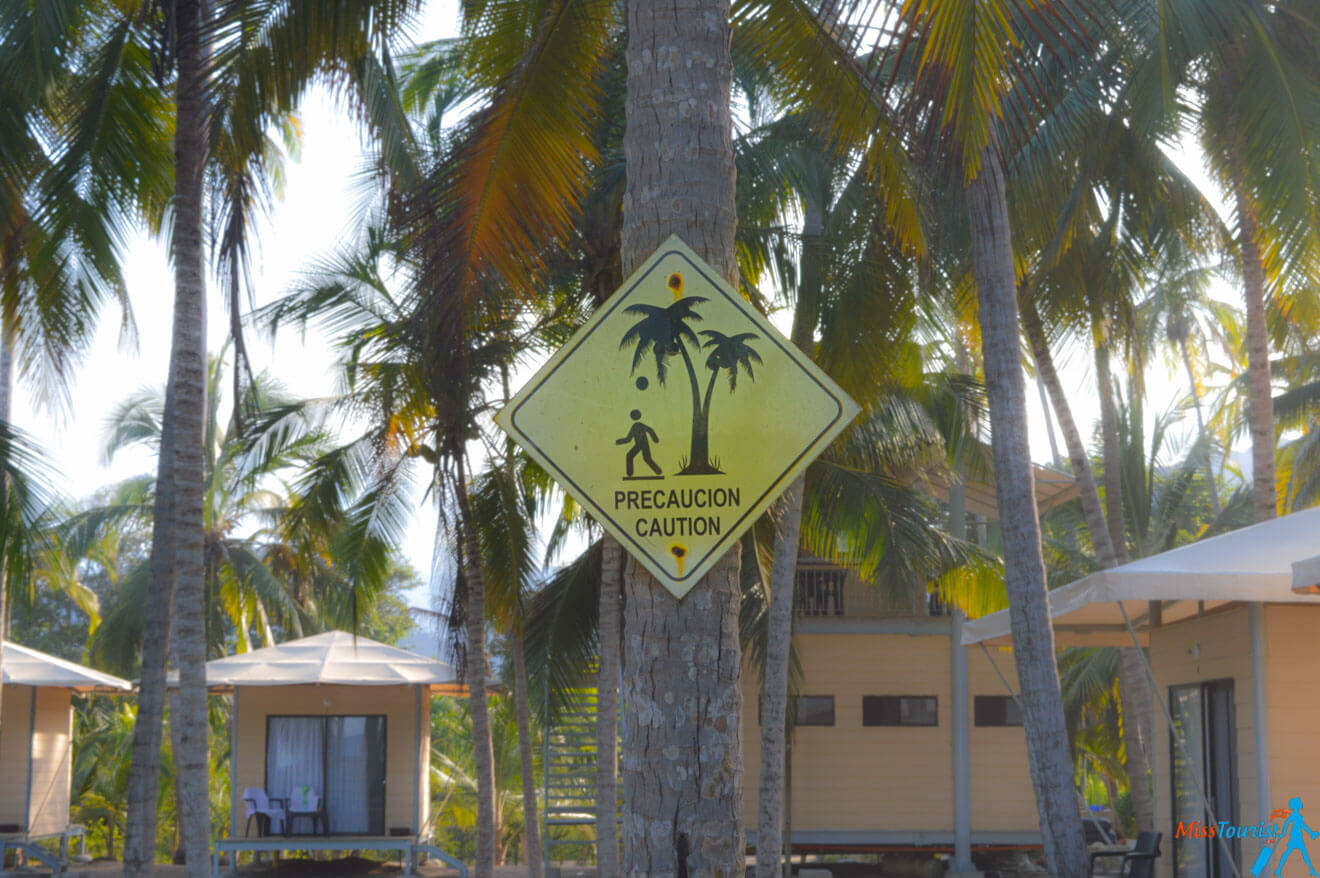 I think that is a great idea because the area has some of the best beaches in Columbia. The location is so perfect, you have all the beaches to yourself! You just forget about all the world's problems and immerse yourself in nature.
And oh yes, unlike Tayrona Park, you can swim in the Carribean Sea!
How to get there: It is just a 20-minute ride from the main entrance of Tayrona National Park. All the information can be found on their official website.
PRICE: Ecohubs start at US $200, Tayrona Tented Lodge from US $55 for 2 people
Check the rates for Tayrona Tented Lodge here!
Watch the video below. Even if it is in Spanish, it will give you a better understanding about the place:
Summary:
Tayrona National Park is a great place to visit if you are a nature lover. It is without a doubt one of the best national parks in Colombia.
In this post I gave you recommendations on how to get there, what you should definitely take with you and what is better to leave at home.
We talked about different accommodation options and their prices.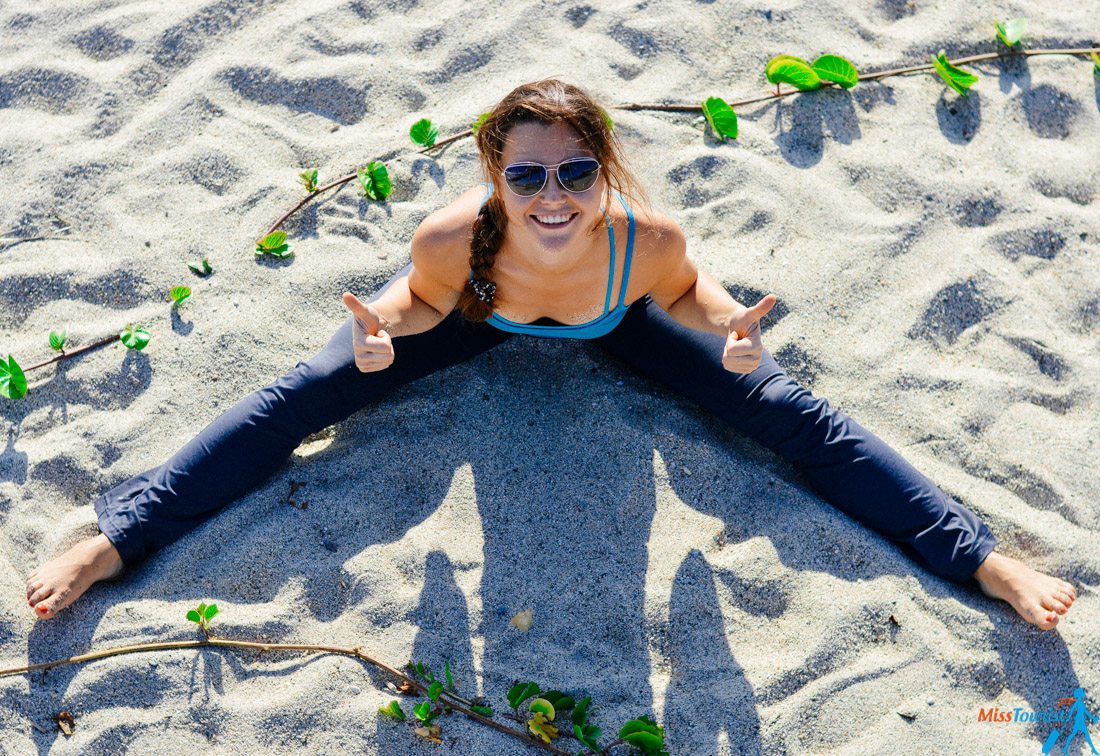 I hope it was helpful. Let me know if you have any more questions, I will gladly answer!
---
---
Pin it for later!